Make Your Own Dreams Quotes & Sayings
Enjoy reading and share 42 famous quotes about Make Your Own Dreams with everyone.
Top Make Your Own Dreams Quotes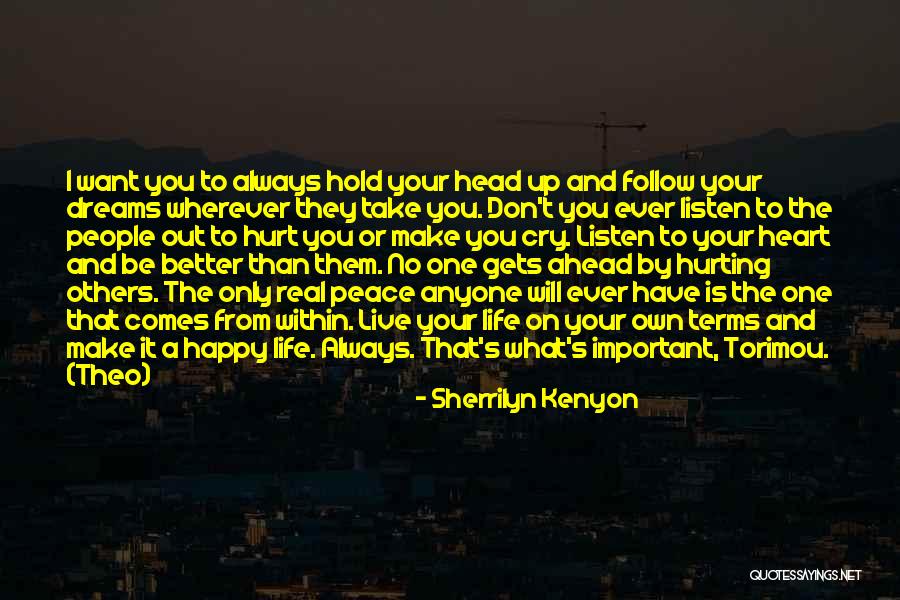 I want you to always hold your head up and follow your dreams wherever they take you. Don't you ever listen to the people out to hurt you or make you cry. Listen to your heart and be better than them. No one gets ahead by hurting others. The only real peace anyone will ever have is the one that comes from within. Live your life on your own terms and make it a happy life. Always. That's what's important, Torimou. (Theo) — Sherrilyn Kenyon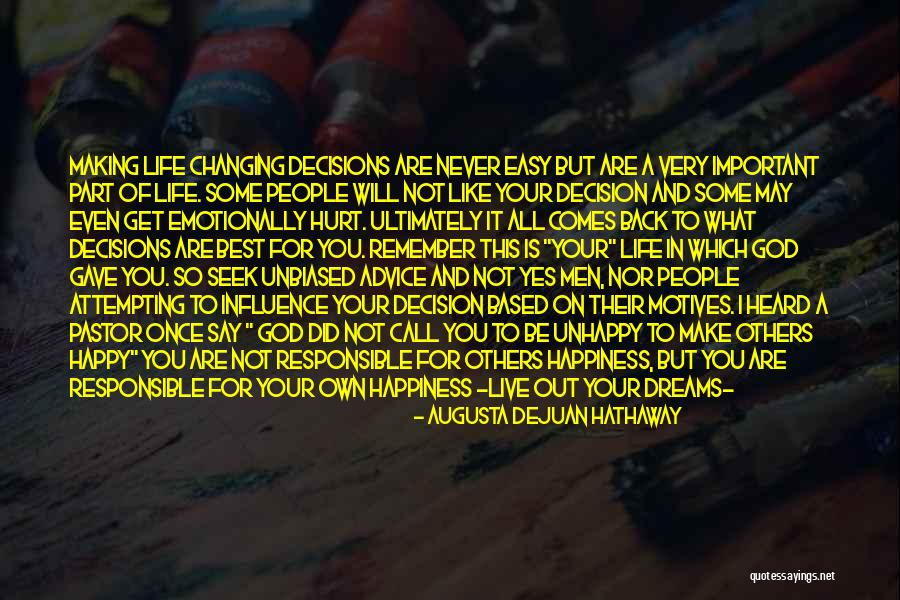 Making life changing decisions are never easy but are a very important part of life. Some people will not like your decision and some may even get emotionally hurt. Ultimately it all comes back to what decisions are best for you. Remember this is "Your" life in which God gave you. So seek unbiased advice and not yes men, nor people attempting to influence your decision based on their motives. I heard a pastor once say " God did not call you to be unhappy to make others happy" you are not responsible for others happiness, but you are responsible for your own happiness -Live out your Dreams- — Augusta DeJuan Hathaway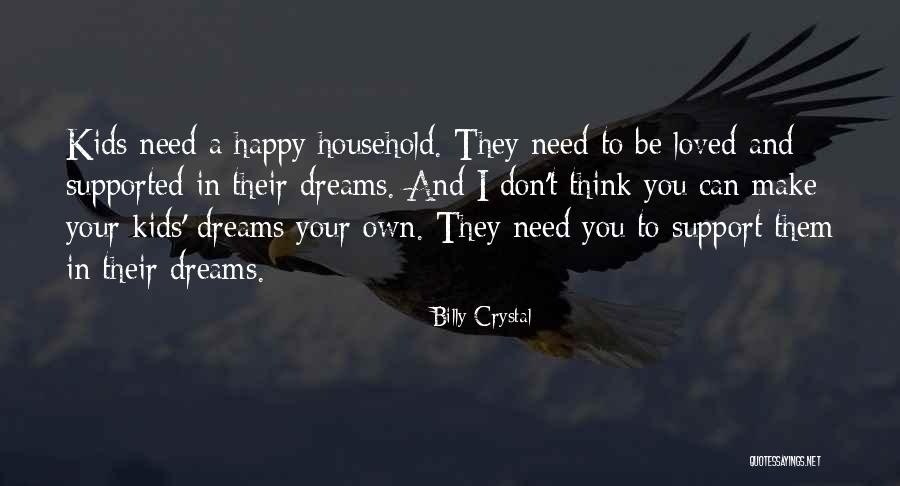 Kids need a happy household. They need to be loved and supported in their dreams. And I don't think you can make your kids' dreams your own. They need you to support them in their dreams. — Billy Crystal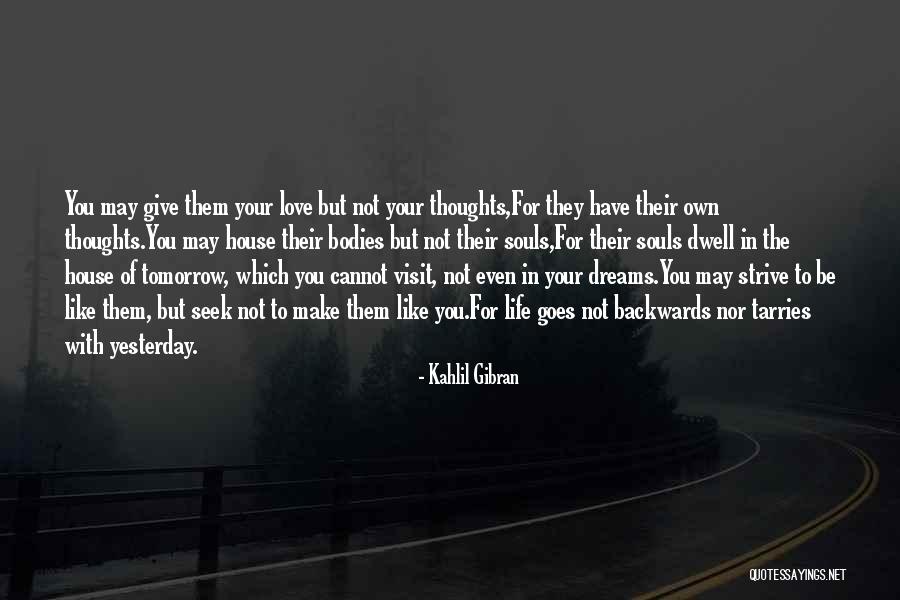 You may give them your love but not your thoughts,
For they have their own thoughts.
You may house their bodies but not their souls,
For their souls dwell in the house of tomorrow, which you cannot visit, not even in your dreams.
You may strive to be like them, but seek not to make them like you.
For life goes not backwards nor tarries with yesterday. — Kahlil Gibran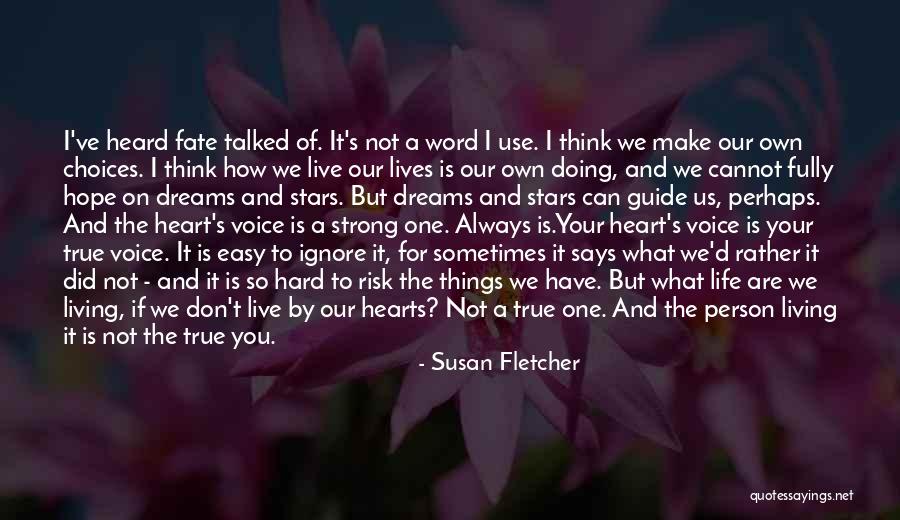 I've heard fate talked of. It's not a word I use. I think we make our own choices. I think how we live our lives is our own doing, and we cannot fully hope on dreams and stars. But dreams and stars can guide us, perhaps. And the heart's voice is a strong one. Always is.
Your heart's voice is your true voice. It is easy to ignore it, for sometimes it says what we'd rather it did not - and it is so hard to risk the things we have. But what life are we living, if we don't live by our hearts? Not a true one. And the person living it is not the true you. — Susan Fletcher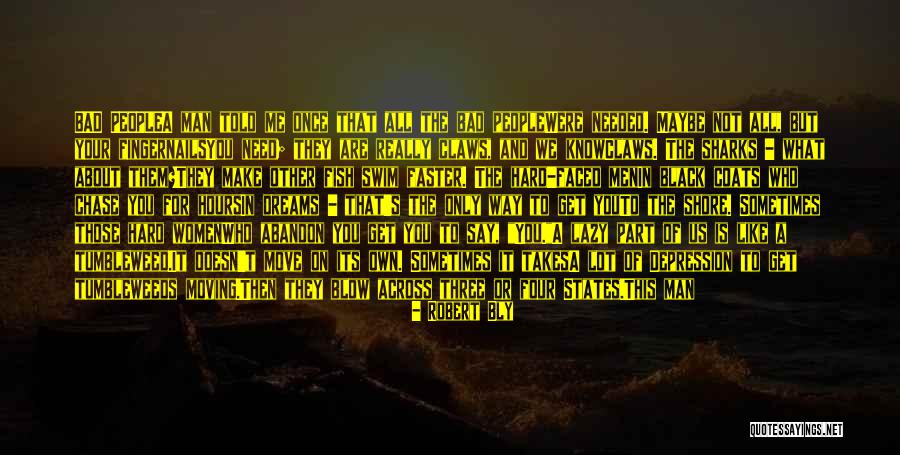 BAD PEOPLE
A man told me once that all the bad people
Were needed. Maybe not all, but your fingernails
You need; they are really claws, and we know
Claws. The sharks - what about them?
They make other fish swim faster. The hard-faced men
In black coats who chase you for hours
In dreams - that's the only way to get you
To the shore. Sometimes those hard women
Who abandon you get you to say, "You."
A lazy part of us is like a tumbleweed.
It doesn't move on its own. Sometimes it takes
A lot of Depression to get tumbleweeds moving.
Then they blow across three or four States.
This man told me that things work together.
Bad handwriting sometimes leads to new ideas;
And a careless god - who refuses to let people
Eat from the Tree of Knowledge - can lead
To books, and eventually to us. We write
Poems with lies in them, but they help a little. — Robert Bly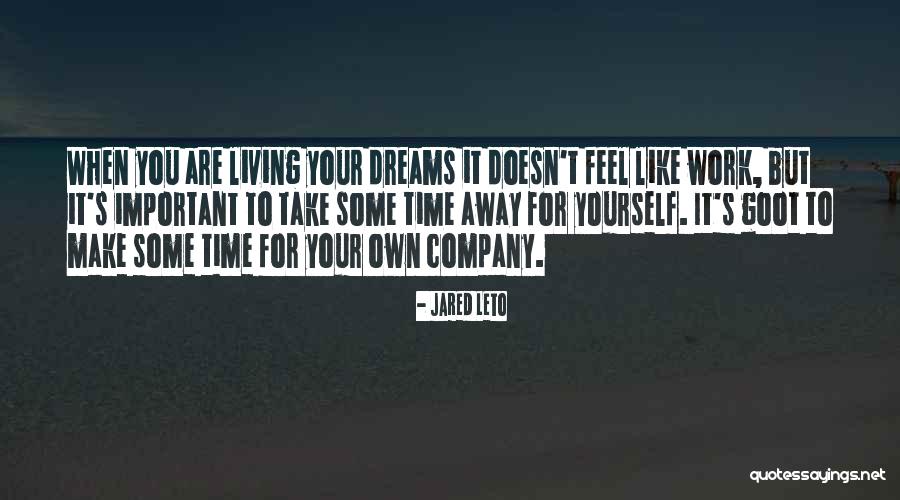 When you are living your dreams it doesn't feel like work, but it's important to take some time away for yourself. It's goot to make some time for your own company. — Jared Leto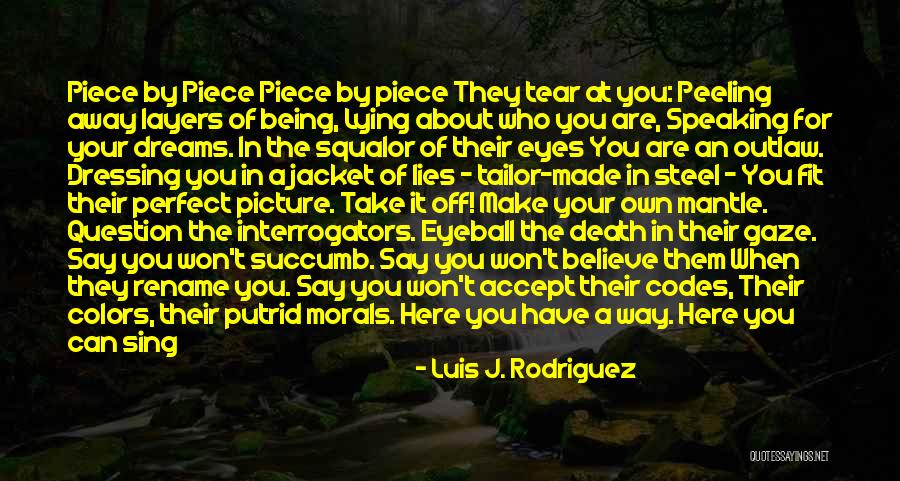 Piece by Piece Piece by piece They tear at you: Peeling away layers of being, Lying about who you are, Speaking for your dreams. In the squalor of their eyes You are an outlaw. Dressing you in a jacket of lies - tailor-made in steel - You fit their perfect picture. Take it off! Make your own mantle. Question the interrogators. Eyeball the death in their gaze. Say you won't succumb. Say you won't believe them When they rename you. Say you won't accept their codes, Their colors, their putrid morals. Here you have a way. Here you can sing victory. Here you are not a conquered race Perpetual victim - the sullen face in a thunderstorm. Hands/minds, they are carving out A sanctuary. Use these weapons Against them. Use your given gifts - they are not stone. — Luis J. Rodriguez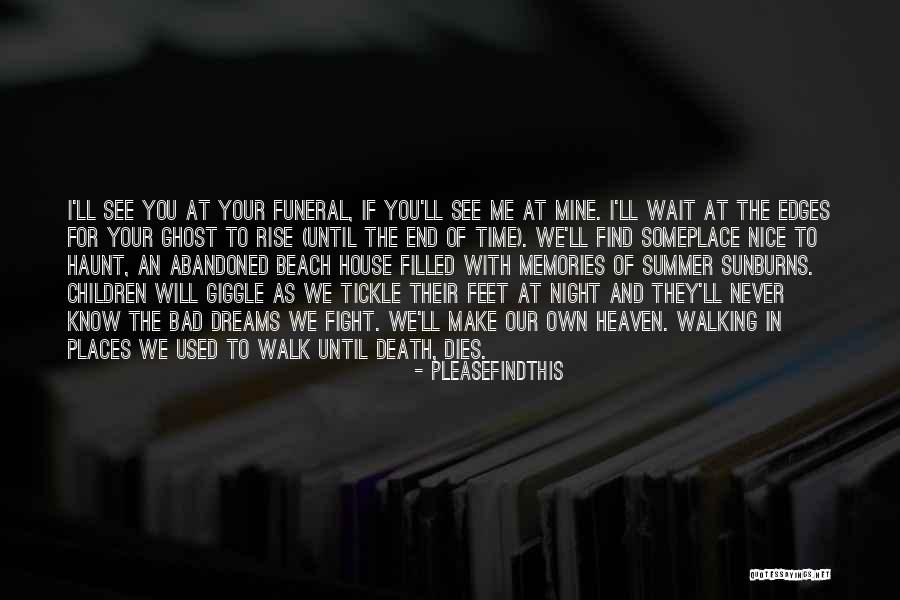 I'll see you at your funeral, if you'll see me at mine. I'll wait at the edges for your ghost to rise (until the end of time). We'll find someplace nice to haunt, an abandoned beach house filled with memories of summer sunburns. Children will giggle as we tickle their feet at night and they'll never know the bad dreams we fight. We'll make our own heaven. Walking in places we used to walk until death, dies. — Pleasefindthis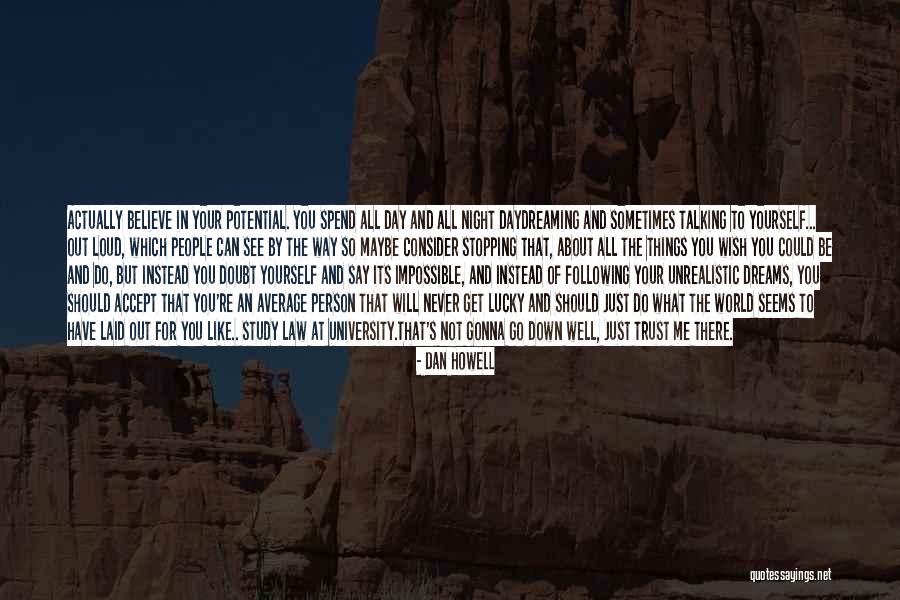 Actually believe in your potential. You spend all day and all night daydreaming and sometimes talking to yourself... out loud, which people can see by the way so maybe consider stopping that, about all the things you wish you could be and do, but instead you doubt yourself and say its impossible, and instead of following your unrealistic dreams, you should accept that you're an average person that will never get lucky and should just do what the world seems to have laid out for you like.. study law at University.
That's not gonna go down well, just trust me there. You are a horrific procrastinator and one day you will just mature enough to look past what you have been told about the world, and decide to take it into your own hands, and that will finally make you happy. — Dan Howell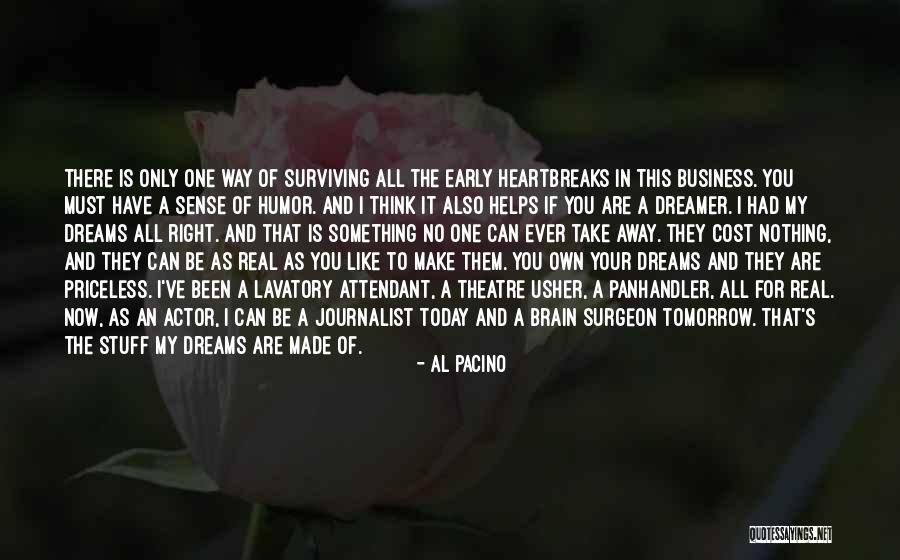 There is only one way of surviving all the early heartbreaks in this business. You must have a sense of humor. And I think it also helps if you are a dreamer. I had my dreams all right. And that is something no one can ever take away. They cost nothing, and they can be as real as you like to make them. You own your dreams and they are priceless. I've been a lavatory attendant, a theatre usher, a panhandler, all for real. Now, as an actor, I can be a journalist today and a brain surgeon tomorrow. That's the stuff my dreams are made of. — Al Pacino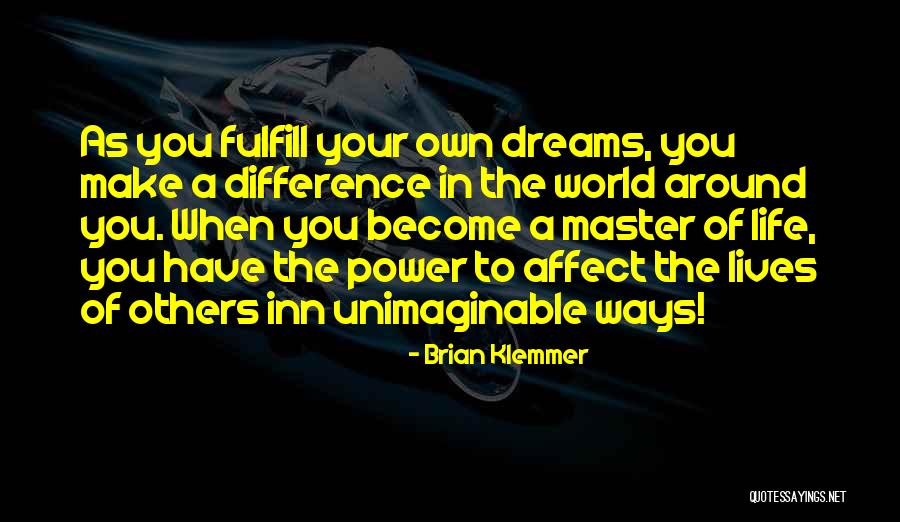 As you fulfill your own dreams, you make a difference in the world around you. When you become a master of life, you have the power to affect the lives of others inn unimaginable ways! — Brian Klemmer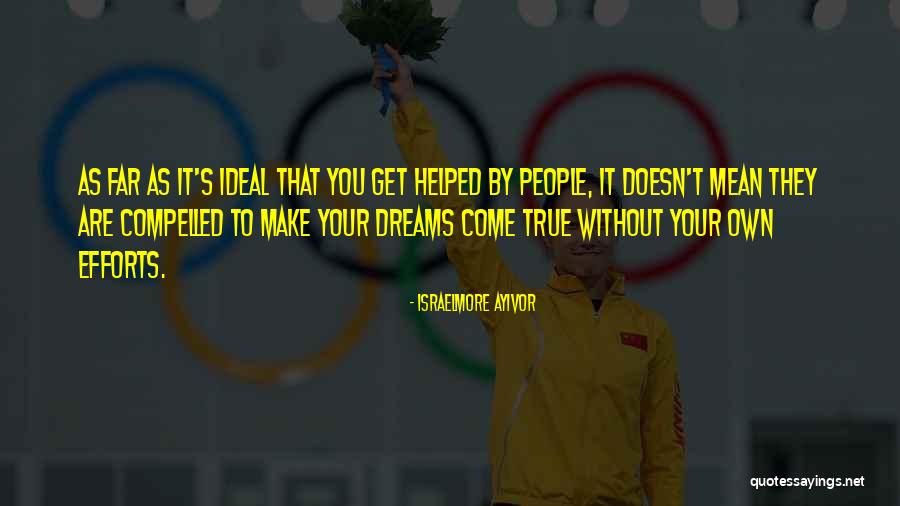 As far as it's ideal that you get helped by people, it doesn't mean they are compelled to make your dreams come true without your own efforts. — Israelmore Ayivor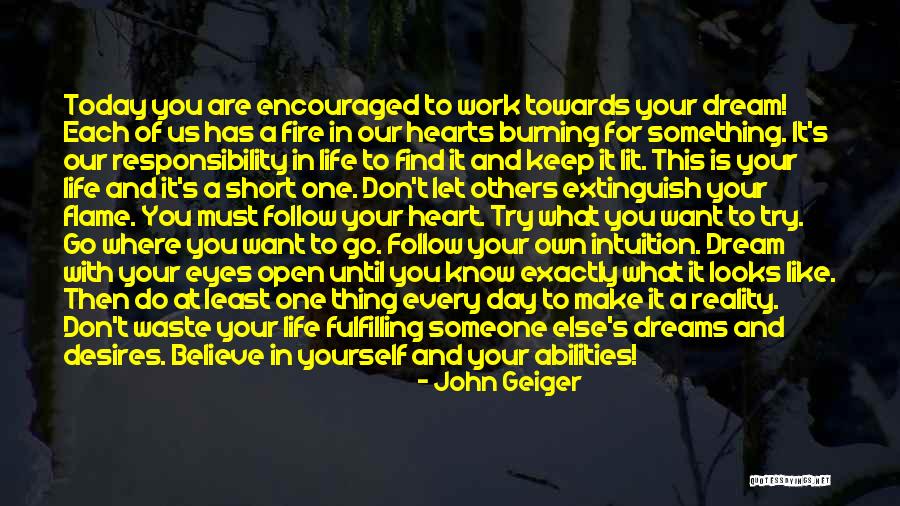 Today you are encouraged to work towards your dream! Each of us has a fire in our hearts burning for something. It's our responsibility in life to find it and keep it lit. This is your life and it's a short one. Don't let others extinguish your flame. You must follow your heart. Try what you want to try. Go where you want to go. Follow your own intuition. Dream with your eyes open until you know exactly what it looks like. Then do at least one thing every day to make it a reality. Don't waste your life fulfilling someone else's dreams and desires. Believe in yourself and your abilities! — John Geiger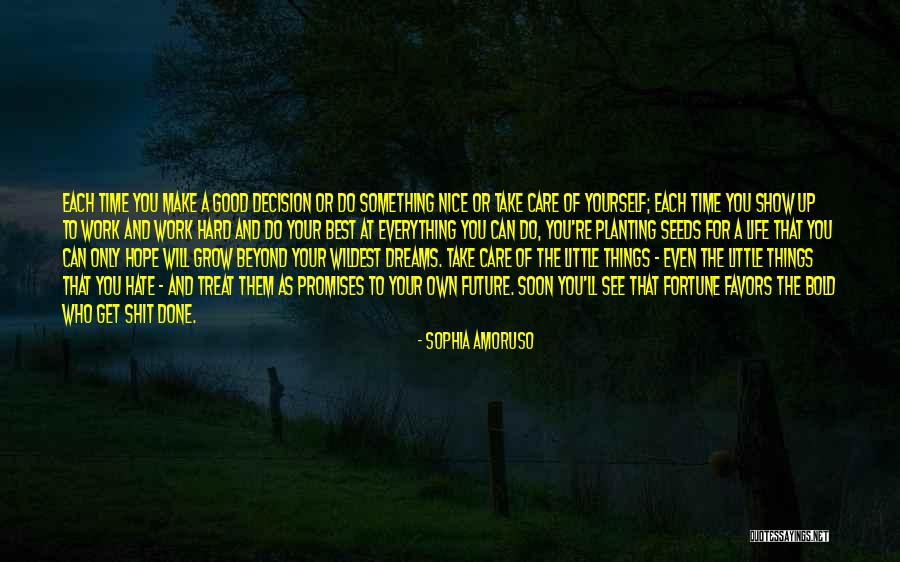 Each time you make a good decision or do something nice or take care of yourself; each time you show up to work and work hard and do your best at everything you can do, you're planting seeds for a life that you can only hope will grow beyond your wildest dreams. Take care of the little things - even the little things that you hate - and treat them as promises to your own future. Soon you'll see that fortune favors the bold who get shit done. — Sophia Amoruso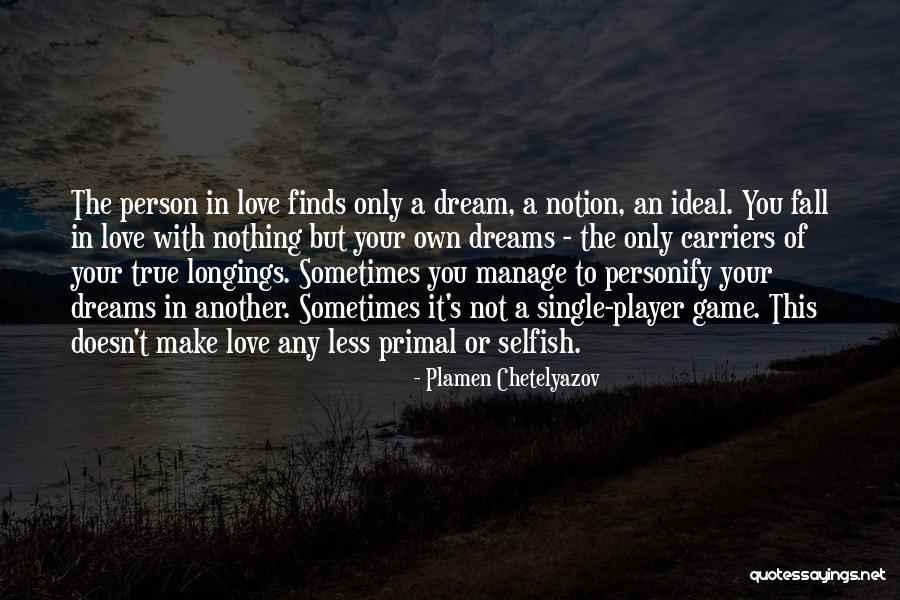 The person in love finds only a dream, a notion, an ideal. You fall in love with nothing but your own dreams - the only carriers of your true longings. Sometimes you manage to personify your dreams in another. Sometimes it's not a single-player game. This doesn't make love any less primal or selfish. — Plamen Chetelyazov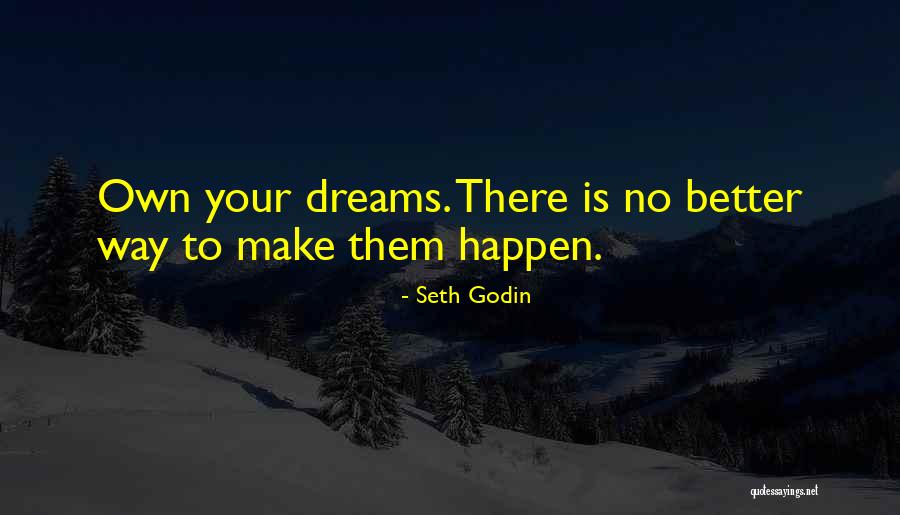 Own your dreams. There is no better way to make them happen. — Seth Godin
It's time to be the leader of your own journey. There are far too many capable people who don't pursue their dreams and goals because they let their fears and others talk them out of it. They give up before they even try, and simply let life's river flow them downstream. Choose to be stronger than that and swim upstream when you have to. Choose to do the things in life that move you and make you happy. Let others lead small lives and argue over small things. Let others cry over small wounds and leave their future in someone else's hands. If you don't take the initiative to make your own dreams a reality, you will end up working for someone else, making their dreams reality. — Anonymous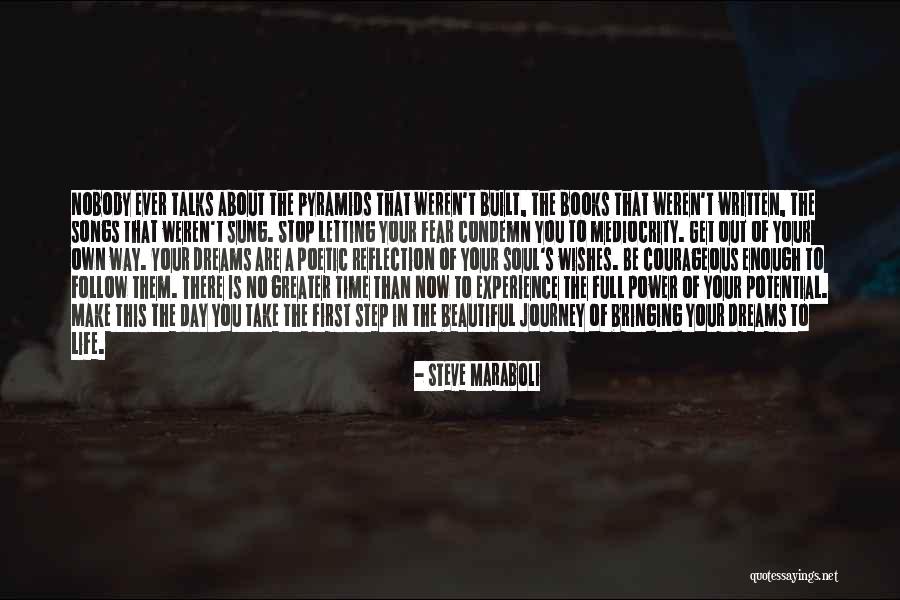 Nobody ever talks about the pyramids that weren't built, the books that weren't written, the songs that weren't sung. Stop letting your fear condemn you to mediocrity. Get out of your own way. Your dreams are a poetic reflection of your soul's wishes. Be courageous enough to follow them. There is no greater time than now to experience the full power of your potential. Make this the day you take the first step in the beautiful journey of bringing your dreams to life. — Steve Maraboli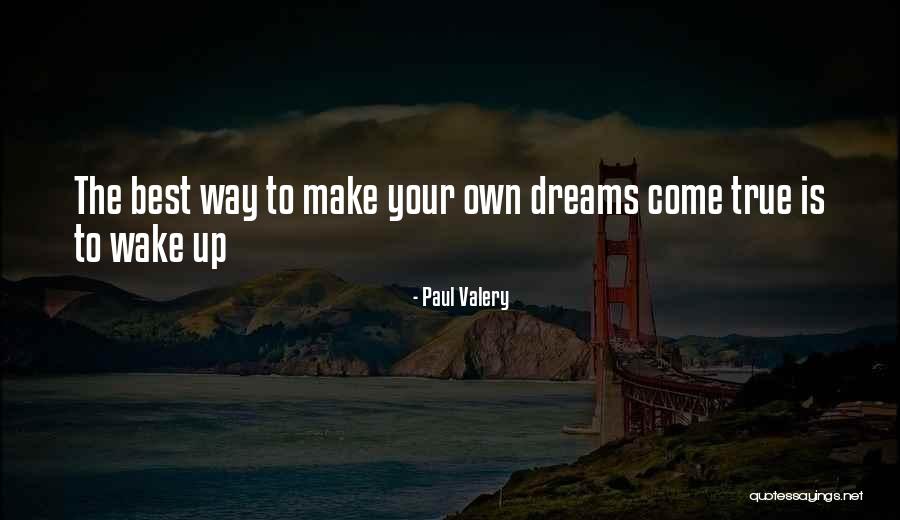 The best way to make your own dreams come true is to wake up — Paul Valery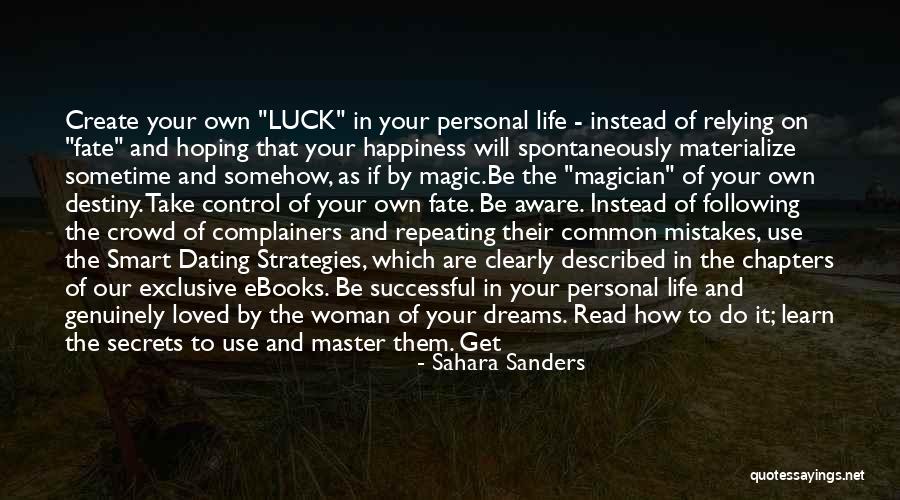 Create your own "LUCK" in your personal life - instead of relying on "fate" and hoping that your happiness will spontaneously materialize sometime and somehow, as if by magic.
Be the "magician" of your own destiny. Take control of your own fate. Be aware. Instead of following the crowd of complainers and repeating their common mistakes, use the Smart Dating Strategies, which are clearly described in the chapters of our exclusive eBooks.
Be successful in your personal life and genuinely loved by the woman of your dreams.
Read how to do it; learn the secrets to use and master them.

Get the keys to the door of your own happiness.

Make things happen.

Choose to be a WINNER! — Sahara Sanders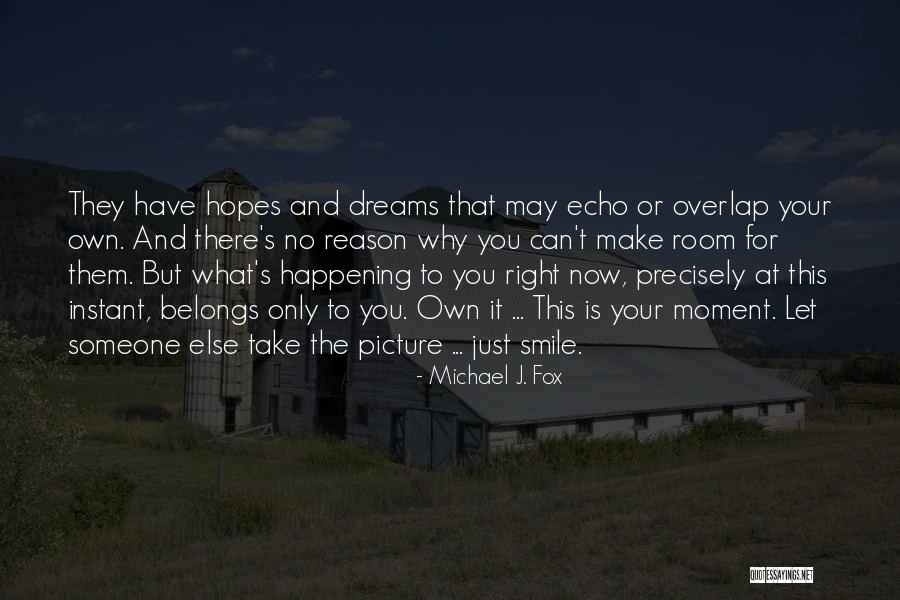 They have hopes and dreams that may echo or overlap your own. And there's no reason why you can't make room for them. But what's happening to you right now, precisely at this instant, belongs only to you. Own it ... This is your moment. Let someone else take the picture ... just smile. — Michael J. Fox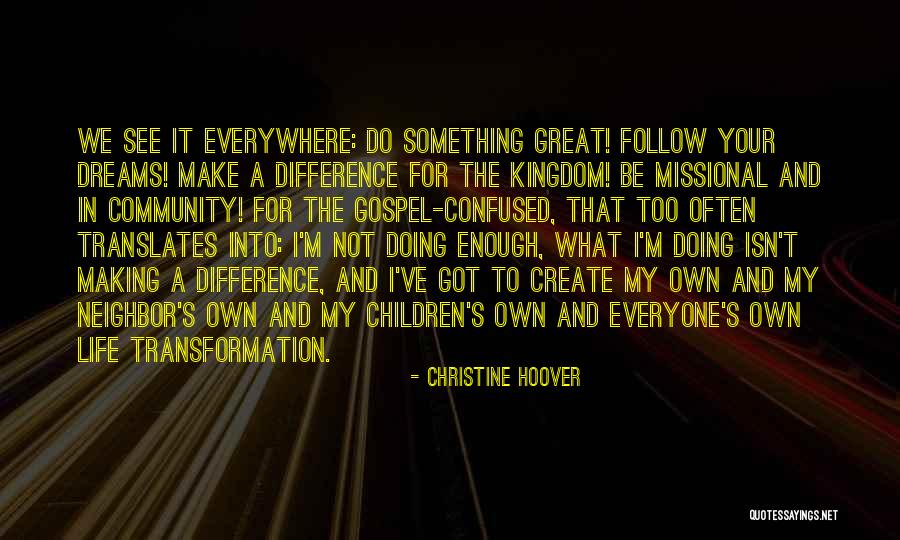 We see it everywhere: Do something great! Follow your dreams! Make a difference for the kingdom! Be missional and in community! For the gospel-confused, that too often translates into: I'm not doing enough, what I'm doing isn't making a difference, and I've got to create my own and my neighbor's own and my children's own and everyone's own life transformation. — Christine Hoover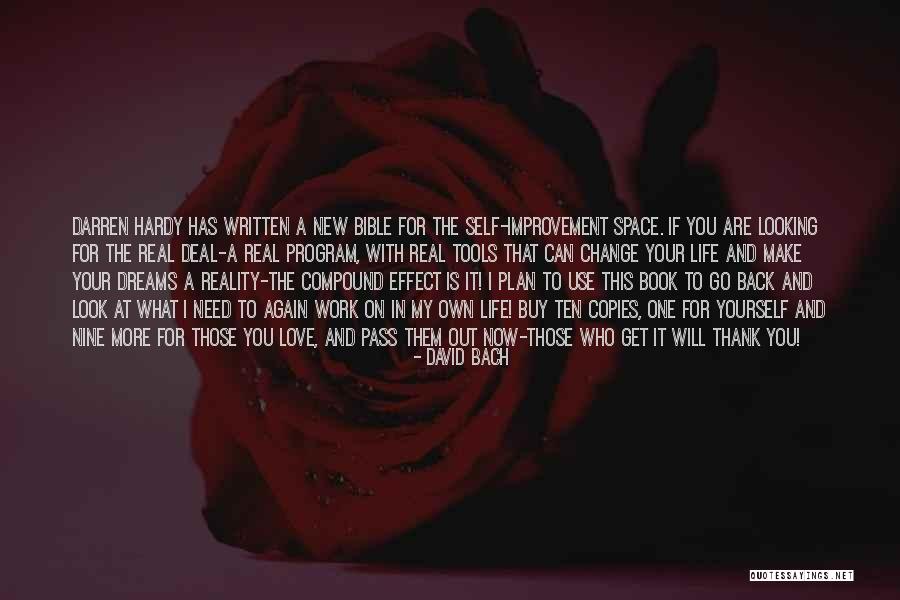 Darren Hardy has written a new bible for the self-improvement space. If you are looking for the real deal-a real program, with real tools that can change your life and make your dreams a reality-The Compound Effect is it! I plan to use this book to go back and look at what I need to again work on in my own life! Buy ten copies, one for yourself and nine more for those you love, and pass them out now-those who get it will thank you! — David Bach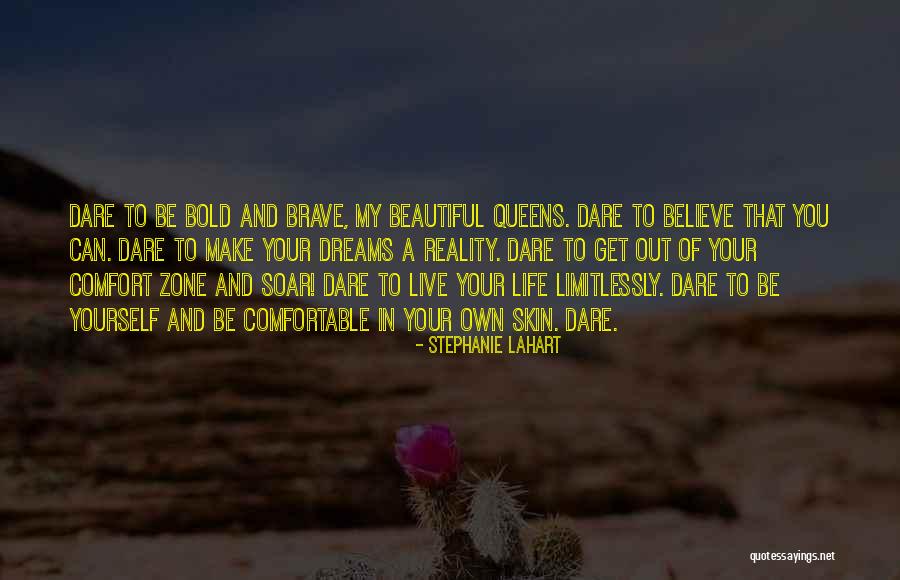 Dare to be bold and brave, my BEAUTIFUL QUEENS. Dare to believe that you can. Dare to make your dreams a reality. Dare to get out of your comfort zone and soar! Dare to live your life limitlessly. Dare to be yourself and be comfortable in your own skin. DARE. — Stephanie Lahart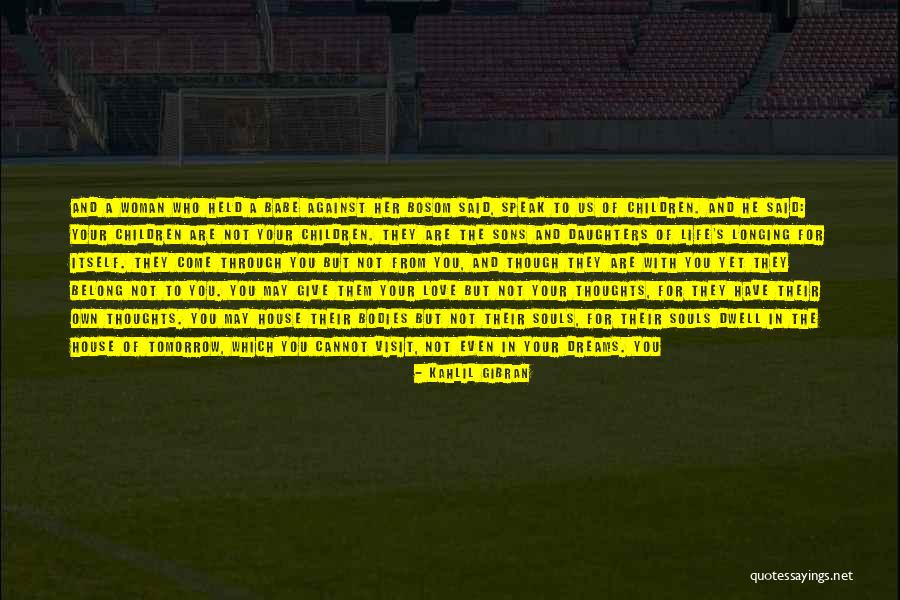 And a woman who held a babe against her bosom said, Speak to us of Children. And he said: Your children are not your children. They are the sons and daughters of Life's longing for itself. They come through you but not from you, And though they are with you yet they belong not to you. You may give them your love but not your thoughts, For they have their own thoughts. You may house their bodies but not their souls, For their souls dwell in the house of tomorrow, which you cannot visit, not even in your dreams. You may strive to be like them, but seek not to make them like you. For life goes not backward nor tarries with yesterday. — Kahlil Gibran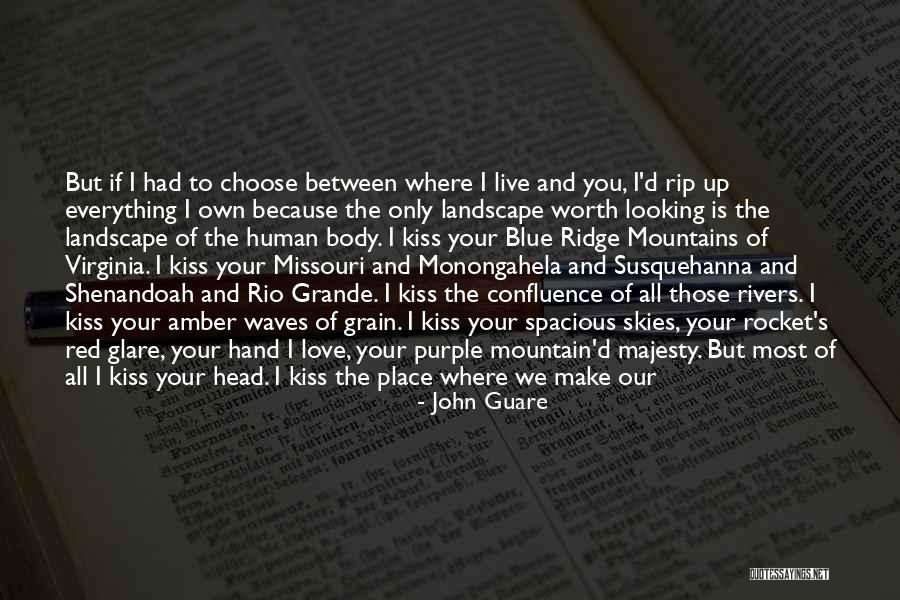 But if I had to choose between where I live and you, I'd rip up everything I own because the only landscape worth looking is the landscape of the human body. I kiss your Blue Ridge Mountains of Virginia. I kiss your Missouri and Monongahela and Susquehanna and Shenandoah and Rio Grande. I kiss the confluence of all those rivers. I kiss your amber waves of grain. I kiss your spacious skies, your rocket's red glare, your hand I love, your purple mountain'd majesty. But most of all I kiss your head. I kiss the place where we make our decisions. I kiss the place where we keep our resolves. The place where we do our dreams. I kiss the place behind the eyes where we store up secrets and knowledge to save us if we're caught in a corridor on a dark, wintry evening. — John Guare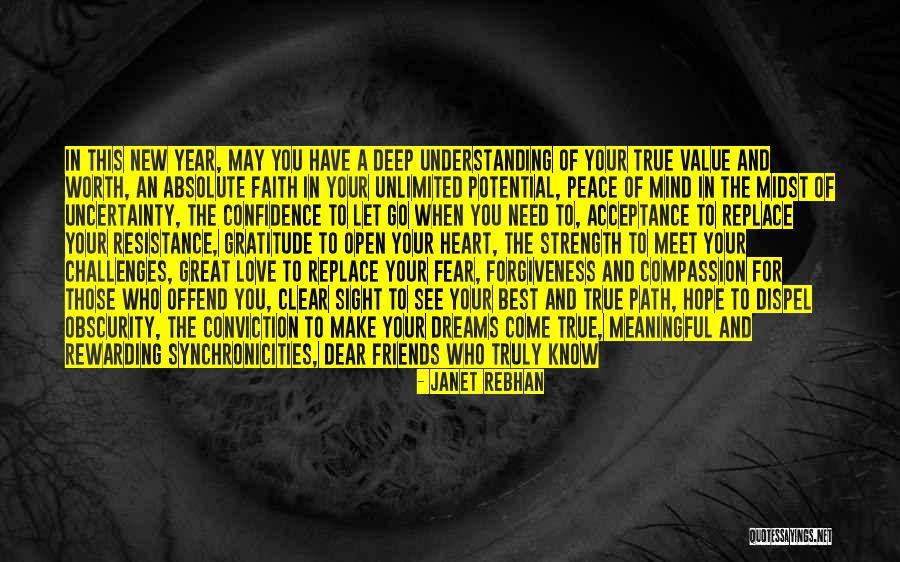 In this new year, may you have a deep understanding of your true value and worth, an absolute faith in your unlimited potential, peace of mind in the midst of uncertainty, the confidence to let go when you need to, acceptance to replace your resistance, gratitude to open your heart, the strength to meet your challenges, great love to replace your fear, forgiveness and compassion for those who offend you, clear sight to see your best and true path, hope to dispel obscurity, the conviction to make your dreams come true, meaningful and rewarding synchronicities, dear friends who truly know and love you, a childlike trust in the benevolence of the universe, the humility to remain teachable, the wisdom to fully embrace your life exactly as it is, the understanding that every soul has its own course to follow, the discernment to recognize your own unique inner voice of truth, and the courage to learn to be still. — Janet Rebhan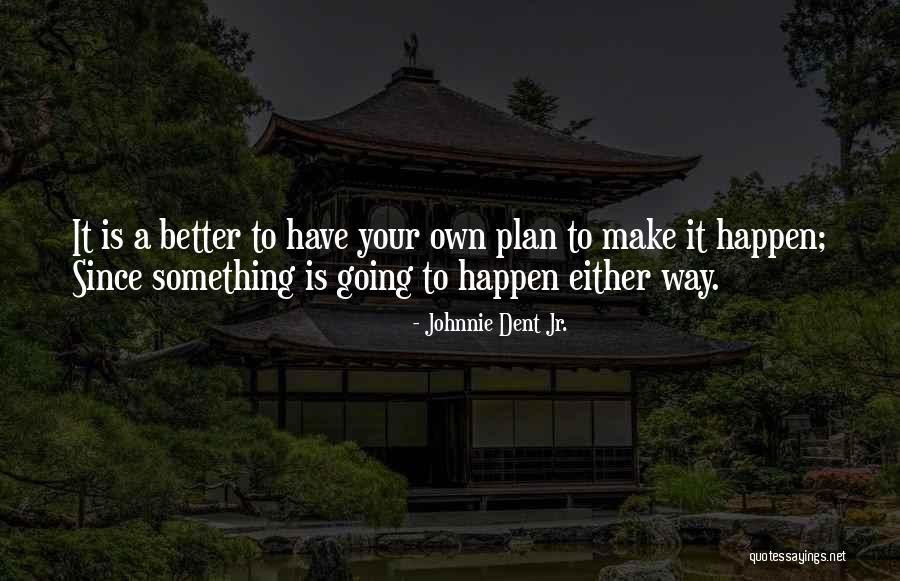 It is a better to have your own plan to make it happen;
Since something is going to happen either way. — Johnnie Dent Jr.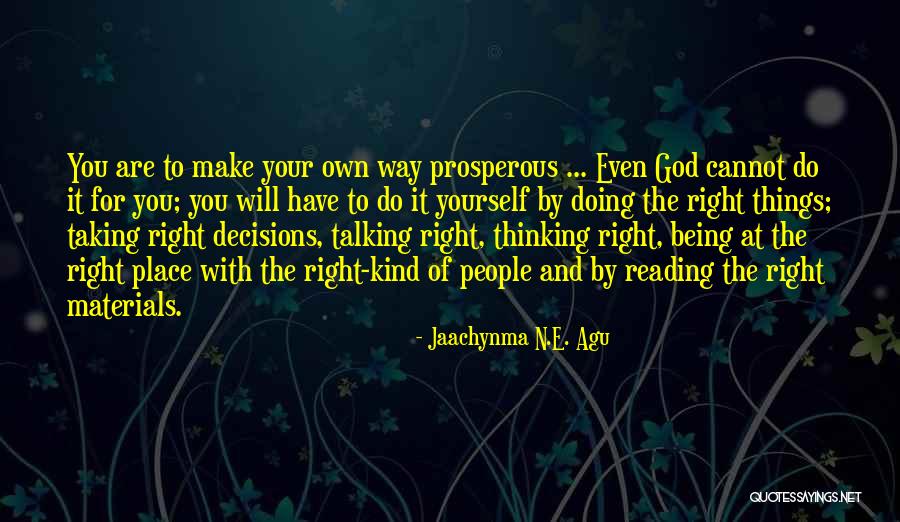 You are to make your own way prosperous ... Even God cannot do it for you; you will have to do it yourself by doing the right things; taking right decisions, talking right, thinking right, being at the right place with the right-kind of people and by reading the right materials. — Jaachynma N.E. Agu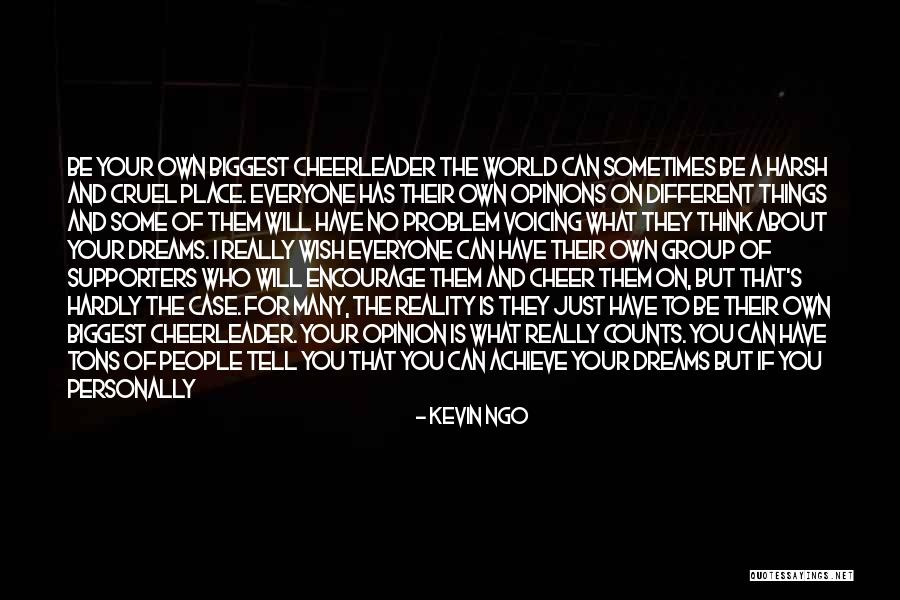 Be Your Own Biggest Cheerleader The world can sometimes be a harsh and cruel place. Everyone has their own opinions on different things and some of them will have no problem voicing what they think about your dreams. I really wish everyone can have their own group of supporters who will encourage them and cheer them on, but that's hardly the case. For many, the reality is they just have to be their own biggest cheerleader. Your opinion is what really counts. You can have tons of people tell you that you can achieve your dreams but if you personally don't believe it, you're not going to put in the effort to make your dreams happen. If you have tons of people hating on you and discouraging you, does it make things harder? Of course it does! But if you allow other people's opinion of you to negatively affect the belief you have in yourself, then you're just letting them win without even putting up a fight. — Kevin Ngo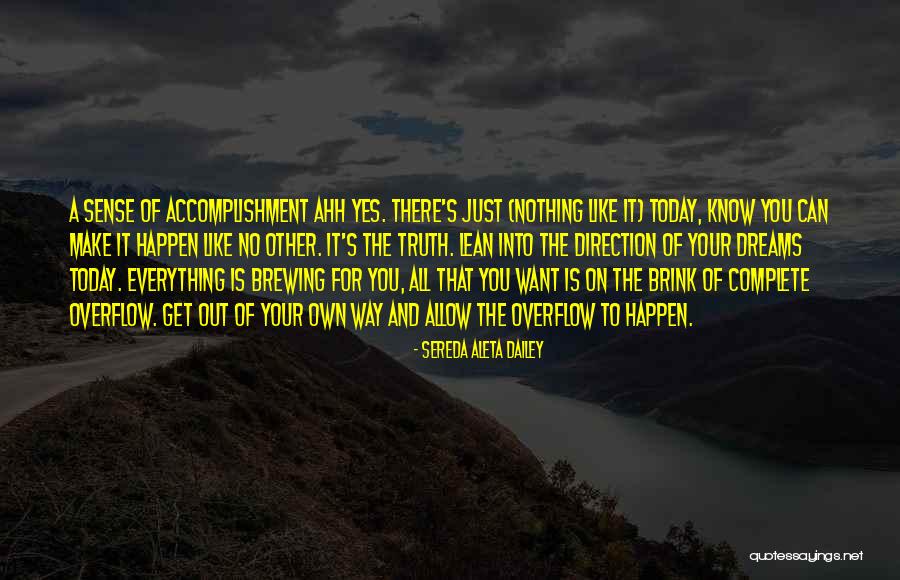 A sense of accomplishment Ahh yes. There's just (Nothing like it) Today, KNOW You can make it happen like no other. It's the Truth. Lean into the direction of your dreams today. Everything is brewing for you, all that you want is on the brink of complete overflow. Get out of your own way and Allow the overflow to happen. — Sereda Aleta Dailey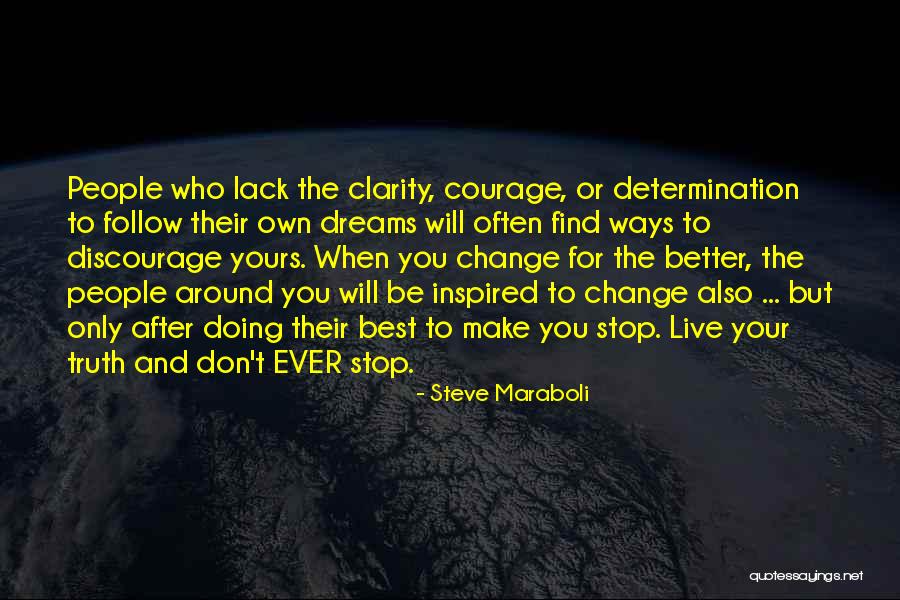 People who lack the clarity, courage, or determination to follow their own dreams will often find ways to discourage yours. When you change for the better, the people around you will be inspired to change also ... but only after doing their best to make you stop. Live your truth and don't EVER stop. — Steve Maraboli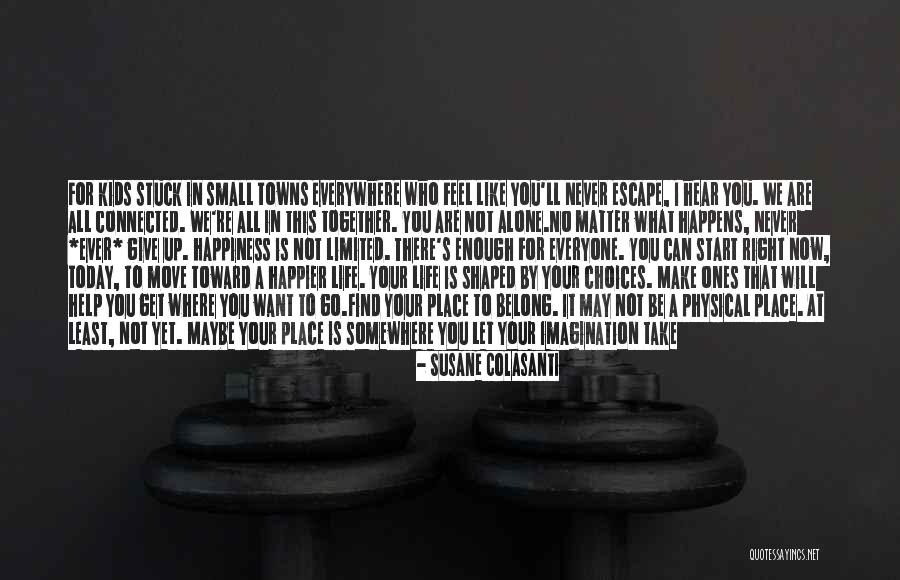 For kids stuck in small towns everywhere who feel like you'll never escape, I hear you. We are all connected. We're all in this together. You are not alone.
No matter what happens, never *ever* give up.
Happiness is not limited. There's enough for everyone. You can start right now, today, to move toward a happier life. Your life is shaped by your choices. Make ones that will help you get where you want to go.
Find your place to belong. It may not be a physical place. At least, not yet. Maybe your place is somewhere you let your imagination take you. Maybe it's your vision of the way your ideal life will be.
Eventually, you'll find a real place that feels like home. Your whole world will open up in ways you kept believing were possible. And you'll be so happy you held on long enough to make it there.
So let's do this thing. Let's own what makes up unique. Let's refuse to allow haters to stop us from moving forward. Let's turn our dreams into reality.
Starting now. — Susane Colasanti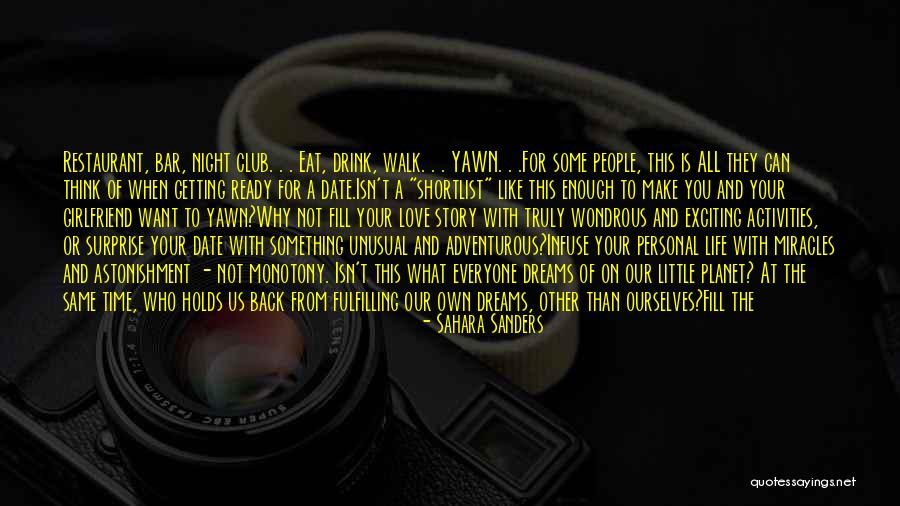 Restaurant, bar, night club. . . Eat, drink, walk. . . YAWN. . .
For some people, this is ALL they can think of when getting ready for a date.
Isn't a "shortlist" like this enough to make you and your girlfriend want to yawn?
Why not fill your love story with truly wondrous and exciting activities, or surprise your date with something unusual and adventurous?
Infuse your personal life with miracles and astonishment - not monotony.
Isn't this what everyone dreams of on our little planet? At the same time, who holds us back from fulfilling our own dreams, other than ourselves?
Fill the life around you with joy. It will be returned to you tenfold.

CREATE happy moments. . . MAKE miracles happen!
LOVE is a miracle. — Sahara Sanders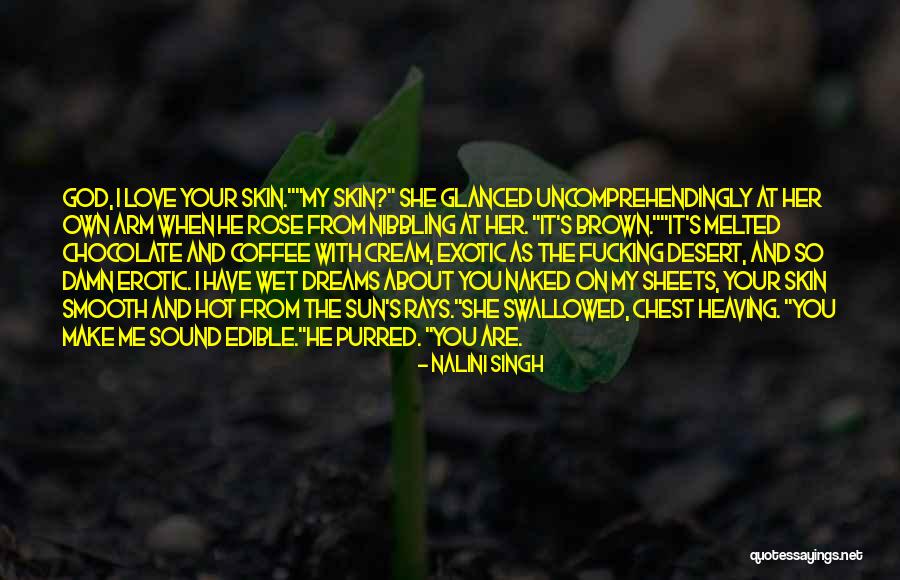 God, I love your skin."
"My skin?" She glanced uncomprehendingly at her own arm when he rose from nibbling at her. "It's brown."
"It's melted chocolate and coffee with cream, exotic as the fucking desert, and so damn erotic. I have wet dreams about you naked on my sheets, your skin smooth and hot from the sun's rays."
She swallowed, chest heaving. "You make me sound edible."
He purred. "You are. — Nalini Singh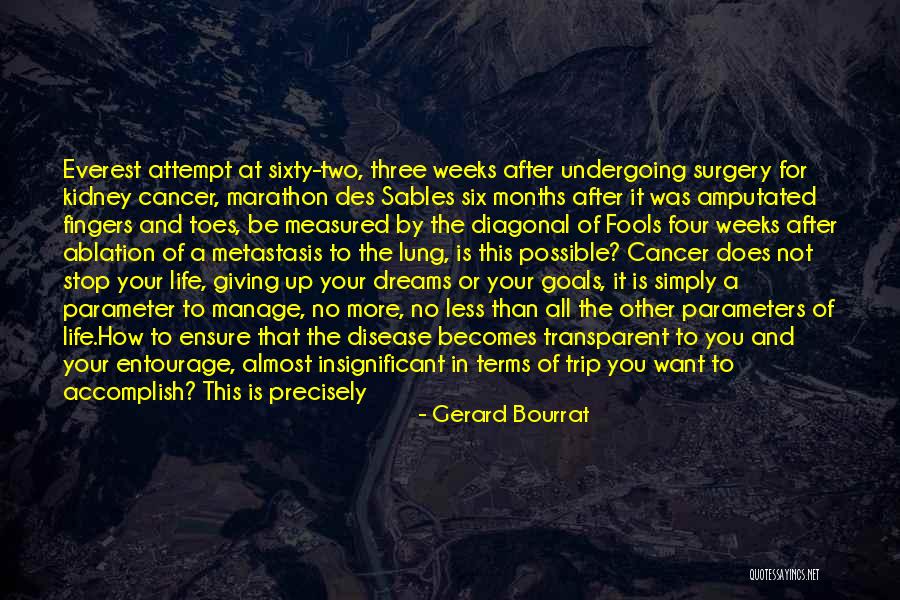 Everest attempt at sixty-two, three weeks after undergoing surgery for kidney cancer, marathon des Sables six months after it was amputated fingers and toes, be measured by the diagonal of Fools four weeks after ablation of a metastasis to the lung, is this possible? Cancer does not stop your life, giving up your dreams or your goals, it is simply a parameter to manage, no more, no less than all the other parameters of life.
How to ensure that the disease becomes transparent to you and your entourage, almost insignificant in terms of trip you want to accomplish? This is precisely the question that Gerard Bourrat tries to answer in this book. To make a sports performance, to live with her cancer, to live well with amputations, the path is always the same: a goal, the joy of effort, perseverance and faith.
This book does not commit you to climb Everest, to run under a blazing sun, walking thousands of miles, it invites you to conquer your own Everest. — Gerard Bourrat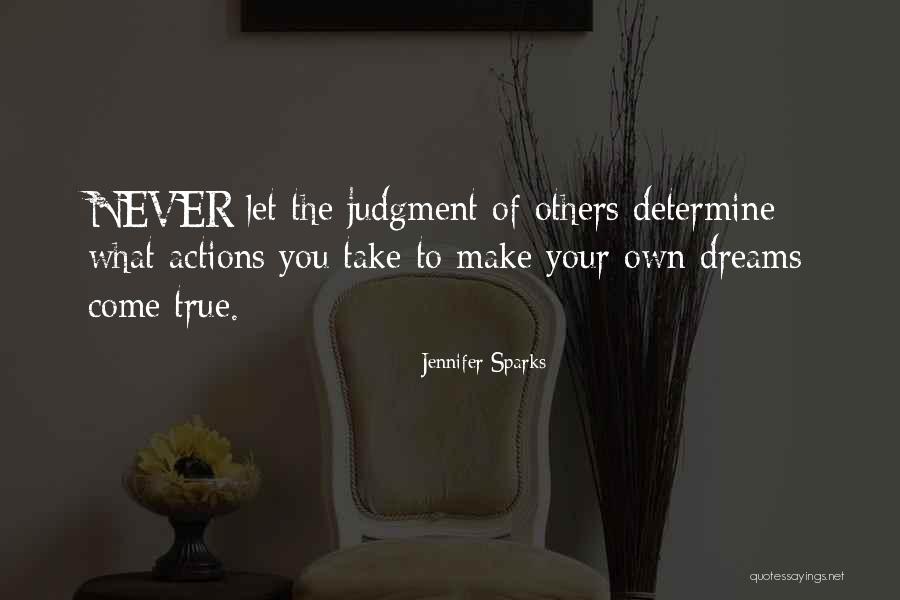 NEVER let the judgment of others determine what actions you take to make your own dreams come true. — Jennifer Sparks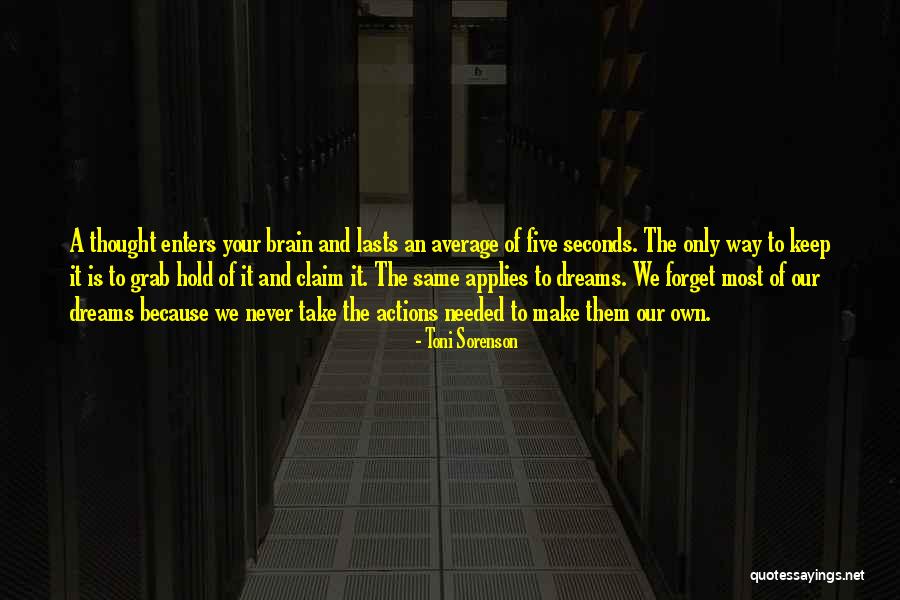 A thought enters your brain and lasts an average of five seconds. The only way to keep it is to grab hold of it and claim it. The same applies to dreams. We forget most of our dreams because we never take the actions needed to make them our own. — Toni Sorenson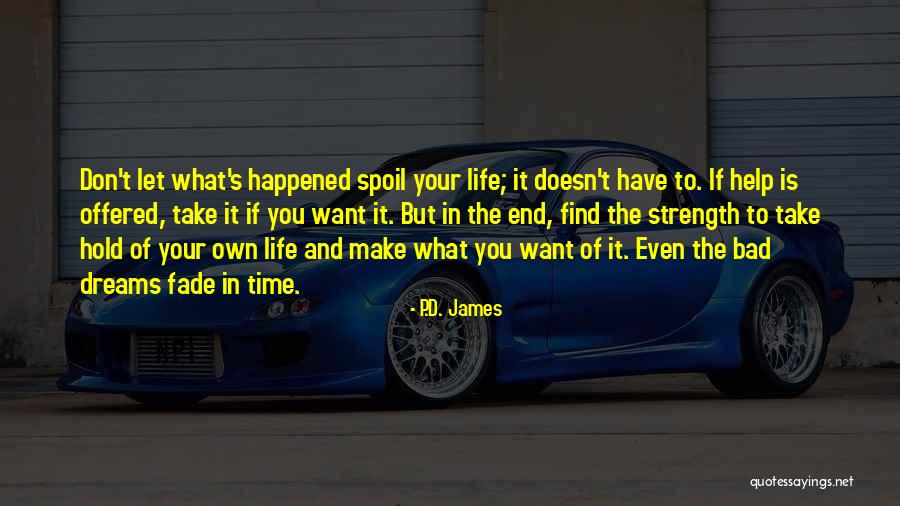 Don't let what's happened spoil your life; it doesn't have to. If help is offered, take it if you want it. But in the end, find the strength to take hold of your own life and make what you want of it. Even the bad dreams fade in time. — P.D. James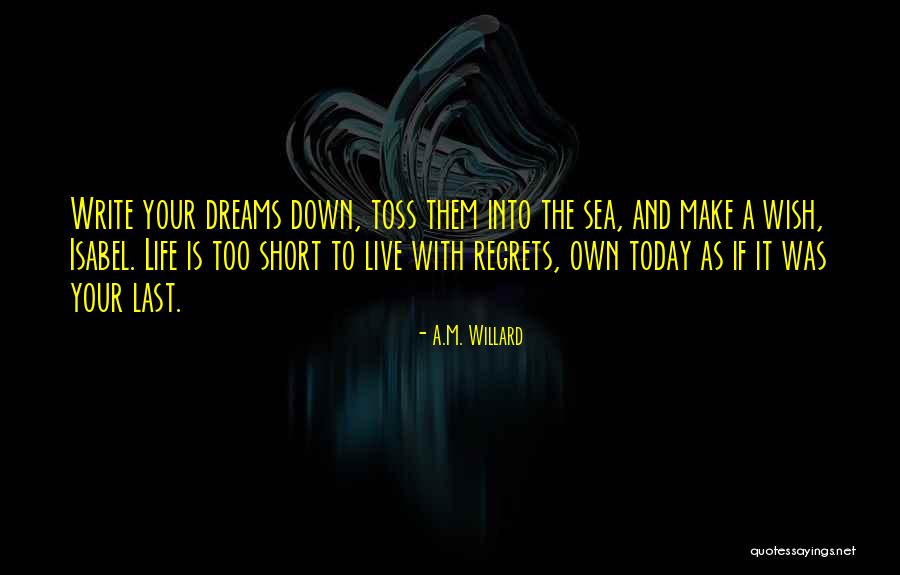 Write your dreams down, toss them into the sea, and make a wish, Isabel. Life is too short to live with regrets, own today as if it was your last. — A.M. Willard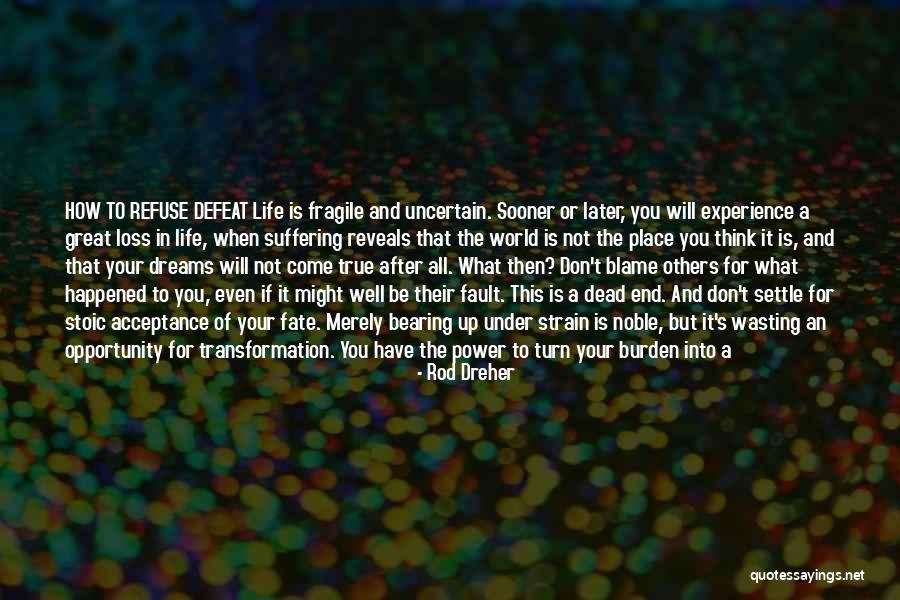 HOW TO REFUSE DEFEAT Life is fragile and uncertain. Sooner or later, you will experience a great loss in life, when suffering reveals that the world is not the place you think it is, and that your dreams will not come true after all. What then? Don't blame others for what happened to you, even if it might well be their fault. This is a dead end. And don't settle for stoic acceptance of your fate. Merely bearing up under strain is noble, but it's wasting an opportunity for transformation. You have the power to turn your burden into a blessing. What if this pain, this heartbreak, this failure, was given to you to help you find your true self? Make adversity work for you by launching a quest inside your own heart. Find the dragons hiding there, slay them, and bring back the treasure that will help you live well. — Rod Dreher