Quotes & Sayings About Luxury Food
Enjoy reading and share 41 famous quotes about Luxury Food with everyone.
Top Luxury Food Quotes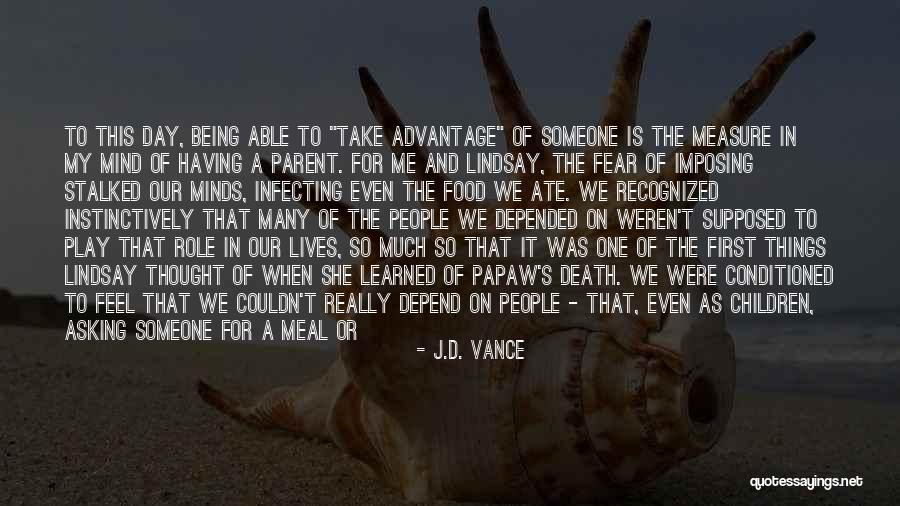 To this day, being able to "take advantage" of someone is the measure in my mind of having a parent. For me and Lindsay, the fear of imposing stalked our minds, infecting even the food we ate. We recognized instinctively that many of the people we depended on weren't supposed to play that role in our lives, so much so that it was one of the first things Lindsay thought of when she learned of Papaw's death. We were conditioned to feel that we couldn't really depend on people - that, even as children, asking someone for a meal or for help with a broken-down automobile was a luxury that we shouldn't indulge in too much lest we fully tap the reservoir of goodwill serving as a safety valve in our lives. — J.D. Vance
As far as luxury goes, about the only thing I do is ... I go first class all the way. I live on the road, so when I'm out there, I'm getting the nice hotel suite, I'm getting the luxury car, I'm eating the good food, and I make sure I take care of myself on the road. — Trish Stratus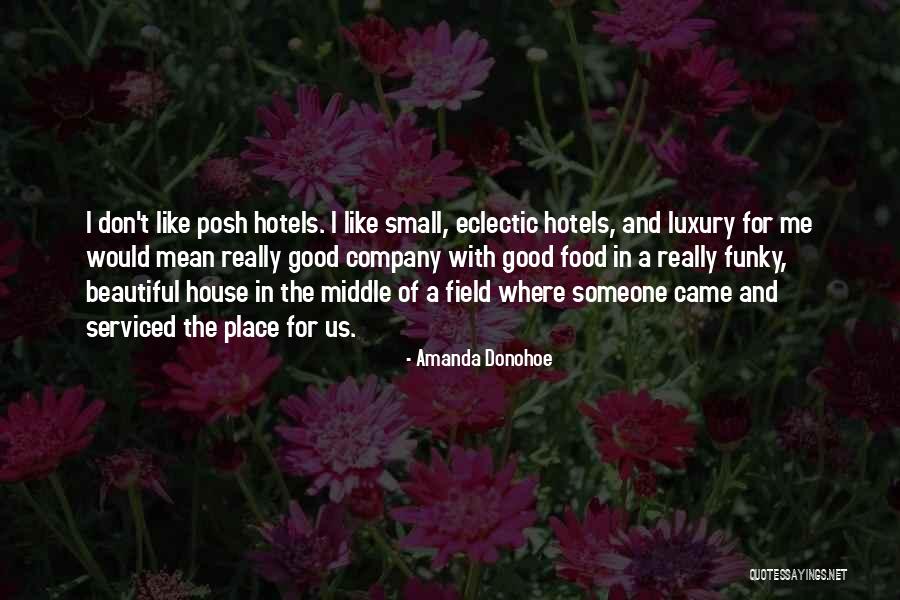 I don't like posh hotels. I like small, eclectic hotels, and luxury for me would mean really good company with good food in a really funky, beautiful house in the middle of a field where someone came and serviced the place for us. — Amanda Donohoe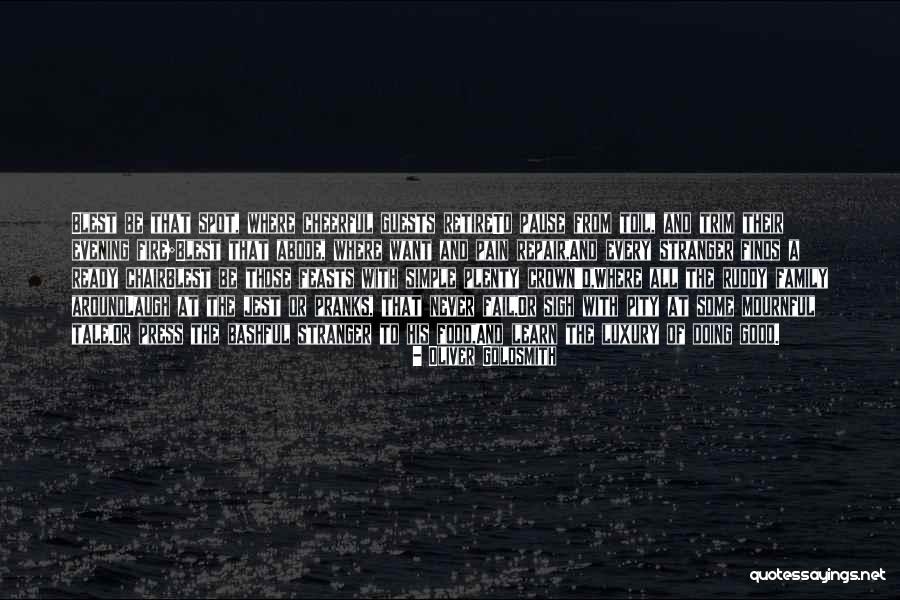 Blest be that spot, where cheerful guests retire
To pause from toil, and trim their evening fire;
Blest that abode, where want and pain repair,
And every stranger finds a ready chair
Blest be those feasts with simple plenty crown'd,
Where all the ruddy family around
Laugh at the jest or pranks, that never fail,
Or sigh with pity at some mournful tale,
Or press the bashful stranger to his food,
And learn the luxury of doing good. — Oliver Goldsmith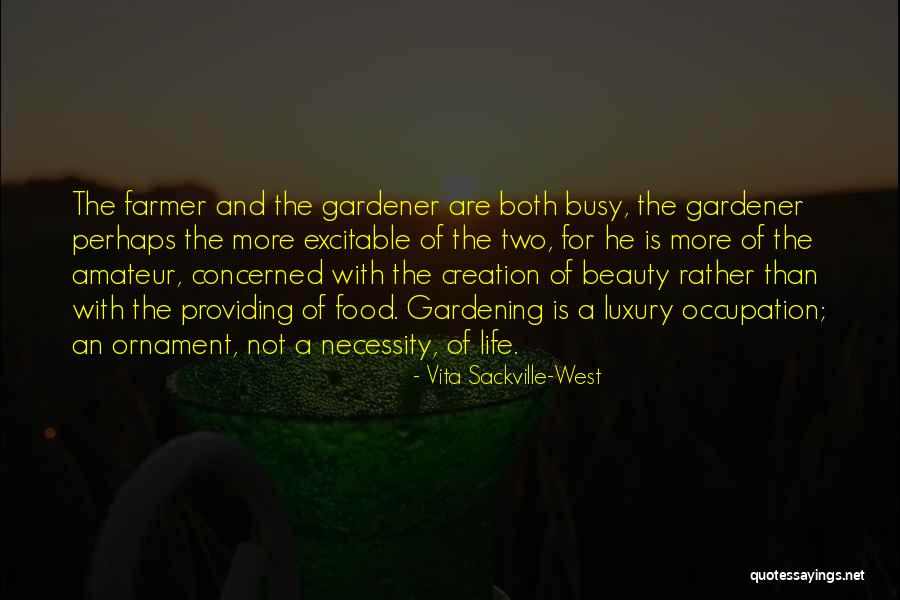 The farmer and the gardener are both busy, the gardener perhaps the more excitable of the two, for he is more of the amateur, concerned with the creation of beauty rather than with the providing of food. Gardening is a luxury occupation; an ornament, not a necessity, of life. — Vita Sackville-West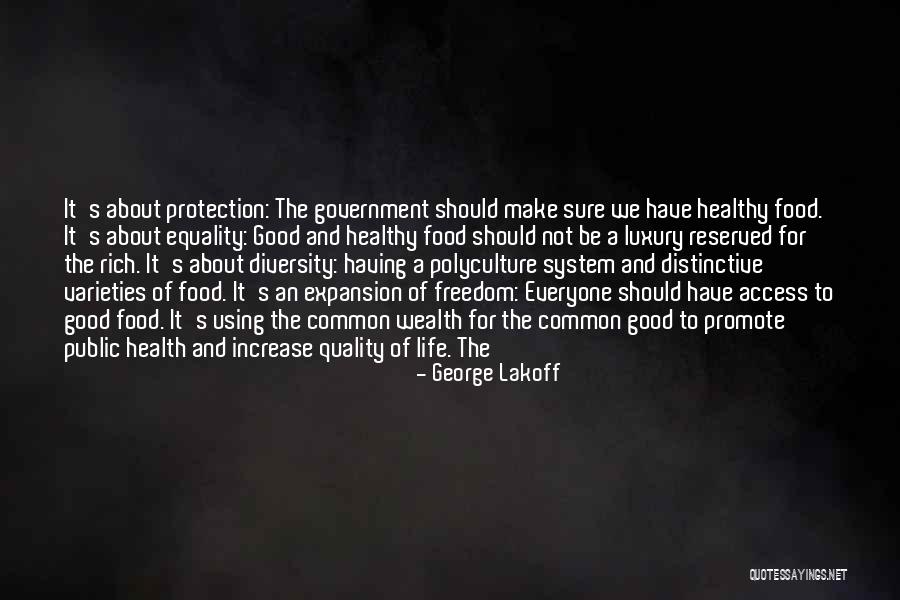 It's about protection: The government should make sure we have healthy food. It's about equality: Good and healthy food should not be a luxury reserved for the rich. It's about diversity: having a polyculture system and distinctive varieties of food. It's an expansion of freedom: Everyone should have access to good food. It's using the common wealth for the common good to promote public health and increase quality of life. The — George Lakoff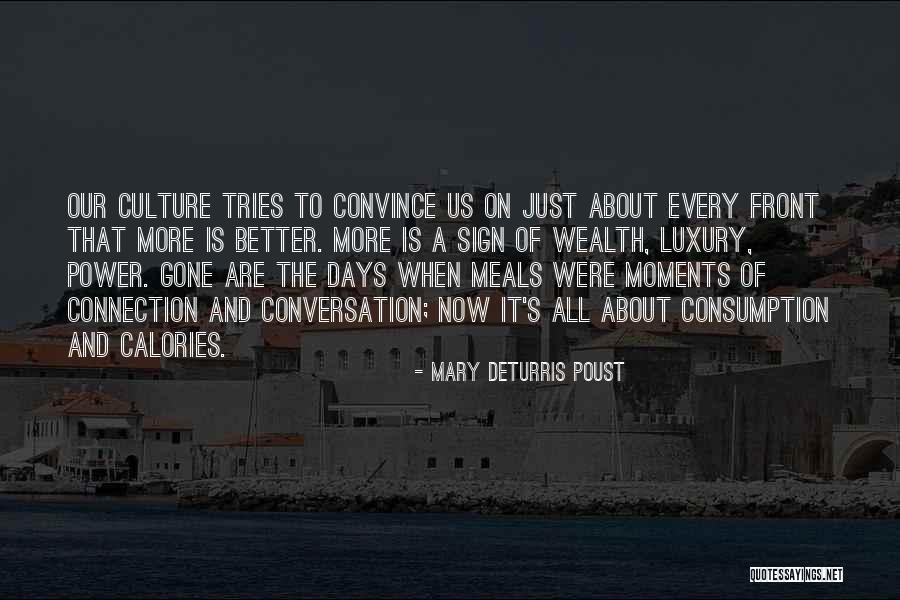 Our culture tries to convince us on just about every front that more is better. More is a sign of wealth, luxury, power. Gone are the days when meals were moments of connection and conversation; now it's all about consumption and calories. — Mary DeTurris Poust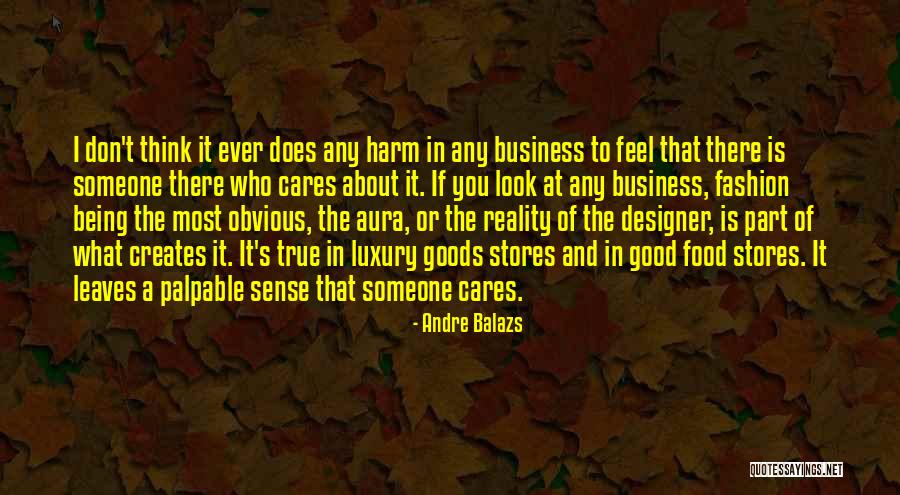 I don't think it ever does any harm in any business to feel that there is someone there who cares about it. If you look at any business, fashion being the most obvious, the aura, or the reality of the designer, is part of what creates it. It's true in luxury goods stores and in good food stores. It leaves a palpable sense that someone cares. — Andre Balazs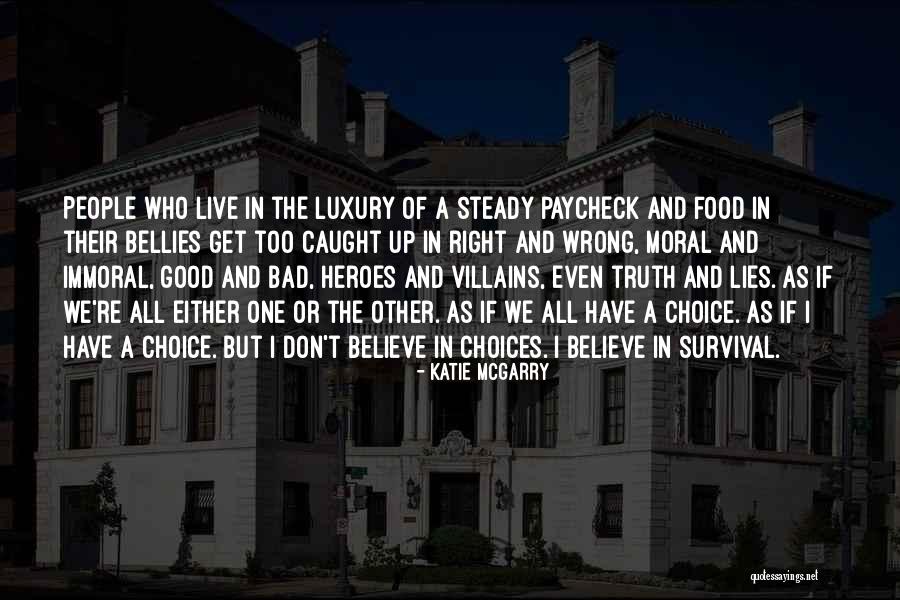 People who live in the luxury of a steady paycheck and food in their bellies get too caught up in right and wrong, moral and immoral, good and bad, heroes and villains, even truth and lies. As if we're all either one or the other. As if we all have a choice. As if I have a choice. But I don't believe in choices. I believe in survival. — Katie McGarry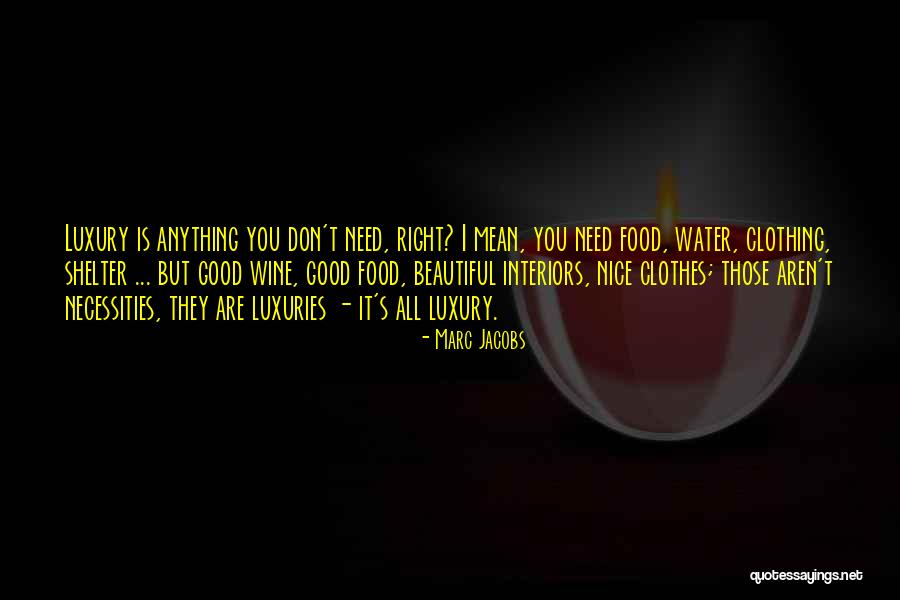 Luxury is anything you don't need, right? I mean, you need food, water, clothing, shelter ... but good wine, good food, beautiful interiors, nice clothes; those aren't necessities, they are luxuries - it's all luxury. — Marc Jacobs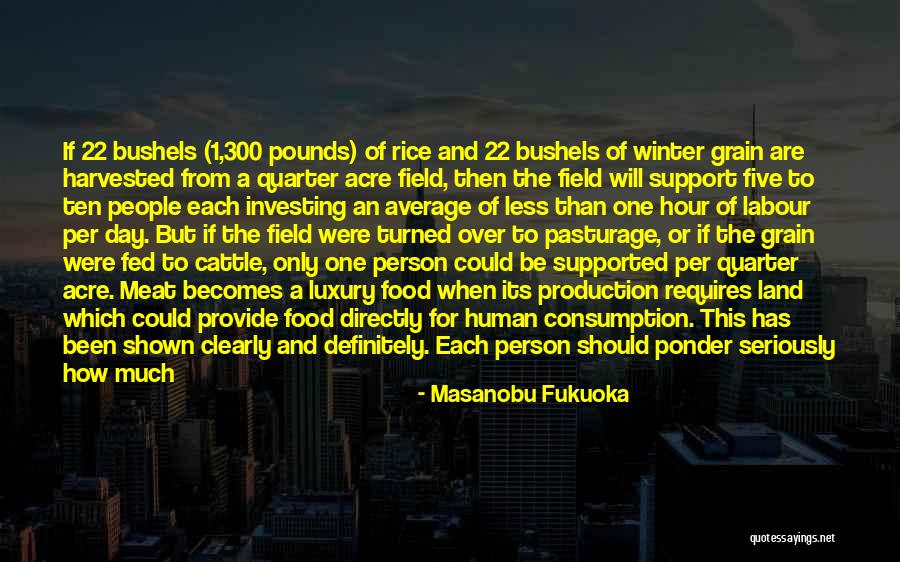 If 22 bushels (1,300 pounds) of rice and 22 bushels of winter grain are harvested from a quarter acre field, then the field will support five to ten people each investing an average of less than one hour of labour per day. But if the field were turned over to pasturage, or if the grain were fed to cattle, only one person could be supported per quarter acre. Meat becomes a luxury food when its production requires land which could provide food directly for human consumption. This has been shown clearly and definitely. Each person should ponder seriously how much hardship he is causing by indulging in food so expensively produced. — Masanobu Fukuoka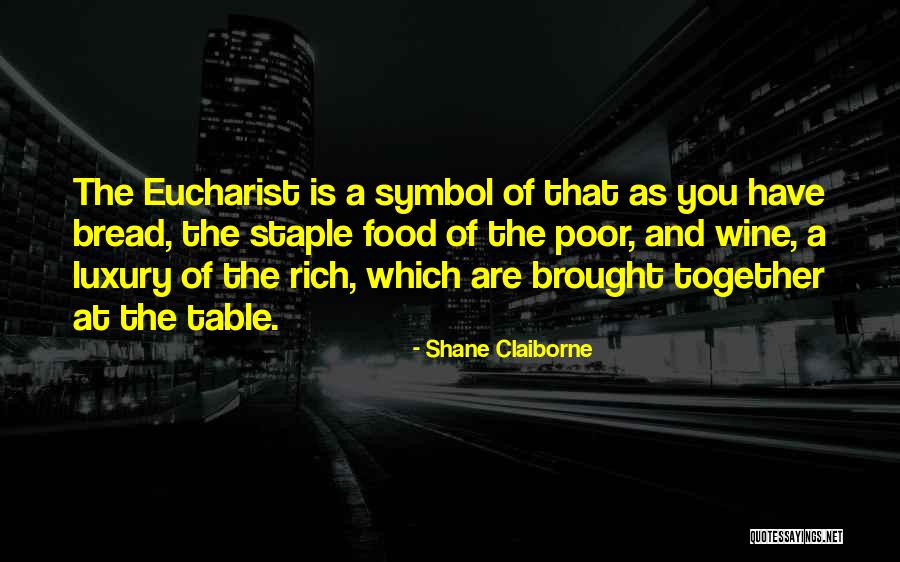 The Eucharist is a symbol of that as you have bread, the staple food of the poor, and wine, a luxury of the rich, which are brought together at the table. — Shane Claiborne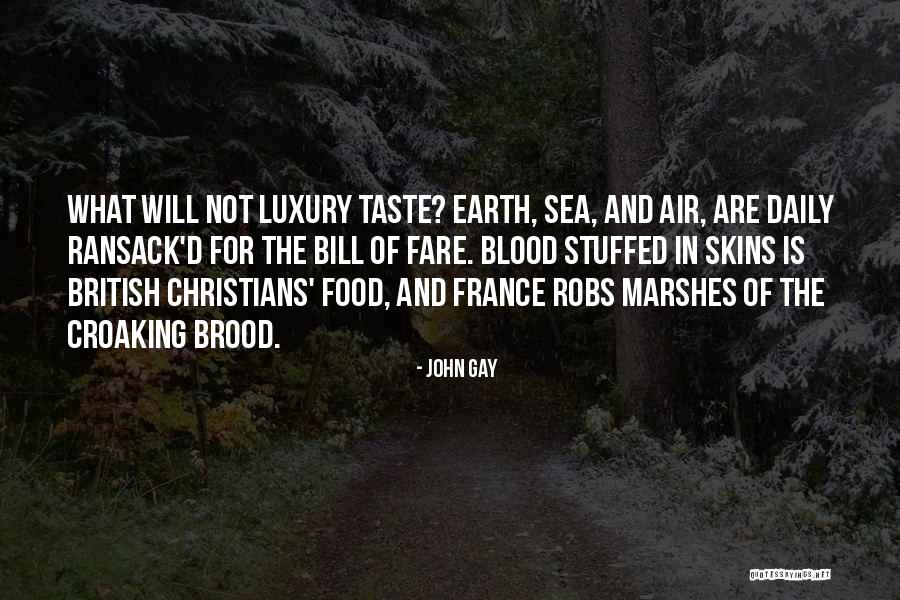 What will not luxury taste? Earth, sea, and air, Are daily ransack'd for the bill of fare. Blood stuffed in skins is British Christians' food, And France robs marshes of the croaking brood. — John Gay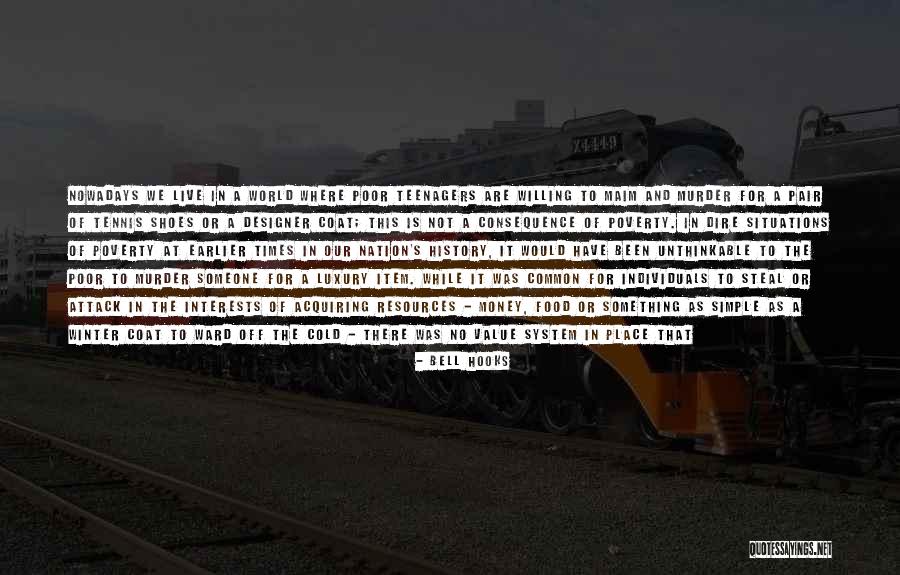 Nowadays we live in a world where poor teenagers are willing to maim and murder for a pair of tennis shoes or a designer coat; this is not a consequence of poverty. In dire situations of poverty at earlier times in our nation's history, it would have been unthinkable to the poor to murder someone for a luxury item. While it was common for individuals to steal or attack in the interests of acquiring resources - money, food or something as simple as a winter coat to ward off the cold - there was no value system in place that made a life less important than the material desire for an inessential object. — Bell Hooks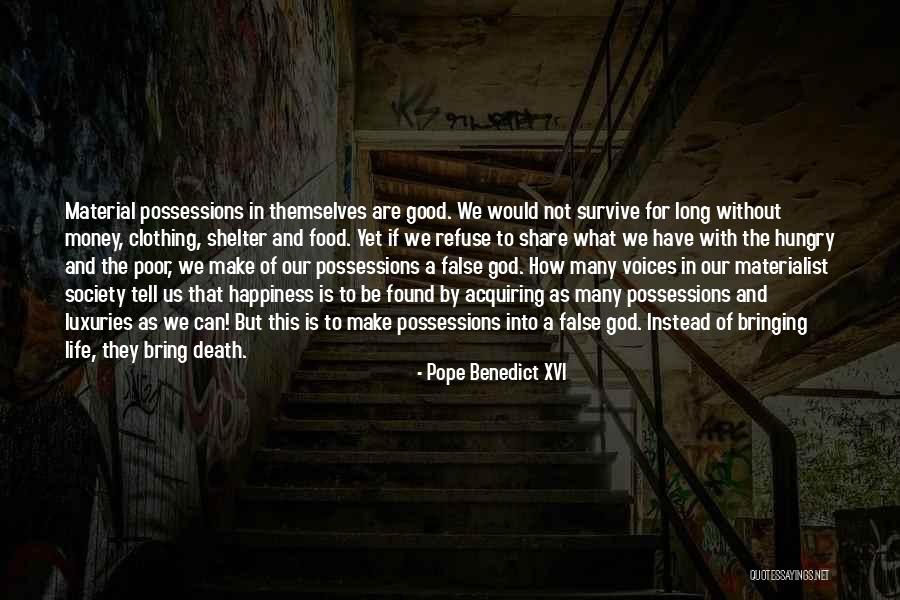 Material possessions in themselves are good. We would not survive for long without money, clothing, shelter and food. Yet if we refuse to share what we have with the hungry and the poor, we make of our possessions a false god. How many voices in our materialist society tell us that happiness is to be found by acquiring as many possessions and luxuries as we can! But this is to make possessions into a false god. Instead of bringing life, they bring death. — Pope Benedict XVI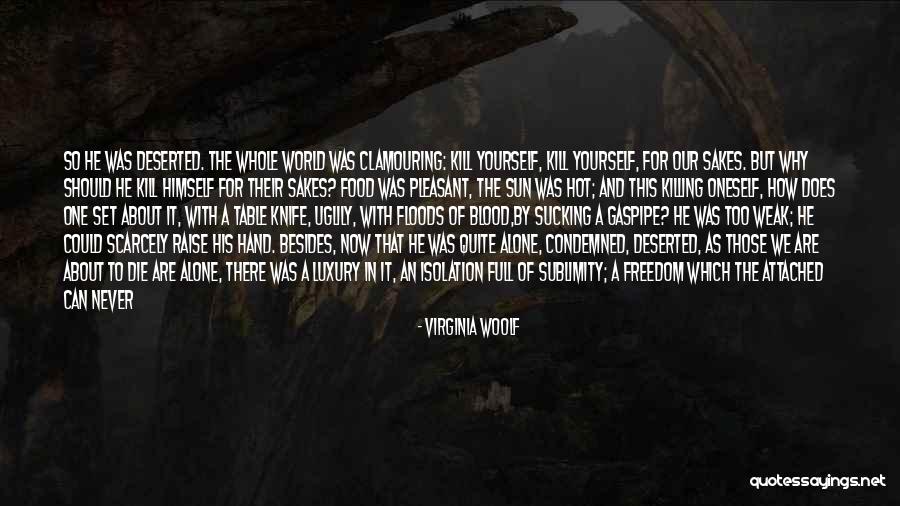 So he was deserted. The whole world was clamouring: Kill yourself, kill yourself, for our sakes. But why should he kill himself for their sakes? Food was pleasant, the sun was hot; and this killing oneself, how does one set about it, with a table knife, uglily, with floods of blood,
by sucking a gaspipe? He was too weak; he could scarcely raise his hand. Besides, now that he was quite alone, condemned, deserted, as those we are about to die are alone, there was a luxury in it, an isolation full of sublimity; a freedom which the attached can never know. Holmes had won of course, the brute with the red nostrils had won. But even Holmes himself could not touch this last relic straying on the edge of the world, this outcast, who gazed back at the inhabited regions, who lay, like a drowned sailor, on the shore of the world. — Virginia Woolf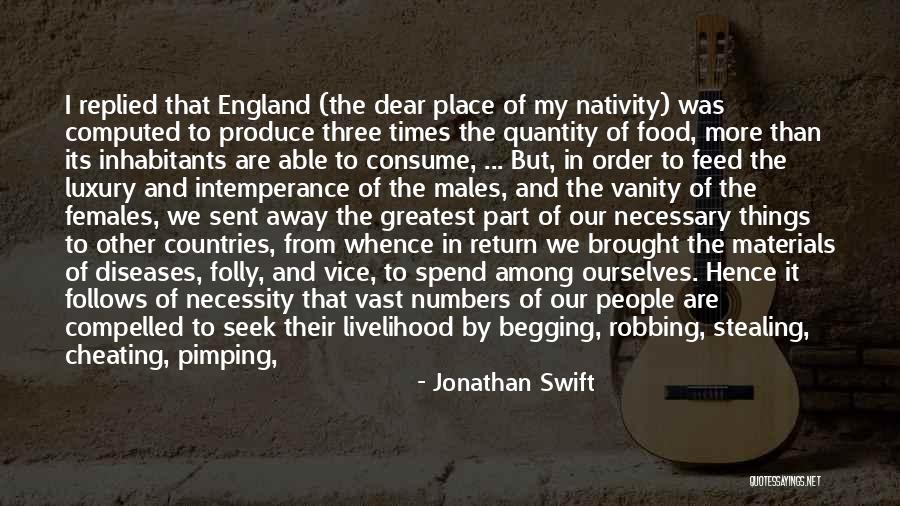 I replied that England (the dear place of my nativity) was computed to produce three times the quantity of food, more than its inhabitants are able to consume, ... But, in order to feed the luxury and intemperance of the males, and the vanity of the females, we sent away the greatest part of our necessary things to other countries, from whence in return we brought the materials of diseases, folly, and vice, to spend among ourselves. Hence it follows of necessity that vast numbers of our people are compelled to seek their livelihood by begging, robbing, stealing, cheating, pimping, forswearing, flattering, suborning, forging, gaming, lying, fawning, hectoring, voting, scribbling, freethinking, — Jonathan Swift
Though I love the luxury of the Waldorf Towers, room service there doesn't do soul food. — Sammy Davis Jr.
Fresh food is a luxury everyone can afford. — David Moyer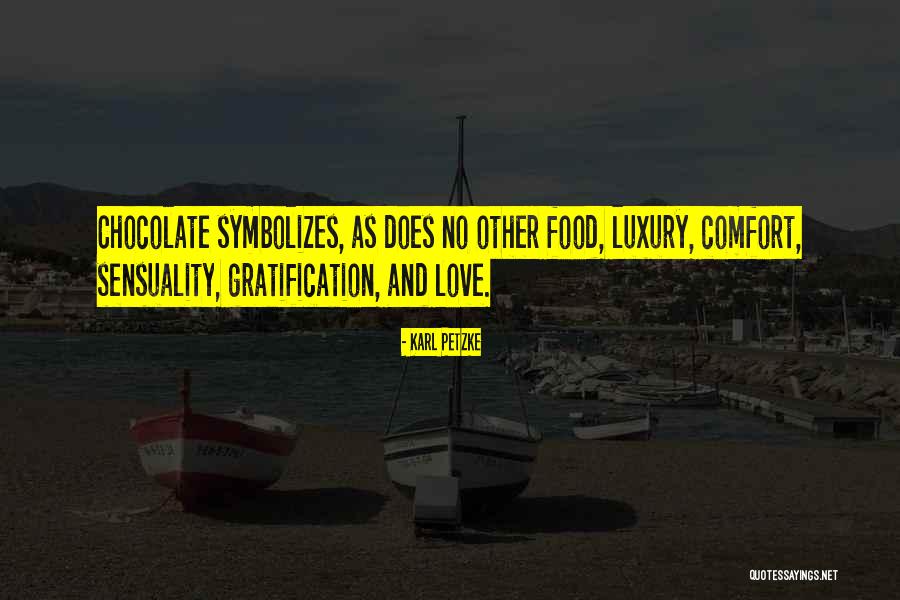 Chocolate symbolizes, as does no other food, luxury, comfort, sensuality, gratification, and love. — Karl Petzke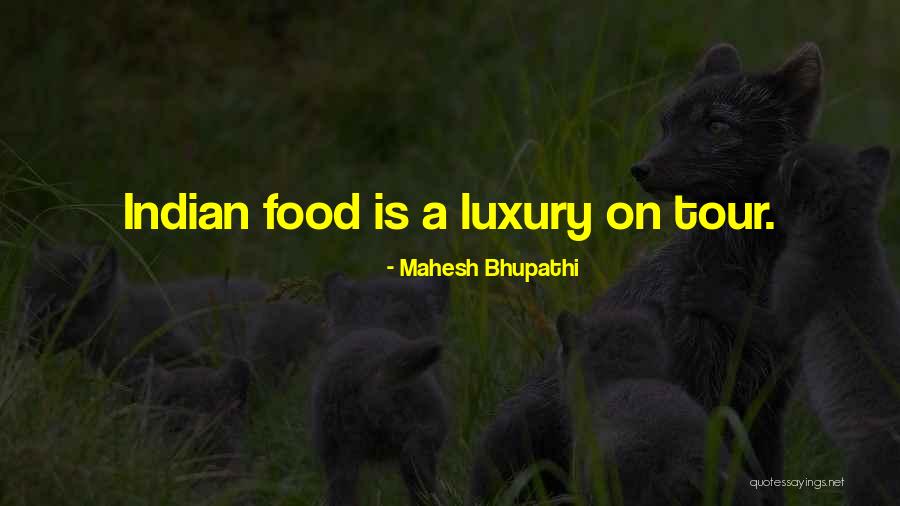 Indian food is a luxury on tour. — Mahesh Bhupathi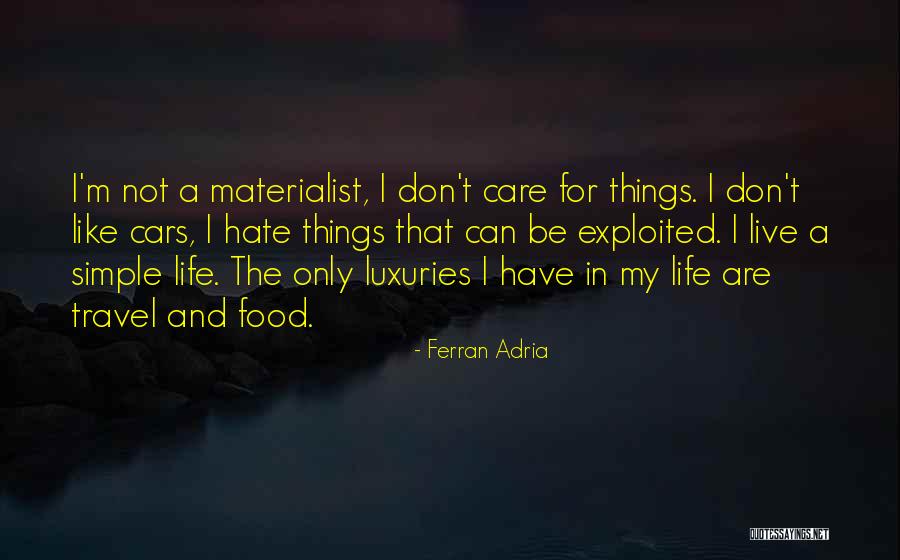 I'm not a materialist, I don't care for things. I don't like cars, I hate things that can be exploited. I live a simple life. The only luxuries I have in my life are travel and food. — Ferran Adria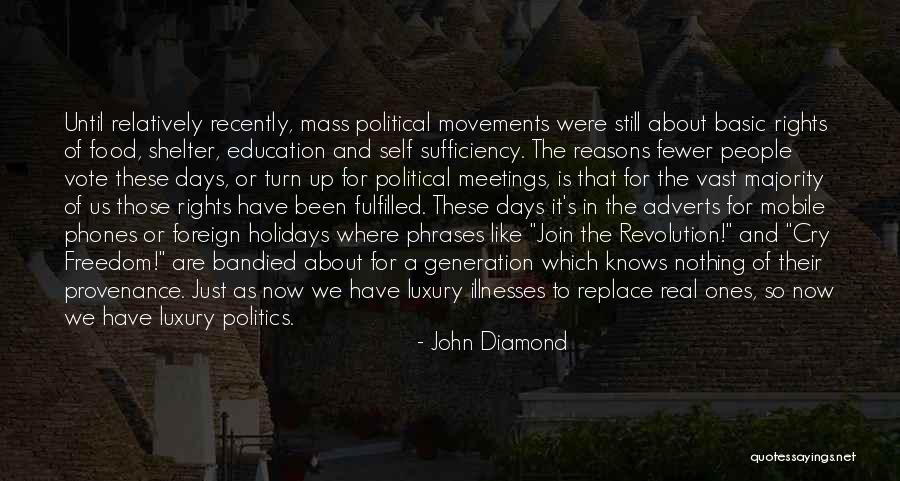 Until relatively recently, mass political movements were still about basic rights of food, shelter, education and self sufficiency. The reasons fewer people vote these days, or turn up for political meetings, is that for the vast majority of us those rights have been fulfilled. These days it's in the adverts for mobile phones or foreign holidays where phrases like "Join the Revolution!" and "Cry Freedom!" are bandied about for a generation which knows nothing of their provenance. Just as now we have luxury illnesses to replace real ones, so now we have luxury politics. — John Diamond
Heaven grew weary of the excessive pride and luxury of China ... I am from the Barbaric North. I wear the same clothing and eat the same food as the cowherds and horse-herders. We make the same sacrifices and we share.. our riches. I look upon the nation as a new-born child and I care for my soldiers as though they were my brothers. — Genghis Khan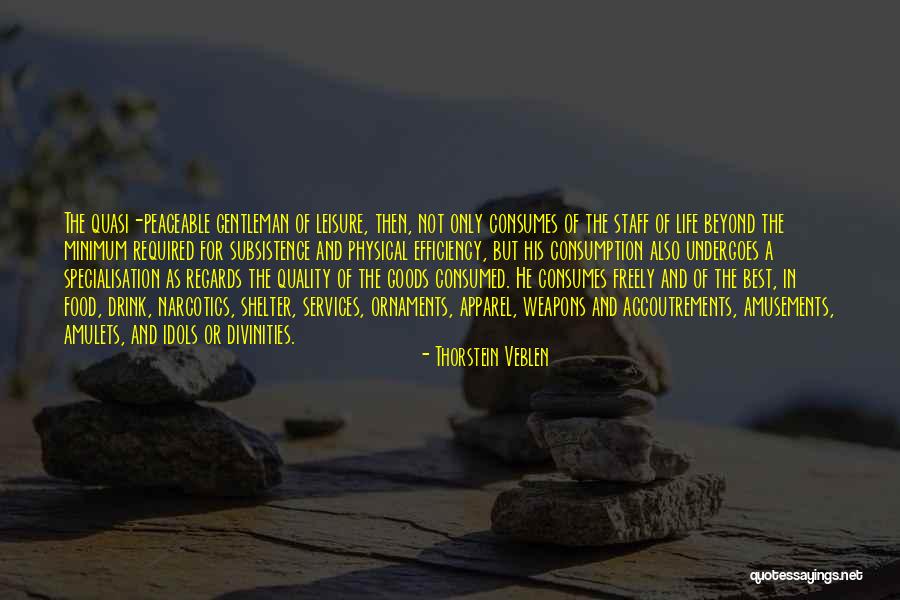 The quasi-peaceable gentleman of leisure, then, not only consumes of the staff of life beyond the minimum required for subsistence and physical efficiency, but his consumption also undergoes a specialisation as regards the quality of the goods consumed. He consumes freely and of the best, in food, drink, narcotics, shelter, services, ornaments, apparel, weapons and accoutrements, amusements, amulets, and idols or divinities. — Thorstein Veblen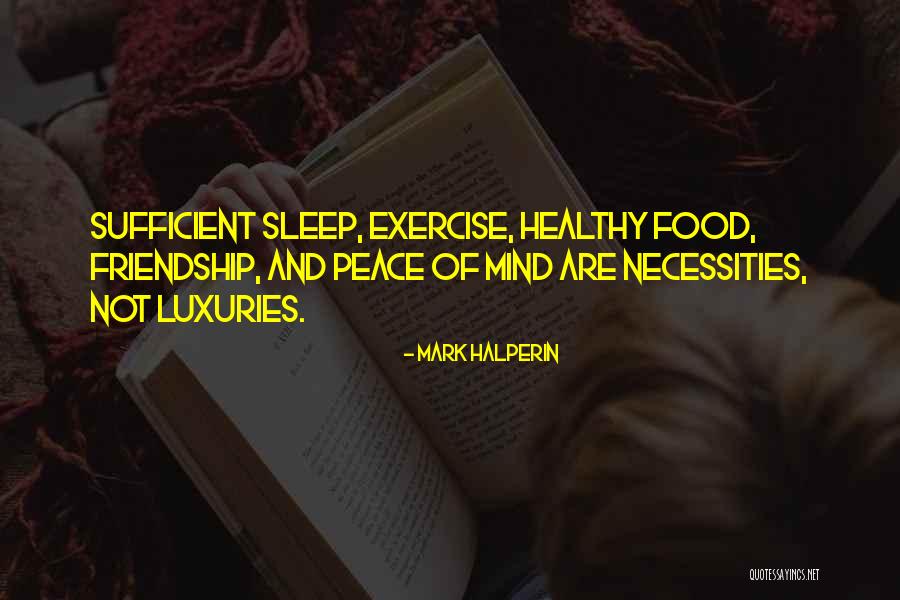 Sufficient sleep, exercise, healthy food, friendship, and peace of mind are necessities, not luxuries. — Mark Halperin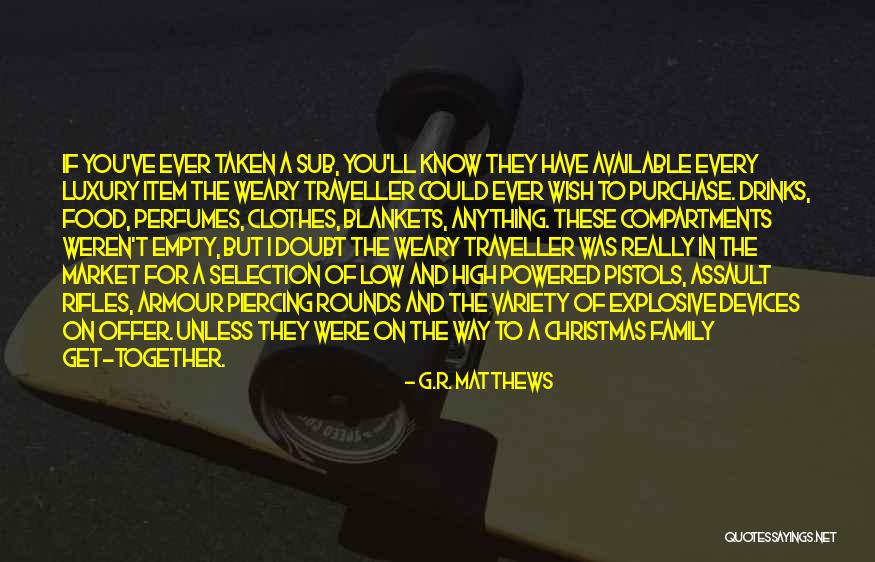 If you've ever taken a sub, you'll know they have available every luxury item the weary traveller could ever wish to purchase. Drinks, food, perfumes, clothes, blankets, anything. These compartments weren't empty, but I doubt the weary traveller was really in the market for a selection of low and high powered pistols, assault rifles, armour piercing rounds and the variety of explosive devices on offer. Unless they were on the way to a Christmas family get-together. — G.R. Matthews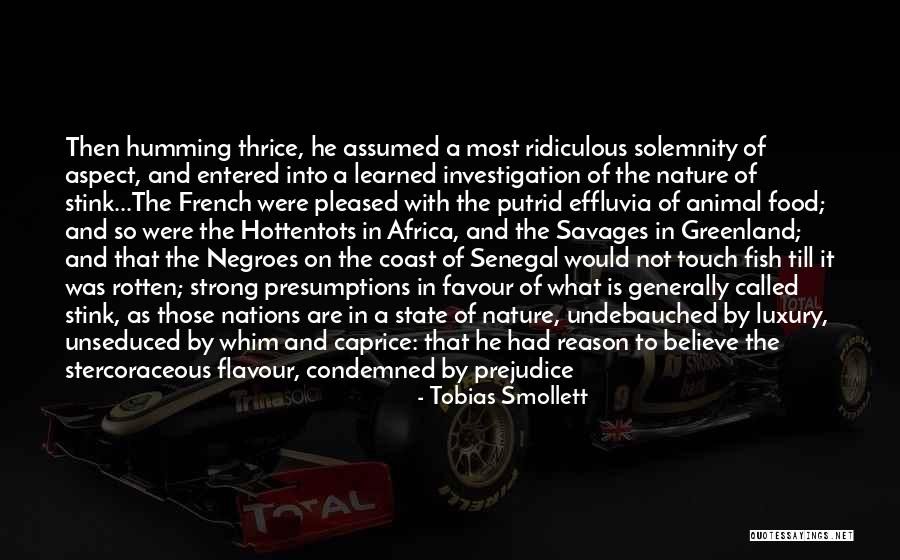 Then humming thrice, he assumed a most ridiculous solemnity of aspect, and entered into a learned investigation of the nature of stink...The French were pleased with the putrid effluvia of animal food; and so were the Hottentots in Africa, and the Savages in Greenland; and that the Negroes on the coast of Senegal would not touch fish till it was rotten; strong presumptions in favour of what is generally called stink, as those nations are in a state of nature, undebauched by luxury, unseduced by whim and caprice: that he had reason to believe the stercoraceous flavour, condemned by prejudice as a stink, was, in fact, most agreeable to the organs of smelling; for, that every person who pretended to nauseate the smell of another's excretions, snuffed up his own with particular complacency... — Tobias Smollett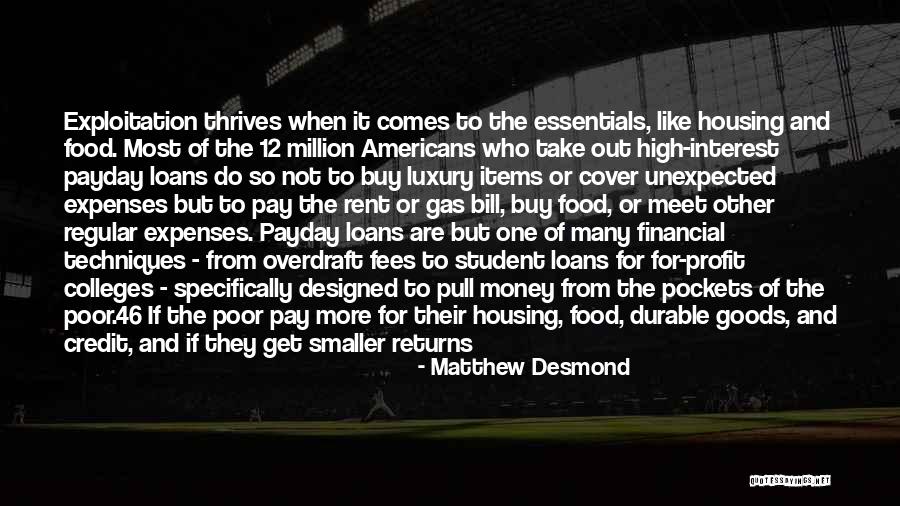 Exploitation thrives when it comes to the essentials, like housing and food. Most of the 12 million Americans who take out high-interest payday loans do so not to buy luxury items or cover unexpected expenses but to pay the rent or gas bill, buy food, or meet other regular expenses. Payday loans are but one of many financial techniques - from overdraft fees to student loans for for-profit colleges - specifically designed to pull money from the pockets of the poor.46 If the poor pay more for their housing, food, durable goods, and credit, and if they get smaller returns on their educations and mortgages (if they get returns at all), then their incomes are even smaller than they appear. This is fundamentally unfair. — Matthew Desmond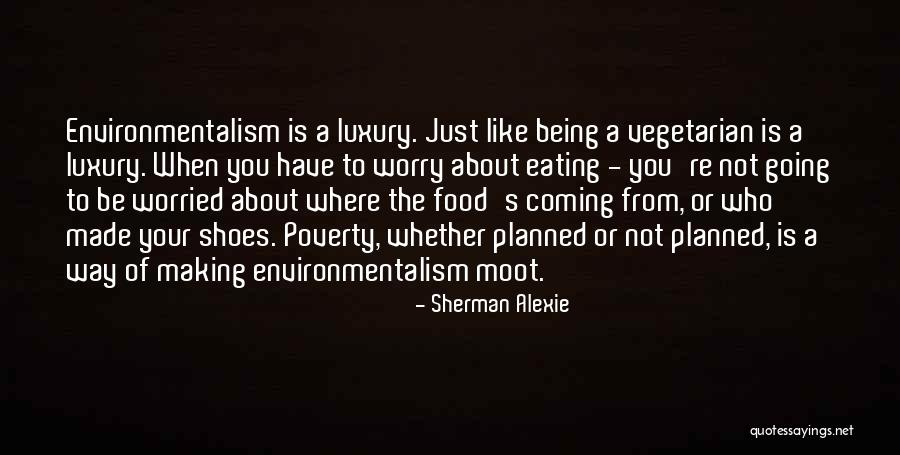 Environmentalism is a luxury. Just like being a vegetarian is a luxury. When you have to worry about eating - you're not going to be worried about where the food's coming from, or who made your shoes. Poverty, whether planned or not planned, is a way of making environmentalism moot. — Sherman Alexie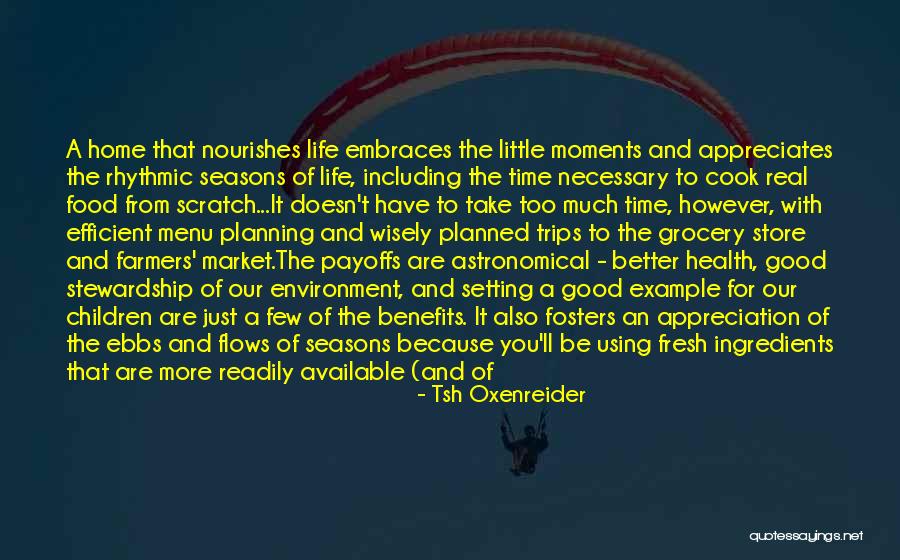 A home that nourishes life embraces the little moments and appreciates the rhythmic seasons of life, including the time necessary to cook real food from scratch...It doesn't have to take too much time, however, with efficient menu planning and wisely planned trips to the grocery store and farmers' market.
The payoffs are astronomical - better health, good stewardship of our environment, and setting a good example for our children are just a few of the benefits. It also fosters an appreciation of the ebbs and flows of seasons because you'll be using fresh ingredients that are more readily available (and of higher quality) when they are in season. If you feel too busy to cook from scratch, then I argue that you're too busy, period. Reevaluate your priorities and commitments. If you want to live a healthy, long life and to pass the same luxury on to your children, then you MUST take the time to cook real food — Tsh Oxenreider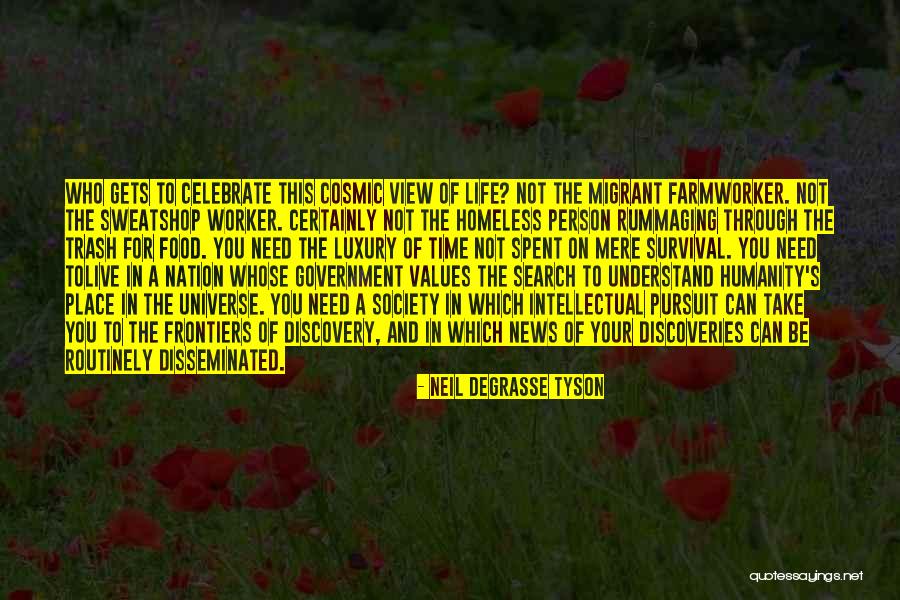 Who gets to celebrate this cosmic view of life? Not the migrant farmworker. Not the sweatshop worker. Certainly not the homeless person rummaging through the trash for food. You need the luxury of time not spent on mere survival. You need to
live in a nation whose government values the search to understand humanity's place in the universe. You need a society in which intellectual pursuit can take you to the frontiers of discovery, and in which news of your discoveries can be routinely disseminated. — Neil DeGrasse Tyson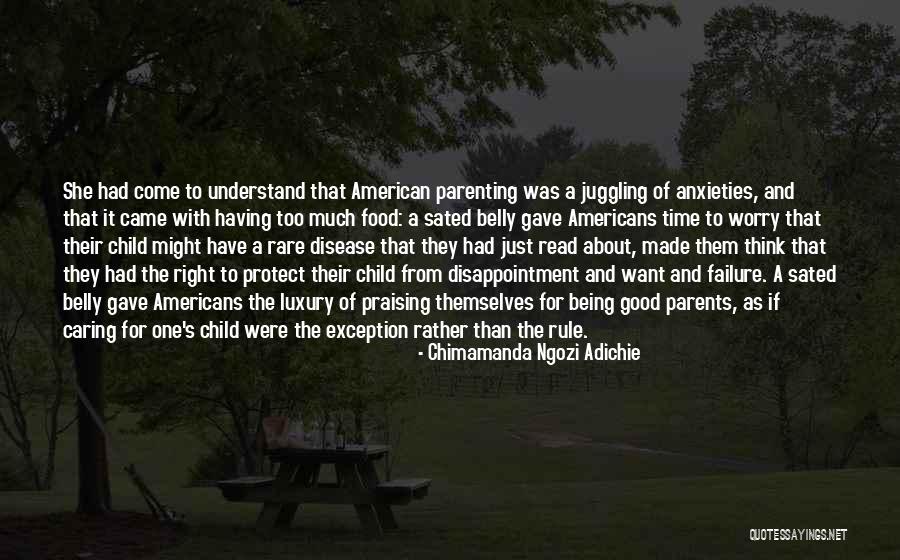 She had come to understand that American parenting was a juggling of anxieties, and that it came with having too much food: a sated belly gave Americans time to worry that their child might have a rare disease that they had just read about, made them think that they had the right to protect their child from disappointment and want and failure. A sated belly gave Americans the luxury of praising themselves for being good parents, as if caring for one's child were the exception rather than the rule. — Chimamanda Ngozi Adichie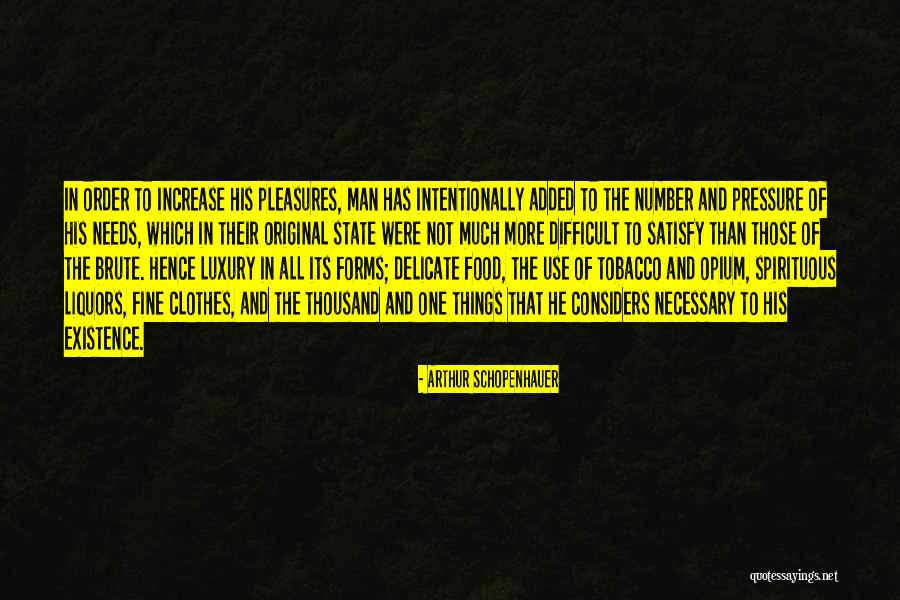 In order to increase his pleasures, man has intentionally added to the number and pressure of his needs, which in their original state were not much more difficult to satisfy than those of the brute. Hence luxury in all its forms; delicate food, the use of tobacco and opium, spirituous liquors, fine clothes, and the thousand and one things that he considers necessary to his existence. — Arthur Schopenhauer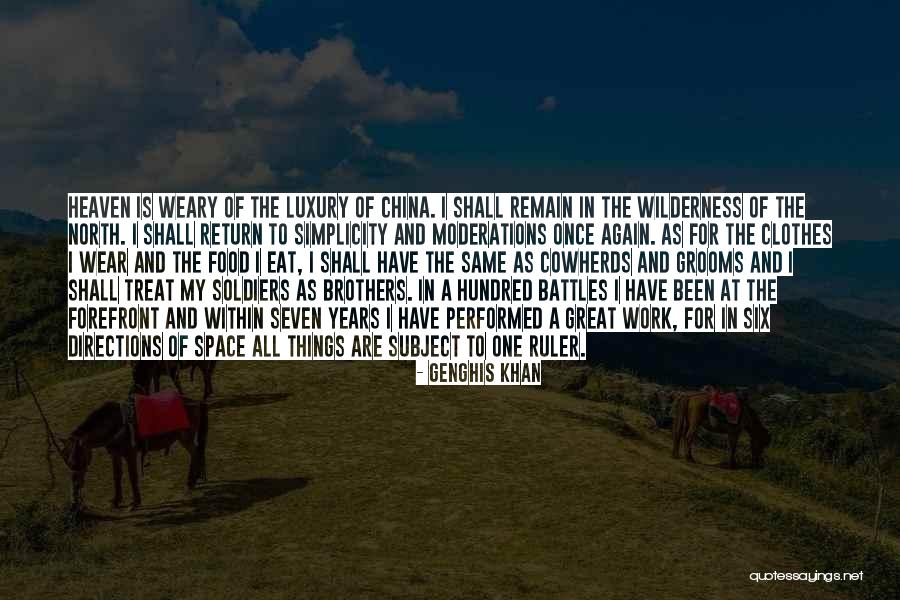 Heaven is weary of the luxury of China. I shall remain in the wilderness of the north. I shall return to simplicity and moderations once again. As for the clothes I wear and the food I eat, I shall have the same as cowherds and grooms and I shall treat my soldiers as brothers. In a hundred battles I have been at the forefront and within seven years I have performed a great work, for in six directions of space all things are subject to one ruler. — Genghis Khan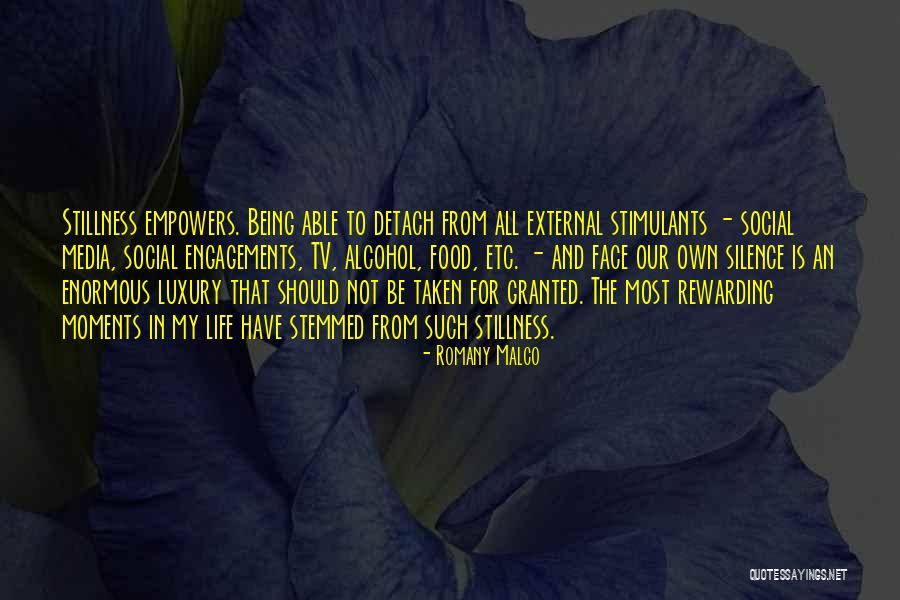 Stillness empowers. Being able to detach from all external stimulants - social media, social engagements, TV, alcohol, food, etc. - and face our own silence is an enormous luxury that should not be taken for granted. The most rewarding moments in my life have stemmed from such stillness. — Romany Malco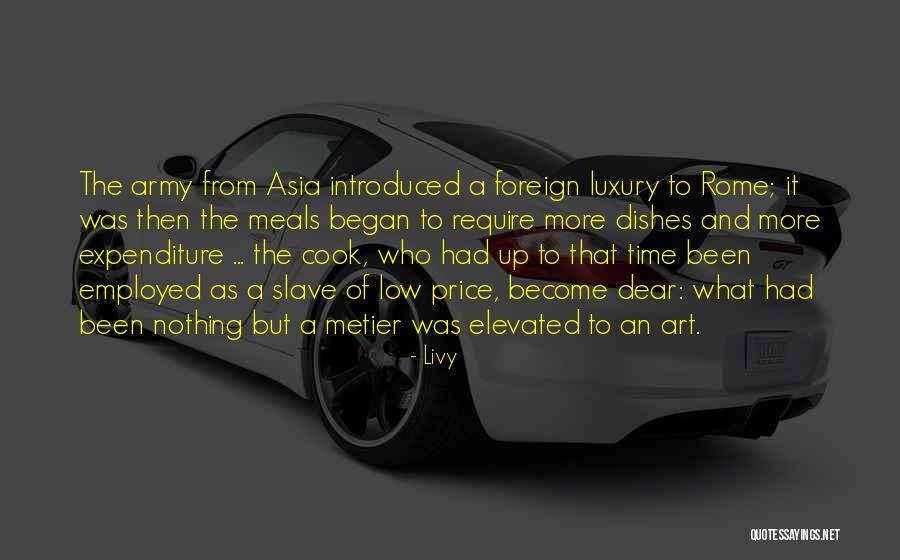 The army from Asia introduced a foreign luxury to Rome; it was then the meals began to require more dishes and more expenditure ... the cook, who had up to that time been employed as a slave of low price, become dear: what had been nothing but a metier was elevated to an art. — Livy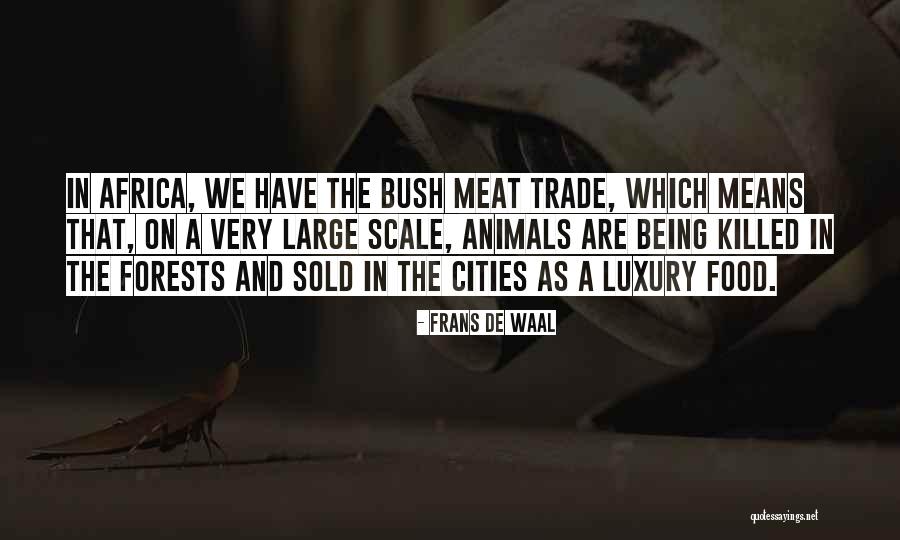 In Africa, we have the bush meat trade, which means that, on a very large scale, animals are being killed in the forests and sold in the cities as a luxury food. — Frans De Waal
We take food for granted, but it isn't a luxury for many people. — Christina Aguilera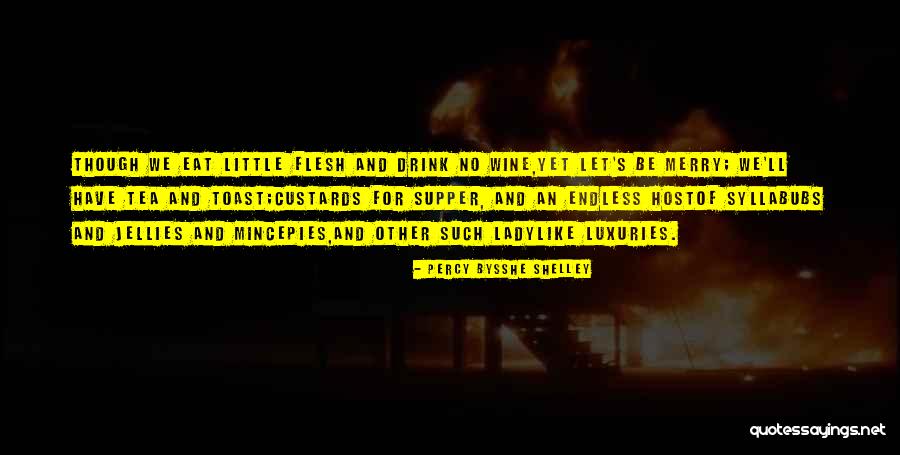 Though we eat little flesh and drink no wine,
Yet let's be merry; we'll have tea and toast;
Custards for supper, and an endless host
Of syllabubs and jellies and mincepies,
And other such ladylike luxuries. — Percy Bysshe Shelley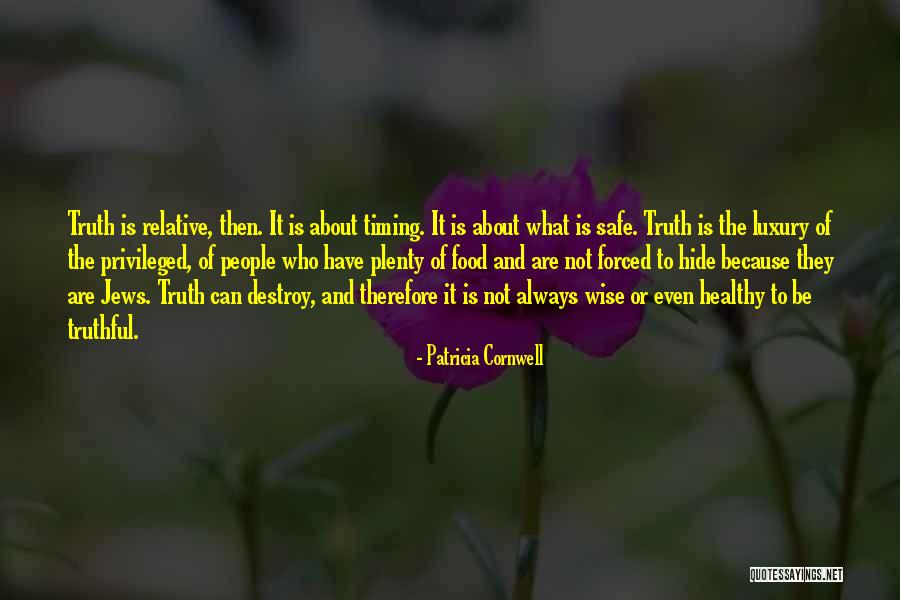 Truth is relative, then. It is about timing. It is about what is safe. Truth is the luxury of the privileged, of people who have plenty of food and are not forced to hide because they are Jews. Truth can destroy, and therefore it is not always wise or even healthy to be truthful. — Patricia Cornwell