Quotes & Sayings About Loving Someone But Not Being In Love
Enjoy reading and share 21 famous quotes about Loving Someone But Not Being In Love with everyone.
Top Loving Someone But Not Being In Love Quotes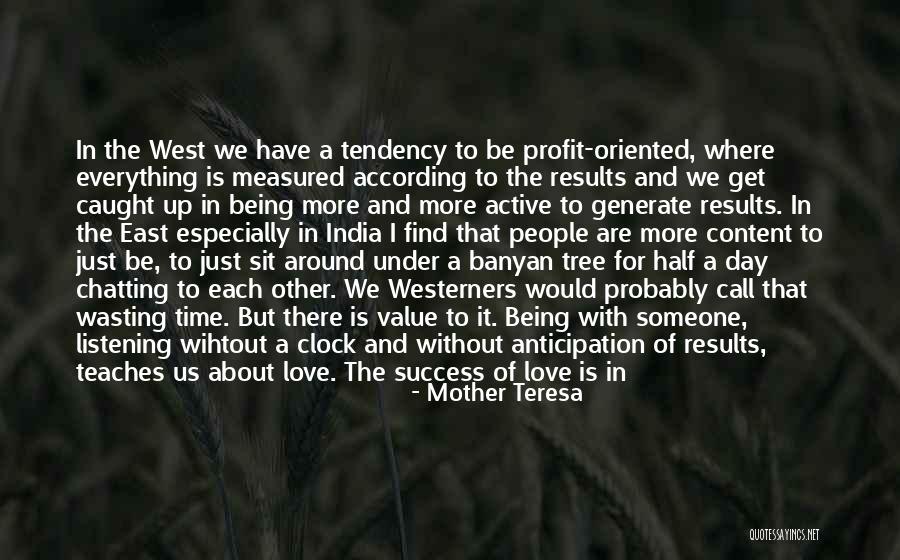 In the West we have a tendency to be profit-oriented, where everything is measured according to the results and we get caught up in being more and more active to generate results. In the East
especially in India
I find that people are more content to just be, to just sit around under a banyan tree for half a day chatting to each other. We Westerners would probably call that wasting time. But there is value to it. Being with someone, listening wihtout a clock and without anticipation of results, teaches us about love. The success of love is in the loving
it is not in the result of loving.
These words, taken from the book A Simple Path, are the words of one of the Missionaries of Charity Sisters, not of Mother Teresa. — Mother Teresa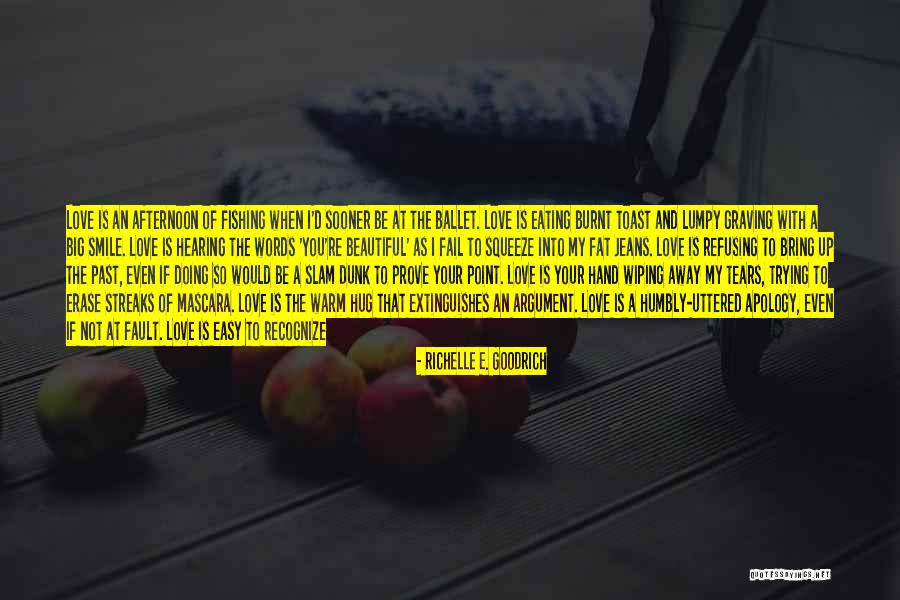 Love is an afternoon of fishing when I'd sooner be at the ballet.
Love is eating burnt toast and lumpy graving with a big smile.
Love is hearing the words 'You're beautiful' as I fail to squeeze into my fat jeans.
Love is refusing to bring up the past, even if doing so would be a slam dunk to prove your point.
Love is your hand wiping away my tears, trying to erase streaks of mascara.
Love is the warm hug that extinguishes an argument.
Love is a humbly-uttered apology, even if not at fault.
Love is easy to recognize but so hard to define; however, I think it boils down to this ...
Love is caring so much about the feelings of someone else, you sacrifice whatever it takes to help him or her feel better.
In other words, love is my heart being sensitive to yours. — Richelle E. Goodrich
You can't tell that the coffin holds the body of a boy.
He wasn't even sixteen but his coffin's the same size as a man's would be.
It's not just that he was young, but because it was so sudden. No one should die the way he did; that's what the faces here say.
I think about him, in there, with all that space, and I want to stop them. I want to open the box and climb in with him. To wrap him up in a duvet. I can't bear the thought of him being cold.
And all the time the same question flails around my head, like a hawkmoth round a light-bulb: Is it possible to keep loving somebody when they kill someone you love? — C.J. Flood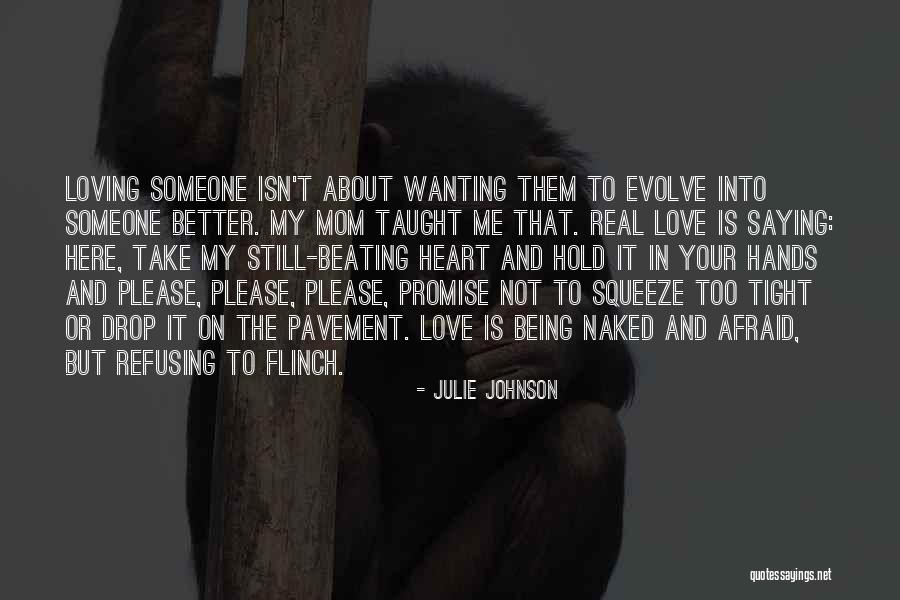 Loving someone isn't about wanting them to evolve into someone better. My mom taught me that.
Real love is saying: here, take my still-beating heart and hold it in your hands and please, please, please, promise not to squeeze too tight or drop it on the pavement. Love is being naked and afraid, but refusing to flinch. — Julie Johnson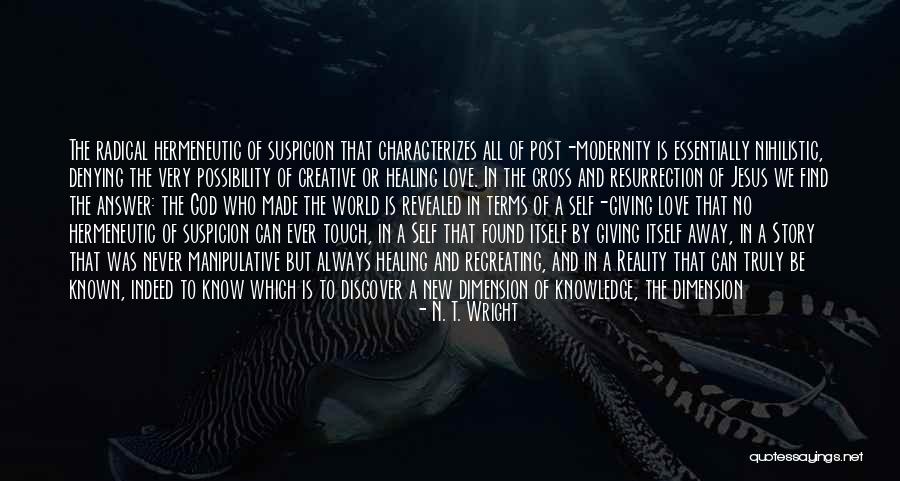 The radical hermeneutic of suspicion that characterizes all of post-modernity is essentially nihilistic, denying the very possibility of creative or healing love. In the cross and resurrection of Jesus we find the answer: the God who made the world is revealed in terms of a self-giving love that no hermeneutic of suspicion can ever touch, in a Self that found itself by giving itself away, in a Story that was never manipulative but always healing and recreating, and in a Reality that can truly be known, indeed to know which is to discover a new dimension of knowledge, the dimension of loving and being loved. — N. T. Wright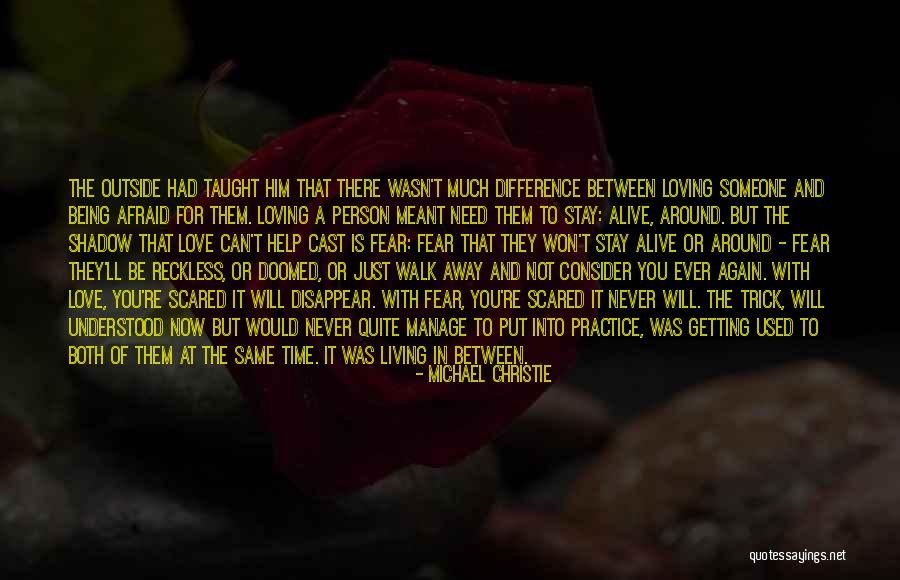 The Outside had taught him that there wasn't much difference between loving someone and being afraid for them. Loving a person meant need them to stay: alive, around. But the shadow that love can't help cast is fear: fear that they won't stay alive or around - fear they'll be reckless, or doomed, or just walk away and not consider you ever again. With love, you're scared it will disappear. With fear, you're scared it never will. The trick, Will understood now but would never quite manage to put into practice, was getting used to both of them at the same time. It was living in between. — Michael Christie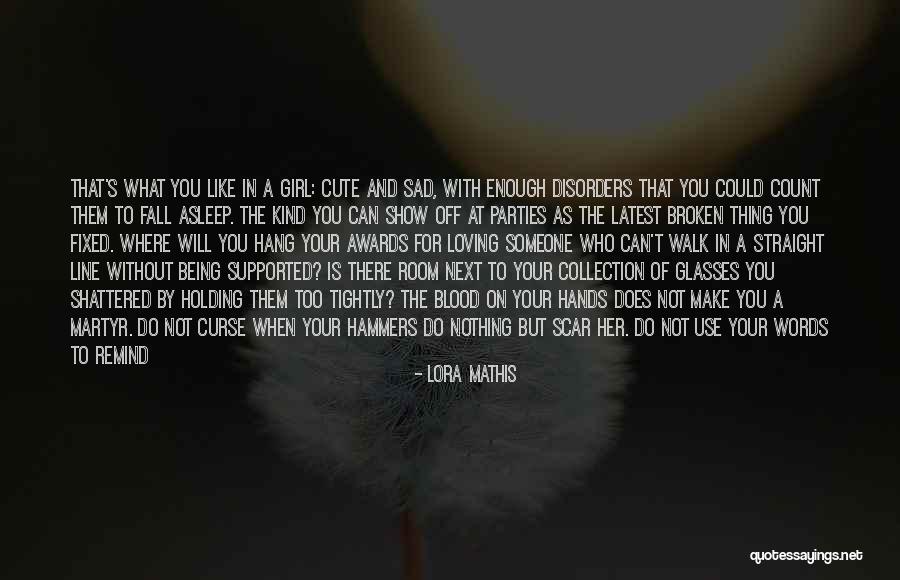 That's what you like in a girl: cute and sad, with enough disorders that you could count them to fall asleep. The kind you can show off at parties as the latest broken thing you fixed. Where will you hang your awards for loving someone who can't walk in a straight line without being supported? Is there room next to your collection of glasses you shattered by holding them too tightly? The blood on your hands does not make you a martyr. Do not curse when your hammers do nothing but scar her. Do not use your words to remind her that everybody else would have left by now. If she could speak, she would tell you: you think it's beautiful to love somebody as light as me but you don't know how heavy I had to be to become this empty. — Lora Mathis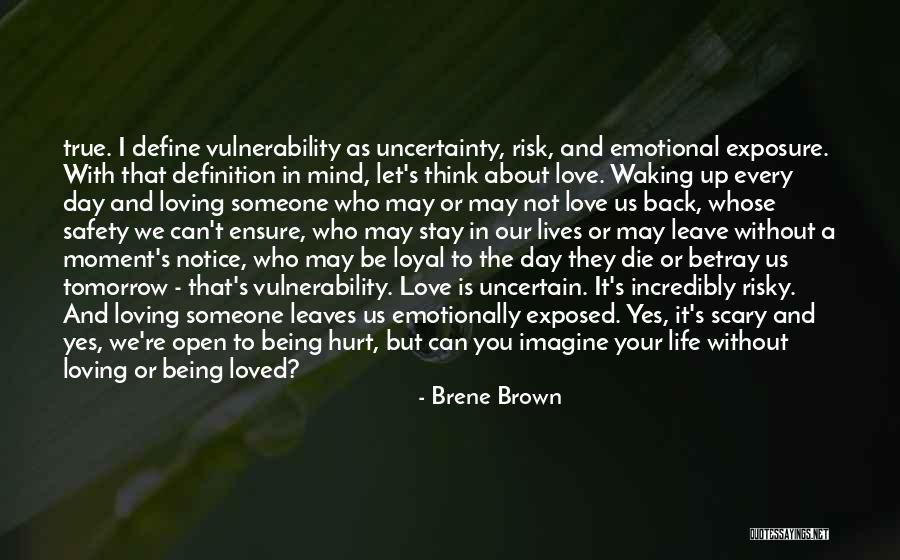 true. I define vulnerability as uncertainty, risk, and emotional exposure. With that definition in mind, let's think about love. Waking up every day and loving someone who may or may not love us back, whose safety we can't ensure, who may stay in our lives or may leave without a moment's notice, who may be loyal to the day they die or betray us tomorrow - that's vulnerability. Love is uncertain. It's incredibly risky. And loving someone leaves us emotionally exposed. Yes, it's scary and yes, we're open to being hurt, but can you imagine your life without loving or being loved? — Brene Brown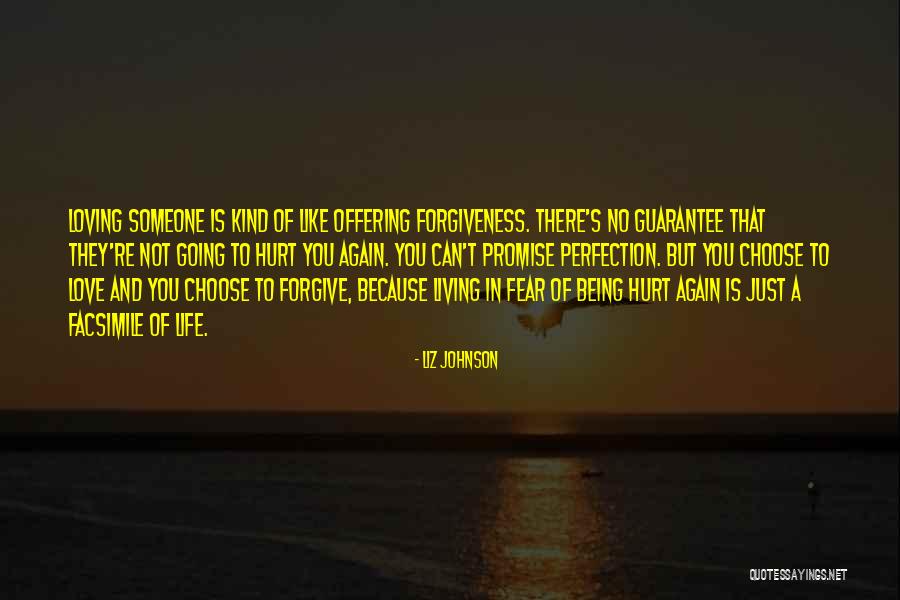 Loving someone is kind of like offering forgiveness. There's no guarantee that they're not going to hurt you again. You can't promise perfection. But you choose to love and you choose to forgive, because living in fear of being hurt again is just a facsimile of life. — Liz Johnson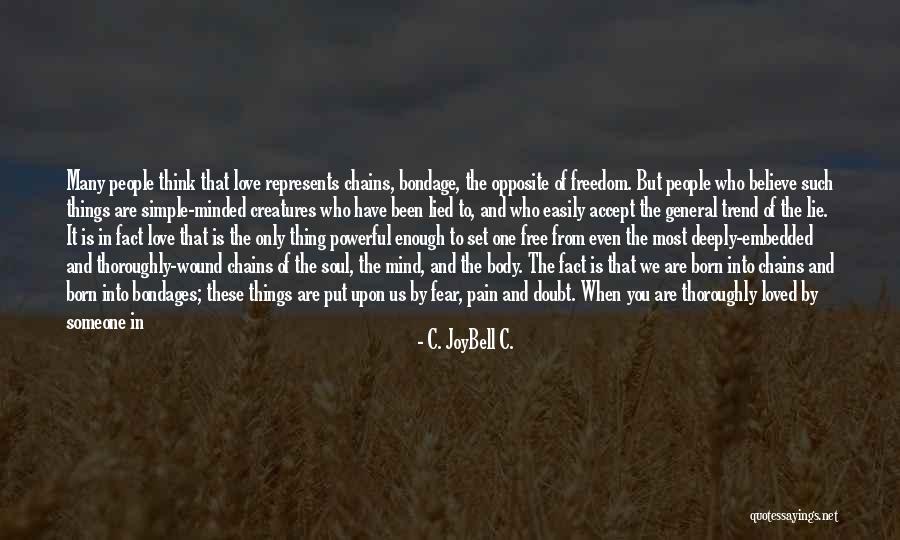 Many people think that love represents chains, bondage, the opposite of freedom. But people who believe such things are simple-minded creatures who have been lied to, and who easily accept the general trend of the lie. It is in fact love that is the only thing powerful enough to set one free from even the most deeply-embedded and thoroughly-wound chains of the soul, the mind, and the body. The fact is that we are born into chains and born into bondages; these things are put upon us by fear, pain and doubt. When you are thoroughly loved by someone in mind and in heart, this has the power to set you so free, more free than you have ever been before. And that is because freedom is not the equivalent of detachment. Freedom is the equivalent of that which sets you free. And when someone loves you the way that only they can, that is what sets you free. — C. JoyBell C.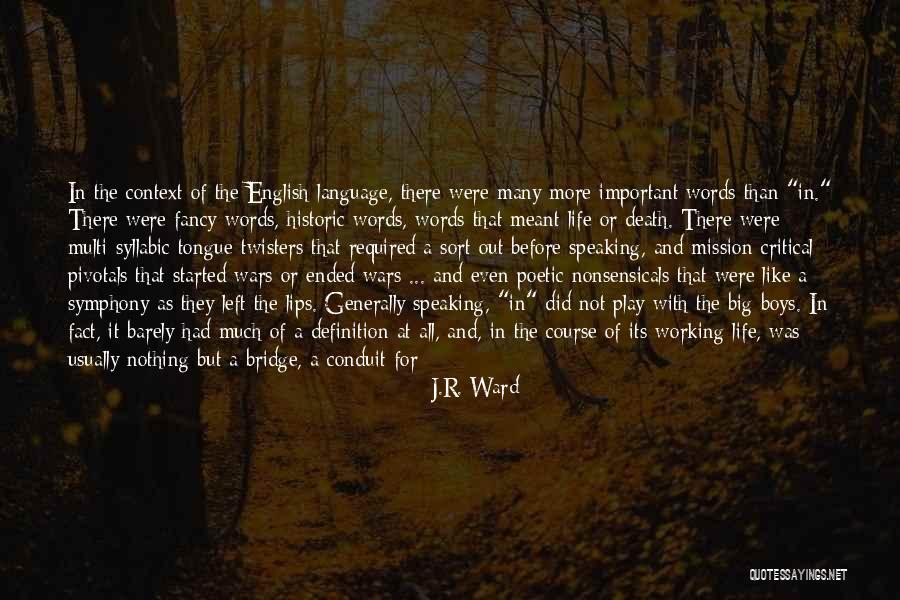 In the context of the English language, there were many more important words than "in." There were fancy words, historic words, words that meant life or death. There were multi-syllabic tongue-twisters that required a sort out before speaking, and mission-critical pivotals that started wars or ended wars ... and even poetic nonsensicals that were like a symphony as they left the lips. Generally speaking, "in" did not play with the big boys. In fact, it barely had much of a definition at all, and, in the course of its working life, was usually nothing but a bridge, a conduit for the heavy lifters in any given sentence. There was, however, one context in which that humble little two-letter, one-syllable jobbie was a BFD. Love. The difference between someone "loving" somebody versus being "in love" was a curb to the Grand Canyon. The head of a pin to the entire Midwest. An exhale to a hurricane. — J.R. Ward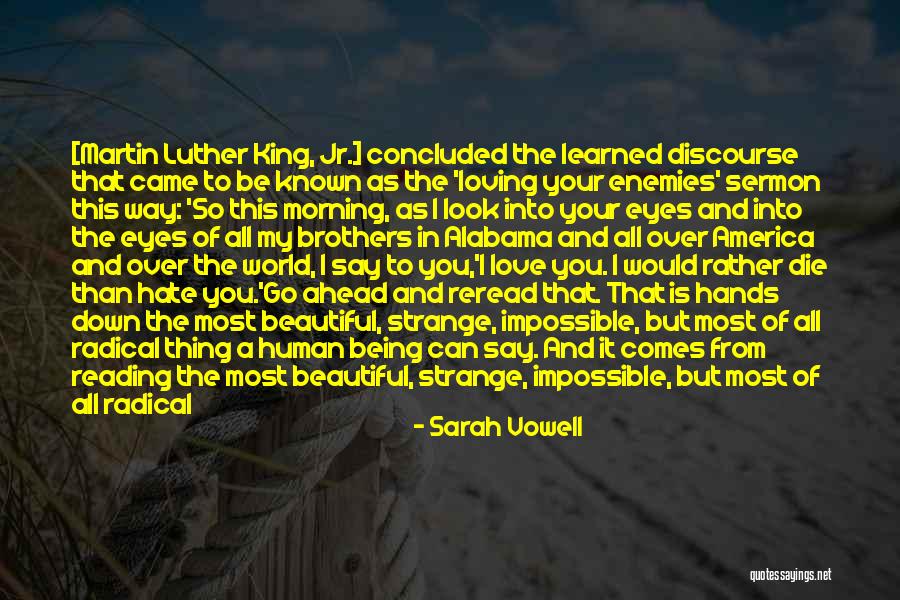 [Martin Luther King, Jr.] concluded the learned discourse that came to be known as the 'loving your enemies' sermon this way: 'So this morning, as I look into your eyes and into the eyes of all my brothers in Alabama and all over America and over the world, I say to you,'I love you. I would rather die than hate you.'
Go ahead and reread that. That is hands down the most beautiful, strange, impossible, but most of all radical thing a human being can say. And it comes from reading the most beautiful, strange, impossible, but most of all radical civics lesson ever taught, when Jesus of Nazareth went to a hill in Galilee and told his disciples, 'Love your enemies, bless them that curse you, do good to them that hate you. — Sarah Vowell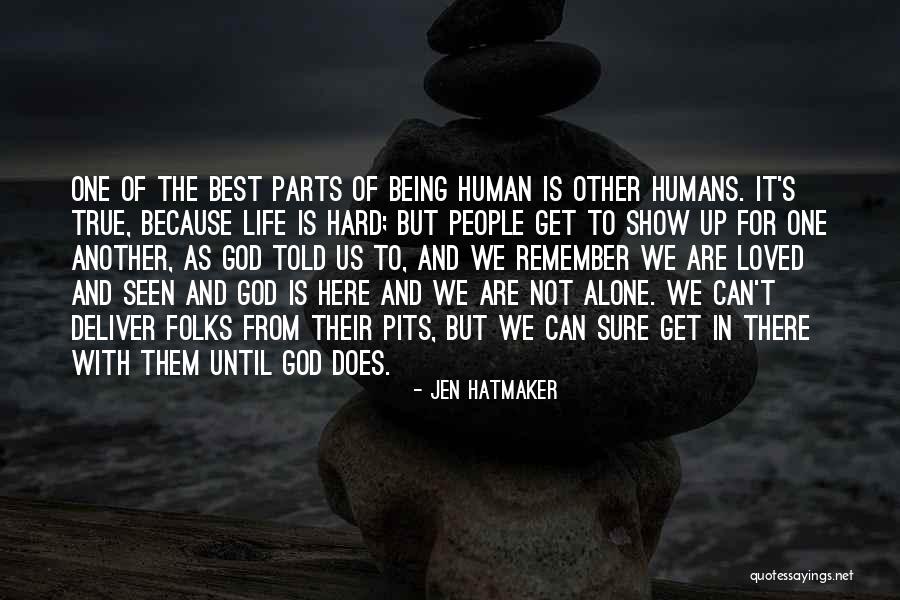 One of the best parts of being human is other humans. It's true, because life is hard; but people get to show up for one another, as God told us to, and we remember we are loved and seen and God is here and we are not alone. We can't deliver folks from their pits, but we can sure get in there with them until God does. — Jen Hatmaker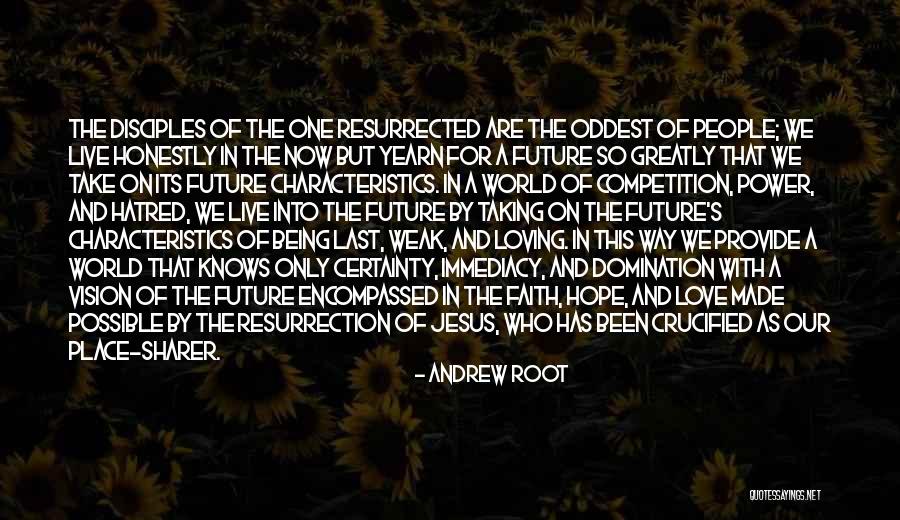 The disciples of the One resurrected are the oddest of people; we live honestly in the now but yearn for a future so greatly that we take on its future characteristics. In a world of competition, power, and hatred, we live into the future by taking on the future's characteristics of being last, weak, and loving. In this way we provide a world that knows only certainty, immediacy, and domination with a vision of the future encompassed in the faith, hope, and love made possible by the resurrection of Jesus, who has been crucified as our place-sharer. — Andrew Root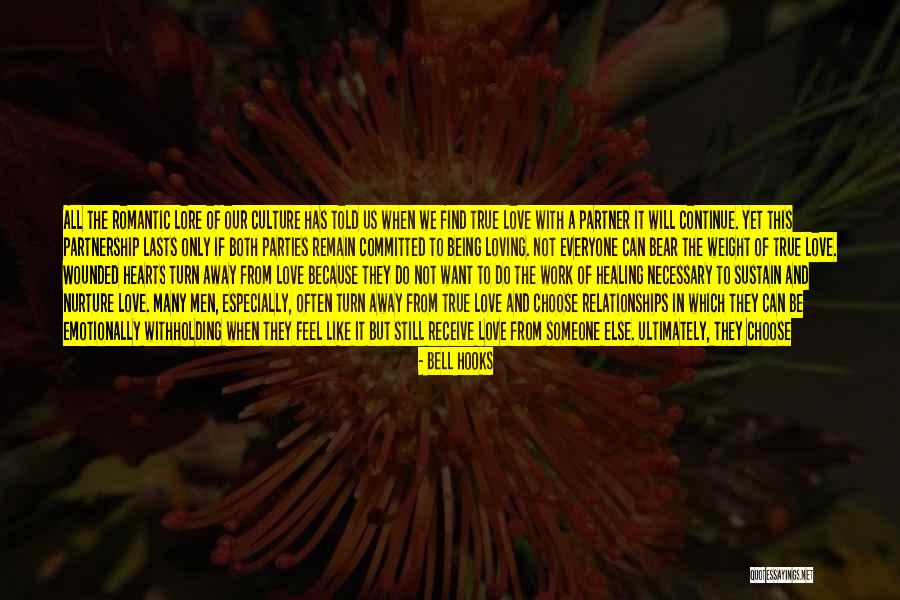 All the romantic lore of our culture has told us when we find true love with a partner it will continue. Yet this partnership lasts only if both parties remain committed to being loving. Not everyone can bear the weight of true love. Wounded hearts turn away from love because they do not want to do the work of healing necessary to sustain and nurture love. Many men, especially, often turn away from true love and choose relationships in which they can be emotionally withholding when they feel like it but still receive love from someone else. Ultimately, they choose power over love. To know and keep true love we have to be willing to surrender the will to power. — Bell Hooks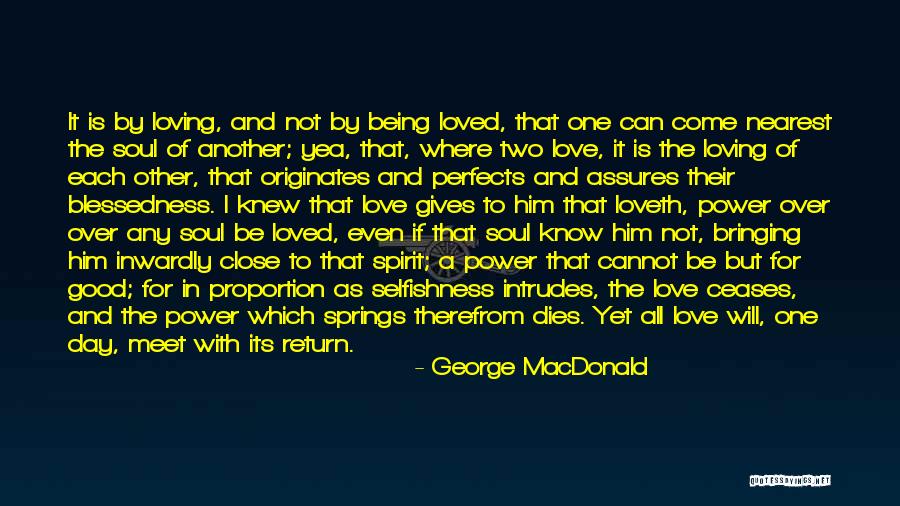 It is by loving, and not by being loved, that one can come nearest the soul of another; yea, that, where two love, it is the loving of each other, that originates and perfects and assures their blessedness. I knew that love gives to him that loveth, power over over any soul be loved, even if that soul know him not, bringing him inwardly close to that spirit; a power that cannot be but for good; for in proportion as selfishness intrudes, the love ceases, and the power which springs therefrom dies. Yet all love will, one day, meet with its return. — George MacDonald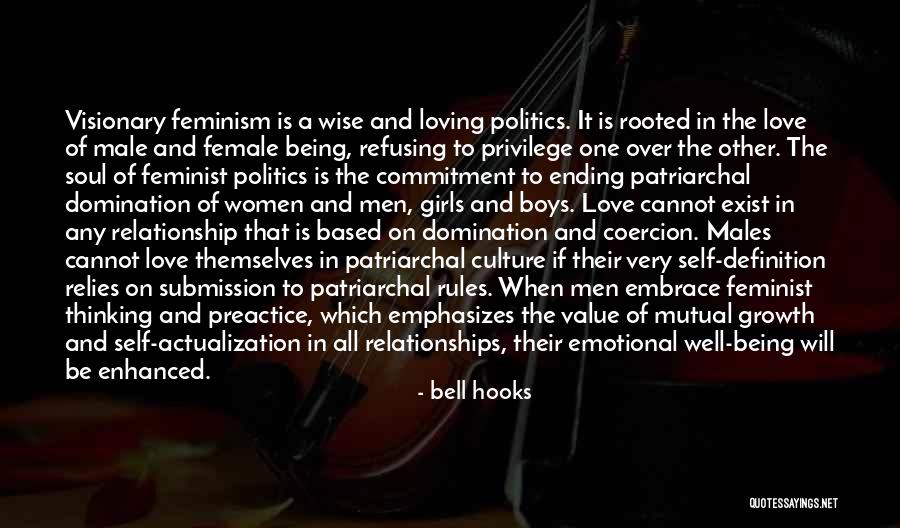 Visionary feminism is a wise and loving politics. It is rooted in the love of male and female being, refusing to privilege one over the other. The soul of feminist politics is the commitment to ending patriarchal domination of women and men, girls and boys. Love cannot exist in any relationship that is based on domination and coercion. Males cannot love themselves in patriarchal culture if their very self-definition relies on submission to patriarchal rules. When men embrace feminist thinking and preactice, which emphasizes the value of mutual growth and self-actualization in all relationships, their emotional well-being will be enhanced. A genuine feminist politics always brings us from bondage to freedom, from lovelessness to loving. — Bell Hooks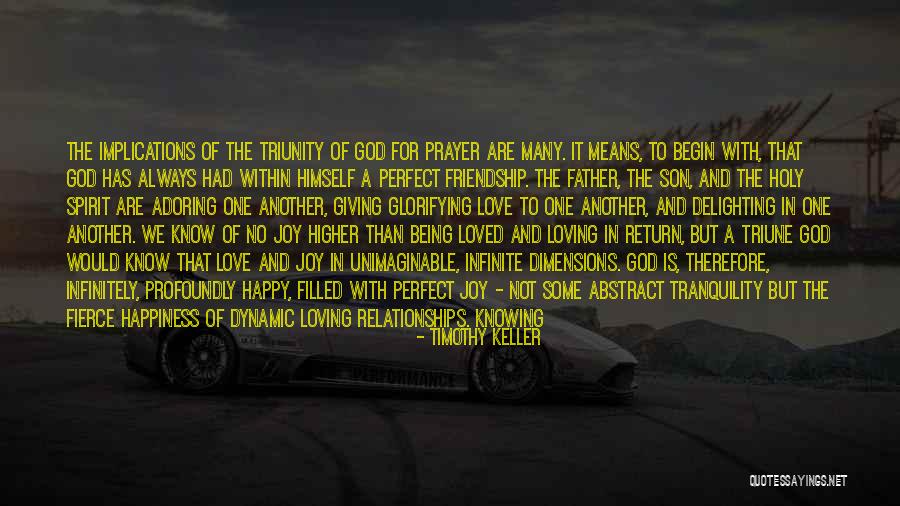 The implications of the Triunity of God for prayer are many. It means, to begin with, that God has always had within himself a perfect friendship. The Father, the Son, and the Holy Spirit are adoring one another, giving glorifying love to one another, and delighting in one another. We know of no joy higher than being loved and loving in return, but a triune God would know that love and joy in unimaginable, infinite dimensions. God is, therefore, infinitely, profoundly happy, filled with perfect joy - not some abstract tranquility but the fierce happiness of dynamic loving relationships. Knowing this God is not to get beyond emotions or thoughts but to be filled with glorious love and joy. — Timothy Keller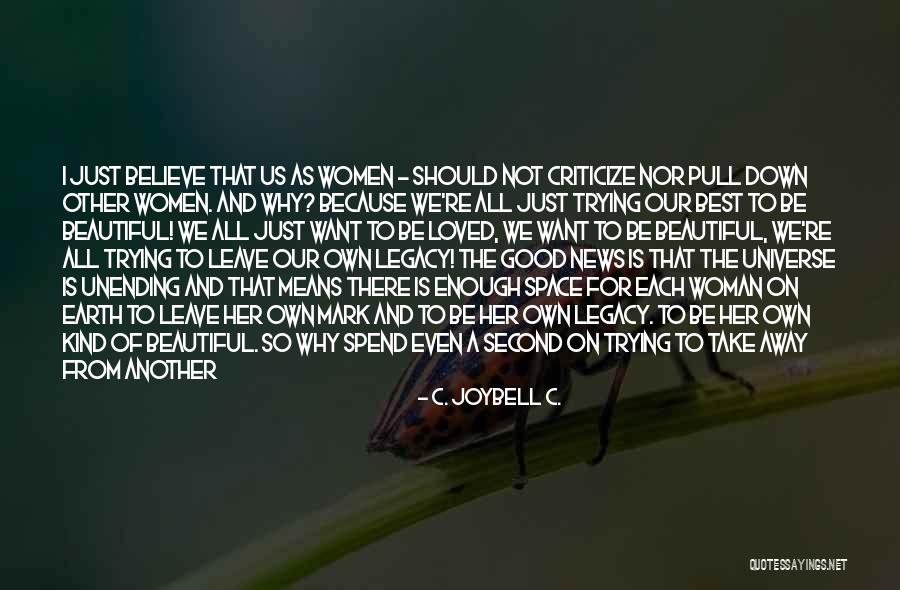 I just believe that us as women - should not criticize nor pull down other women. And why? Because we're all just trying our best to be beautiful! We all just want to be loved, we want to be beautiful, we're all trying to leave our own legacy! The good news is that the universe is unending and that means there is enough space for each woman on earth to leave her own mark and to be her own legacy. To be her own kind of beautiful. So why spend even a second on trying to take away from another woman? Trying to steal, trying to criticize, trying to oppress? There is enough space for every woman and every kind of beautiful, in this vast cosmos! When you waste any amount of time trying to take what is another's - you are wasting your huge chunk of a galaxy that's already been given to you! — C. JoyBell C.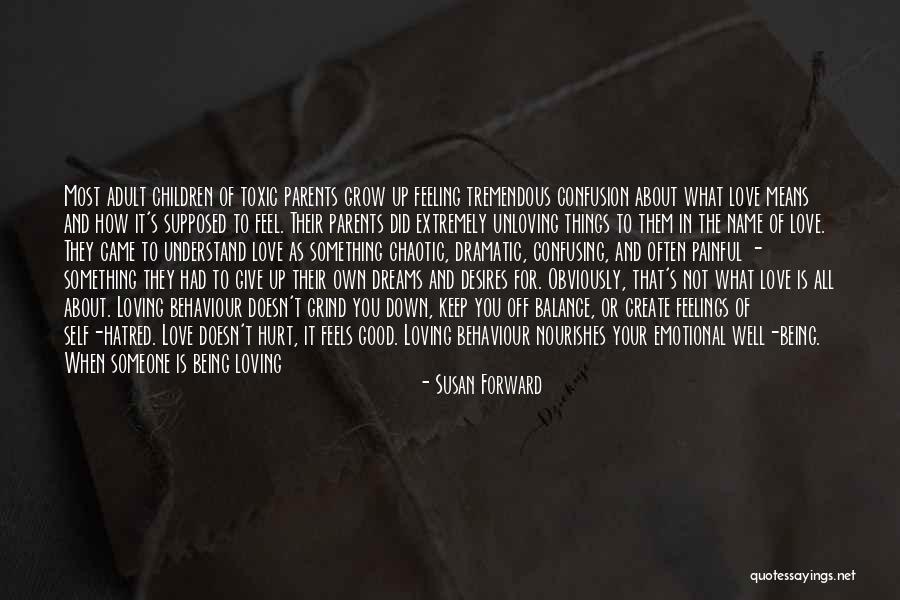 Most adult children of toxic parents grow up feeling tremendous confusion about what love means and how it's supposed to feel. Their parents did extremely unloving things to them in the name of love. They came to understand love as something chaotic, dramatic, confusing, and often painful - something they had to give up their own dreams and desires for. Obviously, that's not what love is all about. Loving behaviour doesn't grind you down, keep you off balance, or create feelings of self-hatred. Love doesn't hurt, it feels good. Loving behaviour nourishes your emotional well-being. When someone is being loving to you, you feel accepted, cared for, valued, and respected. Genuine love creates feelings of warmth, pleasure, safety, stability, and inner peace. — Susan Forward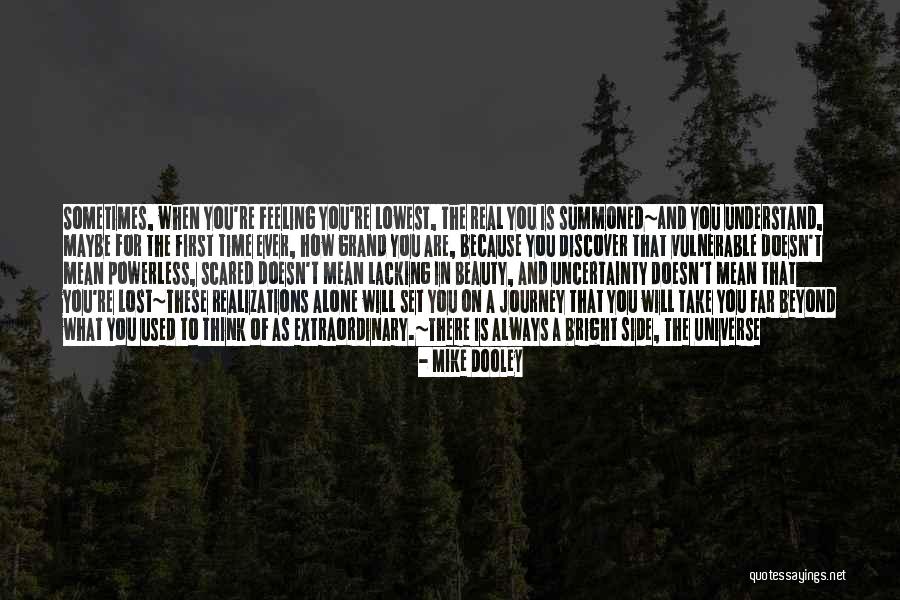 Sometimes, when you're feeling you're lowest, the real you is summoned~And you understand, maybe for the first time ever, how grand you are, because you discover that vulnerable doesn't mean powerless, scared doesn't mean lacking in beauty, and uncertainty doesn't mean that you're lost~These realizations alone will set you on a journey that you will take you far beyond what you used to think of as extraordinary.~There is always a bright side, The Universe — Mike Dooley