Quotes & Sayings About Love Trust And Honesty
Enjoy reading and share 31 famous quotes about Love Trust And Honesty with everyone.
Top Love Trust And Honesty Quotes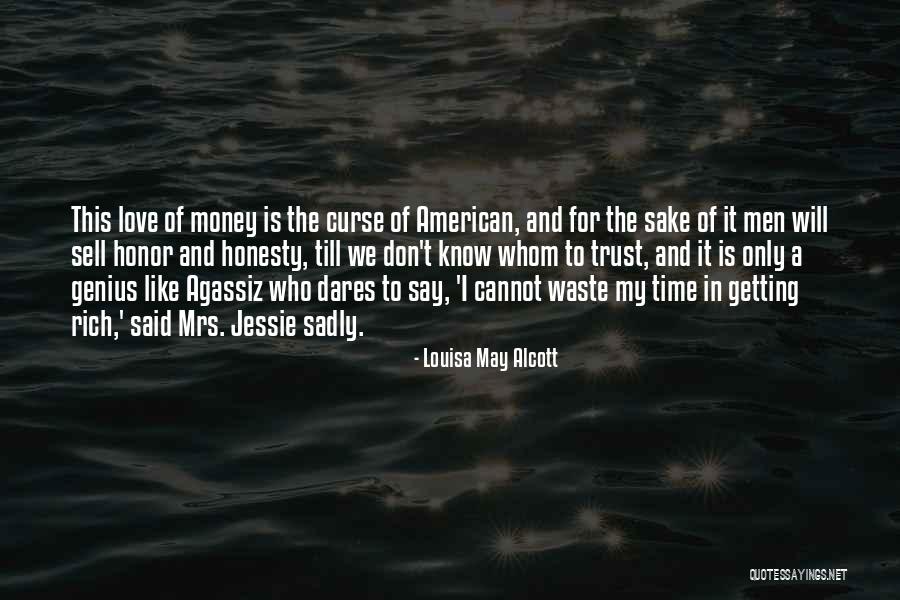 This love of money is the curse of American, and for the sake of it men will sell honor and honesty, till we don't know whom to trust, and it is only a genius like Agassiz who dares to say, 'I cannot waste my time in getting rich,' said Mrs. Jessie sadly. — Louisa May Alcott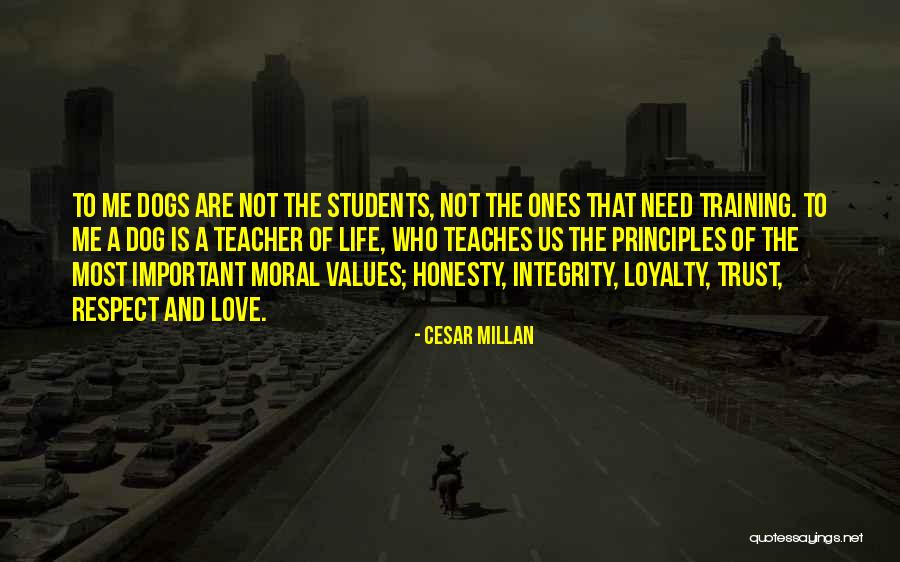 To me dogs are not the students, not the ones that need training. To me a dog is a teacher of life, who teaches us the principles of the most important moral values; honesty, integrity, loyalty, trust, respect and love. — Cesar Millan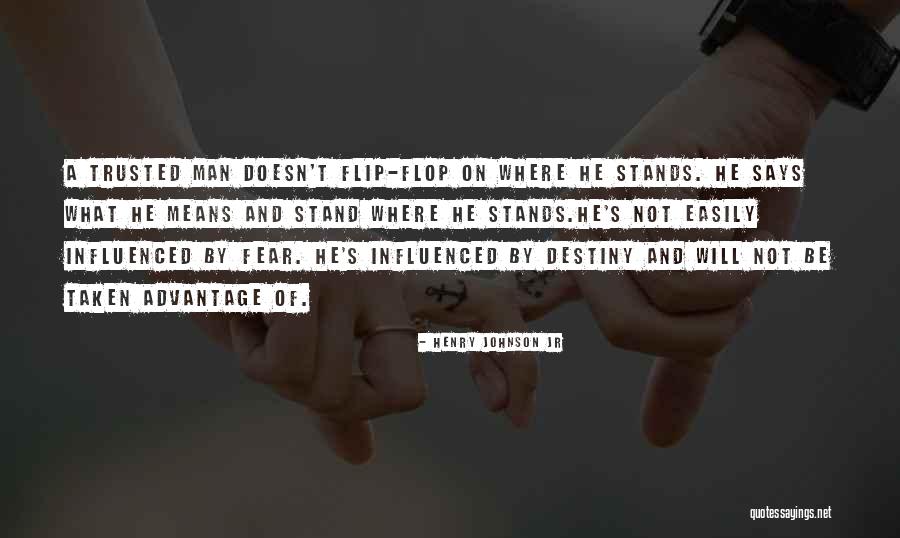 A trusted man doesn't flip-flop on where he stands. He says what he means and stand where he stands.He's not easily influenced by fear. He's influenced by destiny and will not be taken advantage of. — Henry Johnson Jr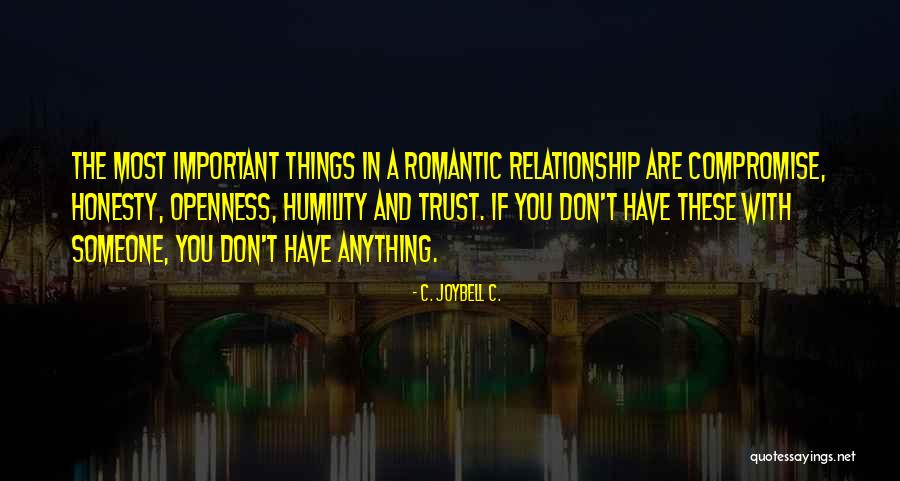 The most important things in a romantic relationship are compromise, honesty, openness, humility and trust. If you don't have these with someone, you don't have anything. — C. JoyBell C.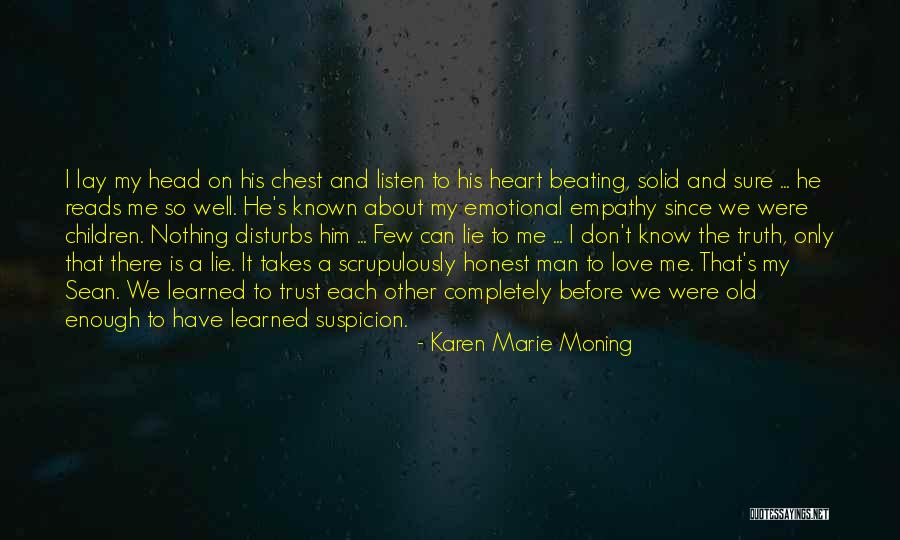 I lay my head on his chest and listen to his heart beating, solid and sure ... he reads me so well. He's known about my emotional empathy since we were children. Nothing disturbs him ... Few can lie to me ...
I don't know the truth, only that there is a lie. It takes a scrupulously honest man to love me. That's my Sean. We learned to trust each other completely before we were old enough to have learned suspicion. — Karen Marie Moning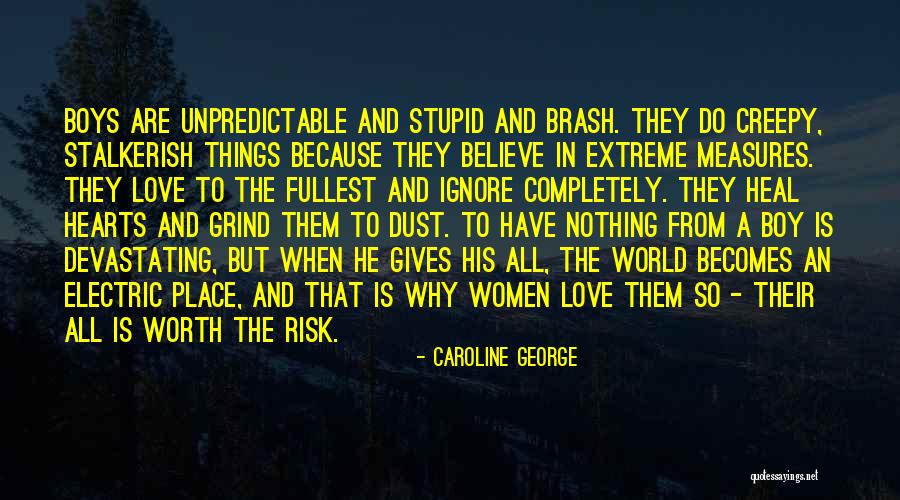 Boys are unpredictable and stupid and brash. They do creepy, stalkerish things because they believe in extreme measures. They love to the fullest and ignore completely. They heal hearts and grind them to dust. To have nothing from a boy is devastating, but when he gives his all, the world becomes an electric place, and that is why women love them so - their all is worth the risk. — Caroline George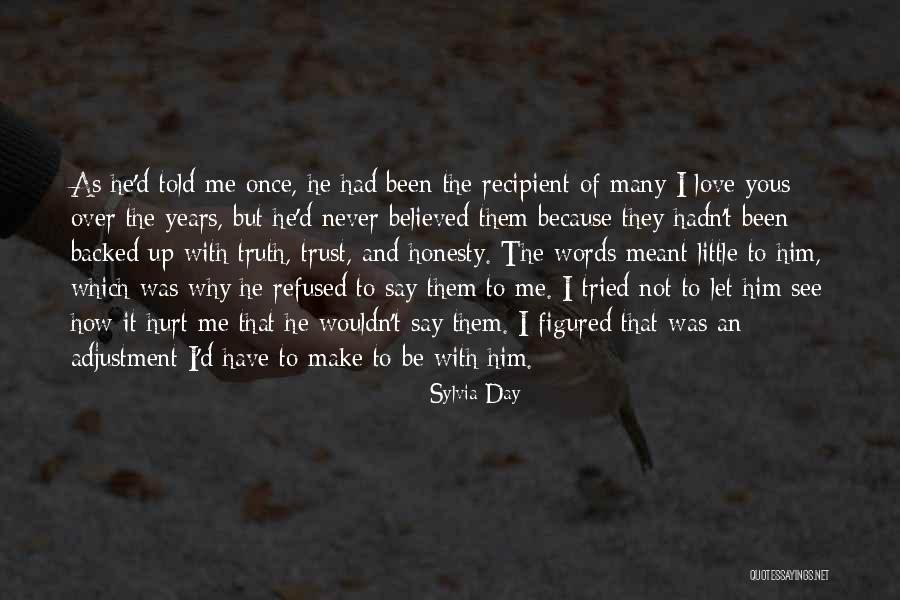 As he'd told me once, he had been the recipient of many I love yous over the years, but he'd never believed them because they hadn't been backed up with truth, trust, and honesty. The words meant little to him, which was why he refused to say them to me. I tried not to let him see how it hurt me that he wouldn't say them. I figured that was an adjustment I'd have to make to be with him. — Sylvia Day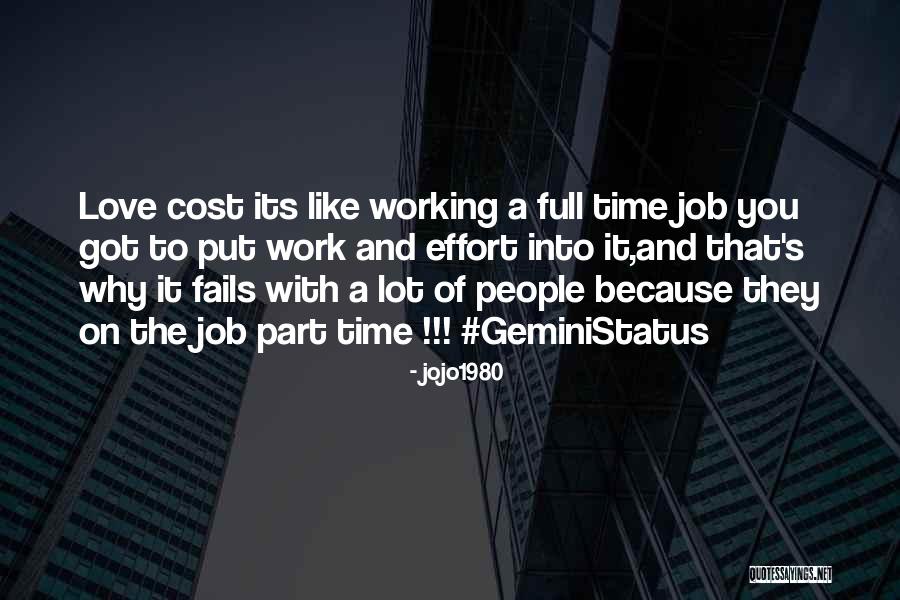 Love cost its like working a full time job you got to put work and effort into it,and that's why it fails with a lot of people because they on the job part time !!! #GeminiStatus — Jojo1980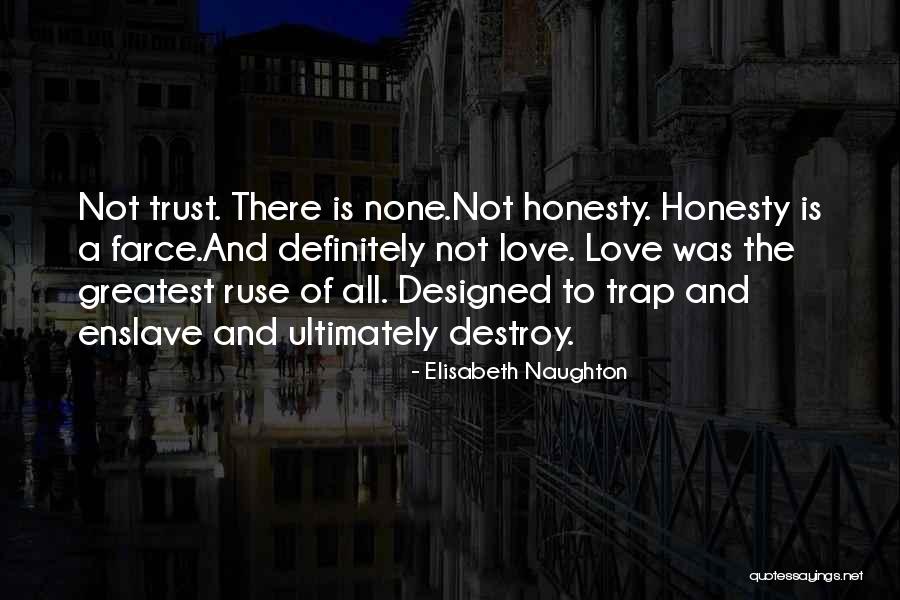 Not trust. There is none.
Not honesty. Honesty is a farce.
And definitely not love. Love was the greatest ruse of all. Designed to trap and enslave and ultimately destroy. — Elisabeth Naughton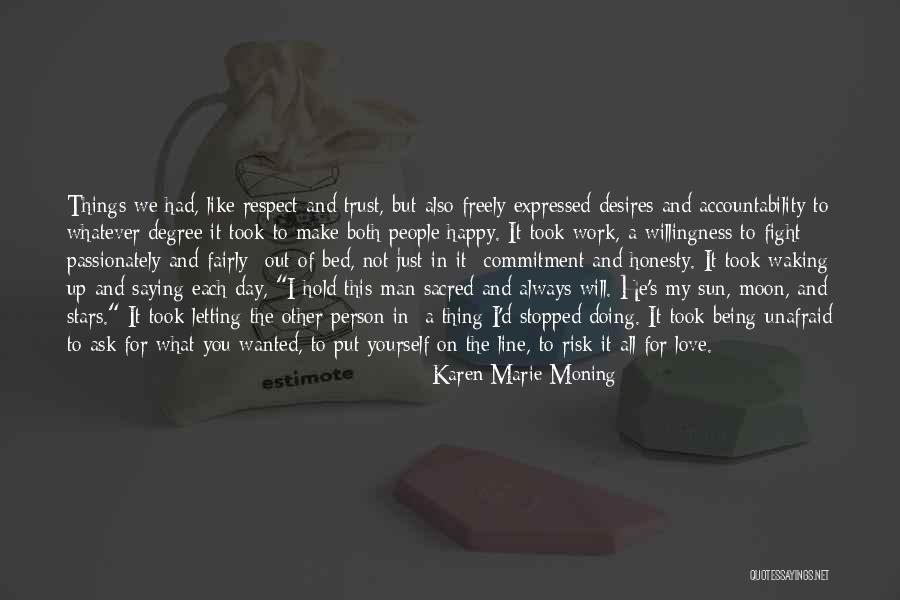 Things we had, like respect and trust, but also freely expressed desires and accountability to whatever degree it took to make both people happy. It took work, a willingness to fight passionately and fairly--out of bed, not just in it--commitment and honesty. It took waking up and saying each day, "I hold this man sacred and always will. He's my sun, moon, and stars."
It took letting the other person in; a thing I'd stopped doing. It took being unafraid to ask for what you wanted, to put yourself on the line, to risk it all for love. — Karen Marie Moning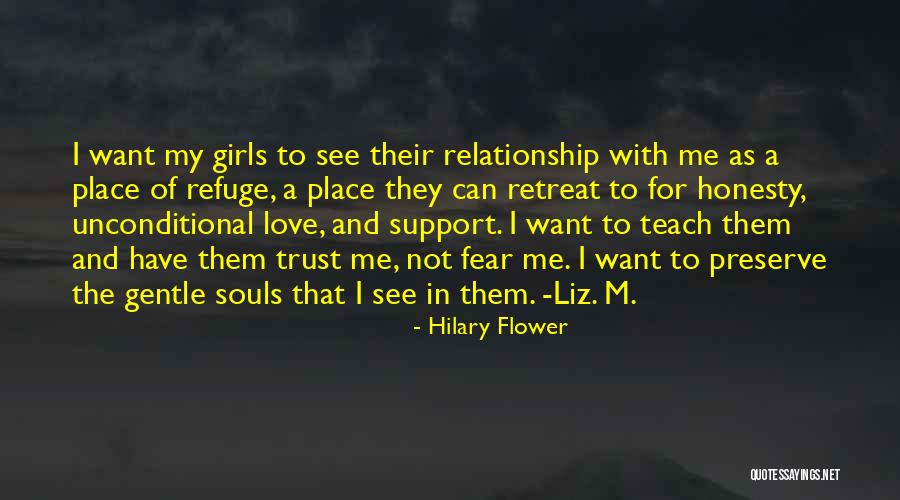 I want my girls to see their relationship with me as a place of refuge, a place they can retreat to for honesty, unconditional love, and support. I want to teach them and have them trust me, not fear me. I want to preserve the gentle souls that I see in them. -Liz. M. — Hilary Flower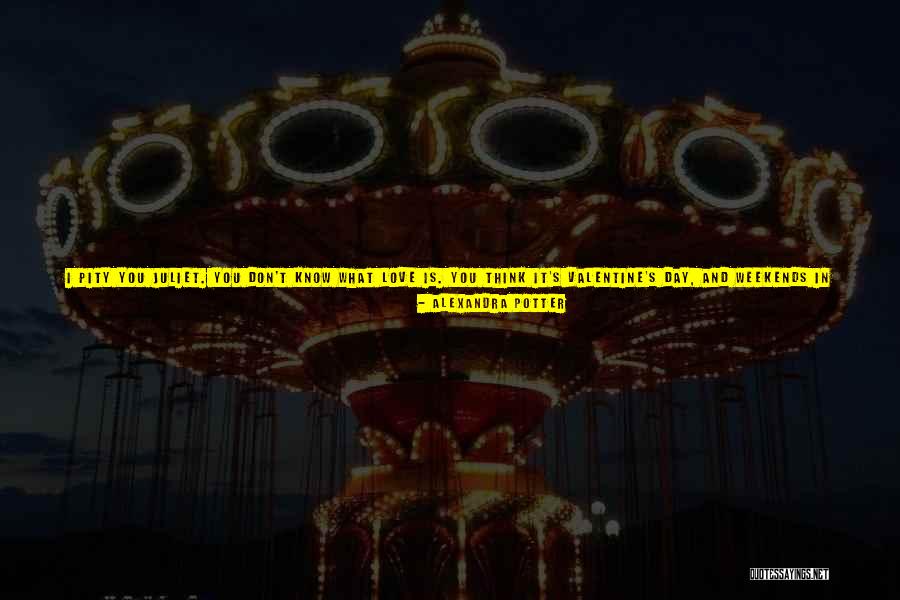 I pity you Juliet. You don't know what love is. You think it's Valentine's Day, and weekends in Italy. You think it's drinking champagne in some expensive restaurant and being bought stupid bloody underwear. But that's just the trimmings. The decoration. They're just gestures. Without trust, and respect, and kindness, they don't mean shit. I thought love was about caring about someone day in and day out, about being there when it's rucking amazing and still wanting to be there when it feels like crap, I thought it was about forever. — Alexandra Potter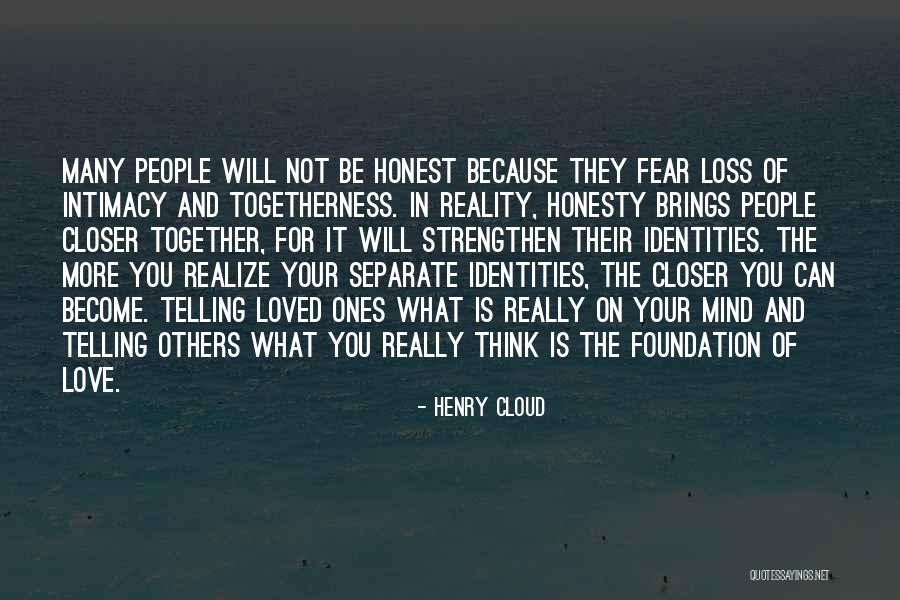 Many people will not be honest because they fear loss of intimacy and togetherness. In reality, honesty brings people closer together, for it will strengthen their identities. The more you realize your separate identities, the closer you can become. Telling loved ones what is really on your mind and telling others what you really think is the foundation of love. — Henry Cloud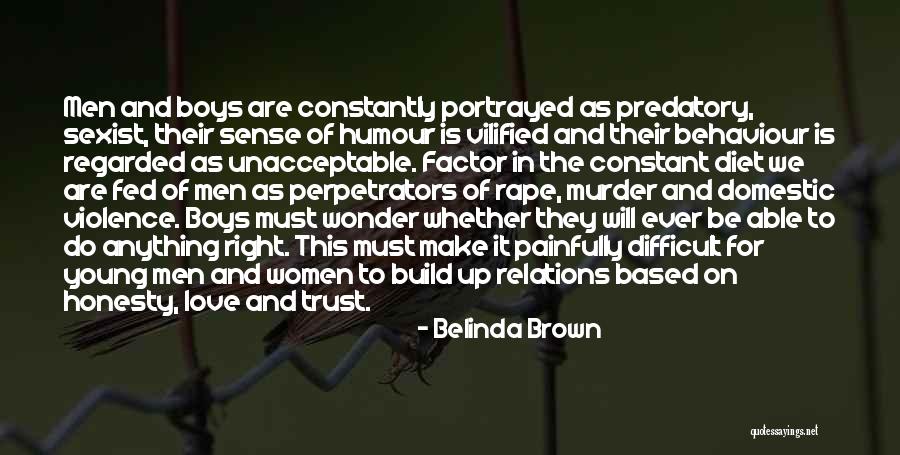 Men and boys are constantly portrayed as predatory, sexist, their sense of humour is vilified and their behaviour is regarded as unacceptable. Factor in the constant diet we are fed of men as perpetrators of rape, murder and domestic violence. Boys must wonder whether they will ever be able to do anything right. This must make it painfully difficult for young men and women to build up relations based on honesty, love and trust. — Belinda Brown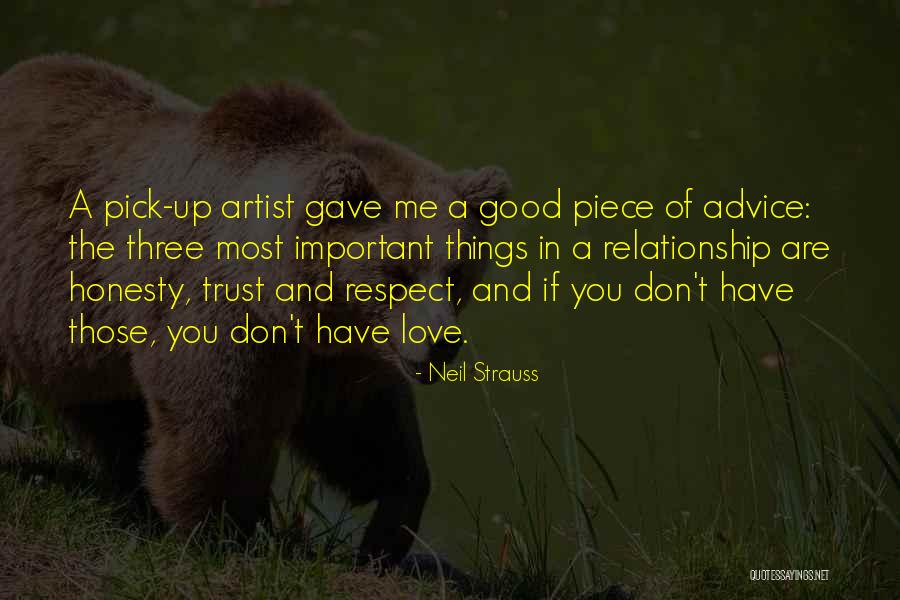 A pick-up artist gave me a good piece of advice: the three most important things in a relationship are honesty, trust and respect, and if you don't have those, you don't have love. — Neil Strauss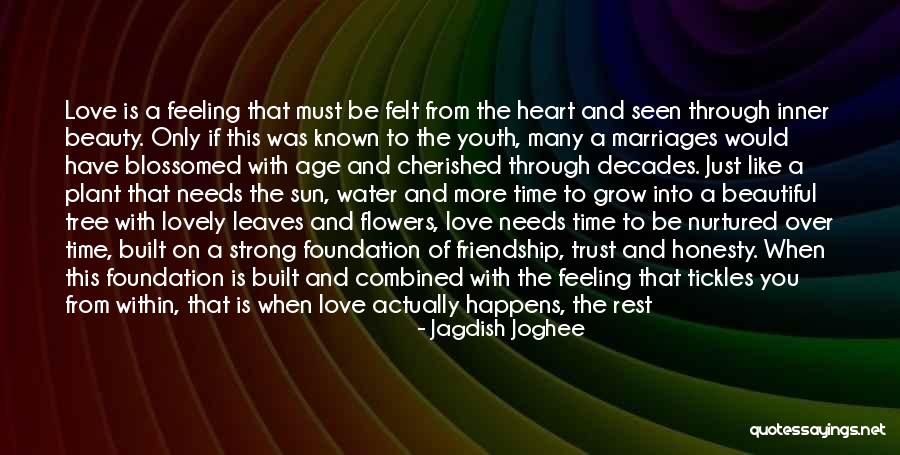 Love is a feeling that must be felt from the heart and seen through inner beauty. Only if this was known to the youth, many a marriages would have blossomed with age and cherished through decades. Just like a plant that needs the sun, water and more time to grow into a beautiful tree with lovely leaves and flowers, love needs time to be nurtured over time, built on a strong foundation of friendship, trust and honesty. When this foundation is built and combined with the feeling that tickles you from within, that is when love actually happens, the rest is all infatuation, attraction or even lust. — Jagdish Joghee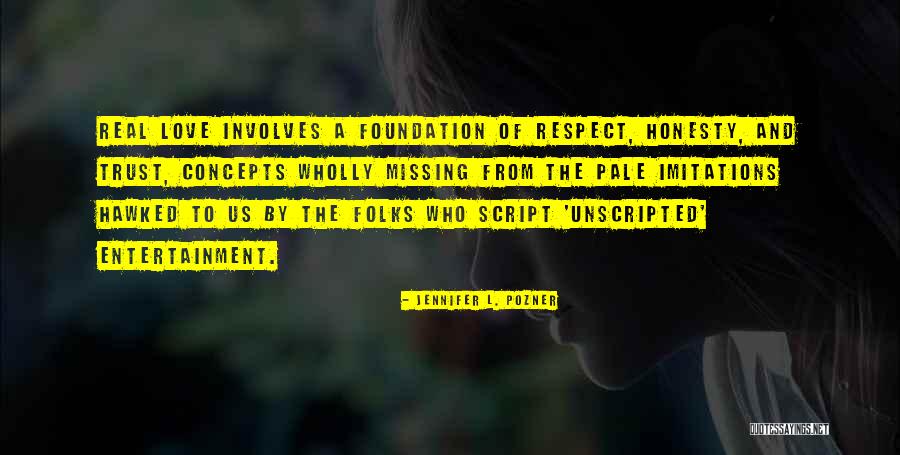 Real love involves a foundation of respect, honesty, and trust, concepts wholly missing from the pale imitations hawked to us by the folks who script 'unscripted' entertainment. — Jennifer L. Pozner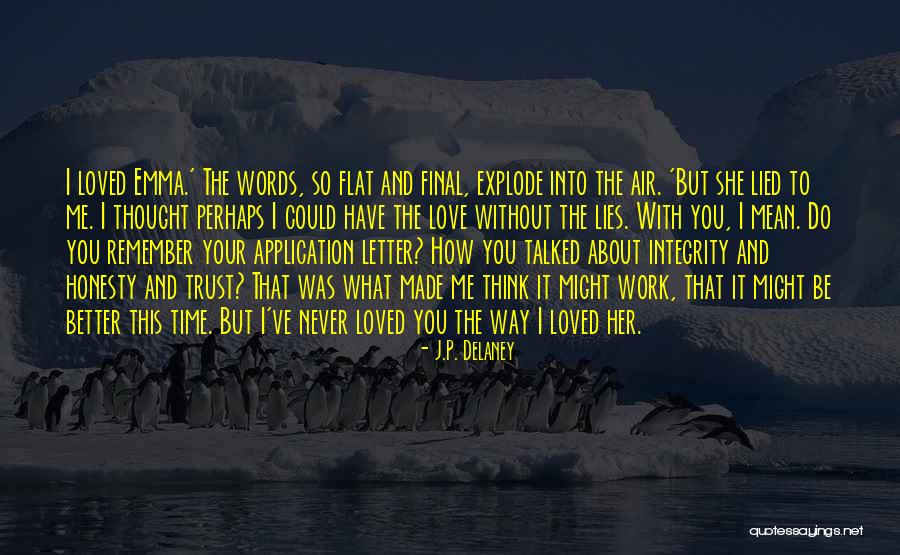 I loved Emma.' The words, so flat and final, explode into the air. 'But she lied to me. I thought perhaps I could have the love without the lies. With you, I mean. Do you remember your application letter? How you talked about integrity and honesty and trust? That was what made me think it might work, that it might be better this time. But I've never loved you the way I loved her. — J.P. Delaney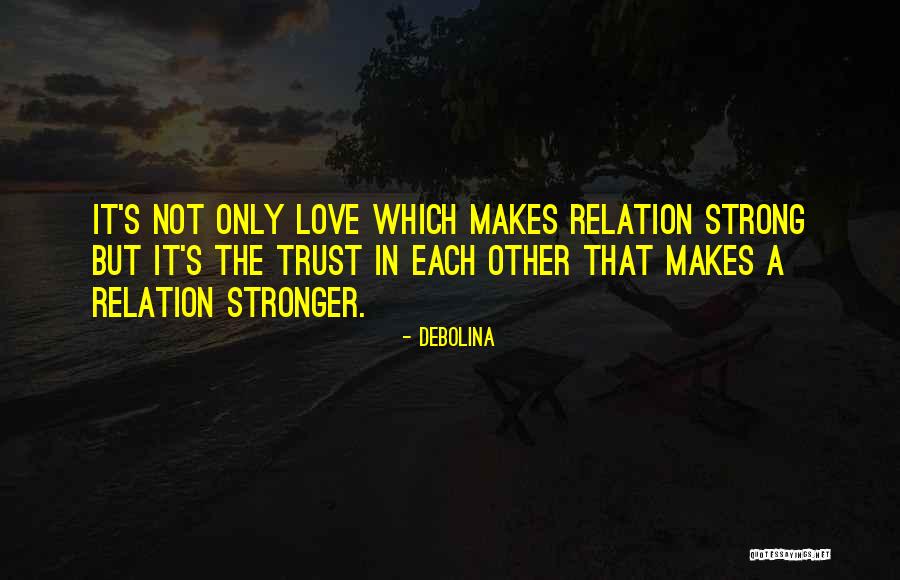 It's not only love which makes relation strong but it's the trust in each other that makes a relation stronger. — Debolina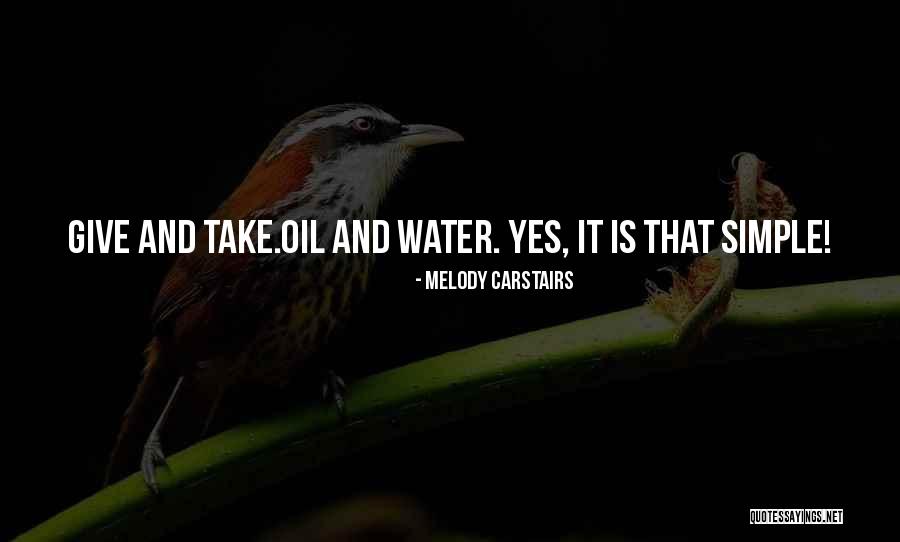 Give and take.
Oil and water.
Yes, it is that simple! — Melody Carstairs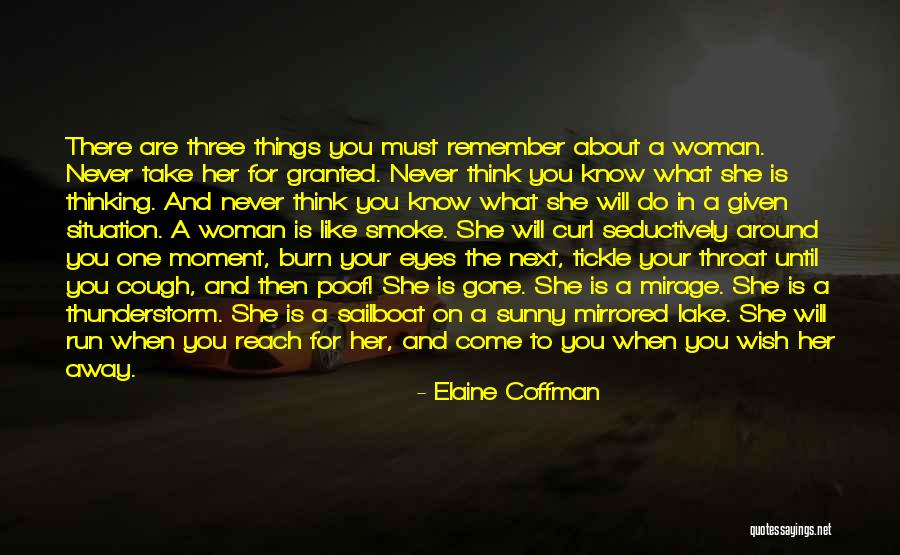 There are three things you must remember about a woman. Never take her for granted. Never think you know what she is thinking. And never think you know what she will do in a given situation. A woman is like smoke. She will curl seductively around you one moment, burn your eyes the next, tickle your throat until you cough, and then poof! She is gone. She is a mirage. She is a thunderstorm. She is a sailboat on a sunny mirrored lake. She will run when you reach for her, and come to you when you wish her away. You can solve a problem. You can analyze logic. You can explain how vapor turns into water. But you cannot understand the mind of a woman. And do you know why? Because she does not understand herself."
"Then what do you do?"
"You love her and deal with her in all honesty. You earn her trust. And then you trust the Almighty, who made women the way they are, believing that He knew what He was doing."
"What if that doesn't help?"
"Blame Him. — Elaine Coffman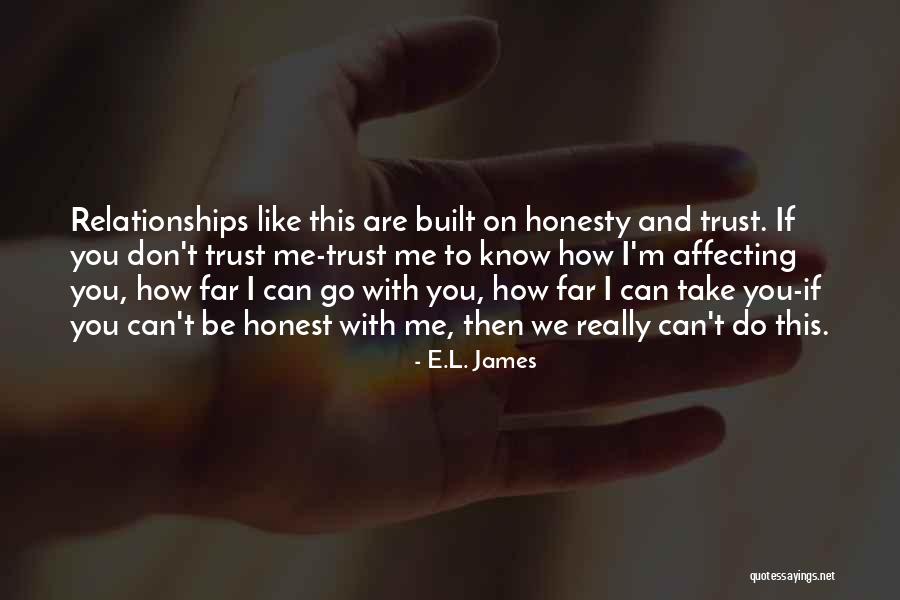 Relationships like this are built on honesty and trust. If you don't trust me-trust me to know how I'm affecting you, how far I can go with you, how far I can take you-if you can't be honest with me, then we really can't do this. — E.L. James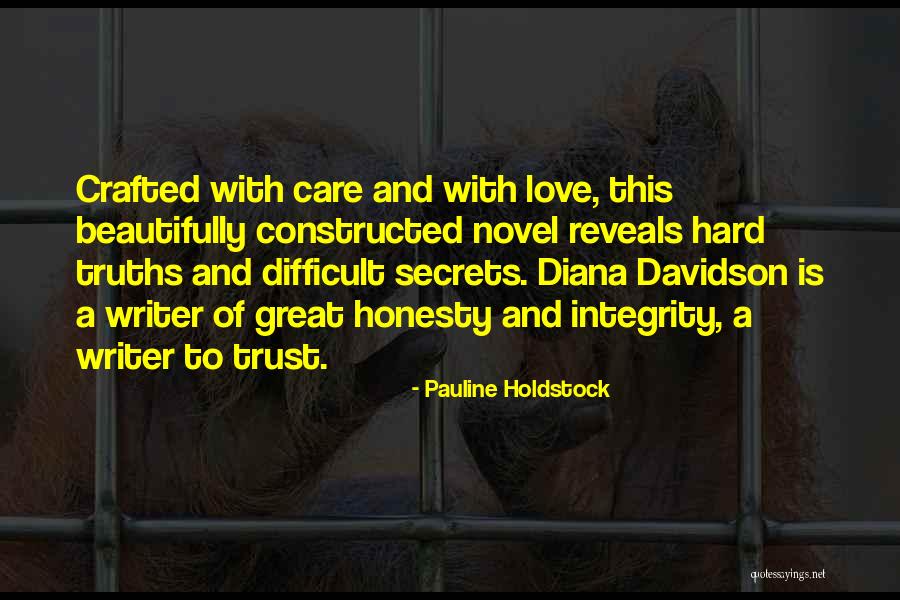 Crafted with care and with love, this beautifully constructed novel reveals hard truths and difficult secrets. Diana Davidson is a writer of great honesty and integrity, a writer to trust. — Pauline Holdstock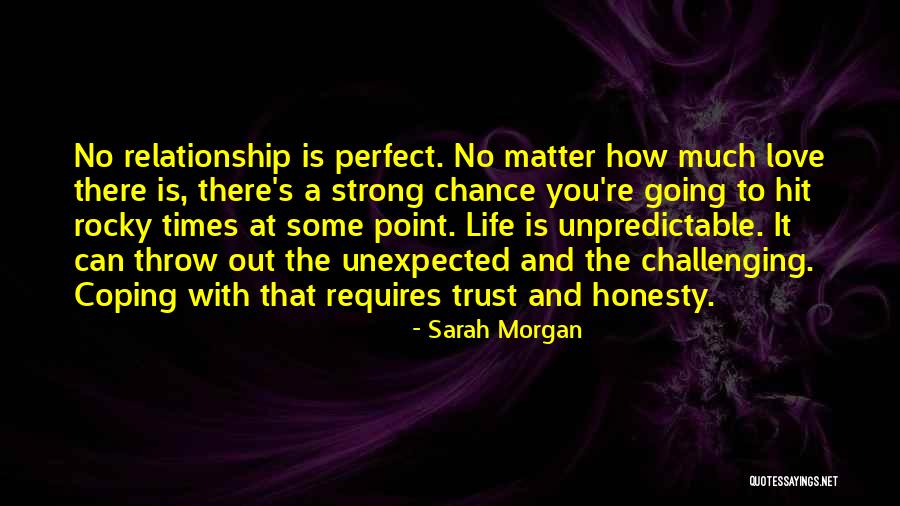 No relationship is perfect. No matter how much love there is, there's a strong chance you're going to hit rocky times at some point. Life is unpredictable. It can throw out the unexpected and the challenging. Coping with that requires trust and honesty. — Sarah Morgan
You have the power to shape your life the way you want it to be. Every though, every word, every action guides you with a purpose. And that purpose is to fulfill your destiny. Some may say you're just a dreamer. But everything imagined began with a dream. — Amaka Imani Nkosazana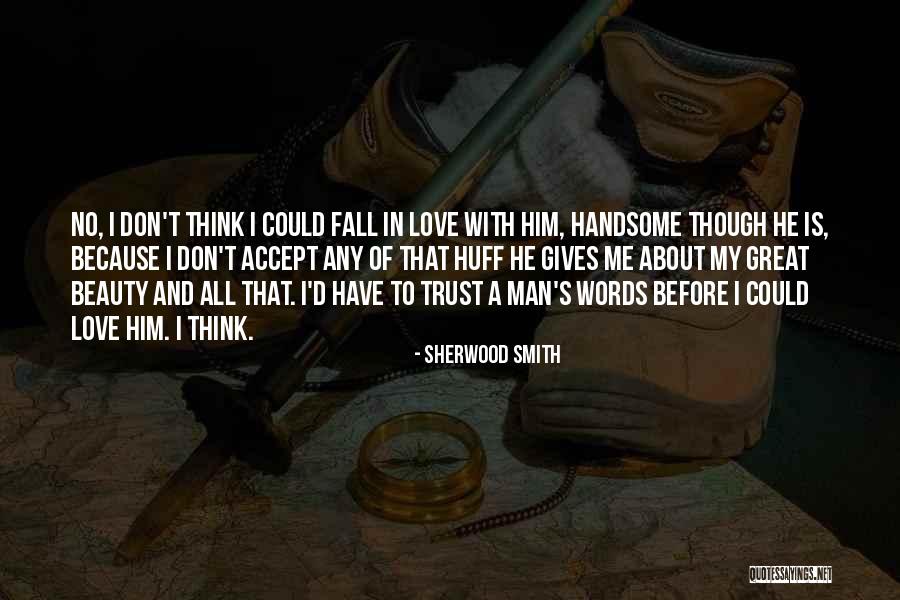 No, I don't think I could fall in love with him, handsome though he is, because I don't accept any of that huff he gives me about my great beauty and all that. I'd have to trust a man's words before I could love him. I think. — Sherwood Smith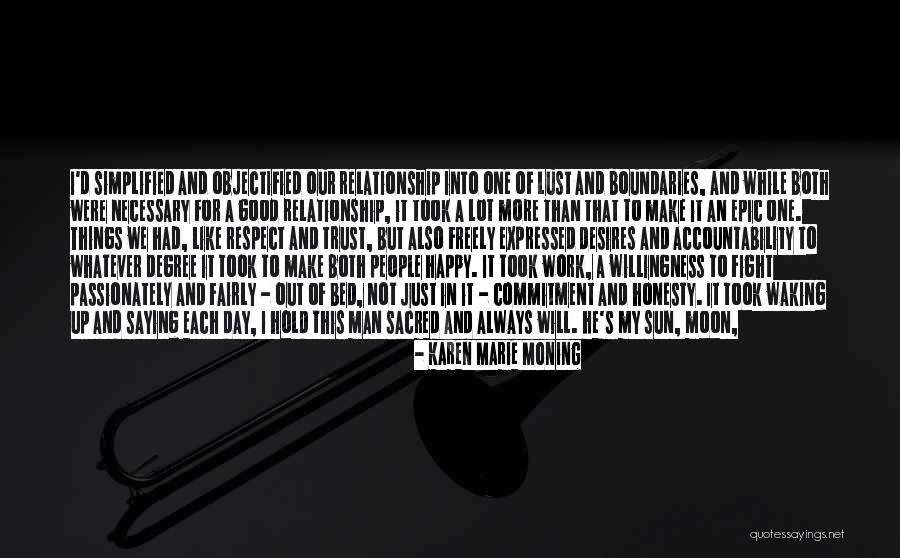 I'd simplified and objectified our relationship into one of lust and boundaries, and while both were necessary for a good relationship, it took a lot more than that to make it an epic one. Things we had, like respect and trust, but also freely expressed desires and accountability to whatever degree it took to make both people happy. It took work, a willingness to fight passionately and fairly - out of bed, not just in it - commitment and honesty. It took waking up and saying each day, I hold this man sacred and always will. He's my sun, moon, and stars. It took letting the other person in; a thing I'd stopped doing. It took being unafraid to ask for what you wanted, to put yourself on the line, to risk it all for love. We — Karen Marie Moning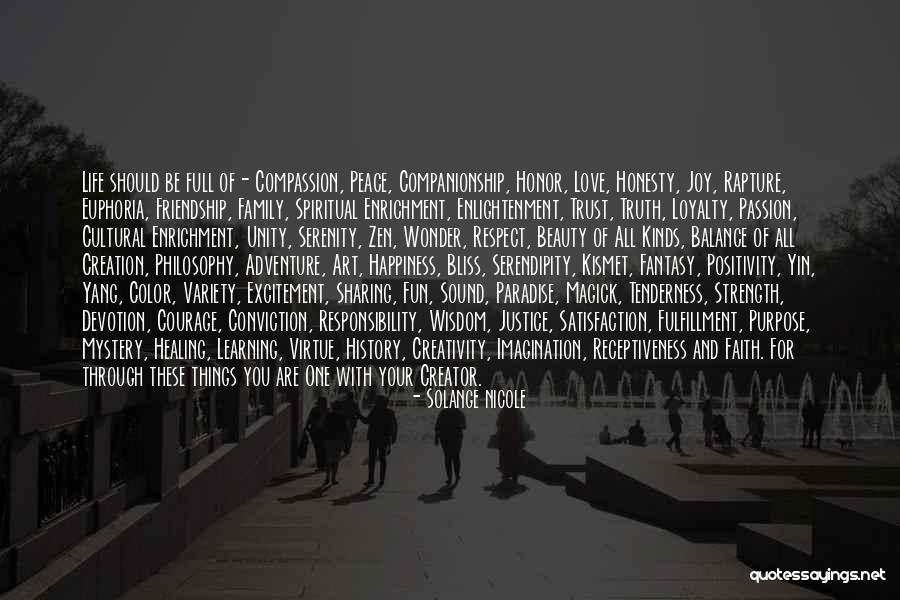 Life should be full of- Compassion, Peace, Companionship, Honor, Love, Honesty, Joy, Rapture, Euphoria, Friendship, Family, Spiritual Enrichment, Enlightenment, Trust, Truth, Loyalty, Passion, Cultural Enrichment, Unity, Serenity, Zen, Wonder, Respect, Beauty of All Kinds, Balance of all Creation, Philosophy, Adventure, Art, Happiness, Bliss, Serendipity, Kismet, Fantasy, Positivity, Yin, Yang, Color, Variety, Excitement, Sharing, Fun, Sound, Paradise, Magick, Tenderness, Strength, Devotion, Courage, Conviction, Responsibility, Wisdom, Justice, Satisfaction, Fulfillment, Purpose, Mystery, Healing, Learning, Virtue, History, Creativity, Imagination, Receptiveness and Faith. For through these things you are One with your Creator. — Solange Nicole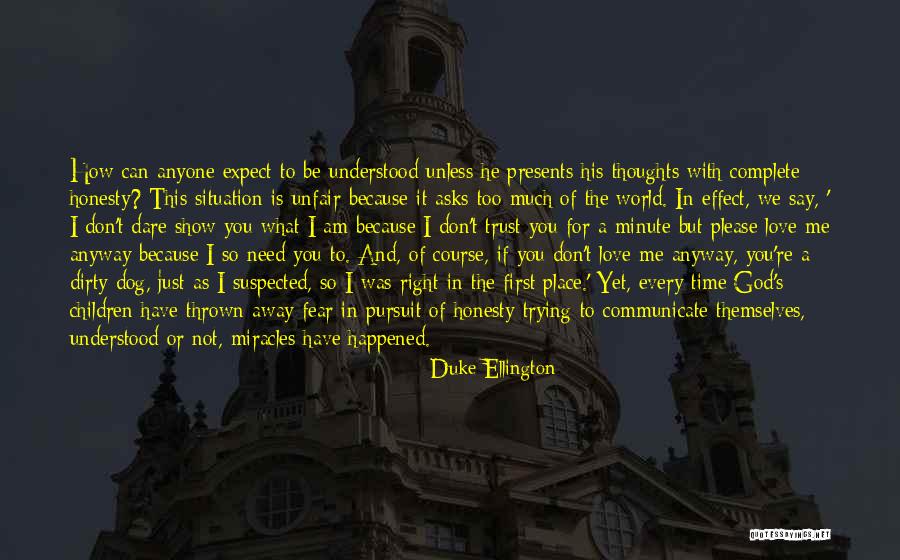 How can anyone expect to be understood unless he presents his thoughts with complete honesty? This situation is unfair because it asks too much of the world. In effect, we say, ' I don't dare show you what I am because I don't trust you for a minute but please love me anyway because I so need you to. And, of course, if you don't love me anyway, you're a dirty dog, just as I suspected, so I was right in the first place.' Yet, every time God's children have thrown away fear in pursuit of honesty-trying to communicate themselves, understood or not, miracles have happened. — Duke Ellington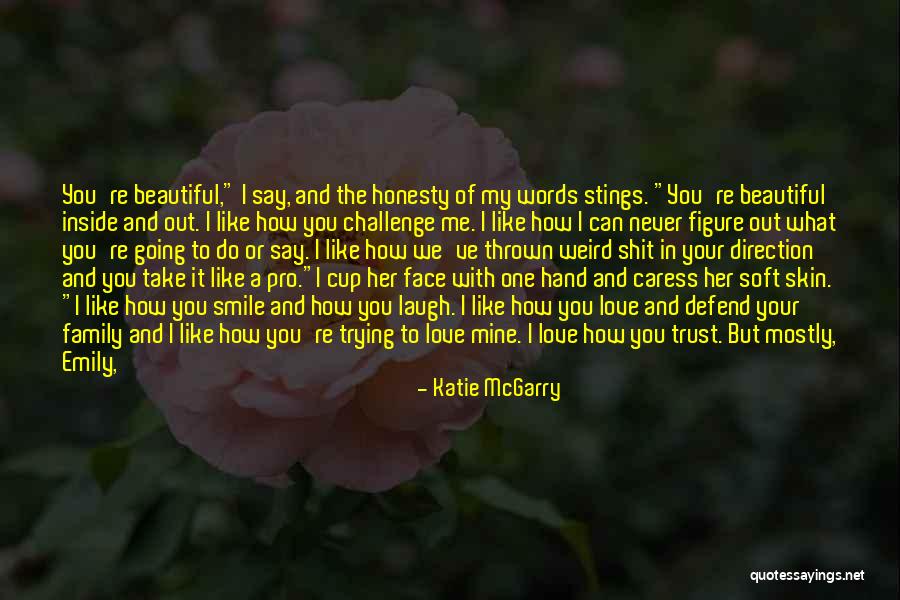 You're beautiful," I say, and the honesty of my words stings. "You're beautiful inside and out. I like how you challenge me. I like how I can never figure out what you're going to do or say. I like how we've thrown weird shit in your direction and you take it like a pro."
I cup her face with one hand and caress her soft skin. "I like how you smile and how you laugh. I like how you love and defend your family and I like how you're trying to love mine. I love how you trust. But mostly, Emily, I like how I feel when I'm around you."
Shit. My heart bursts as the words tumble out. "I'm falling for you. — Katie McGarry