Love God Above All Things Quotes & Sayings
Enjoy reading and share 30 famous quotes about Love God Above All Things with everyone.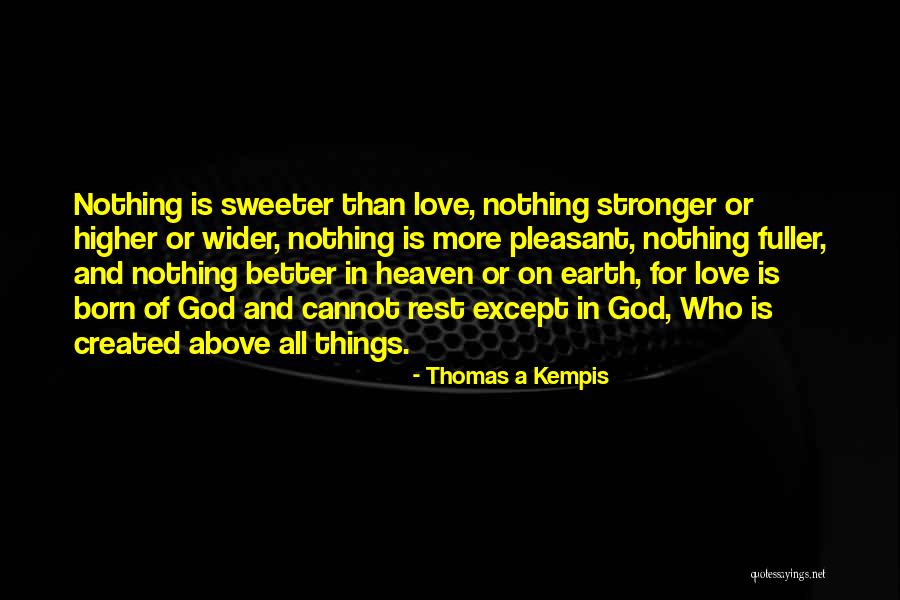 Nothing is sweeter than love, nothing stronger or higher or wider, nothing is more pleasant, nothing fuller, and nothing better in heaven or on earth, for love is born of God and cannot rest except in God, Who is created above all things. — Thomas A Kempis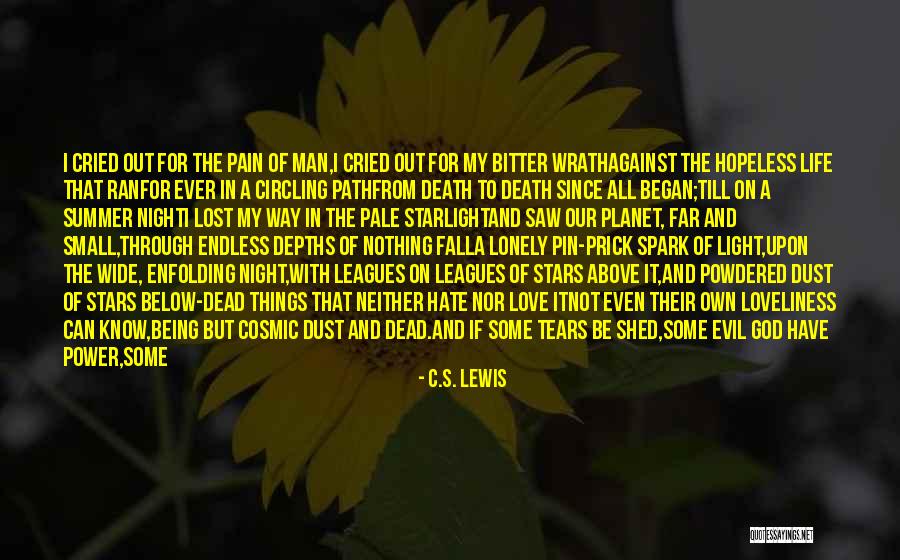 I cried out for the pain of man,
I cried out for my bitter wrath
Against the hopeless life that ran
For ever in a circling path
From death to death since all began;
Till on a summer night
I lost my way in the pale starlight
And saw our planet, far and small,
Through endless depths of nothing fall
A lonely pin-prick spark of light,
Upon the wide, enfolding night,
With leagues on leagues of stars above it,
And powdered dust of stars below-
Dead things that neither hate nor love it
Not even their own loveliness can know,
Being but cosmic dust and dead.
And if some tears be shed,
Some evil God have power,
Some crown of sorrow sit
Upon a little world for a little hour-
Who shall remember? Who shall care for it? — C.S. Lewis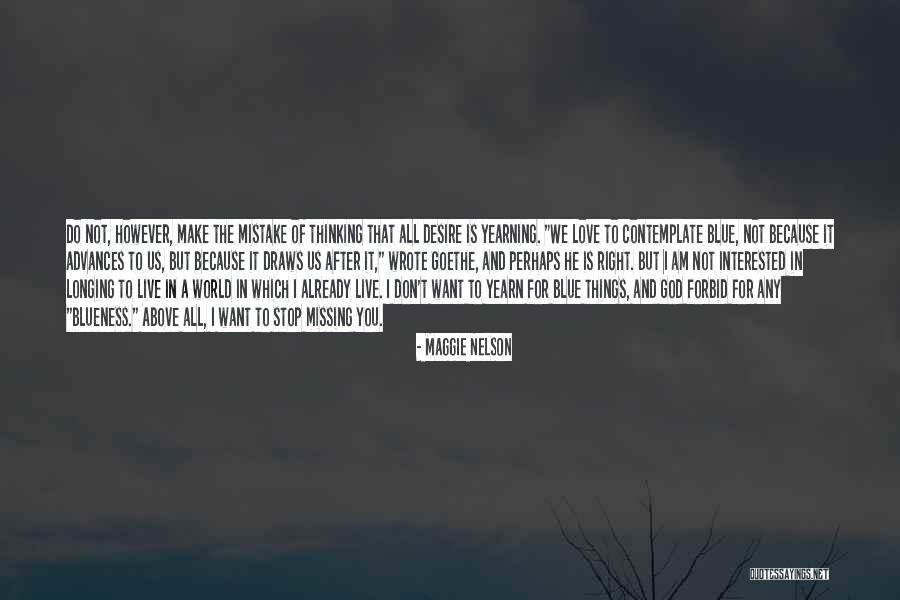 Do not, however, make the mistake of thinking that all desire is yearning. "We love to contemplate blue, not because it advances to us, but because it draws us after it," wrote Goethe, and perhaps he is right. But I am not interested in longing to live in a world in which I already live. I don't want to yearn for blue things, and God forbid for any "blueness." Above all, I want to stop missing you. — Maggie Nelson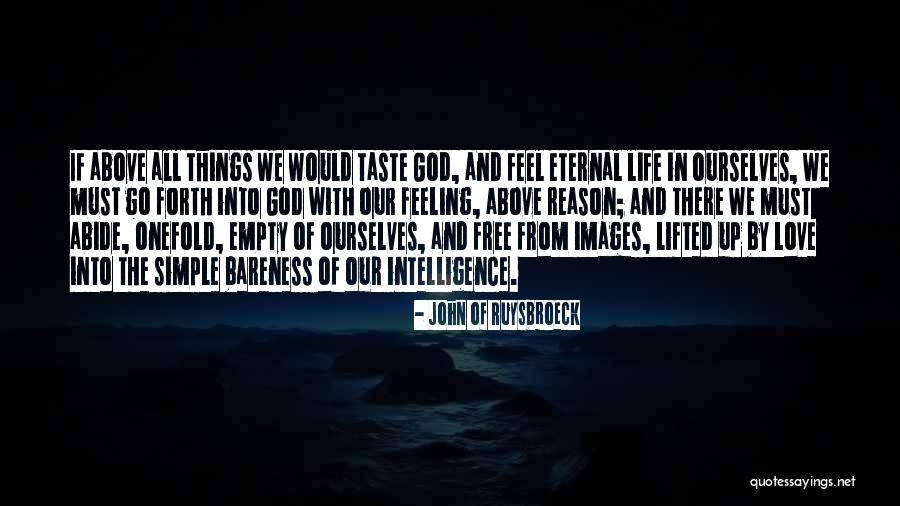 If above all things we would taste God, and feel eternal life in ourselves, we must go forth into God with our feeling, above reason; and there we must abide, onefold, empty of ourselves, and free from images, lifted up by love into the simple bareness of our intelligence. — John Of Ruysbroeck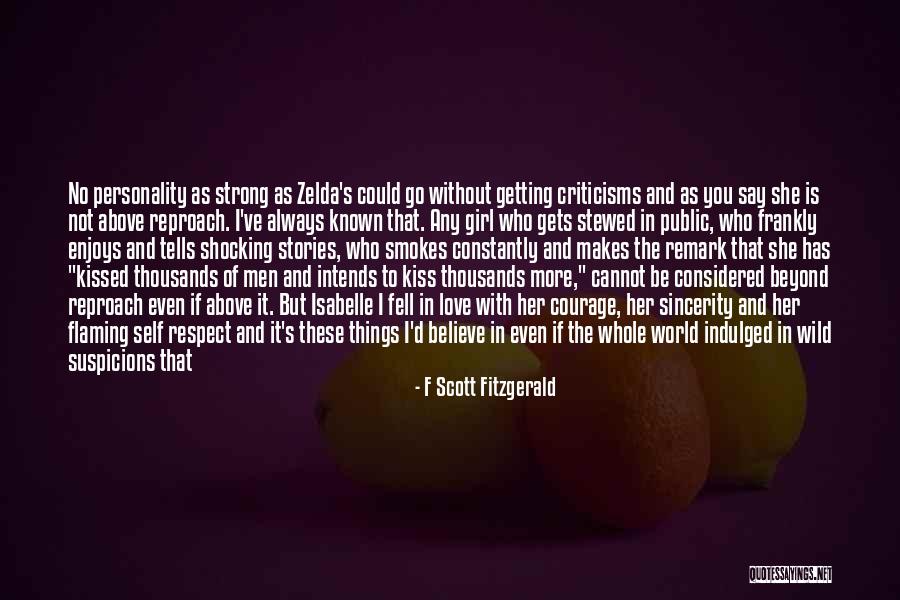 No personality as strong as Zelda's could go without getting criticisms and as you say she is not above reproach. I've always known that. Any girl who gets stewed in public, who frankly enjoys and tells shocking stories, who smokes constantly and makes the remark that she has "kissed thousands of men and intends to kiss thousands more," cannot be considered beyond reproach even if above it. But Isabelle I fell in love with her courage, her sincerity and her flaming self respect and it's these things I'd believe in even if the whole world indulged in wild suspicions that she wasn't all that she should be.
But of course the real reason, Isabelle, is that I love her and that's the beginning and end of everything. You're still a Catholic but Zelda's the only God I have left now. — F Scott Fitzgerald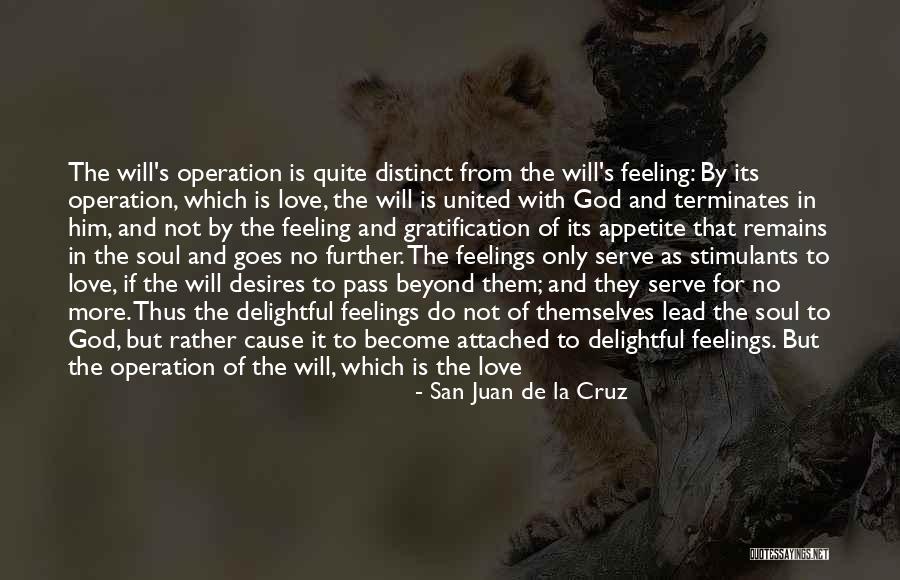 The will's operation is quite distinct from the will's feeling: By its operation, which is love, the will is united with God and terminates in him, and not by the feeling and gratification of its appetite that remains in the soul and goes no further. The feelings only serve as stimulants to love, if the will desires to pass beyond them; and they serve for no more. Thus the delightful feelings do not of themselves lead the soul to God, but rather cause it to become attached to delightful feelings. But the operation of the will, which is the love of God, concentrates the affection, joy, plea sure, satisfaction, and love of the soul only on God, leaving aside all things and loving him above them all. — San Juan De La Cruz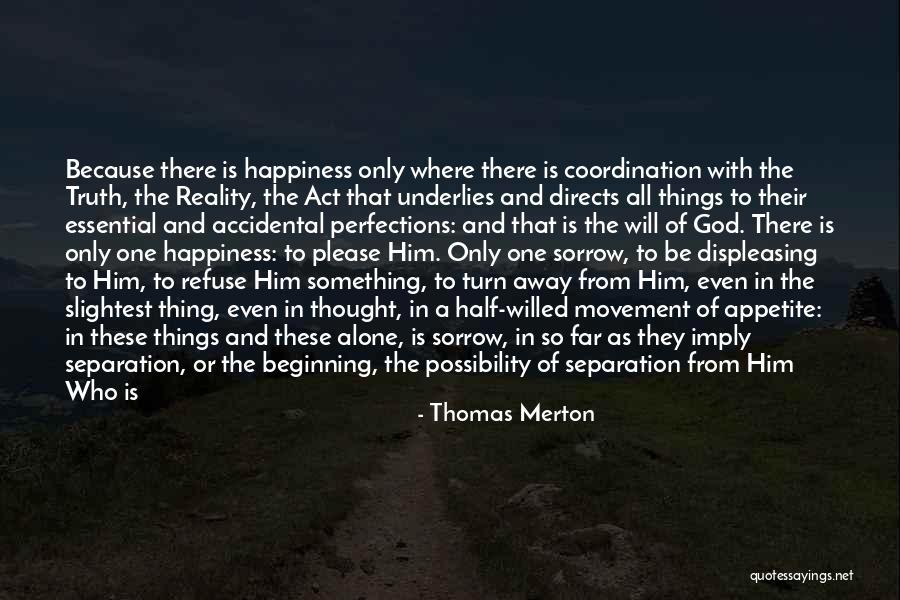 Because there is happiness only where there is coordination with the Truth, the Reality, the Act that underlies and directs all things to their essential and accidental perfections: and that is the will of God. There is only one happiness: to please Him. Only one sorrow, to be displeasing to Him, to refuse Him something, to turn away from Him, even in the slightest thing, even in thought, in a half-willed movement of appetite: in these things and these alone, is sorrow, in so far as they imply separation, or the beginning, the possibility of separation from Him Who is our life and all our joy. And since God is a Spirit, and infinitely above all matter and all creation, the only complete union possible, between ourselves and Him, is in the order of intention: a union of wills and intellects, in love, charity. — Thomas Merton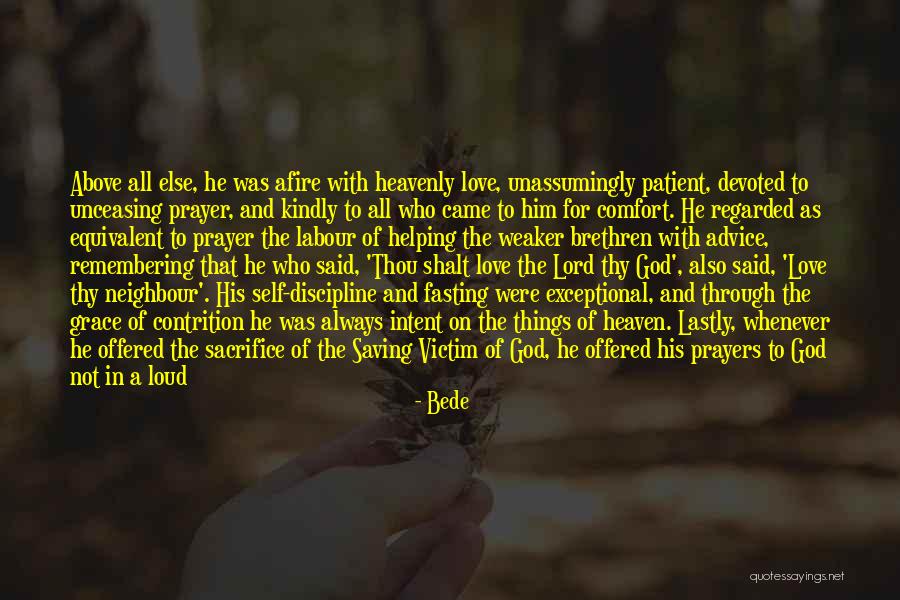 Above all else, he was afire with heavenly love, unassumingly patient, devoted to unceasing prayer, and kindly to all who came to him for comfort. He regarded as equivalent to prayer the labour of helping the weaker brethren with advice, remembering that he who said, 'Thou shalt love the Lord thy God', also said, 'Love thy neighbour'. His self-discipline and fasting were exceptional, and through the grace of contrition he was always intent on the things of heaven. Lastly, whenever he offered the sacrifice of the Saving Victim of God, he offered his prayers to God not in a loud voice but with tears welling up from the depths of his heart. — Bede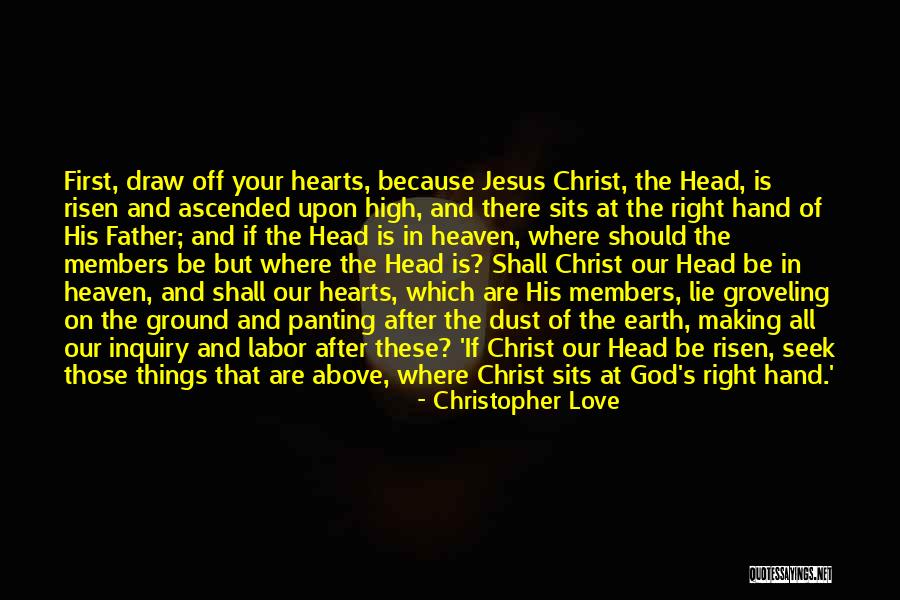 First, draw off your hearts, because Jesus Christ, the Head, is risen and ascended upon high, and there sits at the right hand of His Father; and if the Head is in heaven, where should the members be but where the Head is? Shall Christ our Head be in heaven, and shall our hearts, which are His members, lie groveling on the ground and panting after the dust of the earth, making all our inquiry and labor after these? 'If Christ our Head be risen, seek those things that are above, where Christ sits at God's right hand.' — Christopher Love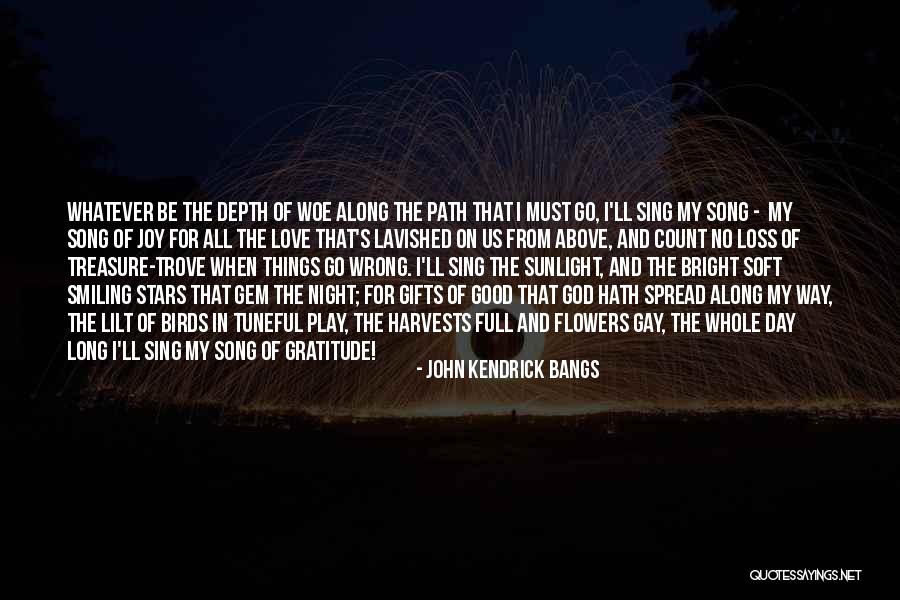 Whatever be the depth of woe Along the path that I must go, I'll sing my song - My song of joy for all the love That's lavished on us from above, And count no loss of treasure-trove When things go wrong. I'll sing the sunlight, and the bright Soft smiling stars that gem the night; For gifts of good That God hath spread along my way, The lilt of birds in tuneful play, The harvests full and flowers gay, The whole day long I'll sing my song Of gratitude! — John Kendrick Bangs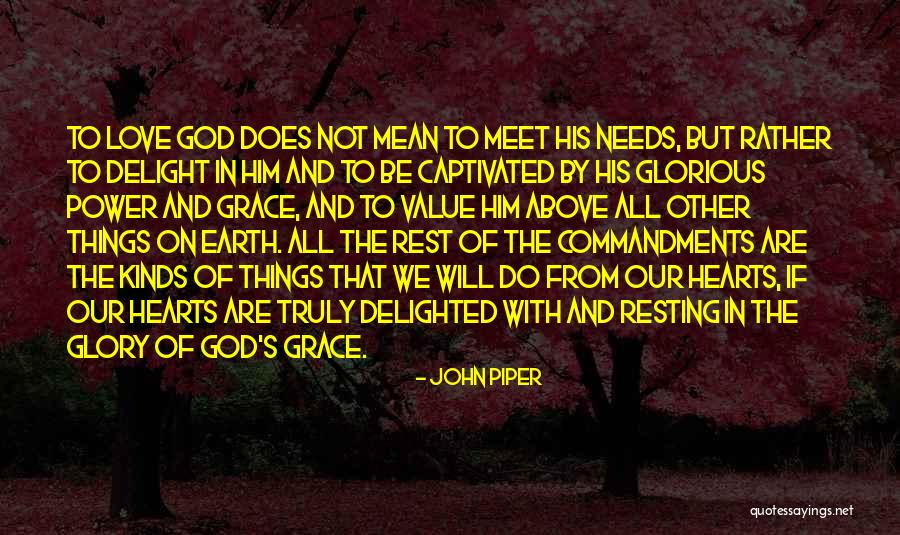 To love God does not mean to meet His needs, but rather to delight in Him and to be captivated by His glorious power and grace, and to value Him above all other things on earth. All the rest of the commandments are the kinds of things that we will do from our hearts, if our hearts are truly delighted with and resting in the glory of God's grace. — John Piper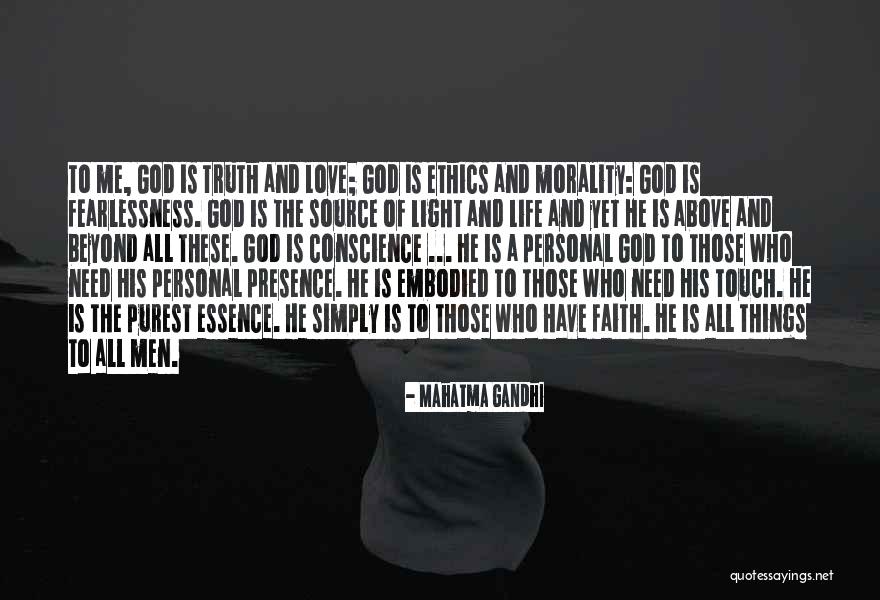 To me, God is Truth and Love; God is ethics and morality: God is fearlessness. God is the source of Light and Life and yet He is above and beyond all these. God is conscience ... He is a personal God to those who need His personal presence. He is embodied to those who need His touch. He is the purest essence. He simply is to those who have faith. He is all things to all men. — Mahatma Gandhi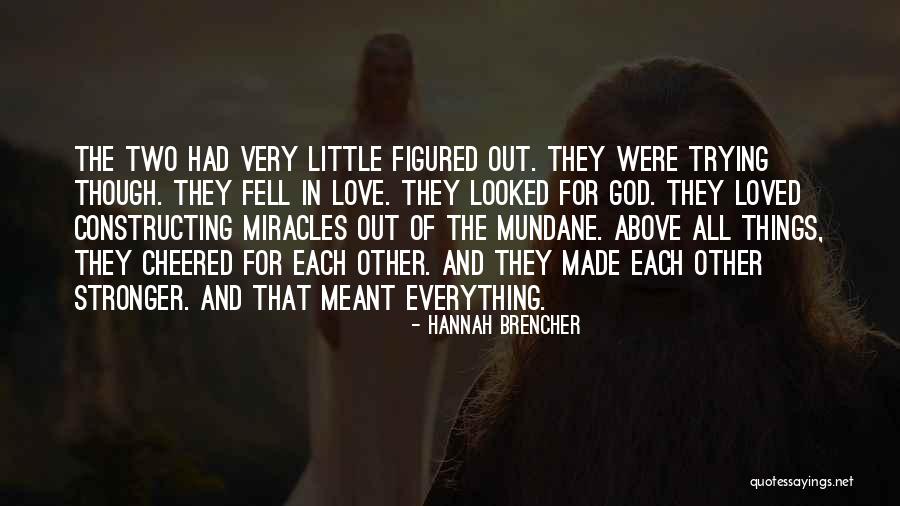 The two had very little figured out. They were trying though. They fell in love. They looked for God. They loved constructing miracles out of the mundane. Above all things, they cheered for each other. And they made each other stronger. And that meant everything. — Hannah Brencher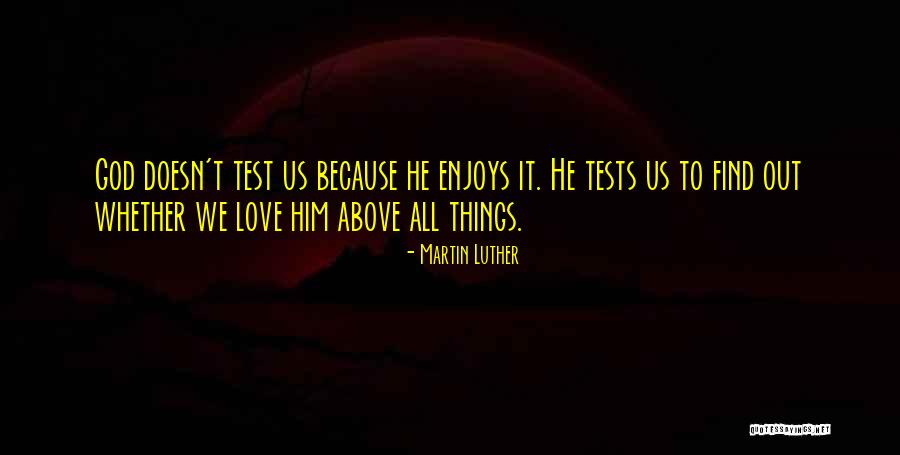 God doesn't test us because he enjoys it. He tests us to find out whether we love him above all things. — Martin Luther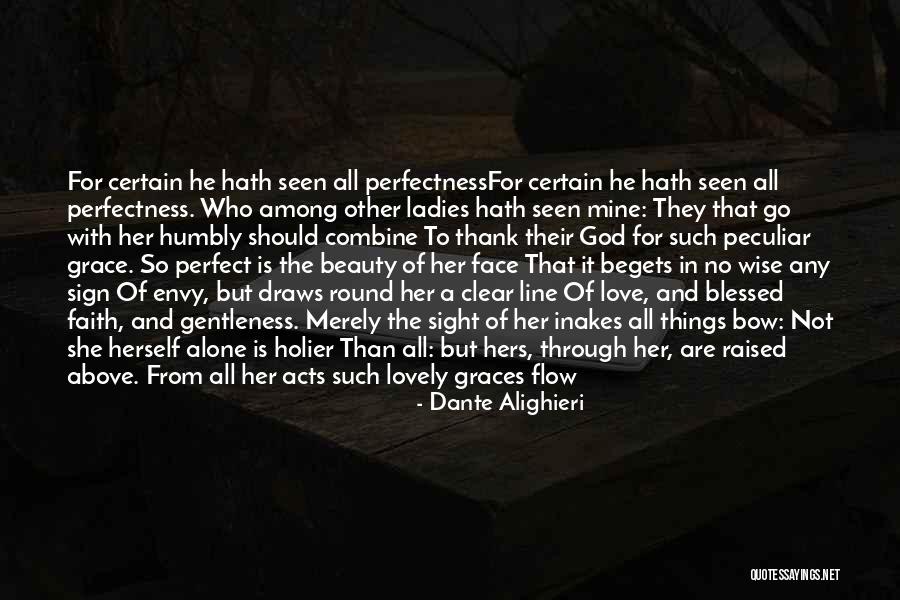 For certain he hath seen all perfectness
For certain he hath seen all perfectness.
Who among other ladies hath seen mine:
They that go with her humbly should combine
To thank their God for such peculiar grace.
So perfect is the beauty of her face
That it begets in no wise any sign
Of envy, but draws round her a clear line
Of love, and blessed faith, and gentleness.
Merely the sight of her inakes all things bow:
Not she herself alone is holier
Than all: but hers, through her, are raised above.
From all her acts such lovely graces flow
That truly one may never think of her
Without a passion of exceeding love. — Dante Alighieri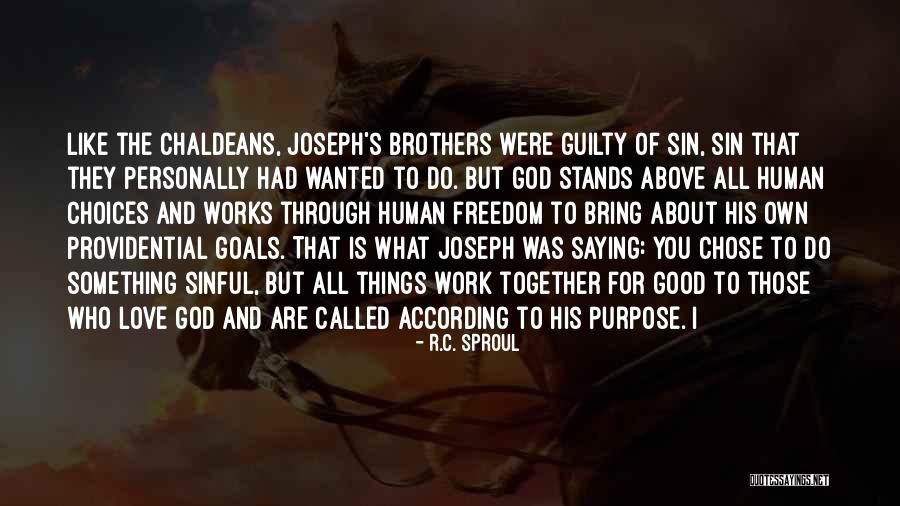 Like the Chaldeans, Joseph's brothers were guilty of sin, sin that they personally had wanted to do. But God stands above all human choices and works through human freedom to bring about His own providential goals. That is what Joseph was saying: You chose to do something sinful, but all things work together for good to those who love God and are called according to His purpose. I — R.C. Sproul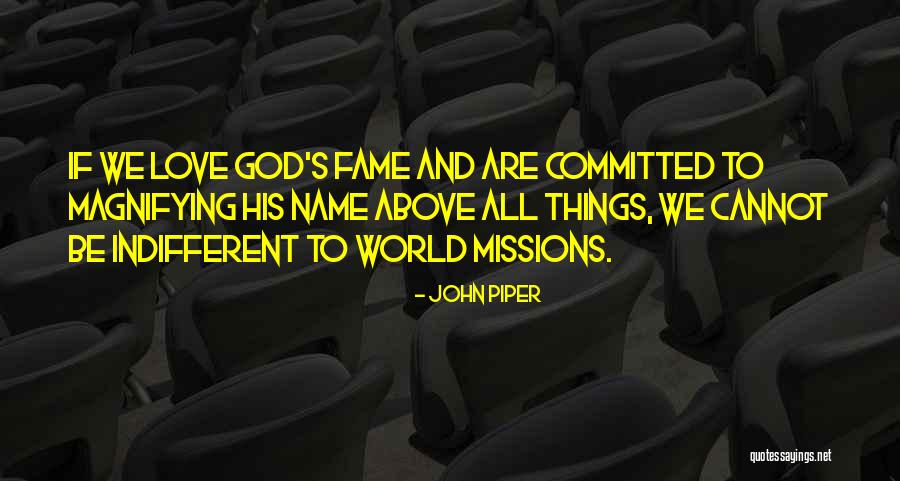 If we love God's fame and are committed to magnifying His name above all things, we cannot be indifferent to world missions. — John Piper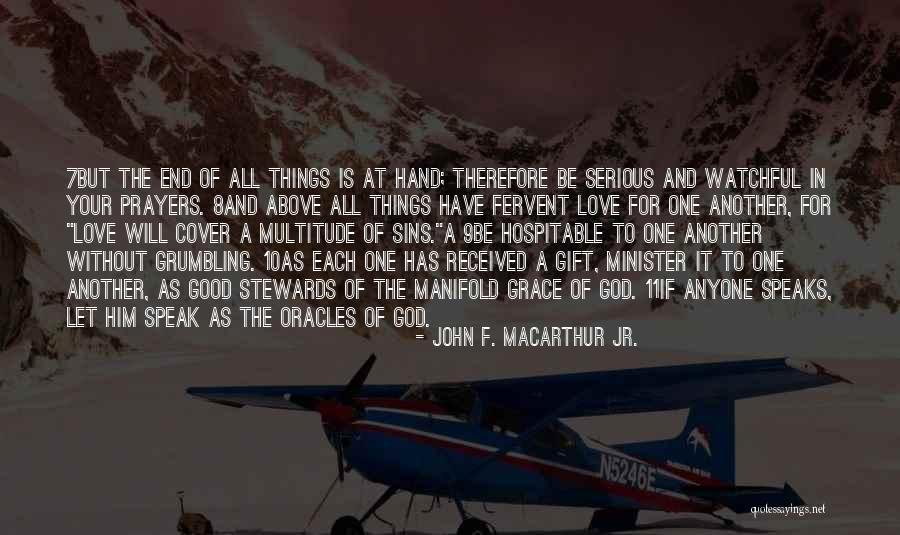 7But the end of all things is at hand; therefore be serious and watchful in your prayers. 8And above all things have fervent love for one another, for "love will cover a multitude of sins."a 9Be hospitable to one another without grumbling. 10As each one has received a gift, minister it to one another, as good stewards of the manifold grace of God. 11If anyone speaks, let him speak as the oracles of God. — John F. MacArthur Jr.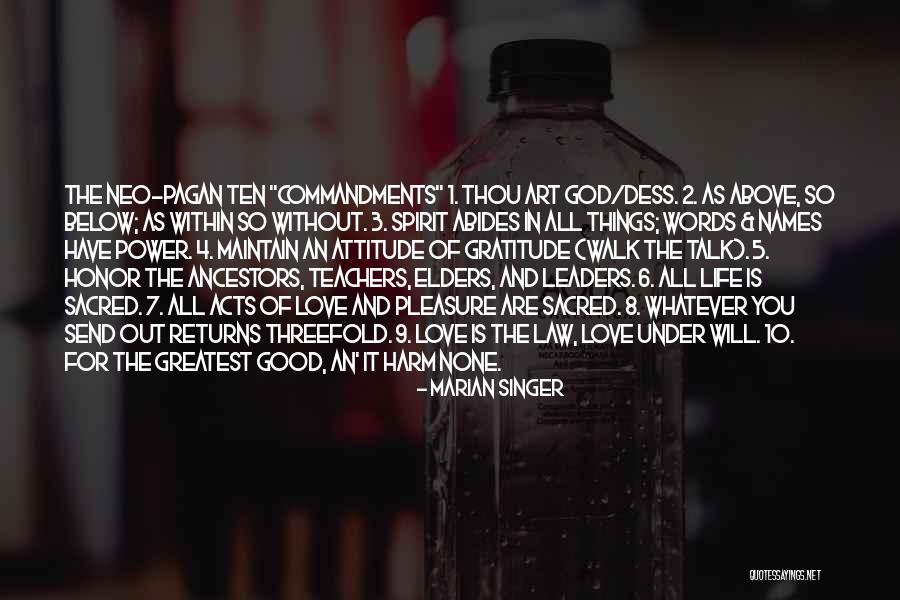 The Neo-Pagan Ten "Commandments"

1. Thou art God/dess.
2. As above, so below; as within so without.
3. Spirit abides in all things; words & names have power.
4. Maintain an attitude of gratitude (walk the talk).
5. Honor the ancestors, teachers, elders, and leaders.
6. All life is sacred.
7. All acts of love and pleasure are sacred.
8. Whatever you send out returns threefold.
9. Love is the law, love under will.
10. For the greatest good, an' it harm none. — Marian Singer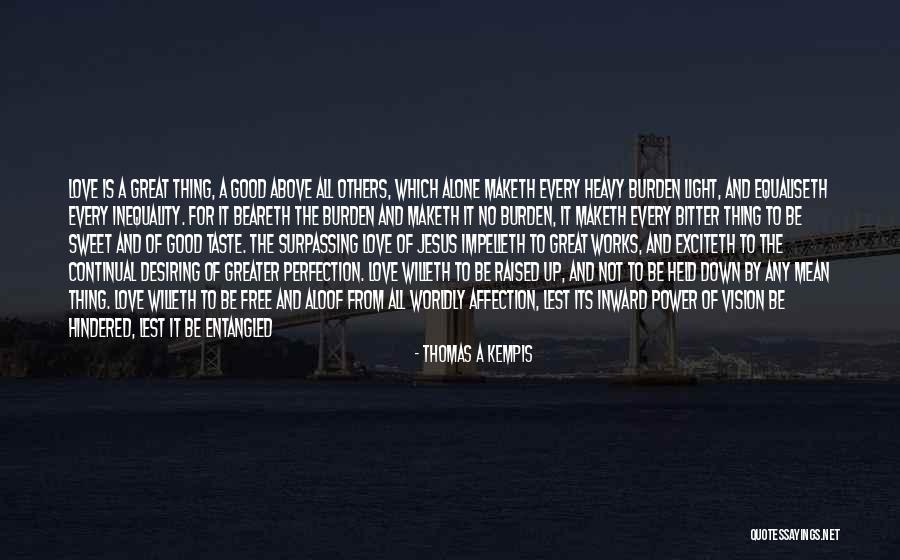 Love is a great thing, a good above all others, which alone maketh every heavy burden light, and equaliseth every inequality. For it beareth the burden and maketh it no burden, it maketh every bitter thing to be sweet and of good taste. The surpassing love of Jesus impelleth to great works, and exciteth to the continual desiring of greater perfection. Love willeth to be raised up, and not to be held down by any mean thing. Love willeth to be free and aloof from all worldly affection, lest its inward power of vision be hindered, lest it be entangled by any worldly prosperity or overcome by adversity. Nothing is sweeter than love, nothing stronger, nothing loftier, nothing broader, nothing pleasanter, nothing fuller or better in heaven nor on earth, for love was born of God and cannot rest save in God above all created things. — Thomas A Kempis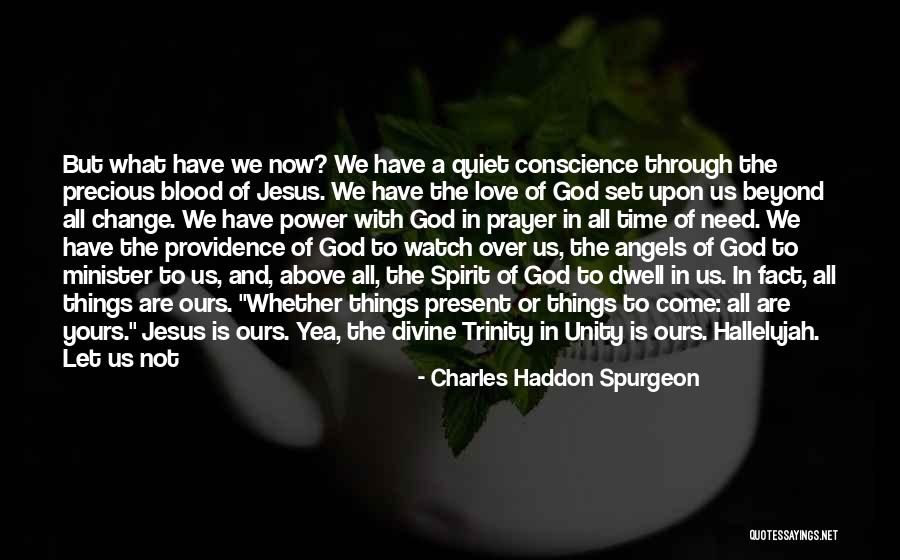 But what have we now? We have a quiet conscience through the precious blood of Jesus. We have the love of God set upon us beyond all change. We have power with God in prayer in all time of need. We have the providence of God to watch over us, the angels of God to minister to us, and, above all, the Spirit of God to dwell in us. In fact, all things are ours. "Whether things present or things to come: all are yours." Jesus is ours. Yea, the divine Trinity in Unity is ours. Hallelujah. Let us not pine and whine, and stint and slave, since we have good things in possession. Let us live on our God and rejoice in him all the day. Help us, O Holy Ghost! — Charles Haddon Spurgeon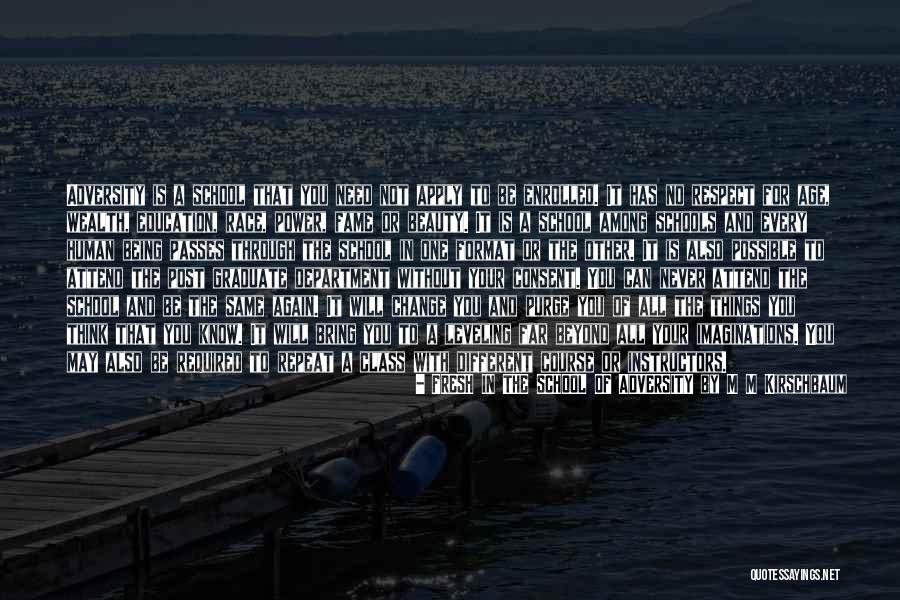 Adversity is a school that you need not apply to be enrolled. It has no respect for age, wealth, education, race, power, fame or beauty. It is a school among schools and every human being passes through the school in one format or the other. It is also possible to attend the post graduate department without your consent. You can never attend the school and be the same again. It will change you and purge you of all the things you think that you know. It will bring you to a leveling far beyond all your imaginations. You may also be required to repeat a class with different course or instructors. — FRESH IN THE SCHOOL OF ADVERSITY By M M Kirschbaum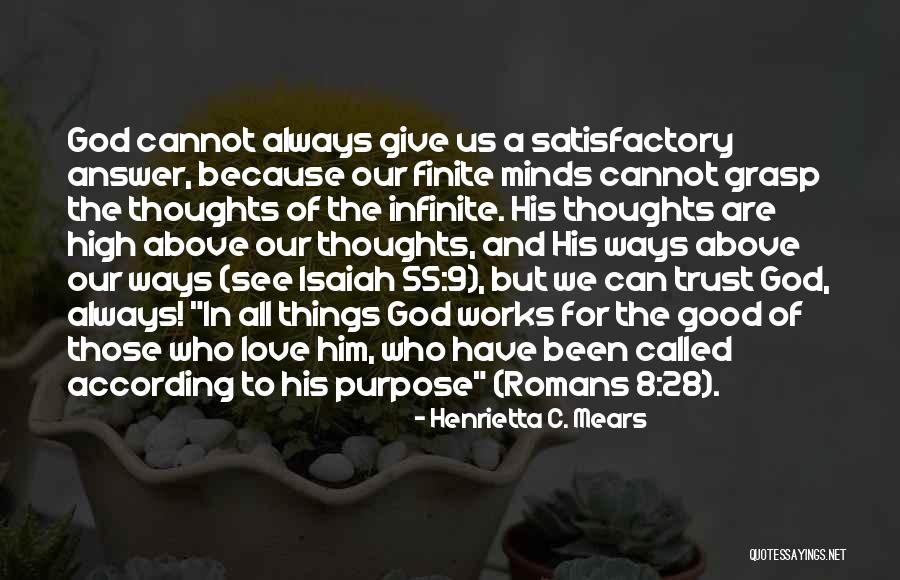 God cannot always give us a satisfactory answer, because our finite minds cannot grasp the thoughts of the infinite. His thoughts are high above our thoughts, and His ways above our ways (see Isaiah 55:9), but we can trust God, always! "In all things God works for the good of those who love him, who have been called according to his purpose" (Romans 8:28). — Henrietta C. Mears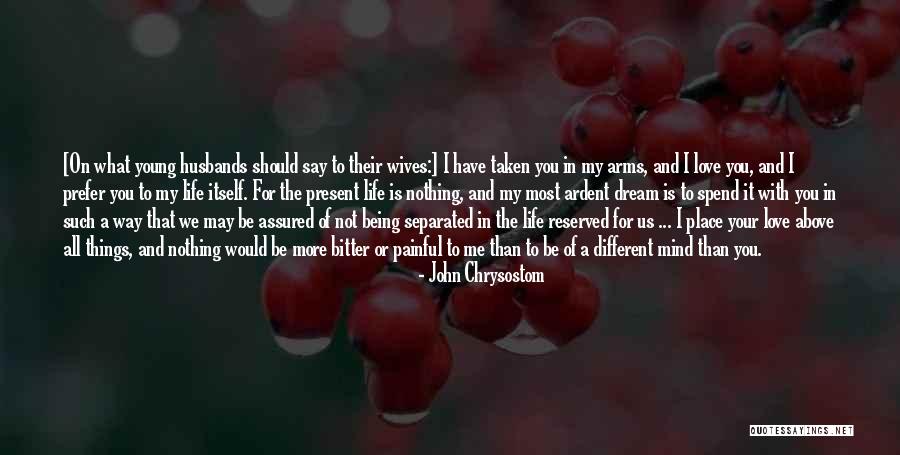 [On what young husbands should say to their wives:] I have taken you in my arms, and I love you, and I prefer you to my life itself. For the present life is nothing, and my most ardent dream is to spend it with you in such a way that we may be assured of not being separated in the life reserved for us ... I place your love above all things, and nothing would be more bitter or painful to me than to be of a different mind than you. — John Chrysostom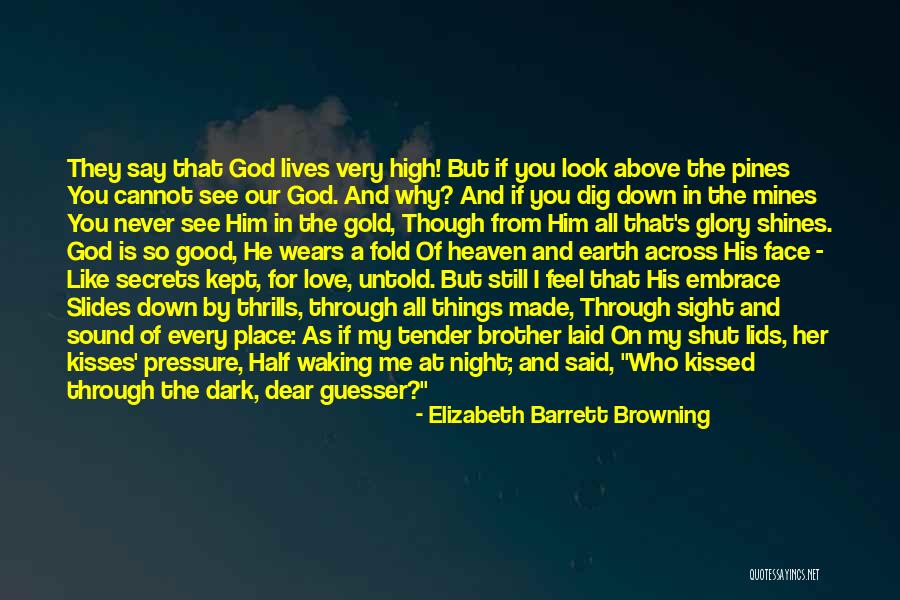 They say that God lives very high! But if you look above the pines You cannot see our God. And why? And if you dig down in the mines You never see Him in the gold, Though from Him all that's glory shines. God is so good, He wears a fold Of heaven and earth across His face - Like secrets kept, for love, untold. But still I feel that His embrace Slides down by thrills, through all things made, Through sight and sound of every place: As if my tender brother laid On my shut lids, her kisses' pressure, Half waking me at night; and said, "Who kissed through the dark, dear guesser?" — Elizabeth Barrett Browning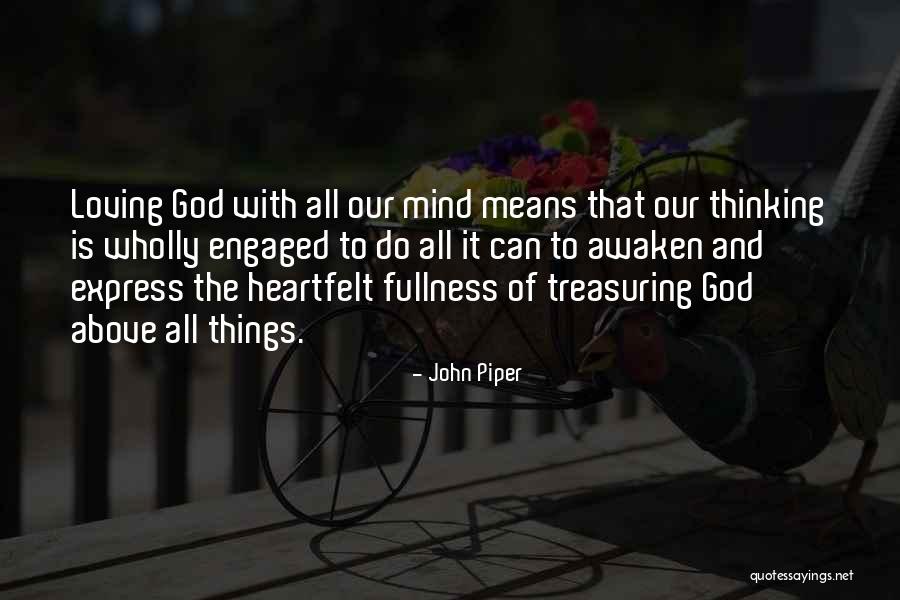 Loving God with all our mind means that our thinking is wholly engaged to do all it can to awaken and express the heartfelt fullness of treasuring God above all things. — John Piper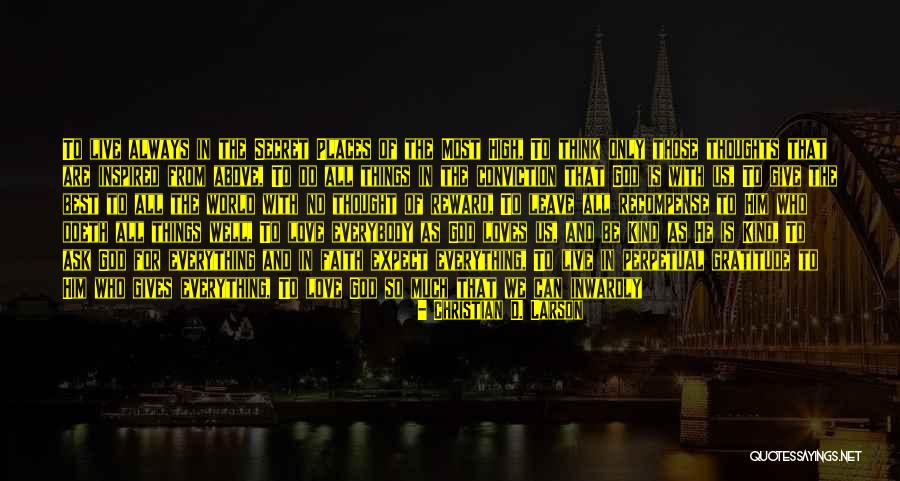 To live always in the Secret Places of the Most High, To think only those thoughts that are inspired from above, To do all things in the conviction that God is with us, To give the best to all the world with no thought of reward, To leave all recompense to Him who doeth all things well, To love everybody as God loves us, and be Kind as He is Kind, To ask God for everything and in faith expect everything, To live in perpetual gratitude to Him who gives everything, To love God so much that we can inwardly feel that My Father and I are one, This is the prayer without ceasing, the true worship of the soul. — Christian D. Larson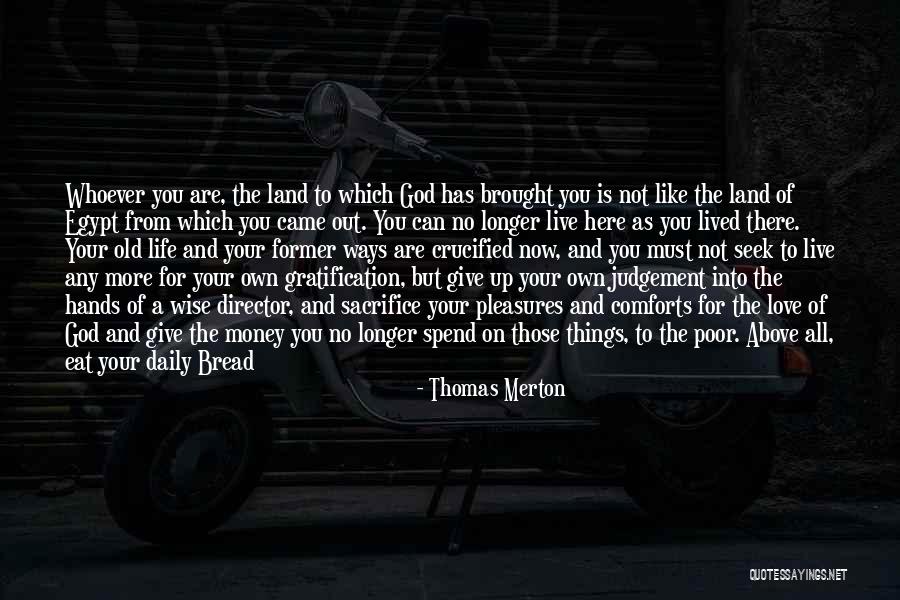 Whoever you are, the land to which God has brought you is not like the land of Egypt from which you came out. You can no longer live here as you lived there. Your old life and your former ways are crucified now, and you must not seek to live any more for your own gratification, but give up your own judgement into the hands of a wise director, and sacrifice your pleasures and comforts for the love of God and give the money you no longer spend on those things, to the poor. Above all, eat your daily Bread without which you cannot live, and come to know Christ Whose Life feeds you in the Host, and He will give you a taste of joys and delights that transcend anything you have ever experienced before, and which will make the transition easy. — Thomas Merton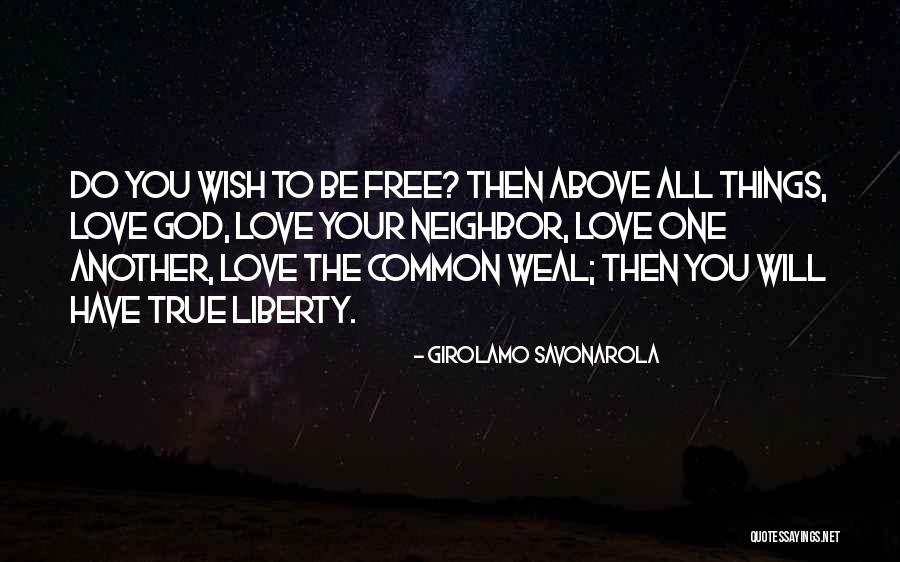 Do you wish to be free? Then above all things, love God, love your neighbor, love one another, love the common weal; then you will have true liberty. — Girolamo Savonarola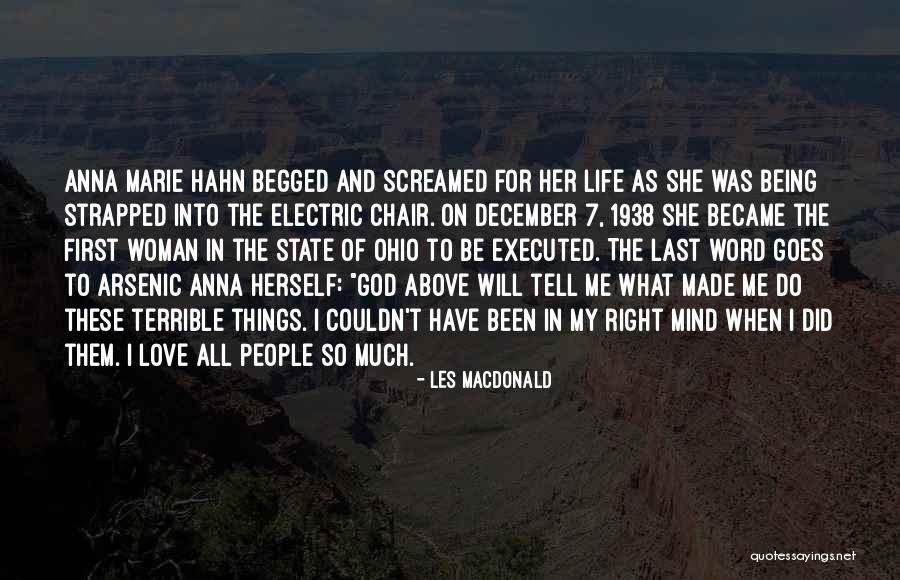 Anna Marie Hahn begged and screamed for her life as she was being strapped into the electric chair. On December 7, 1938 she became the first woman in the state of Ohio to be executed. The last word goes to Arsenic Anna herself: "God above will tell me what made me do these terrible things. I couldn't have been in my right mind when I did them. I love all people so much. — Les Macdonald