Love All Hate None Quotes & Sayings
Enjoy reading and share 52 famous quotes about Love All Hate None with everyone.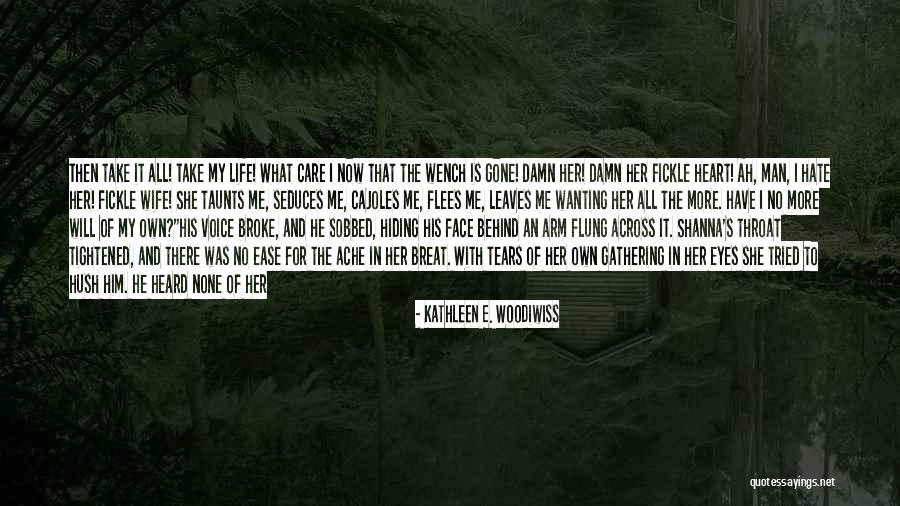 Then take it all! Take my life! What care I now that the wench is gone! Damn her! Damn her fickle heart! Ah, man, I hate her! Fickle wife! She taunts me, seduces me, cajoles me, flees me, leaves me wanting her all the more. Have I no more will of my own?"
His voice broke, and he sobbed, hiding his face behind an arm flung across it. Shanna's throat tightened, and there was no ease for the ache in her breat. With tears of her own gathering in her eyes she tried to hush him. He heard none of her pleas, but lifted his hands and held them before his eyes, turning them, staring at them as if he had never seen them before.
"But still - I love her. I could take my freedom and fly - but she holds me bound to her." His hands became limp fists which slowly crumpled to his sides as he groaned listlessly. "I cannot stay. I cannot leave." His eyes closed, and swiftly the moment was gone.
Choking on a sob, Shanna bowed her head in abject misery. — Kathleen E. Woodiwiss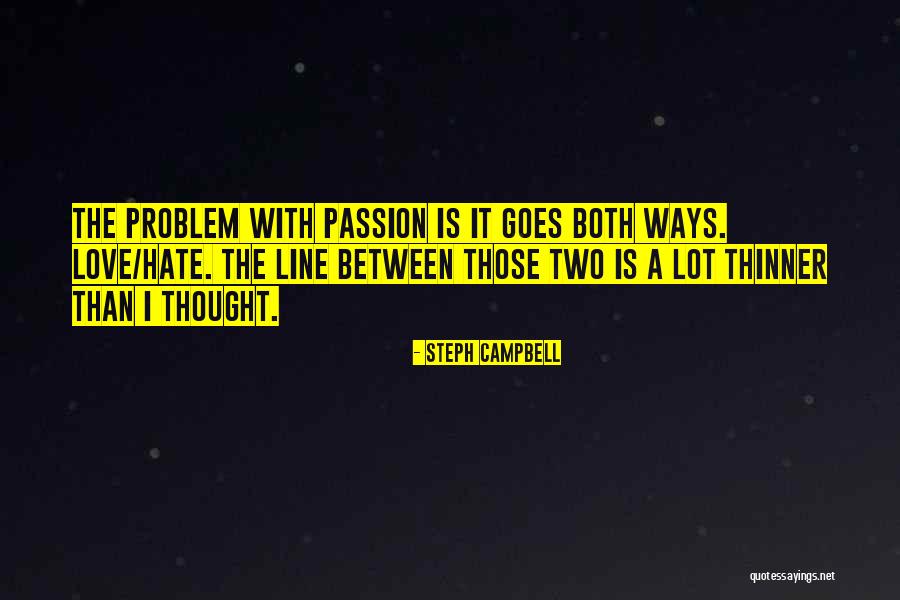 The problem with passion is it goes both ways. Love/Hate. The line between those two is a lot thinner than I thought. — Steph Campbell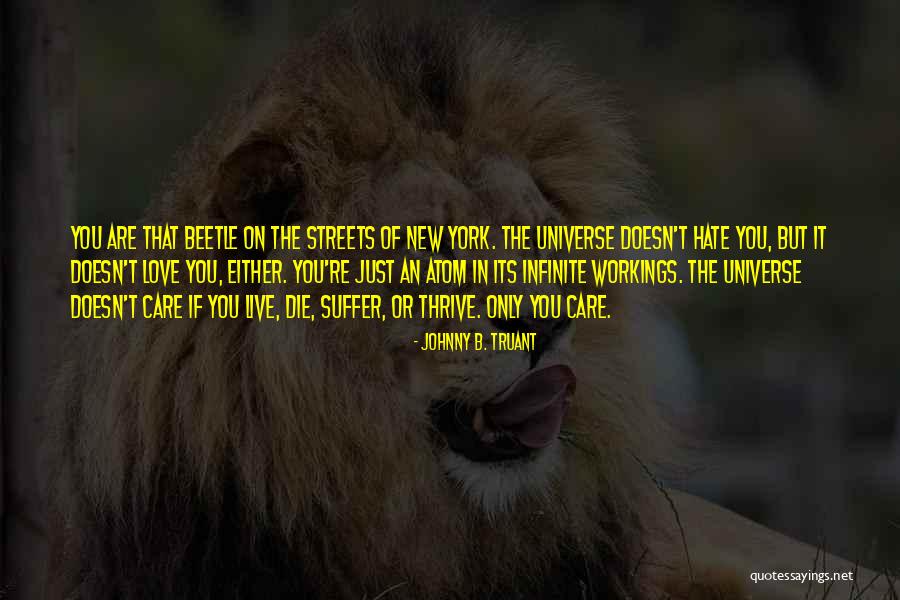 You are that beetle on the streets of New York. The universe doesn't hate you, but it doesn't love you, either. You're just an atom in its infinite workings. The universe doesn't care if you live, die, suffer, or thrive. Only YOU care. — Johnny B. Truant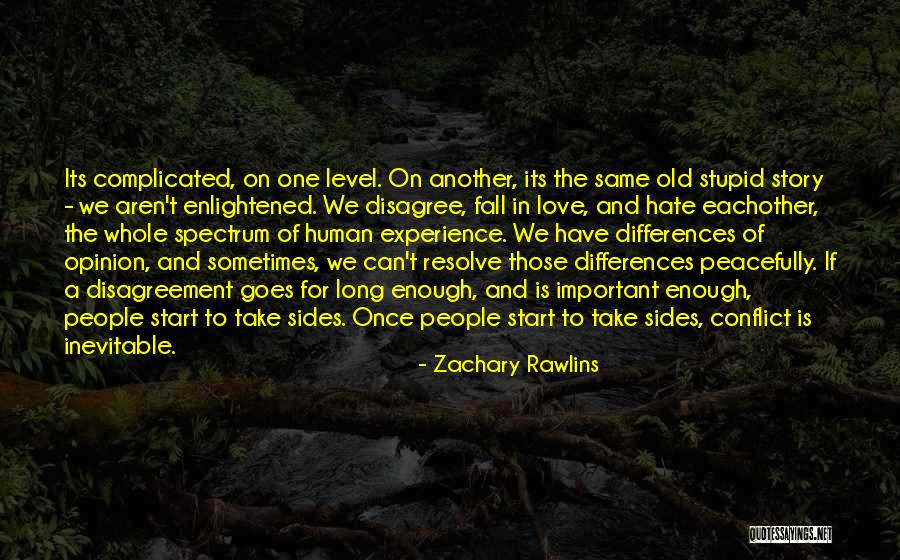 Its complicated, on one level. On another, its the same old stupid story - we aren't enlightened. We disagree, fall in love, and hate eachother, the whole spectrum of human experience. We have differences of opinion, and sometimes, we can't resolve those differences peacefully. If a disagreement goes for long enough, and is important enough, people start to take sides. Once people start to take sides, conflict is inevitable. — Zachary Rawlins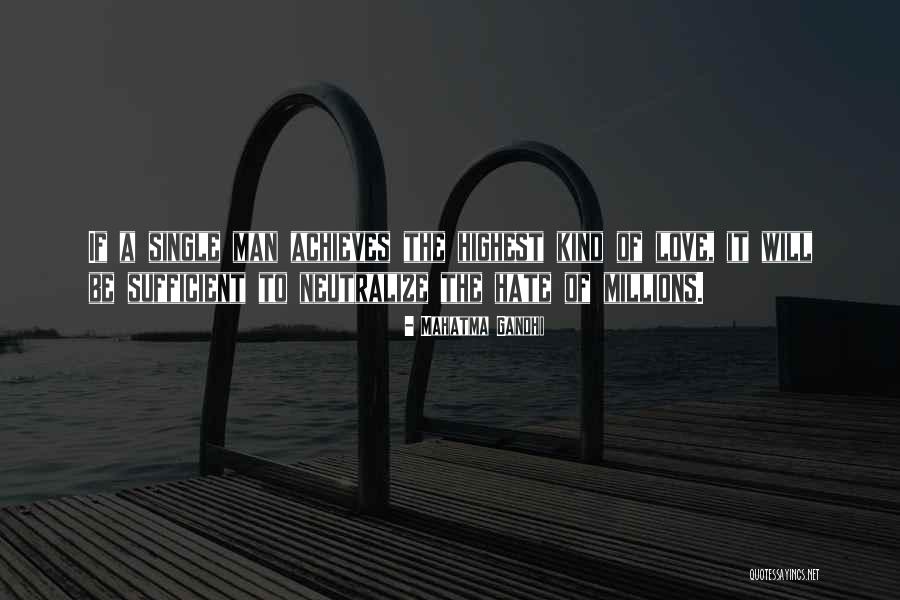 If a single man achieves the highest kind of love, it will be sufficient to neutralize the hate of millions. — Mahatma Gandhi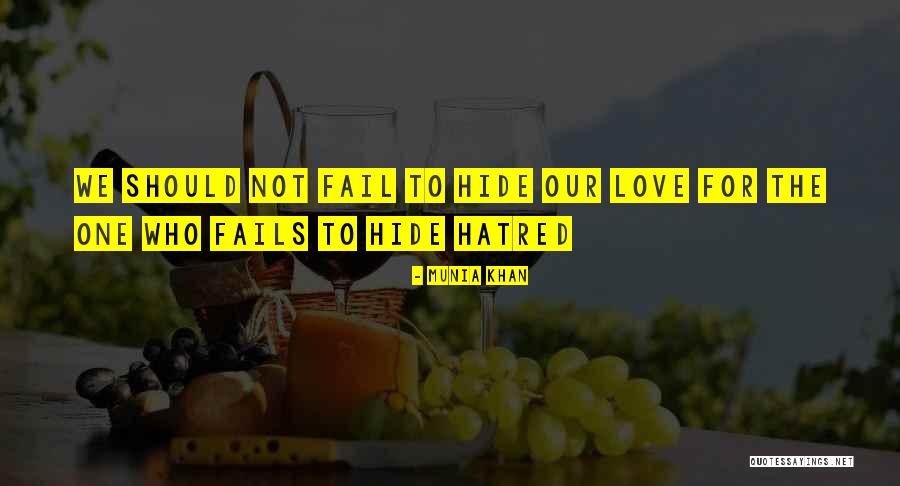 We should not fail to hide our love for the one who fails to hide hatred — Munia Khan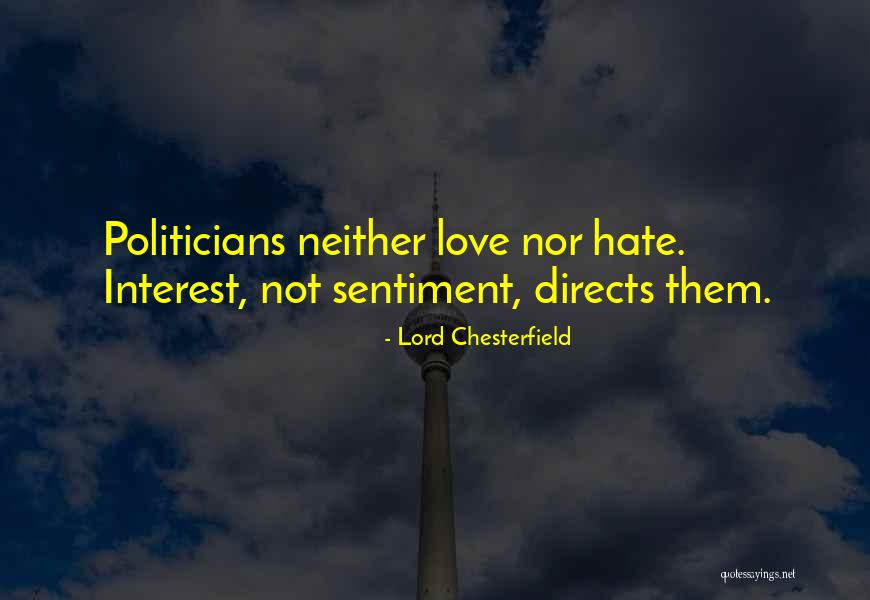 Politicians neither love nor hate. Interest, not sentiment, directs them. — Lord Chesterfield
If we are to survive the Atomic Age, we must have something to live by, to live on, and to live for. We must stand aside from the world's conspiracy of fear and hate and grasp once more the great monosyllables of life: faith, hope and love. Men must live by these if they live at all under the crushing weight of history. — O. P. Kretzmann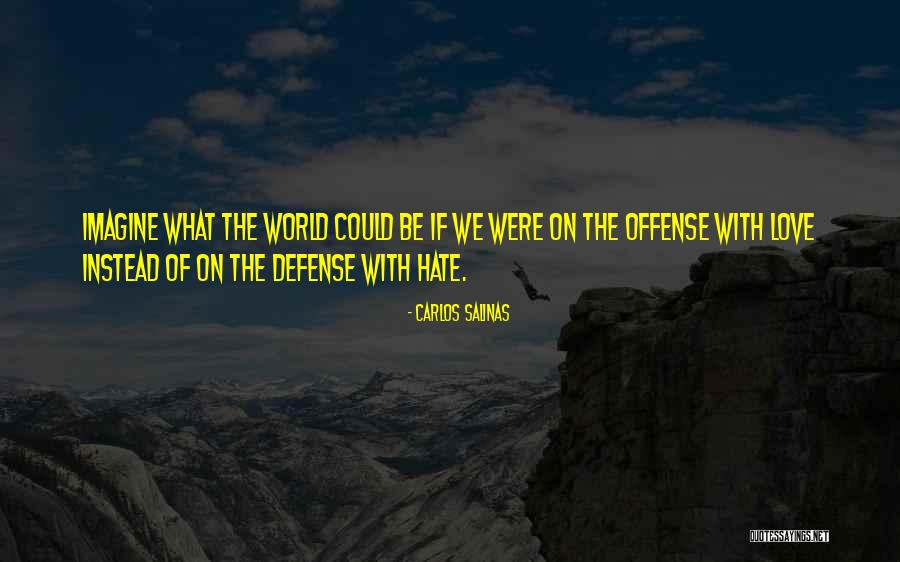 Imagine what the world could be if we were on the offense with love instead of on the defense with hate. — Carlos Salinas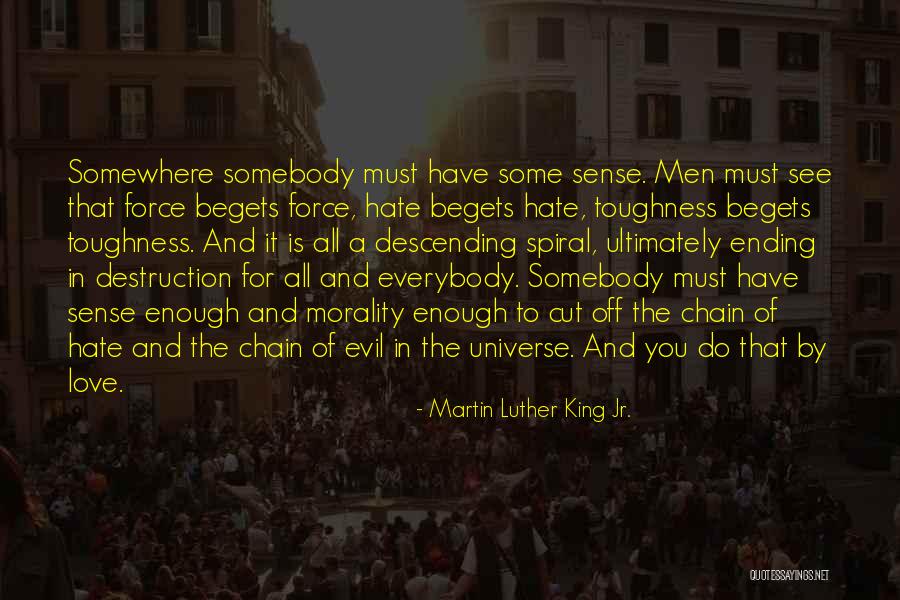 Somewhere somebody must have some sense. Men must see that force begets force, hate begets hate, toughness begets toughness. And it is all a descending spiral, ultimately ending in destruction for all and everybody. Somebody must have sense enough and morality enough to cut off the chain of hate and the chain of evil in the universe. And you do that by love. — Martin Luther King Jr.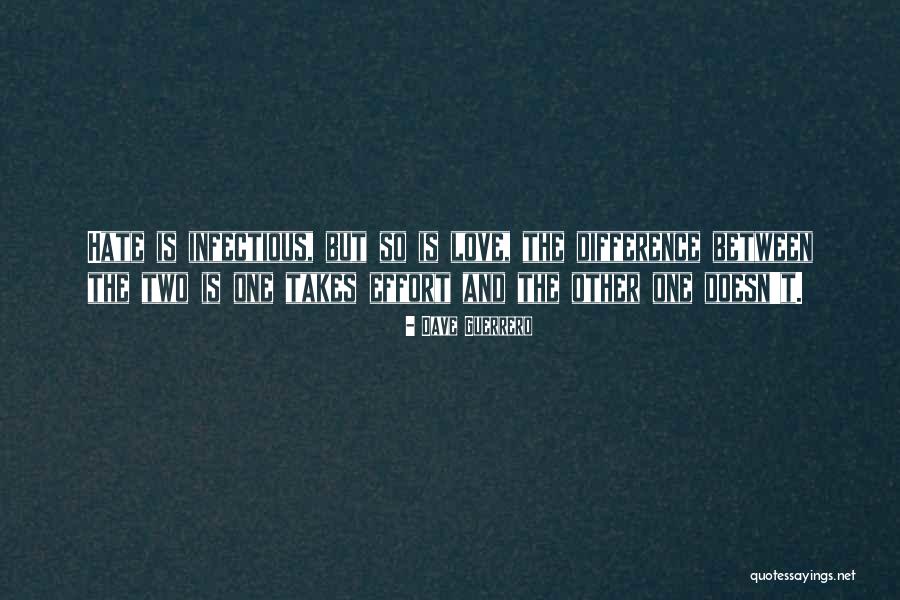 Hate is infectious, but so is love, the difference between the two is one takes effort and the other one doesn't. — Dave Guerrero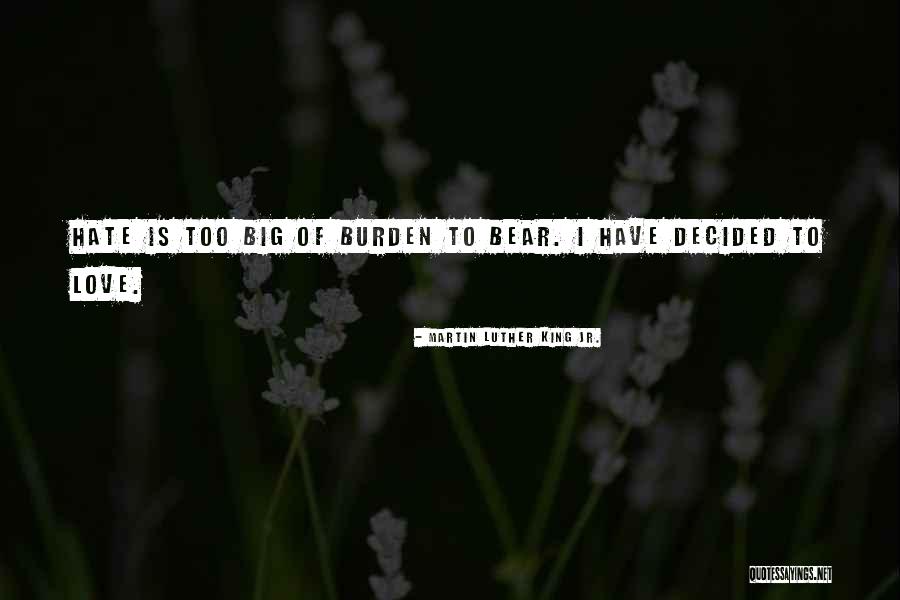 Hate is too big of burden to bear. I have decided to love. — Martin Luther King Jr.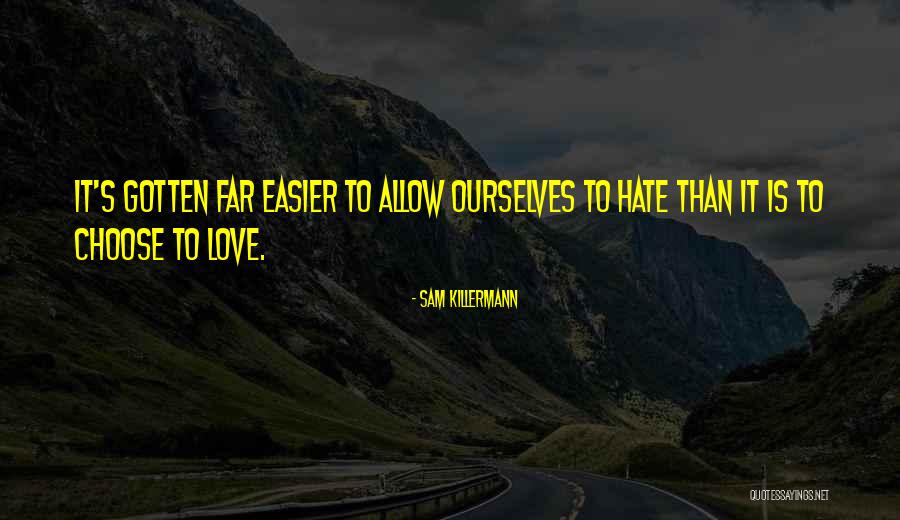 It's gotten far easier to allow ourselves to hate than it is to choose to love. — Sam Killermann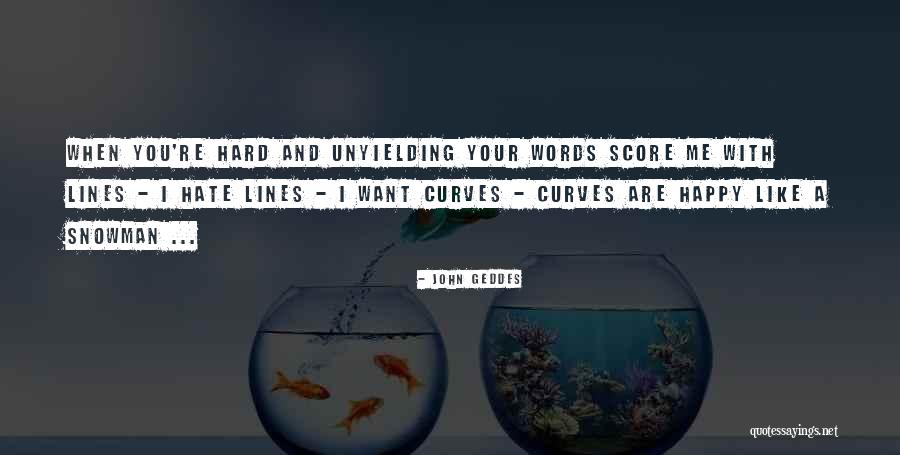 When you're hard and unyielding your words score me with lines - I hate lines - I want curves - curves are happy like a snowman ... — John Geddes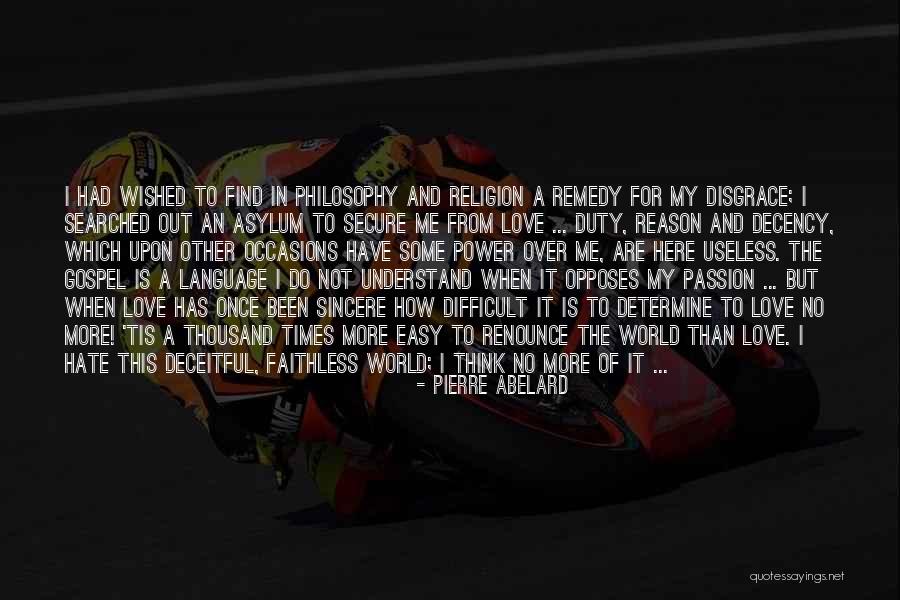 I had wished to find in philosophy and religion a remedy for my disgrace; I searched out an asylum to secure me from love ... duty, reason and decency, which upon other occasions have some power over me, are here useless. The Gospel is a language I do not understand when it opposes my passion ... but when love has once been sincere how difficult it is to determine to love no more! 'Tis a thousand times more easy to renounce the world than love. I hate this deceitful, faithless world; I think no more of it ... — Pierre Abelard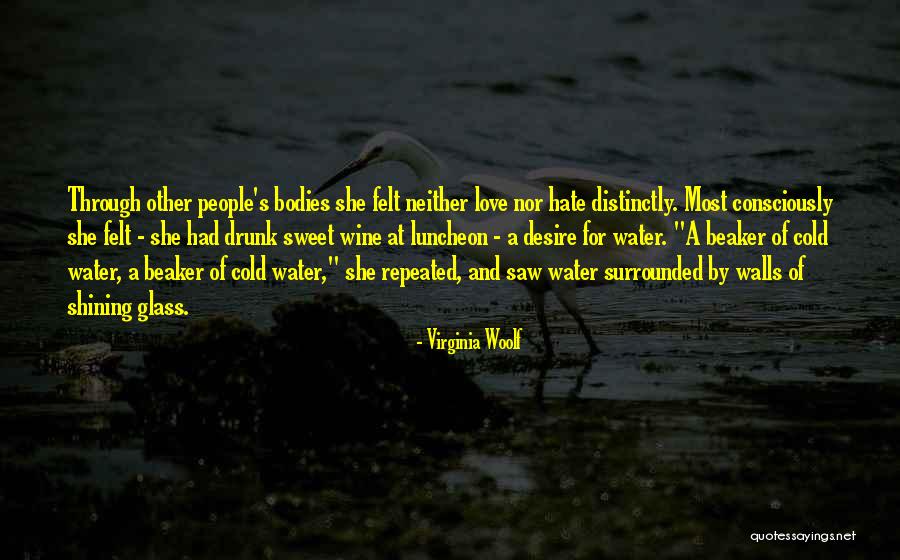 Through other people's bodies she felt neither love nor hate distinctly. Most consciously she felt - she had drunk sweet wine at luncheon - a desire for water. "A beaker of cold water, a beaker of cold water," she repeated, and saw water surrounded by walls of shining glass. — Virginia Woolf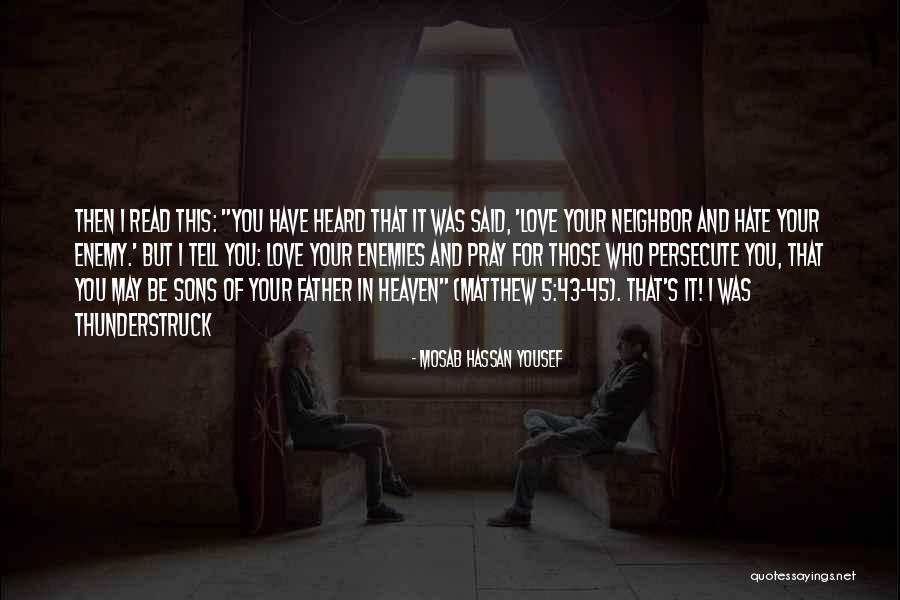 Then I read this: "You have heard that it was said, 'Love your neighbor and hate your enemy.' But I tell you: Love your enemies and pray for those who persecute you, that you may be sons of your Father in heaven" (Matthew 5:43-45). That's it! I was thunderstruck — Mosab Hassan Yousef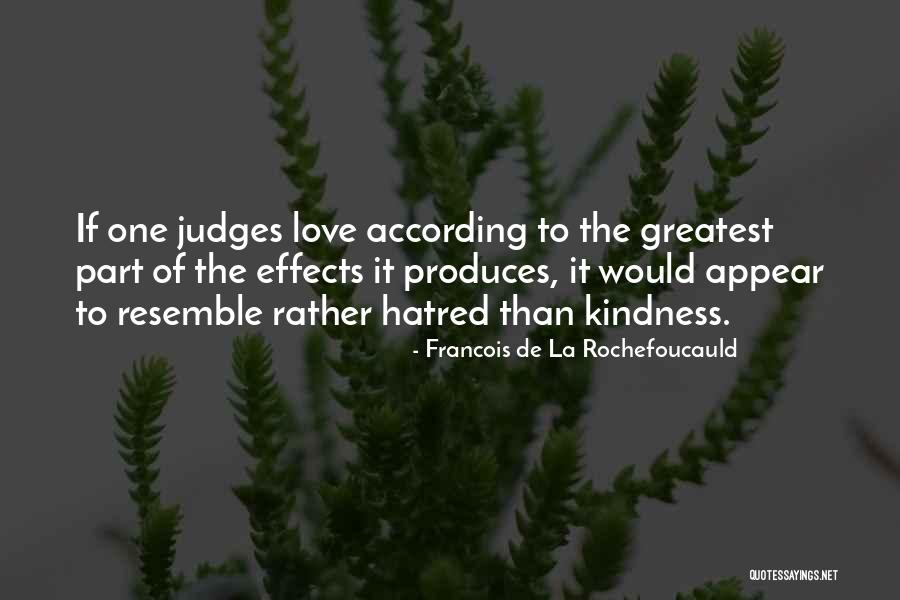 If one judges love according to the greatest part of the effects it produces, it would appear to resemble rather hatred than kindness. — Francois De La Rochefoucauld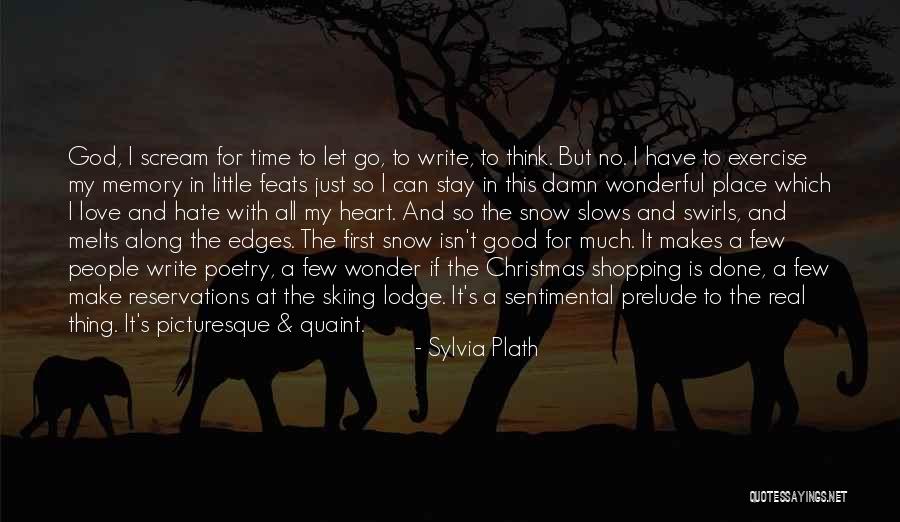 God, I scream for time to let go, to write, to think. But no. I have to exercise my memory in little feats just so I can stay in this damn wonderful place which I love and hate with all my heart. And so the snow slows and swirls, and melts along the edges. The first snow isn't good for much. It makes a few people write poetry, a few wonder if the Christmas shopping is done, a few make reservations at the skiing lodge. It's a sentimental prelude to the real thing. It's picturesque & quaint. — Sylvia Plath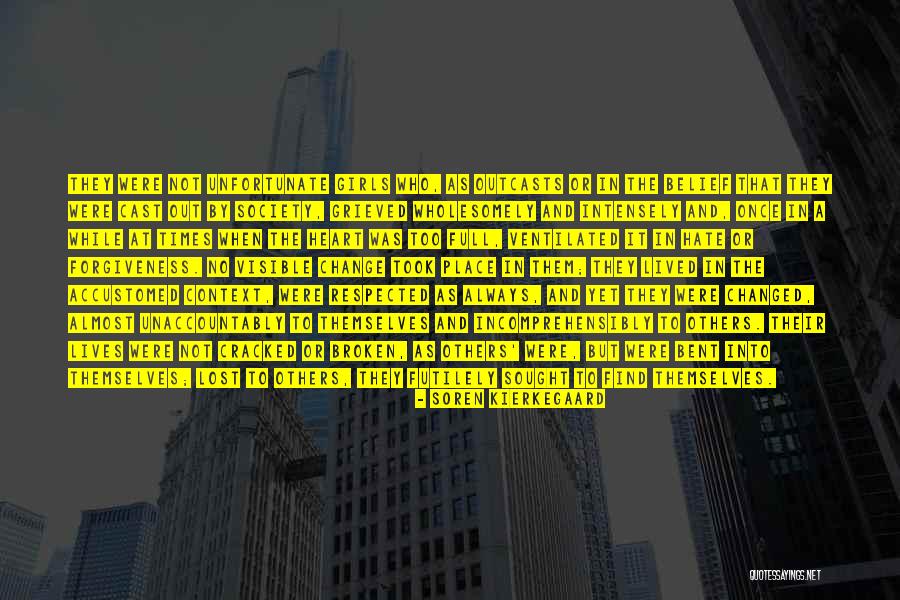 They were not unfortunate girls who, as outcasts or in the belief that they were cast out by society, grieved wholesomely and intensely and, once in a while at times when the heart was too full, ventilated it in hate or forgiveness. No visible change took place in them; they lived in the accustomed context, were respected as always, and yet they were changed, almost unaccountably to themselves and incomprehensibly to others. Their lives were not cracked or broken, as others' were, but were bent into themselves; lost to others, they futilely sought to find themselves. — Soren Kierkegaard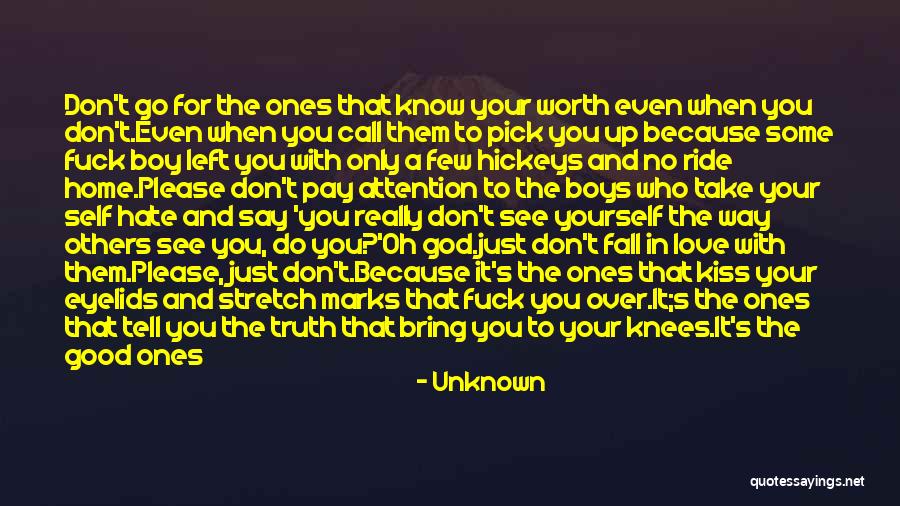 Don't go for the ones that know your worth even when you don't.
Even when you call them to pick you up because some fuck boy left you with only a few hickeys and no ride home.
Please don't pay attention to the boys who take your self hate and say 'you really don't see yourself the way others see you, do you?'
Oh god.
just don't fall in love with them.
Please, just don't.
Because it's the ones that kiss your eyelids and stretch marks that fuck you over.
It;s the ones that tell you the truth that bring you to your knees.
It's the good ones that leave you curled up in a ball for months begging for the bleeding in your gut to stop.
And it's all because they're the unforgettable ones.
The boys who leave so many marks of love on you that no one can compare.
God knows they're it.

Fuck.
You were it. — Unknown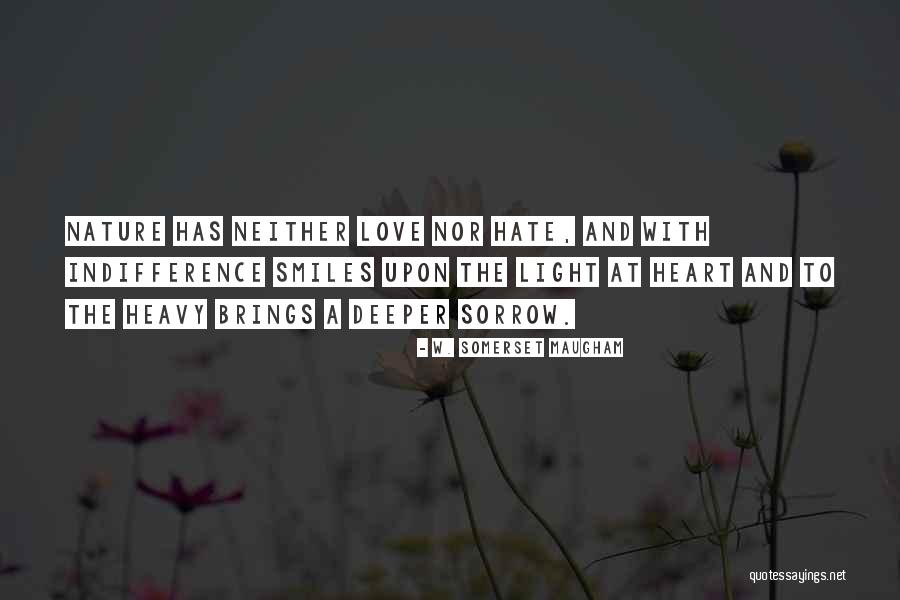 Nature has neither love nor hate, and with indifference smiles upon the light at heart and to the heavy brings a deeper sorrow. — W. Somerset Maugham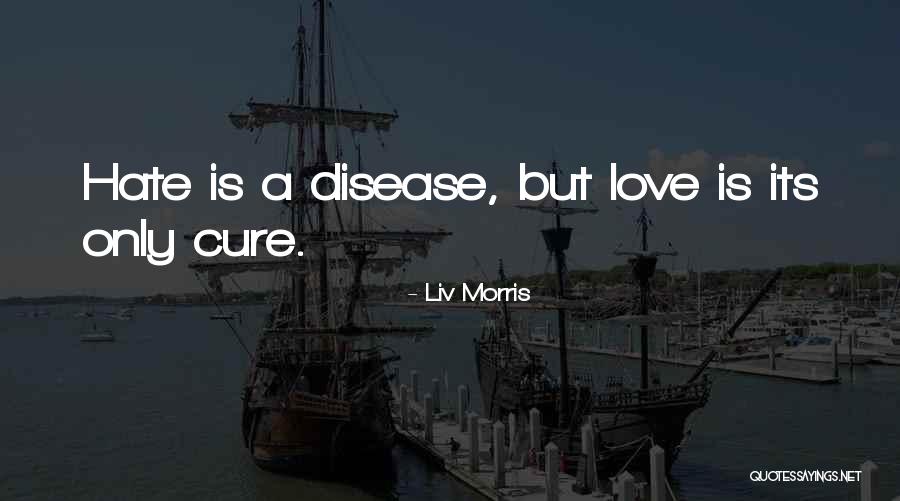 Hate is a disease, but love is its only cure. — Liv Morris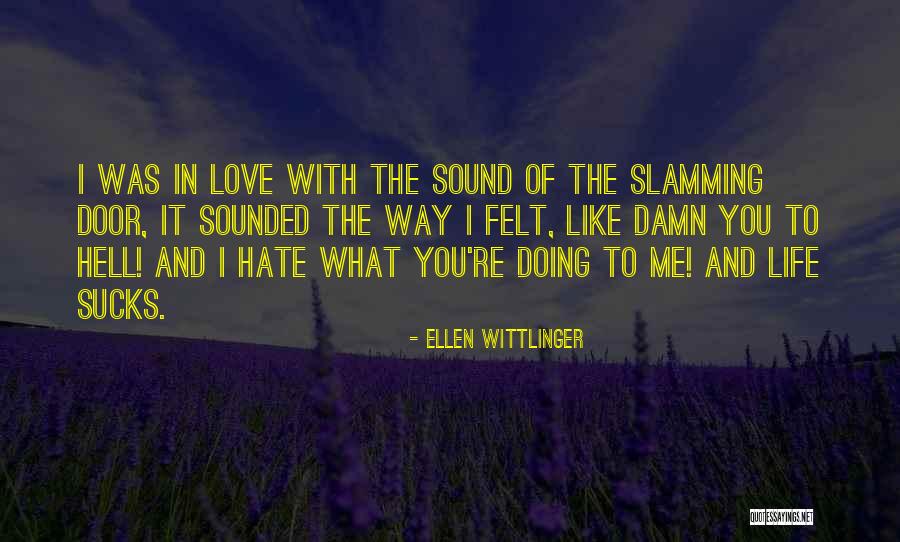 I was in love with the sound of the slamming door, it sounded the way i felt, like damn you to hell! and i hate what you're doing to me! and Life sucks. — Ellen Wittlinger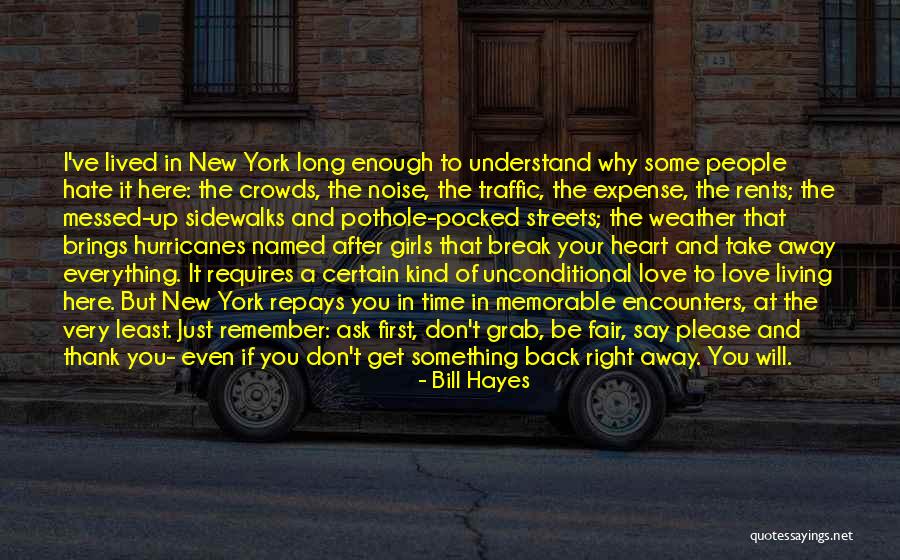 I've lived in New York long enough to understand why some people hate it here: the crowds, the noise, the traffic, the expense, the rents; the messed-up sidewalks and pothole-pocked streets; the weather that brings hurricanes named after girls that break your heart and take away everything.
It requires a certain kind of unconditional love to love living here. But New York repays you in time in memorable encounters, at the very least. Just remember: ask first, don't grab, be fair, say please and thank you- even if you don't get something back right away. You will. — Bill Hayes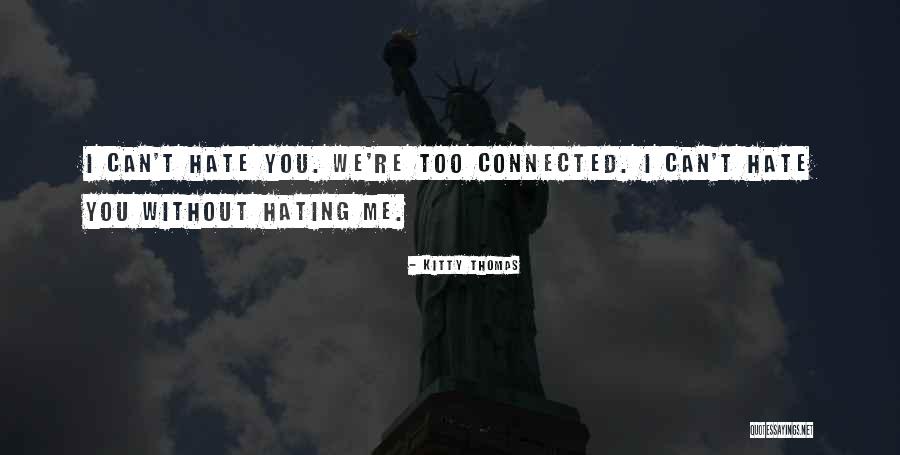 I can't hate you. We're too connected. I can't hate you without hating me. — Kitty Thomas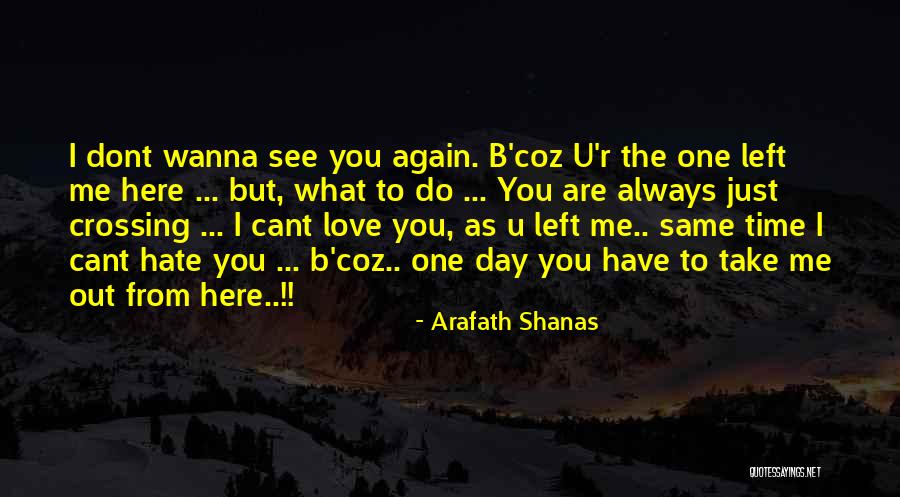 I dont wanna see you again.
B'coz U'r the one left me here ...
but, what to do ...
You are always just crossing ...
I cant love you, as u left me..
same time I cant hate you ... b'coz.. one day you have to take me out from here..!! — Arafath Shanas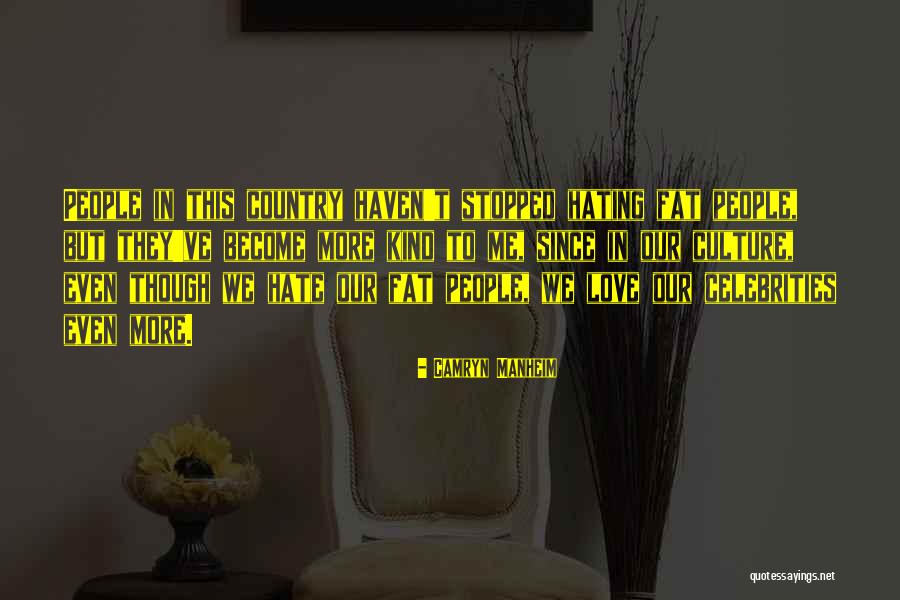 People in this country haven't stopped hating fat people, but they've become more kind to me, since in our culture, even though we hate our fat people, we love our celebrities even more. — Camryn Manheim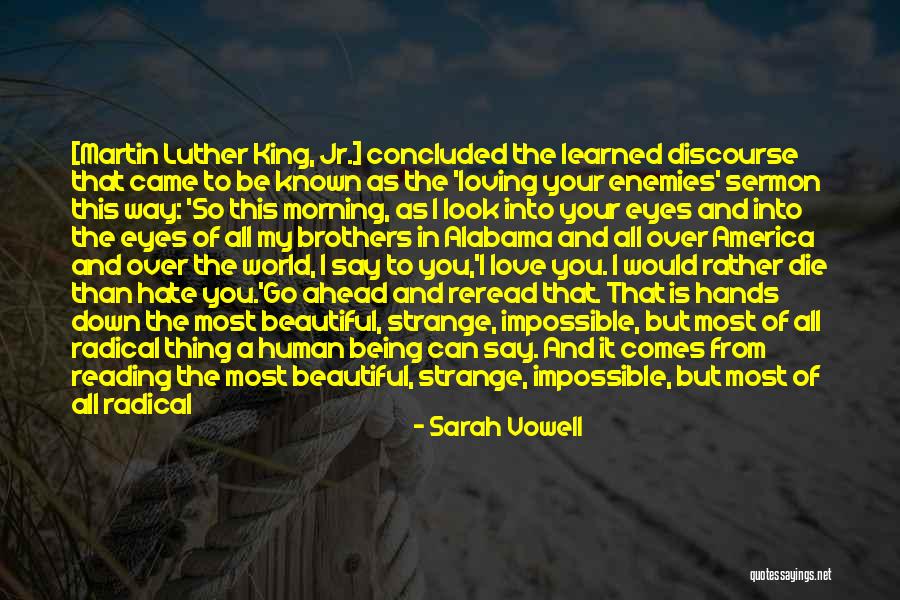 [Martin Luther King, Jr.] concluded the learned discourse that came to be known as the 'loving your enemies' sermon this way: 'So this morning, as I look into your eyes and into the eyes of all my brothers in Alabama and all over America and over the world, I say to you,'I love you. I would rather die than hate you.'
Go ahead and reread that. That is hands down the most beautiful, strange, impossible, but most of all radical thing a human being can say. And it comes from reading the most beautiful, strange, impossible, but most of all radical civics lesson ever taught, when Jesus of Nazareth went to a hill in Galilee and told his disciples, 'Love your enemies, bless them that curse you, do good to them that hate you. — Sarah Vowell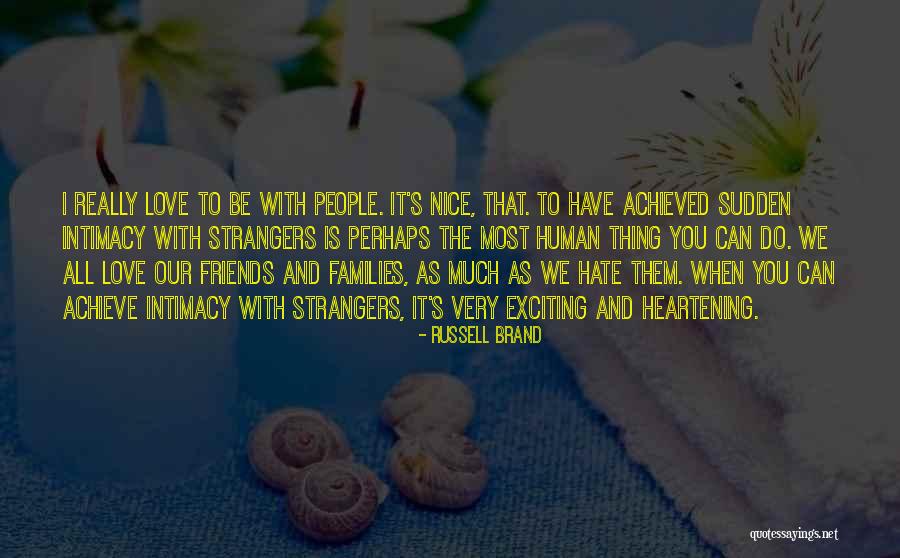 I really love to be with people. It's nice, that. To have achieved sudden intimacy with strangers is perhaps the most human thing you can do. We all love our friends and families, as much as we hate them. When you can achieve intimacy with strangers, it's very exciting and heartening. — Russell Brand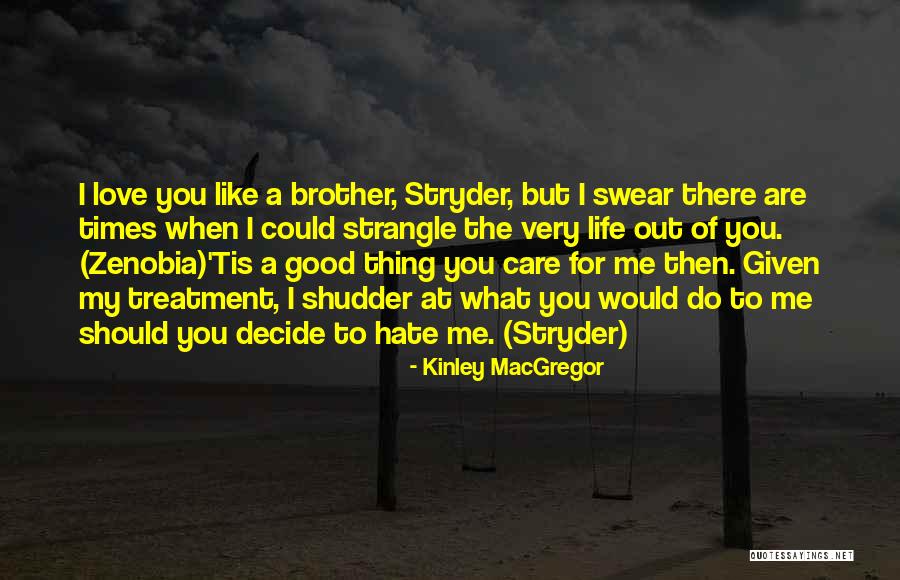 I love you like a brother, Stryder, but I swear there are times when I could strangle the very life out of you. (Zenobia)
'Tis a good thing you care for me then. Given my treatment, I shudder at what you would do to me should you decide to hate me. (Stryder) — Kinley MacGregor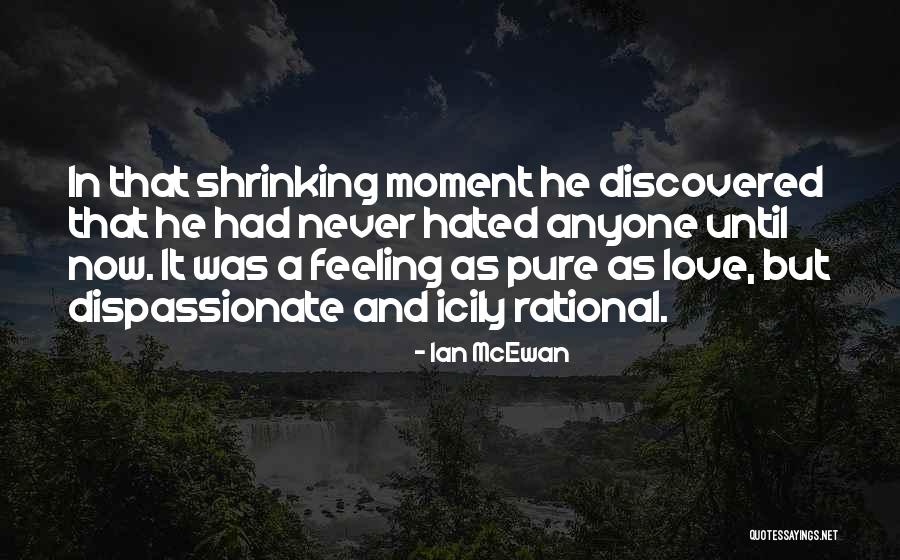 In that shrinking moment he discovered that he had never hated anyone until now. It was a feeling as pure as love, but dispassionate and icily rational. — Ian McEwan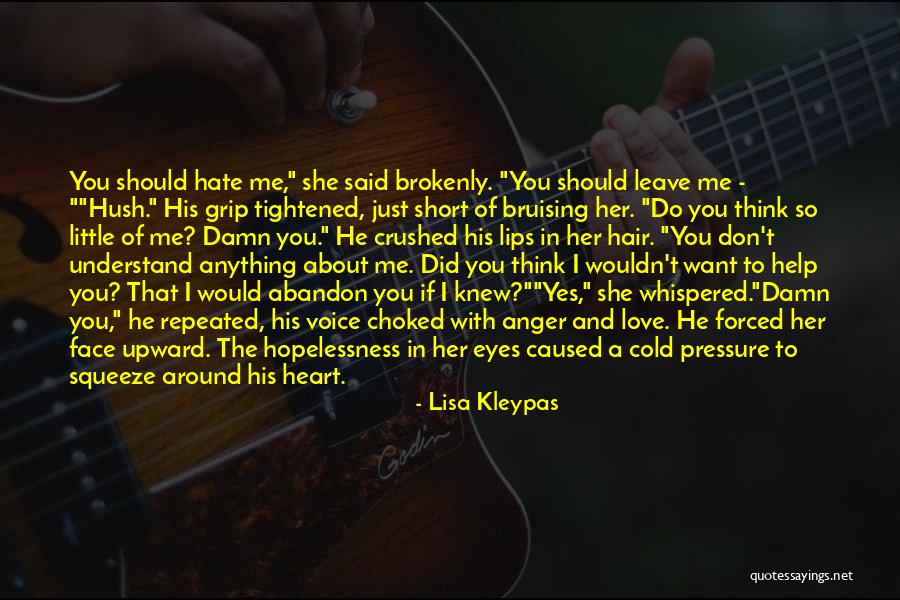 You should hate me," she said brokenly. "You should leave me - "
"Hush." His grip tightened, just short of bruising her. "Do you think so little of me? Damn you." He crushed his lips in her hair. "You don't understand anything about me. Did you think I wouldn't want to help you? That I would abandon you if I knew?"
"Yes," she whispered.
"Damn you," he repeated, his voice choked with anger and love. He forced her face upward. The hopelessness in her eyes caused a cold pressure to squeeze around his heart. — Lisa Kleypas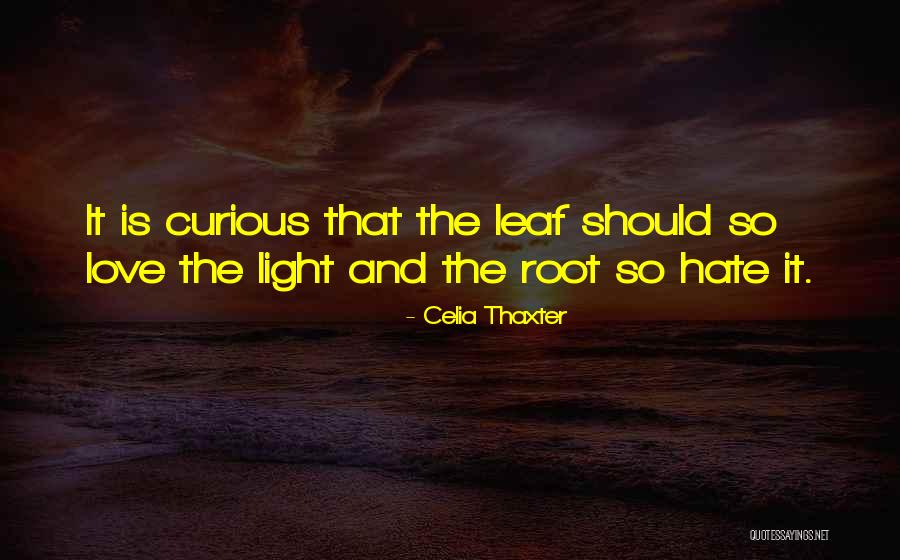 It is curious that the leaf should so love the light and the root so hate it. — Celia Thaxter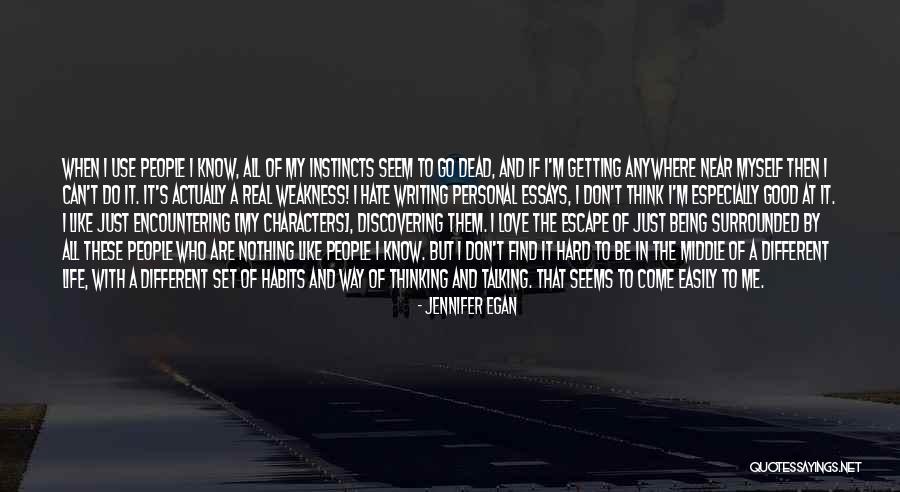 When I use people I know, all of my instincts seem to go dead, and if I'm getting anywhere near myself then I can't do it. It's actually a real weakness! I hate writing personal essays, I don't think I'm especially good at it. I like just encountering [my characters], discovering them. I love the escape of just being surrounded by all these people who are nothing like people I know. But I don't find it hard to be in the middle of a different life, with a different set of habits and way of thinking and talking. That seems to come easily to me. — Jennifer Egan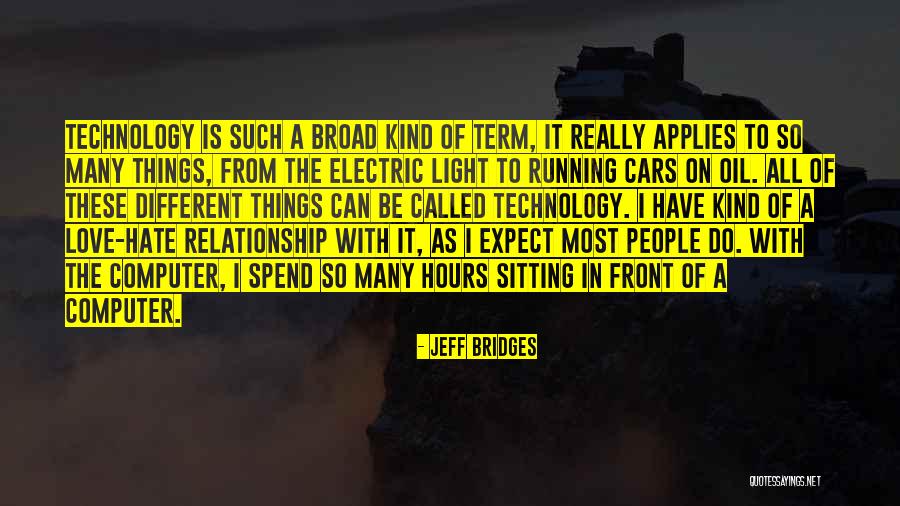 Technology is such a broad kind of term, it really applies to so many things, from the electric light to running cars on oil. All of these different things can be called technology. I have kind of a love-hate relationship with it, as I expect most people do. With the computer, I spend so many hours sitting in front of a computer. — Jeff Bridges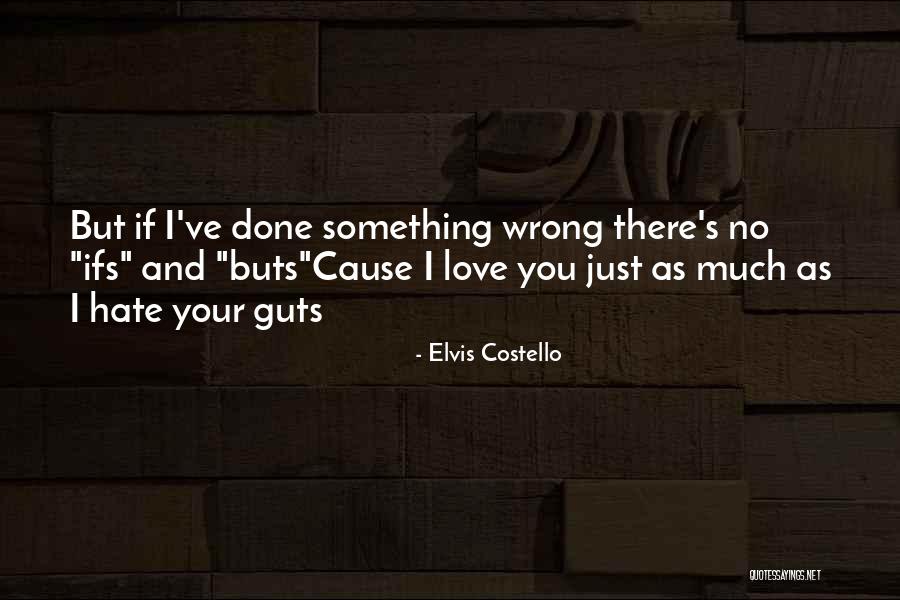 But if I've done something wrong there's no "ifs" and "buts"
Cause I love you just as much as I hate your guts — Elvis Costello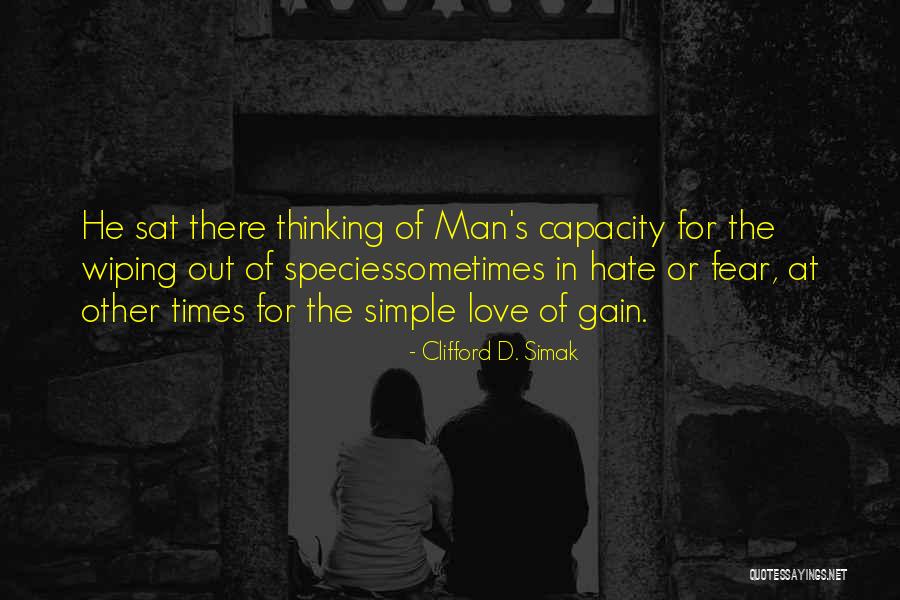 He sat there thinking of Man's capacity for the wiping out of species
sometimes in hate or fear, at other times for the simple love of gain. — Clifford D. Simak
The cruelty of fate is that I must travel with the people I hate when the people I love are dead behind me. — Veronica Roth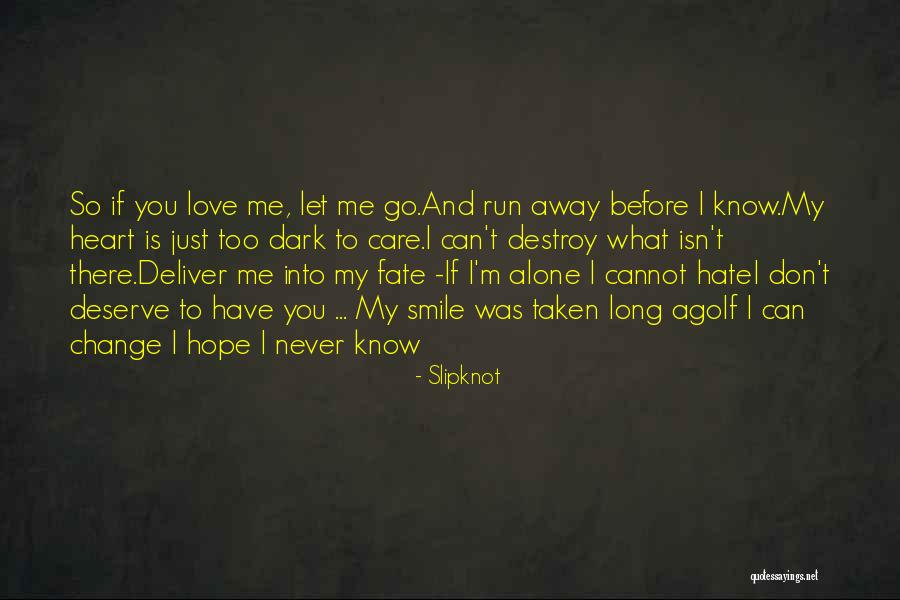 So if you love me, let me go.
And run away before I know.
My heart is just too dark to care.
I can't destroy what isn't there.
Deliver me into my fate -
If I'm alone I cannot hate
I don't deserve to have you ...
My smile was taken long ago
If I can change I hope I never know — Slipknot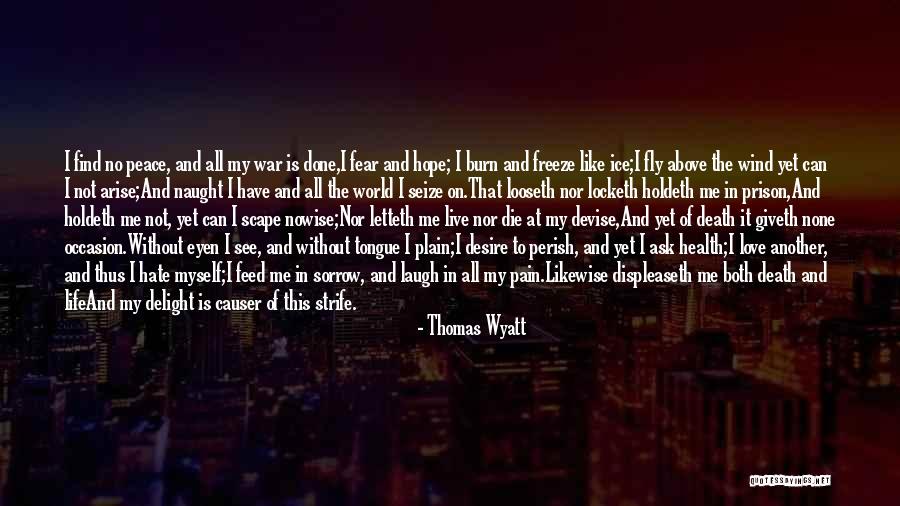 I find no peace, and all my war is done,
I fear and hope; I burn and freeze like ice;
I fly above the wind yet can I not arise;
And naught I have and all the world I seize on.
That looseth nor locketh holdeth me in prison,
And holdeth me not, yet can I scape nowise;
Nor letteth me live nor die at my devise,
And yet of death it giveth none occasion.
Without eyen I see, and without tongue I plain;
I desire to perish, and yet I ask health;
I love another, and thus I hate myself;
I feed me in sorrow, and laugh in all my pain.
Likewise displeaseth me both death and life
And my delight is causer of this strife. — Thomas Wyatt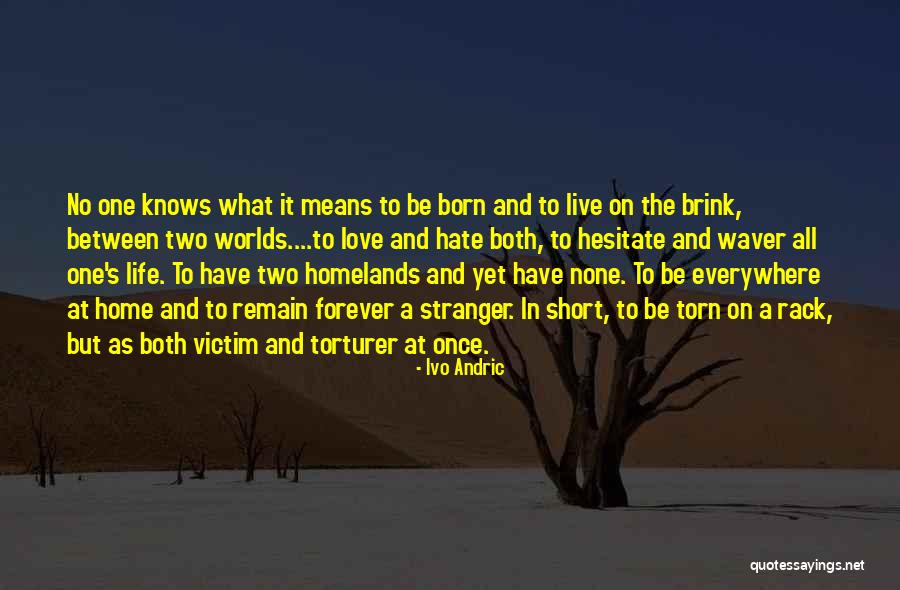 No one knows what it means to be born and to live on the brink, between two worlds....to love and hate both, to hesitate and waver all one's life. To have two homelands and yet have none. To be everywhere at home and to remain forever a stranger. In short, to be torn on a rack, but as both victim and torturer at once. — Ivo Andric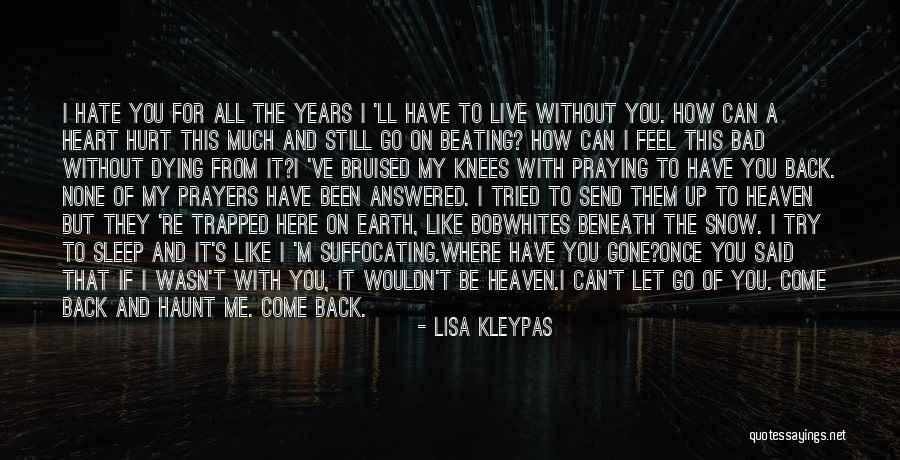 I hate you for all the years I 'll have to live without you. How can a heart hurt this much and still go on beating? How can I feel this bad without dying from it?
I 've bruised my knees with praying to have you back. None of my prayers have been answered. I tried to send them up to heaven but they 're trapped here on earth, like bobwhites beneath the snow. I try to sleep and it's like I 'm suffocating.
Where have you gone?
Once you said that if I wasn't with you, it wouldn't be heaven.
I can't let go of you. Come back and haunt me. Come back. — Lisa Kleypas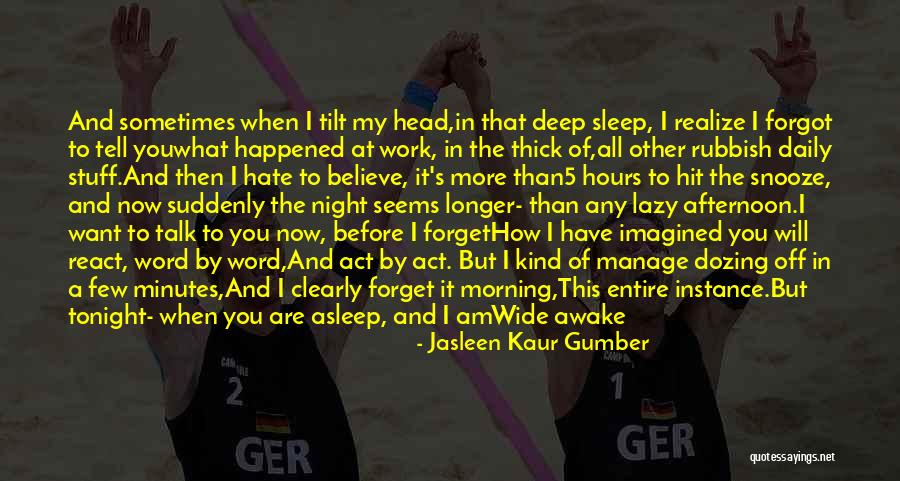 And sometimes when I tilt my head,
in that deep sleep, I realize I forgot to tell you
what happened at work, in the thick of,
all other rubbish daily stuff.
And then I hate to believe, it's more than
5 hours to hit the snooze, and now suddenly
the night seems longer- than any lazy afternoon.
I want to talk to you now, before I forget
How I have imagined you will react, word by word,
And act by act.
But I kind of manage dozing off in a few minutes,
And I clearly forget it morning,
This entire instance.

But tonight- when you are asleep, and I am
Wide awake like a snake, I don't say I forgot any
Buzz to discuss, but I have this insane gush
Of words of tell you I how much I have loved you through.
Precisely none of this should be forgotten,
So I decide to write this poem and tell you,
I am so much in my moment of truth. — Jasleen Kaur Gumber
Words alike make the destiny of empires and of individuals. Ambition, love, hate, interest, vanity, have words for their engines, and need none more powerful. Language is a fifth element - the one by which all the others are swayed. — Letitia Elizabeth Landon
Store of bees, in a dry and warme bee-house, comely made of fir boards, to sing, and sit, and feede upon your flowers and sprouts, make a pleasant noyse and sight. For cleanly and innocent bees, of all other things, love and become, and thrive in your orchard. If they thrive (as they must needs if your gardiner be skilfull, and love them: for they love their friends and hate none
but their enemies) they will besides the pleasure, yeeld great profit, to pay him his wages; yea the increase of twenty stock of stools with other bees, will keep your orchard. — William Lawson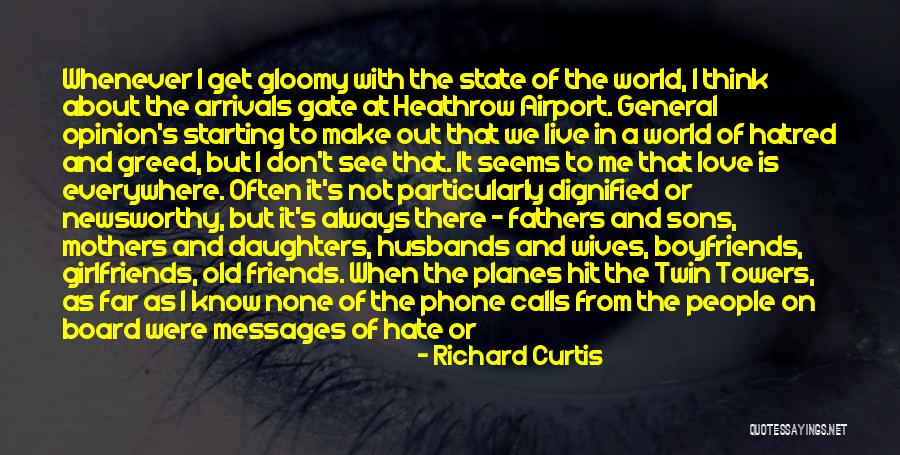 Whenever I get gloomy with the state of the world, I think about the arrivals gate at Heathrow Airport. General opinion's starting to make out that we live in a world of hatred and greed, but I don't see that. It seems to me that love is everywhere. Often it's not particularly dignified or newsworthy, but it's always there - fathers and sons, mothers and daughters, husbands and wives, boyfriends, girlfriends, old friends. When the planes hit the Twin Towers, as far as I know none of the phone calls from the people on board were messages of hate or revenge - they were all messages of love. If you look for it, I've got a sneaky feeling you'll find that love actually is all around. — Richard Curtis
Prime Minister: Whenever I get gloomy with the state of the world, I think about the arrivals gate at Heathrow Airport. General opinion's starting to make out that we live in a world of hatred and greed, but I don't see that. It seems to me that love is everywhere. Often it's not particularly dignified or newsworthy, but it's always there - fathers and sons, mothers and daughters, husbands and wives, boyfriends, girlfriends, old friends. When the planes hit the Twin Towers, as far as I know none of the phone calls from the people on board were messages of hate or revenge - they were all messages of love. If you look for it, I've got a sneaking suspision love actually is all around. — Richard Curtis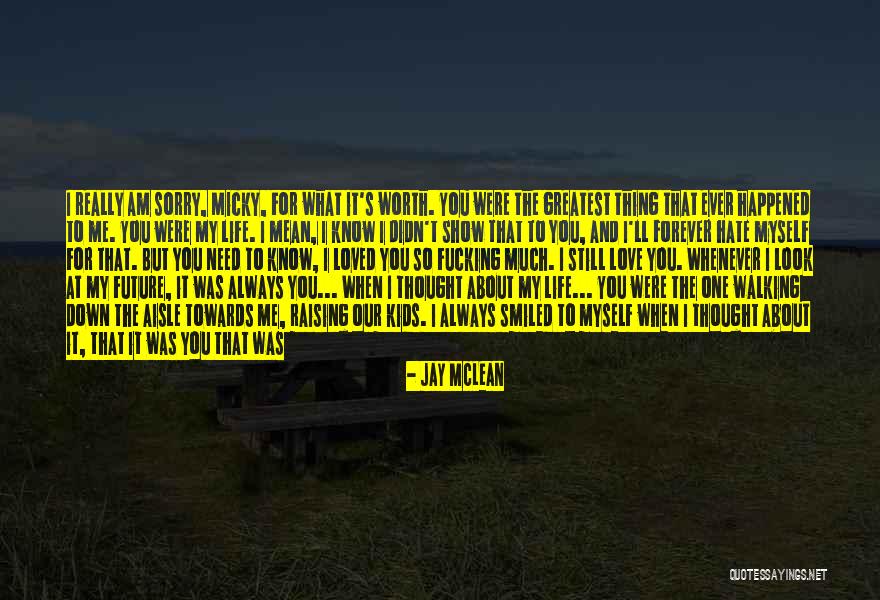 I really am sorry, Micky, for what it's worth. You were the greatest thing that ever happened to me. You were my life. I mean, I know I didn't show that to you, and I'll forever hate myself for that. But you need to know, I loved you so fucking much. I still love you. Whenever I look at my future, it was always you... When I thought about my life... You were the one walking down the aisle towards me, raising our kids. I always smiled to myself when I thought about it, that it was you that was going to be there for me every night, when I got home from work, you in your study, writing your books. A few kids, a decent house. It was perfect in my mind. You were perfect. You are perfect and I threw it all away, because I'm such a fucking asshole, and I can't take it back. I can't fucking take it back, and I can't have you back, and all of this... this life I have, none of this shit is worth it, not without you. — Jay McLean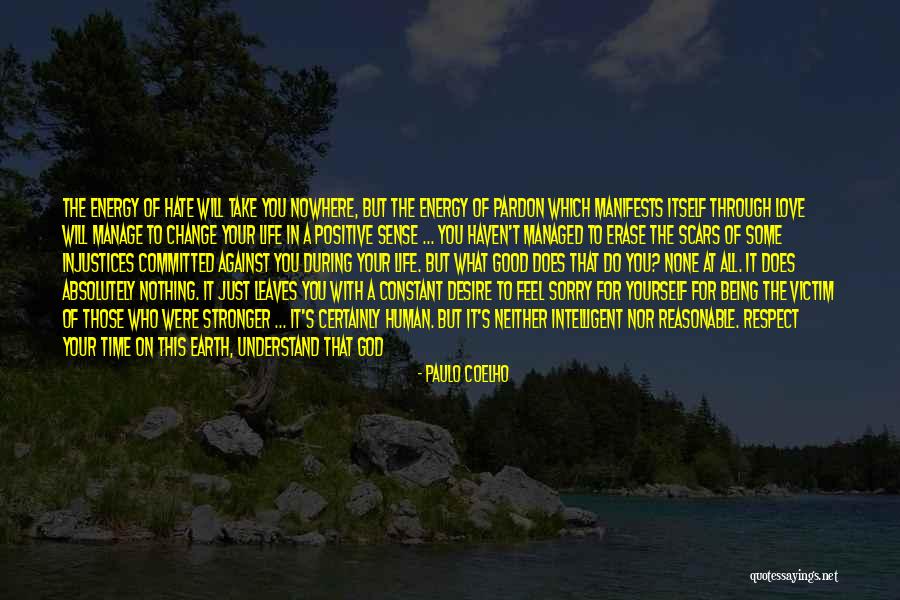 The energy of hate will take you nowhere, but the energy of pardon which manifests itself through love will manage to change your life in a positive sense ... You haven't managed to erase the scars of some injustices committed against you during your life. But what good does that do you? None at all. It does absolutely nothing. It just leaves you with a constant desire to feel sorry for yourself for being the victim of those who were stronger ... it's certainly human. but it's neither intelligent nor reasonable. Respect your time on this Earth, understand that God has always pardoned you, and learn to pardon too. — Paulo Coelho