Quotes & Sayings About Colours And Life
Enjoy reading and share 72 famous quotes about Colours And Life with everyone.
Top Colours And Life Quotes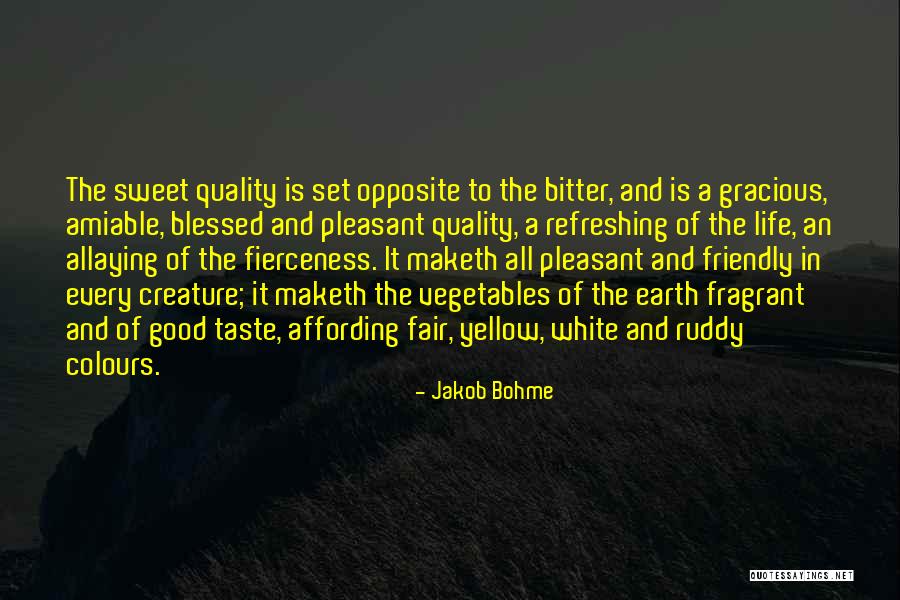 The sweet quality is set opposite to the bitter, and is a gracious, amiable, blessed and pleasant quality, a refreshing of the life, an allaying of the fierceness. It maketh all pleasant and friendly in every creature; it maketh the vegetables of the earth fragrant and of good taste, affording fair, yellow, white and ruddy colours. — Jakob Bohme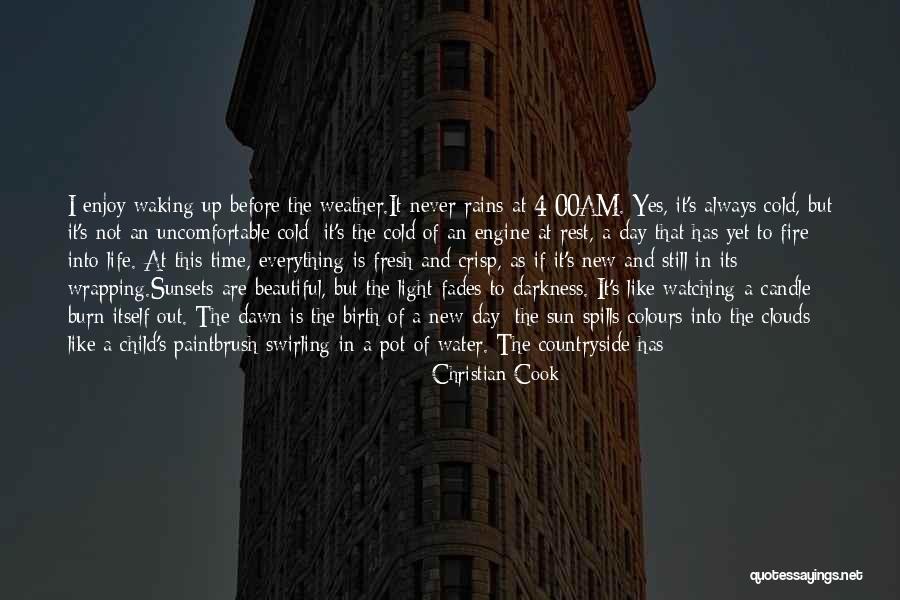 I enjoy waking up before the weather.
It never rains at 4:00AM. Yes, it's always cold, but it's not an uncomfortable cold; it's the cold of an engine at rest, a day that has yet to fire into life. At this time, everything is fresh and crisp, as if it's new and still in its wrapping.
Sunsets are beautiful, but the light fades to darkness. It's like watching a candle burn itself out. The dawn is the birth of a new day; the sun spills colours into the clouds like a child's paintbrush swirling in a pot of water. The countryside has such a beautiful sadness about it; a distant tractor ambles slowly along a furrowed field like a tear on a cheek. — Christian Cook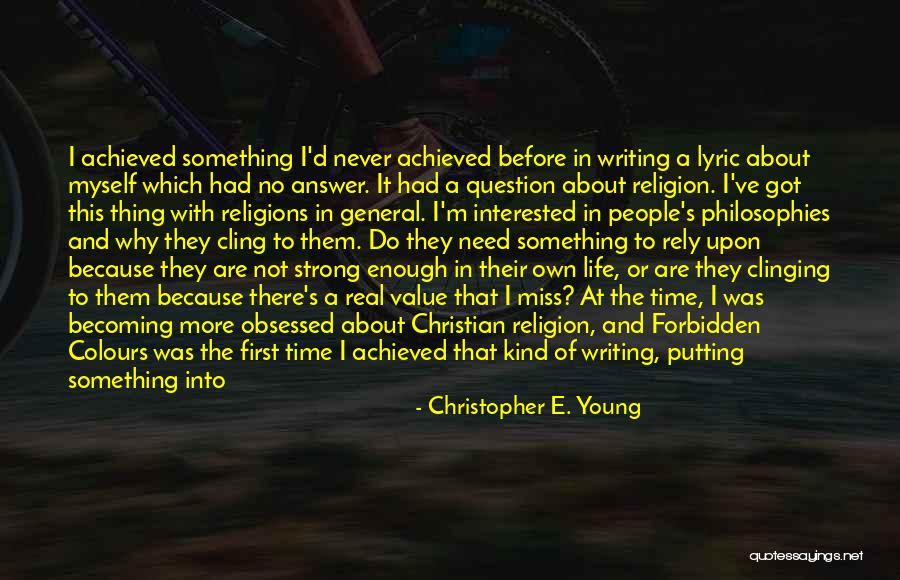 I achieved something I'd never achieved before in writing a lyric about myself which had no answer. It had a question about religion. I've got this thing with religions in general. I'm interested in people's philosophies and why they cling to them. Do they need something to rely upon because they are not strong enough in their own life, or are they clinging to them because there's a real value that I miss? At the time, I was becoming more obsessed about Christian religion, and Forbidden Colours was the first time I achieved that kind of writing, putting something into the lyrics that was just an expression of what I was going through, that had no ending. It was very honest, and that's what made me decide to carry on writing. I couldn't go back. I was just incapable of getting out so I just wrote directly about myself. — Christopher E. Young
Memories of your childhood come back and are so clear and vivid it's like being young again. Colours seem brighter and more brilliant. Laughter seems part of daily life where before it was infrequent or didn't exist at all. A phone call or two during the day helps to get you through a long day's work and always brings a smile to your face. — Bob Marley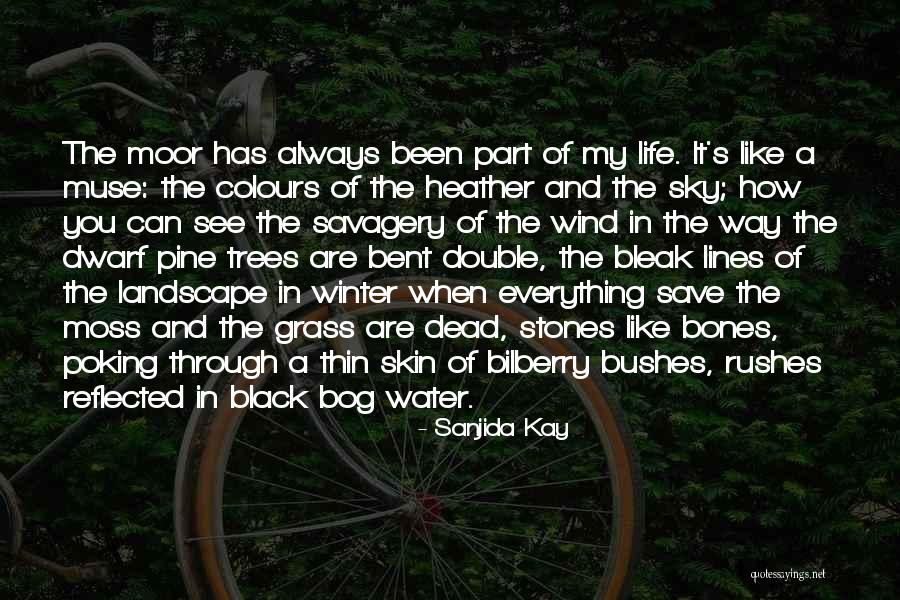 The moor has always been part of my life. It's like a muse: the colours of the heather and the sky; how you can see the savagery of the wind in the way the dwarf pine trees are bent double, the bleak lines of the landscape in winter when everything save the moss and the grass are dead, stones like bones, poking through a thin skin of bilberry bushes, rushes reflected in black bog water. — Sanjida Kay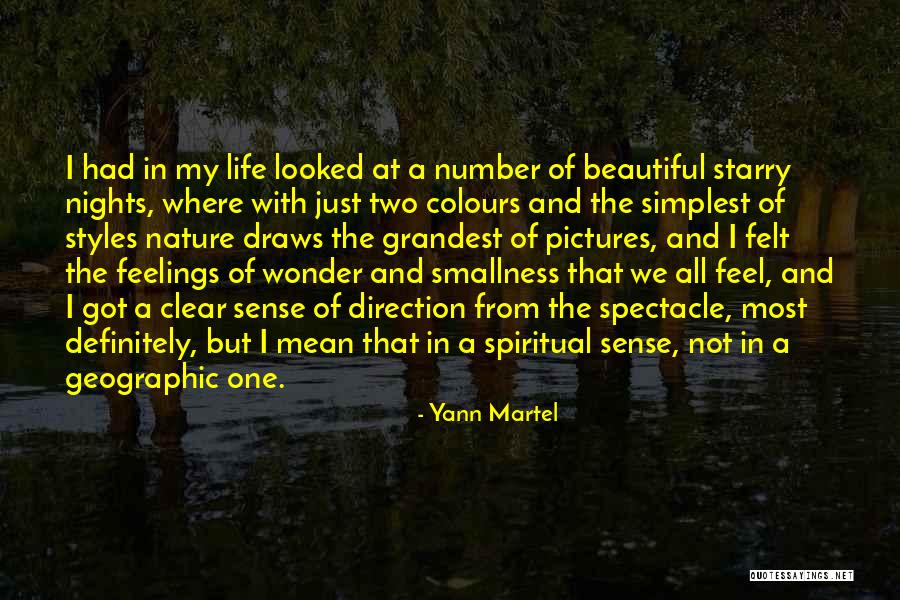 I had in my life looked at a number of beautiful starry nights, where with just two colours and the simplest of styles nature draws the grandest of pictures, and I felt the feelings of wonder and smallness that we all feel, and I got a clear sense of direction from the spectacle, most definitely, but I mean that in a spiritual sense, not in a geographic one. — Yann Martel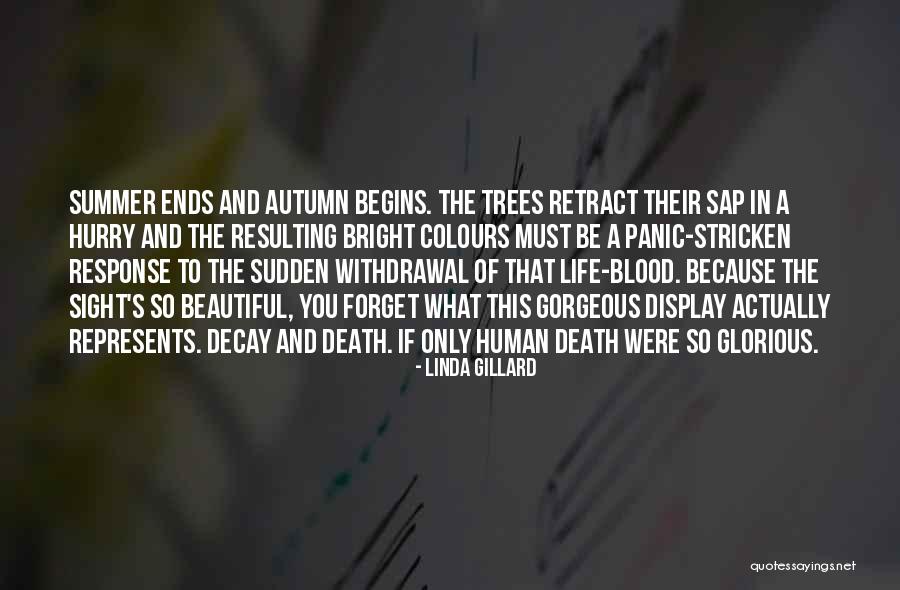 summer ends and autumn begins. The trees retract their sap in a hurry and the resulting bright colours must be a panic-stricken response to the sudden withdrawal of that life-blood. Because the sight's so beautiful, you forget what this gorgeous display actually represents. Decay and death. If only human death were so glorious. — Linda Gillard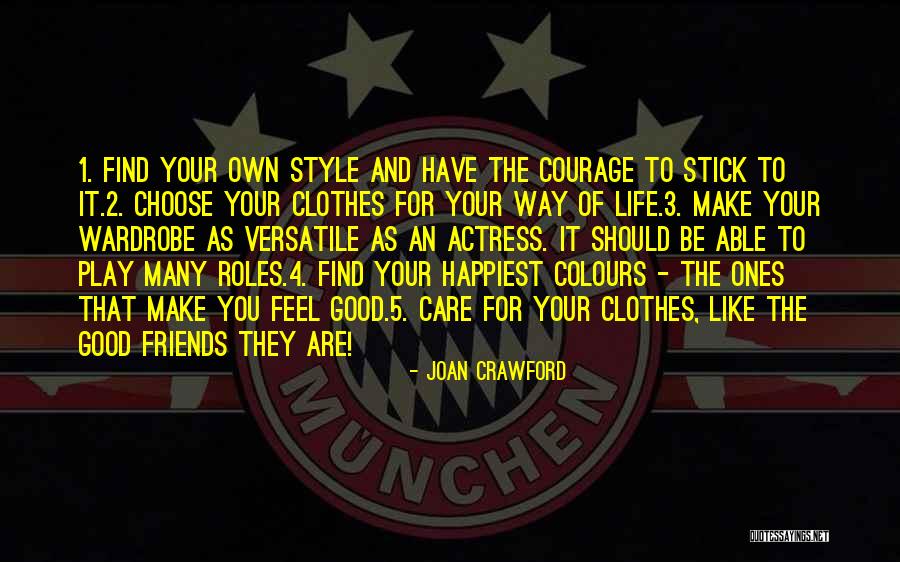 1. Find your own style and have the courage to stick to it.
2. Choose your clothes for your way of life.
3. Make your wardrobe as versatile as an actress. It should be able to play many roles.
4. Find your happiest colours - the ones that make you feel good.
5. Care for your clothes, like the good friends they are! — Joan Crawford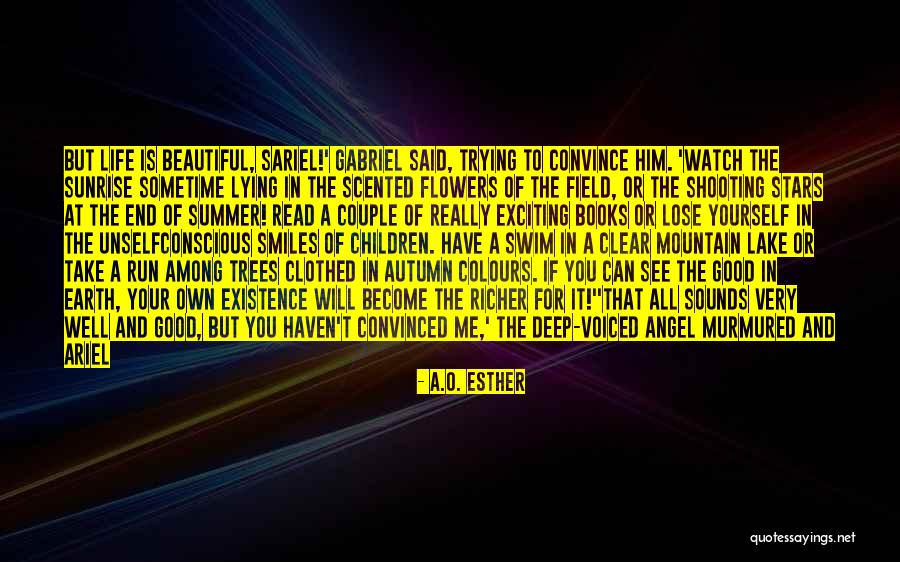 But life is beautiful, Sariel!' Gabriel said, trying to convince him. 'Watch the sunrise sometime lying in the scented flowers of the field, or the shooting stars at the end of summer! Read a couple of really exciting books or lose yourself in the unselfconscious smiles of children. Have a swim in a clear mountain lake or take a run among trees clothed in autumn colours. If you can see the good in Earth, your own existence will become the richer for it!'
'That all sounds very well and good, but you haven't convinced me,' the deep-voiced angel murmured and Ariel laughed.
'My friend, Gabriel was very gently trying to suggest that you should fall in love and that will better dispose you to the world! — A.O. Esther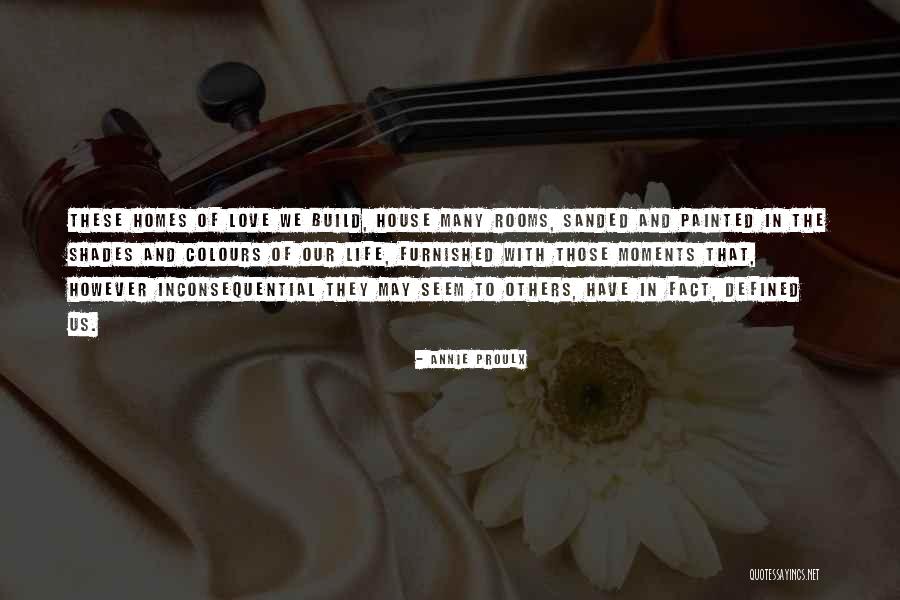 These homes of love we build, house many rooms, sanded and painted in the shades and colours of our life, furnished with those moments that, however inconsequential they may seem to others, have in fact, defined us. — Annie Proulx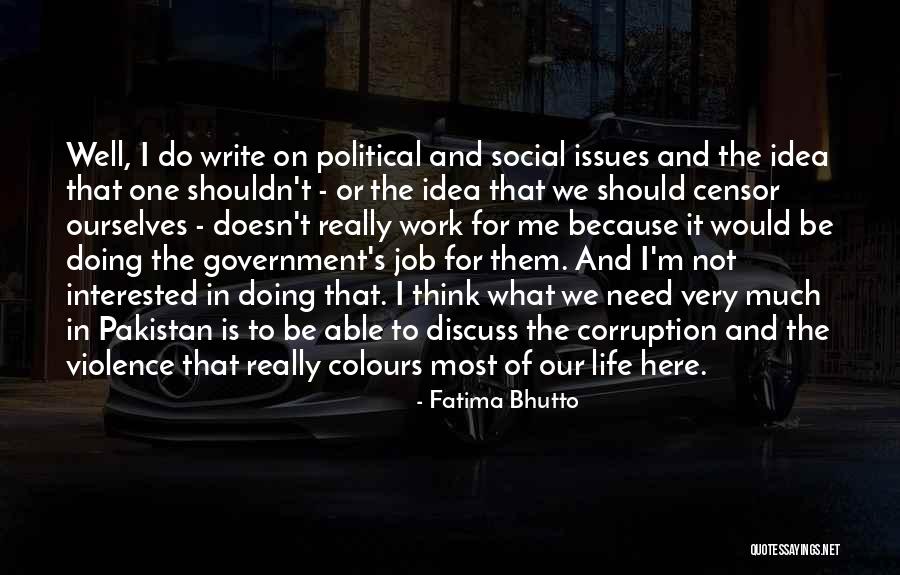 Well, I do write on political and social issues and the idea that one shouldn't - or the idea that we should censor ourselves - doesn't really work for me because it would be doing the government's job for them. And I'm not interested in doing that. I think what we need very much in Pakistan is to be able to discuss the corruption and the violence that really colours most of our life here. — Fatima Bhutto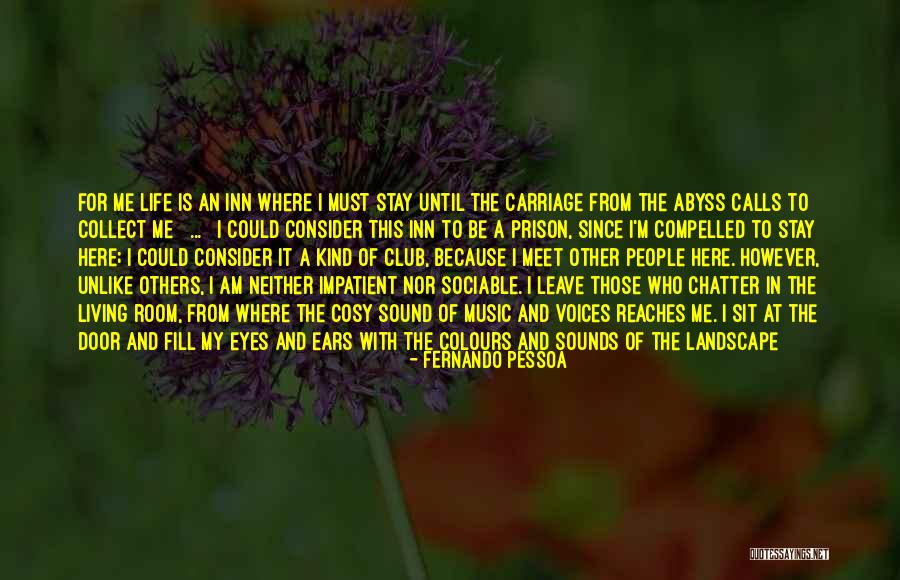 For me life is an inn where I must stay until the carriage from the abyss calls to collect me [ ... ] I could consider this inn to be a prison, since I'm compelled to stay here; I could consider it a kind of club, because I meet other people here. However, unlike others, I am neither impatient nor sociable. I leave those who chatter in the living room, from where the cosy sound of music and voices reaches me. I sit at the door and fill my eyes and ears with the colours and sounds of the landscape and slowly, just for myself, I sing vague songs that I compose while I wait.
Night will fall on all of us and the carriage will arrive. I enjoy the breeze given to me and the soul given to me to enjoy it and I ask no more questions, look no further. If what I leave written in the visitors' book is one day read by others and entertains them on their journey, that's fine. If no one reads it or is entertained by it, that's fine too. — Fernando Pessoa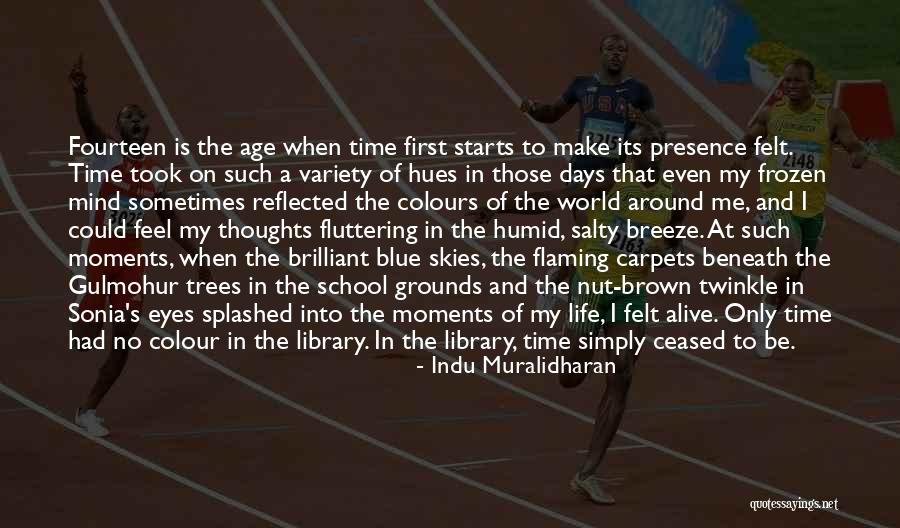 Fourteen is the age when time first starts to make its presence felt. Time took on such a variety of hues in those days that even my frozen mind sometimes reflected the colours of the world around me, and I could feel my thoughts fluttering in the humid, salty breeze. At such moments, when the brilliant blue skies, the flaming carpets beneath the Gulmohur trees in the school grounds and the nut-brown twinkle in Sonia's eyes splashed into the moments of my life, I felt alive. Only time had no colour in the library. In the library, time simply ceased to be. — Indu Muralidharan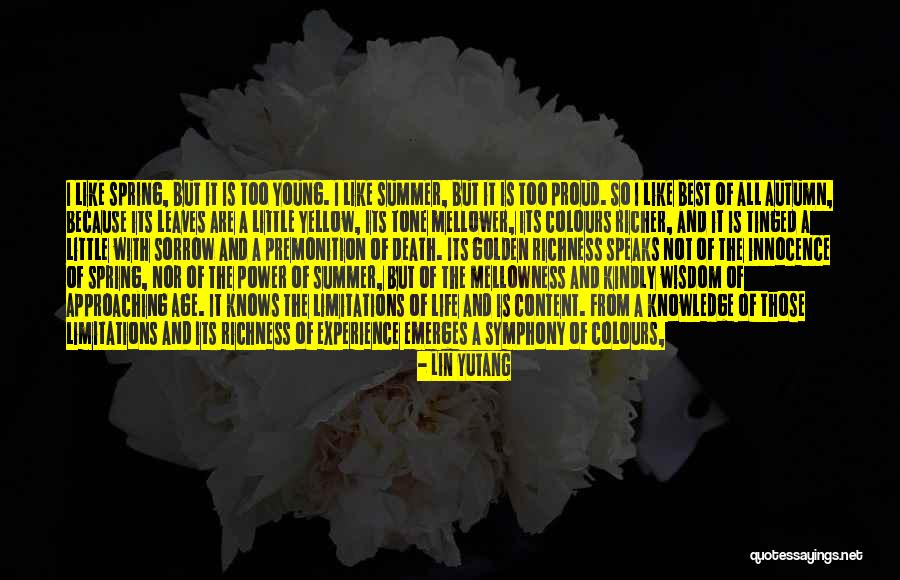 I like spring, but it is too young. I like summer, but it is too proud. So I like best of all autumn, because its leaves are a little yellow, its tone mellower, its colours richer, and it is tinged a little with sorrow and a premonition of death. Its golden richness speaks not of the innocence of spring, nor of the power of summer, but of the mellowness and kindly wisdom of approaching age. It knows the limitations of life and is content. From a knowledge of those limitations and its richness of experience emerges a symphony of colours, richer than all, its green speaking of life and strength, its orange speaking of golden content and its purple of resignation and death — Lin Yutang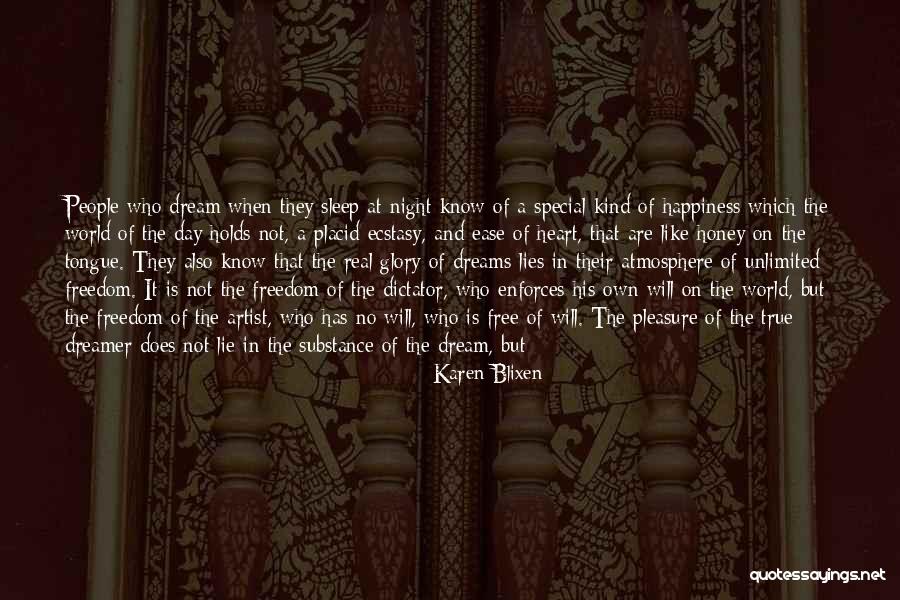 People who dream when they sleep at night know of a special kind of happiness which the world of the day holds not, a placid ecstasy, and ease of heart, that are like honey on the tongue. They also know that the real glory of dreams lies in their atmosphere of unlimited freedom. It is not the freedom of the dictator, who enforces his own will on the world, but the freedom of the artist, who has no will, who is free of will. The pleasure of the true dreamer does not lie in the substance of the dream, but in this: that there things happen without any interference from his side, and altogether outside his control. Great landscapes create themselves, long splendid views, rich and delicate colours, roads, houses, which he has never seen or heard of ... — Karen Blixen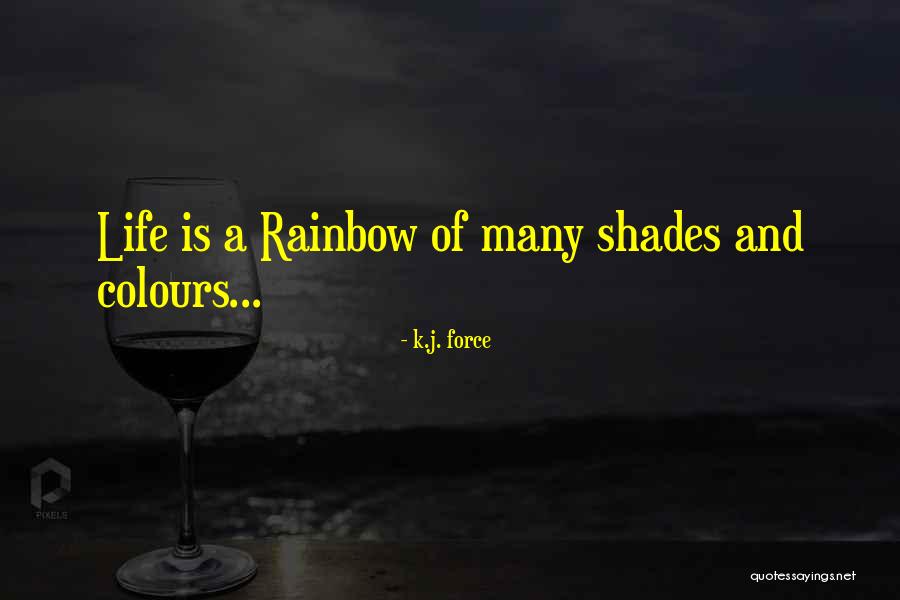 Life is a Rainbow of many shades and colours... — K.j. Force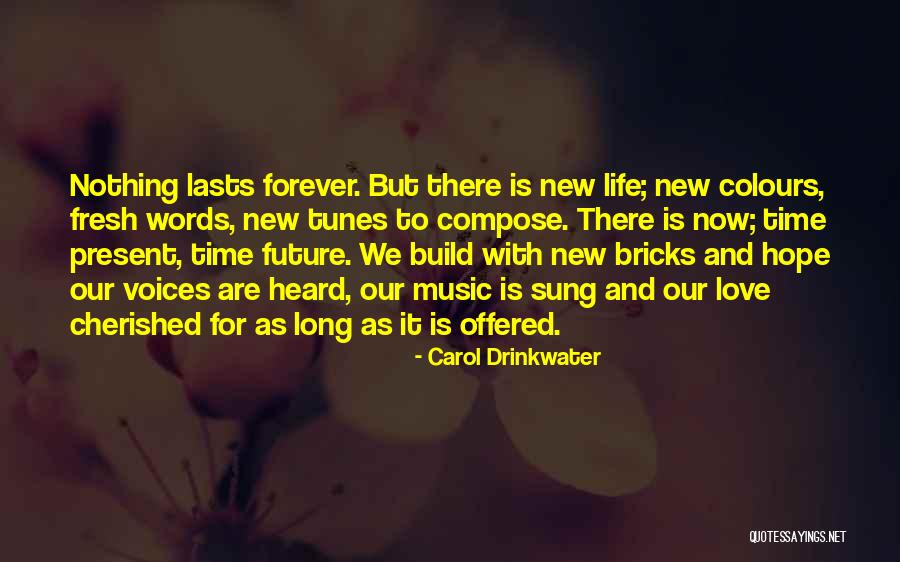 Nothing lasts forever. But there is new life; new colours, fresh words, new tunes to compose. There is now; time present, time future. We build with new bricks and hope our voices are heard, our music is sung and our love cherished for as long as it is offered. — Carol Drinkwater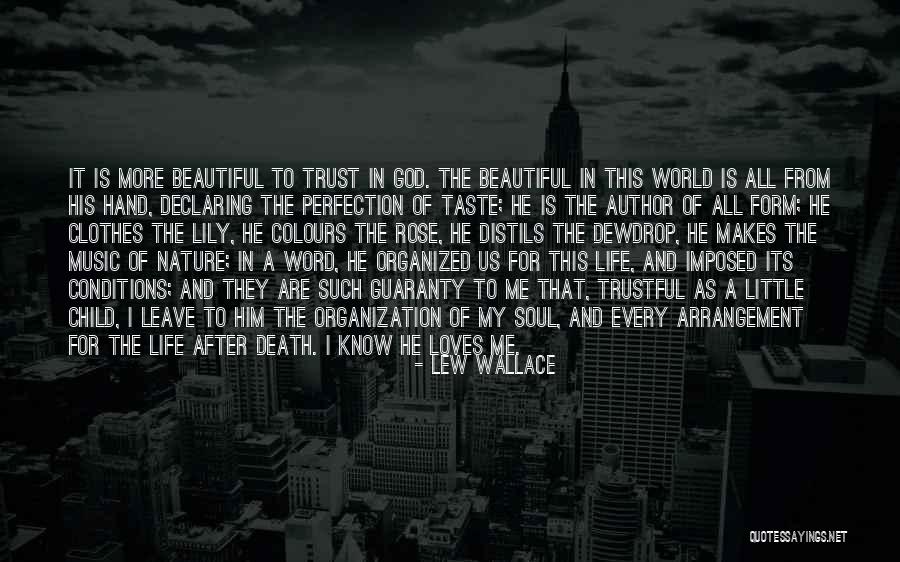 It is more beautiful to trust in God. The beautiful in this world is all from his hand, declaring the perfection of taste; he is the author of all form; he clothes the lily, he colours the rose, he distils the dewdrop, he makes the music of nature; in a word, he organized us for this life, and imposed its conditions; and they are such guaranty to me that, trustful as a little child, I leave to him the organization of my Soul, and every arrangement for the life after death. I know he loves me. — Lew Wallace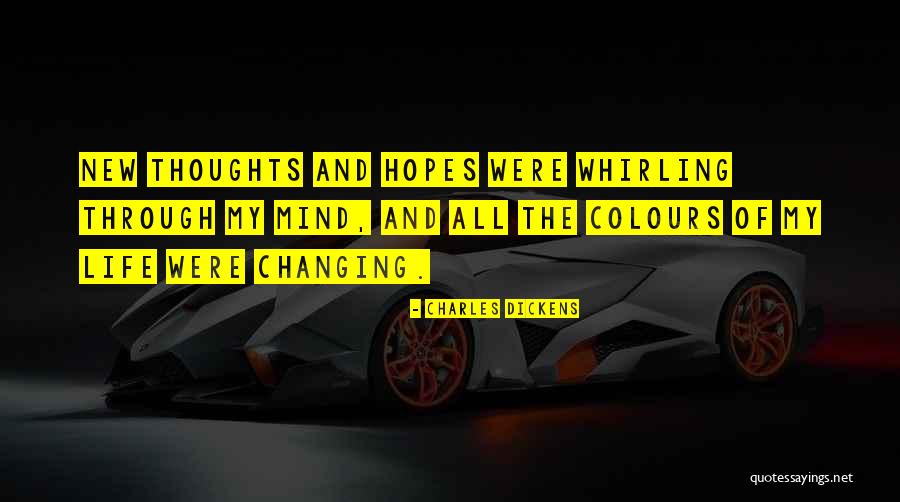 New thoughts and hopes were whirling through my mind, and all the colours of my life were changing. — Charles Dickens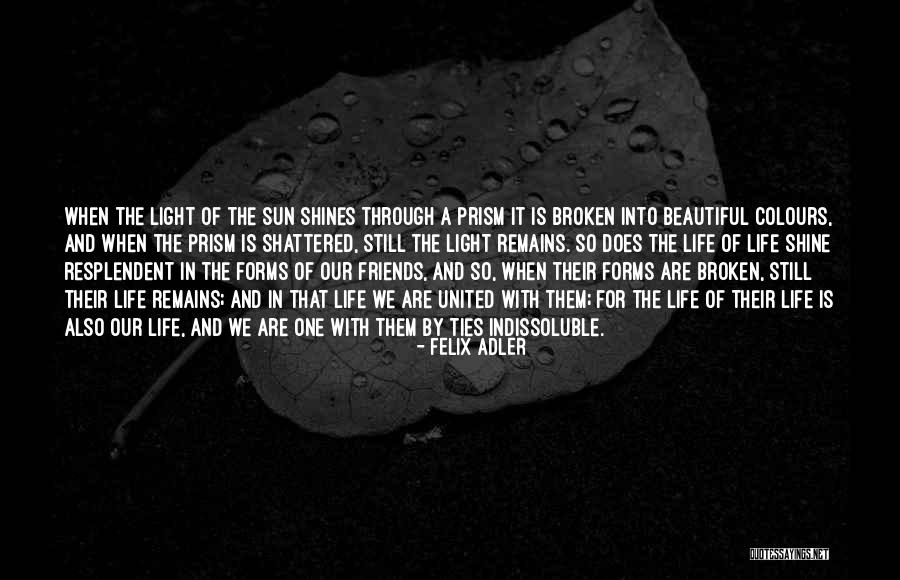 When the light of the sun shines through a prism it is broken into beautiful colours, and when the prism is shattered, still the light remains. So does the life of life shine resplendent in the forms of our friends, and so, when their forms are broken, still their life remains; and in that life we are united with them; for the life of their life is also our life, and we are one with them by ties indissoluble. — Felix Adler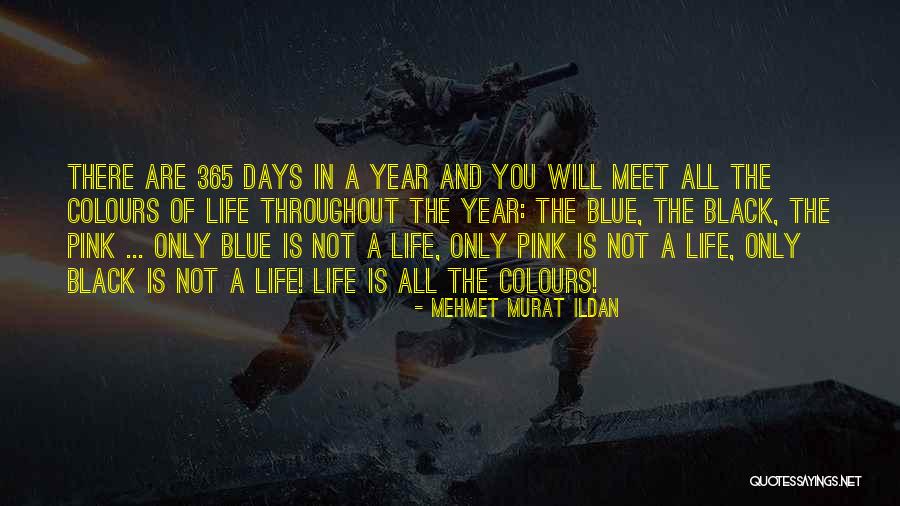 There are 365 days in a year and you will meet all the colours of life throughout the year: The blue, the black, the pink ... Only blue is not a life, only pink is not a life, only black is not a life! Life is all the colours! — Mehmet Murat Ildan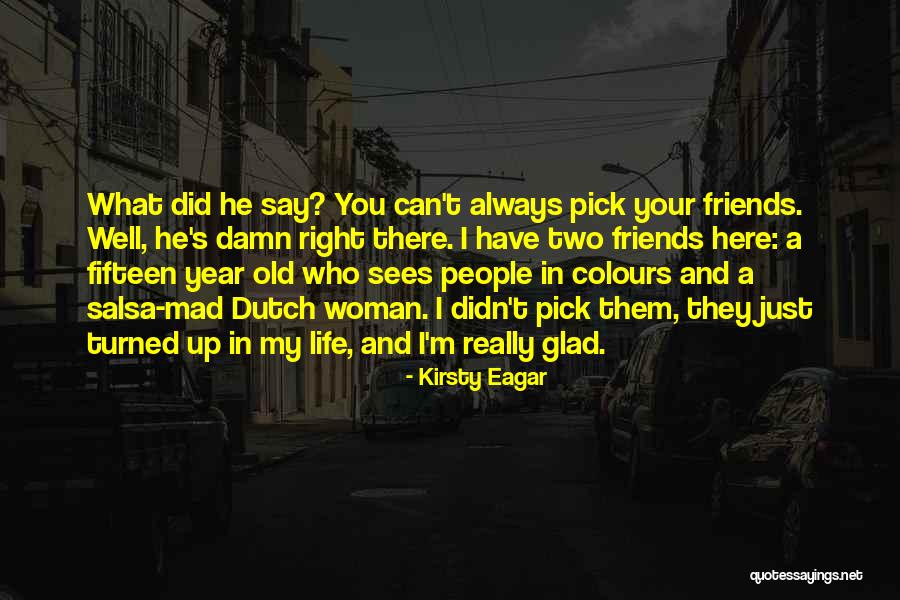 What did he say? You can't always pick your friends. Well, he's damn right there. I have two friends here: a fifteen year old who sees people in colours and a salsa-mad Dutch woman. I didn't pick them, they just turned up in my life, and I'm really glad. — Kirsty Eagar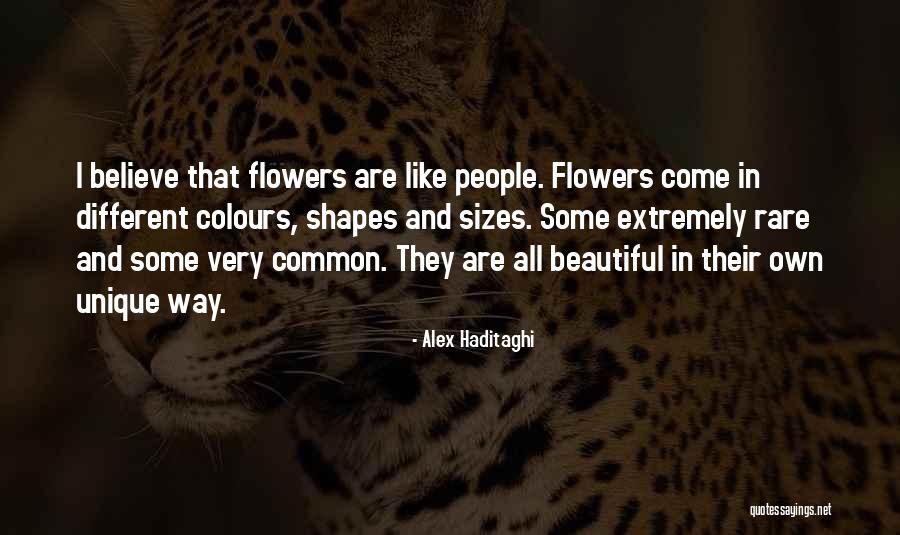 I believe that flowers are like people. Flowers come in different colours, shapes and sizes. Some extremely rare and some very common. They are all beautiful in their own unique way. — Alex Haditaghi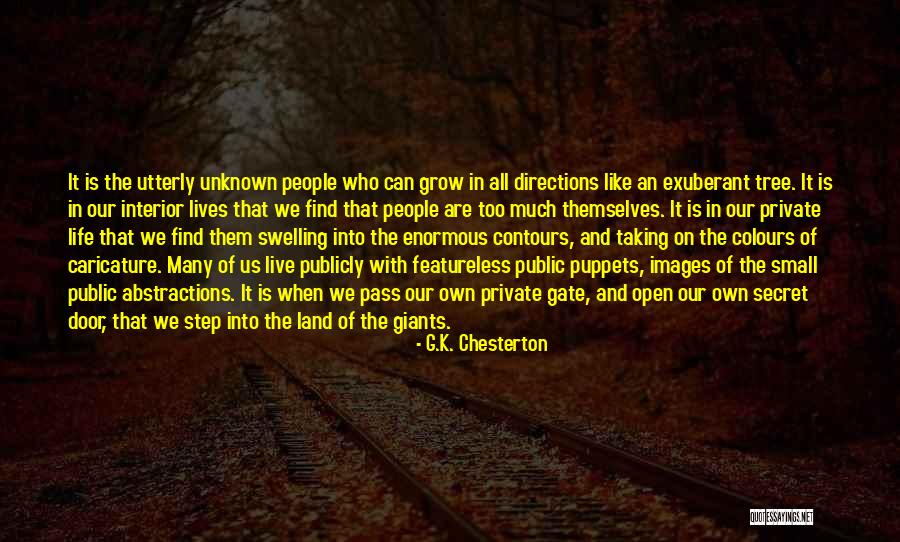 It is the utterly unknown people who can grow in all directions like an exuberant tree. It is in our interior lives that we find that people are too much themselves. It is in our private life that we find them swelling into the enormous contours, and taking on the colours of caricature. Many of us live publicly with featureless public puppets, images of the small public abstractions. It is when we pass our own private gate, and open our own secret door, that we step into the land of the giants. — G.K. Chesterton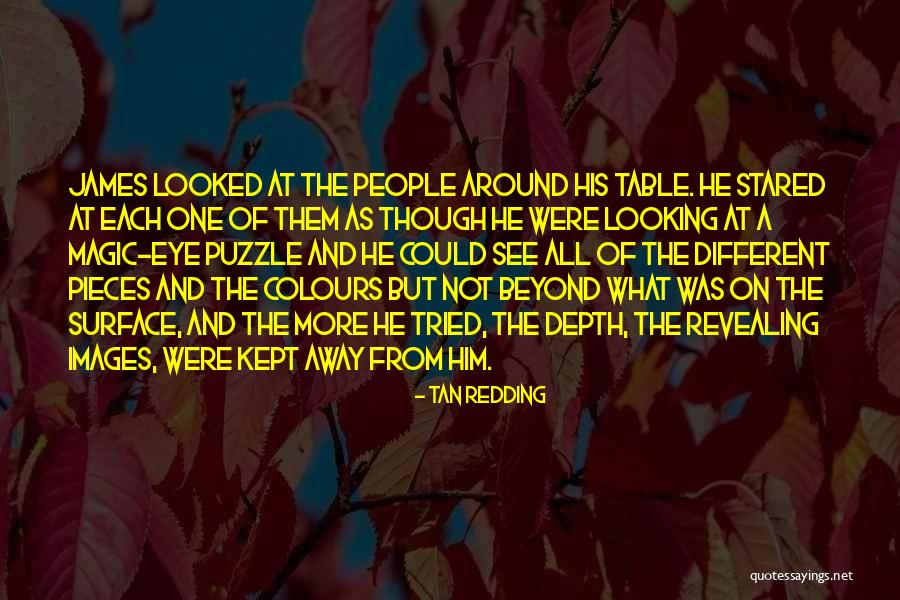 James looked at the people around his table. He stared at each one of them as though he were looking at a magic-eye puzzle and he could see all of the different pieces and the colours but not beyond what was on the surface, and the more he tried, the depth, the revealing images, were kept away from him. — Tan Redding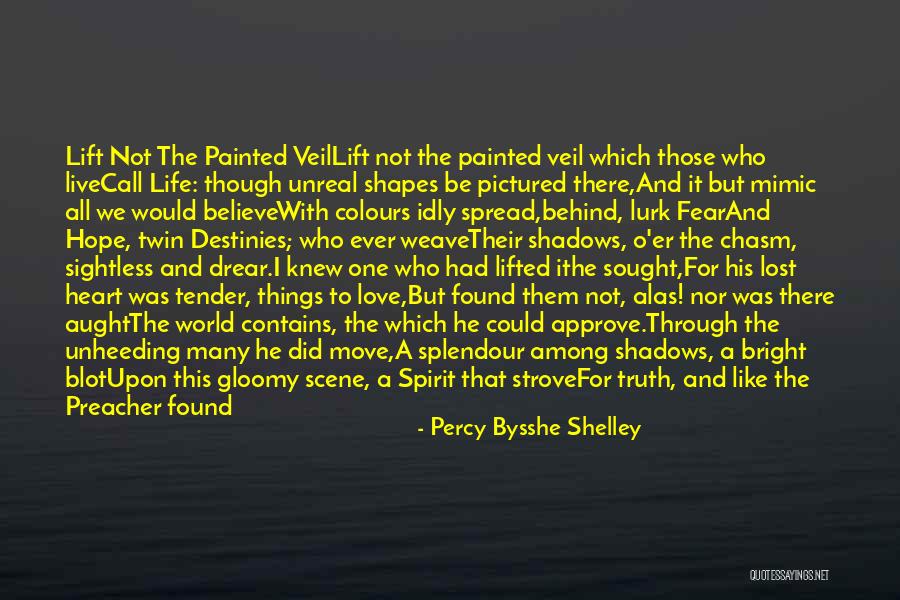 Lift Not The Painted Veil
Lift not the painted veil which those who live
Call Life: though unreal shapes be pictured there,
And it but mimic all we would believe
With colours idly spread,
behind, lurk Fear
And Hope, twin Destinies; who ever weave
Their shadows, o'er the chasm, sightless and drear.
I knew one who had lifted it
he sought,
For his lost heart was tender, things to love,
But found them not, alas! nor was there aught
The world contains, the which he could approve.
Through the unheeding many he did move,
A splendour among shadows, a bright blot
Upon this gloomy scene, a Spirit that strove
For truth, and like the Preacher found it not. — Percy Bysshe Shelley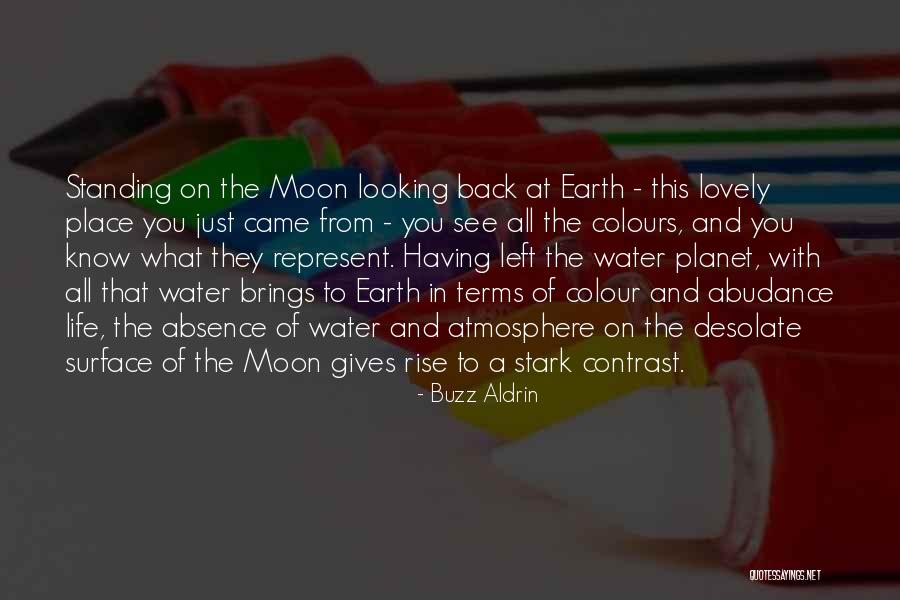 Standing on the Moon looking back at Earth - this lovely place you just came from - you see all the colours, and you know what they represent. Having left the water planet, with all that water brings to Earth in terms of colour and abudance life, the absence of water and atmosphere on the desolate surface of the Moon gives rise to a stark contrast. — Buzz Aldrin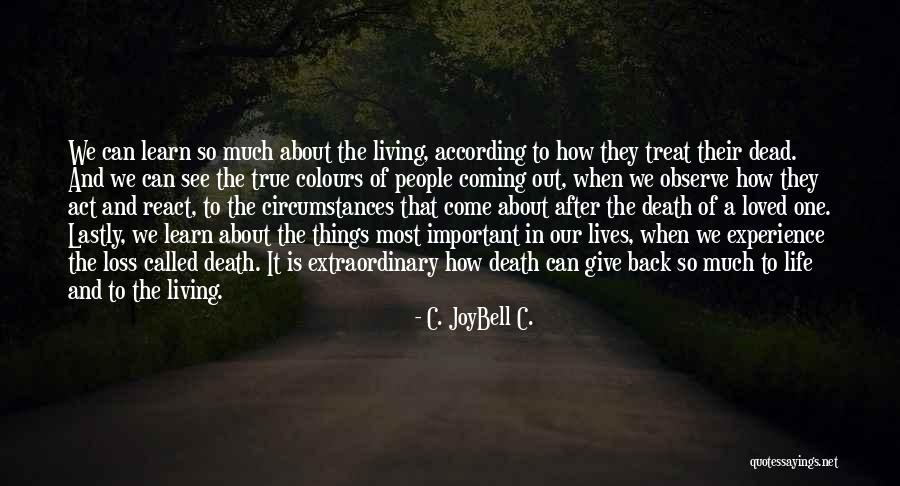 We can learn so much about the living, according to how they treat their dead. And we can see the true colours of people coming out, when we observe how they act and react, to the circumstances that come about after the death of a loved one. Lastly, we learn about the things most important in our lives, when we experience the loss called death. It is extraordinary how death can give back so much to life and to the living. — C. JoyBell C.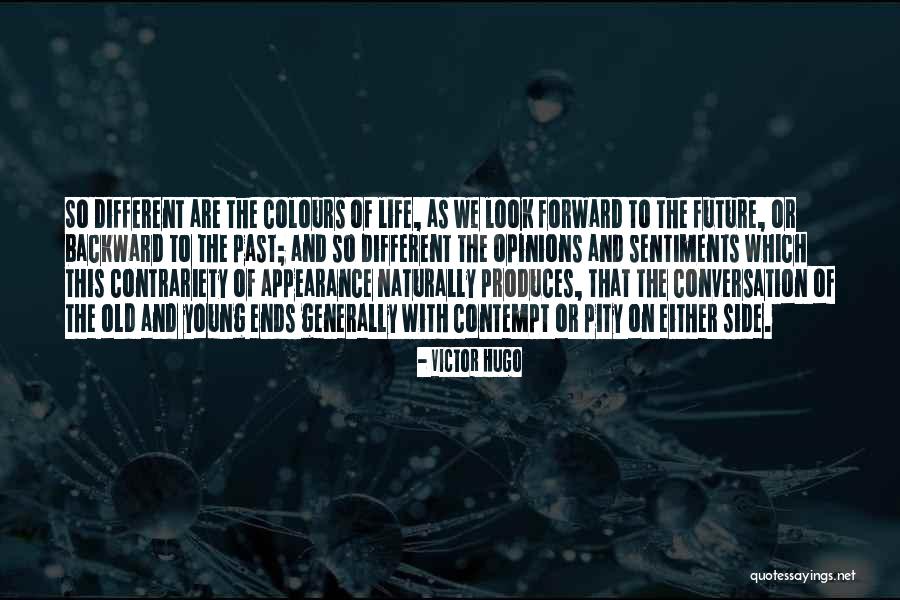 So different are the colours of life, as we look forward to the future, or backward to the past; and so different the opinions and sentiments which this contrariety of appearance naturally produces, that the conversation of the old and young ends generally with contempt or pity on either side. — Victor Hugo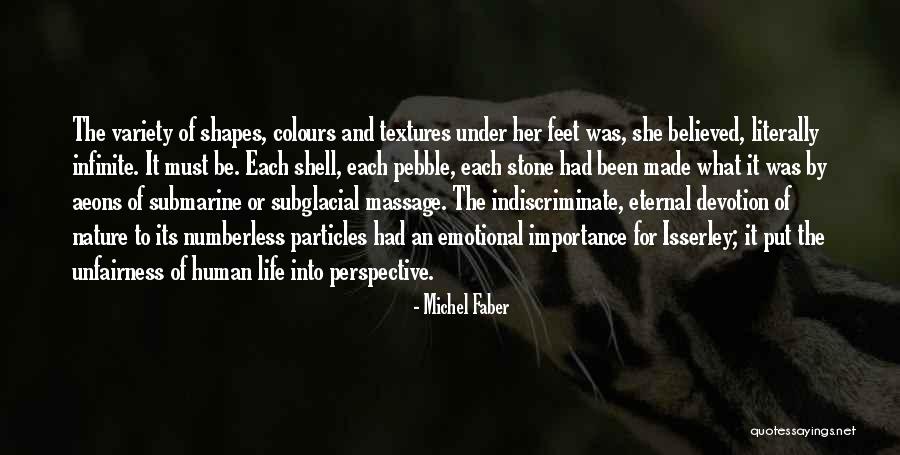 The variety of shapes, colours and textures under her feet was, she believed, literally infinite. It must be. Each shell, each pebble, each stone had been made what it was by aeons of submarine or subglacial massage. The indiscriminate, eternal devotion of nature to its numberless particles had an emotional importance for Isserley; it put the unfairness of human life into perspective. — Michel Faber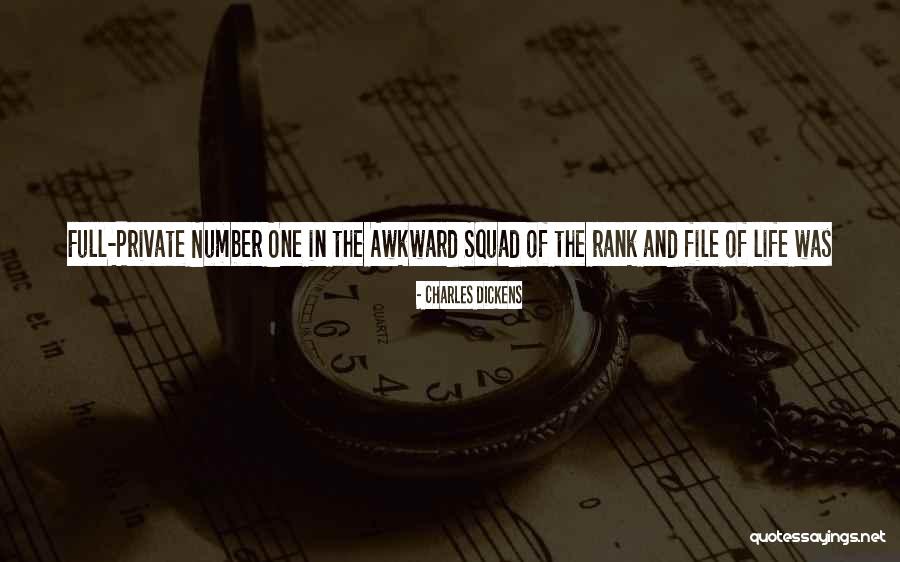 Full-Private Number One in the Awkward Squad of the rank and file of life was Sloppy, and yet had his glimmering notions of standing true to the Colours. — Charles Dickens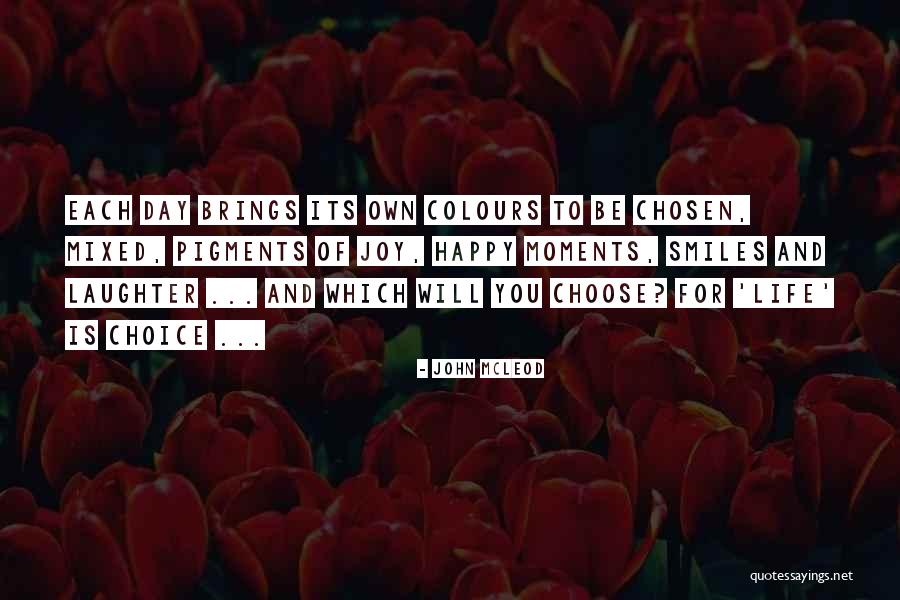 Each day brings its own colours to be chosen, mixed, pigments of joy, happy moments, smiles and laughter ... And which will you choose? For 'Life' is choice ... — John McLeod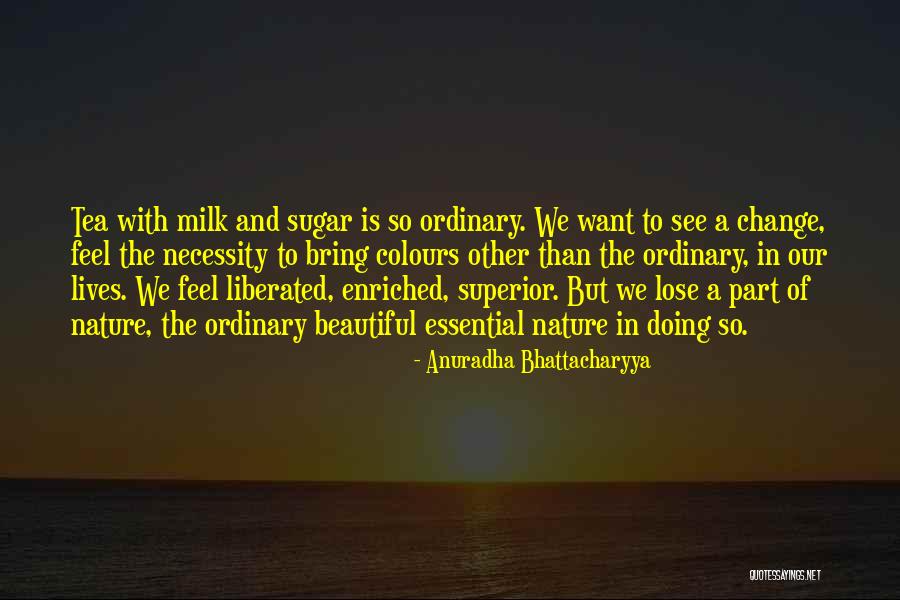 Tea with milk and sugar is so ordinary. We want to see a change, feel the necessity to bring colours other than the ordinary, in our lives. We feel liberated, enriched, superior. But we lose a part of nature, the ordinary beautiful essential nature in doing so. — Anuradha Bhattacharyya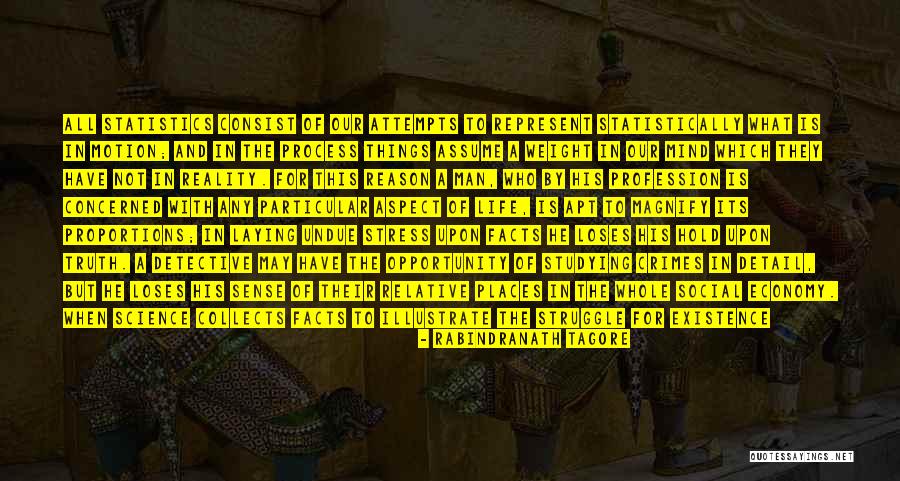 All statistics consist of our attempts to represent statistically what is in motion; and in the process things assume a weight in our mind which they have not in reality. For this reason a man, who by his profession is concerned with any particular aspect of life, is apt to magnify its proportions; in laying undue stress upon facts he loses his hold upon truth. A detective may have the opportunity of studying crimes in detail, but he loses his sense of their relative places in the whole social economy. When science collects facts to illustrate the struggle for existence that is going on in the kingdom of life, it raises a picture in our minds of "nature red in tooth and claw." But in these mental pictures we give a fixity to colours and forms which are really evanescent. — Rabindranath Tagore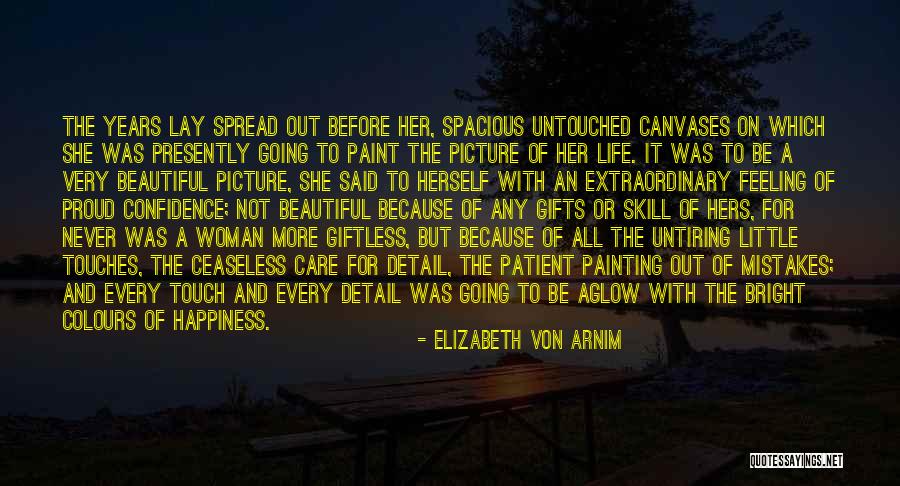 The years lay spread out before her, spacious untouched canvases on which she was presently going to paint the picture of her life. It was to be a very beautiful picture, she said to herself with an extraordinary feeling of proud confidence; not beautiful because of any gifts or skill of hers, for never was a woman more giftless, but because of all the untiring little touches, the ceaseless care for detail, the patient painting out of mistakes; and every touch and every detail was going to be aglow with the bright colours of happiness. — Elizabeth Von Arnim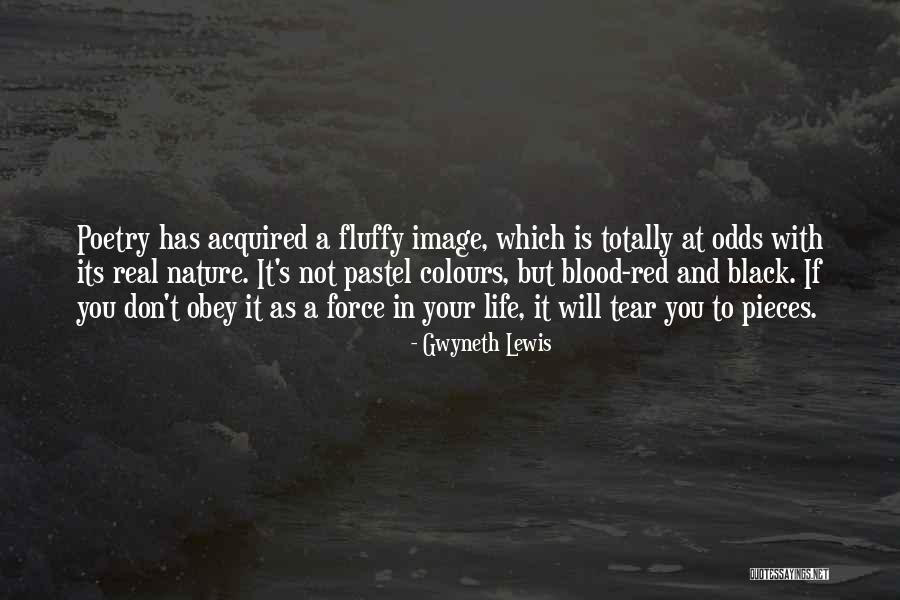 Poetry has acquired a fluffy image, which is totally at odds with its real nature. It's not pastel colours, but blood-red and black. If you don't obey it as a force in your life, it will tear you to pieces. — Gwyneth Lewis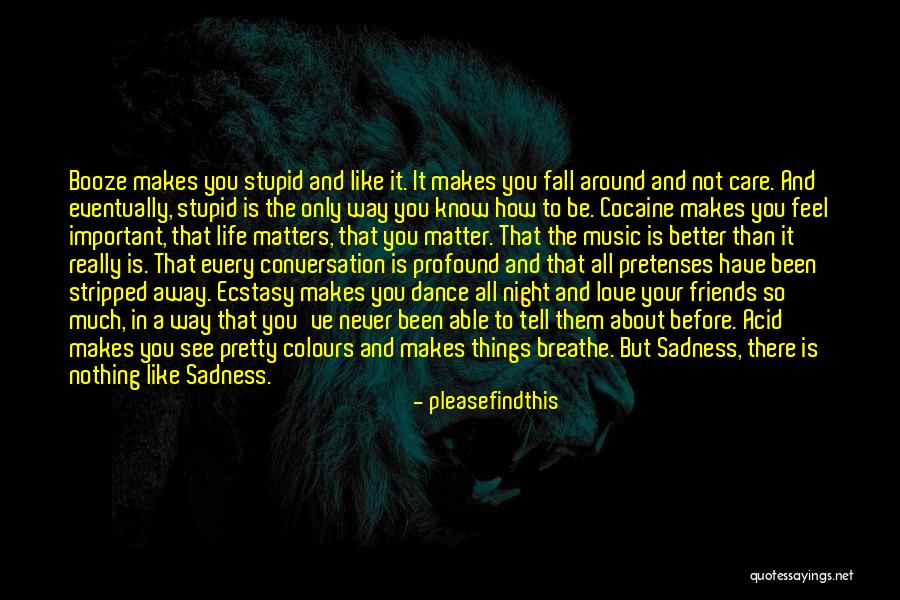 Booze makes you stupid and like it. It makes you fall around and not care. And eventually, stupid is the only way you know how to be. Cocaine makes you feel important, that life matters, that you matter. That the music is better than it really is. That every conversation
is profound and that all pretenses have been stripped away. Ecstasy makes you dance all night and love your friends so much, in a way that you've never been able to tell them about before. Acid makes you see pretty colours and makes things breathe. But Sadness, there is nothing like Sadness. — Pleasefindthis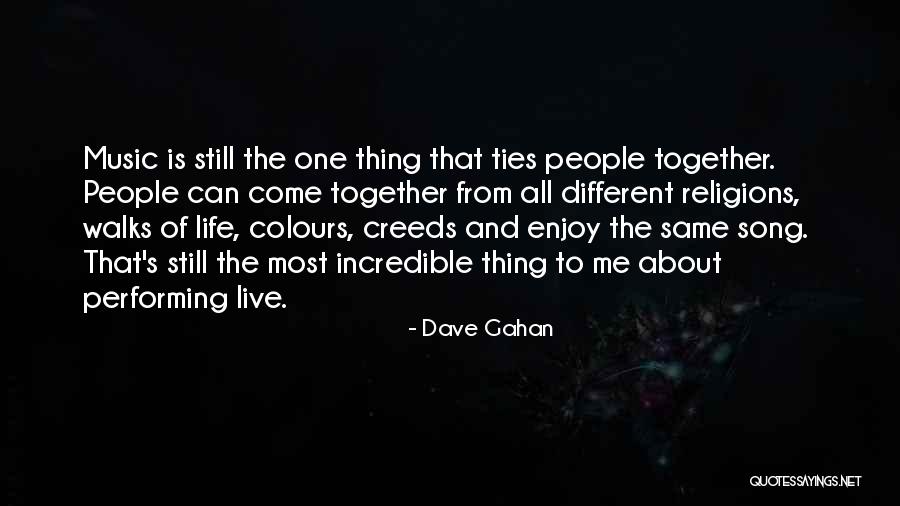 Music is still the one thing that ties people together.
People can come together from all different religions,
walks of life, colours, creeds and enjoy the same song.
That's still the most incredible thing to me about performing live. — Dave Gahan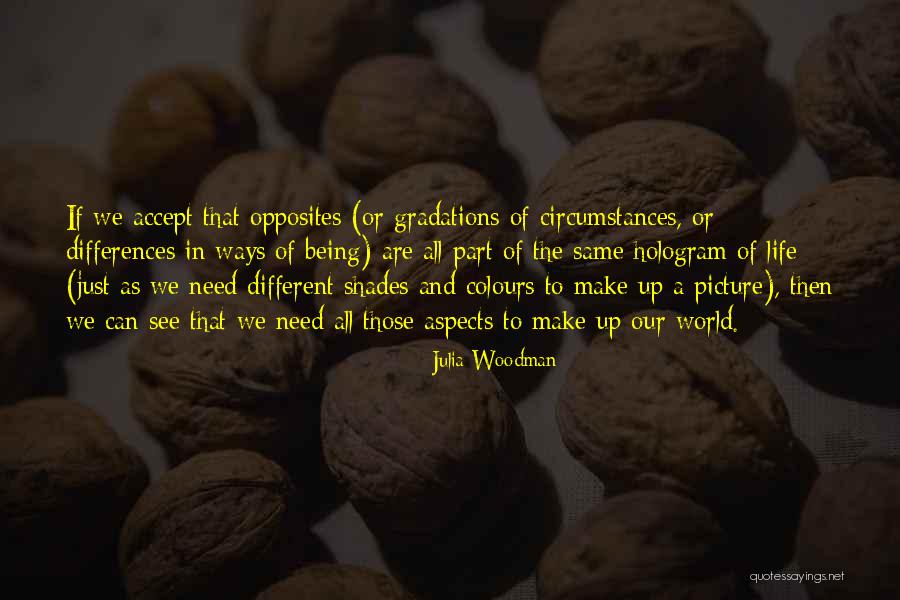 If we accept that opposites (or gradations of circumstances, or differences in ways of being) are all part of the same hologram of life (just as we need different shades and colours to make up a picture), then we can see that we need all those aspects to make up our world. — Julia Woodman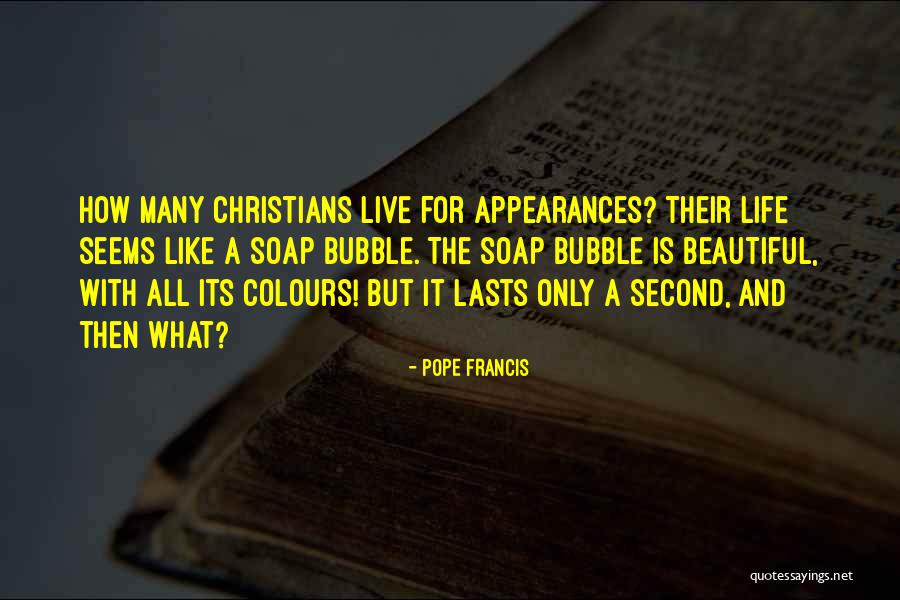 How many Christians live for appearances? Their life seems like a soap bubble. The soap bubble is beautiful, with all its colours! But it lasts only a second, and then what? — Pope Francis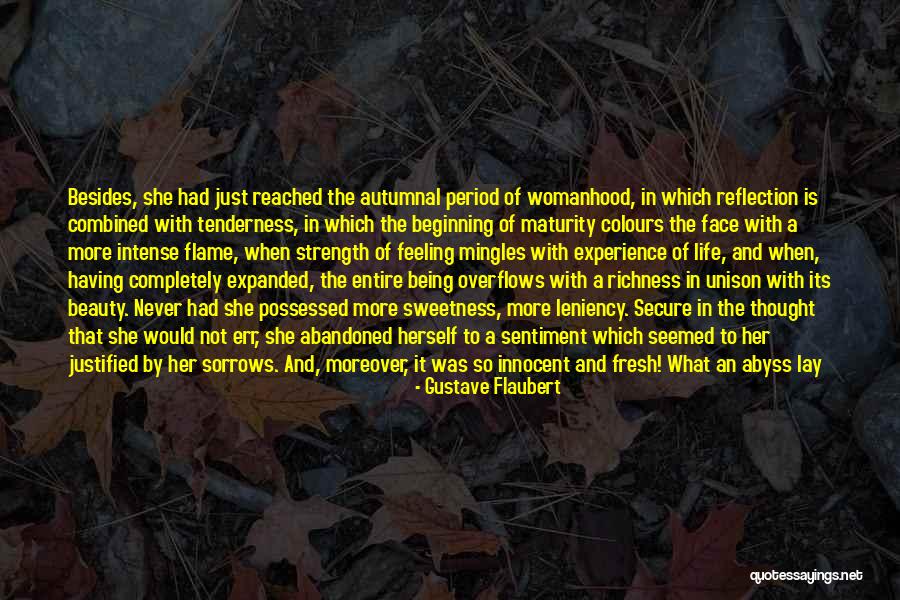 Besides, she had just reached the autumnal period of womanhood, in which reflection is combined with tenderness, in which the beginning of maturity colours the face with a more intense flame, when strength of feeling mingles with experience of life, and when, having completely expanded, the entire being overflows with a richness in unison with its beauty. Never had she possessed more sweetness, more leniency. Secure in the thought that she would not err, she abandoned herself to a sentiment which seemed to her justified by her sorrows. And, moreover, it was so innocent and fresh! What an abyss lay between the coarseness of Arnoux and the adoration of Frederick! — Gustave Flaubert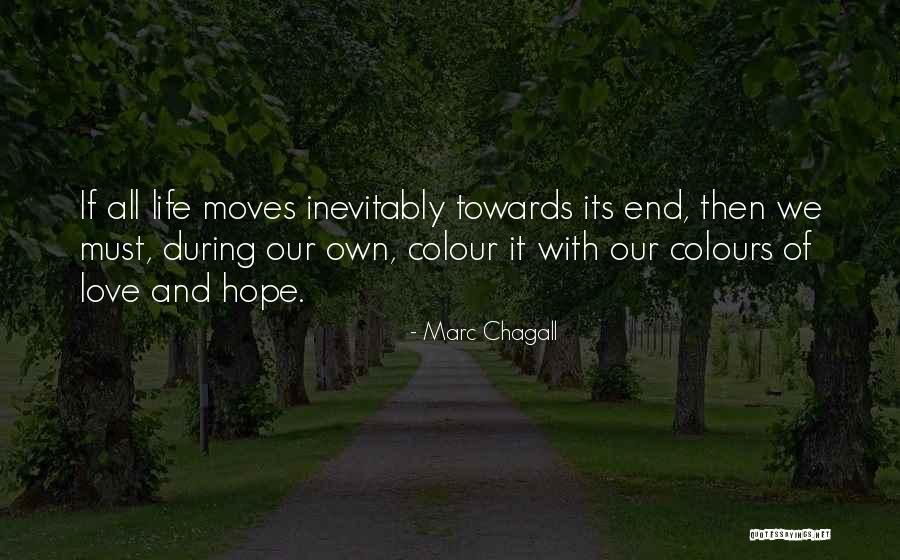 If all life moves inevitably towards its end, then we must, during our own, colour it with our colours of love and hope. — Marc Chagall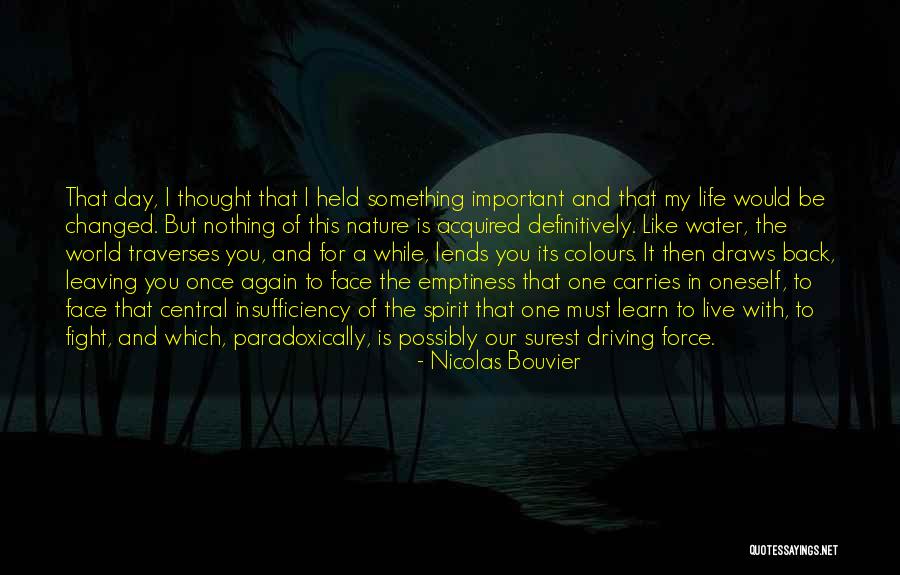 That day, I thought that I held something important and that my life would be changed. But nothing of this nature is acquired definitively. Like water, the world traverses you, and for a while, lends you its colours. It then draws back, leaving you once again to face the emptiness that one carries in oneself, to face that central insufficiency of the spirit that one must learn to live with, to fight, and which, paradoxically, is possibly our surest driving force. — Nicolas Bouvier
It's ignorant to think you know everything about a person. There's many different sides to everybodys personality and there's just different colours to a personality. — Kelly Clarkson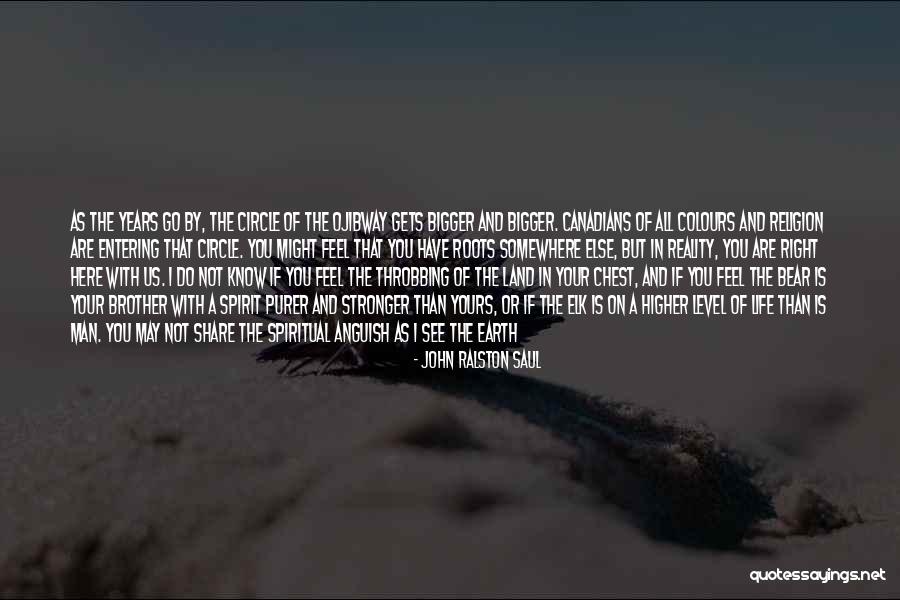 As the years go by, the circle of the Ojibway gets bigger and bigger. Canadians of all colours and religion are entering that circle. You might feel that you have roots somewhere else, but in reality, you are right here with us. I do not know if you feel the throbbing of the land in your chest, and if you feel the bear is your brother with a spirit purer and stronger than yours, or if the elk is on a higher level of life than is man. You may not share the spiritual anguish as I see the earth ravaged by the stranger, but you can no longer escape my fate as the soil turns barren and the rivers poison. Much against my will, and probably yours, time and circumstance have put us together in the same circle. And so I come not to plead with you to save me from the monstrous stranger of capitalist greed and technology. I come to inform you that my danger is your danger too. My genocide is your genocide. — John Ralston Saul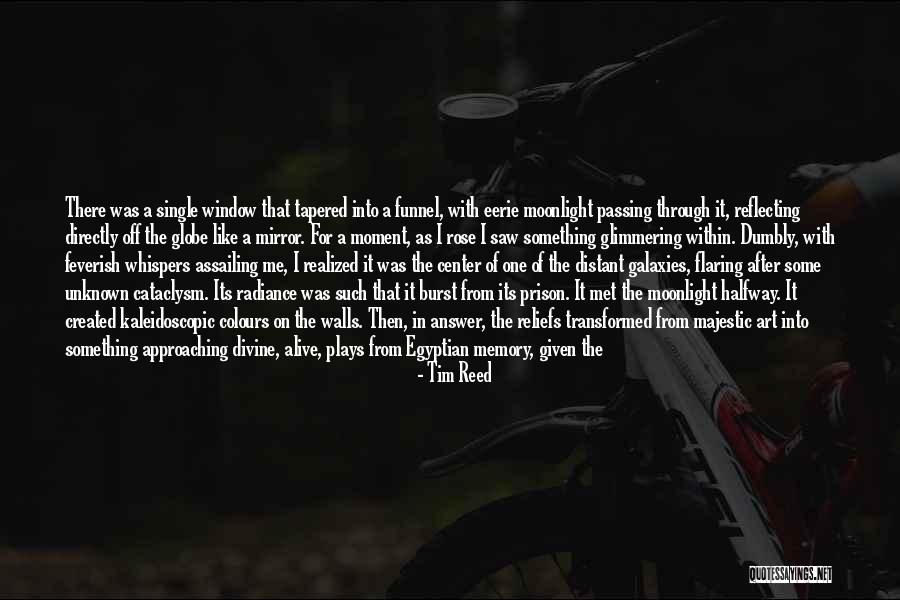 There was a single window that tapered into a funnel, with eerie moonlight passing through it, reflecting directly off the globe like a mirror. For a moment, as I rose I saw something glimmering within. Dumbly, with feverish whispers assailing me, I realized it was the center of one of the distant galaxies, flaring after some unknown cataclysm. Its radiance was such that it burst from its prison. It met the moonlight halfway. It created kaleidoscopic colours on the walls. Then, in answer, the reliefs transformed from majestic art into something approaching divine, alive, plays from Egyptian memory, given the spark of life from space. I saw animal-headed gods move. They stepped from the walls to take their place around the altar. All stared at the globe. Each raised their arms in silent supplication. And such was their toxic ecstasy that I wished to join them, to forget my dreadful experiences and revel in something truly wondrous. — Tim Reed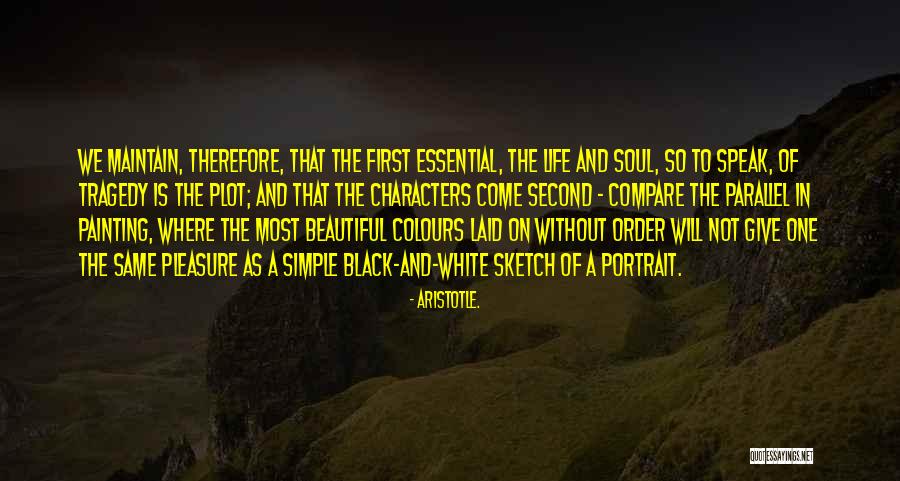 We maintain, therefore, that the first essential, the life and soul, so to speak, of Tragedy is the Plot; and that the Characters come second - compare the parallel in painting, where the most beautiful colours laid on without order will not give one the same pleasure as a simple black-and-white sketch of a portrait. — Aristotle.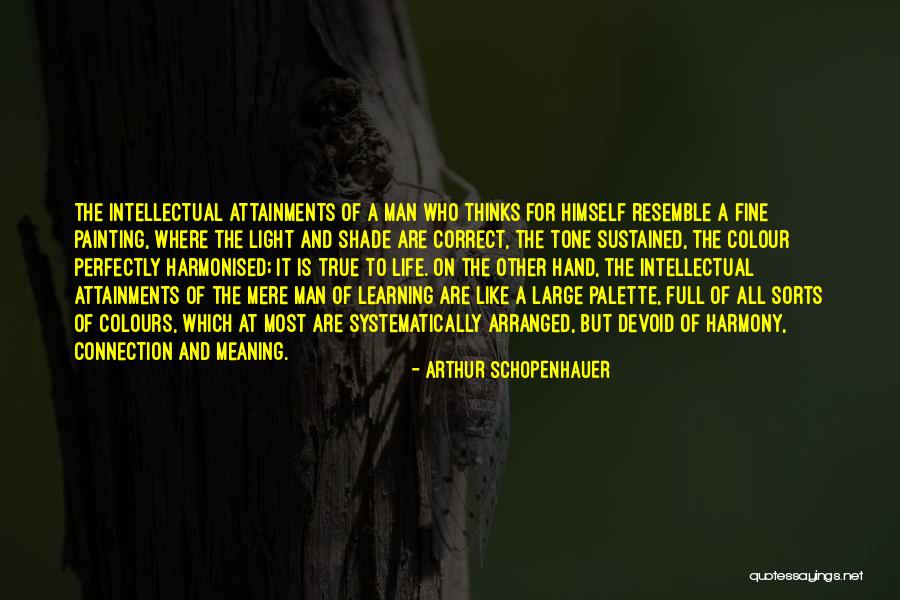 The intellectual attainments of a man who thinks for himself resemble a fine painting, where the light and shade are correct, the tone sustained, the colour perfectly harmonised; it is true to life. On the other hand, the intellectual attainments of the mere man of learning are like a large palette, full of all sorts of colours, which at most are systematically arranged, but devoid of harmony, connection and meaning. — Arthur Schopenhauer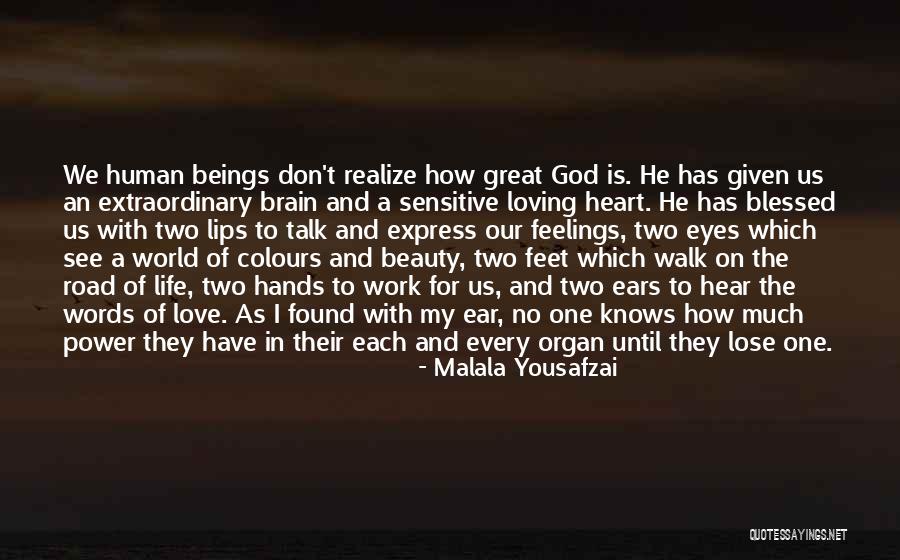 We human beings don't realize how great God is. He has given us an extraordinary brain and a sensitive loving heart. He has blessed us with two lips to talk and express our feelings, two eyes which see a world of colours and beauty, two feet which walk on the road of life, two hands to work for us, and two ears to hear the words of love. As I found with my ear, no one knows how much power they have in their each and every organ until they lose one. — Malala Yousafzai
Colours started to seep into his black and white life — Jamie Scallion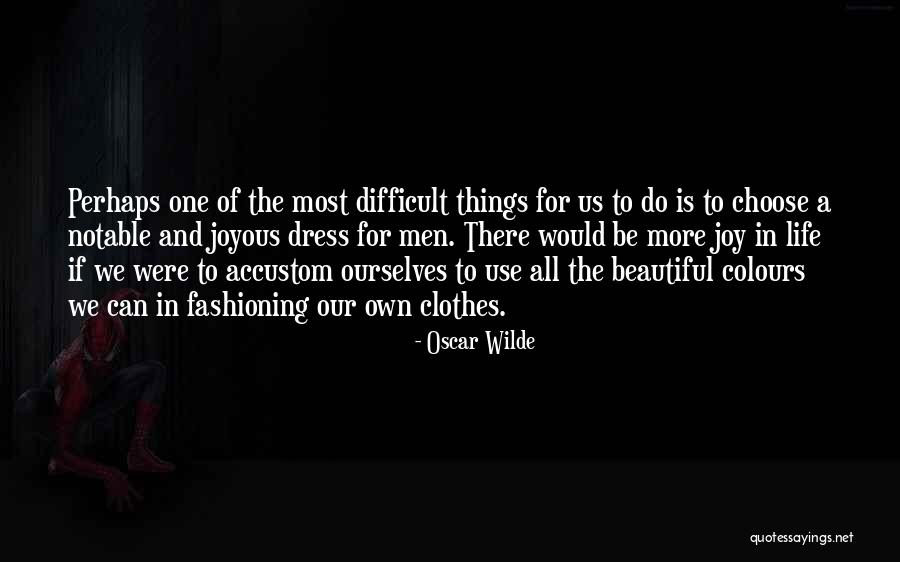 Perhaps one of the most difficult things for us to do is to choose a notable and joyous dress for men. There would be more joy in life if we were to accustom ourselves to use all the beautiful colours we can in fashioning our own clothes. — Oscar Wilde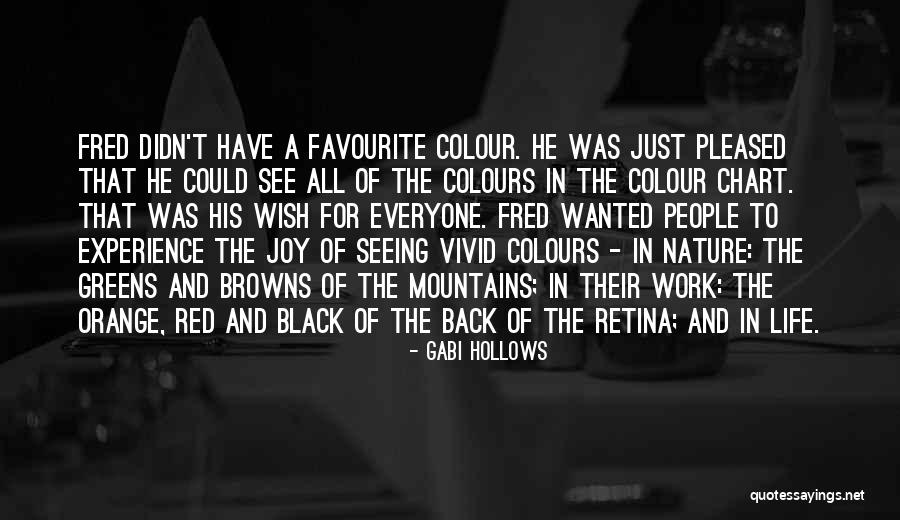 Fred didn't have a favourite colour. He was just pleased that he could see all of the colours in the colour chart. That was his wish for everyone. Fred wanted people to experience the joy of seeing vivid colours - in nature: the greens and browns of the mountains; in their work: the orange, red and black of the back of the retina; and in life. — Gabi Hollows
The curious double strands in Farfrae's thread of life - the commercial and the romantic - were very distinct at times. Like the colours in a variegated cord those contrasts could be seen intertwisted, yet not mingling. — Thomas Hardy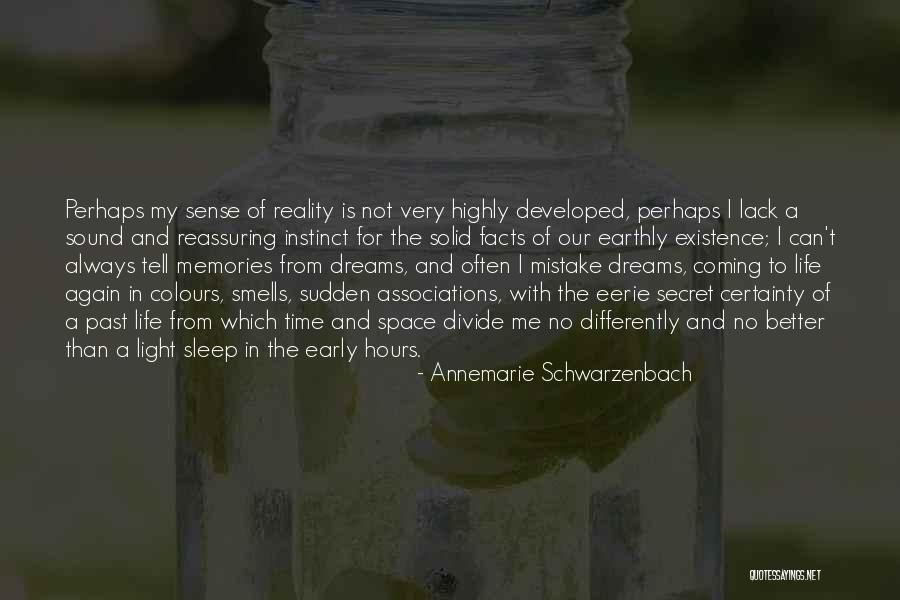 Perhaps my sense of reality is not very highly developed, perhaps I lack a sound and reassuring instinct for the solid facts of our earthly existence; I can't always tell memories from dreams, and often I mistake dreams, coming to life again in colours, smells, sudden associations, with the eerie secret certainty of a past life from which time and space divide me no differently and no better than a light sleep in the early hours. — Annemarie Schwarzenbach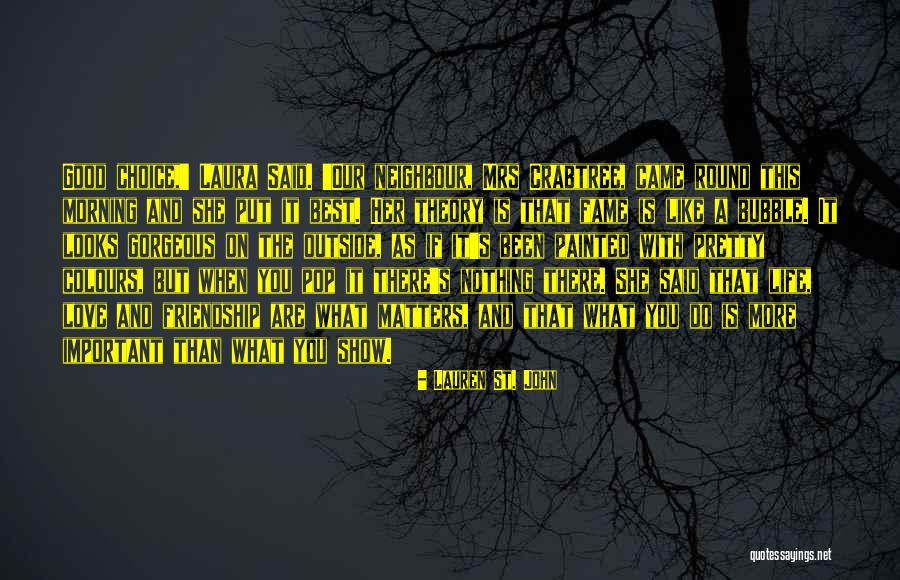 Good choice,' Laura Said. 'Our neighbour, Mrs Crabtree, came round this morning and she put it best. Her theory is that fame is like a bubble. It looks gorgeous on the outside, as if it's been painted with pretty colours, but when you pop it there's nothing there. She said that life, love and friendship are what matters, and that what you do is more important than what you show. — Lauren St. John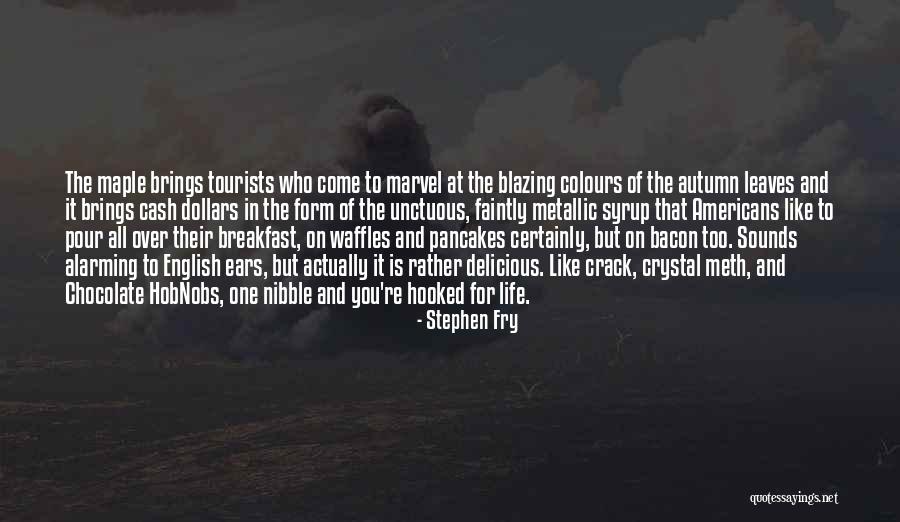 The maple brings tourists who come to marvel at the blazing colours of the autumn leaves and it brings cash dollars in the form of the unctuous, faintly metallic syrup that Americans like to pour all over their breakfast, on waffles and pancakes certainly, but on bacon too. Sounds alarming to English ears, but actually it is rather delicious. Like crack, crystal meth, and Chocolate HobNobs, one nibble and you're hooked for life. — Stephen Fry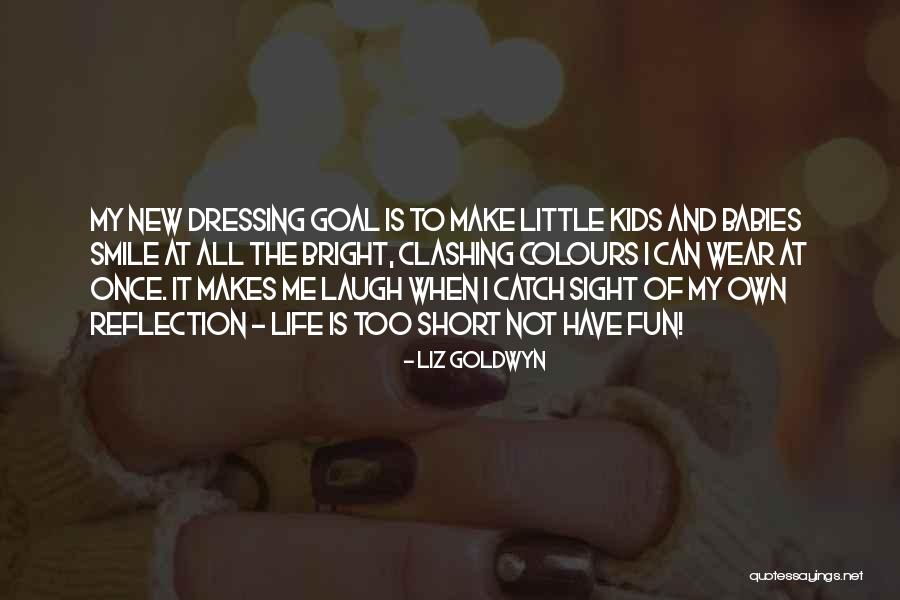 My new dressing goal is to make little kids and babies smile at all the bright, clashing colours I can wear at once. It makes me laugh when I catch sight of my own reflection - life is too short not have fun! — Liz Goldwyn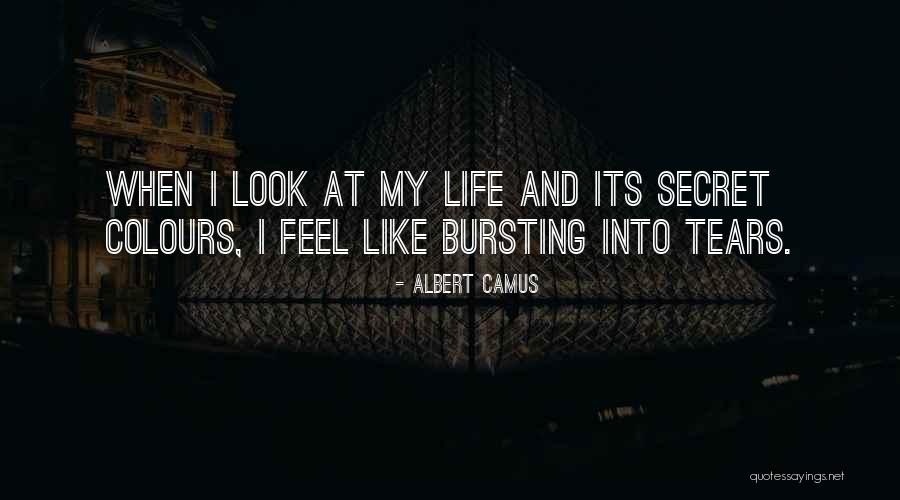 When I look at my life and its secret colours, I feel like bursting into tears. — Albert Camus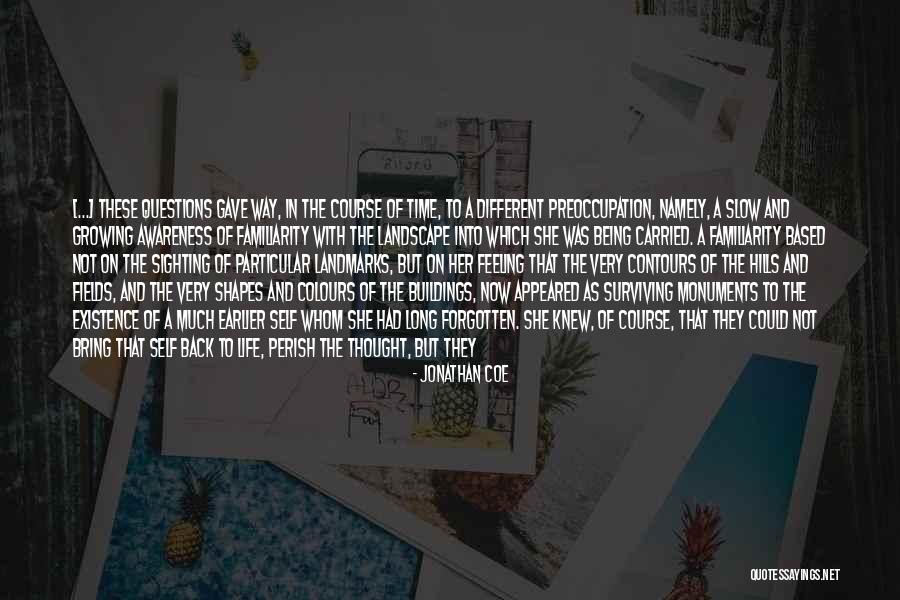 [...] these questions gave way, in the course of time, to a different preoccupation, namely, a slow and growing awareness of familiarity with the landscape into which she was being carried. A familiarity based not on the sighting of particular landmarks, but on her feeling that the very contours of the hills and fields, and the very shapes and colours of the buildings, now appeared as surviving monuments to the existence of a much earlier self whom she had long forgotten. She knew, of course, that they could not bring that self back to life, perish the thought, but they reminded her of it in a way which she did not find disagreeable. — Jonathan Coe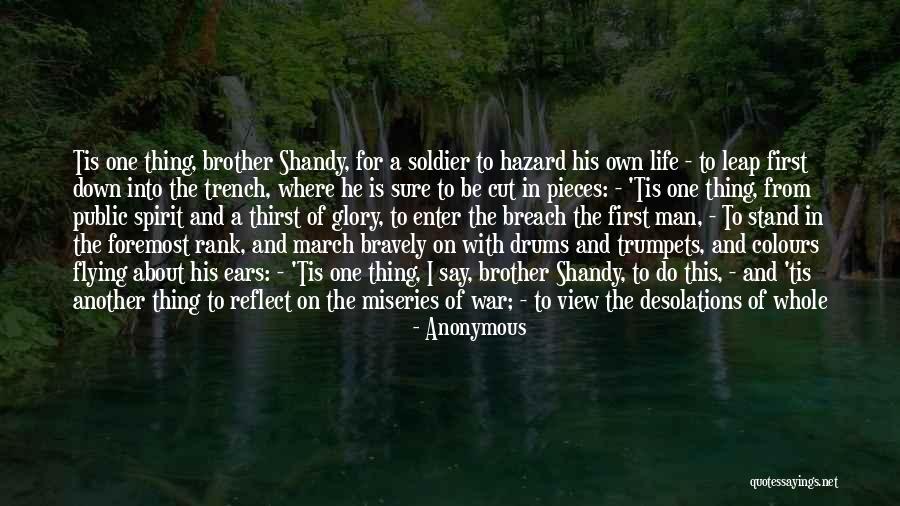 Tis one thing, brother Shandy, for a soldier to hazard his own life - to leap first down into the trench, where he is sure to be cut in pieces: - 'Tis one thing, from public spirit and a thirst of glory, to enter the breach the first man, - To stand in the foremost rank, and march bravely on with drums and trumpets, and colours flying about his ears: - 'Tis one thing, I say, brother Shandy, to do this, - and 'tis another thing to reflect on the miseries of war; - to view the desolations of whole countries, and consider the intolerable fatigues and hardships which the soldier himself, the instrument who works them, is forced (for sixpence a day, if he can get it) to undergo. — Anonymous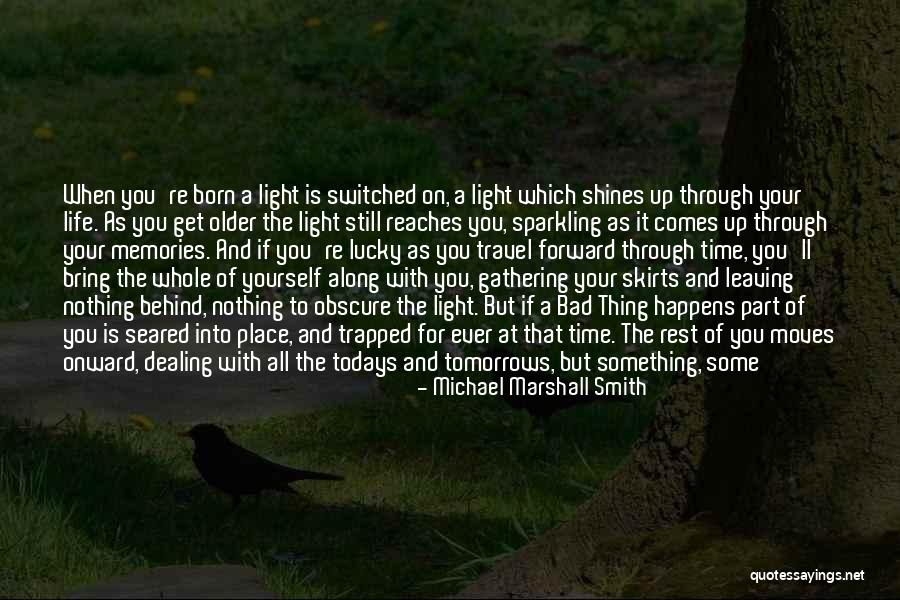 When you're born a light is switched on, a light which shines up through your life. As you get older the light still reaches you, sparkling as it comes up through your memories. And if you're lucky as you travel forward through time, you'll bring the whole of yourself along with you, gathering your skirts and leaving nothing behind, nothing to obscure the light. But if a Bad Thing happens part of you is seared into place, and trapped for ever at that time. The rest of you moves onward, dealing with all the todays and tomorrows, but something, some part of you, is left behind. That part blocks the light, colours the rest of your life, but worse than that, it's alive. Trapped for ever at that moment, and alone in the dark, that part of you is still alive. — Michael Marshall Smith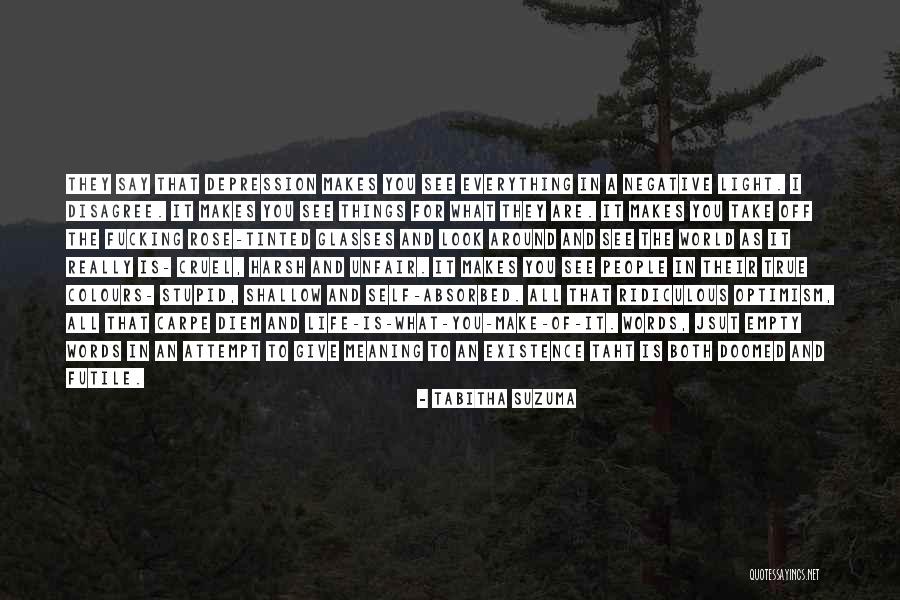 They say that depression makes you see everything in a negative light. I disagree. It makes you see things for what they are. It makes you take off the fucking rose-tinted glasses and look around and see the world as it really is- cruel, harsh and unfair. It makes you see people in their true colours- stupid, shallow and self-absorbed. All that ridiculous optimism, all that carpe diem and life-is-what-you-make-of-it. Words, jsut empty words in an attempt to give meaning to an existence taht is both doomed and futile. — Tabitha Suzuma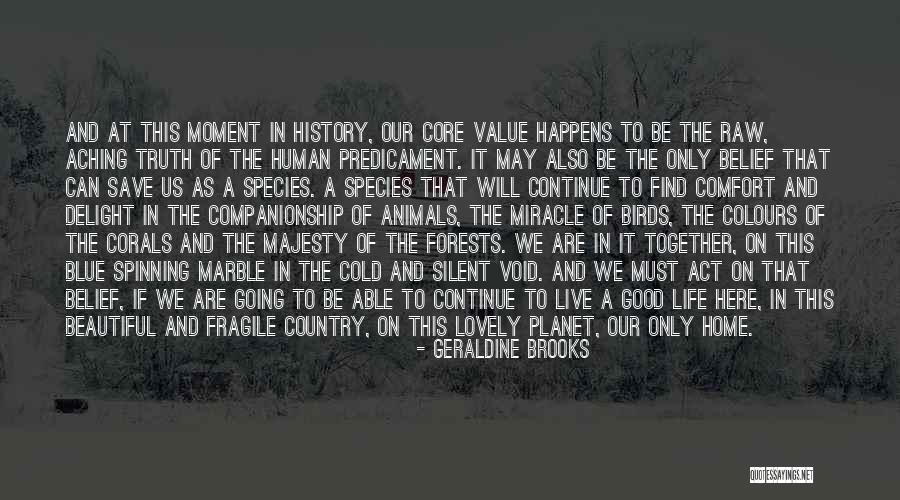 And at this moment in history, our core value happens to be the raw, aching truth of the human predicament. It may also be the only belief that can save us as a species. A species that will continue to find comfort and delight in the companionship of animals, the miracle of birds, the colours of the corals and the majesty of the forests. We are in it together, on this blue spinning marble in the cold and silent void. And we must act on that belief, if we are going to be able to continue to live a good life here, in this beautiful and fragile country, on this lovely planet, our only home. — Geraldine Brooks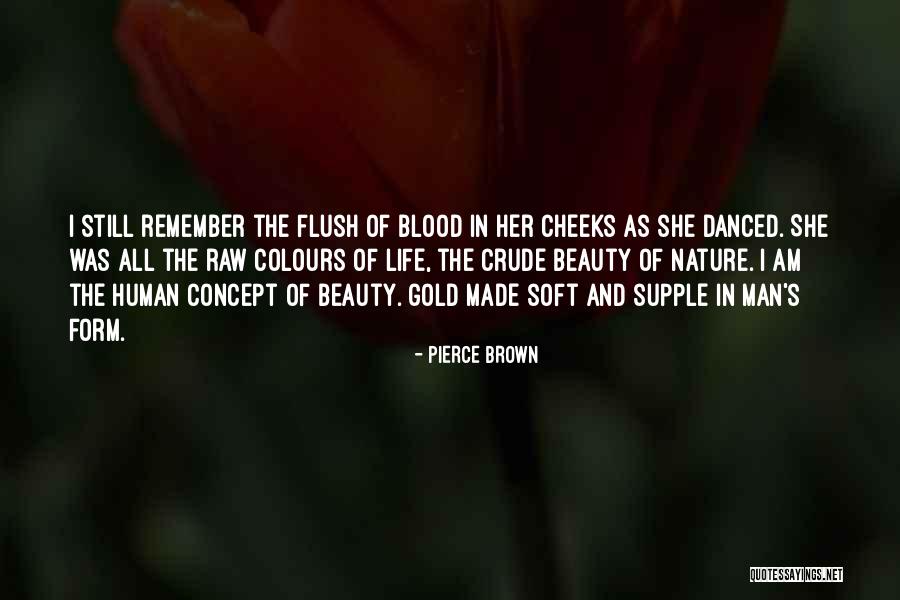 I still remember the flush of blood in her cheeks as she danced. She was all the raw colours of life, the crude beauty of nature. I am the human concept of beauty. Gold made soft and supple in man's form. — Pierce Brown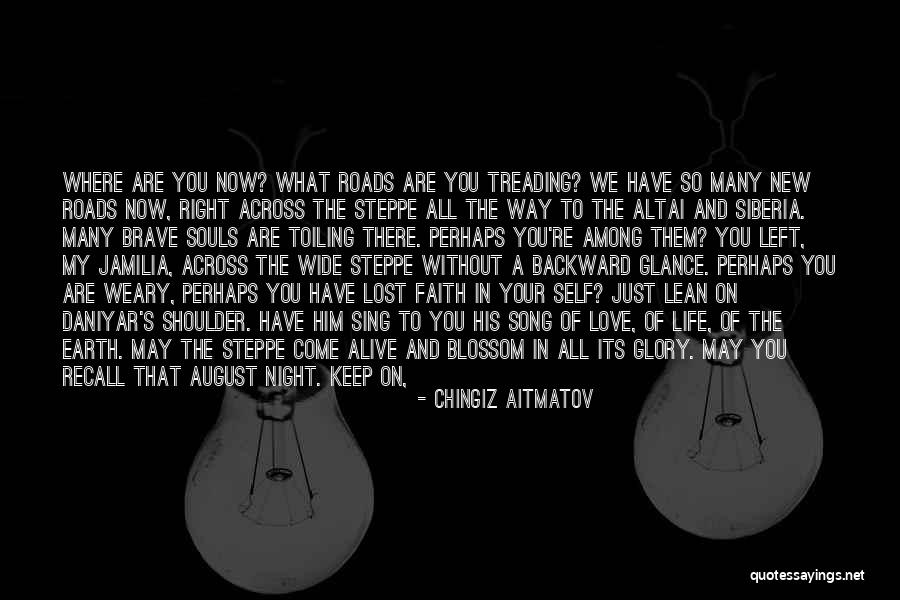 Where are you now? What roads are you treading? We have so many new roads now, right across the steppe all the way to the Altai and Siberia. Many brave souls are toiling there. Perhaps you're among them? You left, my Jamilia, across the wide steppe without a backward glance. Perhaps you are weary, perhaps you have lost faith in your self? Just lean on Daniyar's shoulder. Have him sing to you his song of love, of life, of the earth. May the steppe come alive and blossom in all its glory. May you recall that August night. Keep on, Jamilia, have no regrets; you've found your hard-sought happiness.
When I gaze at them long enough I can hear Daniyar's voice. He is calling to me, too, to take the highroad, which means it is time for me to get ready. I shall cross the steppe back to my village and find fresh colours there.
May Daniyar's song resound and may Jamilia's heart beat with every stroke of my brush. — Chingiz Aitmatov
Part of her wanted simply to sit and stare out of the window, at the lawn, flaky with sodden leaves, and the branches with yellow leaves, or few, or none, she thought, taking pleasure at least in Shakespeare's rhythm, but also feeling old. She took pleasure, too, in the inert solidity of glass panes and polished furniture and rows of ordered books around her, and the magic trees of life woven in glowing colours on the rugs at her feet. — A.S. Byatt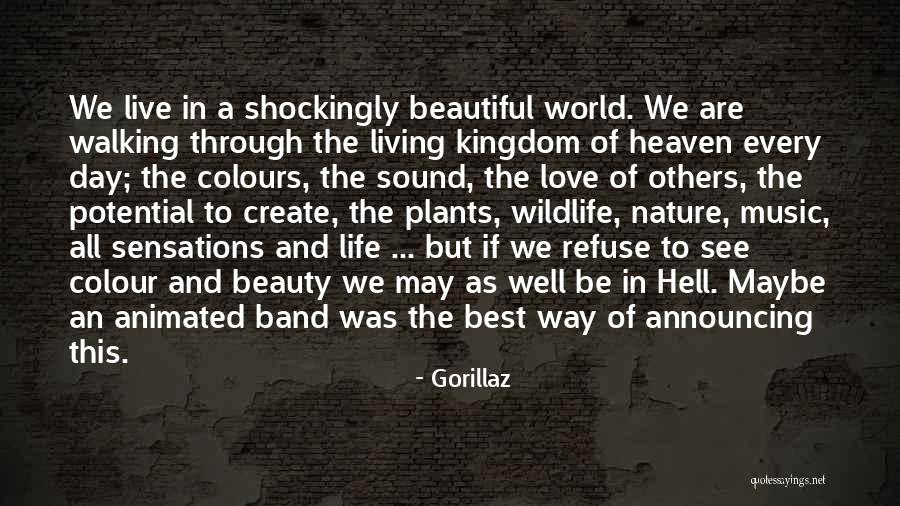 We live in a shockingly beautiful world. We are walking through the living kingdom of heaven every day; the colours, the sound, the love of others, the potential to create, the plants, wildlife, nature, music, all sensations and life ... but if we refuse to see colour and beauty we may as well be in Hell. Maybe an animated band was the best way of announcing this. — Gorillaz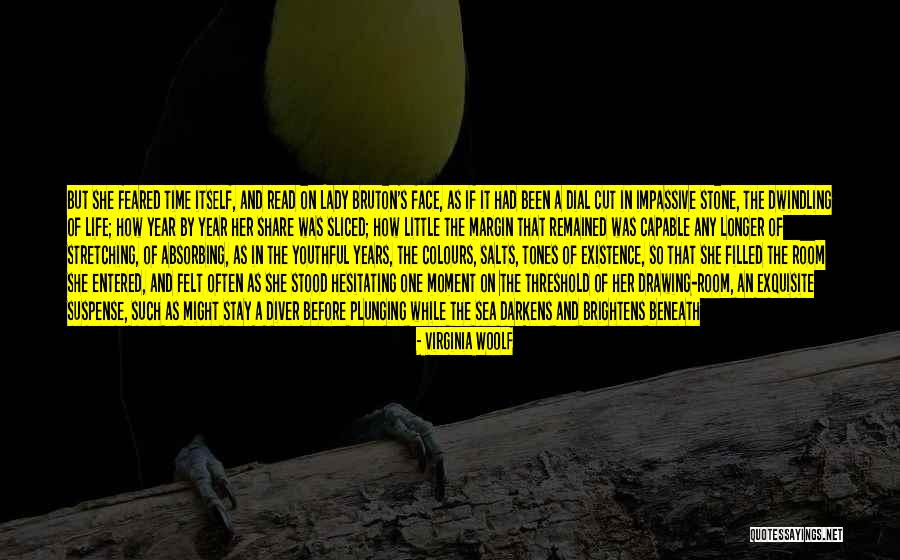 But she feared time itself, and read on Lady Bruton's face, as if it had been a dial cut in impassive stone, the dwindling of life; how year by year her share was sliced; how little the margin that remained was capable any longer of stretching, of absorbing, as in the youthful years, the colours, salts, tones of existence, so that she filled the room she entered, and felt often as she stood hesitating one moment on the threshold of her drawing-room, an exquisite suspense, such as might stay a diver before plunging while the sea darkens and brightens beneath him, and the waves which threaten to break, but only gently split their surface, roll and conceal and encrust — Virginia Woolf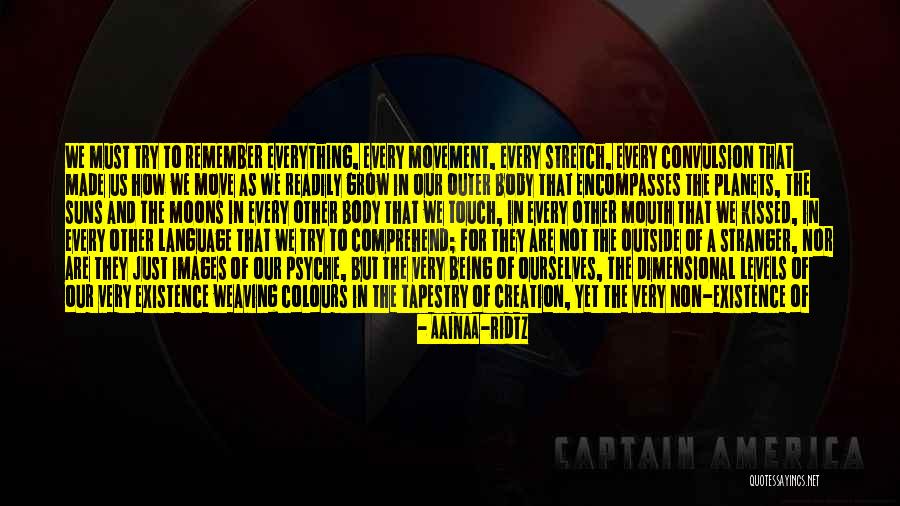 We must try to remember everything, every movement, every stretch, every convulsion that made us how we move as we readily grow in our outer body that encompasses the planets, the suns and the moons in every other body that we touch, in every other mouth that we kissed, in every other language that we try to comprehend; for they are not the outside of a stranger, nor are they just images of our psyche, but the very being of ourselves, the dimensional levels of our very existence weaving colours in the tapestry of creation, yet the very non-existence of the template is proof of consciousness, of ascension, of Life. — AainaA-Ridtz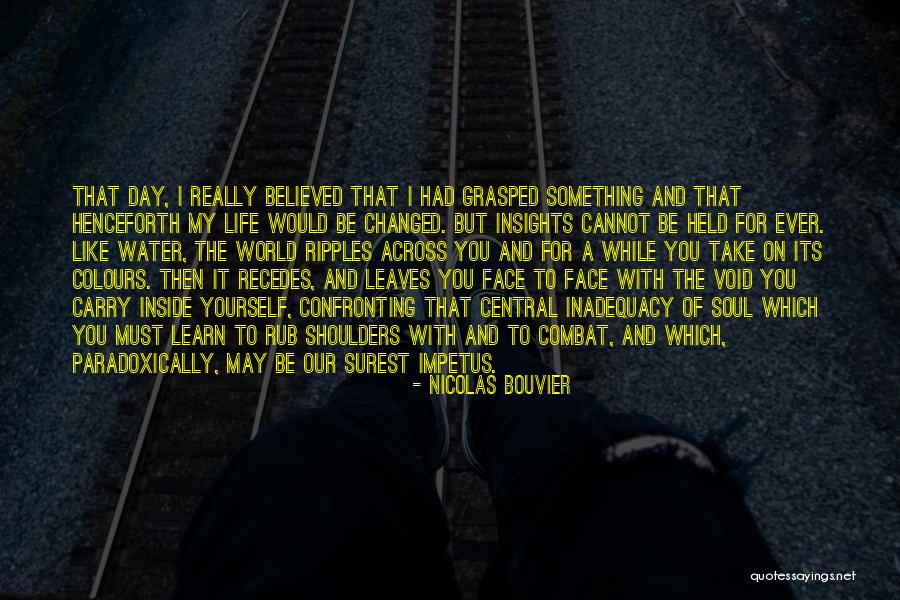 That day, I really believed that I had grasped something and that henceforth my life would be changed. But insights cannot be held for ever. Like water, the world ripples across you and for a while you take on its colours. Then it recedes, and leaves you face to face with the void you carry inside yourself, confronting that central inadequacy of soul which you must learn to rub shoulders with and to combat, and which, paradoxically, may be our surest impetus. — Nicolas Bouvier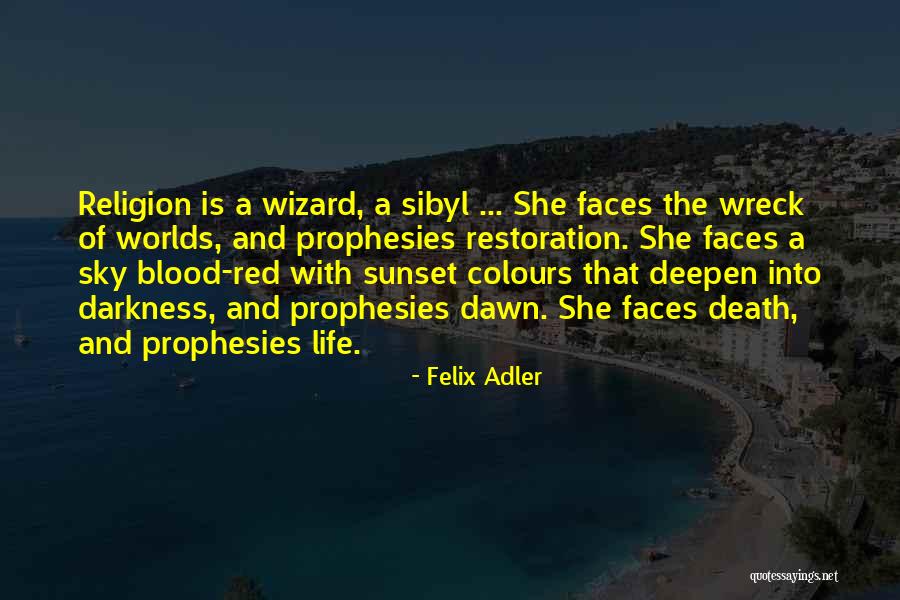 Religion is a wizard, a sibyl ... She faces the wreck of worlds, and prophesies restoration. She faces a sky blood-red with sunset colours that deepen into darkness, and prophesies dawn. She faces death, and prophesies life. — Felix Adler