Quotes & Sayings About Losing Best Friends
Enjoy reading and share 44 famous quotes about Losing Best Friends with everyone.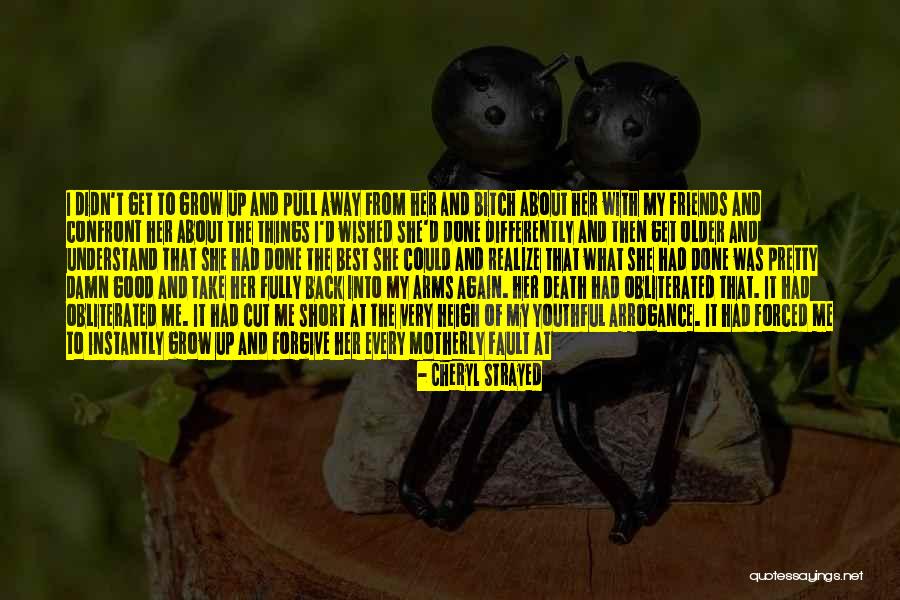 I didn't get to grow up and pull away from her and bitch about her with my friends and confront her about the things I'd wished she'd done differently and then get older and understand that she had done the best she could and realize that what she had done was pretty damn good and take her fully back into my arms again. Her death had obliterated that. It had obliterated me. It had cut me short at the very heigh of my youthful arrogance. It had forced me to instantly grow up and forgive her every motherly fault at the same time that it kept me forever a child, my life both ended and begun in that premature place where we'd left off. She was my mother, but I was motherless. I was trapped by her, but utterly alone. She would always be the empty bowl that no one could full. I'd have to fill it myself again and again and again. — Cheryl Strayed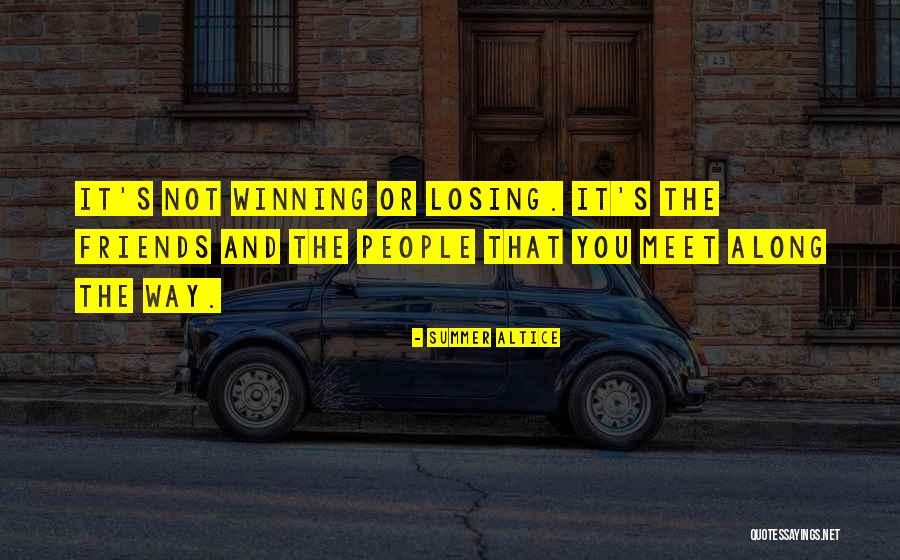 It's not winning or losing. It's the friends and the people that you meet along the way. — Summer Altice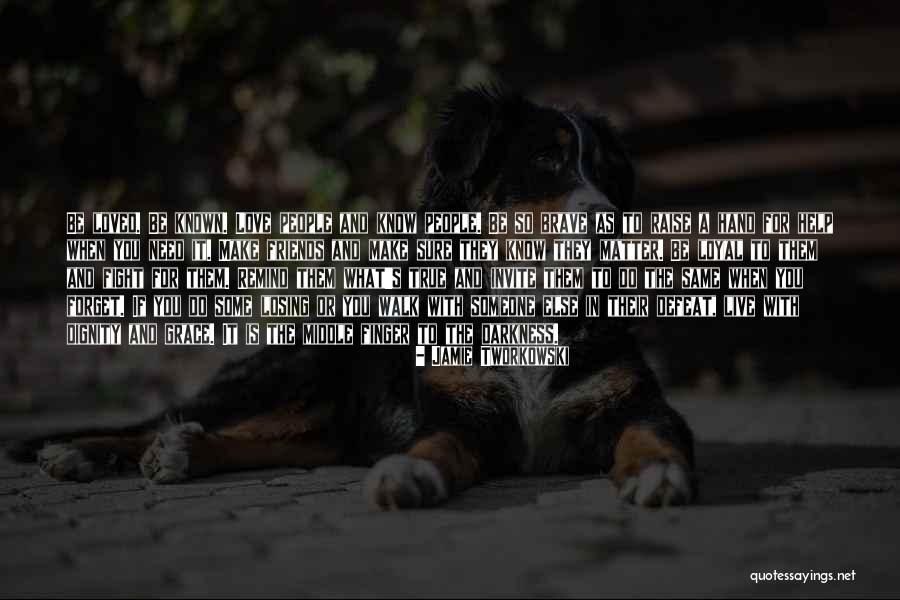 Be loved. Be known. Love people and know people. Be so brave as to raise a hand for help when you need it. Make friends and make sure they know they matter. Be loyal to them and fight for them. Remind them what's true and invite them to do the same when you forget. If you do some losing or you walk with someone else in their defeat, live with dignity and grace. It is the middle finger to the darkness. — Jamie Tworkowski
If there was a moral issue involved, she would, of course, defend her position to the end. But long ago her mother had taught her that often it is the little things over which people battle foolishly, losing friends, disturbing peace of mind, destroying serenity with no end in view save that they continue to defend the position they have already taken. It was far better, her mother pointed out, to give in gracefully, remembering that a fight in a lesser cause is never worth the struggle. She maintained that by doing so one gained everything really worth having, serenity, sweetness, and inner strength. — Loula Grace Erdman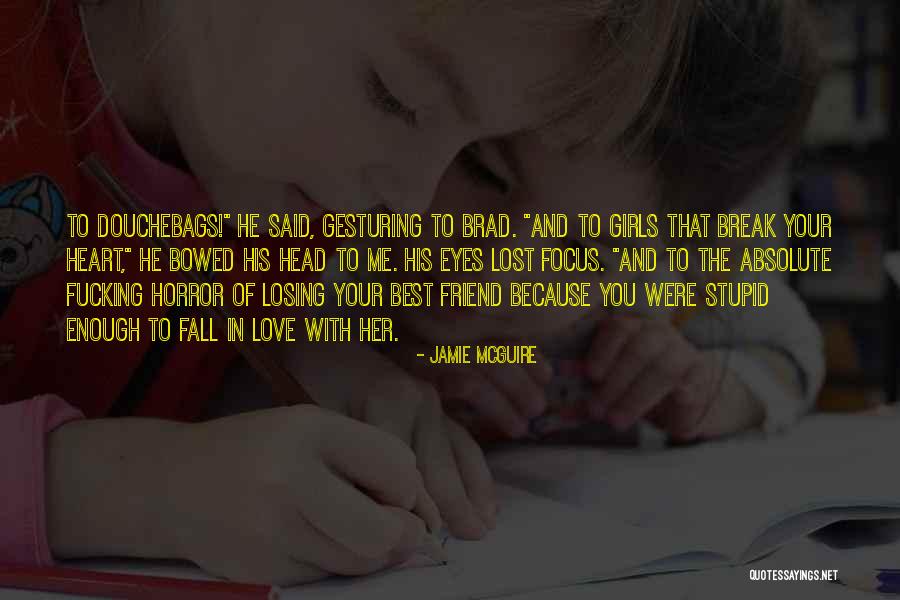 To douchebags!" he said, gesturing to Brad. "And to girls that break your heart," he bowed his head to me. His eyes lost focus. "And to the absolute fucking horror of losing your best friend because you were stupid enough to fall in love with her. — Jamie McGuire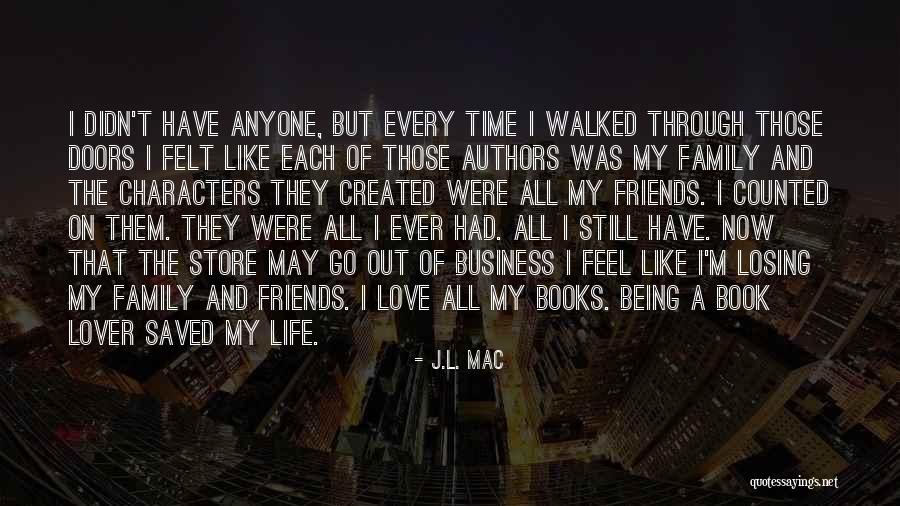 I didn't have anyone, but every time I walked through those doors I felt like each of those authors was my family and the characters they created were all my friends. I counted on them. They were all I ever had. All I still have. Now that the store may go out of business I feel like I'm losing my family and friends. I love all my books. Being a book lover saved my life. — J.L. Mac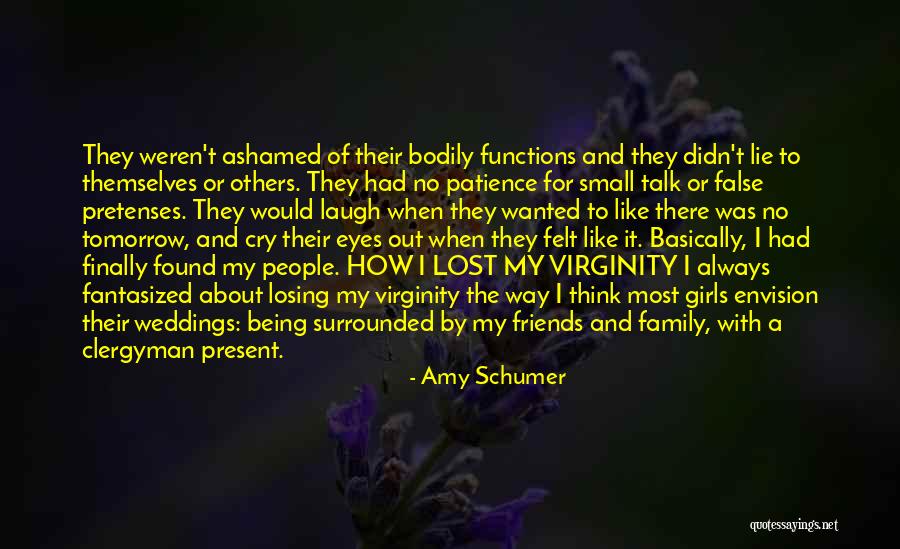 They weren't ashamed of their bodily functions and they didn't lie to themselves or others. They had no patience for small talk or false pretenses. They would laugh when they wanted to like there was no tomorrow, and cry their eyes out when they felt like it. Basically, I had finally found my people. HOW I LOST MY VIRGINITY I always fantasized about losing my virginity the way I think most girls envision their weddings: being surrounded by my friends and family, with a clergyman present. — Amy Schumer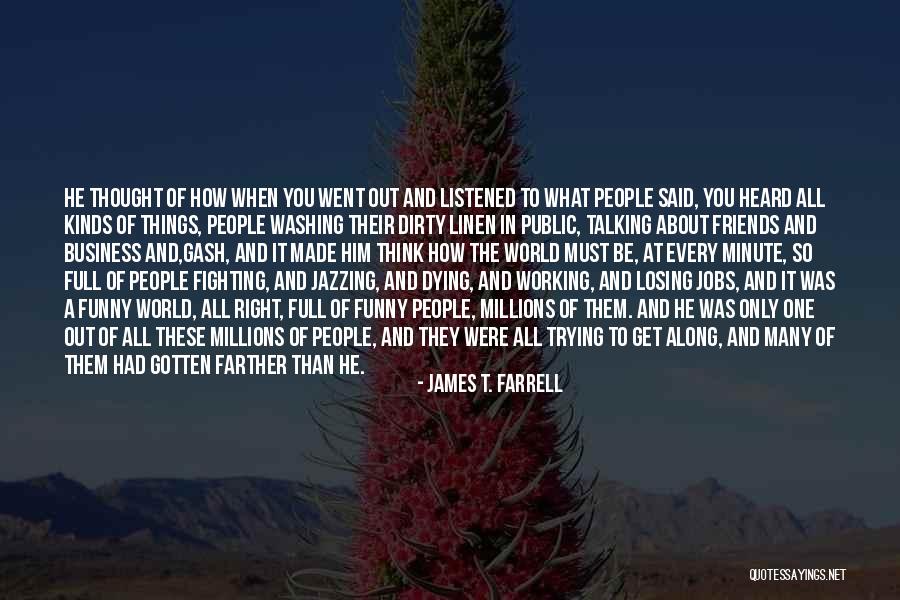 He thought of how when you went out and listened to what people said, you heard all kinds of things, people washing their dirty linen in public, talking about friends and business and,gash, and it made him think how the world must be, at every minute, so full of people fighting, and jazzing, and dying, and working, and losing jobs, and it was a funny world, all right, full of funny people, millions of them. And he was only one out of all these millions of people, and they were all trying to get along, and many of them had gotten farther than he. — James T. Farrell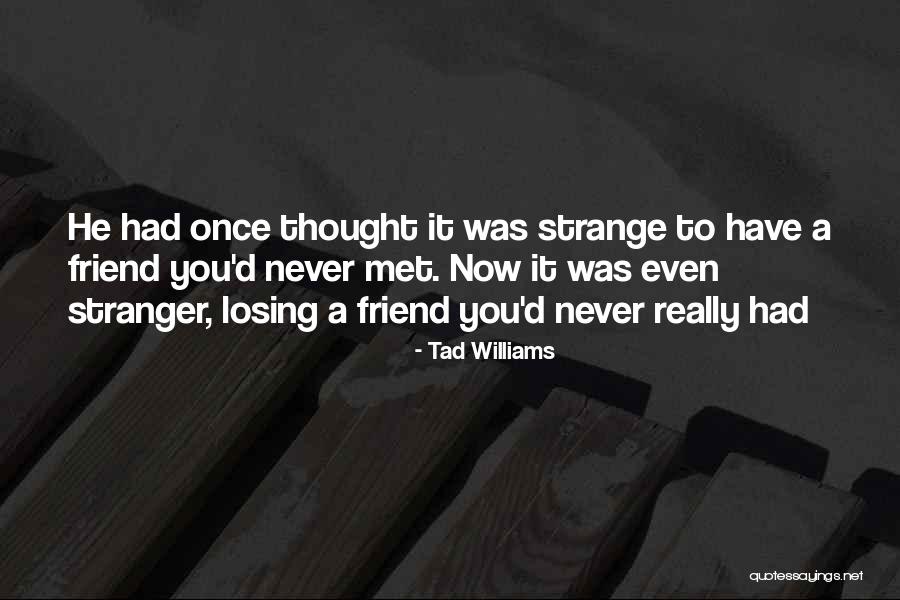 He had once thought it was strange to have a friend you'd never met. Now it was even stranger, losing a friend you'd never really had — Tad Williams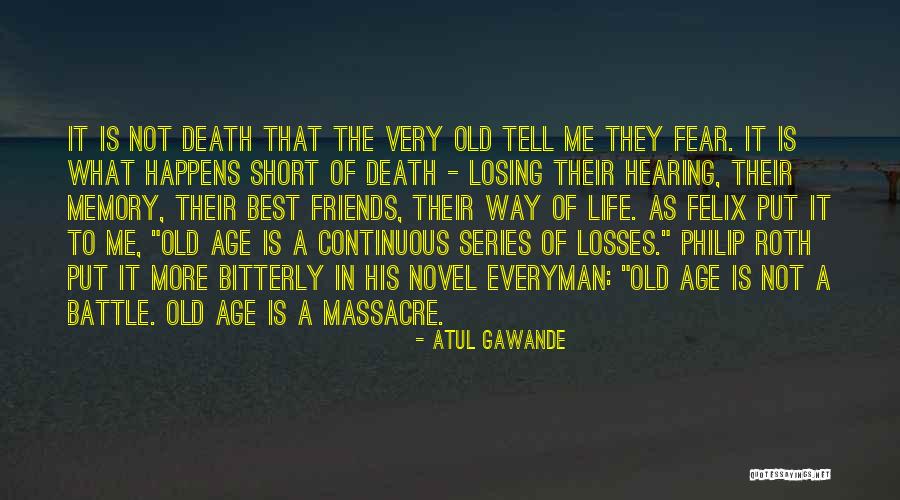 It is not death that the very old tell me they fear. It is what happens short of death - losing their hearing, their memory, their best friends, their way of life. As Felix put it to me, "Old age is a continuous series of losses." Philip Roth put it more bitterly in his novel Everyman: "Old age is not a battle. Old age is a massacre. — Atul Gawande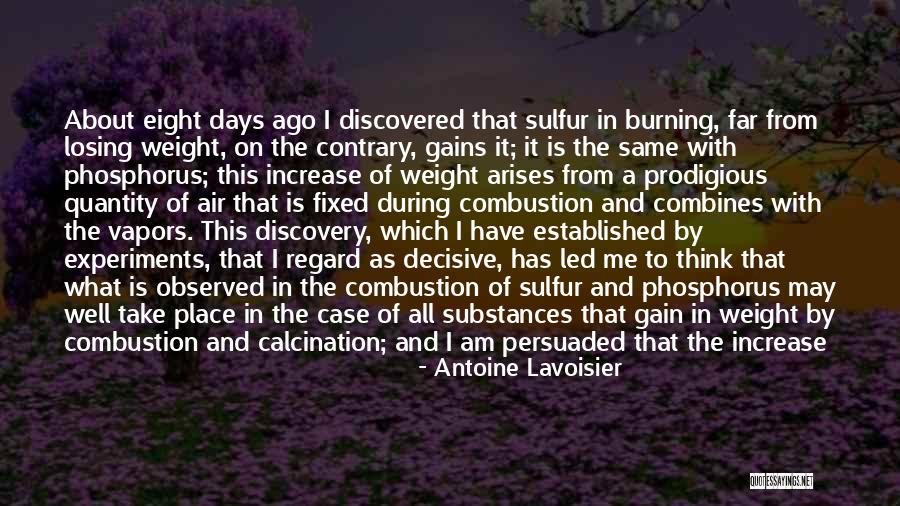 About eight days ago I discovered that sulfur in burning, far from losing weight, on the contrary, gains it; it is the same with phosphorus; this increase of weight arises from a prodigious quantity of air that is fixed during combustion and combines with the vapors. This discovery, which I have established by experiments, that I regard as decisive, has led me to think that what is observed in the combustion of sulfur and phosphorus may well take place in the case of all substances that gain in weight by combustion and calcination; and I am persuaded that the increase in weight of metallic calyxes is due to the same cause ... This discovery seems to me one of the most interesting that has been made since Stahl and since it is difficult not to disclose something inadvertently in conversation with friends that could lead to the truth I have thought it necessary to make the present deposit to the Secretary of the Academy to await the time I make my experiments public. — Antoine Lavoisier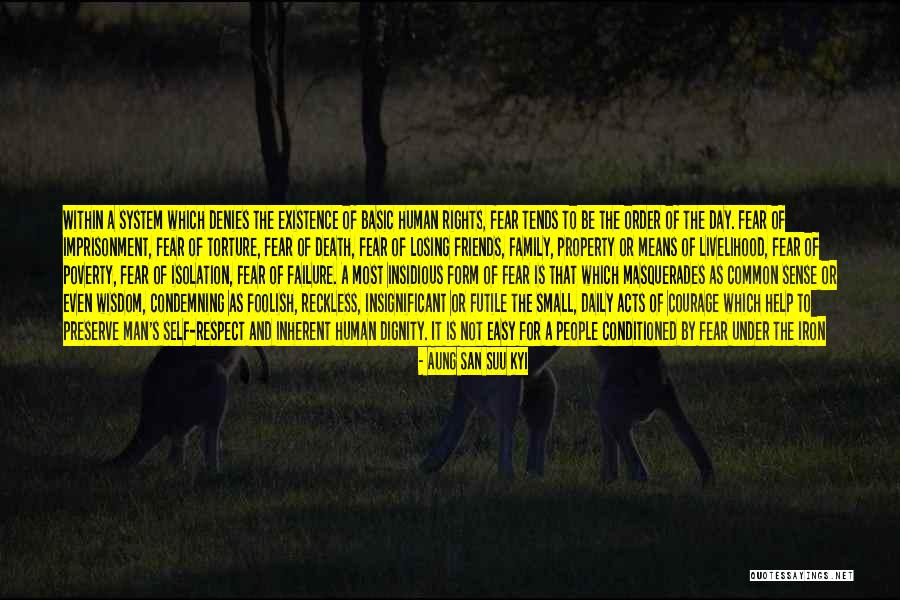 Within a system which denies the existence of basic human rights, fear tends to be the order of the day. Fear of imprisonment, fear of torture, fear of death, fear of losing friends, family, property or means of livelihood, fear of poverty, fear of isolation, fear of failure. A most insidious form of fear is that which masquerades as common sense or even wisdom, condemning as foolish, reckless, insignificant or futile the small, daily acts of courage which help to preserve man's self-respect and inherent human dignity. It is not easy for a people conditioned by fear under the iron rule of the principle that might is right to free themselves from the enervating miasma of fear. Yet even under the most crushing state machinery courage rises up again and again, for fear is not the natural state of civilized man. — Aung San Suu Kyi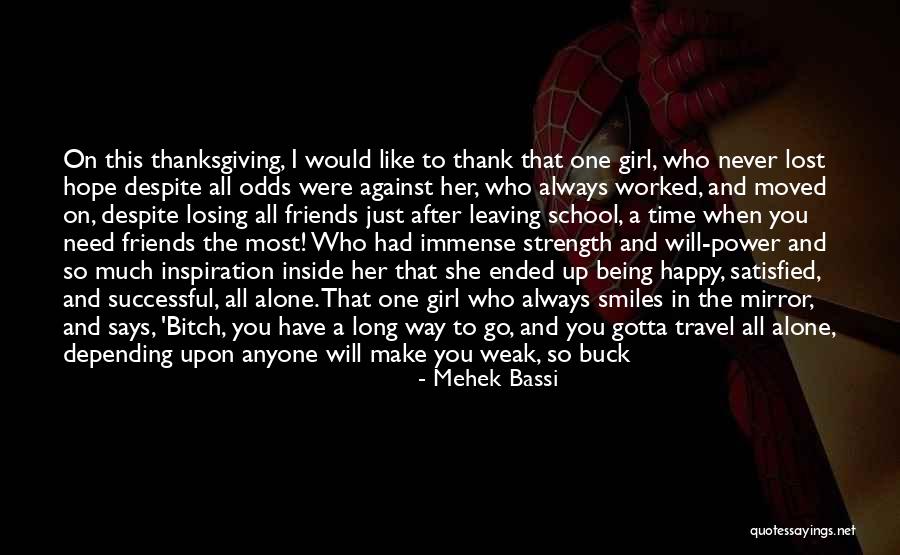 On this thanksgiving, I would like to thank that one girl, who never lost hope despite all odds were against her, who always worked, and moved on, despite losing all friends just after leaving school, a time when you need friends the most! Who had immense strength and will-power and so much inspiration inside her that she ended up being happy, satisfied, and successful, all alone.
That one girl who always smiles in the mirror, and says, 'Bitch, you have a long way to go, and you gotta travel all alone, depending upon anyone will make you weak, so buck up, there's a lot you gotta do!' On this thanksgiving, I thank myself, my soul for being so majestically robust!
I would have thanked other people, but sadly, nobody ever helped me, more than I helped myself ... — Mehek Bassi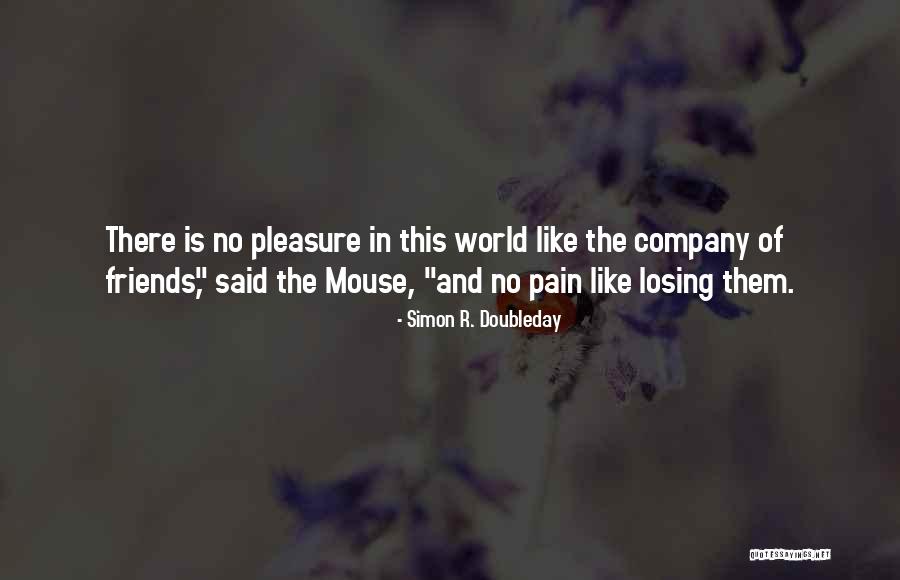 There is no pleasure in this world like the company of friends," said the Mouse, "and no pain like losing them. — Simon R. Doubleday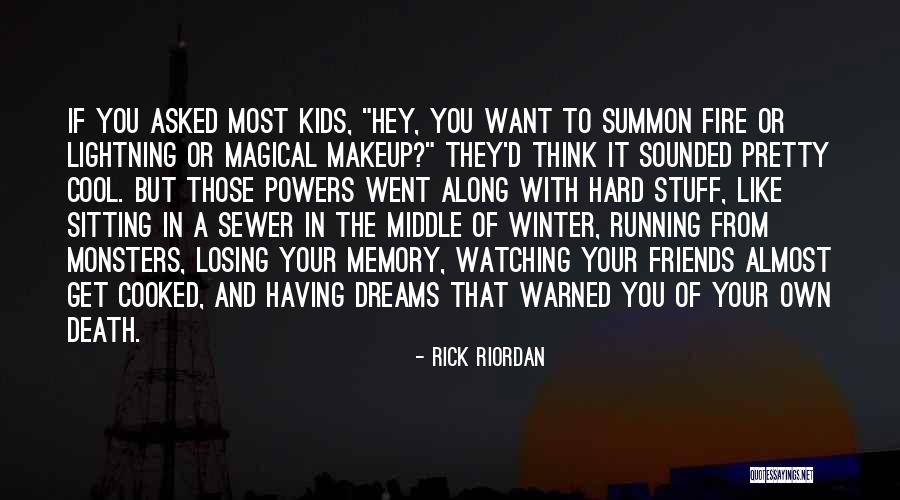 If you asked most kids, "Hey, you want to summon fire or lightning or magical makeup?" they'd think it sounded pretty cool. But those powers went along with hard stuff, like sitting in a sewer in the middle of winter, running from monsters, losing your memory, watching your friends almost get cooked, and having dreams that warned you of your own death. — Rick Riordan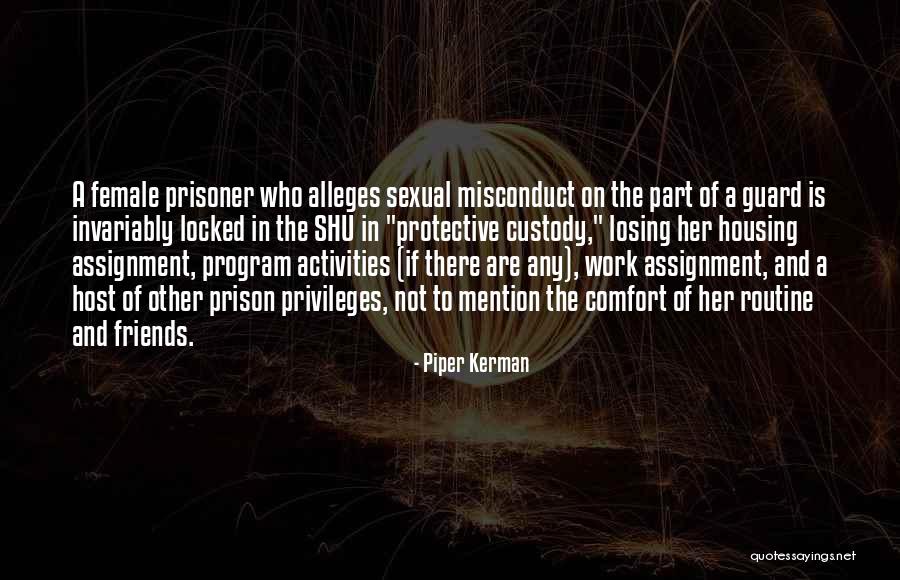 A female prisoner who alleges sexual misconduct on the part of a guard is invariably locked in the SHU in "protective custody," losing her housing assignment, program activities (if there are any), work assignment, and a host of other prison privileges, not to mention the comfort of her routine and friends. — Piper Kerman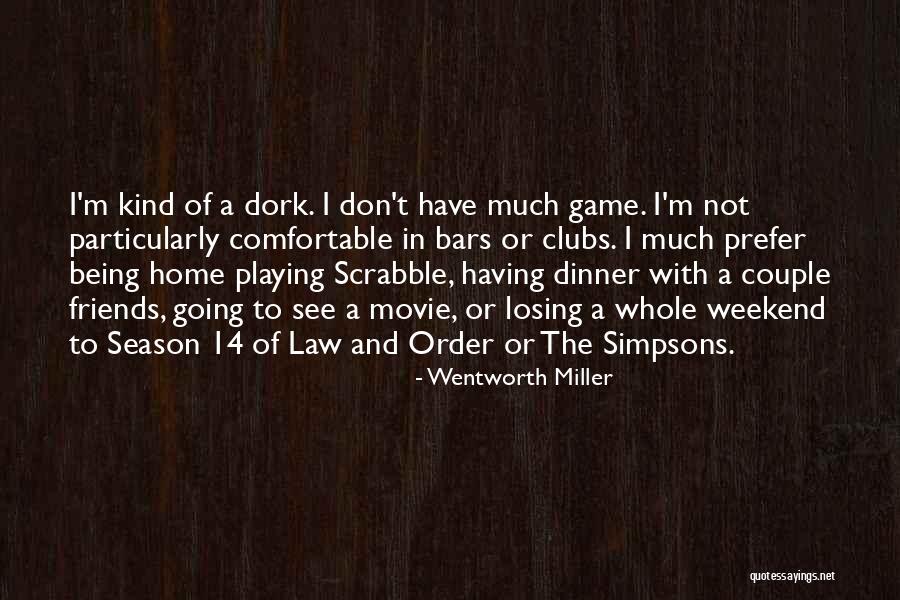 I'm kind of a dork. I don't have much game. I'm not particularly comfortable in bars or clubs. I much prefer being home playing Scrabble, having dinner with a couple friends, going to see a movie, or losing a whole weekend to Season 14 of Law and Order or The Simpsons. — Wentworth Miller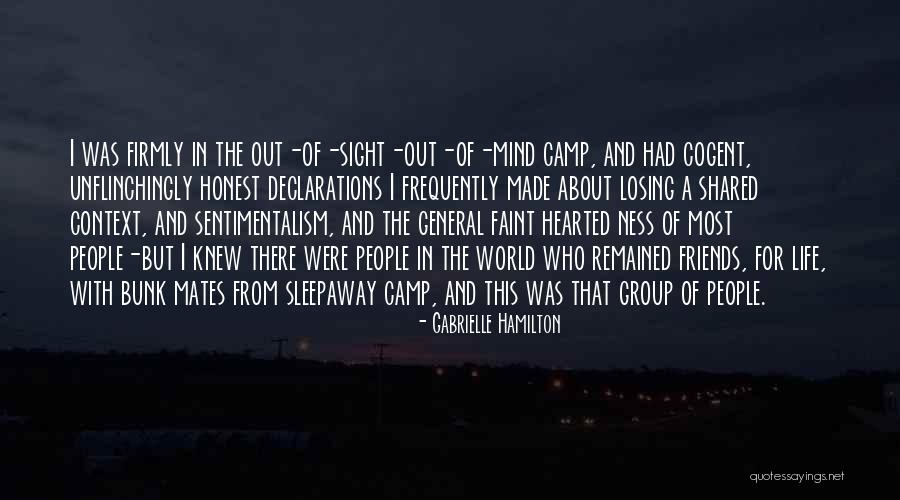 I was firmly in the out-of-sight-out-of-mind camp, and had cogent, unflinchingly honest declarations I frequently made about losing a shared context, and sentimentalism, and the general faint hearted ness of most people-but I knew there were people in the world who remained friends, for life, with bunk mates from sleepaway camp, and this was that group of people. — Gabrielle Hamilton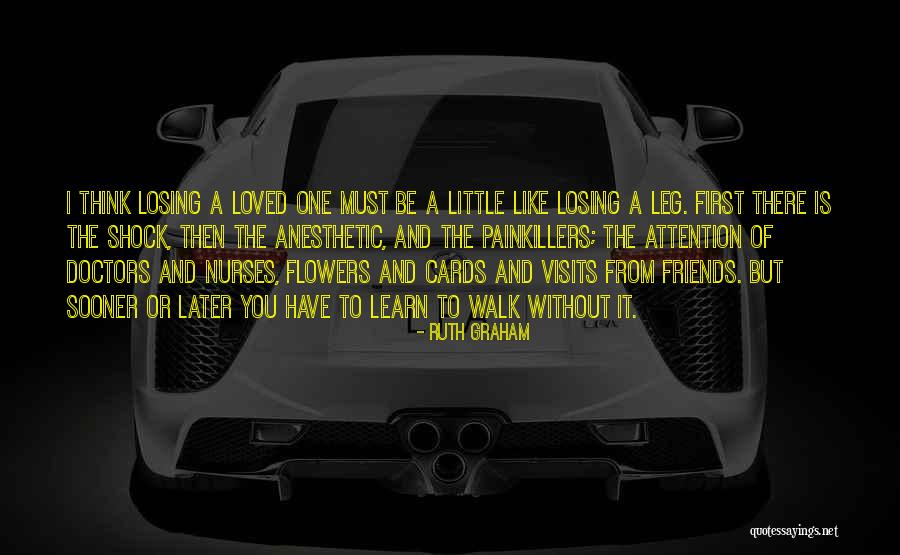 I think losing a loved one must be a little like losing a leg. First there is the shock, then the anesthetic, and the painkillers; the attention of doctors and nurses, flowers and cards and visits from friends. But sooner or later you have to learn to walk without it. — Ruth Graham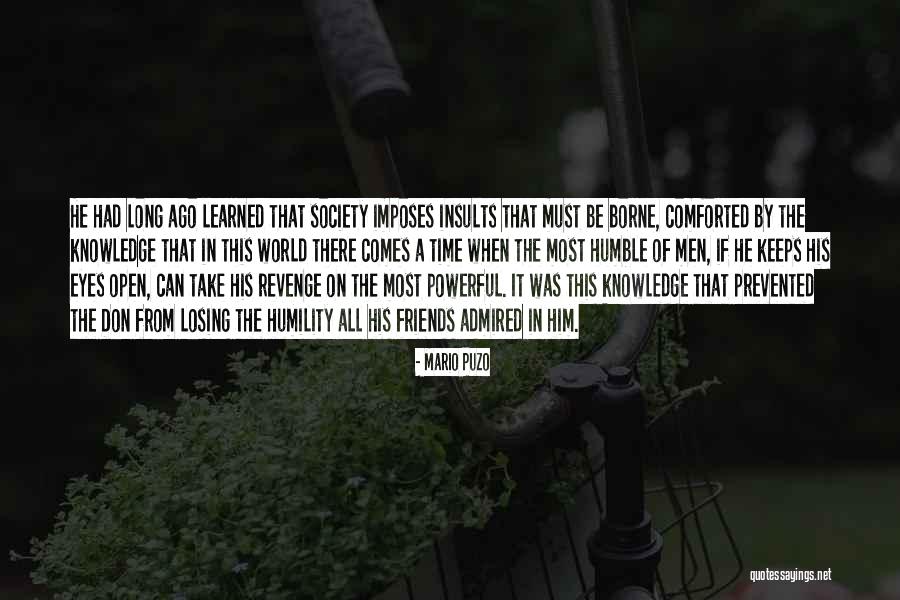 He had long ago learned that society imposes insults that must be borne, comforted by the knowledge that in this world there comes a time when the most humble of men, if he keeps his eyes open, can take his revenge on the most powerful. It was this knowledge that prevented the Don from losing the humility all his friends admired in him. — Mario Puzo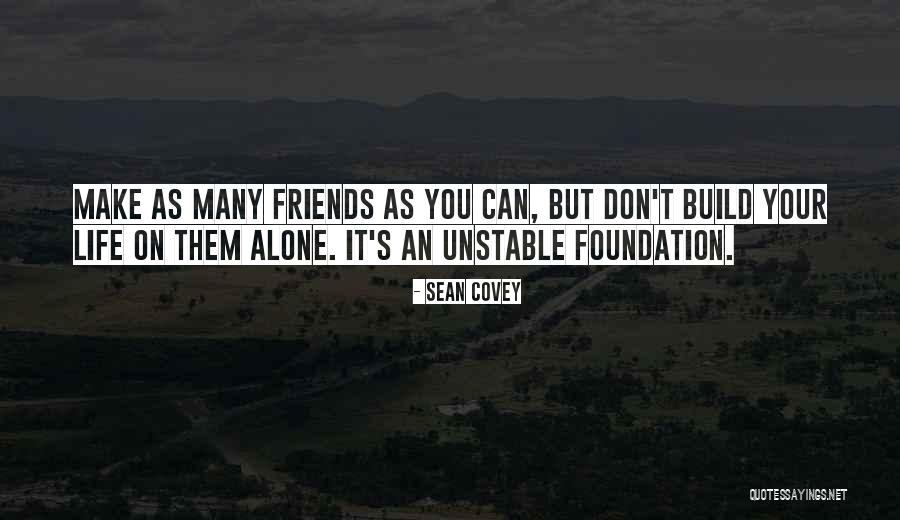 Make as many friends as you can, but don't build your life on them alone. It's an unstable foundation. — Sean Covey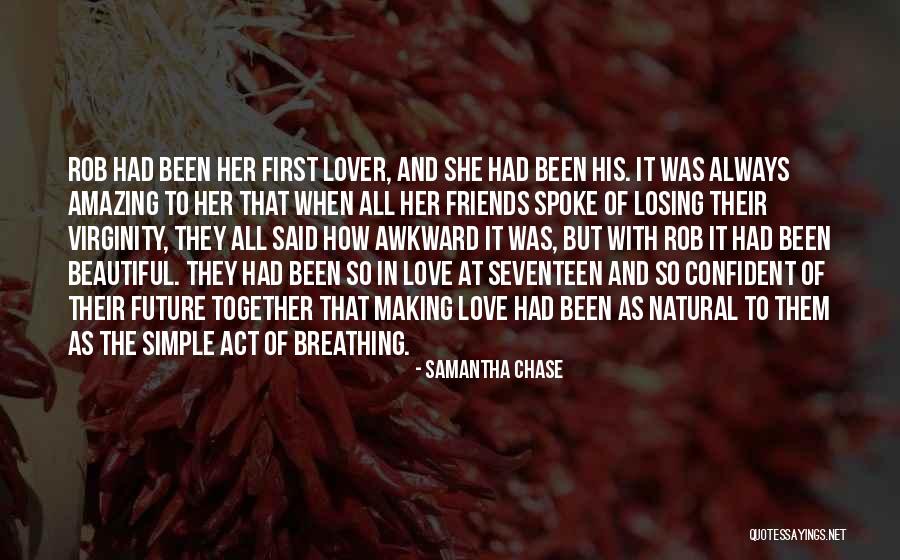 Rob had been her first lover, and she had been his. It was always amazing to her that when all her friends spoke of losing their virginity, they all said how awkward it was, but with Rob it had been beautiful. They had been so in love at seventeen and so confident of their future together that making love had been as natural to them as the simple act of breathing. — Samantha Chase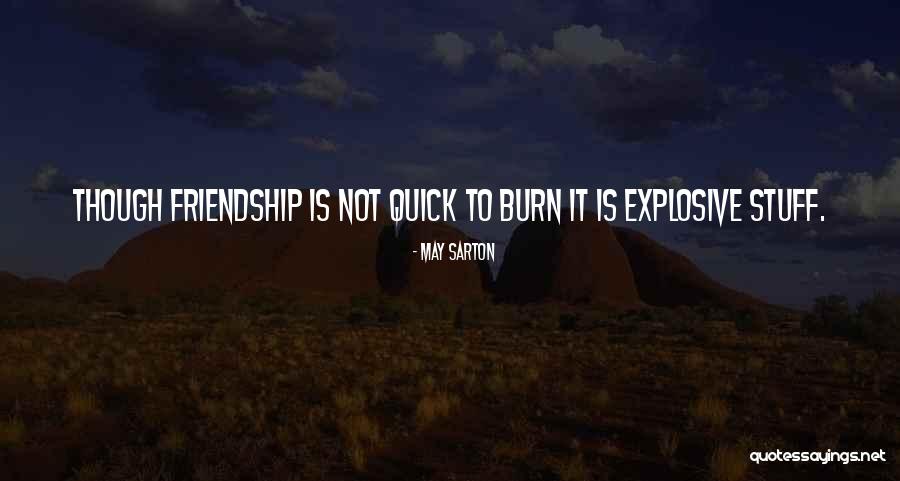 Though friendship is not quick to burn it is explosive stuff. — May Sarton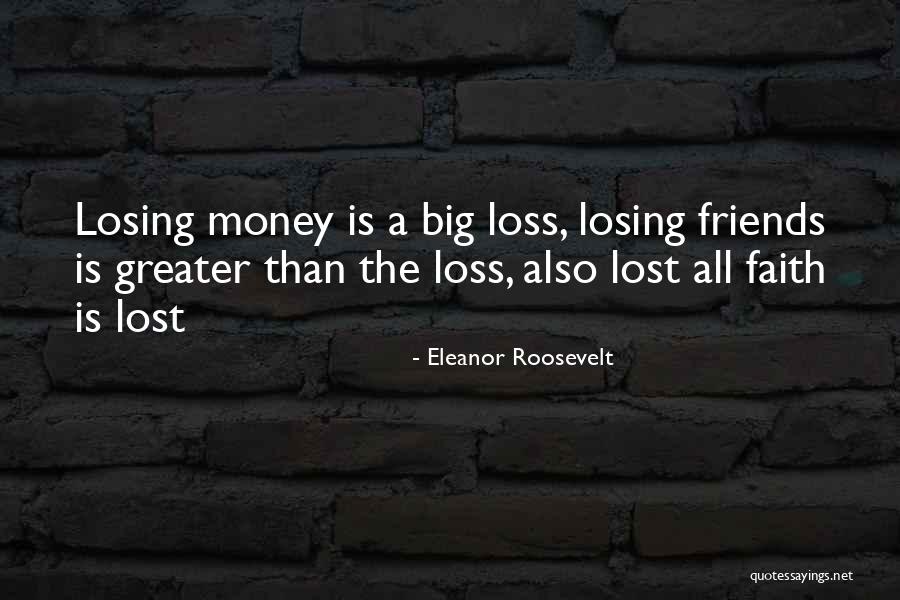 Losing money is a big loss, losing friends is greater than the loss, also lost all faith is lost — Eleanor Roosevelt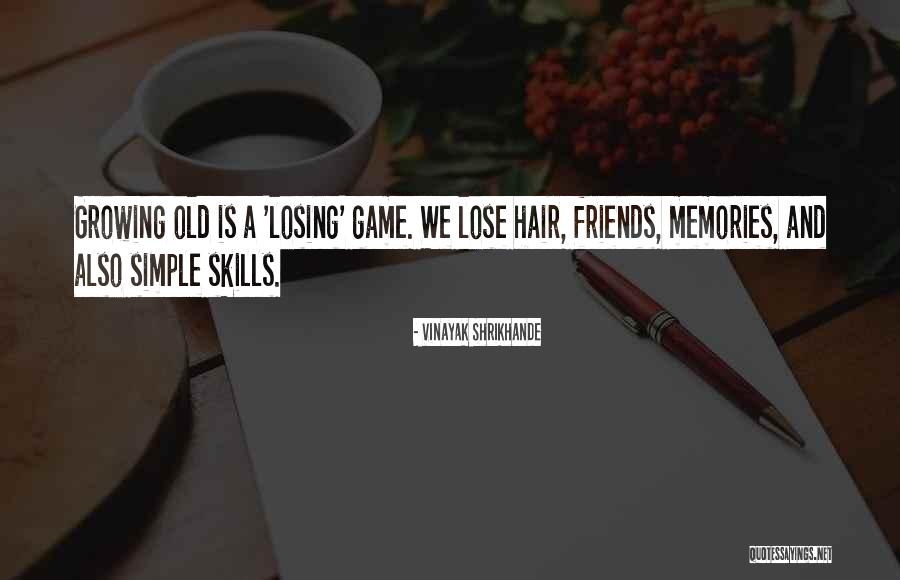 Growing old is a 'losing' game. We lose hair, friends, memories, and also simple skills. — Vinayak Shrikhande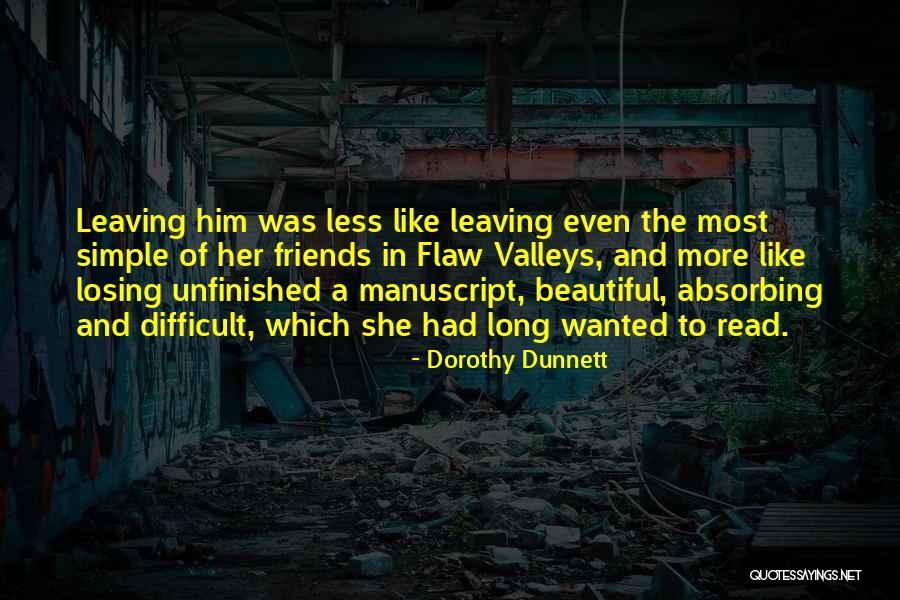 Leaving him was less like leaving even the most simple of her friends in Flaw Valleys, and more like losing unfinished a manuscript, beautiful, absorbing and difficult, which she had long wanted to read. — Dorothy Dunnett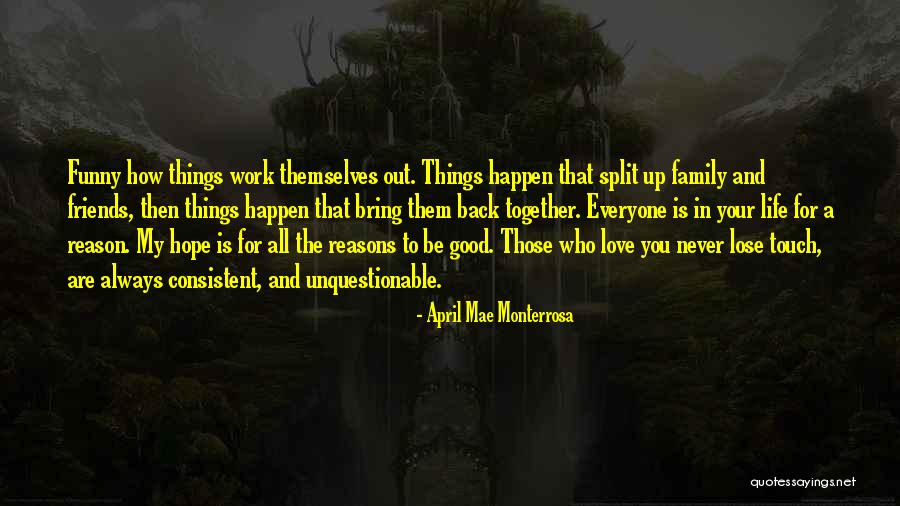 Funny how things work themselves out. Things happen that split up family and friends, then things happen that bring them back together. Everyone is in your life for a reason. My hope is for all the reasons to be good. Those who love you never lose touch, are always consistent, and unquestionable. — April Mae Monterrosa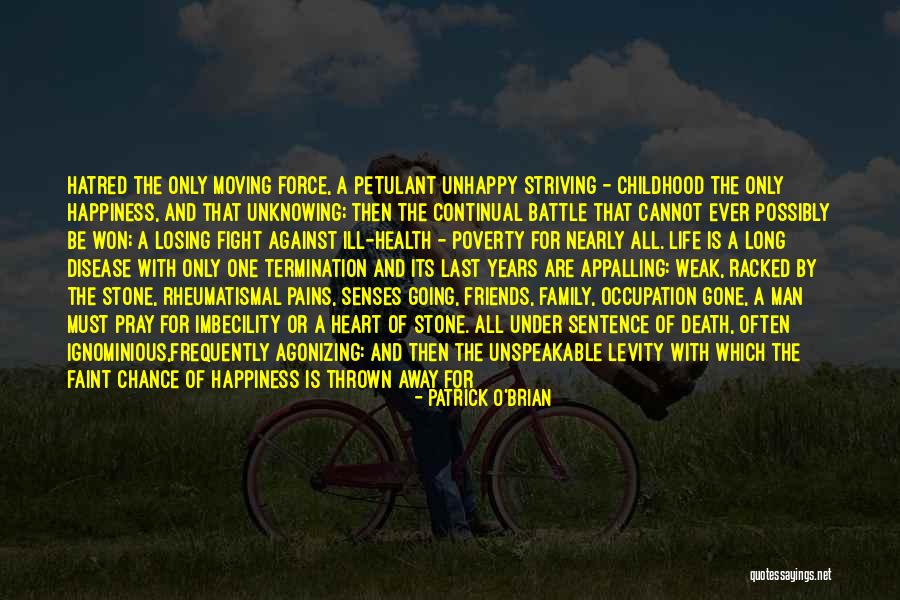 Hatred the only moving force, a petulant unhappy striving - childhood the only happiness, and that unknowing; then the continual battle that cannot ever possibly be won; a losing fight against ill-health - poverty for nearly all. Life is a long disease with only one termination and its last years are appalling: weak, racked by the stone, rheumatismal pains, senses going, friends, family, occupation gone, a man must pray for imbecility or a heart of stone. All under sentence of death, often ignominious,frequently agonizing: and then the unspeakable levity with which the faint chance of happiness is thrown away for some jealousy, tiff, sullenness, private vanity, mistaken sense of honour, that deadly, weak and silly notion. — Patrick O'Brian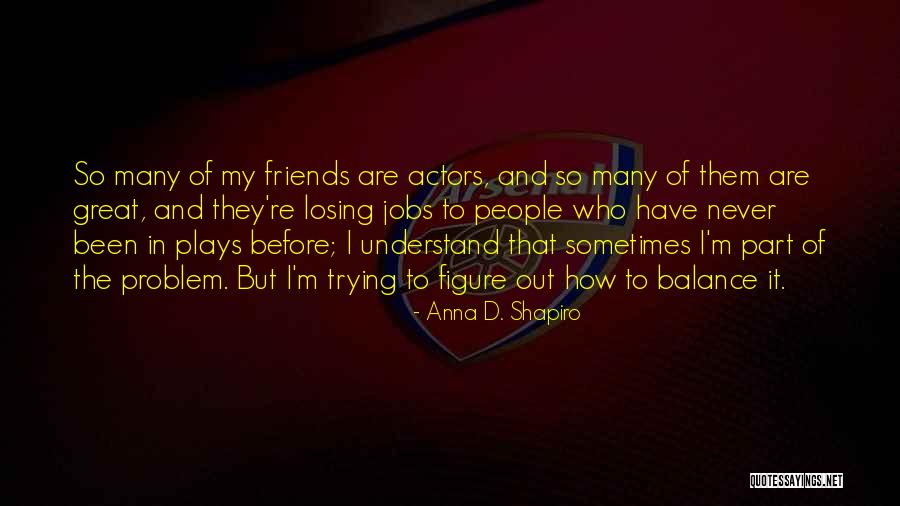 So many of my friends are actors, and so many of them are great, and they're losing jobs to people who have never been in plays before; I understand that sometimes I'm part of the problem. But I'm trying to figure out how to balance it. — Anna D. Shapiro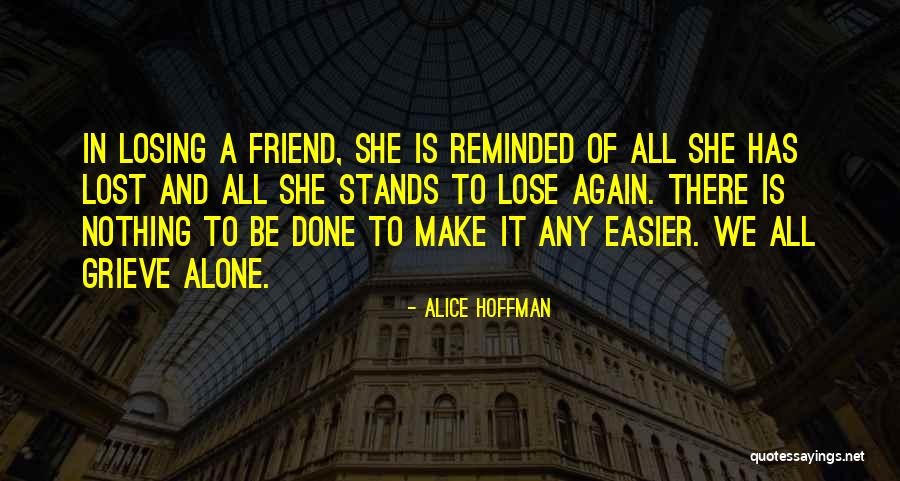 In losing a friend, she is reminded of all she has lost and all she stands to lose again. There is nothing to be done to make it any easier. We all grieve alone. — Alice Hoffman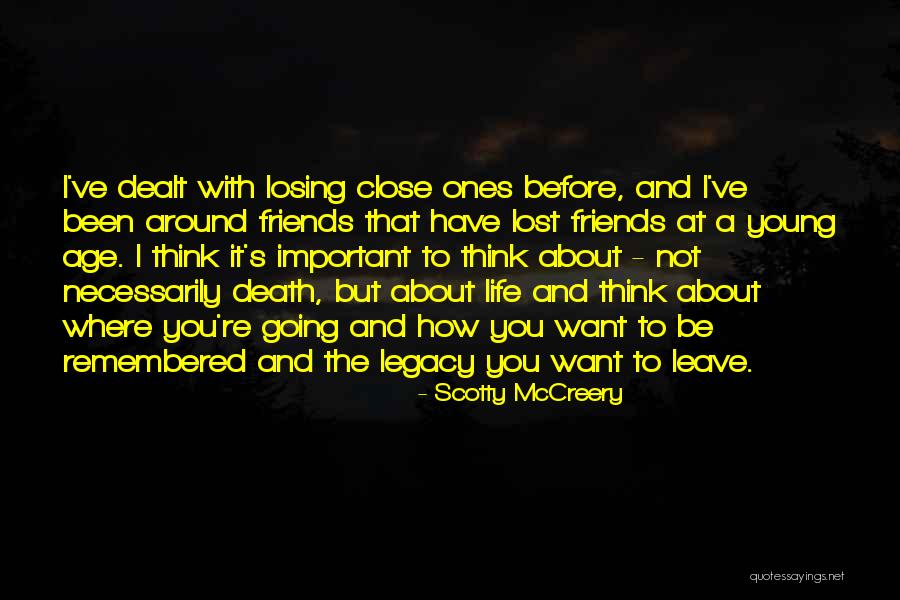 I've dealt with losing close ones before, and I've been around friends that have lost friends at a young age. I think it's important to think about - not necessarily death, but about life and think about where you're going and how you want to be remembered and the legacy you want to leave. — Scotty McCreery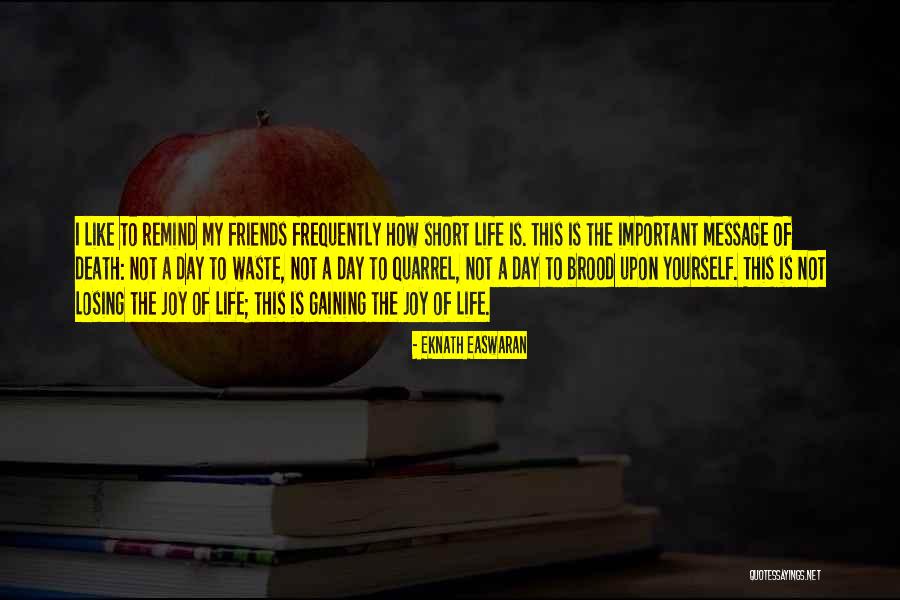 I like to remind my friends frequently how short life is. This is the important message of death: not a day to waste, not a day to quarrel, not a day to brood upon yourself. This is not losing the joy of life; this is gaining the joy of life. — Eknath Easwaran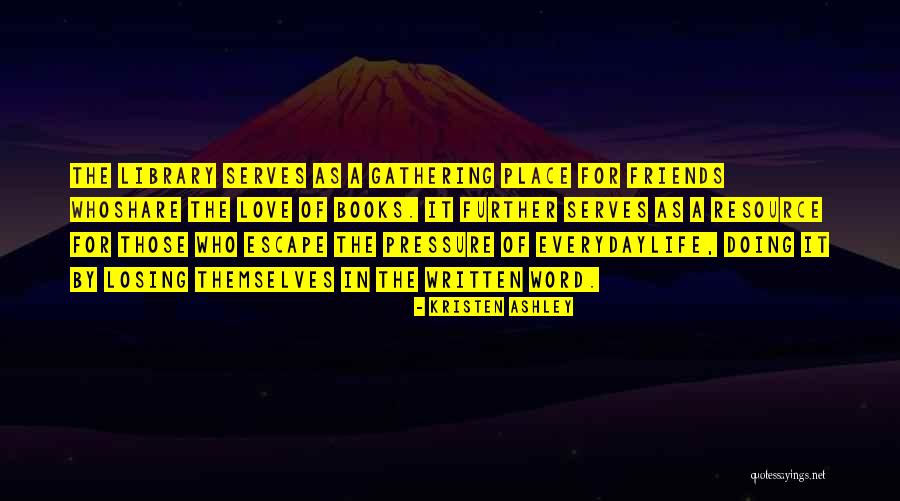 The library serves as a gathering place for friends who
share the love of books. It further serves as a resource for those who escape the pressure of everyday
life, doing it by losing themselves in the written word. — Kristen Ashley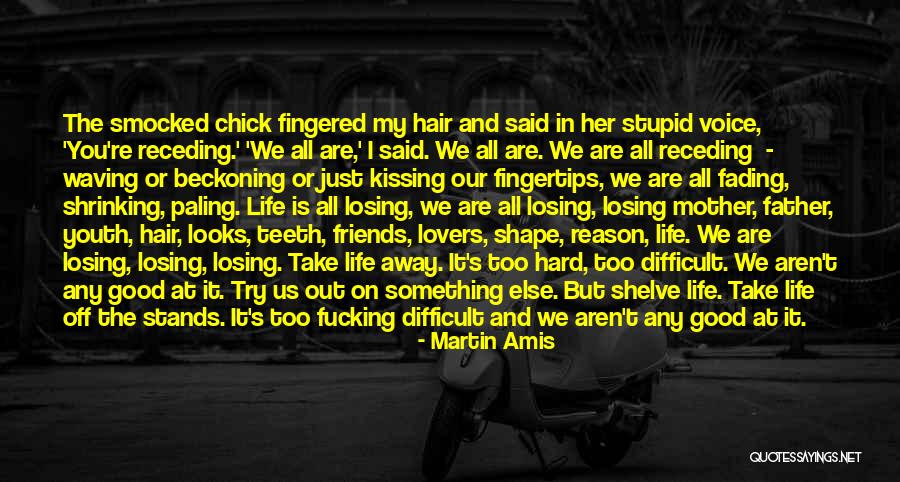 The smocked chick fingered my hair and said in her stupid voice, 'You're receding.' 'We all are,' I said. We all are. We are all receding - waving or beckoning or just kissing our fingertips, we are all fading, shrinking, paling. Life is all losing, we are all losing, losing mother, father, youth, hair, looks, teeth, friends, lovers, shape, reason, life. We are losing, losing, losing. Take life away. It's too hard, too difficult. We aren't any good at it. Try us out on something else. But shelve life. Take life off the stands. It's too fucking difficult and we aren't any good at it. — Martin Amis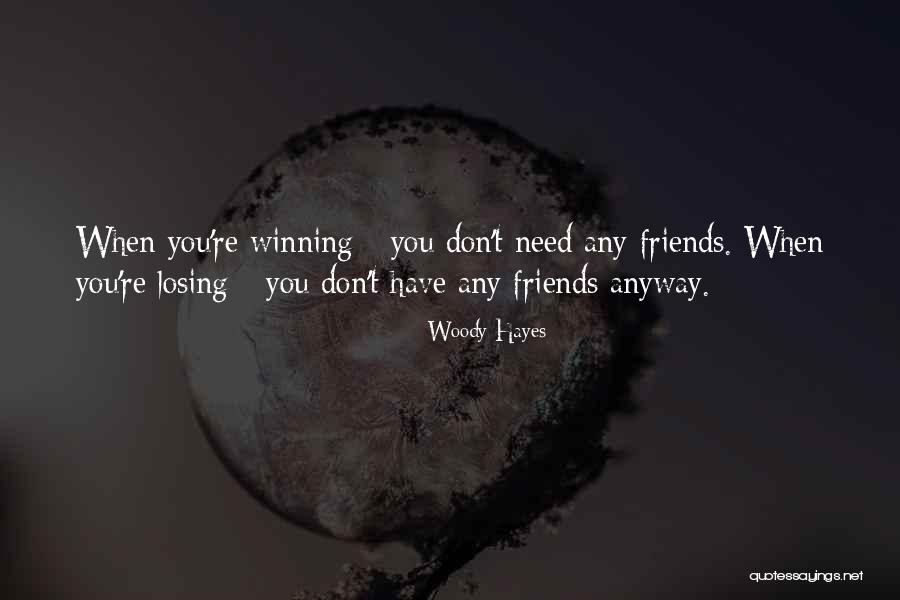 When you're winning - you don't need any friends. When you're losing - you don't have any friends anyway. — Woody Hayes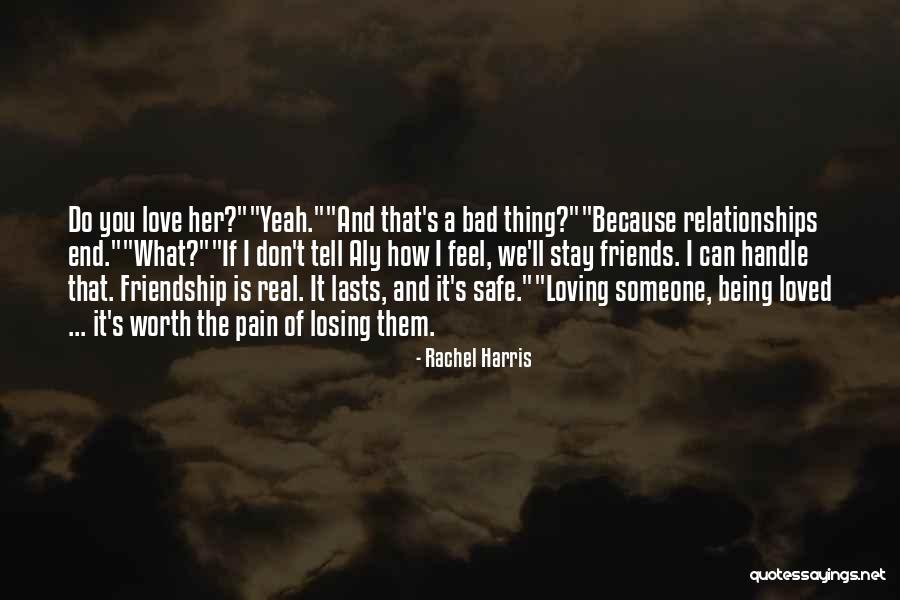 Do you love her?"
"Yeah."
"And that's a bad thing?"
"Because relationships end."
"What?"
"If I don't tell Aly how I feel, we'll stay friends. I can handle that. Friendship is real. It lasts, and it's safe."
"Loving someone, being loved ... it's worth the pain of losing them. — Rachel Harris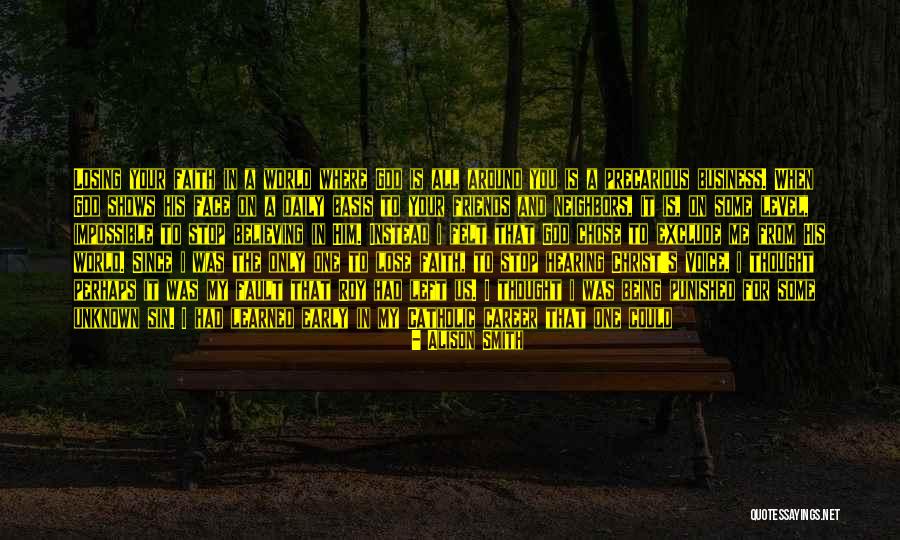 Losing your faith in a world where God is all around you is a precarious business. When God shows his face on a daily basis to your friends and neighbors, it is, on some level, impossible to stop believing in Him. Instead i felt that God chose to exclude me from His world. Since i was the only one to lose faith, to stop hearing Christ's voice, i thought perhaps it was my fault that Roy had left us. I thought i was being punished for some unknown sin. I had learned early in my Catholic career that one could sin silently in one's heart. One could even sin without ever discovering what one had done or why it was wrong. What had i done, i asked myself, to make God disappear and take Roy with Him. — Alison Smith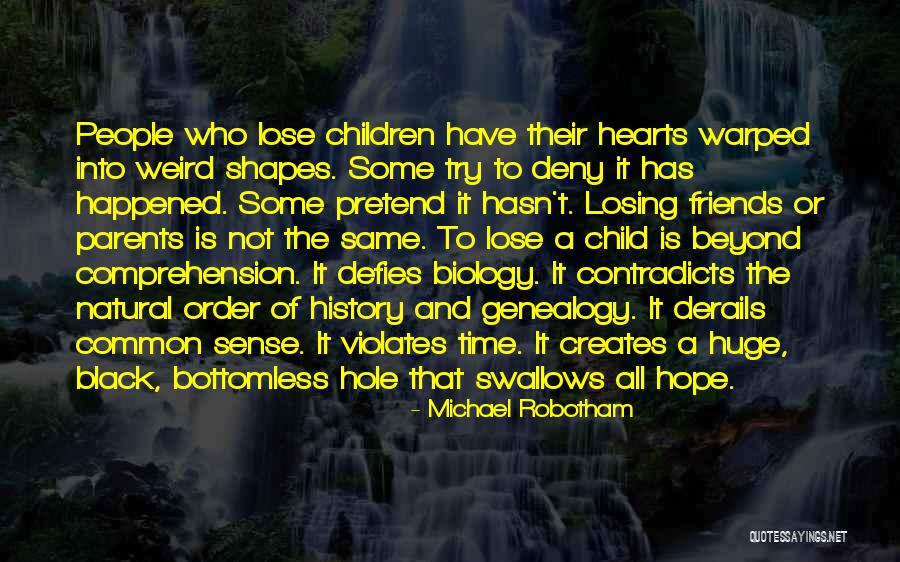 People who lose children have their hearts warped into weird shapes. Some try to deny it has happened. Some pretend it hasn't. Losing friends or parents is not the same. To lose a child is beyond comprehension. It defies biology. It contradicts the natural order of history and genealogy. It derails common sense. It violates time. It creates a huge, black, bottomless hole that swallows all hope. — Michael Robotham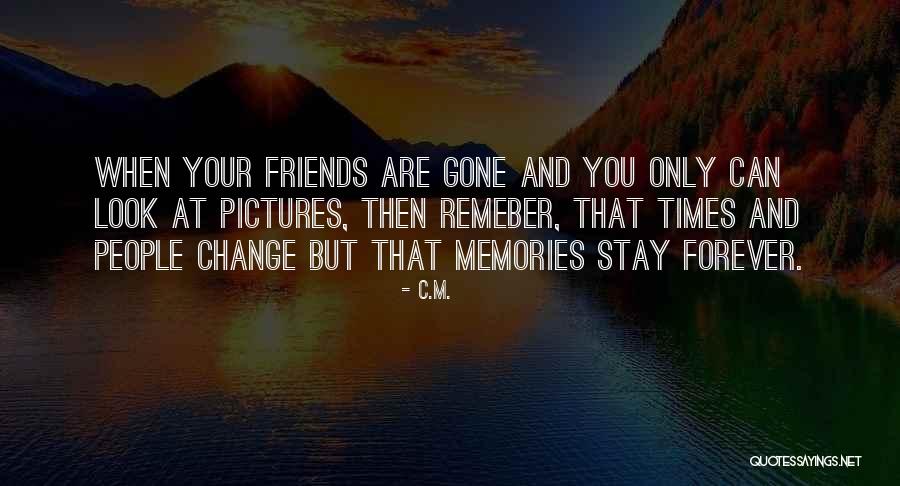 When your friends are gone and you only can look at pictures, then remeber, that times and people change but that memories stay forever. — C.M.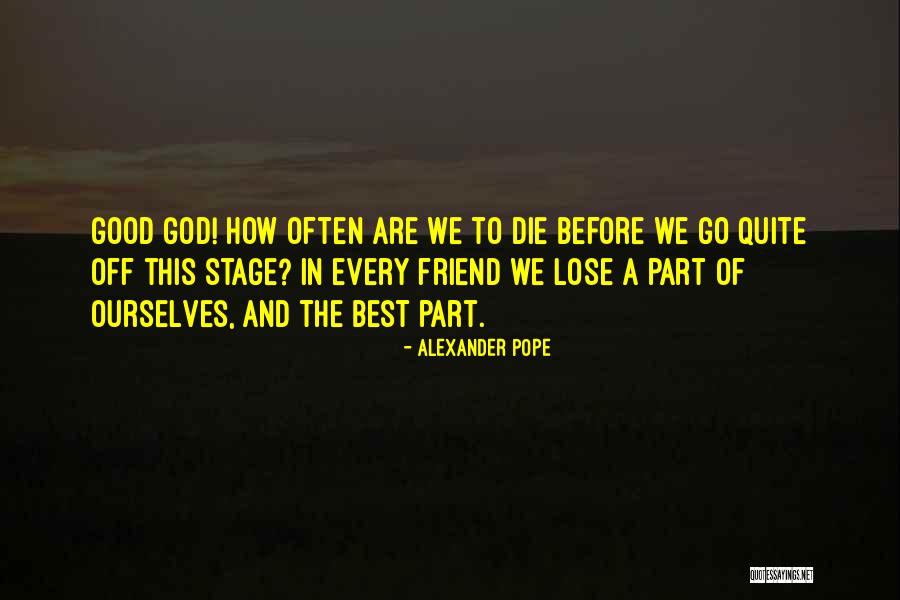 Good God! how often are we to die before we go quite off this stage? In every friend we lose a part of ourselves, and the best part. — Alexander Pope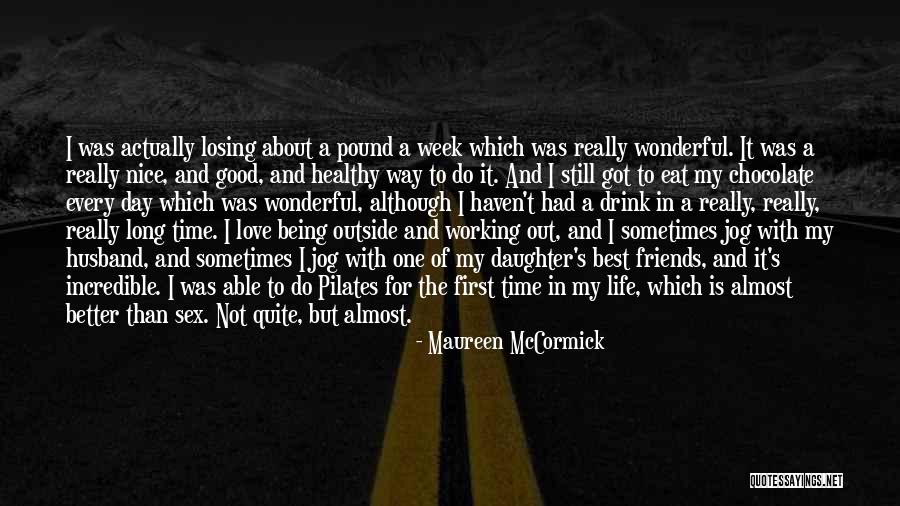 I was actually losing about a pound a week which was really wonderful. It was a really nice, and good, and healthy way to do it. And I still got to eat my chocolate every day which was wonderful, although I haven't had a drink in a really, really, really long time. I love being outside and working out, and I sometimes jog with my husband, and sometimes I jog with one of my daughter's best friends, and it's incredible. I was able to do Pilates for the first time in my life, which is almost better than sex. Not quite, but almost. — Maureen McCormick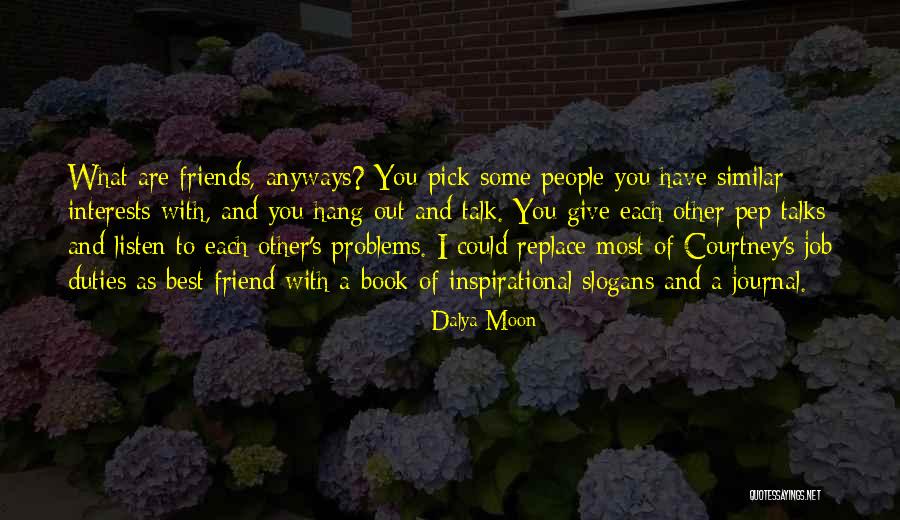 What are friends, anyways? You pick some people you have similar interests with, and you hang out and talk. You give each other pep talks and listen to each other's problems. I could replace most of Courtney's job duties as best friend with a book of inspirational slogans and a journal. — Dalya Moon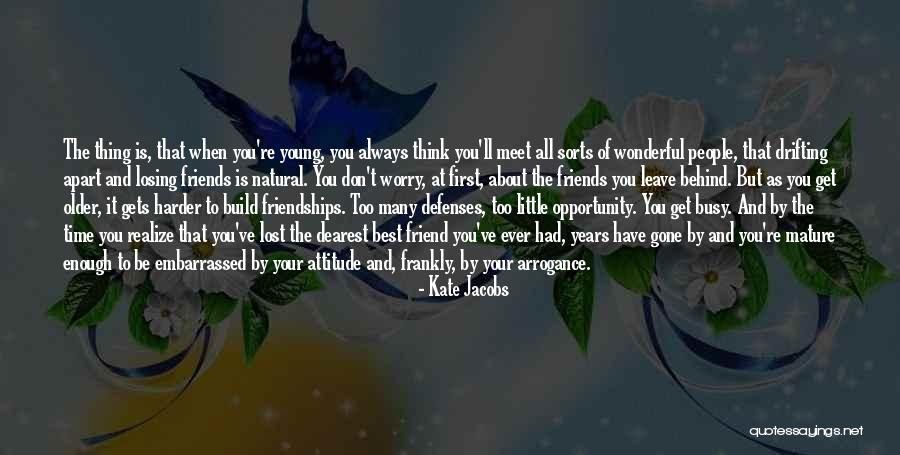 The thing is, that when you're young, you always think you'll meet all sorts of wonderful people, that drifting apart and losing friends is natural. You don't worry, at first, about the friends you leave behind. But as you get older, it gets harder to build friendships. Too many defenses, too little opportunity. You get busy. And by the time you realize that you've lost the dearest best friend you've ever had, years have gone by and you're mature enough to be embarrassed by your attitude and, frankly, by your arrogance. — Kate Jacobs