Lose Some To Gain Some Quotes & Sayings
Enjoy reading and share 64 famous quotes about Lose Some To Gain Some with everyone.
Top Lose Some To Gain Some Quotes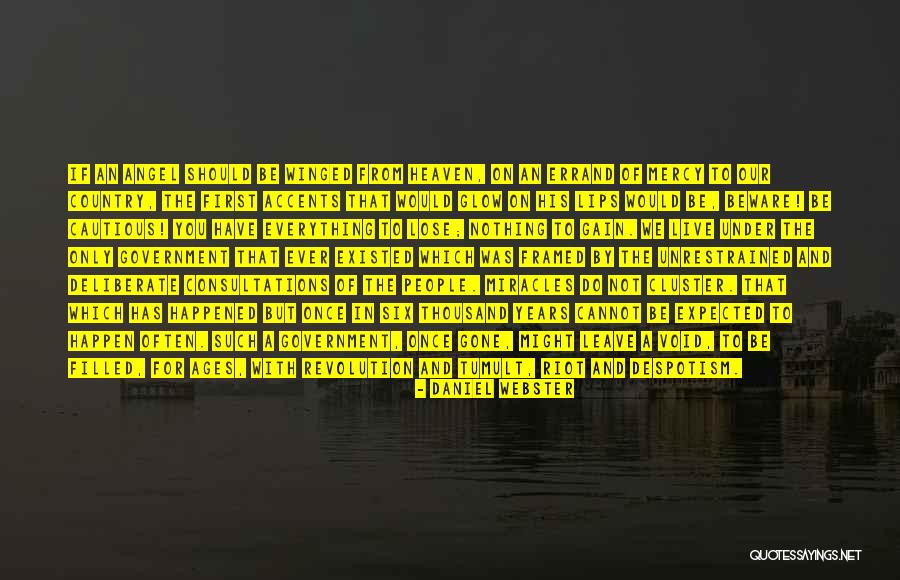 If an angel should be winged from Heaven, on an errand of mercy to our country, the first accents that would glow on his lips would be, Beware! Be cautious! You have everything to lose; nothing to gain. We live under the only government that ever existed which was framed by the unrestrained and deliberate consultations of the people. Miracles do not cluster. That which has happened but once in six thousand years cannot be expected to happen often. Such a government, once gone, might leave a void, to be filled, for ages, with revolution and tumult, riot and despotism. — Daniel Webster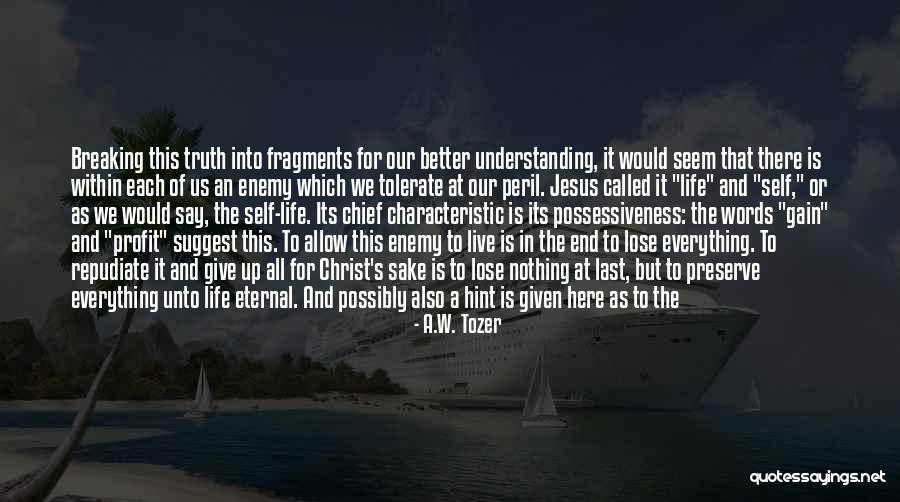 Breaking this truth into fragments for our better understanding, it would seem that there is within each of us an enemy which we tolerate at our peril. Jesus called it "life" and "self," or as we would say, the self-life. Its chief characteristic is its possessiveness: the words "gain" and "profit" suggest this. To allow this enemy to live is in the end to lose everything. To repudiate it and give up all for Christ's sake is to lose nothing at last, but to preserve everything unto life eternal. And possibly also a hint is given here as to the only effective way to destroy this foe: it is by the Cross. "Let him take up his cross and follow me. — A.W. Tozer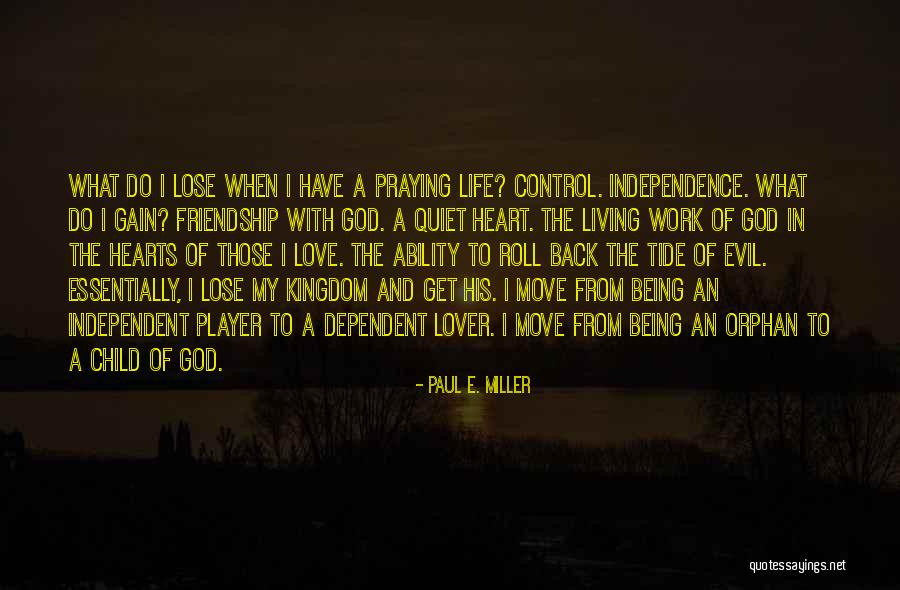 What do I lose when I have a praying life? Control. Independence. What do I gain? Friendship with God. A quiet heart. The living work of God in the hearts of those I love. The ability to roll back the tide of evil. Essentially, I lose my kingdom and get his. I move from being an independent player to a dependent lover. I move from being an orphan to a child of God. — Paul E. Miller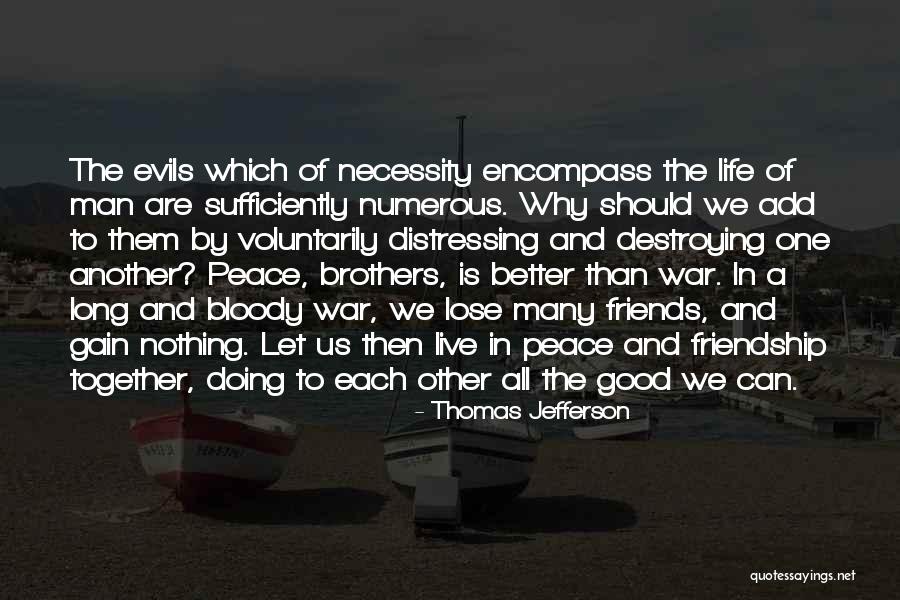 The evils which of necessity encompass the life of man are sufficiently numerous. Why should we add to them by voluntarily distressing and destroying one another? Peace, brothers, is better than war. In a long and bloody war, we lose many friends, and gain nothing. Let us then live in peace and friendship together, doing to each other all the good we can. — Thomas Jefferson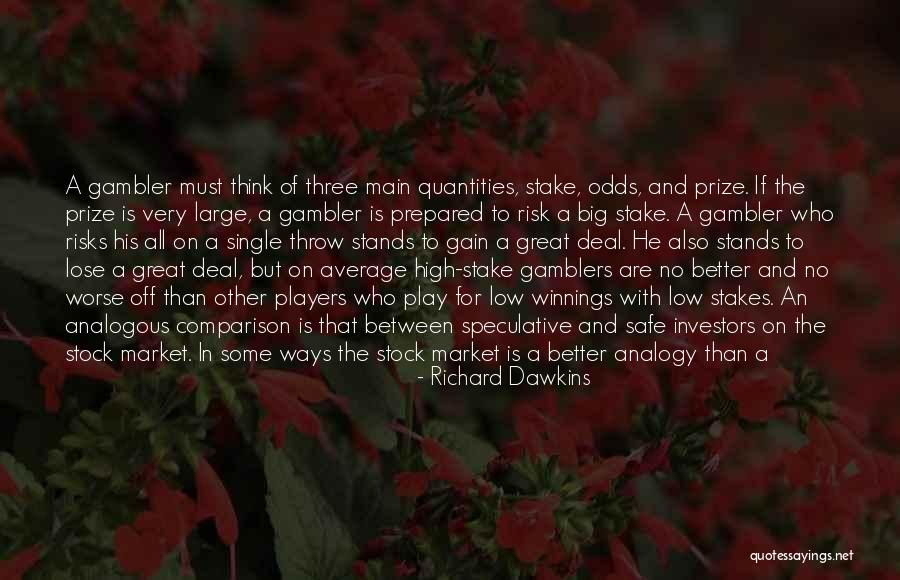 A gambler must think of three main quantities, stake, odds, and prize. If the prize is very large, a gambler is prepared to risk a big stake. A gambler who risks his all on a single throw stands to gain a great deal. He also stands to lose a great deal, but on average high-stake gamblers are no better and no worse off than other players who play for low winnings with low stakes. An analogous comparison is that between speculative and safe investors on the stock market. In some ways the stock market is a better analogy than a casino, because casinos are deliberately rigged in the bank's favour (which means, strictly, the high-stakes players will on average end up poorer than low-stake players; and low-stake players poorer than those who don't gamble at all. — Richard Dawkins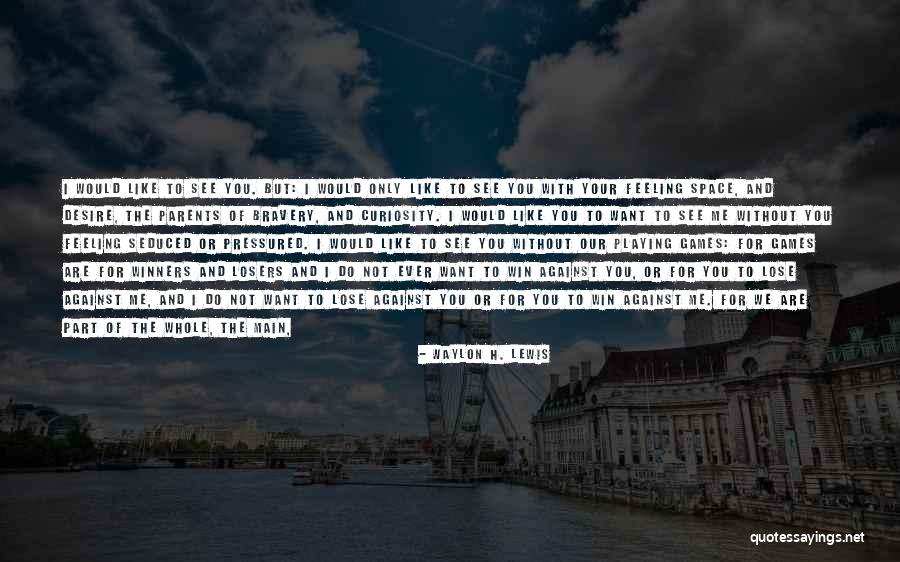 I would like to see you. But: I would only like to see you with your feeling space, and desire, the parents of bravery, and curiosity. I would like you to want to see me without you feeling seduced or pressured. I would like to see you without our playing games: for games are for winners and losers and I do not ever want to win against you, or for you to lose against me, and I do not want to lose against you or for you to win against me. For we are part of the whole, the main, as Donne said - and your gain is mine and my loss is yours. Love is about finding one's match, which means we shall touch our minds and hearts together at once, and never condescend or aim for any goal between us but the truth. — Waylon H. Lewis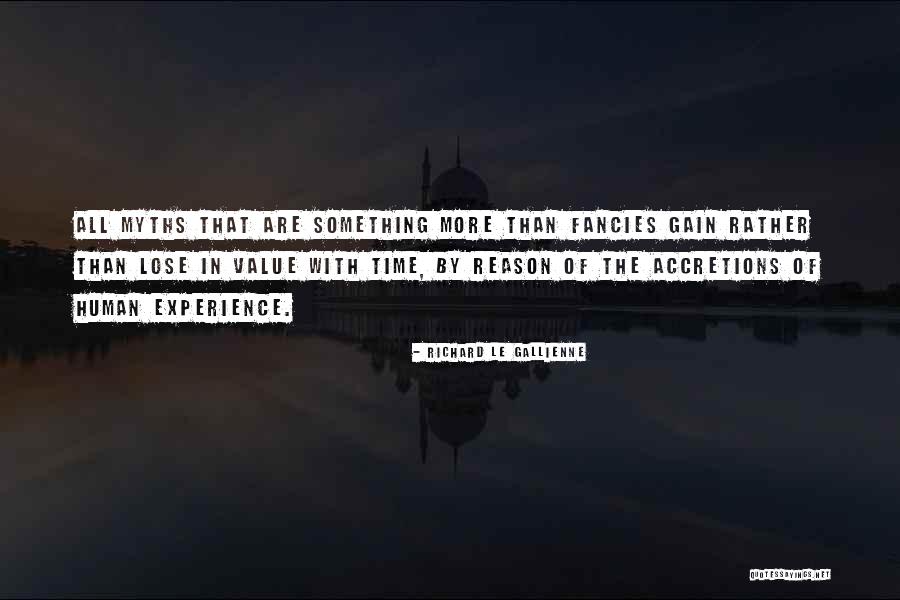 All myths that are something more than fancies gain rather than lose in value with time, by reason of the accretions of human experience. — Richard Le Gallienne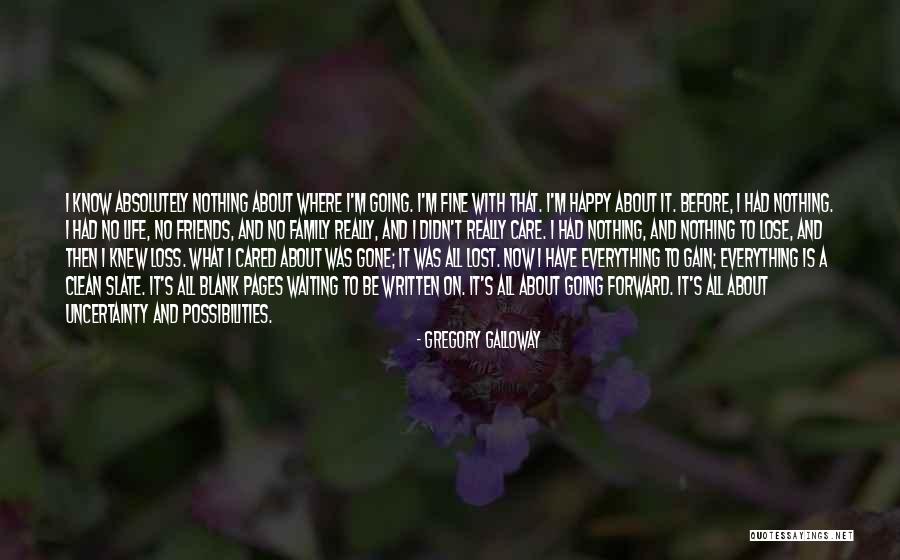 I know absolutely nothing about where I'm going. I'm fine with that. I'm happy about it. Before, I had nothing. I had no life, no friends, and no family really, and I didn't really care. I had nothing, and nothing to lose, and then I knew loss. What I cared about was gone; it was all lost. Now I have everything to gain; everything is a clean slate. It's all blank pages waiting to be written on. It's all about going forward. It's all about uncertainty and possibilities. — Gregory Galloway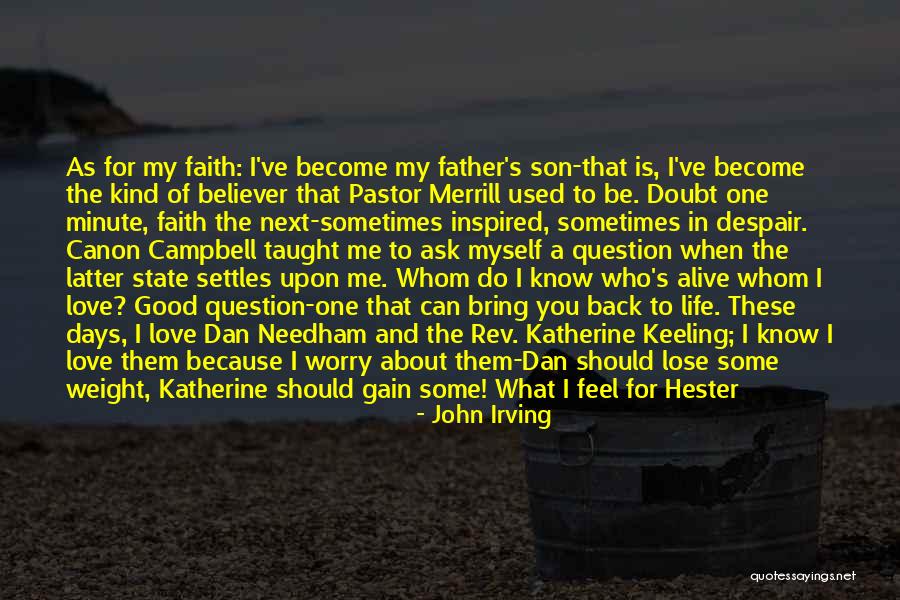 As for my faith: I've become my father's son-that is, I've become the kind of believer that Pastor Merrill used to be. Doubt one minute, faith the next-sometimes inspired, sometimes in despair. Canon Campbell taught me to ask myself a question when the latter state settles upon me. Whom do I know who's alive whom I love? Good question-one that can bring you back to life. These days, I love Dan Needham and the Rev. Katherine Keeling; I know I love them because I worry about them-Dan should lose some weight, Katherine should gain some! What I feel for Hester isn't exactly love; I admire her-she's certainly been a more heroic survivor than I've been, and her kind of survival is admirable. And then there are those distant, family ties that pass for love-I'm talking about Noah and Simon, about Aunt Martha and Uncle Alfred. I look forward to seeing them every Christmas. — John Irving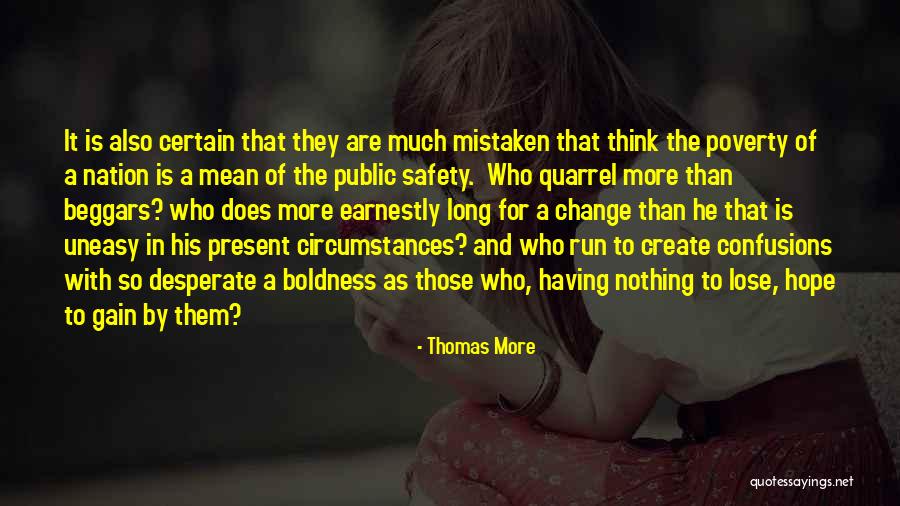 It is also certain that they are much mistaken that think the poverty of a nation is a mean of the public safety. Who quarrel more than beggars? who does more earnestly long for a change than he that is uneasy in his present circumstances? and who run to create confusions with so desperate a boldness as those who, having nothing to lose, hope to gain by them? — Thomas More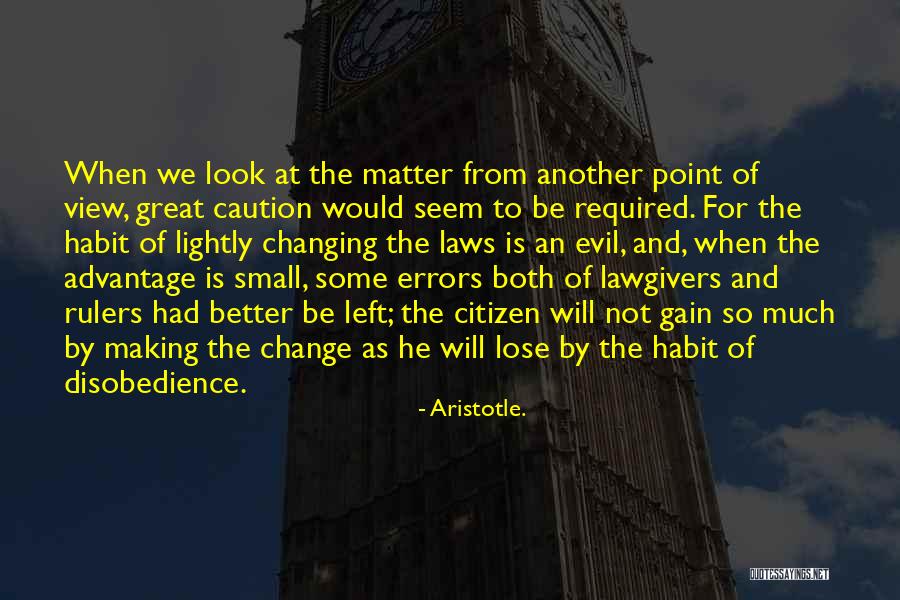 When we look at the matter from another point of view, great caution would seem to be required. For the habit of lightly changing the laws is an evil, and, when the advantage is small, some errors both of lawgivers and rulers had better be left; the citizen will not gain so much by making the change as he will lose by the habit of disobedience. — Aristotle.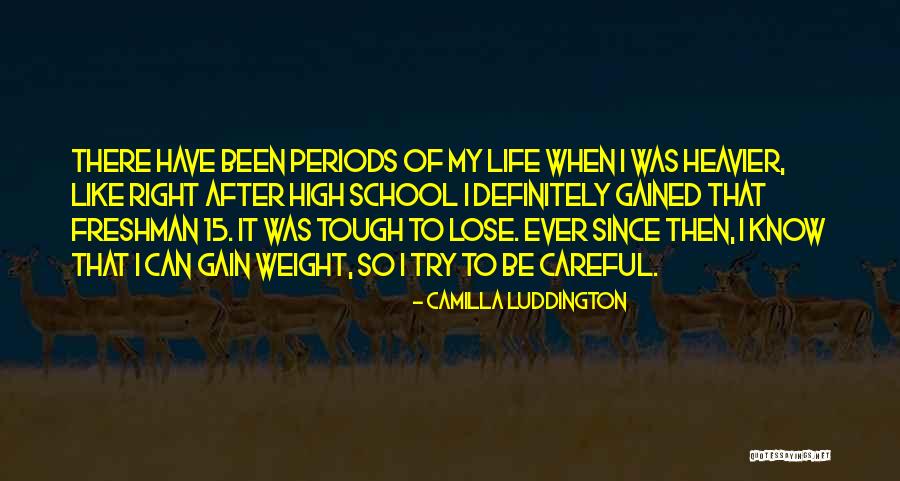 There have been periods of my life when I was heavier, like right after high school I definitely gained that freshman 15. It was tough to lose. Ever since then, I know that I can gain weight, so I try to be careful. — Camilla Luddington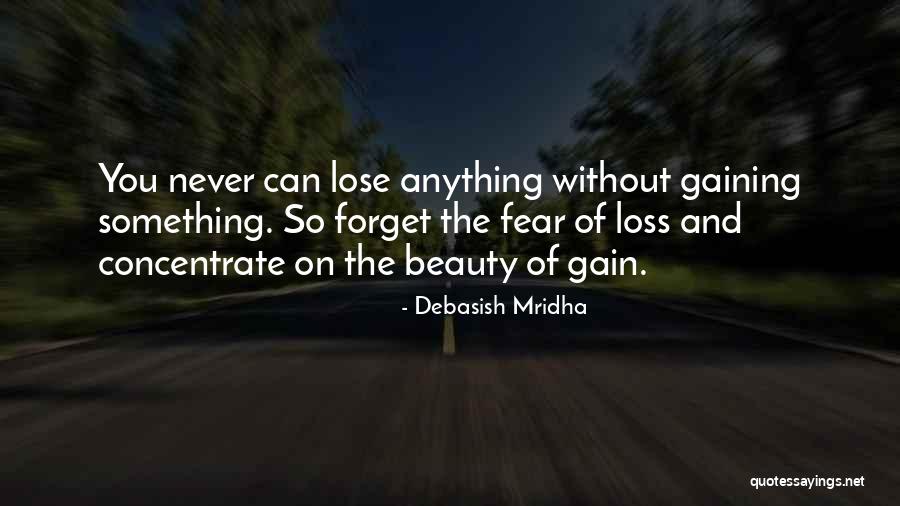 You never can lose anything without gaining something. So forget the fear of loss and concentrate on the beauty of gain. — Debasish Mridha
It's wrong to deprive someone else of a pleasure so that you can enjoy one yourself, but to deprive yourself of a pleasure so that you can add to someone else's enjoyment is an act of humanity by which you always gain more than you lose. — Thomas More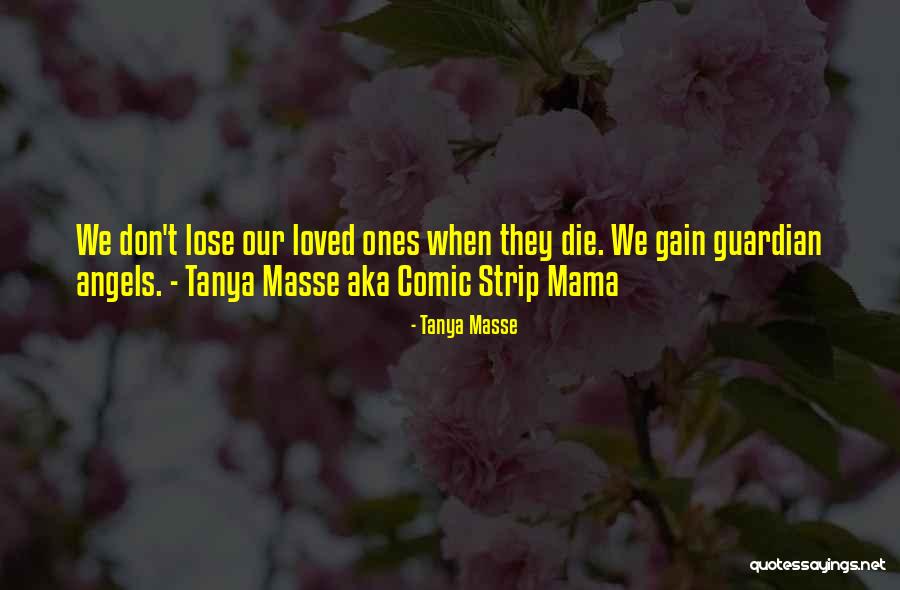 We don't lose our loved ones when they die. We gain guardian angels. - Tanya Masse aka Comic Strip Mama — Tanya Masse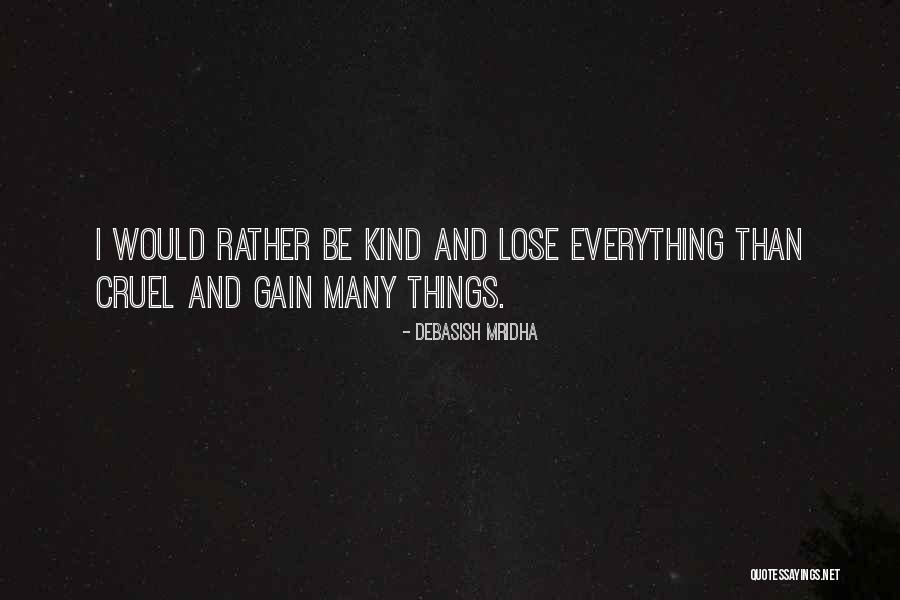 I would rather be kind and lose everything than cruel and gain many things. — Debasish Mridha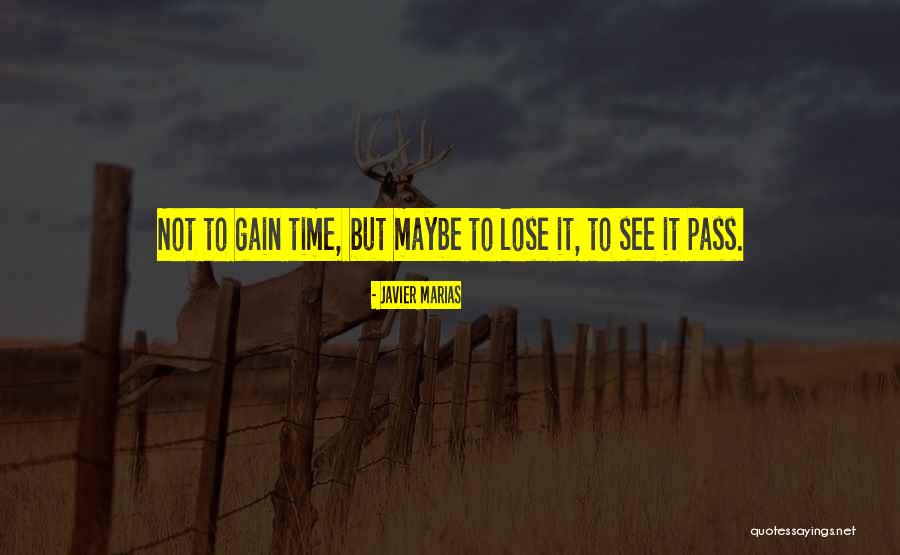 Not to gain time, but maybe to lose it, to see it pass. — Javier Marias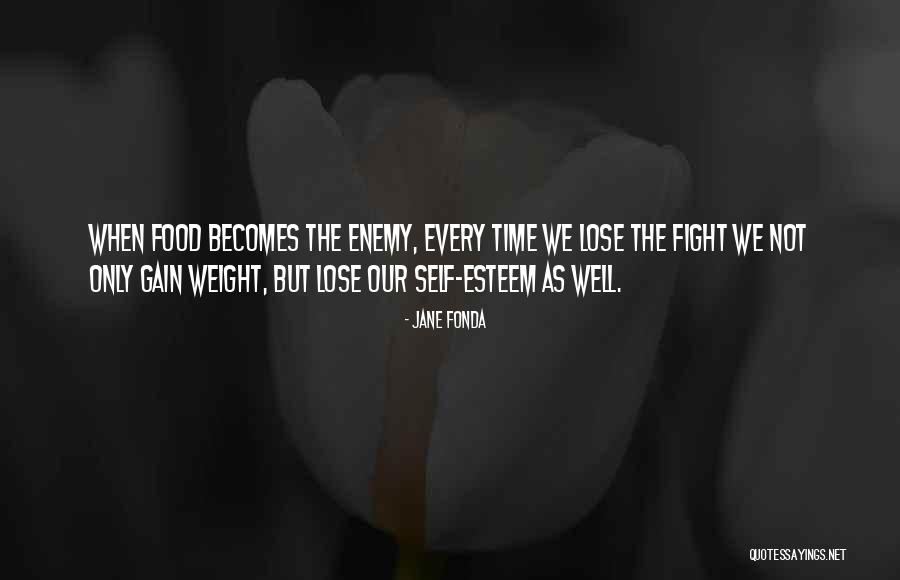 When food becomes the enemy, every time we lose the fight we not only gain weight, but lose our self-esteem as well. — Jane Fonda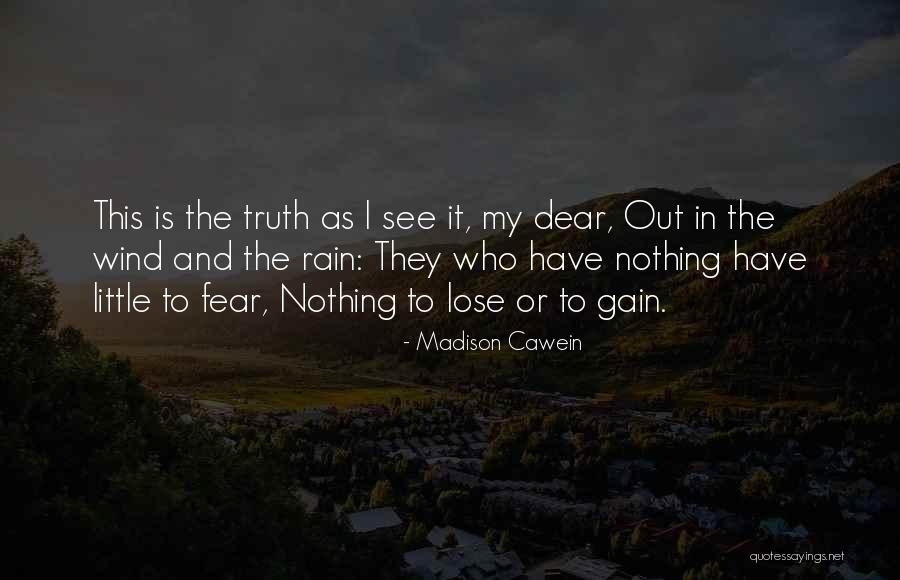 This is the truth as I see it, my dear, Out in the wind and the rain: They who have nothing have little to fear, Nothing to lose or to gain. — Madison Cawein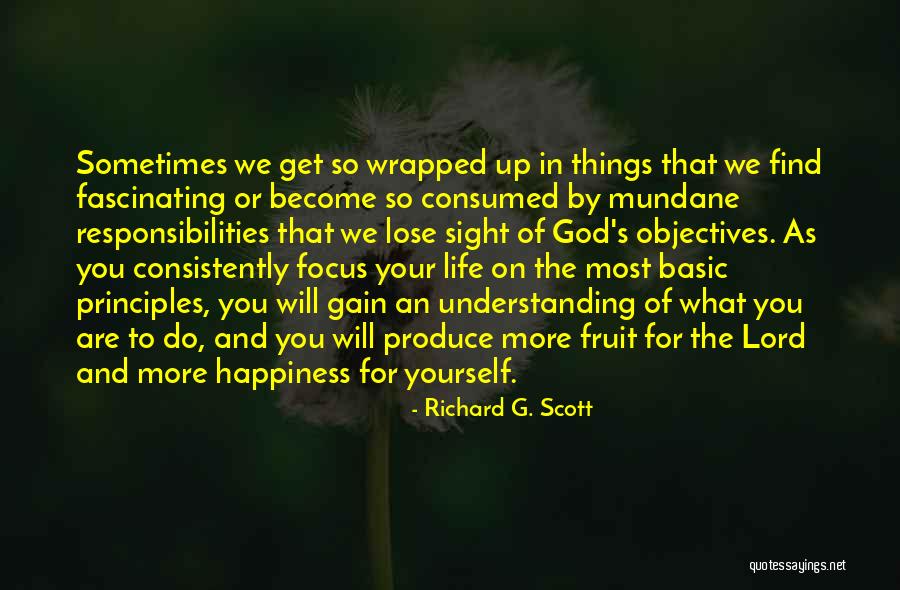 Sometimes we get so wrapped up in things that we find fascinating or become so consumed by mundane responsibilities that we lose sight of God's objectives. As you consistently focus your life on the most basic principles, you will gain an understanding of what you are to do, and you will produce more fruit for the Lord and more happiness for yourself. — Richard G. Scott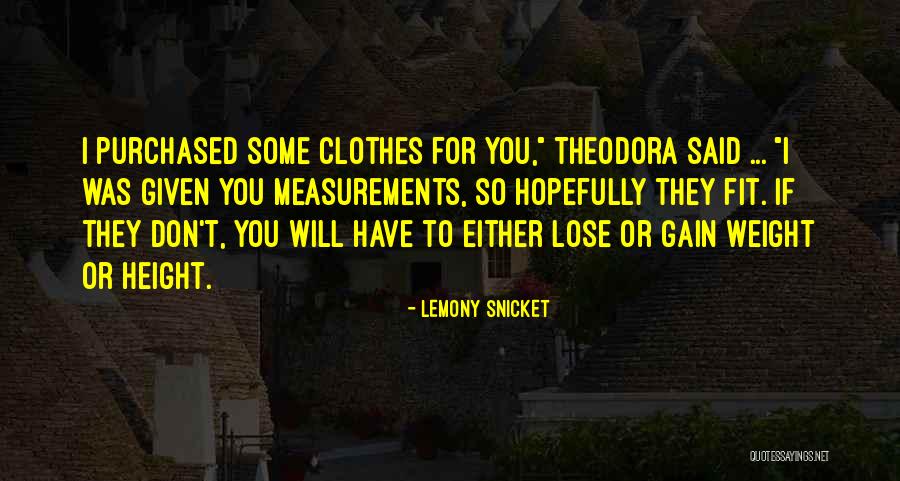 I purchased some clothes for you," Theodora said ... "I was given you measurements, so hopefully they fit. If they don't, you will have to either lose or gain weight or height. — Lemony Snicket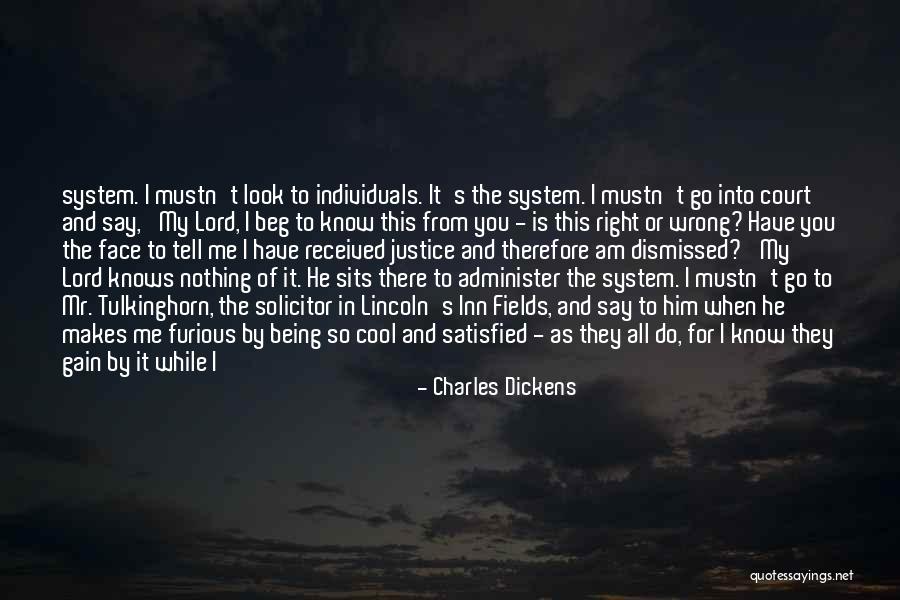 system. I mustn't look to individuals. It's the system. I mustn't go into court and say, 'My Lord, I beg to know this from you - is this right or wrong? Have you the face to tell me I have received justice and therefore am dismissed?' My Lord knows nothing of it. He sits there to administer the system. I mustn't go to Mr. Tulkinghorn, the solicitor in Lincoln's Inn Fields, and say to him when he makes me furious by being so cool and satisfied - as they all do, for I know they gain by it while I lose, don't I? - I mustn't say to him, 'I will have something out of some one for my ruin, by fair means or foul!' HE is not responsible. It's the system. But, if I do no violence to any of them, here - I may! I don't know what may happen if I am carried beyond myself at last! I will accuse the individual workers of that system against me, face to face, before the great eternal bar! — Charles Dickens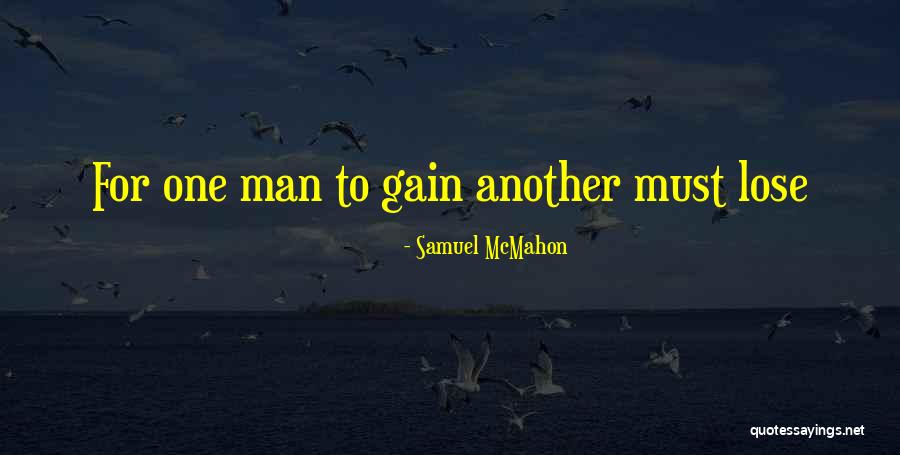 For one man to gain another must lose — Samuel McMahon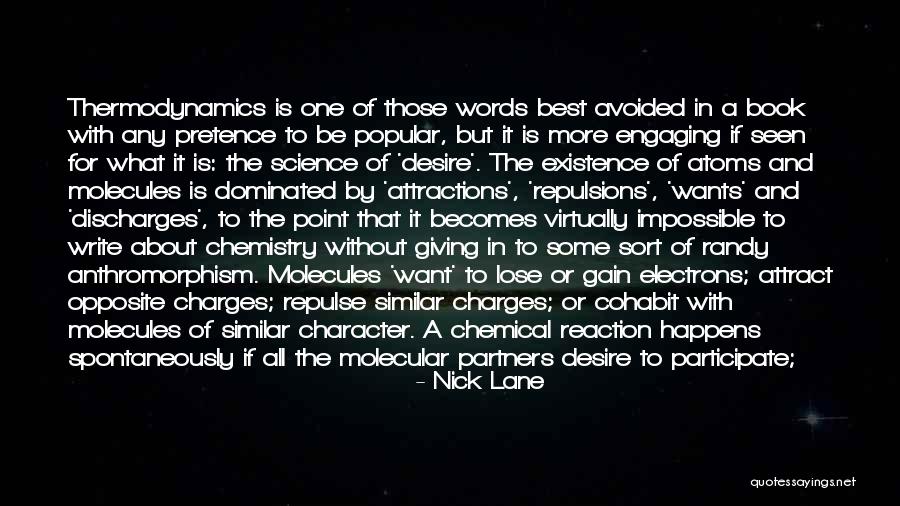 Thermodynamics is one of those words best avoided in a book with any pretence to be popular, but it is more engaging if seen for what it is: the science of 'desire'. The existence of atoms and molecules is dominated by 'attractions', 'repulsions', 'wants' and 'discharges', to the point that it becomes virtually impossible to write about chemistry without giving in to some sort of randy anthromorphism. Molecules 'want' to lose or gain electrons; attract opposite charges; repulse similar charges; or cohabit with molecules of similar character. A chemical reaction happens spontaneously if all the molecular partners desire to participate; or they can be pressed to react unwillingly through greater force. And of course some molecules really want to react but find it hard to overcome their innate shyness. A little gentle flirtation might prompt a massive release of lust, a discharge of pure energy. But perhaps I should stop there. — Nick Lane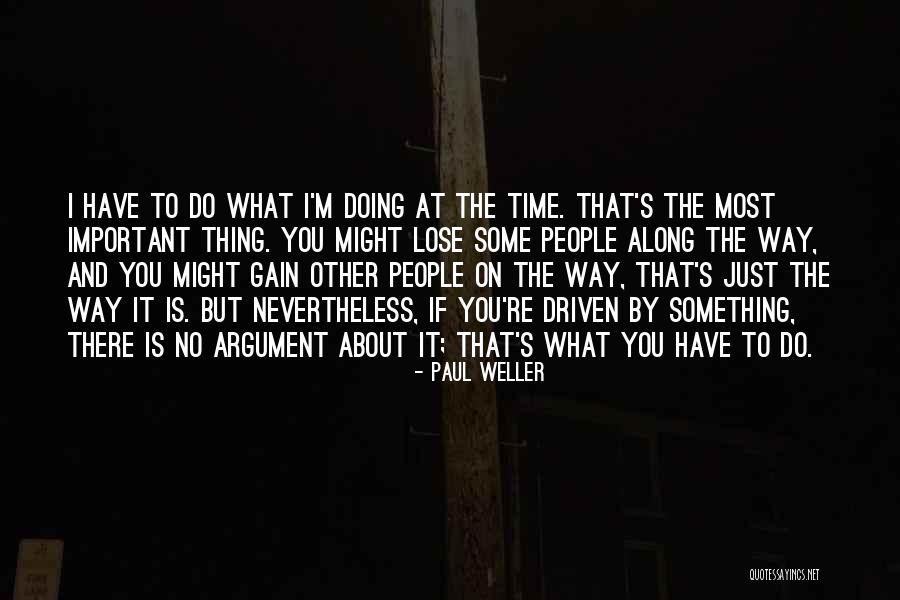 I have to do what I'm doing at the time. That's the most important thing. You might lose some people along the way, and you might gain other people on the way, that's just the way it is. But nevertheless, if you're driven by something, there is no argument about it; that's what you have to do. — Paul Weller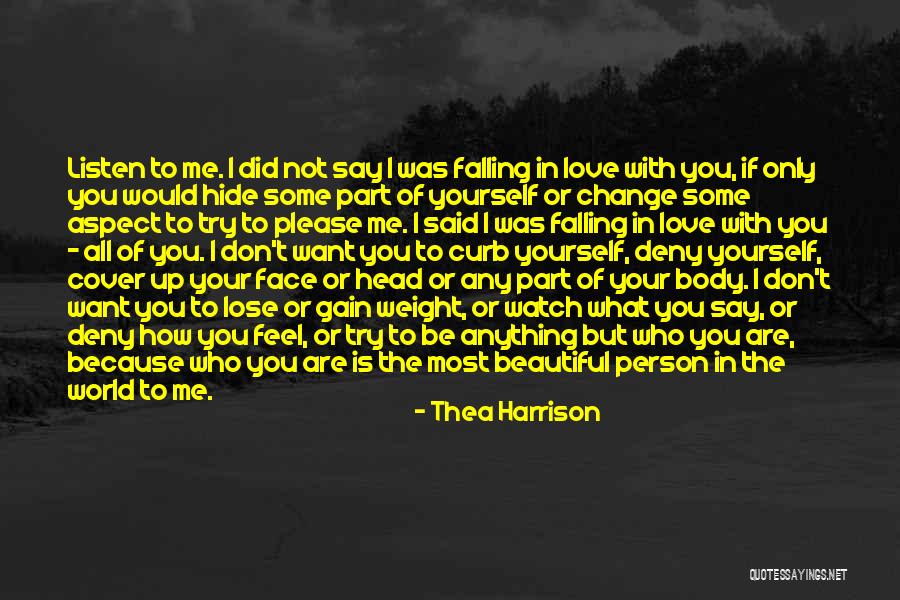 Listen to me. I did not say I was falling in love with you, if only you would hide some part of yourself or change some aspect to try to please me. I said I was falling in love with you - all of you. I don't want you to curb yourself, deny yourself, cover up your face or head or any part of your body. I don't want you to lose or gain weight, or watch what you say, or deny how you feel, or try to be anything but who you are, because who you are is the most beautiful person in the world to me. — Thea Harrison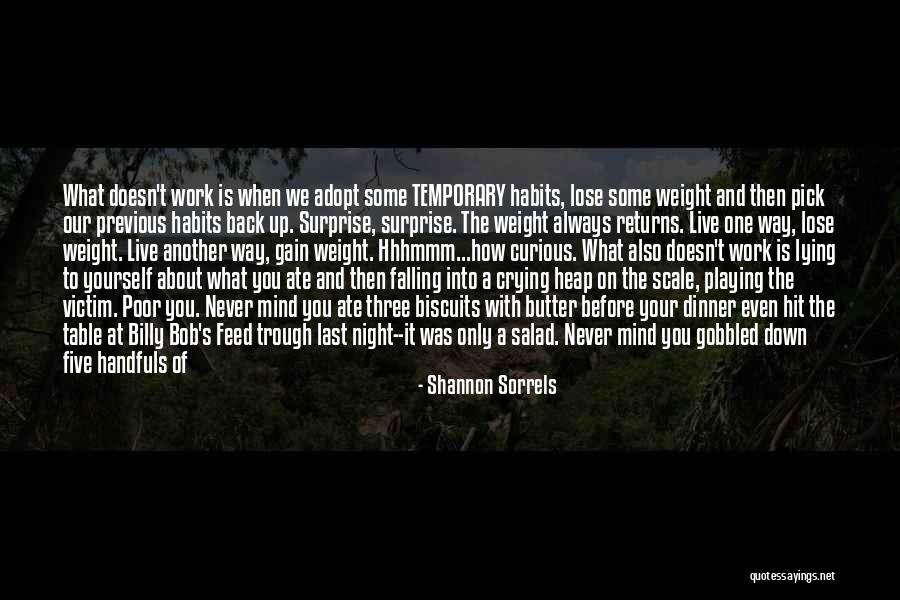 What doesn't work is when we adopt some TEMPORARY habits, lose some weight and then pick our previous habits back up. Surprise, surprise. The weight always returns. Live one way, lose weight. Live another way, gain weight. Hhhmmm...how curious.

What also doesn't work is lying to yourself about what you ate and then falling into a crying heap on the scale, playing the victim. Poor you. Never mind you ate three biscuits with butter before your dinner even hit the table at Billy Bob's Feed trough last night--it was only a salad. Never mind you gobbled down five handfuls of M&Ms off the receptionist's desk between trips to the break room for a soda--it was diet! Never mind you drove through Coffee Planet on the way to work and downed a 32 oz. Italian-named mocha-choca-ya-ya worth a day's calories in some starving nations--you skipped the whipped cream and said "no thanks" to the Chihuahua-sized muffin.

I'm telling you, diets work. — Shannon Sorrels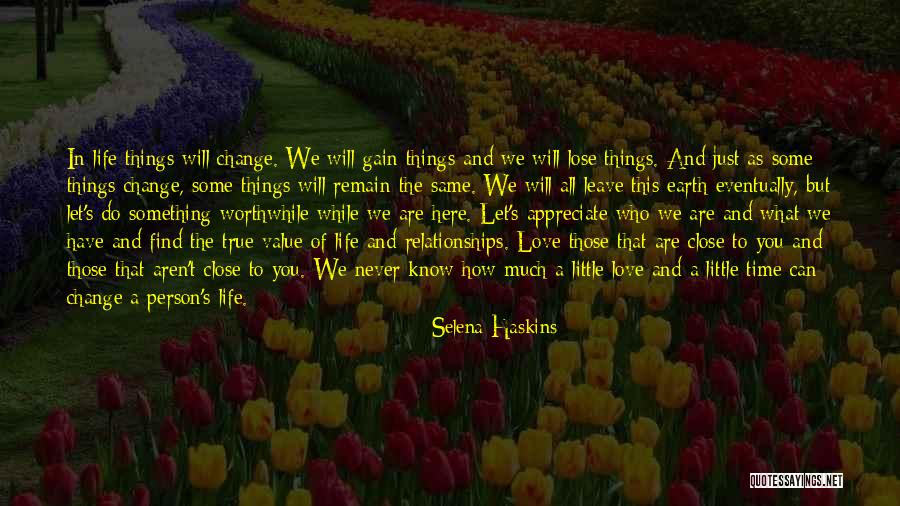 In life things will change. We will gain things and we will lose things. And just as some things change, some things will remain the same. We will all leave this earth eventually, but let's do something worthwhile while we are here. Let's appreciate who we are and what we have and find the true value of life and relationships. Love those that are close to you and those that aren't close to you. We never know how much a little love and a little time can change a person's life. — Selena Haskins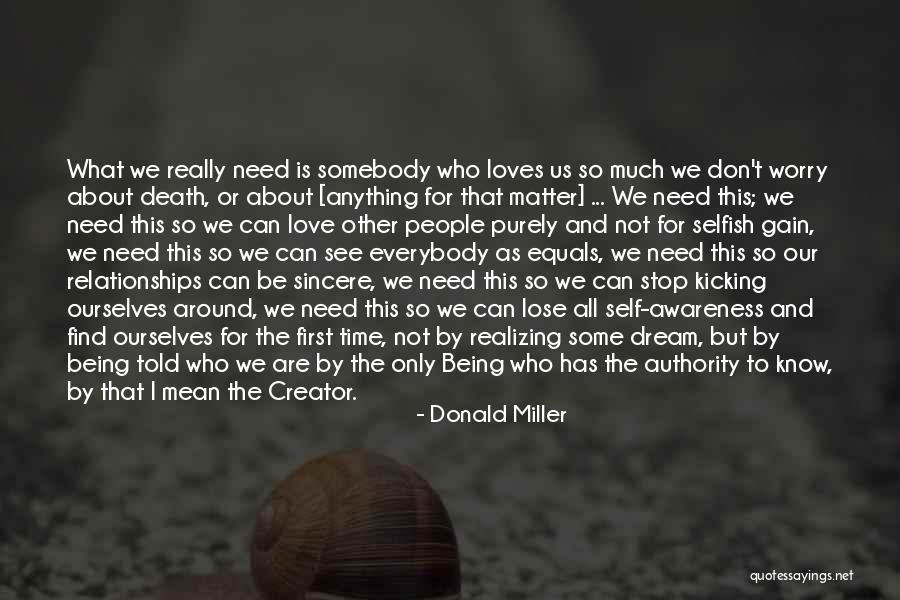 What we really need is somebody who loves us so much we don't worry about death, or about [anything for that matter] ... We need this; we need this so we can love other people purely and not for selfish gain, we need this so we can see everybody as equals, we need this so our relationships can be sincere, we need this so we can stop kicking ourselves around, we need this so we can lose all self-awareness and find ourselves for the first time, not by realizing some dream, but by being told who we are by the only Being who has the authority to know, by that I mean the Creator. — Donald Miller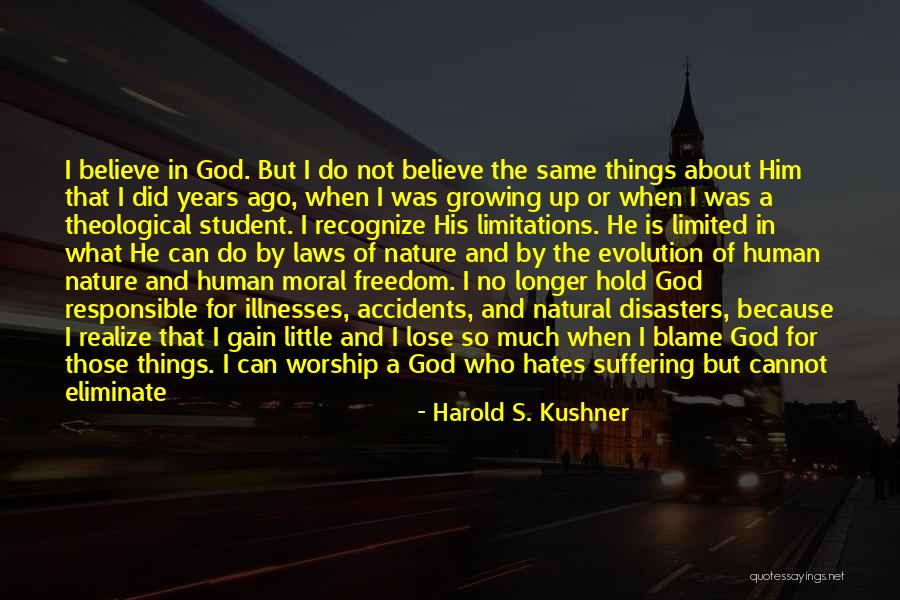 I believe in God. But I do not believe the same things about Him that I did years ago, when I was growing up or when I was a theological student. I recognize His limitations. He is limited in what He can do by laws of nature and by the evolution of human nature and human moral freedom. I no longer hold God responsible for illnesses, accidents, and natural disasters, because I realize that I gain little and I lose so much when I blame God for those things. I can worship a God who hates suffering but cannot eliminate it, more easily than I can worship a God who chooses to make children suffer and die, for whatever exalted reason.
Some years ago, when the "death of God" theology was a fad, I remember seeing a bumper sticker that read "My God is not dead; sorry about yours." I guess my bumper sticker reads "My God is not cruel; sorry about yours. — Harold S. Kushner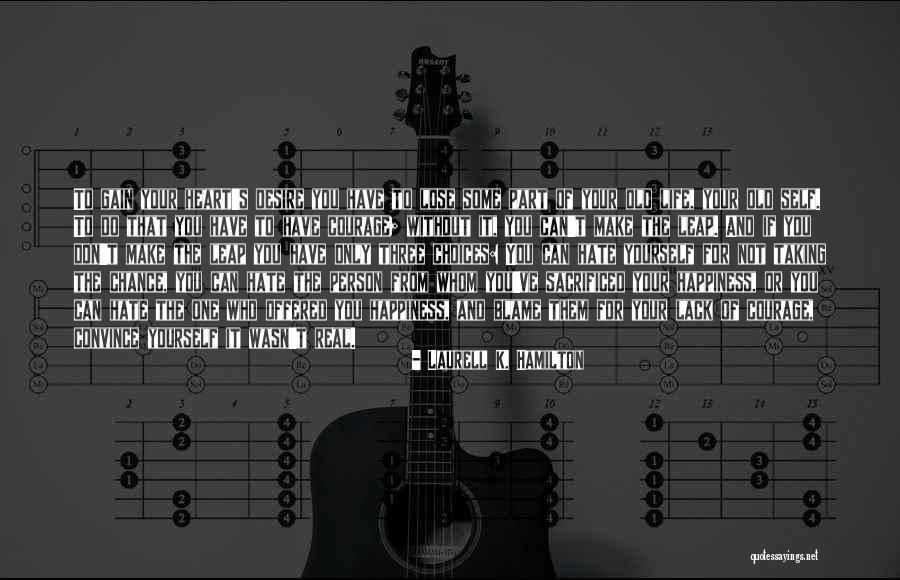 To gain your heart's desire you have to lose some part of your old life, your old self. To do that you have to have courage; without it, you can't make the leap. And if you don't make the leap you have only three choices: You can hate yourself for not taking the chance, you can hate the person from whom you've sacrificed your happiness, or you can hate the one who offered you happiness, and blame them for your lack of courage, convince yourself it wasn't real. — Laurell K. Hamilton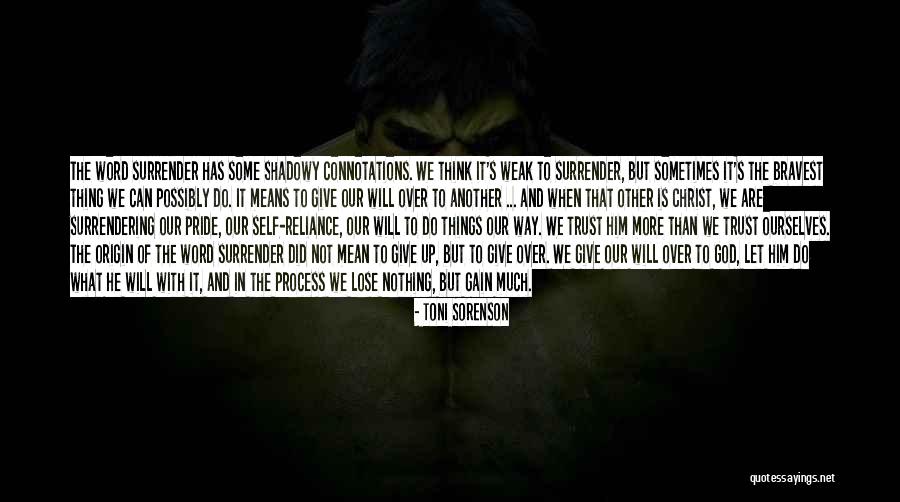 The word surrender has some shadowy connotations. We think it's weak to surrender, but sometimes it's the bravest thing we can possibly do. It means to give our will over to another ... and when that other is Christ, we are surrendering our pride, our self-reliance, our will to do things our way. We trust Him more than we trust ourselves. The origin of the word surrender did not mean to give up, but to give over. We give our will over to God, let Him do what He will with it, and in the process we lose nothing, but gain much. — Toni Sorenson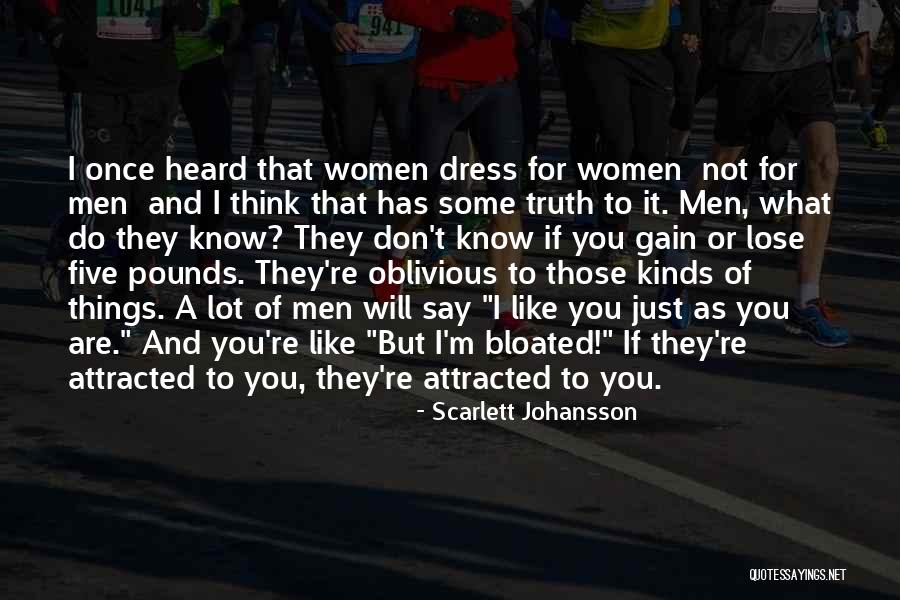 I once heard that women dress for women
not for men
and I think that has some truth to it. Men, what do they know? They don't know if you gain or lose five pounds. They're oblivious to those kinds of things. A lot of men will say "I like you just as you are." And you're like "But I'm bloated!" If they're attracted to you, they're attracted to you. — Scarlett Johansson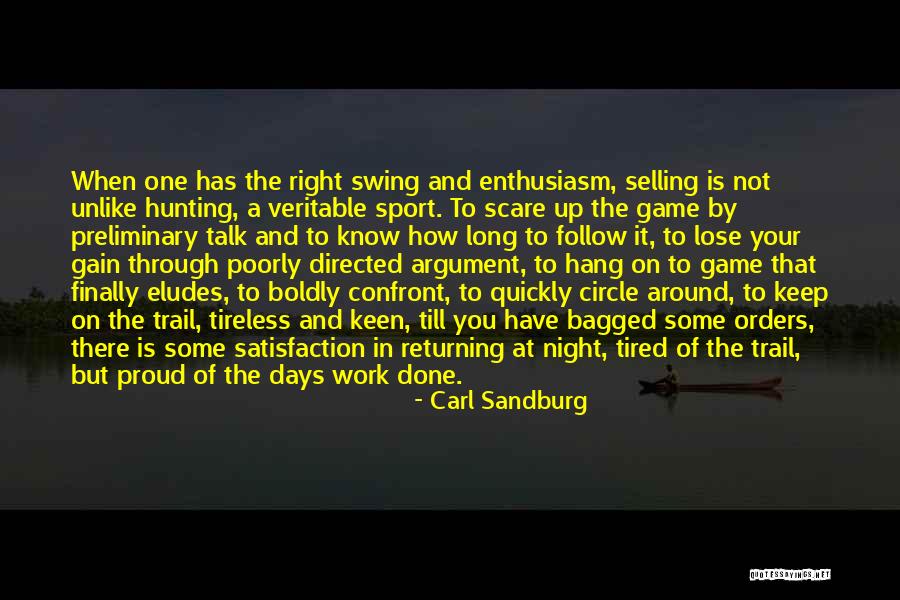 When one has the right swing and enthusiasm, selling is not unlike hunting, a veritable sport. To scare up the game by preliminary talk and to know how long to follow it, to lose your gain through poorly directed argument, to hang on to game that finally eludes, to boldly confront, to quickly circle around, to keep on the trail, tireless and keen, till you have bagged some orders, there is some satisfaction in returning at night, tired of the trail, but proud of the days work done. — Carl Sandburg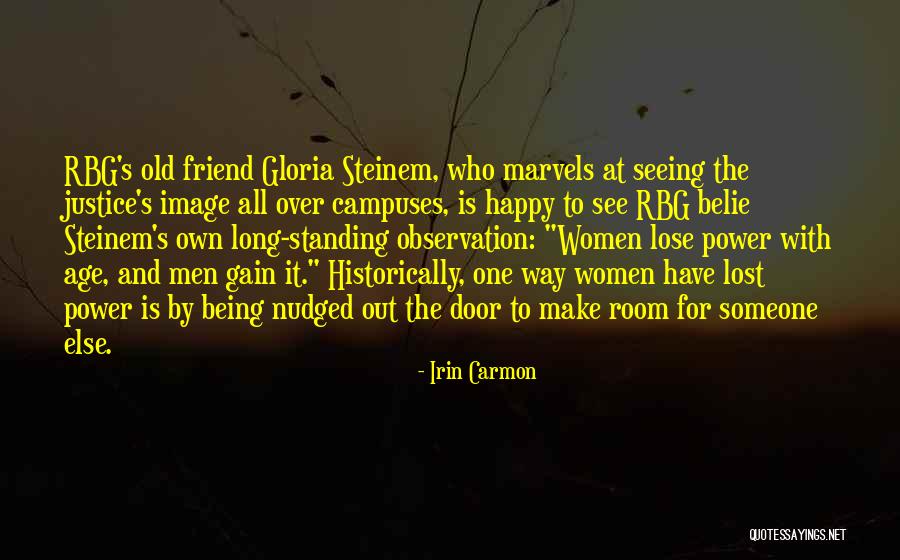 RBG's old friend Gloria Steinem, who marvels at seeing the justice's image all over campuses, is happy to see RBG belie Steinem's own long-standing observation: "Women lose power with age, and men gain it." Historically, one way women have lost power is by being nudged out the door to make room for someone else. — Irin Carmon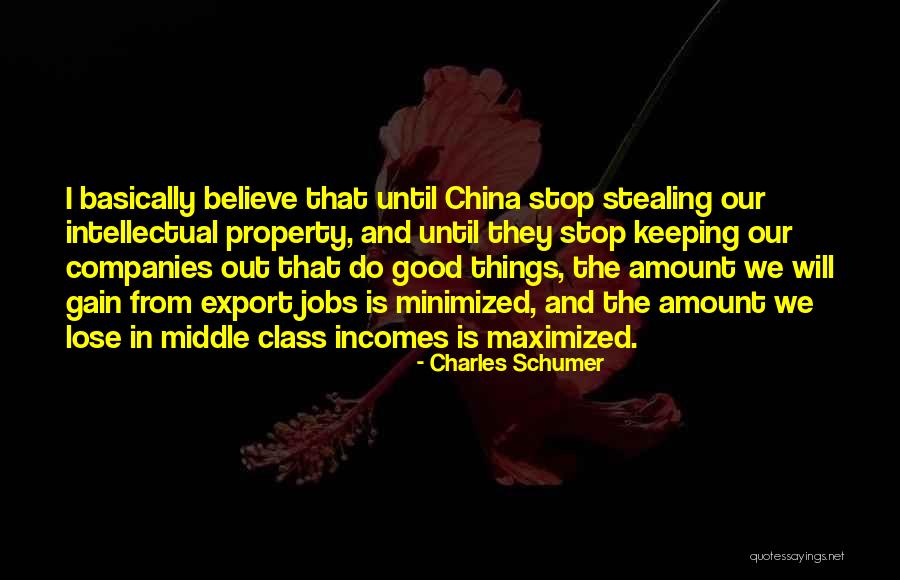 I basically believe that until China stop stealing our intellectual property, and until they stop keeping our companies out that do good things, the amount we will gain from export jobs is minimized, and the amount we lose in middle class incomes is maximized. — Charles Schumer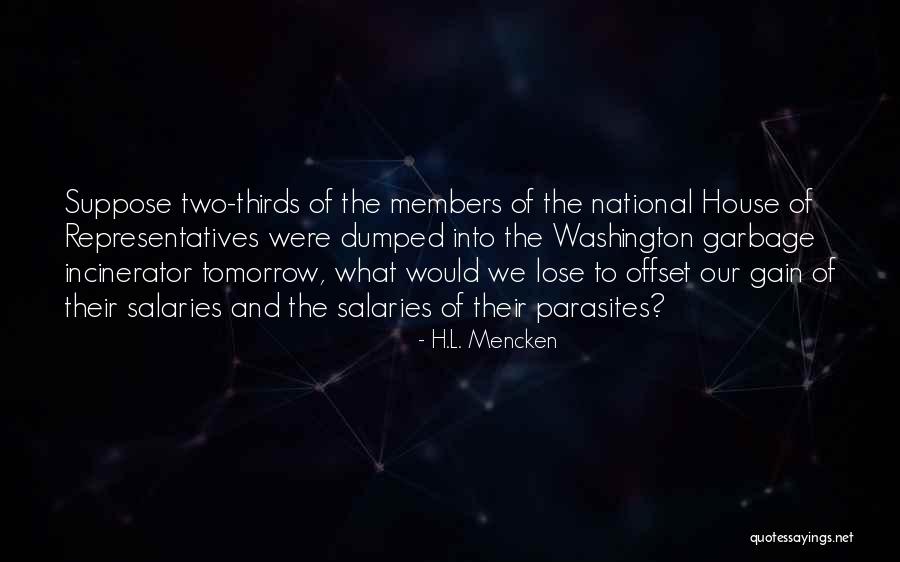 Suppose two-thirds of the members of the national House of Representatives were dumped into the Washington garbage incinerator tomorrow, what would we lose to offset our gain of their salaries and the salaries of their parasites? — H.L. Mencken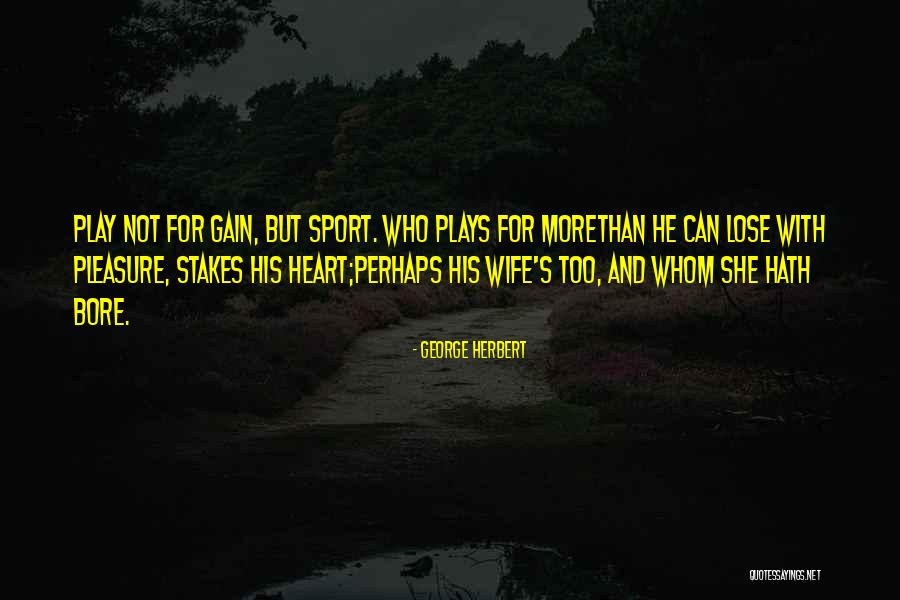 Play not for gain, but sport. Who plays for more
Than he can lose with pleasure, stakes his heart;
Perhaps his wife's too, and whom she hath bore. — George Herbert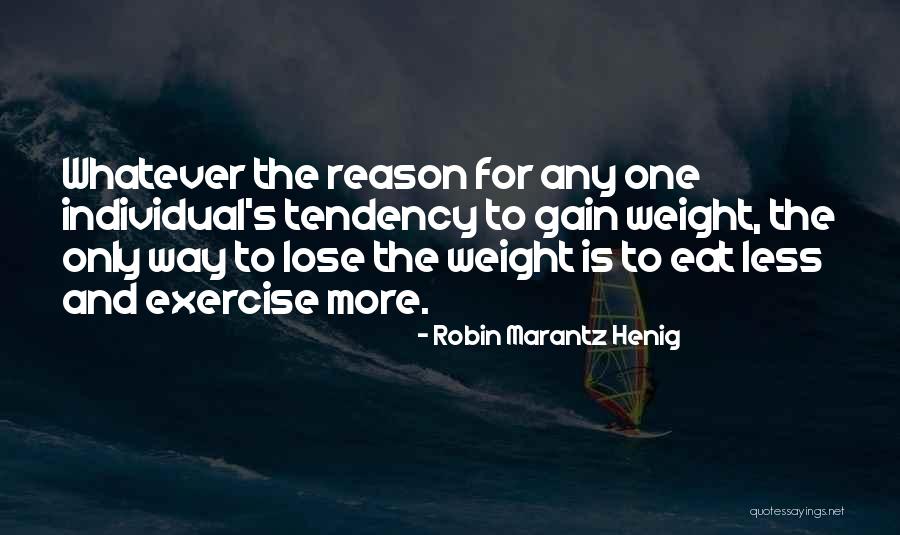 Whatever the reason for any one individual's tendency to gain weight, the only way to lose the weight is to eat less and exercise more. — Robin Marantz Henig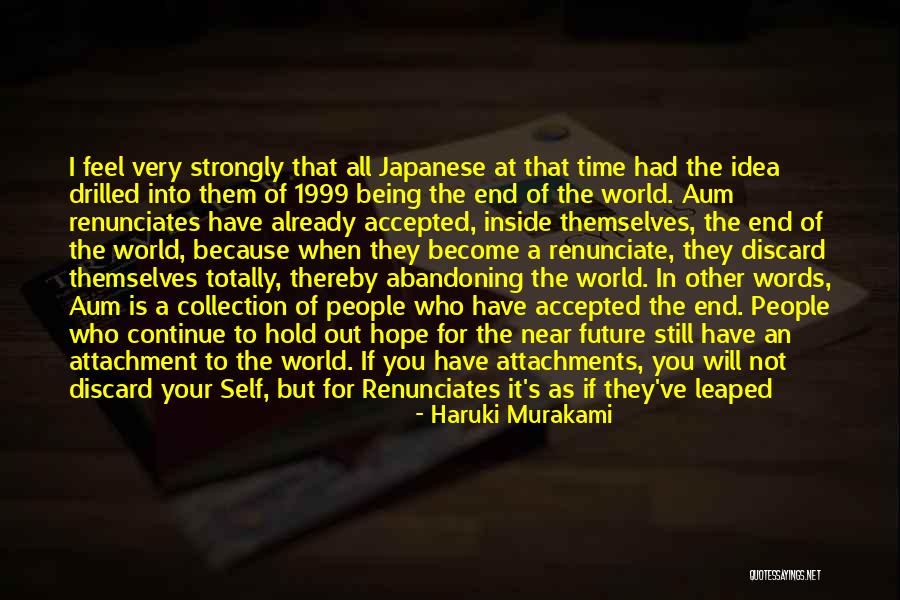 I feel very strongly that all Japanese at that time had the idea drilled into them of 1999 being the end of the world. Aum renunciates have already accepted, inside themselves, the end of the world, because when they become a renunciate, they discard themselves totally, thereby abandoning the world. In other words, Aum is a collection of people who have accepted the end. People who continue to hold out hope for the near future still have an attachment to the world. If you have attachments, you will not discard your Self, but for Renunciates it's as if they've leaped right off the cliff. And taking a giant leap like that feels good. They lose something - but gain something in return. — Haruki Murakami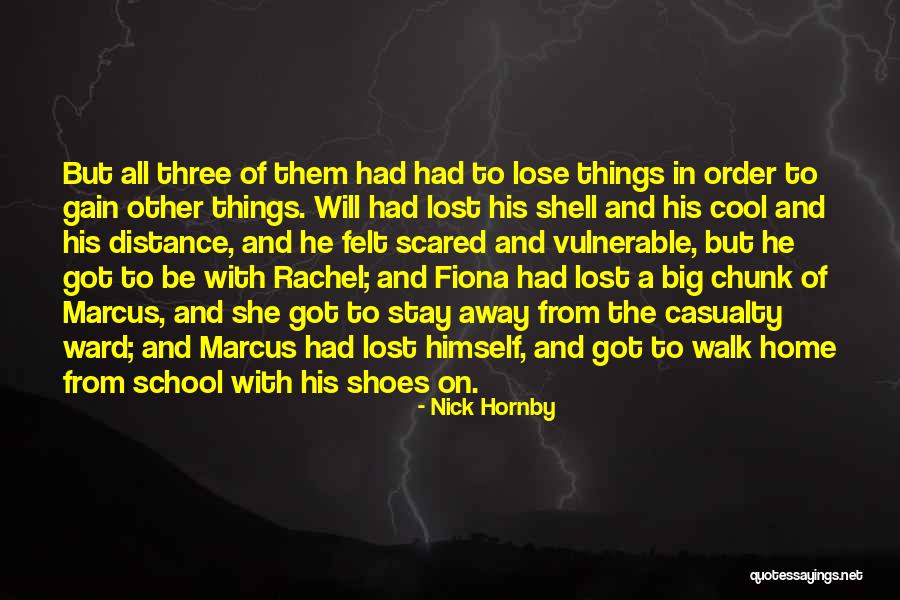 But all three of them had had to lose things in order to gain other things. Will had lost his shell and his cool and his distance, and he felt scared and vulnerable, but he got to be with Rachel; and Fiona had lost a big chunk of Marcus, and she got to stay away from the casualty ward; and Marcus had lost himself, and got to walk home from school with his shoes on. — Nick Hornby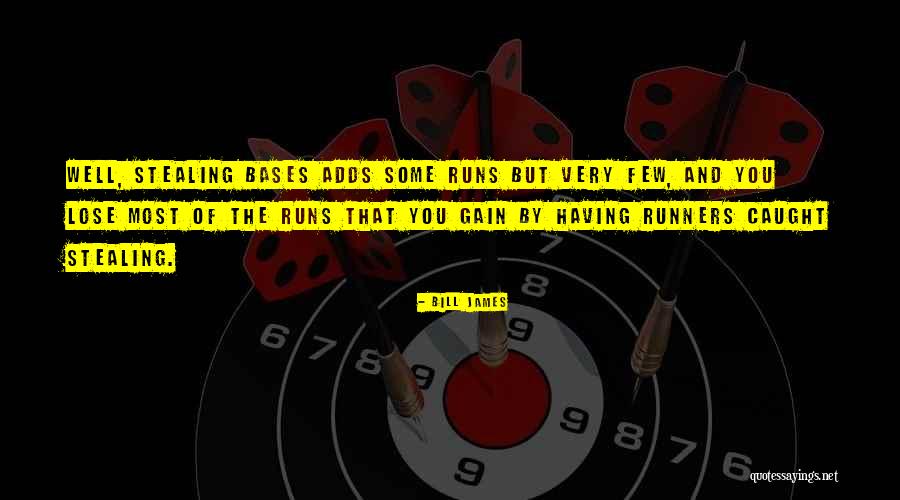 Well, stealing bases adds some runs but very few, and you lose most of the runs that you gain by having runners caught stealing. — Bill James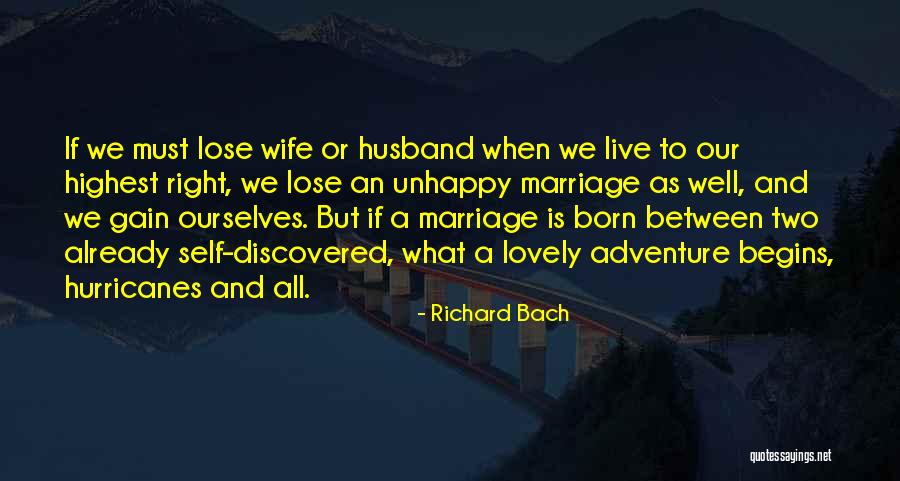 If we must lose wife or husband when we live to our highest right, we lose an unhappy marriage as well, and we gain ourselves. But if a marriage is born between two already self-discovered, what a lovely adventure begins, hurricanes and all. — Richard Bach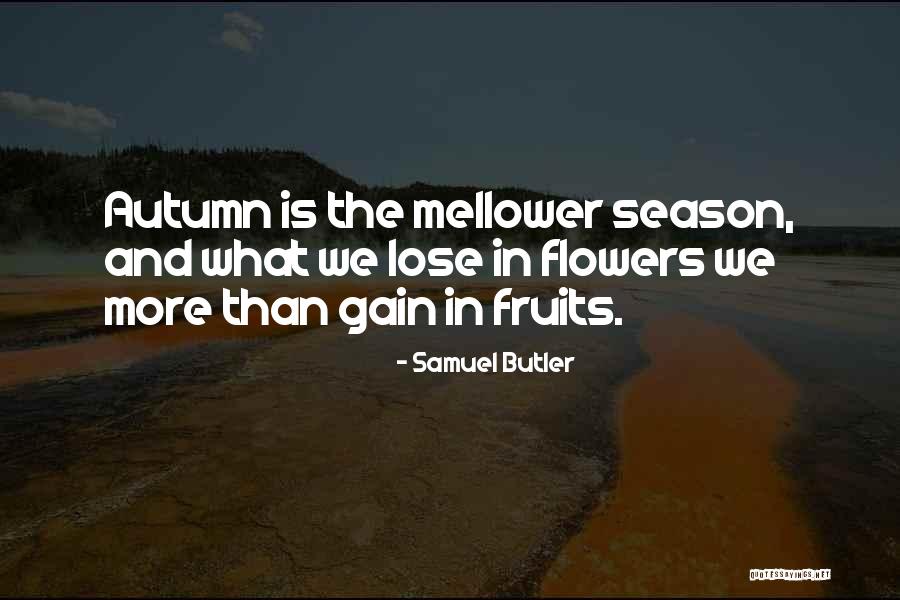 Autumn is the mellower season, and what we lose in flowers we more than gain in fruits. — Samuel Butler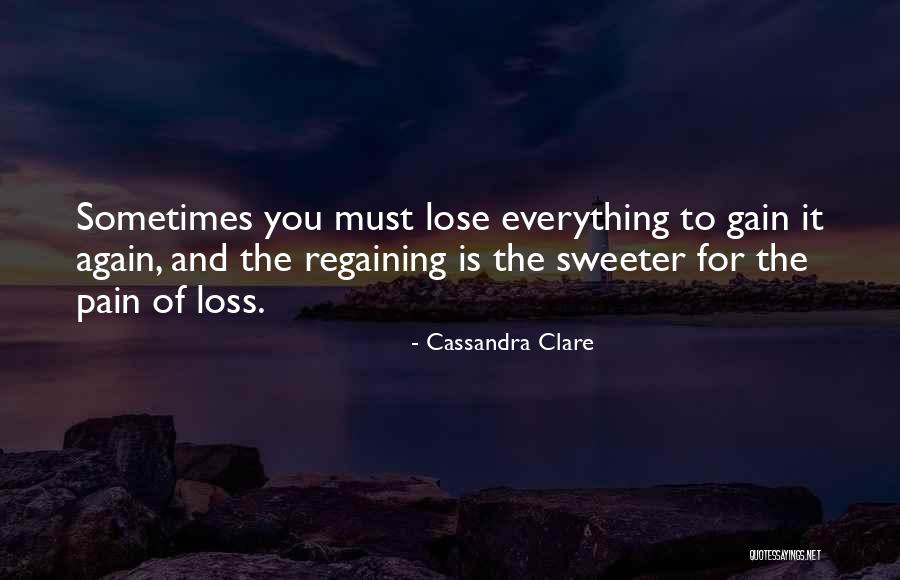 Sometimes you must lose everything to gain it again, and the regaining is the sweeter for the pain of loss. — Cassandra Clare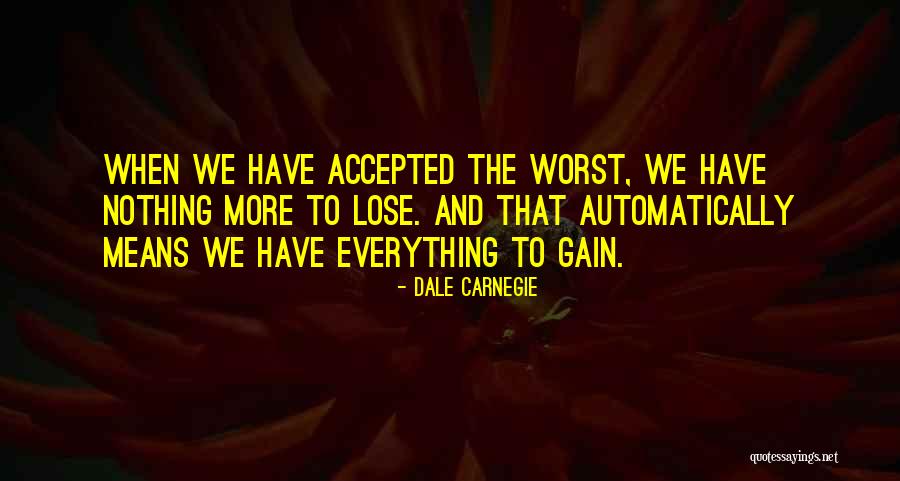 When we have accepted the worst, we have nothing more to lose. And that automatically means we have everything to gain. — Dale Carnegie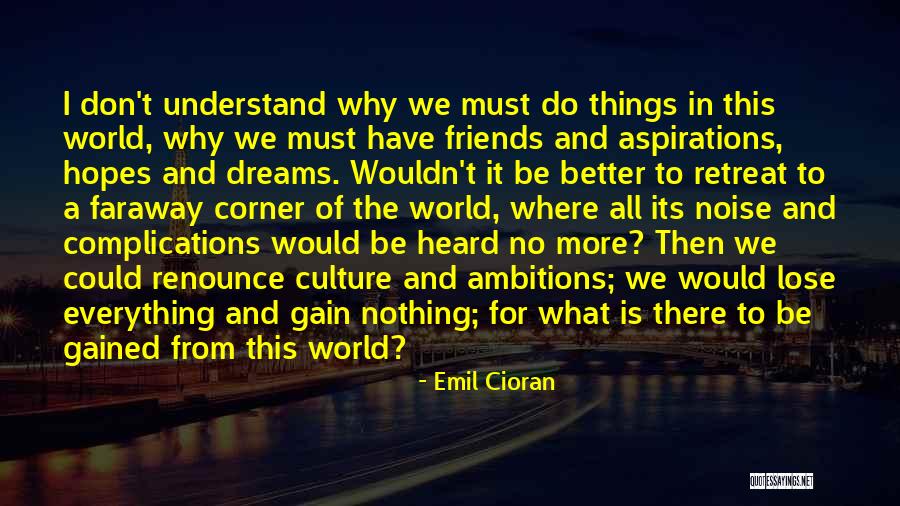 I don't understand why we must do things in this world, why we must have friends and aspirations, hopes and dreams. Wouldn't it be better to retreat to a faraway corner of the world, where all its noise and complications would be heard no more? Then we could renounce culture and ambitions; we would lose everything and gain nothing; for what is there to be gained from this world? — Emil Cioran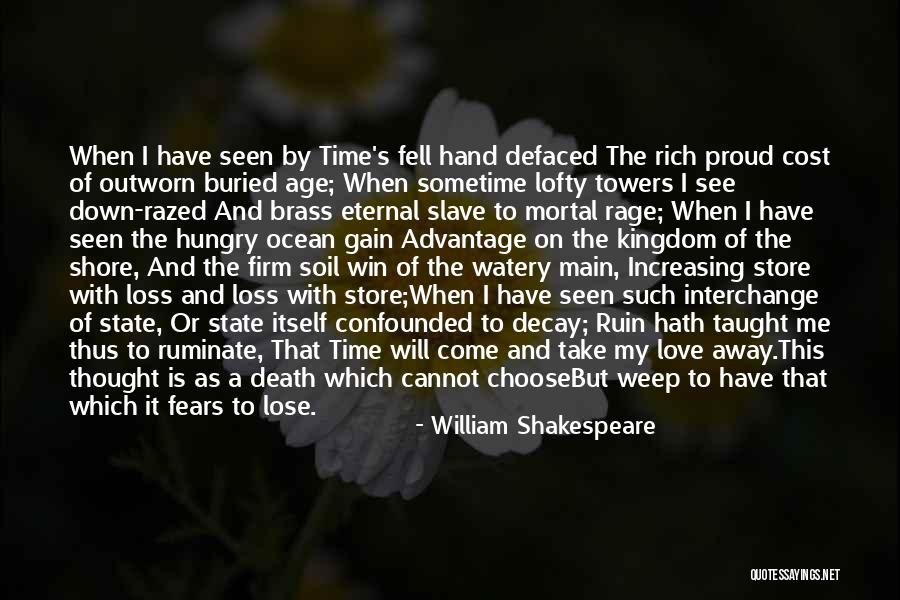 When I have seen by Time's fell hand defaced
The rich proud cost of outworn buried age;
When sometime lofty towers I see down-razed
And brass eternal slave to mortal rage;
When I have seen the hungry ocean gain
Advantage on the kingdom of the shore,
And the firm soil win of the watery main,
Increasing store with loss and loss with store;
When I have seen such interchange of state,
Or state itself confounded to decay;
Ruin hath taught me thus to ruminate,
That Time will come and take my love away.
This thought is as a death which cannot choose
But weep to have that which it fears to lose. — William Shakespeare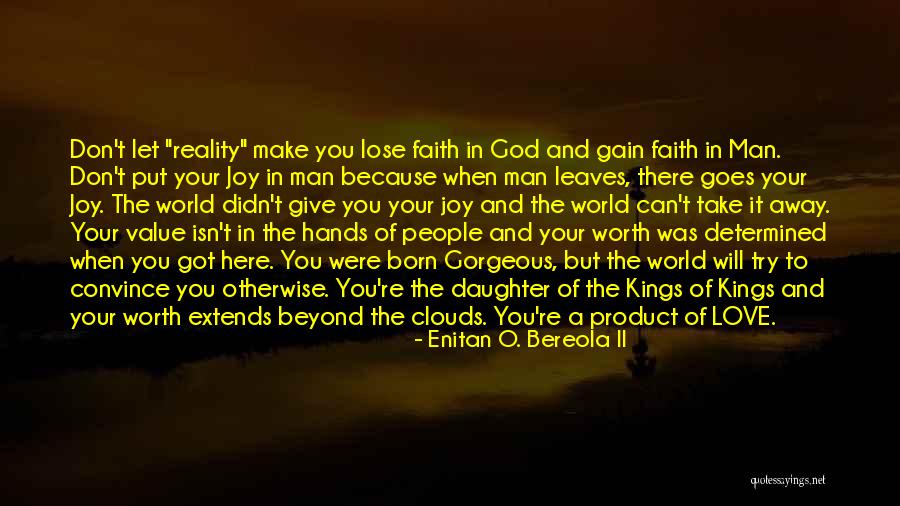 Don't let "reality" make you lose faith in God and gain faith in Man. Don't put your Joy in man because when man leaves, there goes your Joy. The world didn't give you your joy and the world can't take it away. Your value isn't in the hands of people and your worth was determined when you got here. You were born Gorgeous, but the world will try to convince you otherwise. You're the daughter of the Kings of Kings and your worth extends beyond the clouds. You're a product of LOVE. — Enitan O. Bereola II
Lose your mind so that you can gain a new way of knowing. — Holly Lynn Payne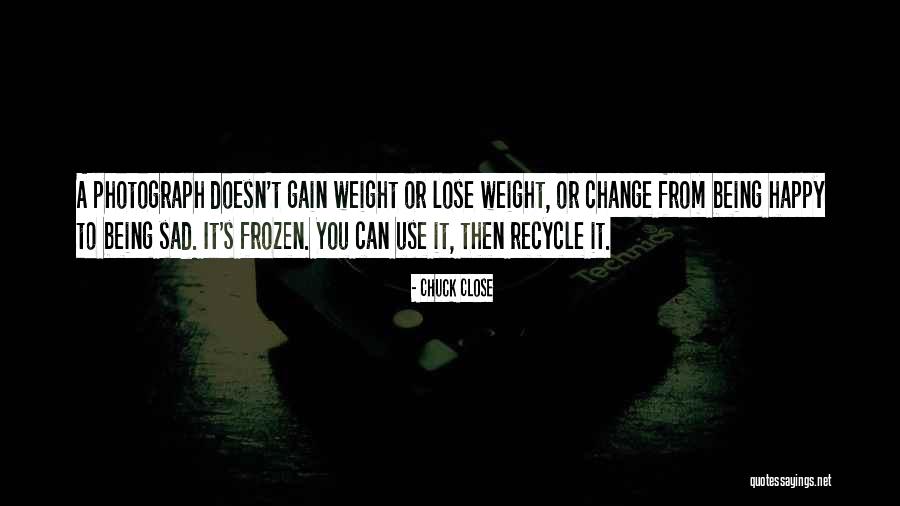 A photograph doesn't gain weight or lose weight, or change from being happy to being sad. It's frozen. You can use it, then recycle it. — Chuck Close
What we gain in the world, we lose in the world, forgotten in death. We must rather fancy what we brought into the world, for therein lives our story, our legend. — Palle Oswald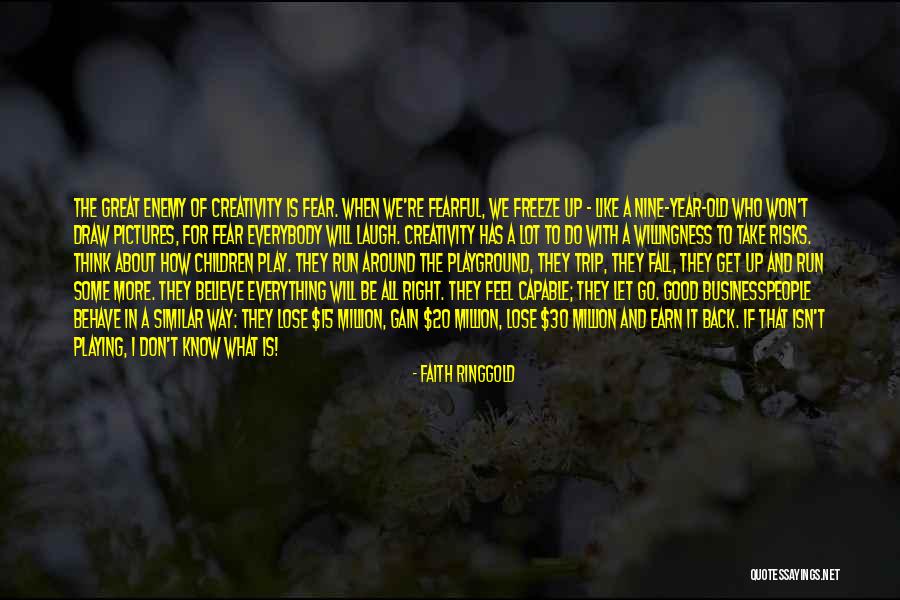 The great enemy of creativity is fear. When we're fearful, we freeze up - like a nine-year-old who won't draw pictures, for fear everybody will laugh. Creativity has a lot to do with a willingness to take risks. Think about how children play. They run around the playground, they trip, they fall, they get up and run some more. They believe everything will be all right. They feel capable; they let go. Good businesspeople behave in a similar way: they lose $15 million, gain $20 million, lose $30 million and earn it back. If that isn't playing, I don't know what is! — Faith Ringgold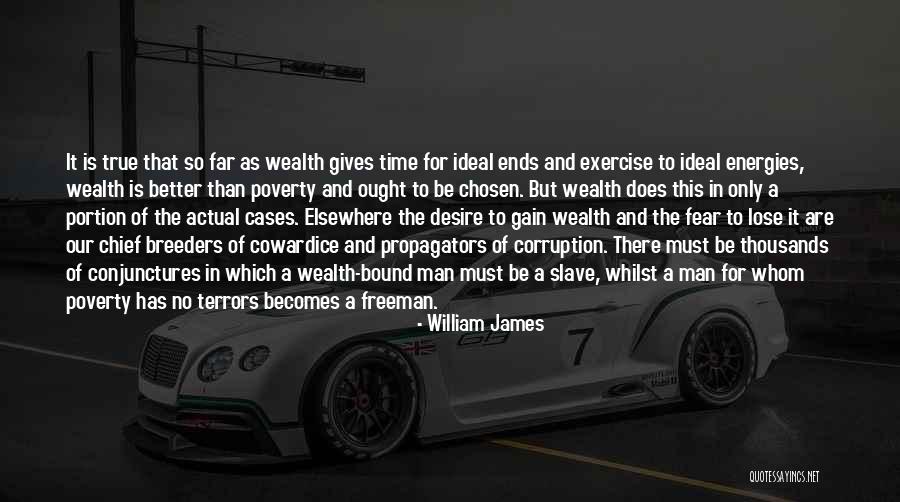 It is true that so far as wealth gives time for ideal ends and exercise to ideal energies, wealth is better than poverty and ought to be chosen. But wealth does this in only a portion of the actual cases. Elsewhere the desire to gain wealth and the fear to lose it are our chief breeders of cowardice and propagators of corruption. There must be thousands of conjunctures in which a wealth-bound man must be a slave, whilst a man for whom poverty has no terrors becomes a freeman. — William James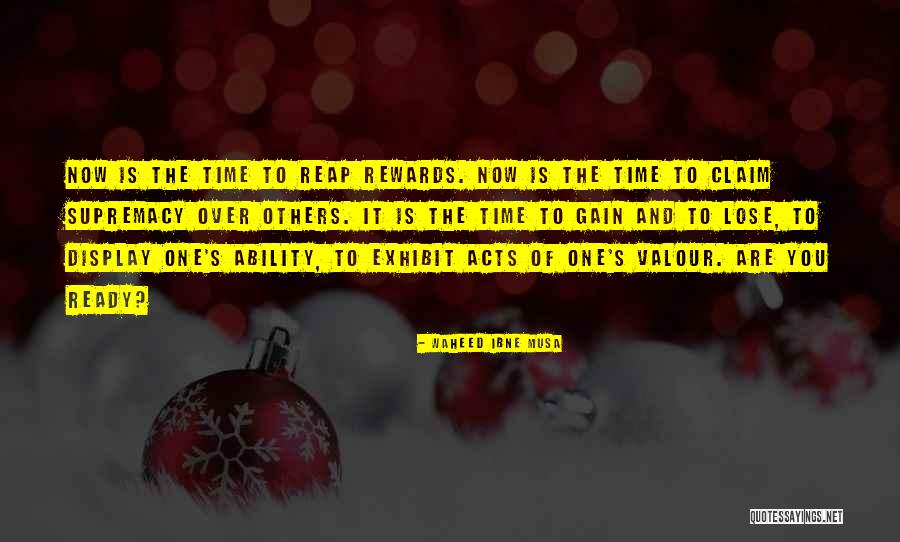 Now is the time to reap rewards. Now is the time to claim supremacy over others. It is the time to gain and to lose, to display one's ability, to exhibit acts of one's valour. Are you ready? — Waheed Ibne Musa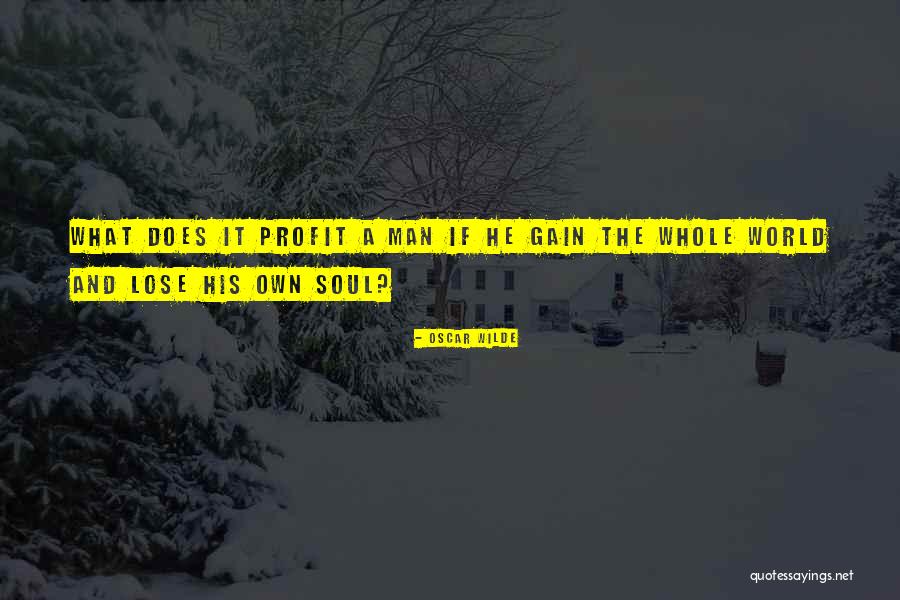 What does it profit a man if he gain the whole world and lose his own soul? — Oscar Wilde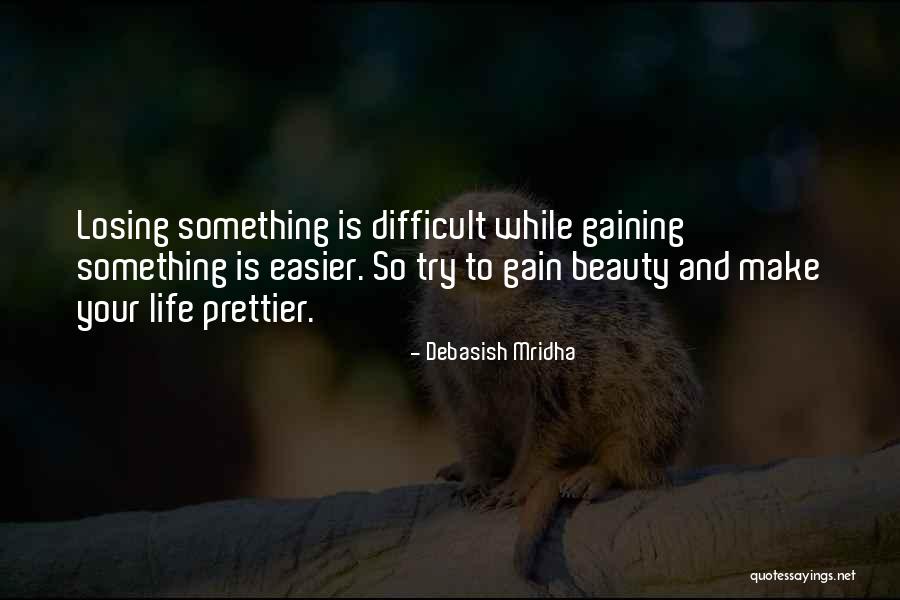 Losing something is difficult while gaining something is easier. So try to gain beauty and make your life prettier. — Debasish Mridha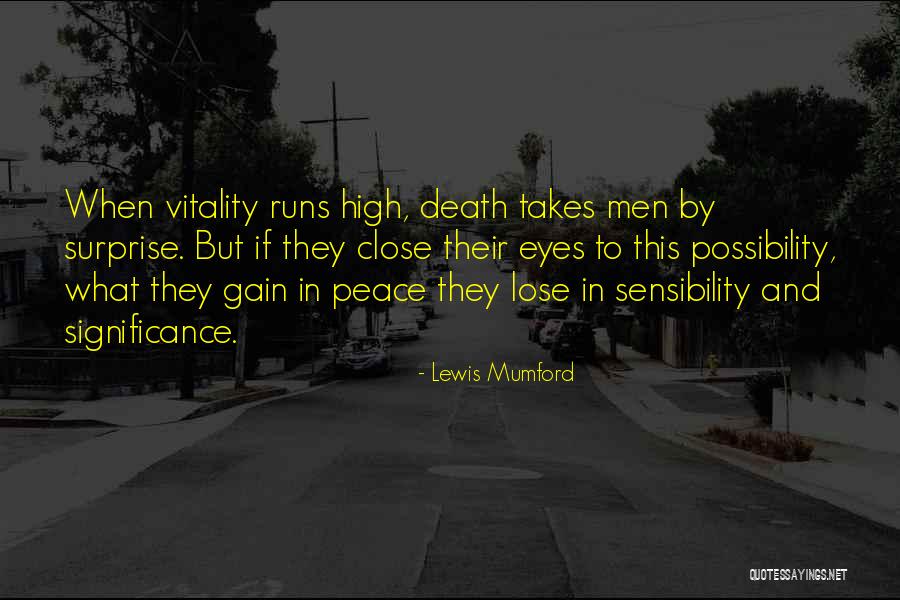 When vitality runs high, death takes men by surprise. But if they close their eyes to this possibility, what they gain in peace they lose in sensibility and significance. — Lewis Mumford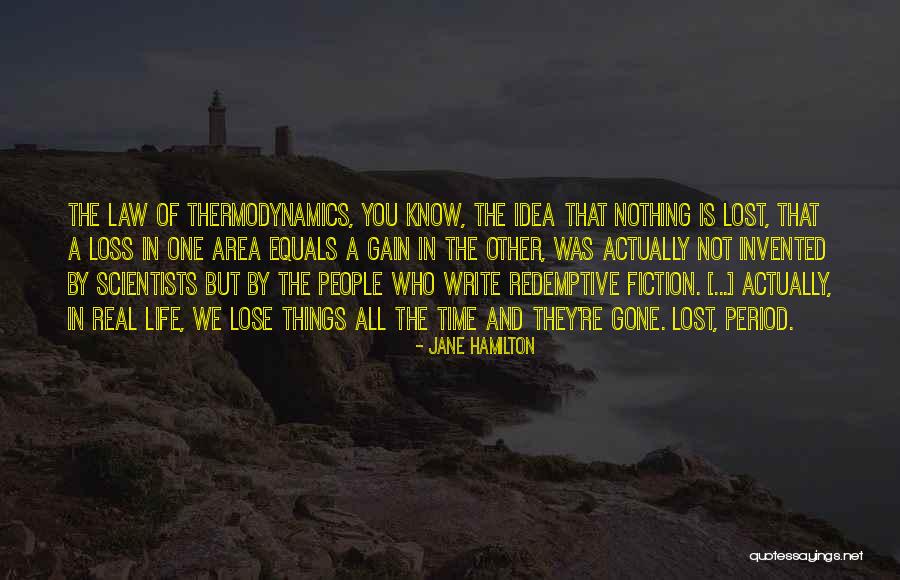 The law of thermodynamics, you know, the idea that nothing is lost, that a loss in one area equals a gain in the other, was actually not invented by scientists but by the people who write redemptive fiction. [...] Actually, in real life, we lose things all the time and they're gone. Lost, period. — Jane Hamilton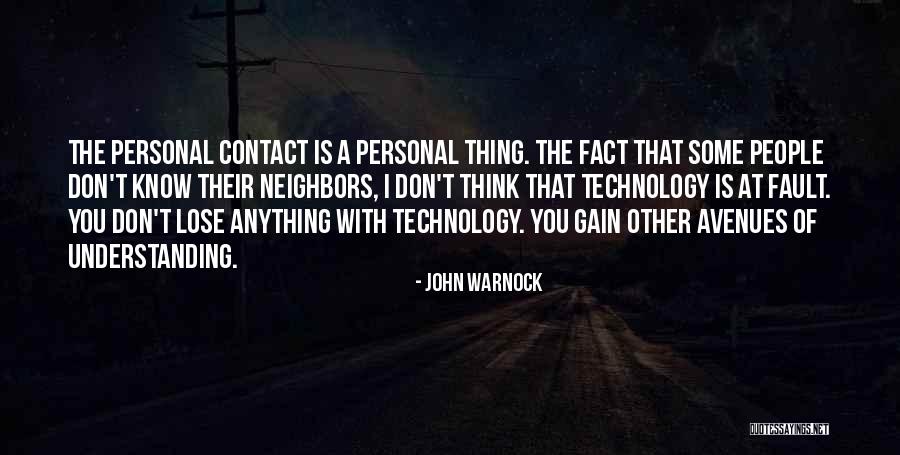 The personal contact is a personal thing. The fact that some people don't know their neighbors, I don't think that technology is at fault. You don't lose anything with technology. You gain other avenues of understanding. — John Warnock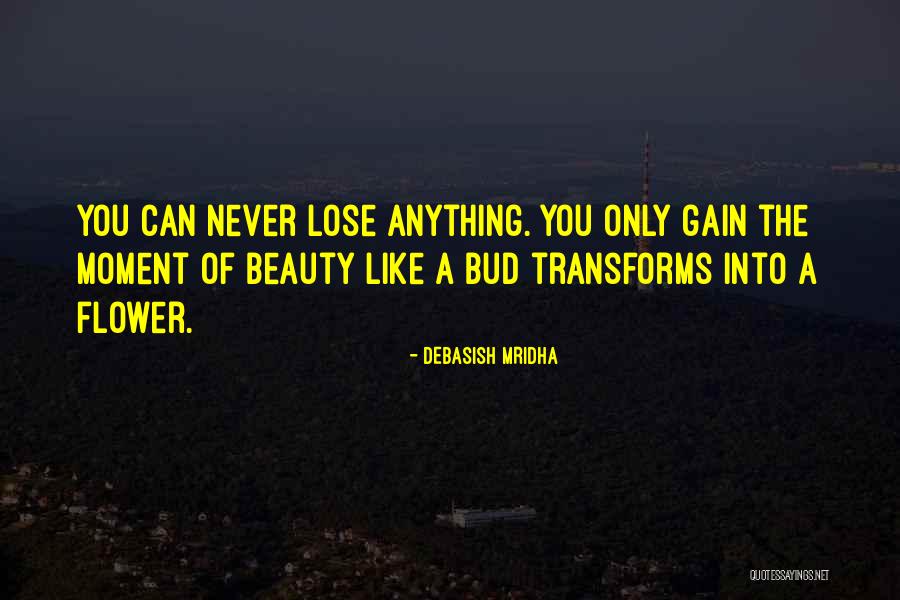 You can never lose anything. You only gain the moment of beauty like a bud transforms into a flower. — Debasish Mridha