Look Into The Sea Quotes & Sayings
Enjoy reading and share 57 famous quotes about Look Into The Sea with everyone.
Top Look Into The Sea Quotes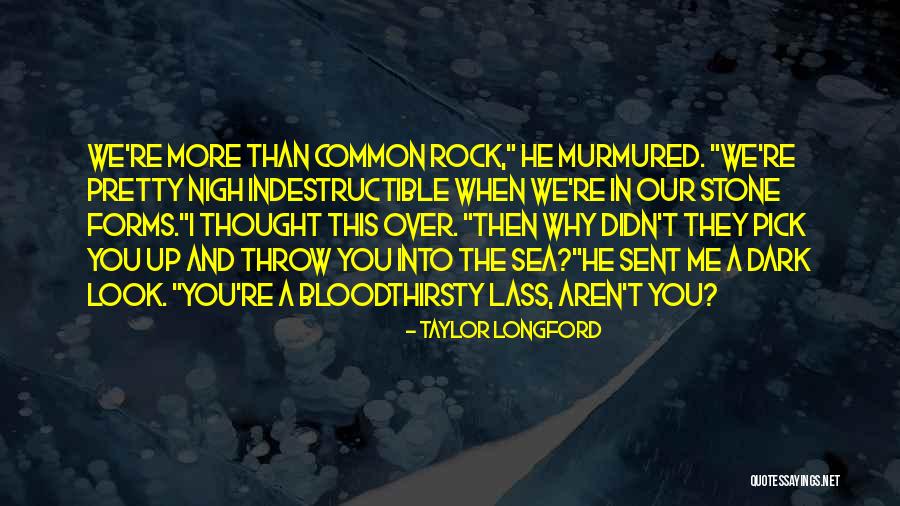 We're more than common rock," he murmured. "We're pretty nigh indestructible when we're in our stone forms."
I thought this over. "Then why didn't they pick you up and throw you into the sea?"
He sent me a dark look. "You're a bloodthirsty lass, aren't you? — Taylor Longford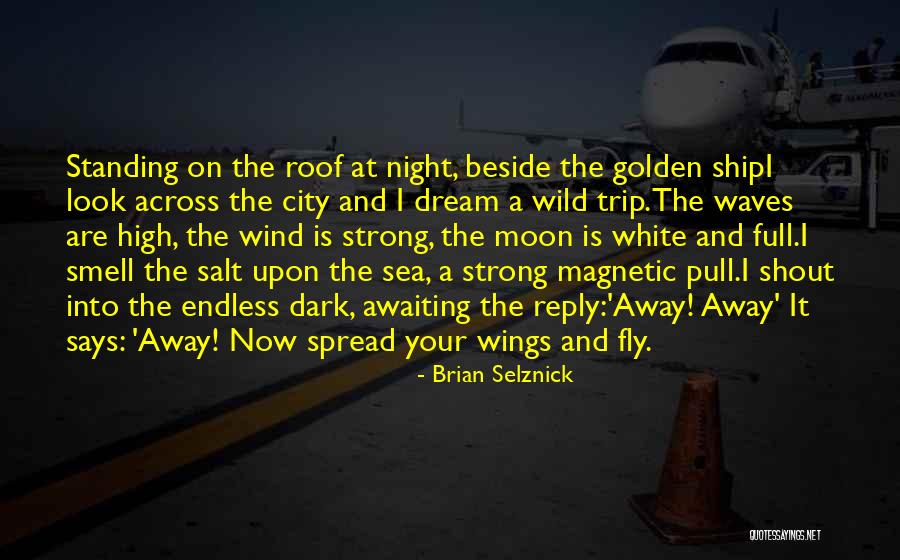 Standing on the roof at night, beside the golden ship
I look across the city and I dream a wild trip.
The waves are high, the wind is strong, the moon is white and full.
I smell the salt upon the sea, a strong magnetic pull.
I shout into the endless dark, awaiting the reply:
'Away! Away' It says: 'Away! Now spread your wings and fly. — Brian Selznick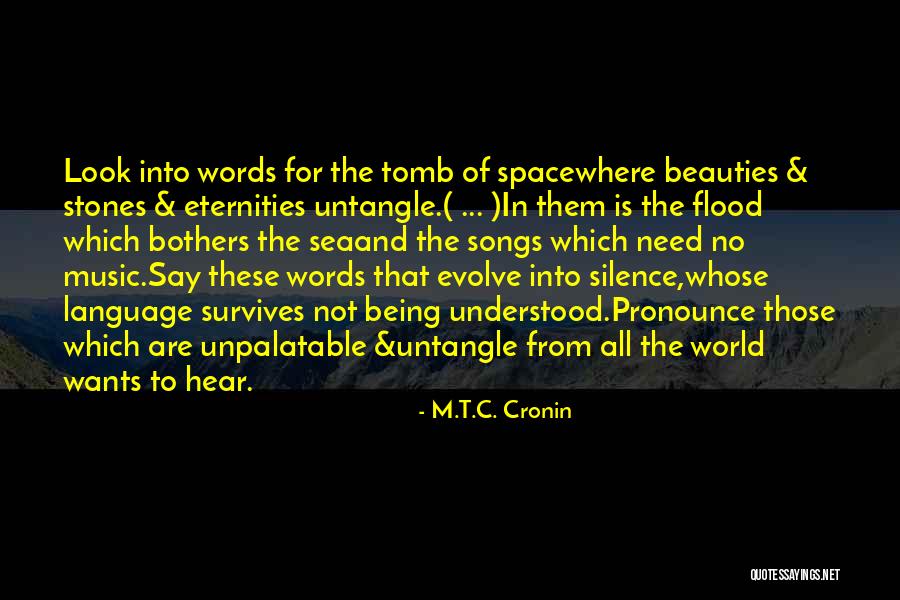 Look into words for the tomb of space
where beauties & stones & eternities untangle.
( ... )
In them is the flood which bothers the sea
and the songs which need no music.
Say these words that evolve into silence,
whose language survives not being understood.
Pronounce those which are unpalatable &
untangle from all the world wants to hear. — M.T.C. Cronin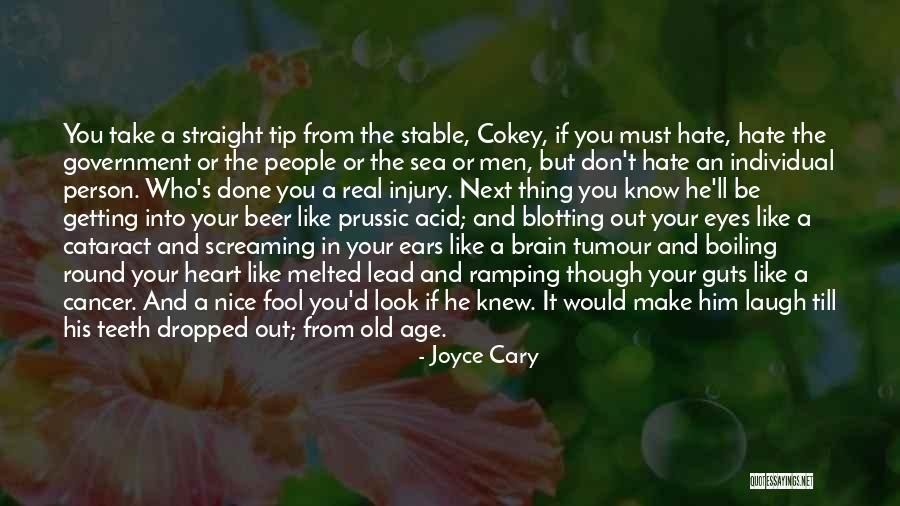 You take a straight tip from the stable, Cokey, if you must hate, hate the government or the people or the sea or men, but don't hate an individual person. Who's done you a real injury. Next thing you know he'll be getting into your beer like prussic acid; and blotting out your eyes like a cataract and screaming in your ears like a brain tumour and boiling round your heart like melted lead and ramping though your guts like a cancer. And a nice fool you'd look if he knew. It would make him laugh till his teeth dropped out; from old age. — Joyce Cary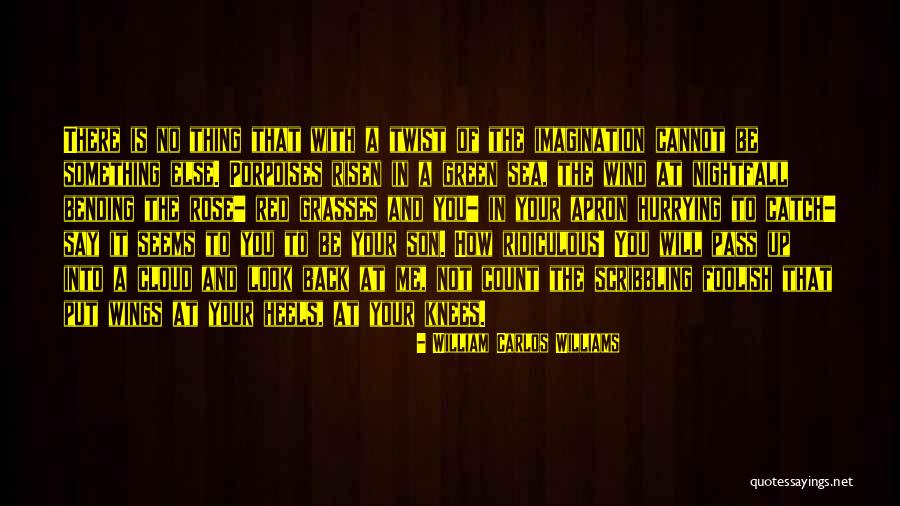 There is no thing that with a twist of the imagination cannot be something else. Porpoises risen in a green sea, the wind at nightfall bending the rose- red grasses and you- in your apron hurrying to catch- say it seems to you to be your son. How ridiculous! You will pass up into a cloud and look back at me, not count the scribbling foolish that put wings at your heels, at your knees. — William Carlos Williams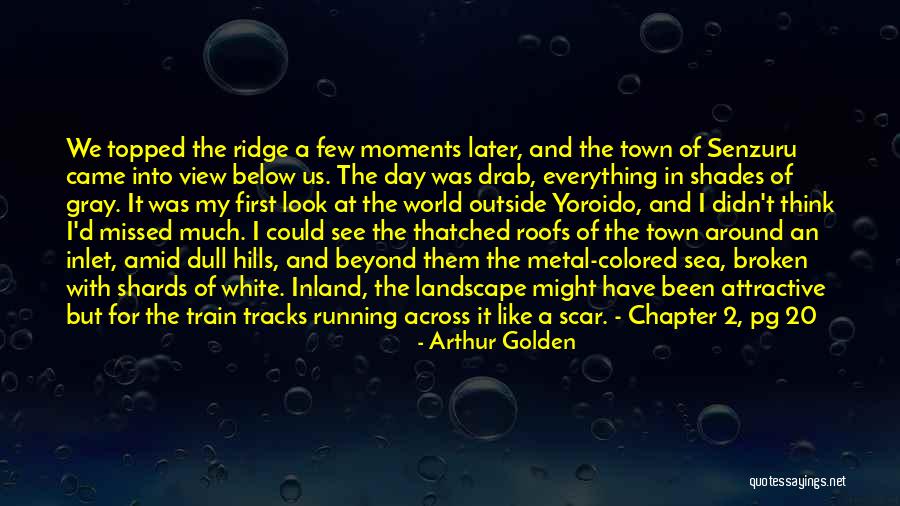 We topped the ridge a few moments later, and the town of Senzuru came into view below us. The day was drab, everything in shades of gray. It was my first look at the world outside Yoroido, and I didn't think I'd missed much. I could see the thatched roofs of the town around an inlet, amid dull hills, and beyond them the metal-colored sea, broken with shards of white. Inland, the landscape might have been attractive but for the train tracks running across it like a scar. - Chapter 2, pg 20 — Arthur Golden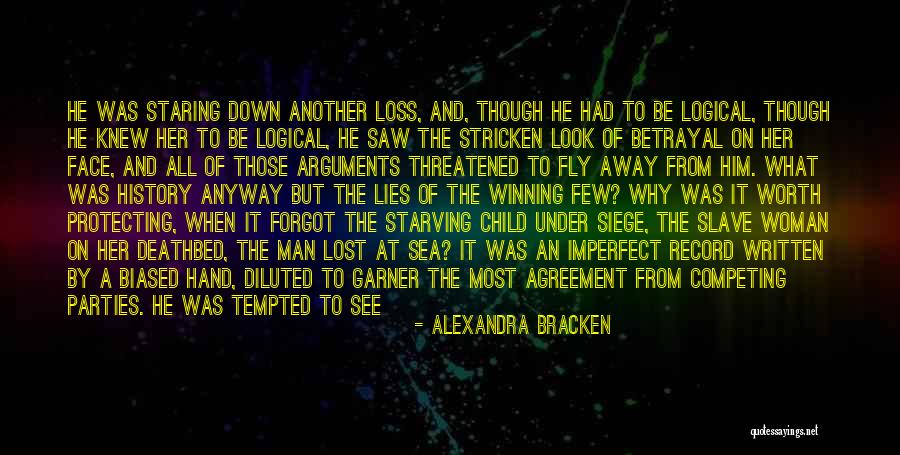 He was staring down another loss, and, though he had to be logical, though he knew her to be logical, he saw the stricken look of betrayal on her face, and all of those arguments threatened to fly away from him. What was history anyway but the lies of the winning few? Why was it worth protecting, when it forgot the starving child under siege, the slave woman on her deathbed, the man lost at sea? It was an imperfect record written by a biased hand, diluted to garner the most agreement from competing parties. He was tempted to see her point, to imagine that she could realign the past and present and future into something beautiful. God, if anyone was capable of it, it would be her. — Alexandra Bracken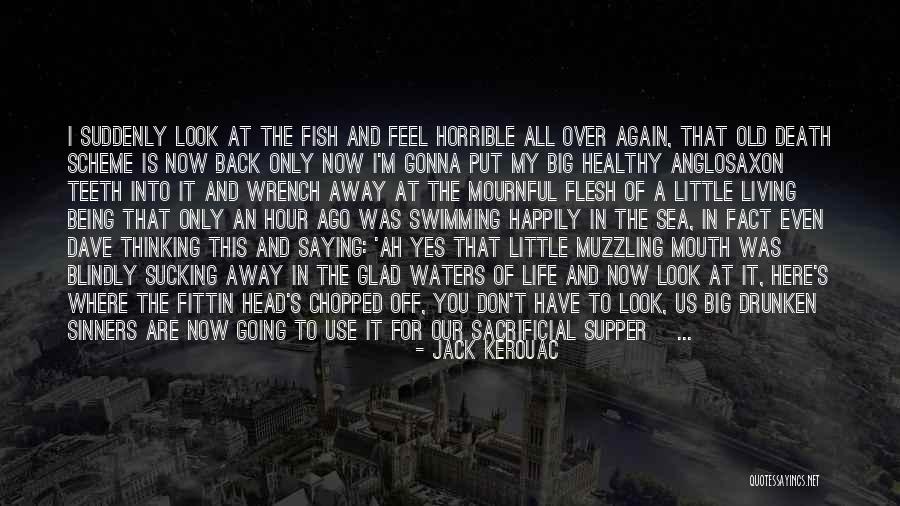 I suddenly look at the fish and feel horrible all over again, that old death scheme is now back only now I'm gonna put my big healthy Anglosaxon teeth into it and wrench away at the mournful flesh of a little living being that only an hour ago was swimming happily in the sea, in fact even Dave thinking this and saying: 'Ah yes that little muzzling mouth was blindly sucking away in the glad waters of life and now look at it, here's where the fittin head's chopped off, you don't have to look, us big drunken sinners are now going to use it for our sacrificial supper[ ... ] — Jack Kerouac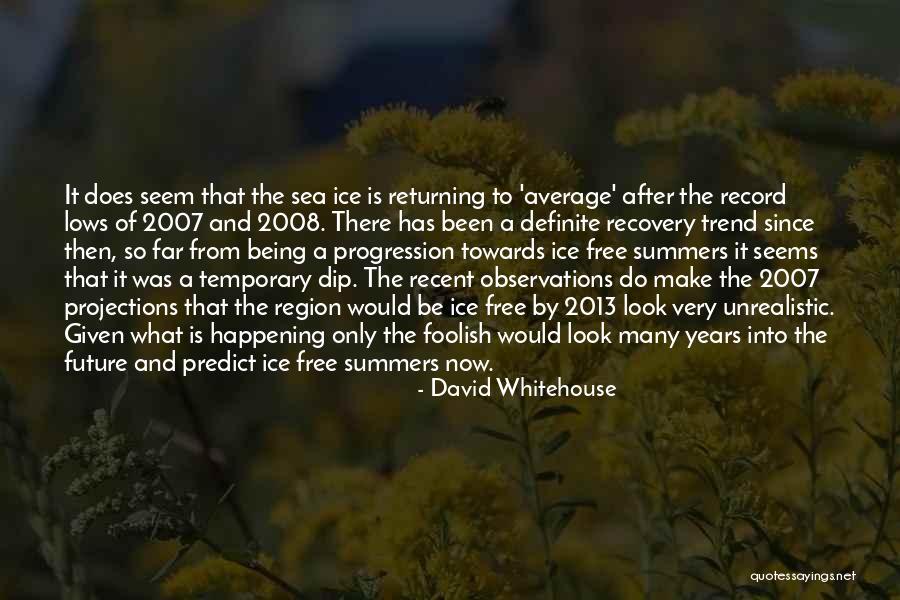 It does seem that the sea ice is returning to 'average' after the record lows of 2007 and 2008. There has been a definite recovery trend since then, so far from being a progression towards ice free summers it seems that it was a temporary dip. The recent observations do make the 2007 projections that the region would be ice free by 2013 look very unrealistic. Given what is happening only the foolish would look many years into the future and predict ice free summers now. — David Whitehouse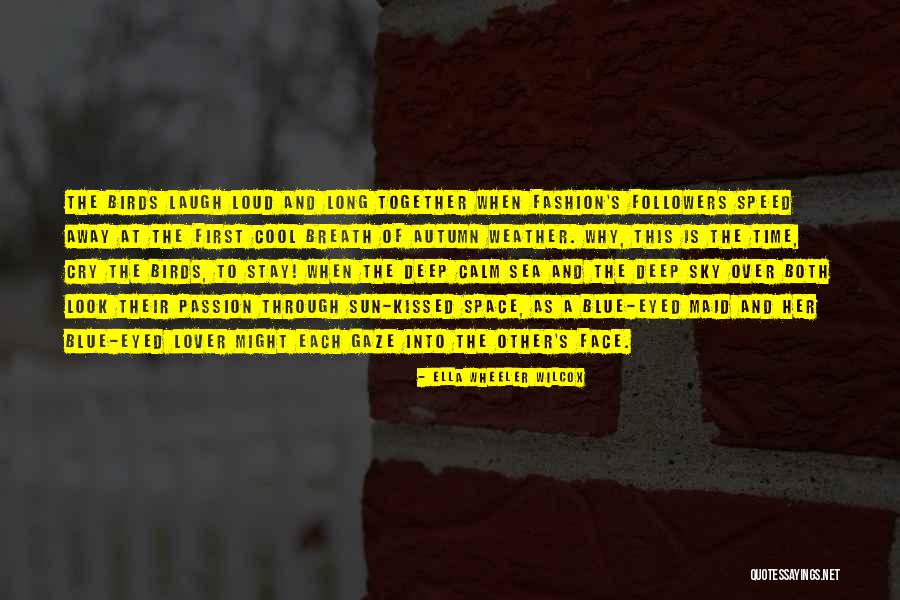 The birds laugh loud and long together When Fashion's followers speed away At the first cool breath of autumn weather. Why, this is the time, cry the birds, to stay! When the deep calm sea and the deep sky over Both look their passion through sun-kissed space, As a blue-eyed maid and her blue-eyed lover Might each gaze into the other's face. — Ella Wheeler Wilcox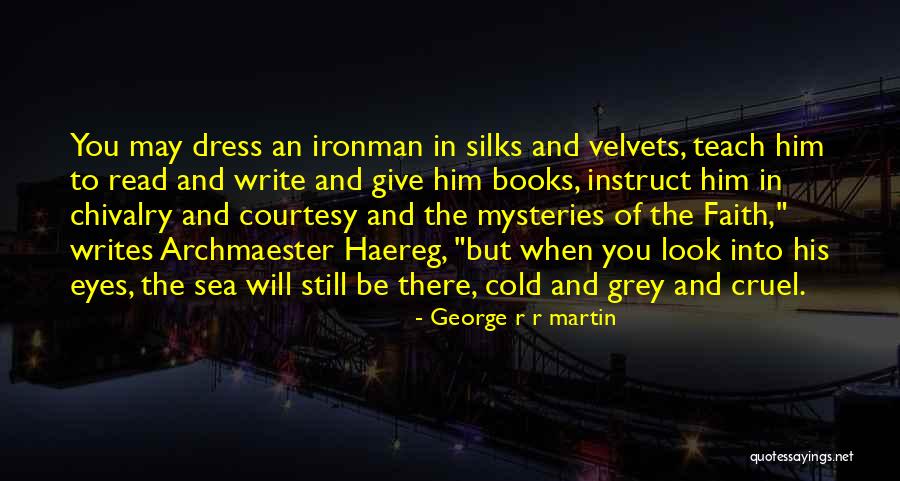 You may dress an ironman in silks and velvets, teach him to read and write and give him books, instruct him in chivalry and courtesy and the mysteries of the Faith," writes Archmaester Haereg, "but when you look into his eyes, the sea will still be there, cold and grey and cruel. — George R R Martin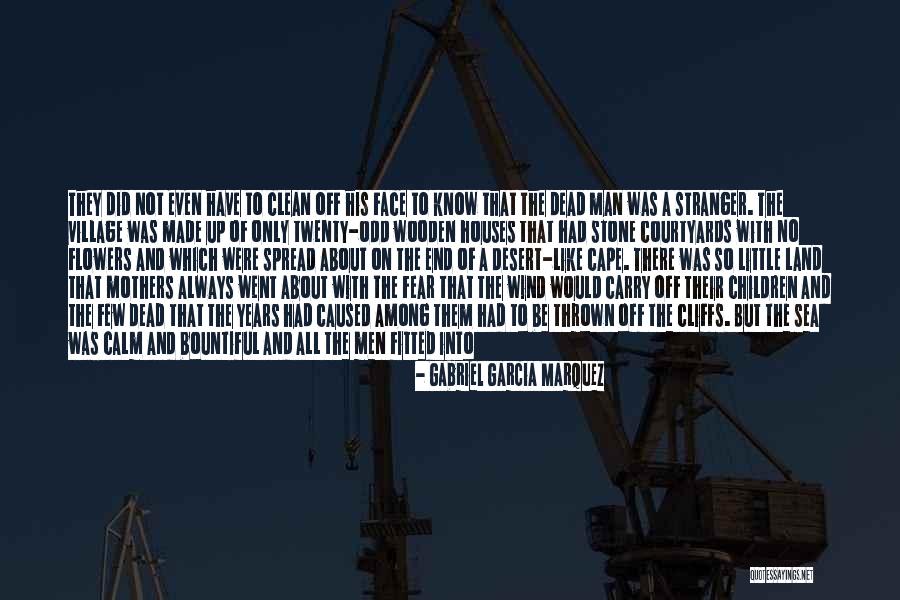 They did not even have to clean off his face to know that the dead man was a stranger. The village was made up of only twenty-odd wooden houses that had stone courtyards with no flowers and which were spread about on the end of a desert-like cape. There was so little land that mothers always went about with the fear that the wind would carry off their children and the few dead that the years had caused among them had to be thrown off the cliffs. But the sea was calm and bountiful and all the men fitted into seven boats. So when they found the drowned man they simply had to look at one another to see that they were all there. — Gabriel Garcia Marquez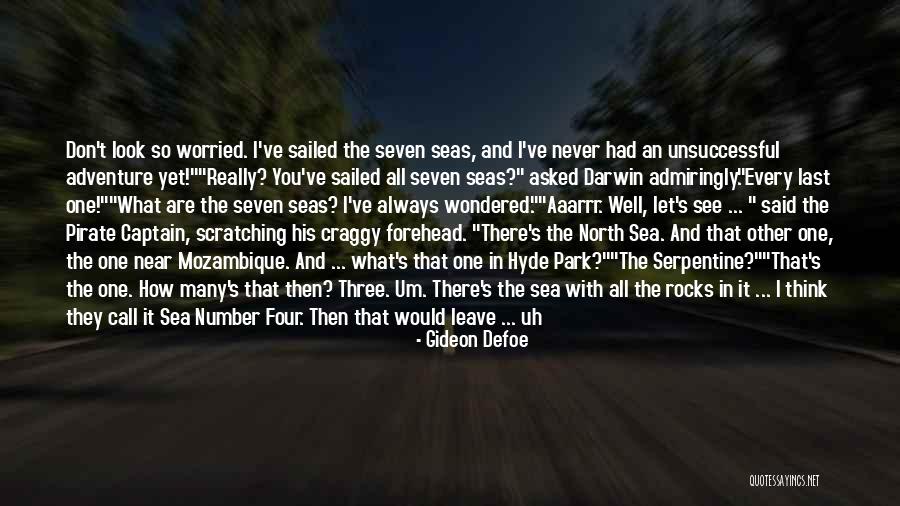 Don't look so worried. I've sailed the seven seas, and I've never had an unsuccessful adventure yet!"
"Really? You've sailed all seven seas?" asked Darwin admiringly.
"Every last one!"
"What are the seven seas? I've always wondered."
"Aaarrr. Well, let's see ... " said the Pirate Captain, scratching his craggy forehead. "There's the North Sea. And that other one, the one near Mozambique. And ... what's that one in Hyde Park?"
"The Serpentine?"
"That's the one. How many's that then? Three. Um. There's the sea with all the rocks in it ... I think they call it Sea Number Four. Then that would leave ... uh ... Grumpy and Sneezy ... "
Darwin was starting to look a little less impressed.
"Would you look at that big seagull!" said the Pirate Captain, quickly ducking into a beach hut. — Gideon Defoe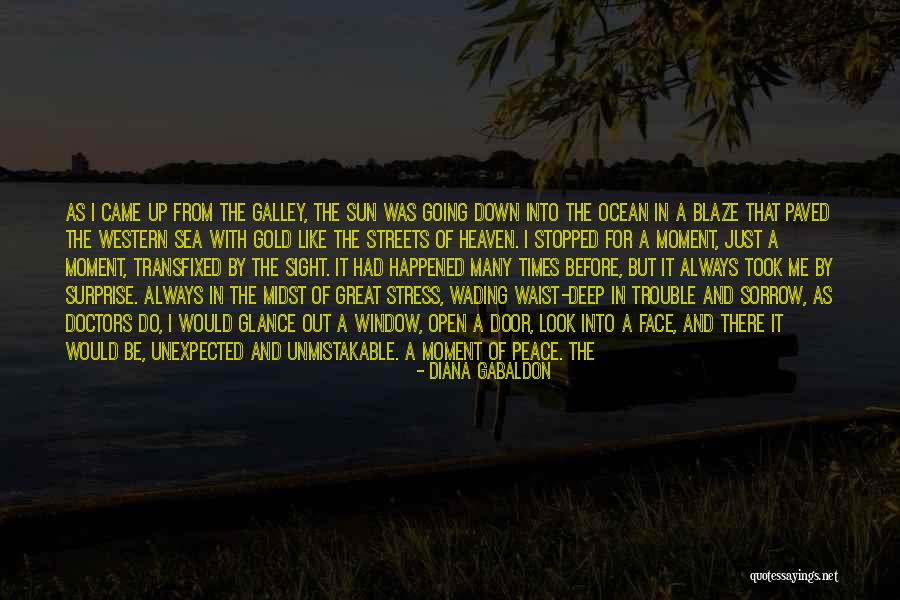 As I came up from the galley, the sun was going down into the ocean in a blaze that paved the western sea with gold like the streets of Heaven. I stopped for a moment, just a moment, transfixed by the sight. It had happened many times before, but it always took me by surprise. Always in the midst of great stress, wading waist-deep in trouble and sorrow, as doctors do, I would glance out a window, open a door, look into a face, and there it would be, unexpected and unmistakable. A moment of peace. The — Diana Gabaldon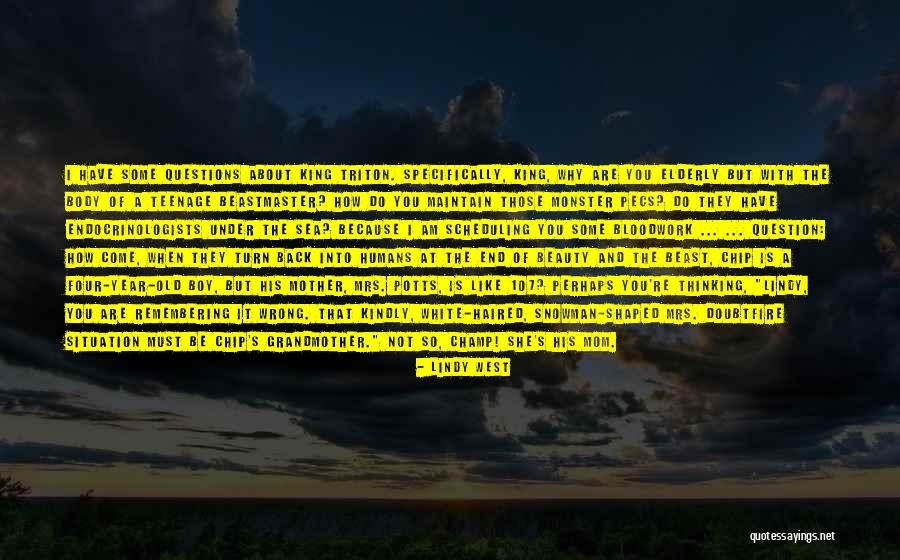 I HAVE SOME QUESTIONS ABOUT KING TRITON. Specifically, King, why are you elderly but with the body of a teenage Beastmaster? How do you maintain those monster pecs? Do they have endocrinologists under the sea? Because I am scheduling you some bloodwork ...
... Question: How come, when they turn back into humans at the end of Beauty and the Beast, Chip is a four-year-old boy, but his mother, Mrs. Potts, is like 107? Perhaps you're thinking, "Lindy, you are remembering it wrong. That kindly, white-haired, snowman-shaped Mrs. Doubtfire situation must be Chip's grandmother." Not so, champ! She's his mom. Look it up. She gave birth to him four years ago ... As soon as you become a mother, apparently, you are instantly interchangeable with the oldest woman in the world, and / or sixteen ounces of boiling brown water with a hat on it. Take a sec and contrast Mrs. Pott's literally spherical body with the cut-diamond abs of King Triton, father of seven. — Lindy West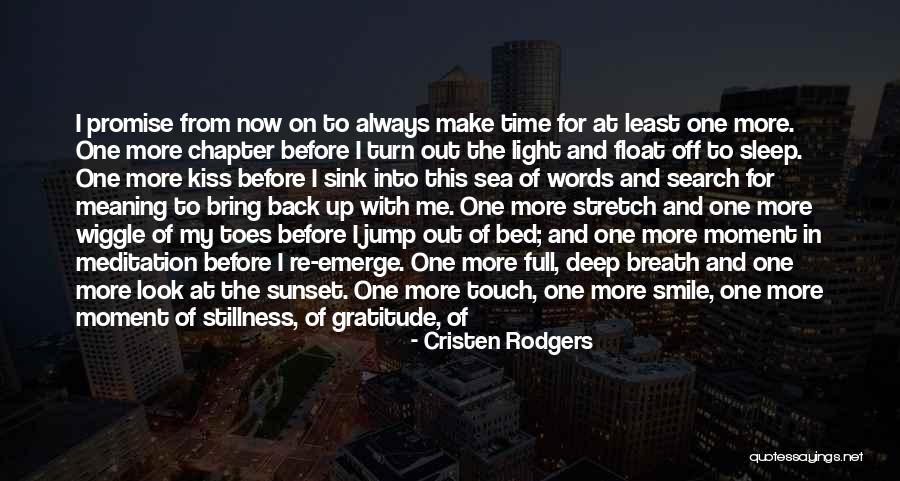 I promise from now on to always make time for at least one more. One more chapter before I turn out the light and float off to sleep. One more kiss before I sink into this sea of words and search for meaning to bring back up with me. One more stretch and one more wiggle of my toes before I jump out of bed; and one more moment in meditation before I re-emerge. One more full, deep breath and one more look at the sunset. One more touch, one more smile, one more moment of stillness, of gratitude, of simplicity, of love. From now on, I'll always make room for one more because you never know when one more is all you'll ever have. — Cristen Rodgers
How soon, indeed, are human things forgotten! As we meet here this morning, the Southern sun is shining on their place of burial, and the waves sparkling and the sea-gulls circling around Fort Wagner's ancient site. But the great earthworks and their thundering cannon, the commanders and their followers, the wild assault and repulse that for a brief space made night hideous on that far-off evening, have all sunk into the blue gulf of the past, and for the majority of this generation are hardly more than an abstract name, a picture, a tale that is told. Only when some yellow-bleached photograph of a soldier of the 'sixties comes into our hands, with that odd and vivid look of individuality due to the moment when it was taken, do we realize the concreteness of that by-gone history, and feel how interminable to the actors in them were those leaden-footed hours and years. — William James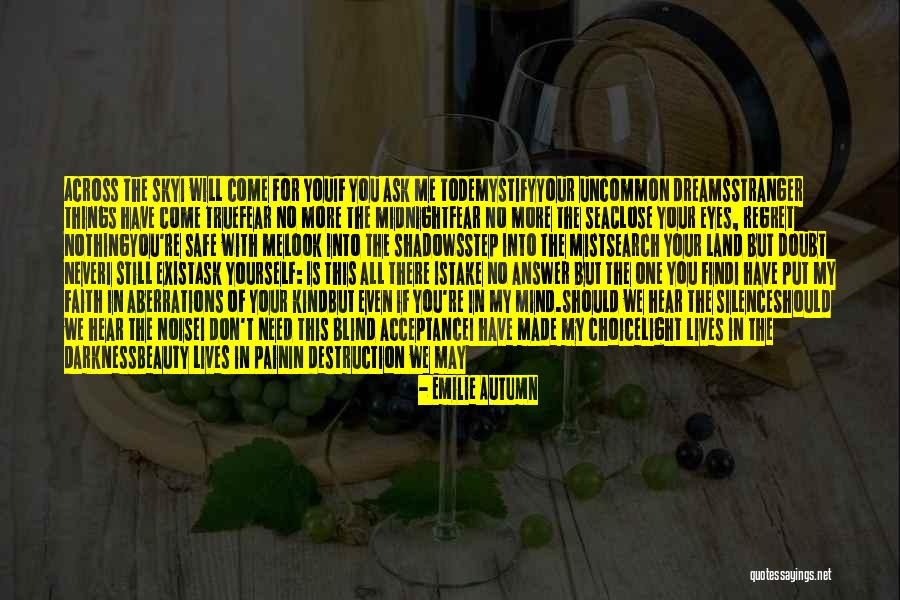 Across the sky
I will come for you
If you ask me to
Demystify
Your uncommon dreams
Stranger things have come true
Fear no more the midnight
Fear no more the sea
Close your eyes, regret nothing
You're safe with me
Look into the shadows
Step into the mist
Search your land but doubt never
I still exist
Ask yourself: is this all there is
Take no answer but the one you find
I have put my faith in aberrations of your kind
But even if you're in my mind.
Should we hear the silence
Should we hear the noise
I don't need this blind acceptance
I have made my choice
Light lives in the darkness
Beauty lives in pain
In destruction we may lose ourselves
But still I will remain
Across the sky
Across the sky
See beyond the moment
Think beyond the day
Hear the word
Hear the word — Emilie Autumn
He was drowned, he used to say, and lying on a cliff with gulls screaming over him. He would look over the edge of the sofa down into the sea. Or he was hearing music ... But "Lovely!" he used to cry and the tears would run down his cheeks, which was to her the most dreadful thing of all, to see a man like Septimus, who had fought, who was brave, crying. And he would lie listening until suddenly he would cry that he was falling down, down into the flames! — Virginia Woolf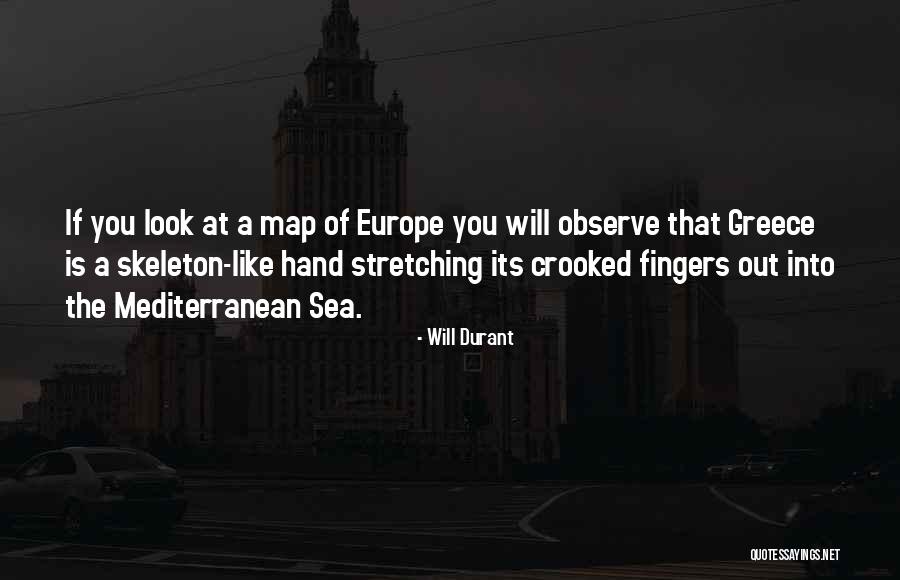 If you look at a map of Europe you will observe that Greece is a skeleton-like hand stretching its crooked fingers out into the Mediterranean Sea. — Will Durant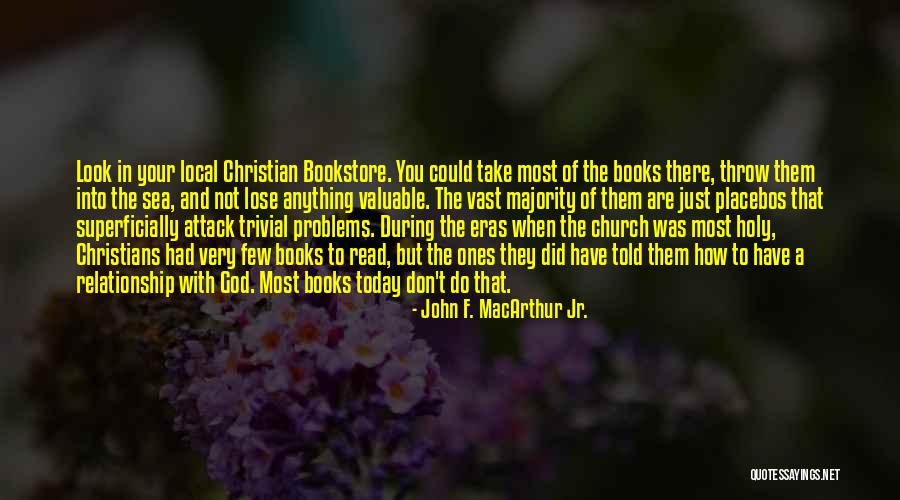 Look in your local Christian Bookstore. You could take most of the books there, throw them into the sea, and not lose anything valuable. The vast majority of them are just placebos that superficially attack trivial problems. During the eras when the church was most holy, Christians had very few books to read, but the ones they did have told them how to have a relationship with God. Most books today don't do that. — John F. MacArthur Jr.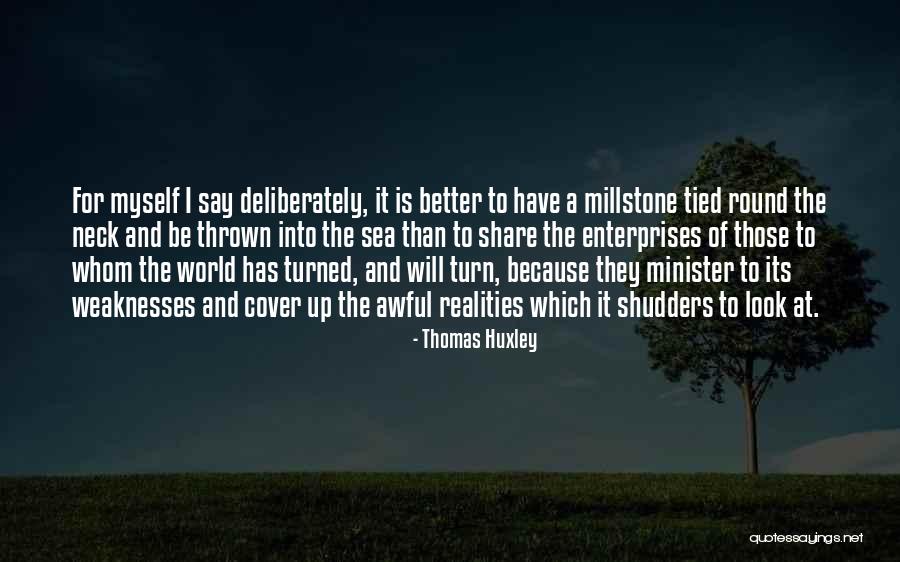 For myself I say deliberately, it is better to have a millstone tied round the neck and be thrown into the sea than to share the enterprises of those to whom the world has turned, and will turn, because they minister to its weaknesses and cover up the awful realities which it shudders to look at. — Thomas Huxley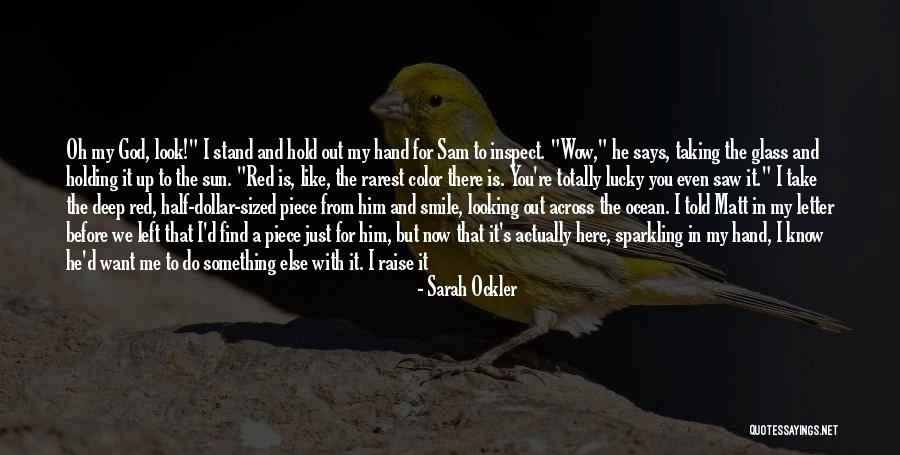 Oh my God, look!"
I stand and hold out my hand for Sam to inspect.
"Wow," he says, taking the glass and holding it up to the sun. "Red is, like, the rarest color there is.
You're totally lucky you even saw it."
I take the deep red, half-dollar-sized piece from him and smile, looking out across the ocean. I told Matt in my letter before we left that I'd find a piece just for him, but now that it's actually here, sparkling in my hand, I know he'd want me to do something else with it.
I raise it above my head and throw it as hard and as far as I can into the sea.
Let someone else have a lucky day, Anna.
Sam laughs. "Hey, crazy, what'd you do that for? You'll probably never see something like that again in your entire life."
"Right. But I did see it. And now someone else can, too. — Sarah Ockler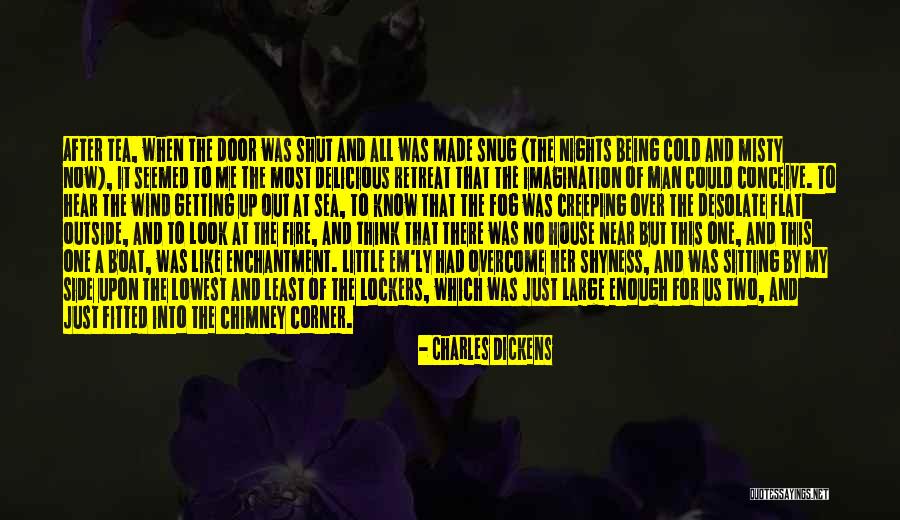 After tea, when the door was shut and all was made snug (the nights being cold and misty now), it seemed to me the most delicious retreat that the imagination of man could conceive. To hear the wind getting up out at sea, to know that the fog was creeping over the desolate flat outside, and to look at the fire, and think that there was no house near but this one, and this one a boat, was like enchantment. Little Em'ly had overcome her shyness, and was sitting by my side upon the lowest and least of the lockers, which was just large enough for us two, and just fitted into the chimney corner. — Charles Dickens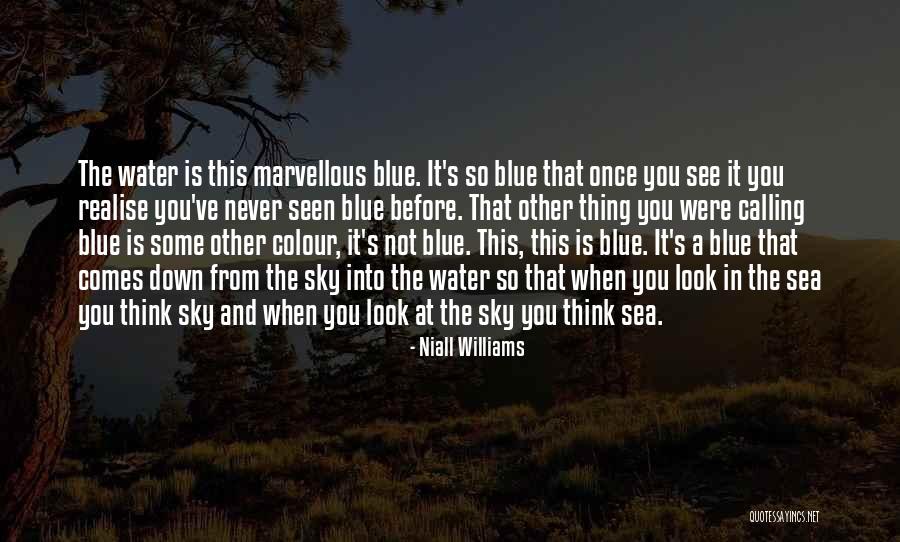 The water is this marvellous blue. It's so blue that once you see it you realise you've never seen blue before. That other thing you were calling blue is some other colour, it's not blue. This, this is blue. It's a blue that comes down from the sky into the water so that when you look in the sea you think sky and when you look at the sky you think sea. — Niall Williams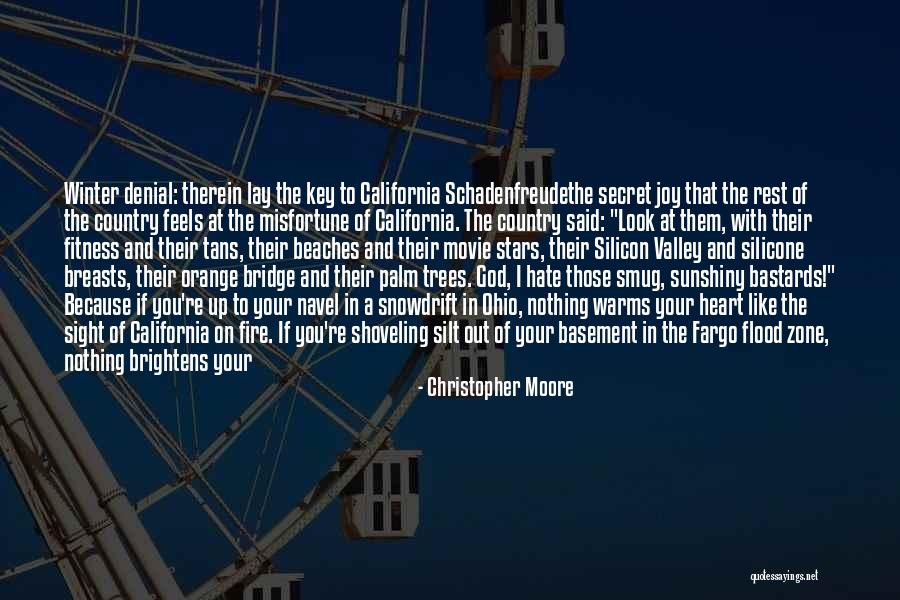 Winter denial: therein lay the key to California Schadenfreude
the secret joy that the rest of the country feels at the misfortune of California. The country said: "Look at them, with their fitness and their tans, their beaches and their movie stars, their Silicon Valley and silicone breasts, their orange bridge and their palm trees. God, I hate those smug, sunshiny bastards!" Because if you're up to your navel in a snowdrift in Ohio, nothing warms your heart like the sight of California on fire. If you're shoveling silt out of your basement in the Fargo flood zone, nothing brightens your day like watching a Malibu mansion tumbling down a cliff into the sea. And if a tornado just peppered the land around your Oklahoma town with random trailer trash and redneck nuggets, then you can find a quantum of solace in the fact that the earth actually opened up in the San Fernando Valley and swallowed a whole caravan of commuting SUVs. — Christopher Moore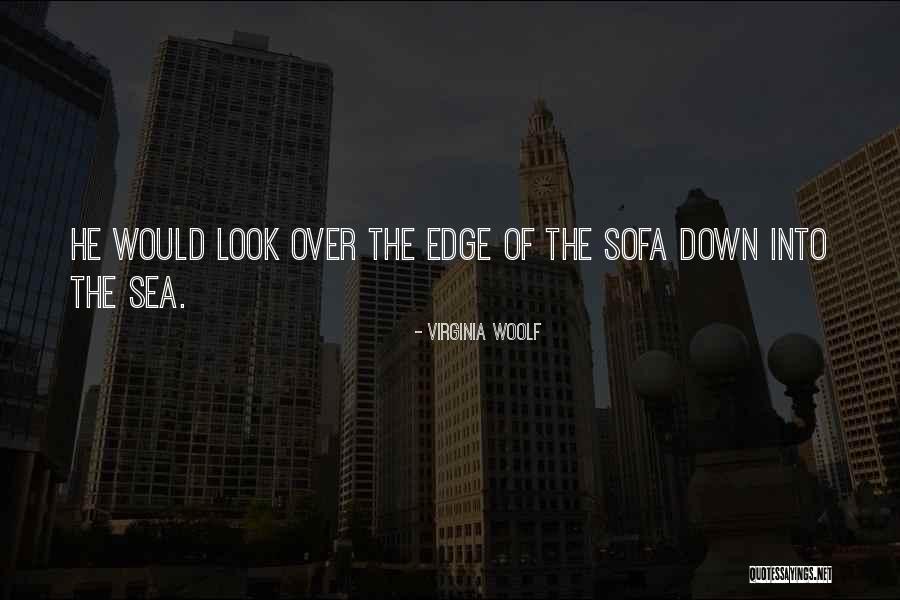 He would look over the edge of the sofa down into the sea. — Virginia Woolf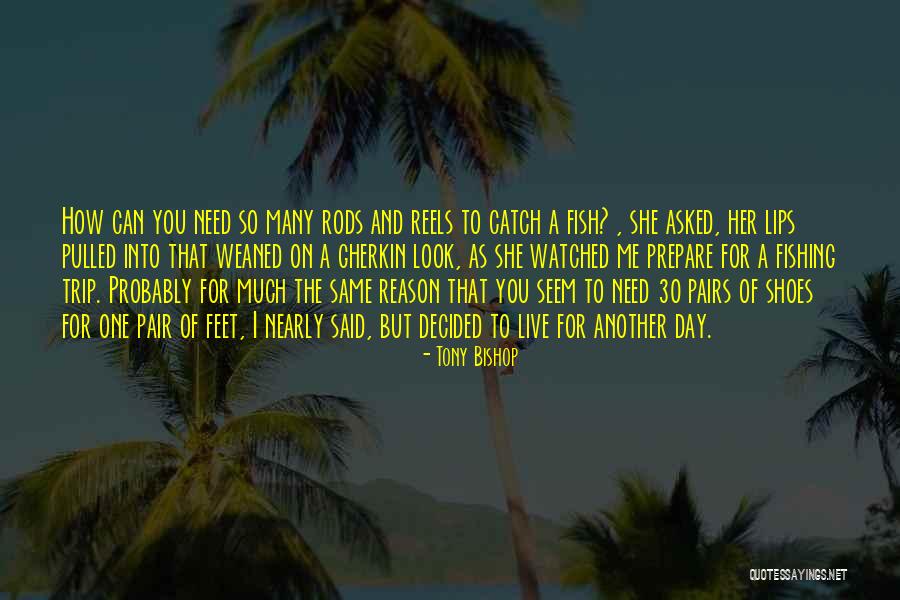 How can you need so many rods and reels to catch a fish? , she asked, her lips pulled into that weaned on a gherkin look, as she watched me prepare for a fishing trip. Probably for much the same reason that you seem to need 30 pairs of shoes for one pair of feet, I nearly said, but decided to live for another day. — Tony Bishop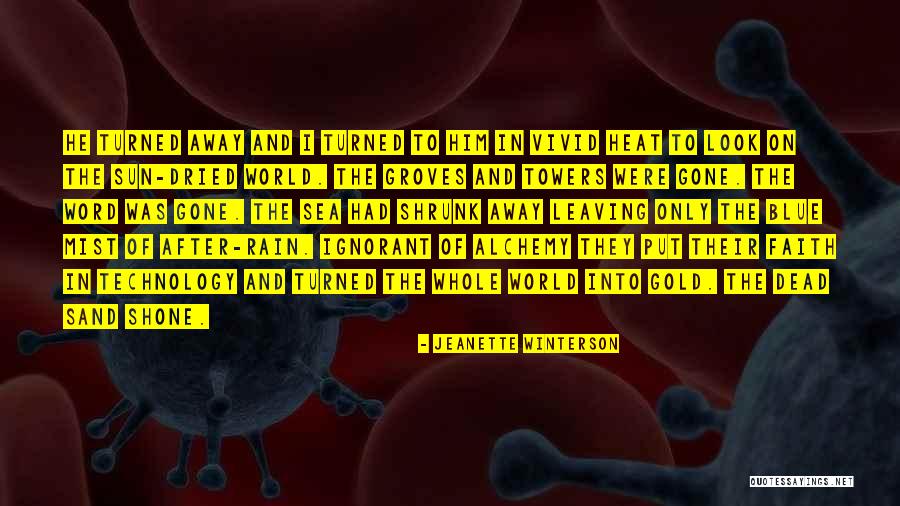 He turned away and I turned to him in vivid heat to look on the sun-dried world. The groves and towers were gone. The Word was gone. The sea had shrunk away leaving only the blue mist of after-rain. Ignorant of alchemy they put their faith in technology and turned the whole world into gold. The dead sand shone. — Jeanette Winterson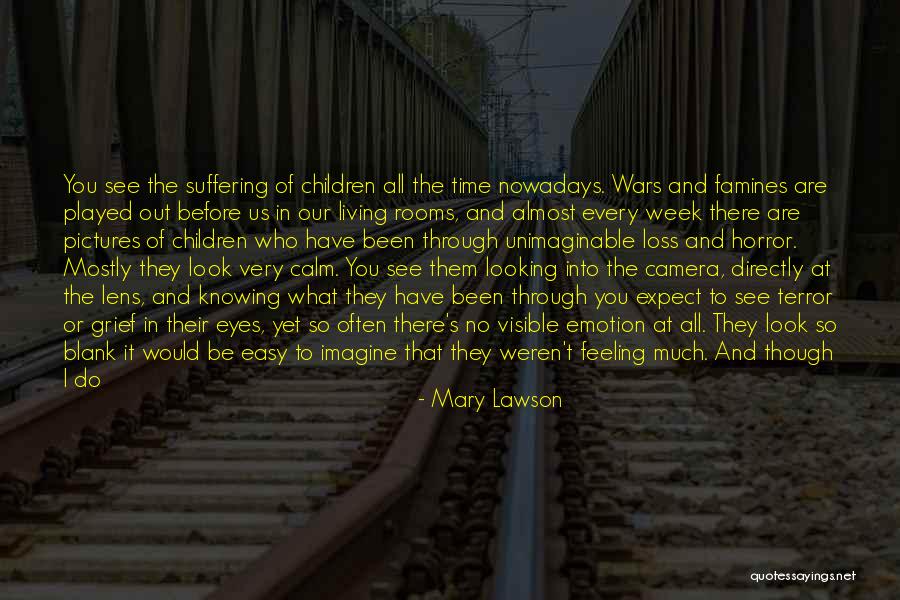 You see the suffering of children all the time nowadays. Wars and famines are played out before us in our living rooms, and almost every week there are pictures of children who have been through unimaginable loss and horror. Mostly they look very calm. You see them looking into the camera, directly at the lens, and knowing what they have been through you expect to see terror or grief in their eyes, yet so often there's no visible emotion at all. They look so blank it would be easy to imagine that they weren't feeling much.
And though I do not for a moment equate what I went through with the suffering of those children, I do remember feeling as they look. I remember Matt talking to me
others as well, but mostly Matt
and I remember the enormous effort required even to hear what he said. I was so swamped by unmanageable emotions that I couldn't feel a thing. It was like being at the bottom of the sea. — Mary Lawson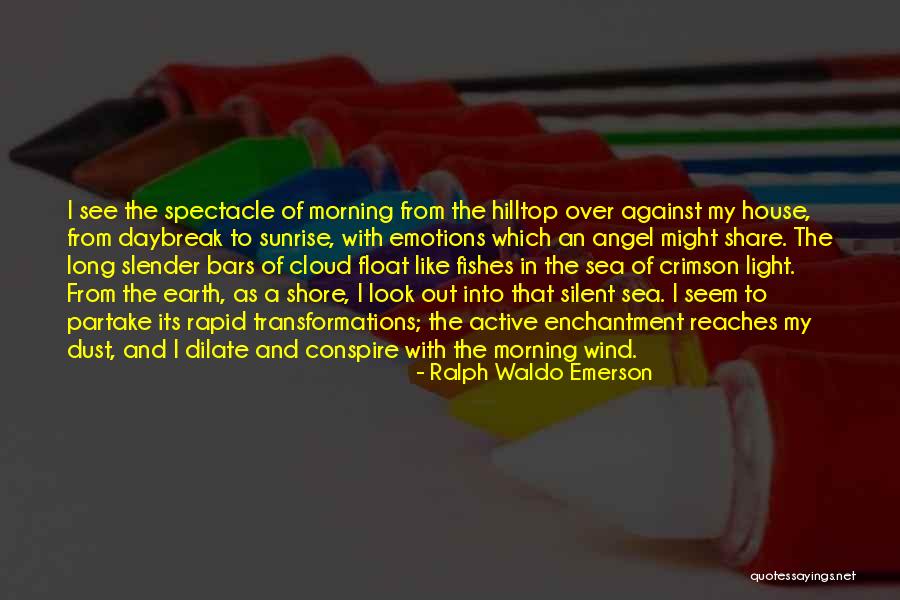 I see the spectacle of morning from the hilltop over against my house, from daybreak to sunrise, with emotions which an angel might share. The long slender bars of cloud float like fishes in the sea of crimson light. From the earth, as a shore, I look out into that silent sea. I seem to partake its rapid transformations; the active enchantment reaches my dust, and I dilate and conspire with the morning wind. — Ralph Waldo Emerson
How do you think I'd look on one of these temples?"
Etta laughed. "How would I look?"
"I couldn't bare the thought of even your face here, left alone, for only the jungle to admire." He shook his head. "Never. I'd never allow it. The only thing is to hire an artist to turn you into a figurehead for a ship, so some part of you will always be venturing out to sea where you belong. — Alexandra Bracken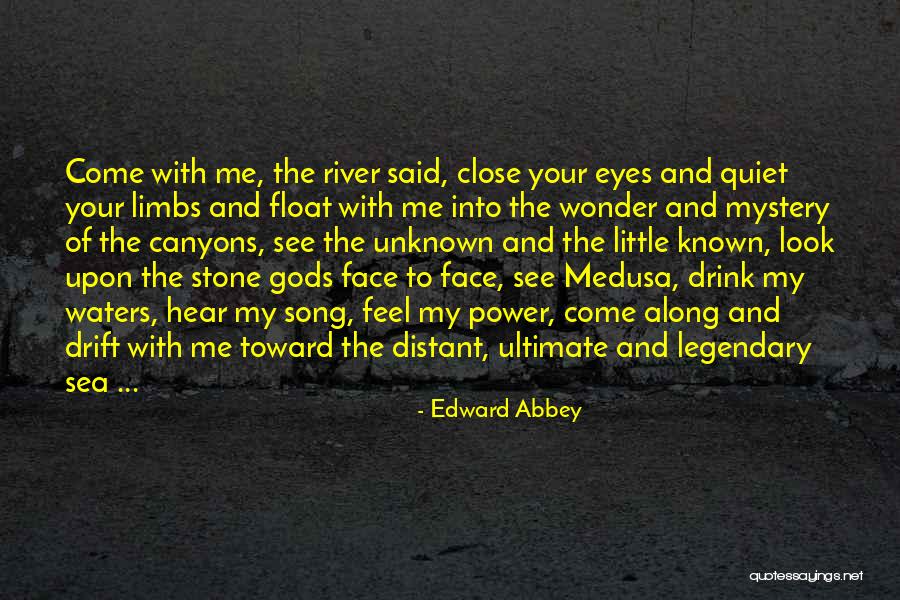 Come with me, the river said, close your eyes and quiet your limbs and float with me into the wonder and mystery of the canyons, see the unknown and the little known, look upon the stone gods face to face, see Medusa, drink my waters, hear my song, feel my power, come along and drift with me toward the distant, ultimate and legendary sea ... — Edward Abbey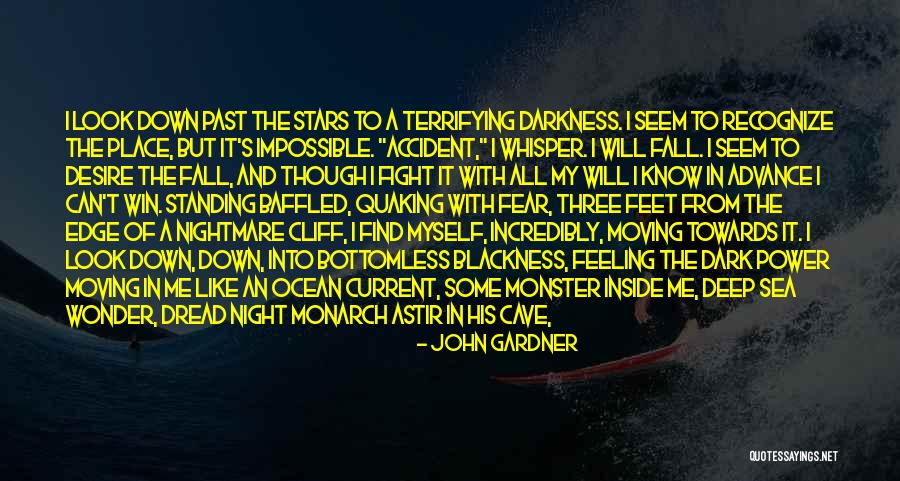 I look down past the stars to a terrifying darkness. I seem to recognize the place, but it's impossible. "Accident," I whisper. I will fall. I seem to desire the fall, and though I fight it with all my will I know in advance I can't win. Standing baffled, quaking with fear, three feet from the edge of a nightmare cliff, I find myself, incredibly, moving towards it. I look down, down, into bottomless blackness, feeling the dark power moving in me like an ocean current, some monster inside me, deep sea wonder, dread night monarch astir in his cave, moving me slowly to my voluntary tumble into death. — John Gardner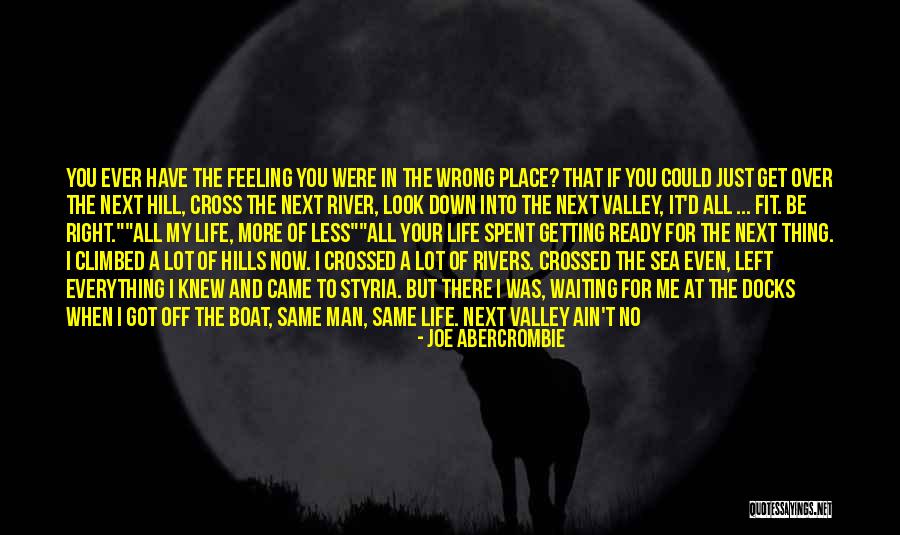 You ever have the feeling you were in the wrong place? That if you could just get over the next hill, cross the next river, look down into the next valley, it'd all ... fit. Be right."
"All my life, more of less"
"All your life spent getting ready for the next thing. I climbed a lot of hills now. I crossed a lot of rivers. Crossed the sea even, left everything I knew and came to Styria. But there I was, waiting for me at the docks when I got off the boat, same man, same life. Next valley ain't no different from this one. No better anyway. Reckon I've learned ... just to stick in the place I'm at. Just to be the man I am. — Joe Abercrombie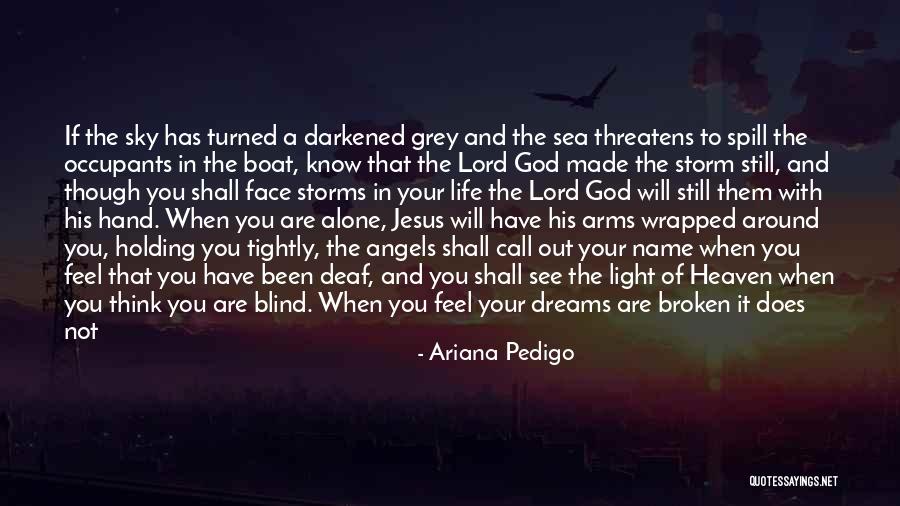 If the sky has turned a darkened grey and the sea threatens to spill the occupants in the boat, know that the Lord God made the storm still, and though you shall face storms in your life the Lord God will still them with his hand. When you are alone, Jesus will have his arms wrapped around you, holding you tightly, the angels shall call out your name when you feel that you have been deaf, and you shall see the light of Heaven when you think you are blind. When you feel your dreams are broken it does not do well to cast yourself into misery but look at the brighter side of life, and see all the Lord has blessed you with! — Ariana Pedigo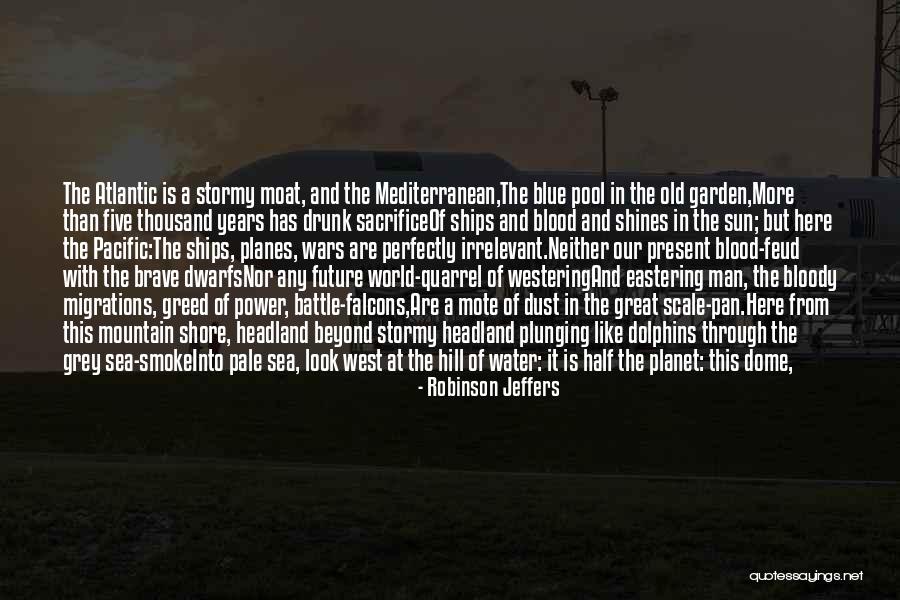 The Atlantic is a stormy moat, and the Mediterranean,
The blue pool in the old garden,
More than five thousand years has drunk sacrifice
Of ships and blood and shines in the sun; but here the Pacific:
The ships, planes, wars are perfectly irrelevant.
Neither our present blood-feud with the brave dwarfs
Nor any future world-quarrel of westering
And eastering man, the bloody migrations, greed of power, battle-falcons,
Are a mote of dust in the great scale-pan.
Here from this mountain shore, headland beyond stormy headland plunging like
dolphins through the grey sea-smoke
Into pale sea, look west at the hill of water: it is half the planet: this
dome, this half-globe, this bulging
Eyeball of water, arched over to Asia,
Australia and white Antarctica: those are the eyelids that never close; this
is the staring unsleeping
Eye of the earth, and what it watches is not our wars. — Robinson Jeffers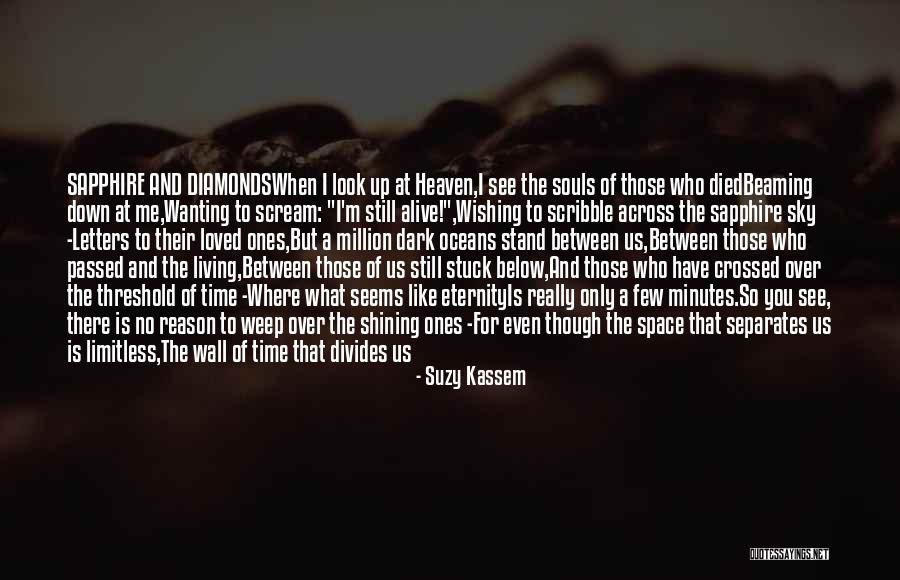 SAPPHIRE AND DIAMONDS

When I look up at Heaven,
I see the souls of those who died
Beaming down at me,
Wanting to scream: "I'm still alive!",
Wishing to scribble across the sapphire sky -
Letters to their loved ones,
But a million dark oceans stand between us,
Between those who passed and the living,
Between those of us still stuck below,
And those who have crossed over the threshold of time -
Where what seems like eternity
Is really only a few minutes.
So you see, there is no reason to weep over the shining ones -
For even though the space that separates us is limitless,
The wall of time that divides us is only paper-thin.
And one day, we shall all reunite with them,
When our souls are released like fish
Back into the vast shimmering sea
To shine together like
Glittering diamonds. — Suzy Kassem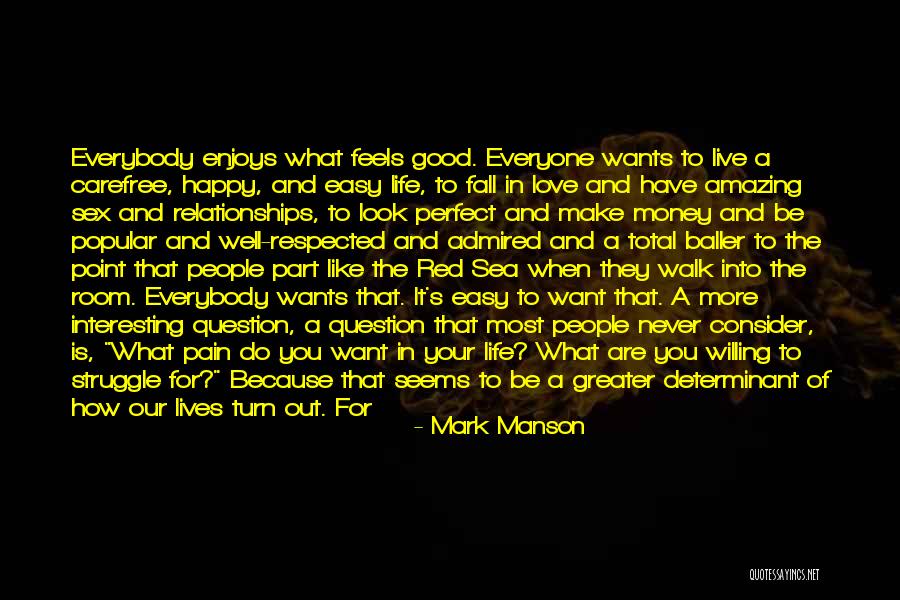 Everybody enjoys what feels good. Everyone wants to live a carefree, happy, and easy life, to fall in love and have amazing sex and relationships, to look perfect and make money and be popular and well-respected and admired and a total baller to the point that people part like the Red Sea when they walk into the room. Everybody wants that. It's easy to want that. A more interesting question, a question that most people never consider, is, "What pain do you want in your life? What are you willing to struggle for?" Because that seems to be a greater determinant of how our lives turn out. For — Mark Manson
Feeling the Wind in Your Hair

The peak of the cliff sits tantalizingly close. Your hands rest on your knees as you gasp, willing more oxygen into your lungs. You look back with pride down the way you've come. Just a little farther and you'll be there. Your energy now partially restored, you step on and on. The light wind lifts the closer you get to the peak. A plateau soon falls away abruptly down to the sea, and the sweeping air collects and whips into your face. The view is sublime but the payoff comes as you stand--arms stretched wide in triumph--with your eyes closed as the raging wind buffets your face. This wind, collected and grown above oceans, flitting and crashing its way across the waves, finally reaches the shore and clasps itself around you in a fleeting embrace. The crack of its passing meets your ears and slowly it absorbs you--a streaming current of air caressing your rejoicing face. — Dan Kieran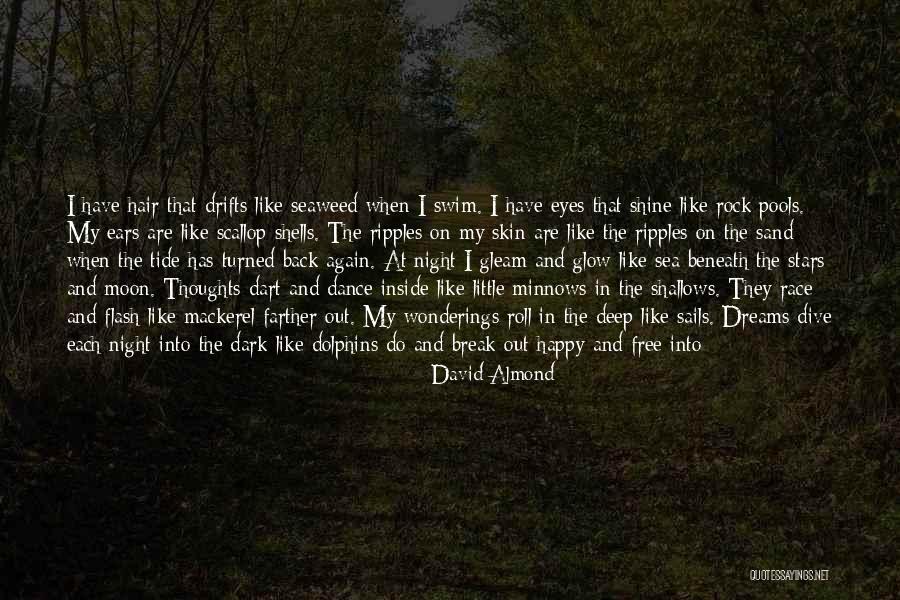 I have hair that drifts like seaweed when I swim. I have eyes that shine like rock pools. My ears are like scallop shells. The ripples on my skin are like the ripples on the sand when the tide has turned back again. At night I gleam and glow like sea beneath the stars and moon. Thoughts dart and dance inside like little minnows in the shallows. They race and flash like mackerel farther out. My wonderings roll in the deep like sails. Dreams dive each night into the dark like dolphins do and break out happy and free into the morning light. These are the things I know about myself and that I see when I look in the rock pools at myself. — David Almond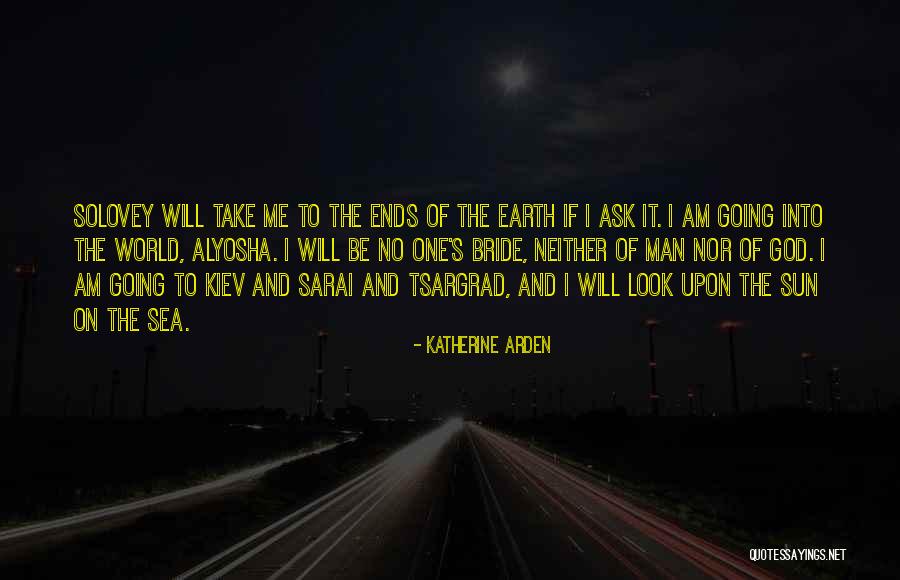 Solovey will take me to the ends of the earth if I ask it. I am going into the world, Alyosha. I will be no one's bride, neither of man nor of God. I am going to Kiev and Sarai and Tsargrad, and I will look upon the sun on the sea. — Katherine Arden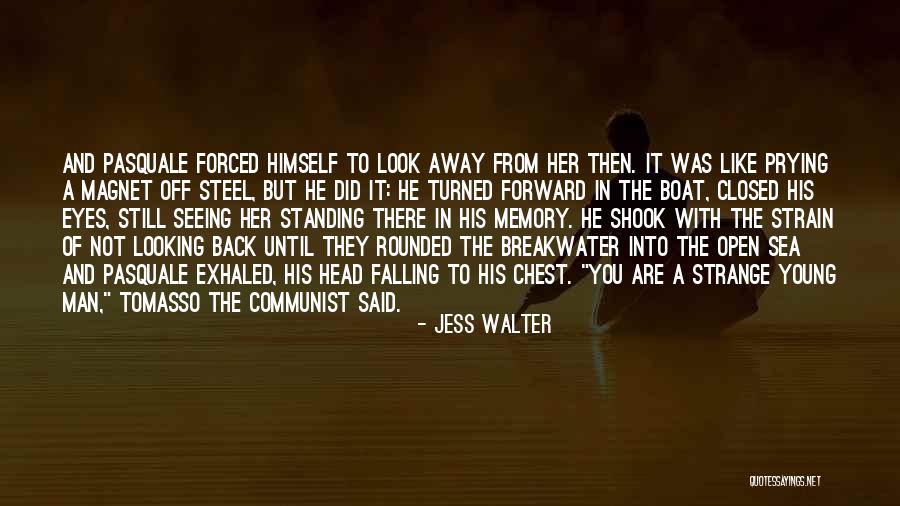 And Pasquale forced himself to look away from her then. It was like prying a magnet off steel, but he did it: he turned forward in the boat, closed his eyes, still seeing her standing there in his memory. He shook with the strain of not looking back until they rounded the breakwater into the open sea and Pasquale exhaled, his head falling to his chest.
"You are a strange young man," Tomasso the Communist said. — Jess Walter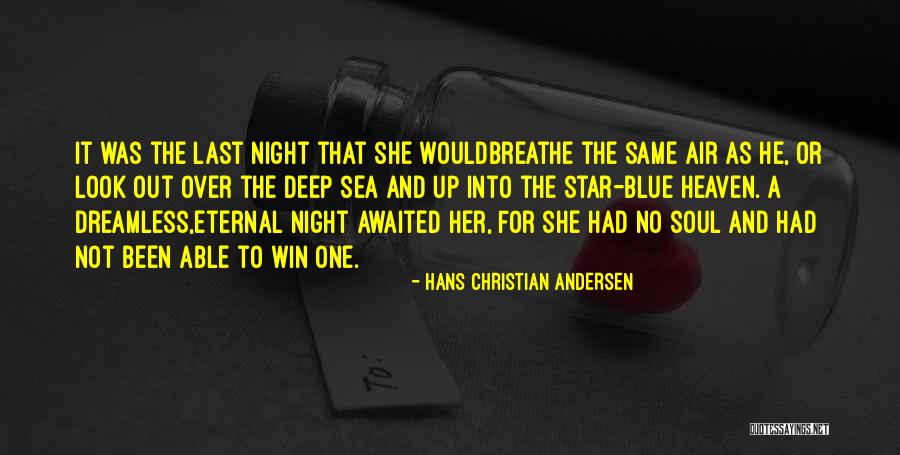 It was the last night that she would
breathe the same air as he, or look out over the deep sea and up into the star-blue heaven. A dreamless,
eternal night awaited her, for she had no soul and had not been able to win one. — Hans Christian Andersen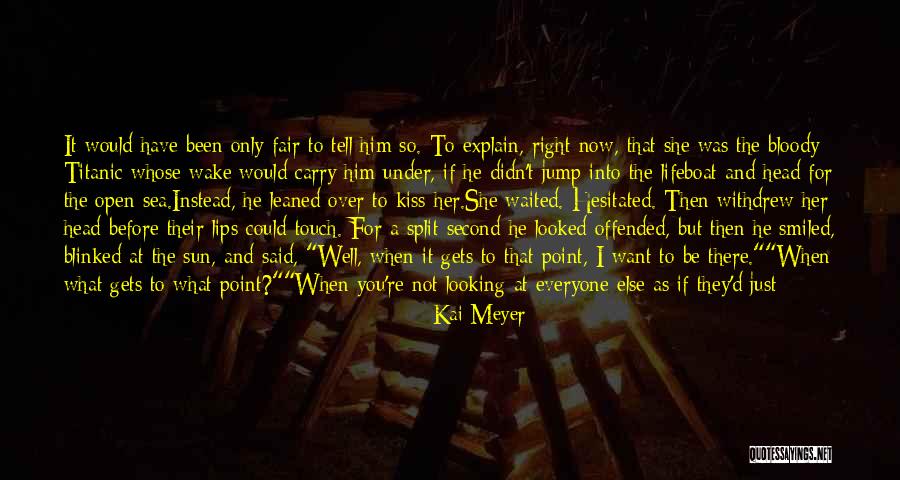 It would have been only fair to tell him so. To explain, right now, that she was the bloody Titanic whose wake would carry him under, if he didn't jump into the lifeboat and head for the open sea.
Instead, he leaned over to kiss her.
She waited. Hesitated. Then withdrew her head before their lips could touch. For a split second he looked offended, but then he smiled, blinked at the sun, and said, "Well, when it gets to that point, I want to be there."
"When what gets to what point?"
"When you're not looking at everyone else as if they'd just declared war on you. And when you realize" - he pointed across the ravine - "that things may look like the end of the world but the world still goes on, over there on the other side. Maybe just one really large step would cross it. — Kai Meyer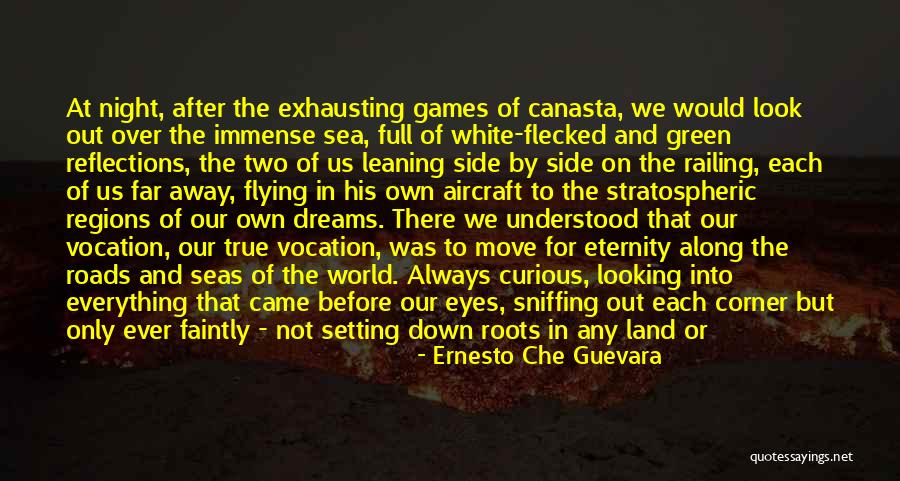 At night, after the exhausting games of canasta, we would look out over the immense sea, full of white-flecked and green reflections, the two of us leaning side by side on the railing, each of us far away, flying in his own aircraft to the stratospheric regions of our own dreams. There we understood that our vocation, our true vocation, was to move for eternity along the roads and seas of the world. Always curious, looking into everything that came before our eyes, sniffing out each corner but only ever faintly - not setting down roots in any land or staying long enough to see the substratum of things; the outer limits would suffice. — Ernesto Che Guevara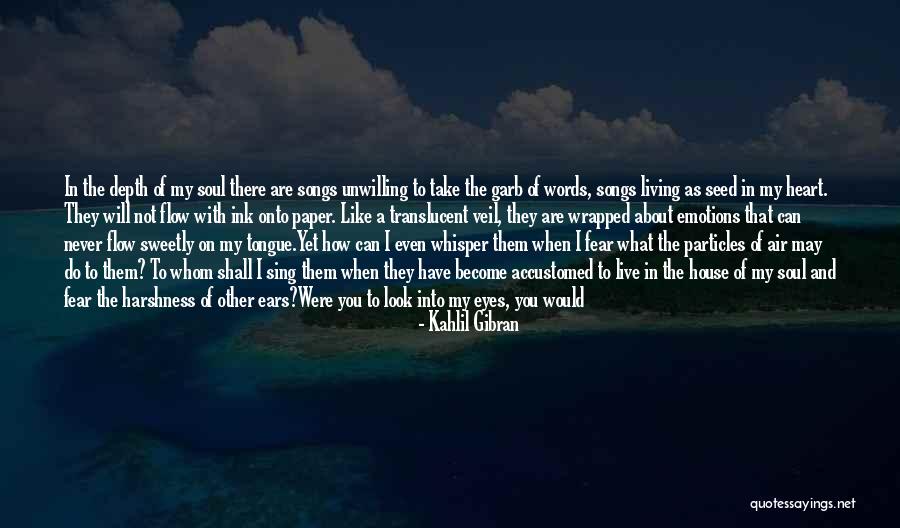 In the depth of my soul there are songs unwilling to take the garb of words, songs living as seed in my heart. They will not flow with ink onto paper. Like a translucent veil, they are wrapped about emotions that can never flow sweetly on my tongue.
Yet how can I even whisper them when I fear what the particles of air may do to them? To whom shall I sing them when they have become accustomed to live in the house of my soul and fear the harshness of other ears?
Were you to look into my eyes, you would see the image of their image. Were you to touch my fingertips, you would feel their quick movements. The works of my hands reveal them as the lake reflects the twinkling of the stars.
My tears disclose them as the mystery of the rose petal is disclosed at the moment the heat dissolves the drops of dew when that rose withers.
... Who can combine the roaring of the sea and the warbling of the nightingale? Who can link the crashing thunder with the baby's sigh? — Kahlil Gibran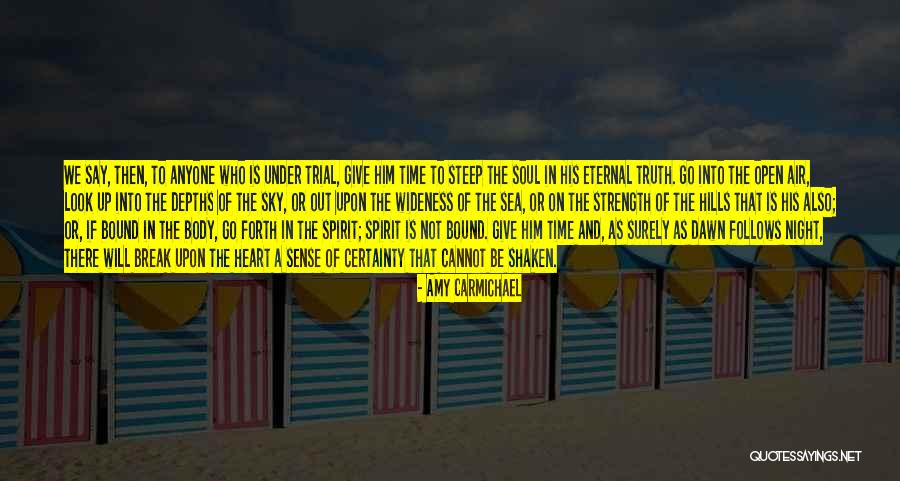 We say, then, to anyone who is under trial, give Him time to steep the soul in His eternal truth. Go into the open air, look up into the depths of the sky, or out upon the wideness of the sea, or on the strength of the hills that is His also; or, if bound in the body, go forth in the spirit; spirit is not bound. Give Him time and, as surely as dawn follows night, there will break upon the heart a sense of certainty that cannot be shaken. — Amy Carmichael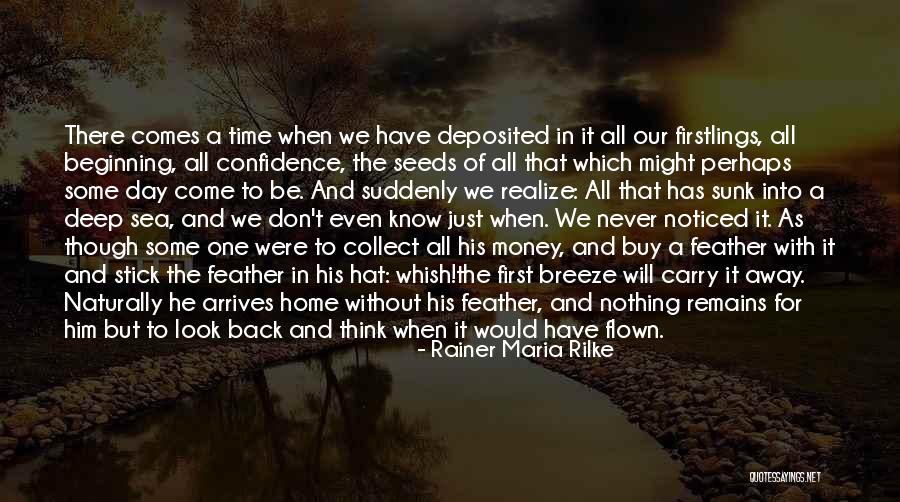 There comes a time when we have deposited in it all our firstlings, all beginning, all confidence, the seeds of all that which might perhaps some day come to be. And suddenly we realize: All that has sunk into a deep sea, and we don't even know just when. We never noticed it. As though some one were to collect all his money, and buy a feather with it and stick the feather in his hat: whish!
the first breeze will carry it away. Naturally he arrives home without his feather, and nothing remains for him but to look back and think when it would have flown. — Rainer Maria Rilke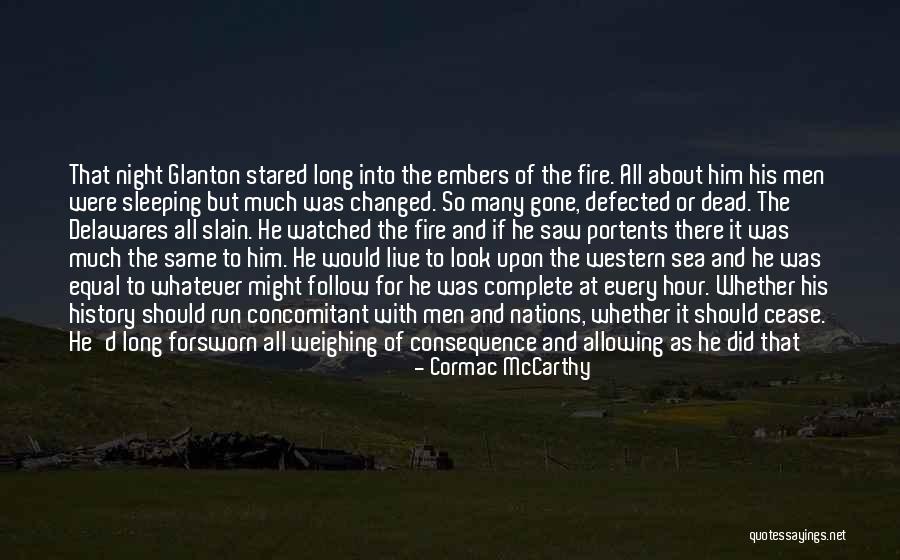 That night Glanton stared long into the embers of the fire. All about him his men were sleeping but much was changed. So many gone, defected or dead. The Delawares all slain. He watched the fire and if he saw portents there it was much the same to him. He would live to look upon the western sea and he was equal to whatever might follow for he was complete at every hour. Whether his history should run concomitant with men and nations, whether it should cease. He'd long forsworn all weighing of consequence and allowing as he did that men's destinies are given yet he usurped to contain within him all that he would ever be in the world and all that the world would be to him and be his charter written in the urstone itself he claimed agency and said so and he'd drive the remorseless sun on to its final endarkenment as if he'd ordered it all ages since, before there were paths anywhere, before there were men or suns to go upon them. Across — Cormac McCarthy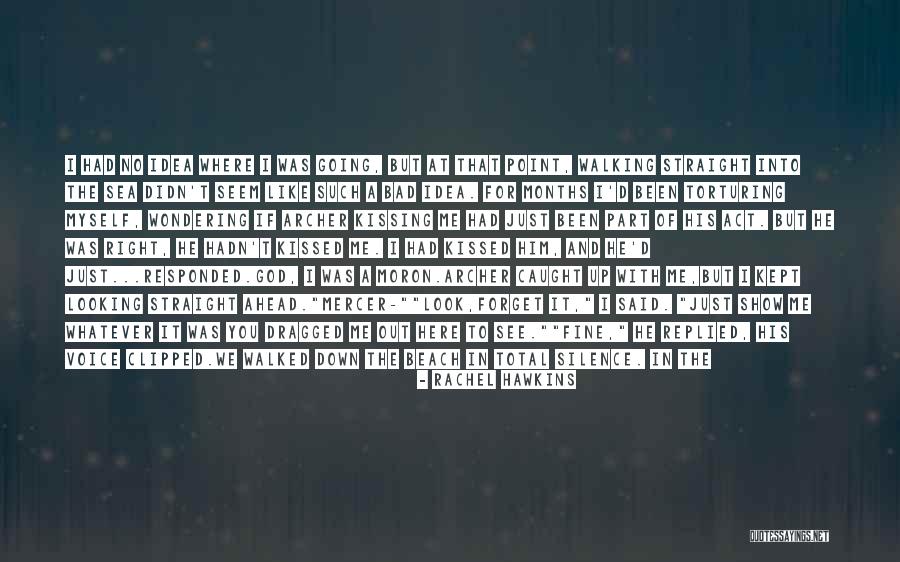 I had no idea where I was going, but at that point, walking straight into the sea didn't seem like such a bad idea. For months I'd been torturing myself, wondering if Archer kissing me had just been part of his act. But he was right, he hadn't kissed me. I had kissed him, and he'd just...responded.God, I was a moron.
Archer caught up with me,but I kept looking straight ahead.
"Mercer-"
"Look,forget it," I said. "Just show me whatever it was you dragged me out here to see."
"Fine," he replied, his voice clipped.
We walked down the beach in total silence. In the moonlight, our shadows stretched out before us, almost touching. — Rachel Hawkins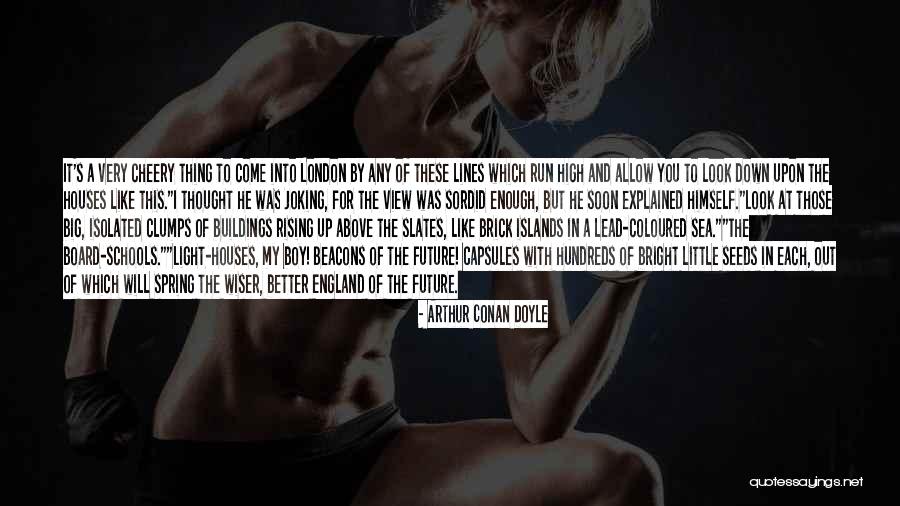 It's a very cheery thing to come into London by any of these lines which run high and allow you to look down upon the houses like this."
I thought he was joking, for the view was sordid enough, but he soon explained himself.
"Look at those big, isolated clumps of buildings rising up above the slates, like brick islands in a lead-coloured sea."
"The board-schools."
"Light-houses, my boy! Beacons of the future! Capsules with hundreds of bright little seeds in each, out of which will spring the wiser, better England of the future. — Arthur Conan Doyle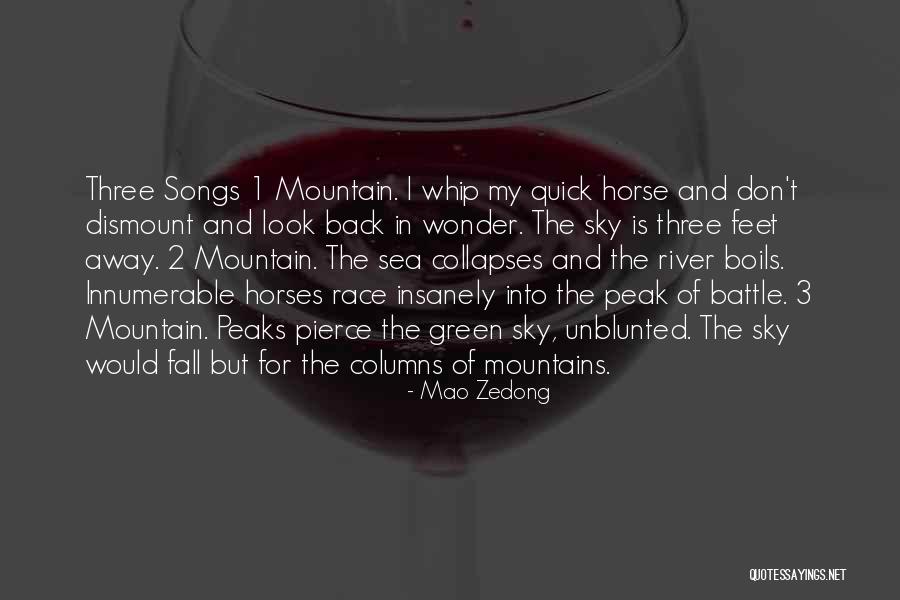 Three Songs 1 Mountain. I whip my quick horse and don't dismount and look back in wonder. The sky is three feet away. 2 Mountain. The sea collapses and the river boils. Innumerable horses race insanely into the peak of battle. 3 Mountain. Peaks pierce the green sky, unblunted. The sky would fall but for the columns of mountains. — Mao Zedong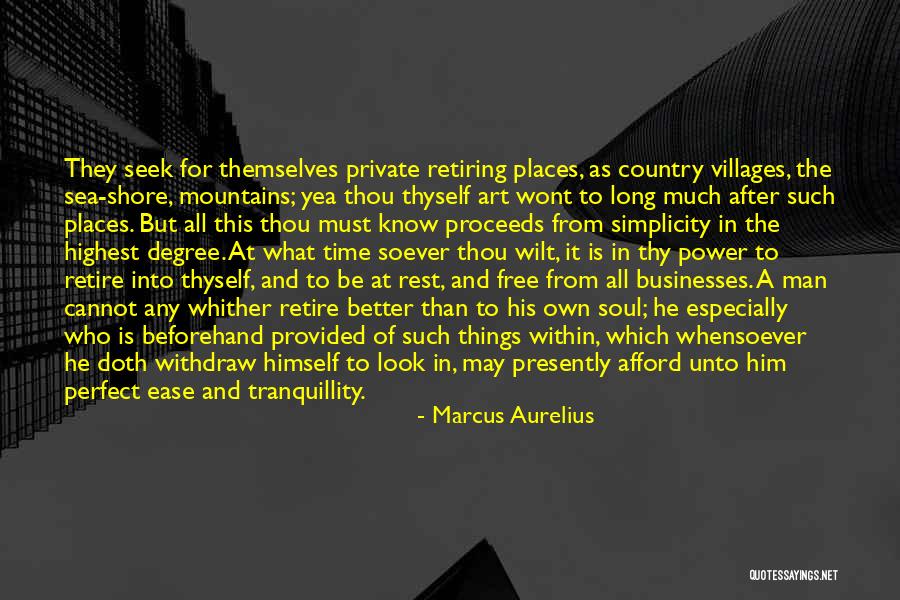 They seek for themselves private retiring places, as country villages, the sea-shore, mountains; yea thou thyself art wont to long much after such places. But all this thou must know proceeds from simplicity in the highest degree. At what time soever thou wilt, it is in thy power to retire into thyself, and to be at rest, and free from all businesses. A man cannot any whither retire better than to his own soul; he especially who is beforehand provided of such things within, which whensoever he doth withdraw himself to look in, may presently afford unto him perfect ease and tranquillity. — Marcus Aurelius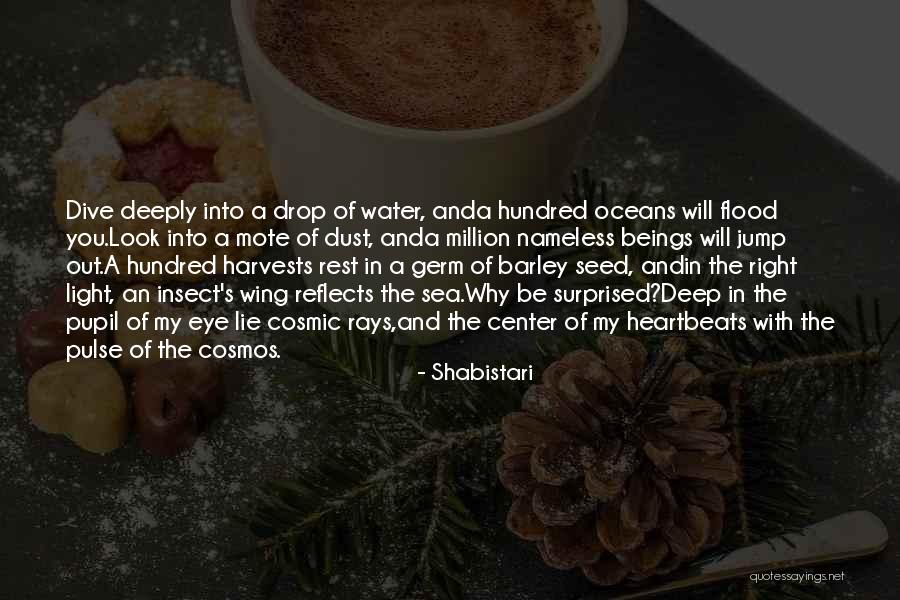 Dive deeply into a drop of water, and
a hundred oceans will flood you.
Look into a mote of dust, and
a million nameless beings will jump out.
A hundred harvests rest in a germ of barley seed, and
in the right light, an insect's wing reflects the sea.
Why be surprised?
Deep in the pupil of my eye lie cosmic rays,
and the center of my heart
beats with the pulse of the cosmos. — Shabistari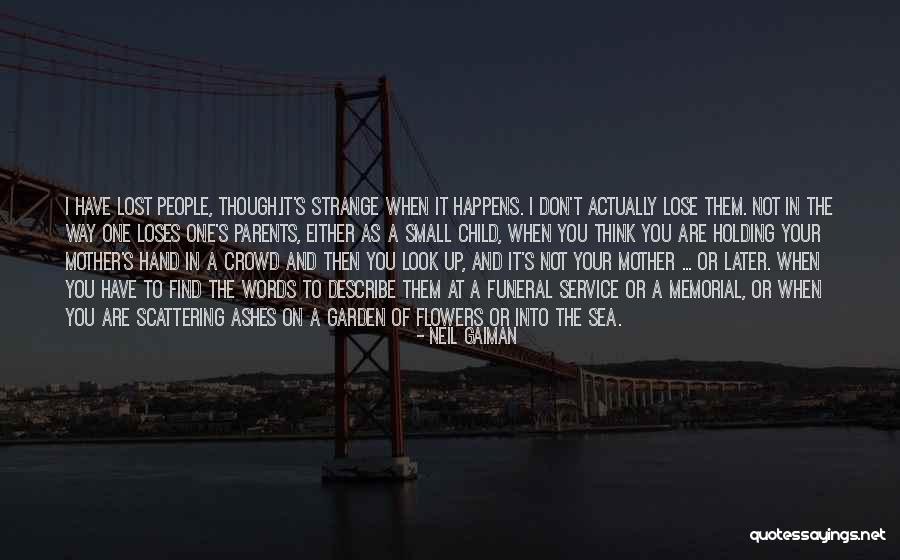 I have lost people, though.
It's strange when it happens. I don't actually lose them. Not in the way one loses one's parents, either as a small child, when you think you are holding your mother's hand in a crowd and then you look up, and it's not your mother ... or later. When you have to find the words to describe them at a funeral service or a memorial, or when you are scattering ashes on a garden of flowers or into the sea. — Neil Gaiman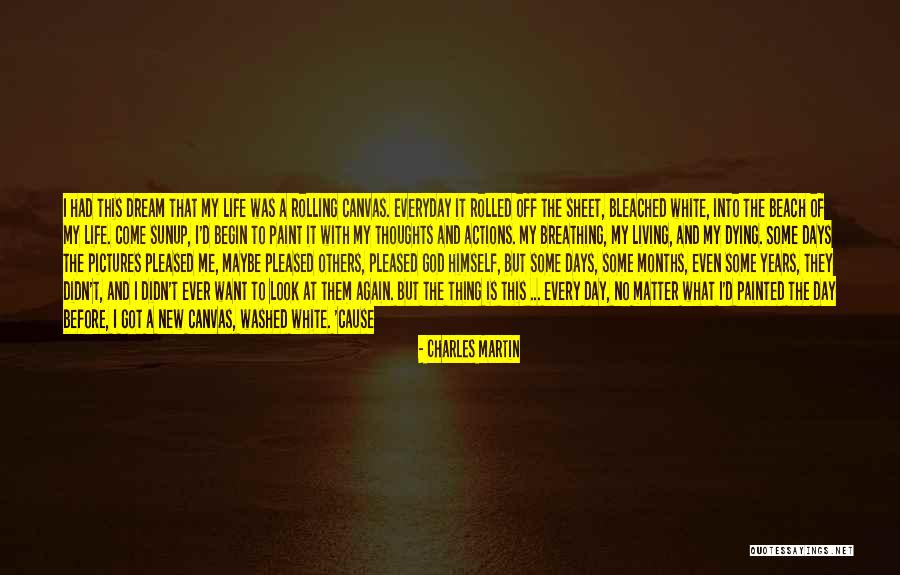 I had this dream that my life was a rolling canvas. Everyday it rolled off the sheet, bleached white, into the beach of my life. Come sunup, I'd begin to paint it with my thoughts and actions. My breathing, my living, and my dying. Some days the pictures pleased me, maybe pleased others, pleased God himself, but some days, some months, even some years, they didn't, and I didn't ever want to look at them again. But the thing is this ... every day, no matter what I'd painted the day before, I got a new canvas, washed white. 'Cause each night the tide rolled in, scrubbed it clean, and receded, taking it's stains with it. And my dreams ... I just stood on the beach and watched all that stuff wash out to sea.- Nothing more than ripples in the water. No canvas is ever stained clean through. Not one. — Charles Martin