Quotes & Sayings About Long Holidays
Enjoy reading and share 33 famous quotes about Long Holidays with everyone.
Top Long Holidays Quotes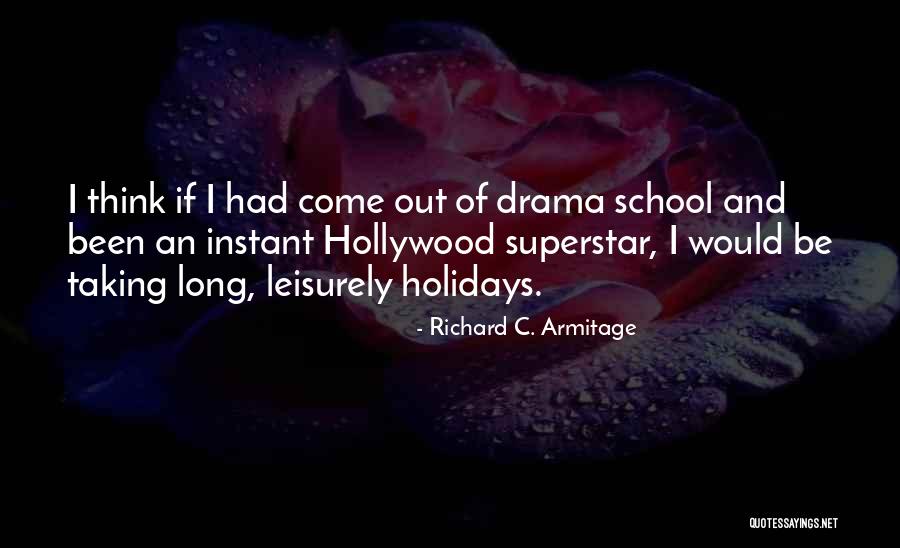 I think if I had come out of drama school and been an instant Hollywood superstar, I would be taking long, leisurely holidays. — Richard C. Armitage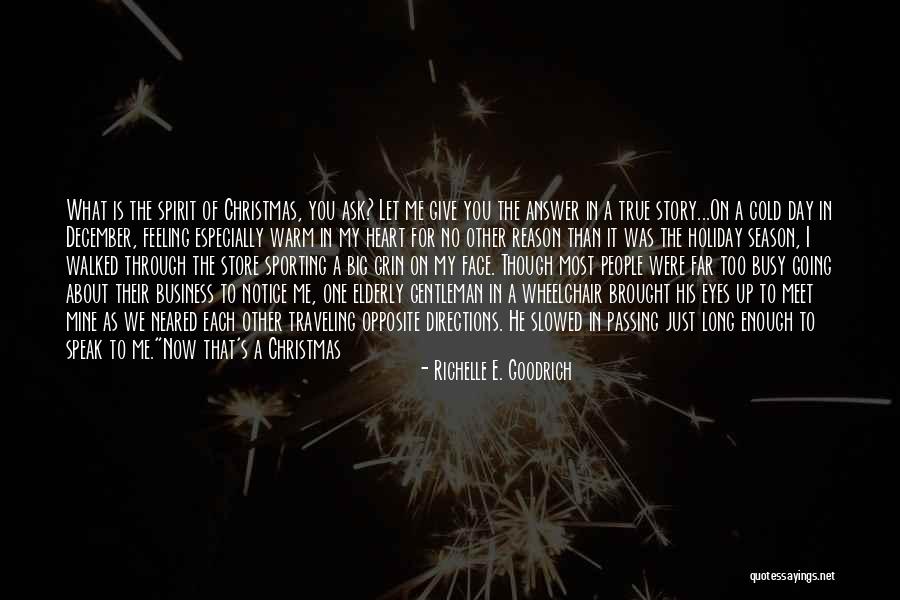 What is the spirit of Christmas, you ask? Let me give you the answer in a true story...
On a cold day in December, feeling especially warm in my heart for no other reason than it was the holiday season, I walked through the store sporting a big grin on my face. Though most people were far too busy going about their business to notice me, one elderly gentleman in a wheelchair brought his eyes up to meet mine as we neared each other traveling opposite directions. He slowed in passing just long enough to speak to me.
"Now that's a Christmas smile if I ever saw one," he said.
My lips stretched to their limit in response, and I thanked him for the compliment. Then we went our separate ways. But, as I thought about the man and how sweetly he'd touched me, I realized something simply wonderful! In that brief, passing interaction we'd exchanged heartfelt gifts!
And that, my friend, is the spirit of Christ~mas. — Richelle E. Goodrich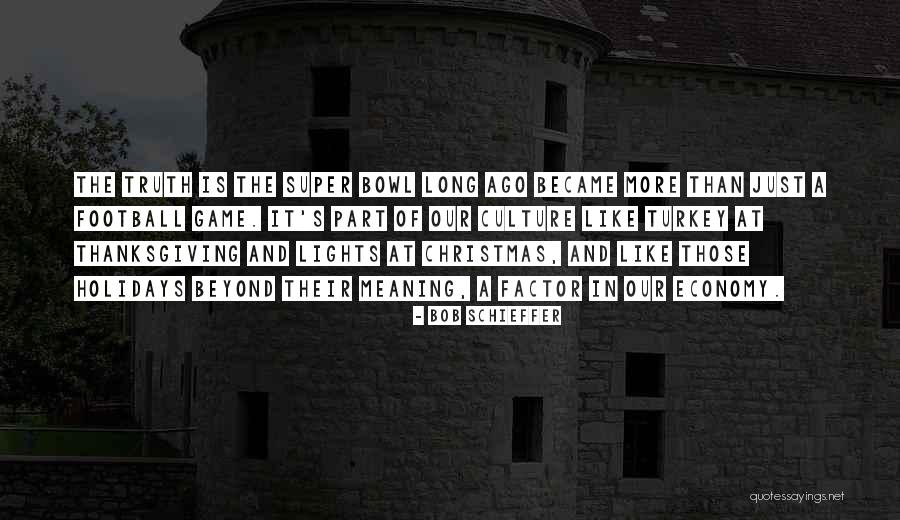 The truth is the Super Bowl long ago became more than just a football game. It's part of our culture like turkey at Thanksgiving and lights at Christmas, and like those holidays beyond their meaning, a factor in our economy. — Bob Schieffer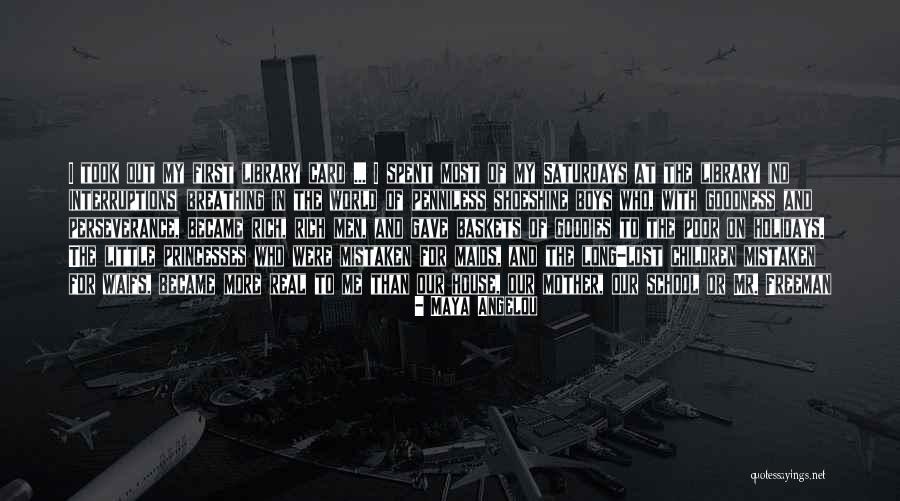 I took out my first library card ... I spent most of my Saturdays at the library (no interruptions) breathing in the world of penniless shoeshine boys who, with goodness and perseverance, became rich, rich men, and gave baskets of goodies to the poor on holidays. The little princesses who were mistaken for maids, and the long-lost children mistaken for waifs, became more real to me than our house, our mother, our school or Mr. Freeman — Maya Angelou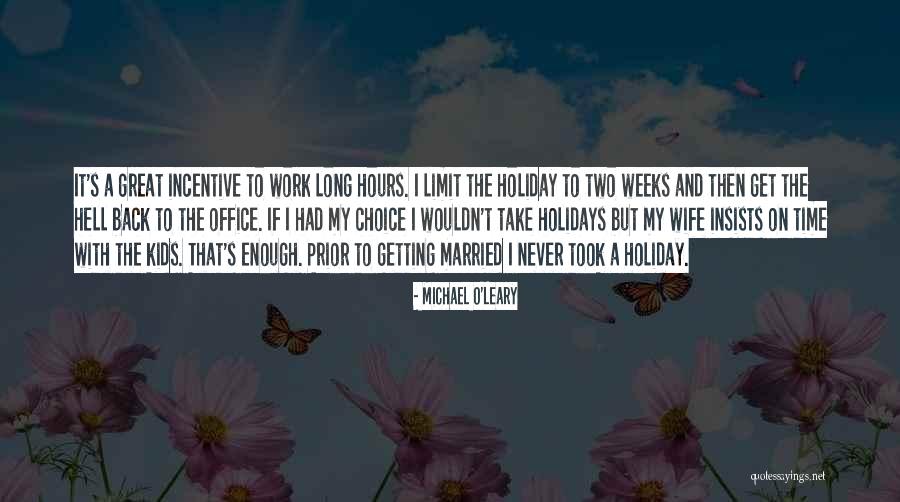 It's a great incentive to work long hours. I limit the holiday to two weeks and then get the hell back to the office. If I had my choice I wouldn't take holidays but my wife insists on time with the kids. That's enough. Prior to getting married I never took a holiday. — Michael O'Leary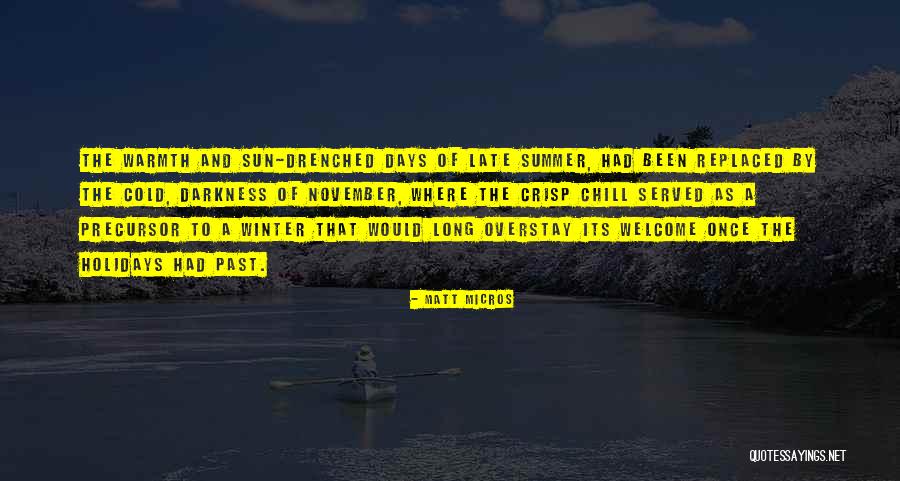 The warmth and sun-drenched days of late summer, had been replaced by the cold, darkness of November, where the crisp chill served as a precursor to a winter that would long overstay its welcome once the holidays had past. — Matt Micros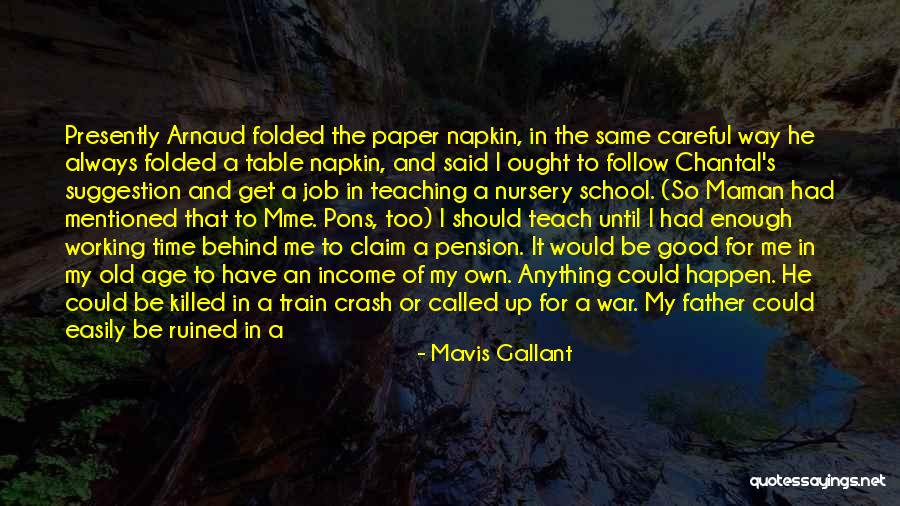 Presently Arnaud folded the paper napkin, in the same careful way he always folded a table napkin, and said I ought to follow Chantal's suggestion and get a job in teaching a nursery school. (So Maman had mentioned that to Mme. Pons, too) I should teach until I had enough working time behind me to claim a pension. It would be good for me in my old age to have an income of my own. Anything could happen. He could be killed in a train crash or called up for a war. My father could easily be ruined in a lawsuit and die covered with debts. There were advantages to teaching, such as long holidays and reduced train fares.
"How long would it take?" I said. "Before I could stop teaching and get my pension."
"Thirty-five years," said Arnaud. "I'll ask my mother. She had no training, either, but she taught private classes. All you need is a decent background and some recommendations. — Mavis Gallant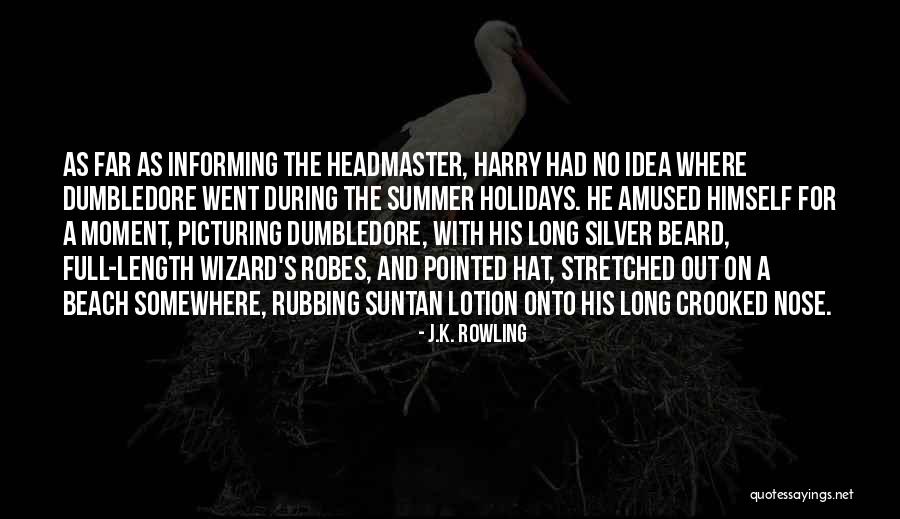 As far as informing the headmaster, Harry had no idea where Dumbledore went during the summer holidays. He amused himself for a moment, picturing Dumbledore, with his long silver beard, full-length wizard's robes, and pointed hat, stretched out on a beach somewhere, rubbing suntan lotion onto his long crooked nose. — J.K. Rowling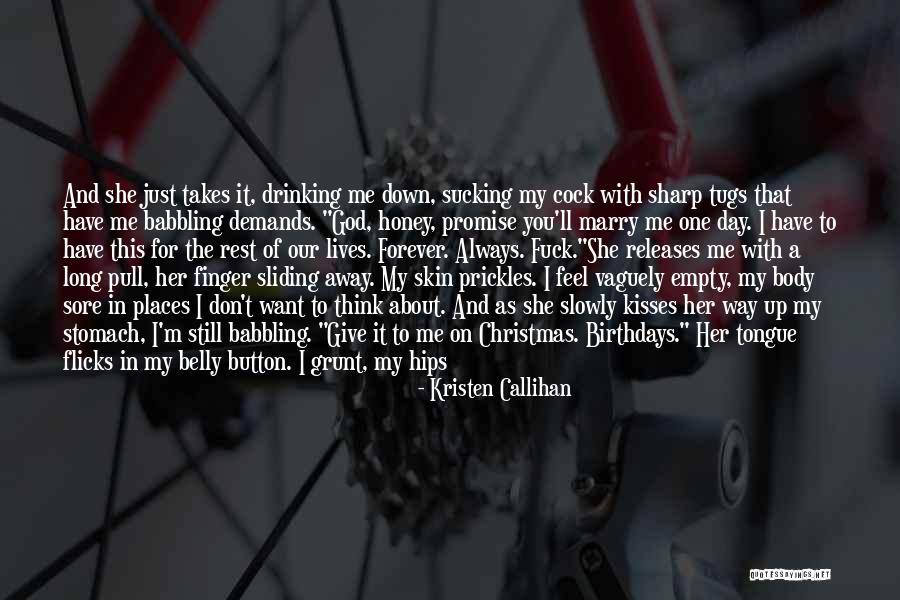 And she just takes it, drinking me down, sucking my cock with sharp tugs that have me babbling demands. "God, honey, promise you'll marry me one day. I have to have this for the rest of our lives. Forever. Always. Fuck."
She releases me with a long pull, her finger sliding away. My skin prickles. I feel vaguely empty, my body sore in places I don't want to think about. And as she slowly kisses her way up my stomach, I'm still babbling. "Give it to me on Christmas. Birthdays." Her tongue flicks in my belly button. I grunt, my hips twitching. "My days off. Major holidays. Midnight surprises ... " Mac licks my nipple, and I shiver, my voice going raspy. "Twice on Tuesdays. — Kristen Callihan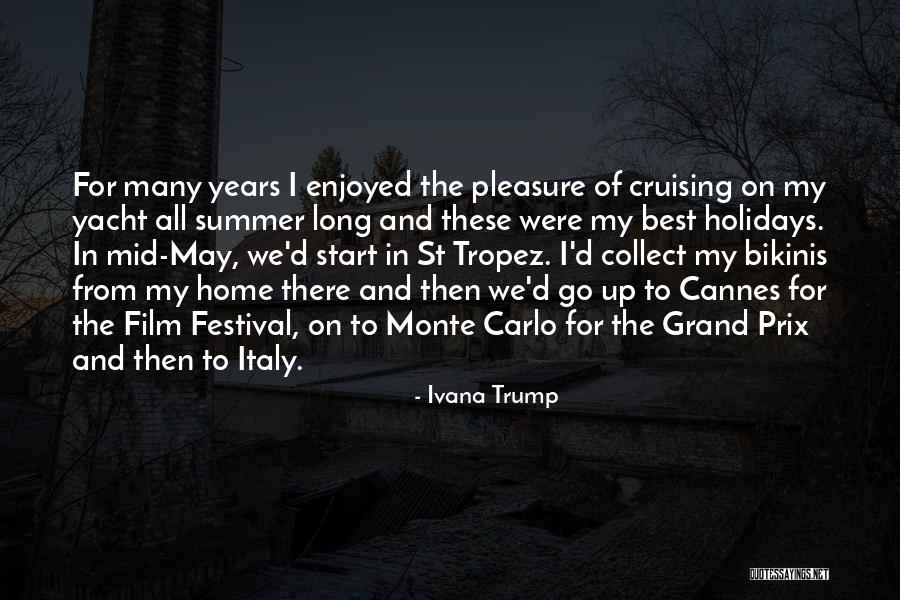 For many years I enjoyed the pleasure of cruising on my yacht all summer long and these were my best holidays. In mid-May, we'd start in St Tropez. I'd collect my bikinis from my home there and then we'd go up to Cannes for the Film Festival, on to Monte Carlo for the Grand Prix and then to Italy. — Ivana Trump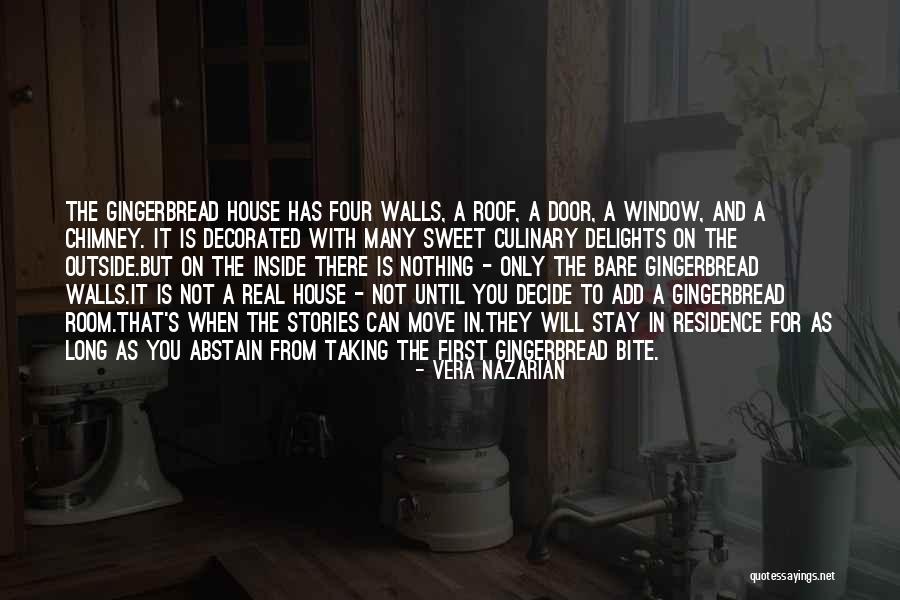 The Gingerbread House has four walls, a roof, a door, a window, and a chimney. It is decorated with many sweet culinary delights on the outside.
But on the inside there is nothing - only the bare gingerbread walls.
It is not a real house - not until you decide to add a Gingerbread Room.
That's when the stories can move in.
They will stay in residence for as long as you abstain from taking the first gingerbread bite. — Vera Nazarian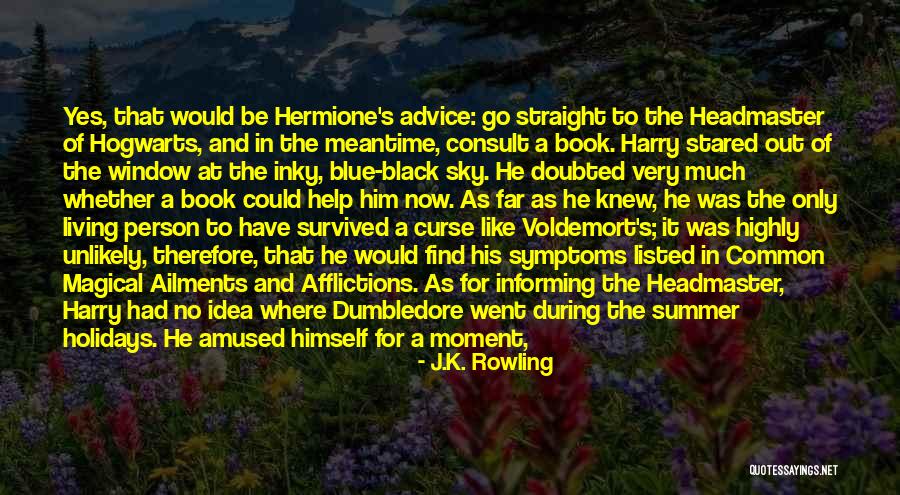 Yes, that would be Hermione's advice: go straight to the Headmaster of Hogwarts, and in the meantime, consult a book. Harry stared out of the window at the inky, blue-black sky. He doubted very much whether a book could help him now. As far as he knew, he was the only living person to have survived a curse like Voldemort's; it was highly unlikely, therefore, that he would find his symptoms listed in Common Magical Ailments and Afflictions. As for informing the Headmaster, Harry had no idea where Dumbledore went during the summer holidays. He amused himself for a moment, picturing Dumbledore, with his long silver beard, full-length wizard's robes and pointed hat, stretched out on a beach somewhere, rubbing suntan lotion into his long crooked nose. Wherever Dumbledore was, though, Harry was sure that Hedwig would be able to find him; Harry's owl had never yet failed to deliver a letter to anyone, even without an address. But what would he write? — J.K. Rowling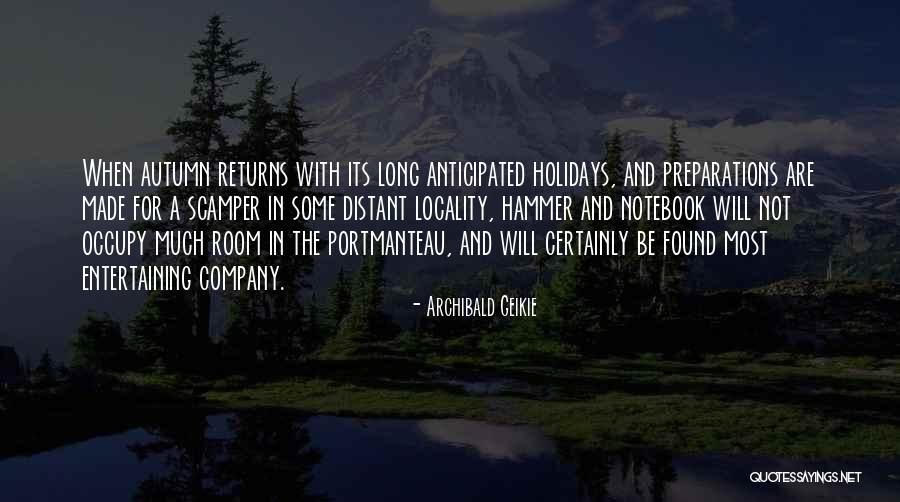 When autumn returns with its long anticipated holidays, and preparations are made for a scamper in some distant locality, hammer and notebook will not occupy much room in the portmanteau, and will certainly be found most entertaining company. — Archibald Geikie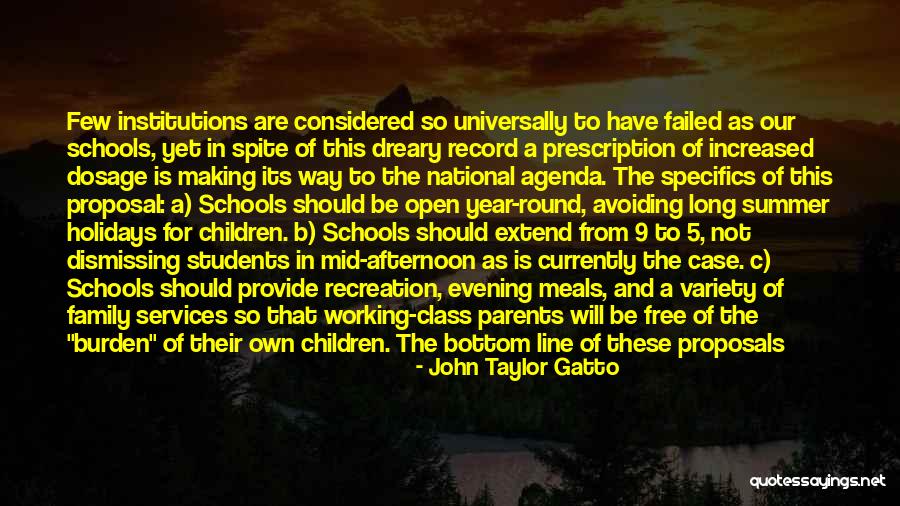 Few institutions are considered so universally to have failed as our schools, yet in spite of this dreary record a prescription of increased dosage is making its way to the national agenda. The specifics of this proposal: a) Schools should be open year-round, avoiding long summer holidays for children. b) Schools should extend from 9 to 5, not dismissing students in mid-afternoon as is currently the case. c) Schools should provide recreation, evening meals, and a variety of family services so that working-class parents will be free of the "burden" of their own children. The bottom line of these proposals is reduction of the damaging effects of "freedom" and "family" on a subject population. — John Taylor Gatto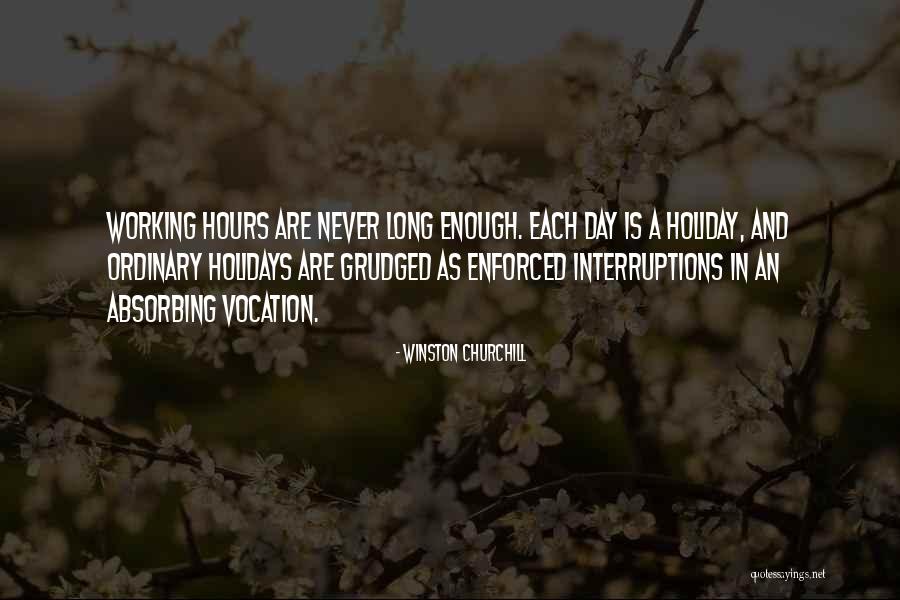 Working hours are never long enough. Each day is a holiday, and ordinary holidays are grudged as enforced interruptions in an absorbing vocation. — Winston Churchill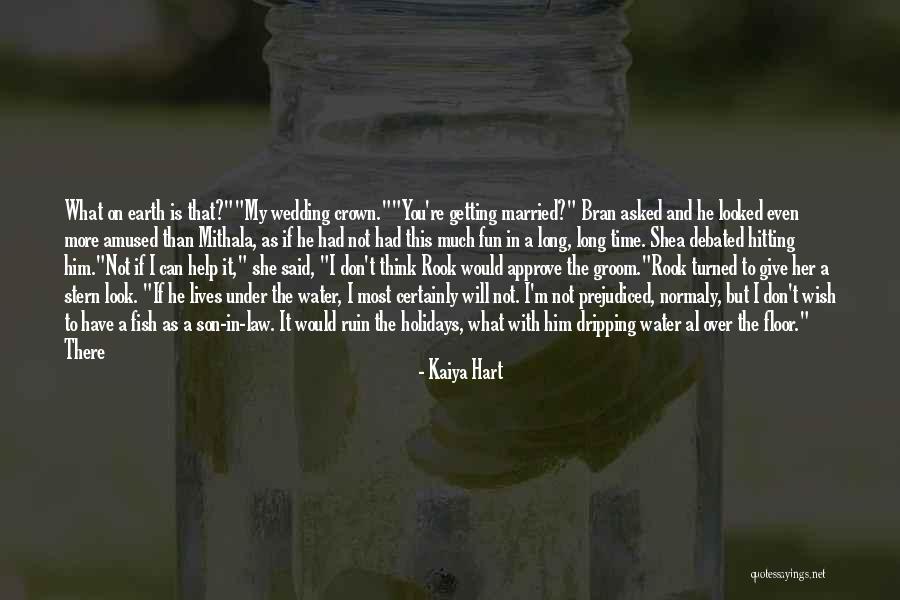 What on earth is that?"
"My wedding crown."
"You're getting married?" Bran asked and he looked even more amused than Mithala, as if he had not had this much fun in a long, long time. Shea debated hitting him.
"Not if I can help it," she said, "I don't think Rook would approve the groom."
Rook turned to give her a stern look. "If he lives under the water, I most certainly will not. I'm not prejudiced, normaly, but I don't wish to have a fish as a son-in-law. It would ruin the holidays, what with him dripping water al over the floor." There was a moment of startled silence, then Bran, Mithala, and Shea burst into laughter. Galen was glaring at them al. "Fools, this is not the time for jest."
Bran choked back his laughter for a moment."Sir elf, if now is not the time, then there will never be one; running over dry land from the wrath of fishes is nothing but a jest."
"Mercenaries," Galen spat with disgust, leaping onto his mare. — Kaiya Hart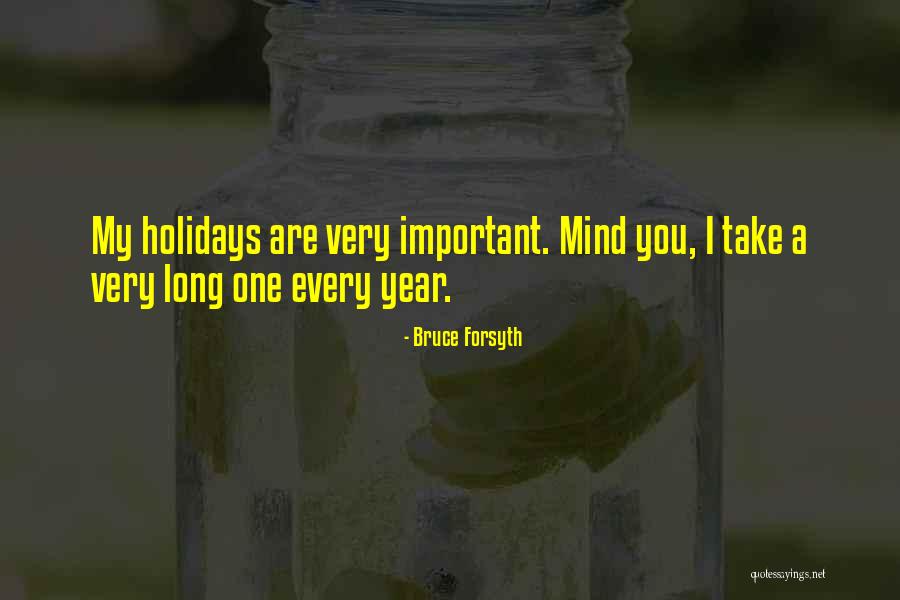 My holidays are very important. Mind you, I take a very long one every year. — Bruce Forsyth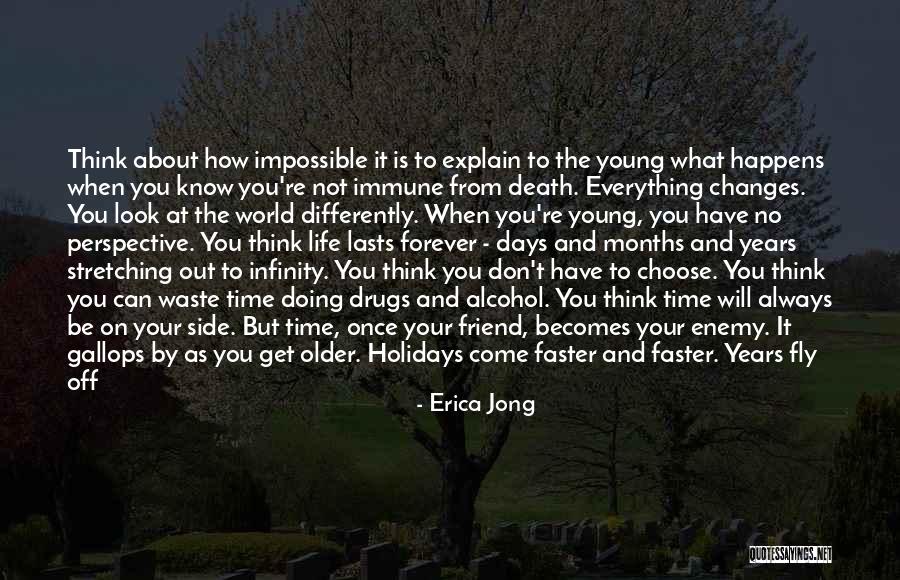 Think about how impossible it is to explain to the young what happens when you know you're not immune from death. Everything changes. You look at the world differently. When you're young, you have no perspective. You think life lasts forever - days and months and years stretching out to infinity. You think you don't have to choose. You think you can waste time doing drugs and alcohol. You think time will always be on your side. But time, once your friend, becomes your enemy. It gallops by as you get older. Holidays come faster and faster. Years fly off the calendar as in old movies. All you long for is to go back and do it all over, correct the mistakes, — Erica Jong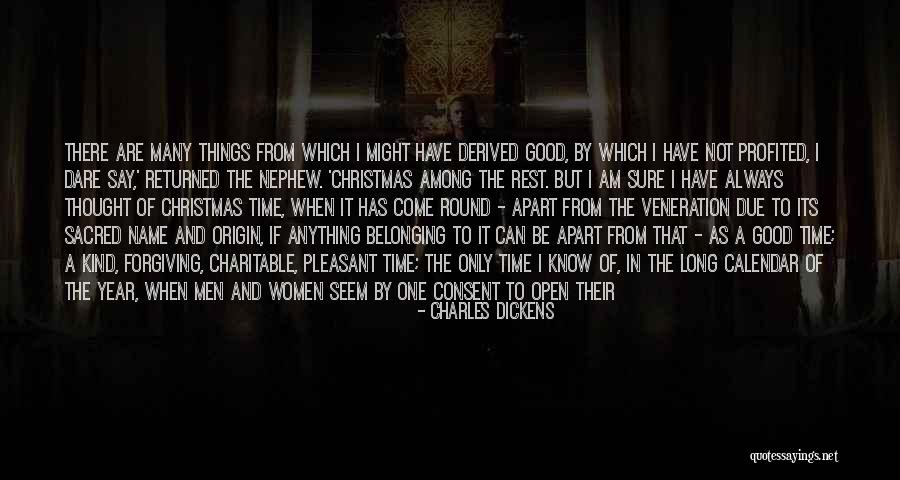 There are many things from which I might have derived good, by which I have not profited, I dare say,' returned the nephew. 'Christmas among the rest. But I am sure I have always thought of Christmas time, when it has come round - apart from the veneration due to its sacred name and origin, if anything belonging to it can be apart from that - as a good time; a kind, forgiving, charitable, pleasant time; the only time I know of, in the long calendar of the year, when men and women seem by one consent to open their shut-up hearts freely, and to think of people below them as if they really were fellow-passengers to the grave, and not another race of creatures bound on other journeys. And therefore, uncle, though it has never put a scrap of gold or silver in my pocket, I believe that it has done me good, and will do me good; and I say, God bless it! — Charles Dickens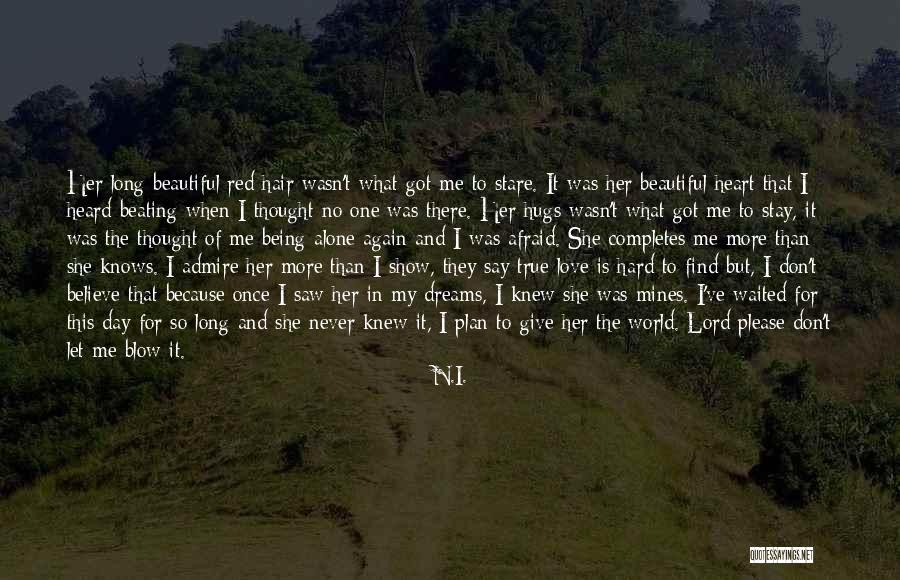 Her long beautiful red hair wasn't what got me to stare. It was her beautiful heart that I heard beating when I thought no one was there. Her hugs wasn't what got me to stay, it was the thought of me being alone again and I was afraid. She completes me more than she knows. I admire her more than I show, they say true love is hard to find but, I don't believe that because once I saw her in my dreams, I knew she was mines. I've waited for this day for so long and she never knew it, I plan to give her the world. Lord please don't let me blow it. — N.I.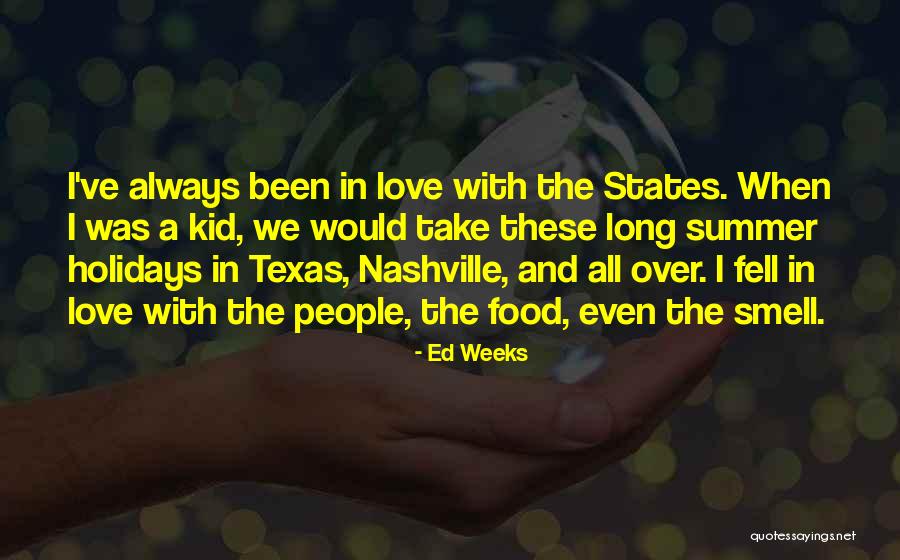 I've always been in love with the States. When I was a kid, we would take these long summer holidays in Texas, Nashville, and all over. I fell in love with the people, the food, even the smell. — Ed Weeks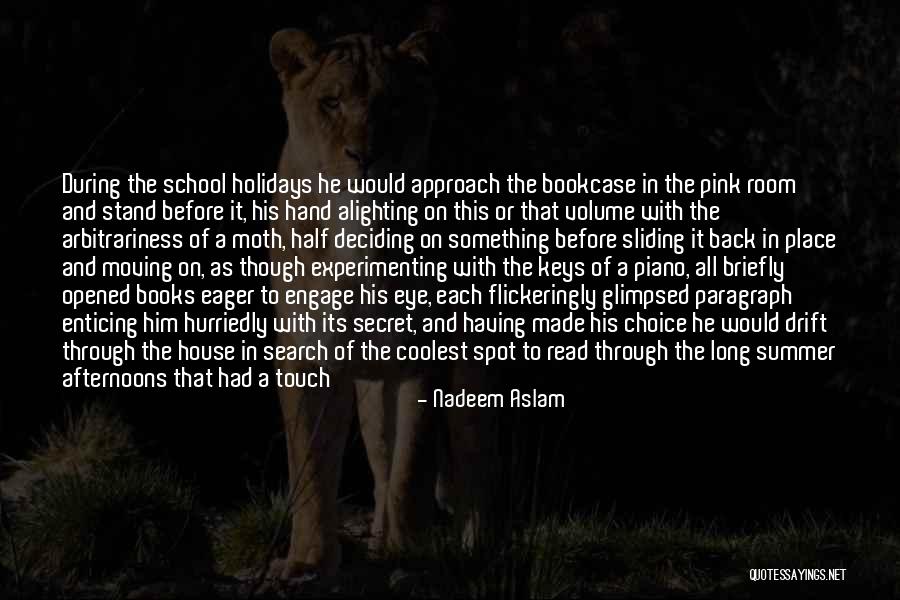 During the school holidays he would approach the bookcase in the pink room and stand before it, his hand alighting on this or that volume with the arbitrariness of a moth, half deciding on something before sliding it back in place and moving on, as though experimenting with the keys of a piano, all briefly opened books eager to engage his eye, each flickeringly glimpsed paragraph enticing him hurriedly with its secret, and having made his choice he would drift through the house in search of the coolest spot to read through the long summer afternoons that had a touch of eternity to them, altering the arrangement of his limbs as much for comfort as for fear that his undisturbed shadows would leave a stain on the wall. — Nadeem Aslam
When I opened the curtains in the morning I saw the intersection of two six-lane highways. It was a comfortable, well equipped, practical sort of place, as Holidays Inns tend to be. You can be happy at a place like this so long as you stay away from the coffee. And the restaurant, if you want to be sure. Perhaps not happy, but not unhappy. Or if unhappy, at least not threatened. A good motel creates a kind of stasis for the soul in transit. One should leave no worse than one arrived: that is the minimum requirement. — Don Watson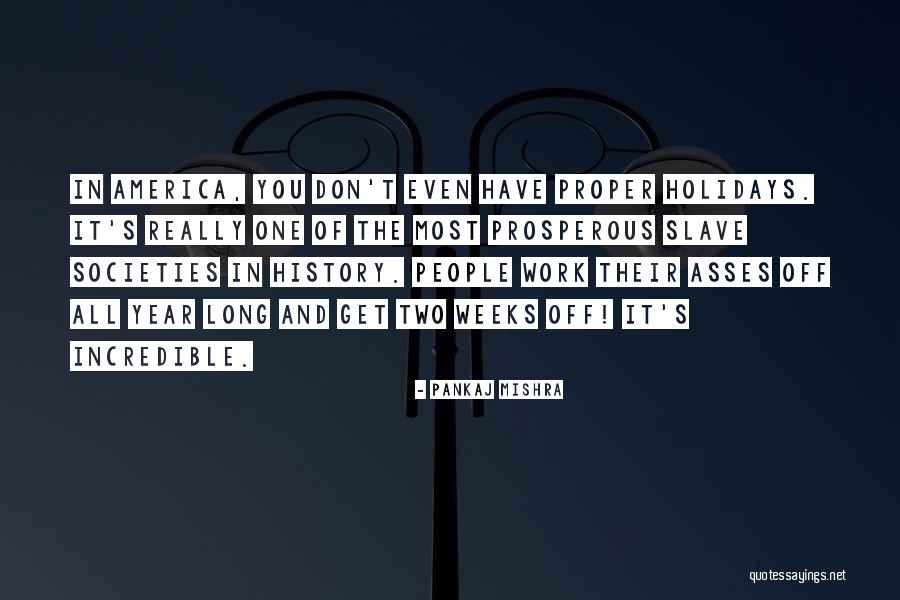 In America, you don't even have proper holidays. It's really one of the most prosperous slave societies in history. People work their asses off all year long and get two weeks off! It's incredible. — Pankaj Mishra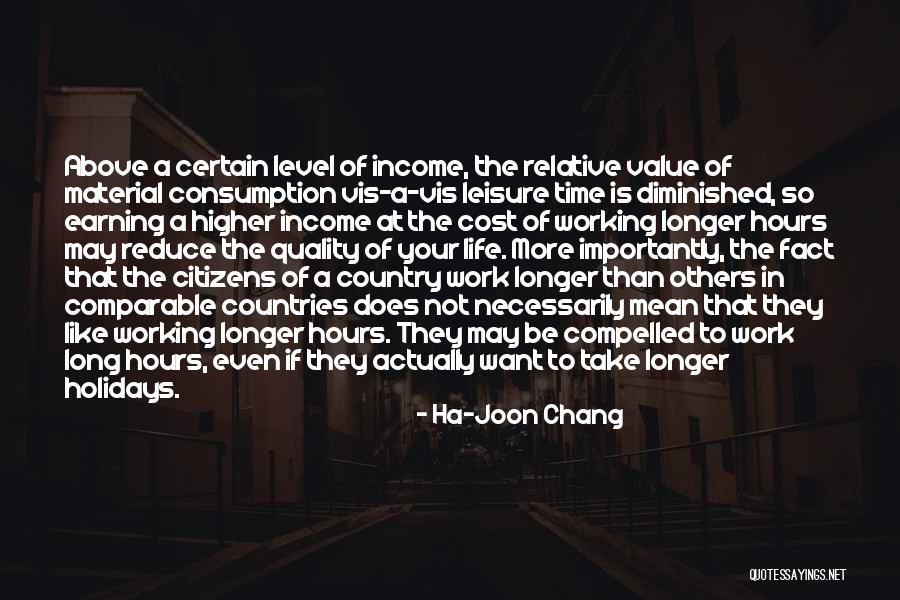 Above a certain level of income, the relative value of material consumption vis-a-vis leisure time is diminished, so earning a higher income at the cost of working longer hours may reduce the quality of your life. More importantly, the fact that the citizens of a country work longer than others in comparable countries does not necessarily mean that they like working longer hours. They may be compelled to work long hours, even if they actually want to take longer holidays. — Ha-Joon Chang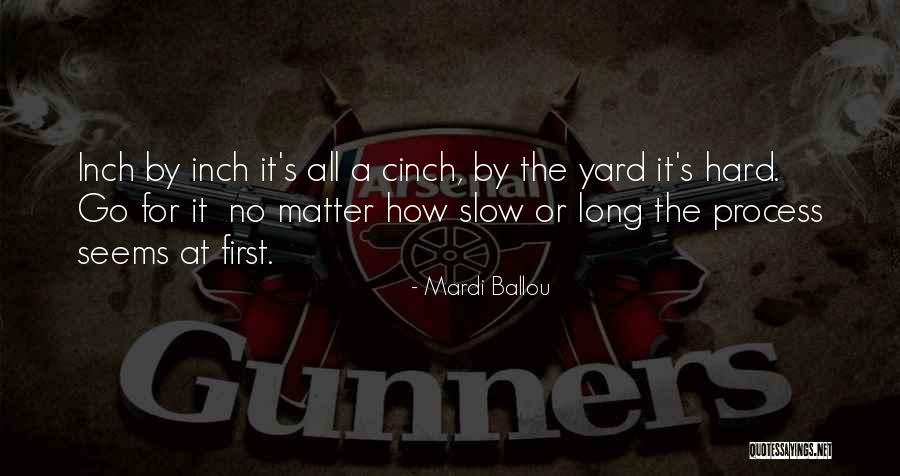 Inch by inch it's all a cinch, by the yard it's hard. Go for it
no matter how slow or long the process seems at first. — Mardi Ballou
As long as I can remember, I've been worried. Occasionally, this seemed like a strength. My obsession with avoiding risk helped me to dodge perils of all kinds. I rarely forgot my homework. My holidays were compulsively well-planned. — Neil Hughes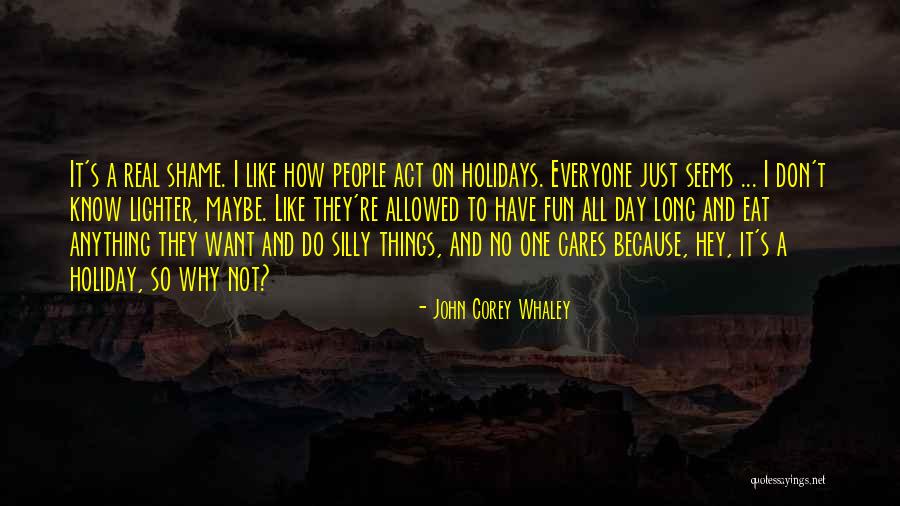 It's a real shame. I like how people act on holidays. Everyone just seems ... I don't know
lighter, maybe. Like they're allowed to have fun all day long and eat anything they want and do silly things, and no one cares because, hey, it's a holiday, so why not? — John Corey Whaley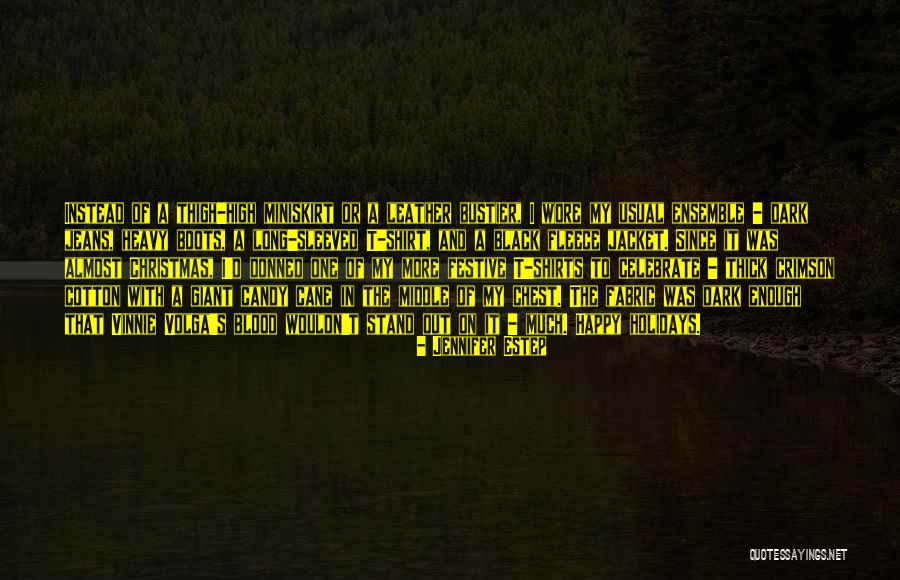 Instead of a thigh-high miniskirt or a leather bustier, I wore my usual ensemble - dark jeans, heavy boots, a long-sleeved T-shirt, and a black fleece jacket. Since it was almost Christmas, I'd donned one of my more festive T-shirts to celebrate - thick crimson cotton with a giant candy cane in the middle of my chest. The fabric was dark enough that Vinnie Volga's blood wouldn't stand out on it - much. Happy holidays. — Jennifer Estep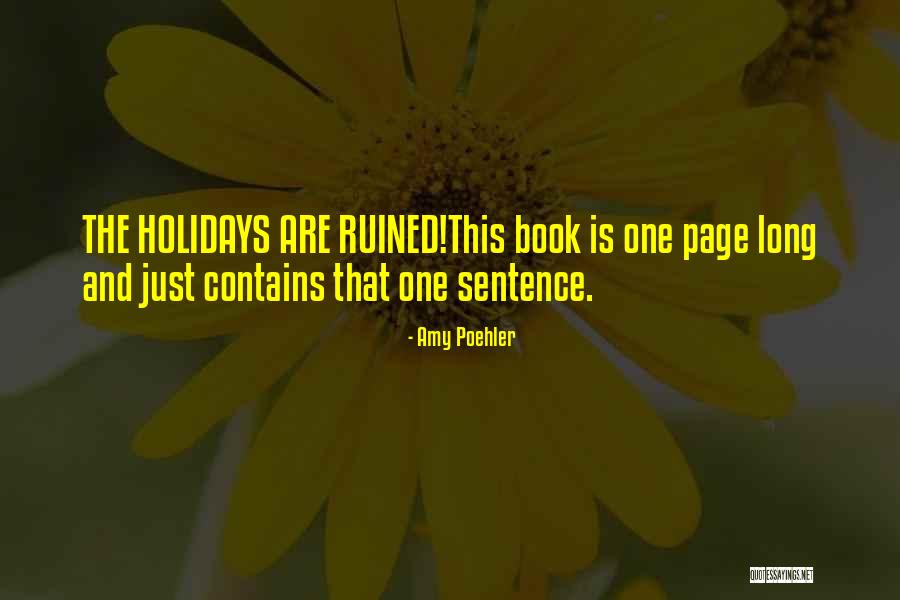 THE HOLIDAYS ARE RUINED!
This book is one page long and just contains that one sentence. — Amy Poehler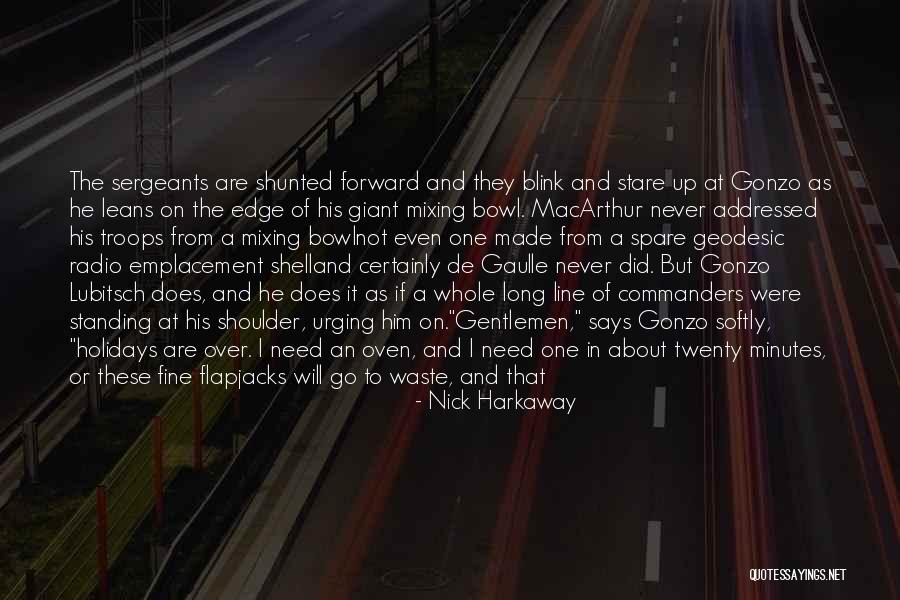 The sergeants are shunted forward and they blink and stare up at Gonzo as he leans on the edge of his giant mixing bowl. MacArthur never addressed his troops from a mixing bowl
not even one made from a spare geodesic radio emplacement shell
and certainly de Gaulle never did. But Gonzo Lubitsch does, and he does it as if a whole long line of commanders were standing at his shoulder, urging him on.
"Gentlemen," says Gonzo softly, "holidays are over. I need an oven, and I need one in about twenty minutes, or these fine flapjacks will go to waste, and that is not happening."
And something about this statement and the voice in which he says it makes it clear that this is simply true. One way or another, this thing will get done. Under a layer of grime and horror, these two are soldiers, and more, they are productive, can-do sorts of people. Rustily but with a gratitude which is not so far short of worship, they say "Yes, sir" and are about their business. — Nick Harkaway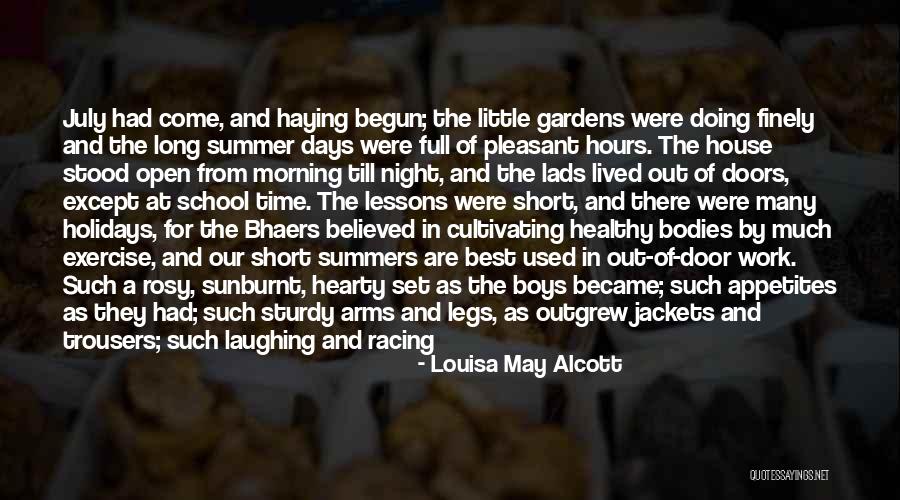 July had come, and haying begun; the little gardens were doing finely and the long summer days were full of pleasant hours. The house stood open from morning till night, and the lads lived out of doors, except at school time. The lessons were short, and there were many holidays, for the Bhaers believed in cultivating healthy bodies by much exercise, and our short summers are best used in out-of-door work. Such a rosy, sunburnt, hearty set as the boys became; such appetites as they had; such sturdy arms and legs, as outgrew jackets and trousers; such laughing and racing all over the place; such antics in house and barn; such adventures in the tramps over hill and dale; and such satisfaction in the hearts of the worthy Bhaers, as they saw their flock prospering in mind and body, I cannot begin to describe. — Louisa May Alcott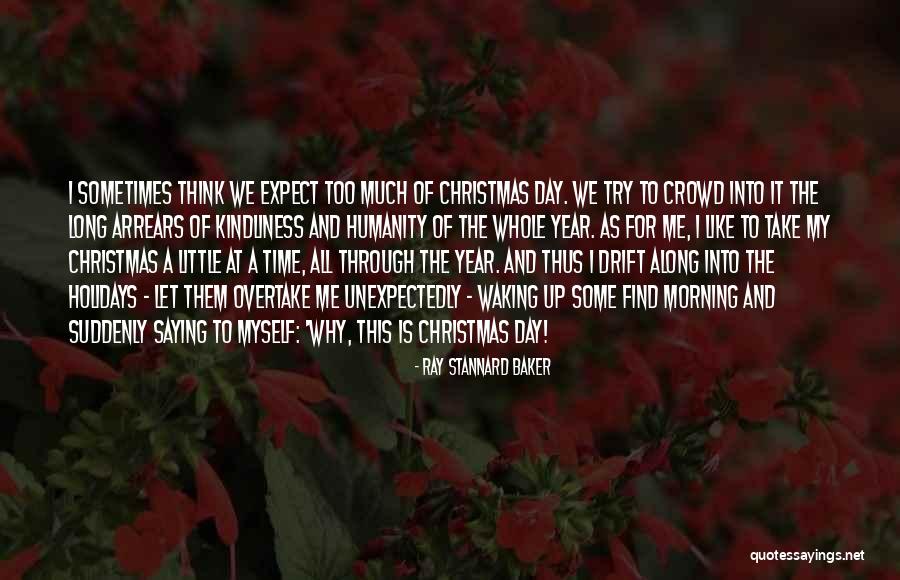 I sometimes think we expect too much of Christmas Day. We try to crowd into it the long arrears of kindliness and humanity of the whole year. As for me, I like to take my Christmas a little at a time, all through the year. And thus I drift along into the holidays - let them overtake me unexpectedly - waking up some find morning and suddenly saying to myself: 'Why, this is Christmas Day! — Ray Stannard Baker