Quotes & Sayings About Locks Of Hair
Enjoy reading and share 48 famous quotes about Locks Of Hair with everyone.
Top Locks Of Hair Quotes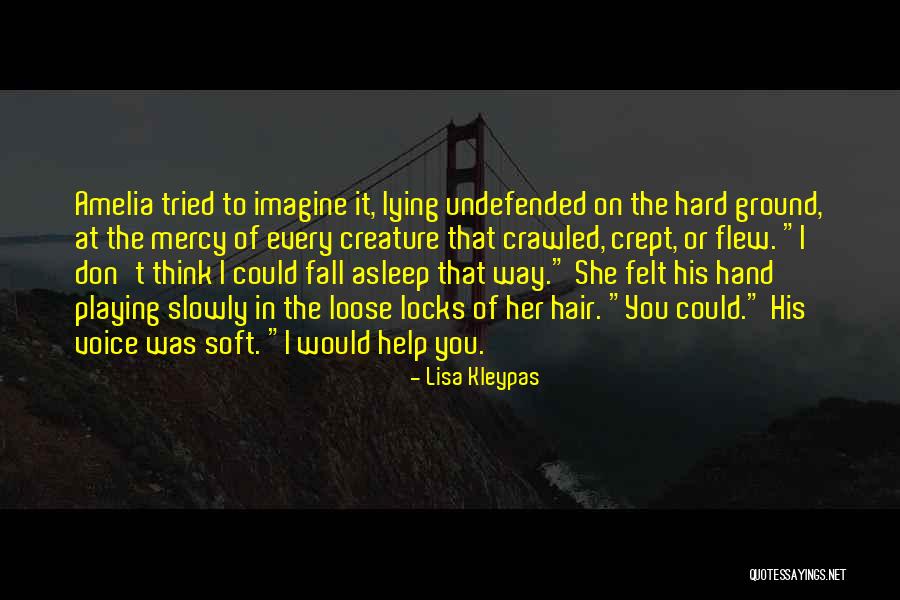 Amelia tried to imagine it, lying undefended on the hard ground, at the mercy of every creature that crawled, crept, or flew. "I don't think I could fall asleep that way."
She felt his hand playing slowly in the loose locks of her hair. "You could." His voice was soft. "I would help you. — Lisa Kleypas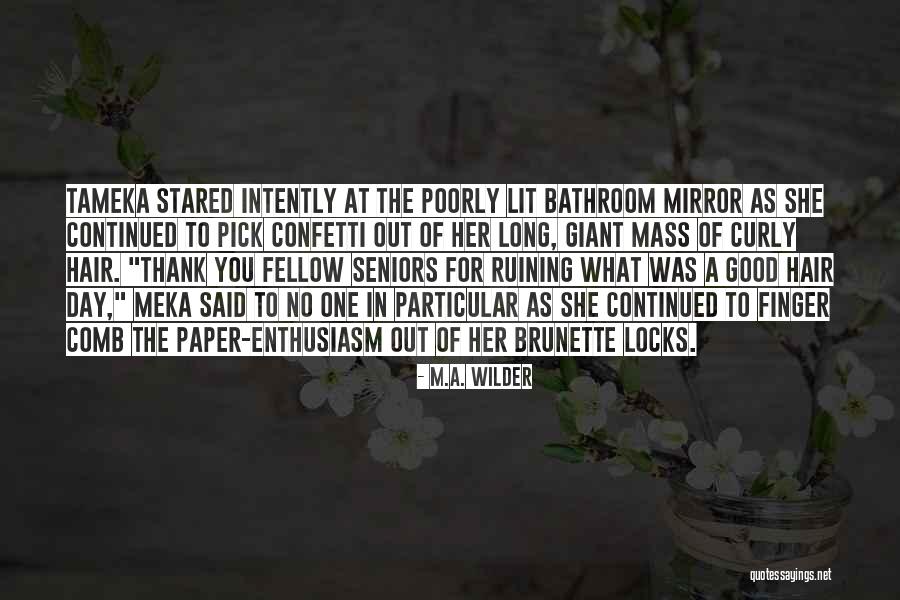 Tameka stared intently at the poorly lit bathroom mirror as she continued to pick confetti out of her long, giant mass of curly hair. "Thank you fellow seniors for ruining what was a good hair day," Meka said to no one in particular as she continued to finger comb the paper-enthusiasm out of her brunette locks. — M.A. Wilder
Zombie!" Sammy calls. "I knew it was you."
Zombie?
"Where are you taking him?" Ben says to me in a deep voice. I don't remember it being that deep. Is my memory bad or is he lowering it on purpose, to sound older?
"Zombie, that's Cassie," Sam chides him. "You know - Cassie."
"Cassie?" Like he's never heard the name before.
"Zombie?" I say, because I really haven't heard that name before.
I pull off the cap, thinking it might help him recognize me, then immediately regret it. I know what my hair must look like.
"We go to the same high school," I say, drawing my fingers hastily through my chopped-off locks. "I sit in front of you in Honors Chemistry."
Ben shakes his head like he's clearing out the cobwebs.
Sammy goes, "I told you she was coming."
"Quiet, Sam," I scold him.
"Sam?" Ben asks.
"My name is Nugget now, Cassie," Sam informs me.
"Well, sure it is." I turn to Ben. "You know my brother. — Rick Yancey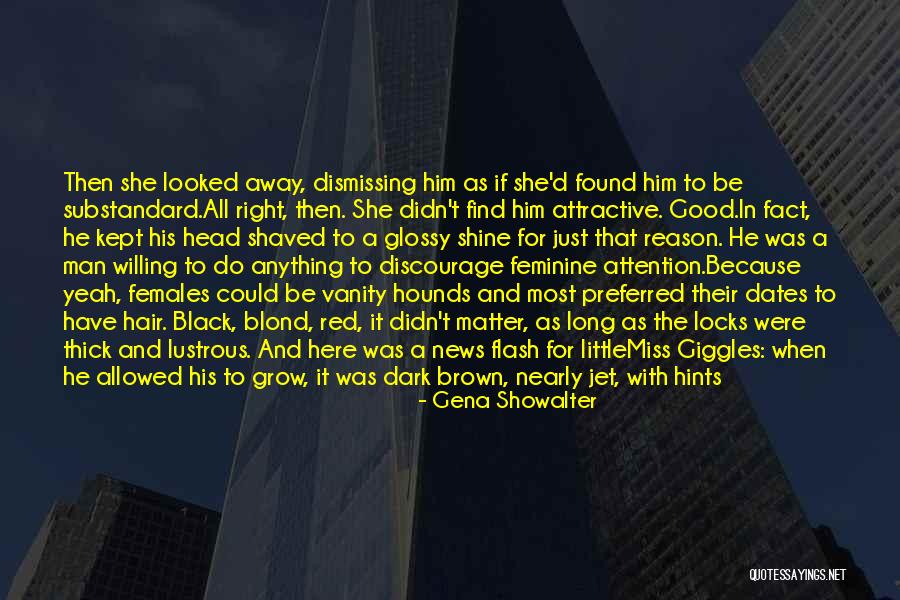 Then she looked away, dismissing him as if she'd found him to be substandard.
All right, then. She didn't find him attractive. Good.
In fact, he kept his head shaved to a glossy shine for just that reason. He was a man willing to do anything to discourage feminine attention.
Because yeah, females could be vanity hounds and most preferred their dates to have hair. Black, blond, red, it didn't matter, as long as the locks were thick and lustrous.
And here was a news flash for little
Miss Giggles: when he allowed his to grow, it was dark brown, nearly jet, with hints of gold and worthy of a fucking lion. — Gena Showalter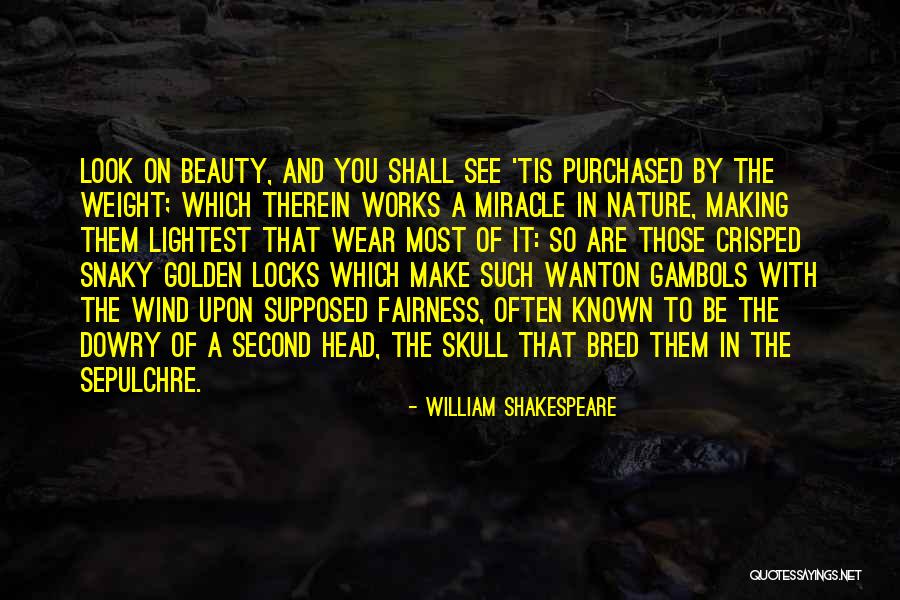 Look on beauty, and you shall see 'tis purchased by the weight; which therein works a miracle in Nature, making them lightest that wear most of it: so are those crisped snaky golden locks which make such wanton gambols with the wind upon supposed fairness, often known to be the dowry of a second head, the skull that bred them in the sepulchre. — William Shakespeare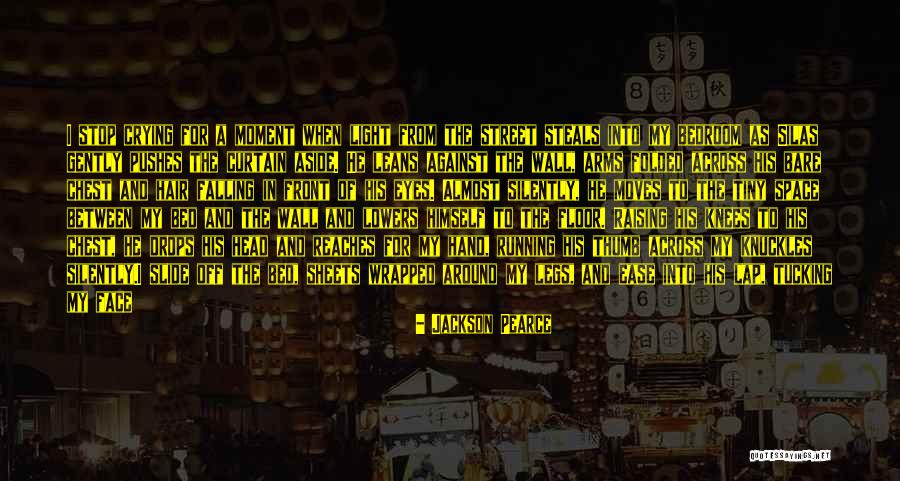 I stop crying for a moment when light from the street steals into my bedroom as Silas gently pushes the curtain aside. He leans against the wall, arms folded across his bare chest and hair falling in front of his eyes. Almost silently, he moves to the tiny space between my bed and the wall and lowers himself to the floor. Raising his knees to his chest, he drops his head and reaches for my hand, running his thumb across my knuckles silently.
I slide off the bed, sheets wrapped around my legs, and ease into his lap, tucking my face against his neck. He cradles me against him like he's afraid to let me go. I know I should shy away, that I should climb back into my bed out of loyalty to my sister. But there's something that locks me in place, something that won't let me stray from the gentle rise and fall of his chest or from his arms, supporting me like I'm something precious as his lips brush across my forehead.
Without speaking, we finally fall asleep. — Jackson Pearce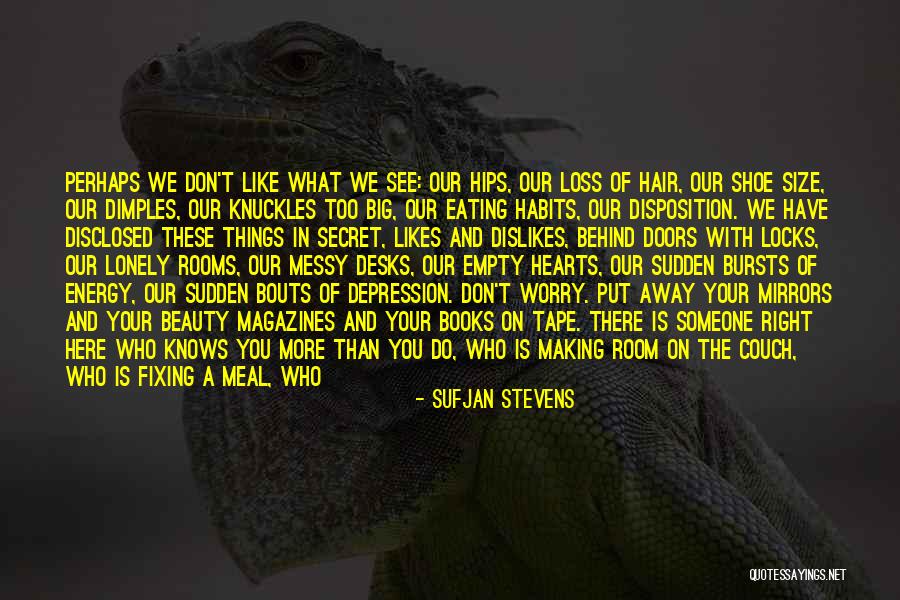 Perhaps we don't like what we see: our hips, our loss of hair, our shoe size, our dimples, our knuckles too big, our eating habits, our disposition. We have disclosed these things in secret, likes and dislikes, behind doors with locks, our lonely rooms, our messy desks, our empty hearts, our sudden bursts of energy, our sudden bouts of depression. Don't worry. Put away your mirrors and your beauty magazines and your books on tape. There is someone right here who knows you more than you do, who is making room on the couch, who is fixing a meal, who is putting on your favorite record, who is listening intently to what you have to say, who is standing there with you, face to face, hand to hand, eye to eye, mouth to mouth. There is no space left uncovered. This is where you belong. — Sufjan Stevens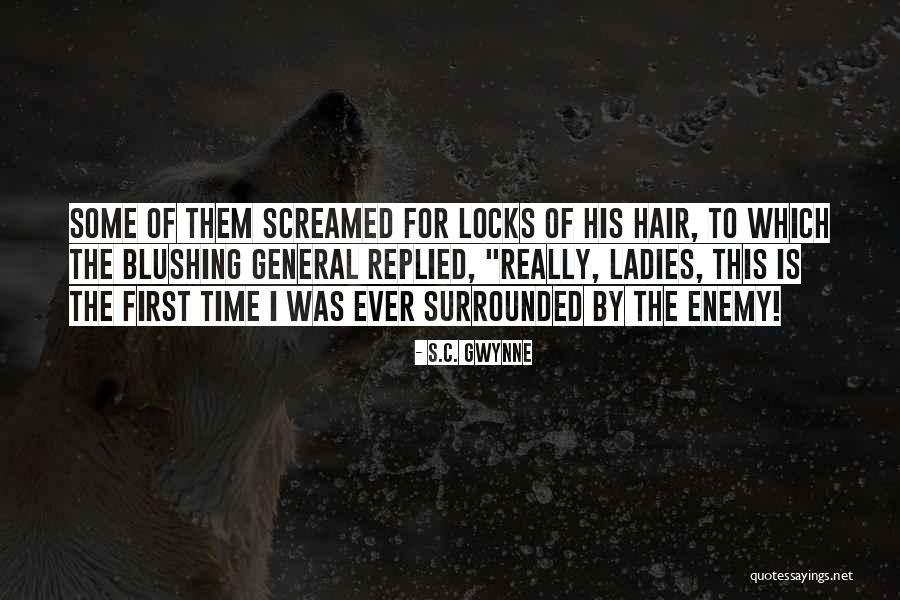 Some of them screamed for locks of his hair, to which the blushing general replied, "Really, ladies, this is the first time I was ever surrounded by the enemy! — S.C. Gwynne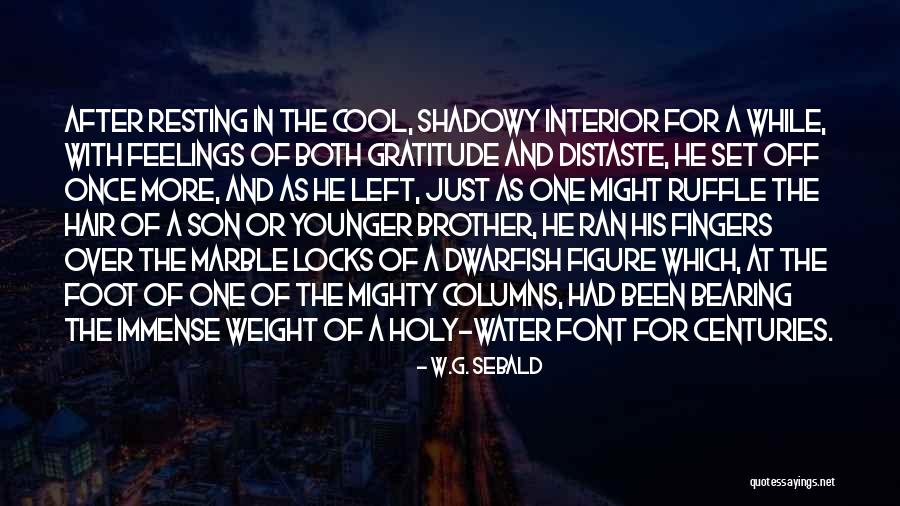 After resting in the cool, shadowy interior for a while, with feelings of both gratitude and distaste, he set off once more, and as he left, just as one might ruffle the hair of a son or younger brother, he ran his fingers over the marble locks of a dwarfish figure which, at the foot of one of the mighty columns, had been bearing the immense weight of a holy-water font for centuries. — W.G. Sebald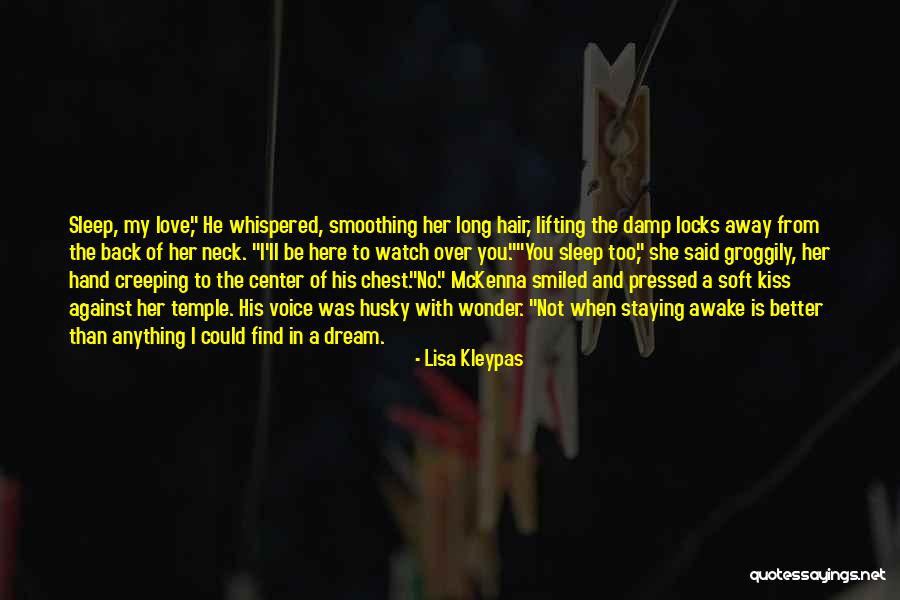 Sleep, my love," He whispered, smoothing her long hair, lifting the damp locks away from the back of her neck. "I'll be here to watch over you."
"You sleep too," she said groggily, her hand creeping to the center of his chest.
"No." McKenna smiled and pressed a soft kiss against her temple. His voice was husky with wonder. "Not when staying awake is better than anything I could find in a dream. — Lisa Kleypas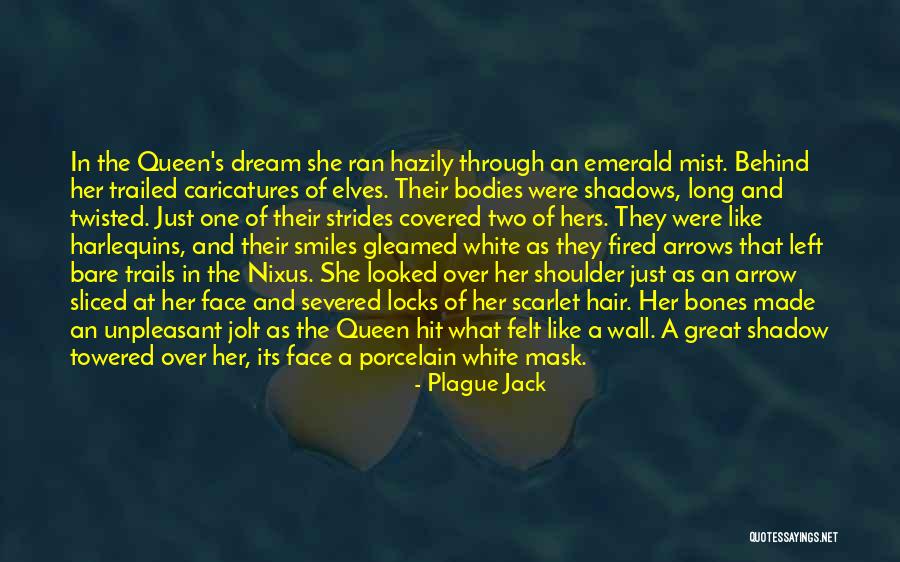 In the Queen's dream she ran hazily through an emerald mist. Behind her trailed caricatures of elves. Their bodies were shadows, long and twisted. Just one of their strides covered two of hers. They were like harlequins, and their smiles gleamed white as they fired arrows that left bare trails in the Nixus. She looked over her shoulder just as an arrow sliced at her face and severed locks of her scarlet hair. Her bones made an unpleasant jolt as the Queen hit what felt like a wall. A great shadow towered over her, its face a porcelain white mask. Unlike the elves, however, the figure did not smile. Claws plucked her from the fog as if she were a child's toy, and the shadow's mask flipped open, revealing a familiar face. — Plague Jack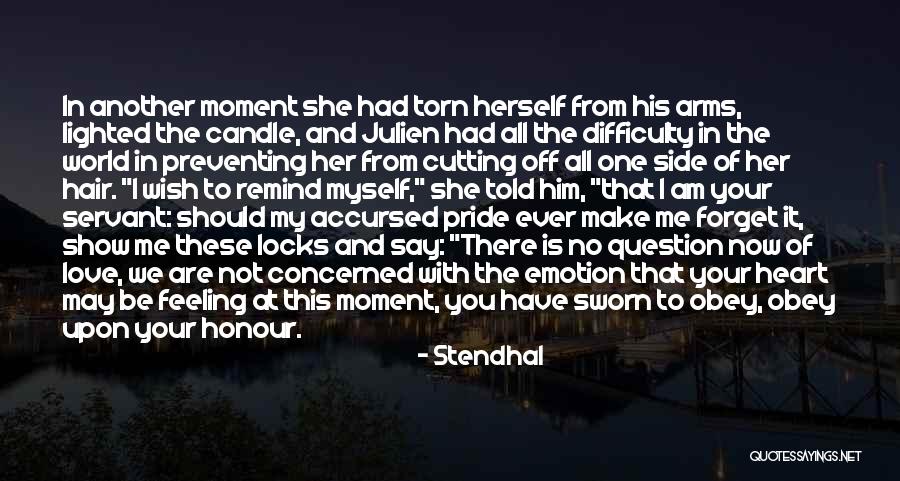 In another moment she had torn herself from his arms, lighted the candle, and Julien had all the difficulty in the world in preventing her from cutting off all one side of her hair. "I wish to remind myself," she told him, "that I am your servant: should my accursed pride ever make me forget it, show me these locks and say: "There is no question now of love, we are not concerned with the emotion that your heart may be feeling at this moment, you have sworn to obey, obey upon your honour. — Stendhal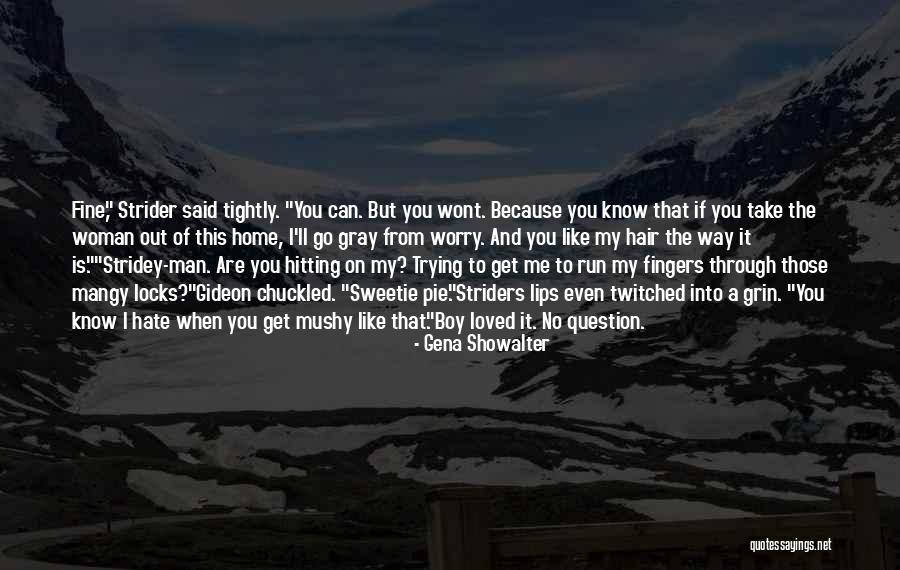 Fine," Strider said tightly. "You can. But you wont. Because you know that if you take the woman out of this home, I'll go gray from worry. And you like my hair the way it is."
"Stridey-man. Are you hitting on my? Trying to get me to run my fingers through those mangy locks?"
Gideon chuckled. "Sweetie pie."
Striders lips even twitched into a grin. "You know I hate when you get mushy like that."
Boy loved it. No question. — Gena Showalter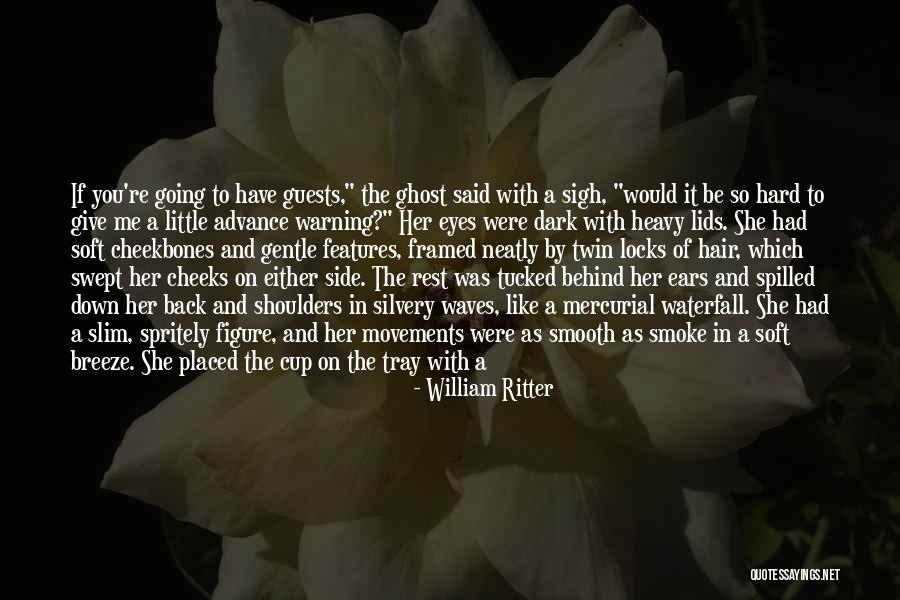 If you're going to have guests," the ghost said with a sigh, "would it be so hard to give me a little advance warning?" Her eyes were dark with heavy lids. She had soft cheekbones and gentle features, framed neatly by twin locks of hair, which swept her cheeks on either side. The rest was tucked behind her ears and spilled down her back and shoulders in silvery waves, like a mercurial waterfall. She had a slim, spritely figure, and her movements were as smooth as smoke in a soft breeze. She placed the cup on the tray with a gentle clink, and drifted to a seat on the windowsill. Through her opaque figure, I could see the swaying branches of a weeping willow in the yard. "How — William Ritter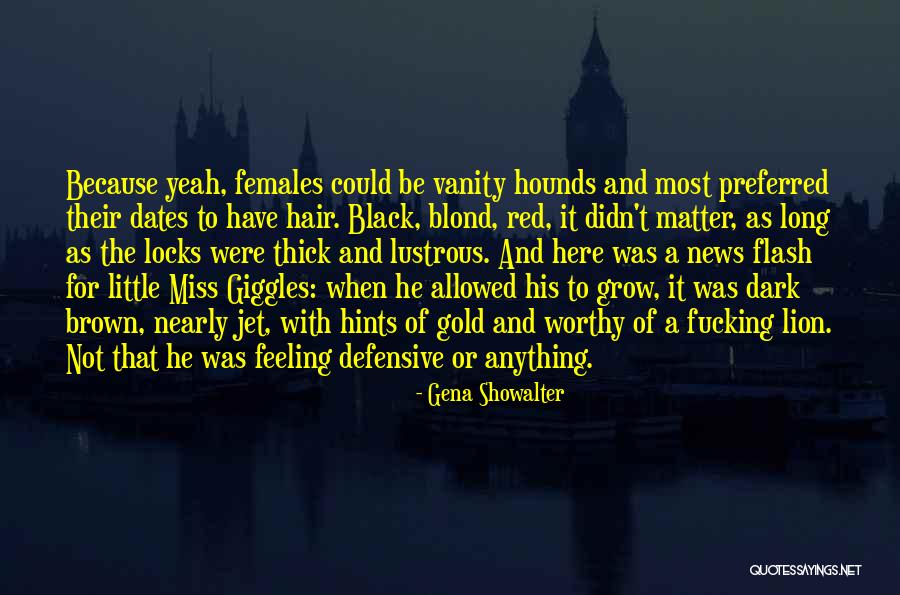 Because yeah, females could be vanity hounds and most preferred their dates to have hair. Black, blond, red, it didn't matter, as long as the locks were thick and lustrous. And here was a news flash for little Miss Giggles: when he allowed his to grow, it was dark brown, nearly jet, with hints of gold and worthy of a fucking lion.
Not that he was feeling defensive or anything. — Gena Showalter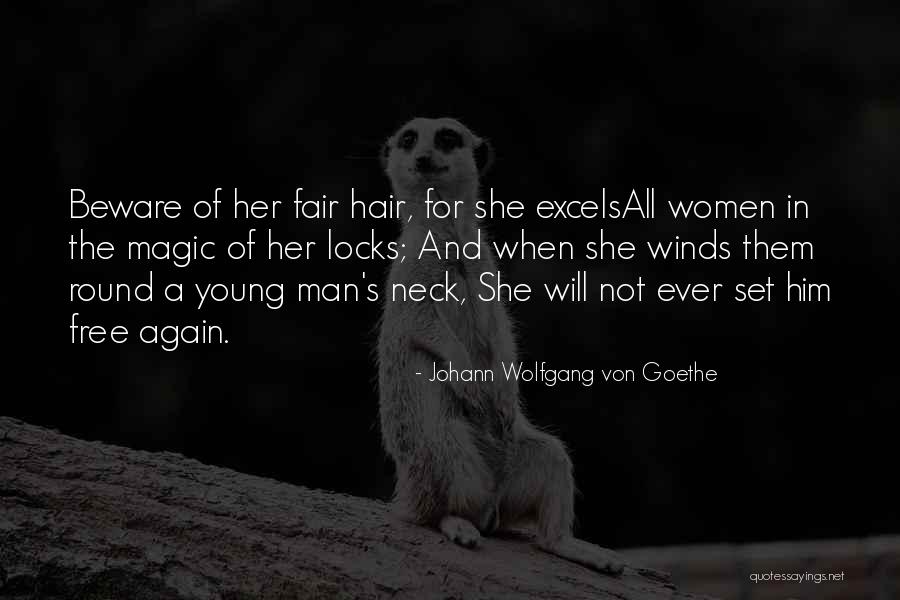 Beware of her fair hair, for she excels
All women in the magic of her locks;
And when she winds them round a young man's neck,
She will not ever set him free again. — Johann Wolfgang Von Goethe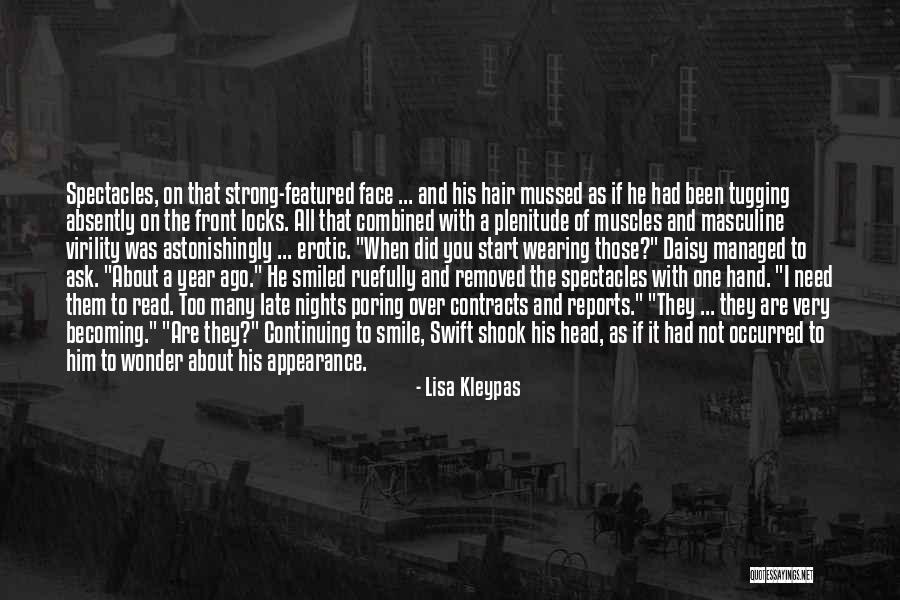 Spectacles, on that strong-featured face ... and his hair mussed as if he had been tugging absently on the front locks. All that combined with a plenitude of muscles and masculine virility was astonishingly ... erotic. "When did you start wearing those?" Daisy managed to ask.
"About a year ago." He smiled ruefully and removed the spectacles with one hand. "I need them to read. Too many late nights poring over contracts and reports."
"They ... they are very becoming."
"Are they?" Continuing to smile, Swift shook his head, as if it had not occurred to him to wonder about his appearance. — Lisa Kleypas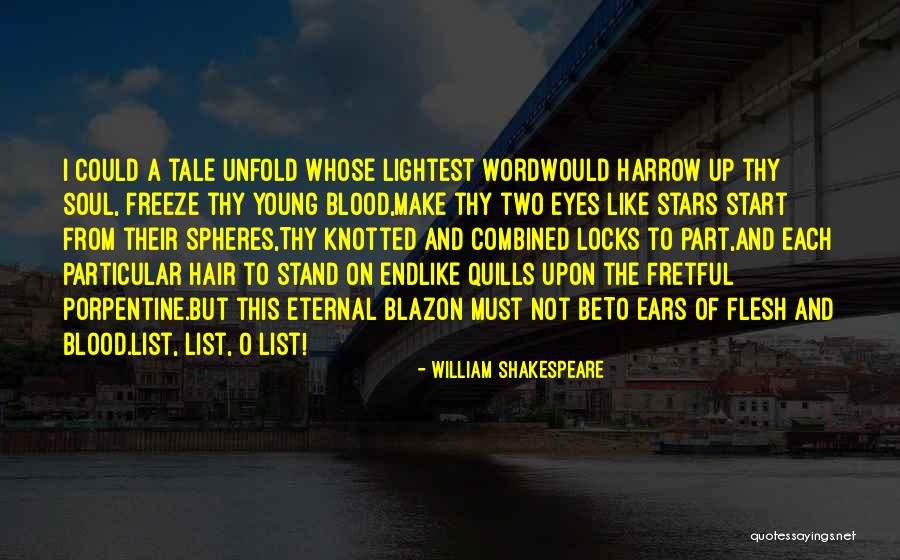 I could a tale unfold whose lightest word
Would harrow up thy soul, freeze thy young blood,
Make thy two eyes like stars start from their spheres,
Thy knotted and combined locks to part,
And each particular hair to stand on end
Like quills upon the fretful porpentine.
But this eternal blazon must not be
To ears of flesh and blood.
List, list, O list! — William Shakespeare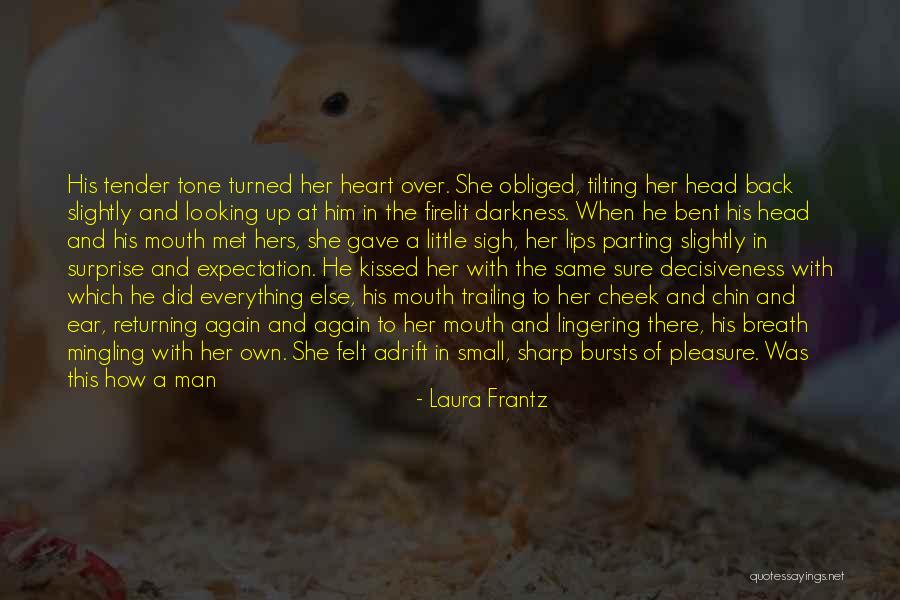 His tender tone turned her heart over. She obliged, tilting her head back slightly and looking up at him in the firelit darkness. When he bent his head and his mouth met hers, she gave a little sigh, her lips parting slightly in surprise and expectation. He kissed her with the same sure decisiveness with which he did everything else, his mouth trailing to her cheek and chin and ear, returning again and again to her mouth and lingering there, his breath mingling with her own.
She felt adrift in small, sharp bursts of pleasure. Was this how a man was suppose to kiss a woman? Tenderly ... firmly ... repeatedly? His fingers fanned through her hair till the pins gave way and wayward locks spilled like black ribbon to the small of her back. In answer, her arms circled his neck, bringing him nearer, every kiss sweeter and surer than the one before. Soon they were lost in a haze of sighs and murmurs and caresses. — Laura Frantz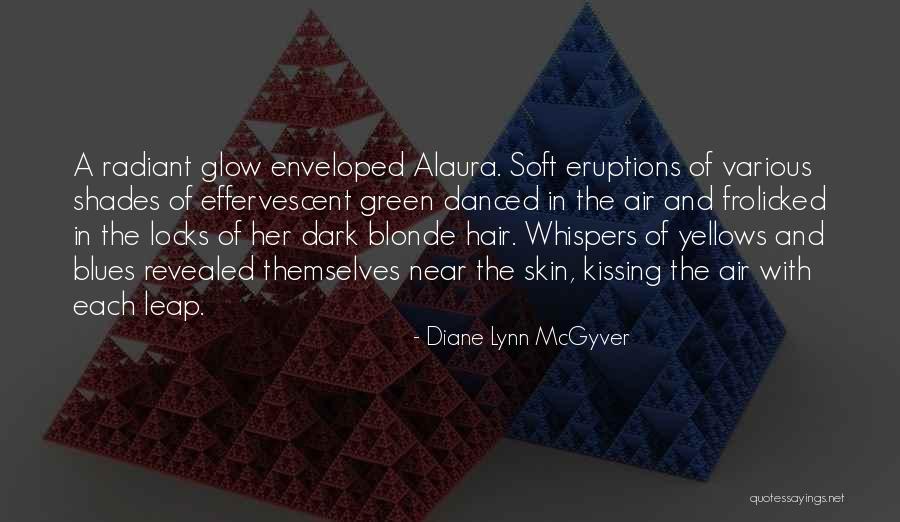 A radiant glow enveloped Alaura. Soft eruptions of various shades of effervescent green danced in the air and frolicked in the locks of her dark blonde hair. Whispers of yellows and blues revealed themselves near the skin, kissing the air with each leap. — Diane Lynn McGyver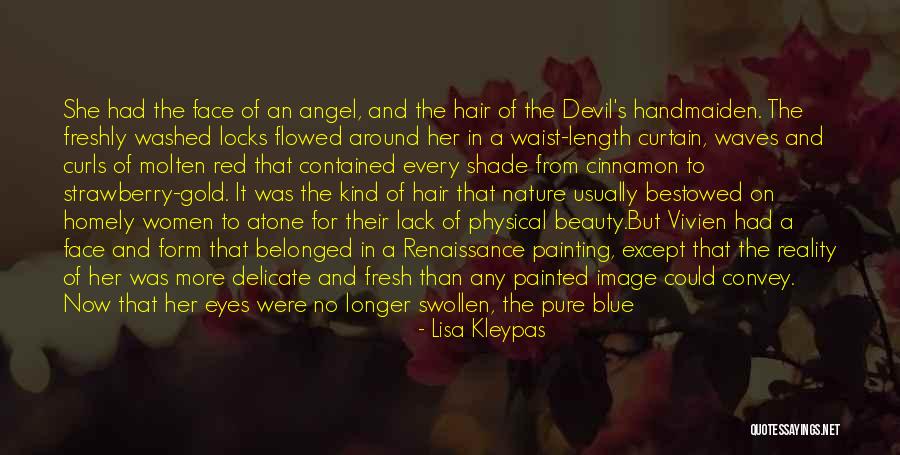 She had the face of an angel, and the hair of the Devil's handmaiden. The freshly washed locks flowed around her in a waist-length curtain, waves and curls of molten red that contained every shade from cinnamon to strawberry-gold. It was the kind of hair that nature usually bestowed on homely women to atone for their lack of physical beauty.
But Vivien had a face and form that belonged in a Renaissance painting, except that the reality of her was more delicate and fresh than any painted image could convey. Now that her eyes were no longer swollen, the pure blue intensity of her gaze shone full and direct on him. Her mouth, tender and rose-tinted, was a marvel of nature. — Lisa Kleypas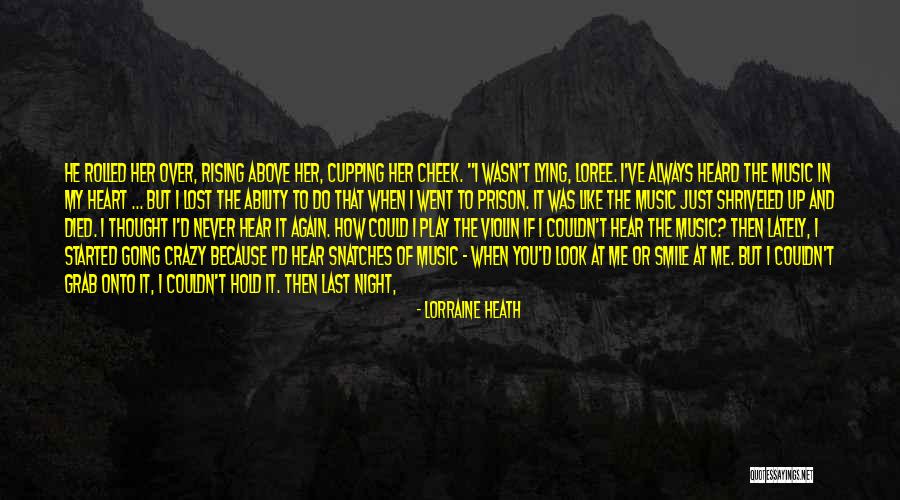 He rolled her over, rising above her, cupping her cheek. "I wasn't lying, Loree. I've always heard the music in my heart ... but I lost the ability to do that when I went to prison. It was like the music just shriveled up and died. I thought I'd never hear it again. How could I play the violin if I couldn't hear the music? Then lately, I started going crazy because I'd hear snatches of music - when you'd look at me or smile at me. But I couldn't grab onto it, I couldn't hold it. Then last night, you told me that you loved me and I heard the music, so sweet, so soft. It scared me to hear it so clearly after I hadn't for so long.
"Tonight, I hurt you - again. I was going to let you go, Loree. I was gonna take you back to Austin. But I heard my heart break ... and I knew that's all I'd hear for the rest of my life. Don't leave me, Sugar."
Joy filled her and she brushed the locks of hair back off his brow. "I won't."
-Austin and Loree — Lorraine Heath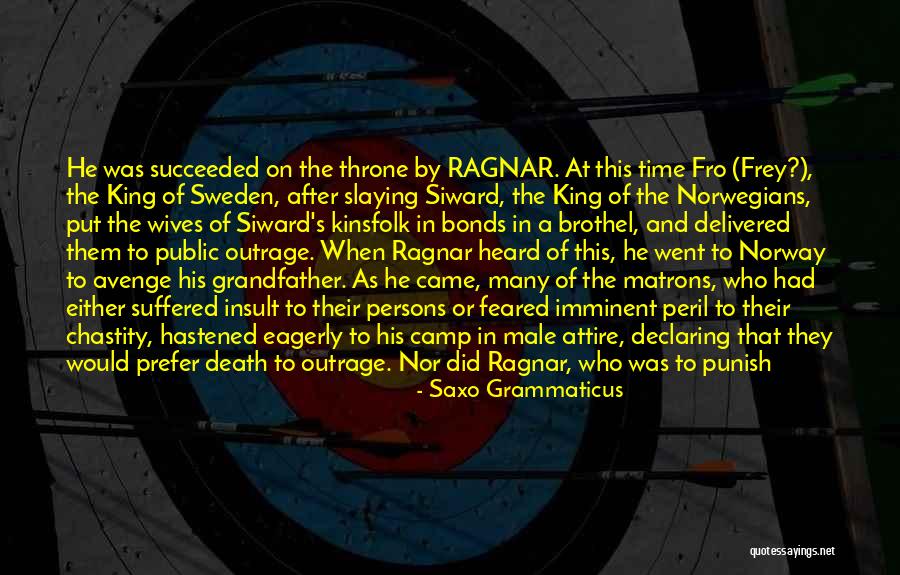 He was succeeded on the throne by RAGNAR. At this time Fro (Frey?), the King of Sweden, after slaying Siward, the King of the Norwegians, put the wives of Siward's kinsfolk in bonds in a brothel, and delivered them to public outrage. When Ragnar heard of this, he went to Norway to avenge his grandfather. As he came, many of the matrons, who had either suffered insult to their persons or feared imminent peril to their chastity, hastened eagerly to his camp in male attire, declaring that they would prefer death to outrage. Nor did Ragnar, who was to punish this reproach upon the women, scorn to use against the author of the infamy the help of those whose shame he had come to avenge. Among them was Ladgerda, a skilled amazon, who, though a maiden, had the courage of a man, and fought in front among the bravest with her hair loose over her shoulders. All-marvelled at her matchless deeds, for her locks flying down her back betrayed that she was a woman. — Saxo Grammaticus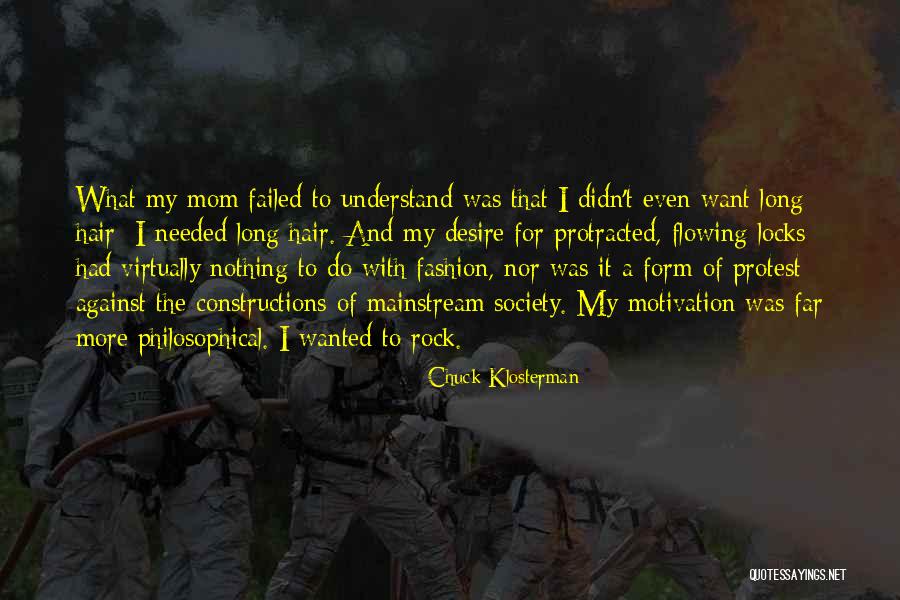 What my mom failed to understand was that I didn't even want long hair
I needed long hair. And my desire for protracted, flowing locks had virtually nothing to do with fashion, nor was it a form of protest against the constructions of mainstream society. My motivation was far more philosophical. I wanted to rock. — Chuck Klosterman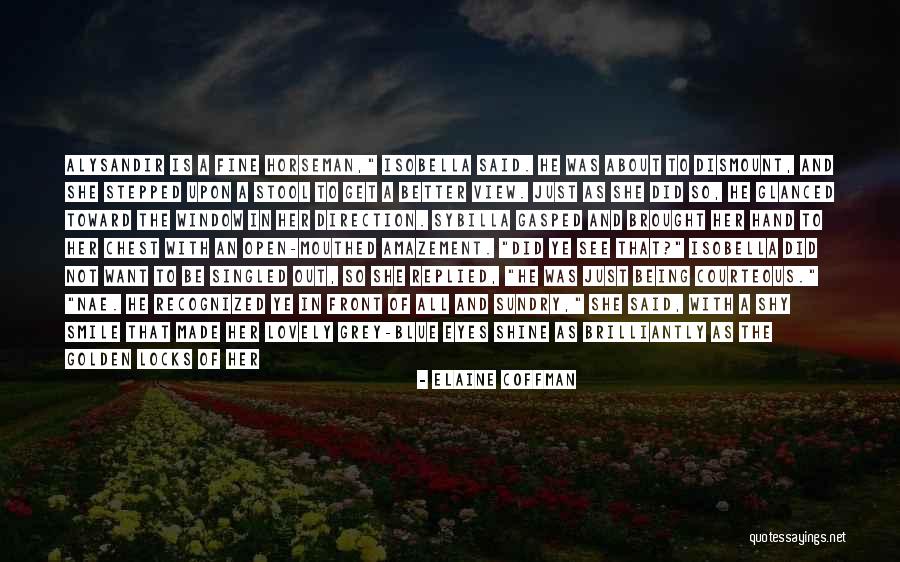 Alysandir is a fine horseman," Isobella said. He was about to dismount, and she stepped upon a stool to get a better view. Just as she did so, he glanced toward the window in her direction. Sybilla gasped and brought her hand to her chest with an open-mouthed amazement. "Did ye see that?" Isobella did not want to be singled out, so she replied, "He was just being courteous." "Nae. He recognized ye in front of all and sundry," she said, with a shy smile that made her lovely grey-blue eyes shine as brilliantly as the golden locks of her hair braided on top of her hair. " I don't know why. I've been nothing but a thorn in his side." "That isn't what Alysandri said," Sybilla replied. "He was most full praise about ye." Isobella glanced at Sybilla, who smiled innocently, which was her way of letting her visitor know that that was all she was going to say on the subject. — Elaine Coffman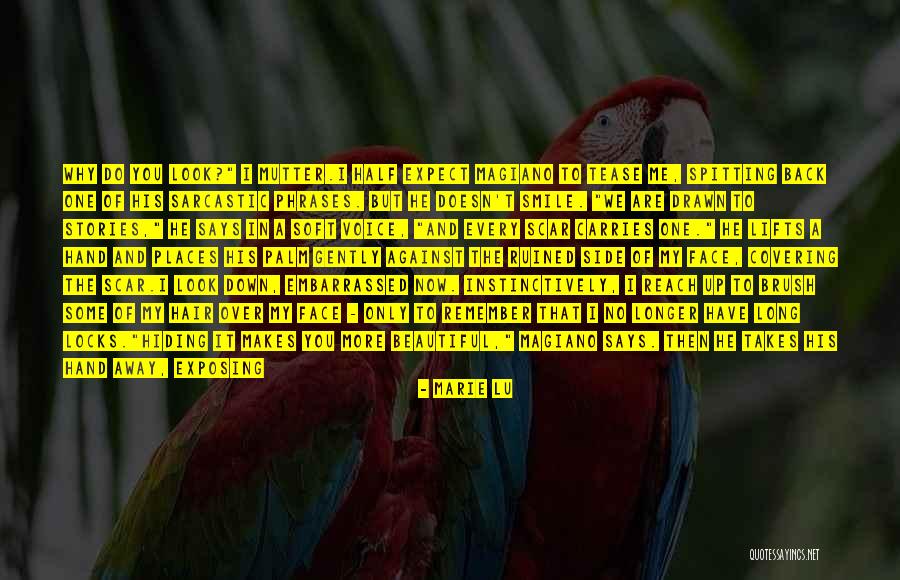 Why do you look?" I mutter.
I half expect Magiano to tease me, spitting back one of his sarcastic phrases. But he doesn't smile. "We are drawn to stories," he says in a soft voice, "and every scar carries one." He lifts a hand and places his palm gently against the ruined side of my face, covering the scar.
I look down, embarrassed now. Instinctively, I reach up to brush some of my hair over my face - only to remember that I no longer have long locks.
"Hiding it makes you more beautiful," Magiano says. Then he takes his hand away, exposing my scar again. "But revealing it makes you you." He nods at me. "So wear it proudly. — Marie Lu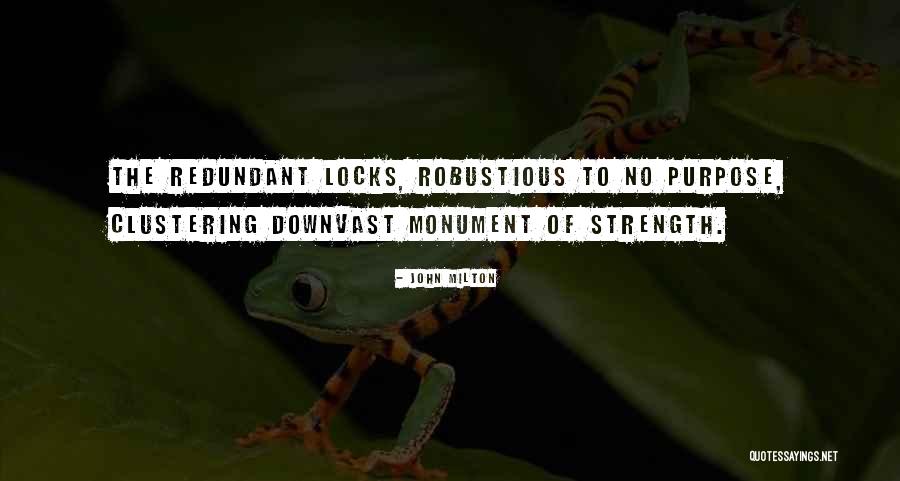 The redundant locks, robustious to no purpose, clustering down
vast monument of strength. — John Milton
A second technician gauges Werner's eye color against a chromatic scale on which sixty or so shades of blue are displayed. Werner's color is himmelblau, sky blue. To assess his hair color, the man snips a lock of hair from Werner's head and compares it to thirty or so other locks clipped to a board, arrayed darkest to lightest. "Schnee," the man mutters, and makes a notation. Snow. Werner's hair is lighter than the lightest color on the board. — Anthony Doerr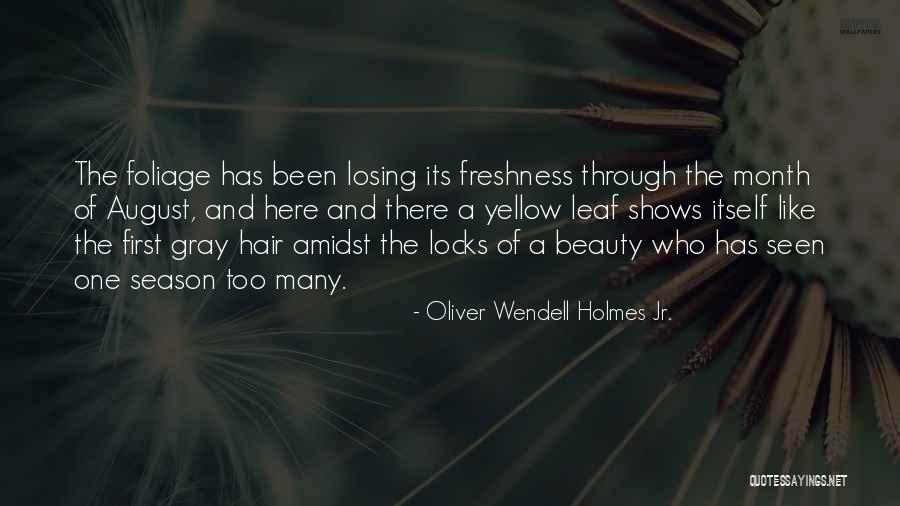 The foliage has been losing its freshness through the month of August, and here and there a yellow leaf shows itself like the first gray hair amidst the locks of a beauty who has seen one season too many. — Oliver Wendell Holmes Jr.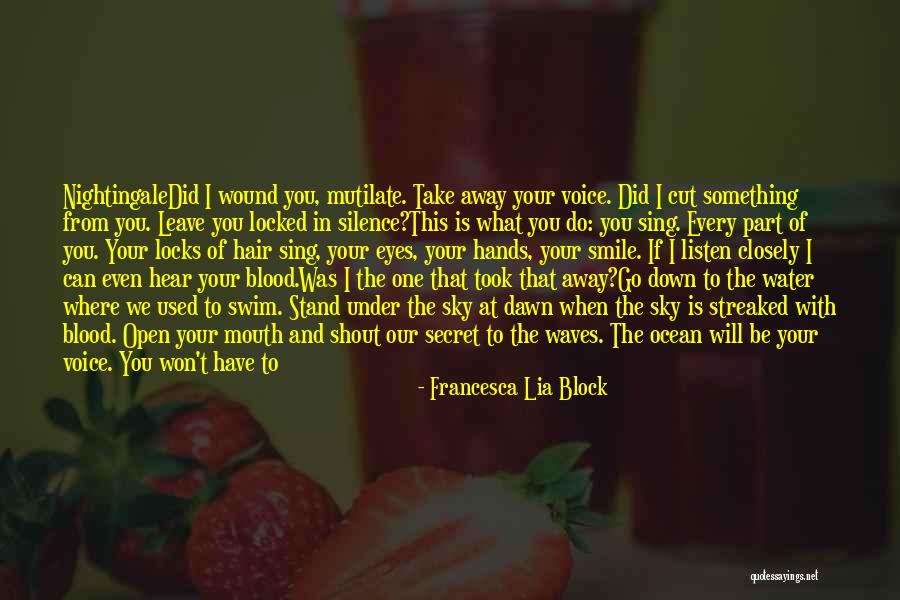 Nightingale
Did I wound you, mutilate. Take away your voice. Did I cut something from you. Leave you locked in silence?
This is what you do: you sing. Every part of you. Your locks of hair sing, your eyes, your hands, your smile. If I listen closely I can even hear your blood.
Was I the one that took that away?
Go down to the water where we used to swim. Stand under the sky at dawn when the sky is streaked with blood. Open your mouth and shout our secret to the waves. The ocean will be your voice. You won't have to carry anything alone. Little Sister, my Spring, April. Little nightingale. Sant at the edge of the water. Your voice will come back to you. Maybe. If I am silent. — Francesca Lia Block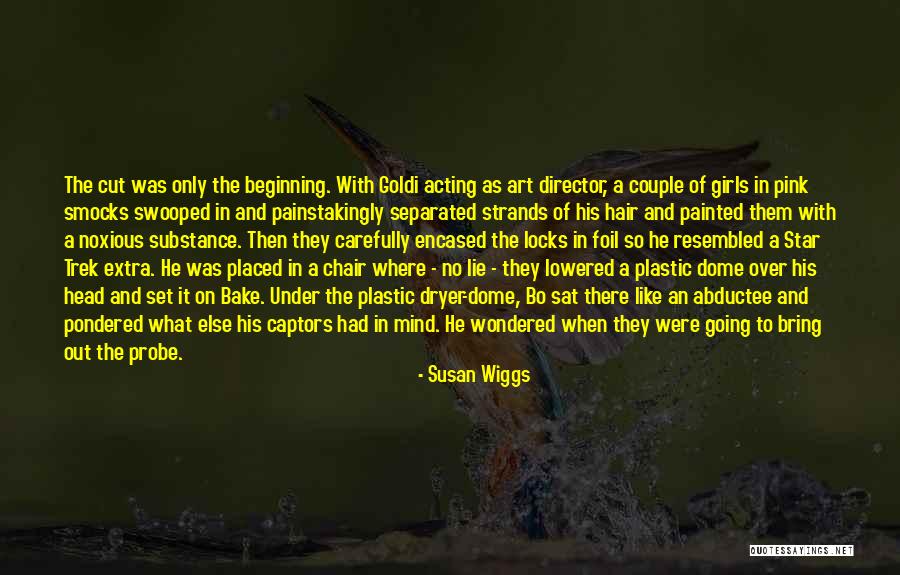 The cut was only the beginning. With Goldi acting as art director, a couple of girls in pink smocks swooped in and painstakingly separated strands of his hair and painted them with a noxious substance. Then they carefully encased the locks in foil so he resembled a Star Trek extra. He was placed in a chair where - no lie - they lowered a plastic dome over his head and set it on Bake. Under the plastic dryer-dome, Bo sat there like an abductee and pondered what else his captors had in mind. He wondered when they were going to bring out the probe. — Susan Wiggs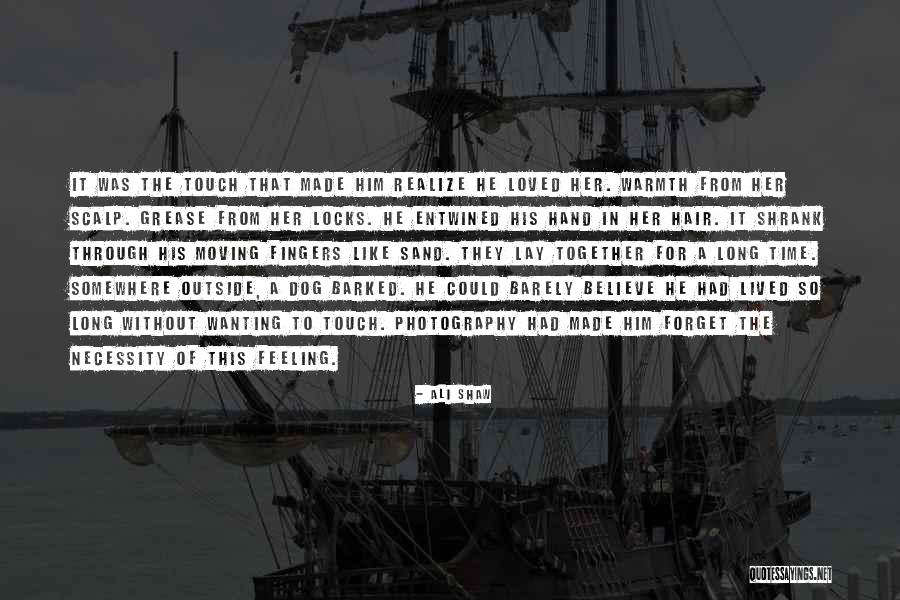 It was the touch that made him realize he loved her. Warmth from her scalp. Grease from her locks. He entwined his hand in her hair. It shrank through his moving fingers like sand. They lay together for a long time. Somewhere outside, a dog barked. He could barely believe he had lived so long without wanting to touch. Photography had made him forget the necessity of this feeling. — Ali Shaw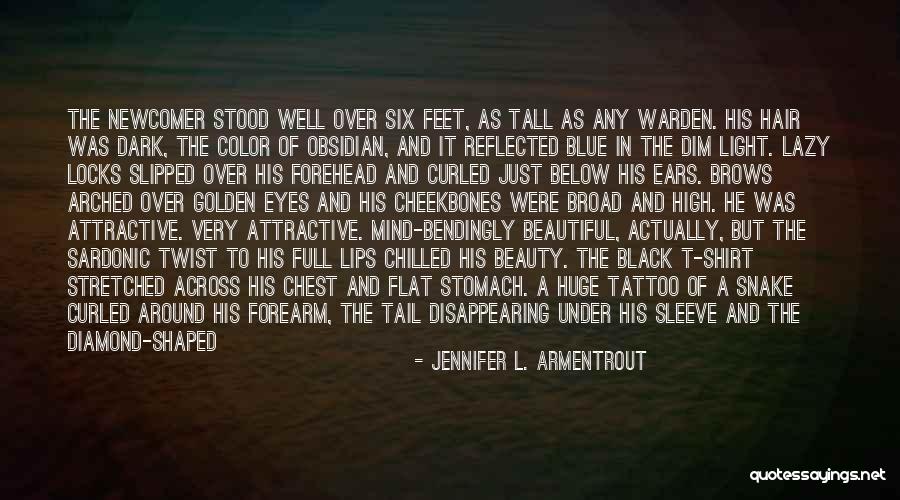 The newcomer stood well over six feet, as tall as any Warden. His hair was dark, the color of obsidian, and it reflected blue in the dim light. Lazy locks slipped over his forehead and curled just below his ears. Brows arched over golden eyes and his cheekbones were broad and high. He was attractive. Very attractive. Mind-bendingly beautiful, actually, but the sardonic twist to his full lips chilled his beauty. The black T-shirt stretched across his chest and flat stomach. A huge tattoo of a snake curled around his forearm, the tail disappearing under his sleeve and the diamond-shaped head rested on the top of his hand. He looked my age. Total crush material - if it wasn't for the fact that he had no soul. — Jennifer L. Armentrout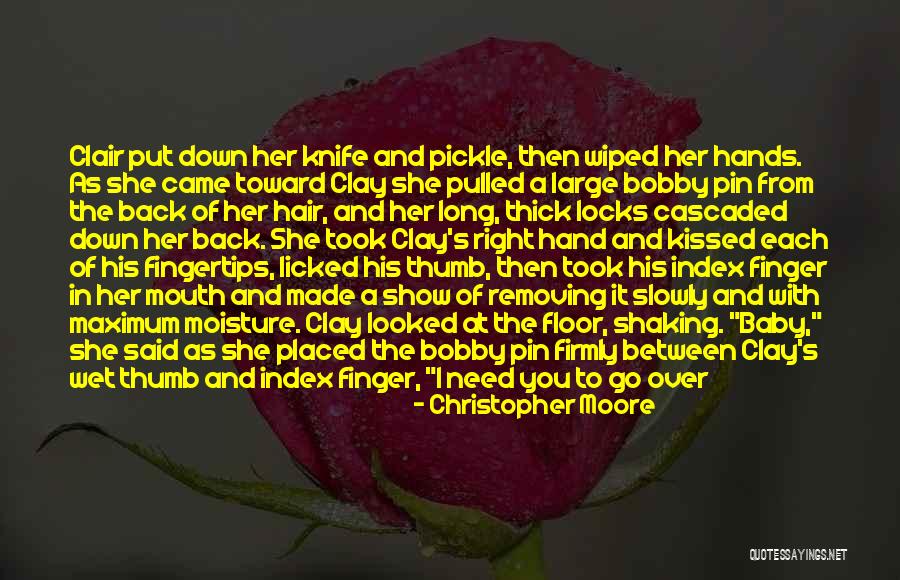 Clair put down her knife and pickle, then wiped her hands. As she came toward Clay she pulled a large bobby pin from the back of her hair, and her long, thick locks cascaded down her back. She took Clay's right hand and kissed each of his fingertips, licked his thumb, then took his index finger in her mouth and made a show of removing it slowly and with maximum moisture. Clay looked at the floor, shaking. "Baby," she said as she placed the bobby pin firmly between Clay's wet thumb and index finger, "I need you to go over to that wall and take this bobby pin and insert it ever so firmly into that electrical outlet over there." Clay looked up at her at last. "Because," she continued, "I know that you aren't mad at me and that you're just grieving for your friends, but I think you need to be reminded that you aren't invulnerable and that you can hurt even more than you do now. — Christopher Moore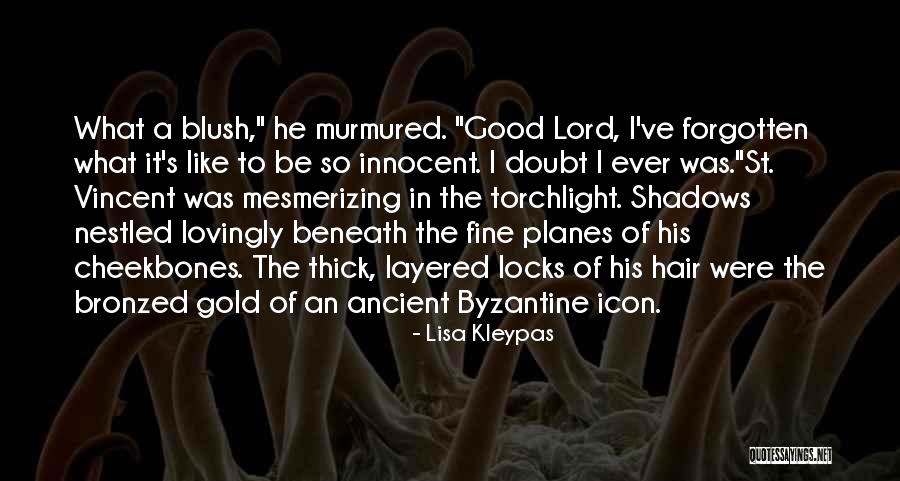 What a blush," he murmured. "Good Lord, I've forgotten what it's like to be so innocent. I doubt I ever was."
St. Vincent was mesmerizing in the torchlight. Shadows nestled lovingly beneath the fine planes of his cheekbones. The thick, layered locks of his hair were the bronzed gold of an ancient Byzantine icon. — Lisa Kleypas
Is that Rococo, Pascal?" Chrissie said as she stood by the missus's desk, peering into the nests of pigeonholes and cubbies. "Oh, don't touch there or you'll be shot," Pascal said, because it was where the missus kept her souvenirs, love letters from men before him, locks of hair, dried shamrock, and the words of songs that she rehearsed for her parties. Her family was musical, — Edna O'Brien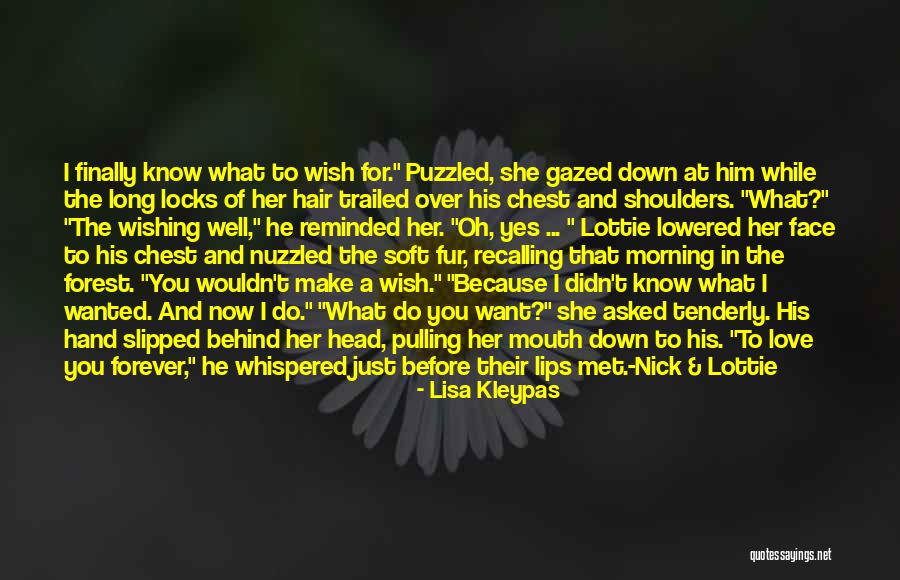 I finally know what to wish for."
Puzzled, she gazed down at him while the long locks of her hair trailed over his chest and shoulders. "What?"
"The wishing well," he reminded her.
"Oh, yes ... " Lottie lowered her face to his chest and nuzzled the soft fur, recalling that morning in the forest. "You wouldn't make a wish."
"Because I didn't know what I wanted. And now I do."
"What do you want?" she asked tenderly.
His hand slipped behind her head, pulling her mouth down to his. "To love you forever," he whispered just before their lips met.
-Nick & Lottie — Lisa Kleypas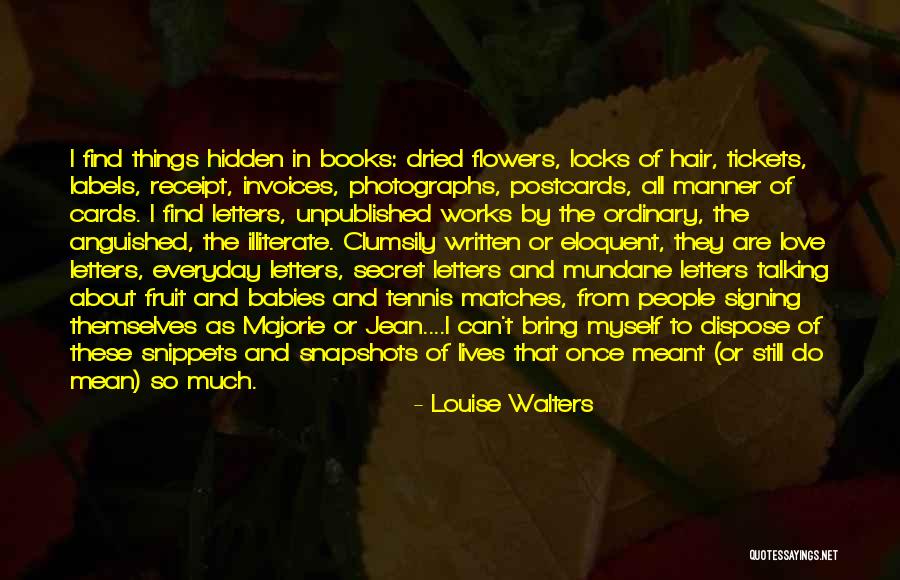 I find things hidden in books: dried flowers, locks of hair, tickets, labels, receipt, invoices, photographs, postcards, all manner of cards. I find letters, unpublished works by the ordinary, the anguished, the illiterate. Clumsily written or eloquent, they are love letters, everyday letters, secret letters and mundane letters talking about fruit and babies and tennis matches, from people signing themselves as Majorie or Jean....I can't bring myself to dispose of these snippets and snapshots of lives that once meant (or still do mean) so much. — Louise Walters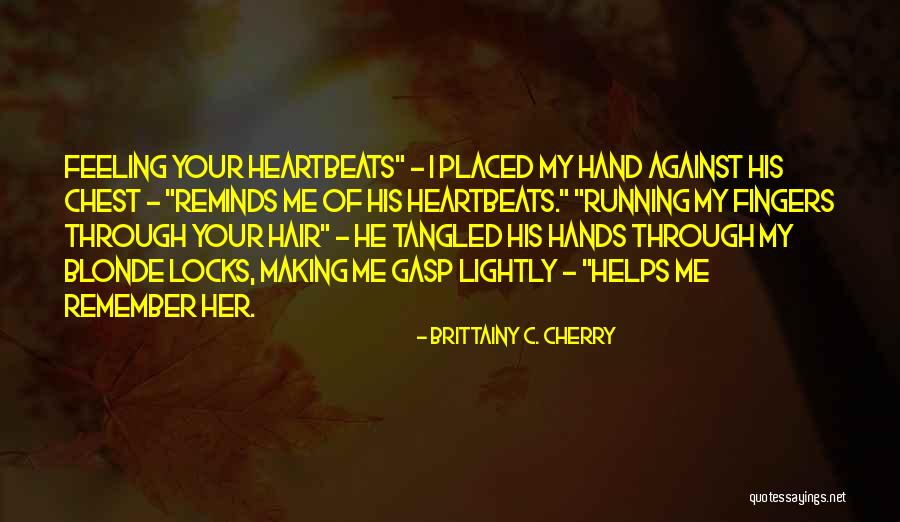 Feeling your heartbeats" - I placed my hand against his chest - "reminds me of his heartbeats."
"Running my fingers through your hair" - he tangled his hands through my blonde locks, making me gasp lightly - "helps me remember her. — Brittainy C. Cherry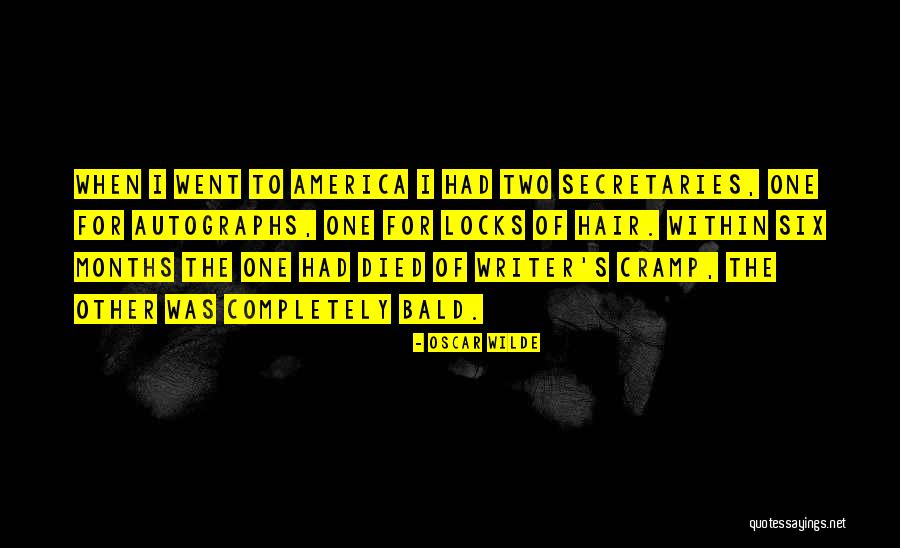 When I went to America I had two secretaries, one for autographs, one for locks of hair. Within six months the one had died of writer's cramp, the other was completely bald. — Oscar Wilde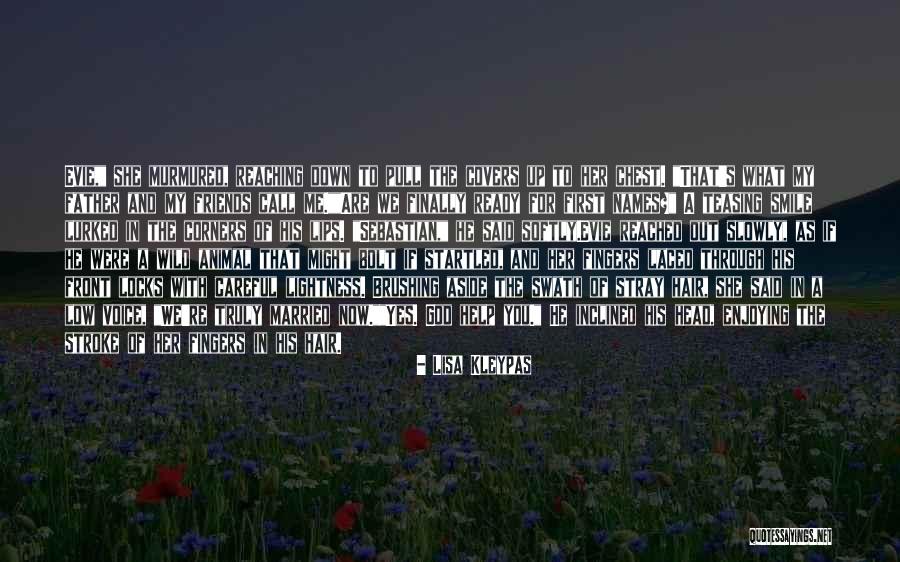 Evie," she murmured, reaching down to pull the covers up to her chest. "That's what my father and my friends call me."
"Are we finally ready for first names?" A teasing smile lurked in the corners of his lips. "Sebastian," he said softly.
Evie reached out slowly, as if he were a wild animal that might bolt if startled, and her fingers laced through his front locks with careful lightness. Brushing aside the swath of stray hair, she said in a low voice, "We're truly married now."
"Yes. God help you." He inclined his head, enjoying the stroke of her fingers in his hair. — Lisa Kleypas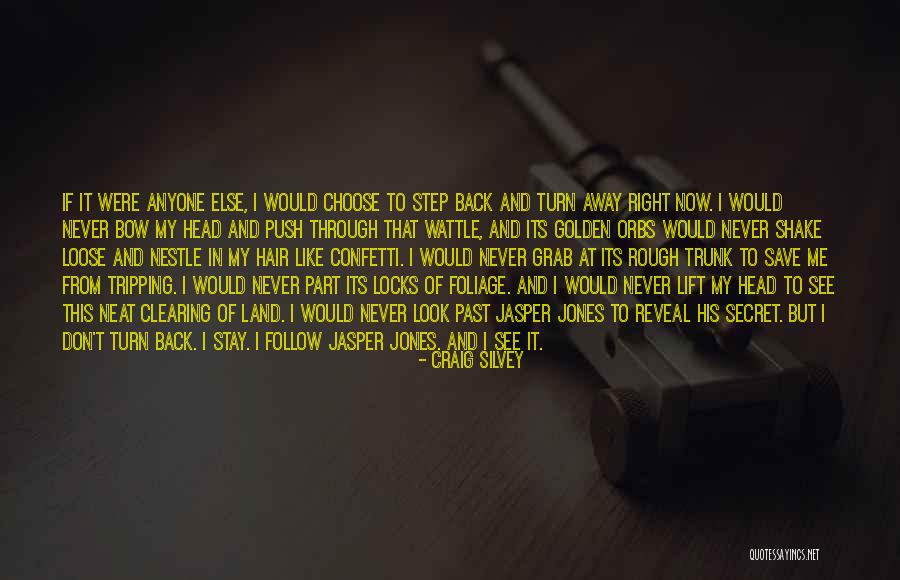 If it were anyone else, I would choose to step back and turn away right now. I would never bow my head and push through that wattle, and its golden orbs would never shake loose and nestle in my hair like confetti. I would never grab at its rough trunk to save me from tripping. I would never part its locks of foliage. And I would never lift my head to see this neat clearing of land. I would never look past Jasper Jones to reveal his secret. But I don't turn back. I stay. I follow Jasper Jones. And I see it. — Craig Silvey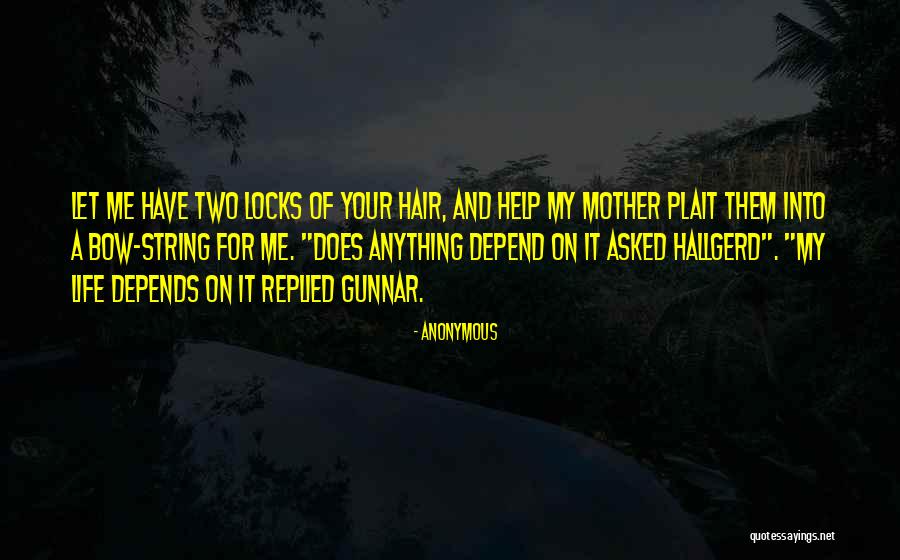 Let me have two locks of your hair, and help my mother plait them into a bow-string for me. "Does anything depend on it asked Hallgerd". "My life depends on it replied Gunnar. — Anonymous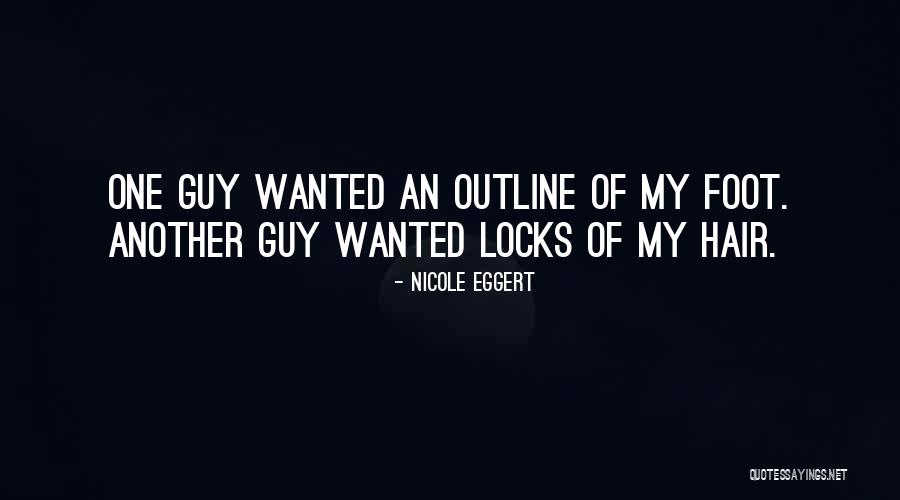 One guy wanted an outline of my foot. Another guy wanted locks of my hair. — Nicole Eggert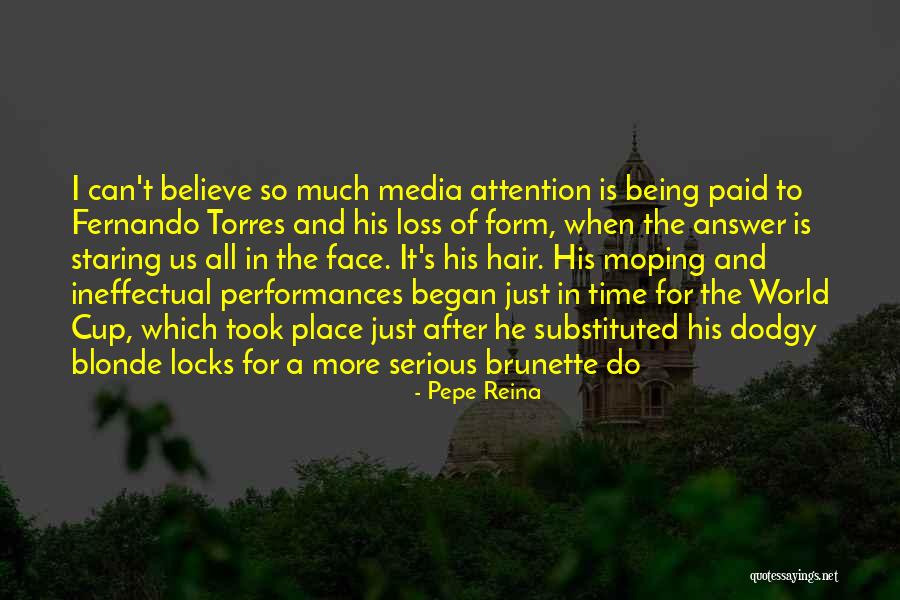 I can't believe so much media attention is being paid to Fernando Torres and his loss of form, when the answer is staring us all in the face. It's his hair. His moping and ineffectual performances began just in time for the World Cup, which took place just after he substituted his dodgy blonde locks for a more serious brunette do — Pepe Reina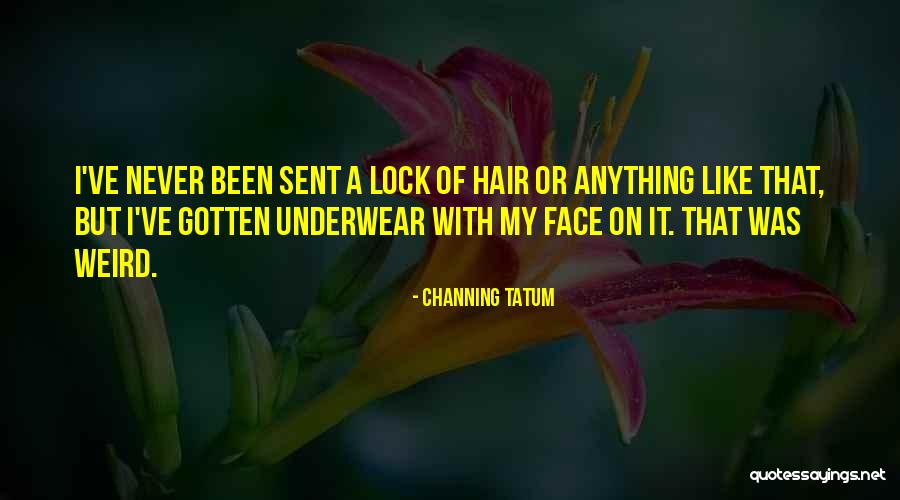 I've never been sent a lock of hair or anything like that, but I've gotten underwear with my face on it. That was weird. — Channing Tatum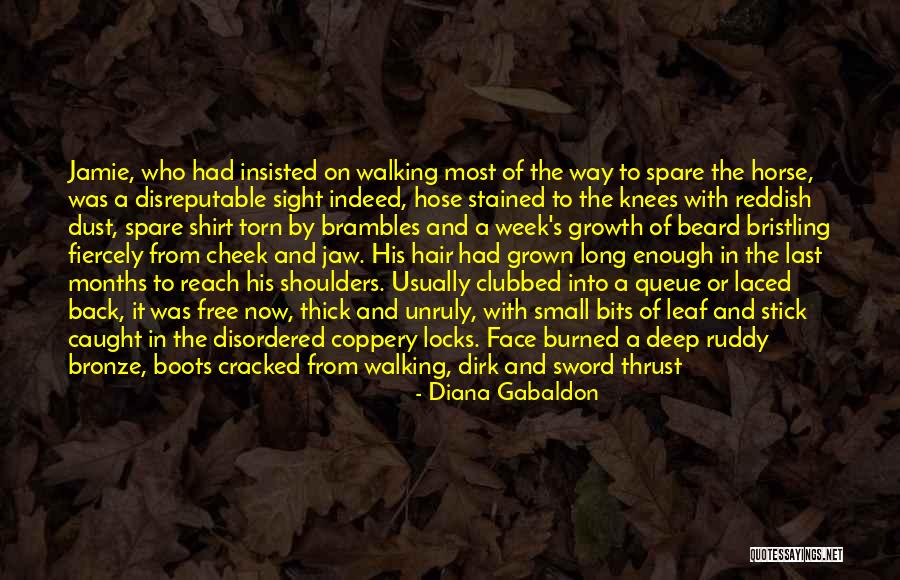 Jamie, who had insisted on walking most of the way to spare the horse, was a disreputable sight indeed, hose stained to the knees with reddish dust, spare shirt torn by brambles and a week's growth of beard bristling fiercely from cheek and jaw. His hair had grown long enough in the last months to reach his shoulders. Usually clubbed into a queue or laced back, it was free now, thick and unruly, with small bits of leaf and stick caught in the disordered coppery locks. Face burned a deep ruddy bronze, boots cracked from walking, dirk and sword thrust through his belt, he looked a wild Highlander indeed. — Diana Gabaldon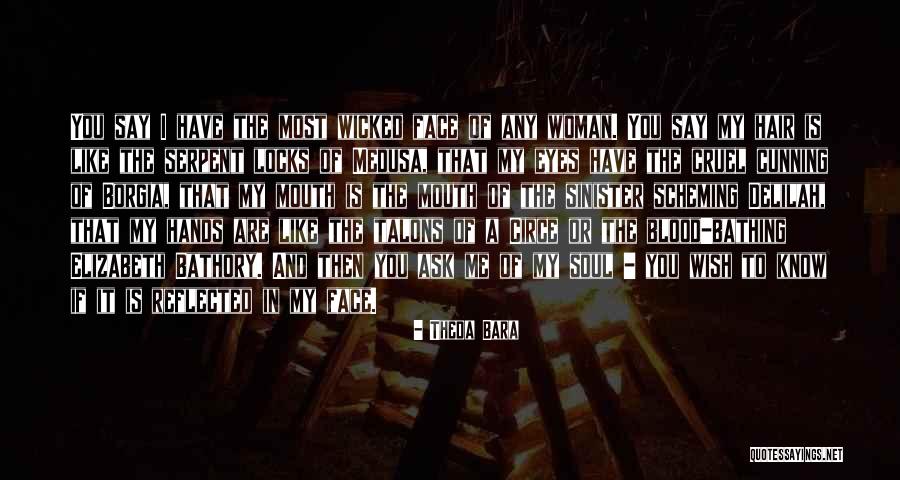 You say I have the most wicked face of any woman. You say my hair is like the serpent locks of Medusa, that my eyes have the cruel cunning of Borgia, that my mouth is the mouth of the sinister scheming Delilah, that my hands are like the talons of a Circe or the blood-bathing Elizabeth Bathory. And then you ask me of my soul - you wish to know if it is reflected in my face. — Theda Bara