Quotes & Sayings About New Beginning And Love
Enjoy reading and share 56 famous quotes about New Beginning And Love with everyone.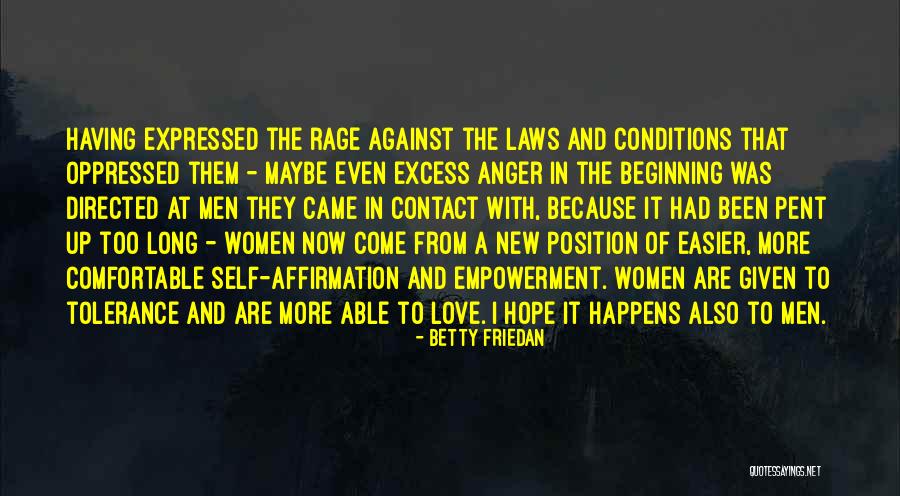 Having expressed the rage against the laws and conditions that oppressed them - maybe even excess anger in the beginning was directed at men they came in contact with, because it had been pent up too long - women now come from a new position of easier, more comfortable self-affirmation and empowerment. Women are given to tolerance and are more able to love. I hope it happens also to men. — Betty Friedan
There's a space between the beginning and the end,
In that place we suffer, and we see our loved ones suffer because us.
There's a space between our birth and death,
a space where people laugh and shed their tears,
a place of broken hearts, and celebrations,
a place where People pray and God ignores their pain,
In life we love and then we cheat;
We lust and then repent,
In life we die, and die again,
And then we hope our new rebirth. — Quetzal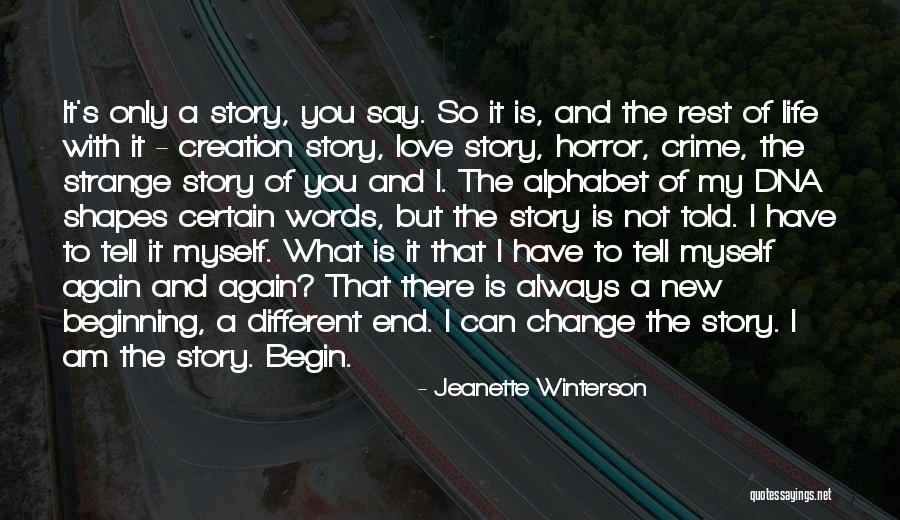 It's only a story, you say. So it is, and the rest of life with it - creation story, love story, horror, crime, the strange story of you and I. The alphabet of my DNA shapes certain words, but the story is not told. I have to tell it myself. What is it that I have to tell myself again and again? That there is always a new beginning, a different end. I can change the story. I am the story. Begin. — Jeanette Winterson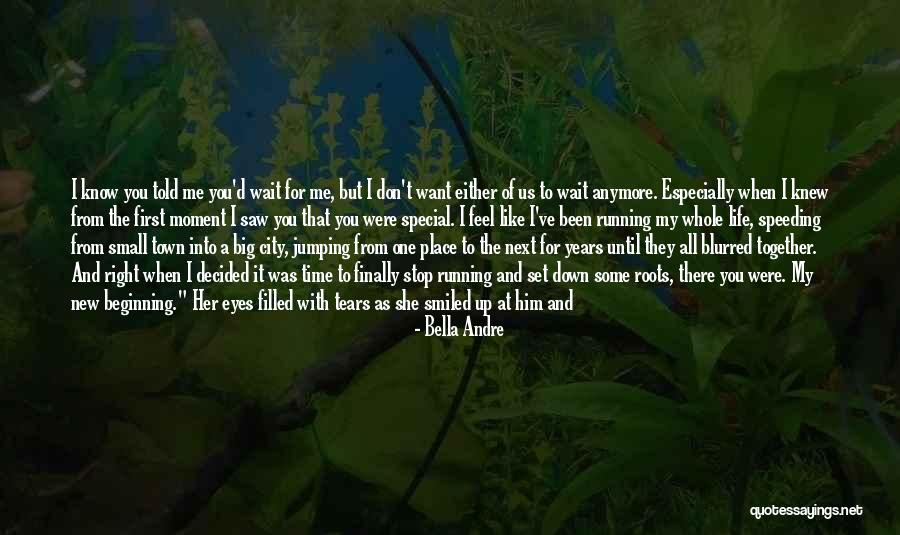 I know you told me you'd wait for me, but I don't want either of us to wait anymore. Especially when I knew from the first moment I saw you that you were special. I feel like I've been running my whole life, speeding from small town into a big city, jumping from one place to the next for years until they all blurred together. And right when I decided it was time to finally stop running and set down some roots, there you were. My new beginning." Her eyes filled with tears as she smiled up at him and slid her arms around his neck to pull him closer. "My love."
Jack sank down onto the couch with Mary, her curves soft beneath his muscles. "I'll always be yours, Angel. Forever. — Bella Andre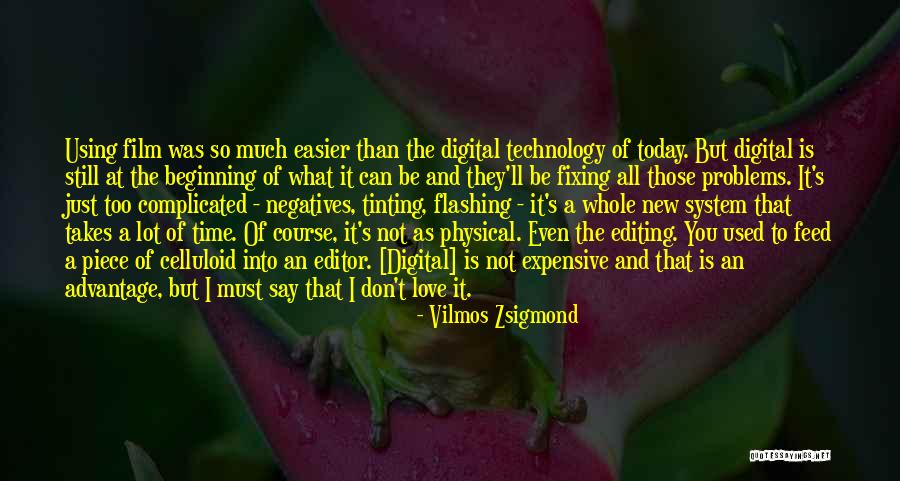 Using film was so much easier than the digital technology of today. But digital is still at the beginning of what it can be and they'll be fixing all those problems. It's just too complicated - negatives, tinting, flashing - it's a whole new system that takes a lot of time. Of course, it's not as physical. Even the editing. You used to feed a piece of celluloid into an editor. [Digital] is not expensive and that is an advantage, but I must say that I don't love it. — Vilmos Zsigmond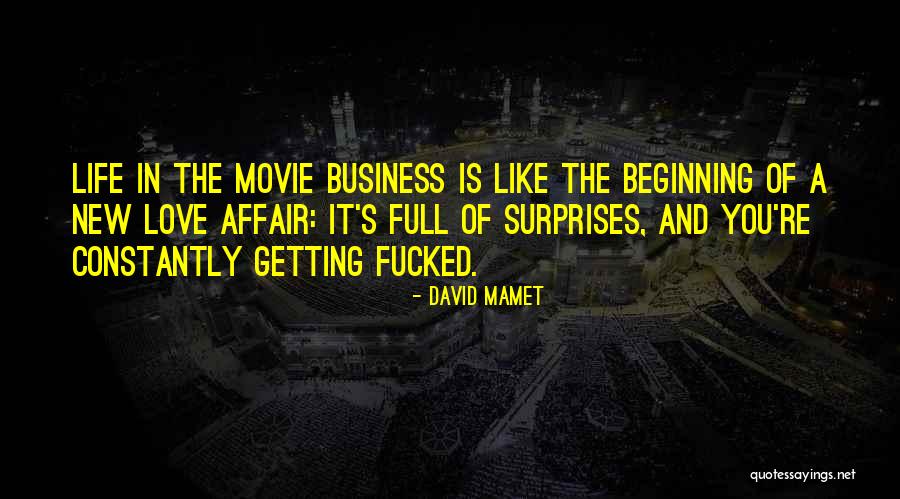 Life in the movie business is like the beginning of a new love affair: it's full of surprises, and you're constantly getting fucked. — David Mamet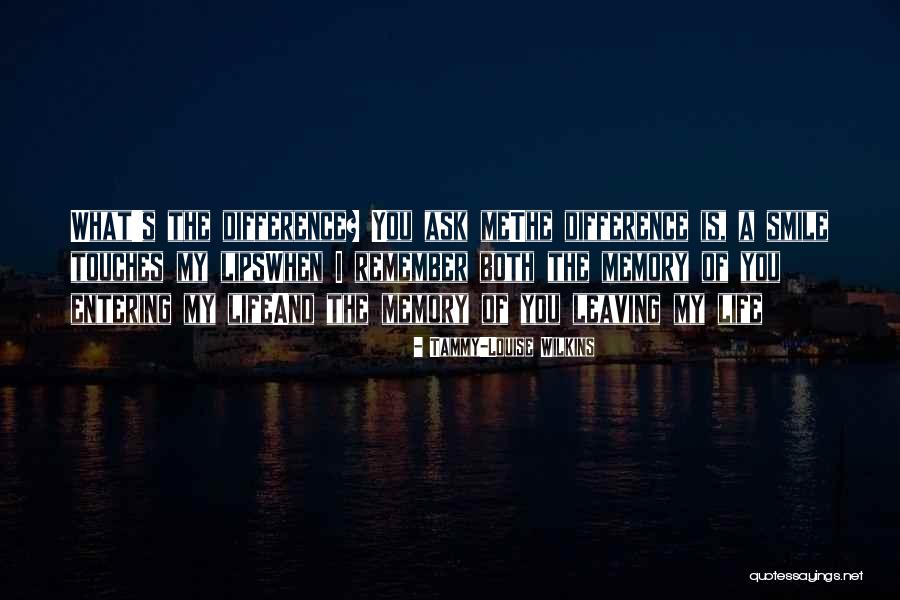 What's the difference? You ask me
The difference is, a smile touches my lips
When I remember both the memory of you entering my life
And the memory of you leaving my life — Tammy-Louise Wilkins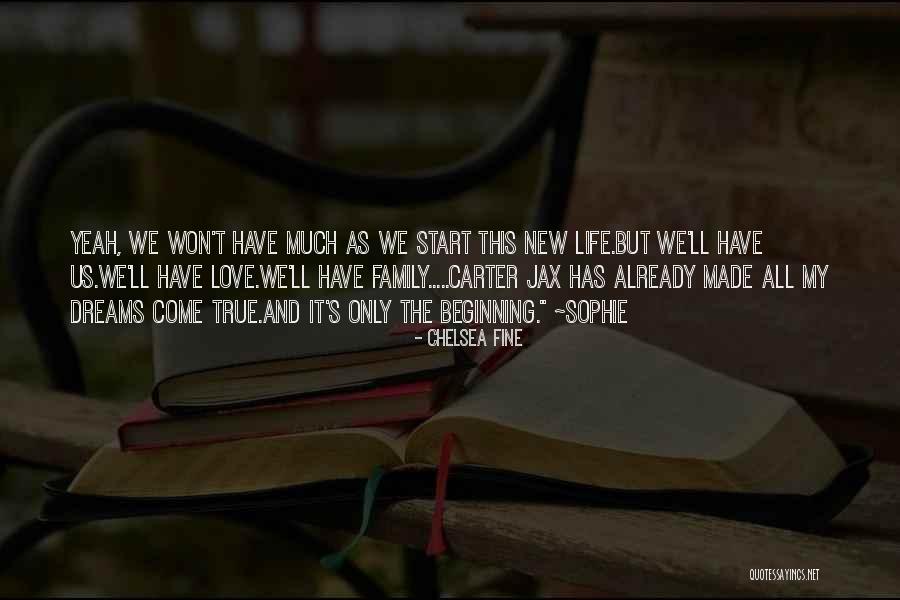 Yeah, we won't have much as we start this new life.

But we'll have us.

We'll have love.

We'll have family.....

Carter Jax has already made all my dreams come true.

And it's only the beginning." ~Sophie — Chelsea Fine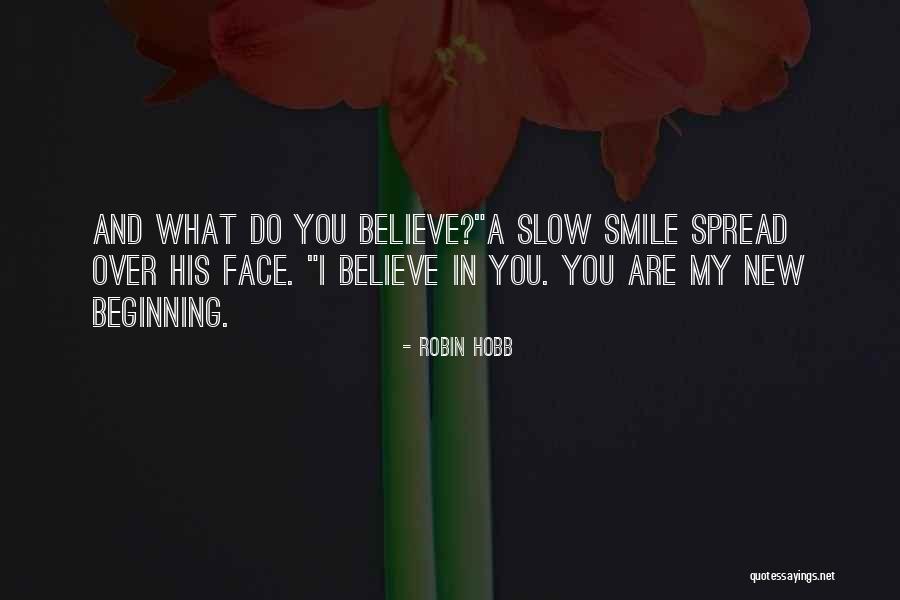 And what do you believe?"
A slow smile spread over his face. "I believe in you. You are my new beginning. — Robin Hobb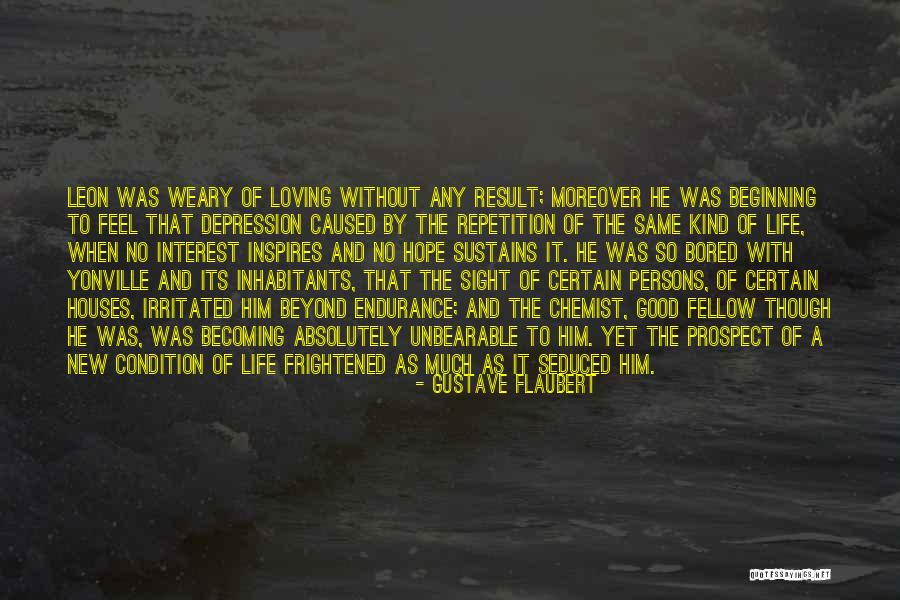 Leon was weary of loving without any result; moreover he was beginning to feel that depression caused by the repetition of the same kind of life, when no interest inspires and no hope sustains it. He was so bored with Yonville and its inhabitants, that the sight of certain persons, of certain houses, irritated him beyond endurance; and the chemist, good fellow though he was, was becoming absolutely unbearable to him. Yet the prospect of a new condition of life frightened as much as it seduced him. — Gustave Flaubert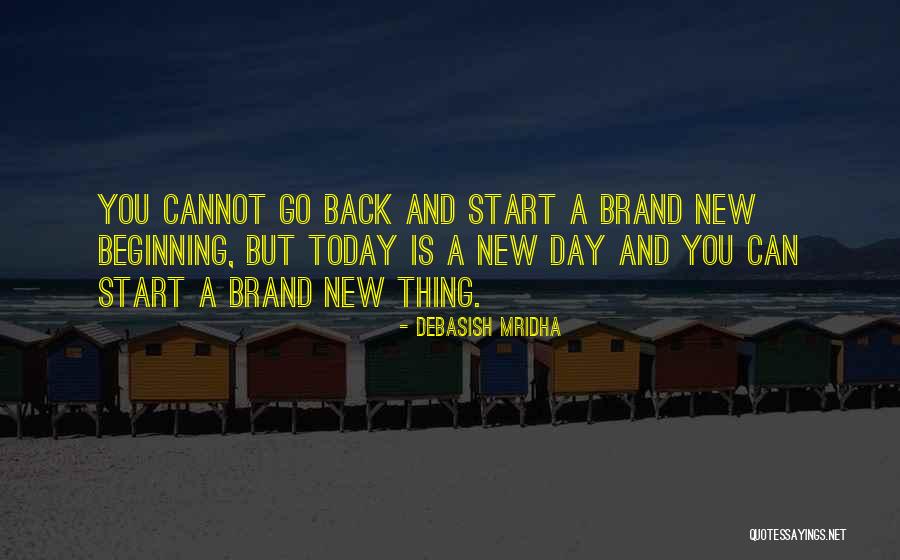 You cannot go back and start a brand new beginning, but today is a new day and you can start a brand new thing. — Debasish Mridha
Right from the beginning, we were born into a world where the ego rules, but when we came to God and received the new birth, we entered a world where love rules — Sunday Adelaja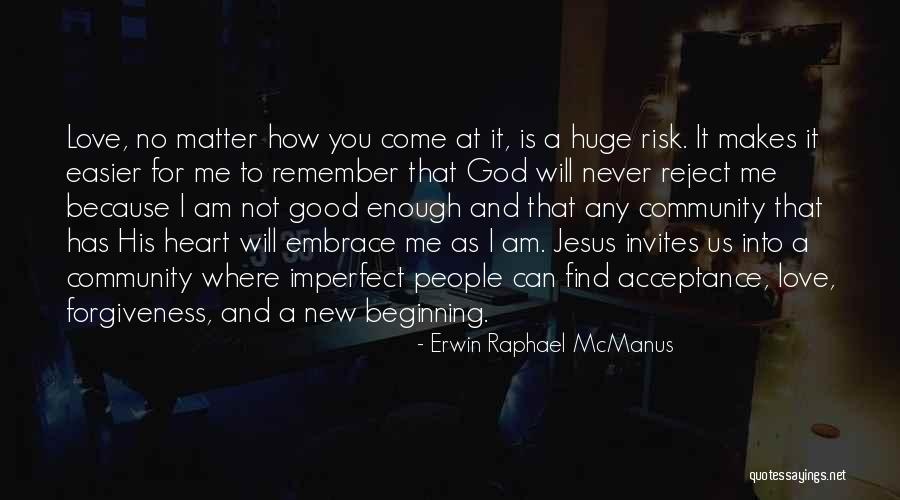 Love, no matter how you come at it, is a huge risk. It makes it easier for me to remember that God will never reject me because I am not good enough and that any community that has His heart will embrace me as I am. Jesus invites us into a community where imperfect people can find acceptance, love, forgiveness, and a new beginning. — Erwin Raphael McManus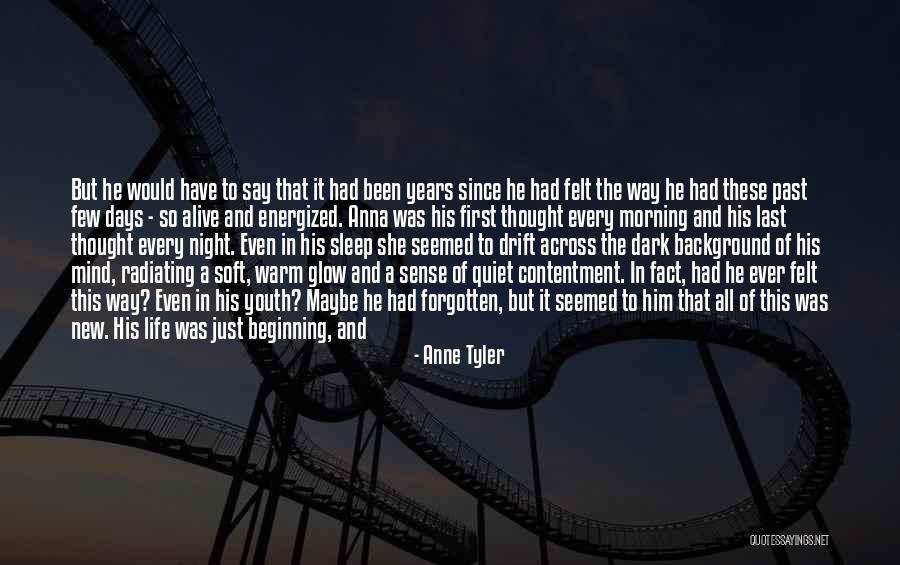 But he would have to say that it had been years since he had felt the way he had these past few days - so alive and energized. Anna was his first thought every morning and his last thought every night. Even in his sleep she seemed to drift across the dark background of his mind, radiating a soft, warm glow and a sense of quiet contentment. In fact, had he ever felt this way? Even in his youth? Maybe he had forgotten, but it seemed to him that all of this was new. His life was just beginning, and the heavy summer air felt rich with promise.
If it turned out she didn't love him back, he would still treasure the knowledge that he was capable of such feelings. — Anne Tyler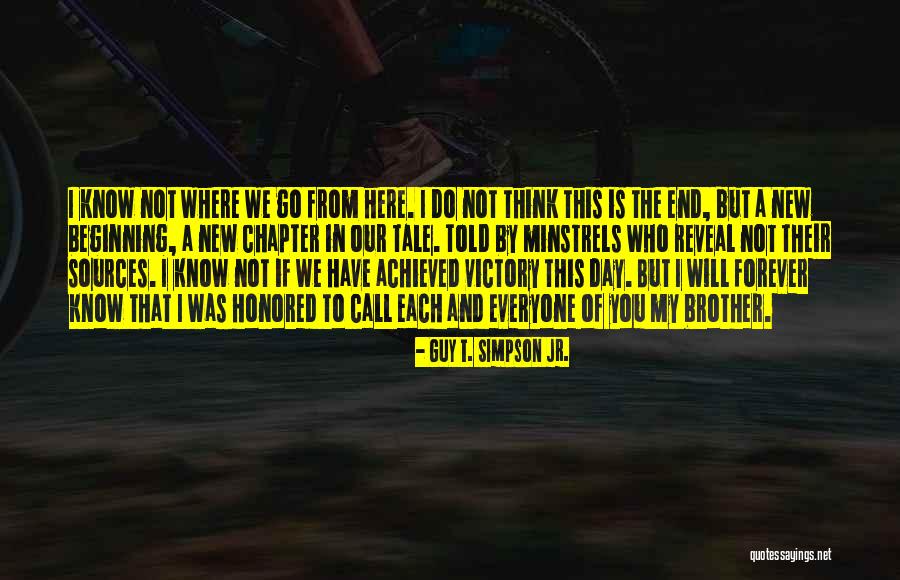 I know not where we go from here. I do not think this is the end, but a new beginning, a new chapter in our tale. Told by minstrels who reveal not their sources. I know not if we have achieved victory this day. But I will forever know that I was honored to call each and everyone of you my brother. — Guy T. Simpson Jr.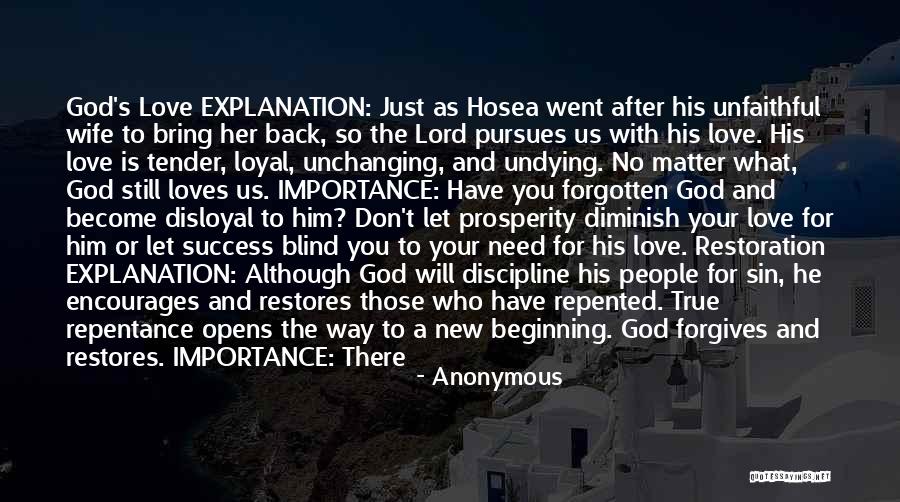 God's Love EXPLANATION: Just as Hosea went after his unfaithful wife to bring her back, so the Lord pursues us with his love. His love is tender, loyal, unchanging, and undying. No matter what, God still loves us. IMPORTANCE: Have you forgotten God and become disloyal to him? Don't let prosperity diminish your love for him or let success blind you to your need for his love. Restoration EXPLANATION: Although God will discipline his people for sin, he encourages and restores those who have repented. True repentance opens the way to a new beginning. God forgives and restores. IMPORTANCE: There is still hope for those who turn back to God. No loyalty, achievement, or honor can be compared to loving him. Turn to the Lord while the offer is still good. No matter how far you have strayed, God is willing to forgive you. — Anonymous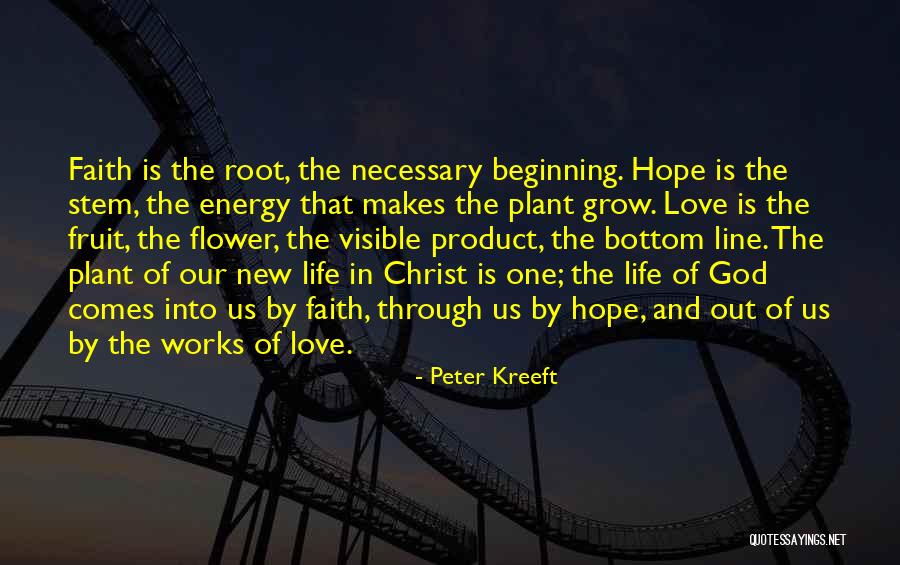 Faith is the root, the necessary beginning. Hope is the stem, the energy that makes the plant grow. Love is the fruit, the flower, the visible product, the bottom line. The plant of our new life in Christ is one; the life of God comes into us by faith, through us by hope, and out of us by the works of love. — Peter Kreeft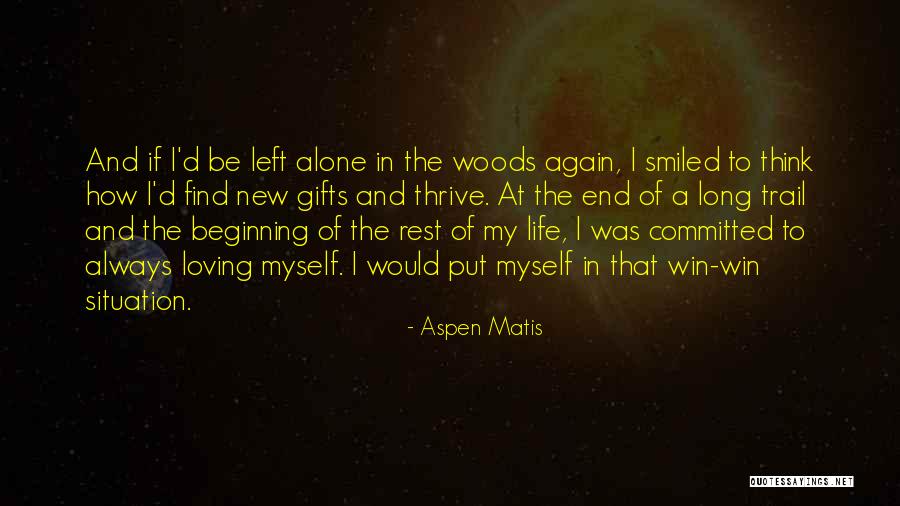 And if I'd be left alone in the woods again, I smiled to think how I'd find new gifts and thrive. At the end of a long trail and the beginning of the rest of my life, I was committed to always loving myself. I would put myself in that win-win situation. — Aspen Matis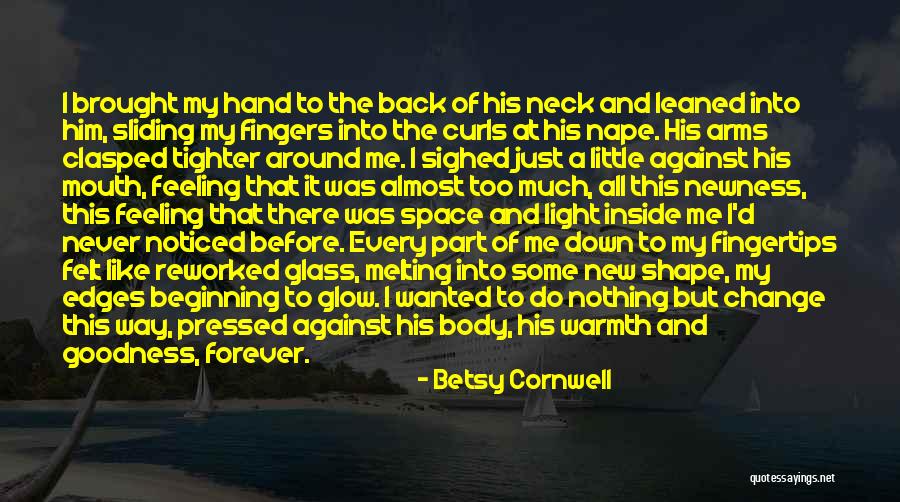 I brought my hand to the back of his neck and leaned into him, sliding my fingers into the curls at his nape. His arms clasped tighter around me. I sighed just a little against his mouth, feeling that it was almost too much, all this newness, this feeling that there was space and light inside me I'd never noticed before. Every part of me down to my fingertips felt like reworked glass, melting into some new shape, my edges beginning to glow. I wanted to do nothing but change this way, pressed against his body, his warmth and goodness, forever. — Betsy Cornwell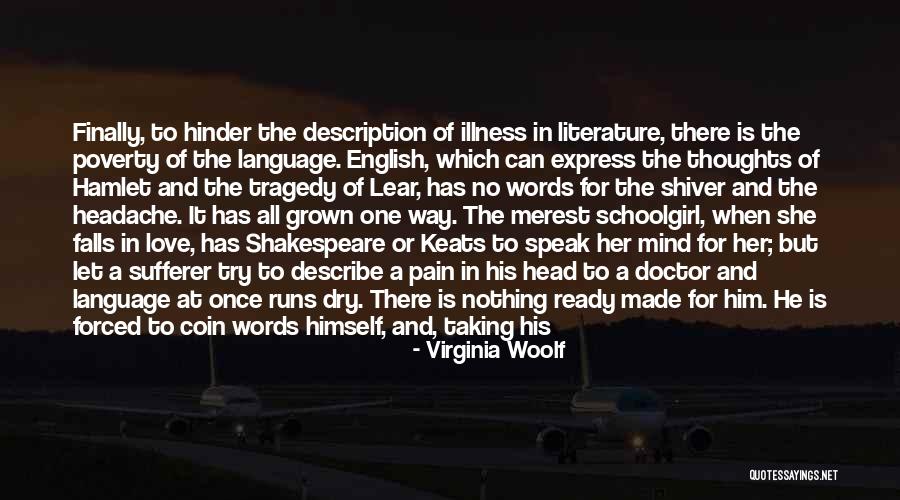 Finally, to hinder the description of illness in literature, there is the poverty of the language. English, which can express the thoughts of Hamlet and the tragedy of Lear, has no words for the shiver and the headache. It has all grown one way. The merest schoolgirl, when she falls in love, has Shakespeare or Keats to speak her mind for her; but let a sufferer try to describe a pain in his head to a doctor and language at once runs dry. There is nothing ready made for him. He is forced to coin words himself, and, taking his pain in one hand, and a lump of pure sound in the other (as perhaps the people of Babel did in the beginning), so to crush them together that a brand new word in the end drops out. Probably it will be something laughable. — Virginia Woolf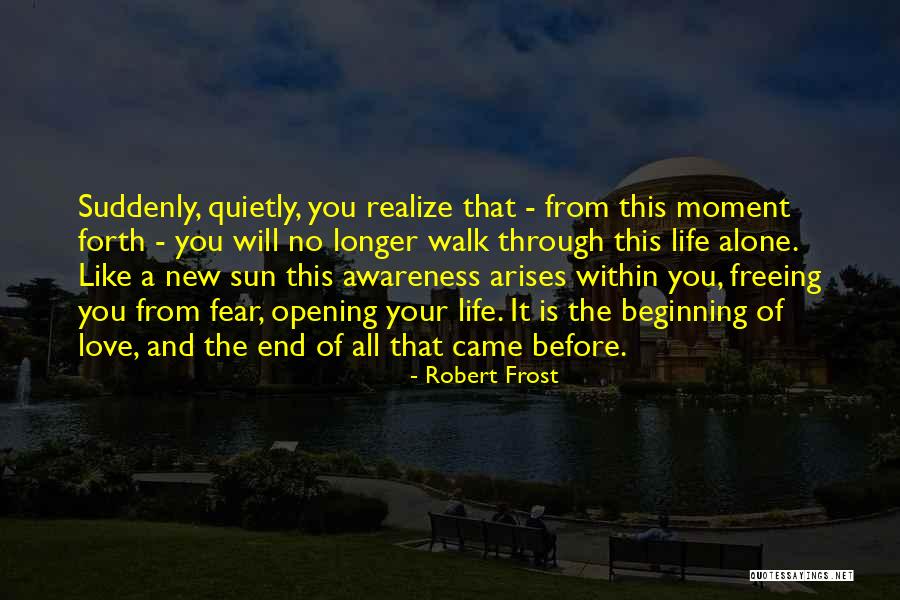 Suddenly, quietly, you realize that - from this moment forth - you will no longer walk through this life alone. Like a new sun this awareness arises within you, freeing you from fear, opening your life. It is the beginning of love, and the end of all that came before. — Robert Frost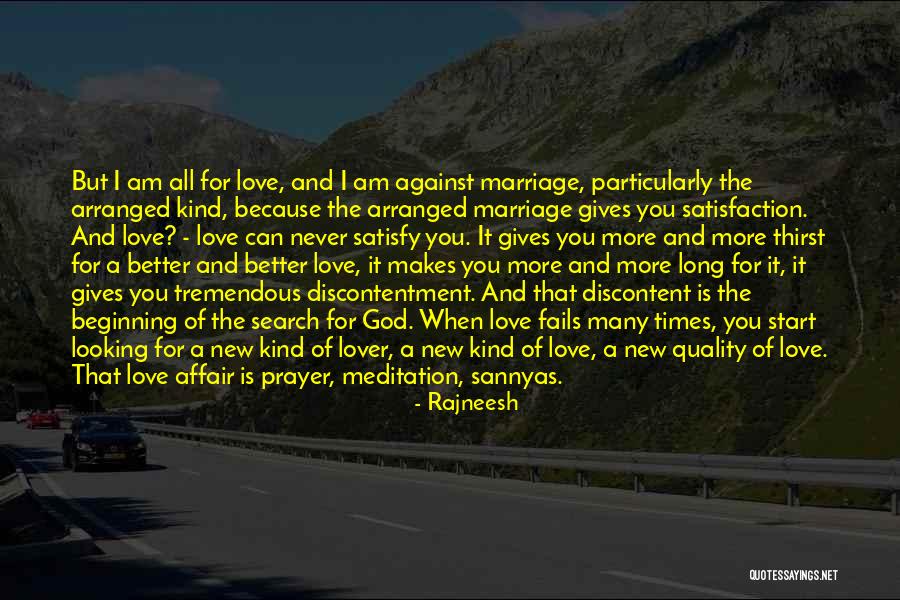 But I am all for love, and I am against marriage, particularly the arranged kind, because the arranged marriage gives you satisfaction. And love? - love can never satisfy you. It gives you more and more thirst for a better and better love, it makes you more and more long for it, it gives you tremendous discontentment. And that discontent is the beginning of the search for God. When love fails many times, you start looking for a new kind of lover, a new kind of love, a new quality of love. That love affair is prayer, meditation, sannyas. — Rajneesh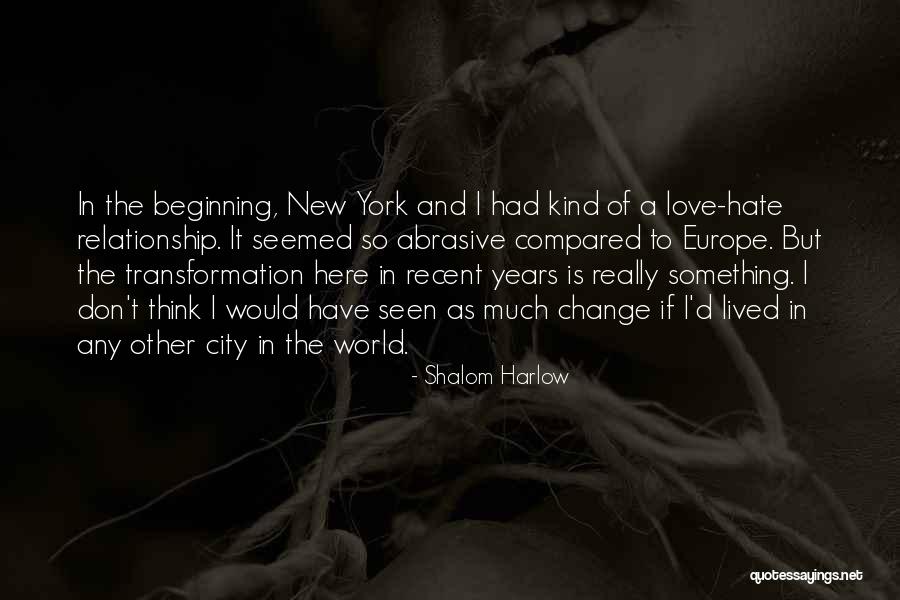 In the beginning, New York and I had kind of a love-hate relationship. It seemed so abrasive compared to Europe. But the transformation here in recent years is really something. I don't think I would have seen as much change if I'd lived in any other city in the world. — Shalom Harlow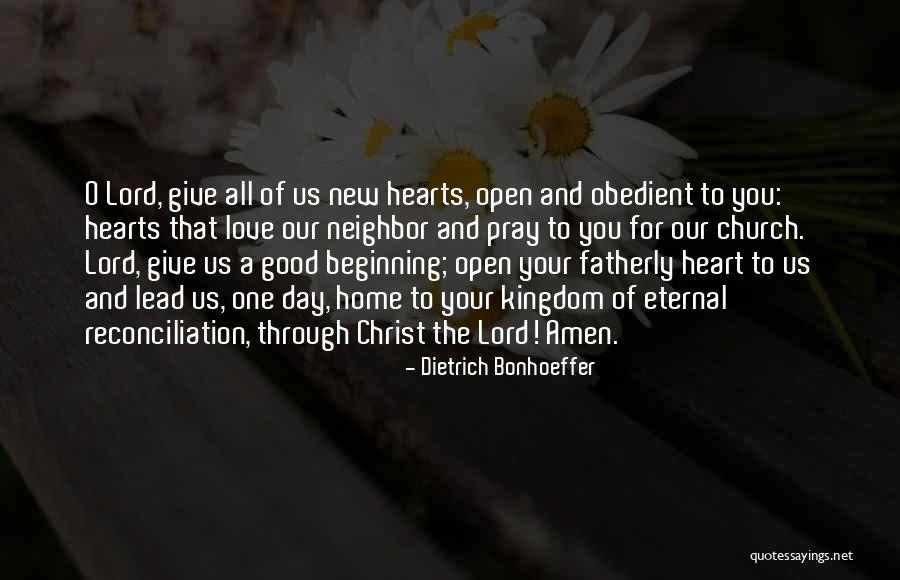 O Lord, give all of us new hearts, open and obedient to you: hearts that love our neighbor and pray to you for our church. Lord, give us a good beginning; open your fatherly heart to us and lead us, one day, home to your kingdom of eternal reconciliation, through Christ the Lord! Amen. — Dietrich Bonhoeffer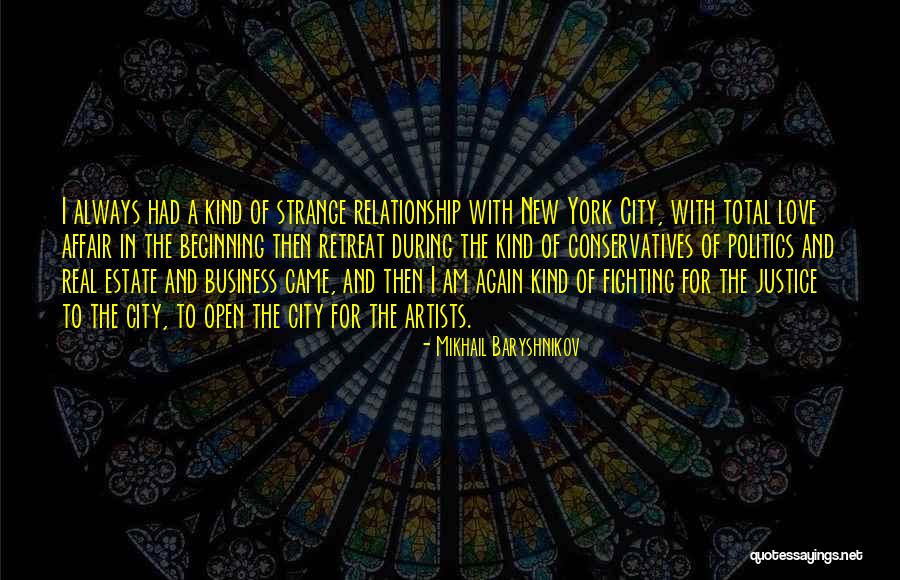 I always had a kind of strange relationship with New York City, with total love affair in the beginning then retreat during the kind of conservatives of politics and real estate and business came, and then I am again kind of fighting for the justice to the city, to open the city for the artists. — Mikhail Baryshnikov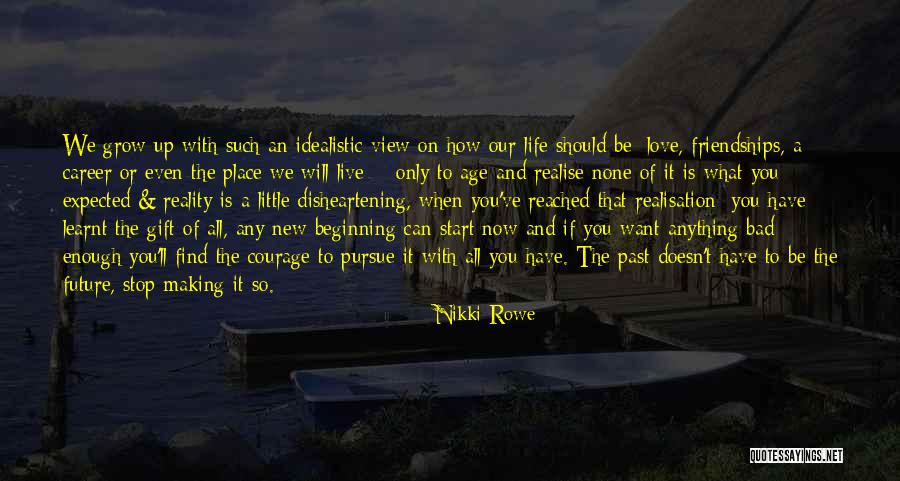 We grow up with such an idealistic view on how our life should be; love, friendships, a career or even the place we will live ~ only to age and realise none of it is what you expected & reality is a little disheartening, when you've reached that realisation; you have learnt the gift of all, any new beginning can start now and if you want anything bad enough you'll find the courage to pursue it with all you have. The past doesn't have to be the future, stop making it so. — Nikki Rowe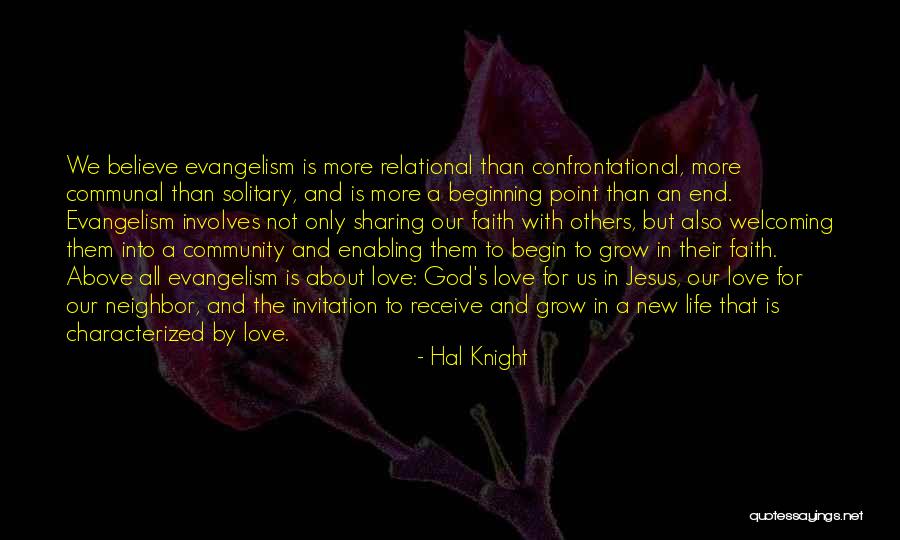 We believe evangelism is more relational than confrontational, more communal than solitary, and is more a beginning point than an end. Evangelism involves not only sharing our faith with others, but also welcoming them into a community and enabling them to begin to grow in their faith. Above all evangelism is about love: God's love for us in Jesus, our love for our neighbor, and the invitation to receive and grow in a new life that is characterized by love. — Hal Knight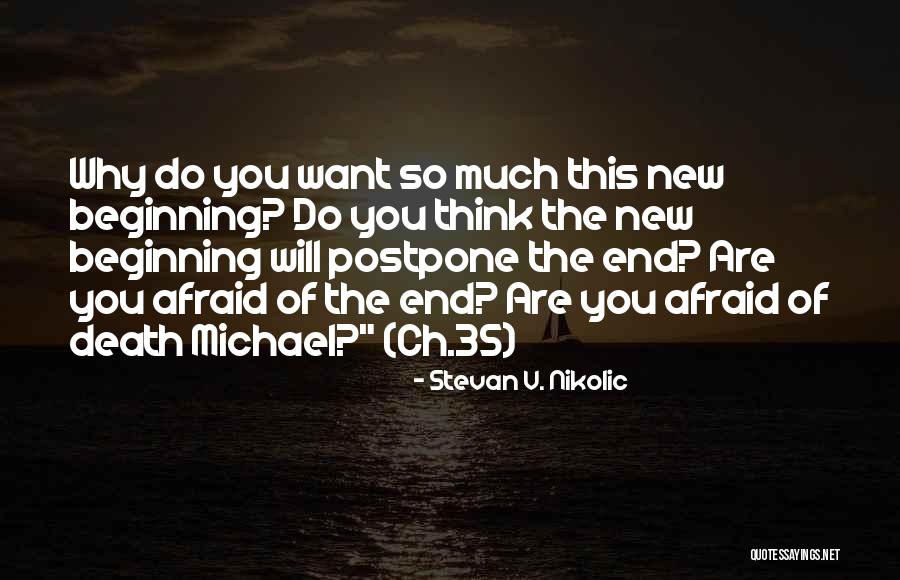 Why do you want so much this new beginning? Do you think the new beginning will postpone the end? Are you afraid of the end? Are you afraid of death Michael?" (Ch.35) — Stevan V. Nikolic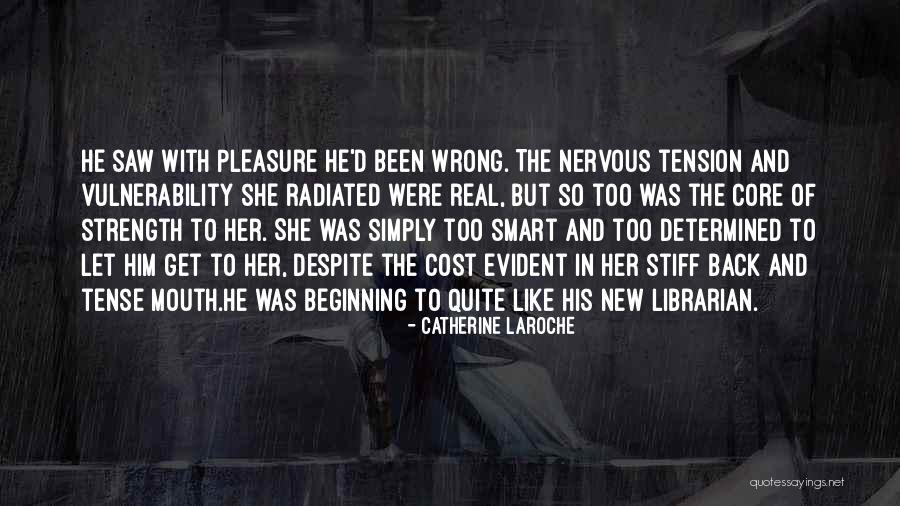 He saw with pleasure he'd been wrong. The nervous tension and vulnerability she radiated were real, but so too was the core of strength to her. She was simply too smart and too determined to let him get to her, despite the cost evident in her stiff back and tense mouth.
He was beginning to quite like his new librarian. — Catherine LaRoche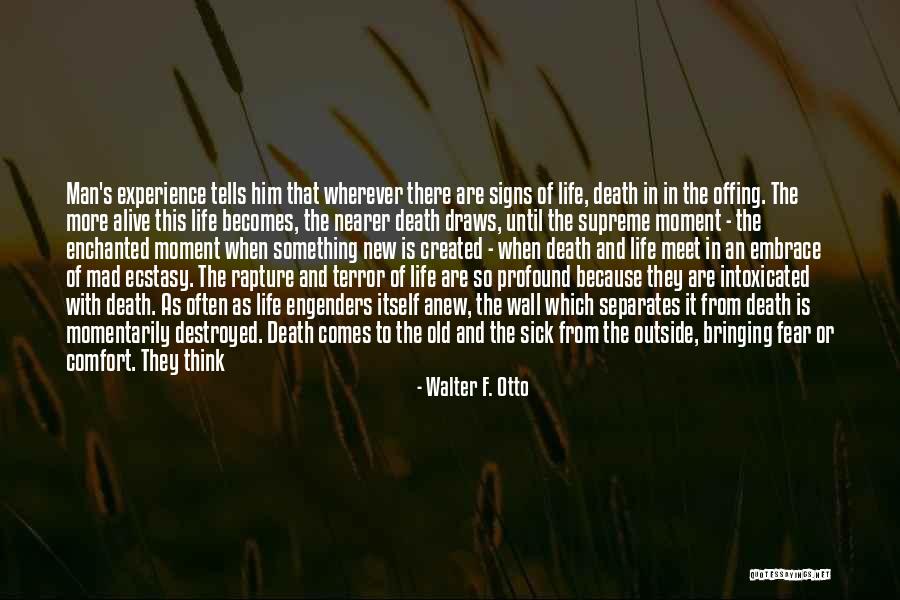 Man's experience tells him that wherever there are signs of life, death in in the offing. The more alive this life becomes, the nearer death draws, until the supreme moment - the enchanted moment when something new is created - when death and life meet in an embrace of mad ecstasy. The rapture and terror of life are so profound because they are intoxicated with death. As often as life engenders itself anew, the wall which separates it from death is momentarily destroyed. Death comes to the old and the sick from the outside, bringing fear or comfort. They think of it because they feel that life is waning. But for the young the intimidation of death rises up out of the full maturity of each individual life and intoxicates them so that their ecstasy becomes infinite. Life which has become sterile totters to meet its end, but love and death have welcomed and clung to one another passionately from the beginning. — Walter F. Otto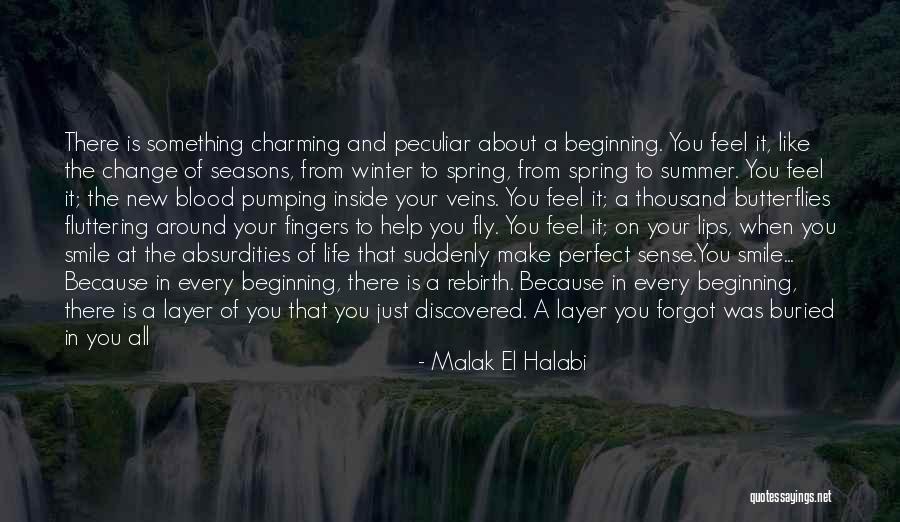 There is something charming and peculiar about a beginning. You feel it, like the change of seasons, from winter to spring, from spring to summer. You feel it; the new blood pumping inside your veins. You feel it; a thousand butterflies fluttering around your fingers to help you fly. You feel it; on your lips, when you smile at the absurdities of life that suddenly make perfect sense.
You smile... Because in every beginning, there is a rebirth. Because in every beginning, there is a layer of you that you just discovered. A layer you forgot was buried in you all this time. You smile because you are reminded of the immensity of fate. You smile because suddenly you feel so small and you like it.
So let's begin my dear. This life is beautiful. — Malak El Halabi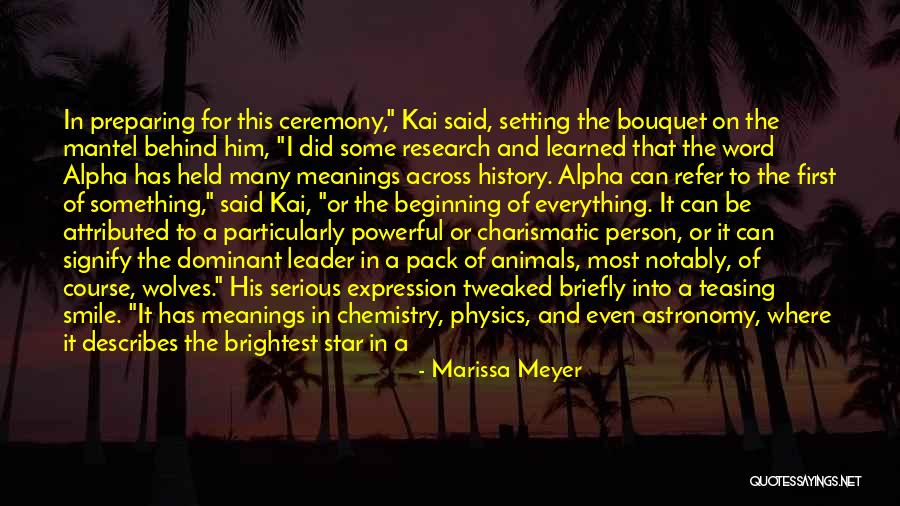 In preparing for this ceremony," Kai said, setting the bouquet on the mantel behind him, "I did some research and learned that the word Alpha has held many meanings across history. Alpha can refer to the first of something," said Kai, "or the beginning of everything. It can be attributed to a particularly powerful or charismatic person, or it can signify the dominant leader in a pack of animals, most notably, of course, wolves." His serious expression tweaked briefly into a teasing smile. "It has meanings in chemistry, physics, and even astronomy, where it describes the brightest star in a constellation. But it seems clear that Ze'ev and Scarlet have created their own definition for the word, and their relationship has given this word a new meaning for all of us. Being an Alpha means that you'll stand against all adversity to be with your mate. It means accepting each other, both for your strengths and your flaws. It means forging your own path to happiness and to love. — Marissa Meyer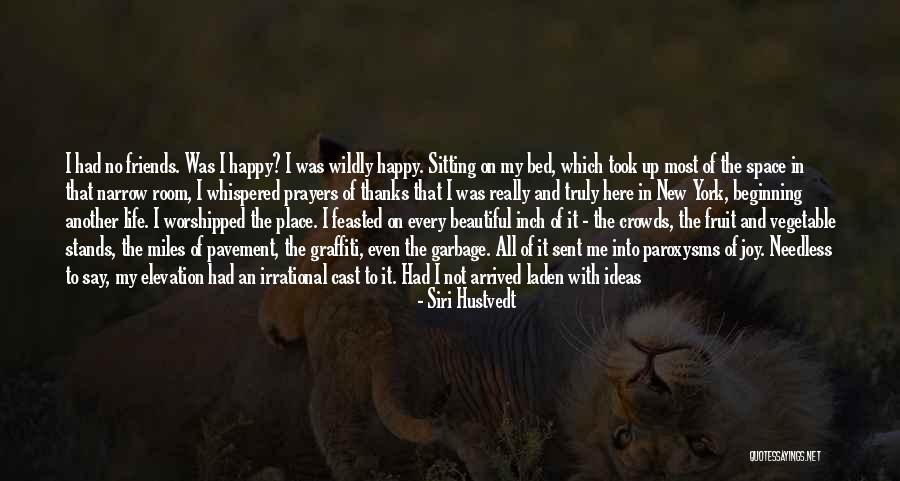 I had no friends. Was I happy? I was wildly happy. Sitting on my bed, which took up most of the space in that narrow room, I whispered prayers of thanks that I was really and truly here in New York, beginning another life. I worshipped the place. I feasted on every beautiful inch of it - the crowds, the fruit and vegetable stands, the miles of pavement, the graffiti, even the garbage. All of it sent me into paroxysms of joy. Needless to say, my elevation had an irrational cast to it. Had I not arrived laden with ideas of urban paradise, I might have felt bad losing sleep, might have felt lonely and disoriented, but instead I walked around town like a love-struck idiot, inhaling the difference between there and here. — Siri Hustvedt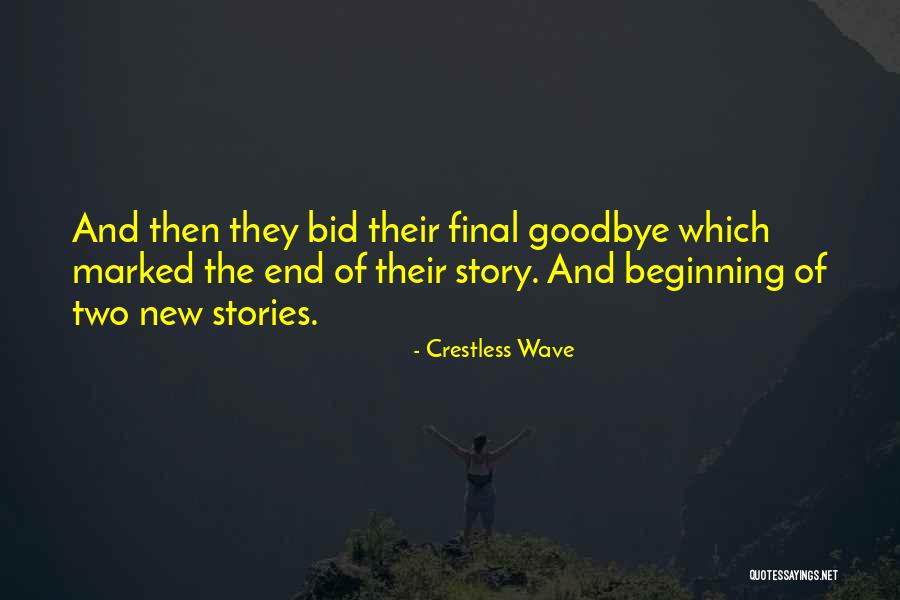 And then they bid their final goodbye which marked the end of their story. And beginning of two new stories. — Crestless Wave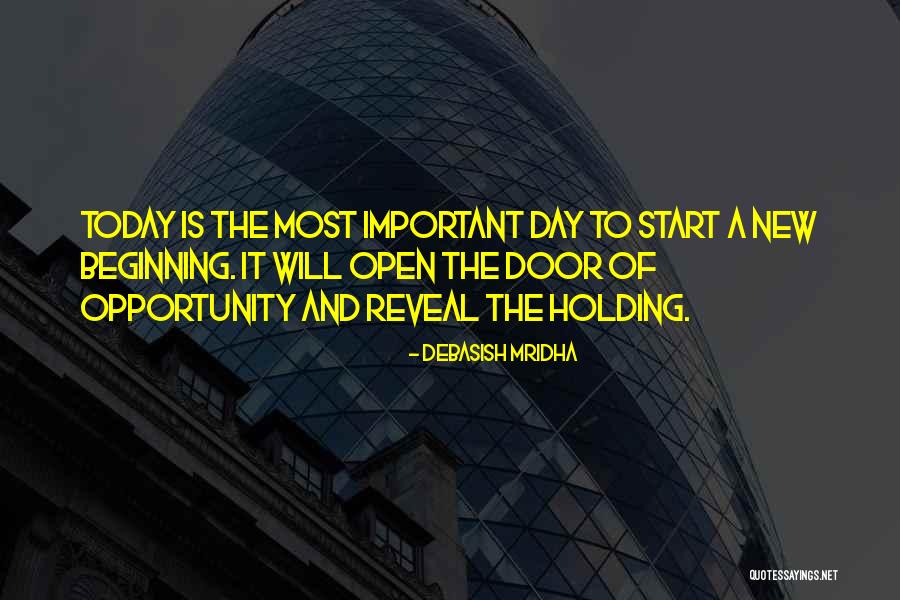 Today is the most important day to start a new beginning. It will open the door of opportunity and reveal the holding. — Debasish Mridha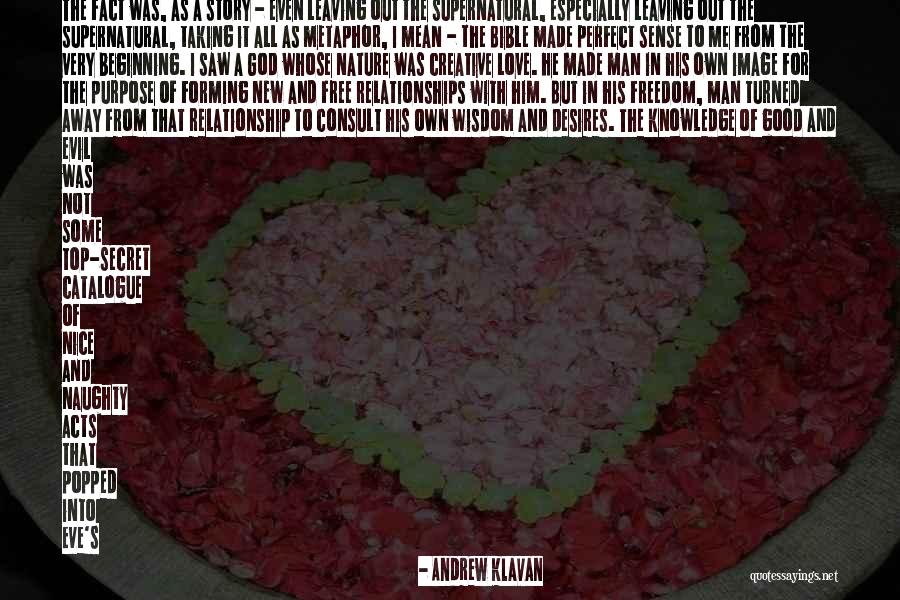 The fact was, as a story - even leaving out the supernatural, especially leaving out the supernatural, taking it all as metaphor, I mean - the Bible made perfect sense to me from the very beginning. I saw a God whose nature was creative love. He made man in his own image for the purpose of forming new and free relationships with him. But in his freedom, man turned away from that relationship to consult his own wisdom and desires. The knowledge of good and evil was not some top-secret catalogue of nice and naughty acts that popped into Eve's mind when a talking snake got her to eat the magic fruit. The knowledge was built into the action of disobedience itself: it's what she learned when she overruled the moral law God had placed within her. There was no going back from that. The original sin poisoned all history. History's murders, rapes, wars, oppressions, and injustices are now the inescapable plot of the story we're in. The — Andrew Klavan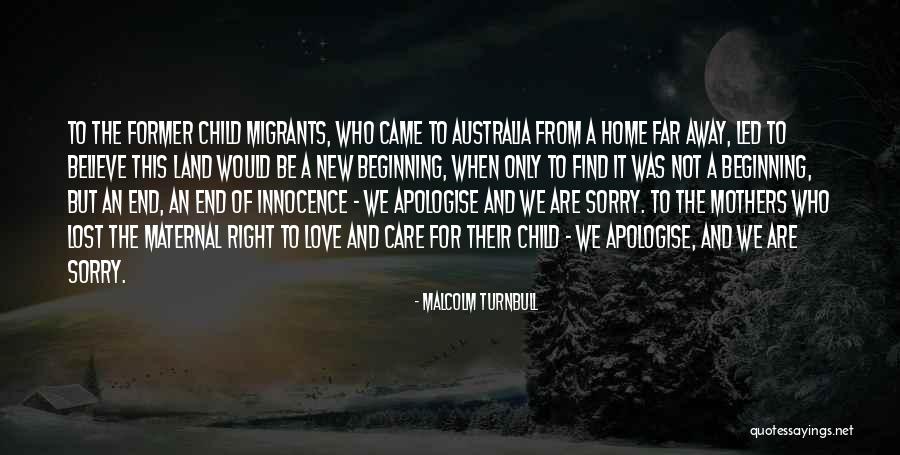 To the former child migrants, who came to Australia from a home far away, led to believe this land would be a new beginning, when only to find it was not a beginning, but an end, an end of innocence - we apologise and we are sorry. To the mothers who lost the maternal right to love and care for their child - we apologise, and we are sorry. — Malcolm Turnbull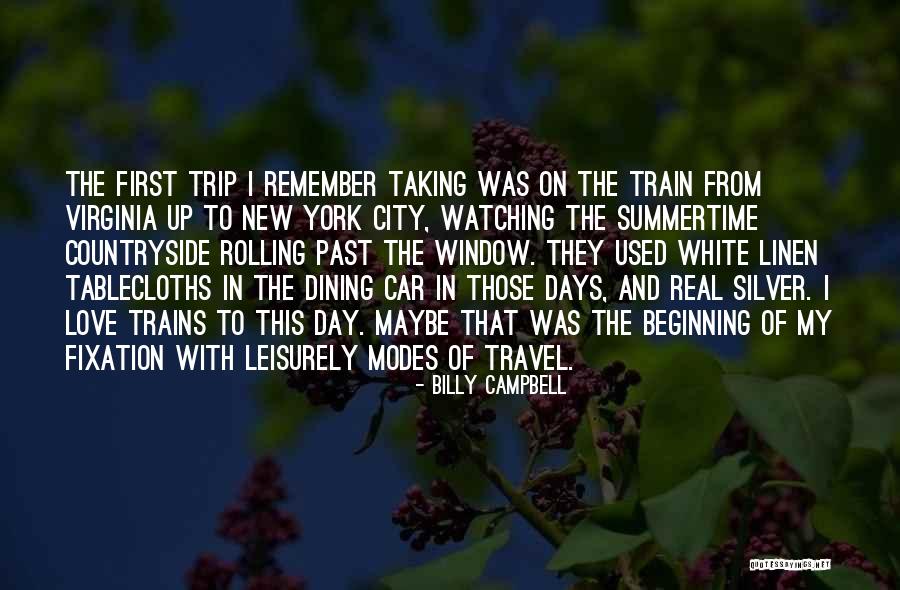 The first trip I remember taking was on the train from Virginia up to New York City, watching the summertime countryside rolling past the window. They used white linen tablecloths in the dining car in those days, and real silver. I love trains to this day. Maybe that was the beginning of my fixation with leisurely modes of travel. — Billy Campbell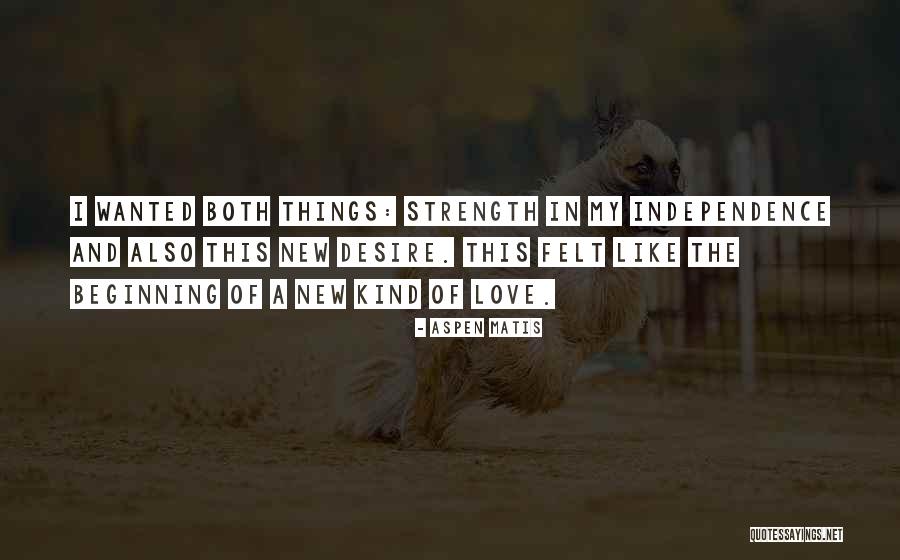 I wanted both things: strength in my independence and also this new desire. This felt like the beginning of a new kind of love. — Aspen Matis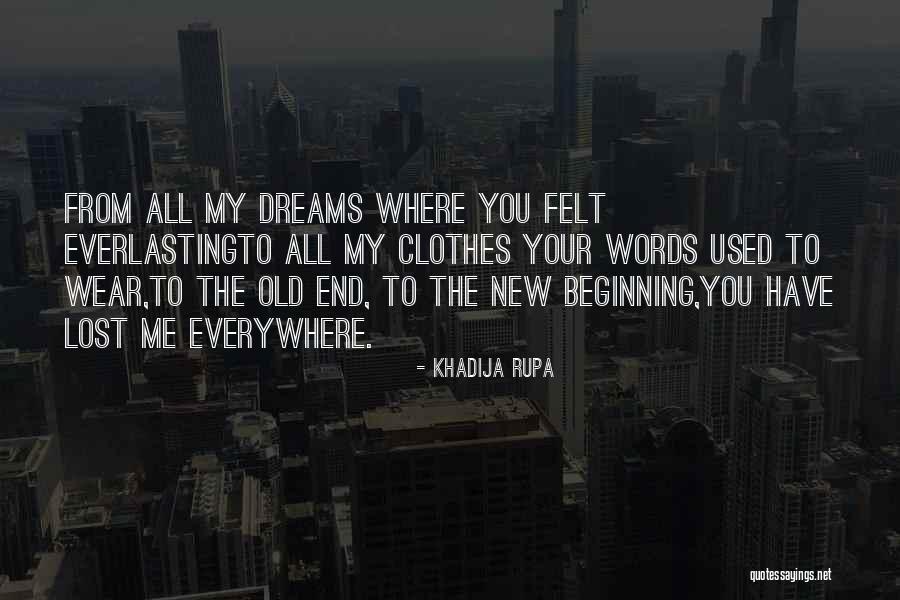 From all my dreams where you felt everlasting
to all my clothes your words used to wear,
to the old end, to the new beginning,
you have lost me everywhere. — Khadija Rupa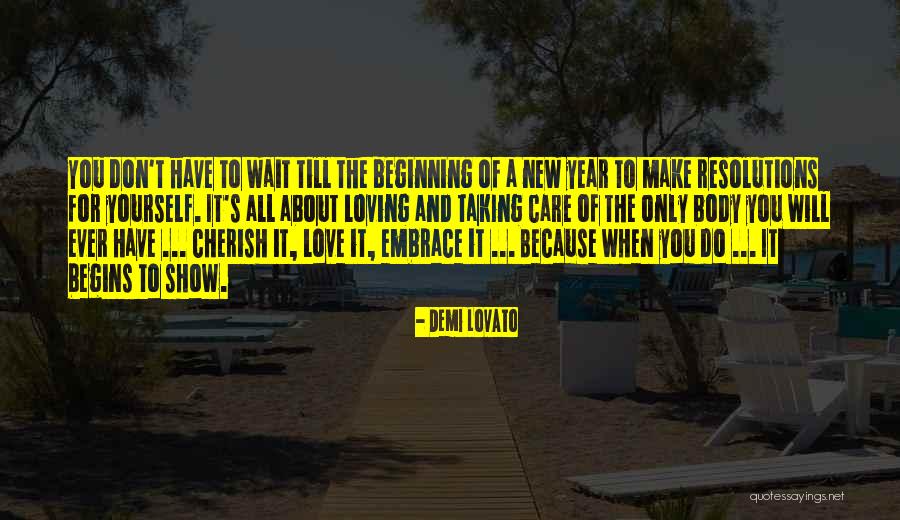 You don't have to wait till the beginning of a new year to make resolutions for yourself. It's all about loving and taking care of the only body you will ever have ... cherish it, love it, embrace it ... Because when you do ... It begins to show. — Demi Lovato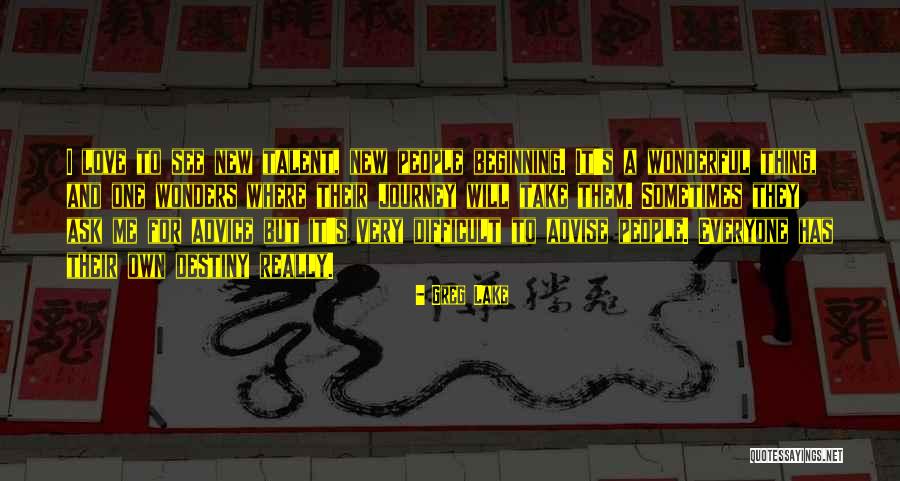 I love to see new talent, new people beginning. It's a wonderful thing, and one wonders where their journey will take them. Sometimes they ask me for advice but it's very difficult to advise people. Everyone has their own destiny really. — Greg Lake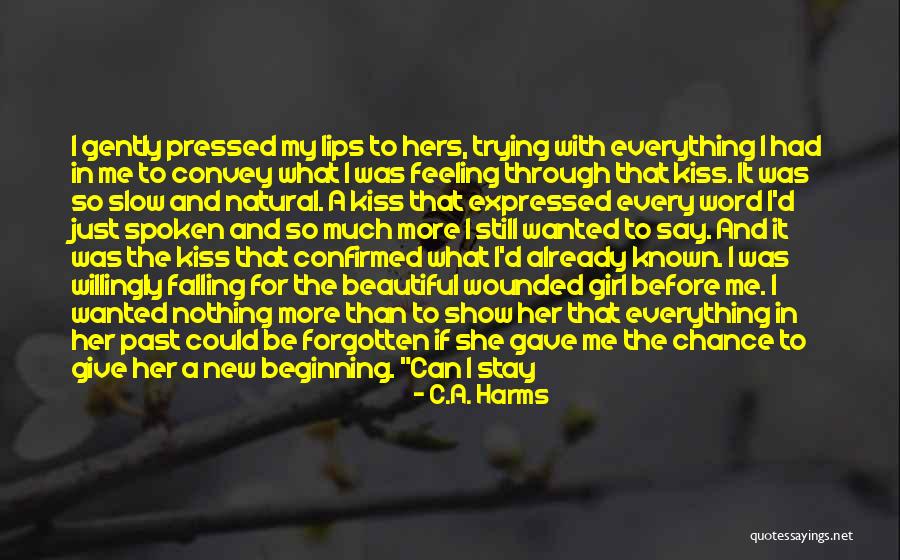 I gently pressed my lips to hers, trying with everything I had in me to convey what I was feeling through that kiss. It was so slow and natural. A kiss that expressed every word I'd just spoken and so much more I still wanted to say. And it was the kiss that confirmed what I'd already known. I was willingly falling for the beautiful wounded girl before me. I wanted nothing more than to show her that everything in her past could be forgotten if she gave me the chance to give her a new beginning.
"Can I stay with you tonight?" I whispered as I pulled back from our kiss and rested my forehead to hers. — C.A. Harms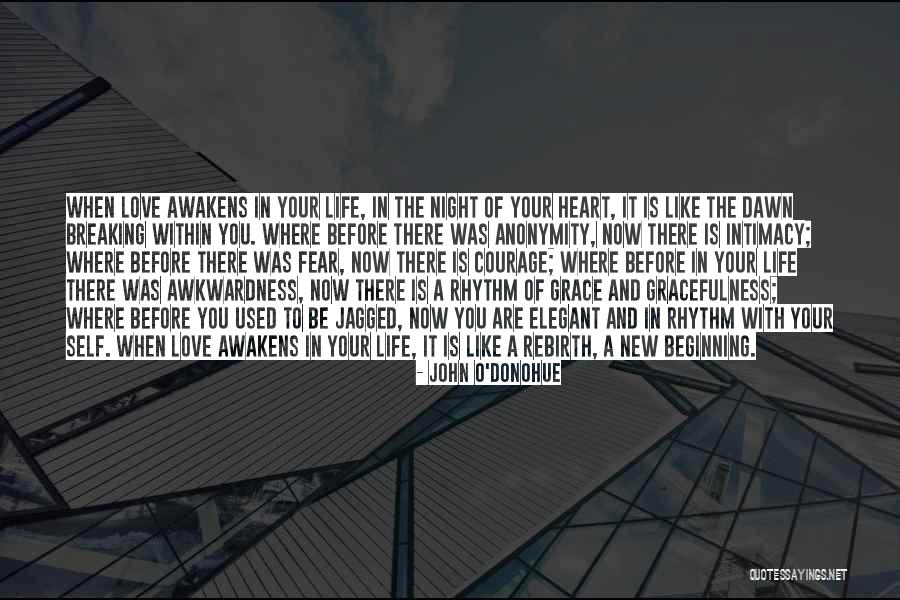 When love awakens in your life, in the night of your heart, it is like the dawn breaking within you. Where before there was anonymity, now there is intimacy; where before there was fear, now there is courage; where before in your life there was awkwardness, now there is a rhythm of grace and gracefulness; where before you used to be jagged, now you are elegant and in rhythm with your self. When love awakens in your life, it is like a rebirth, a new beginning. — John O'Donohue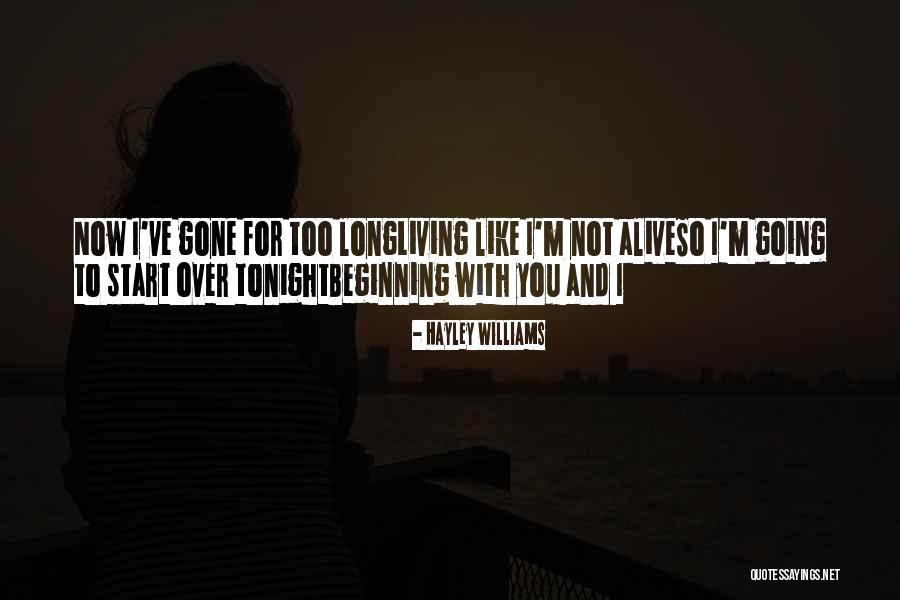 Now I've gone for too long
Living like I'm not alive
So I'm going to start over tonight
Beginning with you and I — Hayley Williams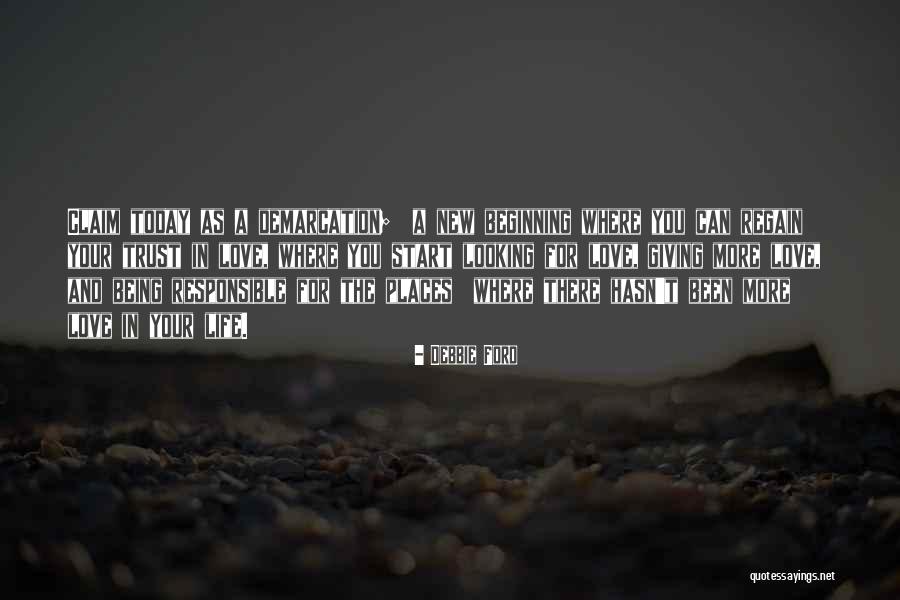 Claim today as a demarcation;
a new beginning where you can regain your trust in love,
where you start looking for love, giving more love,
and being responsible for the places
where there hasn't been more love in your life. — Debbie Ford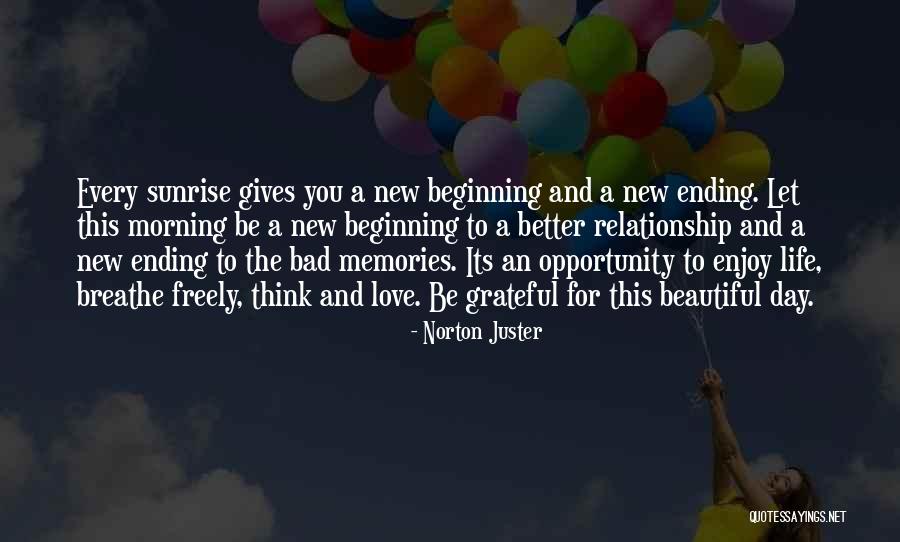 Every sunrise gives you a new beginning and a new ending. Let this morning be a new beginning to a better relationship and a new ending to the bad memories. Its an opportunity to enjoy life, breathe freely, think and love. Be grateful for this beautiful day. — Norton Juster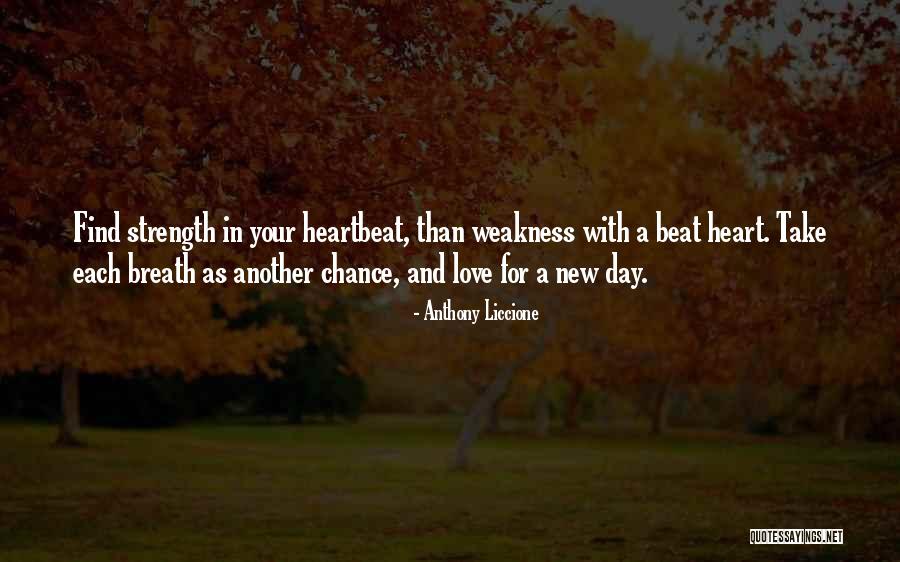 Find strength in your heartbeat, than weakness with a beat heart. Take each breath as another chance, and love for a new day. — Anthony Liccione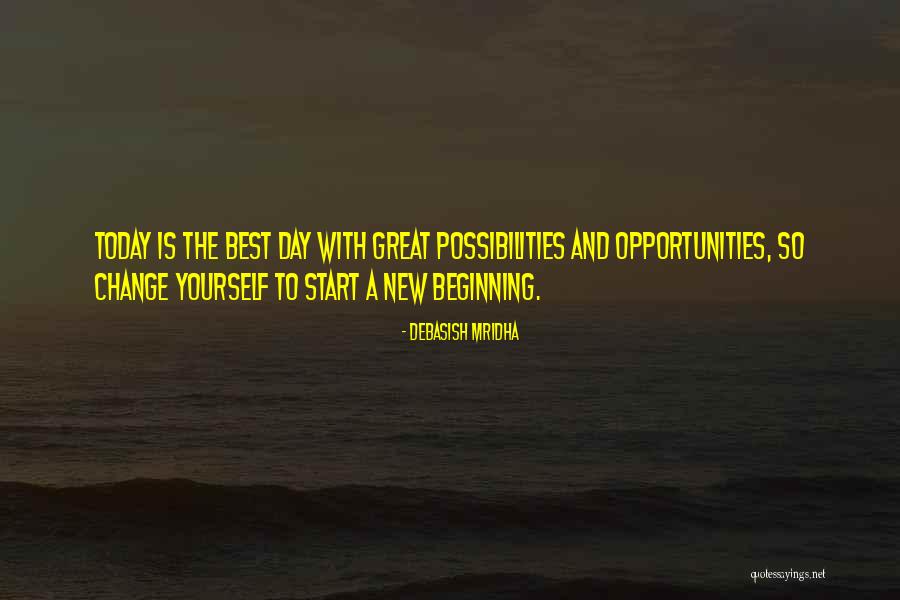 Today is the best day with great possibilities and opportunities, so change yourself to start a new beginning. — Debasish Mridha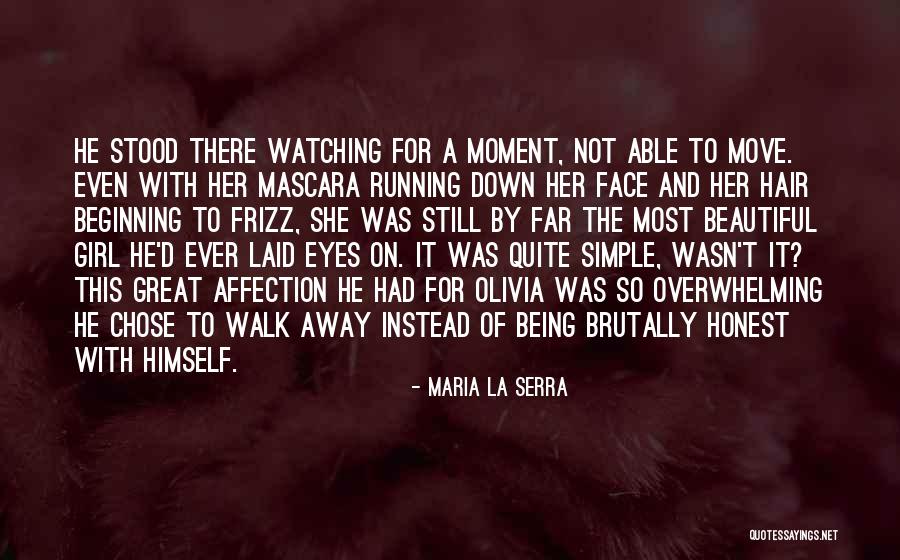 He stood there watching for a moment, not able to move. Even with her mascara running down her face and her hair beginning to frizz, she was still by far the most beautiful girl he'd ever laid eyes on. It was quite simple, wasn't it? This great affection he had for Olivia was so overwhelming he chose to walk away instead of being brutally honest with himself. — Maria La Serra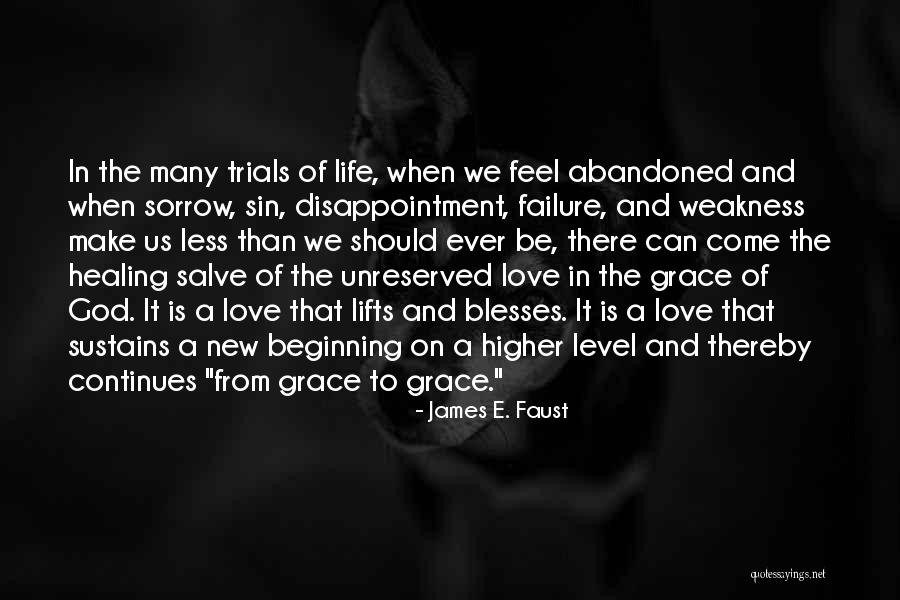 In the many trials of life, when we feel abandoned and when sorrow, sin, disappointment, failure, and weakness make us less than we should ever be, there can come the healing salve of the unreserved love in the grace of God. It is a love that lifts and blesses. It is a love that sustains a new beginning on a higher level and thereby continues "from grace to grace." — James E. Faust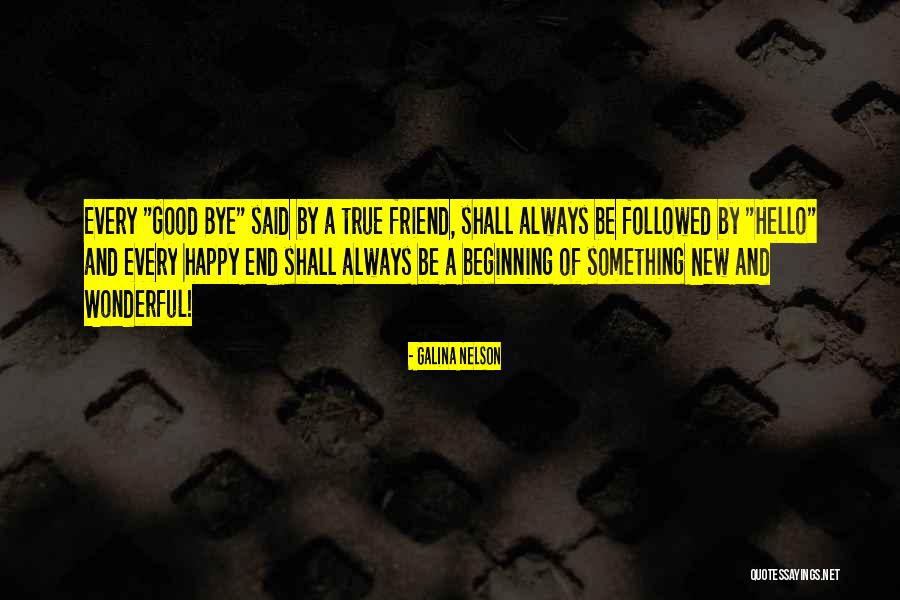 Every "Good Bye" said by a true friend, shall always be followed by "Hello" and every happy end shall always be a beginning of something New and Wonderful! — Galina Nelson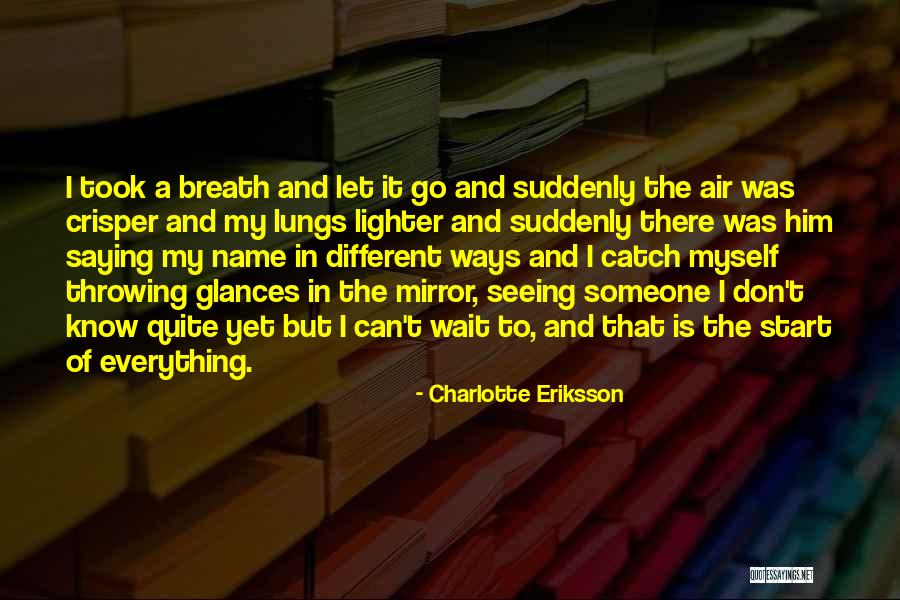 I took a breath and let it go
and suddenly the air was crisper
and my lungs lighter
and suddenly
there was him
saying my name
in different ways
and I catch myself throwing glances in the mirror,
seeing someone I don't know
quite yet
but I can't wait to,
and that is the start of everything. — Charlotte Eriksson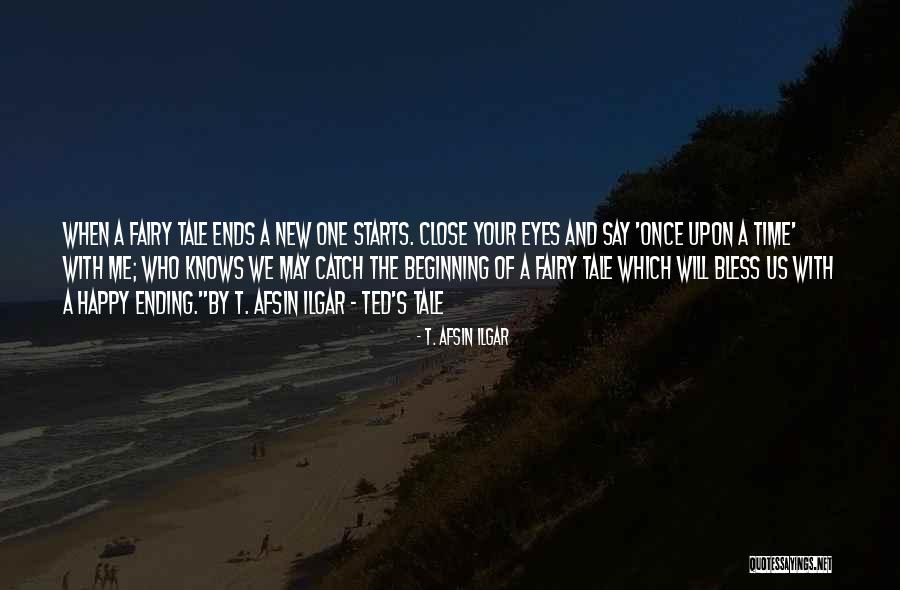 When a fairy tale ends a new one starts. Close your eyes and say 'once upon a time' with me; who knows we may catch the beginning of a fairy tale which will bless us with a happy ending."
By T. Afsin Ilgar - Ted's Tale — T. Afsin Ilgar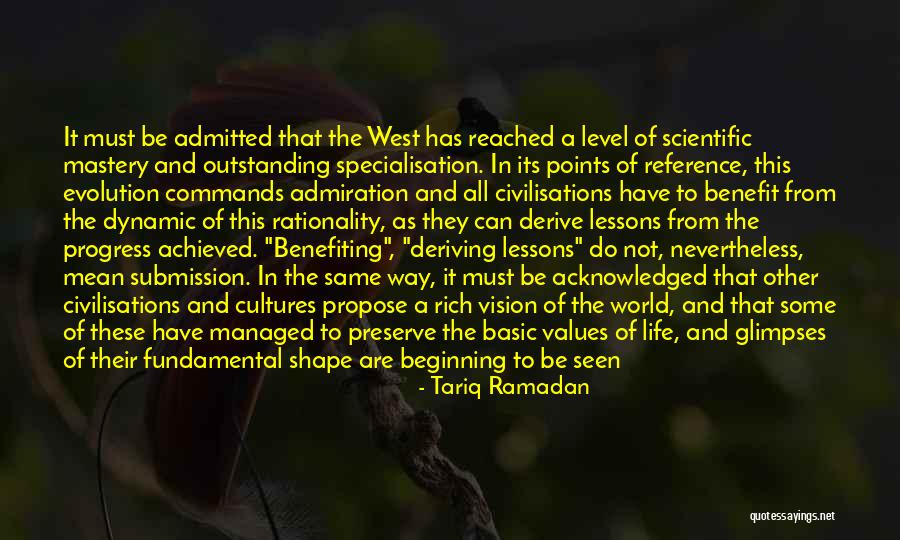 It must be admitted that the West has reached a level of scientific mastery and outstanding specialisation. In its points of reference, this evolution commands admiration and all civilisations have to benefit from the dynamic of this rationality, as they can derive lessons from the progress achieved. "Benefiting", "deriving lessons" do not, nevertheless, mean submission. In the same way, it must be acknowledged that other civilisations and cultures propose a rich vision of the world, and that some of these have managed to preserve the basic values of life, and glimpses of their fundamental shape are beginning to be seen in the West. It is not a question of suggesting a new wave of "love for exoticism and folklore". On the contrary, it is a question of engaging in an exigent reflection about cultural specificities and possible enrichment starting from within cultures and not at their peripherals. — Tariq Ramadan