Quotes & Sayings About Locking Doors
Enjoy reading and share 27 famous quotes about Locking Doors with everyone.
Top Locking Doors Quotes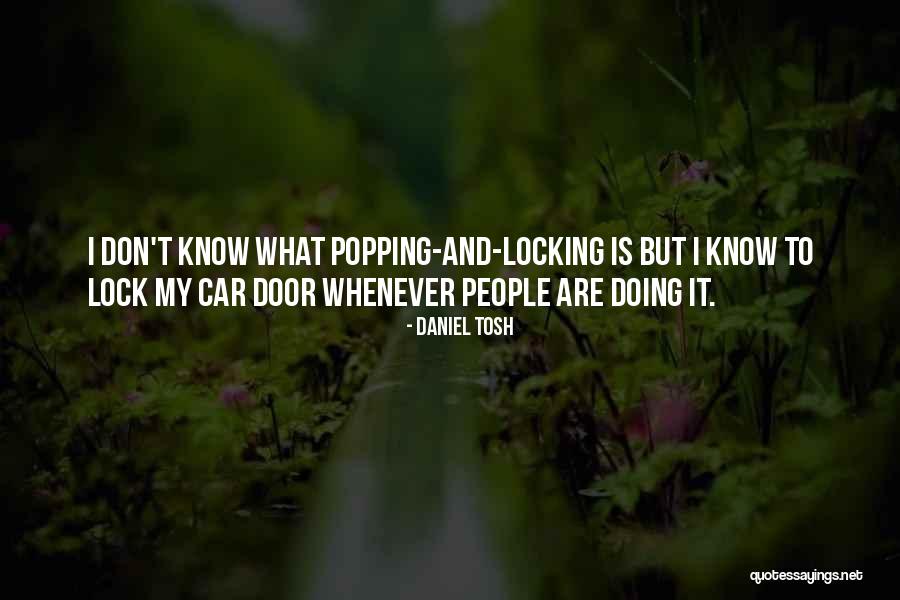 I don't know what popping-and-locking is but I know to lock my car door whenever people are doing it. — Daniel Tosh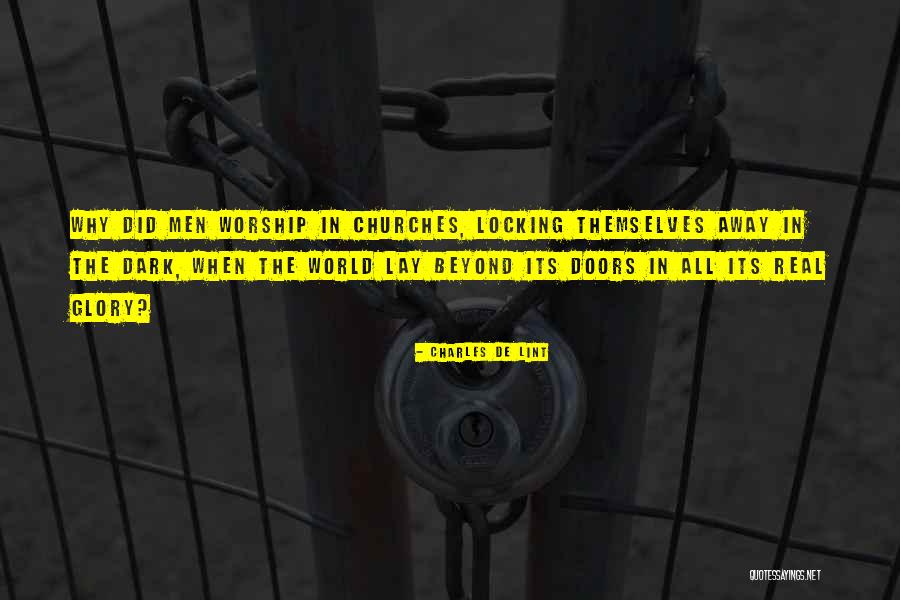 Why did men worship in churches, locking themselves away in the dark, when the world lay beyond its doors in all its real glory? — Charles De Lint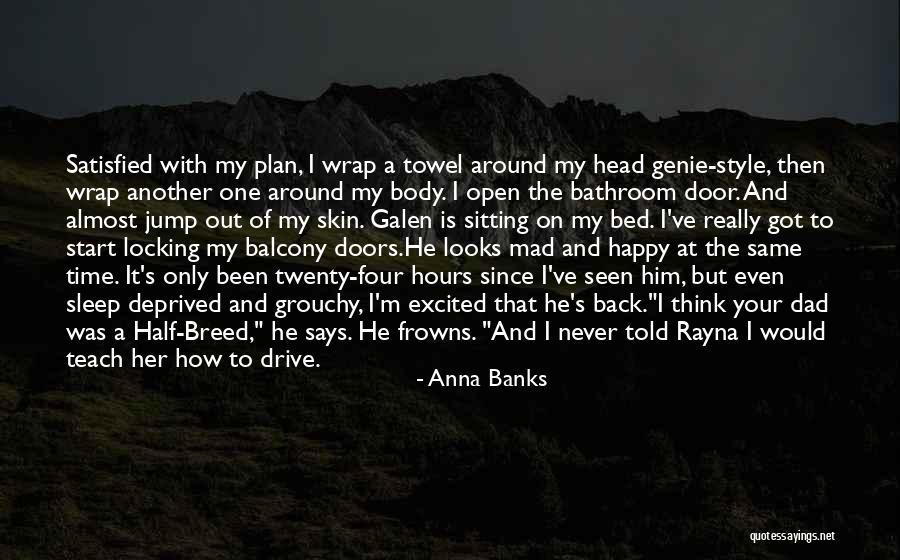 Satisfied with my plan, I wrap a towel around my head genie-style, then wrap another one around my body. I open the bathroom door. And almost jump out of my skin. Galen is sitting on my bed. I've really got to start locking my balcony doors.
He looks mad and happy at the same time. It's only been twenty-four hours since I've seen him, but even sleep deprived and grouchy, I'm excited that he's back.
"I think your dad was a Half-Breed," he says. He frowns. "And I never told Rayna I would teach her how to drive. — Anna Banks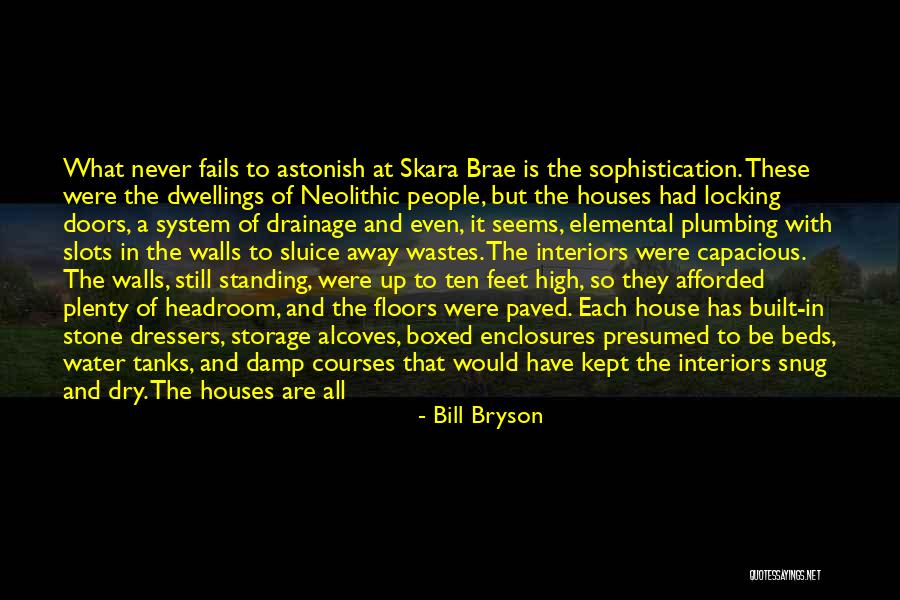 What never fails to astonish at Skara Brae is the sophistication. These were the dwellings of Neolithic people, but the houses had locking doors, a system of drainage and even, it seems, elemental plumbing with slots in the walls to sluice away wastes. The interiors were capacious. The walls, still standing, were up to ten feet high, so they afforded plenty of headroom, and the floors were paved. Each house has built-in stone dressers, storage alcoves, boxed enclosures presumed to be beds, water tanks, and damp courses that would have kept the interiors snug and dry. The houses are all of one size and built to the same plan, suggesting a kind of genial commune rather than a conventional tribal hierarchy. Covered passageways ran between the houses and led to a paved open area - dubbed "the marketplace" by early archaeologists - where tasks could be done in a social setting. — Bill Bryson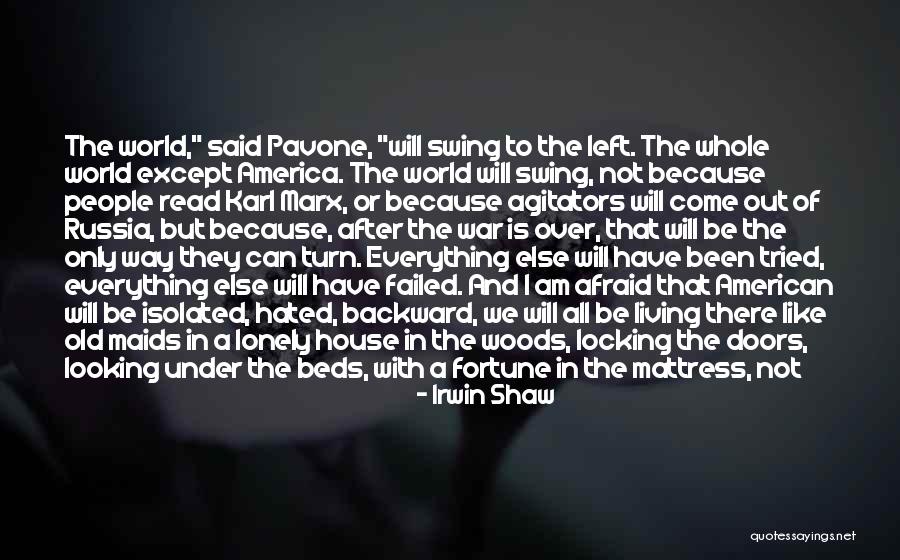 The world," said Pavone, "will swing to the left. The whole world except America. The world will swing, not because people read Karl Marx, or because agitators will come out of Russia, but because, after the war is over, that will be the only way they can turn. Everything else will have been tried, everything else will have failed. And I am afraid that American will be isolated, hated, backward, we will all be living there like old maids in a lonely house in the woods, locking the doors, looking under the beds, with a fortune in the mattress, not being able to sleep, because every time the wind blows and a floor creaks, we will think the murderers are breaking in to kill us and take our treasure ... — Irwin Shaw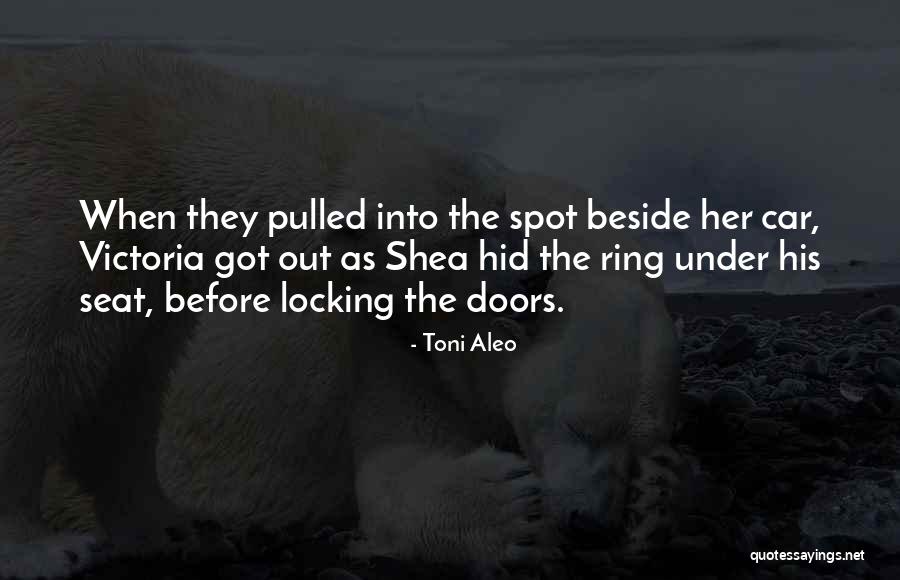 When they pulled into the spot beside her car, Victoria got out as Shea hid the ring under his seat, before locking the doors. — Toni Aleo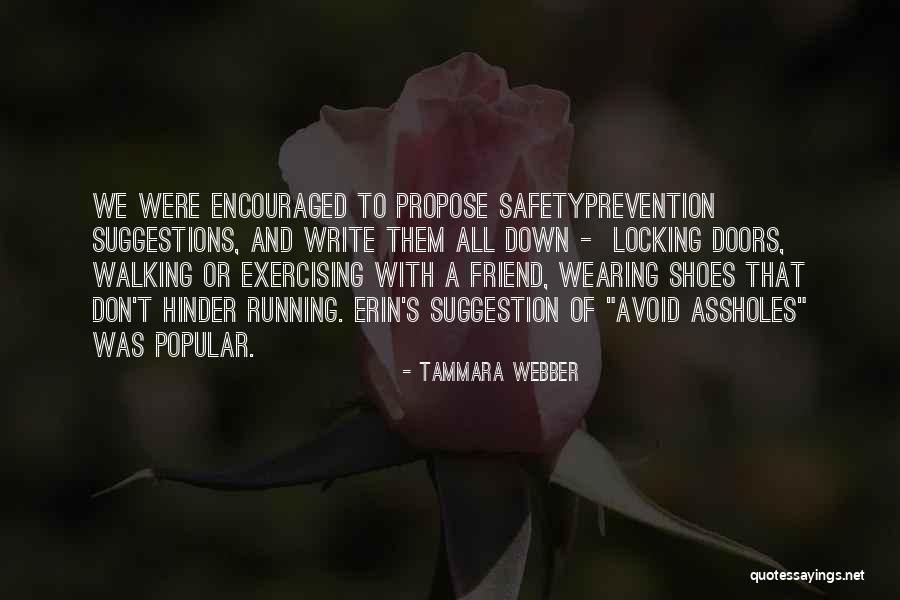 We were encouraged to propose safetyprevention suggestions, and write them all down - locking doors, walking or exercising with a friend, wearing shoes that don't hinder running. Erin's suggestion of "Avoid assholes" was popular. — Tammara Webber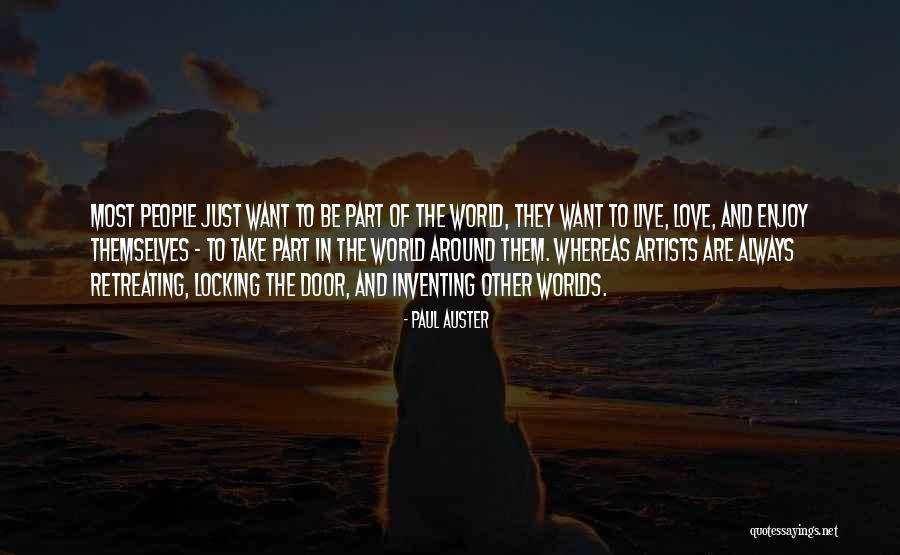 Most people just want to be part of the world, they want to live, love, and enjoy themselves - to take part in the world around them. Whereas artists are always retreating, locking the door, and inventing other worlds. — Paul Auster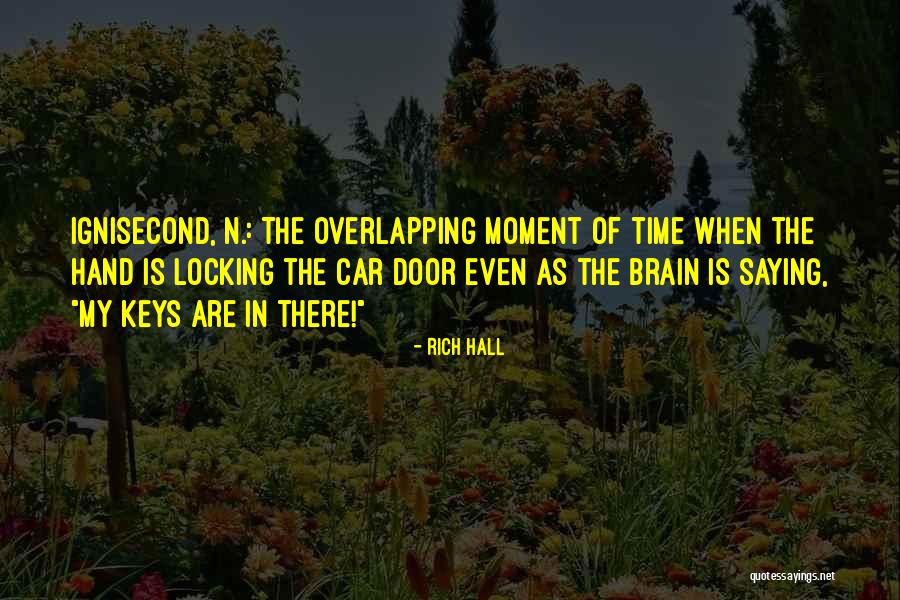 Ignisecond, n.: The overlapping moment of time when the hand is locking the car door even as the brain is saying, "my keys are in there!" — Rich Hall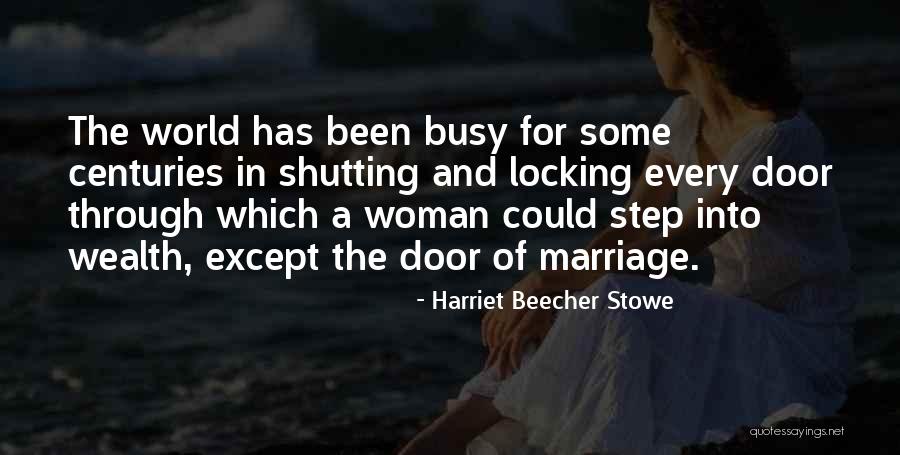 The world has been busy for some centuries in shutting and locking every door through which a woman could step into wealth, except the door of marriage. — Harriet Beecher Stowe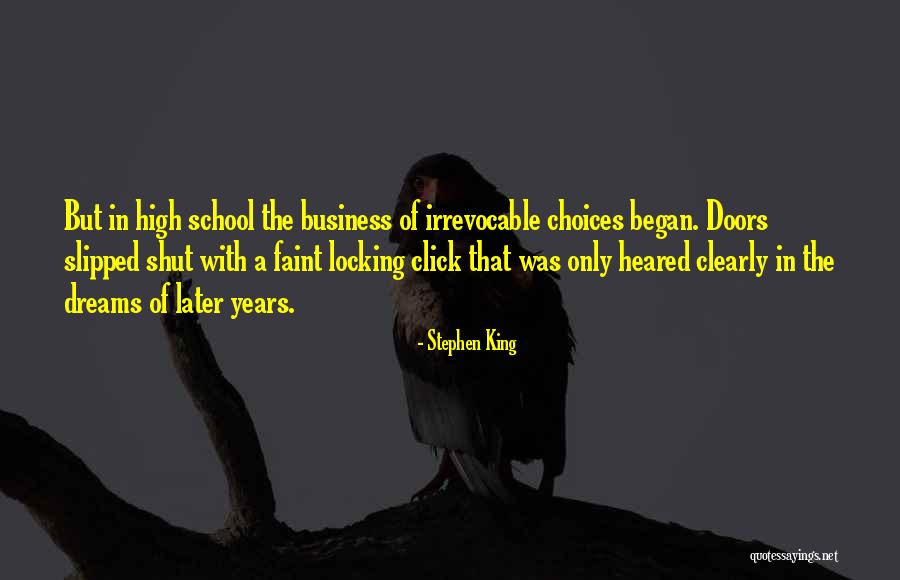 But in high school the business of irrevocable choices began. Doors slipped shut with a faint locking click that was only heared clearly in the dreams of later years. — Stephen King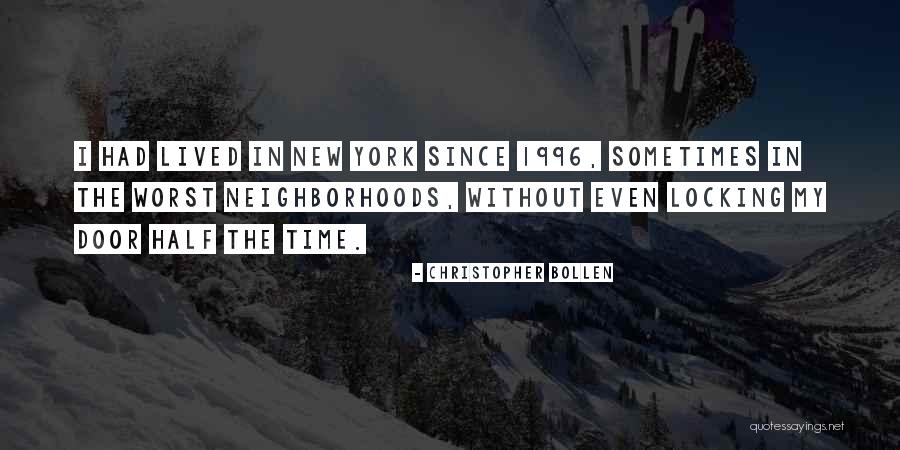 I had lived in New York since 1996, sometimes in the worst neighborhoods, without even locking my door half the time. — Christopher Bollen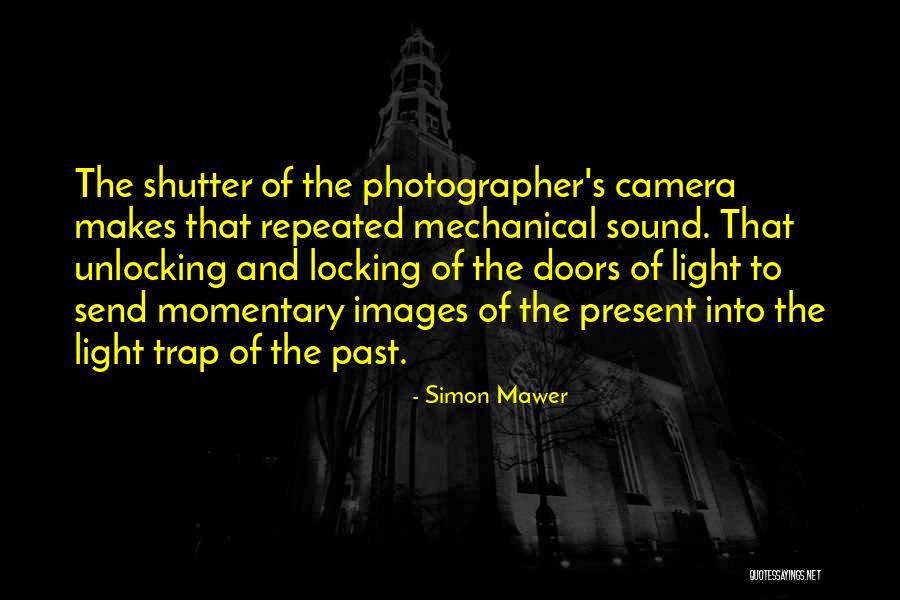 The shutter of the photographer's camera makes that repeated mechanical sound. That unlocking and locking of the doors of light to send momentary images of the present into the light trap of the past. — Simon Mawer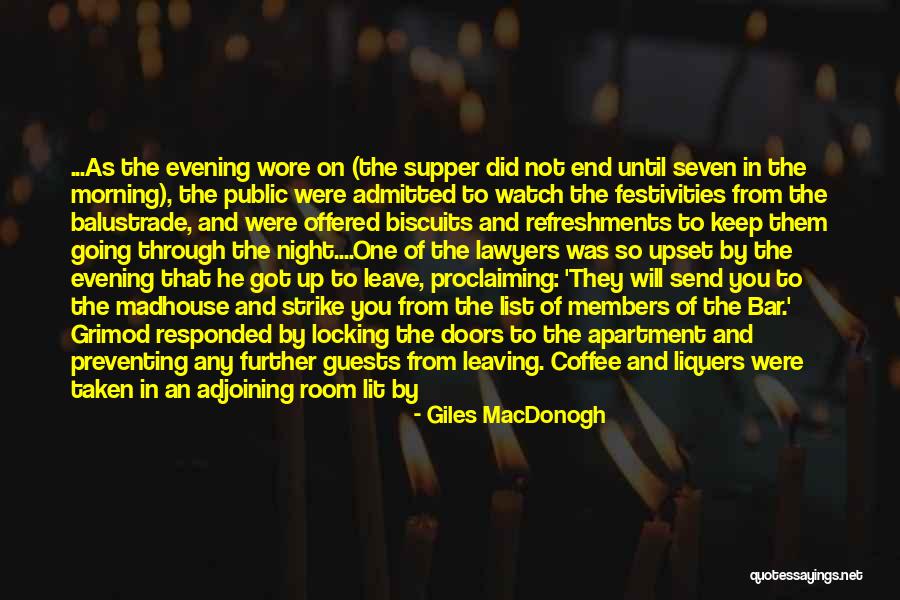 ...As the evening wore on (the supper did not end until seven in the morning), the public were admitted to watch the festivities from the balustrade, and were offered biscuits and refreshments to keep them going through the night.
...One of the lawyers was so upset by the evening that he got up to leave, proclaiming: 'They will send you to the madhouse and strike you from the list of members of the Bar.' Grimod responded by locking the doors to the apartment and preventing any further guests from leaving. Coffee and liquers were taken in an adjoining room lit by 130 candles while the guests were entertained by a magic-lantern show and some experiments with electricity performed by the Italian physicist Castanio. M Rival tells us that many of the guests fell asleep. — Giles MacDonogh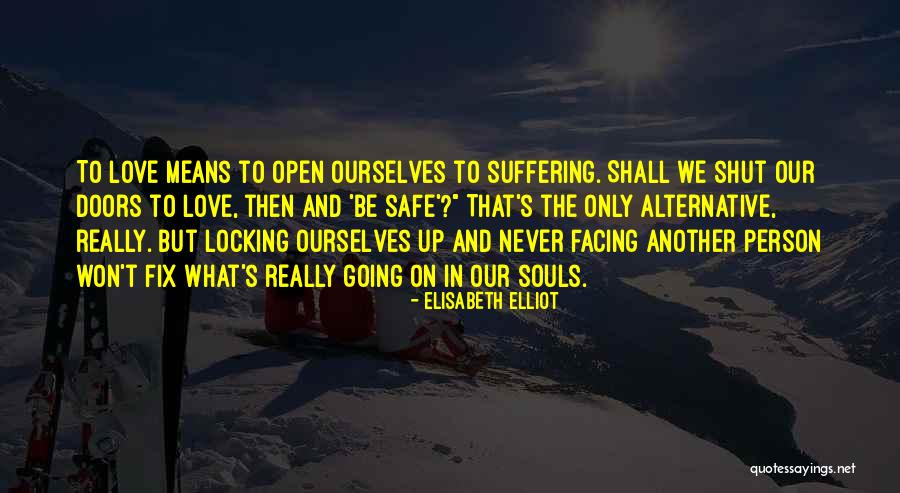 To love means to open ourselves to suffering. Shall we shut our doors to love, then and 'be safe'?" That's the only alternative, really. But locking ourselves up and never facing another person won't fix what's really going on in our souls. — Elisabeth Elliot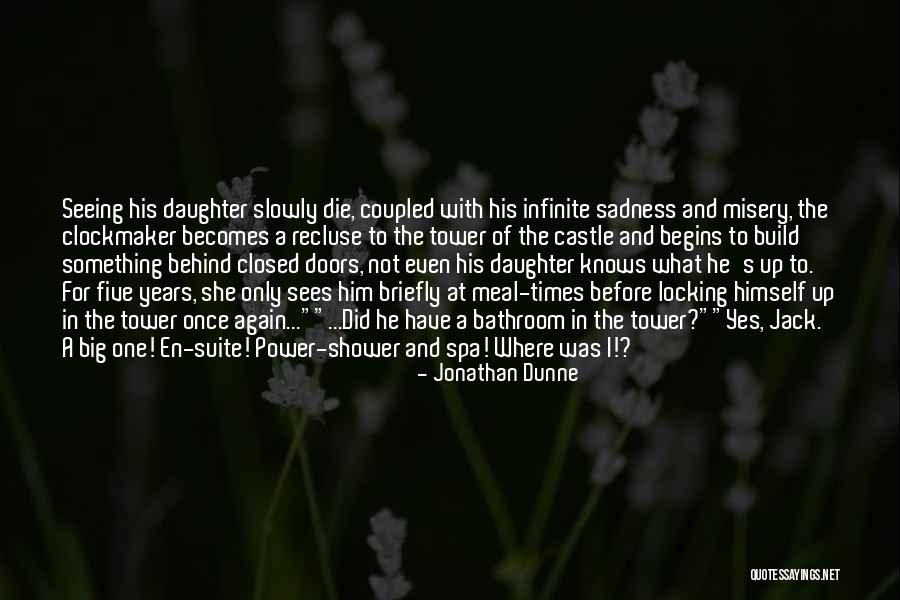 Seeing his daughter slowly die, coupled with his infinite sadness and misery, the clockmaker becomes a recluse to the tower of the castle and begins to build something behind closed doors, not even his daughter knows what he's up to. For five years, she only sees him briefly at meal-times before locking himself up in the tower once again..."

"...Did he have a bathroom in the tower?"

"Yes, Jack. A big one! En-suite! Power-shower and spa! Where was I!? — Jonathan Dunne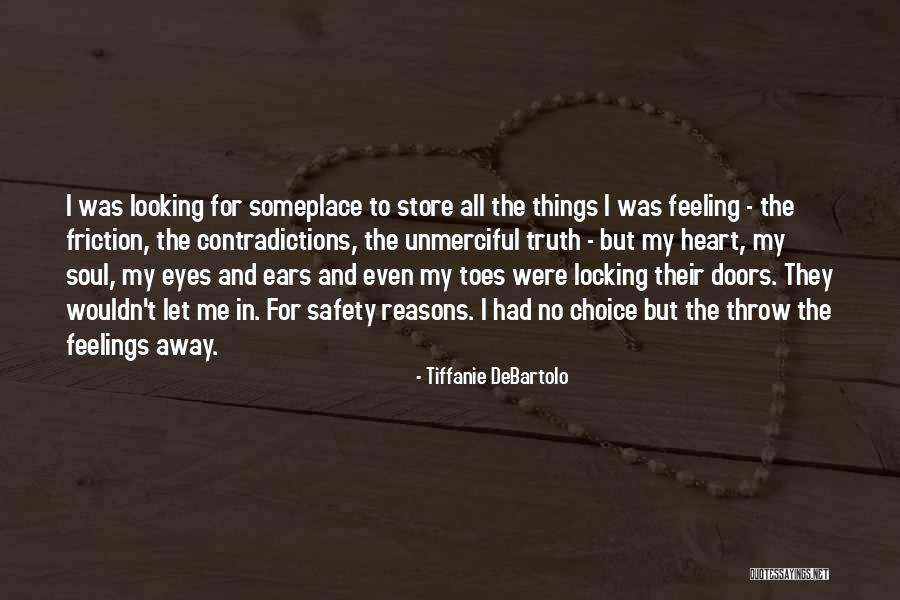 I was looking for someplace to store all the things I was feeling - the friction, the contradictions, the unmerciful truth - but my heart, my soul, my eyes and ears and even my toes were locking their doors. They wouldn't let me in. For safety reasons. I had no choice but the throw the feelings away. — Tiffanie DeBartolo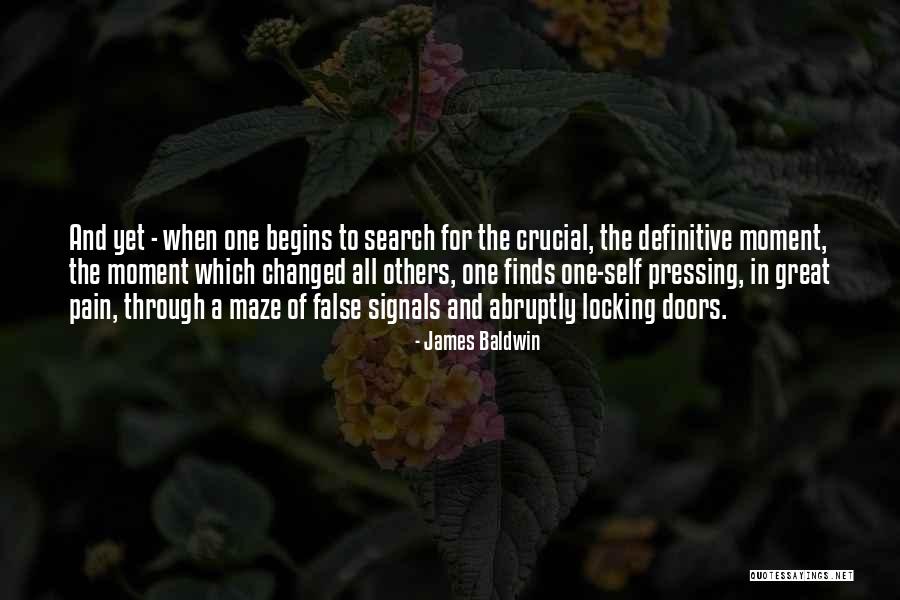 And yet - when one begins to search for the crucial, the definitive moment, the moment which changed all others, one finds one-self pressing, in great pain, through a maze of false signals and abruptly locking doors. — James Baldwin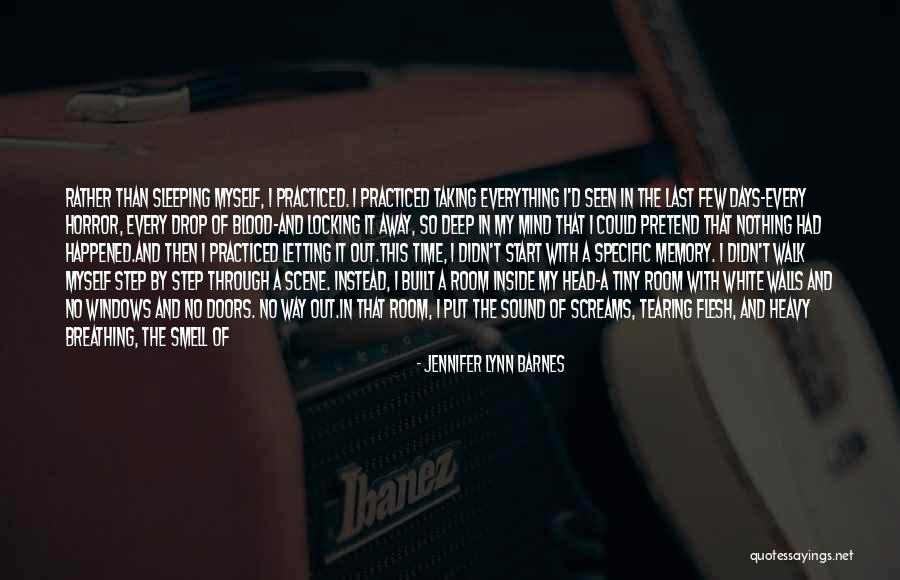 Rather than sleeping myself, I practiced. I practiced taking everything I'd seen in the last few days-every horror, every drop of blood-and locking it away, so deep in my mind that I could pretend that nothing had happened.
And then I practiced letting it out.
This time, I didn't start with a specific memory. I didn't walk myself step by step through a scene. Instead, I built a room inside my head-a tiny room with white walls and no windows and no doors. No way out.
In that room, I put the sound of screams, tearing flesh, and heavy breathing, the smell of rancid blood. Everything I'd been holding back, everything threatening to devour me whole was there-in the ceiling of that room, the corners, the floor. — Jennifer Lynn Barnes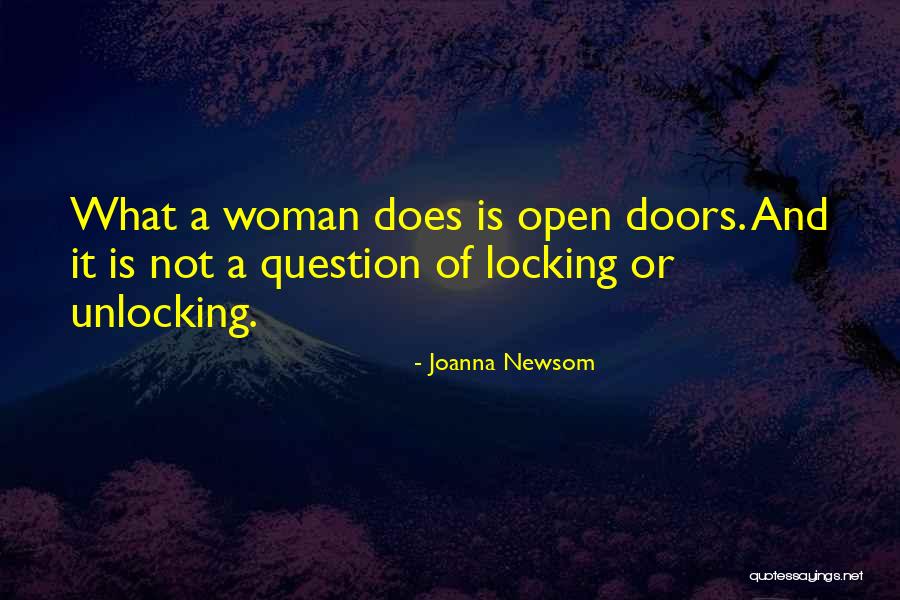 What a woman does is open doors. And it is not a question of locking or unlocking. — Joanna Newsom
It's no use locking the door after the steed is stolen. — H.G.Wells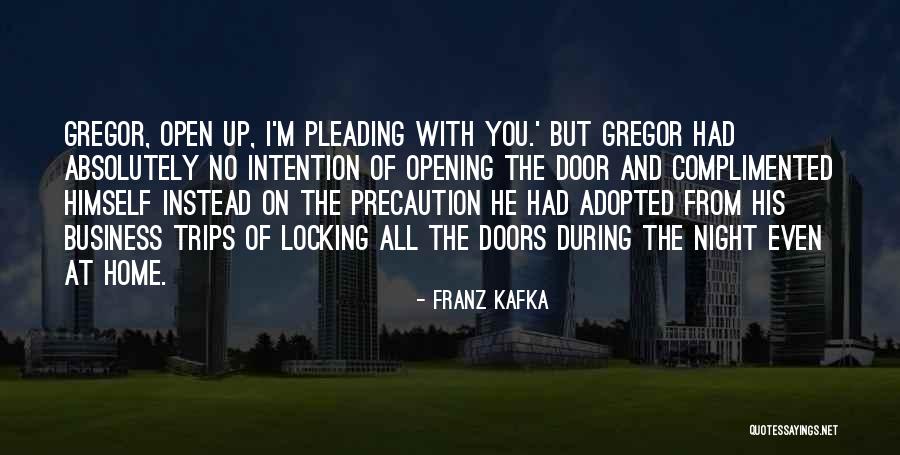 Gregor, open up, I'm pleading with you.' But Gregor had absolutely no intention of opening the door and complimented himself instead on the precaution he had adopted from his business trips of locking all the doors during the night even at home. — Franz Kafka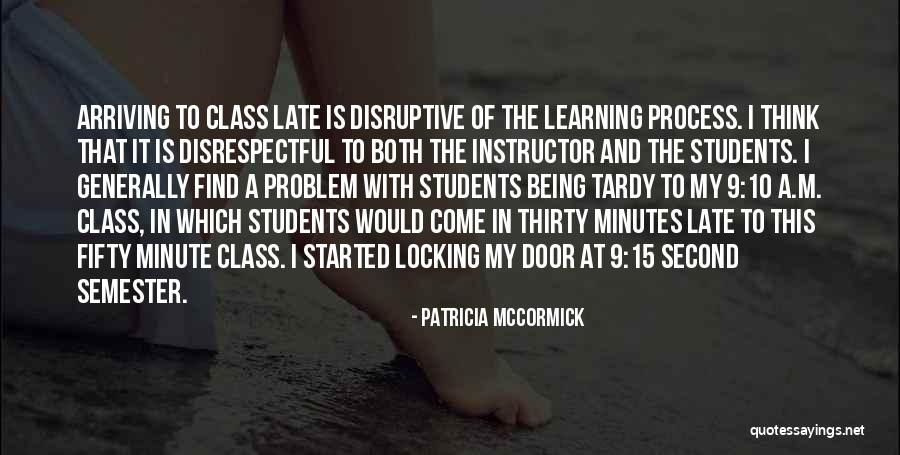 Arriving to class late is disruptive of the learning process. I think that it is disrespectful to both the instructor and the students. I generally find a problem with students being tardy to my 9:10 a.m. class, in which students would come in thirty minutes late to this fifty minute class. I started locking my door at 9:15 second semester. — Patricia McCormick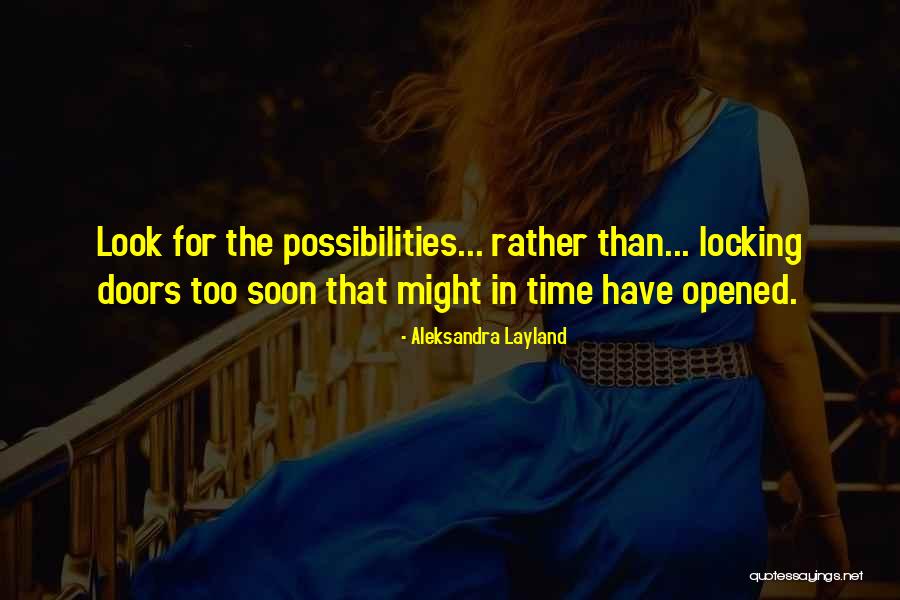 Look for the possibilities... rather than... locking doors too soon that might in time have opened. — Aleksandra Layland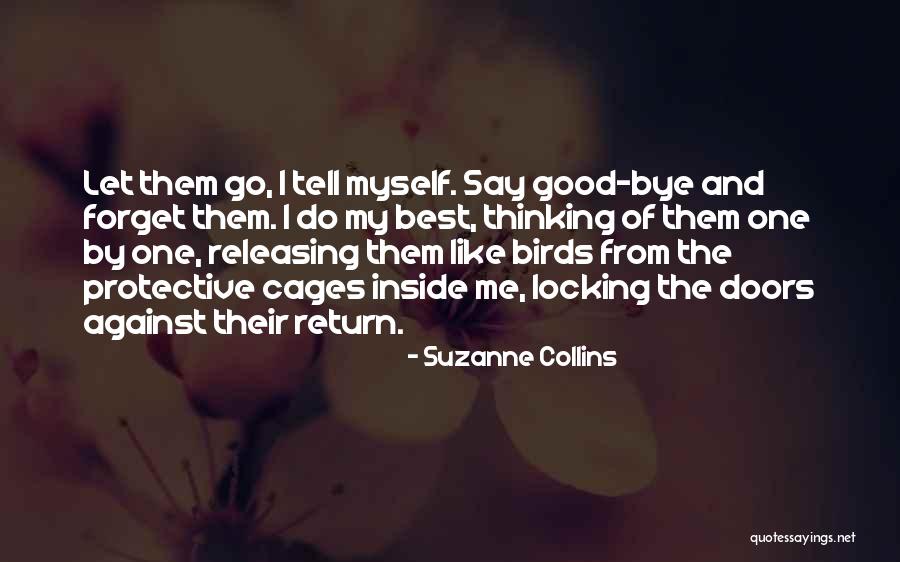 Let them go, I tell myself. Say good-bye and forget them. I do my best, thinking of them one by one, releasing them like birds from the protective cages inside me, locking the doors against their return. — Suzanne Collins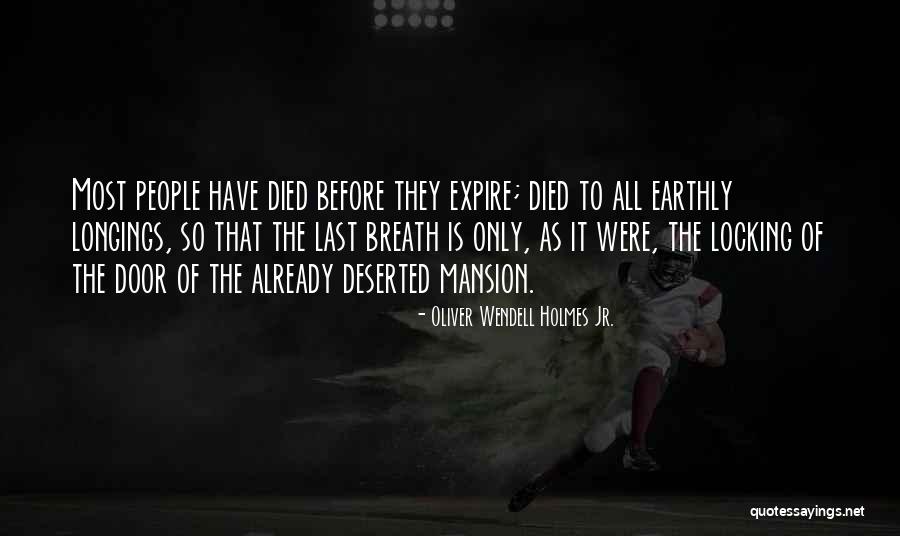 Most people have died before they expire; died to all earthly longings, so that the last breath is only, as it were, the locking of the door of the already deserted mansion. — Oliver Wendell Holmes Jr.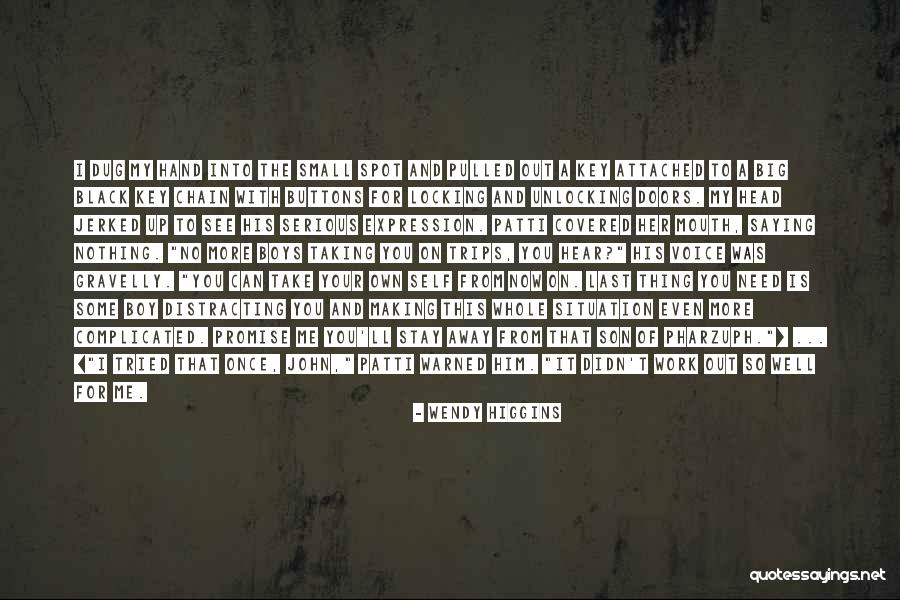 I dug my hand into the small spot and pulled out a key attached to a big black key chain with buttons for locking and unlocking doors. My head jerked up to see his serious expression. Patti covered her mouth, saying nothing.
"No more boys taking you on trips, you hear?" His voice was gravelly. "You can take your own self from now on. Last thing you need is some boy distracting you and making this whole situation even more complicated. Promise me you'll stay away from that son of Pharzuph."
[ ... ]
"I tried that once, John," Patti warned him. "It didn't work out so well for me. — Wendy Higgins