Living In Debt Quotes & Sayings
Enjoy reading and share 33 famous quotes about Living In Debt with everyone.
Top Living In Debt Quotes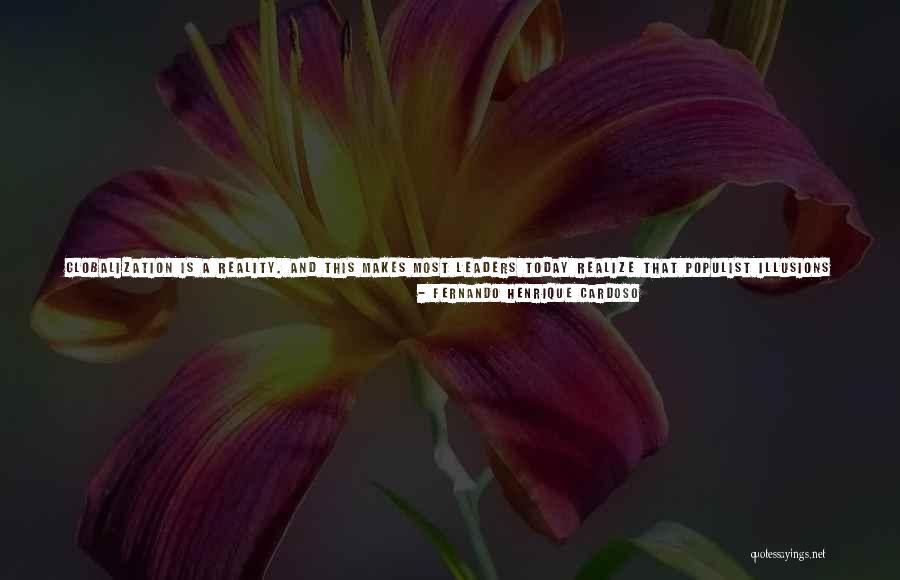 Globalization is a reality. And this makes most leaders today realize that populist illusions can't be sustained before they collapse into stagnation and leave their political supporters deeply disillusioned. You can't inflate away your troubles or allow mountains of debt to build up if, as a country, you have to make your living in a globally competitive environment ... Building prosperity requires caution and patience. It requires time. Populism is a short cut that doesn't work. — Fernando Henrique Cardoso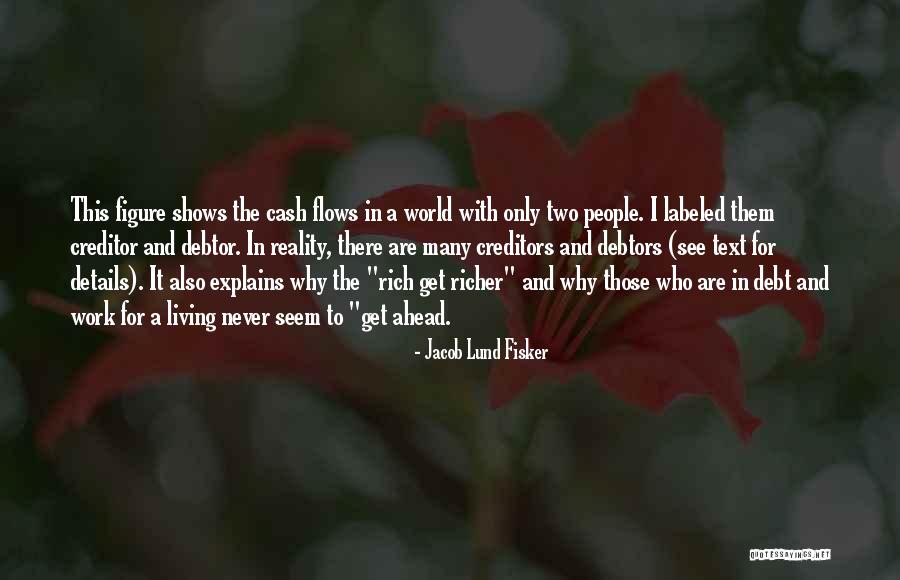 This figure shows the cash flows in a world with only two people. I labeled them creditor and debtor. In reality, there are many creditors and debtors (see text for details). It also explains why the "rich get richer" and why those who are in debt and work for a living never seem to "get ahead. — Jacob Lund Fisker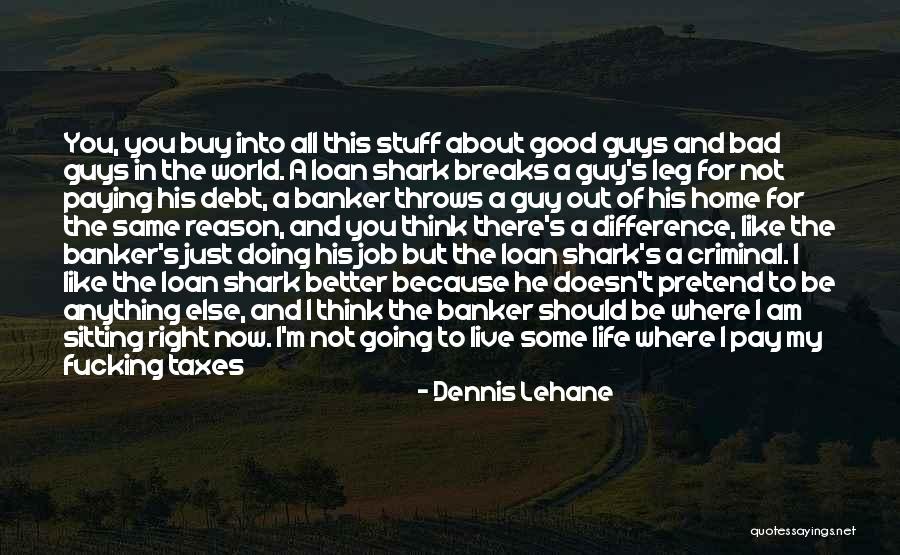 You, you buy into all this stuff about good guys and bad guys in the world. A loan shark breaks a guy's leg for not paying his debt, a banker throws a guy out of his home for the same reason, and you think there's a difference, like the banker's just doing his job but the loan shark's a criminal. I like the loan shark better because he doesn't pretend to be anything else, and I think the banker should be where I am sitting right now. I'm not going to live some life where I pay my fucking taxes and fetch the boss a lemonade at the company picnic and buy life insurance. Get older, get fatter, so I can join a men's club in Back Bay, smoke cigars with a bunch of assholes in a back room somewhere, talk about my squash game and my kid's grades. Die at my desk, and they'll already have scraped my name off the office door before the dirt's hit the coffin. — Dennis Lehane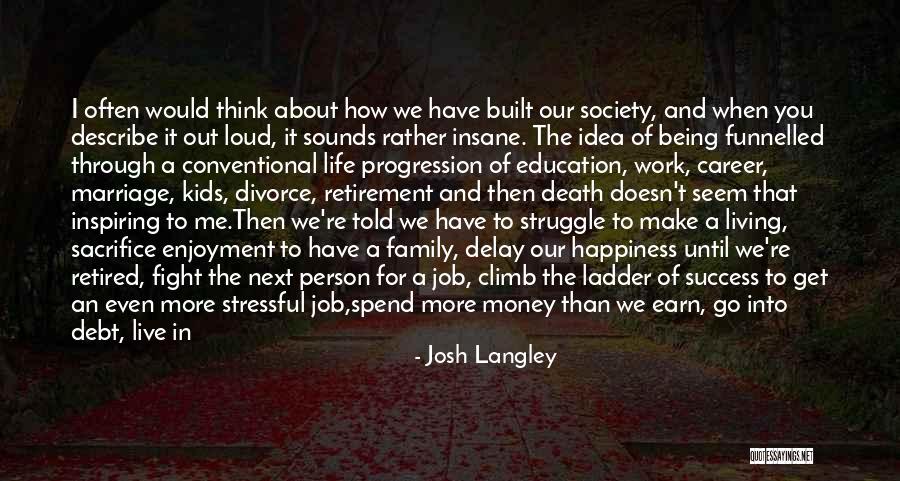 I often would think about how we have built our society, and when you describe it out loud, it sounds rather insane. The idea of being funnelled through a conventional life progression of education, work, career, marriage, kids, divorce, retirement and then death doesn't seem that inspiring to me.
Then we're told we have to struggle to make a living, sacrifice enjoyment to have a family, delay our happiness until we're retired, fight the next person for a job, climb the ladder of success to get an even more stressful job,
spend more money than we earn, go into debt, live in fear of being blown up by some terrorist and then have TV passed off as the only way to escape it all. And when all of this gets too much and you can't keep up, you get prescribed antidepressants and made to feel like you've failed. — Josh Langley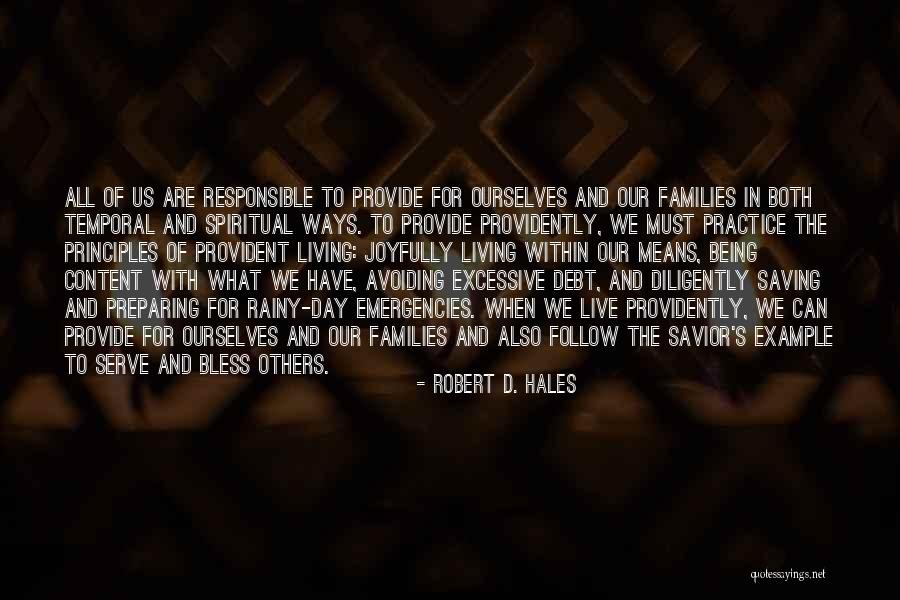 All of us are responsible to provide for ourselves and our families in both temporal and spiritual ways. To provide providently, we must practice the principles of provident living: joyfully living within our means, being content with what we have, avoiding excessive debt, and diligently saving and preparing for rainy-day emergencies. When we live providently, we can provide for ourselves and our families and also follow the Savior's example to serve and bless others. — Robert D. Hales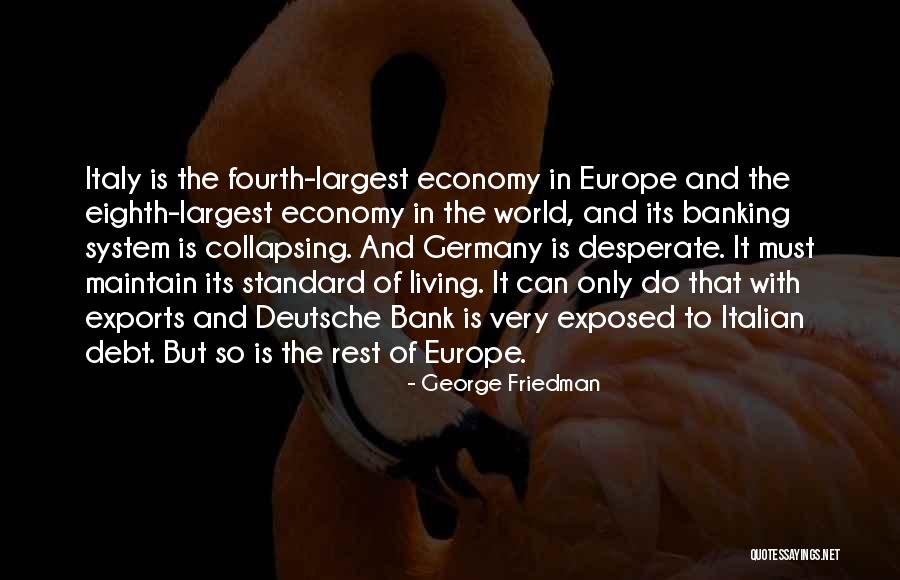 Italy is the fourth-largest economy in Europe and the eighth-largest economy in the world, and its banking system is collapsing. And Germany is desperate. It must maintain its standard of living. It can only do that with exports and Deutsche Bank is very exposed to Italian debt. But so is the rest of Europe. — George Friedman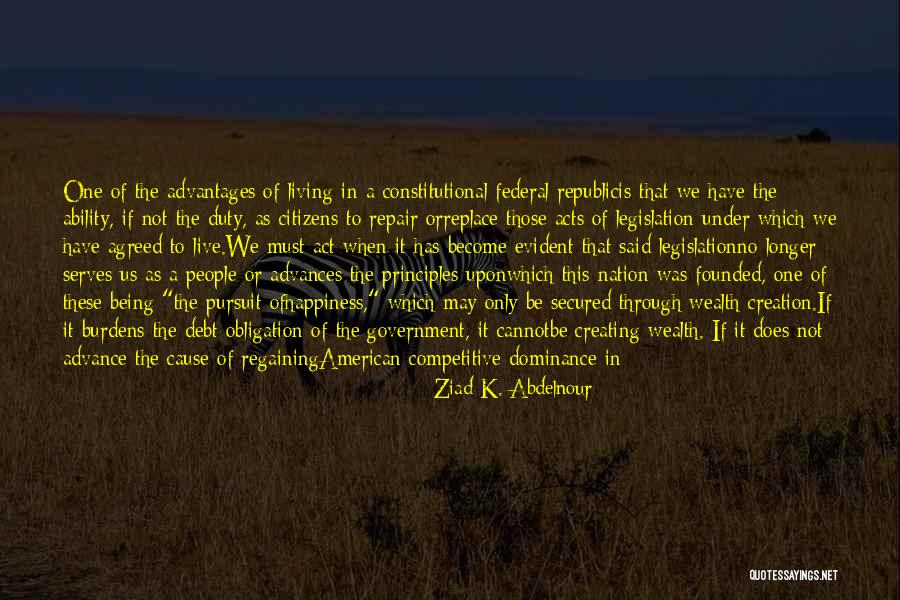 One of the advantages of living in a constitutional federal republic
is that we have the ability, if not the duty, as citizens to repair or
replace those acts of legislation under which we have agreed to live.
We must act when it has become evident that said legislation
no longer serves us as a people or advances the principles upon
which this nation was founded, one of these being "the pursuit of
happiness," which may only be secured through wealth creation.
If it burdens the debt obligation of the government, it cannot
be creating wealth. If it does not advance the cause of regaining
American competitive dominance in the global marketplace, it is not
creating wealth. If legislation and regulation were proposed that
taught people how to fish instead of providing fish, then the unemployed
would find a way to create jobs for each other. Wealth
creation is mankind's natural objective when given the opportunity
and the tools. — Ziad K. Abdelnour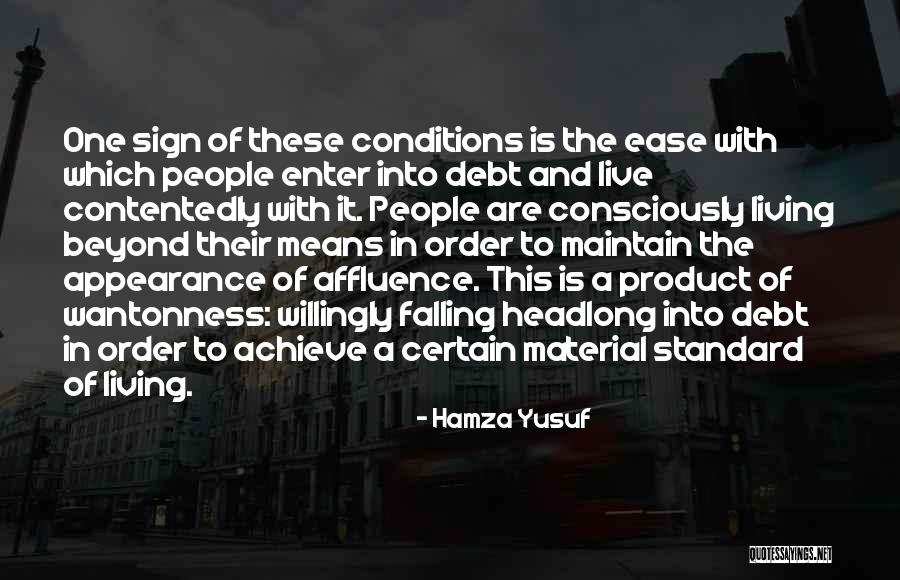 One sign of these conditions is the ease with which people enter into debt and live contentedly with it. People are consciously living beyond their means in order to maintain the appearance of affluence. This is a product of wantonness: willingly falling headlong into debt in order to achieve a certain material standard of living. — Hamza Yusuf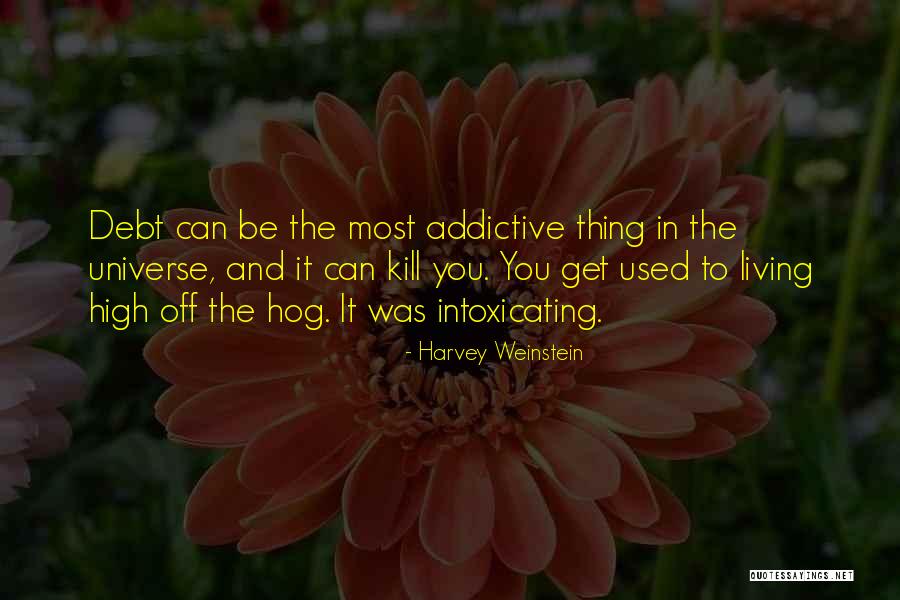 Debt can be the most addictive thing in the universe, and it can kill you. You get used to living high off the hog. It was intoxicating. — Harvey Weinstein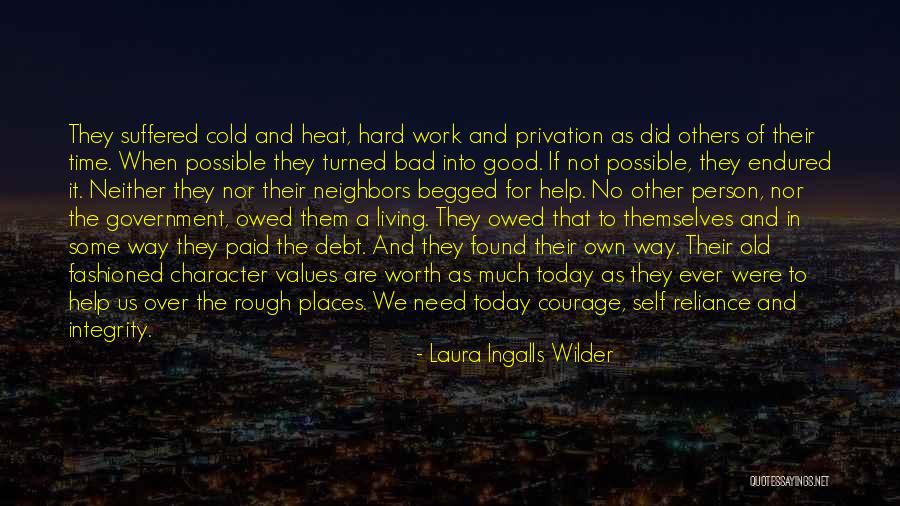 They suffered cold and heat, hard work and privation as did others of their time. When possible they turned bad into good. If not possible, they endured it. Neither they nor their neighbors begged for help. No other person, nor the government, owed them a living. They owed that to themselves and in some way they paid the debt. And they found their own way.
Their old fashioned character values are worth as much today as they ever were to help us over the rough places. We need today courage, self reliance and integrity. — Laura Ingalls Wilder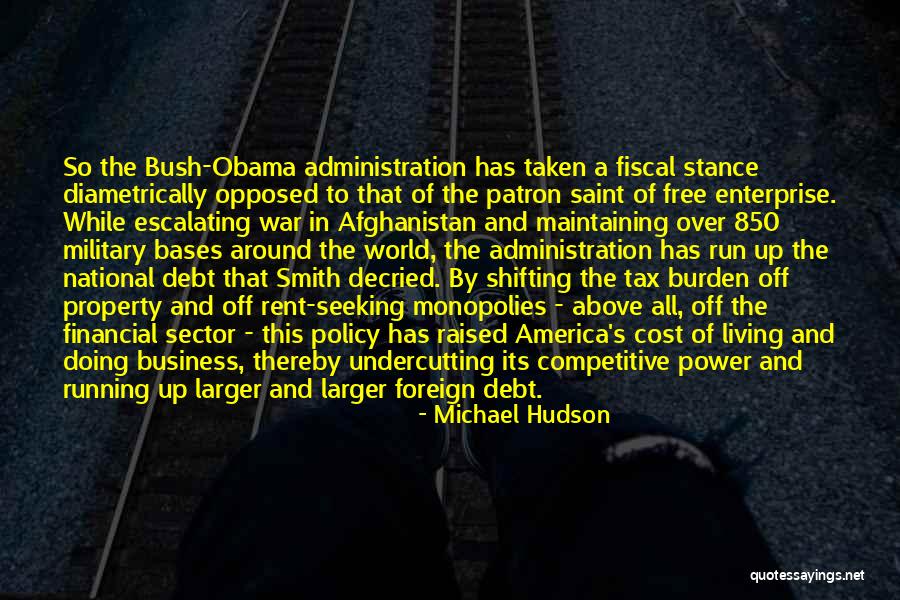 So the Bush-Obama administration has taken a fiscal stance diametrically opposed to that of the patron saint of free enterprise. While escalating war in Afghanistan and maintaining over 850 military bases around the world, the administration has run up the national debt that Smith decried. By shifting the tax burden off property and off rent-seeking monopolies - above all, off the financial sector - this policy has raised America's cost of living and doing business, thereby undercutting its competitive power and running up larger and larger foreign debt. — Michael Hudson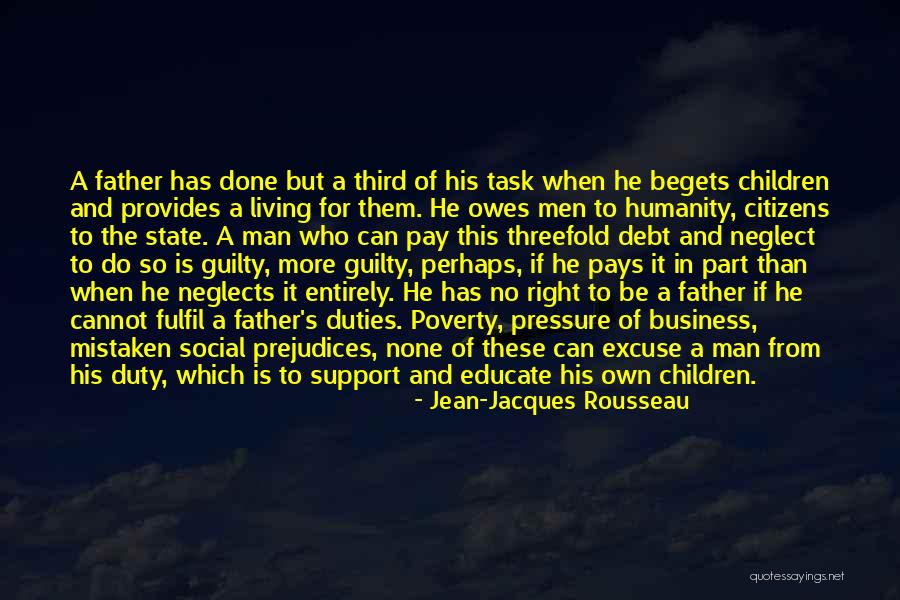 A father has done but a third of his task when he begets children and provides a living for them. He owes men to humanity, citizens to the state. A man who can pay this threefold debt and neglect to do so is guilty, more guilty, perhaps, if he pays it in part than when he neglects it entirely. He has no right to be a father if he cannot fulfil a father's duties. Poverty, pressure of business, mistaken social prejudices, none of these can excuse a man from his duty, which is to support and educate his own children. — Jean-Jacques Rousseau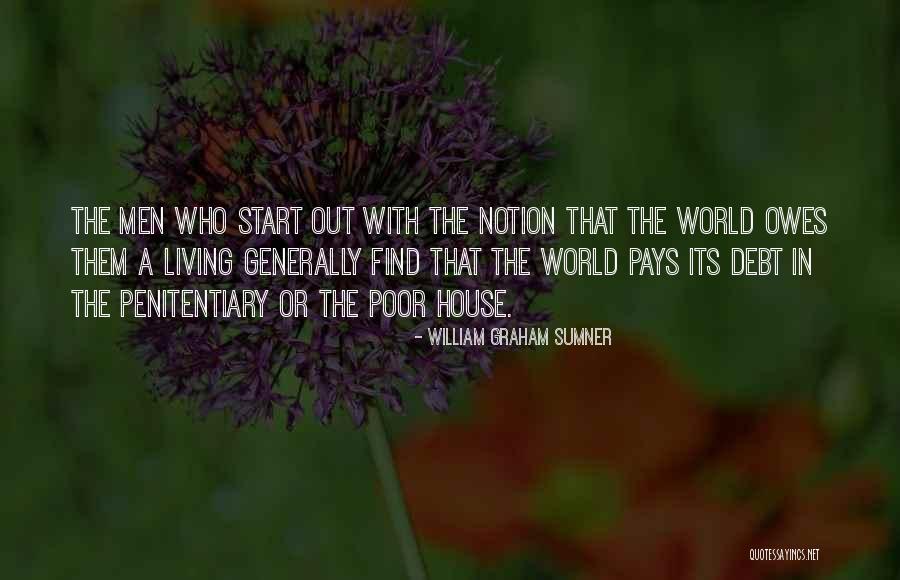 The men who start out with the notion that the world owes them a living generally find that the world pays its debt in the penitentiary or the poor house. — William Graham Sumner
In Texas money goes further, with one of the lowest costs of living, one of the lightest tax burdens as a percent of income, and one of the lowest debt-per-capita ratios. — Mark McKinnon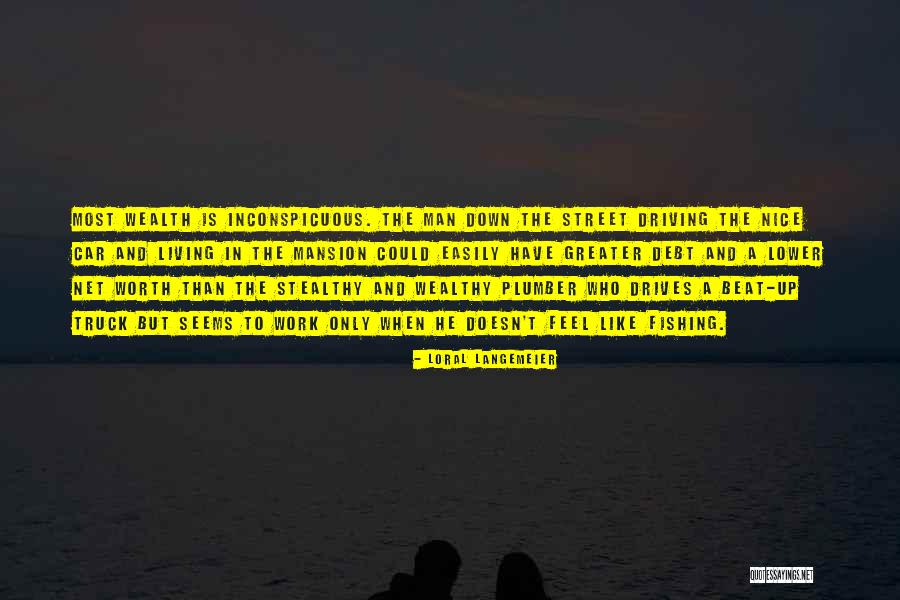 Most wealth is inconspicuous. The man down the street driving the nice car and living in the mansion could easily have greater debt and a lower net worth than the stealthy and wealthy plumber who drives a beat-up truck but seems to work only when he doesn't feel like fishing. — Loral Langemeier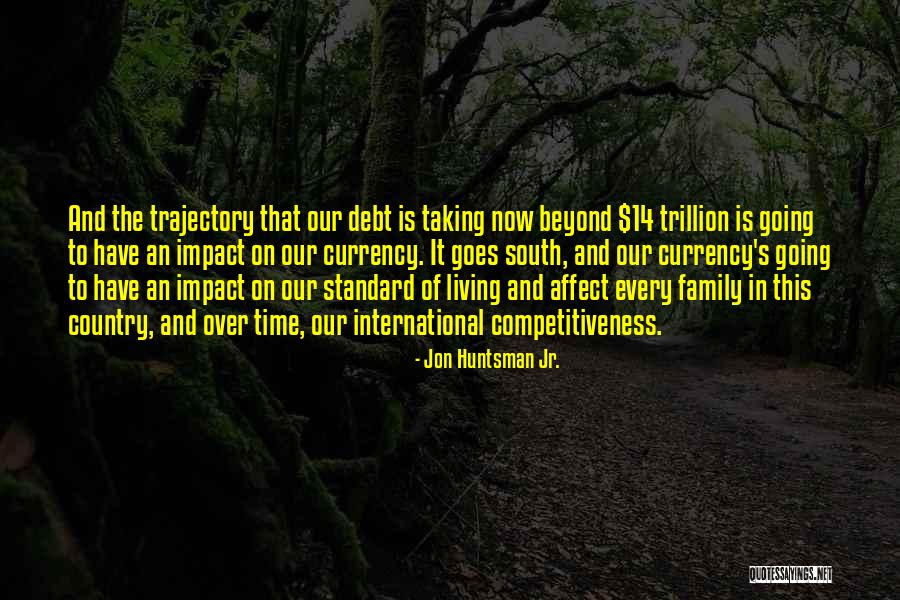 And the trajectory that our debt is taking now beyond $14 trillion is going to have an impact on our currency. It goes south, and our currency's going to have an impact on our standard of living and affect every family in this country, and over time, our international competitiveness. — Jon Huntsman Jr.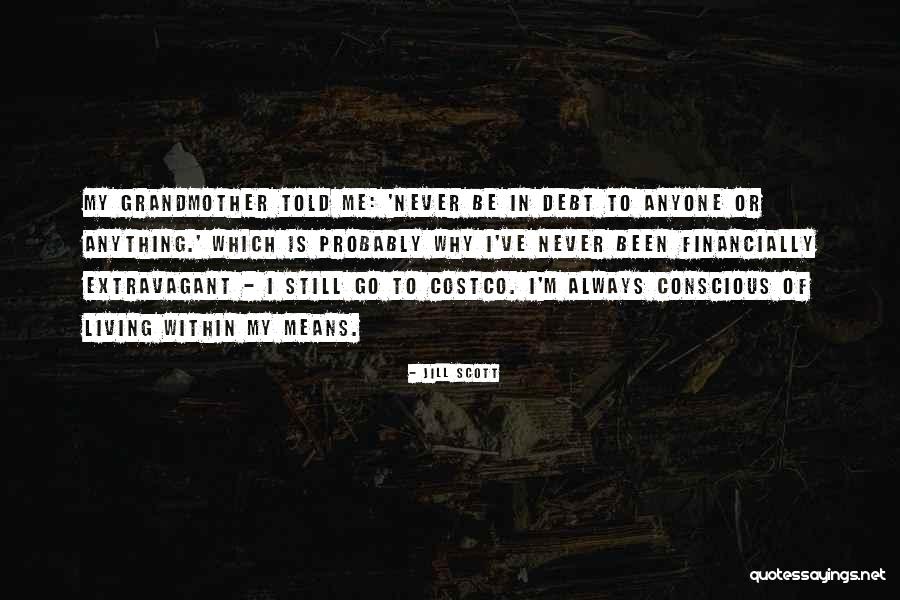 My grandmother told me: 'Never be in debt to anyone or anything.' Which is probably why I've never been financially extravagant - I still go to Costco. I'm always conscious of living within my means. — Jill Scott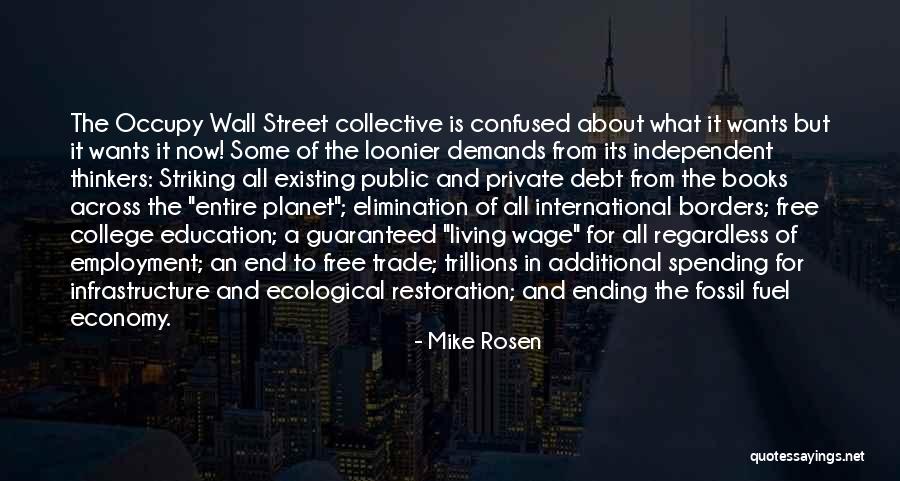 The Occupy Wall Street collective is confused about what it wants but it wants it now! Some of the loonier demands from its independent thinkers: Striking all existing public and private debt from the books across the "entire planet"; elimination of all international borders; free college education; a guaranteed "living wage" for all regardless of employment; an end to free trade; trillions in additional spending for infrastructure and ecological restoration; and ending the fossil fuel economy. — Mike Rosen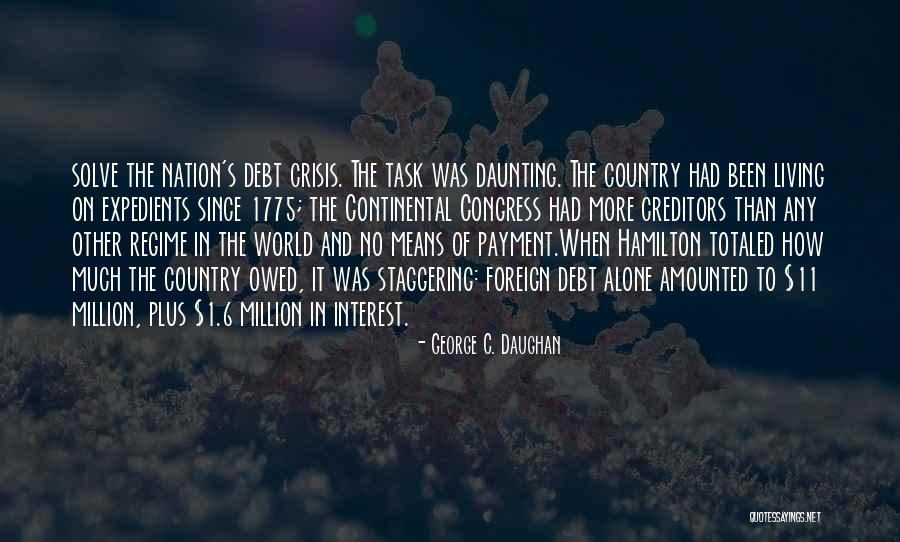 solve the nation's debt crisis. The task was daunting. The country had been living on expedients since 1775; the Continental Congress had more creditors than any other regime in the world and no means of payment.When Hamilton totaled how much the country owed, it was staggering: foreign debt alone amounted to $11 million, plus $1.6 million in interest. — George C. Daughan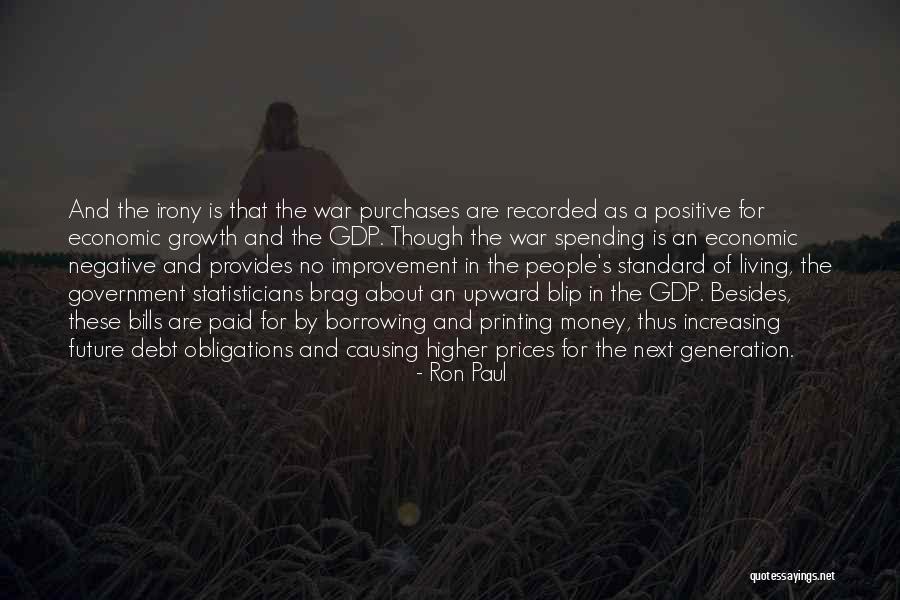 And the irony is that the war purchases are recorded as a positive for economic growth and the GDP. Though the war spending is an economic negative and provides no improvement in the people's standard of living, the government statisticians brag about an upward blip in the GDP. Besides, these bills are paid for by borrowing and printing money, thus increasing future debt obligations and causing higher prices for the next generation. — Ron Paul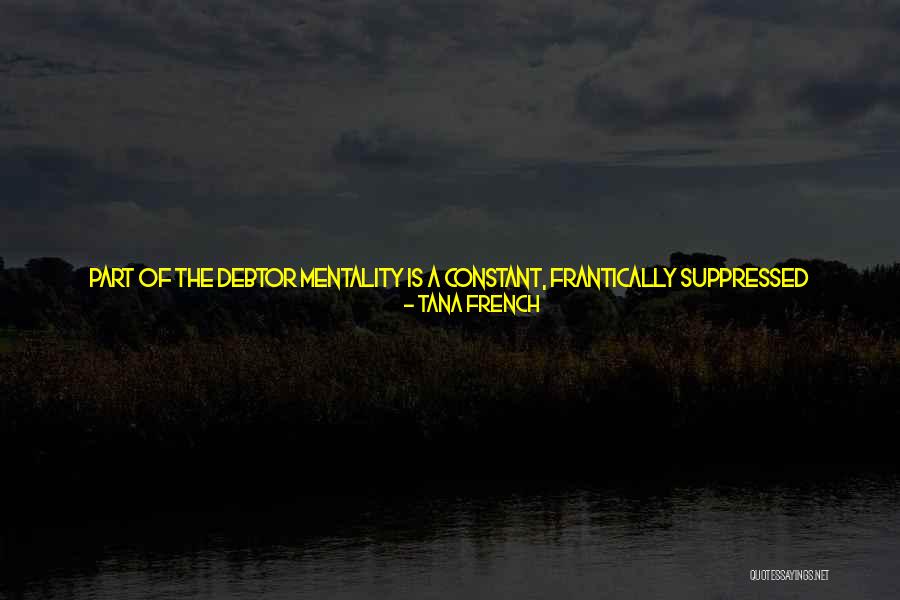 Part of the debtor mentality is a constant, frantically suppressed undercurrent of terror. We have one of the highest debt-to-income ratios in the world, and apparently most of us are two paychecks from the street. Those in power
governments, employers
exploit this, to great effect. Frightened people are obedient
not just physically, but intellectually and emotionally. If your employer tells you to work overtime, and you know that refusing could jeopardize everything you have, then not only do you work the overtime, but you convince yourself that you're doing it voluntarily, out of loyalty to the company; because the alternative is to acknowledge that you are living in terror. Before you know it, you've persuaded yourself that you have a profound emotional attachment to some vast multinational corporation: you've indentured not just your working hours, but your entire thought process. — Tana French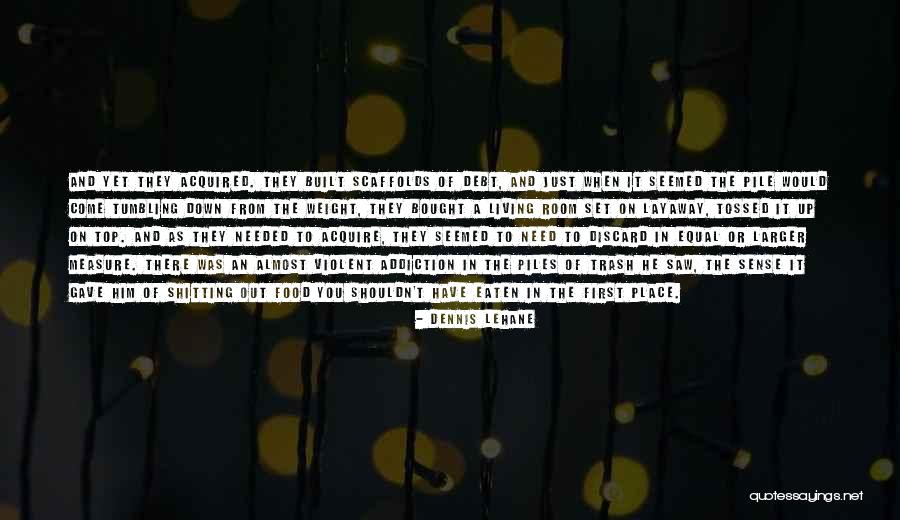 And yet they acquired. They built scaffolds of debt, and just when it seemed the pile would come tumbling down from the weight, they bought a living room set on layaway, tossed it up on top. And as they needed to acquire, they seemed to need to discard in equal or larger measure. There was an almost violent addiction in the piles of trash he saw, the sense it gave him of shitting out food you shouldn't have eaten in the first place. — Dennis Lehane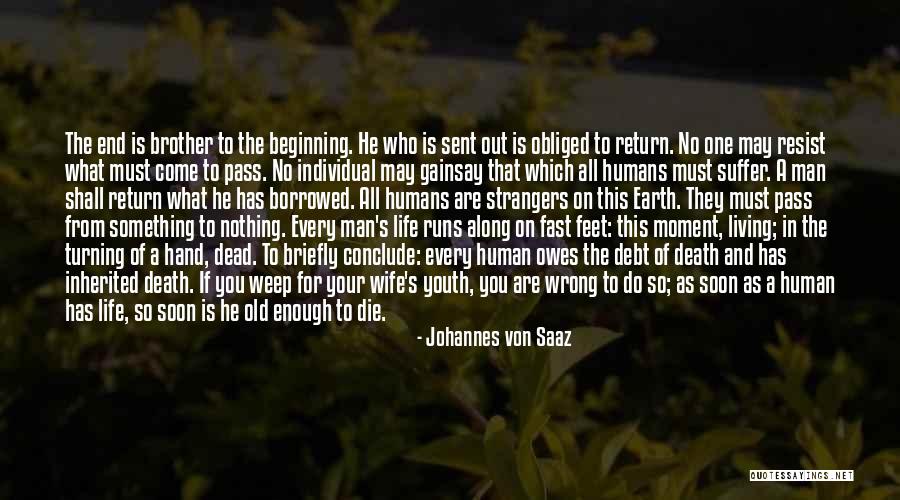 The end is brother to the beginning. He who is sent out is obliged to return. No one may resist what must come to pass. No individual may gainsay that which all humans must suffer. A man shall return what he has borrowed. All humans are strangers on this Earth. They must pass from something to nothing. Every man's life runs along on fast feet: this moment, living; in the turning of a hand, dead. To briefly conclude: every human owes the debt of death and has inherited death. If you weep for your wife's youth, you are wrong to do so; as soon as a human has life, so soon is he old enough to die. — Johannes Von Saaz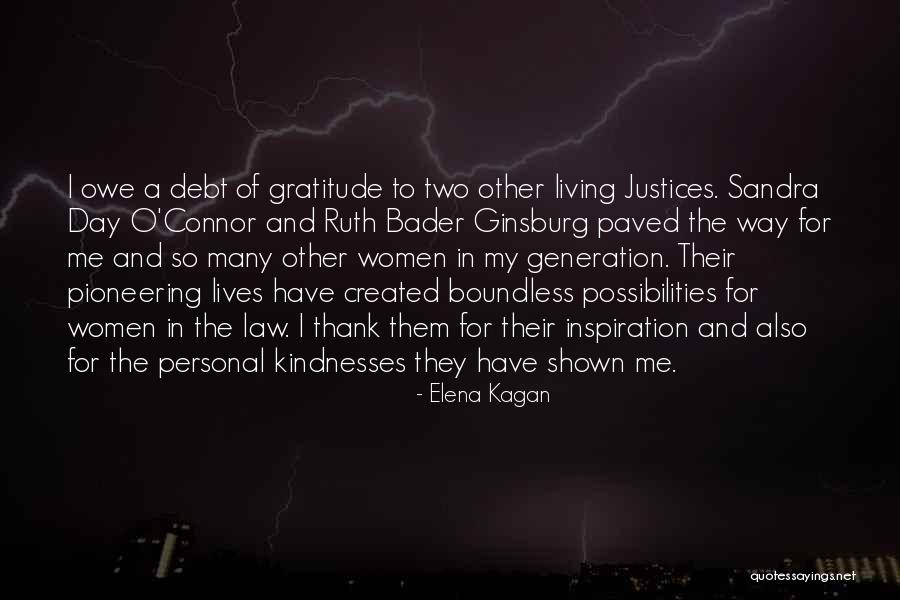 I owe a debt of gratitude to two other living Justices. Sandra Day O'Connor and Ruth Bader Ginsburg paved the way for me and so many other women in my generation. Their pioneering lives have created boundless possibilities for women in the law. I thank them for their inspiration and also for the personal kindnesses they have shown me. — Elena Kagan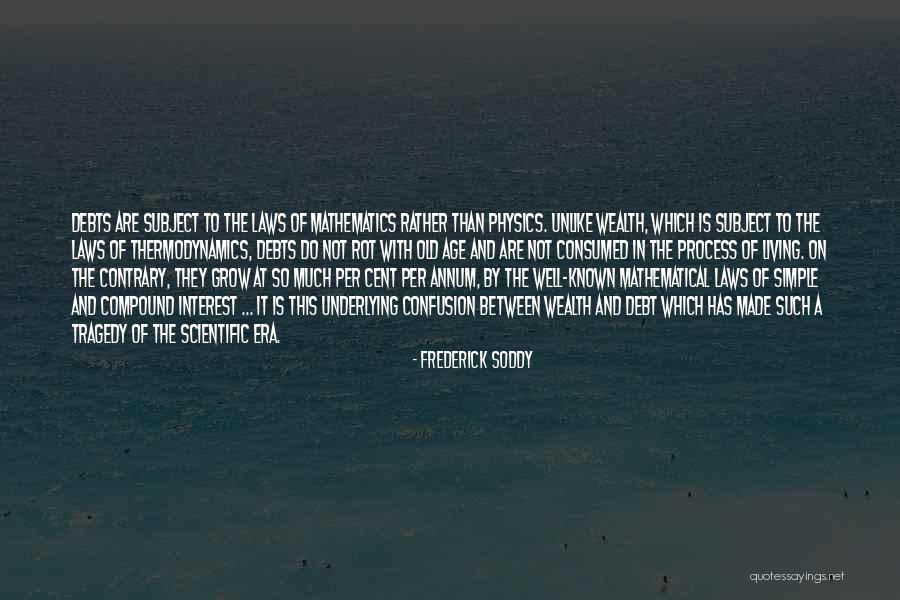 Debts are subject to the laws of mathematics rather than physics. Unlike wealth, which is subject to the laws of thermodynamics, debts do not rot with old age and are not consumed in the process of living. On the contrary, they grow at so much per cent per annum, by the well-known mathematical laws of simple and compound interest ... It is this underlying confusion between wealth and debt which has made such a tragedy of the scientific era. — Frederick Soddy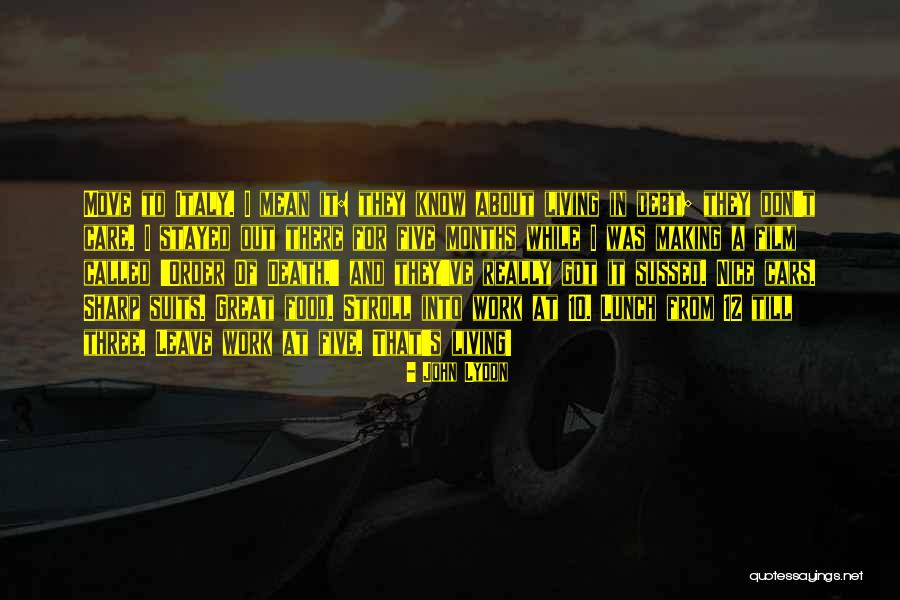 Move to Italy. I mean it: they know about living in debt; they don't care. I stayed out there for five months while I was making a film called 'Order Of Death,' and they've really got it sussed. Nice cars. Sharp suits. Great food. Stroll into work at 10. Lunch from 12 till three. Leave work at five. That's living! — John Lydon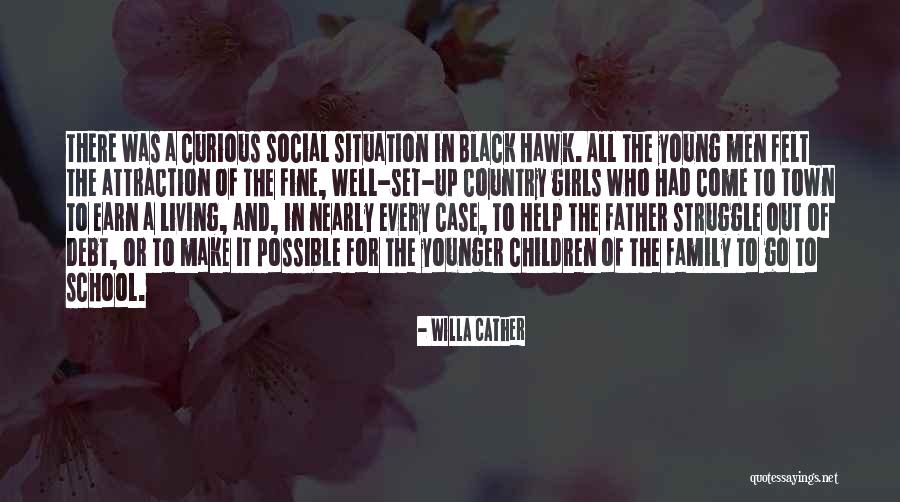 THERE was a curious social situation in Black Hawk. All the young men felt the attraction of the fine, well-set-up country girls who had come to town to earn a living, and, in nearly every case, to help the father struggle out of debt, or to make it possible for the younger children of the family to go to school. — Willa Cather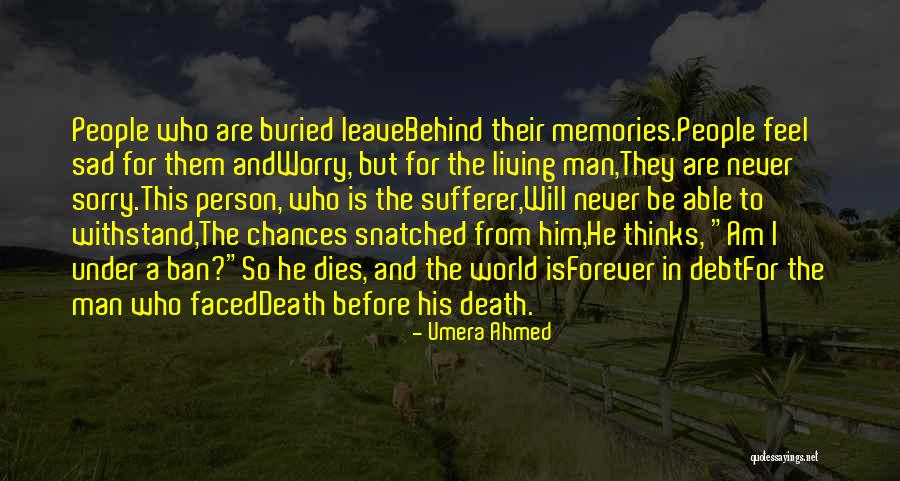 People who are buried leave
Behind their memories.
People feel sad for them and
Worry, but for the living man,
They are never sorry.
This person, who is the sufferer,
Will never be able to withstand,
The chances snatched from him,
He thinks, "Am I under a ban?"
So he dies, and the world is
Forever in debt
For the man who faced
Death before his death. — Umera Ahmed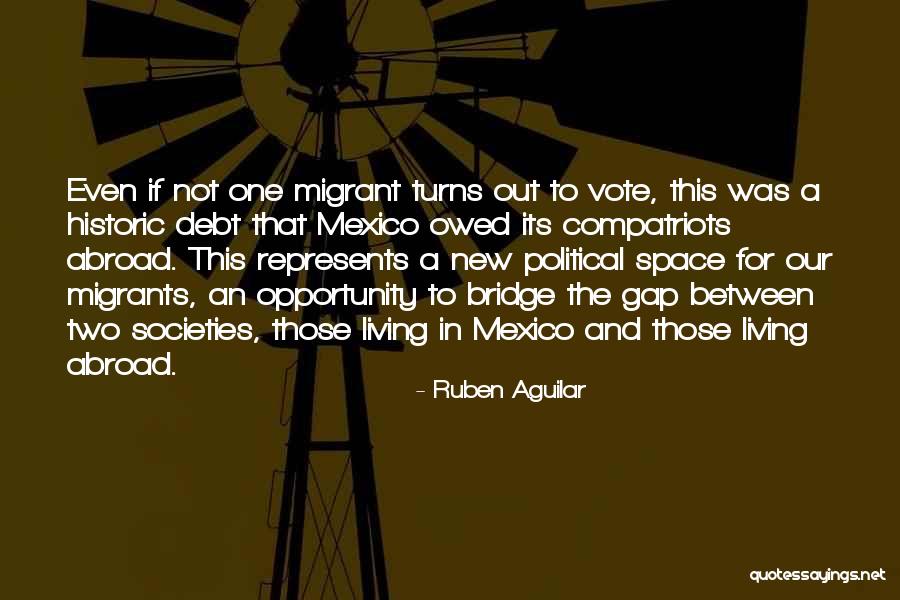 Even if not one migrant turns out to vote, this was a historic debt that Mexico owed its compatriots abroad. This represents a new political space for our migrants, an opportunity to bridge the gap between two societies, those living in Mexico and those living abroad. — Ruben Aguilar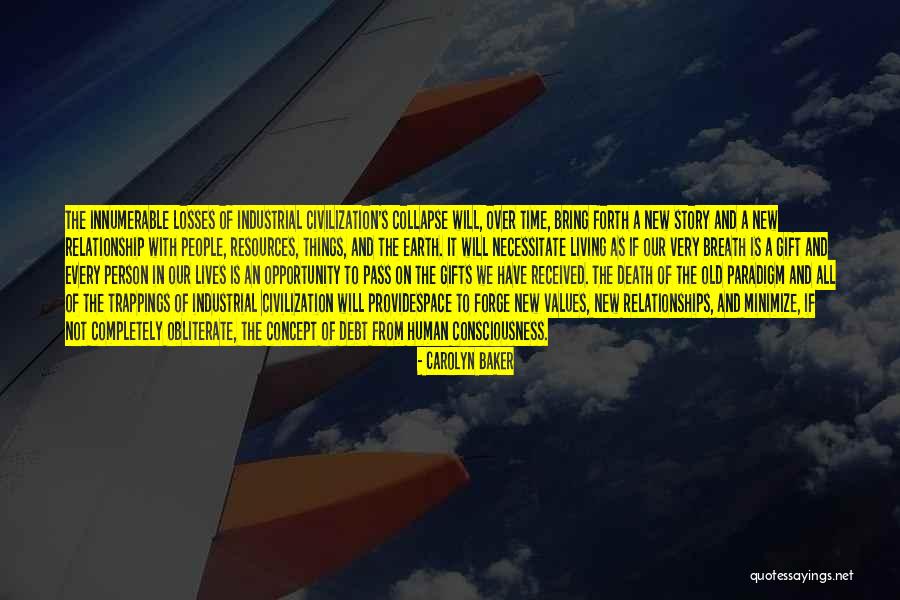 The innumerable losses of industrial civilization's collapse will, over time, bring forth a new story and a new relationship with people, resources, things, and the earth. It will necessitate living as if our very breath is a gift and every person in our lives is an opportunity to pass on the gifts we have received. The death of the old paradigm and all of the trappings of industrial civilization will provide
space to forge new values, new relationships, and minimize, if not completely obliterate, the concept of debt from human consciousness. — Carolyn Baker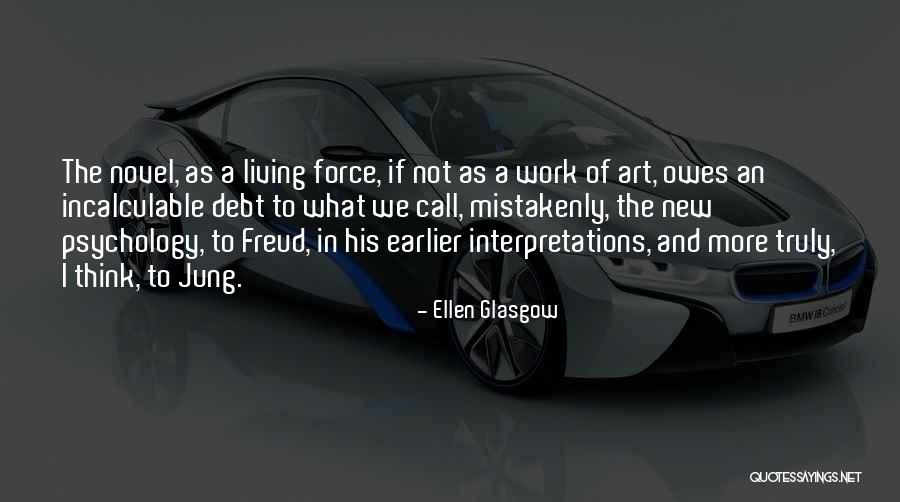 The novel, as a living force, if not as a work of art, owes an incalculable debt to what we call, mistakenly, the new psychology, to Freud, in his earlier interpretations, and more truly, I think, to Jung. — Ellen Glasgow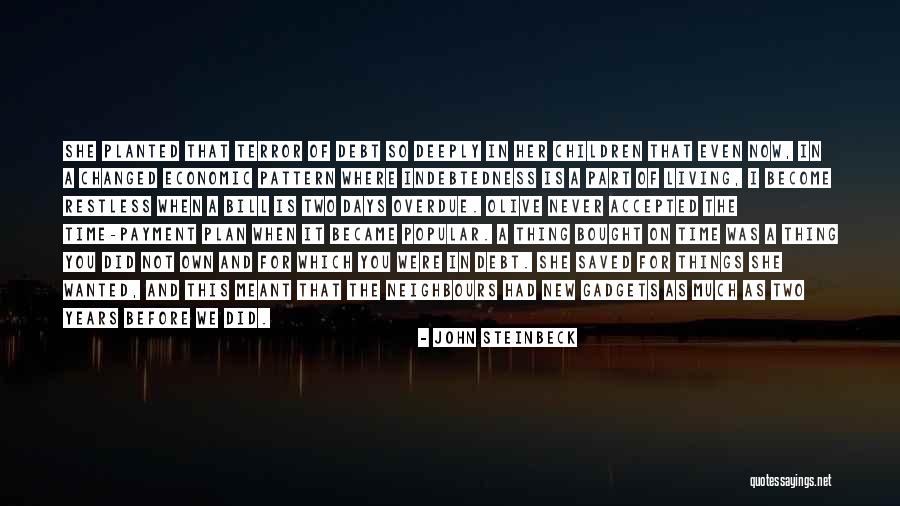 She planted that terror of debt so deeply in her children that even now, in a changed economic pattern where indebtedness is a part of living, I become restless when a bill is two days overdue. Olive never accepted the time-payment plan when it became popular. A thing bought on time was a thing you did not own and for which you were in debt. She saved for things she wanted, and this meant that the neighbours had new gadgets as much as two years before we did. — John Steinbeck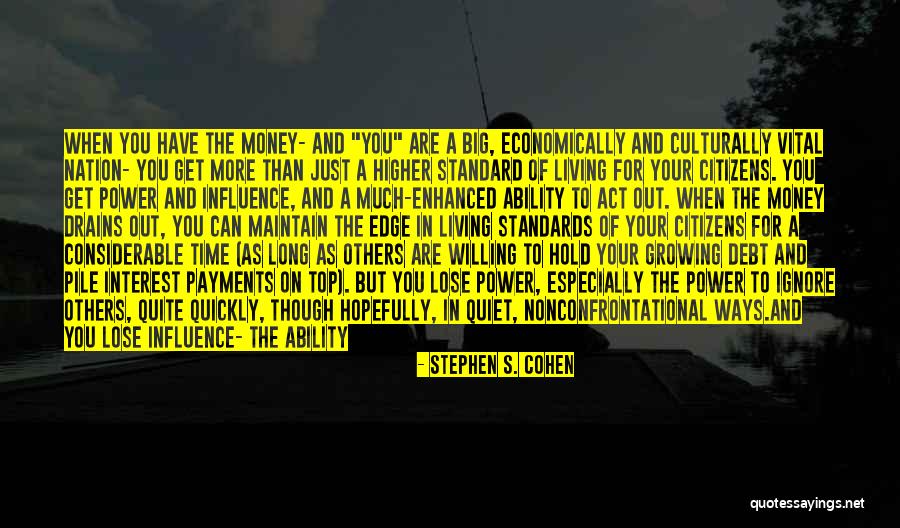 When you have the money- and "you" are a big, economically and culturally vital nation- you get more than just a higher standard of living for your citizens. You get power and influence, and a much-enhanced ability to act out. When the money drains out, you can maintain the edge in living standards of your citizens for a considerable time (as long as others are willing to hold your growing debt and pile interest payments on top). But you lose power, especially the power to ignore others, quite quickly, though hopefully, in quiet, nonconfrontational ways.And you lose influence- the ability to have your wishes, ideas, and folkways willingly accepted, eagerly copied, and absorbed into daily life by others. — Stephen S. Cohen