Quotes & Sayings About Living Gracefully
Enjoy reading and share 13 famous quotes about Living Gracefully with everyone.
Top Living Gracefully Quotes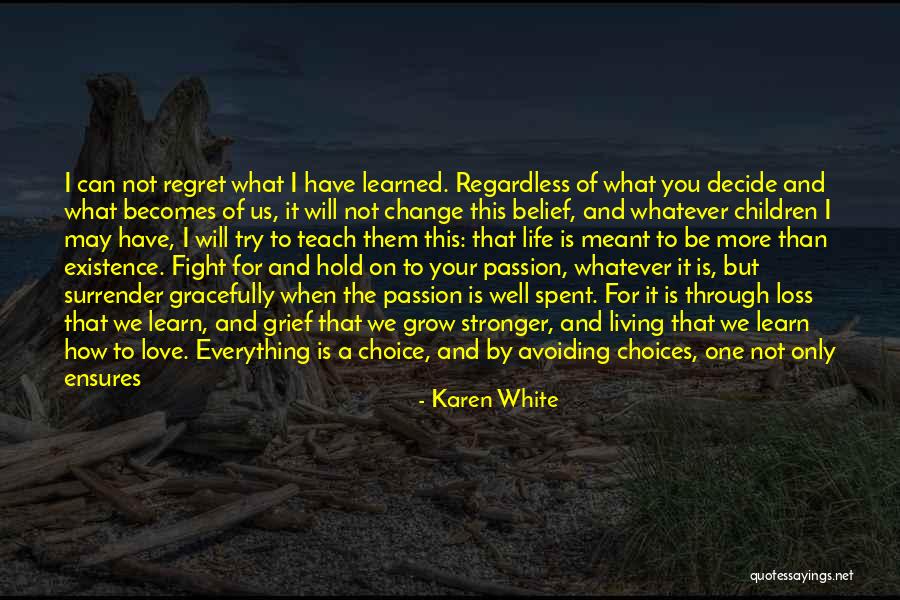 I can not regret what I have learned. Regardless of what you decide and what becomes of us, it will not change this belief, and whatever children I may have, I will try to teach them this: that life is meant to be more than existence. Fight for and hold on to your passion, whatever it is, but surrender gracefully when the passion is well spent. For it is through loss that we learn, and grief that we grow stronger, and living that we learn how to love. Everything is a choice, and by avoiding choices, one not only ensures that a wrong decision won't be made, but also steals a soul's chance to live, to learn, and to love. — Karen White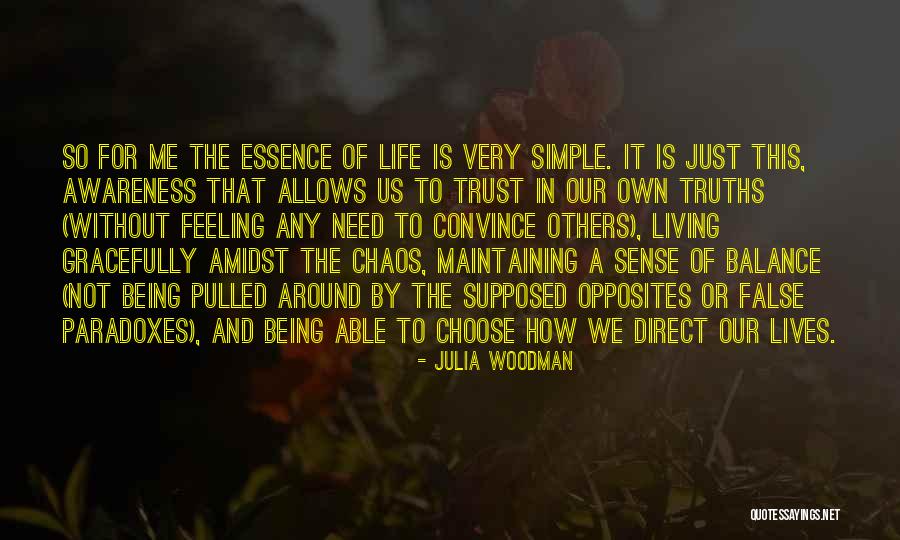 So for me the essence of life is very simple. It is just this, awareness that allows us to trust in our own truths (without feeling any need to convince others), living gracefully amidst the chaos, maintaining a sense of balance (not being pulled around by the supposed opposites or false paradoxes), and being able to choose how we direct our lives. — Julia Woodman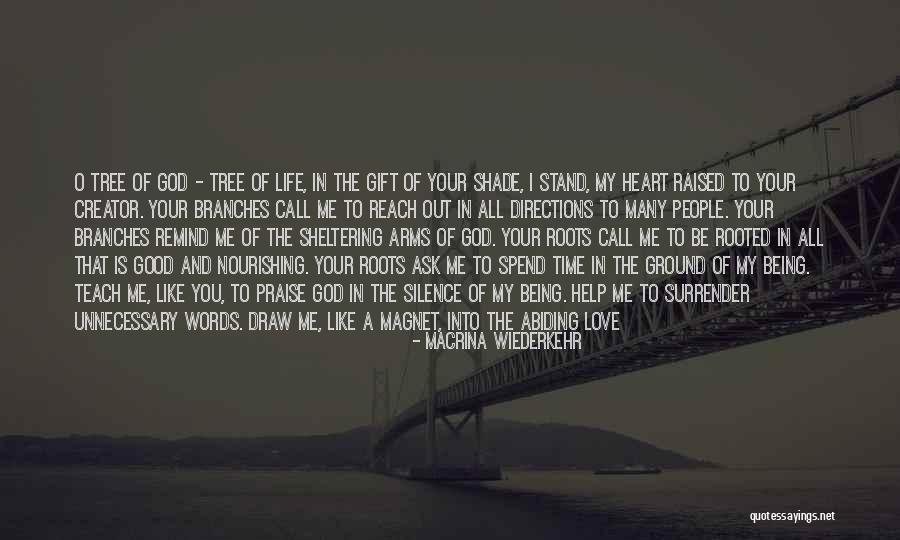 O Tree of God - Tree of Life, In the gift of your shade, I stand, my heart raised to your Creator. Your branches call me to reach out in all directions to many people. Your branches remind me of the sheltering arms of God. Your roots call me to be rooted in all that is good and nourishing. Your roots ask me to spend time in the ground of my being. Teach me, like you, to praise God in the silence of my being. Help me to surrender unnecessary words. Draw me, like a magnet, into the abiding love of God. And when it is time for me to die, teach me to die gracefully and joyfully. Teach me to let go as you let go of your leaves each autumn. In living and in dying, teach me to praise God by living well and dying well. May it come to pass! — Macrina Wiederkehr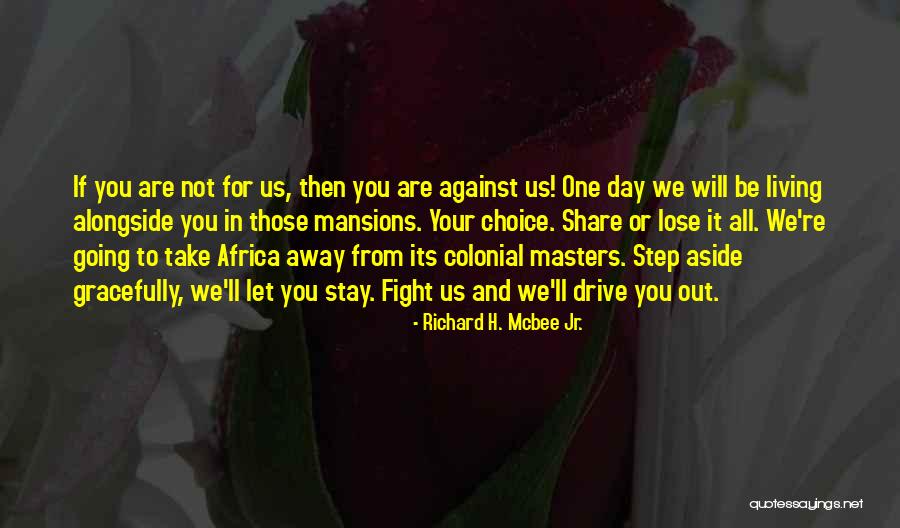 If you are not for us, then you are against us! One day we will be living alongside you in those mansions. Your choice. Share or lose it all. We're going to take Africa away from its colonial masters. Step aside gracefully, we'll let you stay. Fight us and we'll drive you out. — Richard H. Mcbee Jr.
We don't ask when people age out of singing, or eating ice cream; why would we stop making love? — Ashton Applewhite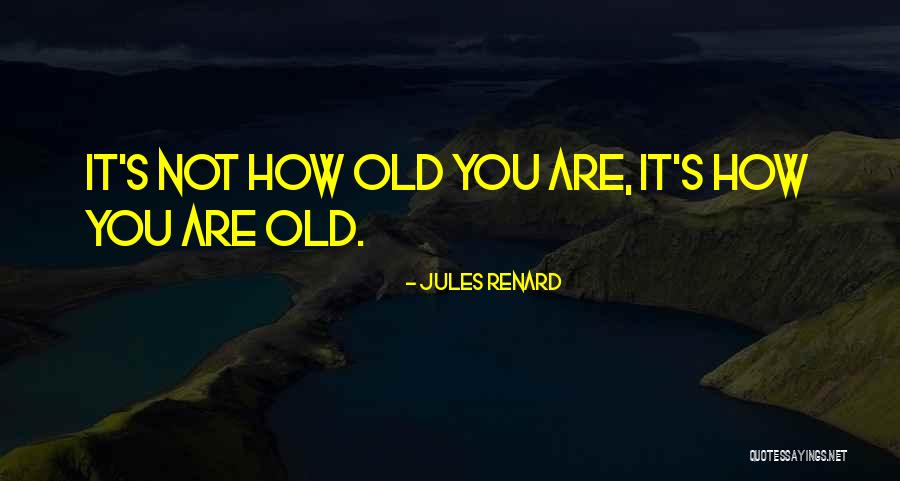 It's not how old you are, it's how you are old. — Jules Renard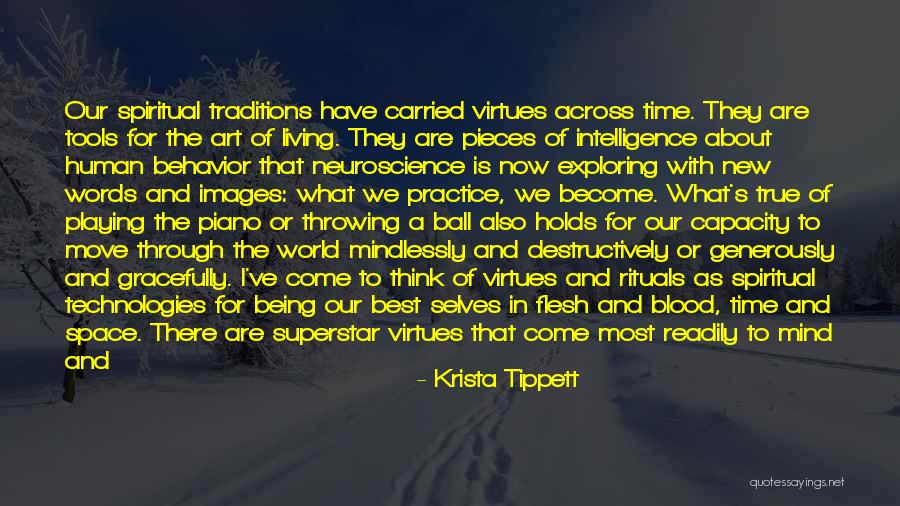 Our spiritual traditions have carried virtues across time. They are tools for the art of living. They are pieces of intelligence about human behavior that neuroscience is now exploring with new words and images: what we practice, we become. What's true of playing the piano or throwing a ball also holds for our capacity to move through the world mindlessly and destructively or generously and gracefully. I've come to think of virtues and rituals as spiritual technologies for being our best selves in flesh and blood, time and space. There are superstar virtues that come most readily to mind and can be the work of a day or a lifetime - love, compassion, forgiveness. And there are gentle shifts of mind and habit that make those possible, working patiently through the raw materials of our lives. — Krista Tippett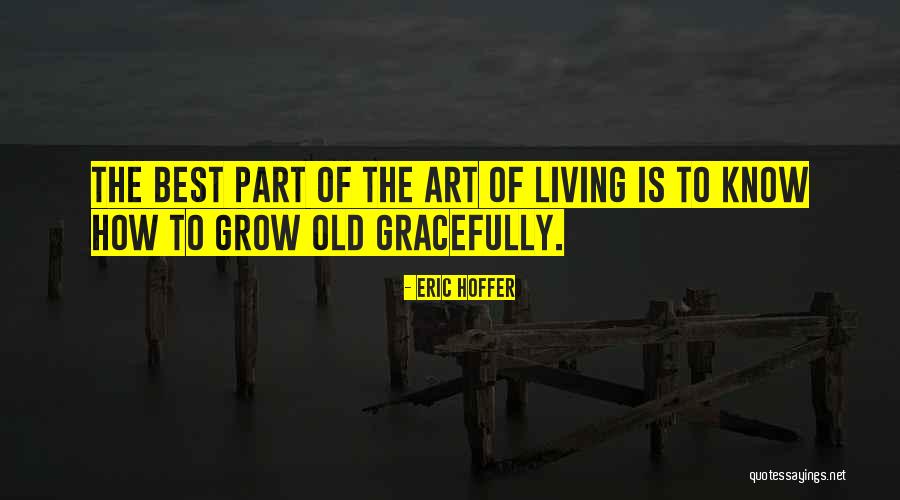 The best part of the art of living is to know how to grow old gracefully. — Eric Hoffer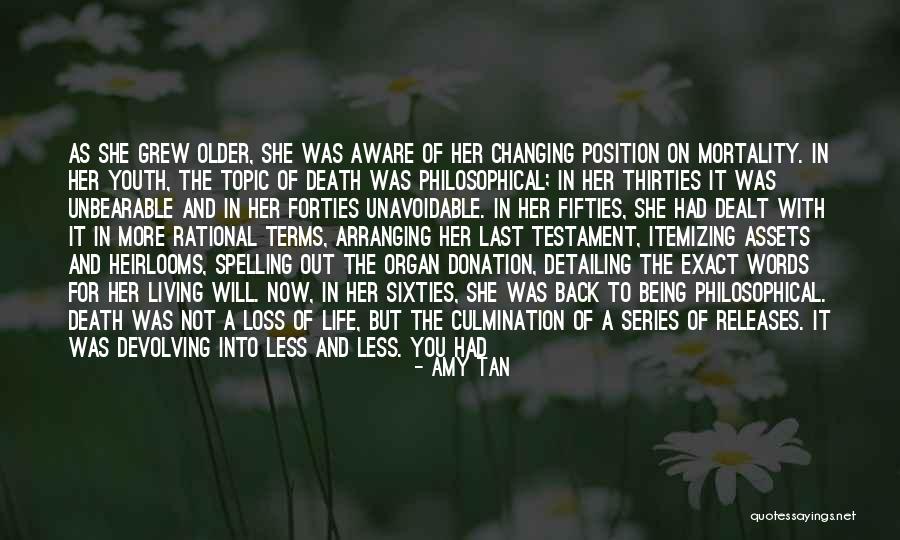 As she grew older, she was aware of her changing position on mortality. In her youth, the topic of death was philosophical; in her thirties it was unbearable and in her forties unavoidable. In her fifties, she had dealt with it in more rational terms, arranging her last testament, itemizing assets and heirlooms, spelling out the organ donation, detailing the exact words for her living will. Now, in her sixties, she was back to being philosophical. Death was not a loss of life, but the culmination of a series of releases. It was devolving into less and less. You had to release yourself from vanity, desire, ambition, suffering, and frustration - all the accoutrements of the I, the ego. And if you die, you would disappear, leave no trace, evaporate into nothingness ... — Amy Tan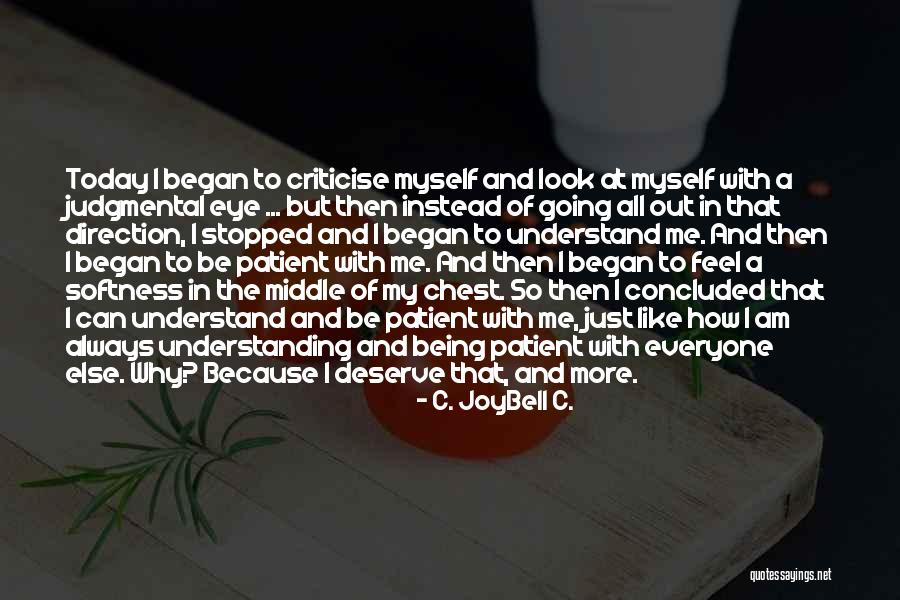 Today I began to criticise myself and look at myself with a judgmental eye ... but then instead of going all out in that direction, I stopped and I began to understand me. And then I began to be patient with me. And then I began to feel a softness in the middle of my chest. So then I concluded that I can understand and be patient with me, just like how I am always understanding and being patient with everyone else. Why? Because I deserve that, and more. — C. JoyBell C.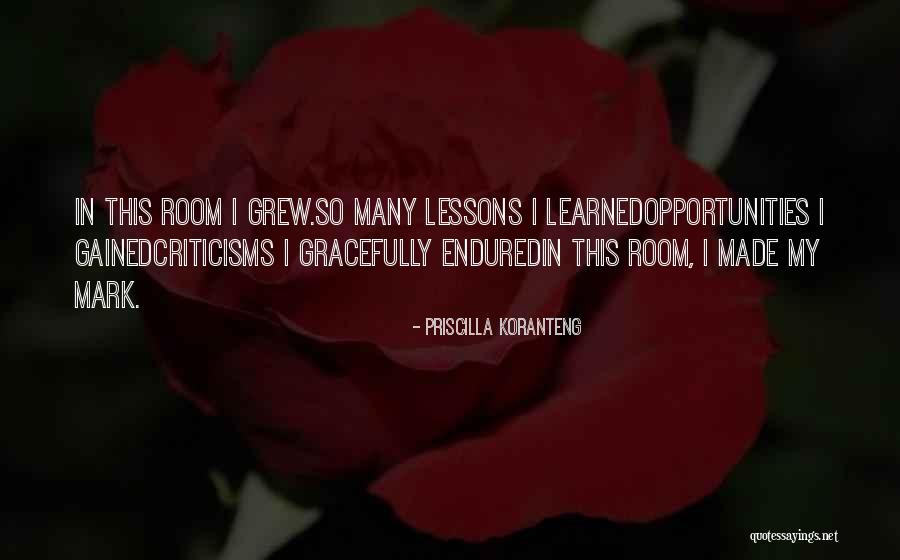 In this room I grew.
So many lessons I learned
Opportunities I gained
Criticisms I gracefully endured
In this room, I made my mark. — Priscilla Koranteng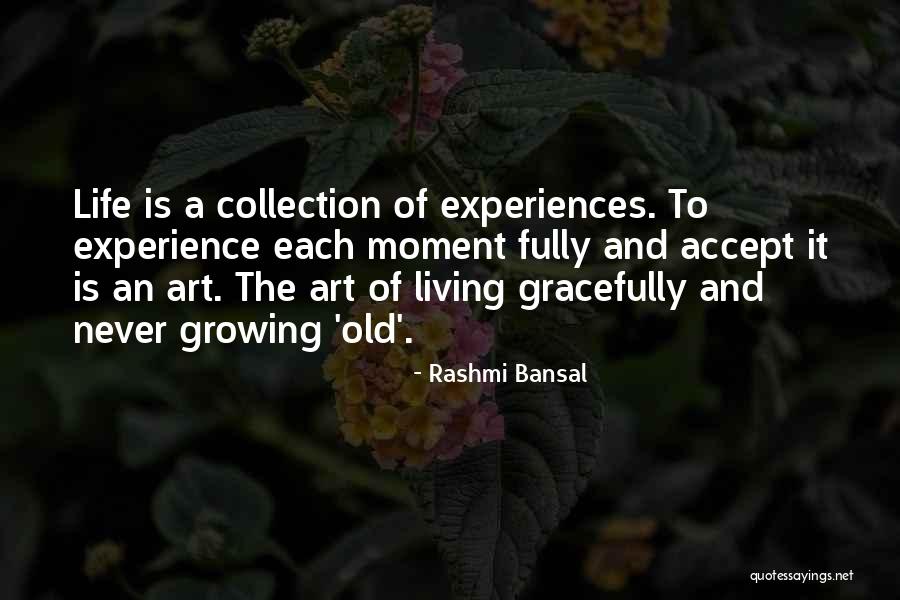 Life is a collection of experiences. To experience each moment fully and accept it is an art. The art of living gracefully and never growing 'old'. — Rashmi Bansal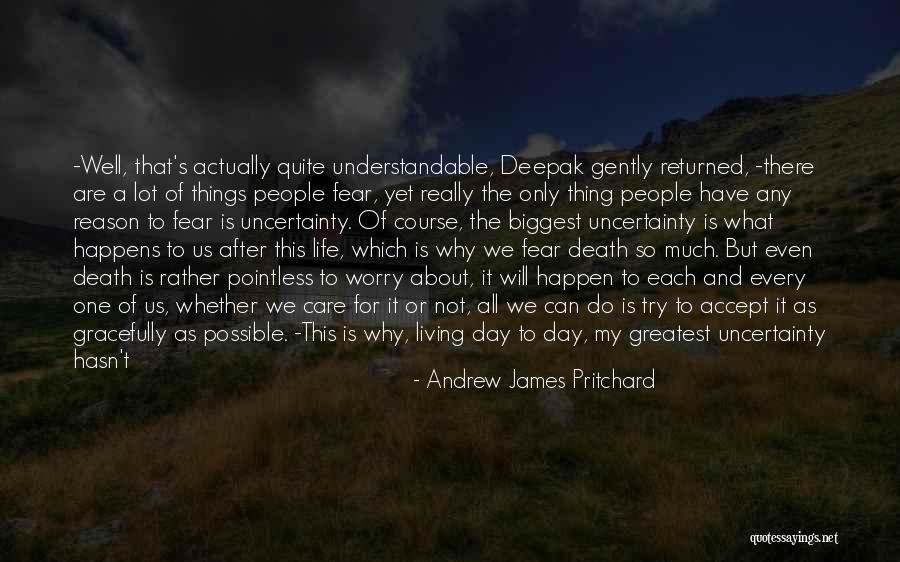 -Well, that's actually quite understandable, Deepak gently returned, -there are a lot of things people fear, yet really the only thing people have any reason to fear is uncertainty. Of course, the biggest uncertainty is what happens to us after this life, which is why we fear death so much. But even death is rather pointless to worry about, it will happen to each and every one of us, whether we care for it or not, all we can do is try to accept it as gracefully as possible.
-This is why, living day to day, my greatest uncertainty hasn't been about death, but whether you will love me by returning all of my affection. I can't think of anything I would find more fearful or disturbing than if you were to refuse my feelings or worse if you were to fall in love with someone else before you had a chance to love me. — Andrew James Pritchard