Live A Life Of Service Quotes & Sayings
Enjoy reading and share 38 famous quotes about Live A Life Of Service with everyone.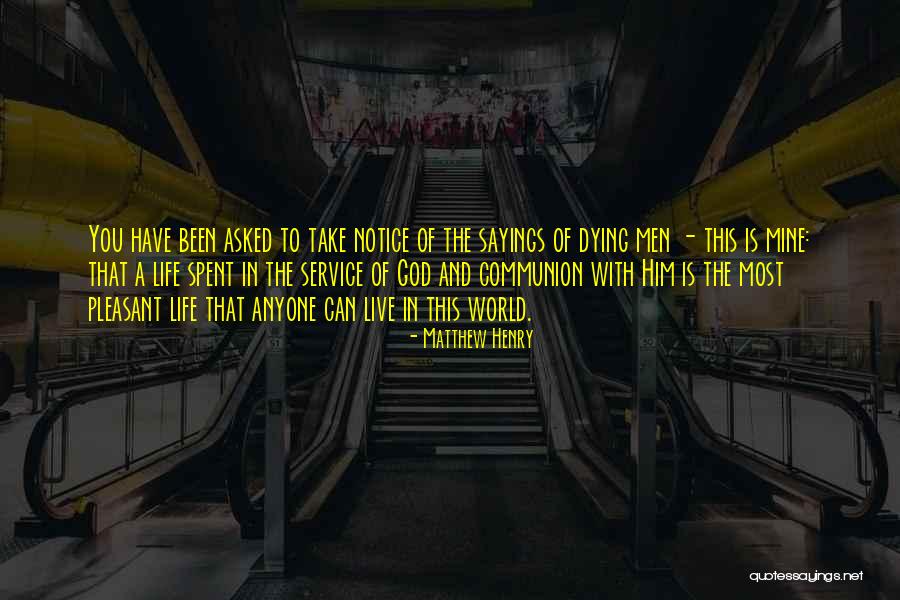 You have been asked to take notice of the sayings of dying men - this is mine: that a life spent in the service of God and communion with Him is the most pleasant life that anyone can live in this world. — Matthew Henry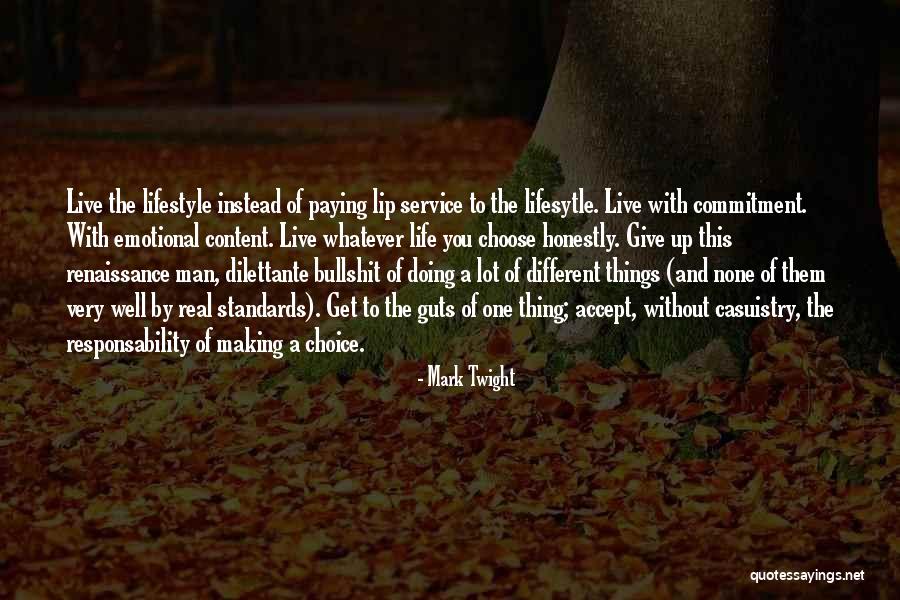 Live the lifestyle instead of paying lip service to the lifesytle. Live with commitment. With emotional content. Live whatever life you choose honestly. Give up this renaissance man, dilettante bullshit of doing a lot of different things (and none of them very well by real standards). Get to the guts of one thing; accept, without casuistry, the responsability of making a choice. — Mark Twight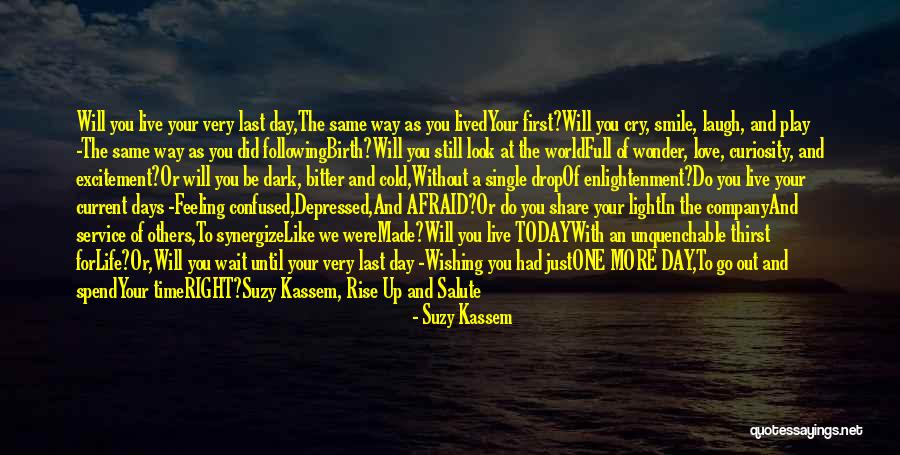 Will you live your very last day,
The same way as you lived
Your first?

Will you cry, smile, laugh, and play -
The same way as you did following
Birth?

Will you still look at the world
Full of wonder, love, curiosity, and excitement?
Or will you be dark, bitter and cold,
Without a single drop
Of enlightenment?

Do you live your current days -
Feeling confused,
Depressed,
And AFRAID?

Or do you share your light
In the company
And service of others,
To synergize
Like we were
Made?

Will you live TODAY
With an unquenchable thirst for
Life?

Or,
Will you wait until your very last day -

Wishing you had just
ONE MORE DAY,

To go out and spend
Your time
RIGHT?



Suzy Kassem, Rise Up and Salute the Sun (2010) — Suzy Kassem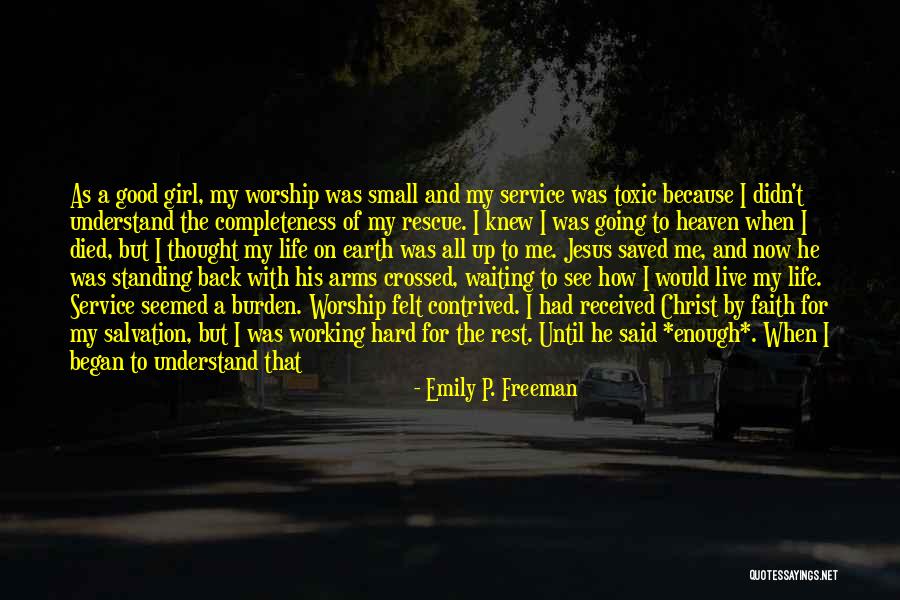 As a good girl, my worship was small and my service was toxic because I didn't understand the completeness of my rescue. I knew I was going to heaven when I died, but I thought my life on earth was all up to me. Jesus saved me, and now he was standing back with his arms crossed, waiting to see how I would live my life. Service seemed a burden. Worship felt contrived. I had received Christ by faith for my salvation, but I was working hard for the rest. Until he said *enough*. When I began to understand that my true identity was not in how I looked, how I felt, or the lies I believed, my masks began to lose their staying power. It wasn't because I was trying hard to remove them. It was because I was seeing Jesus for who he really is, and in turn I was letting him see me. — Emily P. Freeman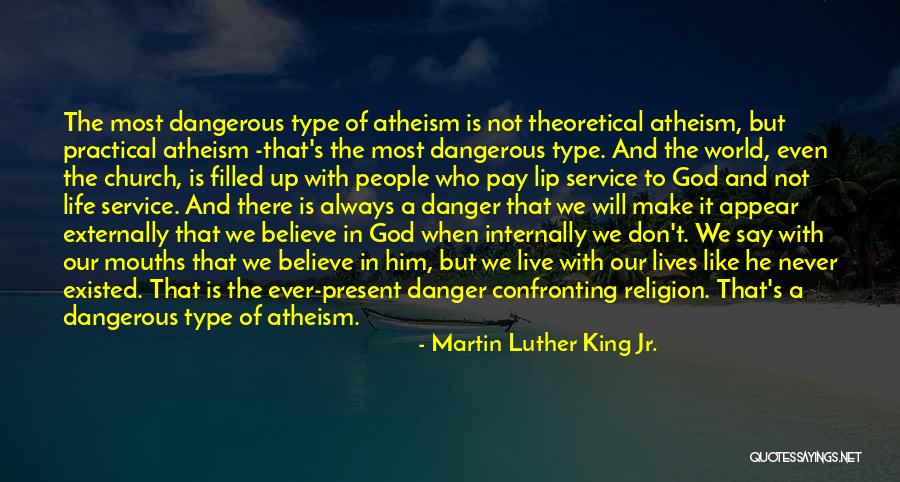 The most dangerous type of atheism is not theoretical atheism, but practical atheism -that's the most dangerous type. And the world, even the church, is filled up with people who pay lip service to God and not life service. And there is always a danger that we will make it appear externally that we believe in God when internally we don't. We say with our mouths that we believe in him, but we live with our lives like he never existed. That is the ever-present danger confronting religion. That's a dangerous type of atheism. — Martin Luther King Jr.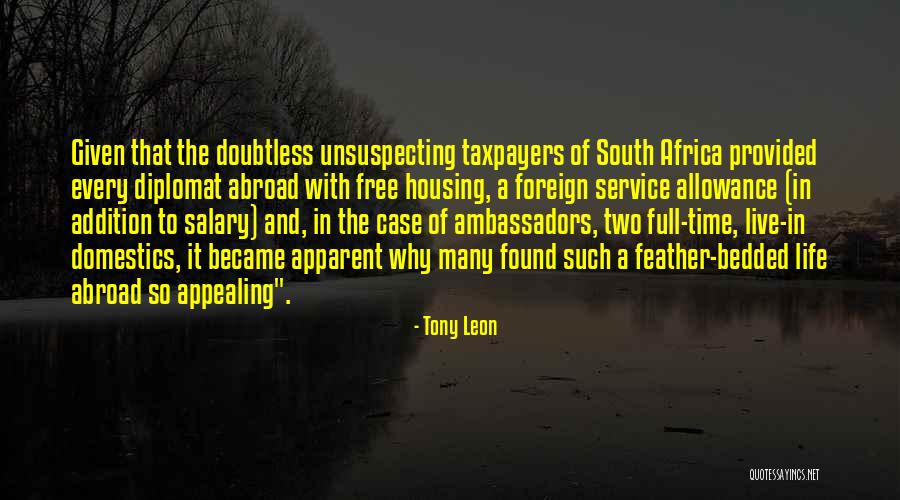 Given that the doubtless unsuspecting taxpayers of South Africa provided every diplomat abroad with free housing, a foreign service allowance (in addition to salary) and, in the case of ambassadors, two full-time, live-in domestics, it became apparent why many found such a feather-bedded life abroad so appealing". — Tony Leon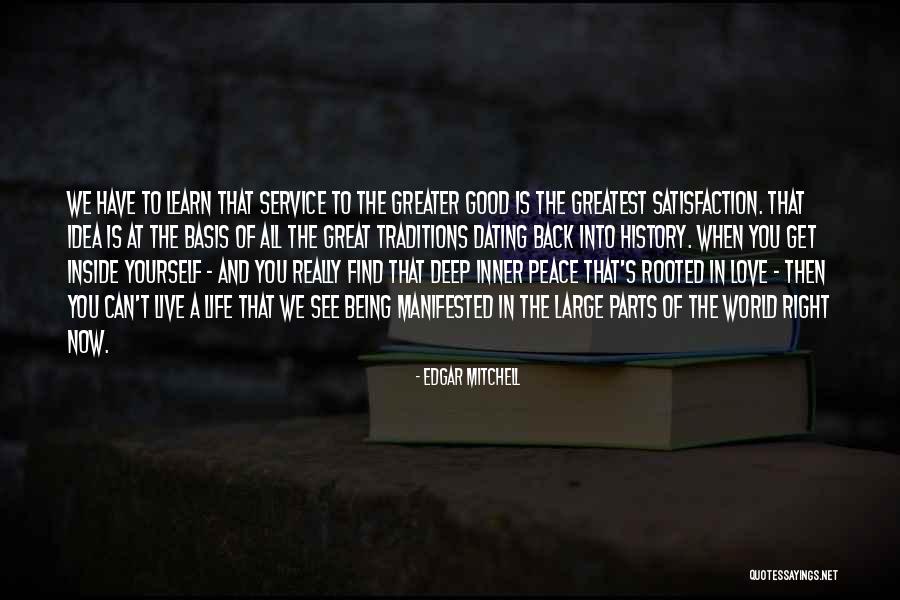 We have to learn that service to the greater good is the greatest satisfaction. That idea is at the basis of all the great traditions dating back into history. When you get inside yourself - and you really find that deep inner peace that's rooted in love - then you can't live a life that we see being manifested in the large parts of the world right now. — Edgar Mitchell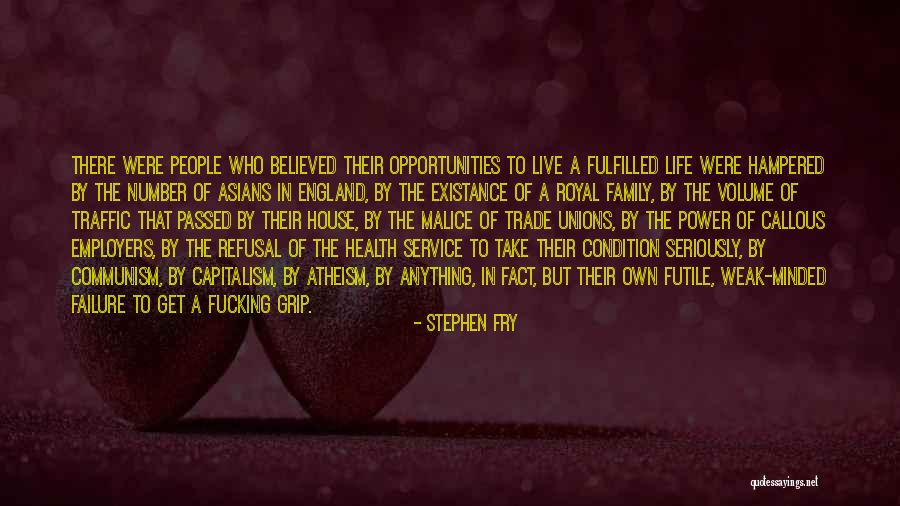 There were people who believed their opportunities to live a fulfilled life were hampered by the number of Asians in England, by the existance of a royal family, by the volume of traffic that passed by their house, by the malice of trade unions, by the power of callous employers, by the refusal of the health service to take their condition seriously, by communism, by capitalism, by atheism, by anything, in fact, but their own futile, weak-minded failure to get a fucking grip. — Stephen Fry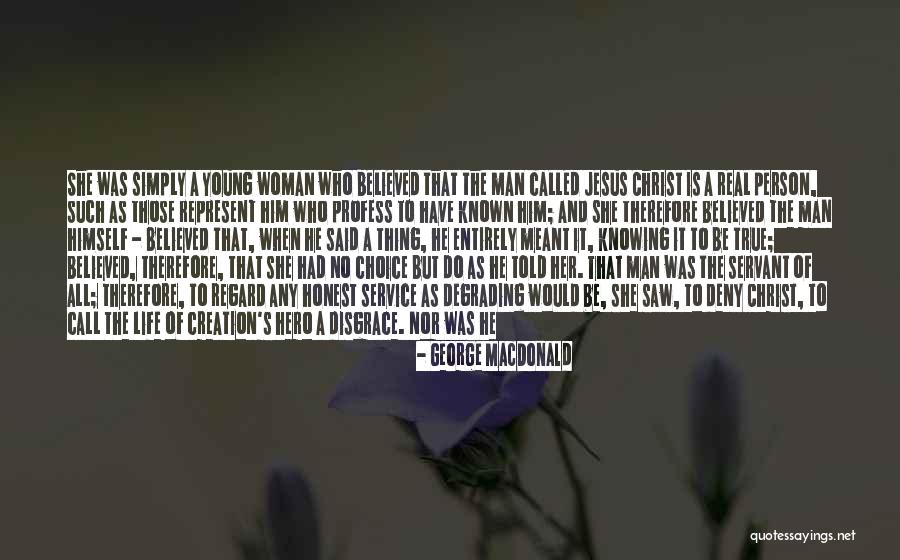 She was simply a young woman who believed that the man called Jesus Christ is a real person, such as those represent him who profess to have known him; and she therefore believed the man himself - believed that, when he said a thing, he entirely meant it, knowing it to be true; believed, therefore, that she had no choice but do as he told her. That man was the servant of all; therefore, to regard any honest service as degrading would be, she saw, to deny Christ, to call the life of creation's hero a disgrace. Nor was he the first servant; he did not of himself choose his life; the Father gave it him to live--sent him to be a servant, because he, the Father, is the first and greatest servant of all. — George MacDonald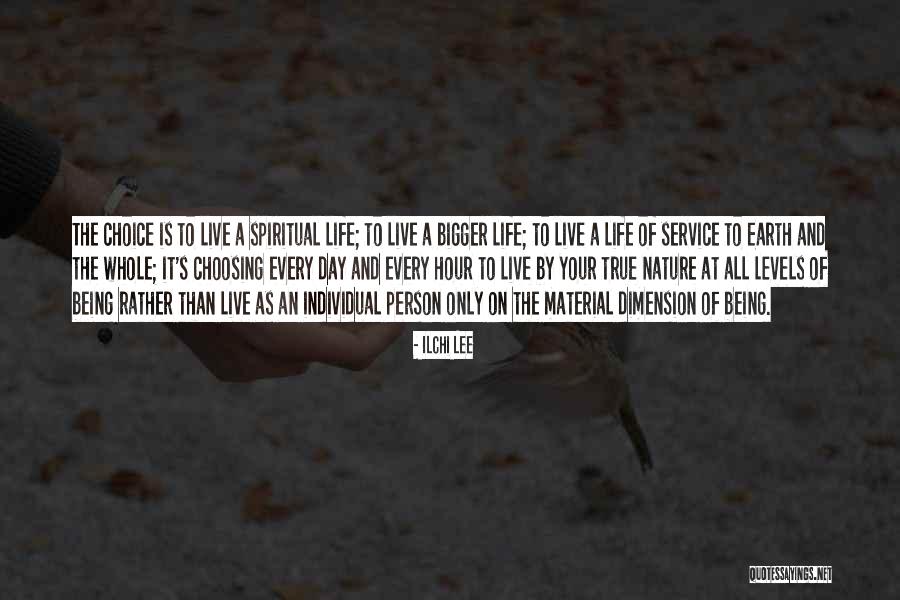 The choice is to live a spiritual life; to live a bigger life; to live a life of service to Earth and the whole; it's choosing every day and every hour to live by your true nature at all levels of being rather than live as an individual person only on the material dimension of being. — Ilchi Lee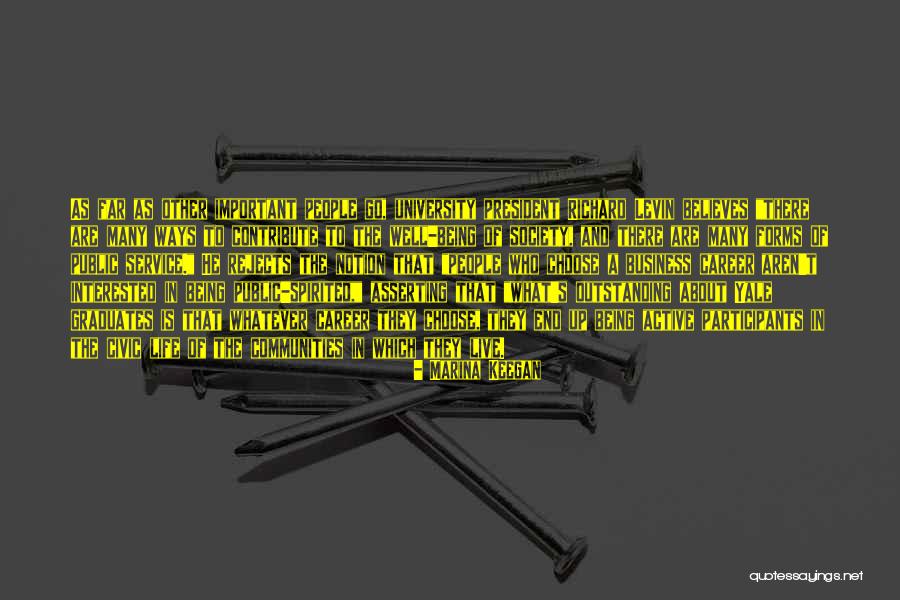 As far as other important people go, university president Richard Levin believes "there are many ways to contribute to the well-being of society, and there are many forms of public service." He rejects the notion that "people who choose a business career aren't interested in being public-spirited," asserting that "what's outstanding about Yale graduates is that whatever career they choose, they end up being active participants in the civic life of the communities in which they live. — Marina Keegan
Your Very Last Days"


Will you live your very last day,
The same way as you lived
Your first?

Will you cry, smile, laugh, and play -
The same way as you did following
Birth?

Will you still look at the world
Full of wonder, love, curiosity, and excitement?
Or will you be dark, bitter and cold,
Without a single drop
Of enlightenment?

Do you live your current days -
Feeling confused,
Depressed,
And AFRAID?

Or do you share your light
In the company
And service of others,
To synergize
Like we were
Made?

Will you live TODAY
With an unquenchable thirst for
Life?

Or,
Will you wait until your very last day -

Wishing you had just
ONE MORE DAY,

To go out and spend
Your time
RIGHT? — Suzy Kassem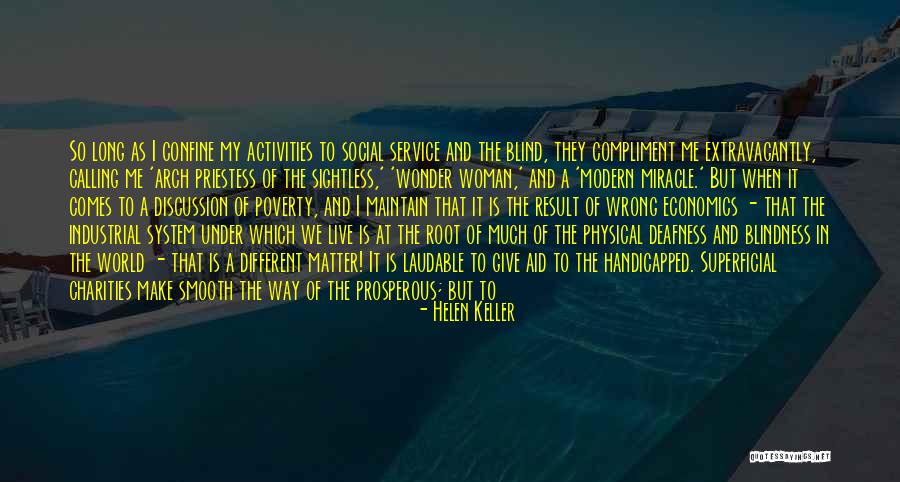 So long as I confine my activities to social service and the blind, they compliment me extravagantly, calling me 'arch priestess of the sightless,' 'wonder woman,' and a 'modern miracle.' But when it comes to a discussion of poverty, and I maintain that it is the result of wrong economics - that the industrial system under which we live is at the root of much of the physical deafness and blindness in the world - that is a different matter! It is laudable to give aid to the handicapped. Superficial charities make smooth the way of the prosperous; but to advocate that all human beings should have leisure and comfort, the decencies and refinements of life, is a Utopian dream, and one who seriously contemplates its realization indeed must be deaf, dumb, and blind. — Helen Keller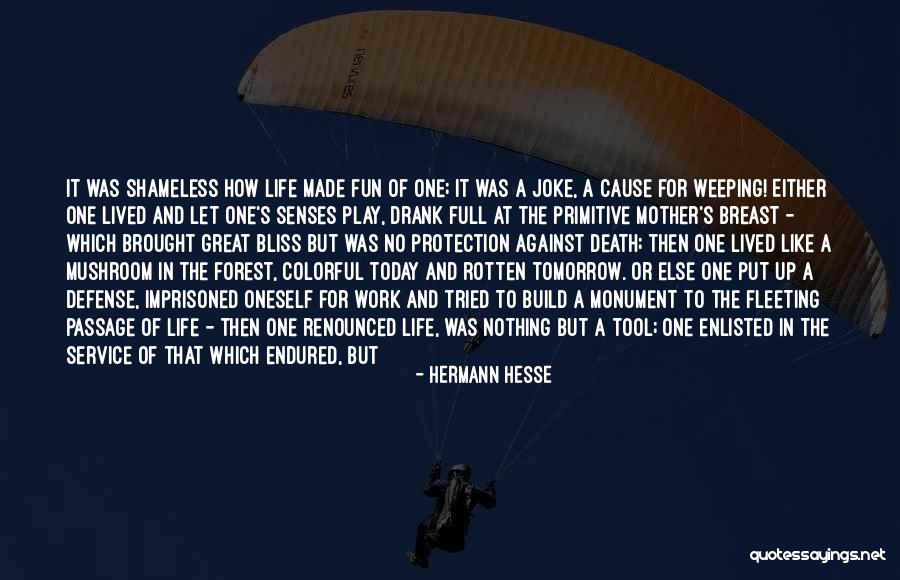 It was shameless how life made fun of one; it was a joke, a cause for weeping! Either one lived and let one's senses play, drank full at the primitive mother's breast - which brought great bliss but was no protection against death; then one lived like a mushroom in the forest, colorful today and rotten tomorrow. Or else one put up a defense, imprisoned oneself for work and tried to build a monument to the fleeting passage of life - then one renounced life, was nothing but a tool; one enlisted in the service of that which endured, but one dried up in the process and lost one's freedom, scope, lust for life...
Ach, life made sense only if one achieved both, only if it was not split by this brittle alternative! To create, without sacrificing one's senses for it. To live, without renouncing the mobility of creating. Was that impossible? — Hermann Hesse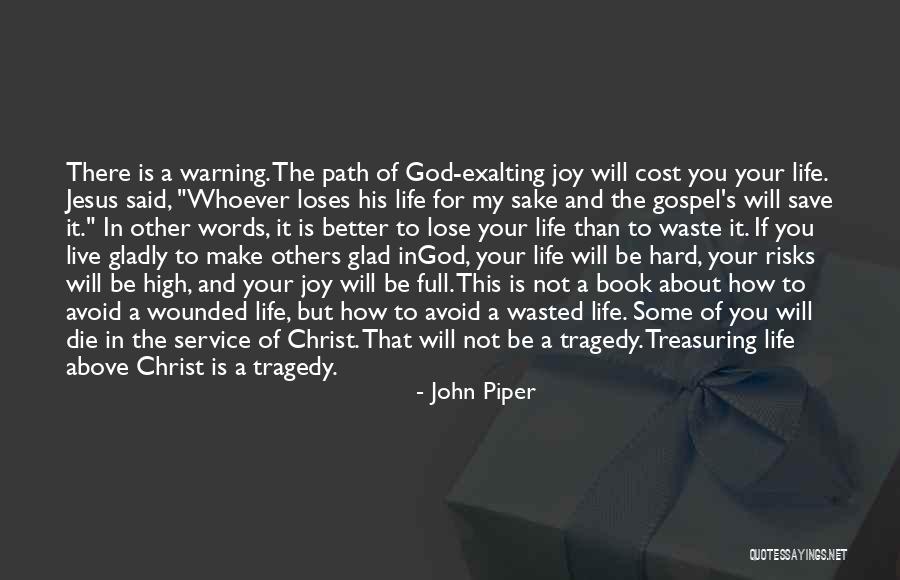 There is a warning. The path of God-exalting joy will cost you your life. Jesus said, "Whoever loses his life for my sake and the gospel's will save it." In other words, it is better to lose your life than to waste it. If you live gladly to make others glad in
God, your life will be hard, your risks will be high, and your joy will be full. This is not a book about how to avoid a wounded life, but how to avoid a wasted life. Some of you will die in the service of Christ. That will not be a tragedy. Treasuring life above Christ is a tragedy. — John Piper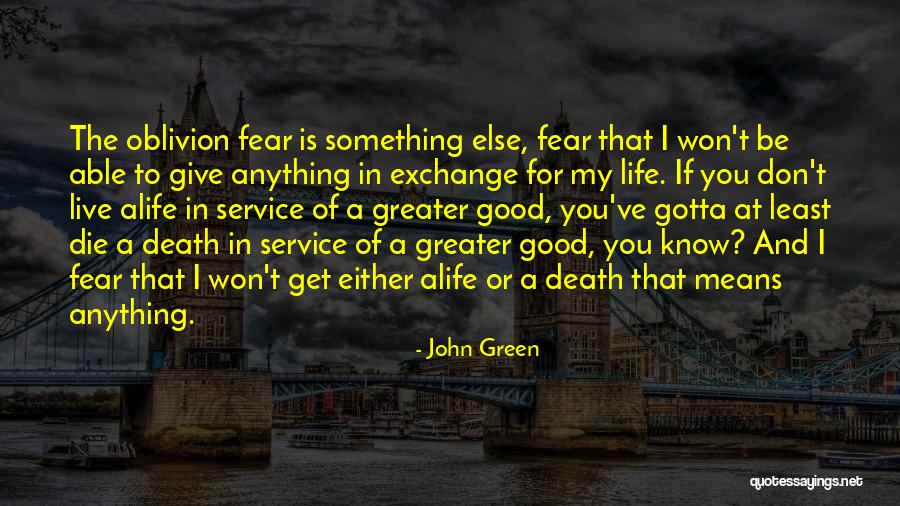 The oblivion fear is something else, fear that I won't be able to give anything in exchange for my life. If you don't live a
life in service of a greater good, you've gotta at least die a death in service of a greater good, you know? And I fear that I won't get either a
life or a death that means anything. — John Green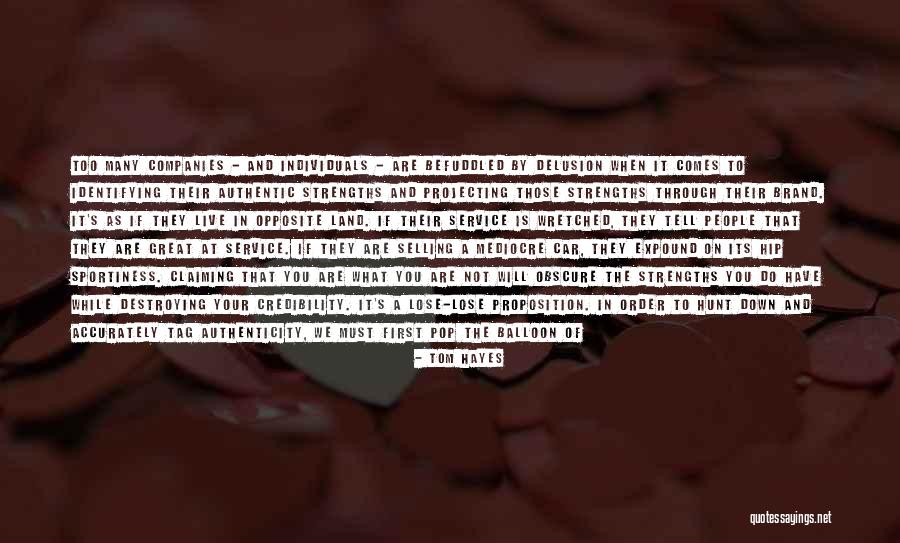 Too many companies - and individuals - are befuddled by delusion when it comes to identifying their authentic strengths and projecting those strengths through their brand. It's as if they live in Opposite Land. If their service is wretched, they tell people that they are great at service. If they are selling a mediocre car, they expound on its hip sportiness. Claiming that you are what you are not will obscure the strengths you do have while destroying your credibility. It's a lose-lose proposition. In order to hunt down and accurately tag authenticity, we must first pop the balloon of self-delusion. — Tom Hayes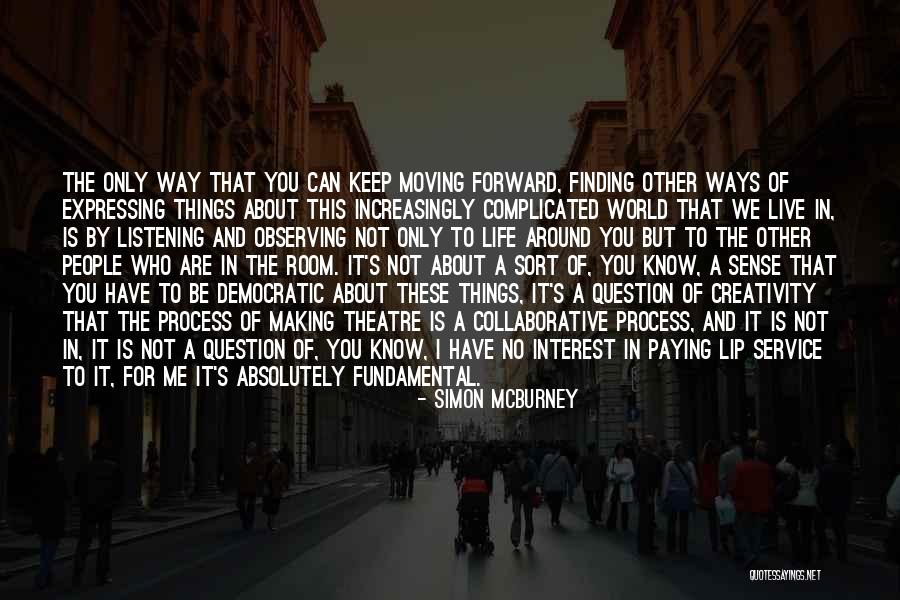 The only way that you can keep moving forward, finding other ways of expressing things about this increasingly complicated world that we live in, is by listening and observing not only to life around you but to the other people who are in the room. It's not about a sort of, you know, a sense that you have to be democratic about these things, it's a question of creativity that the process of making theatre is a collaborative process, and it is not in, it is not a question of, you know, I have no interest in paying lip service to it, for me it's absolutely fundamental. — Simon McBurney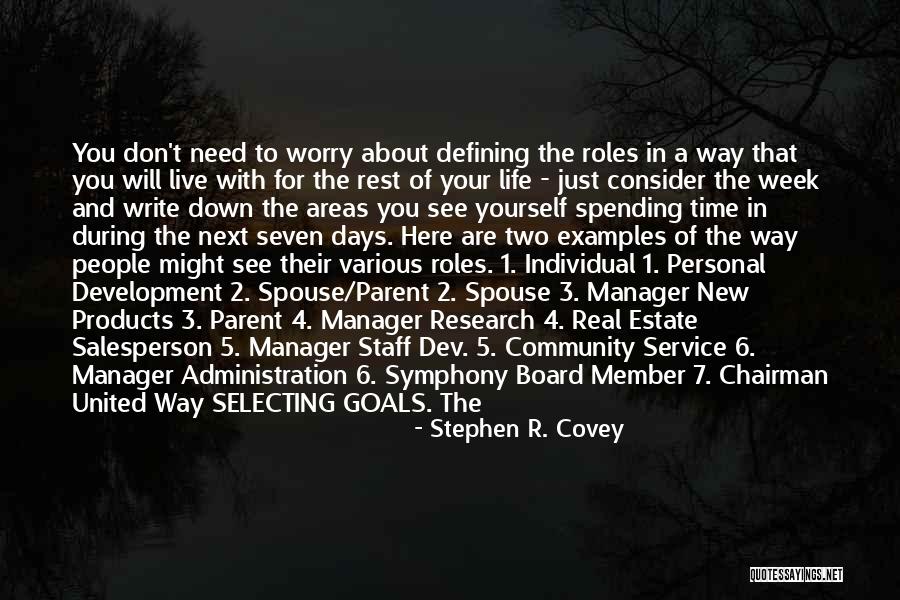 You don't need to worry about defining the roles in a way that you will live with for the rest of your life - just consider the week and write down the areas you see yourself spending time in during the next seven days. Here are two examples of the way people might see their various roles. 1. Individual 1. Personal Development 2. Spouse/Parent 2. Spouse 3. Manager New Products 3. Parent 4. Manager Research 4. Real Estate Salesperson 5. Manager Staff Dev. 5. Community Service 6. Manager Administration 6. Symphony Board Member 7. Chairman United Way SELECTING GOALS. The next step is to think of one or two important results you feel you should accomplish in each role during the next seven days. These would be recorded as goals. — Stephen R. Covey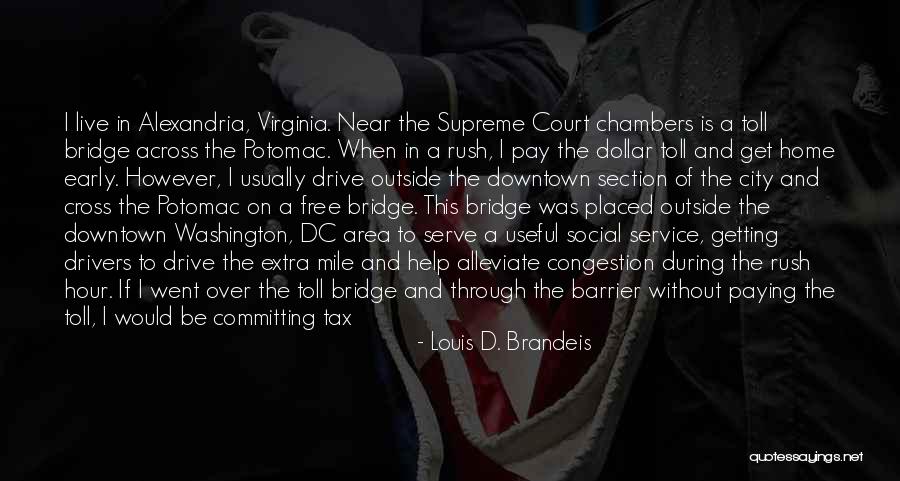 I live in Alexandria, Virginia. Near the Supreme Court chambers is a toll bridge across the Potomac. When in a rush, I pay the dollar toll and get home early. However, I usually drive outside the downtown section of the city and cross the Potomac on a free bridge. This bridge was placed outside the downtown Washington, DC area to serve a useful social service, getting drivers to drive the extra mile and help alleviate congestion during the rush hour. If I went over the toll bridge and through the barrier without paying the toll, I would be committing tax evasion ... If, however, I drive the extra mile and drive outside the city of Washington to the free bridge, I am using a legitimate, logical and suitable method of tax avoidance, and am performing a useful social service by doing so. For my tax evasion, I should be punished. For my tax avoidance, I should be commended. The tragedy of life today is that so few people know that the free bridge even exists. — Louis D. Brandeis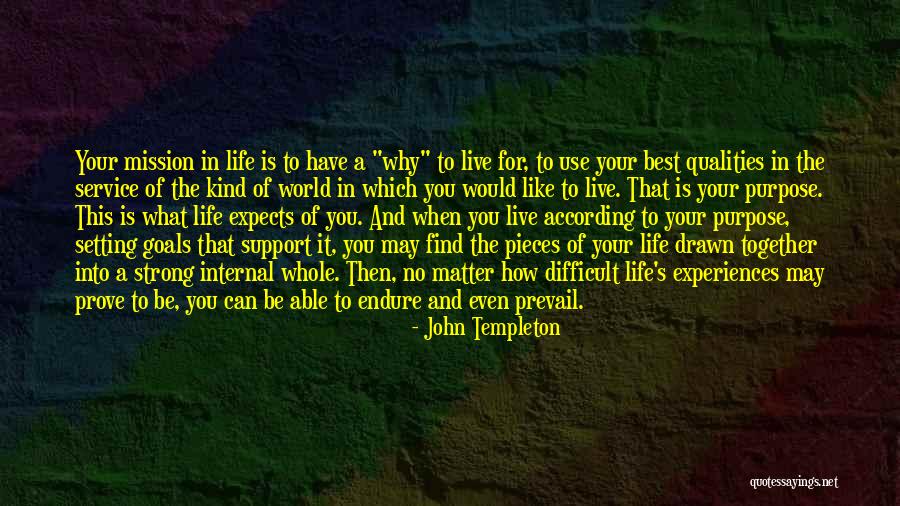 Your mission in life is to have a "why" to live for, to use your best qualities in the service of the kind of world in which you would like to live. That is your purpose. This is what life expects of you. And when you live according to your purpose, setting goals that support it, you may find the pieces of your life drawn together into a strong internal whole. Then, no matter how difficult life's experiences may prove to be, you can be able to endure and even prevail. — John Templeton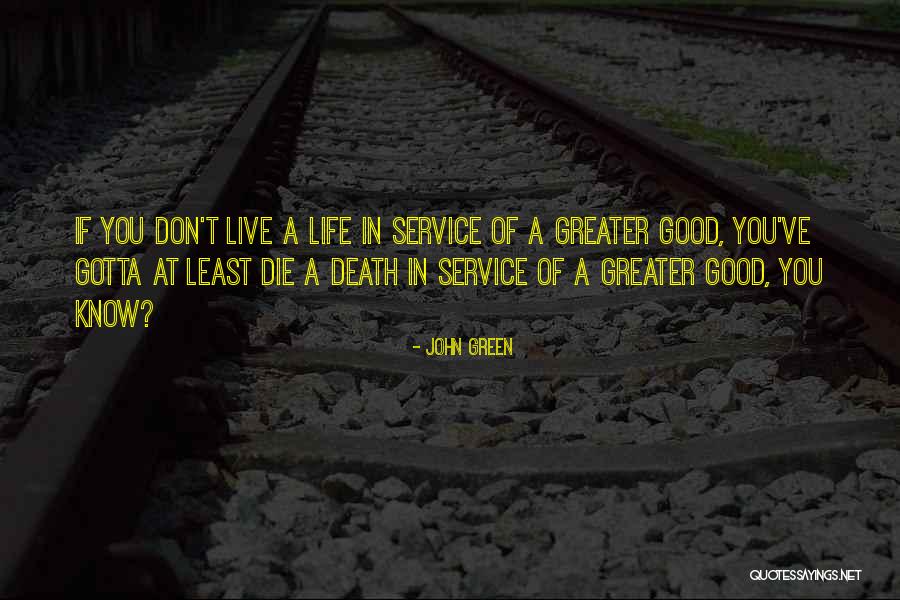 If you don't live a life in service of a greater good, you've gotta at least die a death in service of a greater good, you know? — John Green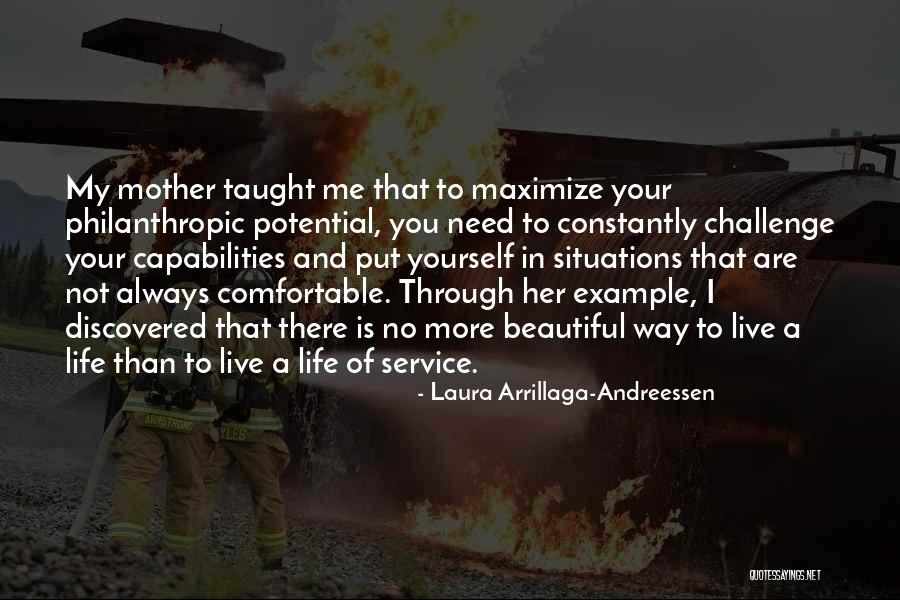 My mother taught me that to maximize your philanthropic potential, you need to constantly challenge your capabilities and put yourself in situations that are not always comfortable. Through her example, I discovered that there is no more beautiful way to live a life than to live a life of service. — Laura Arrillaga-Andreessen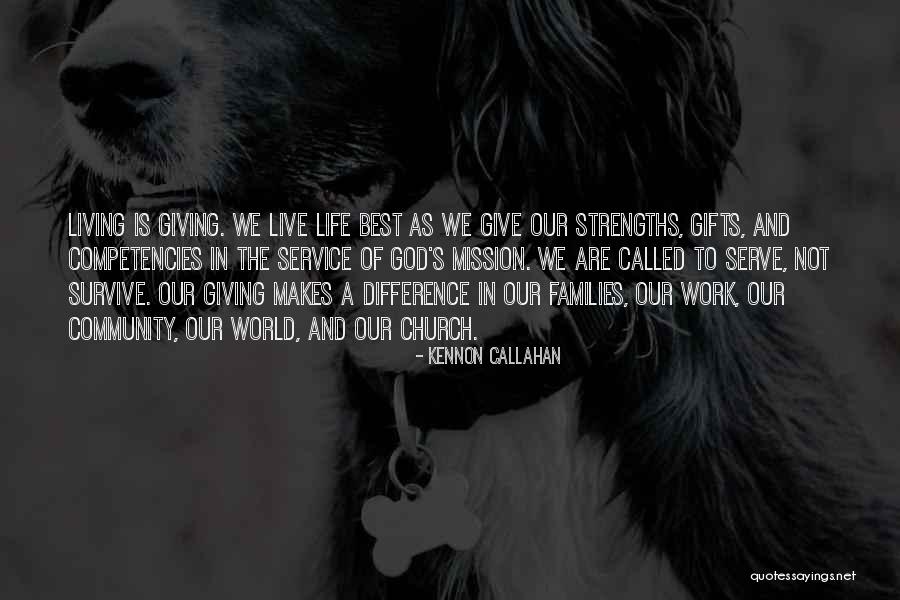 Living is giving. We live life best as we give our strengths, gifts, and competencies in the service of God's mission. We are called to serve, not survive. Our giving makes a difference in our families, our work, our community, our world, and our church. — Kennon Callahan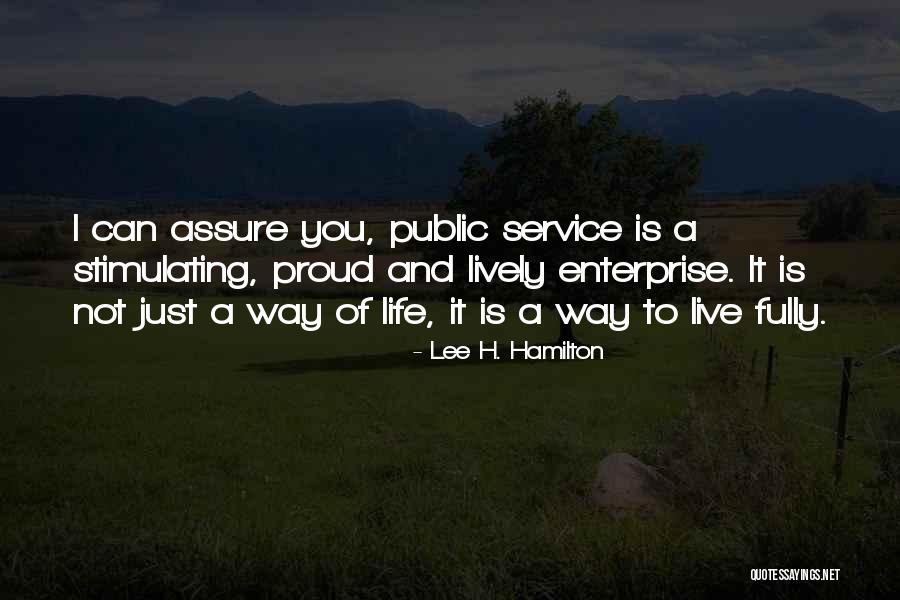 I can assure you, public service is a stimulating, proud and lively enterprise. It is not just a way of life, it is a way to live fully. — Lee H. Hamilton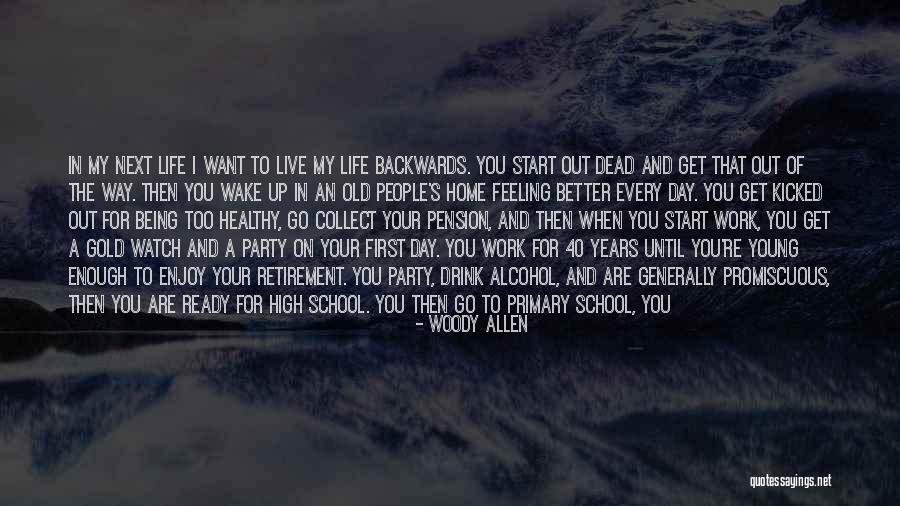 In my next life I want to live my life backwards. You start out dead and get that out of the way. Then you wake up in an old people's home feeling better every day. You get kicked out for being too healthy, go collect your pension, and then when you start work, you get a gold watch and a party on your first day. You work for 40 years until you're young enough to enjoy your retirement. You party, drink alcohol, and are generally promiscuous, then you are ready for high school. You then go to primary school, you become a kid, you play. You have no responsibilities, you become a baby until you are born. And then you spend your last 9 months floating in luxurious spa-like conditions with central heating and room service on tap, larger quarters every day and then Voila! You finish off as an orgasm! — Woody Allen
I don't believe we return to haunt or comfort the living or anything, but I think something becomes of us." "But you fear oblivion." "Sure, I fear earthly oblivion. But, I mean, not to sound like my parents, but I believe humans have souls, and I believe in the conservation of souls. The oblivion fear is something else, fear that I won't be able to give anything in exchange for my life. If you don't live a life in service of a greater good, you've gotta at least die a death in service of a greater good, you know? And I fear that I won't get either a life or a death that means anything." I just shook my head. "What?" he asked. "Your obsession with, like, dying for something or leaving behind some great sign of your heroism or whatever. It's just weird." "Everyone wants to lead an extraordinary life. — John Green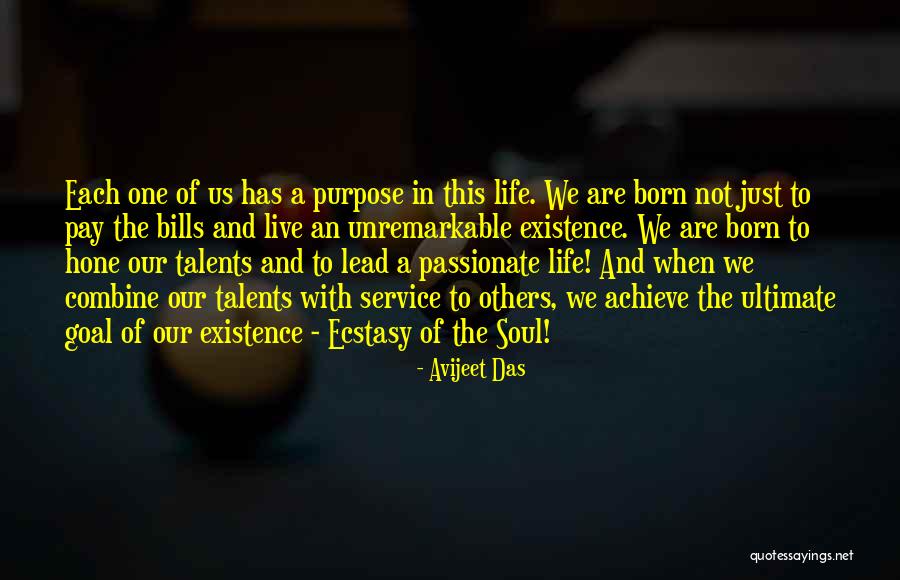 Each one of us has a purpose in this life. We are born not just to pay the bills and live an unremarkable existence. We are born to hone our talents and to lead a passionate life! And when we combine our talents with service to others, we achieve the ultimate goal of our existence - Ecstasy of the Soul! — Avijeet Das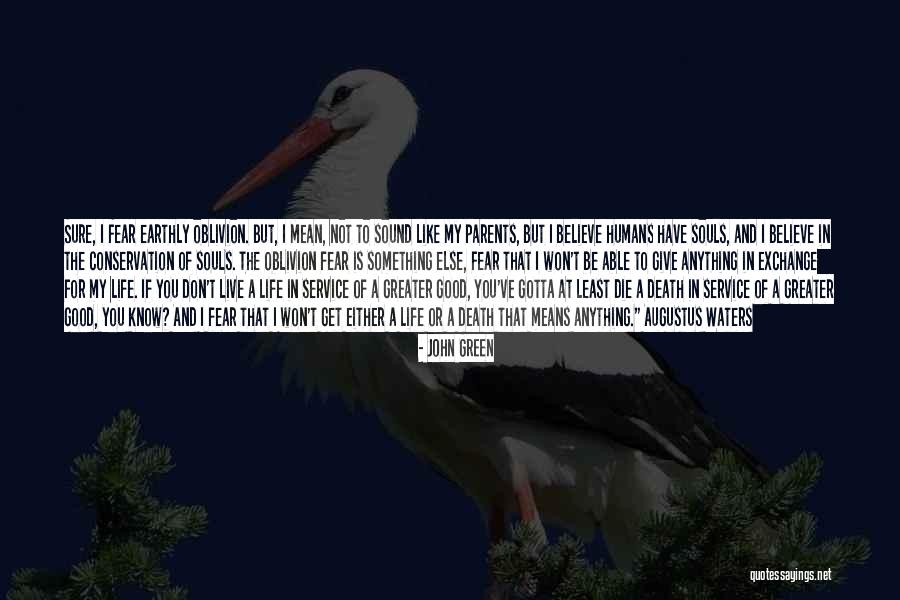 Sure, I fear earthly oblivion. But, I mean, not to sound like my parents, but I believe humans have souls, and I believe in the conservation of souls. The oblivion fear is something else, fear that I won't be able to give anything in exchange for my life. If you don't live a life in service of a greater good, you've gotta at least die a death in service of a greater good, you know? And I fear that I won't get either a life or a death that means anything." Augustus Waters — John Green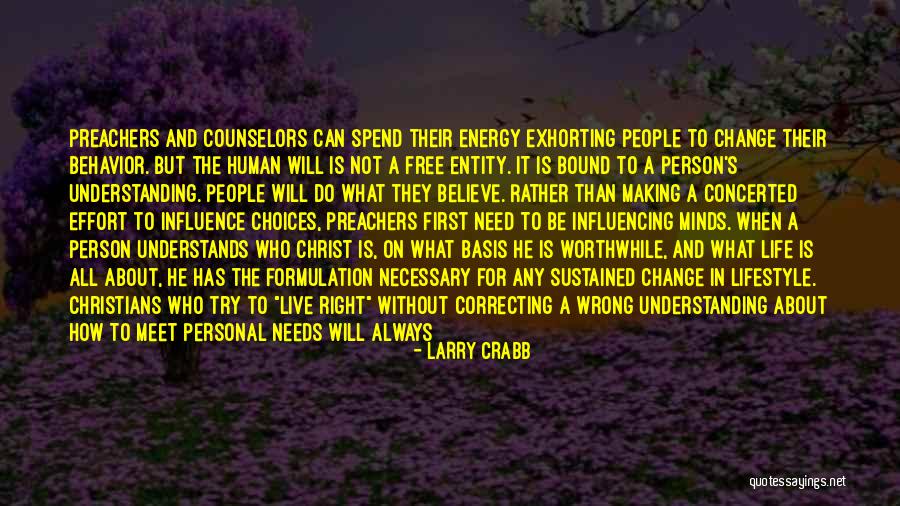 Preachers and counselors can spend their energy exhorting people to change their behavior. But the human will is not a free entity. It is bound to a person's understanding. People will do what they believe. Rather than making a concerted effort to influence choices, preachers first need to be influencing minds. When a person understands who Christ is, on what basis he is worthwhile, and what life is all about, he has the formulation necessary for any sustained change in lifestyle. Christians who try to "live right" without correcting a wrong understanding about how to meet personal needs will always labor and struggle with Christianity, grinding out their responsible duty in a joyless, strained fashion. Christ taught that when we know the truth, we can be set free. We now are free to choose the life of obedience because we understand that in Christ we now are worthwhile persons. We are free to express our gratitude in the worship and service of the One who has met our needs. — Larry Crabb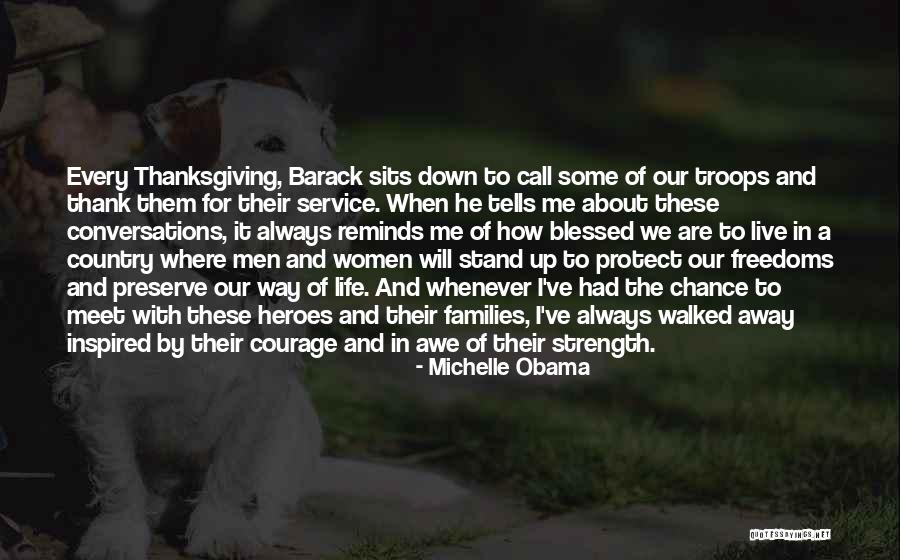 Every Thanksgiving, Barack sits down to call some of our troops and thank them for their service. When he tells me about these conversations, it always reminds me of how blessed we are to live in a country where men and women will stand up to protect our freedoms and preserve our way of life. And whenever I've had the chance to meet with these heroes and their families, I've always walked away inspired by their courage and in awe of their strength. — Michelle Obama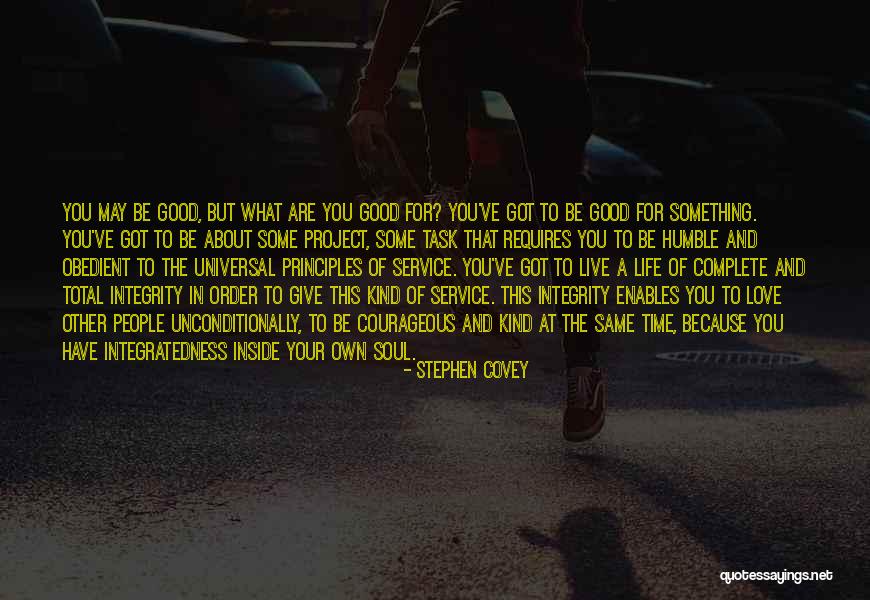 You may be good, but what are you good for? You've got to be good for something. You've got to be about some project, some task that requires you to be humble and obedient to the universal principles of service. You've got to live a life of complete and total integrity in order to give this kind of service. This integrity enables you to love other people unconditionally, to be courageous and kind at the same time, because you have integratedness inside your own soul. — Stephen Covey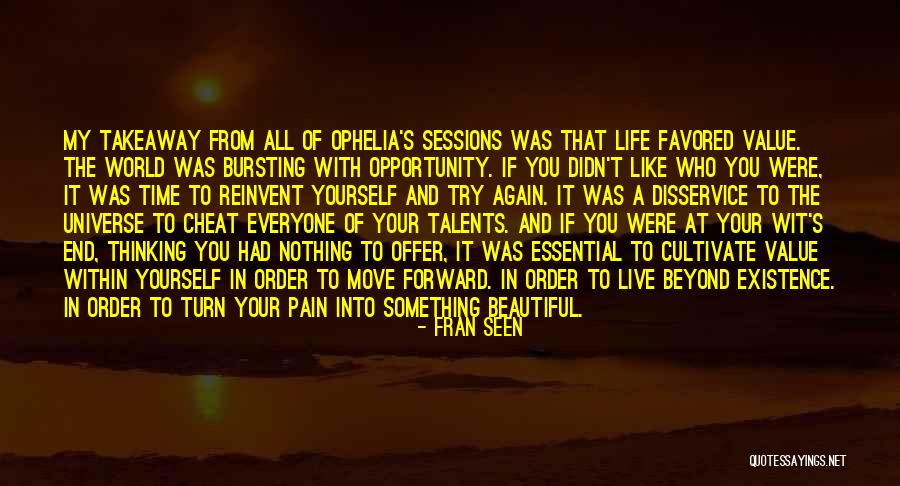 My takeaway from all of Ophelia's sessions was that life favored value. The world was bursting with opportunity. If you didn't like who you were, it was time to reinvent yourself and try again. It was a disservice to the universe to cheat everyone of your talents. And if you were at your wit's end, thinking you had nothing to offer, it was essential to cultivate value within yourself in order to move forward. In order to live beyond existence. In order to turn your pain into something beautiful. — Fran Seen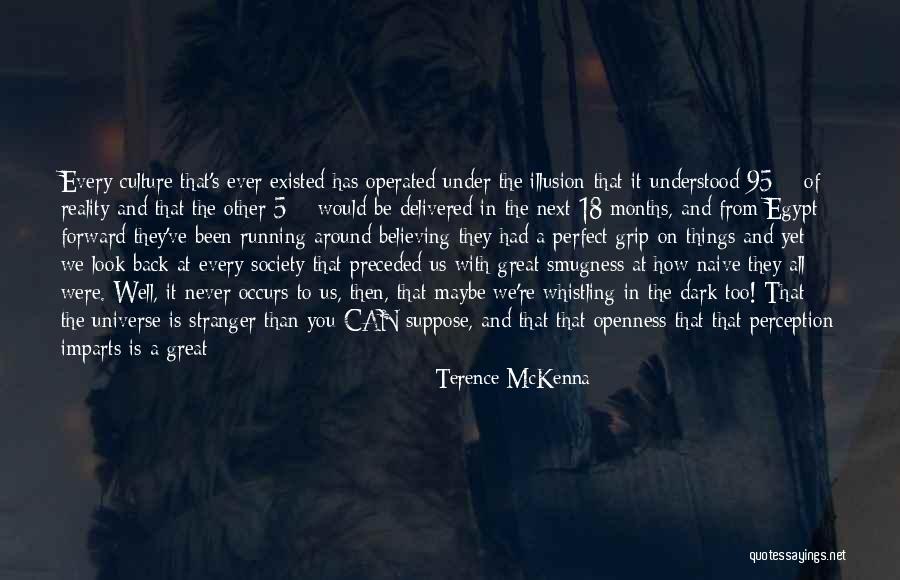 Every culture that's ever existed has operated under the illusion that it understood 95% of reality and that the other 5% would be delivered in the next 18 months, and from Egypt forward they've been running around believing they had a perfect grip on things and yet we look back at every society that preceded us with great smugness at how naive they all were. Well, it never occurs to us, then, that maybe we're whistling in the dark too! That the universe is stranger than you CAN suppose, and that that openness that that perception imparts is a great joy, a great blessing, because then you can live your life not in service to some fascistic metaphor but in service to the living mystery: the fact that you're not going to understand it; it is not going to yield to logic; or magic; or any other technique that's been developed ... — Terence McKenna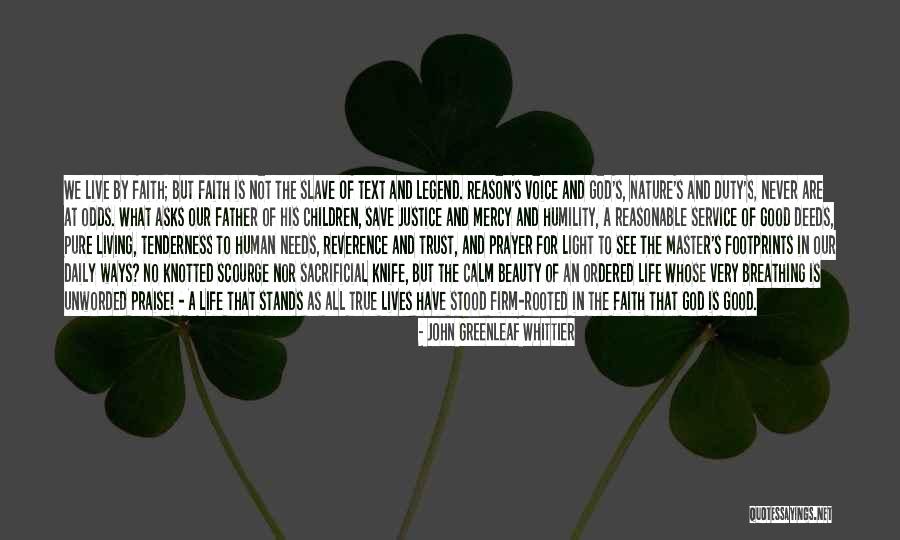 We live by faith; but Faith is not the slave Of text and legend. Reason's voice and God's, Nature's and Duty's, never are at odds. What asks our Father of His children, save Justice and mercy and humility, A reasonable service of good deeds, Pure living, tenderness to human needs, Reverence and trust, and prayer for light to see The Master's footprints in our daily ways? No knotted scourge nor sacrificial knife, But the calm beauty of an ordered life Whose very breathing is unworded praise! - A life that stands as all true lives have stood Firm-rooted in the faith that God is Good. — John Greenleaf Whittier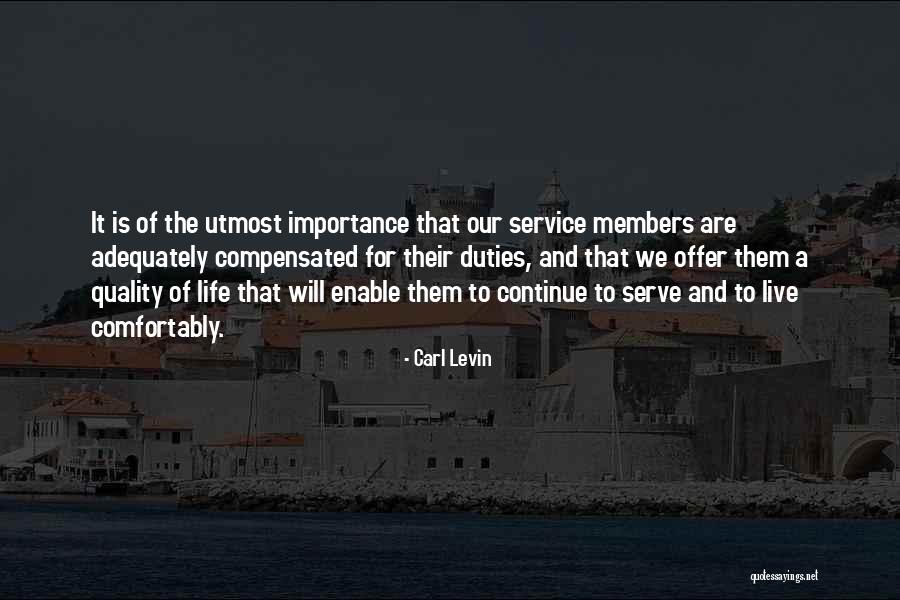 It is of the utmost importance that our service members are adequately compensated for their duties, and that we offer them a quality of life that will enable them to continue to serve and to live comfortably. — Carl Levin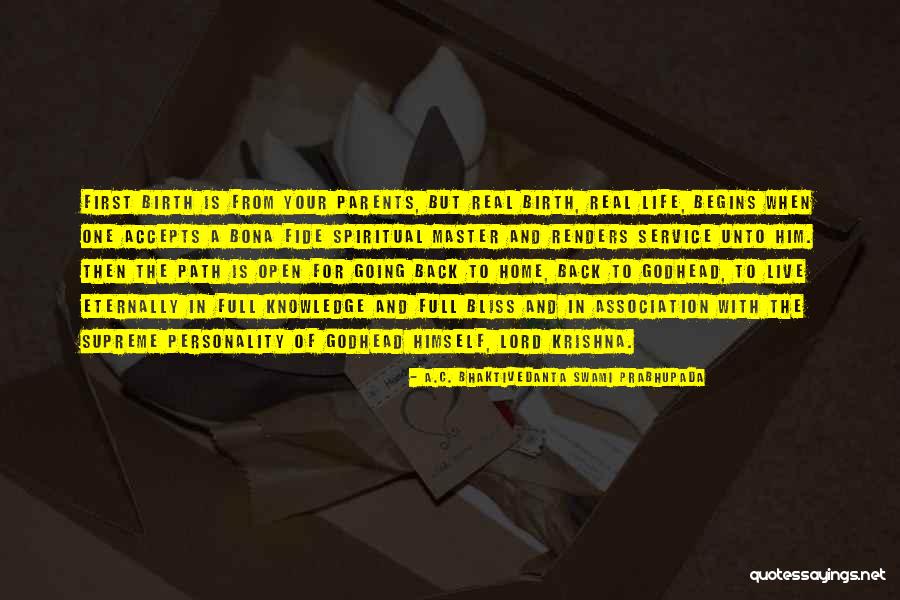 First birth is from your parents, but real birth, real life, begins when one accepts a bona fide spiritual master and renders service unto him. Then the path is open for going back to home, back to Godhead, to live eternally in full knowledge and full bliss and in association with the Supreme Personality of Godhead Himself, Lord Krishna. — A.C. Bhaktivedanta Swami Prabhupada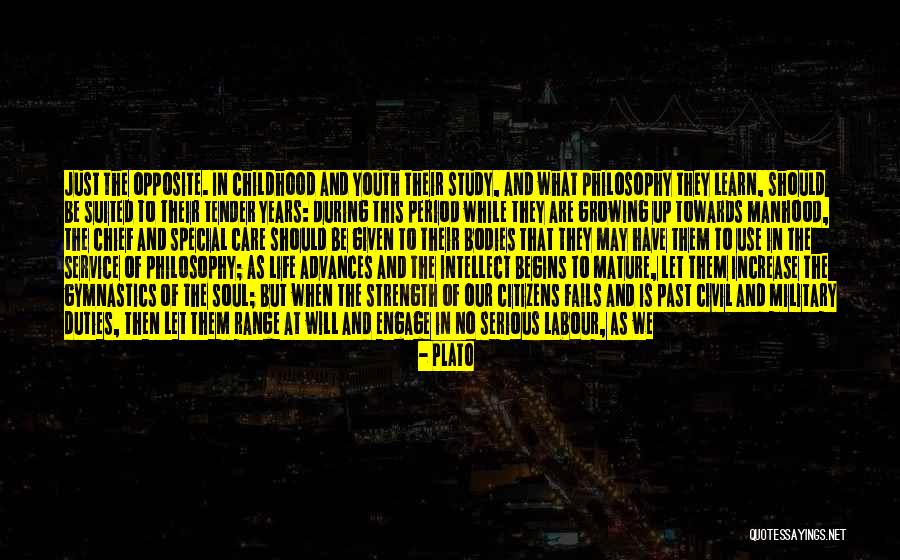 Just the opposite. In childhood and youth their study, and what philosophy they learn, should be suited to their tender years: during this period while they are growing up towards manhood, the chief and special care should be given to their bodies that they may have them to use in the service of philosophy; as life advances and the intellect begins to mature, let them increase the gymnastics of the soul; but when the strength of our citizens fails and is past civil and military duties, then let them range at will and engage in no serious labour, as we intend them to live happily here, and to crown this life with a similar happiness in another. How — Plato