Eight Seconds Quotes & Sayings
Enjoy reading and share 30 famous quotes about Eight Seconds with everyone.
Top Eight Seconds Quotes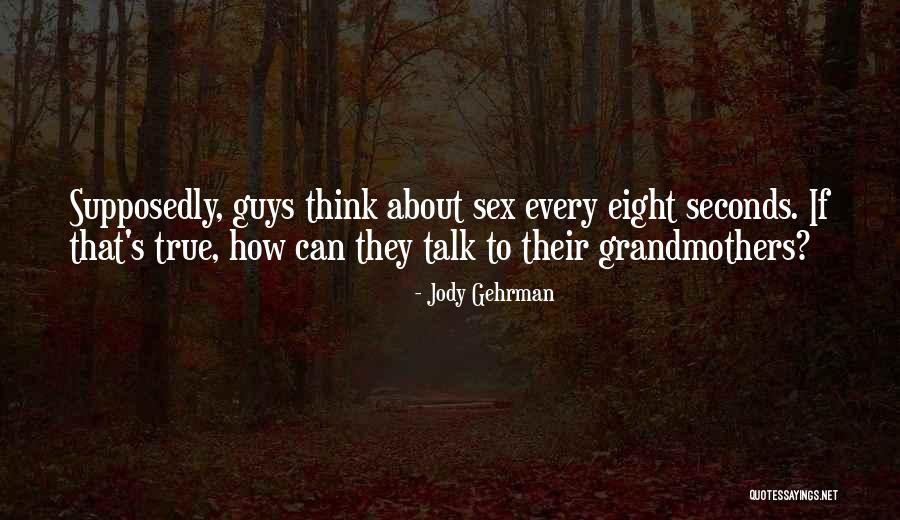 Supposedly, guys think about sex every eight seconds. If that's true, how can they talk to their grandmothers? — Jody Gehrman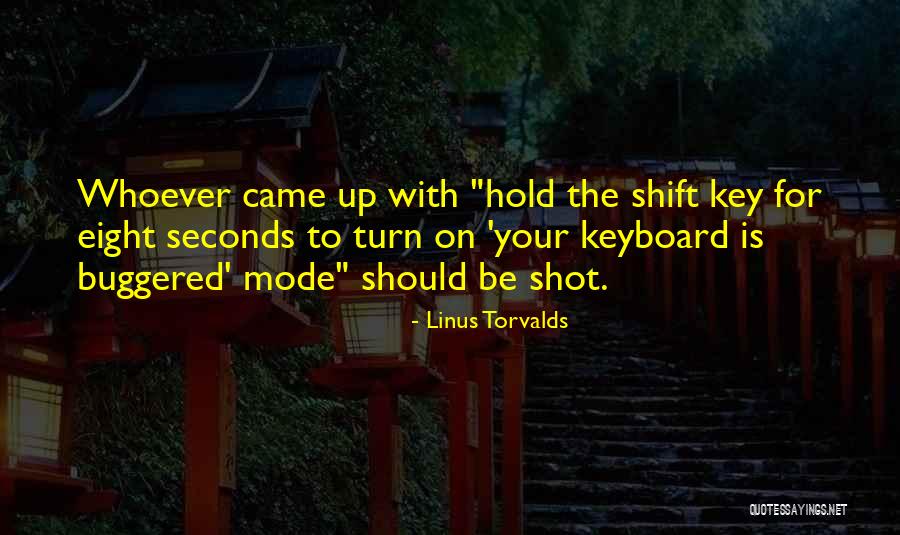 Whoever came up with "hold the shift key for eight seconds to turn on 'your keyboard is buggered' mode" should be shot. — Linus Torvalds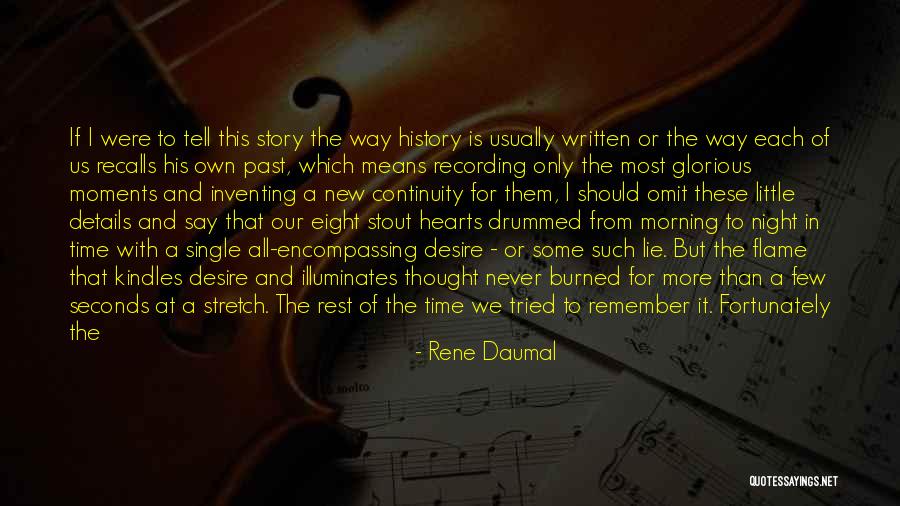 If I were to tell this story the way history is usually written or the way each of us recalls his own past, which means recording only the most glorious moments and inventing a new continuity for them, I should omit these little details and say that our eight stout hearts drummed from morning to night in time with a single all-encompassing desire - or some such lie. But the flame that kindles desire and illuminates thought never burned for more than a few seconds at a stretch. The rest of the time we tried to remember it.
Fortunately the demands of daily work, in which each of us had his vital role, reminded us that we had come aboard of our own free will, that we were indispensable to one another, and that we were on a ship - that is to say, in a temporary habitation, designed to transport us somewhere else. If anyone forgot it, someone else lost no time in reminding him. — Rene Daumal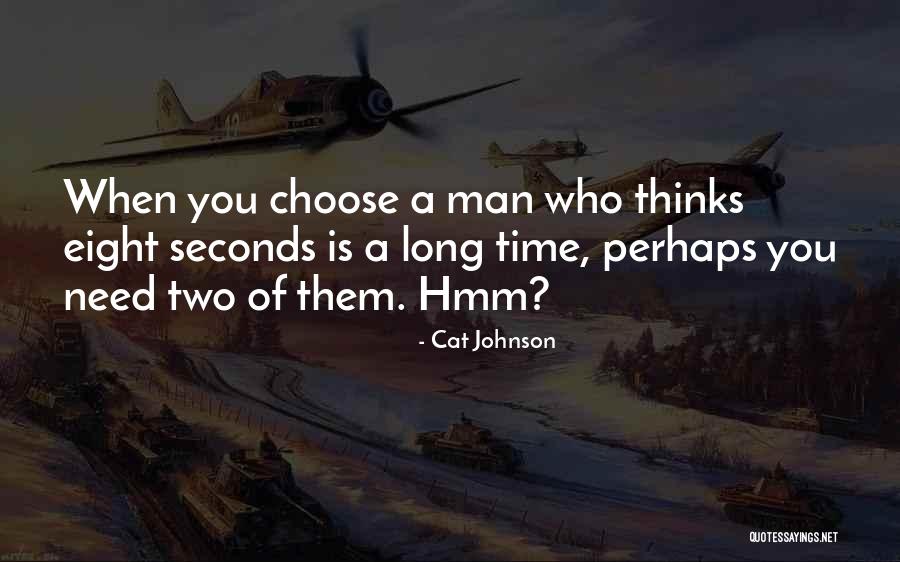 When you choose a man who thinks eight seconds is a long time, perhaps you need two of them. Hmm? — Cat Johnson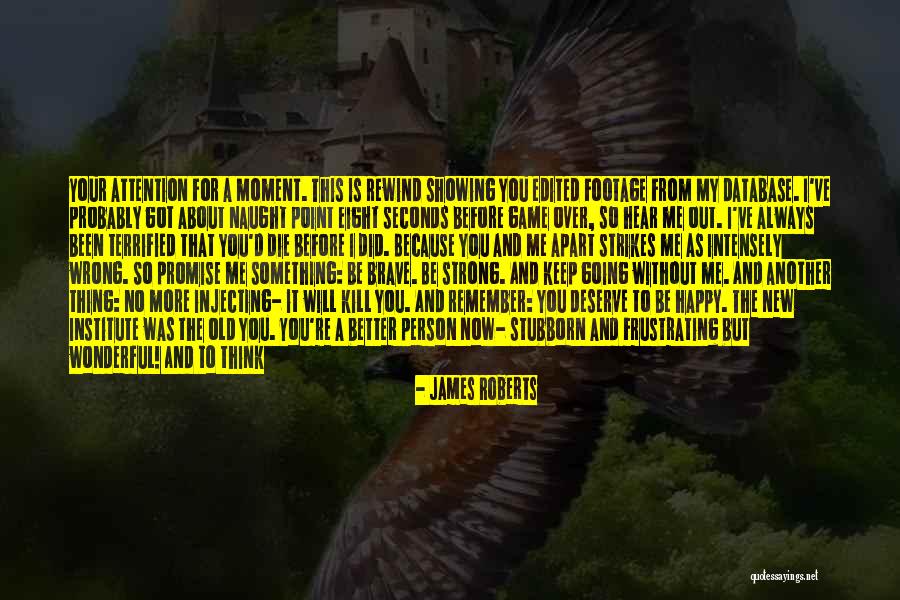 Your attention for a moment. This is Rewind showing you edited footage from my database. I've probably got about naught point eight seconds before game over, so hear me out. I've always been terrified that you'd die before I did. Because you and me apart strikes me as intensely wrong. So promise me something: be brave. Be strong. And keep going without me. And another thing: no more injecting- it will kill you. And remember: you deserve to be happy. The New Institute was the old you. You're a better person now- stubborn and frustrating but wonderful! And to think I will never see you again. One more thing - one last thing - because I don't say it enough: I love you. — James Roberts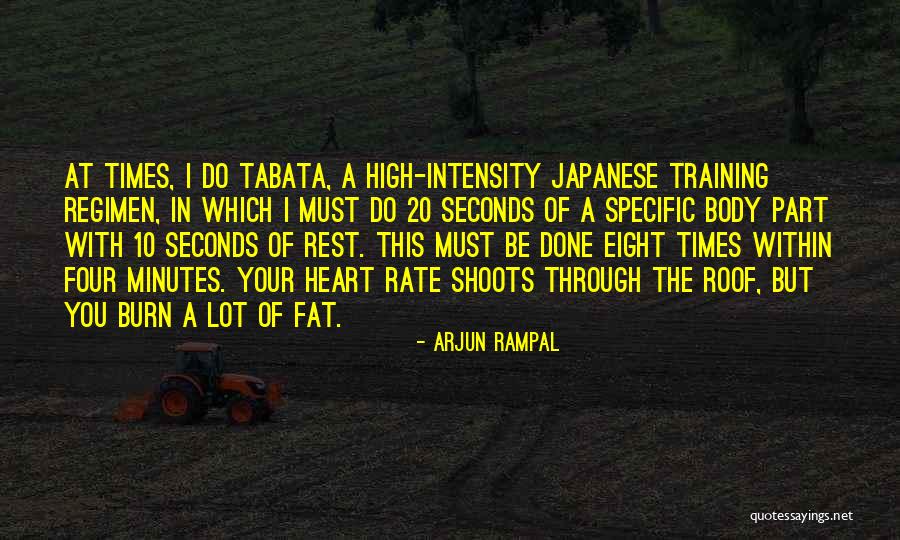 At times, I do Tabata, a high-intensity Japanese training regimen, in which I must do 20 seconds of a specific body part with 10 seconds of rest. This must be done eight times within four minutes. Your heart rate shoots through the roof, but you burn a lot of fat. — Arjun Rampal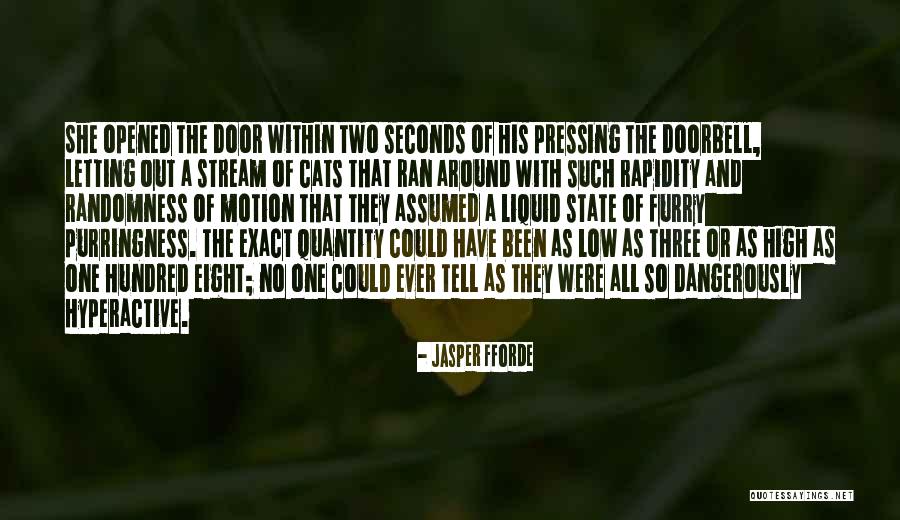 She opened the door within two seconds of his pressing the doorbell, letting out a stream of cats that ran around with such rapidity and randomness of motion that they assumed a liquid state of furry purringness. The exact quantity could have been as low as three or as high as one hundred eight; no one could ever tell as they were all so dangerously hyperactive. — Jasper Fforde
My mind skidded round a very short track and passed the finish line in a matter of seconds without any sensible conclusion. — Petra Kidd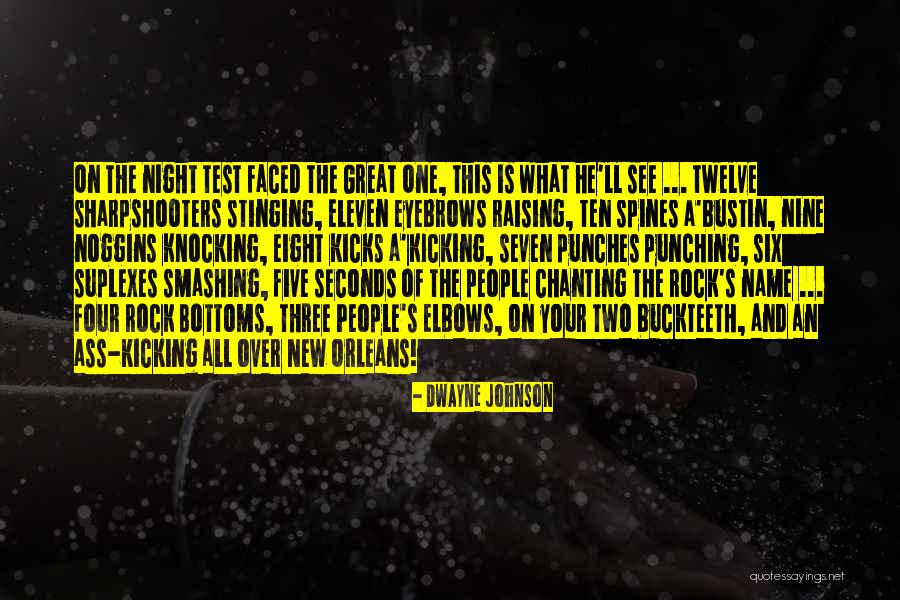 On the night Test faced the Great One, this is what he'll see ... twelve sharpshooters stinging, eleven eyebrows raising, ten spines a'bustin, nine noggins knocking, eight kicks a'kicking, seven punches punching, six suplexes smashing, five seconds of the people chanting The Rock's name ... four Rock Bottoms, three People's Elbows, on your two buckteeth, and an ass-kicking all over New Orleans! — Dwayne Johnson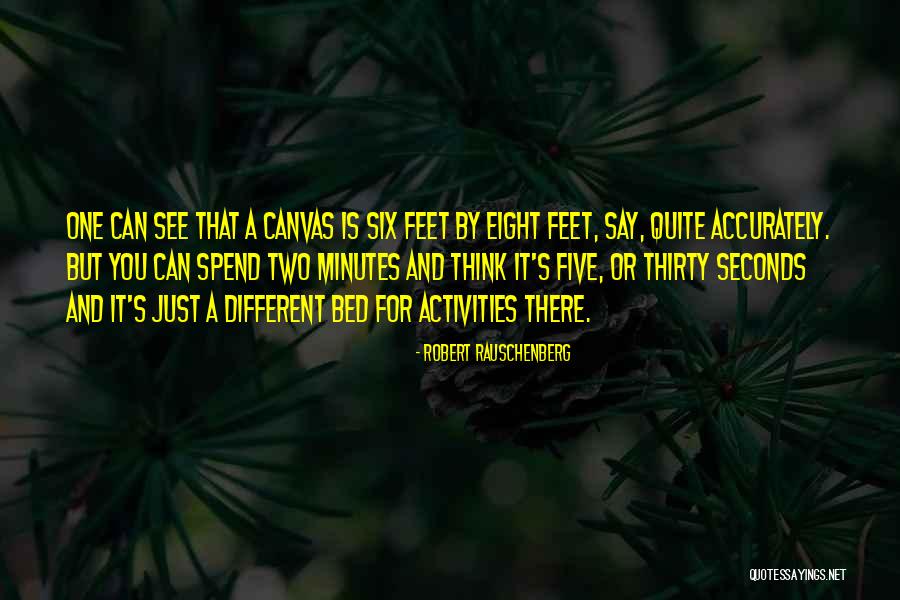 One can see that a canvas is six feet by eight feet, say, quite accurately. But you can spend two minutes and think it's five, or thirty seconds and it's just a different bed for activities there. — Robert Rauschenberg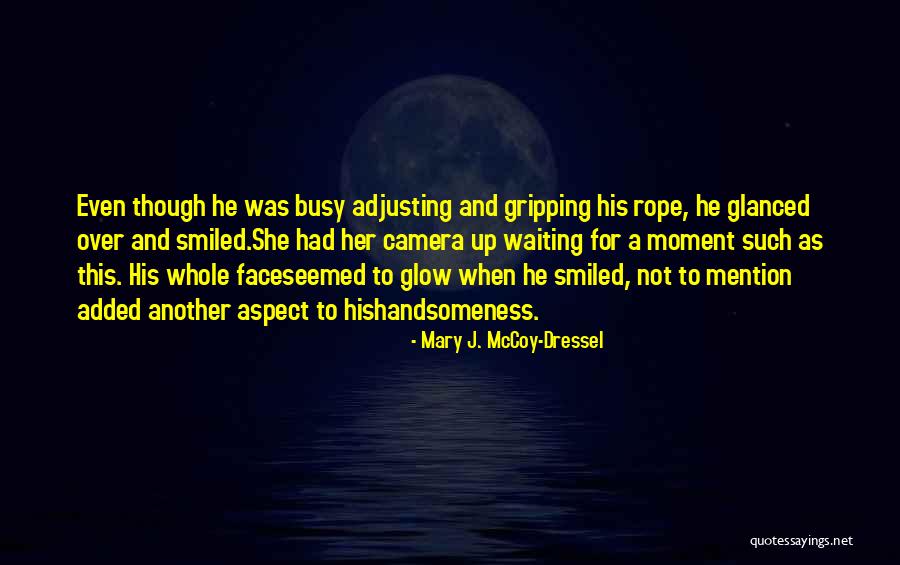 Even though he was busy adjusting and gripping his rope, he glanced over and smiled.
She had her camera up waiting for a moment such as this. His whole face
seemed to glow when he smiled, not to mention added another aspect to his
handsomeness. — Mary J. McCoy-Dressel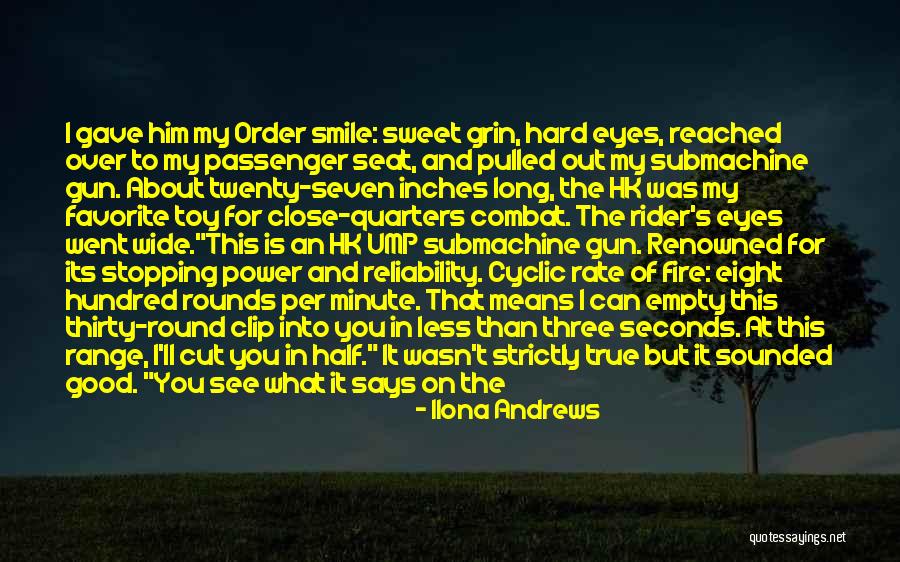 I gave him my Order smile: sweet grin, hard eyes, reached over to my passenger seat, and pulled out my submachine gun. About twenty-seven inches long, the HK was my favorite toy for close-quarters combat. The rider's eyes went wide.
"This is an HK UMP submachine gun. Renowned for its stopping power and reliability. Cyclic rate of fire: eight hundred rounds per minute. That means I can empty this thirty-round clip into you in less than three seconds. At this range, I'll cut you in half." It wasn't strictly true but it sounded good. "You see what it says on the barrel?"
On the barrel, pretty white letters spelled out PARTY STARTER. — Ilona Andrews
Over 1 billion people have no access to clean drinking water, and more than 2.9 billion have no access to sanitation services. The reality is that a child dies every eight seconds from drinking contaminated water, and the sanitation trend is getting sharply worse, mostly because of the worldwide drift of the rural peasantry to urban slums. — Marq De Villiers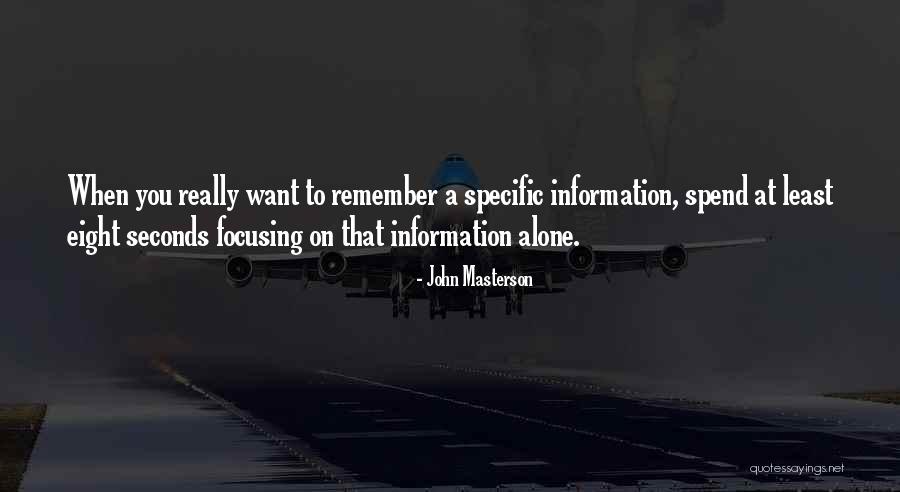 When you really want to remember a specific information, spend at least eight seconds focusing on that information alone. — John Masterson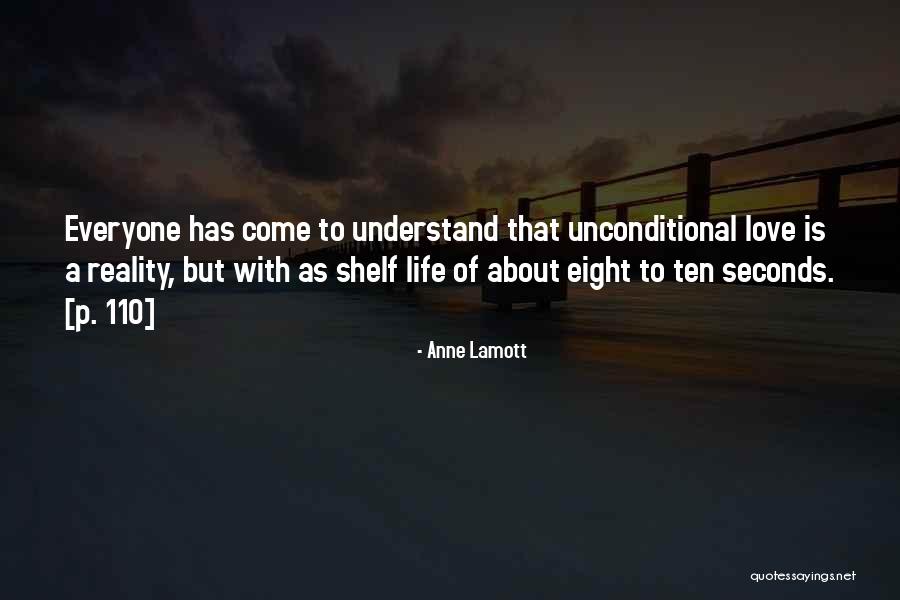 Everyone has come to understand that unconditional love is a reality, but with as shelf life of about eight to ten seconds. [p. 110] — Anne Lamott
If someone grabbed me, I'd probably be able to choke them out in about eight seconds. — Jeffrey Donovan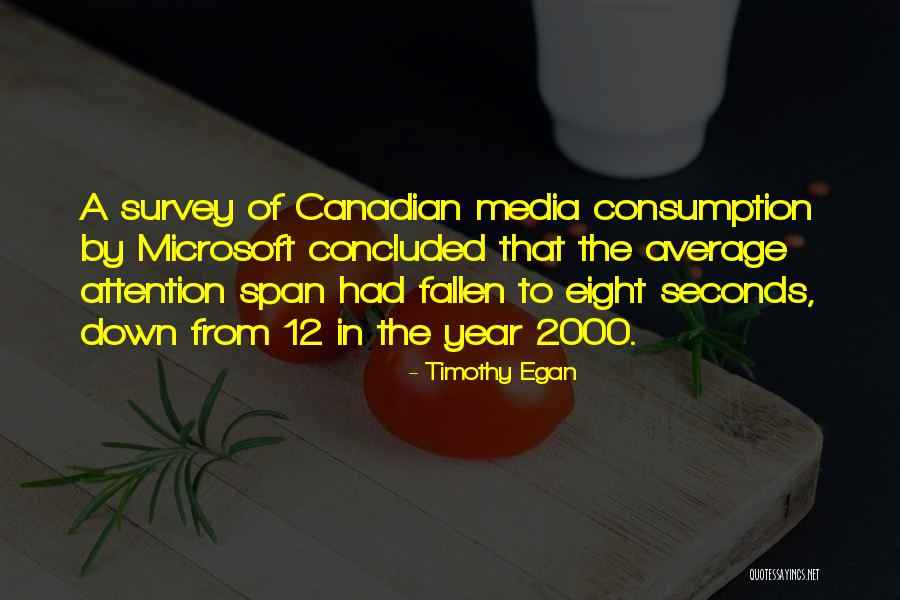 A survey of Canadian media consumption by Microsoft concluded that the average attention span had fallen to eight seconds, down from 12 in the year 2000. — Timothy Egan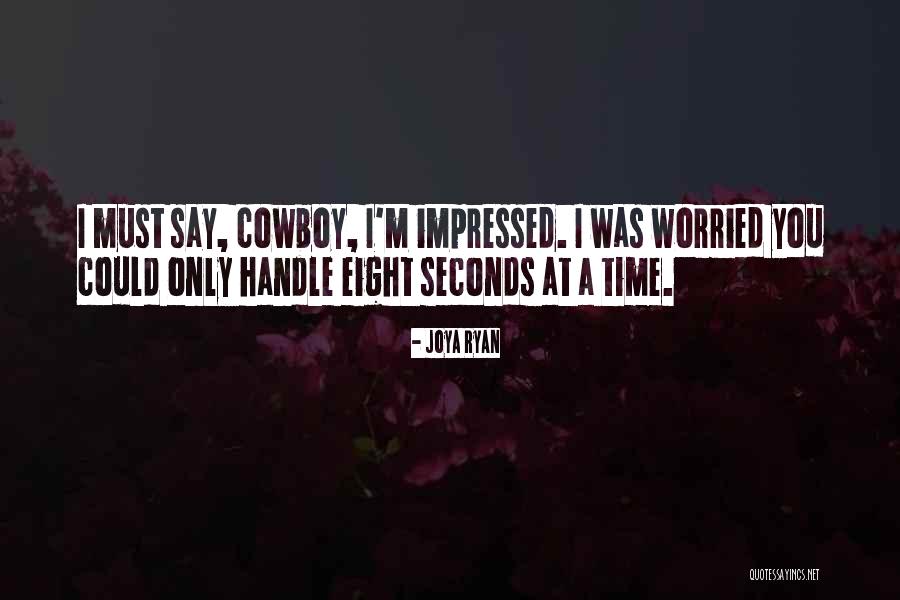 I must say, cowboy, I'm impressed. I was worried you could only handle eight seconds at a time. — Joya Ryan
What we did is we went on those parabolic flights, which people like to call the vomit comet. Basically, the plane throws you up into the air and catches you. And for about 30 seconds, you feel like there's no gravity. So what we did was we did a series of eight of those in a row. And every time we landed, we stayed perfectly still for the five minutes in between while the plane is setting up so that we could just continue the routine where we had left off. So the final video you see is all one take. And we seem to be weightless the entire time. — Damian Kulash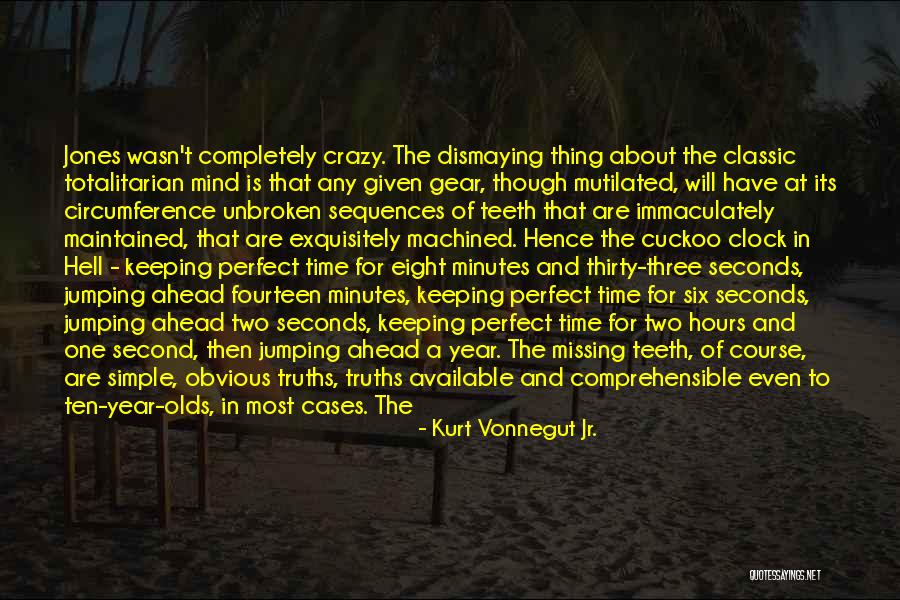 Jones wasn't completely crazy. The dismaying thing about the classic totalitarian mind is that any given gear, though mutilated, will have at its circumference unbroken sequences of teeth that are immaculately maintained, that are exquisitely machined. Hence the cuckoo clock in Hell - keeping perfect time for eight minutes and thirty-three seconds, jumping ahead fourteen minutes, keeping perfect time for six seconds, jumping ahead two seconds, keeping perfect time for two hours and one second, then jumping ahead a year. The missing teeth, of course, are simple, obvious truths, truths available and comprehensible even to ten-year-olds, in most cases. The willful filing off of gear teeth, the willful doing without certain obvious pieces of information - — Kurt Vonnegut Jr.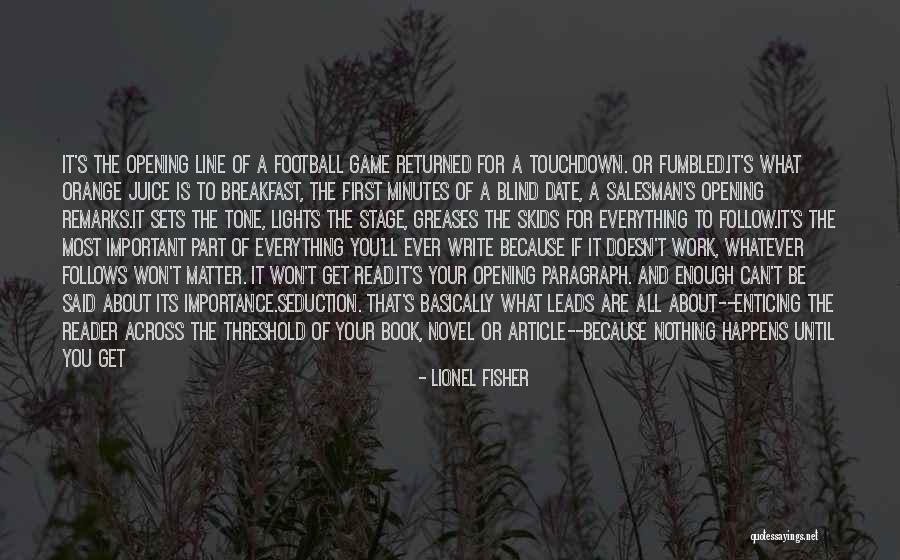 It's the opening line of a football game returned for a touchdown. Or fumbled.

It's what orange juice is to breakfast, the first minutes of a blind date, a salesman's opening remarks.

It sets the tone, lights the stage, greases the skids for everything to follow.

It's the most important part of everything you'll ever write because if it doesn't work, whatever follows won't matter. It won't get read.

It's your opening paragraph. And enough can't be said about its importance.

Seduction. That's basically what leads are all about--enticing the reader across the threshold of your book, novel or article--because nothing happens until you get 'em inside.

And you literally have only seconds to do it because surveys show that eight out of ten people quit reading whatever it is they've started after the first fifty words. — Lionel Fisher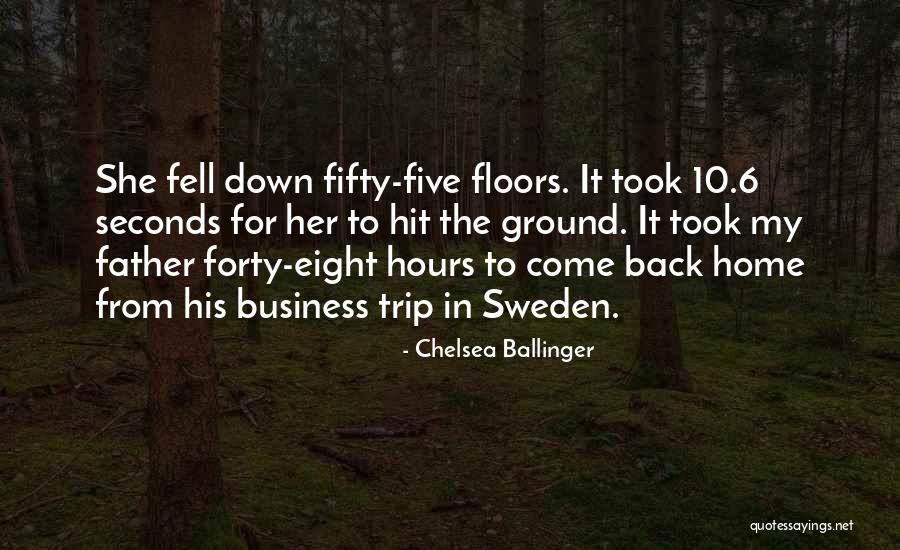 She fell down fifty-five floors. It took 10.6 seconds for her to hit the ground. It took my father forty-eight hours to come back home from his business trip in Sweden. — Chelsea Ballinger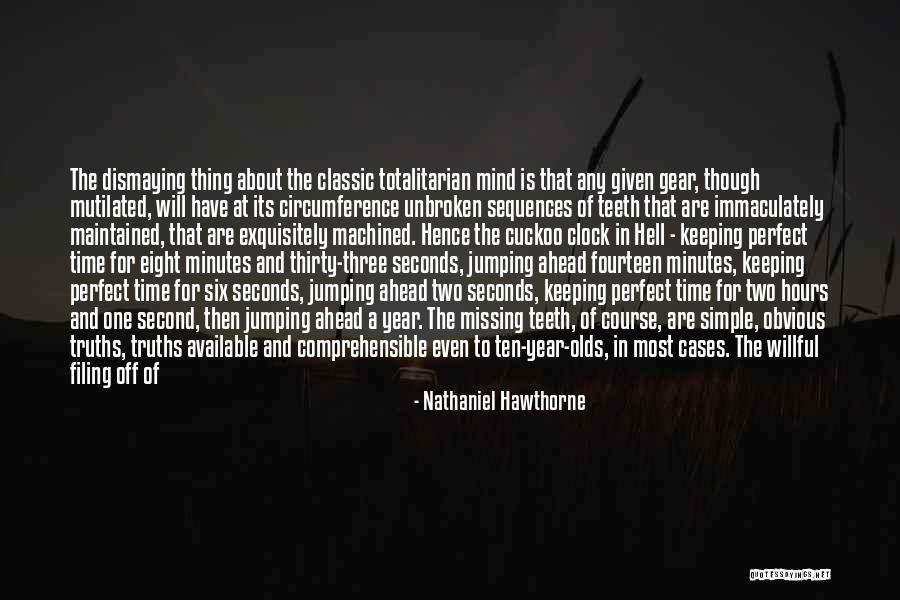 The dismaying thing about the classic totalitarian mind is that any given gear, though mutilated, will have at its circumference unbroken sequences of teeth that are immaculately maintained, that are exquisitely machined. Hence the cuckoo clock in Hell - keeping perfect time for eight minutes and thirty-three seconds, jumping ahead fourteen minutes, keeping perfect time for six seconds, jumping ahead two seconds, keeping perfect time for two hours and one second, then jumping ahead a year. The missing teeth, of course, are simple, obvious truths, truths available and comprehensible even to ten-year-olds, in most cases. The willful filing off of gear teeth, the willful doing without certain obvious pieces of information- ... That is closest I can come to explaining the legions, the nations of lunatics I've seen in my time. — Nathaniel Hawthorne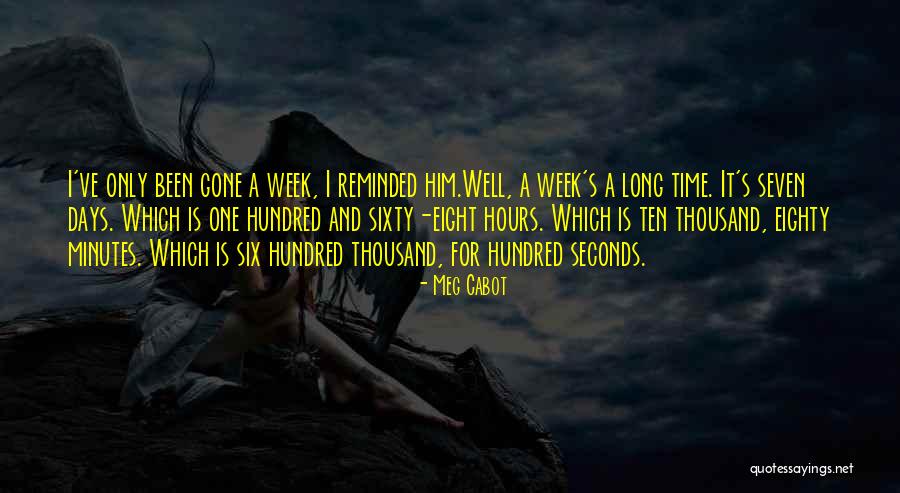 I've only been gone a week, I reminded him.
Well, a week's a long time. It's seven days. Which is one hundred and sixty-eight hours. Which is ten thousand, eighty minutes. Which is six hundred thousand, for hundred seconds. — Meg Cabot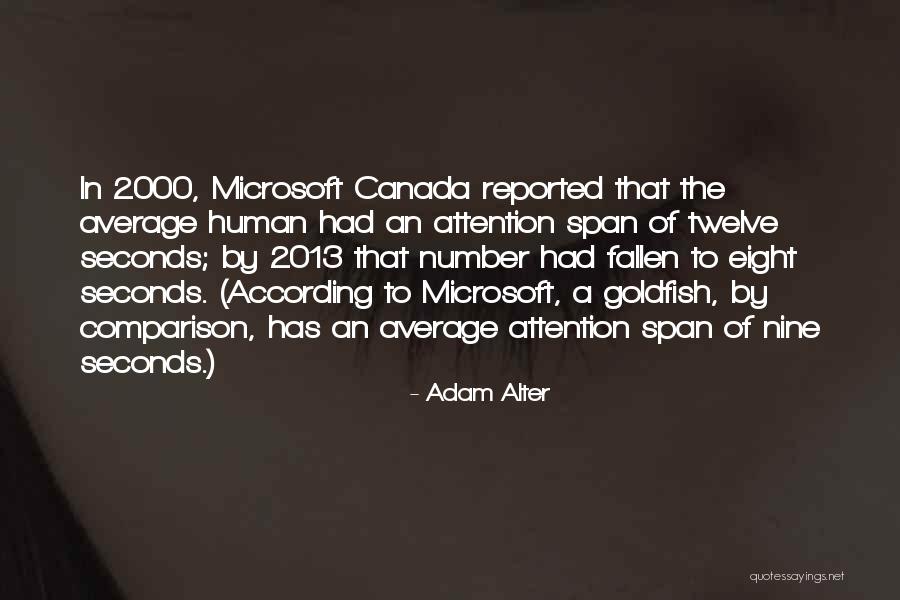 In 2000, Microsoft Canada reported that the average human had an attention span of twelve seconds; by 2013 that number had fallen to eight seconds. (According to Microsoft, a goldfish, by comparison, has an average attention span of nine seconds.) — Adam Alter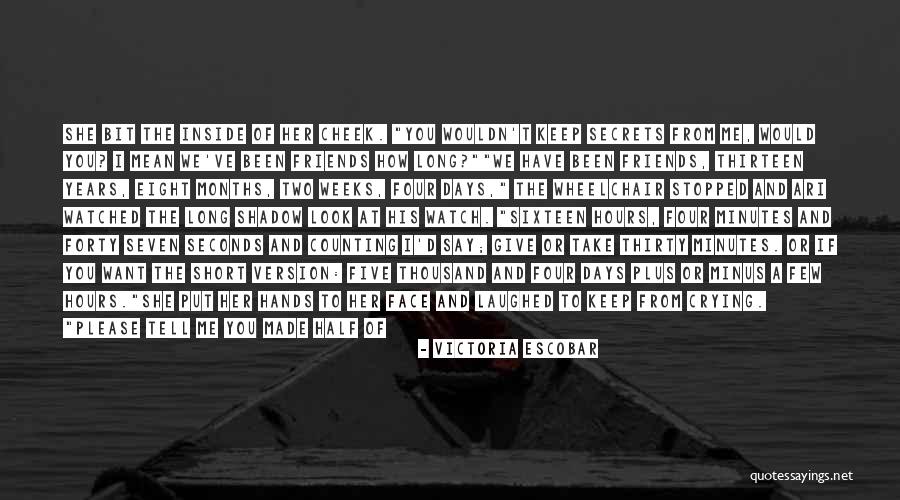 She bit the inside of her cheek. "You wouldn't keep secrets from me, would you? I mean we've been friends how long?"
"We have been friends, thirteen years, eight months, two weeks, four days," The wheelchair stopped and Ari watched the long shadow look at his watch. "Sixteen hours, four minutes and forty seven seconds and counting I'd say; give or take thirty minutes. Or if you want the short version: five thousand and four days plus or minus a few hours."
She put her hands to her face and laughed to keep from crying. "Please tell me you made half of that up. Who actually keeps track of time like that? — Victoria Escobar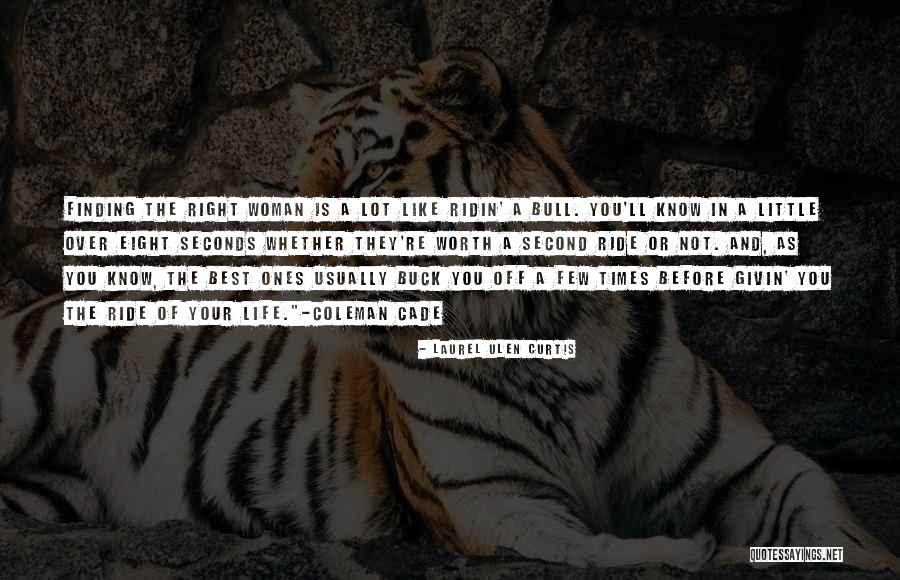 Finding the right woman is a lot like ridin' a bull. You'll know in a little over eight seconds whether they're worth a second ride or not. And, as you know, the best ones usually buck you off a few times before givin' you the ride of your life."
-Coleman Cade — Laurel Ulen Curtis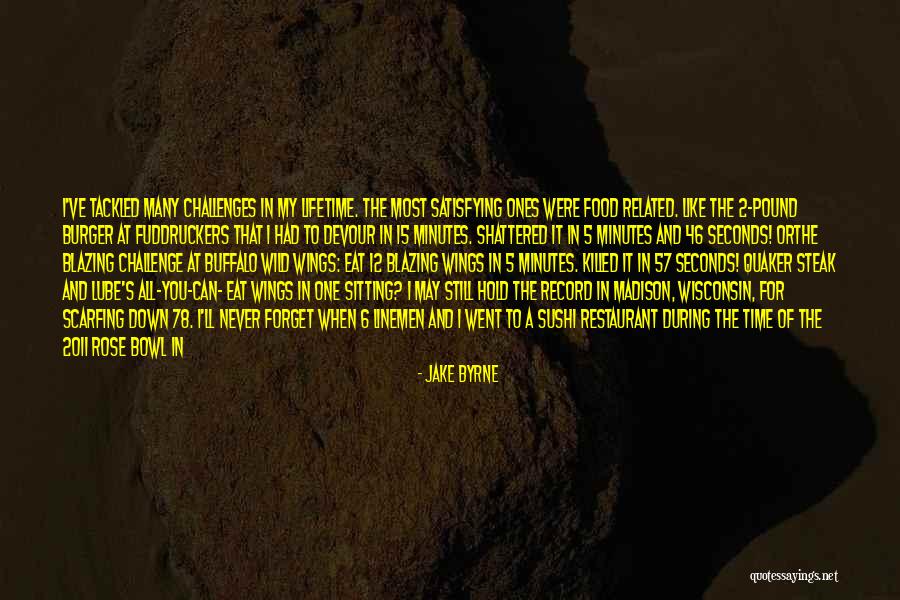 I've tackled many challenges in my lifetime. The most satisfying ones were food related. Like the 2-pound burger at Fuddruckers that I had to devour in 15 minutes. Shattered it in 5 minutes and 46 seconds! Or
the Blazing Challenge at Buffalo Wild Wings: eat 12 blazing wings in 5 minutes. Killed it in 57 seconds! Quaker Steak and Lube's all-you-can- eat wings in one sitting? I may still hold the record in Madison, Wisconsin, for scarfing down 78. I'll never forget when 6 linemen and I went to a sushi restaurant during the time of the 2011 Rose Bowl in Pasadena. We didn't exactly take on an eating challenge, but we did get kicked out of the place when the owner ordered, "Go home now.
You've eaten eight hundred dollars' worth of sushi. — Jake Byrne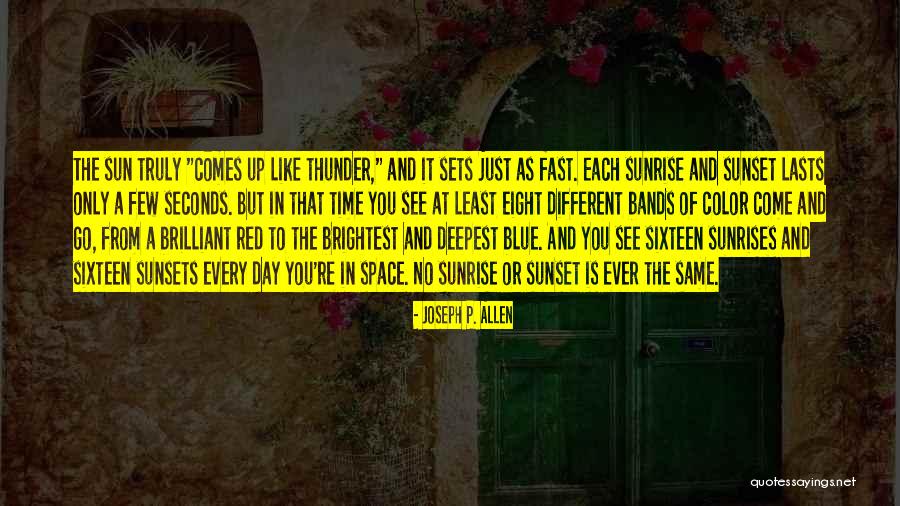 The sun truly "comes up like thunder," and it sets just as fast. Each sunrise and sunset lasts only a few seconds. But in that time you see at least eight different bands of color come and go, from a brilliant red to the brightest and deepest blue. And you see sixteen sunrises and sixteen sunsets every day you're in space. No sunrise or sunset is ever the same. — Joseph P. Allen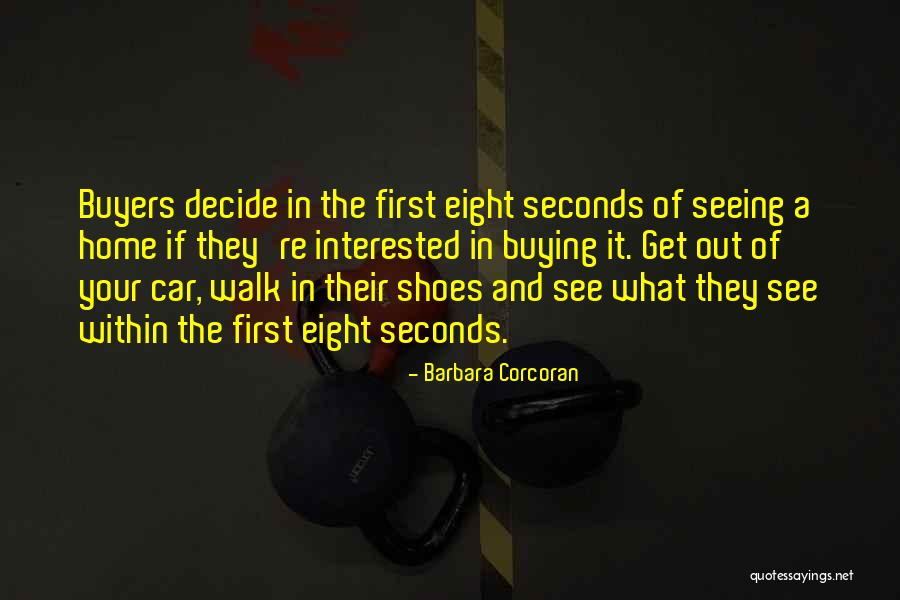 Buyers decide in the first eight seconds of seeing a home if they're interested in buying it. Get out of your car, walk in their shoes and see what they see within the first eight seconds. — Barbara Corcoran