Light The Way For Others Quotes & Sayings
Enjoy reading and share 38 famous quotes about Light The Way For Others with everyone.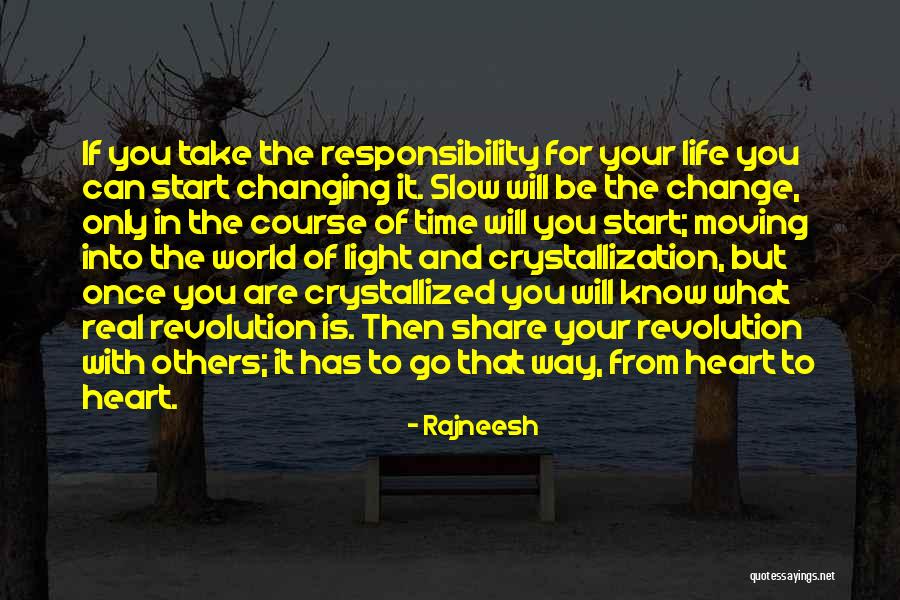 If you take the responsibility for your life you can start changing it. Slow will be the change, only in the course of time will you start; moving into the world of light and crystallization, but once you are crystallized you will know what real revolution is. Then share your revolution with others; it has to go that way, from heart to heart. — Rajneesh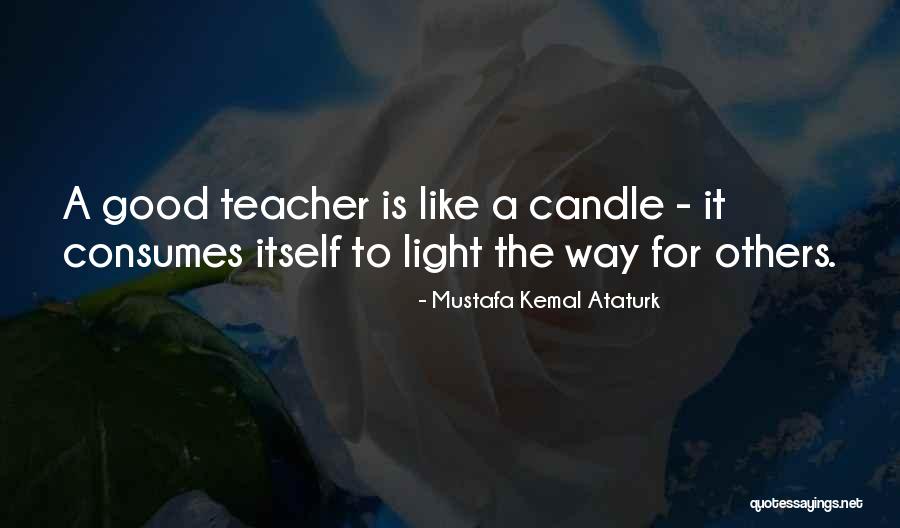 A good teacher is like a candle - it consumes itself to light the way for others. — Mustafa Kemal Ataturk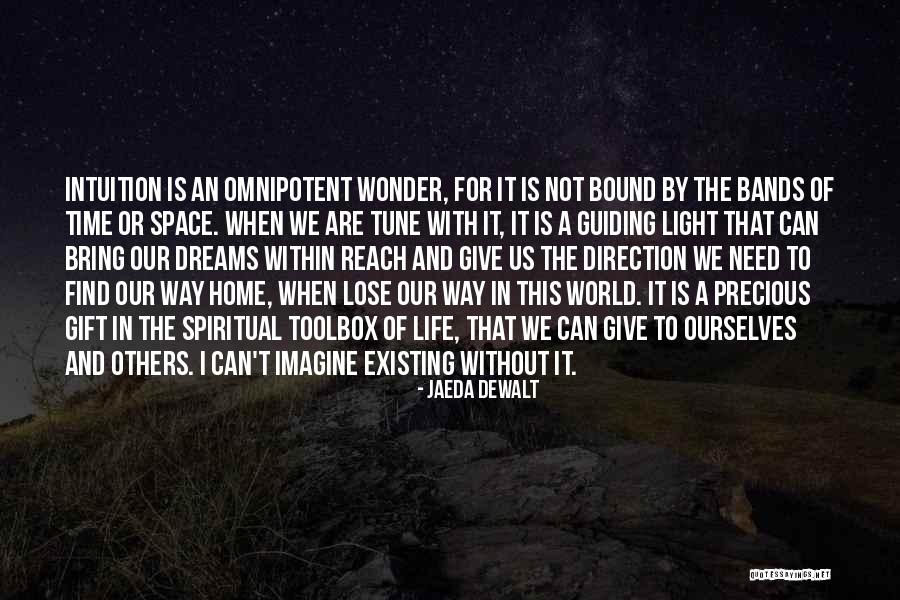 Intuition is an omnipotent wonder, for it is not bound by the bands of time or space. When we are tune with it, it is a guiding light that can bring our dreams within reach and give us the direction we need to find our way home, when lose our way in this world. It is a precious gift in the spiritual toolbox of life, that we can give to ourselves and others. I can't imagine existing without it. — Jaeda DeWalt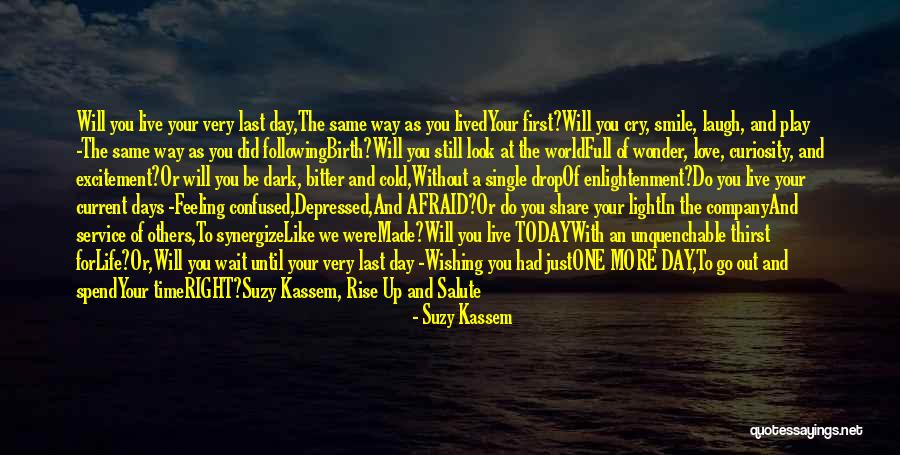 Will you live your very last day,
The same way as you lived
Your first?

Will you cry, smile, laugh, and play -
The same way as you did following
Birth?

Will you still look at the world
Full of wonder, love, curiosity, and excitement?
Or will you be dark, bitter and cold,
Without a single drop
Of enlightenment?

Do you live your current days -
Feeling confused,
Depressed,
And AFRAID?

Or do you share your light
In the company
And service of others,
To synergize
Like we were
Made?

Will you live TODAY
With an unquenchable thirst for
Life?

Or,
Will you wait until your very last day -

Wishing you had just
ONE MORE DAY,

To go out and spend
Your time
RIGHT?



Suzy Kassem, Rise Up and Salute the Sun (2010) — Suzy Kassem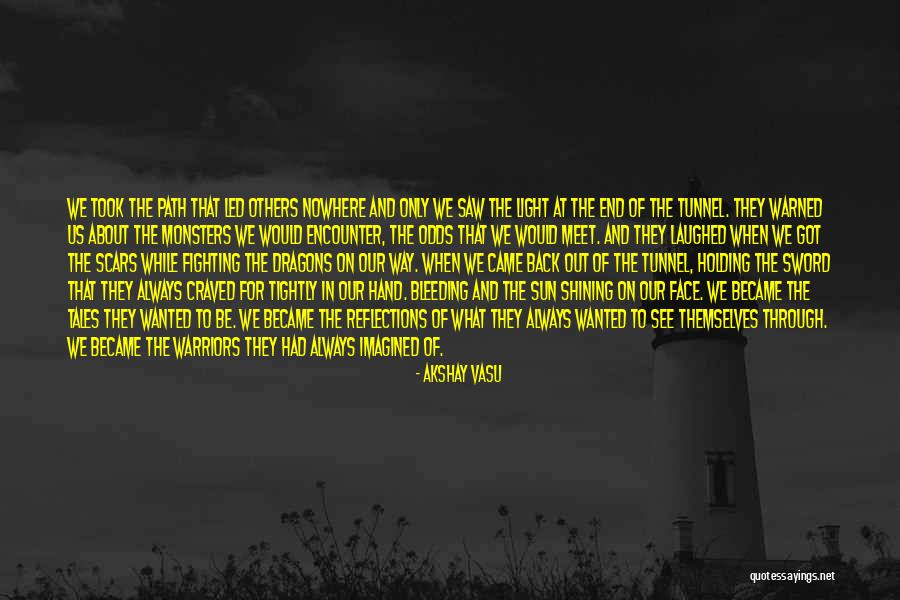 We took the path that led others nowhere and only we saw the light at the end of the tunnel. They warned us about the monsters we would encounter, the odds that we would meet. And they laughed when we got the scars while fighting the dragons on our way. When we came back out of the tunnel, holding the sword that they always craved for tightly in our hand. Bleeding and the sun shining on our face. We became the tales they wanted to be. We became the reflections of what they always wanted to see themselves through. We became the warriors they had always imagined of. — Akshay Vasu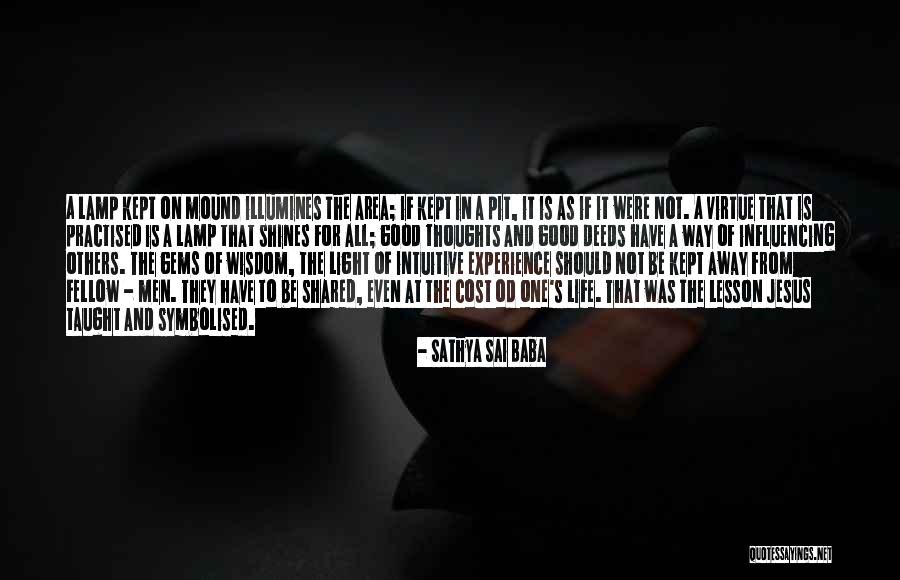 A lamp kept on mound illumines the area; if kept in a pit, it is as if it were not. A virtue that is practised is a lamp that shines for all; good thoughts and good deeds have a way of influencing others. The gems of wisdom, the light of intuitive experience should not be kept away from fellow - men. They have to be shared, even at the cost od one's life. That was the lesson Jesus taught and symbolised. — Sathya Sai Baba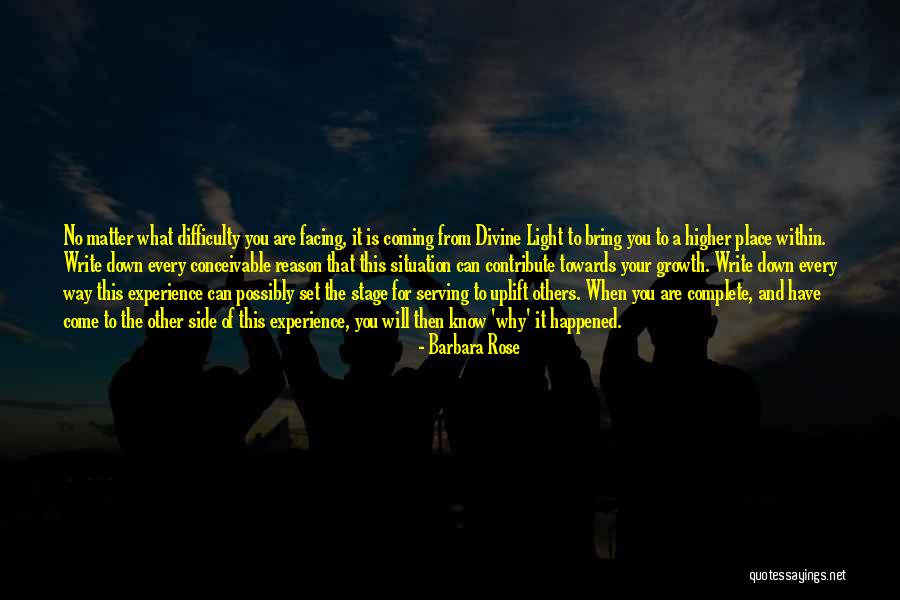 No matter what difficulty you are facing, it is coming from Divine Light to bring you to a higher place within. Write down every conceivable reason that this situation can contribute towards your growth. Write down every way this experience can possibly set the stage for serving to uplift others. When you are complete, and have come to the other side of this experience, you will then know 'why' it happened. — Barbara Rose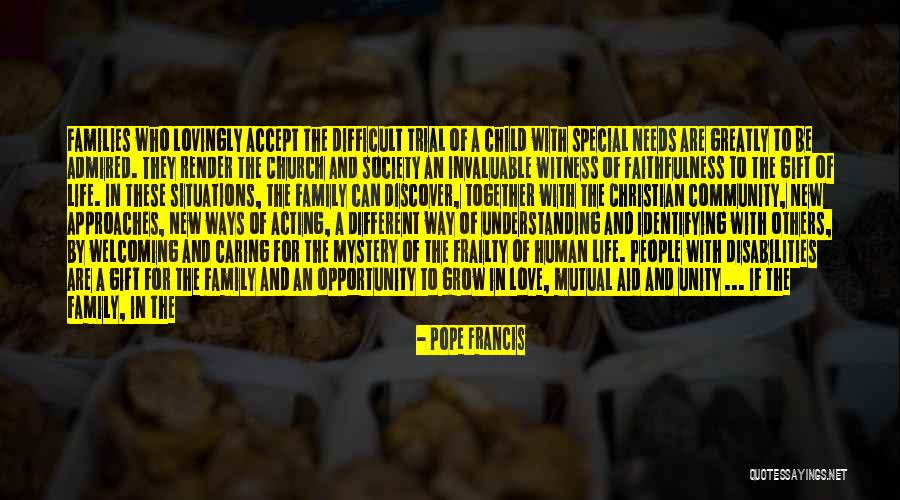 Families who lovingly accept the difficult trial of a child with special needs are greatly to be admired. They render the Church and society an invaluable witness of faithfulness to the gift of life. In these situations, the family can discover, together with the Christian community, new approaches, new ways of acting, a different way of understanding and identifying with others, by welcoming and caring for the mystery of the frailty of human life. People with disabilities are a gift for the family and an opportunity to grow in love, mutual aid and unity ... If the family, in the light of the faith, accepts the presence of persons with special needs, they will be able to recognize and ensure the quality and value of every human life, with its proper needs, rights and opportunities. — Pope Francis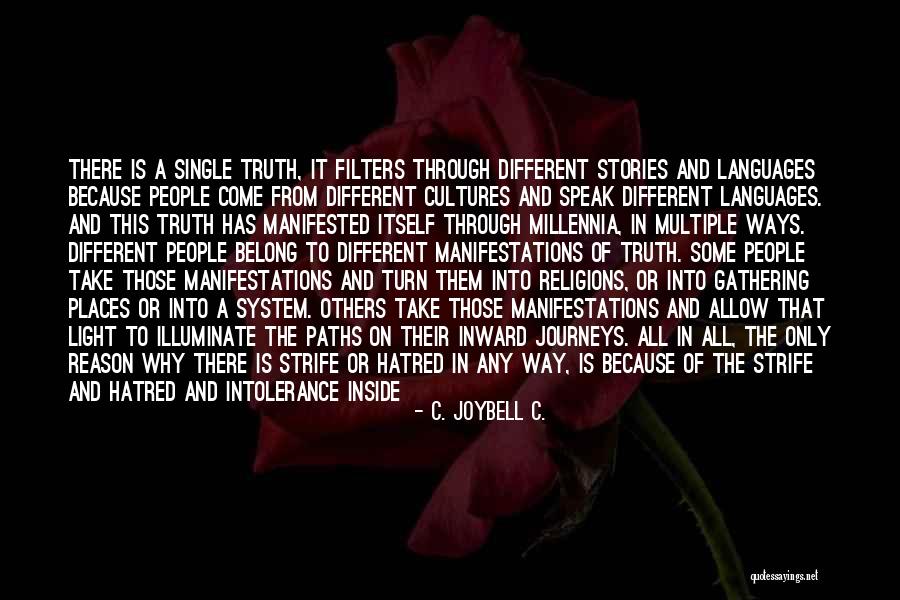 There is a single truth, it filters through different stories and languages because people come from different cultures and speak different languages. And this truth has manifested itself through millennia, in multiple ways. Different people belong to different manifestations of truth. Some people take those manifestations and turn them into religions, or into gathering places or into a system. Others take those manifestations and allow that light to illuminate the paths on their inward journeys. All in all, the only reason why there is strife or hatred in any way, is because of the strife and hatred and intolerance inside of people. Truth does not call for any division or any hatred or intolerance of any kind. In order to love one thing, this does not mean we need to put down another one. — C. JoyBell C.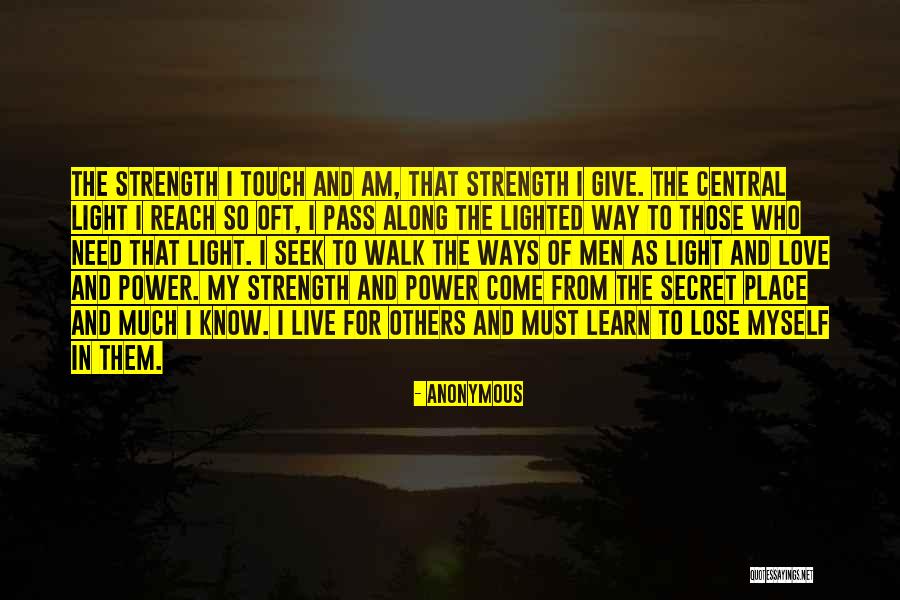 The strength I touch and am, that strength I give. The central Light I reach so oft, I pass along the lighted Way to those who need that light. I seek to walk the ways of men as light and love and power. My strength and power come from the secret place and much I know. I live for others and must learn to lose myself in them. — Anonymous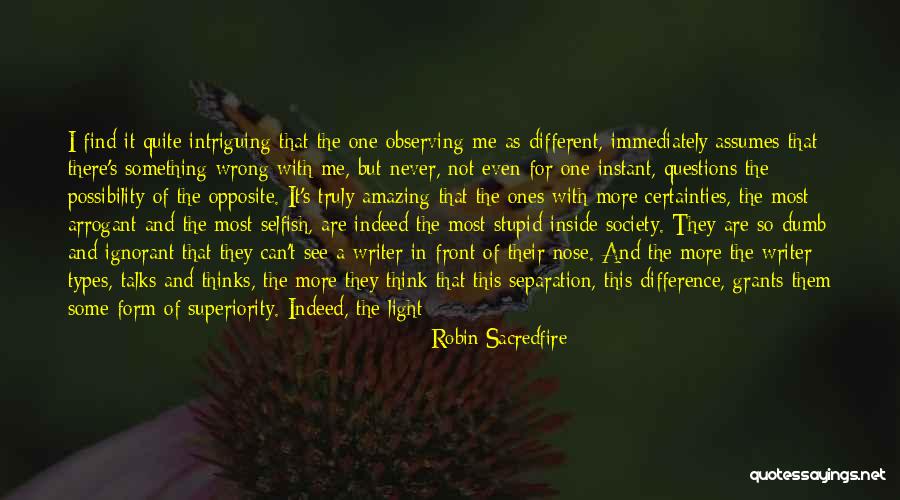 I find it quite intriguing that the one observing me as different, immediately assumes that there's something wrong with me, but never, not even for one instant, questions the possibility of the opposite. It's truly amazing that the ones with more certainties, the most arrogant and the most selfish, are indeed the most stupid inside society. They are so dumb and ignorant that they can't see a writer in front of their nose. And the more the writer types, talks and thinks, the more they think that this separation, this difference, grants them some form of superiority. Indeed, the light pushes demons into hell. The brighter your light, the faster you differentiate others. The way of the light was never meant for the weak, which are a majority. And this majority will always ignore the light, as demons fearing and hating angels. And so, it's interesting that without artists God would not have a way to reach the world. And yet, without the ignorant, Satan wouldn't have a way to stop God. — Robin Sacredfire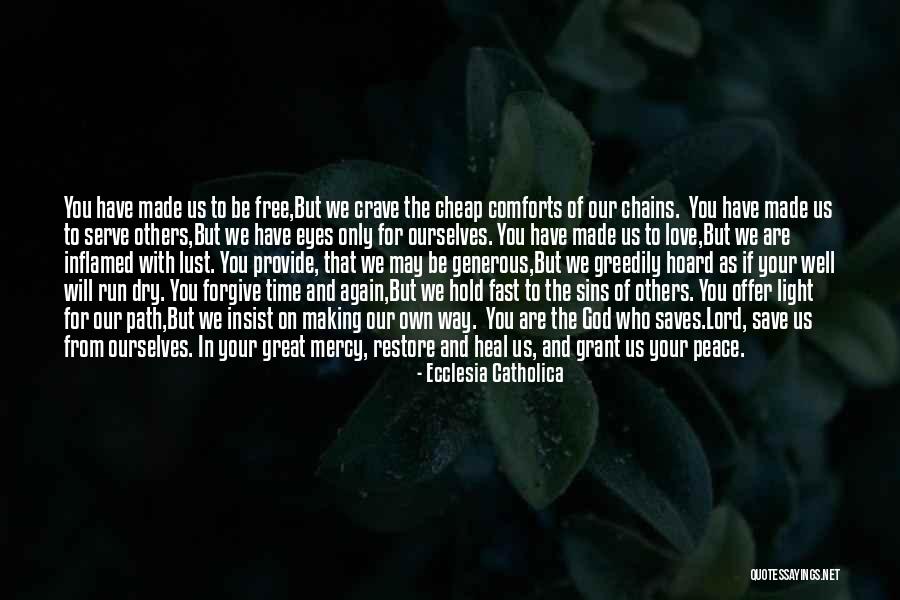 You have made us to be free,
But we crave the cheap comforts of our chains.
You have made us to serve others,
But we have eyes only for ourselves.
You have made us to love,
But we are inflamed with lust.
You provide, that we may be generous,
But we greedily hoard as if your well will run dry.
You forgive time and again,
But we hold fast to the sins of others.
You offer light for our path,
But we insist on making our own way.
You are the God who saves.
Lord, save us from ourselves. In your great mercy, restore and heal us, and grant us your peace. — Ecclesia Catholica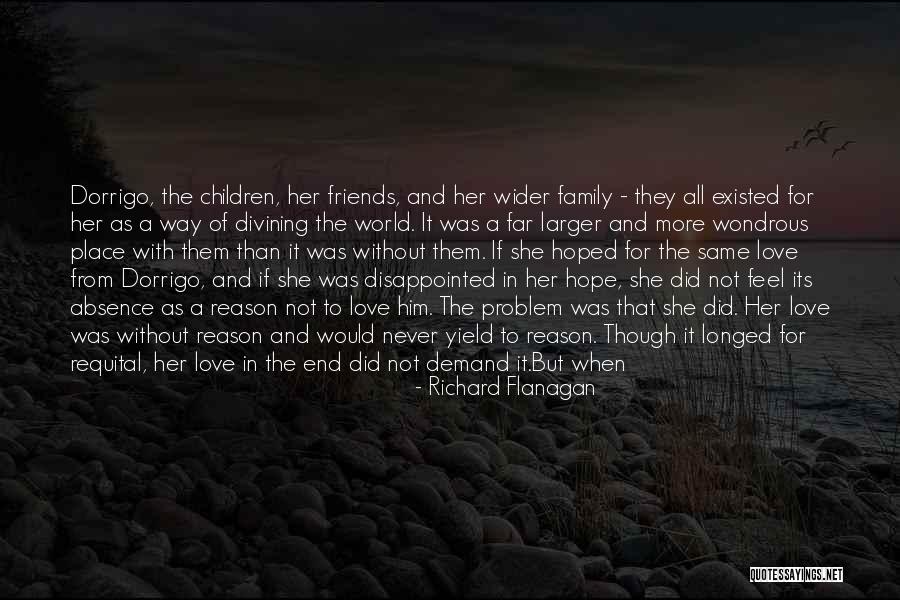 Dorrigo, the children, her friends, and her wider family - they all existed for her as a way of divining the world. It was a far larger and more wondrous place with them than it was without them. If she hoped for the same love from Dorrigo, and if she was disappointed in her hope, she did not feel its absence as a reason not to love him. The problem was that she did. Her love was without reason and would never yield to reason. Though it longed for requital, her love in the end did not demand it.
But when he was away at night, she would lie awake, unable to sleep. And she would think of him and her and feel the most overwhelming sadness. She may have been a trusting woman but she was very far from a stupid one. She repeated his words and echoed his opinions not because she was without thoughts of her own, but because her nature was one that wished to live through others. Without love, what was the world? Just objects, things, light, darkness. — Richard Flanagan
Why do some persons 'find' God in a way that others do not? Why does God manifest His Presence to some and let multitudes of others struggle along in the half-light of imperfect Christian experience? Of course the will of God is the same for all. He has no favorites within His household. All He has ever done for any of His children He will do for all of His children. The difference lies not with God but with us. — A.W. Tozer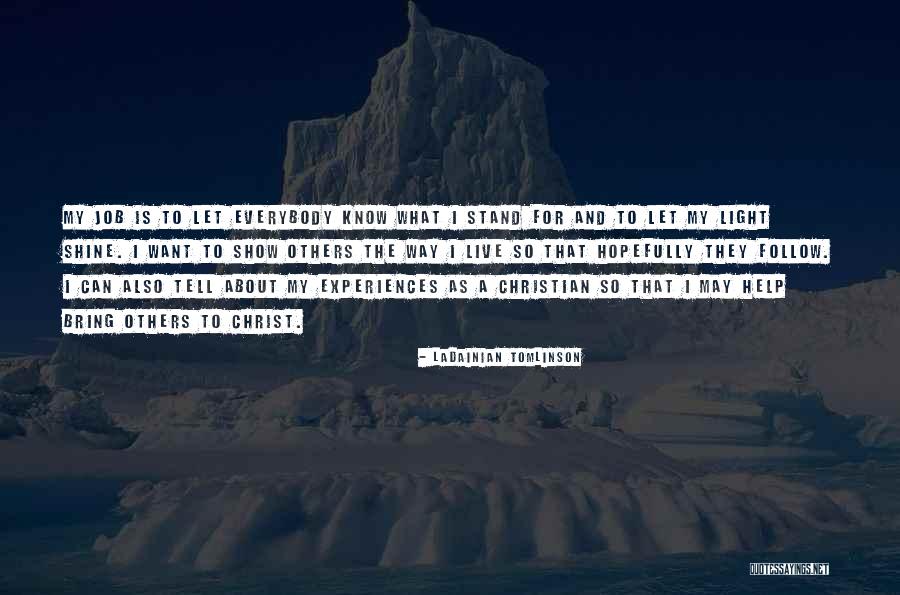 My job is to let everybody know what I stand for and to let my light shine. I want to show others the way I live so that hopefully they follow. I can also tell about my experiences as a Christian so that I may help bring others to Christ. — LaDainian Tomlinson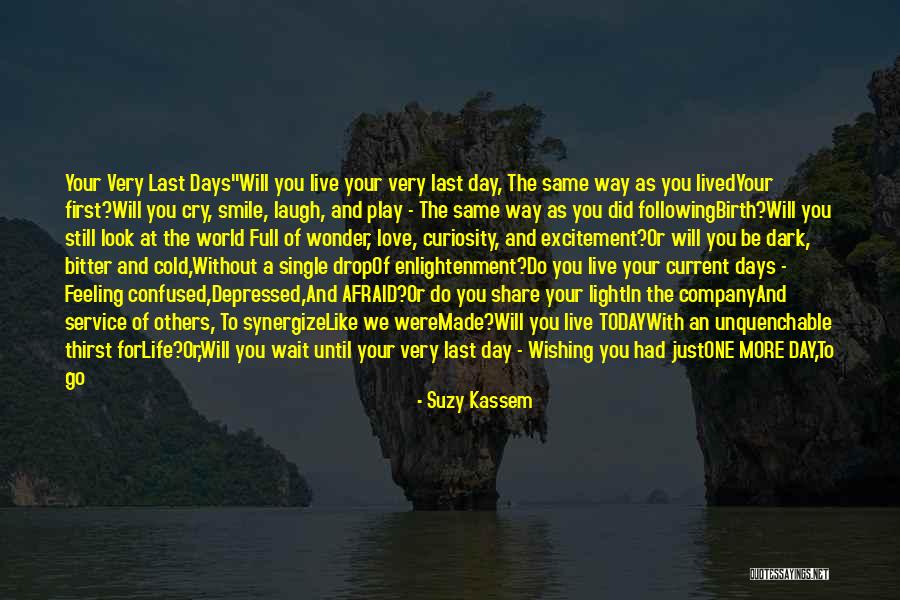 Your Very Last Days"


Will you live your very last day,
The same way as you lived
Your first?

Will you cry, smile, laugh, and play -
The same way as you did following
Birth?

Will you still look at the world
Full of wonder, love, curiosity, and excitement?
Or will you be dark, bitter and cold,
Without a single drop
Of enlightenment?

Do you live your current days -
Feeling confused,
Depressed,
And AFRAID?

Or do you share your light
In the company
And service of others,
To synergize
Like we were
Made?

Will you live TODAY
With an unquenchable thirst for
Life?

Or,
Will you wait until your very last day -

Wishing you had just
ONE MORE DAY,

To go out and spend
Your time
RIGHT? — Suzy Kassem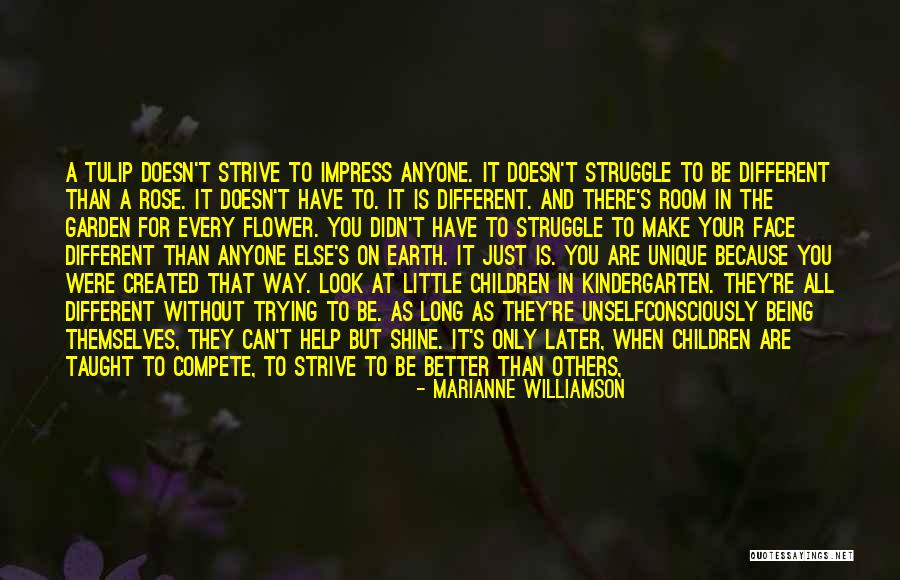 A tulip doesn't strive to impress anyone. It doesn't struggle to be different than a rose. It doesn't have to. It is different. And there's room in the garden for every flower. You didn't have to struggle to make your face different than anyone else's on earth. It just is. You are unique because you were created that way. Look at little children in kindergarten. They're all different without trying to be. As long as they're unselfconsciously being themselves, they can't help but shine. It's only later, when children are taught to compete, to strive to be better than others, that their natural light becomes distorted. — Marianne Williamson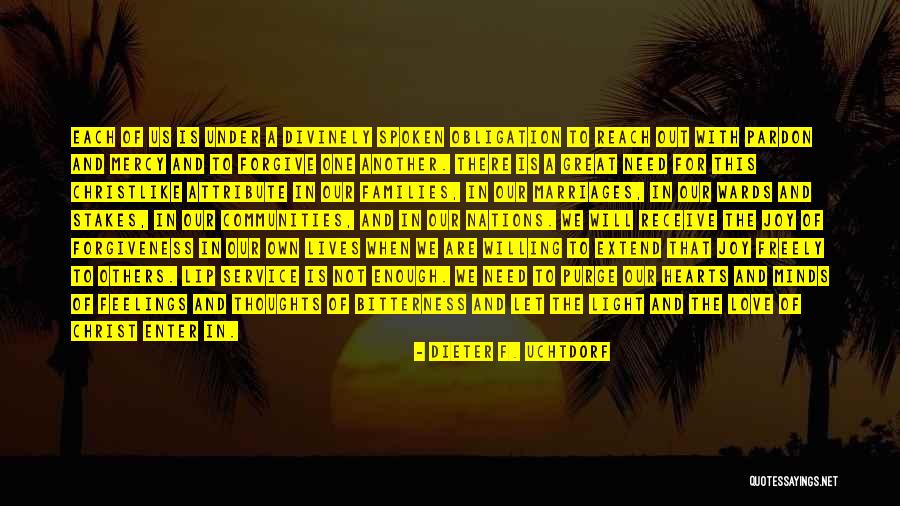 Each of us is under a divinely spoken obligation to reach out with pardon and mercy and to forgive one another. There is a great need for this Christlike attribute in our families, in our marriages, in our wards and stakes, in our communities, and in our nations.
We will receive the joy of forgiveness in our own lives when we are willing to extend that joy freely to others. Lip service is not enough. We need to purge our hearts and minds of feelings and thoughts of bitterness and let the light and the love of Christ enter in. As a result, the Spirit of the Lord will fill our souls with the joy accompanying divine peace of conscience. — Dieter F. Uchtdorf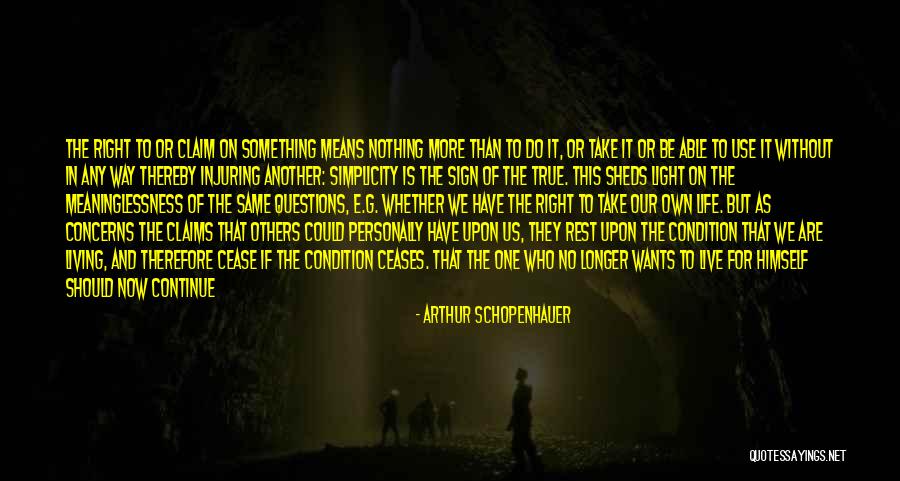 The right to or claim on something means nothing more than to do it, or take it or be able to use it without in any way thereby injuring another: simplicity is the sign of the true. This sheds light on the meaninglessness of the same questions, e.g. whether we have the right to take our own life. But as concerns the claims that others could personally have upon us, they rest upon the condition that we are living, and therefore cease if the condition ceases. That the one who no longer wants to live for himself should now continue to live merely as a machine for the use of others is an extravagant demand. — Arthur Schopenhauer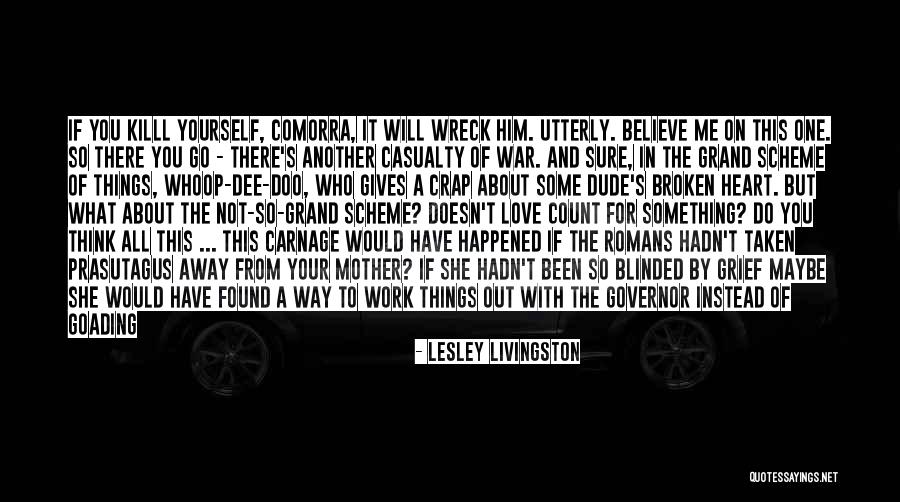 If you killl yourself, Comorra, it will wreck him. Utterly. Believe me on this one. So there you go - there's another casualty of war. And sure, in the grand scheme of things, whoop-dee-doo, who gives a crap about some dude's broken heart. But what about the not-so-grand scheme? Doesn't love count for something? Do you think all this ... this carnage would have happened if the Romans hadn't taken Prasutagus away from your mother? If she hadn't been so blinded by grief maybe she would have found a way to work things out with the governor instead of goading him to war." Clare shrugged helplessly. "I don't know. Maybe not. Maybe two people alone in the darkness can't generate enough light to drive it back. But maybe they can be a beacon for others. A candle in the window at midnight, you know? I mean, they can at least be there for each other, right? — Lesley Livingston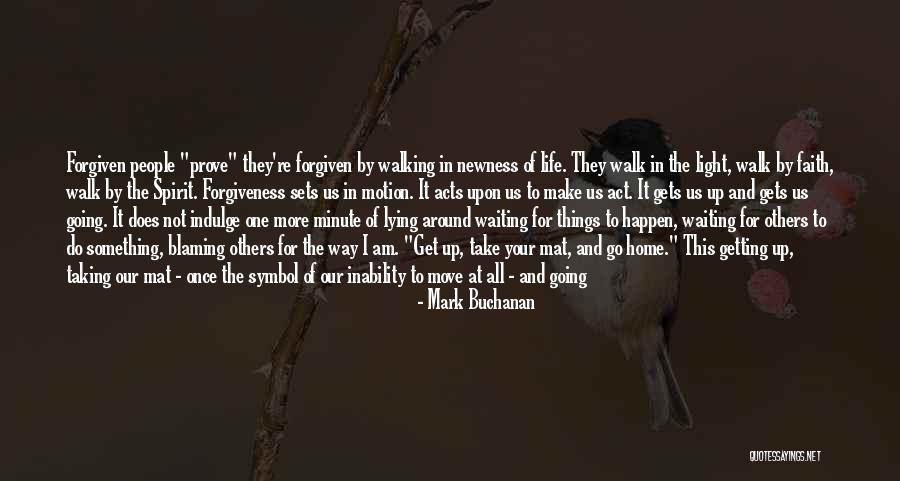 Forgiven people "prove" they're forgiven by walking in newness of life. They walk in the light, walk by faith, walk by the Spirit. Forgiveness sets us in motion. It acts upon us to make us act. It gets us up and gets us going. It does not indulge one more minute of lying around waiting for things to happen, waiting for others to do something, blaming others for the way I am. "Get up, take your mat, and go home." This getting up, taking our mat - once the symbol of our inability to move at all - and going home in full view of everyone is what every forgiven man and woman is supposed to do every day. When we're new creations, we act like it. — Mark Buchanan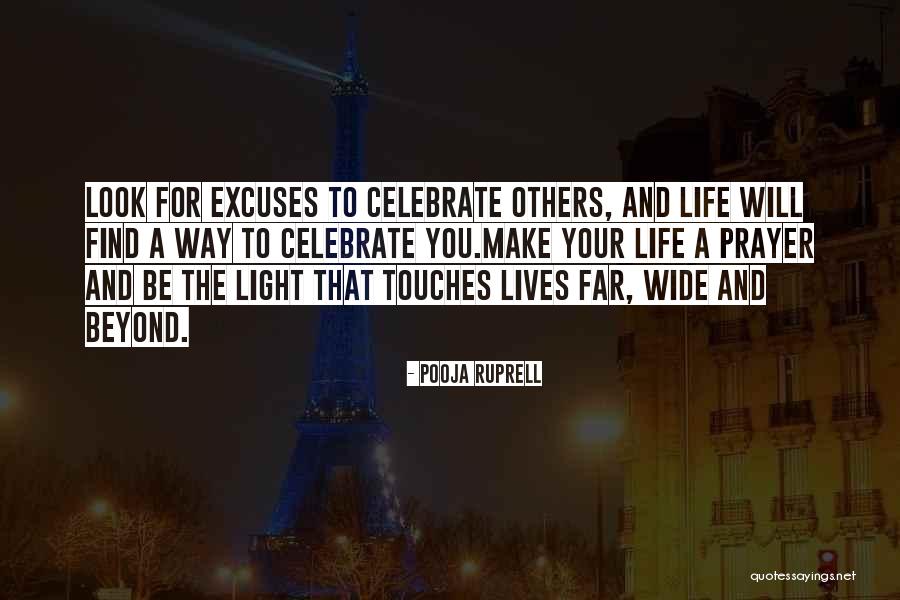 Look for excuses to celebrate others, and life will find a way to celebrate you.
Make your life a prayer and be the light that touches lives far, wide and beyond. — Pooja Ruprell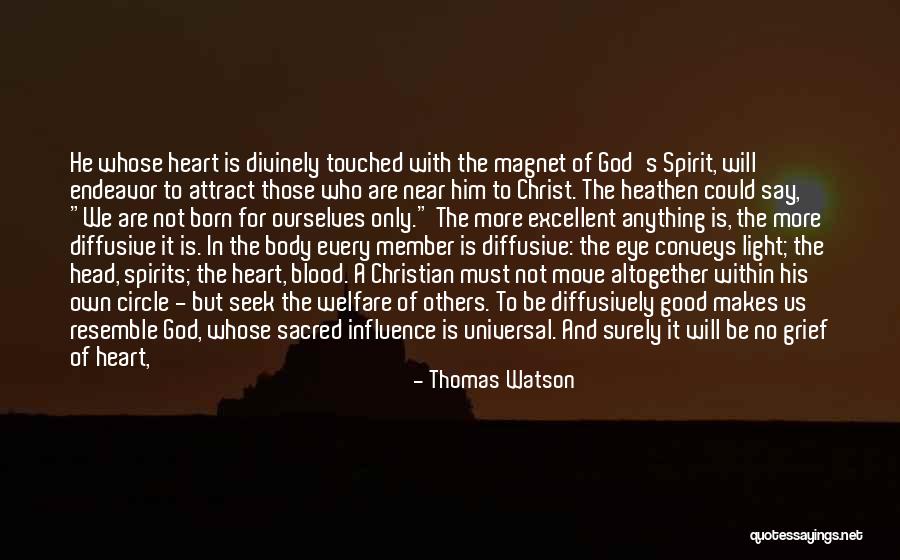 He whose heart is divinely touched with the magnet of God's Spirit, will endeavor to attract those who are near him to Christ. The heathen could say, "We are not born for ourselves only." The more excellent anything is, the more diffusive it is. In the body every member is diffusive: the eye conveys light; the head, spirits; the heart, blood. A Christian must not move altogether within his own circle - but seek the welfare of others. To be diffusively good makes us resemble God, whose sacred influence is universal. And surely it will be no grief of heart, when conscience can witness for us that we have brought glory to God in this matter by working to fill heaven. Not that this is in any way meritorious, or has any causal influence on our salvation. Christ's blood is the sole cause - but our promoting God's glory in the conversion of others is a signal evidence of our salvation. — Thomas Watson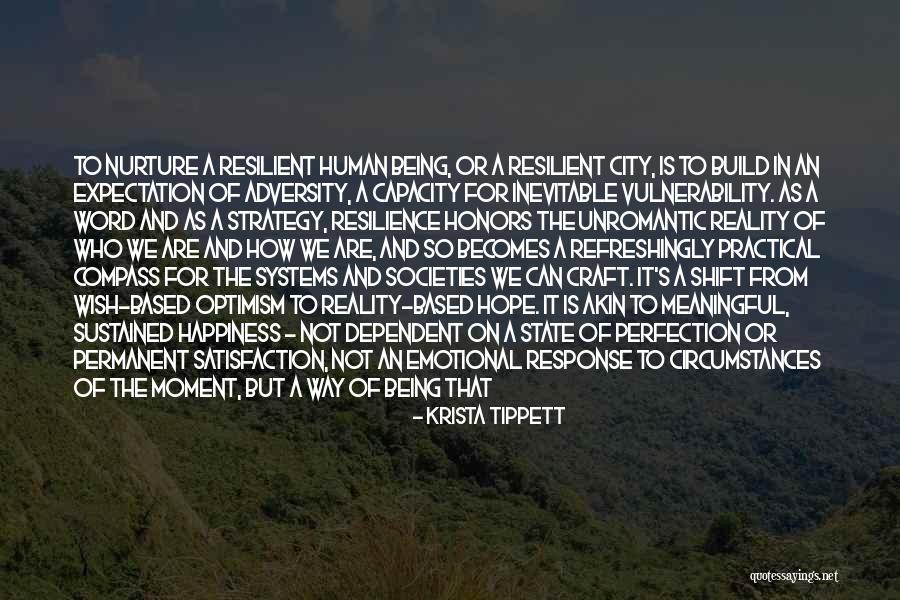 To nurture a resilient human being, or a resilient city, is to build in an expectation of adversity, a capacity for inevitable vulnerability. As a word and as a strategy, resilience honors the unromantic reality of who we are and how we are, and so becomes a refreshingly practical compass for the systems and societies we can craft. It's a shift from wish-based optimism to reality-based hope. It is akin to meaningful, sustained happiness - not dependent on a state of perfection or permanent satisfaction, not an emotional response to circumstances of the moment, but a way of being that can meet the range of emotions and experiences, light and dark, that add up to a life. Resilience is at once proactive, pragmatic, and humble. It knows it needs others. It doesn't overcome failure so much as transmute it, integrating it into the reality that evolves. Such — Krista Tippett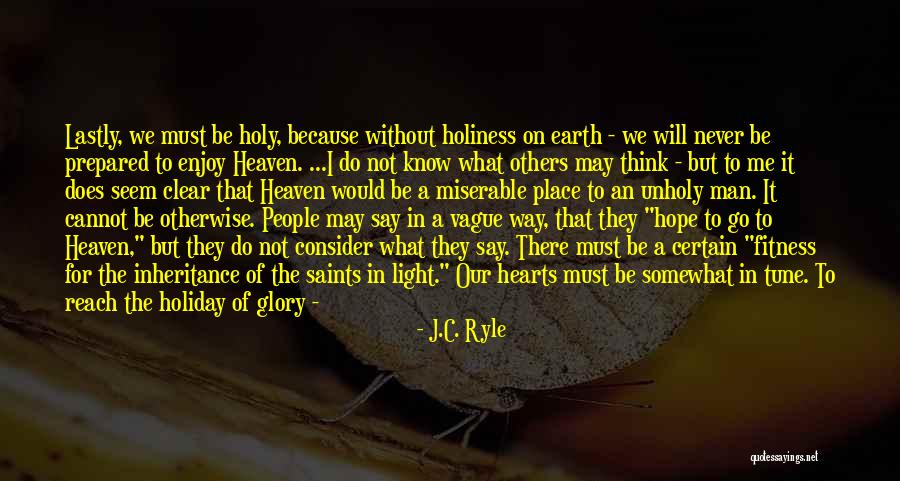 Lastly, we must be holy, because without holiness on earth - we will never be prepared to enjoy Heaven. ...I do not know what others may think - but to me it does seem clear that Heaven would be a miserable place to an unholy man. It cannot be otherwise. People may say in a vague way, that they "hope to go to Heaven," but they do not consider what they say. There must be a certain "fitness for the inheritance of the saints in light." Our hearts must be somewhat in tune. To reach the holiday of glory - we must pass through the training school of grace. We must be heavenly-minded and have heavenly tastes in the present life - or else we will never find ourselves in Heaven in the life to come! (Holiness) — J.C. Ryle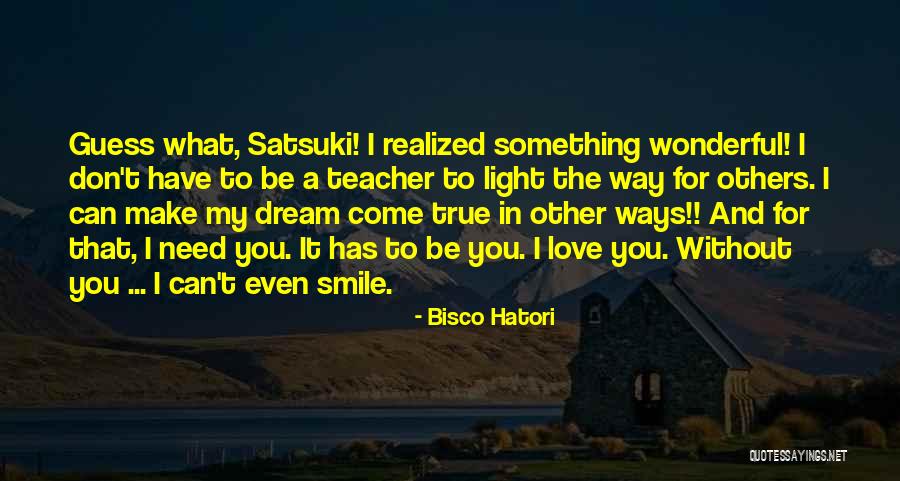 Guess what, Satsuki! I realized something wonderful!
I don't have to be a teacher to light the way for others. I can make my dream come true in other ways!! And for that, I need you. It has to be you. I love you. Without you ... I can't even smile. — Bisco Hatori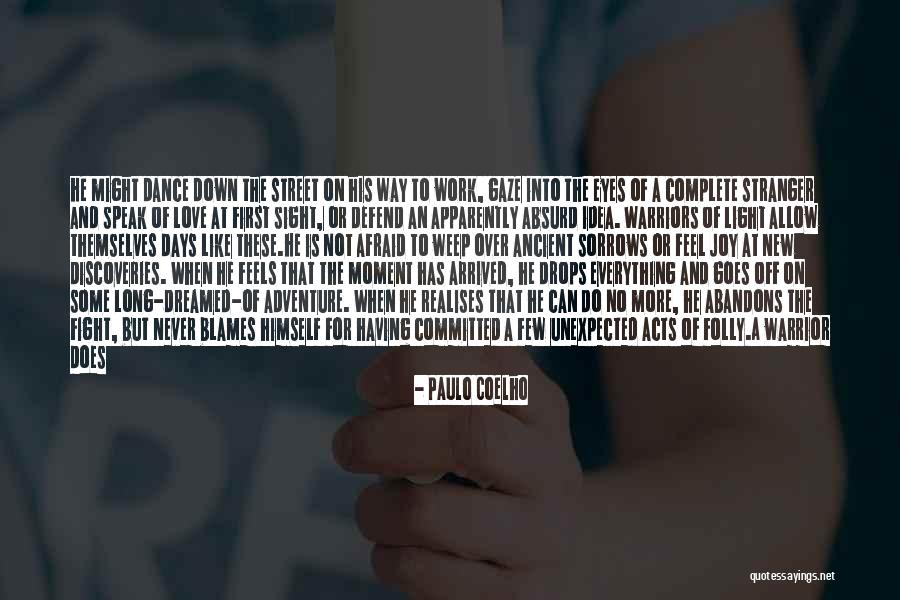 He might dance down the street on his way to work, gaze into the eyes of a complete stranger and speak of love at first sight, or defend an apparently absurd idea. Warriors of light allow themselves days like these.
He is not afraid to weep over ancient sorrows or feel joy at new discoveries. When he feels that the moment has arrived, he drops everything and goes off on some long-dreamed-of adventure. When he realises that he can do no more, he abandons the fight, but never blames himself for having committed a few unexpected acts of folly.
A warrior does not spend his days trying to play the role that others have chosen for him. — Paulo Coelho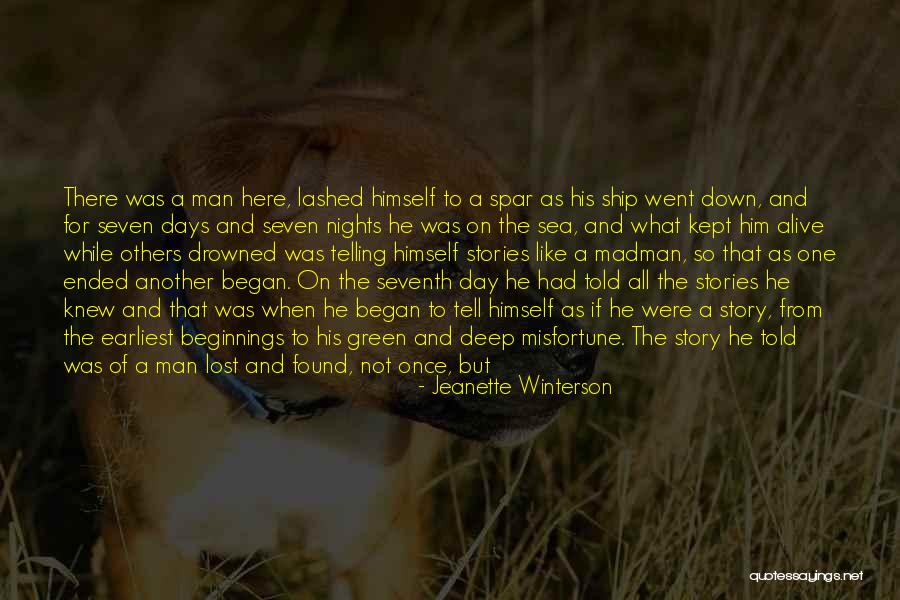 There was a man here, lashed himself to a spar as his ship went down, and for seven days and seven nights he was on the sea, and what kept him alive while others drowned was telling himself stories like a madman, so that as one ended another began. On the seventh day he had told all the stories he knew and that was when he began to tell himself as if he were a story, from the earliest beginnings to his green and deep misfortune. The story he told was of a man lost and found, not once, but many times, as he choked his way out of the waves. And the night fell, he saw the Cape Wrath light, only lit a week it was, but it was, and he knew that if he became the story of the light, he might be saved. With his last strength he began to paddle towards it, arms on either side of the spar, and in his mind the light became a shining rope, pulling him in. He took hold of it, tied it round his waist, and at that moment, the keeper saw him, and ran for the rescue boat. — Jeanette Winterson
Just Walking Around"

What name do I have for you?
Certainly there is no name for you
In the sense that the stars have names
That somehow fit them. Just walking around,
An object of curiosity to some,
But you are too preoccupied
By the secret smudge in the back of your soul
To say much and wander around,
Smiling to yourself and others.
It gets to be kind of lonely
But at the same time off-putting.
Counterproductive, as you realize once again
That the longest way is the most efficient way,
The one that looped among islands, and
You always seemed to be traveling in a circle.
And now that the end is near
The segments of the trip swing open like an orange.
There is light in there and mystery and food.
Come see it.
Come not for me but it.
But if I am still there, grant that we may see each other. — John Ashbery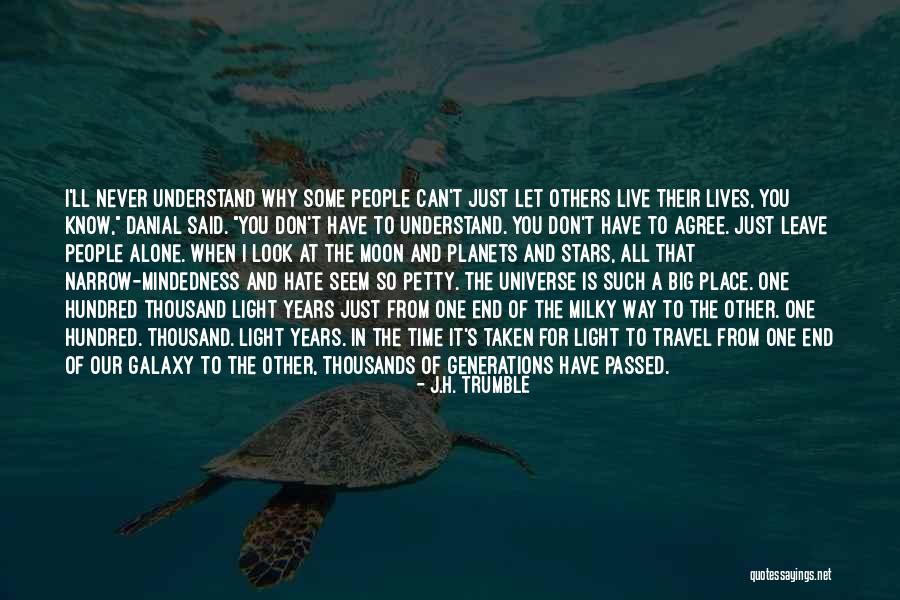 I'll never understand why some people can't just let others live their lives, you know," Danial said. "You don't have to understand. You don't have to agree. Just leave people alone. When I look at the moon and planets and stars, all that narrow-mindedness and hate seem so petty. The universe is such a big place. One hundred thousand light years just from one end of the Milky Way to the other. One hundred. Thousand. Light years. In the time it's taken for light to travel from one end of our galaxy to the other, thousands of generations have passed. It really makes you realize how small we are, doesn't it? How short our time on earth is. — J.H. Trumble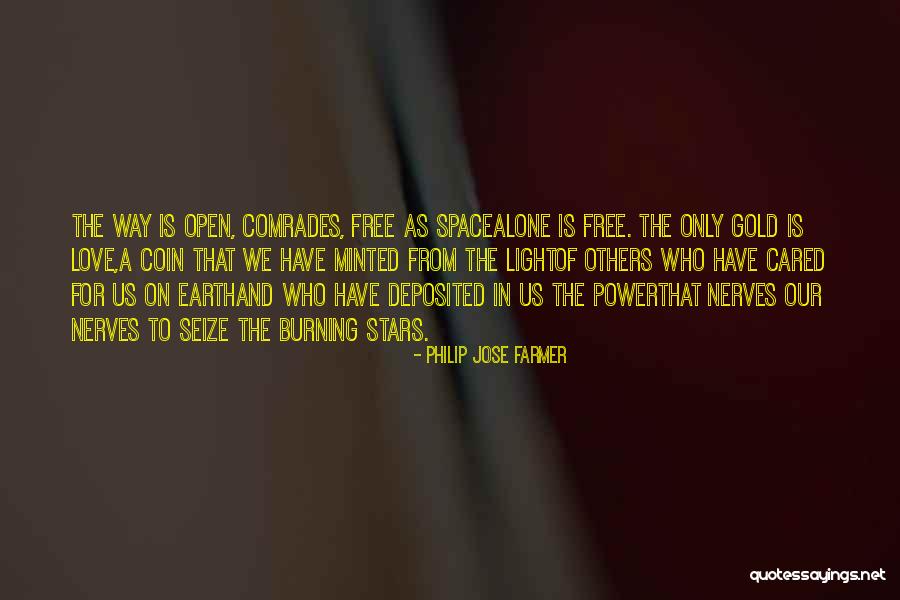 The way is open, comrades, free as Space
Alone is free. The only gold is love,
A coin that we have minted from the light
Of others who have cared for us on Earth
And who have deposited in us the power
That nerves our nerves to seize the burning stars. — Philip Jose Farmer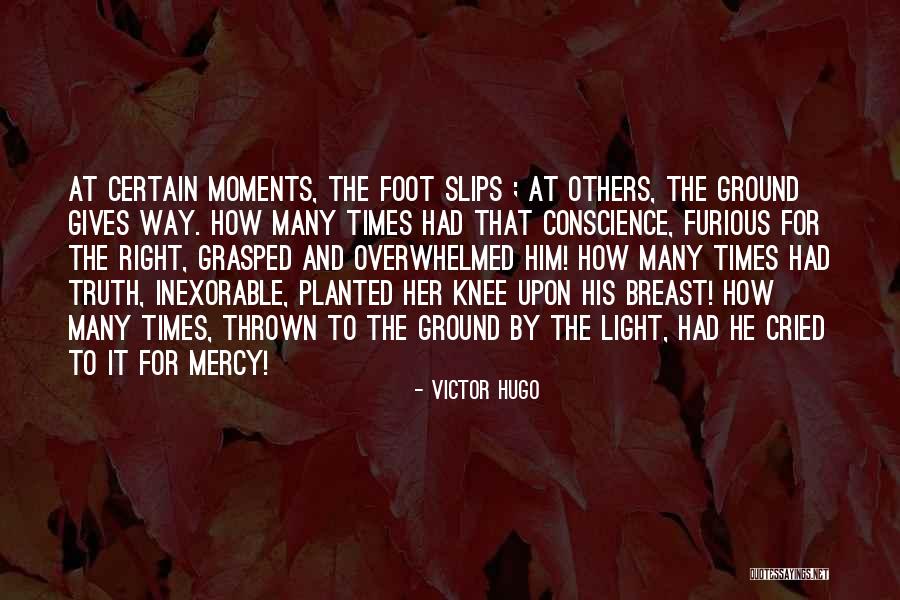 At certain moments, the foot slips ; at others, the ground gives way. How many times had that conscience, furious for the right, grasped and overwhelmed him! How many times had truth, inexorable, planted her knee upon his breast! How many times, thrown to the ground by the light, had he cried to it for mercy! — Victor Hugo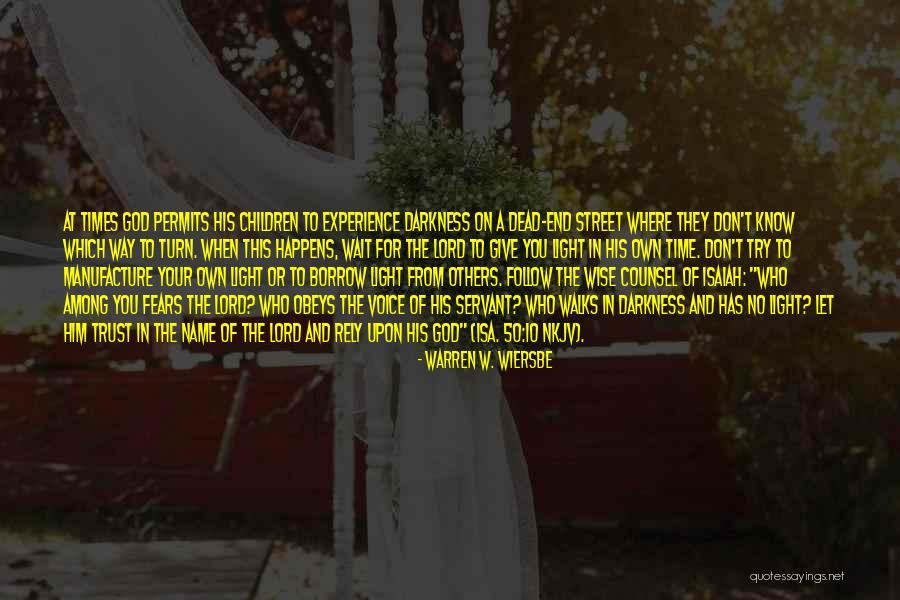 At times God permits His children to experience darkness on a dead-end street where they don't know which way to turn. When this happens, wait for the Lord to give you light in His own time. Don't try to manufacture your own light or to borrow light from others. Follow the wise counsel of Isaiah: "Who among you fears the LORD? Who obeys the voice of His Servant? Who walks in darkness and has no light? Let him trust in the name of the LORD and rely upon his God" (Isa. 50:10 NKJV). — Warren W. Wiersbe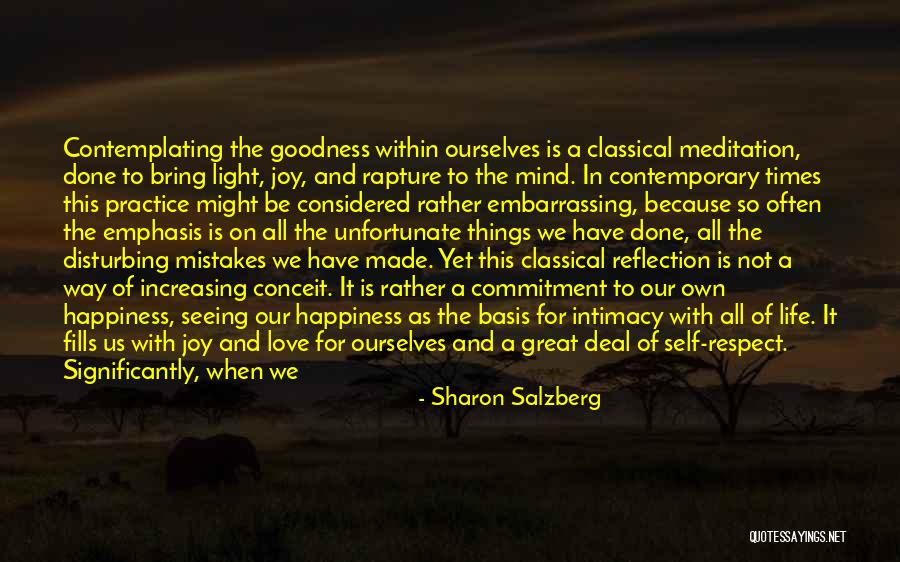 Contemplating the goodness within ourselves is a classical meditation, done to bring light, joy, and rapture to the mind. In contemporary times this practice might be considered rather embarrassing, because so often the emphasis is on all the unfortunate things we have done, all the disturbing mistakes we have made. Yet this classical reflection is not a way of increasing conceit. It is rather a commitment to our own happiness, seeing our happiness as the basis for intimacy with all of life. It fills us with joy and love for ourselves and a great deal of self-respect. Significantly, when we do metta practice, we begin by directing metta toward ourselves. This is the essential foundation for being able to offer genuine love to others — Sharon Salzberg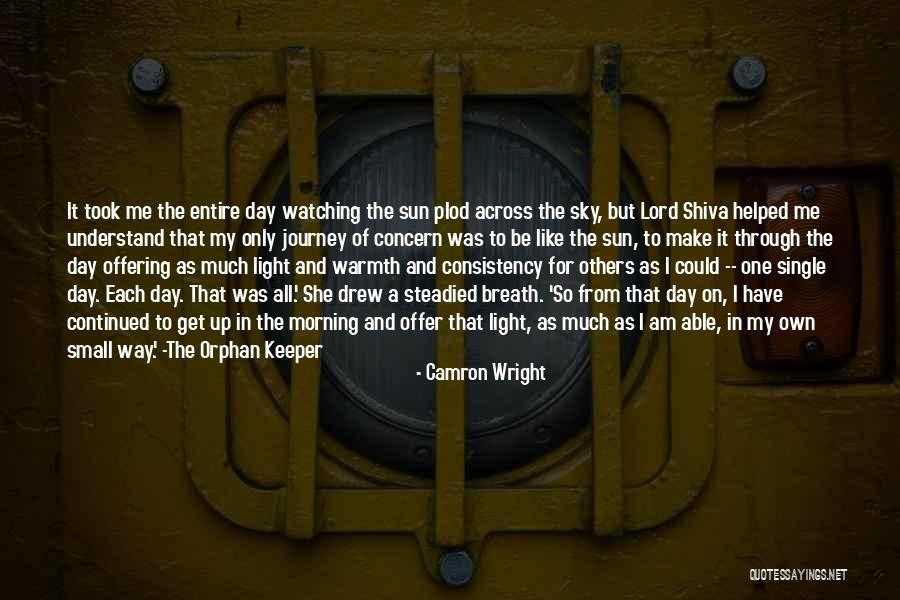 It took me the entire day watching the sun plod across the sky, but Lord Shiva helped me understand that my only journey of concern was to be like the sun, to make it through the day offering as much light and warmth and consistency for others as I could -- one single day. Each day. That was all.' She drew a steadied breath. 'So from that day on, I have continued to get up in the morning and offer that light, as much as I am able, in my own small way.' -The Orphan Keeper — Camron Wright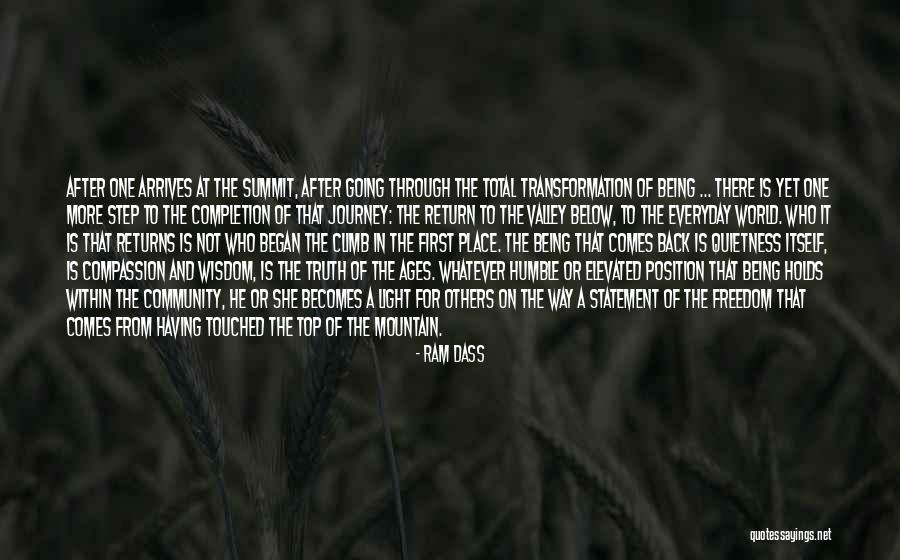 After one arrives at the summit, after going through the total transformation of being ... there is yet one more step to the completion of that journey: the return to the valley below, to the everyday world. Who it is that returns is not who began the climb in the first place. The being that comes back is quietness itself, is compassion and wisdom, is the truth of the ages. Whatever humble or elevated position that being holds within the community, he or she becomes a light for others on the way a statement of the freedom that comes from having touched the top of the mountain. — Ram Dass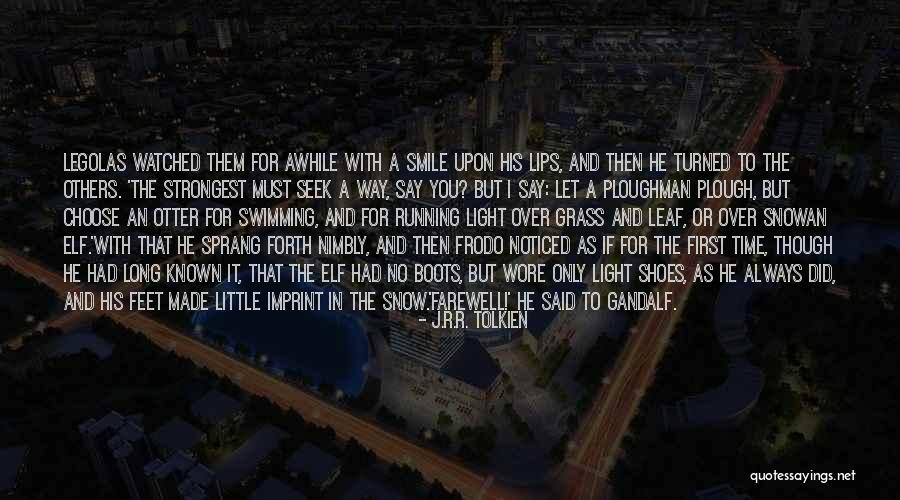 Legolas watched them for awhile with a smile upon his lips, and then he turned to the others. 'The strongest must seek a way, say you? But I say: let a ploughman plough, but choose an otter for swimming, and for running light over grass and leaf, or over snow
an Elf.'
With that he sprang forth nimbly, and then Frodo noticed as if for the first time, though he had long known it, that the Elf had no boots, but wore only light shoes, as he always did, and his feet made little imprint in the snow.
'Farewell!' he said to Gandalf. 'I go to find the Sun!' Then swift as a runner over firm sand he shot away, and quickly overtaking the toiling men, with a wave of his hand he passed them, and sped into the distance, and vanished round the rocky turn. — J.R.R. Tolkien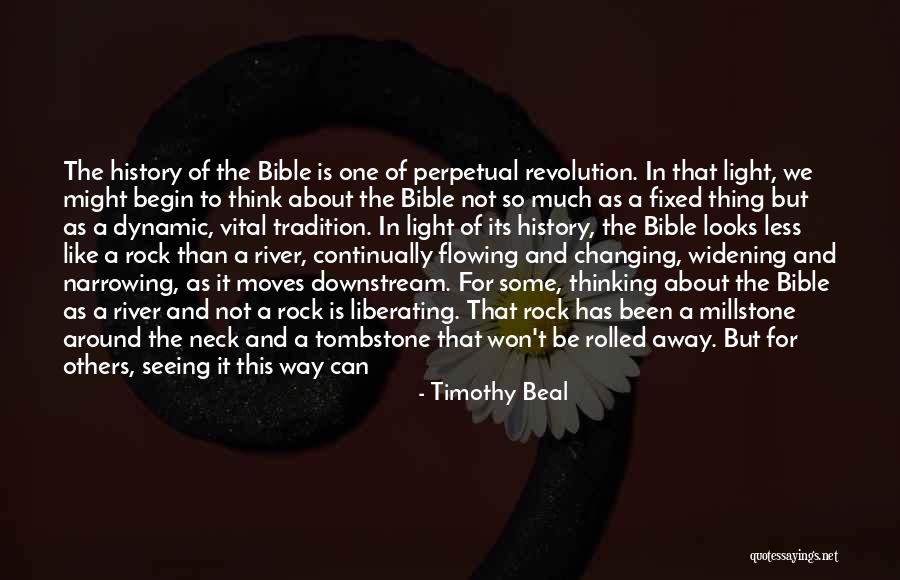 The history of the Bible is one of perpetual revolution. In that light, we might begin to think about the Bible not so much as a fixed thing but as a dynamic, vital tradition. In light of its history, the Bible looks less like a rock than a river, continually flowing and changing, widening and narrowing, as it moves downstream.

For some, thinking about the Bible as a river and not a rock is liberating. That rock has been a millstone around the neck and a tombstone that won't be rolled away. But for others, seeing it this way can be disorienting. That rock has promised solid foundation in a stormy world. Cling to it or be swept away. — Timothy Beal