Life Is Like Photography Quotes & Sayings
Enjoy reading and share 32 famous quotes about Life Is Like Photography with everyone.
Top Life Is Like Photography Quotes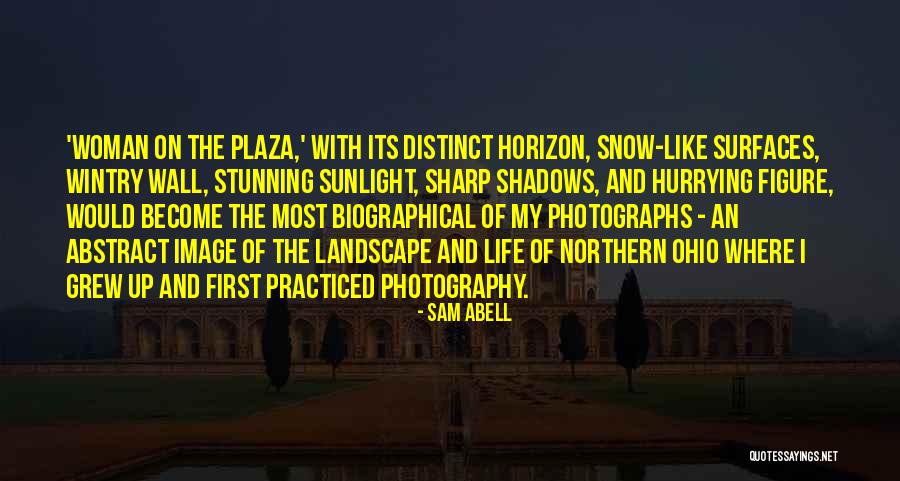 'Woman on the Plaza,' with its distinct horizon, snow-like surfaces, wintry wall, stunning sunlight, sharp shadows, and hurrying figure, would become the most biographical of my photographs - an abstract image of the landscape and life of northern Ohio where I grew up and first practiced photography. — Sam Abell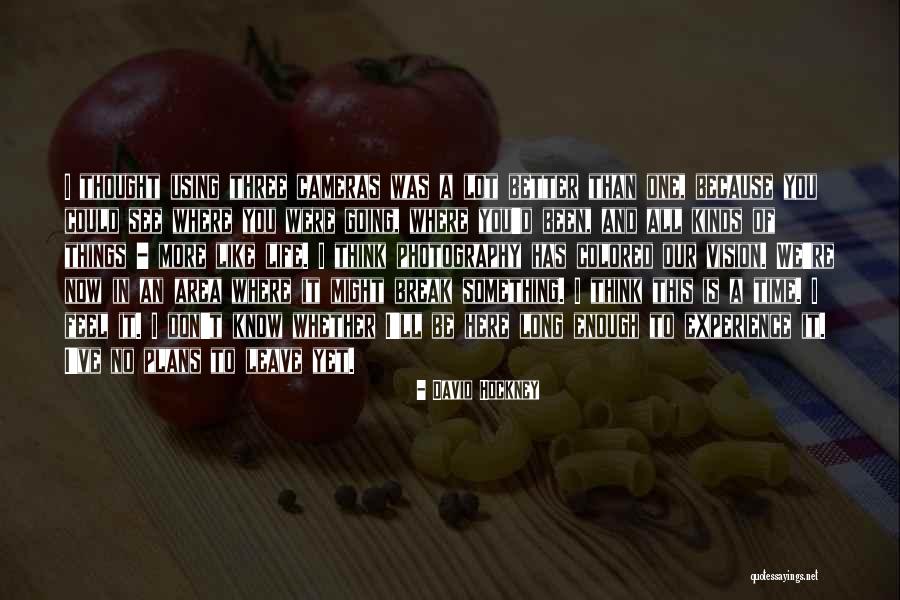 I thought using three cameras was a lot better than one, because you could see where you were going, where you'd been, and all kinds of things - more like life. I think photography has colored our vision. We're now in an area where it might break something. I think this is a time. I feel it. I don't know whether I'll be here long enough to experience it. I've no plans to leave yet. — David Hockney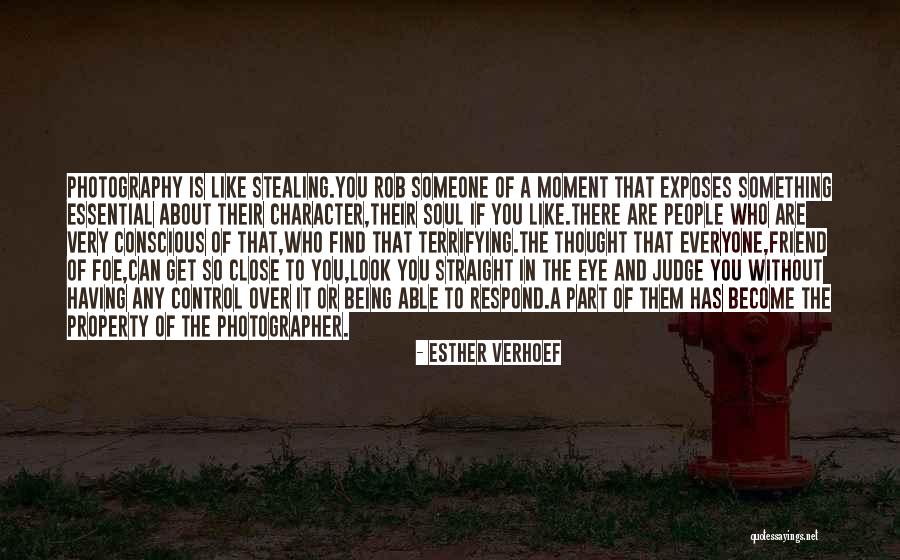 Photography is like stealing.You rob someone of a moment that exposes something essential about their character,their soul if you like.there are people who are very conscious of that,who find that terrifying.The thought that everyone,friend of foe,can get so close to you,look you straight in the eye and judge you without having any control over it or being able to respond.A part of them has become the property of the photographer. — Esther Verhoef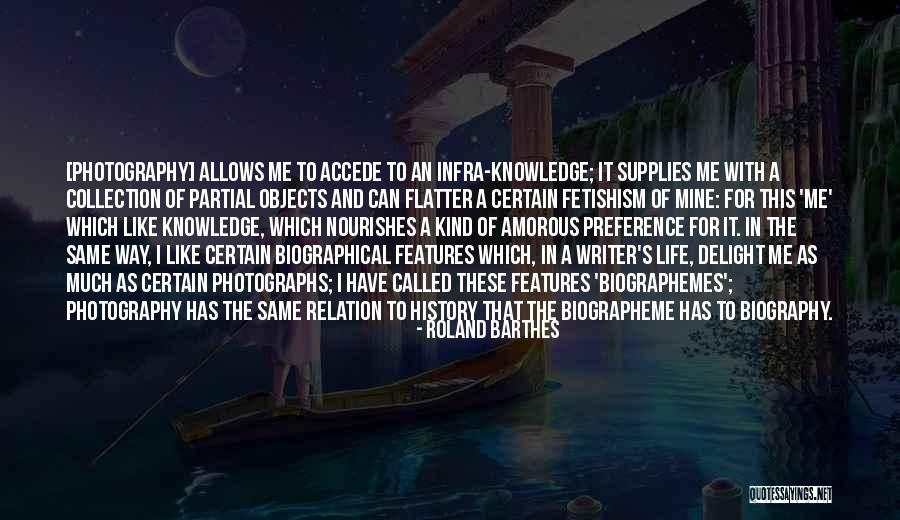 [Photography] allows me to accede to an infra-knowledge; it supplies me with a collection of partial objects and can flatter a certain fetishism of mine: for this 'me' which like knowledge, which nourishes a kind of amorous preference for it. In the same way, I like certain biographical features which, in a writer's life, delight me as much as certain photographs; I have called these features 'biographemes'; Photography has the same relation to History that the biographeme has to biography. — Roland Barthes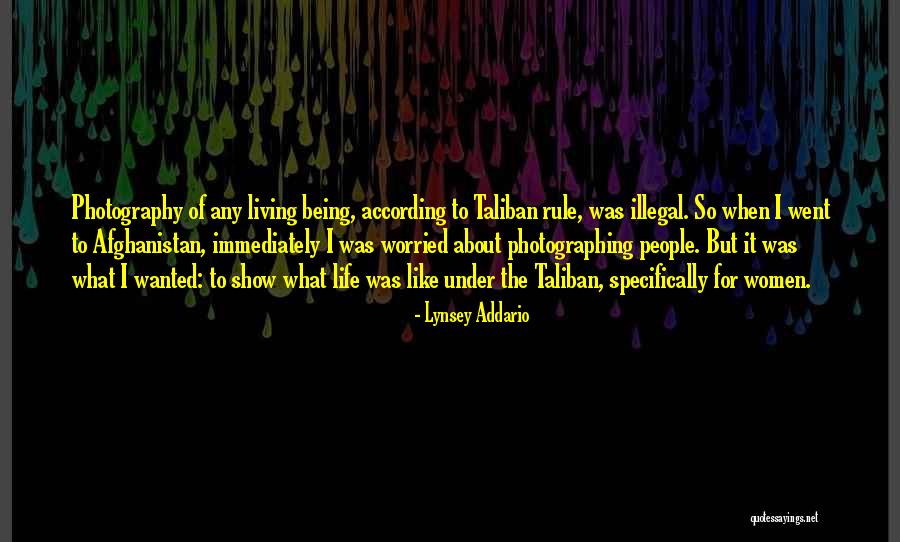 Photography of any living being, according to Taliban rule, was illegal. So when I went to Afghanistan, immediately I was worried about photographing people. But it was what I wanted: to show what life was like under the Taliban, specifically for women. — Lynsey Addario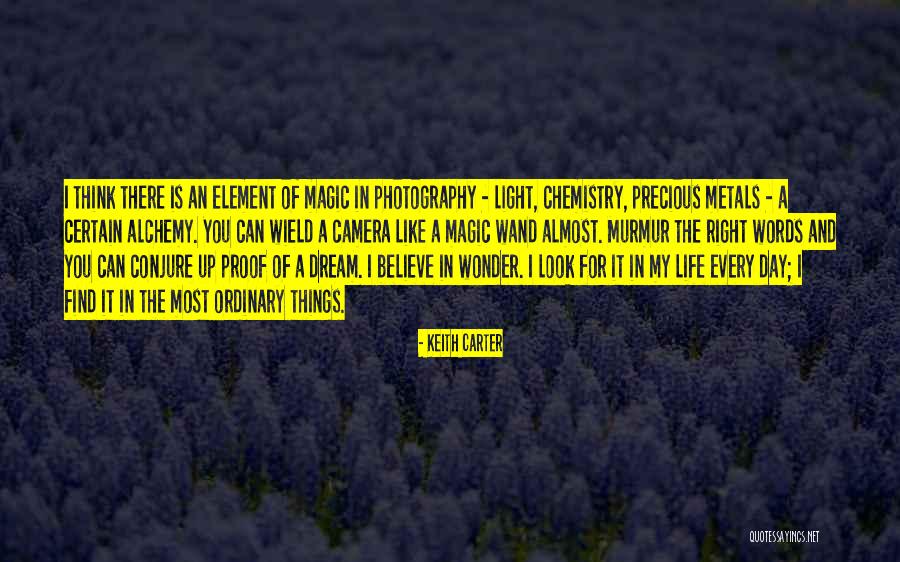 I think there is an element of magic in photography - light, chemistry, precious metals - a certain alchemy. You can wield a camera like a magic wand almost. Murmur the right words and you can conjure up proof of a dream. I believe in wonder. I look for it in my life every day; I find it in the most ordinary things. — Keith Carter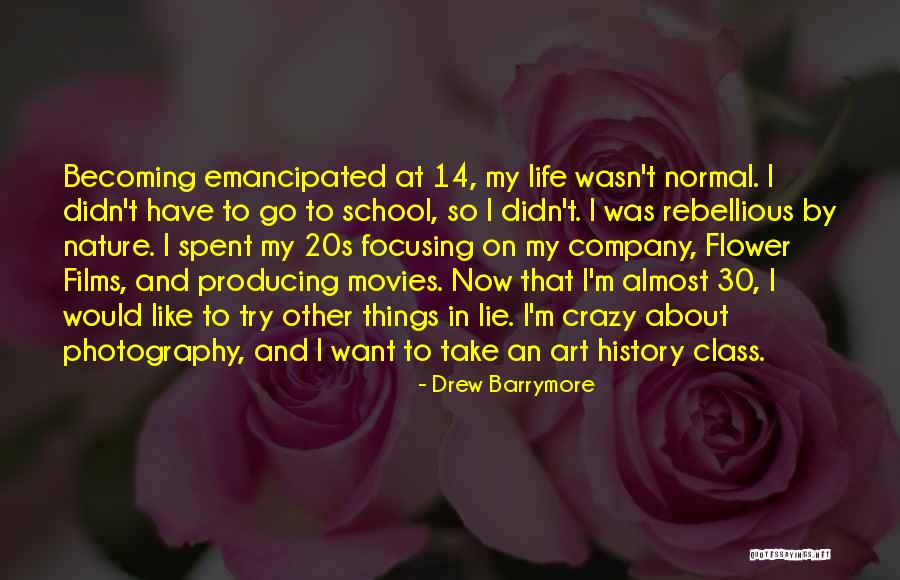 Becoming emancipated at 14, my life wasn't normal. I didn't have to go to school, so I didn't. I was rebellious by nature. I spent my 20s focusing on my company, Flower Films, and producing movies. Now that I'm almost 30, I would like to try other things in lie. I'm crazy about photography, and I want to take an art history class. — Drew Barrymore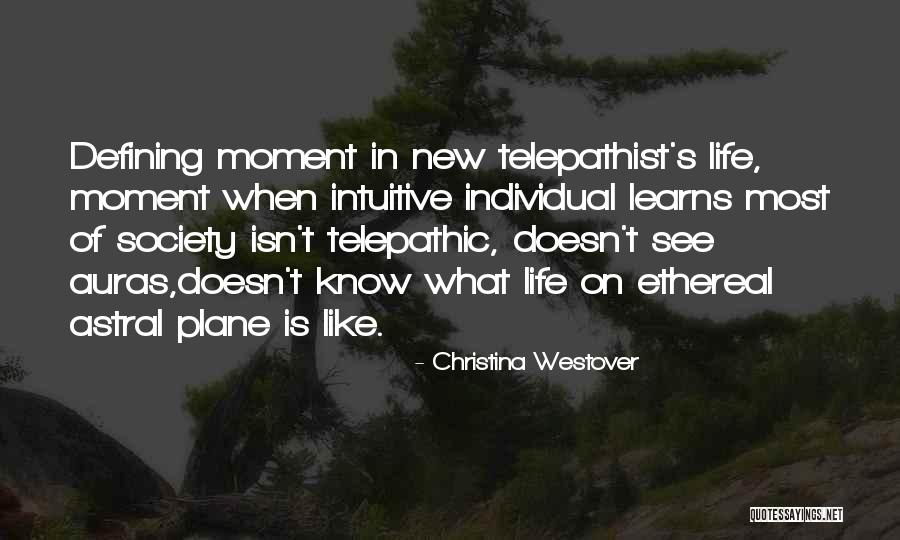 Defining moment in new telepathist's life, moment when intuitive individual learns most of society isn't telepathic, doesn't see auras,doesn't know what life on ethereal astral plane is like. — Christina Westover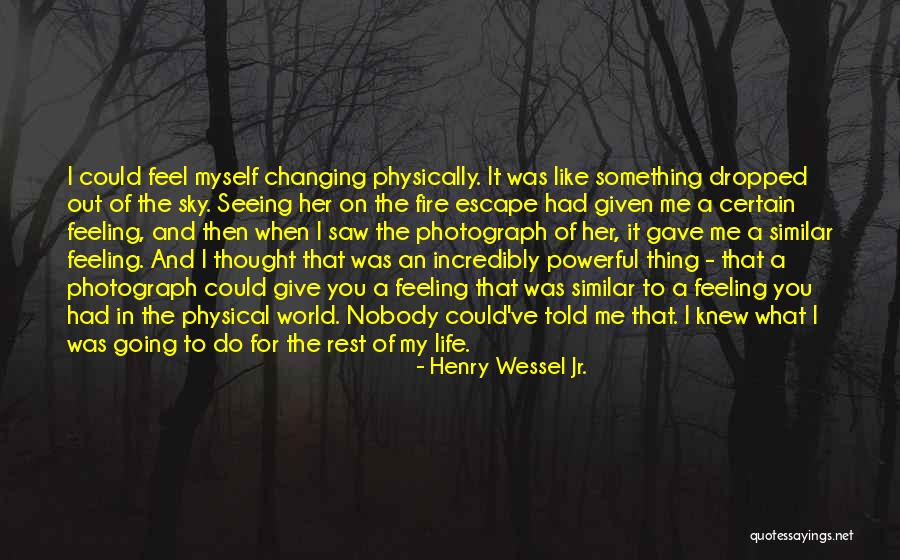 I could feel myself changing physically. It was like something dropped out of the sky. Seeing her on the fire escape had given me a certain feeling, and then when I saw the photograph of her, it gave me a similar feeling. And I thought that was an incredibly powerful thing - that a photograph could give you a feeling that was similar to a feeling you had in the physical world. Nobody could've told me that. I knew what I was going to do for the rest of my life. — Henry Wessel Jr.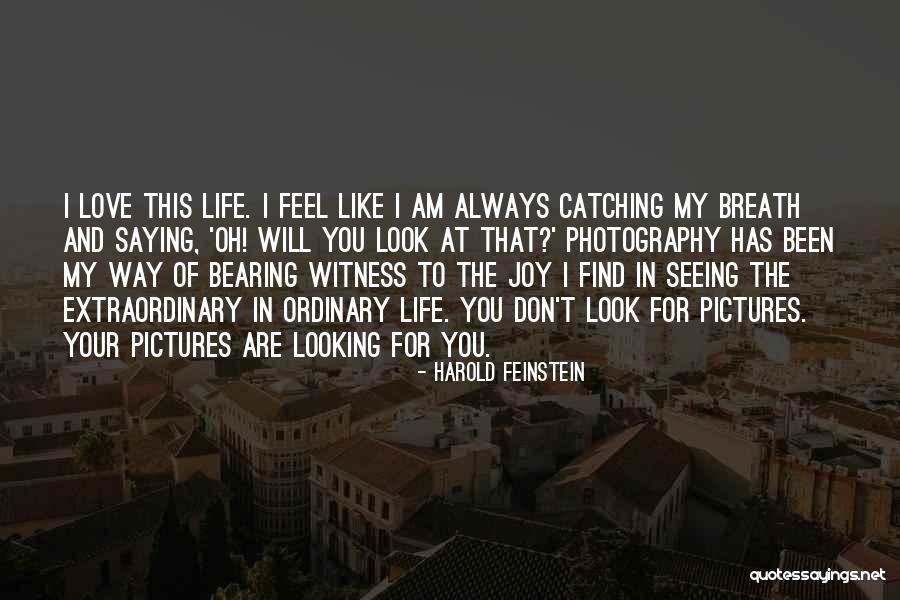 I love this life. I feel like I am always catching my breath and saying, 'Oh! Will you look at that?' Photography has been my way of bearing witness to the joy I find in seeing the extraordinary in ordinary life. You don't look for pictures. Your pictures are looking for you. — Harold Feinstein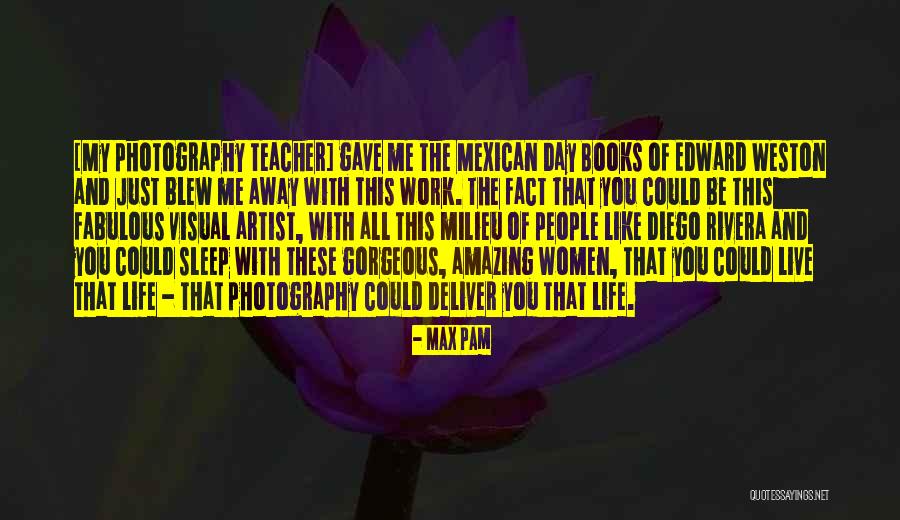 [My photography teacher] gave me the Mexican Day Books of Edward Weston and just blew me away with this work. The fact that you could be this fabulous visual artist, with all this milieu of people like Diego Rivera and you could sleep with these gorgeous, amazing women, that you could live that life - that photography could deliver you that life. — Max Pam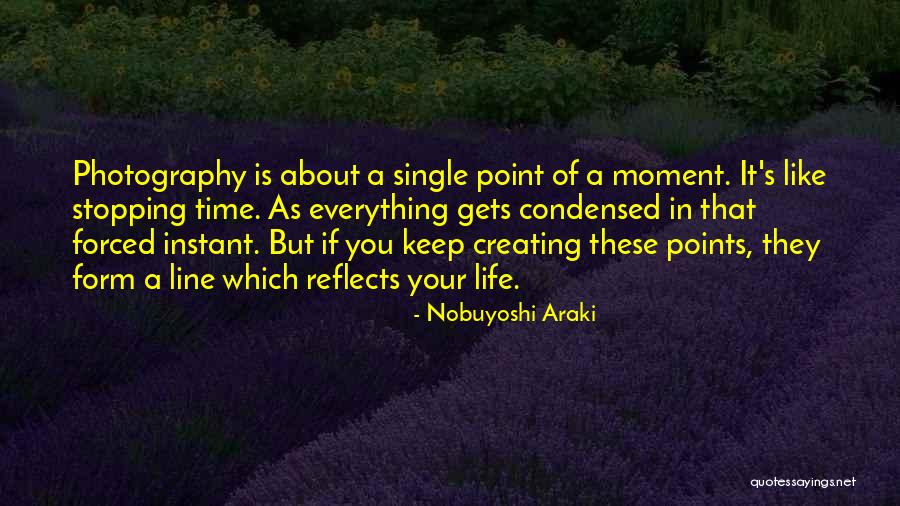 Photography is about a single point of a moment. It's like stopping time. As everything gets condensed in that forced instant. But if you keep creating these points, they form a line which reflects your life. — Nobuyoshi Araki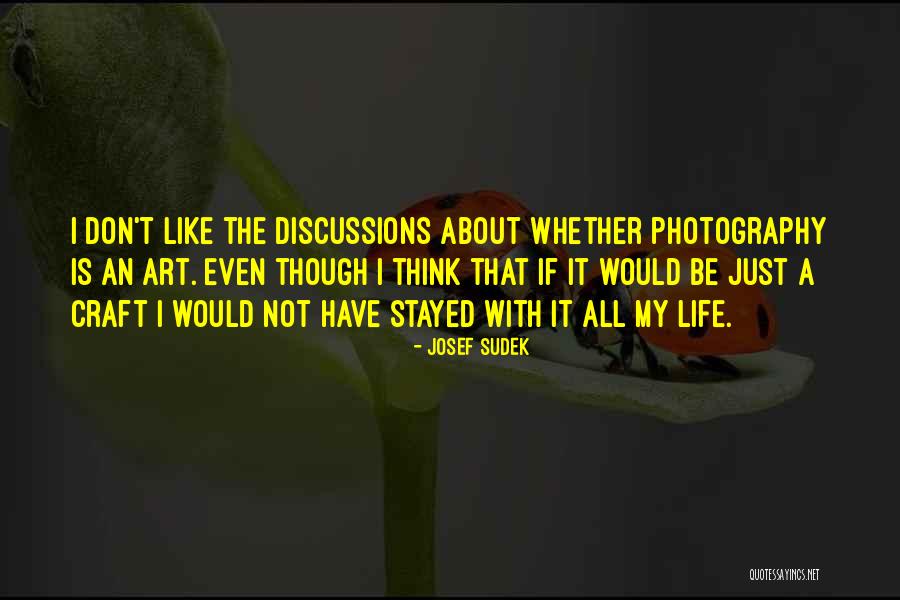 I don't like the discussions about whether photography is an art. Even though I think that if it would be just a craft I would not have stayed with it all my life. — Josef Sudek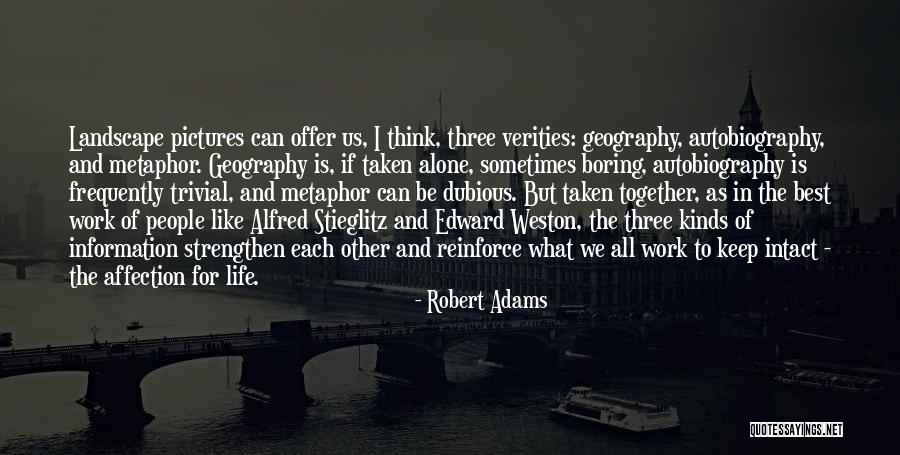 Landscape pictures can offer us, I think, three verities: geography, autobiography, and metaphor. Geography is, if taken alone, sometimes boring, autobiography is frequently trivial, and metaphor can be dubious. But taken together, as in the best work of people like Alfred Stieglitz and Edward Weston, the three kinds of information strengthen each other and reinforce what we all work to keep intact - the affection for life. — Robert Adams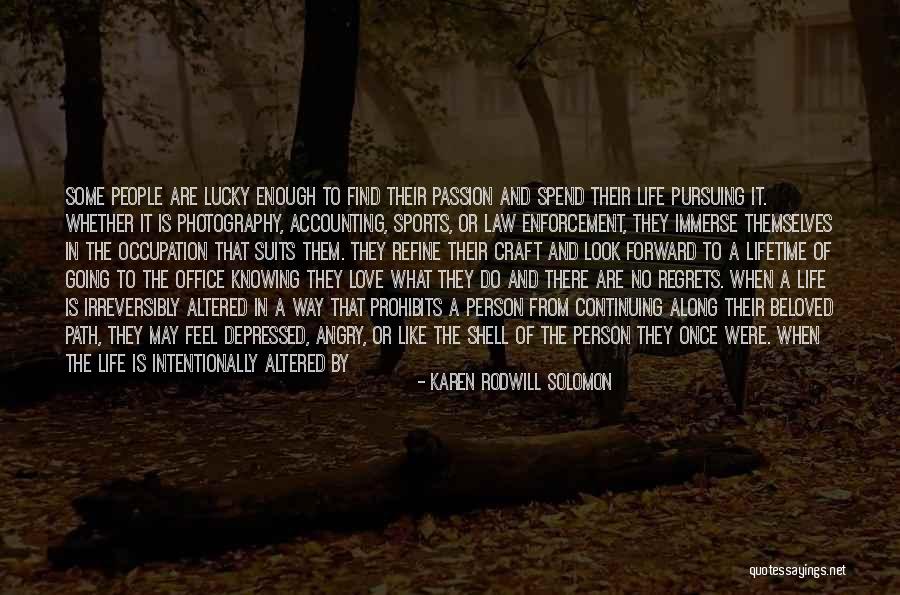 Some people are lucky enough to find their passion and spend their life pursuing it. Whether it is photography, accounting, sports, or law enforcement, they immerse themselves in the occupation that suits them. They refine their craft and look forward to a lifetime of going to the office knowing they love what they do and there are no regrets. When a life is irreversibly altered in a way that prohibits a person from continuing along their beloved path, they may feel depressed, angry, or like the shell of the person they once were. When the life is intentionally altered by someone else, the person can be left in a purgatory of sorts, hoping in a child-like fashion that things may somehow reverse themselves and they can return to the profession they loved so much. Mario is the epitome of a man whose dream was stolen, and he hasn't quite found a way to accept or believe it. — Karen Rodwill Solomon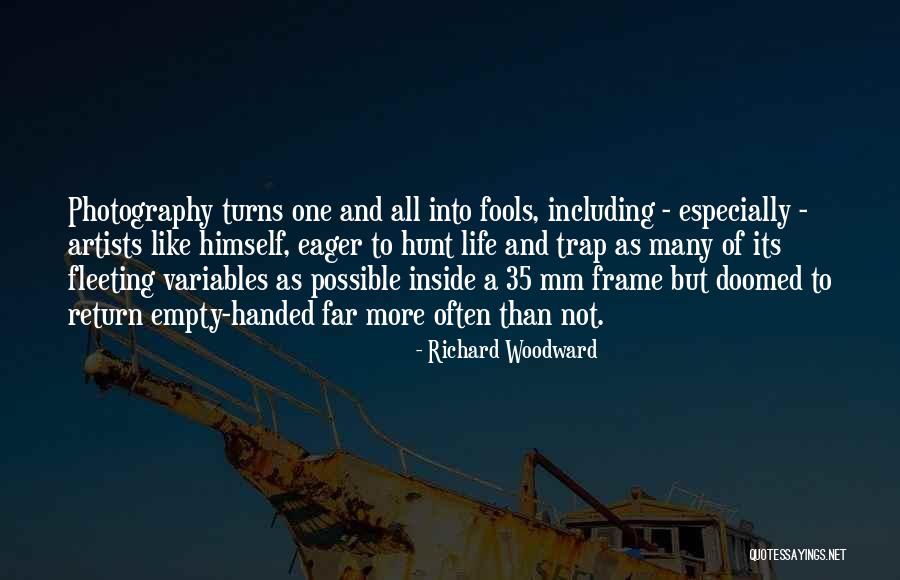 Photography turns one and all into fools, including - especially - artists like himself, eager to hunt life and trap as many of its fleeting variables as possible inside a 35 mm frame but doomed to return empty-handed far more often than not. — Richard Woodward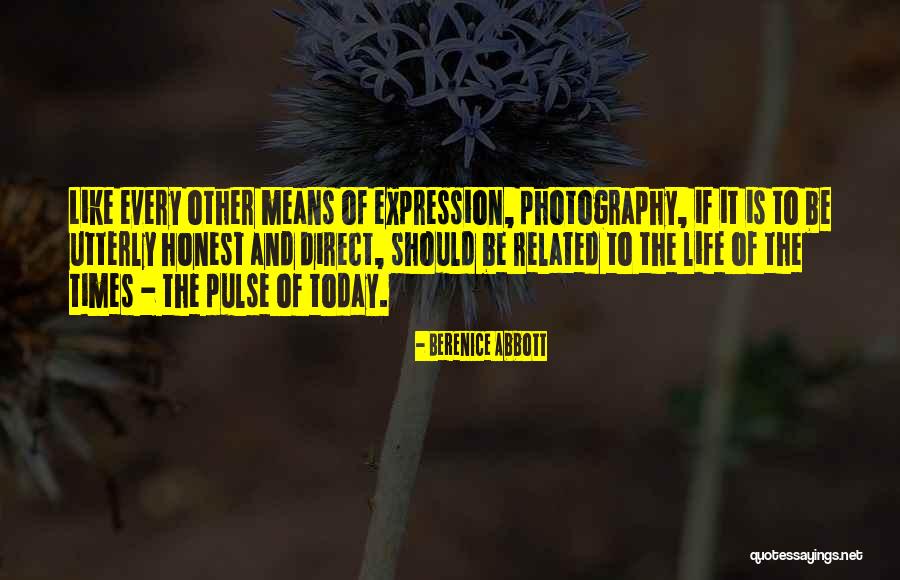 Like every other means of expression, photography, if it is to be utterly honest and direct, should be related to the life of the times - the pulse of today. — Berenice Abbott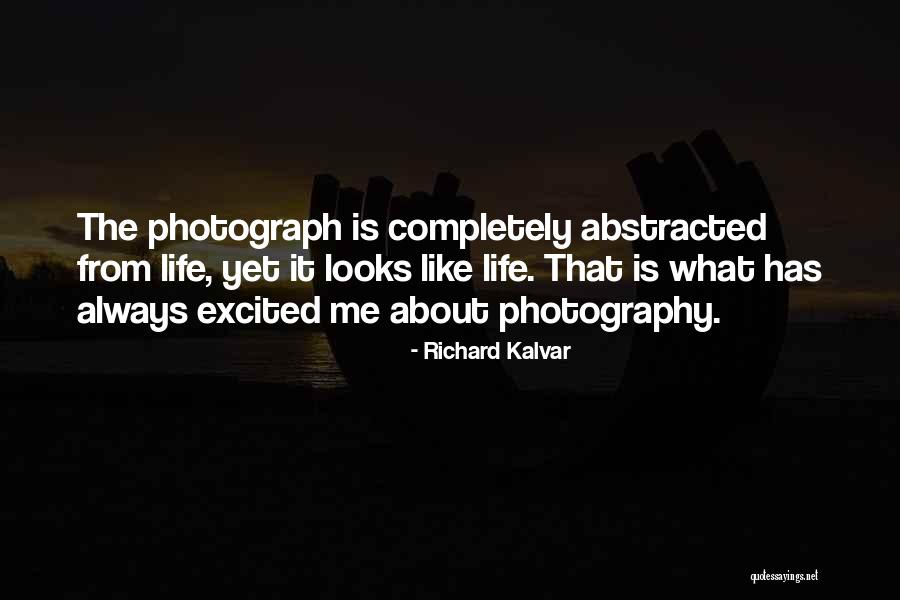 The photograph is completely abstracted from life, yet it looks like life. That is what has always excited me about photography. — Richard Kalvar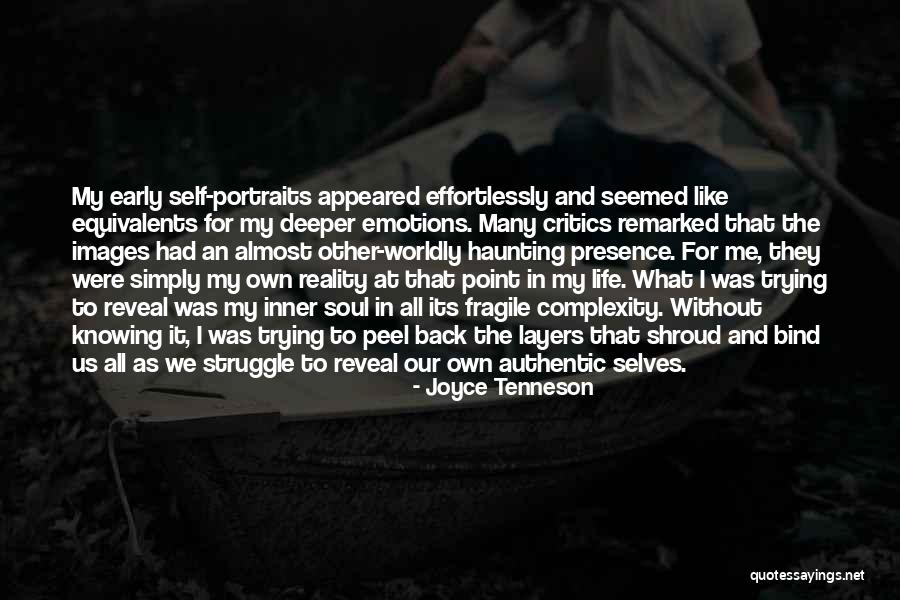 My early self-portraits appeared effortlessly and seemed like equivalents for my deeper emotions. Many critics remarked that the images had an almost other-worldly haunting presence. For me, they were simply my own reality at that point in my life. What I was trying to reveal was my inner soul in all its fragile complexity. Without knowing it, I was trying to peel back the layers that shroud and bind us all as we struggle to reveal our own authentic selves. — Joyce Tenneson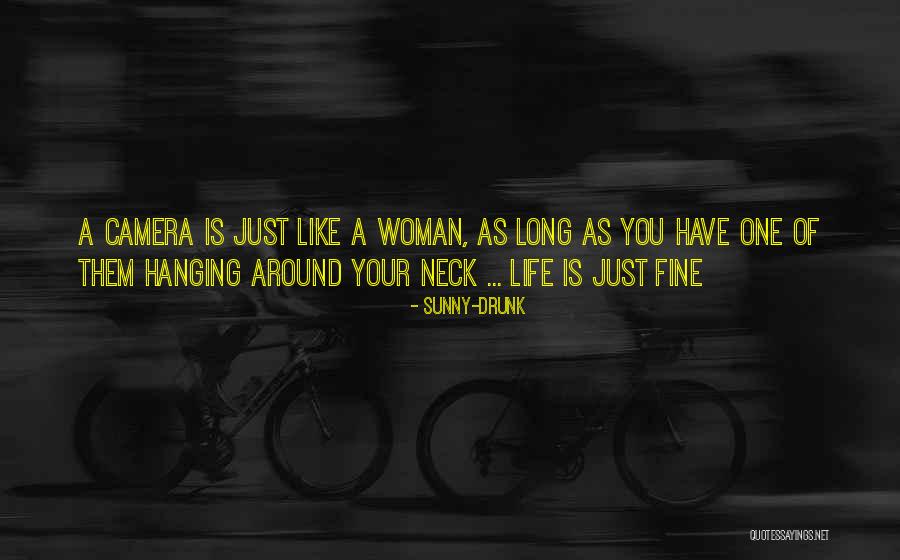 A camera is just like a woman, as long as you have one of them hanging around your neck ... life is just fine — Sunny-Drunk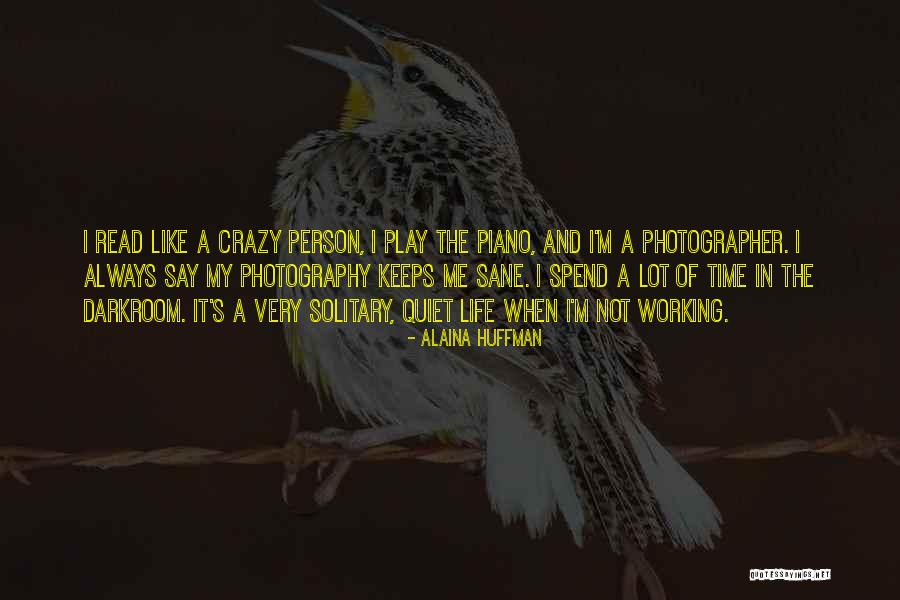 I read like a crazy person, I play the piano, and I'm a photographer. I always say my photography keeps me sane. I spend a lot of time in the darkroom. It's a very solitary, quiet life when I'm not working. — Alaina Huffman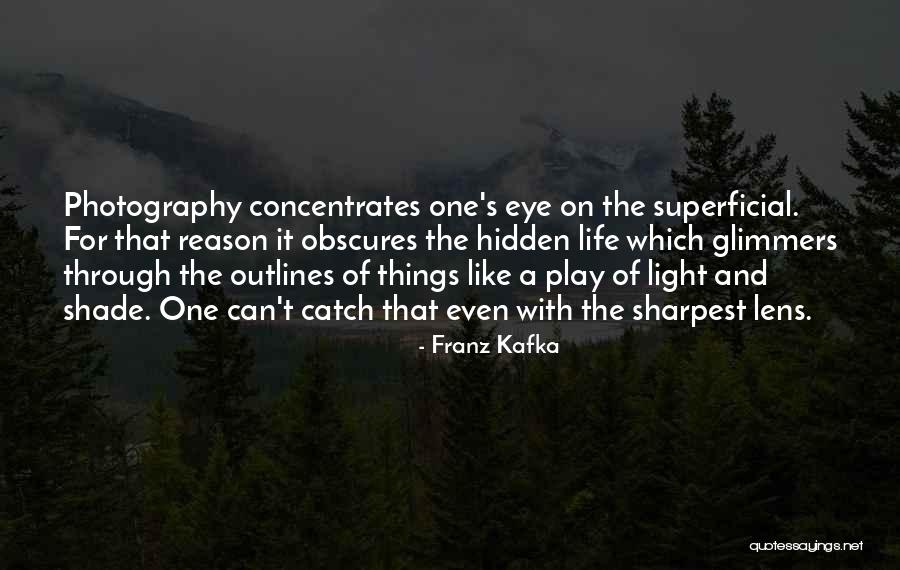 Photography concentrates one's eye on the superficial. For that reason it obscures the hidden life which glimmers through the outlines of things like a play of light and shade. One can't catch that even with the sharpest lens. — Franz Kafka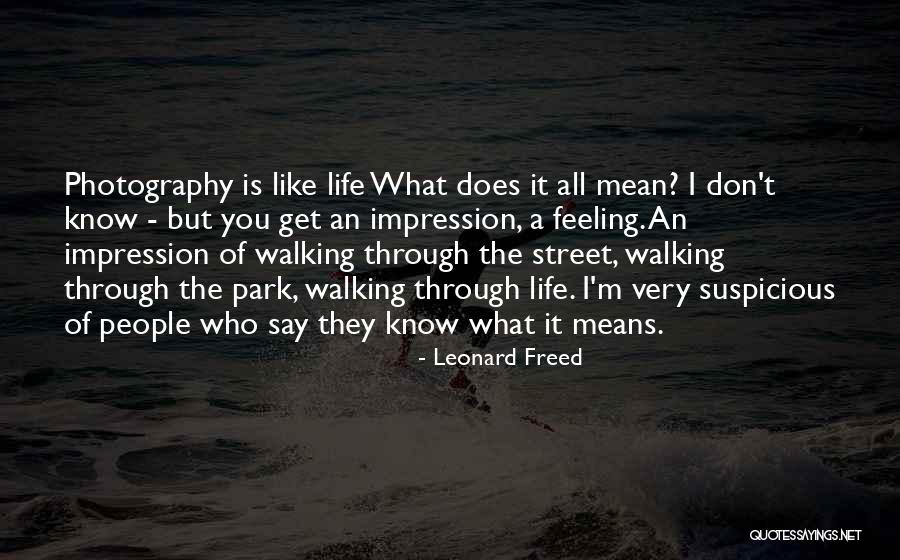 Photography is like life What does it all mean? I don't know - but you get an impression, a feeling. An impression of walking through the street, walking through the park, walking through life. I'm very suspicious of people who say they know what it means. — Leonard Freed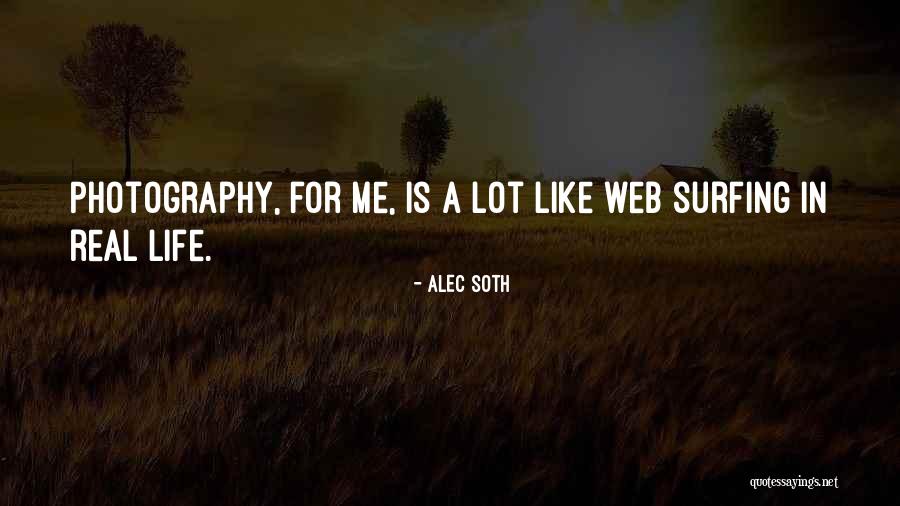 Photography, for me, is a lot like web surfing in real life. — Alec Soth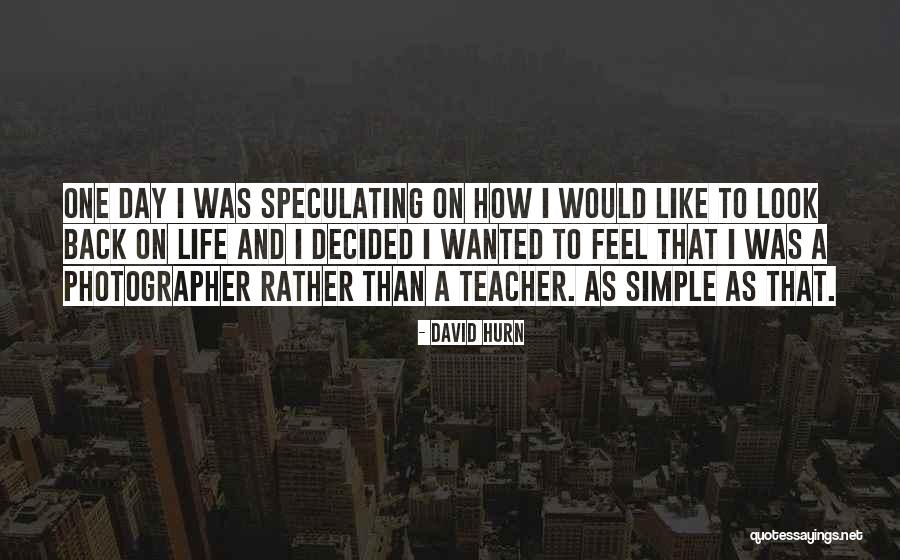 One day I was speculating on how I would like to look back on life and I decided I wanted to feel that I was a photographer rather than a teacher. As simple as that. — David Hurn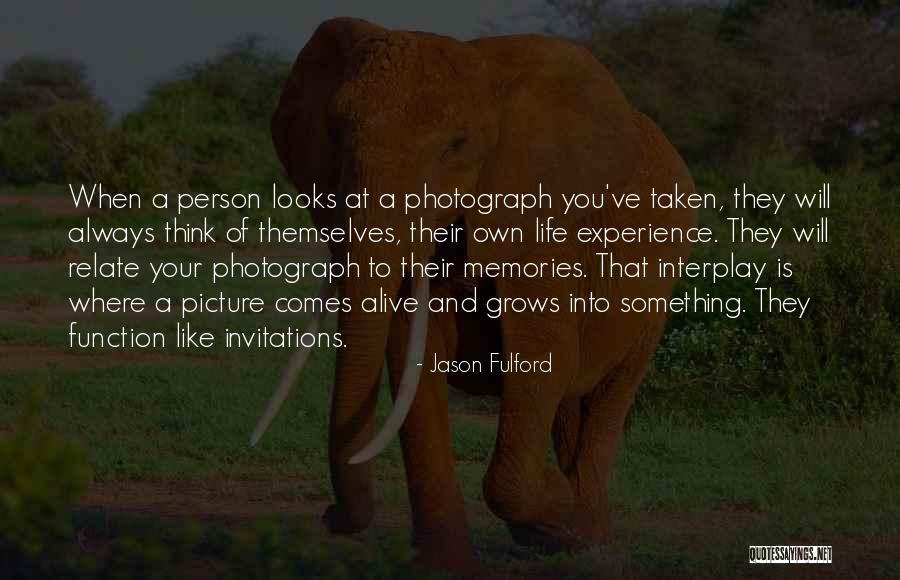 When a person looks at a photograph you've taken, they will always think of themselves, their own life experience. They will relate your photograph to their memories. That interplay is where a picture comes alive and grows into something. They function like invitations. — Jason Fulford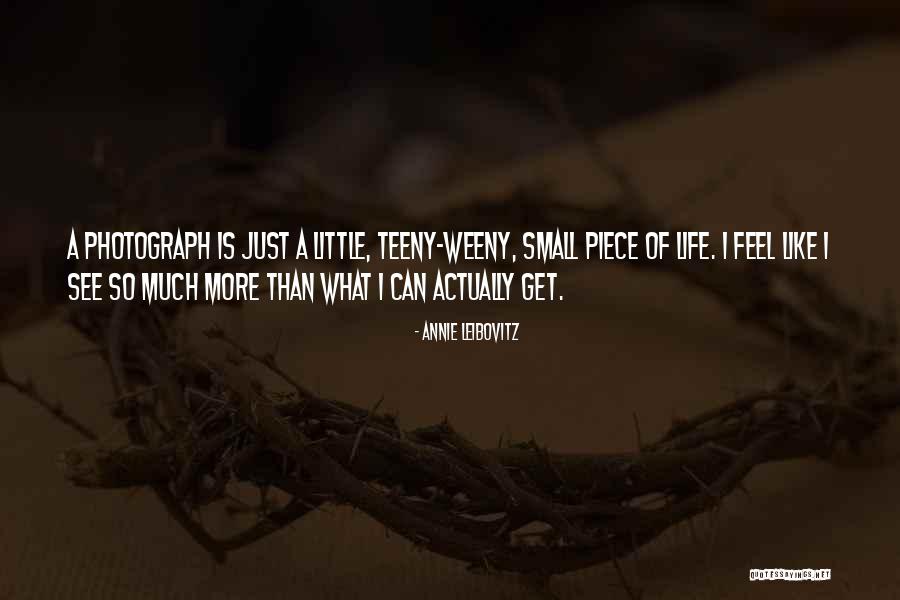 A photograph is just a little, teeny-weeny, small piece of life. I feel like I see so much more than what I can actually get. — Annie Leibovitz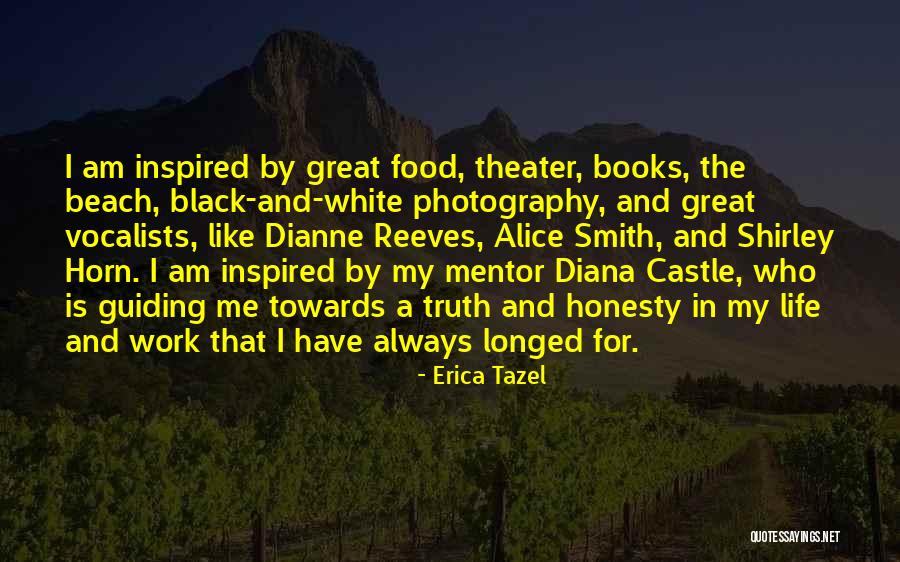 I am inspired by great food, theater, books, the beach, black-and-white photography, and great vocalists, like Dianne Reeves, Alice Smith, and Shirley Horn. I am inspired by my mentor Diana Castle, who is guiding me towards a truth and honesty in my life and work that I have always longed for. — Erica Tazel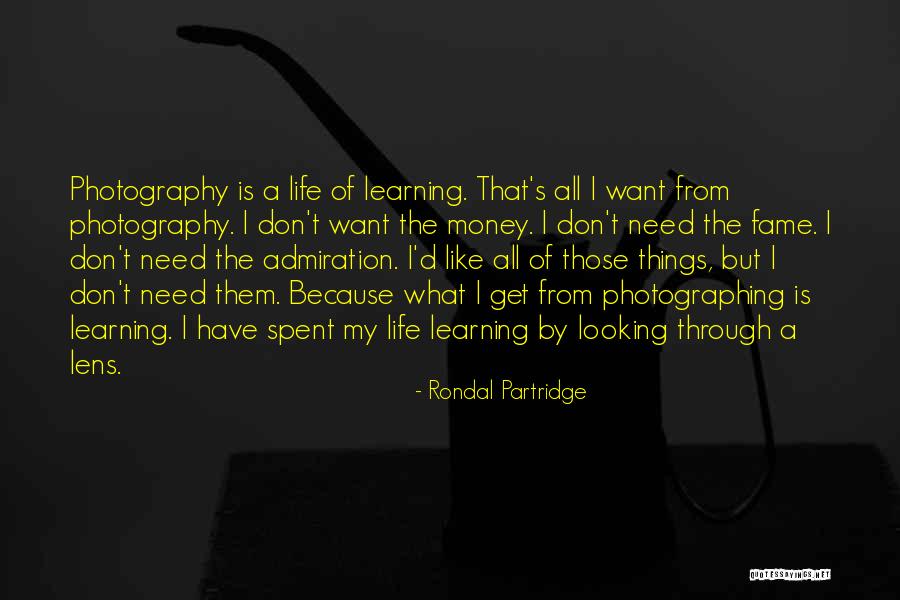 Photography is a life of learning. That's all I want from photography. I don't want the money. I don't need the fame. I don't need the admiration. I'd like all of those things, but I don't need them. Because what I get from photographing is learning. I have spent my life learning by looking through a lens. — Rondal Partridge
It is the purpose of life that each of us strives to become actually what he or she is potentially. Each photographer, then, should be obsessed with stretching towards that goal through an understanding of others and the world we inhabit. When that happens, the results, like photographs, are really the expressions of the life of the maker. — David Hurn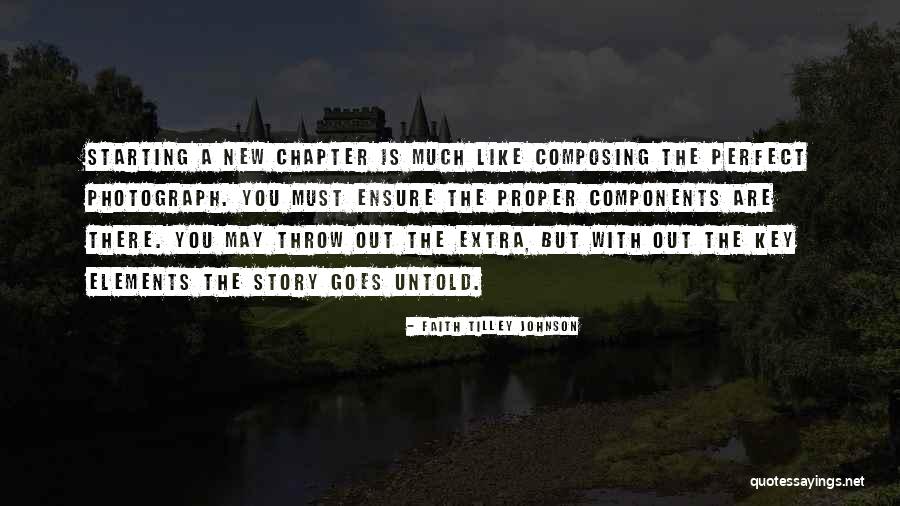 Starting a new chapter is much like composing the perfect photograph. You must ensure the proper components are there. You may throw out the extra, but with out the key elements the story goes untold. — Faith Tilley Johnson