Quotes & Sayings About Life From Philosophers
Enjoy reading and share 36 famous quotes about Life From Philosophers with everyone.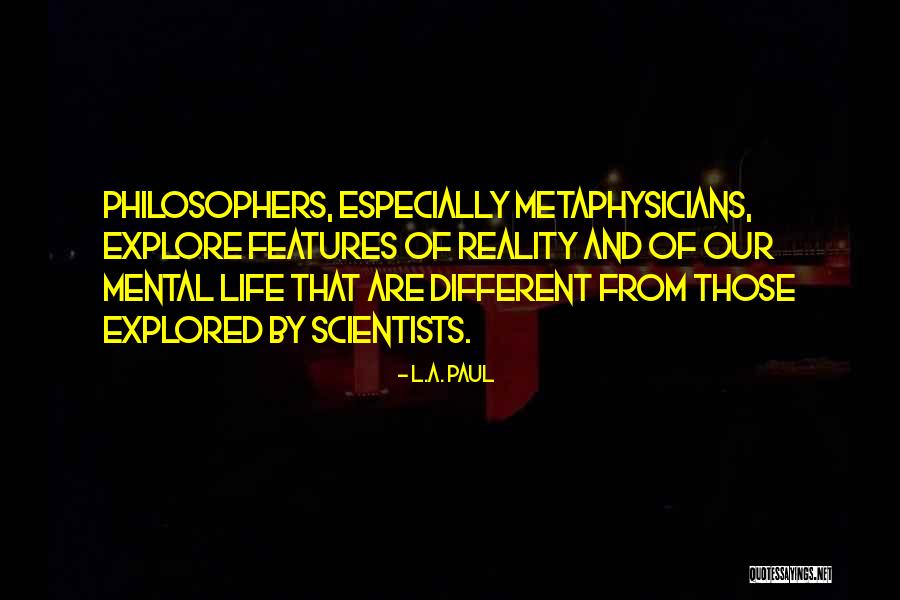 Philosophers, especially metaphysicians, explore features of reality and of our mental life that are different from those explored by scientists. — L.A. Paul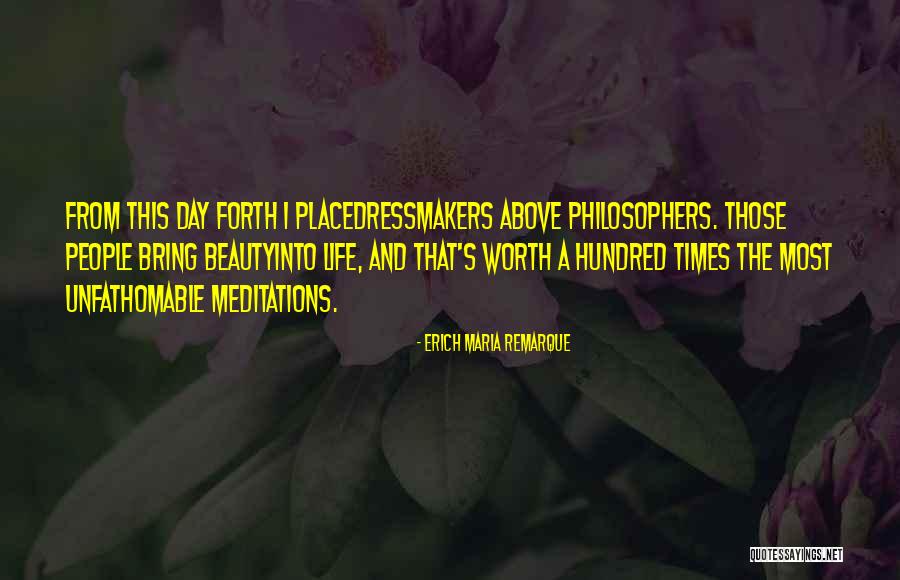 From this day forth I place
dressmakers above philosophers. Those people bring beauty
into life, and that's worth a hundred times the most unfathomable meditations. — Erich Maria Remarque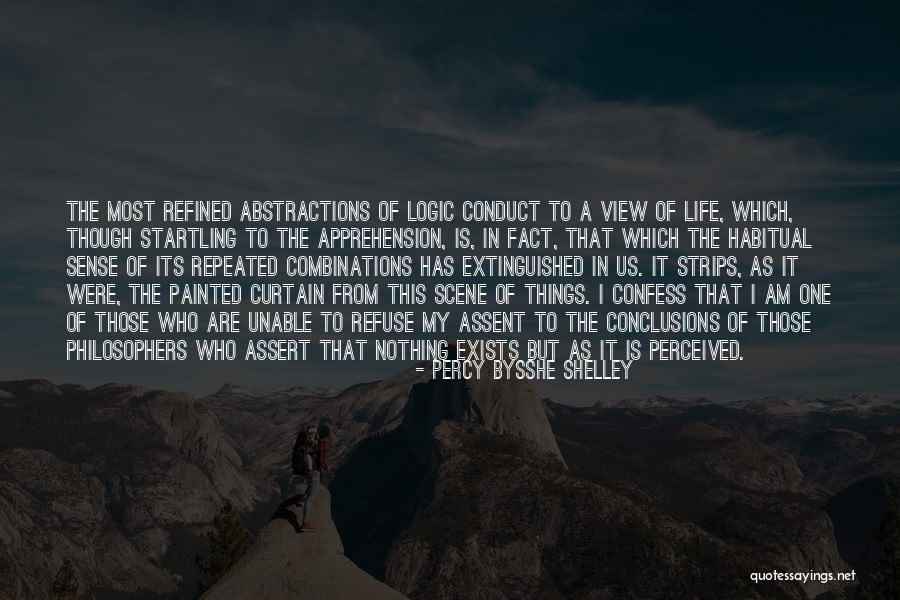 The most refined abstractions of logic conduct to a view of life, which, though startling to the apprehension, is, in fact, that which the habitual sense of its repeated combinations has extinguished in us. It strips, as it were, the painted curtain from this scene of things. I confess that I am one of those who are unable to refuse my assent to the conclusions of those philosophers who assert that nothing exists but as it is perceived. — Percy Bysshe Shelley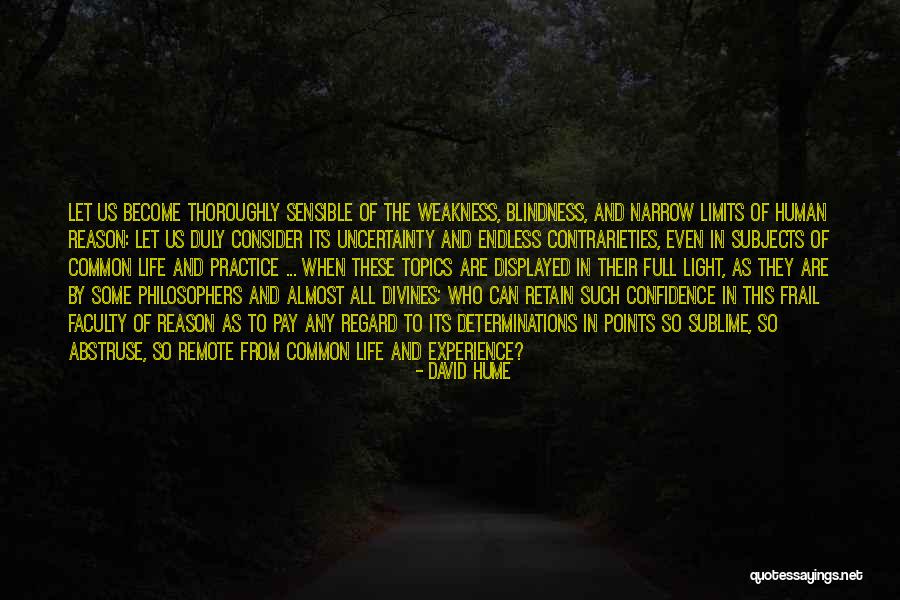 Let us become thoroughly sensible of the weakness, blindness, and narrow limits of human reason: Let us duly consider its uncertainty and endless contrarieties, even in subjects of common life and practice ... When these topics are displayed in their full light, as they are by some philosophers and almost all divines; who can retain such confidence in this frail faculty of reason as to pay any regard to its determinations in points so sublime, so abstruse, so remote from common life and experience? — David Hume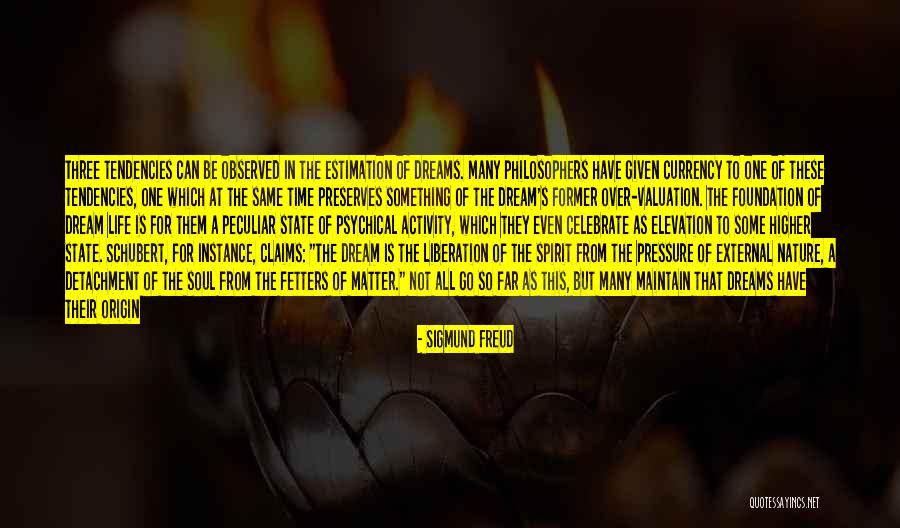 Three tendencies can be observed in the estimation of dreams. Many philosophers have given currency to one of these tendencies, one which at the same time preserves something of the dream's former over-valuation. The foundation of dream life is for them a peculiar state of psychical activity, which they even celebrate as elevation to some higher state. Schubert, for instance, claims: "The dream is the liberation of the spirit from the pressure of external nature, a detachment of the soul from the fetters of matter." Not all go so far as this, but many maintain that dreams have their origin in real spiritual excitations, and are the outward manifestations of spiritual powers whose free movements have been hampered during the day ("Dream Phantasies," Scherner, Volkelt). A large number of observers acknowledge that dream life is capable of extraordinary achievements - at any rate, in certain fields ("Memory"). — Sigmund Freud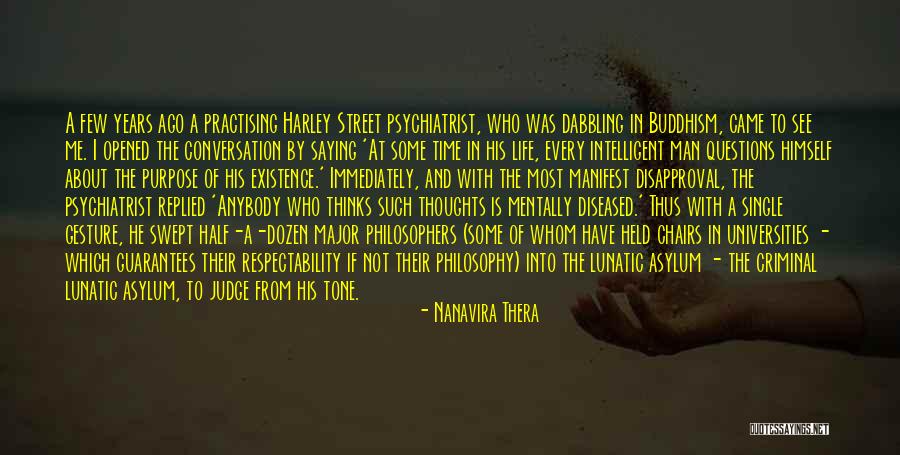 A few years ago a practising Harley Street psychiatrist, who was dabbling in Buddhism, came to see me. I opened the conversation by saying 'At some time in his life, every intelligent man questions himself about the purpose of his existence.' Immediately, and with the most manifest disapproval, the psychiatrist replied 'Anybody who thinks such thoughts is mentally diseased.' Thus with a single gesture, he swept half-a-dozen major philosophers (some of whom have held chairs in universities - which guarantees their respectability if not their philosophy) into the lunatic asylum - the criminal lunatic asylum, to judge from his tone. I have never seen a man in such a funk. — Nanavira Thera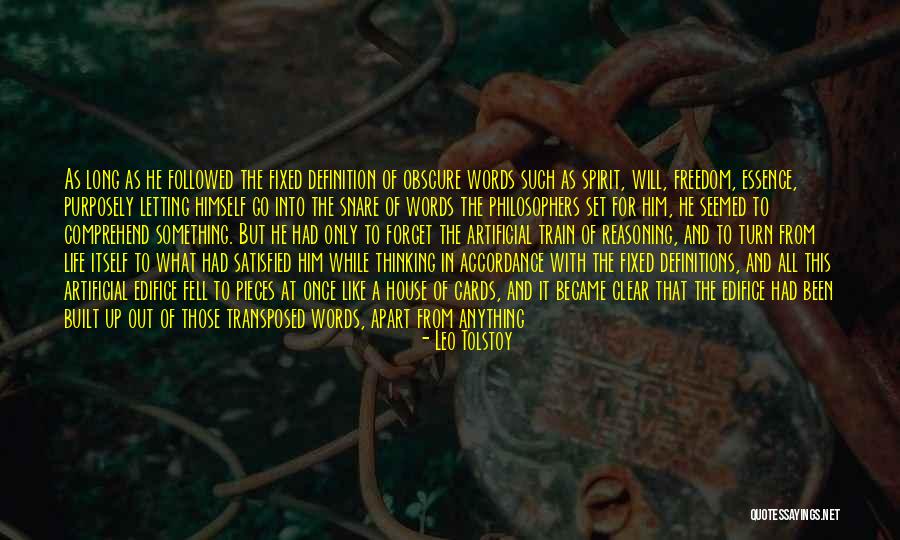 As long as he followed the fixed definition of obscure words such as spirit, will, freedom, essence, purposely letting himself go into the snare of words the philosophers set for him, he seemed to comprehend something. But he had only to forget the artificial train of reasoning, and to turn from life itself to what had satisfied him while thinking in accordance with the fixed definitions, and all this artificial edifice fell to pieces at once like a house of cards, and it became clear that the edifice had been built up out of those transposed words, apart from anything in life more important than reason. — Leo Tolstoy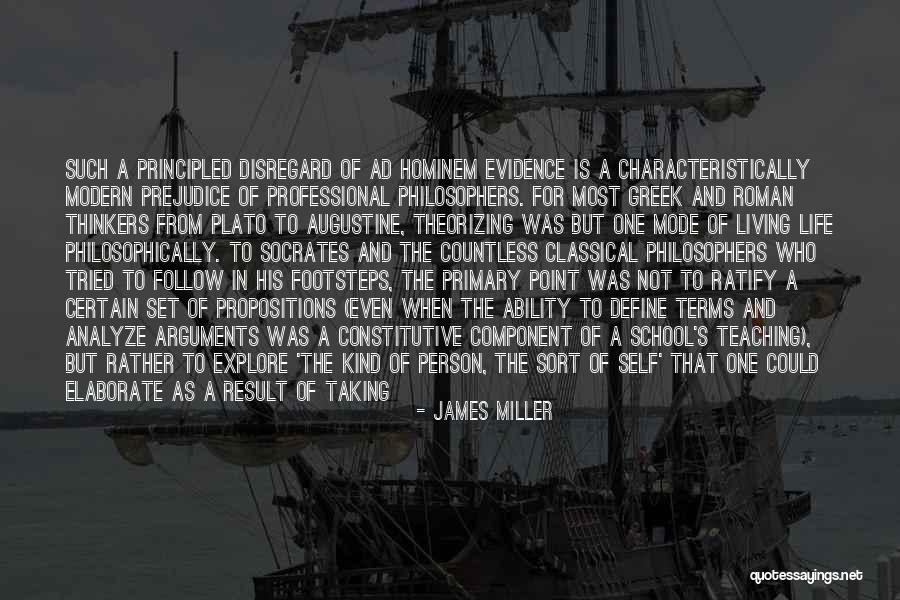 Such a principled disregard of ad hominem evidence is a characteristically modern prejudice of professional philosophers. For most Greek and Roman thinkers from Plato to Augustine, theorizing was but one mode of living life philosophically. To Socrates and the countless classical philosophers who tried to follow in his footsteps, the primary point was not to ratify a certain set of propositions (even when the ability to define terms and analyze arguments was a constitutive component of a school's teaching), but rather to explore 'the kind of person, the sort of self' that one could elaborate as a result of taking the quest for wisdom seriously. — James Miller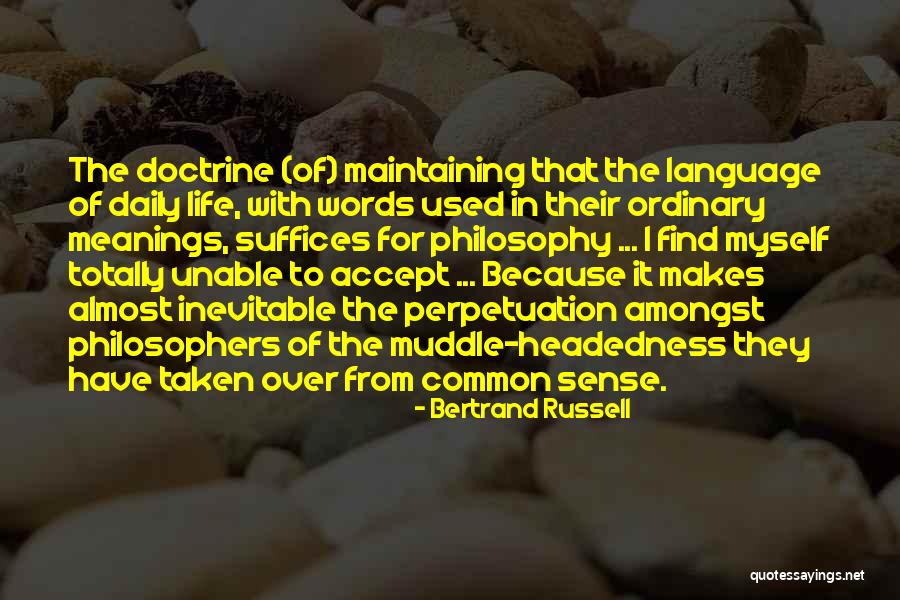 The doctrine (of) maintaining that the language of daily life, with words used in their ordinary meanings, suffices for philosophy ... I find myself totally unable to accept ... Because it makes almost inevitable the perpetuation amongst philosophers of the muddle-headedness they have taken over from common sense. — Bertrand Russell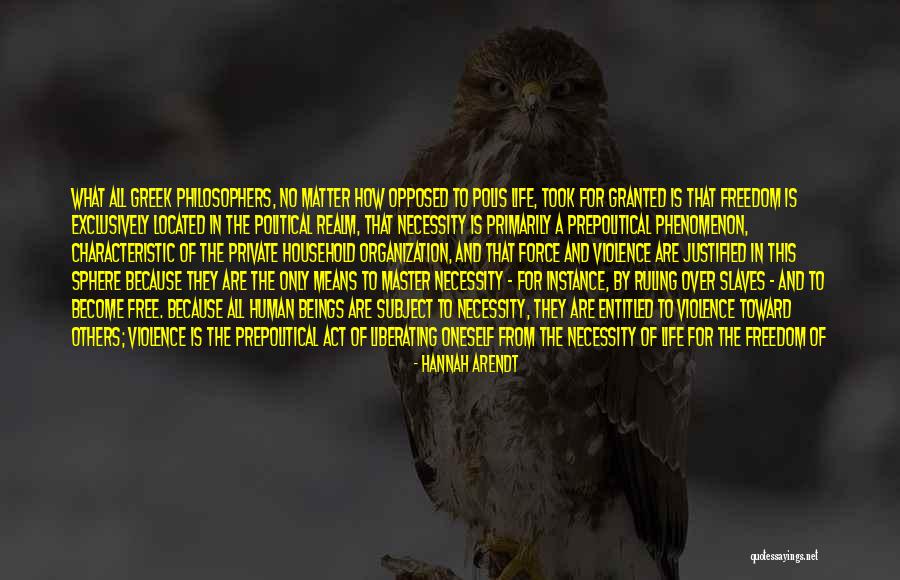 What all Greek philosophers, no matter how opposed to polis life, took for granted is that freedom is exclusively located in the political realm, that necessity is primarily a prepolitical phenomenon, characteristic of the private household organization, and that force and violence are justified in this sphere because they are the only means to master necessity - for instance, by ruling over slaves - and to become free. Because all human beings are subject to necessity, they are entitled to violence toward others; violence is the prepolitical act of liberating oneself from the necessity of life for the freedom of world. This freedom is the essential condition of what the Greeks called felicity, eudaimonia, which was an objective status depending first of all upon wealth and health. To be poor or to be in ill health meant to be subject to physical necessity, and to be a slave meant to be subject, in addition, to man-made violence. — Hannah Arendt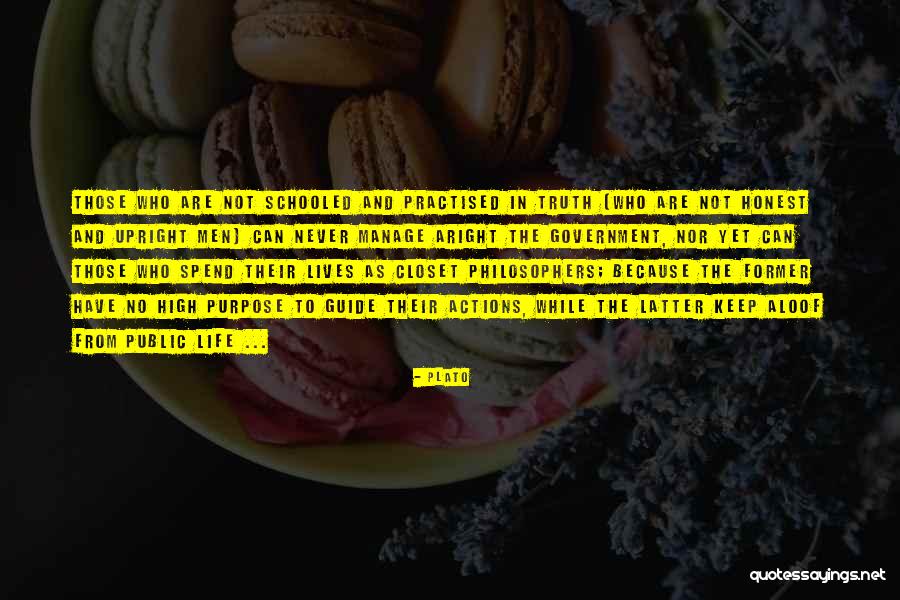 Those who are not schooled and practised in truth [who are not honest and upright men] can never manage aright the government, nor yet can those who spend their lives as closet philosophers; because the former have no high purpose to guide their actions, while the latter keep aloof from public life ... — Plato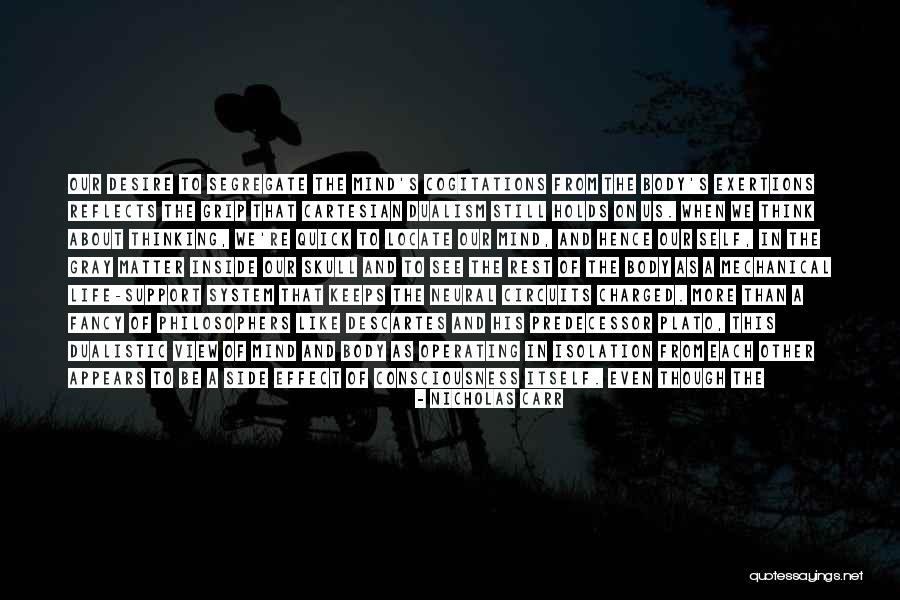 Our desire to segregate the mind's cogitations from the body's exertions reflects the grip that Cartesian dualism still holds on us. When we think about thinking, we're quick to locate our mind, and hence our self, in the gray matter inside our skull and to see the rest of the body as a mechanical life-support system that keeps the neural circuits charged. More than a fancy of philosophers like Descartes and his predecessor Plato, this dualistic view of mind and body as operating in isolation from each other appears to be a side effect of consciousness itself. Even though the bulk of the mind's work goes on behind the scenes, in the shadows of the unconscious, we're aware only of the small but brightly lit window that the conscious mind opens for us. And our conscious mind tells us, insistently, that it's separate from the body. — Nicholas Carr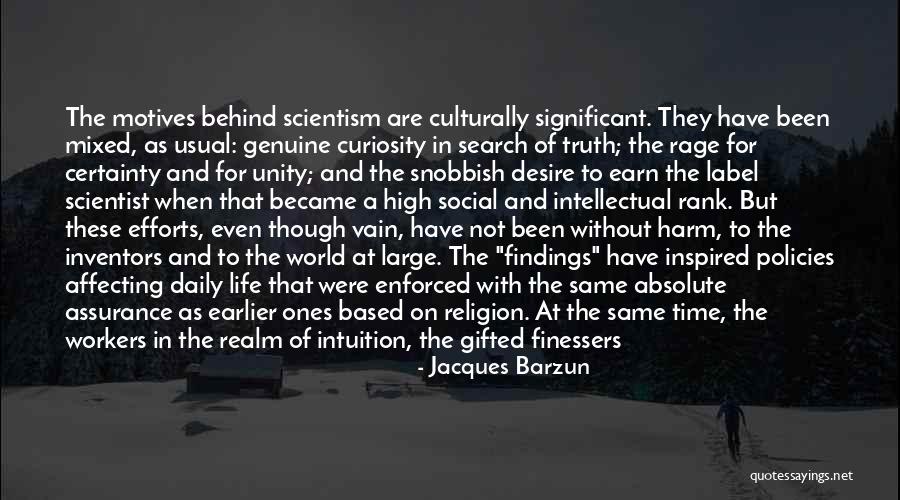 The motives behind scientism are culturally significant. They have been mixed, as usual: genuine curiosity in search of truth; the rage for certainty and for unity; and the snobbish desire to earn the label scientist when that became a high social and intellectual rank. But these efforts, even though vain, have not been without harm, to the inventors and to the world at large. The "findings" have inspired policies affecting daily life that were enforced with the same absolute assurance as earlier ones based on religion. At the same time, the workers in the realm of intuition, the gifted finessers - artists, moralists, philosophers, historians, political theorists, and theologians - were either diverted from their proper task, while others were looking on them with disdain as dabblers in the suburbs of Truth. — Jacques Barzun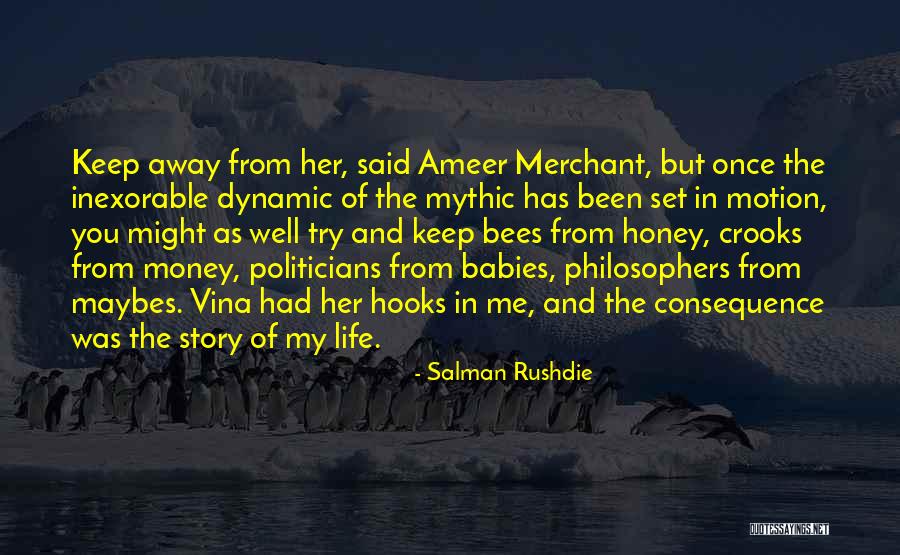 Keep away from her, said Ameer Merchant, but once the inexorable dynamic of the mythic has been set in motion, you might as well try and keep bees from honey, crooks from money, politicians from babies, philosophers from maybes. Vina had her hooks in me, and the consequence was the story of my life. — Salman Rushdie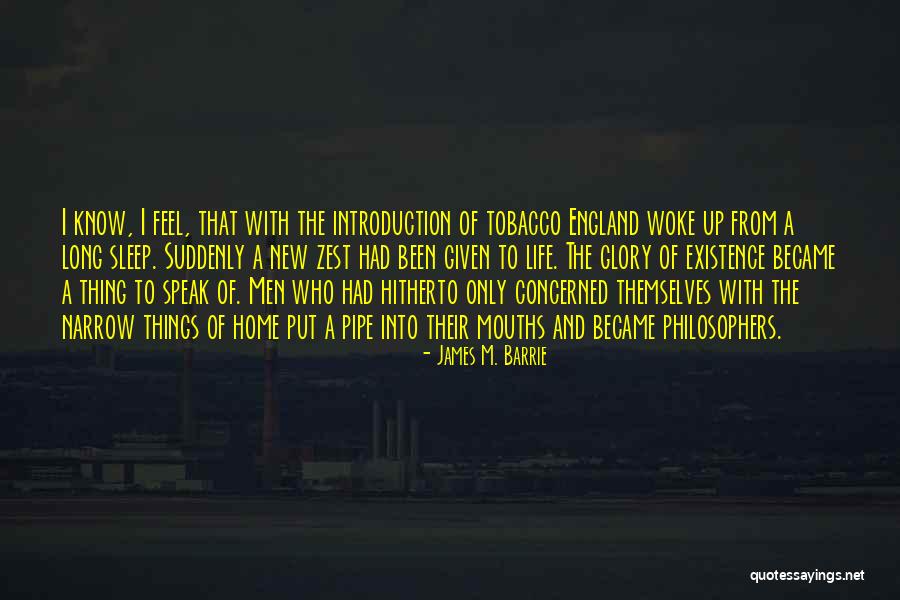 I know, I feel, that with the introduction of tobacco England woke up from a long sleep. Suddenly a new zest had been given to life. The glory of existence became a thing to speak of. Men who had hitherto only concerned themselves with the narrow things of home put a pipe into their mouths and became philosophers. — James M. Barrie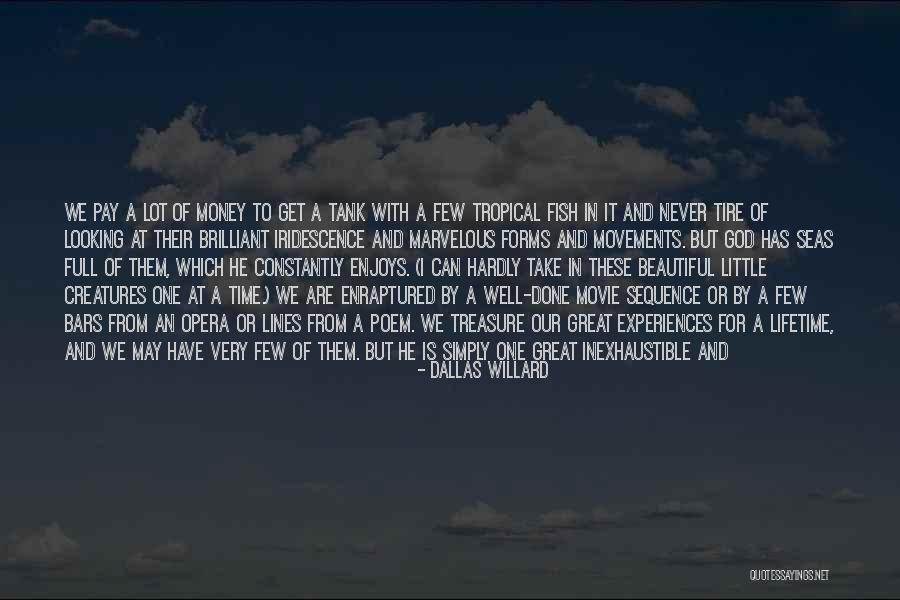 We pay a lot of money to get a tank with a few tropical fish in it and never tire of looking at their brilliant iridescence and marvelous forms and movements. But God has seas full of them, which he constantly enjoys. (I can hardly take in these beautiful little creatures one at a time.) We are enraptured by a well-done movie sequence or by a few bars from an opera or lines from a poem. We treasure our great experiences for a lifetime, and we may have very few of them. But he is simply one great inexhaustible and eternal experience of all that is good and true and beautiful and right. This is what we must think of when we hear theologians and philosophers speak of him as a perfect being. This is his life. — Dallas Willard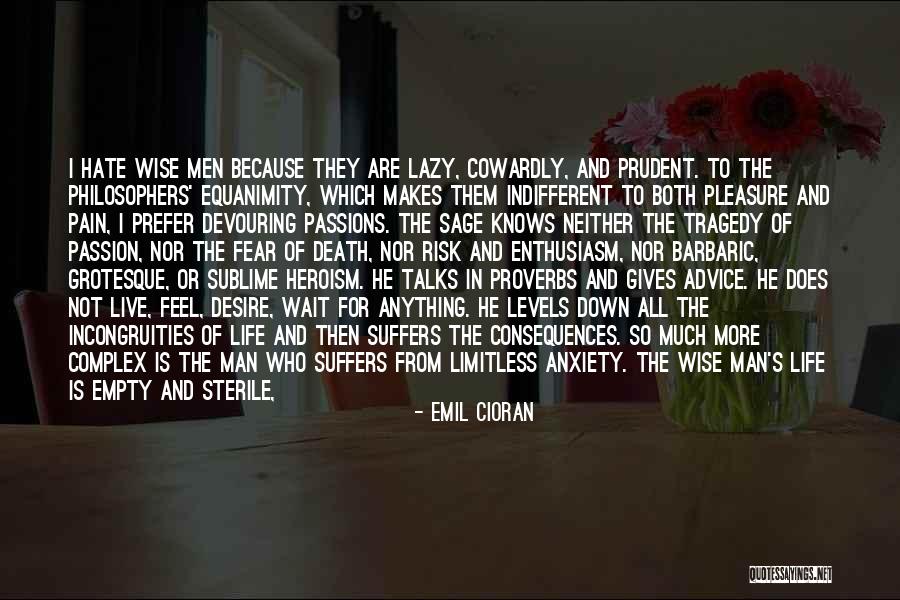 I hate wise men because they are lazy, cowardly, and prudent. To the philosophers' equanimity, which makes them indifferent to both pleasure and pain, I prefer devouring passions. The sage knows neither the tragedy of passion, nor the fear of death, nor risk and enthusiasm, nor barbaric, grotesque, or sublime heroism. He talks in proverbs and gives advice. He does not live, feel, desire, wait for anything. He levels down all the incongruities of life and then suffers the consequences. So much more complex is the man who suffers from limitless anxiety. The wise man's life is empty and sterile, for it is free from contradiction and despair. An existence full of irreconcilable contradictions is so much richer and creative. The wise man's resignation springs from inner void, not inner fire. I would rather die of fire than of void. — Emil Cioran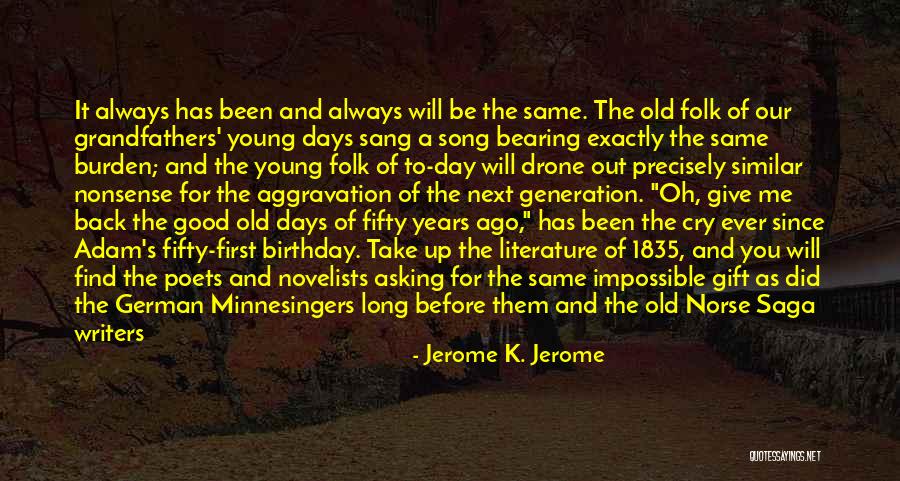 It always has been and always will be the same. The old folk of our grandfathers' young days sang a song bearing exactly the same burden; and the young folk of to-day will drone out precisely similar nonsense for the aggravation of the next generation. "Oh, give me back the good old days of fifty years ago," has been the cry ever since Adam's fifty-first birthday. Take up the literature of 1835, and you will find the poets and novelists asking for the same impossible gift as did the German Minnesingers long before them and the old Norse Saga writers long before that. And for the same thing sighed the early prophets and the philosophers of ancient Greece. From all accounts, the world has been getting worse and worse ever since it was created. All I can say is that it must have been a remarkably delightful place when it was first opened to the public, for it is very pleasant even now if you only keep as much as possible in the sunshine and take the rain good-temperedly. — Jerome K. Jerome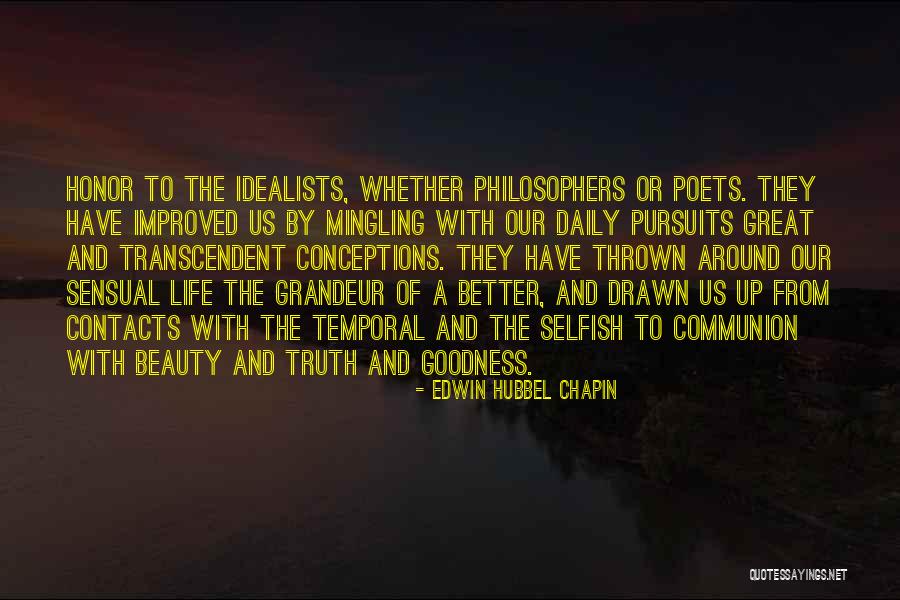 Honor to the idealists, whether philosophers or poets. They have improved us by mingling with our daily pursuits great and transcendent conceptions. They have thrown around our sensual life the grandeur of a better, and drawn us up from contacts with the temporal and the selfish to communion with beauty and truth and goodness. — Edwin Hubbel Chapin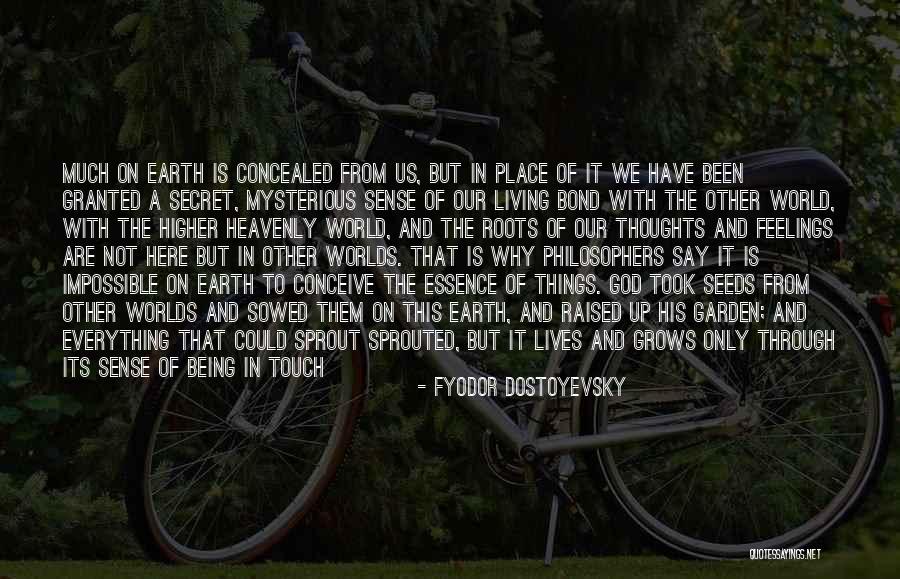 Much on earth is concealed from us, but in place of it we have been granted a secret, mysterious sense of our living bond with the other world, with the higher heavenly world, and the roots of our thoughts and feelings are not here but in other worlds. That is why philosophers say it is impossible on earth to conceive the essence of things. God took seeds from other worlds and sowed them on this earth, and raised up his garden; and everything that could sprout sprouted, but it lives and grows only through its sense of being in touch with other mysterious worlds; if this sense is weakened or destroyed in you, that which has grown up in you dies. Then you become indifferent to life, and even come to hate it. — Fyodor Dostoyevsky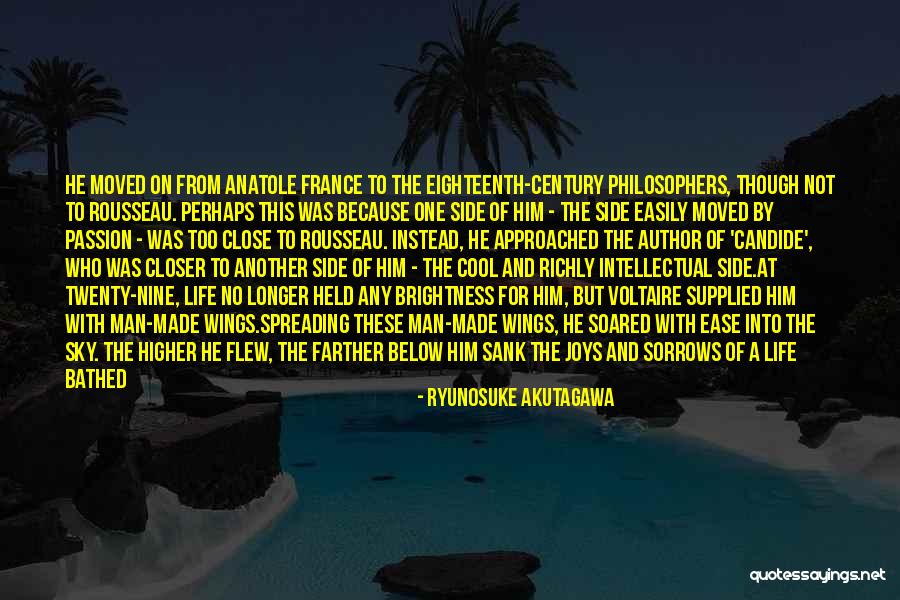 He moved on from Anatole France to the eighteenth-century philosophers, though not to Rousseau. Perhaps this was because one side of him - the side easily moved by passion - was too close to Rousseau. Instead, he approached the author of 'Candide', who was closer to another side of him - the cool and richly intellectual side.
At twenty-nine, life no longer held any brightness for him, but Voltaire supplied him with man-made wings.
Spreading these man-made wings, he soared with ease into the sky. The higher he flew, the farther below him sank the joys and sorrows of a life bathed in the light of intellect. Dropping ironies and smiles upon the shabby towns below, he climbed through the open sky, straight for the sun - as if he had forgotten about that ancient Greek who plunged to his death in the ocean when his man-made wings were singed by the sun. — Ryunosuke Akutagawa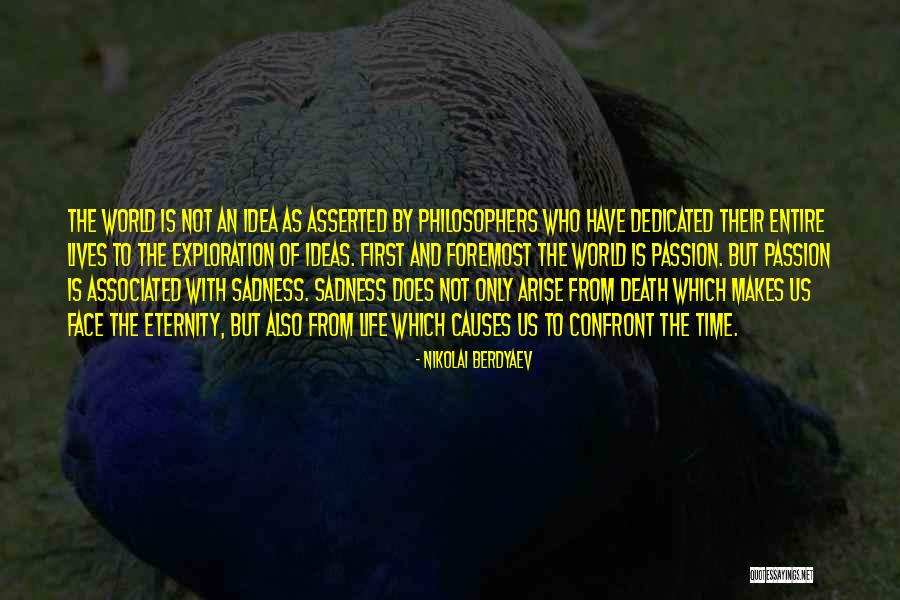 The World is not an idea as asserted by philosophers who have dedicated their entire lives to the exploration of ideas. First and foremost the world is passion. But passion is associated with sadness. Sadness does not only arise from death which makes us face the Eternity, but also from life which causes us to confront the Time. — Nikolai Berdyaev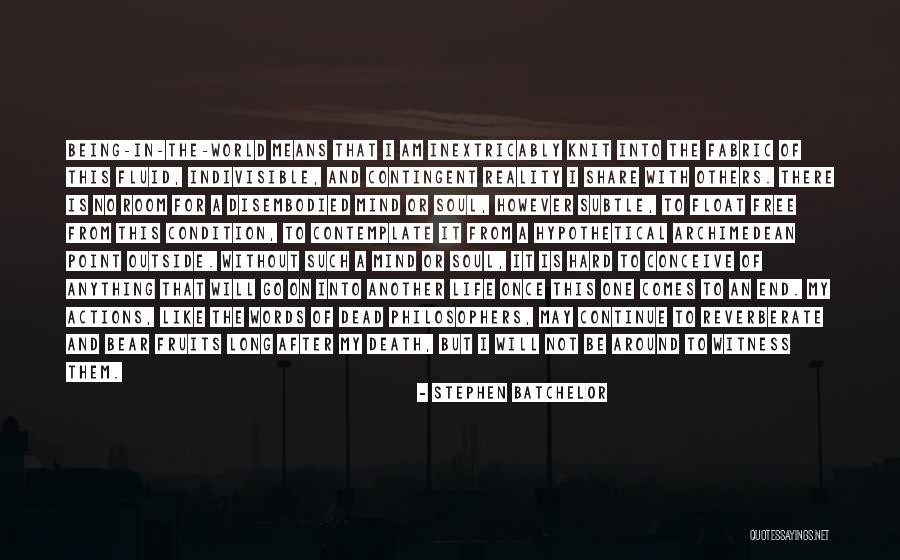 Being-in-the-world means that I am inextricably knit into the fabric of this fluid, indivisible, and contingent reality I share with others. There is no room for a disembodied mind or soul, however subtle, to float free from this condition, to contemplate it from a hypothetical Archimedean point outside. Without such a mind or soul, it is hard to conceive of anything that will go on into another life once this one comes to an end. My actions, like the words of dead philosophers, may continue to reverberate and bear fruits long after my death, but I will not be around to witness them. — Stephen Batchelor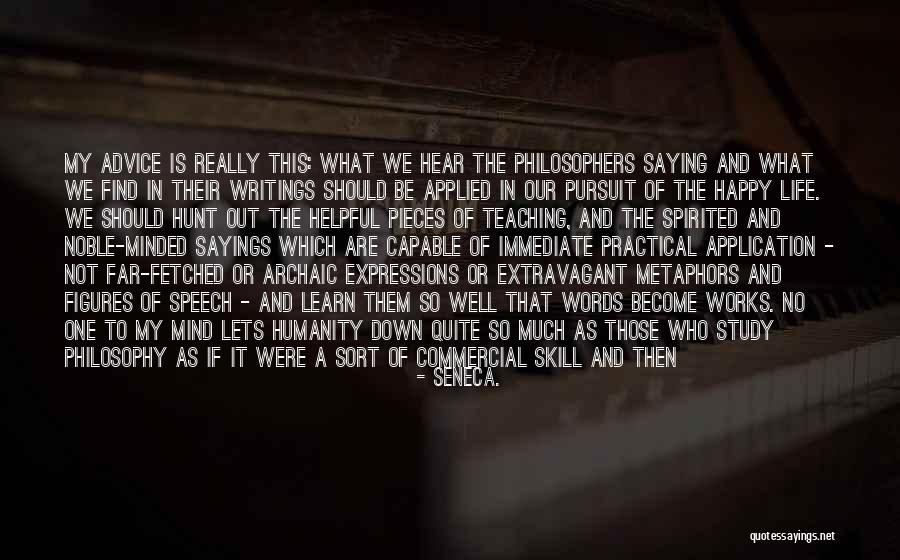 My advice is really this: what we hear the philosophers saying and what we find in their writings should be applied in our pursuit of the happy life. We should hunt out the helpful pieces of teaching, and the spirited and noble-minded sayings which are capable of immediate practical application - not far-fetched or archaic expressions or extravagant metaphors and figures of speech - and learn them so well that words become works. No one to my mind lets humanity down quite so much as those who study philosophy as if it were a sort of commercial skill and then proceed to live in a quite different manner from the way they tell other people to live. — Seneca.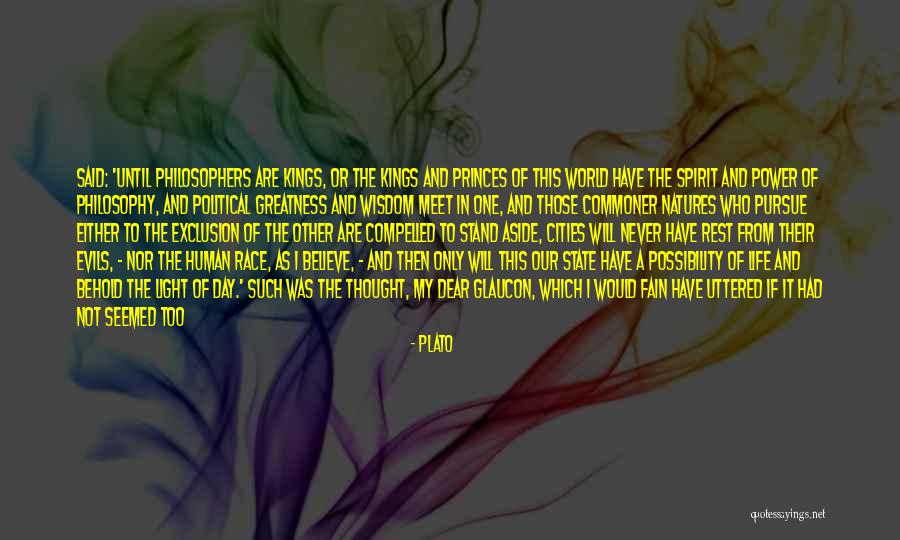 said: 'Until philosophers are kings, or the kings and princes of this world have the spirit and power of philosophy, and political greatness and wisdom meet in one, and those commoner natures who pursue either to the exclusion of the other are compelled to stand aside, cities will never have rest from their evils, - nor the human race, as I believe, - and then only will this our State have a possibility of life and behold the light of day.' Such was the thought, my dear Glaucon, which I would fain have uttered if it had not seemed too extravagant; for to be convinced that in no other State can there be happiness private or public is indeed a hard thing. Socrates, — Plato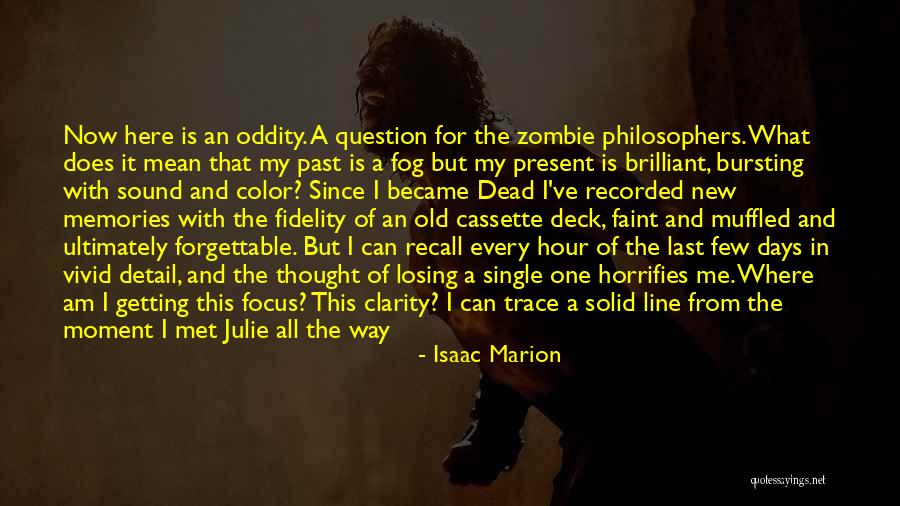 Now here is an oddity. A question for the zombie philosophers. What does it mean that my past is a fog but my present is brilliant, bursting with sound and color? Since I became Dead I've recorded new memories with the fidelity of an old cassette deck, faint and muffled and ultimately forgettable. But I can recall every hour of the last few days in vivid detail, and the thought of losing a single one horrifies me. Where am I getting this focus? This clarity? I can trace a solid line from the moment I met Julie all the way to now, lying next to her in this sepulchral bedroom, and despite the millions of past moments I've lost or tossed away like highway trash, I know with a lockjawed certainty I'll remember this one for the rest of my life. — Isaac Marion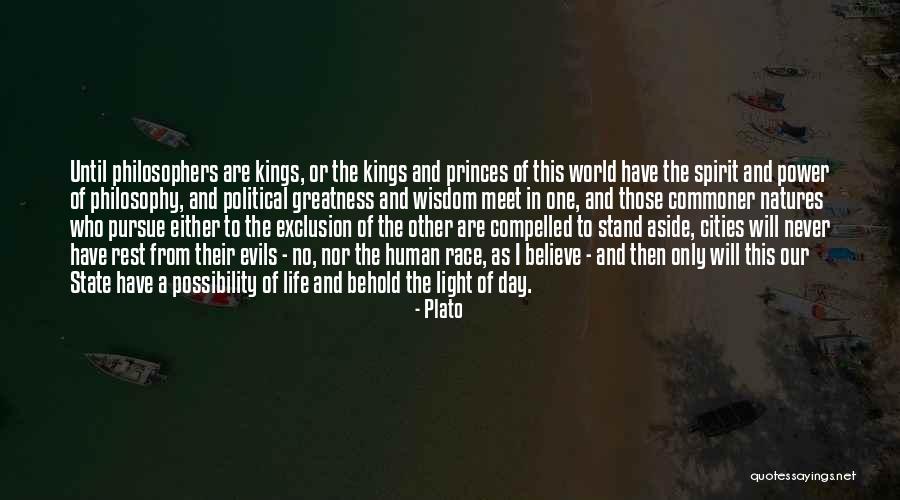 Until philosophers are kings, or the kings and princes of this world have the spirit and power of philosophy, and political greatness and wisdom meet in one, and those commoner natures who pursue either to the exclusion of the other are compelled to stand aside, cities will never have rest from their evils - no, nor the human race, as I believe - and then only will this our State have a possibility of life and behold the light of day. — Plato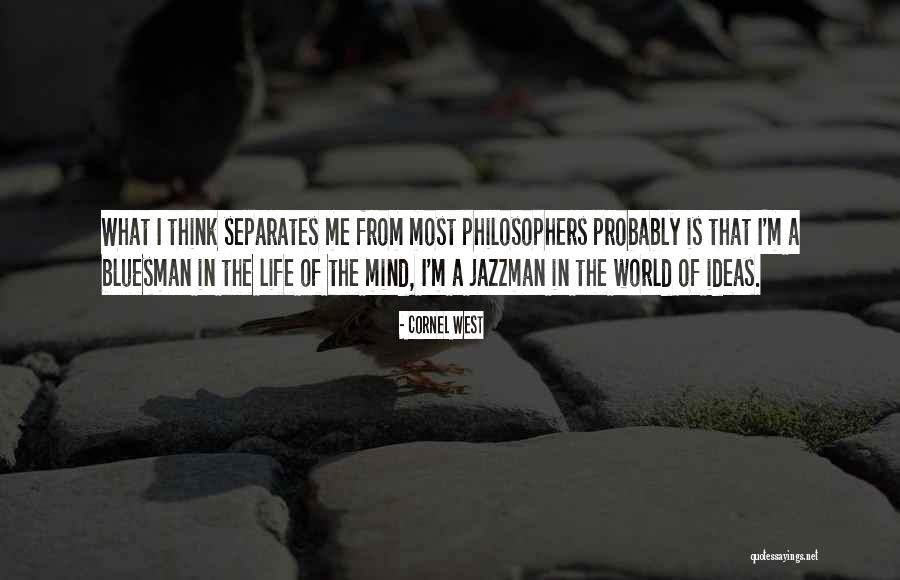 What I think separates me from most philosophers probably is that I'm a bluesman in the life of the mind, I'm a jazzman in the world of ideas. — Cornel West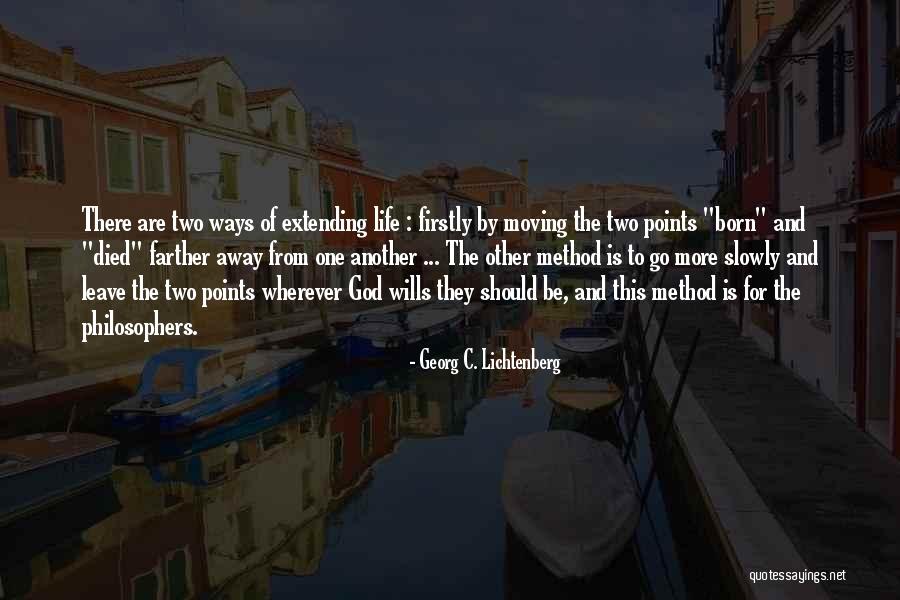 There are two ways of extending life : firstly by moving the two points "born" and "died" farther away from one another ... The other method is to go more slowly and leave the two points wherever God wills they should be, and this method is for the philosophers. — Georg C. Lichtenberg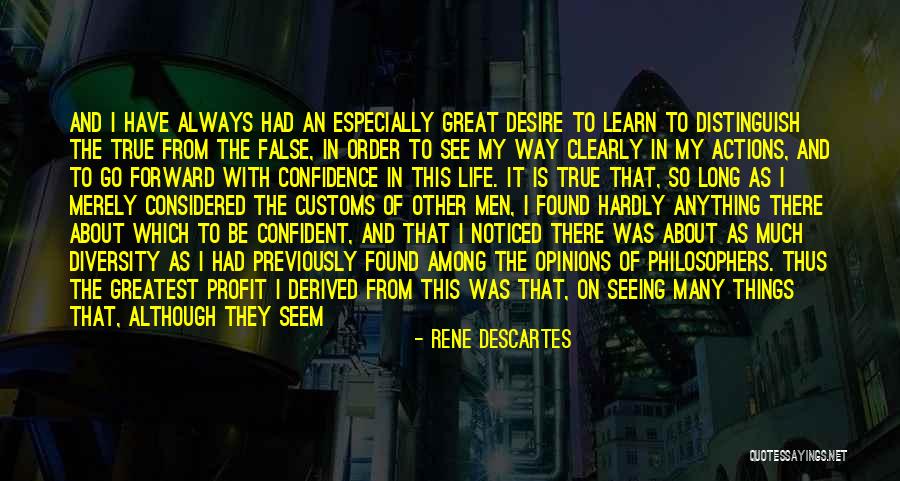 And I have always had an especially great desire to learn to distinguish the true from the false, in order to see my way clearly in my actions, and to go forward with confidence in this life. It is true that, so long as I merely considered the customs of other men, I found hardly anything there about which to be confident, and that I noticed there was about as much diversity as I had previously found among the opinions of philosophers. Thus the greatest profit I derived from this was that, on seeing many things that, although they seem to us very extravagant and ridiculous, do not cease to be commonly accepted and approved among other great peoples, I learned not to believe anything too firmly of which I had been persuaded only by example and custom; and thus I little by little freed myself from many errors that can darken our natural light and render us less able to listen to reason. — Rene Descartes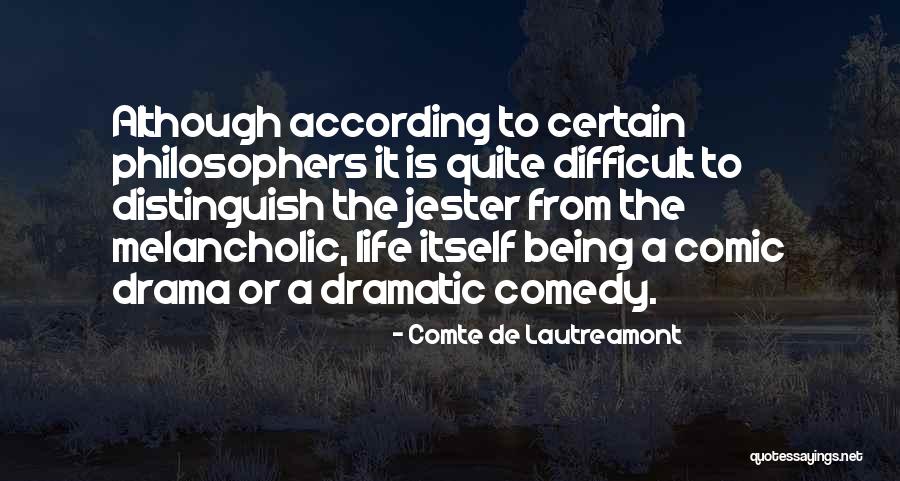 Although according to certain philosophers it is quite difficult to distinguish the jester from the melancholic, life itself being a comic drama or a dramatic comedy. — Comte De Lautreamont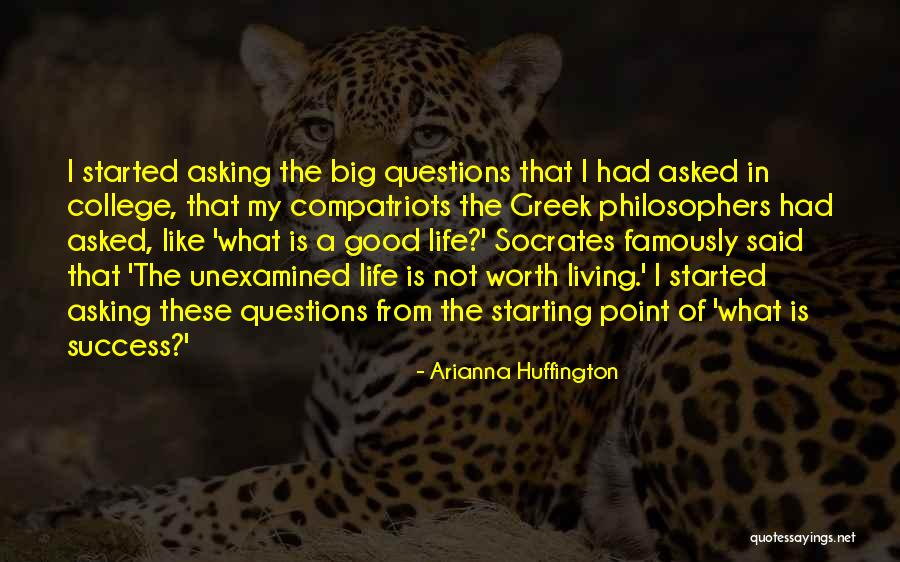 I started asking the big questions that I had asked in college, that my compatriots the Greek philosophers had asked, like 'what is a good life?' Socrates famously said that 'The unexamined life is not worth living.' I started asking these questions from the starting point of 'what is success?' — Arianna Huffington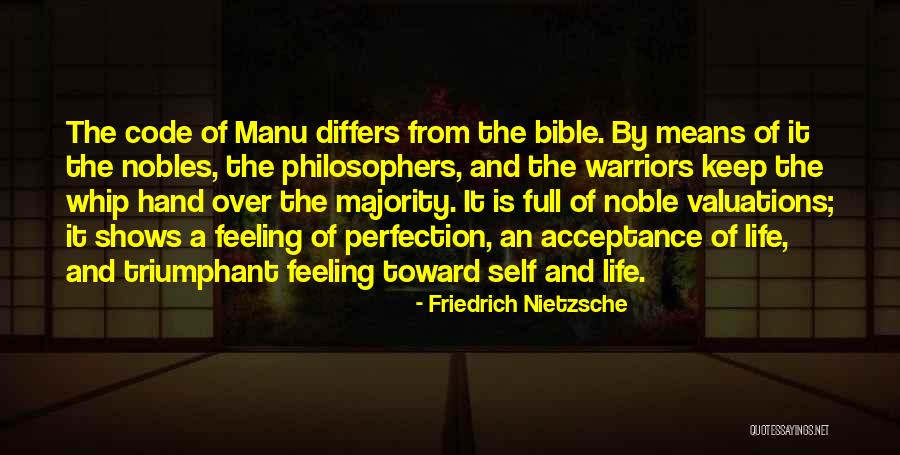 The code of Manu differs from the bible. By means of it the nobles, the philosophers, and the warriors keep the whip hand over the majority. It is full of noble valuations; it shows a feeling of perfection, an acceptance of life, and triumphant feeling toward self and life. — Friedrich Nietzsche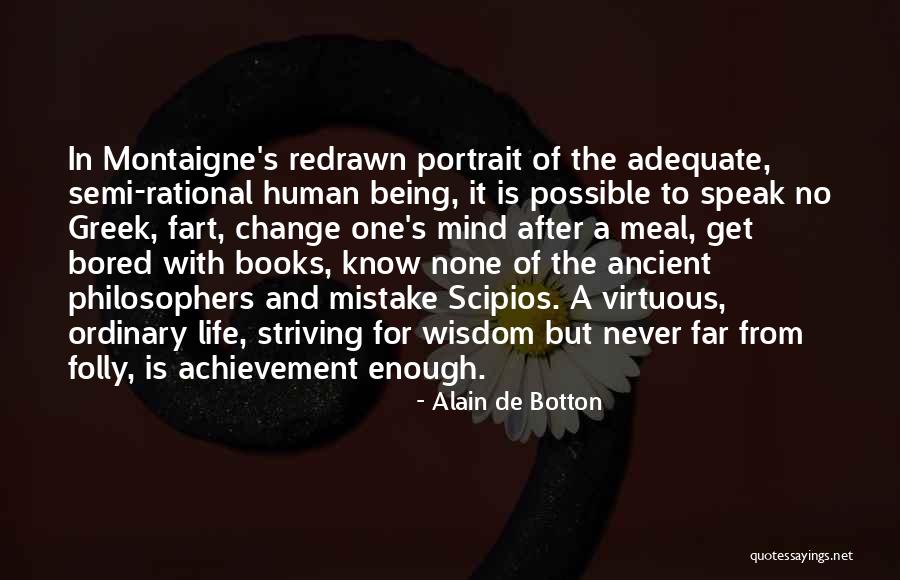 In Montaigne's redrawn portrait of the adequate, semi-rational human being, it is possible to speak no Greek, fart, change one's mind after a meal, get bored with books, know none of the ancient philosophers and mistake Scipios. A virtuous, ordinary life, striving for wisdom but never far from folly, is achievement enough. — Alain De Botton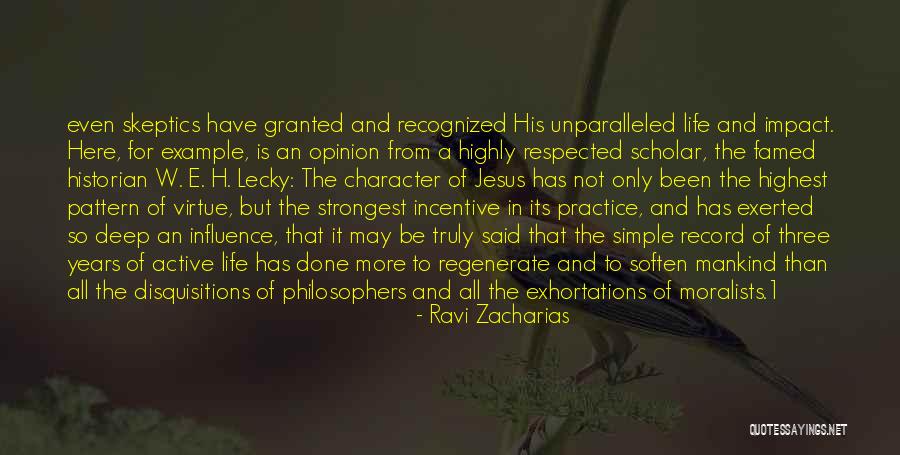 even skeptics have granted and recognized His unparalleled life and impact. Here, for example, is an opinion from a highly respected scholar, the famed historian W. E. H. Lecky: The character of Jesus has not only been the highest pattern of virtue, but the strongest incentive in its practice, and has exerted so deep an influence, that it may be truly said that the simple record of three years of active life has done more to regenerate and to soften mankind than all the disquisitions of philosophers and all the exhortations of moralists.1 — Ravi Zacharias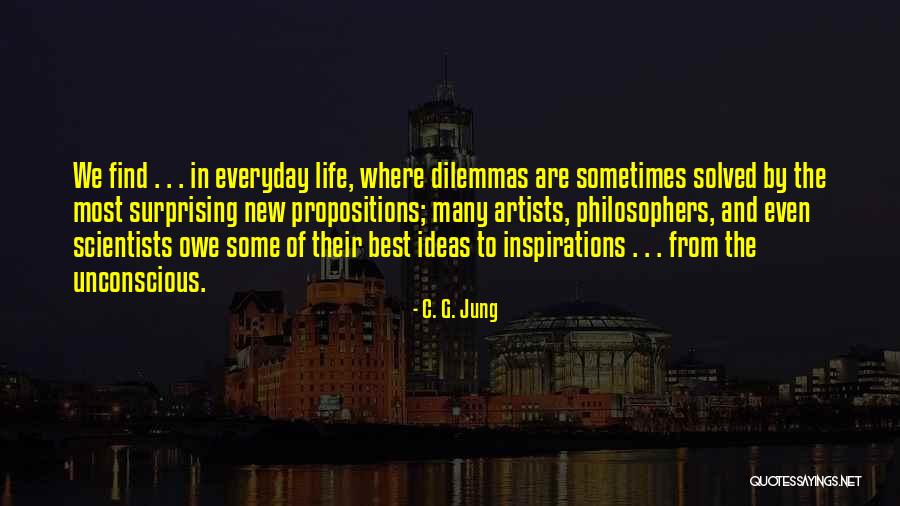 We find . . . in everyday life, where dilemmas are sometimes solved by the most surprising new propositions; many artists, philosophers, and even scientists owe some of their best ideas to inspirations . . . from the unconscious. — C. G. Jung