Quotes & Sayings About Life After Death Of Loved One
Enjoy reading and share 32 famous quotes about Life After Death Of Loved One with everyone.
Top Life After Death Of Loved One Quotes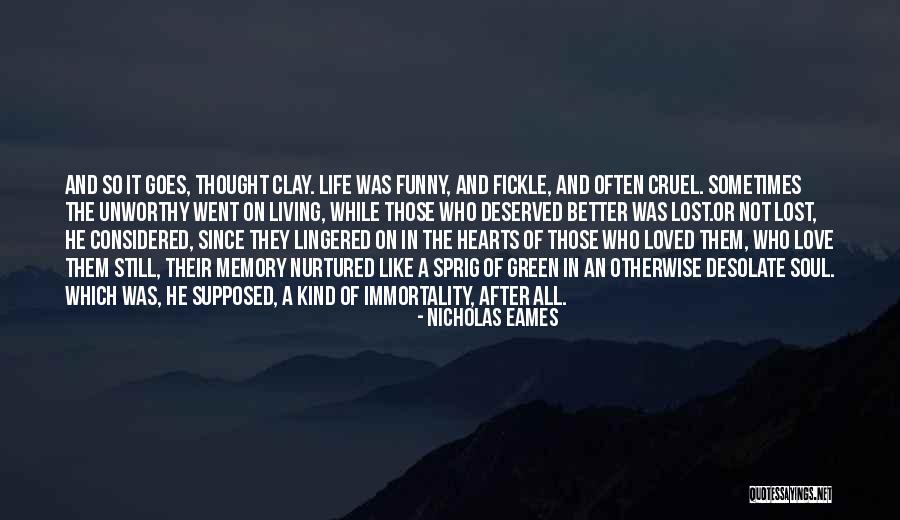 And so it goes, thought Clay. Life was funny, and fickle, and often cruel. Sometimes the unworthy went on living, while those who deserved better was lost.

Or not lost, he considered, since they lingered on in the hearts of those who loved them, who love them still, their memory nurtured like a sprig of green in an otherwise desolate soul. Which was, he supposed, a kind of immortality, after all. — Nicholas Eames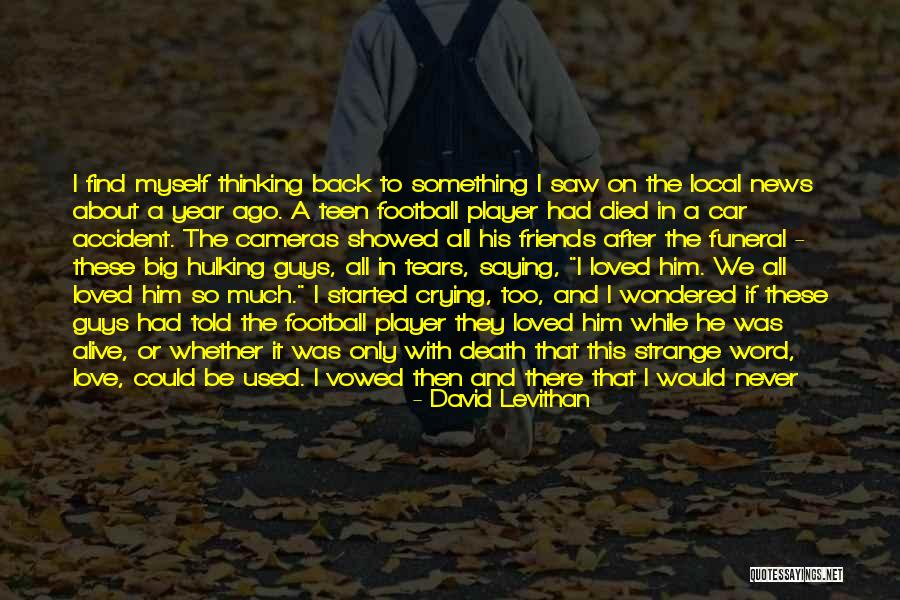 I find myself thinking back to something I saw on the local news about a year ago. A teen football player had died in a car accident. The cameras showed all his friends after the funeral - these big hulking guys, all in tears, saying, "I loved him. We all loved him so much." I started crying, too, and I wondered if these guys had told the football player they loved him while he was alive, or whether it was only with death that this strange word, love, could be used. I vowed then and there that I would never hesitate to speak up to the people I loved. They deserved to know they gave meaning to my life. They deserved to know I thought the world of them. — David Levithan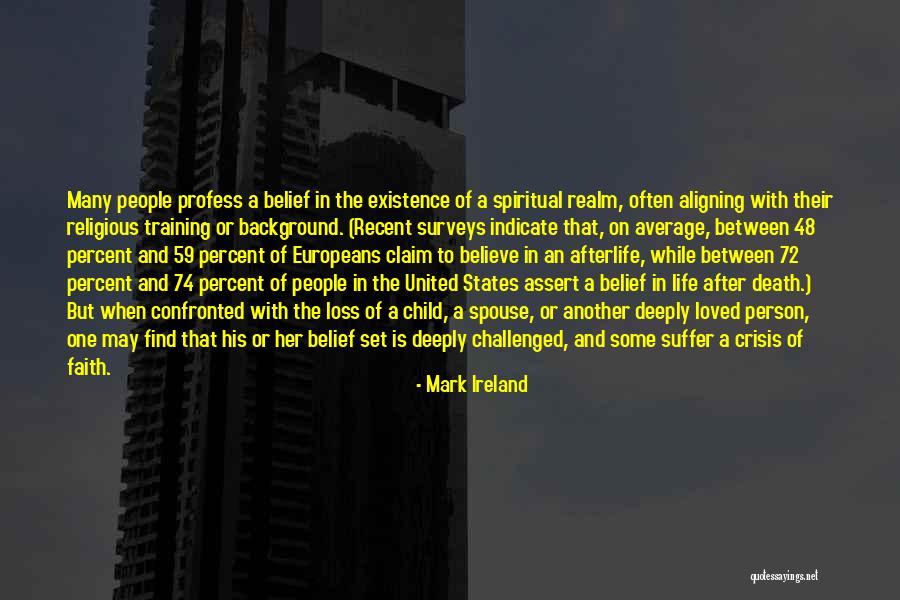 Many people profess a belief in the existence of a spiritual realm, often aligning with their religious training or background. (Recent surveys indicate that, on average, between 48 percent and 59 percent of Europeans claim to believe in an afterlife, while between 72 percent and 74 percent of people in the United States assert a belief in life after death.) But when confronted with the loss of a child, a spouse, or another deeply loved person, one may find that his or her belief set is deeply challenged, and some suffer a crisis of faith. — Mark Ireland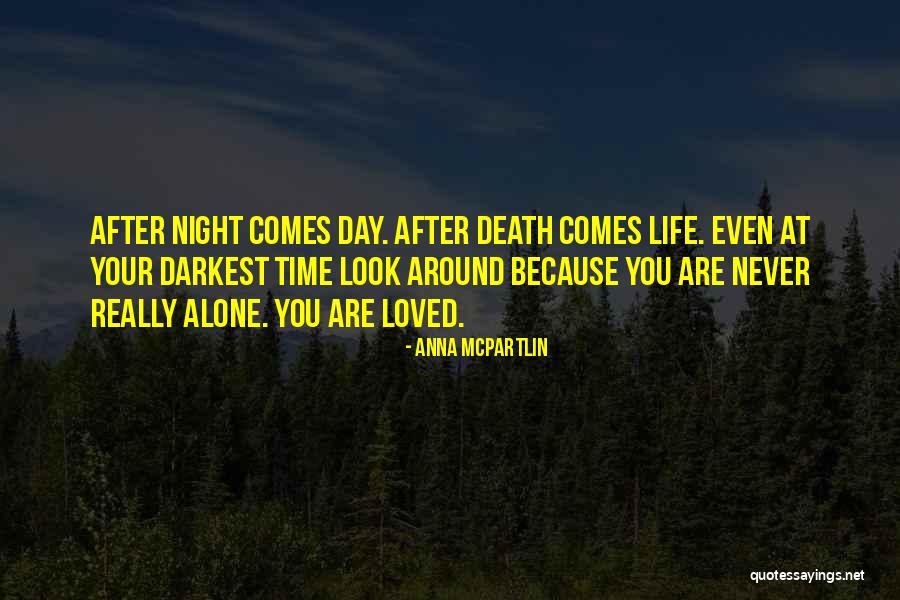 After night comes day. After death comes life. Even at your darkest time look around because you are never really alone. You are loved. — Anna McPartlin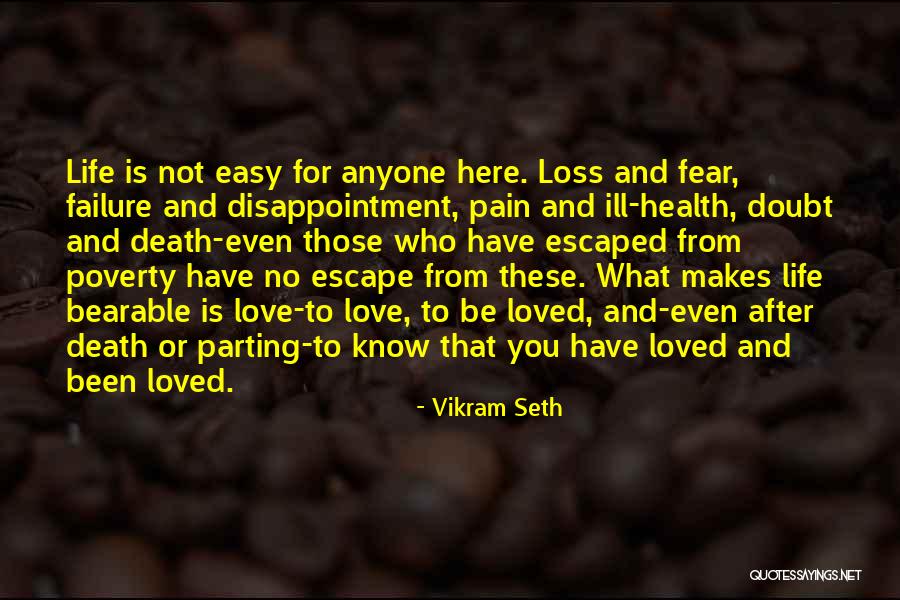 Life is not easy for anyone here. Loss and fear, failure and disappointment, pain and ill-health, doubt and death-even those who have escaped from poverty have no escape from these. What makes life bearable is love-to love, to be loved, and-even after death or parting-to know that you have loved and been loved. — Vikram Seth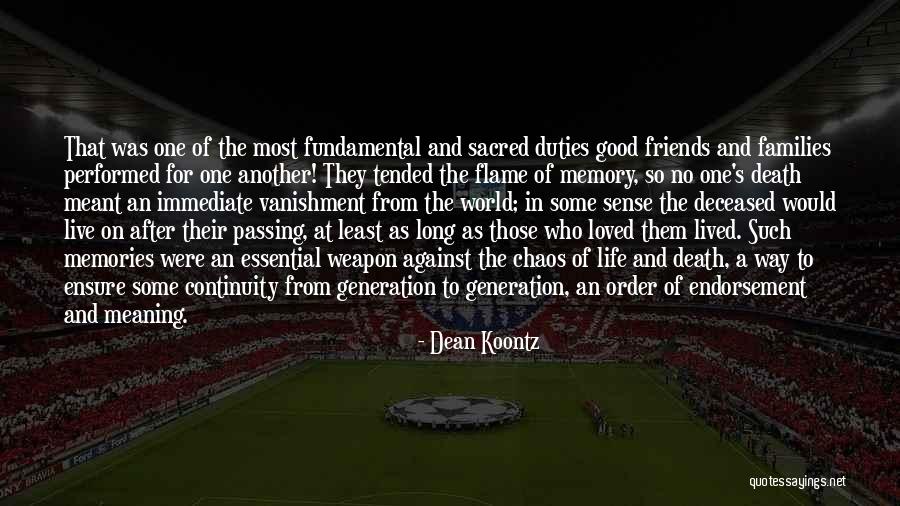 That was one of the most fundamental and sacred duties good friends and families performed for one another! They tended the flame of memory, so no one's death meant an immediate vanishment from the world; in some sense the deceased would live on after their passing, at least as long as those who loved them lived. Such memories were an essential weapon against the chaos of life and death, a way to ensure some continuity from generation to generation, an order of endorsement and meaning. — Dean Koontz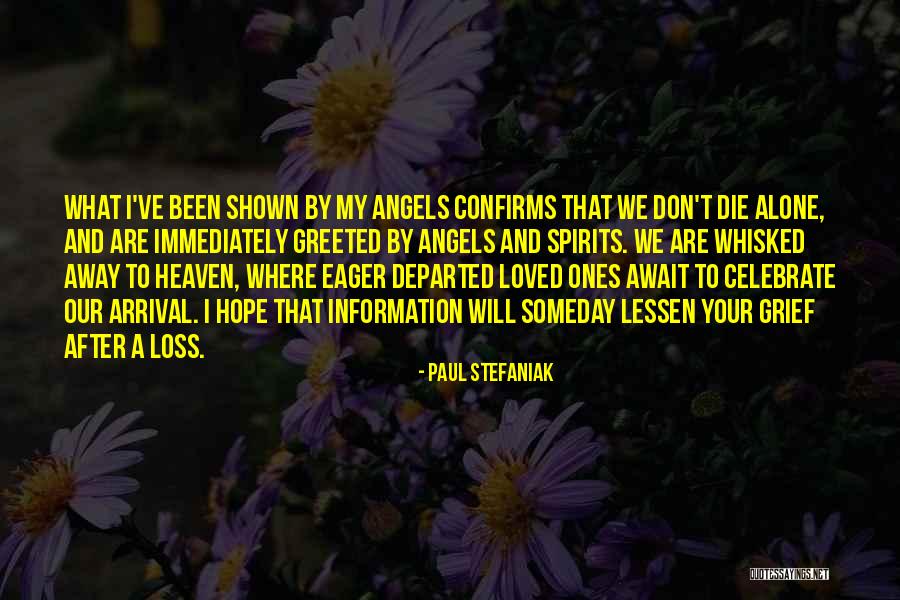 What I've been shown by my Angels confirms that we don't die alone, and are immediately greeted by Angels and Spirits. We are whisked away to Heaven, where eager Departed Loved Ones await to celebrate our arrival. I hope that information will someday lessen your grief after a loss. — Paul Stefaniak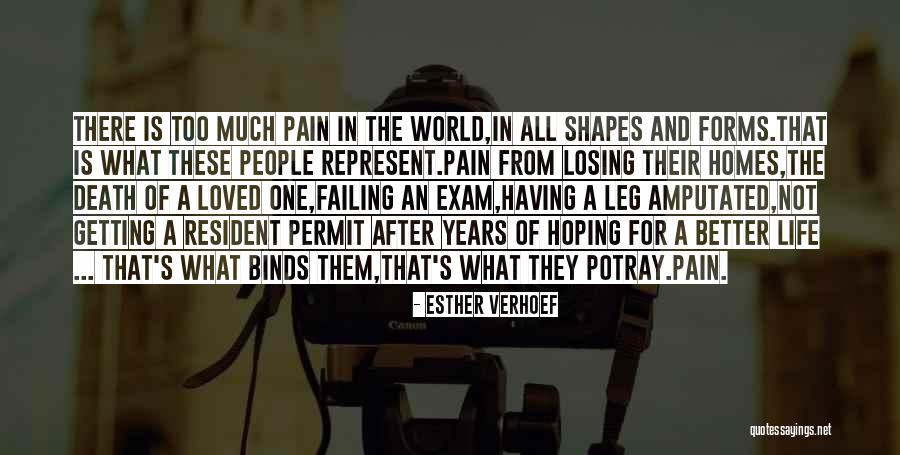 There is too much pain in the world,in all shapes and forms.That is what these people represent.Pain from losing their homes,the death of a loved one,failing an exam,having a leg amputated,not getting a resident permit after years of hoping for a better life ... That's what binds them,That's what they potray.Pain. — Esther Verhoef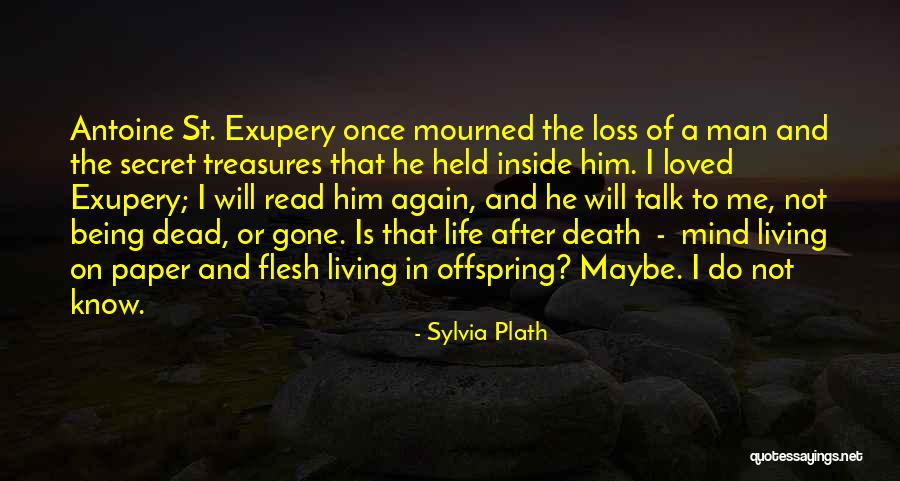 Antoine St. Exupery once mourned the loss of a man and the secret treasures that he held inside him. I loved Exupery; I will read him again, and he will talk to me, not being dead, or gone. Is that life after death - mind living on paper and flesh living in offspring? Maybe. I do not know. — Sylvia Plath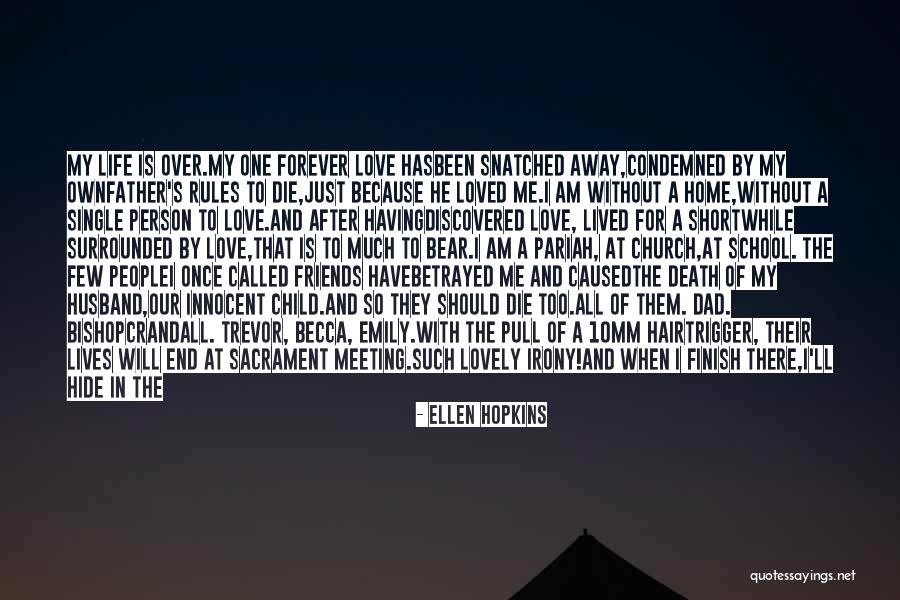 My life is over.
My one forever love has
been snatched away,
condemned by my own
father's rules to die,
just because he loved me.

I am without a home,
without a single person to love.
And after having
discovered love, lived for a short
while surrounded by love,
that is to much to bear.

I am a pariah, at church,
at school. The few people
I once called friends have
betrayed me and caused
the death of my husband,
our innocent child.

And so they should die too.
All of them. Dad. Bishop
Crandall. Trevor, Becca, Emily.
With the pull of a 10mm hair
trigger, their lives will end at sacrament meeting.
Such lovely irony!

And when I finish there,
I'll hide in the desert,
reload, and go in search
of Carmen and Tiffany,
who started the rumors.
And Derek, just because. — Ellen Hopkins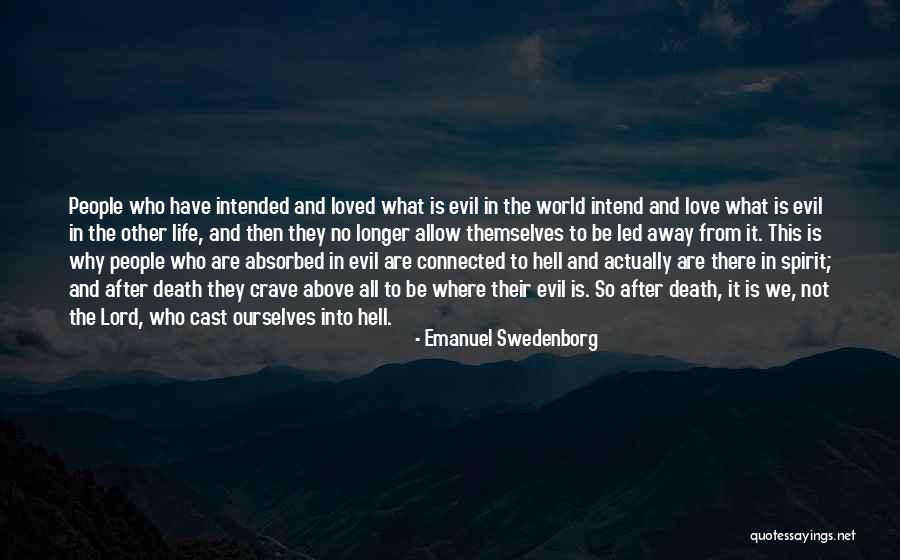 People who have intended and loved what is evil in the world intend and love what is evil in the other life, and then they no longer allow themselves to be led away from it. This is why people who are absorbed in evil are connected to hell and actually are there in spirit; and after death they crave above all to be where their evil is. So after death, it is we, not the Lord, who cast ourselves into hell. — Emanuel Swedenborg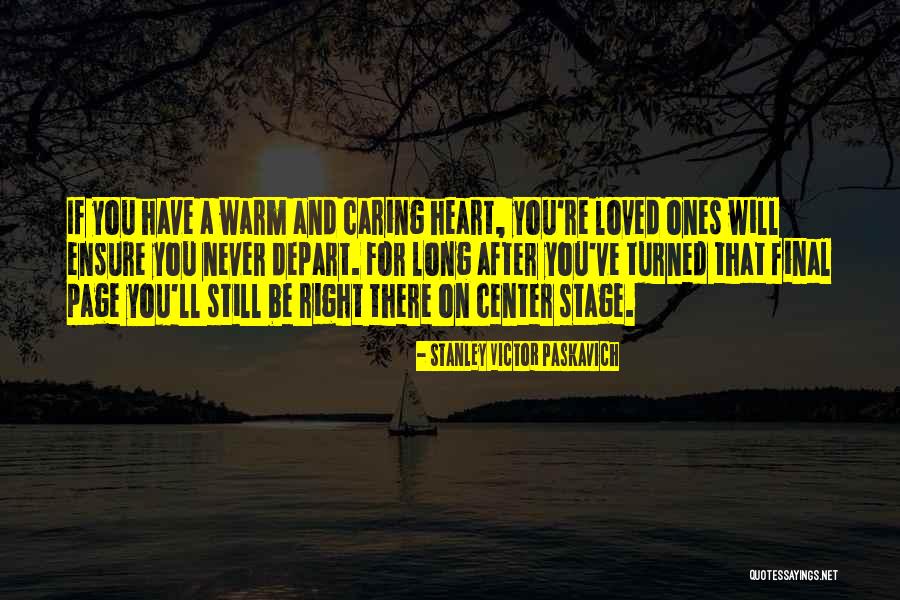 If you have a warm and caring heart, you're loved ones will ensure you never depart. For long after you've turned that final page you'll still be right there on center stage. — Stanley Victor Paskavich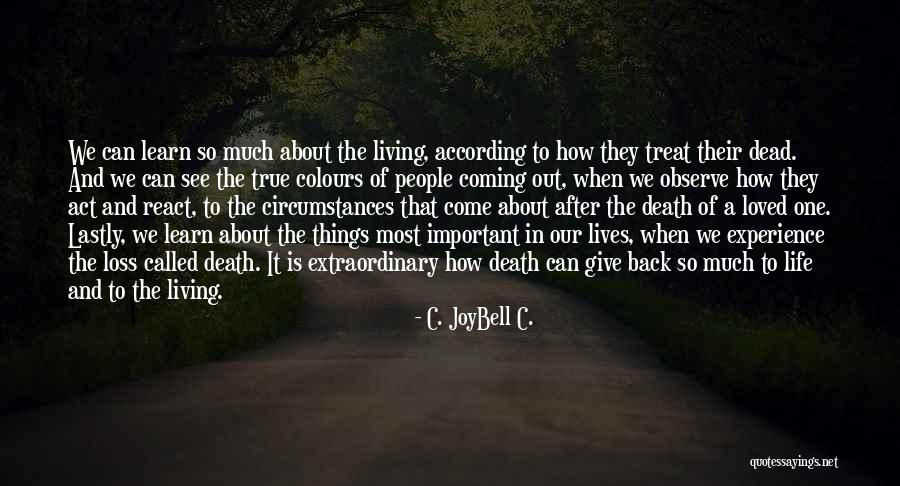 We can learn so much about the living, according to how they treat their dead. And we can see the true colours of people coming out, when we observe how they act and react, to the circumstances that come about after the death of a loved one. Lastly, we learn about the things most important in our lives, when we experience the loss called death. It is extraordinary how death can give back so much to life and to the living. — C. JoyBell C.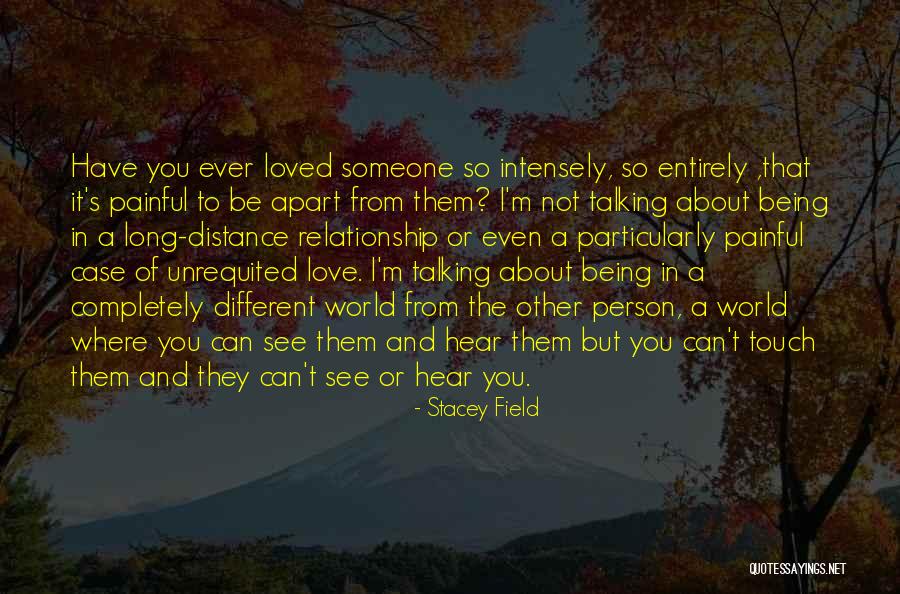 Have you ever loved someone so intensely, so entirely ,that it's painful to be apart from them? I'm not talking about being in a long-distance relationship or even a particularly painful case of unrequited love. I'm talking about being in a completely different world from the other person, a world where you can see them and hear them but you can't touch them and they can't see or hear you. — Stacey Field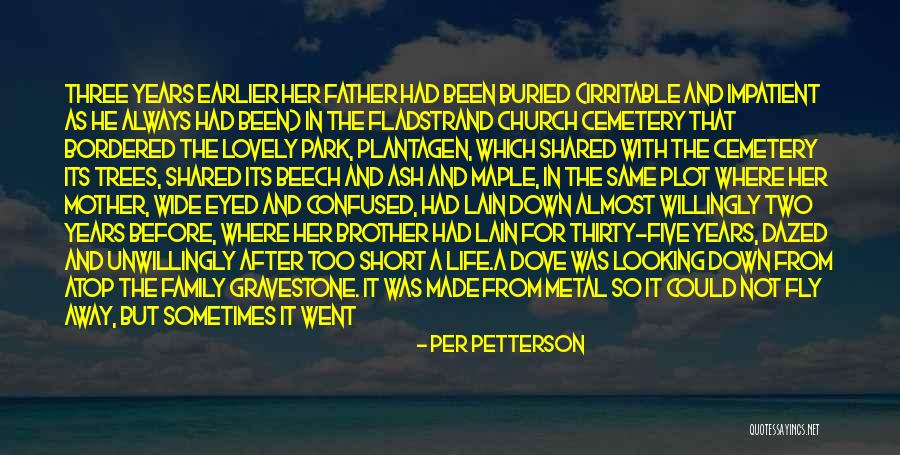 Three years earlier her father had been buried (irritable and impatient as he always had been) in the Fladstrand Church cemetery that bordered the lovely park, Plantagen, which shared with the cemetery its trees, shared its beech and ash and maple, in the same plot where her mother, wide eyed and confused, had lain down almost willingly two years before, where her brother had lain for thirty-five years, dazed and unwillingly after too short a life.
A dove was looking down from atop the family gravestone. It was made from metal so it could not fly away, but sometimes it went missing all the same and only a spike would remain. Someone had taken that dove, someone out there maybe had an entire collection of doves and angels and other small, Christian bronze sculptures in a cupboard at home and on long evenings would close the curtains and take them out and run his fingers gently over the smooth, cold bodies. — Per Petterson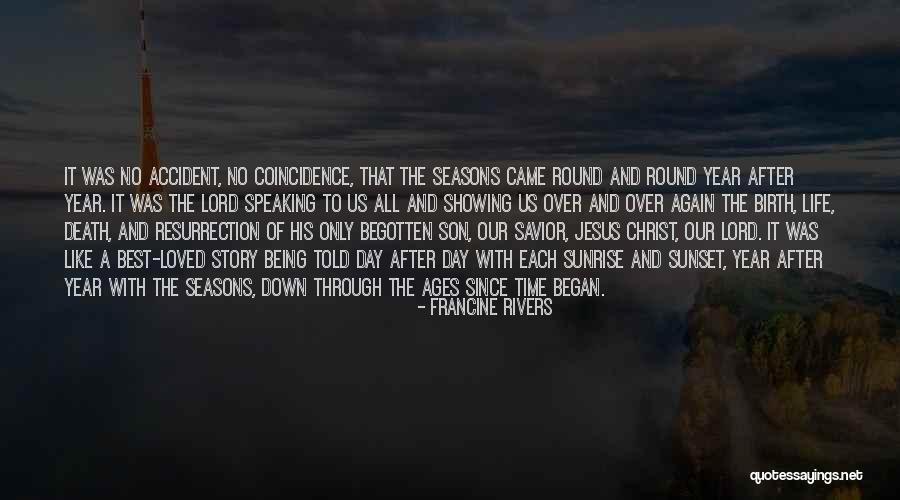 It was no accident, no coincidence, that the seasons came round and round year after year. It was the Lord speaking to us all and showing us over and over again the birth, life, death, and resurrection of his only begotten Son, our Savior, Jesus Christ, our Lord. It was like a best-loved story being told day after day with each sunrise and sunset, year after year with the seasons, down through the ages since time began. — Francine Rivers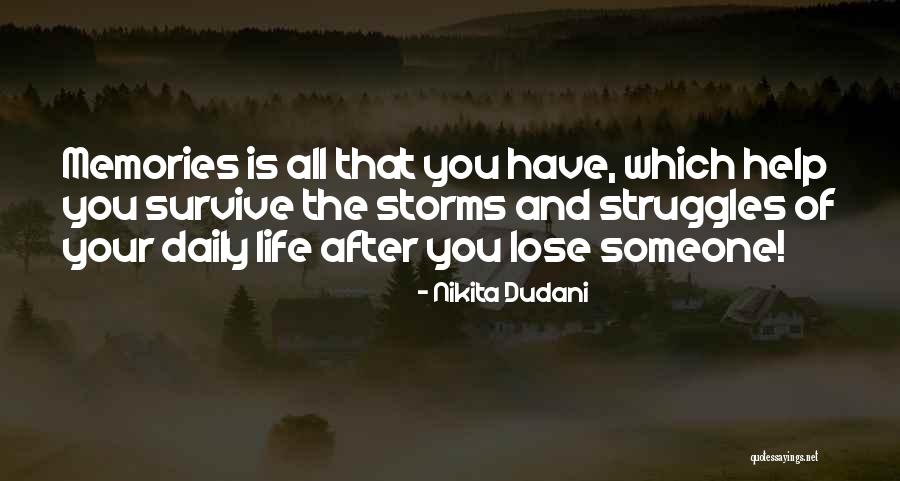 Memories is all that you have, which help you survive the storms and struggles of your daily life after you lose someone! — Nikita Dudani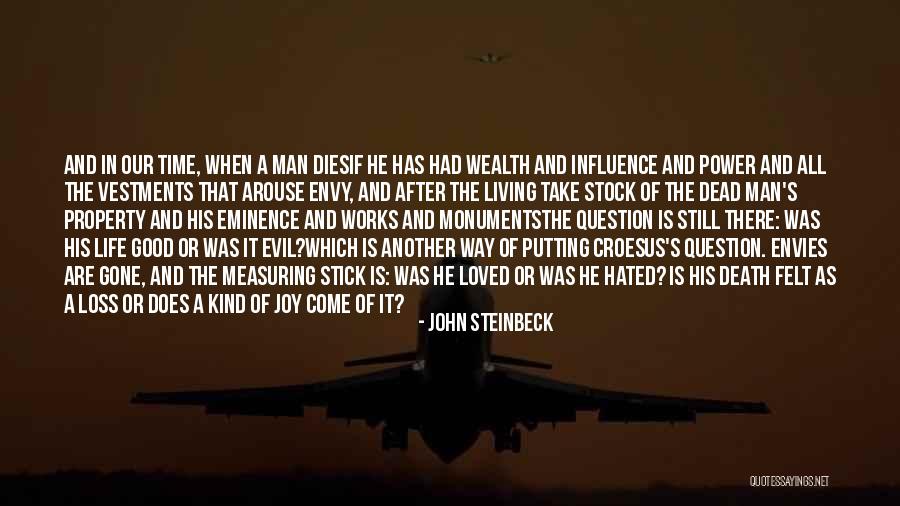 And in our time, when a man dies
if he has had wealth and influence and power and all the vestments that arouse envy, and after the living take stock of the dead man's property and his eminence and works and monuments
the question is still there: Was his life good or was it evil?
which is another way of putting Croesus's question. Envies are gone, and the measuring stick is: Was he loved or was he hated? Is his death felt as a loss or does a kind of joy come of it? — John Steinbeck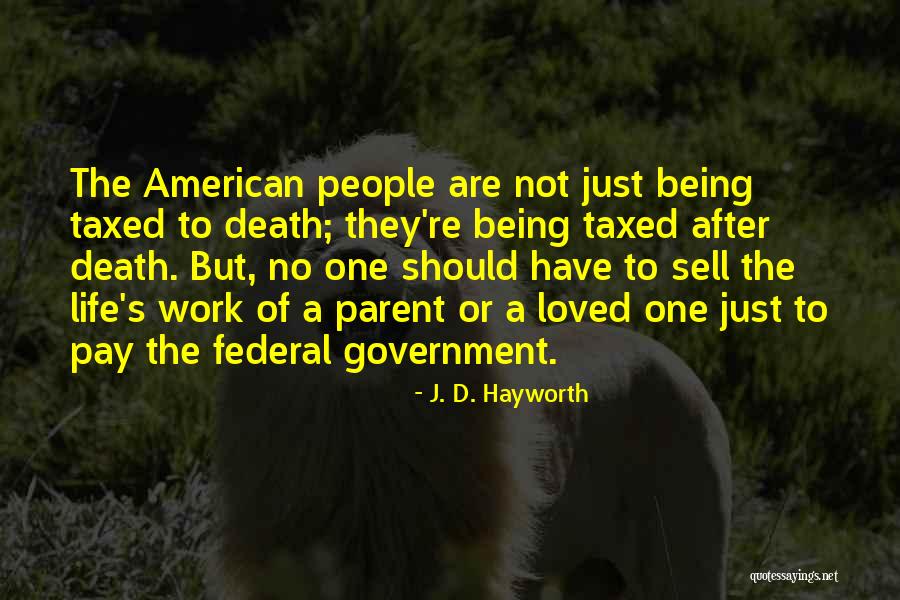 The American people are not just being taxed to death; they're being taxed after death. But, no one should have to sell the life's work of a parent or a loved one just to pay the federal government. — J. D. Hayworth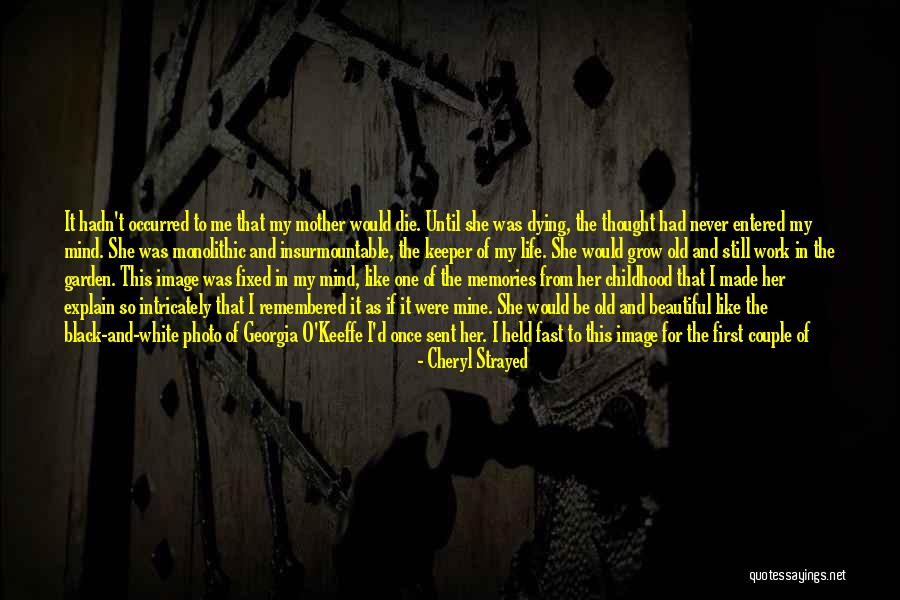 It hadn't occurred to me that my mother would die. Until she was dying, the thought had never entered my mind. She was monolithic and insurmountable, the keeper of my life. She would grow old and still work in the garden. This image was fixed in my mind, like one of the memories from her childhood that I made her explain so intricately that I remembered it as if it were mine. She would be old and beautiful like the black-and-white photo of Georgia O'Keeffe I'd once sent her. I held fast to this image for the first couple of weeks after we left the Mayo Clinic, and then, once she was admitted to the hospice wing of the hospital in Duluth, that image unfurled, gave way to the others, more modest and true. I imagined my mother in October; I wrote the scene in my mind. And then the one of my mother in August and another in May. Each day that passed, another month peeled away. — Cheryl Strayed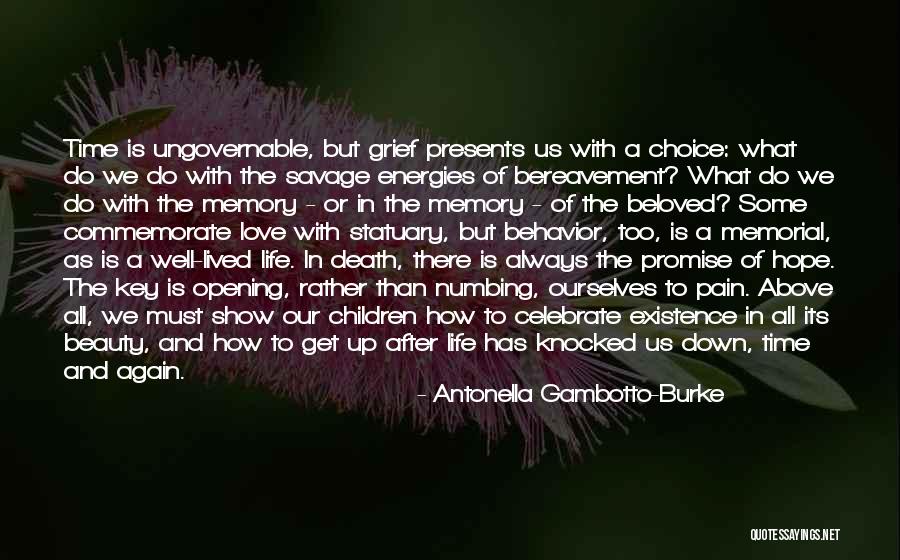 Time is ungovernable, but grief presents us with a choice: what do we do with the savage energies of bereavement? What do we do with the memory - or in the memory - of the beloved? Some commemorate love with statuary, but behavior, too, is a memorial, as is a well-lived life. In death, there is always the promise of hope. The key is opening, rather than numbing, ourselves to pain. Above all, we must show our children how to celebrate existence in all its beauty, and how to get up after life has knocked us down, time and again. Half-dead, we stand. And together, we salute love. Because in the end, that's all that matters. How hard we loved, and how hard we tried. — Antonella Gambotto-Burke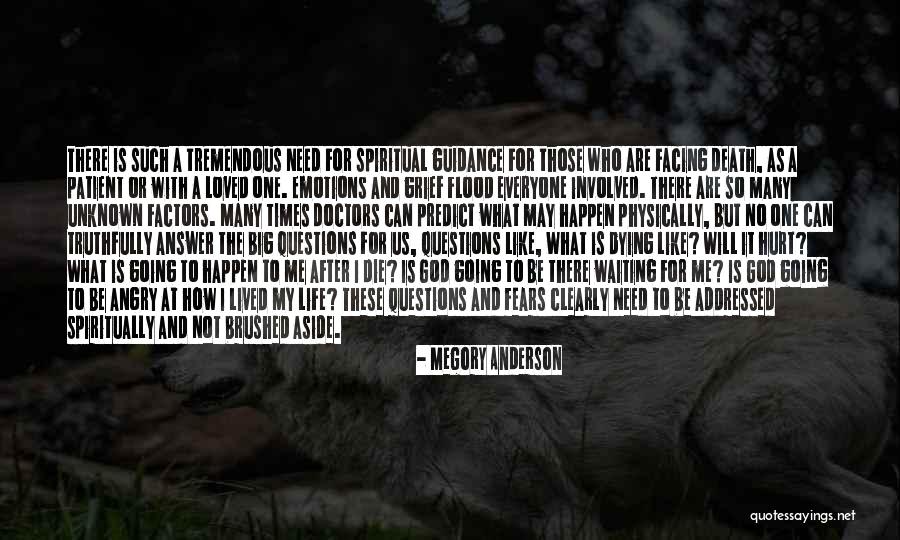 There is such a tremendous need for spiritual guidance for those who are facing death, as a patient or with a loved one. Emotions and grief flood everyone involved. There are so many unknown factors. Many times doctors can predict what may happen physically, but no one can truthfully answer the big questions for us, questions like, What is dying like? Will it hurt? What is going to happen to me after I die? Is God going to be there waiting for me? Is God going to be angry at how I lived my life? These questions and fears clearly need to be addressed spiritually and not brushed aside. — Megory Anderson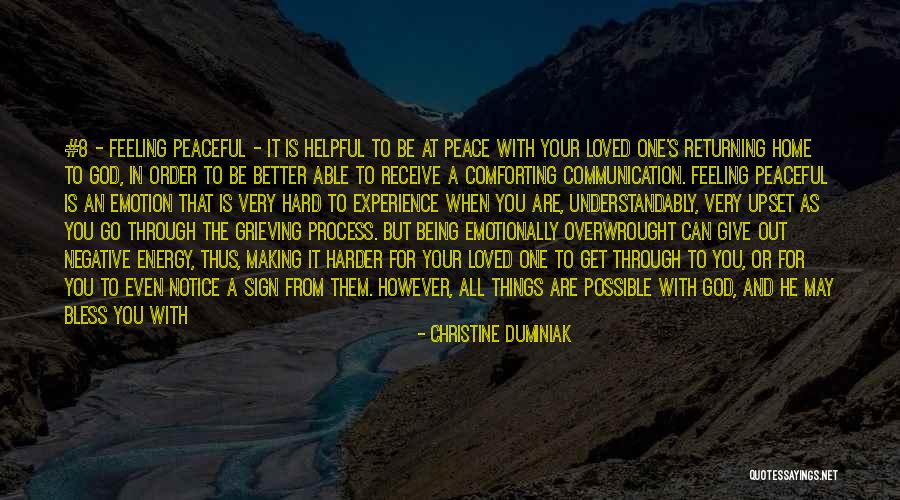 #8 - Feeling Peaceful - It is helpful to be at peace with your loved one's returning Home to God, in order to be better able to receive a comforting communication. Feeling peaceful is an emotion that is very hard to experience when you are, understandably, very upset as you go through the grieving process. But being emotionally overwrought can give out negative energy, thus, making it harder for your loved one to get through to you, or for you to even notice a sign from them. However, all things are possible with God, and He may bless you with an after-death communication, no matter what the circumstances, because He wants to comfort you and bring you peace. Pray for peace for your anguished heart. Pray for acceptance and comfort, so that you can go on with your life contented in knowing that you will be fully reunited once again. — Christine Duminiak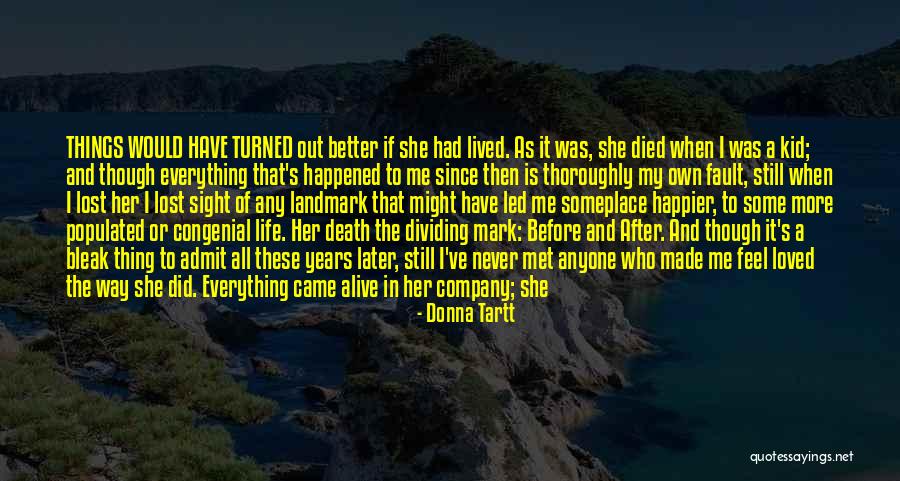 THINGS WOULD HAVE TURNED out better if she had lived. As it was, she died when I was a kid; and though everything that's happened to me since then is thoroughly my own fault, still when I lost her I lost sight of any landmark that might have led me someplace happier, to some more populated or congenial life. Her death the dividing mark: Before and After. And though it's a bleak thing to admit all these years later, still I've never met anyone who made me feel loved the way she did. Everything came alive in her company; she cast a charmed theatrical light about her so that to see anything through her eyes was to see it in brighter colors than ordinary — Donna Tartt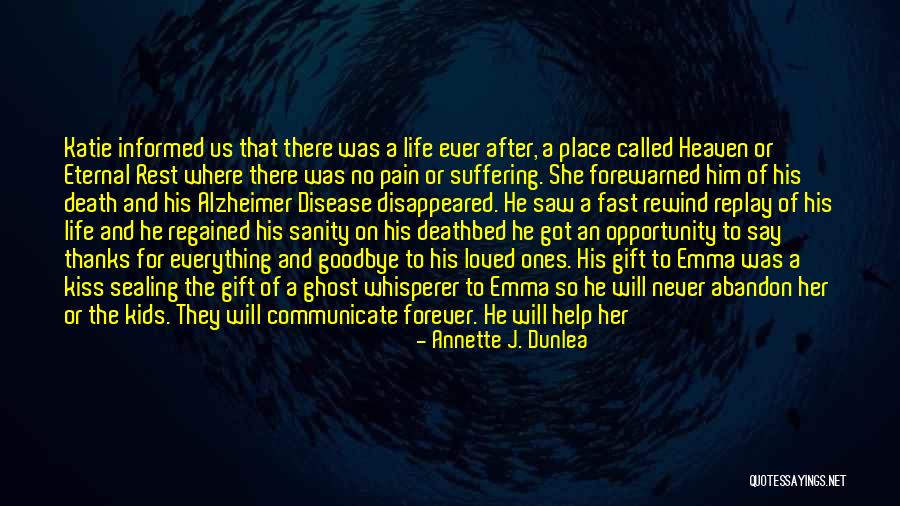 Katie informed us that there was a life ever after, a place called Heaven or Eternal Rest where there was no pain or suffering. She forewarned him of his death and his Alzheimer Disease disappeared. He saw a fast rewind replay of his life and he regained his sanity on his deathbed he got an opportunity to say thanks for everything and goodbye to his loved ones. His gift to Emma was a kiss sealing the gift of a ghost whisperer to Emma so he will never abandon her or the kids. They will communicate forever. He will help her through this life and return watching over her and navigate a path for her into the next life, Heaven — Annette J. Dunlea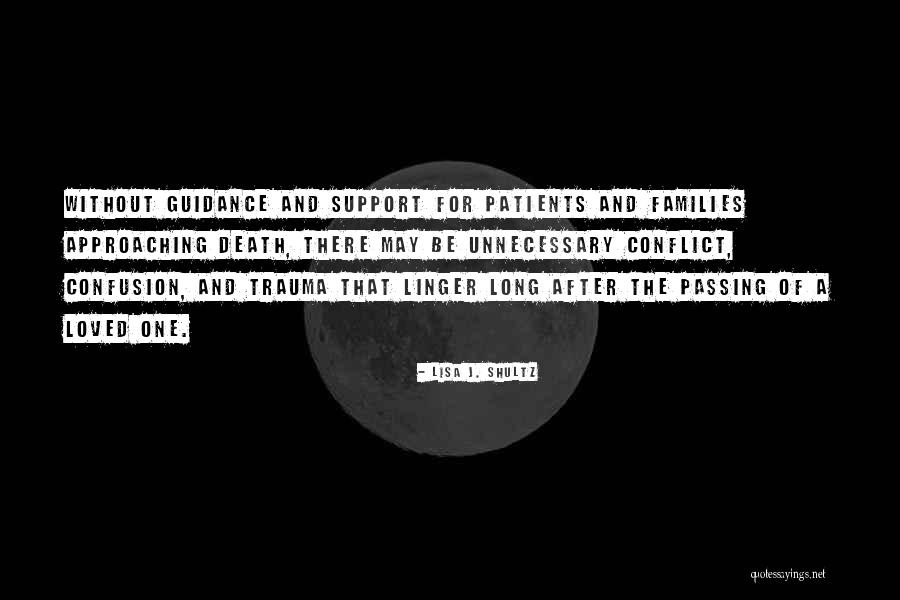 Without guidance and support for patients and families approaching death, there may be unnecessary conflict, confusion, and trauma that linger long after the passing of a loved one. — Lisa J. Shultz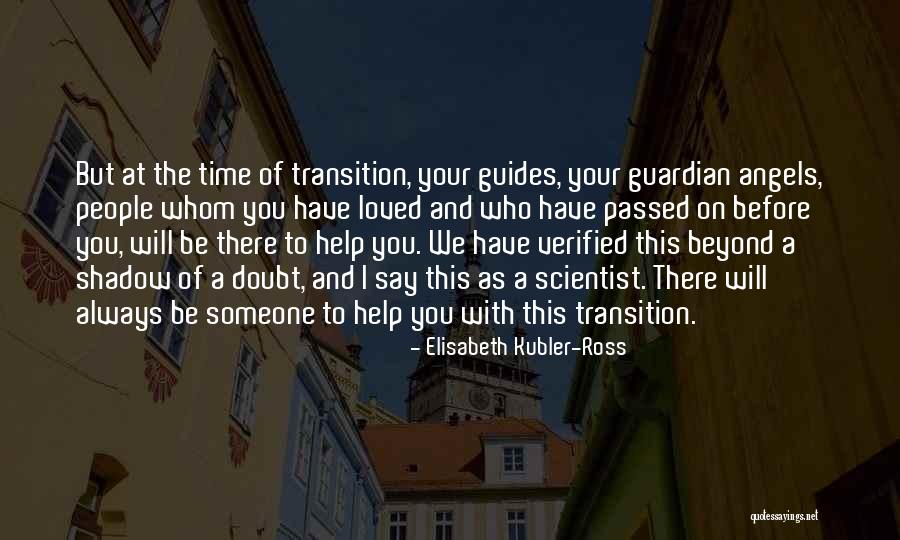 But at the time of transition, your guides, your guardian angels, people whom you have loved and who have passed on before you, will be there to help you. We have verified this beyond a shadow of a doubt, and I say this as a scientist. There will always be someone to help you with this transition. — Elisabeth Kubler-Ross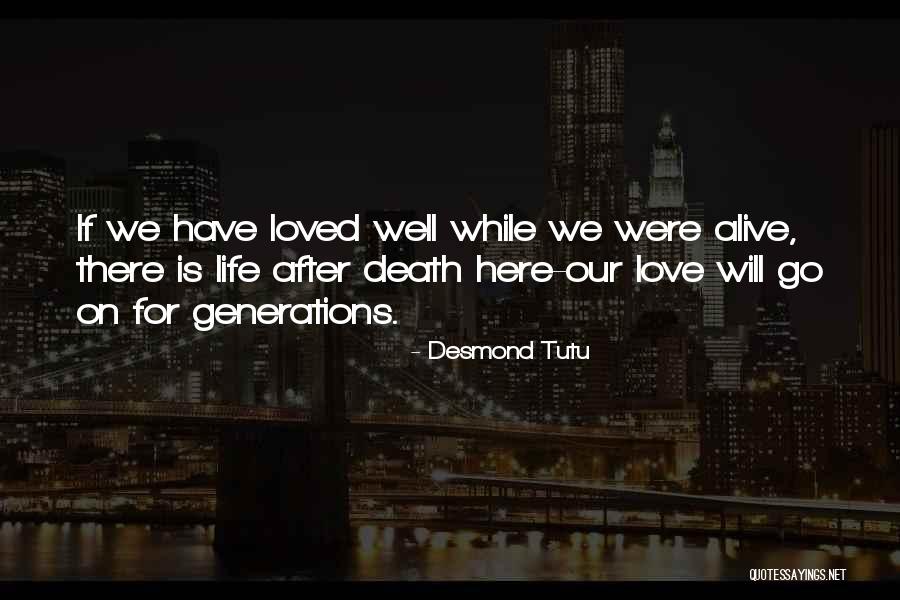 If we have loved well while we were alive, there is life after death here-our love will go on for generations. — Desmond Tutu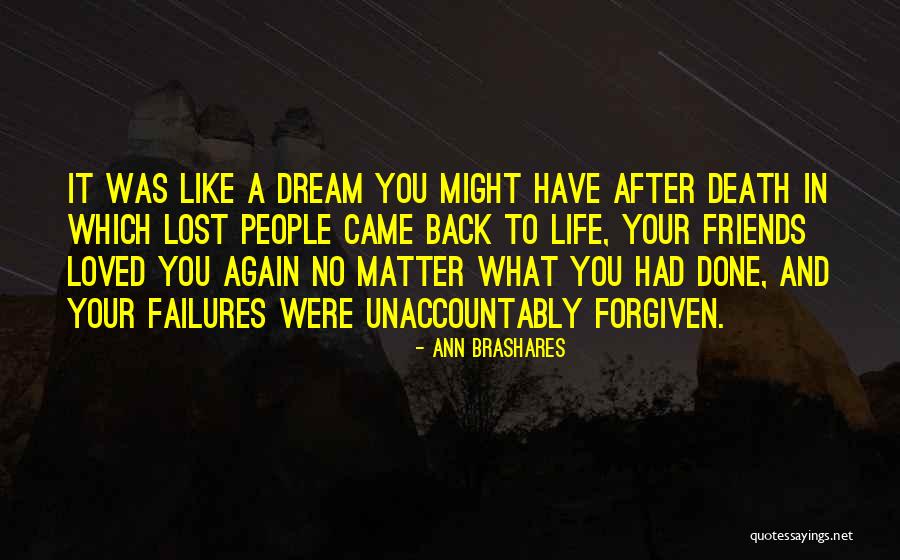 It was like a dream you might have after death in which lost people came back to life, your friends loved you again no matter what you had done, and your failures were unaccountably forgiven. — Ann Brashares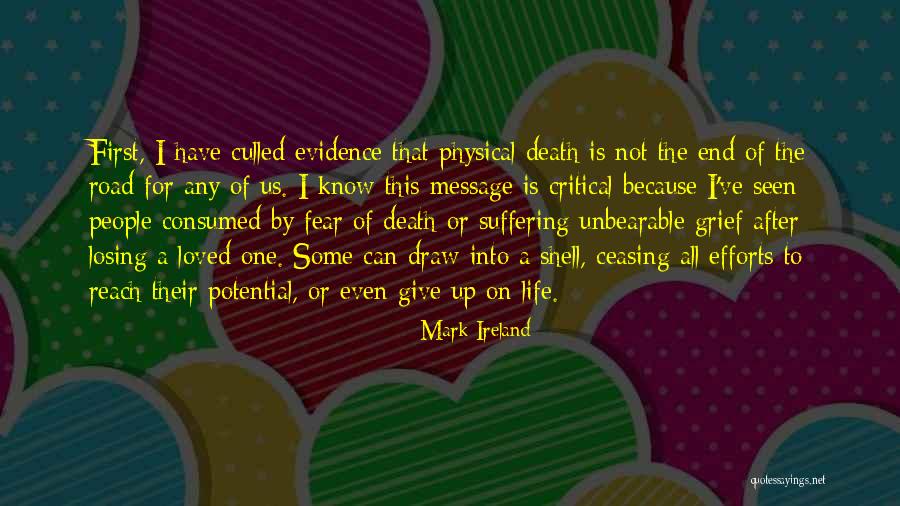 First, I have culled evidence that physical death is not the end of the road for any of us. I know this message is critical because I've seen people consumed by fear of death or suffering unbearable grief after losing a loved one. Some can draw into a shell, ceasing all efforts to reach their potential, or even give up on life. — Mark Ireland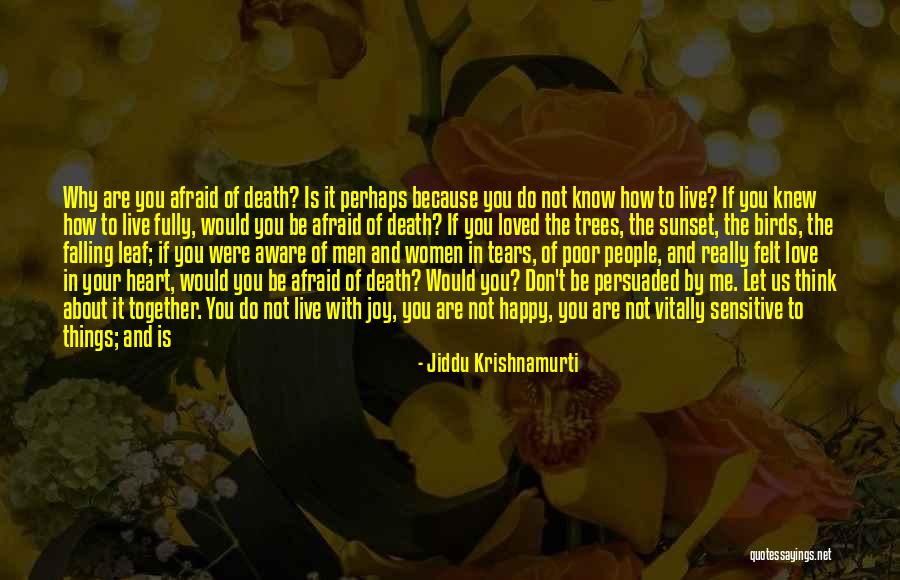 Why are you afraid of death? Is it perhaps because you do not know how to live? If you knew how to live fully, would you be afraid of death? If you loved the trees, the sunset, the birds, the falling leaf; if you were aware of men and women in tears, of poor people, and really felt love in your heart, would you be afraid of death? Would you? Don't be persuaded by me. Let us think about it together. You do not live with joy, you are not happy, you are not vitally sensitive to things; and is that why you ask what is going to happen when you die? Life for you is sorrow, and so you are much more interested in death. You feel that perhaps there will be happiness after death. But that is a tremendous problem, and I do not know if you want to go into it. After all, fear is at the bottom of all this - fear of dying, fear of living, fear of suffering. If you cannot understand what it is that causes fear and be free of it, then it does not matter very much whether yo u are living or dead. — Jiddu Krishnamurti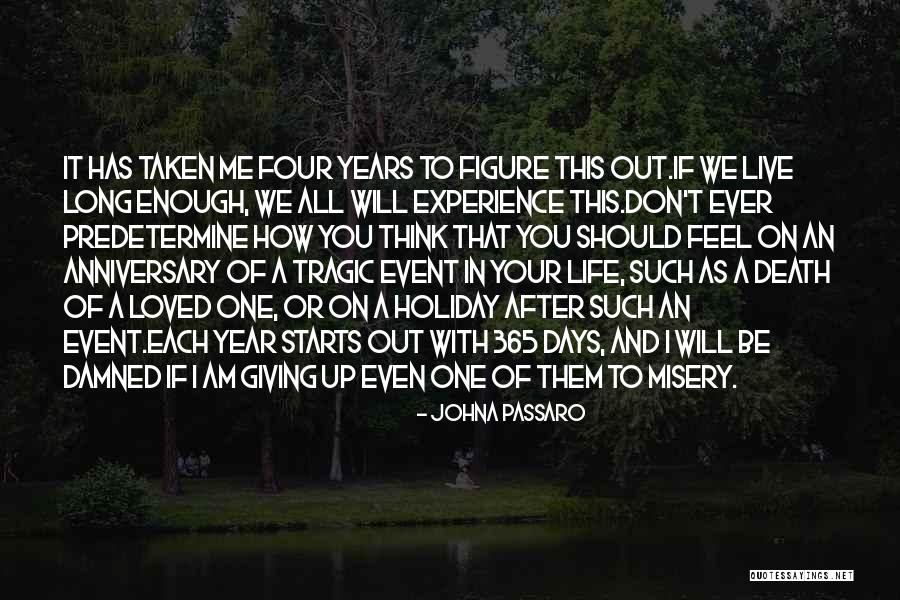 It has taken me four years to figure this out.
If we live long enough, we all will experience this.
Don't ever predetermine how you think that you should feel on an anniversary of a tragic event in your life, such as a death of a loved one, or on a holiday after such an event.
Each year starts out with 365 days, and I will be damned if I am giving up even one of them to misery. — JohnA Passaro