Leave It In God's Hands Quotes & Sayings
Enjoy reading and share 52 famous quotes about Leave It In God's Hands with everyone.
Top Leave It In God's Hands Quotes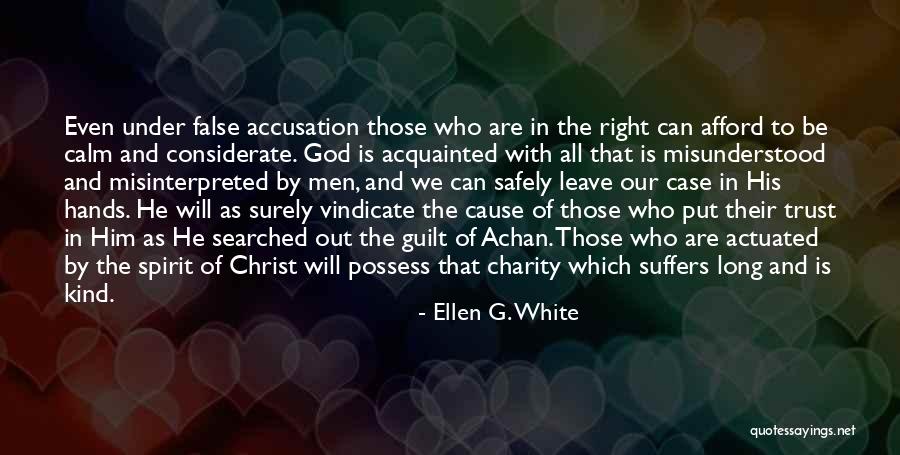 Even under false accusation those who are in the right can afford to be calm and considerate. God is acquainted with all that is misunderstood and misinterpreted by men, and we can safely leave our case in His hands. He will as surely vindicate the cause of those who put their trust in Him as He searched out the guilt of Achan. Those who are actuated by the spirit of Christ will possess that charity which suffers long and is kind. — Ellen G. White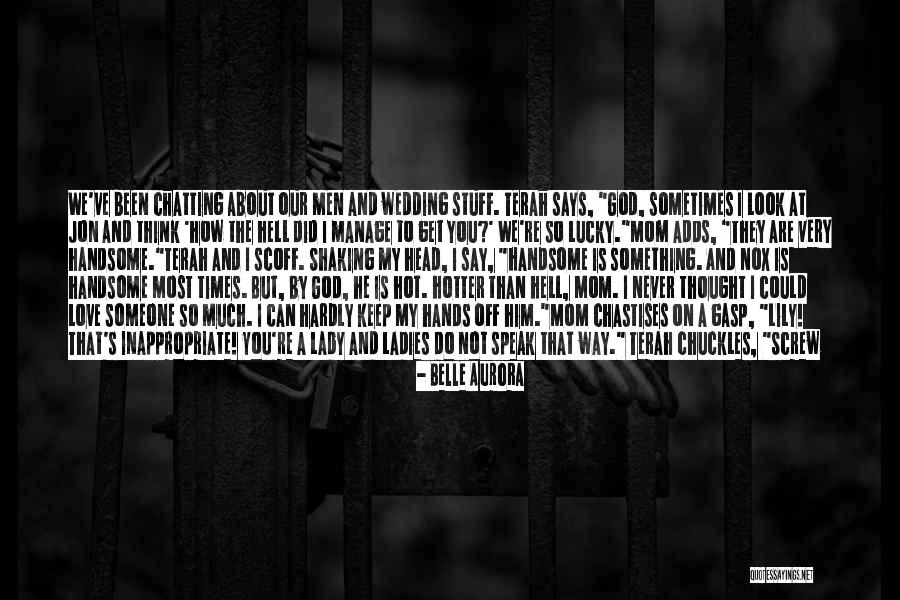 We've been chatting about our men and wedding stuff. Terah says, "God, sometimes I look at Jon and think 'how the Hell did I manage to get you?' We're so lucky."
Mom adds, "They are very handsome."
Terah and I scoff. Shaking my head, I say, "Handsome is something. And Nox is handsome most times. But, by God, he is hot. Hotter than Hell, Mom. I never thought I could love someone so much. I can hardly keep my hands off him."
Mom chastises on a gasp, "Lily! That's inappropriate! You're a lady and ladies do not speak that way."
Terah chuckles, "Screw being a lady. I love my special cuddle time with Jon."
Mom covers her ears, but barks out an embarrassed laugh, "I cannot hear this! You girls can clean the rest up while I powder my nose."
Terah and I chuckle, watching her leave. — Belle Aurora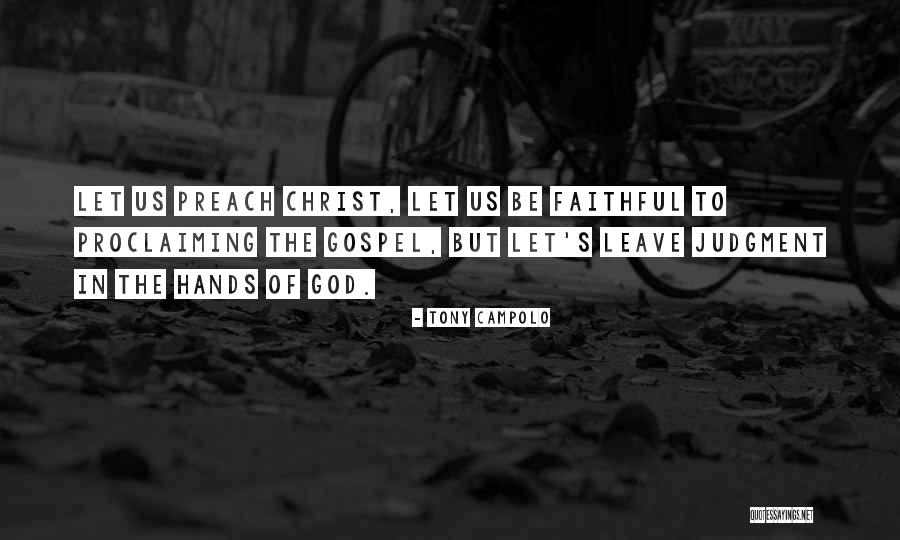 Let us preach Christ, let us be faithful to proclaiming the Gospel, but let's leave judgment in the hands of God. — Tony Campolo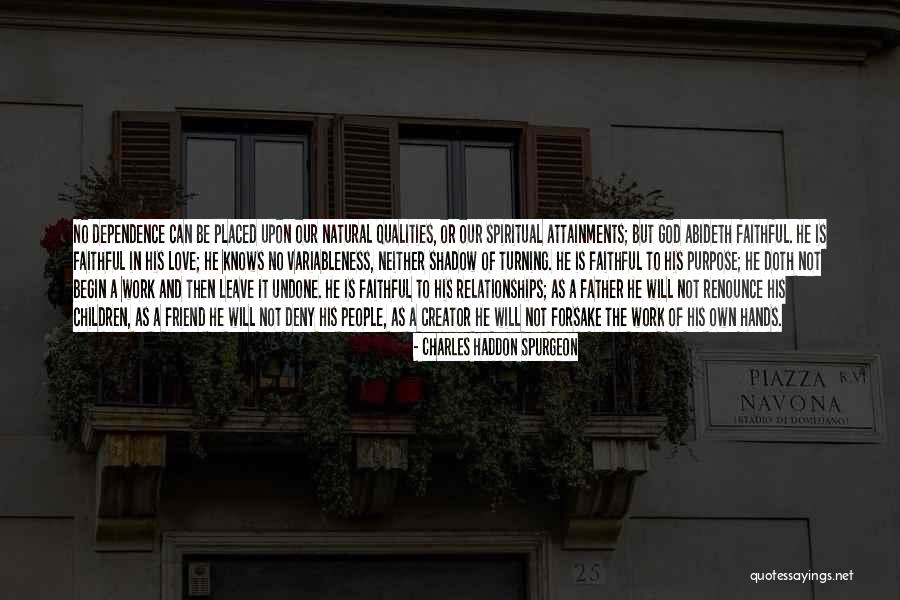 No dependence can be placed upon our natural qualities, or our spiritual attainments; but God abideth faithful. He is faithful in His love; He knows no variableness, neither shadow of turning. He is faithful to His purpose; He doth not begin a work and then leave it undone. He is faithful to His relationships; as a Father He will not renounce His children, as a friend He will not deny His people, as a Creator He will not forsake the work of His own hands. — Charles Haddon Spurgeon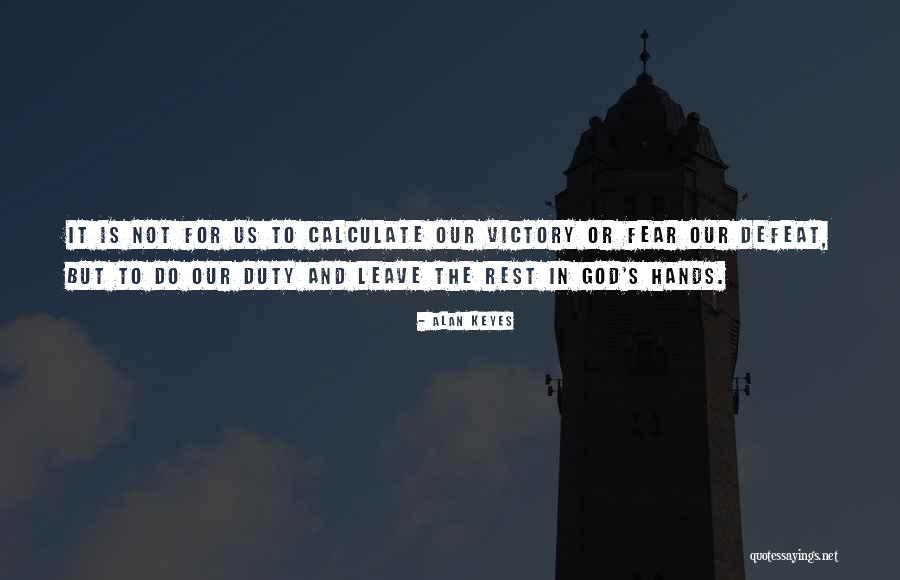 It is not for us to calculate our victory or fear our defeat, but to do our duty and leave the rest in God's hands. — Alan Keyes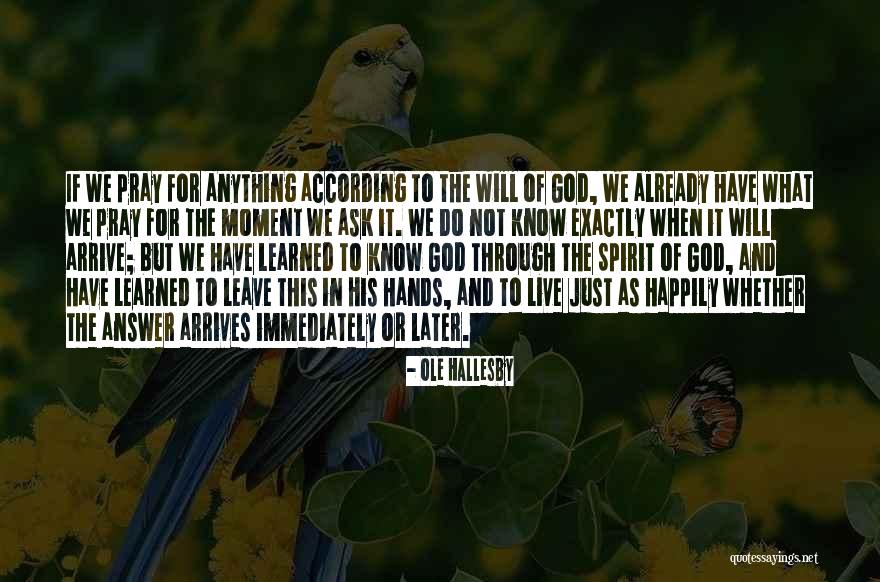 If we pray for anything according to the will of God, we already have what we pray for the moment we ask it. We do not know exactly when it will arrive; but we have learned to know God through the Spirit of God, and have learned to leave this in His hands, and to live just as happily whether the answer arrives immediately or later. — Ole Hallesby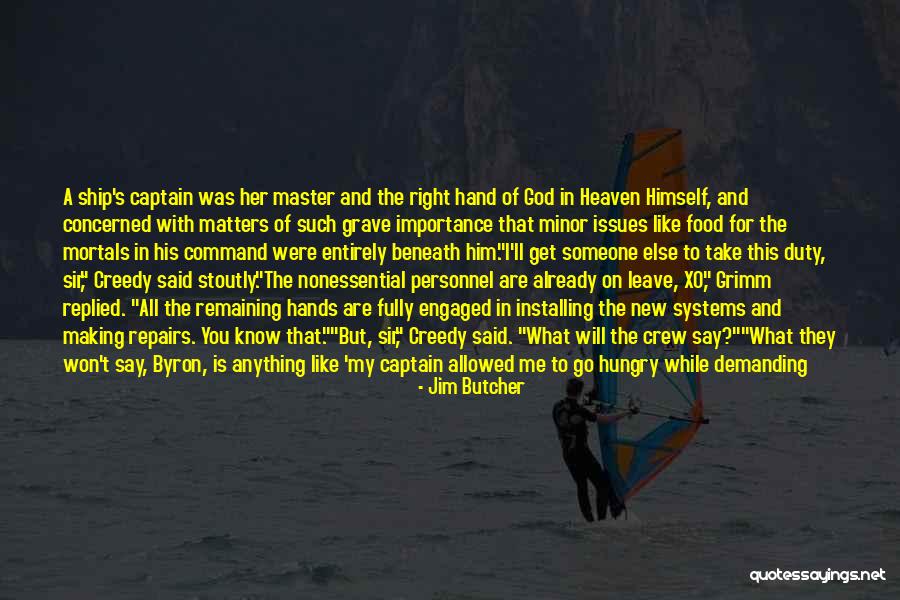 A ship's captain was her master and the right hand of God in Heaven Himself, and concerned with matters of such grave importance that minor issues like food for the mortals in his command were entirely beneath him.
"I'll get someone else to take this duty, sir," Creedy said stoutly.
"The nonessential personnel are already on leave, XO," Grimm replied. "All the remaining hands are fully engaged in installing the new systems and making repairs. You know that."
"But, sir," Creedy said. "What will the crew say?"
"What they won't say, Byron, is anything like 'my captain allowed me to go hungry while demanding that I work without cease,'" Grimm said. — Jim Butcher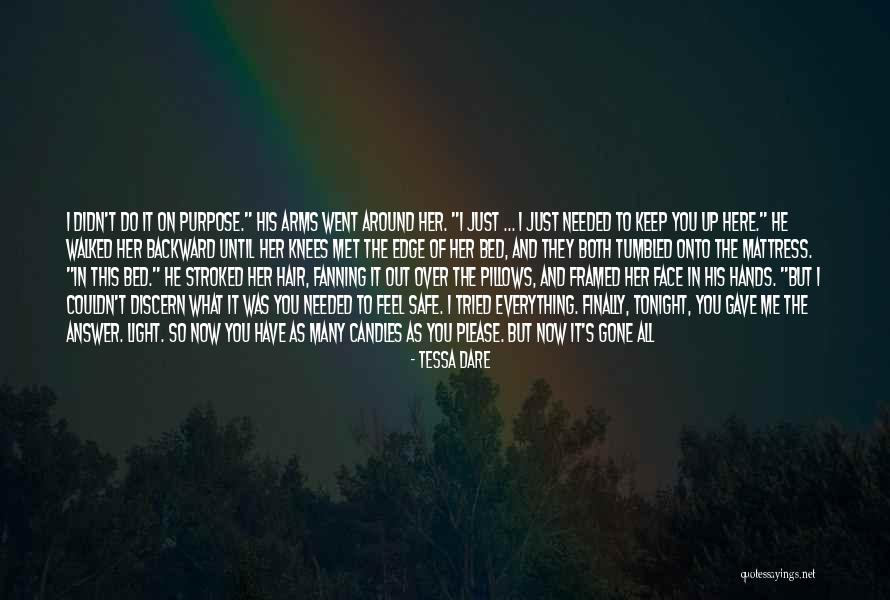 I didn't do it on purpose." His arms went around her. "I just ... I just needed to keep you up here." He walked her backward until her knees met the edge of her bed, and they both tumbled onto the mattress. "In this bed."
He stroked her hair, fanning it out over the pillows, and framed her face in his hands. "But I couldn't discern what it was you needed to feel safe. I tried everything. Finally, tonight, you gave me the answer. Light. So now you have as many candles as you please. But now it's gone all wrong. Because you're here in this bed. But I'm here, too. And God help me, Izzy." His brow pressed to hers, and his weight settled over her, crushing and warm. "I don't know how to leave. — Tessa Dare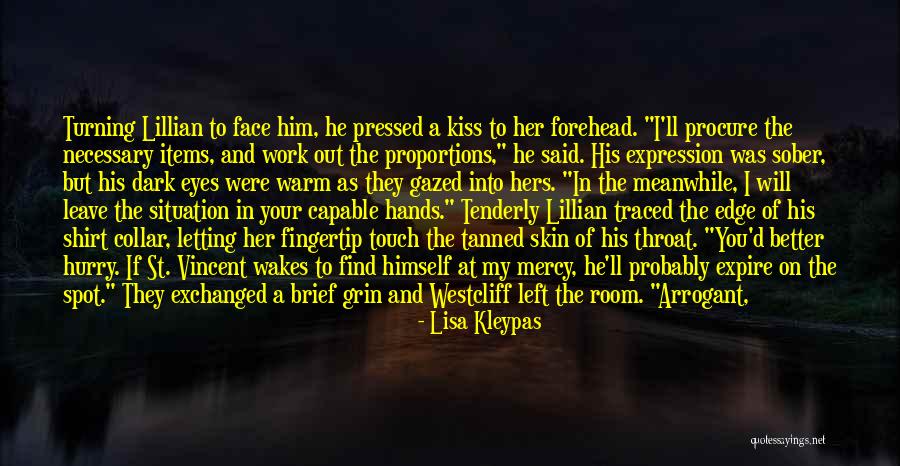 Turning Lillian to face him, he pressed a kiss to her forehead. "I'll procure the necessary items, and work out the proportions," he said. His expression was sober, but his dark eyes were warm as they gazed into hers. "In the meanwhile, I will leave the situation in your capable hands."
Tenderly Lillian traced the edge of his shirt collar, letting her fingertip touch the tanned skin of his throat. "You'd better hurry. If St. Vincent wakes to find himself at my mercy, he'll probably expire on the spot."
They exchanged a brief grin and Westcliff left the room. "Arrogant, high-handed creature," Lillian remarked, her smile lingering as she watched the earl's departure. "God, I adore him. — Lisa Kleypas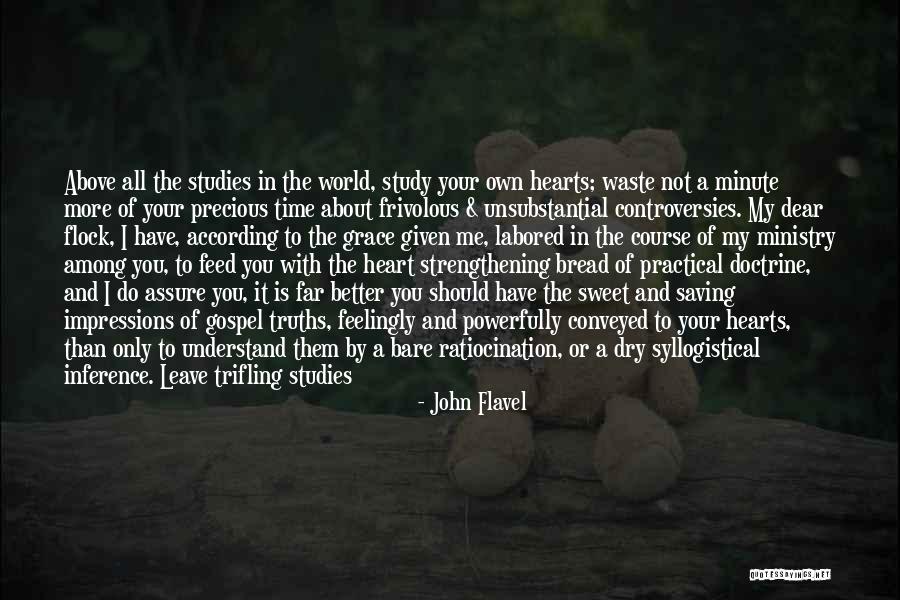 Above all the studies in the world, study your own hearts; waste not a minute more of your precious time about frivolous & unsubstantial controversies. My dear flock, I have, according to the grace given me, labored in the course of my ministry among you, to feed you with the heart strengthening bread of practical doctrine, and I do assure you, it is far better you should have the sweet and saving impressions of gospel truths, feelingly and powerfully conveyed to your hearts, than only to understand them by a bare ratiocination, or a dry syllogistical inference. Leave trifling studies to such as have time lying on their hands and know not how to employ it. Remember you are at the door of eternity, and have other work to do. Those hours you spend upon heart-work in your closets, are the golden spots of all your time and will have the sweetest influence up to your last hour. — John Flavel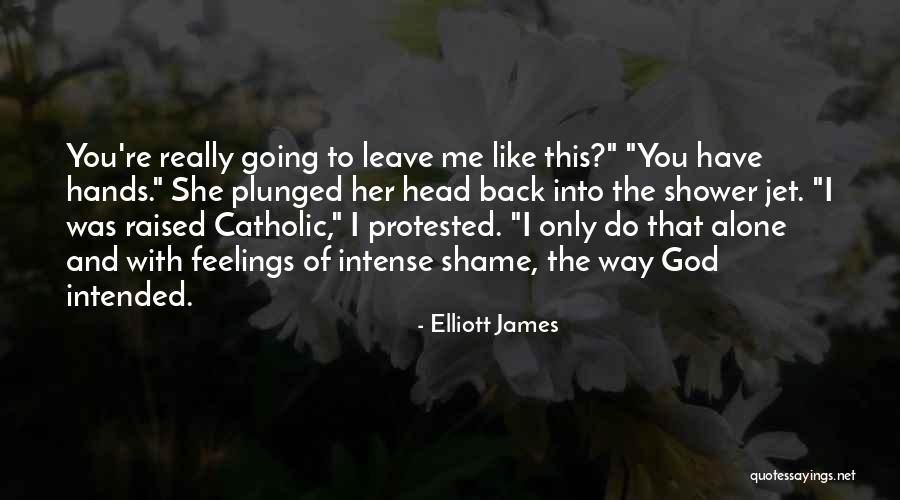 You're really going to leave me like this?" "You have hands." She plunged her head back into the shower jet. "I was raised Catholic," I protested. "I only do that alone and with feelings of intense shame, the way God intended. — Elliott James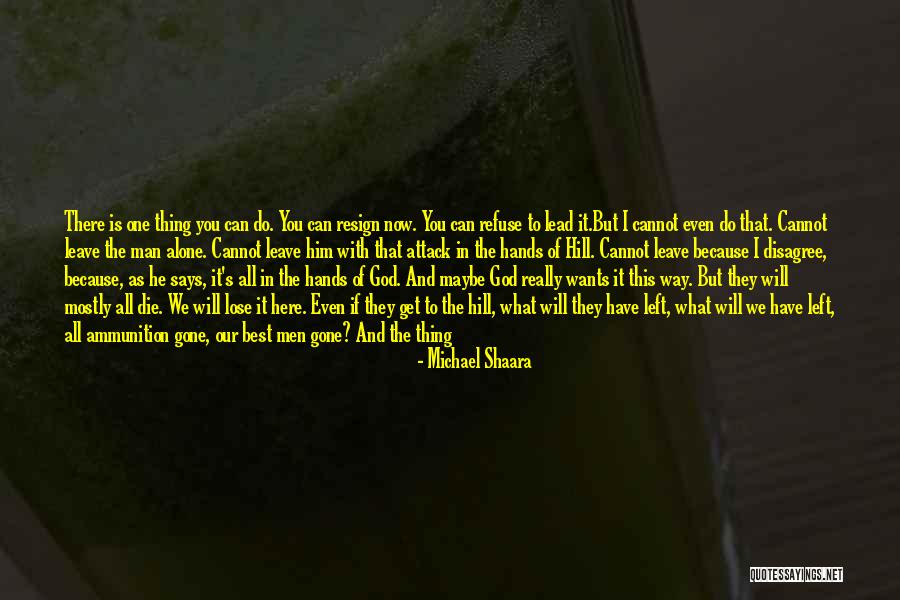 There is one thing you can do. You can resign now. You can refuse to lead it.
But I cannot even do that. Cannot leave the man alone. Cannot leave him with that attack in the hands of Hill. Cannot leave because I disagree, because, as he says, it's all in the hands of God. And maybe God really wants it this way. But they will mostly all die. We will lose it here. Even if they get to the hill, what will they have left, what will we have left, all ammunition gone, our best men gone? And the thing is, I cannot even refuse, I cannot even back away, I cannot leave him to fight it alone, they're my people, my boys. God help me, I can't even quit. — Michael Shaara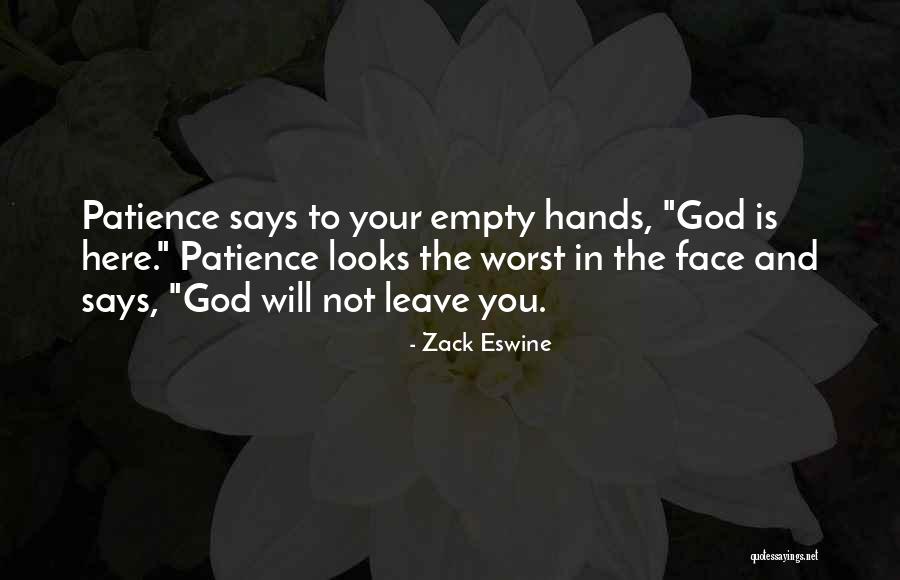 Patience says to your empty hands, "God is here." Patience looks the worst in the face and says, "God will not leave you. — Zack Eswine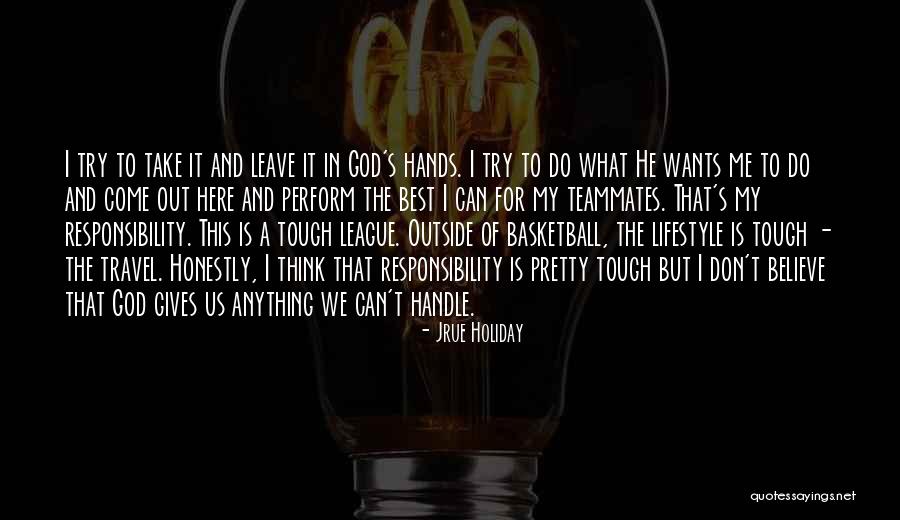 I try to take it and leave it in God's hands. I try to do what He wants me to do and come out here and perform the best I can for my teammates. That's my responsibility. This is a tough league. Outside of basketball, the lifestyle is tough - the travel. Honestly, I think that responsibility is pretty tough but I don't believe that God gives us anything we can't handle. — Jrue Holiday
Luisa was on her knees on the bed, naked, my 9mm in her hands and aimed right at me. I automatically had my gun pointed back at her. The sexiest Mexican standoff I'd ever been involved in. "What are you doing?" I asked, taking a cautious step toward her, not lowering my gun for a second. "Leaving," she answered, her eyes hard. She was distracting as all hell, her tits and pussy and that gun. I don't think I'd ever been so turned on so quick and in such an untimely situation. "It doesn't look like it." "I'm going to ask you nicely to let me leave, and if you don't, I'll shoot you." A grin broke out across my face. My god, she couldn't be more perfect. "If you shot me, you'd kill me," I said, taking another step. "Then who would make you come all the time? — Karina Halle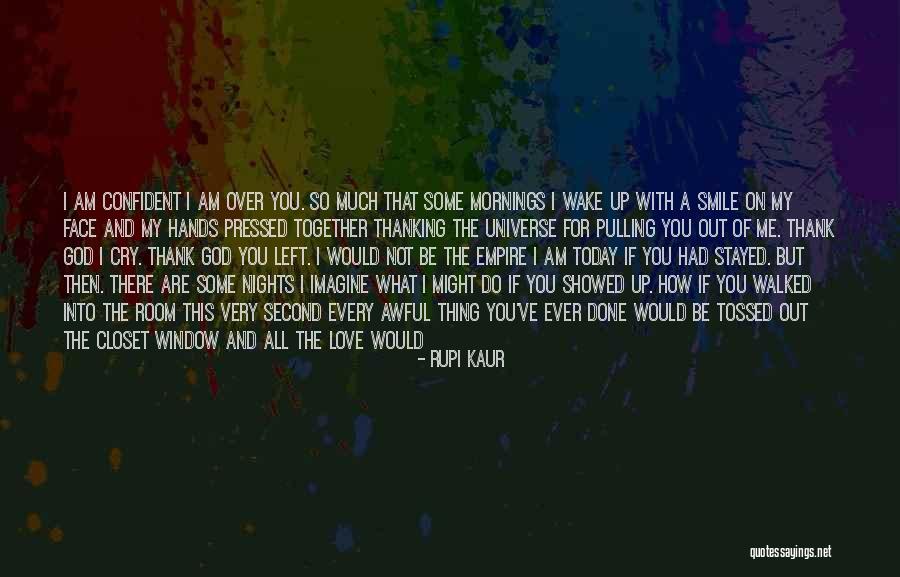 i am confident i am over you. so much that some mornings i wake up with a smile on my face and my hands pressed together thanking the universe for pulling you out of me. thank god i cry. thank god you left. i would not be the empire i am today if you had stayed.

but then.

there are some nights i imagine what i might do if you showed up. how if you walked into the room this very second every awful thing you've ever done would be tossed out the closet window and all the love would rise up again. it would pour through my eyes as if it never really left in the first place. as if it's been practicing how to stay silent so long only so it could be this loud on your arrival. can someone explain that. how even when the love leaves. it doesn't leave. how even when i am so past you. i am so helplessly brought back to you. — Rupi Kaur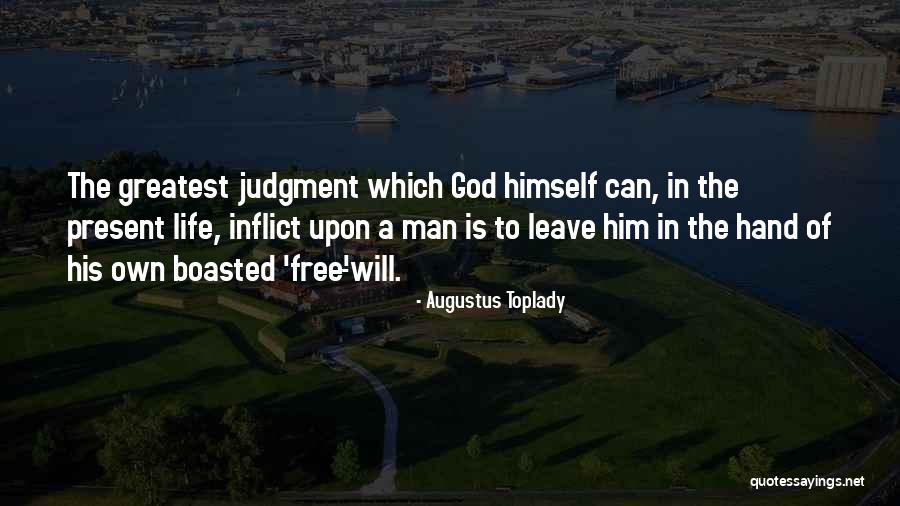 The greatest judgment which God himself can, in the present life, inflict upon a man is to leave him in the hand of his own boasted 'free'-will. — Augustus Toplady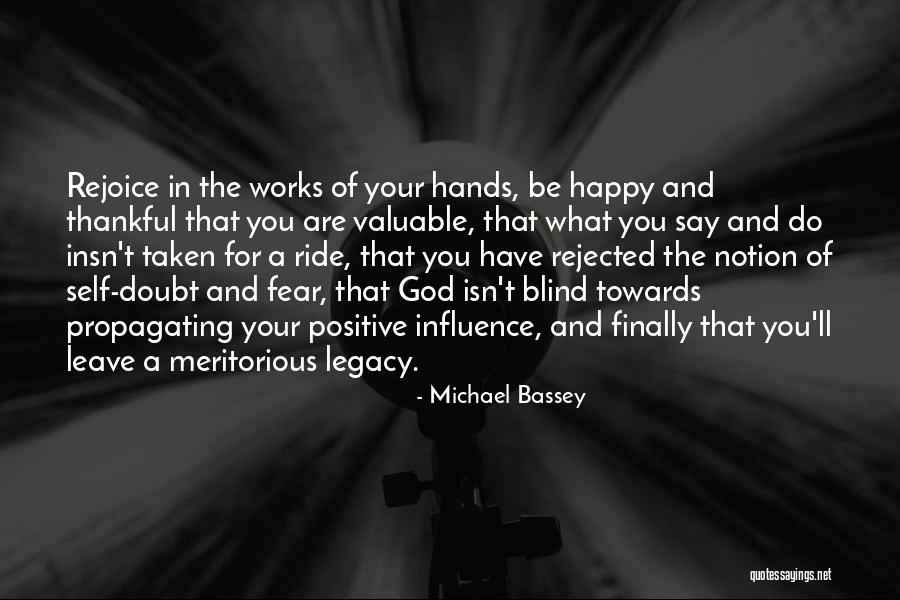 Rejoice in the works of your hands, be happy and thankful that you are valuable, that what you say and do insn't taken for a ride, that you have rejected the notion of self-doubt and fear, that God isn't blind towards propagating your positive influence, and finally that you'll leave a meritorious legacy. — Michael Bassey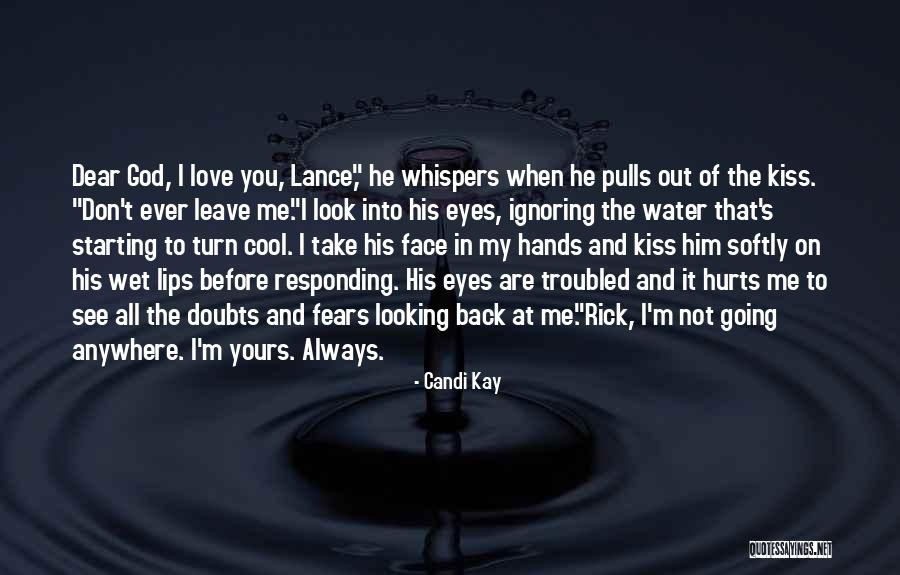 Dear God, I love you, Lance," he whispers when he pulls out of the kiss. "Don't ever leave me."
I look into his eyes, ignoring the water that's starting to turn cool. I take his face in my hands and kiss him softly on his wet lips before responding. His eyes are troubled and it hurts me to see all the doubts and fears looking back at me.
"Rick, I'm not going anywhere. I'm yours. Always. — Candi Kay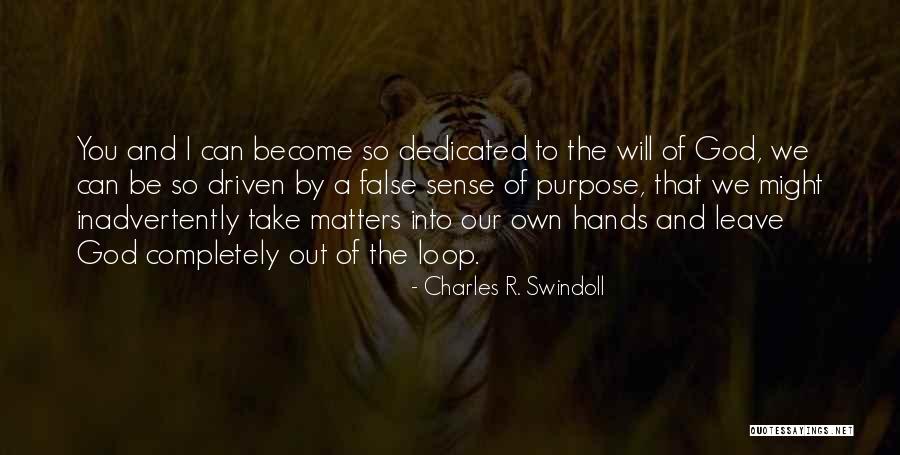 You and I can become so dedicated to the will of God, we can be so driven by a false sense of purpose, that we might inadvertently take matters into our own hands and leave God completely out of the loop. — Charles R. Swindoll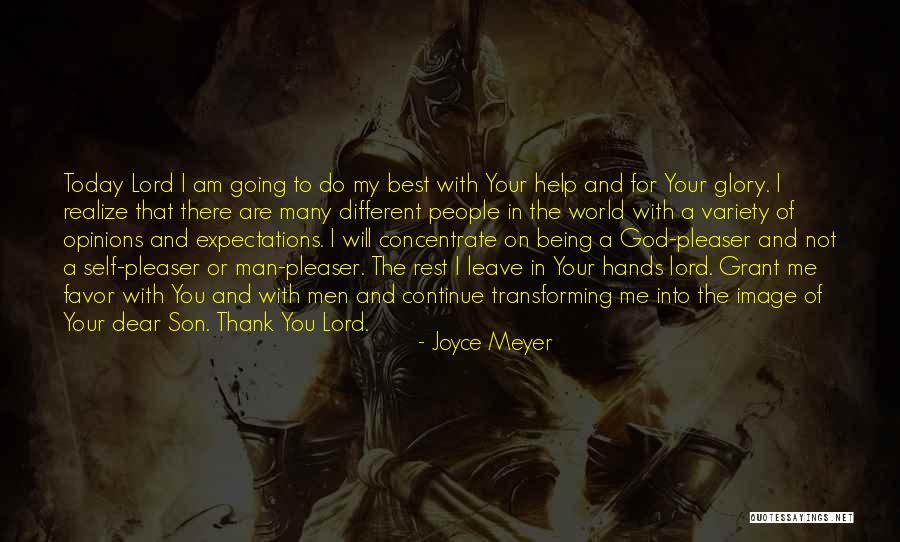 Today Lord I am going to do my best with Your help and for Your glory. I realize that there are many different people in the world with a variety of opinions and expectations. I will concentrate on being a God-pleaser and not a self-pleaser or man-pleaser. The rest I leave in Your hands lord. Grant me favor with You and with men and continue transforming me into the image of Your dear Son. Thank You Lord. — Joyce Meyer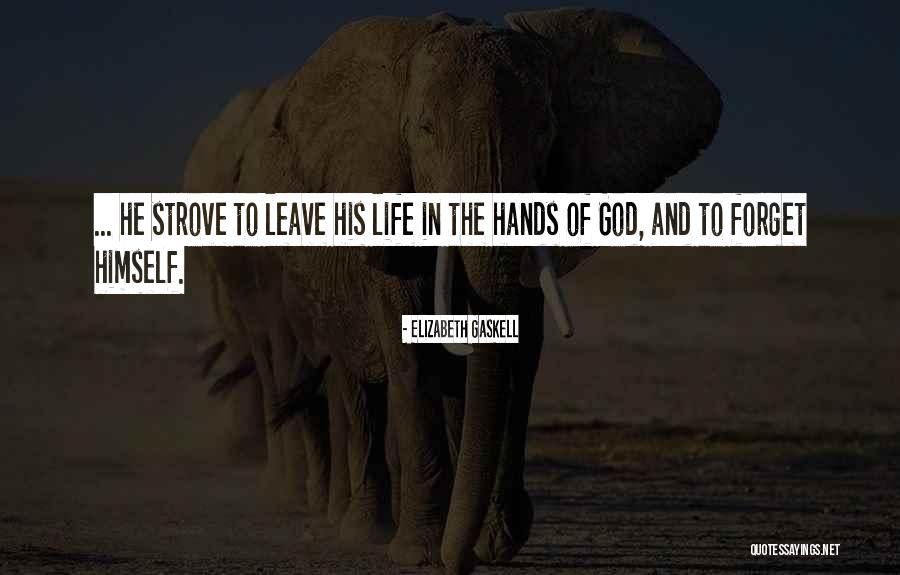 ... he strove to leave his life in the hands of God, and to forget himself. — Elizabeth Gaskell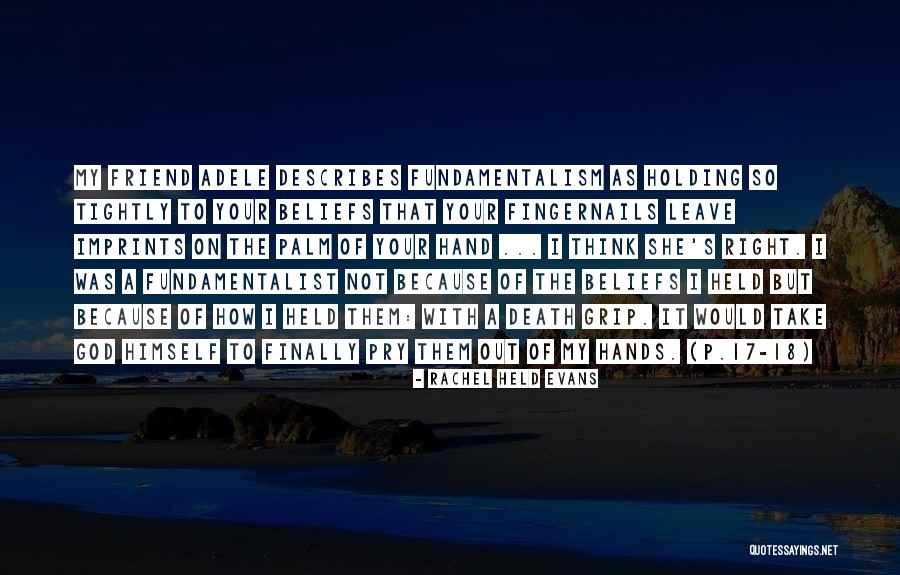 My friend Adele describes fundamentalism as holding so tightly to your beliefs that your fingernails leave imprints on the palm of your hand ... I think she's right. I was a fundamentalist not because of the beliefs I held but because of how I held them: with a death grip. It would take God himself to finally pry them out of my hands. (p.17-18) — Rachel Held Evans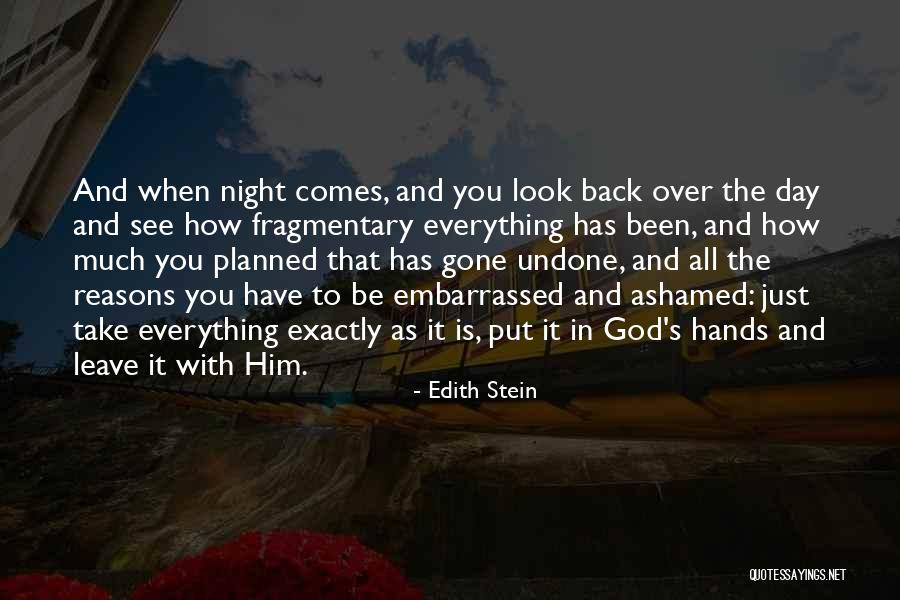 And when night comes, and you look back over the day and see how fragmentary everything has been, and how much you planned that has gone undone, and all the reasons you have to be embarrassed and ashamed: just take everything exactly as it is, put it in God's hands and leave it with Him. — Edith Stein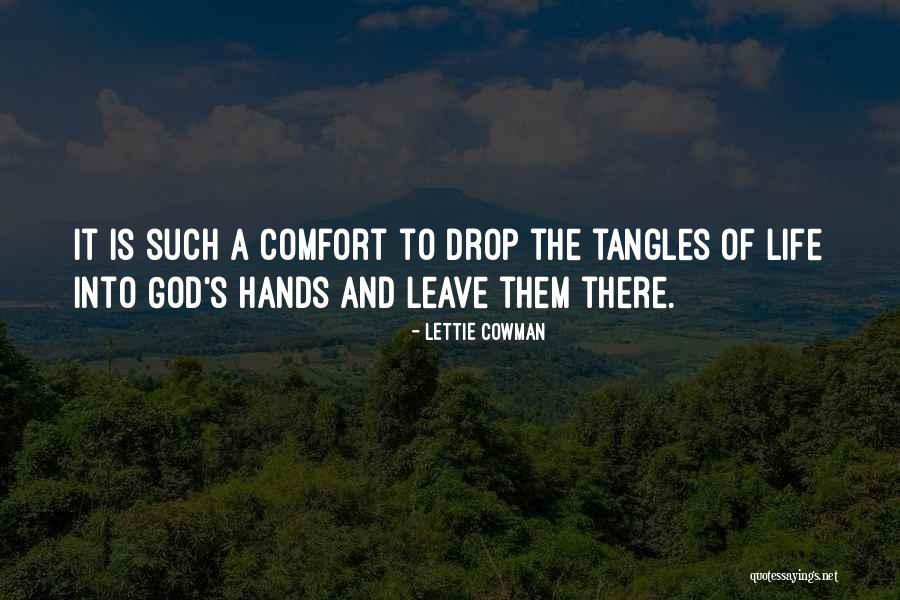 It is such a comfort to drop the tangles of life into God's hands and leave them there. — Lettie Cowman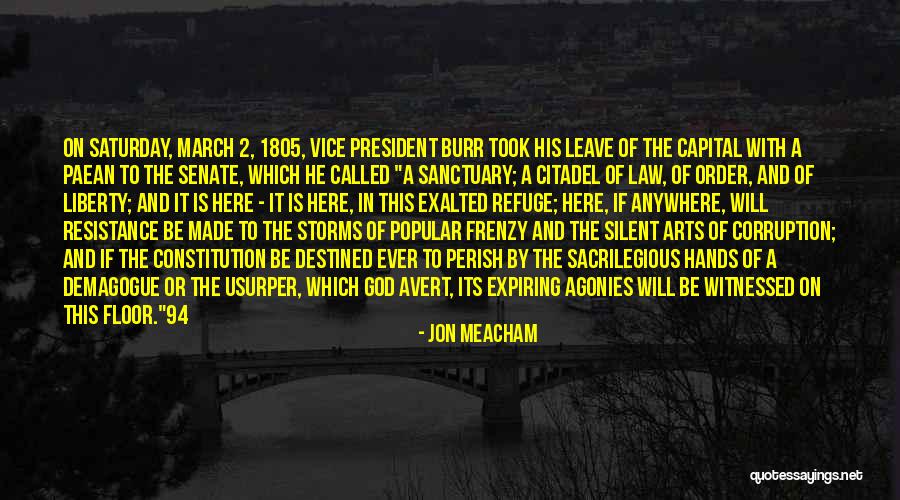 On Saturday, March 2, 1805, Vice President Burr took his leave of the capital with a paean to the Senate, which he called "a sanctuary; a citadel of law, of order, and of liberty; and it is here - it is here, in this exalted refuge; here, if anywhere, will resistance be made to the storms of popular frenzy and the silent arts of corruption; and if the Constitution be destined ever to perish by the sacrilegious hands of a demagogue or the usurper, which God avert, its expiring agonies will be witnessed on this floor."94 — Jon Meacham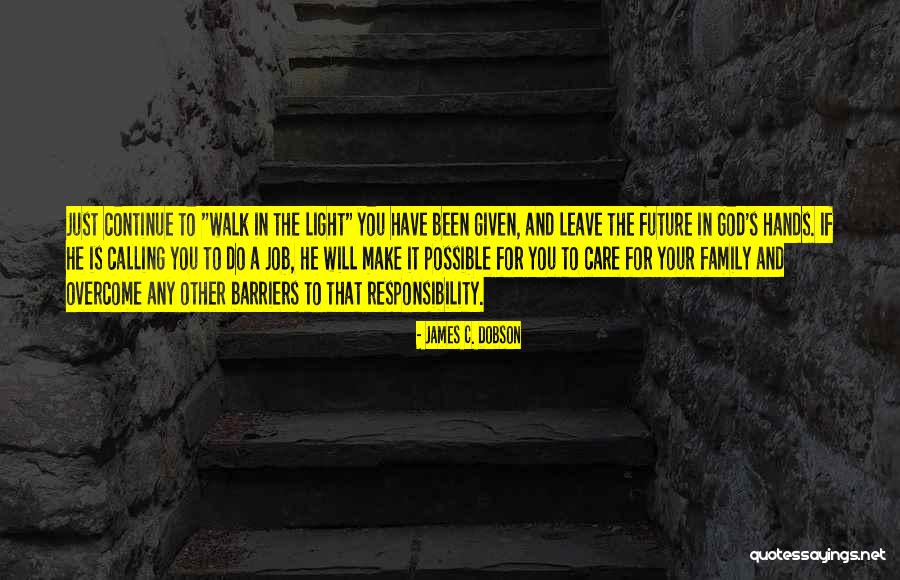 Just continue to "walk in the light" you have been given, and leave the future in God's hands. If He is calling you to do a job, He will make it possible for you to care for your family and overcome any other barriers to that responsibility. — James C. Dobson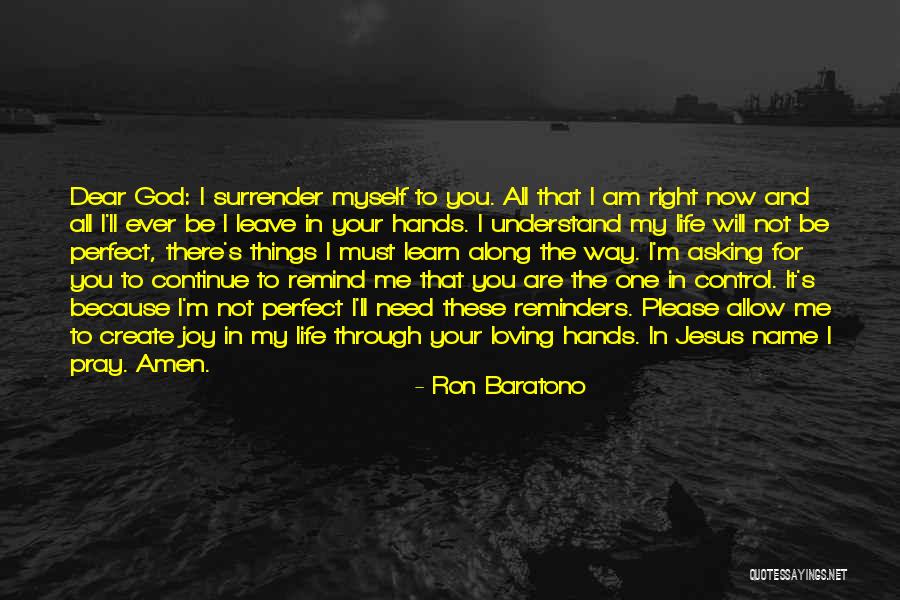 Dear God:
I surrender myself to you. All that I am right now and all I'll ever be I leave in your hands. I understand my life will not be perfect, there's things I must learn along the way. I'm asking for you to continue to remind me that you are the one in control. It's because I'm not perfect I'll need these reminders. Please allow me to create joy in my life through your loving hands. In Jesus name I pray. Amen. — Ron Baratono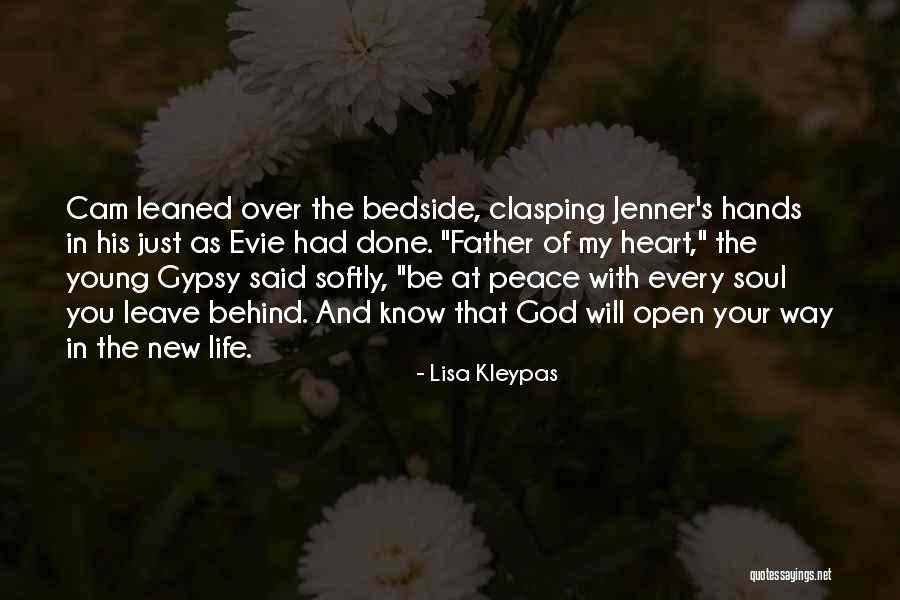 Cam leaned over the bedside, clasping Jenner's hands in his just as Evie had done. "Father of my heart," the young Gypsy said softly, "be at peace with every soul you leave behind. And know that God will open your way in the new life. — Lisa Kleypas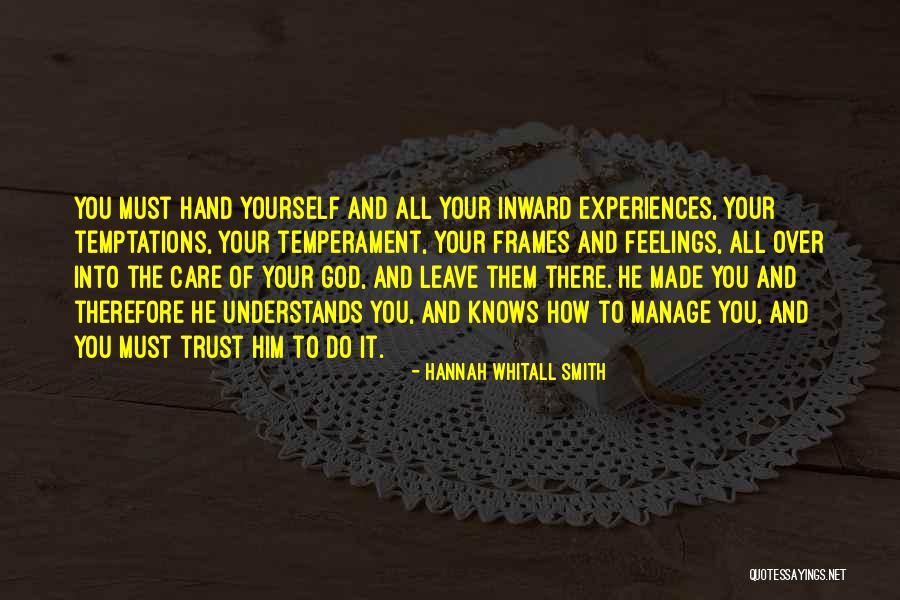 You must hand yourself and all your inward experiences, your temptations, your temperament, your frames and feelings, all over into the care of your God, and leave them there. He made you and therefore He understands you, and knows how to manage you, and you must trust Him to do it. — Hannah Whitall Smith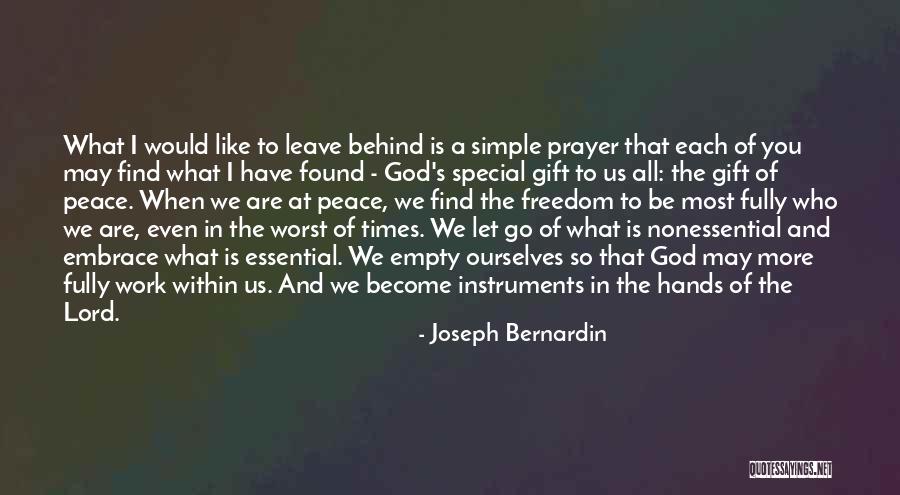 What I would like to leave behind is a simple prayer that each of you may find what I have found - God's special gift to us all: the gift of peace. When we are at peace, we find the freedom to be most fully who we are, even in the worst of times. We let go of what is nonessential and embrace what is essential. We empty ourselves so that God may more fully work within us. And we become instruments in the hands of the Lord. — Joseph Bernardin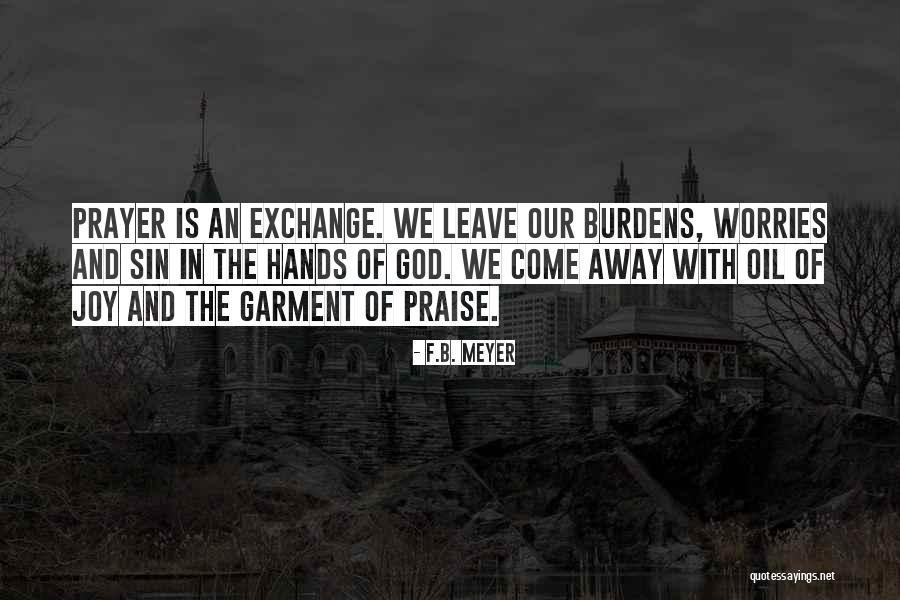 Prayer is an exchange. We leave our burdens, worries and sin in the hands of God. We come away with oil of joy and the garment of praise. — F.B. Meyer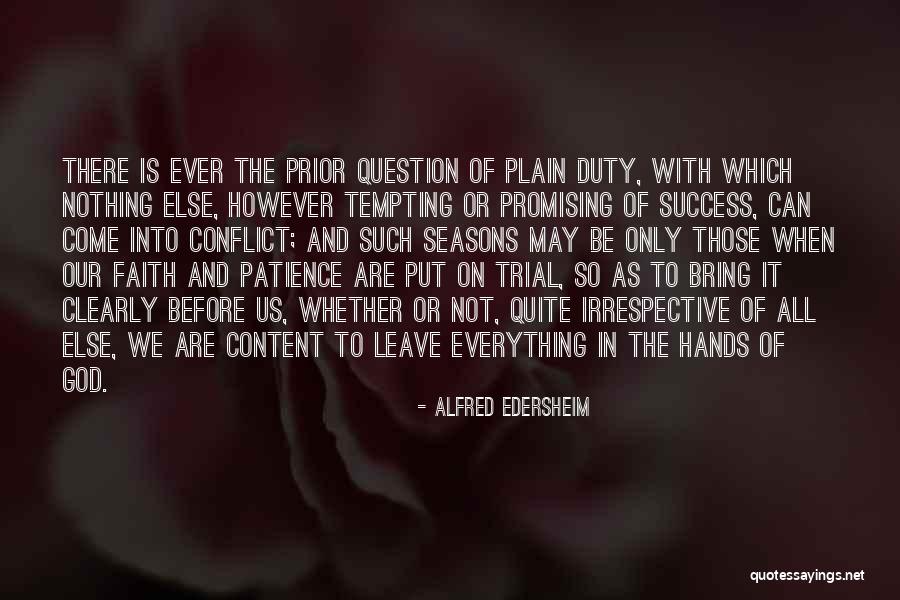 There is ever the prior question of plain duty, with which nothing else, however tempting or promising of success, can come into conflict; and such seasons may be only those when our faith and patience are put on trial, so as to bring it clearly before us, whether or not, quite irrespective of all else, we are content to leave everything in the hands of God. — Alfred Edersheim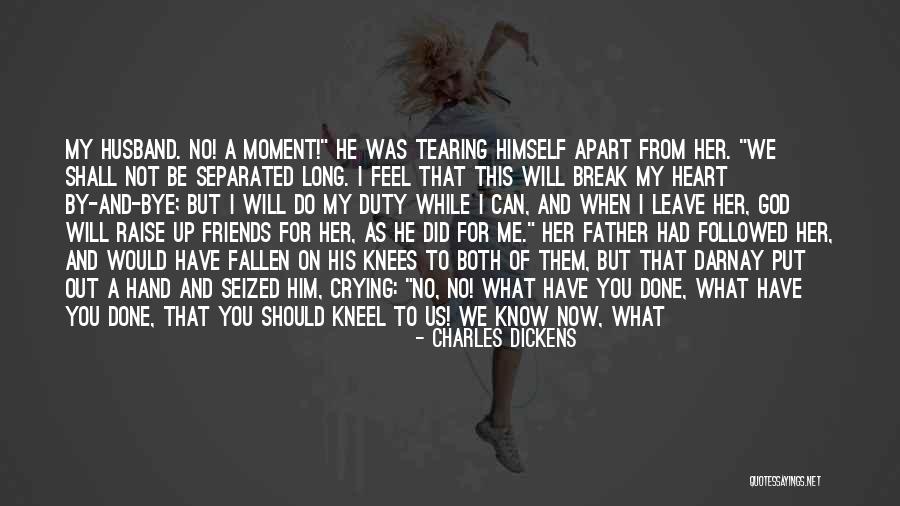 My husband. No! A moment!" He was tearing himself apart from her. "We shall not be separated long. I feel that this will break my heart by-and-bye; but I will do my duty while I can, and when I leave her, God will raise up friends for her, as He did for me." Her father had followed her, and would have fallen on his knees to both of them, but that Darnay put out a hand and seized him, crying: "No, no! What have you done, what have you done, that you should kneel to us! We know now, what a struggle you made of old. We know, now what you underwent when you suspected my descent, and when you knew it. We know now, the natural antipathy you strove against, and conquered, for her dear sake. We thank you with all our hearts, and all our love and duty. Heaven be with you!" Her father's only answer was to draw his hands through his white hair, and wring them with a shriek of anguish. — Charles Dickens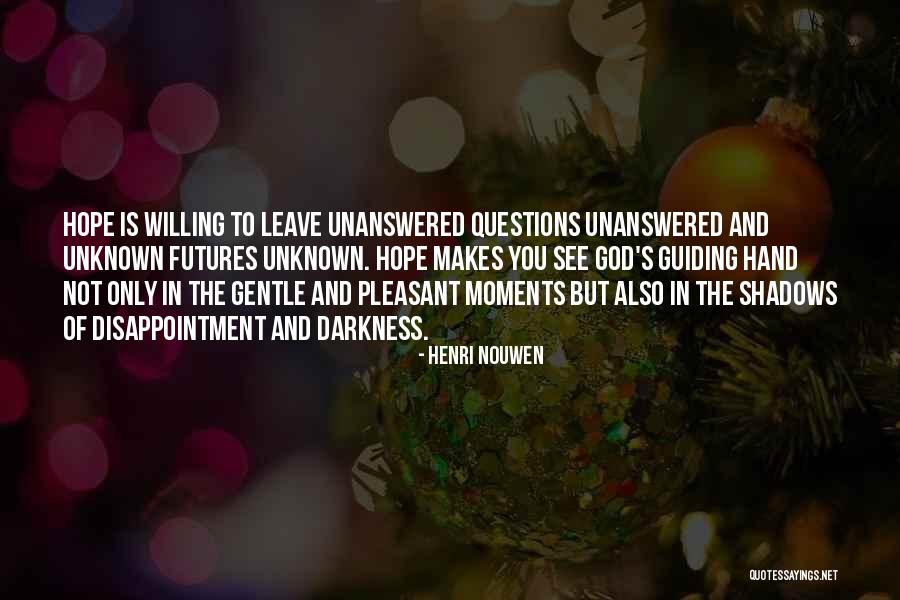 Hope is willing to leave unanswered questions unanswered and unknown futures unknown. Hope makes you see God's guiding hand not only in the gentle and pleasant moments but also in the shadows of disappointment and darkness. — Henri Nouwen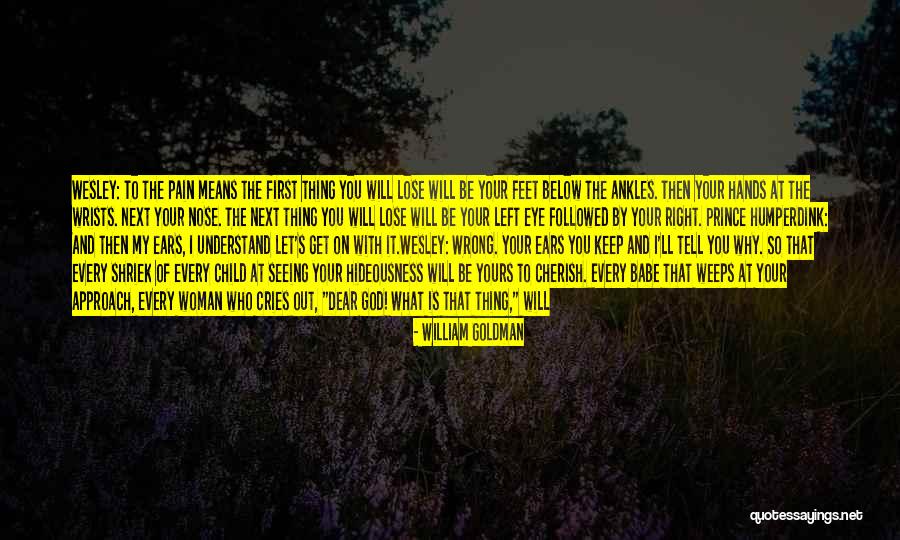 Wesley: To the pain means the first thing you will lose will be your feet below the ankles. Then your hands at the wrists. Next your nose. The next thing you will lose will be your left eye followed by your right.
Prince Humperdink: And then my ears, I understand let's get on with it.
Wesley: WRONG. Your ears you keep and I'll tell you why. So that every shriek of every child at seeing your hideousness will be yours to cherish. Every babe that weeps at your approach, every woman who cries out, "Dear God! What is that thing," will echo in your perfect ears. That is what to the pain means. It means I leave you in anguish, wallowing in freakish misery forever. — William Goldman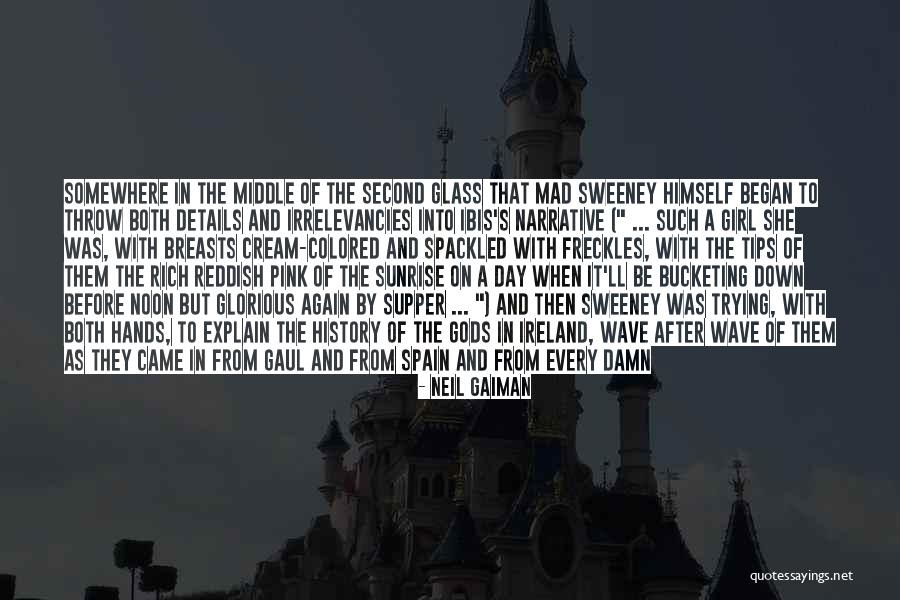 Somewhere in the middle of the second glass that Mad Sweeney himself began to throw both details and irrelevancies into Ibis's narrative (" ... such a girl she was, with breasts cream-colored and spackled with freckles, with the tips of them the rich reddish pink of the sunrise on a day when it'll be bucketing down before noon but glorious again by supper ... ") and then Sweeney was trying, with both hands, to explain the history of the gods in Ireland, wave after wave of them as they came in from Gaul and from Spain and from every damn place, each wave of them transforming the last gods into trolls and fairies and every damn creature until Holy Mother Church herself arrived and every god in Ireland was transformed into a fairy or a saint or a dead king without so much as a by-your-leave ... Mr. — Neil Gaiman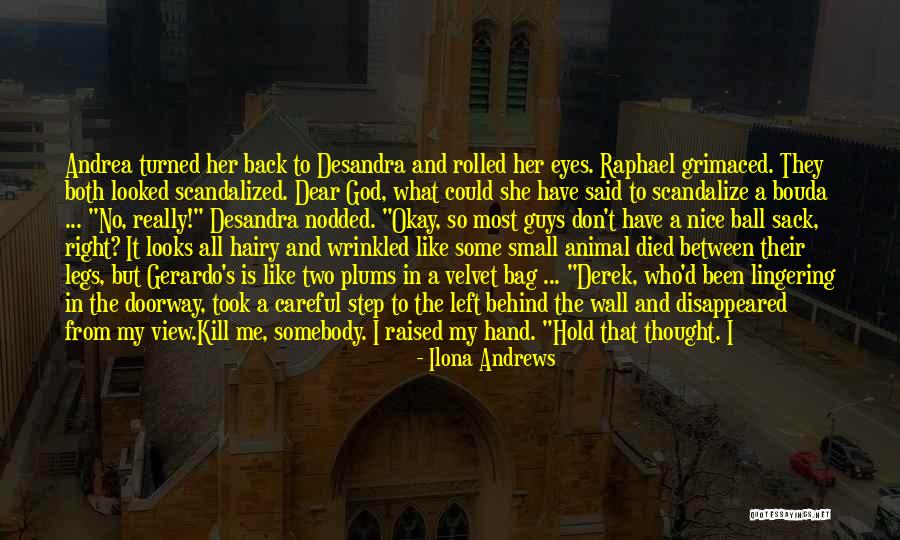 Andrea turned her back to Desandra and rolled her eyes. Raphael grimaced. They both looked scandalized. Dear God, what could she have said to scandalize a bouda ...
"No, really!" Desandra nodded. "Okay, so most guys don't have a nice ball sack, right? It looks all hairy and wrinkled like some small animal died between their legs, but Gerardo's is like two plums in a velvet bag ... "
Derek, who'd been lingering in the doorway, took a careful step to the left behind the wall and disappeared from my view.
Kill me, somebody. I raised my hand. "Hold that thought. I need to borrow Andrea for a minute."
I grabbed her arm and pulled her into the hallway. Behind us Raphael growled, "Don't leave me!"
Andrea leaned towards me. "Plums."
"Listen ... "
Andrea raised her hands, imitating holding plums the size of small coconuts, and moved them up and down. — Ilona Andrews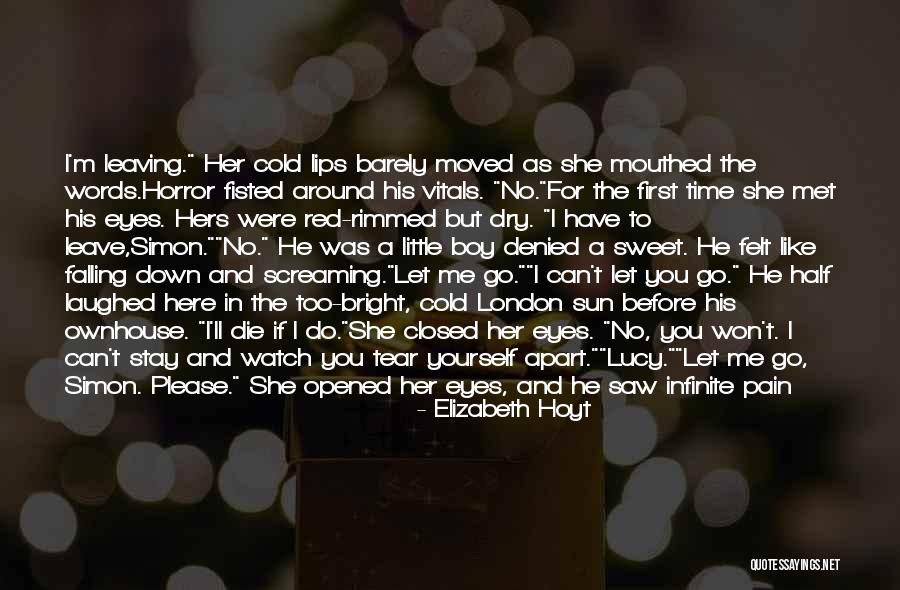 I'm leaving." Her cold lips barely moved as she mouthed the words.
Horror fisted around his vitals. "No."
For the first time she met his eyes. Hers were red-rimmed but dry. "I have to leave,
Simon."
"No." He was a little boy denied a sweet. He felt like falling down and screaming.
"Let me go."
"I can't let you go." He half laughed here in the too-bright, cold London sun before his own
house. "I'll die if I do."
She closed her eyes. "No, you won't. I can't stay and watch you tear yourself apart."
"Lucy."
"Let me go, Simon. Please." She opened her eyes, and he saw infinite pain in her gaze.
Had he done this to his angel? Oh, God. He unclasped his hands. — Elizabeth Hoyt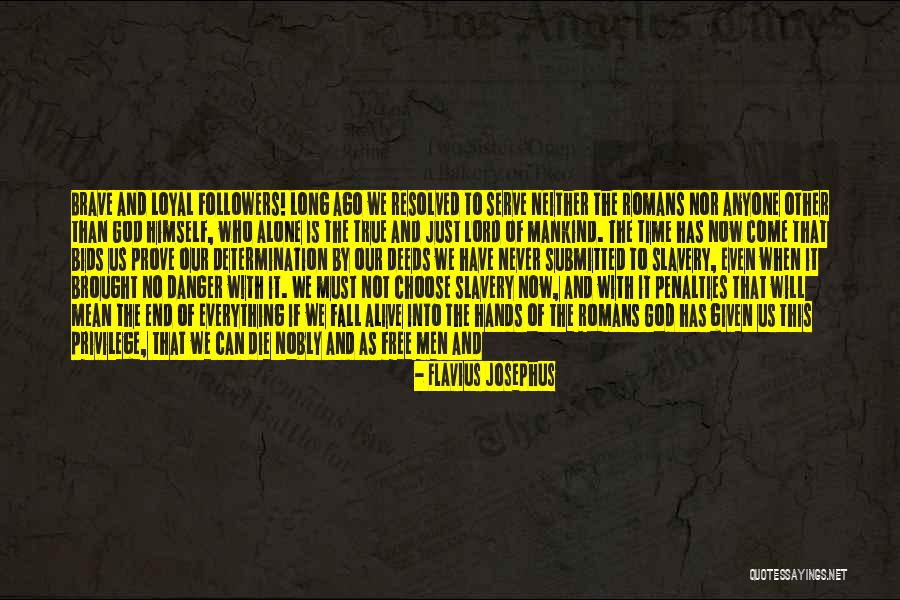 Brave and loyal followers! Long ago we resolved to serve neither the Romans nor anyone other than God Himself, who alone is the true and just Lord of mankind. The time has now come that bids us prove our determination by our deeds we have never submitted to slavery, even when it brought no danger with it. We must not choose slavery now, and with it penalties that will mean the end of everything if we fall alive into the hands of the Romans God has given us this privilege, that we can die nobly and as free men and leave this world as free men in company with our wives and children.
(Elazar Ben Yair) — Flavius Josephus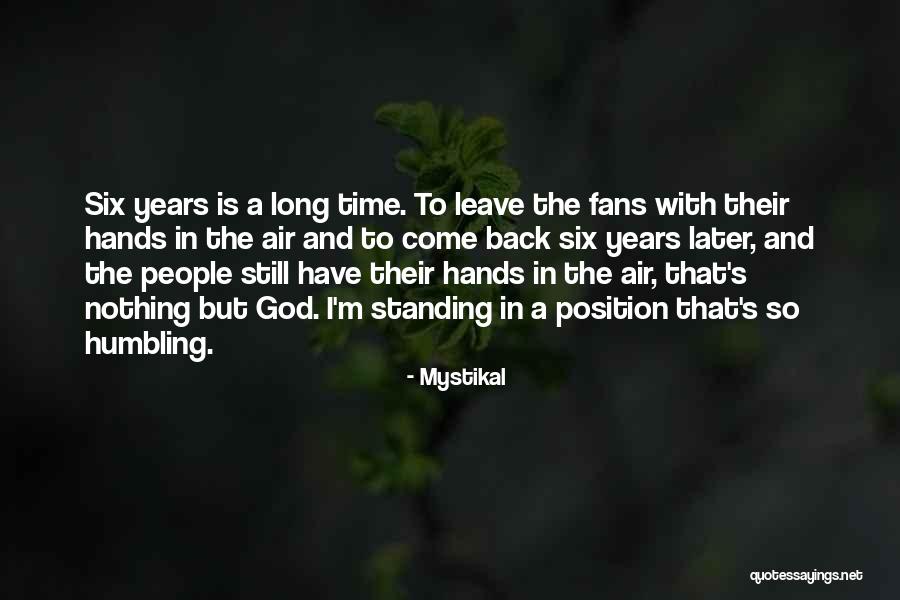 Six years is a long time. To leave the fans with their hands in the air and to come back six years later, and the people still have their hands in the air, that's nothing but God. I'm standing in a position that's so humbling. — Mystikal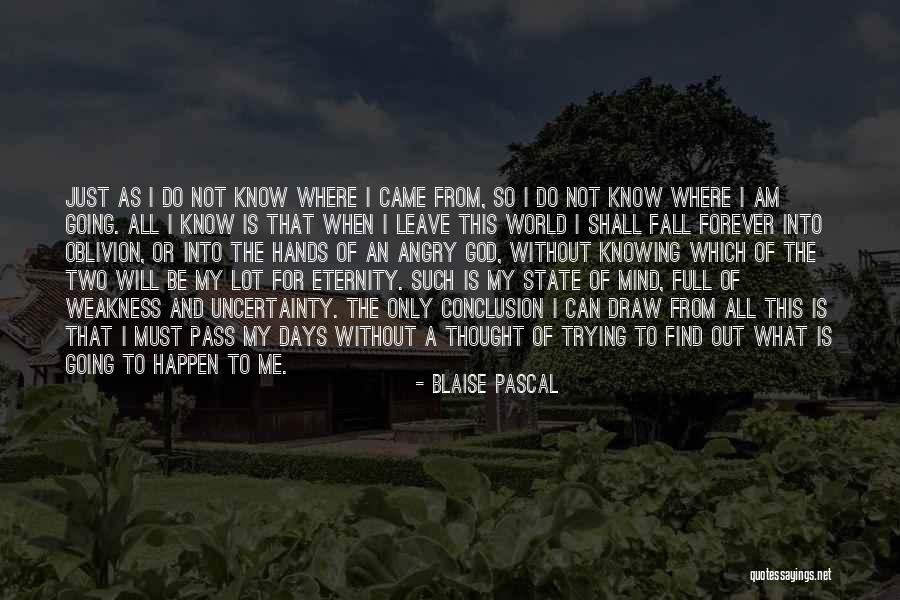 Just as I do not know where I came from, so I do not know where I am going. All I know is that when I leave this world I shall fall forever into oblivion, or into the hands of an angry God, without knowing which of the two will be my lot for eternity. Such is my state of mind, full of weakness and uncertainty. The only conclusion I can draw from all this is that I must pass my days without a thought of trying to find out what is going to happen to me. — Blaise Pascal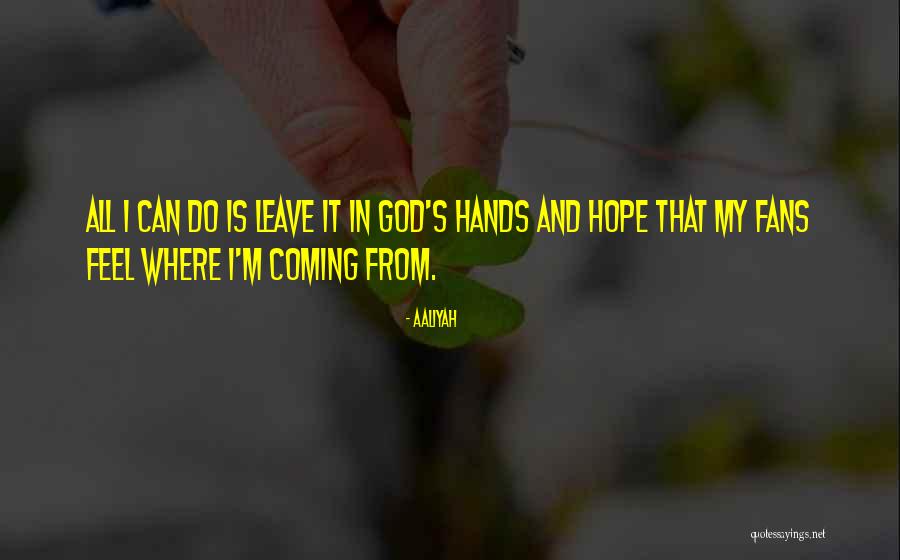 All I can do is leave it in God's hands and hope that my fans feel where I'm coming from. — Aaliyah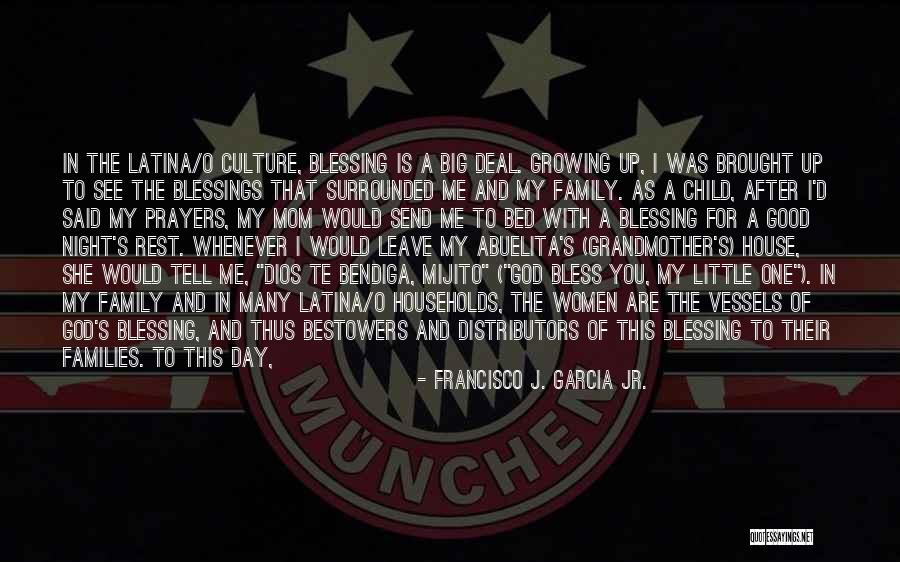 In the Latina/o culture, blessing is a big deal. Growing up, I was brought up to see the blessings that surrounded me and my family. As a child, after I'd said my prayers, my mom would send me to bed with a blessing for a good night's rest. Whenever I would leave my abuelita's (grandmother's) house, she would tell me, "Dios te bendiga, mijito" ("God bless you, my little one"). In my family and in many Latina/o households, the women are the vessels of God's blessing, and thus bestowers and distributors of this blessing to their families. To this day, even though I am grown and have two children of my own, whenever I travel somewhere distant or am undertaking a major project, my mother will sit me down, lay hands on me, and say a prayer of blessing. — Francisco J. Garcia Jr.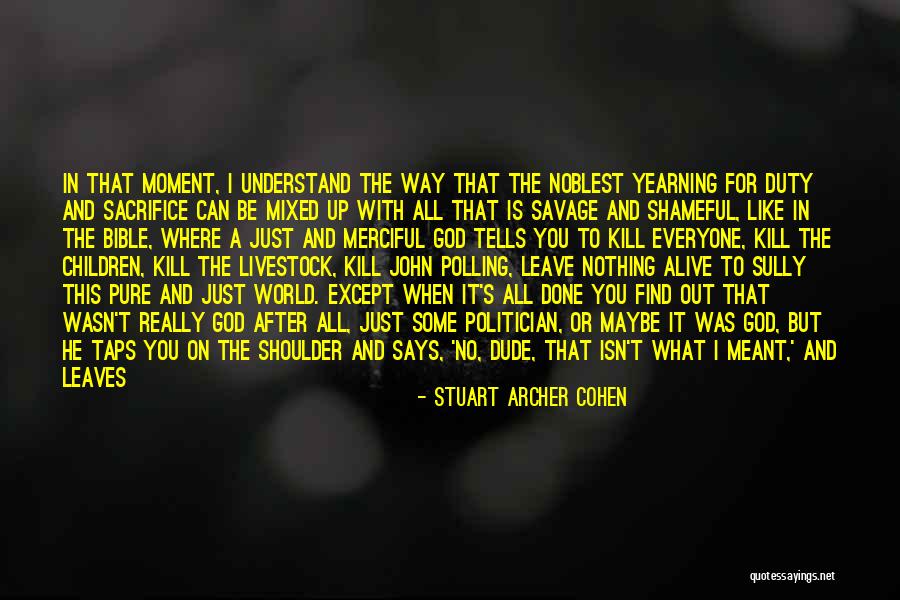 In that moment, I understand the way that the noblest yearning for duty and sacrifice can be mixed up with all that is savage and shameful, like in the Bible, where a just and merciful God tells you to kill everyone, kill the children, kill the livestock, kill John Polling, leave nothing alive to sully this pure and just world. Except when it's all done you find out that wasn't really God after all, just some politician, or maybe it was God, but he taps you on the shoulder and says, 'No, dude, that isn't what I meant,' and leaves you sitting in a Dairy Queen in Bothell with blood on your hands and no further orders ... — Stuart Archer Cohen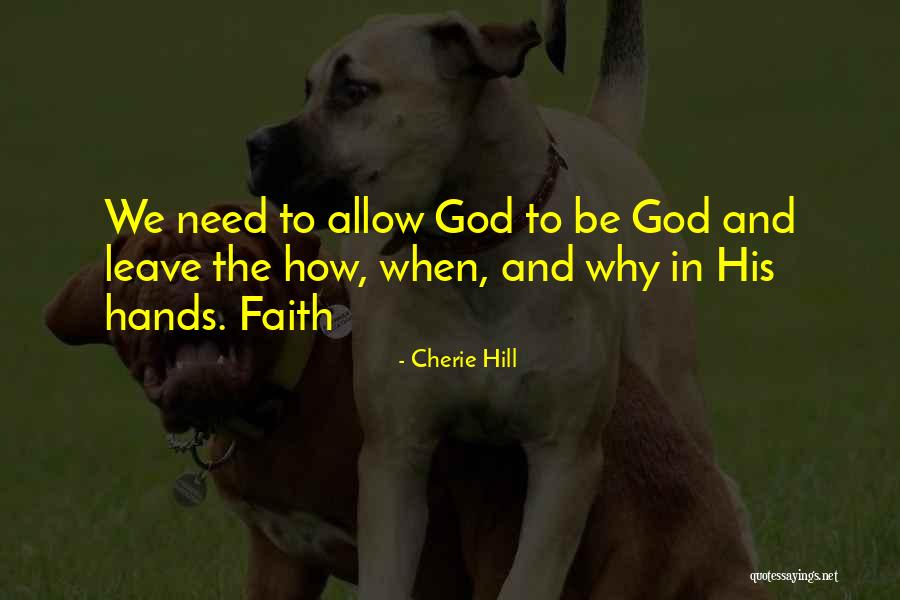 We need to allow God to be God and leave the how, when, and why in His hands. Faith — Cherie Hill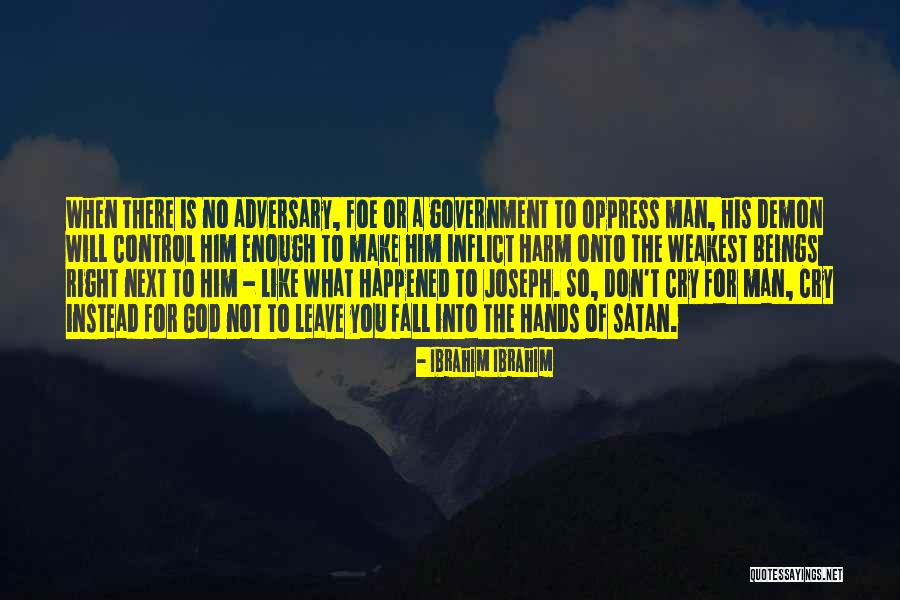 When there is no adversary, foe or a government to oppress man, his demon will control him enough to make him inflict harm onto the weakest beings right next to him - like what happened to Joseph. So, don't cry for man, cry instead for God not to leave you fall into the hands of satan. — Ibrahim Ibrahim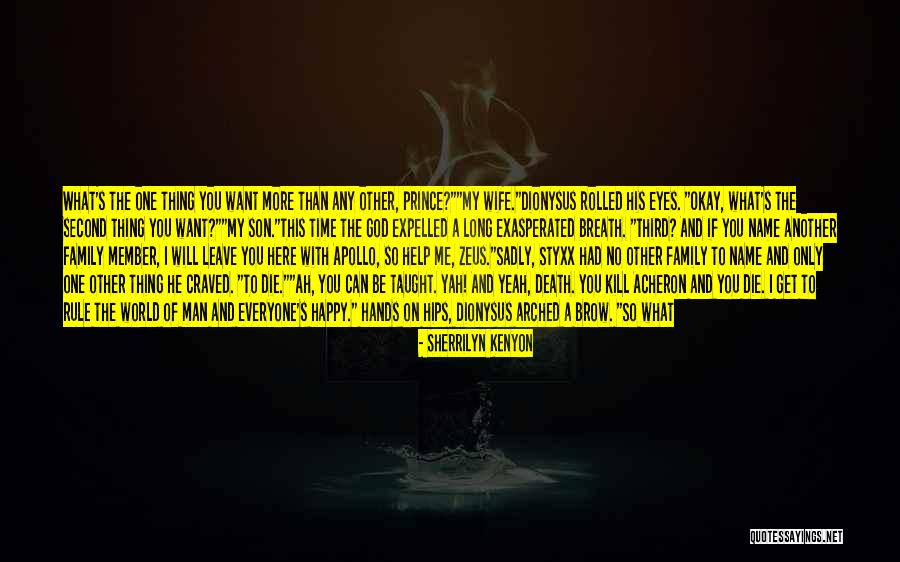 What's the one thing you want more than any other, prince?""My wife."Dionysus rolled his eyes. "Okay, what's the second thing you want?""My son."This time the god expelled a long exasperated breath. "Third? And if you name another family member, I will leave you here with Apollo, so help me, Zeus."Sadly, Styxx had no other family to name and only one other thing he craved. "To die.""Ah, you can be taught. Yah! And yeah, death. You kill Acheron and you die. I get to rule the world of man and everyone's happy." Hands on hips, Dionysus arched a brow. "So what do you say?""I say get me the fuck out of here. — Sherrilyn Kenyon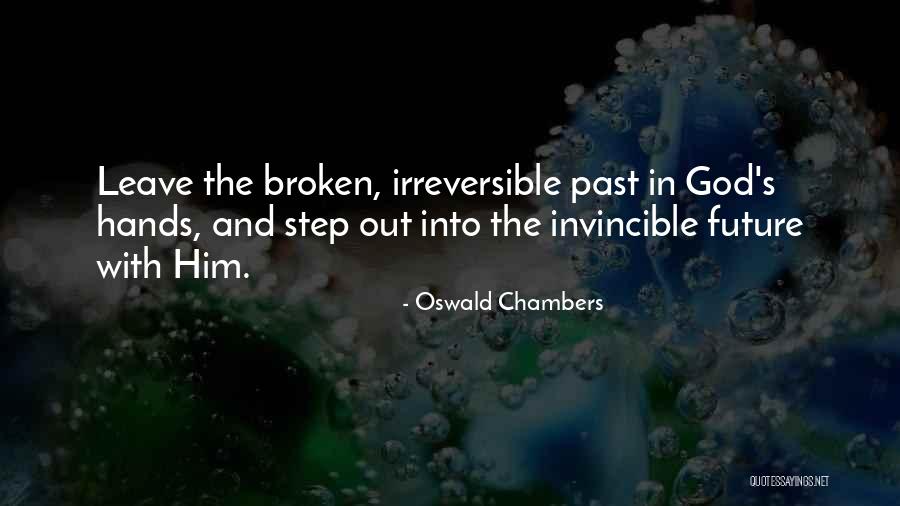 Leave the broken, irreversible past in God's hands, and step out into the invincible future with Him. — Oswald Chambers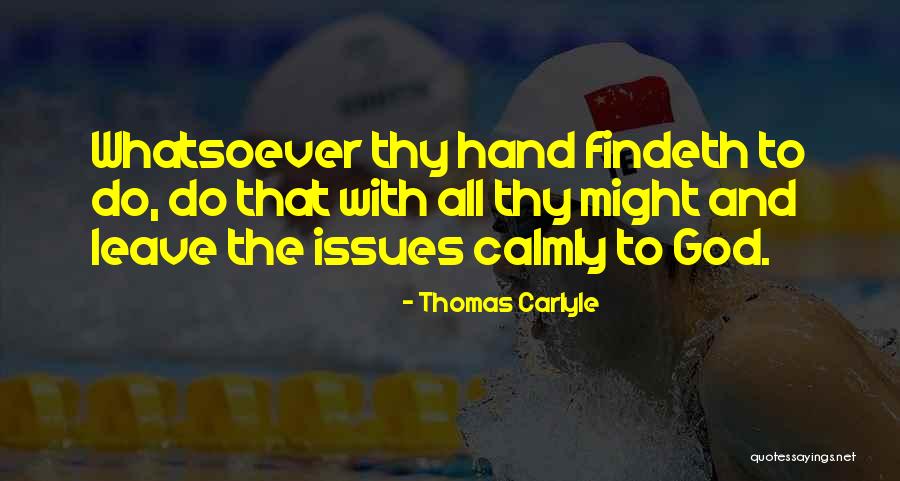 Whatsoever thy hand findeth to do, do that with all thy might and leave the issues calmly to God. — Thomas Carlyle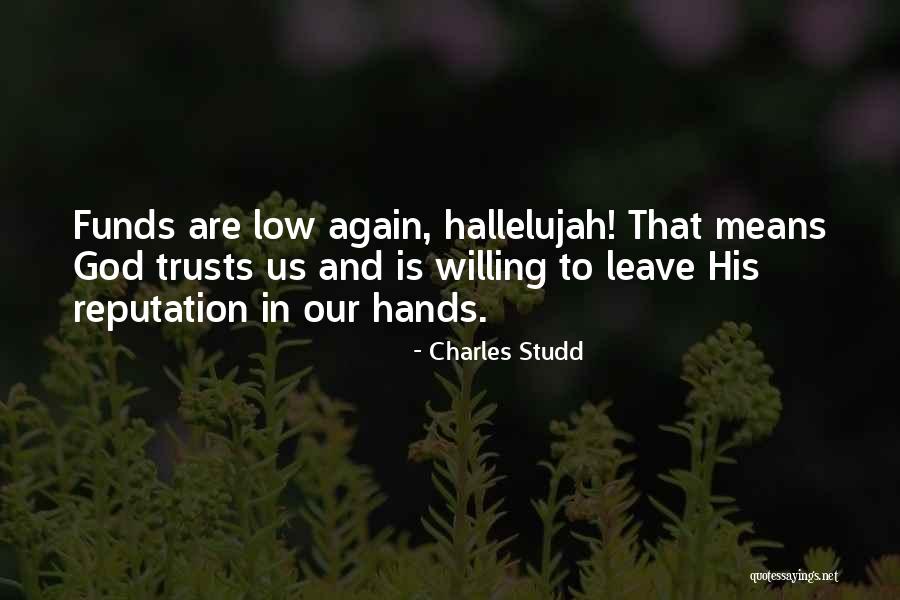 Funds are low again, hallelujah! That means God trusts us and is willing to leave His reputation in our hands. — Charles Studd