Quotes & Sayings About Learning Takes Time
Enjoy reading and share 40 famous quotes about Learning Takes Time with everyone.
Top Learning Takes Time Quotes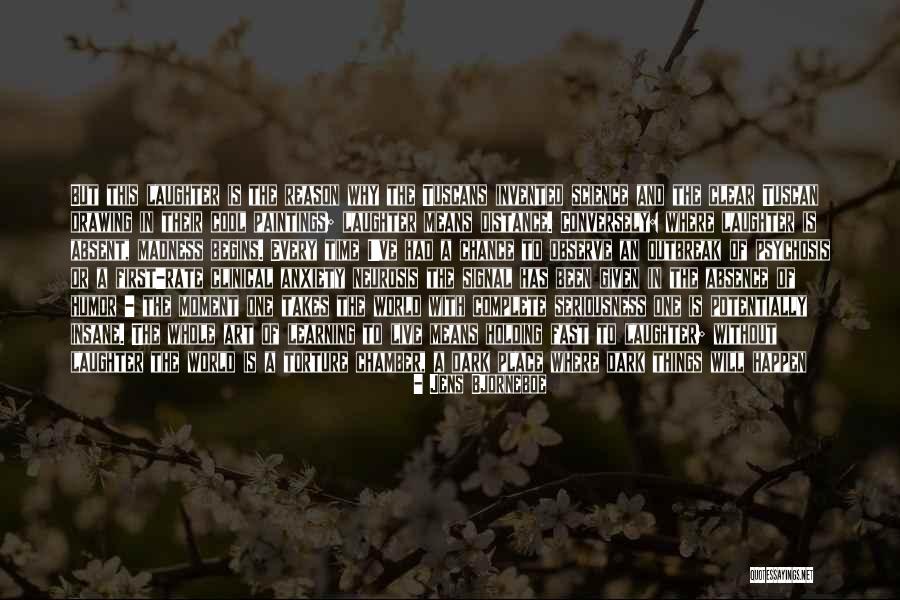 But this laughter is the reason why the Tuscans invented science and the clear Tuscan drawing in their cool paintings; laughter means distance. Conversely: where laughter is absent, madness begins. Every time I've had a chance to observe an outbreak of psychosis or a first-rate clinical anxiety neurosis the signal has been given in the absence of humor - the moment one takes the world with complete seriousness one is potentially insane. The whole art of learning to live means holding fast to laughter; without laughter the world is a torture chamber, a dark place where dark things will happen to us, a horror show filled with bloody deeds of violence. — Jens Bjorneboe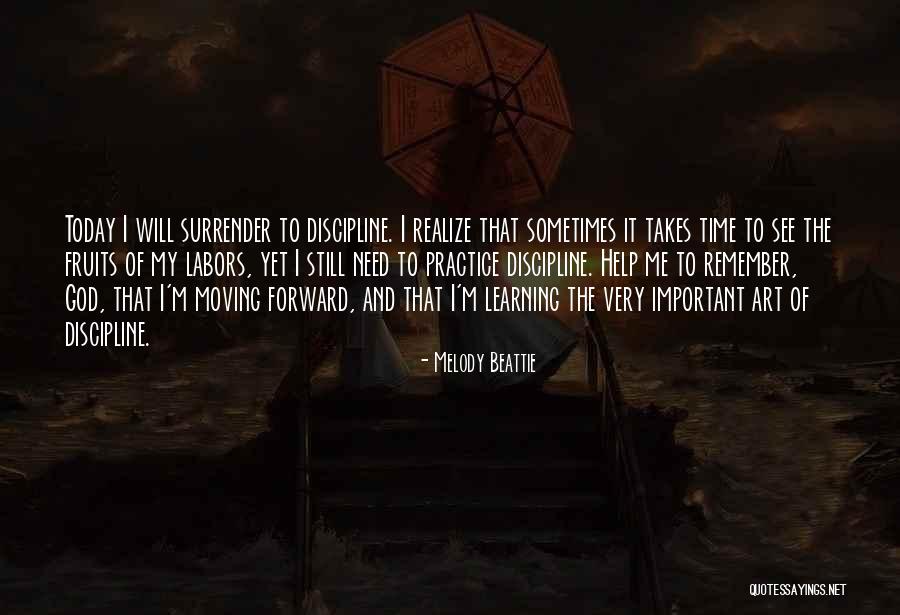 Today I will surrender to discipline. I realize that sometimes it takes time to see the fruits of my labors, yet I still need to practice discipline. Help me to remember, God, that I'm moving forward, and that I'm learning the very important art of discipline. — Melody Beattie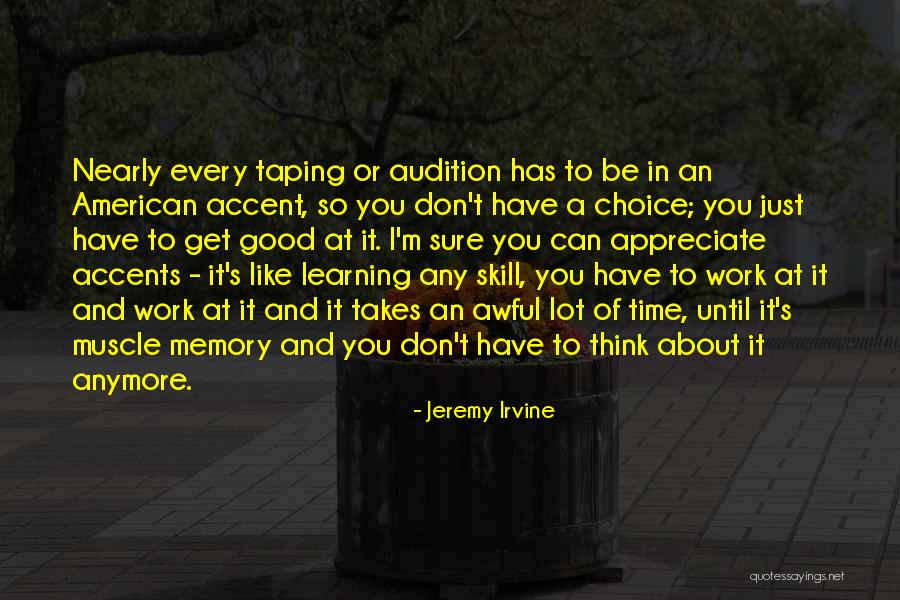 Nearly every taping or audition has to be in an American accent, so you don't have a choice; you just have to get good at it. I'm sure you can appreciate accents - it's like learning any skill, you have to work at it and work at it and it takes an awful lot of time, until it's muscle memory and you don't have to think about it anymore. — Jeremy Irvine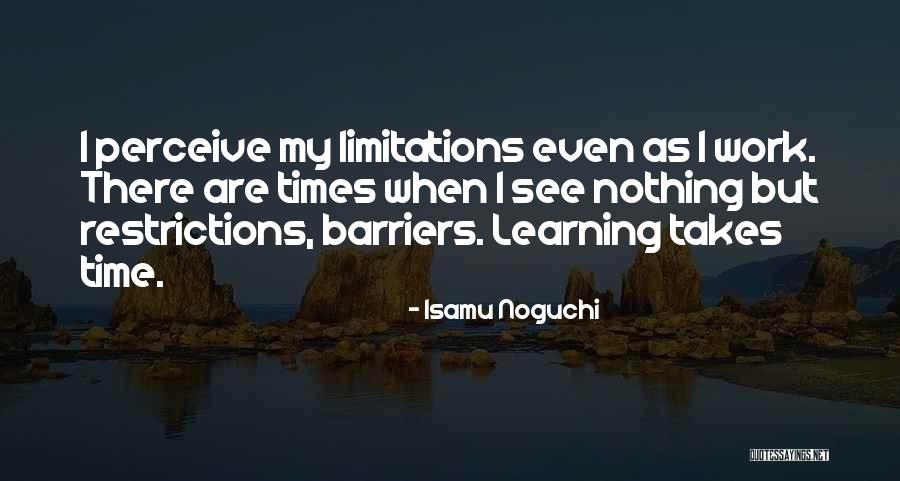 I perceive my limitations even as I work. There are times when I see nothing but restrictions, barriers. Learning takes time. — Isamu Noguchi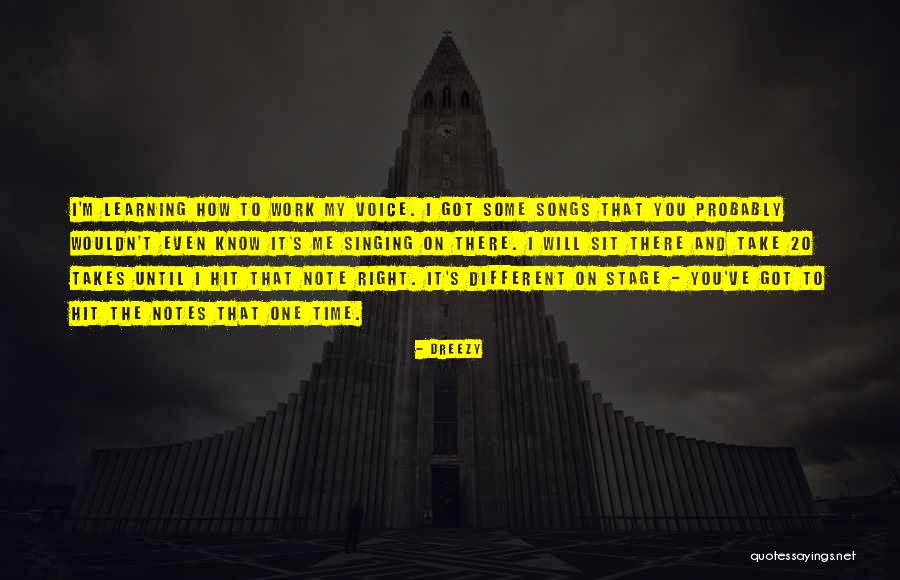 I'm learning how to work my voice. I got some songs that you probably wouldn't even know it's me singing on there. I will sit there and take 20 takes until I hit that note right. It's different on stage - you've got to hit the notes that one time. — Dreezy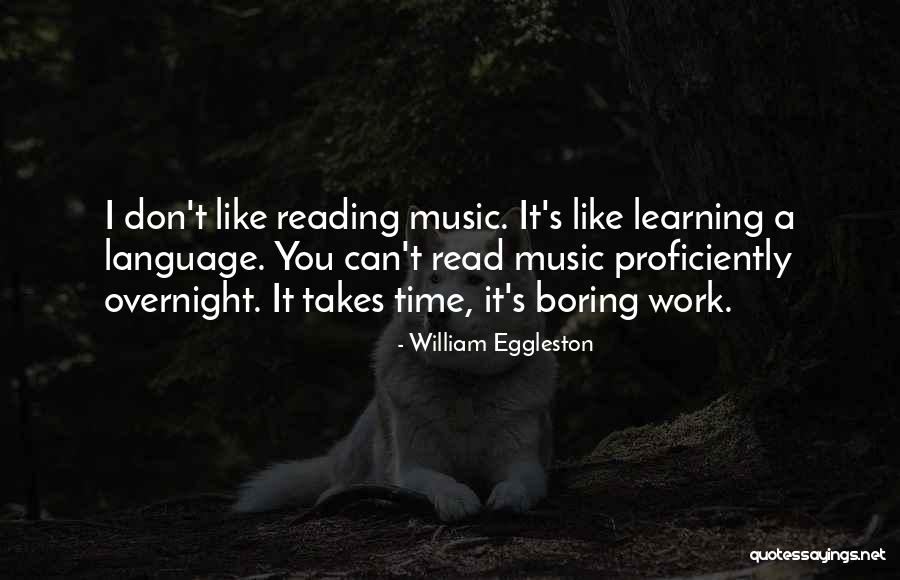 I don't like reading music. It's like learning a language. You can't read music proficiently overnight. It takes time, it's boring work. — William Eggleston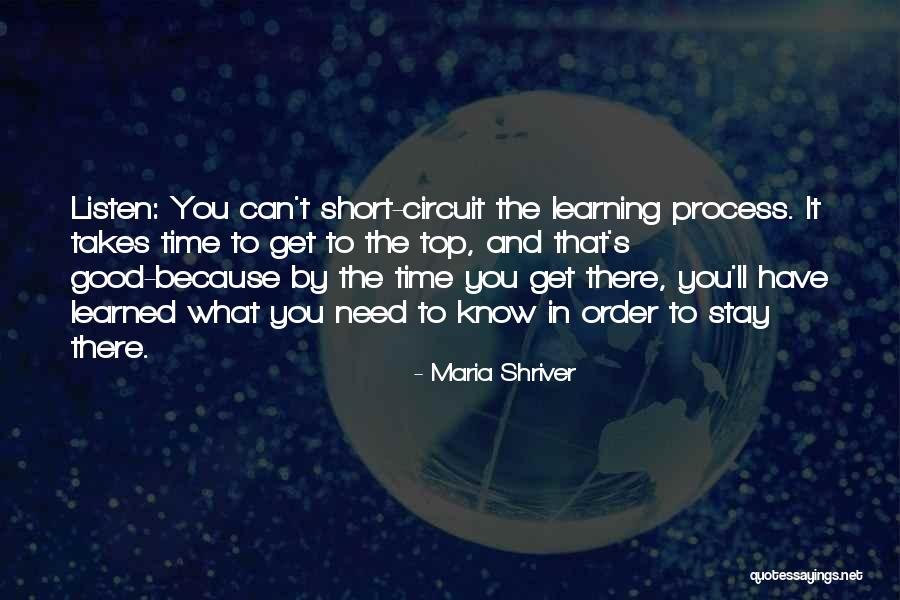 Listen: You can't short-circuit the learning process. It takes time to get to the top, and that's good-because by the time you get there, you'll have learned what you need to know in order to stay there. — Maria Shriver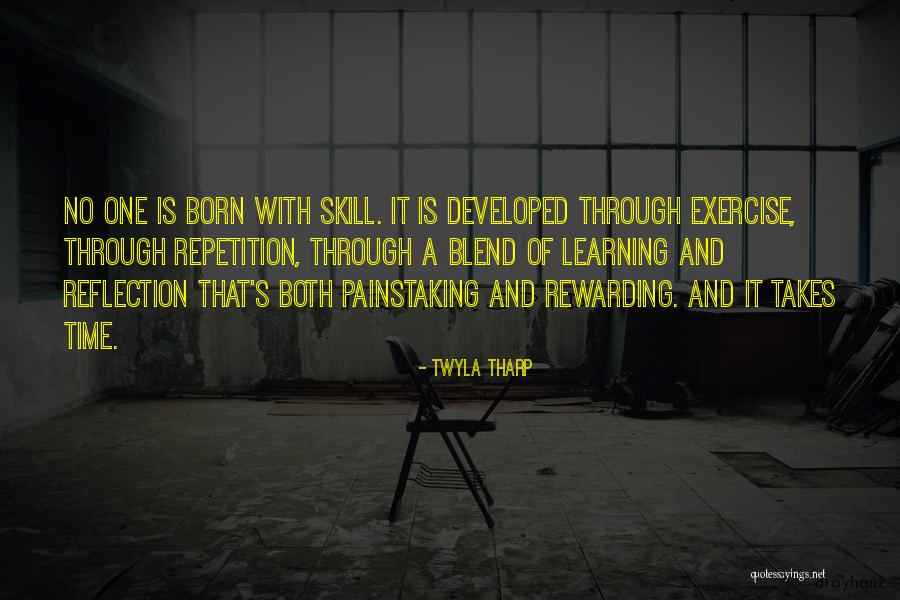 No one is born with skill. It is developed through exercise, through repetition, through a blend of learning and reflection that's both painstaking and rewarding. And it takes time. — Twyla Tharp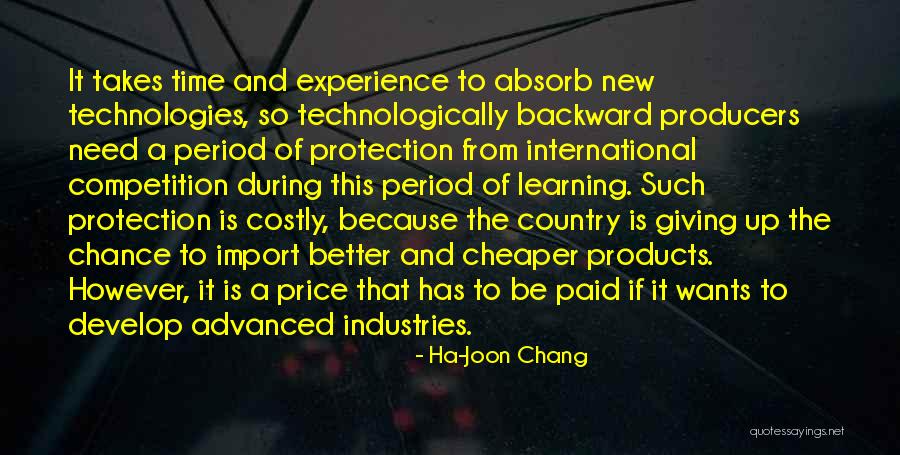 It takes time and experience to absorb new technologies, so technologically backward producers need a period of protection from international competition during this period of learning. Such protection is costly, because the country is giving up the chance to import better and cheaper products. However, it is a price that has to be paid if it wants to develop advanced industries. — Ha-Joon Chang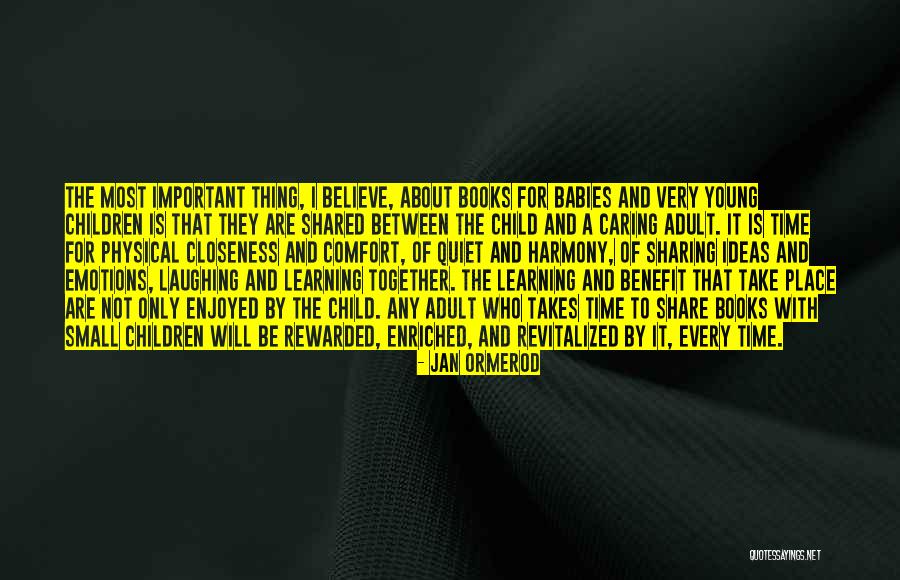 The most important thing, I believe, about books for babies and very young children is that they are shared between the child and a caring adult. It is time for physical closeness and comfort, of quiet and harmony, of sharing ideas and emotions, laughing and learning together. The learning and benefit that take place are not only enjoyed by the child. Any adult who takes time to share books with small children will be rewarded, enriched, and revitalized by it, every time. — Jan Ormerod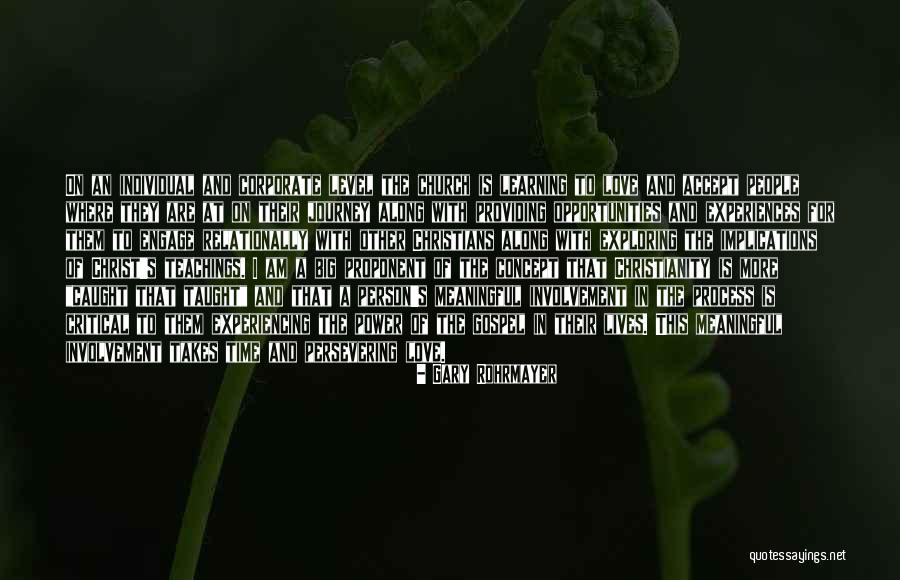 On an individual and corporate level the church is learning to love and accept people where they are at on their journey along with providing opportunities and experiences for them to engage relationally with other Christians along with exploring the implications of Christ's teachings. I am a big proponent of the concept that Christianity is more "caught that taught" and that a person's meaningful involvement in the process is critical to them experiencing the power of the gospel in their lives. This meaningful involvement takes time and persevering love. — Gary Rohrmayer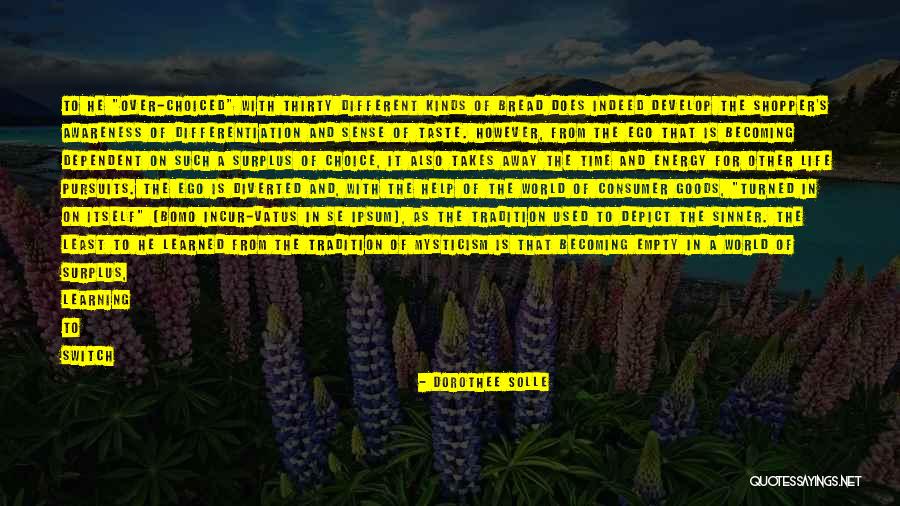 To he "over-choiced" with thirty different kinds of bread does indeed develop the shopper's awareness of differentiation and sense of taste. However, from the ego that is becoming dependent on such a surplus of choice, it also takes away the time and energy for other life pursuits. The ego is diverted and, with the help of the world of consumer goods, "turned in on itself" (bomo incur-vatus in se ipsum), as the tradition used to depict the sinner.
The least to he learned from the tradition of mysticism is that becoming empty in a world of surplus, learning to switch off, and limiting oneself are small steps in the liberation from consumerism, and that perhaps freedom cannot he imagined without letting go. — Dorothee Solle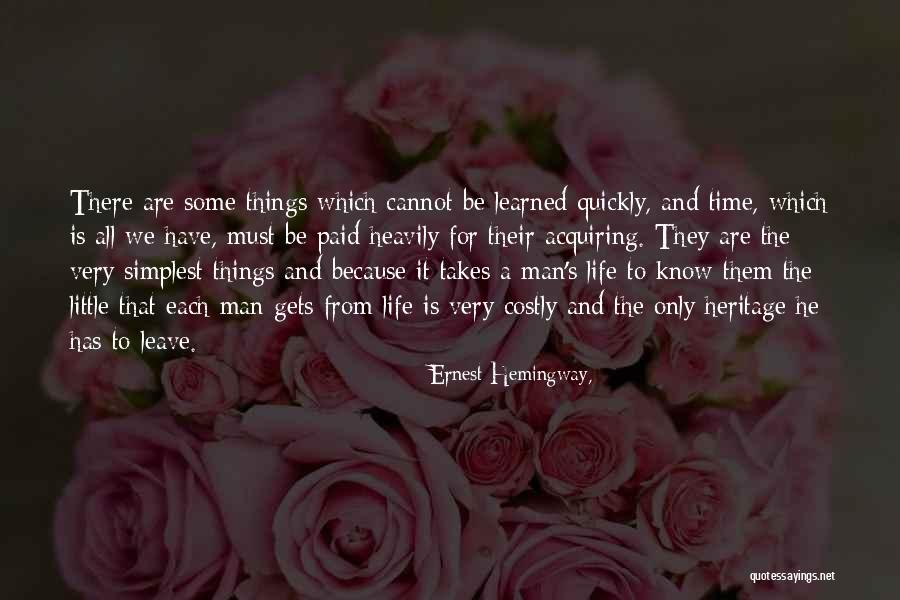 There are some things which cannot be learned quickly, and time, which is all we have, must be paid heavily for their acquiring. They are the very simplest things and because it takes a man's life to know them the little that each man gets from life is very costly and the only heritage he has to leave. — Ernest Hemingway,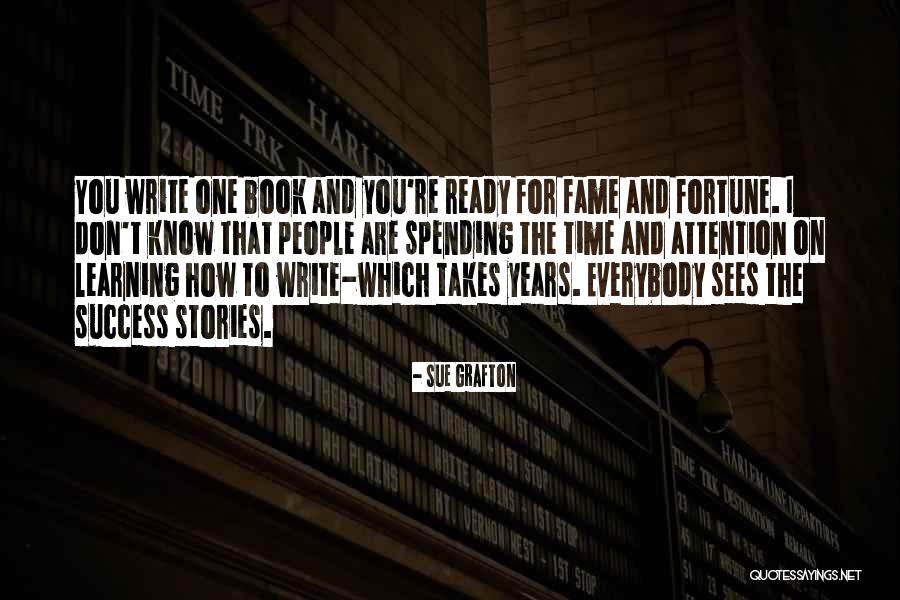 You write one book and you're ready for fame and fortune. I don't know that people are spending the time and attention on learning how to write-which takes years. Everybody sees the success stories. — Sue Grafton
In what is known as the 70/20/10 learning concept, Robert Eichinger and Michael Lombardo, in collaboration with Morgan McCall of the Center for Creative Leadership, explain that 70 percent of learning and development takes place from real-life and on-the-job experiences, tasks, and problem solving; 20 percent of the time development comes from other people through informal or formal feedback, mentoring, or coaching; and 10 percent of learning and development comes from formal training. — Marcia Conner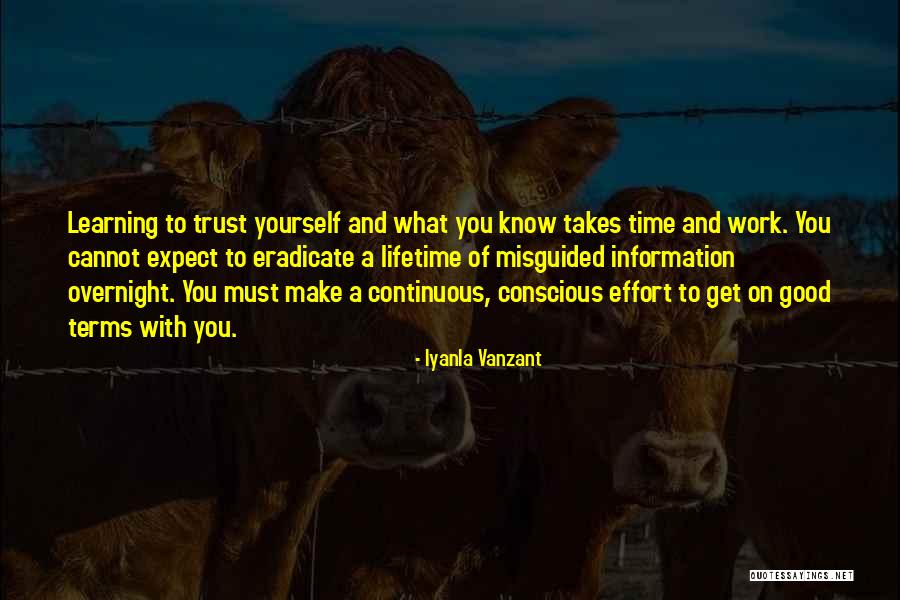 Learning to trust yourself and what you know takes time and work. You cannot expect to eradicate a lifetime of misguided information overnight. You must make a continuous, conscious effort to get on good terms with you. — Iyanla Vanzant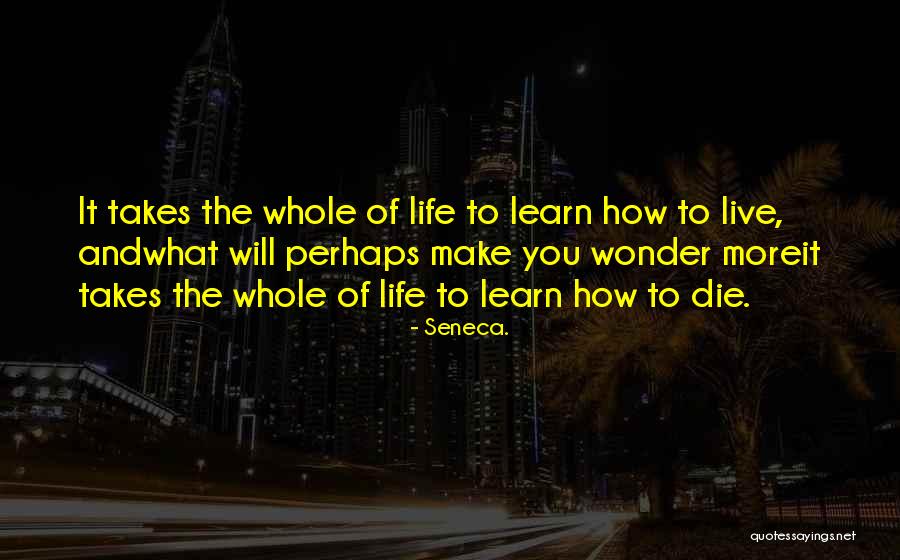 It takes the whole of life to learn how to live, and
what will perhaps make you wonder more
it takes the whole of life to learn how to die. — Seneca.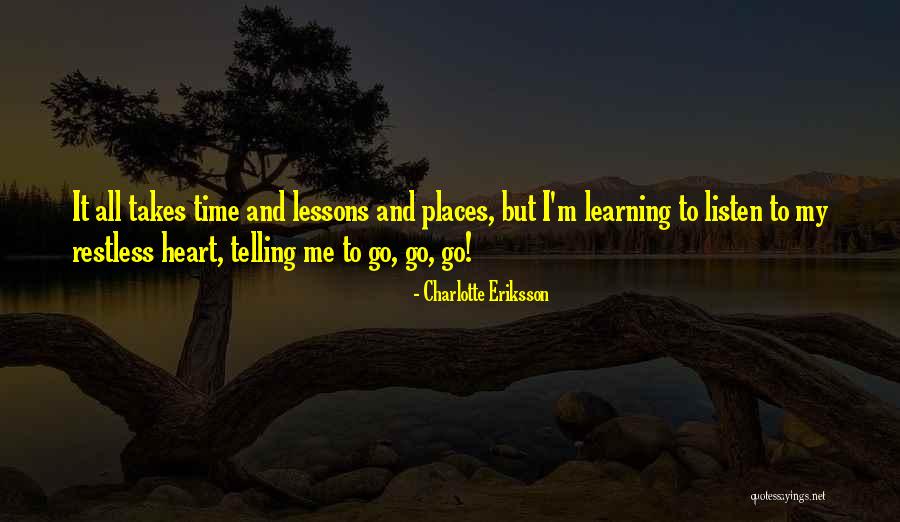 It all takes time and lessons and places, but I'm learning to listen to my restless heart, telling me to go, go, go! — Charlotte Eriksson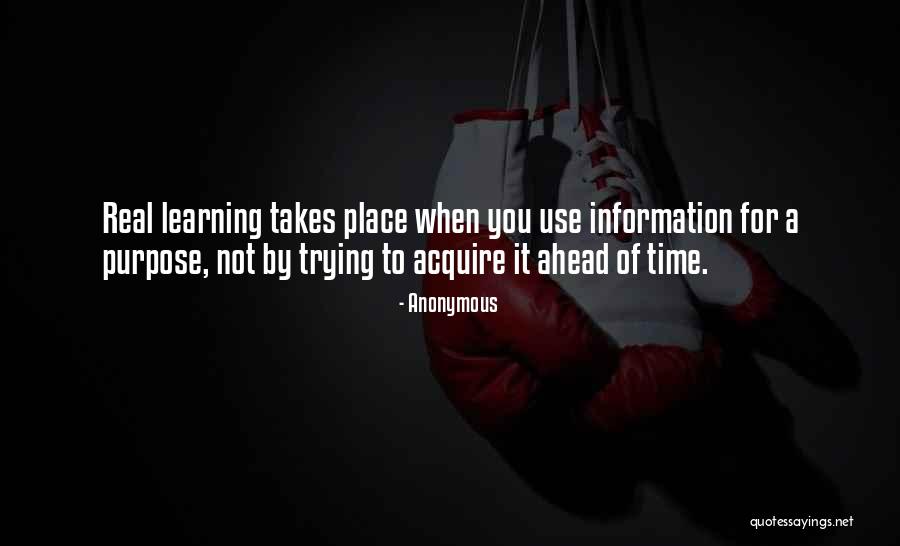 Real learning takes place when you use information for a purpose, not by trying to acquire it ahead of time. — Anonymous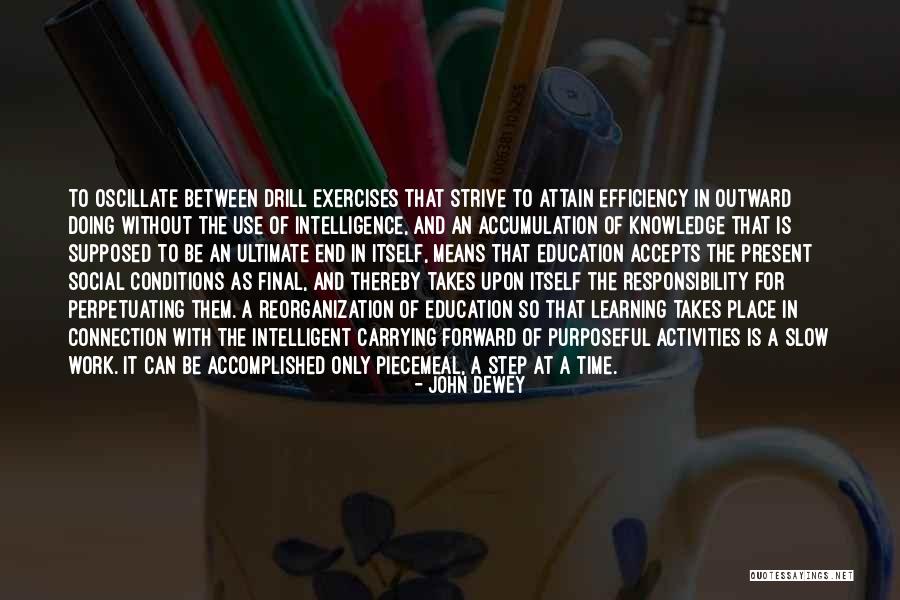 To oscillate between drill exercises that strive to attain efficiency in outward doing without the use of intelligence, and an accumulation of knowledge that is supposed to be an ultimate end in itself, means that education accepts the present social conditions as final, and thereby takes upon itself the responsibility for perpetuating them. A reorganization of education so that learning takes place in connection with the intelligent carrying forward of purposeful activities is a slow work. It can be accomplished only piecemeal, a step at a time. — John Dewey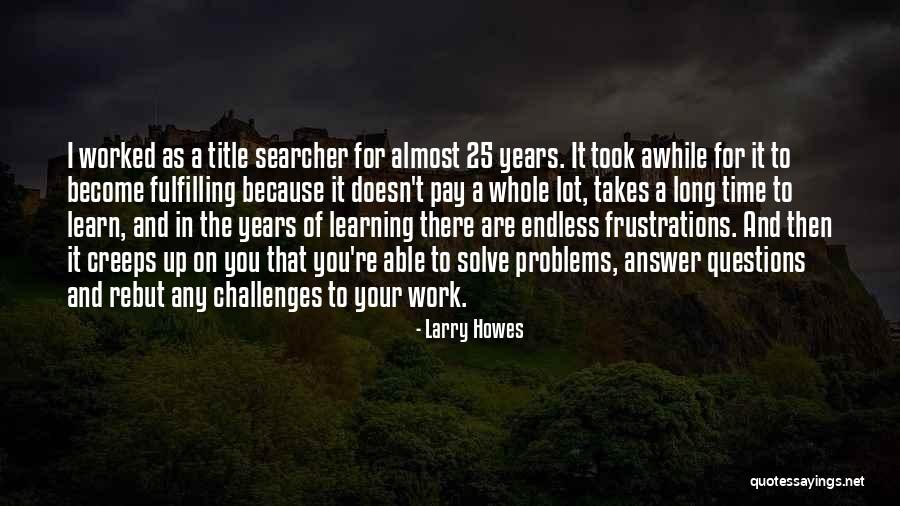 I worked as a title searcher for almost 25 years. It took awhile for it to become fulfilling because it doesn't pay a whole lot, takes a long time to learn, and in the years of learning there are endless frustrations. And then it creeps up on you that you're able to solve problems, answer questions and rebut any challenges to your work. — Larry Howes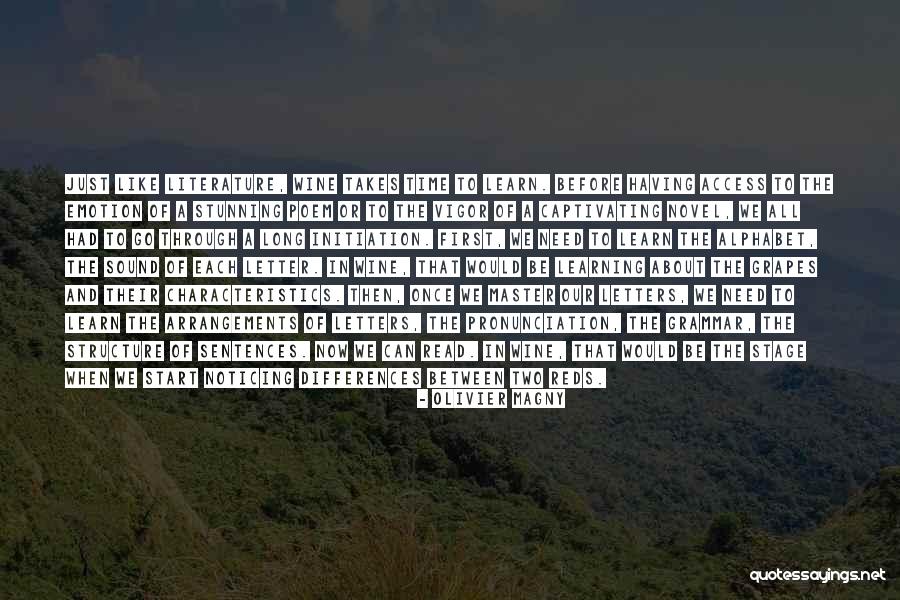 Just like literature, wine takes time to learn. Before having access to the emotion of a stunning poem or to the vigor of a captivating novel, we all had to go through a long initiation. First, we need to learn the alphabet, the sound of each letter. In wine, that would be learning about the grapes and their characteristics. Then, once we master our letters, we need to learn the arrangements of letters, the pronunciation, the grammar, the structure of sentences. Now we can read. In wine, that would be the stage when we start noticing differences between two reds. You no longer drink wine: you start drinking this wine. — Olivier Magny
Most important, I hope you grow into a woman who loves herself. It is not an easy thing, self-love. It takes a lot of practice and time. But as a woman who is learning how to get there herself, I hope I can give that gift to you as you grow. — Jodie Sweetin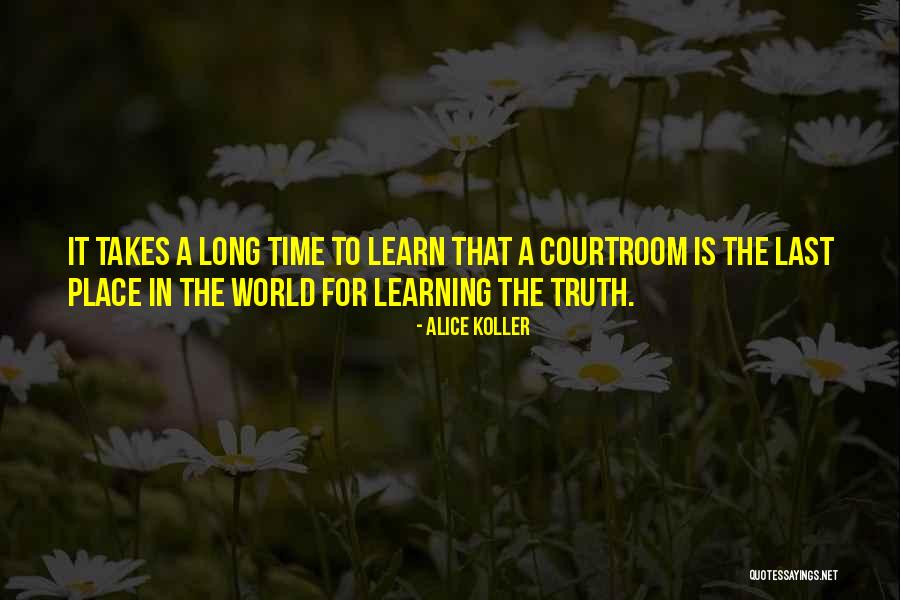 It takes a long time to learn that a courtroom is the last place in the world for learning the truth. — Alice Koller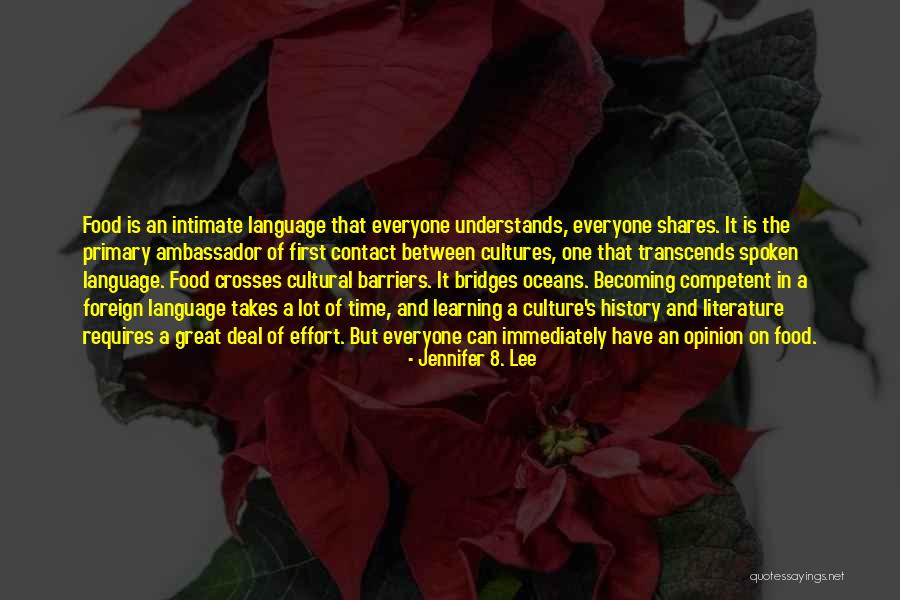 Food is an intimate language that everyone understands, everyone shares. It is the primary ambassador of first contact between cultures, one that transcends spoken language. Food crosses cultural barriers. It bridges oceans. Becoming competent in a foreign language takes a lot of time, and learning a culture's history and literature requires a great deal of effort. But everyone can immediately have an opinion on food. — Jennifer 8. Lee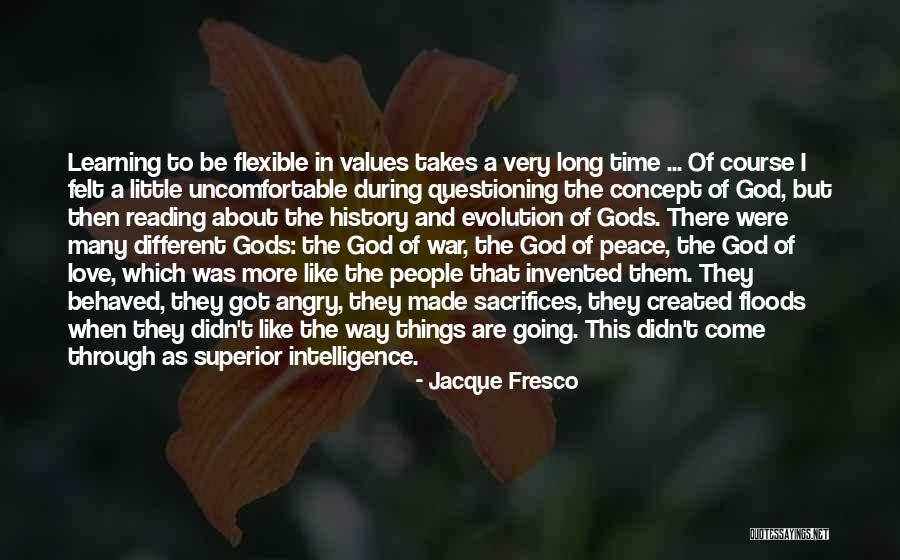 Learning to be flexible in values takes a very long time ... Of course I felt a little uncomfortable during questioning the concept of God, but then reading about the history and evolution of Gods. There were many different Gods: the God of war, the God of peace, the God of love, which was more like the people that invented them. They behaved, they got angry, they made sacrifices, they created floods when they didn't like the way things are going. This didn't come through as superior intelligence. — Jacque Fresco
It takes a really long time to realize this, but if you're lucky you eventually see that you've got this life on this planet and you're responsible for really loving yourself. And I mean really, really, really loving yourself. Love is never a corruption. I'm talking about loving yourself with a true love, a love that's incorruptible and everlasting. — C. JoyBell C.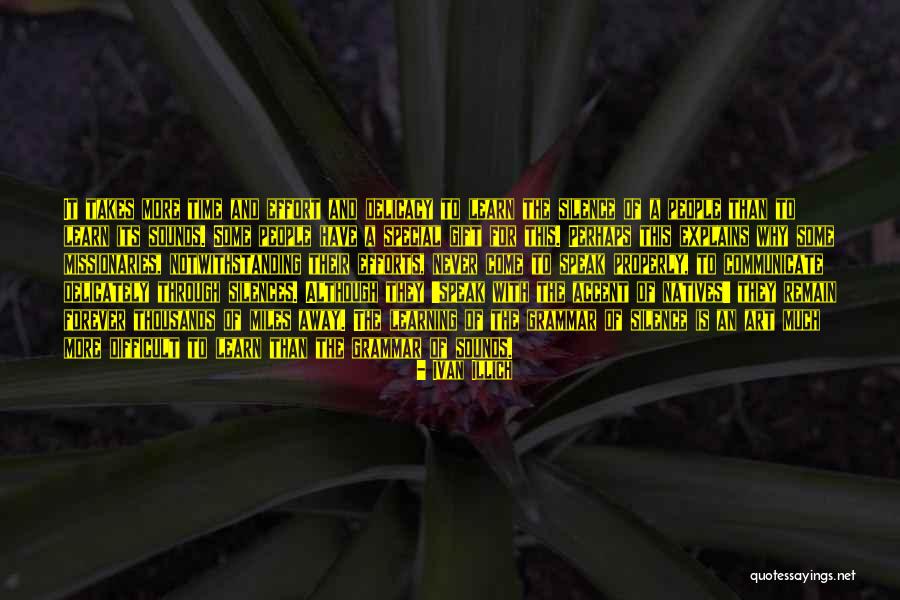 It takes more time and effort and delicacy to learn the silence of a people than to learn its sounds. Some people have a special gift for this. Perhaps this explains why some missionaries, notwithstanding their efforts, never come to speak properly, to communicate delicately through silences. Although they 'speak with the accent of natives' they remain forever thousands of miles away. The learning of the grammar of silence is an art much more difficult to learn than the grammar of sounds. — Ivan Illich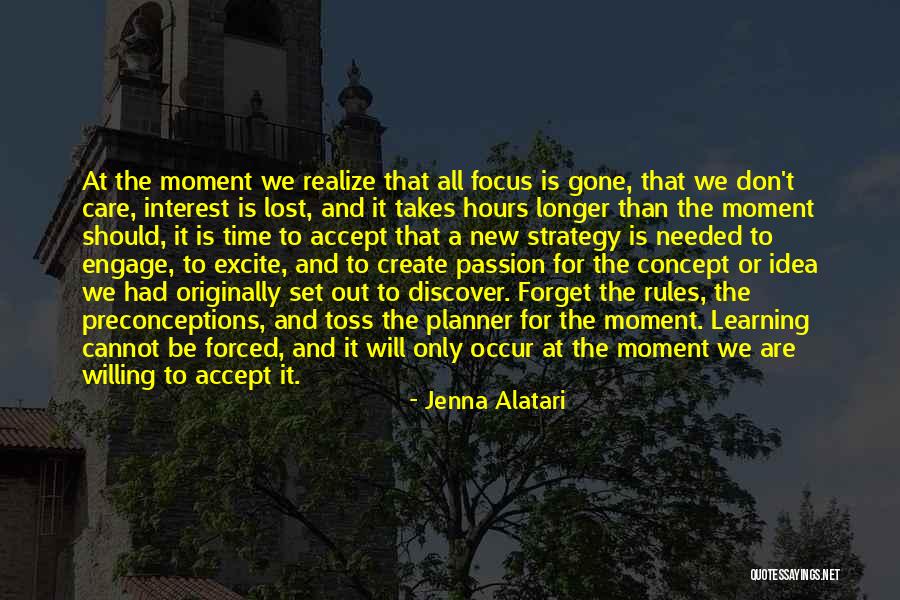 At the moment we realize that all focus is gone, that we don't care, interest is lost, and it takes hours longer than the moment should, it is time to accept that a new strategy is needed to engage, to excite, and to create passion for the concept or idea we had originally set out to discover. Forget the rules, the preconceptions, and toss the planner for the moment. Learning cannot be forced, and it will only occur at the moment we are willing to accept it. — Jenna Alatari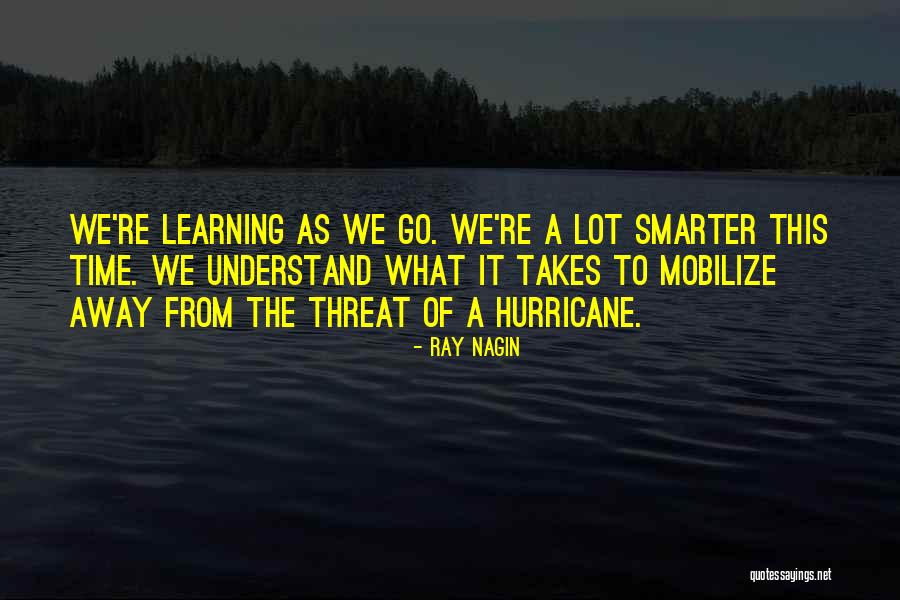 We're learning as we go. We're a lot smarter this time. We understand what it takes to mobilize away from the threat of a hurricane. — Ray Nagin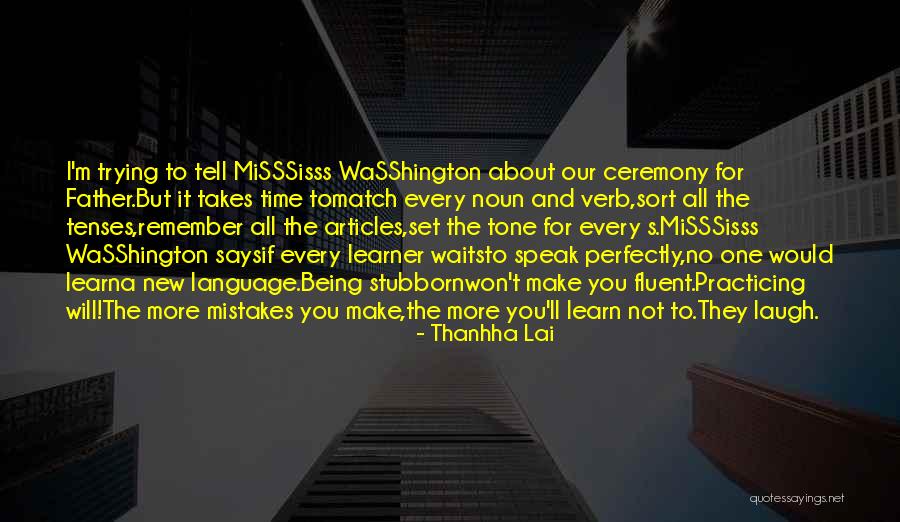 I'm trying to tell
MiSSSisss WaSShington
about our ceremony for Father.
But it takes time to
match every noun and verb,
sort all the tenses,
remember all the articles,
set the tone for every s.
MiSSSisss WaSShington says
if every learner waits
to speak perfectly,
no one would learn
a new language.
Being stubborn
won't make you fluent.
Practicing will!
The more mistakes you make,
the more you'll learn not to.
They laugh. — Thanhha Lai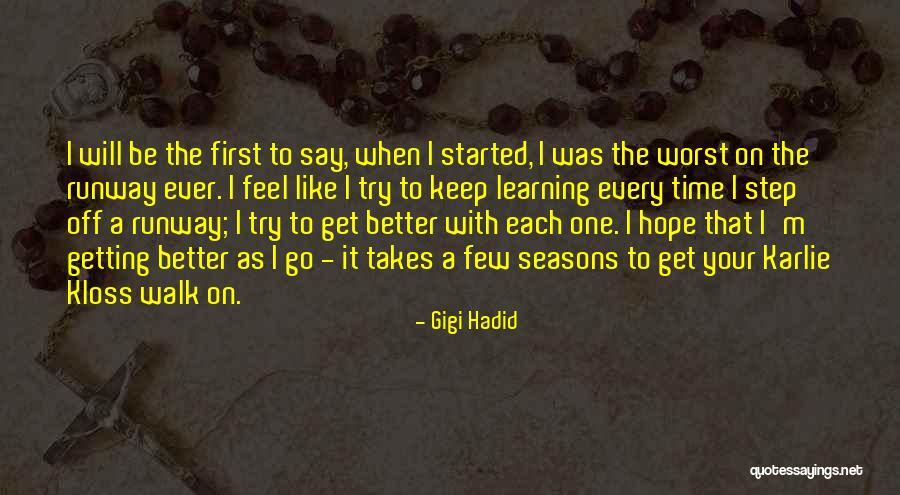 I will be the first to say, when I started, I was the worst on the runway ever. I feel like I try to keep learning every time I step off a runway; I try to get better with each one. I hope that I'm getting better as I go - it takes a few seasons to get your Karlie Kloss walk on. — Gigi Hadid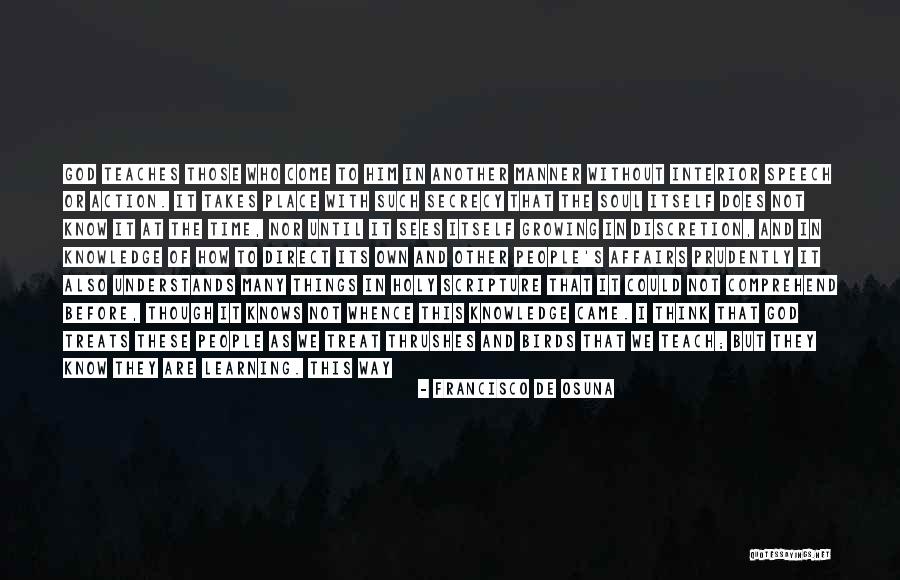 God teaches those who come to him in another manner without interior speech or action. It takes place with such secrecy that the soul itself does not know it at the time, nor until it sees itself growing in discretion, and in knowledge of how to direct its own and other people's affairs prudently It also understands many things in Holy Scripture that it could not comprehend before, though it knows not whence this knowledge came. I think that God treats these people as we treat thrushes and birds that we teach; but they know they are learning. This way of learning is excellent if free from presumption and combined with faith and right reason. However, there is danger in great unrestraint, for it is hateful that a man should concern himself with what is beyond him. — Francisco De Osuna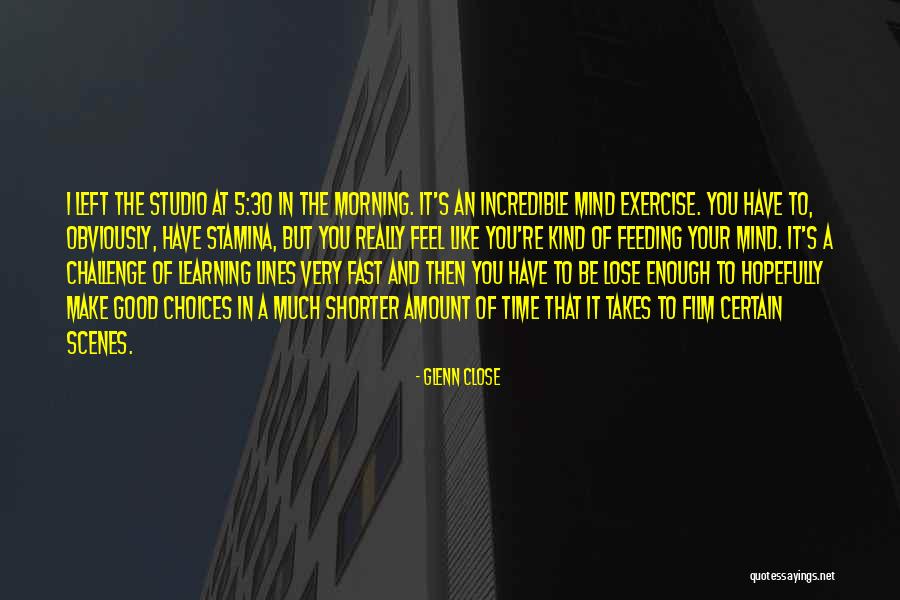 I left the studio at 5:30 in the morning. It's an incredible mind exercise. You have to, obviously, have stamina, but you really feel like you're kind of feeding your mind. It's a challenge of learning lines very fast and then you have to be lose enough to hopefully make good choices in a much shorter amount of time that it takes to film certain scenes. — Glenn Close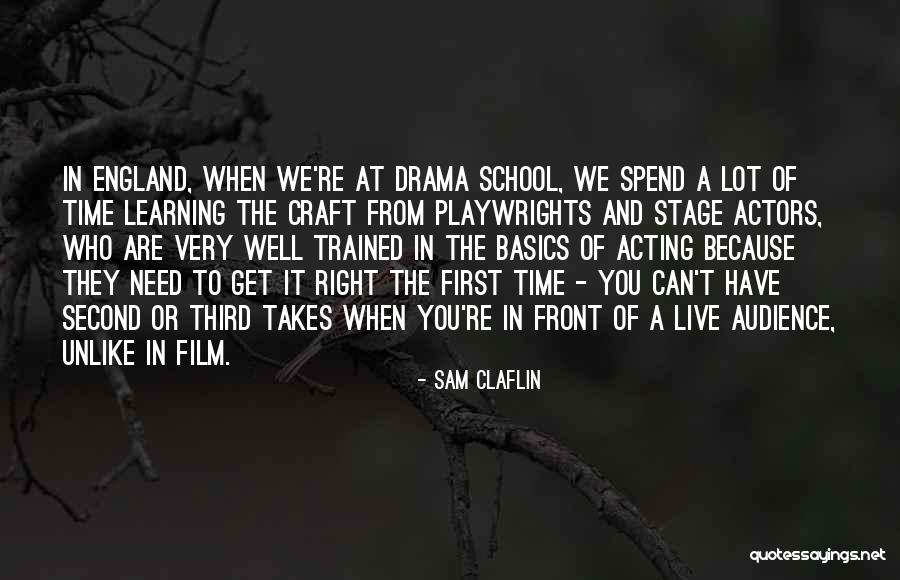 In England, when we're at drama school, we spend a lot of time learning the craft from playwrights and stage actors, who are very well trained in the basics of acting because they need to get it right the first time - you can't have second or third takes when you're in front of a live audience, unlike in film. — Sam Claflin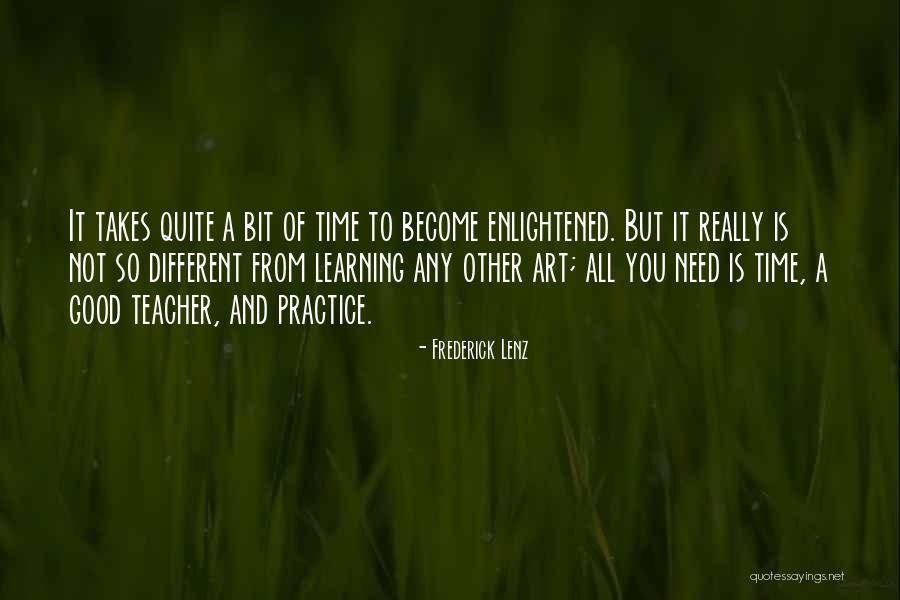 It takes quite a bit of time to become enlightened. But it really is not so different from learning any other art; all you need is time, a good teacher, and practice. — Frederick Lenz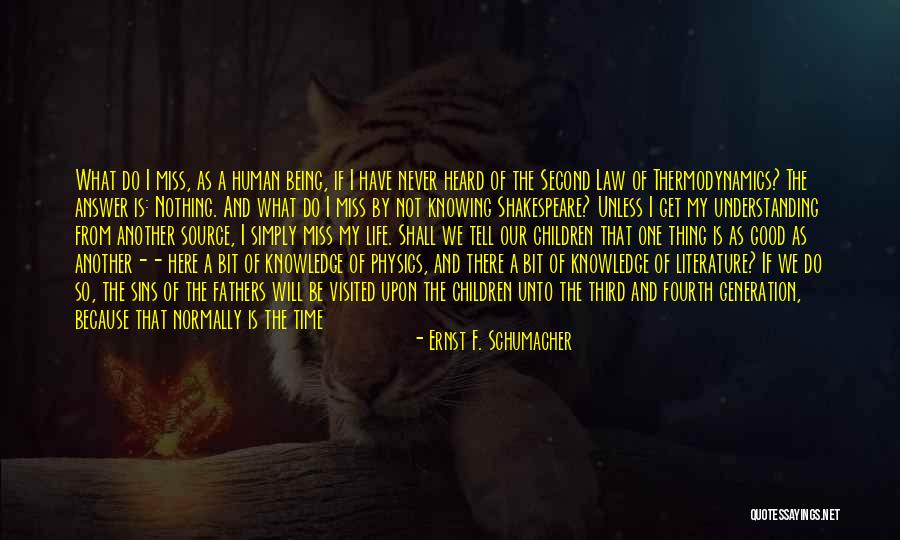 What do I miss, as a human being, if I have never heard of the Second Law of Thermodynamics? The answer is: Nothing. And what do I miss by not knowing Shakespeare? Unless I get my understanding from another source, I simply miss my life. Shall we tell our children that one thing is as good as another-- here a bit of knowledge of physics, and there a bit of knowledge of literature? If we do so, the sins of the fathers will be visited upon the children unto the third and fourth generation, because that normally is the time it takes from the birth of an idea to its full maturity when it fills the minds of a new generation and makes them think by it.

Science cannot produce ideas by which we could live. — Ernst F. Schumacher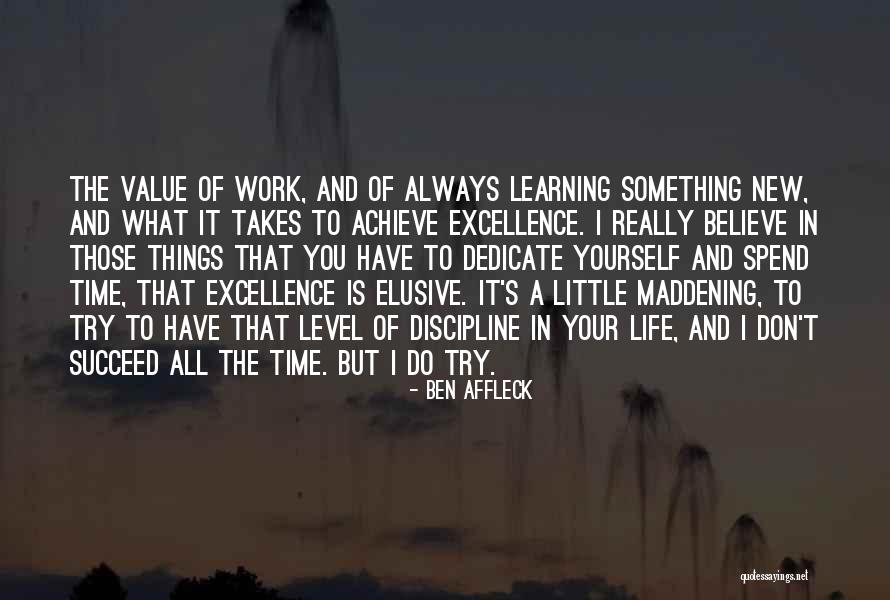 The value of work, and of always learning something new, and what it takes to achieve excellence. I really believe in those things that you have to dedicate yourself and spend time, that excellence is elusive. It's a little maddening, to try to have that level of discipline in your life, and I don't succeed all the time. But I do try. — Ben Affleck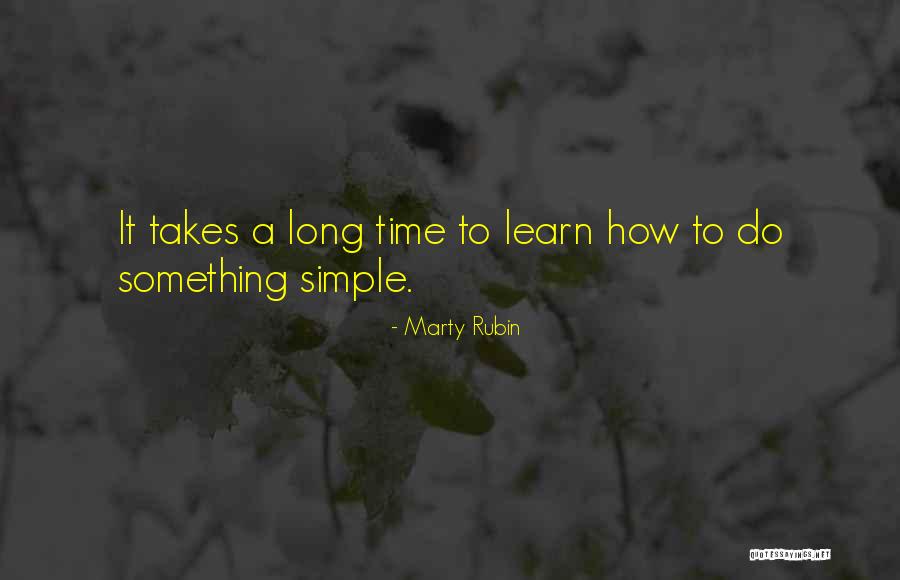 It takes a long time to learn how to do something simple. — Marty Rubin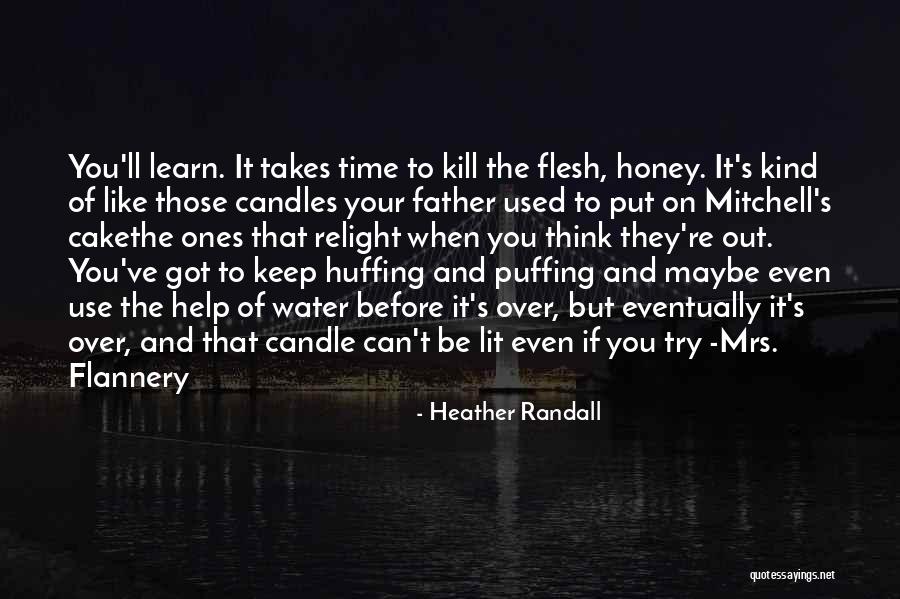 You'll learn. It takes time to kill the flesh, honey. It's kind of like those candles your father used to put on Mitchell's cake
the ones that relight when you think they're out. You've got to keep huffing and puffing and maybe even use the help of water before it's over, but eventually it's over, and that candle can't be lit even if you try
-Mrs. Flannery — Heather Randall