Learning From Each Other Quotes & Sayings
Enjoy reading and share 43 famous quotes about Learning From Each Other with everyone.
Top Learning From Each Other Quotes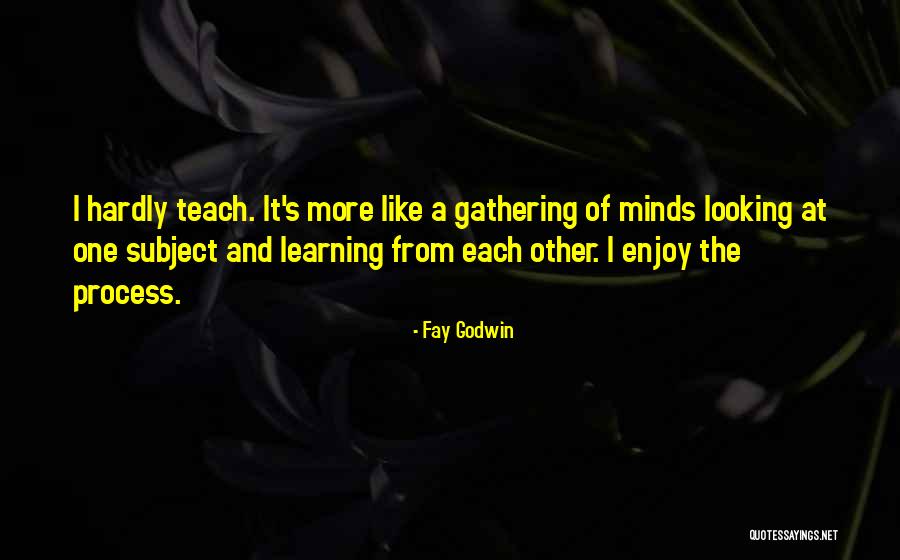 I hardly teach. It's more like a gathering of minds looking at one subject and learning from each other. I enjoy the process. — Fay Godwin
We must eliminate the gulf of mistrust and ignorance that keeps us from learning from each other. — Coretta Scott King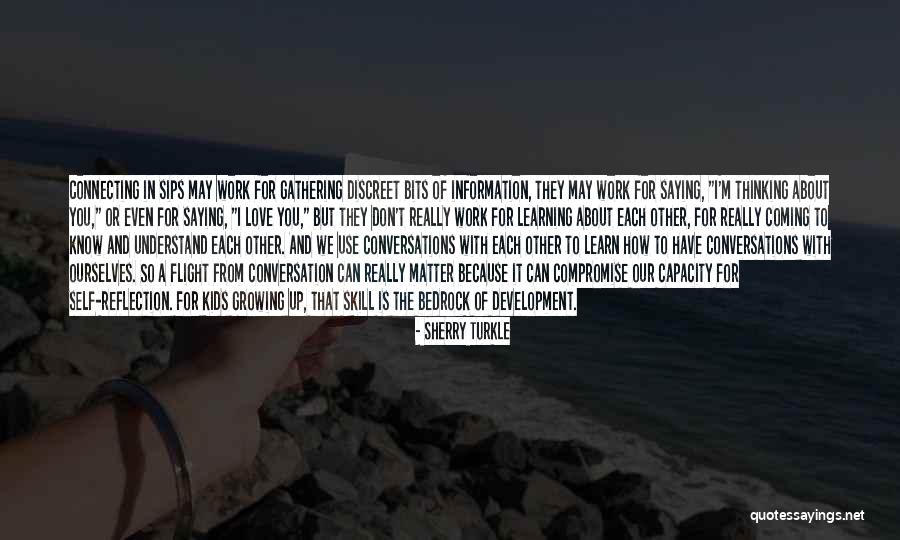 Connecting in sips may work for gathering discreet bits of information, they may work for saying, "I'm thinking about you," or even for saying, "I love you," but they don't really work for learning about each other, for really coming to know and understand each other. And we use conversations with each other to learn how to have conversations with ourselves. So a flight from conversation can really matter because it can compromise our capacity for self-reflection. For kids growing up, that skill is the bedrock of development. — Sherry Turkle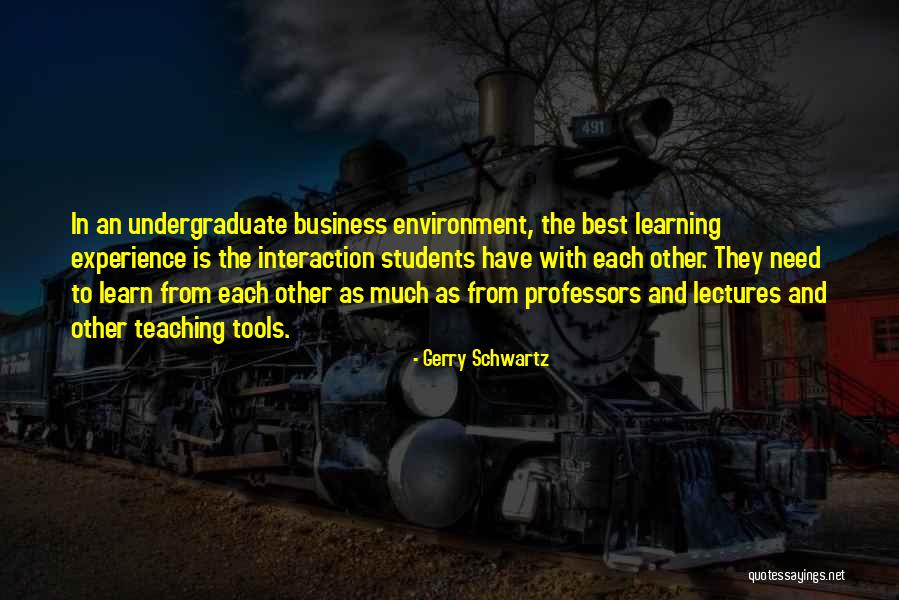 In an undergraduate business environment, the best learning experience is the interaction students have with each other. They need to learn from each other as much as from professors and lectures and other teaching tools. — Gerry Schwartz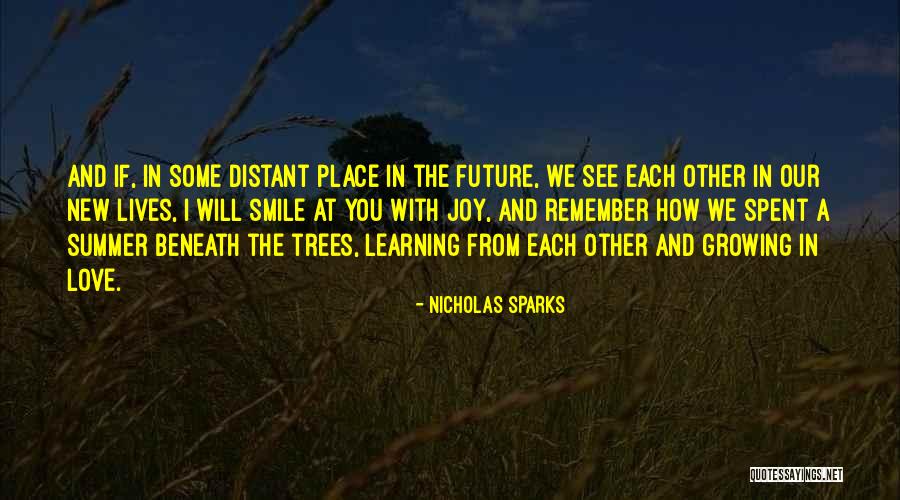 And if, in some distant place in the future, we see each other in our new lives, I will smile at you with joy, and remember how we spent a summer beneath the trees, learning from each other and growing in love. — Nicholas Sparks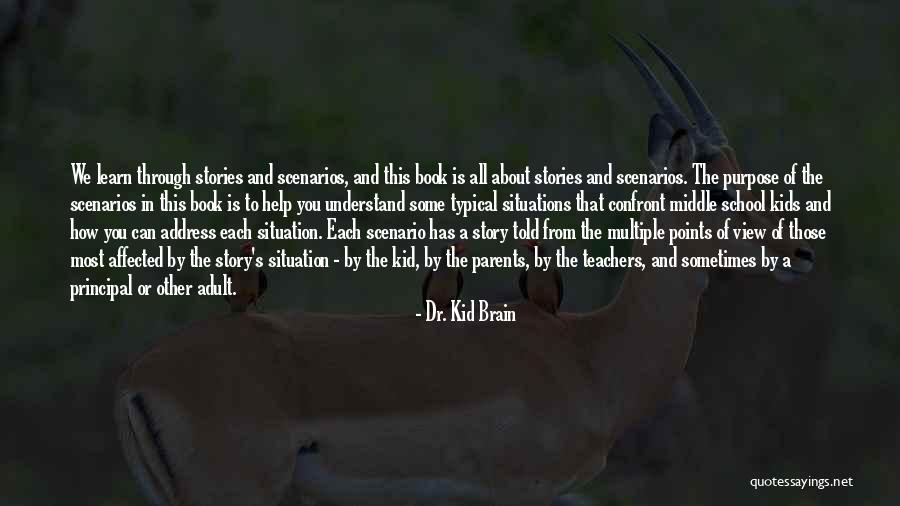 We learn through stories and scenarios, and this book is all about stories and scenarios. The purpose of the scenarios in this book is to help you understand some typical situations that confront middle school kids and how you can address each situation. Each scenario has a story told from the multiple points of view of those most affected by the story's situation - by the kid, by the parents, by the teachers, and sometimes by a principal or other adult. — Dr. Kid Brain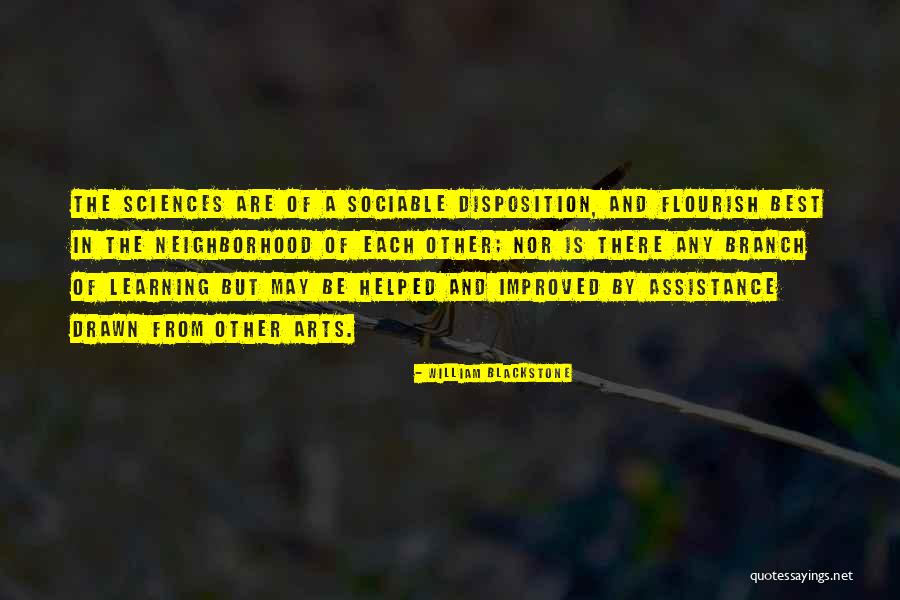 The sciences are of a sociable disposition, and flourish best in the neighborhood of each other; nor is there any branch of learning but may be helped and improved by assistance drawn from other arts. — William Blackstone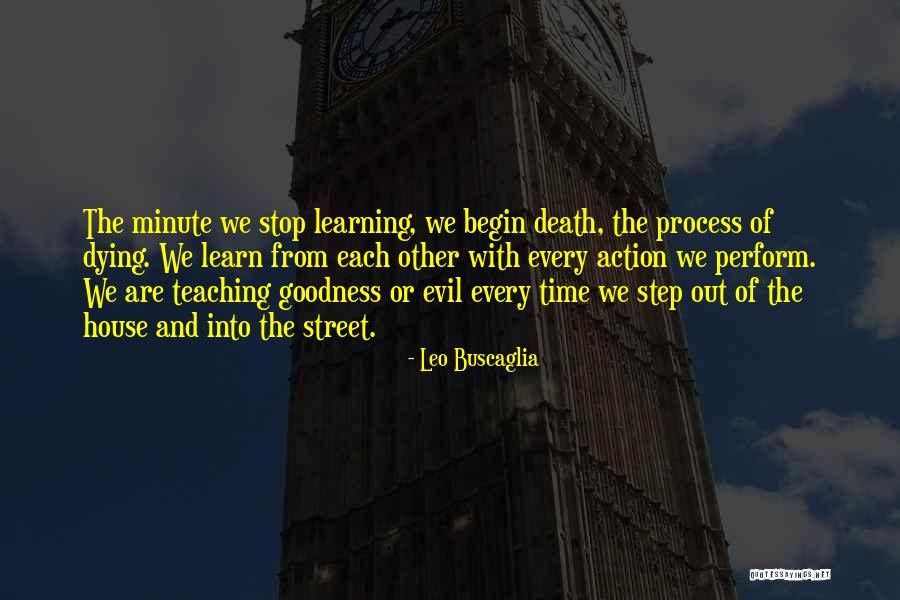 The minute we stop learning, we begin death, the process of dying. We learn from each other with every action we perform. We are teaching goodness or evil every time we step out of the house and into the street. — Leo Buscaglia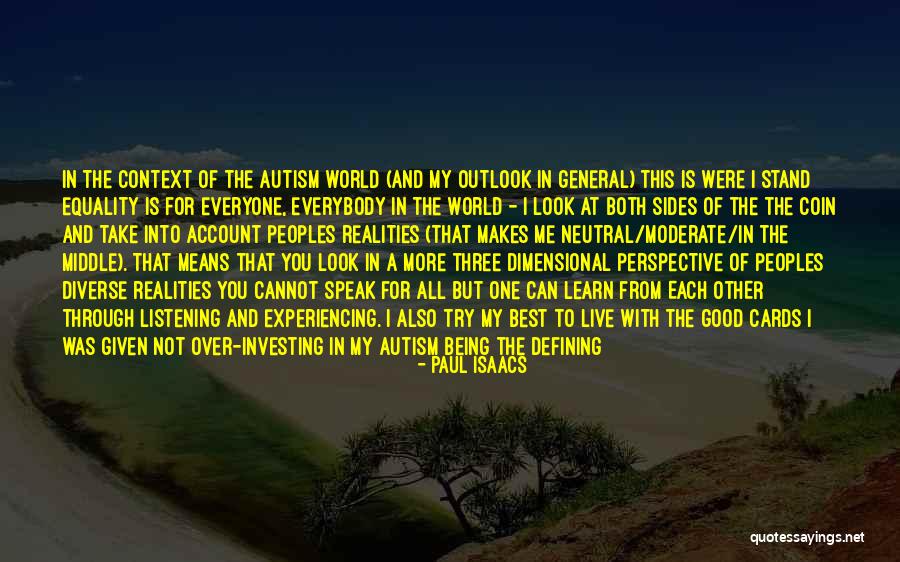 In the context of the autism world (and my outlook in general) this is were I stand equality is for everyone, everybody in the world - I look at both sides of the the coin and take into account peoples realities (that makes me neutral/moderate/in the middle).
That means that you look in a more three dimensional perspective of peoples diverse realities you cannot speak for all but one can learn from EACH OTHER through listening and experiencing.
I also try my best to live with the good cards I was given not over-investing in my autism being the defining factor of my being (but having a healthy acknowledgement of it) that it's there but also thinking about other qualities I have such as being a writer, poet and artist.
I do have disability, I do have autism and I have a "mild" learning disability that is true but I a human being first and foremost. And for someone to be seen as person equal to everyone else is a basic human right. — Paul Isaacs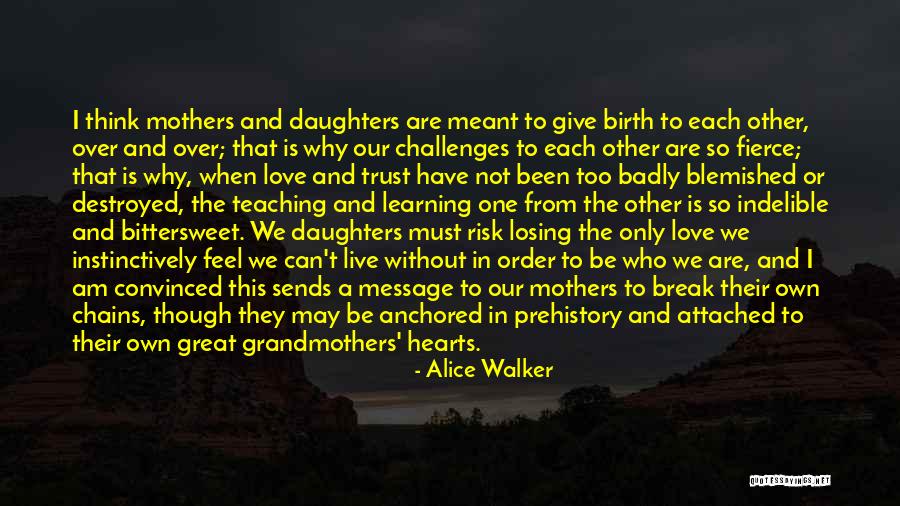 I think mothers and daughters are meant to give birth to each other, over and over; that is why our challenges to each other are so fierce; that is why, when love and trust have not been too badly blemished or destroyed, the teaching and learning one from the other is so indelible and bittersweet. We daughters must risk losing the only love we instinctively feel we can't live without in order to be who we are, and I am convinced this sends a message to our mothers to break their own chains, though they may be anchored in prehistory and attached to their own great grandmothers' hearts. — Alice Walker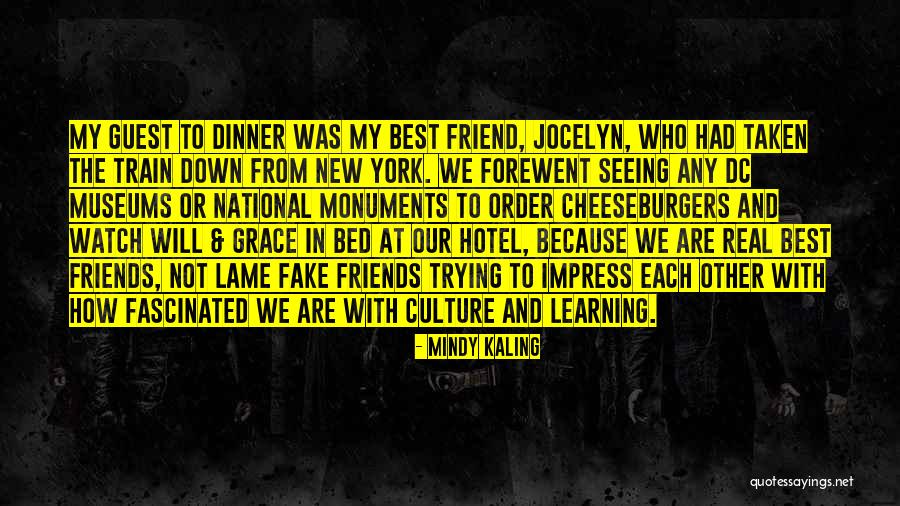 My guest to dinner was my best friend, Jocelyn, who had taken the train down from New York. We forewent seeing any DC museums or national monuments to order cheeseburgers and watch Will & Grace in bed at our hotel, because we are real best friends, not lame fake friends trying to impress each other with how fascinated we are with culture and learning. — Mindy Kaling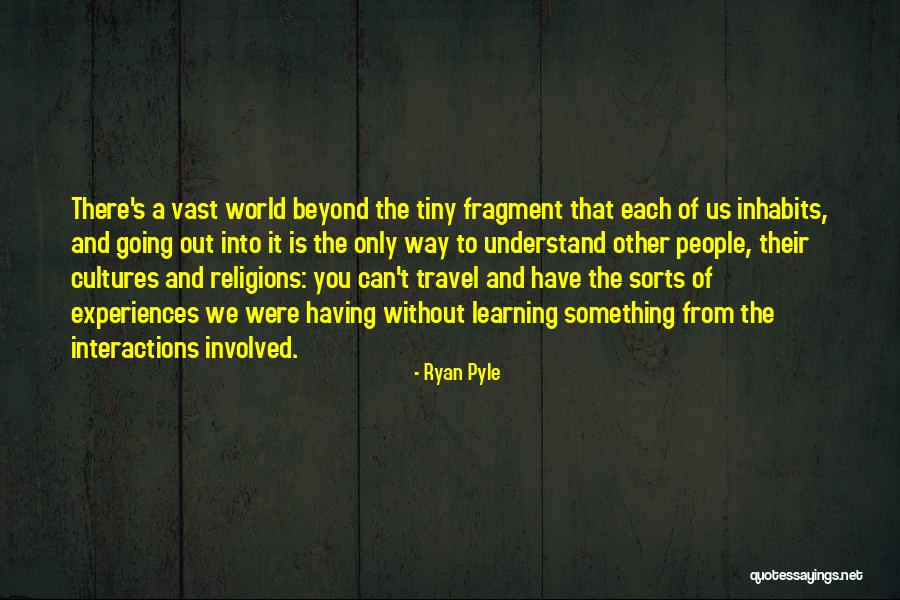 There's a vast world beyond the tiny fragment that each of us inhabits, and going out into it is the only way to understand other people, their cultures and religions: you can't travel and have the sorts of experiences we were having without learning something from the interactions involved. — Ryan Pyle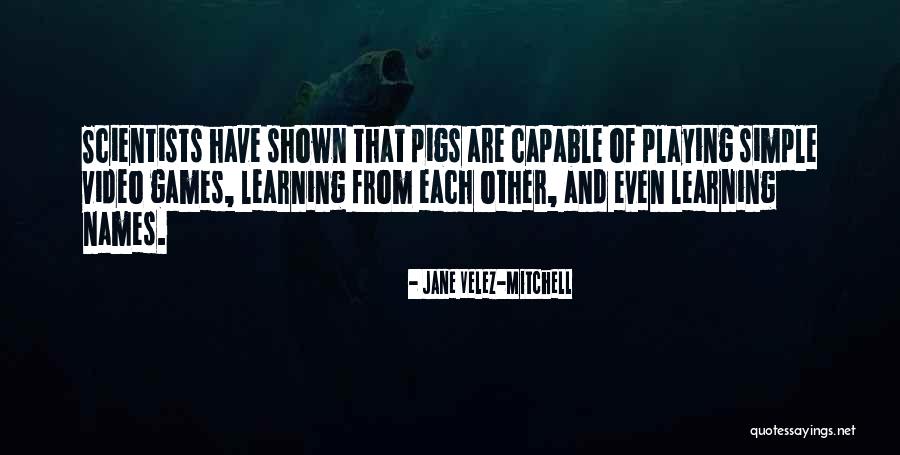 Scientists have shown that pigs are capable of playing simple video games, learning from each other, and even learning names. — Jane Velez-Mitchell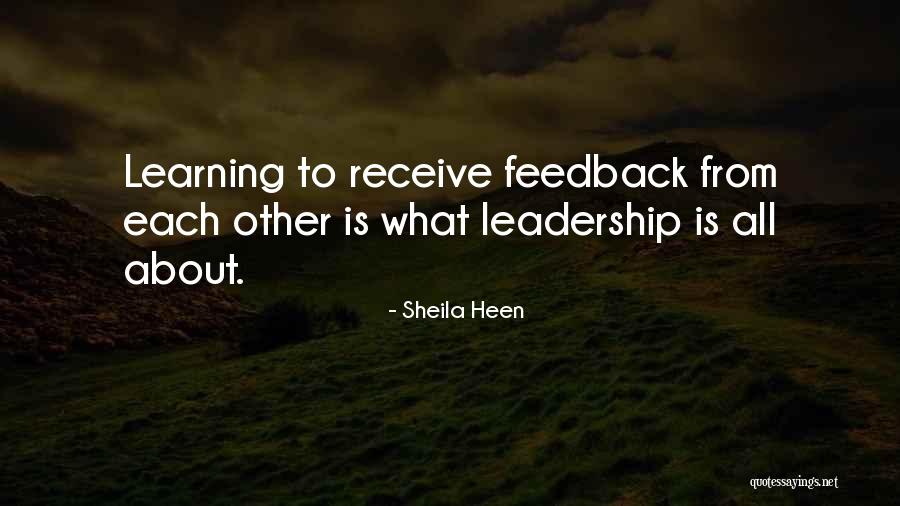 Learning to receive feedback from each other is what leadership is all about. — Sheila Heen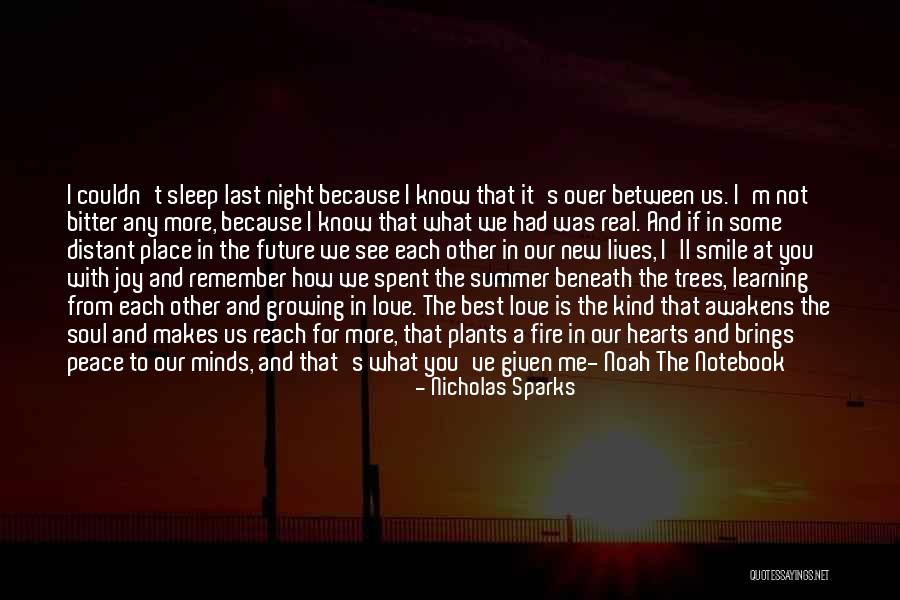 I couldn't sleep last night because I know that it's over between us. I'm not bitter any more, because I know that what we had was real. And if in some distant place in the future we see each other in our new lives, I'll smile at you with joy and remember how we spent the summer beneath the trees, learning from each other and growing in love. The best love is the kind that awakens the soul and makes us reach for more, that plants a fire in our hearts and brings peace to our minds, and that's what you've given me
- Noah The Notebook — Nicholas Sparks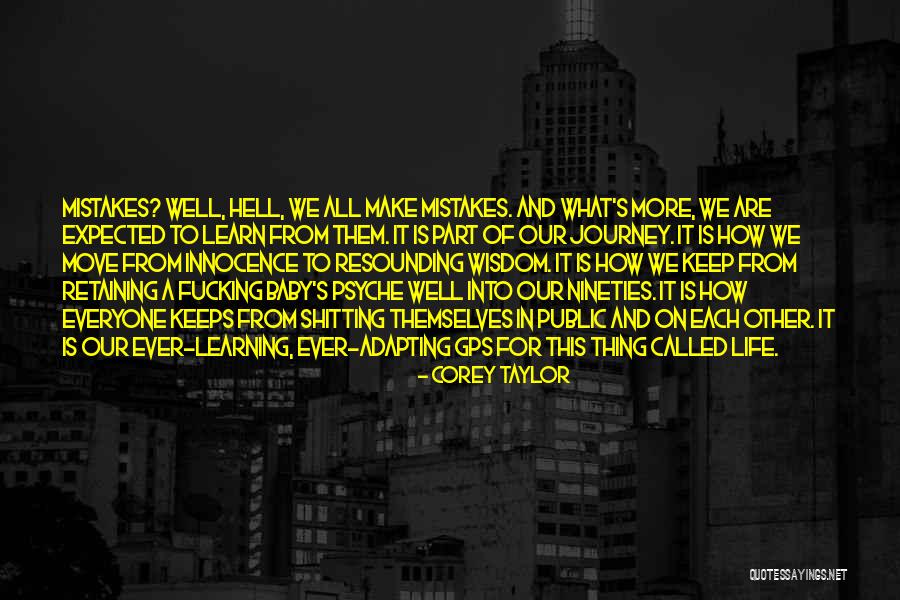 Mistakes? Well, hell, we all make mistakes. And what's more, we are expected to learn from them. It is part of our journey. It is how we move from innocence to resounding wisdom. It is how we keep from retaining a fucking baby's psyche well into our nineties. It is how everyone keeps from shitting themselves in public and on each other. It is our ever-learning, ever-adapting GPS for this thing called life. — Corey Taylor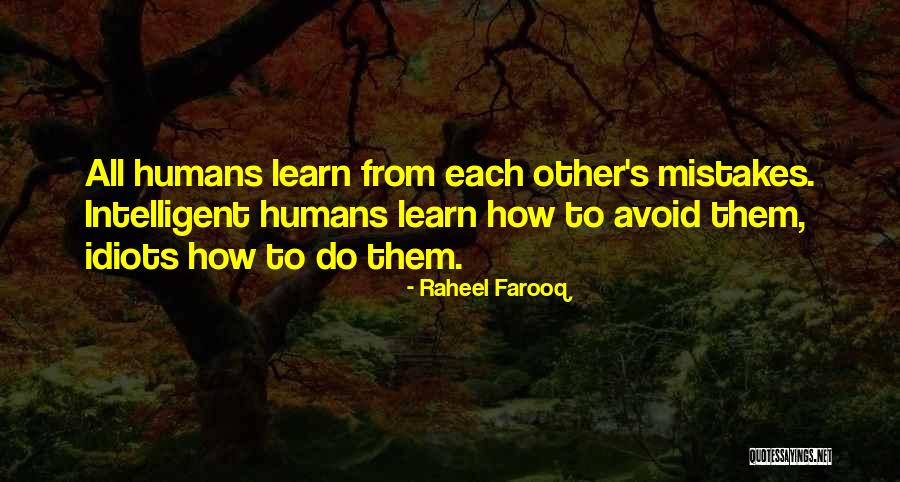 All humans learn from each other's mistakes. Intelligent humans learn how to avoid them, idiots how to do them. — Raheel Farooq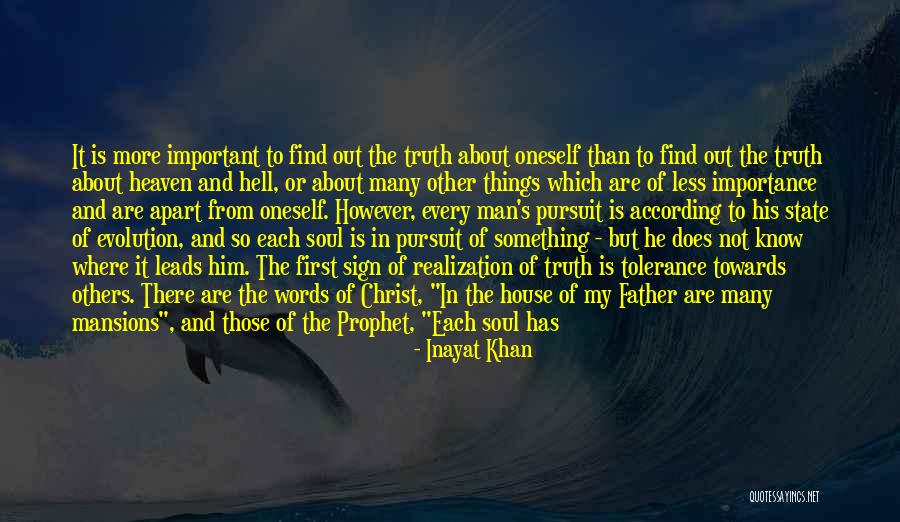 It is more important to find out the truth about oneself than to find out the truth about heaven and hell, or about many other things which are of less importance and are apart from oneself. However, every man's pursuit is according to his state of evolution, and so each soul is in pursuit of something - but he does not know where it leads him. The first sign of realization of truth is tolerance towards others. There are the words of Christ, "In the house of my Father are many mansions", and those of the Prophet, "Each soul has its own religion." This means that according to his evolution so man knows the truth and the more a man knows, the more he finds there is to learn. — Inayat Khan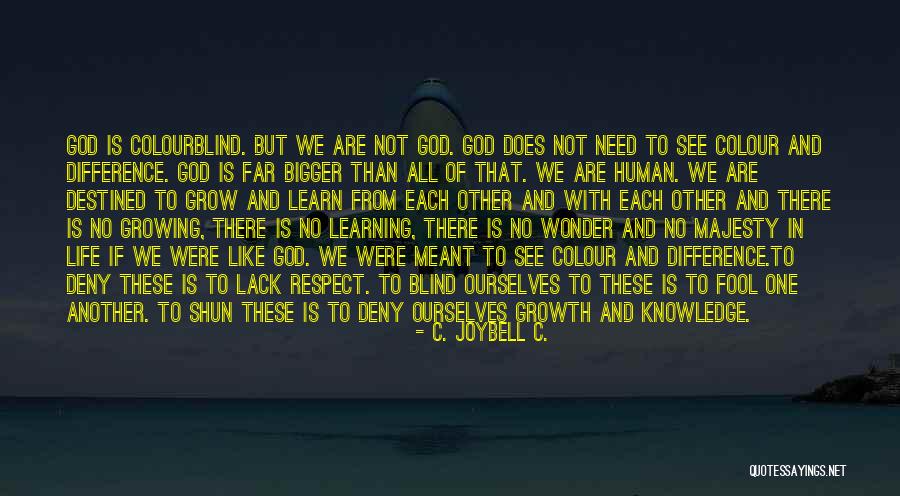 God is colourblind. But we are not God. God does not need to see colour and difference. God is far bigger than all of that. We are human. We are destined to grow and learn from each other and with each other and there is no growing, there is no learning, there is no wonder and no majesty in life if we were like God. We were meant to see colour and difference.To deny these is to lack respect. To blind ourselves to these is to fool one another. To shun these is to deny ourselves growth and knowledge. — C. JoyBell C.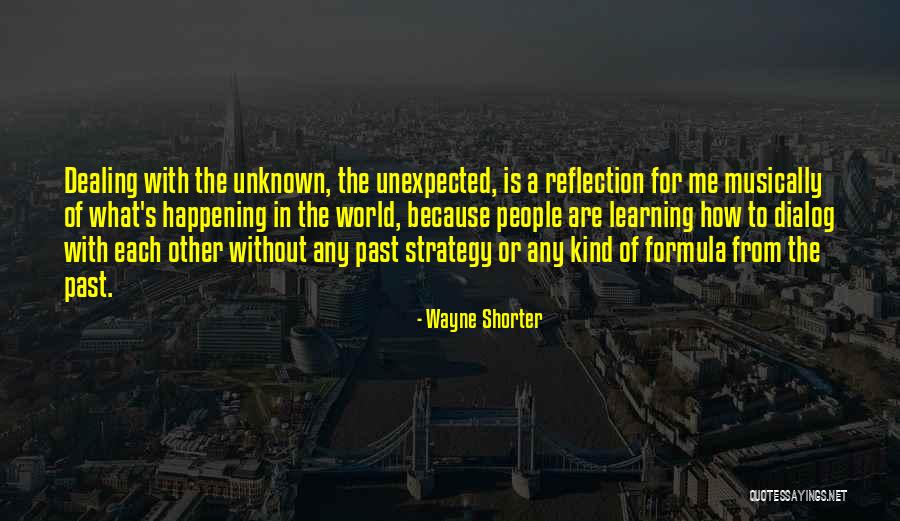 Dealing with the unknown, the unexpected, is a reflection for me musically of what's happening in the world, because people are learning how to dialog with each other without any past strategy or any kind of formula from the past. — Wayne Shorter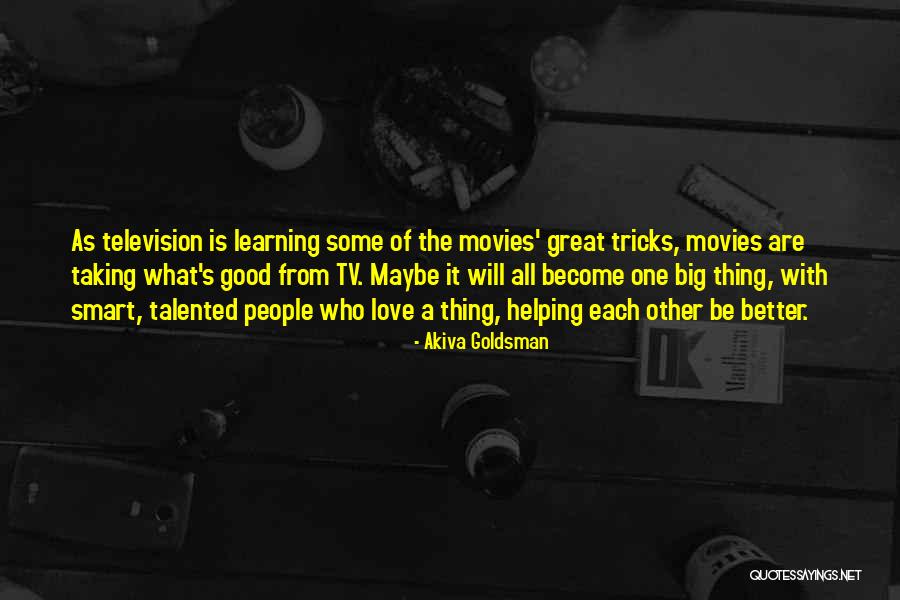 As television is learning some of the movies' great tricks, movies are taking what's good from TV. Maybe it will all become one big thing, with smart, talented people who love a thing, helping each other be better. — Akiva Goldsman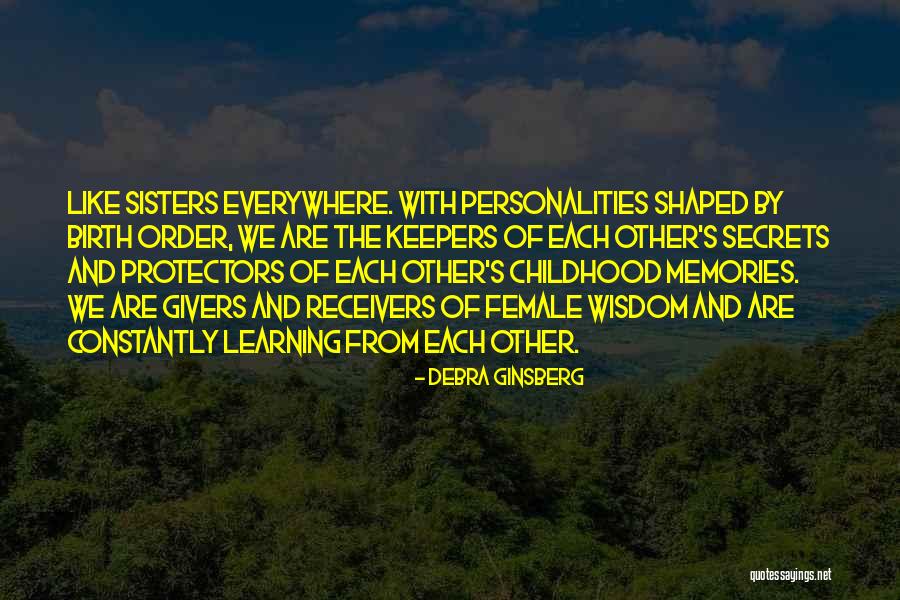 Like sisters everywhere. With personalities shaped by birth order, we are the keepers of each other's secrets and protectors of each other's childhood memories. We are givers and receivers of female wisdom and are constantly learning from each other. — Debra Ginsberg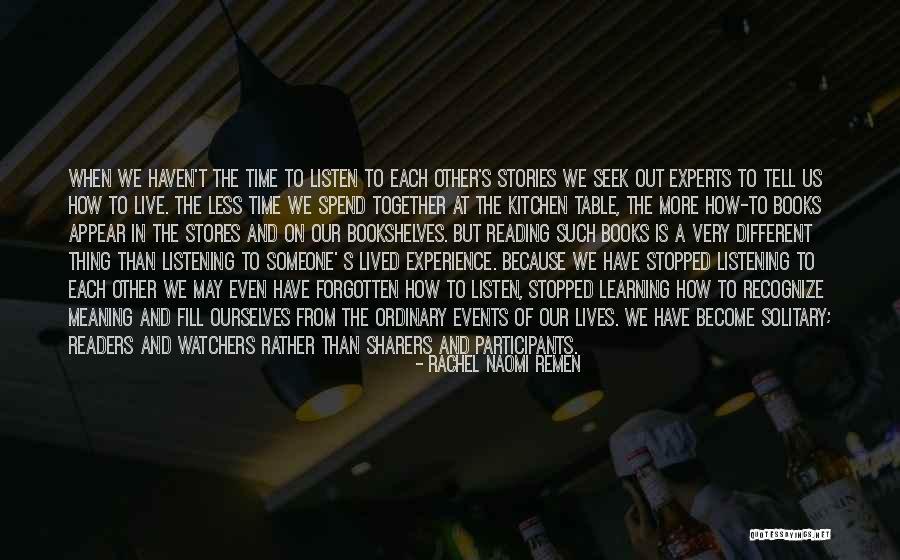 When we haven't the time to listen to each other's stories we seek out experts to tell us how to live. The less time we spend together at the kitchen table, the more how-to books appear in the stores and on our bookshelves. But reading such books is a very different thing than listening to someone' s lived experience. Because we have stopped listening to each other we may even have forgotten how to listen, stopped learning how to recognize meaning and fill ourselves from the ordinary events of our lives. We have become solitary; readers and watchers rather than sharers and participants. — Rachel Naomi Remen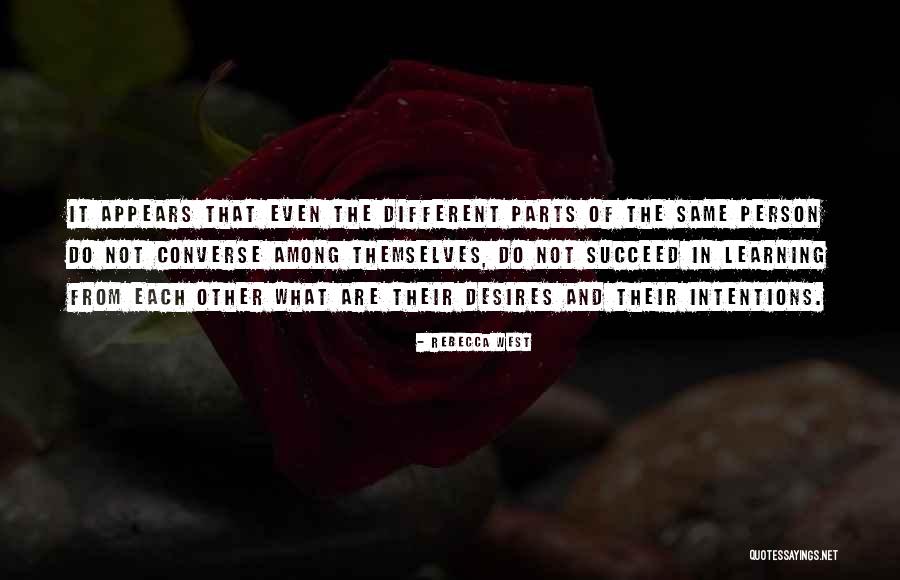 It appears that even the different parts of the same person do not converse among themselves, do not succeed in learning from each other what are their desires and their intentions. — Rebecca West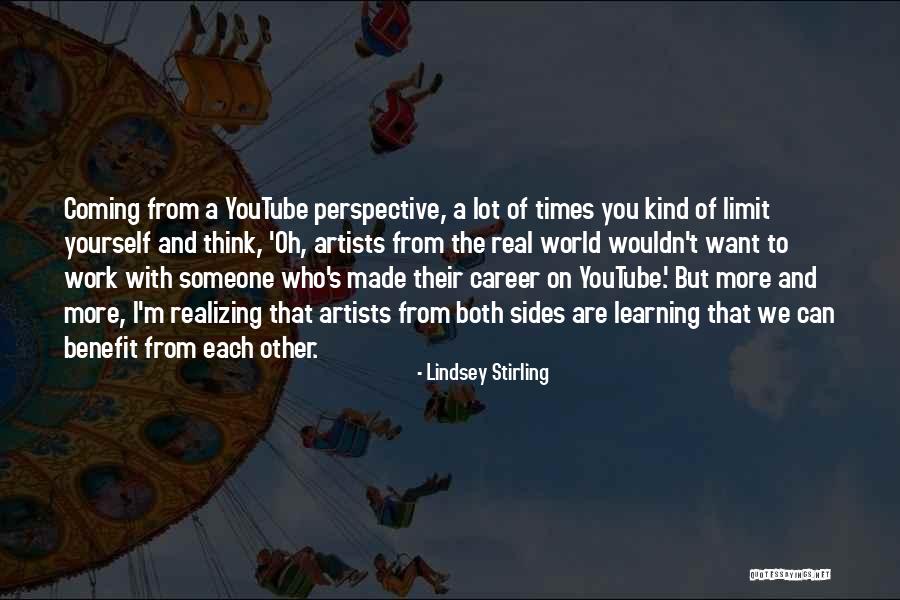 Coming from a YouTube perspective, a lot of times you kind of limit yourself and think, 'Oh, artists from the real world wouldn't want to work with someone who's made their career on YouTube.' But more and more, I'm realizing that artists from both sides are learning that we can benefit from each other. — Lindsey Stirling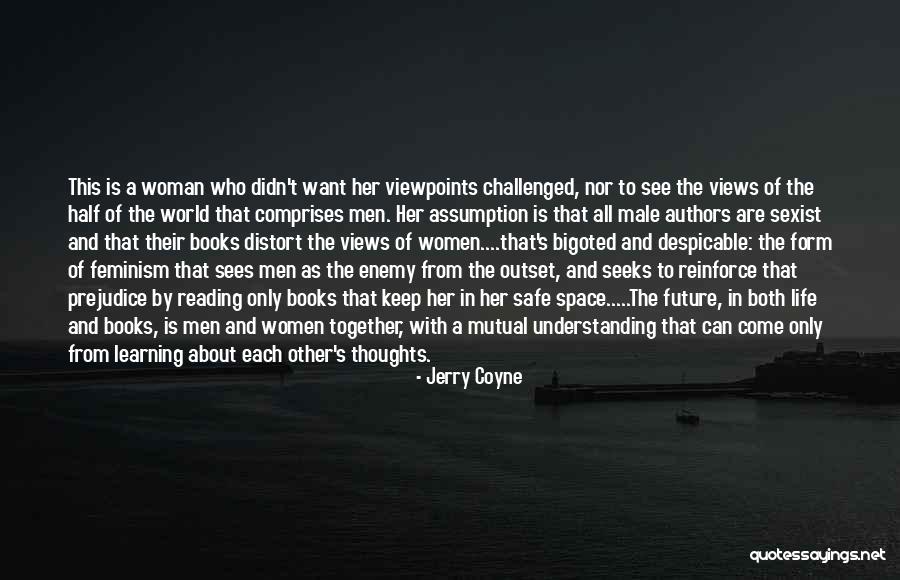 This is a woman who didn't want her viewpoints challenged, nor to see the views of the half of the world that comprises men. Her assumption is that all male authors are sexist and that their books distort the views of women....that's bigoted and despicable: the form of feminism that sees men as the enemy from the outset, and seeks to reinforce that prejudice by reading only books that keep her in her safe space.....The future, in both life and books, is men and women together, with a mutual understanding that can come only from learning about each other's thoughts. [About Caitlin Moran's sexist statement that girls shouldn't read any books written by men.] — Jerry Coyne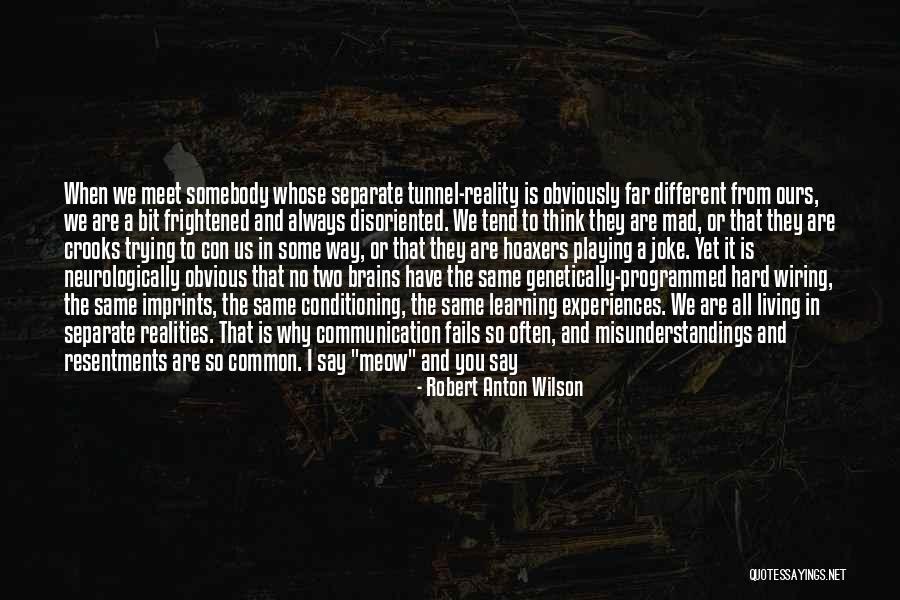 When we meet somebody whose separate tunnel-reality is obviously far different from ours, we are a bit frightened and always disoriented. We tend to think they are mad, or that they are crooks trying to con us in some way, or that they are hoaxers playing a joke. Yet it is neurologically obvious that no two brains have the same genetically-programmed hard wiring, the same imprints, the same conditioning, the same learning experiences. We are all living in separate realities. That is why communication fails so often, and misunderstandings and resentments are so common. I say "meow" and you say "Bow-wow," and each of us is convinced the other is a bit dumb. — Robert Anton Wilson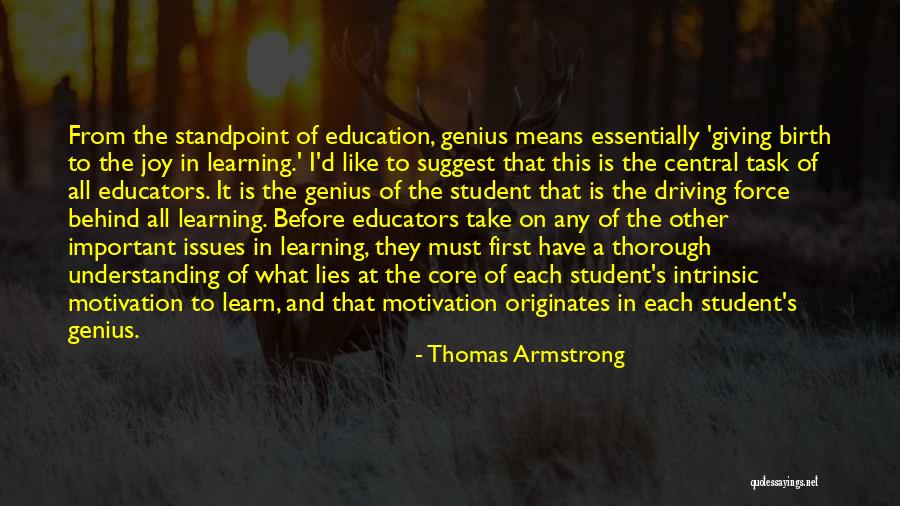 From the standpoint of education, genius means essentially 'giving birth to the joy in learning.' I'd like to suggest that this is the central task of all educators. It is the genius of the student that is the driving force behind all learning. Before educators take on any of the other important issues in learning, they must first have a thorough understanding of what lies at the core of each student's intrinsic motivation to learn, and that motivation originates in each student's genius. — Thomas Armstrong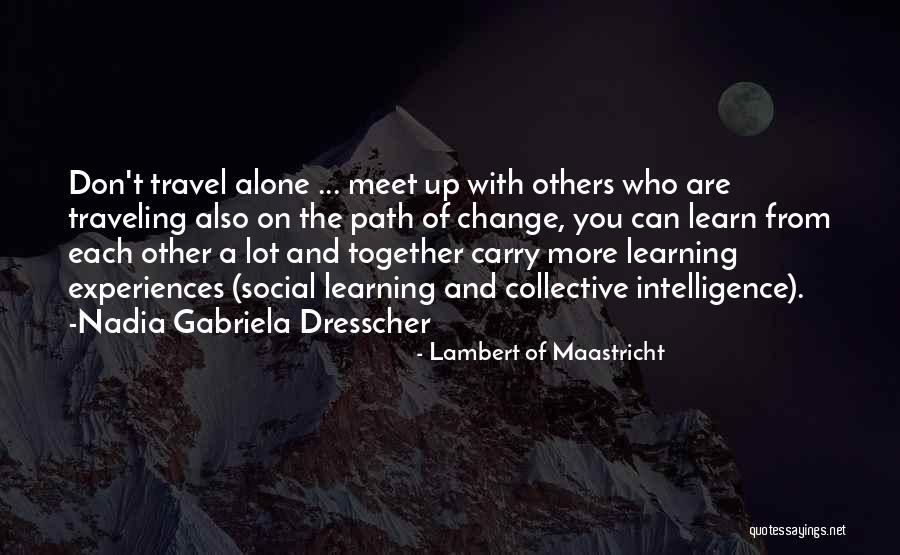 Don't travel alone ... meet up with others who are traveling also on the path of change, you can learn from each other a lot and together carry more learning experiences (social learning and collective intelligence). -Nadia Gabriela Dresscher — Lambert Of Maastricht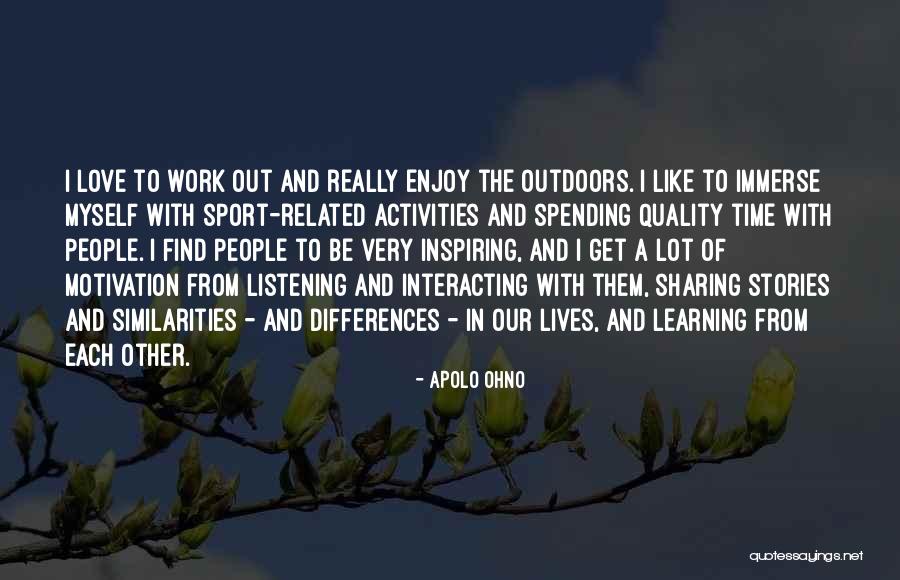 I love to work out and really enjoy the outdoors. I like to immerse myself with sport-related activities and spending quality time with people. I find people to be very inspiring, and I get a lot of motivation from listening and interacting with them, sharing stories and similarities - and differences - in our lives, and learning from each other. — Apolo Ohno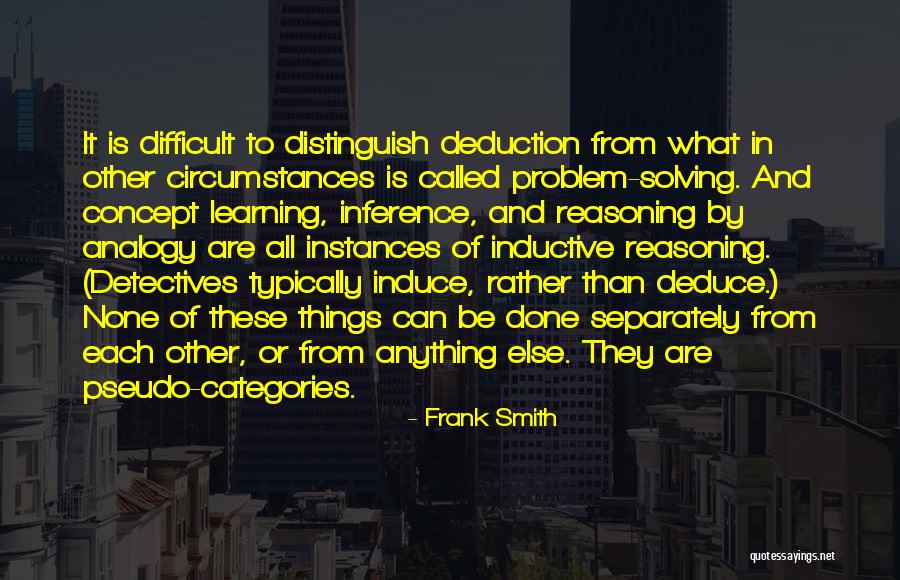 It is difficult to distinguish deduction from what in other circumstances is called problem-solving. And concept learning, inference, and reasoning by analogy are all instances of inductive reasoning. (Detectives typically induce, rather than deduce.) None of these things can be done separately from each other, or from anything else. They are pseudo-categories. — Frank Smith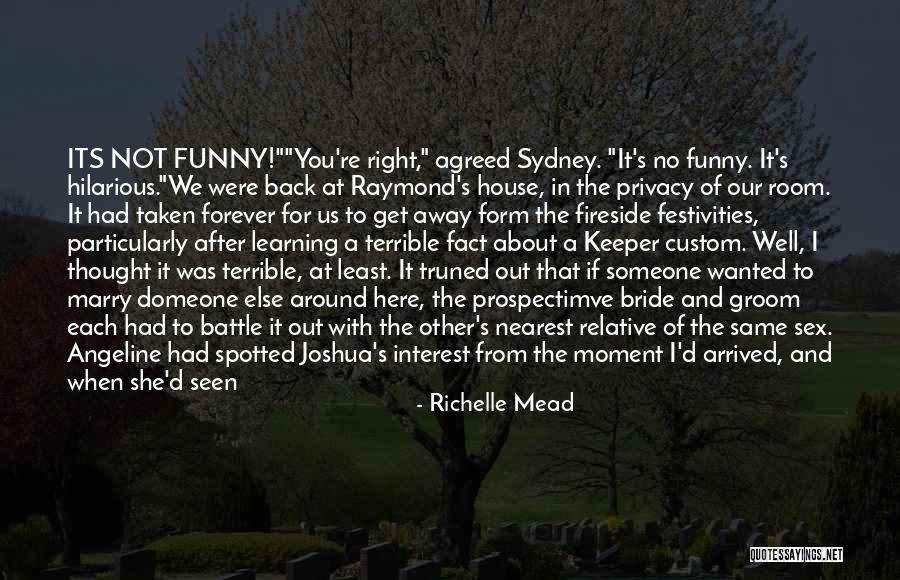 ITS NOT FUNNY!"
"You're right," agreed Sydney. "It's no funny. It's hilarious."
We were back at Raymond's house, in the privacy of our room. It had taken forever for us to get away form the fireside festivities, particularly after learning a terrible fact about a Keeper custom. Well, I thought it was terrible, at least. It truned out that if someone wanted to marry domeone else around here, the prospectimve bride and groom each had to battle it out with the other's nearest relative of the same sex. Angeline had spotted Joshua's interest from the moment I'd arrived, and when she'd seen the bracelet, she'd assumed some sort of arragement has been made. — Richelle Mead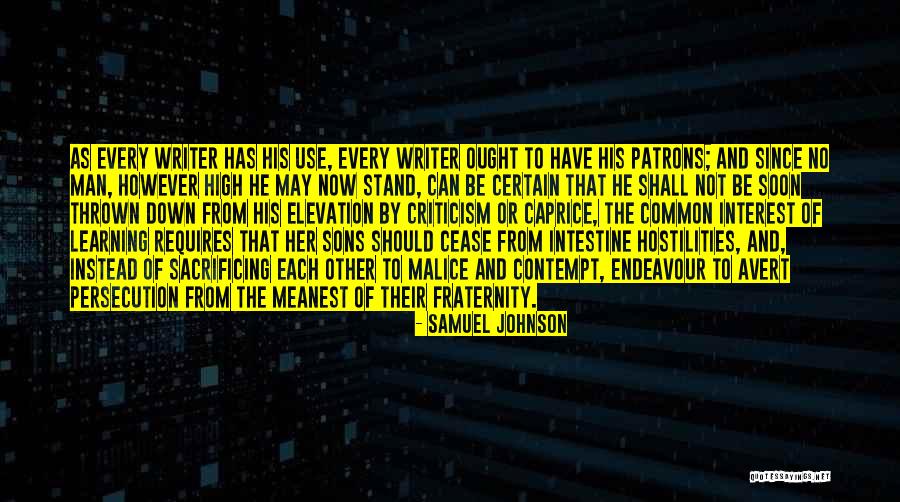 As every writer has his use, every writer ought to have his patrons; and since no man, however high he may now stand, can be certain that he shall not be soon thrown down from his elevation by criticism or caprice, the common interest of learning requires that her sons should cease from intestine hostilities, and, instead of sacrificing each other to malice and contempt, endeavour to avert persecution from the meanest of their fraternity. — Samuel Johnson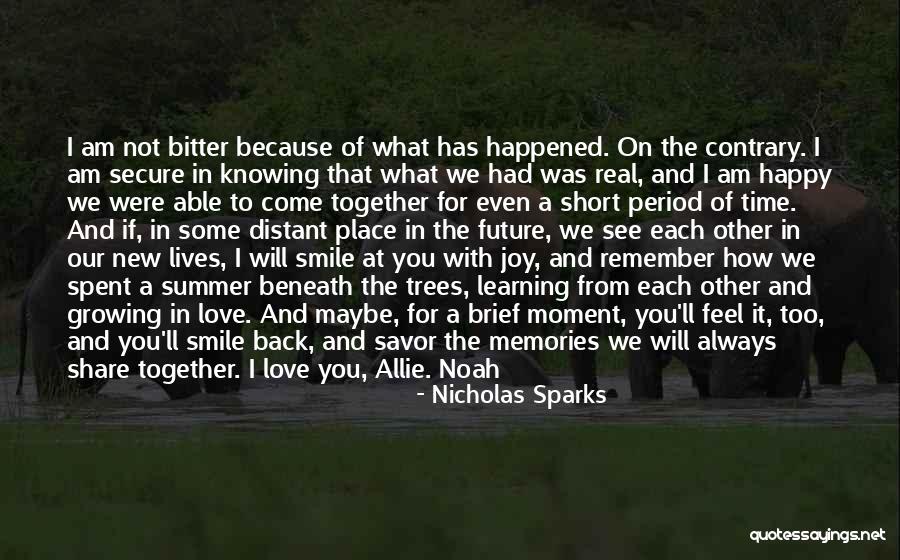 I am not bitter because of what has happened. On the contrary. I am secure in knowing that what we had was real, and I am happy we were able to come together for even a short period of time. And if, in some distant place in the future, we see each other in our new lives, I will smile at you with joy, and remember how we spent a summer beneath the trees, learning from each other and growing in love. And maybe, for a brief moment, you'll feel it, too, and you'll smile back, and savor the memories we will always share together.
I love you, Allie.
Noah — Nicholas Sparks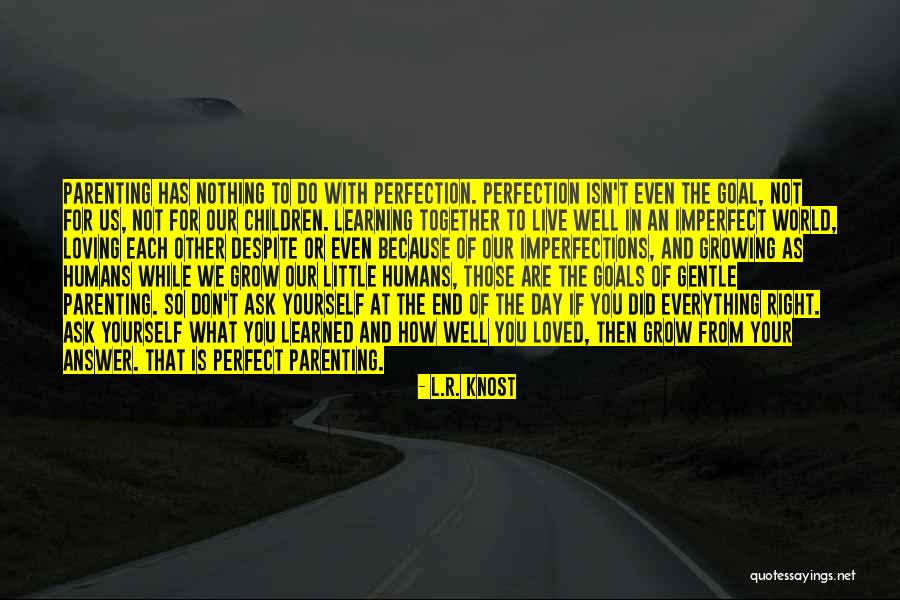 Parenting has nothing to do with perfection. Perfection isn't even the goal, not for us, not for our children. Learning together to live well in an imperfect world, loving each other despite or even because of our imperfections, and growing as humans while we grow our little humans, those are the goals of gentle parenting. So don't ask yourself at the end of the day if you did everything right. Ask yourself what you learned and how well you loved, then grow from your answer. That is perfect parenting. — L.R. Knost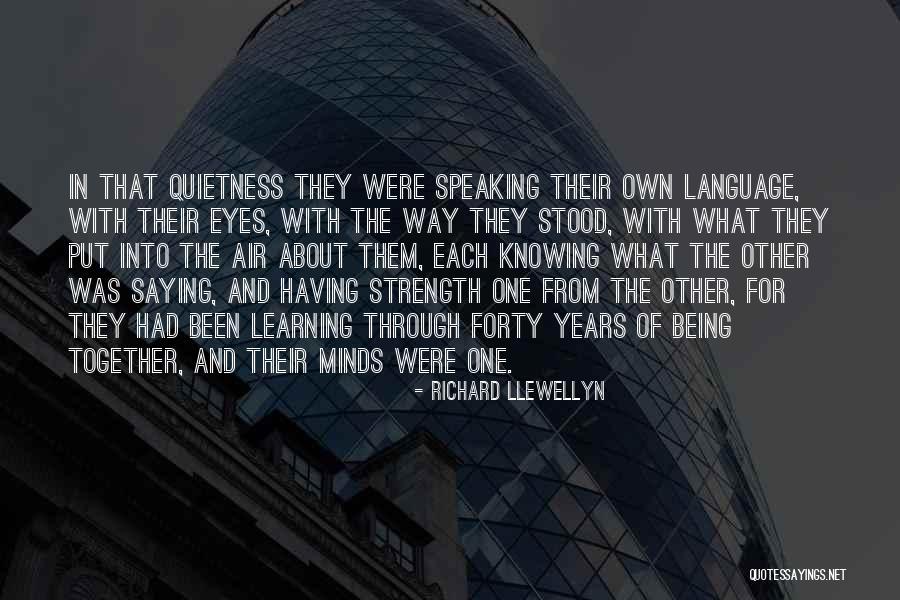 In that quietness they were speaking their own language, with their eyes, with the way they stood, with what they put into the air about them, each knowing what the other was saying, and having strength one from the other, for they had been learning through forty years of being together, and their minds were one. — Richard Llewellyn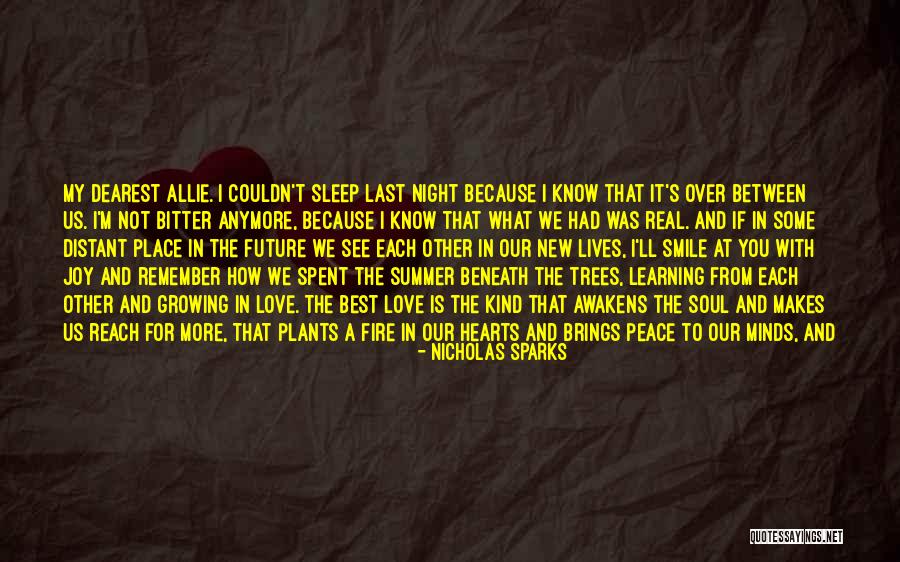 My Dearest Allie. I couldn't sleep last night because I know that it's over between us. I'm not bitter anymore, because I know that what we had was real. And if in some distant place in the future we see each other in our new lives, I'll smile at you with joy and remember how we spent the summer beneath the trees, learning from each other and growing in love. The best love is the kind that awakens the soul and makes us reach for more, that plants a fire in our hearts and brings peace to our minds, and that's what you've given me. That's what I hope to give to you forever. I love you. I'll be seeing you. Noah — Nicholas Sparks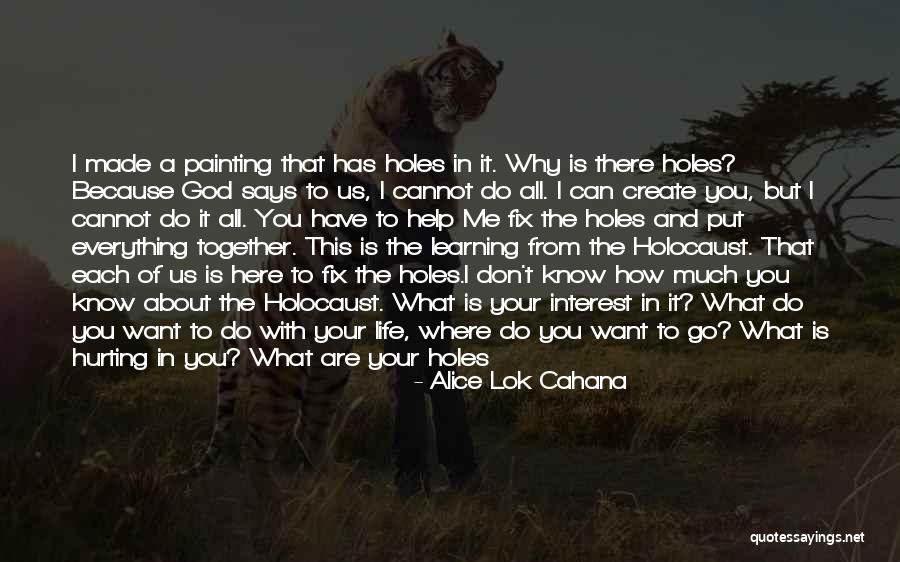 I made a painting that has holes in it. Why is there holes? Because God says to us, I cannot do all. I can create you, but I cannot do it all. You have to help Me fix the holes and put everything together. This is the learning from the Holocaust. That each of us is here to fix the holes.
I don't know how much you know about the Holocaust. What is your interest in it? What do you want to do with your life, where do you want to go? What is hurting in you? What are your holes to fix? What is now important in my life, and in your life also, is that after the Holocaust, we are shaking hands with each other, that we are nobody lesser than the other. That we understand the real meaning of what God created us for. You have the task. You have the task to better this world. There are holes in people also but those we create and can fix with love. God wants us whole. — Alice Lok Cahana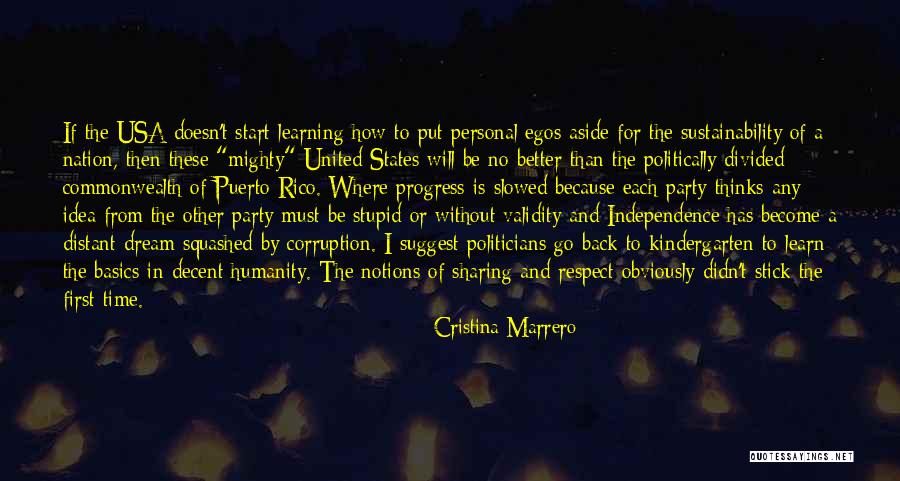 If the USA doesn't start learning how to put personal egos aside for the sustainability of a nation, then these "mighty" United States will be no better than the politically divided commonwealth of Puerto Rico. Where progress is slowed because each party thinks any idea from the other party must be stupid or without validity and Independence has become a distant dream squashed by corruption. I suggest politicians go back to kindergarten to learn the basics in decent humanity. The notions of sharing and respect obviously didn't stick the first time. — Cristina Marrero
We are constantly revealing ourselves to each other through our movement; learning from and teaching each other without even trying. — Wendy Whelan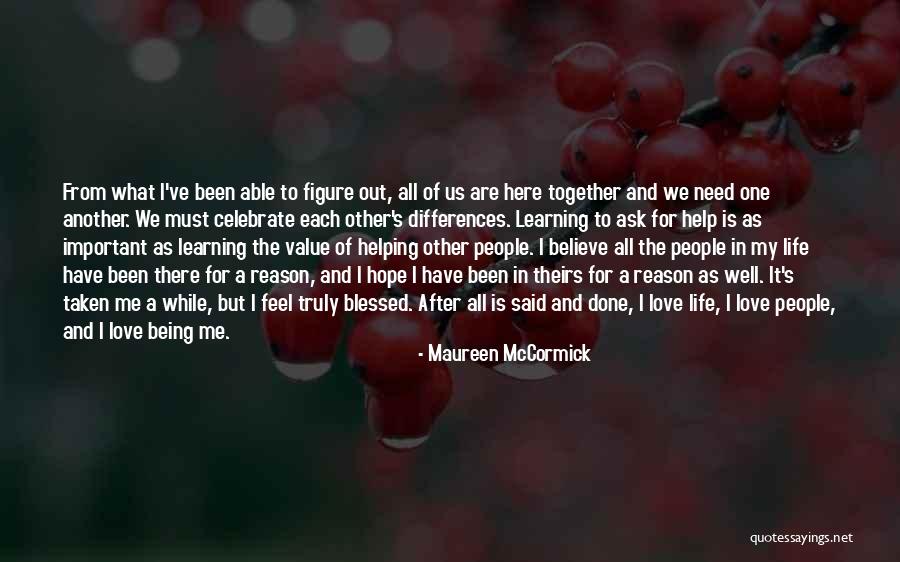 From what I've been able to figure out, all of us are here together and we need one another. We must celebrate each other's differences. Learning to ask for help is as important as learning the value of helping other people. I believe all the people in my life have been there for a reason, and I hope I have been in theirs for a reason as well. It's taken me a while, but I feel truly blessed. After all is said and done, I love life, I love people, and I love being me. — Maureen McCormick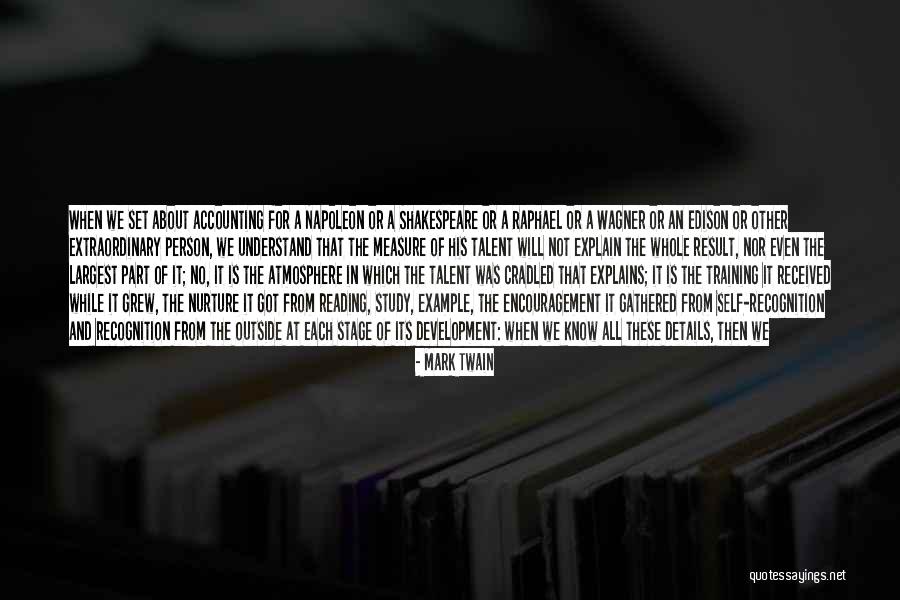 When we set about accounting for a Napoleon or a Shakespeare or a Raphael or a Wagner or an Edison or other extraordinary person, we understand that the measure of his talent will not explain the whole result, nor even the largest part of it; no, it is the atmosphere in which the talent was cradled that explains; it is the training it received while it grew, the nurture it got from reading, study, example, the encouragement it gathered from self-recognition and recognition from the outside at each stage of its development: when we know all these details, then we know why the man was ready when his opportunity came. — Mark Twain
Our actions are guaranteed to affect others. Because we are not alone in this world, much of our learning about ourselves comes from our interaction with others. Our relationships are our teachers. We learn from each other. — Tae Yun Kim