Quotes & Sayings About Learning Disability
Enjoy reading and share 29 famous quotes about Learning Disability with everyone.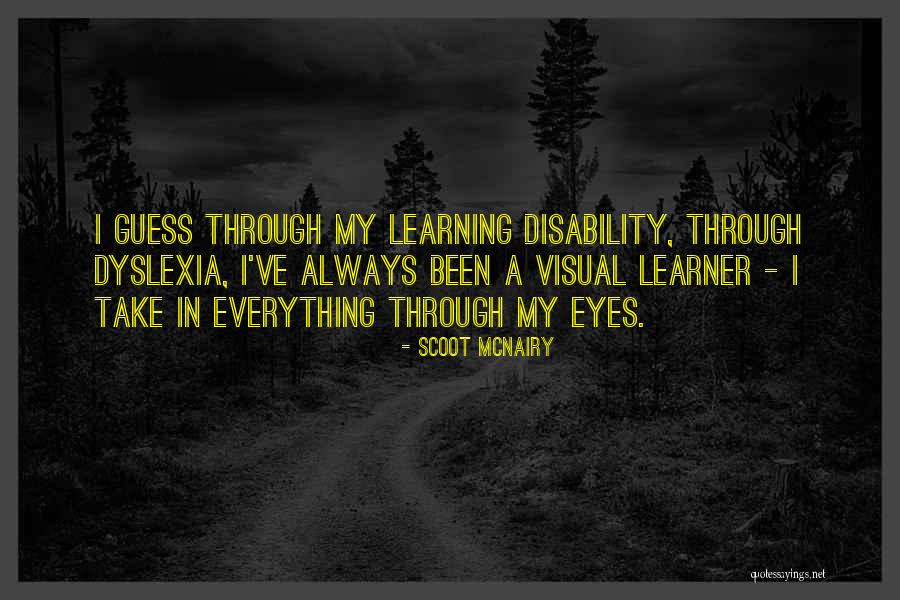 I guess through my learning disability, through dyslexia, I've always been a visual learner - I take in everything through my eyes. — Scoot McNairy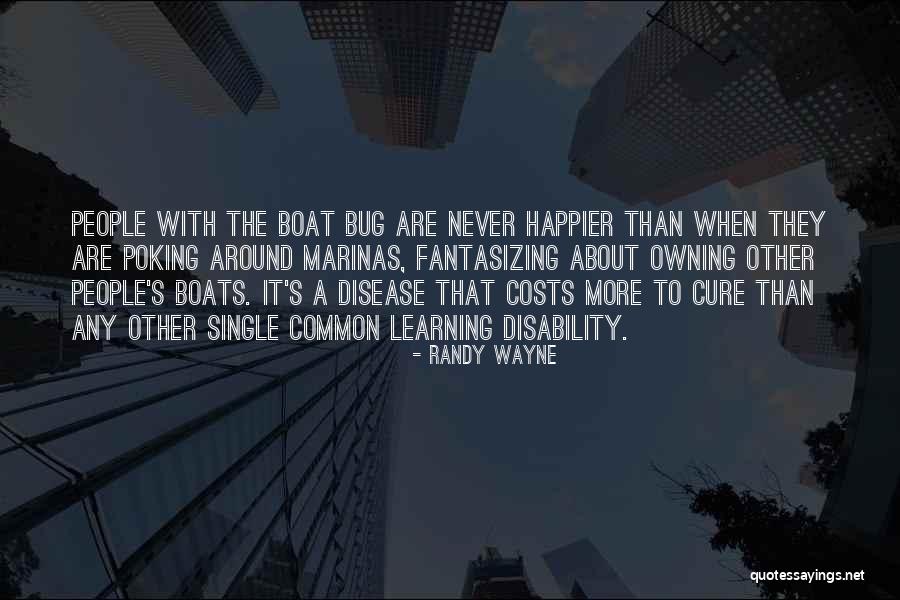 People with the boat bug are never happier than when they are poking around marinas, fantasizing about owning other people's boats. It's a disease that costs more to cure than any other single common learning disability. — Randy Wayne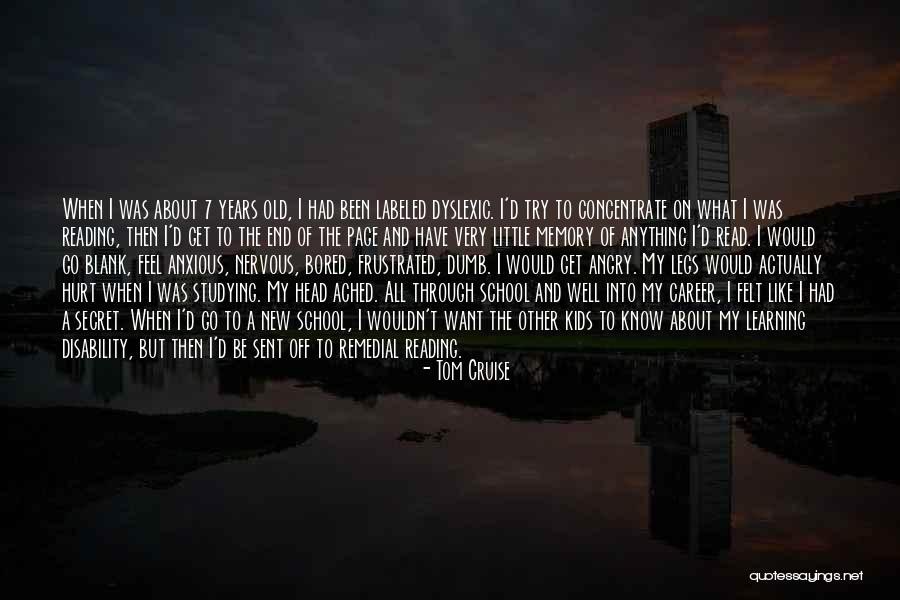 When I was about 7 years old, I had been labeled dyslexic. I'd try to concentrate on what I was reading, then I'd get to the end of the page and have very little memory of anything I'd read. I would go blank, feel anxious, nervous, bored, frustrated, dumb. I would get angry. My legs would actually hurt when I was studying. My head ached. All through school and well into my career, I felt like I had a secret. When I'd go to a new school, I wouldn't want the other kids to know about my learning disability, but then I'd be sent off to remedial reading. — Tom Cruise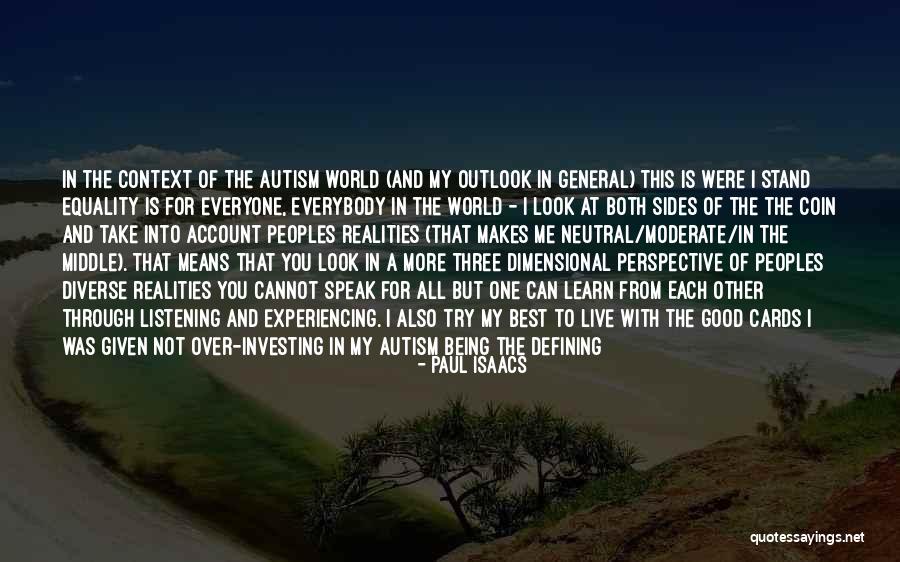 In the context of the autism world (and my outlook in general) this is were I stand equality is for everyone, everybody in the world - I look at both sides of the the coin and take into account peoples realities (that makes me neutral/moderate/in the middle).
That means that you look in a more three dimensional perspective of peoples diverse realities you cannot speak for all but one can learn from EACH OTHER through listening and experiencing.
I also try my best to live with the good cards I was given not over-investing in my autism being the defining factor of my being (but having a healthy acknowledgement of it) that it's there but also thinking about other qualities I have such as being a writer, poet and artist.
I do have disability, I do have autism and I have a "mild" learning disability that is true but I a human being first and foremost. And for someone to be seen as person equal to everyone else is a basic human right. — Paul Isaacs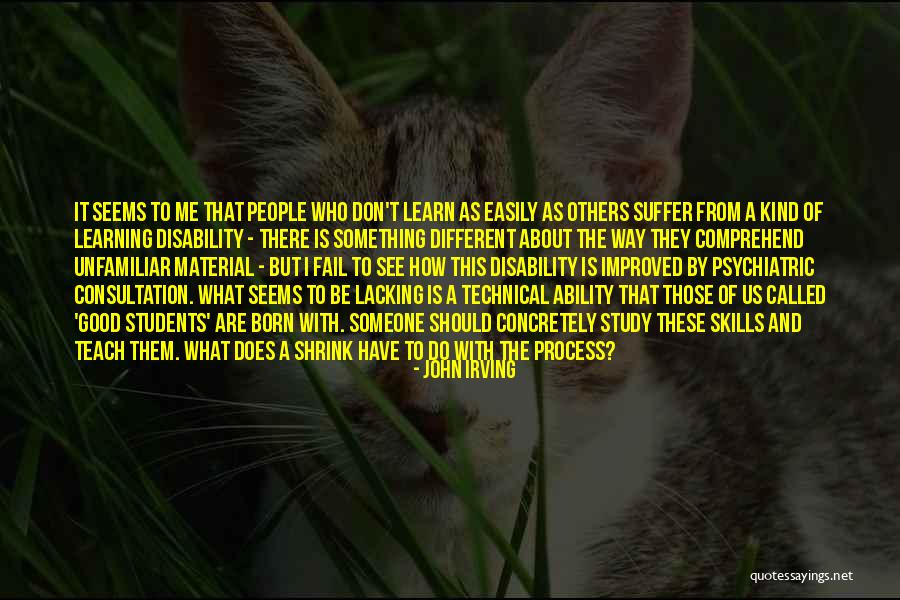 It seems to me that people who don't learn as easily as others suffer from a kind of learning disability - there is something different about the way they comprehend unfamiliar material - but I fail to see how this disability is improved by psychiatric consultation. What seems to be lacking is a technical ability that those of us called 'good students' are born with. Someone should concretely study these skills and teach them. What does a shrink have to do with the process? — John Irving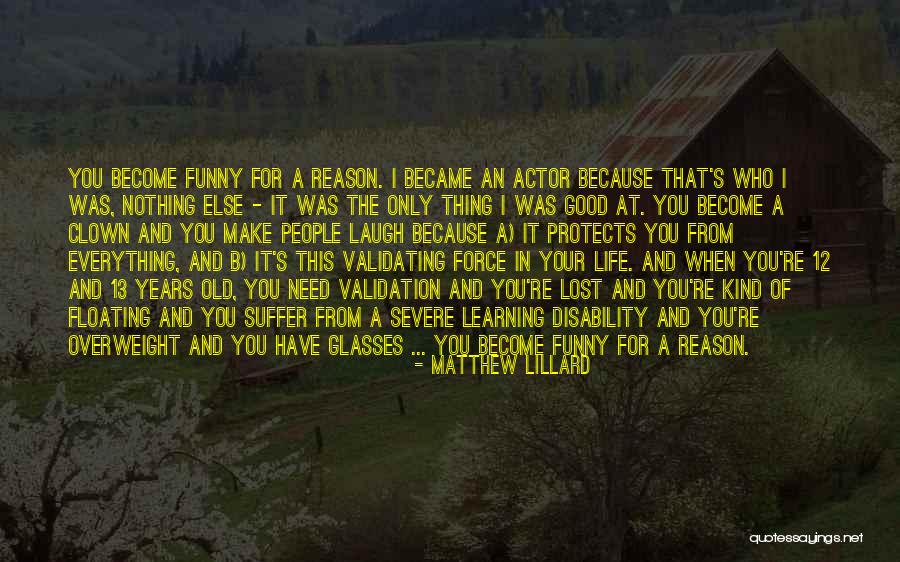 You become funny for a reason. I became an actor because that's who I was, nothing else - it was the only thing I was good at. You become a clown and you make people laugh because a) it protects you from everything, and b) it's this validating force in your life. And when you're 12 and 13 years old, you need validation and you're lost and you're kind of floating and you suffer from a severe learning disability and you're overweight and you have glasses ... you become funny for a reason. — Matthew Lillard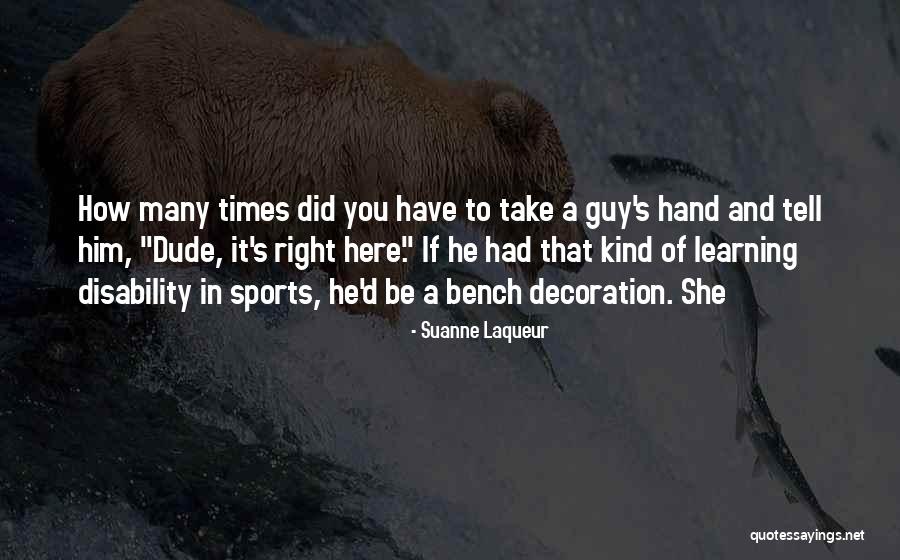 How many times did you have to take a guy's hand and tell him, "Dude, it's right here." If he had that kind of learning disability in sports, he'd be a bench decoration. She — Suanne Laqueur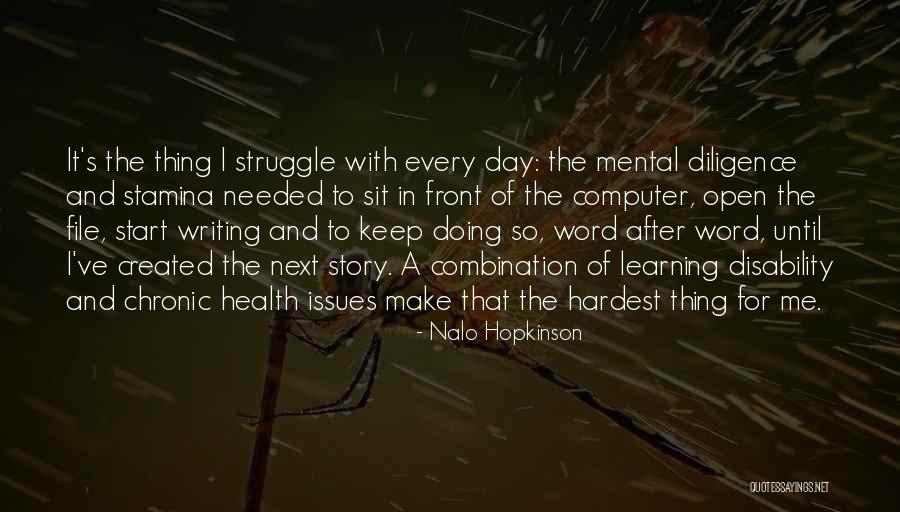 It's the thing I struggle with every day: the mental diligence and stamina needed to sit in front of the computer, open the file, start writing and to keep doing so, word after word, until I've created the next story. A combination of learning disability and chronic health issues make that the hardest thing for me. — Nalo Hopkinson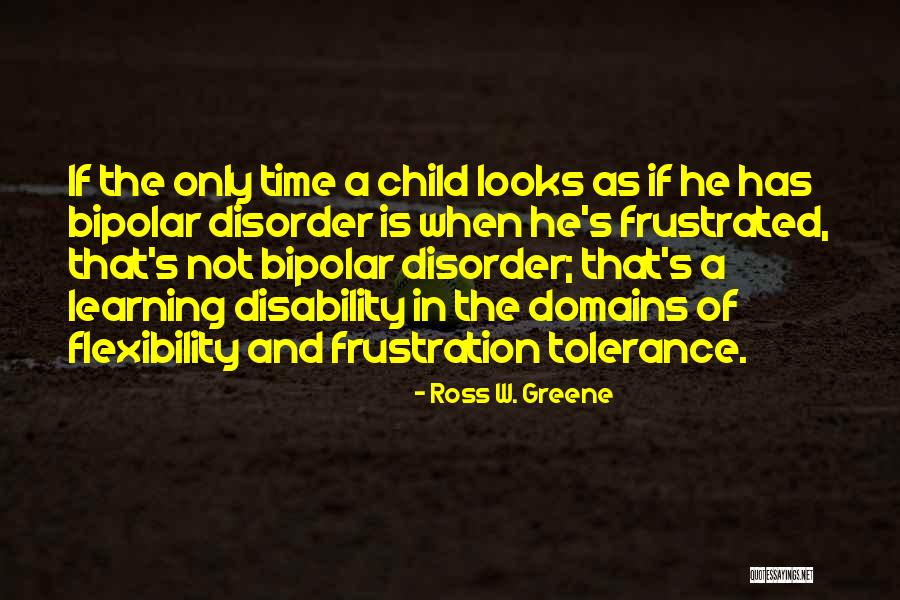 If the only time a child looks as if he has bipolar disorder is when he's frustrated, that's not bipolar disorder; that's a learning disability in the domains of flexibility and frustration tolerance. — Ross W. Greene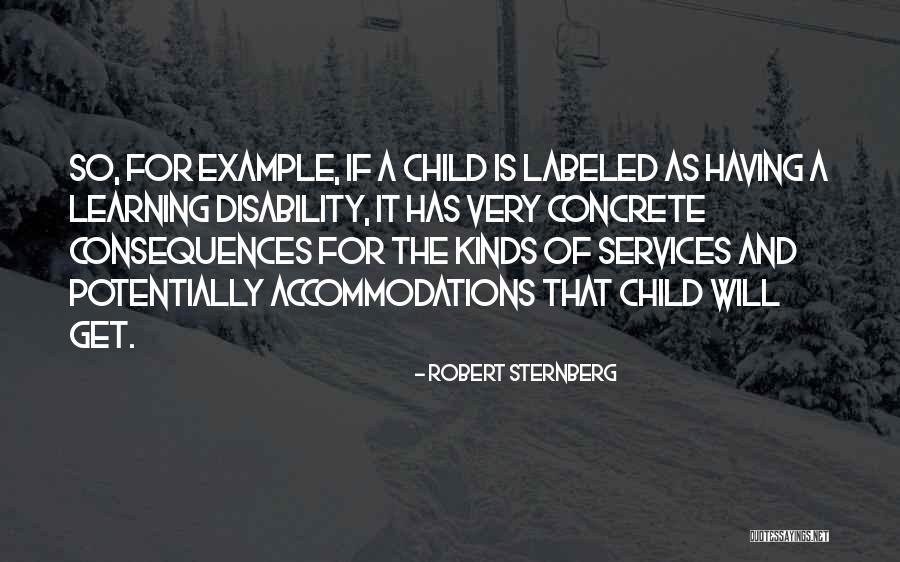 So, for example, if a child is labeled as having a learning disability, it has very concrete consequences for the kinds of services and potentially accommodations that child will get. — Robert Sternberg
I just barely got through school. The problem was a learning disability, at a time when there was no where to get help. — Bruce Jenner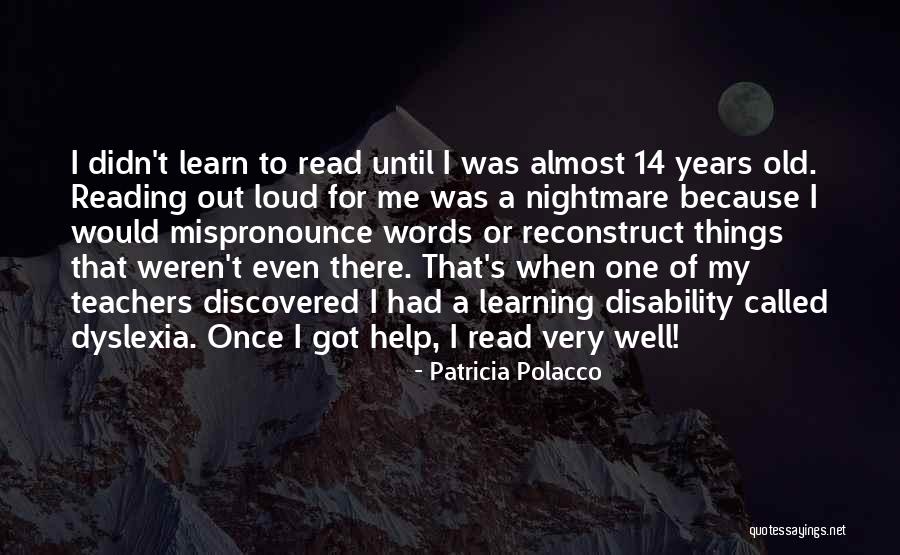 I didn't learn to read until I was almost 14 years old. Reading out loud for me was a nightmare because I would mispronounce words or reconstruct things that weren't even there. That's when one of my teachers discovered I had a learning disability called dyslexia. Once I got help, I read very well! — Patricia Polacco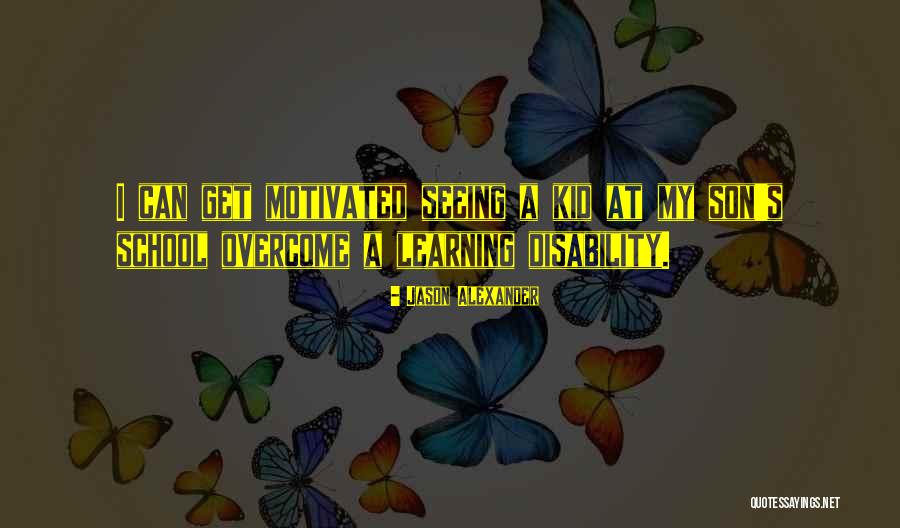 I can get motivated seeing a kid at my son's school overcome a learning disability. — Jason Alexander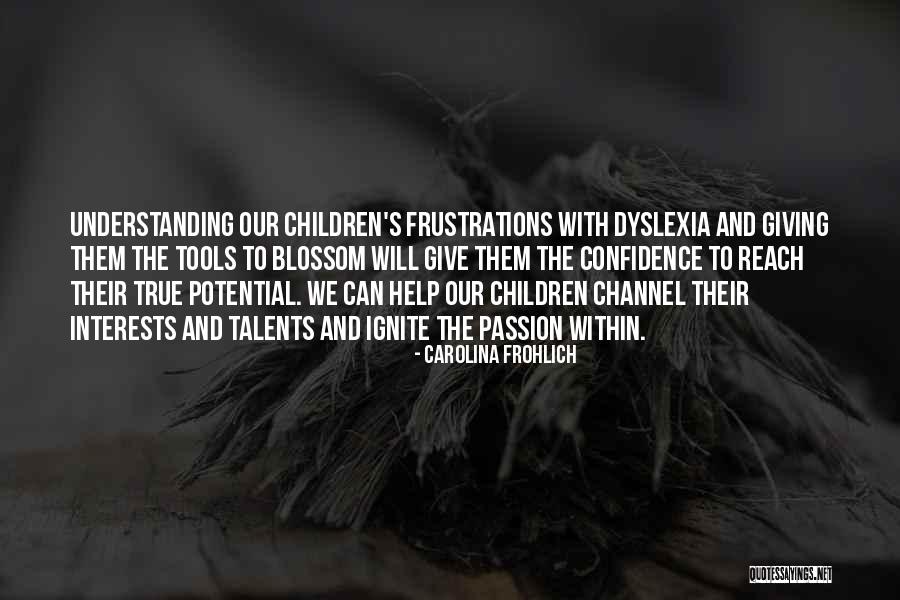 Understanding our children's frustrations with dyslexia and giving them the tools to blossom will give them the confidence to reach their true potential. We can help our children channel their interests and talents and ignite the passion within. — Carolina Frohlich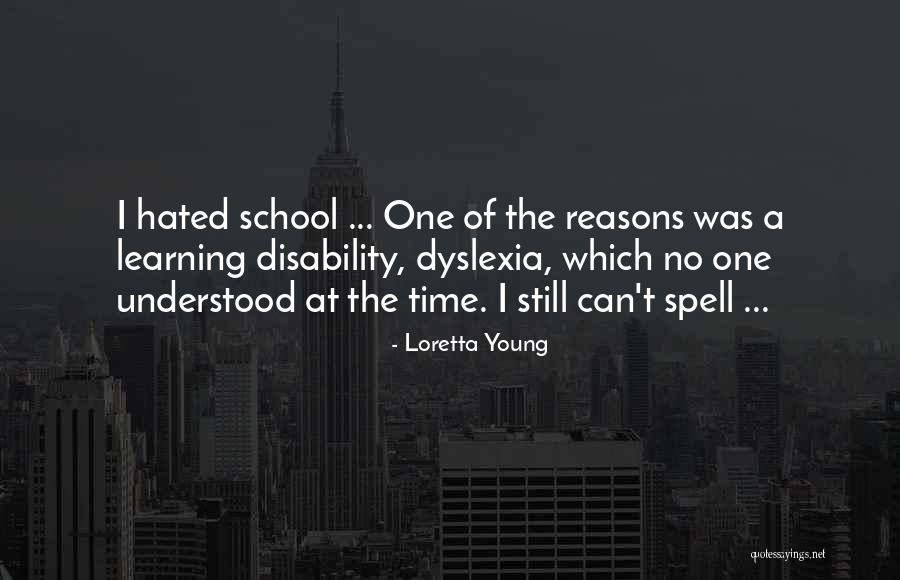 I hated school ... One of the reasons was a learning disability, dyslexia, which no one understood at the time. I still can't spell ... — Loretta Young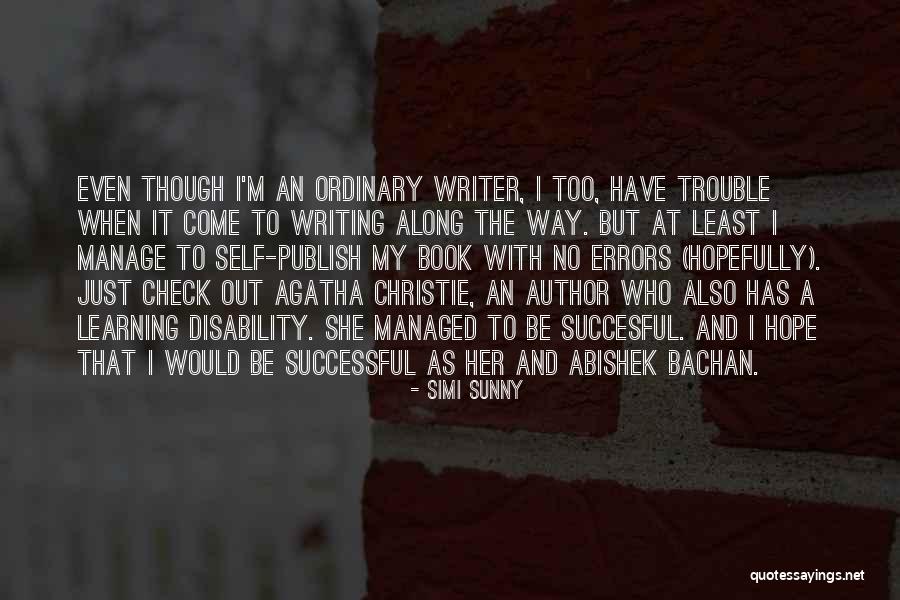 Even though I'm an ordinary writer, I too, have trouble when it come to writing along the way. But at least I manage to self-publish my book with no errors (hopefully). Just check out Agatha Christie, an author who also has a learning disability. She managed to be succesful. And I hope that I would be successful as her and Abishek Bachan. — Simi Sunny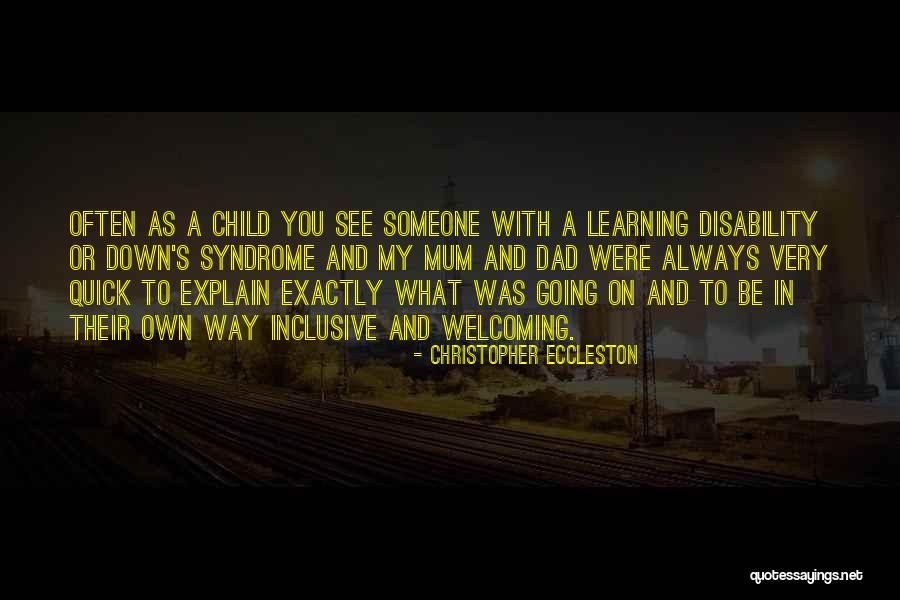 Often as a child you see someone with a learning disability or Down's Syndrome and my mum and dad were always very quick to explain exactly what was going on and to be in their own way inclusive and welcoming. — Christopher Eccleston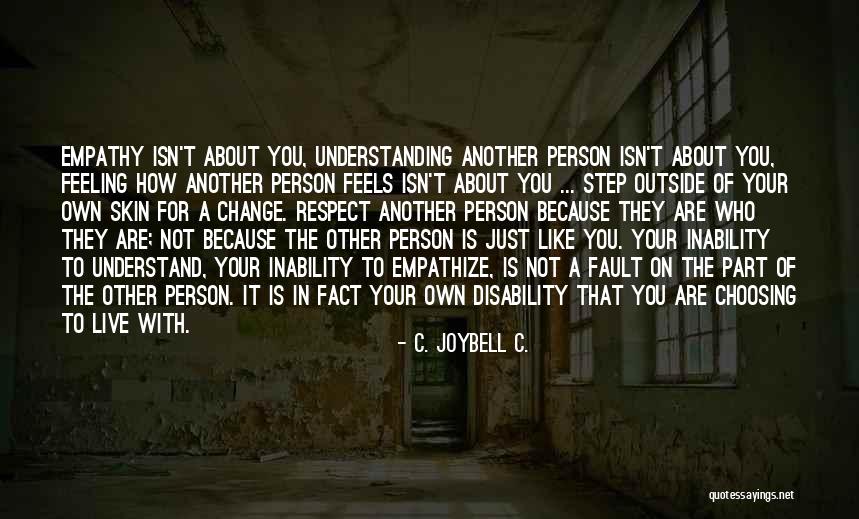 Empathy isn't about you, understanding another person isn't about you, feeling how another person feels isn't about you ... step outside of your own skin for a change. Respect another person because they are who they are; not because the other person is just like you. Your inability to understand, your inability to empathize, is not a fault on the part of the other person. It is in fact your own disability that you are choosing to live with. — C. JoyBell C.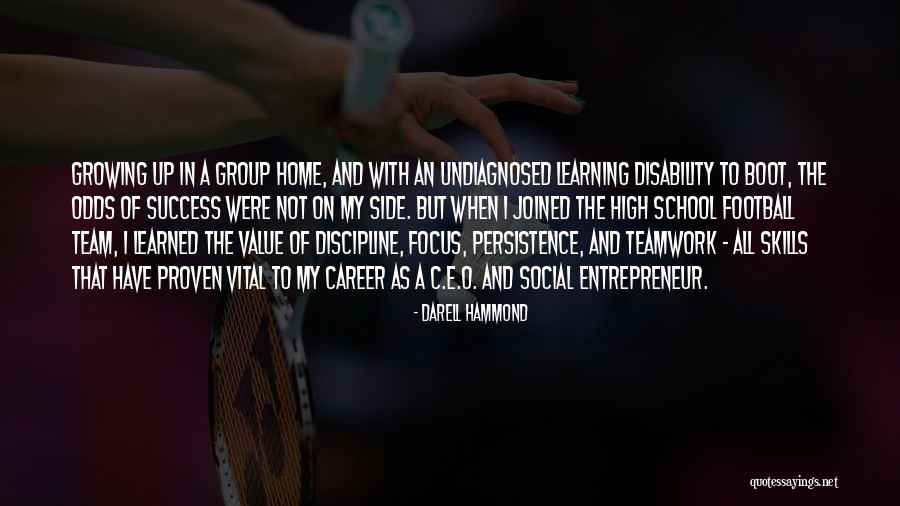 Growing up in a group home, and with an undiagnosed learning disability to boot, the odds of success were not on my side. But when I joined the high school football team, I learned the value of discipline, focus, persistence, and teamwork - all skills that have proven vital to my career as a C.E.O. and social entrepreneur. — Darell Hammond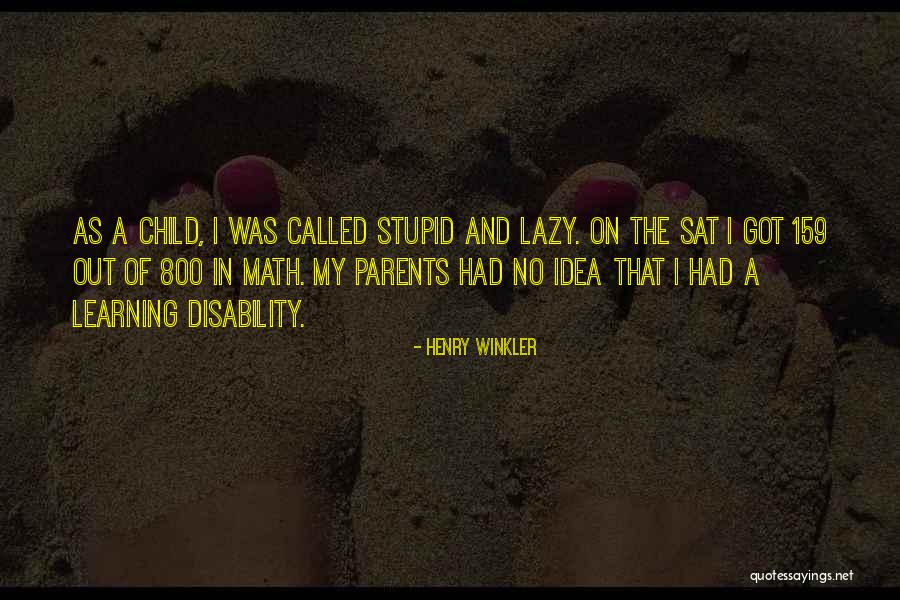 As a child, I was called stupid and lazy. On the SAT I got 159 out of 800 in math. My parents had no idea that I had a learning disability. — Henry Winkler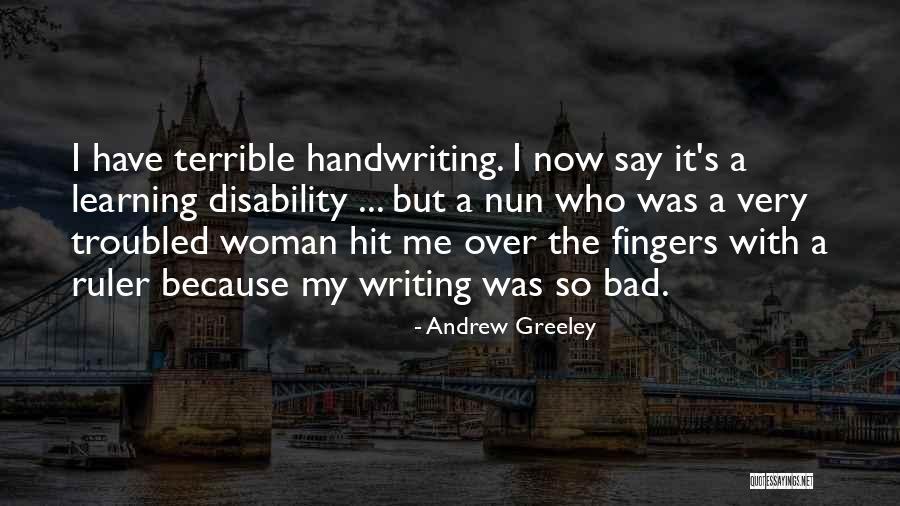 I have terrible handwriting. I now say it's a learning disability ... but a nun who was a very troubled woman hit me over the fingers with a ruler because my writing was so bad. — Andrew Greeley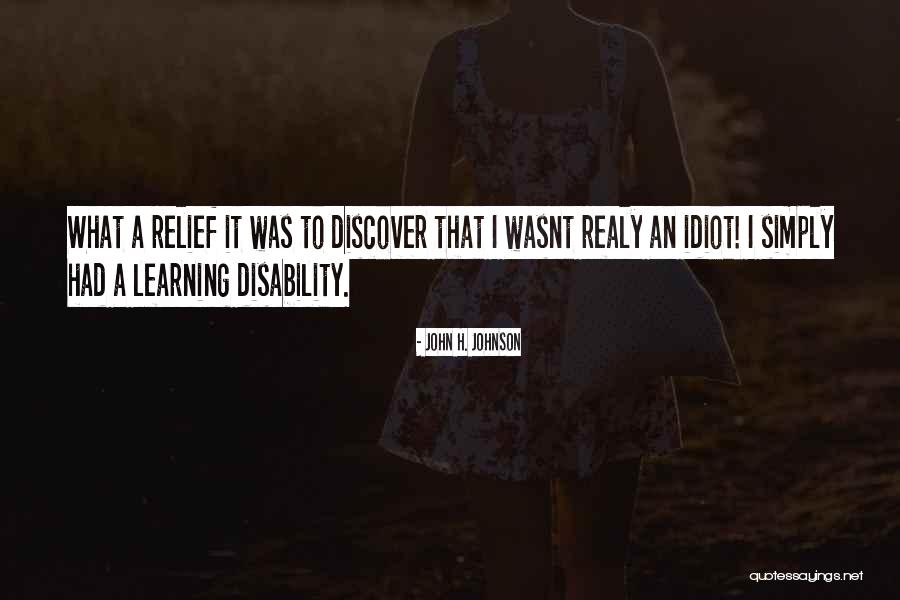 What a relief it was to discover that I wasnt realy an idiot! I simply had a learning disability. — John H. Johnson
Notice the difference: A child's disability is the focus in traditional classroom settings, but his abilities are the focus in the homeschool environment. — Sandra K. Cook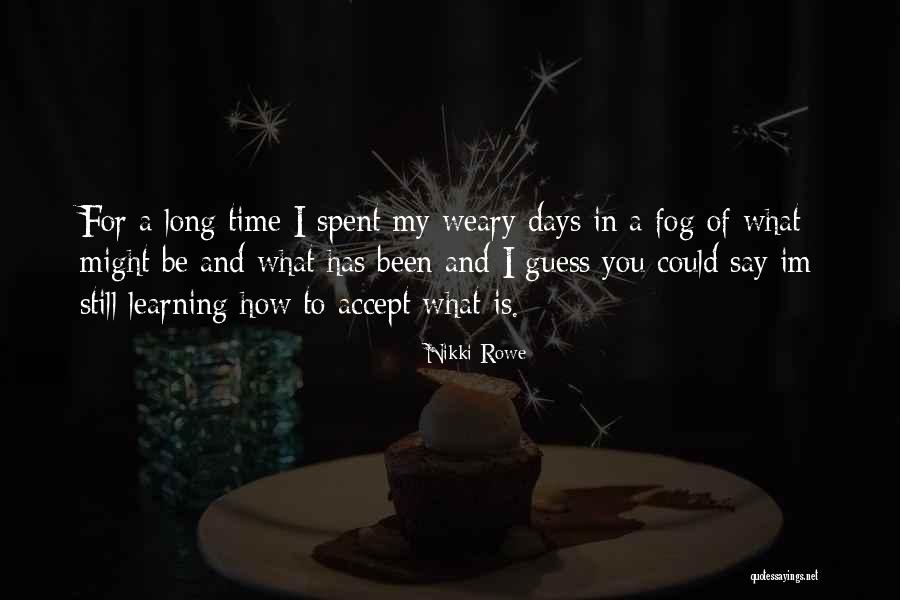 For a long time I spent my weary days in a fog of what might be and what has been and I guess you could say im still learning how to accept what is. — Nikki Rowe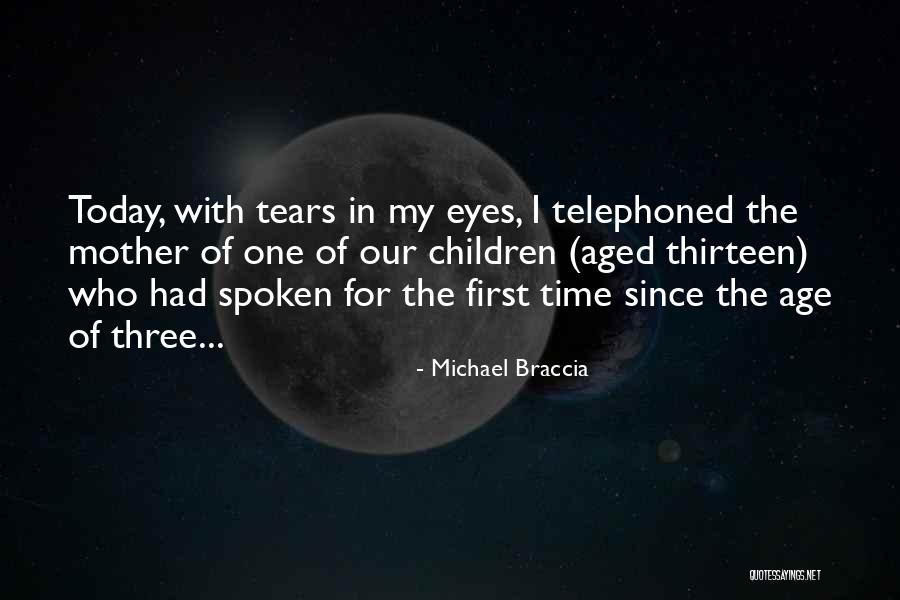 Today, with tears in my eyes, I telephoned the mother of one of our children (aged thirteen) who had spoken for the first time since the age of three... — Michael Braccia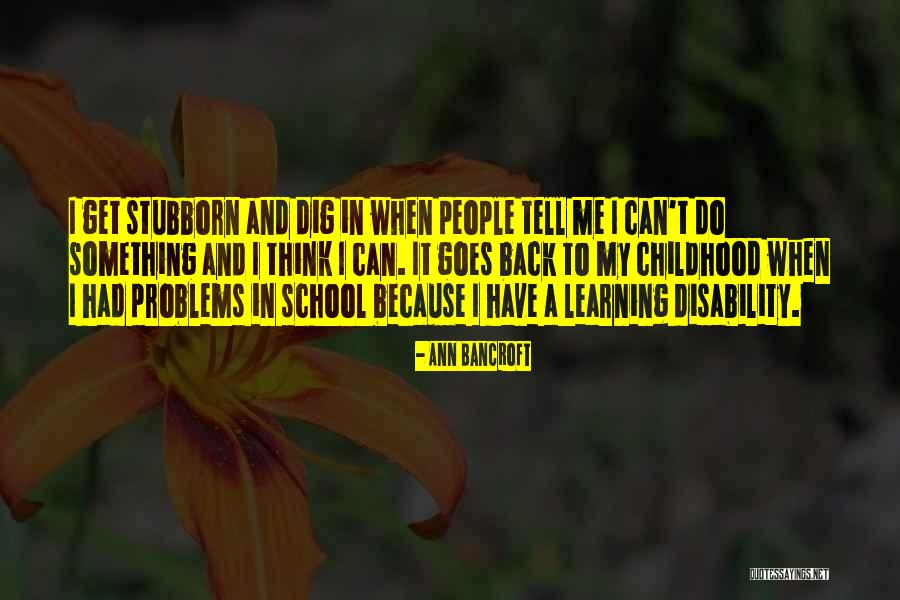 I get stubborn and dig in when people tell me I can't do something and I think I can. It goes back to my childhood when I had problems in school because I have a learning disability. — Ann Bancroft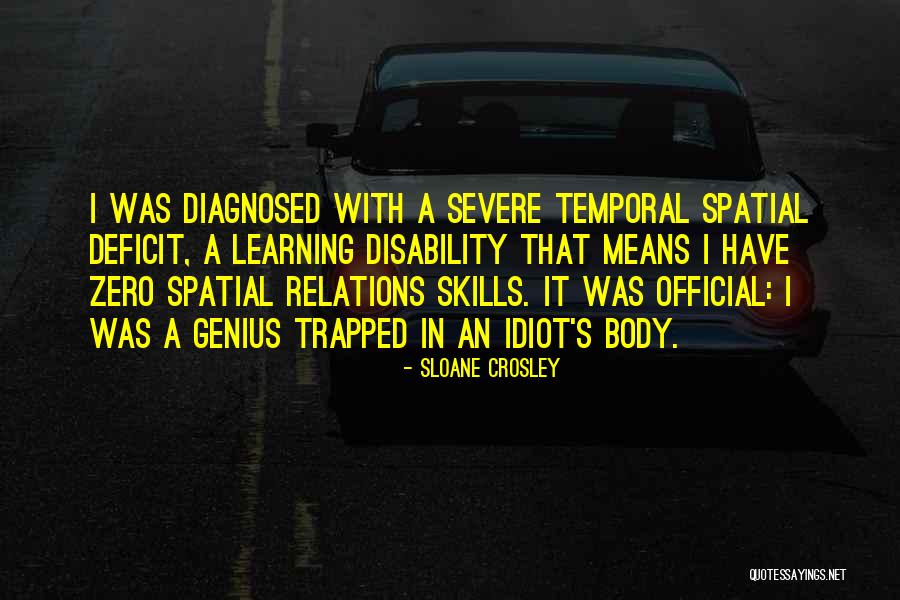 I was diagnosed with a severe temporal spatial deficit, a learning disability that means I have zero spatial relations skills. It was official: I was a genius trapped in an idiot's body. — Sloane Crosley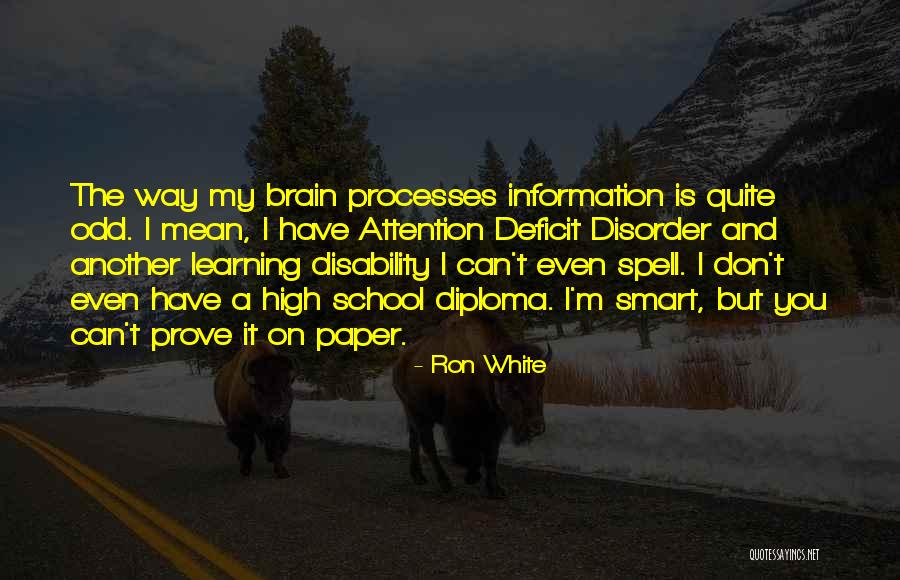 The way my brain processes information is quite odd. I mean, I have Attention Deficit Disorder and another learning disability I can't even spell. I don't even have a high school diploma. I'm smart, but you can't prove it on paper. — Ron White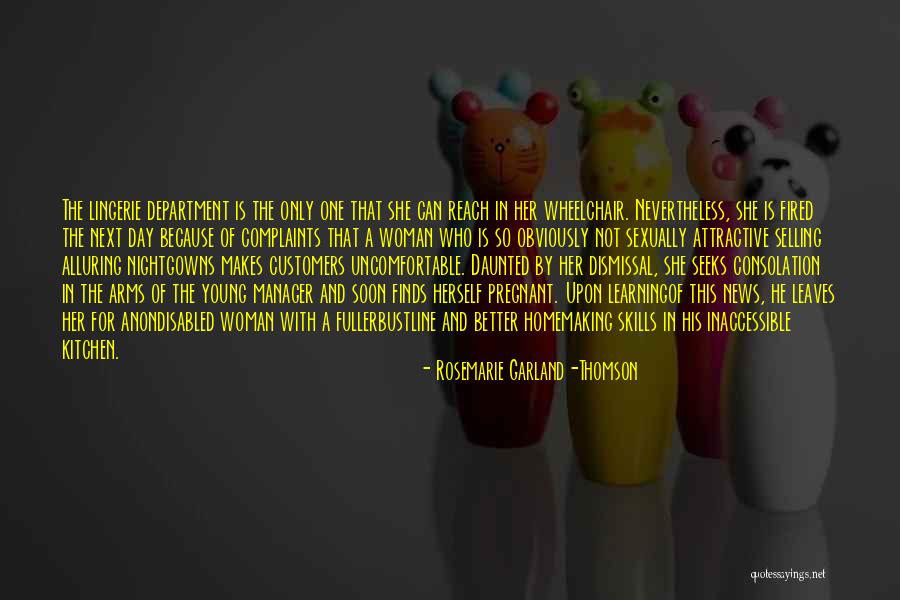 The lingerie department is the only one that she can reach in her wheelchair. Nevertheless, she is fired the next day because of complaints that a woman who is so obviously not sexually attractive selling alluring nightgowns makes customers uncomfortable. Daunted by her dismissal, she seeks consolation in the arms of the young manager and soon finds herself pregnant. Upon learning
of this news, he leaves her for a
nondisabled woman with a fuller
bustline and better homemaking skills in his inaccessible kitchen. — Rosemarie Garland-Thomson