Late Bloomer Quotes & Sayings
Enjoy reading and share 49 famous quotes about Late Bloomer with everyone.
Top Late Bloomer Quotes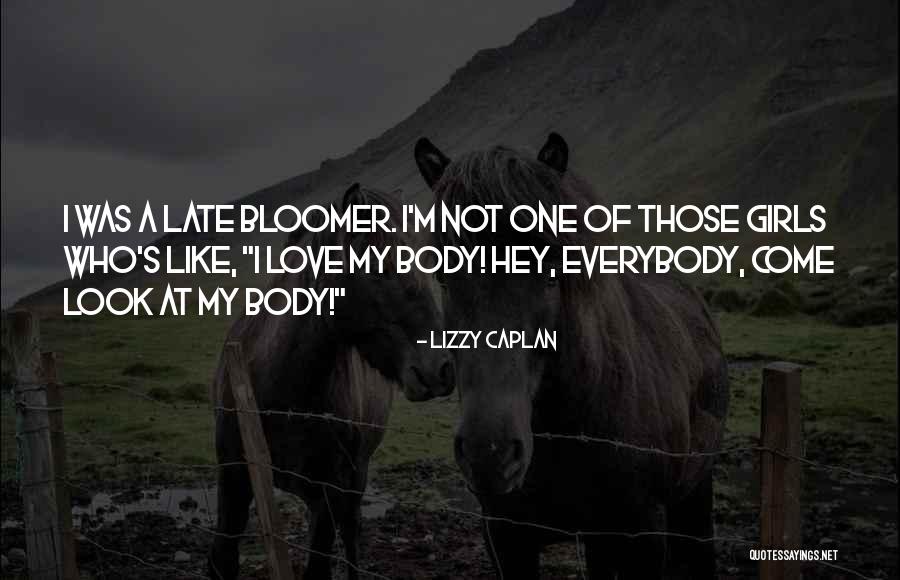 I was a late bloomer. I'm not one of those girls who's like, "I love my body! Hey, everybody, come look at my body!" — Lizzy Caplan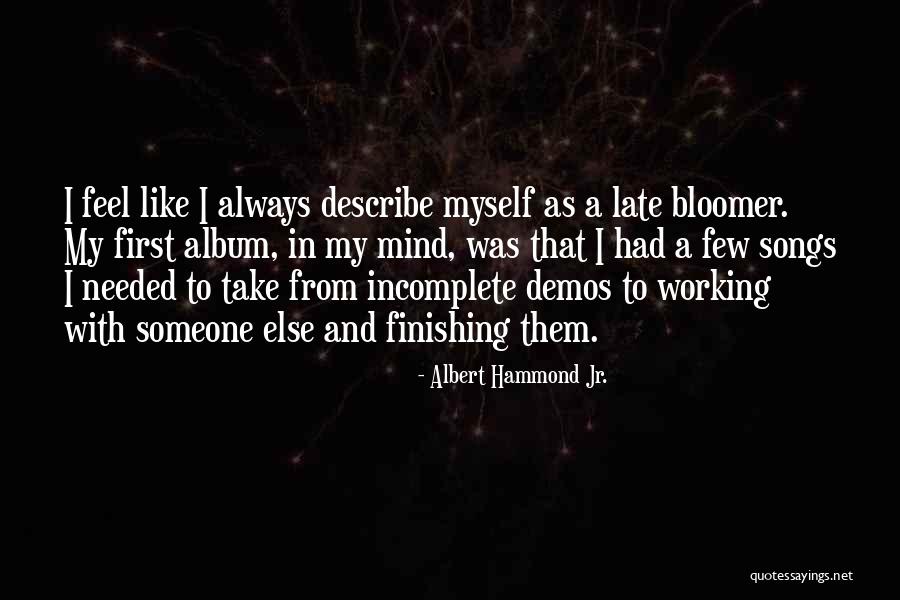 I feel like I always describe myself as a late bloomer. My first album, in my mind, was that I had a few songs I needed to take from incomplete demos to working with someone else and finishing them. — Albert Hammond Jr.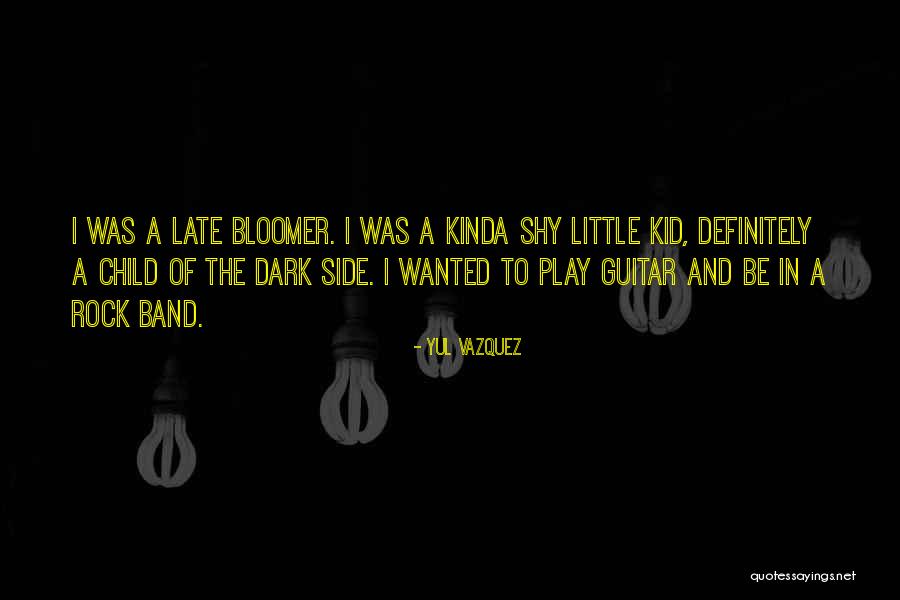 I was a late bloomer. I was a kinda shy little kid, definitely a child of the dark side. I wanted to play guitar and be in a rock band. — Yul Vazquez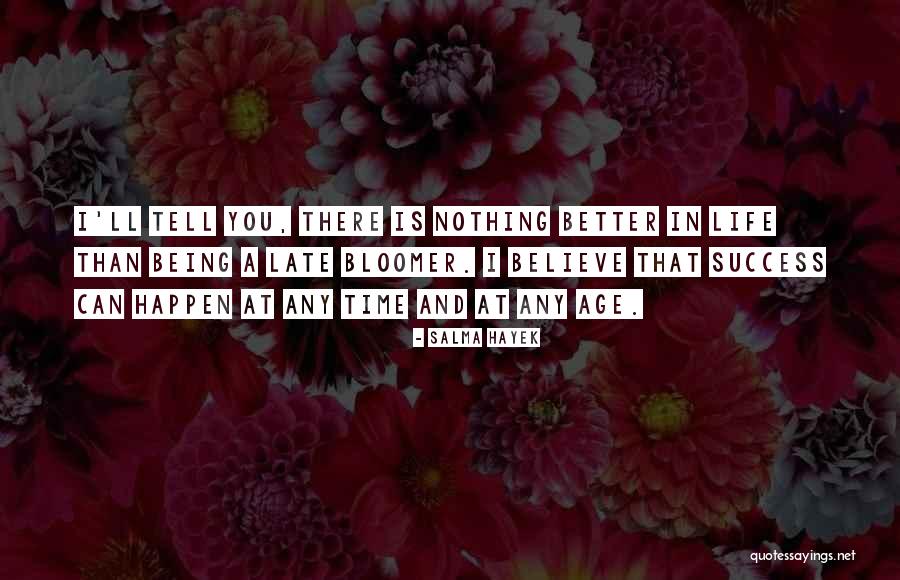 I'll tell you, there is nothing better in life than being a late bloomer. I believe that success can happen at any time and at any age. — Salma Hayek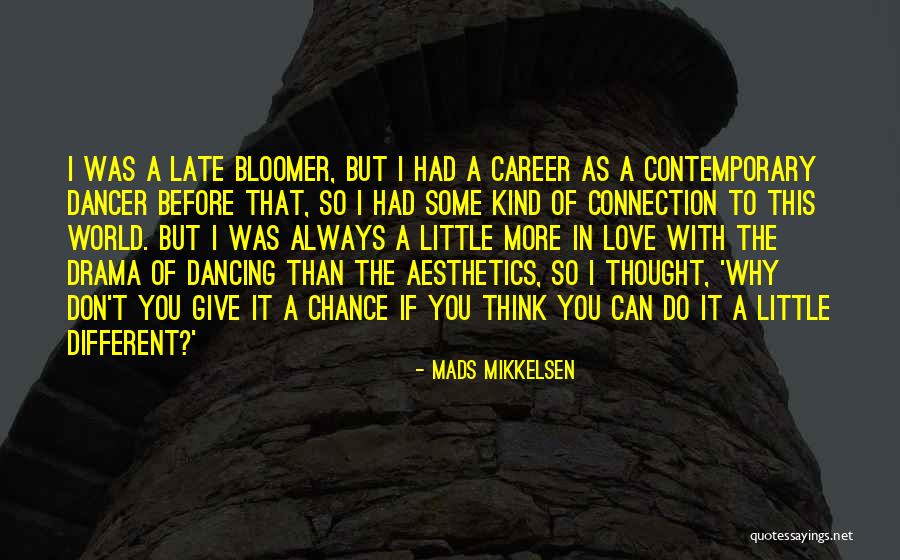 I was a late bloomer, but I had a career as a contemporary dancer before that, so I had some kind of connection to this world. But I was always a little more in love with the drama of dancing than the aesthetics, so I thought, 'Why don't you give it a chance if you think you can do it a little different?' — Mads Mikkelsen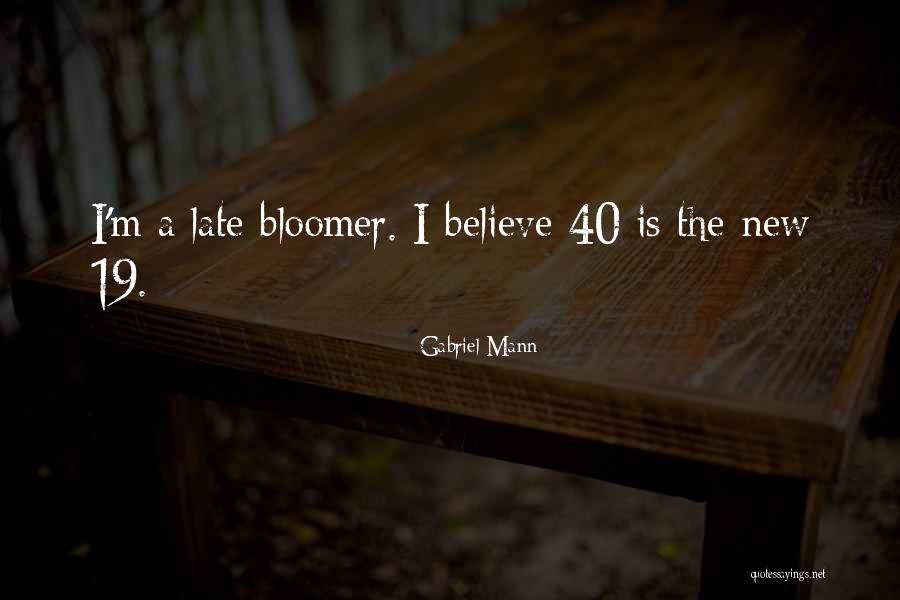 I'm a late bloomer. I believe 40 is the new 19. — Gabriel Mann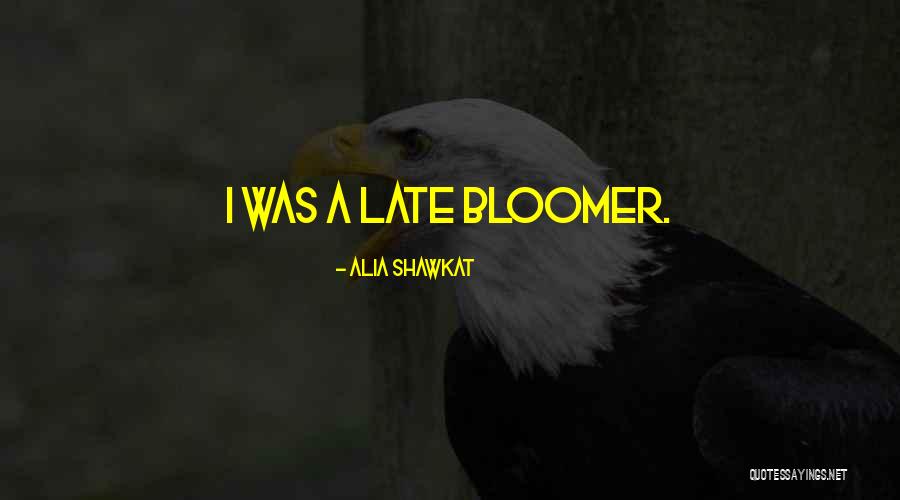 I was a late bloomer. — Alia Shawkat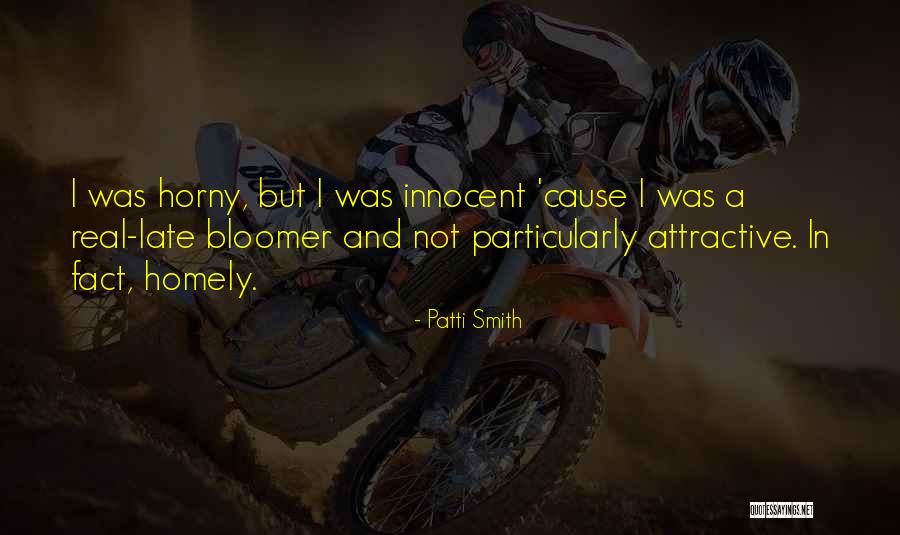 I was horny, but I was innocent 'cause I was a real-late bloomer and not particularly attractive. In fact, homely. — Patti Smith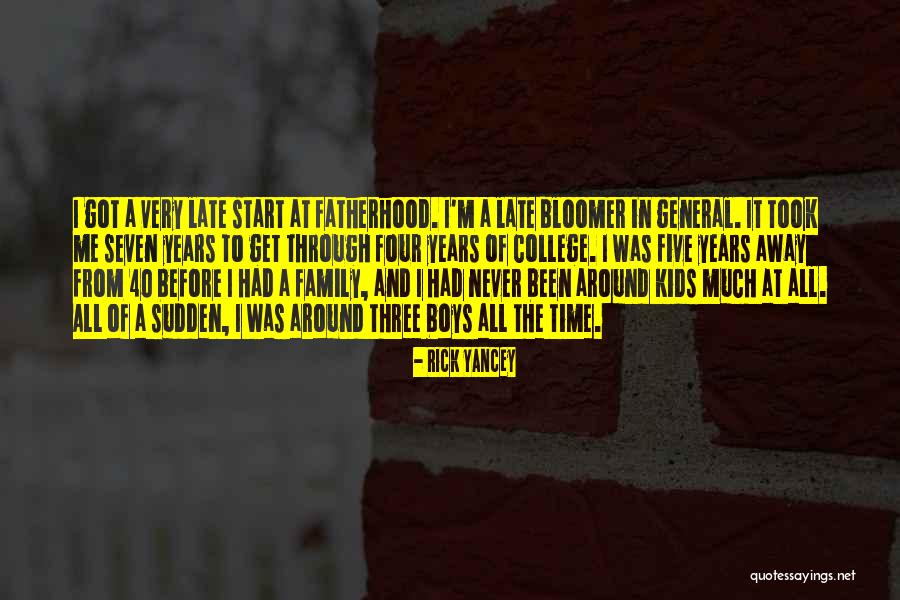 I got a very late start at fatherhood. I'm a late bloomer in general. It took me seven years to get through four years of college. I was five years away from 40 before I had a family, and I had never been around kids much at all. All of a sudden, I was around three boys all the time. — Rick Yancey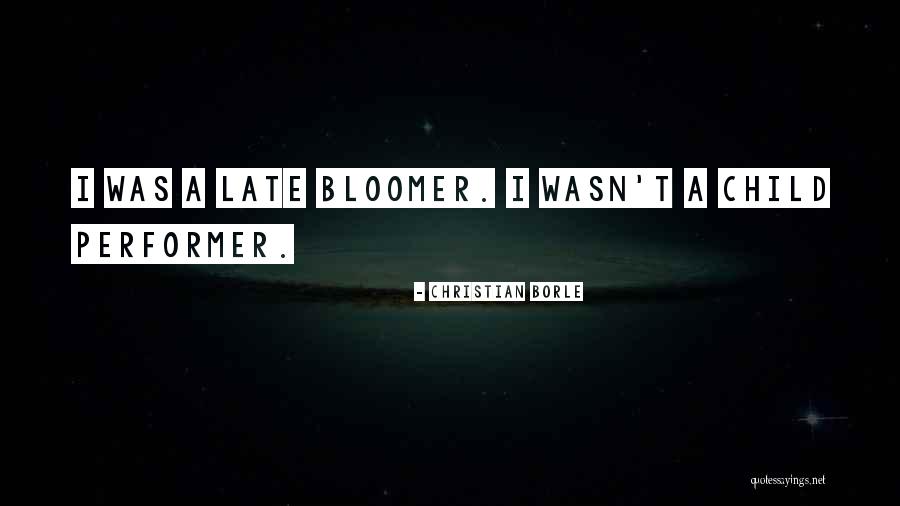 I was a late bloomer. I wasn't a child performer. — Christian Borle
I was such a late bloomer when it comes to fashion. — Debra Messing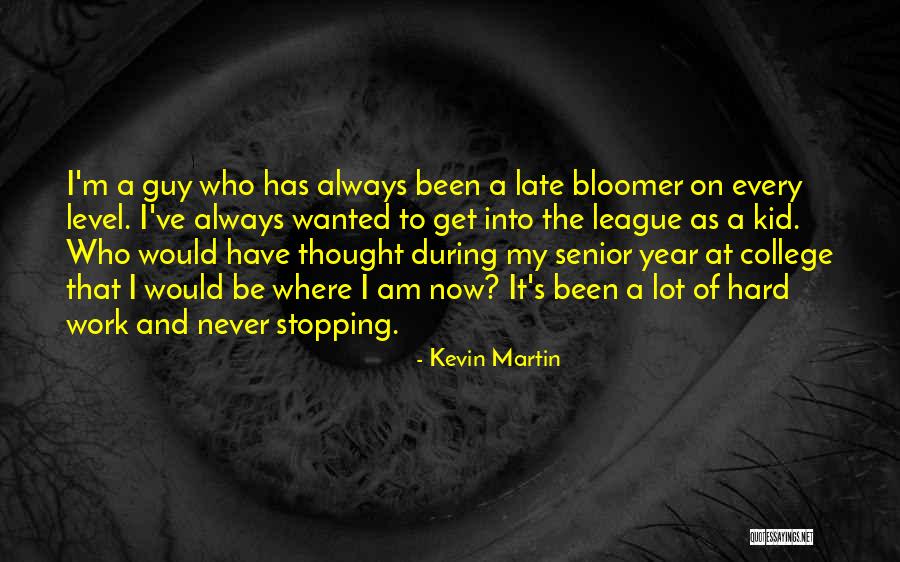 I'm a guy who has always been a late bloomer on every level. I've always wanted to get into the league as a kid. Who would have thought during my senior year at college that I would be where I am now? It's been a lot of hard work and never stopping. — Kevin Martin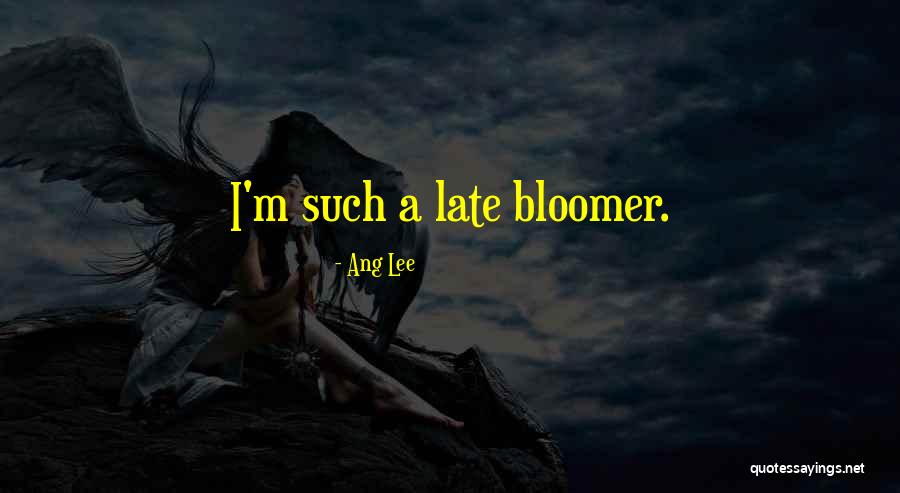 I'm such a late bloomer. — Ang Lee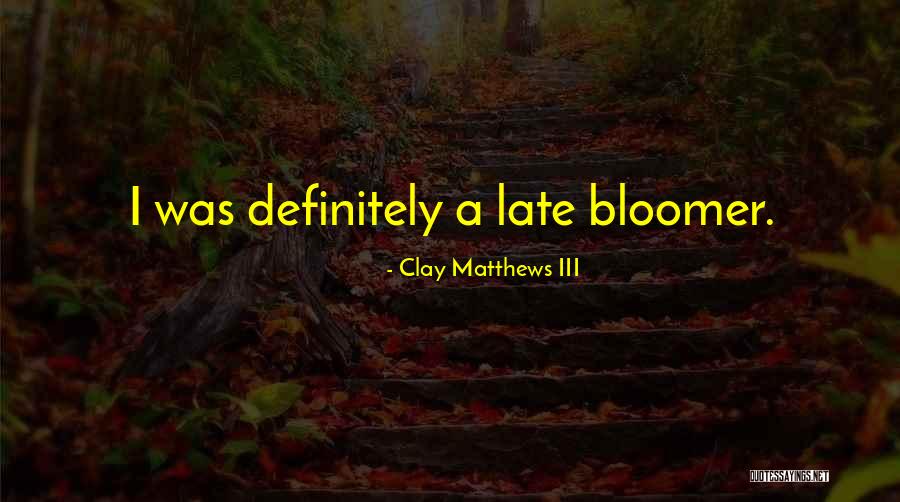 I was definitely a late bloomer. — Clay Matthews III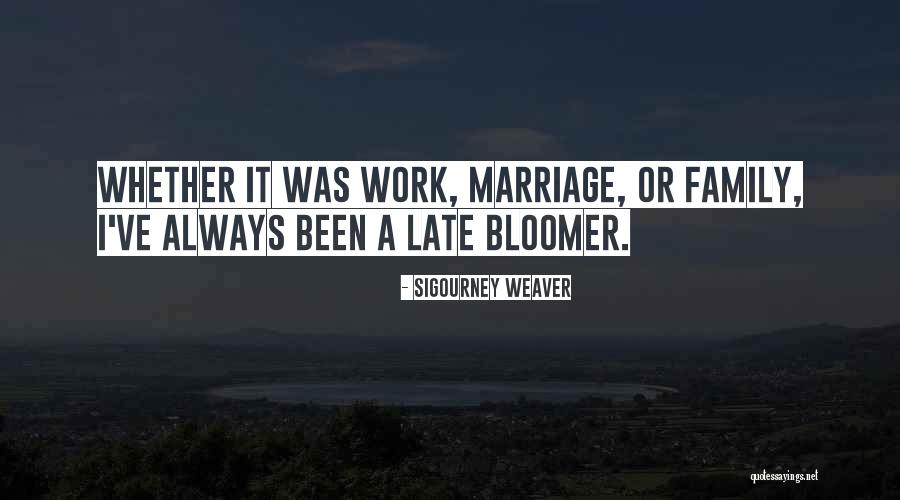 Whether it was work, marriage, or family, I've always been a late bloomer. — Sigourney Weaver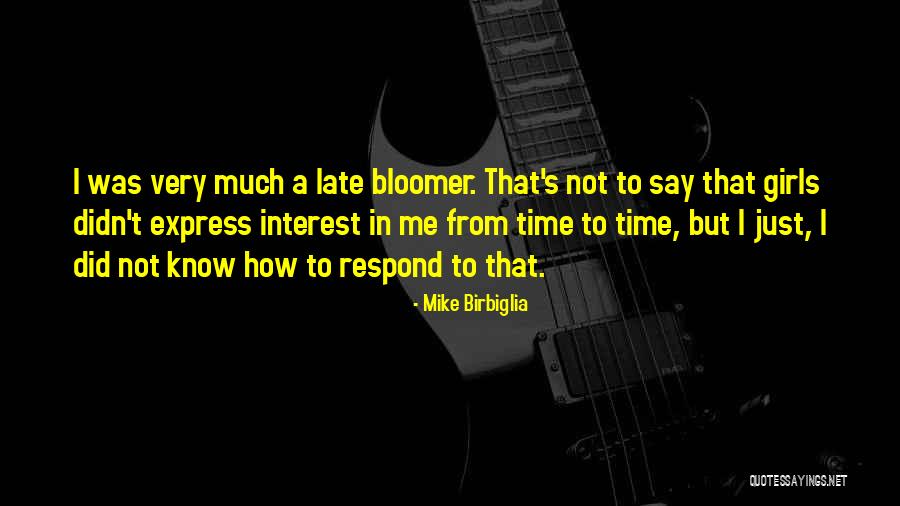 I was very much a late bloomer. That's not to say that girls didn't express interest in me from time to time, but I just, I did not know how to respond to that. — Mike Birbiglia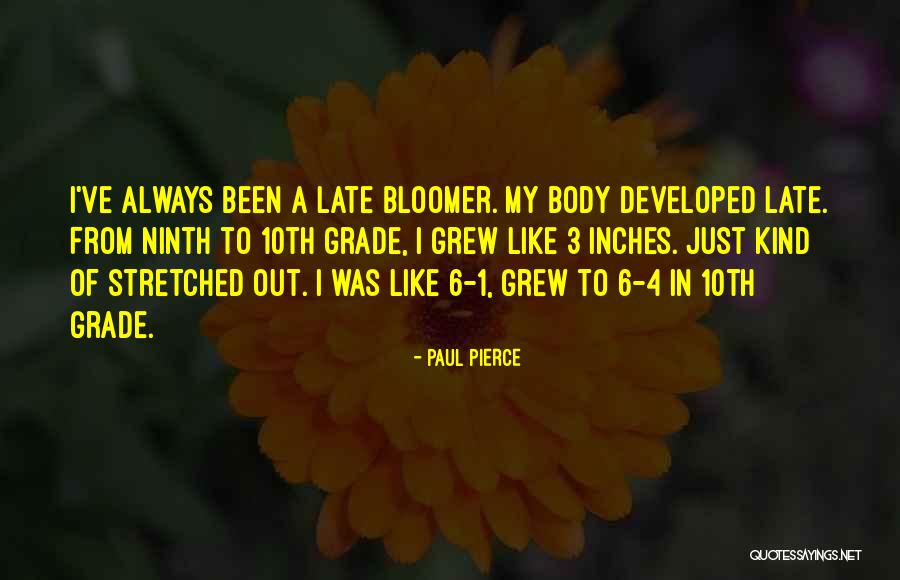 I've always been a late bloomer. My body developed late. From ninth to 10th grade, I grew like 3 inches. Just kind of stretched out. I was like 6-1, grew to 6-4 in 10th grade. — Paul Pierce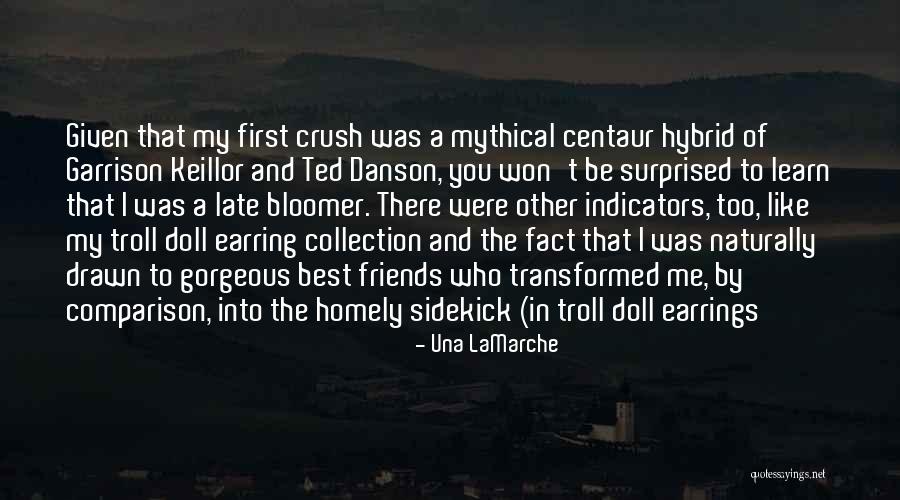 Given that my first crush was a mythical centaur hybrid of Garrison Keillor and Ted Danson, you won't be surprised to learn that I was a late bloomer. There were other indicators, too, like my troll doll earring collection and the fact that I was naturally drawn to gorgeous best friends who transformed me, by comparison, into the homely sidekick (in troll doll earrings — Una LaMarche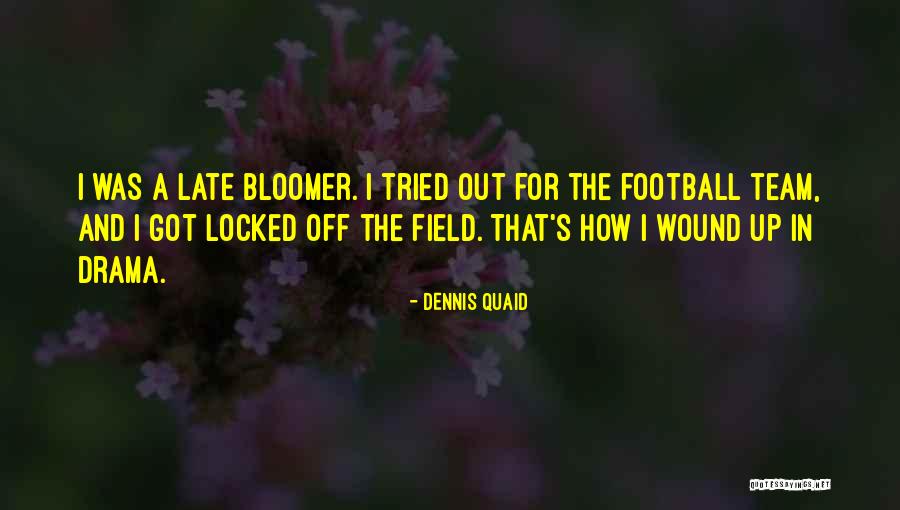 I was a late bloomer. I tried out for the football team, and I got locked off the field. That's how I wound up in drama. — Dennis Quaid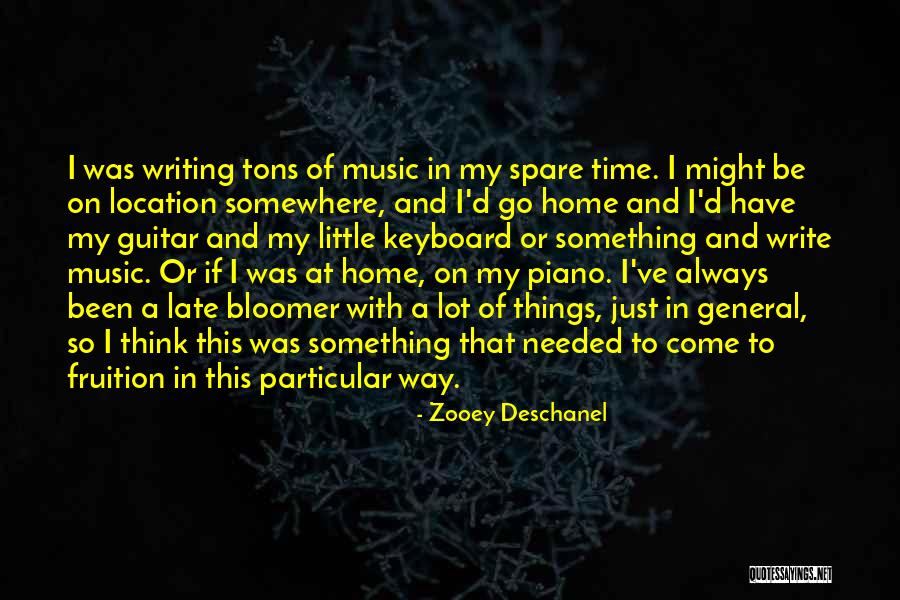 I was writing tons of music in my spare time. I might be on location somewhere, and I'd go home and I'd have my guitar and my little keyboard or something and write music. Or if I was at home, on my piano. I've always been a late bloomer with a lot of things, just in general, so I think this was something that needed to come to fruition in this particular way. — Zooey Deschanel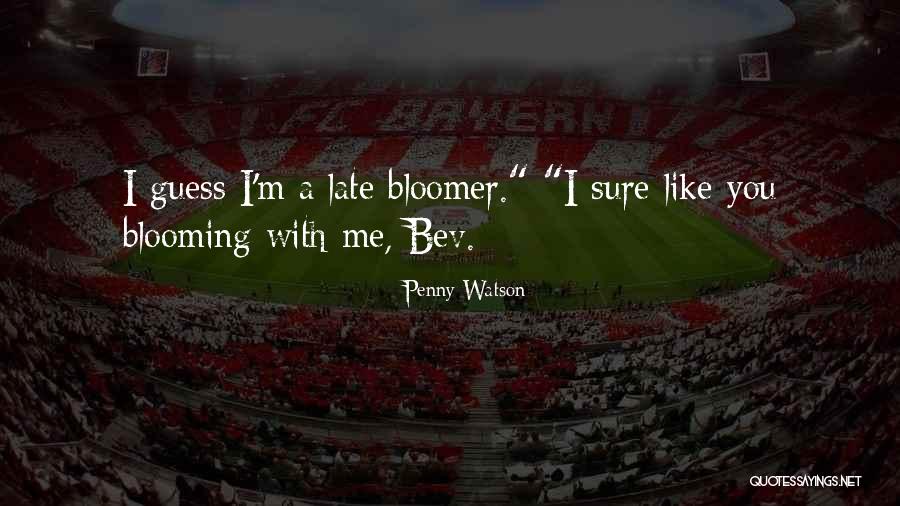 I guess I'm a late bloomer."
"I sure like you blooming with me, Bev. — Penny Watson
I'm a late bloomer. It's taken me a long time to find my voice, and I think all the records I've made over the years, I was finding my voice, and that's part of the process. — Jenny Lewis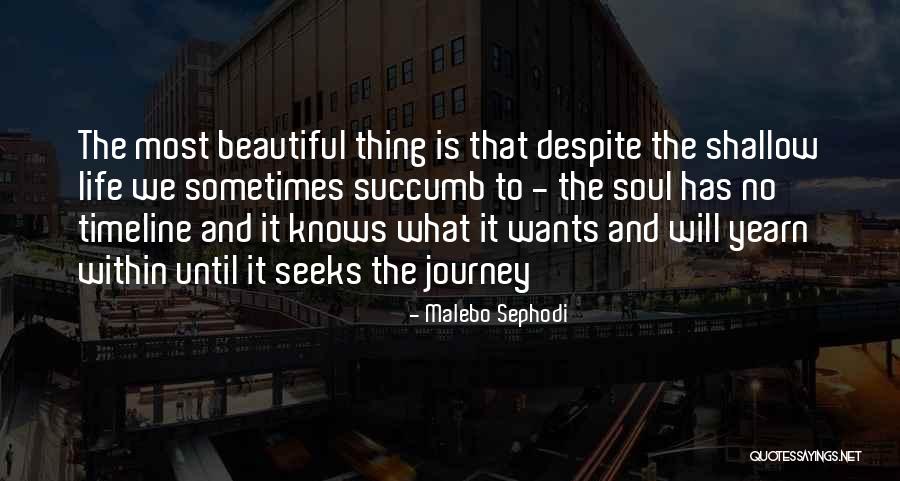 The most beautiful thing is that despite the shallow life we sometimes succumb to - the soul has no timeline and it knows what it wants and will yearn within until it seeks the journey — Malebo Sephodi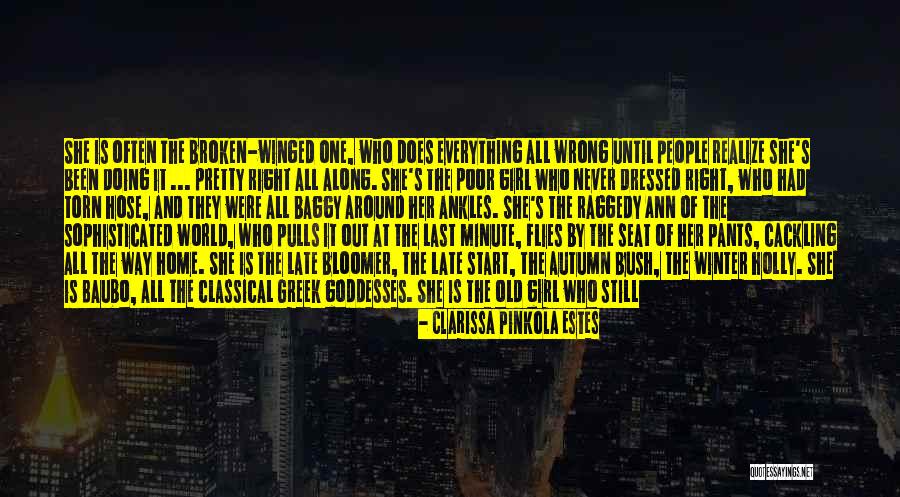 She is often the broken-winged one, who does everything all wrong until people realize she's been doing it ... pretty right all along. She's the poor girl who never dressed right, who had torn hose, and they were all baggy around her ankles. She's the Raggedy Ann of the sophisticated world, who pulls it out at the last minute, flies by the seat of her pants, cackling all the way home. She is the late bloomer, the late start, the autumn bush, the winter holly. She is Baubo, all the classical Greek goddesses. She is the old girl who still blushes, and laughs, and dances. She's the truth teller, maybe that people hate to hear, but they learn to listen to. She is not dumb and in some ways is not shrewd. She works on passion, and the doll in her pocket, and the intuition that leads her into and through all the world. — Clarissa Pinkola Estes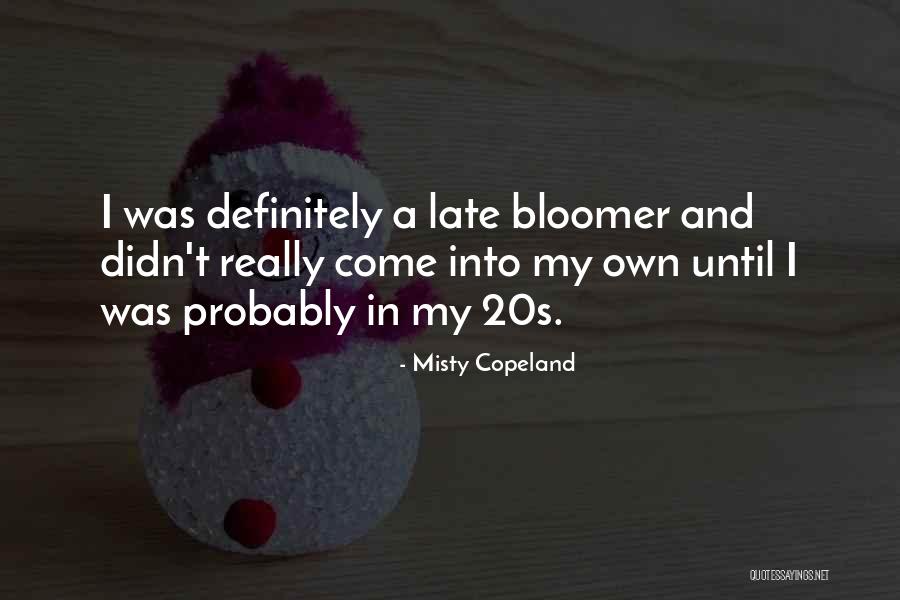 I was definitely a late bloomer and didn't really come into my own until I was probably in my 20s. — Misty Copeland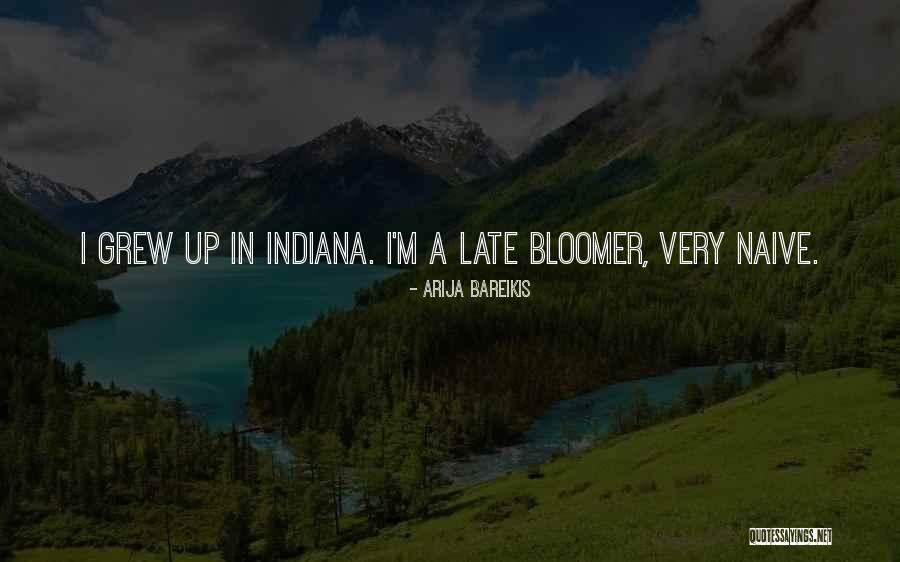 I grew up in Indiana. I'm a late bloomer, very naive. — Arija Bareikis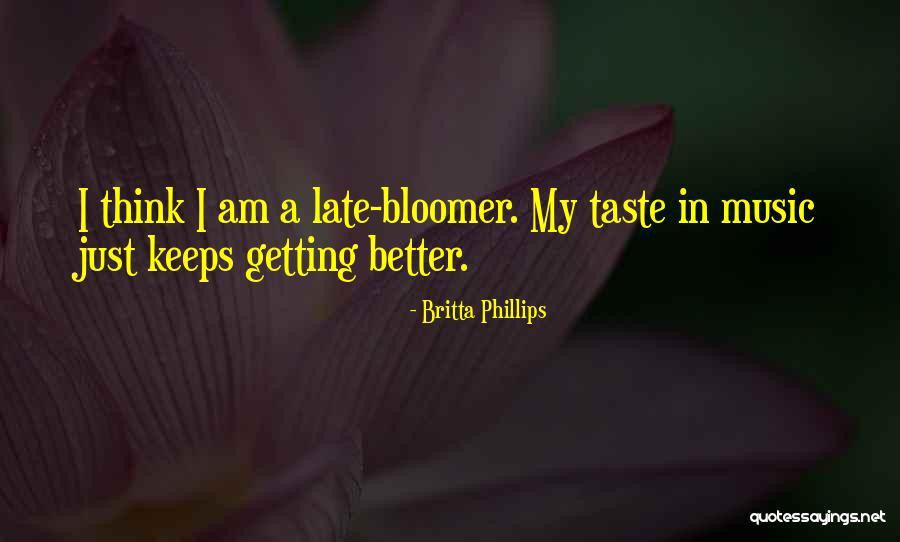 I think I am a late-bloomer. My taste in music just keeps getting better. — Britta Phillips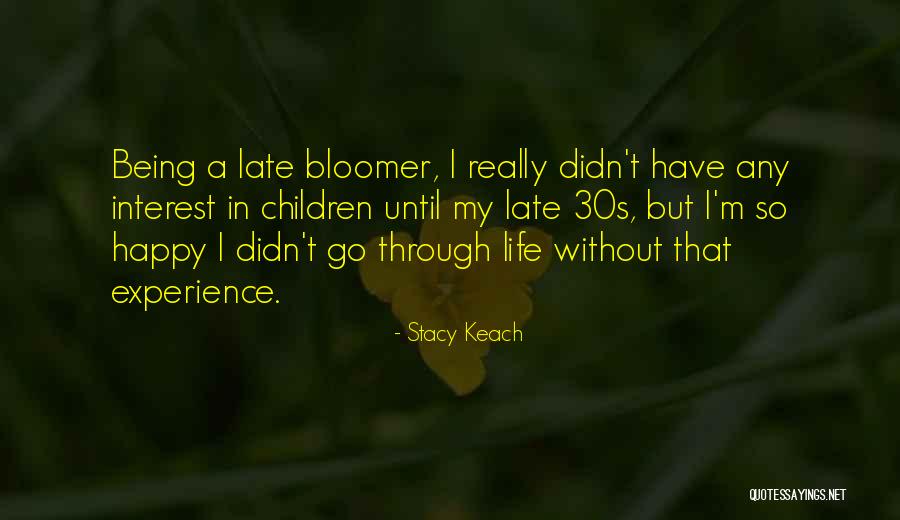 Being a late bloomer, I really didn't have any interest in children until my late 30s, but I'm so happy I didn't go through life without that experience. — Stacy Keach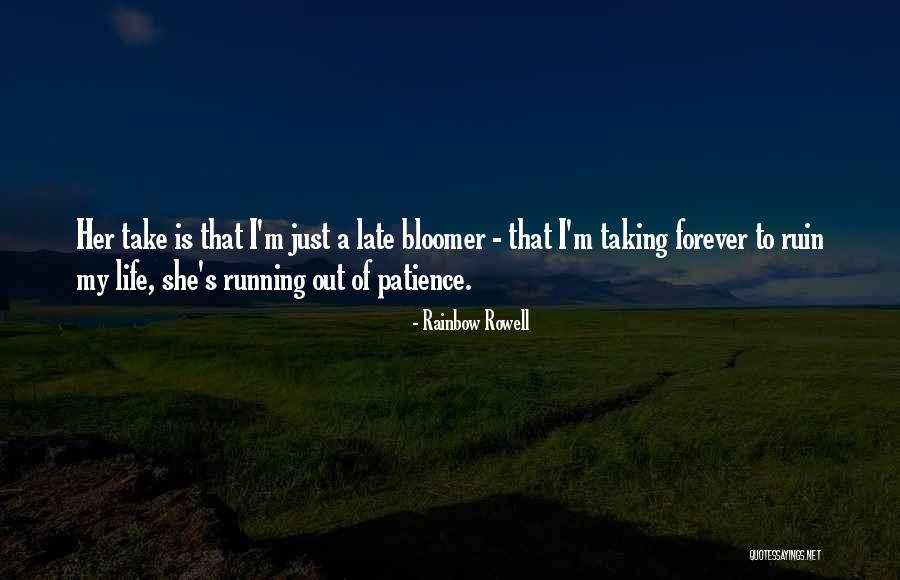 Her take is that I'm just a late bloomer - that I'm taking forever to ruin my life, she's running out of patience. — Rainbow Rowell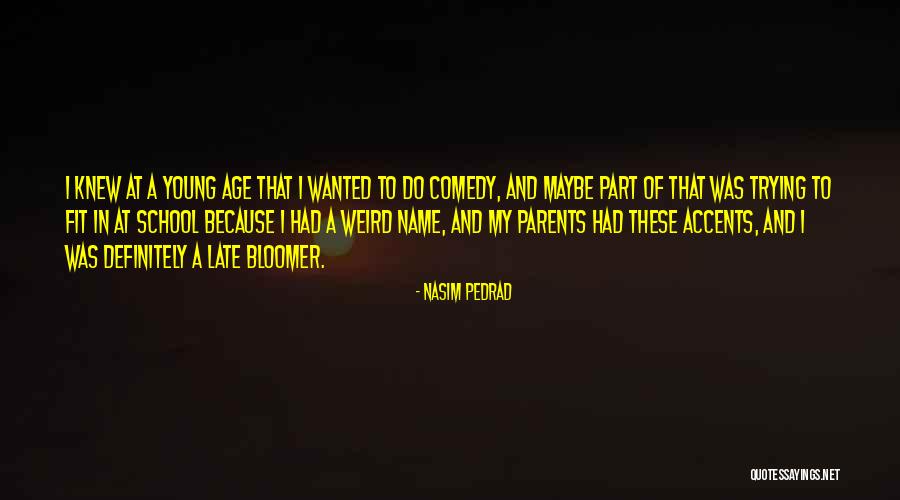 I knew at a young age that I wanted to do comedy, and maybe part of that was trying to fit in at school because I had a weird name, and my parents had these accents, and I was definitely a late bloomer. — Nasim Pedrad
In 'George Lopez', I played Veronica who's a bratty 18-year-old, and so I feel like it's much easier for me to play that because I feel like a late bloomer. It wasn't difficult or challenging at all because it's not like I haven't been a teenager. — Aimee Garcia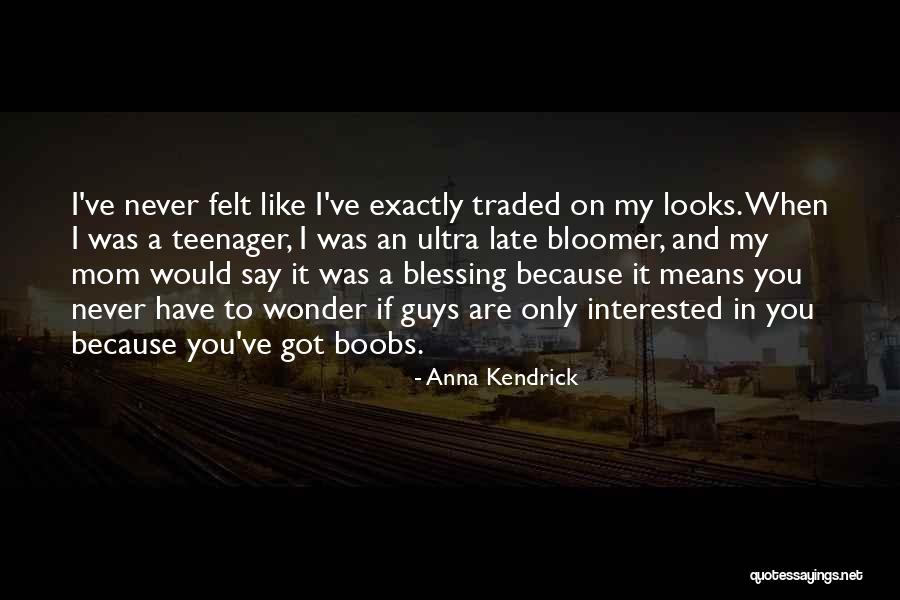 I've never felt like I've exactly traded on my looks. When I was a teenager, I was an ultra late bloomer, and my mom would say it was a blessing because it means you never have to wonder if guys are only interested in you because you've got boobs. — Anna Kendrick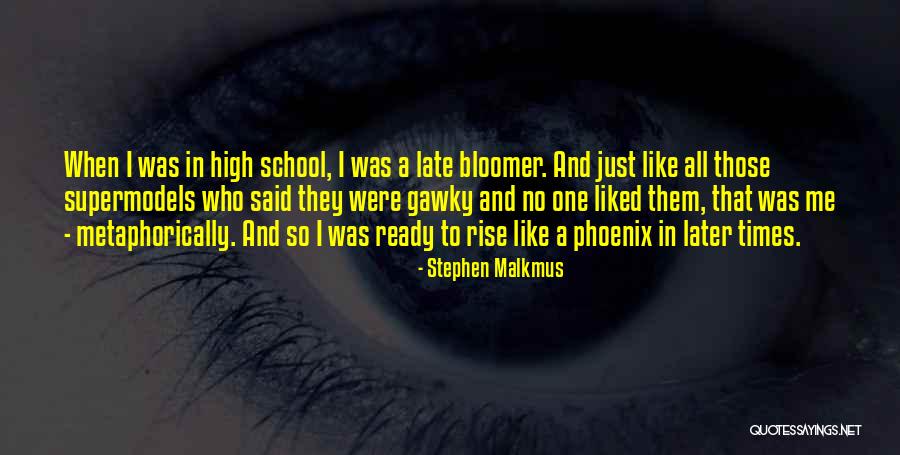 When I was in high school, I was a late bloomer. And just like all those supermodels who said they were gawky and no one liked them, that was me - metaphorically. And so I was ready to rise like a phoenix in later times. — Stephen Malkmus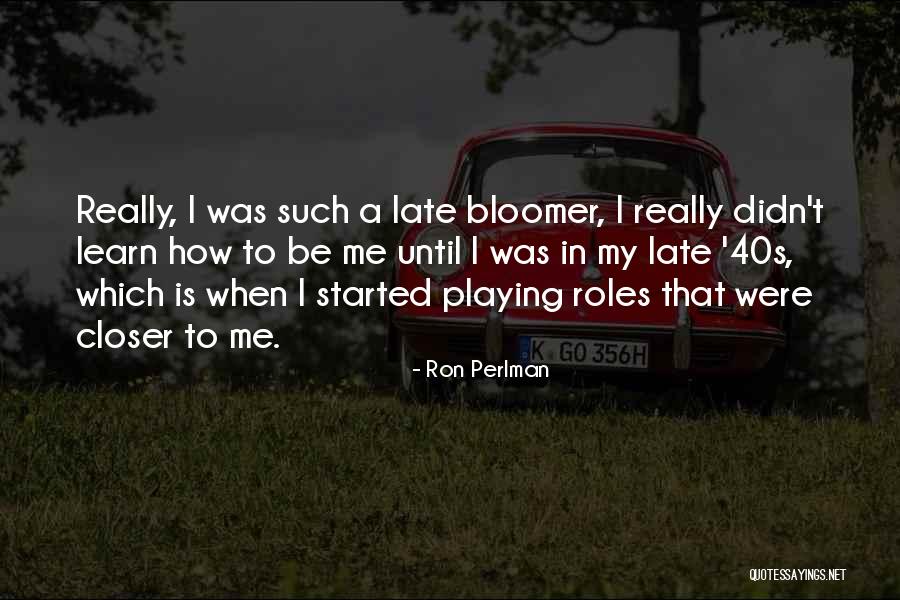 Really, I was such a late bloomer, I really didn't learn how to be me until I was in my late '40s, which is when I started playing roles that were closer to me. — Ron Perlman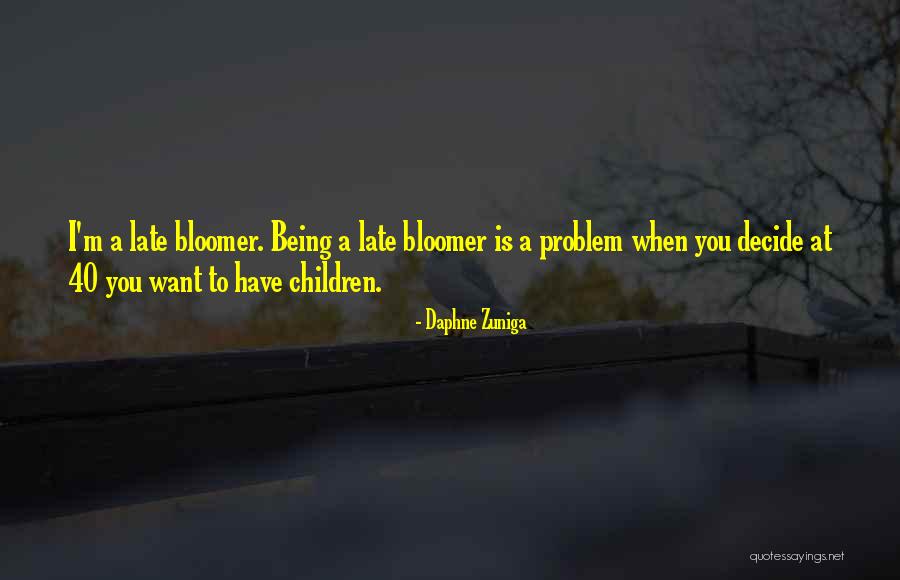 I'm a late bloomer. Being a late bloomer is a problem when you decide at 40 you want to have children. — Daphne Zuniga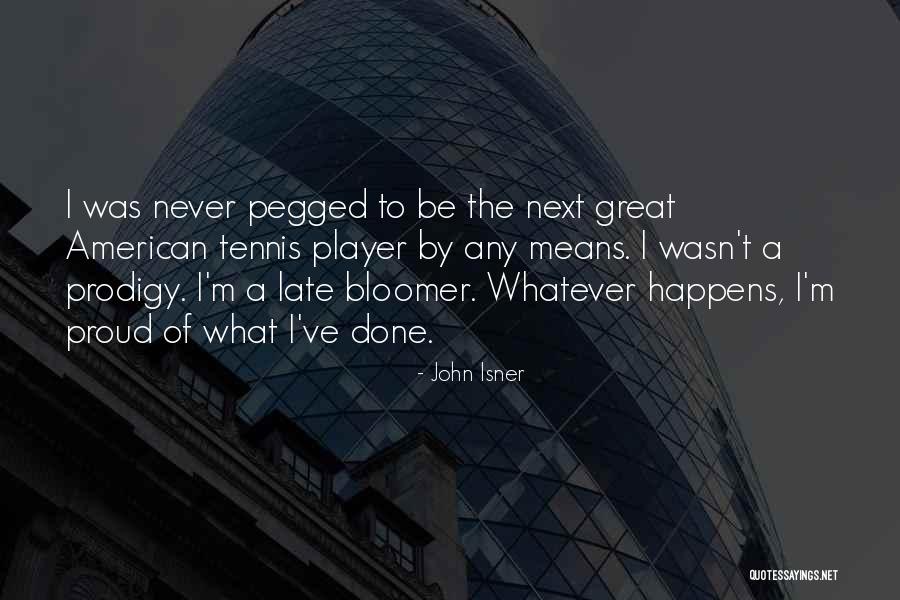 I was never pegged to be the next great American tennis player by any means. I wasn't a prodigy. I'm a late bloomer. Whatever happens, I'm proud of what I've done. — John Isner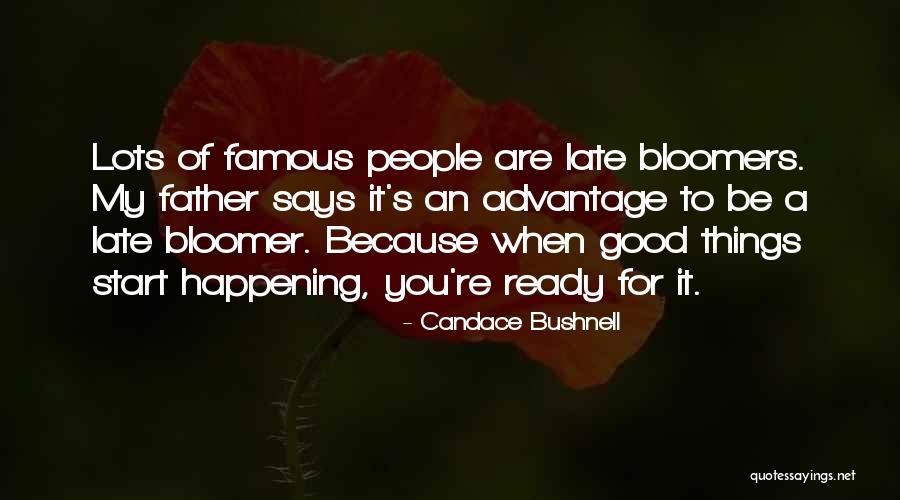 Lots of famous people are late bloomers. My father says it's an advantage to be a late bloomer. Because when good things start happening, you're ready for it. — Candace Bushnell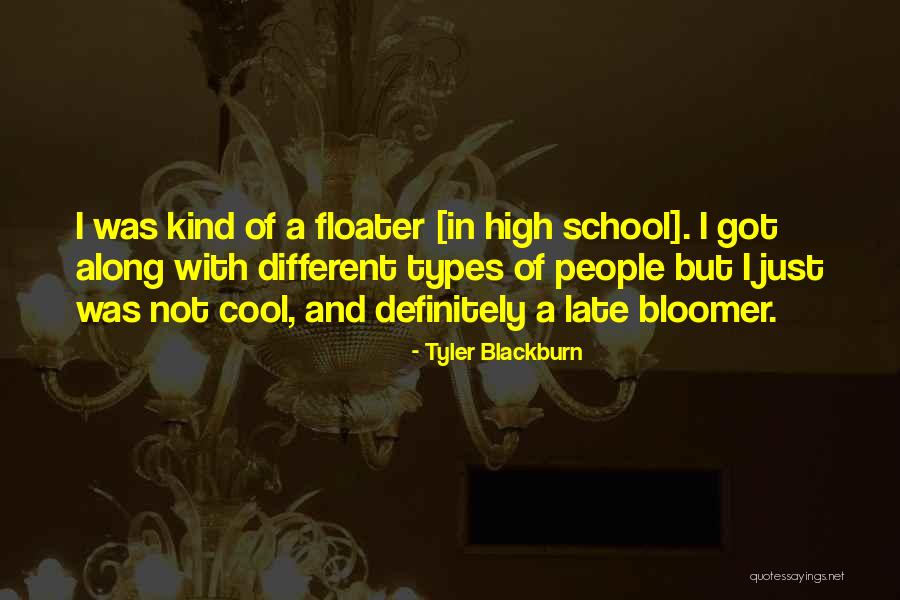 I was kind of a floater [in high school]. I got along with different types of people but I just was not cool, and definitely a late bloomer. — Tyler Blackburn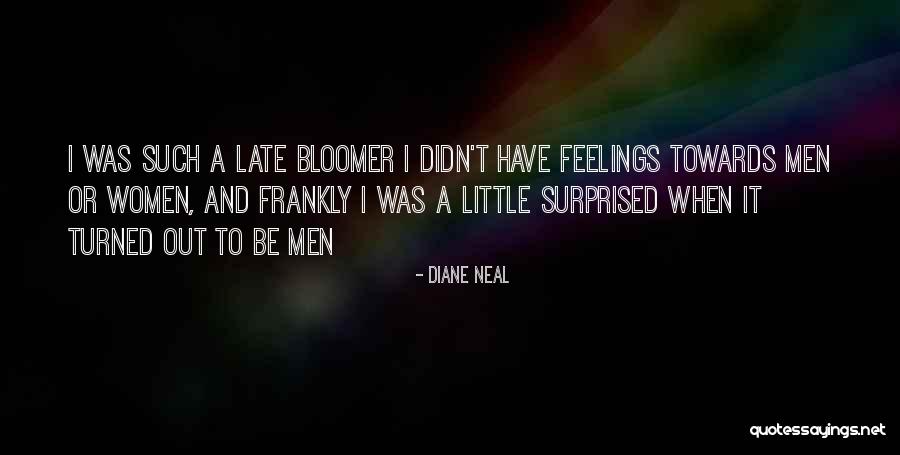 I was such a late bloomer I didn't have feelings towards men or women, and frankly I was a little surprised when it turned out to be men — Diane Neal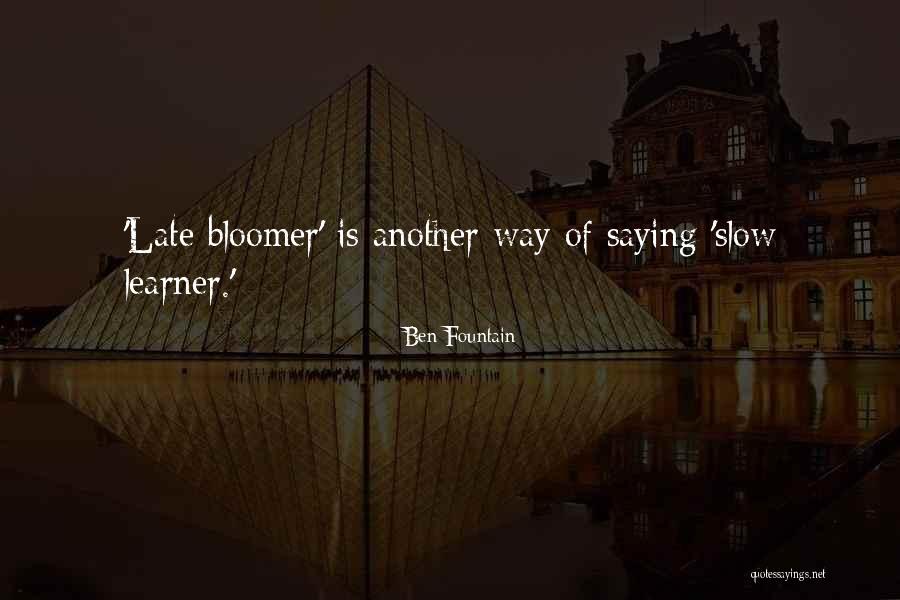 'Late bloomer' is another way of saying 'slow learner.' — Ben Fountain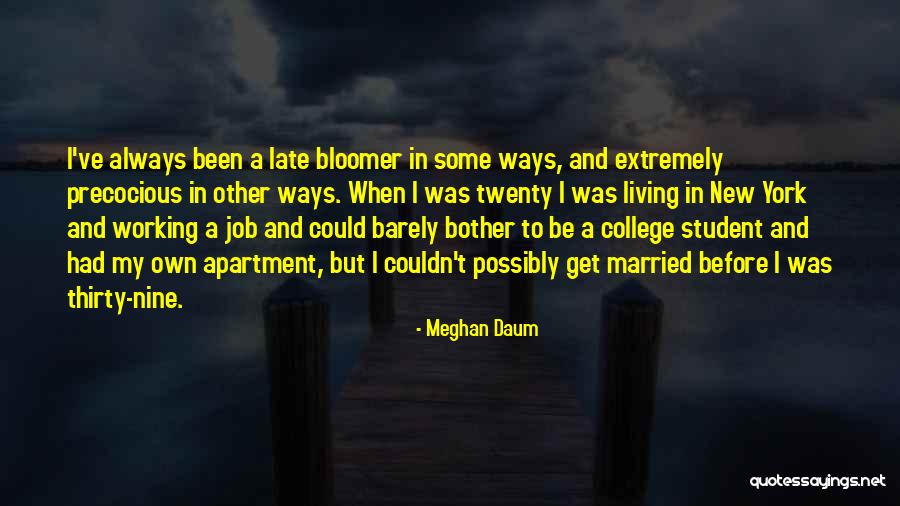 I've always been a late bloomer in some ways, and extremely precocious in other ways. When I was twenty I was living in New York and working a job and could barely bother to be a college student and had my own apartment, but I couldn't possibly get married before I was thirty-nine. — Meghan Daum
I guess you can say I was a late bloomer. — Jeremy Shockey