Laboratory Life Quotes & Sayings
Enjoy reading and share 53 famous quotes about Laboratory Life with everyone.
Top Laboratory Life Quotes
The apartment is a laboratory in which we conduct experiments, perform research on each other. We discover Henry hates it when I absentmindedly click my spoon against my teeth while reading the paper at breakfast. We agree that it is okay for me to listen to Joni Mitchell and it is okay for Henry to listen to the Shaggs as long as the other person isn't around. We figure out that Henry should do all the cooking and I should be in charge of laundry and neither of us is willing to vacuum so we hire a cleaning service. — Audrey Niffenegger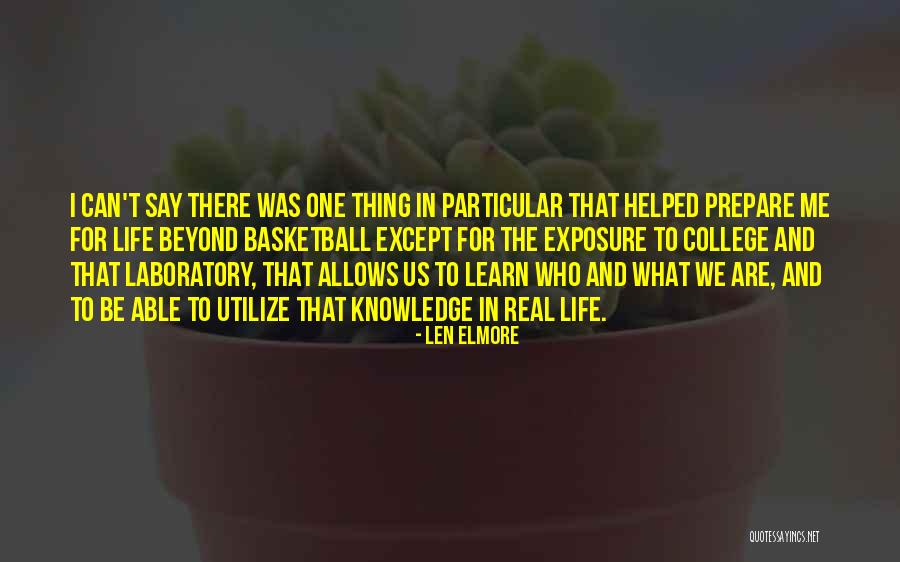 I can't say there was one thing in particular that helped prepare me for life beyond basketball except for the exposure to college and that laboratory, that allows us to learn who and what we are, and to be able to utilize that knowledge in real life. — Len Elmore
The power to assimilate crude inorganic matter as it is found in the soil, and convert it into living protoplasm and other organic substances, or to use such substances in performing physiological function, does not belong to the animal organism. It is the office of plant life or vegetation to convert the primary elements from their crude inorganic state into the organic state. This conversion cannot be accomplished by any synthetic process known to the laboratory.
After the plant has raised the crude inorganic matter of the soil into plant protoplasm, the animal may take these and raise them to a still higher plane - that of animal protoplasm. But the animal cannot do the work of the plant. He must get his food either directly or indirectly from the plant kingdom. That is, the animal must either eat the plant or its fruits, or he must eat the animal that has eaten the plant. Food must be in the organic form. Air and water form the only exceptions to this rule. — Herbert M. Shelton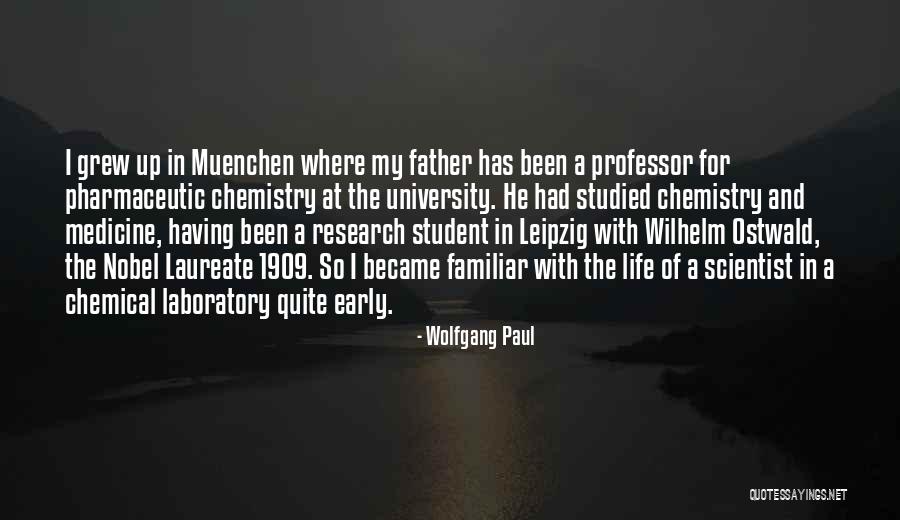 I grew up in Muenchen where my father has been a professor for pharmaceutic chemistry at the university. He had studied chemistry and medicine, having been a research student in Leipzig with Wilhelm Ostwald, the Nobel Laureate 1909. So I became familiar with the life of a scientist in a chemical laboratory quite early. — Wolfgang Paul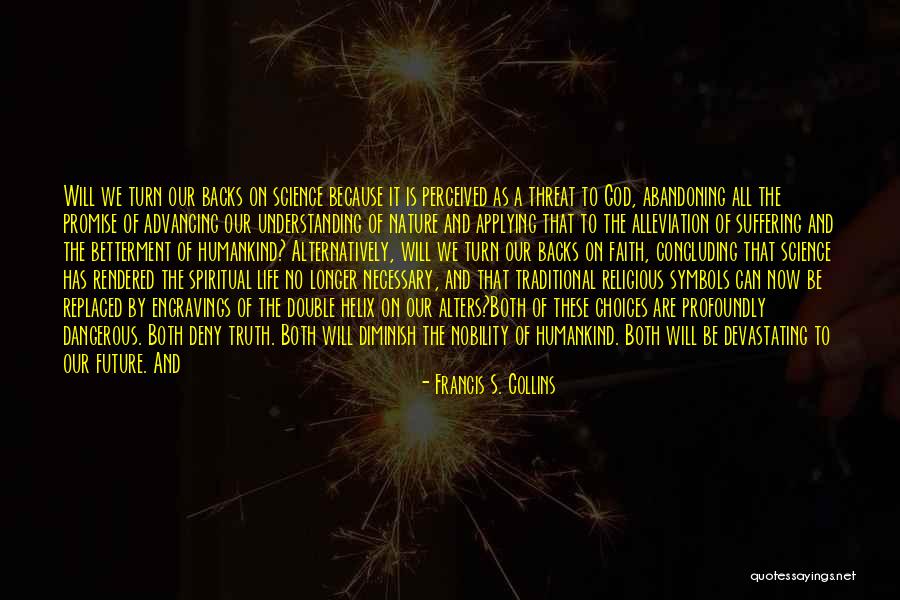 Will we turn our backs on science because it is perceived as a threat to God, abandoning all the promise of advancing our understanding of nature and applying that to the alleviation of suffering and the betterment of humankind? Alternatively, will we turn our backs on faith, concluding that science has rendered the spiritual life no longer necessary, and that traditional religious symbols can now be replaced by engravings of the double helix on our alters?
Both of these choices are profoundly dangerous. Both deny truth. Both will diminish the nobility of humankind. Both will be devastating to our future. And both are unnecessary. The God of the Bible is also the God of the genome. He can be worshipped in the cathedral or in the laboratory. His creation is majestic, awesome, intricate and beautiful - and it cannot be at war with itself. Only we imperfect humans can start such battles. And only we can end them. — Francis S. Collins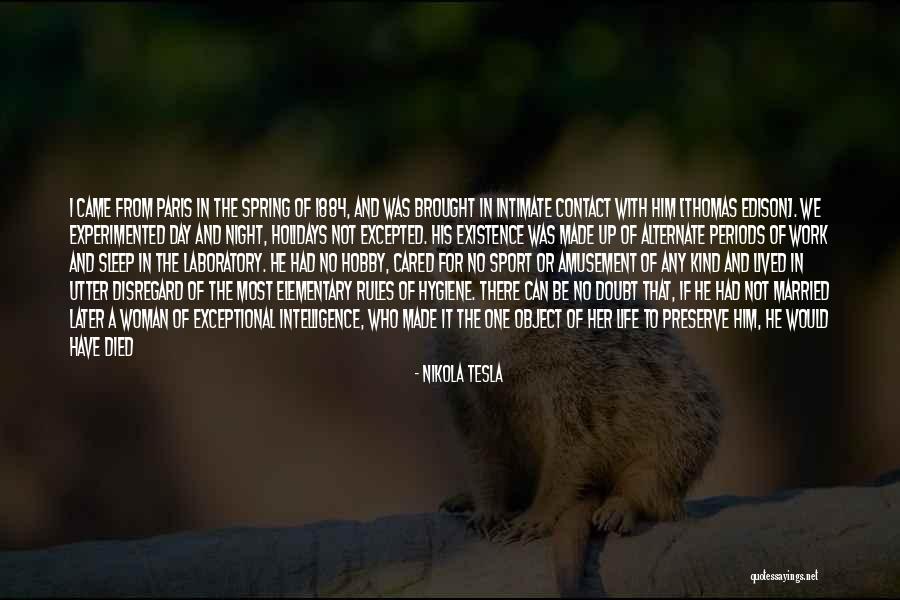 I came from Paris in the Spring of 1884, and was brought in intimate contact with him [Thomas Edison]. We experimented day and night, holidays not excepted. His existence was made up of alternate periods of work and sleep in the laboratory. He had no hobby, cared for no sport or amusement of any kind and lived in utter disregard of the most elementary rules of hygiene. There can be no doubt that, if he had not married later a woman of exceptional intelligence, who made it the one object of her life to preserve him, he would have died many years ago from consequences of sheer neglect. So great and uncontrollable was his passion for work. — Nikola Tesla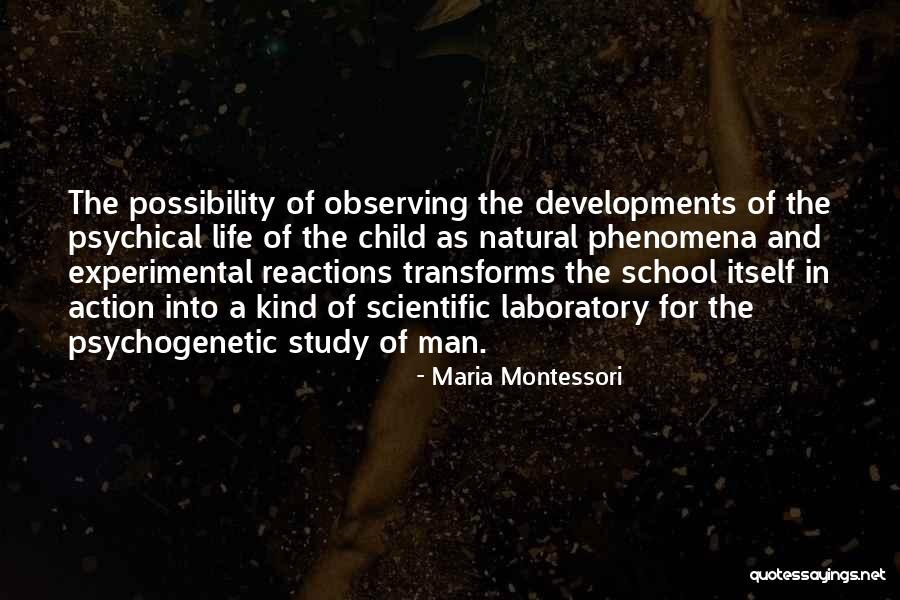 The possibility of observing the developments of the psychical life of the child as natural phenomena and experimental reactions transforms the school itself in action into a kind of scientific laboratory for the psychogenetic study of man. — Maria Montessori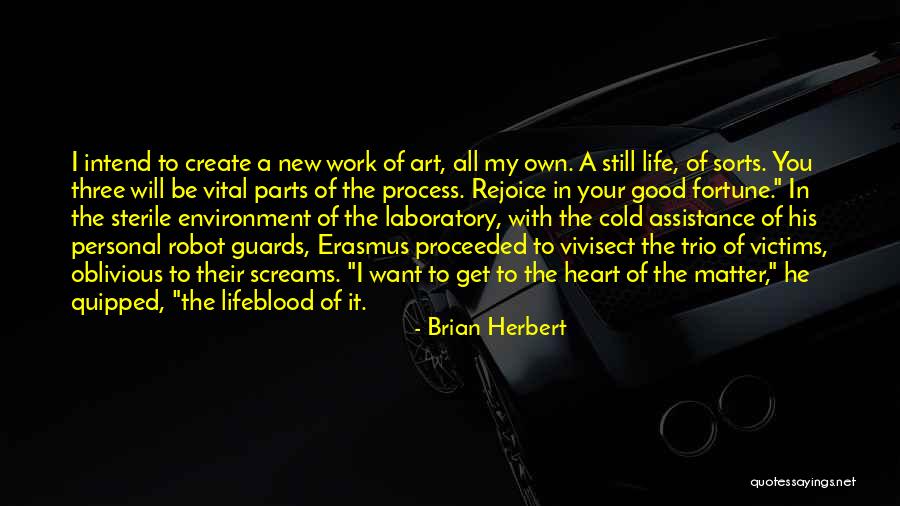 I intend to create a new work of art, all my own. A still life, of sorts. You three will be vital parts of the process. Rejoice in your good fortune." In the sterile environment of the laboratory, with the cold assistance of his personal robot guards, Erasmus proceeded to vivisect the trio of victims, oblivious to their screams. "I want to get to the heart of the matter," he quipped, "the lifeblood of it. — Brian Herbert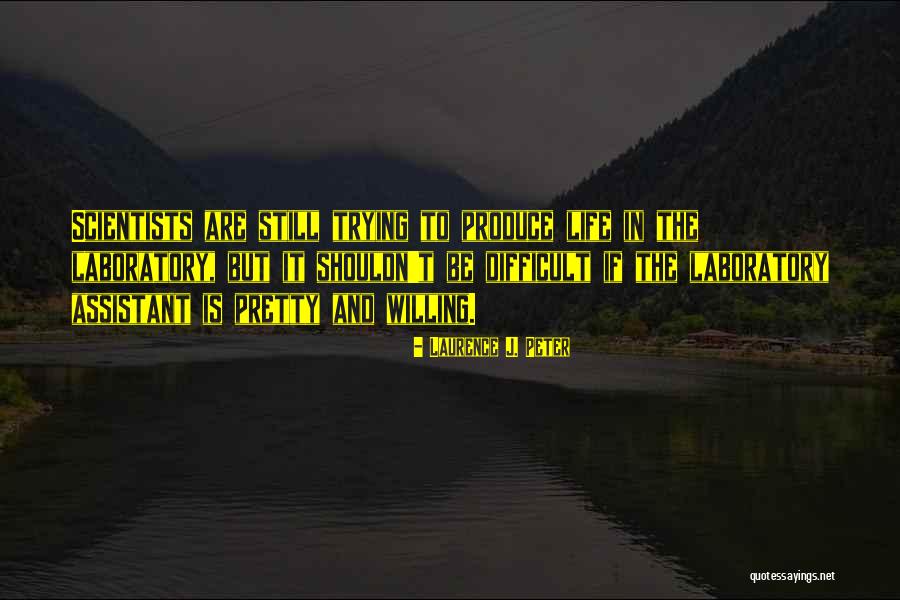 Scientists are still trying to produce life in the laboratory, but it shouldn't be difficult if the laboratory assistant is pretty and willing. — Laurence J. Peter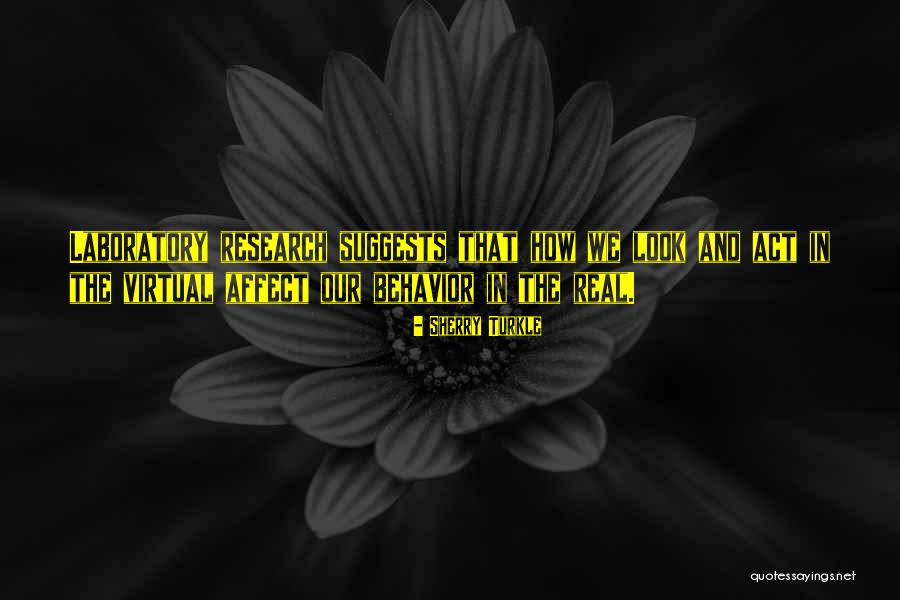 Laboratory research suggests that how we look and act in the virtual affect our behavior in the real. — Sherry Turkle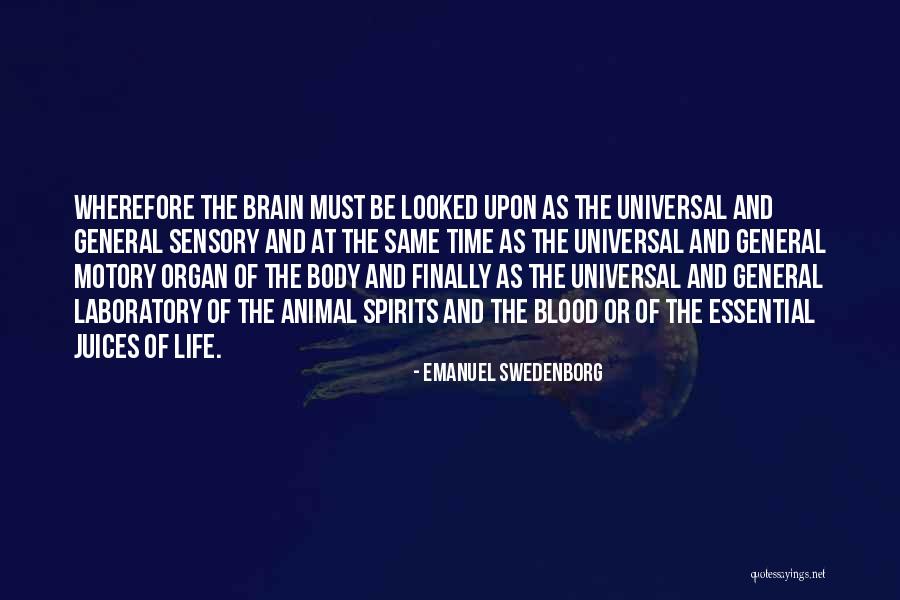 Wherefore the brain must be looked upon as the universal and general sensory and at the same time as the universal and general motory organ of the body and finally as the universal and general laboratory of the animal spirits and the blood or of the essential juices of life. — Emanuel Swedenborg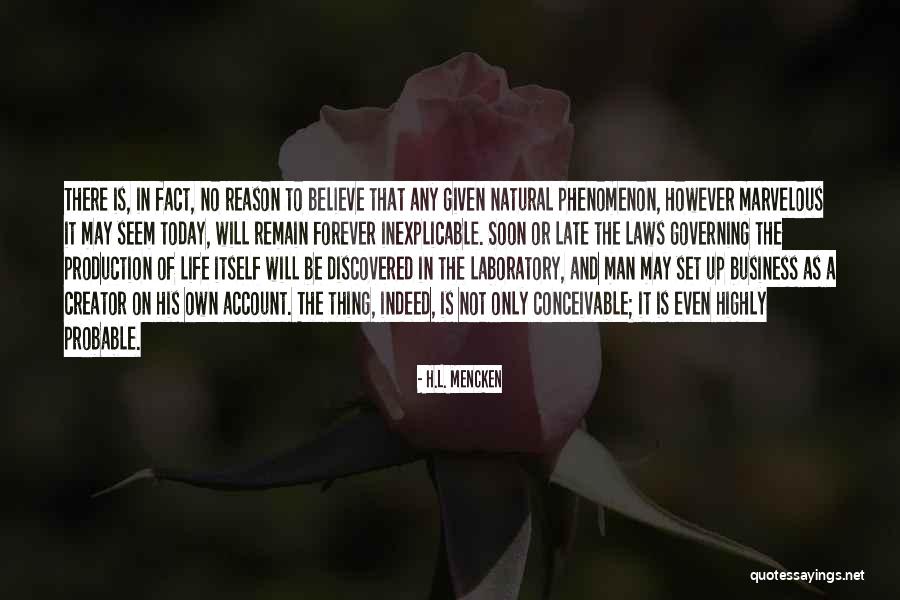 There is, in fact, no reason to believe that any given natural phenomenon, however marvelous it may seem today, will remain forever inexplicable. Soon or late the laws governing the production of life itself will be discovered in the laboratory, and man may set up business as a creator on his own account. The thing, indeed, is not only conceivable; it is even highly probable. — H.L. Mencken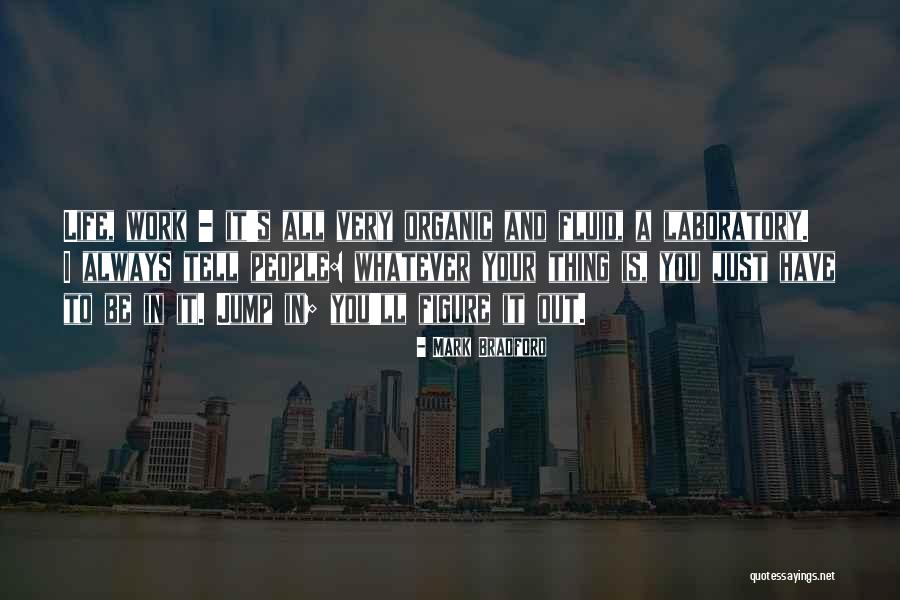 Life, work - it's all very organic and fluid, a laboratory. I always tell people: whatever your thing is, you just have to be in it. Jump in; you'll figure it out. — Mark Bradford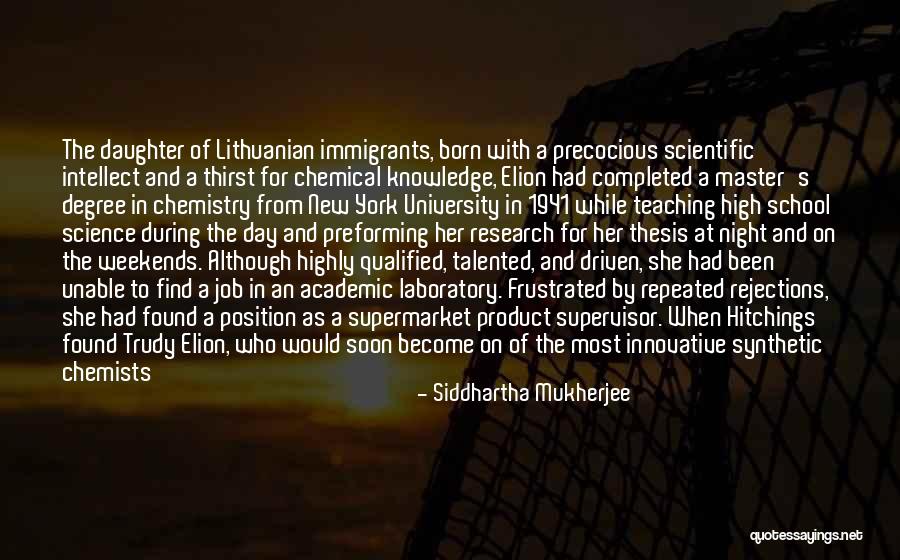 The daughter of Lithuanian immigrants, born with a precocious scientific intellect and a thirst for chemical knowledge, Elion had completed a master's degree in chemistry from New York University in 1941 while teaching high school science during the day and preforming her research for her thesis at night and on the weekends. Although highly qualified, talented, and driven, she had been unable to find a job in an academic laboratory. Frustrated by repeated rejections, she had found a position as a supermarket product supervisor. When Hitchings found Trudy Elion, who would soon become on of the most innovative synthetic chemists of her generation (and a future Nobel laureate), she was working for a food lab in New York, testing the acidity of pickles and the color of egg yolk going into mayonnaise. Rescued from a life of pickles and mayonnaise ... — Siddhartha Mukherjee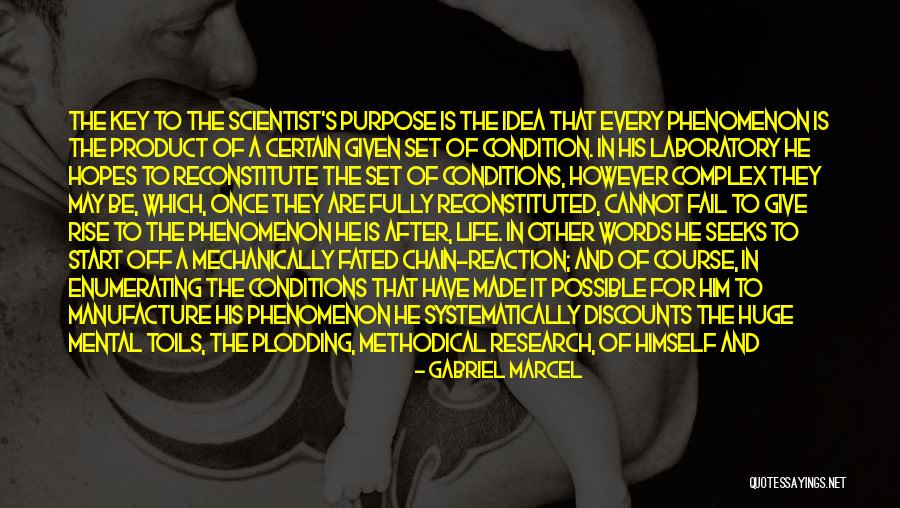 The key to the scientist's purpose is the idea that every phenomenon is the product of a certain given set of condition. In his laboratory he hopes to reconstitute the set of conditions, however complex they may be, which, once they are fully reconstituted, cannot fail to give rise to the phenomenon he is after, life. In other words he seeks to start off a mechanically fated chain-reaction; and of course, in enumerating the conditions that have made it possible for him to manufacture his phenomenon he systematically discounts the huge mental toils, the plodding, methodical research, of himself and others.

Thus, by a singular contradiction, he succeeds in convincing himself and, of course, attempts to persuade others, that he has arrived at the origin of his phenomenon; he sets out to demonstrate that everything in the universe runs perfectly smoothly by itself, without any creative power at anytime intruding. — Gabriel Marcel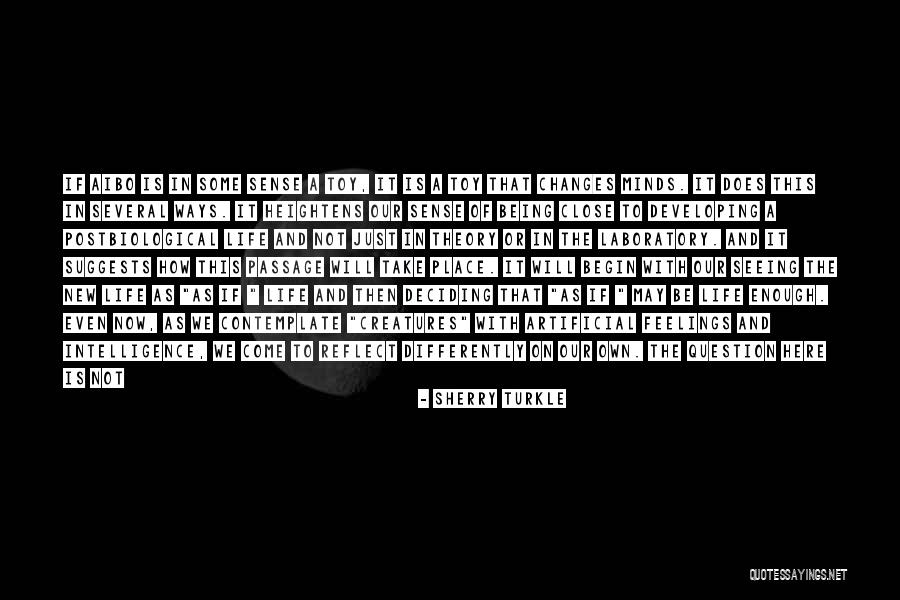 If AIBO is in some sense a toy, it is a toy that changes minds. It does this in several ways. It heightens our sense of being close to developing a postbiological life and not just in theory or in the laboratory. And it suggests how this passage will take place. It will begin with our seeing the new life as "as if " life and then deciding that "as if " may be life enough. Even now, as we contemplate "creatures" with artificial feelings and intelligence, we come to reflect differently on our own. The question here is not whether machines can be made to think like people but whether people have always thought like machines. — Sherry Turkle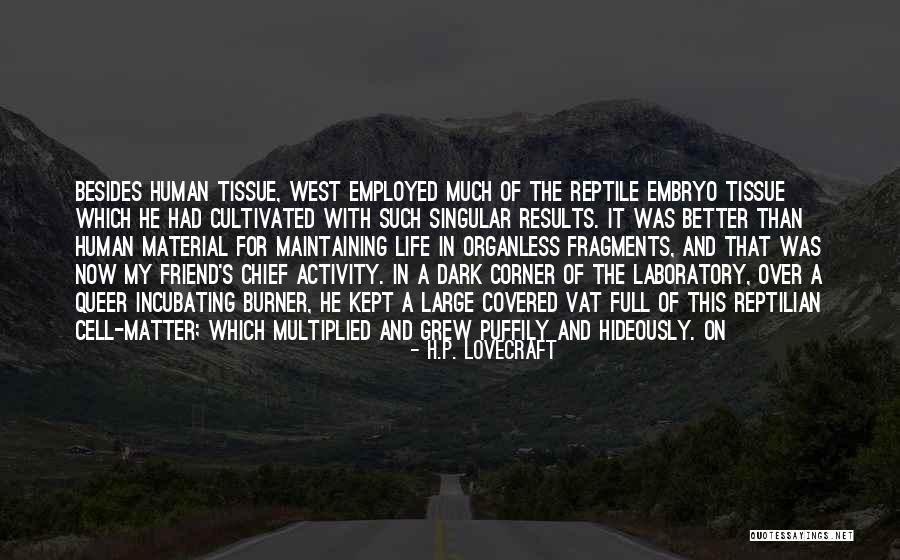 Besides human tissue, West employed much of the reptile embryo tissue which he had cultivated with such singular results. It was better than human material for maintaining life in organless fragments, and that was now my friend's chief activity. In a dark corner of the laboratory, over a queer incubating burner, he kept a large covered vat full of this reptilian cell-matter; which multiplied and grew puffily and hideously. On — H.P. Lovecraft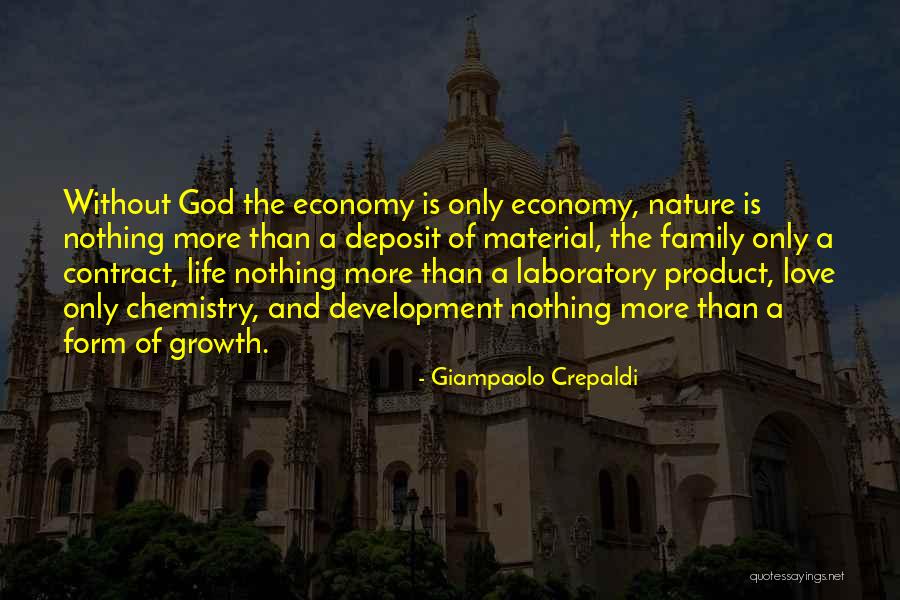 Without God the economy is only economy, nature is nothing more than a deposit of material, the family only a contract, life nothing more than a laboratory product, love only chemistry, and development nothing more than a form of growth. — Giampaolo Crepaldi
To our senses, the elements are four and have ever been, and will ever be for they are the elements of life, of poetry, and of perception, the four Great Ones, the Four Roots, the First Four of Fire and the Wet, Earth and the wide Air of the World. To find the other many elements, you must go to the laboratory and hunt them down. But the four we have always with us, they are our world. Or rather, they have us with them. — D.H. Lawrence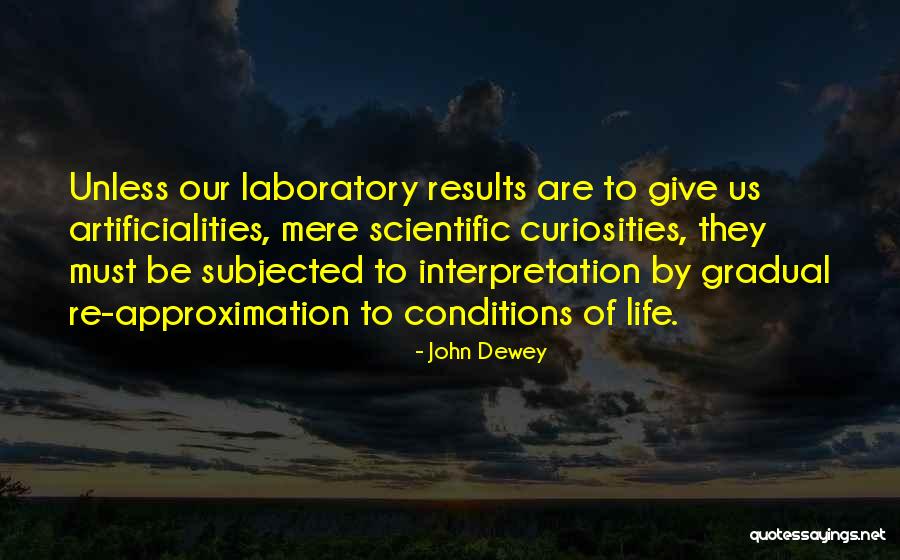 Unless our laboratory results are to give us artificialities, mere scientific curiosities, they must be subjected to interpretation by gradual re-approximation to conditions of life. — John Dewey
In history as in nature, decay is the laboratory of life. — Karl Marx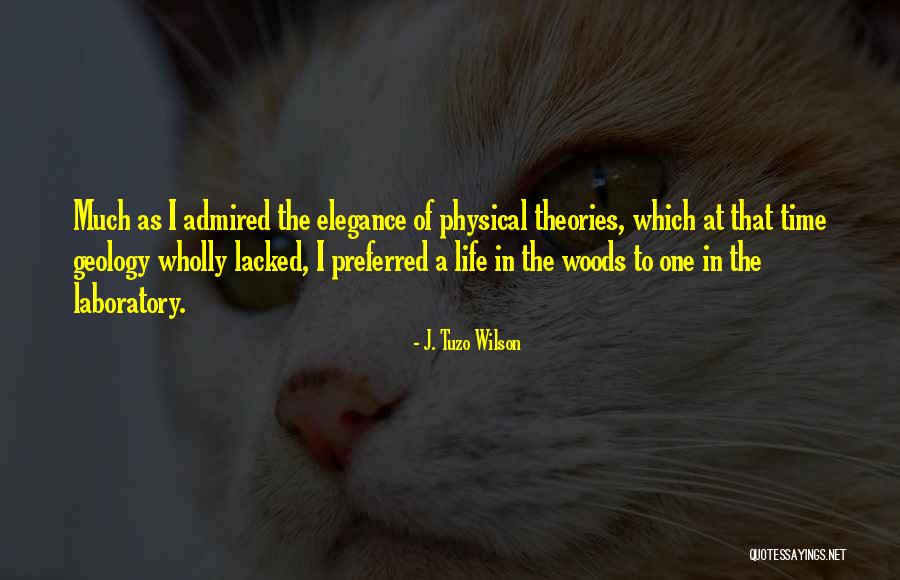 Much as I admired the elegance of physical theories, which at that time geology wholly lacked, I preferred a life in the woods to one in the laboratory. — J. Tuzo Wilson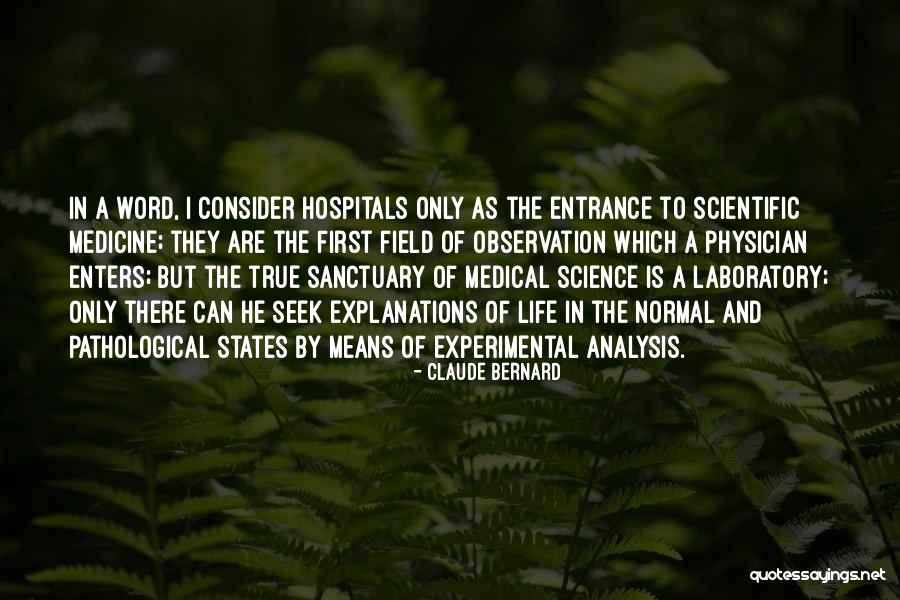 In a word, I consider hospitals only as the entrance to scientific medicine; they are the first field of observation which a physician enters; but the true sanctuary of medical science is a laboratory; only there can he seek explanations of life in the normal and pathological states by means of experimental analysis. — Claude Bernard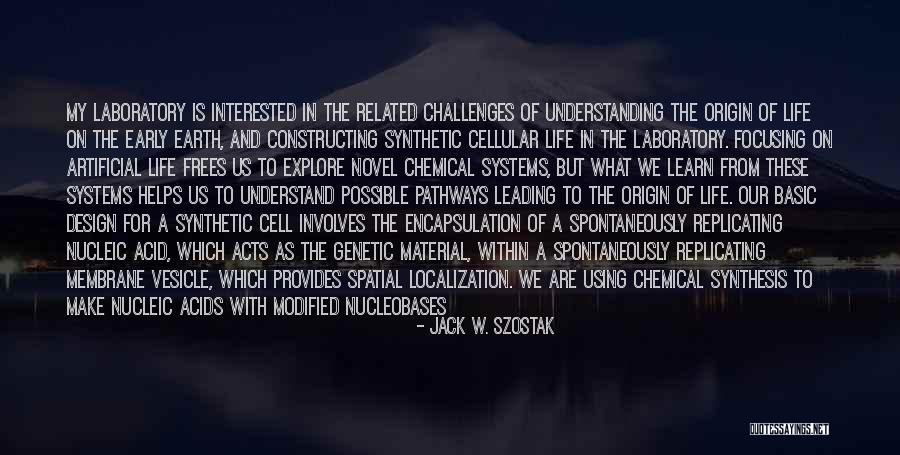 My laboratory is interested in the related challenges of understanding the origin of life on the early earth, and constructing synthetic cellular life in the laboratory. Focusing on artificial life frees us to explore novel chemical systems, but what we learn from these systems helps us to understand possible pathways leading to the origin of life. Our basic design for a synthetic cell involves the encapsulation of a spontaneously replicating nucleic acid, which acts as the genetic material, within a spontaneously replicating membrane vesicle, which provides spatial localization. We are using chemical synthesis to make nucleic acids with modified nucleobases and sugar-phosphate backbones. — Jack W. Szostak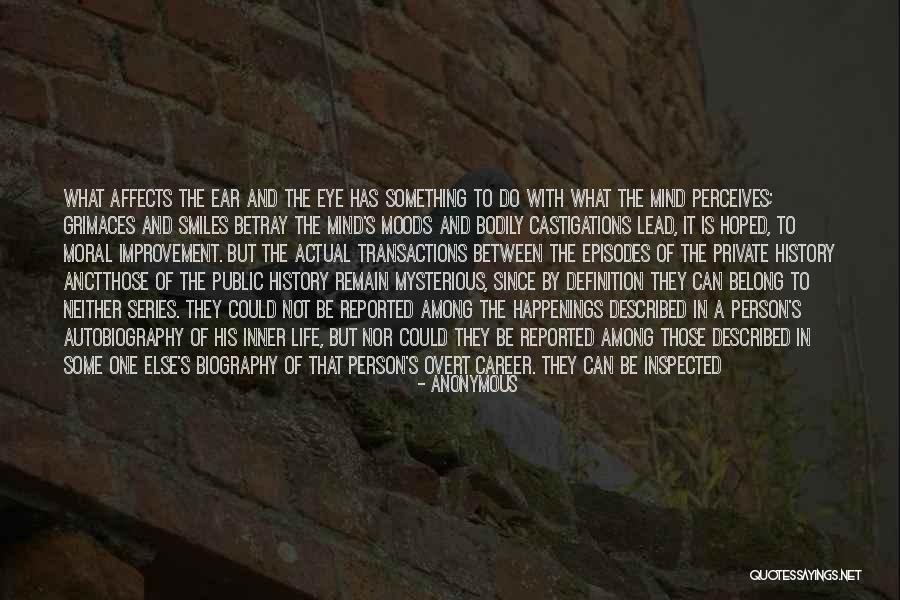 What affects the ear and the eye has something to do with what the mind perceives; grimaces and smiles betray the mind's moods and bodily castigations lead, it is hoped, to moral improvement. But the actual transactions between the episodes of the private history ancTthose of the public history remain mysterious, since by definition they can belong to neither series. They could not be reported among the happenings described in a person's autobiography of his inner life, but nor could they be reported among those described in some one else's biography of that person's overt career. They can be inspected neither by introspection nor by laboratory experiment. They are theoretical shuttlecocks which are forever being bandied from the physiologist back to the psychologist and from the psychologist back to the physiologist. — Anonymous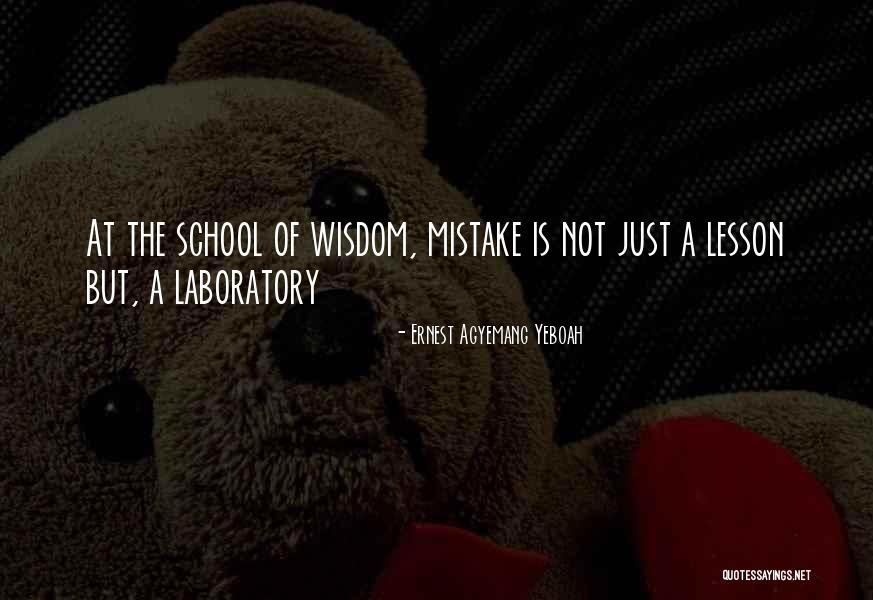 At the school of wisdom, mistake is not just a lesson but, a laboratory — Ernest Agyemang Yeboah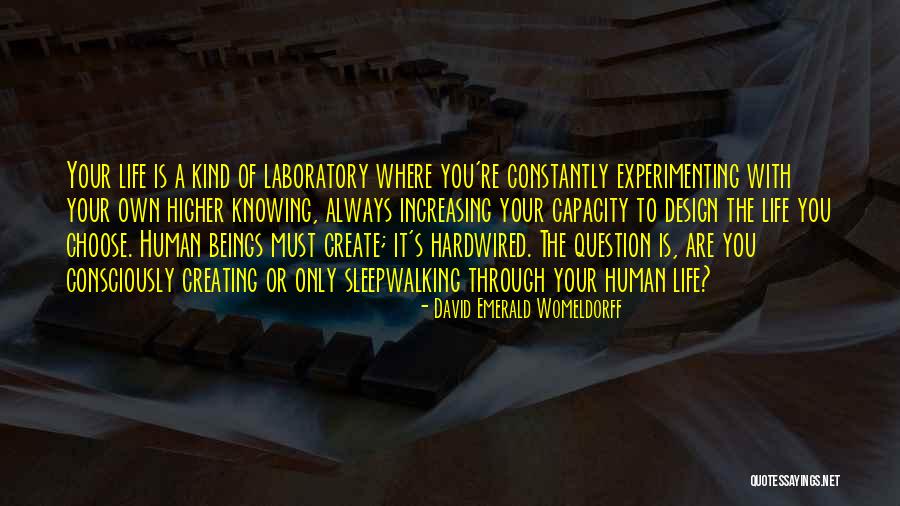 Your life is a kind of laboratory where you're constantly experimenting with your own higher knowing, always increasing your capacity to design the life you choose. Human beings must create; it's hardwired. The question is, are you consciously creating or only sleepwalking through your human life? — David Emerald Womeldorff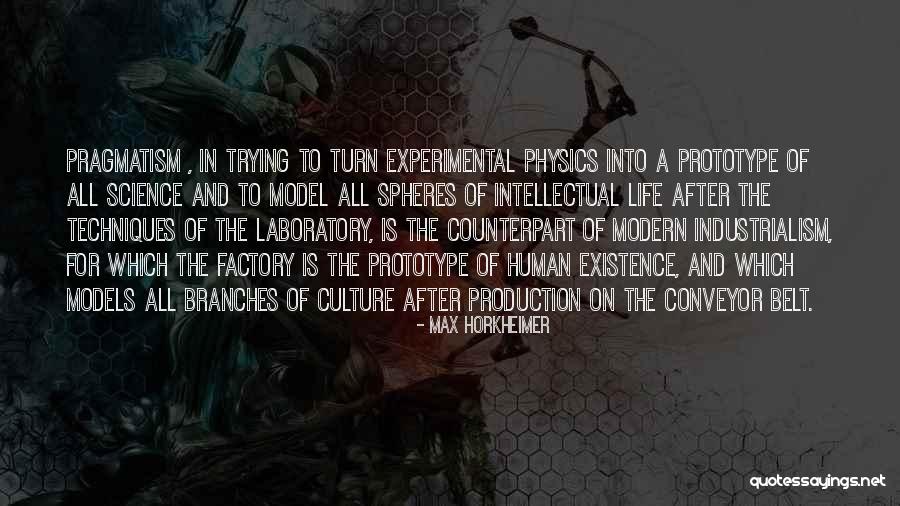 Pragmatism , in trying to turn experimental physics into a prototype of all science and to model all spheres of intellectual life after the techniques of the laboratory, is the counterpart of modern industrialism, for which the factory is the prototype of human existence, and which models all branches of culture after production on the conveyor belt. — Max Horkheimer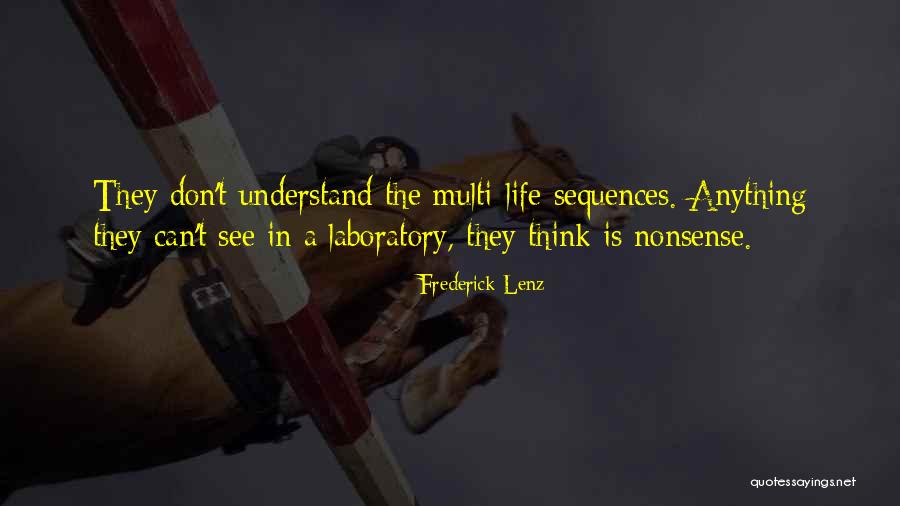 They don't understand the multi-life sequences. Anything they can't see in a laboratory, they think is nonsense. — Frederick Lenz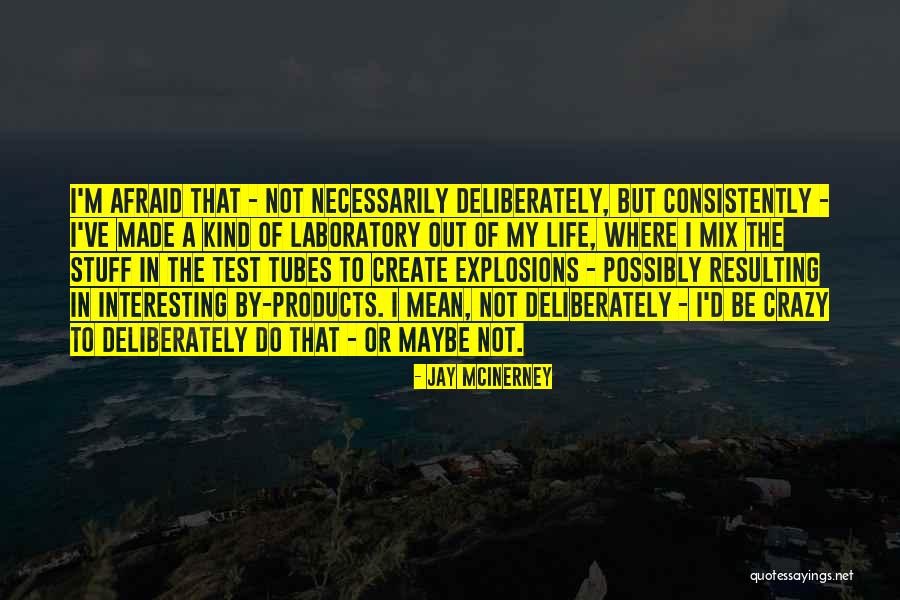 I'm afraid that - not necessarily deliberately, but consistently - I've made a kind of laboratory out of my life, where I mix the stuff in the test tubes to create explosions - possibly resulting in interesting by-products. I mean, not deliberately - I'd be crazy to deliberately do that - or maybe not. — Jay McInerney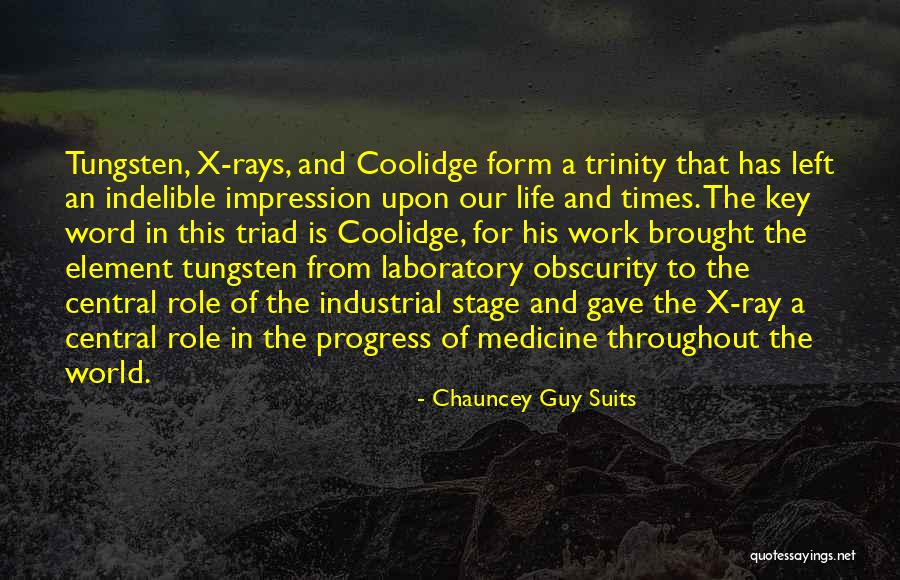 Tungsten, X-rays, and Coolidge form a trinity that has left an indelible impression upon our life and times. The key word in this triad is Coolidge, for his work brought the element tungsten from laboratory obscurity to the central role of the industrial stage and gave the X-ray a central role in the progress of medicine throughout the world. — Chauncey Guy Suits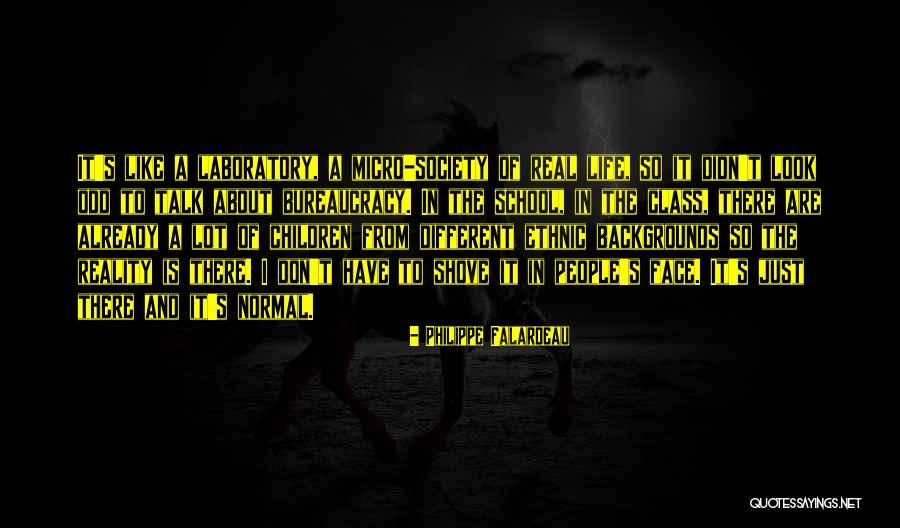 It's like a laboratory, a micro-society of real life, so it didn't look odd to talk about bureaucracy. In the school, in the class, there are already a lot of children from different ethnic backgrounds so the reality is there. I don't have to shove it in people's face. It's just there and it's normal. — Philippe Falardeau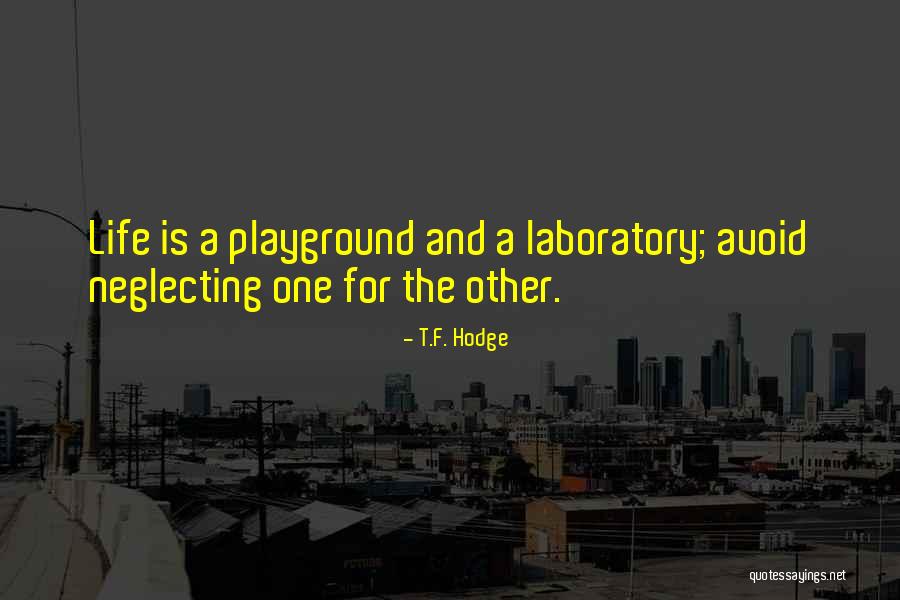 Life is a playground and a laboratory; avoid neglecting one for the other. — T.F. Hodge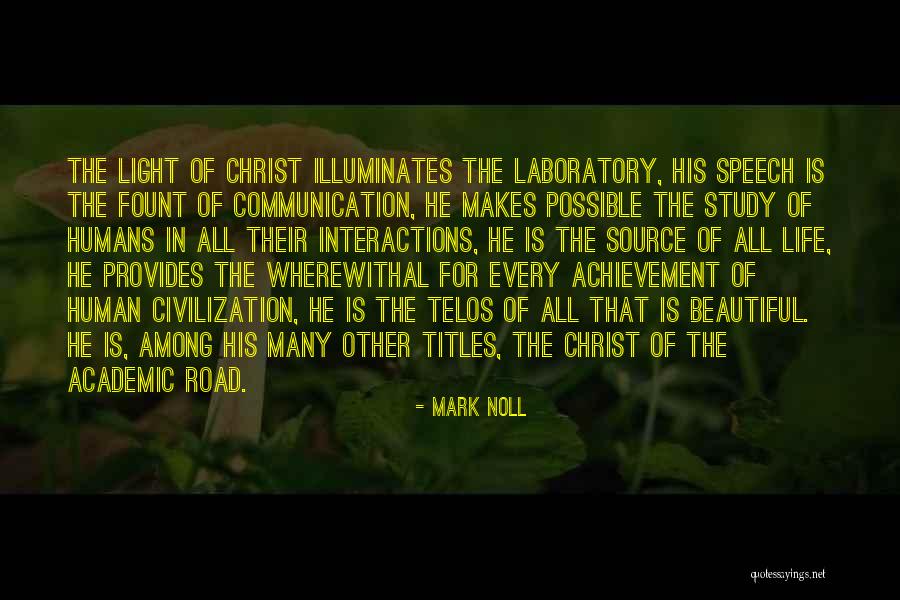 The light of Christ illuminates the laboratory, his speech is the fount of communication, he makes possible the study of humans in all their interactions, he is the source of all life, he provides the wherewithal for every achievement of human civilization, he is the telos of all that is beautiful. He is, among his many other titles, the Christ of the academic road. — Mark Noll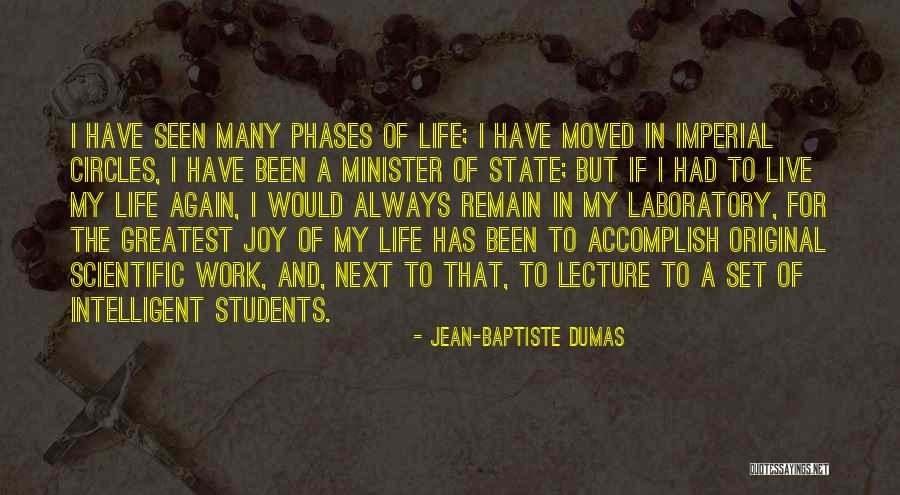 I have seen many phases of life; I have moved in imperial circles, I have been a Minister of State; but if I had to live my life again, I would always remain in my laboratory, for the greatest joy of my life has been to accomplish original scientific work, and, next to that, to lecture to a set of intelligent students. — Jean-Baptiste Dumas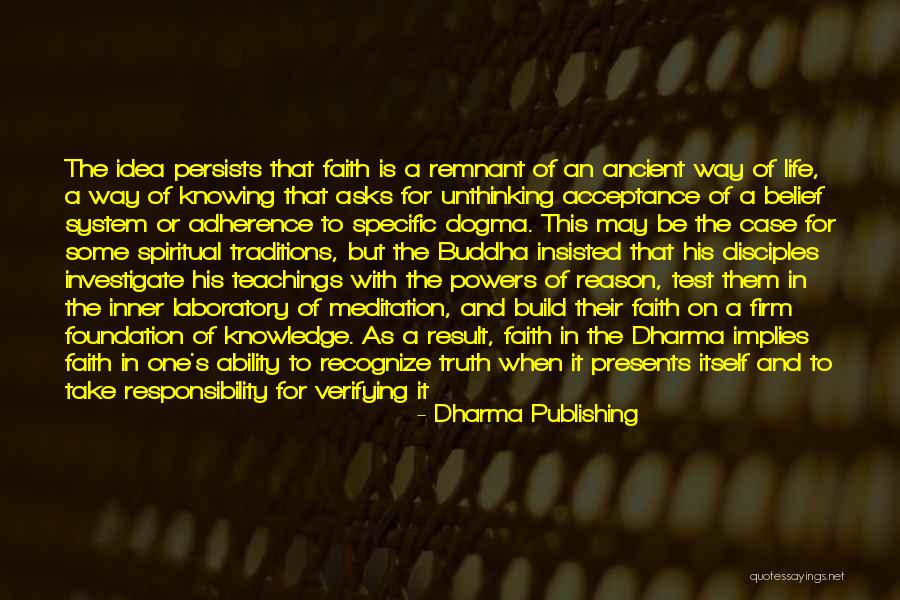 The idea persists that faith is a remnant of an ancient way of life, a way of knowing that asks for unthinking acceptance of a belief system or adherence to specific dogma. This may be the case for some spiritual traditions, but the Buddha insisted that his disciples investigate his teachings with the powers of reason, test them in the inner laboratory of meditation, and build their faith on a firm foundation of knowledge. As a result, faith in the Dharma implies faith in one's ability to recognize truth when it presents itself and to take responsibility for verifying it through analysis and meditative experience. — Dharma Publishing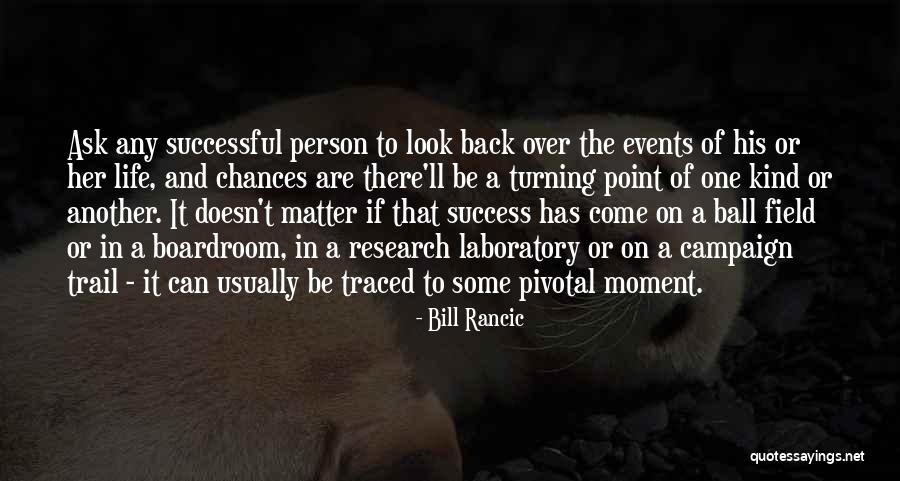 Ask any successful person to look back over the events of his or her life, and chances are there'll be a turning point of one kind or another. It doesn't matter if that success has come on a ball field or in a boardroom, in a research laboratory or on a campaign trail - it can usually be traced to some pivotal moment. — Bill Rancic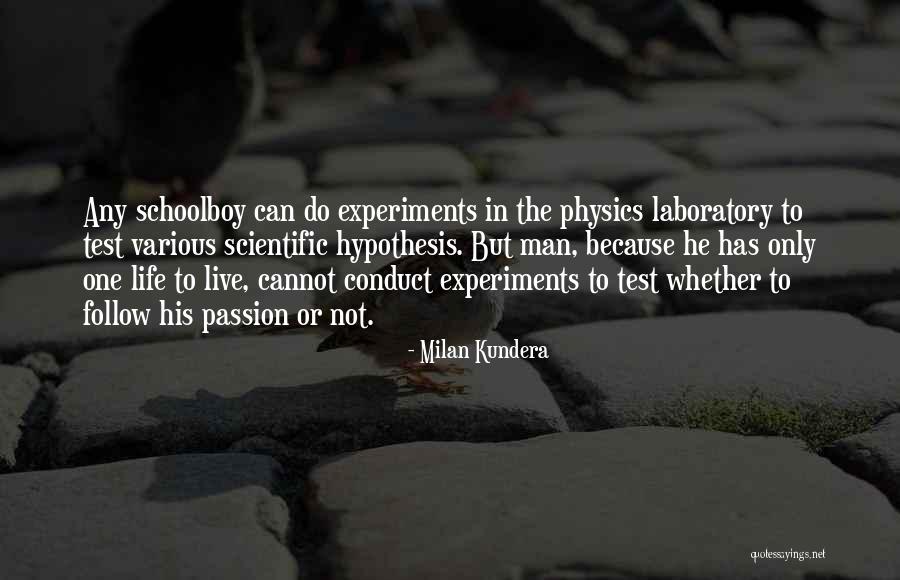 Any schoolboy can do experiments in the physics laboratory to test various scientific hypothesis. But man, because he has only one life to live, cannot conduct experiments to test whether to follow his passion or not. — Milan Kundera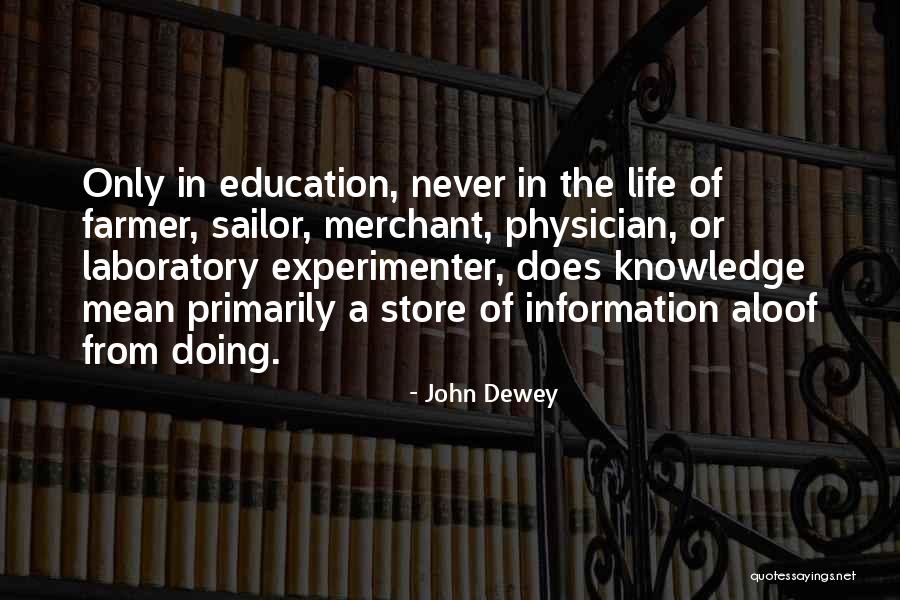 Only in education, never in the life of farmer, sailor, merchant, physician, or laboratory experimenter, does knowledge mean primarily a store of information aloof from doing. — John Dewey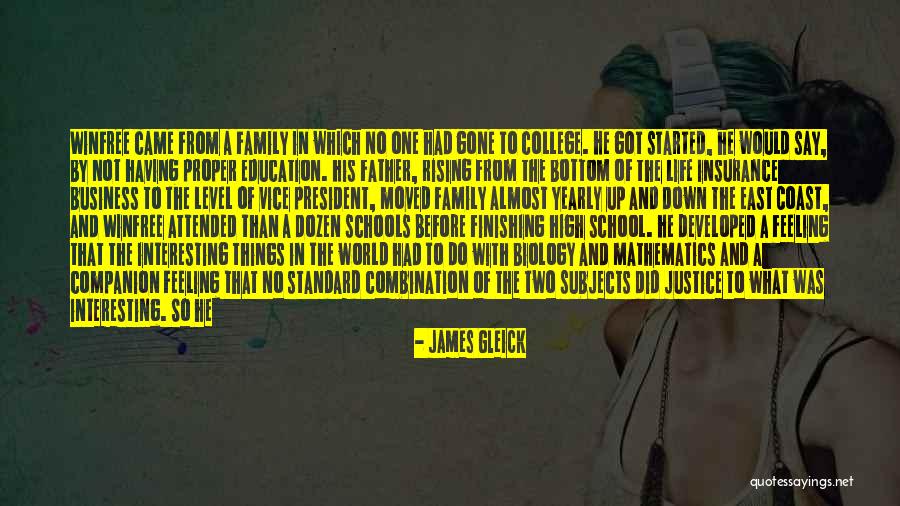 Winfree came from a family in which no one had gone to college. He got started, he would say, by not having proper education. His father, rising from the bottom of the life insurance business to the level of vice president, moved family almost yearly up and down the East Coast, and Winfree attended than a dozen schools before finishing high school. He developed a feeling that the interesting things in the world had to do with biology and mathematics and a companion feeling that no standard combination of the two subjects did justice to what was interesting. So he decided not to take a standard approach. He took a five-year course in engineering physics at Cornell University, learning applied mathematics and a full range of hands-on laboratory styles. Prepared to be hired into military-industrial complex, he got a doctorate in biology, striving to combine experiment with theory in new ways. — James Gleick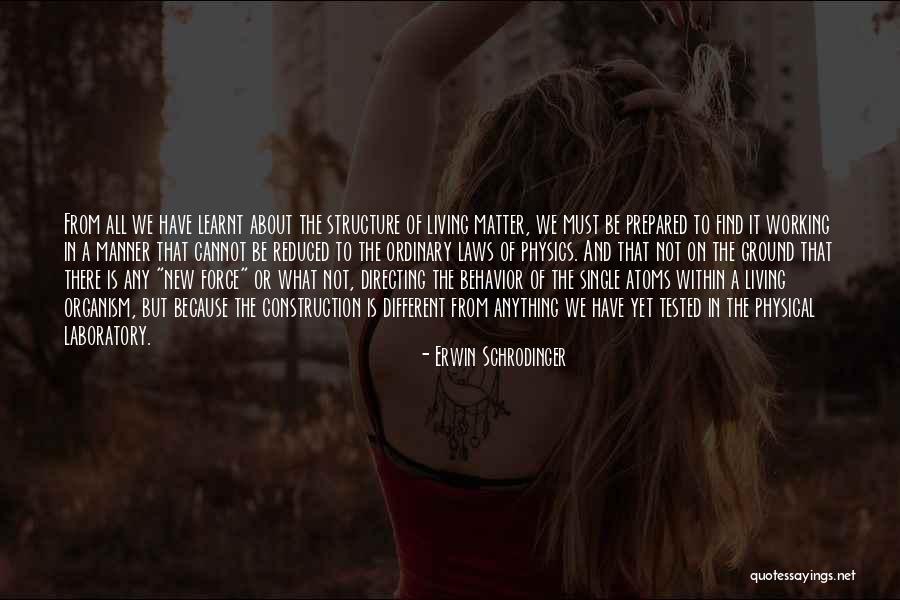 From all we have learnt about the structure of living matter, we must be prepared to find it working in a manner that cannot be reduced to the ordinary laws of physics. And that not on the ground that there is any "new force" or what not, directing the behavior of the single atoms within a living organism, but because the construction is different from anything we have yet tested in the physical laboratory. — Erwin Schrodinger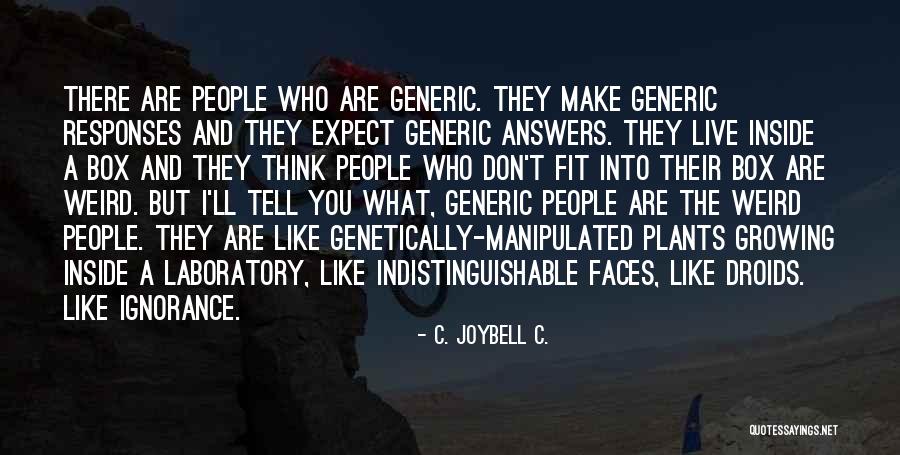 There are people who are generic. They make generic responses and they expect generic answers. They live inside a box and they think people who don't fit into their box are weird. But I'll tell you what, generic people are the weird people. They are like genetically-manipulated plants growing inside a laboratory, like indistinguishable faces, like droids. Like ignorance. — C. JoyBell C.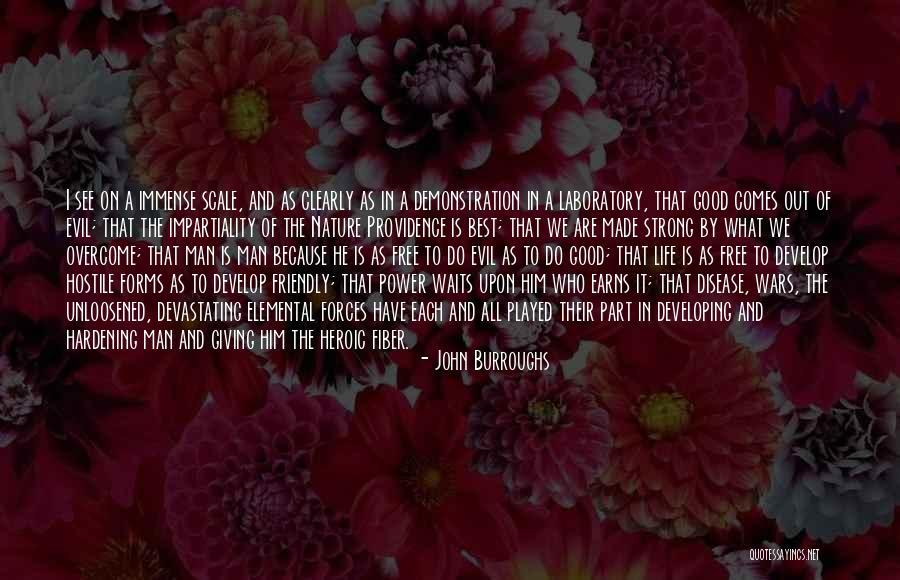 I see on a immense scale, and as clearly as in a demonstration in a laboratory, that good comes out of evil; that the impartiality of the Nature Providence is best; that we are made strong by what we overcome; that man is man because he is as free to do evil as to do good; that life is as free to develop hostile forms as to develop friendly; that power waits upon him who earns it; that disease, wars, the unloosened, devastating elemental forces have each and all played their part in developing and hardening man and giving him the heroic fiber. — John Burroughs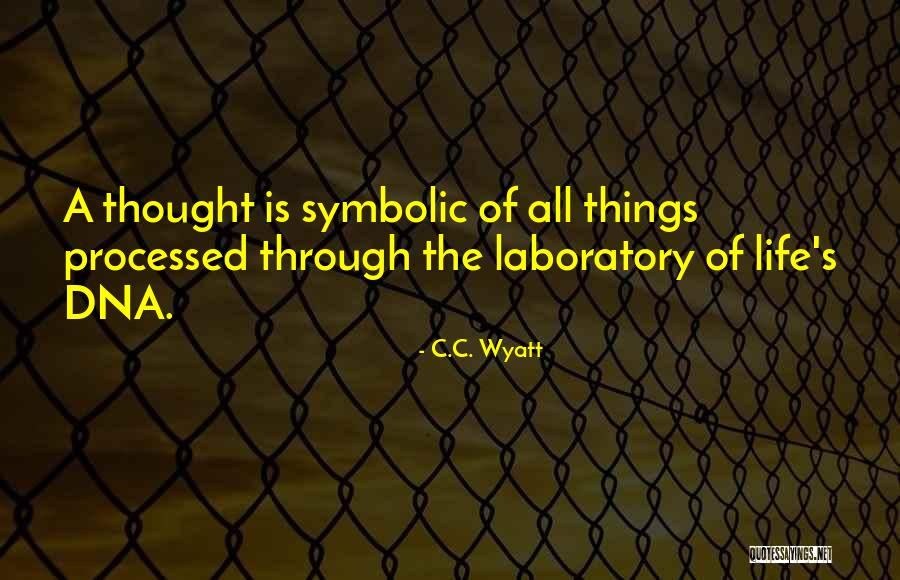 A thought is symbolic of all things processed through the laboratory of life's DNA. — C.C. Wyatt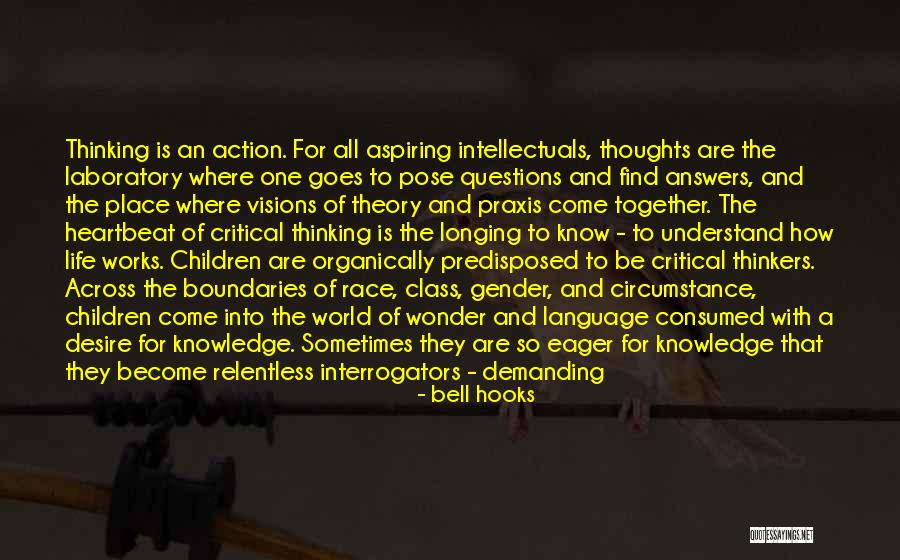 Thinking is an action. For all aspiring intellectuals, thoughts are the laboratory where one goes to pose questions and find answers, and the place where visions of theory and praxis come together. The heartbeat of critical thinking is the longing to know - to understand how life works. Children are organically predisposed to be critical thinkers. Across the boundaries of race, class, gender, and circumstance, children come into the world of wonder and language consumed with a desire for knowledge. Sometimes they are so eager for knowledge that they become relentless interrogators - demanding — Bell Hooks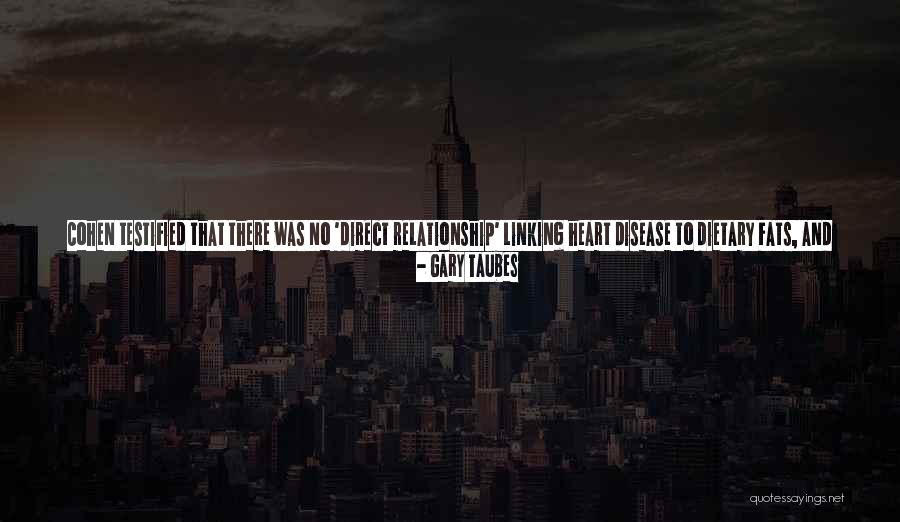 Cohen testified that there was no 'direct relationship' linking heart disease to dietary fats, and that he had been able to induce the same blood-vessel complications seen in heart disease merely by feeding sugar to his laboratory rats. Peter Cleave testified to his belief that the problem extended to all refined carbohydrates. 'I don't hold the cholesterol view for a moment,' Cleave said, noting that mankind had been eating saturated fats for hundreds of thousands of years. 'For a modern disease to be related to an old-fashioned food is one of the most ludicrous things I have ever heard in my life ... but, when it comes to the dreadful sweet things that are served up ... that is a very different proposition. — Gary Taubes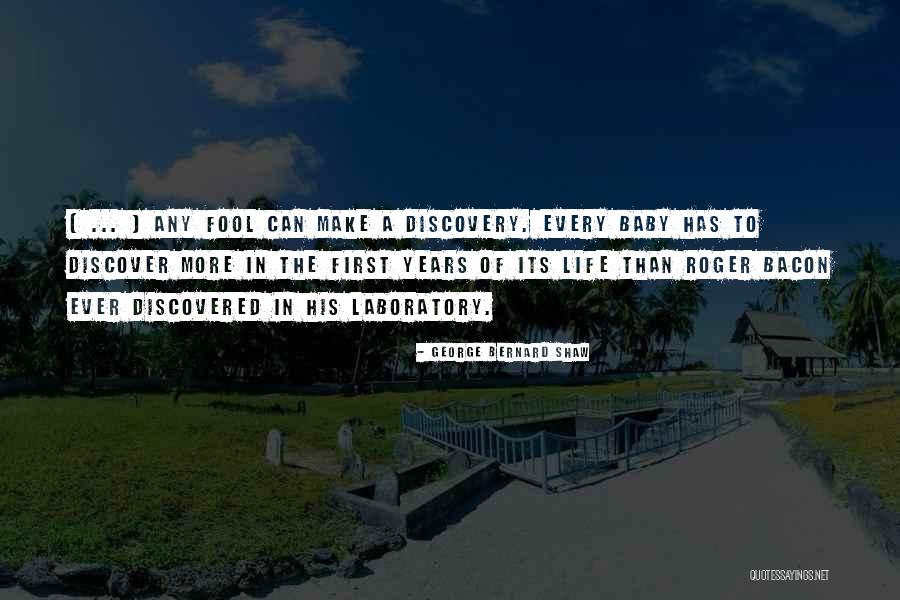 [ ... ] any fool can make a discovery. Every baby has to discover more in the first years of its life than Roger Bacon ever discovered in his laboratory. — George Bernard Shaw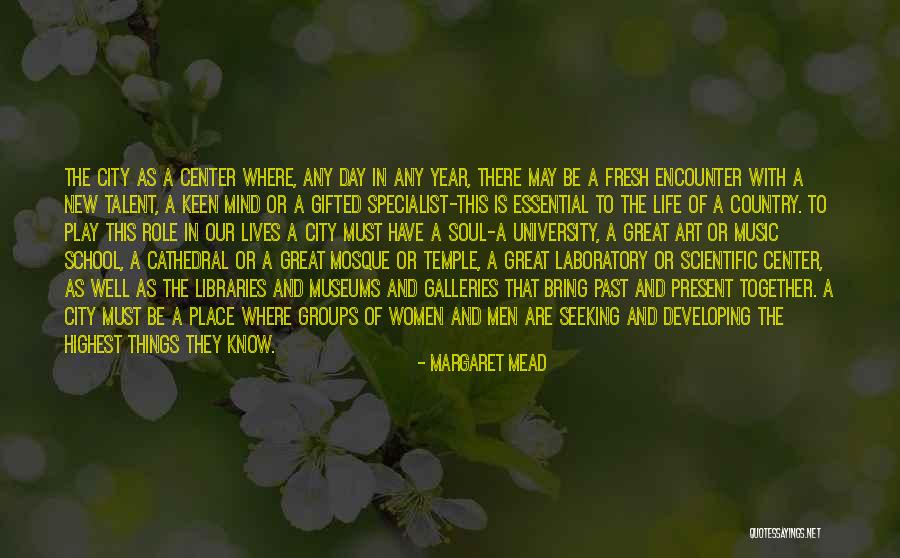 The city as a center where, any day in any year, there may be a fresh encounter with a new talent, a keen mind or a gifted specialist-this is essential to the life of a country. To play this role in our lives a city must have a soul-a university, a great art or music school, a cathedral or a great mosque or temple, a great laboratory or scientific center, as well as the libraries and museums and galleries that bring past and present together. A city must be a place where groups of women and men are seeking and developing the highest things they know. — Margaret Mead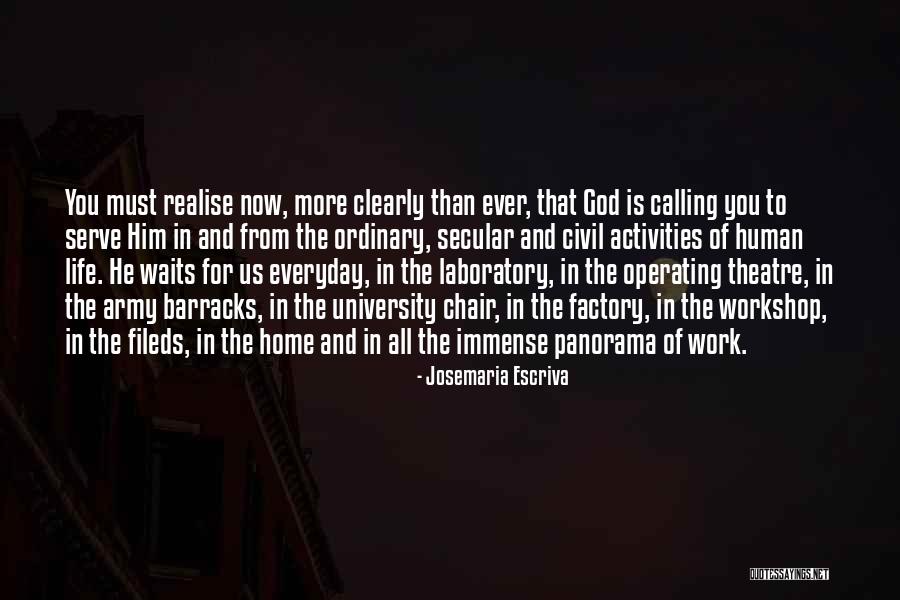 You must realise now, more clearly than ever, that God is calling you to serve Him in and from the ordinary, secular and civil activities of human life. He waits for us everyday, in the laboratory, in the operating theatre, in the army barracks, in the university chair, in the factory, in the workshop, in the fileds, in the home and in all the immense panorama of work. — Josemaria Escriva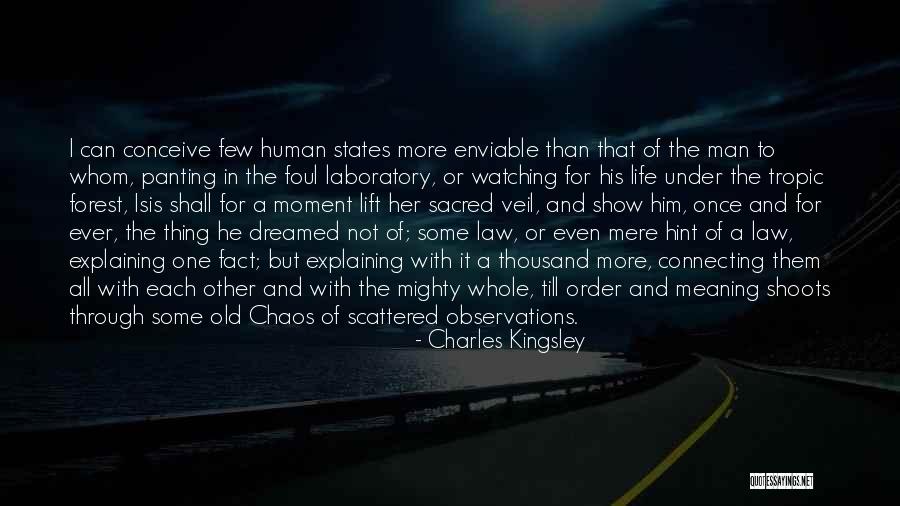 I can conceive few human states more enviable than that of the man to whom, panting in the foul laboratory, or watching for his life under the tropic forest, Isis shall for a moment lift her sacred veil, and show him, once and for ever, the thing he dreamed not of; some law, or even mere hint of a law, explaining one fact; but explaining with it a thousand more, connecting them all with each other and with the mighty whole, till order and meaning shoots through some old Chaos of scattered observations. — Charles Kingsley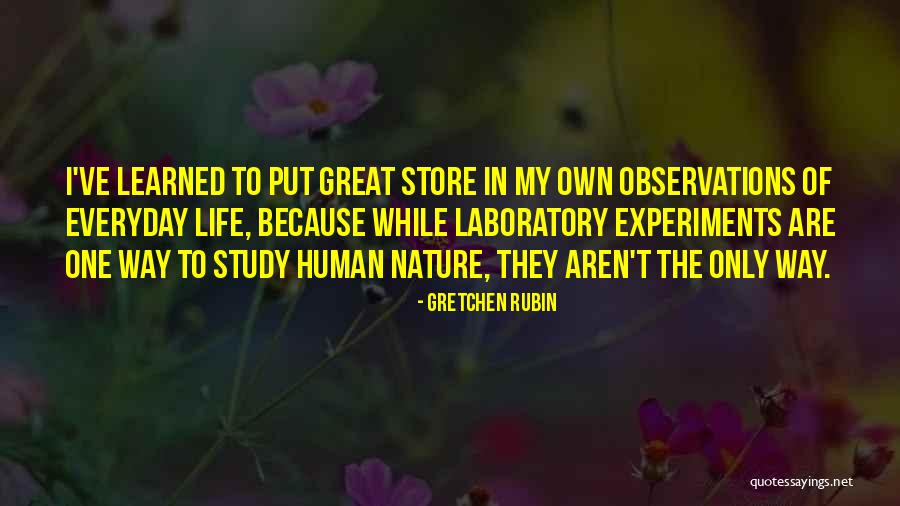 I've learned to put great store in my own observations of everyday life, because while laboratory experiments are one way to study human nature, they aren't the only way. — Gretchen Rubin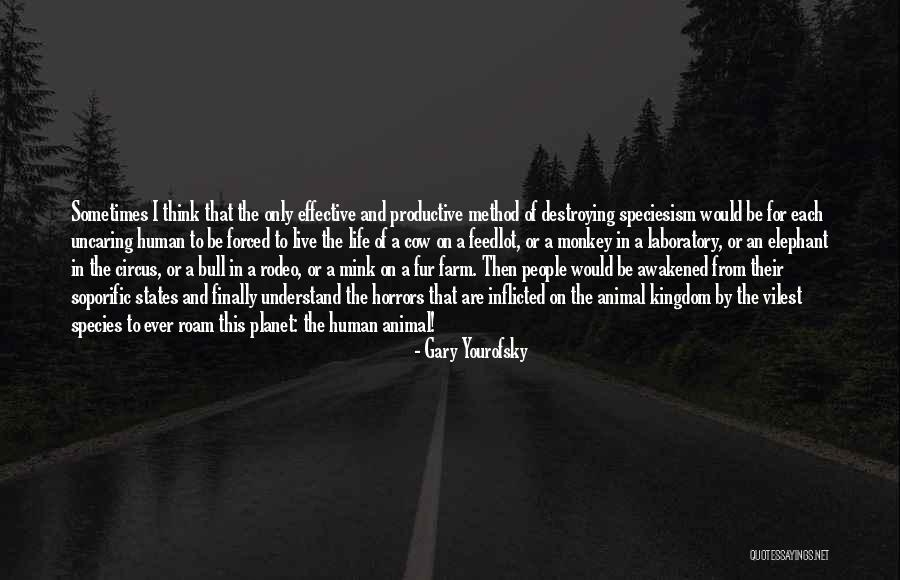 Sometimes I think that the only effective and productive method of destroying speciesism would be for each uncaring human to be forced to live the life of a cow on a feedlot, or a monkey in a laboratory, or an elephant in the circus, or a bull in a rodeo, or a mink on a fur farm. Then people would be awakened from their soporific states and finally understand the horrors that are inflicted on the animal kingdom by the vilest species to ever roam this planet: the human animal! — Gary Yourofsky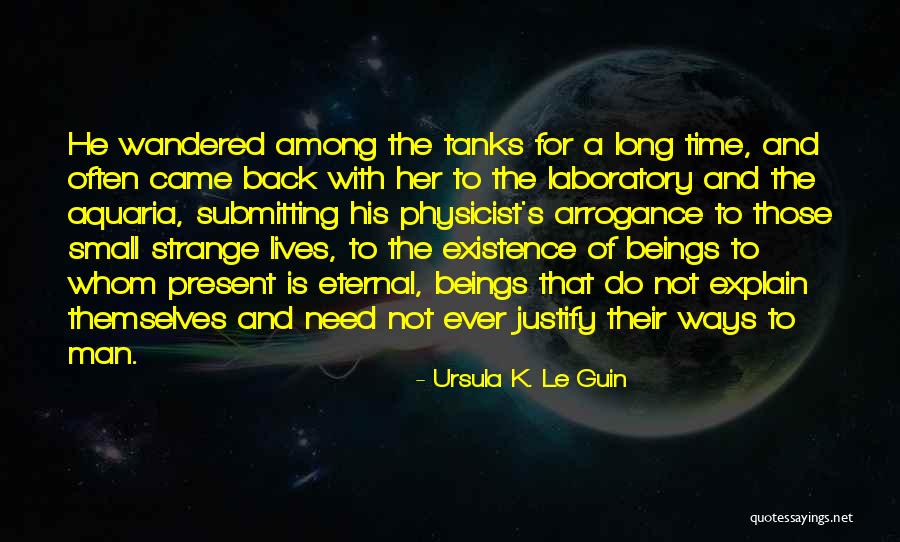 He wandered among the tanks for a long time, and often came back with her to the laboratory and the aquaria, submitting his physicist's arrogance to those small strange lives, to the existence of beings to whom present is eternal, beings that do not explain themselves and need not ever justify their ways to man. — Ursula K. Le Guin