Quotes & Sayings About Justice And Forgiveness
Enjoy reading and share 51 famous quotes about Justice And Forgiveness with everyone.
Top Justice And Forgiveness Quotes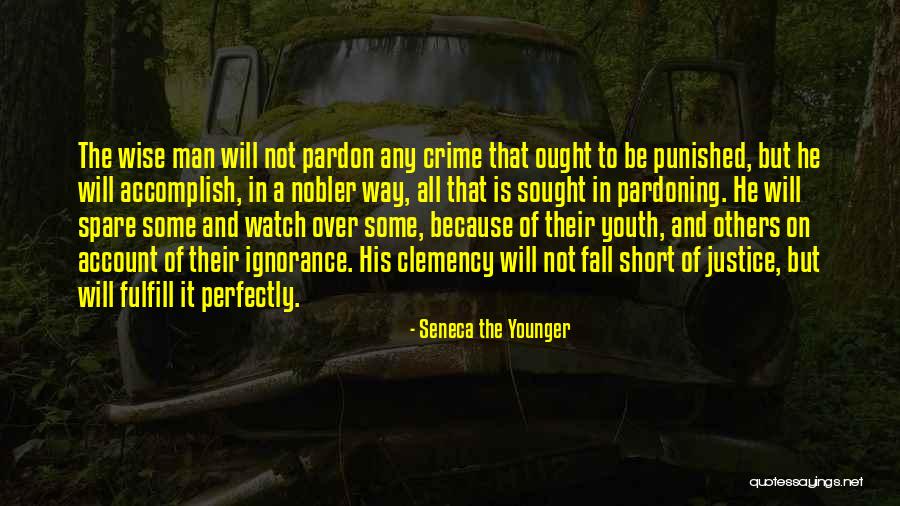 The wise man will not pardon any crime that ought to be punished, but he will accomplish, in a nobler way, all that is sought in pardoning. He will spare some and watch over some, because of their youth, and others on account of their ignorance. His clemency will not fall short of justice, but will fulfill it perfectly. — Seneca The Younger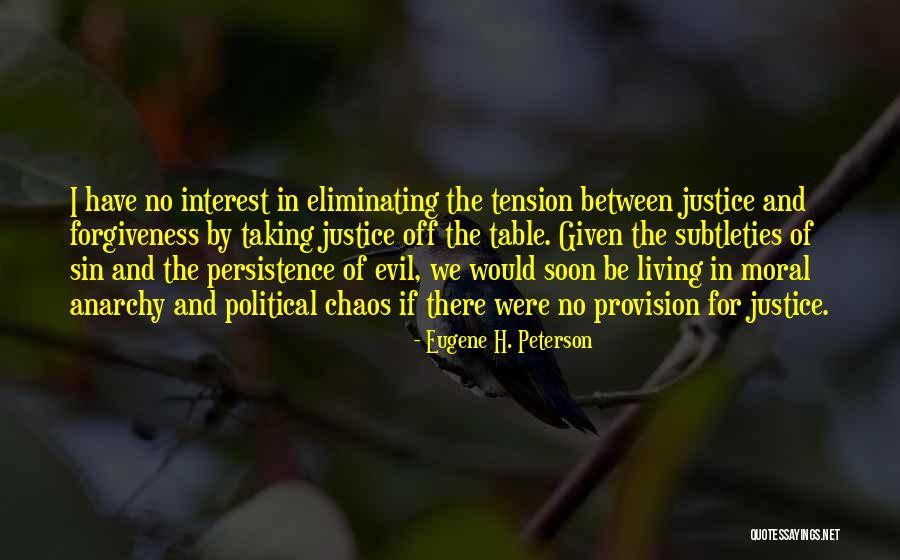 I have no interest in eliminating the tension between justice and forgiveness by taking justice off the table. Given the subtleties of sin and the persistence of evil, we would soon be living in moral anarchy and political chaos if there were no provision for justice. — Eugene H. Peterson
Someone, somewhere, needs to take courage to break the cycle of violence. Forgiveness is superior to justice. Being kind and compassionate to those who are good to you is easy. True forgiveness and compassion come only when one is able to forgive even those who have committed barbaric acts. If Angulimala is capable of renouncing violence, then tell me, your Majesty: is your civilized society also capable of being truly civilized and renouncing violence? — Satish Kumar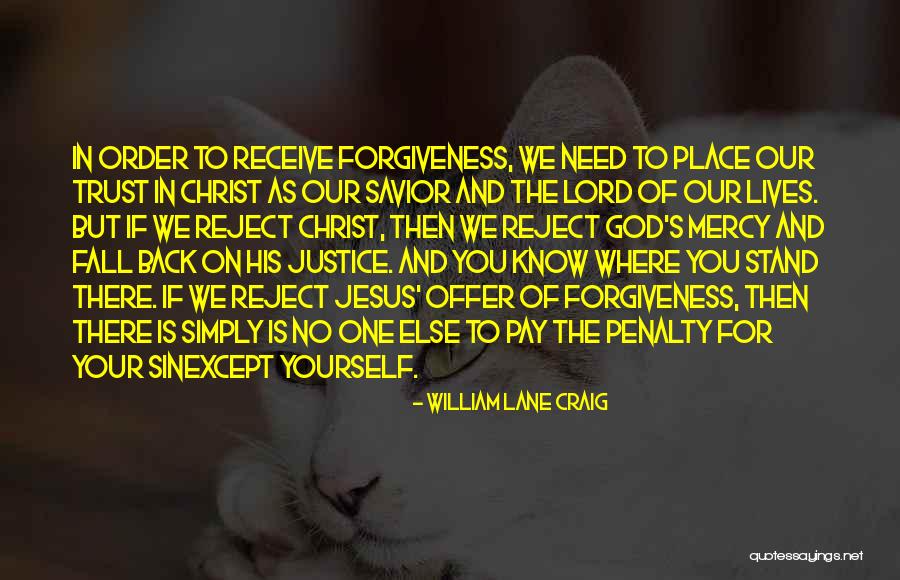 In order to receive forgiveness, we need to place our trust in Christ as our Savior and the Lord of our lives. But if we reject Christ, then we reject God's mercy and fall back on His justice. And you know where you stand there. If we reject Jesus' offer of forgiveness, then there is simply is no one else to pay the penalty for your sin
except yourself. — William Lane Craig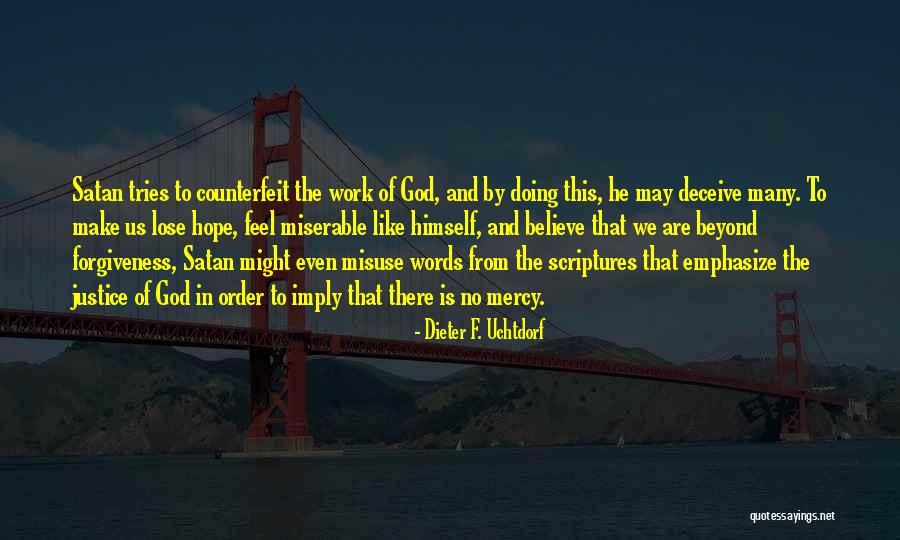 Satan tries to counterfeit the work of God, and by doing this, he may deceive many. To make us lose hope, feel miserable like himself, and believe that we are beyond forgiveness, Satan might even misuse words from the scriptures that emphasize the justice of God in order to imply that there is no mercy. — Dieter F. Uchtdorf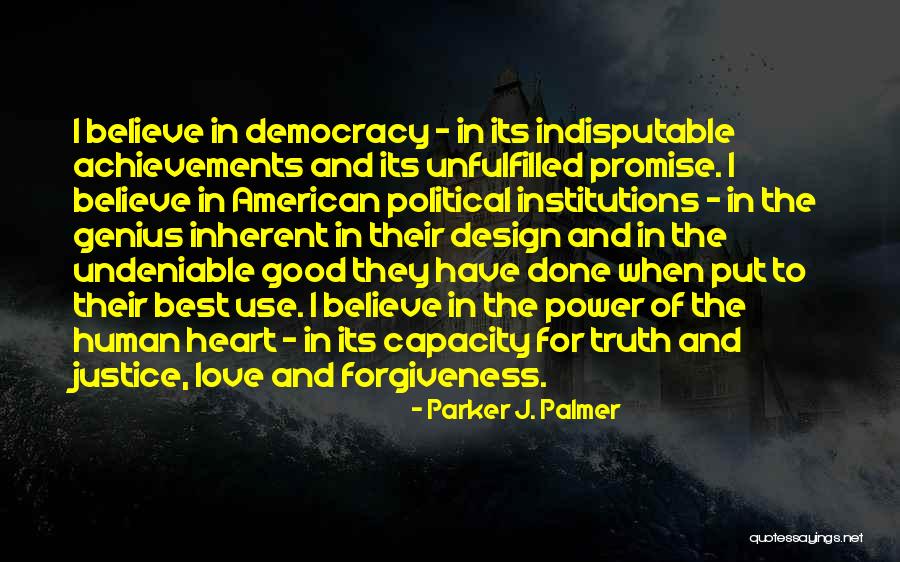 I believe in democracy - in its indisputable achievements and its unfulfilled promise. I believe in American political institutions - in the genius inherent in their design and in the undeniable good they have done when put to their best use. I believe in the power of the human heart - in its capacity for truth and justice, love and forgiveness. — Parker J. Palmer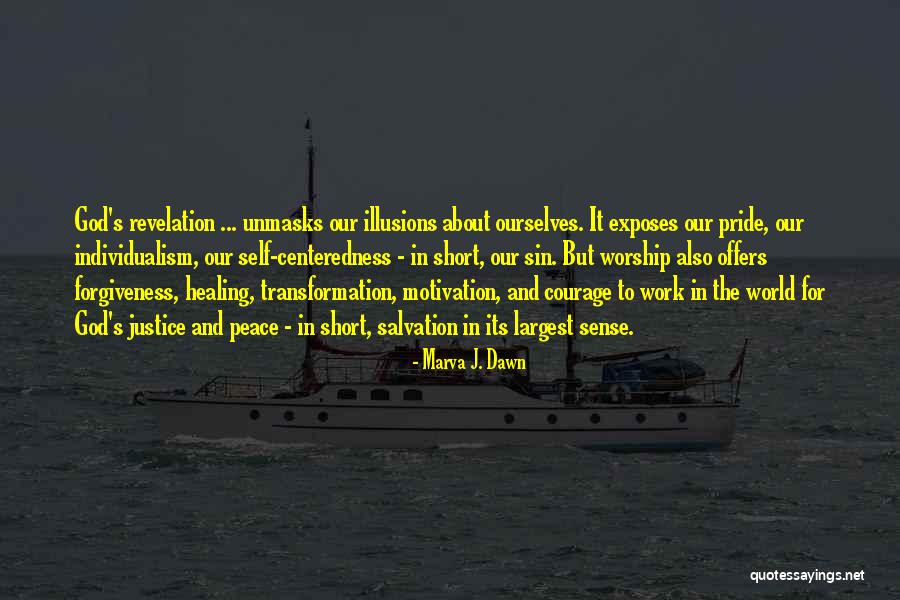 God's revelation ... unmasks our illusions about ourselves. It exposes our pride, our individualism, our self-centeredness - in short, our sin. But worship also offers forgiveness, healing, transformation, motivation, and courage to work in the world for God's justice and peace - in short, salvation in its largest sense. — Marva J. Dawn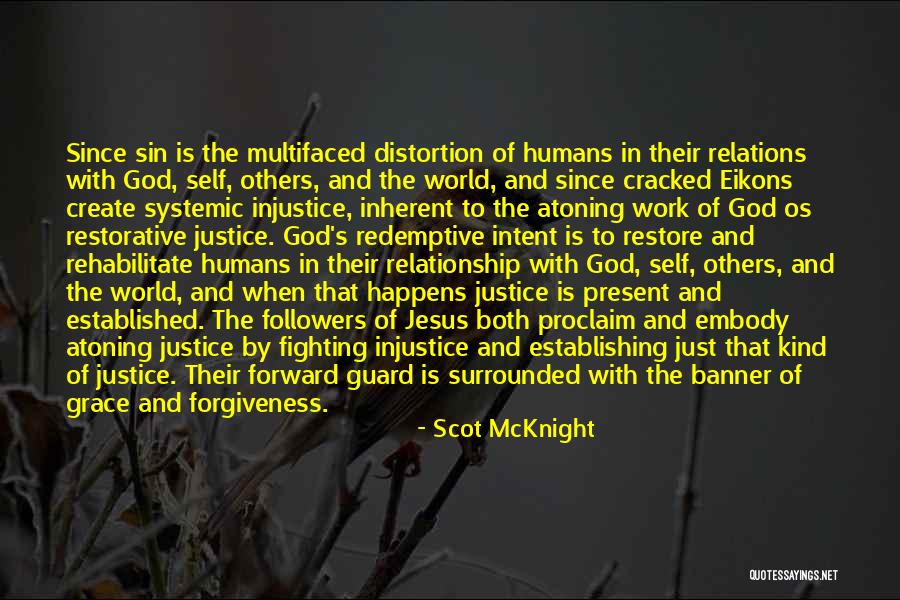 Since sin is the multifaced distortion of humans in their relations with God, self, others, and the world, and since cracked Eikons create systemic injustice, inherent to the atoning work of God os restorative justice. God's redemptive intent is to restore and rehabilitate humans in their relationship with God, self, others, and the world, and when that happens justice is present and established. The followers of Jesus both proclaim and embody atoning justice by fighting injustice and establishing just that kind of justice. Their forward guard is surrounded with the banner of grace and forgiveness. — Scot McKnight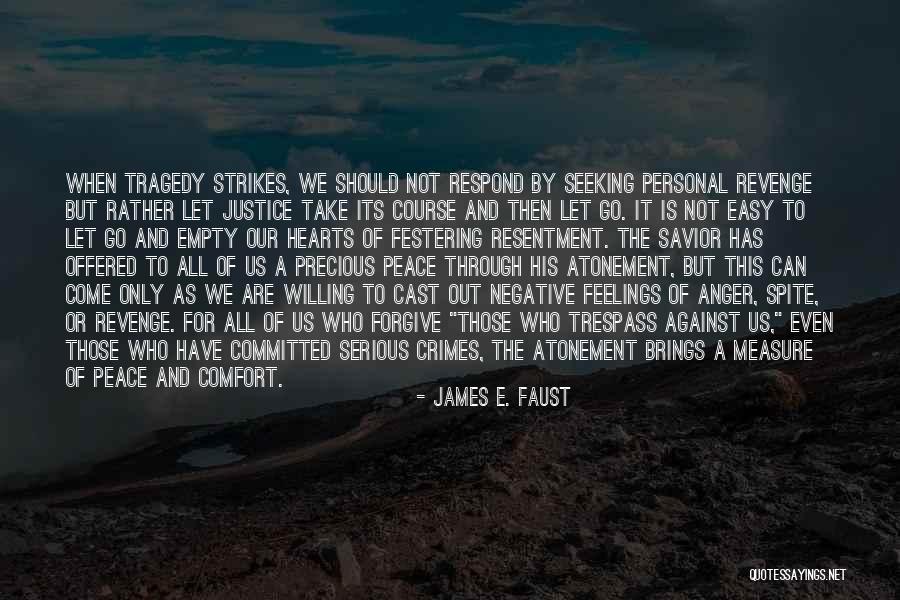 When tragedy strikes, we should not respond by seeking personal revenge but rather let justice take its course and then let go. It is not easy to let go and empty our hearts of festering resentment. The Savior has offered to all of us a precious peace through His Atonement, but this can come only as we are willing to cast out negative feelings of anger, spite, or revenge. For all of us who forgive "those who trespass against us," even those who have committed serious crimes, the Atonement brings a measure of peace and comfort. — James E. Faust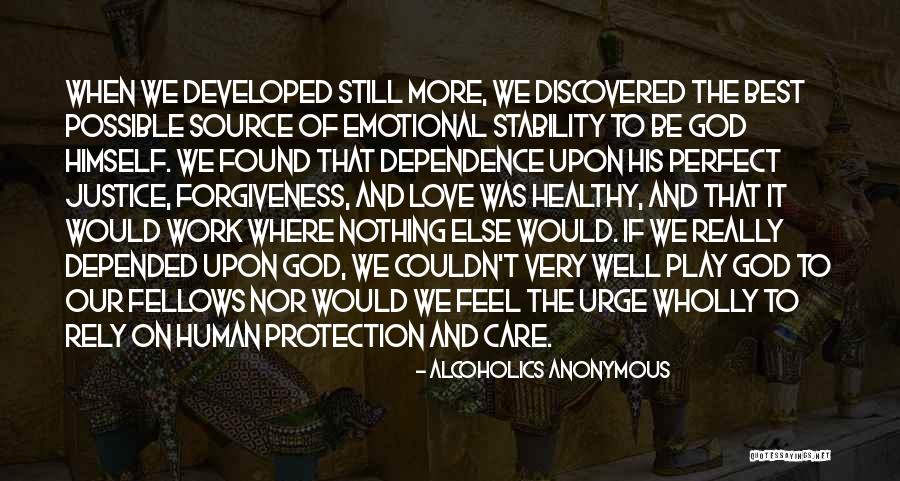 When we developed still more, we discovered the best possible source of emotional stability to be God Himself. We found that dependence upon His perfect justice, forgiveness, and love was healthy, and that it would work where nothing else would. If we really depended upon God, we couldn't very well play God to our fellows nor would we feel the urge wholly to rely on human protection and care. — Alcoholics Anonymous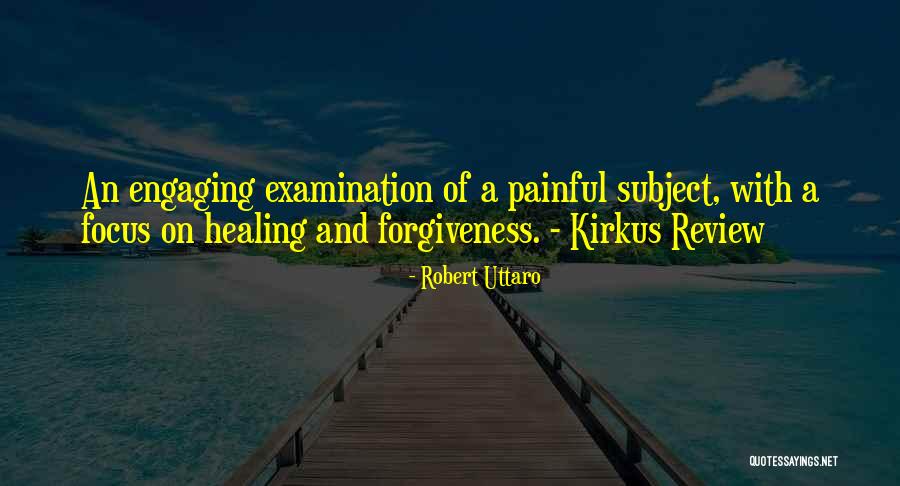 An engaging examination of a painful subject, with a focus on healing and forgiveness. - Kirkus Review — Robert Uttaro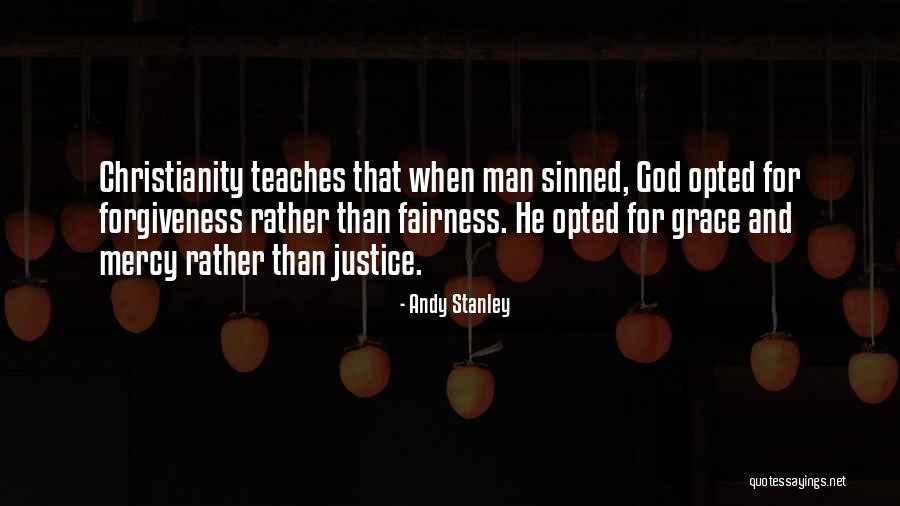 Christianity teaches that when man sinned, God opted for forgiveness rather than fairness. He opted for grace and mercy rather than justice. — Andy Stanley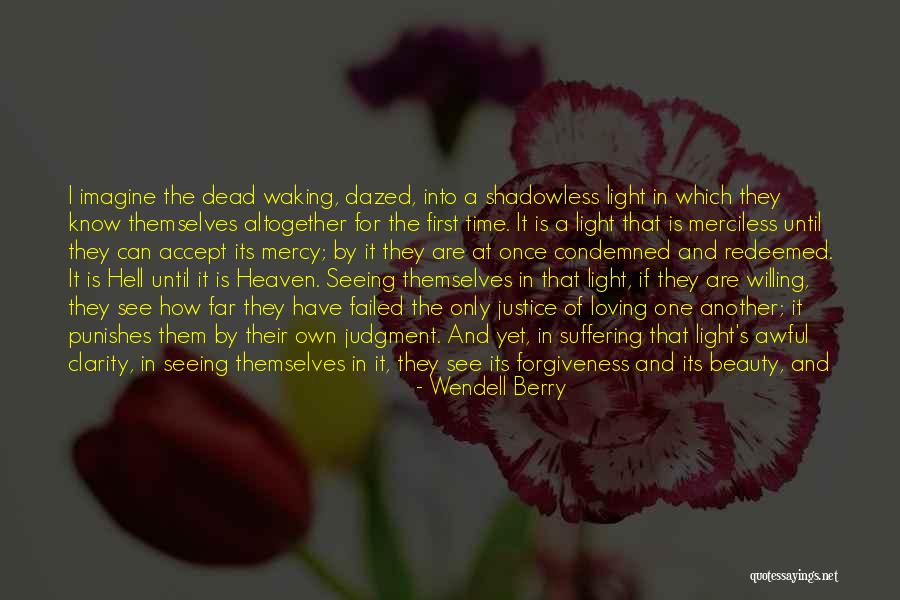 I imagine the dead waking, dazed, into a shadowless light in which they know themselves altogether for the first time. It is a light that is merciless until they can accept its mercy; by it they are at once condemned and redeemed. It is Hell until it is Heaven. Seeing themselves in that light, if they are willing, they see how far they have failed the only justice of loving one another; it punishes them by their own judgment. And yet, in suffering that light's awful clarity, in seeing themselves in it, they see its forgiveness and its beauty, and are consoled. In it they are loved completely, even as they have been, and so are changed into what they could not have been but what, if they could have imagined it, they would have wished to be. — Wendell Berry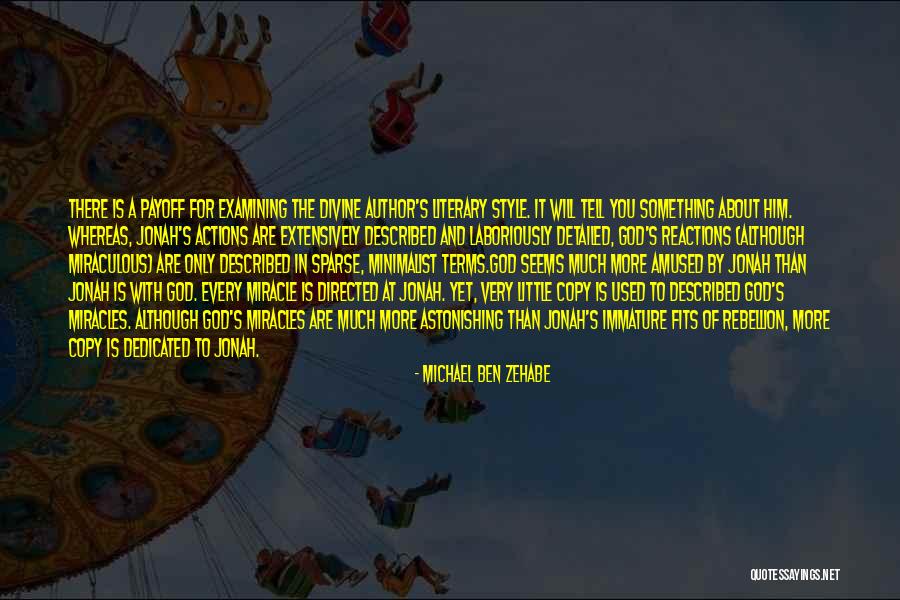 There is a payoff for examining the divine author's literary style. It will tell you something about Him. Whereas, Jonah's actions are extensively described and laboriously detailed, God's reactions (although miraculous) are only described in sparse, minimalist terms.
God seems much more amused by Jonah than Jonah is with God. Every miracle is directed at Jonah. Yet, very little copy is used to described God's miracles. Although God's miracles are much more astonishing than Jonah's immature fits of rebellion, more copy is dedicated to Jonah. — Michael Ben Zehabe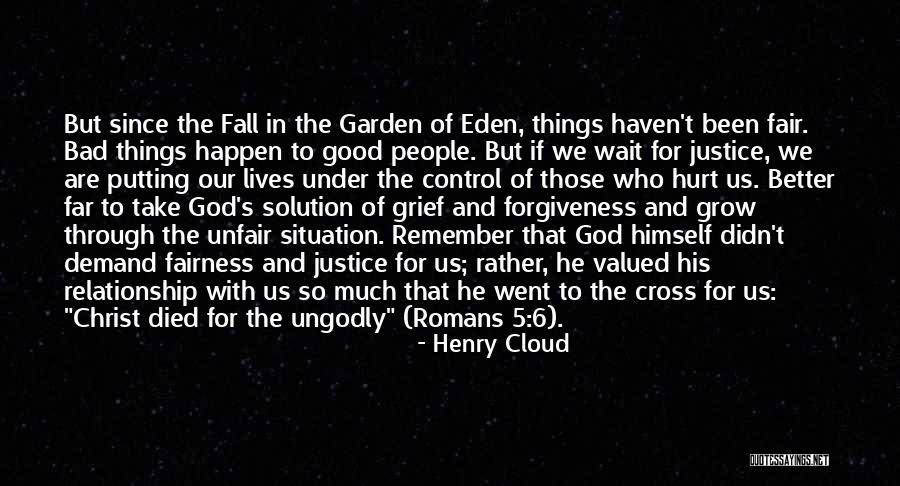 But since the Fall in the Garden of Eden, things haven't been fair. Bad things happen to good people. But if we wait for justice, we are putting our lives under the control of those who hurt us. Better far to take God's solution of grief and forgiveness and grow through the unfair situation. Remember that God himself didn't demand fairness and justice for us; rather, he valued his relationship with us so much that he went to the cross for us: "Christ died for the ungodly" (Romans 5:6). — Henry Cloud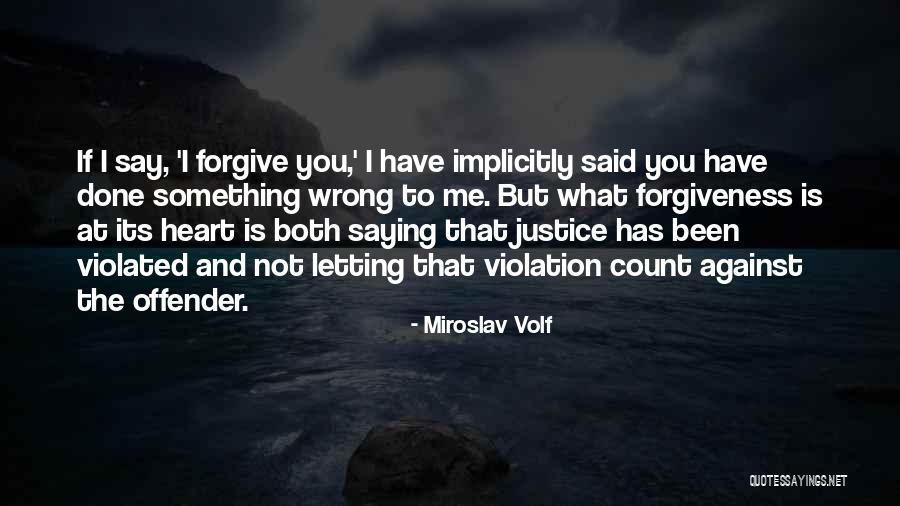 If I say, 'I forgive you,' I have implicitly said you have done something wrong to me. But what forgiveness is at its heart is both saying that justice has been violated and not letting that violation count against the offender. — Miroslav Volf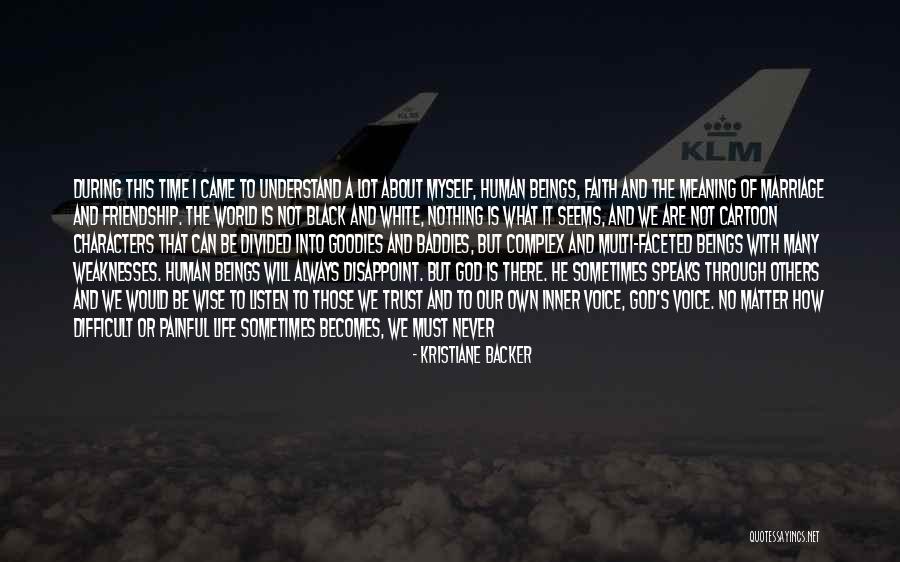 During this time I came to understand a lot about myself, human beings, faith and the meaning of marriage and friendship. The world is not black and white, nothing is what it seems, and we are not cartoon characters that can be divided into goodies and baddies, but complex and multi-faceted beings with many weaknesses. Human beings will always disappoint. But God is there. He sometimes speaks through others and we would be wise to listen to those we trust and to our own inner voice, God's voice. No matter how difficult or painful life sometimes becomes, we must never lose faith.

We may not always find justice in this world, but compassion and forgiveness are such important qualities. They help us to dissolve so much of the negativity that we hold. Practising them mostly benefits ourselves. — Kristiane Backer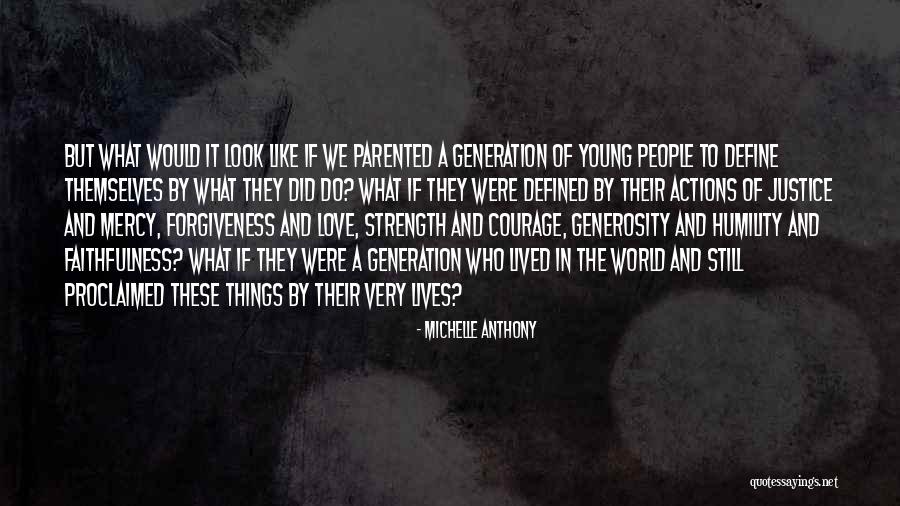 But what would it look like if we parented a generation of young people to define themselves by what they did do? What if they were defined by their actions of justice and mercy, forgiveness and love, strength and courage, generosity and humility and faithfulness? What if they were a generation who lived in the world and still proclaimed these things by their very lives? — Michelle Anthony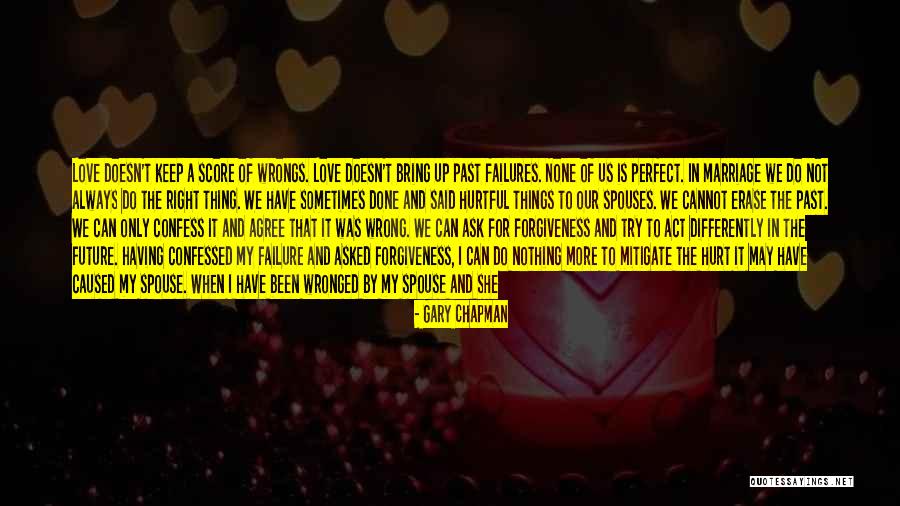 Love doesn't keep a score of wrongs. Love doesn't bring up past failures. None of us is perfect. In marriage we do not always do the right thing. We have sometimes done and said hurtful things to our spouses. We cannot erase the past. We can only confess it and agree that it was wrong. We can ask for forgiveness and try to act differently in the future. Having confessed my failure and asked forgiveness, I can do nothing more to mitigate the hurt it may have caused my spouse. When I have been wronged by my spouse and she has painfully confessed it and requested forgiveness, I have the option of justice or forgiveness. If I choose justice and seek to pay her back or make her pay for her wrongdoing, I am making myself the judge and her the felon. Intimacy becomes impossible. If, however, I choose to forgive, intimacy can be restored. Forgiveness is the way of love. — Gary Chapman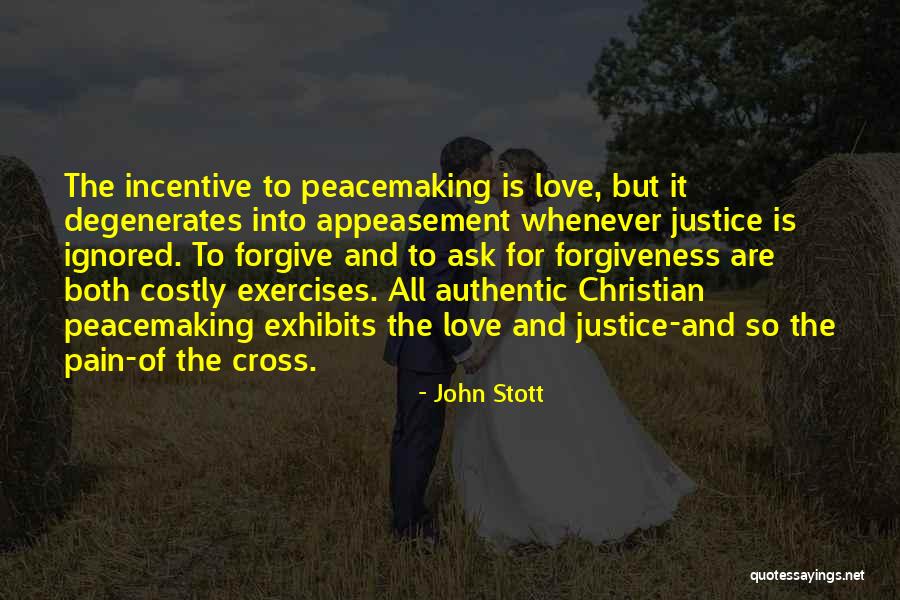 The incentive to peacemaking is love, but it degenerates into appeasement whenever justice is ignored. To forgive and to ask for forgiveness are both costly exercises. All authentic Christian peacemaking exhibits the love and justice-and so the pain-of the cross. — John Stott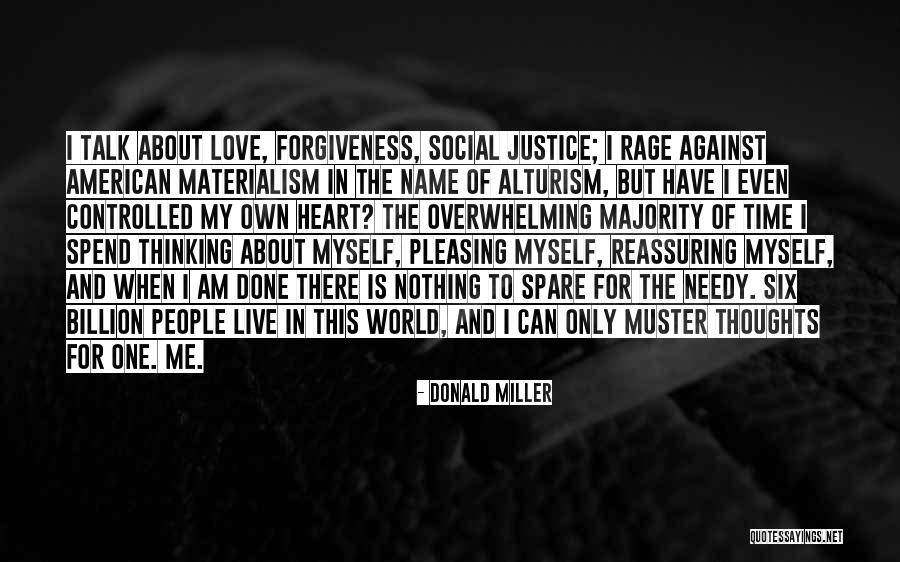 I talk about love, forgiveness, social justice; I rage against American materialism in the name of alturism, but have I even controlled my own heart? The overwhelming majority of time I spend thinking about myself, pleasing myself, reassuring myself, and when I am done there is nothing to spare for the needy. Six billion people live in this world, and I can only muster thoughts for one. Me. — Donald Miller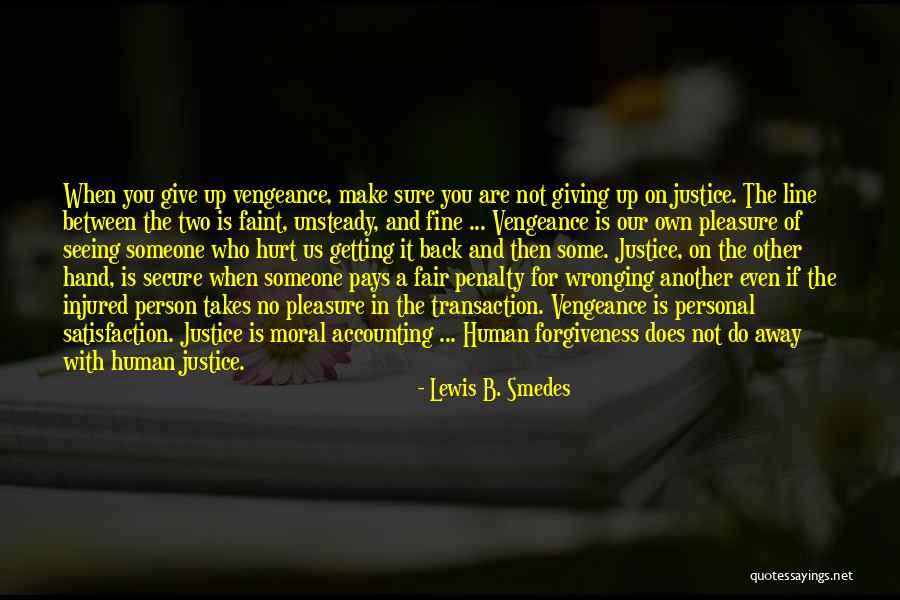 When you give up vengeance, make sure you are not giving up on justice. The line between the two is faint, unsteady, and fine ... Vengeance is our own pleasure of seeing someone who hurt us getting it back and then some. Justice, on the other hand, is secure when someone pays a fair penalty for wronging another even if the injured person takes no pleasure in the transaction. Vengeance is personal satisfaction. Justice is moral accounting ... Human forgiveness does not do away with human justice. — Lewis B. Smedes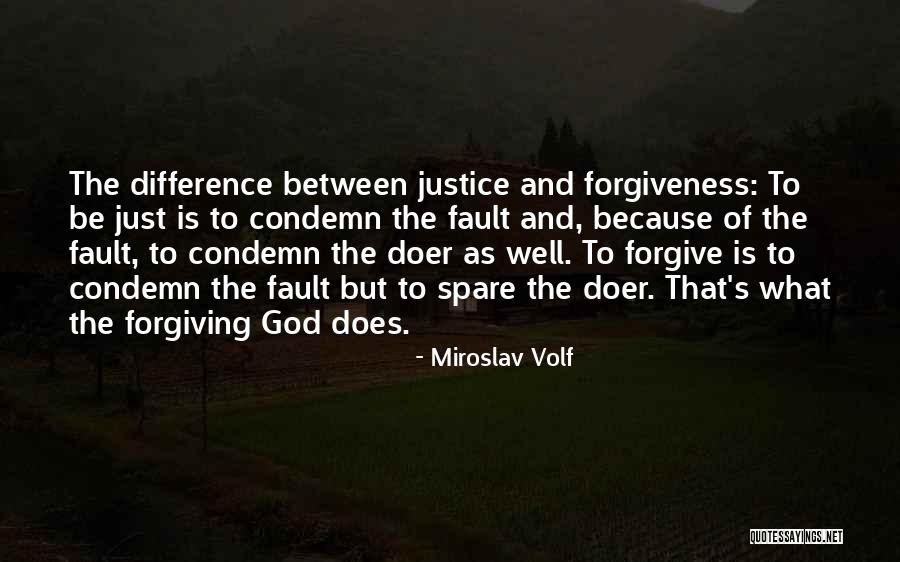 The difference between justice and forgiveness: To be just is to condemn the fault and, because of the fault, to condemn the doer as well. To forgive is to condemn the fault but to spare the doer. That's what the forgiving God does. — Miroslav Volf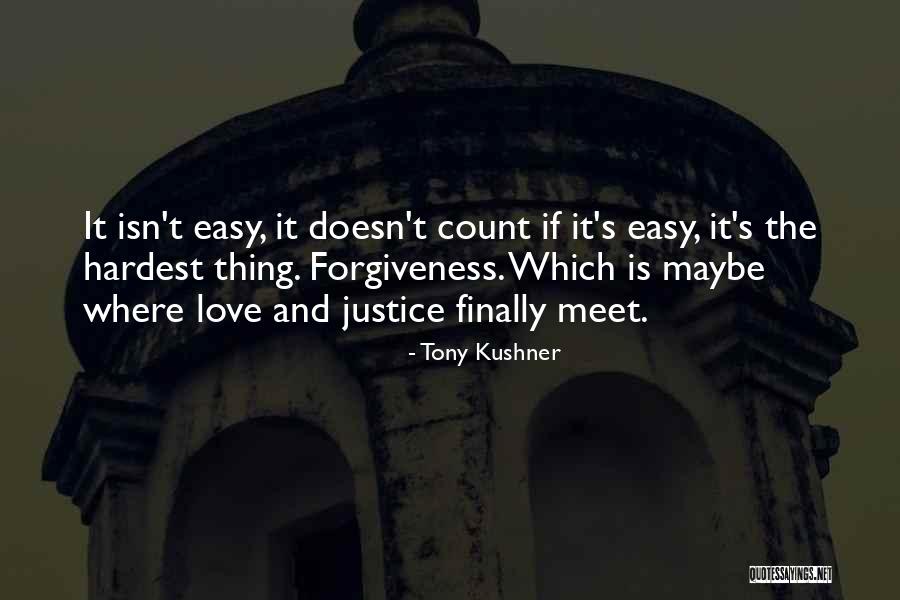 It isn't easy, it doesn't count if it's easy, it's the hardest thing. Forgiveness. Which is maybe where love and justice finally meet. — Tony Kushner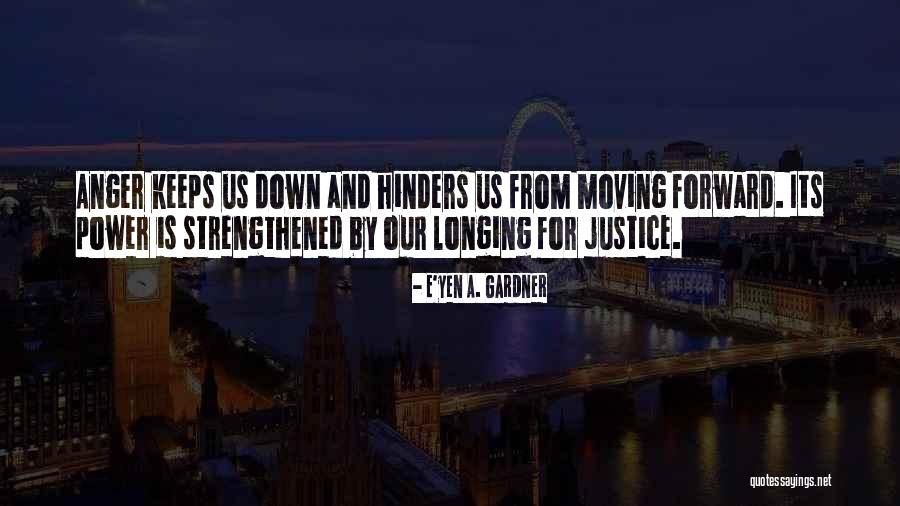 Anger keeps us down and hinders us from moving forward. Its power is strengthened by our longing for justice. — E'yen A. Gardner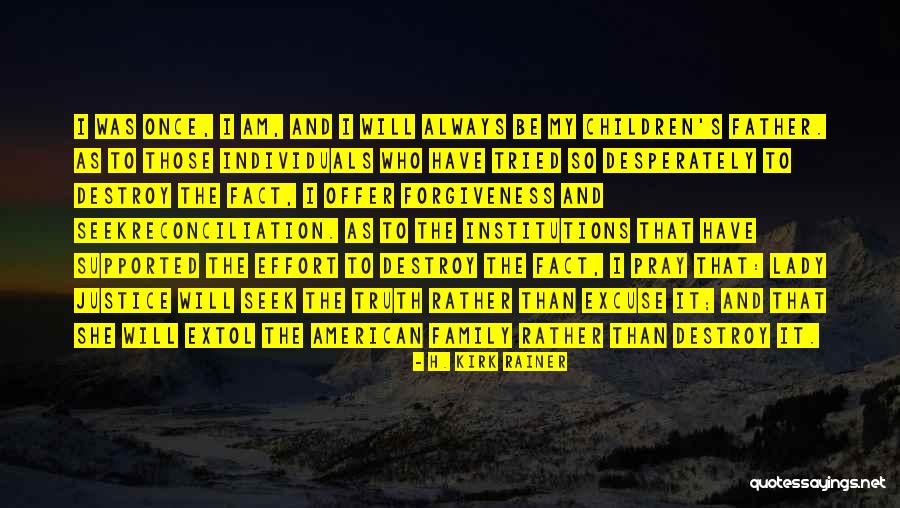 I was once, I am, and I will always be my children's father. As to those individuals who have tried so desperately to destroy the fact, I offer forgiveness and seek
reconciliation. As to the institutions that have supported the effort to destroy the fact, I pray that: Lady Justice will seek the truth rather than excuse it; and that she will extol the American family rather than destroy it. — H. Kirk Rainer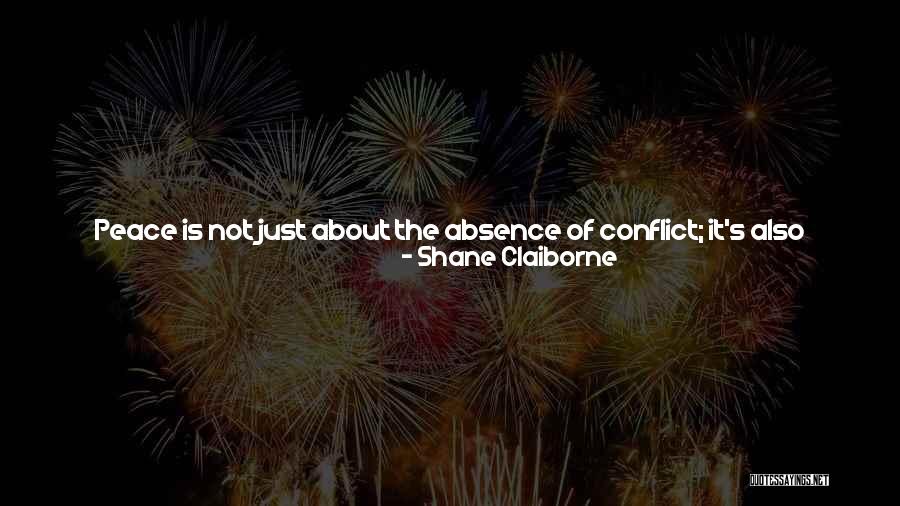 Peace is not just about the absence of conflict; it's also about the presence of justice. Martin Luther King Jr. even distinguished between "the devil's peace" and God's true peace. A counterfeit peace exists when people are pacified or distracted or so beat up and tired of fighting that all seems calm. But true peace does not exist until there is justice, restoration, forgiveness. Peacemaking doesn't mean passivity. It is the act of interrupting injustice without mirroring injustice, the act of disarming evil without destroying the evildoer, the act of finding a third way that is neither fight nor flight but the careful, arduous pursuit of reconciliation and justice. It is about a revolution of love that is big enough to set both the oppressed and the oppressors free. — Shane Claiborne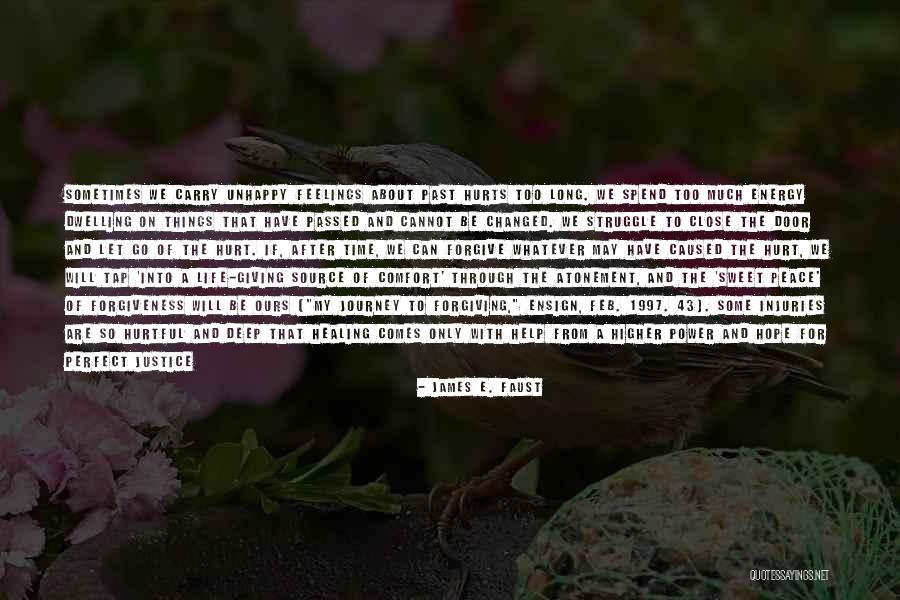 Sometimes we carry unhappy feelings about past hurts too long. We spend too much energy dwelling on things that have passed and cannot be changed. We struggle to close the door and let go of the hurt. If, after time, we can forgive whatever may have caused the hurt, we will tap 'into a life-giving source of comfort' through the Atonement, and the 'sweet peace' of forgiveness will be ours ("My Journey to Forgiving," Ensign, Feb. 1997. 43). Some injuries are so hurtful and deep that healing comes only with help from a higher power and hope for perfect justice and restitution in the next life ... You can tap into that higher power and receive precious comfort and sweet peace. — James E. Faust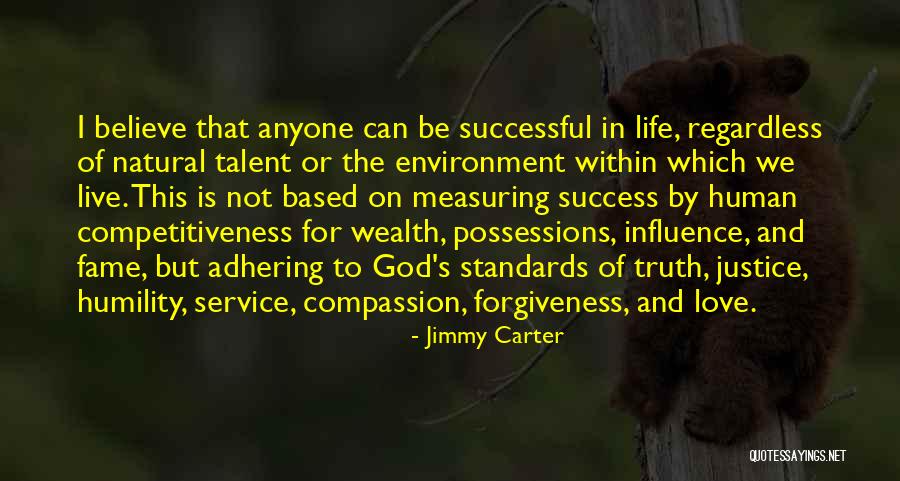 I believe that anyone can be successful in life, regardless of natural talent or the environment within which we live. This is not based on measuring success by human competitiveness for wealth, possessions, influence, and fame, but adhering to God's standards of truth, justice, humility, service, compassion, forgiveness, and love. — Jimmy Carter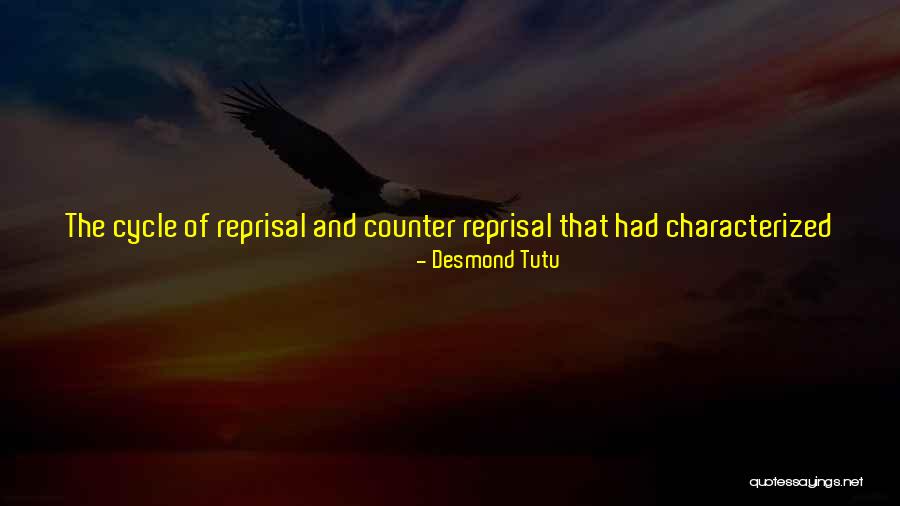 The cycle of reprisal and counter reprisal that had characterized their national history had to be broken and that the only way to do this was to go beyond retributive justice to restorative justice, to move on to forgiveness, because without it there was no future. — Desmond Tutu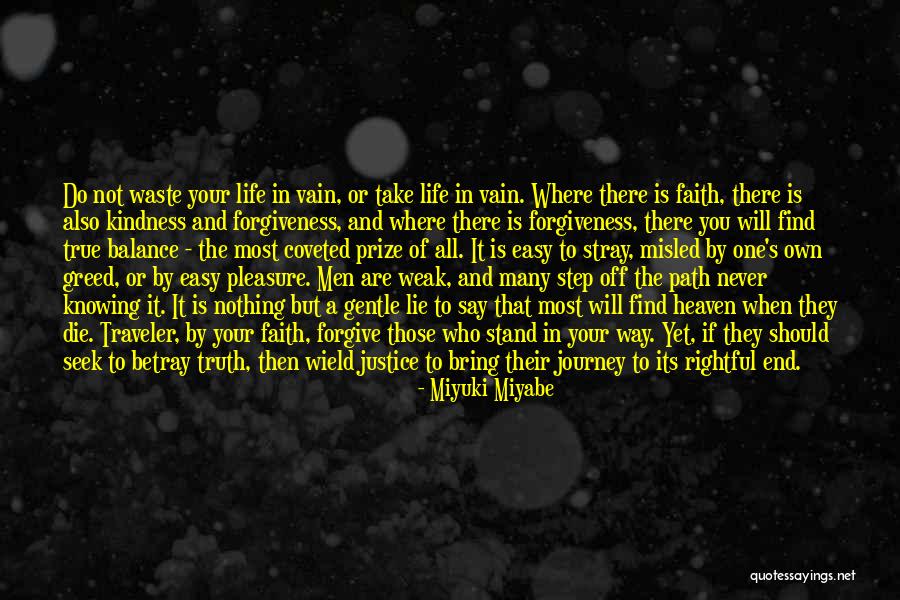 Do not waste your life in vain, or take life in vain. Where there is faith, there is also kindness and forgiveness, and where there is forgiveness, there you will find true balance - the most coveted prize of all. It is easy to stray, misled by one's own greed, or by easy pleasure. Men are weak, and many step off the path never knowing it. It is nothing but a gentle lie to say that most will find heaven when they die. Traveler, by your faith, forgive those who stand in your way. Yet, if they should seek to betray truth, then wield justice to bring their journey to its rightful end. — Miyuki Miyabe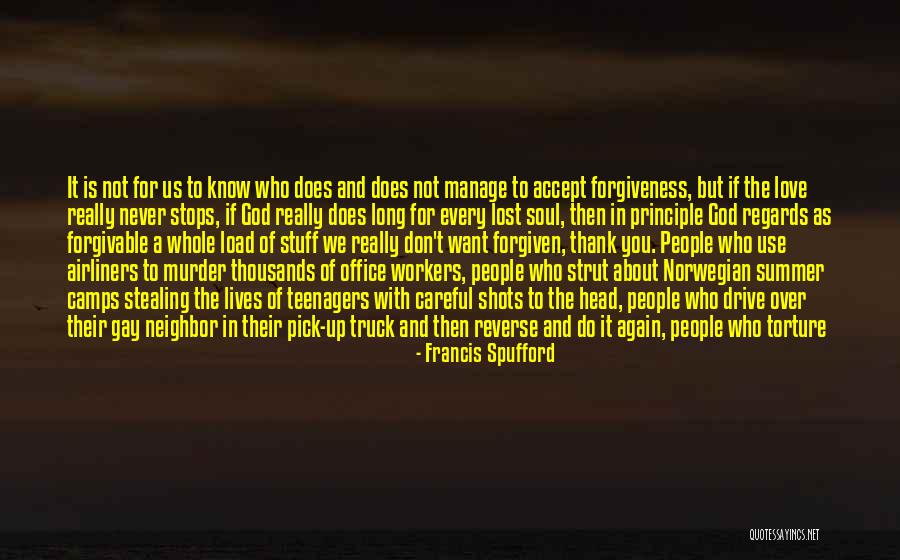 It is not for us to know who does and does not manage to accept forgiveness, but if the love really never stops, if God really does long for every lost soul, then in principle God regards as forgivable a whole load of stuff we really don't want forgiven, thank you. People who use airliners to murder thousands of office workers, people who strut about Norwegian summer camps stealing the lives of teenagers with careful shots to the head, people who drive over their gay neighbor in their pick-up truck and then reverse and do it again, people who torture children for sexual pleasure: God is apparently ready to rush right in there and give them all a hug, the bastard. We don't want that. We want justice, dammit, if not in this world then in the next. We want God's extra-niceness confined to deserving cases such as, for example, us, and a reliable process of judgment put in place which will ensure that the child-murderers are ripped apart with red-hot tongs. — Francis Spufford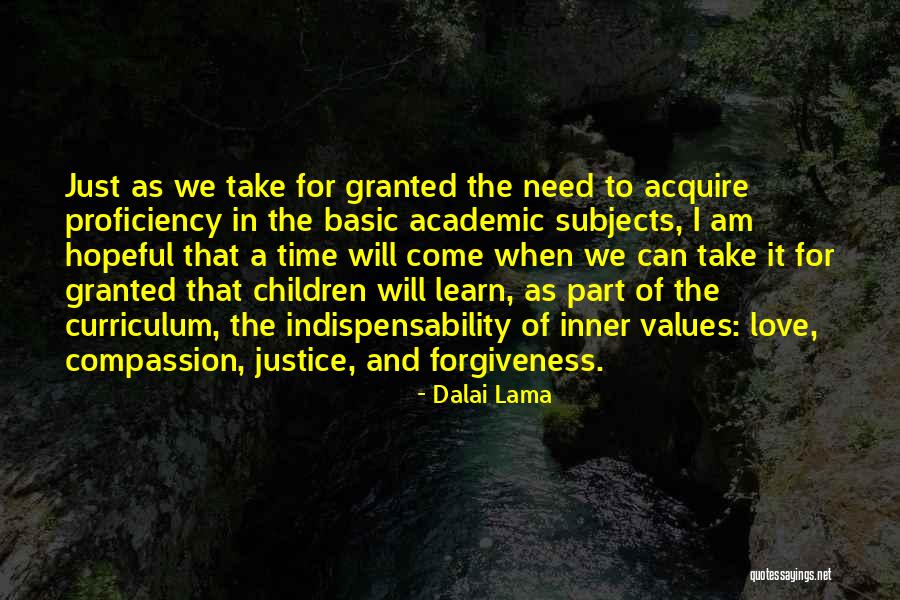 Just as we take for granted the need to acquire proficiency in the basic academic subjects, I am hopeful that a time will come when we can take it for granted that children will learn, as part of the curriculum, the indispensability of inner values: love, compassion, justice, and forgiveness. — Dalai Lama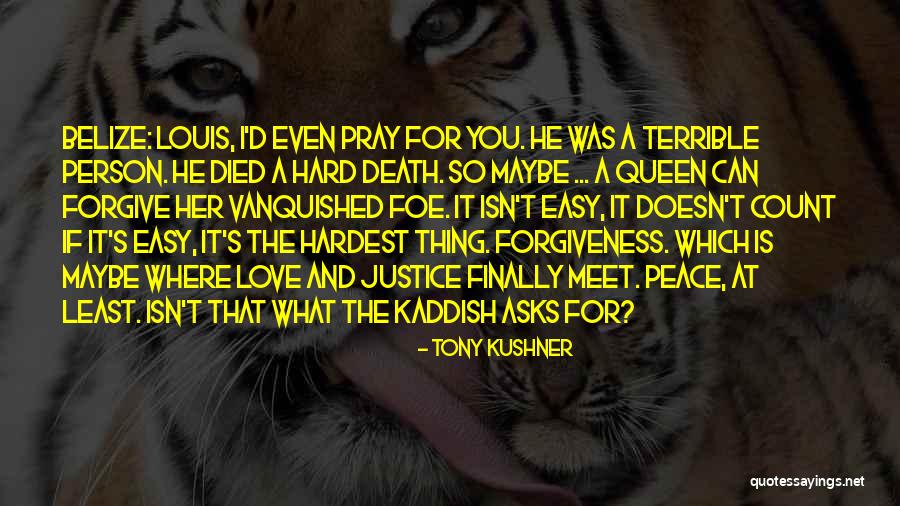 BELIZE: Louis, I'd even pray for you. He was a terrible person. He died a hard death. So maybe ... A queen can forgive her vanquished foe. It isn't easy, it doesn't count if it's easy, it's the hardest thing. Forgiveness. Which is maybe where love and justice finally meet. Peace, at least. Isn't that what the Kaddish asks for? — Tony Kushner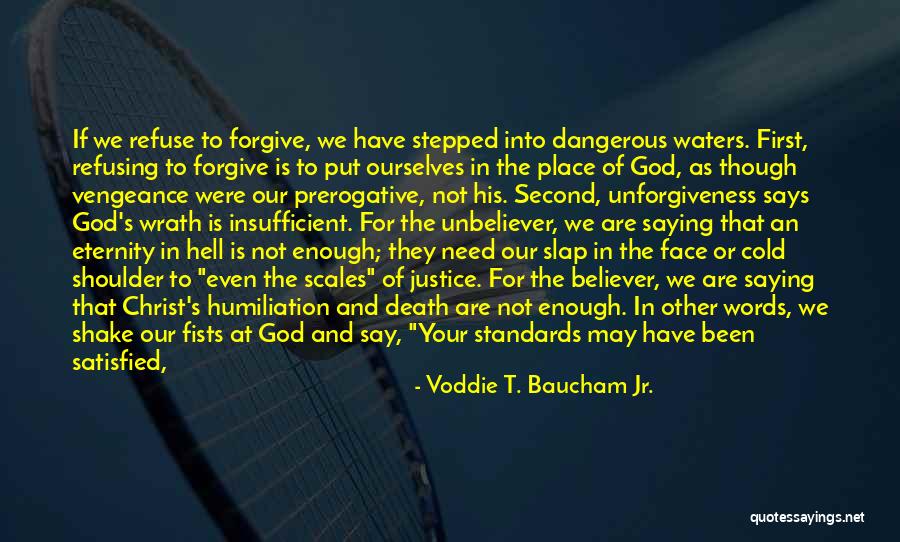 If we refuse to forgive, we have stepped into dangerous waters. First, refusing to forgive is to put ourselves in the place of God, as though vengeance were our prerogative, not his. Second, unforgiveness says God's wrath is insufficient. For the unbeliever, we are saying that an eternity in hell is not enough; they need our slap in the face or cold shoulder to "even the scales" of justice. For the believer, we are saying that Christ's humiliation and death are not enough. In other words, we shake our fists at God and say, "Your standards may have been satisfied, but my standard is higher!" Finally, refusing to forgive is the highest form of arrogance. Here we stand forgiven. And as we bask in the forgiveness of a perfectly holy and righteous God, we turn to our brother and say, "My sins are forgivable, but yours are not." In other words, we act as though the sins of others are too significant to forgive while simultaneously believing that ours are not significant enough to matter. — Voddie T. Baucham Jr.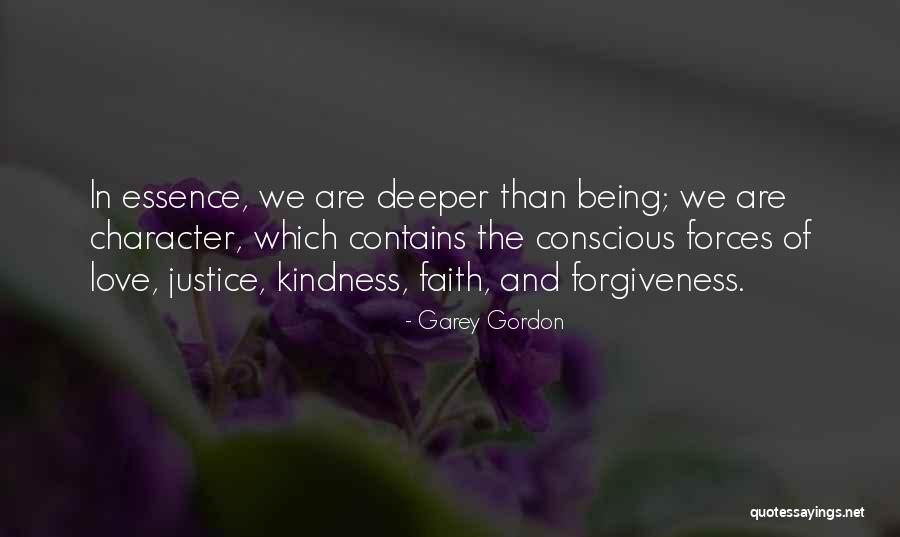 In essence, we are deeper than being; we are character, which contains the conscious forces of love, justice, kindness, faith, and forgiveness. — Garey Gordon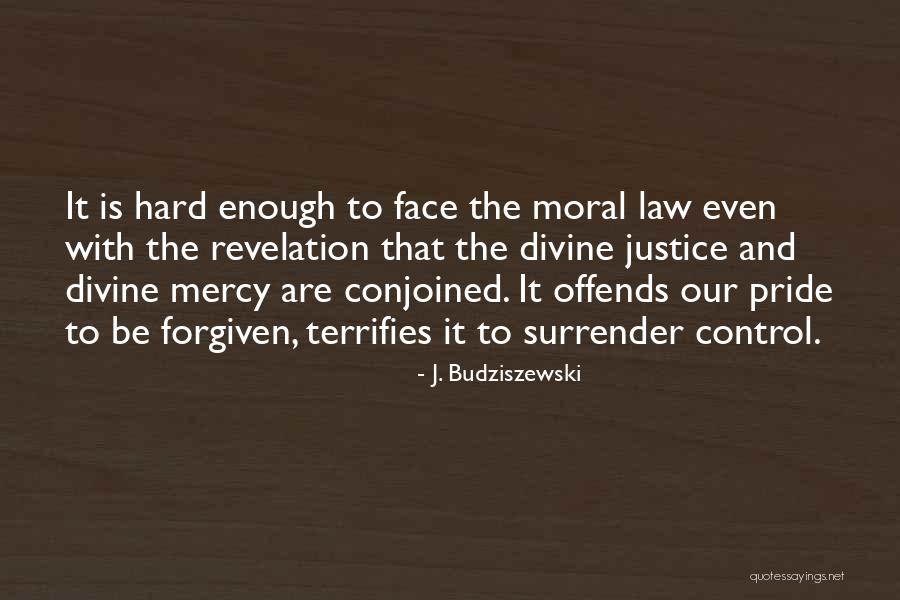 It is hard enough to face the moral law even with the revelation that the divine justice and divine mercy are conjoined. It offends our pride to be forgiven, terrifies it to surrender control. — J. Budziszewski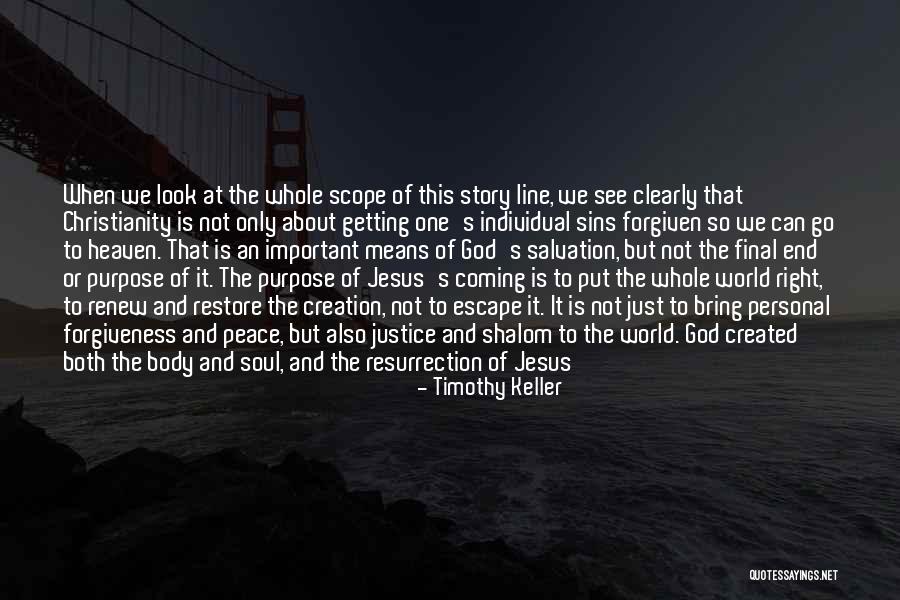 When we look at the whole scope of this story line, we see clearly that Christianity is not only about getting one's individual sins forgiven so we can go to heaven. That is an important means of God's salvation, but not the final end or purpose of it. The purpose of Jesus's coming is to put the whole world right, to renew and restore the creation, not to escape it. It is not just to bring personal forgiveness and peace, but also justice and shalom to the world. God created both the body and soul, and the resurrection of Jesus shows that he is going to redeem both body and soul. The work of the Spirit of God is not only to save souls but also to care and cultivate the face of the earth, the material world. — Timothy Keller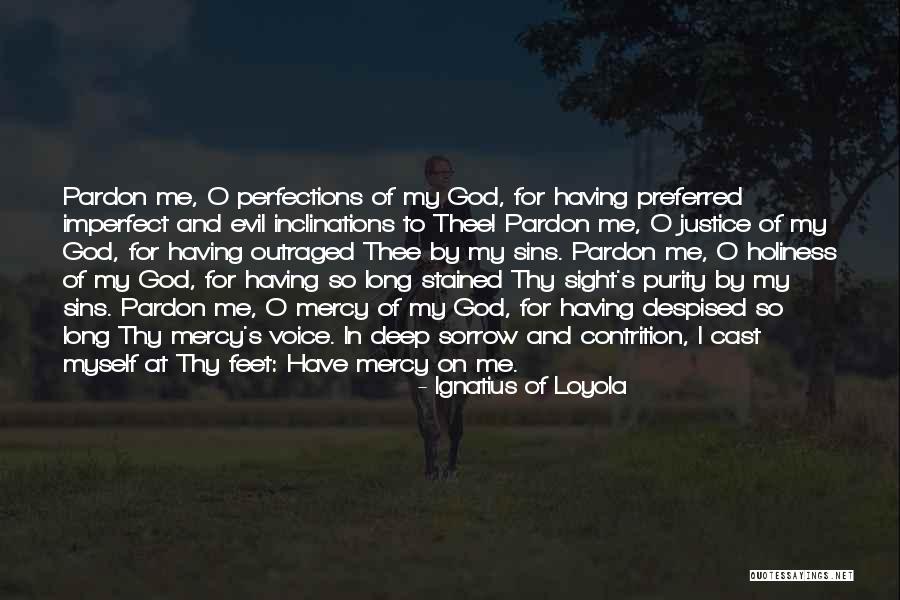 Pardon me, O perfections of my God, for having preferred imperfect and evil inclinations to Thee! Pardon me, O justice of my God, for having outraged Thee by my sins. Pardon me, O holiness of my God, for having so long stained Thy sight's purity by my sins. Pardon me, O mercy of my God, for having despised so long Thy mercy's voice. In deep sorrow and contrition, I cast myself at Thy feet: Have mercy on me. — Ignatius Of Loyola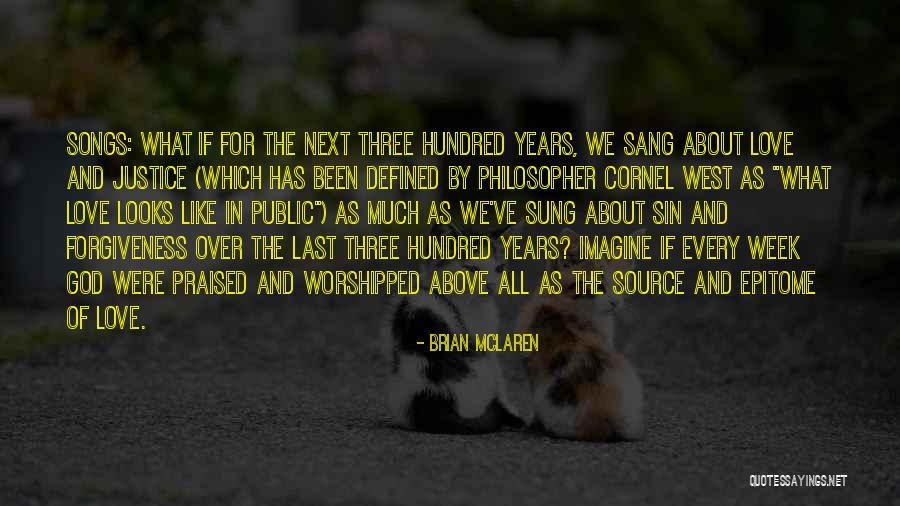 Songs: What if for the next three hundred years, we sang about love and justice (which has been defined by philosopher Cornel West as "what love looks like in public") as much as we've sung about sin and forgiveness over the last three hundred years? Imagine if every week God were praised and worshipped above all as the source and epitome of love. — Brian McLaren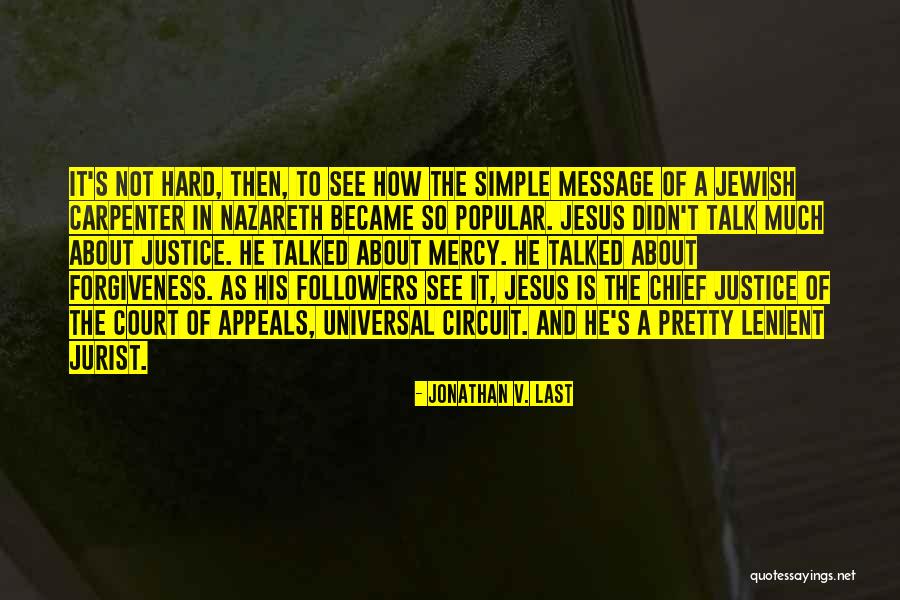 It's not hard, then, to see how the simple message of a Jewish carpenter in Nazareth became so popular. Jesus didn't talk much about justice. He talked about mercy. He talked about forgiveness. As his followers see it, Jesus is the Chief Justice of the Court of Appeals, Universal Circuit. And he's a pretty lenient jurist. — Jonathan V. Last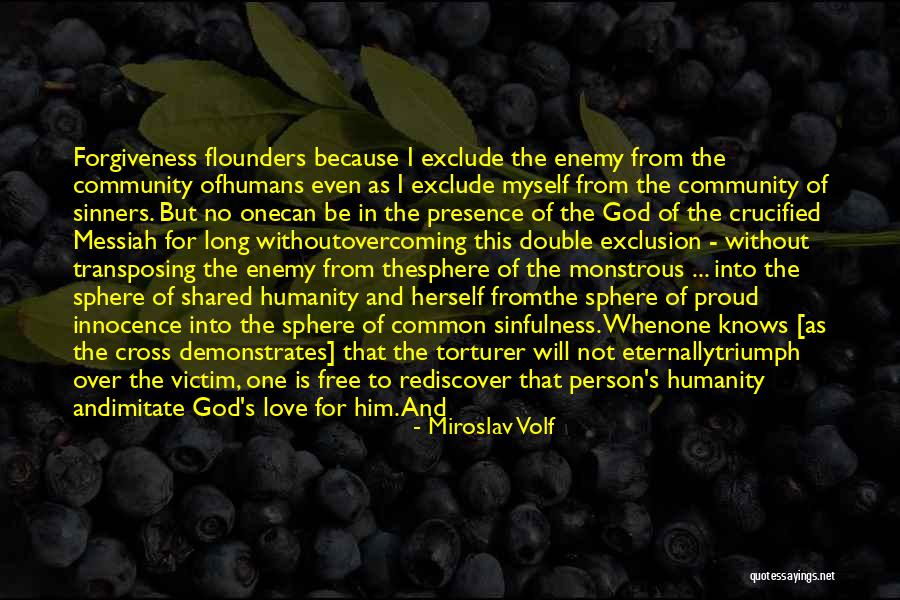 Forgiveness flounders because I exclude the enemy from the community of
humans even as I exclude myself from the community of sinners. But no one
can be in the presence of the God of the crucified Messiah for long without
overcoming this double exclusion - without transposing the enemy from the
sphere of the monstrous ... into the sphere of shared humanity and herself from
the sphere of proud innocence into the sphere of common sinfulness. When
one knows [as the cross demonstrates] that the torturer will not eternally
triumph over the victim, one is free to rediscover that person's humanity and
imitate God's love for him. And when one knows [as the cross demonstrates]
that God's love is greater than all sin, one is free to see oneself in the light of
God's justice and so rediscover one's own sinfulness. — Miroslav Volf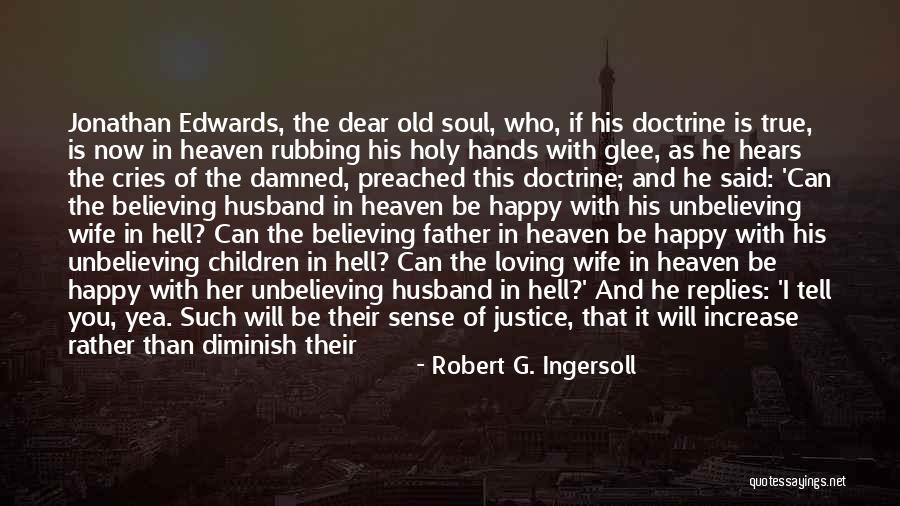 Jonathan Edwards, the dear old soul, who, if his doctrine is true, is now in heaven rubbing his holy hands with glee, as he hears the cries of the damned, preached this doctrine; and he said: 'Can the believing husband in heaven be happy with his unbelieving wife in hell? Can the believing father in heaven be happy with his unbelieving children in hell? Can the loving wife in heaven be happy with her unbelieving husband in hell?' And he replies: 'I tell you, yea. Such will be their sense of justice, that it will increase rather than diminish their bliss.' There is no wild beast in the jungles of Africa whose reputation would not be tarnished by the expression of such a doctrine.
These doctrines have been taught in the name of religion, in the name of universal forgiveness, in the name of infinite love and charity. — Robert G. Ingersoll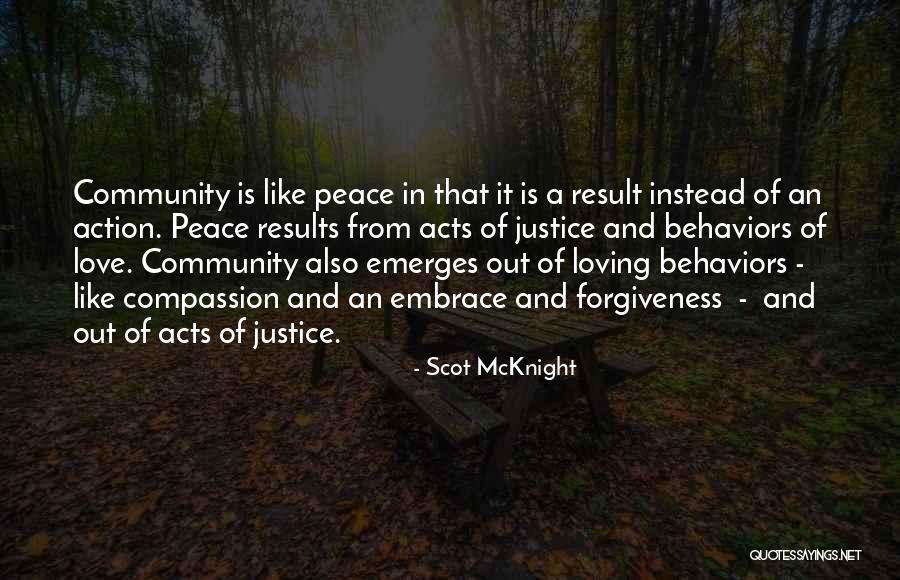 Community is like peace in that it is a result instead of an action. Peace results from acts of justice and behaviors of love. Community also emerges out of loving behaviors - like compassion and an embrace and forgiveness - and out of acts of justice. — Scot McKnight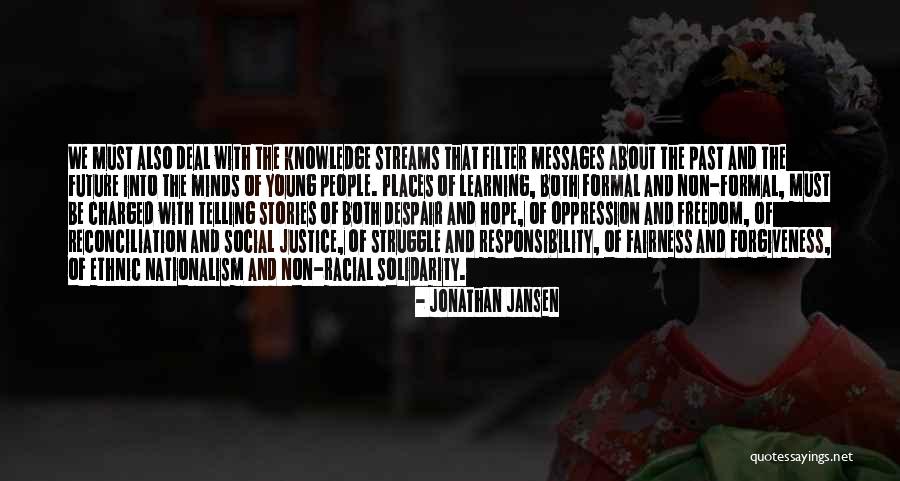 We must also deal with the knowledge streams that filter messages about the past and the future into the minds of young people. Places of learning, both formal and non-formal, must be charged with telling stories of both despair and hope, of oppression and freedom, of reconciliation and social justice, of struggle and responsibility, of fairness and forgiveness, of ethnic nationalism and non-racial solidarity. — Jonathan Jansen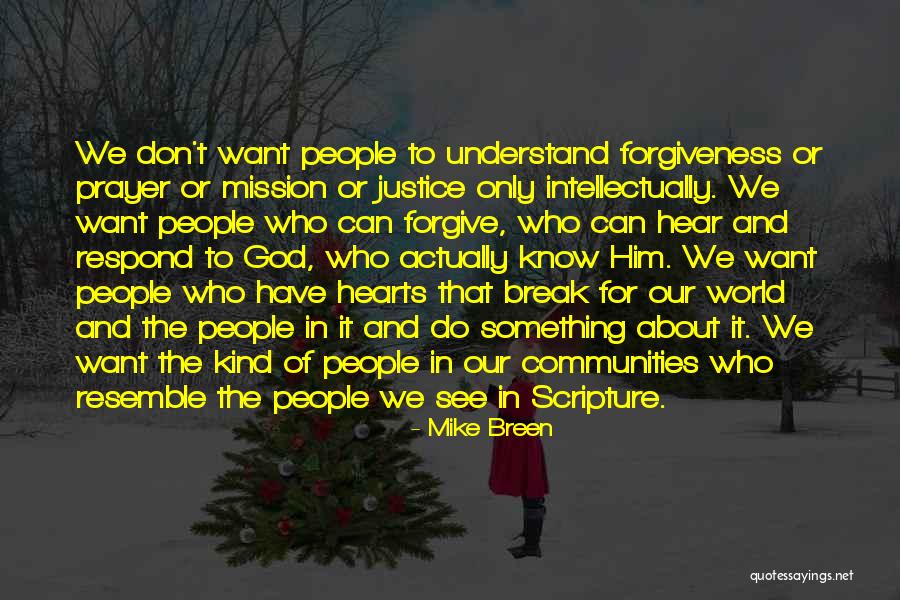 We don't want people to understand forgiveness or prayer or mission or justice only intellectually. We want people who can forgive, who can hear and respond to God, who actually know Him. We want people who have hearts that break for our world and the people in it and do something about it. We want the kind of people in our communities who resemble the people we see in Scripture. — Mike Breen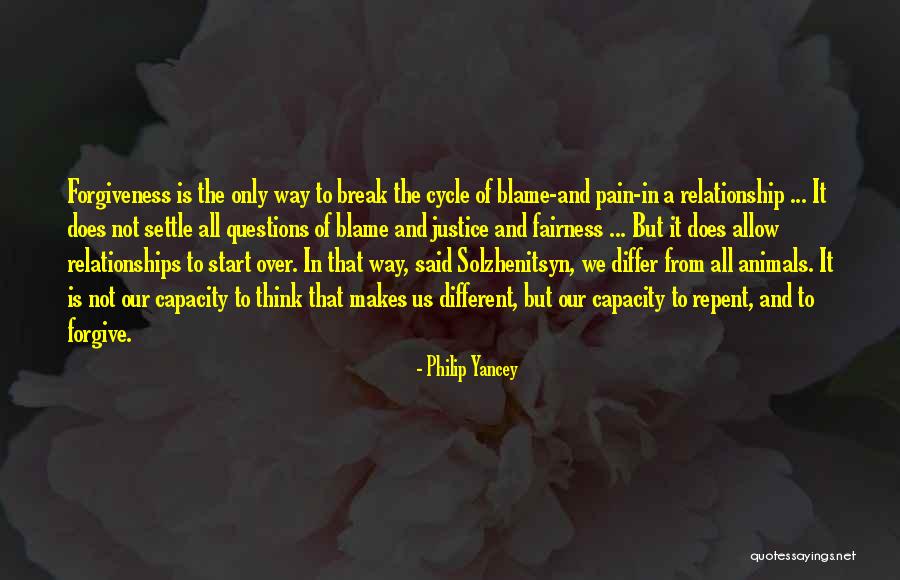 Forgiveness is the only way to break the cycle of blame-and pain-in a relationship ... It does not settle all questions of blame and justice and fairness ... But it does allow relationships to start over. In that way, said Solzhenitsyn, we differ from all animals. It is not our capacity to think that makes us different, but our capacity to repent, and to forgive. — Philip Yancey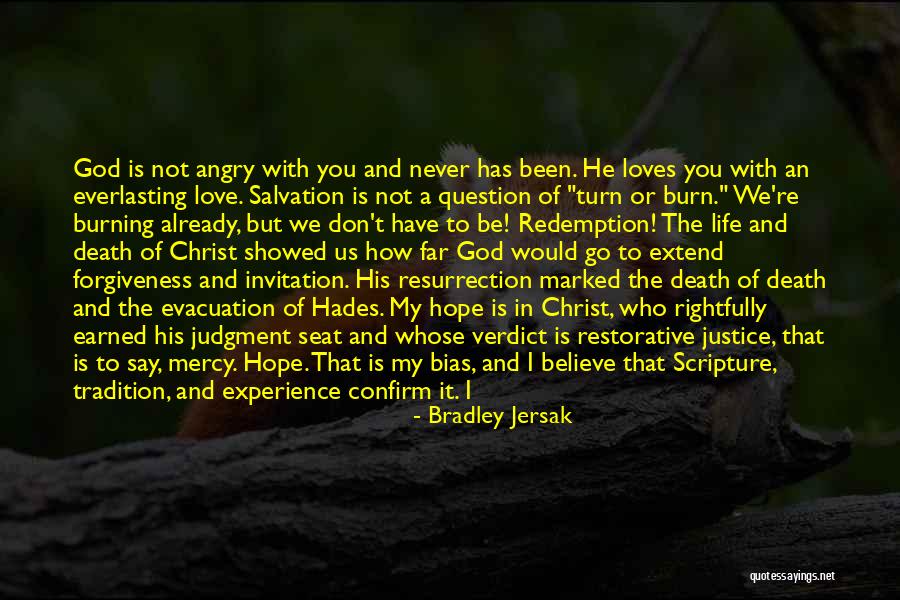 God is not angry with you and never has been. He loves you with an everlasting love. Salvation is not a question of "turn or burn." We're burning already, but we don't have to be! Redemption! The life and death of Christ showed us how far God would go to extend forgiveness and invitation. His resurrection marked the death of death and the evacuation of Hades. My hope is in Christ, who rightfully earned his judgment seat and whose verdict is restorative justice, that is to say, mercy. Hope. That is my bias, and I believe that Scripture, tradition, and experience confirm it. I — Bradley Jersak