I Will Win The Race Quotes & Sayings
Enjoy reading and share 62 famous quotes about I Will Win The Race with everyone.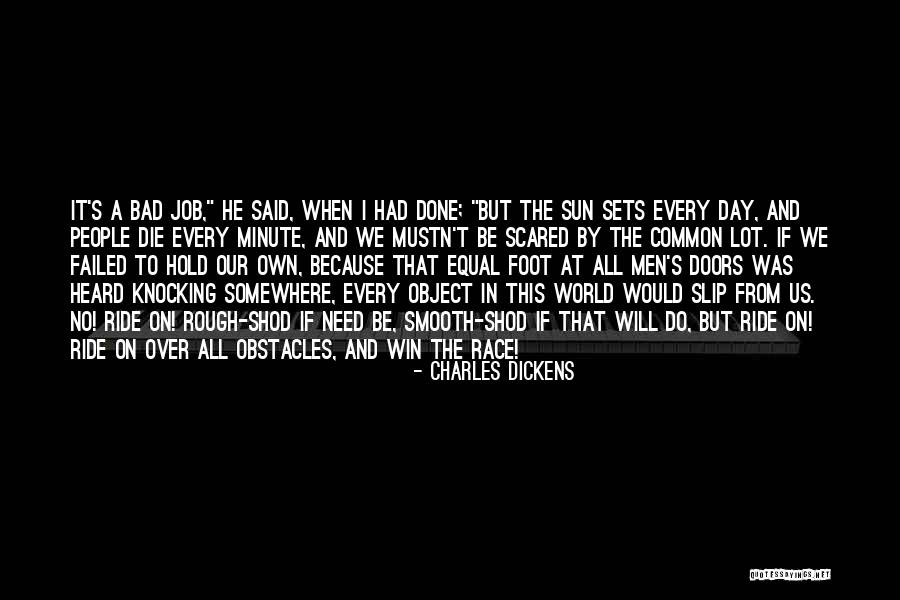 It's a bad job," he said, when I had done; "but the sun sets every day, and people die every minute, and we mustn't be scared by the common lot. If we failed to hold our own, because that equal foot at all men's doors was heard knocking somewhere, every object in this world would slip from us. No! Ride on! Rough-shod if need be, smooth-shod if that will do, but ride on! Ride on over all obstacles, and win the race! — Charles Dickens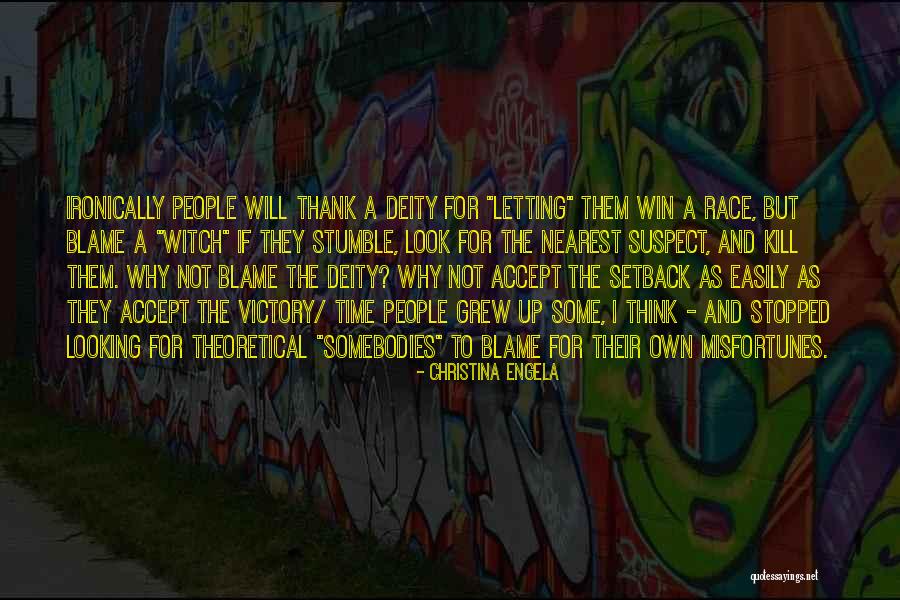 Ironically people will thank a deity for "letting" them win a race, but blame a "witch" if they stumble, look for the nearest suspect, and kill them. Why not blame the deity? Why not accept the setback as easily as they accept the victory/ Time people grew up some, I think - and stopped looking for theoretical "somebodies" to blame for their own misfortunes. — Christina Engela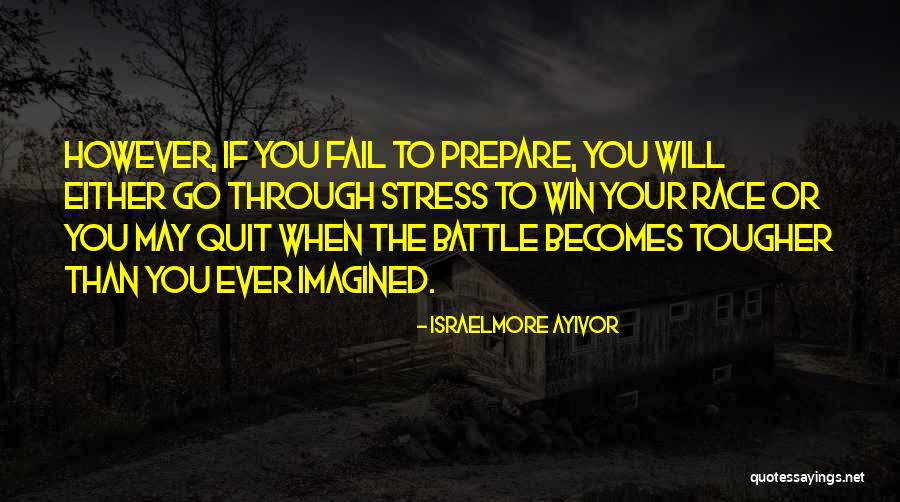 However, if you fail to prepare, you will either go through stress to win your race or you may quit when the battle becomes tougher than you ever imagined. — Israelmore Ayivor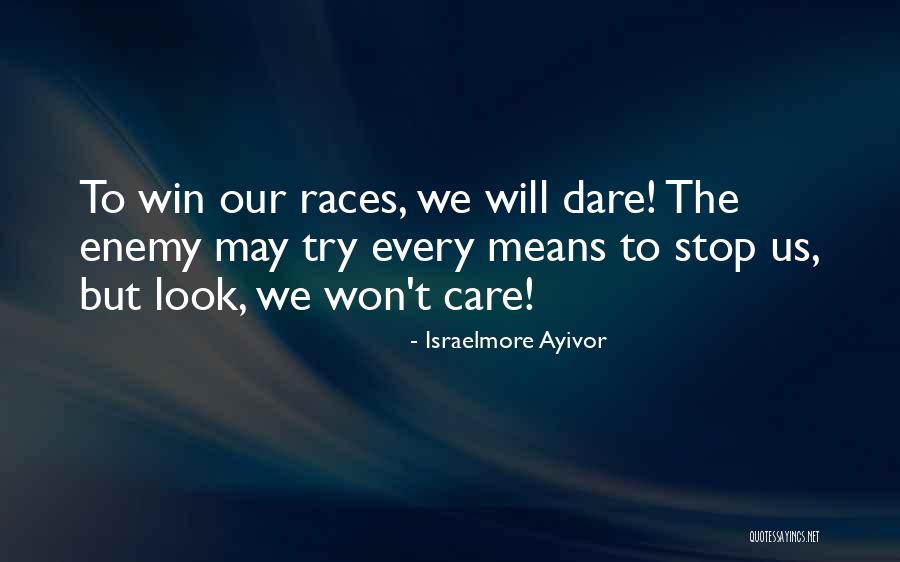 To win our races, we will dare! The enemy may try every means to stop us, but look, we won't care! — Israelmore Ayivor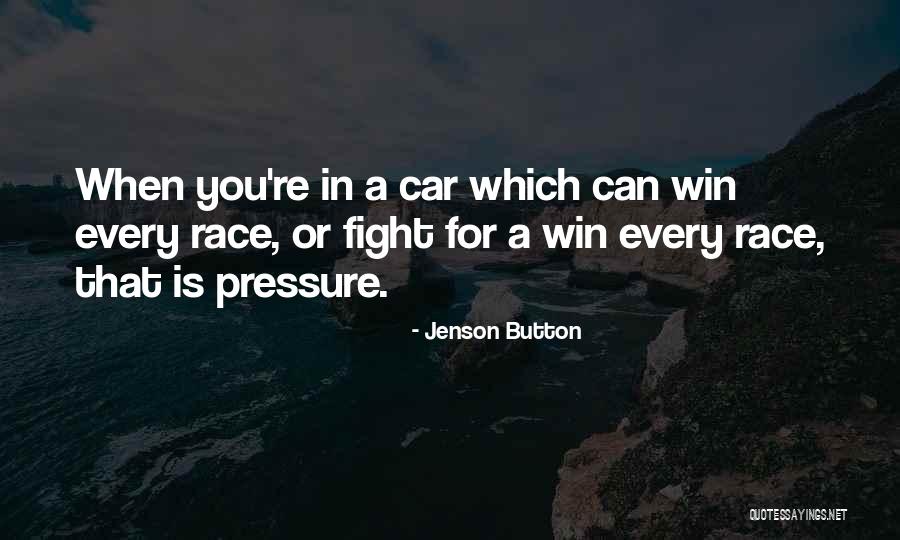 When you're in a car which can win every race, or fight for a win every race, that is pressure. — Jenson Button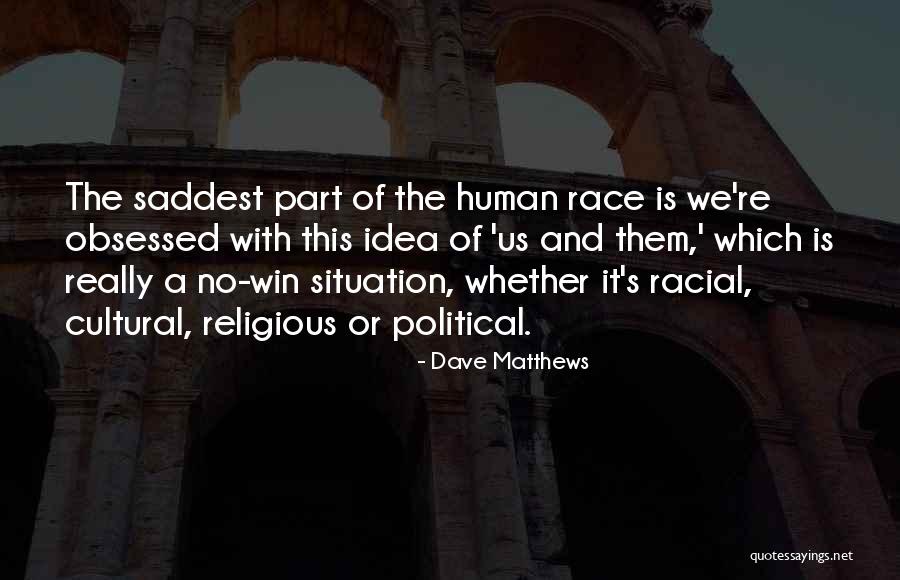 The saddest part of the human race is we're obsessed with this idea of 'us and them,' which is really a no-win situation, whether it's racial, cultural, religious or political. — Dave Matthews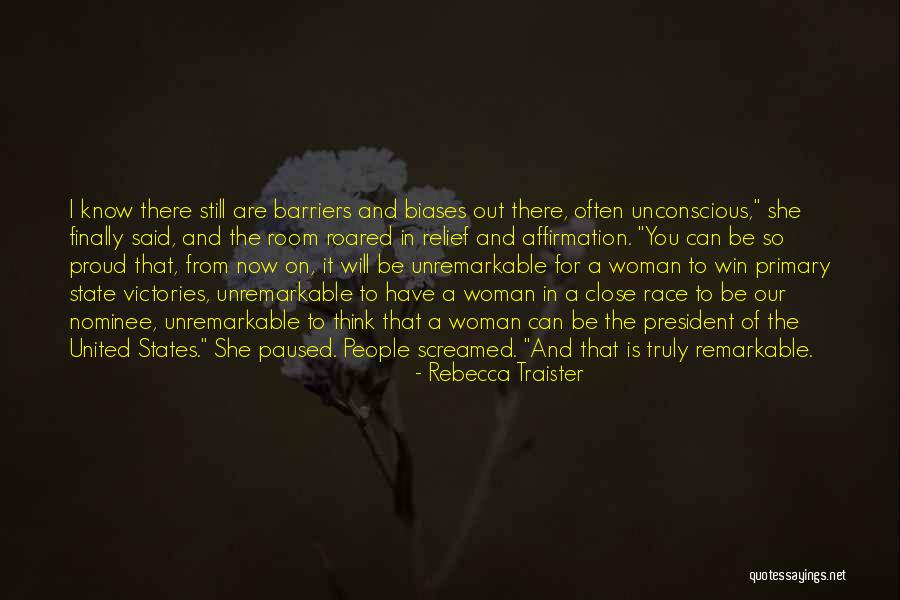 I know there still are barriers and biases out there, often unconscious," she finally said, and the room roared in relief and affirmation. "You can be so proud that, from now on, it will be unremarkable for a woman to win primary state victories, unremarkable to have a woman in a close race to be our nominee, unremarkable to think that a woman can be the president of the United States." She paused. People screamed. "And that is truly remarkable. — Rebecca Traister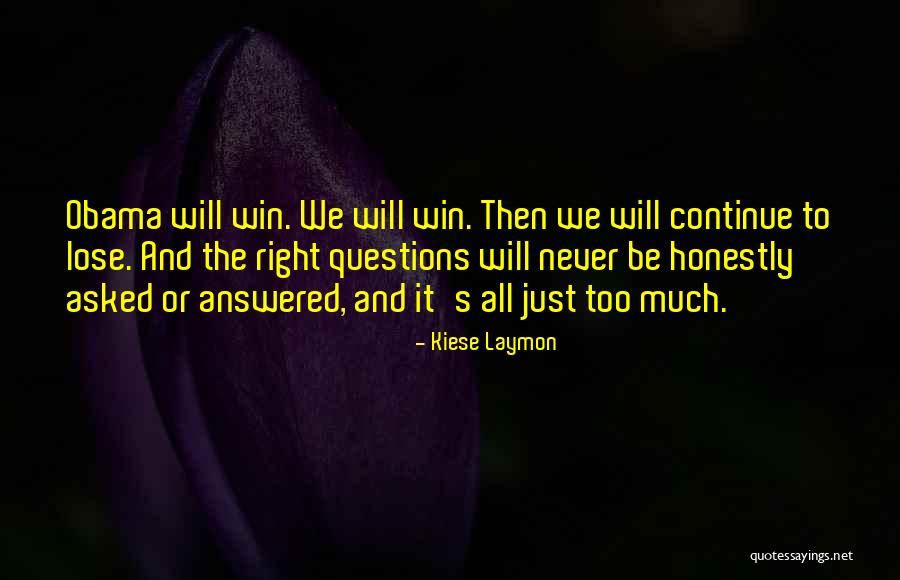 Obama will win. We will win. Then we will continue to lose. And the right questions will never be honestly asked or answered, and it's all just too much. — Kiese Laymon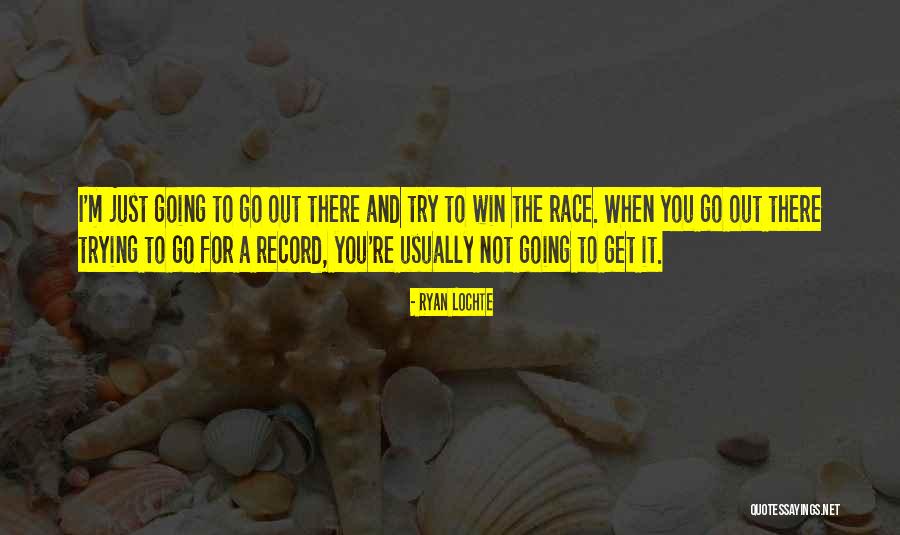 I'm just going to go out there and try to win the race. When you go out there trying to go for a record, you're usually not going to get it. — Ryan Lochte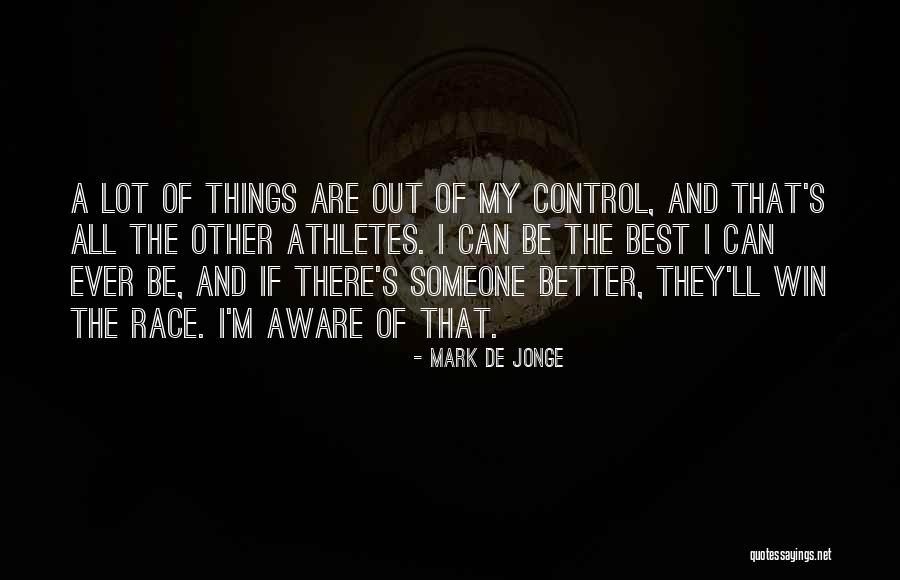 A lot of things are out of my control, and that's all the other athletes. I can be the best I can ever be, and if there's someone better, they'll win the race. I'm aware of that. — Mark De Jonge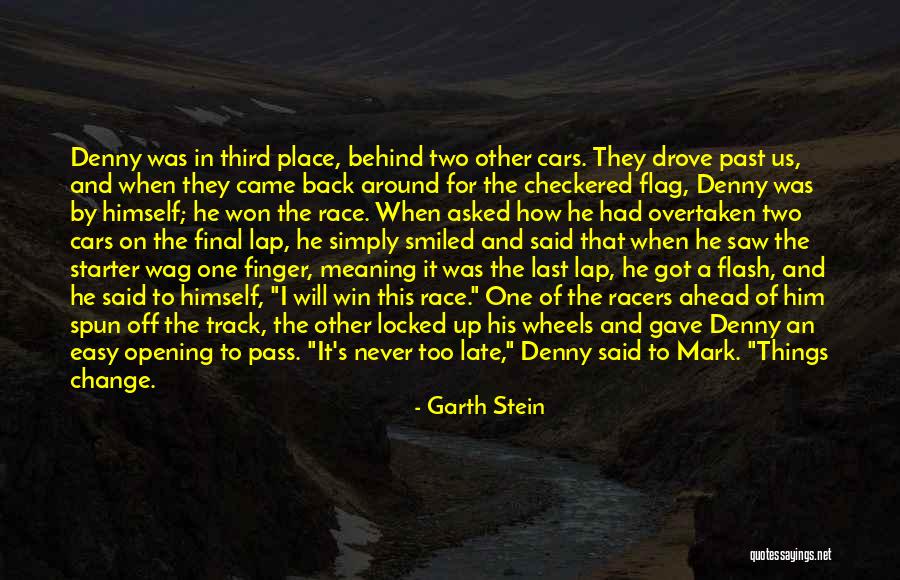 Denny was in third place, behind two other cars. They drove past us, and when they came back around for the checkered flag, Denny was by himself; he won the race. When asked how he had overtaken two cars on the final lap, he simply smiled and said that when he saw the starter wag one finger, meaning it was the last lap, he got a flash, and he said to himself, "I will win this race." One of the racers ahead of him spun off the track, the other locked up his wheels and gave Denny an easy opening to pass. "It's never too late," Denny said to Mark. "Things change. — Garth Stein
Many times, I've been broken. Often used and abused. Many trials go unspoken. Often leaving me sad and confused. But Lord if you put your hands on me, And grant me just a touch of your Peace. I know that I can win this race, With the help of your mercy and grace. Lord fix me, I'm broken, and I need to move on. — B.M. Hardin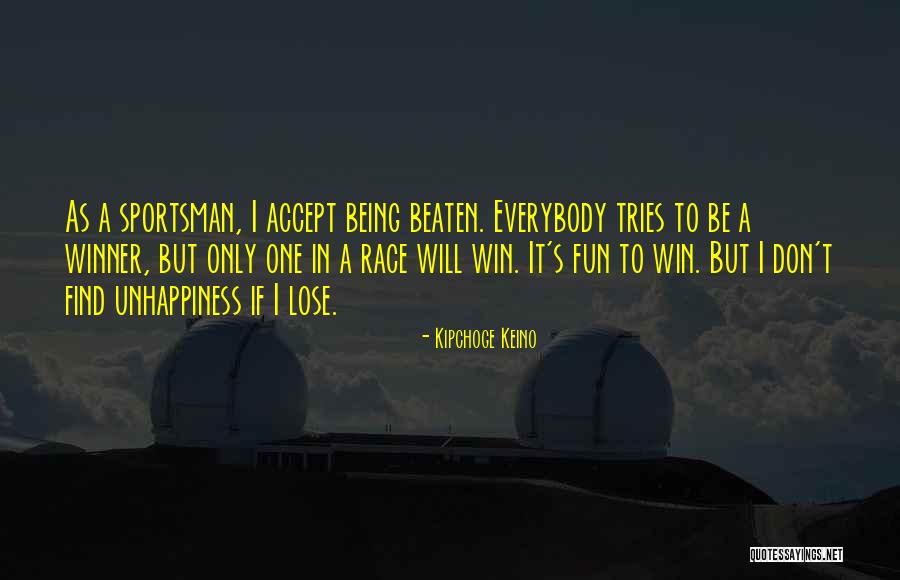 As a sportsman, I accept being beaten. Everybody tries to be a winner, but only one in a race will win. It's fun to win. But I don't find unhappiness if I lose. — Kipchoge Keino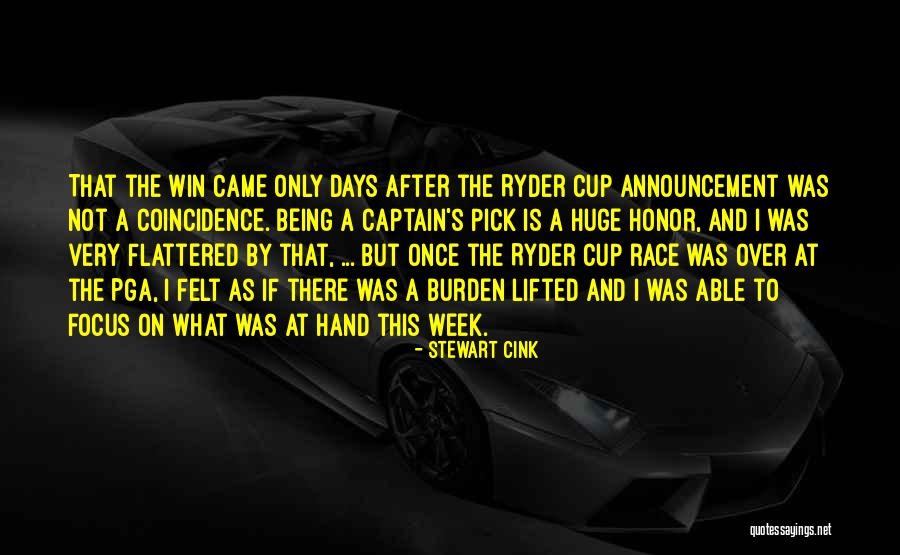 That the win came only days after the Ryder Cup announcement was not a coincidence. Being a captain's pick is a huge honor, and I was very flattered by that, ... but once the Ryder Cup race was over at the PGA, I felt as if there was a burden lifted and I was able to focus on what was at hand this week. — Stewart Cink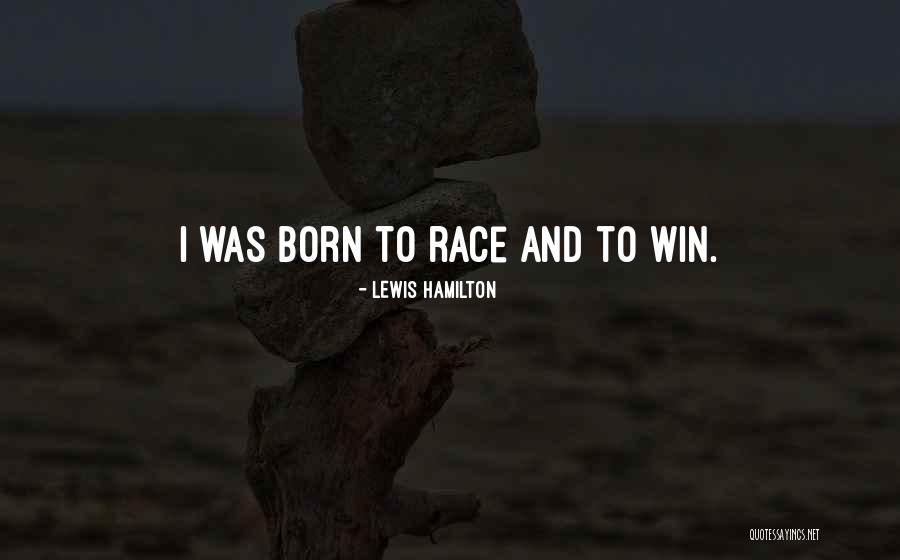 I was born to race and to win. — Lewis Hamilton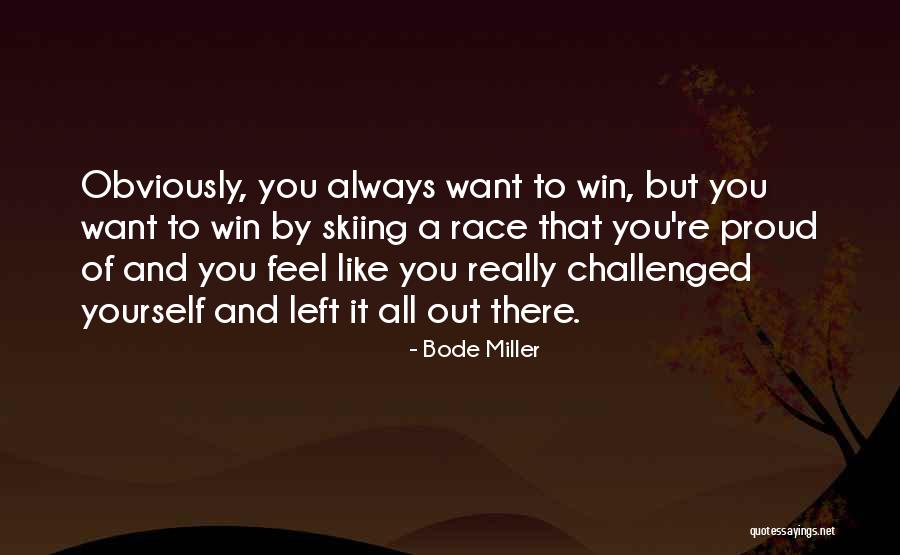 Obviously, you always want to win, but you want to win by skiing a race that you're proud of and you feel like you really challenged yourself and left it all out there. — Bode Miller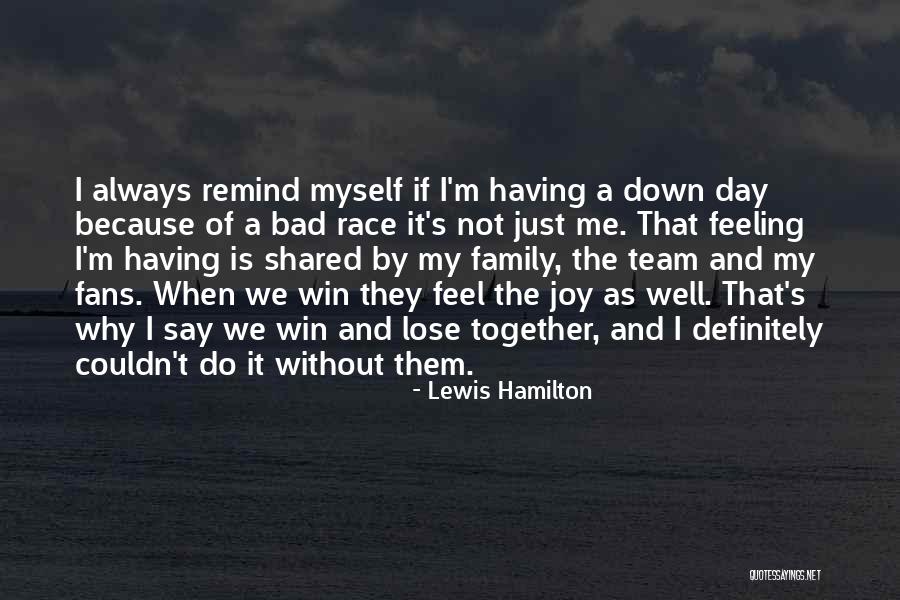 I always remind myself if I'm having a down day because of a bad race it's not just me. That feeling I'm having is shared by my family, the team and my fans. When we win they feel the joy as well. That's why I say we win and lose together, and I definitely couldn't do it without them. — Lewis Hamilton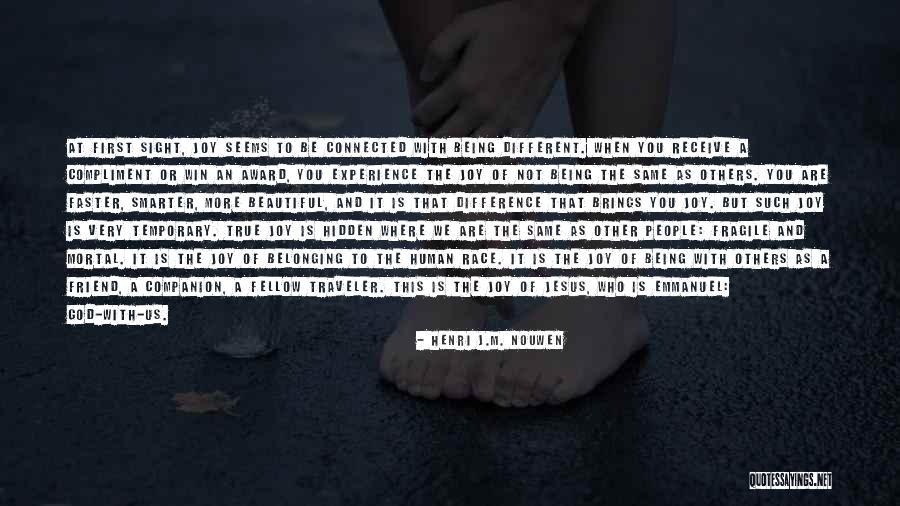 At first sight, joy seems to be connected with being different. When you receive a compliment or win an award, you experience the joy of not being the same as others. You are faster, smarter, more beautiful, and it is that difference that brings you joy. But such joy is very temporary. True joy is hidden where we are the same as other people: fragile and mortal. It is the joy of belonging to the human race. It is the joy of being with others as a friend, a companion, a fellow traveler. This is the joy of Jesus, who is Emmanuel: God-with-us. — Henri J.M. Nouwen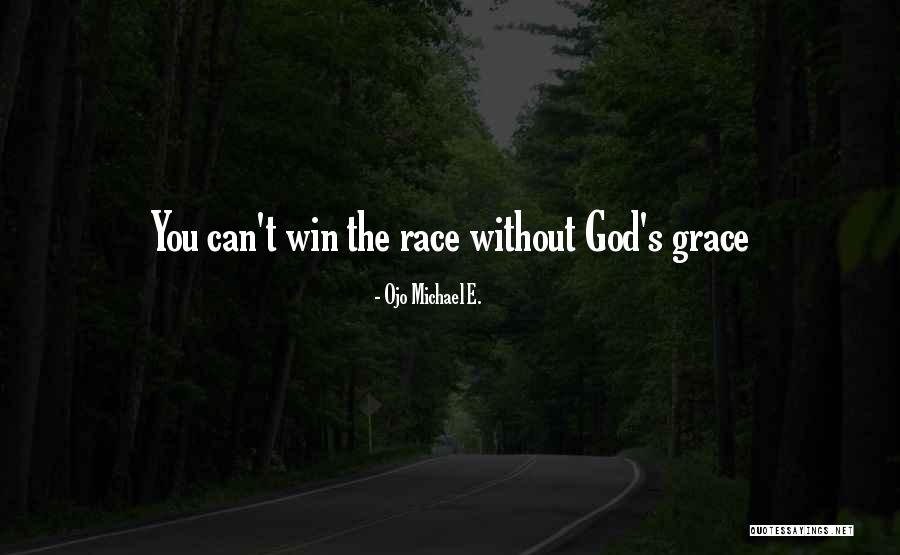 You can't win the race without God's grace — Ojo Michael E.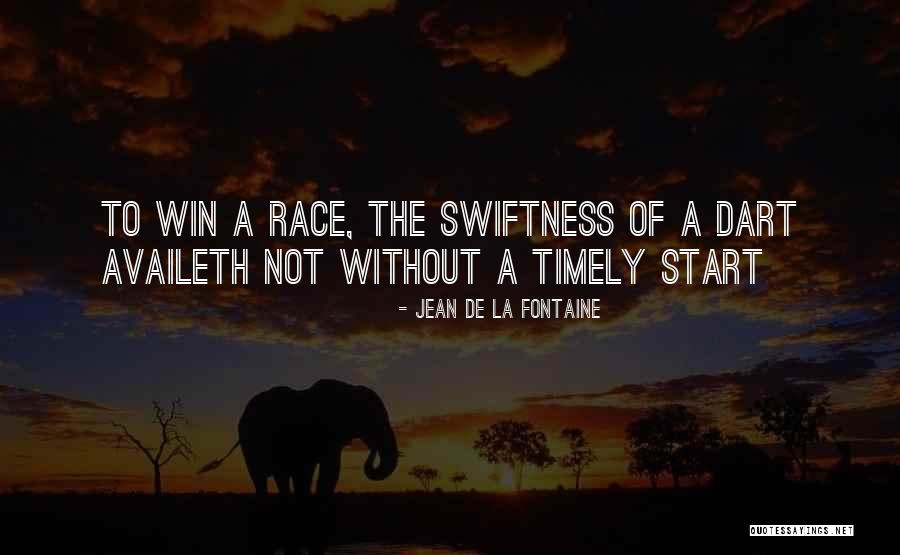 To win a race, the swiftness of a dart Availeth not without a timely start — Jean De La Fontaine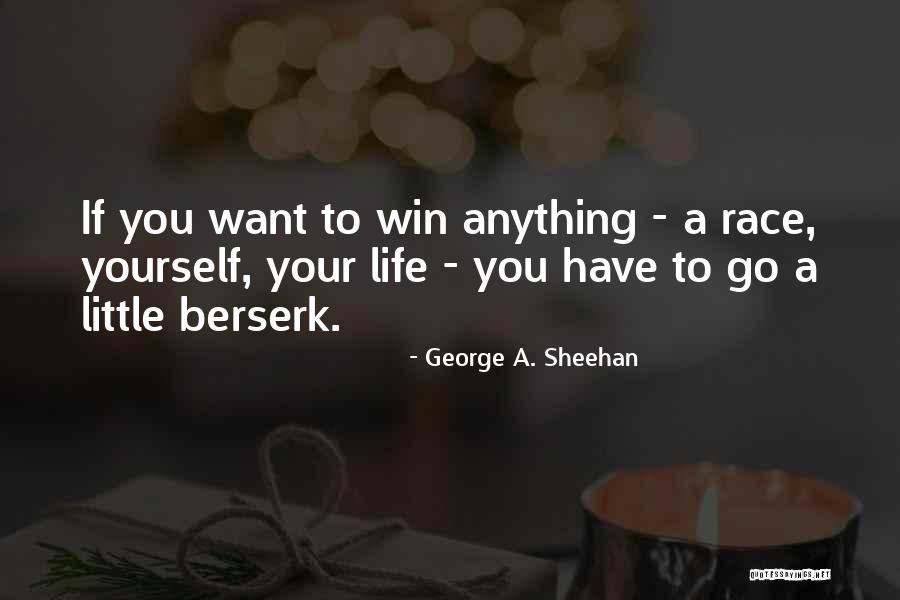 If you want to win anything - a race, yourself, your life - you have to go a little berserk. — George A. Sheehan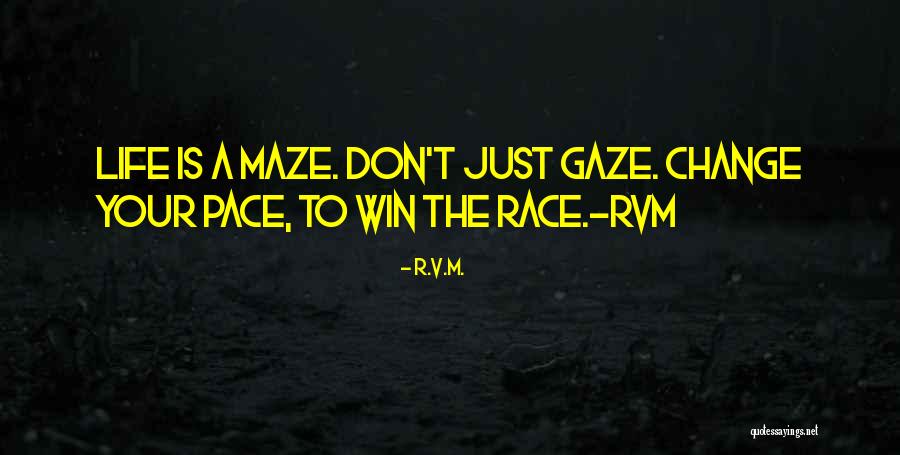 Life is a maze. Don't just gaze. Change your pace, to win the race.-RVM — R.v.m.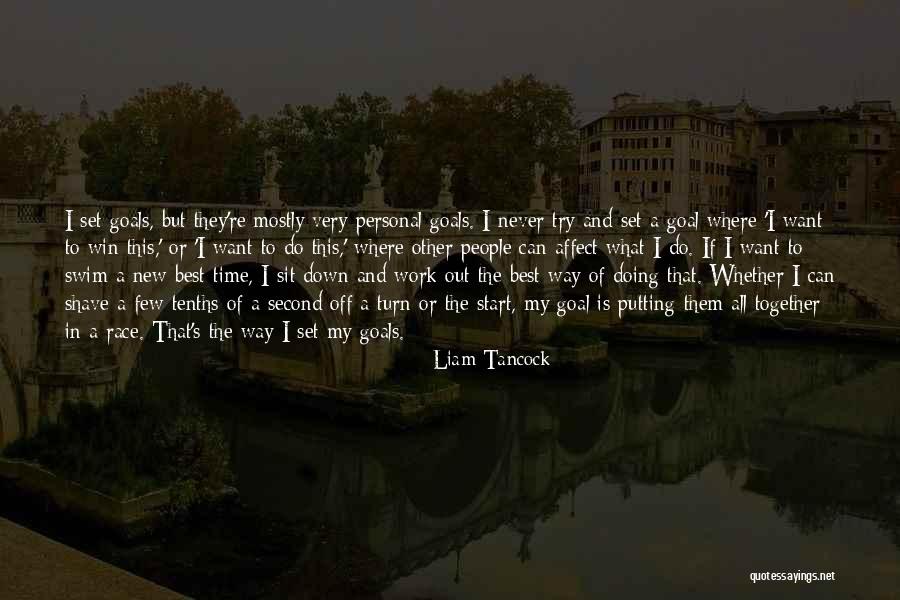 I set goals, but they're mostly very personal goals. I never try and set a goal where 'I want to win this,' or 'I want to do this,' where other people can affect what I do. If I want to swim a new best time, I sit down and work out the best way of doing that. Whether I can shave a few tenths of a second off a turn or the start, my goal is putting them all together in a race. That's the way I set my goals. — Liam Tancock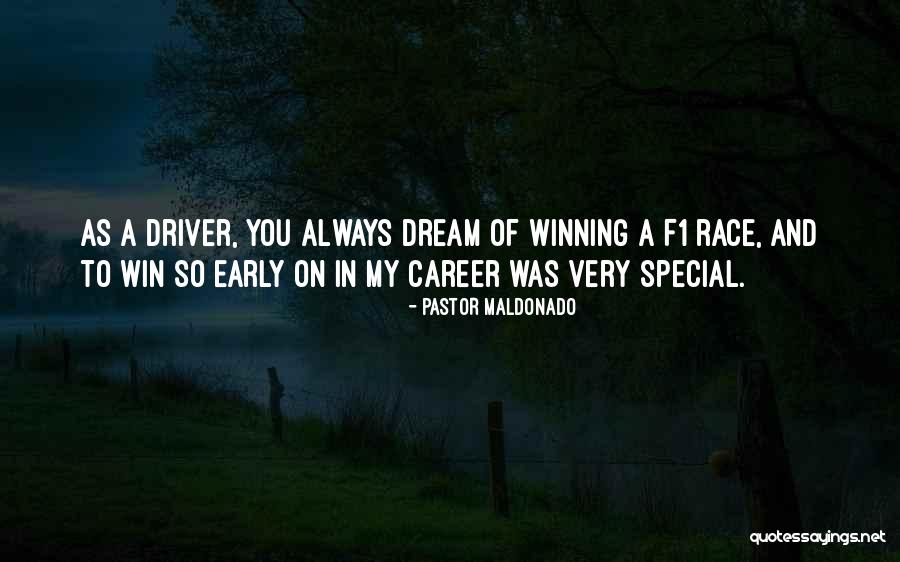 As a driver, you always dream of winning a F1 race, and to win so early on in my career was very special. — Pastor Maldonado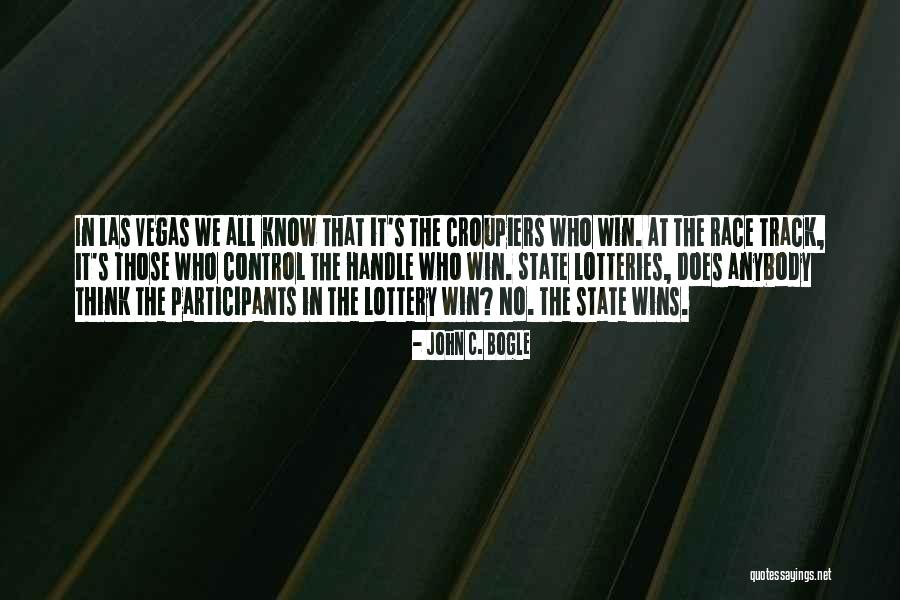 In Las Vegas we all know that it's the croupiers who win. At the race track, it's those who control the handle who win. State lotteries, does anybody think the participants in the lottery win? No. The state wins. — John C. Bogle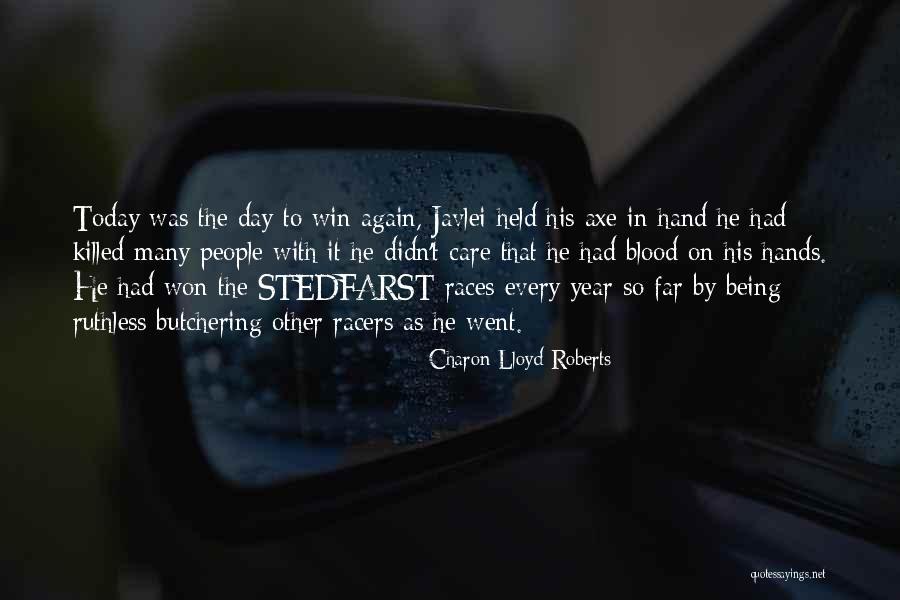 Today was the day to win again, Javlei held his axe in hand he had killed many people with it he didn't care that he had blood on his hands. He had won the STEDFARST races every year so far by being ruthless butchering other racers as he went. — Charon Lloyd-Roberts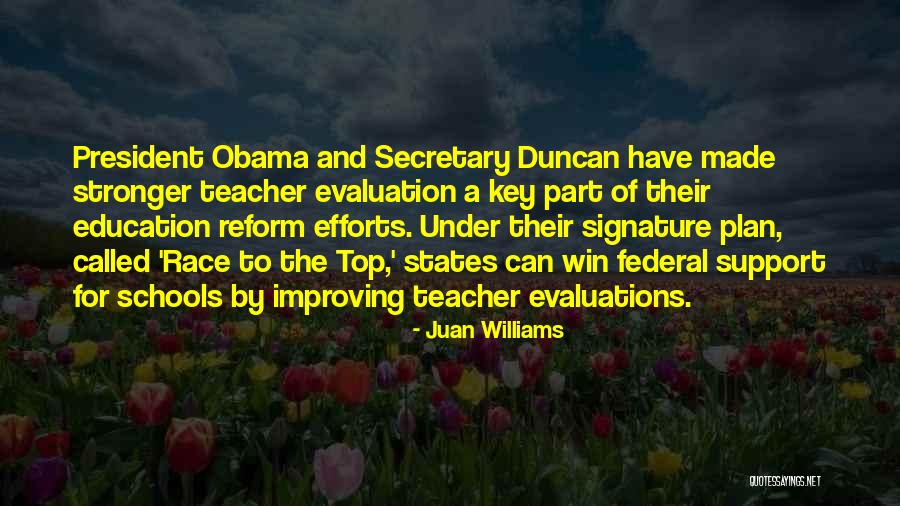 President Obama and Secretary Duncan have made stronger teacher evaluation a key part of their education reform efforts. Under their signature plan, called 'Race to the Top,' states can win federal support for schools by improving teacher evaluations. — Juan Williams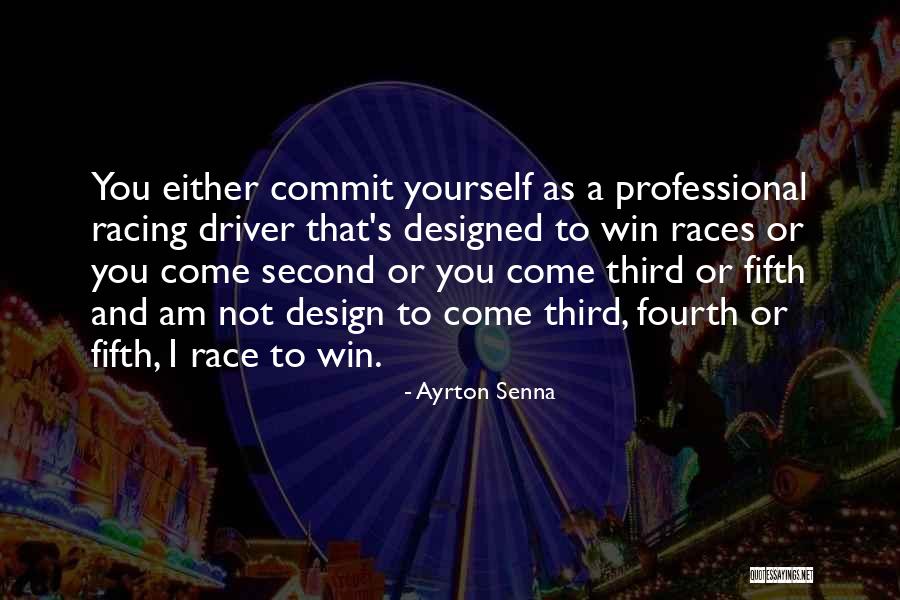 You either commit yourself as a professional racing driver that's designed to win races or you come second or you come third or fifth and am not design to come third, fourth or fifth, I race to win. — Ayrton Senna
It's probably the toughest distance race in the world to win. World class runners from 1500m to the marathon contest it and instead of just three runners from each country, like in the Olympics or World Championships, in the senior men's race there are nine. — Paul Tergat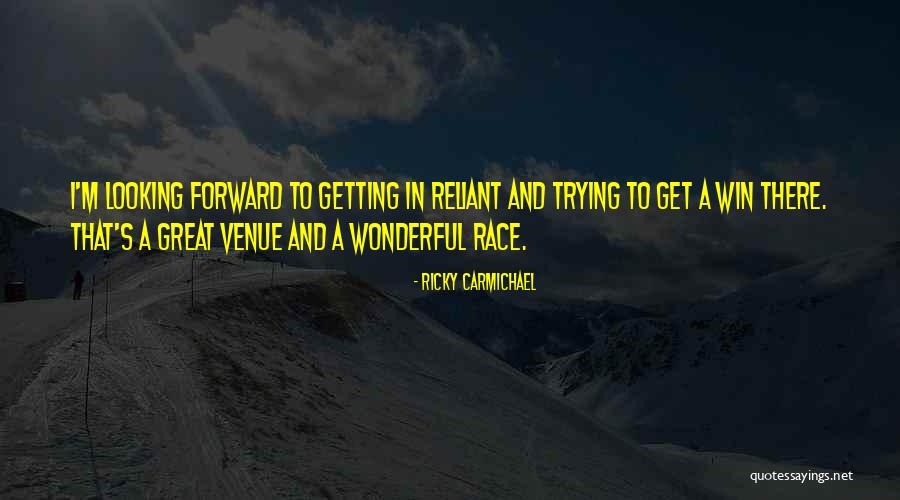 I'm looking forward to getting in Reliant and trying to get a win there. That's a great venue and a wonderful race. — Ricky Carmichael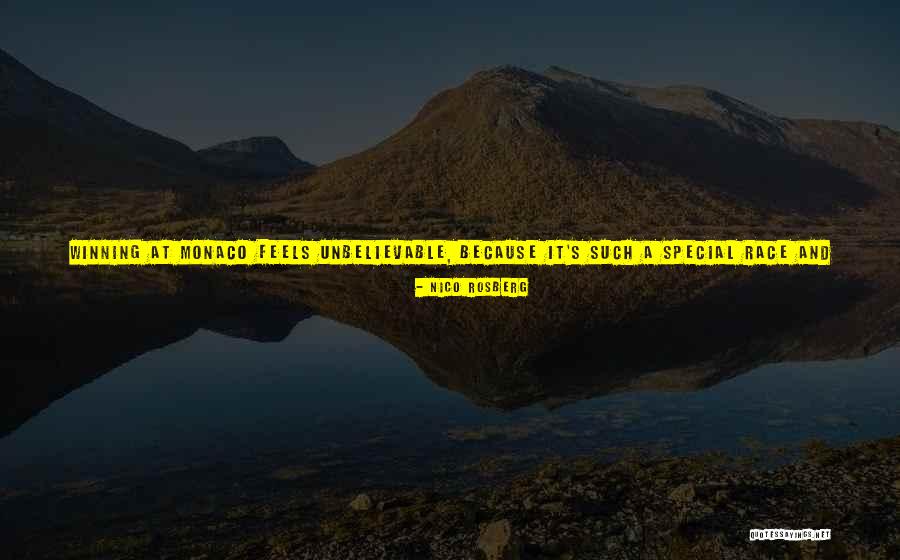 Winning at Monaco feels unbelievable, because it's such a special race and it's also my home race. My first memories were of watching Ayrton Senna here with his yellow helmet, and one day dreaming to win the Monaco GP. — Nico Rosberg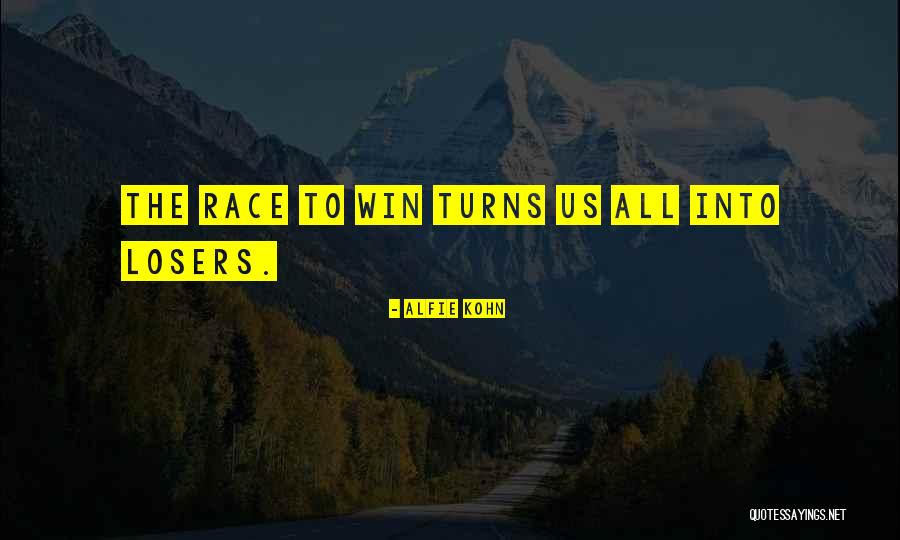 The race to win turns us all into losers. — Alfie Kohn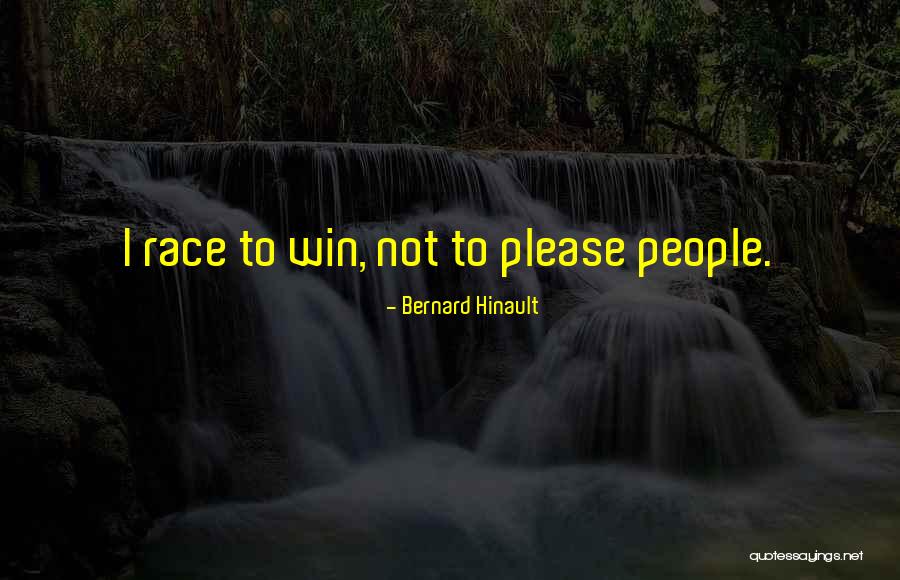 I race to win, not to please people. — Bernard Hinault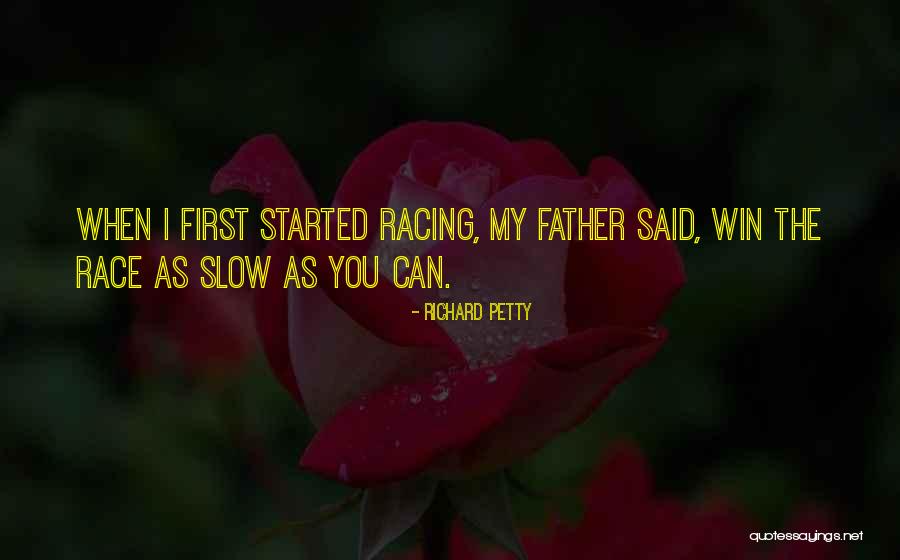 When I first started racing, my father said, Win the race as slow as you can. — Richard Petty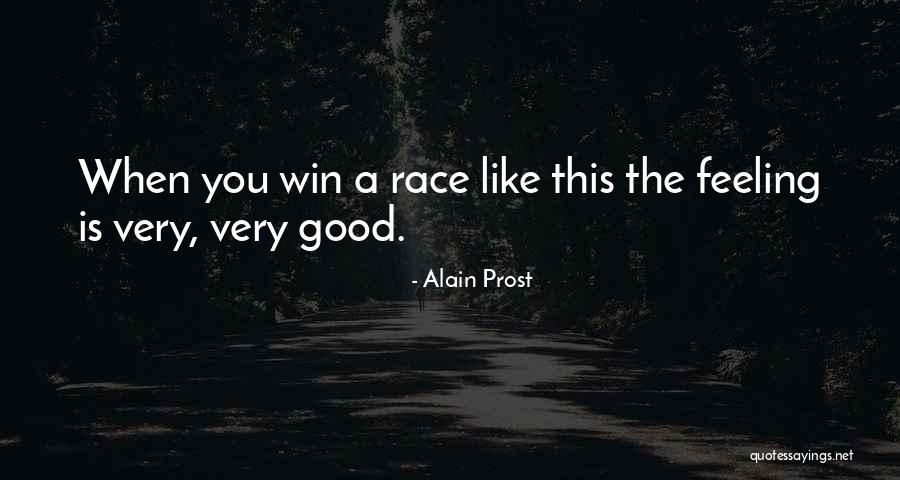 When you win a race like this the feeling is very, very good. — Alain Prost
Wanting to win races is detrimental to courage. You tend to run too conservatively because you want to wait and sprint. If you are there to force the pace, to CREATE greatness rather than to have greatness, Courageous moves are a part of your race. — Gerry Lindgren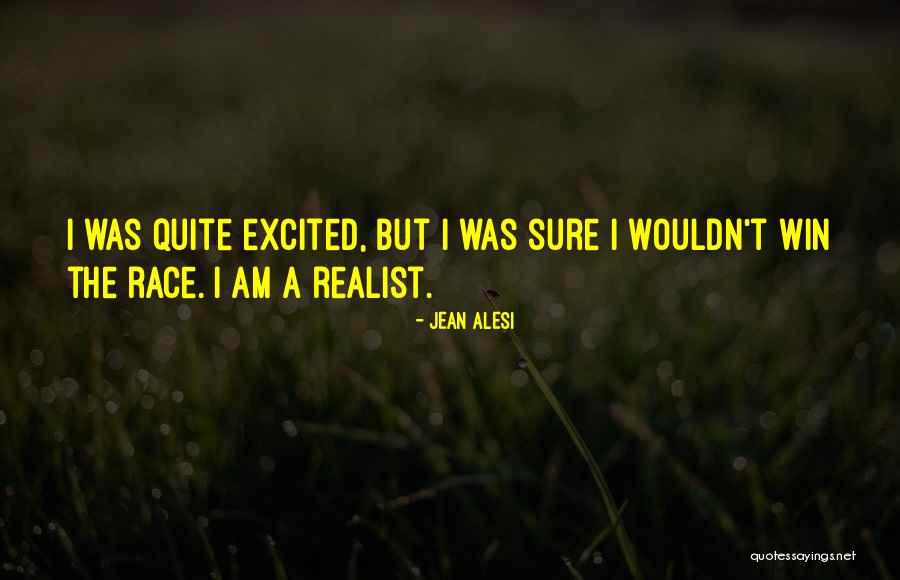 I was quite excited, but I was sure I wouldn't win the race. I am a realist. — Jean Alesi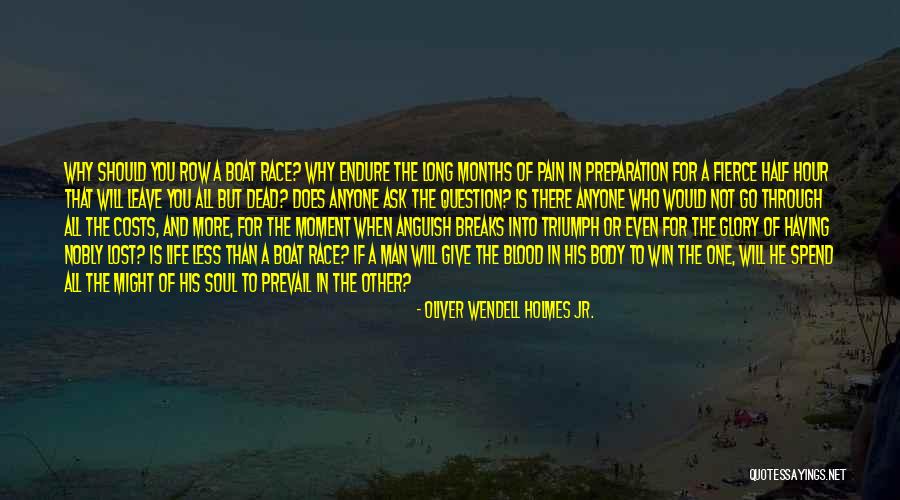 Why should you row a boat race? Why endure the long months of pain in preparation for a fierce half hour that will leave you all but dead? Does anyone ask the question? Is there anyone who would not go through all the costs, and more, for the moment when anguish breaks into triumph or even for the glory of having nobly lost? Is life less than a boat race? If a man will give the blood in his body to win the one, will he spend all the might of his soul to prevail in the other? — Oliver Wendell Holmes Jr.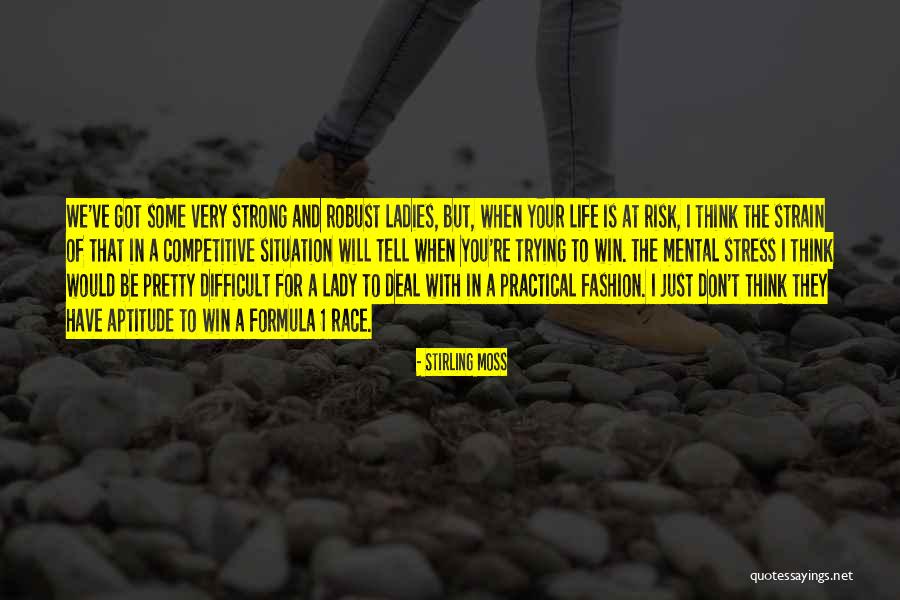 We've got some very strong and robust ladies, but, when your life is at risk, I think the strain of that in a competitive situation will tell when you're trying to win. The mental stress I think would be pretty difficult for a lady to deal with in a practical fashion. I just don't think they have aptitude to win a Formula 1 race. — Stirling Moss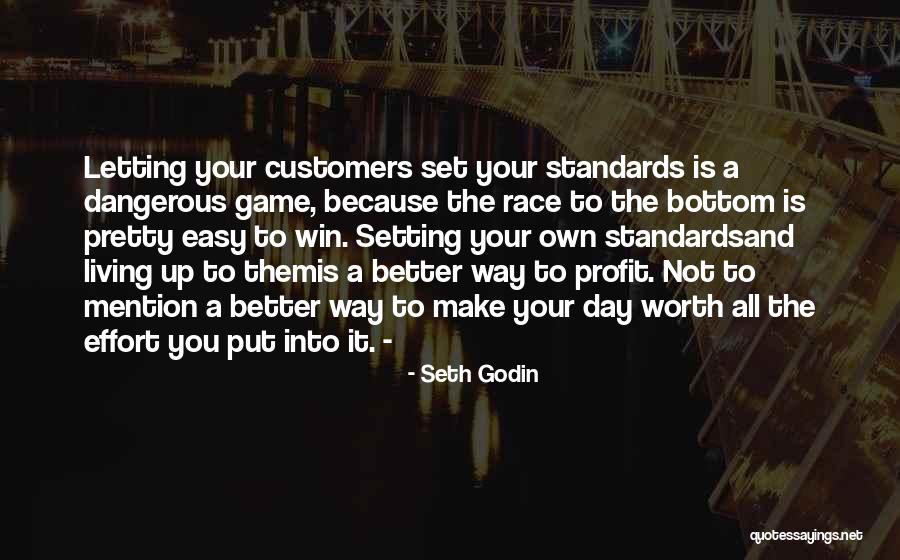 Letting your customers set your standards is a dangerous game, because the race to the bottom is pretty easy to win. Setting your own standards
and living up to them
is a better way to profit. Not to mention a better way to make your day worth all the effort you put into it. - — Seth Godin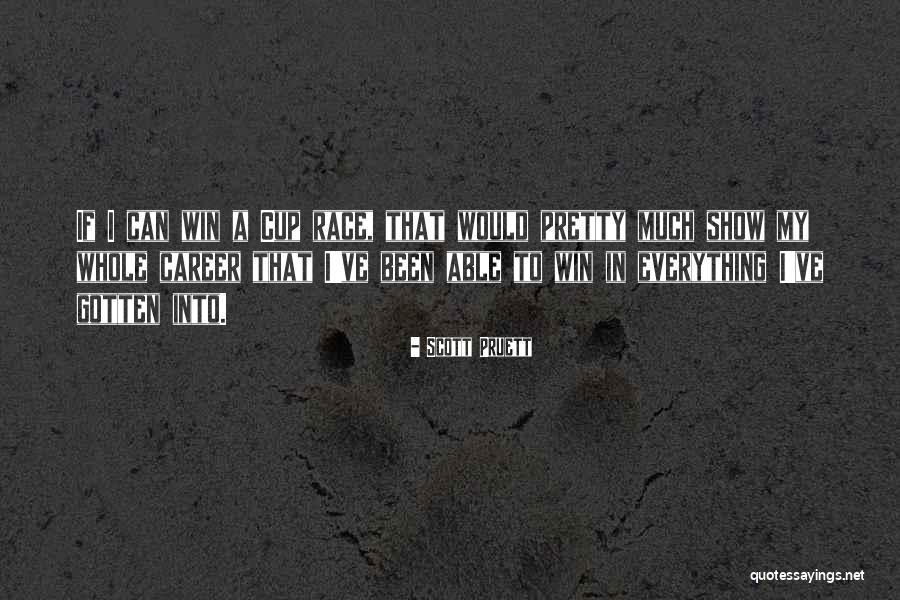 If I can win a Cup race, that would pretty much show my whole career that I've been able to win in everything I've gotten into. — Scott Pruett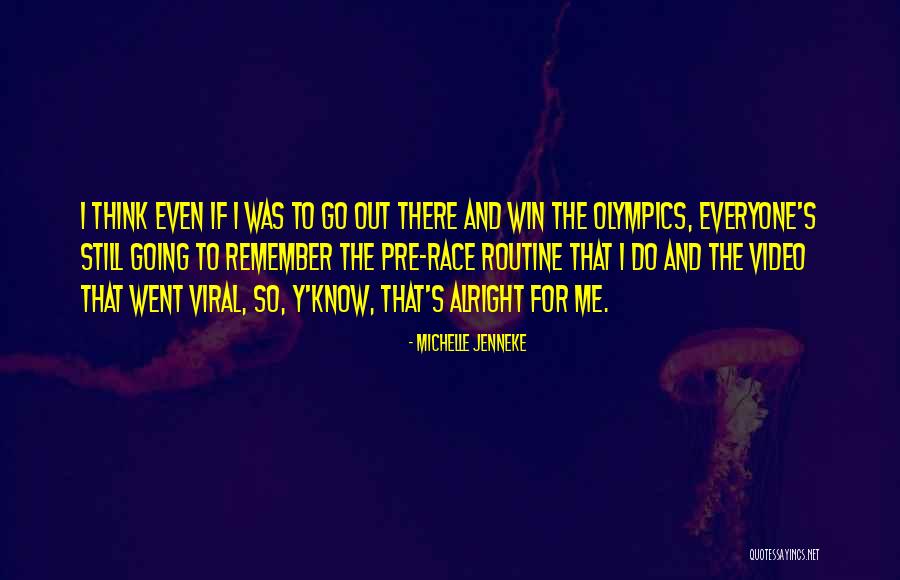 I think even if I was to go out there and win the Olympics, everyone's still going to remember the pre-race routine that I do and the video that went viral, so, y'know, that's alright for me. — Michelle Jenneke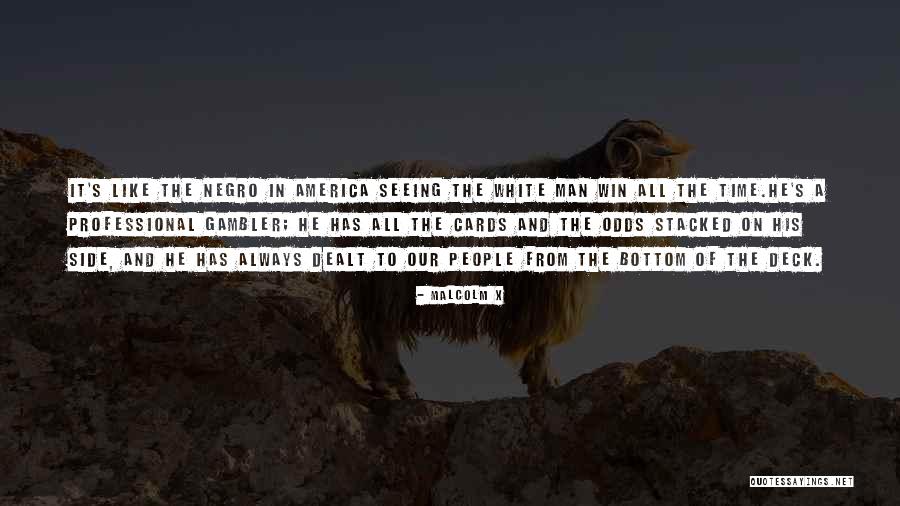 It's like the Negro in America seeing the white man win all the time.
He's a professional gambler; he has all the cards and the odds stacked on his side, and he has always dealt to our people from the bottom of the deck. — Malcolm X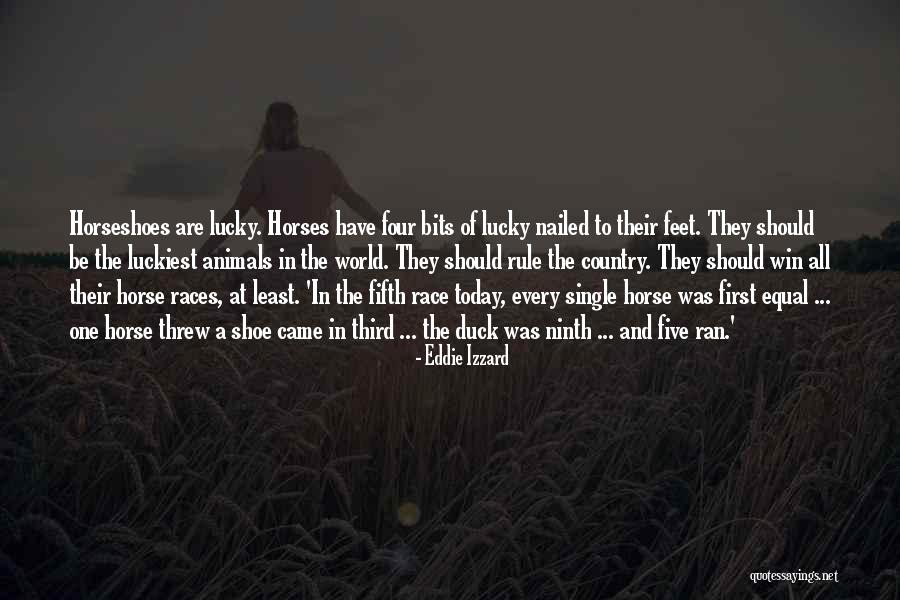 Horseshoes are lucky. Horses have four bits of lucky nailed to their feet. They should be the luckiest animals in the world. They should rule the country. They should win all their horse races, at least. 'In the fifth race today, every single horse was first equal ... one horse threw a shoe came in third ... the duck was ninth ... and five ran.' — Eddie Izzard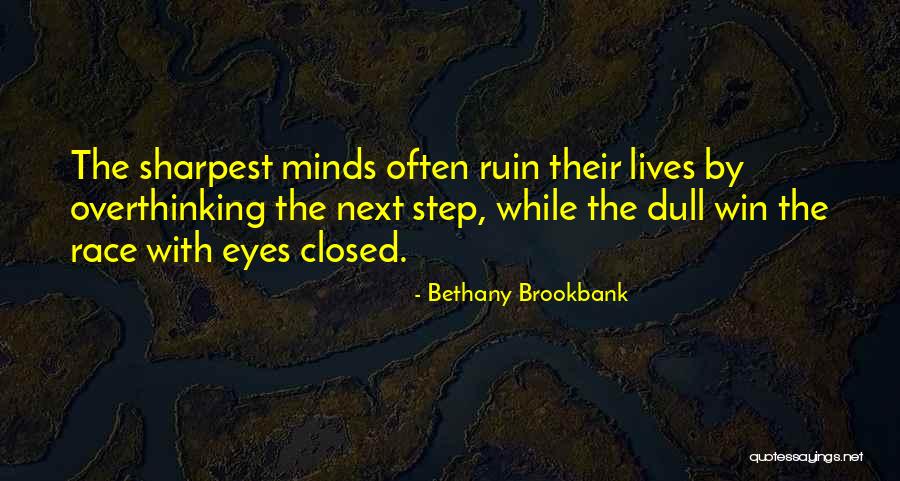 The sharpest minds often ruin their lives by overthinking the next step, while the dull win the race with eyes closed. — Bethany Brookbank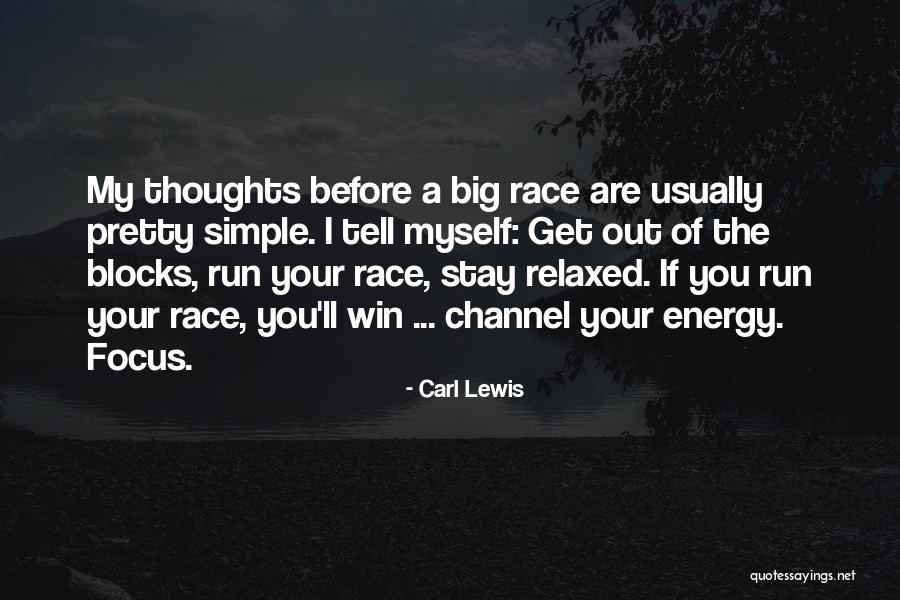 My thoughts before a big race are usually pretty simple. I tell myself: Get out of the blocks, run your race, stay relaxed. If you run your race, you'll win ... channel your energy. Focus. — Carl Lewis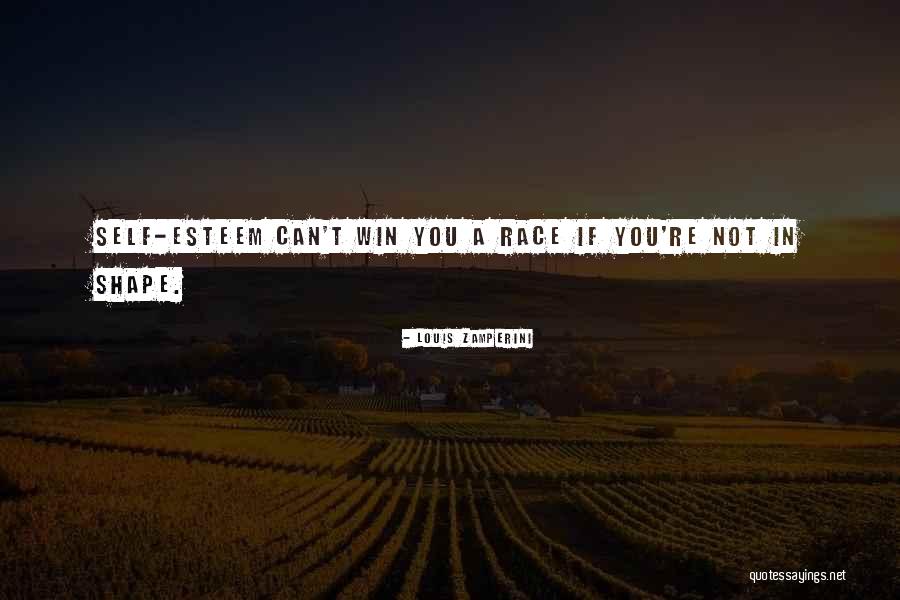 Self-esteem can't win you a race if you're not in shape. — Louis Zamperini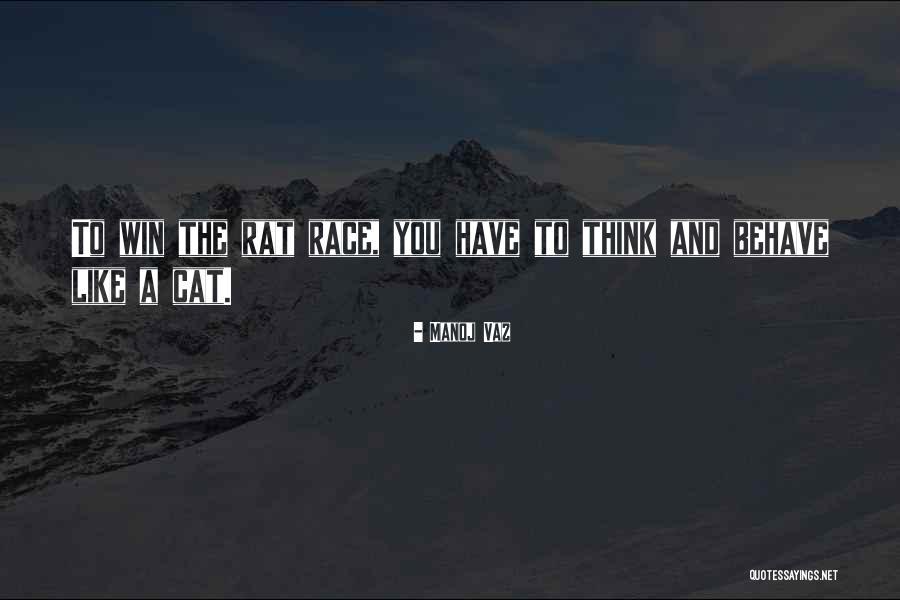 To win the rat race, you have to think and behave like a cat. — Manoj Vaz
It matters not whether you win the race or not but that you cross the finish line with a smile and a bit of a laugh. Stress does not come from having too much on your plate. Stress comes from labeling too many of those things as very important. Discussing religion, no matter how in depth the discussion, should never be confused with actually practicing that religion. — Pat McBride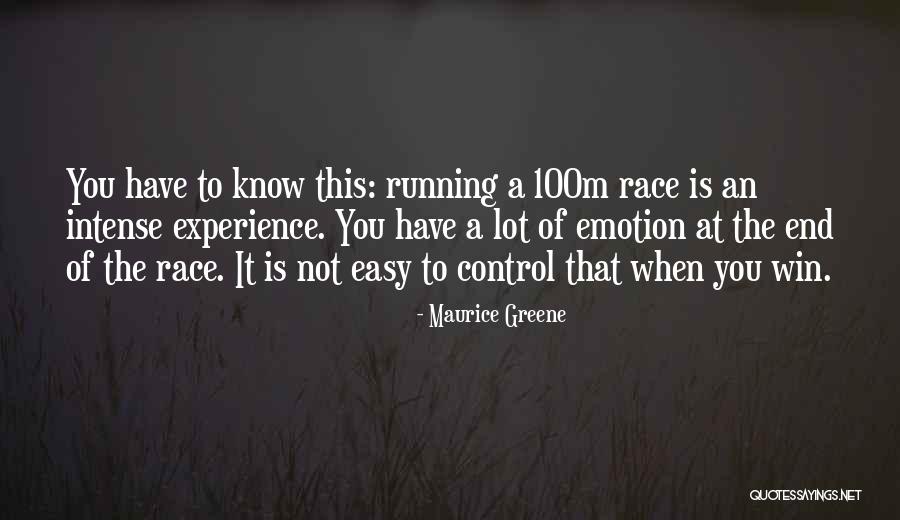 You have to know this: running a 100m race is an intense experience. You have a lot of emotion at the end of the race. It is not easy to control that when you win. — Maurice Greene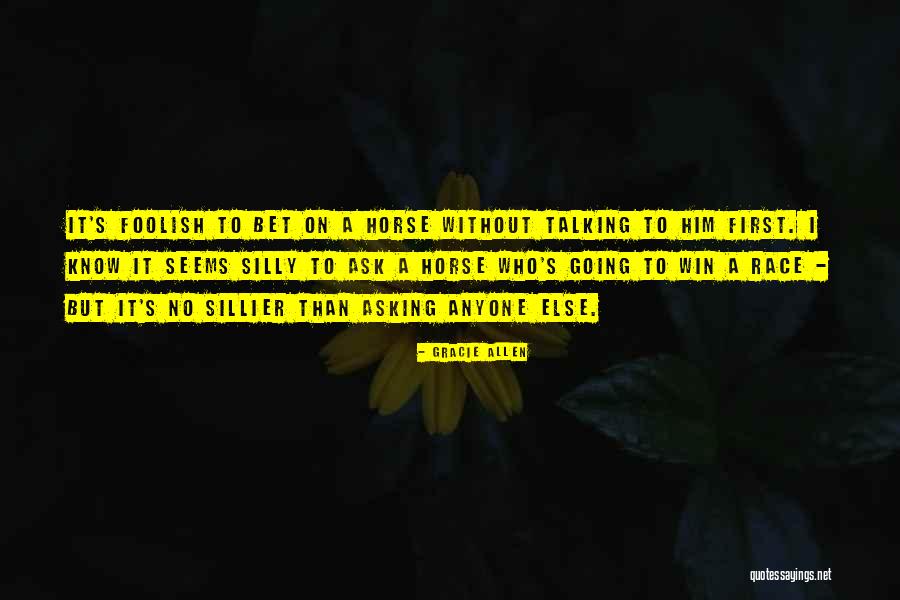 It's foolish to bet on a horse without talking to him first. I know it seems silly to ask a horse who's going to win a race - but it's no sillier than asking anyone else. — Gracie Allen
Last year was the best Father's Day ever, 1,000th win for Ford and to have my daughter there for her first victory lane. I'm not sure how to top that, but hopefully something spectacular will happen. Michigan is one of my favorite tracks; it's a big fast place and has lots of room to race. There is always a lot of strategy going on. Fuel mileage and pit stops are very important. — Greg Biffle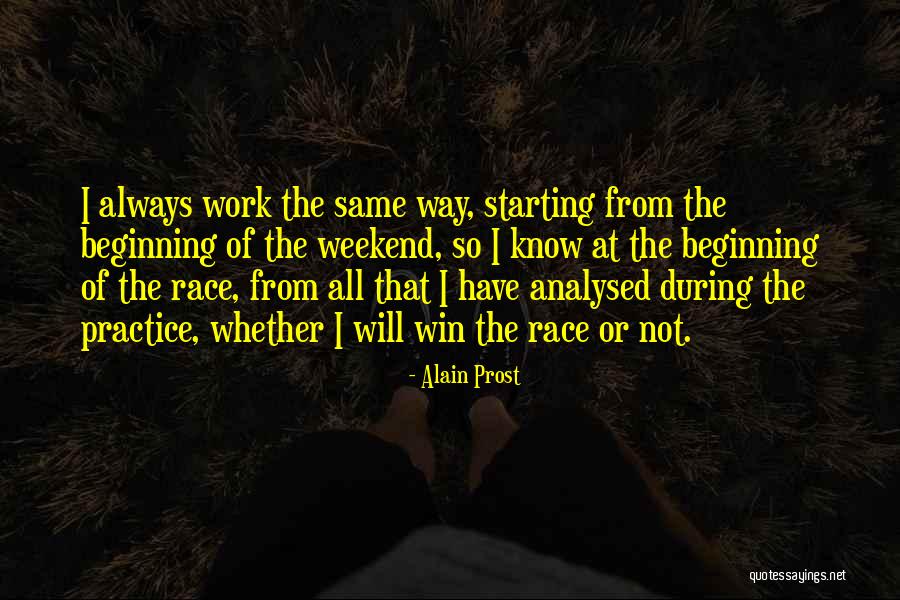 I always work the same way, starting from the beginning of the weekend, so I know at the beginning of the race, from all that I have analysed during the practice, whether I will win the race or not. — Alain Prost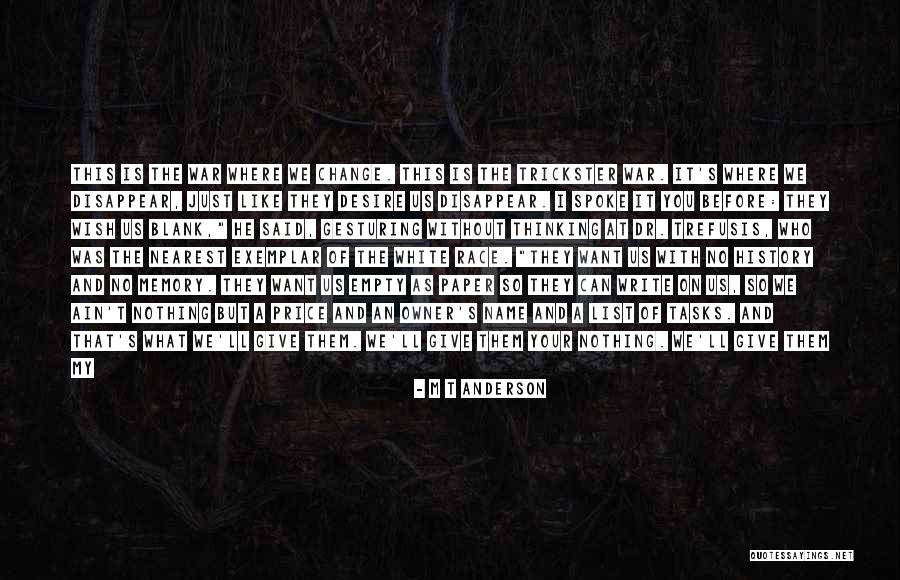 This is the war where we change. This is the trickster war. It's where we disappear, just like they desire us disappear. I spoke it you before: They wish us blank," he said, gesturing without thinking at Dr. Trefusis, who was the nearest exemplar of the white race. "They want us with no history and no memory. They want us empty as paper so they can write on us, so we ain't nothing but a price and an owner's name and a list of tasks. And that's what we'll give them. We'll give them your Nothing. We'll give them my William Williams and Henry Henry. We'll slip through and we'll change to who we must needs be and I will be all sly and have my delightful picaresque japes. But at the end of it, when it's over, I shall be one thing. I shall be one man, fixed, and not have to take no other name. I shall be one person steadily for some years."
"This is why we got to win ... If we ever wish to be one person, we got to win. — M T Anderson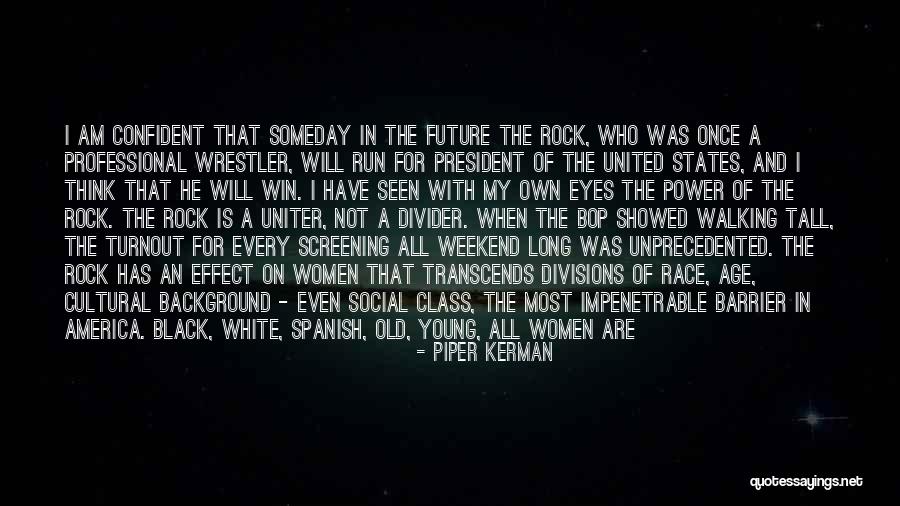 I am confident that someday in the future The Rock, who was once a professional wrestler, will run for president of the United States, and I think that he will win. I have seen with my own eyes the power of The Rock. The Rock is a uniter, not a divider. When the BOP showed Walking Tall, the turnout for every screening all weekend long was unprecedented. The Rock has an effect on women that transcends divisions of race, age, cultural background - even social class, the most impenetrable barrier in America. Black, white, Spanish, old, young, all women are hot for The Rock. Even the lesbians agreed that he was mighty easy on the eyes. — Piper Kerman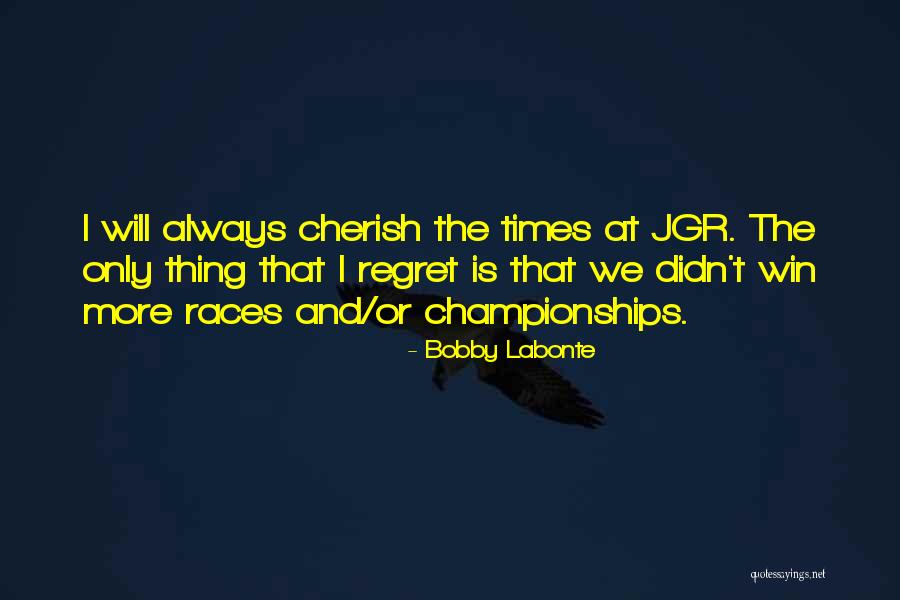 I will always cherish the times at JGR. The only thing that I regret is that we didn't win more races and/or championships. — Bobby Labonte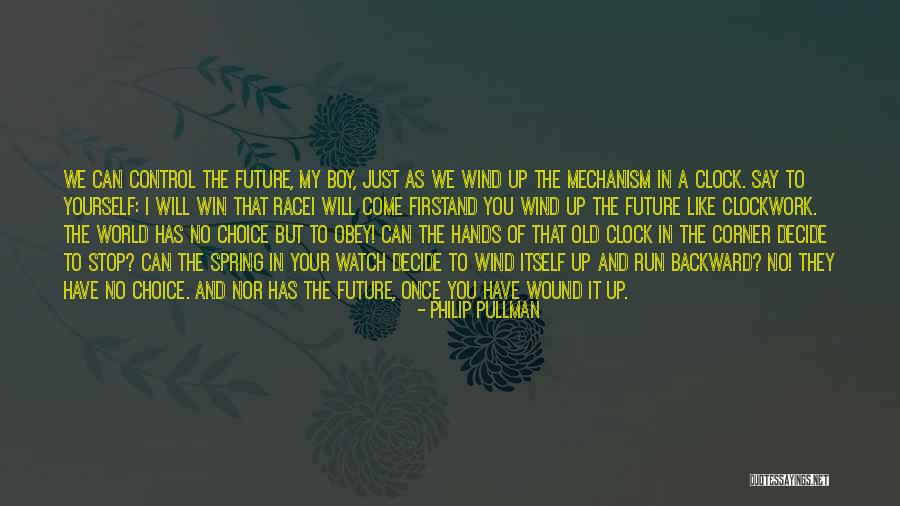 We can control the future, my boy, just as we wind up the mechanism in a clock. Say to yourself: I will win that race
I will come first
and you wind up the future like clockwork. The world has no choice but to obey! Can the hands of that old clock in the corner decide to stop? Can the spring in your watch decide to wind itself up and run backward? No! They have no choice. And nor has the future, once you have wound it up. — Philip Pullman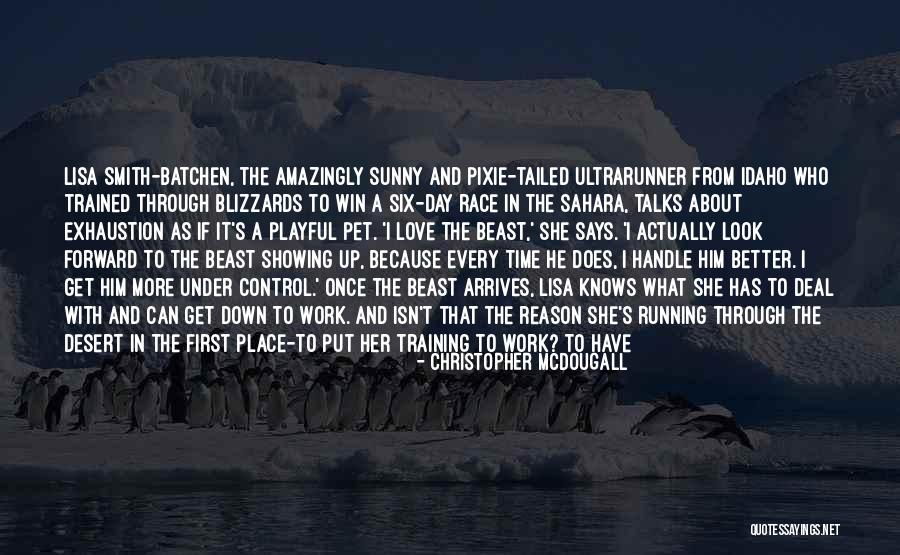 Lisa Smith-Batchen, the amazingly sunny and pixie-tailed ultrarunner from Idaho who trained through blizzards to win a six-day race in the Sahara, talks about exhaustion as if it's a playful pet. 'I love the Beast,' she says. 'I actually look forward to the Beast showing up, because every time he does, I handle him better. I get him more under control.' Once the Beast arrives, Lisa knows what she has to deal with and can get down to work. And isn't that the reason she's running through the desert in the first place-to put her training to work? To have a friendly little tussle with the Beast and show it who's boss? You can't hate the Beast and expect to beat it; the only way to truly conquer something, as every great philosopher and geneticist will tell you , is to love it. — Christopher McDougall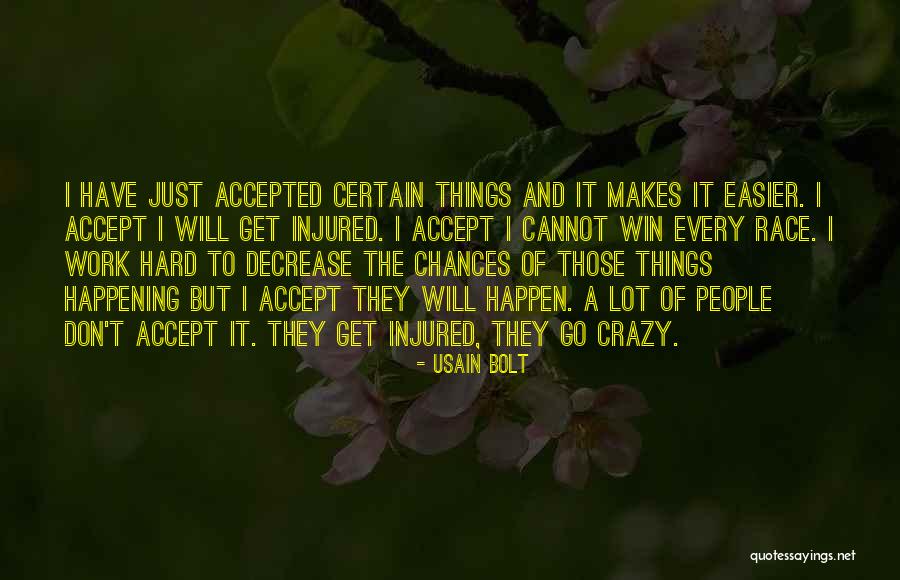 I have just accepted certain things and it makes it easier. I accept I will get injured. I accept I cannot win every race. I work hard to decrease the chances of those things happening but I accept they will happen. A lot of people don't accept it. They get injured, they go crazy. — Usain Bolt
Every day you amass knowledge in a frantic race against death that death must win. You want to find out everything in the time you have; yet in the end you wonder why you bothered, it'll all be lost. I keep trying to explain this to anyone who will listen. — Derek Raymond