Quotes & Sayings About Joy In The Little Things
Enjoy reading and share 45 famous quotes about Joy In The Little Things with everyone.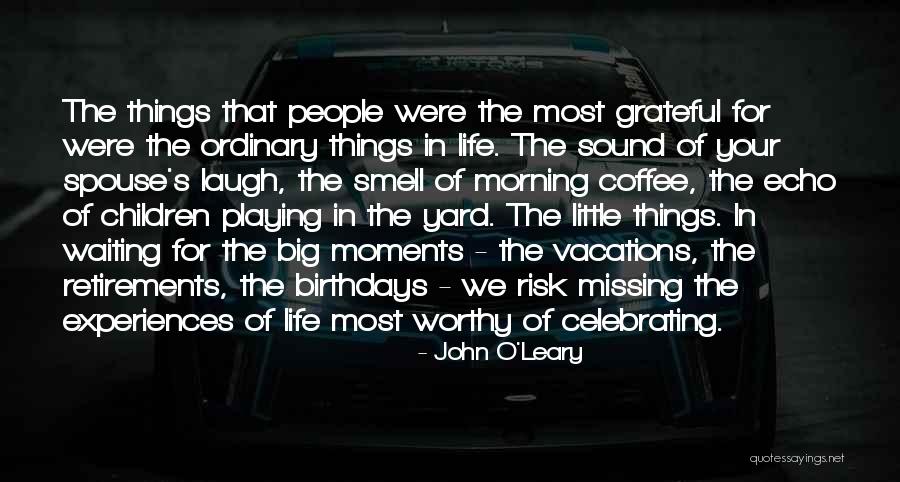 The things that people were the most grateful for were the ordinary things in life. The sound of your spouse's laugh, the smell of morning coffee, the echo of children playing in the yard. The little things. In waiting for the big moments - the vacations, the retirements, the birthdays - we risk missing the experiences of life most worthy of celebrating. — John O'Leary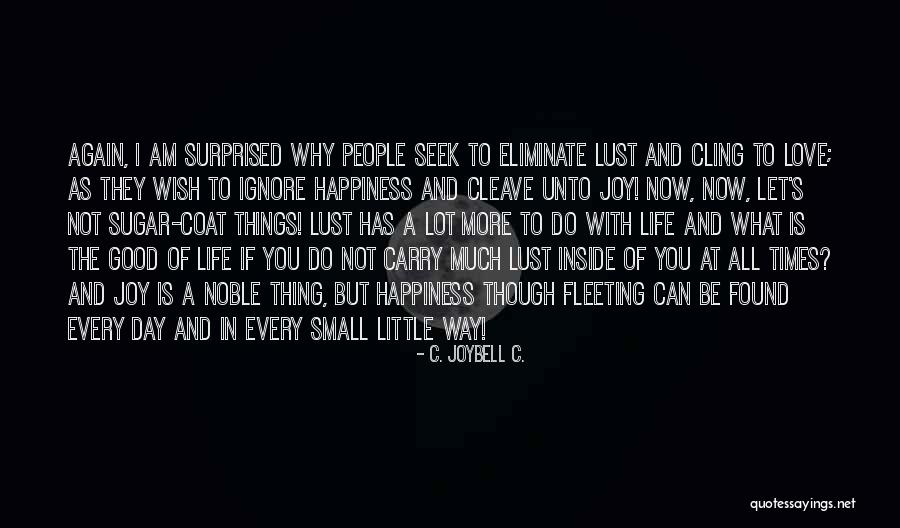 Again, I am surprised why people seek to eliminate lust and cling to love; as they wish to ignore happiness and cleave unto joy! Now, now, let's not sugar-coat things! Lust has a lot more to do with life and what is the good of life if you do not carry much lust inside of you at all times? And joy is a noble thing, but happiness though fleeting can be found every day and in every small little way! — C. JoyBell C.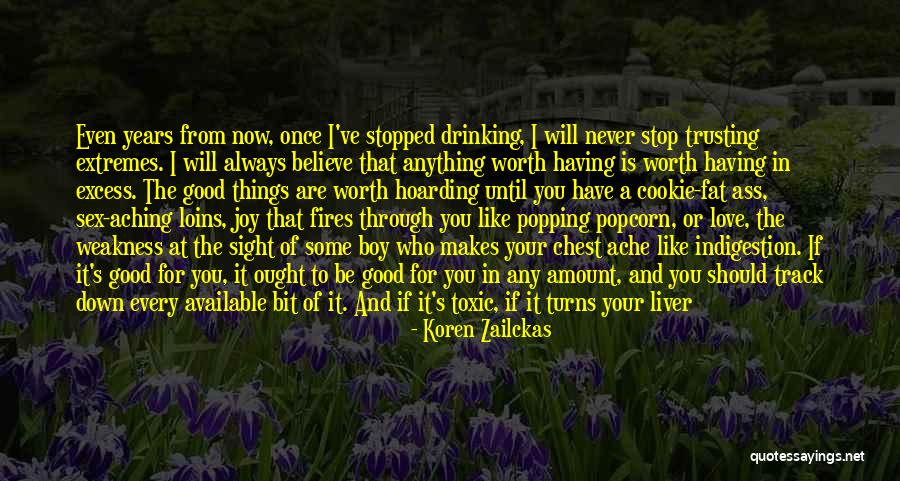 Even years from now, once I've stopped drinking, I will never stop trusting extremes. I will always believe that anything worth having is worth having in excess. The good things are worth hoarding until you have a cookie-fat ass, sex-aching loins, joy that fires through you like popping popcorn, or love, the weakness at the sight of some boy who makes your chest ache like indigestion. If it's good for you, it ought to be good for you in any amount, and you should track down every available bit of it. And if it's toxic, if it turns your liver into a hard little rock of scar tissue, or curls your memory at the edges like something burned in a fire, or makes your stomach flop, or your mind ache, or your personality contorted, you shouldn't buy into the bullshit about temperance. — Koren Zailckas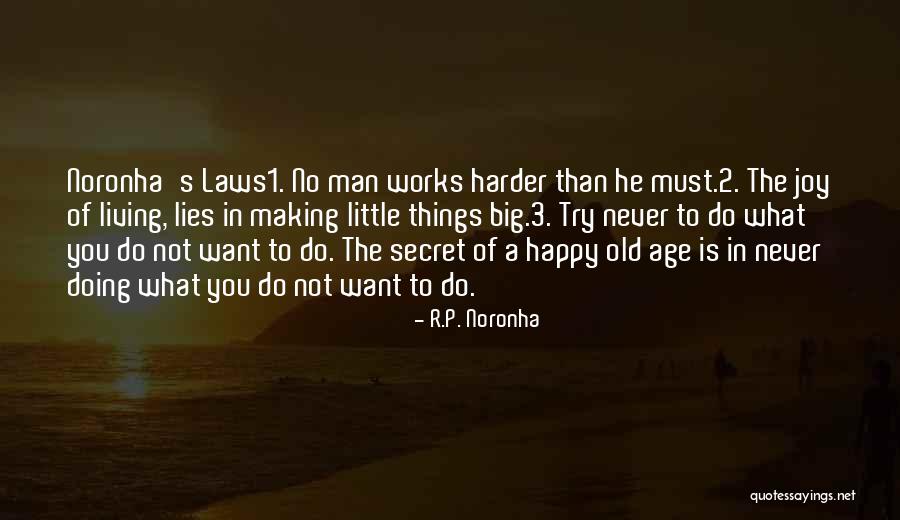 Noronha's Laws

1. No man works harder than he must.
2. The joy of living, lies in making little things big.
3. Try never to do what you do not want to do. The secret of a happy old age is in never doing what you do not want to do. — R.P. Noronha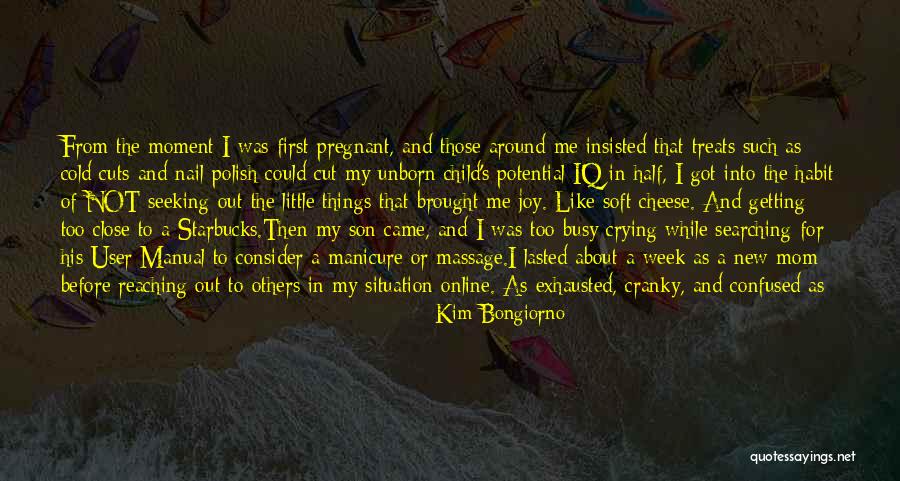 From the moment I was first pregnant, and those around me insisted that treats such as cold cuts and nail polish could cut my unborn child's potential IQ in half, I got into the habit of NOT seeking out the little things that brought me joy. Like soft cheese. And getting too close to a Starbucks.
Then my son came, and I was too busy crying while searching for his User Manual to consider a manicure or massage.
I lasted about a week as a new mom before reaching out to others in my situation online. As exhausted, cranky, and confused as I was, I needed friends.
It didn't take long for this gaggle of desperate, sleepless women to meet up in person ... — Kim Bongiorno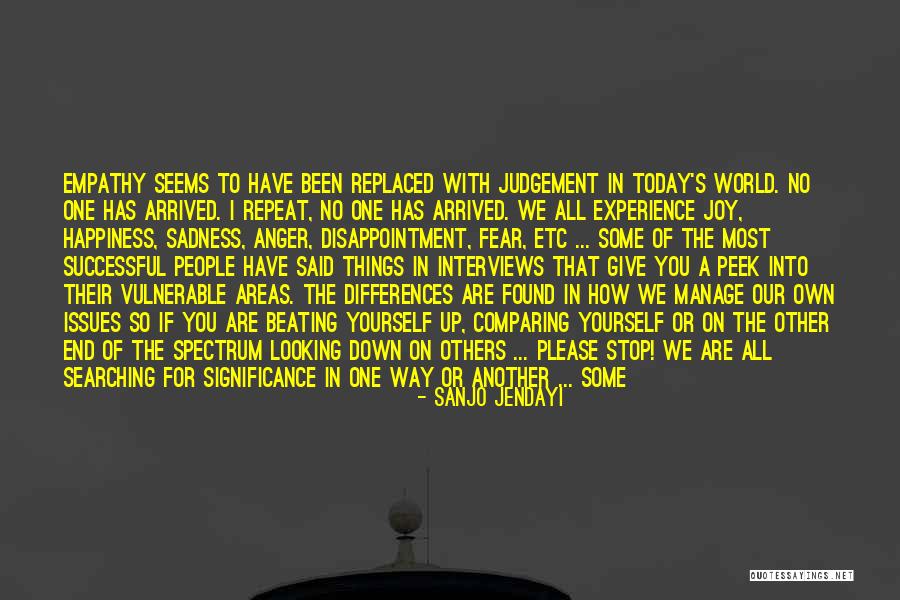 Empathy seems to have been replaced with judgement in today's world. NO ONE has arrived. I repeat, NO ONE has arrived. We all experience joy, happiness, sadness, anger, disappointment, fear, etc ... Some of the most successful people have said things in interviews that give you a peek into their vulnerable areas. The differences are found in how we manage our own issues so if you are beating yourself up, comparing yourself or on the other end of the spectrum looking down on others ... please stop! We are all searching for significance in one way or another ... some have found it within while it takes others a little more time searching the outside. Be true to yourself and allow others to do the same. Remember, no one has it all together all the time. NO ONE HAS ARRIVED ... WE ARE ALL BE-COMING. HUMANS BE-ING. So let folks BE. — Sanjo Jendayi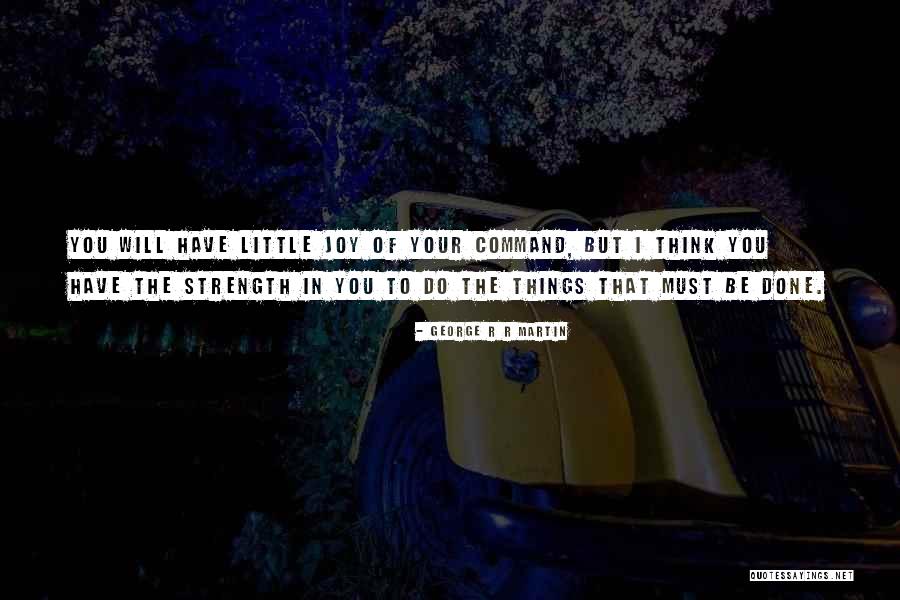 You will have little joy of your command, but I think you have the strength in you to do the things that must be done. — George R R Martin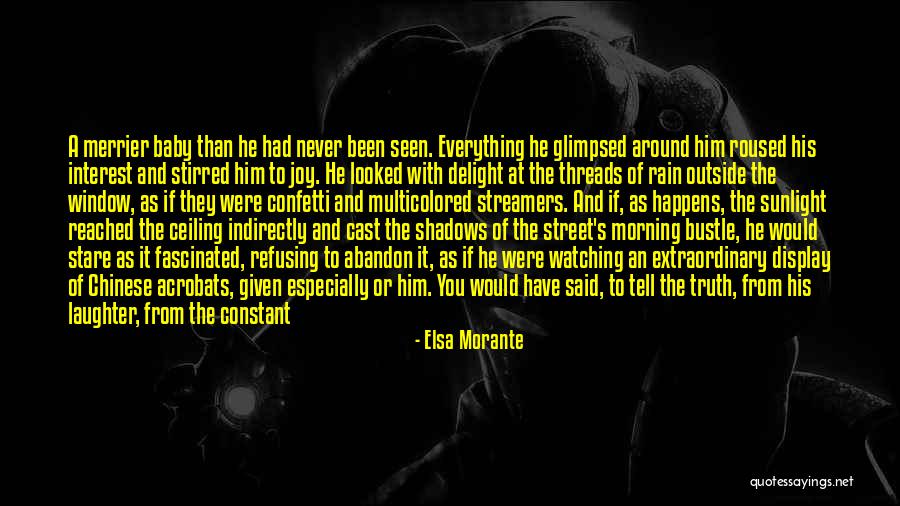 A merrier baby than he had never been seen. Everything he glimpsed around him roused his interest and stirred him to joy. He looked with delight at the threads of rain outside the window, as if they were confetti and multicolored streamers. And if, as happens, the sunlight reached the ceiling indirectly and cast the shadows of the street's morning bustle, he would stare as it fascinated, refusing to abandon it, as if he were watching an extraordinary display of Chinese acrobats, given especially or him. You would have said, to tell the truth, from his laughter, from the constant brightening of his little face, that he didn't see things only in their usual aspects, but as multiple images of other things, varying to infinity. Otherwise, there was no explaining why the wretched, monotonous scene the house offered every day could afford him such diverse, inexhaustible amusement. — Elsa Morante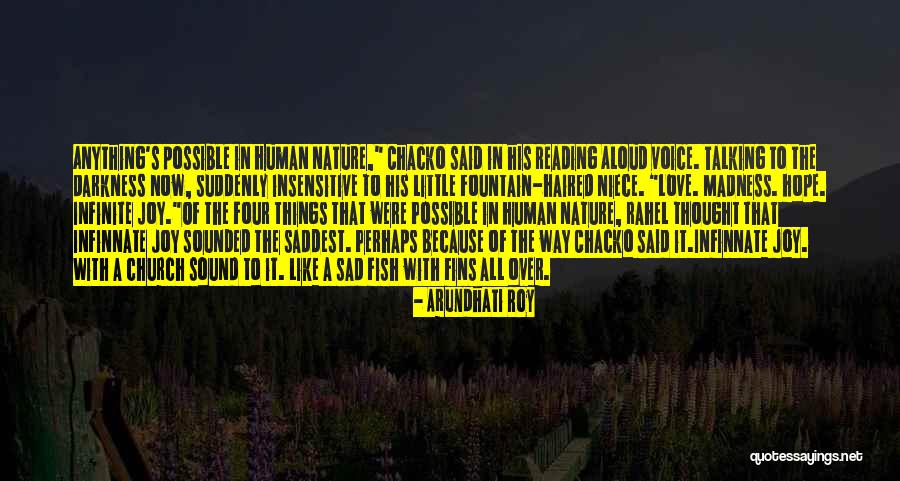 Anything's possible in Human Nature," Chacko said in his Reading Aloud voice. Talking to the darkness now, suddenly insensitive to his little fountain-haired niece. "Love. Madness. Hope. Infinite joy."
Of the four things that were Possible in Human Nature, Rahel thought that Infinnate Joy sounded the saddest. Perhaps because of the way Chacko said it.
Infinnate Joy. With a church sound to it. Like a sad fish with fins all over. — Arundhati Roy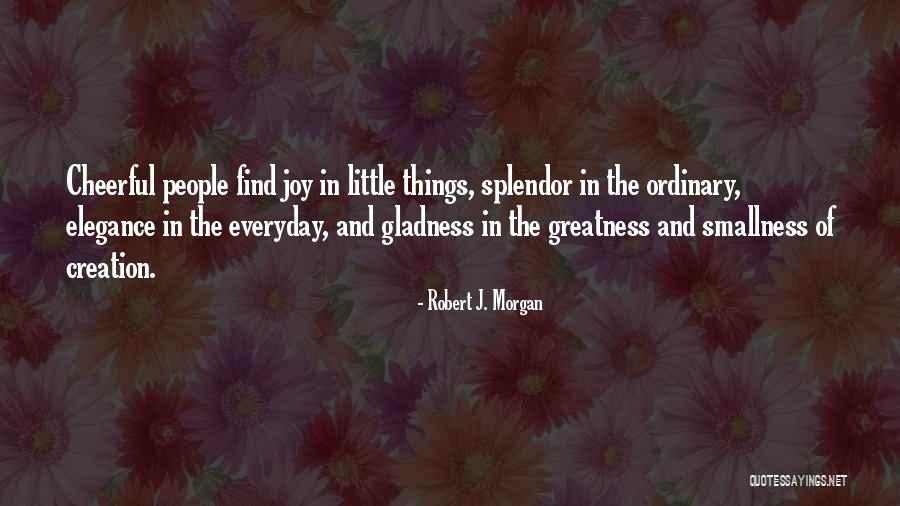 Cheerful people find joy in little things, splendor in the ordinary, elegance in the everyday, and gladness in the greatness and smallness of creation. — Robert J. Morgan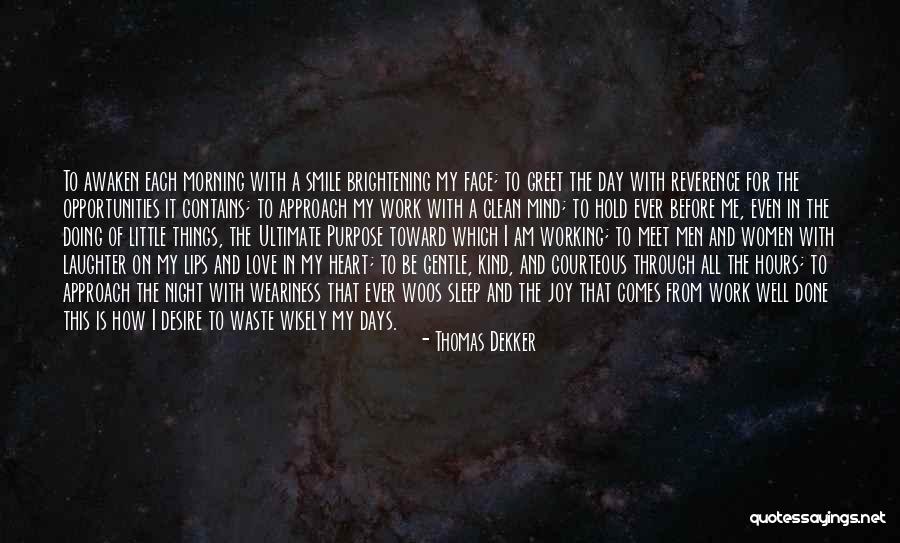 To awaken each morning with a smile brightening my face; to greet the day with reverence for the opportunities it contains; to approach my work with a clean mind; to hold ever before me, even in the doing of little things, the Ultimate Purpose toward which I am working; to meet men and women with laughter on my lips and love in my heart; to be gentle, kind, and courteous through all the hours; to approach the night with weariness that ever woos sleep and the joy that comes from work well done
this is how I desire to waste wisely my days. — Thomas Dekker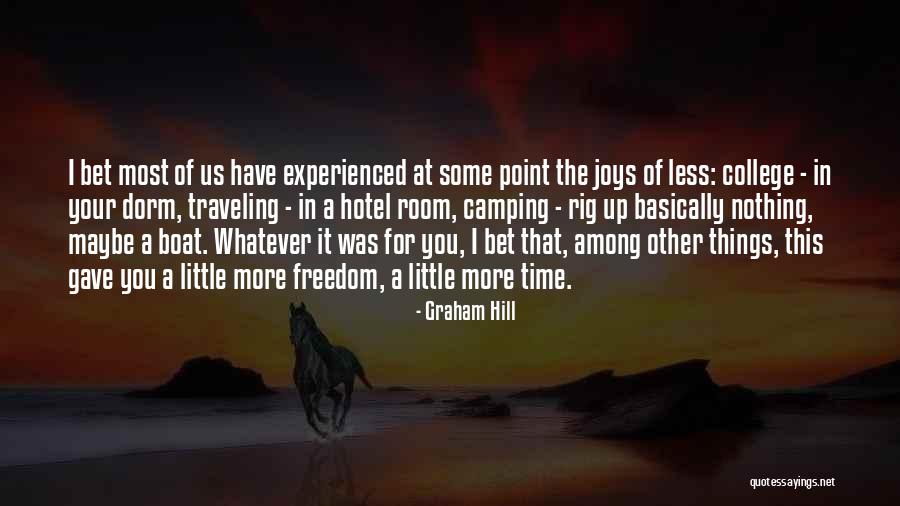 I bet most of us have experienced at some point the joys of less: college - in your dorm, traveling - in a hotel room, camping - rig up basically nothing, maybe a boat. Whatever it was for you, I bet that, among other things, this gave you a little more freedom, a little more time. — Graham Hill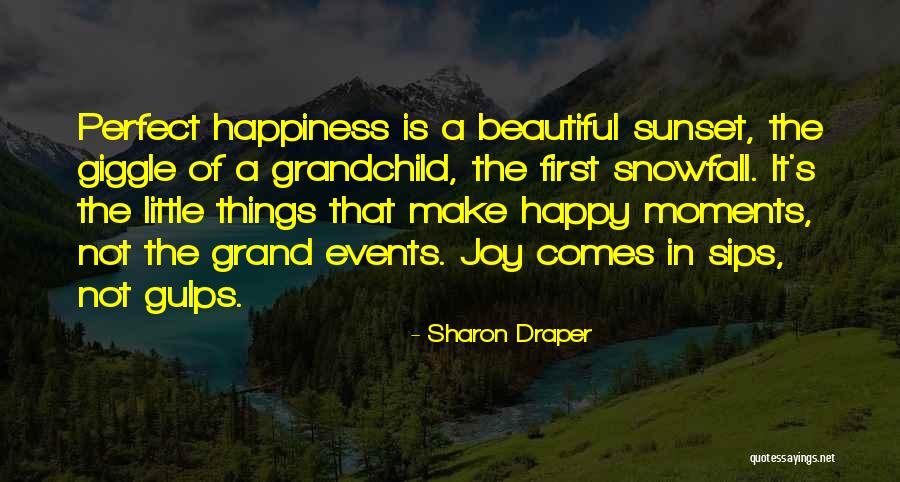 Perfect happiness is a beautiful sunset, the giggle of a grandchild, the first snowfall. It's the little things that make happy moments, not the grand events. Joy comes in sips, not gulps. — Sharon Draper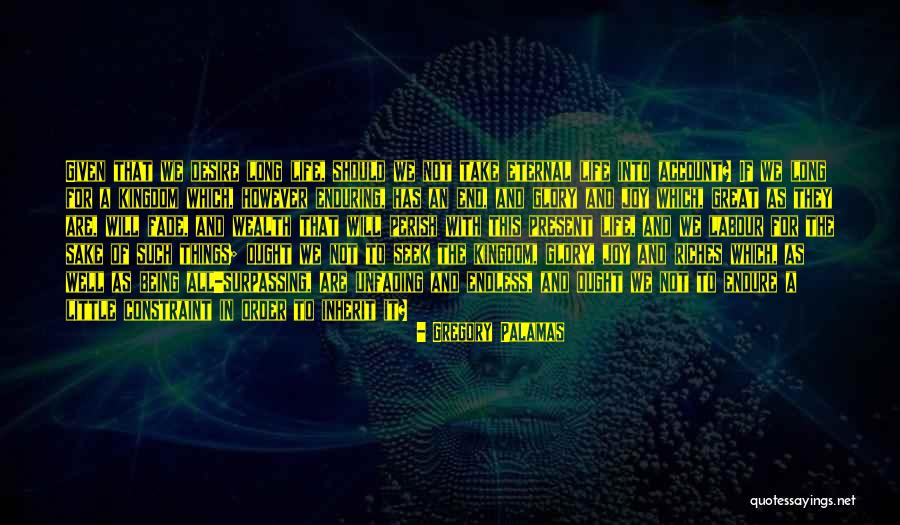 Given that we desire long life, should we not take eternal life into account? If we long for a kingdom which, however enduring, has an end, and glory and joy which, great as they are, will fade, and wealth that will perish with this present life, and we labour for the sake of such things; ought we not to seek the kingdom, glory, joy and riches which, as well as being all-surpassing, are unfading and endless, and ought we not to endure a little constraint in order to inherit it? — Gregory Palamas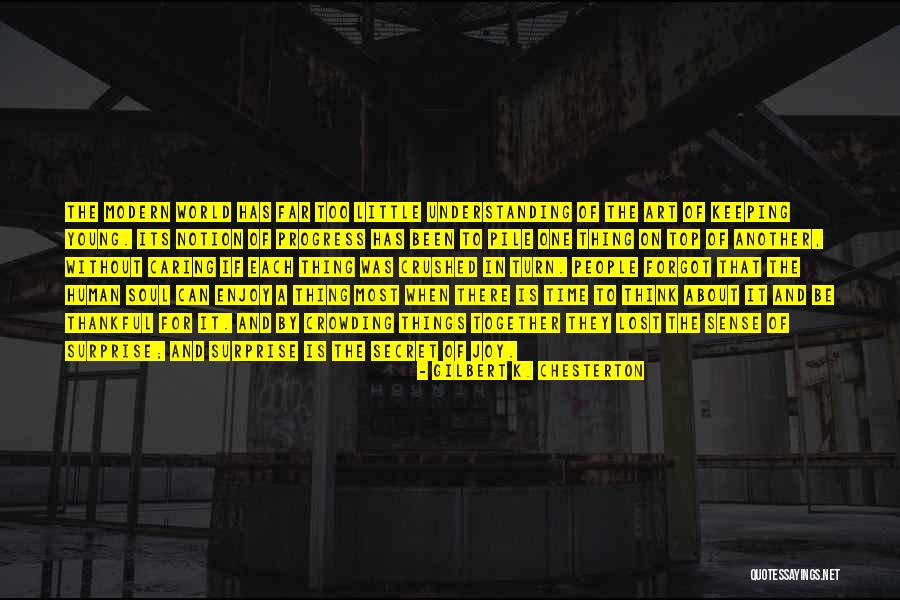 The modern world has far too little understanding of the art of keeping young. Its notion of progress has been to pile one thing on top of another, without caring if each thing was crushed in turn. People forgot that the human soul can enjoy a thing most when there is time to think about it and be thankful for it. And by crowding things together they lost the sense of surprise; and surprise is the secret of joy. — Gilbert K. Chesterton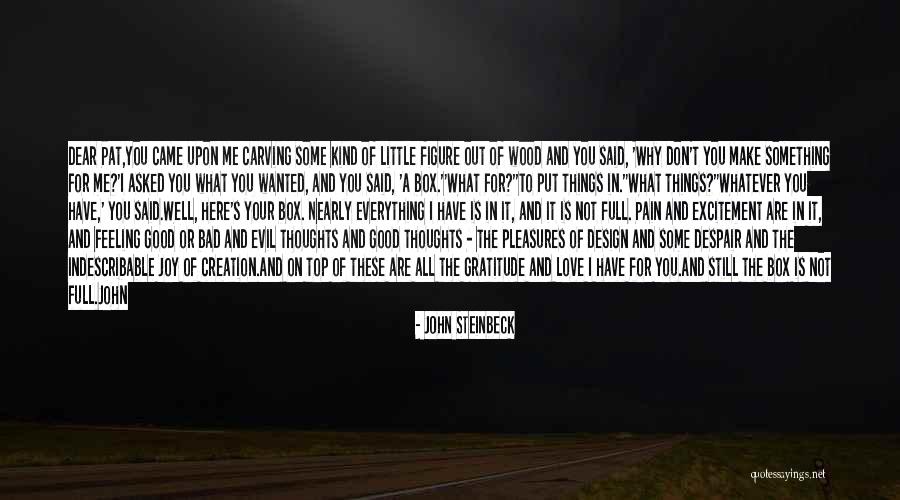 Dear Pat,
You came upon me carving some kind of little figure out of wood and you said, 'Why don't you make something for me?'
I asked you what you wanted, and you said, 'A box.'
'What for?'
'To put things in.'
'What things?'
'Whatever you have,' you said.
Well, here's your box. Nearly everything I have is in it, and it is not full. Pain and excitement are in it, and feeling good or bad and evil thoughts and good thoughts - the pleasures of design and some despair and the indescribable joy of creation.
And on top of these are all the gratitude and love I have for you.
And still the box is not full.
John — John Steinbeck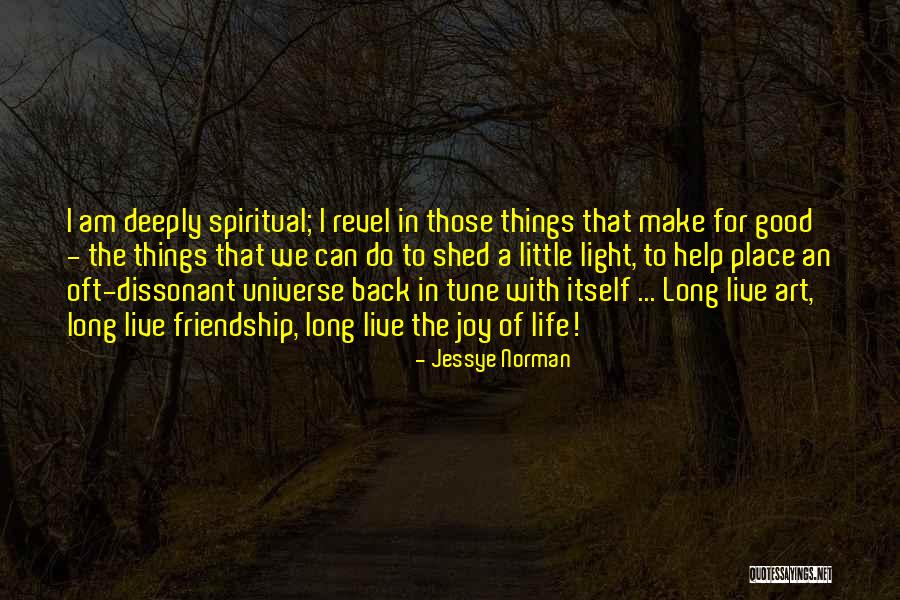 I am deeply spiritual; I revel in those things that make for good - the things that we can do to shed a little light, to help place an oft-dissonant universe back in tune with itself ... Long live art, long live friendship, long live the joy of life! — Jessye Norman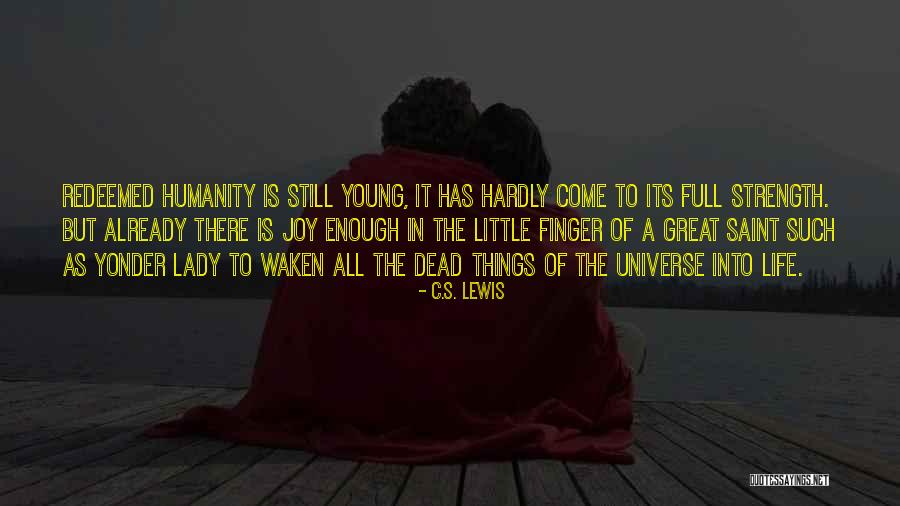 Redeemed humanity is still young, it has hardly come to its full strength. But already there is joy enough in the little finger of a great saint such as yonder lady to waken all the dead things of the universe into life. — C.S. Lewis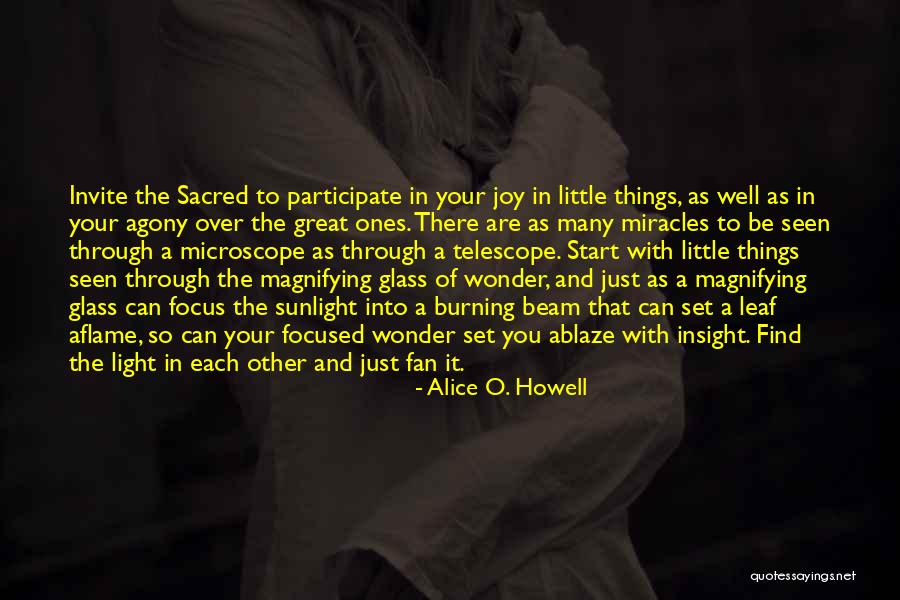 Invite the Sacred to participate in your joy in little things, as well as in your agony over the great ones. There are as many miracles to be seen through a microscope as through a telescope. Start with little things seen through the magnifying glass of wonder, and just as a magnifying glass can focus the sunlight into a burning beam that can set a leaf aflame, so can your focused wonder set you ablaze with insight. Find the light in each other and just fan it. — Alice O. Howell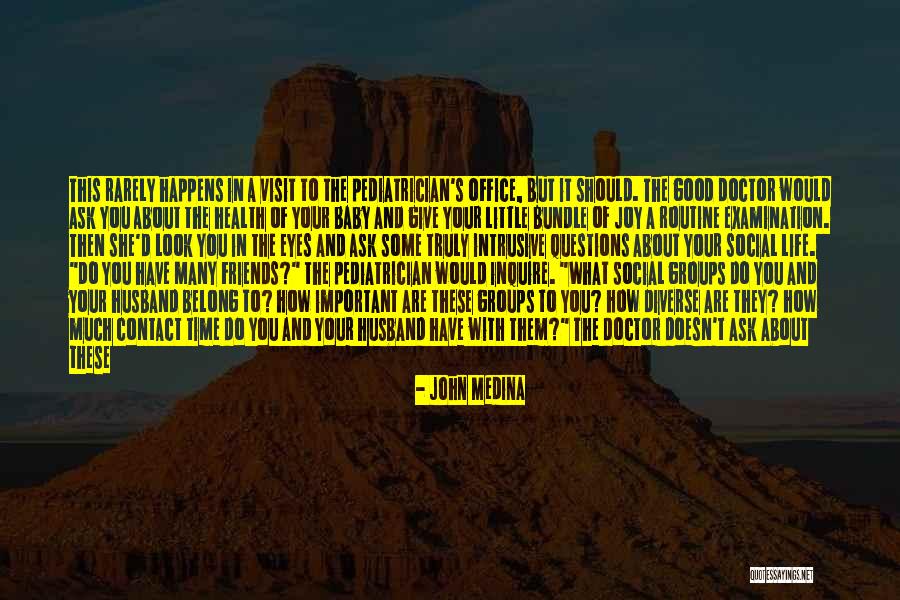 This rarely happens in a visit to the pediatrician's office, but it should. The good doctor would ask you about the health of your baby and give your little bundle of joy a routine examination. Then she'd look you in the eyes and ask some truly intrusive questions about your social life. "Do you have many friends?" the pediatrician would inquire. "What social groups do you and your husband belong to? How important are these groups to you? How diverse are they? How much contact time do you and your husband have with them?" The doctor doesn't ask about these things because your social life is none of her business. The problem is, it is plenty of the infant's business. — John Medina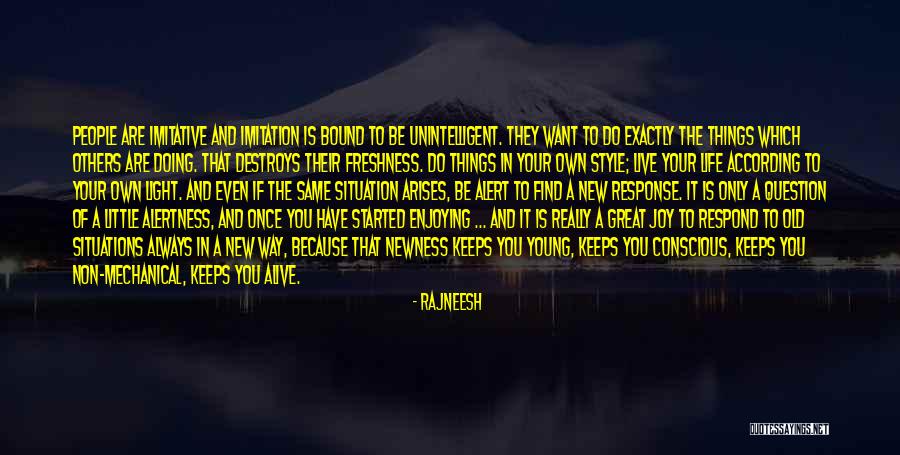 People are imitative and imitation is bound to be unintelligent. They want to do exactly the things which others are doing. That destroys their freshness. Do things in your own style; live your life according to your own light. And even if the same situation arises, be alert to find a new response. It is only a question of a little alertness, and once you have started enjoying ... and it is really a great joy to respond to old situations always in a new way, because that newness keeps you young, keeps you conscious, keeps you non-mechanical, keeps you alive. — Rajneesh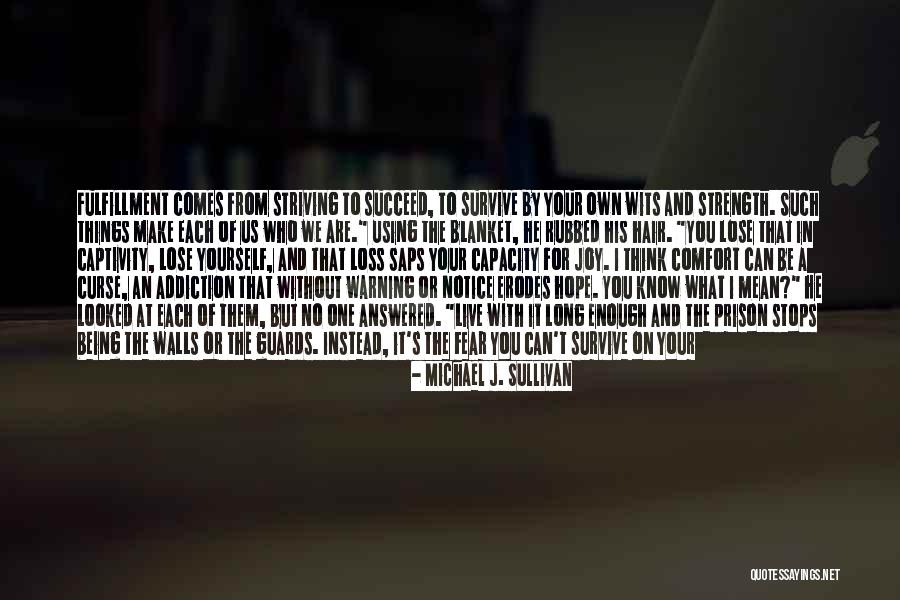 Fulfillment comes from striving to succeed, to survive by your own wits and strength. Such things make each of us who we are." Using the blanket, he rubbed his hair. "You lose that in captivity, lose yourself, and that loss saps your capacity for joy. I think comfort can be a curse, an addiction that without warning or notice erodes hope. You know what I mean?" He looked at each of them, but no one answered. "Live with it long enough and the prison stops being the walls or the guards. Instead, it's the fear you can't survive on your own, the belief you aren't as capable, or as worthy, as others. I think everyone has the capacity to do great things, to rise above their everyday lives; they just need a little push now and then. — Michael J. Sullivan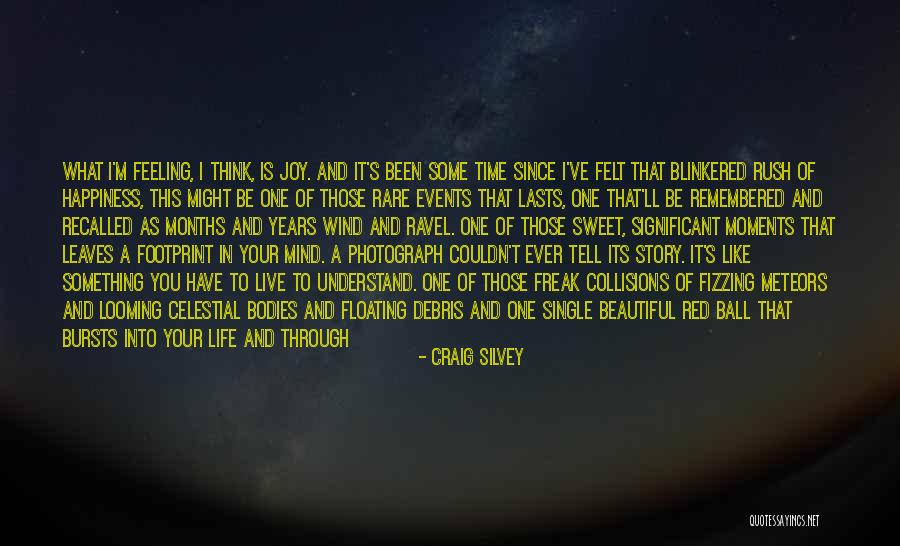 What I'm feeling, I think, is joy. And it's been some time since I've felt that blinkered rush of happiness, This might be one of those rare events that lasts, one that'll be remembered and recalled as months and years wind and ravel. One of those sweet, significant moments that leaves a footprint in your mind. A photograph couldn't ever tell its story. It's like something you have to live to understand. One of those freak collisions of fizzing meteors and looming celestial bodies and floating debris and one single beautiful red ball that bursts into your life and through your body like an enormous firework. Where things shift into focus for a moment, and everything makes sense. And it becomes one of those things inside you, a pearl among sludge, one of those big exaggerated memories you can invoke at any moment to peel away a little layer of how you felt, like a lick of ice cream. The flavor of grace. — Craig Silvey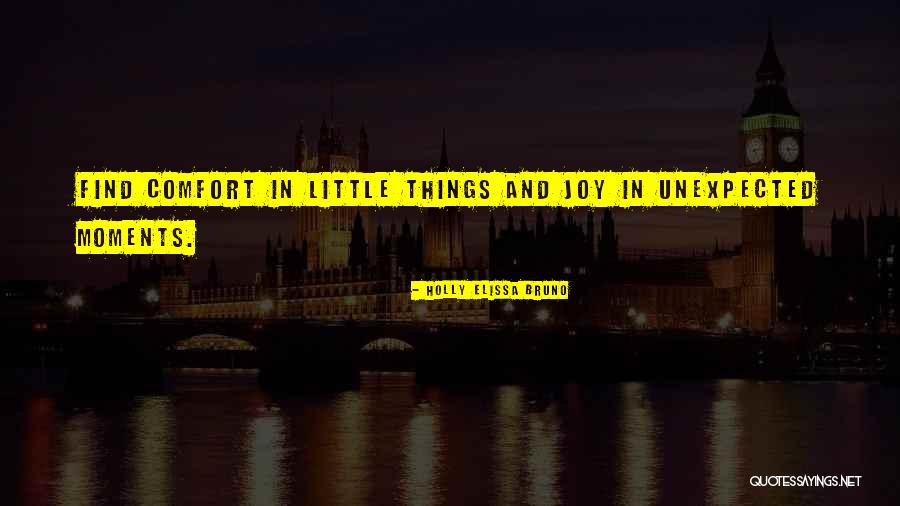 Find comfort in little things and joy in unexpected moments. — Holly Elissa Bruno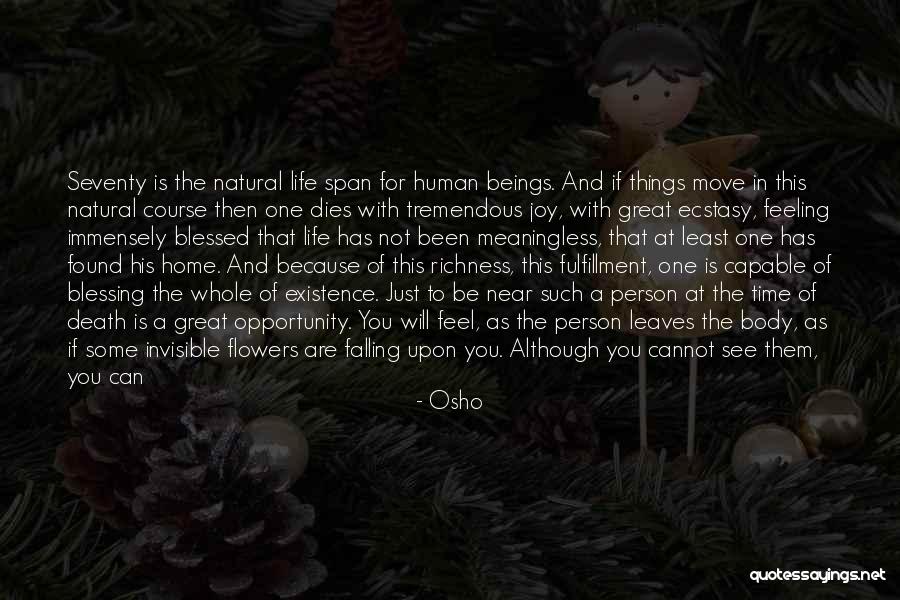 Seventy is the natural life span for human beings. And if things move in this natural course then one dies with tremendous joy, with great ecstasy, feeling immensely blessed that life has not been meaningless, that at least one has found his home. And because of this richness, this fulfillment, one is capable of blessing the whole of existence. Just to be near such a person at the time of death is a great opportunity. You will feel, as the person leaves the body, as if some invisible flowers are falling upon you. Although you cannot see them, you can feel them. It is sheer joy, so pure that even to have a little taste of it is enough to transform your whole life. — Osho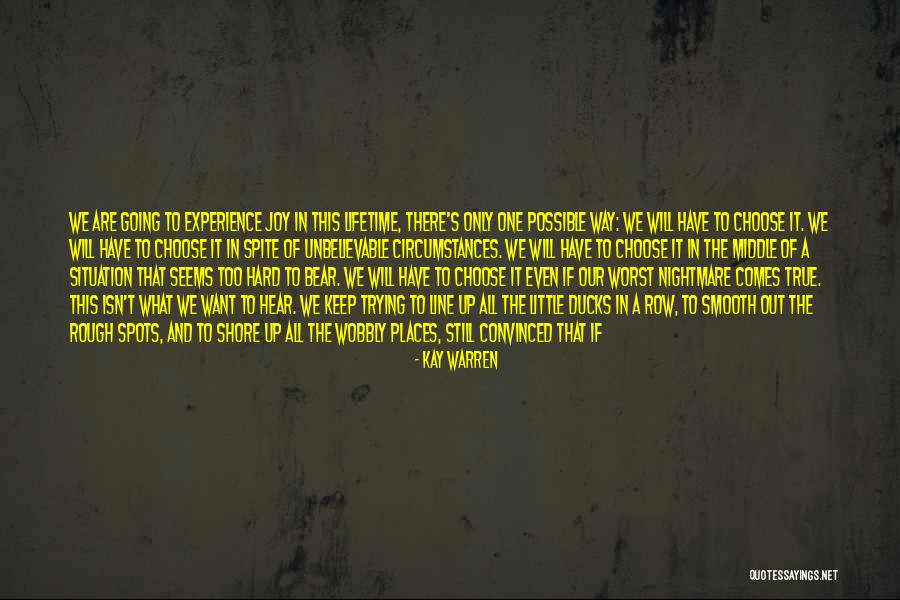 we are going to experience joy in this lifetime, there's only one possible way: We will have to choose it. We will have to choose it in spite of unbelievable circumstances. We will have to choose it in the middle of a situation that seems too hard to bear. We will have to choose it even if our worst nightmare comes true. This isn't what we want to hear. We keep trying to line up all the little ducks in a row, to smooth out the rough spots, and to shore up all the wobbly places, still convinced that if we get our act together, we finish the huge project, our health clears up, we get a raise, or we can just get things right, we can finally be joyful. — Kay Warren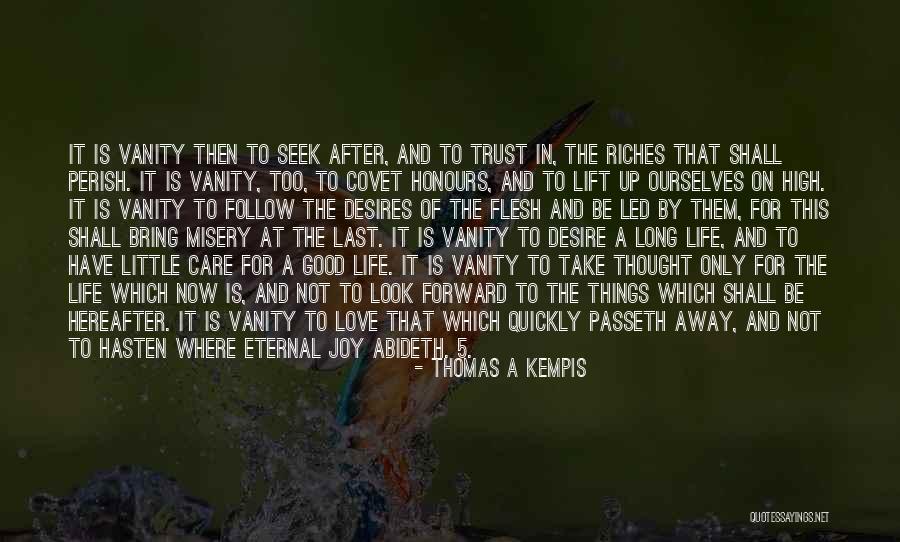 It is vanity then to seek after, and to trust in, the riches that shall perish. It is vanity, too, to covet honours, and to lift up ourselves on high. It is vanity to follow the desires of the flesh and be led by them, for this shall bring misery at the last. It is vanity to desire a long life, and to have little care for a good life. It is vanity to take thought only for the life which now is, and not to look forward to the things which shall be hereafter. It is vanity to love that which quickly passeth away, and not to hasten where eternal joy abideth. 5. — Thomas A Kempis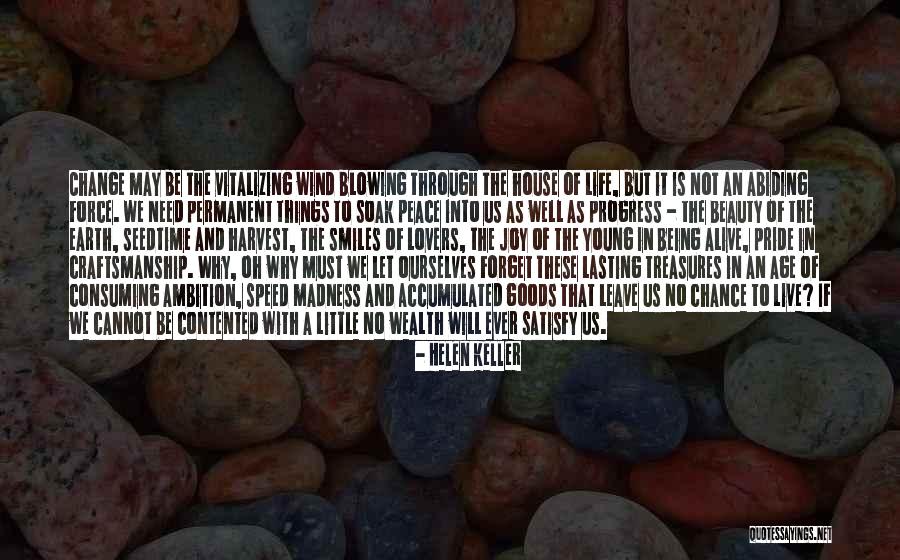 Change may be the vitalizing wind blowing through the house of life, but it is not an abiding force. We need permanent things to soak peace into us as well as progress - the beauty of the earth, seedtime and harvest, the smiles of lovers, the joy of the young in being alive, pride in craftsmanship. Why, oh why must we let ourselves forget these lasting treasures in an age of consuming ambition, speed madness and accumulated goods that leave us no chance to live? If we cannot be contented with a little no wealth will ever satisfy us. — Helen Keller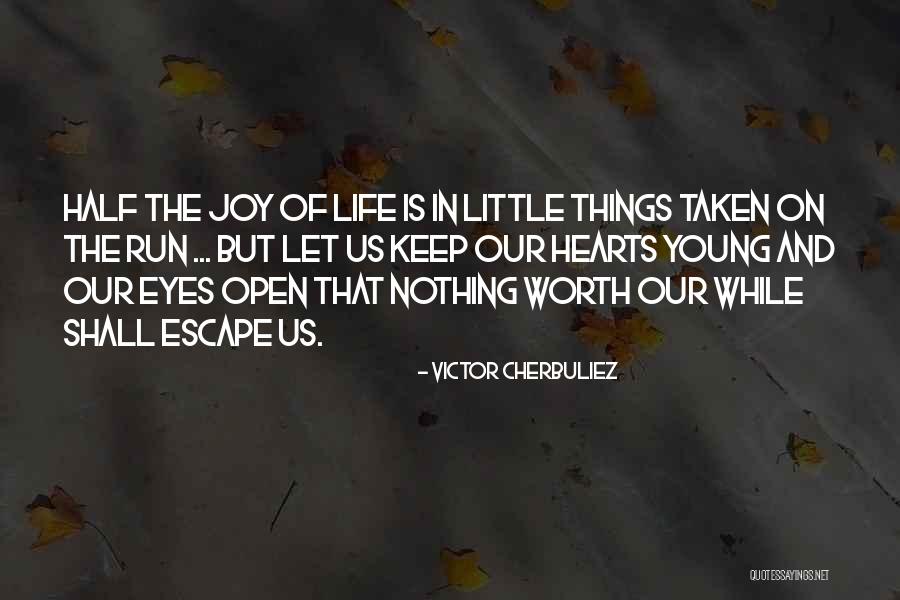 Half the joy of life is in little things taken on the run ... but let us keep our hearts young and our eyes open that nothing worth our while shall escape us. — Victor Cherbuliez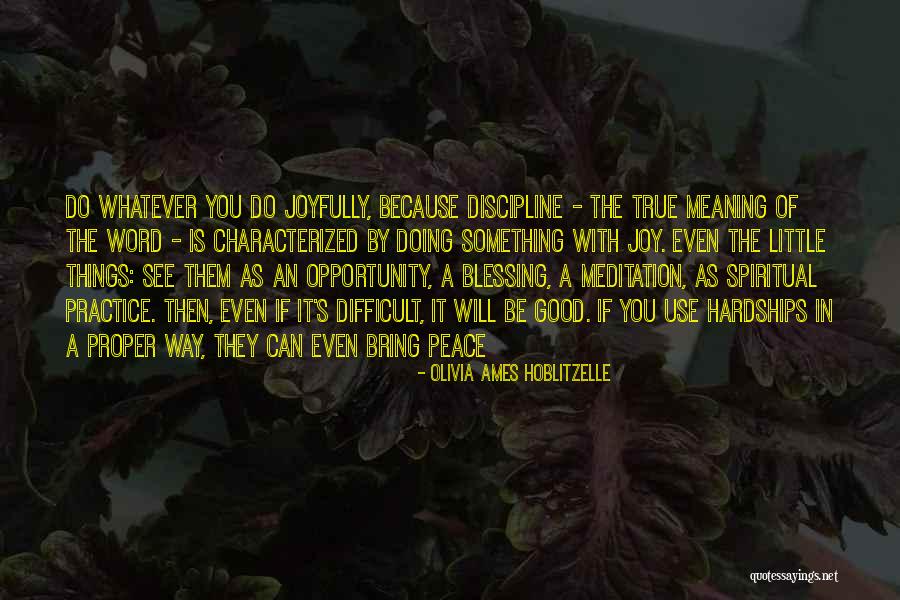 Do whatever you do joyfully, because discipline - the true meaning of the word - is characterized by doing something with joy. Even the little things: see them as an opportunity, a blessing, a meditation, as spiritual practice. Then, even if it's difficult, it will be good. If you use hardships in a proper way, they can even bring peace — Olivia Ames Hoblitzelle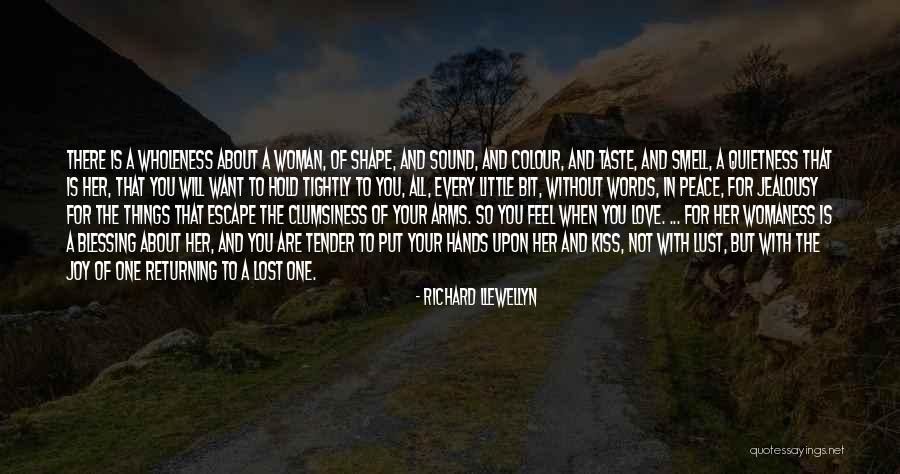 There is a wholeness about a woman, of shape, and sound, and colour, and taste, and smell, a quietness that is her, that you will want to hold tightly to you, all, every little bit, without words, in peace, for jealousy for the things that escape the clumsiness of your arms. So you feel when you love.
... For her womaness is a blessing about her, and you are tender to put your hands upon her and kiss, not with lust, but with the joy of one returning to a lost one. — Richard Llewellyn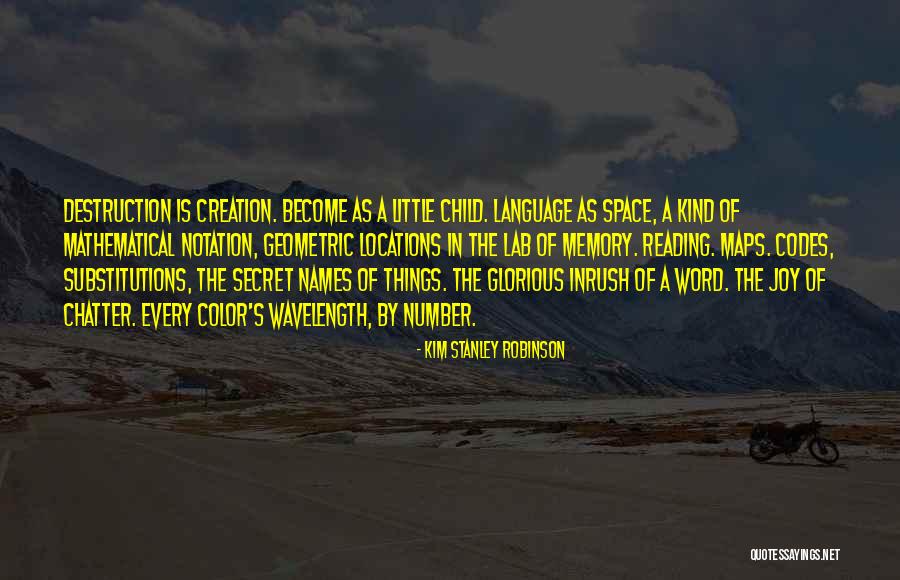 Destruction is creation. Become as a little child. Language as space, a kind of mathematical notation, geometric locations in the lab of memory. Reading. Maps. Codes, substitutions, the secret names of things. The glorious inrush of a word. The joy of chatter. Every color's wavelength, by number. — Kim Stanley Robinson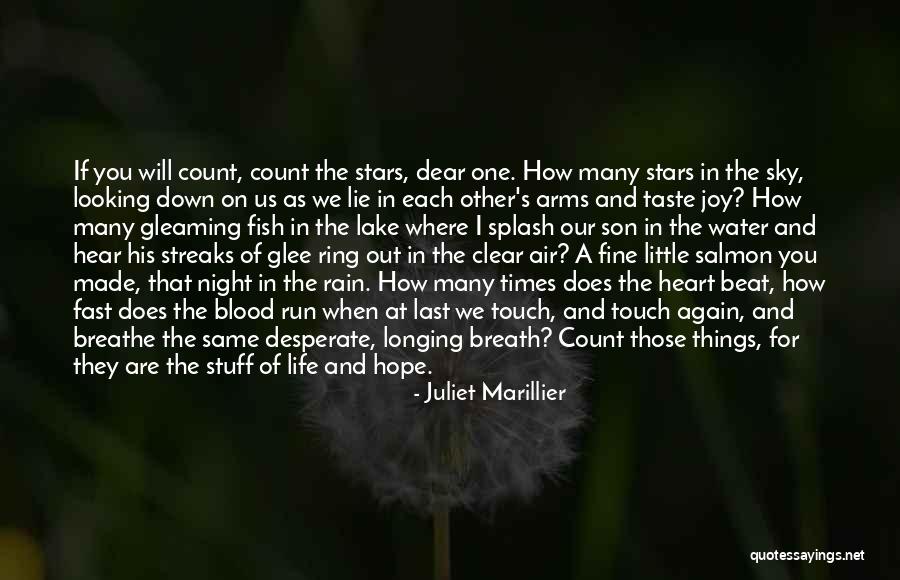 If you will count, count the stars, dear one. How many stars in the sky, looking down on us as we lie in each other's arms and taste joy? How many gleaming fish in the lake where I splash our son in the water and hear his streaks of glee ring out in the clear air? A fine little salmon you made, that night in the rain. How many times does the heart beat, how fast does the blood run when at last we touch, and touch again, and breathe the same desperate, longing breath? Count those things, for they are the stuff of life and hope. — Juliet Marillier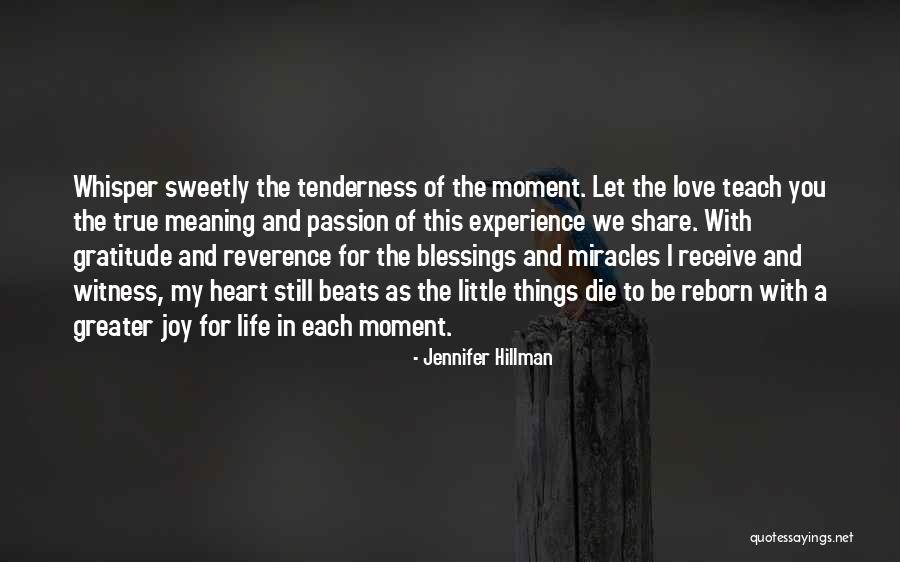 Whisper sweetly the tenderness of the moment. Let the love teach you the true meaning and passion of this experience we share. With gratitude and reverence for the blessings and miracles I receive and witness, my heart still beats as the little things die to be reborn with a greater joy for life in each moment. — Jennifer Hillman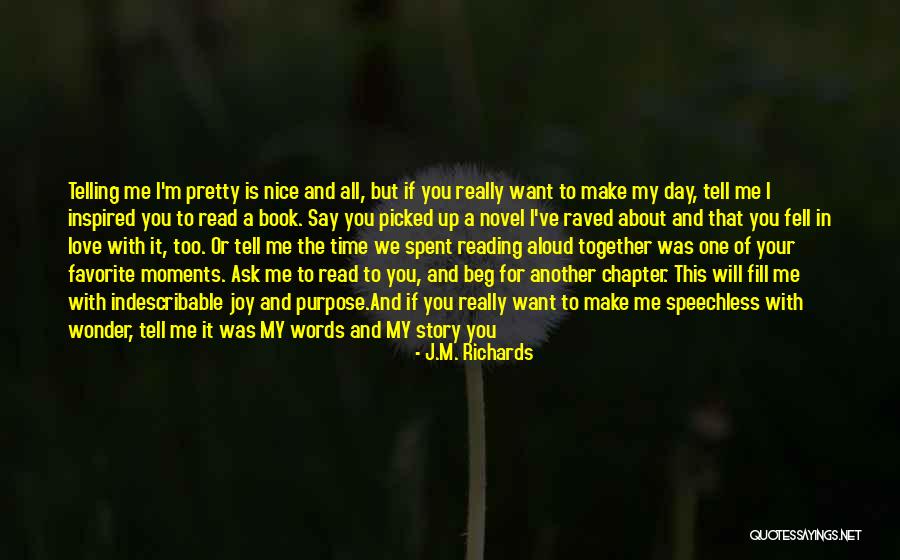 Telling me I'm pretty is nice and all, but if you really want to make my day, tell me I inspired you to read a book. Say you picked up a novel I've raved about and that you fell in love with it, too. Or tell me the time we spent reading aloud together was one of your favorite moments. Ask me to read to you, and beg for another chapter. This will fill me with indescribable joy and purpose.
And if you really want to make me speechless with wonder, tell me it was MY words and MY story you enjoyed. Tell me you shed tears over the things my characters went through, and that you're just a little bit in love with them, too. I might never recover. I will carry those words around in my heart for the rest of my life, like a talisman against all past and future criticisms.
That's how important stories are to me. — J.M. Richards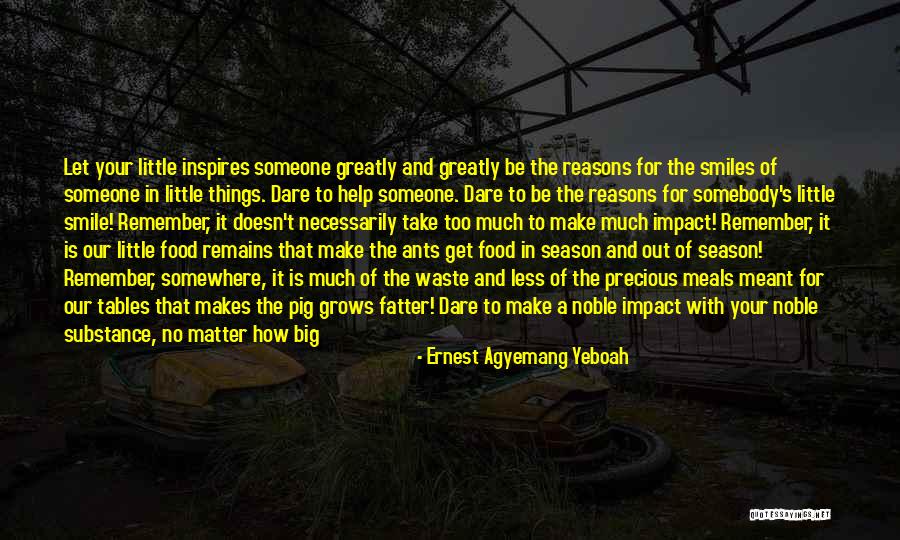 Let your little inspires someone greatly and greatly be the reasons for the smiles of someone in little things. Dare to help someone. Dare to be the reasons for somebody's little smile! Remember, it doesn't necessarily take too much to make much impact! Remember, it is our little food remains that make the ants get food in season and out of season! Remember, somewhere, it is much of the waste and less of the precious meals meant for our tables that makes the pig grows fatter! Dare to make a noble impact with your noble substance, no matter how big or small it is! Dare to cause a change that will forever be remembered, be it small or big! Dare to be the real reason for the relief of somebody. Their hearts await your impact! Their joy awaits your ignition! Take a step! Make real impact! — Ernest Agyemang Yeboah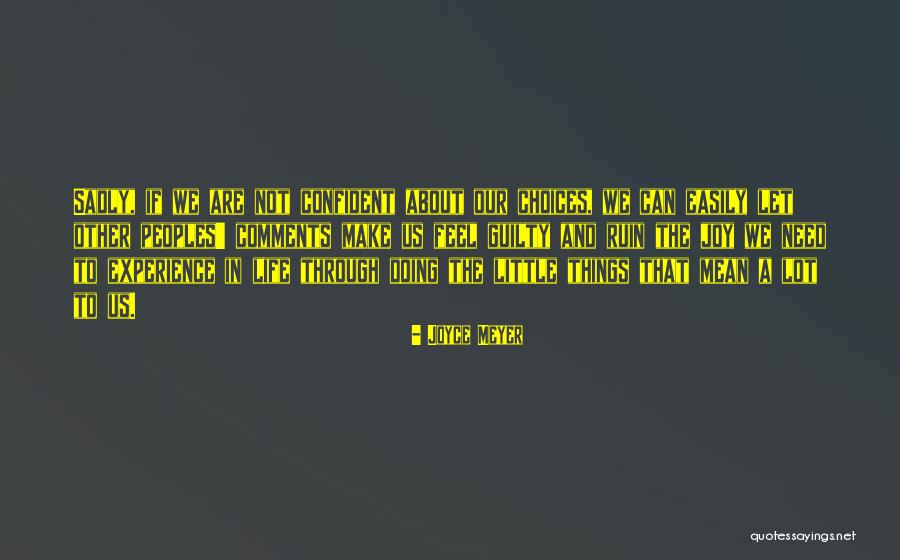 Sadly, if we are not confident about our choices, we can easily let other peoples' comments make us feel guilty and ruin the joy we need to experience in life through doing the little things that mean a lot to us. — Joyce Meyer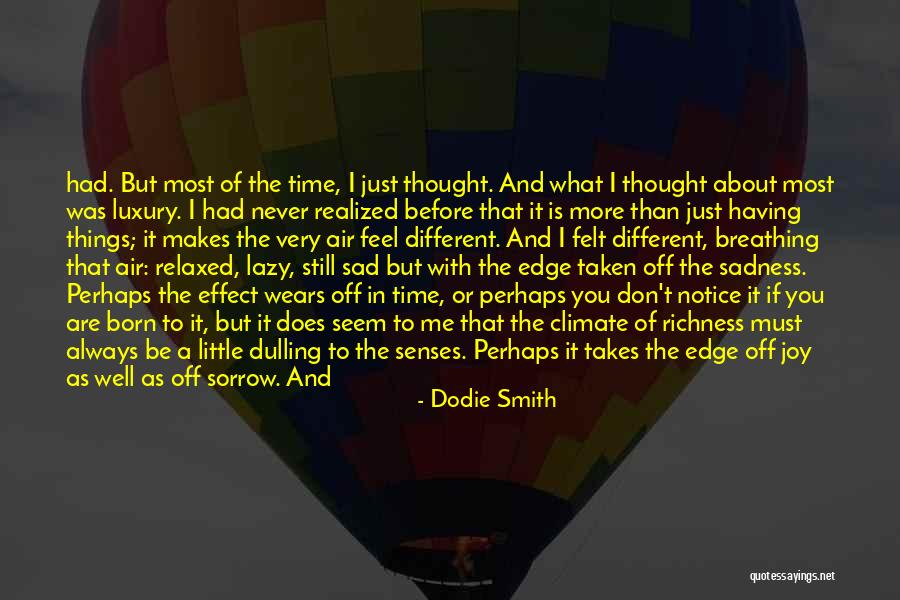 had. But most of the time, I just thought. And what I thought about most was luxury. I had never realized before that it is more than just having things; it makes the very air feel different. And I felt different, breathing that air: relaxed, lazy, still sad but with the edge taken off the sadness. Perhaps the effect wears off in time, or perhaps you don't notice it if you are born to it, but it does seem to me that the climate of richness must always be a little dulling to the senses. Perhaps it takes the edge off joy as well as off sorrow. And — Dodie Smith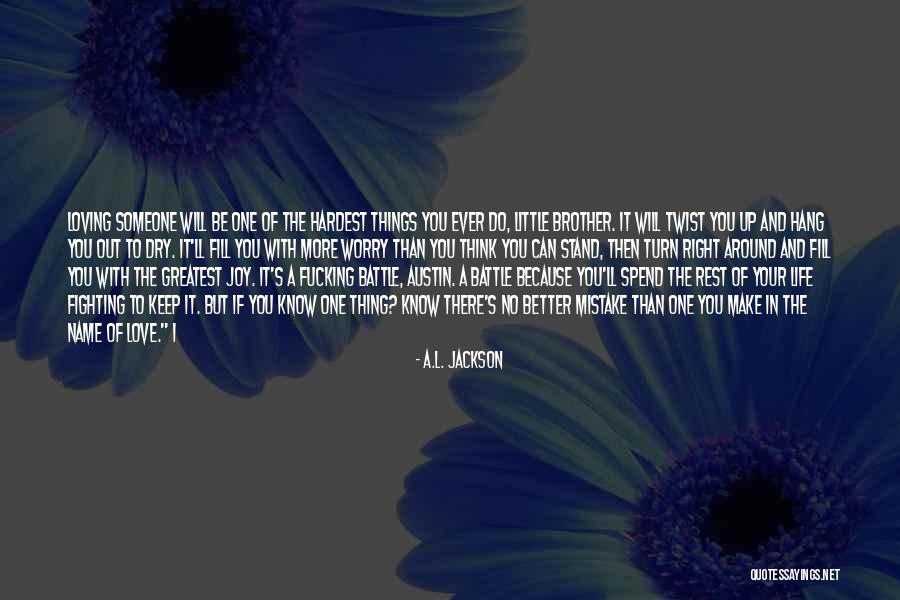 Loving someone will be one of the hardest things you ever do, little brother. It will twist you up and hang you out to dry. It'll fill you with more worry than you think you can stand, then turn right around and fill you with the greatest joy. It's a fucking battle, Austin. A battle because you'll spend the rest of your life fighting to keep it. But if you know one thing? Know there's no better mistake than one you make in the name of love." I — A.L. Jackson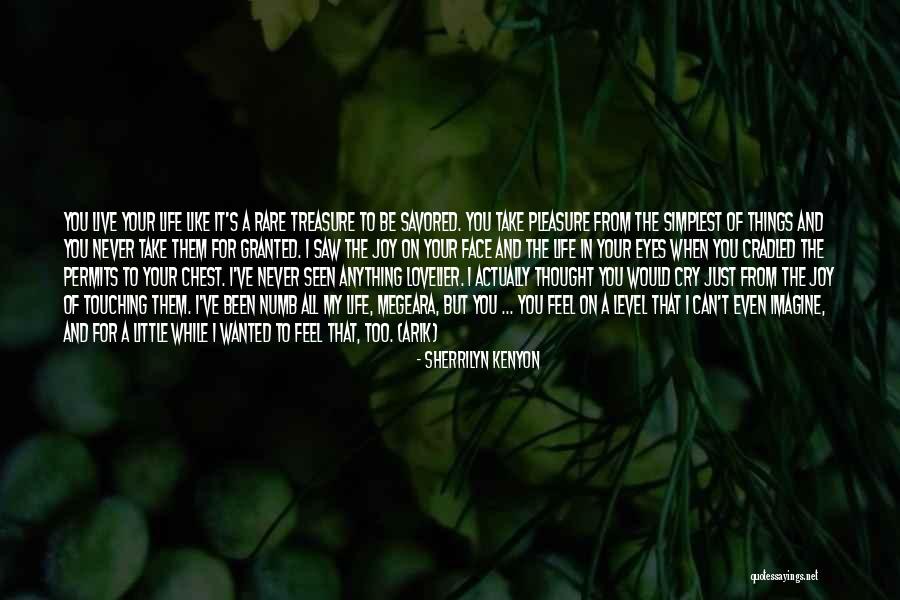 You live your life like it's a rare treasure to be savored. You take pleasure from the simplest of things and you never take them for granted. I saw the joy on your face and the life in your eyes when you cradled the permits to your chest. I've never seen anything lovelier. I actually thought you would cry just from the joy of touching them. I've been numb all my life, Megeara, but you ... you feel on a level that I can't even imagine, and for a little while I wanted to feel that, too. (Arik) — Sherrilyn Kenyon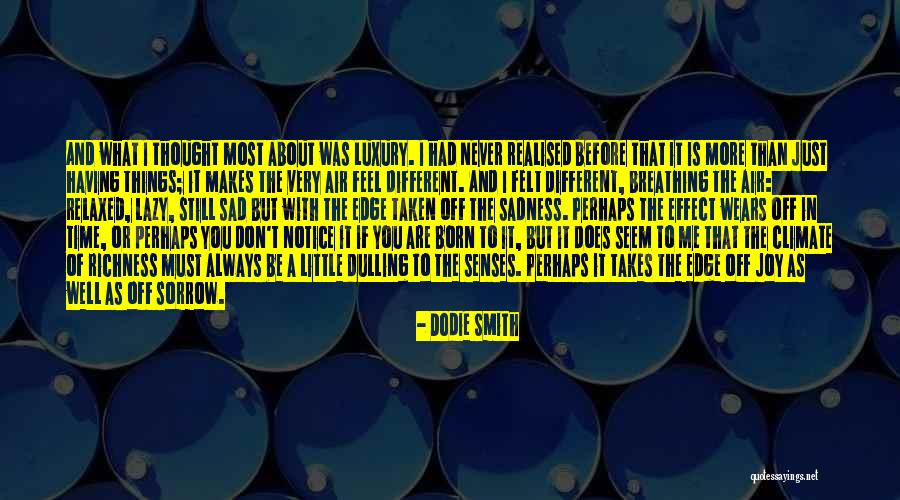 And what I thought most about was luxury. I had never realised before that it is more than just having things; it makes the very air feel different. And I felt different, breathing the air: relaxed, lazy, still sad but with the edge taken off the sadness. Perhaps the effect wears off in time, or perhaps you don't notice it if you are born to it, but it does seem to me that the climate of richness must always be a little dulling to the senses. Perhaps it takes the edge off joy as well as off sorrow. — Dodie Smith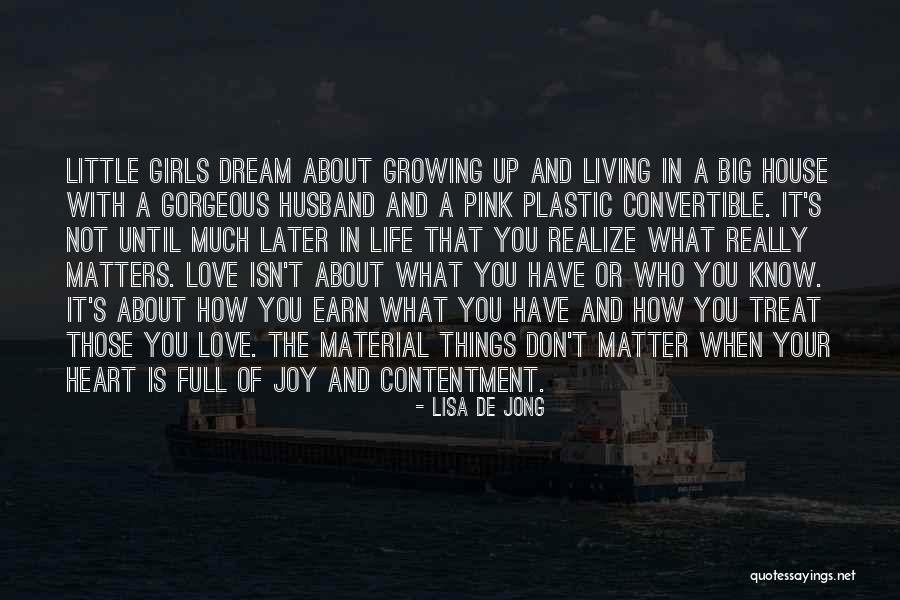 Little girls dream about growing up and living in a big house with a gorgeous husband and a pink plastic convertible. It's not until much later in life that you realize what really matters. Love isn't about what you have or who you know. It's about how you earn what you have and how you treat those you love. The material things don't matter when your heart is full of joy and contentment. — Lisa De Jong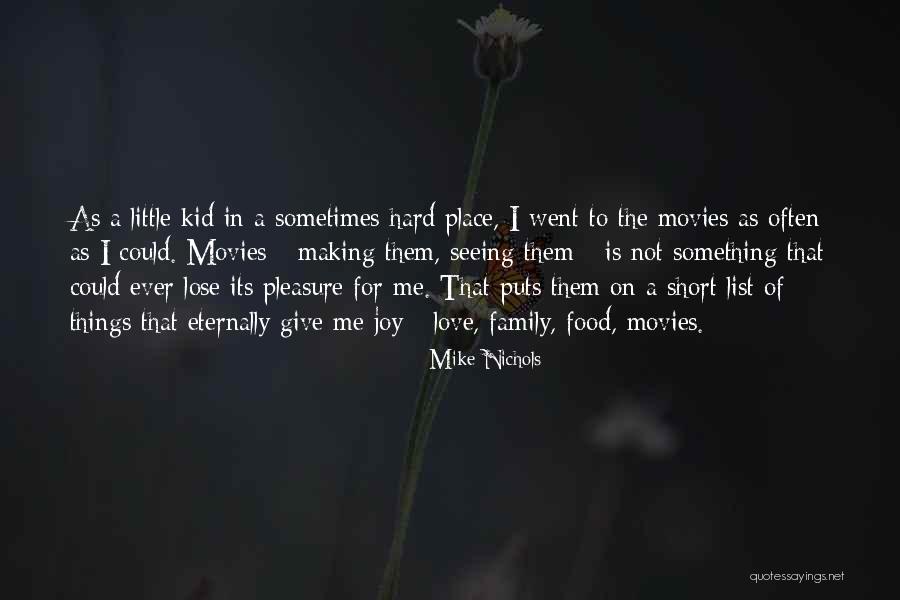 As a little kid in a sometimes hard place, I went to the movies as often as I could. Movies - making them, seeing them - is not something that could ever lose its pleasure for me. That puts them on a short list of things that eternally give me joy - love, family, food, movies. — Mike Nichols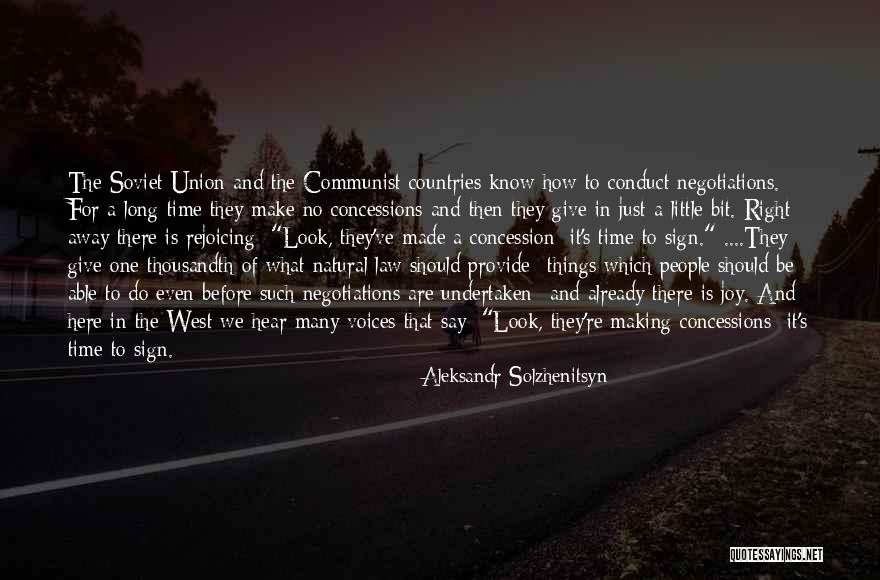 The Soviet Union and the Communist countries know how to conduct negotiations. For a long time they make no concessions and then they give in just a little bit. Right away there is rejoicing: "Look, they've made a concession; it's time to sign." ....They give one thousandth of what natural law should provide--things which people should be able to do even before such negotiations are undertaken--and already there is joy. And here in the West we hear many voices that say: "Look, they're making concessions; it's time to sign. — Aleksandr Solzhenitsyn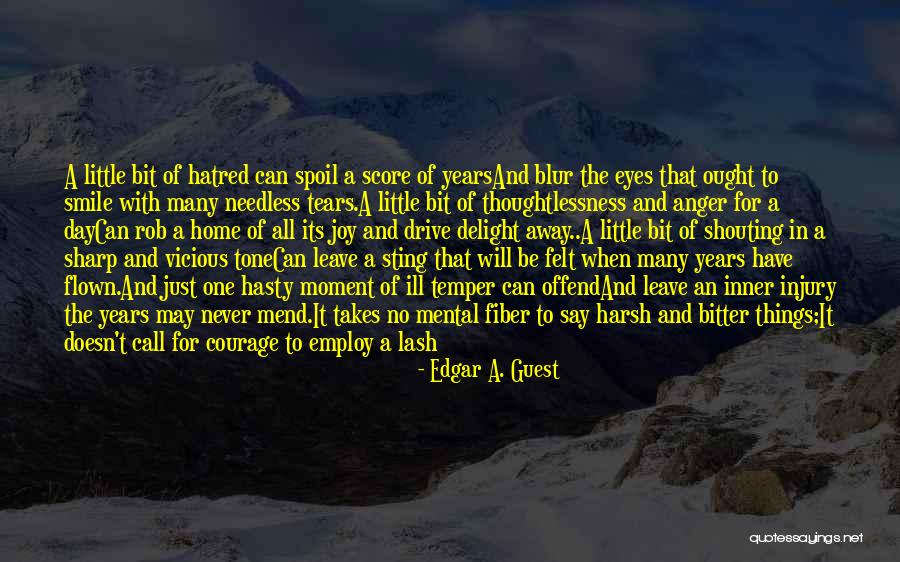 A little bit of hatred can spoil a score of years
And blur the eyes that ought to smile with many needless tears.
A little bit of thoughtlessness and anger for a day
Can rob a home of all its joy and drive delight away..
A little bit of shouting in a sharp and vicious tone
Can leave a sting that will be felt when many years have flown.
And just one hasty moment of ill temper can offend
And leave an inner injury the years may never mend.
It takes no mental fiber to say harsh and bitter things;
It doesn't call for courage to employ a lash that stings.
And cruel words and bitter any fool can think to say,
But the hurt they leave behind them takes years to wipe away.
Just a little bit of hatred robs a home of all delight,
And leaves a winding trail of wrong that time may never right.
For only those are happy and keep their peace of mind,
Who guard themselves from hatred and words that are unkind! — Edgar A. Guest