Quotes & Sayings About Good Meetings
Enjoy reading and share 50 famous quotes about Good Meetings with everyone.
Top Good Meetings Quotes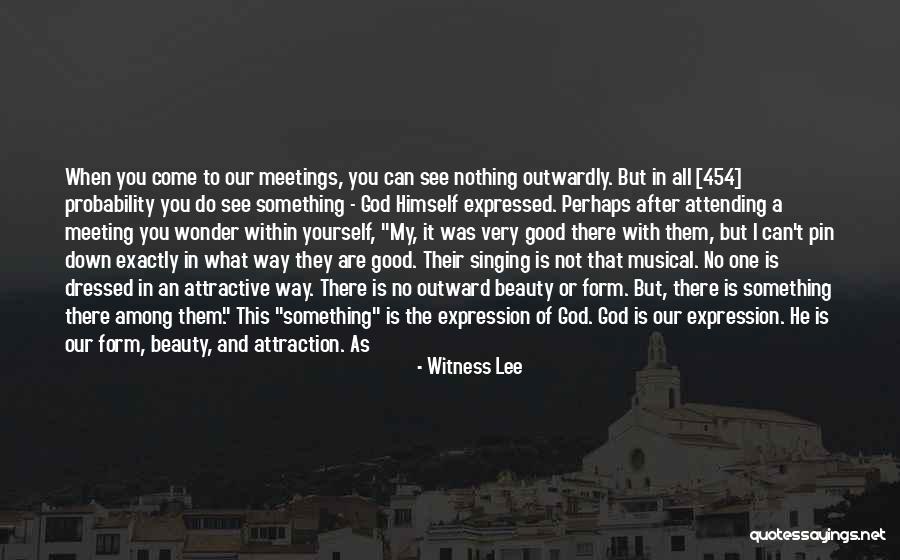 When you come to our meetings, you can see nothing outwardly. But in all [454] probability you do see something - God Himself expressed. Perhaps after attending a meeting you wonder within yourself, "My, it was very good there with them, but I can't pin down exactly in what way they are good. Their singing is not that musical. No one is dressed in an attractive way. There is no outward beauty or form. But, there is something there among them." This "something" is the expression of God. God is our expression. He is our form, beauty, and attraction. As the church, we have returned to God's original purpose, to the purpose He had in the beginning - that man express Him and represent Him. This is the Lord's recovery. — Witness Lee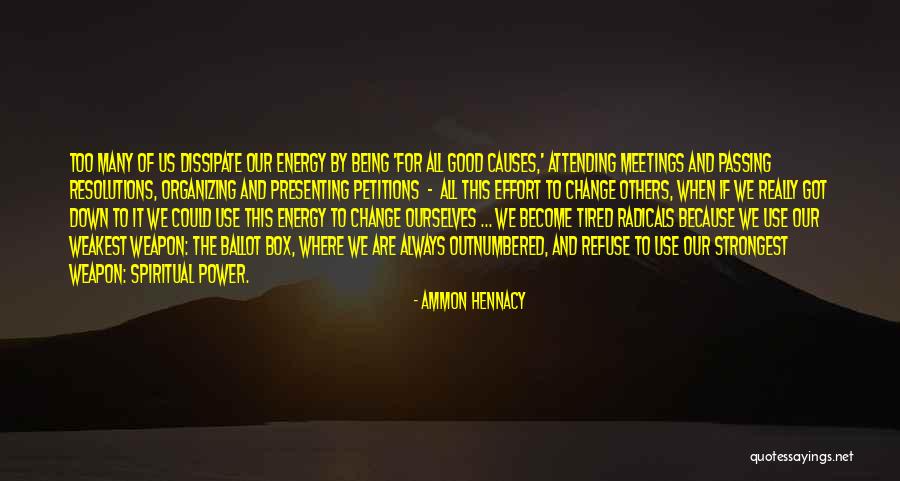 Too many of us dissipate our energy by being 'for all good causes,' attending meetings and passing resolutions, organizing and presenting petitions - all this effort to change others, when if we really got down to it we could use this energy to change ourselves ... We become tired radicals because we use our weakest weapon: the ballot box, where we are always outnumbered, and refuse to use our strongest weapon: spiritual power. — Ammon Hennacy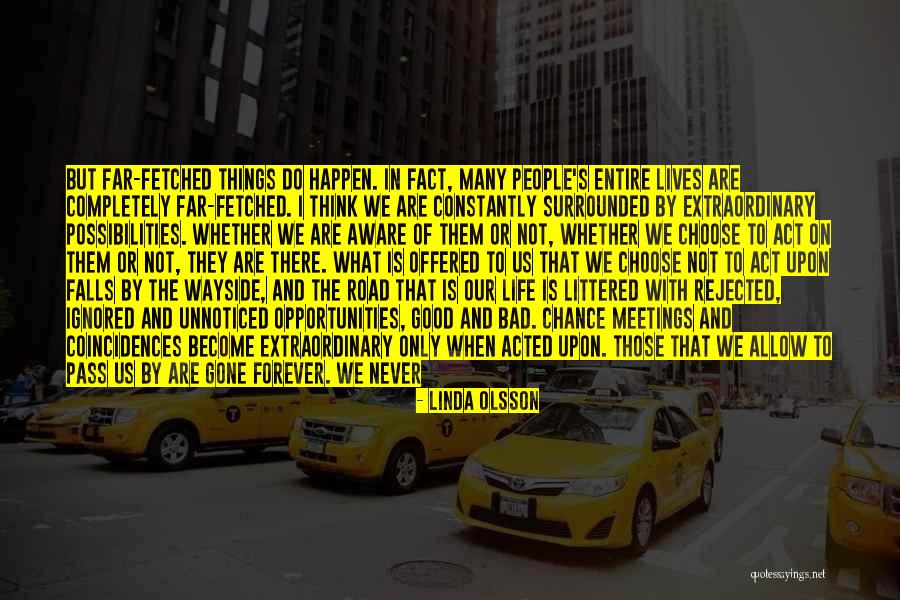 But far-fetched things do happen. In fact, many people's entire lives are completely far-fetched. I think we are constantly surrounded by extraordinary possibilities. Whether we are aware of them or not, whether we choose to act on them or not, they are there. What is offered to us that we choose not to act upon falls by the wayside, and the road that is our life is littered with rejected, ignore
d and unnoticed opportunities, good and bad. Chance meetings and coincidences become extraordinary only when acted upon. Those that we allow to pass us by are gone forever. We never know where they night have taken us. I think they were never meant to happen. The potiental was there, but only for the briefest moment, before we consciously or unconsciously chose to ignore it. — Linda Olsson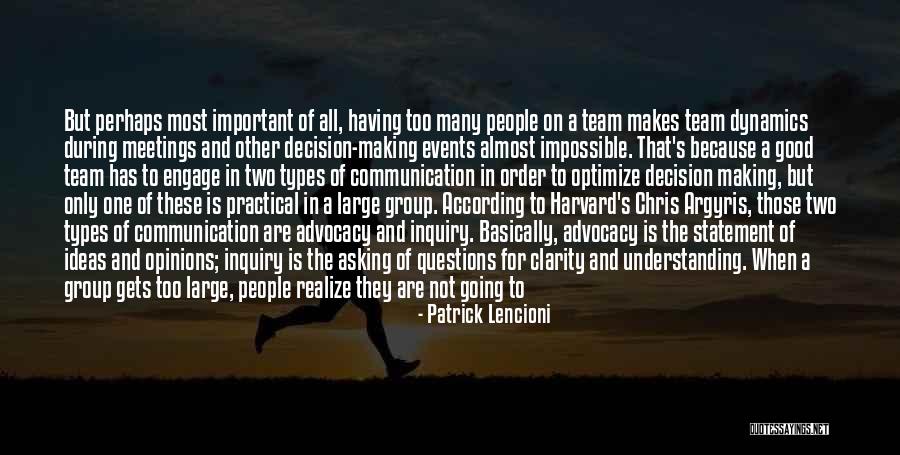 But perhaps most important of all, having too many people on a team makes team dynamics during meetings and other decision-making events almost impossible. That's because a good team has to engage in two types of communication in order to optimize decision making, but only one of these is practical in a large group. According to Harvard's Chris Argyris, those two types of communication are advocacy and inquiry. Basically, advocacy is the statement of ideas and opinions; inquiry is the asking of questions for clarity and understanding. When a group gets too large, people realize they are not going to get the floor back any time soon, so they resort almost exclusively to advocacy. It becomes like Congress (which is not designed to be a team) or the United Nations (ditto). — Patrick Lencioni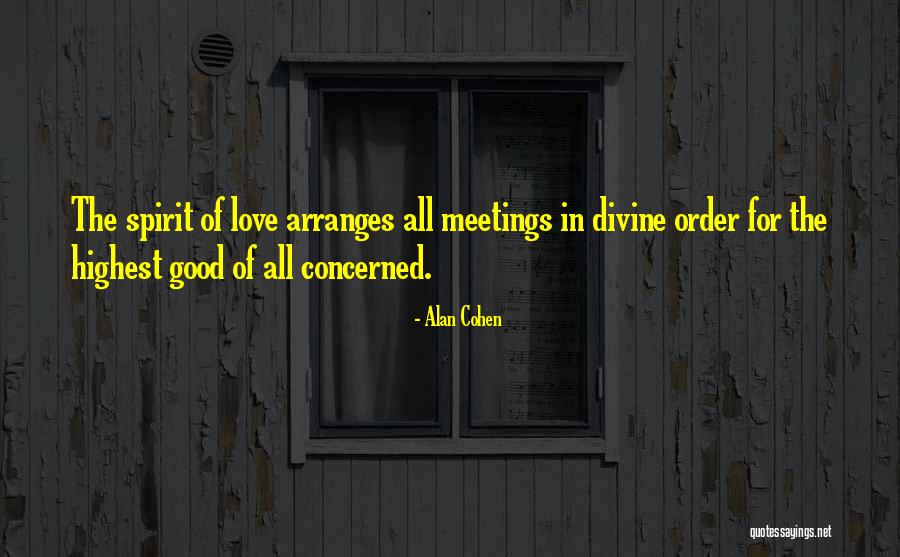 The spirit of love arranges all meetings in divine order for the highest good of all concerned. — Alan Cohen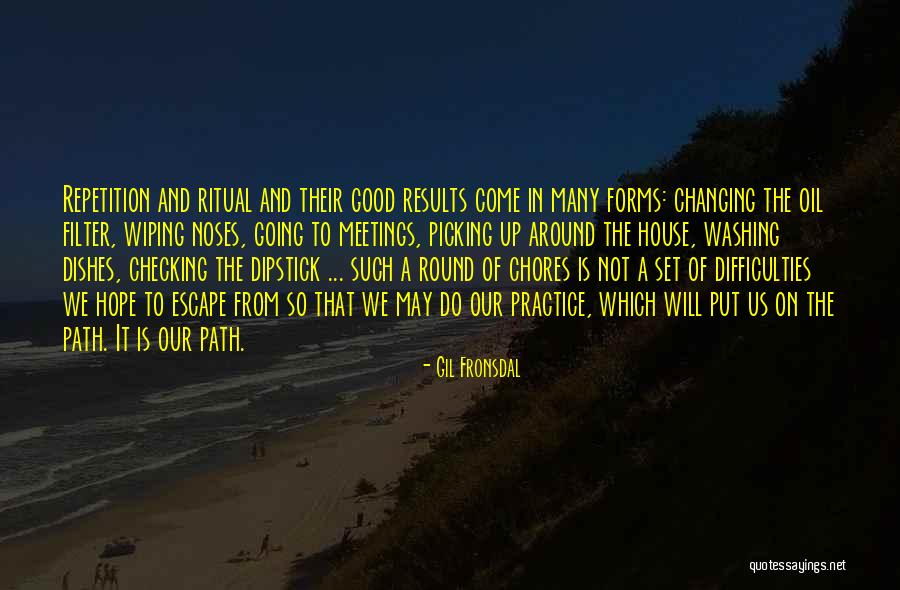 Repetition and ritual and their good results come in many forms: changing the oil filter, wiping noses, going to meetings, picking up around the house, washing dishes, checking the dipstick ... such a round of chores is not a set of difficulties we hope to escape from so that we may do our practice, which will put us on the path. It is our path. — Gil Fronsdal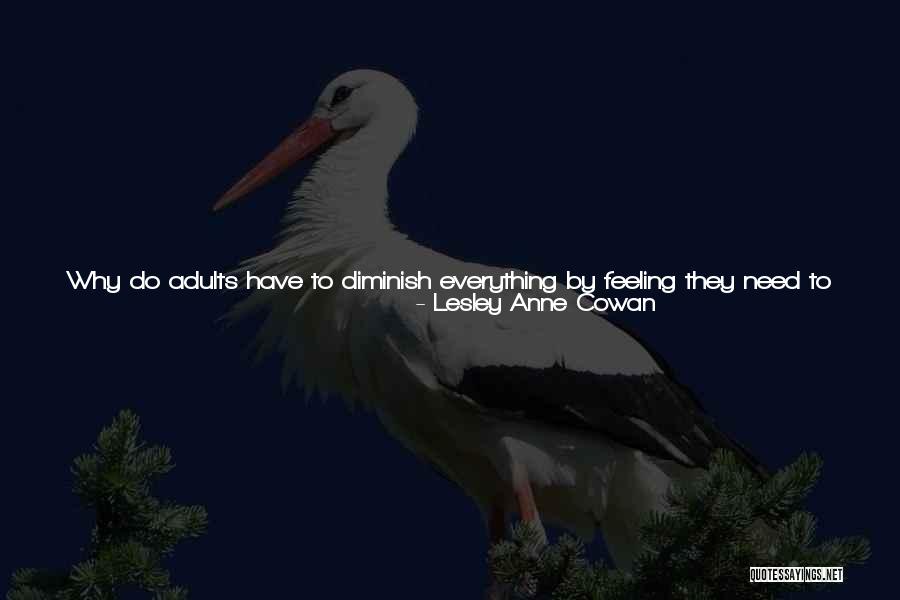 Why do adults have to diminish everything by feeling they need to end meetings with a false positive? It's so selfish. They say it not because they believe it, but because it helps them feel some kind of accomplishment when they walk away. Like they've done their job. But what do they leave behind?
It's like when teachers tell Tyler that he should be a lawyer because he's good at arguing, but meanwhile he can't pass grade nine. No one wants to say he's stupid, or that he's probably going to end up in jail like his brother, so they fill his head with these stupid dreams until he's eighteen, with no credits and totally messed up for life. I say, tell the truth, squash the dream, and stop with the second chances. — Lesley Anne Cowan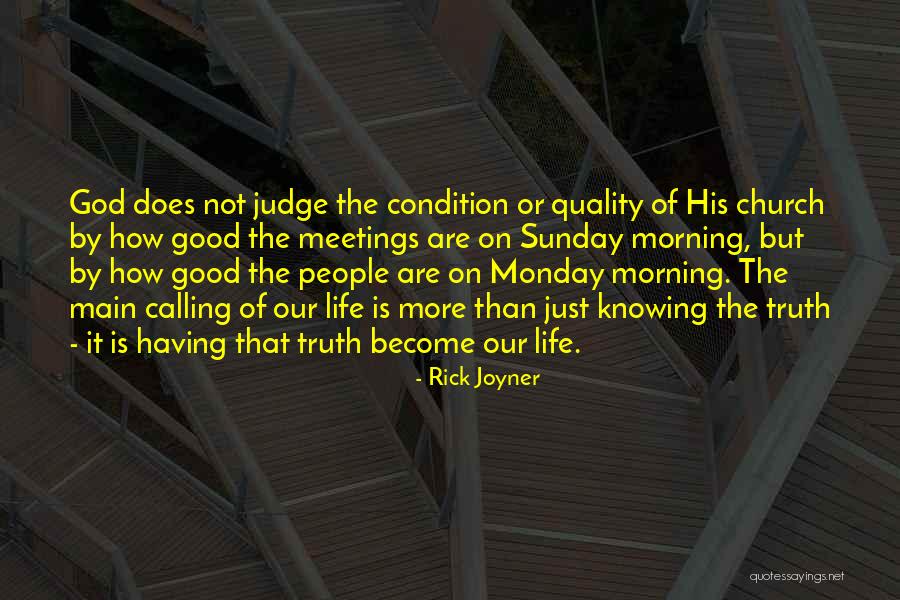 God does not judge the condition or quality of His church by how good the meetings are on Sunday morning, but by how good the people are on Monday morning. The main calling of our life is more than just knowing the truth - it is having that truth become our life. — Rick Joyner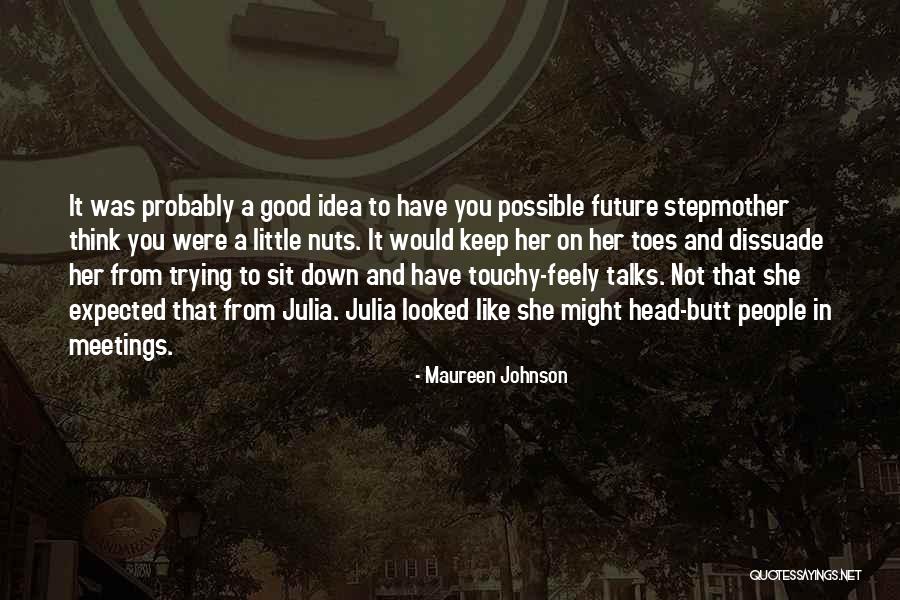 It was probably a good idea to have you possible future stepmother think you were a little nuts. It would keep her on her toes and dissuade her from trying to sit down and have touchy-feely talks. Not that she expected that from Julia. Julia looked like she might head-butt people in meetings. — Maureen Johnson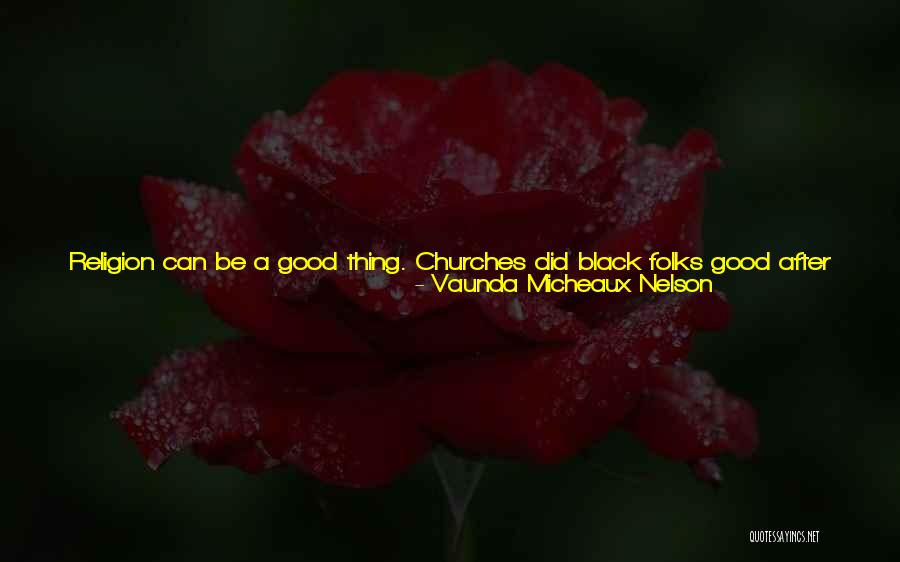 Religion can be a good thing. Churches did black folks good after Reconstruction. It was the only place people like Nat Turner and Douglass could hold meetings to unite our people. But the white man wanted to teach black folks about the by and by in the sky. He wanted to take their minds off the things here, so maybe they wouldn't notice who was kicking them in the head. I admit, since joining my brother, I've changed some of my views. But you have to be smart about religion. You have to look closely at who's claiming it and how they're using it. — Vaunda Micheaux Nelson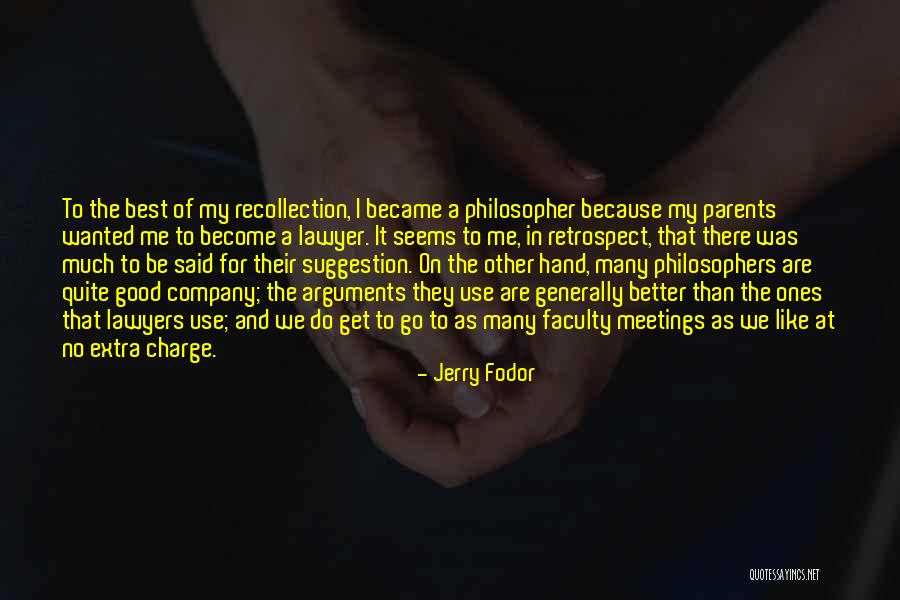 To the best of my recollection, I became a philosopher because my parents wanted me to become a lawyer. It seems to me, in retrospect, that there was much to be said for their suggestion. On the other hand, many philosophers are quite good company; the arguments they use are generally better than the ones that lawyers use; and we do get to go to as many faculty meetings as we like at no extra charge. — Jerry Fodor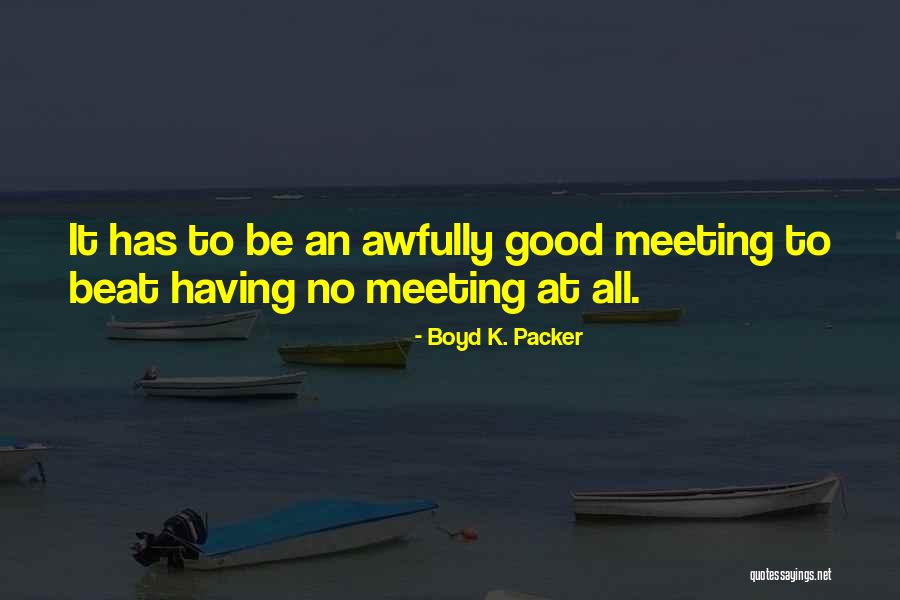 It has to be an awfully good meeting to beat having no meeting at all. — Boyd K. Packer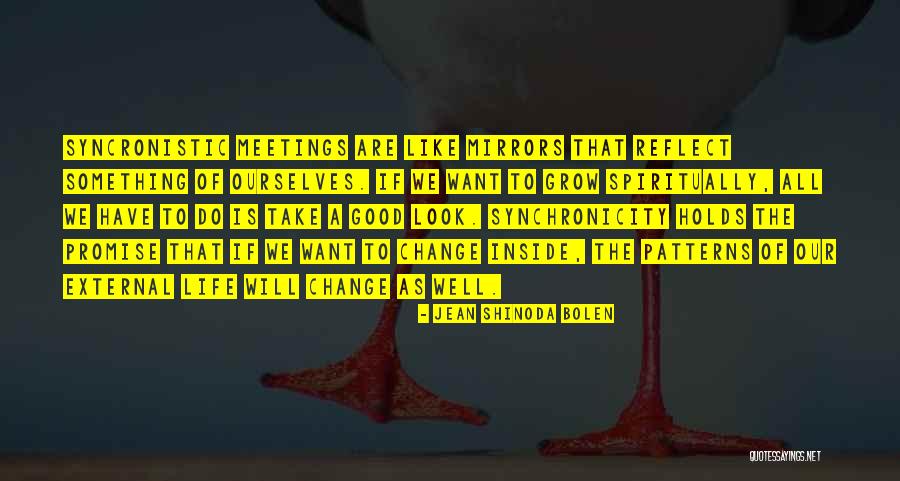 Syncronistic meetings are like mirrors that reflect something of ourselves. If we want to grow spiritually, all we have to do is take a good look. Synchronicity holds the promise that if we want to change inside, the patterns of our external life will change as well. — Jean Shinoda Bolen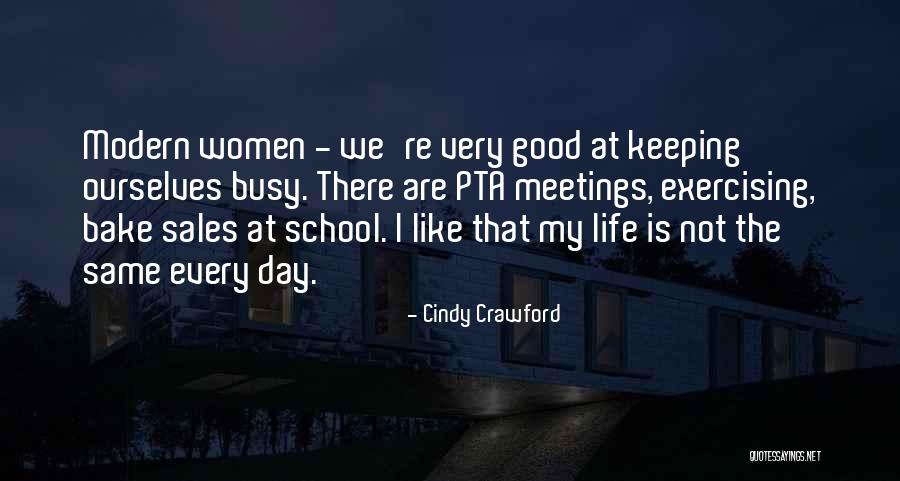 Modern women - we're very good at keeping ourselves busy. There are PTA meetings, exercising, bake sales at school. I like that my life is not the same every day. — Cindy Crawford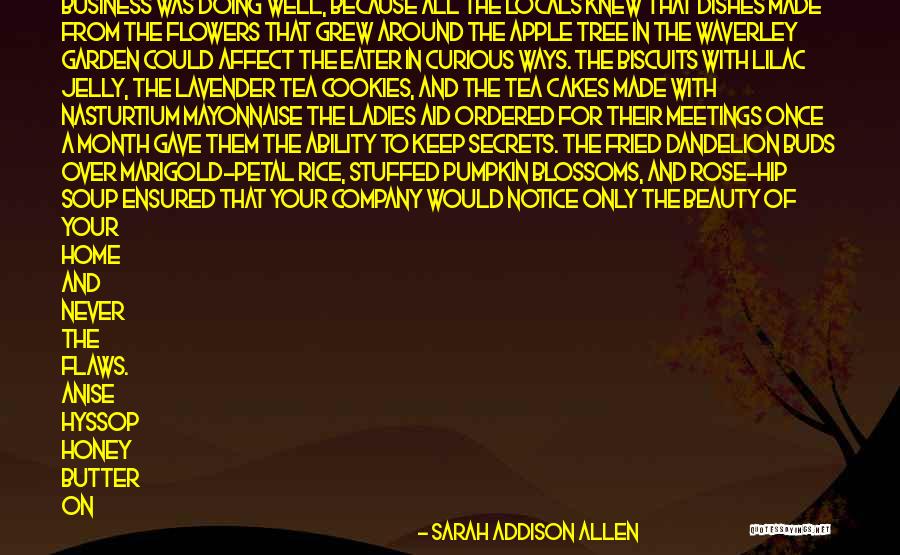 Business was doing well, because all the locals knew that dishes made from the flowers that grew around the apple tree in the Waverley garden could affect the eater in curious ways. The biscuits with lilac jelly, the lavender tea cookies, and the tea cakes made with nasturtium mayonnaise the Ladies Aid ordered for their meetings once a month gave them the ability to keep secrets. The fried dandelion buds over marigold-petal rice, stuffed pumpkin blossoms, and rose-hip soup ensured that your company would notice only the beauty of your home and never the flaws. Anise hyssop honey butter on toast, angelica candy, and cupcakes with crystallized pansies made children thoughtful. Honeysuckle wine served on the Fourth of July gave you the ability to see in the dark. The nutty flavor of the dip made from hyacinth bulbs made you feel moody and think of the past, and the salads made with chicory and mint had you believing that something good was about to happen, whether it was true or not. — Sarah Addison Allen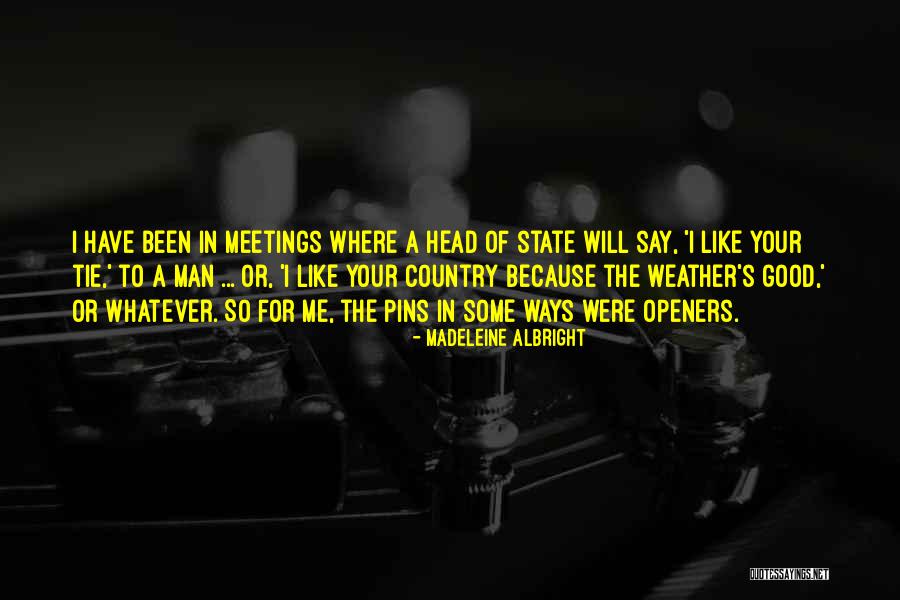 I have been in meetings where a head of state will say, 'I like your tie,' to a man ... or, 'I like your country because the weather's good,' or whatever. So for me, the pins in some ways were openers. — Madeleine Albright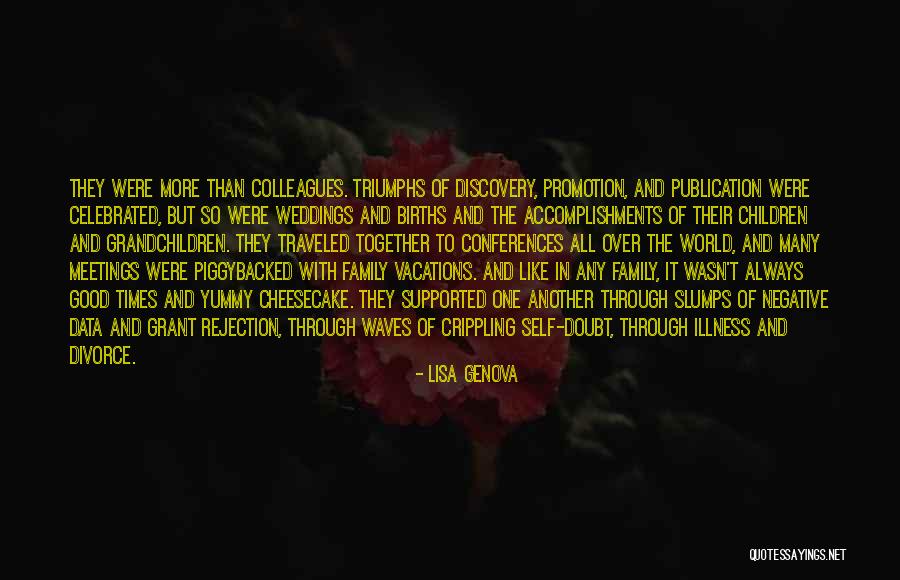 They were more than colleagues. Triumphs of discovery, promotion, and publication were celebrated, but so were weddings and births and the accomplishments of their children and grandchildren. They traveled together to conferences all over the world, and many meetings were piggybacked with family vacations. And like in any family, it wasn't always good times and yummy cheesecake. They supported one another through slumps of negative data and grant rejection, through waves of crippling self-doubt, through illness and divorce. — Lisa Genova
It took me years to work out the difference between net and gross. In meetings I just used to say, 'Tell me if it's good or bad news. — Richard Branson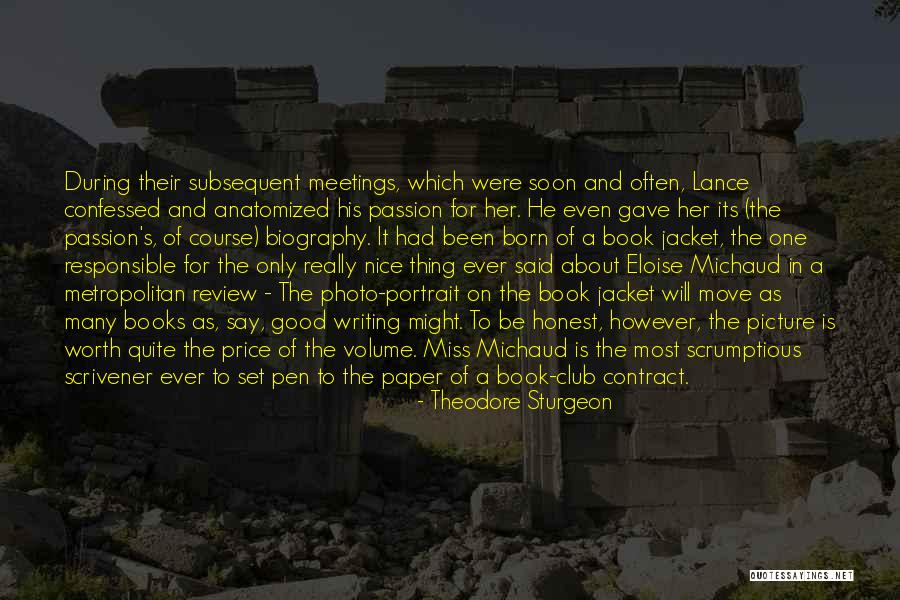 During their subsequent meetings, which were soon and often, Lance confessed and anatomized his passion for her. He even gave her its (the passion's, of course) biography. It had been born of a book jacket, the one responsible for the only really nice thing ever said about Eloise Michaud in a metropolitan review - The photo-portrait on the book jacket will move as many books as, say, good writing might. To be honest, however, the picture is worth quite the price of the volume. Miss Michaud is the most scrumptious scrivener ever to set pen to the paper of a book-club contract. — Theodore Sturgeon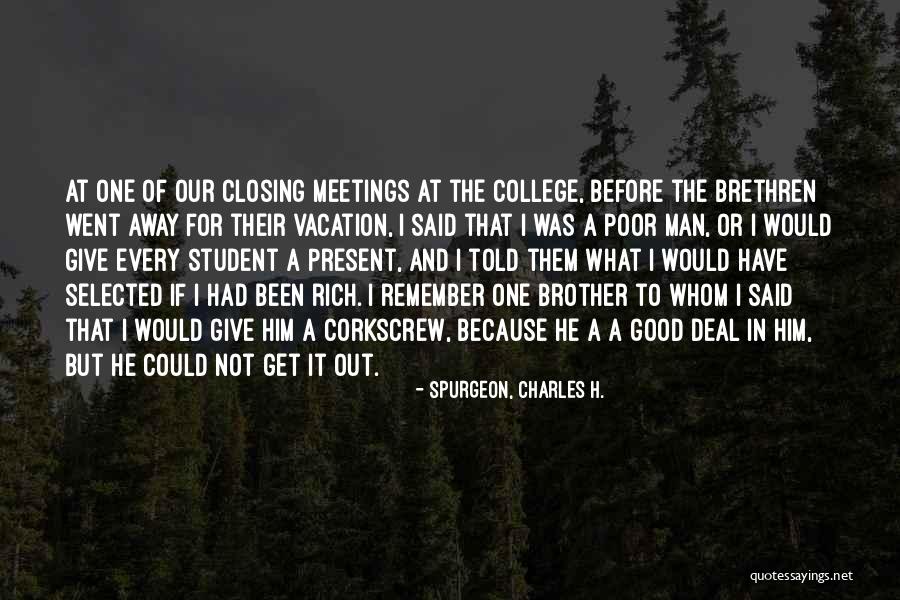 At one of our closing meetings at the College, before the brethren went away for their vacation, I said that I was a poor man, or I would give every student a present, and I told them what I would have selected if I had been rich. I remember one brother to whom I said that I would give him a corkscrew, because he a a good deal in him, but he could not get it out. — Spurgeon, Charles H.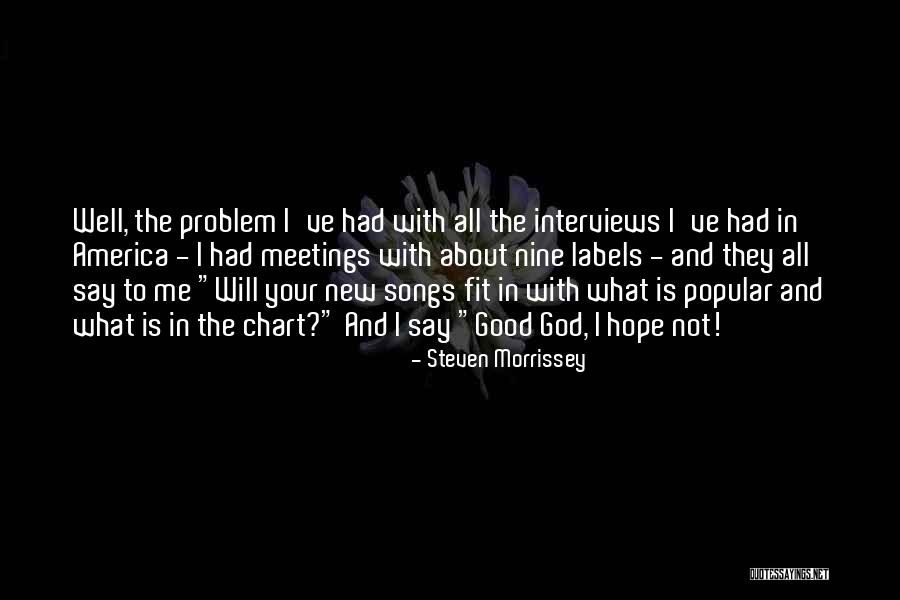 Well, the problem I've had with all the interviews I've had in America - I had meetings with about nine labels - and they all say to me "Will your new songs fit in with what is popular and what is in the chart?" And I say "Good God, I hope not! — Steven Morrissey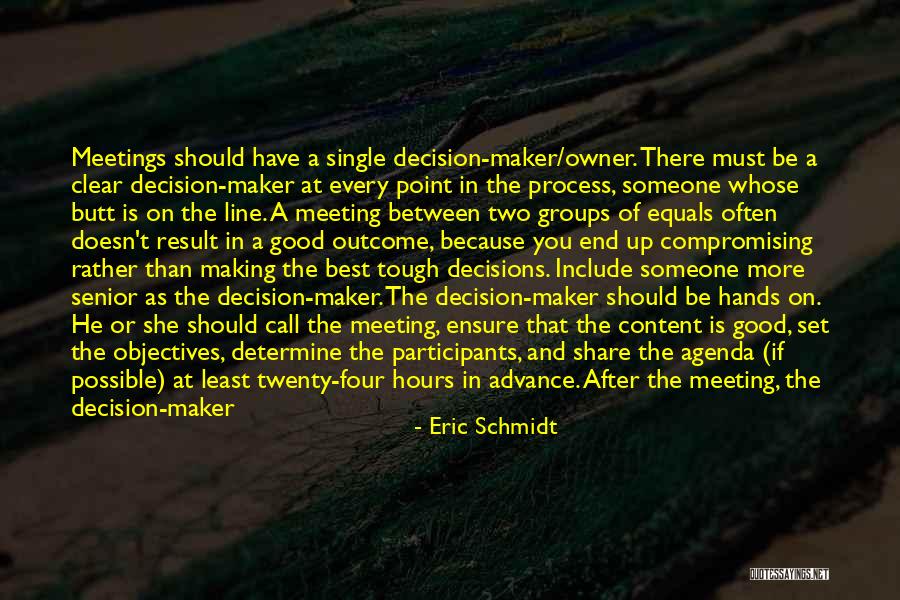 Meetings should have a single decision-maker/owner. There must be a clear decision-maker at every point in the process, someone whose butt is on the line. A meeting between two groups of equals often doesn't result in a good outcome, because you end up compromising rather than making the best tough decisions. Include someone more senior as the decision-maker. The decision-maker should be hands on. He or she should call the meeting, ensure that the content is good, set the objectives, determine the participants, and share the agenda (if possible) at least twenty-four hours in advance. After the meeting, the decision-maker (and no one else) should summarize decisions taken and action items by email to at least every participant - as well as any others who need to know - within forty-eight hours. — Eric Schmidt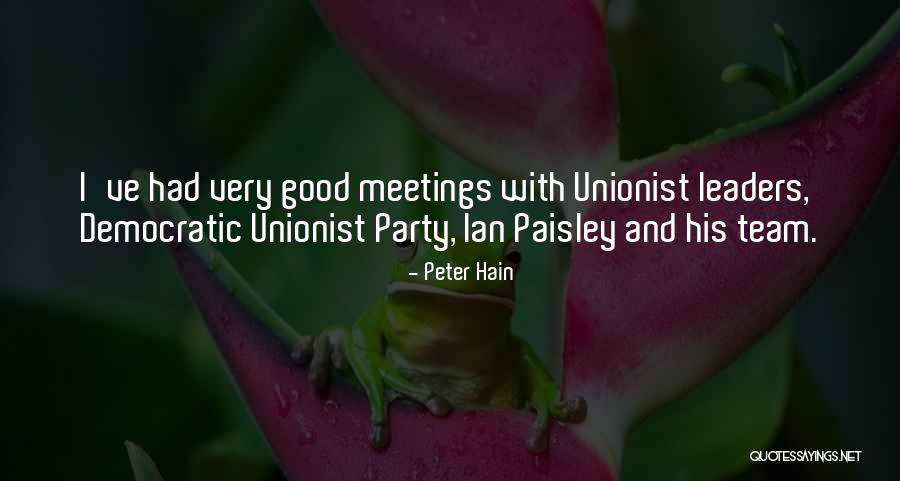 I've had very good meetings with Unionist leaders, Democratic Unionist Party, Ian Paisley and his team. — Peter Hain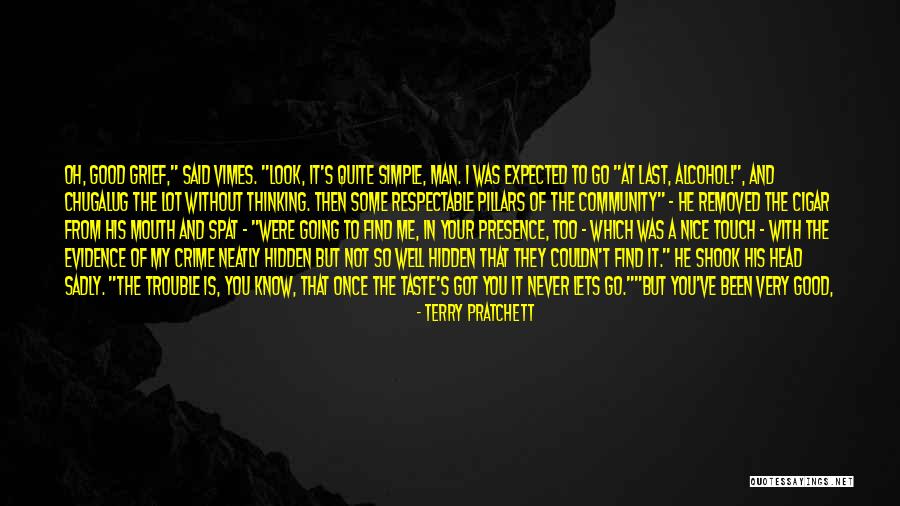 Oh, good grief," said Vimes. "Look, it's quite simple, man. I was expected to go "At last, alcohol!", and chugalug the lot without thinking. Then some respectable pillars of the community" - he removed the cigar from his mouth and spat - "were going to find me, in your presence, too - which was a nice touch - with the evidence of my crime neatly hidden but not so well hidden that they couldn't find it." He shook his head sadly. "The trouble is, you know, that once the taste's got you it never lets go."
"But you've been very good, sir," said Carrot. "I've not seen you touch a drop for -"
"Oh, that," said Vimes. "I was talking about policing, not alcohol. There's lots of people will help you with the alcohol business, but there's no one out there arranging little meetings where you can stand up and say, "My name is Sam and I'm a really suspicious bastard. — Terry Pratchett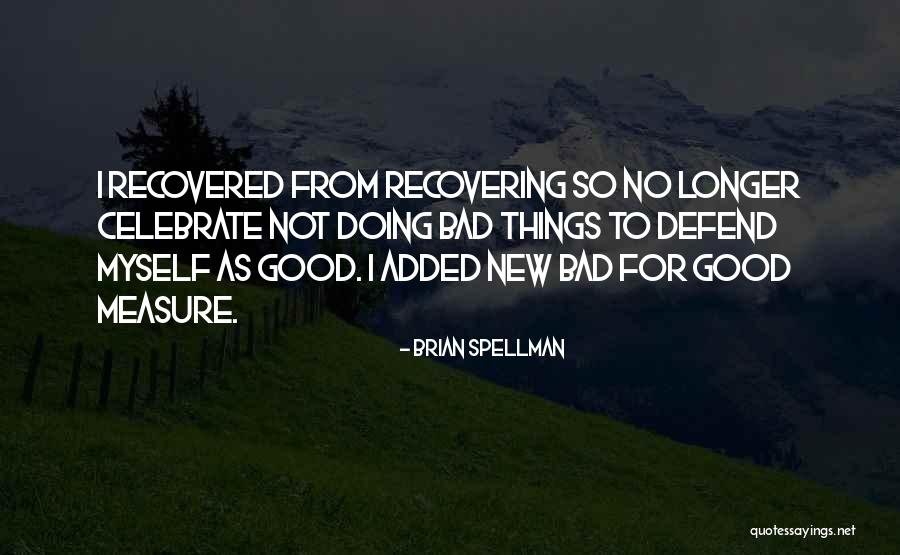 I recovered from recovering so no longer celebrate not doing bad things to defend myself as good. I added new bad for good measure. — Brian Spellman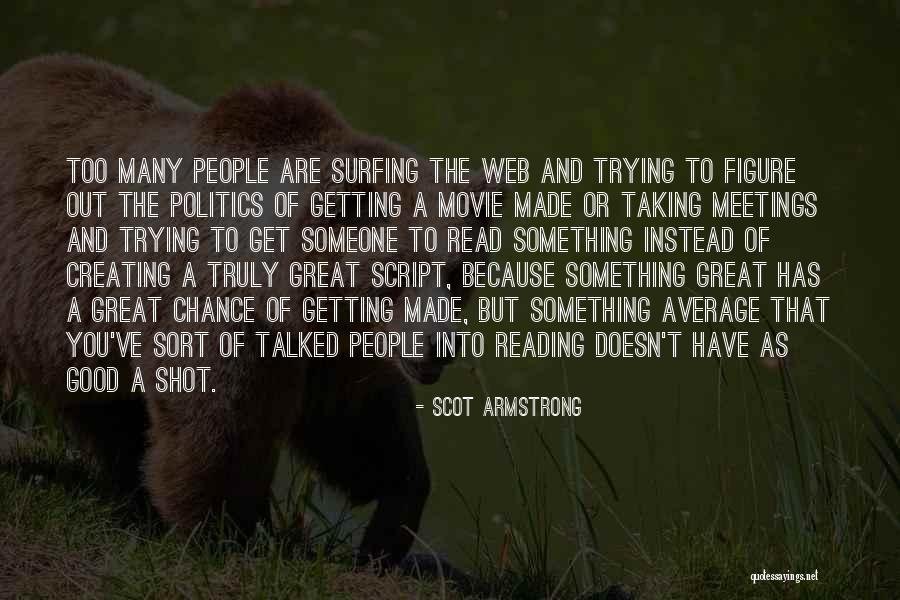 Too many people are surfing the web and trying to figure out the politics of getting a movie made or taking meetings and trying to get someone to read something instead of creating a truly great script, because something great has a great chance of getting made, but something average that you've sort of talked people into reading doesn't have as good a shot. — Scot Armstrong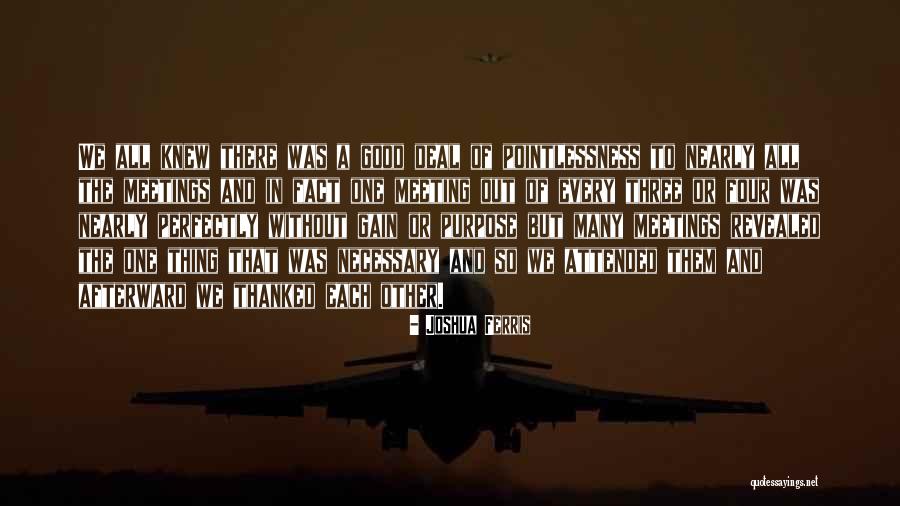 We all knew there was a good deal of pointlessness to nearly all the meetings and in fact one meeting out of every three or four was nearly perfectly without gain or purpose but many meetings revealed the one thing that was necessary and so we attended them and afterward we thanked each other. — Joshua Ferris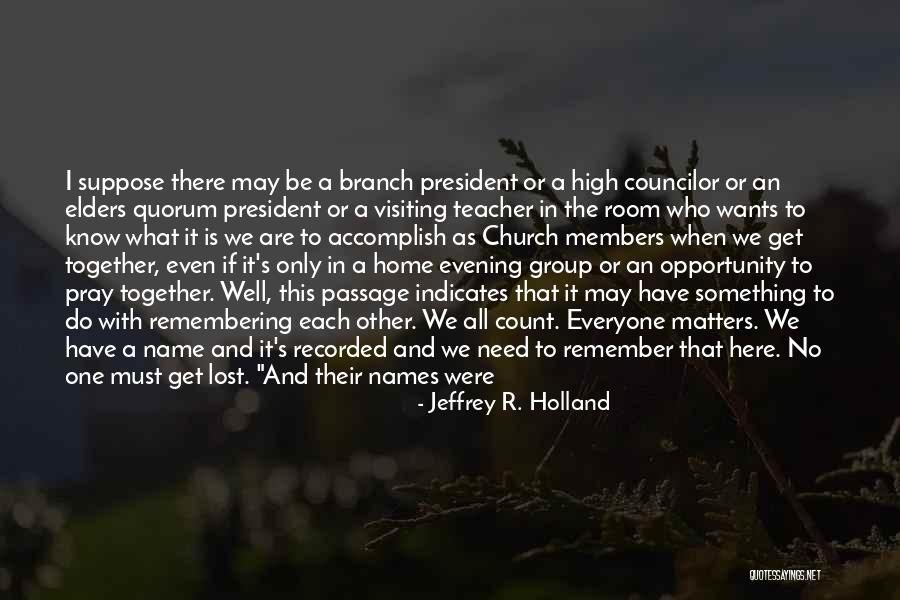 I suppose there may be a branch president or a high councilor or an elders quorum president or a visiting teacher in the room who wants to know what it is we are to accomplish as Church members when we get together, even if it's only in a home evening group or an opportunity to pray together. Well, this passage indicates that it may have something to do with remembering each other. We all count. Everyone matters. We have a name and it's recorded and we need to remember that here. No one must get lost. "And their names were taken, that they might be remembered and nourished by the good word of God ... to keep them continually watchful unto prayer, relying alone upon the merits of Christ ... to fast and to speak with one another concerning the welfare of their souls ... to observe that there should be no iniquity among them"
what a great thought about meetings and what they are supposed to do, what a Sunday School class can be, what a scriptural discussion in an apartment can be. — Jeffrey R. Holland
He was disorganized, forgetful, perpetually dissolute, and famous for his tremendous benders. One year he missed fifty straight weekly meetings at the Office of Works. His supervision of the office was so poor that one man was discovered to have been on holiday for three years. When sober, however, he was much liked and widely praised for his charm, good nature, and architectural vision. A bust of him in the National Portrait Gallery in London shows him clean shaven (and indeed clean, a slightly unusual condition for him), with a very full head of hair and a face that seems curiously mournful or perhaps just slightly hungover. Despite — Bill Bryson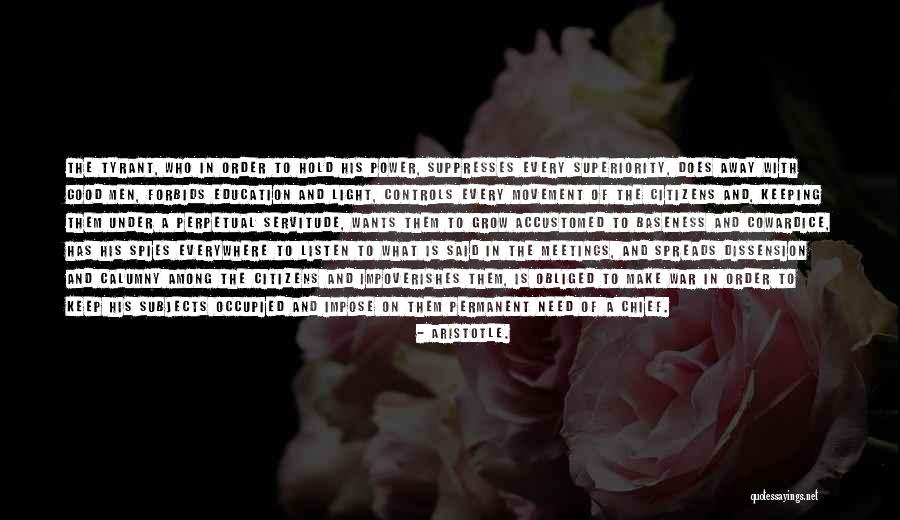 The tyrant, who in order to hold his power, suppresses every superiority, does away with good men, forbids education and light, controls every movement of the citizens and, keeping them under a perpetual servitude, wants them to grow accustomed to baseness and cowardice, has his spies everywhere to listen to what is said in the meetings, and spreads dissension and calumny among the citizens and impoverishes them, is obliged to make war in order to keep his subjects occupied and impose on them permanent need of a chief. — Aristotle.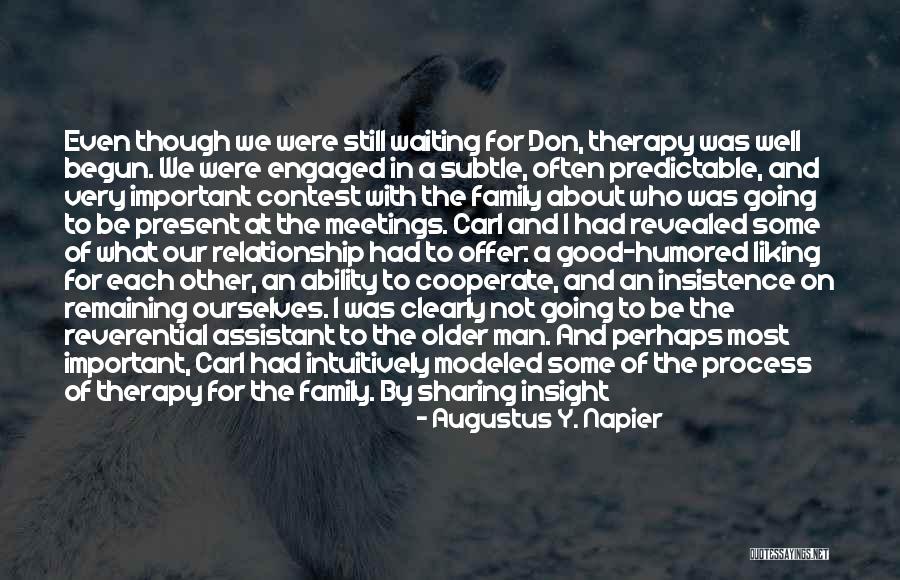 Even though we were still waiting for Don, therapy was well begun. We were engaged in a subtle, often predictable, and very important contest with the family about who was going to be present at the meetings. Carl and I had revealed some of what our relationship had to offer: a good-humored liking for each other, an ability to cooperate, and an insistence on remaining ourselves. I was clearly not going to be the reverential assistant to the older man. And perhaps most important, Carl had intuitively modeled some of the process of therapy for the family. By sharing insight into his own personality, he was saying by demonstration, It's important to search for you own unconscious agenda. — Augustus Y. Napier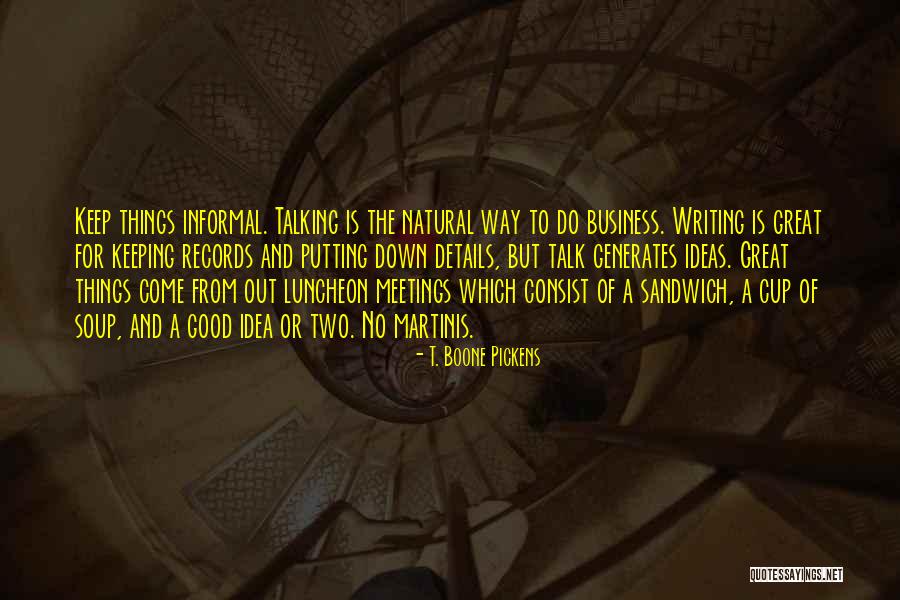 Keep things informal. Talking is the natural way to do business. Writing is great for keeping records and putting down details, but talk generates ideas. Great things come from out luncheon meetings which consist of a sandwich, a cup of soup, and a good idea or two. No martinis. — T. Boone Pickens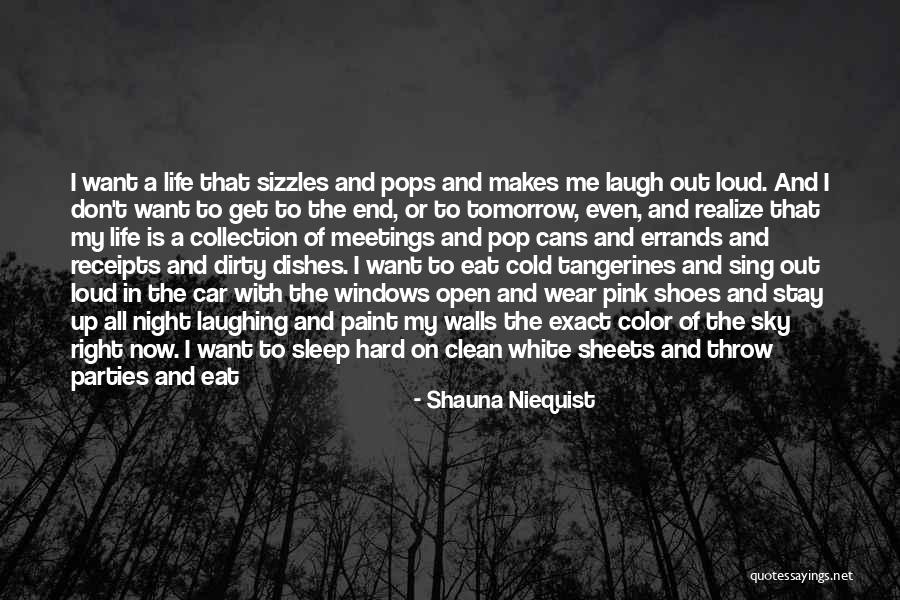 I want a life that sizzles and pops and makes me laugh out loud. And I don't want to get to the end, or to tomorrow, even, and realize that my life is a collection of meetings and pop cans and errands and receipts and dirty dishes. I want to eat cold tangerines and sing out loud in the car with the windows open and wear pink shoes and stay up all night laughing and paint my walls the exact color of the sky right now. I want to sleep hard on clean white sheets and throw parties and eat ripe tomatoes and read books so good they make me jump up and down, and I want my everyday to make God belly laugh, glad that he gave life to someone who loves the gift. — Shauna Niequist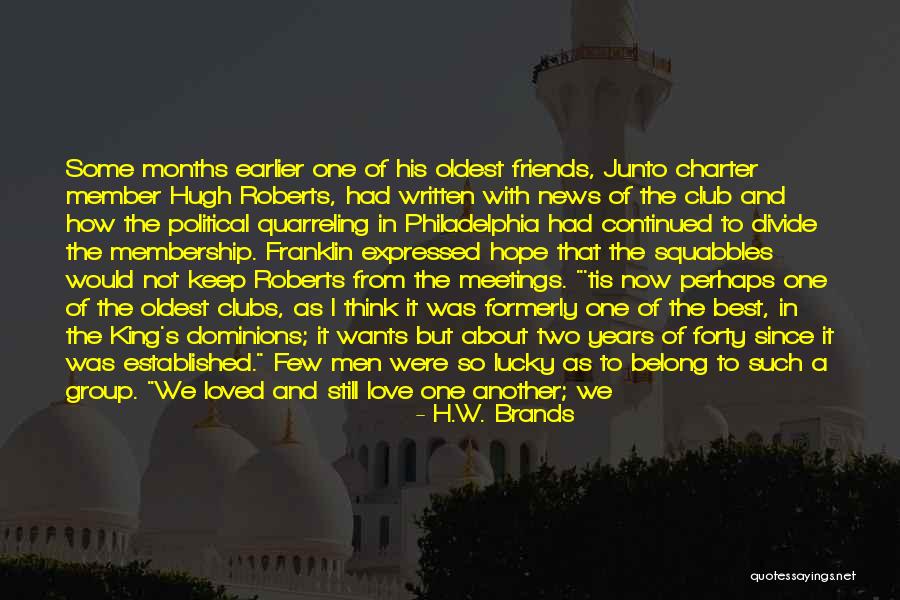 Some months earlier one of his oldest friends, Junto charter member Hugh Roberts, had written with news of the club and how the political quarreling in Philadelphia had continued to divide the membership. Franklin expressed hope that the squabbles would not keep Roberts from the meetings. "'tis now perhaps one of the oldest clubs, as I think it was formerly one of the best, in the King's dominions; it wants but about two years of forty since it was established." Few men were so lucky as to belong to such a group. "We loved and still love one another; we are grown grey together and yet it is too early to part. Let us sit till the evening of life is spent; the last hours were always the most joyous. When we can stay no longer 'tis time enough then to bid each other good night, separate, and go quietly to bed." And — H.W. Brands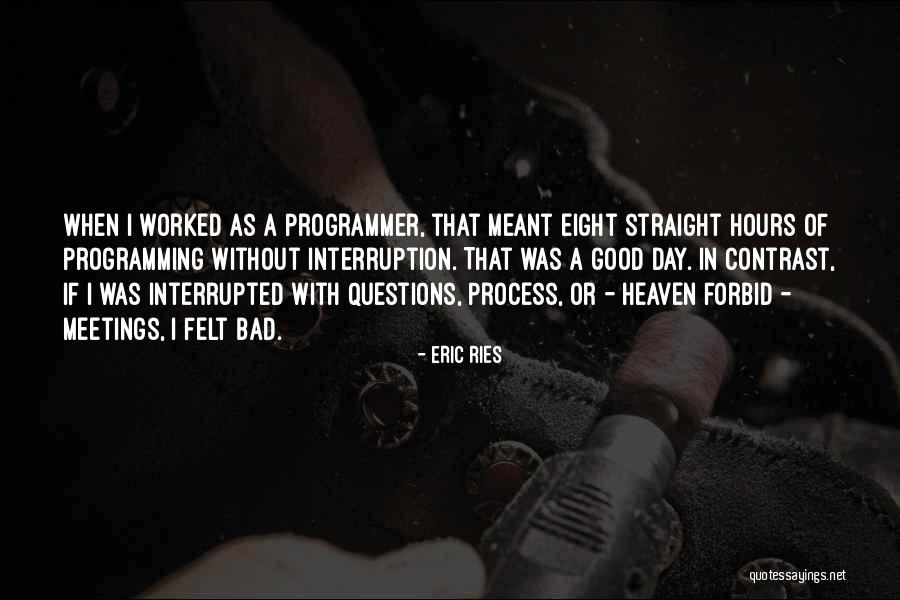 When I worked as a programmer, that meant eight straight hours of programming without interruption. That was a good day. In contrast, if I was interrupted with questions, process, or - heaven forbid - meetings, I felt bad. — Eric Ries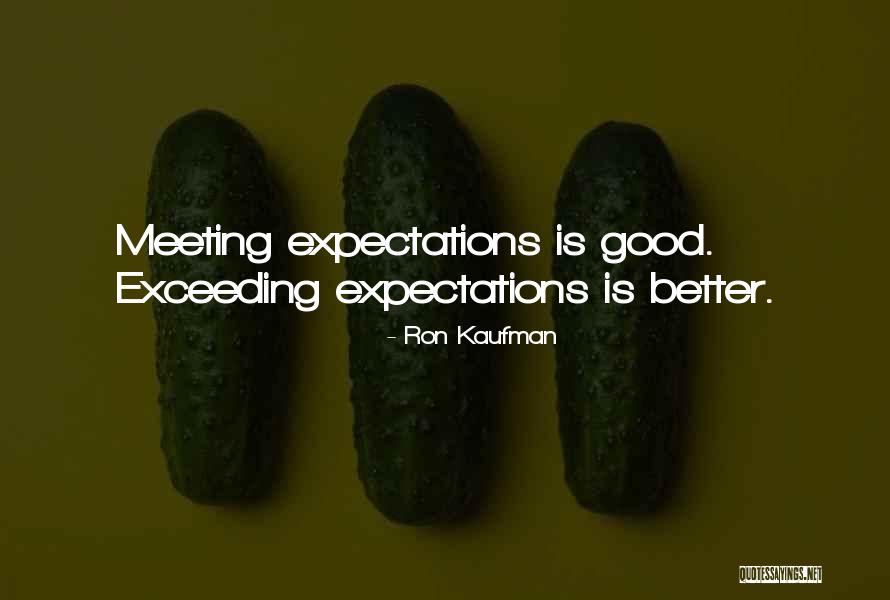 Meeting expectations is good. Exceeding expectations is better. — Ron Kaufman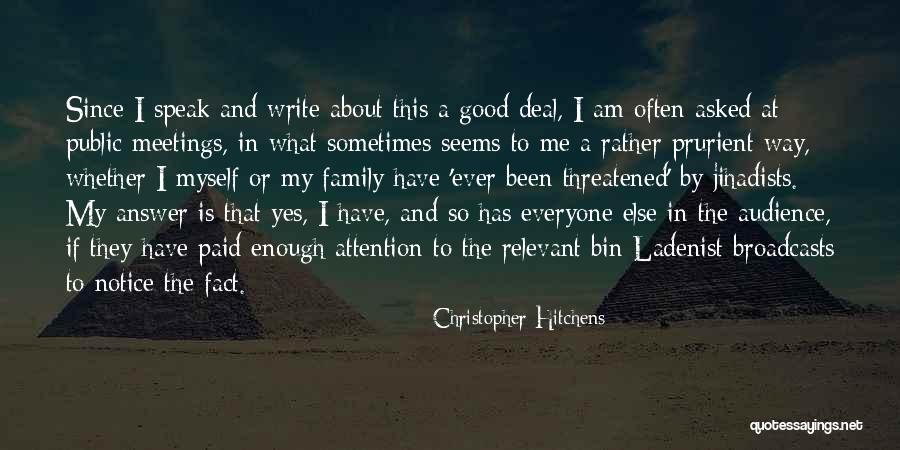 Since I speak and write about this a good deal, I am often asked at public meetings, in what sometimes seems to me a rather prurient way, whether I myself or my family have 'ever been threatened' by jihadists. My answer is that yes, I have, and so has everyone else in the audience, if they have paid enough attention to the relevant bin-Ladenist broadcasts to notice the fact. — Christopher Hitchens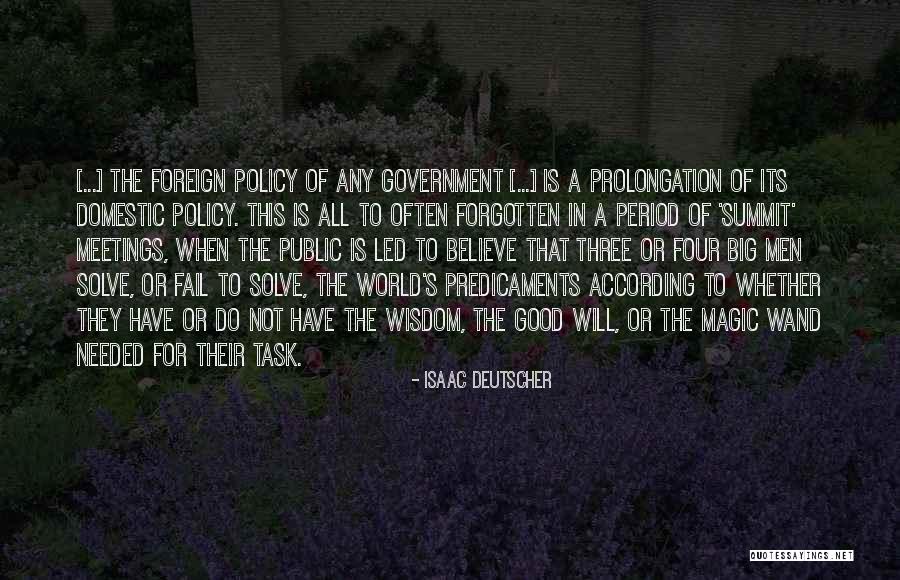 [...] the foreign policy of any government [...] is a prolongation of its domestic policy. This is all to often forgotten in a period of 'summit' meetings, when the public is led to believe that three or four Big Men solve, or fail to solve, the world's predicaments according to whether they have or do not have the wisdom, the good will, or the magic wand needed for their task. — Isaac Deutscher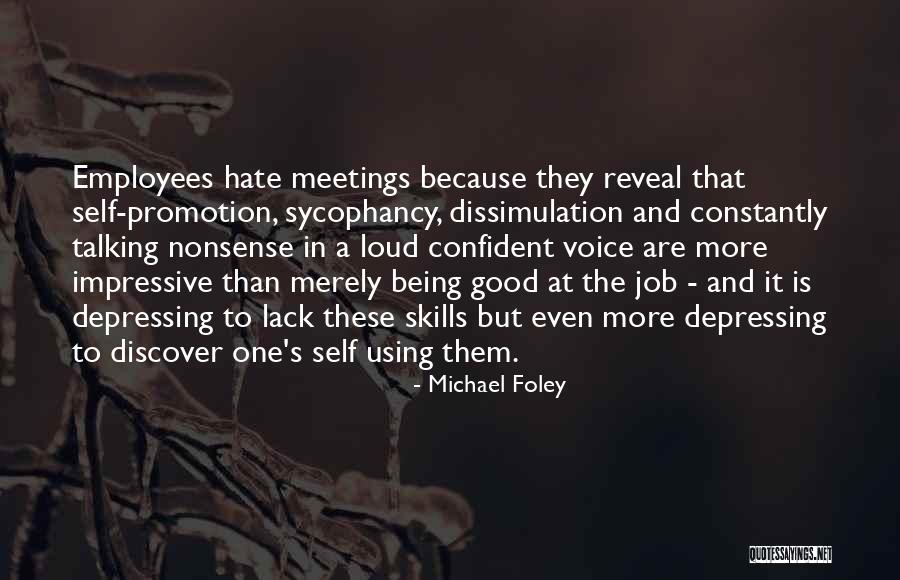 Employees hate meetings because they reveal that self-promotion, sycophancy, dissimulation and constantly talking nonsense in a loud confident voice are more impressive than merely being good at the job - and it is depressing to lack these skills but even more depressing to discover one's self using them. — Michael Foley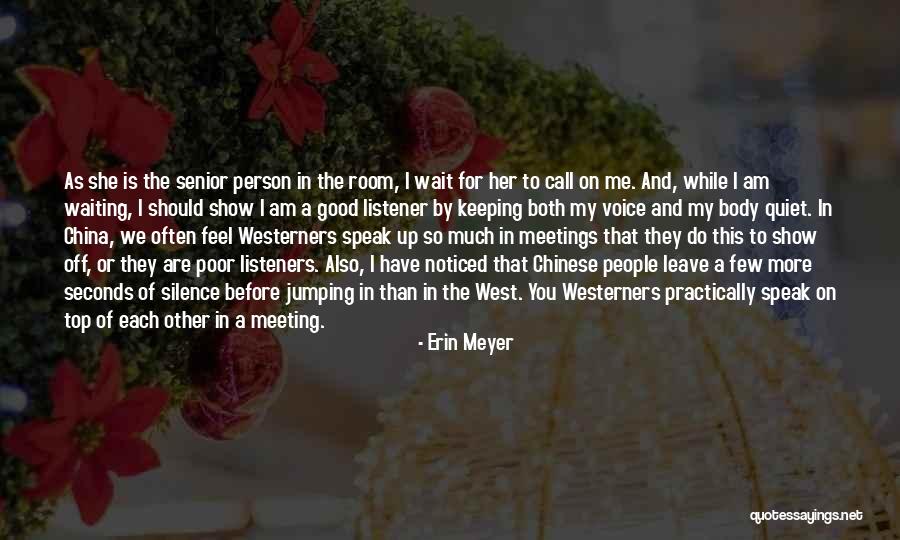 As she is the senior person in the room, I wait for her to call on me. And, while I am waiting, I should show I am a good listener by keeping both my voice and my body quiet. In China, we often feel Westerners speak up so much in meetings that they do this to show off, or they are poor listeners. Also, I have noticed that Chinese people leave a few more seconds of silence before jumping in than in the West. You Westerners practically speak on top of each other in a meeting. — Erin Meyer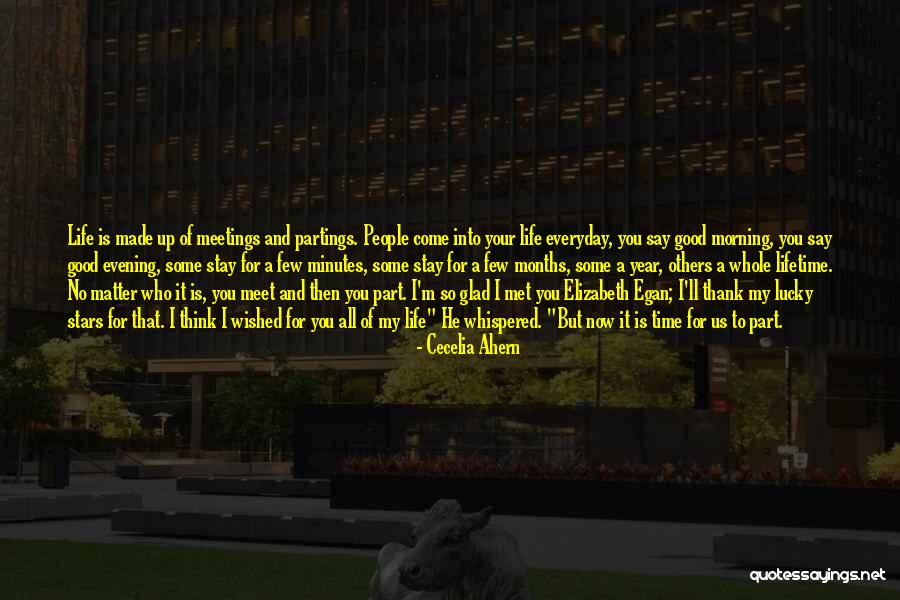 Life is made up of meetings and partings. People come into your life everyday, you say good morning, you say good evening, some stay for a few minutes, some stay for a few months, some a year, others a whole lifetime. No matter who it is, you meet and then you part. I'm so glad I met you Elizabeth Egan; I'll thank my lucky stars for that. I think I wished for you all of my life" He whispered. "But now it is time for us to part. — Cecelia Ahern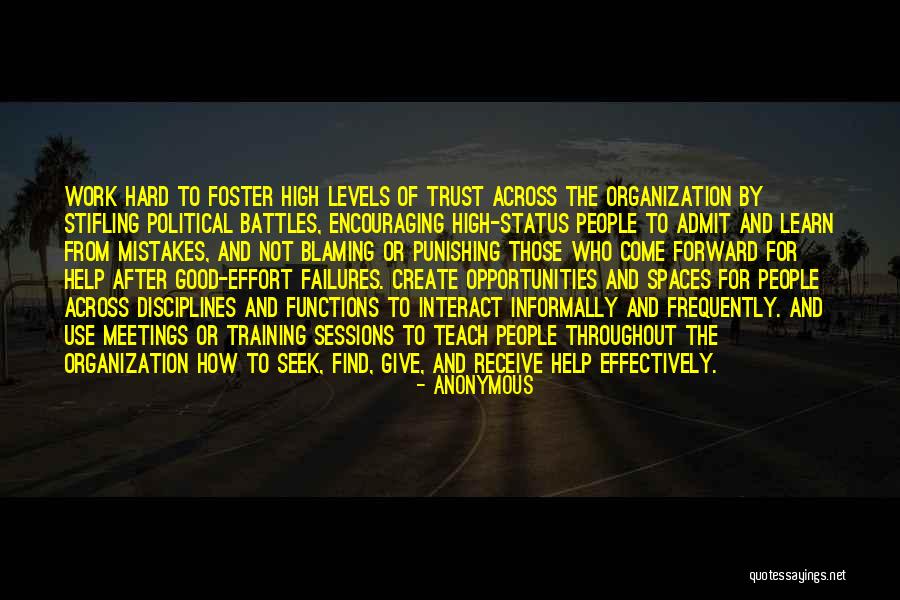 Work hard to foster high levels of trust across the organization by stifling political battles, encouraging high-status people to admit and learn from mistakes, and not blaming or punishing those who come forward for help after good-effort failures. Create opportunities and spaces for people across disciplines and functions to interact informally and frequently. And use meetings or training sessions to teach people throughout the organization how to seek, find, give, and receive help effectively. — Anonymous
All political meetings are very much alike. Somebody gets up and introduces the speaker of the evening, and then the speaker of the evening says at great length what he thinks of the scandalous manner in which the Government is behaving or the iniquitous goings-on of the Opposition. From time to time confederates in the audience rise and ask carefully rehearsed questions, and are answered fully and satisfactorily by the orator. When a genuine heckler interrupts, the orator either ignores him, or says haughtily that he can find him arguments but cannot find him brains. Or, occasionally, when the question is an easy one, he answers it. A quietly conducted political meeting is one of England's most delightful indoor games. When the meeting is rowdy, the audience has more fun, but the speaker a good deal less. — P.G. Wodehouse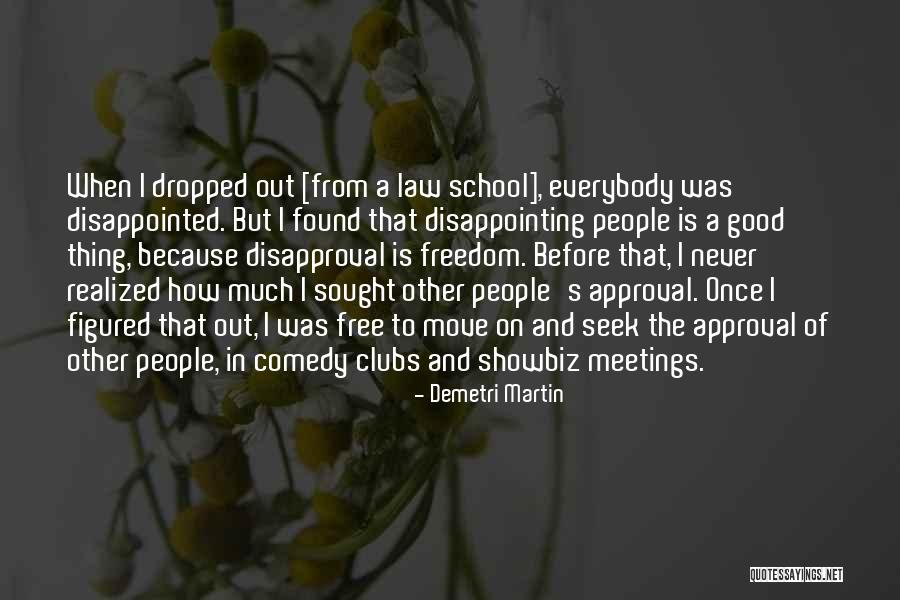 When I dropped out [from a law school], everybody was disappointed. But I found that disappointing people is a good thing, because disapproval is freedom. Before that, I never realized how much I sought other people's approval. Once I figured that out, I was free to move on and seek the approval of other people, in comedy clubs and showbiz meetings. — Demetri Martin
I am told that tens of thousands of prayer meetings are being held on this day; for that I am deeply grateful. We are a nation under God, and I believe God intended for us to be free. It would be fitting and good, I think, if on each inaugural day in future years it should be declared a day of prayer. — Ronald Reagan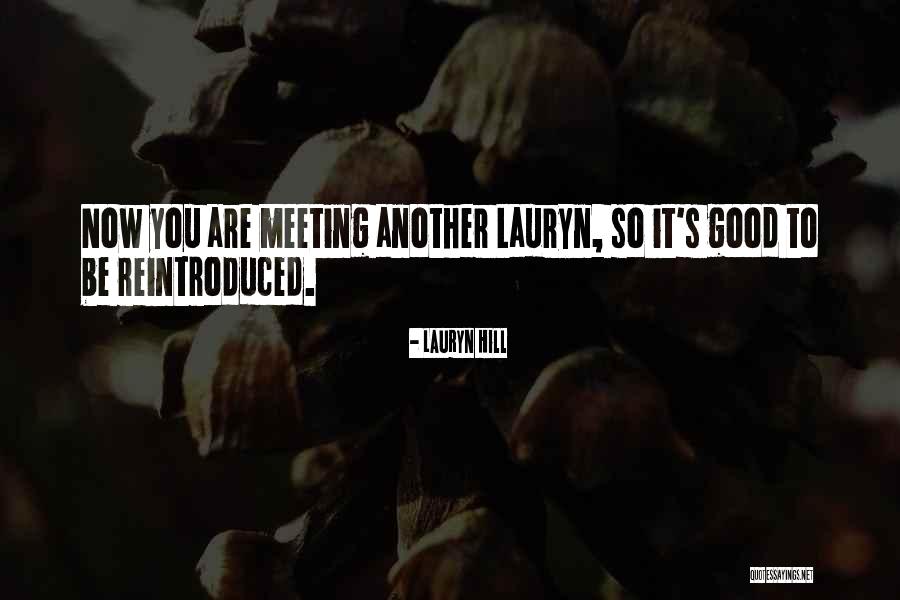 Now you are meeting another Lauryn, so it's good to be reintroduced. — Lauryn Hill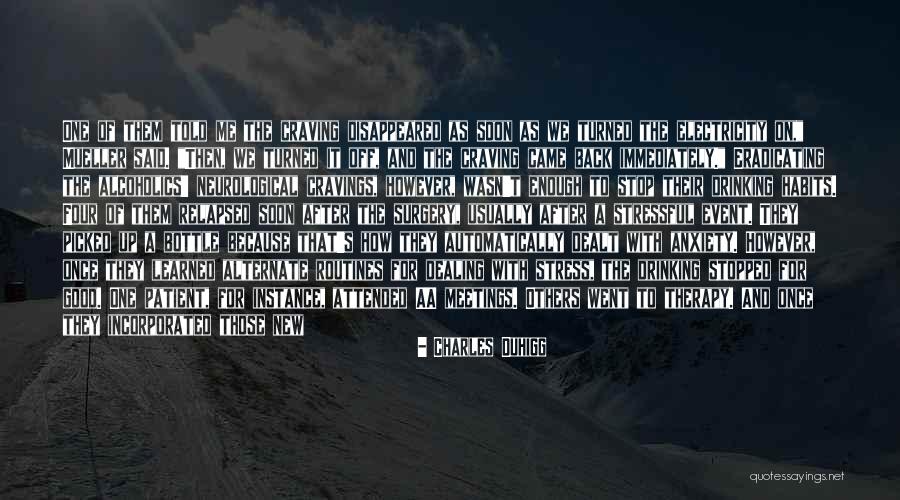 One of them told me the craving disappeared as soon as we turned the electricity on," Mueller said. "Then, we turned it off, and the craving came back immediately." Eradicating the alcoholics' neurological cravings, however, wasn't enough to stop their drinking habits. Four of them relapsed soon after the surgery, usually after a stressful event. They picked up a bottle because that's how they automatically dealt with anxiety. However, once they learned alternate routines for dealing with stress, the drinking stopped for good. One patient, for instance, attended AA meetings. Others went to therapy. And once they incorporated those new routines for coping with stress and anxiety into their lives, the successes were dramatic. The man who had gone to detox sixty times never had another drink. Two other patients had started drinking at twelve, were alcoholics by eighteen, drank every day, and now have been sober for four years. — Charles Duhigg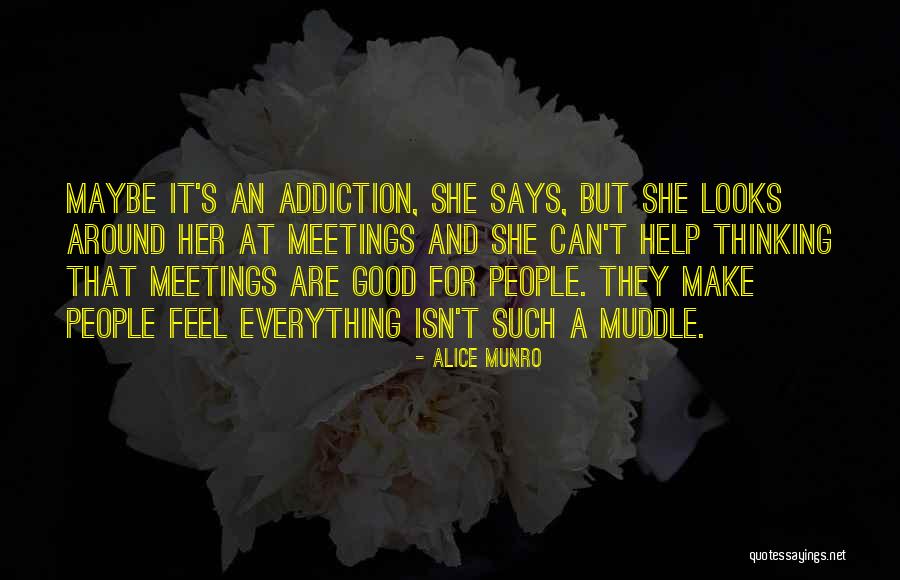 Maybe it's an addiction, she says, but she looks around her at meetings and she can't help thinking that meetings are good for people. They make people feel everything isn't such a muddle. — Alice Munro
Above all, do not talk yourself out of good ideas by trying to expound them at haphazard meetings. — Jacques Barzun