Quotes & Sayings About Jewish Prayer
Enjoy reading and share 14 famous quotes about Jewish Prayer with everyone.
Top Jewish Prayer Quotes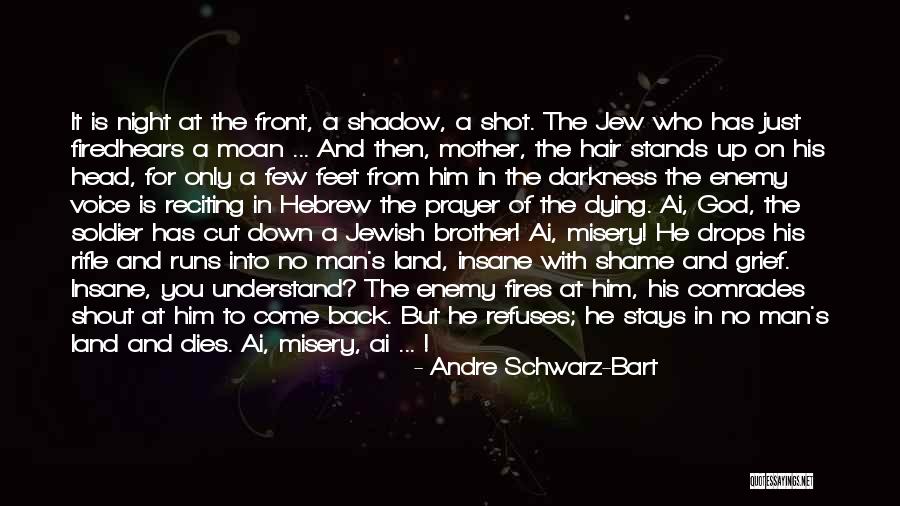 It is night at the front, a shadow, a shot. The Jew who has just fired
hears a moan ...
And then, mother, the hair stands up on his head, for only a few feet from him in the darkness the enemy voice is reciting in Hebrew the prayer of the dying. Ai, God, the soldier has cut down a Jewish brother! Ai, misery! He drops his rifle and runs into no man's land, insane with shame and grief. Insane, you understand? The enemy fires at him, his comrades shout at him to come back. But he refuses; he stays in no man's land and dies. Ai, misery, ai ... ! — Andre Schwarz-Bart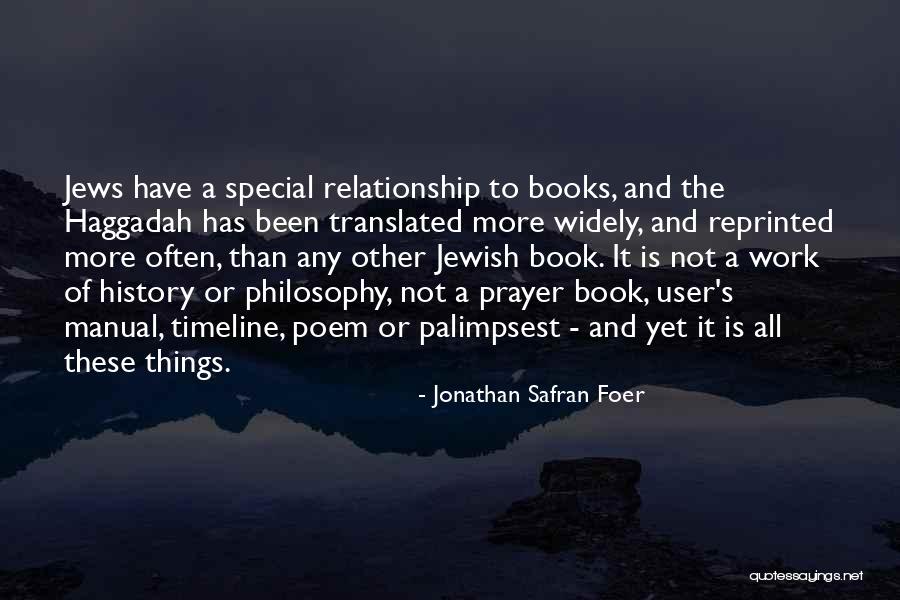 Jews have a special relationship to books, and the Haggadah has been translated more widely, and reprinted more often, than any other Jewish book. It is not a work of history or philosophy, not a prayer book, user's manual, timeline, poem or palimpsest - and yet it is all these things. — Jonathan Safran Foer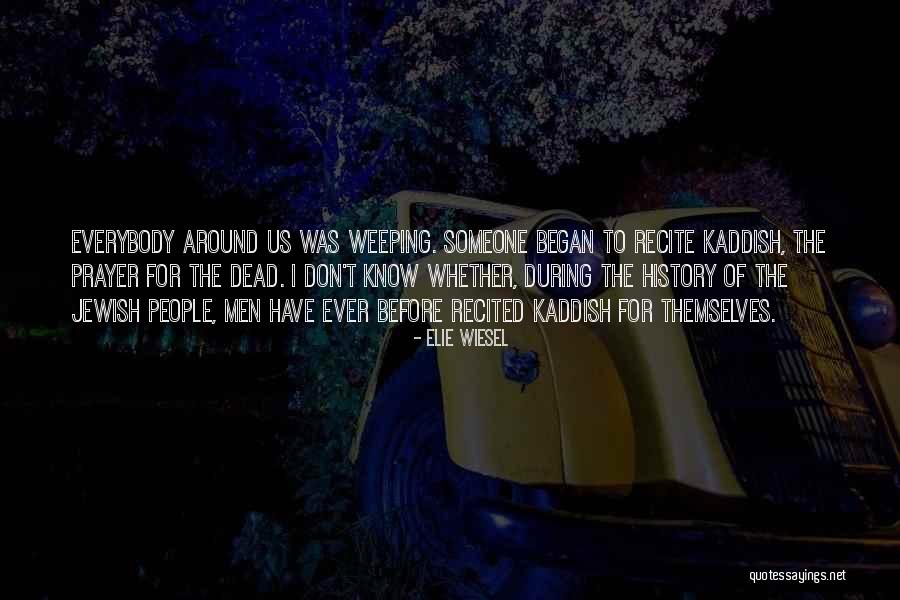 Everybody around us was weeping. Someone began to recite Kaddish, the prayer for the dead. I don't know whether, during the history of the Jewish people, men have ever before recited Kaddish for themselves. — Elie Wiesel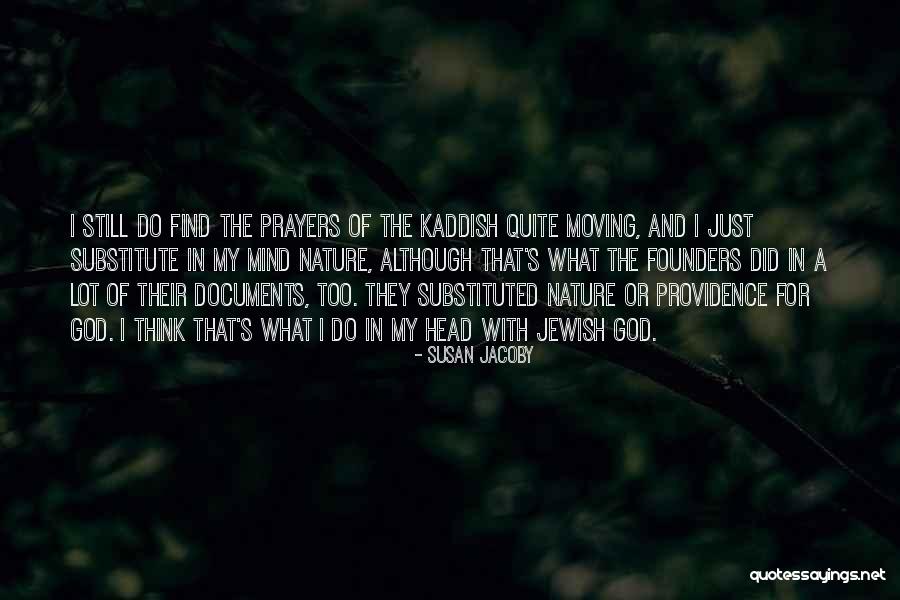 I still do find the prayers of the Kaddish quite moving, and I just substitute in my mind nature, although that's what the founders did in a lot of their documents, too. They substituted nature or providence for God. I think that's what I do in my head with Jewish God. — Susan Jacoby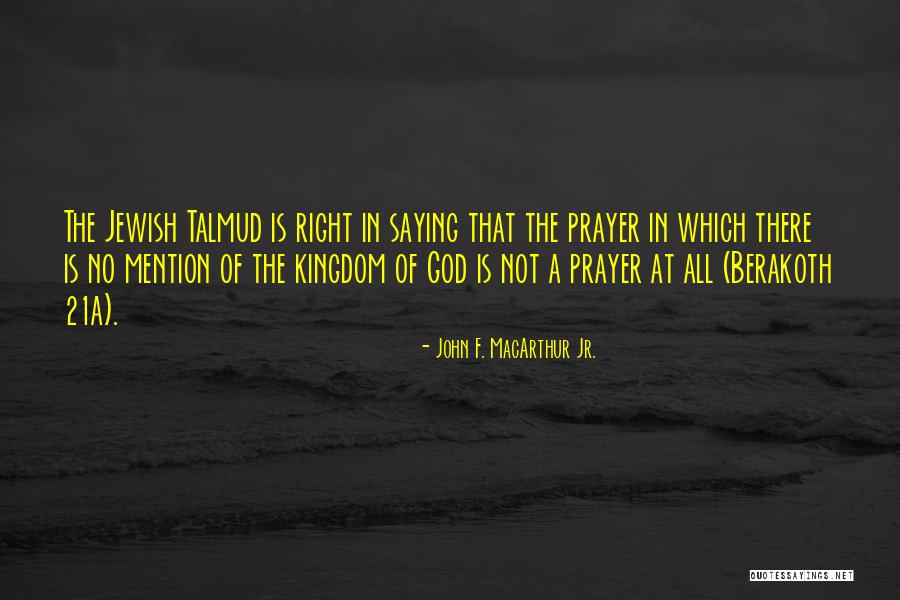 The Jewish Talmud is right in saying that the prayer in which there is no mention of the kingdom of God is not a prayer at all (Berakoth 21a). — John F. MacArthur Jr.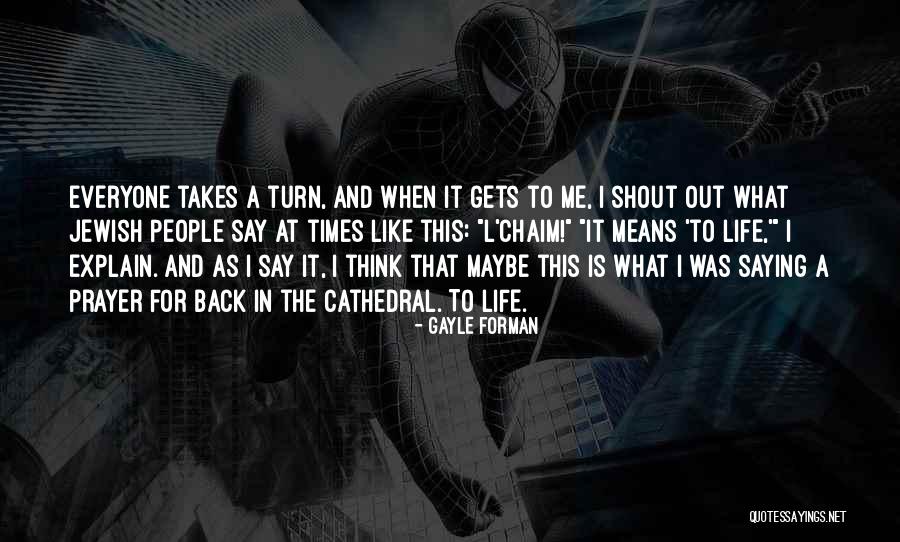 Everyone takes a turn, and when it gets to me, I shout out what Jewish people say at times like this: "L'chaim!"

"It means 'to life,'" I explain. And as I say it, I think that maybe this is what I was saying a prayer for back in the cathedral. To life. — Gayle Forman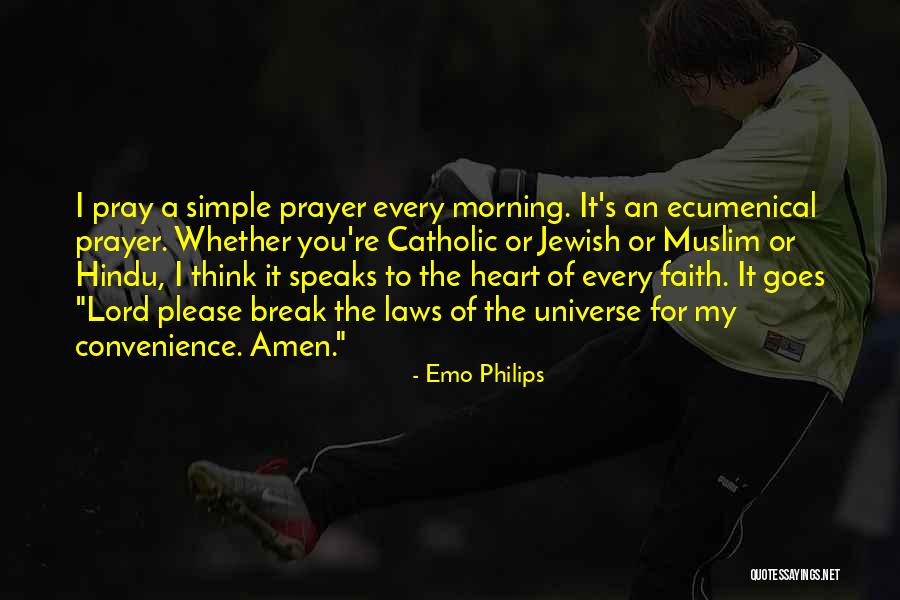 I pray a simple prayer every morning. It's an ecumenical prayer. Whether you're Catholic or Jewish or Muslim or Hindu, I think it speaks to the heart of every faith. It goes "Lord please break the laws of the universe for my convenience. Amen." — Emo Philips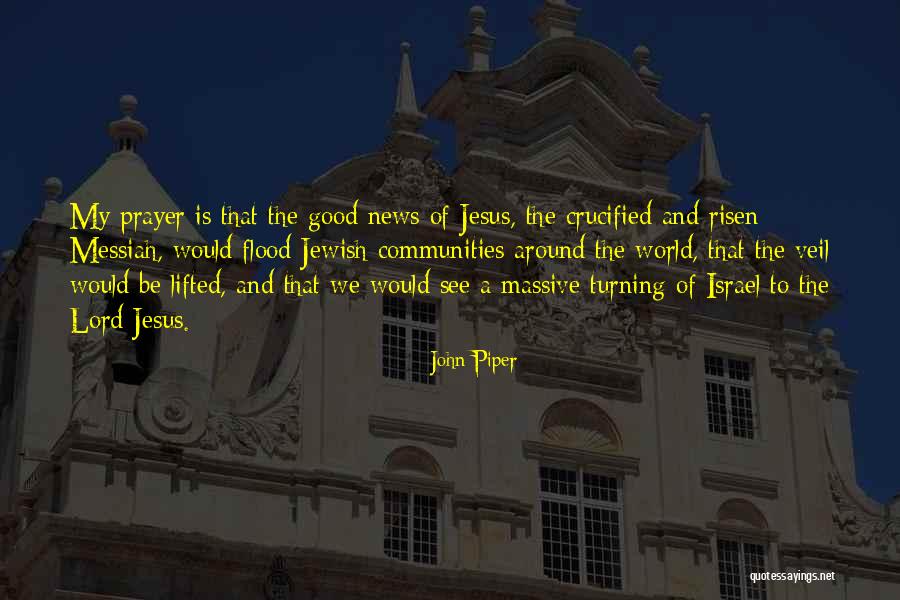 My prayer is that the good news of Jesus, the crucified and risen Messiah, would flood Jewish communities around the world, that the veil would be lifted, and that we would see a massive turning of Israel to the Lord Jesus. — John Piper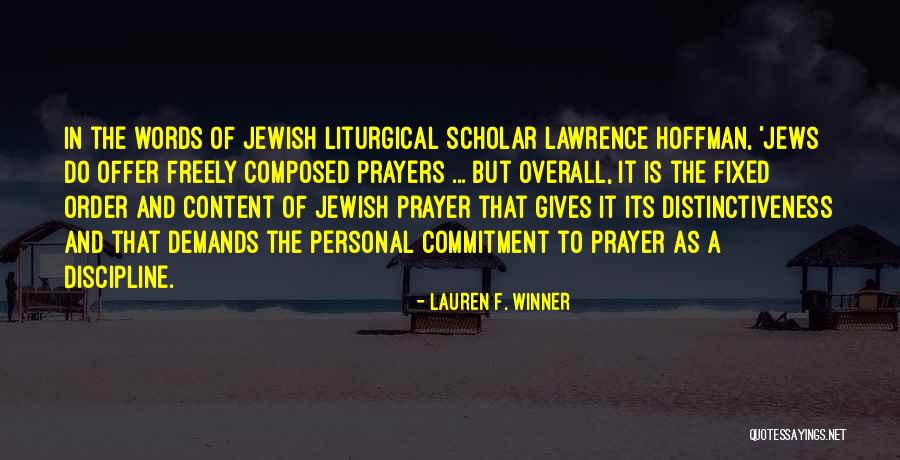 In the words of Jewish liturgical scholar Lawrence Hoffman, 'Jews do offer freely composed prayers ... But overall, it is the fixed order and content of Jewish prayer that gives it its distinctiveness and that demands the personal commitment to prayer as a discipline. — Lauren F. Winner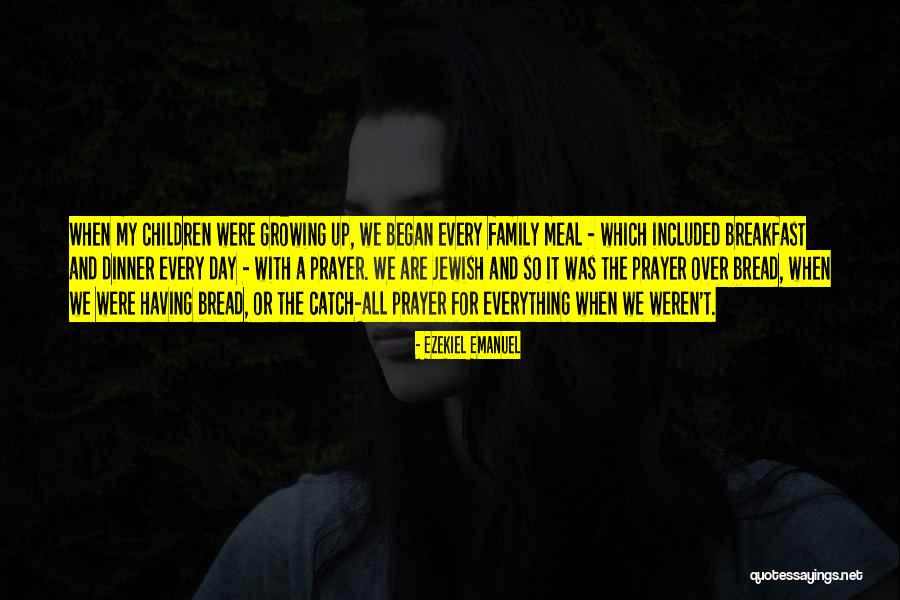 When my children were growing up, we began every family meal - which included breakfast and dinner every day - with a prayer. We are Jewish and so it was the prayer over bread, when we were having bread, or the catch-all prayer for everything when we weren't. — Ezekiel Emanuel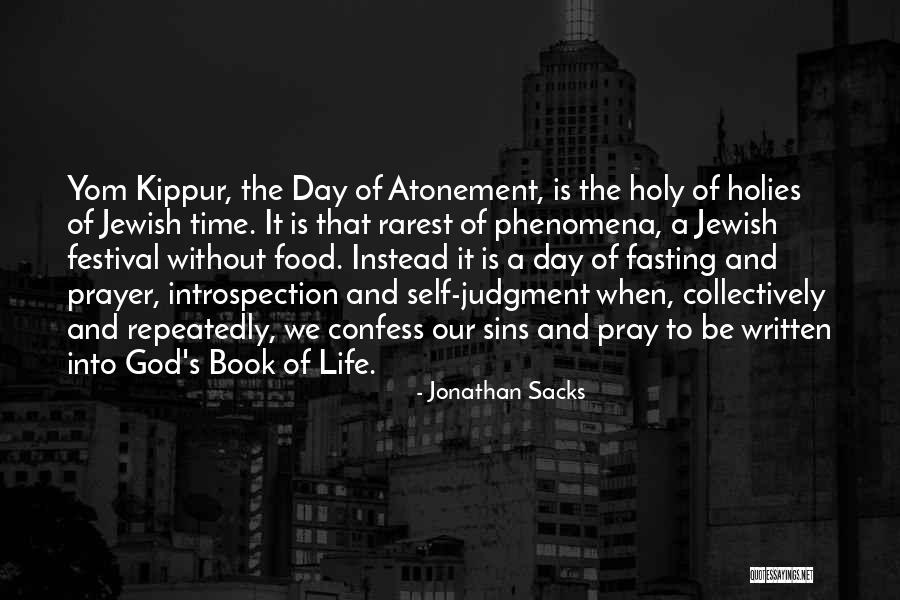 Yom Kippur, the Day of Atonement, is the holy of holies of Jewish time. It is that rarest of phenomena, a Jewish festival without food. Instead it is a day of fasting and prayer, introspection and self-judgment when, collectively and repeatedly, we confess our sins and pray to be written into God's Book of Life. — Jonathan Sacks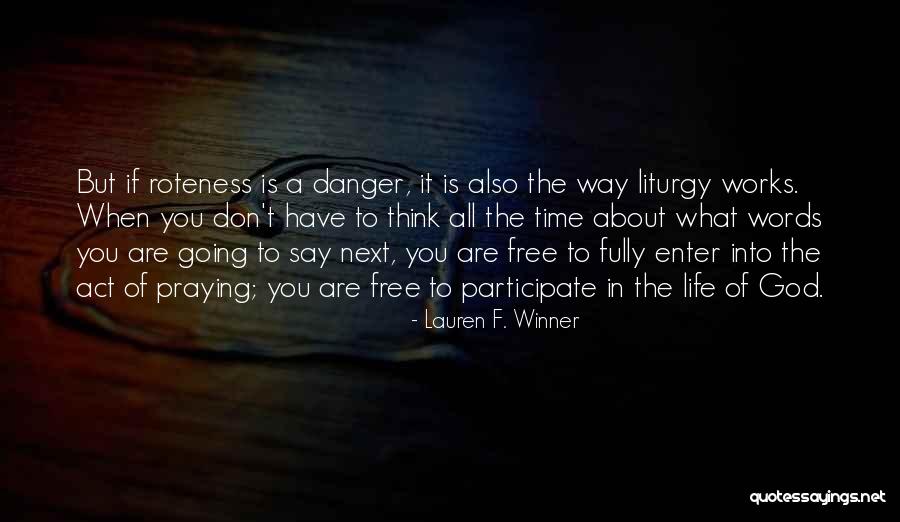 But if roteness is a danger, it is also the way liturgy works. When you don't have to think all the time about what words you are going to say next, you are free to fully enter into the act of praying; you are free to participate in the life of God. — Lauren F. Winner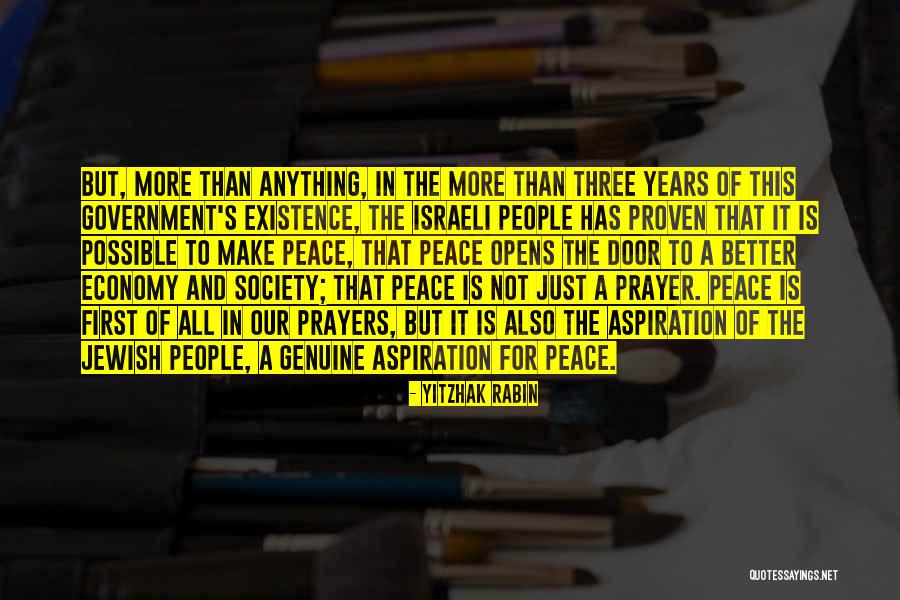 But, more than anything, in the more than three years of this Government's existence, the Israeli people has proven that it is possible to make peace, that peace opens the door to a better economy and society; that peace is not just a prayer. Peace is first of all in our prayers, but it is also the aspiration of the Jewish people, a genuine aspiration for peace. — Yitzhak Rabin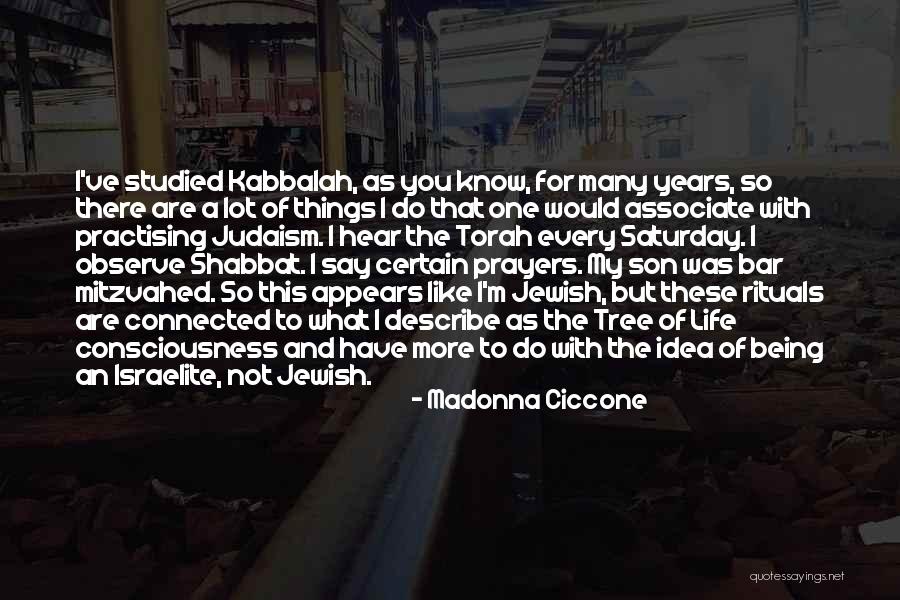 I've studied Kabbalah, as you know, for many years, so there are a lot of things I do that one would associate with practising Judaism. I hear the Torah every Saturday. I observe Shabbat. I say certain prayers. My son was bar mitzvahed. So this appears like I'm Jewish, but these rituals are connected to what I describe as the Tree of Life consciousness and have more to do with the idea of being an Israelite, not Jewish. — Madonna Ciccone