Quotes & Sayings About Instructions In Life
Enjoy reading and share 44 famous quotes about Instructions In Life with everyone.
Top Instructions In Life Quotes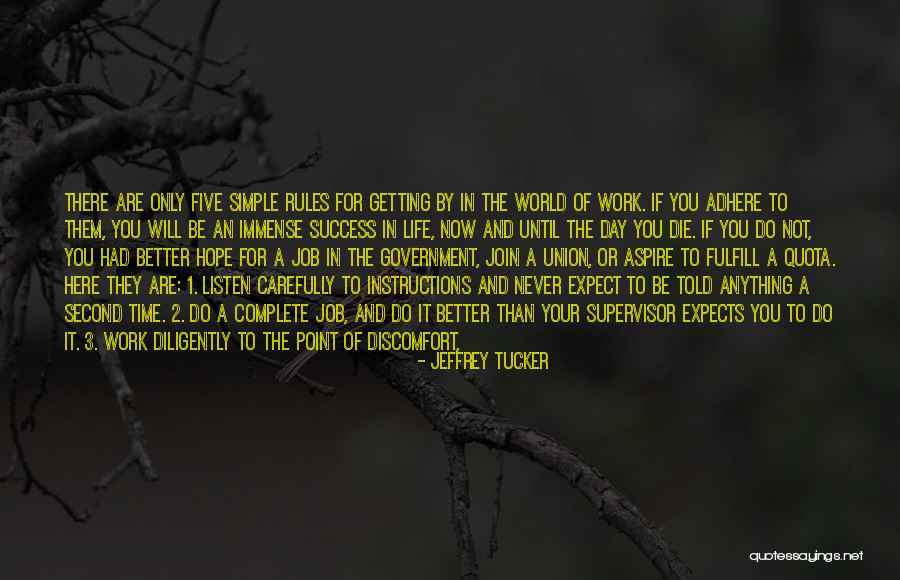 there are only five simple rules for getting by in the world of work. If you adhere to them, you will be an immense success in life, now and until the day you die. If you do not, you had better hope for a job in the government, join a union, or aspire to fulfill a quota. Here they are: 1. Listen carefully to instructions and never expect to be told anything a second time. 2. Do a complete job, and do it better than your supervisor expects you to do it. 3. Work diligently to the point of discomfort, and without interruption or complaint. 4. Complete all tasks in a timely manner, meaning as soon as possible. 5. If you run out of assigned tasks, look for other jobs to do that help others and the firm. That's it: five rules to a happy, productive job, to a happy, productive life. Do — Jeffrey Tucker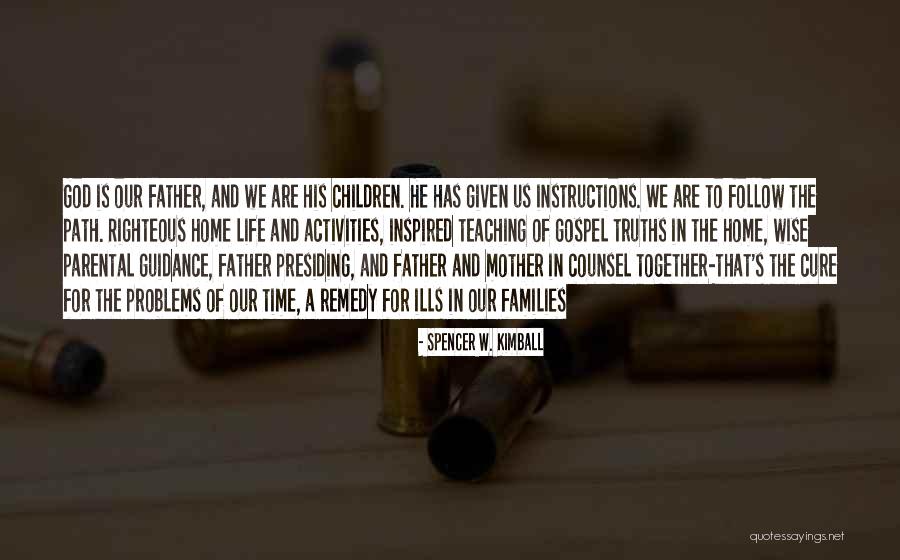 God is our Father, and we are his children. He has given us instructions. We are to follow the path. Righteous home life and activities, inspired teaching of gospel truths in the home, wise parental guidance, father presiding, and father and mother in counsel together-that's the cure for the problems of our time, a remedy for ills in our families — Spencer W. Kimball
She said being human is being a young child on Christmas Day who receives an absolutely magnificent castle. And there is a perfect photograph of this castle on the box and you want more than anything to play with the castle and the knights and the princesses because it looks like such a perfectly human world, but the only problem is that the castle isn't built. It's in tiny intricate pieces, and although there's a book of instructions you don't understand it. And nor can your parents or Aunt Sylvie. So you are just left, crying at the ideal castle on the box which no one would ever be able to build — Matt Haig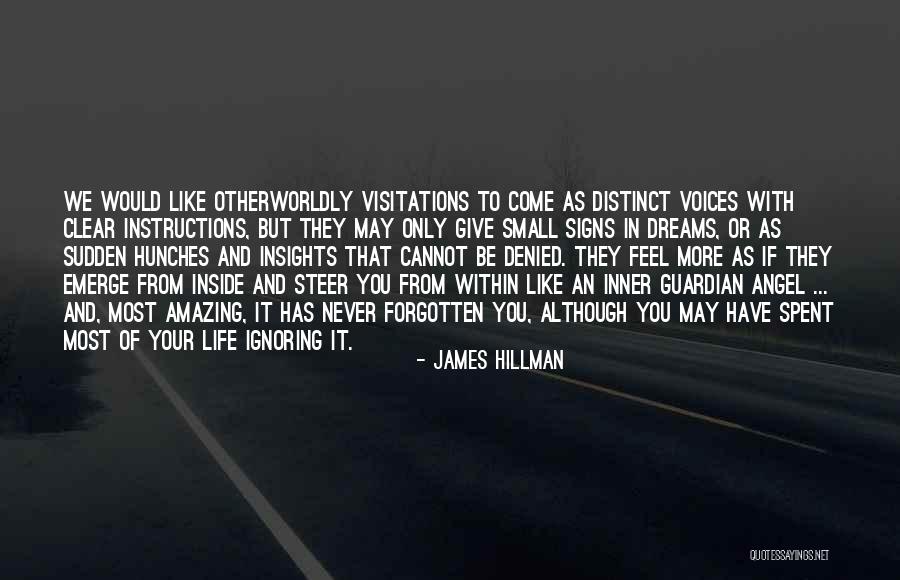 We would like otherworldly visitations to come as distinct voices with clear instructions, but they may only give small signs in dreams, or as sudden hunches and insights that cannot be denied. They feel more as if they emerge from inside and steer you from within like an inner guardian angel ... And, most amazing, it has never forgotten you, although you may have spent most of your life ignoring it. — James Hillman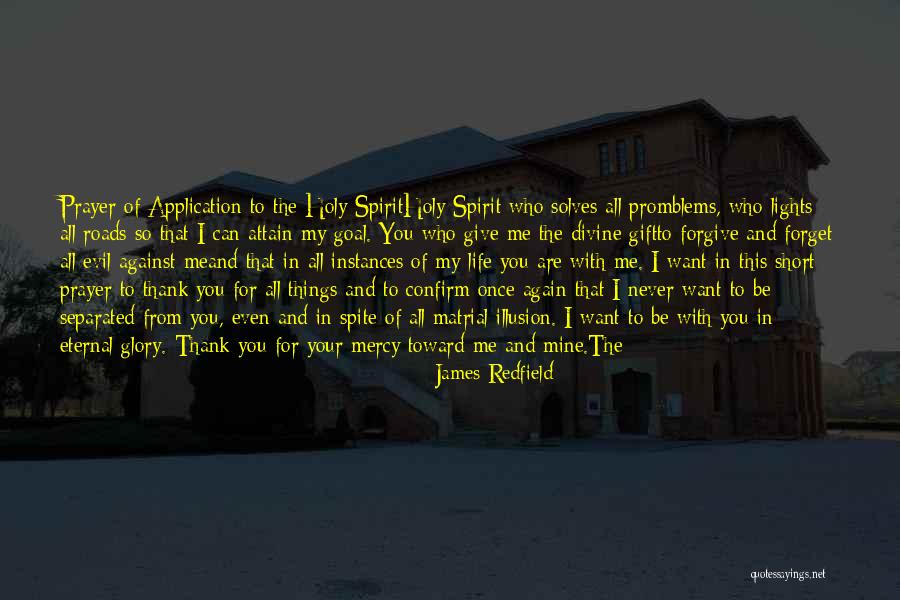 Prayer of Application to the Holy Spirit
Holy Spirit who solves all promblems, who lights all roads so that I can attain my goal. You who give me the divine giftto forgive and forget all evil against meand that in all instances of my life you are with me. I want in this short prayer to thank you for all things and to confirm once again that I never want to be separated from you, even and in spite of all matrial illusion. I want to be with you in eternal glory. Thank you for your mercy toward me and mine.
The person must say this prayer for three consecutive days. After three days the favor requested will be granted even if it may appear difficult. This prayer,including these instructions must be published immediately after the favor is granted without mentioning the favor; only your initials should appear at the bottom.
MK — James Redfield
So the people of Earth thought they had instructions from the Creator of the Universe Himself to wreck the joint. But they were going at it too slowly for the Elders, so the Elders put it into the people's heads that they themselves were the life forms that were supposed to spread out through the Universe. This was a preposterous ideas, of course. In the words of a nameless author: How could all that meat, needing so much food and water and oxygen, and with bowel movements so enormous, expect to survive a trip of any distance whatsoever through the limitless void of outer space? It was a miracle that such ravenous and cumbersome giants could make a roundtrip for a 6-pack to the nearest grocery store. — Kurt Vonnegut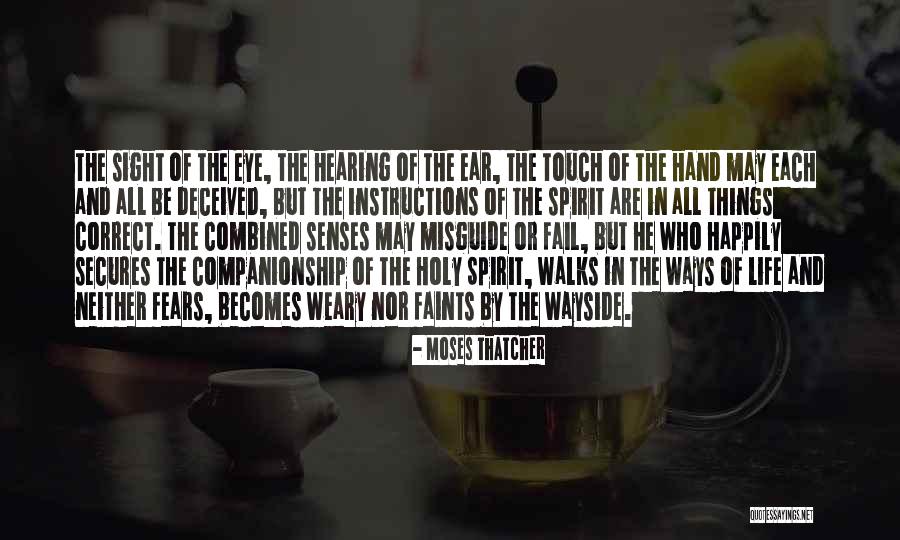 The sight of the eye, the hearing of the ear, the touch of the hand may each and all be deceived, but the instructions of the spirit are in all things correct. The combined senses may misguide or fail, but he who happily secures the companionship of the Holy Spirit, walks in the ways of life and neither fears, becomes weary nor faints by the wayside. — Moses Thatcher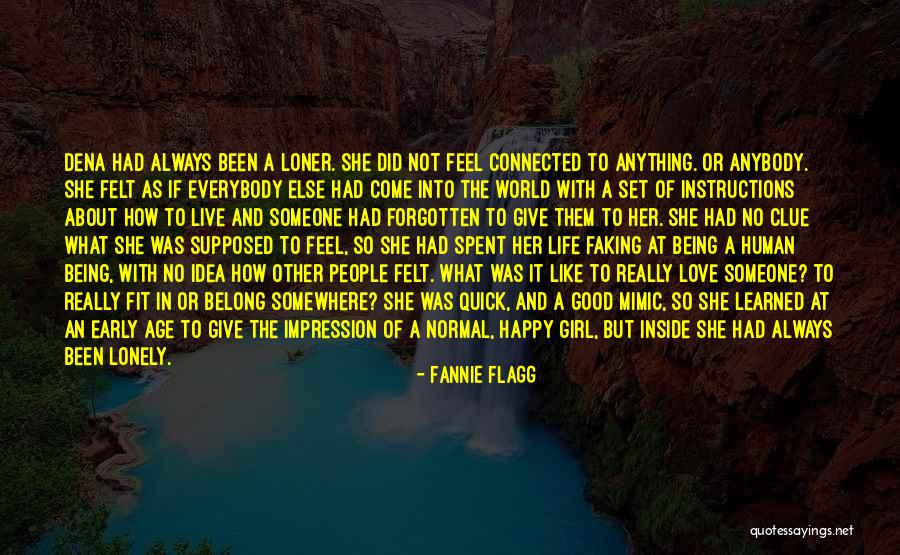 Dena had always been a loner. She did not feel connected to anything. Or anybody. She felt as if everybody else had come into the world with a set of instructions about how to live and someone had forgotten to give them to her. She had no clue what she was supposed to feel, so she had spent her life faking at being a human being, with no idea how other people felt. What was it like to really love someone? To really fit in or belong somewhere? She was quick, and a good mimic, so she learned at an early age to give the impression of a normal, happy girl, but inside she had always been lonely. — Fannie Flagg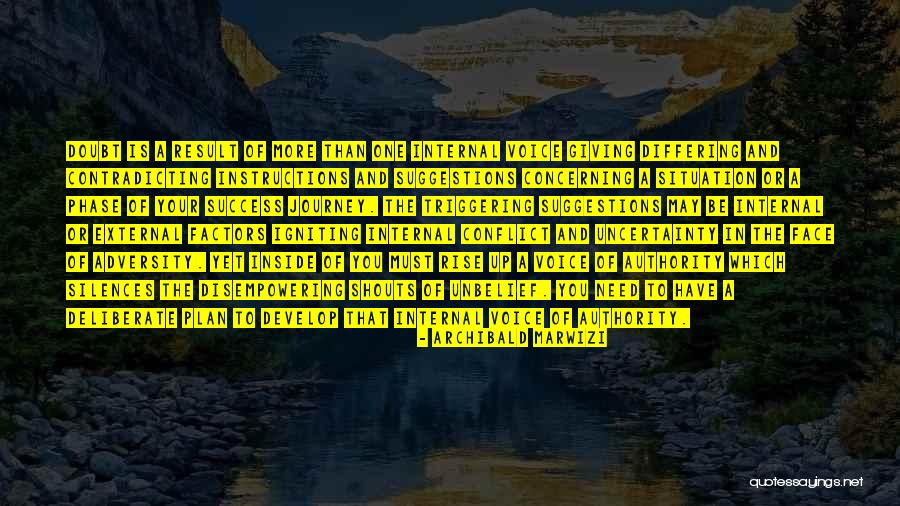 Doubt is a result of more than one internal voice giving differing and contradicting instructions and suggestions concerning a situation or a phase of your success journey. The triggering suggestions may be internal or external factors igniting internal conflict and uncertainty in the face of adversity. Yet inside of you must rise up a voice of authority which silences the disempowering shouts of unbelief. You need to have a deliberate plan to develop that internal voice of authority. — Archibald Marwizi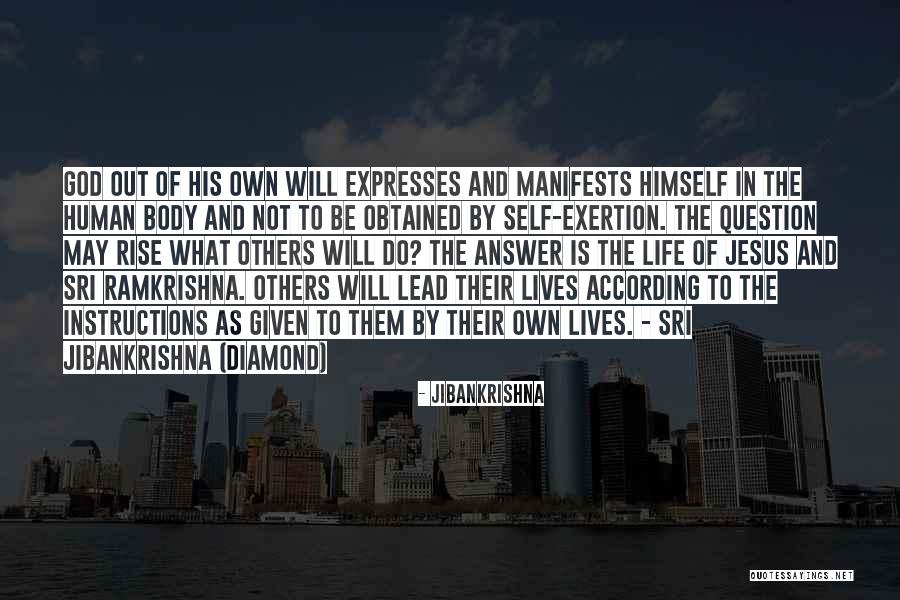 God out of His own will expresses and manifests Himself in the human body and not to be obtained by self-exertion. The question may rise what others will do? The answer is the life of Jesus and Sri Ramkrishna. Others will lead their lives according to the instructions as given to them by their own lives. - Sri Jibankrishna (Diamond) — Jibankrishna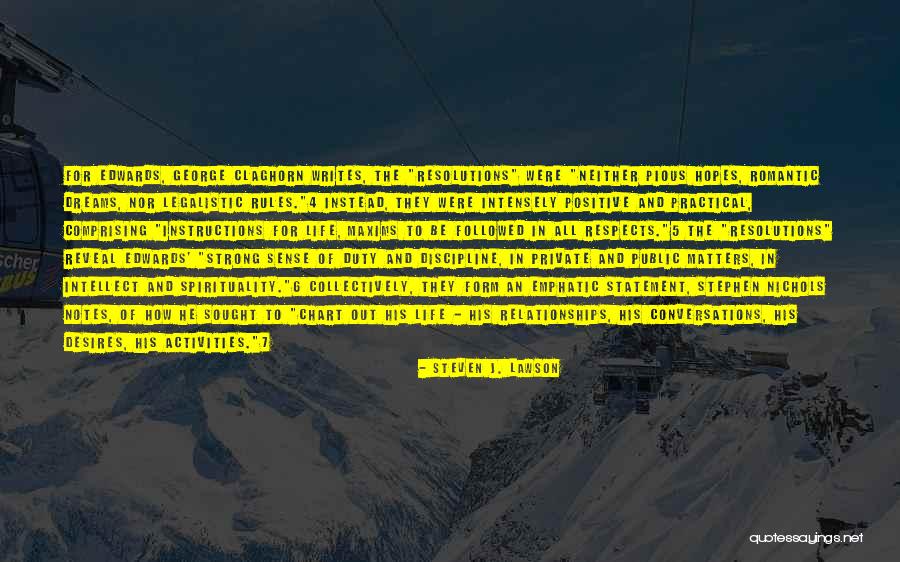 For Edwards, George Claghorn writes, the "Resolutions" were "neither pious hopes, romantic dreams, nor legalistic rules."4 Instead, they were intensely positive and practical, comprising "instructions for life, maxims to be followed in all respects."5 The "Resolutions" reveal Edwards' "strong sense of duty and discipline, in private and public matters, in intellect and spirituality."6 Collectively, they form an emphatic statement, Stephen Nichols notes, of how he sought to "chart out his life - his relationships, his conversations, his desires, his activities."7 — Steven J. Lawson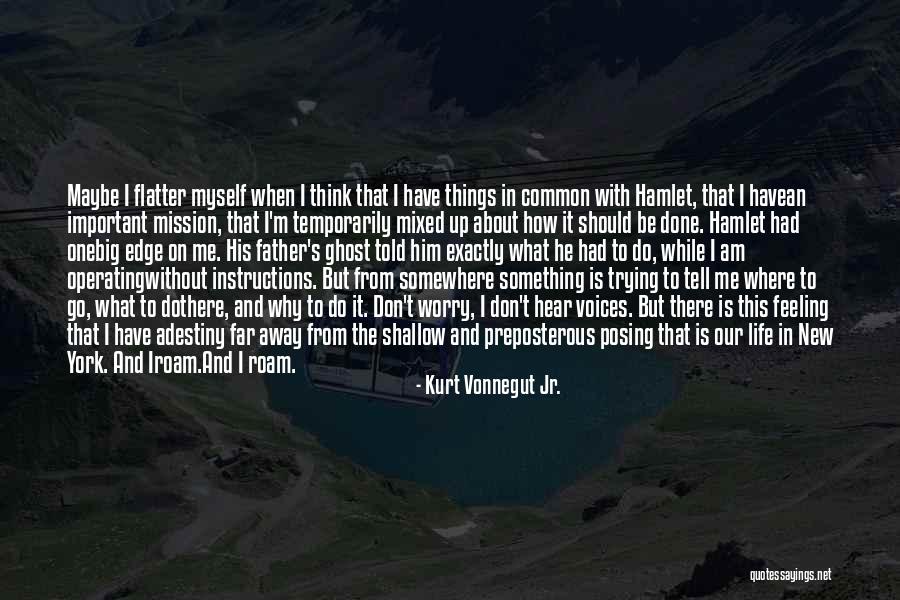 Maybe I flatter myself when I think that I have things in common with Hamlet, that I have
an important mission, that I'm temporarily mixed up about how it should be done. Hamlet had one
big edge on me. His father's ghost told him exactly what he had to do, while I am operating
without instructions. But from somewhere something is trying to tell me where to go, what to do
there, and why to do it. Don't worry, I don't hear voices. But there is this feeling that I have a
destiny far away from the shallow and preposterous posing that is our life in New York. And I
roam.
And I roam. — Kurt Vonnegut Jr.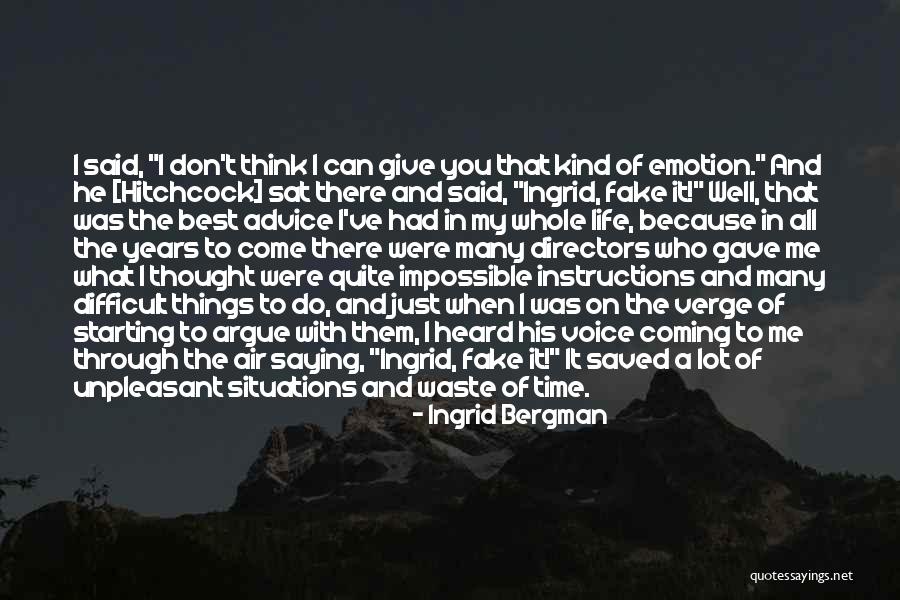 I said, "I don't think I can give you that kind of emotion." And he [Hitchcock] sat there and said, "Ingrid, fake it!" Well, that was the best advice I've had in my whole life, because in all the years to come there were many directors who gave me what I thought were quite impossible instructions and many difficult things to do, and just when I was on the verge of starting to argue with them, I heard his voice coming to me through the air saying, "Ingrid, fake it!" It saved a lot of unpleasant situations and waste of time. — Ingrid Bergman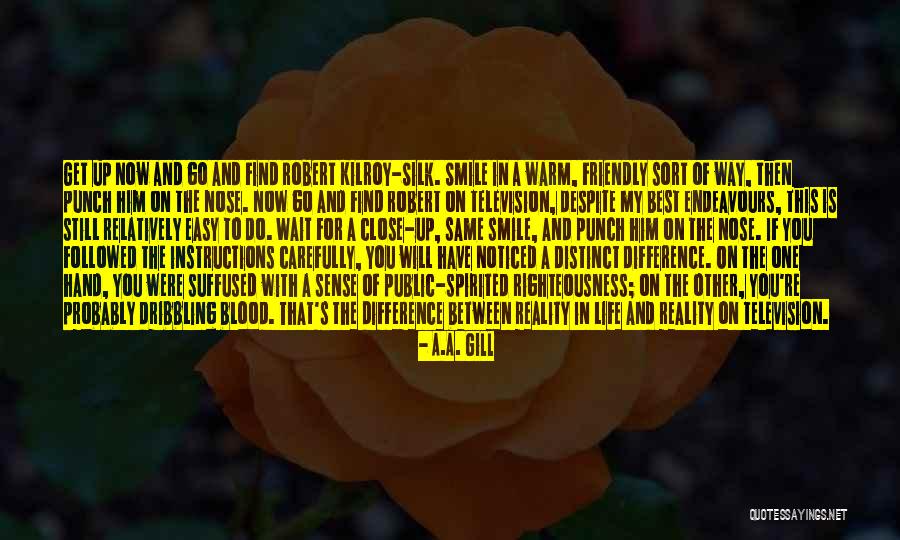 Get up now and go and find Robert Kilroy-Silk. Smile in a warm, friendly sort of way, then punch him on the nose. Now go and find Robert on television, despite my best endeavours, this is still relatively easy to do. Wait for a close-up, same smile, and punch him on the nose. If you followed the instructions carefully, you will have noticed a distinct difference. On the one hand, you were suffused with a sense of public-spirited righteousness; on the other, you're probably dribbling blood. That's the difference between reality in life and reality on television. — A.A. Gill
Instructions for freedom:
1. Life's metaphors are God's instructions.
2. You have just climbed up and above the roof, there is nothing between you and the Infinite; now, let go.
3. The day is ending, it's time for something that was beautiful to turn into something else that is beautiful. Now, let go.
4. Your wish for resolution was a prayer. You are being here is God's response, let go and watch the stars came out, in the inside and in the outside.
5. With all your heart ask for Grace and let go.
6. With all your heart forgive him, forgive yourself and let him go.
7. Let your intention be freedom from useless suffering then, let go.
8. Watch the heat of day pass into the cold night, let go.
9. When the Karma of a relationship is done, only Love remains. It's safe, let go.
10. When the past has past from you at last, let go.. then, climb down and begin the rest of your life with great joy. — Elizabeth Gilbert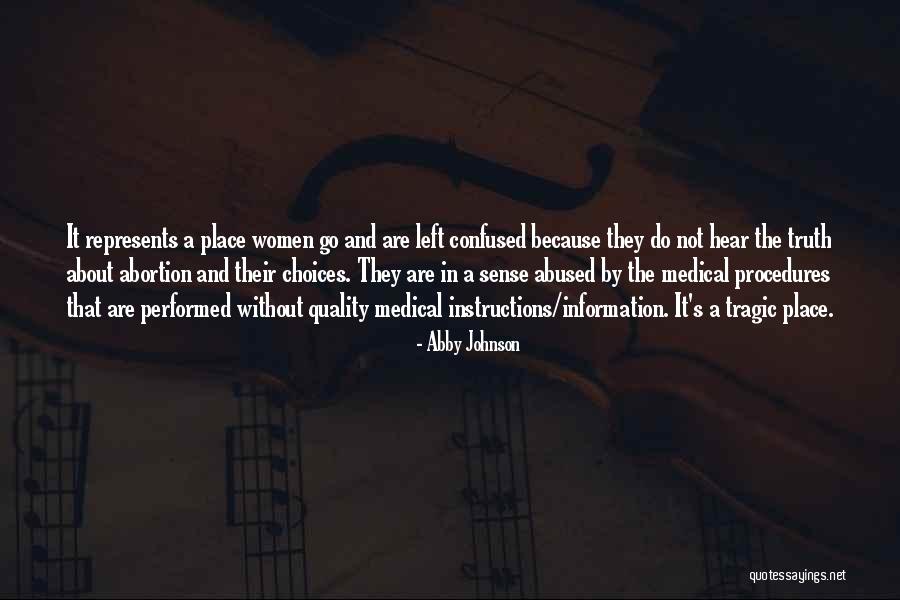 It represents a place women go and are left confused because they do not hear the truth about abortion and their choices. They are in a sense abused by the medical procedures that are performed without quality medical instructions/information. It's a tragic place. — Abby Johnson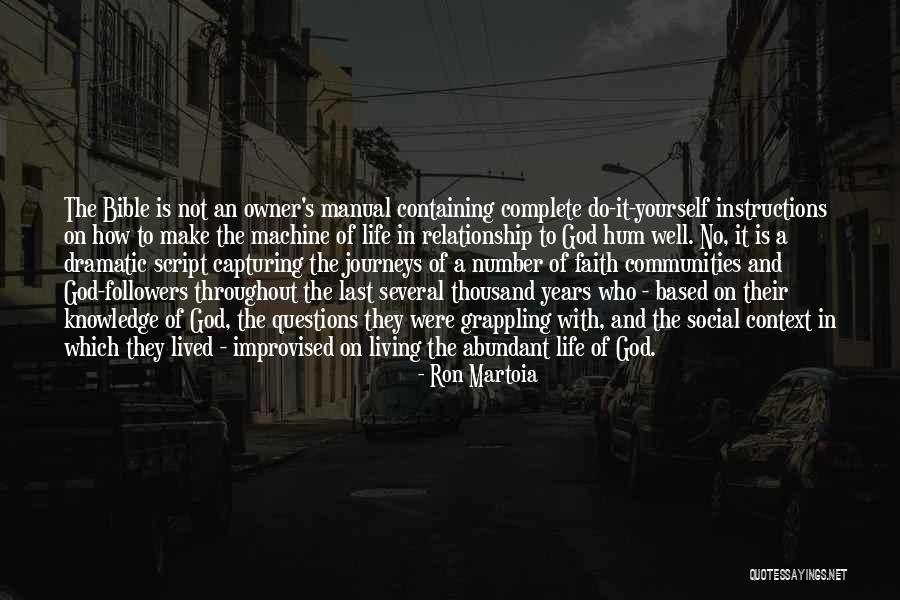 The Bible is not an owner's manual containing complete do-it-yourself instructions on how to make the machine of life in relationship to God hum well. No, it is a dramatic script capturing the journeys of a number of faith communities and God-followers throughout the last several thousand years who - based on their knowledge of God, the questions they were grappling with, and the social context in which they lived - improvised on living the abundant life of God. — Ron Martoia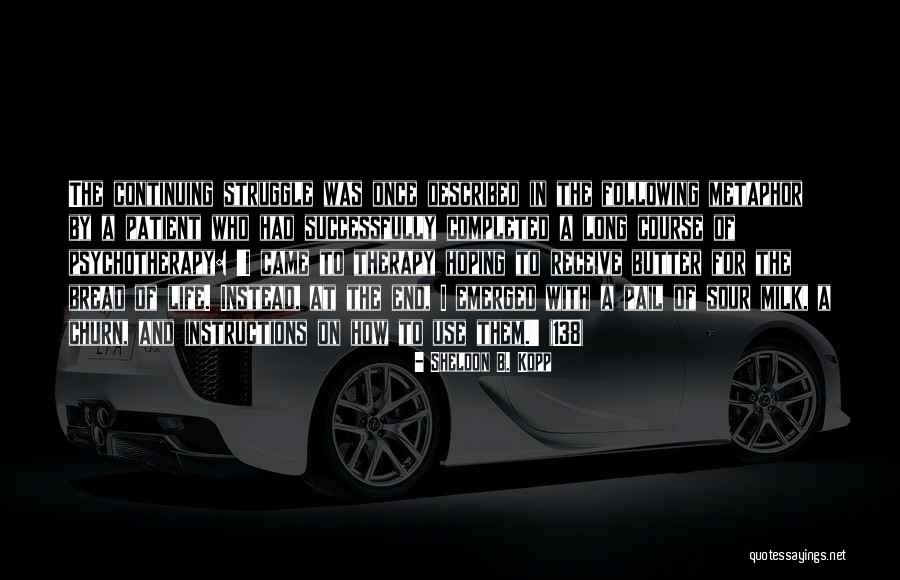 The continuing struggle was once described in the following metaphor by a patient who had successfully completed a long course of psychotherapy: 'I came to therapy hoping to receive butter for the bread of life. Instead, at the end, I emerged with a pail of sour milk, a churn, and instructions on how to use them.' (138) — Sheldon B. Kopp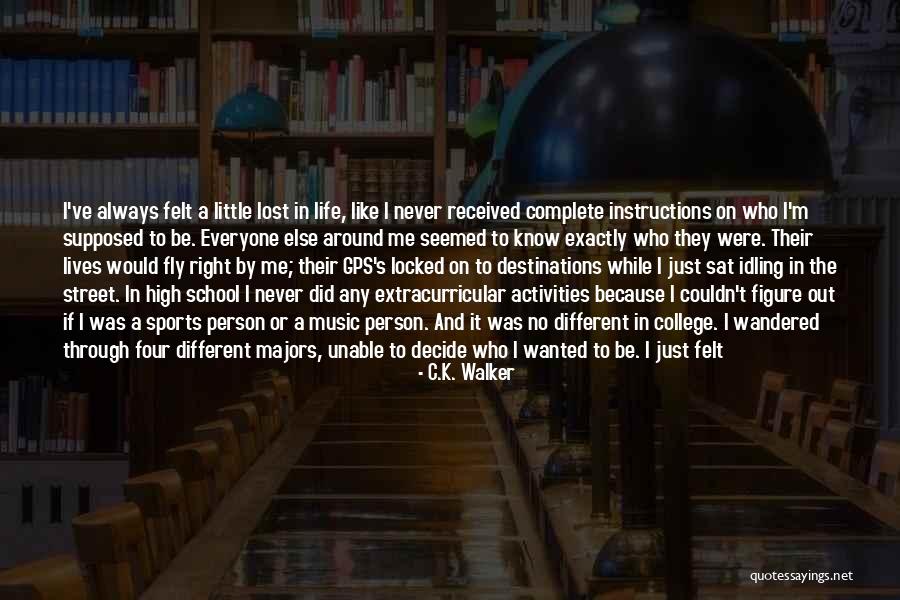 I've always felt a little lost in life, like I never received complete instructions on who I'm supposed to be. Everyone else around me seemed to know exactly who they were. Their lives would fly right by me; their GPS's locked on to destinations while I just sat idling in the street. In high school I never did any extracurricular activities because I couldn't figure out if I was a sports person or a music person. And it was no different in college. I wandered through four different majors, unable to decide who I wanted to be. I just felt like a blank slate.

And if I was a blank slate, Micah York was The Starry Night - authentic, beautiful, perfect. He was my exact antithesis which is what attracted me to him in the first place. He was born knowing exactly who he was and what he was about. His confidence and certainty in himself was an all but tangible element of him. — C.K. Walker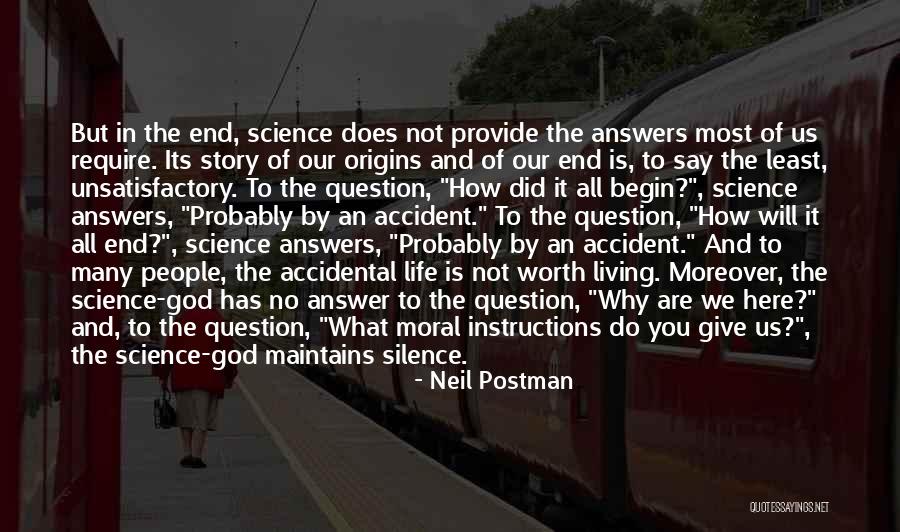 But in the end, science does not provide the answers most of us require. Its story of our origins and of our end is, to say the least, unsatisfactory. To the question, "How did it all begin?", science answers, "Probably by an accident." To the question, "How will it all end?", science answers, "Probably by an accident." And to many people, the accidental life is not worth living. Moreover, the science-god has no answer to the question, "Why are we here?" and, to the question, "What moral instructions do you give us?", the science-god maintains silence. — Neil Postman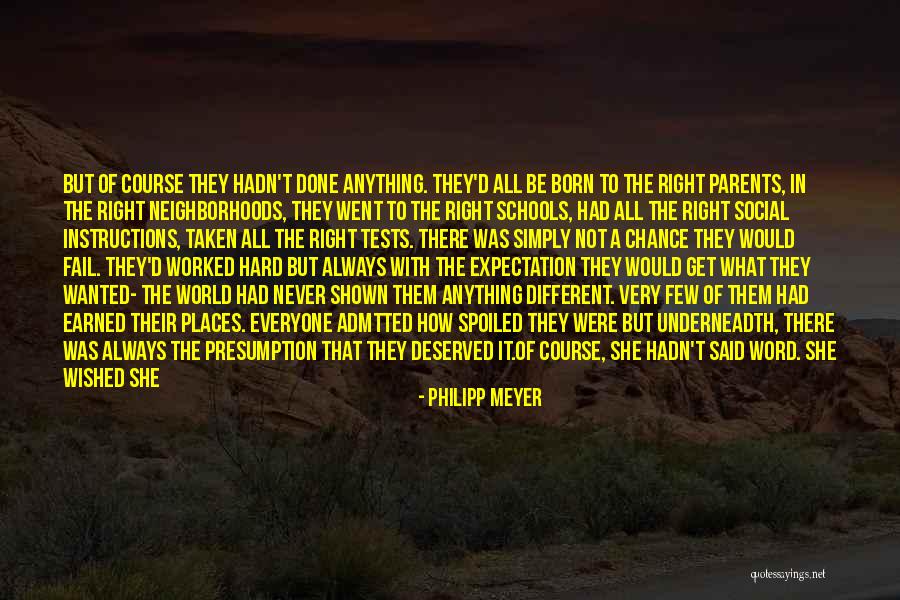 But of course they hadn't done anything. They'd all be born to the right parents, in the right neighborhoods, they went to the right schools, had all the right social instructions, taken all the right tests. There was simply not a chance they would fail. They'd worked hard but always with the expectation they would get what they wanted- the world had never shown them anything different. Very few of them had earned their places. Everyone admtted how spoiled they were but underneadth, there was always the presumption that they deserved it.
Of course, she hadn't said word. She wished she had but she hadn't. It was easy now to look back and think these things, but at the time she'd wanted to fit in and go along with Bunny and think yes I deseve this happy life I'm living. — Philipp Meyer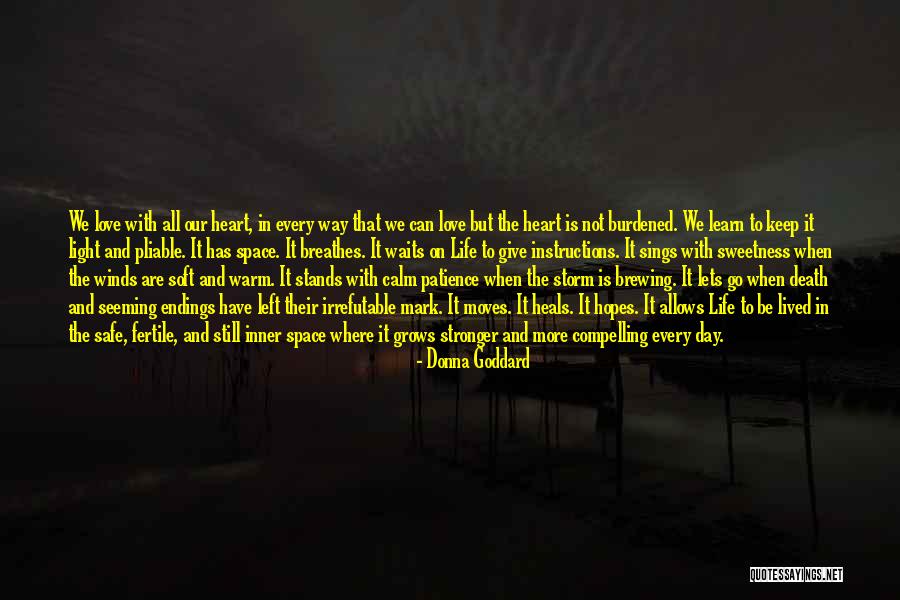 We love with all our heart, in every way that we can love but the heart is not burdened. We learn to keep it light and pliable. It has space. It breathes. It waits on Life to give instructions. It sings with sweetness when the winds are soft and warm. It stands with calm patience when the storm is brewing. It lets go when death and seeming endings have left their irrefutable mark. It moves. It heals. It hopes. It allows Life to be lived in the safe, fertile, and still inner space where it grows stronger and more compelling every day. — Donna Goddard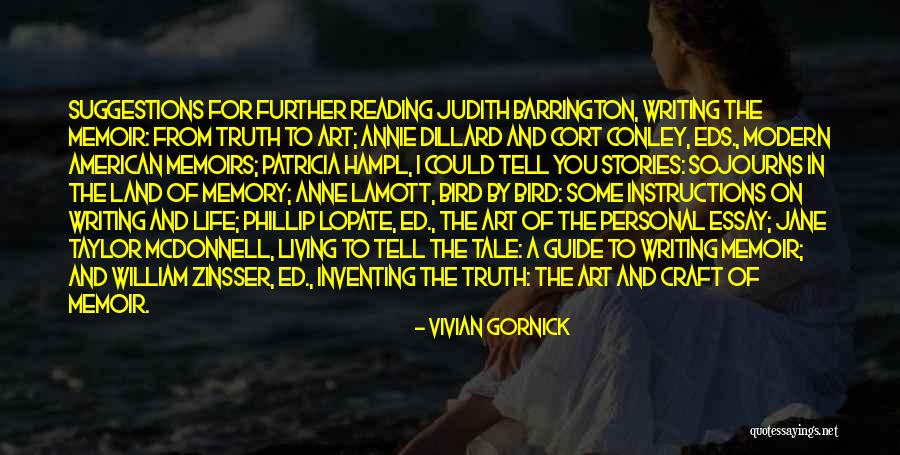 SUGGESTIONS FOR FURTHER READING Judith Barrington, Writing the Memoir: From Truth to Art; Annie Dillard and Cort Conley, eds., Modern American Memoirs; Patricia Hampl, I Could Tell You Stories: Sojourns in the Land of Memory; Anne Lamott, Bird by Bird: Some Instructions on Writing and Life; Phillip Lopate, ed., The Art of the Personal Essay; Jane Taylor McDonnell, Living to Tell the Tale: A Guide to Writing Memoir; and William Zinsser, ed., Inventing the Truth: The Art and Craft of Memoir. — Vivian Gornick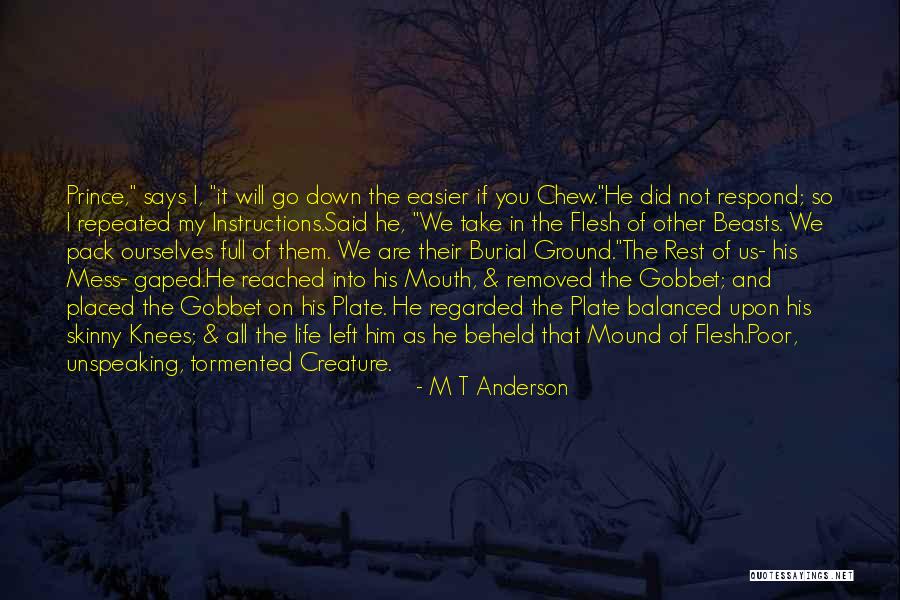 Prince," says I, "it will go down the easier if you Chew."
He did not respond; so I repeated my Instructions.
Said he, "We take in the Flesh of other Beasts. We pack ourselves full of them. We are their Burial Ground."
The Rest of us- his Mess- gaped.
He reached into his Mouth, & removed the Gobbet; and placed the Gobbet on his Plate. He regarded the Plate balanced upon his skinny Knees; & all the life left him as he beheld that Mound of Flesh.
Poor, unspeaking, tormented Creature. — M T Anderson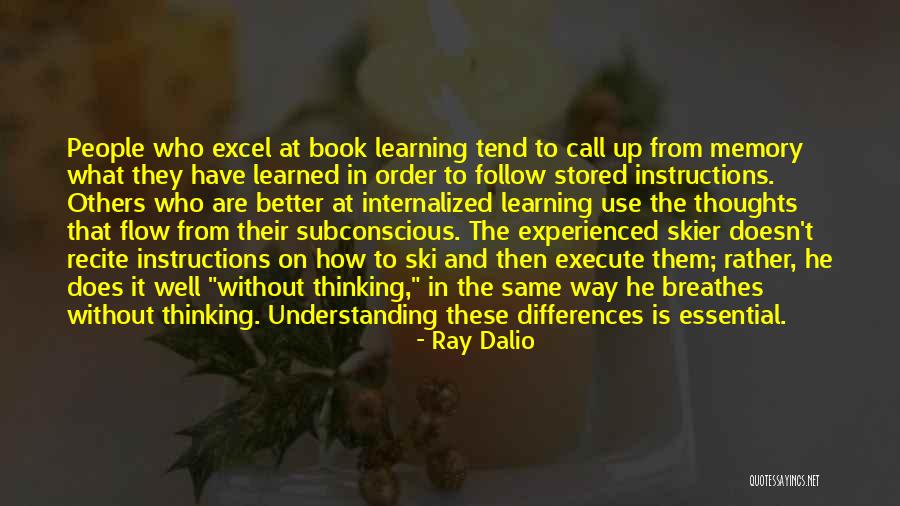 People who excel at book learning tend to call up from memory what they have learned in order to follow stored instructions. Others who are better at internalized learning use the thoughts that flow from their subconscious. The experienced skier doesn't recite instructions on how to ski and then execute them; rather, he does it well "without thinking," in the same way he breathes without thinking. Understanding these differences is essential. — Ray Dalio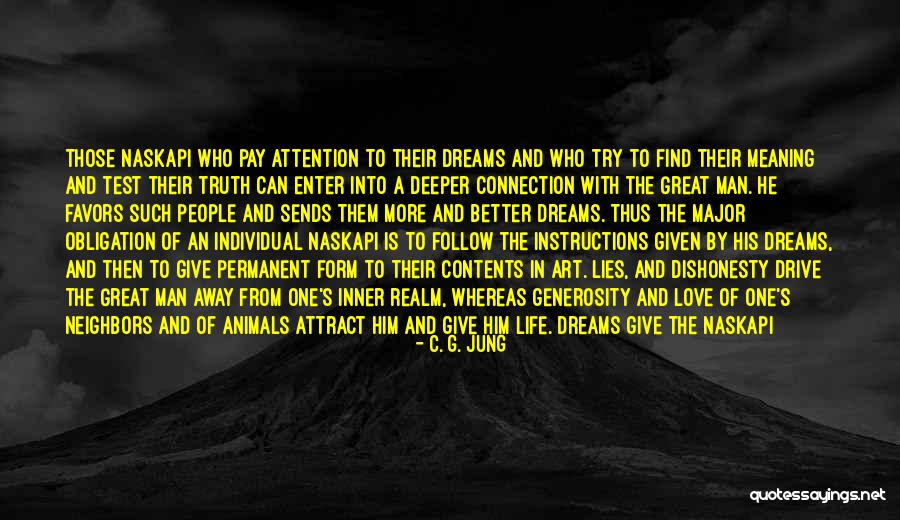 Those Naskapi who pay attention to their dreams and who try to find their meaning and test their truth can enter into a deeper connection with the Great Man. He favors such people and sends them more and better dreams. Thus the major obligation of an individual Naskapi is to follow the instructions given by his dreams, and then to give permanent form to their contents in art. Lies, and dishonesty drive the Great Man away from one's inner realm, whereas generosity and love of one's neighbors and of animals attract him and give him life. Dreams give the Naskapi complete ability to find his way in life, not only in the inner world but also in the outer world of nature. They help him to foretell the weather and give him invaluable guidance in his hunting, upon which his life depends. I mention these very primitive people because they are uncontaminated by our civilized ideas and still have natural insight into the essence of what Jung calls the Self. — C. G. Jung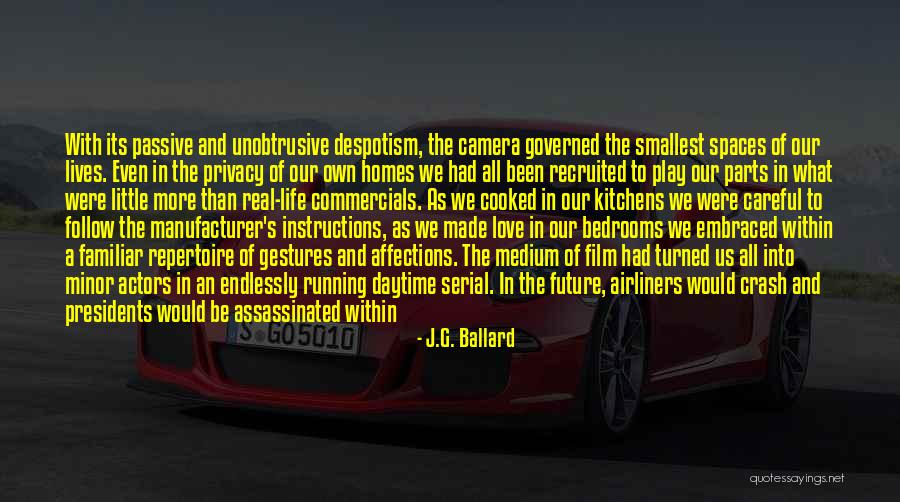 With its passive and unobtrusive despotism, the camera governed the smallest spaces of our lives. Even in the privacy of our own homes we had all been recruited to play our parts in what were little more than real-life commercials. As we cooked in our kitchens we were careful to follow the manufacturer's instructions, as we made love in our bedrooms we embraced within a familiar repertoire of gestures and affections. The medium of film had turned us all into minor actors in an endlessly running daytime serial. In the future, airliners would crash and presidents would be assassinated within agreed conventions as formalised as the coronation of a tsar. — J.G. Ballard
Although she went home that night feeling happier than she had ever been in her short life, she did not confuse the golf course party with a good party, and she did not tell herself she had a pleasant time. it had been, she felt, a dumb event preceded by excellent invitations. what frankie did that was unusual was to imagine herself in control. the drinks, the clothes, the instructions, the food (there had been none), the location, everything. she asked herself: if i were in charge, how could i have done it better? — E. Lockhart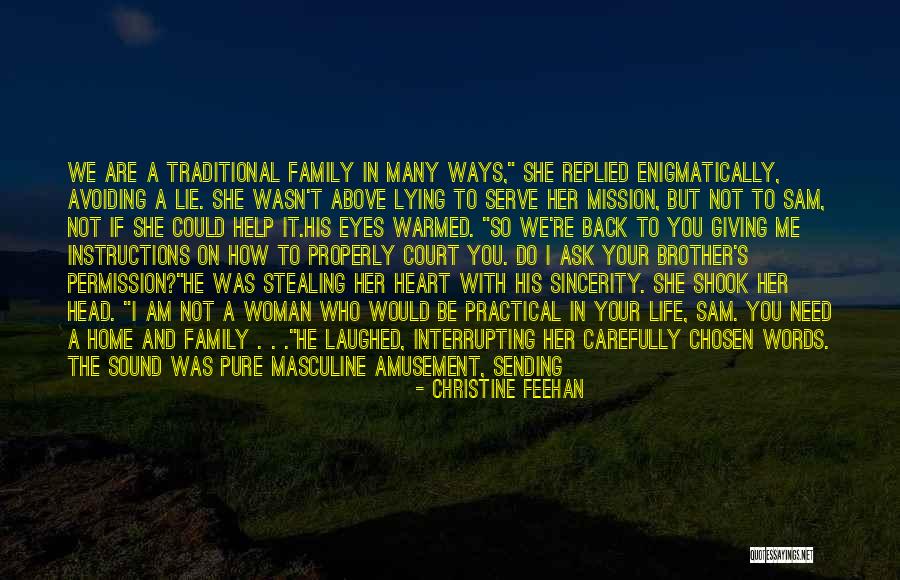 We are a traditional family in many ways," she replied enigmatically, avoiding a lie. She wasn't above lying to serve her mission, but not to Sam, not if she could help it.
His eyes warmed. "So we're back to you giving me instructions on how to properly court you. Do I ask your brother's permission?"
He was stealing her heart with his sincerity. She shook her head. "I am not a woman who would be practical in your life, Sam. You need a home and family . . ."
He laughed, interrupting her carefully chosen words. The sound was pure masculine amusement, sending a curling heat through her and making her forget everything she was going to say.
"I'm a soldier, Azami. That's who I am. What I am. My woman will be my home - my family. Beyond that, who knows? I believe you're that woman. — Christine Feehan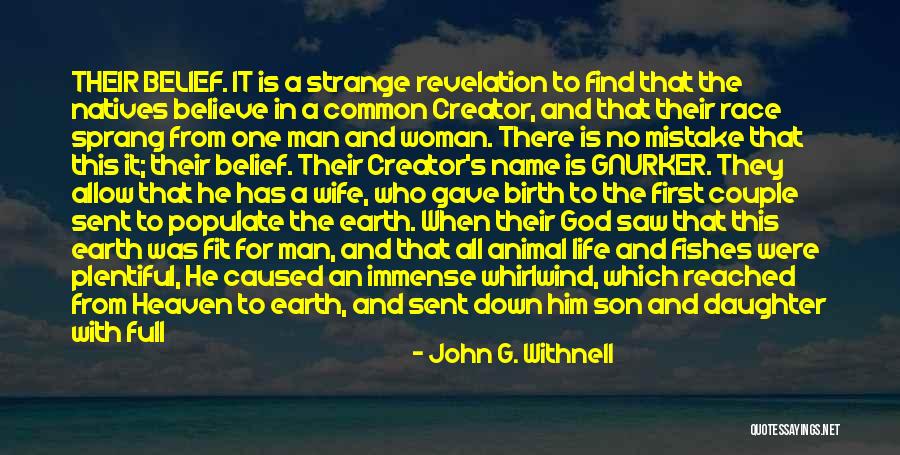 THEIR BELIEF. IT is a strange revelation to find that the natives believe in a common Creator, and that their race sprang from one man and woman. There is no mistake that this it; their belief. Their Creator's name is GNURKER. They allow that he has a wife, who gave birth to the first couple sent to populate the earth. When their God saw that this earth was fit for man, and that all animal life and fishes were plentiful, He caused an immense whirlwind, which reached from Heaven to earth, and sent down him son and daughter with full instructions in all manner of ceremonies. They were to name their children by four tribal names--Banaka, Boorung, Paljarri, Kymera--and thus observe the marriage laws. They were to strictly follow out His commands, and when they died, their and their children's spirits would be received into heaven. They were given control over the fishes of the waters, the birds of the air, all animals, insects, and every living thing--that — John G. Withnell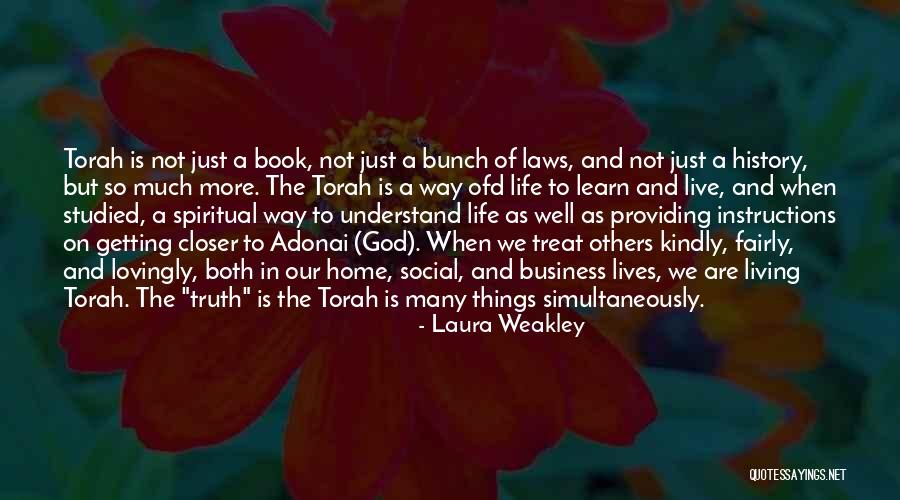 Torah is not just a book, not just a bunch of laws, and not just a history, but so much more. The Torah is a way ofd life to learn and live, and when studied, a spiritual way to understand life as well as providing instructions on getting closer to Adonai (God). When we treat others kindly, fairly, and lovingly, both in our home, social, and business lives, we are living Torah. The "truth" is the Torah is many things simultaneously. — Laura Weakley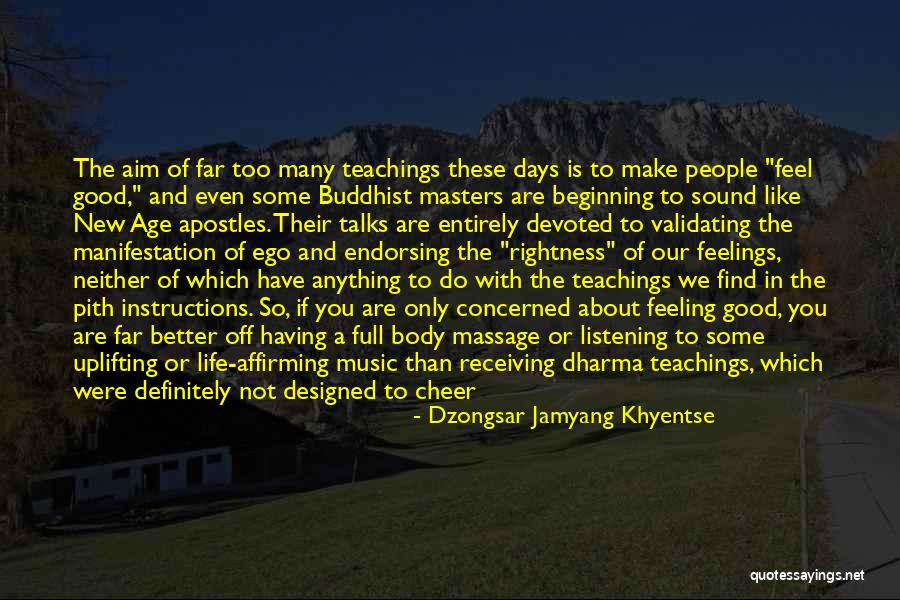 The aim of far too many teachings these days is to make people "feel good," and even some Buddhist masters are beginning to sound like New Age apostles. Their talks are entirely devoted to validating the manifestation of ego and endorsing the "rightness" of our feelings, neither of which have anything to do with the teachings we find in the pith instructions. So, if you are only concerned about feeling good, you are far better off having a full body massage or listening to some uplifting or life-affirming music than receiving dharma teachings, which were definitely not designed to cheer you up. On the contrary, the dharma was devised specifically to expose your failings and make you feel awful. — Dzongsar Jamyang Khyentse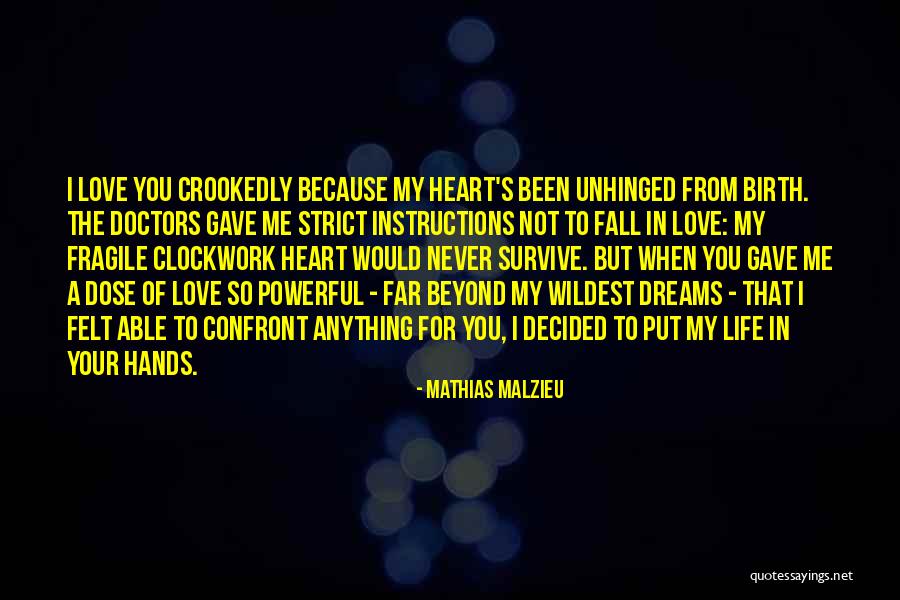 I love you crookedly because my heart's been unhinged from birth. The doctors gave me strict instructions not to fall in love: my fragile clockwork heart would never survive. But when you gave me a dose of love so powerful - far beyond my wildest dreams - that I felt able to confront anything for you, I decided to put my life in your hands. — Mathias Malzieu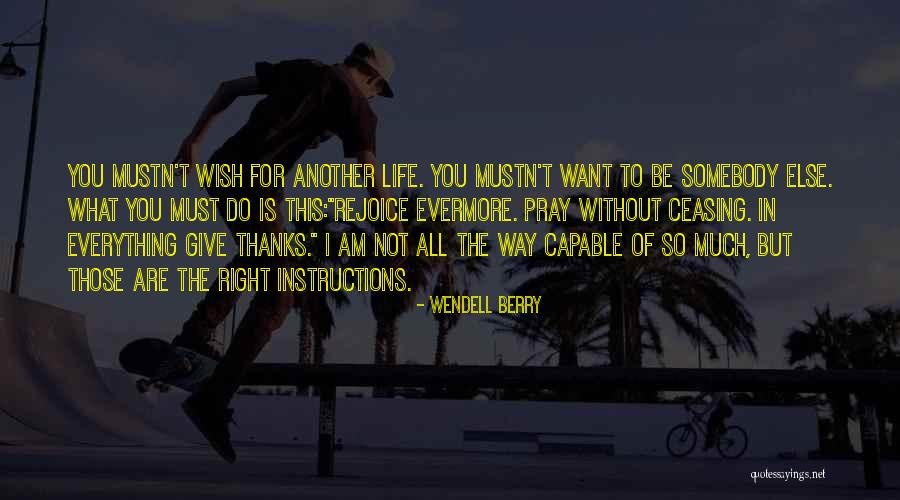 You mustn't wish for another life. You mustn't want to be somebody else. What you must do is this:
"Rejoice evermore.
Pray without ceasing.
In everything give thanks."
I am not all the way capable of so much, but those are the right instructions. — Wendell Berry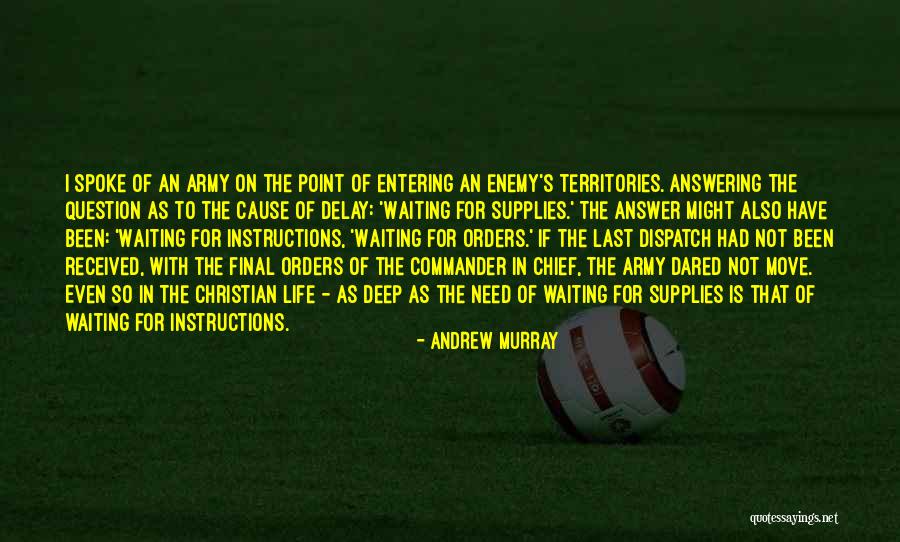 I spoke of an Army on the point of entering an enemy's territories. Answering the question as to the cause of delay: 'Waiting for supplies.' The answer might also have been: 'Waiting for instructions, 'Waiting for orders.' If the last dispatch had not been received, with the final orders of the commander in chief, the army dared not move. Even so in the Christian life - as deep as the need of waiting for supplies is that of waiting for instructions. — Andrew Murray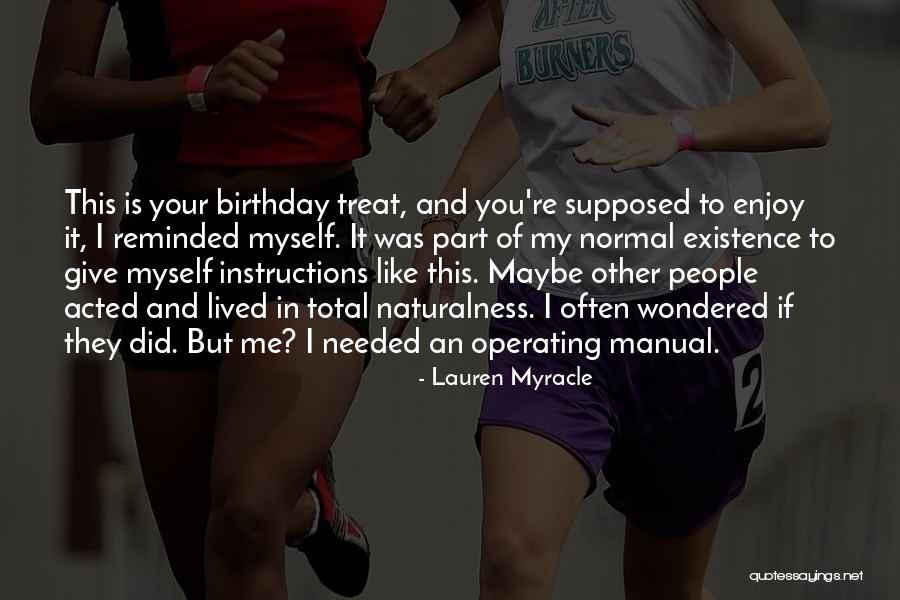 This is your birthday treat, and you're supposed to enjoy it, I reminded myself. It was part of my normal existence to give myself instructions like this. Maybe other people acted and lived in total naturalness. I often wondered if they did. But me? I needed an operating manual. — Lauren Myracle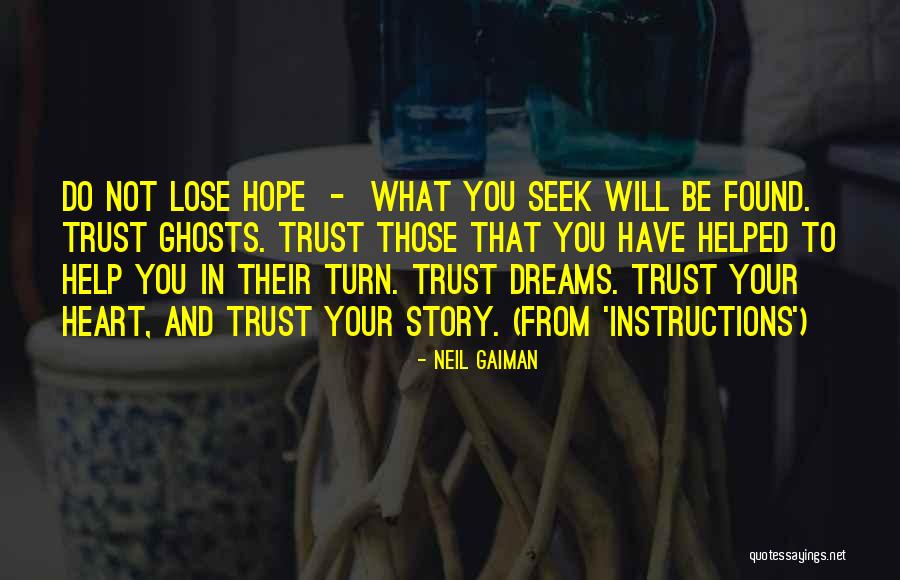 Do not lose hope - what you seek will be found. Trust ghosts. Trust those that you have helped to help you in their turn. Trust dreams. Trust your heart, and trust your story. (from 'Instructions') — Neil Gaiman
School typically doesn't prepare young people for real life - unless their lives are spent following instructions and pleasing others. In my opinion, that's why so many students who succeed in school fail in life. — Ray Dalio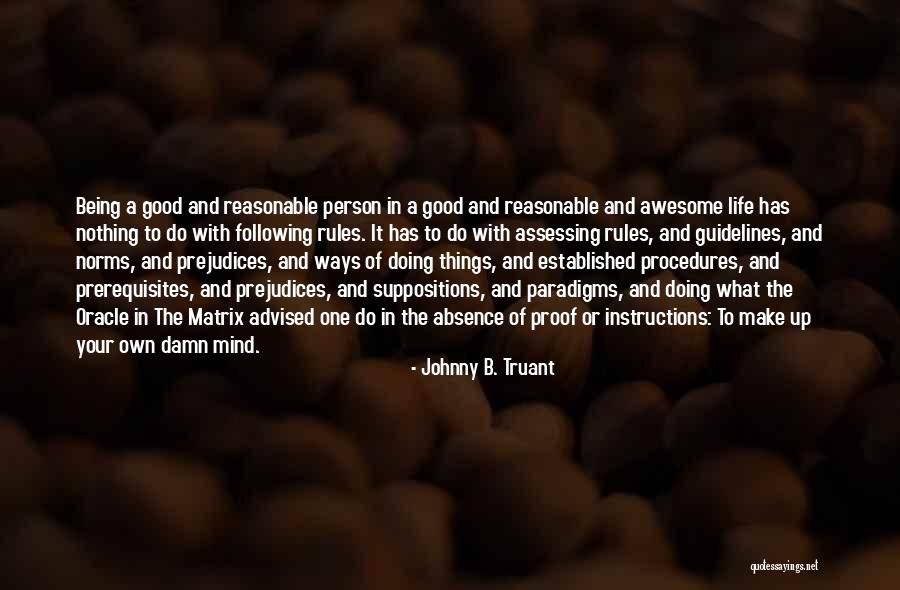 Being a good and reasonable person in a good and reasonable and awesome life has nothing to do with following rules. It has to do with assessing rules, and guidelines, and norms, and prejudices, and ways of doing things, and established procedures, and prerequisites, and prejudices, and suppositions, and paradigms, and doing what the Oracle in The Matrix advised one do in the absence of proof or instructions: To make up your own damn mind. — Johnny B. Truant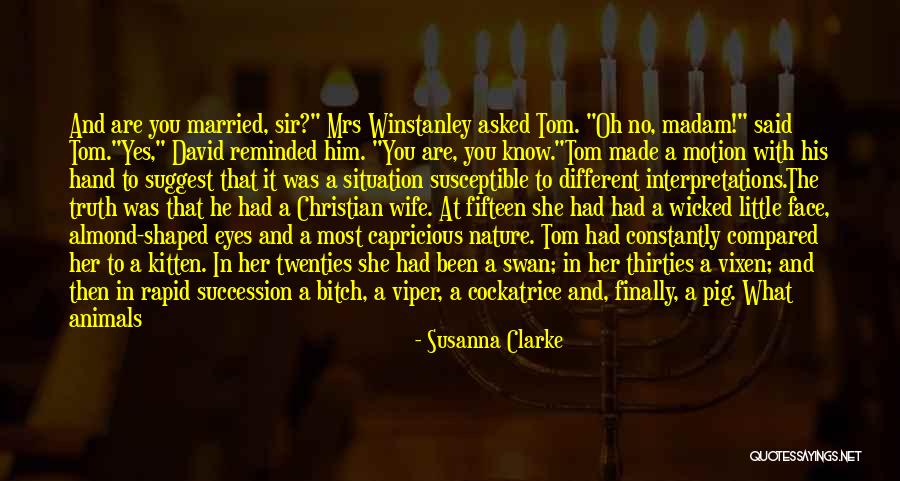 And are you married, sir?" Mrs Winstanley asked Tom. "Oh no, madam!" said Tom.
"Yes," David reminded him. "You are, you know."
Tom made a motion with his hand to suggest that it was a situation susceptible to different interpretations.
The truth was that he had a Christian wife. At fifteen she had had a wicked little face, almond-shaped eyes and a most capricious nature. Tom had constantly compared her to a kitten. In her twenties she had been a swan; in her thirties a vixen; and then in rapid succession a bitch, a viper, a cockatrice and, finally, a pig. What animals he might have compared her to now no one knew. She was well past ninety now and for forty years or more she had been confined to a set of apartments in a distant part of the Castel des Tours saunz Nowmbre under strict instructions not to shew herself, while her husband waited impatiently for someone to come and tell him she was dead. — Susanna Clarke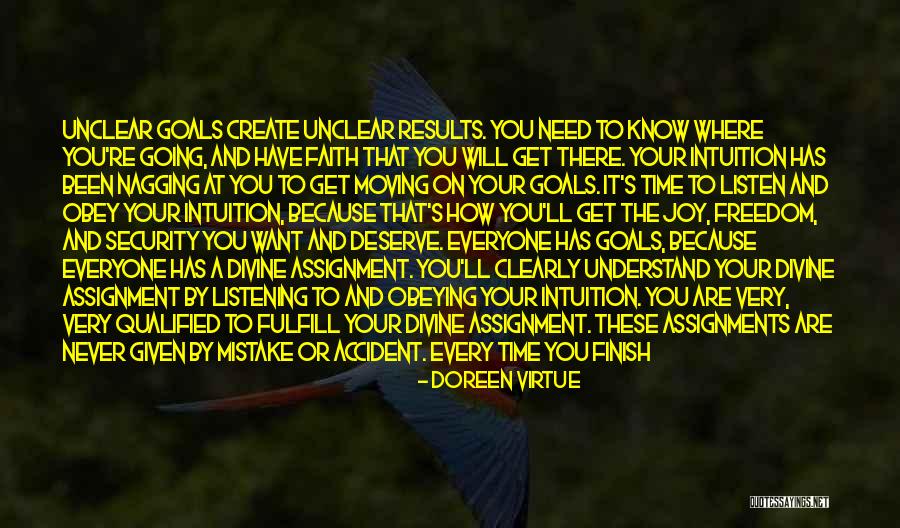 Unclear goals create unclear results. You need to know where you're going, and have faith that you will get there. Your intuition has been nagging at you to get moving on your goals. It's time to listen and obey your intuition, because that's how you'll get the joy, freedom, and security you want and deserve. Everyone has goals, because everyone has a divine assignment. You'll clearly understand your divine assignment by listening to and obeying your intuition. You are very, very qualified to fulfill your divine assignment. These assignments are never given by mistake or accident. Every time you finish one step of your intuitive instructions, you will be given another set of them. Don't fret about not knowing what to do in the future; you will be guided every day of your life. — Doreen Virtue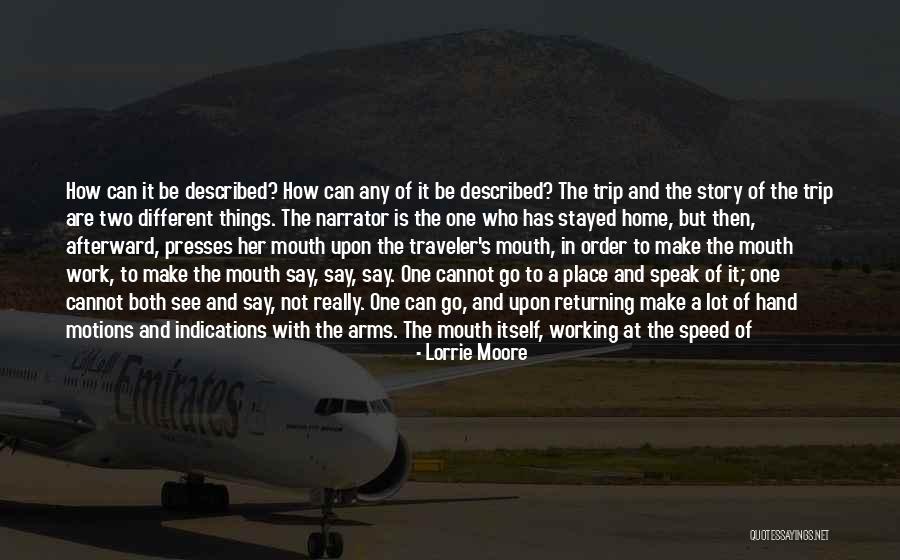 How can it be described? How can any of it be described? The trip and the story of the trip are two different things. The narrator is the one who has stayed home, but then, afterward, presses her mouth upon the traveler's mouth, in order to make the mouth work, to make the mouth say, say, say. One cannot go to a place and speak of it; one cannot both see and say, not really. One can go, and upon returning make a lot of hand motions and indications with the arms. The mouth itself, working at the speed of light, at the eye's instructions, is necessarily struck still; so fast, so much to report, it hangs open and dumb as a gutted bell. All that unsayable life! That's where the narrator comes in. The narrator comes with her kisses and mimicry and tidying up. The narrator comes and makes a slow, fake song of the mouth's eager devastation. — Lorrie Moore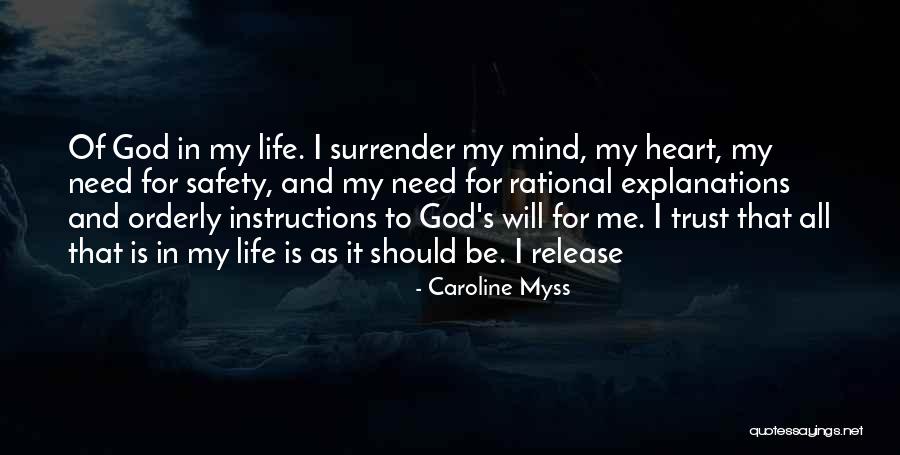 Of God in my life. I surrender my mind, my heart, my need for safety, and my need for rational explanations and orderly instructions to God's will for me. I trust that all that is in my life is as it should be. I release — Caroline Myss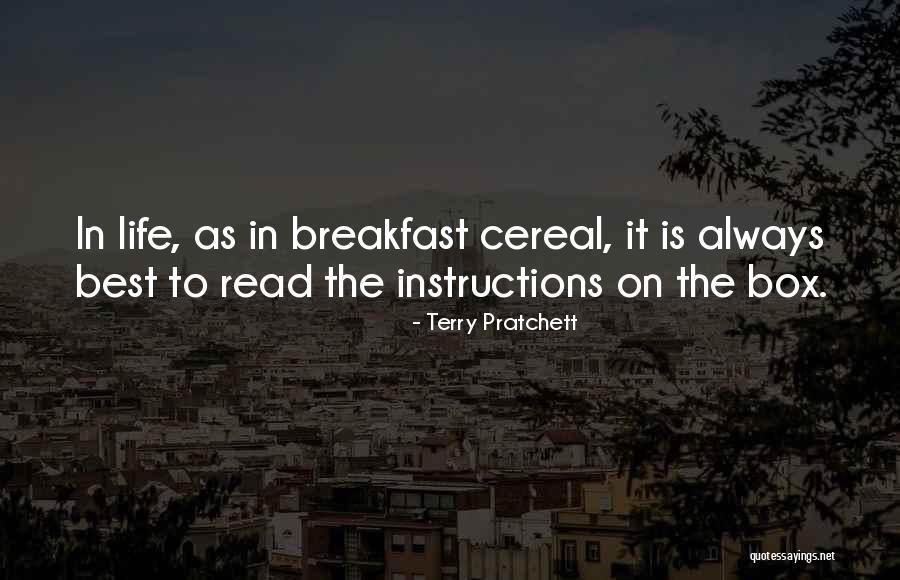 In life, as in breakfast cereal, it is always best to read the instructions on the box. — Terry Pratchett