Inspirational Adventure Travel Quotes & Sayings
Enjoy reading and share 28 famous quotes about Inspirational Adventure Travel with everyone.
Top Inspirational Adventure Travel Quotes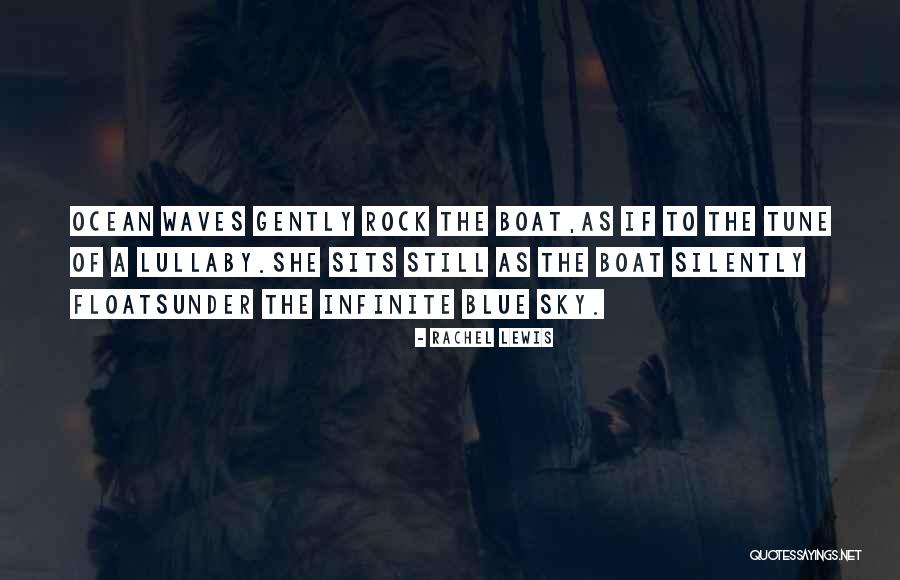 Ocean waves gently rock the boat,
As if to the tune of a lullaby.
She sits still as the boat silently floats
Under the infinite blue sky. — Rachel Lewis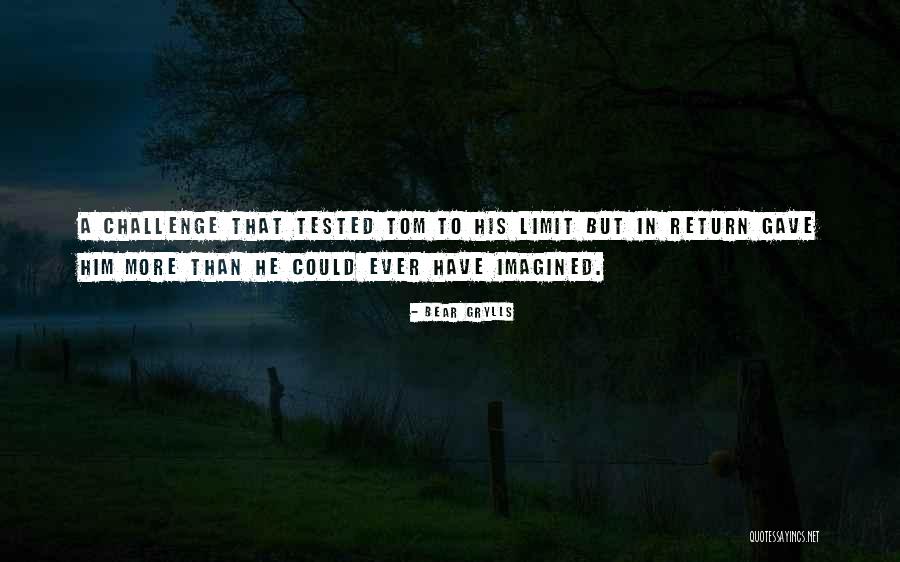 A challenge that tested Tom to his limit but in return gave him more than he could ever have imagined. — Bear Grylls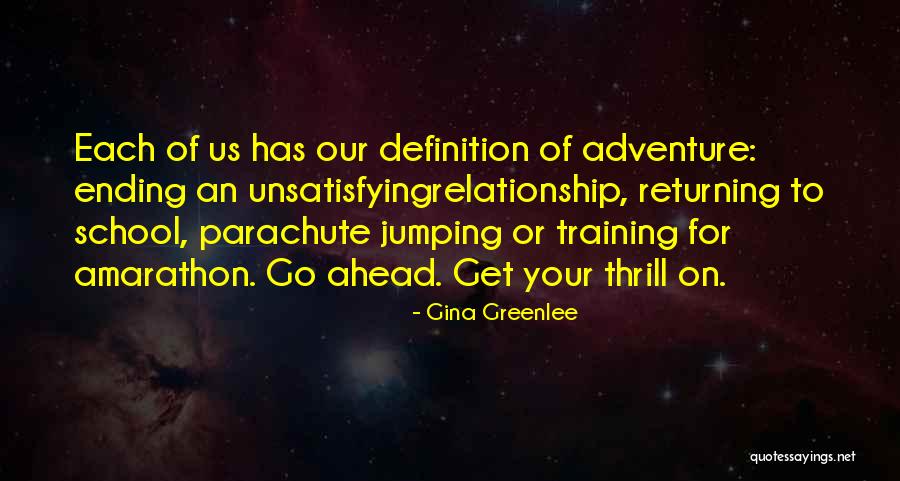 Each of us has our definition of adventure: ending an unsatisfying
relationship, returning to school, parachute jumping or training for a
marathon. Go ahead. Get your thrill on. — Gina Greenlee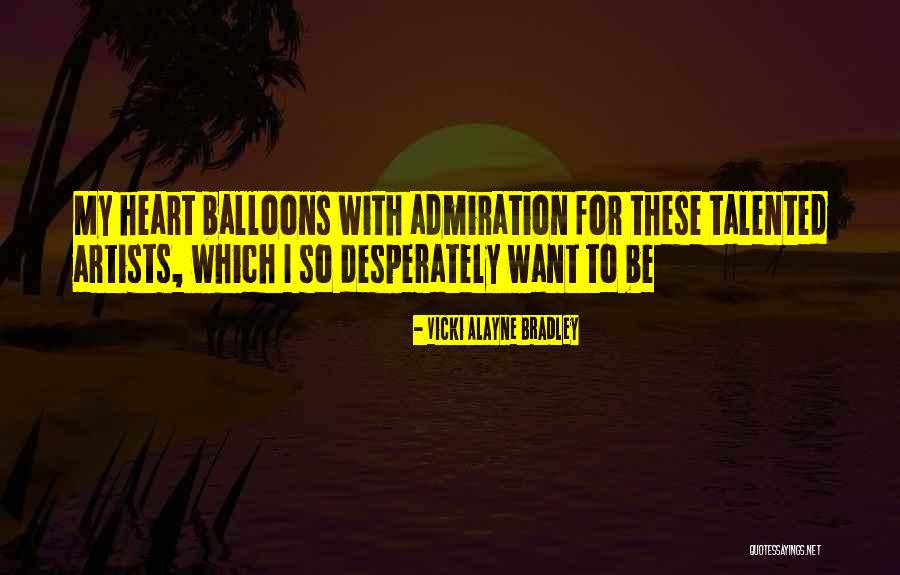 My heart balloons with admiration for these talented artists, which I so desperately want to be — Vicki Alayne Bradley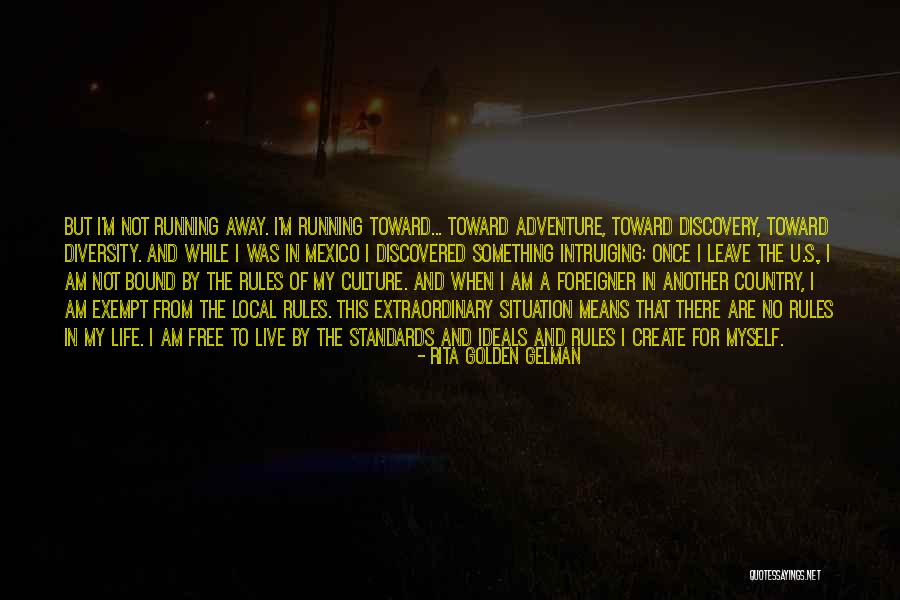 But I'm not running away. I'm running toward... toward adventure, toward discovery, toward diversity. And while I was in Mexico I discovered something intruiging: Once I leave the U.S., I am not bound by the rules of my culture. And when I am a foreigner in another country, I am exempt from the local rules. This extraordinary situation means that there are no rules in my life. I am free to live by the standards and ideals and rules I create for myself. — Rita Golden Gelman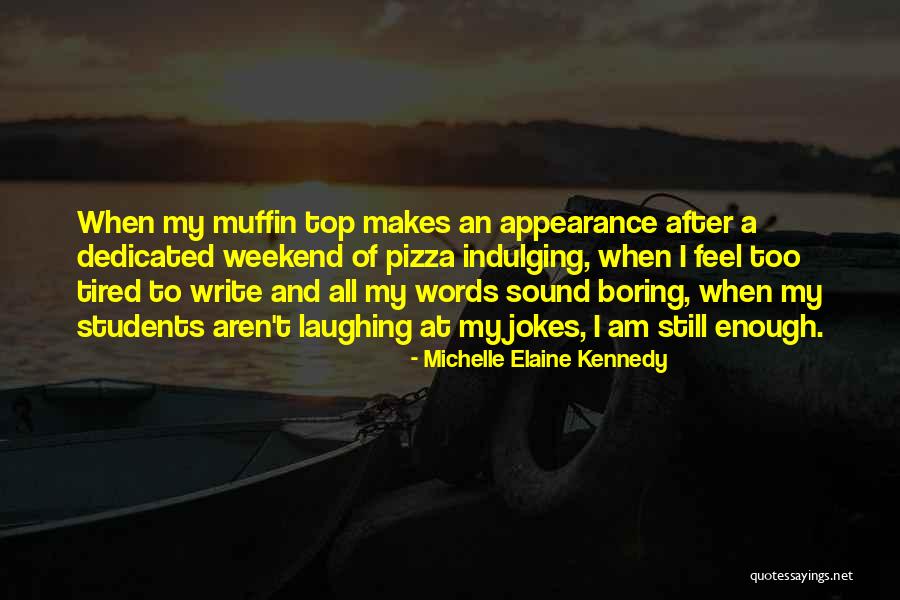 When my muffin top makes an appearance after a dedicated weekend of pizza indulging, when I feel too tired to write and all my words sound boring, when my students aren't laughing at my jokes, I am still enough. — Michelle Elaine Kennedy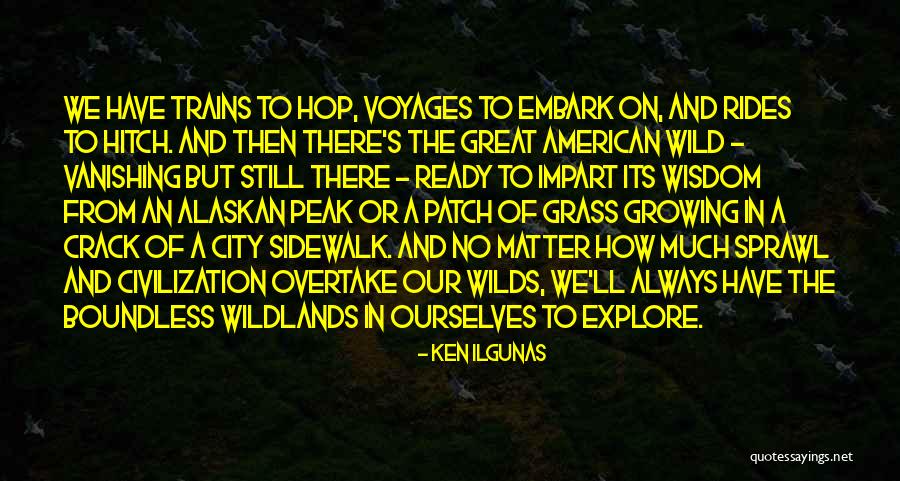 We have trains to hop, voyages to embark on, and rides to hitch. And then there's the great American wild - vanishing but still there - ready to impart its wisdom from an Alaskan peak or a patch of grass growing in a crack of a city sidewalk. And no matter how much sprawl and civilization overtake our wilds, we'll always have the boundless wildlands in ourselves to explore. — Ken Ilgunas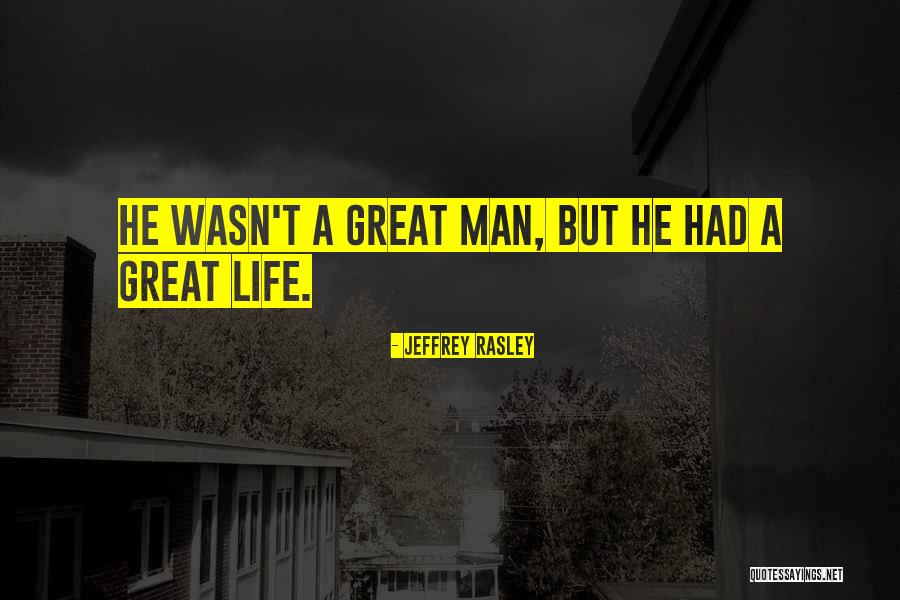 He wasn't a great man, but he had a great life. — Jeffrey Rasley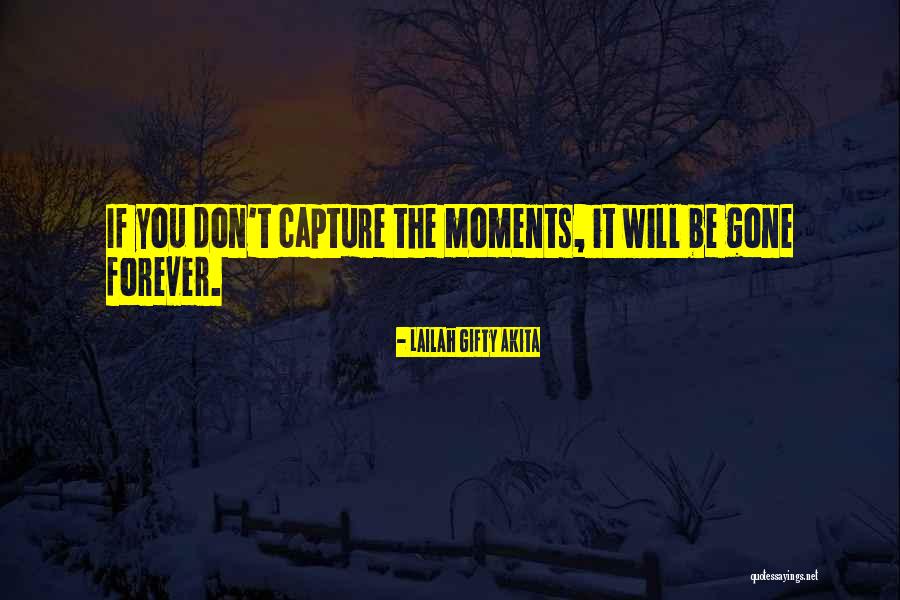 If you don't capture the moments, it will be gone forever. — Lailah Gifty Akita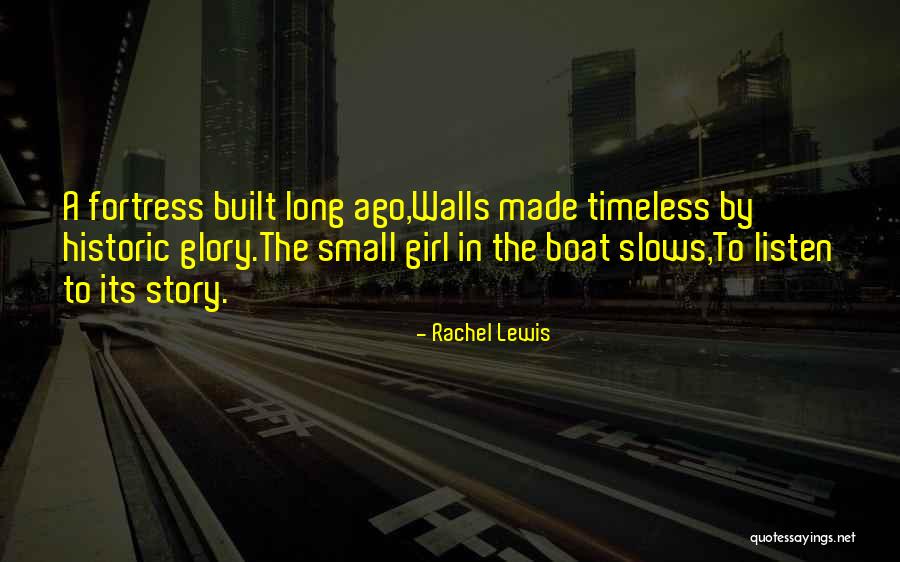 A fortress built long ago,
Walls made timeless by historic glory.
The small girl in the boat slows,
To listen to its story. — Rachel Lewis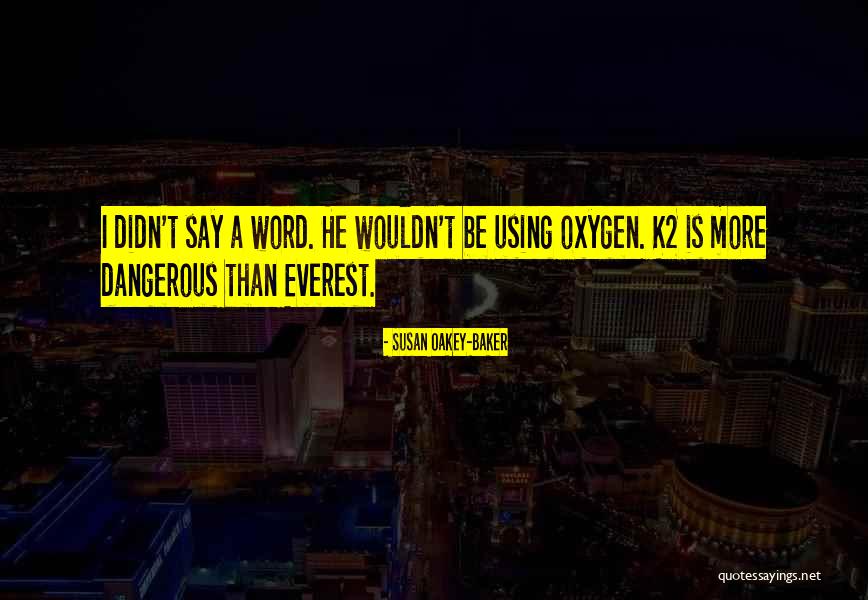 I didn't say a word. He wouldn't be using oxygen. K2 is more dangerous than Everest. — Susan Oakey-Baker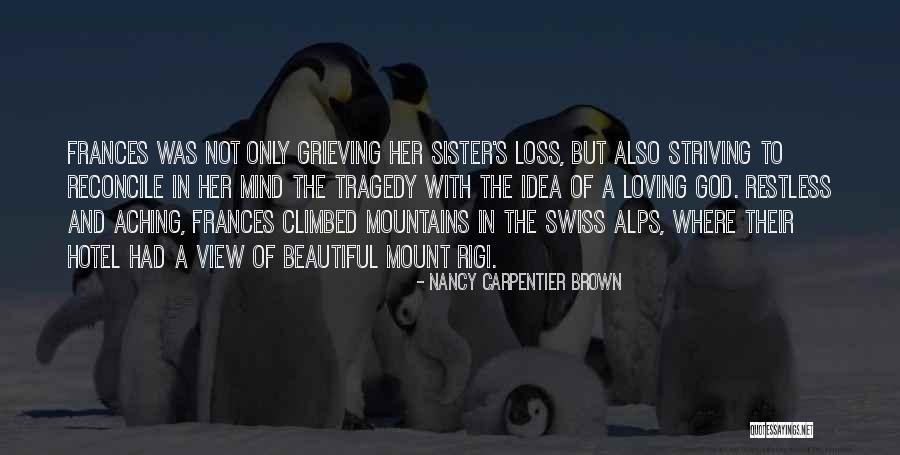 Frances was not only grieving her sister's loss, but also striving to reconcile in her mind the tragedy with the idea of a loving God. Restless and aching, Frances climbed mountains in the Swiss Alps, where their hotel had a view of beautiful Mount Rigi. — Nancy Carpentier Brown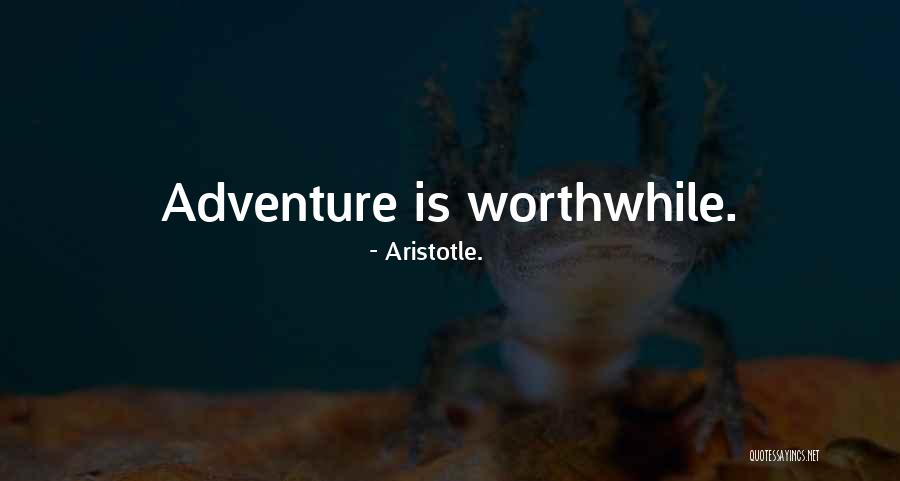 Adventure is worthwhile. — Aristotle.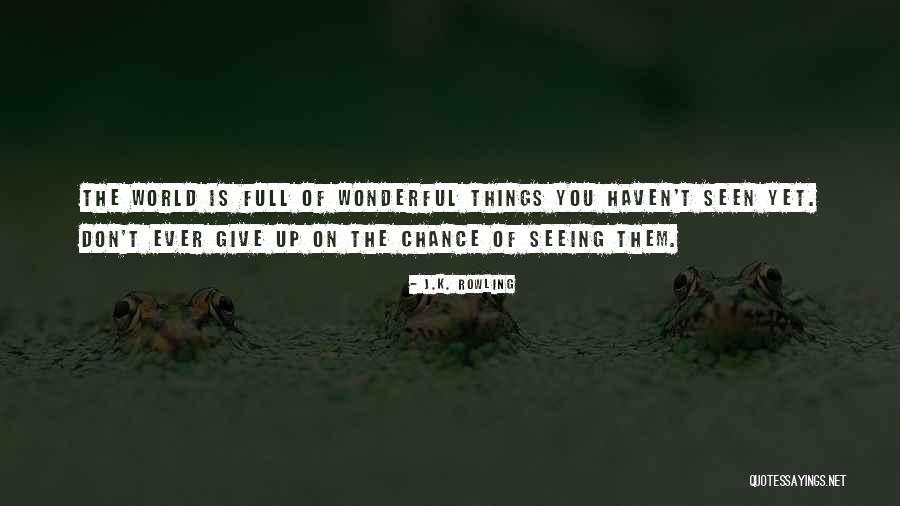 The world is full of wonderful things you haven't seen yet. Don't ever give up on the chance of seeing them. — J.K. Rowling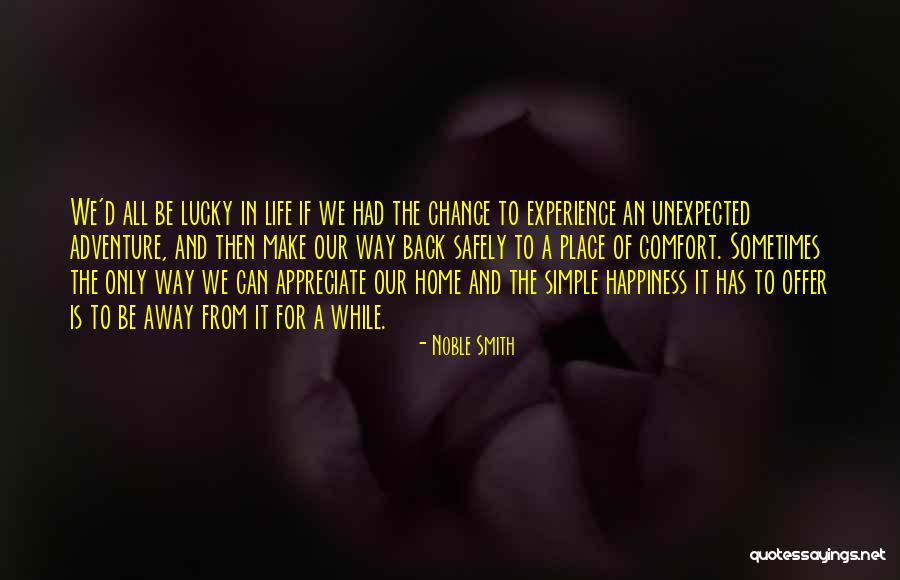 We'd all be lucky in life if we had the chance to experience an unexpected adventure, and then make our way back safely to a place of comfort. Sometimes the only way we can appreciate our home and the simple happiness it has to offer is to be away from it for a while. — Noble Smith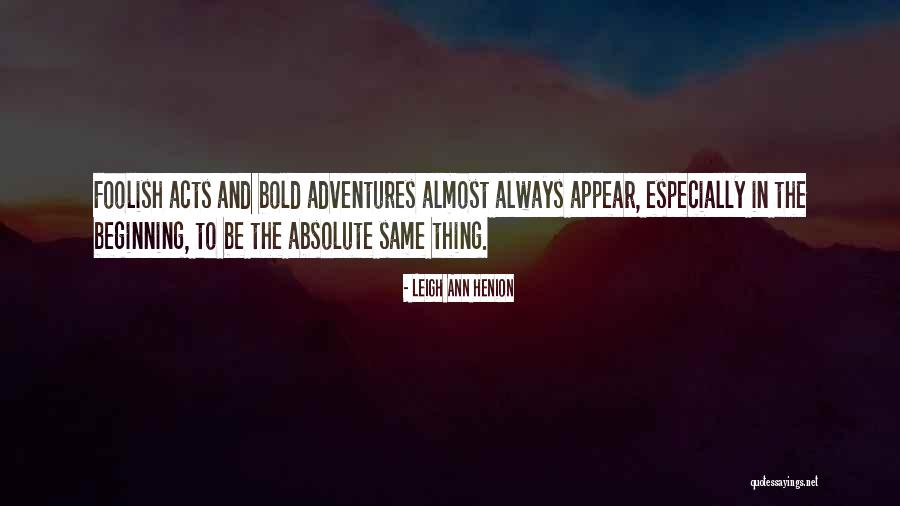 Foolish acts and bold adventures almost always appear, especially in the beginning, to be the absolute same thing. — Leigh Ann Henion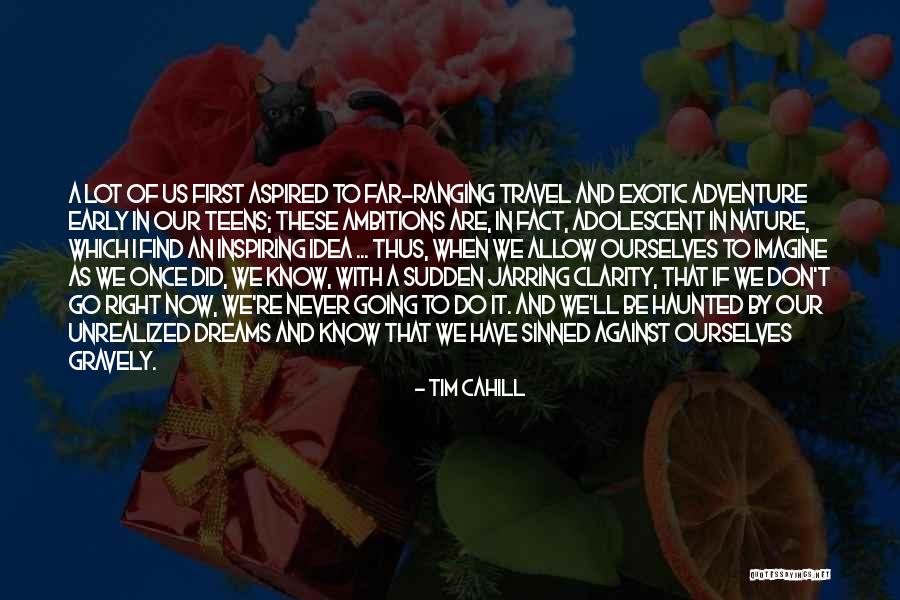 A lot of us first aspired to far-ranging travel and exotic adventure early in our teens; these ambitions are, in fact, adolescent in nature, which I find an inspiring idea ... Thus, when we allow ourselves to imagine as we once did, we know, with a sudden jarring clarity, that if we don't go right now, we're never going to do it. And we'll be haunted by our unrealized dreams and know that we have sinned against ourselves gravely. — Tim Cahill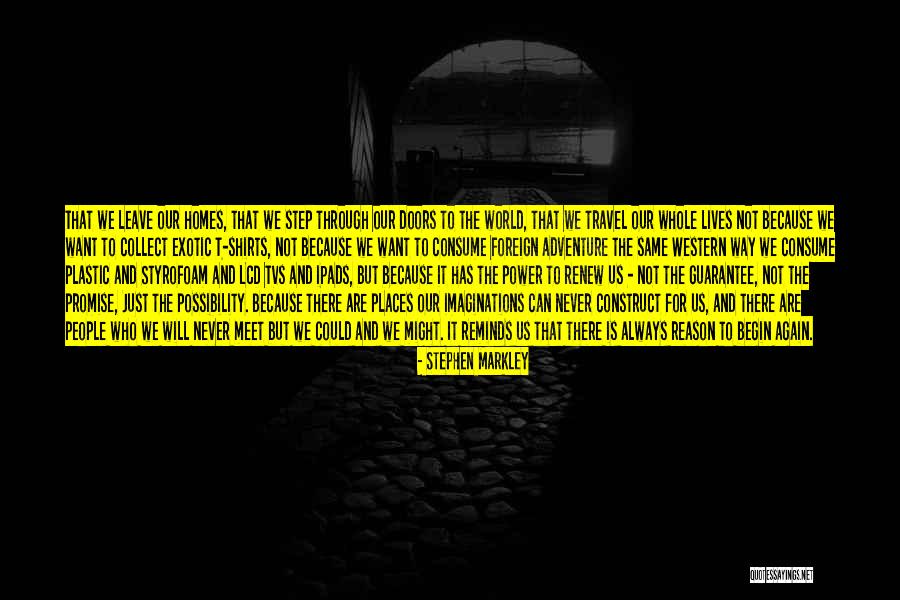 That we leave our homes, that we step through our doors to the world, that we travel our whole lives not because we want to collect exotic T-shirts, not because we want to consume foreign adventure the same Western way we consume plastic and Styrofoam and LCD TVs and iPads, but because it has the power to renew us - not the guarantee, not the promise, just the possibility. Because there are places our imaginations can never construct for us, and there are people who we will never meet but we could and we might. It reminds us that there is always reason to begin again. — Stephen Markley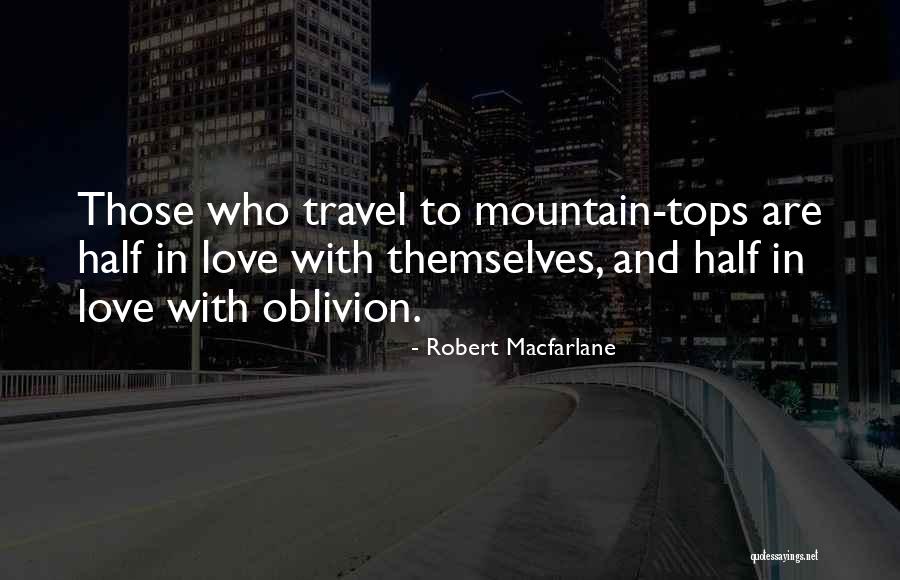 Those who travel to mountain-tops are half in love with themselves, and half in love with oblivion. — Robert Macfarlane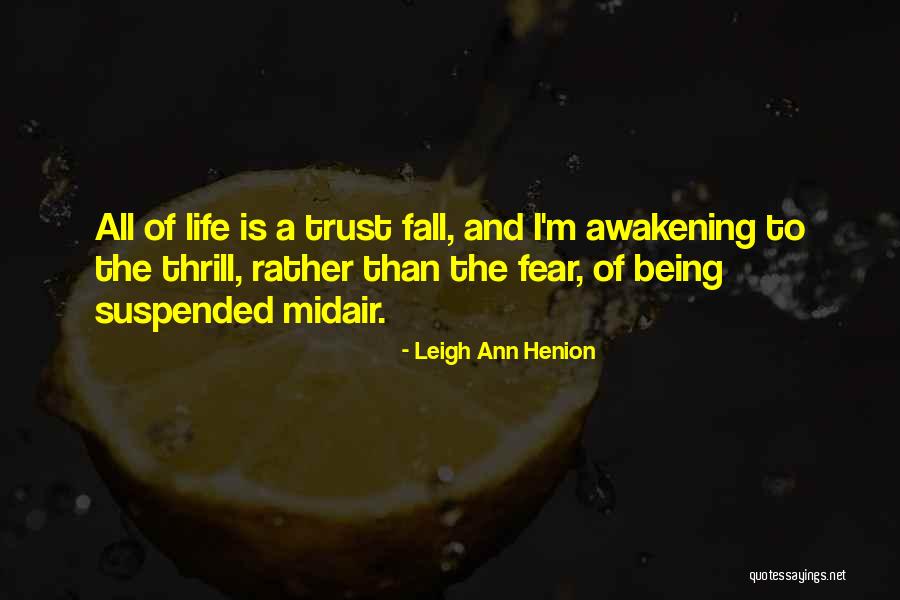 All of life is a trust fall, and I'm awakening to the thrill, rather than the fear, of being suspended midair. — Leigh Ann Henion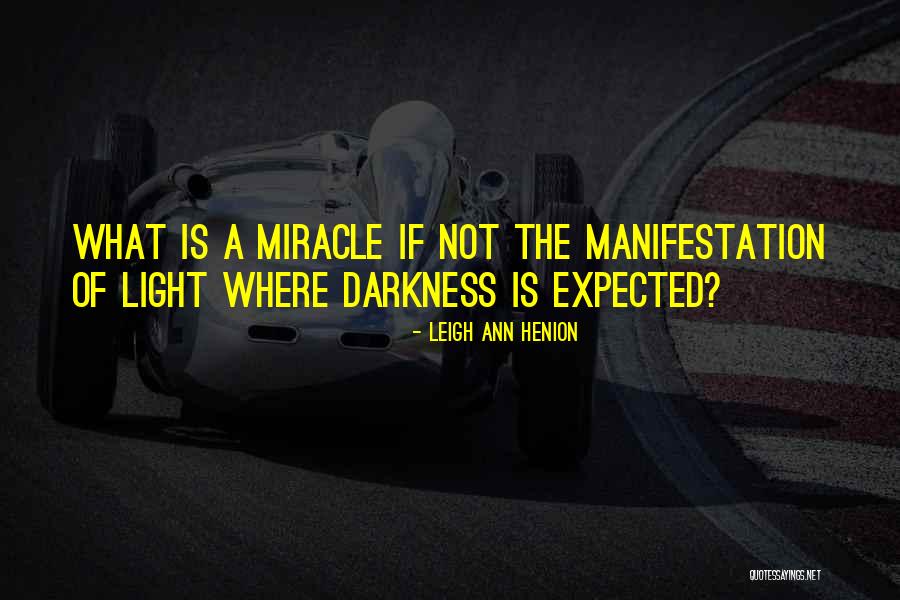 What is a miracle if not the manifestation of light where darkness is expected? — Leigh Ann Henion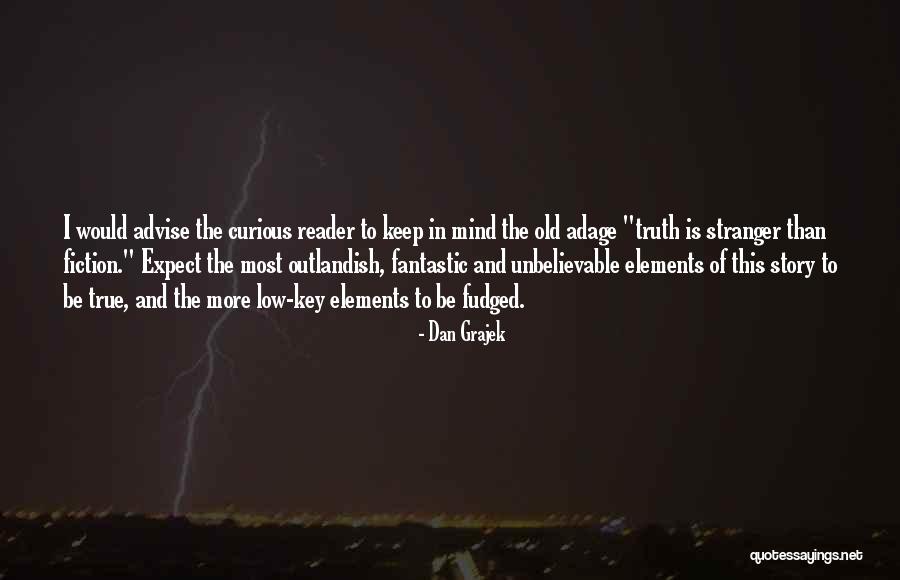 I would advise the curious reader to keep in mind the old adage "truth is stranger than fiction." Expect the most outlandish, fantastic and unbelievable elements of this story to be true, and the more low-key elements to be fudged. — Dan Grajek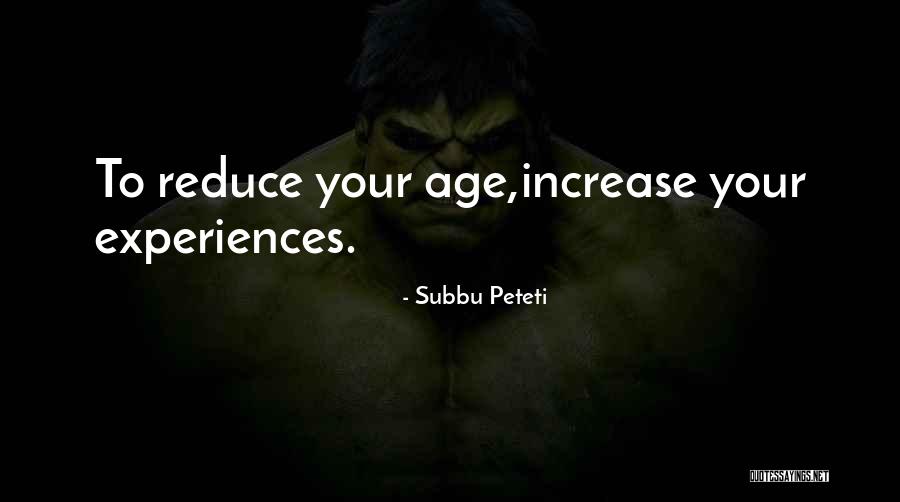 To reduce your age,increase your experiences. — Subbu Peteti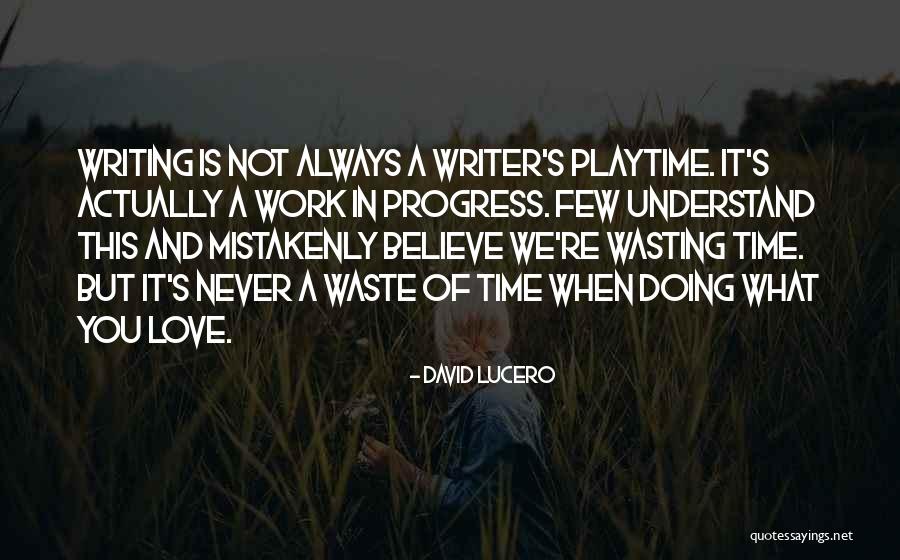 Writing is not always a writer's playtime. It's actually a work in progress. Few understand this and mistakenly believe we're wasting time. But it's never a waste of time when doing what you love. — David Lucero