Quotes & Sayings About Immaturity In Love
Enjoy reading and share 8 famous quotes about Immaturity In Love with everyone.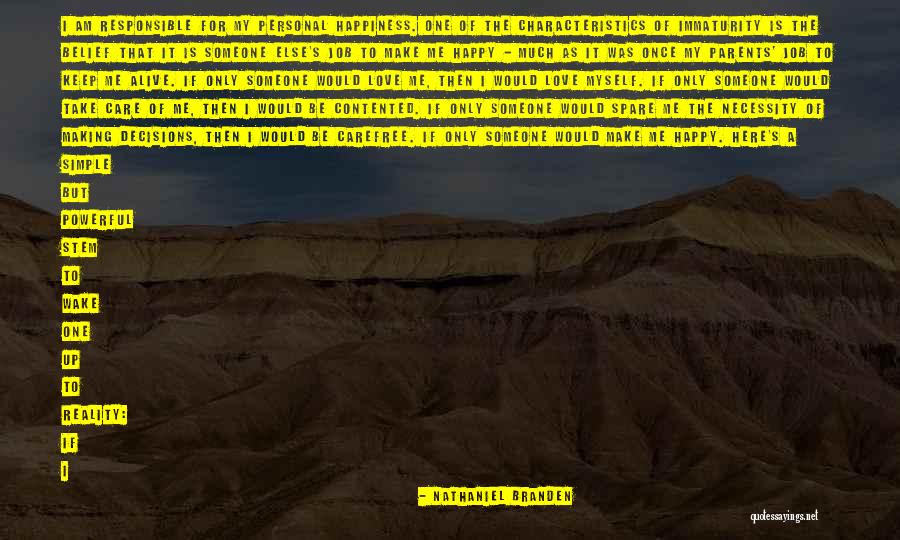 I am responsible for my personal happiness. One of the characteristics of immaturity is the belief that it is someone else's job to make me happy - much as it was once my parents' job to keep me alive. If only someone would love me, then I would love myself. If only someone would take care of me, then I would be contented. If only someone would spare me the necessity of making decisions, then I would be carefree. If only someone would make me happy. Here's a simple but powerful stem to wake one up to reality: If I take full responsibility for my personal happiness - . Taking responsibility for my happiness is empowering. It places my life back in my own hands. Ahead of taking this responsibility, I may imagine it will be a burden. What I discover is that it sets me free. — Nathaniel Branden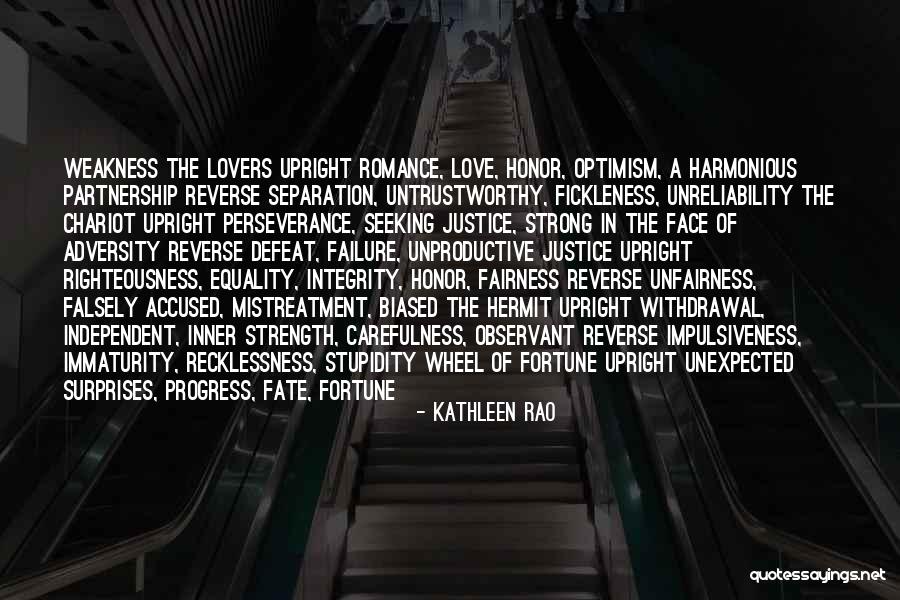 Weakness The Lovers Upright Romance, Love, Honor, Optimism, a Harmonious Partnership Reverse Separation, Untrustworthy, Fickleness, Unreliability The Chariot Upright Perseverance, Seeking Justice, Strong in the face of Adversity Reverse Defeat, Failure, Unproductive Justice Upright Righteousness, Equality, Integrity, Honor, Fairness Reverse Unfairness, Falsely Accused, Mistreatment, Biased The Hermit Upright Withdrawal, Independent, Inner Strength, Carefulness, Observant Reverse Impulsiveness, Immaturity, Recklessness, Stupidity Wheel of Fortune Upright Unexpected Surprises, Progress, Fate, Fortune — Kathleen Rao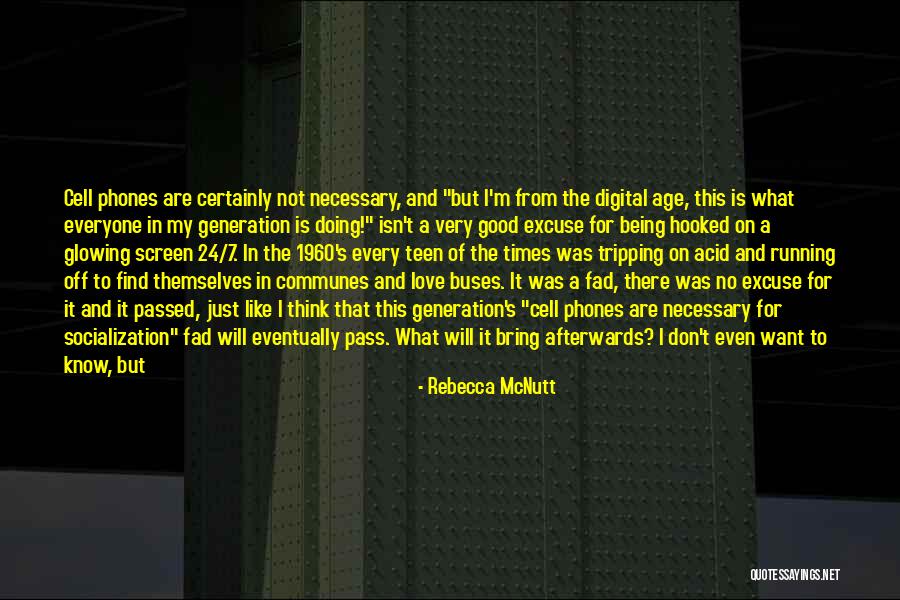 Cell phones are certainly not necessary, and "but I'm from the digital age, this is what everyone in my generation is doing!" isn't a very good excuse for being hooked on a glowing screen 24/7. In the 1960's every teen of the times was tripping on acid and running off to find themselves in communes and love buses. It was a fad, there was no excuse for it and it passed, just like I think that this generation's "cell phones are necessary for socialization" fad will eventually pass. What will it bring afterwards? I don't even want to know, but I'll keep my fingers crossed and hope that it isn't anything else digital. — Rebecca McNutt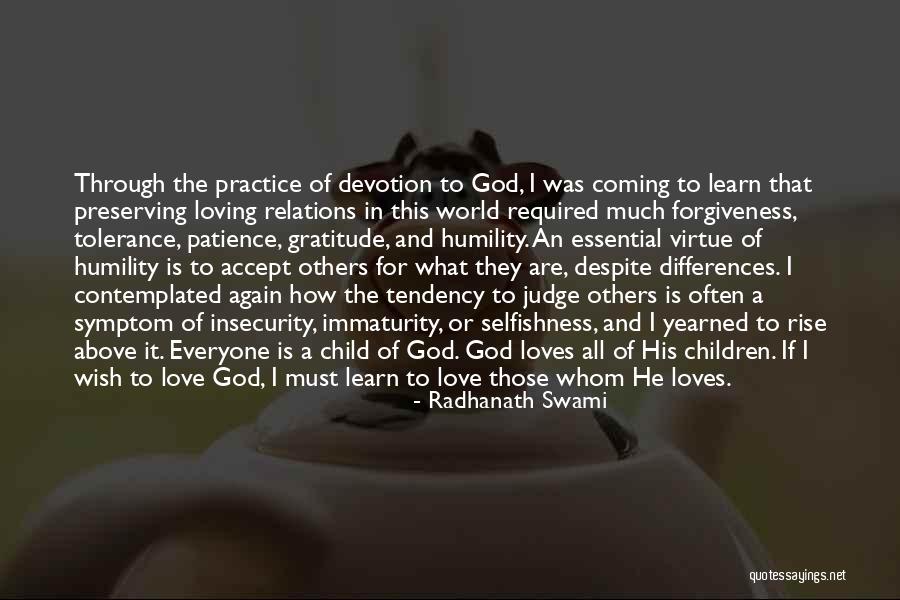 Through the practice of devotion to God, I was coming to learn that preserving loving relations in this world required much forgiveness, tolerance, patience, gratitude, and humility. An essential virtue of humility is to accept others for what they are, despite differences. I contemplated again how the tendency to judge others is often a symptom of insecurity, immaturity, or selfishness, and I yearned to rise above it. Everyone is a child of God. God loves all of His children. If I wish to love God, I must learn to love those whom He loves. — Radhanath Swami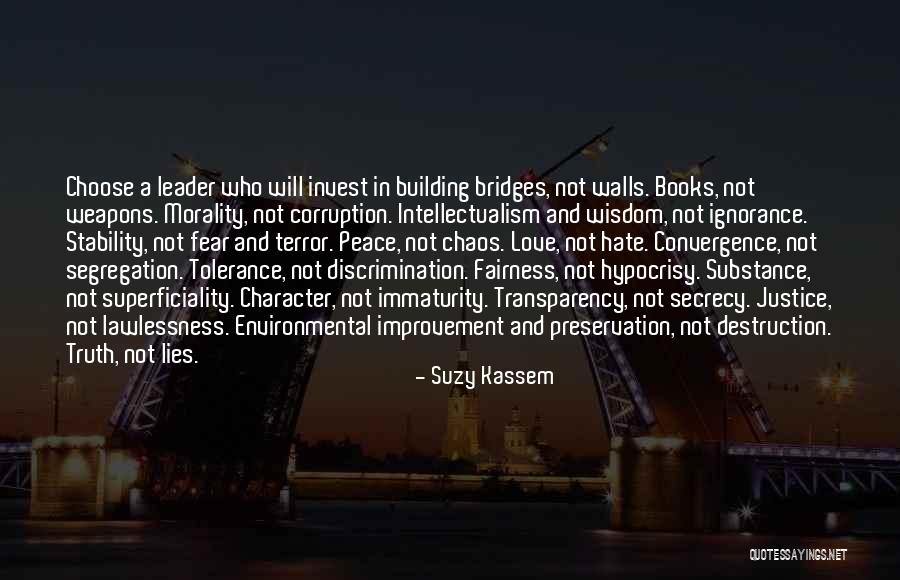 Choose a leader who will invest in building bridges, not walls. Books, not weapons. Morality, not corruption. Intellectualism and wisdom, not ignorance. Stability, not fear and terror. Peace, not chaos. Love, not hate. Convergence, not segregation. Tolerance, not discrimination. Fairness, not hypocrisy. Substance, not superficiality. Character, not immaturity. Transparency, not secrecy. Justice, not lawlessness. Environmental improvement and preservation, not destruction. Truth, not lies. — Suzy Kassem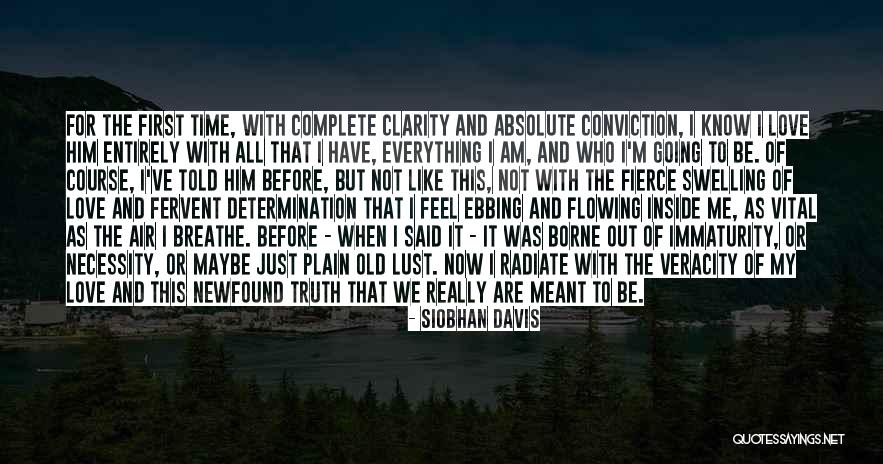 For the first time, with complete clarity and absolute conviction, I know I love him entirely with all that I have, everything I am, and who I'm going to be. Of course, I've told him before, but not like this, not with the fierce swelling of love and fervent determination that I feel ebbing and flowing inside me, as vital as the air I breathe. Before - when I said it - it was borne out of immaturity, or necessity, or maybe just plain old lust. Now I radiate with the veracity of my love and this newfound truth that we really are meant to be. — Siobhan Davis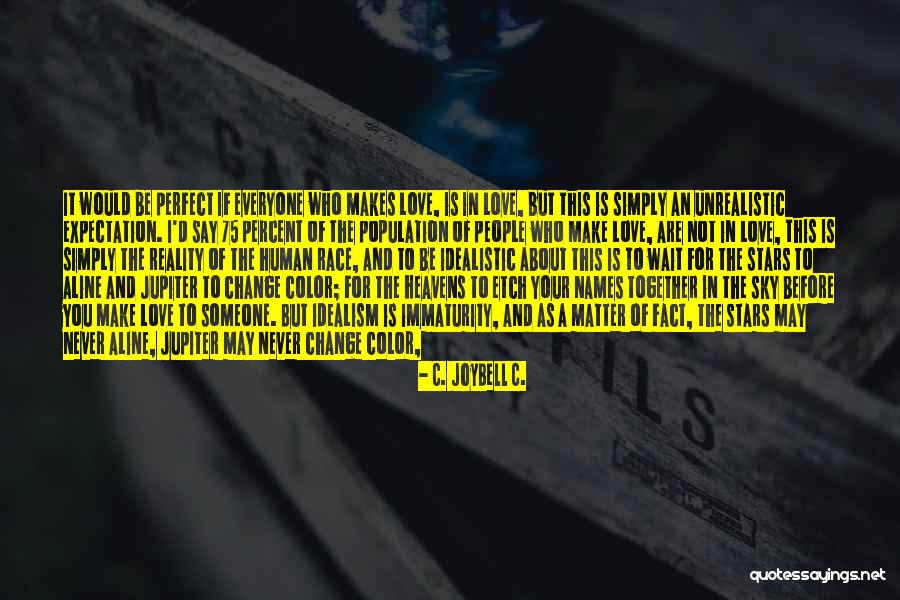 It would be perfect if everyone who makes love, is in love, but this is simply an unrealistic expectation. I'd say 75 percent of the population of people who make love, are not in love, this is simply the reality of the human race, and to be idealistic about this is to wait for the stars to aline and Jupiter to change color; for the Heavens to etch your names together in the sky before you make love to someone. But idealism is immaturity, and as a matter of fact, the stars may never aline, Jupiter may never change color, and the Heavens may never ever etch your names together in the sky for you to have the never-ending permission to make endless love to one another. And so the bottom line is, there really is no difference between doing something today, and doing something tomorrow, because today is what you have, and tomorrow may not turn out the way you expect it to. At the end of the day, sex is an animalistic, humanistic, passionate desire. — C. JoyBell C.