Quotes & Sayings About You Deserving Better
Enjoy reading and share 22 famous quotes about You Deserving Better with everyone.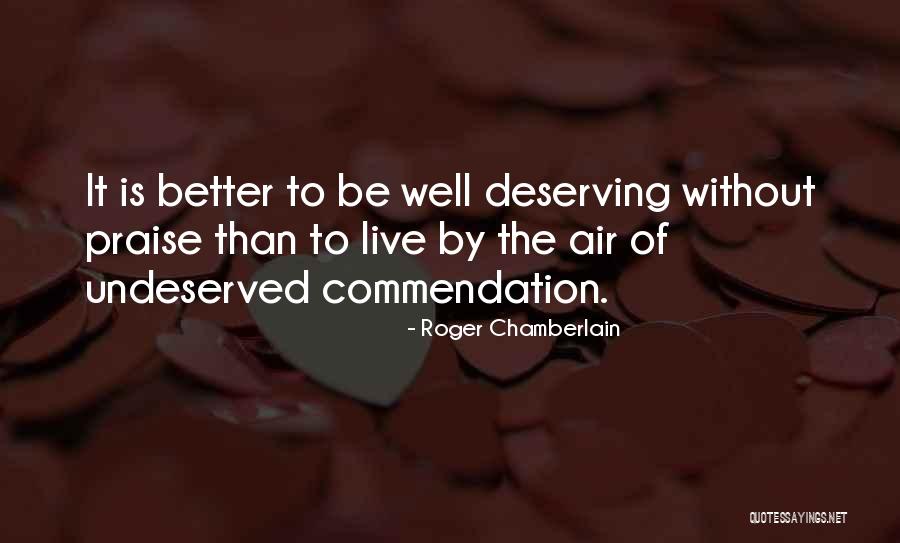 It is better to be well deserving without praise than to live by the air of undeserved commendation. — Roger Chamberlain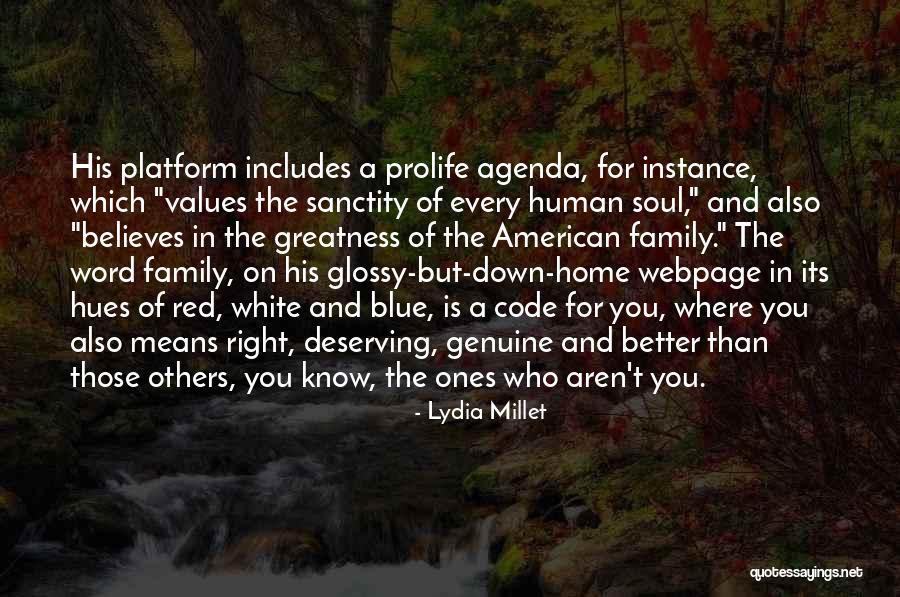 His platform includes a prolife agenda, for instance, which "values the sanctity of every human soul," and also "believes in the greatness of the American family." The word family, on his glossy-but-down-home webpage in its hues of red, white and blue, is a code for you, where you also means right, deserving, genuine and better than those others, you know, the ones who aren't you. — Lydia Millet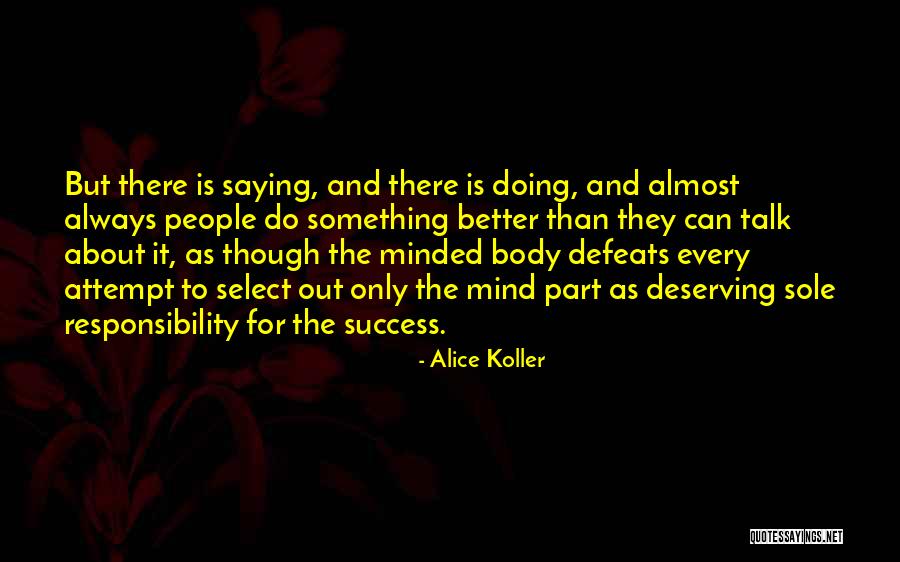 But there is saying, and there is doing, and almost always people do something better than they can talk about it, as though the minded body defeats every attempt to select out only the mind part as deserving sole responsibility for the success. — Alice Koller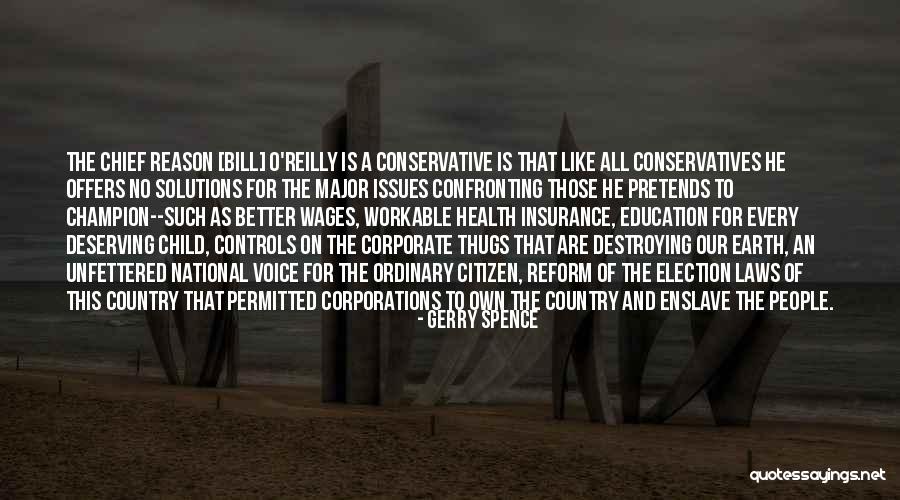 The chief reason [Bill] O'Reilly is a conservative is that like all conservatives he offers no solutions for the major issues confronting those he pretends to champion--such as better wages, workable health insurance, education for every deserving child, controls on the corporate thugs that are destroying our earth, an unfettered national voice for the ordinary citizen, reform of the election laws of this country that permitted corporations to own the country and enslave the people. — Gerry Spence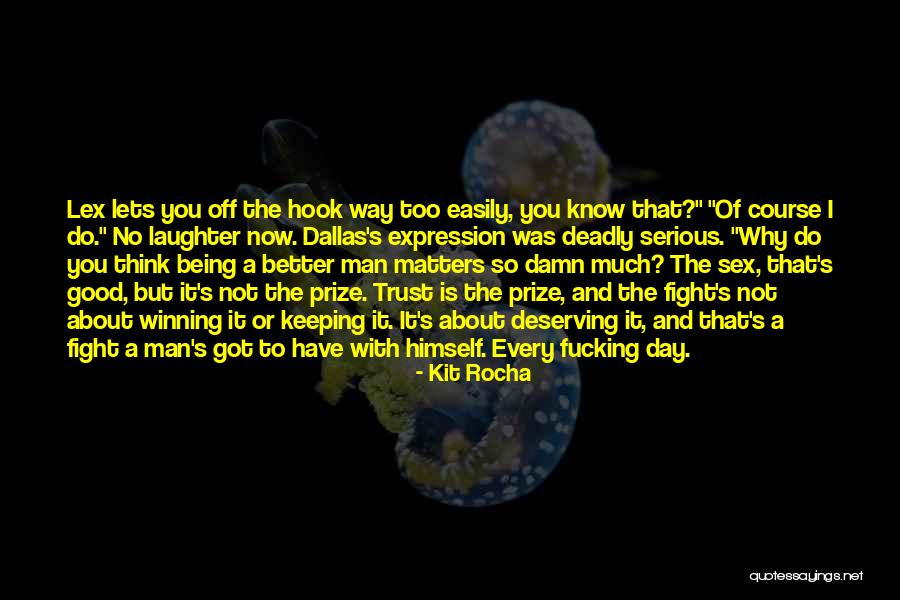 Lex lets you off the hook way too easily, you know that?" "Of course I do." No laughter now. Dallas's expression was deadly serious. "Why do you think being a better man matters so damn much? The sex, that's good, but it's not the prize. Trust is the prize, and the fight's not about winning it or keeping it. It's about deserving it, and that's a fight a man's got to have with himself. Every fucking day. — Kit Rocha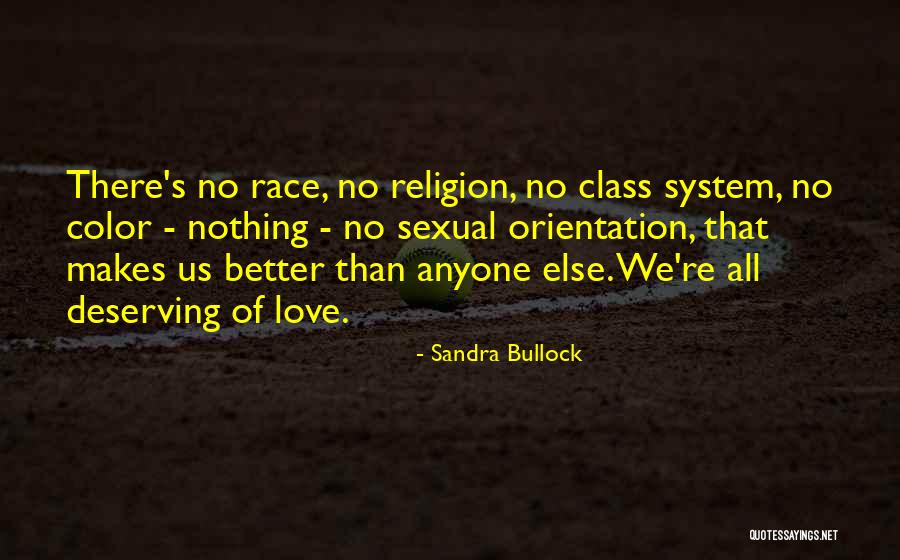 There's no race, no religion, no class system, no color - nothing - no sexual orientation, that makes us better than anyone else. We're all deserving of love. — Sandra Bullock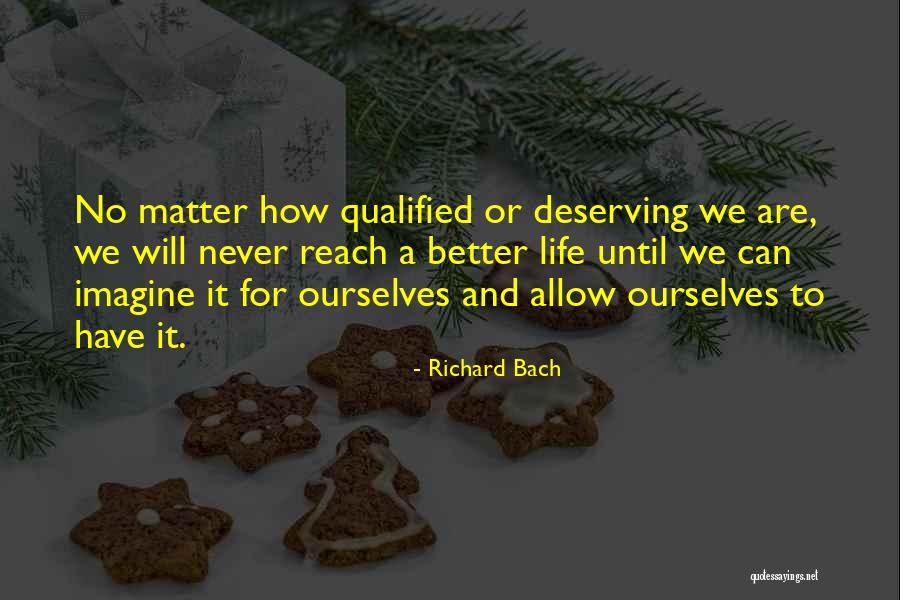 No matter how qualified or deserving we are, we will never reach a better life until we can imagine it for ourselves and allow ourselves to have it. — Richard Bach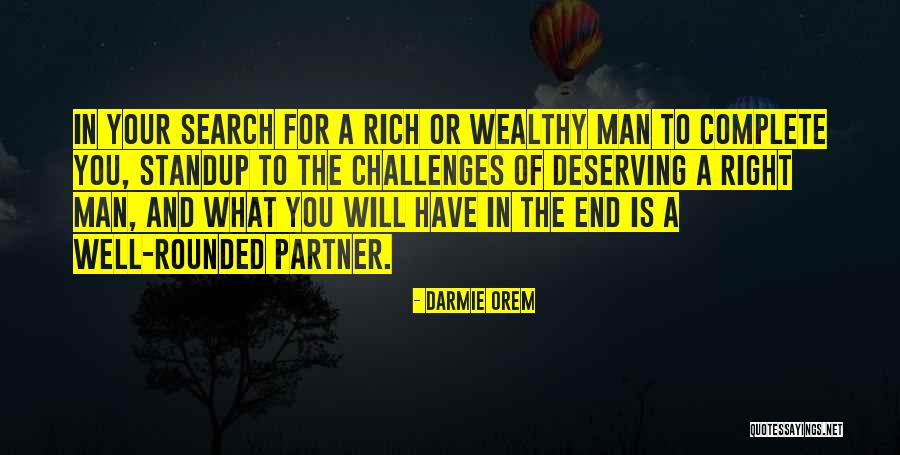 In your search for a rich or wealthy man to complete you, standup to the challenges of deserving a right man, and what you will have in the end is a well-rounded partner. — Darmie Orem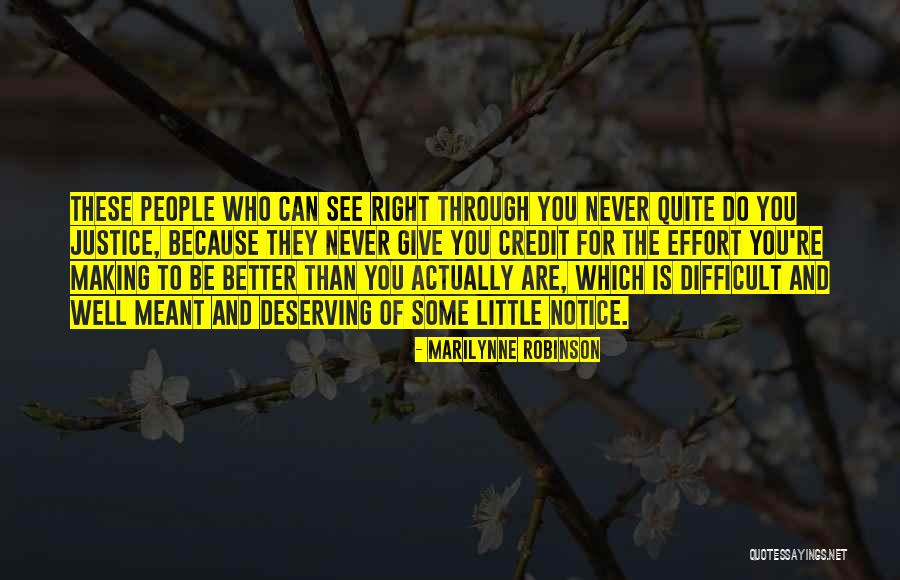 These people who can see right through you never quite do you justice, because they never give you credit for the effort you're making to be better than you actually are, which is difficult and well meant and deserving of some little notice. — Marilynne Robinson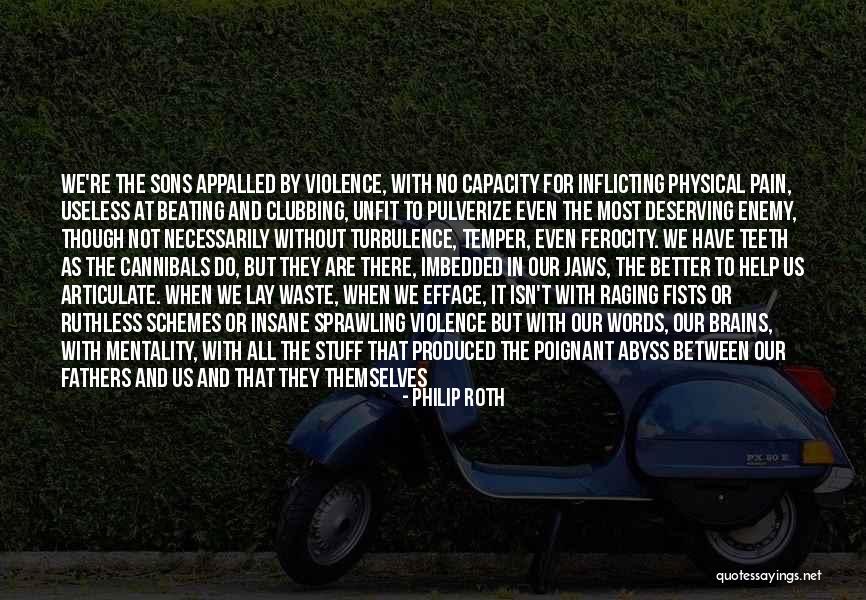 We're the sons appalled by violence, with no capacity for inflicting physical pain, useless at beating and clubbing, unfit to pulverize even the most deserving enemy, though not necessarily without turbulence, temper, even ferocity. We have teeth as the cannibals do, but they are there, imbedded in our jaws, the better to help us articulate. When we lay waste, when we efface, it isn't with raging fists or ruthless schemes or insane sprawling violence but with our words, our brains, with mentality, with all the stuff that produced the poignant abyss between our fathers and us and that they themselves broke their backs to give us. — Philip Roth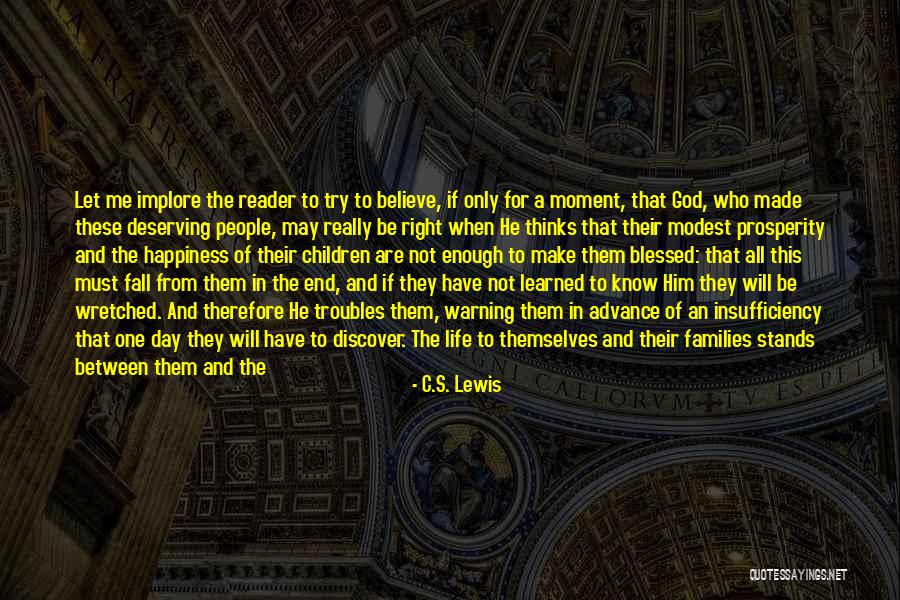 Let me implore the reader to try to believe, if only for a moment, that God, who made these deserving people, may really be right when He thinks that their modest prosperity and the happiness of their children are not enough to make them blessed: that all this must fall from them in the end, and if they have not learned to know Him they will be wretched. And therefore He troubles them, warning them in advance of an insufficiency that one day they will have to discover. The life to themselves and their families stands between them and the recognition of their need; He makes that life less sweet to them.
If God were proud He would hardly have us on such terms: but He is not proud, He stoops to conquer, He will have us even though we have shown that we prefer everything else to Him, and come to Him because there is 'nothing better' now to be had. — C.S. Lewis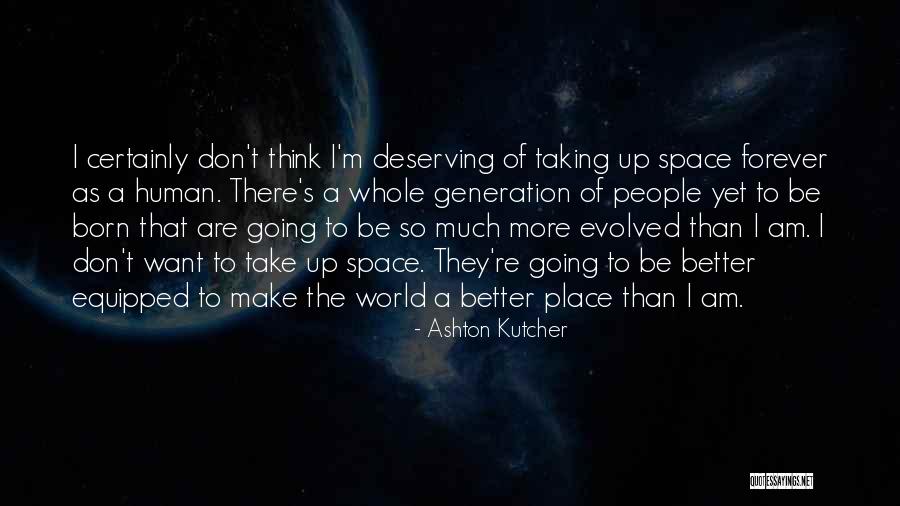 I certainly don't think I'm deserving of taking up space forever as a human. There's a whole generation of people yet to be born that are going to be so much more evolved than I am. I don't want to take up space. They're going to be better equipped to make the world a better place than I am. — Ashton Kutcher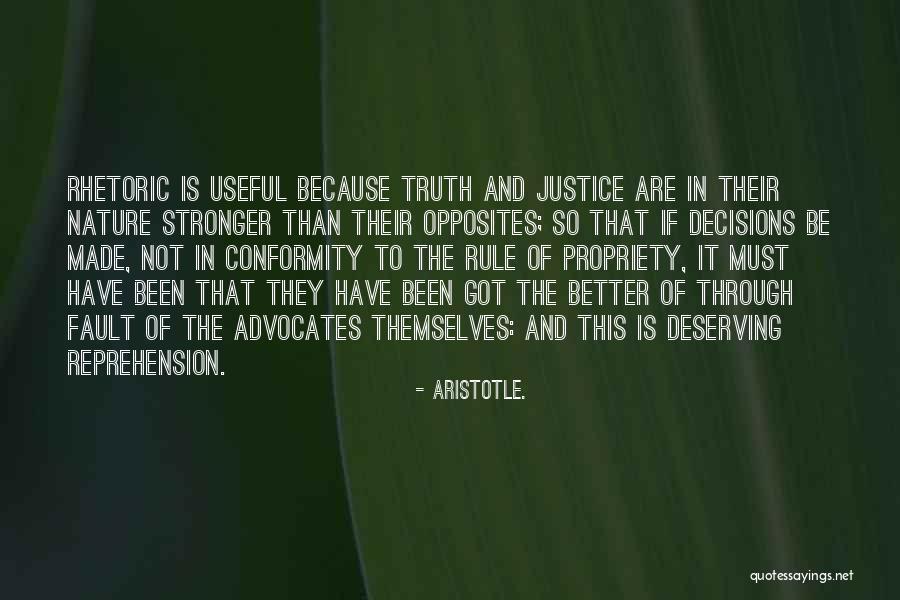 Rhetoric is useful because truth and justice are in their nature stronger than their opposites; so that if decisions be made, not in conformity to the rule of propriety, it must have been that they have been got the better of through fault of the advocates themselves: and this is deserving reprehension. — Aristotle.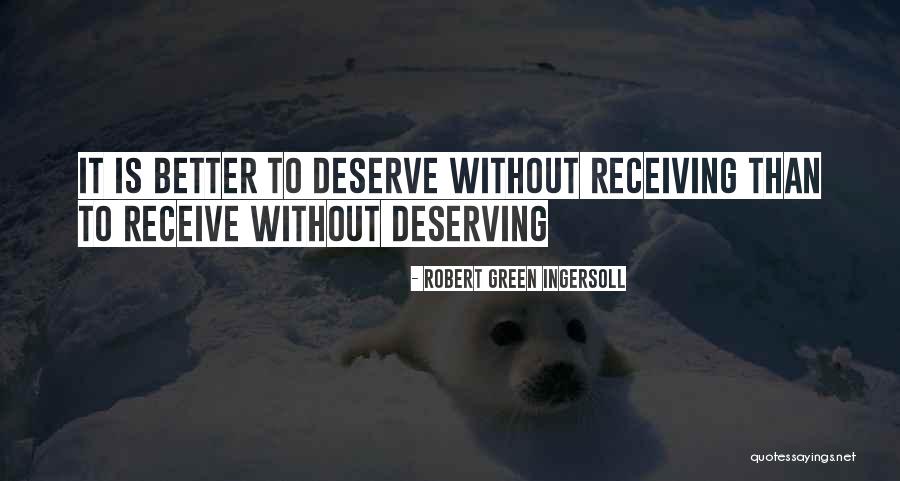 It is better to deserve without receiving than to receive without deserving — Robert Green Ingersoll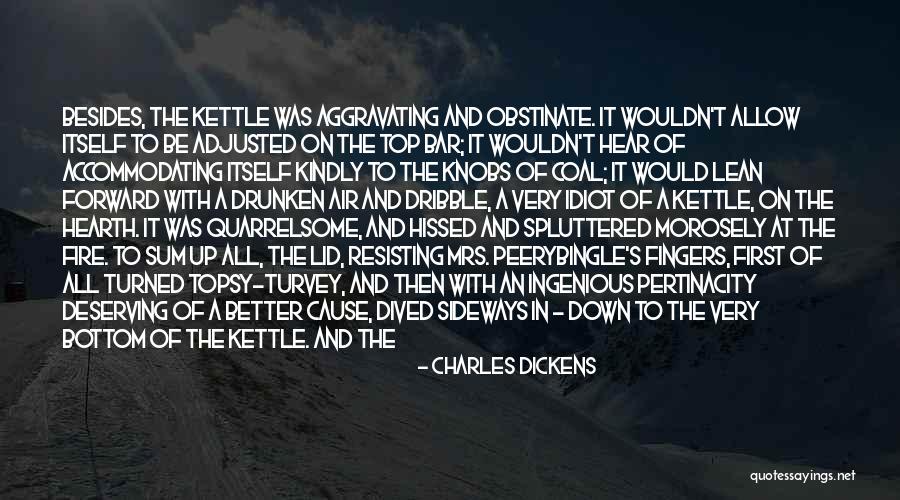 Besides, the kettle was aggravating and obstinate. It wouldn't allow itself to be adjusted on the top bar; it wouldn't hear of accommodating itself kindly to the knobs of coal; it would lean forward with a drunken air and dribble, a very Idiot of a kettle, on the hearth. It was quarrelsome, and hissed and spluttered morosely at the fire. To sum up all, the lid, resisting Mrs. Peerybingle's fingers, first of all turned topsy-turvey, and then with an ingenious pertinacity deserving of a better cause, dived sideways in - down to the very bottom of the kettle. And the hull of the Royal George has never made half the monstrous resistance to coming out of the water, which the lid of that kettle employed against Mrs. Peerybingle, before she got it up again.
It looked sullen and pig-headed enough, even then: carrying its handle with an air of defiance, and cocking its spout pertly and mockingly at Mrs. Peerybingle as if it said, I won't boil. Nothing shall induce me! — Charles Dickens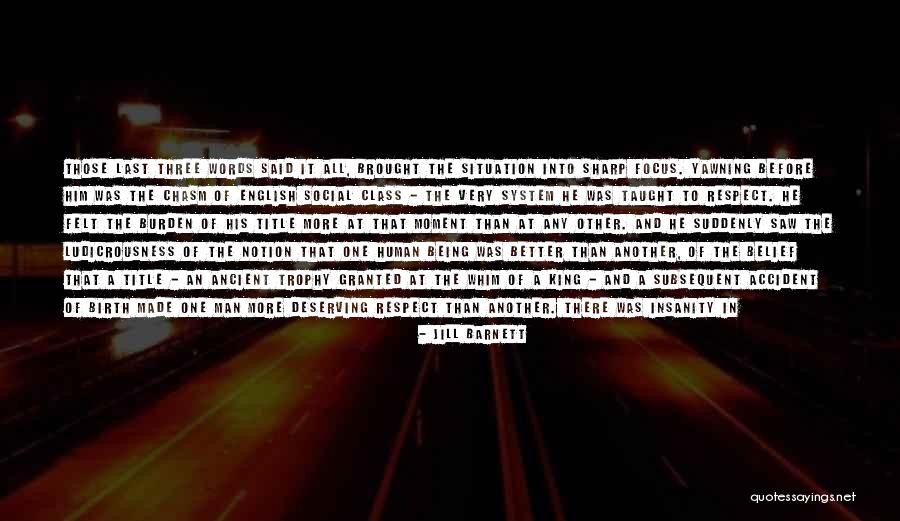 Those last three words said it all, brought the situation into sharp focus. Yawning before him was the chasm of English social class - the very system he was taught to respect. He felt the burden of his title more at that moment than at any other. And he suddenly saw the ludicrousness of the notion that one human being was better than another, of the belief that a title - an ancient trophy granted at the whim of a king - and a subsequent accident of birth made one man more deserving respect than another. There was insanity in that concept and in the fact that it was so readily accepted by an immoral world. — Jill Barnett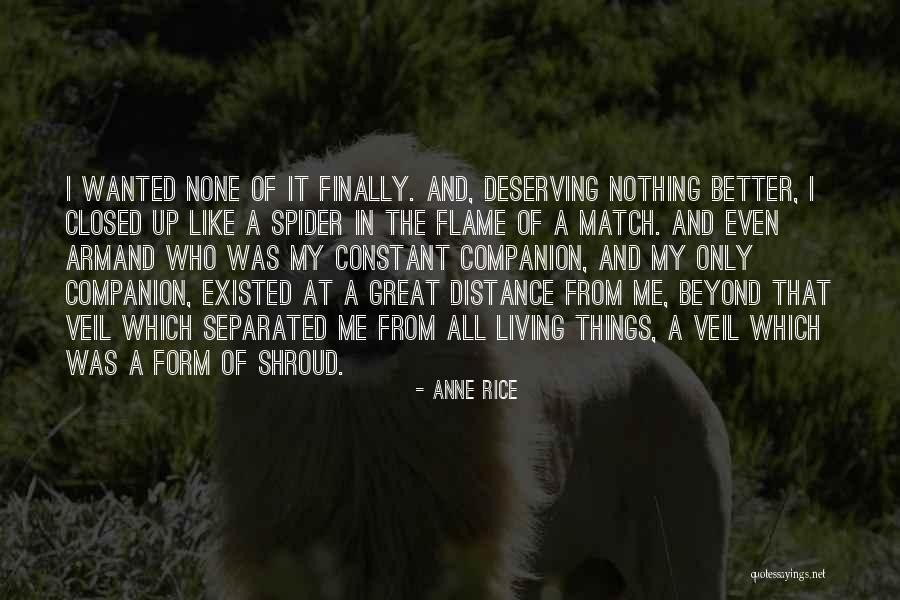 I wanted none of it finally. And, deserving nothing better, I closed up like a spider in the flame of a match. And even Armand who was my constant companion, and my only companion, existed at a great distance from me, beyond that veil which separated me from all living things, a veil which was a form of shroud. — Anne Rice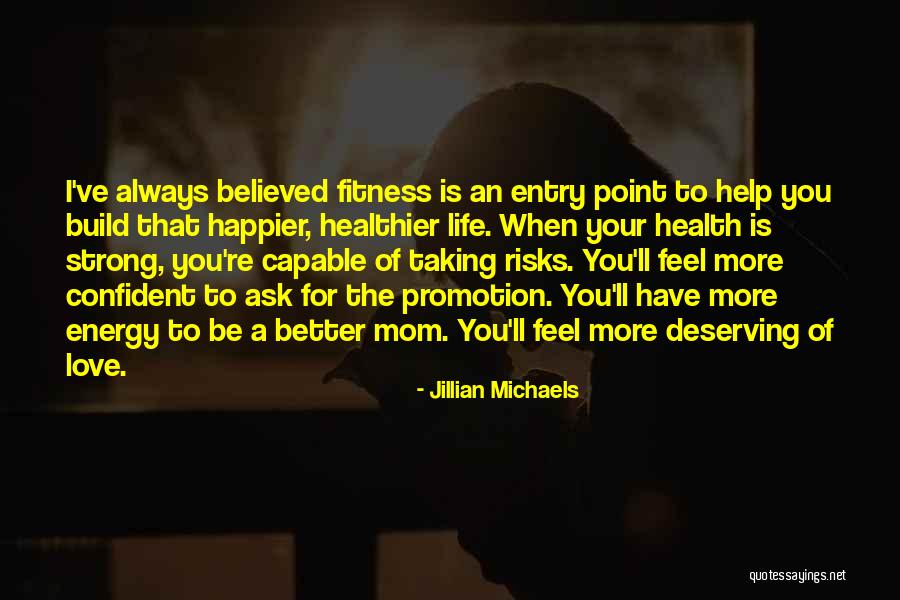 I've always believed fitness is an entry point to help you build that happier, healthier life. When your health is strong, you're capable of taking risks. You'll feel more confident to ask for the promotion. You'll have more energy to be a better mom. You'll feel more deserving of love. — Jillian Michaels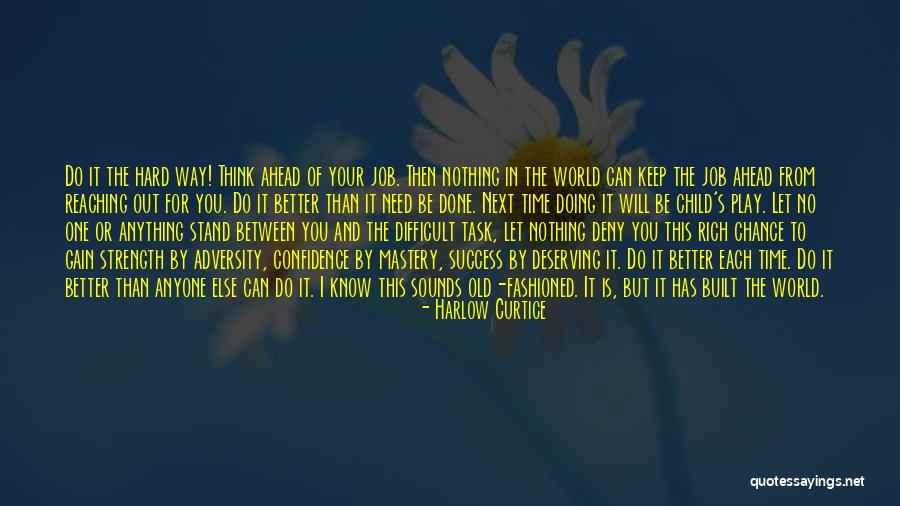 Do it the hard way! Think ahead of your job. Then nothing in the world can keep the job ahead from reaching out for you. Do it better than it need be done. Next time doing it will be child's play. Let no one or anything stand between you and the difficult task, let nothing deny you this rich chance to gain strength by adversity, confidence by mastery, success by deserving it. Do it better each time. Do it better than anyone else can do it. I know this sounds old-fashioned. It is, but it has built the world. — Harlow Curtice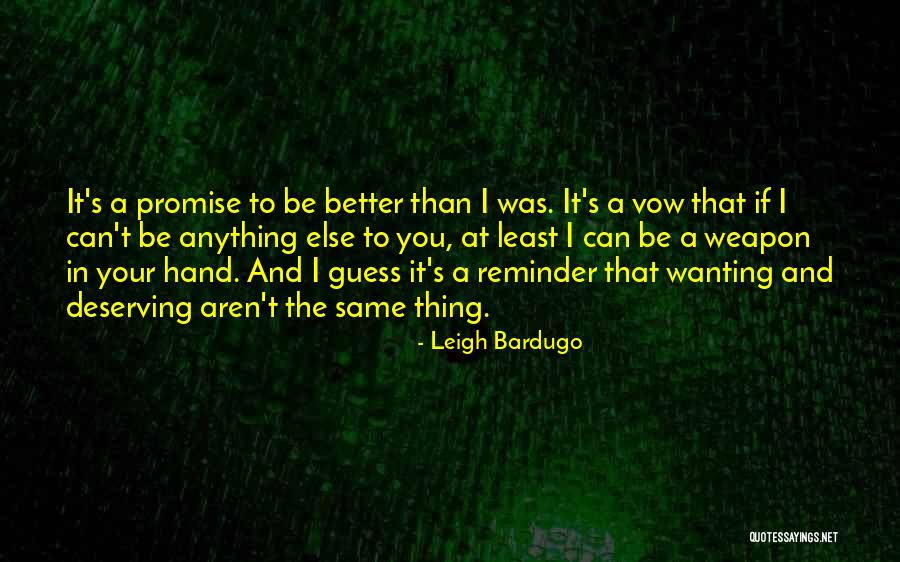 It's a promise to be better than I was. It's a vow that if I can't be anything else to you, at least I can be a weapon in your hand. And I guess it's a reminder that wanting and deserving aren't the same thing. — Leigh Bardugo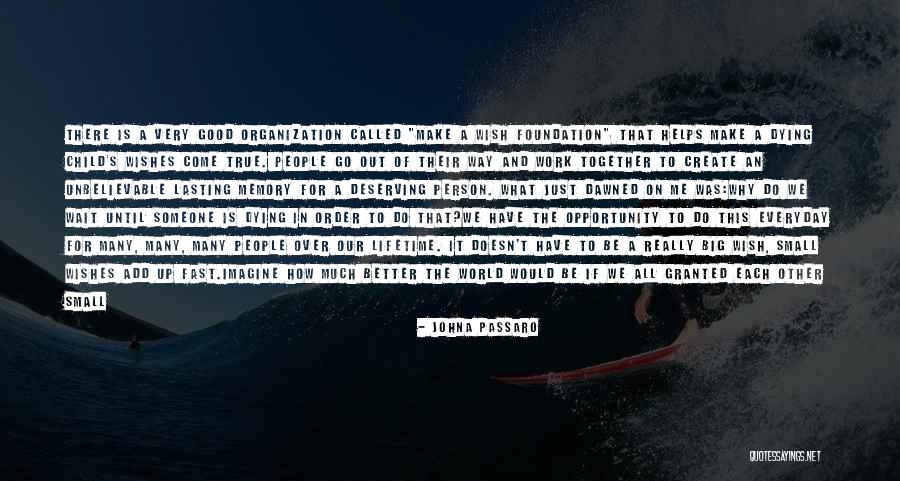 There is a very good organization called "Make a Wish Foundation" that helps make a dying child's wishes come true.
People go out of their way and work together to create an unbelievable lasting memory for a deserving person.
What just dawned on me was:
Why do we wait until someone is dying in order to do that?
We have the opportunity to do this everyday for many, many, many people over our lifetime.
It doesn't have to be a really big wish, small wishes add up fast.
Imagine how much better the world would be if we all granted each other small wishes that came true every day.
Find someone today and implement the "Make a Wish" concept in your life.
Watch what happens. — JohnA Passaro
I have furnished myself with a Bible and Testament; and I can say also that I have found them to be much worse books than I had conceived. If I have erred in any thing, in the former part of the Age of Reason, it has been by speaking better of some parts than they deserved. — Thomas Paine