I May Not Have Money Quotes & Sayings
Enjoy reading and share 47 famous quotes about I May Not Have Money with everyone.
Top I May Not Have Money Quotes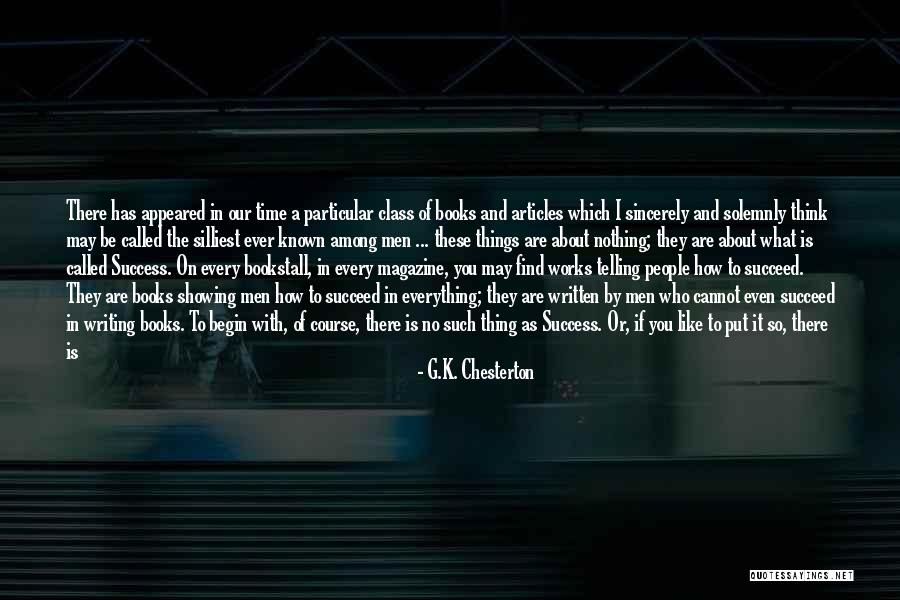 There has appeared in our time a particular class of books and articles which I sincerely and solemnly think may be called the silliest ever known among men ... these things are about nothing; they are about what is called Success. On every bookstall, in every magazine, you may find works telling people how to succeed. They are books showing men how to succeed in everything; they are written by men who cannot even succeed in writing books. To begin with, of course, there is no such thing as Success. Or, if you like to put it so, there is nothing that is not successful. That a thing is successful merely means that it is; a millionaire is successful in being a millionaire and a donkey in being a donkey ... I really think that the people who buy these books (if any people do buy them) have a moral, if not a legal, right to ask for their money back. — G.K. Chesterton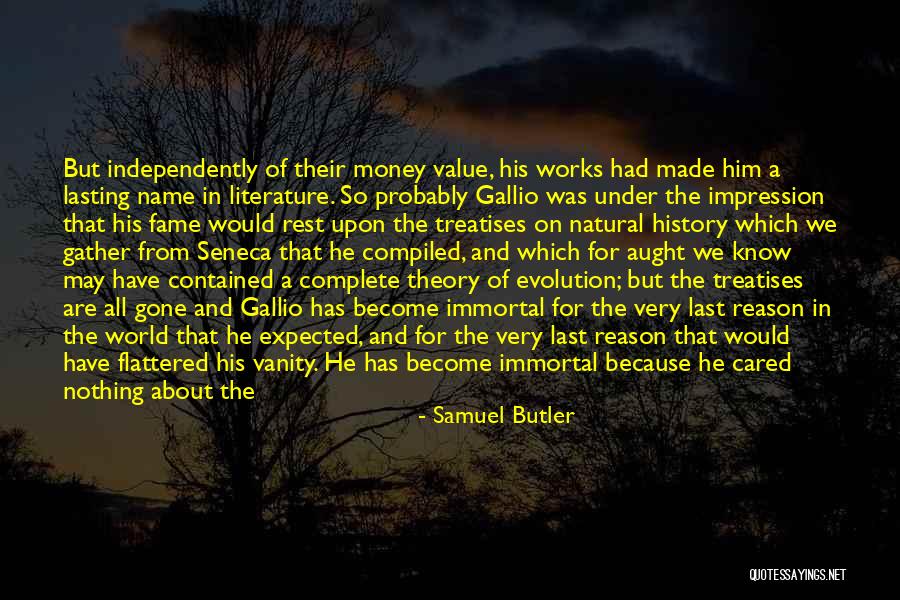 But independently of their money value, his works had made him a lasting name in literature. So probably Gallio was under the impression that his fame would rest upon the treatises on natural history which we gather from Seneca that he compiled, and which for aught we know may have contained a complete theory of evolution; but the treatises are all gone and Gallio has become immortal for the very last reason in the world that he expected, and for the very last reason that would have flattered his vanity. He has become immortal because he cared nothing about the most important movement with which he was ever brought into connection (I wish people who are in search of immortality would lay the lesson to heart and not make so much noise about important movements), and so, if Dr Skinner becomes immortal, it will probably be for some reason very different from the one which he so fondly imagined. — Samuel Butler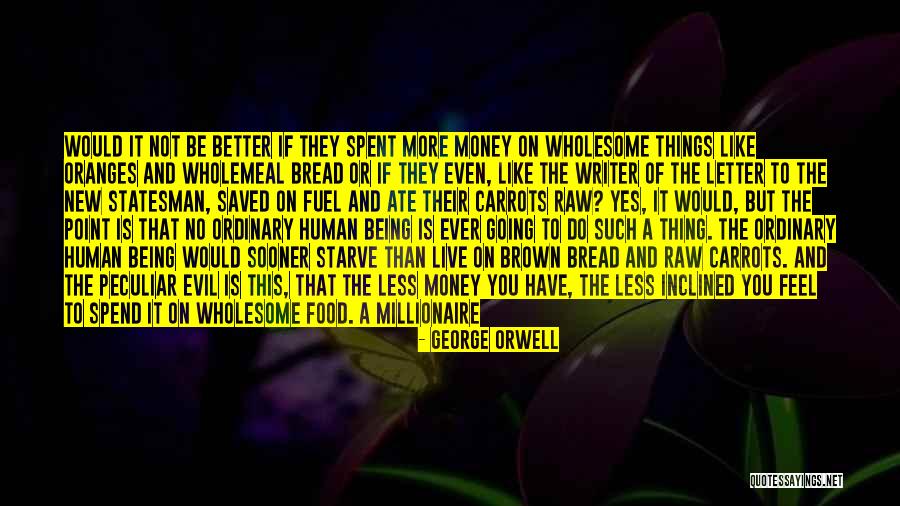 Would it not be better if they spent more money on wholesome things like oranges and wholemeal bread or if they even, like the writer of the letter to the New Statesman, saved on fuel and ate their carrots raw? Yes, it would, but the point is that no ordinary human being is ever going to do such a thing. The ordinary human being would sooner starve than live on brown bread and raw carrots. And the peculiar evil is this, that the less money you have, the less inclined you feel to spend it on wholesome food. A millionaire may enjoy breakfasting off orange juice and Ryvita biscuits; an unemployed man doesn't. Here the tendency of which I spoke at the end of the last chapter comes into play. When you are unemployed, which is to say when you are underfed, harassed, bored, and miserable, you don't want to eat dull wholesome food. You want something a little bit 'tasty'. There is always some cheaply pleasant thing to tempt you. — George Orwell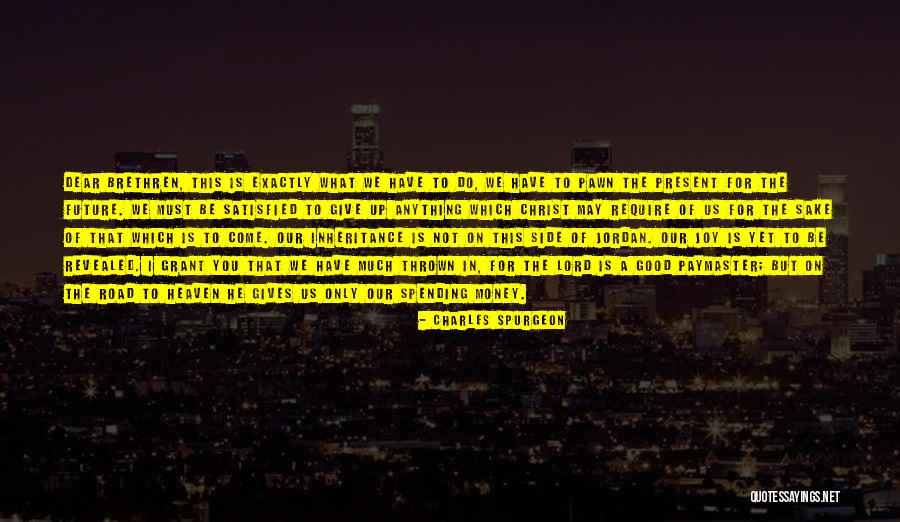 Dear brethren, this is exactly what we have to do, we have to pawn the present for the future. We must be satisfied to give up anything which Christ may require of us for the sake of that which is to come. Our inheritance is not on this side of Jordan. Our joy is yet to be revealed. I grant you that we have much thrown in, for the Lord is a good paymaster; but on the road to heaven he gives us only our spending money. — Charles Spurgeon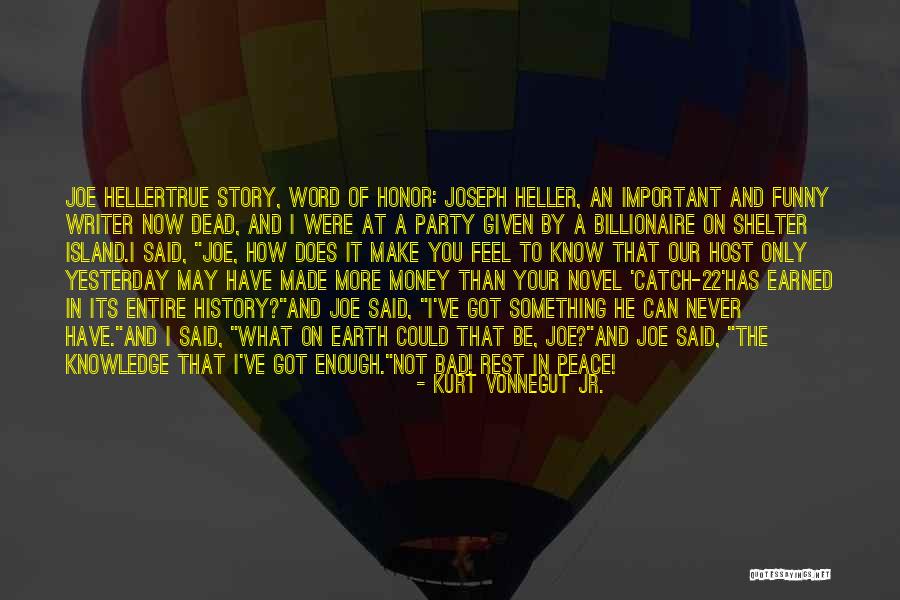 JOE HELLER

True story, Word of Honor:
Joseph Heller, an important and funny writer
now dead,
and I were at a party given by a billionaire
on Shelter Island.

I said, "Joe, how does it make you feel
to know that our host only yesterday
may have made more money
than your novel 'Catch-22'
has earned in its entire history?"
And Joe said, "I've got something he can never have."
And I said, "What on earth could that be, Joe?"
And Joe said, "The knowledge that I've got enough."
Not bad! Rest in peace! — Kurt Vonnegut Jr.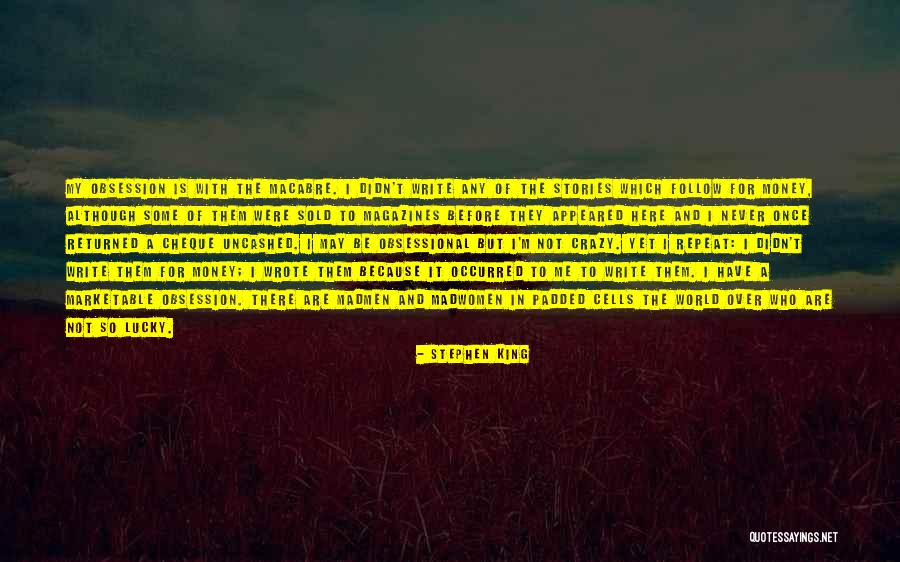 My obsession is with the macabre. I didn't write any of the stories which follow for money, although some of them were sold to magazines before they appeared here and I never once returned a cheque uncashed. I may be obsessional but I'm not crazy. Yet I repeat: I didn't write them for money; I wrote them because it occurred to me to write them. I have a marketable obsession. There are madmen and madwomen in padded cells the world over who are not so lucky. — Stephen King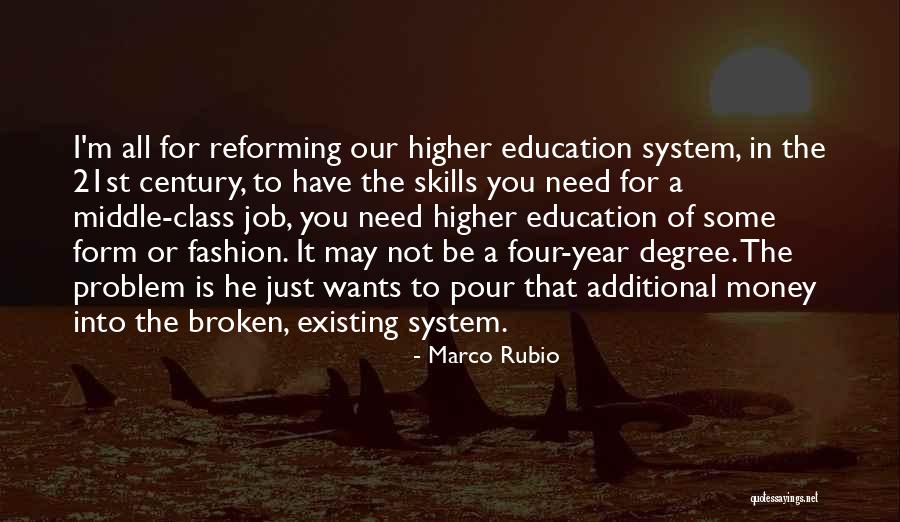 I'm all for reforming our higher education system, in the 21st century, to have the skills you need for a middle-class job, you need higher education of some form or fashion. It may not be a four-year degree. The problem is he just wants to pour that additional money into the broken, existing system. — Marco Rubio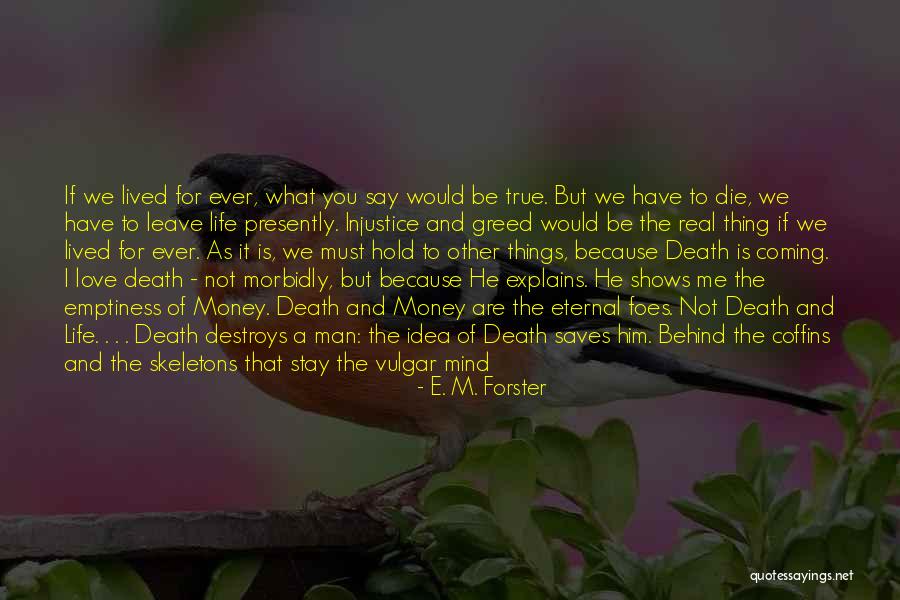 If we lived for ever, what you say would be true. But we have to die, we have to leave life presently. Injustice and greed would be the real thing if we lived for ever. As it is, we must hold to other things, because Death is coming. I love death - not morbidly, but because He explains. He shows me the emptiness of Money. Death and Money are the eternal foes. Not Death and Life. . . . Death destroys a man: the idea of Death saves him. Behind the coffins and the skeletons that stay the vulgar mind lies something so immense that all that is great in us responds to it. Men of the world may recoil from the charnel-house that they will one day enter, but Love knows better. Death is his foe, but his peer, and in their age-long struggle the thews of Love have been strengthened, and his vision cleared, until there is no one who can stand against him. — E. M. Forster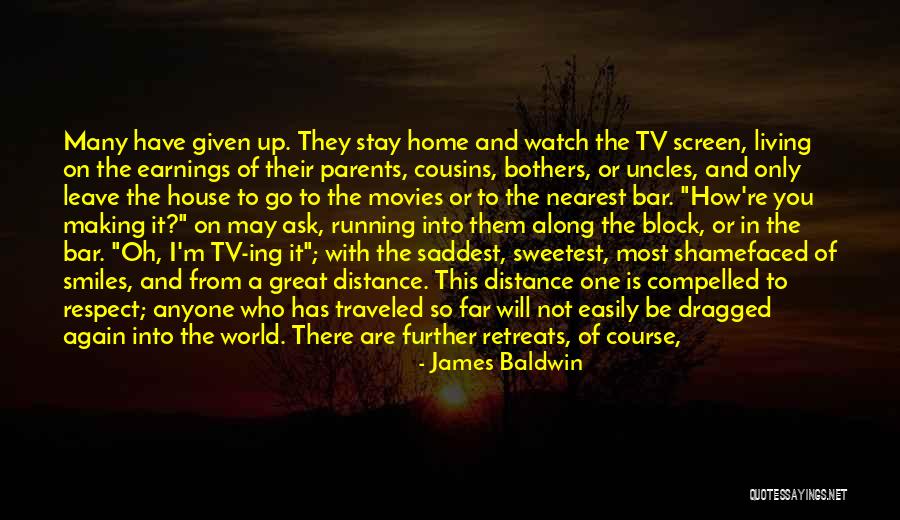 Many have given up. They stay home and watch the TV screen, living on the earnings of their parents, cousins, bothers, or uncles, and only leave the house to go to the movies or to the nearest bar. "How're you making it?" on may ask, running into them along the block, or in the bar. "Oh, I'm TV-ing it"; with the saddest, sweetest, most shamefaced of smiles, and from a great distance. This distance one is compelled to respect; anyone who has traveled so far will not easily be dragged again into the world. There are further retreats, of course, than the TV screen or the bar. There are those who are simply sitting on their stoops, "stoned," animated for a moment only, and hideously, by the approach of someone who may lend them the money for a "fix." Or by the approach of someone from whom they can purchase it, one of the shrewd ones, on the way to prison or just coming out. — James Baldwin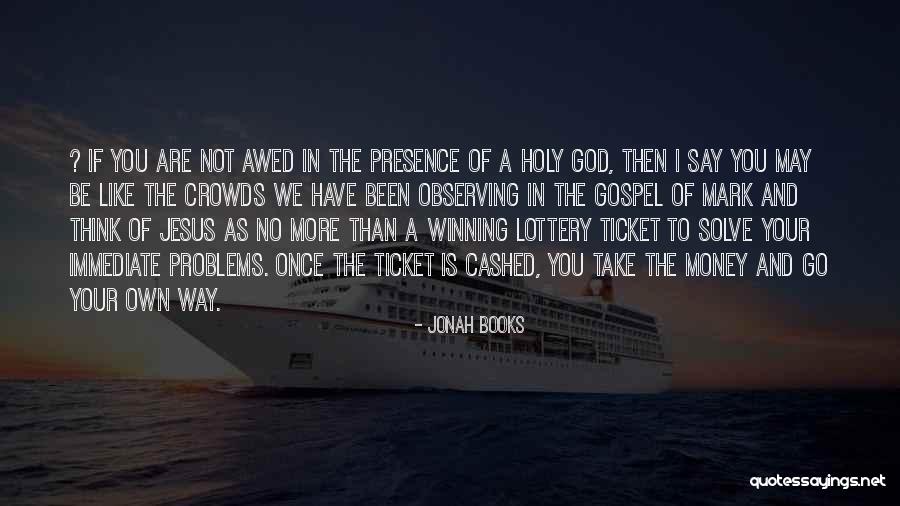 ? If you are not awed in the presence of a Holy God, then I say you may be like the crowds we have been observing in the Gospel of Mark and think of Jesus as no more than a winning lottery ticket to solve your immediate problems. Once the ticket is cashed, you take the money and go your own way. — Jonah Books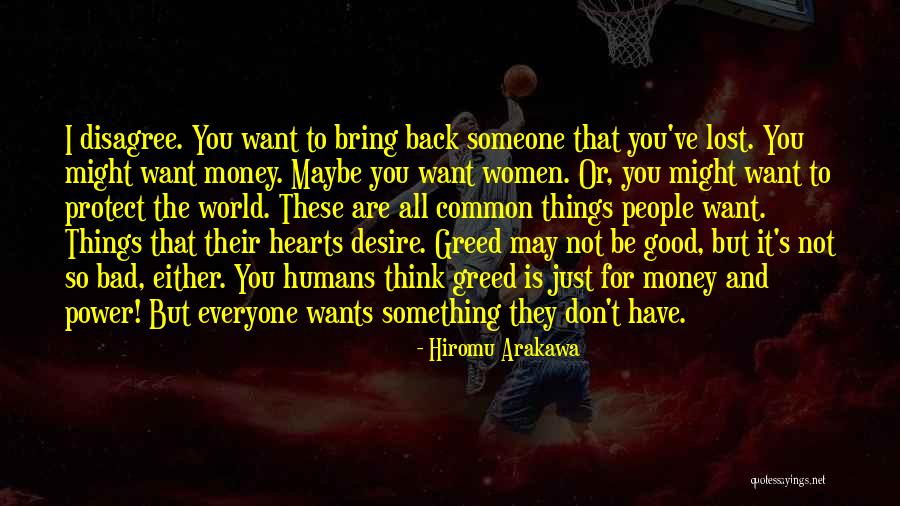 I disagree. You want to bring back someone that you've lost. You might want money. Maybe you want women. Or, you might want to protect the world. These are all common things people want. Things that their hearts desire. Greed may not be good, but it's not so bad, either. You humans think greed is just for money and power! But everyone wants something they don't have. — Hiromu Arakawa
In the whole course of our work at the theatre we have been, I may say, drenched with advice by friendly people who for years gave us the reasons why we did not succeed ... All their advice, or at least some of it, might have been good if we had wanted to make money, to make a common place of amusement. — Lady Gregory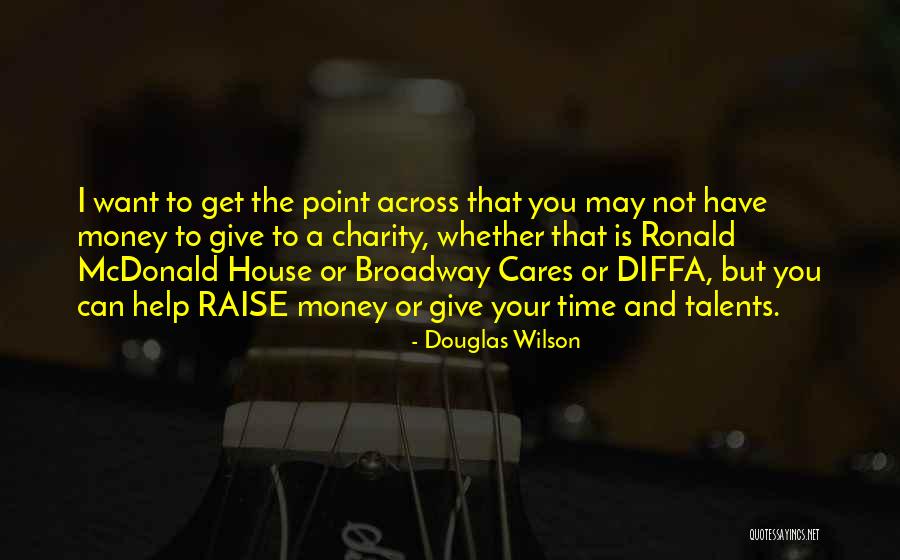 I want to get the point across that you may not have money to give to a charity, whether that is Ronald McDonald House or Broadway Cares or DIFFA, but you can help RAISE money or give your time and talents. — Douglas Wilson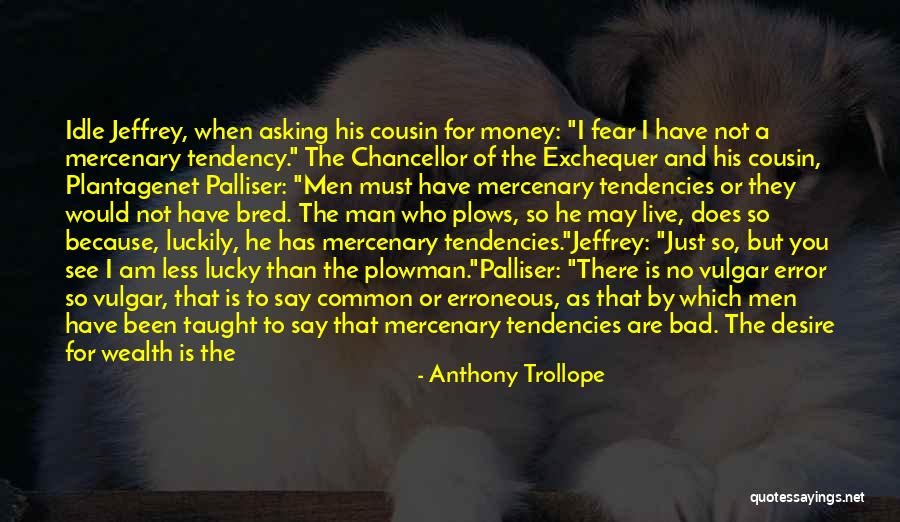 Idle Jeffrey, when asking his cousin for money: "I fear I have not a mercenary tendency."

The Chancellor of the Exchequer and his cousin, Plantagenet Palliser: "Men must have mercenary tendencies or they would not have bred. The man who plows, so he may live, does so because, luckily, he has mercenary tendencies."

Jeffrey: "Just so, but you see I am less lucky than the plowman."

Palliser: "There is no vulgar error so vulgar, that is to say common or erroneous, as that by which men have been taught to say that mercenary tendencies are bad. The desire for wealth is the source of all progress. Civilization comes from what men call greed. Let your mercenary tendencies be combines with honesty, and they cannot take you astray. — Anthony Trollope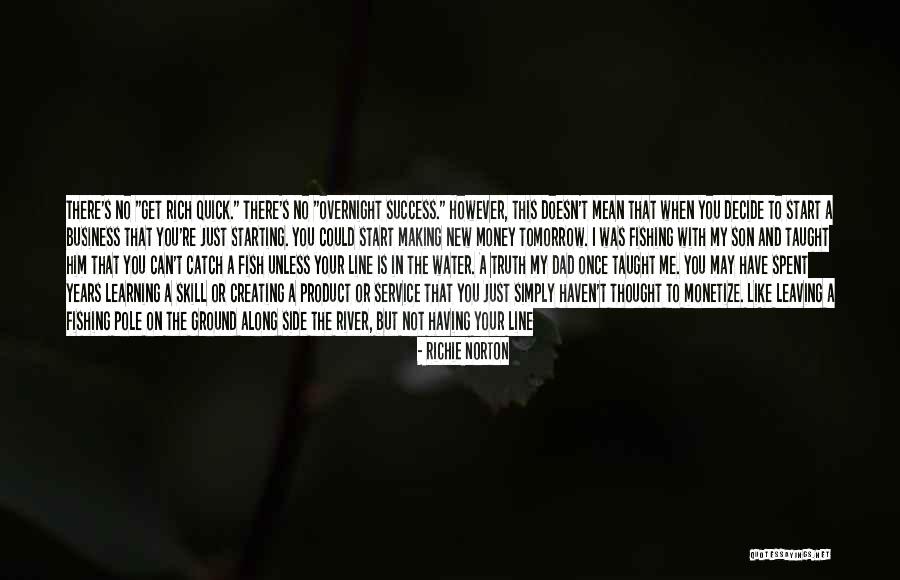 There's no "get rich quick." There's no "overnight success."

However, this doesn't mean that when you decide to start a business that you're just starting. You could start making new money tomorrow.

I was fishing with my son and taught him that you can't catch a fish unless your line is in the water. A truth my dad once taught me.
You may have spent years learning a skill or creating a product or service that you just simply haven't thought to monetize. Like leaving a fishing pole on the ground along side the river, but not having your line in the water yet.

All you need to create a new stream of income is to make something consumable and offer it at a price that someone will pay.

If you're not making offers, you're not making money.

Get your line in the water! — Richie Norton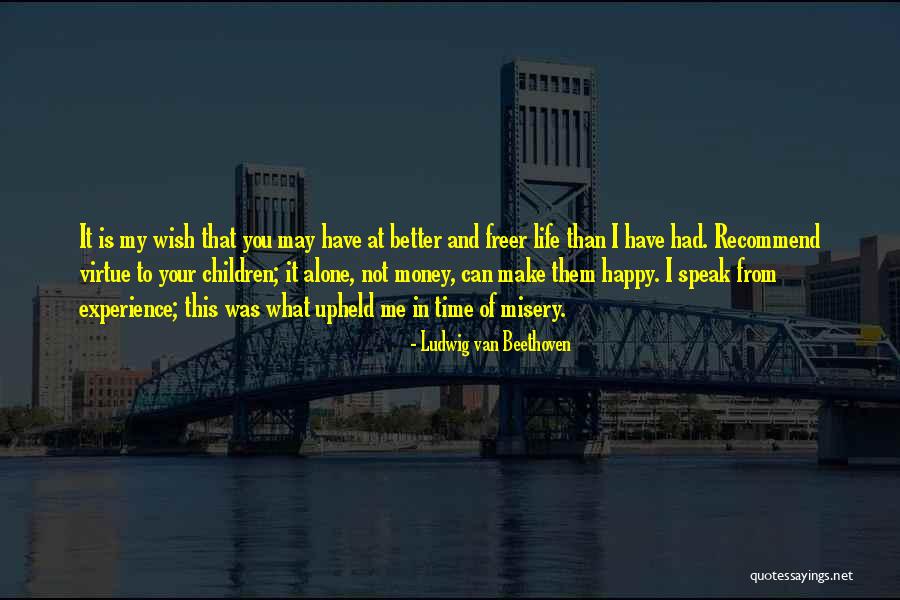 It is my wish that you may have at better and freer life than I have had. Recommend virtue to your children; it alone, not money, can make them happy. I speak from experience; this was what upheld me in time of misery. — Ludwig Van Beethoven
I have a song I wrote called "Autobiography." I came from a very intense living situation, with having a parent on drugs and not having a lot of money. So I always want to talk about the real things. But I think 90 percent of my music, I want it to be 'feel-good music'. I'm already recording tracks for my album, but when it comes time to actually say, 'this is the album,' I may be in a completely different space than I'm in right now. — Nicki Minaj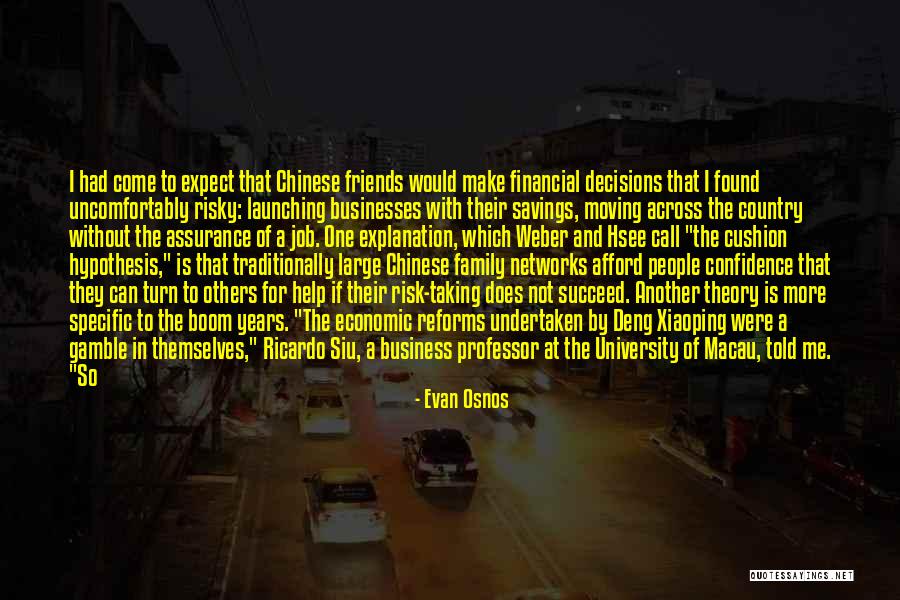 I had come to expect that Chinese friends would make financial decisions that I found uncomfortably risky: launching businesses with their savings, moving across the country without the assurance of a job. One explanation, which Weber and Hsee call "the cushion hypothesis," is that traditionally large Chinese family networks afford people confidence that they can turn to others for help if their risk-taking does not succeed. Another theory is more specific to the boom years. "The economic reforms undertaken by Deng Xiaoping were a gamble in themselves," Ricardo Siu, a business professor at the University of Macau, told me. "So people got the idea that taking a risk is not just okay; it has utility." For those who have come from poverty to the middle class, he added, "the thinking may be, If I lose half my money, well, I've lived through that. I won't be poor again. And in several years I can earn it back. But if I win? I'm a millionaire! — Evan Osnos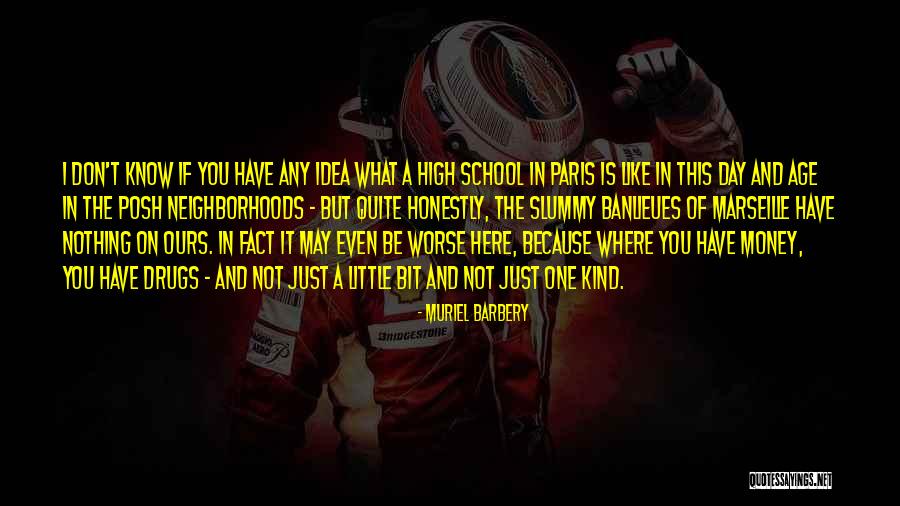 I don't know if you have any idea what a high school in Paris is like in this day and age in the posh neighborhoods - but quite honestly, the slummy banlieues of Marseille have nothing on ours. In fact it may even be worse here, because where you have money, you have drugs - and not just a little bit and not just one kind. — Muriel Barbery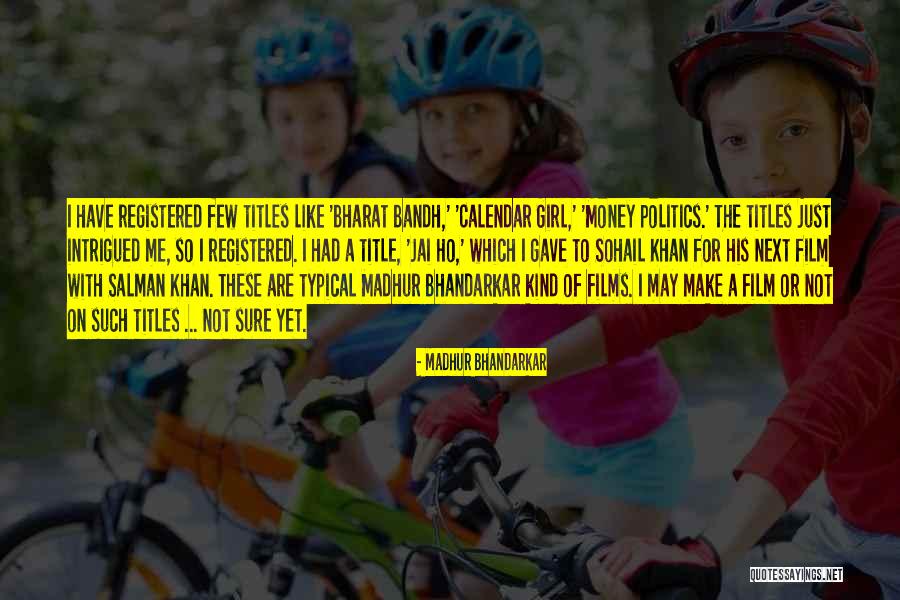 I have registered few titles like 'Bharat Bandh,' 'Calendar Girl,' 'Money Politics.' The titles just intrigued me, so I registered. I had a title, 'Jai Ho,' which I gave to Sohail Khan for his next film with Salman Khan. These are typical Madhur Bhandarkar kind of films. I may make a film or not on such titles ... not sure yet. — Madhur Bhandarkar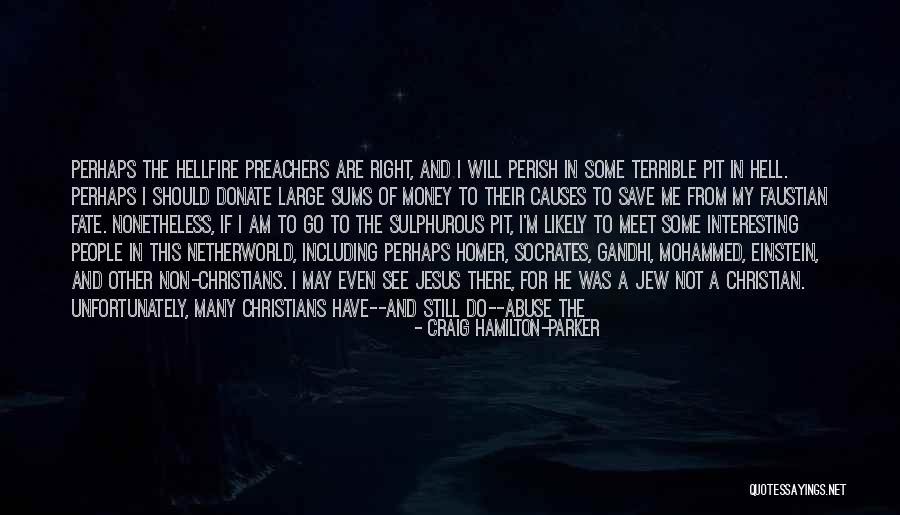 Perhaps the hellfire preachers are right, and I will perish in some terrible pit in hell. Perhaps I should donate large sums of money to their causes to save me from my Faustian fate. Nonetheless, if I am to go to the sulphurous pit, I'm likely to meet some interesting people in this netherworld, including perhaps Homer, Socrates, Gandhi, Mohammed, Einstein, and other non-Christians. I may even see Jesus there, for he was a Jew not a Christian. Unfortunately, many Christians have--and still do--abuse the — Craig Hamilton-Parker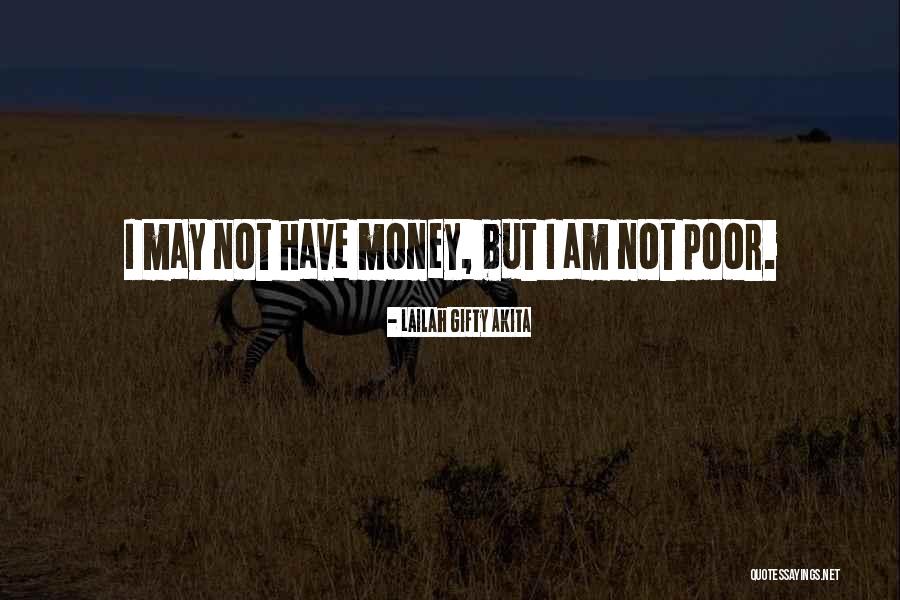 I may not have money, but I am not poor. — Lailah Gifty Akita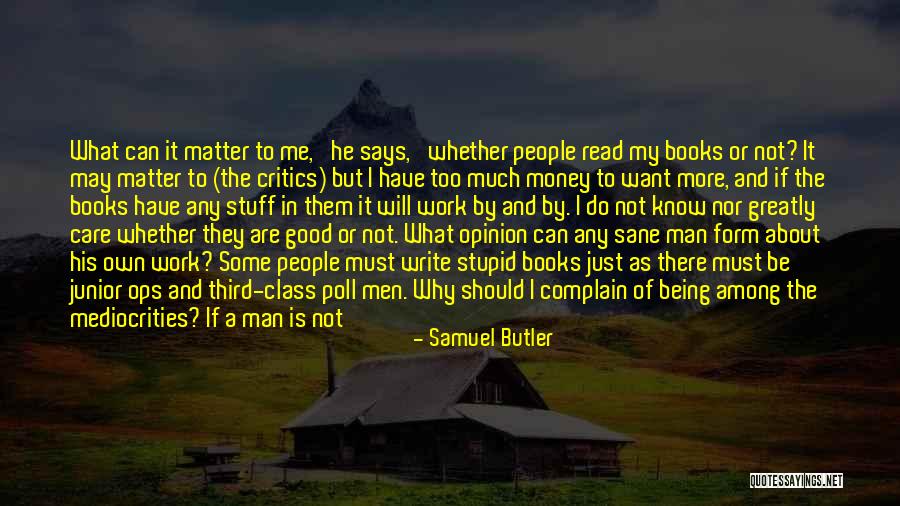 What can it matter to me,' he says, 'whether people read my books or not? It may matter to (the critics)
but I have too much money to want more, and if the books have any stuff in them it will work by and by. I do not know nor greatly care whether they are good or not. What opinion can any sane man form about his own work? Some people must write stupid books just as there must be junior ops and third-class poll men. Why should I complain of being among the mediocrities? If a man is not absolutely below mediocrity let him be thankful
besides, the books will have to stand by themselves some day, so the sooner they begin the better. — Samuel Butler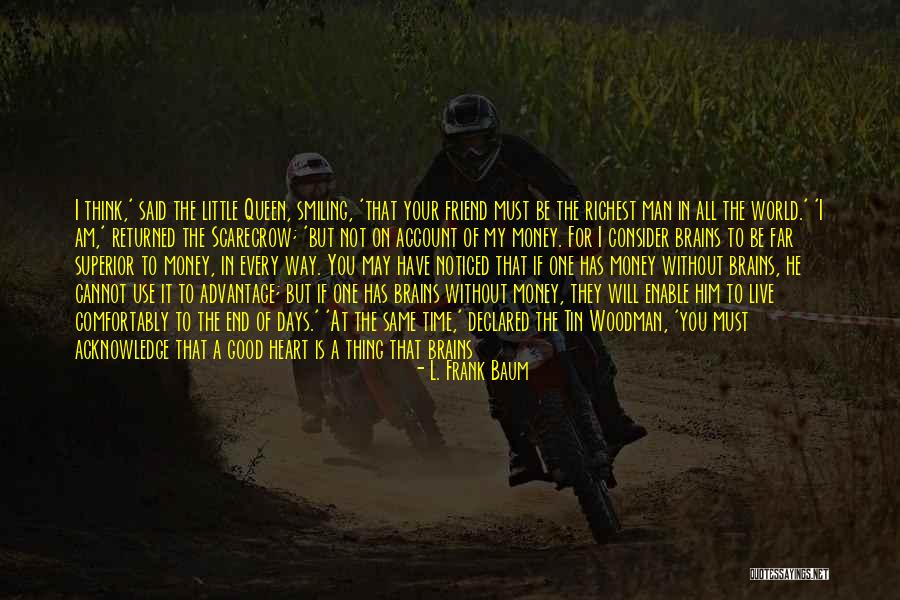 I think,' said the little Queen, smiling, 'that your friend must be the richest man in all the world.' 'I am,' returned the Scarecrow; 'but not on account of my money. For I consider brains to be far superior to money, in every way. You may have noticed that if one has money without brains, he cannot use it to advantage; but if one has brains without money, they will enable him to live comfortably to the end of days.' 'At the same time,' declared the Tin Woodman, 'you must acknowledge that a good heart is a thing that brains cannot create, and that money cannot buy. Perhaps, after all it is I who am the richest man in all the world.' 'You are both rich, my friends,' said Ozma gently; 'and your riches are the only riches worth having - the riches of content!' - The Marvellous Land Of Oz by L. Frank Baum pg 192 chapter 24 — L. Frank Baum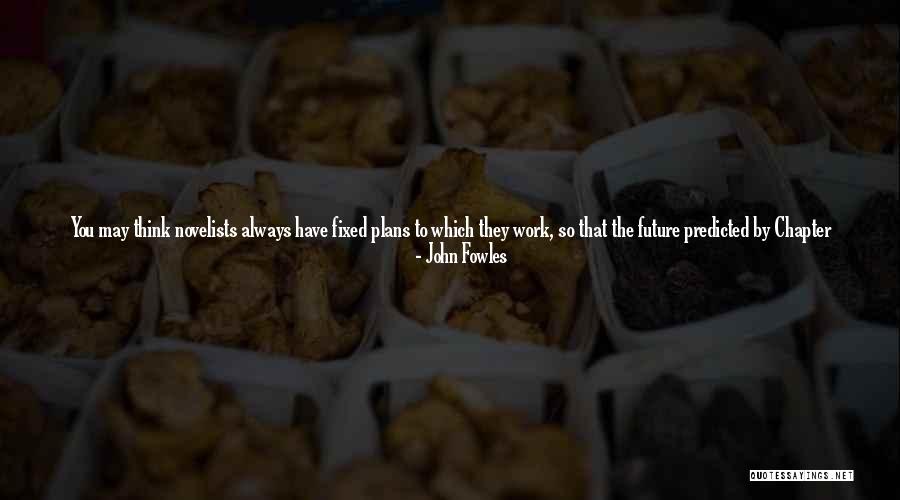 You may think novelists always have fixed plans to which they work, so that the future predicted by Chapter One is always inexorably the actuality of Chapter Thirteen. But novelists write for countless different reasons: for money, for fame, for reviewers, for parents, for friends, for loved ones; for vanity, for pride, for curiosity, for amusement: as skilled furniture makers enjoy making furniture, as drunkards like drinking, as judges like judging, as Sicilians like emptying a shotgun into an enemy's back. I could fill a book with reasons, and they would all be true, though not true of all. Only one same reason is shared by all of us: we wish to create worlds as real as, but other than the world that is. Or was. This is why we cannot plan. We know a world is an organism, not a machine. — John Fowles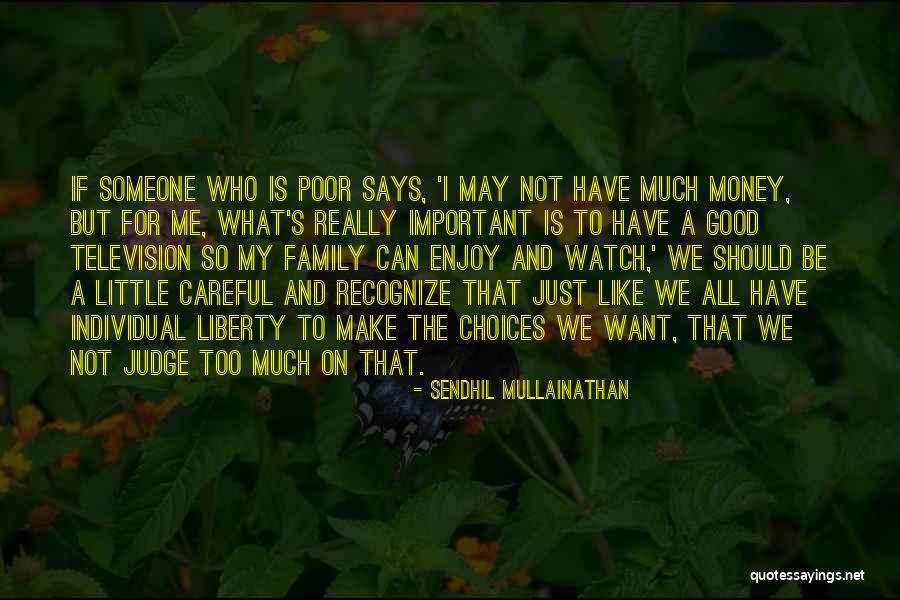 If someone who is poor says, 'I may not have much money, but for me, what's really important is to have a good television so my family can enjoy and watch,' we should be a little careful and recognize that just like we all have individual liberty to make the choices we want, that we not judge too much on that. — Sendhil Mullainathan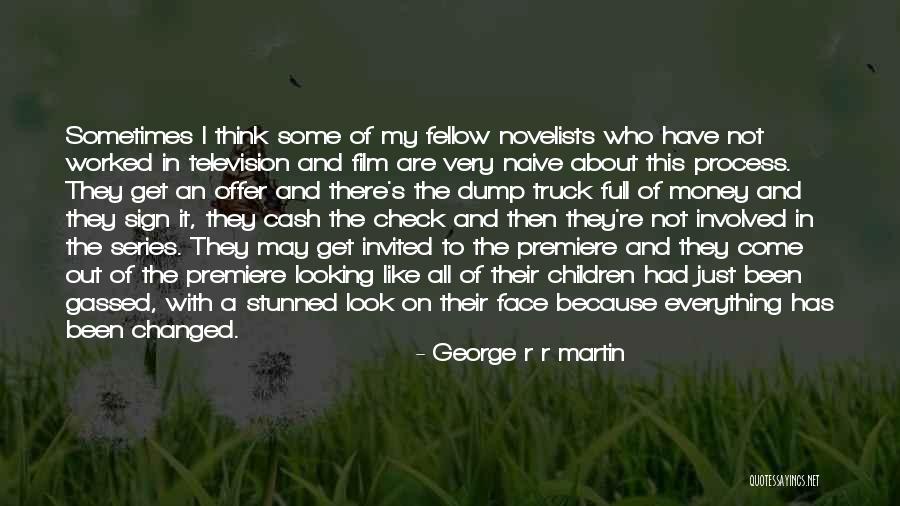 Sometimes I think some of my fellow novelists who have not worked in television and film are very naive about this process. They get an offer and there's the dump truck full of money and they sign it, they cash the check and then they're not involved in the series. They may get invited to the premiere and they come out of the premiere looking like all of their children had just been gassed, with a stunned look on their face because everything has been changed. — George R R Martin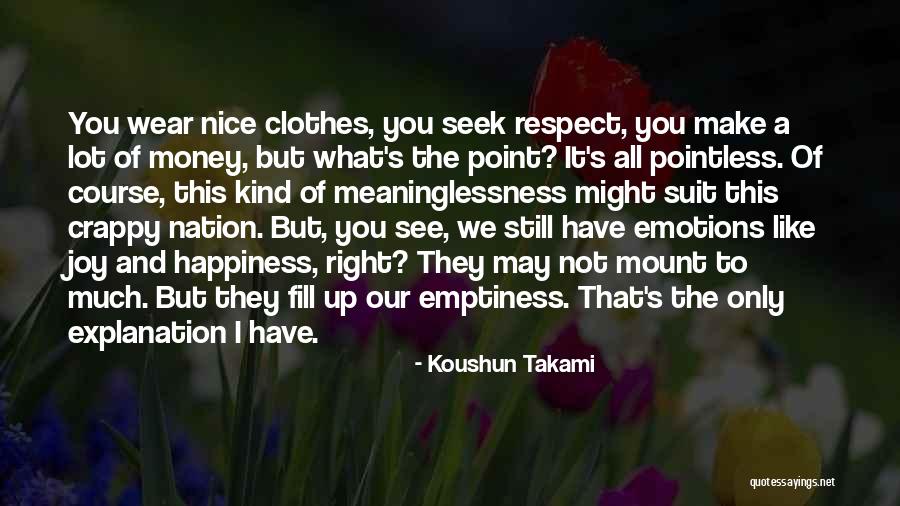 You wear nice clothes, you seek respect, you make a lot of money, but what's the point? It's all pointless. Of course, this kind of meaninglessness might suit this crappy nation. But, you see, we still have emotions like joy and happiness, right? They may not mount to much. But they fill up our emptiness. That's the only explanation I have. — Koushun Takami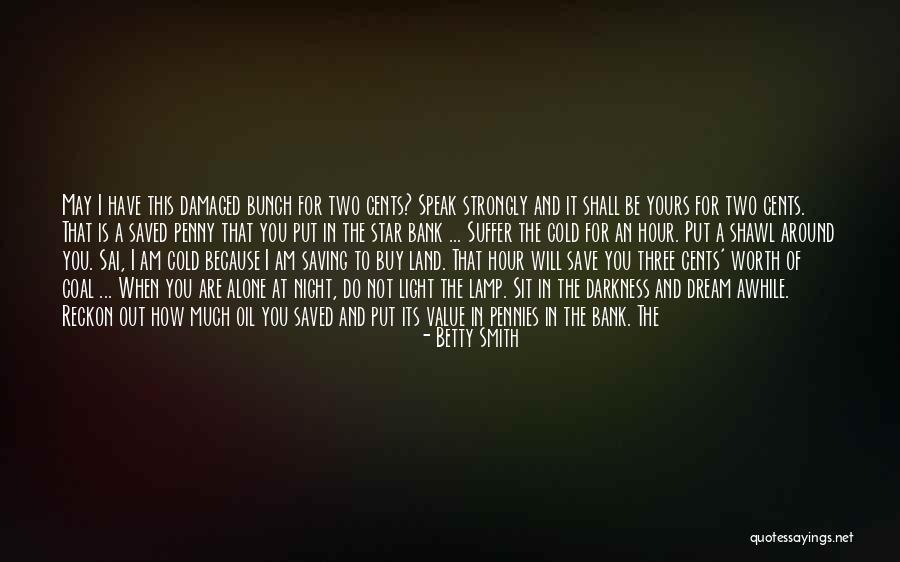 May I have this damaged bunch for two cents? Speak strongly and it shall be yours for two cents. That is a saved penny that you put in the star bank ... Suffer the cold for an hour. Put a shawl around you. Sai, I am cold because I am saving to buy land. That hour will save you three cents' worth of coal ... When you are alone at night, do not light the lamp. Sit in the darkness and dream awhile. Reckon out how much oil you saved and put its value in pennies in the bank. The money will grow. Someday there will be fifty dollars and somewhere on this long island is a piece of land that you may buy for that money. — Betty Smith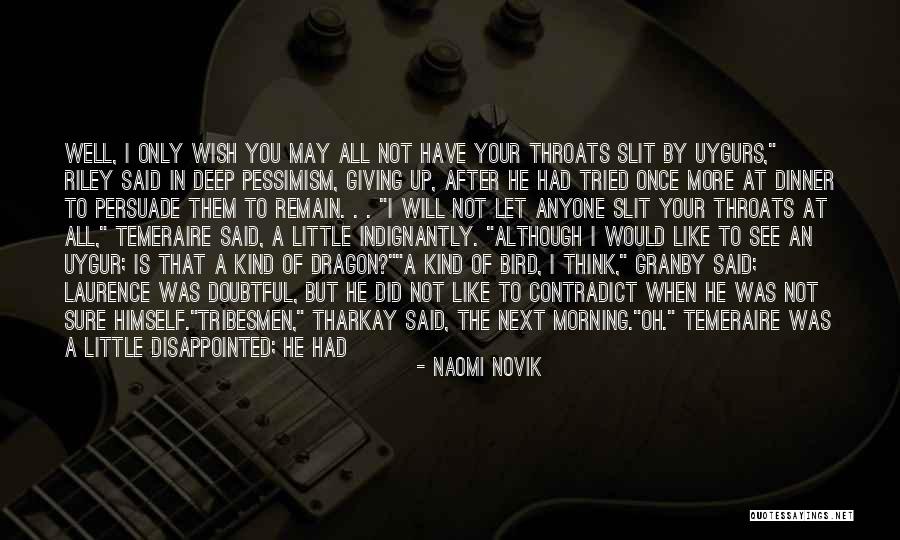 Well, I only wish you may all not have your throats slit by Uygurs," Riley said in deep pessimism, giving up, after he had tried once more at dinner to persuade them to remain. . .
"I will not let anyone slit your throats at all," Temeraire said, a little indignantly. "Although I would like to see an Uygur; is that a kind of dragon?"
"A kind of bird, I think," Granby said; Laurence was doubtful, but he did not like to contradict when he was not sure himself.
"Tribesmen," Tharkay said, the next morning.
"Oh." Temeraire was a little disappointed; he had seen people before. "That is not very exciting, but perhaps they are very fierce?" he asked hopefully.
"Have you enough money to buy thirty camels?" Tharkay asked Laurence, after he had finally escaped a lengthy interrogation as to the many other prospective delights of their journey, such as violent sandstorms and frozen mountain passes. — Naomi Novik
Every time I started a business and the people told me I was an idiot, I ended up making a lot of money. Si Redd used to say me, "Boy, you gotta be where they ain't." What that means is that you find areas of low competition because high competition means lower margins, and lower margins mean less profit. So we were always looking for places where we can be unique. If the thinking is out-of-the-box, people may not understand because they have not seen it before ... Therefore you are an idiot. — Bob Davids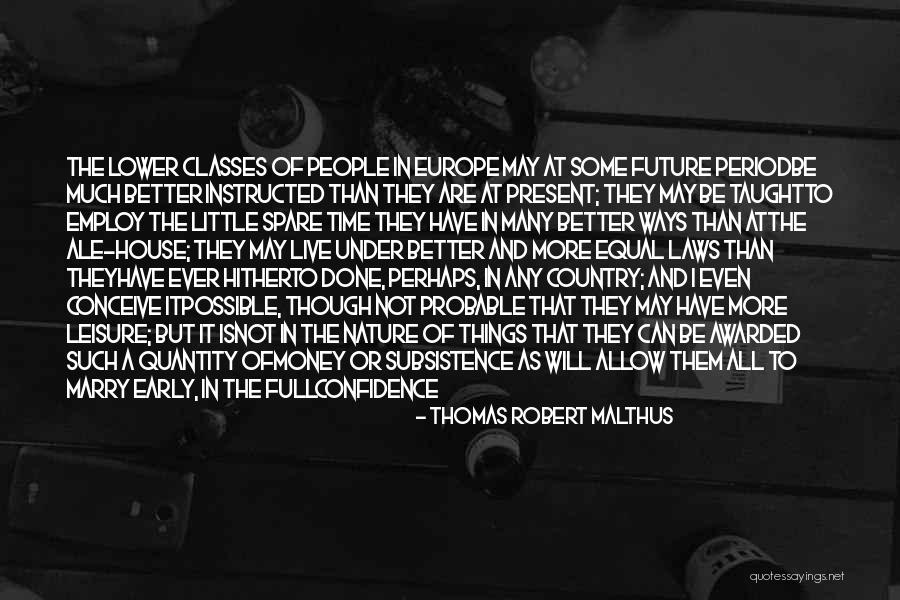 The lower classes of people in Europe may at some future period
be much better instructed than they are at present; they may be taught
to employ the little spare time they have in many better ways than at
the ale-house; they may live under better and more equal laws than they
have ever hitherto done, perhaps, in any country; and I even conceive it
possible, though not probable that they may have more leisure; but it is
not in the nature of things that they can be awarded such a quantity of
money or subsistence as will allow them all to marry early, in the full
confidence that they shall be able to provide with ease for a numerous
family. — Thomas Robert Malthus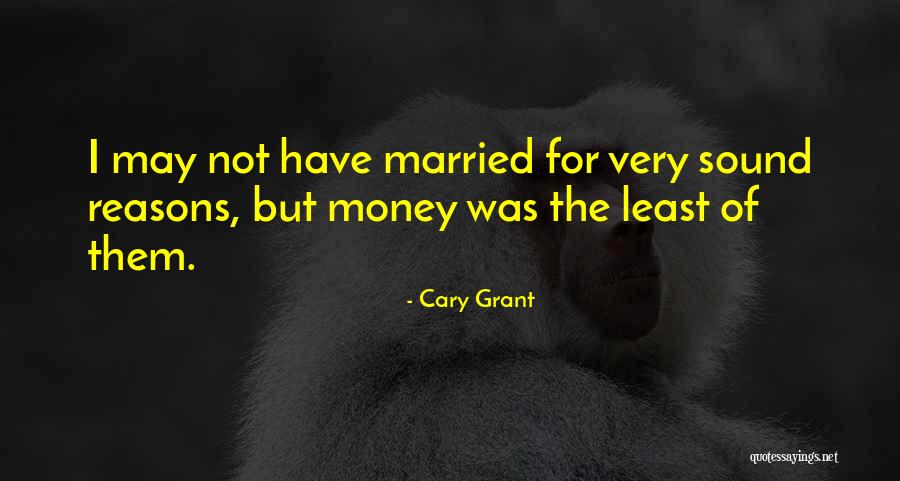 I may not have married for very sound reasons, but money was the least of them. — Cary Grant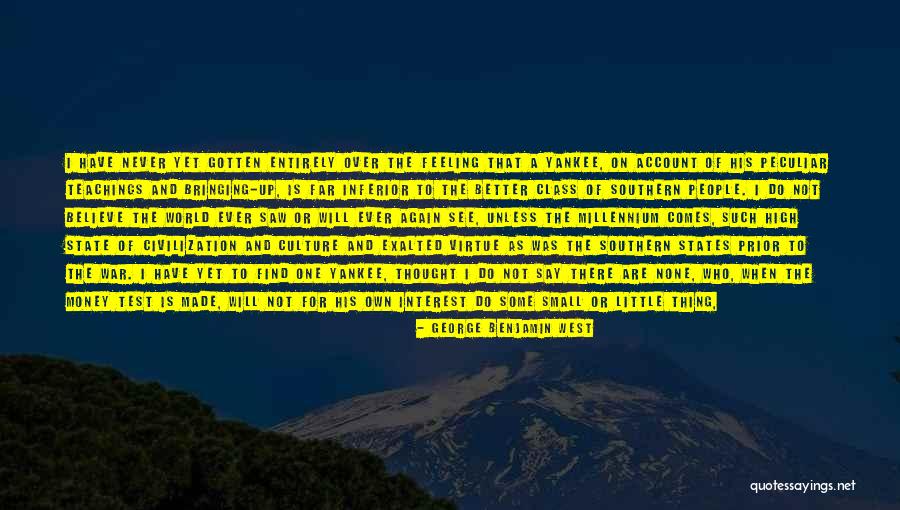 I have never yet gotten entirely over the feeling that a Yankee, on account of his peculiar teachings and bringing-up, is far inferior to the better class of Southern people. I do not believe the world ever saw or will ever again see, unless the millennium comes, such high state of civilization and culture and exalted virtue as was the Southern states prior to the war. I have yet to find one Yankee, thought I do not say there are none, who, when the money test is made, will not for his own interest do some small or little thing, and often mean thing, if it is to his advantage to do so.

Writing as I now do after the lapse of nearly 40 years (and years do soften, and old age ought to) one may somewhat judge my feeling about the Yankees when the war ended. — George Benjamin West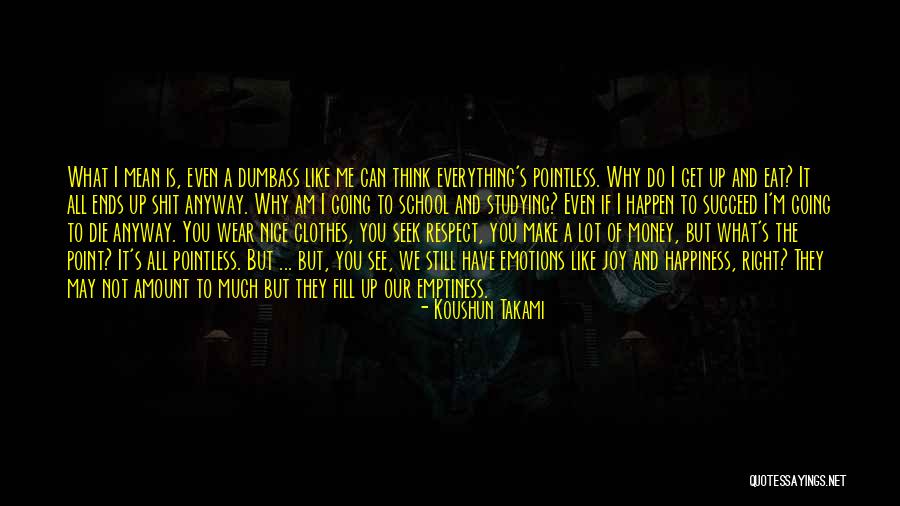 What I mean is, even a dumbass like me can think everything's pointless. Why do I get up and eat? It all ends up shit anyway. Why am I going to school and studying? Even if I happen to succeed I'm going to die anyway. You wear nice clothes, you seek respect, you make a lot of money, but what's the point? It's all pointless. But ... but, you see, we still have emotions like joy and happiness, right? They may not amount to much but they fill up our emptiness. — Koushun Takami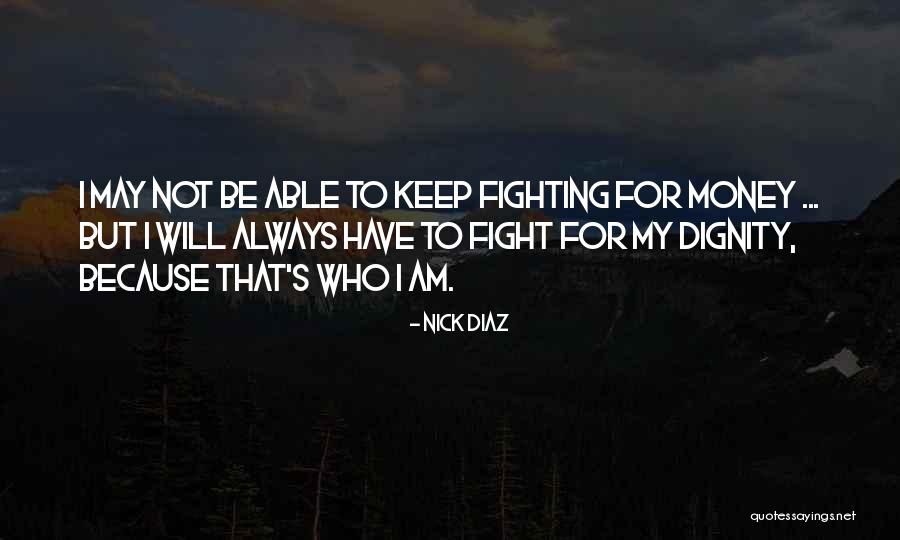 I may not be able to keep fighting for money ... but I will always have to fight for my dignity, because that's who I am. — Nick Diaz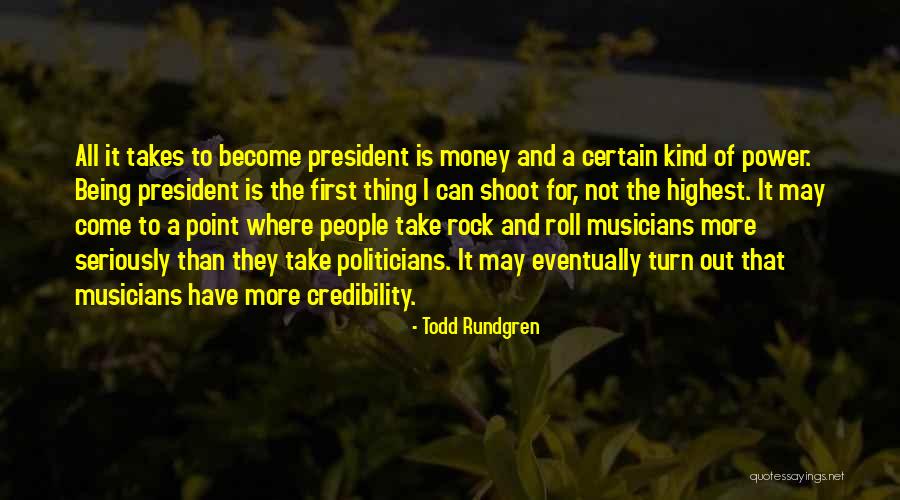 All it takes to become president is money and a certain kind of power. Being president is the first thing I can shoot for, not the highest. It may come to a point where people take rock and roll musicians more seriously than they take politicians. It may eventually turn out that musicians have more credibility. — Todd Rundgren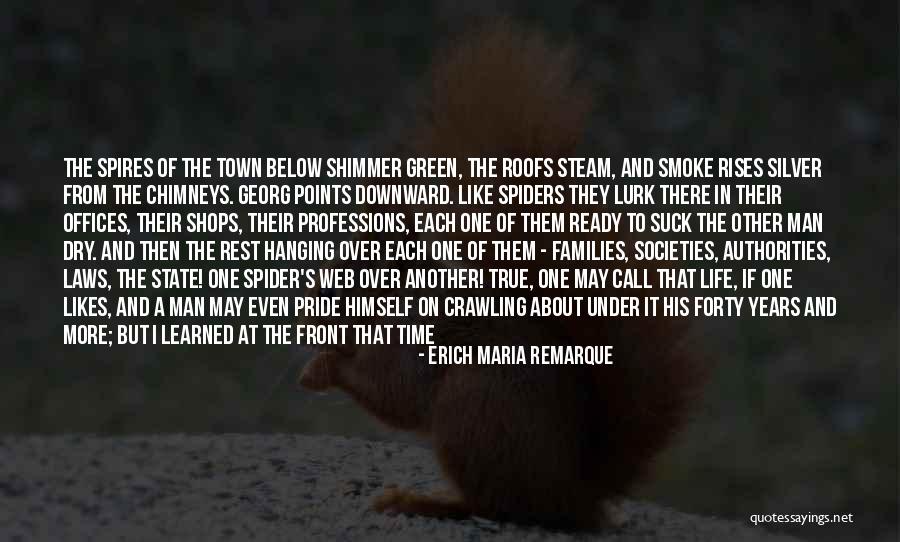 The spires of the town below shimmer green, the roofs steam, and smoke rises silver from the chimneys. Georg points downward. Like spiders they lurk there in their offices, their shops, their professions, each one of them ready to suck the other man dry. And then the rest hanging over each one of them - families, societies, authorities, laws, the State! One spider's web over another! True, one may call that life, if one likes, and a man may even pride himself on crawling about under it his forty years and more; but I learned at the Front that time is not the measure of life. Why should I climb down forty years? I have been putting all my money for years now on one card and the stake has always been life. I can't play now for halfpence, and small advances. — Erich Maria Remarque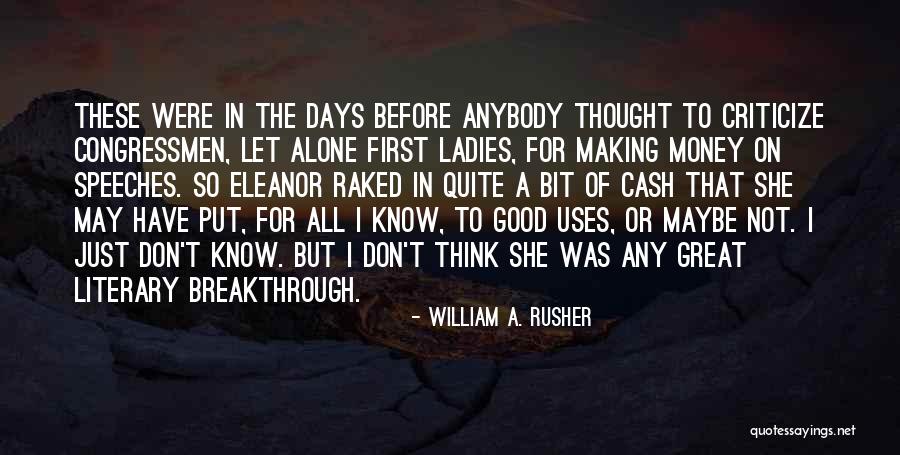 These were in the days before anybody thought to criticize Congressmen, let alone first ladies, for making money on speeches. So Eleanor raked in quite a bit of cash that she may have put, for all I know, to good uses, or maybe not. I just don't know. But I don't think she was any great literary breakthrough. — William A. Rusher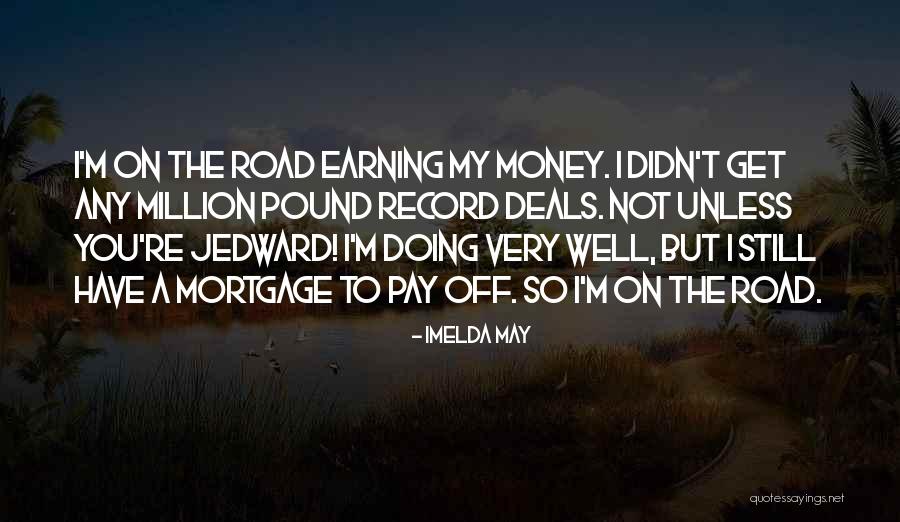 I'm on the road earning my money. I didn't get any million pound record deals. Not unless you're Jedward! I'm doing very well, but I still have a mortgage to pay off. So I'm on the road. — Imelda May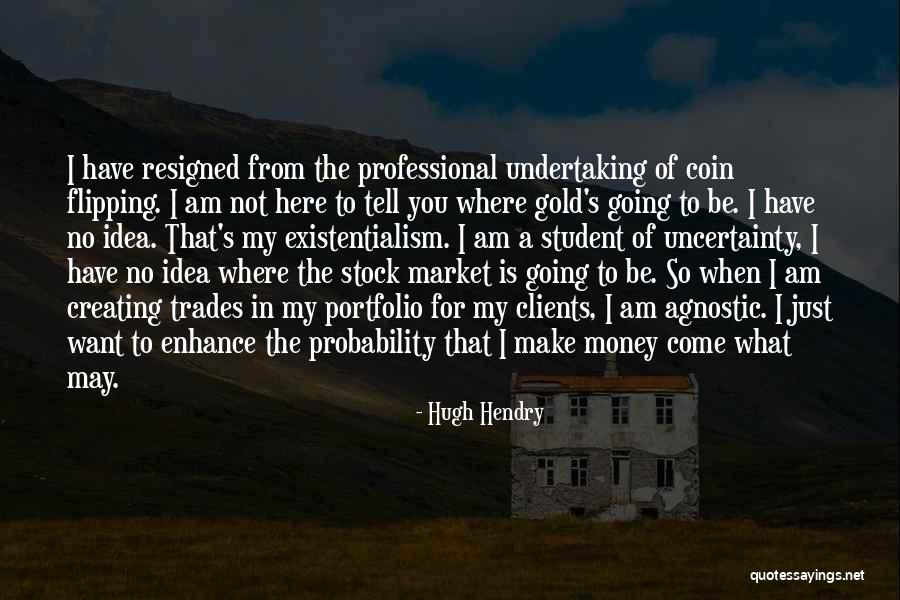 I have resigned from the professional undertaking of coin flipping. I am not here to tell you where gold's going to be. I have no idea. That's my existentialism. I am a student of uncertainty, I have no idea where the stock market is going to be. So when I am creating trades in my portfolio for my clients, I am agnostic. I just want to enhance the probability that I make money come what may. — Hugh Hendry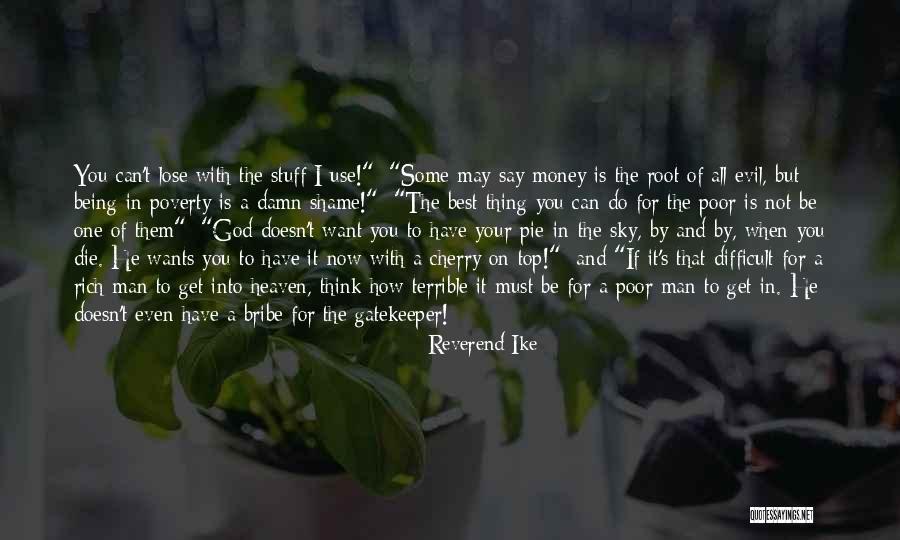 You can't lose with the stuff I use!"; "Some may say money is the root of all evil, but being in poverty is a damn shame!"; "The best thing you can do for the poor is not be one of them"; "God doesn't want you to have your pie-in-the-sky, by and by, when you die. He wants you to have it now with a cherry on top!"; and "If it's that difficult for a rich man to get into heaven, think how terrible it must be for a poor man to get in. He doesn't even have a bribe for the gatekeeper! — Reverend Ike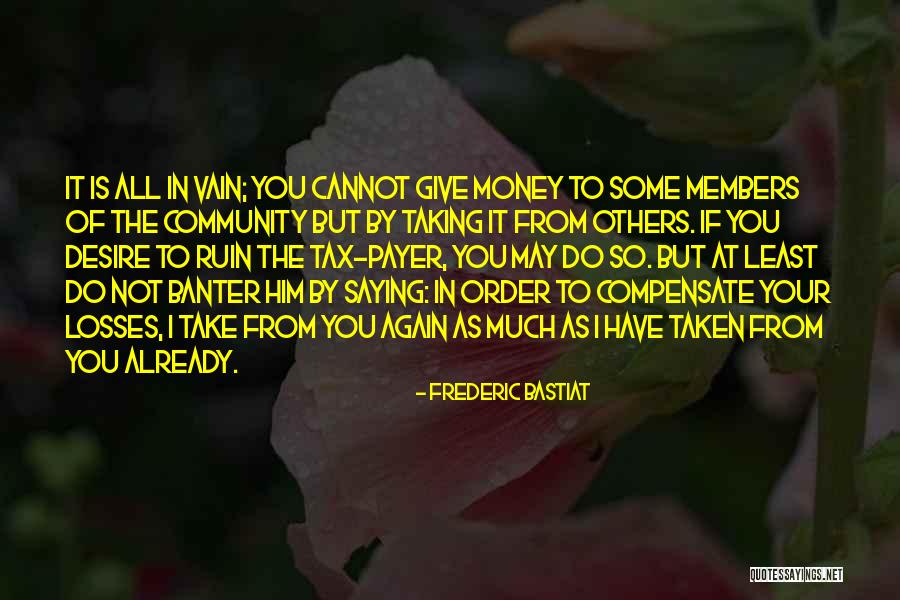 It is all in vain; you cannot give money to some members of the community but by taking it from others. If you desire to ruin the tax-payer, you may do so. But at least do not banter him by saying: In order to compensate your losses, I take from you again as much as I have taken from you already. — Frederic Bastiat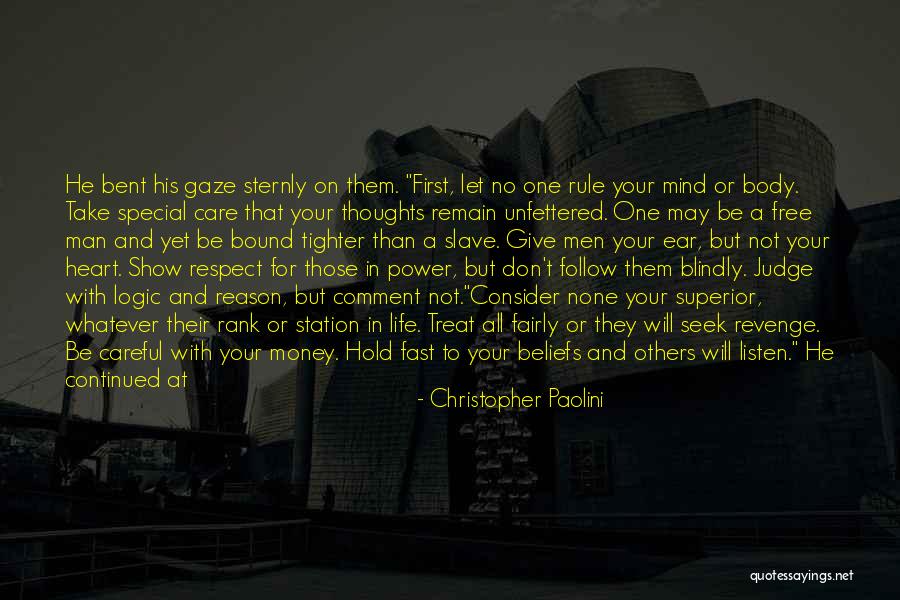 He bent his gaze sternly on them. "First, let no one rule your mind or body. Take special care that your thoughts remain unfettered. One may be a free man and yet be bound tighter than a slave. Give men your ear, but not your heart. Show respect for those in power, but don't follow them blindly. Judge with logic and reason, but comment not.
"Consider none your superior, whatever their rank or station in life. Treat all fairly or they will seek revenge. Be careful with your money. Hold fast to your beliefs and others will listen." He continued at a slower pace, "Of the affairs of love ... my only advice is to be honest. That's your most powerful took to unlock a heart or gain forgiveness. That's all I have to say." He seemed slightly self-conscious of his speech. — Christopher Paolini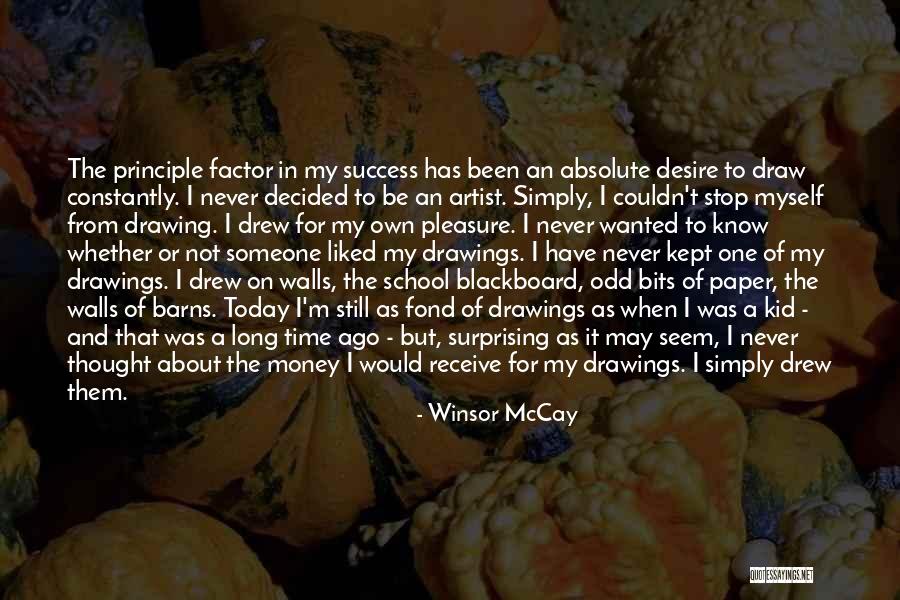 The principle factor in my success has been an absolute desire to draw constantly. I never decided to be an artist. Simply, I couldn't stop myself from drawing. I drew for my own pleasure. I never wanted to know whether or not someone liked my drawings. I have never kept one of my drawings. I drew on walls, the school blackboard, odd bits of paper, the walls of barns. Today I'm still as fond of drawings as when I was a kid - and that was a long time ago - but, surprising as it may seem, I never thought about the money I would receive for my drawings. I simply drew them. — Winsor McCay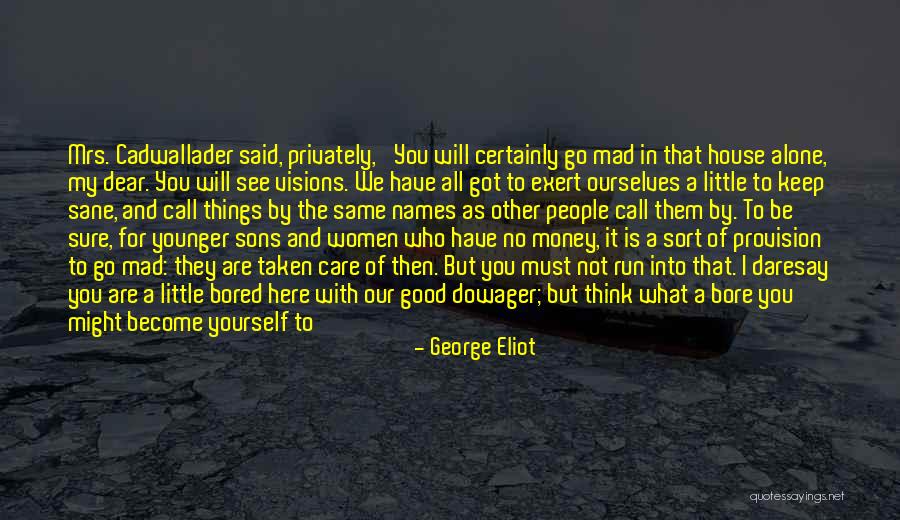 Mrs. Cadwallader said, privately, 'You will certainly go mad in that house alone, my dear. You will see visions. We have all got to exert ourselves a little to keep sane, and call things by the same names as other people call them by. To be sure, for younger sons and women who have no money, it is a sort of provision to go mad: they are taken care of then. But you must not run into that. I daresay you are a little bored here with our good dowager; but think what a bore you might become yourself to your fellow-creatures if you were always playing tragedy queen and taking things sublimely. Sitting alone in that library at Lowick you may fancy yourself ruling the weather; you must get a few people round you who wouldn't believe you if you told them. That is a good lowering medicine. — George Eliot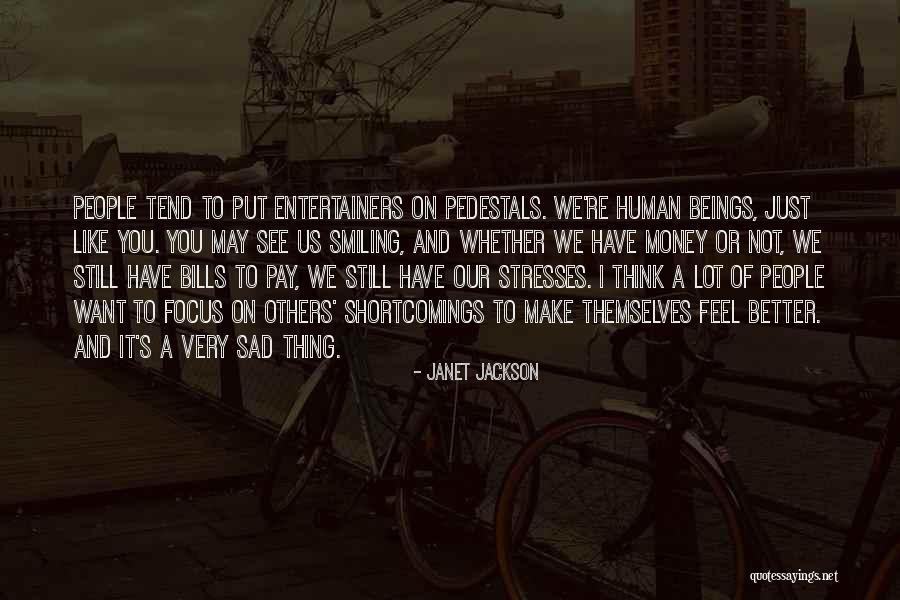 People tend to put entertainers on pedestals. We're human beings, just like you. You may see us smiling, and whether we have money or not, we still have bills to pay, we still have our stresses. I think a lot of people want to focus on others' shortcomings to make themselves feel better. And it's a very sad thing. — Janet Jackson