Quotes & Sayings About History Repeat Itself
Enjoy reading and share 49 famous quotes about History Repeat Itself with everyone.
Top History Repeat Itself Quotes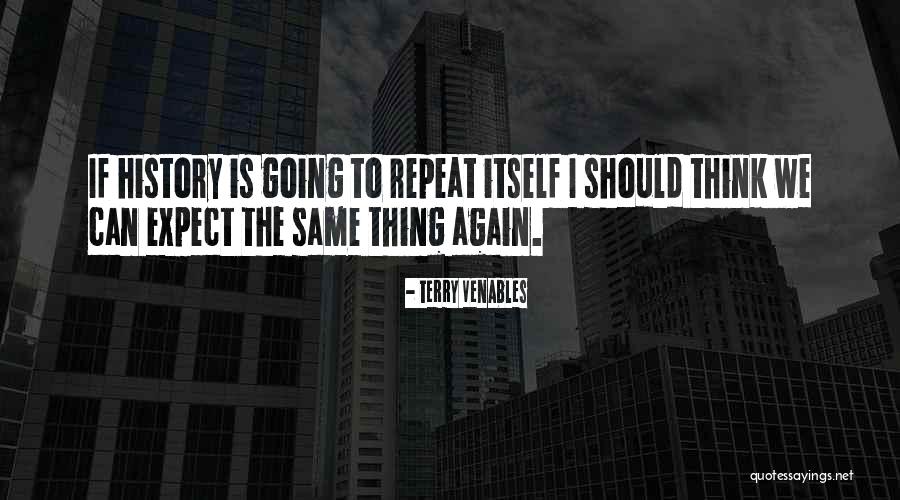 If history is going to repeat itself I should think we can expect the same thing again. — Terry Venables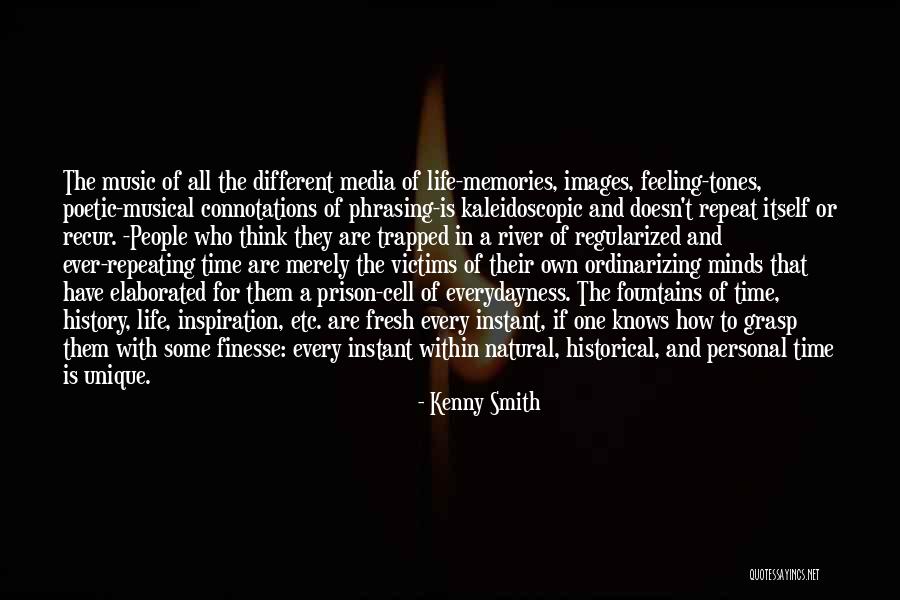 The music of all the different media of life-memories, images, feeling-tones, poetic-musical connotations of phrasing-is kaleidoscopic and doesn't repeat itself or recur. -People who think they are trapped in a river of regularized and ever-repeating time are merely the victims of their own ordinarizing minds that have elaborated for them a prison-cell of everydayness. The fountains of time, history, life, inspiration, etc. are fresh every instant, if one knows how to grasp them with some finesse: every instant within natural, historical, and personal time is unique. — Kenny Smith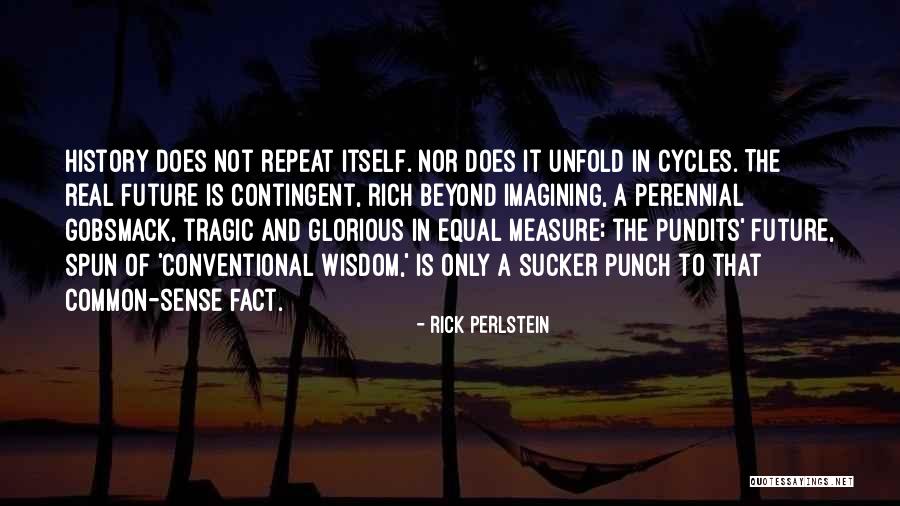 History does not repeat itself. Nor does it unfold in cycles. The real future is contingent, rich beyond imagining, a perennial gobsmack, tragic and glorious in equal measure; the pundits' future, spun of 'conventional wisdom,' is only a sucker punch to that common-sense fact. — Rick Perlstein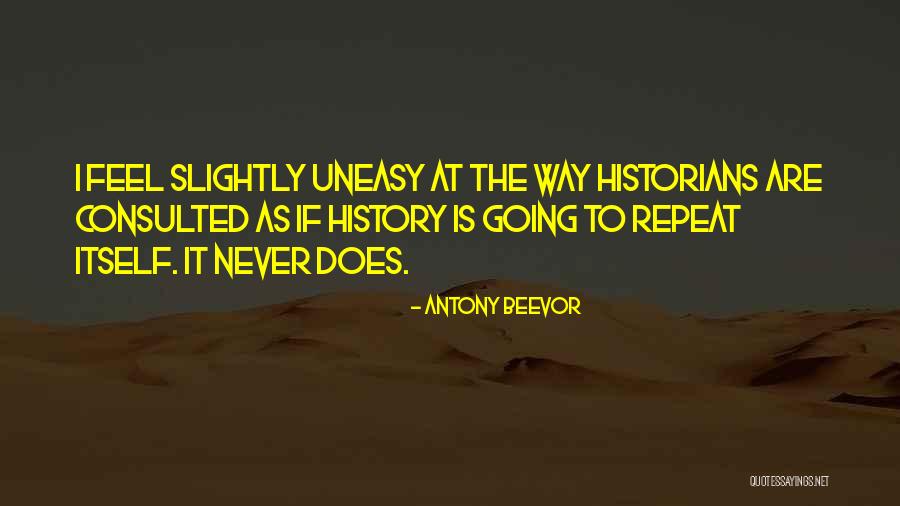 I feel slightly uneasy at the way historians are consulted as if history is going to repeat itself. It never does. — Antony Beevor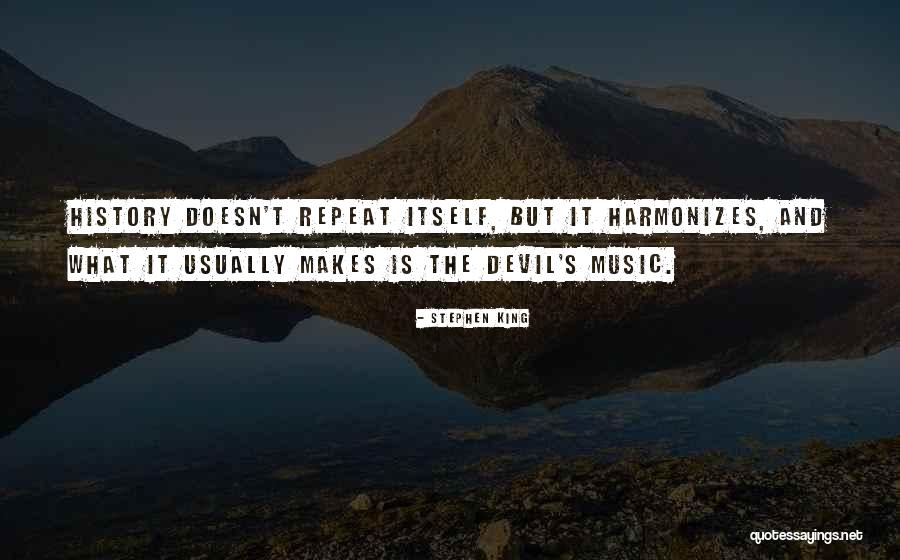 History doesn't repeat itself, but it harmonizes, and what it usually makes is the devil's music. — Stephen King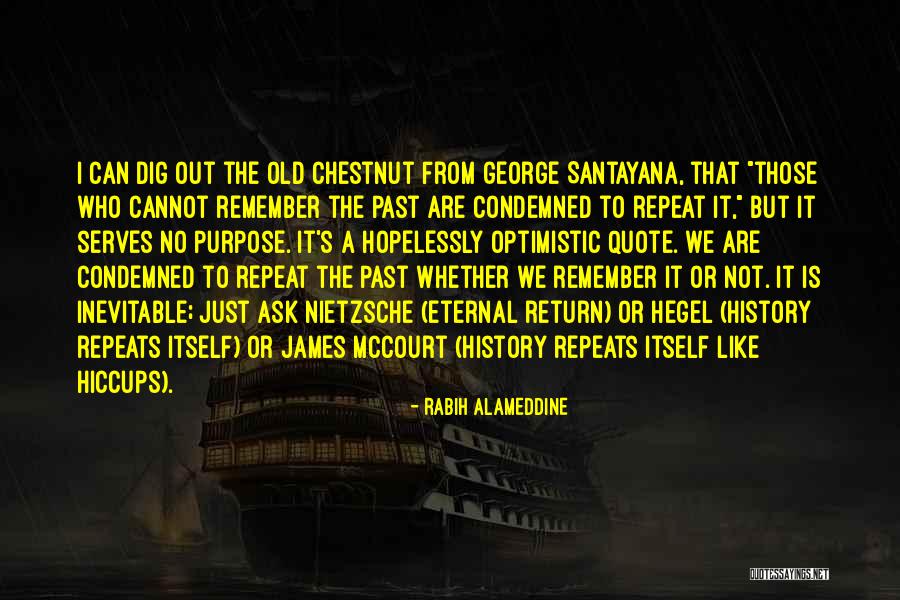 I can dig out the old chestnut from George Santayana, that "those who cannot remember the past are condemned to repeat it," but it serves no purpose. It's a hopelessly optimistic quote. We are condemned to repeat the past whether we remember it or not. It is inevitable; just ask Nietzsche (eternal return) or Hegel (history repeats itself) or James McCourt (history repeats itself like hiccups). — Rabih Alameddine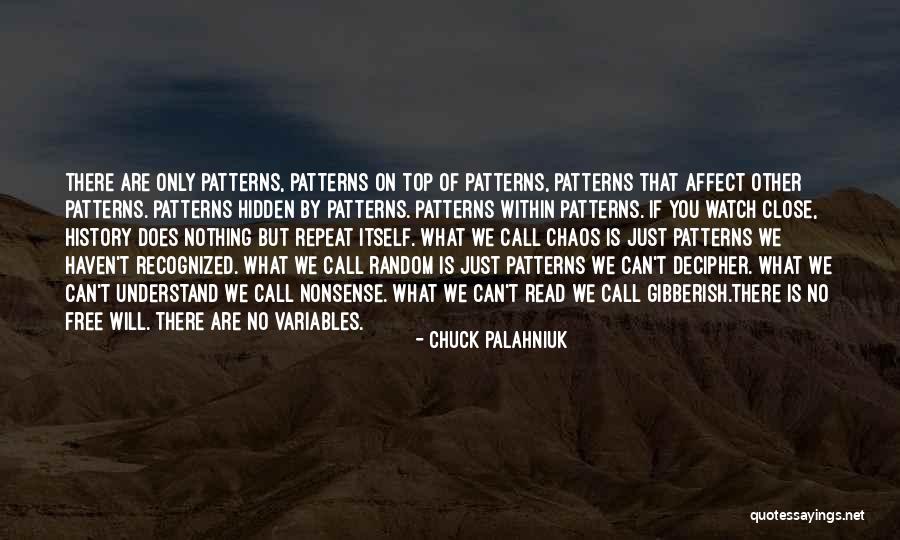 There are only patterns, patterns on top of patterns, patterns that affect other patterns. Patterns hidden by patterns. Patterns within patterns.
If you watch close, history does nothing but repeat itself.
What we call chaos is just patterns we haven't recognized. What we call random is just patterns we can't decipher. what we can't understand we call nonsense. What we can't read we call gibberish.
There is no free will.
There are no variables. — Chuck Palahniuk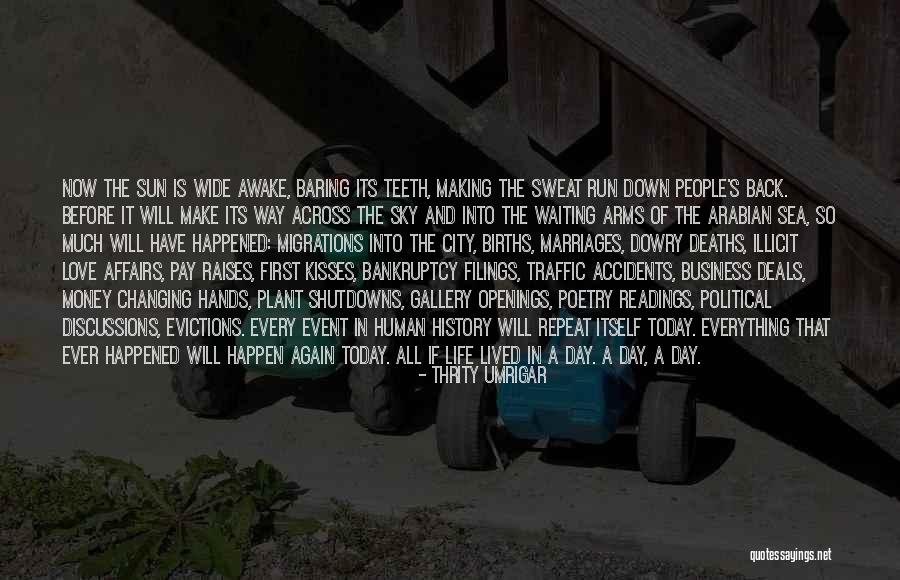 Now the sun is wide awake, baring its teeth, making the sweat run down people's back. Before it will make its way across the sky and into the waiting arms of the Arabian Sea, so much will have happened: migrations into the city, births, marriages, dowry deaths, illicit love affairs, pay raises, first kisses, bankruptcy filings, traffic accidents, business deals, money changing hands, plant shutdowns, gallery openings, poetry readings, political discussions, evictions. Every event in human history will repeat itself today. Everything that ever happened will happen again today. All if life lived in a day. A day, a day. A silver urn of promise and hope. Another chance. At reinvention, at resurrection, at reincarnation. A day. The least and most of all of our lives. — Thrity Umrigar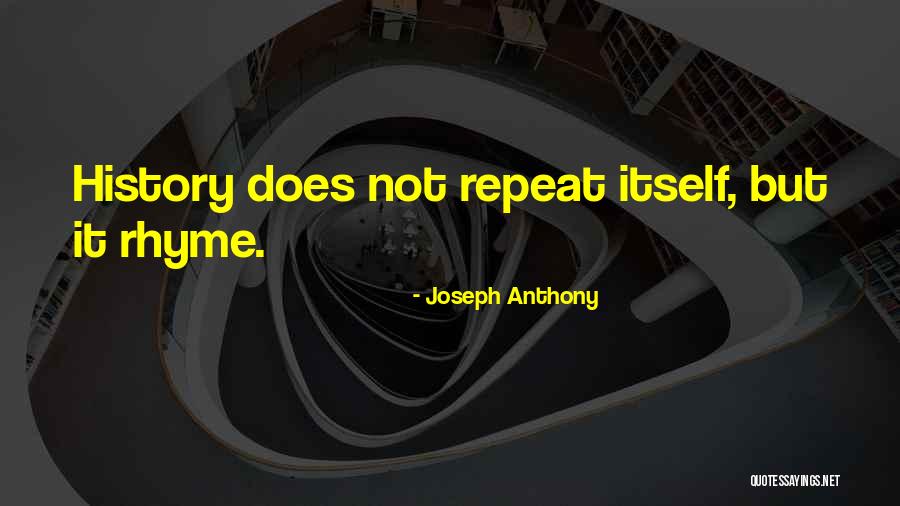 History does not repeat itself, but it rhyme. — Joseph Anthony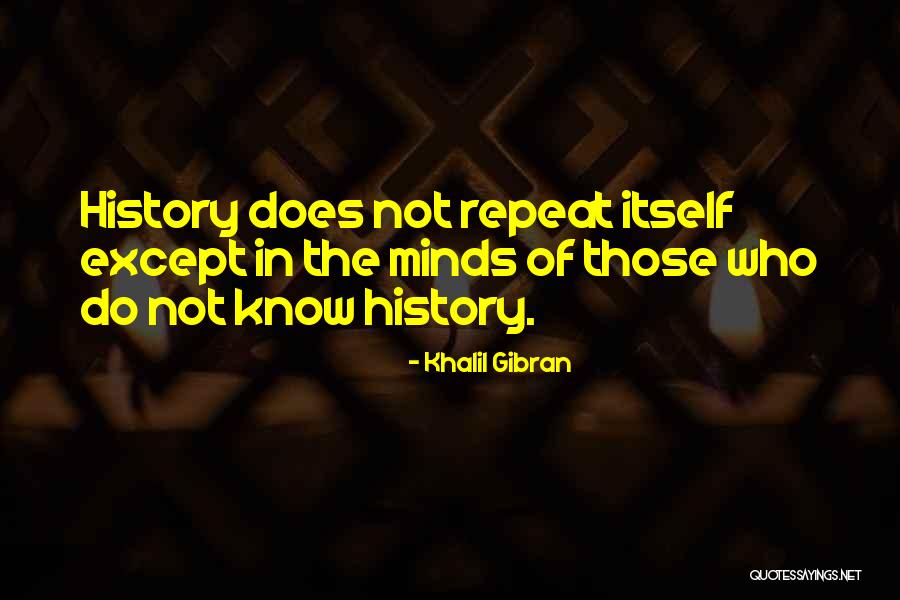 History does not repeat itself except in the minds of those who do not know history. — Khalil Gibran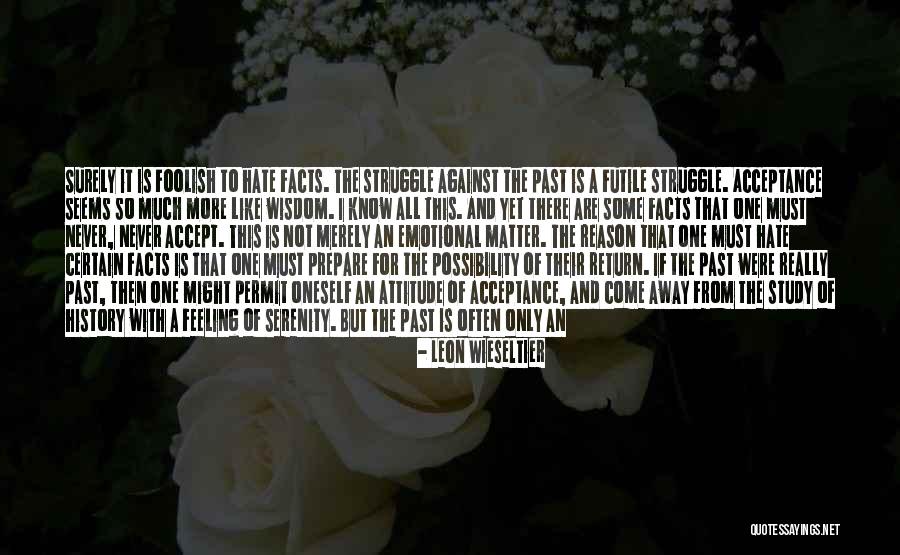 Surely it is foolish to hate facts. The struggle against the past is a futile struggle. Acceptance seems so much more like wisdom. I know all this. And yet there are some facts that one must never, never accept. This is not merely an emotional matter. The reason that one must hate certain facts is that one must prepare for the possibility of their return. If the past were really past, then one might permit oneself an attitude of acceptance, and come away from the study of history with a feeling of serenity. But the past is often only an earlier instantiation of the evil in our hearts. It is not precisely the case that history repeats itself. We repeat history - or we do not repeat it, if we choose to stand in the way of its repetition. For this reason, it is one of the purposes of the study of history that we learn to oppose it. — Leon Wieseltier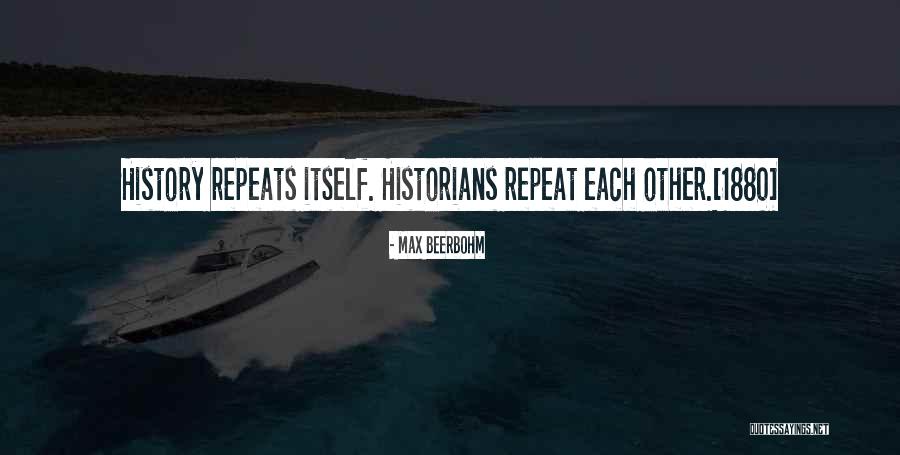 History repeats itself. Historians repeat each other.
[1880] — Max Beerbohm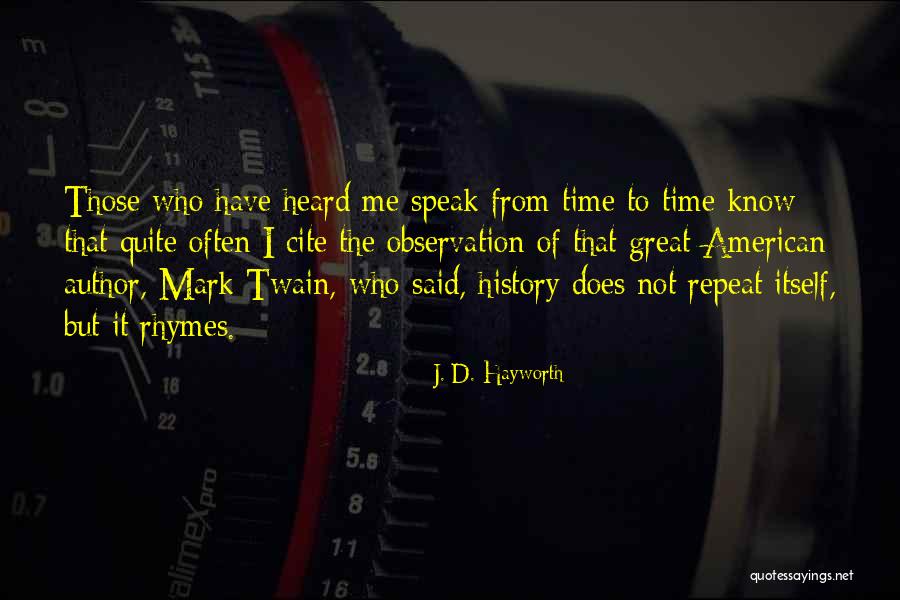 Those who have heard me speak from time to time know that quite often I cite the observation of that great American author, Mark Twain, who said, history does not repeat itself, but it rhymes. — J. D. Hayworth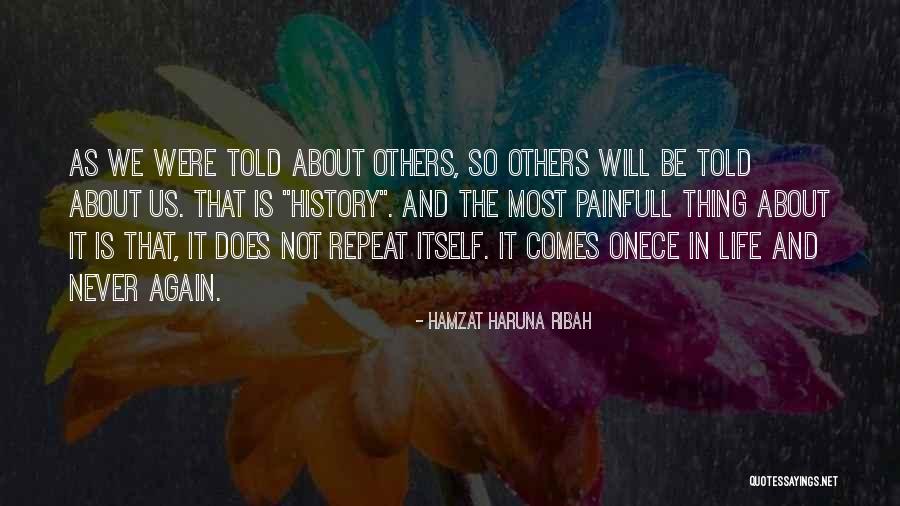 As we were told about others, so others will be told about us. that is "HISTORY". and the most painfull thing about it is that, it does not repeat itself. it comes onece in life and never again. — Hamzat Haruna Ribah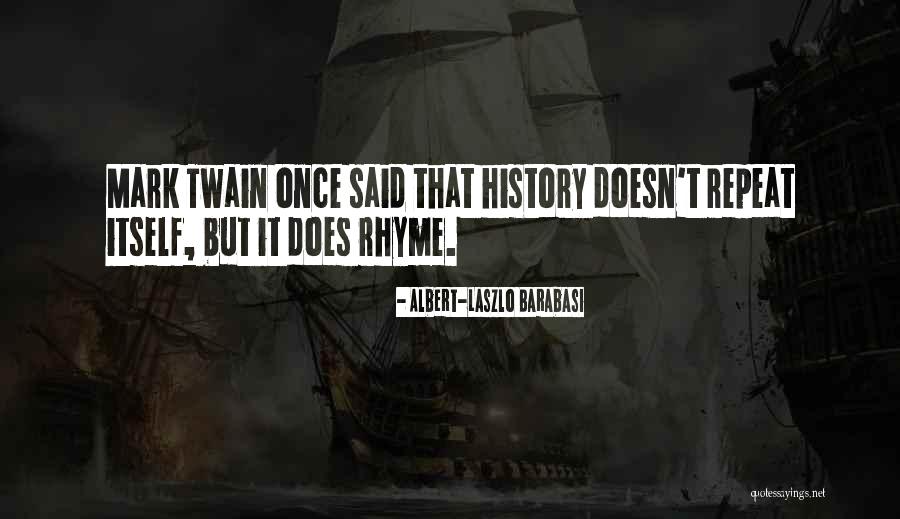 Mark Twain once said that history doesn't repeat itself, but it does rhyme. — Albert-Laszlo Barabasi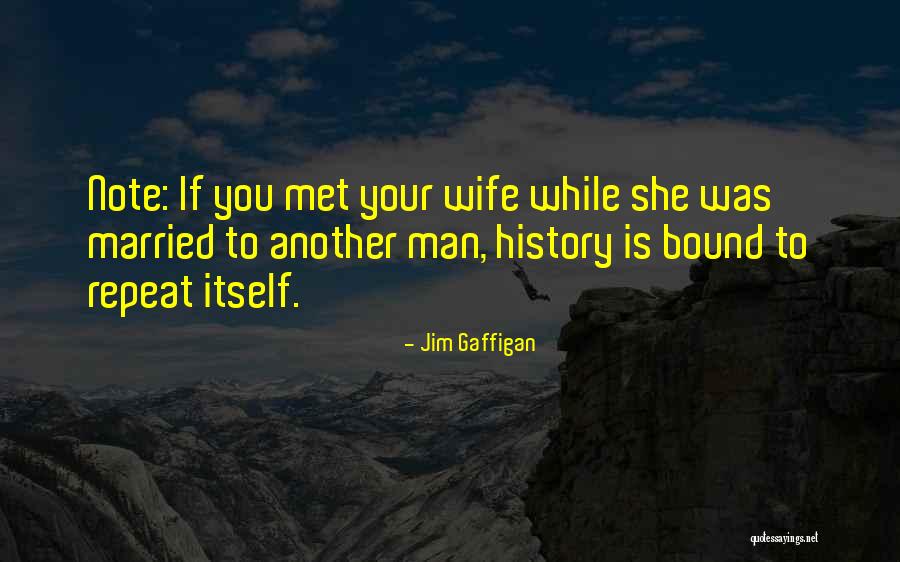 Note: If you met your wife while she was married to another man, history is bound to repeat itself. — Jim Gaffigan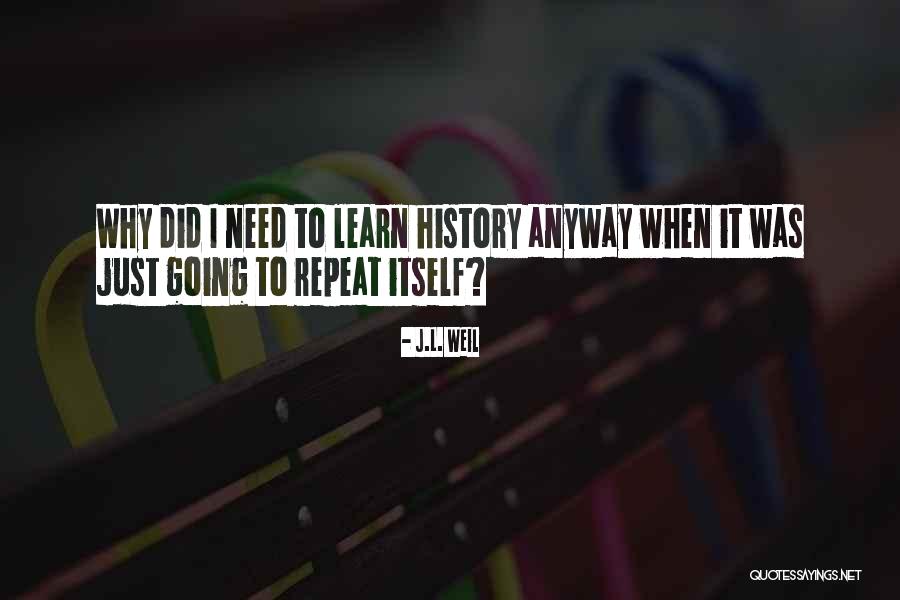 Why did I need to learn history anyway when it was just going to repeat itself? — J.L. Weil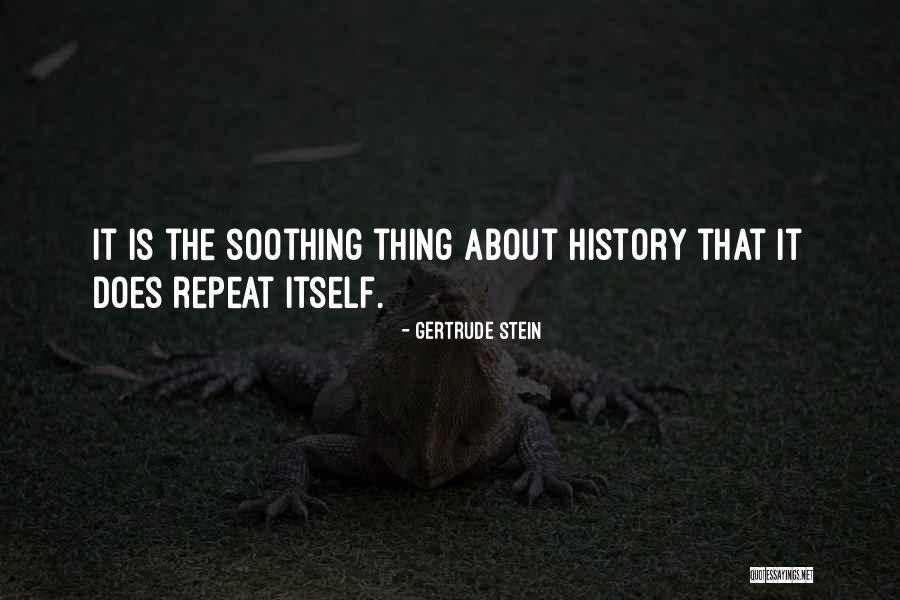 It is the soothing thing about history that it does repeat itself. — Gertrude Stein
If [Harry Potter] knew what he means to us, to the lowly, the enslaved, we dregs of the magical world! Dobby remembers how i was when He-Who-Must-No-Be-Named was at the height of his powers, sir! We house-elves were treated like vermin, sir! Of course, Dobby is still treated like that, sir, but mostly, sir, life has improved for my kind since you triumphed over He-Who-Must-Not-Be-Named. Harry Potter survived, and the Dark Lord's power was broken, and it was a new dawn, ir, and Harry Pote shone like a beacon of hope for those of us who thought the dark days would never end, sir. . . .And now, at Hogwarts, terrible things are to happen, are perhaps happening already, and Dobby cannot let Harry Potter stay here now that history is to repeat itself, now that the Chamber of Secrets is open once more - — J.K. Rowling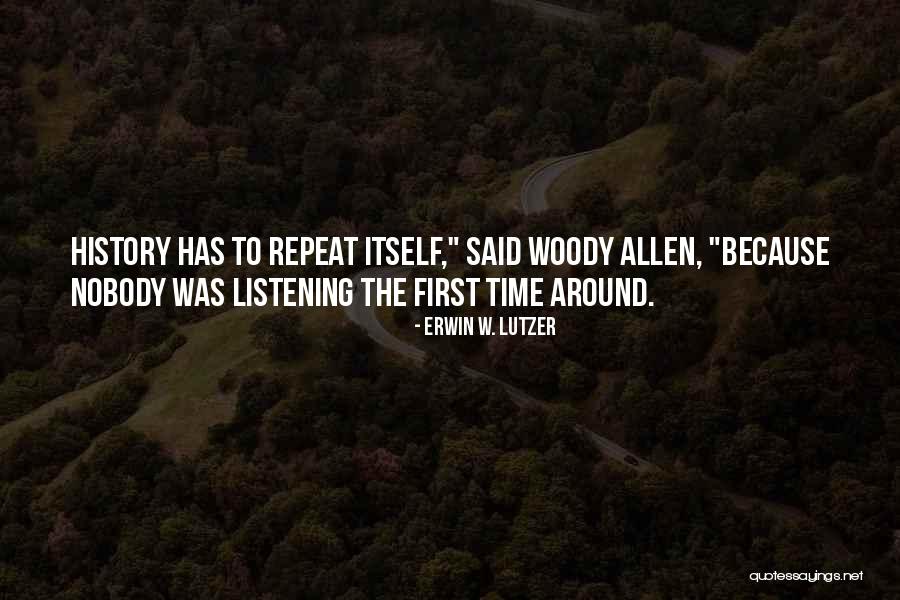 History has to repeat itself," said Woody Allen, "because nobody was listening the first time around. — Erwin W. Lutzer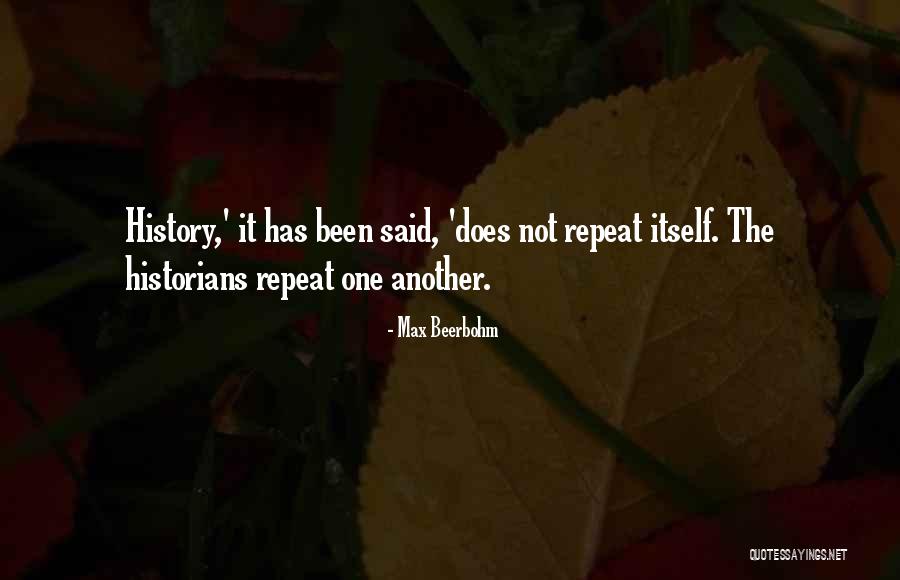 History,' it has been said, 'does not repeat itself. The historians repeat one another. — Max Beerbohm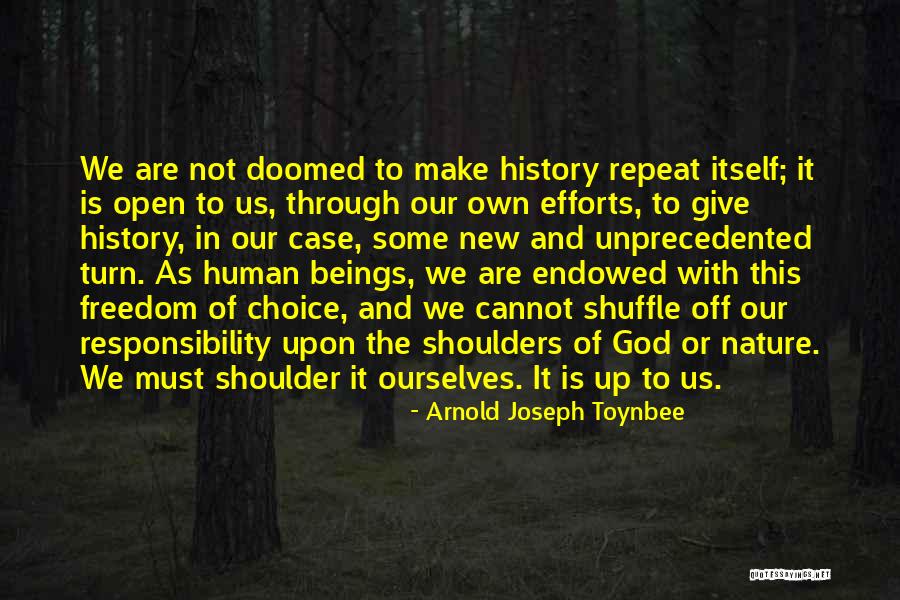 We are not doomed to make history repeat itself; it is open to us, through our own efforts, to give history, in our case, some new and unprecedented turn. As human beings, we are endowed with this freedom of choice, and we cannot shuffle off our responsibility upon the shoulders of God or nature. We must shoulder it ourselves. It is up to us. — Arnold Joseph Toynbee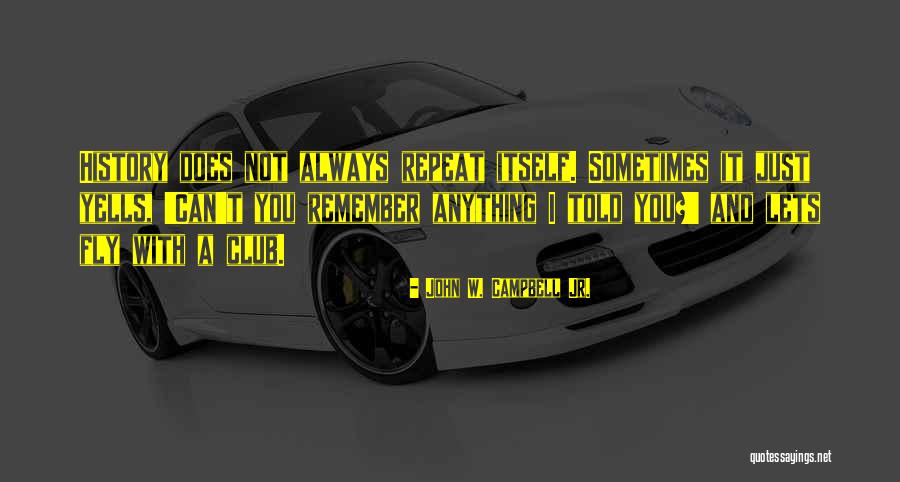 History does not always repeat itself. Sometimes it just yells, 'Can't you remember anything I told you?' and lets fly with a club. — John W. Campbell Jr.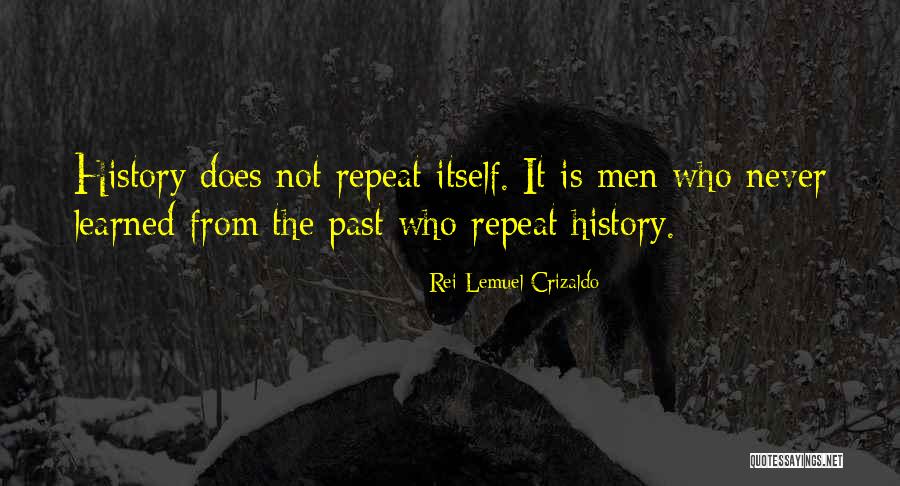 History does not repeat itself. It is men who never learned from the past who repeat history. — Rei Lemuel Crizaldo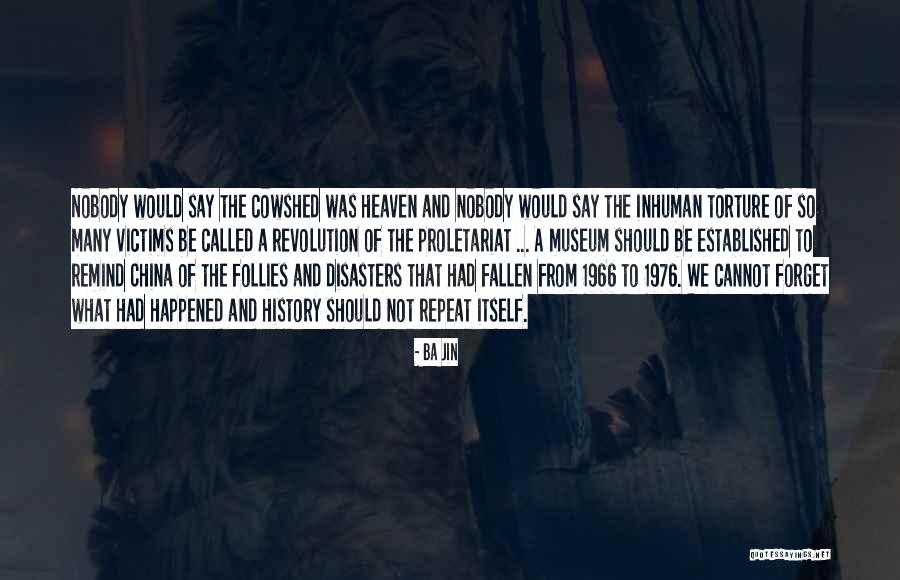 Nobody would say the cowshed was heaven and nobody would say the inhuman torture of so many victims be called a revolution of the proletariat ... A museum should be established to remind China of the follies and disasters that had fallen from 1966 to 1976. We cannot forget what had happened and history should not repeat itself. — Ba Jin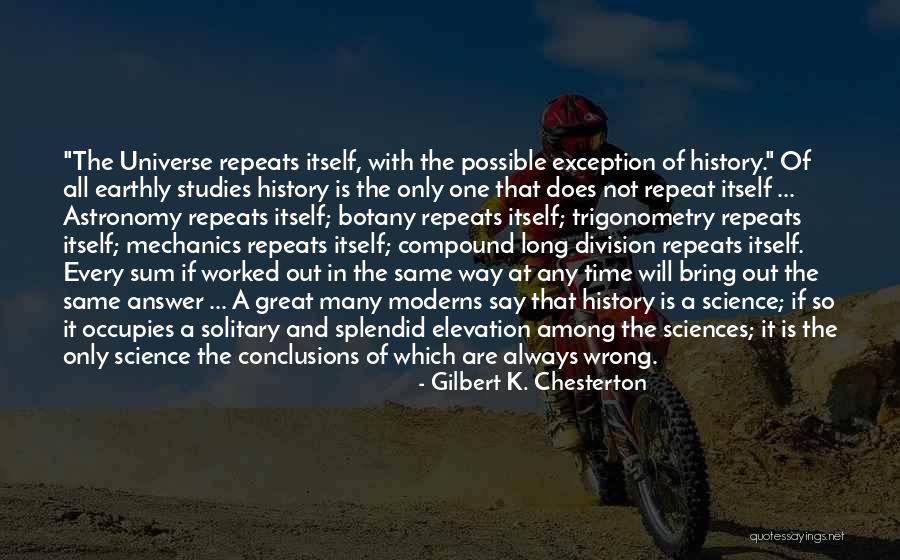 "The Universe repeats itself, with the possible exception of history." Of all earthly studies history is the only one that does not repeat itself ... Astronomy repeats itself; botany repeats itself; trigonometry repeats itself; mechanics repeats itself; compound long division repeats itself. Every sum if worked out in the same way at any time will bring out the same answer ... A great many moderns say that history is a science; if so it occupies a solitary and splendid elevation among the sciences; it is the only science the conclusions of which are always wrong. — Gilbert K. Chesterton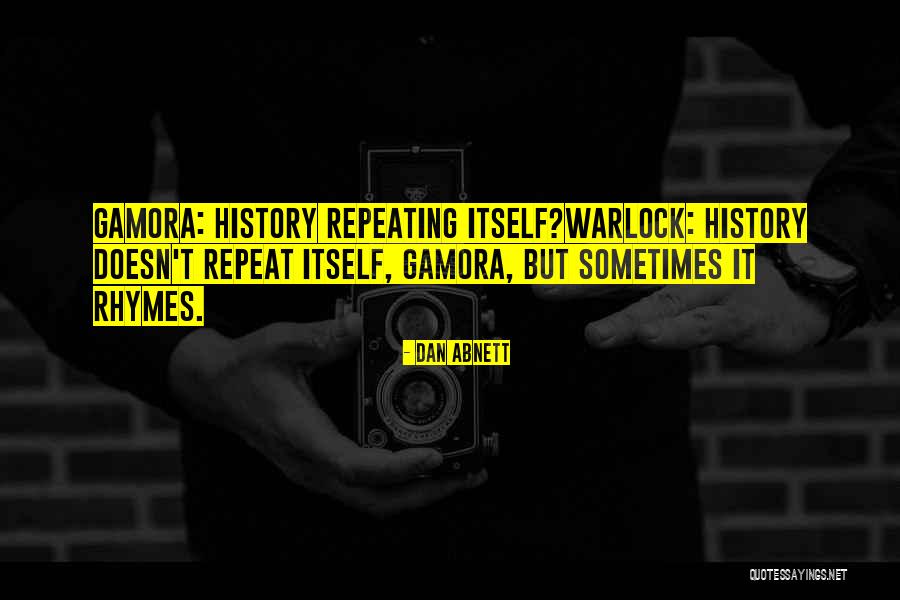 Gamora: History repeating itself?
Warlock: History doesn't repeat itself, Gamora, but sometimes it rhymes. — Dan Abnett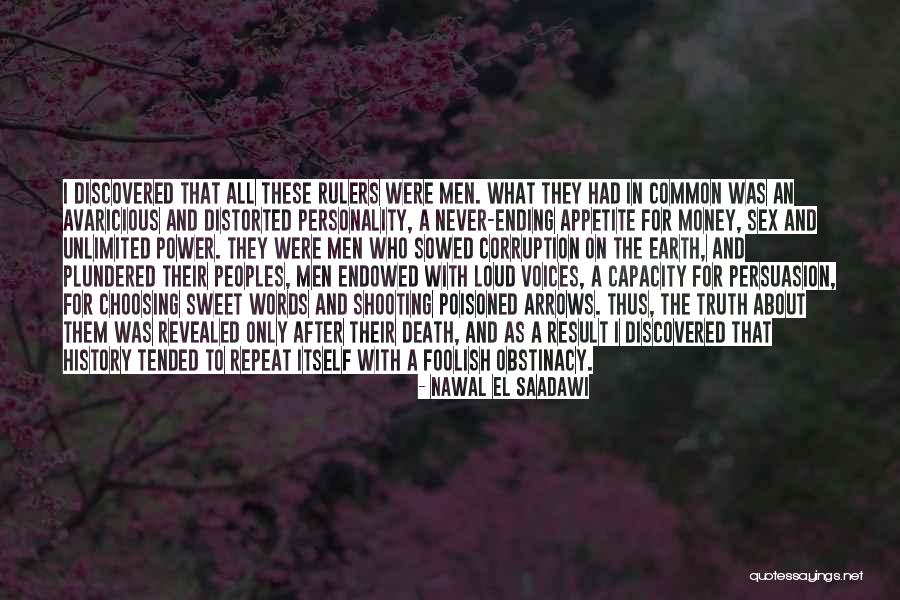 I discovered that all these rulers were men. What they had in common was an avaricious and distorted personality, a never-ending appetite for money, sex and unlimited power. They were men who sowed corruption on the earth, and plundered their peoples, men endowed with loud voices, a capacity for persuasion, for choosing sweet words and shooting poisoned arrows. Thus, the truth about them was revealed only after their death, and as a result I discovered that history tended to repeat itself with a foolish obstinacy. — Nawal El Saadawi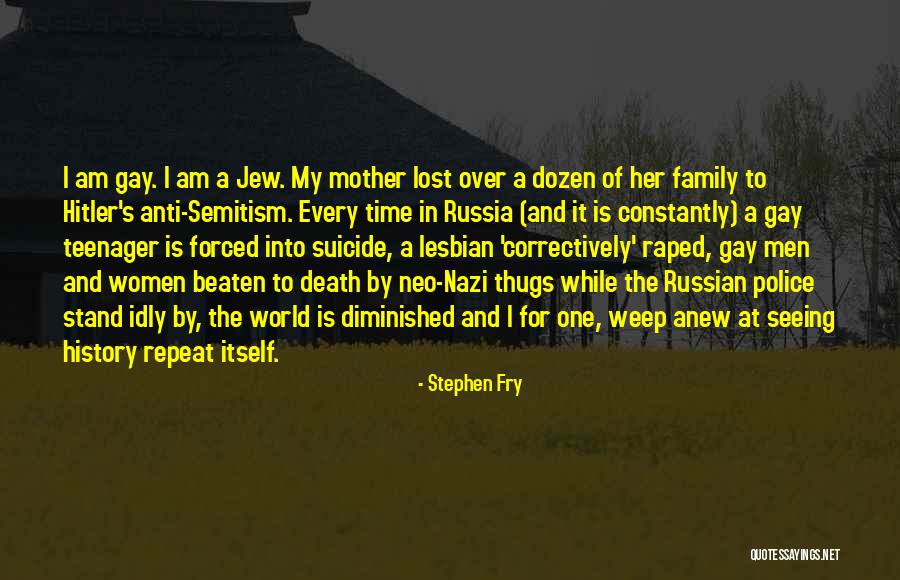 I am gay. I am a Jew. My mother lost over a dozen of her family to Hitler's anti-Semitism. Every time in Russia (and it is constantly) a gay teenager is forced into suicide, a lesbian 'correctively' raped, gay men and women beaten to death by neo-Nazi thugs while the Russian police stand idly by, the world is diminished and I for one, weep anew at seeing history repeat itself. — Stephen Fry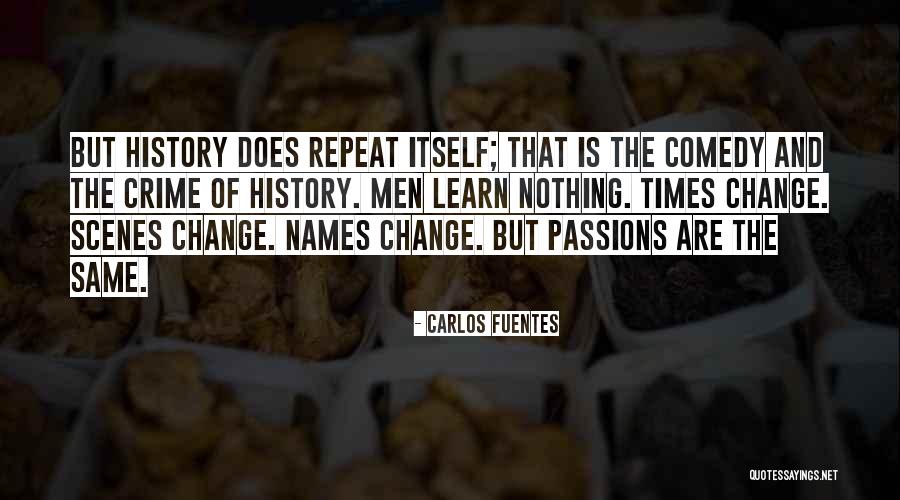 But history does repeat itself; that is the comedy and the crime of history. Men learn nothing. Times change. Scenes change. Names change. But passions are the same. — Carlos Fuentes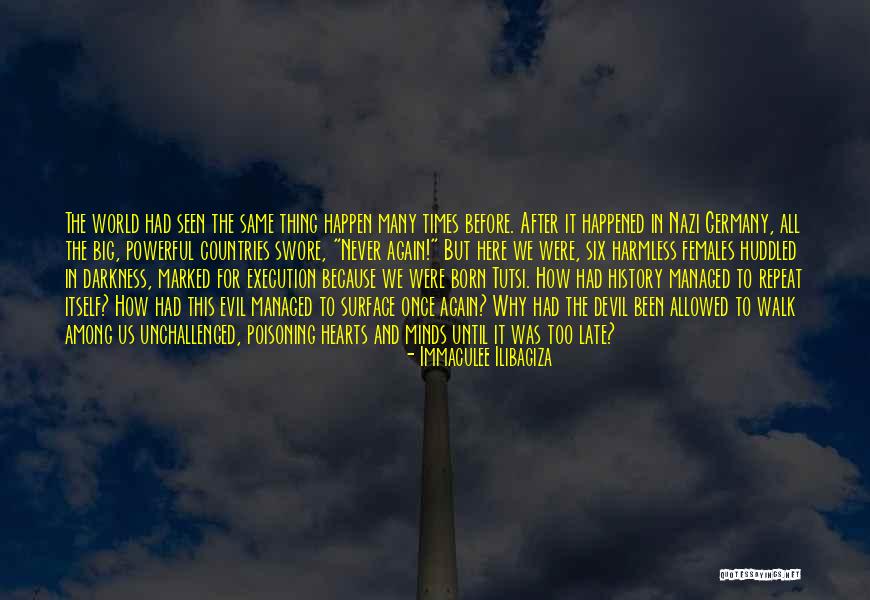 The world had seen the same thing happen many times before. After it happened in Nazi Germany, all the big, powerful countries swore, "Never again!" But here we were, six harmless females huddled in darkness, marked for execution because we were born Tutsi. How had history managed to repeat itself? How had this evil managed to surface once again? Why had the devil been allowed to walk among us unchallenged, poisoning hearts and minds until it was too late? — Immaculee Ilibagiza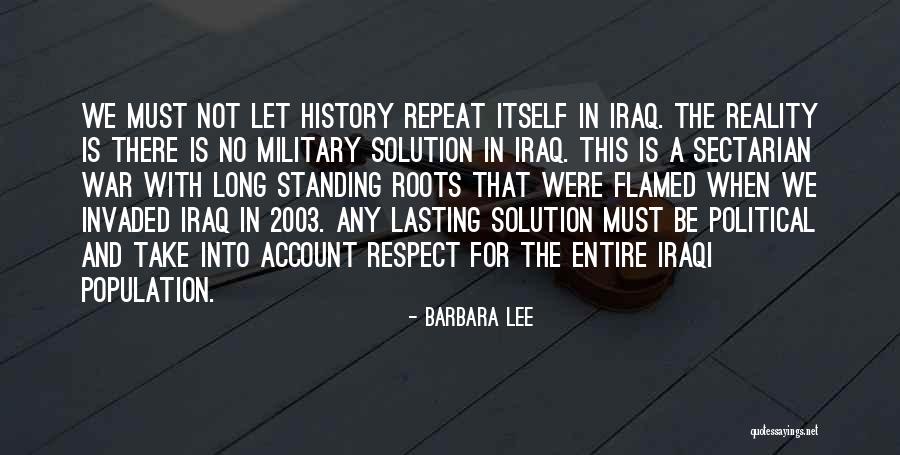 We must not let history repeat itself in Iraq. The reality is there is no military solution in Iraq. This is a sectarian war with long standing roots that were flamed when we invaded Iraq in 2003. Any lasting solution must be political and take into account respect for the entire Iraqi population. — Barbara Lee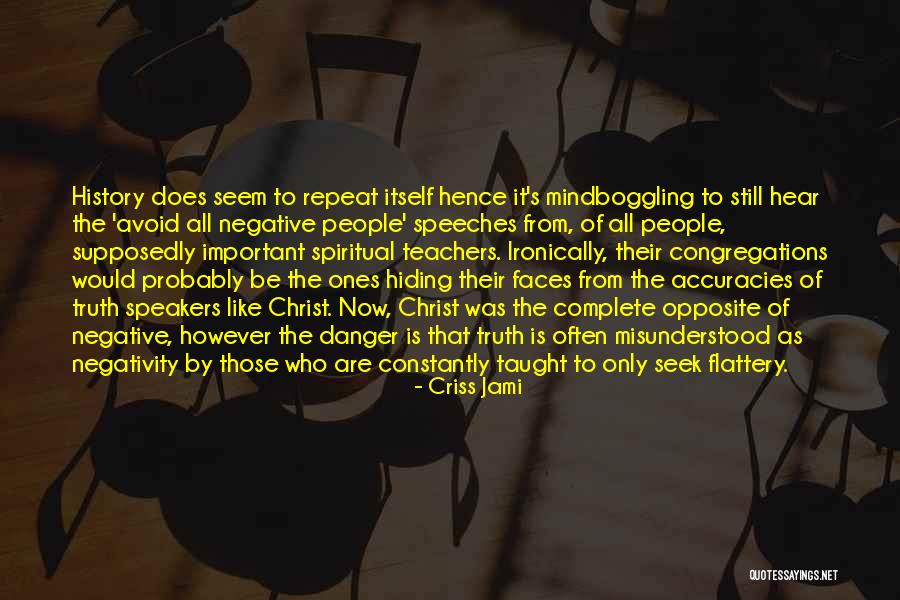 History does seem to repeat itself hence it's mindboggling to still hear the 'avoid all negative people' speeches from, of all people, supposedly important spiritual teachers. Ironically, their congregations would probably be the ones hiding their faces from the accuracies of truth speakers like Christ. Now, Christ was the complete opposite of negative, however the danger is that truth is often misunderstood as negativity by those who are constantly taught to only seek flattery. — Criss Jami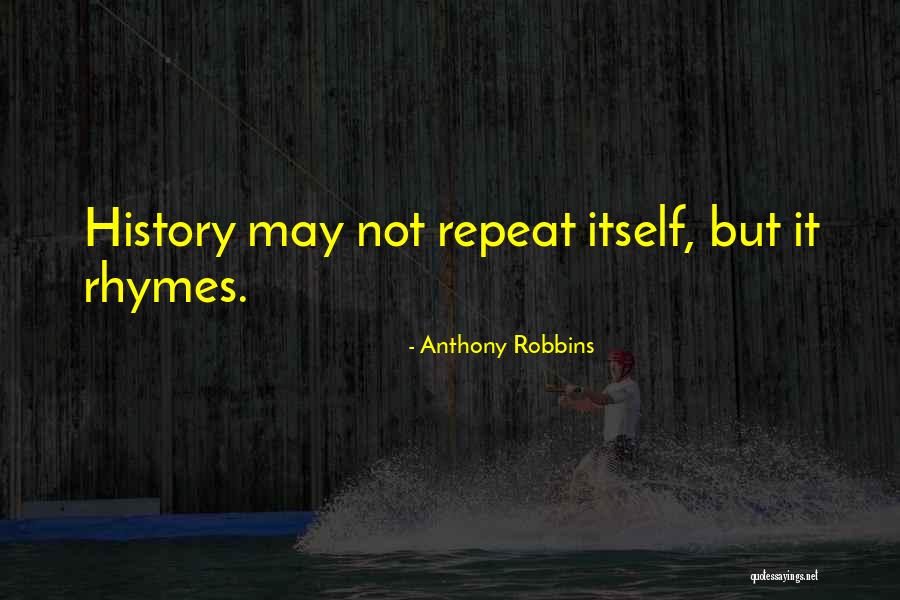 History may not repeat itself, but it rhymes. — Anthony Robbins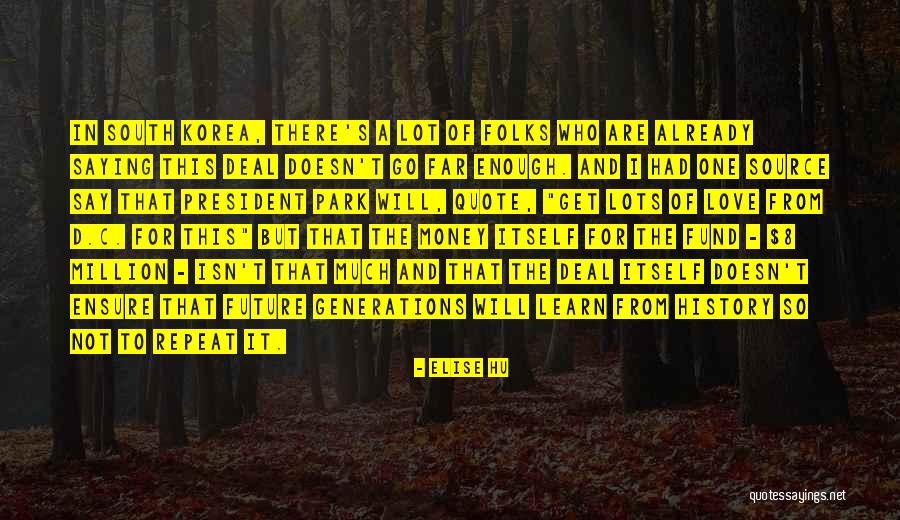 In South Korea, there's a lot of folks who are already saying this deal doesn't go far enough. And I had one source say that President Park will, quote, "get lots of love from D.C. for this" but that the money itself for the fund - $8 million - isn't that much and that the deal itself doesn't ensure that future generations will learn from history so not to repeat it. — Elise Hu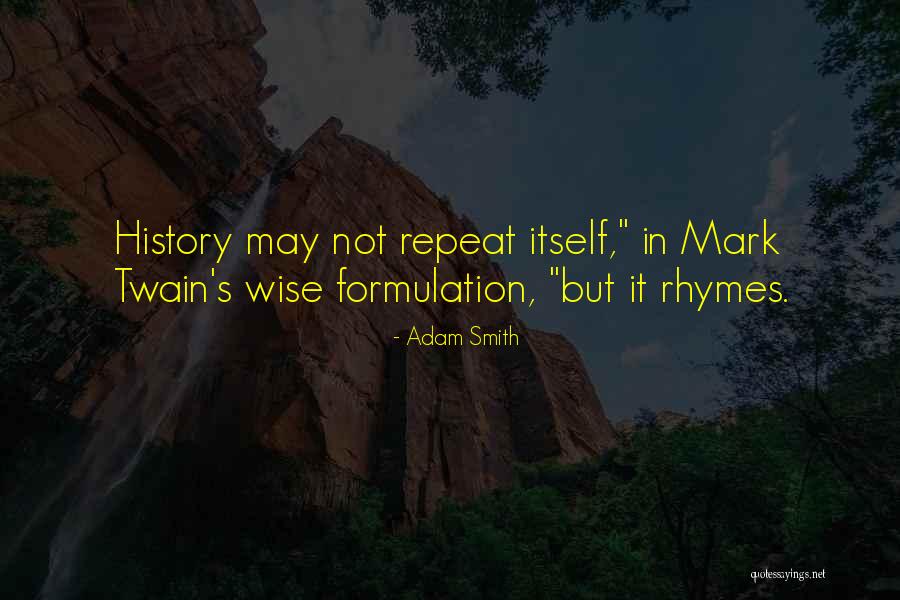 History may not repeat itself," in Mark Twain's wise formulation, "but it rhymes. — Adam Smith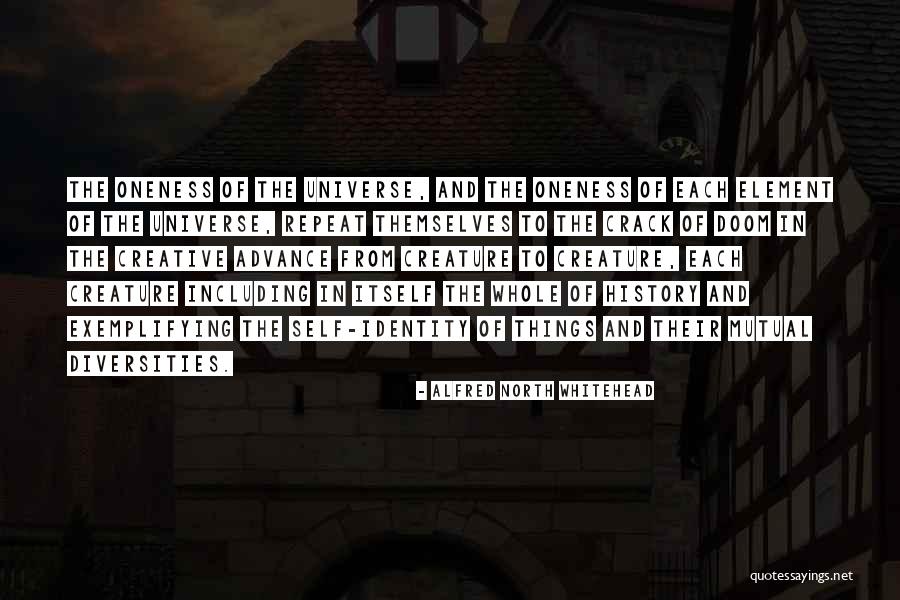 The oneness of the universe, and the oneness of each element of the universe, repeat themselves to the crack of doom in the creative advance from creature to creature, each creature including in itself the whole of history and exemplifying the self-identity of things and their mutual diversities. — Alfred North Whitehead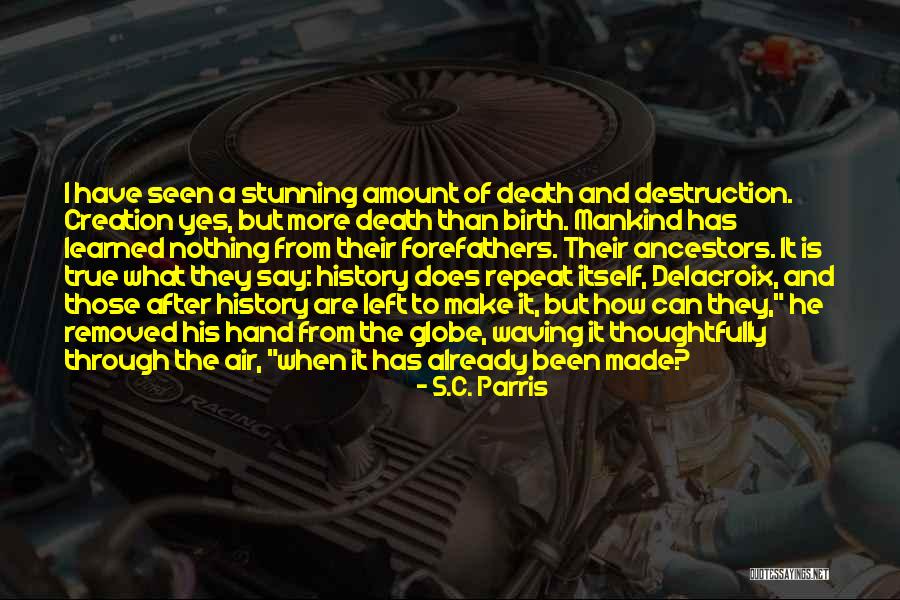 I have seen a stunning amount of death and destruction. Creation yes, but more death than birth. Mankind has learned nothing from their forefathers. Their ancestors. It is true what they say: history does repeat itself, Delacroix, and those after history are left to make it, but how can they," he removed his hand from the globe, waving it thoughtfully through the air, "when it has already been made? — S.C. Parris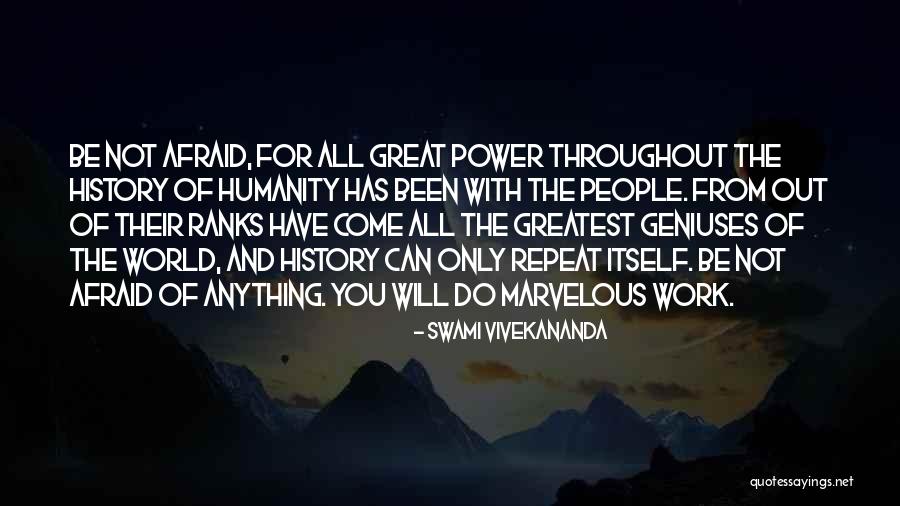 Be not afraid, for all great power throughout the history of humanity has been with the people. From out of their ranks have come all the greatest geniuses of the world, and history can only repeat itself. Be not afraid of anything. You will do marvelous work. — Swami Vivekananda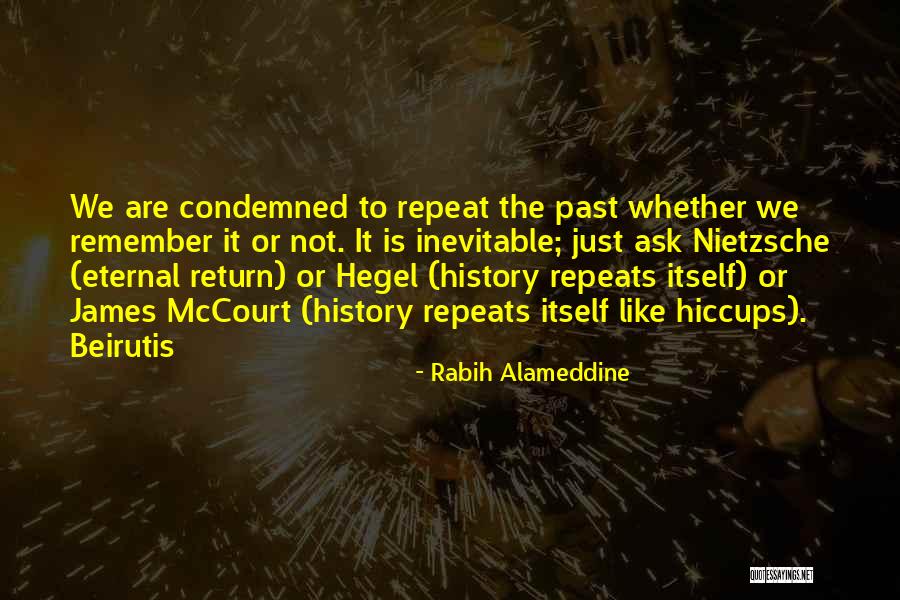 We are condemned to repeat the past whether we remember it or not. It is inevitable; just ask Nietzsche (eternal return) or Hegel (history repeats itself) or James McCourt (history repeats itself like hiccups). Beirutis — Rabih Alameddine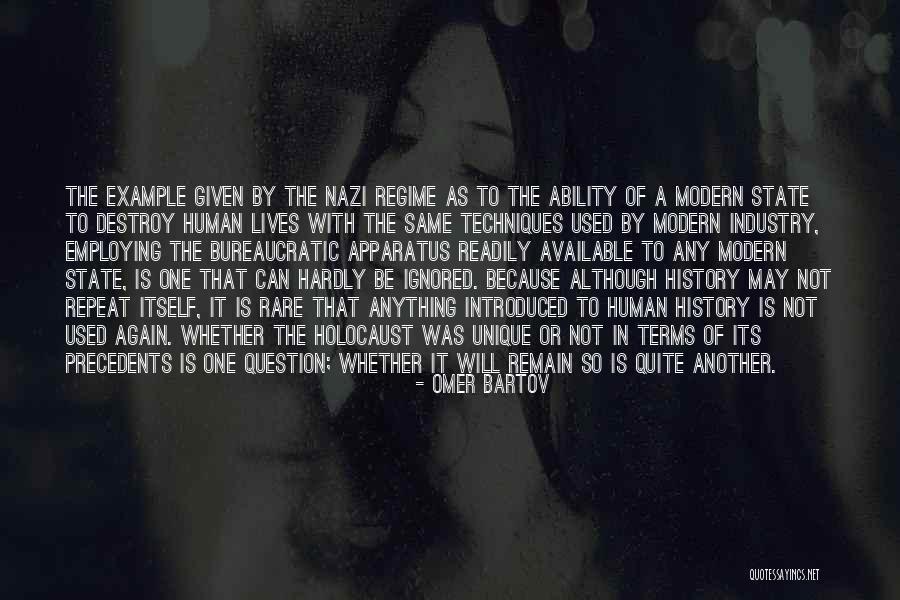 The example given by the Nazi regime as to the ability of a modern state to destroy human lives with the same techniques used by modern industry, employing the bureaucratic apparatus readily available to any modern state, is one that can hardly be ignored. Because although history may not repeat itself, it is rare that anything introduced to human history is not used again. Whether the Holocaust was unique or not in terms of its precedents is one question; whether it will remain so is quite another. — Omer Bartov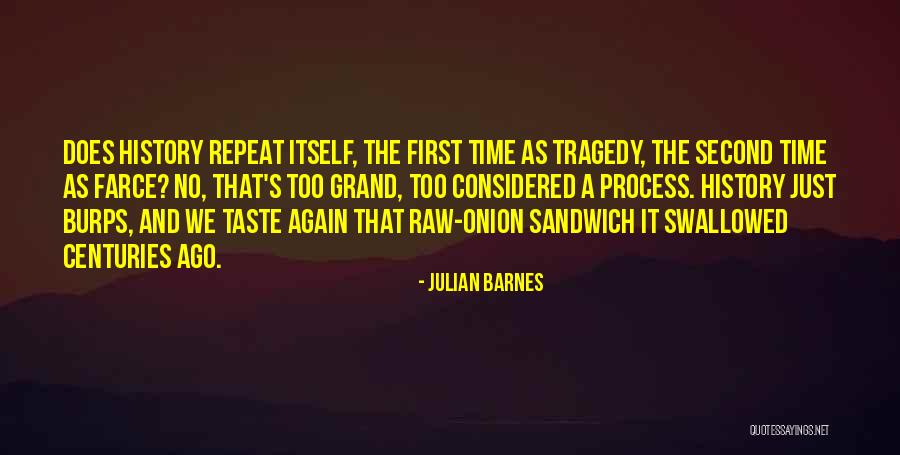 Does history repeat itself, the first time as tragedy, the second time as farce? No, that's too grand, too considered a process. History just burps, and we taste again that raw-onion sandwich it swallowed centuries ago. — Julian Barnes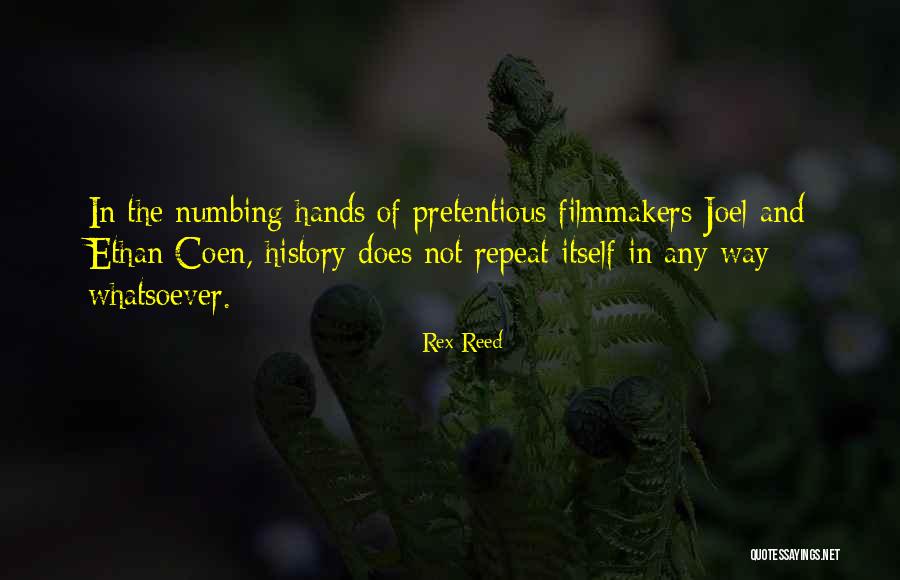 In the numbing hands of pretentious filmmakers Joel and Ethan Coen, history does not repeat itself in any way whatsoever. — Rex Reed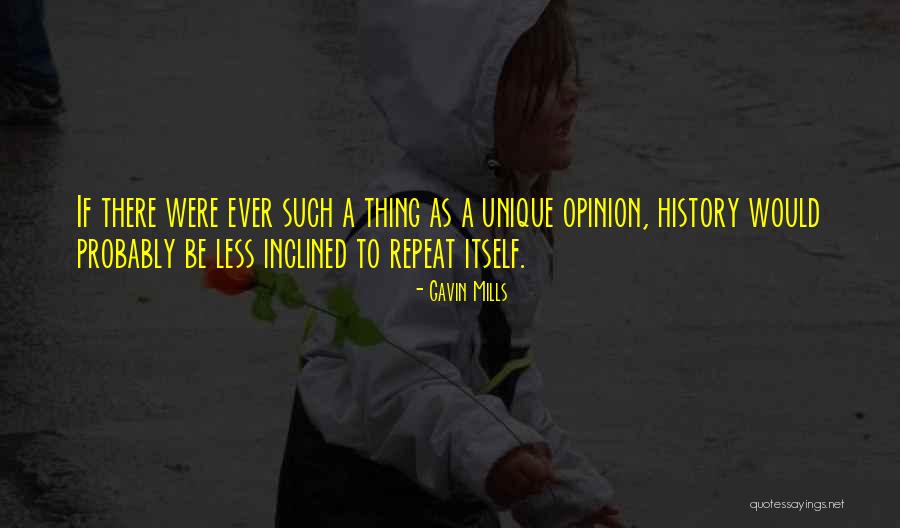 If there were ever such a thing as a unique opinion, history would probably be less inclined to repeat itself. — Gavin Mills