Quotes & Sayings About Helping The Community
Enjoy reading and share 56 famous quotes about Helping The Community with everyone.
Top Helping The Community Quotes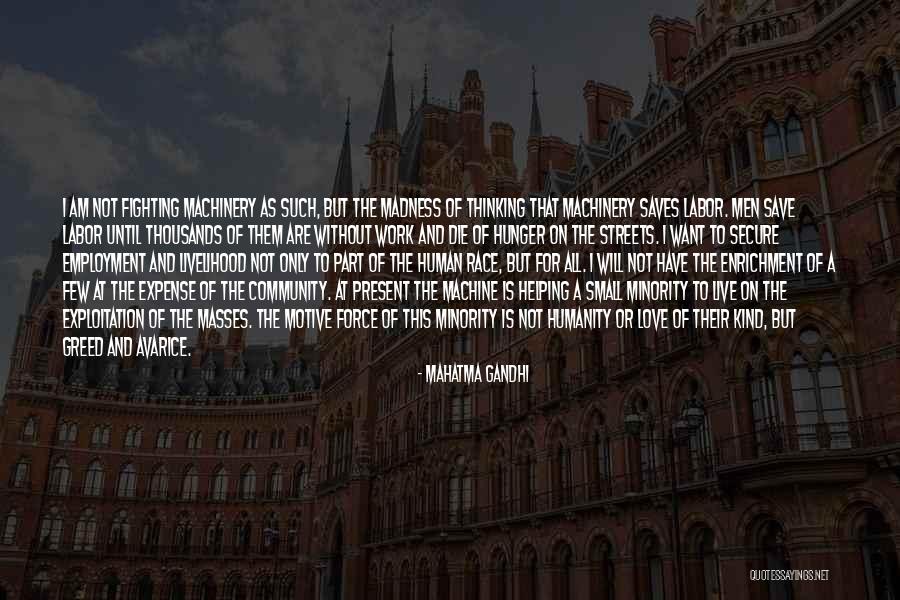 I am not fighting machinery as such, but the madness of thinking that machinery saves labor. Men save labor until thousands of them are without work and die of hunger on the streets. I want to secure employment and livelihood not only to part of the human race, but for all. I will not have the enrichment of a few at the expense of the community. At present the machine is helping a small minority to live on the exploitation of the masses. The motive force of this minority is not humanity or love of their kind, but greed and avarice. — Mahatma Gandhi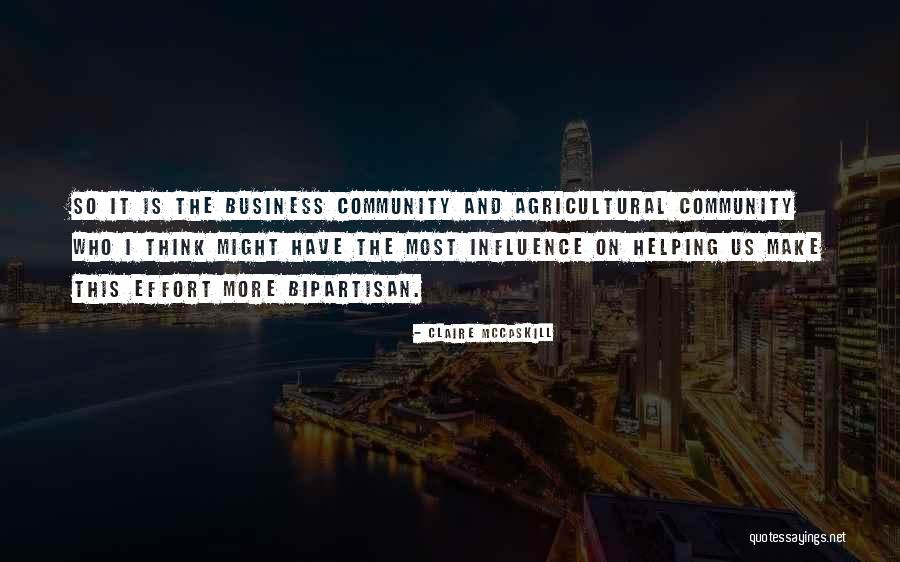 So it is the business community and agricultural community who I think might have the most influence on helping us make this effort more bipartisan. — Claire McCaskill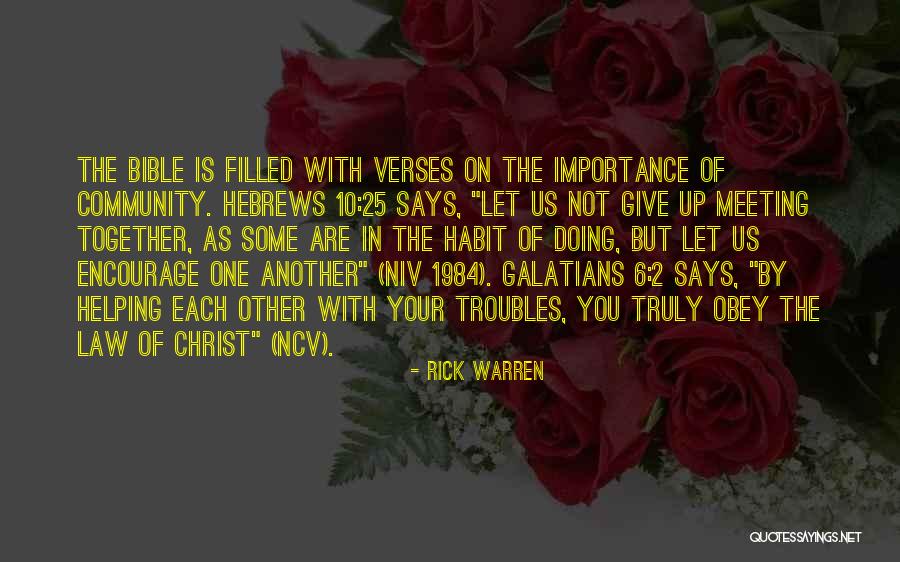 The Bible is filled with verses on the importance of community. Hebrews 10:25 says, "Let us not give up meeting together, as some are in the habit of doing, but let us encourage one another" (NIV 1984). Galatians 6:2 says, "By helping each other with your troubles, you truly obey the law of Christ" (NCV). — Rick Warren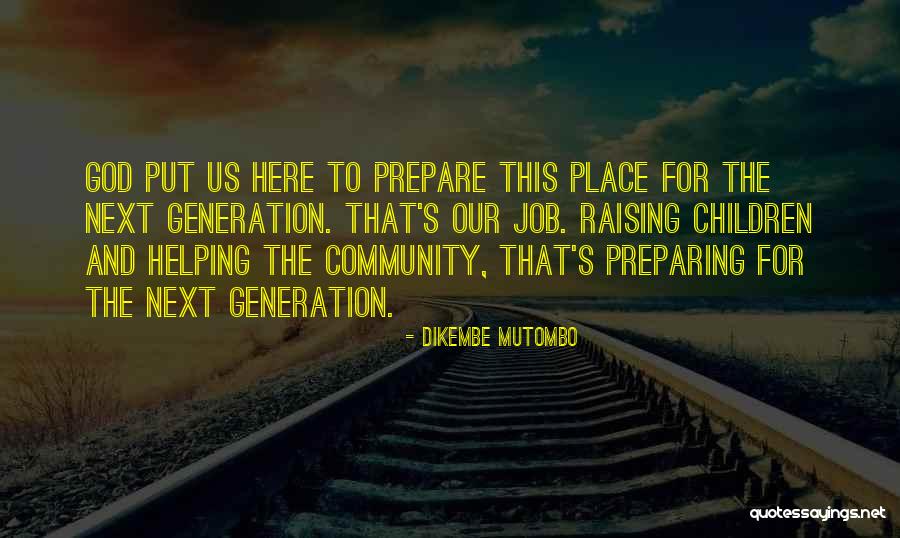 God put us here to prepare this place for the next generation. That's our job. Raising children and helping the community, that's preparing for the next generation. — Dikembe Mutombo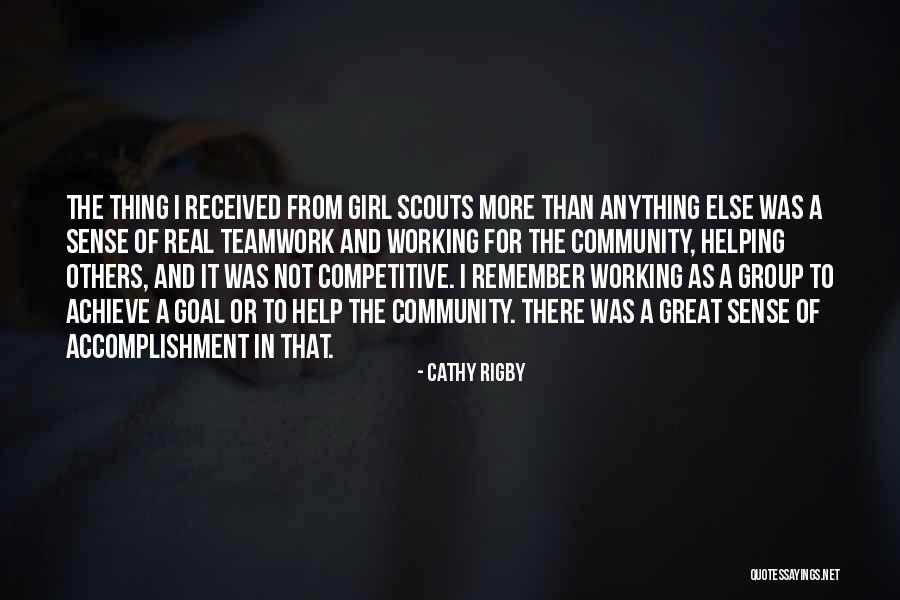 The thing I received from Girl Scouts more than anything else was a sense of real teamwork and working for the community, helping others, and it was not competitive. I remember working as a group to achieve a goal or to help the community. There was a great sense of accomplishment in that. — Cathy Rigby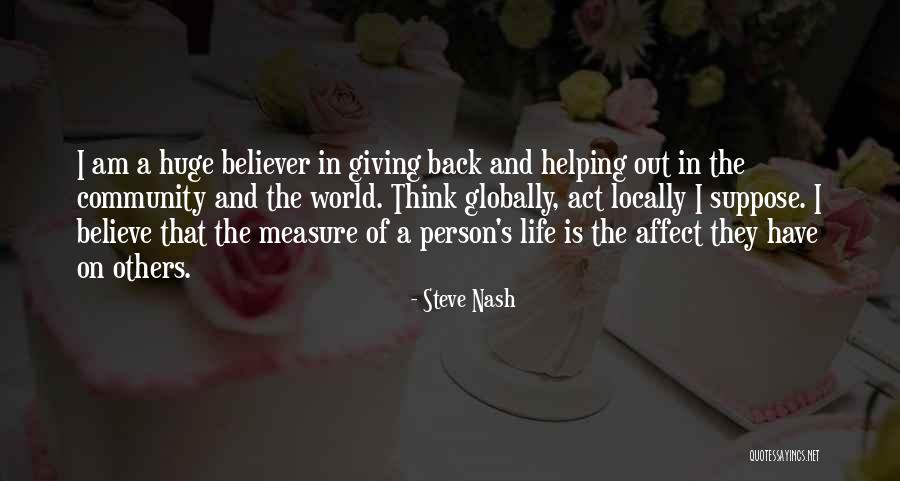 I am a huge believer in giving back and helping out in the community and the world. Think globally, act locally I suppose. I believe that the measure of a person's life is the affect they have on others. — Steve Nash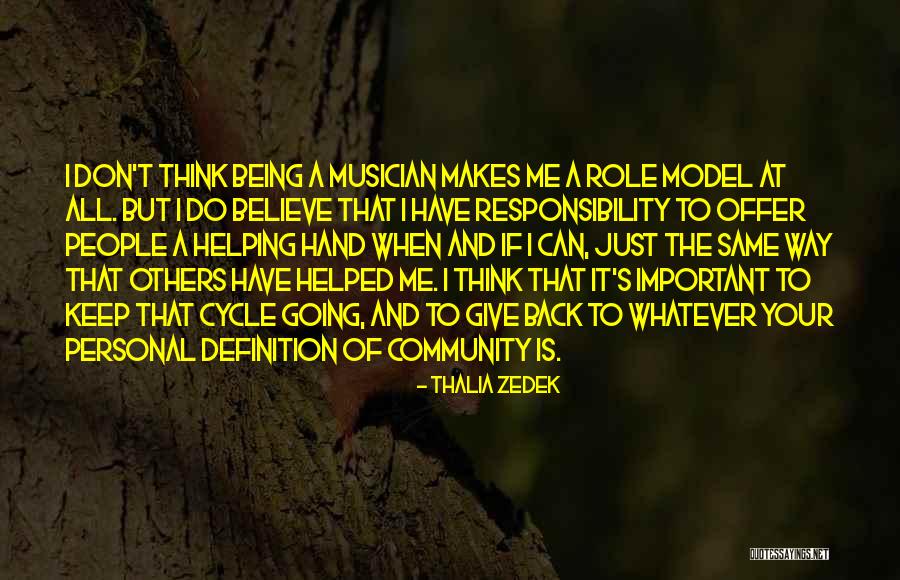 I don't think being a musician makes me a role model at all. But I do believe that I have responsibility to offer people a helping hand when and if I can, just the same way that others have helped me. I think that it's important to keep that cycle going, and to give back to whatever your personal definition of community is. — Thalia Zedek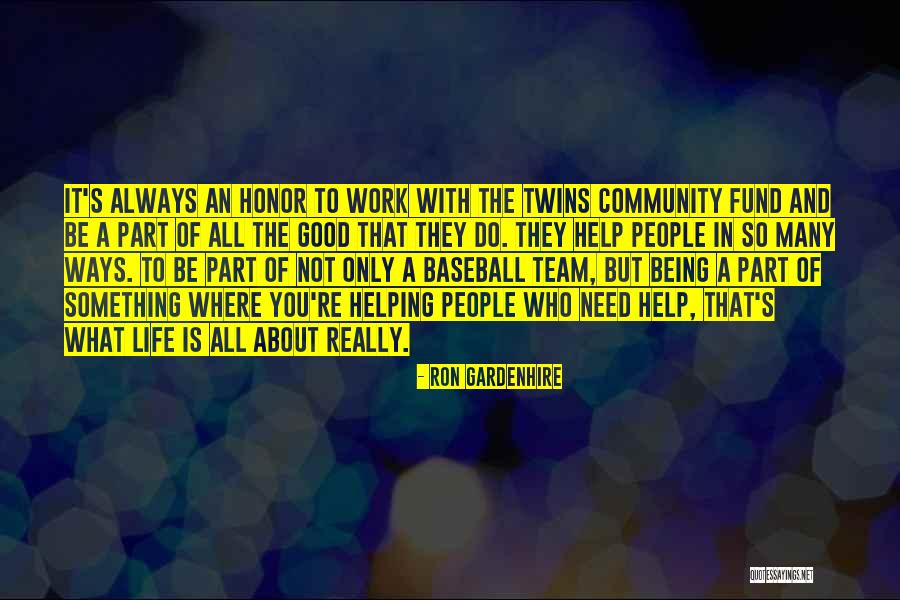 It's always an honor to work with the Twins Community Fund and be a part of all the good that they do. They help people in so many ways. To be part of not only a baseball team, but being a part of something where you're helping people who need help, that's what life is all about really. — Ron Gardenhire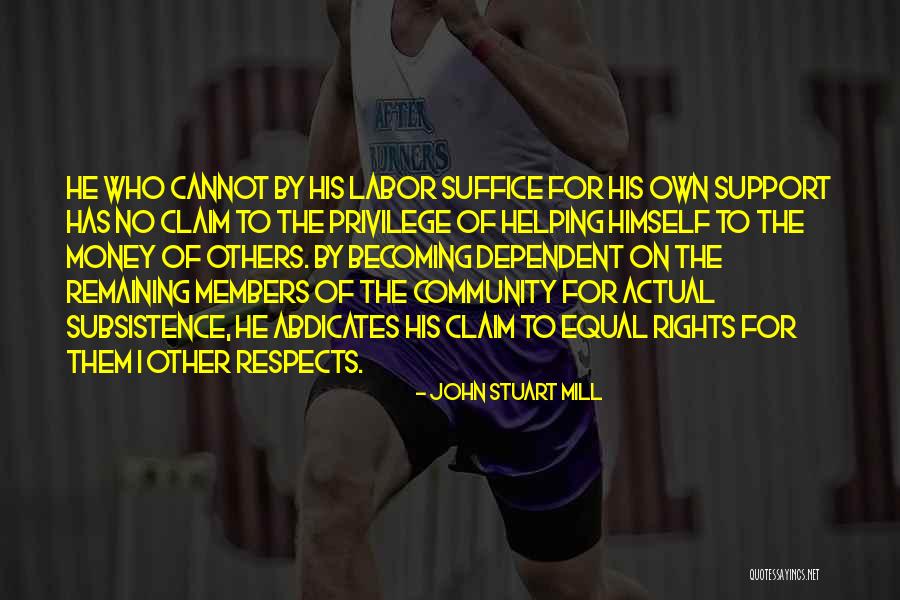 He who cannot by his labor suffice for his own support has no claim to the privilege of helping himself to the money of others. By becoming dependent on the remaining members of the community for actual subsistence, he abdicates his claim to equal rights for them I other respects. — John Stuart Mill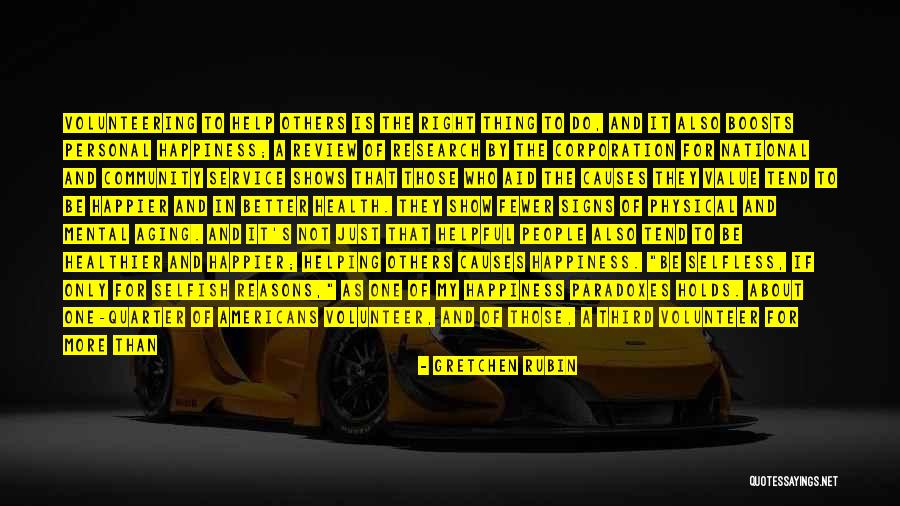 Volunteering to help others is the right thing to do, and it also boosts personal happiness; a review of research by the Corporation for National and Community Service shows that those who aid the causes they value tend to be happier and in better health. They show fewer signs of physical and mental aging. And it's not just that helpful people also tend to be healthier and happier; helping others causes happiness. "Be selfless, if only for selfish reasons," as one of my happiness paradoxes holds. About one-quarter of Americans volunteer, and of those, a third volunteer for more than a hundred hours each year. — Gretchen Rubin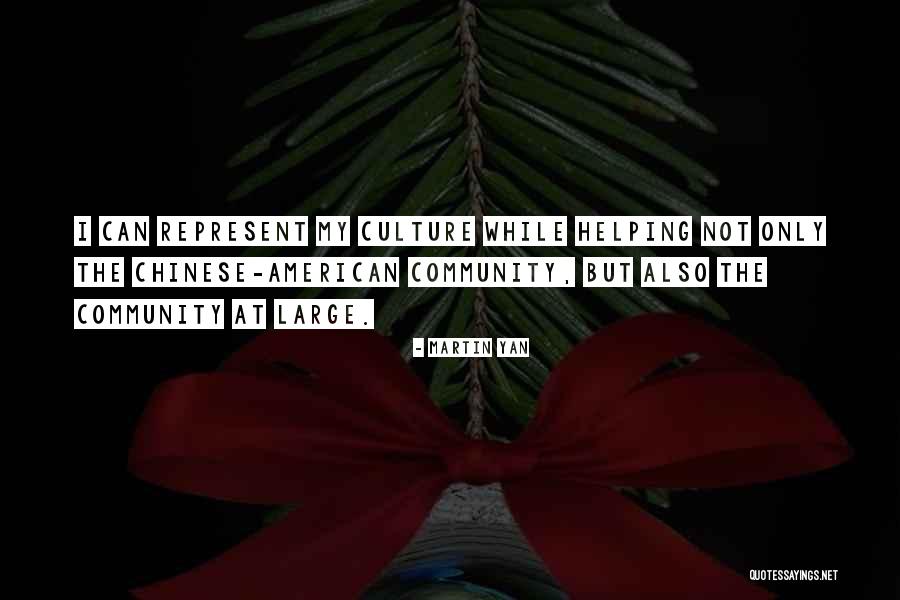 I can represent my culture while helping not only the Chinese-American community, but also the community at large. — Martin Yan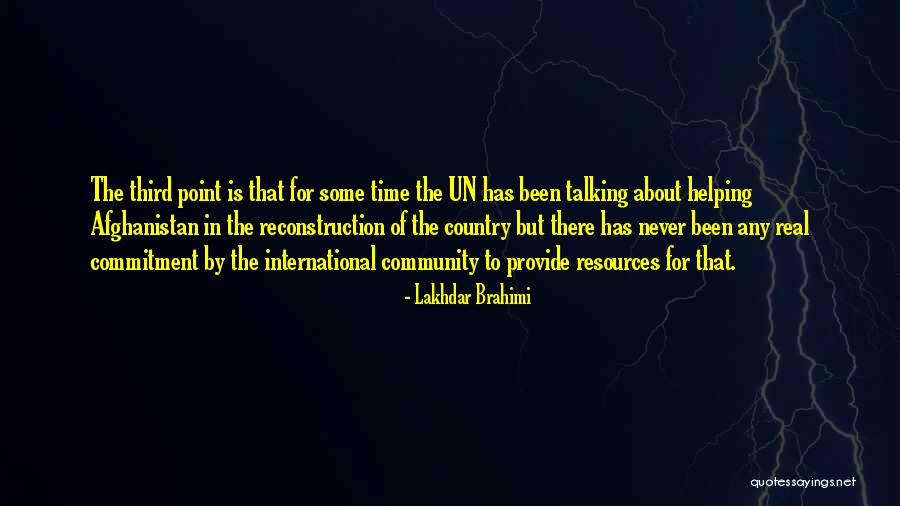 The third point is that for some time the UN has been talking about helping Afghanistan in the reconstruction of the country but there has never been any real commitment by the international community to provide resources for that. — Lakhdar Brahimi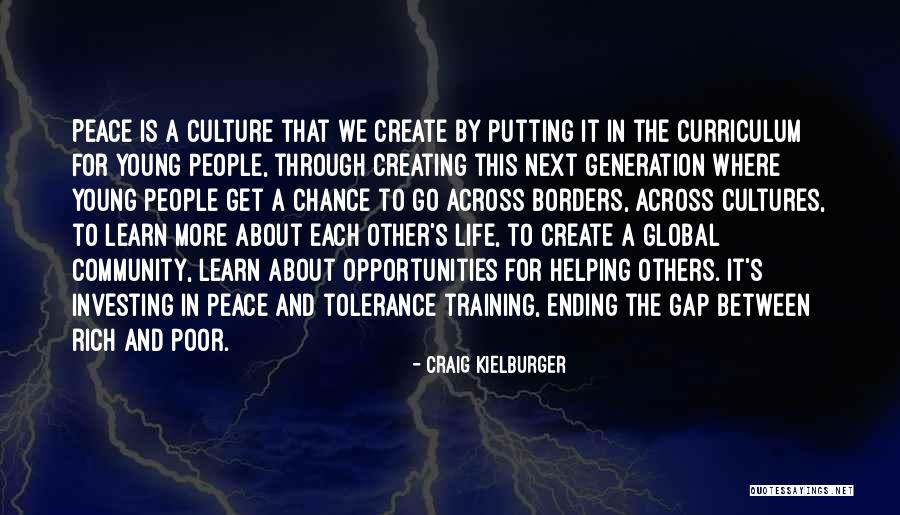 Peace is a culture that we create by putting it in the curriculum for young people, through creating this next generation where young people get a chance to go across borders, across cultures, to learn more about each other's life, to create a global community, learn about opportunities for helping others. It's investing in peace and tolerance training, ending the gap between rich and poor. — Craig Kielburger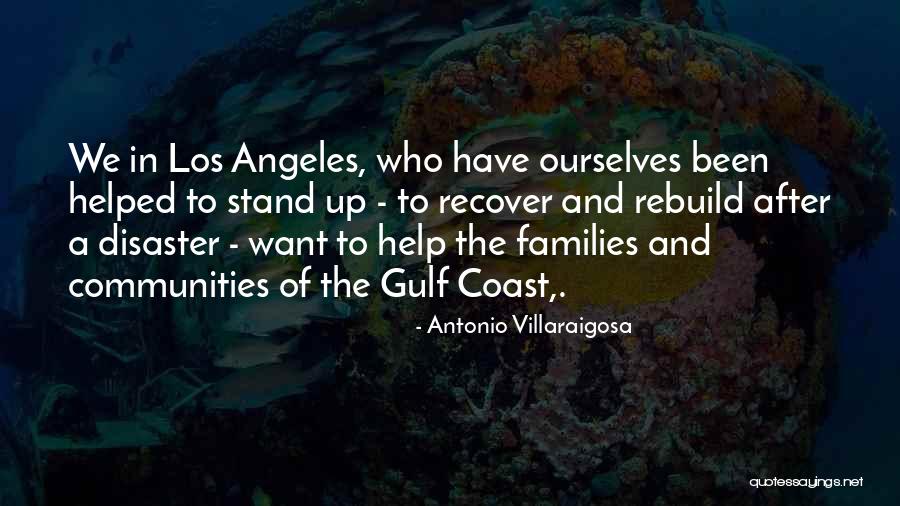 We in Los Angeles, who have ourselves been helped to stand up - to recover and rebuild after a disaster - want to help the families and communities of the Gulf Coast,. — Antonio Villaraigosa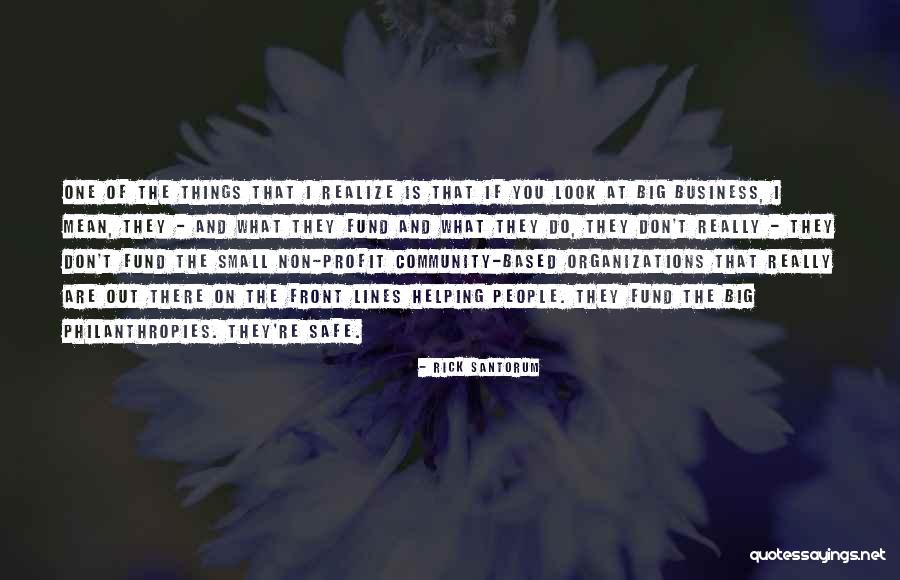 One of the things that I realize is that if you look at big business, I mean, they - and what they fund and what they do, they don't really - they don't fund the small non-profit community-based organizations that really are out there on the front lines helping people. They fund the big philanthropies. They're safe. — Rick Santorum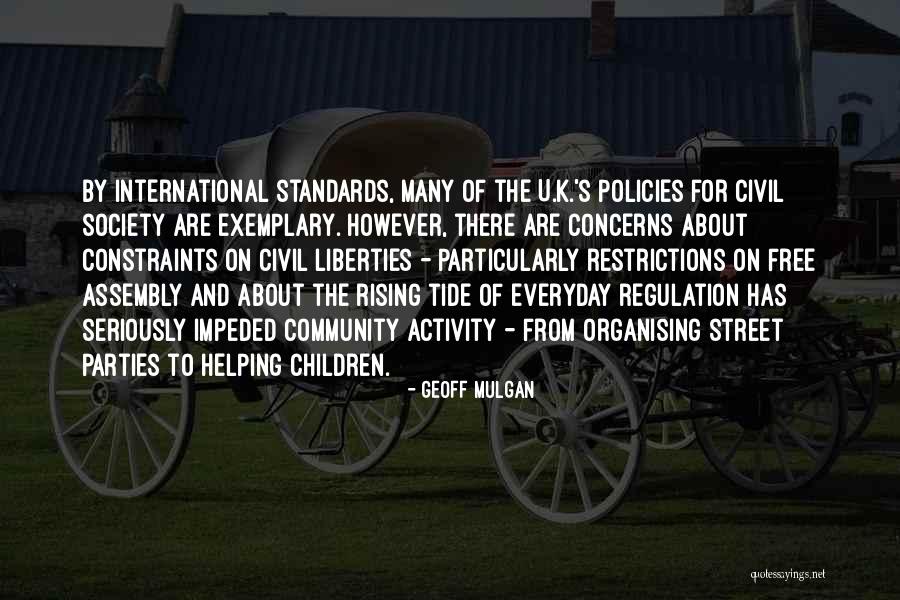 By international standards, many of the U.K.'s policies for civil society are exemplary. However, there are concerns about constraints on civil liberties - particularly restrictions on free assembly and about the rising tide of everyday regulation has seriously impeded community activity - from organising street parties to helping children. — Geoff Mulgan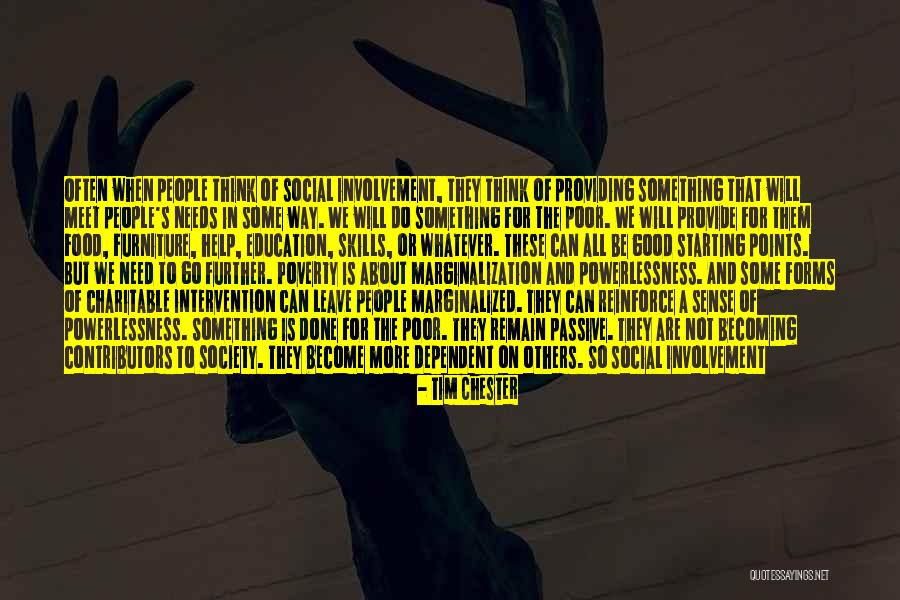 Often when people think of social involvement, they think of providing something that will meet people's needs in some way. We will do something for the poor. We will provide for them food, furniture, help, education, skills, or whatever. These can all be good starting points. But we need to go further. Poverty is about marginalization and powerlessness. And some forms of charitable intervention can leave people marginalized. They can reinforce a sense of powerlessness. Something is done for the poor. They remain passive. They are not becoming contributors to society. They become more dependent on others. So social involvement is more than presenting people with solutions. Good social involvement is helping people to find their own solutions. We want people to be proactive in their lives and to regain their God-given dignity as human beings made to contribute to community life. So at the heart of good social action is the participation of those in — Tim Chester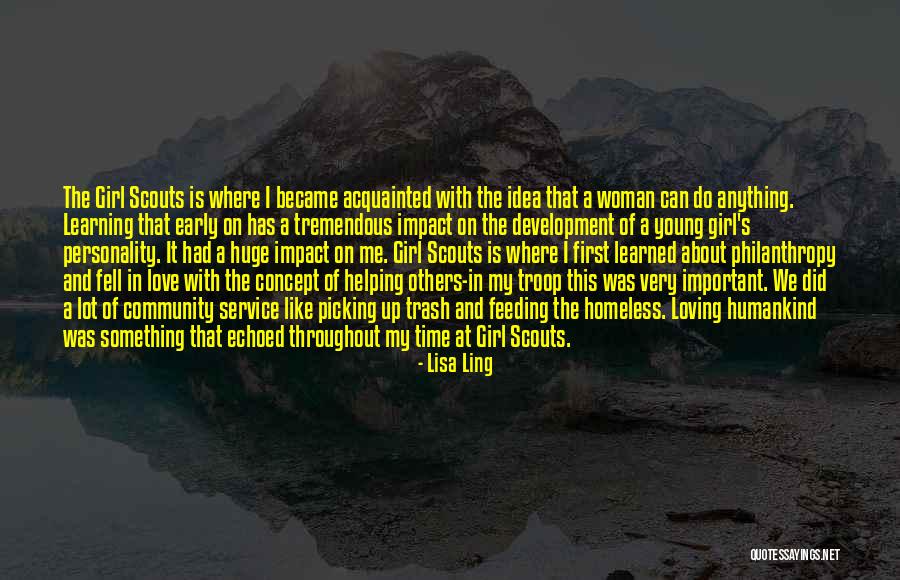 The Girl Scouts is where I became acquainted with the idea that a woman can do anything. Learning that early on has a tremendous impact on the development of a young girl's personality. It had a huge impact on me. Girl Scouts is where I first learned about philanthropy and fell in love with the concept of helping others-in my troop this was very important. We did a lot of community service like picking up trash and feeding the homeless. Loving humankind was something that echoed throughout my time at Girl Scouts. — Lisa Ling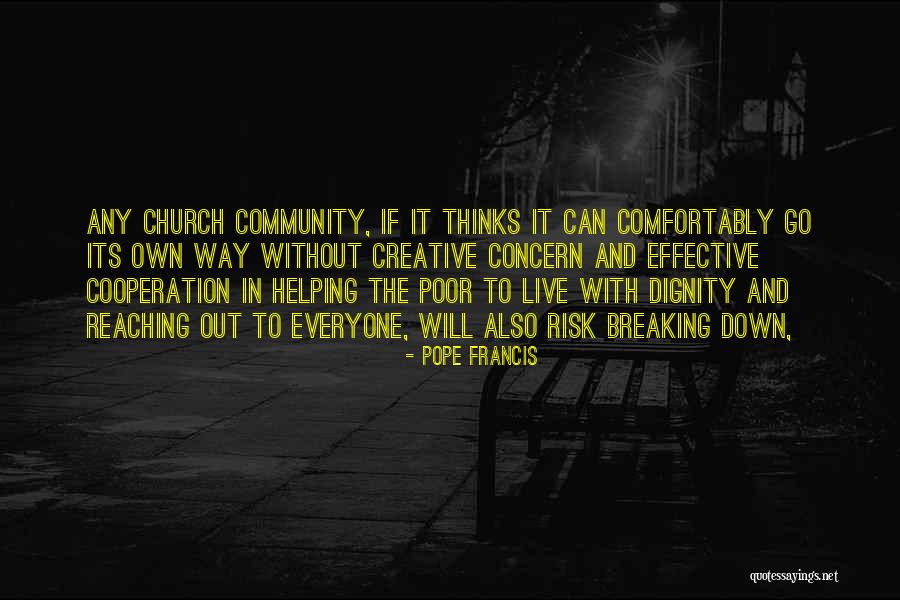 Any Church community, if it thinks it can comfortably go its own way without creative concern and effective cooperation in helping the poor to live with dignity and reaching out to everyone, will also risk breaking down, — Pope Francis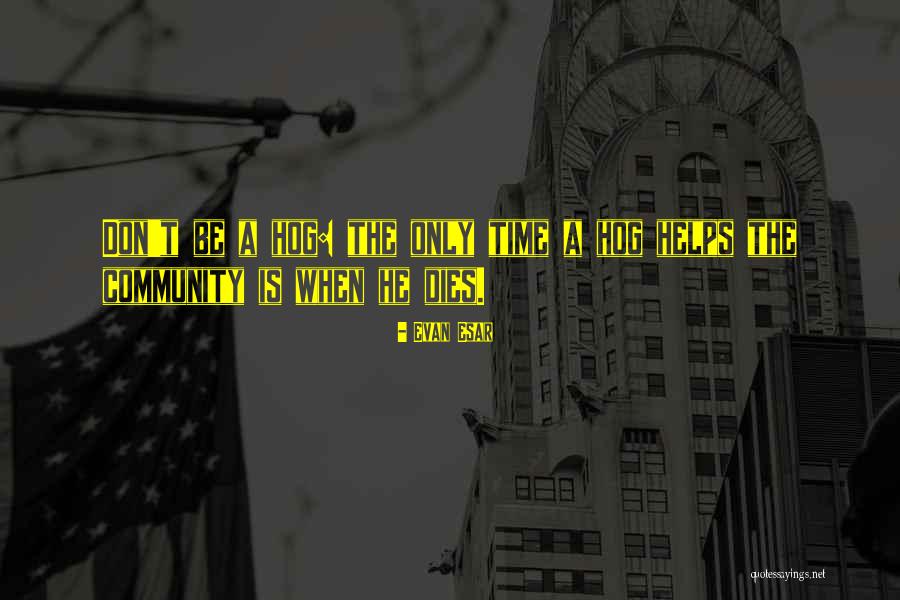 Don't be a hog: the only time a hog helps the community is when he dies. — Evan Esar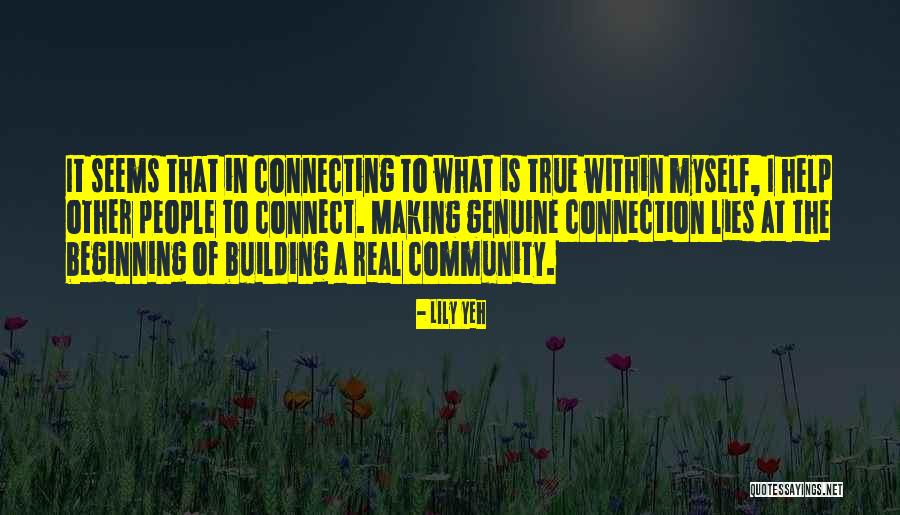 It seems that in connecting to what is true within myself, I help other people to connect. Making genuine connection lies at the beginning of building a real community. — Lily Yeh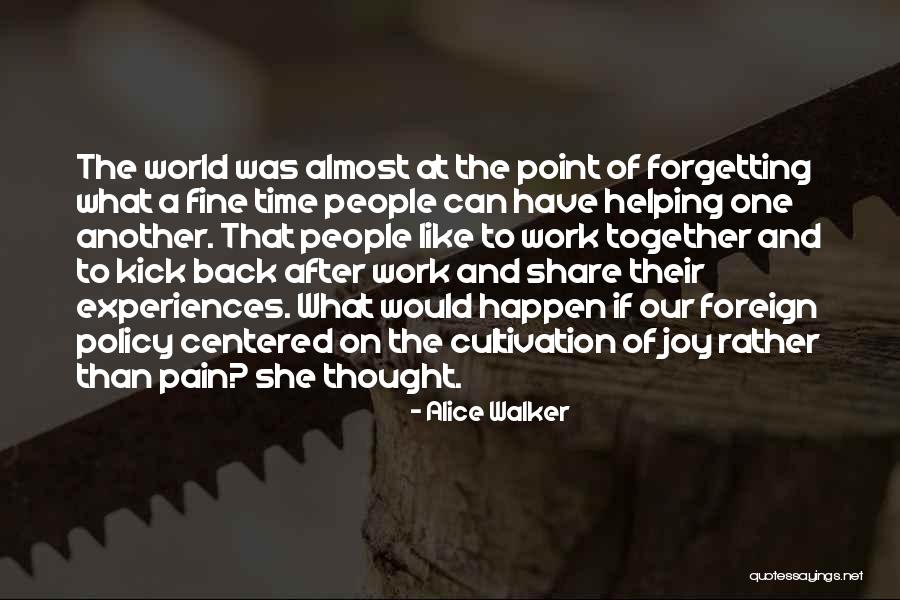 The world was almost at the point of forgetting what a fine time people can have helping one another. That people like to work together and to kick back after work and share their experiences. What would happen if our foreign policy centered on the cultivation of joy rather than pain? she thought. — Alice Walker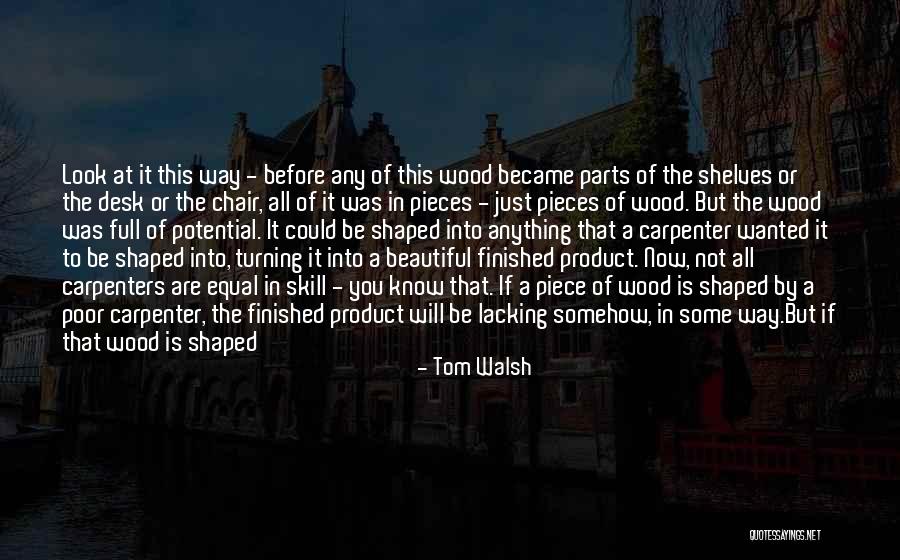 Look at it this way - before any of this wood became parts of the shelves or the desk or the chair, all of it was in pieces - just pieces of wood. But the wood was full of potential. It could be shaped into anything that a carpenter wanted it to be shaped into, turning it into a beautiful finished product. Now, not all carpenters are equal in skill - you know that. If a piece of wood is shaped by a poor carpenter, the finished product will be lacking somehow, in some way.
But if that wood is shaped by a master carpenter, then that piece will fit into this world precisely as it's supposed to fit, whether it be a desktop or a cabinet shelf or a doorstop. And the way that I work wood is the way I try to work with people - with love and attention and caring - so that the wood and the people can reach their potential. And if someone lets you teach them, and is open to what you have to teach, then how can you go wrong? — Tom Walsh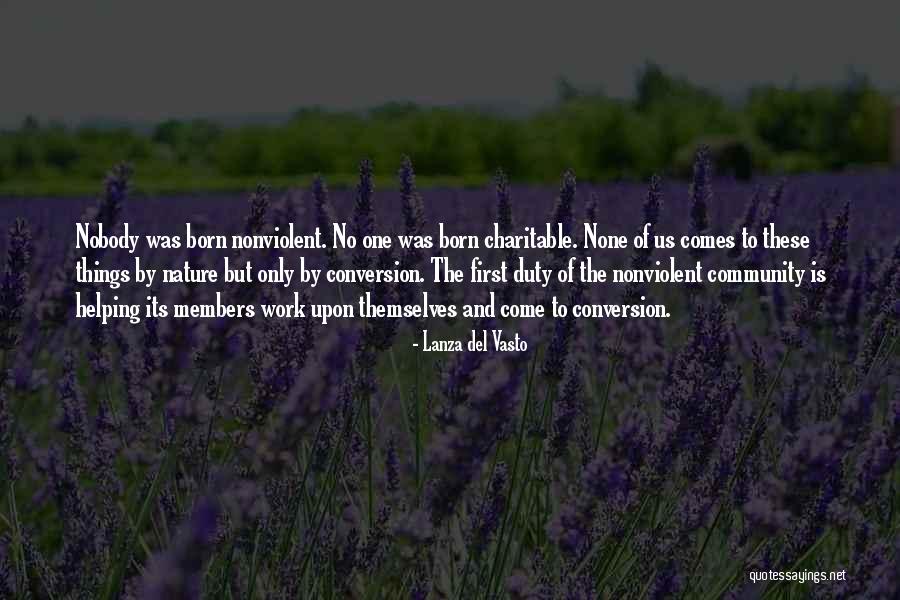 Nobody was born nonviolent. No one was born charitable. None of us comes to these things by nature but only by conversion. The first duty of the nonviolent community is helping its members work upon themselves and come to conversion. — Lanza Del Vasto
We lose our ability to live fully if we neglect or ignore our responsibility to the other people who share this planet with us. We simply cannot reach our full potential without the insights and observations that other people
our teachers
have to give us. We cannot feel whole until we are helping other people to reach for their potential and to grow as strong as they can grow. We do need down time, and we do need time to ourselves, but we very much need to acknowledge our ties to our fellow human beings and act as if those people meant more to us than our jobs or pets or cars do. They are much more important than anything material that we ever can get our hands on or strive for. — Tom Walsh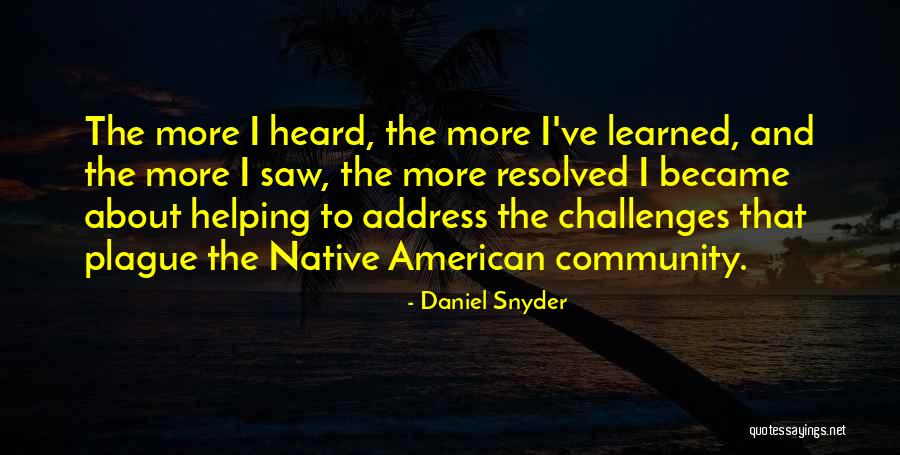 The more I heard, the more I've learned, and the more I saw, the more resolved I became about helping to address the challenges that plague the Native American community. — Daniel Snyder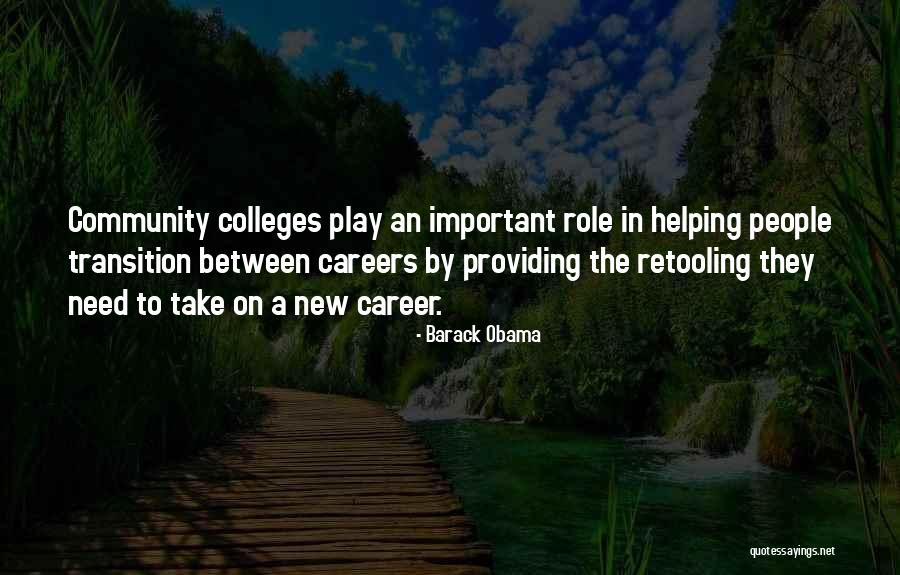 Community colleges play an important role in helping people transition between careers by providing the retooling they need to take on a new career. — Barack Obama
This was a very progressive group of clergy who foresaw the race riots that were going to take place when Dr. King started helping the local civil rights community push for open housing. They were sort of hoping against hope that we could educate kids in a way that could counter some of the racist messages they were imbibing at home. I don't know whether we did any good, but it changed my life in every single way. — Sara Paretsky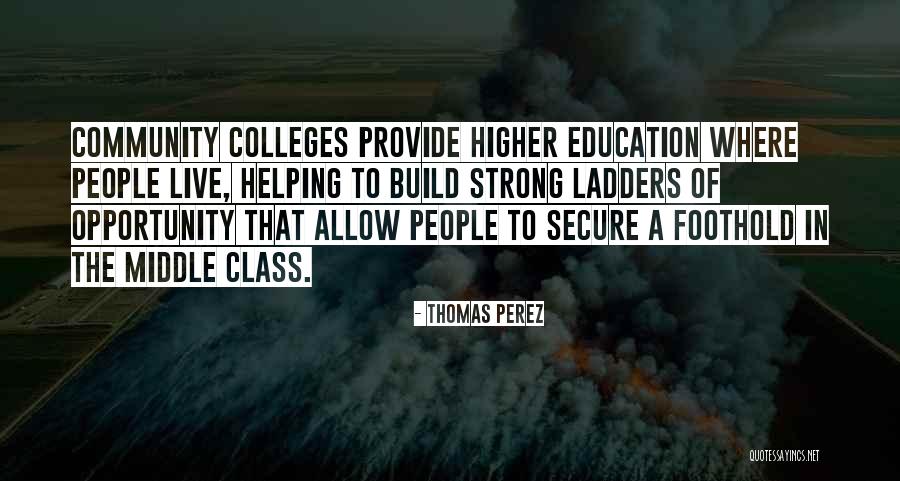 Community colleges provide higher education where people live, helping to build strong ladders of opportunity that allow people to secure a foothold in the middle class. — Thomas Perez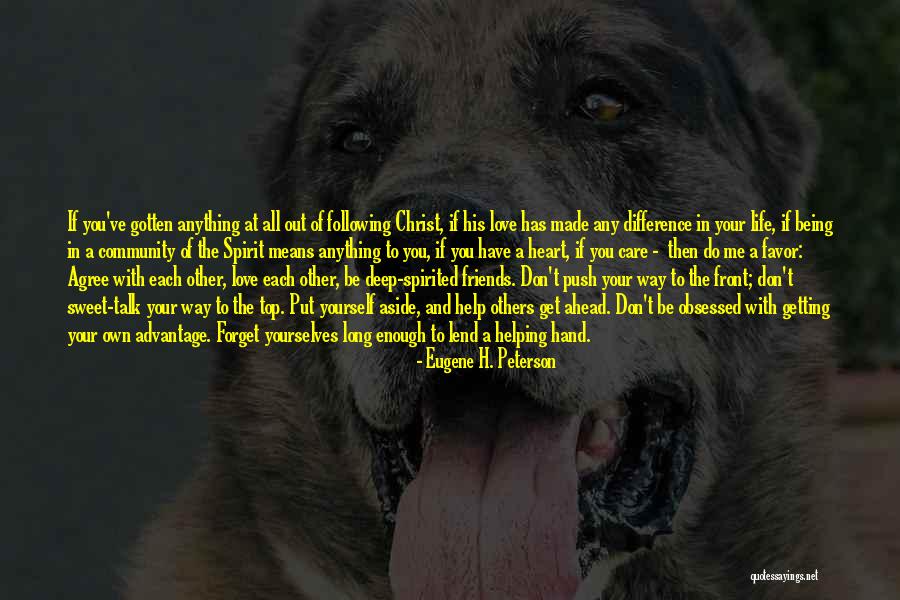 If you've gotten anything at all out of following Christ, if his love has made any difference in your life, if being in a community of the Spirit means anything to you, if you have a heart, if you care - then do me a favor: Agree with each other, love each other, be deep-spirited friends. Don't push your way to the front; don't sweet-talk your way to the top. Put yourself aside, and help others get ahead. Don't be obsessed with getting your own advantage. Forget yourselves long enough to lend a helping hand. — Eugene H. Peterson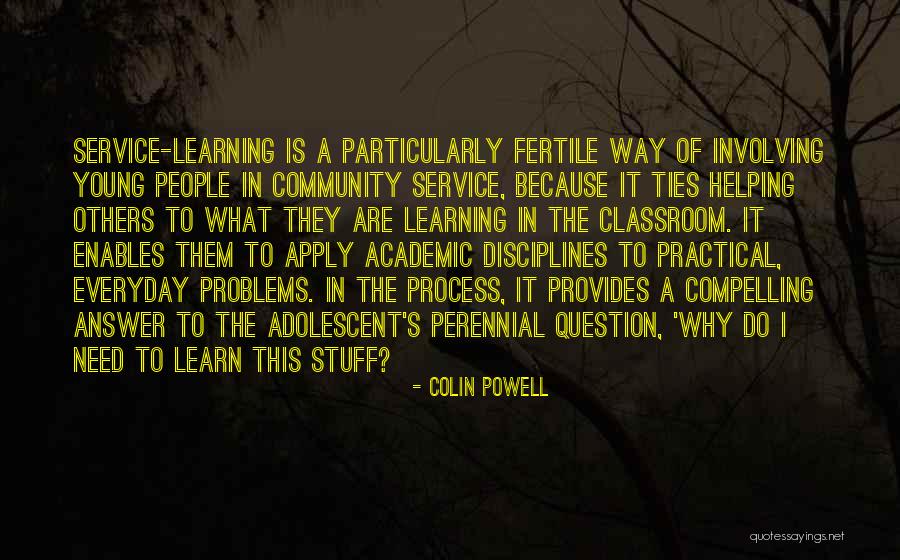 Service-learning is a particularly fertile way of involving young people in community service, because it ties helping others to what they are learning in the classroom. It enables them to apply academic disciplines to practical, everyday problems. In the process, it provides a compelling answer to the adolescent's perennial question, 'Why do I need to learn this stuff? — Colin Powell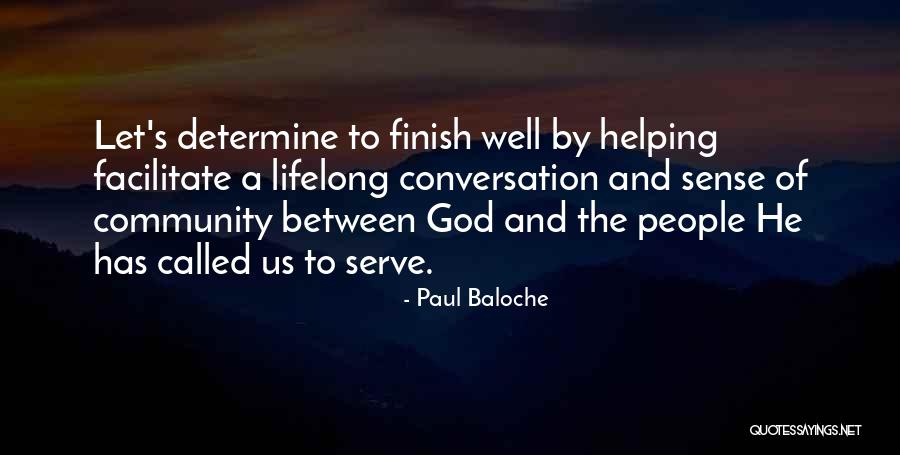 Let's determine to finish well by helping facilitate a lifelong conversation and sense of community between God and the people He has called us to serve. — Paul Baloche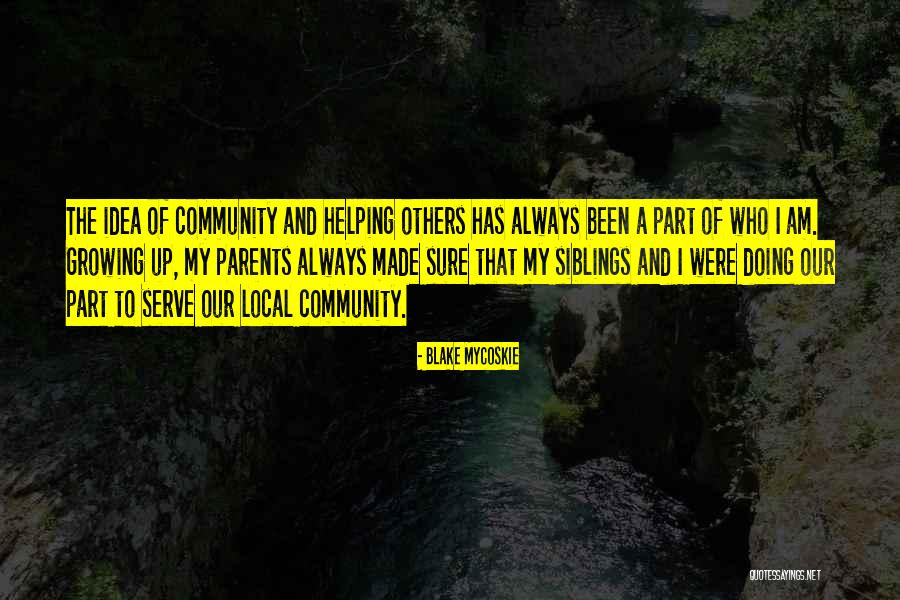 The idea of community and helping others has always been a part of who I am. Growing up, my parents always made sure that my siblings and I were doing our part to serve our local community. — Blake Mycoskie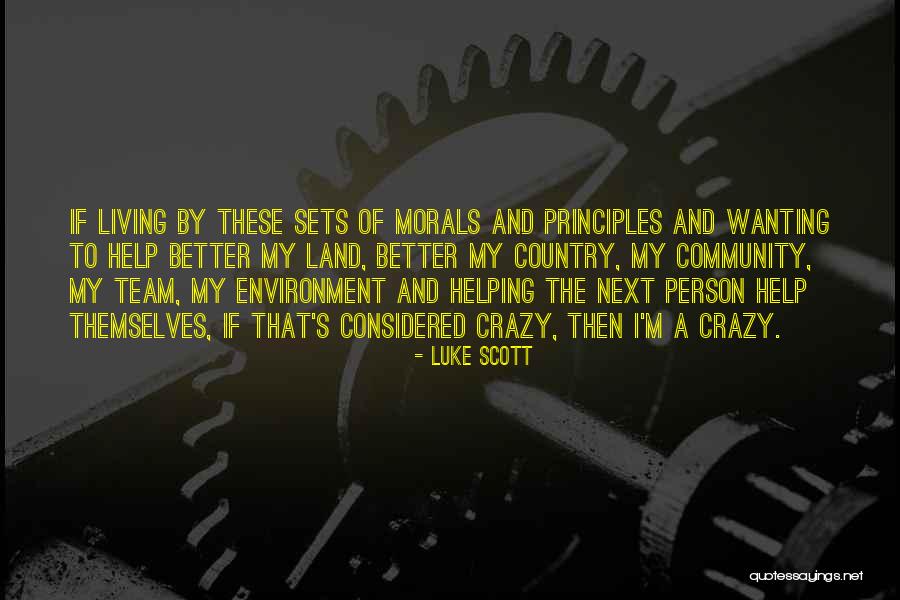 If living by these sets of morals and principles and wanting to help better my land, better my country, my community, my team, my environment and helping the next person help themselves, if that's considered crazy, then I'm a crazy. — Luke Scott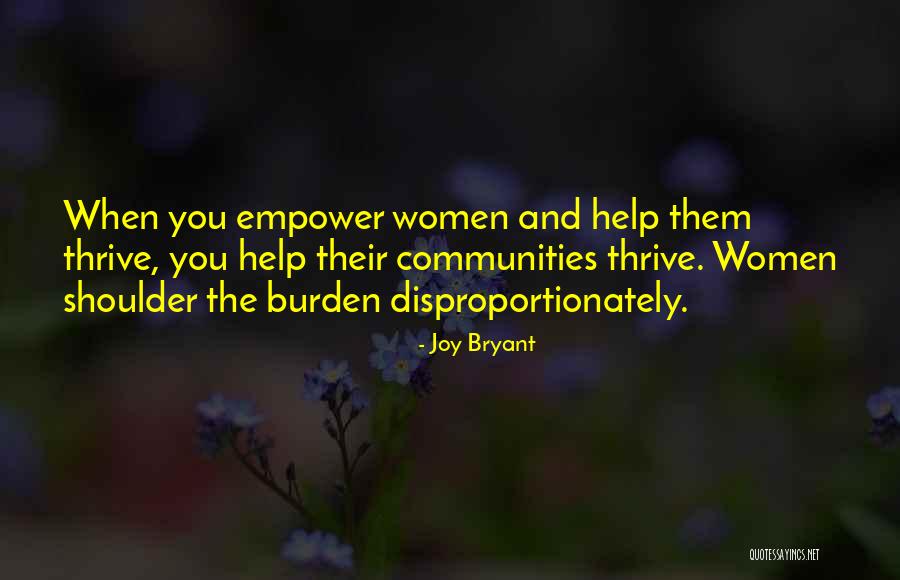 When you empower women and help them thrive, you help their communities thrive. Women shoulder the burden disproportionately. — Joy Bryant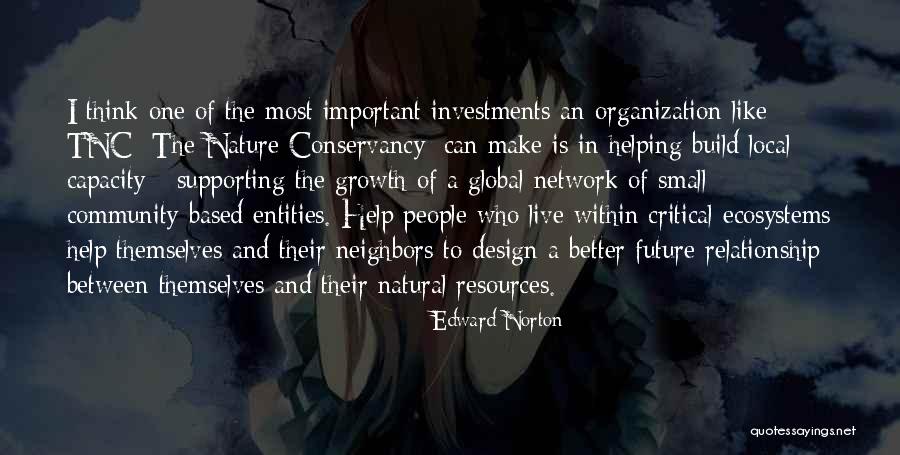 I think one of the most important investments an organization like TNC [The Nature Conservancy] can make is in helping build local capacity - supporting the growth of a global network of small community-based entities. Help people who live within critical ecosystems help themselves and their neighbors to design a better future relationship between themselves and their natural resources. — Edward Norton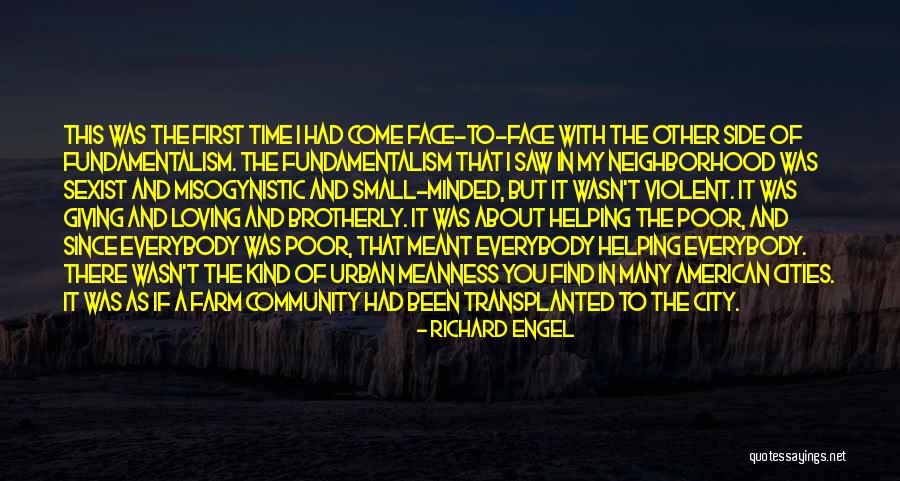 This was the first time I had come face-to-face with the other side of fundamentalism. The fundamentalism that I saw in my neighborhood was sexist and misogynistic and small-minded, but it wasn't violent. It was giving and loving and brotherly. It was about helping the poor, and since everybody was poor, that meant everybody helping everybody. There wasn't the kind of urban meanness you find in many American cities. It was as if a farm community had been transplanted to the city. — Richard Engel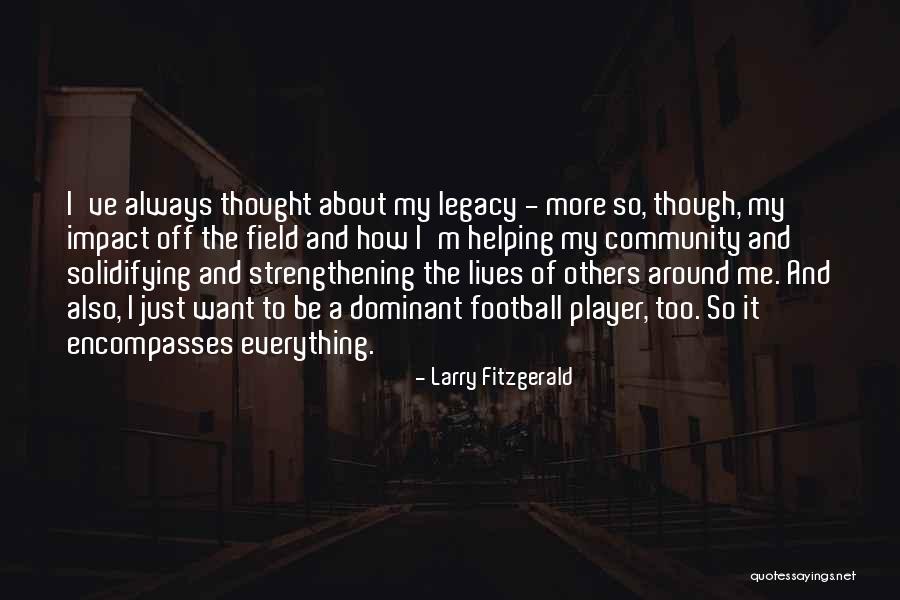 I've always thought about my legacy - more so, though, my impact off the field and how I'm helping my community and solidifying and strengthening the lives of others around me. And also, I just want to be a dominant football player, too. So it encompasses everything. — Larry Fitzgerald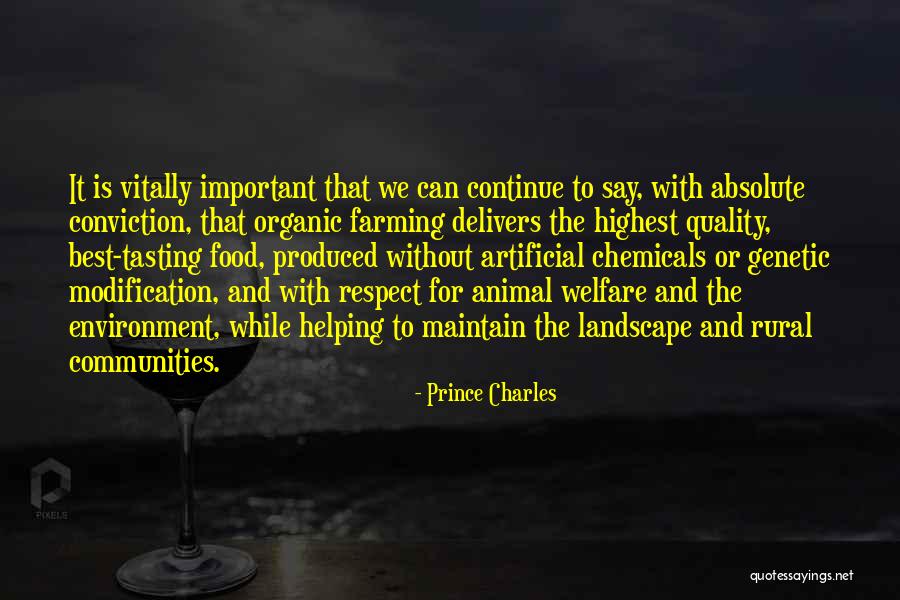 It is vitally important that we can continue to say, with absolute conviction, that organic farming delivers the highest quality, best-tasting food, produced without artificial chemicals or genetic modification, and with respect for animal welfare and the environment, while helping to maintain the landscape and rural communities. — Prince Charles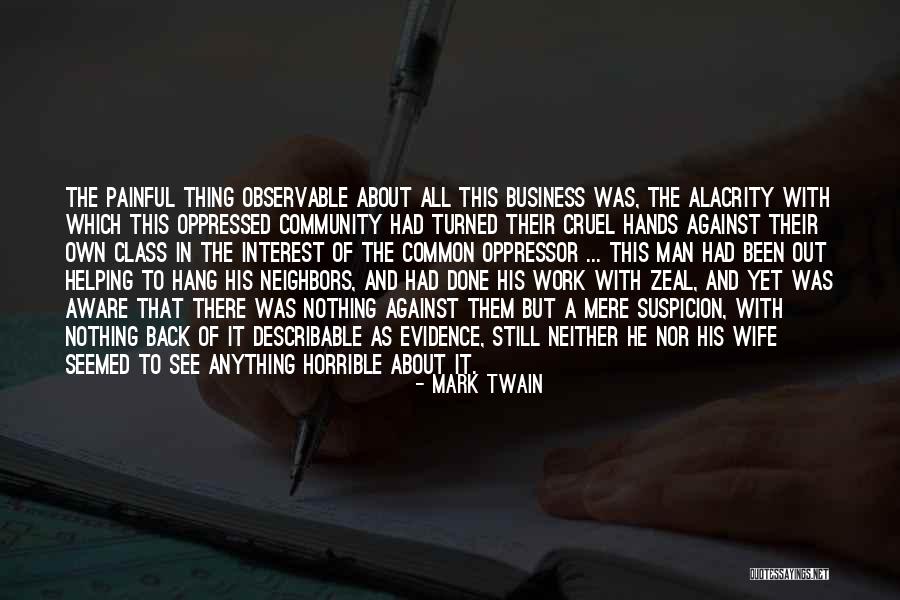 The painful thing observable about all this business was, the alacrity with which this oppressed community had turned their cruel hands against their own class in the interest of the common oppressor ... This man had been out helping to hang his neighbors, and had done his work with zeal, and yet was aware that there was nothing against them but a mere suspicion, with nothing back of it describable as evidence, still neither he nor his wife seemed to see anything horrible about it. — Mark Twain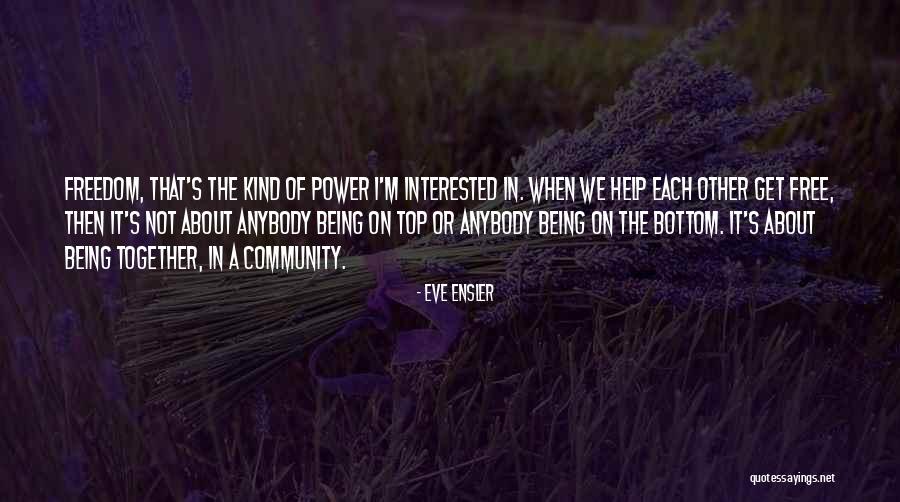 Freedom, that's the kind of power I'm interested in. When we help each other get free, then it's not about anybody being on top or anybody being on the bottom. It's about being together, in a community. — Eve Ensler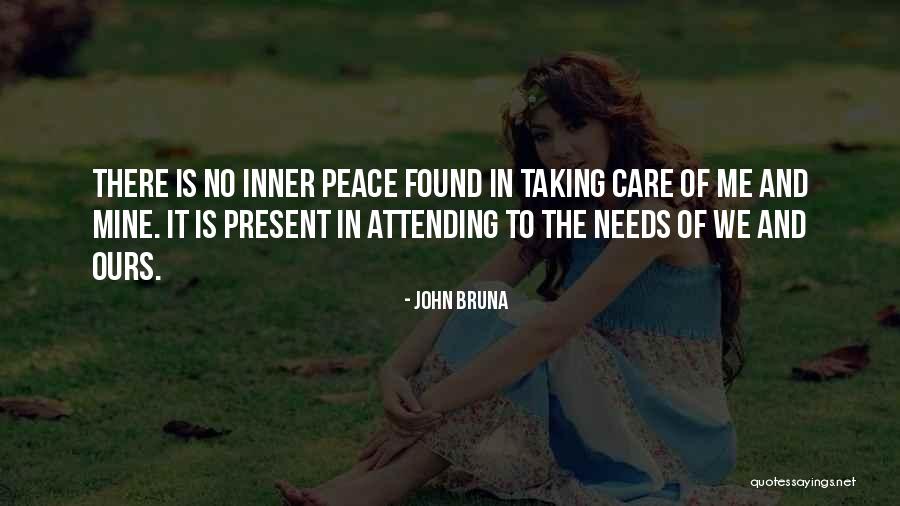 There is no inner peace found in taking care of me and mine. It is present in attending to the needs of we and ours. — John Bruna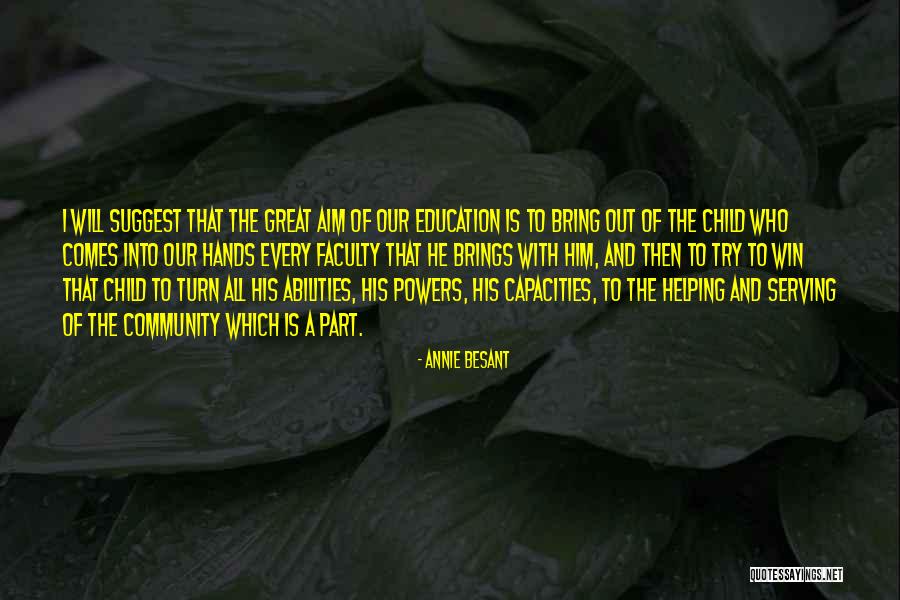 I will suggest that the great aim of our education is to bring out of the child who comes into our hands every faculty that he brings with him, and then to try to win that child to turn all his abilities, his powers, his capacities, to the helping and serving of the community which is a part. — Annie Besant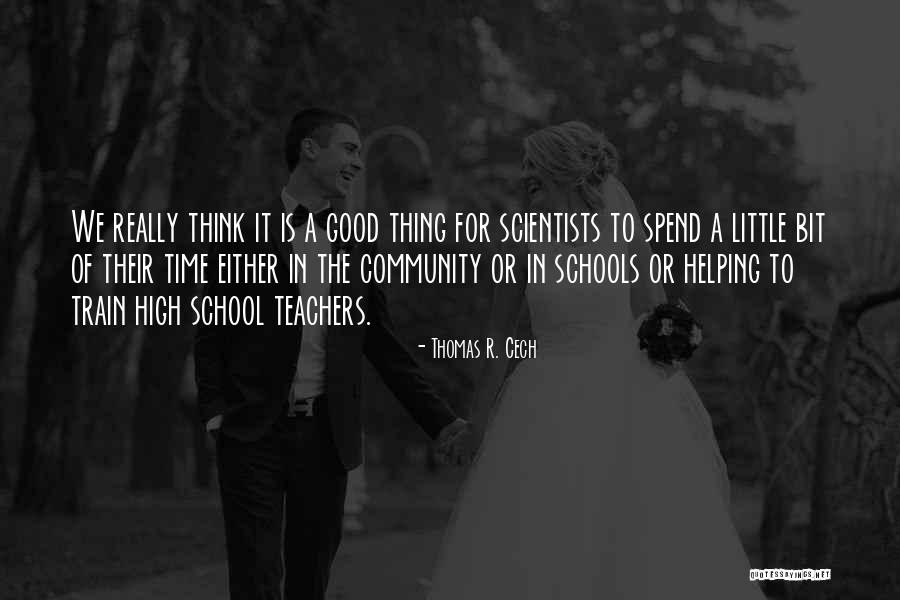 We really think it is a good thing for scientists to spend a little bit of their time either in the community or in schools or helping to train high school teachers. — Thomas R. Cech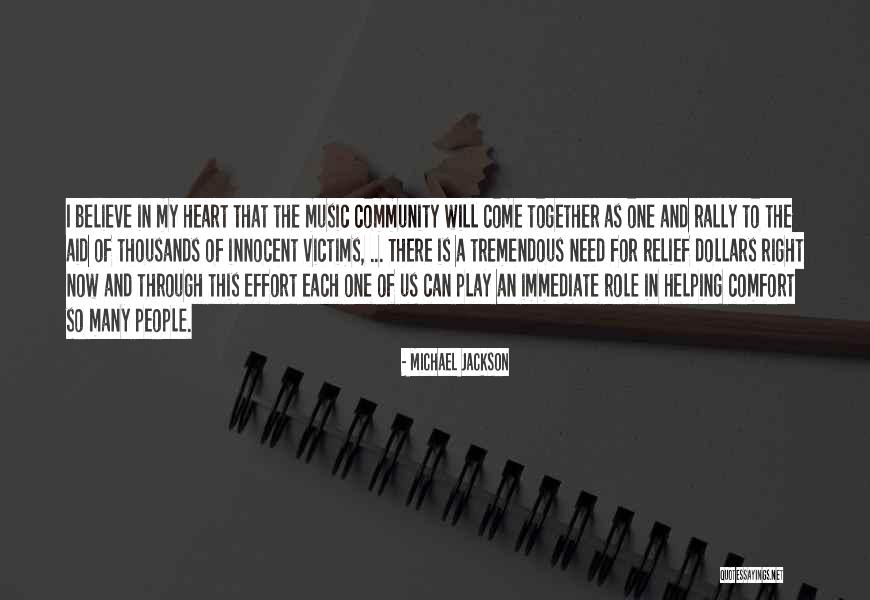 I believe in my heart that the music community will come together as one and rally to the aid of thousands of innocent victims, ... There is a tremendous need for relief dollars right now and through this effort each one of us can play an immediate role in helping comfort so many people. — Michael Jackson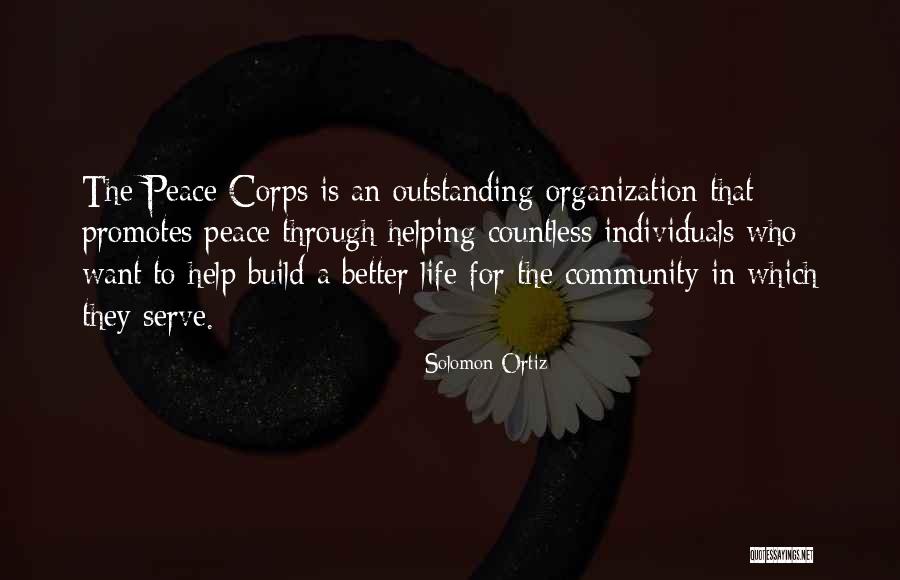 The Peace Corps is an outstanding organization that promotes peace through helping countless individuals who want to help build a better life for the community in which they serve. — Solomon Ortiz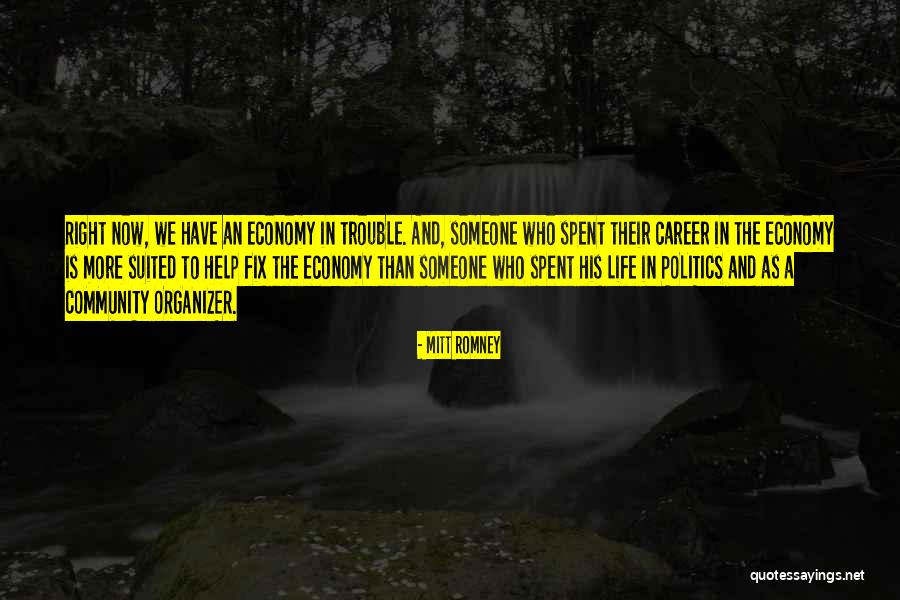 Right now, we have an economy in trouble. And, someone who spent their career in the economy is more suited to help fix the economy than someone who spent his life in POLITICS and as a COMMUNITY ORGANIZER. — Mitt Romney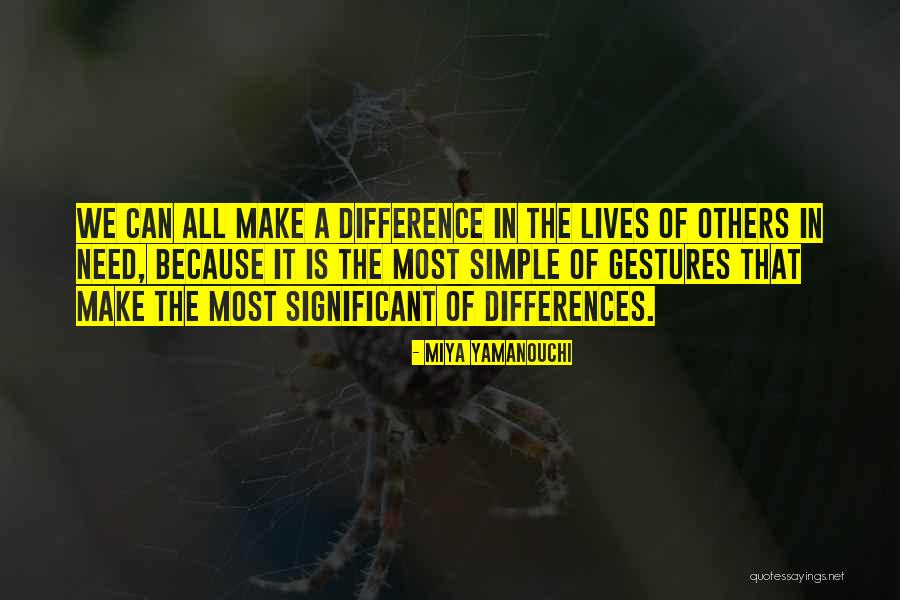 We can all make a difference in the lives of others in need, because it is the most simple of gestures that make the most significant of differences. — Miya Yamanouchi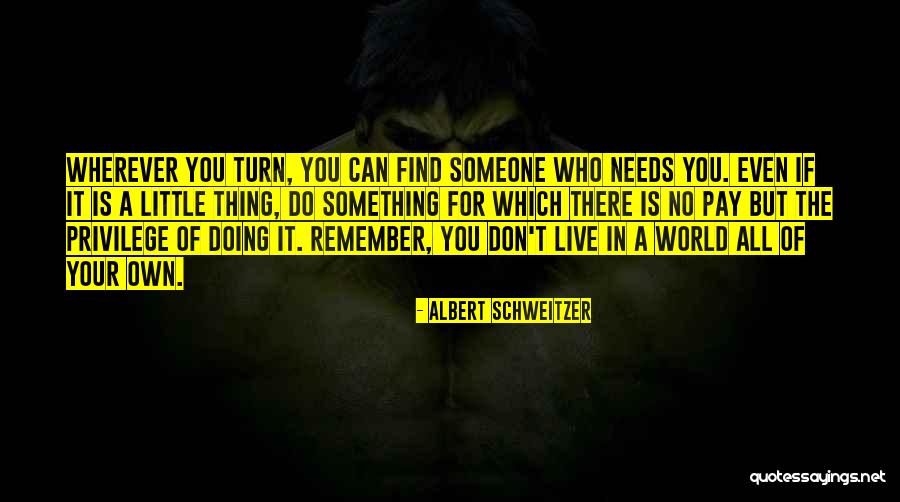 Wherever you turn, you can find someone who needs you. Even if it is a little thing, do something for which there is no pay but the privilege of doing it. Remember, you don't live in a world all of your own. — Albert Schweitzer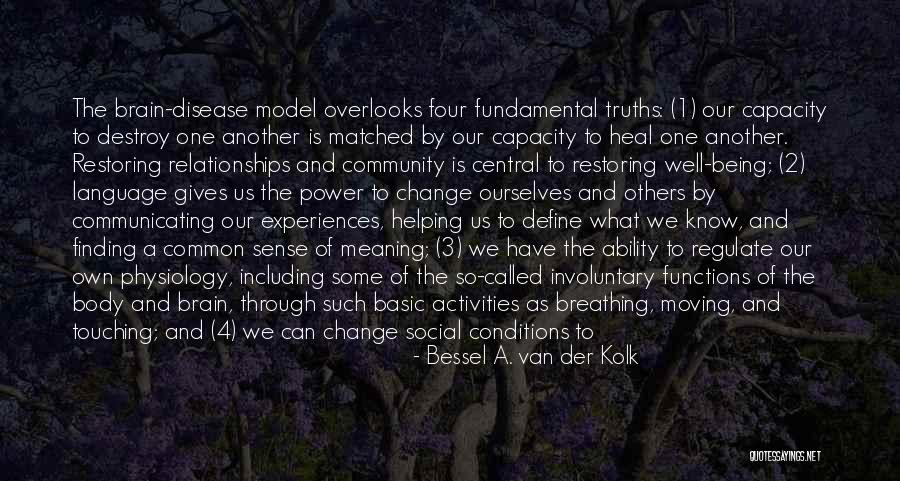 The brain-disease model overlooks four fundamental truths: (1) our capacity to destroy one another is matched by our capacity to heal one another. Restoring relationships and community is central to restoring well-being; (2) language gives us the power to change ourselves and others by communicating our experiences, helping us to define what we know, and finding a common sense of meaning; (3) we have the ability to regulate our own physiology, including some of the so-called involuntary functions of the body and brain, through such basic activities as breathing, moving, and touching; and (4) we can change social conditions to create environments in which children and adults can feel safe and where they can thrive. — Bessel A. Van Der Kolk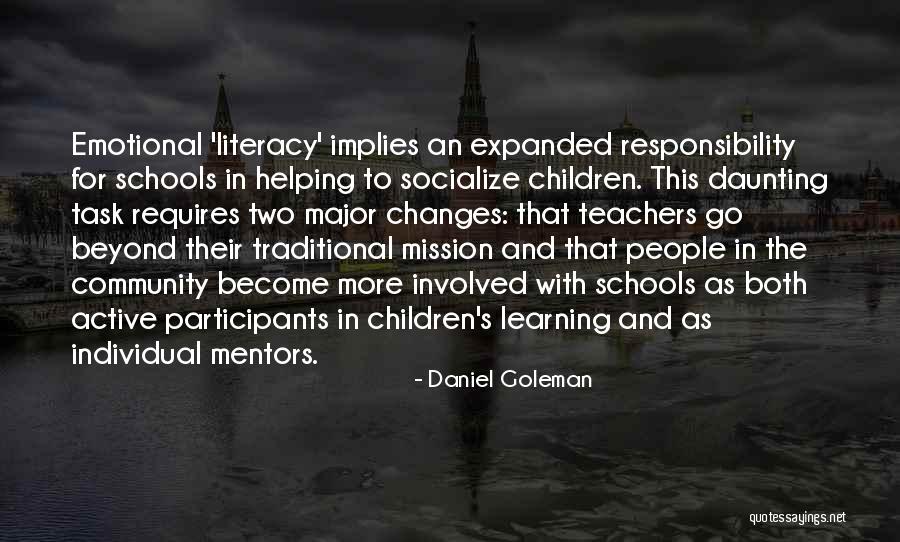 Emotional 'literacy' implies an expanded responsibility for schools in helping to socialize children. This daunting task requires two major changes: that teachers go beyond their traditional mission and that people in the community become more involved with schools as both active participants in children's learning and as individual mentors. — Daniel Goleman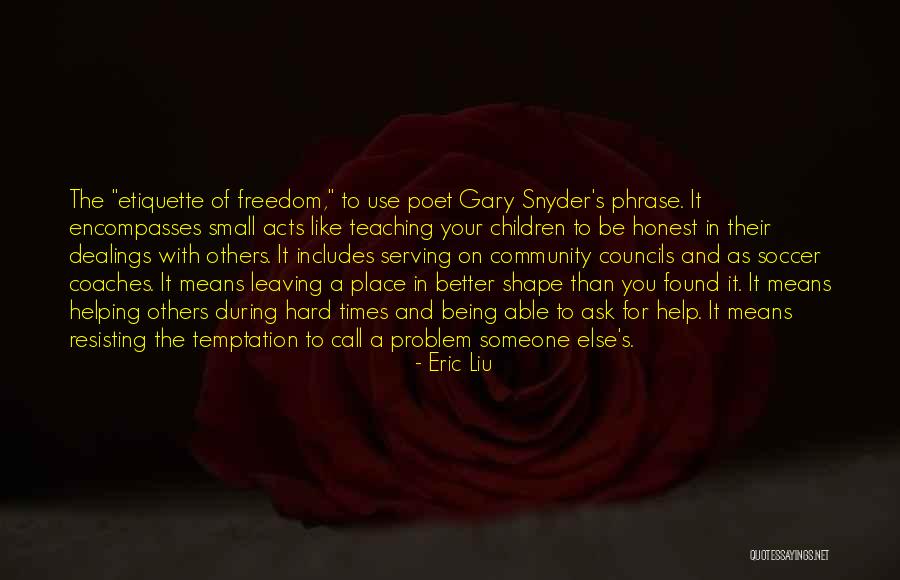 The "etiquette of freedom," to use poet Gary Snyder's phrase. It encompasses small acts like teaching your children to be honest in their dealings with others. It includes serving on community councils and as soccer coaches. It means leaving a place in better shape than you found it. It means helping others during hard times and being able to ask for help. It means resisting the temptation to call a problem someone else's. — Eric Liu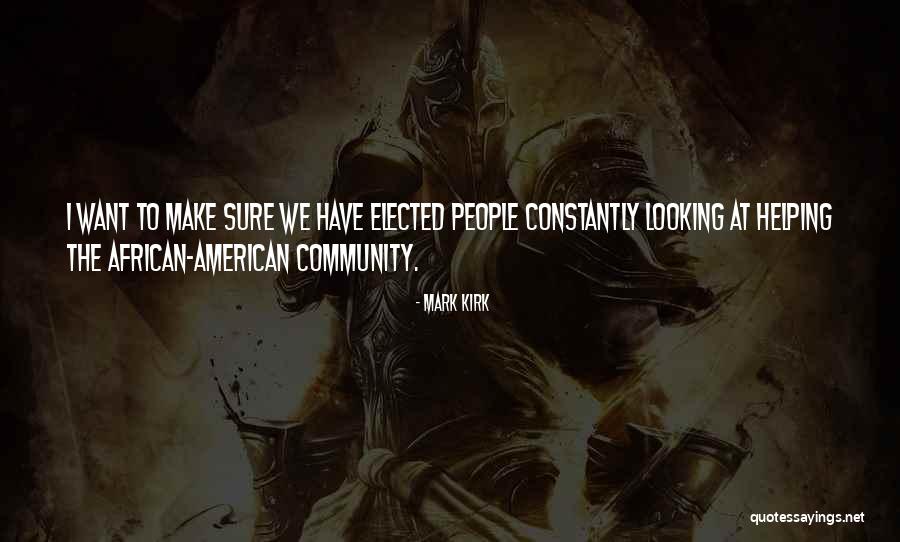 I want to make sure we have elected people constantly looking at helping the African-American community. — Mark Kirk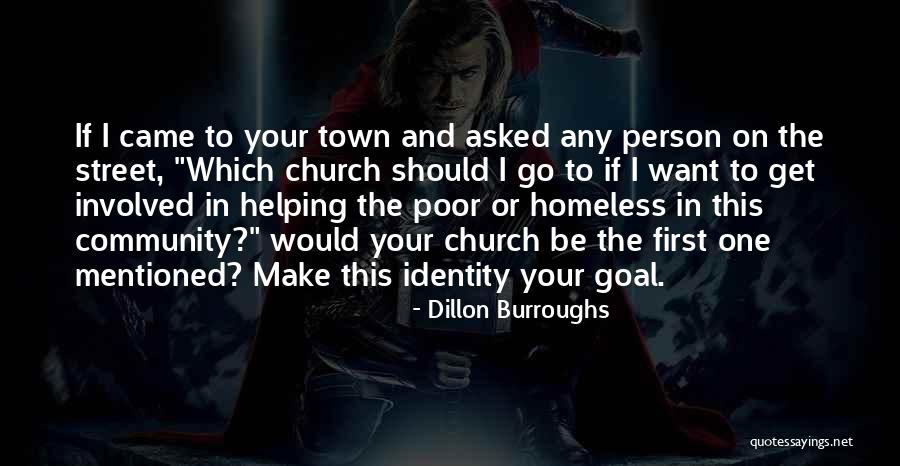 If I came to your town and asked any person on the street, "Which church should I go to if I want to get involved in helping the poor or homeless in this community?" would your church be the first one mentioned? Make this identity your goal. — Dillon Burroughs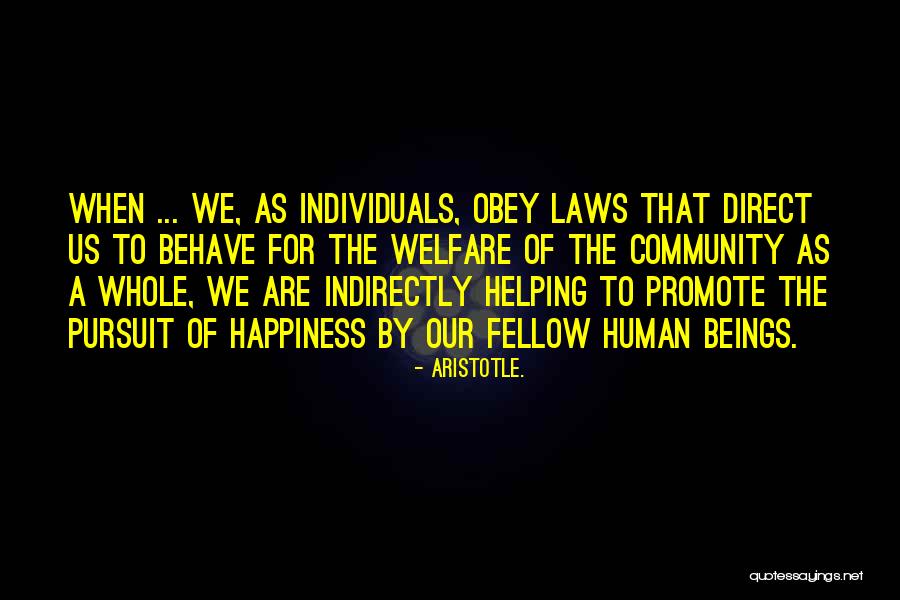 When ... we, as individuals, obey laws that direct us to behave for the welfare of the community as a whole, we are indirectly helping to promote the pursuit of happiness by our fellow human beings. — Aristotle.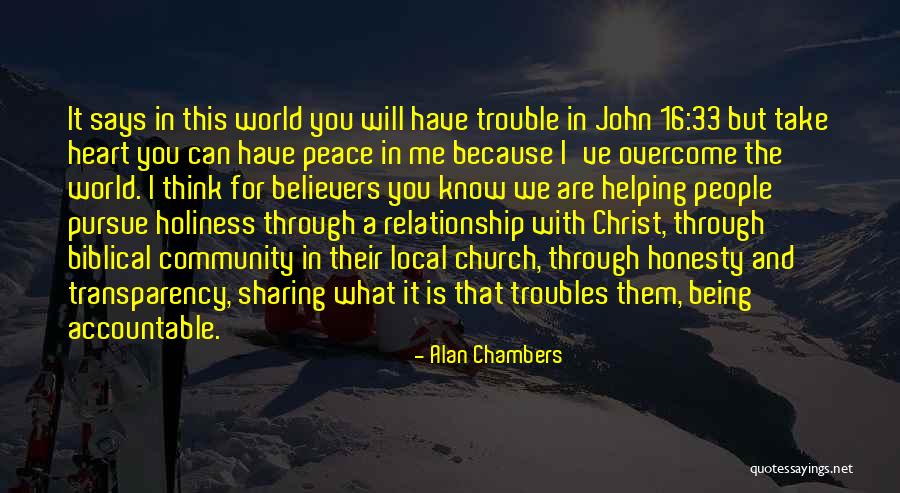 It says in this world you will have trouble in John 16:33 but take heart you can have peace in me because I've overcome the world. I think for believers you know we are helping people pursue holiness through a relationship with Christ, through biblical community in their local church, through honesty and transparency, sharing what it is that troubles them, being accountable. — Alan Chambers