Quotes & Sayings About Heiress
Enjoy reading and share 45 famous quotes about Heiress with everyone.
Top Heiress Quotes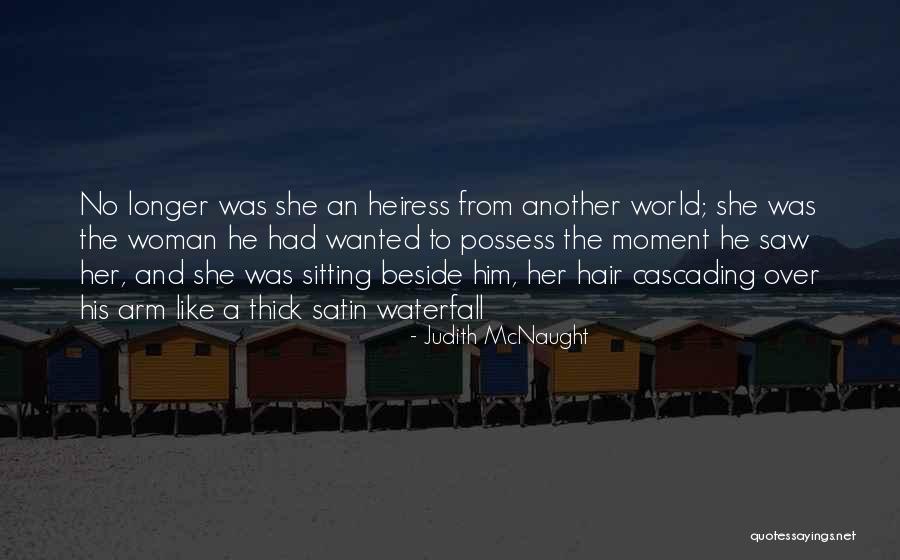 No longer was she an heiress from another world; she was the woman he had wanted to possess the moment he saw her, and she was sitting beside him, her hair cascading over his arm like a thick satin waterfall — Judith McNaught
Hastings sat down and braced his arm along the back of the chaise, quite effectively letting it be known he did not want anyone else to join them.
"You look frustrated, Miss Fitzhugh." He lowered his voice. "Has your bed been empty of late?"
He knew very well she'd been watched more closely than prices on the stock exchange. She couldn't smuggle a hamster into her bed, let alone a man.
"You look anemic, Hastings," she said. "Have you been leaving the belles of England breathlessly unsatisfied again?"
He grinned. "Ah, so you know what it is like to be breathlessly unsatisfied. I expected as little from Andrew Martin."
Her tone was pointed. "As little as you expect from yourself, no doubt."
He sighed exaggeratedly. "Miss Fitzhugh, you disparage me so, when I've only ever sung your praises."
"Well, we all do what we must," she said with sweet venom.
He didn't reply - not in words, at least. — Sherry Thomas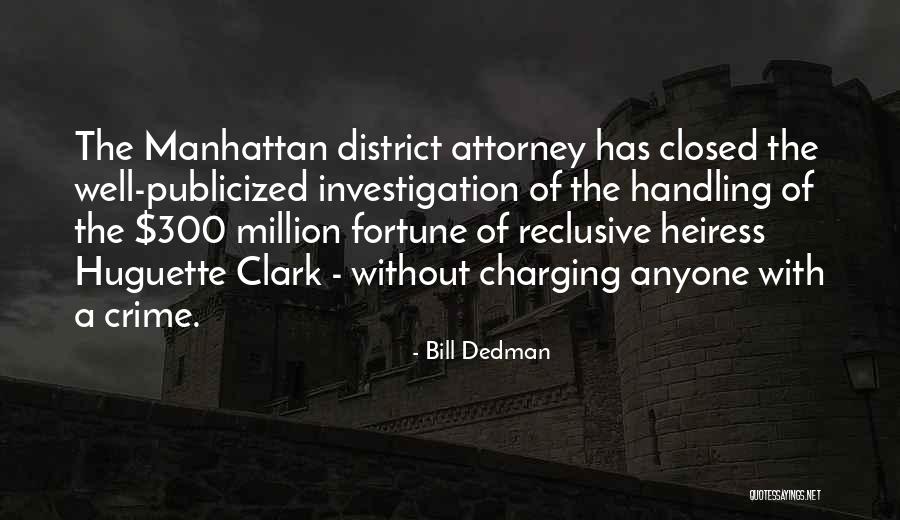 The Manhattan district attorney has closed the well-publicized investigation of the handling of the $300 million fortune of reclusive heiress Huguette Clark - without charging anyone with a crime. — Bill Dedman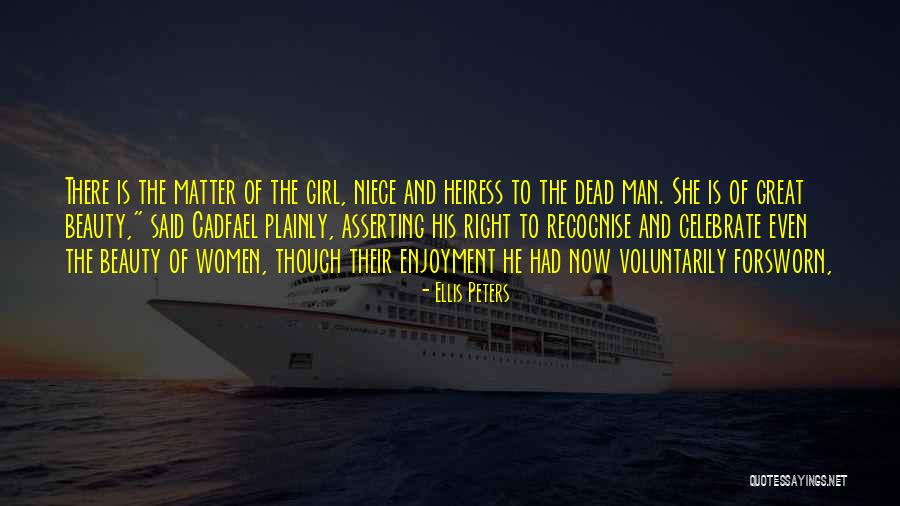 There is the matter of the girl, niece and heiress to the dead man. She is of great beauty," said Cadfael plainly, asserting his right to recognise and celebrate even the beauty of women, though their enjoyment he had now voluntarily forsworn, — Ellis Peters
It's traditional for an heiress to be raised in a sheltered way. No one thinks that's true of me, but it actually was. — Paris Hilton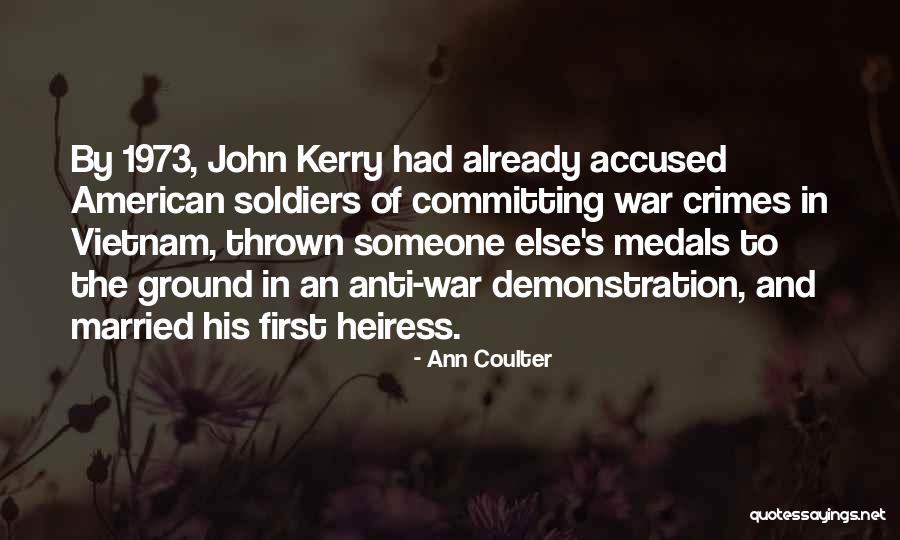 By 1973, John Kerry had already accused American soldiers of committing war crimes in Vietnam, thrown someone else's medals to the ground in an anti-war demonstration, and married his first heiress. — Ann Coulter
You don't have to be an heiress to look like one, if you act like one then everyone will just presume you are one. — Paris Hilton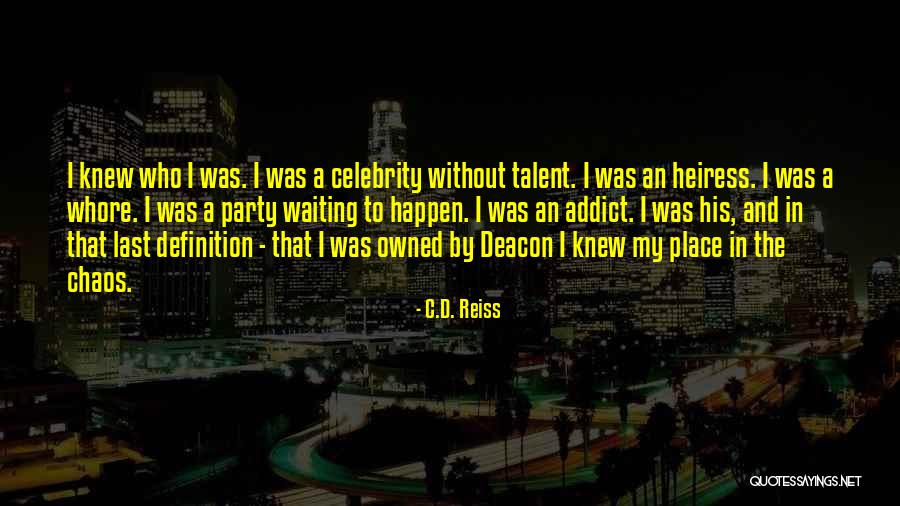 I knew who I was. I was a celebrity without talent. I was an heiress. I was a whore. I was a party waiting to happen. I was an addict. I was his, and in that last definition - that I was owned by Deacon I knew my place in the chaos. — C.D. Reiss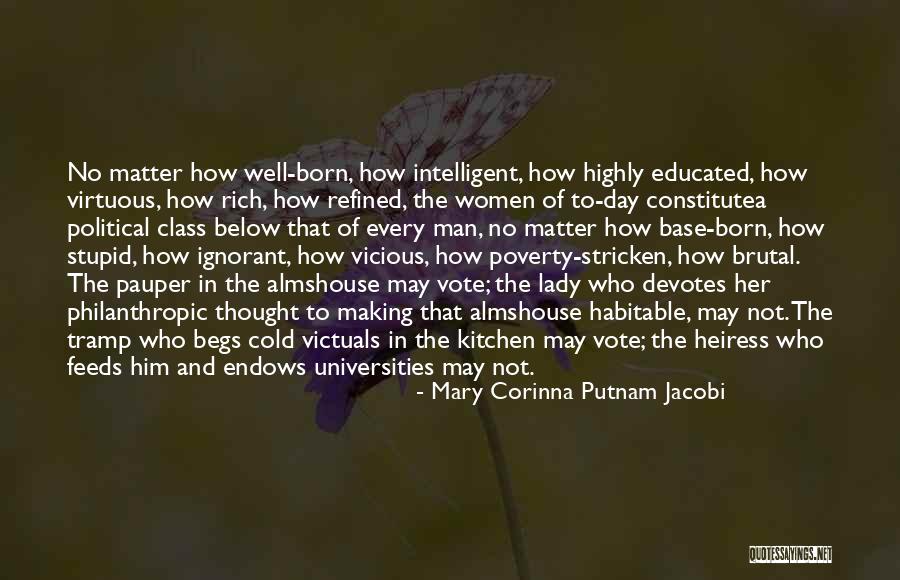 No matter how well-born, how intelligent, how highly educated, how virtuous, how rich, how refined, the women of to-day constitutea political class below that of every man, no matter how base-born, how stupid, how ignorant, how vicious, how poverty-stricken, how brutal. The pauper in the almshouse may vote; the lady who devotes her philanthropic thought to making that almshouse habitable, may not. The tramp who begs cold victuals in the kitchen may vote; the heiress who feeds him and endows universities may not. — Mary Corinna Putnam Jacobi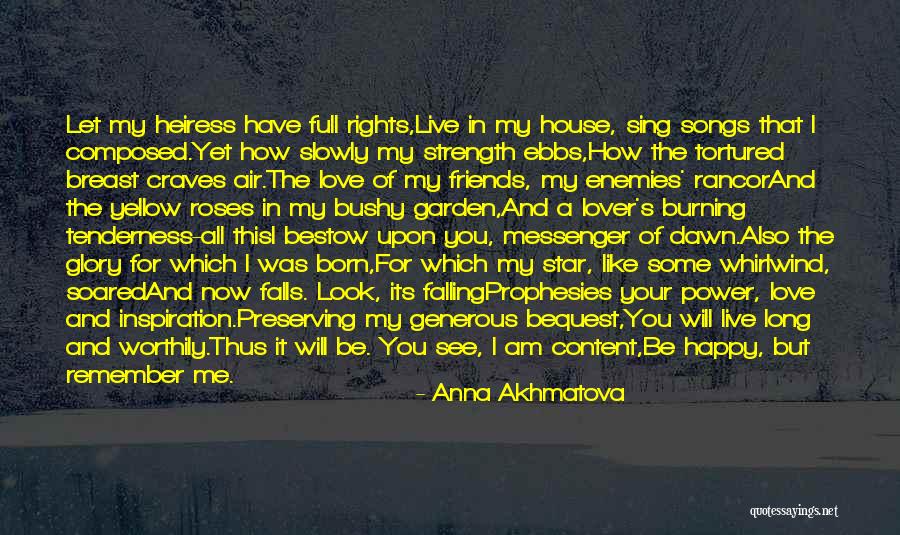 Let my heiress have full rights,
Live in my house, sing songs that I composed.
Yet how slowly my strength ebbs,
How the tortured breast craves air.
The love of my friends, my enemies' rancor
And the yellow roses in my bushy garden,
And a lover's burning tenderness-all this
I bestow upon you, messenger of dawn.
Also the glory for which I was born,
For which my star, like some whirlwind, soared
And now falls. Look, its falling
Prophesies your power, love and inspiration.
Preserving my generous bequest,
You will live long and worthily.
Thus it will be. You see, I am content,
Be happy, but remember me. — Anna Akhmatova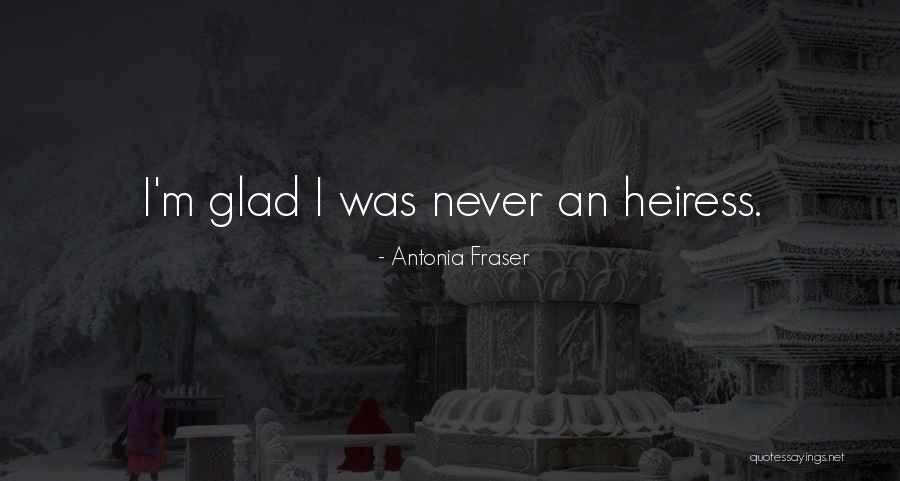 I'm glad I was never an heiress. — Antonia Fraser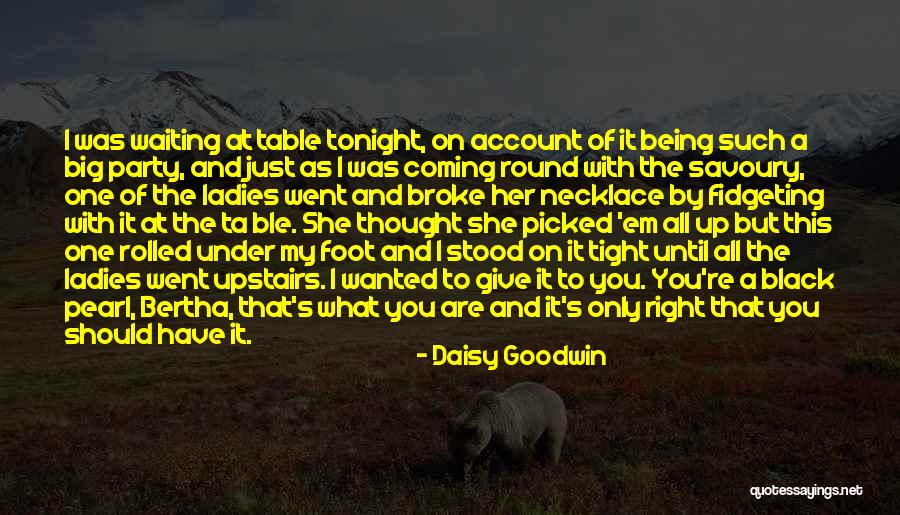 I was waiting at table tonight, on account of it being such a big party, and just as I was coming round with the savoury, one of the ladies went and broke her necklace by fidgeting with it at the ta ble. She thought she picked 'em all up but this one rolled under my foot and I stood on it tight until all the ladies went upstairs. I wanted to give it to you. You're a black pearl, Bertha, that's what you are and it's only right that you should have it. — Daisy Goodwin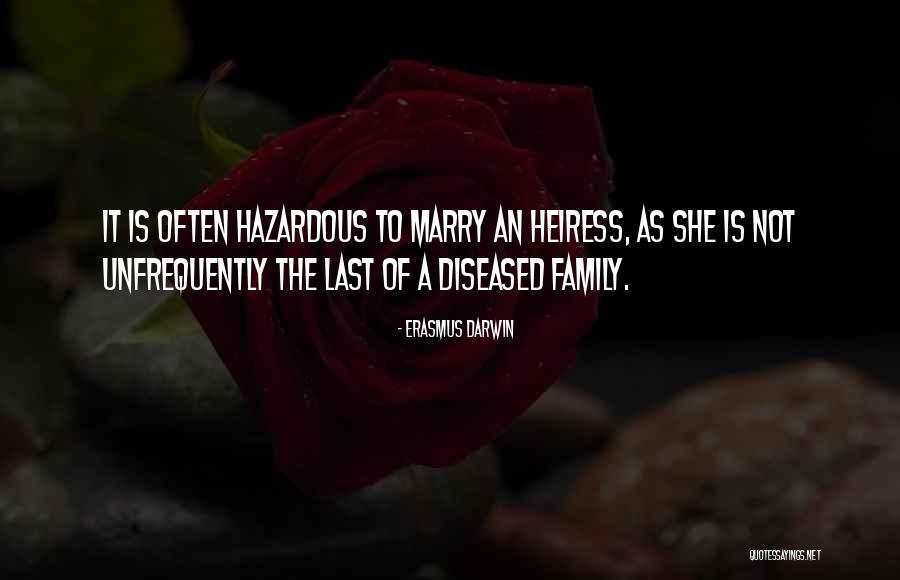 It is often hazardous to marry an heiress, as she is not unfrequently the last of a diseased family. — Erasmus Darwin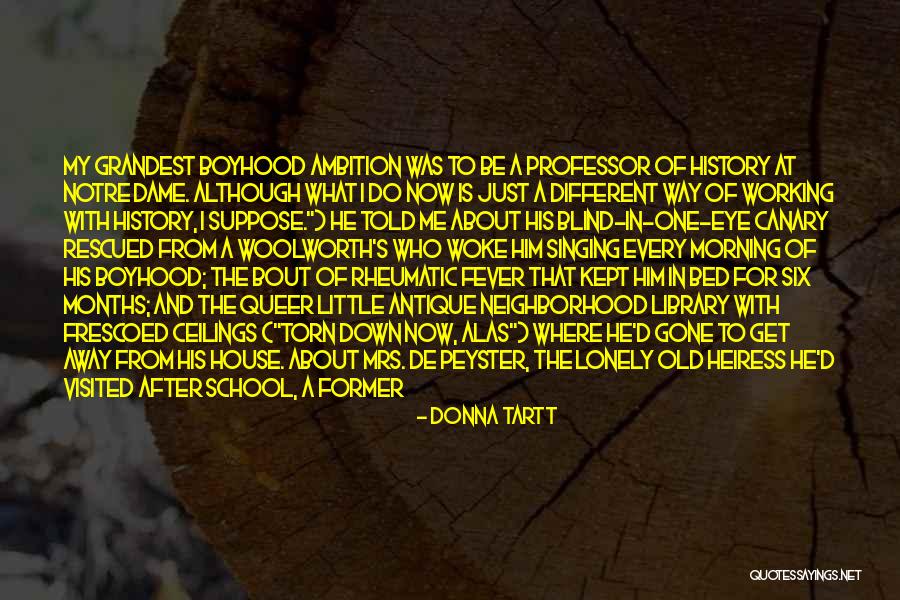 My grandest boyhood ambition was to be a professor of history at Notre Dame. Although what I do now is just a different way of working with history, I suppose.") He told me about his blind-in-one-eye canary rescued from a Woolworth's who woke him singing every morning of his boyhood; the bout of rheumatic fever that kept him in bed for six months; and the queer little antique neighborhood library with frescoed ceilings ("torn down now, alas") where he'd gone to get away from his house. About Mrs. De Peyster, the lonely old heiress he'd visited after school, a former Belle of Albany and local historian who clucked over Hobie and fed him Dundee cake ordered from England in tins, who was happy to stand for hours explaining to Hobie every single item in her china cabinet and who had owned, among other things, the mahogany sofa - rumored to have belonged to General Herkimer - that got him interested in furniture in the first place. — Donna Tartt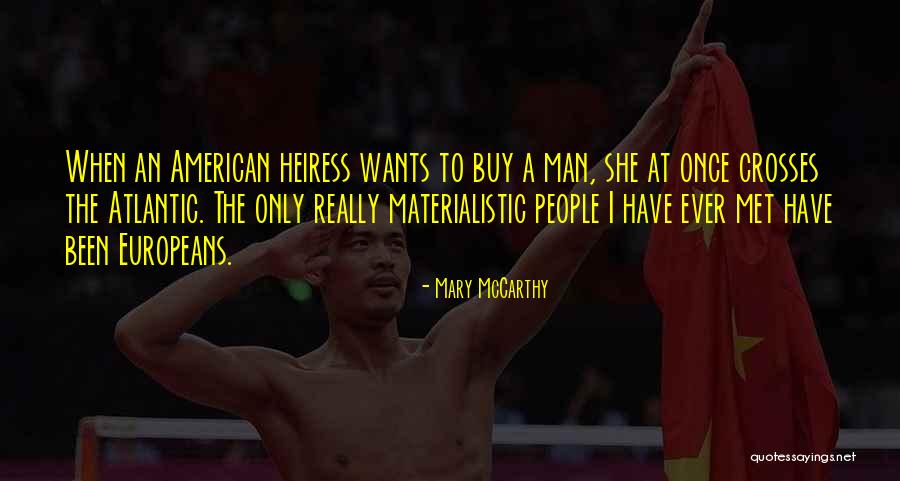 When an American heiress wants to buy a man, she at once crosses the Atlantic. The only really materialistic people I have ever met have been Europeans. — Mary McCarthy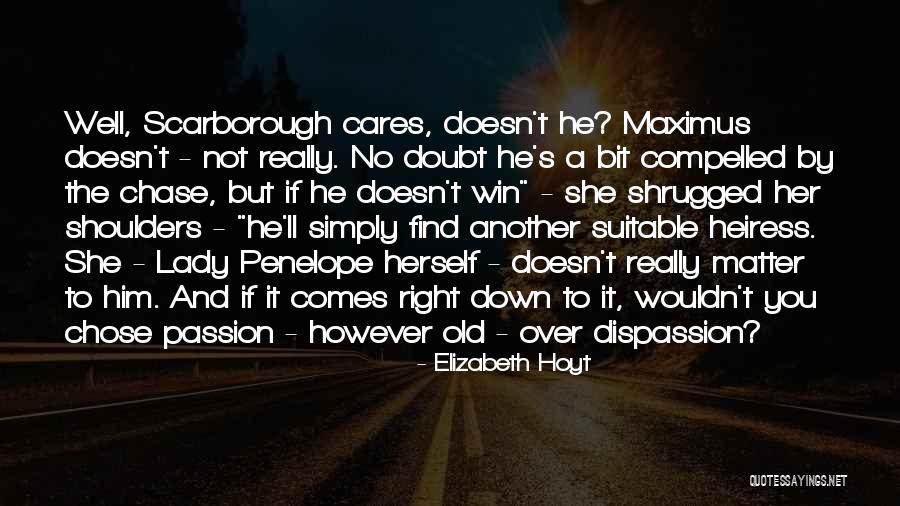 Well, Scarborough cares, doesn't he? Maximus doesn't - not really. No doubt he's a bit compelled by the chase, but if he doesn't win" - she shrugged her shoulders - "he'll simply find another suitable heiress. She - Lady Penelope herself - doesn't really matter to him. And if it comes right down to it, wouldn't you chose passion - however old - over dispassion? — Elizabeth Hoyt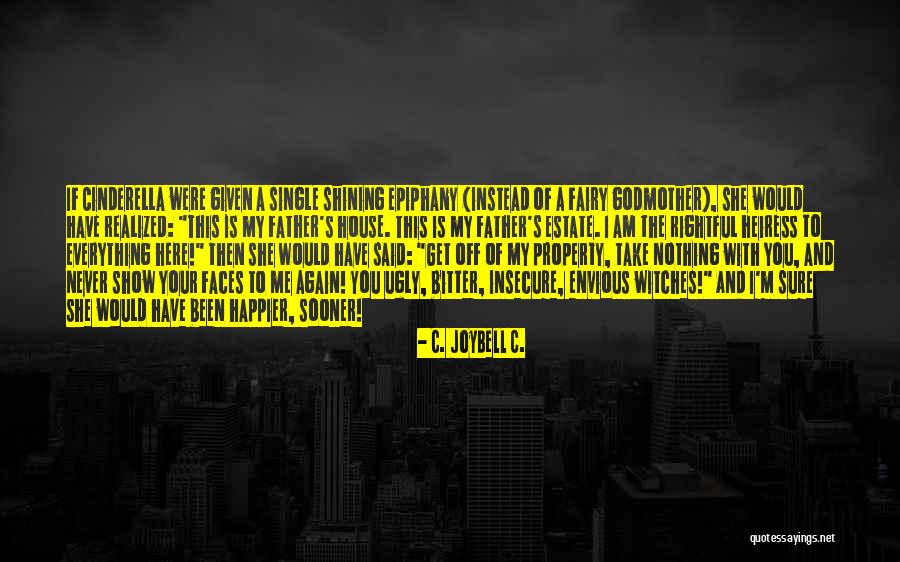 If Cinderella were given a single shining epiphany (instead of a fairy godmother), she would have realized: "This is my father's house. This is my father's estate. I am the rightful heiress to everything here!" then she would have said: "Get off of my property, take nothing with you, and never show your faces to me again! You ugly, bitter, insecure, envious witches!" And I'm sure she would have been happier, sooner! — C. JoyBell C.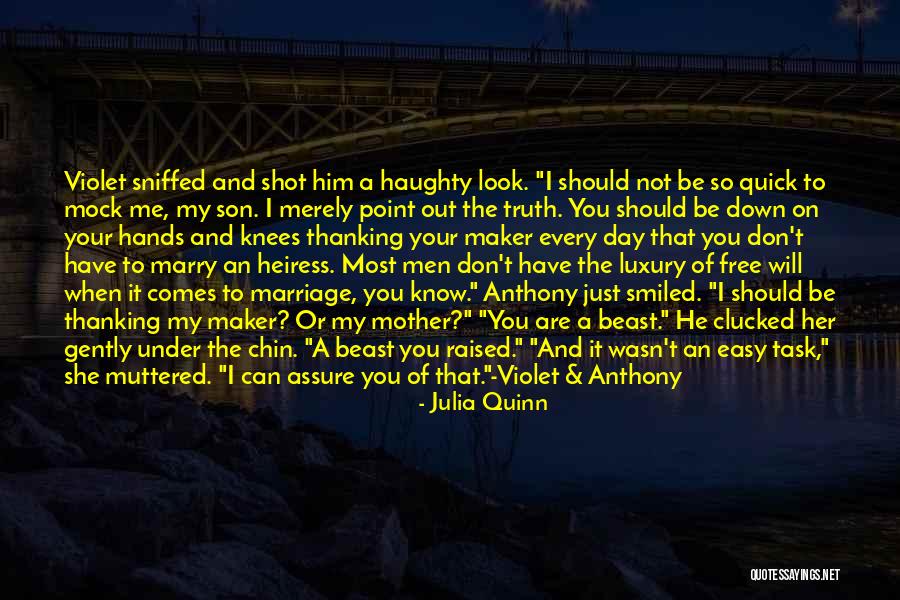 Violet sniffed and shot him a haughty look. "I should not be so quick to mock me, my son. I merely point out the truth. You should be down on your hands and knees thanking your maker every day that you don't have to marry an heiress. Most men don't have the luxury of free will when it comes to marriage, you know."
Anthony just smiled. "I should be thanking my maker? Or my mother?"
"You are a beast."
He clucked her gently under the chin. "A beast you raised."
"And it wasn't an easy task," she muttered. "I can assure you of that."

-Violet & Anthony — Julia Quinn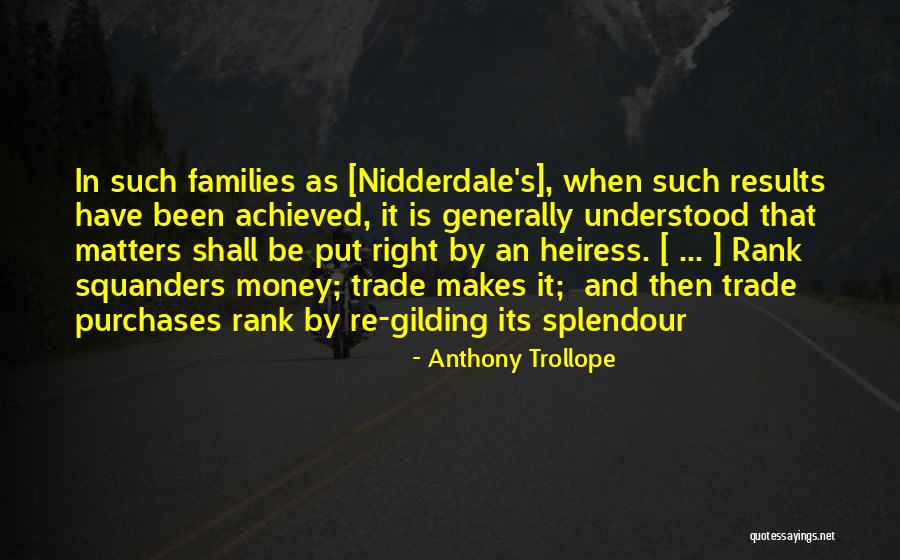 In such families as [Nidderdale's], when such results have been achieved, it is generally understood that matters shall be put right by an heiress. [ ... ] Rank squanders money; trade makes it;
and then trade purchases rank by re-gilding its splendour — Anthony Trollope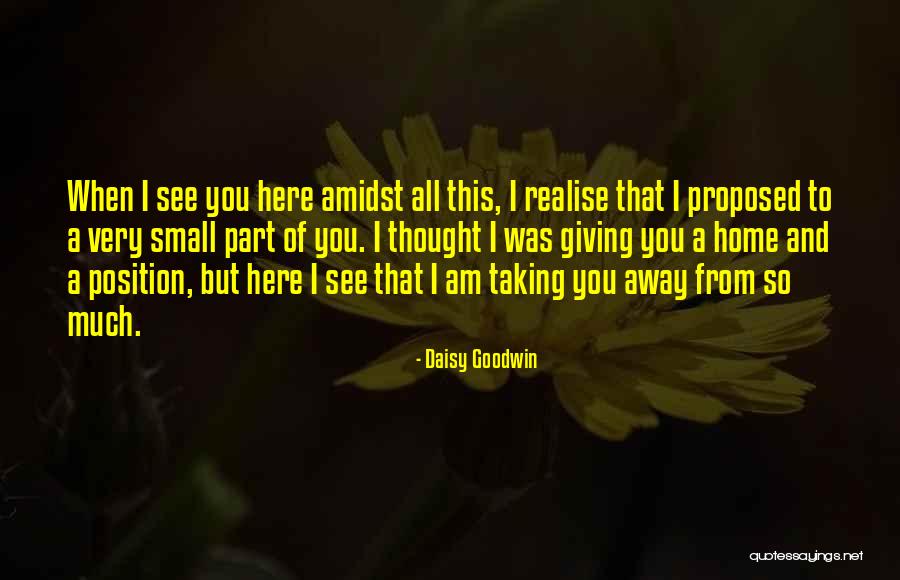 When I see you here amidst all this, I realise that I proposed to a very small part of you. I thought I was giving you a home and a position, but here I see that I am taking you away from so much. — Daisy Goodwin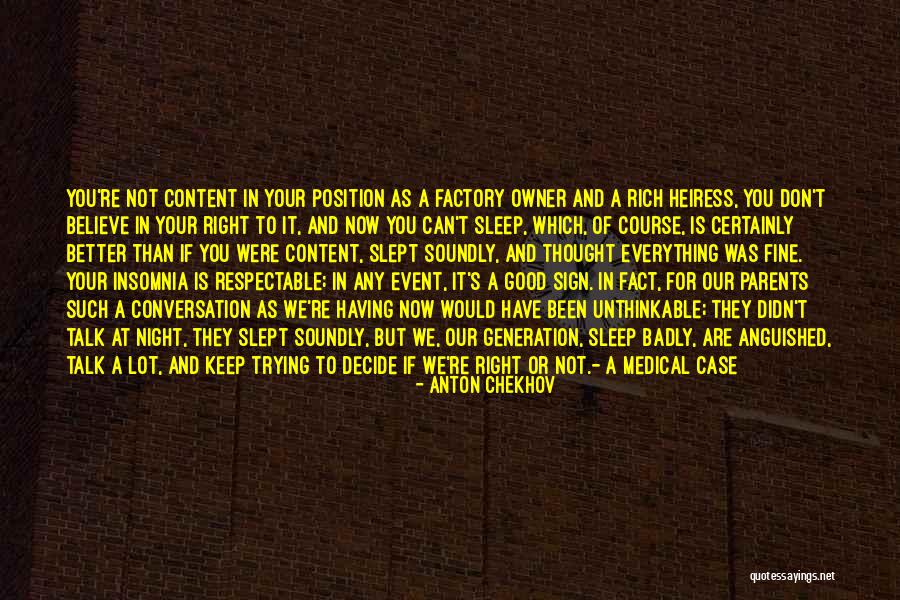 You're not content in your position as a factory owner and a rich heiress, you don't believe in your right to it, and now you can't sleep, which, of course, is certainly better than if you were content, slept soundly, and thought everything was fine. Your insomnia is respectable; in any event, it's a good sign. In fact, for our parents such a conversation as we're having now would have been unthinkable; they didn't talk at night, they slept soundly, but we, our generation, sleep badly, are anguished, talk a lot, and keep trying to decide if we're right or not.
- A Medical Case — Anton Chekhov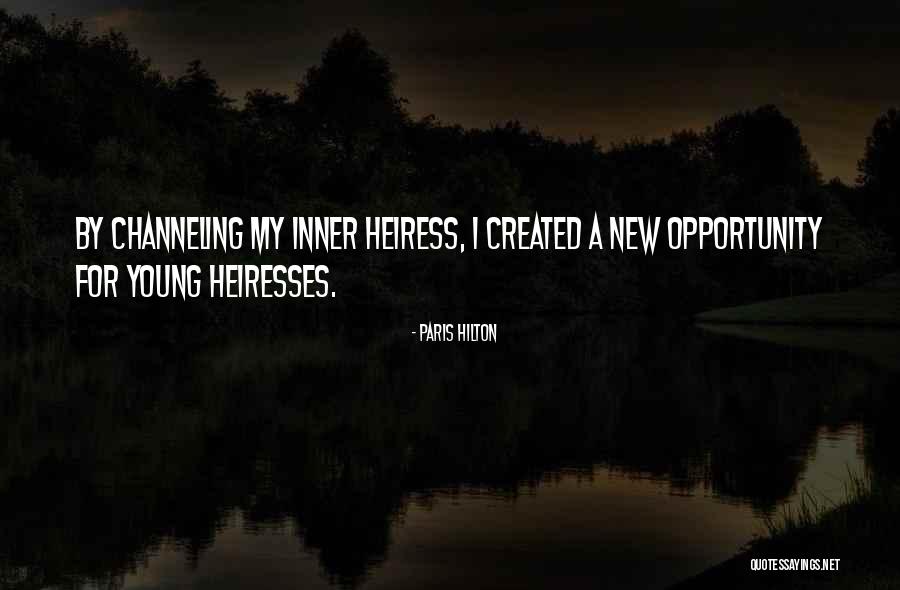 By channeling my inner heiress, I created a new opportunity for young heiresses. — Paris Hilton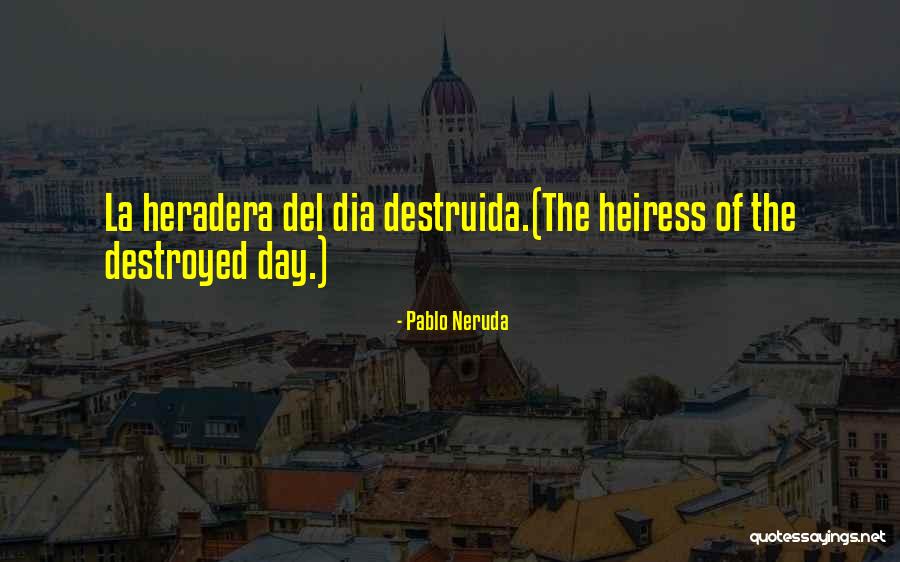 La heradera del dia destruida.
(The heiress of the destroyed day.) — Pablo Neruda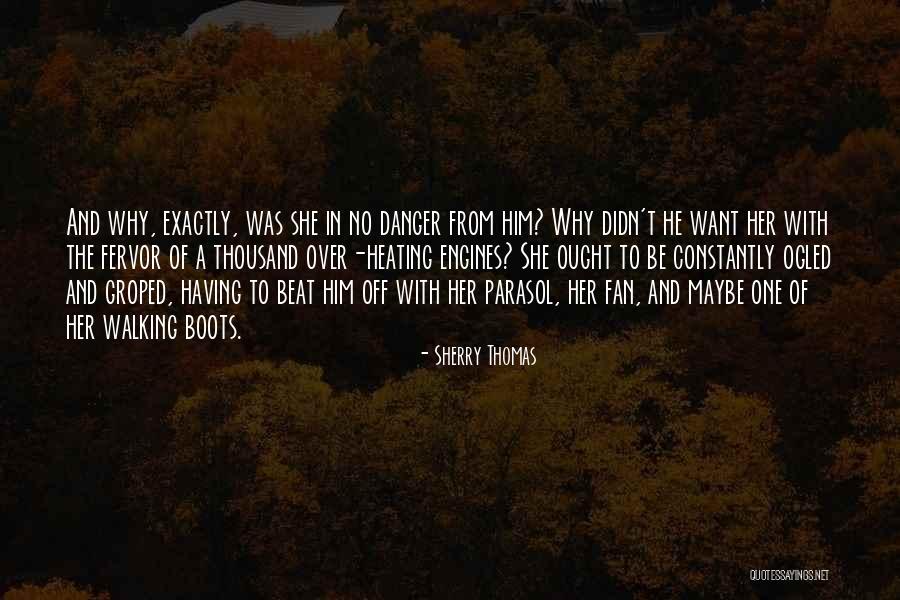 And why, exactly, was she in no danger from him? Why didn't he want her with the fervor of a thousand over-heating engines? She ought to be constantly ogled and groped, having to beat him off with her parasol, her fan, and maybe one of her walking boots. — Sherry Thomas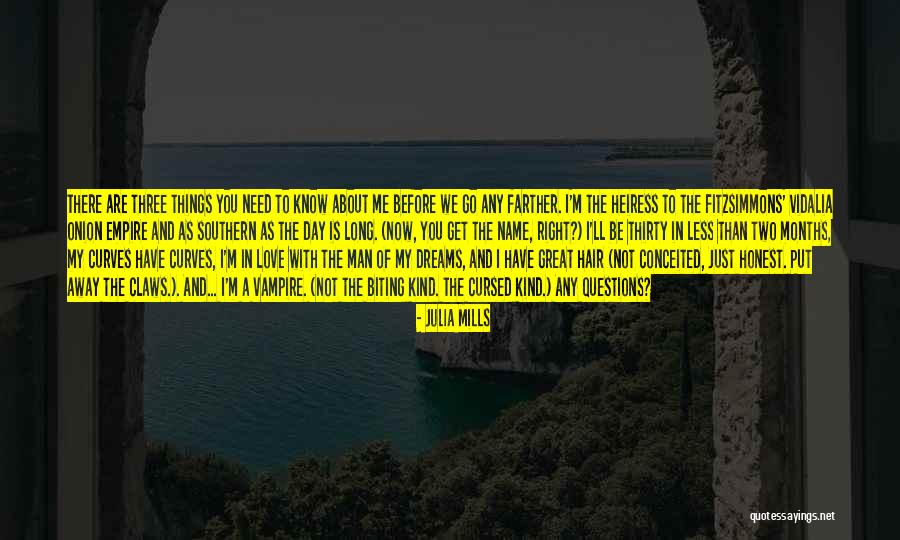 There are three things you need to know about me before we go any farther. I'm the heiress to the Fitzsimmons' Vidalia onion empire and as southern as the day is long. (Now, you get the name, right?) I'll be thirty in less than two months, my curves have curves, I'm in love with the man of my dreams, and I have great hair (not conceited, just honest. Put away the claws.). And... I'm a vampire. (Not the biting kind. The cursed kind.) Any questions? — Julia Mills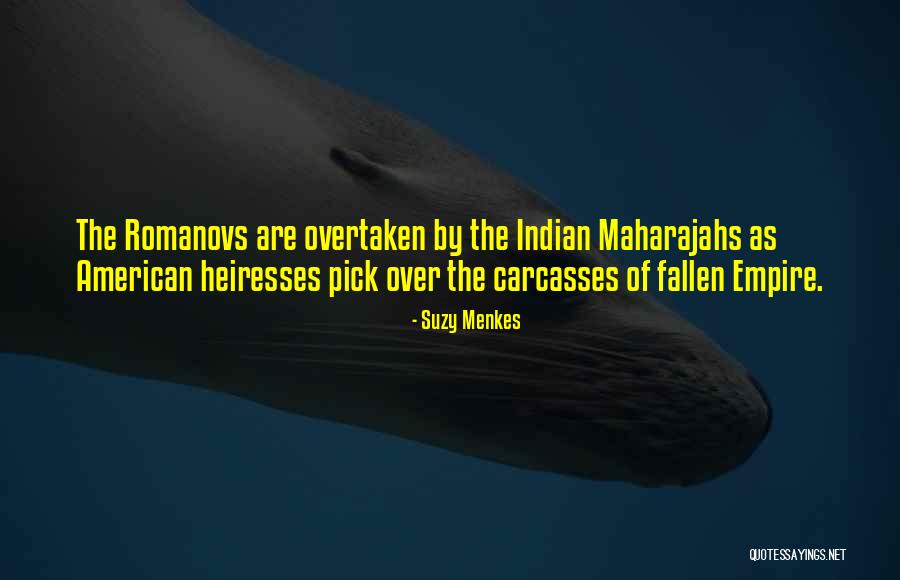 The Romanovs are overtaken by the Indian Maharajahs as American heiresses pick over the carcasses of fallen Empire. — Suzy Menkes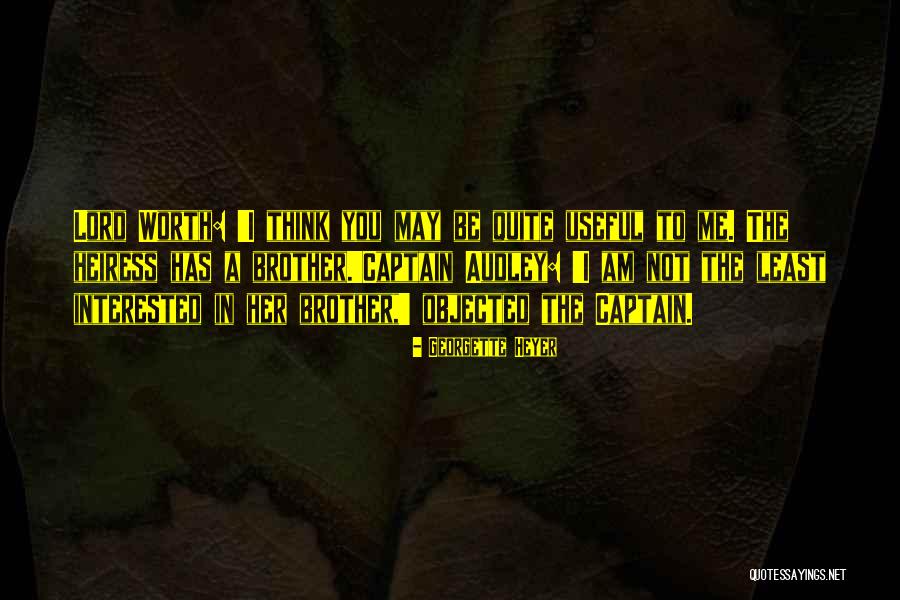 Lord Worth: 'I think you may be quite useful to me. The heiress has a brother.'
Captain Audley: 'I am not the least interested in her brother,' objected the Captain. — Georgette Heyer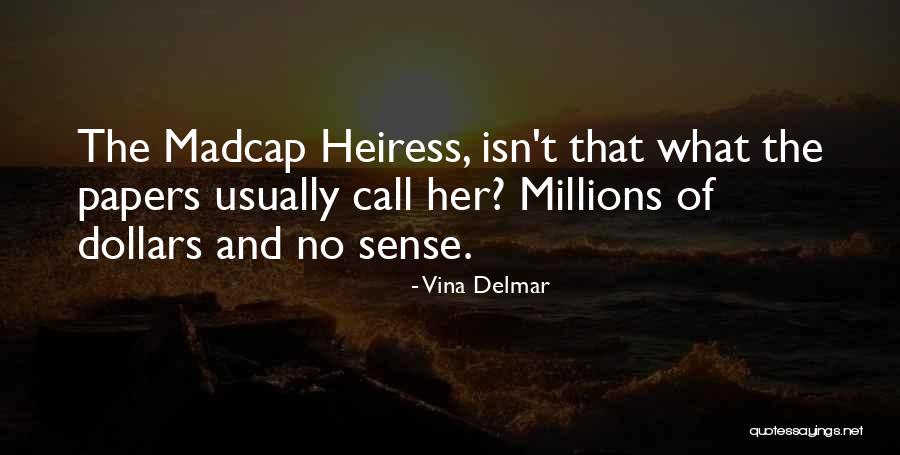 The Madcap Heiress, isn't that what the papers usually call her? Millions of dollars and no sense. — Vina Delmar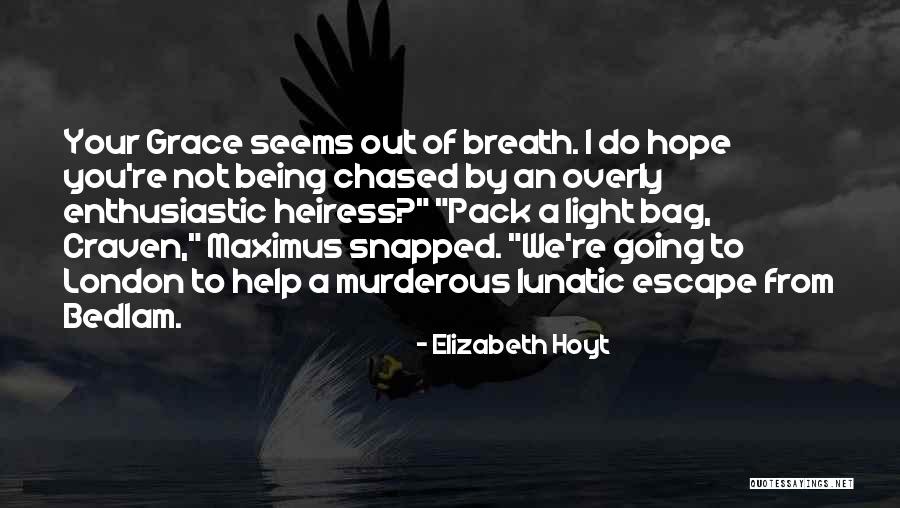 Your Grace seems out of breath. I do hope you're not being chased by an overly enthusiastic heiress?" "Pack a light bag, Craven," Maximus snapped. "We're going to London to help a murderous lunatic escape from Bedlam. — Elizabeth Hoyt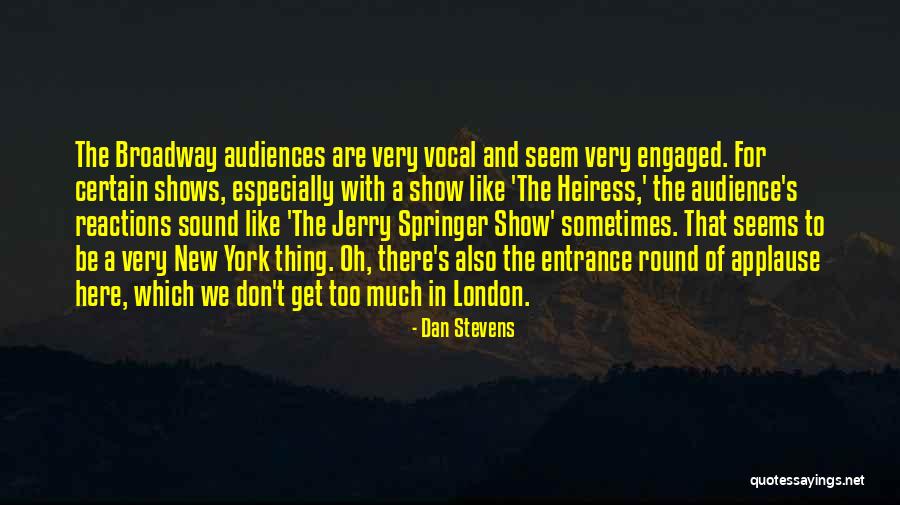 The Broadway audiences are very vocal and seem very engaged. For certain shows, especially with a show like 'The Heiress,' the audience's reactions sound like 'The Jerry Springer Show' sometimes. That seems to be a very New York thing. Oh, there's also the entrance round of applause here, which we don't get too much in London. — Dan Stevens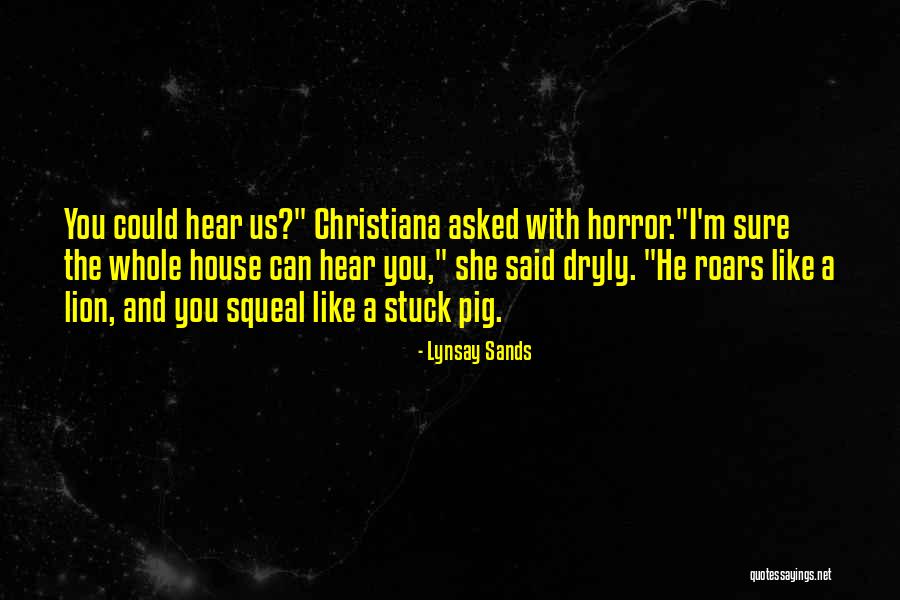 You could hear us?" Christiana asked with horror.
"I'm sure the whole house can hear you," she said dryly. "He roars like a lion, and you squeal like a stuck pig. — Lynsay Sands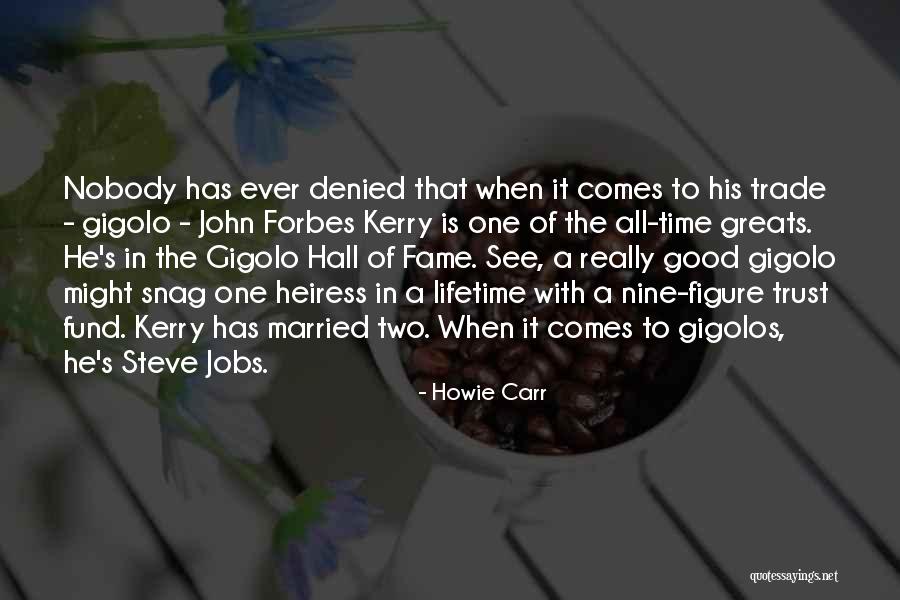 Nobody has ever denied that when it comes to his trade - gigolo - John Forbes Kerry is one of the all-time greats. He's in the Gigolo Hall of Fame. See, a really good gigolo might snag one heiress in a lifetime with a nine-figure trust fund. Kerry has married two. When it comes to gigolos, he's Steve Jobs. — Howie Carr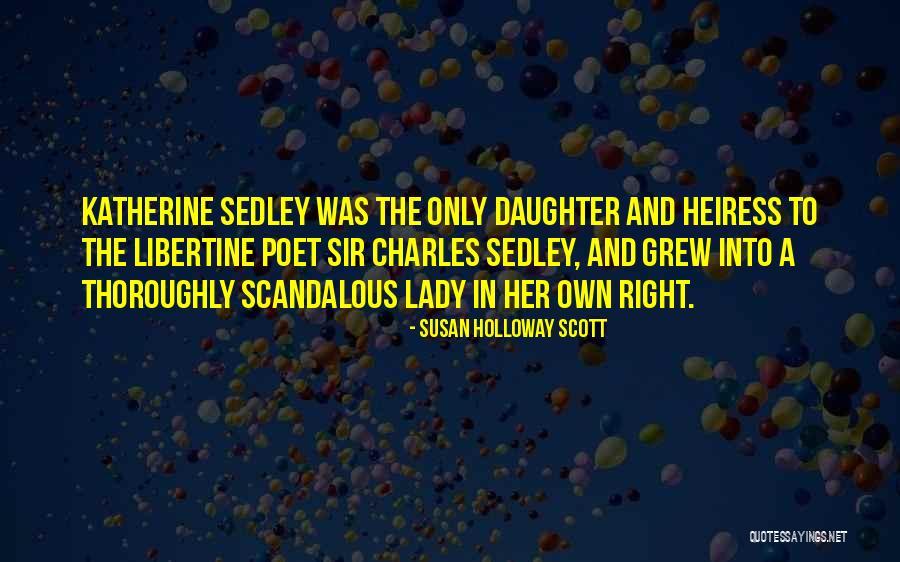 Katherine Sedley was the only daughter and heiress to the libertine poet Sir Charles Sedley, and grew into a thoroughly scandalous lady in her own right. — Susan Holloway Scott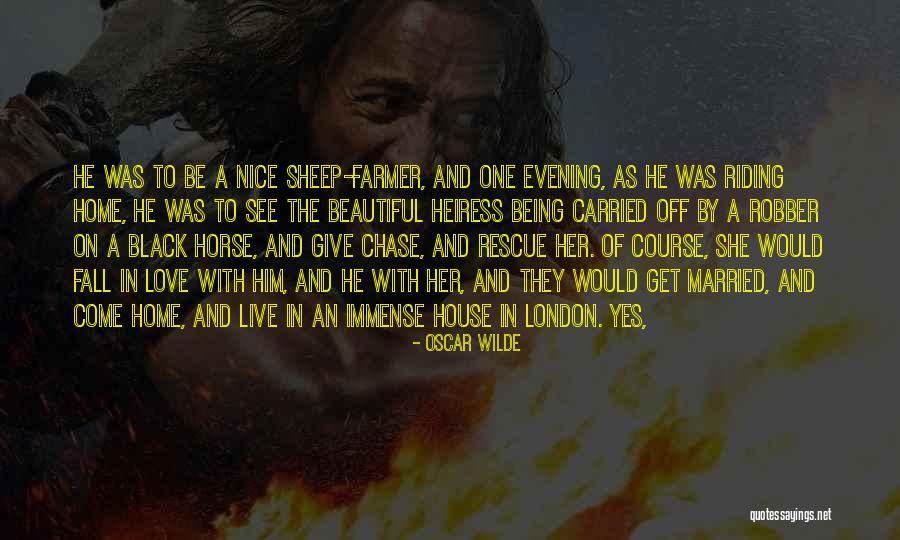 He was to be a nice sheep-farmer, and one evening, as he was riding home, he was to see the beautiful heiress being carried off by a robber on a black horse, and give chase, and rescue her. Of course, she would fall in love with him, and he with her, and they would get married, and come home, and live in an immense house in London. Yes, — Oscar Wilde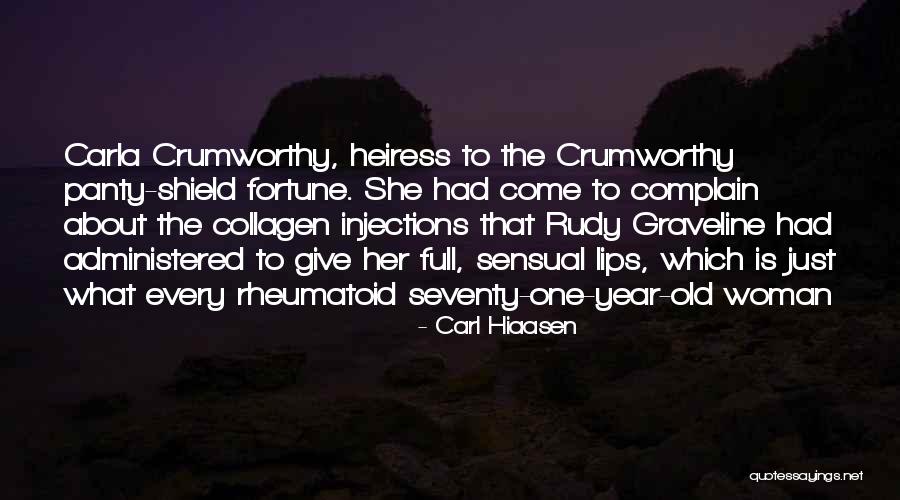 Carla Crumworthy, heiress to the Crumworthy panty-shield fortune. She had come to complain about the collagen injections that Rudy Graveline had administered to give her full, sensual lips, which is just what every rheumatoid seventy-one-year-old woman — Carl Hiaasen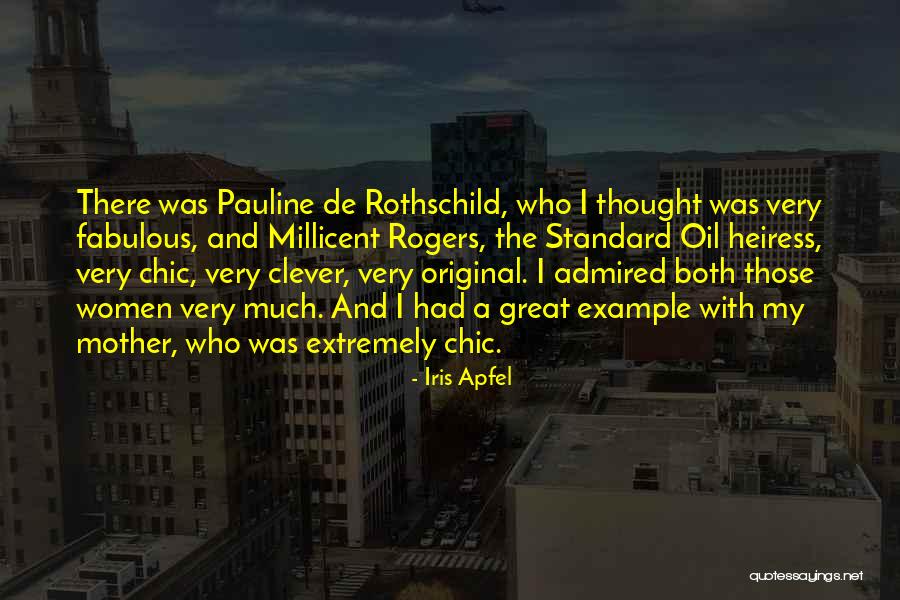 There was Pauline de Rothschild, who I thought was very fabulous, and Millicent Rogers, the Standard Oil heiress, very chic, very clever, very original. I admired both those women very much. And I had a great example with my mother, who was extremely chic. — Iris Apfel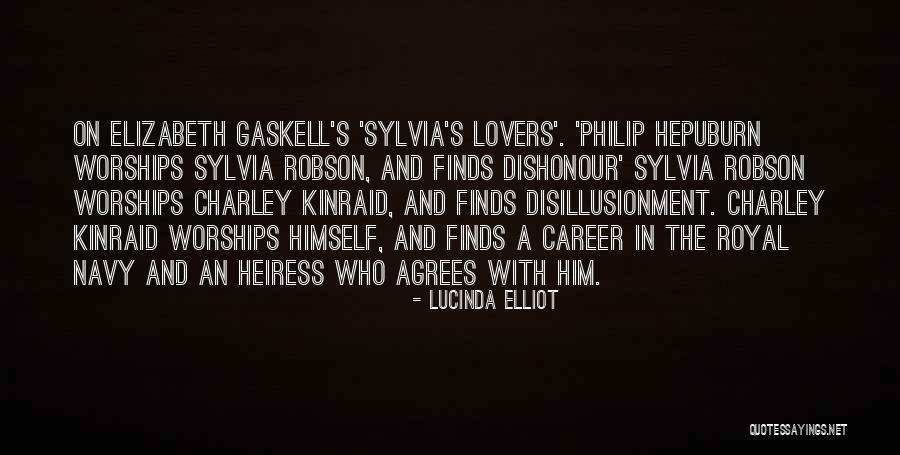 On Elizabeth Gaskell's 'Sylvia's Lovers'.
'Philip Hepuburn worships Sylvia Robson, and finds dishonour' Sylvia Robson worships Charley Kinraid, and finds disillusionment. Charley Kinraid worships himself, and finds a career in the Royal Navy and an heiress who agrees with him. — Lucinda Elliot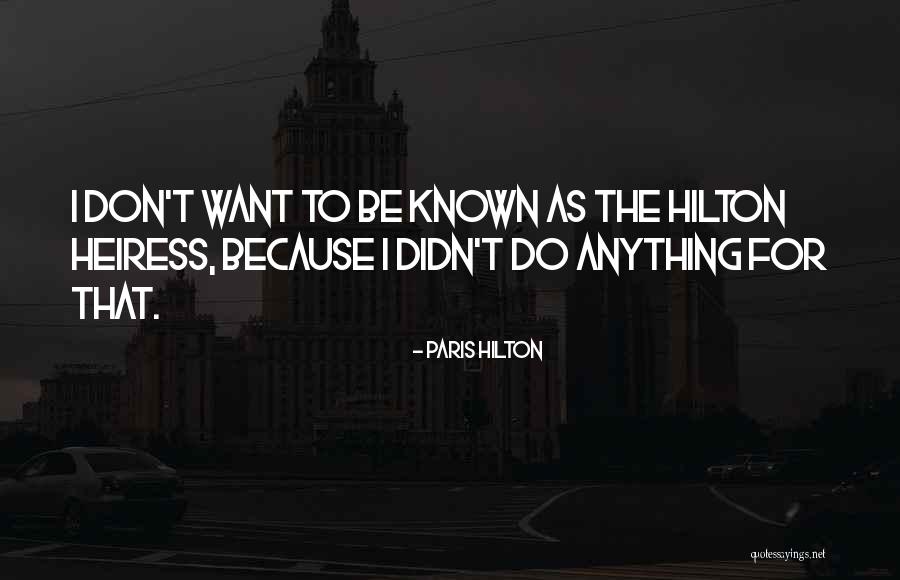 I don't want to be known as the Hilton heiress, because I didn't do anything for that. — Paris Hilton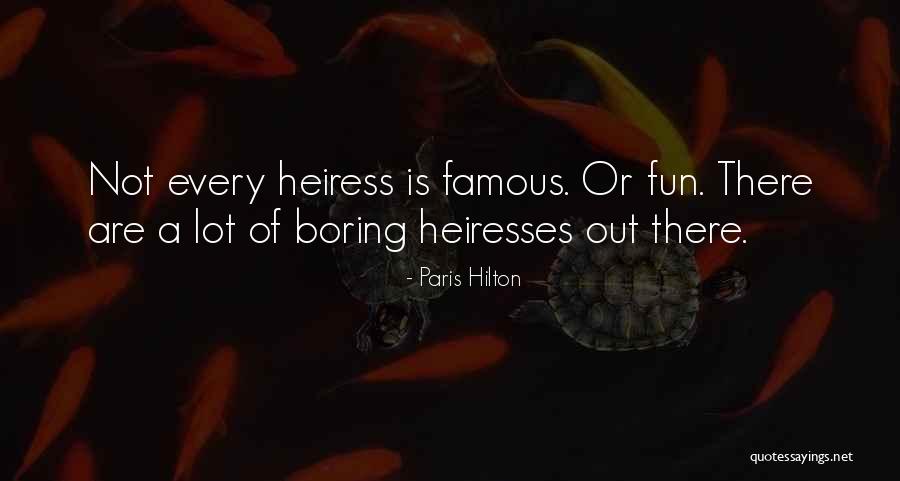 Not every heiress is famous. Or fun. There are a lot of boring heiresses out there. — Paris Hilton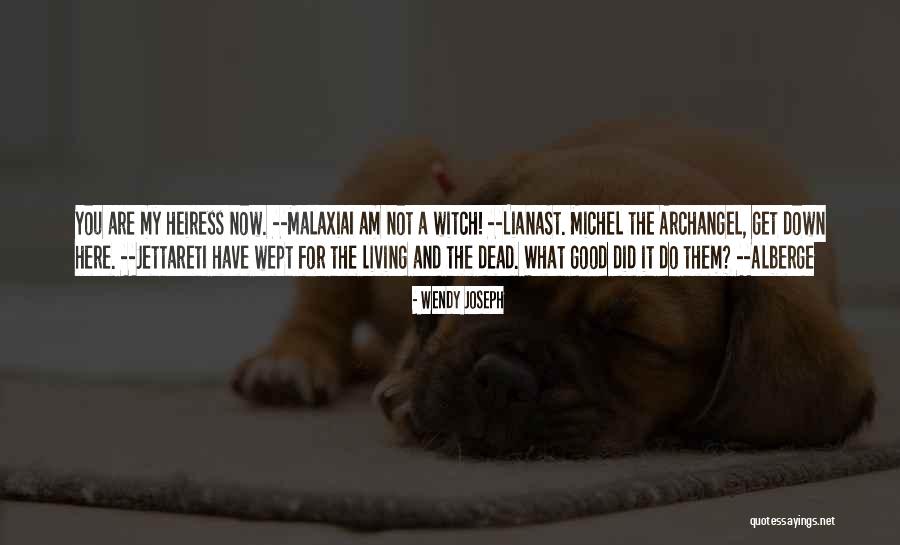 You are my heiress now. --Malaxia
I am not a witch! --Liana
St. Michel the Archangel, get down here. --Jettaret
I have wept for the living and the dead.
What good did it do them? --Alberge — Wendy Joseph
As Sebastian, Lord St. Vincent, stared at the young woman who had just barged her way into his London residence, it occurred to him that he might have tried to abduct the wrong heiress last week at Stony Cross Park. — Lisa Kleypas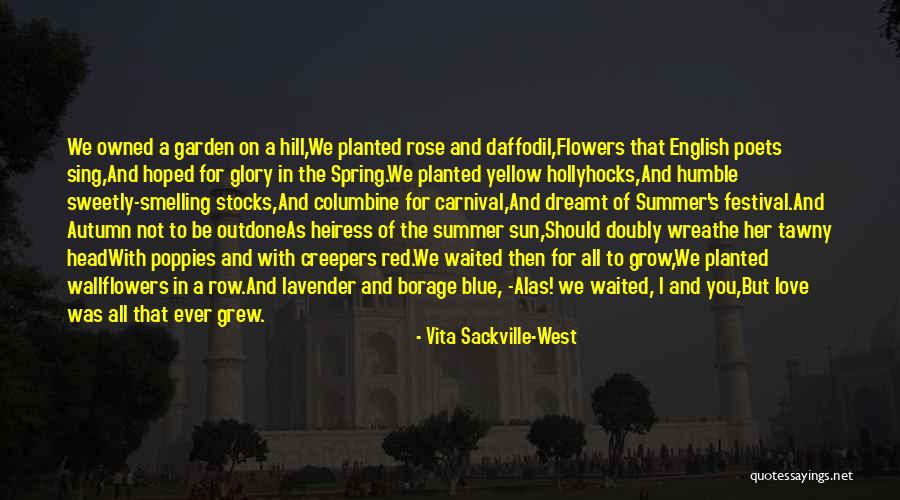 We owned a garden on a hill,
We planted rose and daffodil,
Flowers that English poets sing,
And hoped for glory in the Spring.
We planted yellow hollyhocks,
And humble sweetly-smelling stocks,
And columbine for carnival,
And dreamt of Summer's festival.
And Autumn not to be outdone
As heiress of the summer sun,
Should doubly wreathe her tawny head
With poppies and with creepers red.
We waited then for all to grow,
We planted wallflowers in a row.
And lavender and borage blue, -
Alas! we waited, I and you,
But love was all that ever grew. — Vita Sackville-West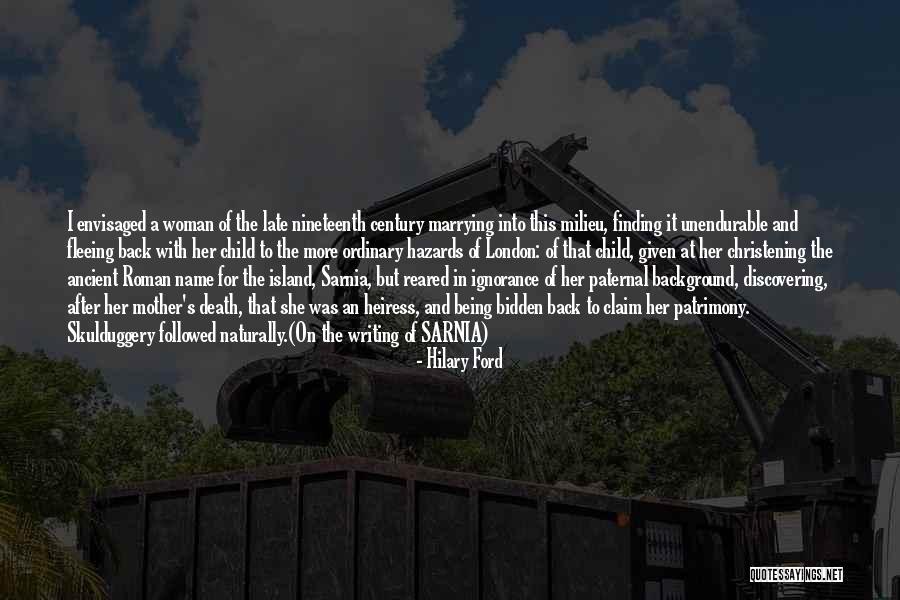 I envisaged a woman of the late nineteenth century marrying into this milieu, finding it unendurable and fleeing back with her child to the more ordinary hazards of London: of that child, given at her christening the ancient Roman name for the island, Sarnia, but reared in ignorance of her paternal background, discovering, after her mother's death, that she was an heiress, and being bidden back to claim her patrimony. Skulduggery followed naturally.
(On the writing of SARNIA) — Hilary Ford