He Who Believes Quotes & Sayings
Enjoy reading and share 100 famous quotes about He Who Believes with everyone.
Top He Who Believes Quotes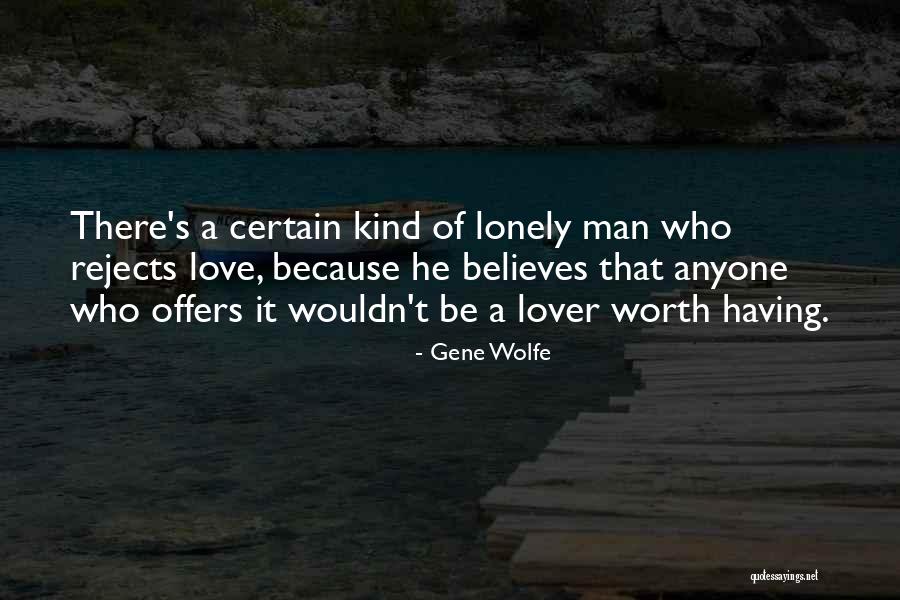 There's a certain kind of lonely man who rejects love, because he believes that anyone who offers it wouldn't be a lover worth having. — Gene Wolfe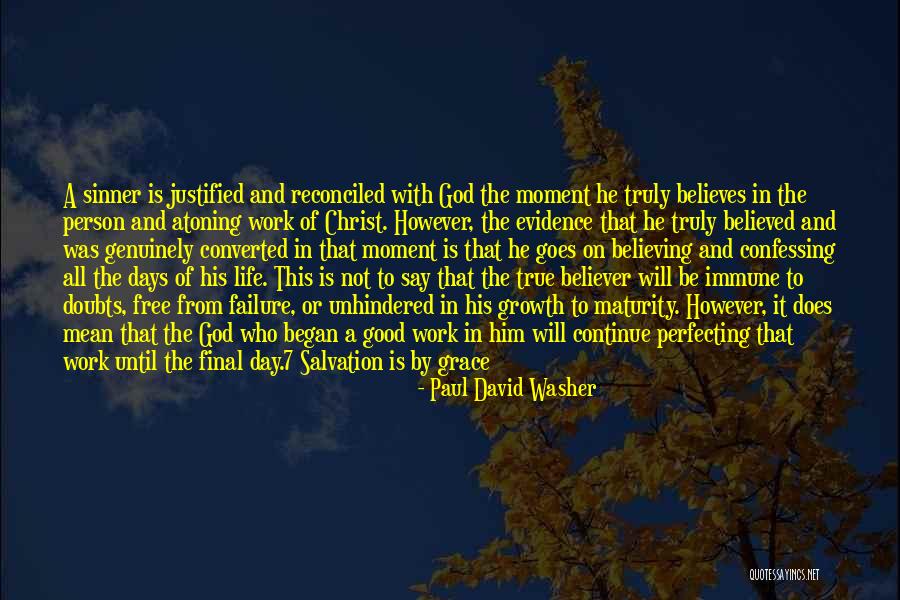 A sinner is justified and reconciled with God the moment he truly believes in the person and atoning work of Christ. However, the evidence that he truly believed and was genuinely converted in that moment is that he goes on believing and confessing all the days of his life. This is not to say that the true believer will be immune to doubts, free from failure, or unhindered in his growth to maturity. However, it does mean that the God who began a good work in him will continue perfecting that work until the final day.7 Salvation is by grace alone through faith alone.8 However, the evidence of saving faith is a genuine and enduring confession of the lordship of Jesus Christ throughout the believer's life. — Paul David Washer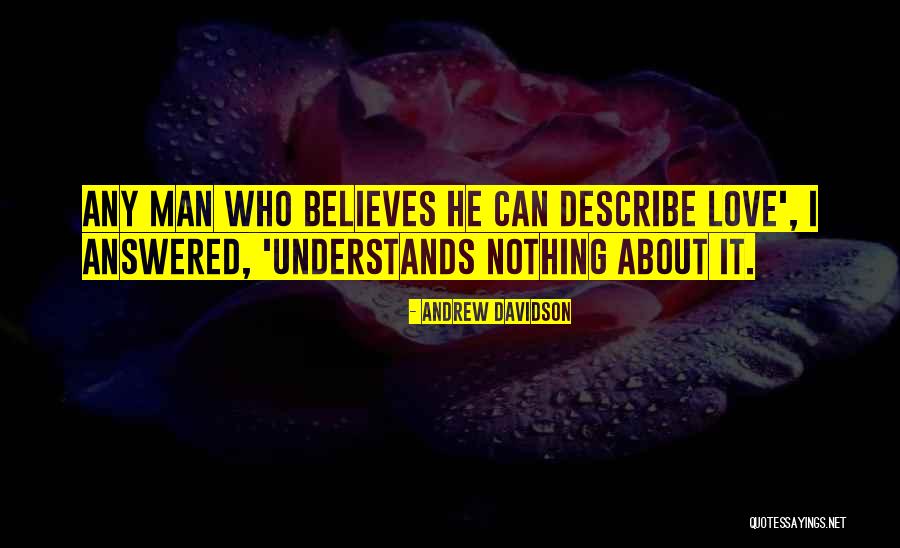 Any man who believes he can describe love', I answered, 'understands nothing about it. — Andrew Davidson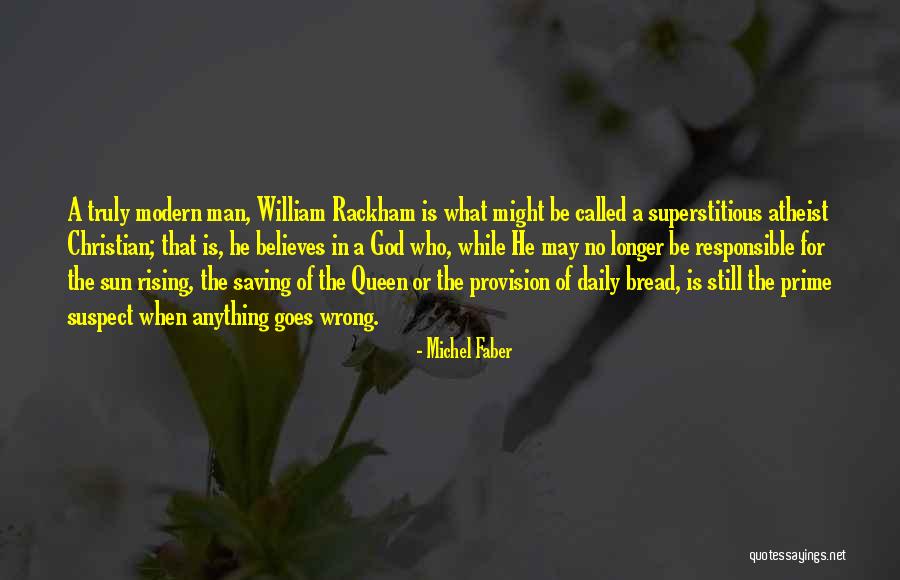 A truly modern man, William Rackham is what might be called a superstitious atheist Christian; that is, he believes in a God who, while He may no longer be responsible for the sun rising, the saving of the Queen or the provision of daily bread, is still the prime suspect when anything goes wrong. — Michel Faber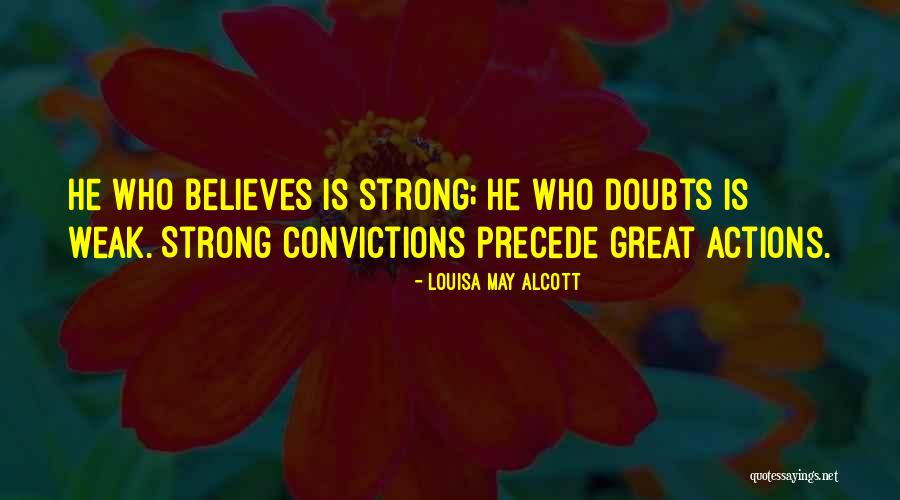 He who believes is strong; he who doubts is weak. Strong convictions precede great actions. — Louisa May Alcott
It depends on how you define the word "racialist." If you mean being conscious of the differences between men and nations, and from that, races, then we are all racialists. However, if you mean a man who despises a human being because he belongs to another race, or a man who believes that one race is inherently superior to another, then the answer is emphatically "No. — Enoch Powell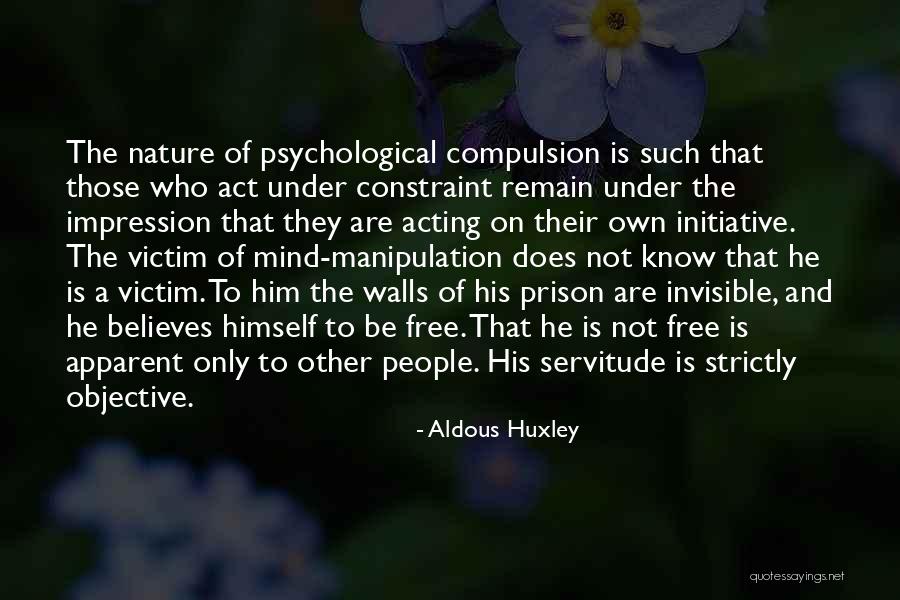 The nature of psychological compulsion is such that those who act under constraint remain under the impression that they are acting on their own initiative. The victim of mind-manipulation does not know that he is a victim. To him the walls of his prison are invisible, and he believes himself to be free. That he is not free is apparent only to other people. His servitude is strictly objective. — Aldous Huxley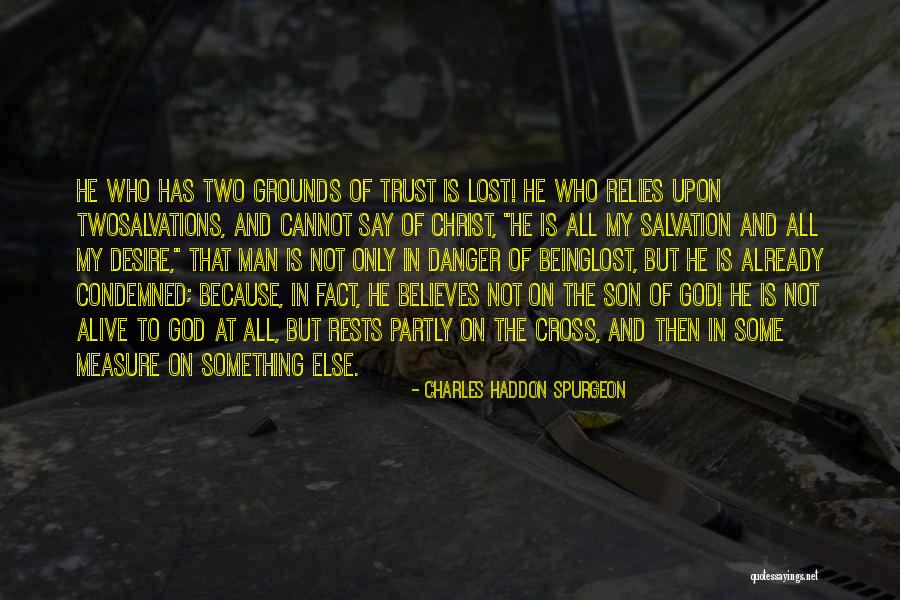 He who has two grounds of trust is lost! He who relies upon two
salvations, and cannot say of Christ, "He is all my salvation and all my desire," that man is not only in danger of being
lost, but he is already condemned; because, in fact, he believes not on the Son of God! He is not alive to God at all, but rests partly on the Cross, and then in some measure on something else. — Charles Haddon Spurgeon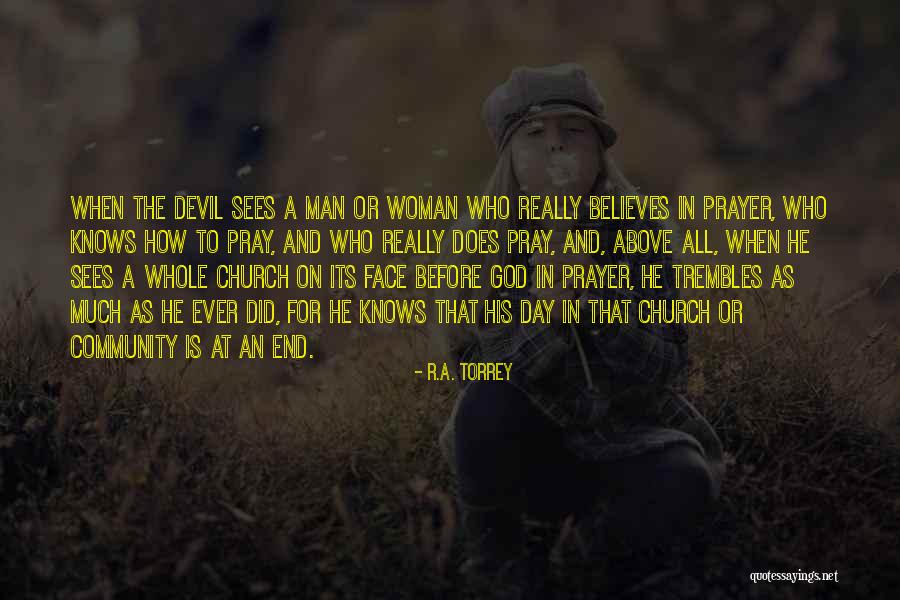 When the devil sees a man or woman who really believes in prayer, who knows how to pray, and who really does pray, and, above all, when he sees a whole church on its face before God in prayer, he trembles as much as he ever did, for he knows that his day in that church or community is at an end. — R.A. Torrey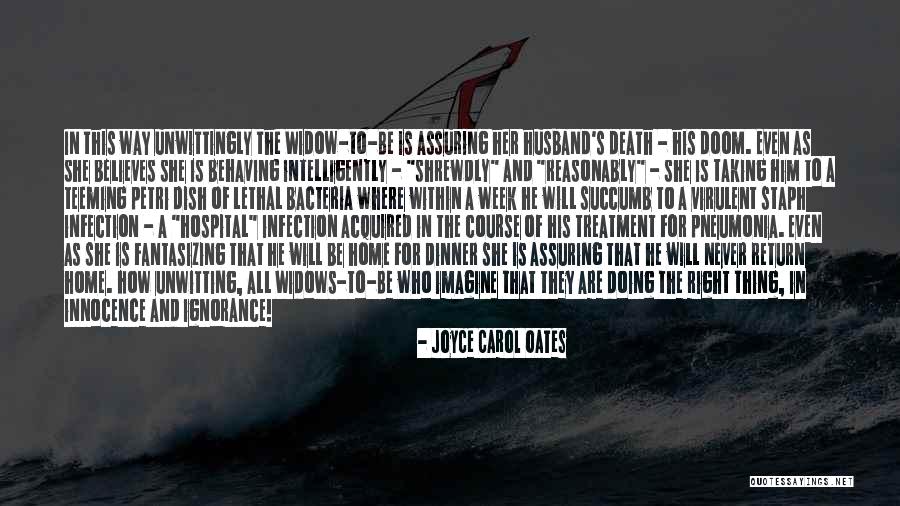 In this way unwittingly the Widow-to-Be is assuring her husband's death - his doom. Even as she believes she is behaving intelligently - "shrewdly" and "reasonably" - she is taking him to a teeming petri dish of lethal bacteria where within a week he will succumb to a virulent staph infection - a "hospital" infection acquired in the course of his treatment for pneumonia. Even as she is fantasizing that he will be home for dinner she is assuring that he will never return home. How unwitting, all Widows-to-Be who imagine that they are doing the right thing, in innocence and ignorance! — Joyce Carol Oates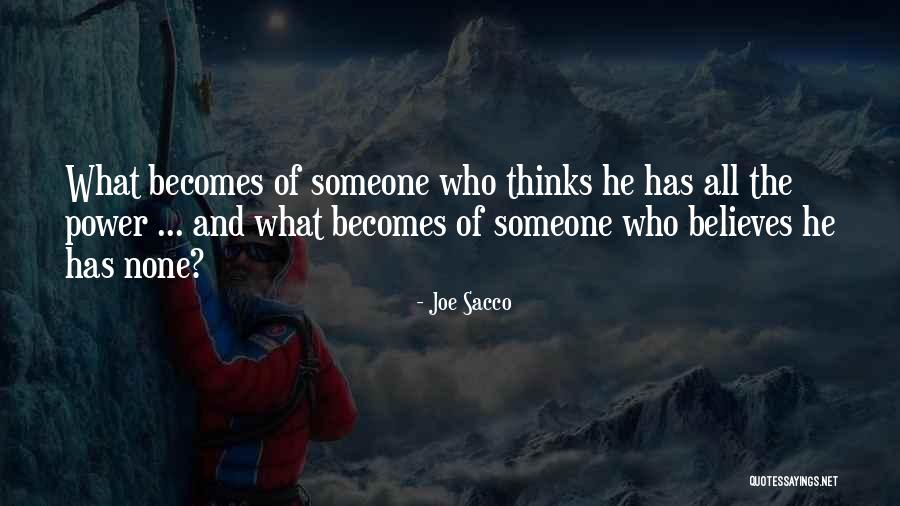 What becomes of someone who thinks he has all the power ... and what becomes of someone who believes he has none? — Joe Sacco
There is something feeble and a little contemptible about a man who cannot face the perils of life without the help of comfortable myths. Almost inevitably some part of him is aware that they are myths and that he believes them only because they are comforting. But he dare not face this thought! Moreover, since he is aware, however dimly, that his opinions are not rational, he becomes furious when they are disputed. — Bertrand Russell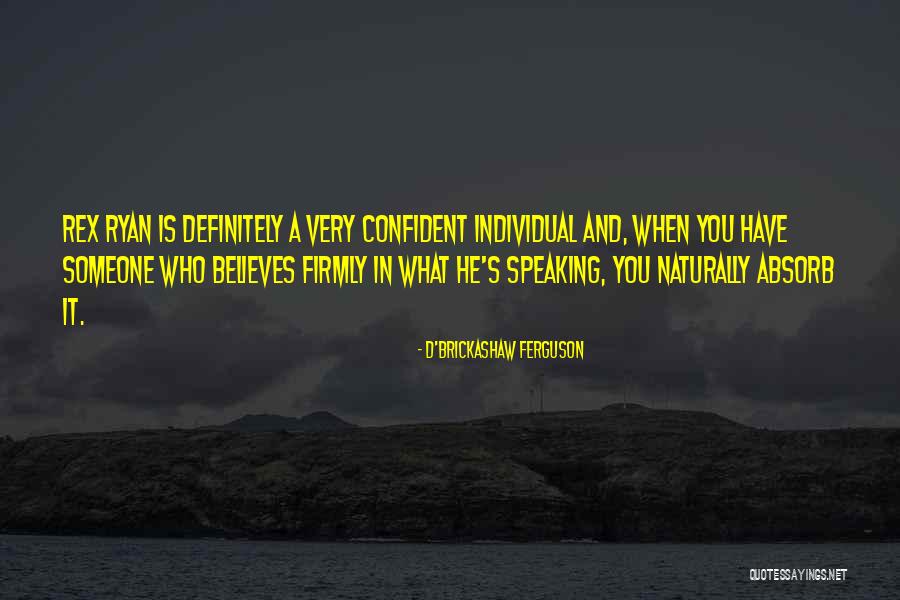 Rex Ryan is definitely a very confident individual and, when you have someone who believes firmly in what he's speaking, you naturally absorb it. — D'Brickashaw Ferguson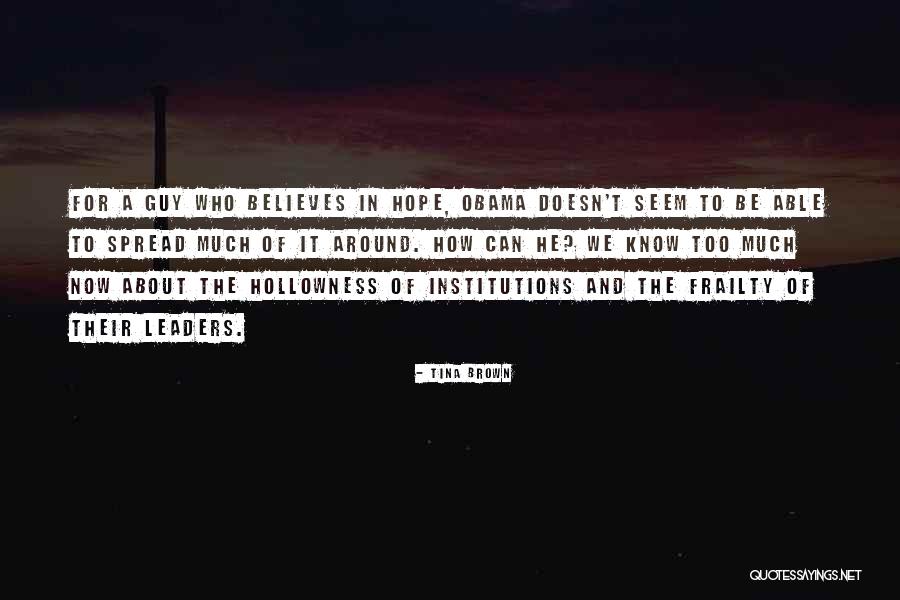 For a guy who believes in hope, Obama doesn't seem to be able to spread much of it around. How can he? We know too much now about the hollowness of institutions and the frailty of their leaders. — Tina Brown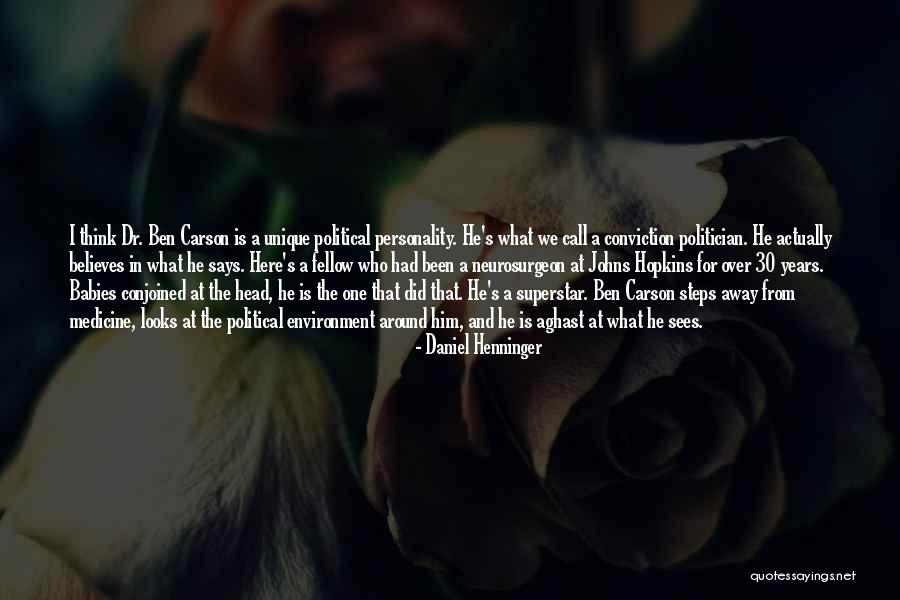 I think Dr. Ben Carson is a unique political personality. He's what we call a conviction politician. He actually believes in what he says. Here's a fellow who had been a neurosurgeon at Johns Hopkins for over 30 years. Babies conjoined at the head, he is the one that did that. He's a superstar. Ben Carson steps away from medicine, looks at the political environment around him, and he is aghast at what he sees. — Daniel Henninger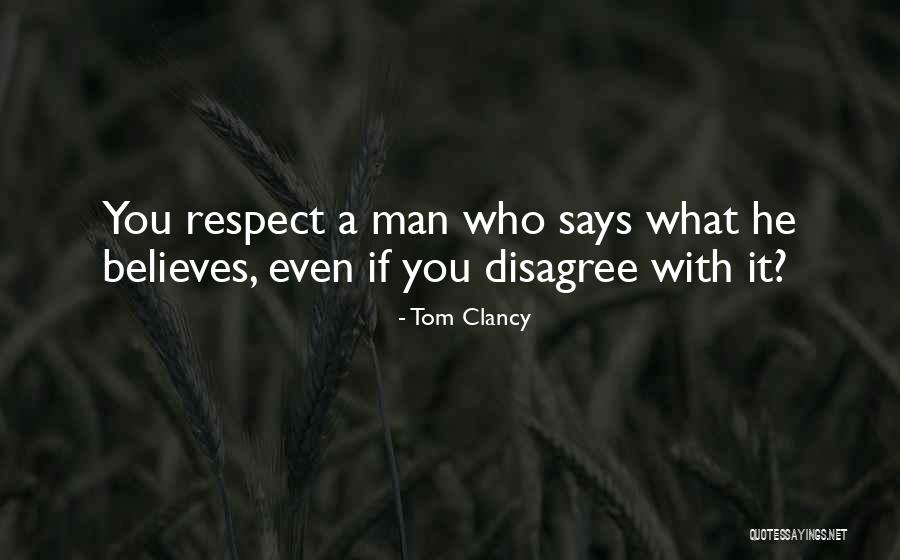 You respect a man who says what he believes, even if you disagree with it? — Tom Clancy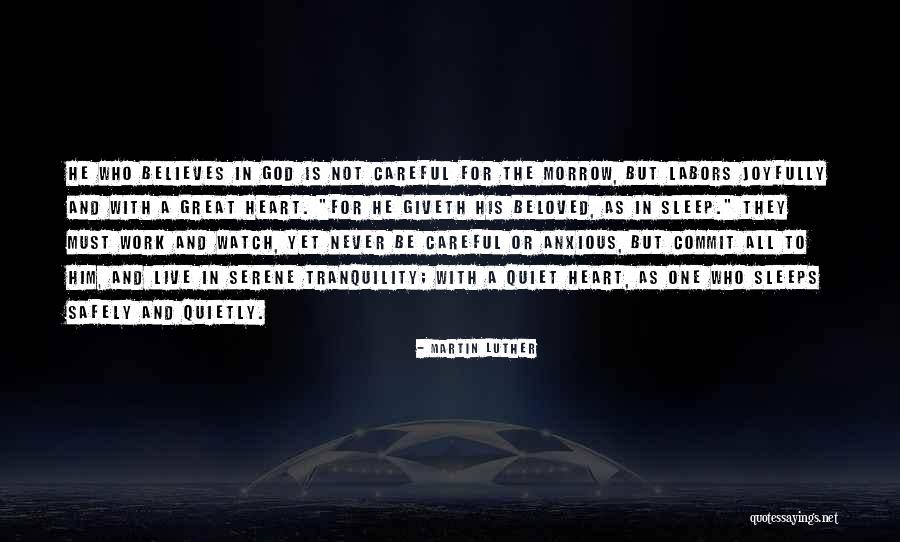 He who believes in God is not careful for the morrow, but labors joyfully and with a great heart. "For He giveth His beloved, as in sleep." They must work and watch, yet never be careful or anxious, but commit all to Him, and live in serene tranquility; with a quiet heart, as one who sleeps safely and quietly. — Martin Luther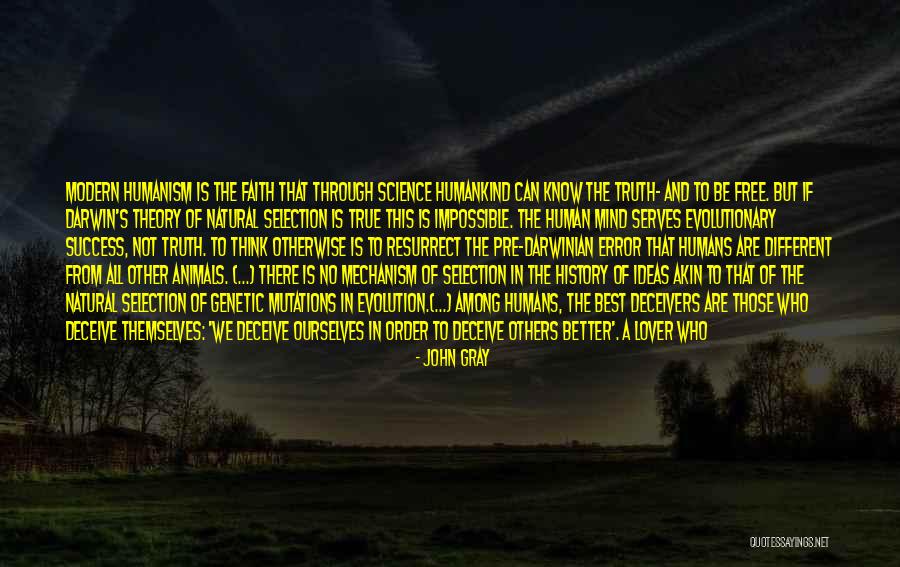 Modern humanism is the faith that through science humankind can know the truth- and to be free. But if Darwin's theory of natural selection is true this is impossible. The human mind serves evolutionary success, not truth. To think otherwise is to resurrect the pre-Darwinian error that humans are different from all other animals. (...) There is no mechanism of selection in the history of ideas akin to that of the natural selection of genetic mutations in evolution.(...) Among humans, the best deceivers are those who deceive themselves: 'we deceive ourselves in order to deceive others better'. A lover who promises eternal fidelity s more likely to be believed if he believes his promise himself; he is no more likely to keep his promise.(...) In a competition for mates, a well-developed capacity for self-deception is an advantage. — John Gray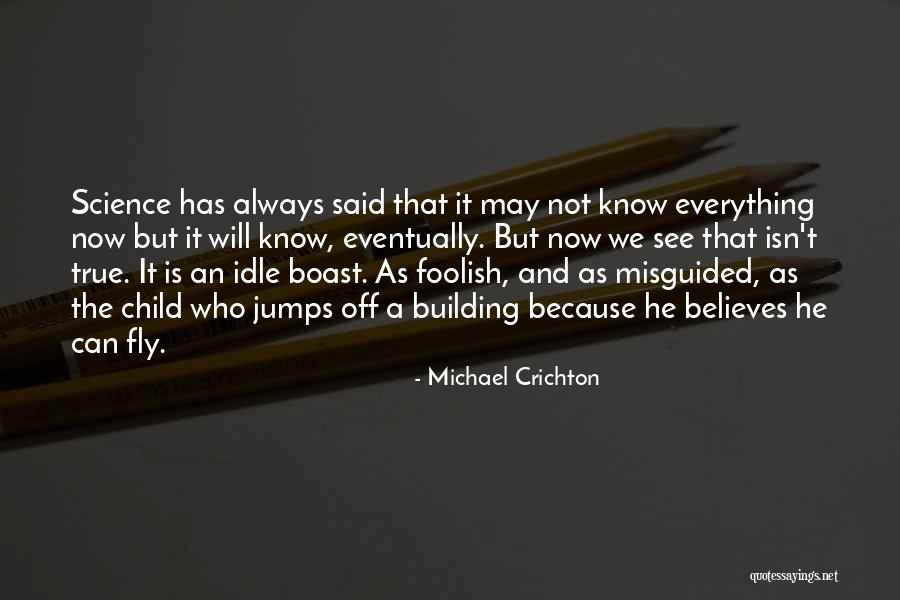 Science has always said that it may not know everything now but it will know, eventually. But now we see that isn't true. It is an idle boast. As foolish, and as misguided, as the child who jumps off a building because he believes he can fly. — Michael Crichton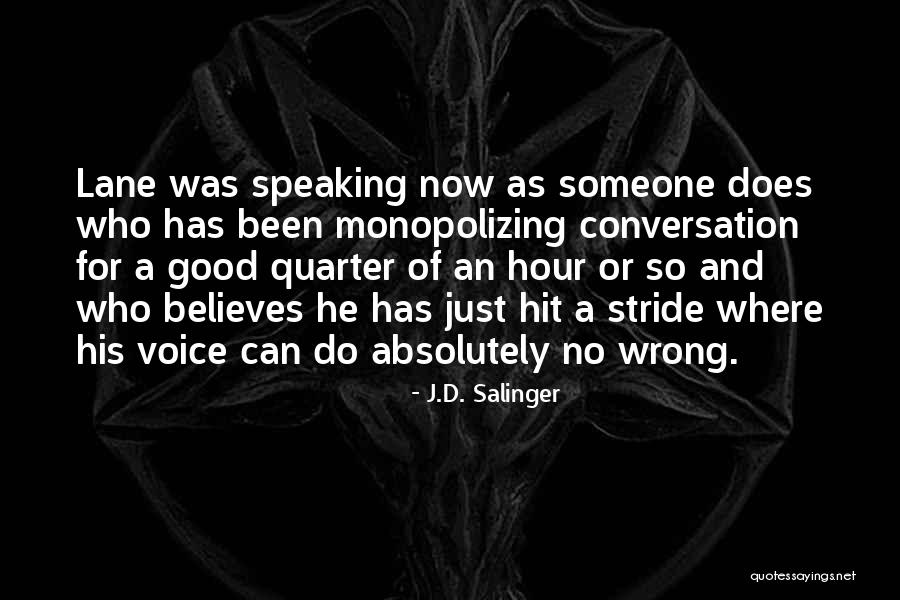 Lane was speaking now as someone does who has been monopolizing conversation for a good quarter of an hour or so and who believes he has just hit a stride where his voice can do absolutely no wrong. — J.D. Salinger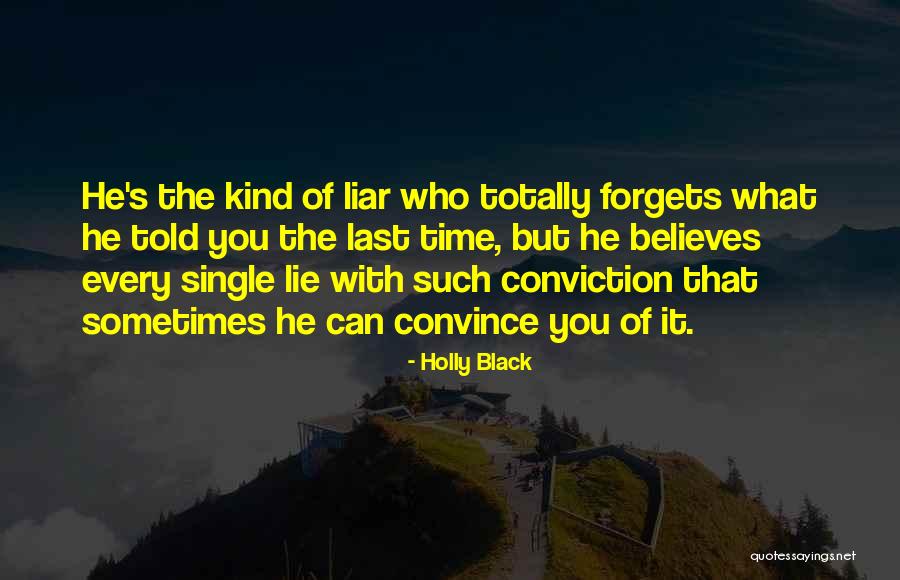 He's the kind of liar who totally forgets what he told you the last time, but he believes every single lie with such conviction that sometimes he can convince you of it. — Holly Black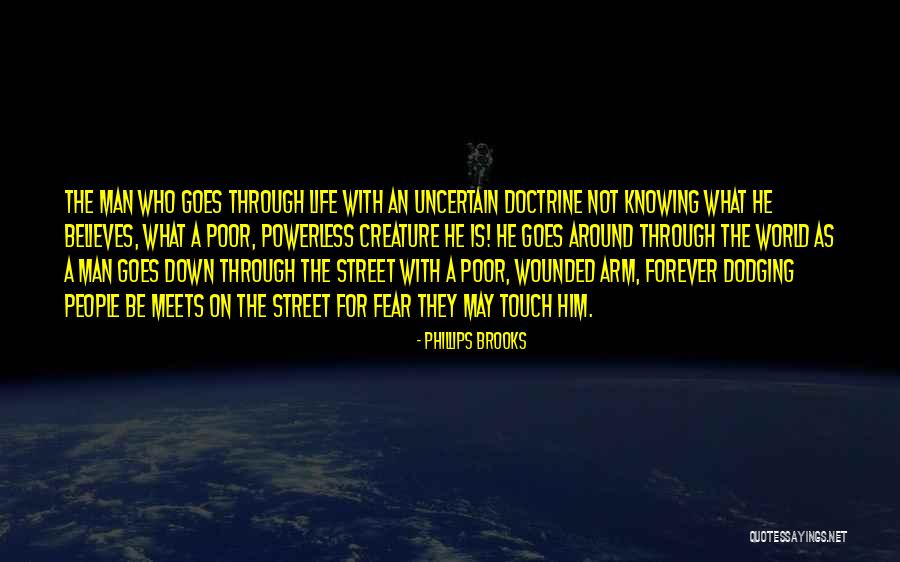 The man who goes through life with an uncertain doctrine not knowing what he believes, what a poor, powerless creature he is! He goes around through the world as a man goes down through the street with a poor, wounded arm, forever dodging people be meets on the street for fear they may touch him. — Phillips Brooks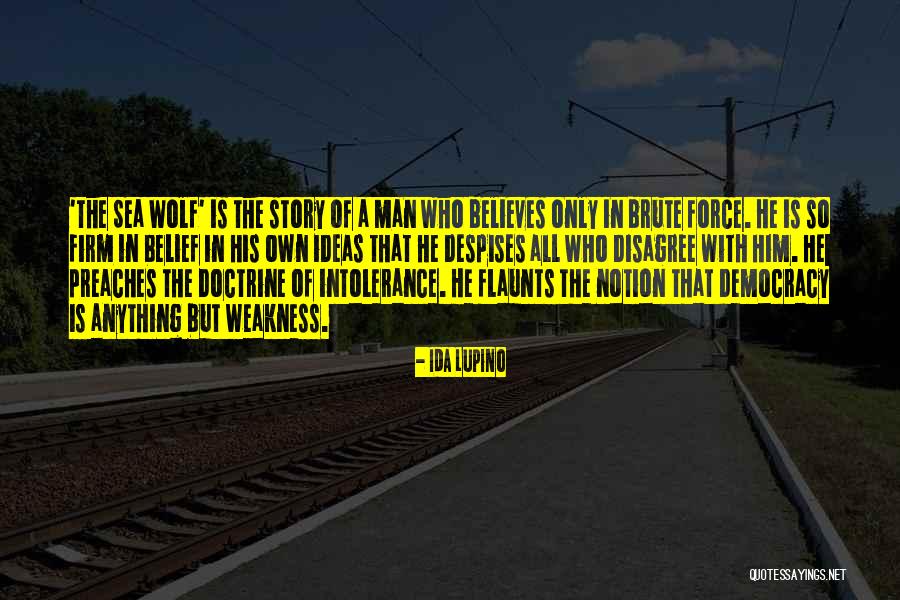 'The Sea Wolf' is the story of a man who believes only in brute force. He is so firm in belief in his own ideas that he despises all who disagree with him. He preaches the doctrine of intolerance. He flaunts the notion that democracy is anything but weakness. — Ida Lupino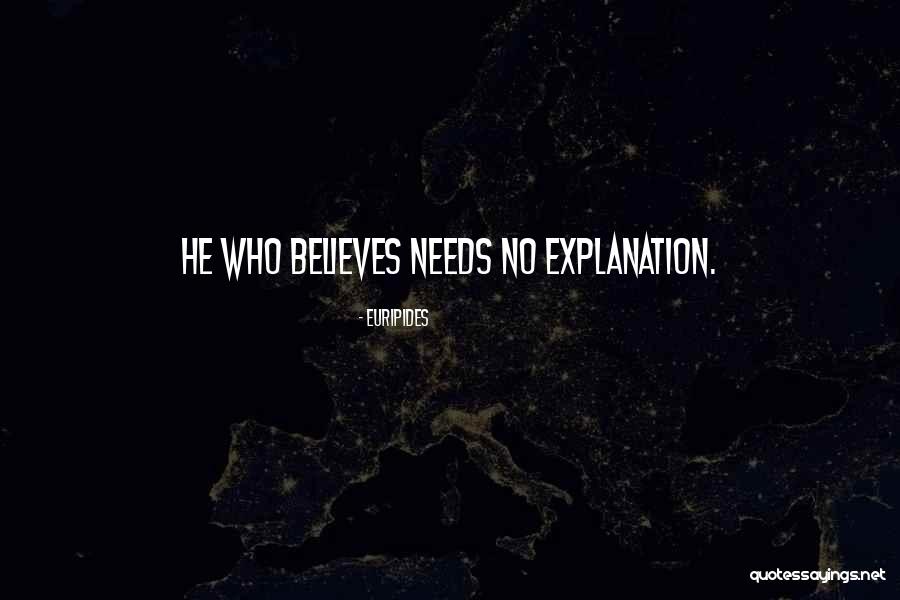 He who believes needs no explanation. — Euripides
As property, honestly obtained, is best secured by an equality of rights, so ill-gotten property depends for protection on a monopoly of rights. He who has robbed another of his property, will next endeavor to disarm him of his rights, to secure that property; for when the robber becomes the legislator he believes himself secure. — Thomas Paine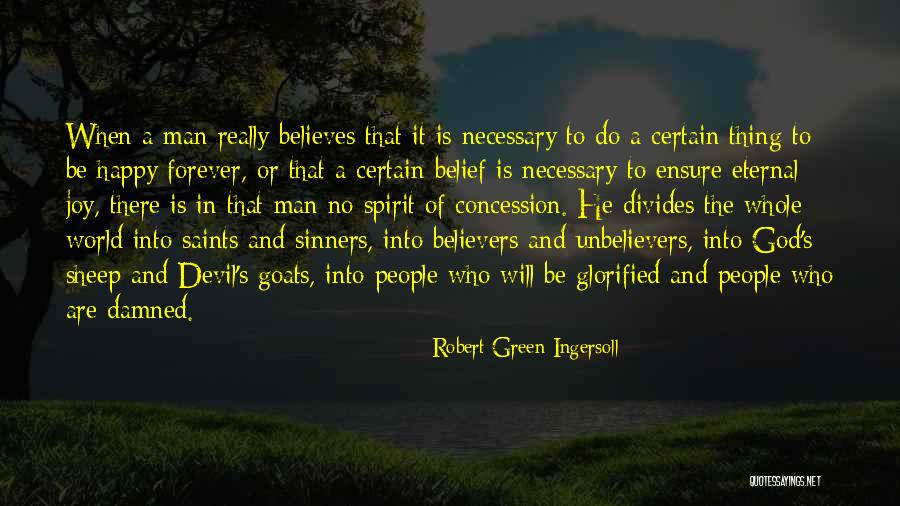 When a man really believes that it is necessary to do a certain thing to be happy forever, or that a certain belief is necessary to ensure eternal joy, there is in that man no spirit of concession. He divides the whole world into saints and sinners, into believers and unbelievers, into God's sheep and Devil's goats, into people who will be glorified and people who are damned. — Robert Green Ingersoll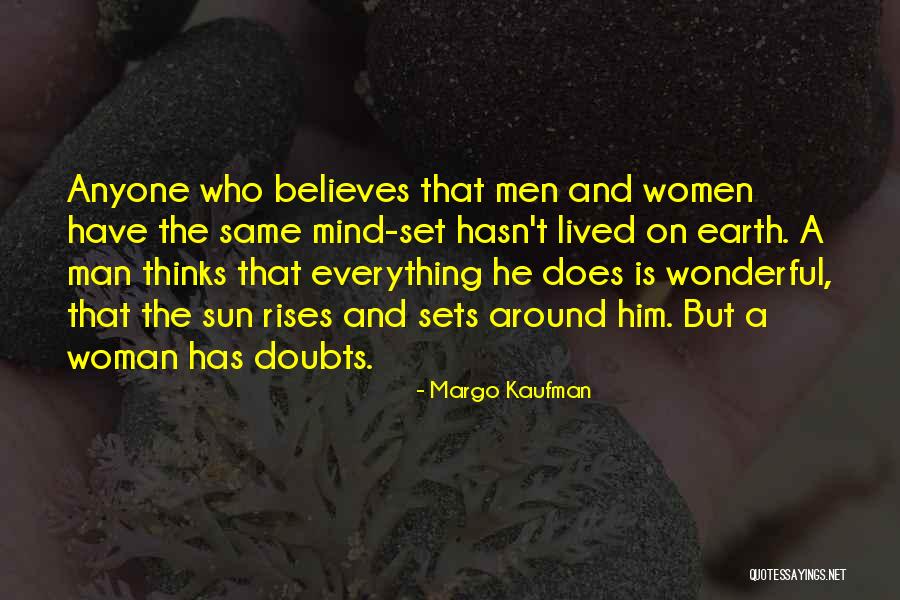 Anyone who believes that men and women have the same mind-set hasn't lived on earth. A man thinks that everything he does is wonderful, that the sun rises and sets around him. But a woman has doubts. — Margo Kaufman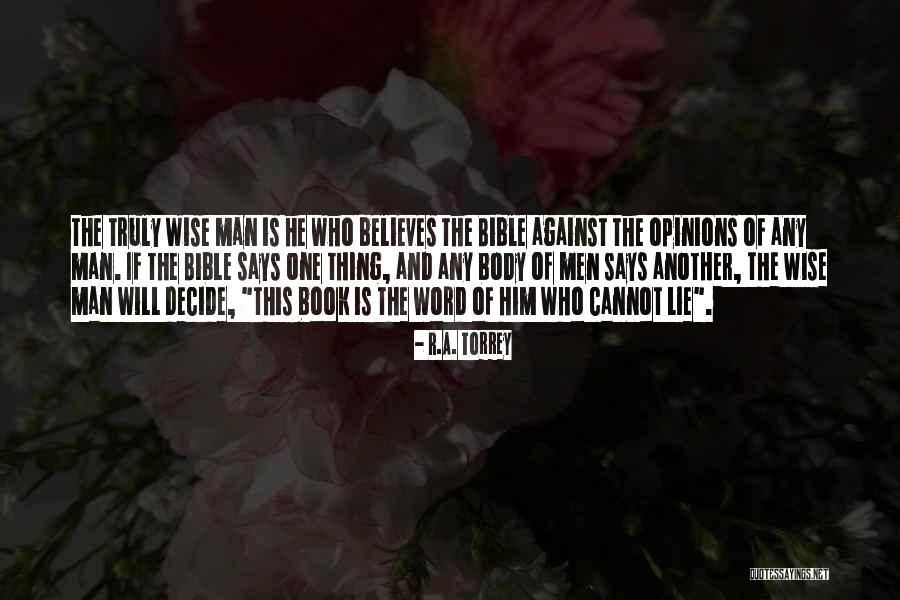 The truly wise man is he who believes the Bible against the opinions of any man. If the Bible says one thing, and any body of men says another, the wise man will decide, "This book is the Word of him who cannot lie". — R.A. Torrey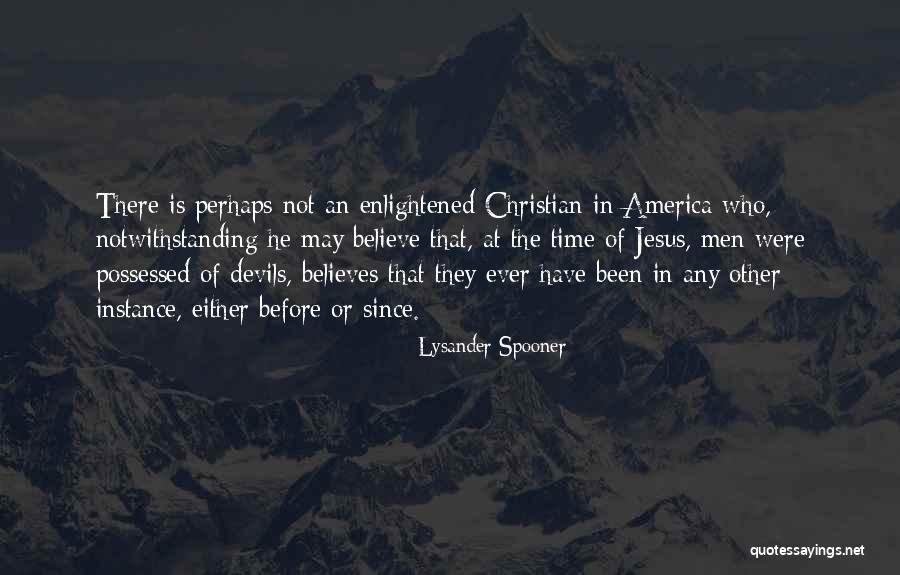 There is perhaps not an enlightened Christian in America who, notwithstanding he may believe that, at the time of Jesus, men were possessed of devils, believes that they ever have been in any other instance, either before or since. — Lysander Spooner
If anyone, no matter who, were given the opportunity of choosing from amongst all the nations in the world the set of beliefs which he thought best, he would inevitably - after careful considerations of their relative merits - choose that of his own country. Everyone without exception believes his own native customs, and the religion he was brought up in, to be the best. — Herodotus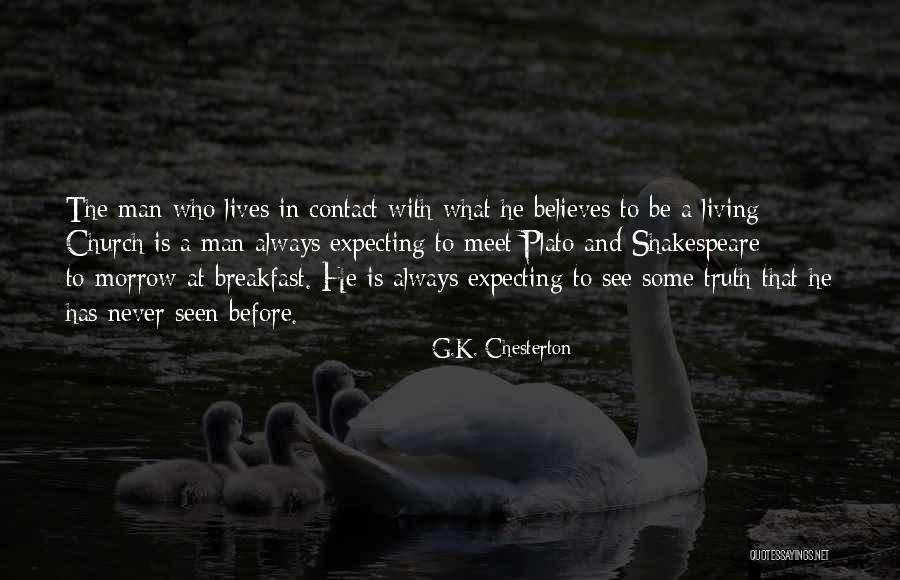 The man who lives in contact with what he believes to be a living Church is a man always expecting to meet Plato and Shakespeare to-morrow at breakfast. He is always expecting to see some truth that he has never seen before. — G.K. Chesterton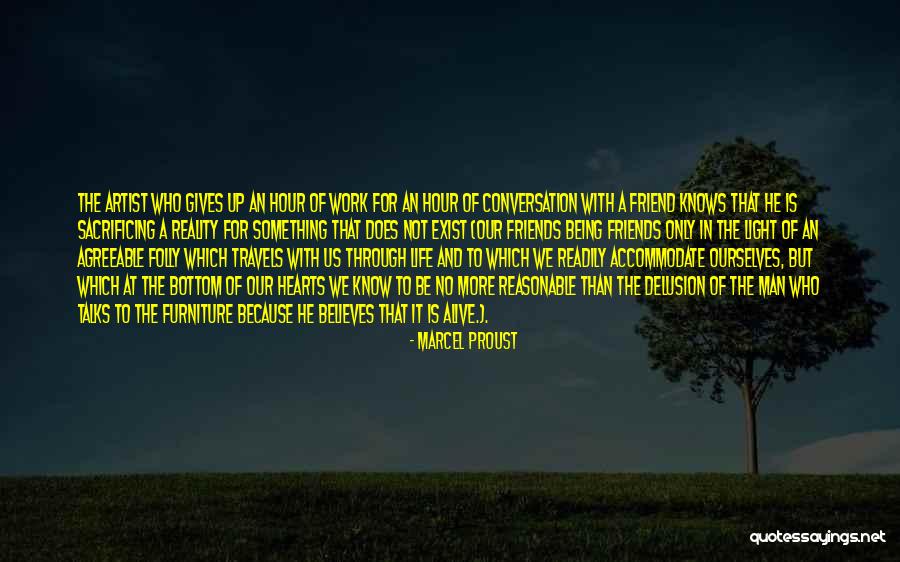 The artist who gives up an hour of work for an hour of conversation with a friend knows that he is sacrificing a reality for something that does not exist (our friends being friends only in the light of an agreeable folly which travels with us through life and to which we readily accommodate ourselves, but which at the bottom of our hearts we know to be no more reasonable than the delusion of the man who talks to the furniture because he believes that it is alive.). — Marcel Proust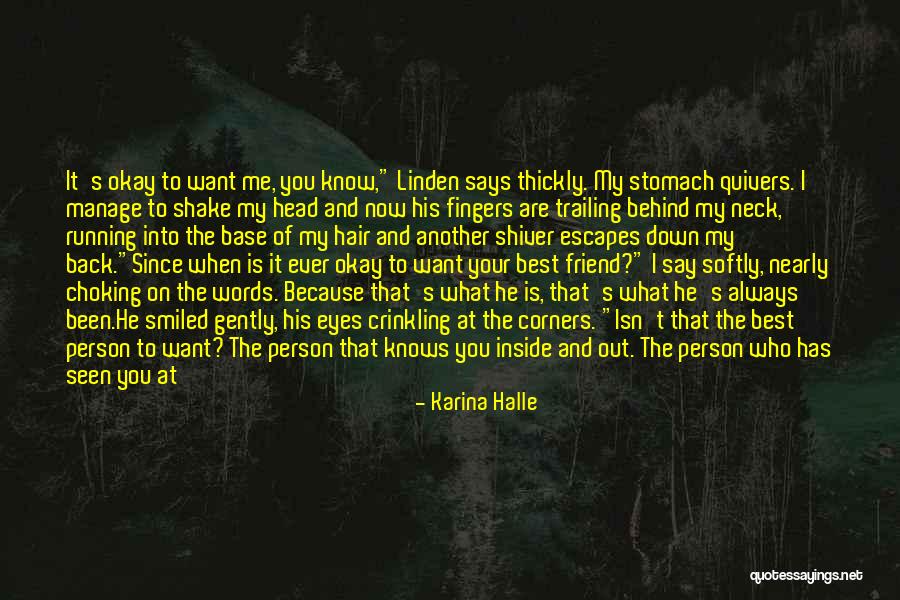 It's okay to want me, you know," Linden says thickly.
My stomach quivers. I manage to shake my head and now his fingers are trailing behind my neck, running into the base of my hair and another shiver escapes down my back.
"Since when is it ever okay to want your best friend?" I say softly, nearly choking on the words. Because that's what he is, that's what he's always been.
He smiled gently, his eyes crinkling at the corners. "Isn't that the best person to want? The person that knows you inside and out. The person who has seen you at your ugliest and most beautiful and still wants to be with you. The person who believes in you and has your back, no matter what. — Karina Halle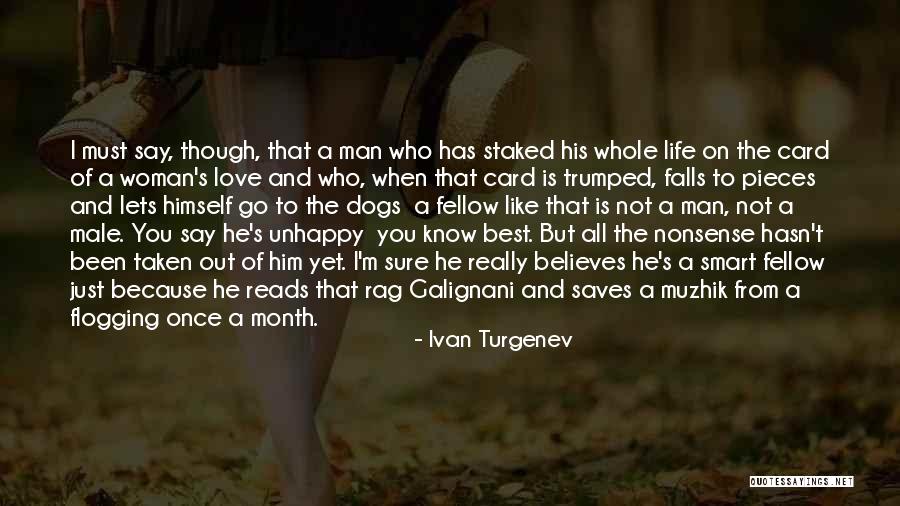 I must say, though, that a man who has staked his whole life on the card of a woman's love and who, when that card is trumped, falls to pieces and lets himself go to the dogs
a fellow like that is not a man, not a male. You say he's unhappy
you know best. But all the nonsense hasn't been taken out of him yet. I'm sure he really believes he's a smart fellow just because he reads that rag Galignani and saves a muzhik from a flogging once a month. — Ivan Turgenev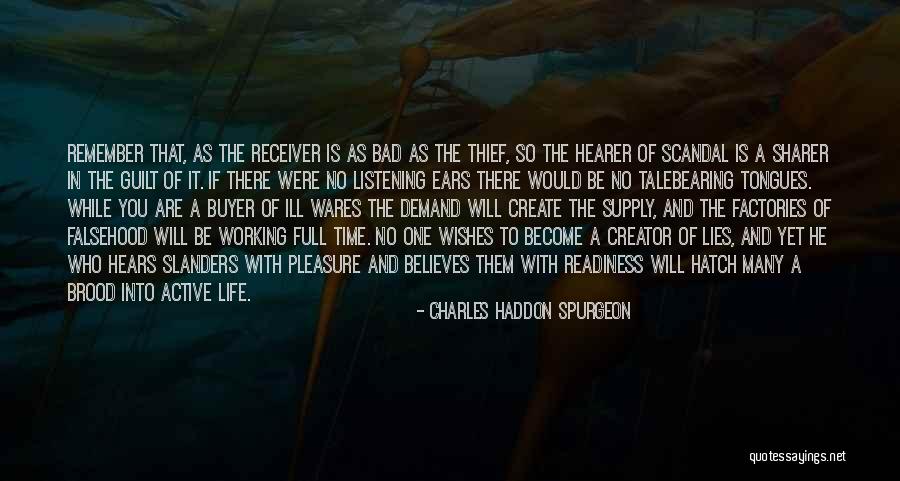 Remember that, as the receiver is as bad as the thief, so the hearer of scandal is a sharer in the guilt of it. If there were no listening ears there would be no talebearing tongues. While you are a buyer of ill wares the demand will create the supply, and the factories of falsehood will be working full time. No one wishes to become a creator of lies, and yet he who hears slanders with pleasure and believes them with readiness will hatch many a brood into active life. — Charles Haddon Spurgeon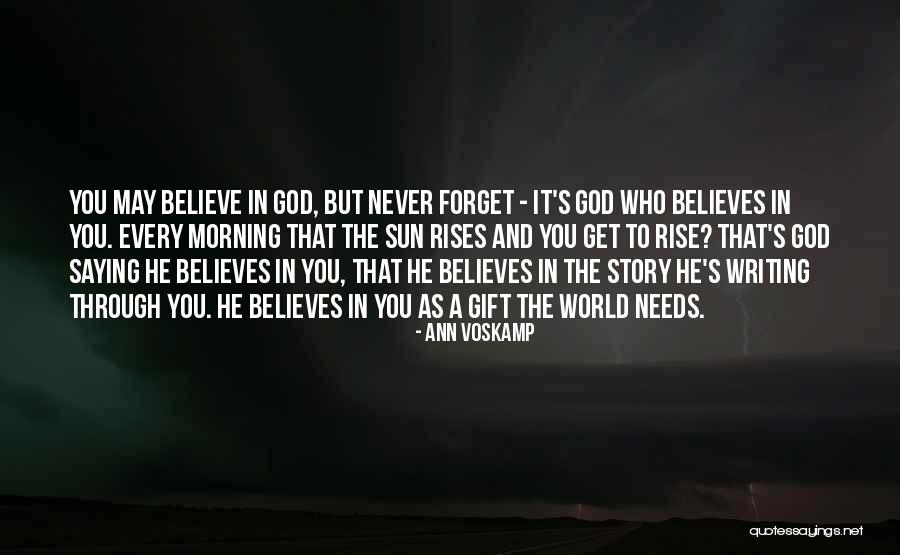 You may believe in God, but never forget - it's God who believes in you. Every morning that the sun rises and you get to rise? That's God saying He believes in you, that He believes in the story He's writing through you. He believes in you as a gift the world needs. — Ann Voskamp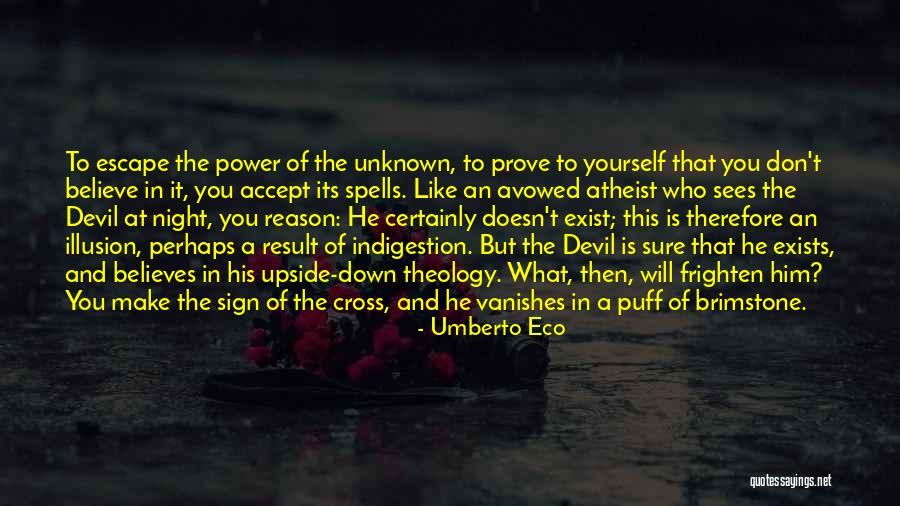 To escape the power of the unknown, to prove to yourself that you don't believe in it, you accept its spells. Like an avowed atheist who sees the Devil at night, you reason: He certainly doesn't exist; this is therefore an illusion, perhaps a result of indigestion. But the Devil is sure that he exists, and believes in his upside-down theology. What, then, will frighten him? You make the sign of the cross, and he vanishes in a puff of brimstone. — Umberto Eco
No man who says, 'I'm as good as you,' believes it. He would not say it if he did. — C.S. Lewis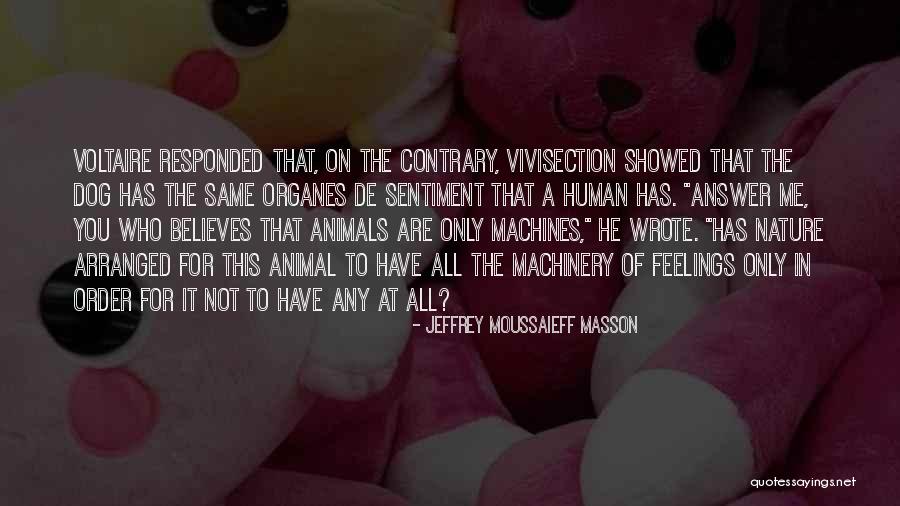 Voltaire responded that, on the contrary, vivisection showed that the dog has the same organes de sentiment that a human has. "Answer me, you who believes that animals are only machines," he wrote. "Has nature arranged for this animal to have all the machinery of feelings only in order for it not to have any at all? — Jeffrey Moussaieff Masson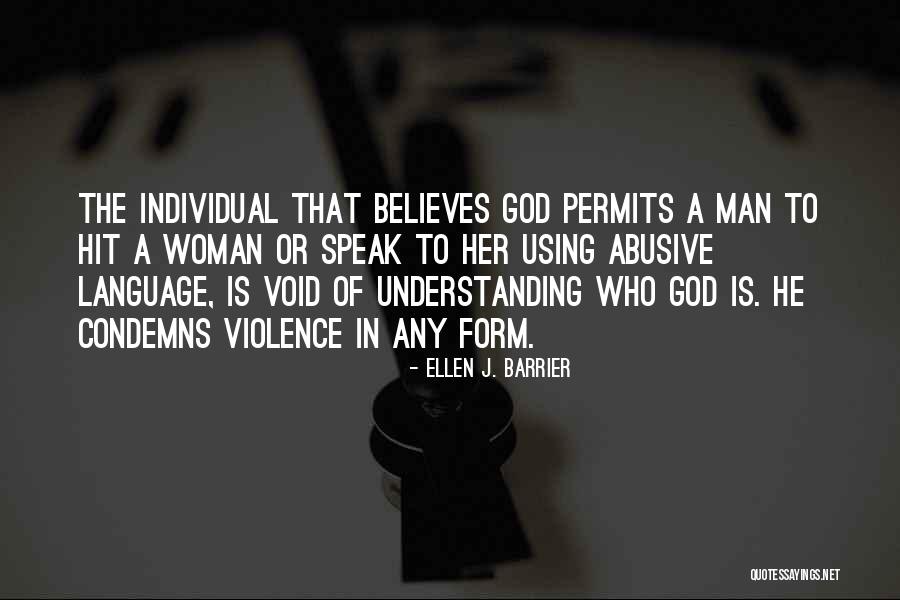 The individual that believes God permits a man to hit a woman or speak to her using abusive language, is void of understanding who God is. He condemns violence in any form. — Ellen J. Barrier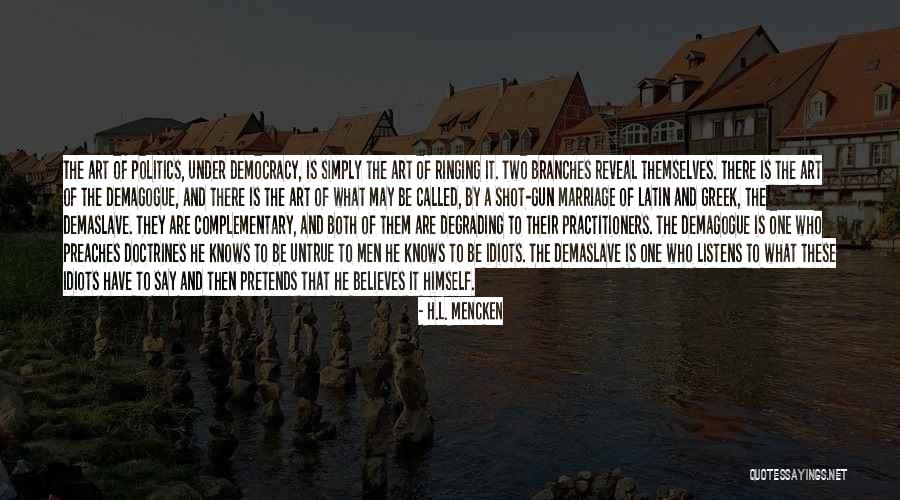 The art of politics, under democracy, is simply the art of ringing it. Two branches reveal themselves. There is the art of the demagogue, and there is the art of what may be called, by a shot-gun marriage of Latin and Greek, the demaslave. They are complementary, and both of them are degrading to their practitioners. The demagogue is one who preaches doctrines he knows to be untrue to men he knows to be idiots. The demaslave is one who listens to what these idiots have to say and then pretends that he believes it himself. — H.L. Mencken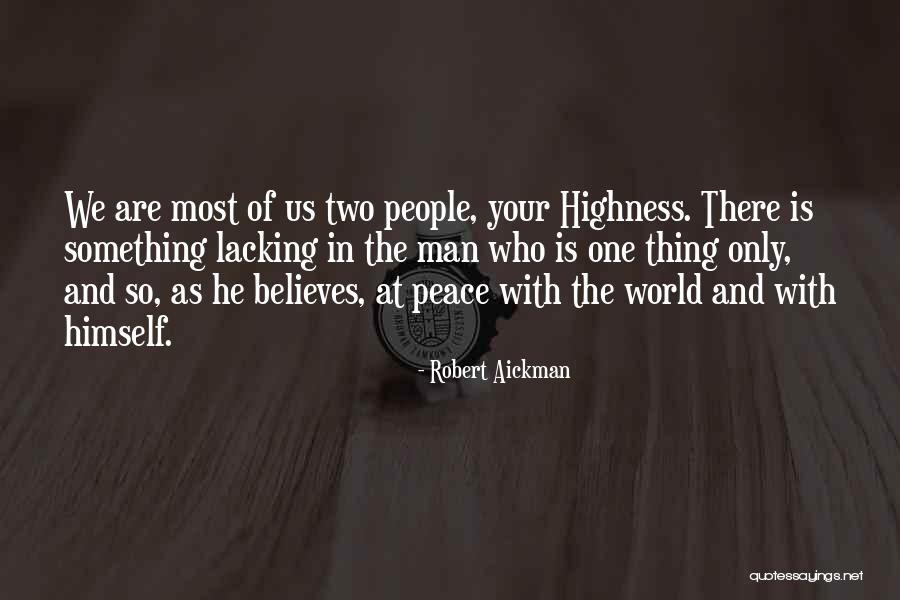 We are most of us two people, your Highness. There is something lacking in the man who is one thing only, and so, as he believes, at peace with the world and with himself. — Robert Aickman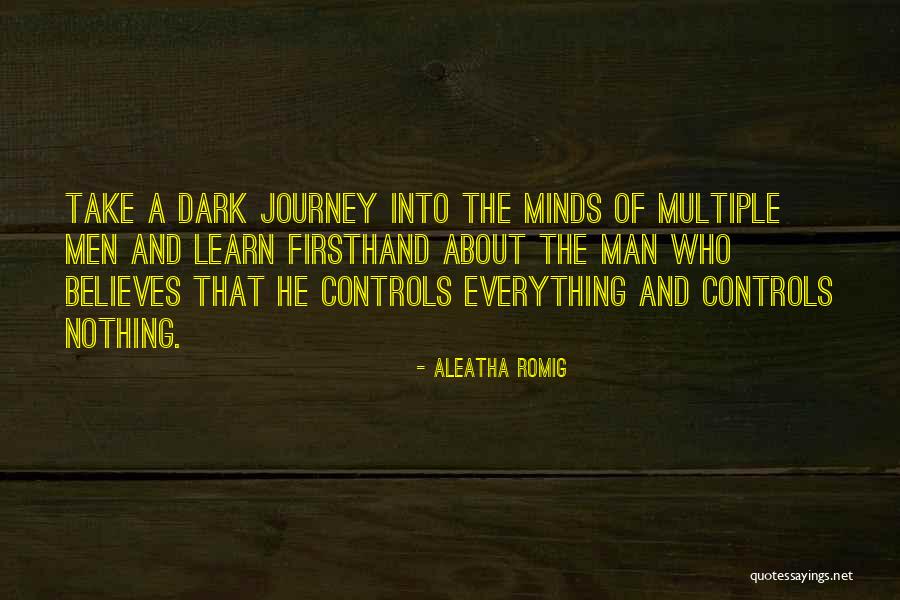 Take a dark journey into the minds of multiple men and learn firsthand about the man who believes that he controls everything and controls nothing. — Aleatha Romig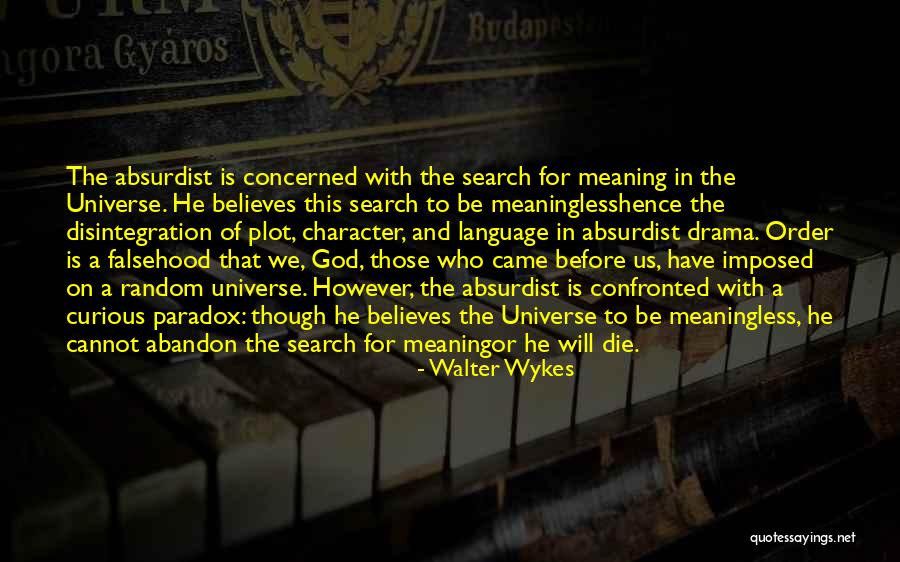 The absurdist is concerned with the search for meaning in the Universe. He believes this search to be meaningless
hence the disintegration of plot, character, and language in absurdist drama. Order is a falsehood that we, God, those who came before us, have imposed on a random universe. However, the absurdist is confronted with a curious paradox: though he believes the Universe to be meaningless, he cannot abandon the search for meaning
or he will die. — Walter Wykes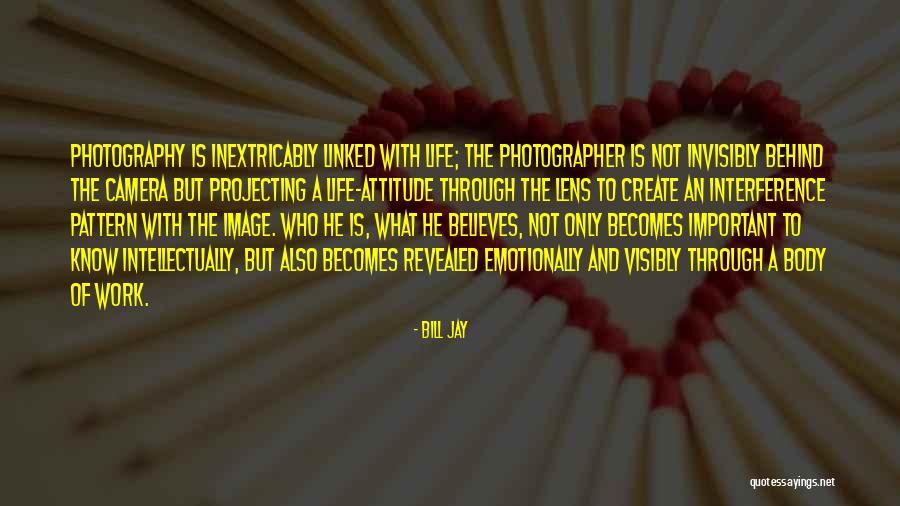 Photography is inextricably linked with life; the photographer is not invisibly behind the camera but projecting a life-attitude through the lens to create an interference pattern with the image. Who he is, what he believes, not only becomes important to know intellectually, but also becomes revealed emotionally and visibly through a body of work. — Bill Jay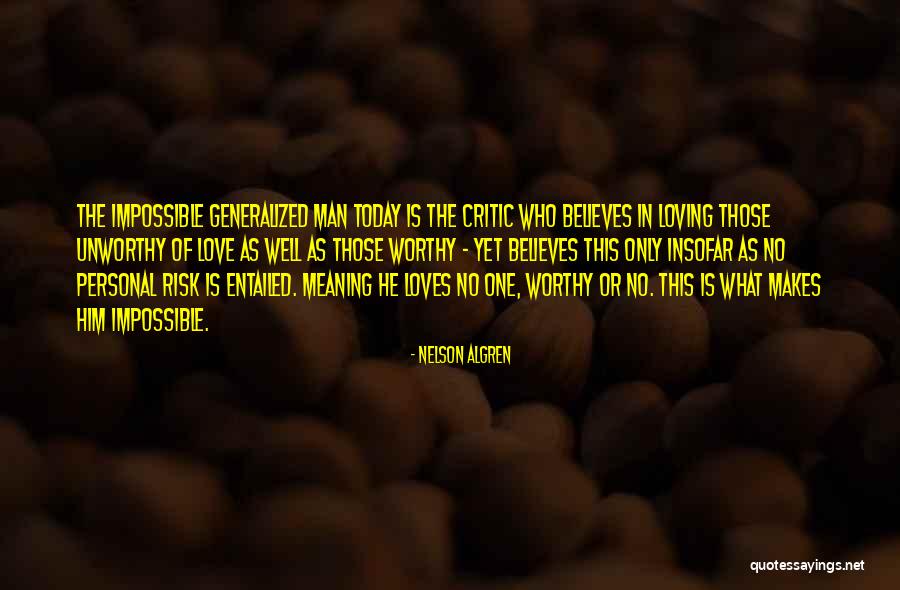 The Impossible Generalized Man today is the critic who believes in loving those unworthy of love as well as those worthy - yet believes this only insofar as no personal risk is entailed. Meaning he loves no one, worthy or no. This is what makes him impossible. — Nelson Algren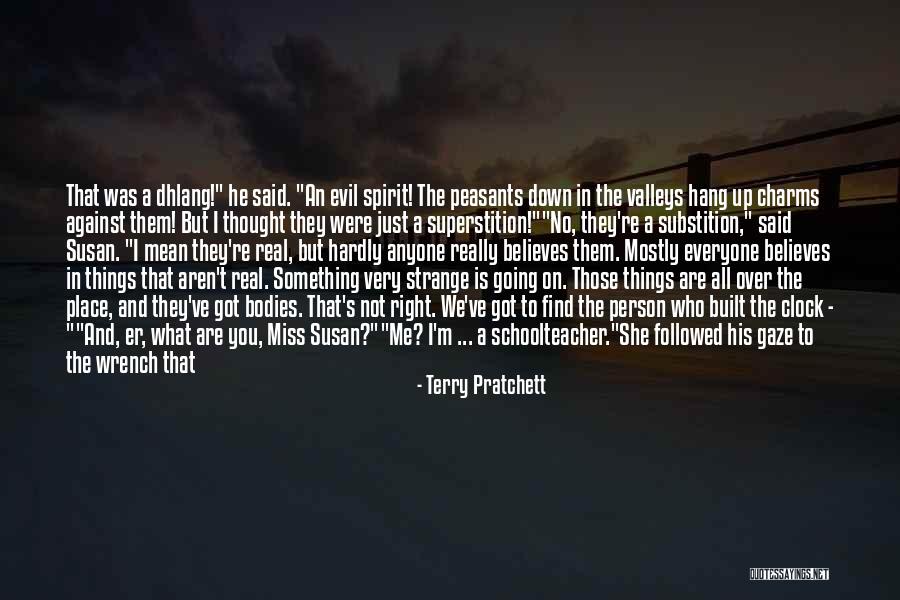 That was a dhlang!" he said. "An evil spirit! The peasants down in the valleys hang up charms against them! But I thought they were just a superstition!"
"No, they're a substition," said Susan. "I mean they're real, but hardly anyone really believes them. Mostly everyone believes in things that aren't real. Something very strange is going on. Those things are all over the place, and they've got bodies. That's not right. We've got to find the person who built the clock - "
"And, er, what are you, Miss Susan?"
"Me? I'm ... a schoolteacher."
She followed his gaze to the wrench that she still carried in her hand, and shrugged.
"It can get pretty rough at break time, can it?" said Lobsang. — Terry Pratchett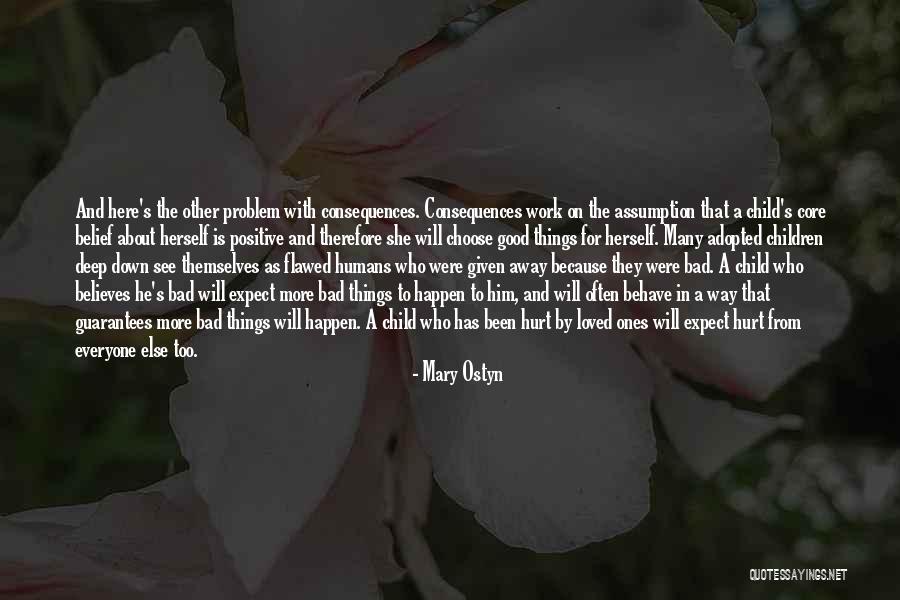 And here's the other problem with consequences. Consequences work on the assumption that a child's core belief about herself is positive and therefore she will choose good things for herself. Many adopted children deep down see themselves as flawed humans who were given away because they were bad. A child who believes he's bad will expect more bad things to happen to him, and will often behave in a way that guarantees more bad things will happen. A child who has been hurt by loved ones will expect hurt from everyone else too. — Mary Ostyn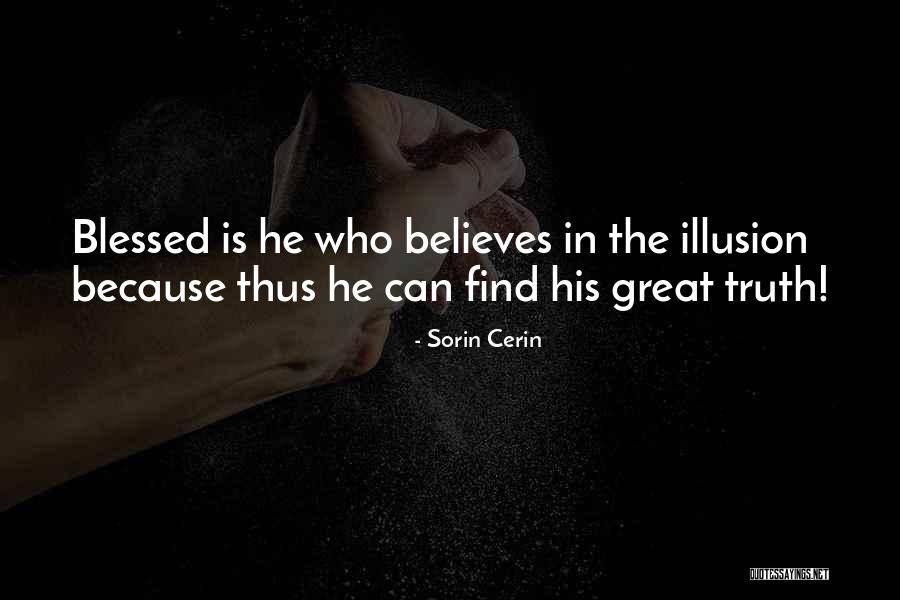 Blessed is he who believes in the illusion because thus he can find his great truth! — Sorin Cerin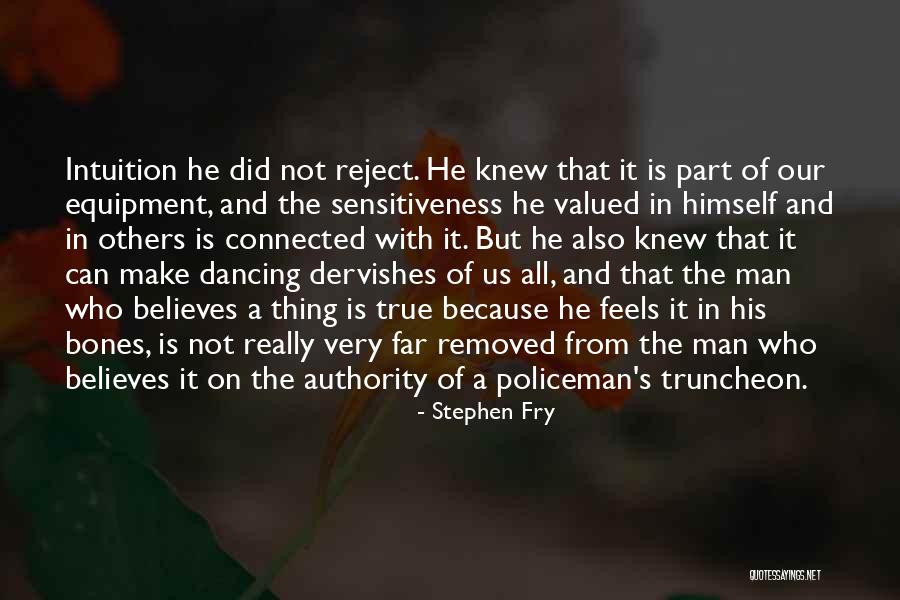 Intuition he did not reject. He knew that it is part of our equipment, and the sensitiveness he valued in himself and in others is connected with it. But he also knew that it can make dancing dervishes of us all, and that the man who believes a thing is true because he feels it in his bones, is not really very far removed from the man who believes it on the authority of a policeman's truncheon. — Stephen Fry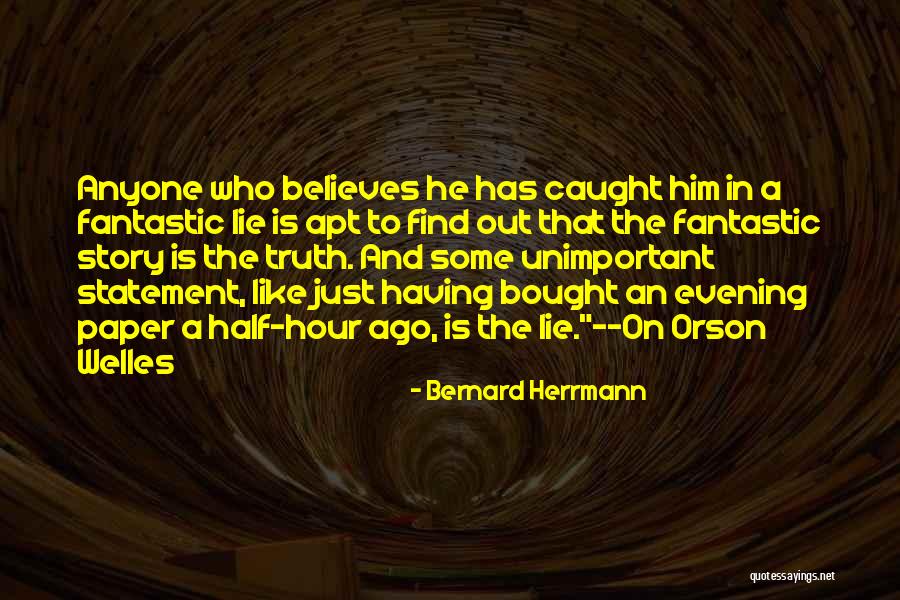 Anyone who believes he has caught him in a fantastic lie is apt to find out that the fantastic story is the truth. And some unimportant statement, like just having bought an evening paper a half-hour ago, is the lie."

--On Orson Welles — Bernard Herrmann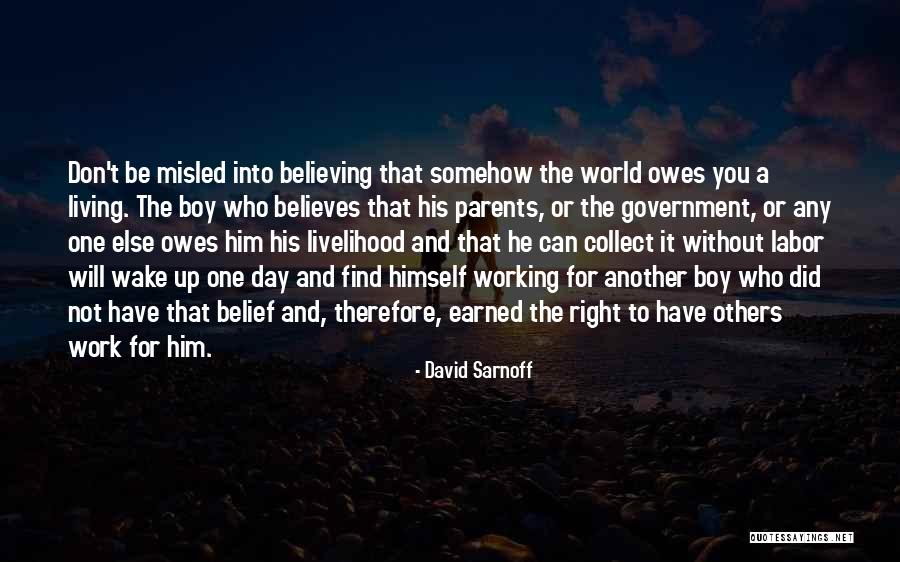 Don't be misled into believing that somehow the world owes you a living. The boy who believes that his parents, or the government, or any one else owes him his livelihood and that he can collect it without labor will wake up one day and find himself working for another boy who did not have that belief and, therefore, earned the right to have others work for him. — David Sarnoff
If the writer believes that our life is and will remain essentially mysterious, if he looks upon us as beings existing in a created order to whose laws we freely respond, then what he sees on the surface will be of interest to him only as he can go through it into an experience of mystery itself. His kind of fiction will always be pushing its own limits outward toward the limits of mystery, because for this kind of writer, the meaning of a story does not begin except at a depth where adequate motivation and adequate psychology and the various determinations have been exhausted. Such a writer will be interested in what we don't understand rather than in what we do. He will be interested in possibility rather than probability. He will be interested in characters who are forced out to meet evil and grace and who act on a trust beyond themselves - whether they know clearly what it is they act upon or not. — Flannery O'Connor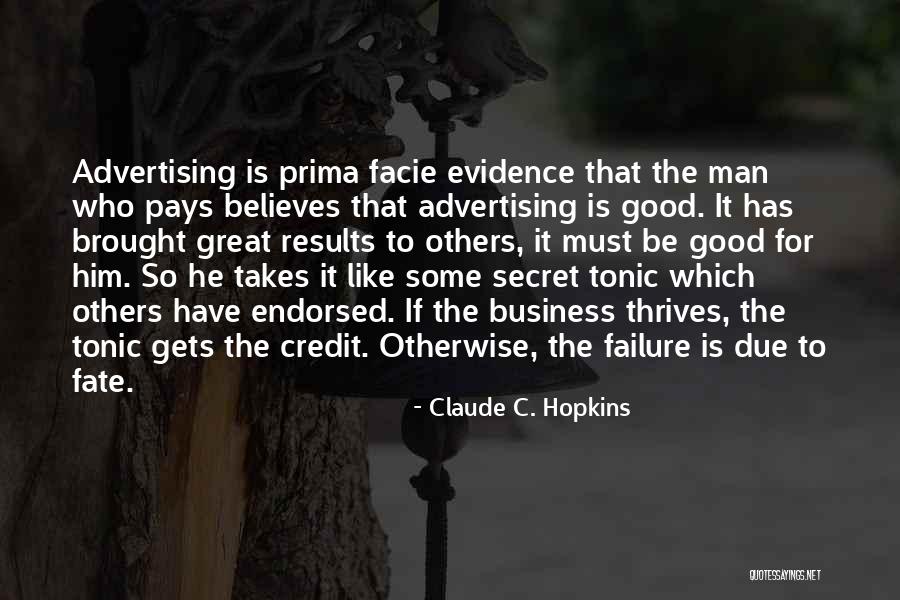 Advertising is prima facie evidence that the man who pays believes that advertising is good. It has brought great results to others, it must be good for him. So he takes it like some secret tonic which others have endorsed. If the business thrives, the tonic gets the credit. Otherwise, the failure is due to fate. — Claude C. Hopkins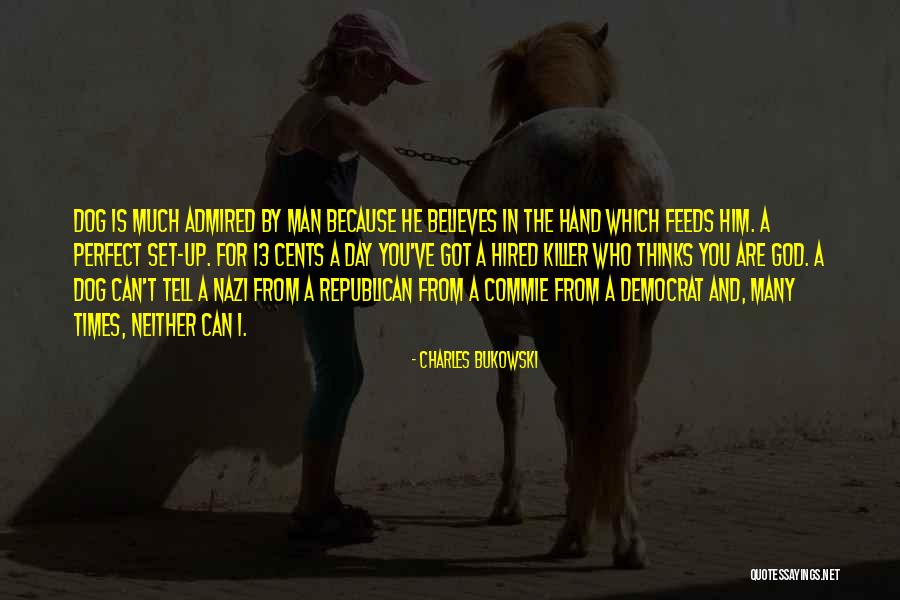 Dog is much admired by Man because he believes in the hand which feeds him. A perfect set-up. For 13 cents a day you've got a hired killer who thinks you are god. A dog can't tell a Nazi from a Republican from a Commie from a Democrat and, many times, neither can I. — Charles Bukowski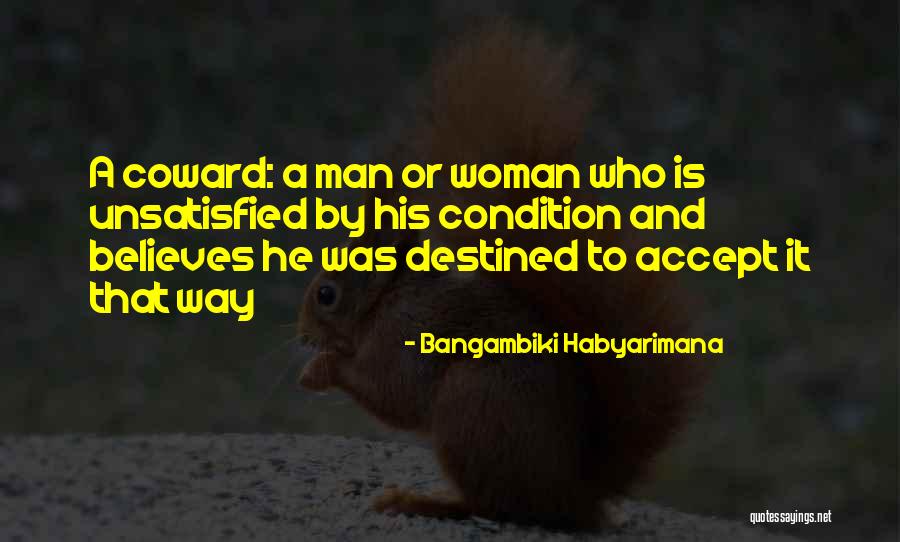 A coward: a man or woman who is unsatisfied by his condition and believes he was destined to accept it that way — Bangambiki Habyarimana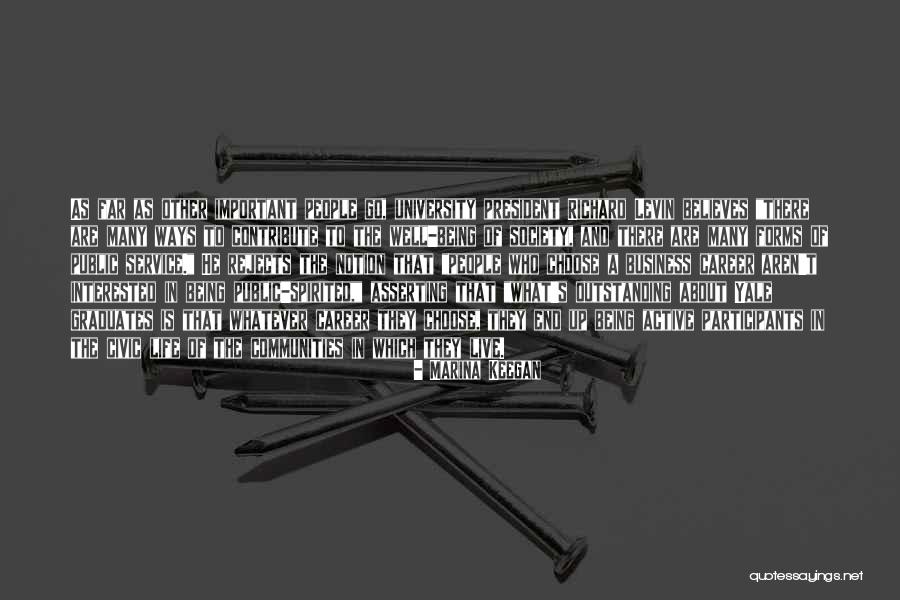 As far as other important people go, university president Richard Levin believes "there are many ways to contribute to the well-being of society, and there are many forms of public service." He rejects the notion that "people who choose a business career aren't interested in being public-spirited," asserting that "what's outstanding about Yale graduates is that whatever career they choose, they end up being active participants in the civic life of the communities in which they live. — Marina Keegan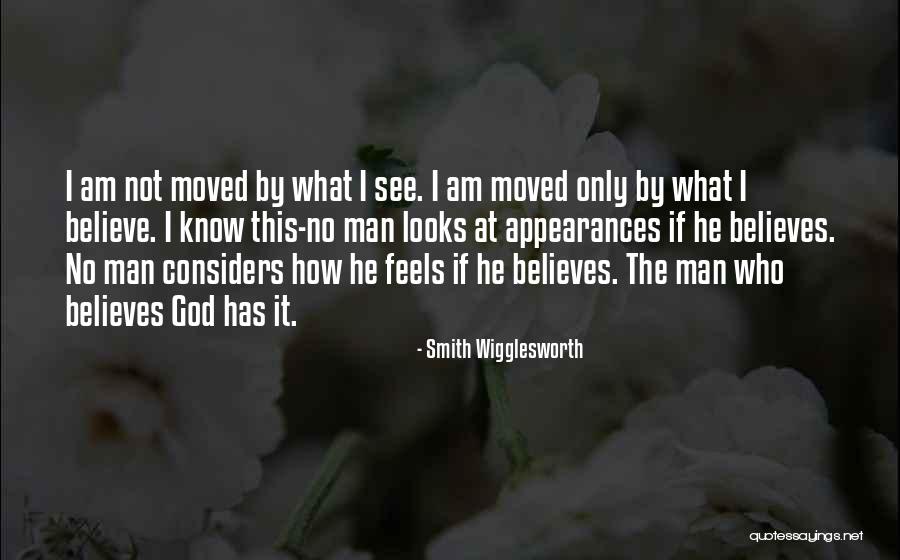 I am not moved by what I see. I am moved only by what I believe. I know this-no man looks at appearances if he believes. No man considers how he feels if he believes. The man who believes God has it. — Smith Wigglesworth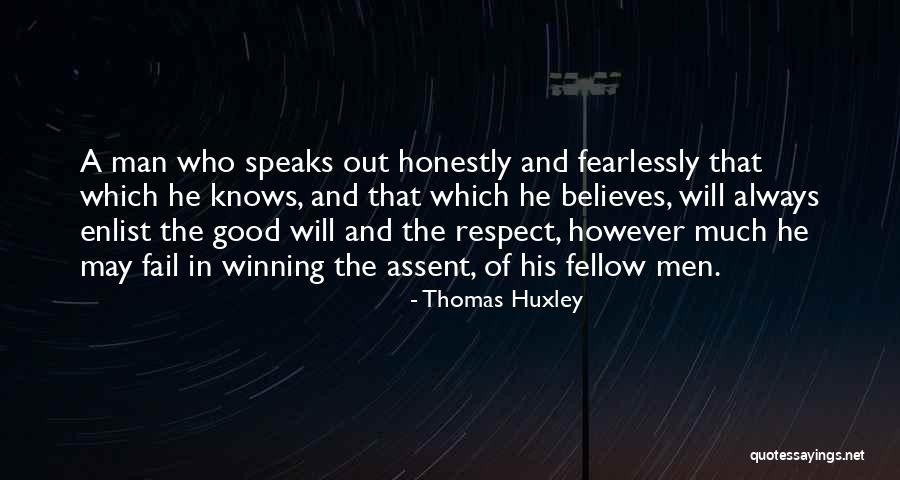 A man who speaks out honestly and fearlessly that which he knows, and that which he believes, will always enlist the good will and the respect, however much he may fail in winning the assent, of his fellow men. — Thomas Huxley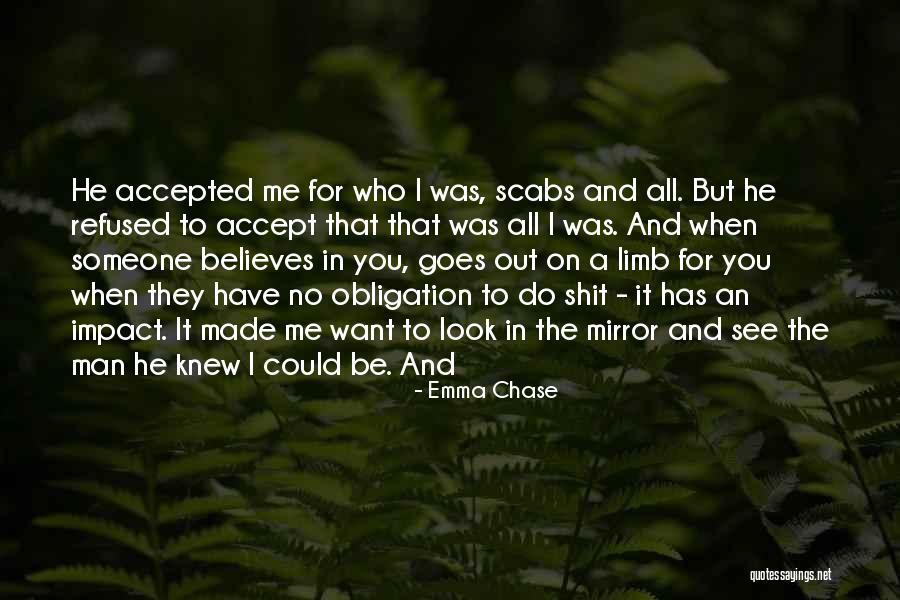 He accepted me for who I was, scabs and all. But he refused to accept that that was all I was. And when someone believes in you, goes out on a limb for you when they have no obligation to do shit - it has an impact. It made me want to look in the mirror and see the man he knew I could be. And — Emma Chase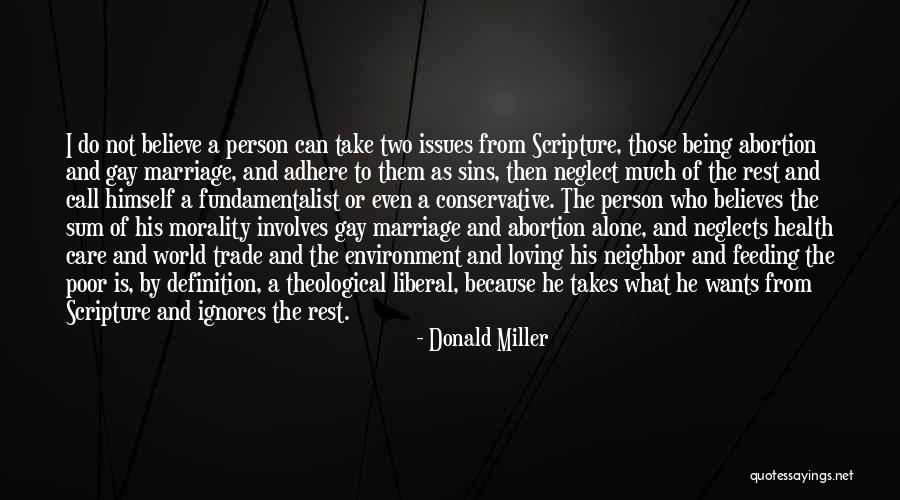 I do not believe a person can take two issues from Scripture, those being abortion and gay marriage, and adhere to them as sins, then neglect much of the rest and call himself a fundamentalist or even a conservative. The person who believes the sum of his morality involves gay marriage and abortion alone, and neglects health care and world trade and the environment and loving his neighbor and feeding the poor is, by definition, a theological liberal, because he takes what he wants from Scripture and ignores the rest. — Donald Miller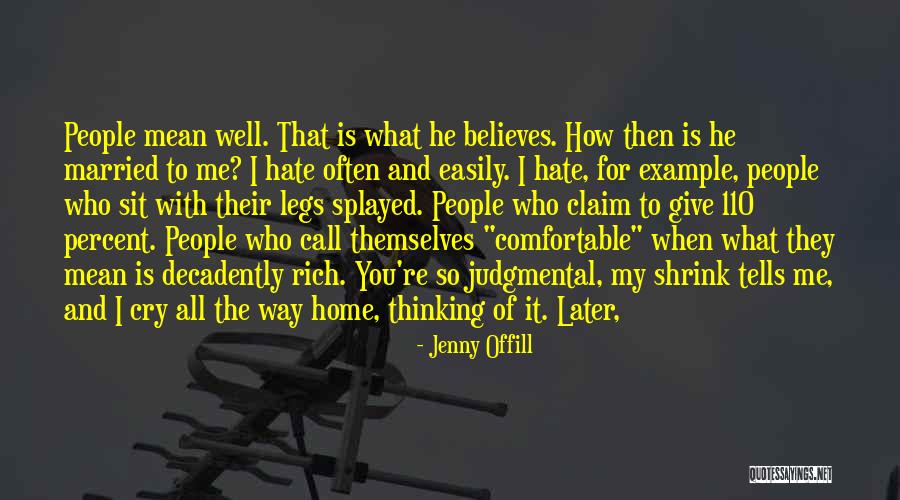 People mean well. That is what he believes. How then is he married to me? I hate often and easily. I hate, for example, people who sit with their legs splayed. People who claim to give 110 percent. People who call themselves "comfortable" when what they mean is decadently rich. You're so judgmental, my shrink tells me, and I cry all the way home, thinking of it. Later, — Jenny Offill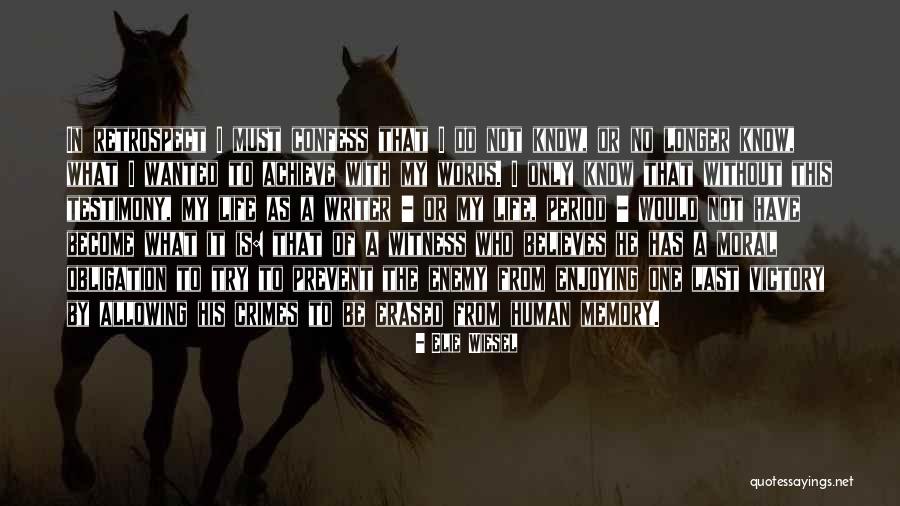 In retrospect I must confess that I do not know, or no longer know, what I wanted to achieve with my words. I only know that without this testimony, my life as a writer - or my life, period - would not have become what it is: that of a witness who believes he has a moral obligation to try to prevent the enemy from enjoying one last victory by allowing his crimes to be erased from human memory. — Elie Wiesel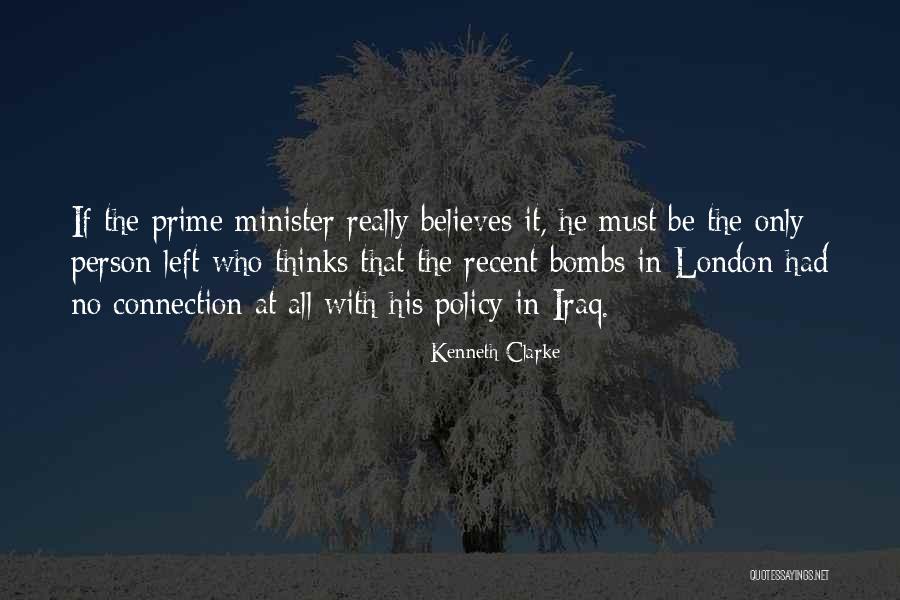 If the prime minister really believes it, he must be the only person left who thinks that the recent bombs in London had no connection at all with his policy in Iraq. — Kenneth Clarke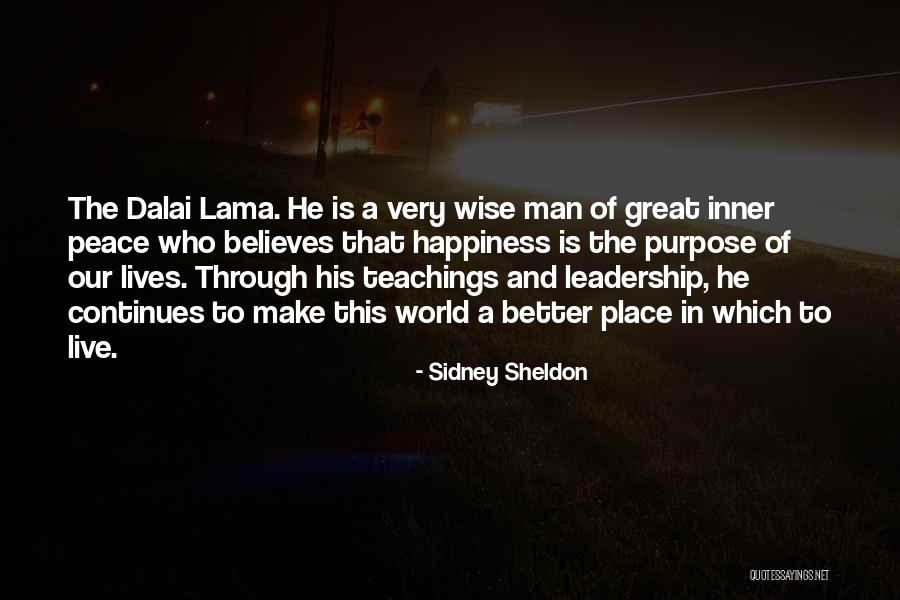 The Dalai Lama. He is a very wise man of great inner peace who believes that happiness is the purpose of our lives. Through his teachings and leadership, he continues to make this world a better place in which to live. — Sidney Sheldon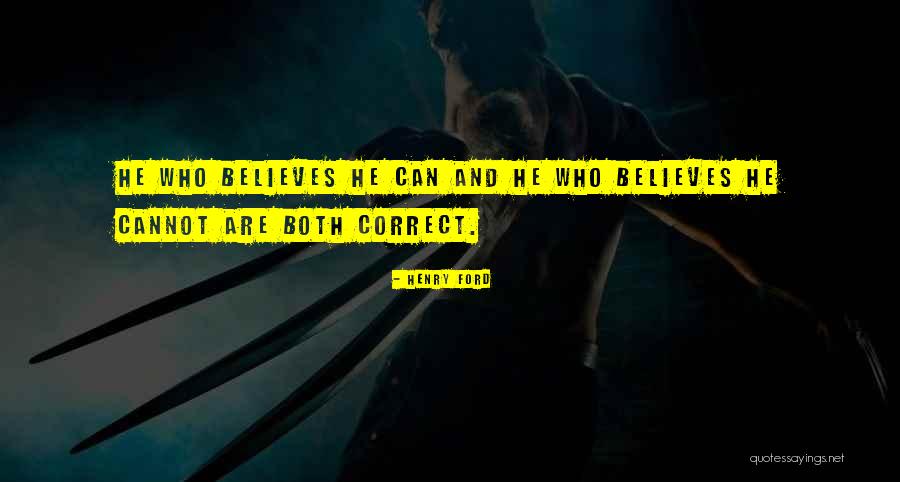 He who believes he can and he who believes he cannot are both correct. — Henry Ford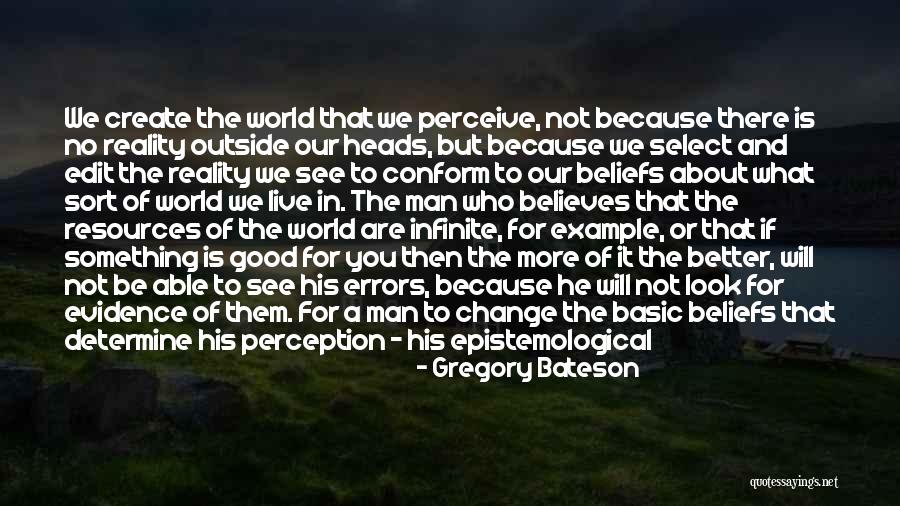 We create the world that we perceive, not because there is no reality outside our heads, but because we select and edit the reality we see to conform to our beliefs about what sort of world we live in. The man who believes that the resources of the world are infinite, for example, or that if something is good for you then the more of it the better, will not be able to see his errors, because he will not look for evidence of them. For a man to change the basic beliefs that determine his perception - his epistemological premises - he must first become aware that reality is not necessarily as he believes it to be. Sometimes the dissonance between reality and false beliefs reaches a point when it becomes impossible to avoid the awareness that the world no longer makes sense. Only then is it possible for the mind to consider radically different ideas and perceptions. — Gregory Bateson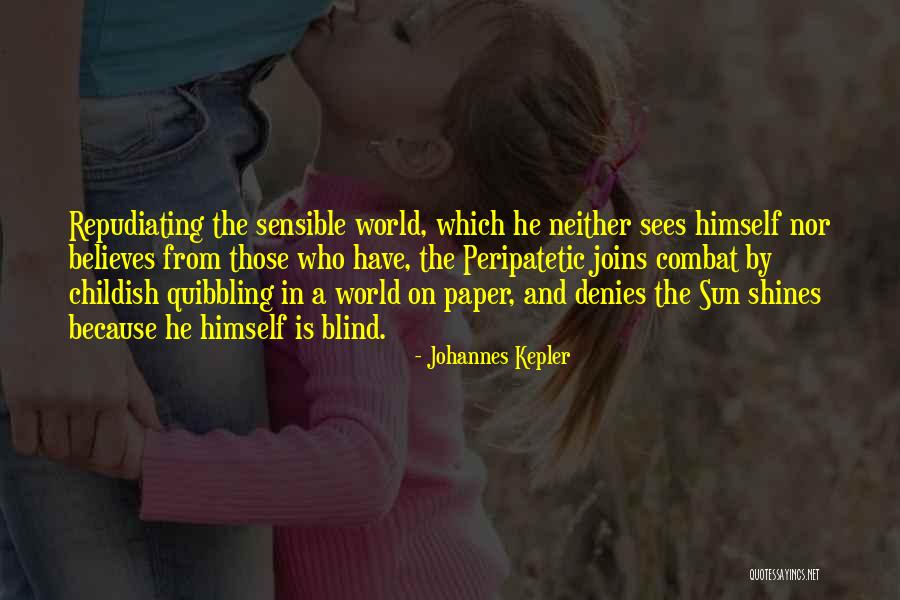 Repudiating the sensible world, which he neither sees himself nor believes from those who have, the Peripatetic joins combat by childish quibbling in a world on paper, and denies the Sun shines because he himself is blind. — Johannes Kepler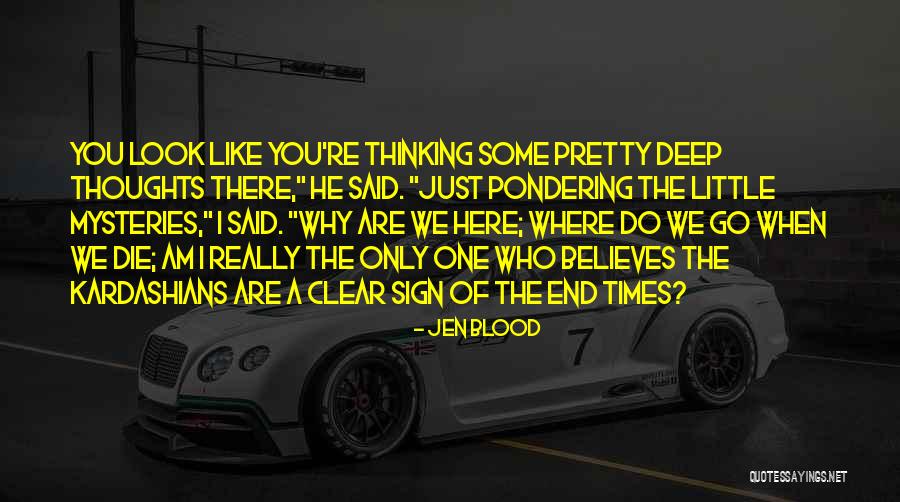 You look like you're thinking some pretty deep thoughts there," he said. "Just pondering the little mysteries," I said. "Why are we here; where do we go when we die; am I really the only one who believes the Kardashians are a clear sign of the end times? — Jen Blood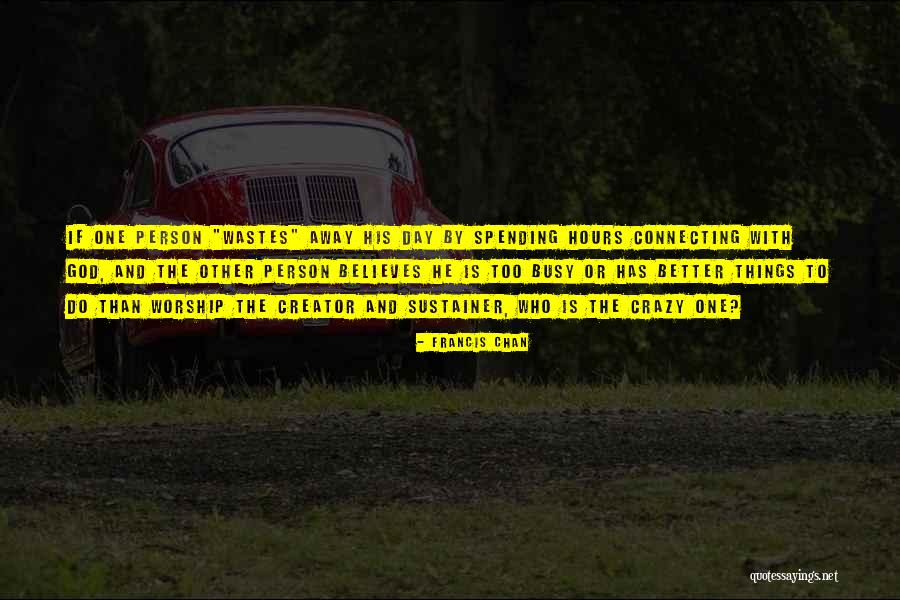 If one person "wastes" away his day by spending hours connecting with God, and the other person believes he is too busy or has better things to do than worship the Creator and Sustainer, who is the crazy one? — Francis Chan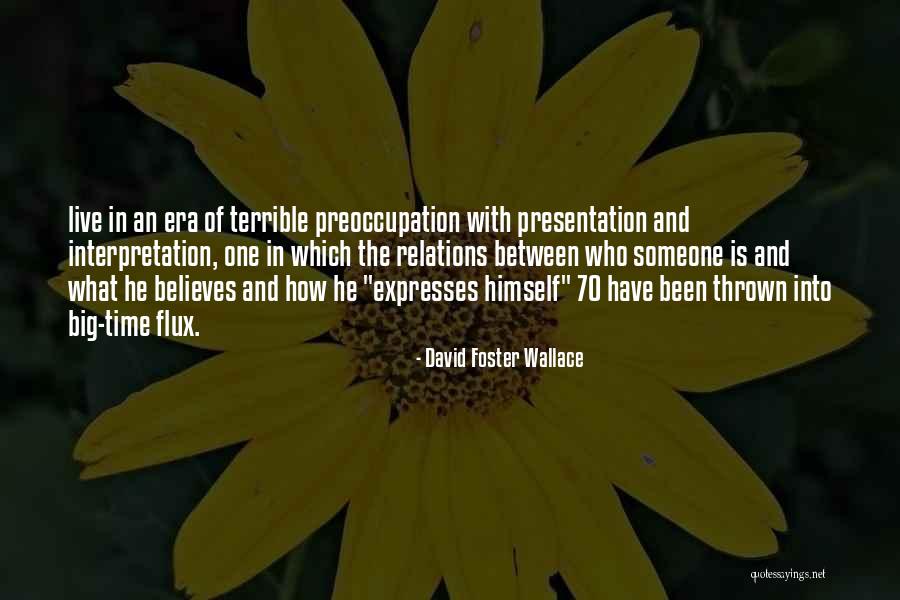 live in an era of terrible preoccupation with presentation and interpretation, one in which the relations between who someone is and what he believes and how he "expresses himself" 70 have been thrown into big-time flux. — David Foster Wallace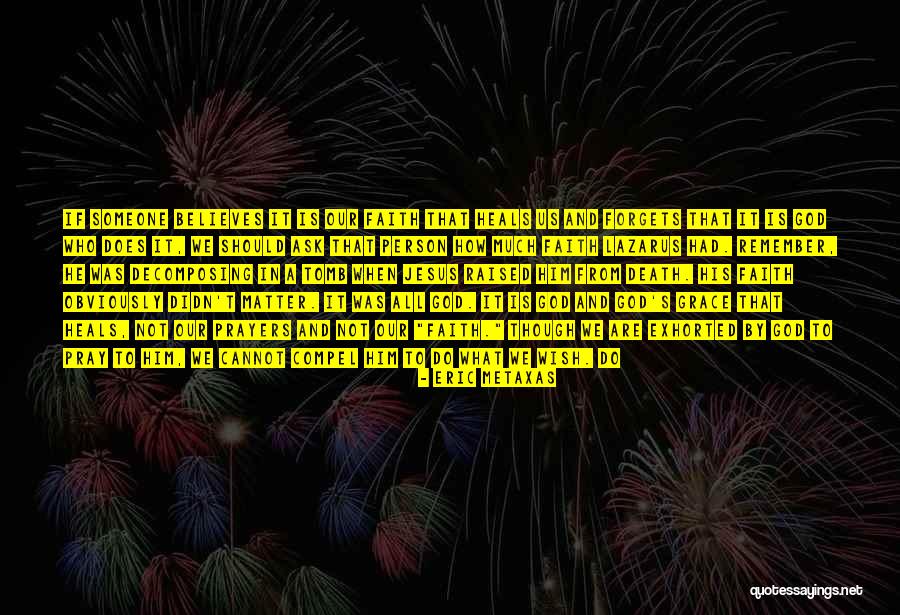 If someone believes it is our faith that heals us and forgets that it is God who does it, we should ask that person how much faith Lazarus had. Remember, he was decomposing in a tomb when Jesus raised him from death. His faith obviously didn't matter. It was all God. It is God and God's grace that heals, not our prayers and not our "faith." Though we are exhorted by God to pray to him, we cannot compel him to do what we wish. DO — Eric Metaxas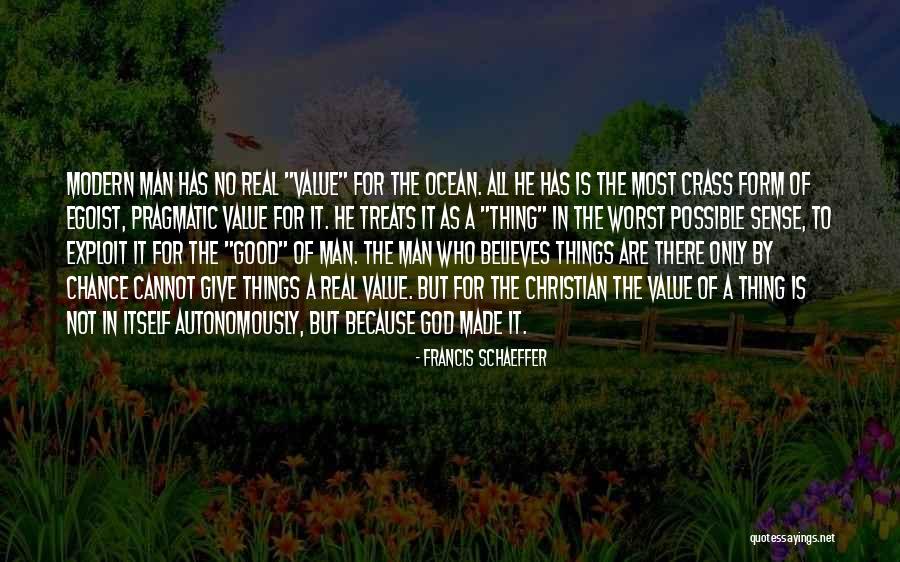 Modern man has no real "value" for the ocean. All he has is the most crass form of egoist, pragmatic value for it. He treats it as a "thing" in the worst possible sense, to exploit it for the "good" of man. The man who believes things are there only by chance cannot give things a real value. But for the Christian the value of a thing is not in itself autonomously, but because God made it. — Francis Schaeffer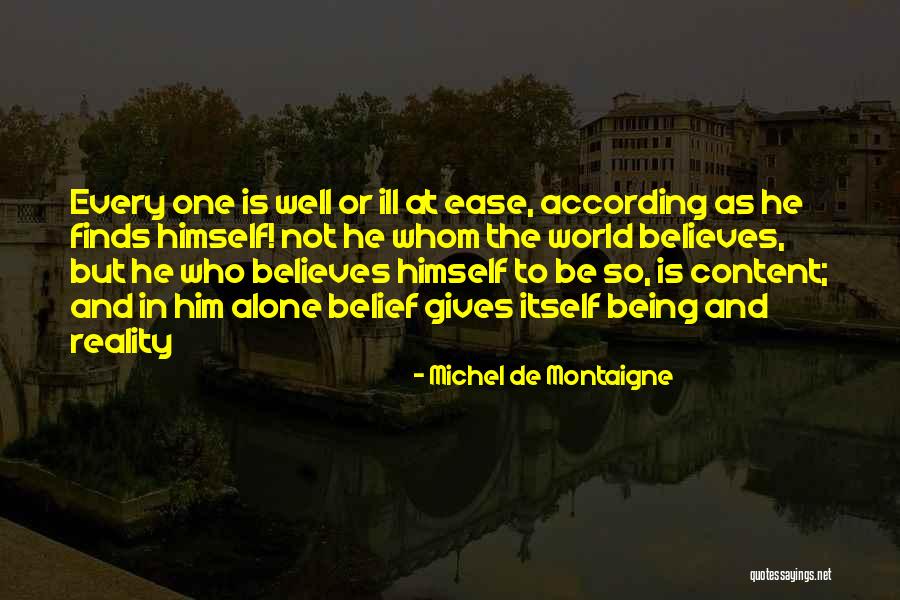 Every one is well or ill at ease, according as he finds himself! not he whom the world believes, but he who believes himself to be so, is content; and in him alone belief gives itself being and reality — Michel De Montaigne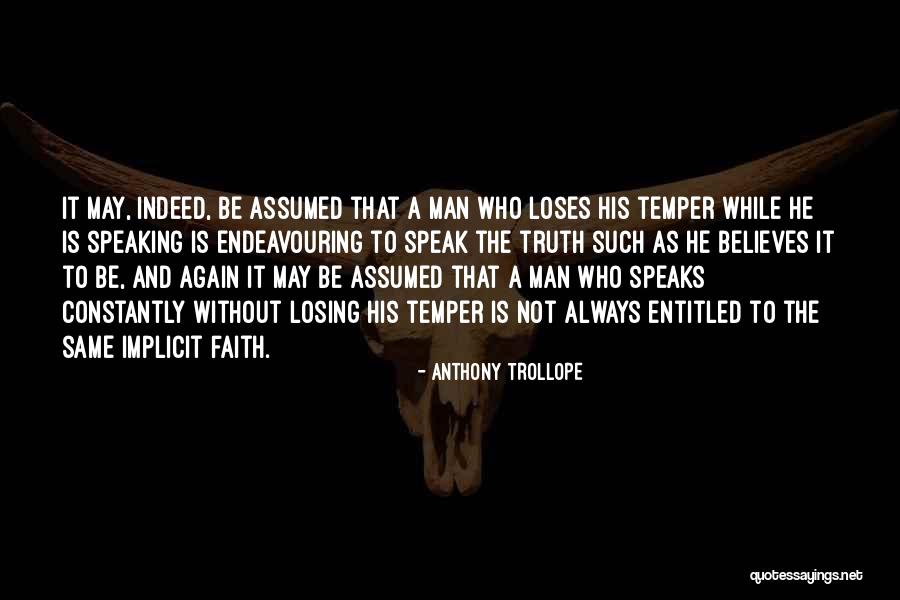 It may, indeed, be assumed that a man who loses his temper while he is speaking is endeavouring to speak the truth such as he believes it to be, and again it may be assumed that a man who speaks constantly without losing his temper is not always entitled to the same implicit faith. — Anthony Trollope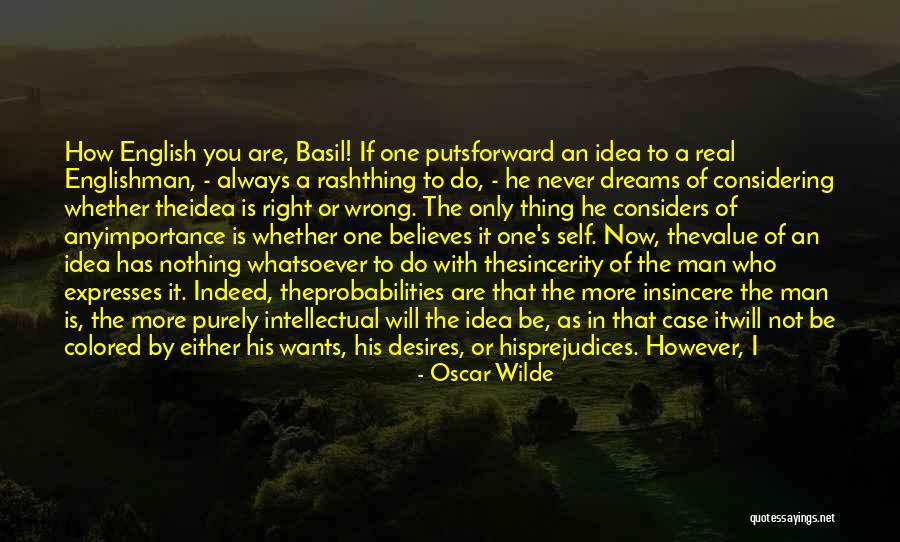 How English you are, Basil! If one puts
forward an idea to a real Englishman, - always a rash
thing to do, - he never dreams of considering whether the
idea is right or wrong. The only thing he considers of any
importance is whether one believes it one's self. Now, the
value of an idea has nothing whatsoever to do with the
sincerity of the man who expresses it. Indeed, the
probabilities are that the more insincere the man is, the more purely intellectual will the idea be, as in that case it
will not be colored by either his wants, his desires, or his
prejudices. However, I don't propose to discuss politics,
sociology, or metaphysics with you. I like persons better
than principles. Tell me more about Dorian Gray. How
often do you see him? — Oscar Wilde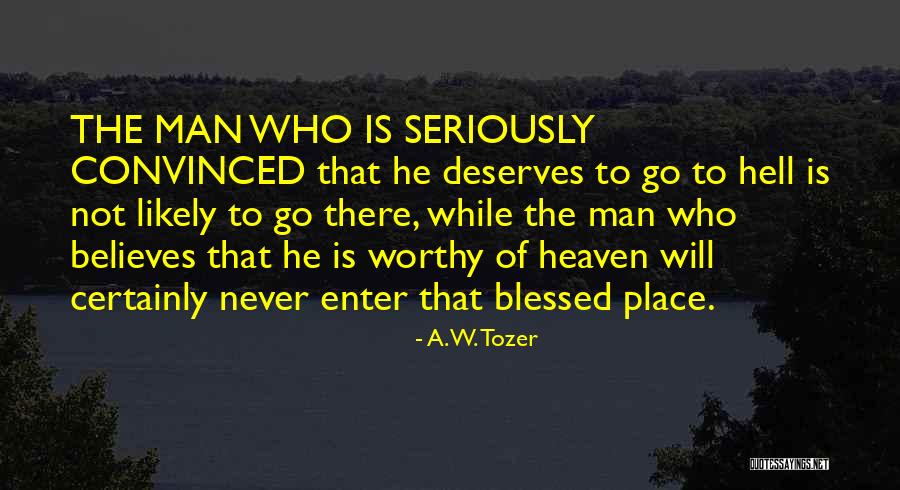 THE MAN WHO IS SERIOUSLY CONVINCED that he deserves to go to hell is not likely to go there, while the man who believes that he is worthy of heaven will certainly never enter that blessed place. — A.W. Tozer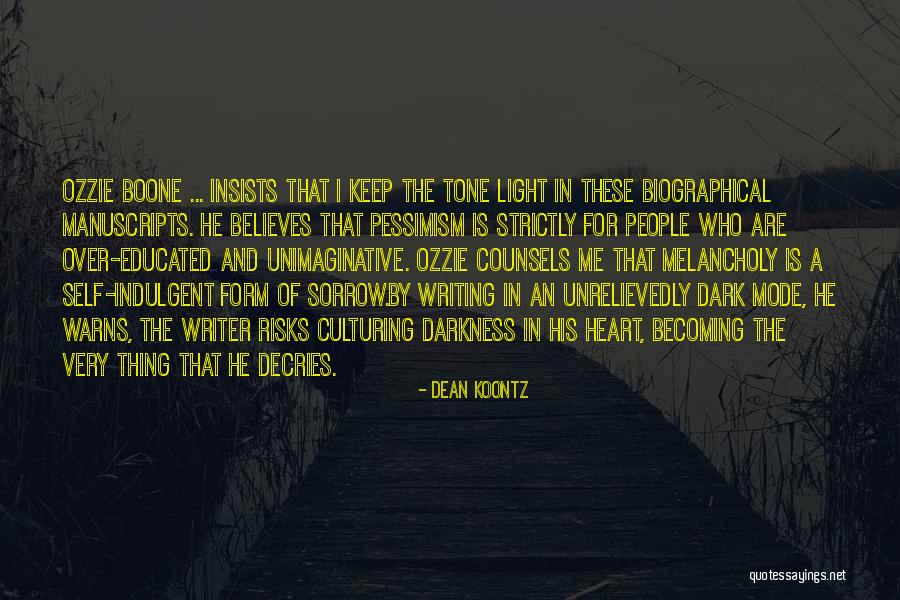 Ozzie Boone ... insists that I keep the tone light in these biographical manuscripts. He believes that pessimism is strictly for people who are over-educated and unimaginative. Ozzie counsels me that melancholy is a self-indulgent form of sorrow.
By writing in an unrelievedly dark mode, he warns, the writer risks culturing darkness in his heart, becoming the very thing that he decries. — Dean Koontz
As much as anybody since George Wallace or Pat Buchanan, he has overtly sent dog whistles of race out to white working-class voters. That gratuitous defamation of group after group, person after person, is just anathema to Obama. He genuinely believes this guy would be a calamity for the country." Unlike the Bushes, who outsourced their political thuggery, Donald Trump does his own wet work. "He — Maureen Dowd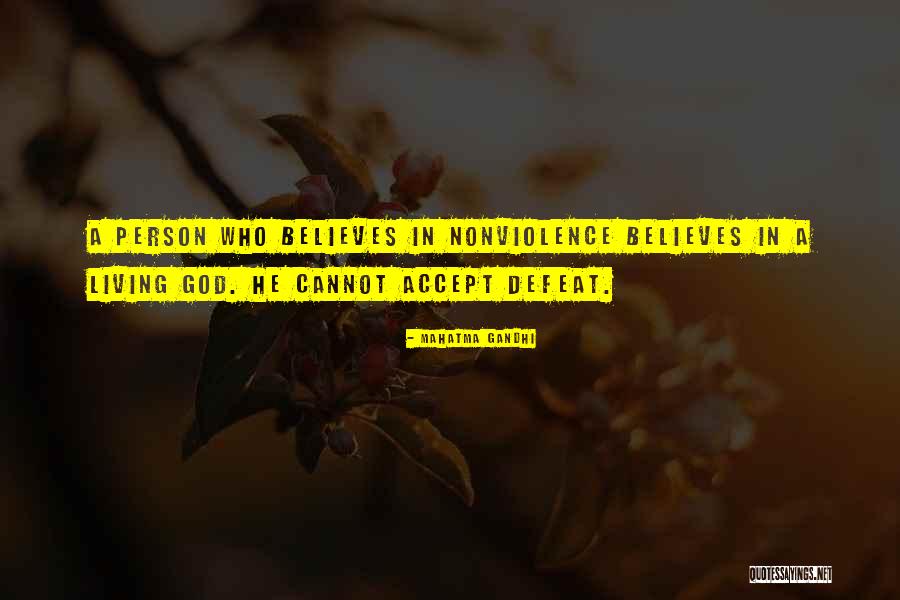 A person who believes in nonviolence believes in a living God. He cannot accept defeat. — Mahatma Gandhi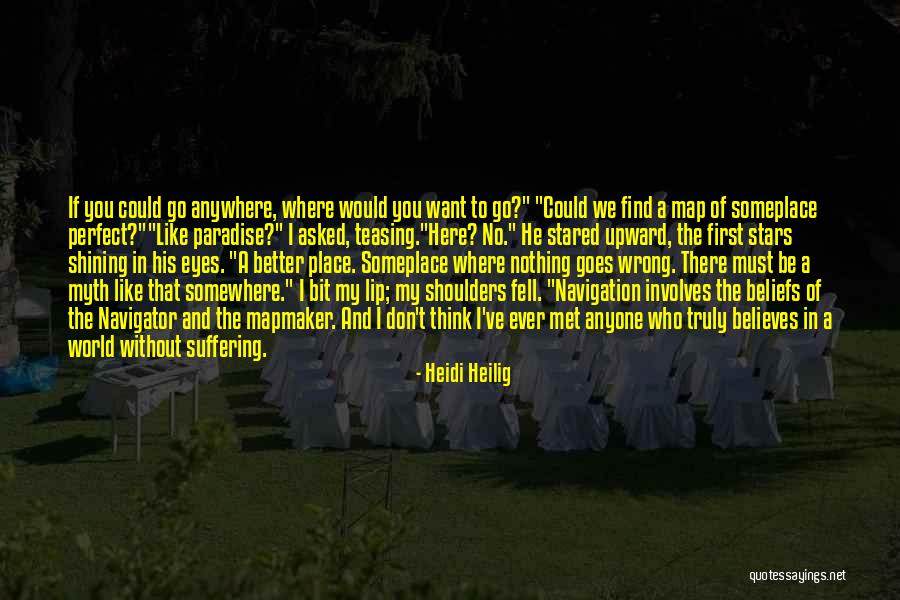 If you could go anywhere, where would you want to go?"

"Could we find a map of someplace perfect?"

"Like paradise?" I asked, teasing.

"Here? No." He stared upward, the first stars shining in his eyes. "A better place. Someplace where nothing goes wrong. There must be a myth like that somewhere."

I bit my lip; my shoulders fell. "Navigation involves the beliefs of the Navigator and the mapmaker. And I don't think I've ever met anyone who truly believes in a world without suffering. — Heidi Heilig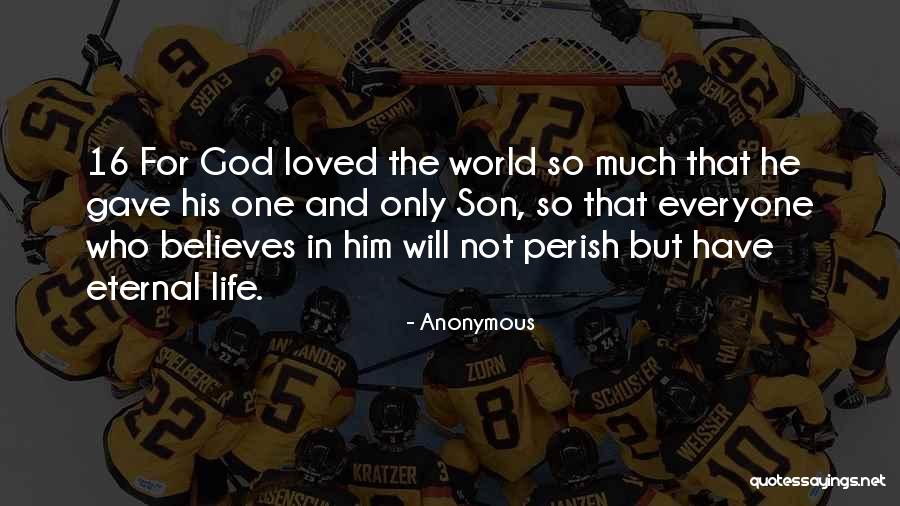 16 For God loved the world so much that he gave his one and only Son, so that everyone who believes in him will not perish but have eternal life. — Anonymous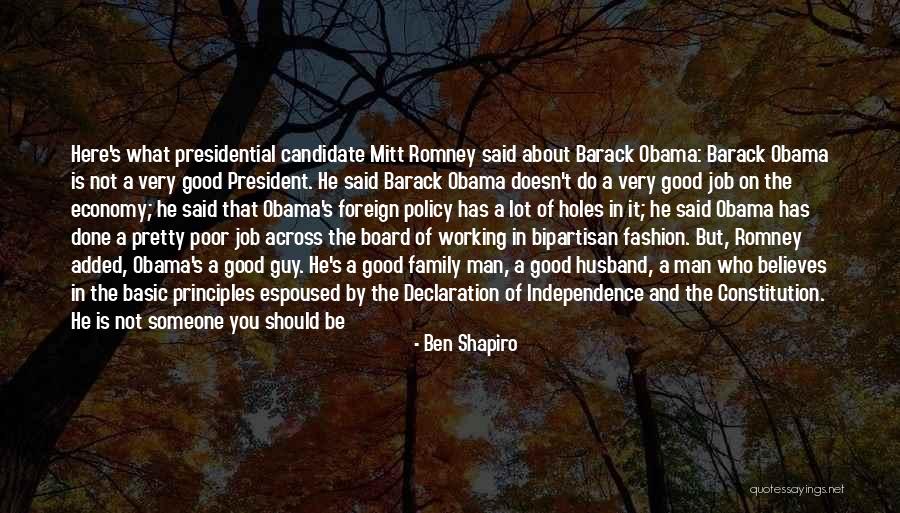 Here's what presidential candidate Mitt Romney said about Barack Obama: Barack Obama is not a very good President. He said Barack Obama doesn't do a very good job on the economy; he said that Obama's foreign policy has a lot of holes in it; he said Obama has done a pretty poor job across the board of working in bipartisan fashion. But, Romney added, Obama's a good guy. He's a good family man, a good husband, a man who believes in the basic principles espoused by the Declaration of Independence and the Constitution. He is not someone you should be afraid of in any way. Essentially, Romney's campaign slogan was this: "Obama: Good Guy, Bad President. — Ben Shapiro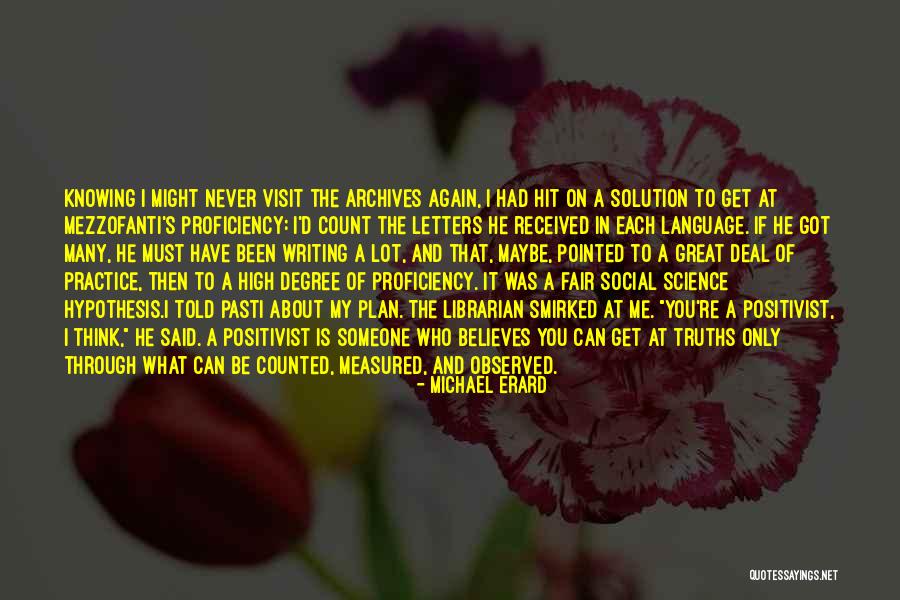 Knowing I might never visit the archives again, I had hit on a solution to get at Mezzofanti's proficiency: I'd count the letters he received in each language. If he got many, he must have been writing a lot, and that, maybe, pointed to a great deal of practice, then to a high degree of proficiency. It was a fair social science hypothesis.
I told Pasti about my plan. The librarian smirked at me. "You're a positivist, I think," he said. A positivist is someone who believes you can get at truths only through what can be counted, measured, and observed. I was shocked - I've been called names before, but never that. — Michael Erard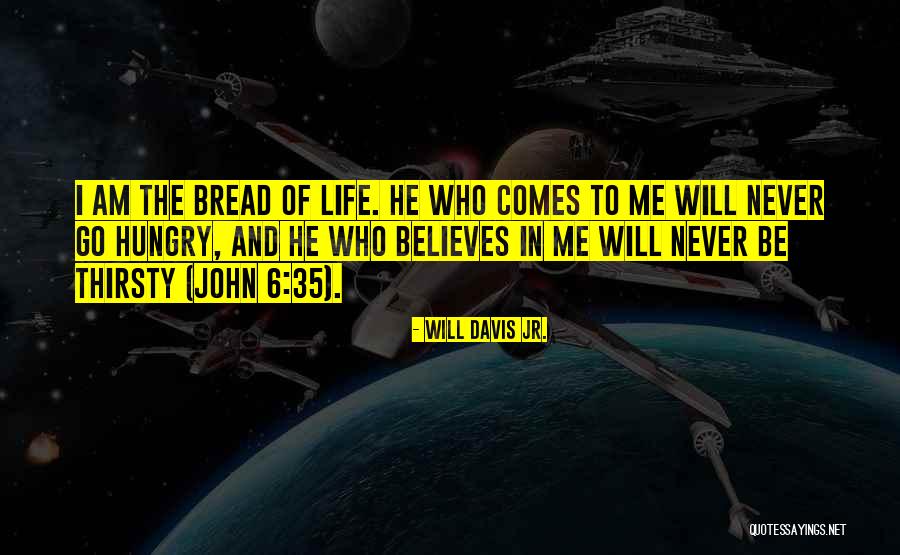 I am the bread of life. He who comes to me will never go hungry, and he who believes in me will never be thirsty (John 6:35). — Will Davis Jr.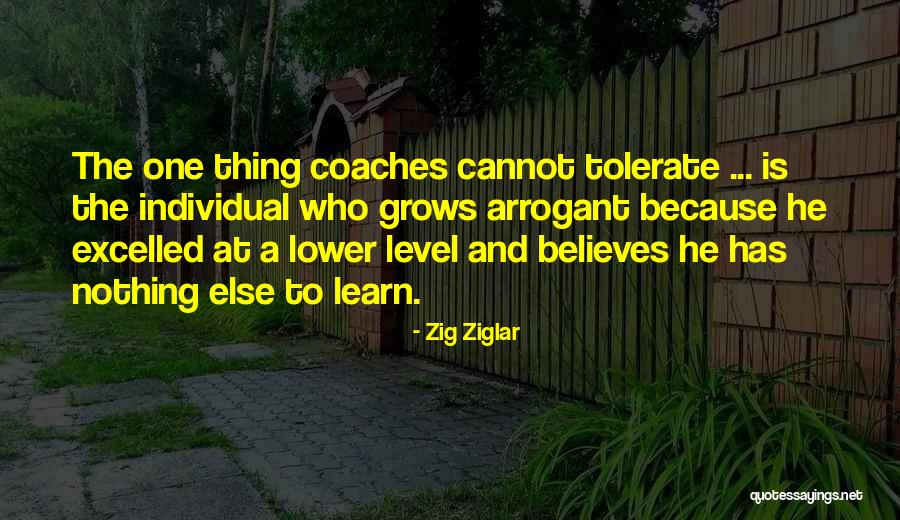 The one thing coaches cannot tolerate ... is the individual who grows arrogant because he excelled at a lower level and believes he has nothing else to learn. — Zig Ziglar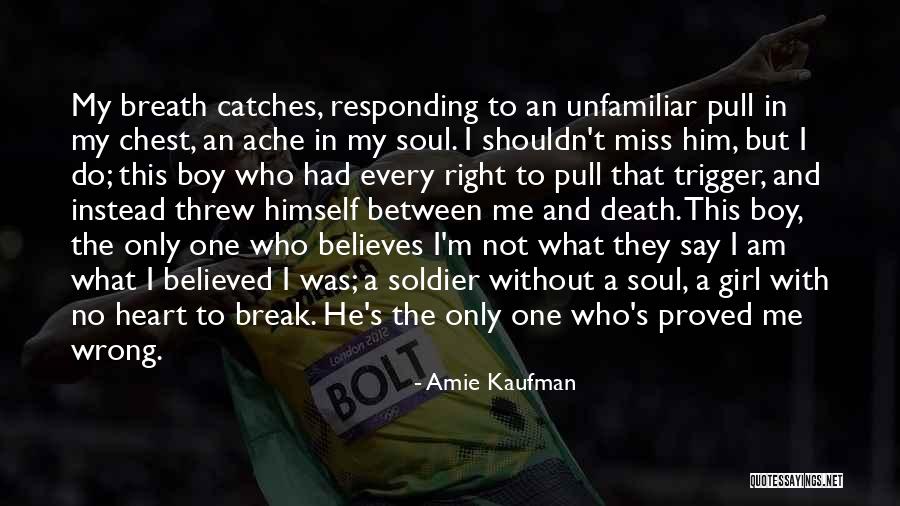 My breath catches, responding to an unfamiliar pull in my chest, an ache in my soul. I shouldn't miss him, but I do; this boy who had every right to pull that trigger, and instead threw himself between me and death. This boy, the only one who believes I'm not what they say I am what I believed I was; a soldier without a soul, a girl with no heart to break. He's the only one who's proved me wrong. — Amie Kaufman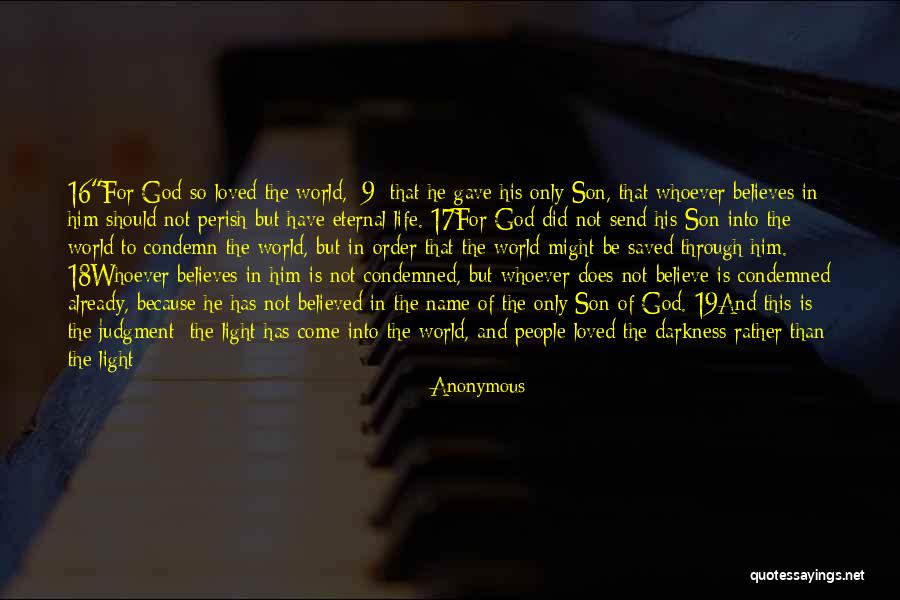 16"For God so loved the world, [9] that he gave his only Son, that whoever believes in him should not perish but have eternal life. 17For God did not send his Son into the world to condemn the world, but in order that the world might be saved through him. 18Whoever believes in him is not condemned, but whoever does not believe is condemned already, because he has not believed in the name of the only Son of God. 19And this is the judgment: the light has come into the world, and people loved the darkness rather than the light because their works were evil. 20For everyone who does wicked things hates the light and does not come to the light, lest his works should be exposed. 21But whoever does what is true comes to the light, so that it may be clearly seen that his works have been carried out in God. — Anonymous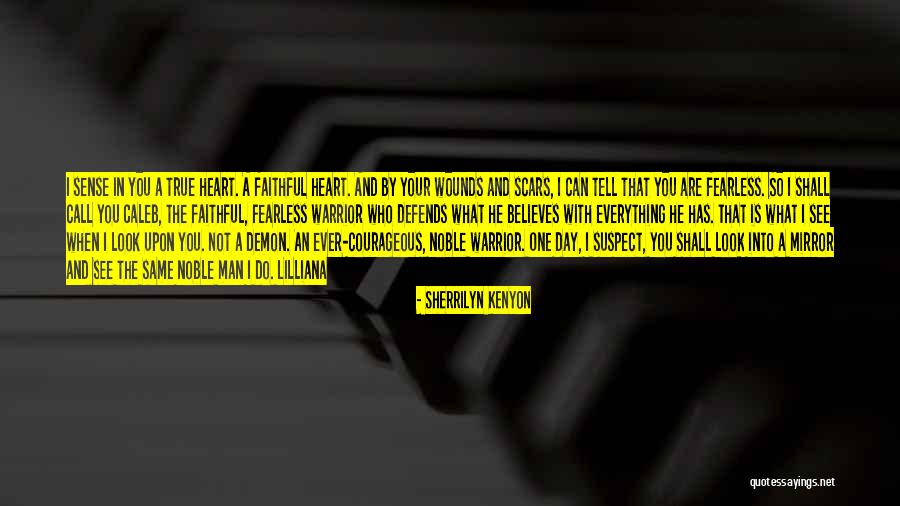 I sense in you a true heart. A faithful heart. And by your wounds and scars, I can tell that you are fearless. So I shall call you Caleb, the faithful, fearless warrior who defends what he believes with everything he has. That is what I see when I look upon you. Not a demon. An ever-courageous, noble warrior. One day, I suspect, you shall look into a mirror and see the same noble man I do. Lilliana — Sherrilyn Kenyon
Humanity looks upon Jesus the Nazarene as a poor-born Who suffered misery and humiliation with all of the weak. And He is pitied, for Humanity believes He was crucified painfully ... And all that Humanity offers to Him is crying and wailing and lamentation. For centuries Humanity has been worshiping weakness in the person of the Savior. The Nazarene was not weak! He was strong and is strong! But the people refuse to heed the true meaning of strength. — Khalil Gibran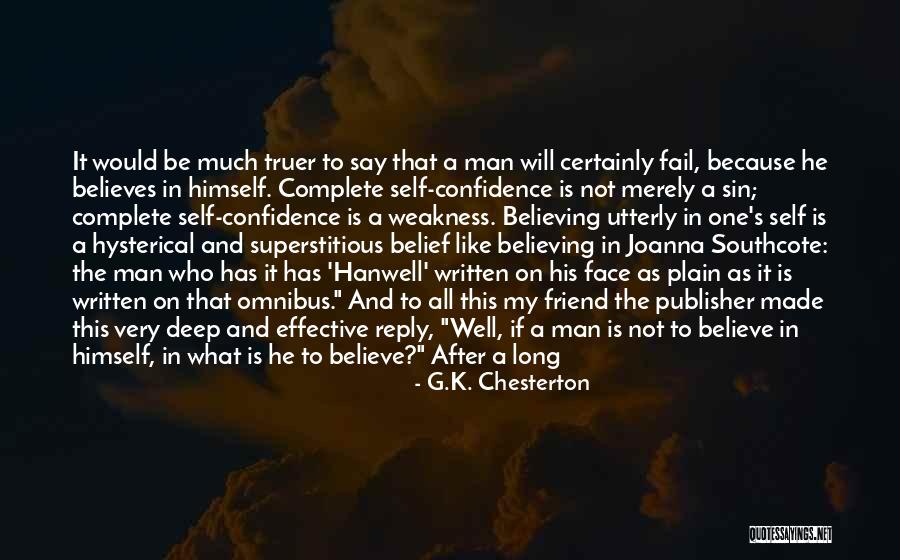 It would be much truer to say that a man will certainly fail, because he believes in himself. Complete self-confidence is not merely a sin; complete self-confidence is a weakness. Believing utterly in one's self is a hysterical and superstitious belief like believing in Joanna Southcote: the man who has it has 'Hanwell' written on his face as plain as it is written on that omnibus." And to all this my friend the publisher made this very deep and effective reply, "Well, if a man is not to believe in himself, in what is he to believe?" After a long pause I replied, "I will go home and write a book in answer to that question." This is the book that — G.K. Chesterton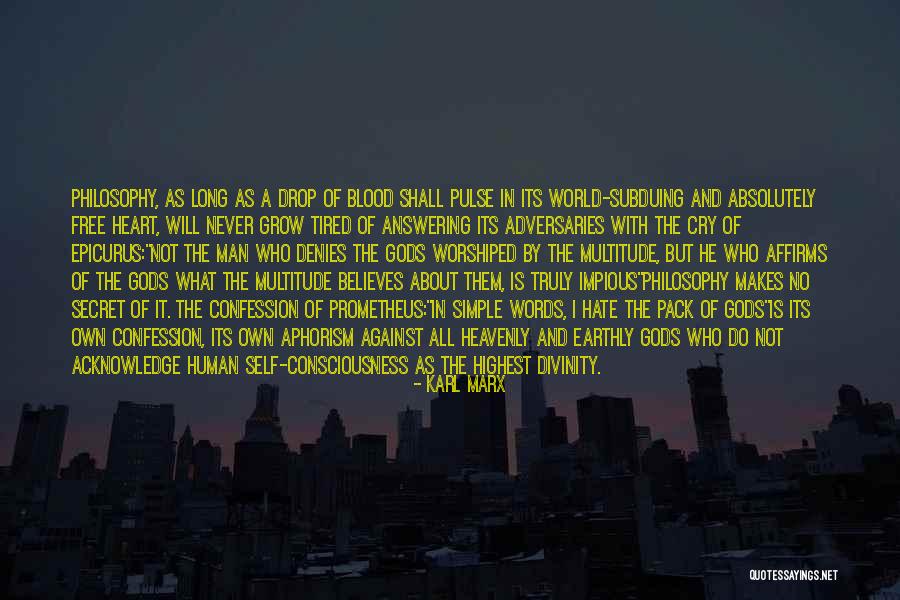 Philosophy, as long as a drop of blood shall pulse in its world-subduing and absolutely free heart, will never grow tired of answering its adversaries with the cry of Epicurus:
"Not the man who denies the gods worshiped by the multitude, but he who affirms of the gods what the multitude believes about them, is truly impious"
Philosophy makes no secret of it. The confession of Prometheus:
"In simple words, I hate the pack of gods"
is its own confession, its own aphorism against all heavenly and earthly gods who do not acknowledge human self-consciousness as the highest divinity. — Karl Marx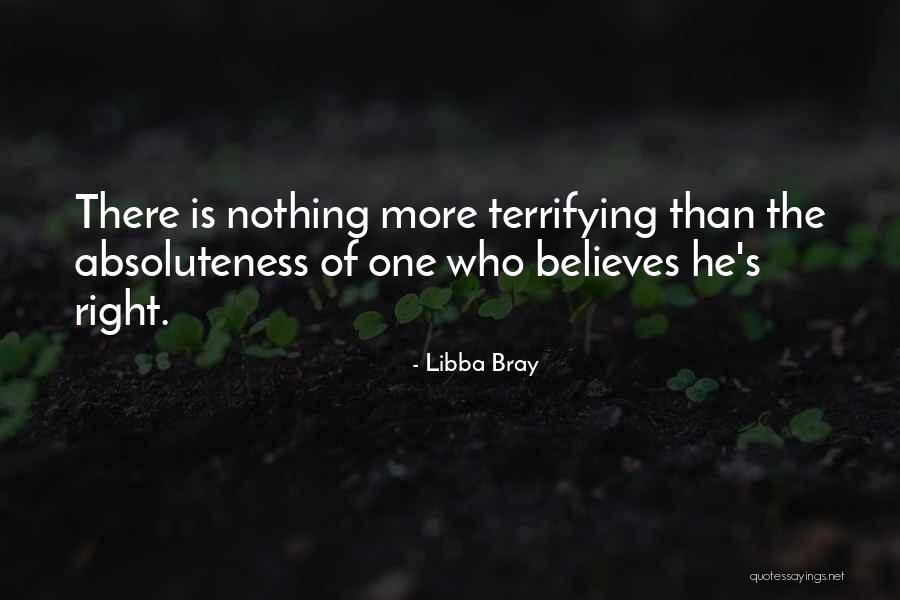 There is nothing more terrifying than the absoluteness of one who believes he's right. — Libba Bray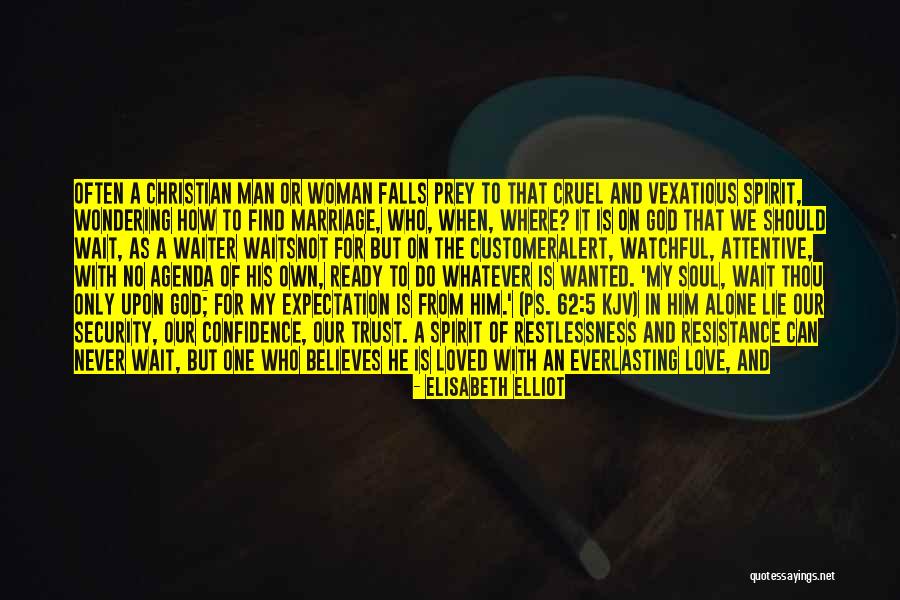 Often a Christian man or woman falls prey to that cruel and vexatious spirit, wondering how to find marriage, who, when, where? It is on God that we should wait, as a waiter waits
not for but on the customer
alert, watchful, attentive, with no agenda of his own, ready to do whatever is wanted. 'My soul, wait thou only upon God; for my expectation is from him.' (Ps. 62:5 KJV) In Him alone lie our security, our confidence, our trust. A spirit of restlessness and resistance can never wait, but one who believes he is loved with an everlasting love, and knows that underneath are the everlasting arms, will find strength and peace. — Elisabeth Elliot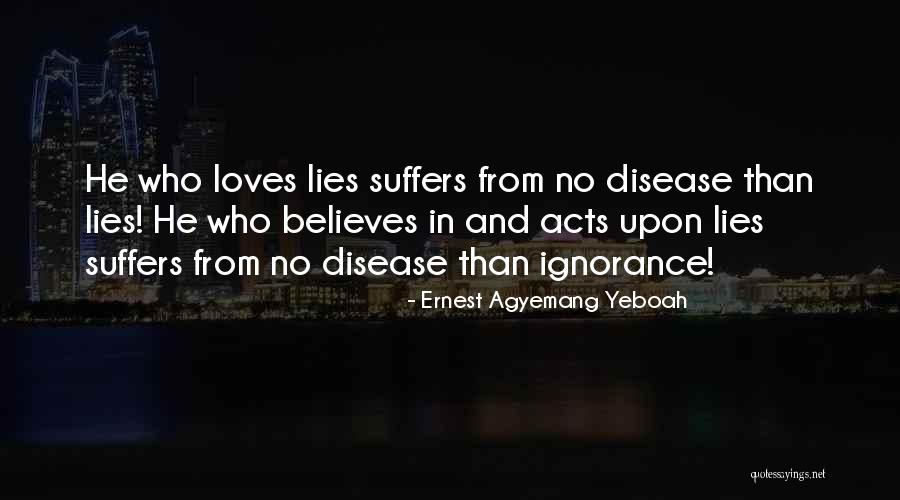 He who loves lies suffers from no disease than lies! He who believes in and acts upon lies suffers from no disease than ignorance! — Ernest Agyemang Yeboah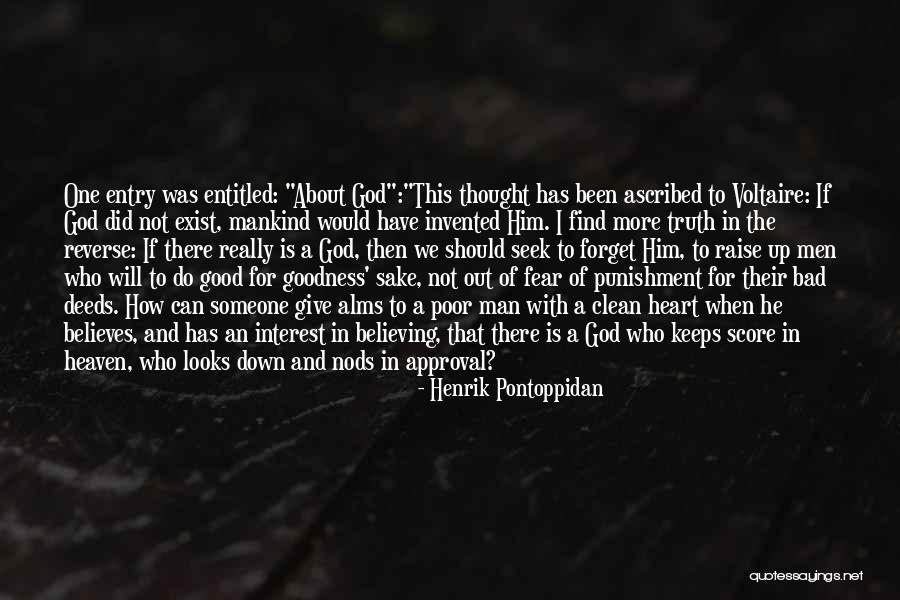 One entry was entitled: "About God":
"This thought has been ascribed to Voltaire: If God did not exist, mankind would have invented Him. I find more truth in the reverse: If there really is a God, then we should seek to forget Him, to raise up men who will to do good for goodness' sake, not out of fear of punishment for their bad deeds. How can someone give alms to a poor man with a clean heart when he believes, and has an interest in believing, that there is a God who keeps score in heaven, who looks down and nods in approval? — Henrik Pontoppidan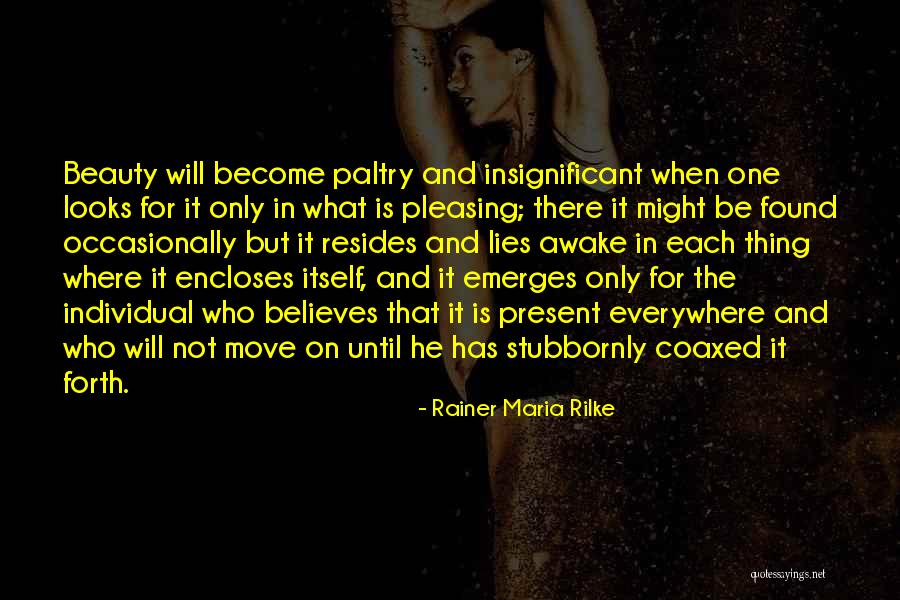 Beauty will become paltry and insignificant when one looks for it only in what is pleasing; there it might be found occasionally but it resides and lies awake in each thing where it encloses itself, and it emerges only for the individual who believes that it is present everywhere and who will not move on until he has stubbornly coaxed it forth. — Rainer Maria Rilke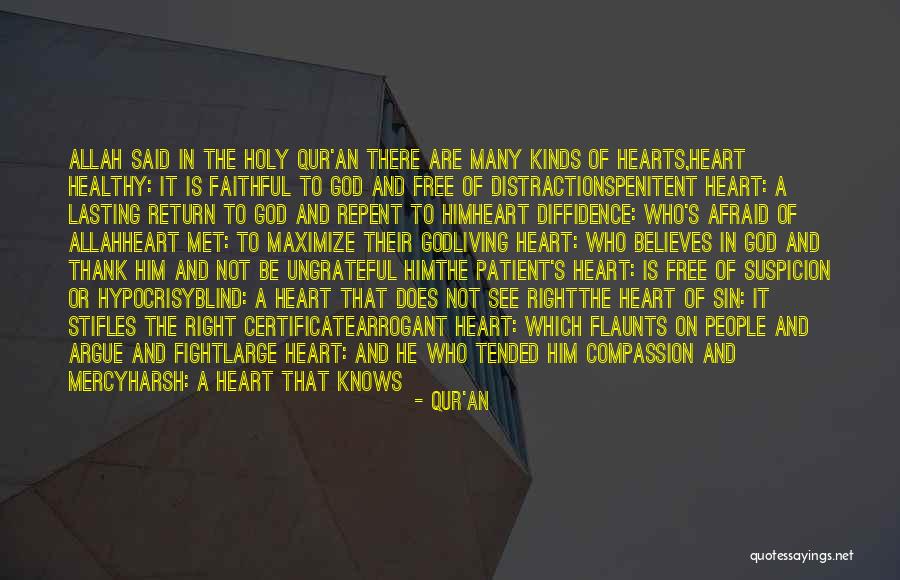 Allah said in the Holy Qur'an there are many kinds of hearts,

Heart healthy: it is faithful to God and free of distractions

Penitent heart: a lasting return to God and repent to him

Heart diffidence: who's afraid of Allah

Heart met: to maximize their God

Living heart: who believes in God and thank him and not be ungrateful him

The patient's heart: is free of suspicion or hypocrisy

Blind: a heart that does not see right

The heart of sin: it stifles the right certificate

Arrogant heart: which flaunts on people and argue and fight

Large heart: and he who tended him compassion and mercy

Harsh: a heart that knows no God and no MOT

Heart dopey: it overlooked his role and his worship life

O Lord, let our hearts of hearts sound the repentant — Qur'an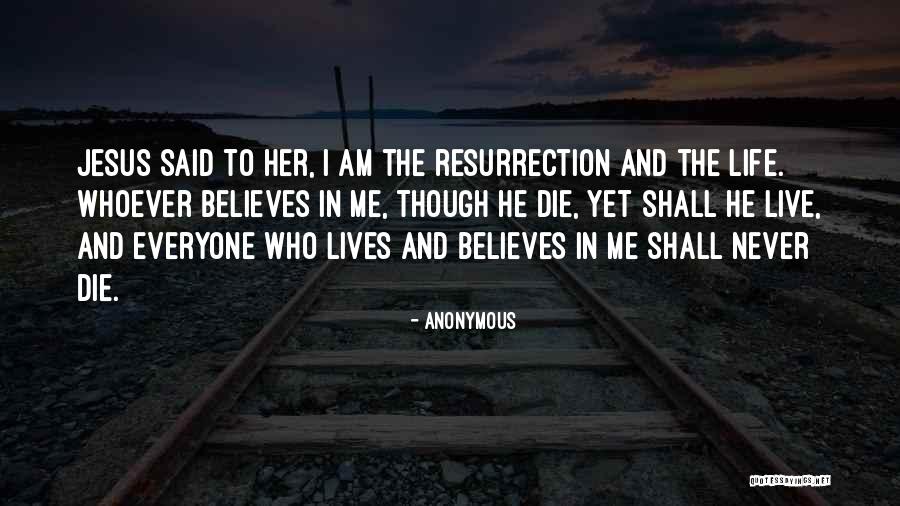 Jesus said to her, I am the resurrection and the life. Whoever believes in me, though he die, yet shall he live, and everyone who lives and believes in me shall never die. — Anonymous