Quotes & Sayings About Having Compassion For Others
Enjoy reading and share 44 famous quotes about Having Compassion For Others with everyone.
Top Having Compassion For Others Quotes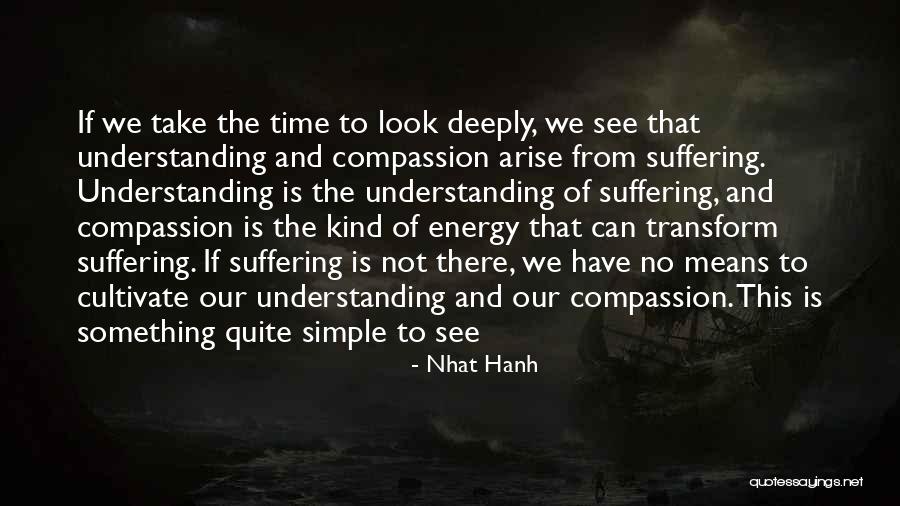 If we take the time to look deeply, we see that understanding and compassion arise from suffering. Understanding is the understanding of suffering, and compassion is the kind of energy that can transform suffering. If suffering is not there, we have no means to cultivate our understanding and our compassion. This is something quite simple to see — Nhat Hanh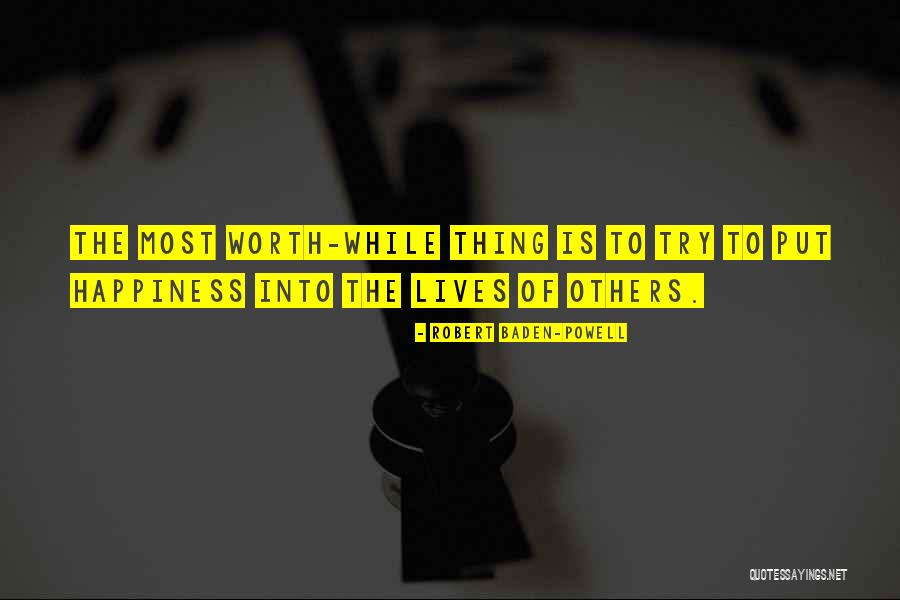 The most worth-while thing is to try to put happiness into the lives of others. — Robert Baden-Powell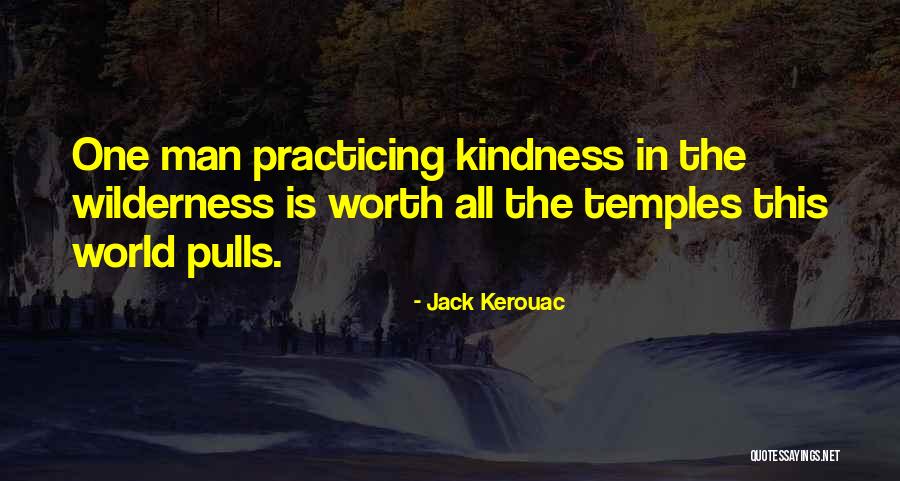 One man practicing kindness in the wilderness is worth all the temples this world pulls. — Jack Kerouac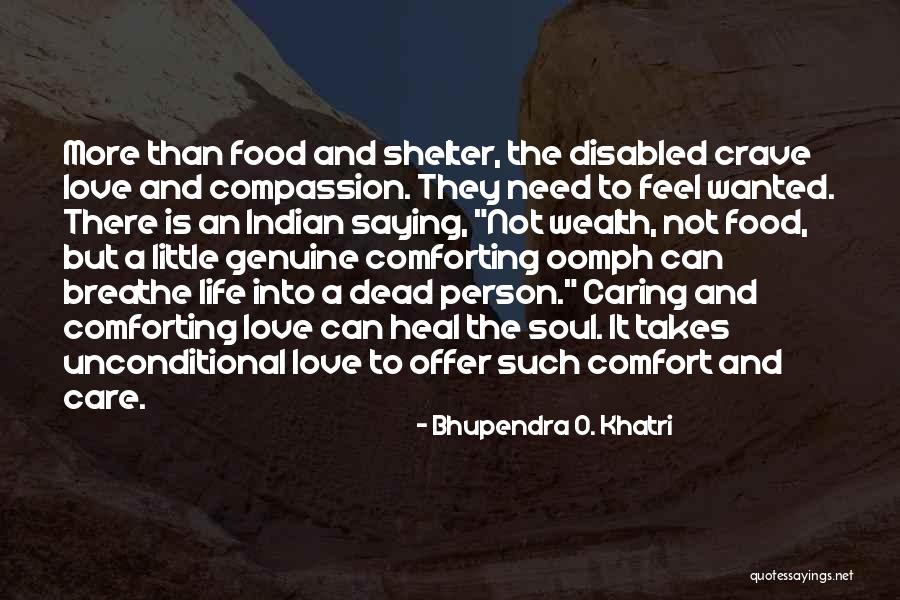 More than food and shelter, the disabled crave love and compassion. They need to feel wanted. There is an Indian saying, "Not wealth, not food, but a little genuine comforting oomph can breathe life into a dead person." Caring and comforting love can heal the soul. It takes unconditional love to offer such comfort and care. — Bhupendra O. Khatri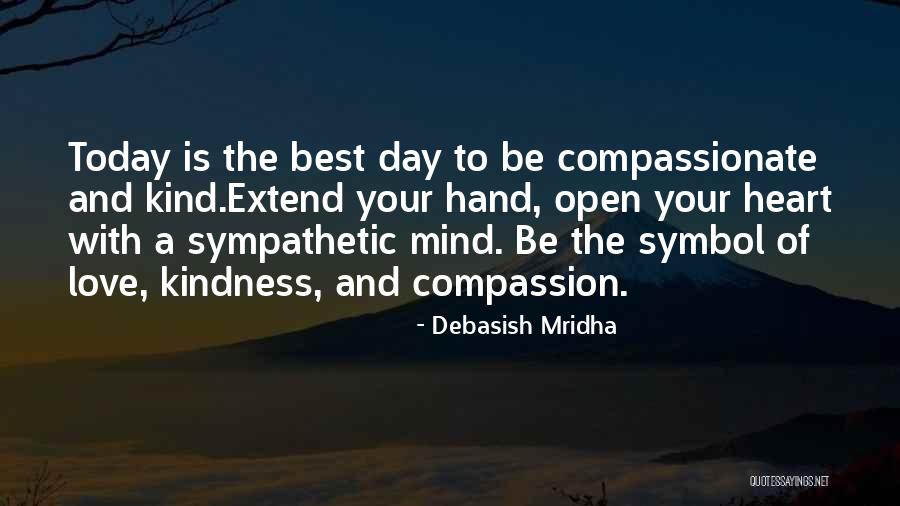 Today is the best day to be compassionate and kind.
Extend your hand, open your heart with a sympathetic mind.
Be the symbol of love, kindness, and compassion. — Debasish Mridha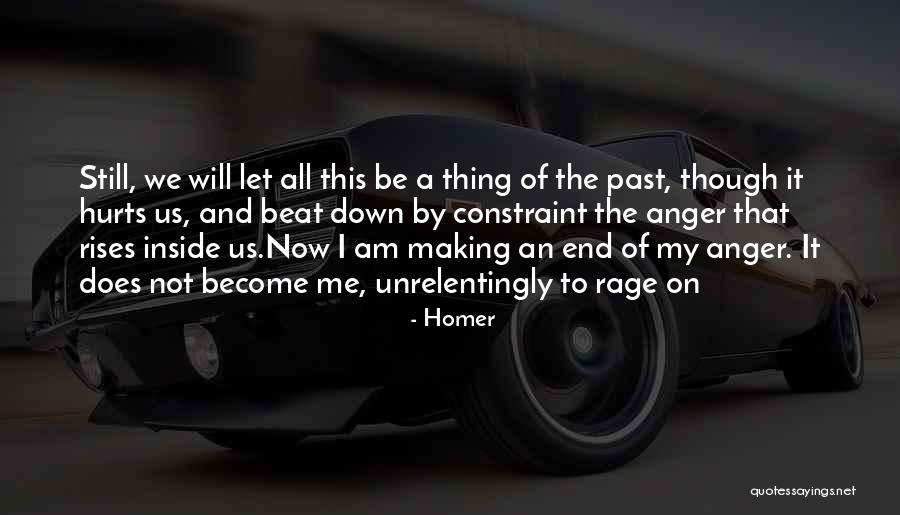 Still, we will let all this be a thing of the past, though it hurts us, and beat down by constraint the anger that rises inside us.
Now I am making an end of my anger. It does not become me, unrelentingly to rage on — Homer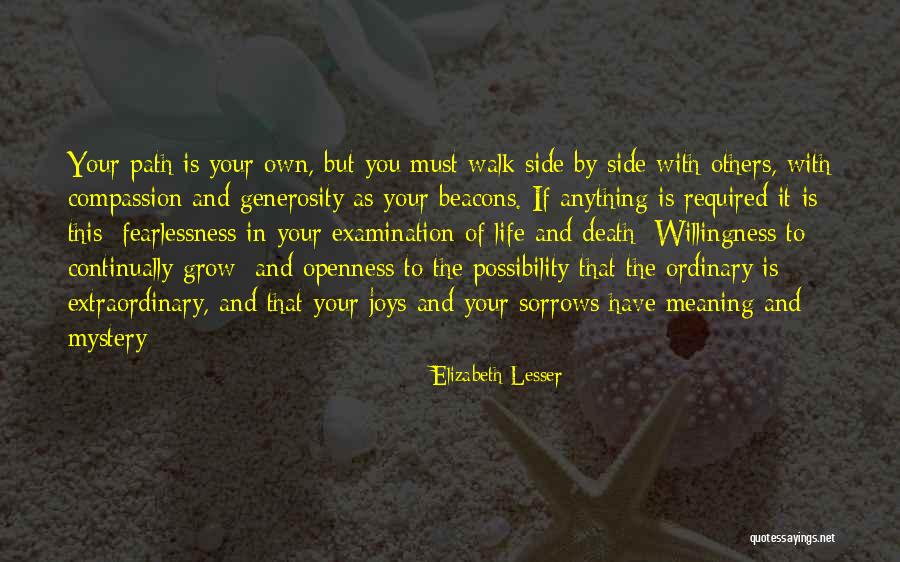 Your path is your own, but you must walk side by side with others, with compassion and generosity as your beacons. If anything is required it is this: fearlessness in your examination of life and death; Willingness to continually grow; and openness to the possibility that the ordinary is extraordinary, and that your joys and your sorrows have meaning and mystery — Elizabeth Lesser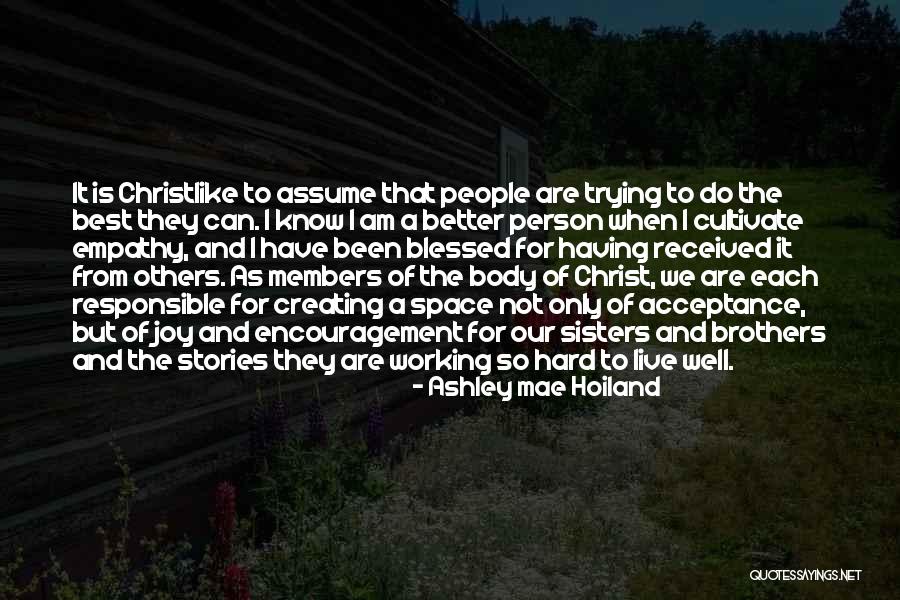 It is Christlike to assume that people are trying to do the best they can. I know I am a better person when I cultivate empathy, and I have been blessed for having received it from others. As members of the body of Christ, we are each responsible for creating a space not only of acceptance, but of joy and encouragement for our sisters and brothers and the stories they are working so hard to live well. — Ashley Mae Hoiland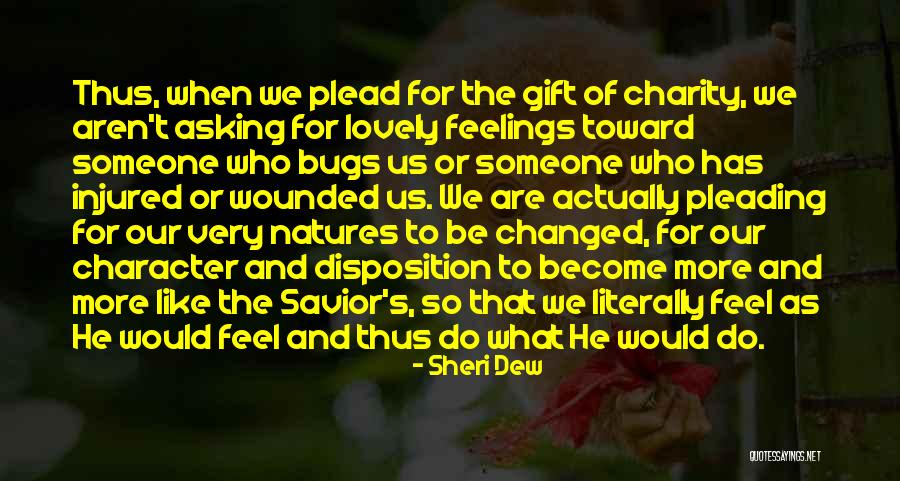 Thus, when we plead for the gift of charity, we aren't asking for lovely feelings toward someone who bugs us or someone who has injured or wounded us. We are actually pleading for our very natures to be changed, for our character and disposition to become more and more like the Savior's, so that we literally feel as He would feel and thus do what He would do. — Sheri Dew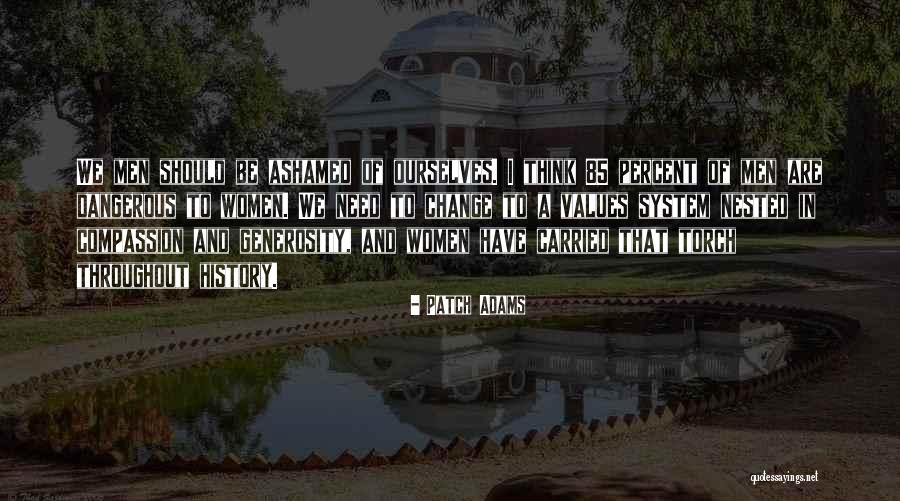 We men should be ashamed of ourselves. I think 85 percent of men are dangerous to women. We need to change to a values system nested in compassion and generosity, and women have carried that torch throughout history. — Patch Adams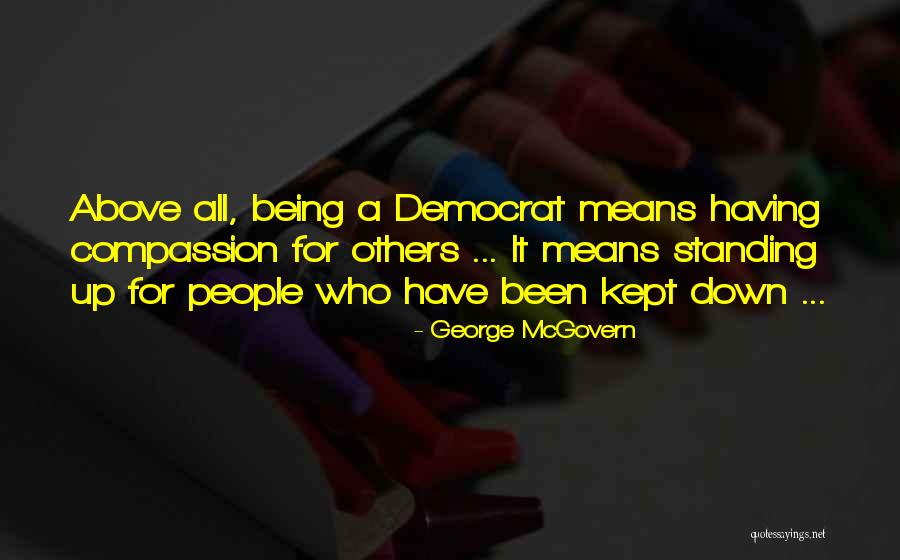 Above all, being a Democrat means having compassion for others ... It means standing up for people who have been kept down ... — George McGovern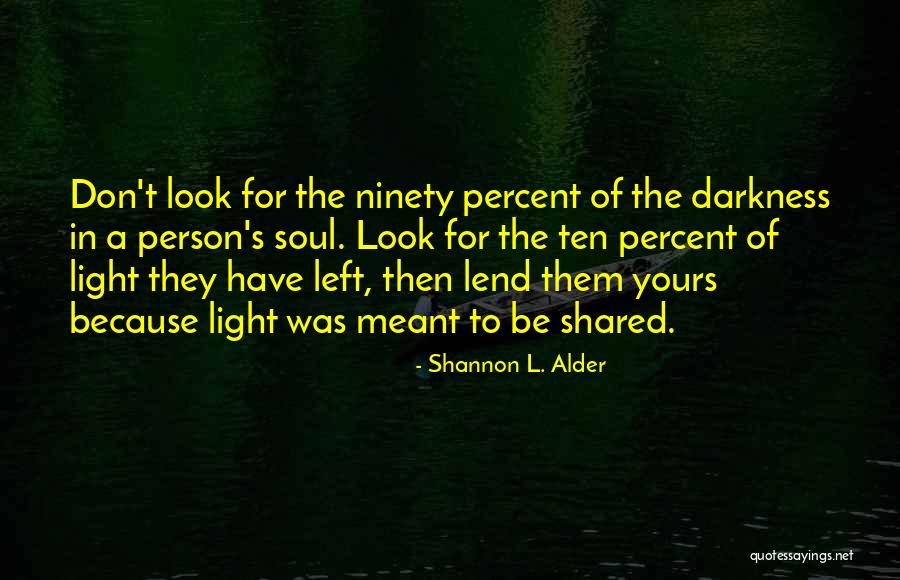 Don't look for the ninety percent of the darkness in a person's soul. Look for the ten percent of light they have left, then lend them yours because light was meant to be shared. — Shannon L. Alder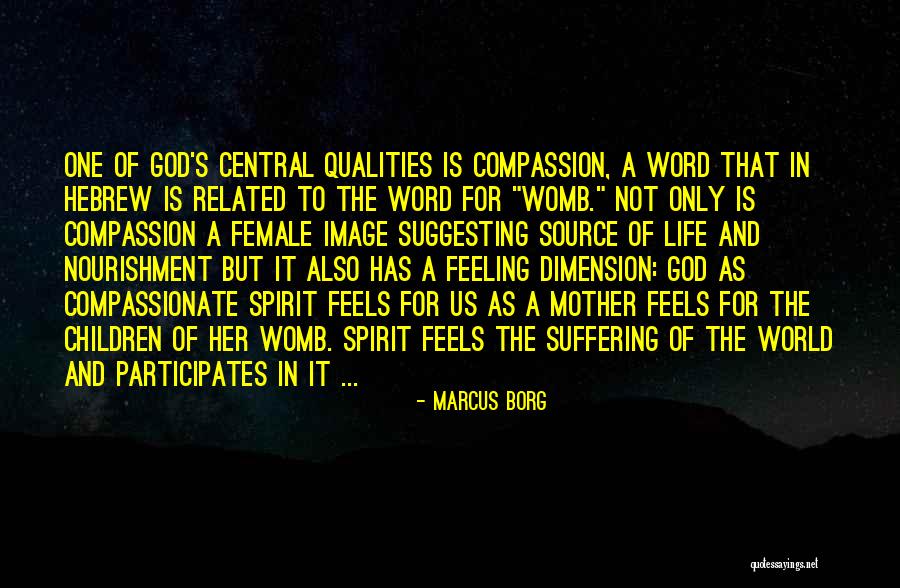 One of God's central qualities is compassion, a word that in Hebrew is related to the word for "womb." Not only is compassion a female image suggesting source of life and nourishment but it also has a feeling dimension: God as compassionate Spirit feels for us as a mother feels for the children of her womb. Spirit feels the suffering of the world and participates in it ... — Marcus Borg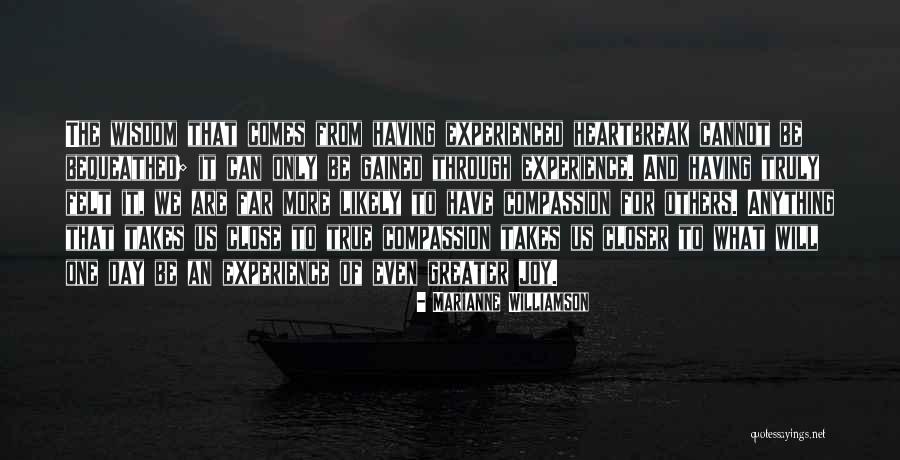 The wisdom that comes from having experienced heartbreak cannot be bequeathed; it can only be gained through experience. And having truly felt it, we are far more likely to have compassion for others. Anything that takes us close to true compassion takes us closer to what will one day be an experience of even greater joy. — Marianne Williamson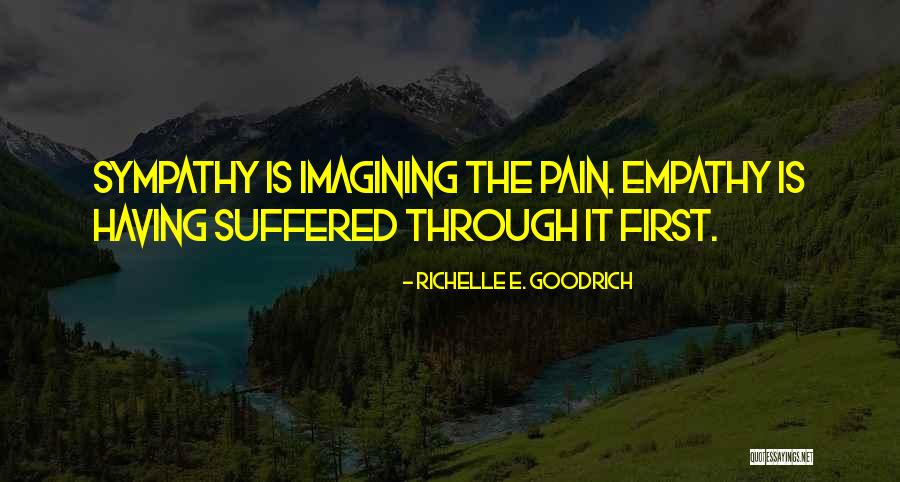 Sympathy is imagining the pain. Empathy is having suffered through it first. — Richelle E. Goodrich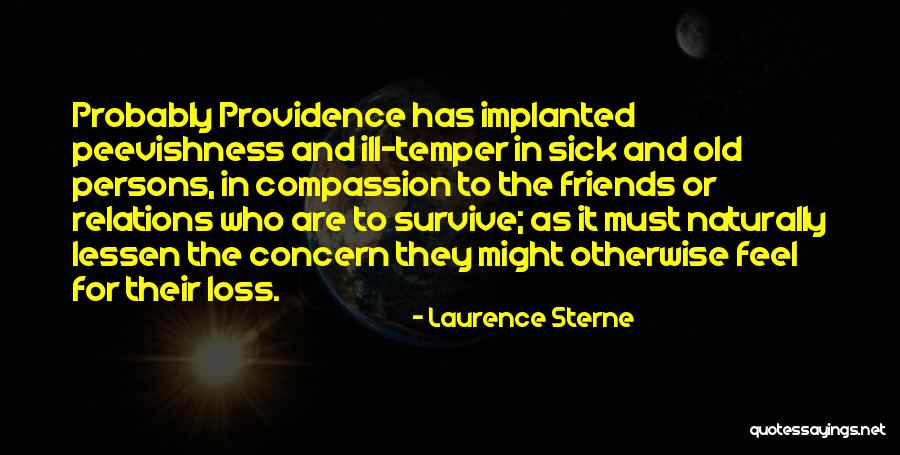 Probably Providence has implanted peevishness and ill-temper in sick and old persons, in compassion to the friends or relations who are to survive; as it must naturally lessen the concern they might otherwise feel for their loss. — Laurence Sterne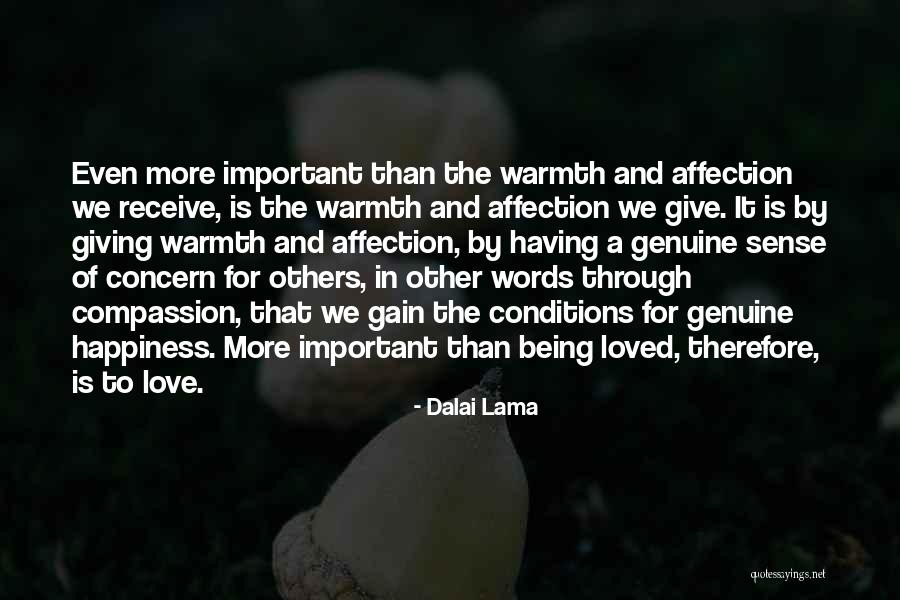 Even more important than the warmth and affection we receive, is the warmth and affection we give. It is by giving warmth and affection, by having a genuine sense of concern for others, in other words through compassion, that we gain the conditions for genuine happiness. More important than being loved, therefore, is to love. — Dalai Lama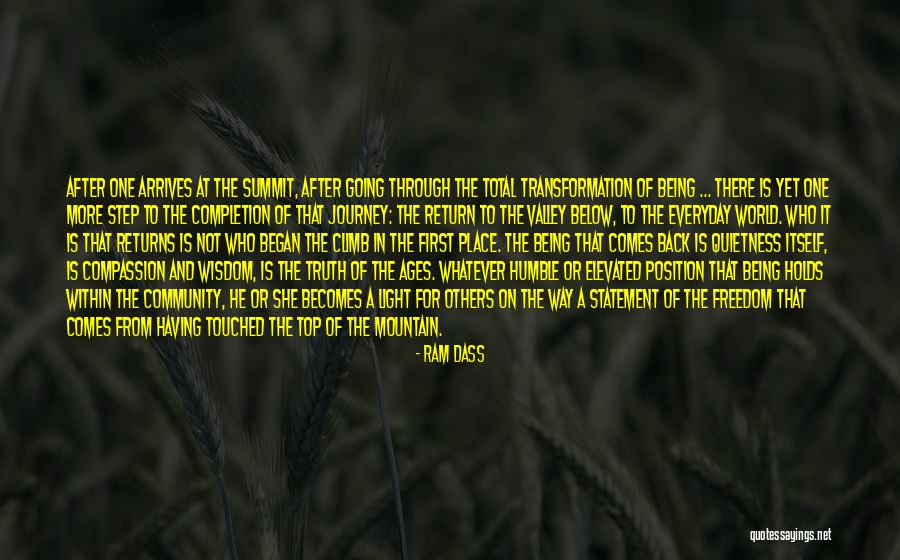 After one arrives at the summit, after going through the total transformation of being ... there is yet one more step to the completion of that journey: the return to the valley below, to the everyday world. Who it is that returns is not who began the climb in the first place. The being that comes back is quietness itself, is compassion and wisdom, is the truth of the ages. Whatever humble or elevated position that being holds within the community, he or she becomes a light for others on the way a statement of the freedom that comes from having touched the top of the mountain. — Ram Dass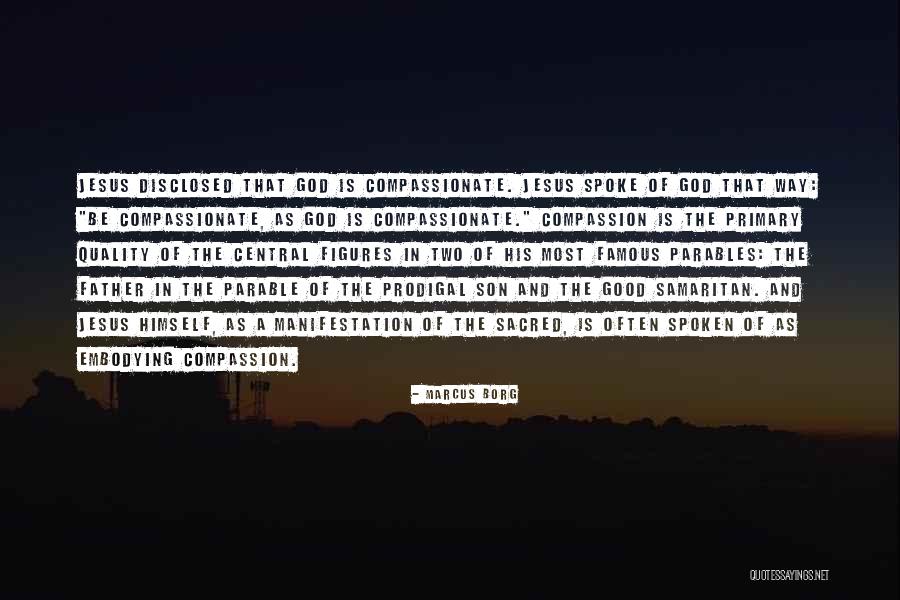 Jesus disclosed that God is compassionate. Jesus spoke of God that way: "Be compassionate, as God is compassionate." Compassion is the primary quality of the central figures in two of his most famous parables: the father in the parable of the Prodigal Son and the Good Samaritan. And Jesus himself, as a manifestation of the sacred, is often spoken of as embodying compassion. — Marcus Borg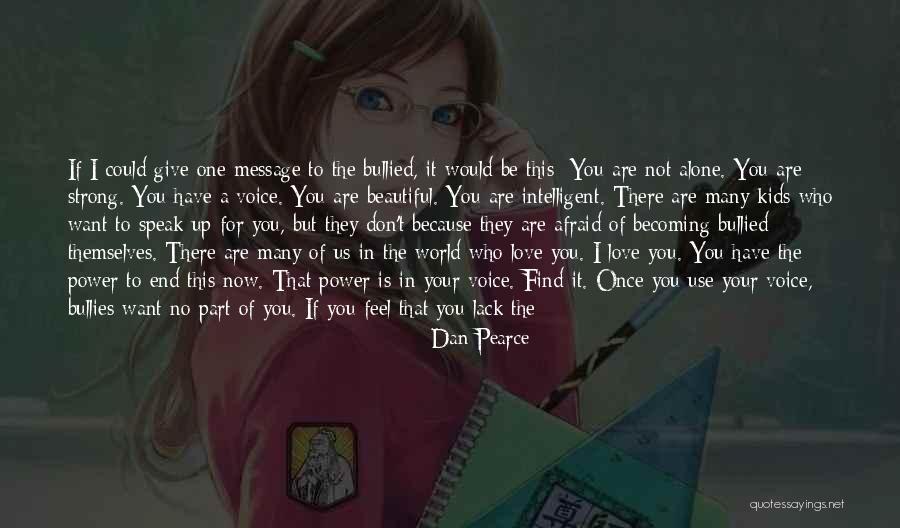 If I could give one message to the bullied, it would be this: You are not alone. You are strong. You have a voice. You are beautiful. You are intelligent. There are many kids who want to speak up for you, but they don't because they are afraid of becoming bullied themselves. There are many of us in the world who love you. I love you. You have the power to end this now. That power is in your voice. Find it. Once you use your voice, bullies want no part of you. If you feel that you lack the courage, fake it until you do. Finally, I know it's hard to see a life that exists beyond high school. It is there, and it is beautiful. — Dan Pearce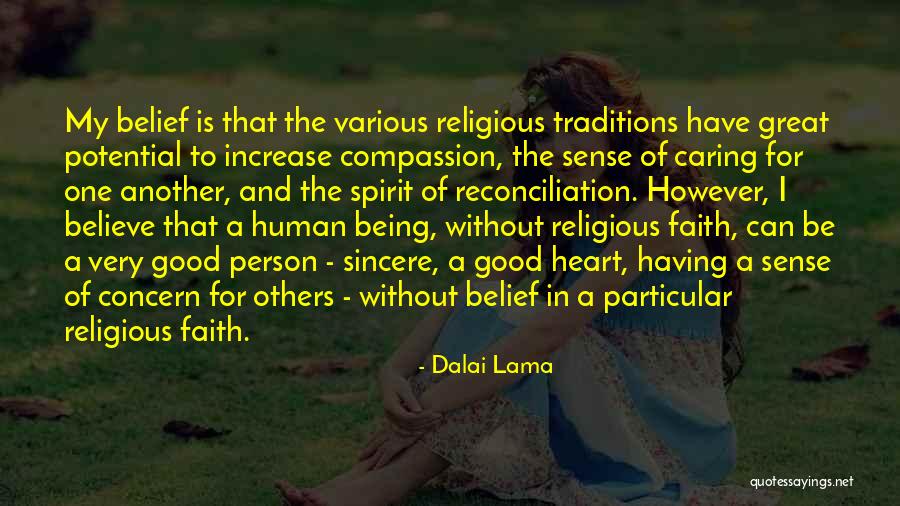 My belief is that the various religious traditions have great potential to increase compassion, the sense of caring for one another, and the spirit of reconciliation. However, I believe that a human being, without religious faith, can be a very good person - sincere, a good heart, having a sense of concern for others - without belief in a particular religious faith. — Dalai Lama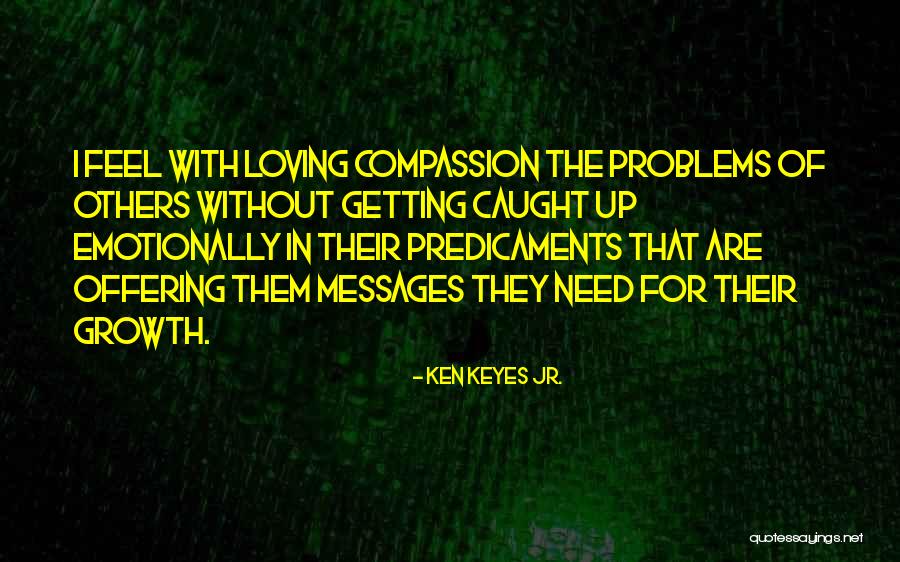 I feel with loving compassion the problems of others without getting caught up emotionally in their predicaments that are offering them messages they need for their growth. — Ken Keyes Jr.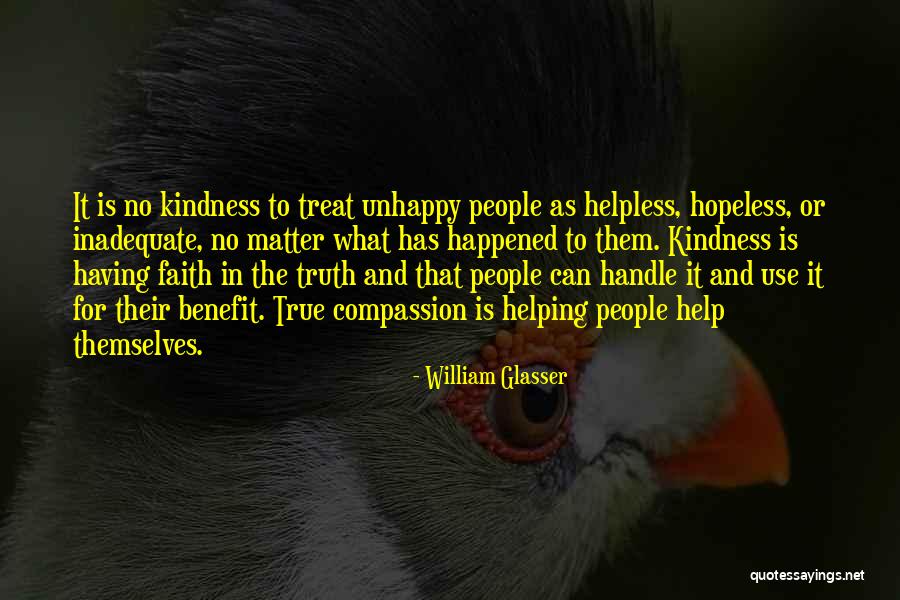 It is no kindness to treat unhappy people as helpless, hopeless, or inadequate, no matter what has happened to them. Kindness is having faith in the truth and that people can handle it and use it for their benefit. True compassion is helping people help themselves. — William Glasser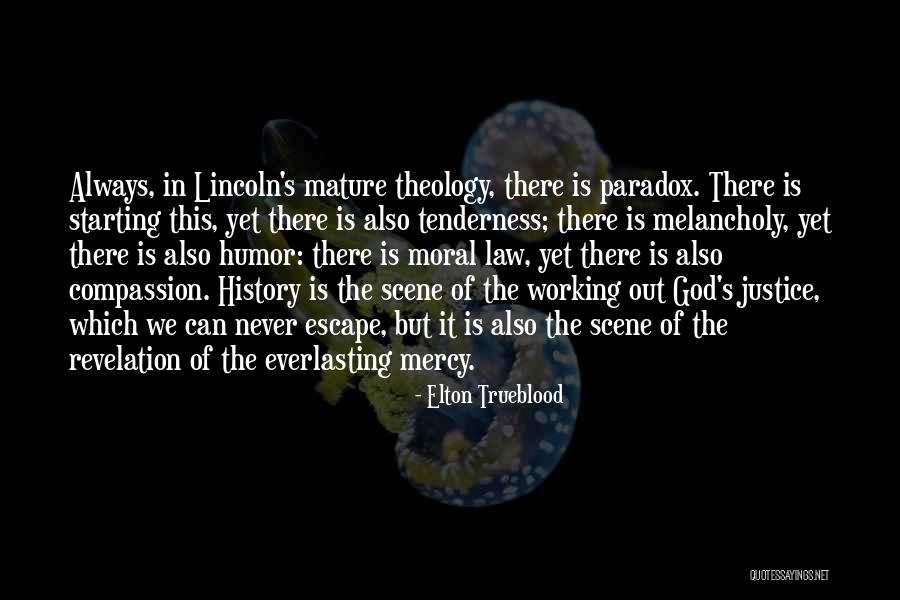 Always, in Lincoln's mature theology, there is paradox. There is starting this, yet there is also tenderness; there is melancholy, yet there is also humor: there is moral law, yet there is also compassion. History is the scene of the working out God's justice, which we can never escape, but it is also the scene of the revelation of the everlasting mercy. — Elton Trueblood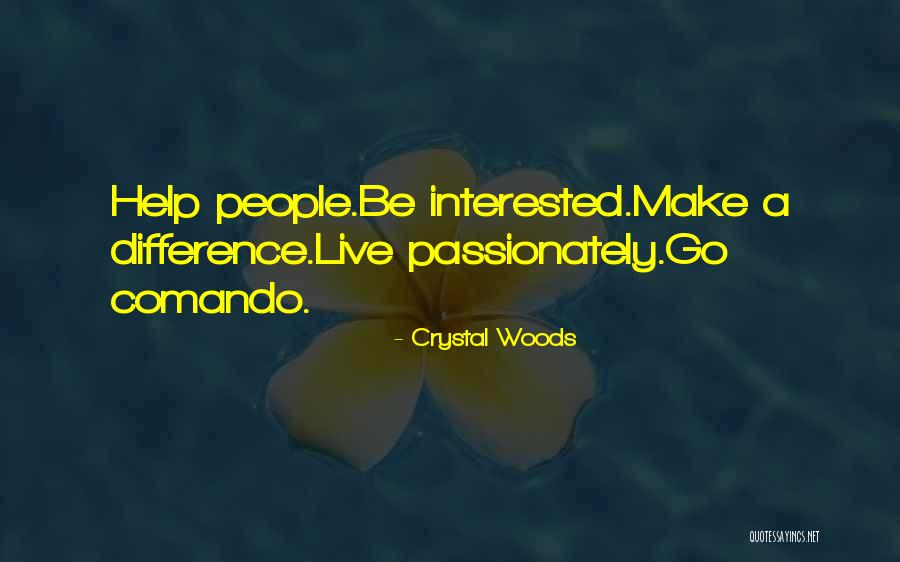 Help people.
Be interested.
Make a difference.
Live passionately.
Go comando. — Crystal Woods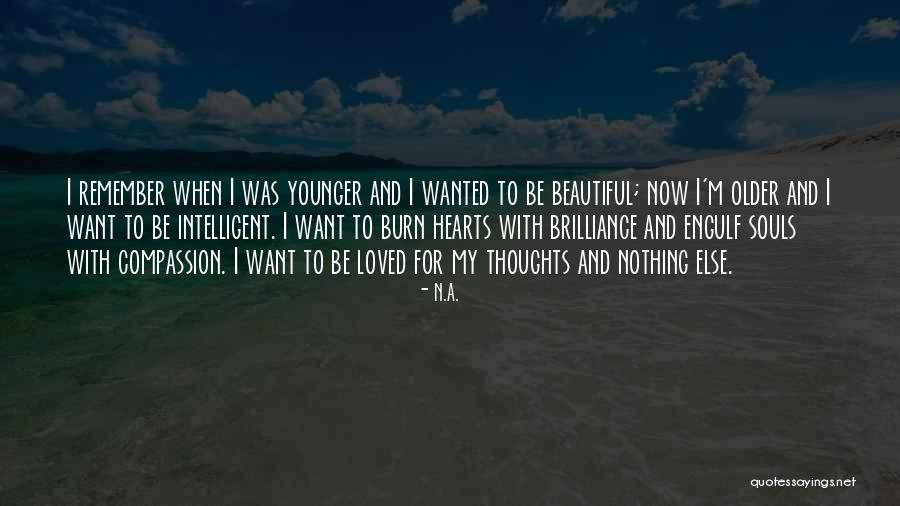 I remember when I was younger and I wanted to be beautiful; now I'm older and I want to be intelligent. I want to burn hearts with brilliance and engulf souls with compassion. I want to be loved for my thoughts and nothing else. — N.a.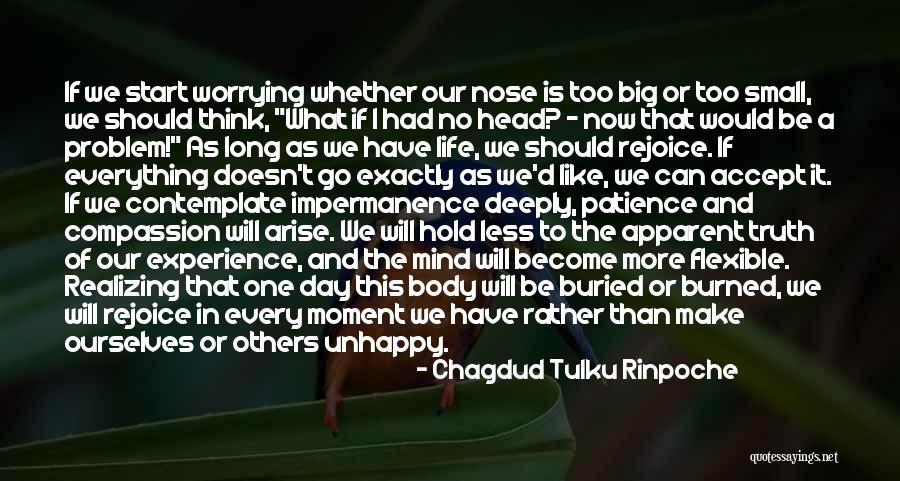 If we start worrying whether our nose is too big or too small, we should think, "What if I had no head? - now that would be a problem!" As long as we have life, we should rejoice. If everything doesn't go exactly as we'd like, we can accept it. If we contemplate impermanence deeply, patience and compassion will arise. We will hold less to the apparent truth of our experience, and the mind will become more flexible. Realizing that one day this body will be buried or burned, we will rejoice in every moment we have rather than make ourselves or others unhappy. — Chagdud Tulku Rinpoche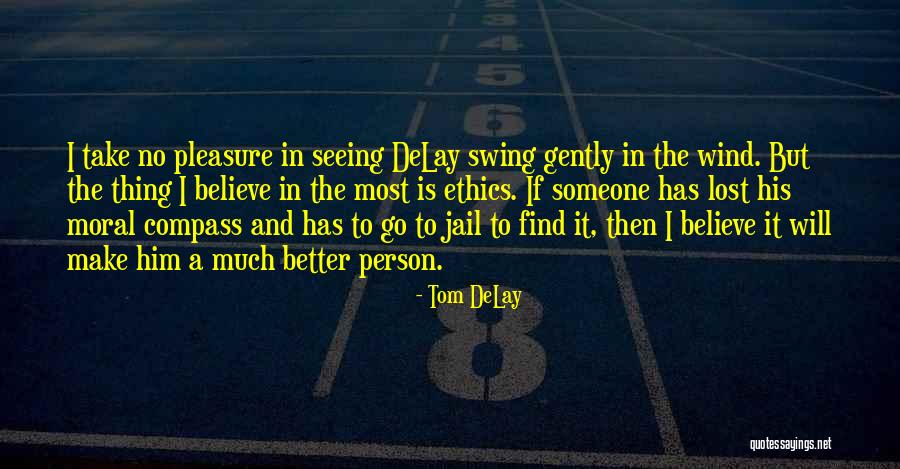 I take no pleasure in seeing DeLay swing gently in the wind. But the thing I believe in the most is ethics. If someone has lost his moral compass and has to go to jail to find it, then I believe it will make him a much better person. — Tom DeLay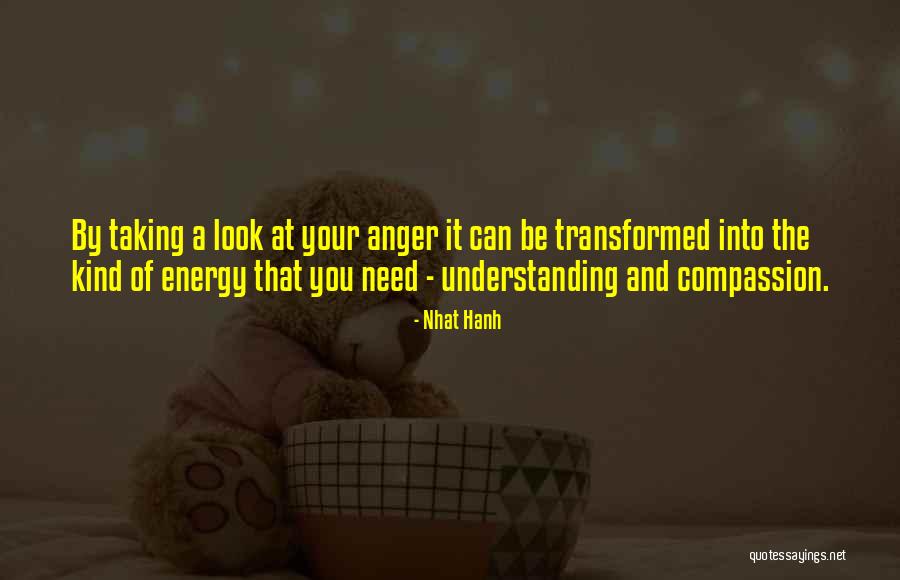 By taking a look at your anger it can be transformed into the kind of energy that you need - understanding and compassion. — Nhat Hanh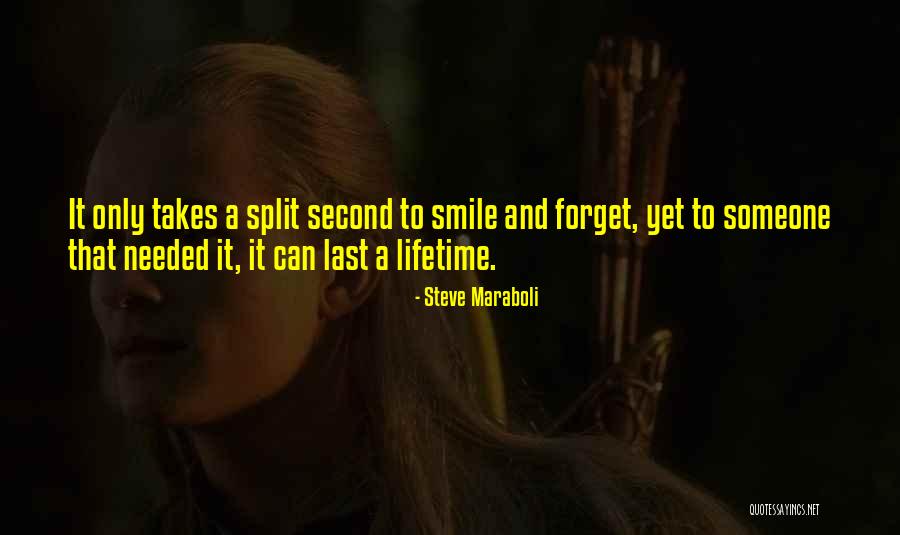 It only takes a split second to smile and forget, yet to someone that needed it, it can last a lifetime. — Steve Maraboli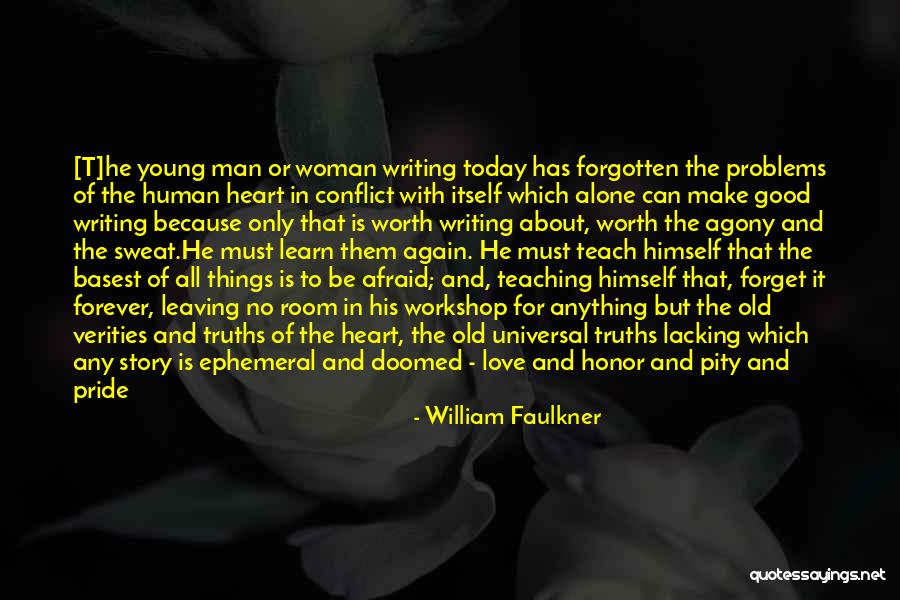 [T]he young man or woman writing today has forgotten the problems of the human heart in conflict with itself which alone can make good writing because only that is worth writing about, worth the agony and the sweat.
He must learn them again. He must teach himself that the basest of all things is to be afraid; and, teaching himself that, forget it forever, leaving no room in his workshop for anything but the old verities and truths of the heart, the old universal truths lacking which any story is ephemeral and doomed - love and honor and pity and pride and compassion and sacrifice. Until he does so, he labors under a curse. He writes not of love but of lust, of defeats in which nobody loses anything of value, of victories without hope and, worst of all, without pity or compassion. His griefs grieve on no universal bones, leaving no scars. He writes not of the heart but of the glands. — William Faulkner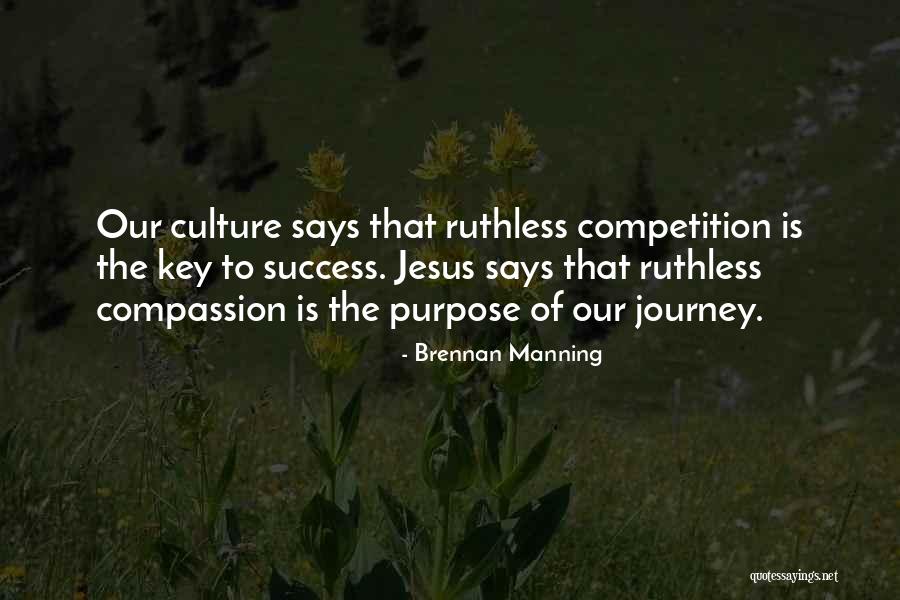 Our culture says that ruthless competition is the key to success. Jesus says that ruthless compassion is the purpose of our journey. — Brennan Manning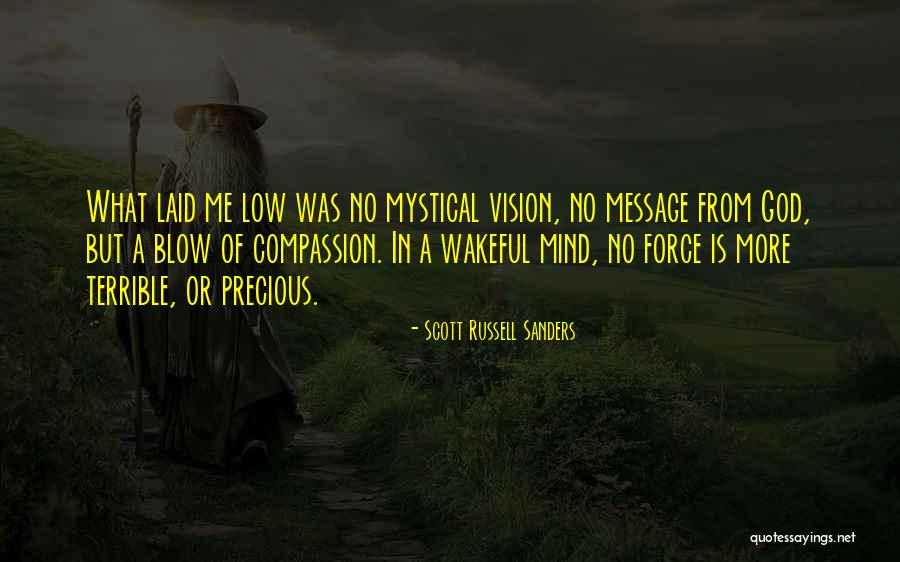 What laid me low was no mystical vision, no message from God, but a blow of compassion. In a wakeful mind, no force is more terrible, or precious. — Scott Russell Sanders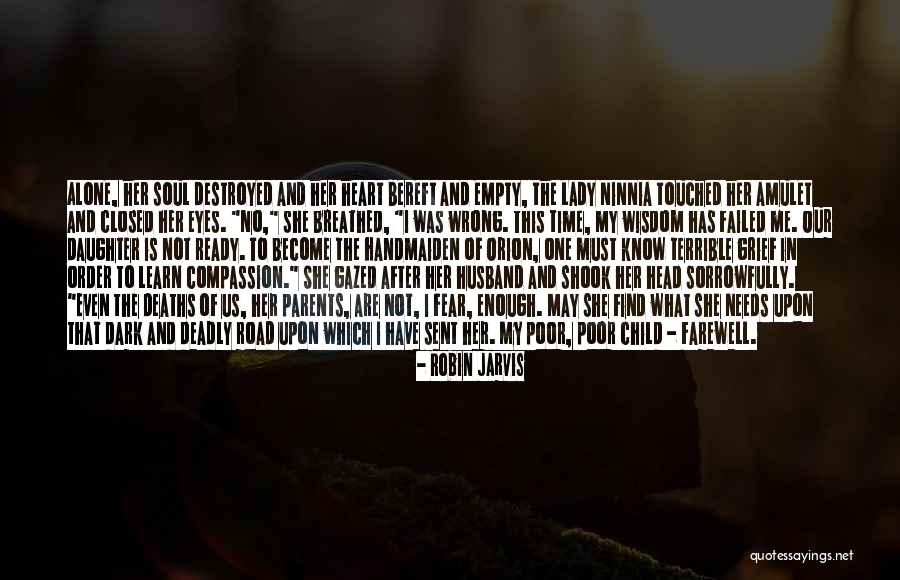 Alone, her soul destroyed and her heart bereft and empty, the Lady Ninnia touched her amulet and closed her eyes. "No," she breathed, "I was wrong. This time, my wisdom has failed me. Our daughter is not ready. To become the Handmaiden of Orion, one must know terrible grief in order to learn compassion." She gazed after her husband and shook her head sorrowfully. "Even the deaths of us, her parents, are not, I fear, enough. May she find what she needs upon that dark and deadly road upon which I have sent her. My poor, poor child - farewell. — Robin Jarvis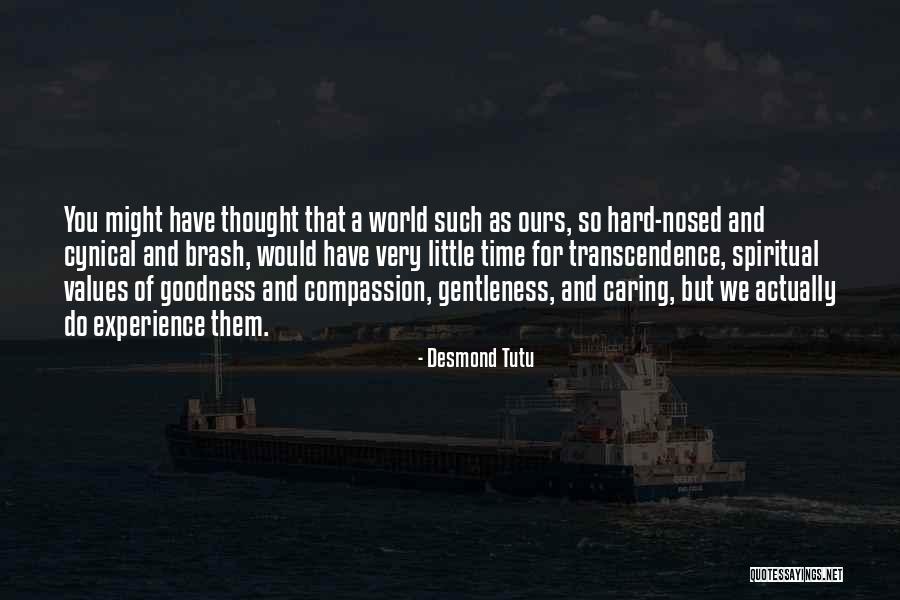 You might have thought that a world such as ours, so hard-nosed and cynical and brash, would have very little time for transcendence, spiritual values of goodness and compassion, gentleness, and caring, but we actually do experience them. — Desmond Tutu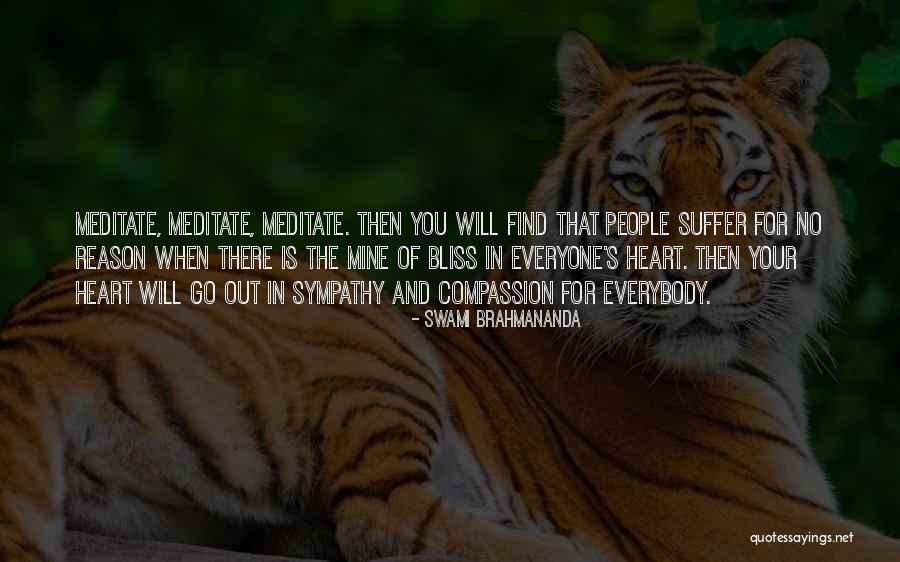 Meditate, meditate, meditate. Then you will find that people suffer for no reason when there is the mine of bliss in everyone's heart. Then your heart will go out in sympathy and compassion for everybody. — Swami Brahmananda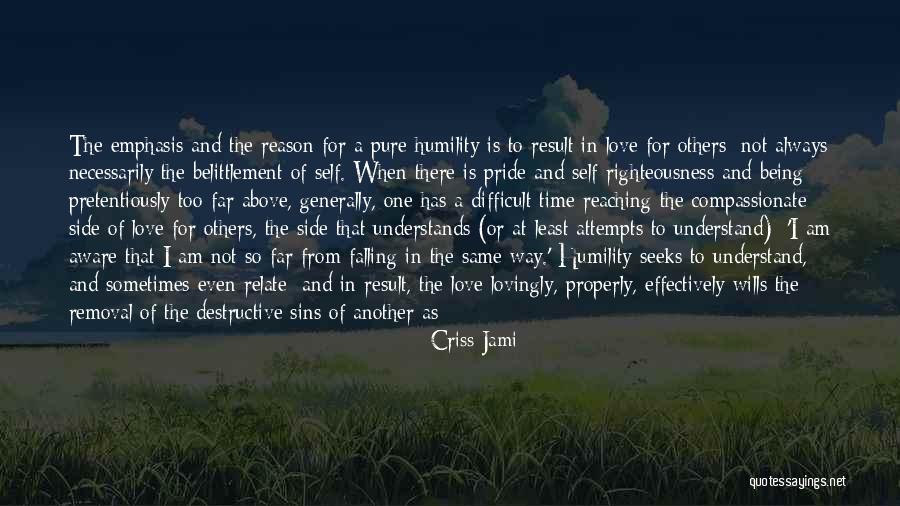 The emphasis and the reason for a pure humility is to result in love for others; not always necessarily the belittlement of self. When there is pride and self-righteousness and being pretentiously too far above, generally, one has a difficult time reaching the compassionate side of love for others, the side that understands (or at least attempts to understand): 'I am aware that I am not so far from falling in the same way.' Humility seeks to understand, and sometimes even relate; and in result, the love lovingly, properly, effectively wills the removal of the destructive sins of another as from oneself. — Criss Jami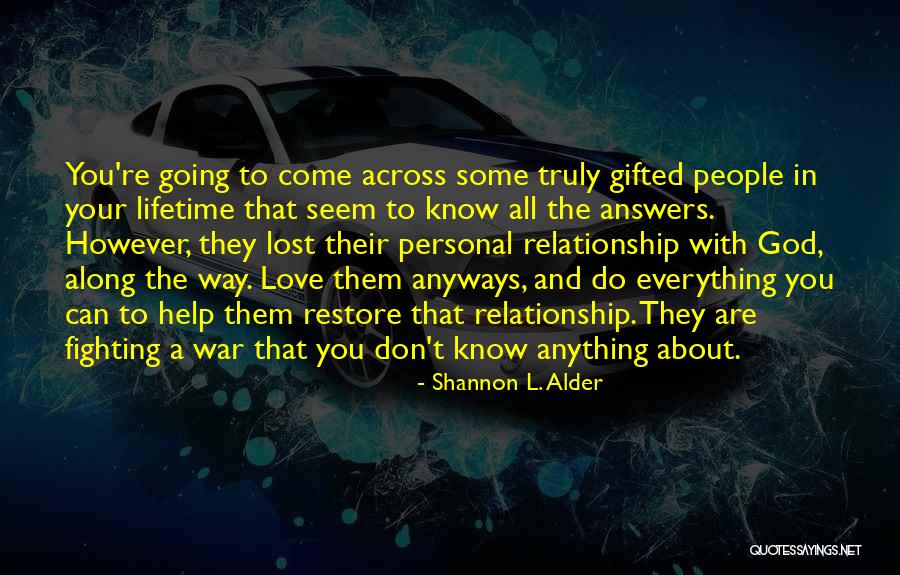 You're going to come across some truly gifted people in your lifetime that seem to know all the answers. However, they lost their personal relationship with God, along the way. Love them anyways, and do everything you can to help them restore that relationship. They are fighting a war that you don't know anything about. — Shannon L. Alder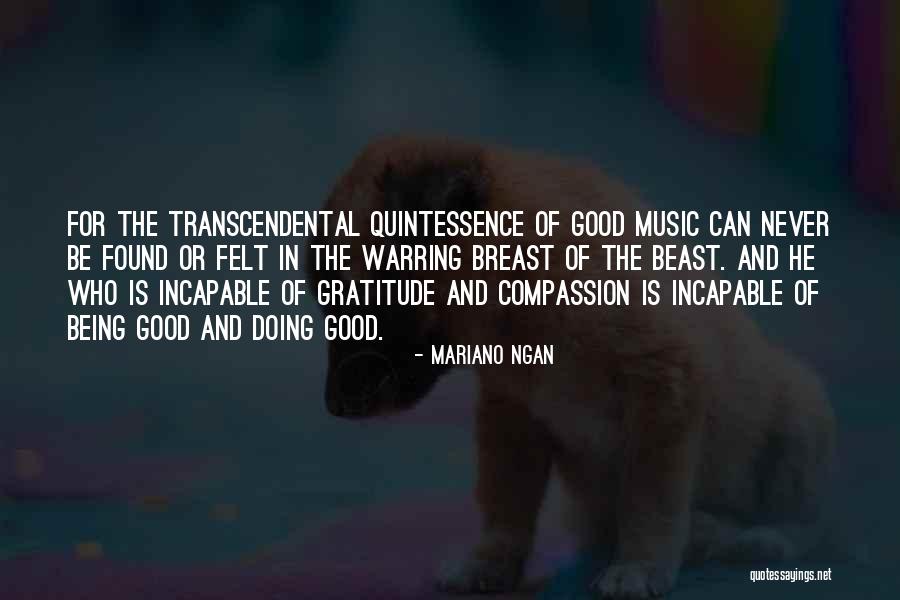 For the transcendental quintessence of good music can never be found or felt in the warring breast of the beast. And he who is incapable of gratitude and compassion is incapable of being good and doing good. — Mariano Ngan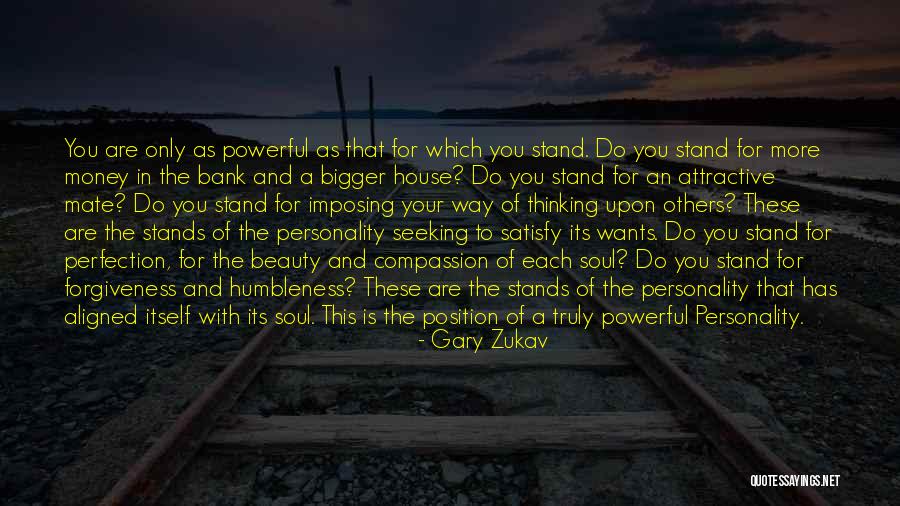 You are only as powerful as that for which you stand. Do you stand for more money in the bank and a bigger house? Do you stand for an attractive mate? Do you stand for imposing your way of thinking upon others? These are the stands of the personality seeking to satisfy its wants. Do you stand for perfection, for the beauty and compassion of each soul? Do you stand for forgiveness and humbleness? These are the stands of the personality that has aligned itself with its soul. This is the position of a truly powerful Personality. — Gary Zukav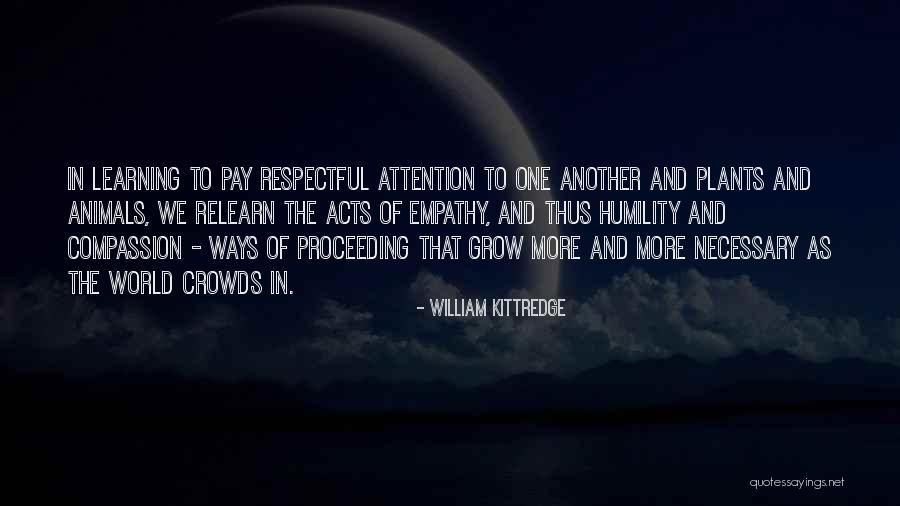 In learning to pay respectful attention to one another and plants and animals, we relearn the acts of empathy, and thus humility and compassion - ways of proceeding that grow more and more necessary as the world crowds in. — William Kittredge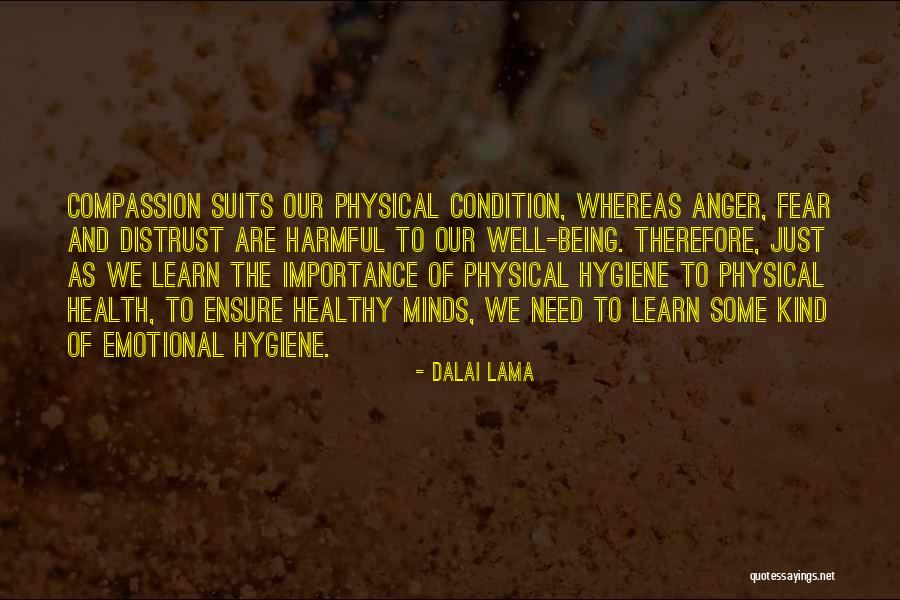 Compassion suits our physical condition, whereas anger, fear and distrust are harmful to our well-being. Therefore, just as we learn the importance of physical hygiene to physical health, to ensure healthy minds, we need to learn some kind of emotional hygiene. — Dalai Lama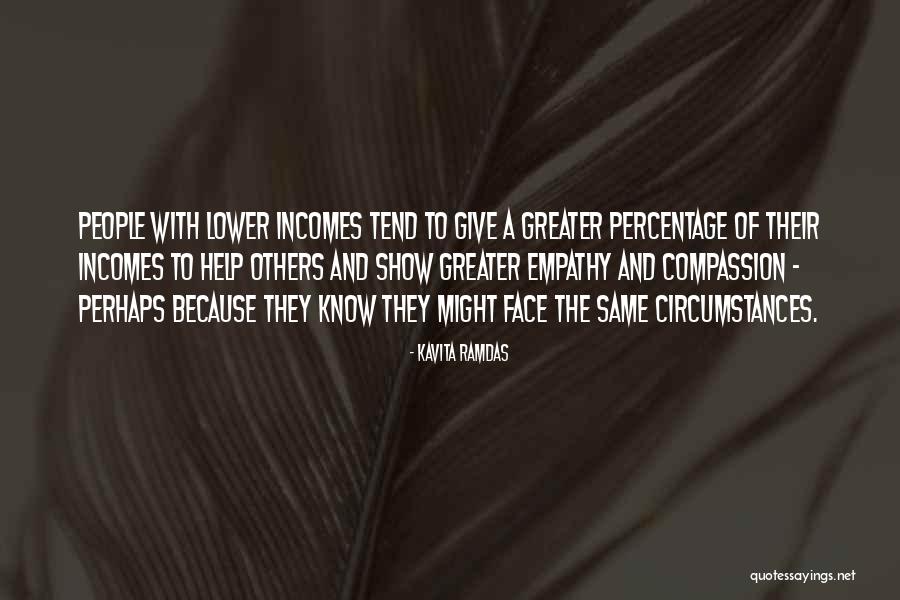 People with lower incomes tend to give a greater percentage of their incomes to help others and show greater empathy and compassion - perhaps because they know they might face the same circumstances. — Kavita Ramdas