Quotes & Sayings About Happiness In Your Relationship
Enjoy reading and share 41 famous quotes about Happiness In Your Relationship with everyone.
Top Happiness In Your Relationship Quotes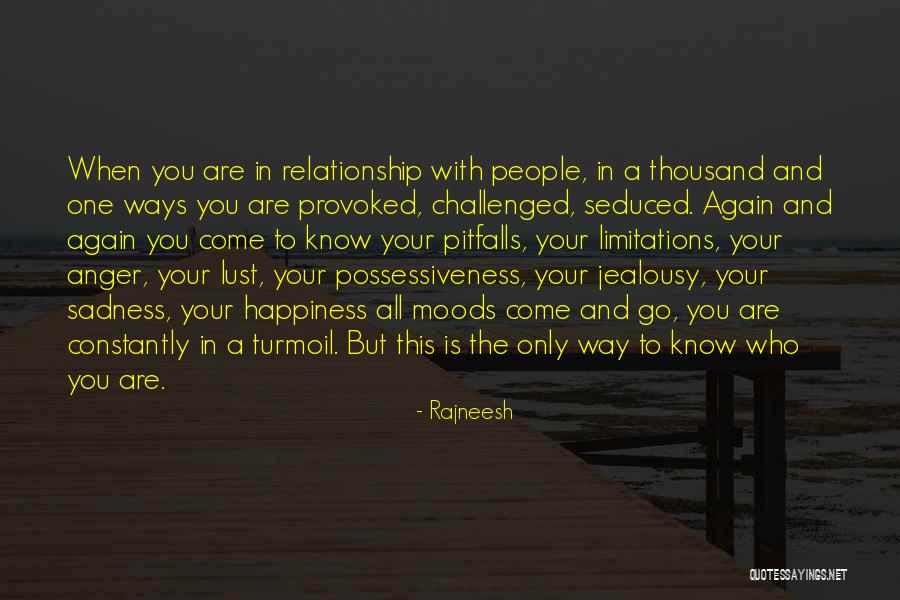 When you are in relationship with people, in a thousand and one ways you are provoked, challenged, seduced. Again and again you come to know your pitfalls, your limitations, your anger, your lust, your possessiveness, your jealousy, your sadness, your happiness all moods come and go, you are constantly in a turmoil. But this is the only way to know who you are. — Rajneesh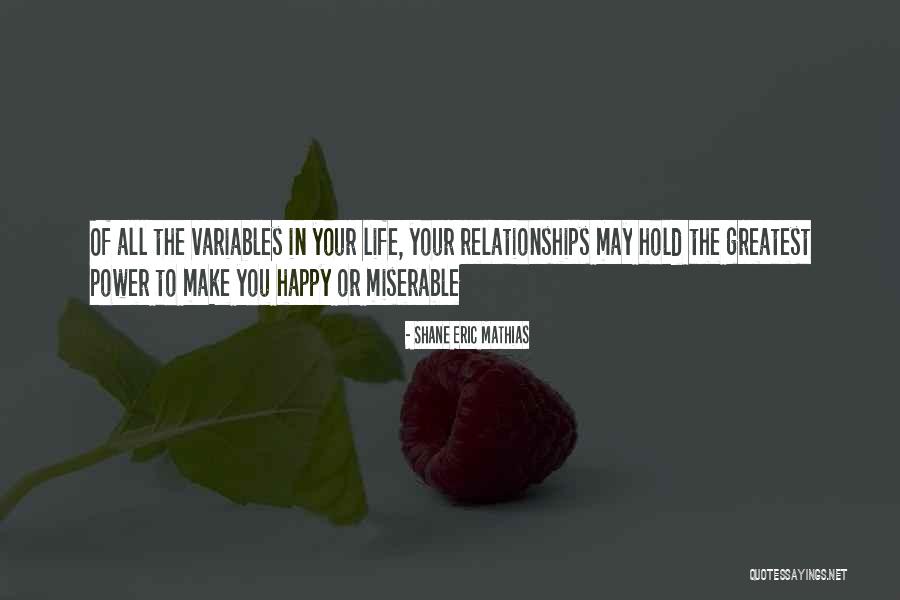 Of all the variables in your life, your relationships may hold the greatest power to make you happy or miserable — Shane Eric Mathias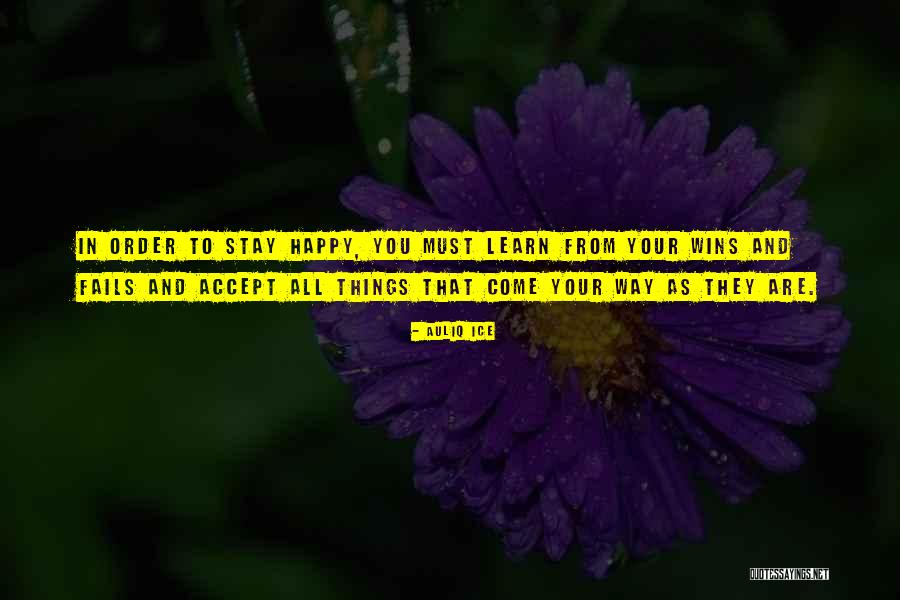 In order to stay happy, You must learn from your wins and fails and accept all things that come your way as they are. — Auliq Ice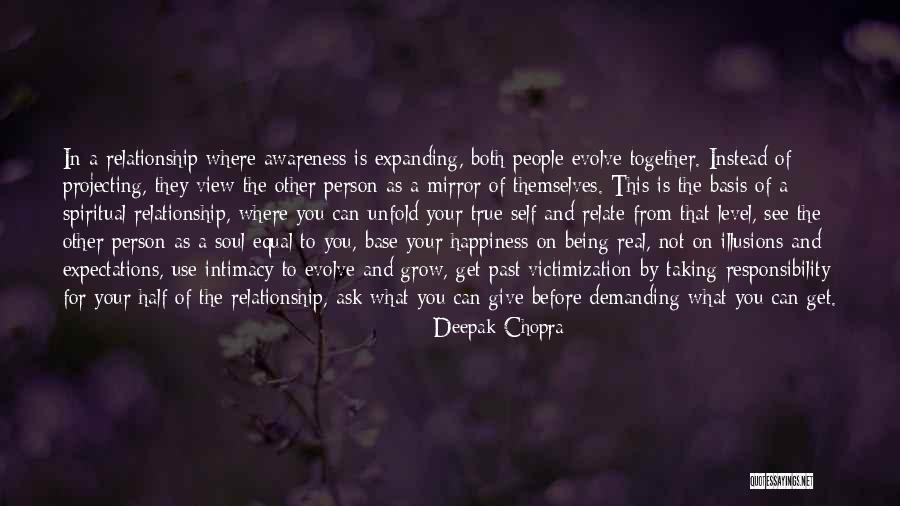 In a relationship where awareness is expanding, both people evolve together. Instead of projecting, they view the other person as a mirror of themselves. This is the basis of a spiritual relationship, where you can unfold your true self and relate from that level, see the other person as a soul equal to you, base your happiness on being real, not on illusions and expectations, use intimacy to evolve and grow, get past victimization by taking responsibility for your half of the relationship, ask what you can give before demanding what you can get. — Deepak Chopra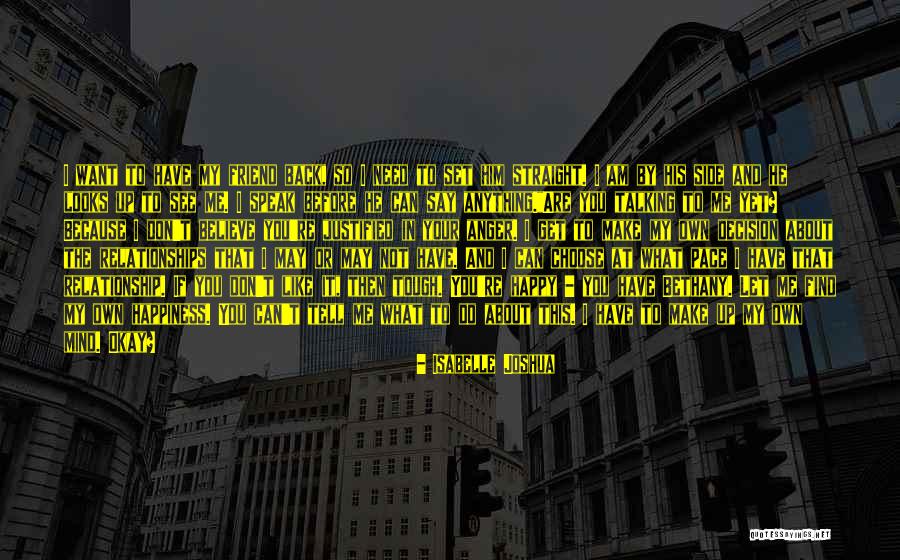 I want to have my friend back, so I need to set him straight. I am by his side and he looks up to see me. I speak before he can say anything.
"Are you talking to me yet? Because I don't believe you're justified in your anger. I get to make my own decision about the relationships that I may or may not have. And I can choose at what pace I have that relationship. If you don't like it, then tough. You're happy - you have Bethany. Let me find my own happiness. You can't tell me what to do about this. I have to make up my own mind. Okay? — Isabelle Joshua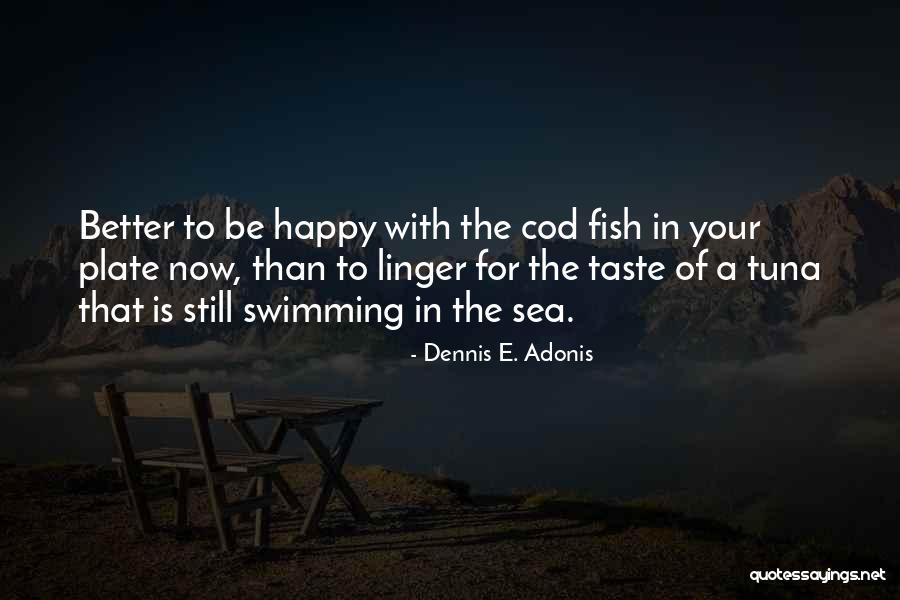 Better to be happy with the cod fish in your plate now, than to linger for the taste of a tuna that is still swimming in the sea. — Dennis E. Adonis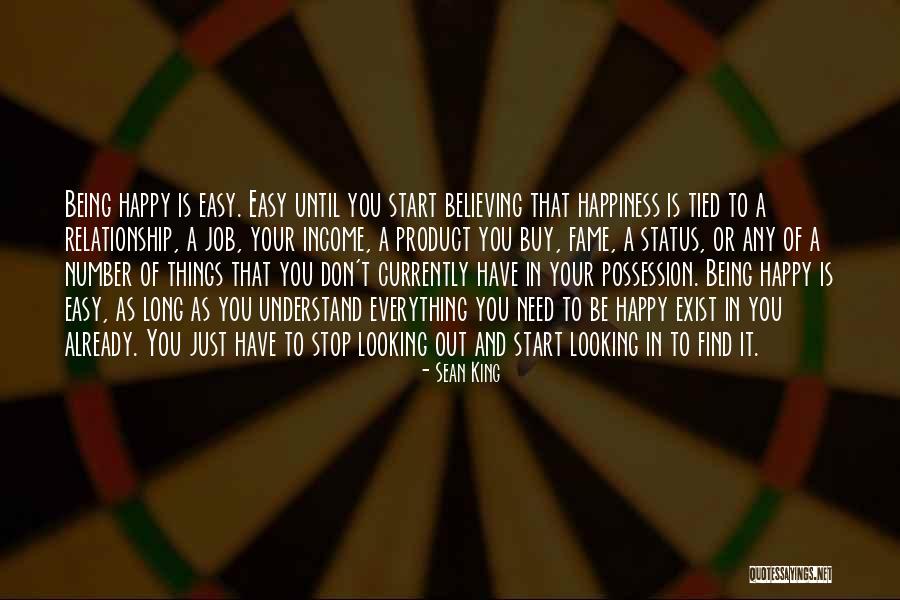 Being happy is easy. Easy until you start believing that happiness is tied to a relationship, a job, your income, a product you buy, fame, a status, or any of a number of things that you don't currently have in your possession. Being happy is easy, as long as you understand everything you need to be happy exist in you already. You just have to stop looking out and start looking in to find it. — Sean King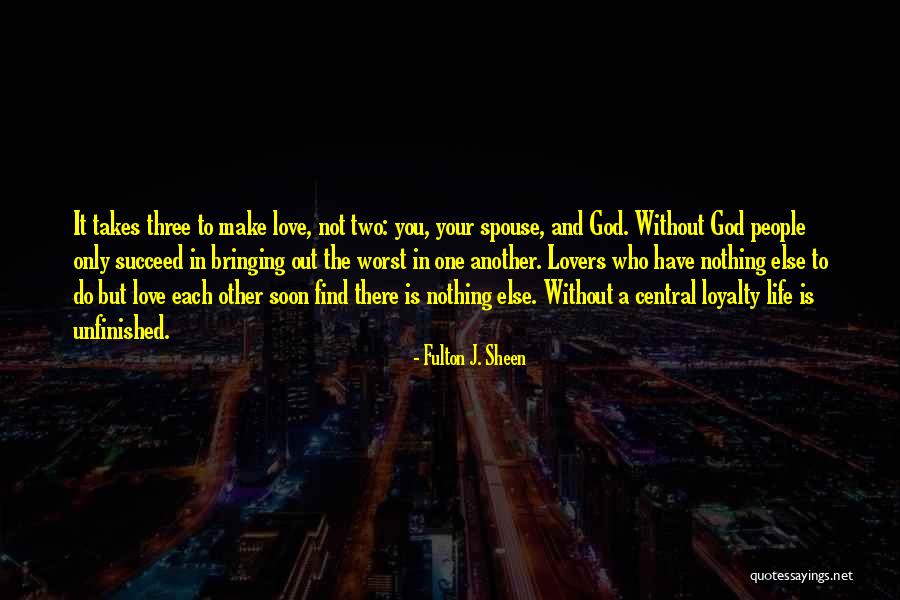 It takes three to make love, not two: you, your spouse, and God. Without God people only succeed in bringing out the worst in one another. Lovers who have nothing else to do but love each other soon find there is nothing else. Without a central loyalty life is unfinished. — Fulton J. Sheen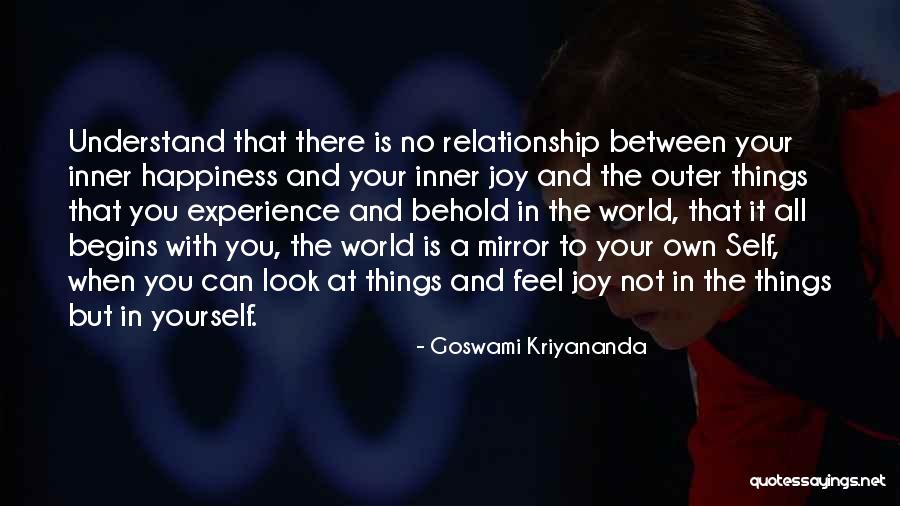 Understand that there is no relationship between your inner happiness and your inner joy and the outer things that you experience and behold in the world, that it all begins with you, the world is a mirror to your own Self, when you can look at things and feel joy not in the things but in yourself. — Goswami Kriyananda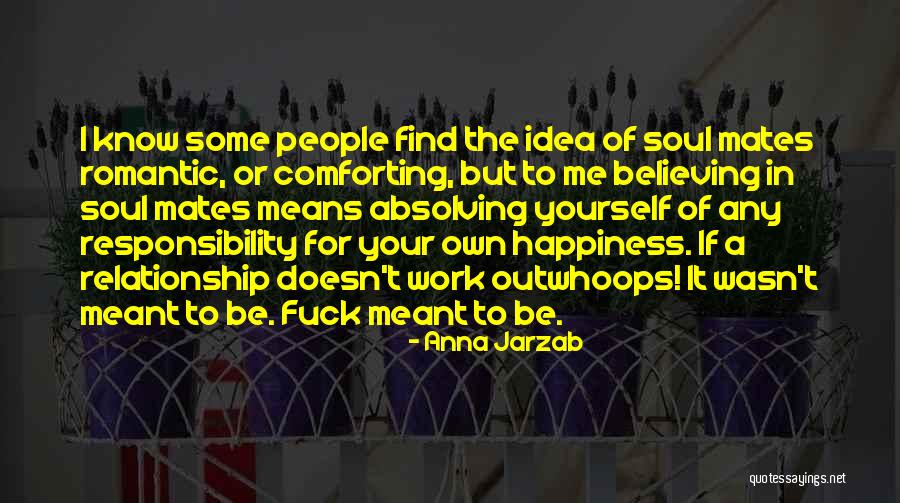 I know some people find the idea of soul mates romantic, or comforting, but to me believing in soul mates means absolving yourself of any responsibility for your own happiness. If a relationship doesn't work out
whoops! It wasn't meant to be. Fuck meant to be. — Anna Jarzab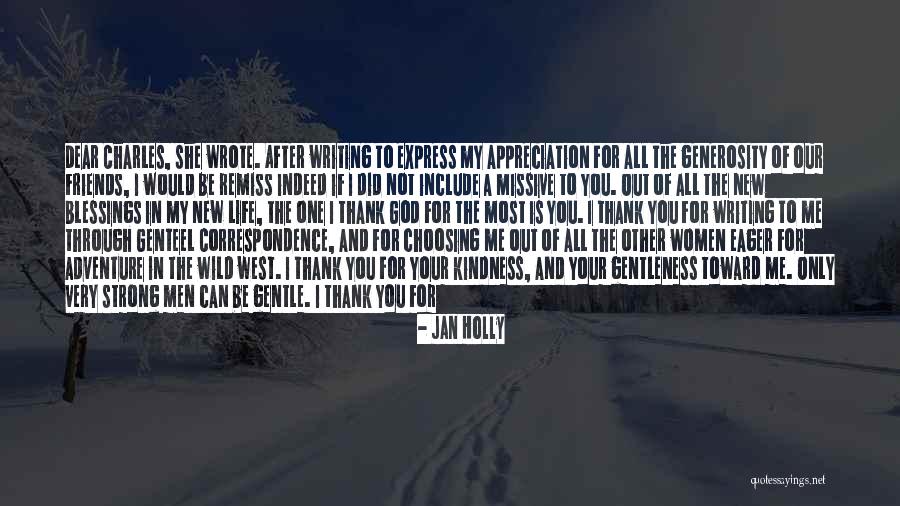 Dear Charles, she wrote.
After writing to express my appreciation for all the generosity of our friends, I would be remiss indeed if I did not include a missive to you. Out of all the new blessings in my new life, the one I thank God for the most is you. I thank you for writing to me through Genteel Correspondence, and for choosing me out of all the other women eager for adventure in the wild west.
I thank you for your kindness, and your gentleness toward me. Only very strong men can be gentle. I thank you for sharing your home and your life with me. I thank you for inventing delicious breakfasts. And chicory flavored coffee. And prayers that ease my mind and inspire my spirit and lift my heart. For your smile and the way you hold your hat in your hands. For the things you say and how you say them.
Did you know that I pray for you each day? I do. I pray for your safety and happiness.
Yours in Christ,
Rose — Jan Holly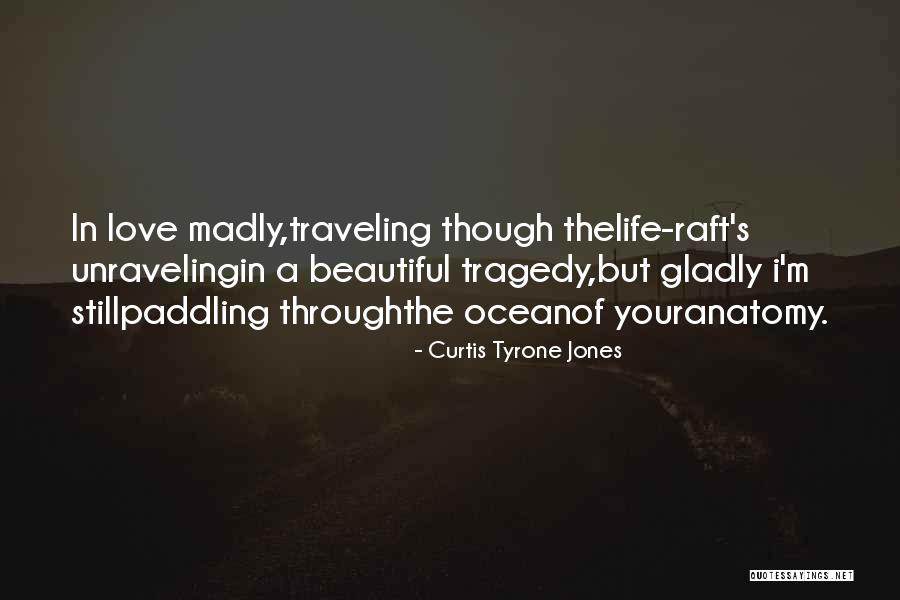 In love madly,
traveling though the
life-raft's unraveling
in a beautiful tragedy,
but gladly i'm still
paddling through
the ocean
of your
anatomy. — Curtis Tyrone Jones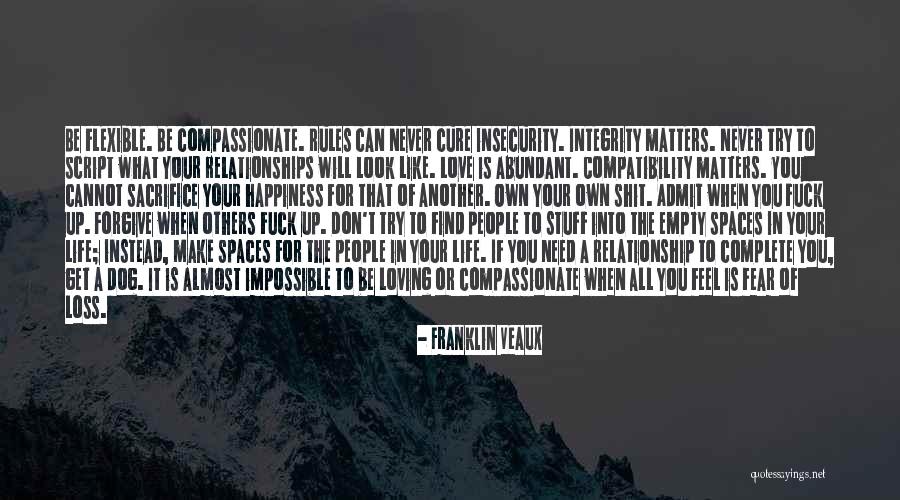 Be flexible. Be compassionate. Rules can never cure insecurity. Integrity matters. Never try to script what your relationships will look like. Love is abundant. Compatibility matters. You cannot sacrifice your happiness for that of another. Own your own shit. Admit when you fuck up. Forgive when others fuck up. Don't try to find people to stuff into the empty spaces in your life; instead, make spaces for the people in your life. If you need a relationship to complete you, get a dog. It is almost impossible to be loving or compassionate when all you feel is fear of loss. Trust that your partners want to be with you, and that if given the freedom to do anything they please, they will choose to cherish and support you. Most relationship problems can be avoided by good partner selection. Nobody can give you security or self-esteem; you have to build that yourself. — Franklin Veaux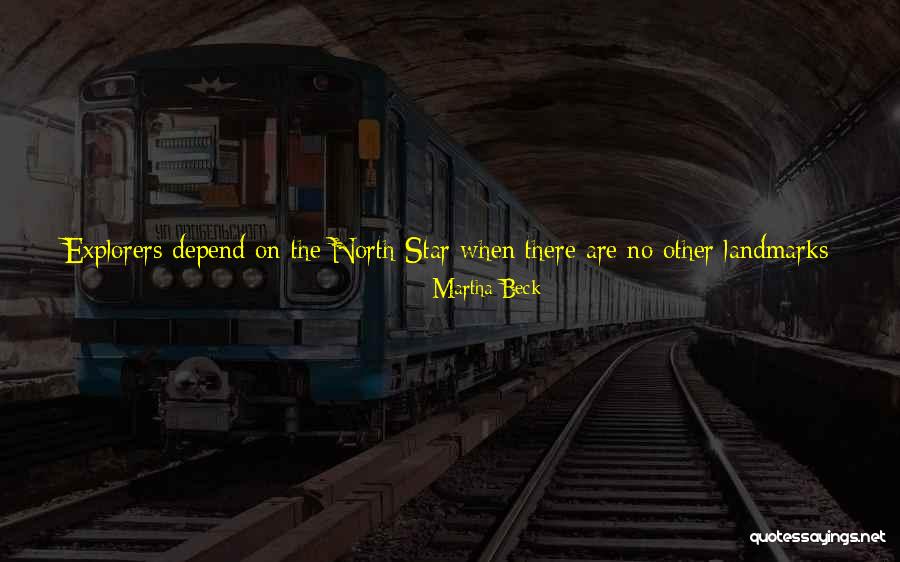 Explorers depend on the North Star when there are no other landmarks in sight. The same relationship exists between you and your right life, the ultimate realization of your potential for happiness. I believe that a knowledge of that perfect life sits inside you just as the North Star sits in its unaltering spot. — Martha Beck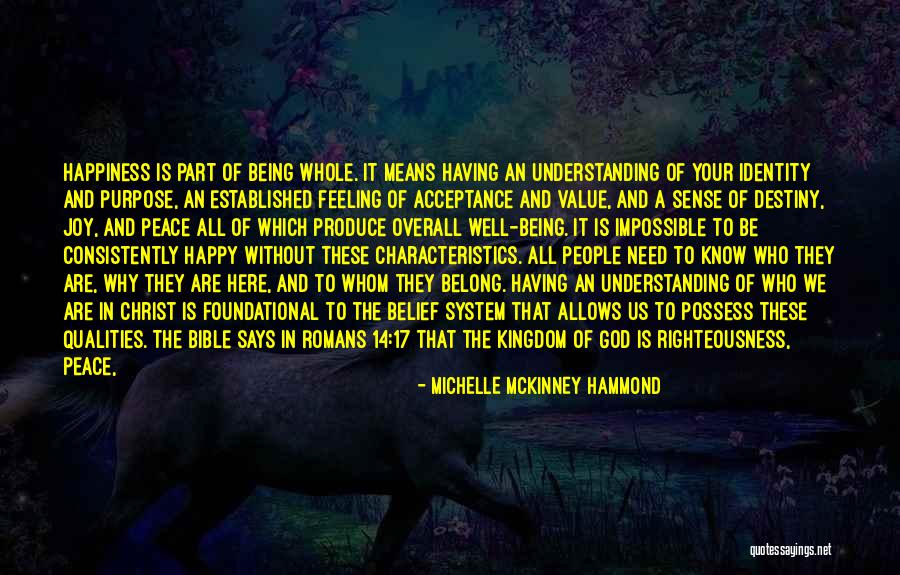 Happiness is part of being whole. It means having an understanding of your identity and purpose, an established feeling of acceptance and value, and a sense of destiny, joy, and peace
all of which produce overall well-being. It is impossible to be consistently happy without these characteristics. All people need to know who they are, why they are here, and to whom they belong. Having an understanding of who we are in Christ is foundational to the belief system that allows us to possess these qualities. The Bible says in Romans 14:17 that the kingdom of God is righteousness, peace, and joy in the Holy Spirit. You find in this passage all these characteristics that grow out of being in right relationship with God. His presence is always accompanied by peace and joy; in other words, a sense of total well-being. — Michelle McKinney Hammond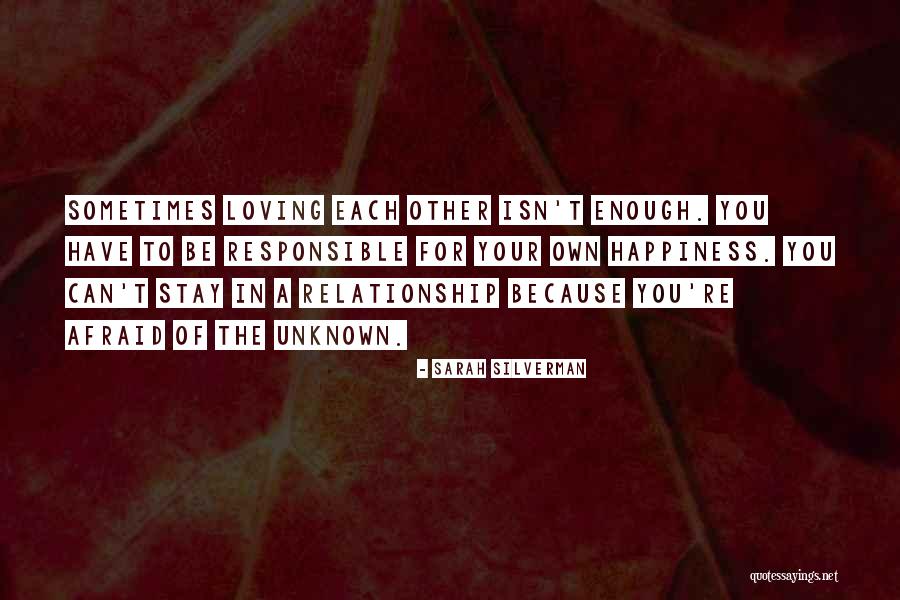 Sometimes loving each other isn't enough. You have to be responsible for your own happiness. You can't stay in a relationship because you're afraid of the unknown. — Sarah Silverman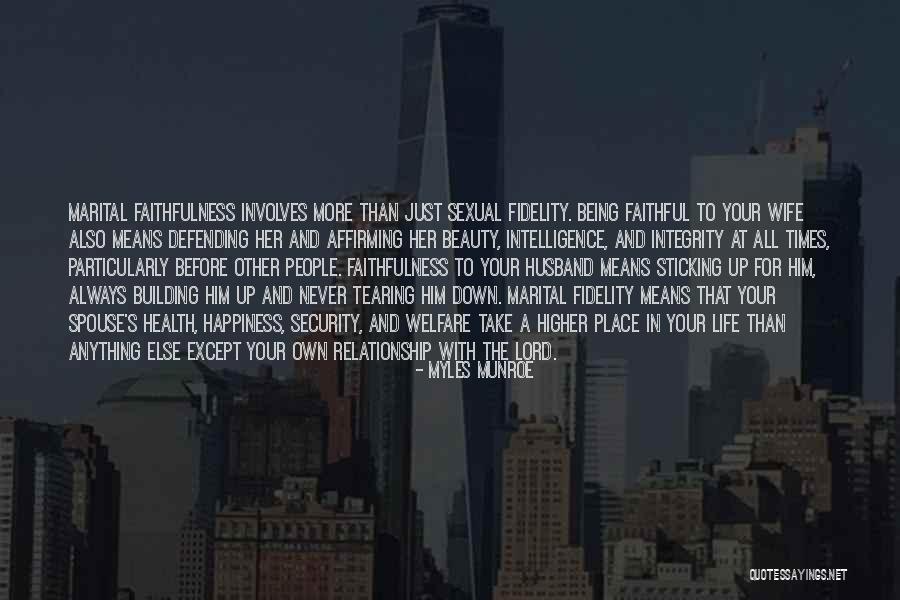 Marital faithfulness involves more than just sexual fidelity. Being faithful to your wife also means defending her and affirming her beauty, intelligence, and integrity at all times, particularly before other people. Faithfulness to your husband means sticking up for him, always building him up and never tearing him down. Marital fidelity means that your spouse's health, happiness, security, and welfare take a higher place in your life than anything else except your own relationship with the Lord. — Myles Munroe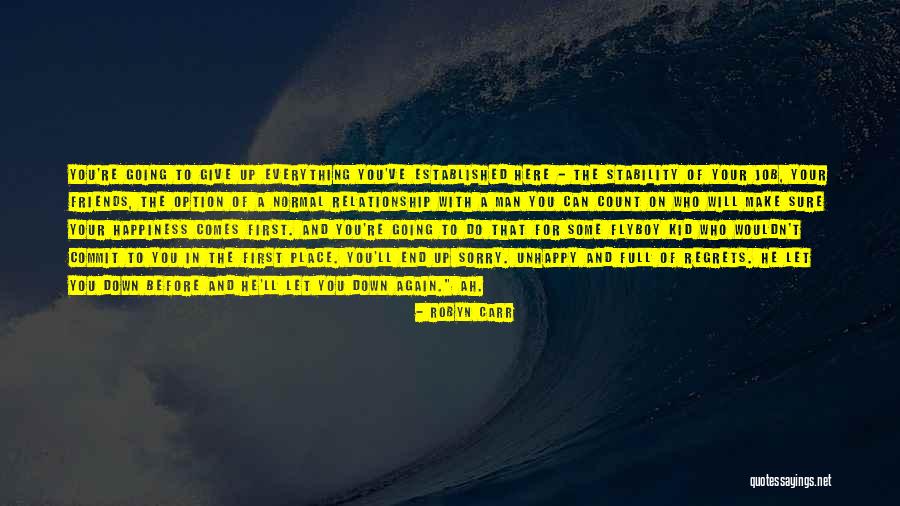 You're going to give up everything you've established here - the stability of your job, your friends, the option of a normal relationship with a man you can count on who will make sure your happiness comes first. And you're going to do that for some flyboy kid who wouldn't commit to you in the first place. You'll end up sorry. Unhappy and full of regrets. He let you down before and he'll let you down again." Ah. — Robyn Carr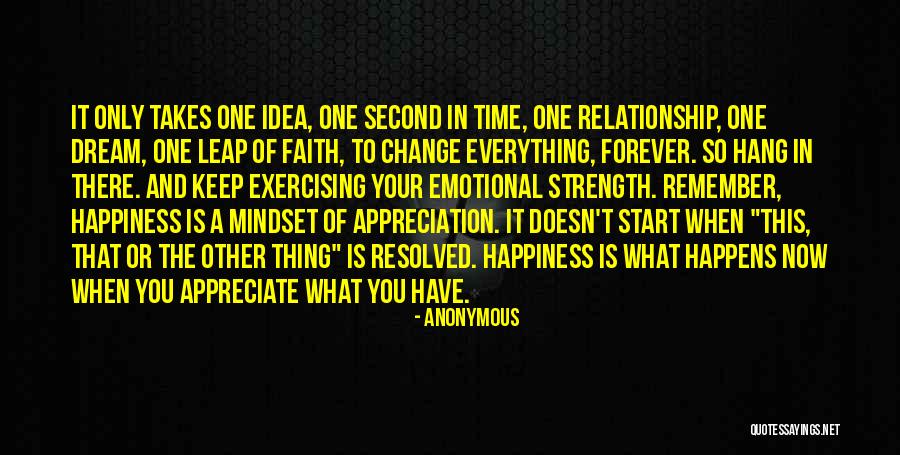 It only takes one idea, one second in time, one relationship, one dream, one leap of faith, to change everything, forever. So hang in there. And keep exercising your emotional strength. Remember, happiness is a mindset of appreciation. It doesn't start when "this, that or the other thing" is resolved. Happiness is what happens NOW when you appreciate what you have. — Anonymous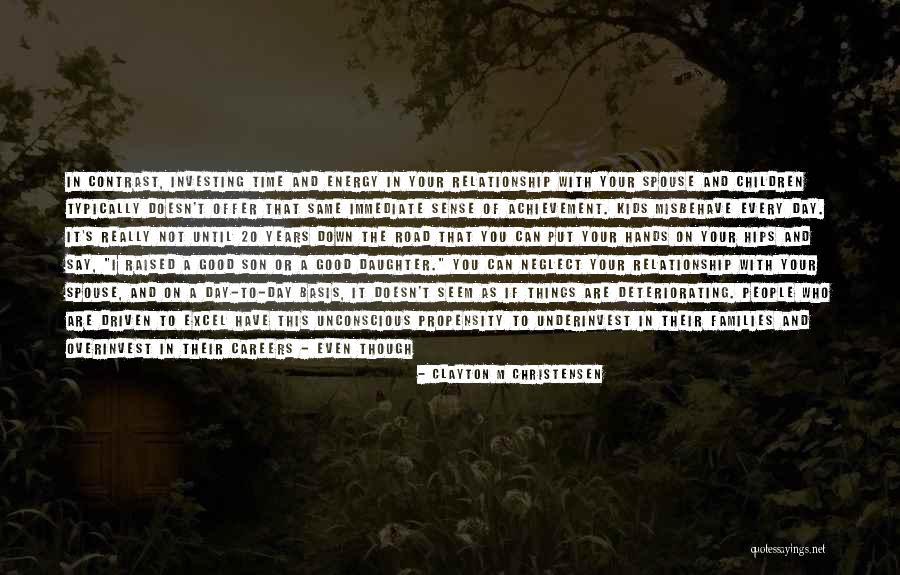 In contrast, investing time and energy in your relationship with your spouse and children typically doesn't offer that same immediate sense of achievement. Kids misbehave every day. It's really not until 20 years down the road that you can put your hands on your hips and say, "I raised a good son or a good daughter." You can neglect your relationship with your spouse, and on a day-to-day basis, it doesn't seem as if things are deteriorating. People who are driven to excel have this unconscious propensity to underinvest in their families and overinvest in their careers - even though intimate and loving relationships with their families are the most powerful and enduring source of happiness. — Clayton M Christensen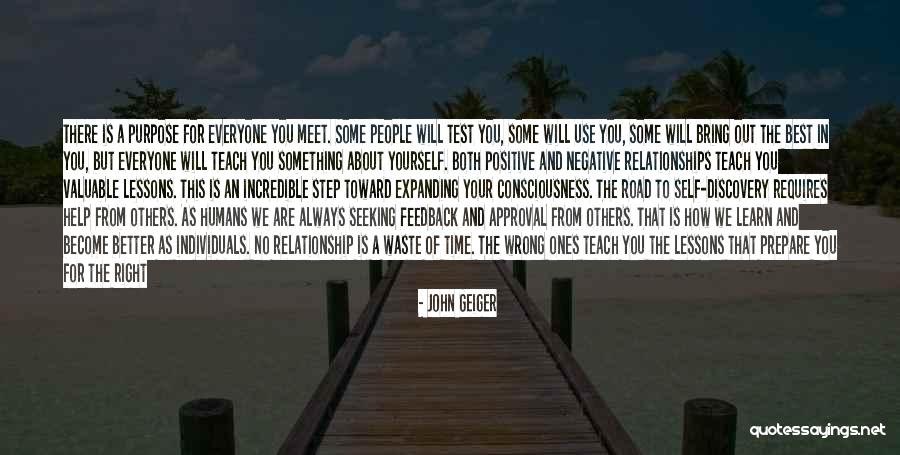 There is a purpose for everyone you meet. Some people will test you, some will use you, some will bring out the best in you, but everyone will teach you something about yourself. Both positive and negative relationships teach you valuable lessons. This is an incredible step toward expanding your consciousness. The road to self-discovery requires help from others. As humans we are always seeking feedback and approval from others. That is how we learn and become better as individuals. No relationship is a waste of time. The wrong ones teach you the lessons that prepare you for the right ones. Appreciate everyone that enters your life because they are contributing to your growth and happiness. — John Geiger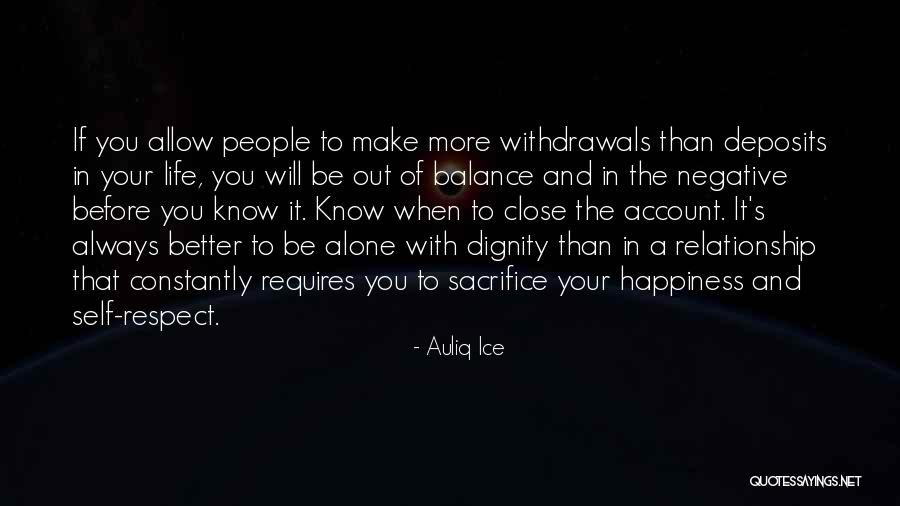 If you allow people to make more withdrawals than deposits in your life, you will be out of balance and in the negative before you know it. Know when to close the account. It's always better to be alone with dignity than in a relationship that constantly requires you to sacrifice your happiness and self-respect. — Auliq Ice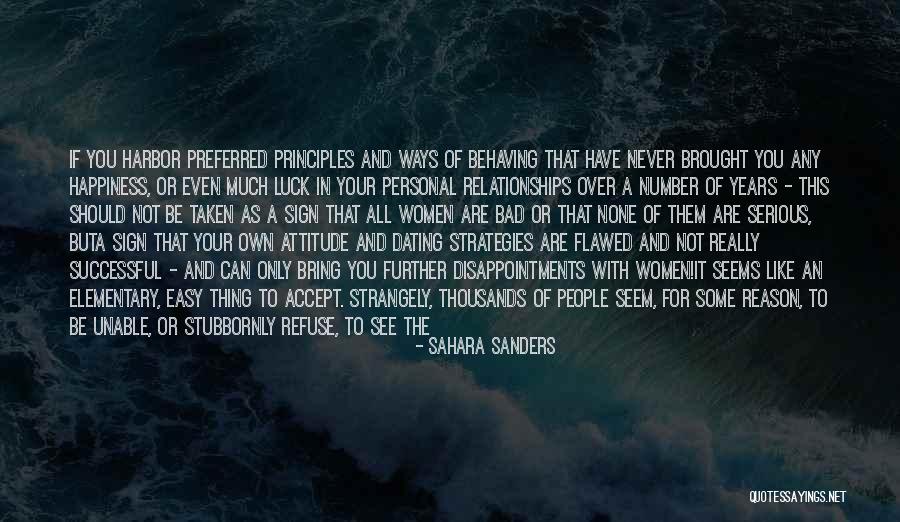 If you harbor preferred principles and ways of behaving that have never brought you ANY happiness, or even much luck in your personal relationships over a number of years - this should not be taken as a sign that all women are bad or that none of them are serious, but
A SIGN THAT YOUR OWN ATTITUDE AND DATING STRATEGIES ARE FLAWED AND NOT REALLY SUCCESSFUL - and can only bring you further disappointments with women!

It seems like an elementary, easy thing to accept. Strangely, thousands of people seem, for some reason, to be unable, or stubbornly refuse, to see the truth and draw such a logical conclusion. — Sahara Sanders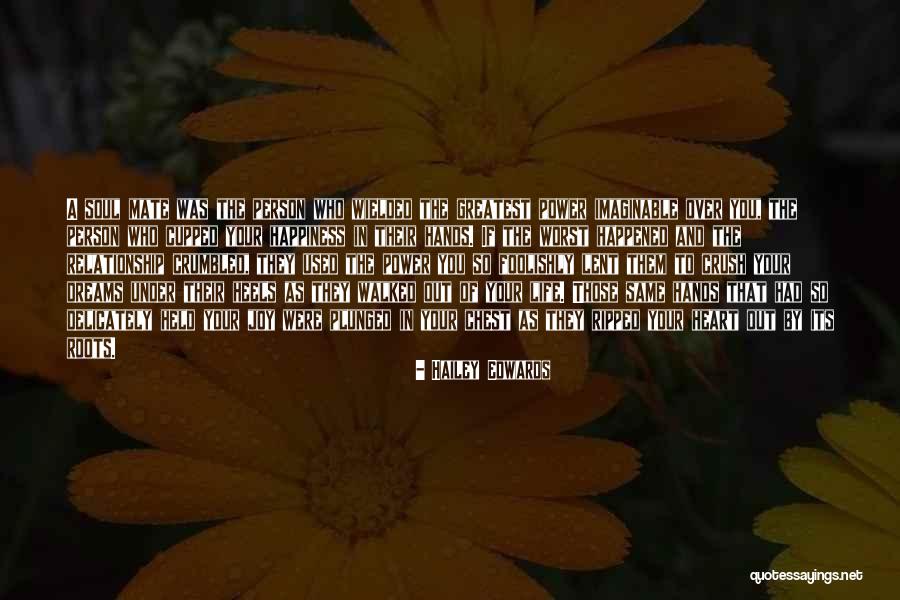 A soul mate was the person who wielded the greatest power imaginable over you, the person who cupped your happiness in their hands. If the worst happened and the relationship crumbled, they used the power you so foolishly lent them to crush your dreams under their heels as they walked out of your life. Those same hands that had so delicately held your joy were plunged in your chest as they ripped your heart out by its roots. — Hailey Edwards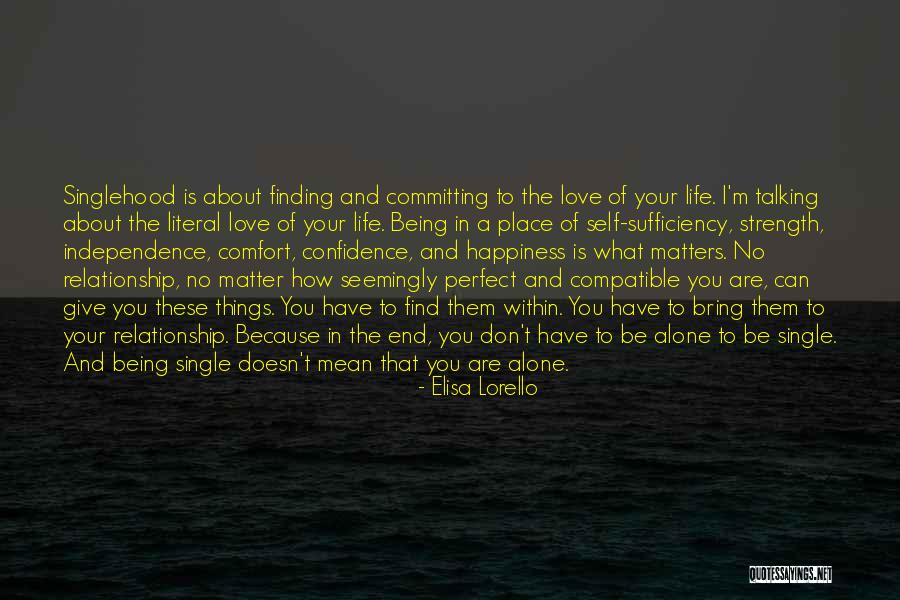 Singlehood is about finding and committing to the love of your life. I'm talking about the literal love of your life. Being in a place of self-sufficiency, strength, independence, comfort, confidence, and happiness is what matters. No relationship, no matter how seemingly perfect and compatible you are, can give you these things. You have to find them within. You have to bring them to your relationship. Because in the end, you don't have to be alone to be single. And being single doesn't mean that you are alone. — Elisa Lorello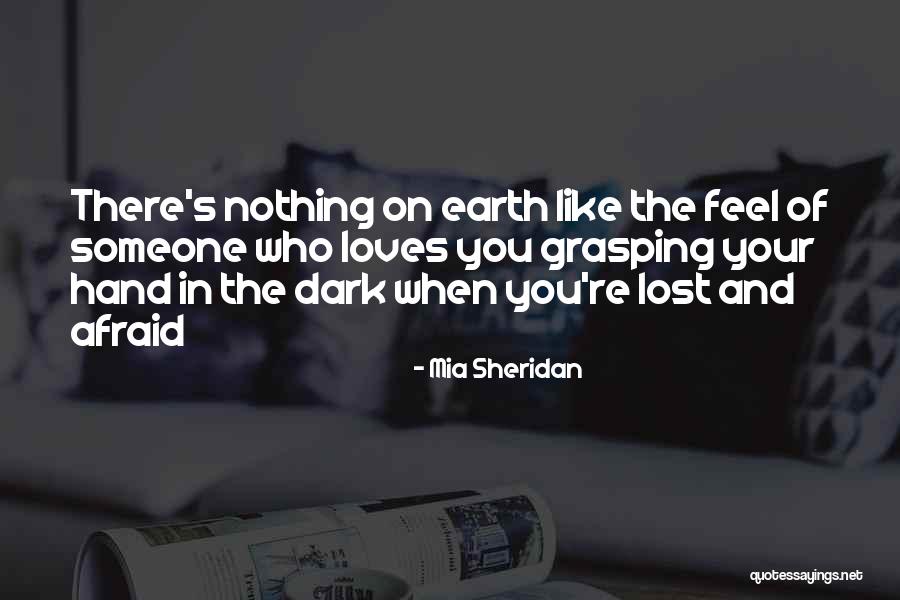 There's nothing on earth like the feel of someone who loves you grasping your hand in the dark when you're lost and afraid — Mia Sheridan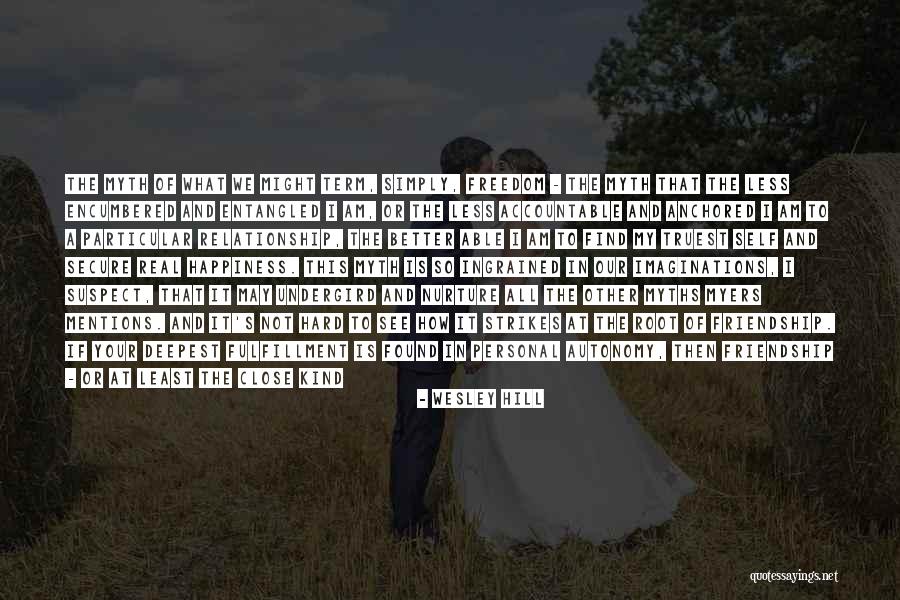 The myth of what we might term, simply, freedom - the myth that the less encumbered and entangled I am, or the less accountable and anchored I am to a particular relationship, the better able I am to find my truest self and secure real happiness. This myth is so ingrained in our imaginations, I suspect, that it may undergird and nurture all the other myths Myers mentions. And it's not hard to see how it strikes at the root of friendship. If your deepest fulfillment is found in personal autonomy, then friendship - or at least the close kind I want to recommend in these pages - is more of a liability than an asset. — Wesley Hill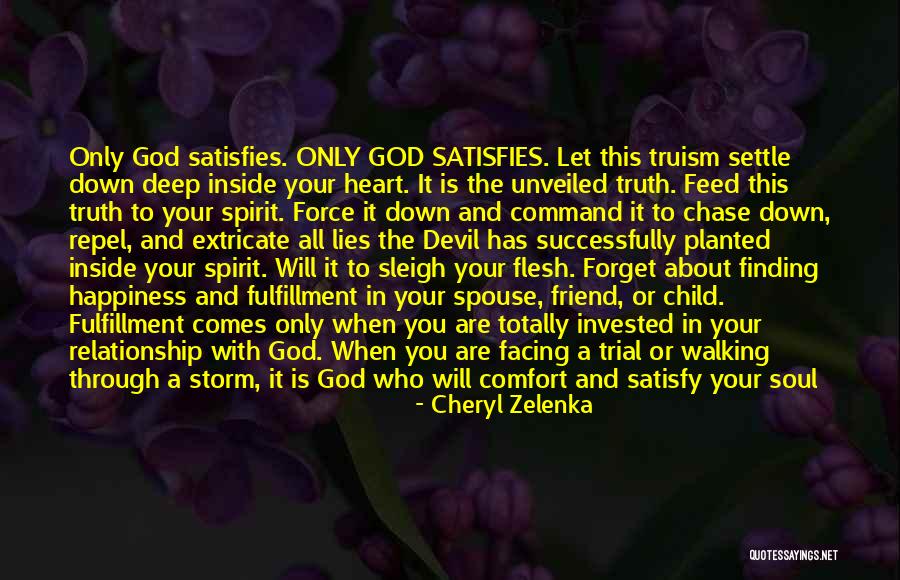 Only God satisfies. ONLY GOD SATISFIES. Let this truism settle down deep inside your heart. It is the unveiled truth. Feed this truth to your spirit. Force it down and command it to chase down, repel, and extricate all lies the Devil has successfully planted inside your spirit. Will it to sleigh your flesh. Forget about finding happiness and fulfillment in your spouse, friend, or child. Fulfillment comes only when you are totally invested in your relationship with God. When you are facing a trial or walking through a storm, it is God who will comfort and satisfy your soul with boundless and extraordinary love and guidance. Within God's love there is an all-embracing grace. — Cheryl Zelenka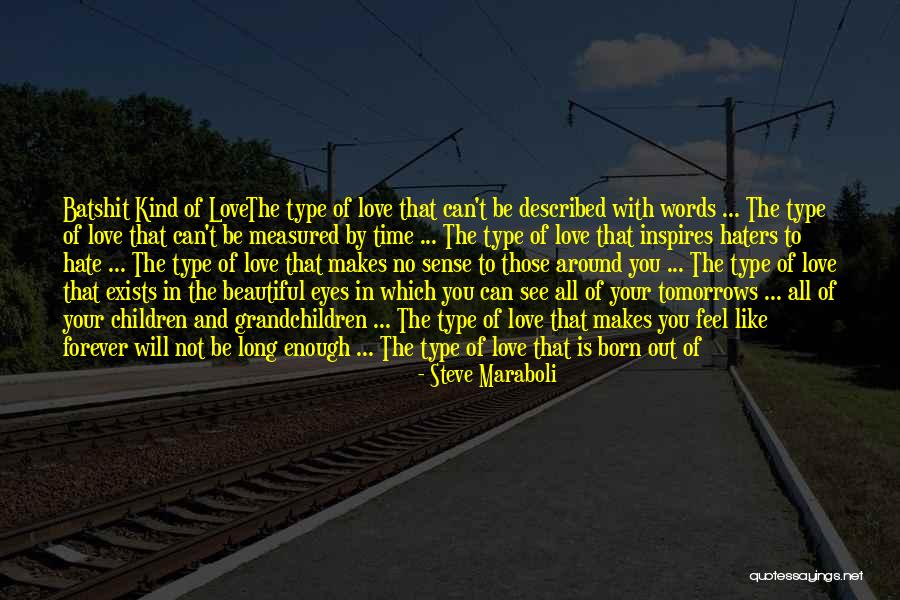 Batshit Kind of Love
The type of love that can't be described with words ...
The type of love that can't be measured by time ...
The type of love that inspires haters to hate ...
The type of love that makes no sense to those around you ...
The type of love that exists in the beautiful eyes in which you can see all of your tomorrows ... all of your children and grandchildren ...
The type of love that makes you feel like forever will not be long enough ...
The type of love that is born out of a relationship that is built on honor, respect, and truth ...
That is our love ... That is our connection ...
The batshit kind of love that makes no sense at all ...
and at the same time ... all the sense in the world ...
That is us ...
You and me; a WE. — Steve Maraboli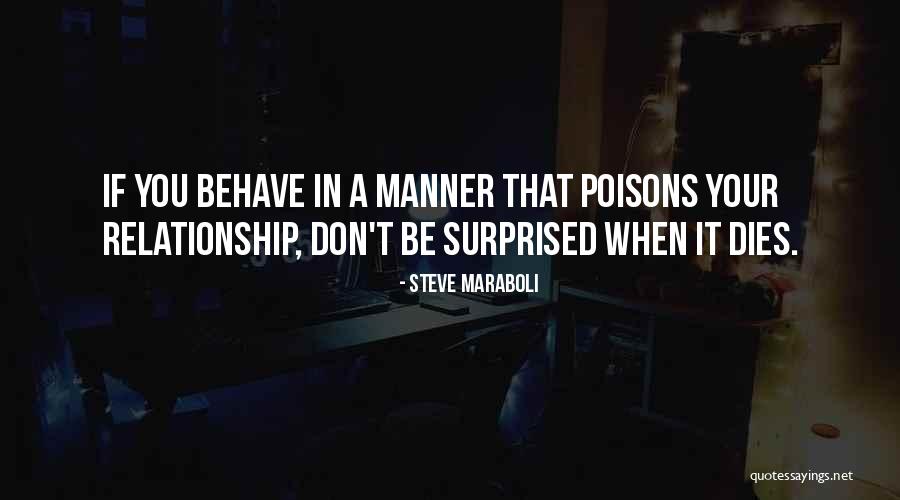 If you behave in a manner that poisons your relationship, don't be surprised when it dies. — Steve Maraboli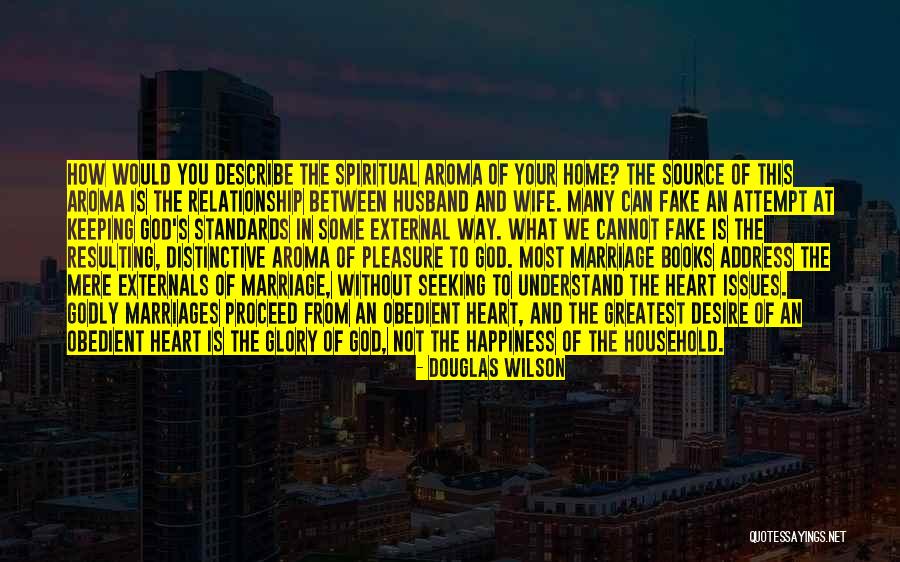 How would you describe the spiritual aroma of your home? The source of this aroma is the relationship between husband and wife. Many can fake an attempt at keeping God's standards in some external way. What we cannot fake is the resulting, distinctive aroma of pleasure to God. Most marriage books address the mere externals of marriage, without seeking to understand the heart issues. Godly marriages proceed from an obedient heart, and the greatest desire of an obedient heart is the glory of God, not the happiness of the household. — Douglas Wilson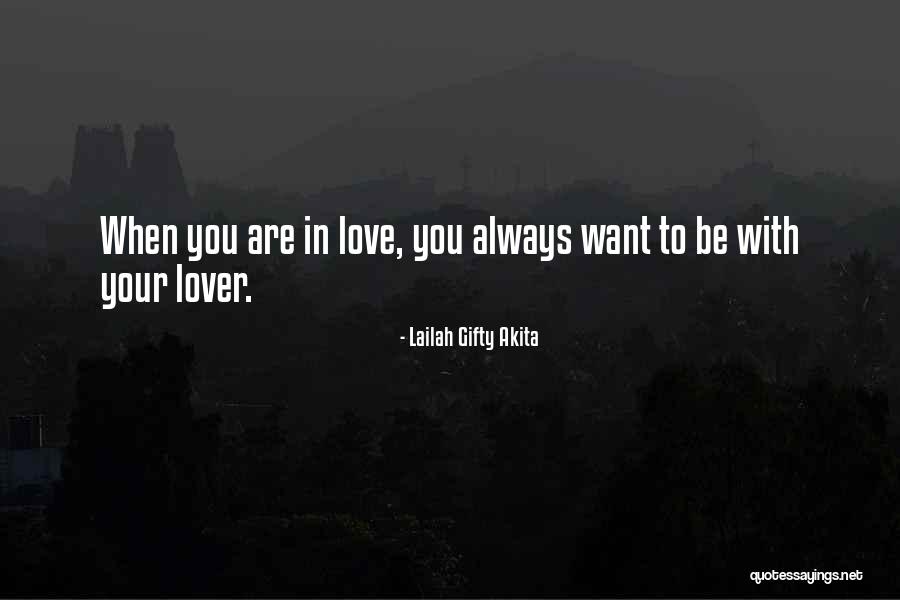 When you are in love, you always want to be with your lover. — Lailah Gifty Akita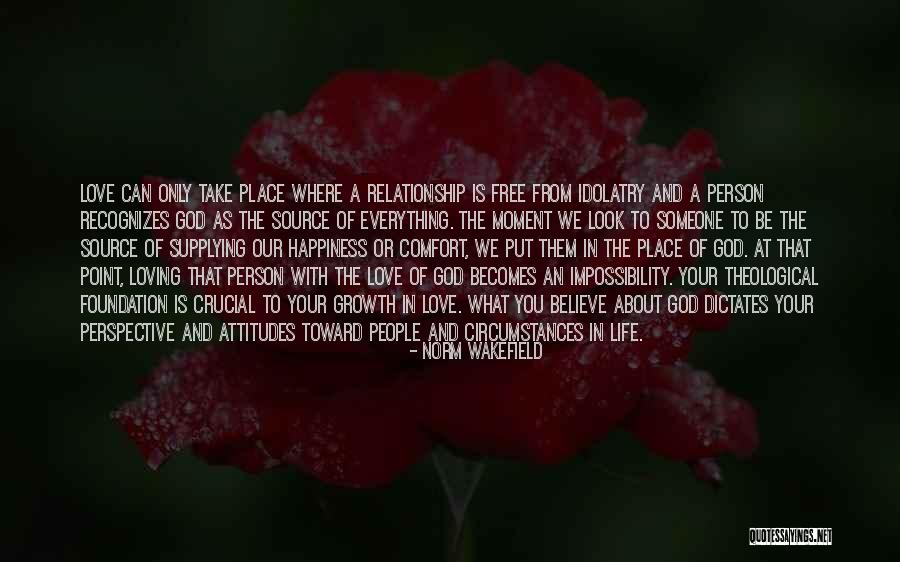 Love can only take place where a relationship is free from idolatry and a person recognizes God as the source of everything. The moment we look to someone to be the source of supplying our happiness or comfort, we put them in the place of God. At that point, loving that person with the love of God becomes an impossibility. Your theological foundation is crucial to your growth in love. What you believe about God dictates your perspective and attitudes toward people and circumstances in life. — Norm Wakefield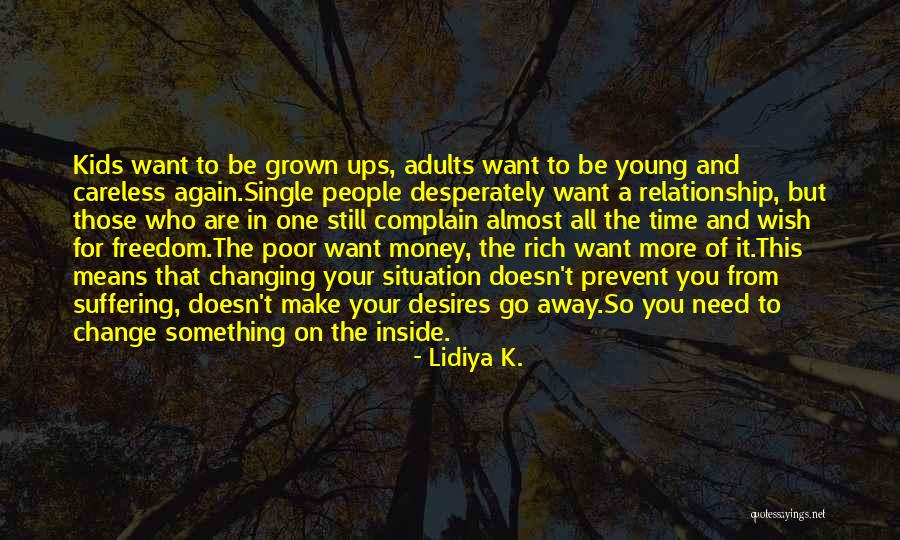 Kids want to be grown ups, adults want to be young and careless again.
Single people desperately want a relationship, but those who are in one still complain almost all the time and wish for freedom.
The poor want money, the rich want more of it.
This means that changing your situation doesn't prevent you from suffering, doesn't make your desires go away.
So you need to change something on the inside. — Lidiya K.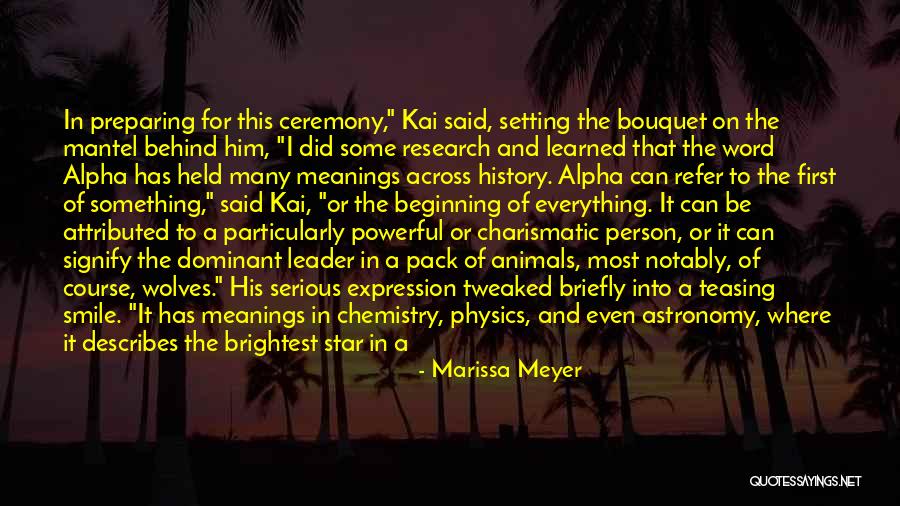 In preparing for this ceremony," Kai said, setting the bouquet on the mantel behind him, "I did some research and learned that the word Alpha has held many meanings across history. Alpha can refer to the first of something," said Kai, "or the beginning of everything. It can be attributed to a particularly powerful or charismatic person, or it can signify the dominant leader in a pack of animals, most notably, of course, wolves." His serious expression tweaked briefly into a teasing smile. "It has meanings in chemistry, physics, and even astronomy, where it describes the brightest star in a constellation. But it seems clear that Ze'ev and Scarlet have created their own definition for the word, and their relationship has given this word a new meaning for all of us. Being an Alpha means that you'll stand against all adversity to be with your mate. It means accepting each other, both for your strengths and your flaws. It means forging your own path to happiness and to love. — Marissa Meyer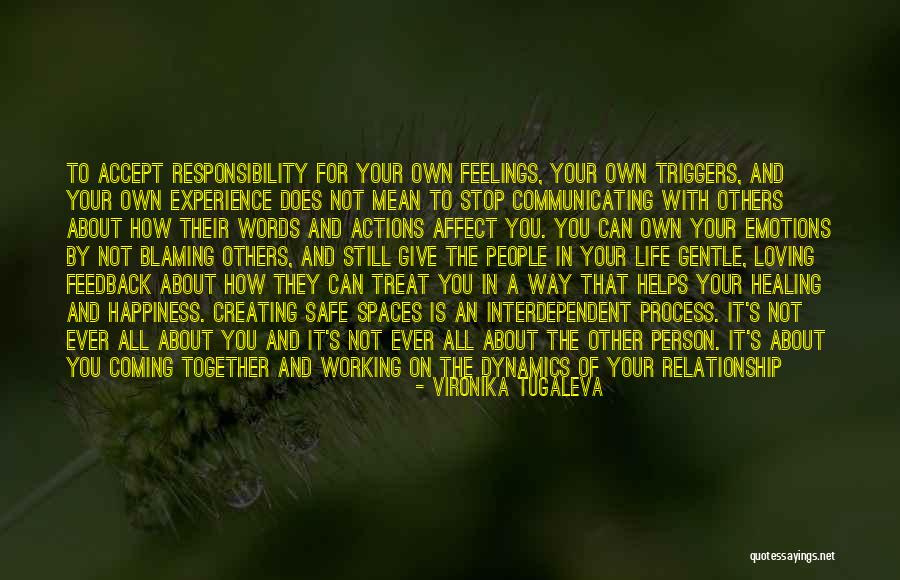 To accept responsibility for your own feelings, your own triggers, and your own experience does not mean to stop communicating with others about how their words and actions affect you. You can own your emotions by not blaming others, and still give the people in your life gentle, loving feedback about how they can treat you in a way that helps your healing and happiness. Creating safe spaces is an interdependent process. It's not ever all about you and it's not ever all about the other person. It's about you coming together and working on the dynamics of your relationship together, taking responsibility for your own part and doing what you can to contribute to the well-being of the other. — Vironika Tugaleva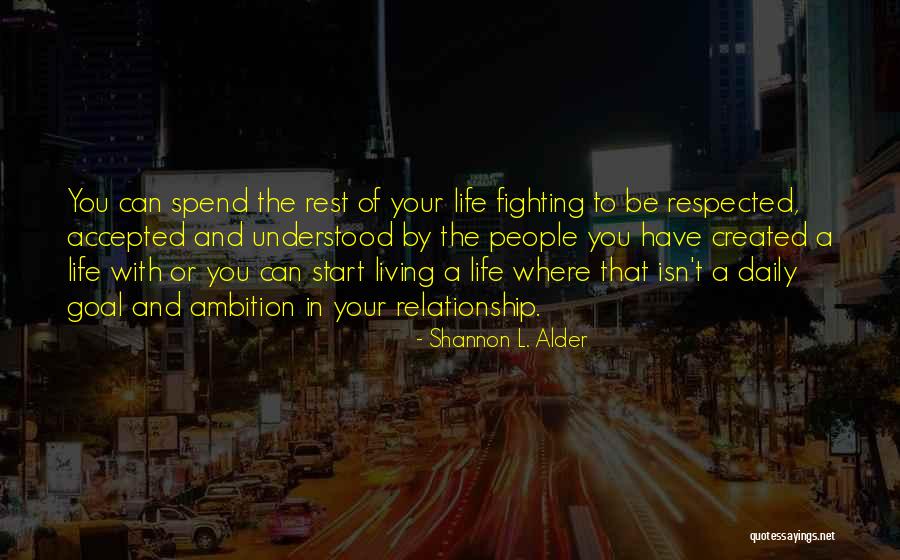 You can spend the rest of your life fighting to be respected, accepted and understood by the people you have created a life with or you can start living a life where that isn't a daily goal and ambition in your relationship. — Shannon L. Alder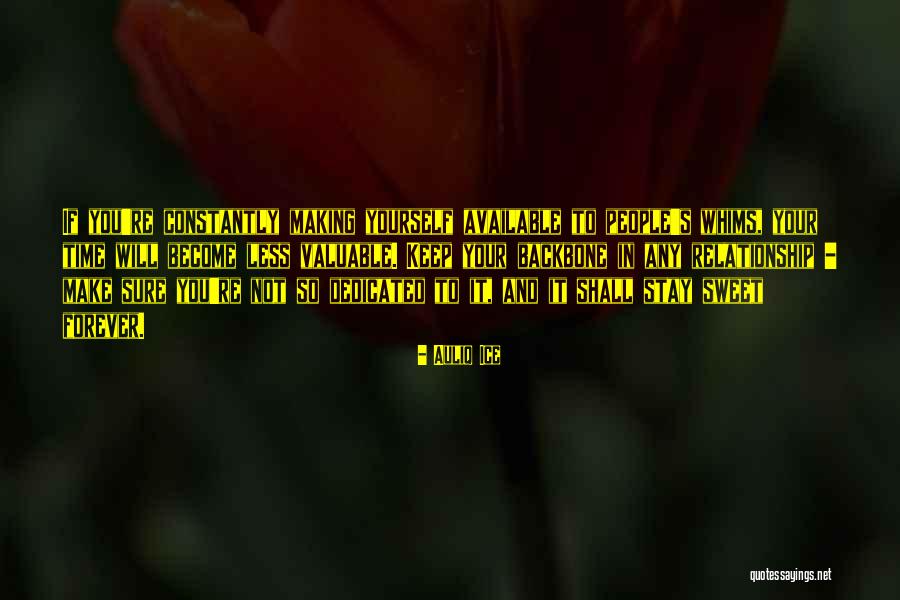 If you're constantly making yourself available to people's whims, your time will become less valuable. Keep your backbone in any relationship - make sure you're not so dedicated to it, and it shall stay sweet forever. — Auliq Ice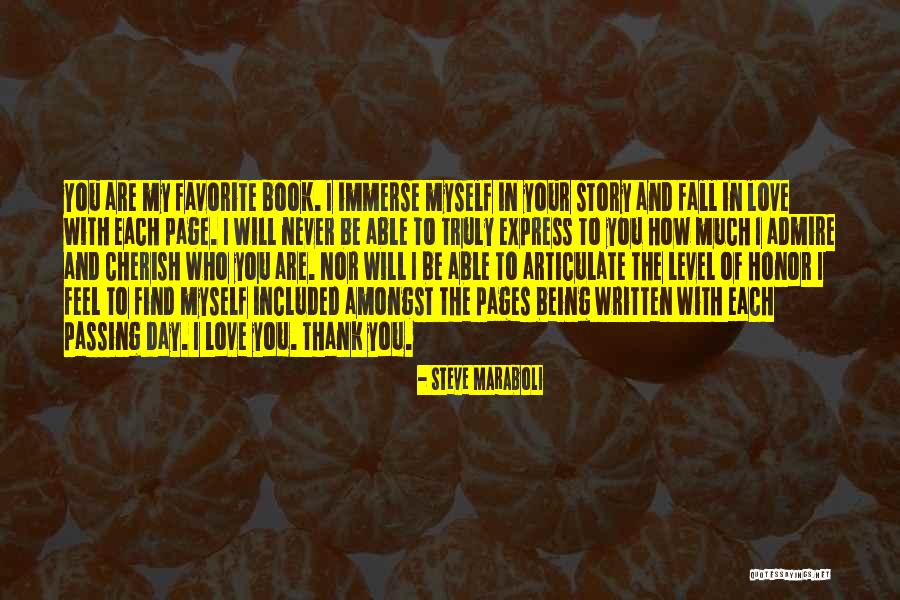 You are my favorite book. I immerse myself in your story and fall in love with each page. I will never be able to truly express to you how much I admire and cherish who you are. Nor will I be able to articulate the level of honor I feel to find myself included amongst the pages being written with each passing day. I love you. Thank you. — Steve Maraboli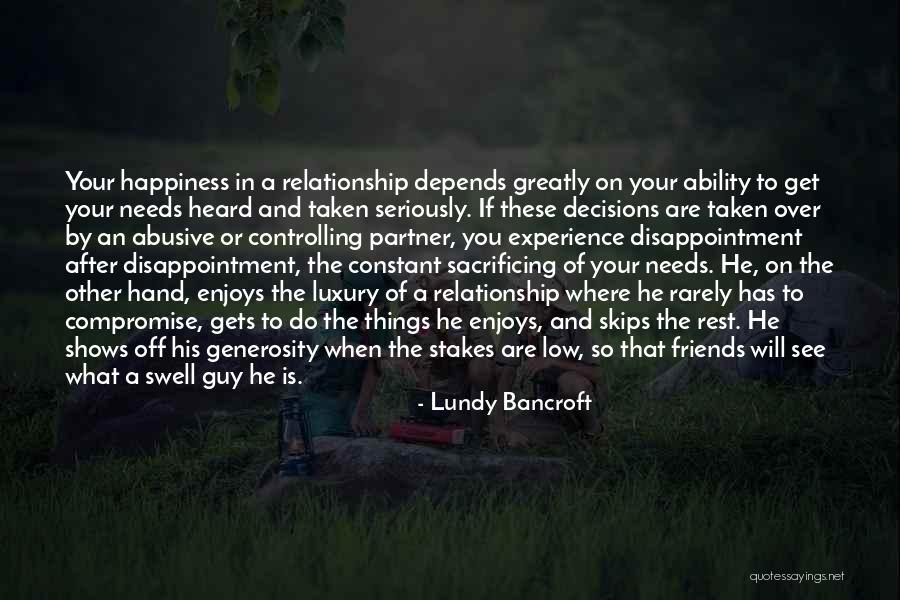 Your happiness in a relationship depends greatly on your ability to get your needs heard and taken seriously. If these decisions are taken over by an abusive or controlling partner, you experience disappointment after disappointment, the constant sacrificing of your needs. He, on the other hand, enjoys the luxury of a relationship where he rarely has to compromise, gets to do the things he enjoys, and skips the rest. He shows off his generosity when the stakes are low, so that friends will see what a swell guy he is. — Lundy Bancroft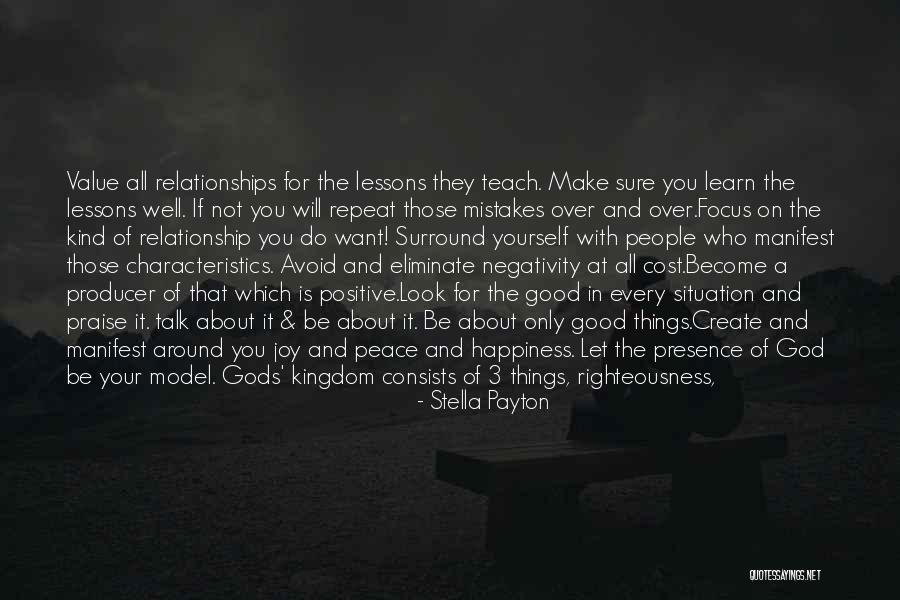 Value all relationships for the lessons they teach. Make sure you learn the lessons well. If not you will repeat those mistakes over and over.
Focus on the kind of relationship you do want! Surround yourself with people who manifest those characteristics. Avoid and eliminate negativity at all cost.
Become a producer of that which is positive.
Look for the good in every situation and praise it. talk about it & be about it. Be about only good things.Create and manifest around you joy and peace and happiness. Let the presence of God be your model. Gods' kingdom consists of 3 things, righteousness, peace and joy in Gods words. When you become a positive producer, you will begin to attract what you produced
positives! — Stella Payton