Quotes & Sayings About Guns And Power
Enjoy reading and share 47 famous quotes about Guns And Power with everyone.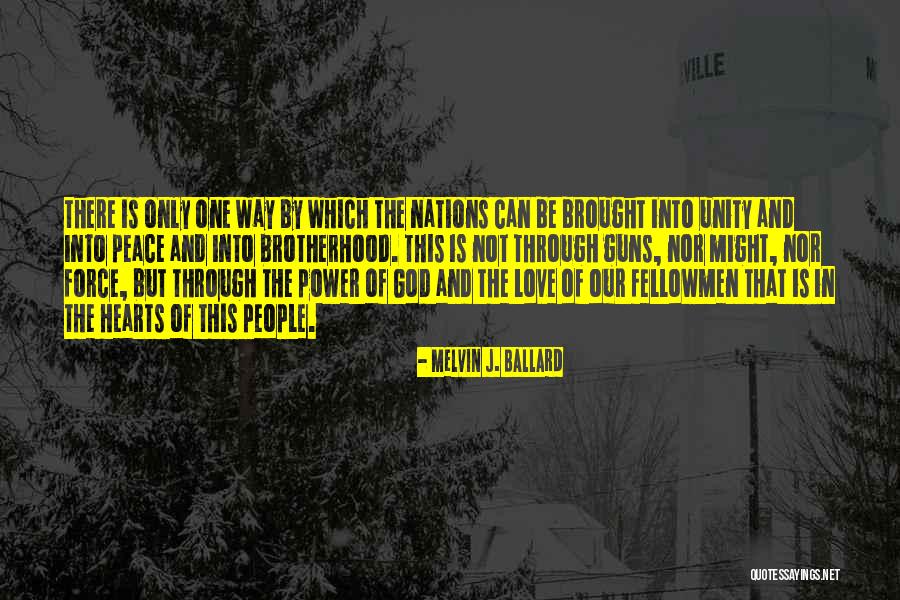 There is only one way by which the nations can be brought into unity and into peace and into brotherhood. This is not through guns, nor might, nor force, but through the power of God and the love of our fellowmen that is in the hearts of this people. — Melvin J. Ballard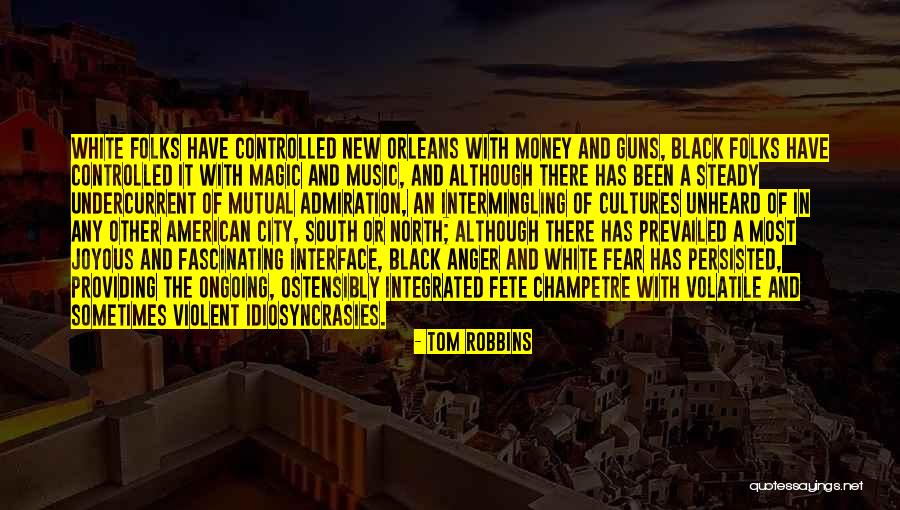 White folks have controlled New Orleans with money and guns, black folks have controlled it with magic and music, and although there has been a steady undercurrent of mutual admiration, an intermingling of cultures unheard of in any other American city, South or North; although there has prevailed a most joyous and fascinating interface, black anger and white fear has persisted, providing the ongoing, ostensibly integrated fete champetre with volatile and sometimes violent idiosyncrasies. — Tom Robbins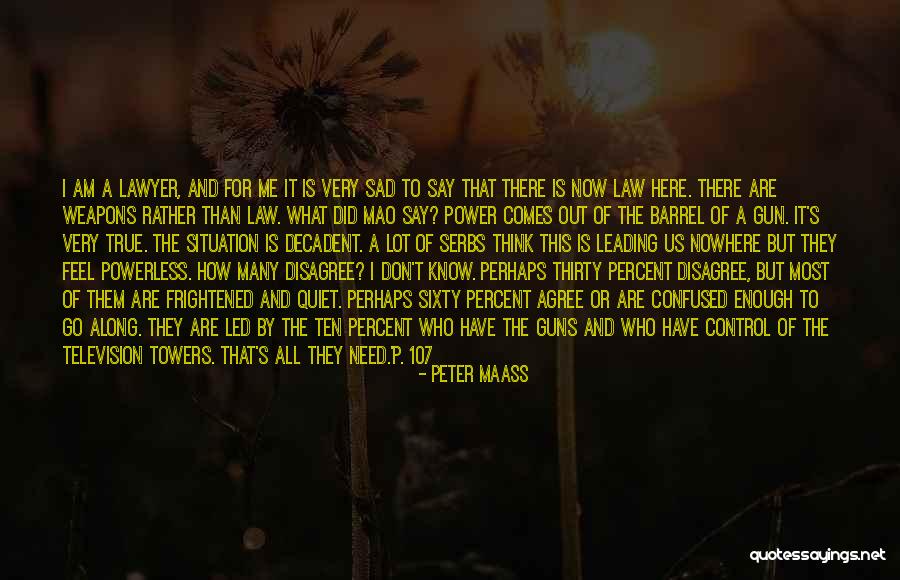 I am a lawyer, and for me it is very sad to say that there is now law here. There are weapons rather than law. What did Mao say? Power comes out of the barrel of a gun. It's very true. The situation is decadent. A lot of Serbs think this is leading us nowhere but they feel powerless. How many disagree? I don't know. Perhaps thirty percent disagree, but most of them are frightened and quiet. Perhaps sixty percent agree or are confused enough to go along. They are led by the ten percent who have the guns and who have control of the television towers. That's all they need.'

p. 107 — Peter Maass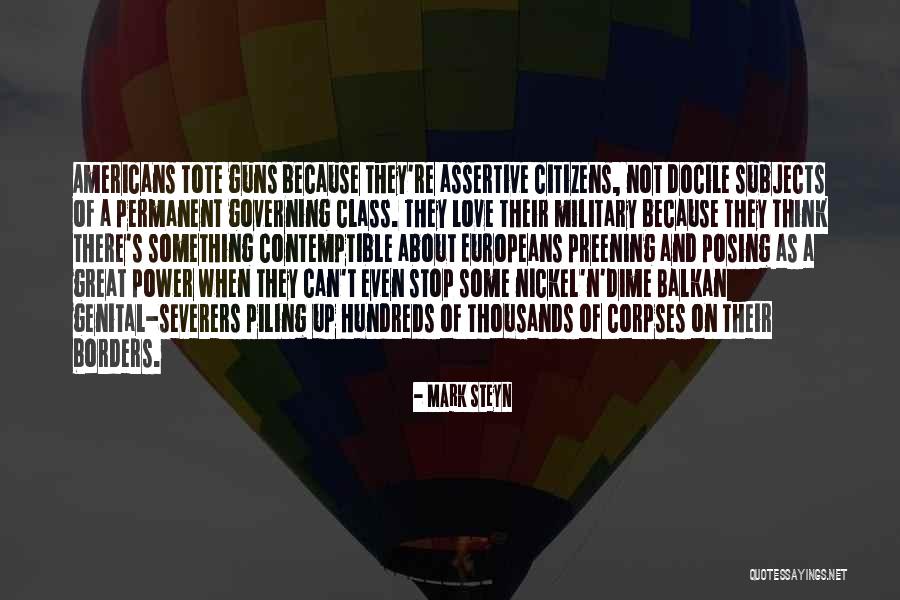 Americans tote guns because they're assertive citizens, not docile subjects of a permanent governing class. They love their military because they think there's something contemptible about Europeans preening and posing as a great power when they can't even stop some nickel'n'dime Balkan genital-severers piling up hundreds of thousands of corpses on their borders. — Mark Steyn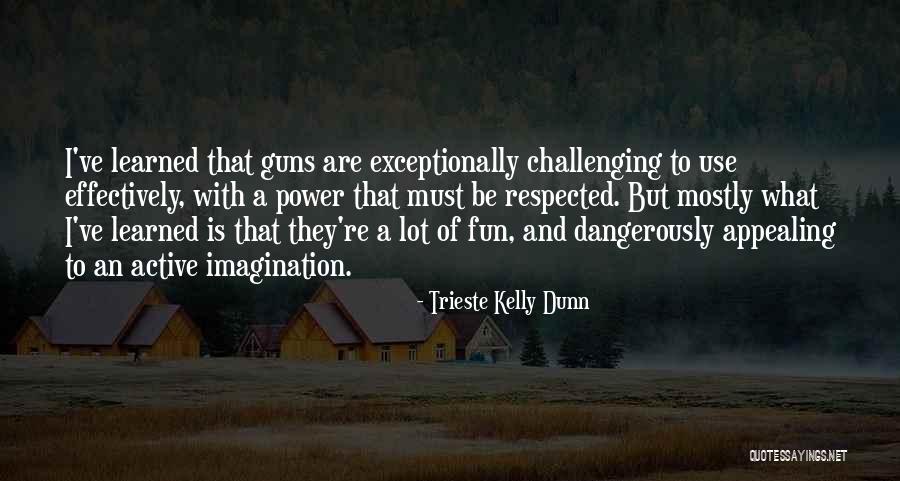 I've learned that guns are exceptionally challenging to use effectively, with a power that must be respected. But mostly what I've learned is that they're a lot of fun, and dangerously appealing to an active imagination. — Trieste Kelly Dunn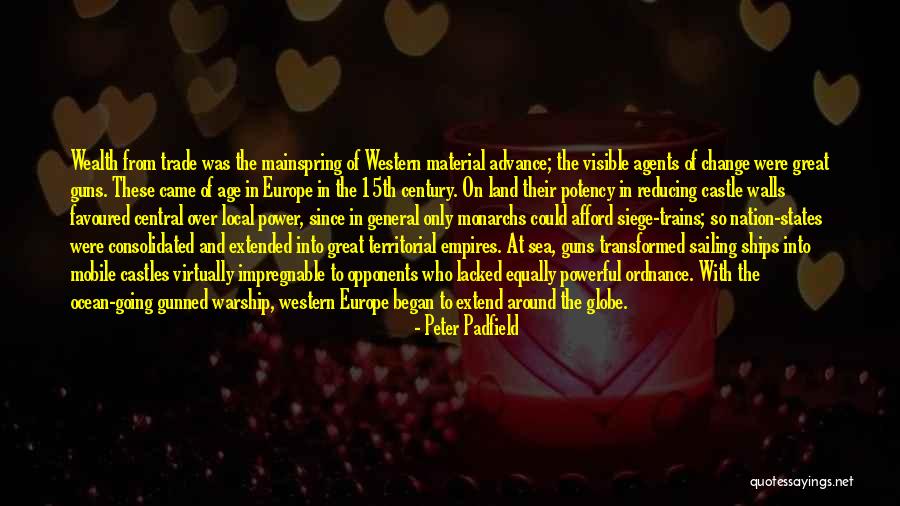 Wealth from trade was the mainspring of Western material advance; the visible agents of change were great guns. These came of age in Europe in the 15th century. On land their potency in reducing castle walls favoured central over local power, since in general only monarchs could afford siege-trains; so nation-states were consolidated and extended into great territorial empires. At sea, guns transformed sailing ships into mobile castles virtually impregnable to opponents who lacked equally powerful ordnance. With the ocean-going gunned warship, western Europe began to extend around the globe. — Peter Padfield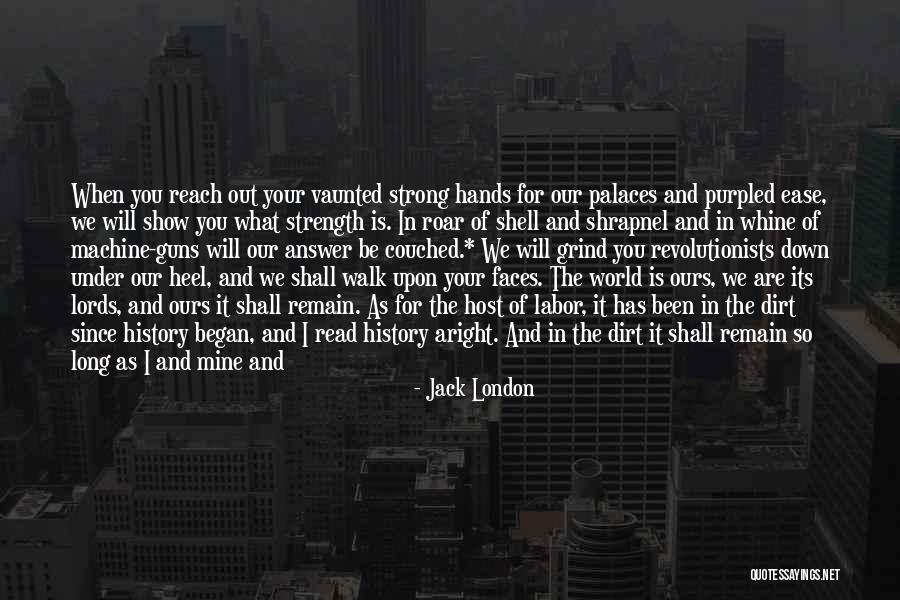 When you reach out your vaunted strong hands for our palaces and purpled ease, we will show you what strength is. In roar of shell and shrapnel and in whine of machine-guns will our answer be couched.* We will grind you revolutionists down under our heel, and we shall walk upon your faces. The world is ours, we are its lords, and ours it shall remain. As for the host of labor, it has been in the dirt since history began, and I read history aright. And in the dirt it shall remain so long as I and mine and those that come after us have the power. There is the word. It is the king of words - Power. Not God, not Mammon, but Power. — Jack London
Nobody, but nobody, is going to get our guns, even if it means burying most of them in the ground and taking a final stand with our legs spread wide and our favorite firing power nestled in our arms. — Deb Baker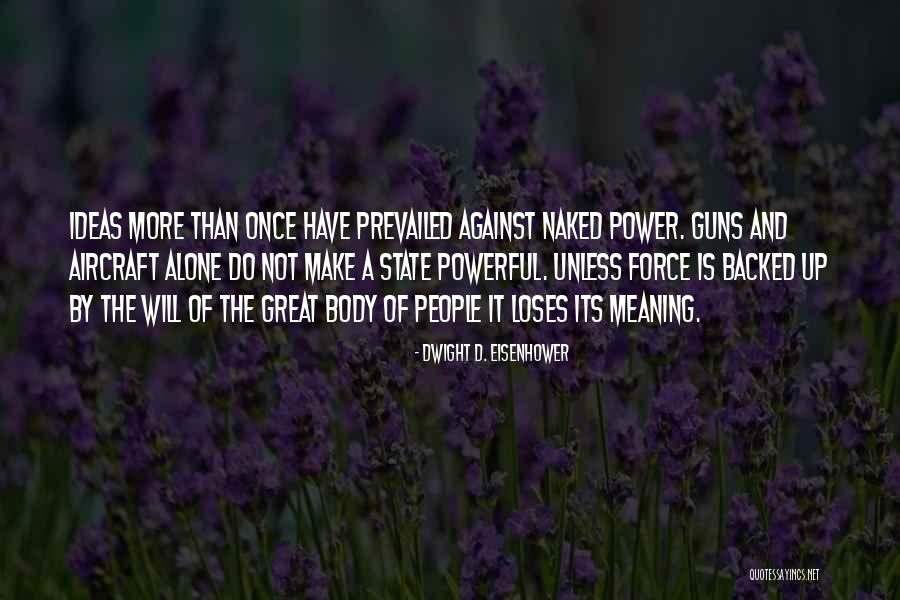 Ideas more than once have prevailed against naked power. Guns and aircraft alone do not make a state powerful. Unless force is backed up by the will of the great body of people it loses its meaning. — Dwight D. Eisenhower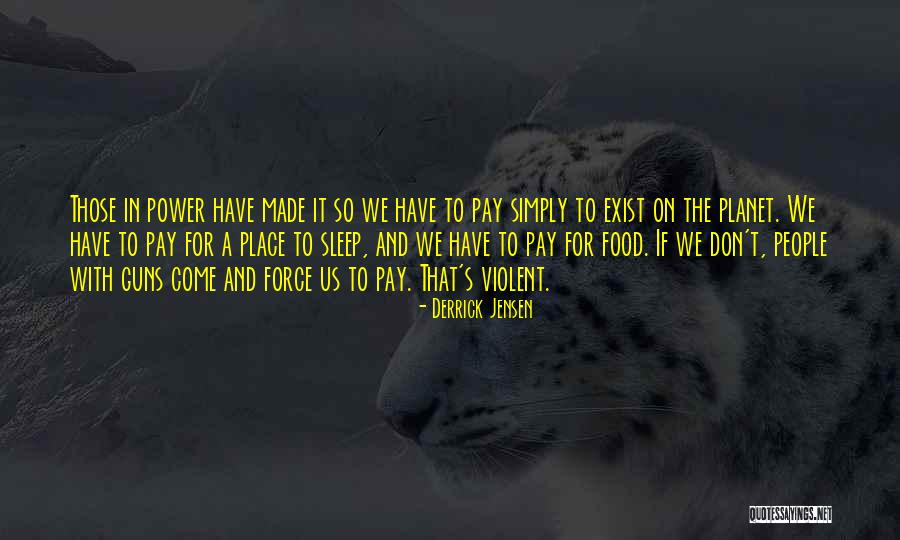 Those in power have made it so we have to pay simply to exist on the planet. We have to pay for a place to sleep, and we have to pay for food. If we don't, people with guns come and force us to pay. That's violent. — Derrick Jensen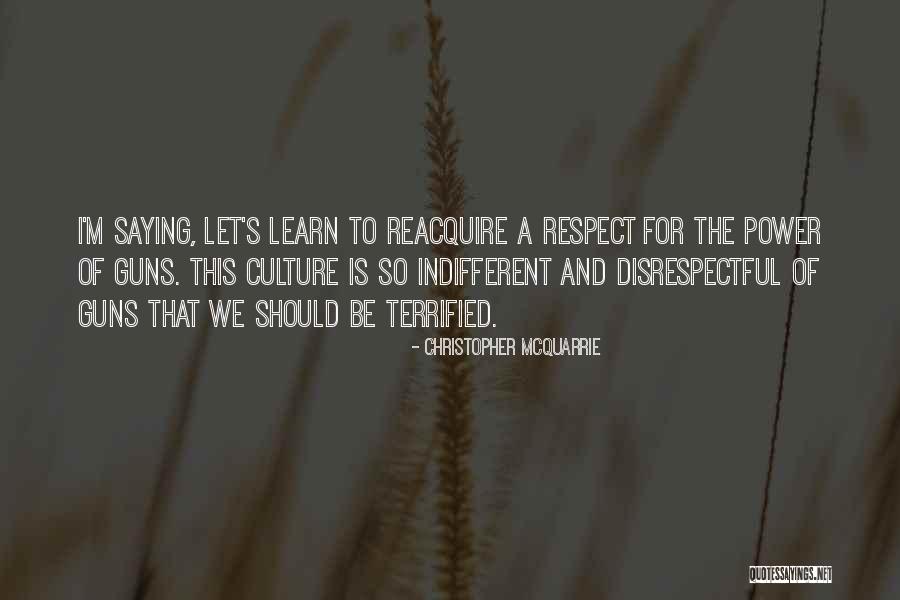 I'm saying, let's learn to reacquire a respect for the power of guns. This culture is so indifferent and disrespectful of guns that we should be terrified. — Christopher McQuarrie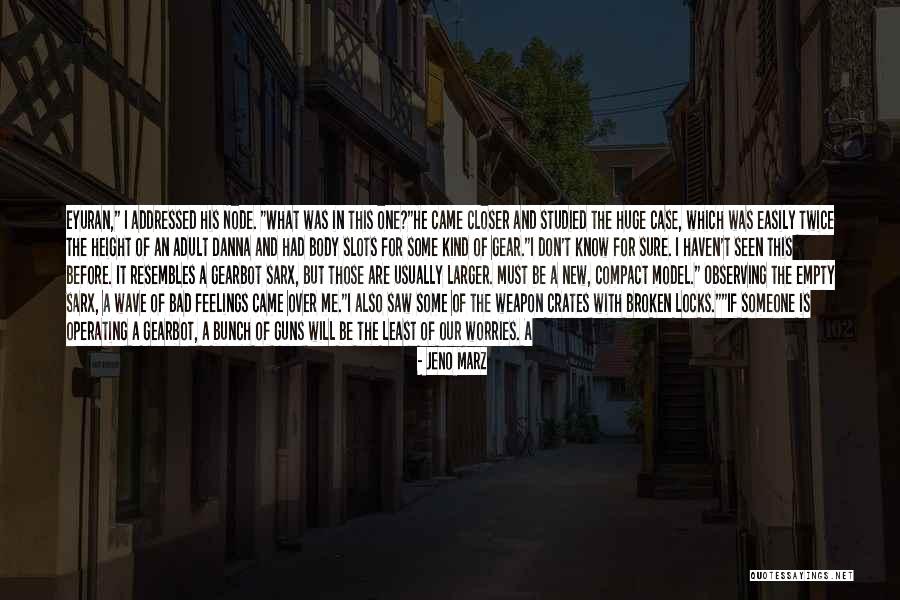 Eyuran," I addressed his Node. "What was in this one?"

He came closer and studied the huge case, which was easily twice the height of an adult Danna and had body slots for some kind of gear.

"I don't know for sure. I haven't seen this before. It resembles a gearbot sarx, but those are usually larger. Must be a new, compact model." Observing the empty sarx, a wave of bad feelings came over me.

"I also saw some of the weapon crates with broken locks."

"If someone is operating a gearbot, a bunch of guns will be the least of our worries. A hull repairer can't even begin to compete with the power of an assault exomachine." He looked around and frowned. "By the way, the whole hull repairer rack is empty. Counting the one you took out, we should have seven more roaming somewhere on the ship. — Jeno Marz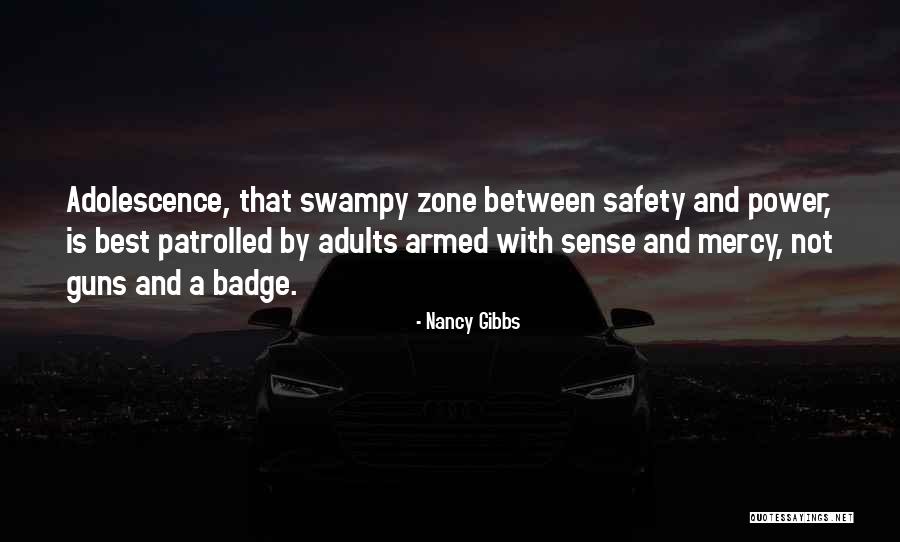 Adolescence, that swampy zone between safety and power, is best patrolled by adults armed with sense and mercy, not guns and a badge. — Nancy Gibbs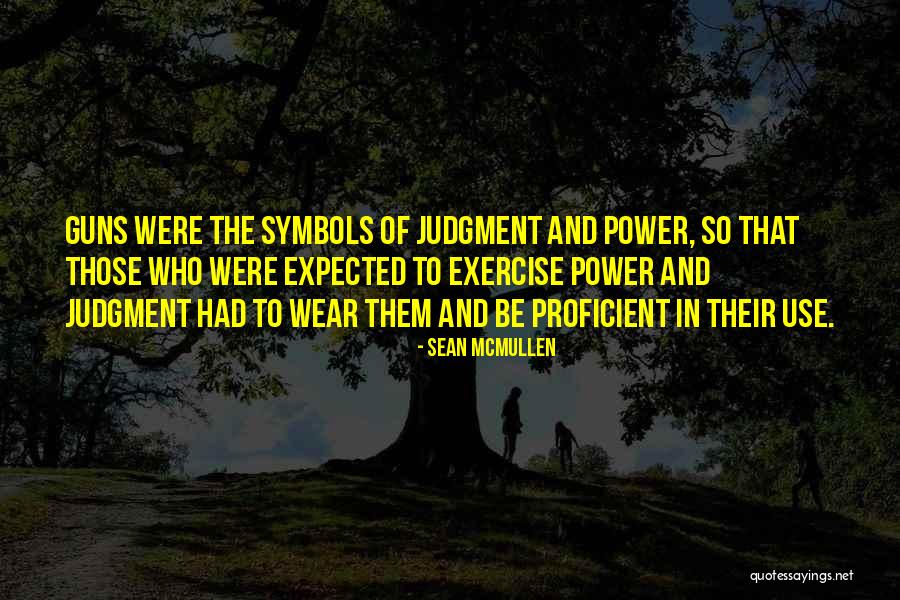 Guns were the symbols of judgment and power, so that those who were expected to exercise power and judgment had to wear them and be proficient in their use. — Sean McMullen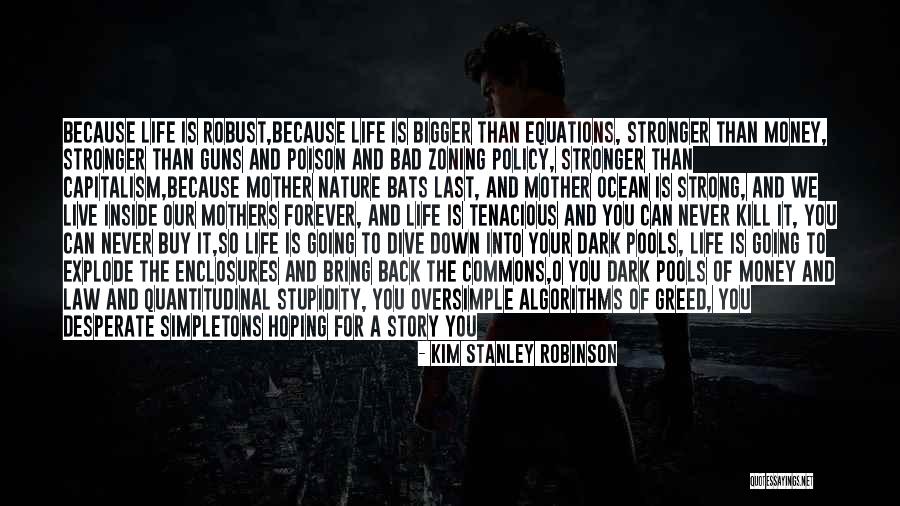 Because life is robust,
Because life is bigger than equations, stronger than money, stronger than guns and poison and bad zoning policy, stronger than capitalism,
Because Mother Nature bats last, and Mother Ocean is strong, and we live inside our mothers forever, and Life is tenacious and you can never kill it, you can never buy it,
So Life is going to dive down into your dark pools, Life is going to explode the enclosures and bring back the commons,
O you dark pools of money and law and quantitudinal stupidity, you oversimple algorithms of greed, you desperate simpletons hoping for a story you can understand,
Hoping for safety, hoping for cessation of uncertainty, hoping for ownership of volatility, O you poor fearful jerks,
Life! Life! Life! Life is going to kick your ass. — Kim Stanley Robinson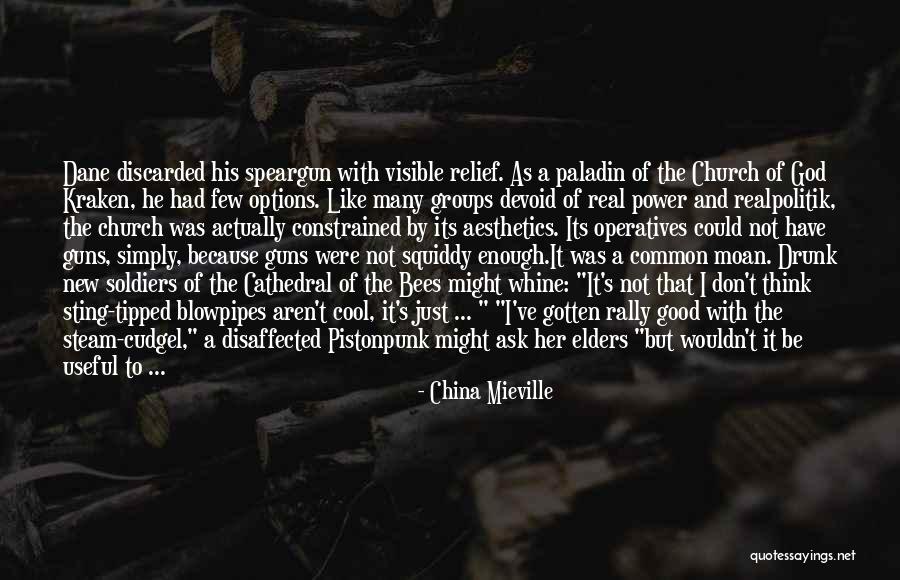 Dane discarded his speargun with visible relief. As a paladin of the Church of God Kraken, he had few options. Like many groups devoid of real power and realpolitik, the church was actually constrained by its aesthetics. Its operatives could not have guns, simply, because guns were not squiddy enough.
It was a common moan. Drunk new soldiers of the Cathedral of the Bees might whine: "It's not that I don't think sting-tipped blowpipes aren't cool, it's just ... " "I've gotten rally good with the steam-cudgel," a disaffected Pistonpunk might ask her elders "but wouldn't it be useful to ... ?" Oh for a carbine, devout assassins pined. — China Mieville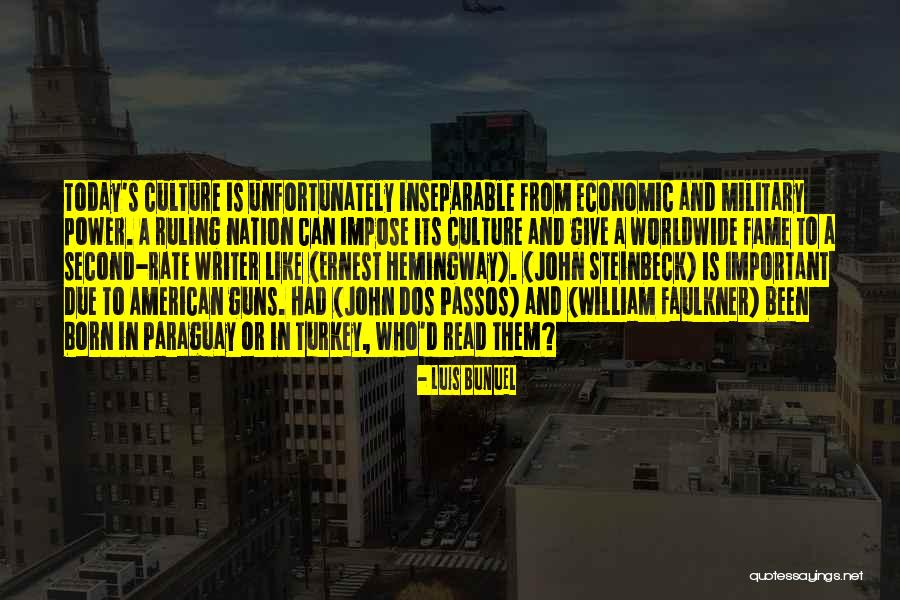 Today's culture is unfortunately inseparable from economic and military power. A ruling nation can impose its culture and give a worldwide fame to a second-rate writer like (Ernest Hemingway). (John Steinbeck) is important due to American guns. Had (John Dos Passos) and (William Faulkner) been born in Paraguay or in Turkey, who'd read them? — Luis Bunuel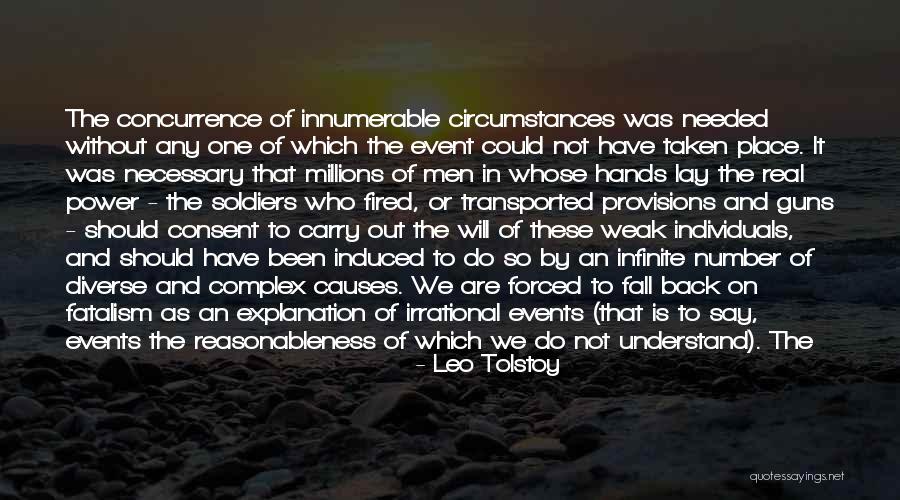 The concurrence of innumerable circumstances was needed without any one of which the event could not have taken place. It was necessary that millions of men in whose hands lay the real power - the soldiers who fired, or transported provisions and guns - should consent to carry out the will of these weak individuals, and should have been induced to do so by an infinite number of diverse and complex causes. We are forced to fall back on fatalism as an explanation of irrational events (that is to say, events the reasonableness of which we do not understand). The more we try to explain such events in history reasonably, the more unreasonable and incomprehensible do they become to us. — Leo Tolstoy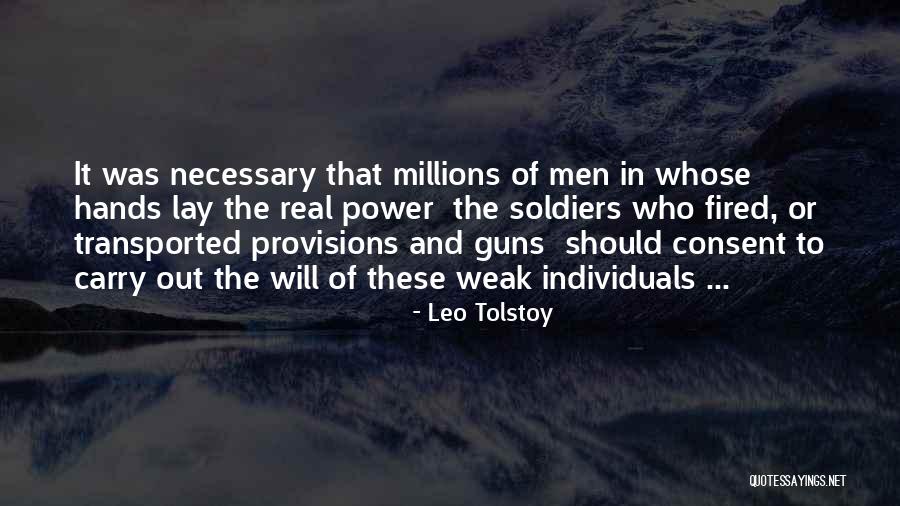 It was necessary that millions of men in whose hands lay the real power
the soldiers who fired, or transported provisions and guns
should consent to carry out the will of these weak individuals ... — Leo Tolstoy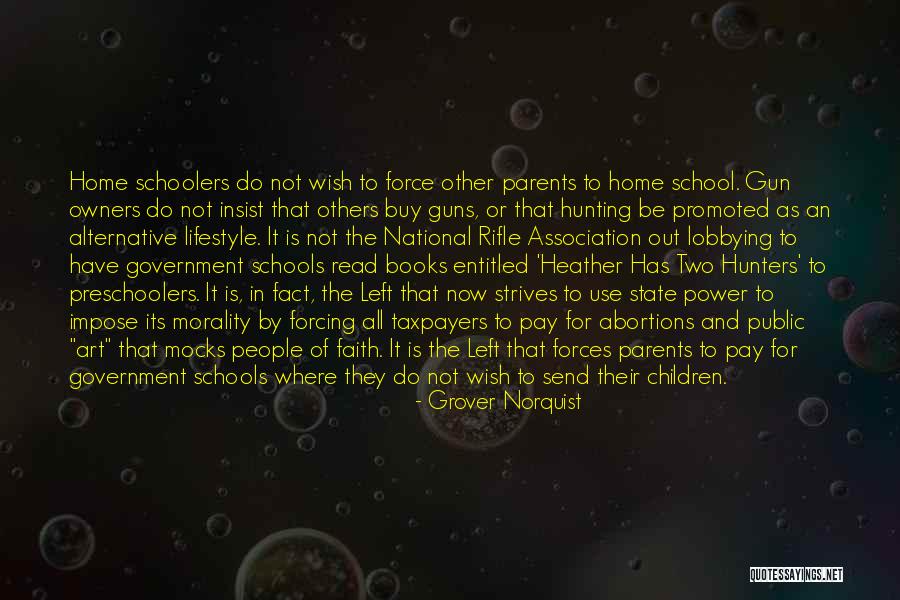 Home schoolers do not wish to force other parents to home school. Gun owners do not insist that others buy guns, or that hunting be promoted as an alternative lifestyle. It is not the National Rifle Association out lobbying to have government schools read books entitled 'Heather Has Two Hunters' to preschoolers. It is, in fact, the Left that now strives to use state power to impose its morality by forcing all taxpayers to pay for abortions and public "art" that mocks people of faith. It is the Left that forces parents to pay for government schools where they do not wish to send their children. — Grover Norquist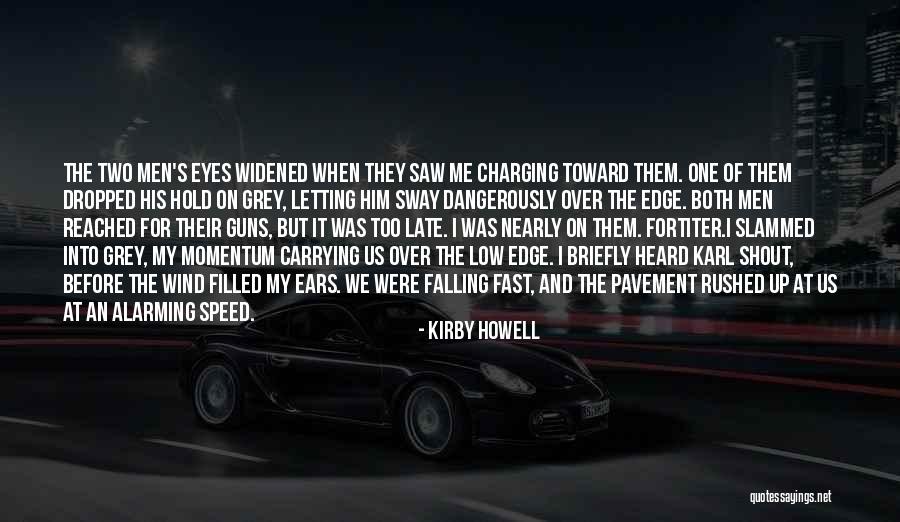 The two men's eyes widened when they saw me charging toward them. One of them dropped his hold on Grey, letting him sway dangerously over the edge. Both men reached for their guns, but it was too late. I was nearly on them. Fortiter.
I slammed into Grey, my momentum carrying us over the low edge. I briefly heard Karl shout, before the wind filled my ears. We were falling fast, and the pavement rushed up at us at an alarming speed. — Kirby Howell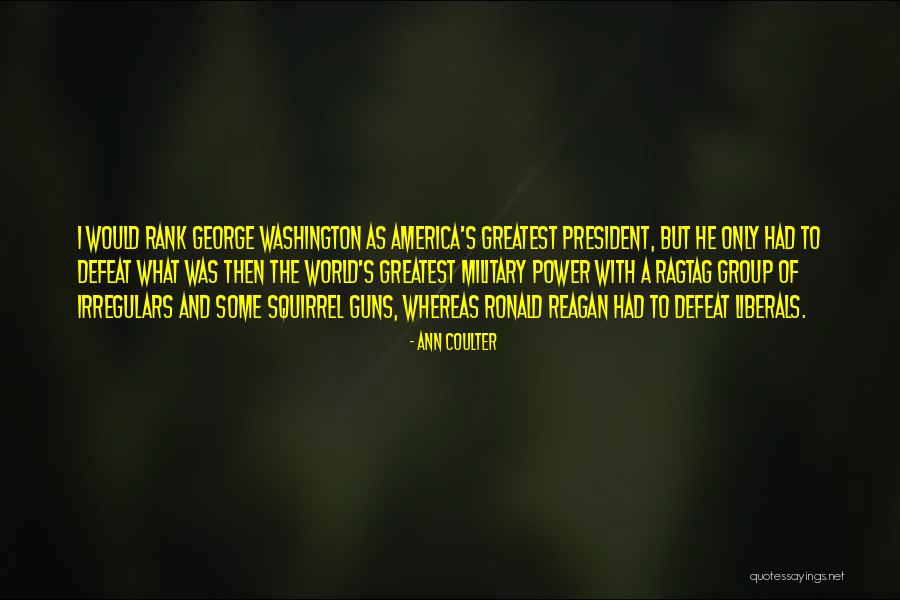 I would rank George Washington as America's greatest president, but he only had to defeat what was then the world's greatest military power with a ragtag group of irregulars and some squirrel guns, whereas Ronald Reagan had to defeat liberals. — Ann Coulter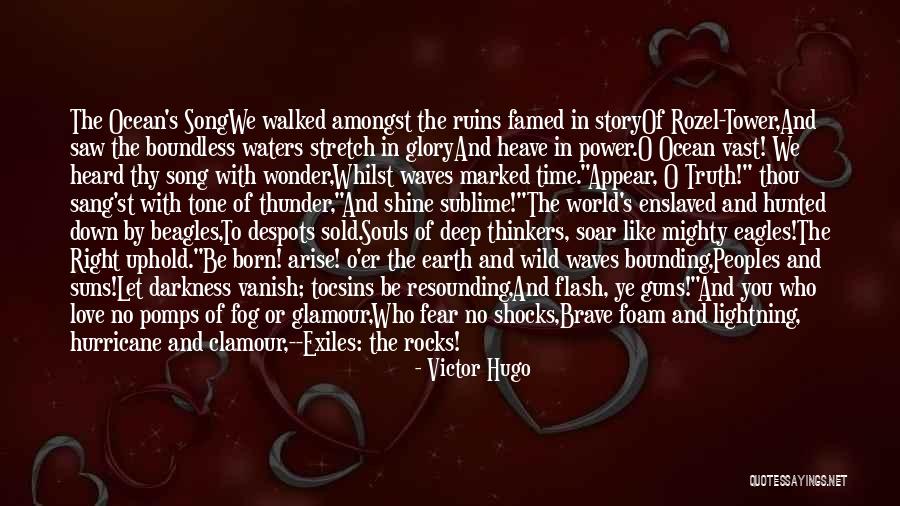 The Ocean's Song

We walked amongst the ruins famed in story
Of Rozel-Tower,
And saw the boundless waters stretch in glory
And heave in power.

O Ocean vast! We heard thy song with wonder,
Whilst waves marked time.
"Appear, O Truth!" thou sang'st with tone of thunder,
"And shine sublime!

"The world's enslaved and hunted down by beagles,
To despots sold.
Souls of deep thinkers, soar like mighty eagles!
The Right uphold.

"Be born! arise! o'er the earth and wild waves bounding,
Peoples and suns!
Let darkness vanish; tocsins be resounding,
And flash, ye guns!

"And you who love no pomps of fog or glamour,
Who fear no shocks,
Brave foam and lightning, hurricane and clamour,--
Exiles: the rocks! — Victor Hugo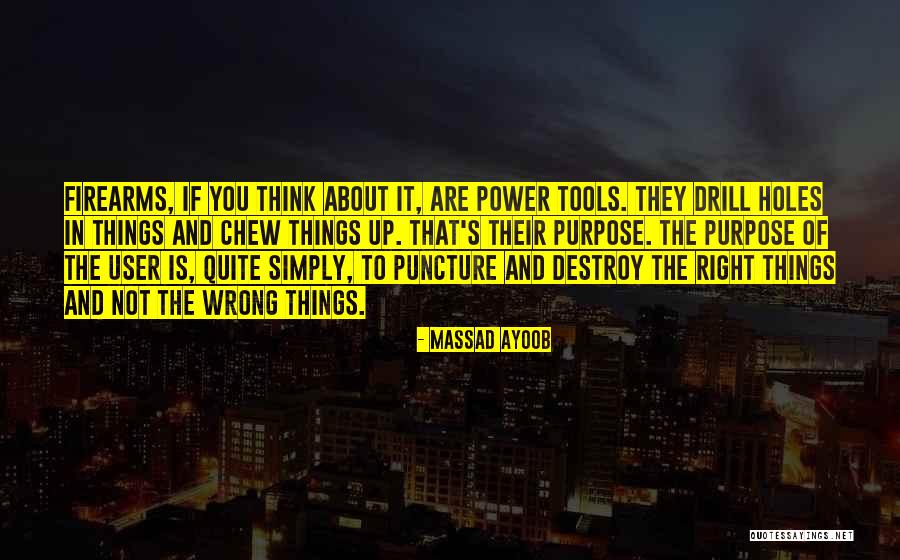 Firearms, if you think about it, are power tools. They drill holes in things and chew things up. That's their purpose. The purpose of the user is, quite simply, to puncture and destroy the right things and not the wrong things. — Massad Ayoob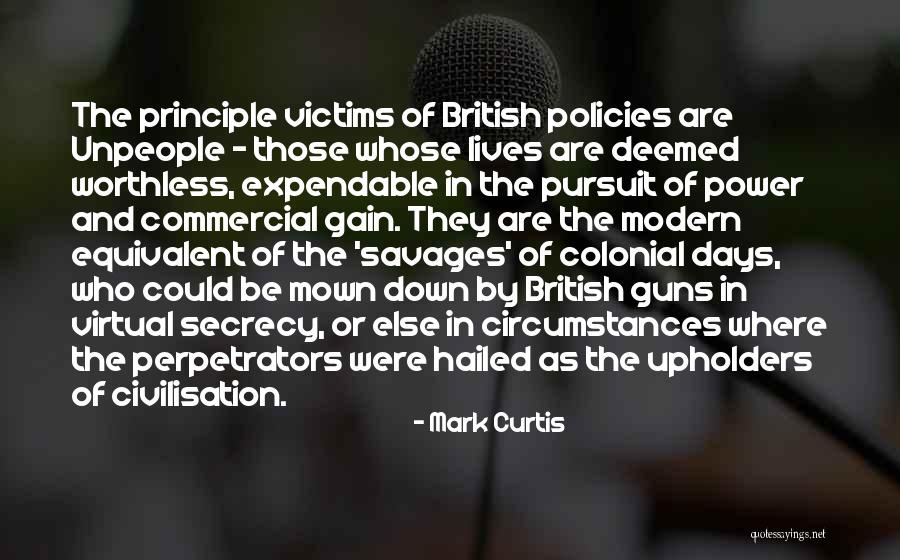 The principle victims of British policies are Unpeople - those whose lives are deemed worthless, expendable in the pursuit of power and commercial gain. They are the modern equivalent of the 'savages' of colonial days, who could be mown down by British guns in virtual secrecy, or else in circumstances where the perpetrators were hailed as the upholders of civilisation. — Mark Curtis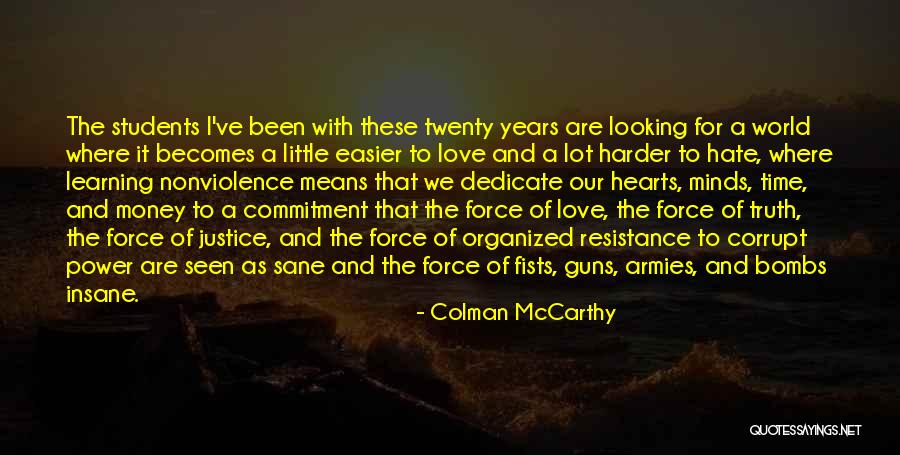 The students I've been with these twenty years are looking for a world where it becomes a little easier to love and a lot harder to hate, where learning nonviolence means that we dedicate our hearts, minds, time, and money to a commitment that the force of love, the force of truth, the force of justice, and the force of organized resistance to corrupt power are seen as sane and the force of fists, guns, armies, and bombs insane. — Colman McCarthy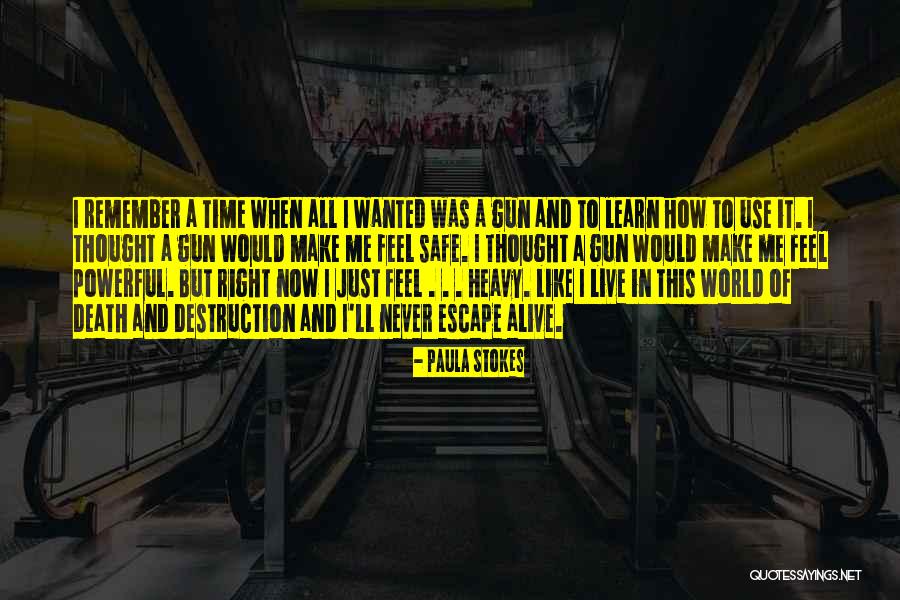 I remember a time when all I wanted was a gun and to learn how to use it. I thought a gun would make me feel safe. I thought a gun would make me feel powerful. But right now I just feel . . . heavy. Like I live in this world of death and destruction and I'll never escape alive. — Paula Stokes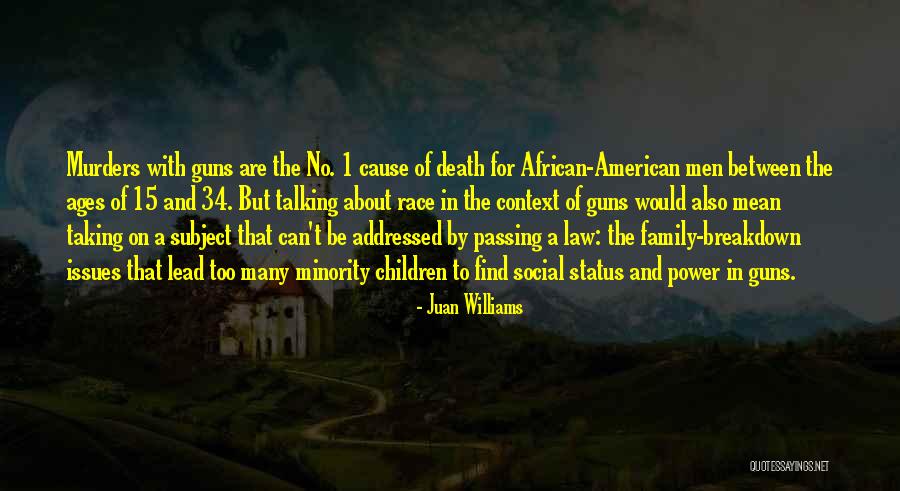 Murders with guns are the No. 1 cause of death for African-American men between the ages of 15 and 34. But talking about race in the context of guns would also mean taking on a subject that can't be addressed by passing a law: the family-breakdown issues that lead too many minority children to find social status and power in guns. — Juan Williams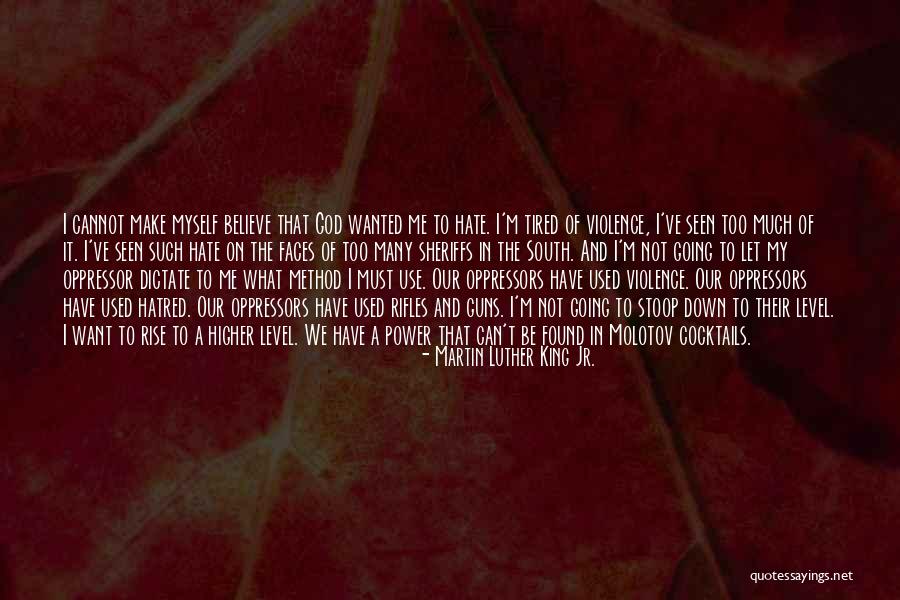 I cannot make myself believe that God wanted me to hate. I'm tired of violence, I've seen too much of it. I've seen such hate on the faces of too many sheriffs in the South. And I'm not going to let my oppressor dictate to me what method I must use. Our oppressors have used violence. Our oppressors have used hatred. Our oppressors have used rifles and guns. I'm not going to stoop down to their level. I want to rise to a higher level. We have a power that can't be found in Molotov cocktails. — Martin Luther King Jr.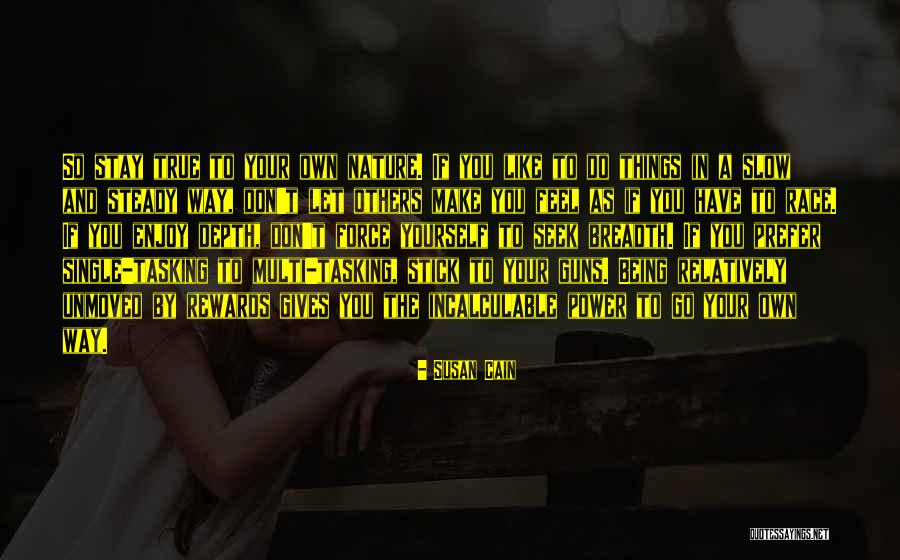 So stay true to your own nature. If you like to do things in a slow and steady way, don't let others make you feel as if you have to race. If you enjoy depth, don't force yourself to seek breadth. If you prefer single-tasking to multi-tasking, stick to your guns. Being relatively unmoved by rewards gives you the incalculable power to go your own way. — Susan Cain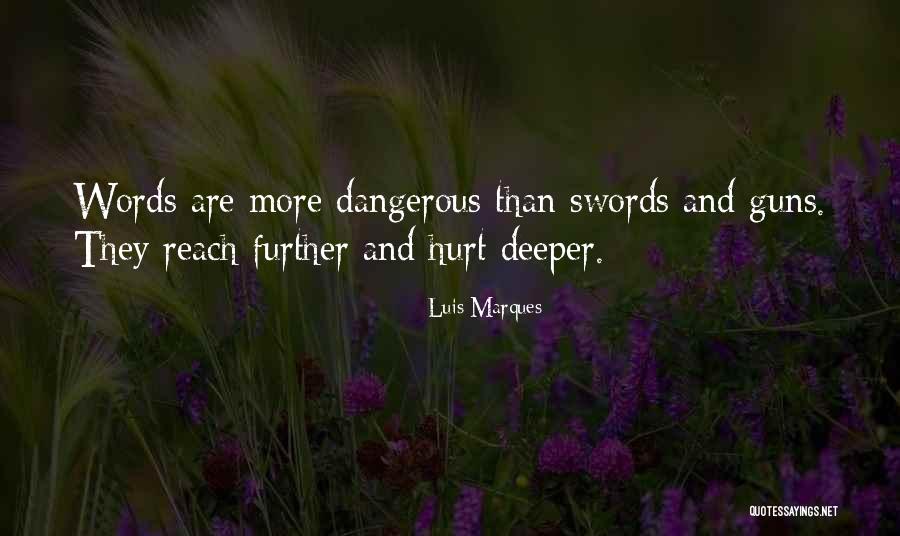 Words are more dangerous than swords and guns. They reach further and hurt deeper. — Luis Marques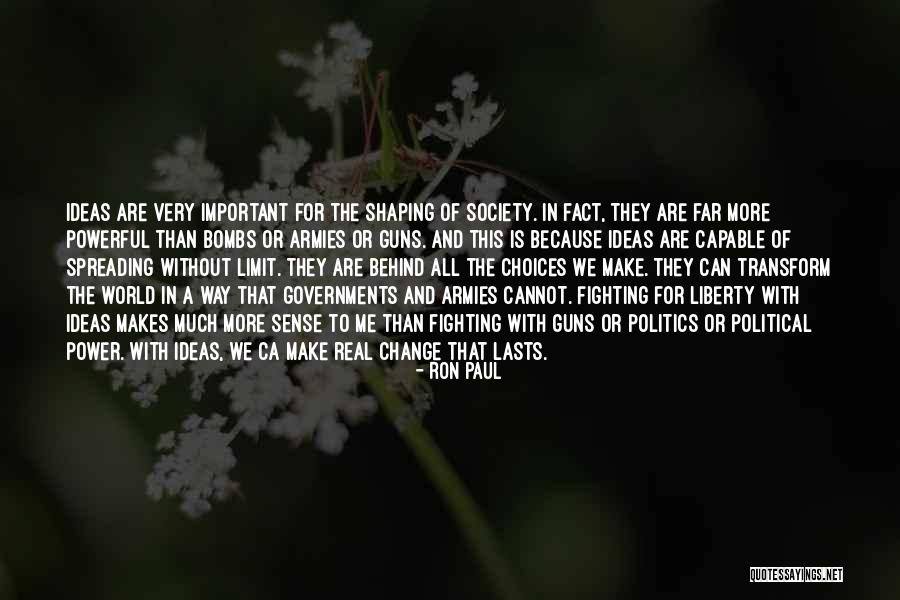 Ideas are very important for the shaping of society. In fact, they are far more powerful than bombs or armies or guns. And this is because ideas are capable of spreading without limit. They are behind all the choices we make. They can transform the world in a way that governments and armies cannot. Fighting for liberty with ideas makes much more sense to me than fighting with guns or politics or political power. With ideas, we ca make real change that lasts. — Ron Paul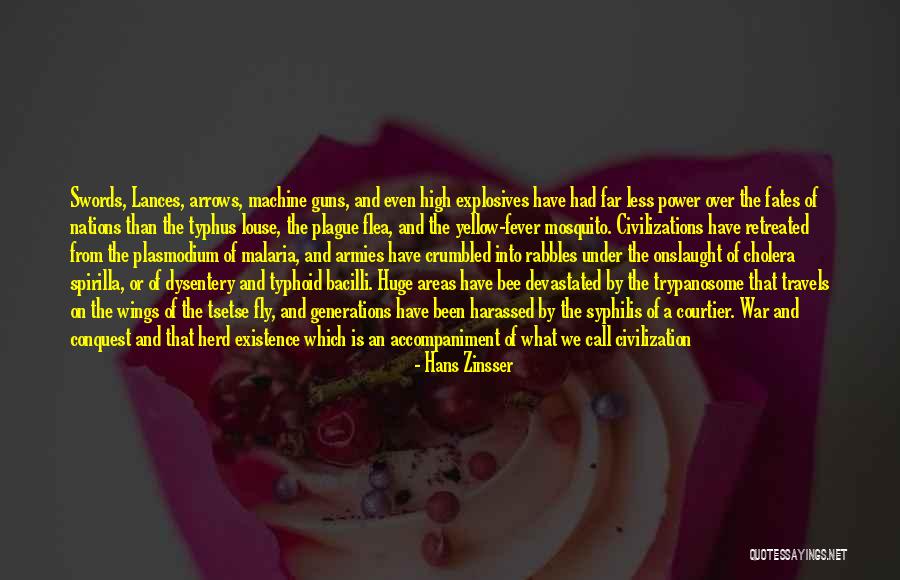 Swords, Lances, arrows, machine guns, and even high explosives have had far less power over the fates of nations than the typhus louse, the plague flea, and the yellow-fever mosquito. Civilizations have retreated from the plasmodium of malaria, and armies have crumbled into rabbles under the onslaught of cholera spirilla, or of dysentery and typhoid bacilli. Huge areas have bee devastated by the trypanosome that travels on the wings of the tsetse fly, and generations have been harassed by the syphilis of a courtier. War and conquest and that herd existence which is an accompaniment of what we call civilization have merely set the stage for these more powerful agents of human tragedy. — Hans Zinsser
While you may be able to keep your son Jimmy from owning [a gun], if you try to talk him out of wanting one, you are up against a pretty strong argument: You mean I shouldn't want a device that grants me power and identity, makes me feel dangerous and safe at the same time, instantly makes me the dominant male, and connects me to my evolutionary essence? Come on, Mom, get real! — Gavin De Becker
Ideas are very important to the shaping of society. In fact, they are more powerful than bombings or armies or guns. And this is because ideas are capable of spreading without limit. They are behind all the choices we make. They can transform the world in a way that governments and armies cannot. Fighting for liberty with ideas makes more sense to me than fighting with guns or politics or political power. With ideas, we can make real change that lasts. — Ron Paul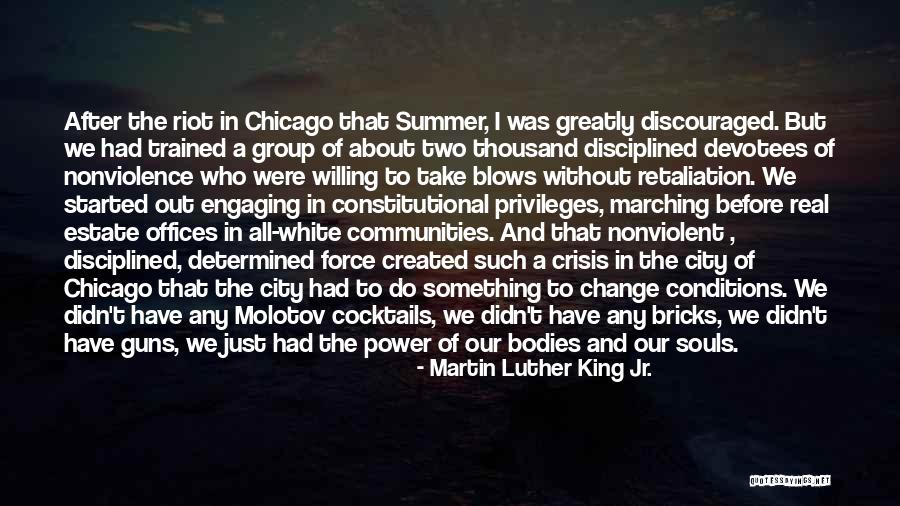 After the riot in Chicago that Summer, I was greatly discouraged. But we had trained a group of about two thousand disciplined devotees of nonviolence who were willing to take blows without retaliation. We started out engaging in constitutional privileges, marching before real estate offices in all-white communities. And that nonviolent , disciplined, determined force created such a crisis in the city of Chicago that the city had to do something to change conditions. We didn't have any Molotov cocktails, we didn't have any bricks, we didn't have guns, we just had the power of our bodies and our souls. There was power there, and it was demonstrated once more. — Martin Luther King Jr.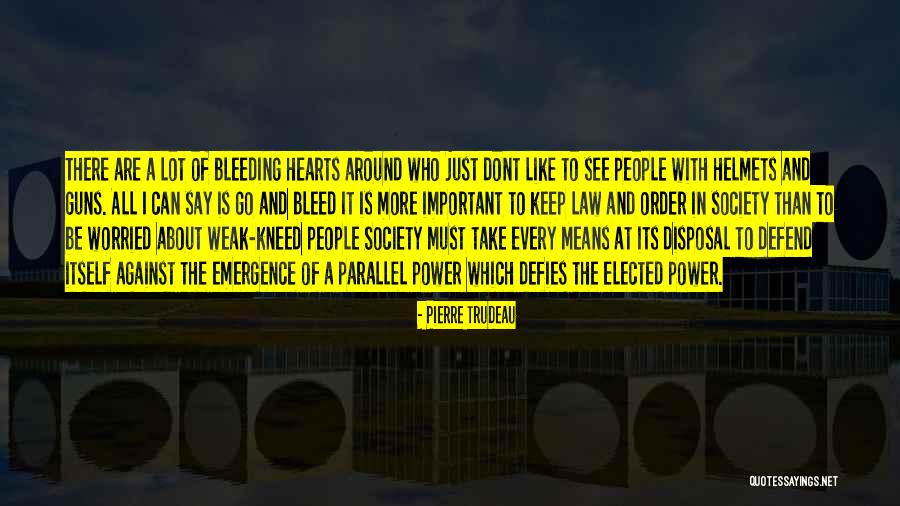 There are a lot of bleeding hearts around who just dont like to see people with helmets and guns. All I can say is go and bleed It is more important to keep law and order in society than to be worried about weak-kneed people Society must take every means at its disposal to defend itself against the emergence of a parallel power which defies the elected power. — Pierre Trudeau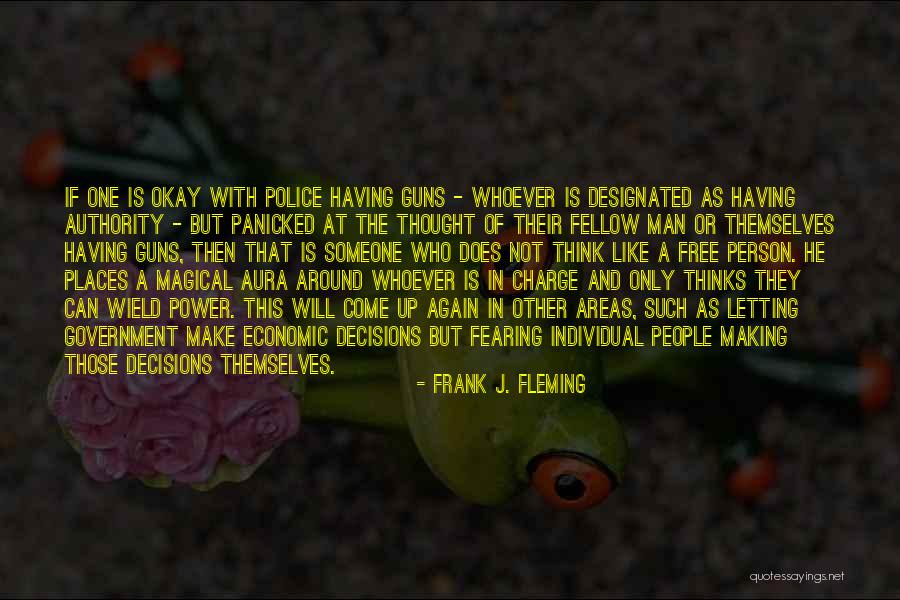 If one is okay with police having guns - whoever is designated as having authority - but panicked at the thought of their fellow man or themselves having guns, then that is someone who does not think like a free person. He places a magical aura around whoever is in charge and only thinks they can wield power. This will come up again in other areas, such as letting government make economic decisions but fearing individual people making those decisions themselves. — Frank J. Fleming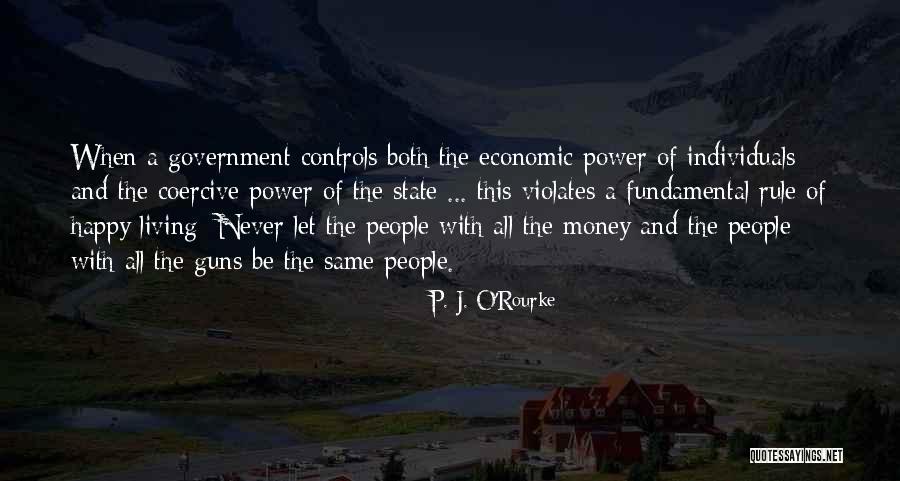 When a government controls both the economic power of individuals and the coercive power of the state ... this violates a fundamental rule of happy living: Never let the people with all the money and the people with all the guns be the same people. — P. J. O'Rourke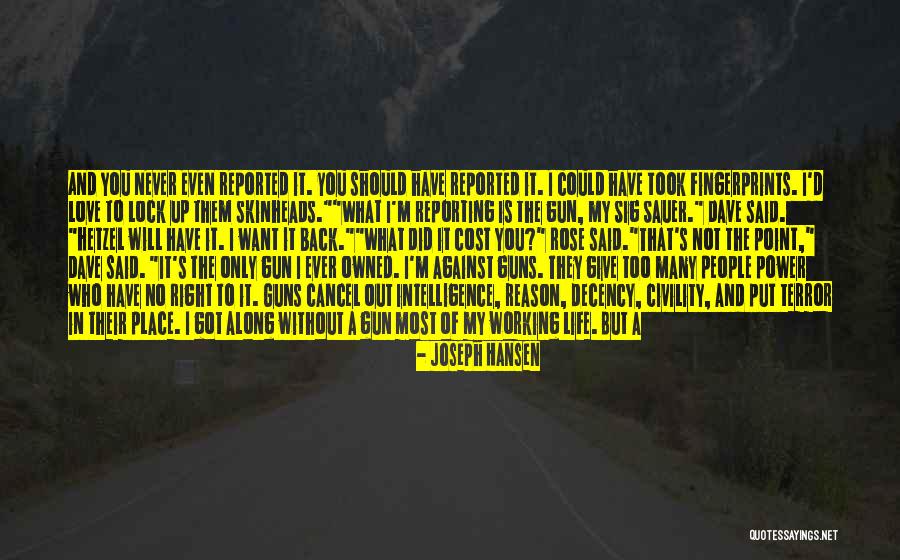 And you never even reported it. You should have reported it. I could have took fingerprints. I'd love to lock up them skinheads."
"What I'm reporting is the gun, my Sig Sauer." Dave said. "Hetzel will have it. I want it back."
"What did it cost you?" Rose said.
"That's not the point," Dave said. "It's the only gun I ever owned. I'm against guns. They give too many people power who have no right to it. Guns cancel out intelligence, reason, decency, civility, and put terror in their place. I got along without a gun most of my working life. But a man can't buck the odds forever. About five years back I bought the Sig Sauer. I'm used to it. And I don't know that I'm morally prepared to buy another one. — Joseph Hansen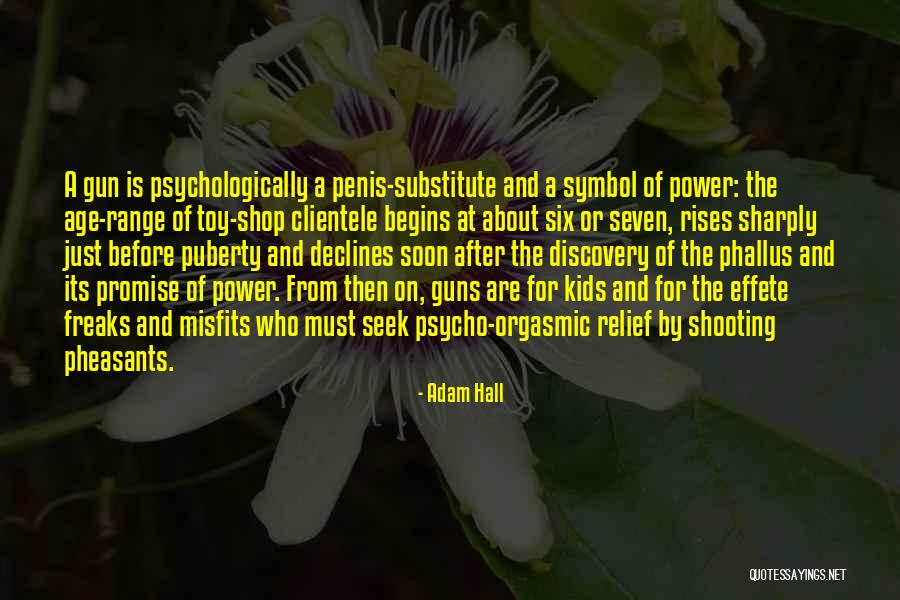 A gun is psychologically a penis-substitute and a symbol of power: the age-range of toy-shop clientele begins at about six or seven, rises sharply just before puberty and declines soon after the discovery of the phallus and its promise of power. From then on, guns are for kids and for the effete freaks and misfits who must seek psycho-orgasmic relief by shooting pheasants. — Adam Hall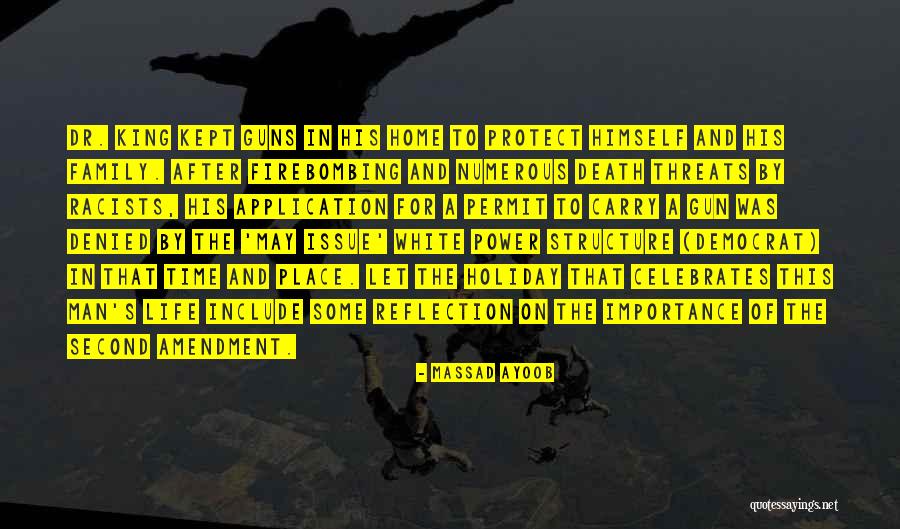 Dr. King kept guns in his home to protect himself and his family. After firebombing and numerous death threats by racists, his application for a permit to carry a gun was denied by the 'may issue' white power structure (Democrat) in that time and place. Let the holiday that celebrates this man's life include some reflection on the importance of the Second Amendment. — Massad Ayoob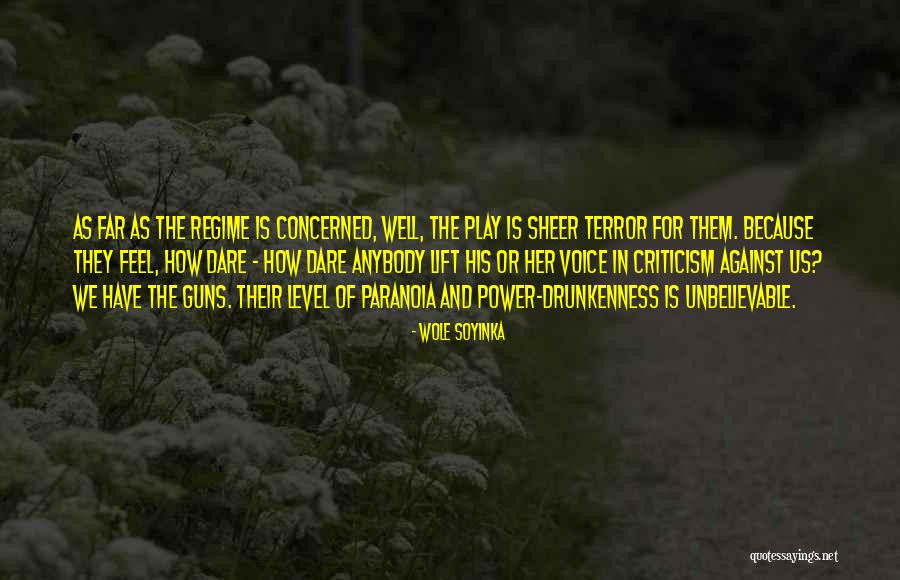 As far as the regime is concerned, well, the play is sheer terror for them. Because they feel, How dare - how dare anybody lift his or her voice in criticism against us? We have the guns. Their level of paranoia and power-drunkenness is unbelievable. — Wole Soyinka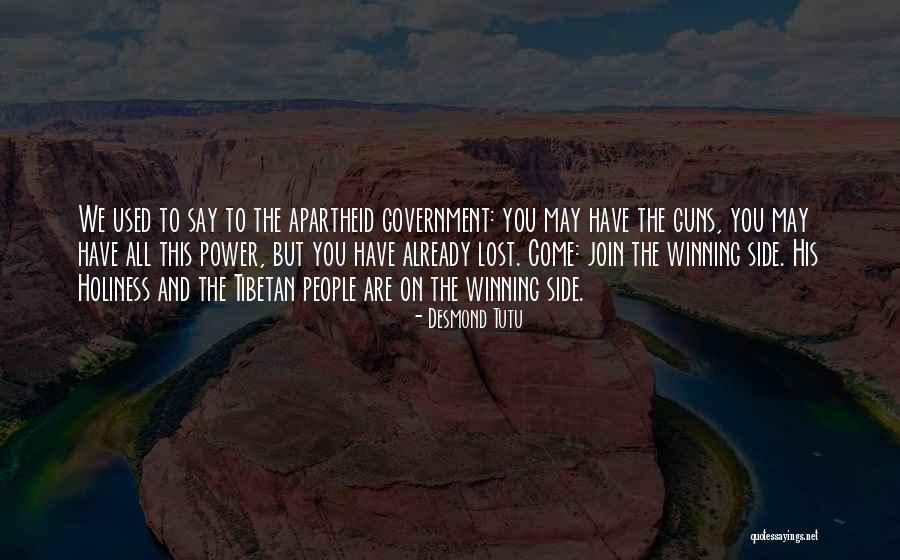 We used to say to the apartheid government: you may have the guns, you may have all this power, but you have already lost. Come: join the winning side. His Holiness and the Tibetan people are on the winning side. — Desmond Tutu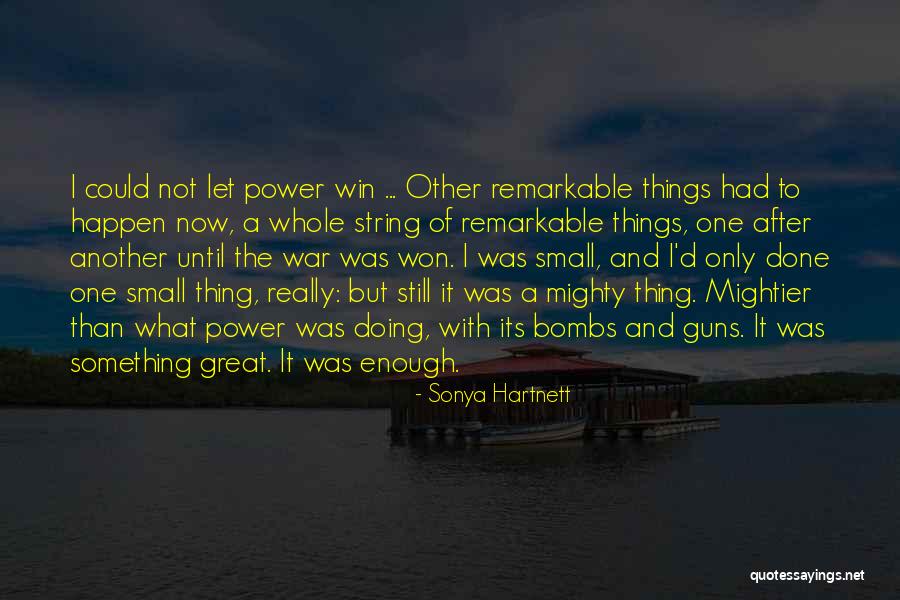 I could not let power win ... Other remarkable things had to happen now, a whole string of remarkable things, one after another until the war was won. I was small, and I'd only done one small thing, really: but still it was a mighty thing. Mightier than what power was doing, with its bombs and guns. It was something great. It was enough. — Sonya Hartnett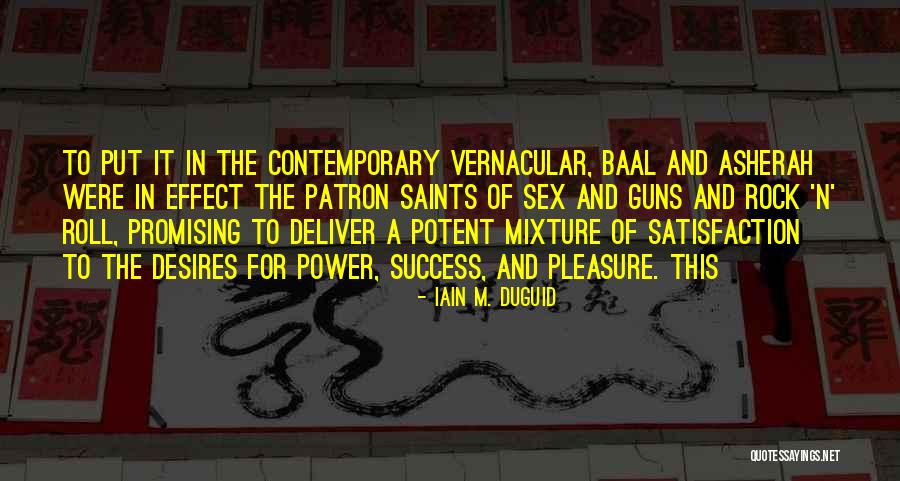 To put it in the contemporary vernacular, Baal and Asherah were in effect the patron saints of sex and guns and rock 'n' roll, promising to deliver a potent mixture of satisfaction to the desires for power, success, and pleasure. This — Iain M. Duguid