Great Majestic Quotes & Sayings
Enjoy reading and share 33 famous quotes about Great Majestic with everyone.
Top Great Majestic Quotes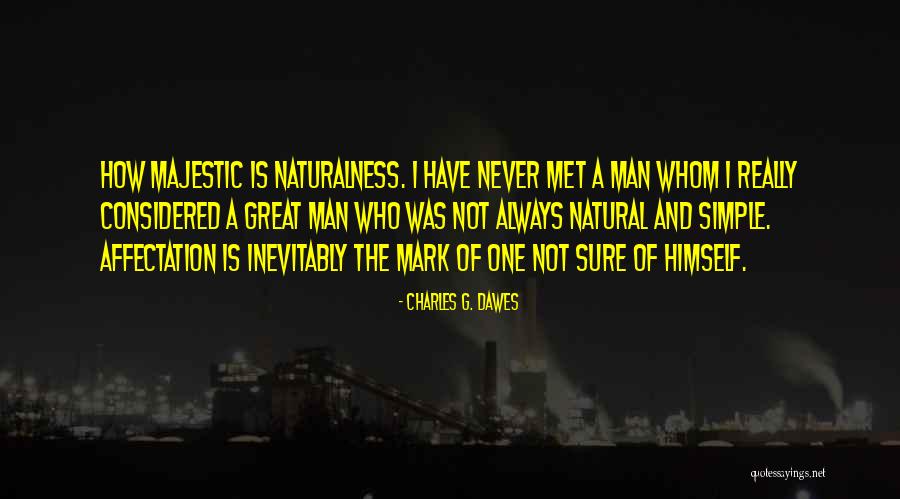 How majestic is naturalness. I have never met a man whom I really considered a great man who was not always natural and simple. Affectation is inevitably the mark of one not sure of himself. — Charles G. Dawes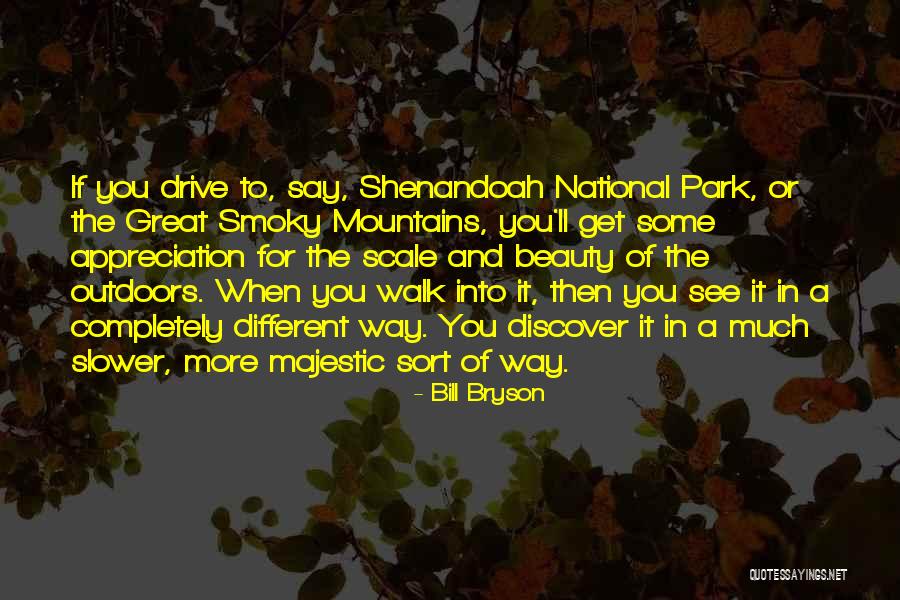 If you drive to, say, Shenandoah National Park, or the Great Smoky Mountains, you'll get some appreciation for the scale and beauty of the outdoors. When you walk into it, then you see it in a completely different way. You discover it in a much slower, more majestic sort of way. — Bill Bryson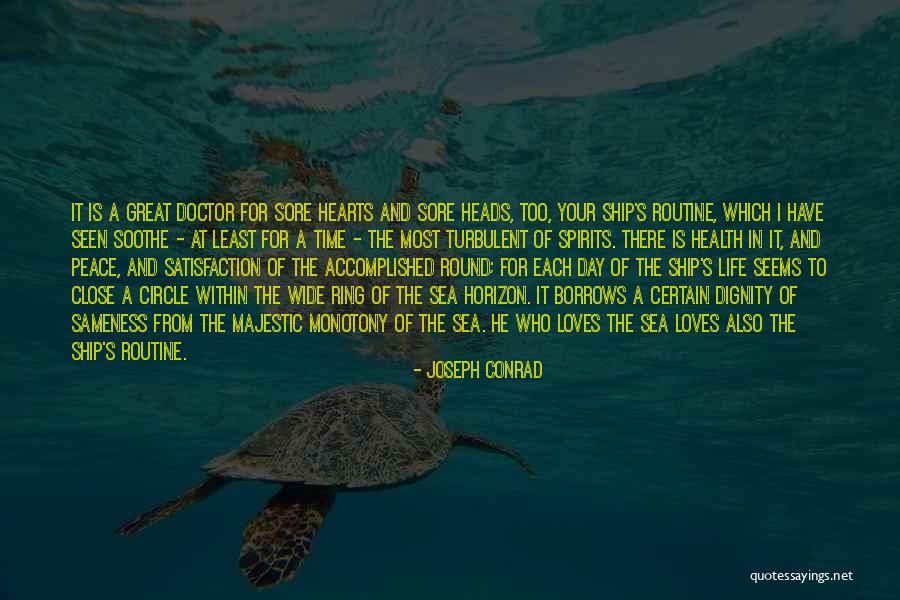 It is a great doctor for sore hearts and sore heads, too, your ship's routine, which I have seen soothe - at least for a time - the most turbulent of spirits. There is health in it, and peace, and satisfaction of the accomplished round; for each day of the ship's life seems to close a circle within the wide ring of the sea horizon. It borrows a certain dignity of sameness from the majestic monotony of the sea. He who loves the sea loves also the ship's routine. — Joseph Conrad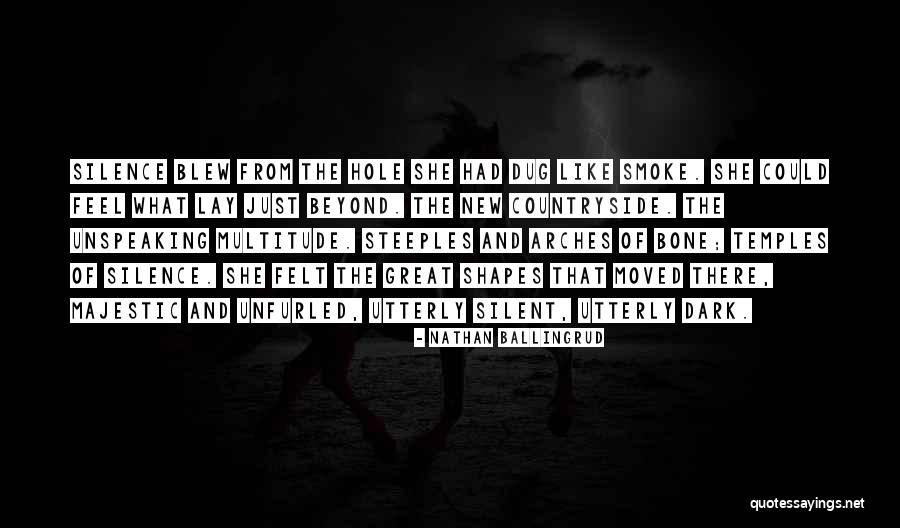 Silence blew from the hole she had dug like smoke. She could feel what lay just beyond. The new countryside. The unspeaking multitude. Steeples and arches of bone; temples of silence. She felt the great shapes that moved there, majestic and unfurled, utterly silent, utterly dark. — Nathan Ballingrud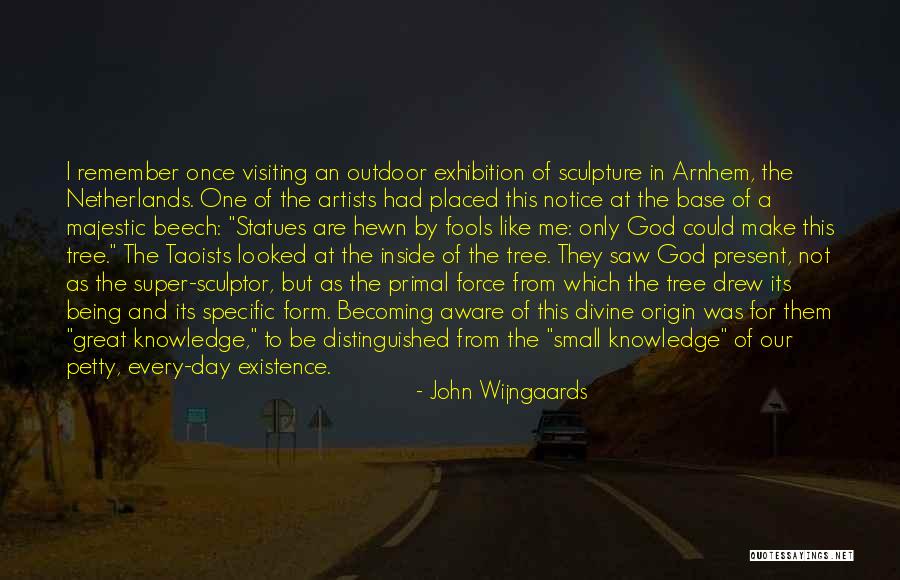 I remember once visiting an outdoor exhibition of sculpture in Arnhem, the Netherlands. One of the artists had placed this notice at the base of a majestic beech: "Statues are hewn by fools like me: only God could make this tree." The Taoists looked at the inside of the tree. They saw God present, not as the super-sculptor, but as the primal force from which the tree drew its being and its specific form. Becoming aware of this divine origin was for them "great knowledge," to be distinguished from the "small knowledge" of our petty, every-day existence. — John Wijngaards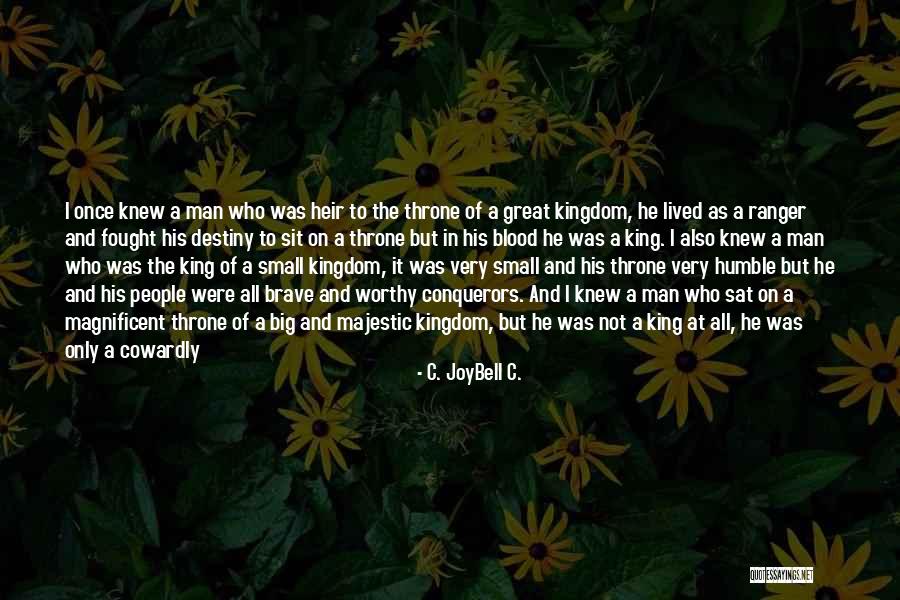 I once knew a man who was heir to the throne of a great kingdom, he lived as a ranger and fought his destiny to sit on a throne but in his blood he was a king. I also knew a man who was the king of a small kingdom, it was very small and his throne very humble but he and his people were all brave and worthy conquerors. And I knew a man who sat on a magnificent throne of a big and majestic kingdom, but he was not a king at all, he was only a cowardly steward. If you are the king of a great kingdom, you will always be the only king though you live in the bushes. If you are the king of a small kingdom, you can lead your people in worth and honor and together conquer anything. And if you are not a king, though you sit on the king's throne and drape yourself in many fine robes of silk and velvet, you are still not the king and you will never be one. — C. JoyBell C.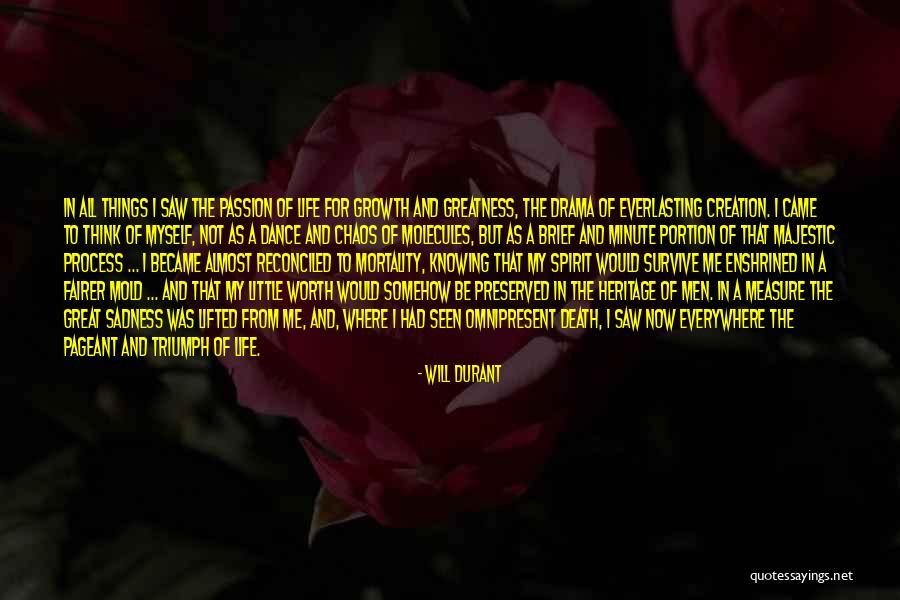 In all things I saw the passion of life for growth and greatness, the drama of everlasting creation. I came to think of myself, not as a dance and chaos of molecules, but as a brief and minute portion of that majestic process ... I became almost reconciled to mortality, knowing that my spirit would survive me enshrined in a fairer mold ... and that my little worth would somehow be preserved in the heritage of men. In a measure the Great Sadness was lifted from me, and, where I had seen omnipresent death, I saw now everywhere the pageant and triumph of life. — Will Durant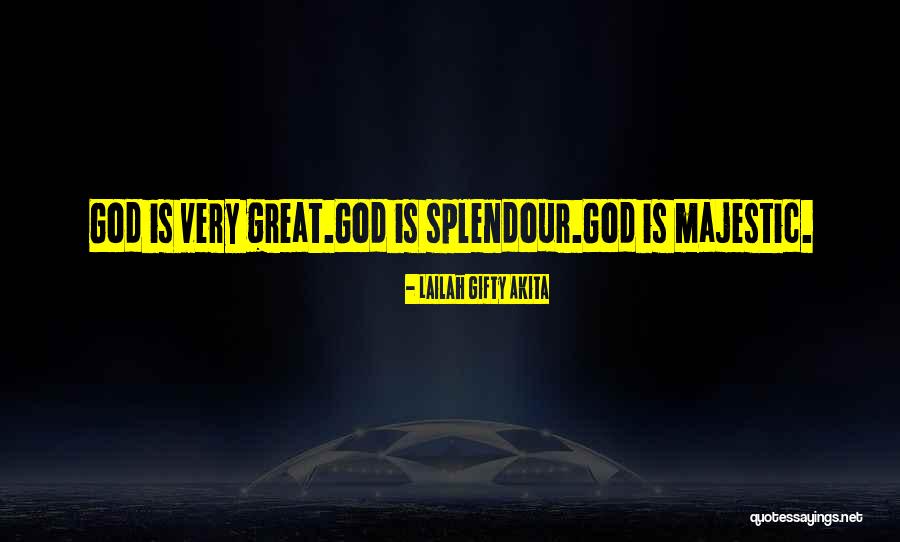 God is very great.
God is splendour.
God is majestic. — Lailah Gifty Akita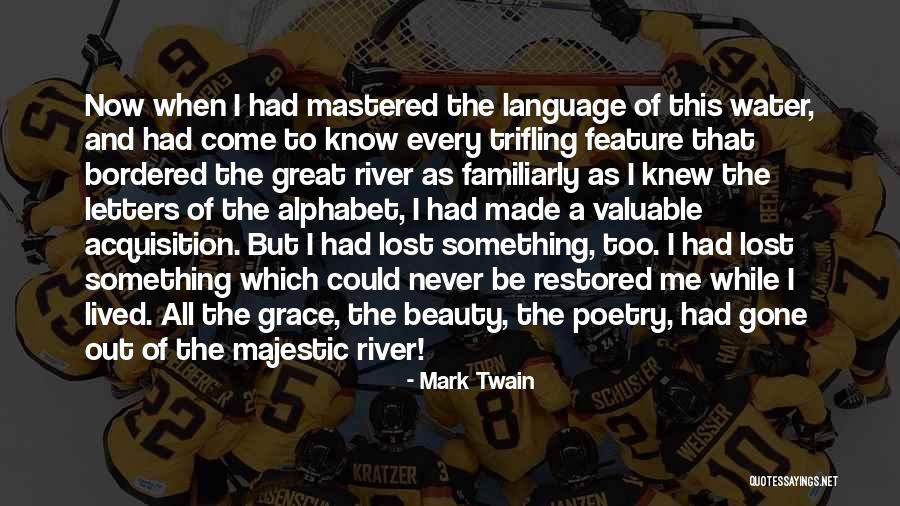 Now when I had mastered the language of this water, and had come to know every trifling feature that bordered the great river as familiarly as I knew the letters of the alphabet, I had made a valuable acquisition. But I had lost something, too. I had lost something which could never be restored me while I lived. All the grace, the beauty, the poetry, had gone out of the majestic river! — Mark Twain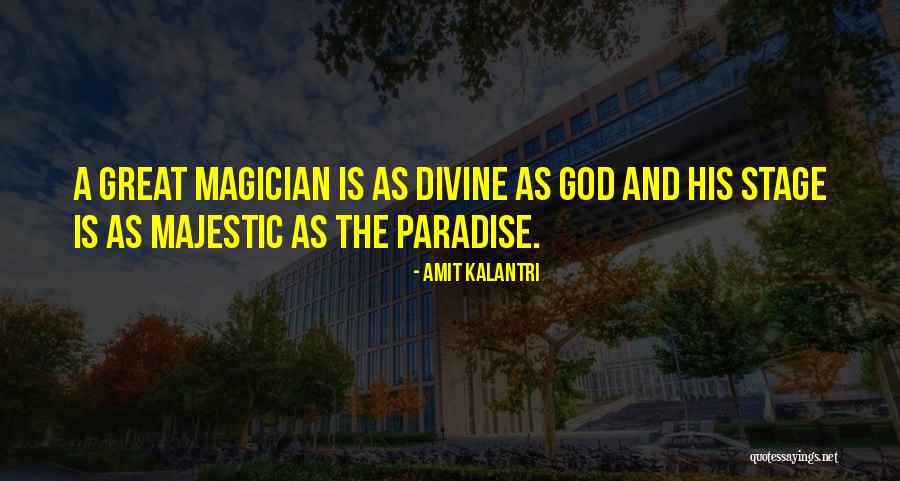 A great magician is as divine as God and his stage is as majestic as the paradise. — Amit Kalantri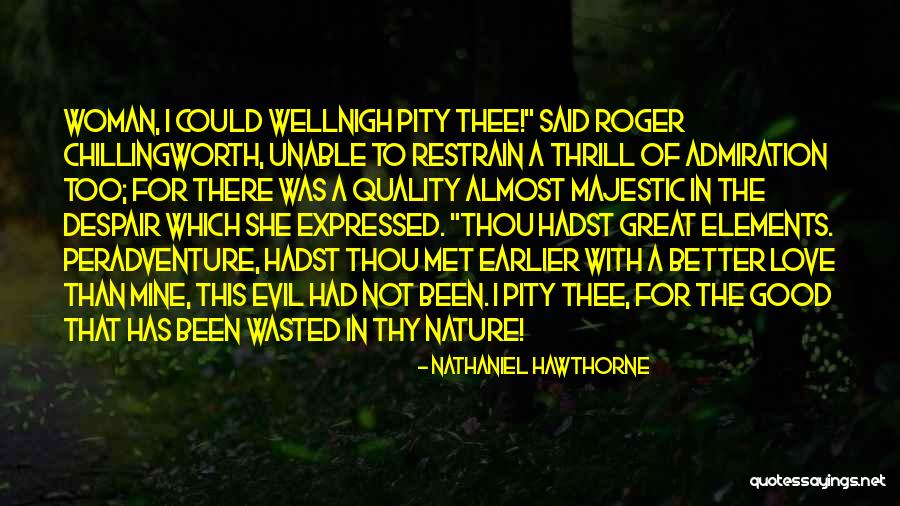 Woman, I could wellnigh pity thee!" said Roger Chillingworth, unable to restrain a thrill of admiration too; for there was a quality almost majestic in the despair which she expressed. "Thou hadst great elements. Peradventure, hadst thou met earlier with a better love than mine, this evil had not been. I pity thee, for the good that has been wasted in thy nature! — Nathaniel Hawthorne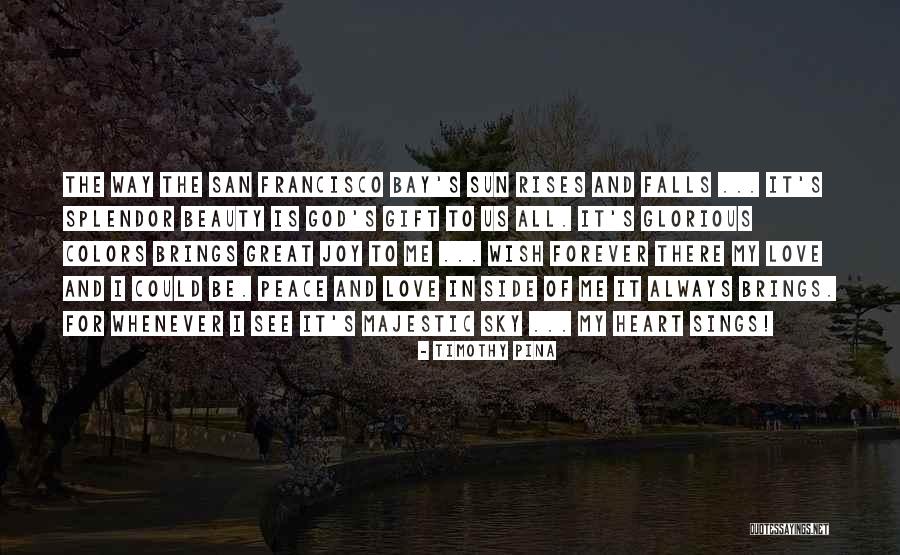 The way the San Francisco Bay's sun rises and falls ... It's splendor beauty is God's gift to us all. It's glorious colors brings great joy to me ... wish forever there my love and I could be. Peace and love in side of me it always brings. For whenever I see it's majestic sky ... My Heart Sings! — Timothy Pina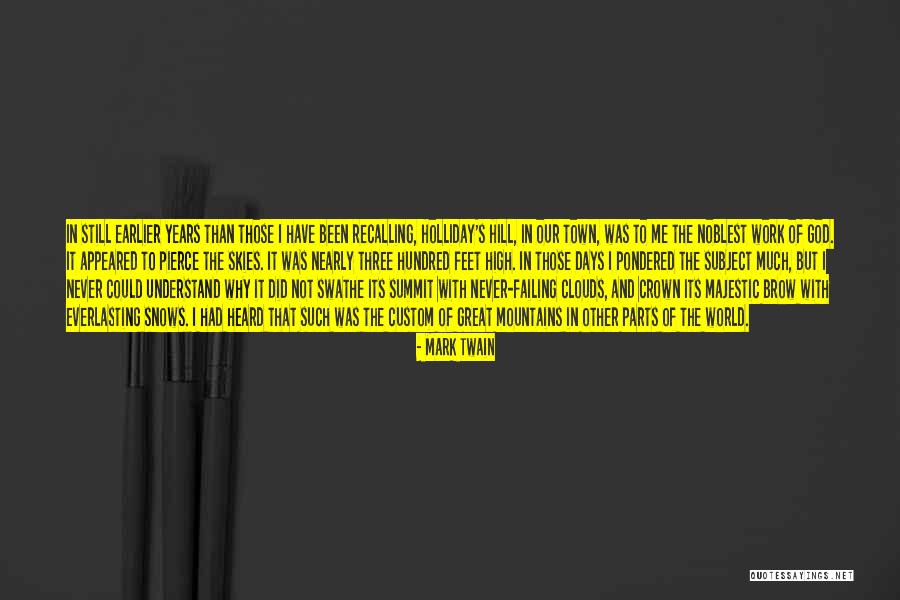 In still earlier years than those I have been recalling, Holliday's Hill, in our town, was to me the noblest work of God. It appeared to pierce the skies. It was nearly three hundred feet high. In those days I pondered the subject much, but I never could understand why it did not swathe its summit with never-failing clouds, and crown its majestic brow with everlasting snows. I had heard that such was the custom of great mountains in other parts of the world. — Mark Twain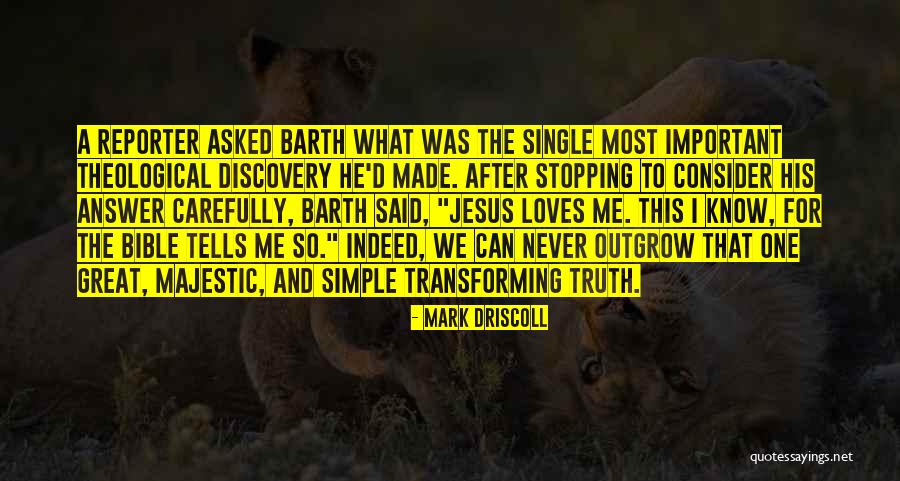 A reporter asked Barth what was the single most important theological discovery he'd made. After stopping to consider his answer carefully, Barth said, "Jesus loves me. This I know, for the Bible tells me so." Indeed, we can never outgrow that one great, majestic, and simple transforming truth. — Mark Driscoll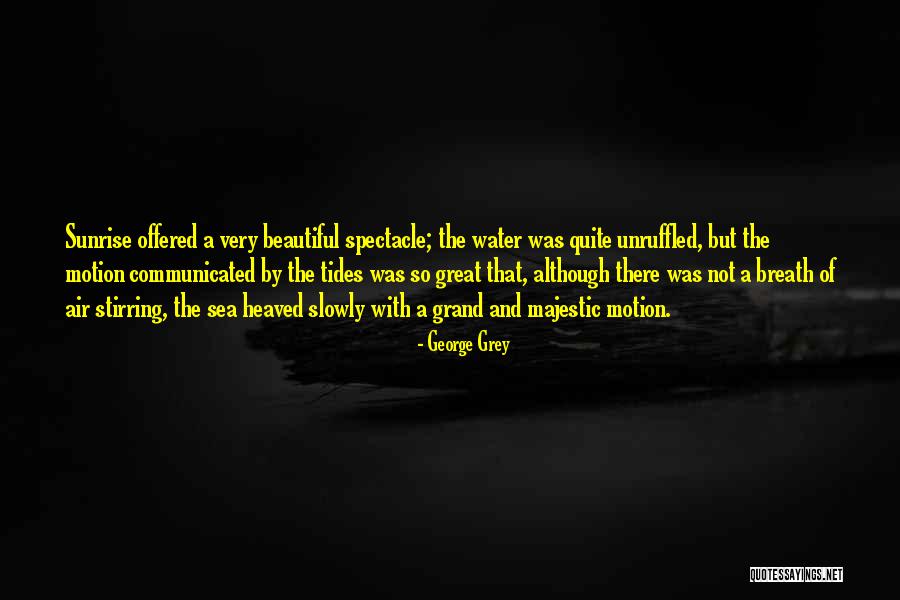 Sunrise offered a very beautiful spectacle; the water was quite unruffled, but the motion communicated by the tides was so great that, although there was not a breath of air stirring, the sea heaved slowly with a grand and majestic motion. — George Grey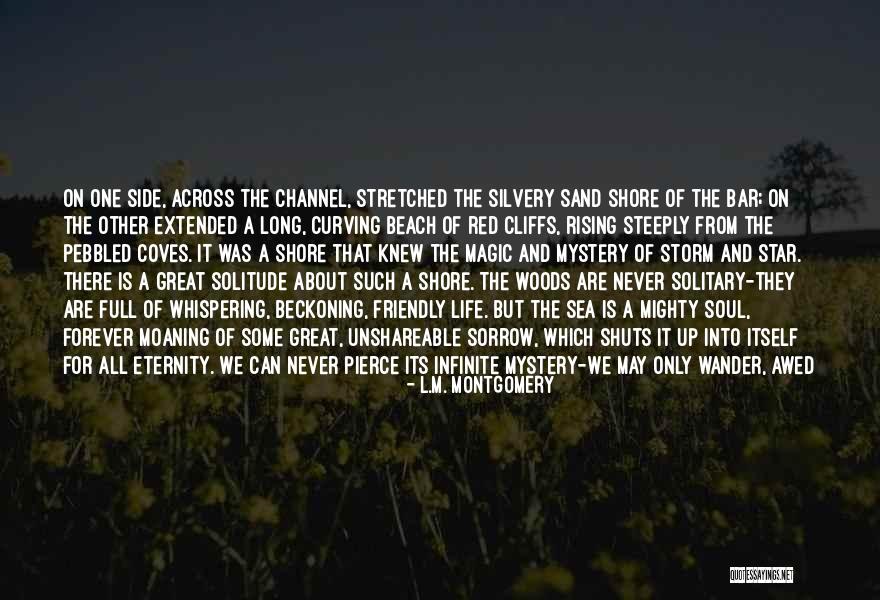 On one side, across the channel, stretched the silvery sand shore of the bar; on the other extended a long, curving beach of red cliffs, rising steeply from the pebbled coves. It was a shore that knew the magic and mystery of storm and star. There is a great solitude about such a shore. The woods are never solitary-they are full of whispering, beckoning, friendly life. But the sea is a mighty soul, forever moaning of some great, unshareable sorrow, which shuts it up into itself for all eternity. We can never pierce its infinite mystery-We may only wander, awed and spell-bound, on the outer fringe of it. The woods call to us with a hundred voices, but the sea has one only-a mighty voice that drowns our souls in its majestic music. The woods are human, but the sea is in the company of the archangels. — L.M. Montgomery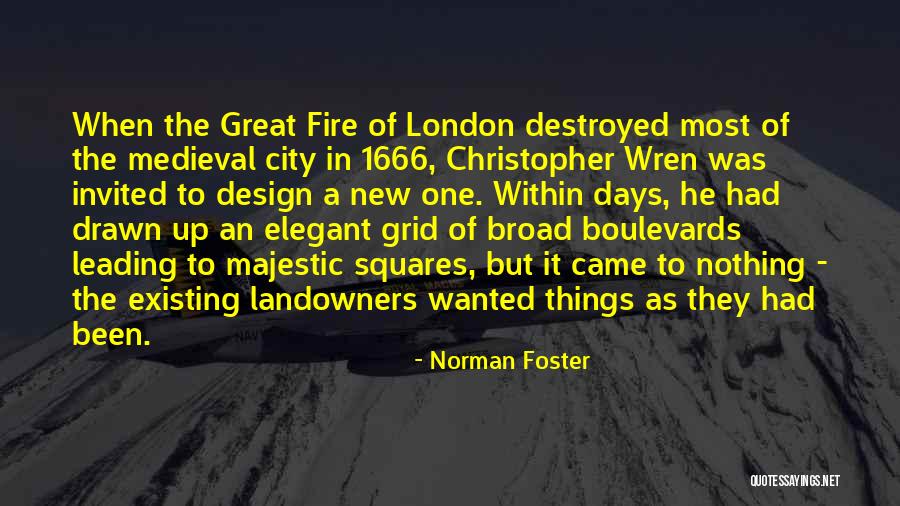 When the Great Fire of London destroyed most of the medieval city in 1666, Christopher Wren was invited to design a new one. Within days, he had drawn up an elegant grid of broad boulevards leading to majestic squares, but it came to nothing - the existing landowners wanted things as they had been. — Norman Foster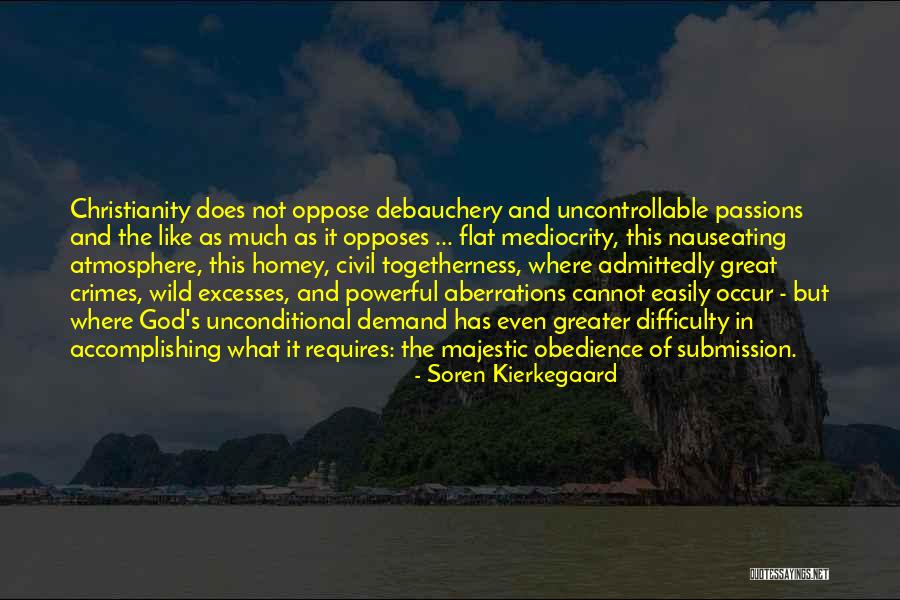 Christianity does not oppose debauchery and uncontrollable passions and the like as much as it opposes ... flat mediocrity, this nauseating atmosphere, this homey, civil togetherness, where admittedly great crimes, wild excesses, and powerful aberrations cannot easily occur - but where God's unconditional demand has even greater difficulty in accomplishing what it requires: the majestic obedience of submission. — Soren Kierkegaard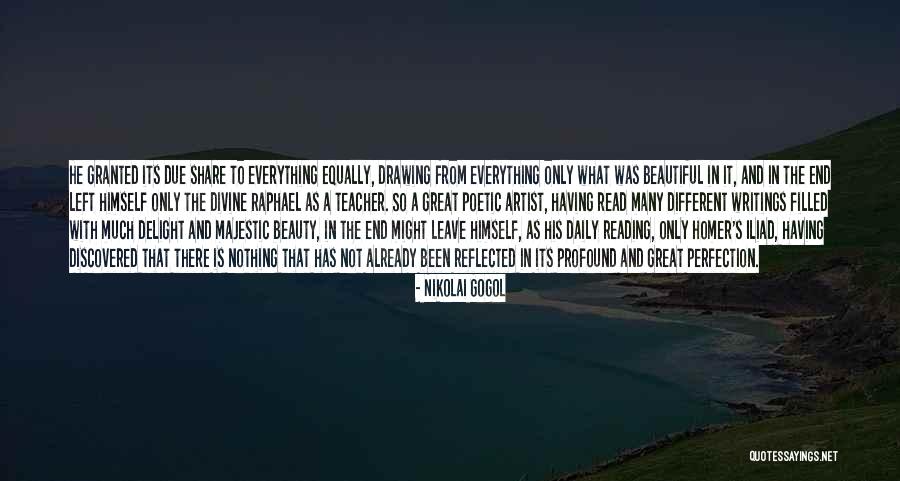 He granted its due share to everything equally, drawing from everything only what was beautiful in it, and in the end left himself only the divine Raphael as a teacher. So a great poetic artist, having read many different writings filled with much delight and majestic beauty, in the end might leave himself, as his daily reading, only Homer's Iliad, having discovered that there is nothing that has not already been reflected in its profound and great perfection. — Nikolai Gogol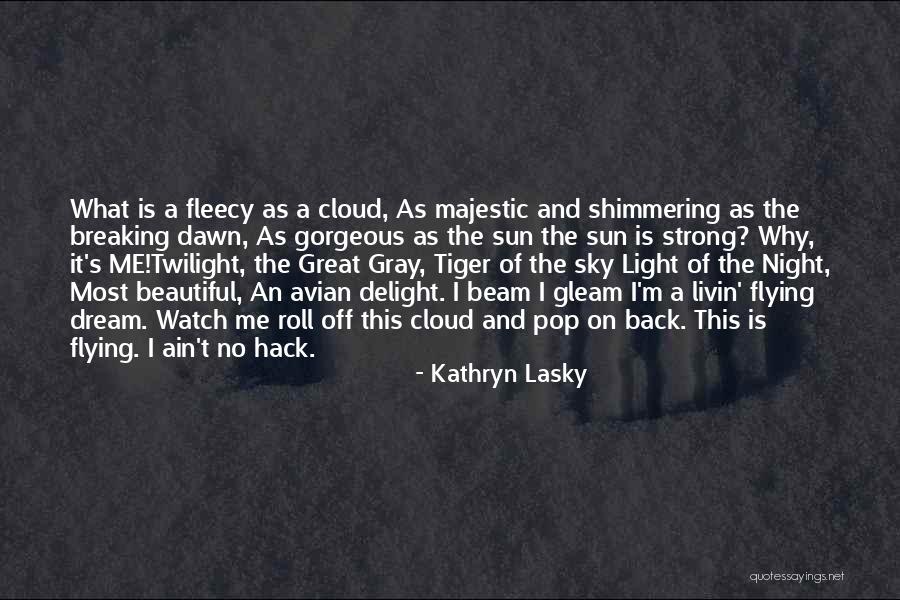 What is a fleecy as a cloud,
As majestic and shimmering as the breaking dawn,
As gorgeous as the sun the sun is strong?
Why, it's ME!
Twilight, the Great Gray,
Tiger of the sky
Light of the Night, Most beautiful,
An avian delight.
I beam
I gleam
I'm a livin' flying dream.
Watch me roll off this cloud and pop on back.
This is flying.
I ain't no hack. — Kathryn Lasky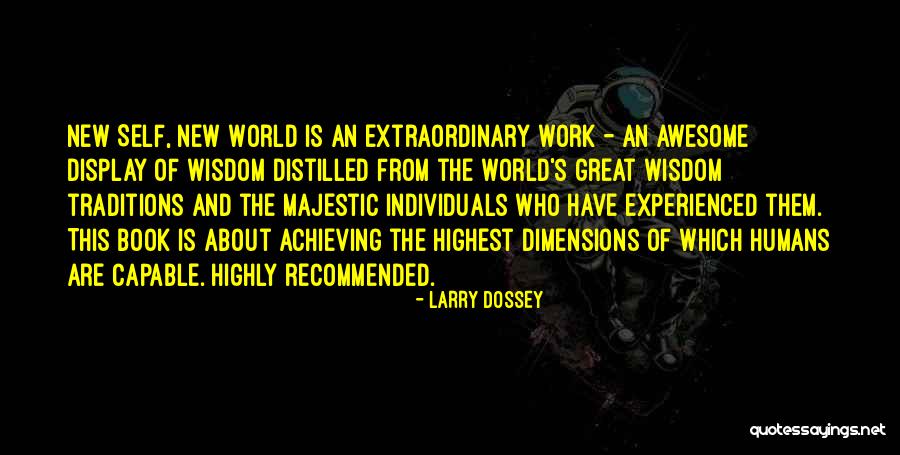 New Self, New World is an extraordinary work - an awesome display of wisdom distilled from the world's great wisdom traditions and the majestic individuals who have experienced them. This book is about achieving the highest dimensions of which humans are capable. Highly recommended. — Larry Dossey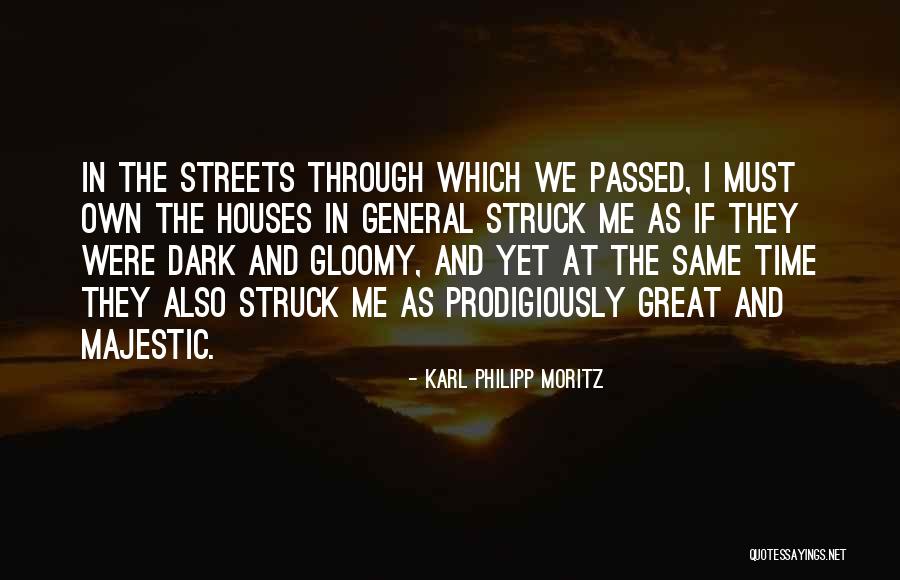 In the streets through which we passed, I must own the houses in general struck me as if they were dark and gloomy, and yet at the same time they also struck me as prodigiously great and majestic. — Karl Philipp Moritz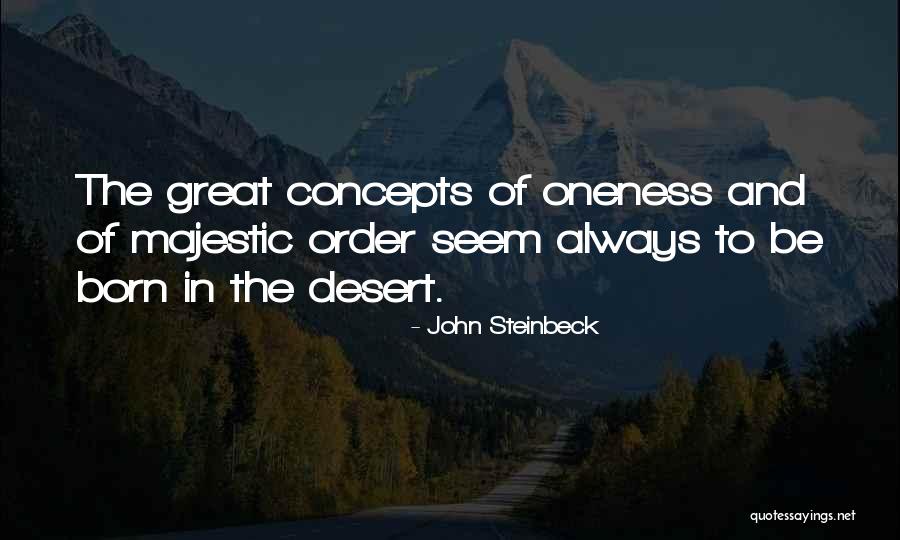 The great concepts of oneness and of majestic order seem always to be born in the desert. — John Steinbeck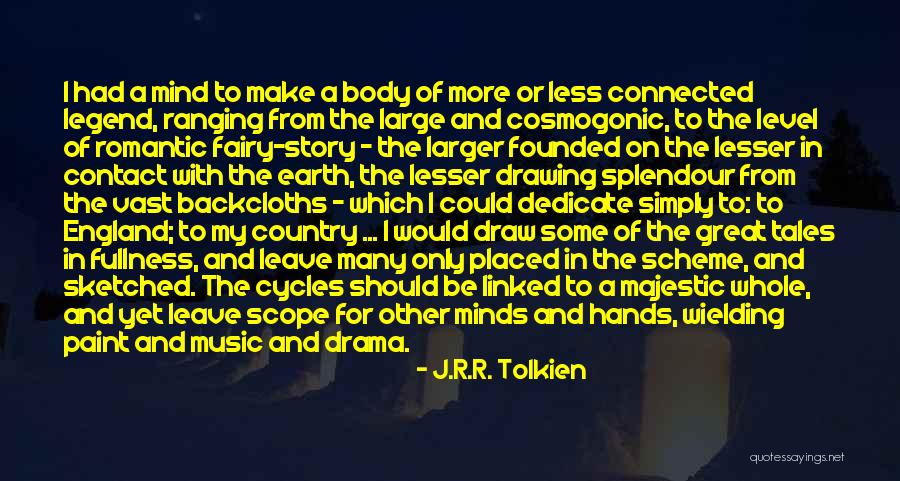 I had a mind to make a body of more or less connected legend, ranging from the large and cosmogonic, to the level of romantic fairy-story - the larger founded on the lesser in contact with the earth, the lesser drawing splendour from the vast backcloths - which I could dedicate simply to: to England; to my country ... I would draw some of the great tales in fullness, and leave many only placed in the scheme, and sketched. The cycles should be linked to a majestic whole, and yet leave scope for other minds and hands, wielding paint and music and drama. — J.R.R. Tolkien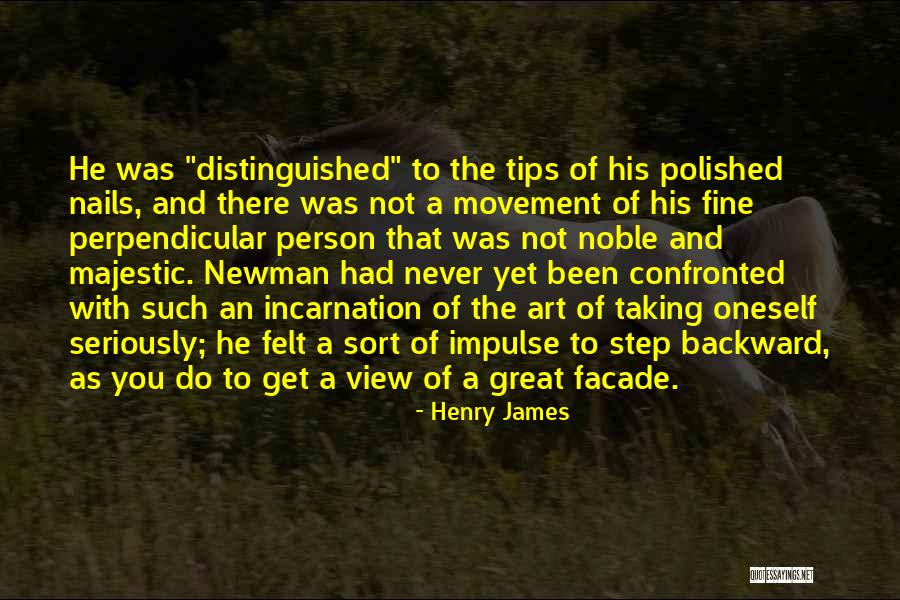 He was "distinguished" to the tips of his polished nails, and there was not a movement of his fine perpendicular person that was not noble and majestic. Newman had never yet been confronted with such an incarnation of the art of taking oneself seriously; he felt a sort of impulse to step backward, as you do to get a view of a great facade. — Henry James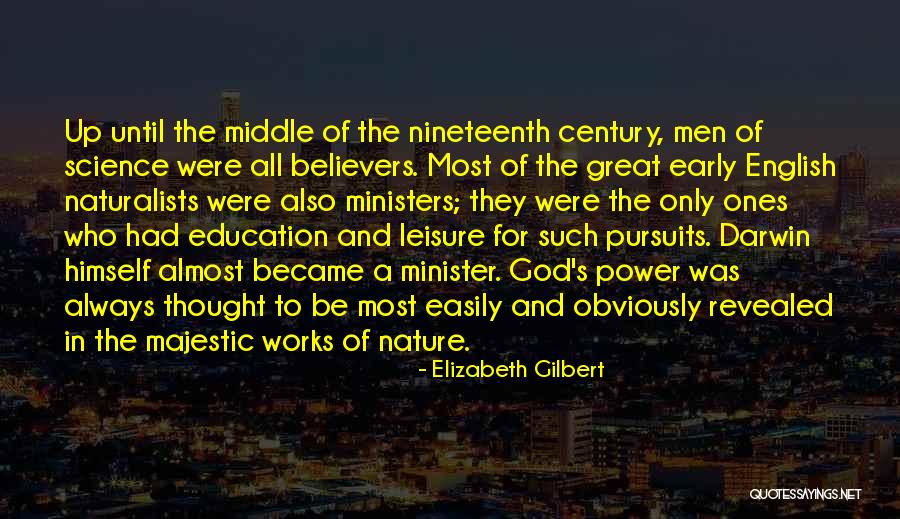 Up until the middle of the nineteenth century, men of science were all believers. Most of the great early English naturalists were also ministers; they were the only ones who had education and leisure for such pursuits. Darwin himself almost became a minister. God's power was always thought to be most easily and obviously revealed in the majestic works of nature. — Elizabeth Gilbert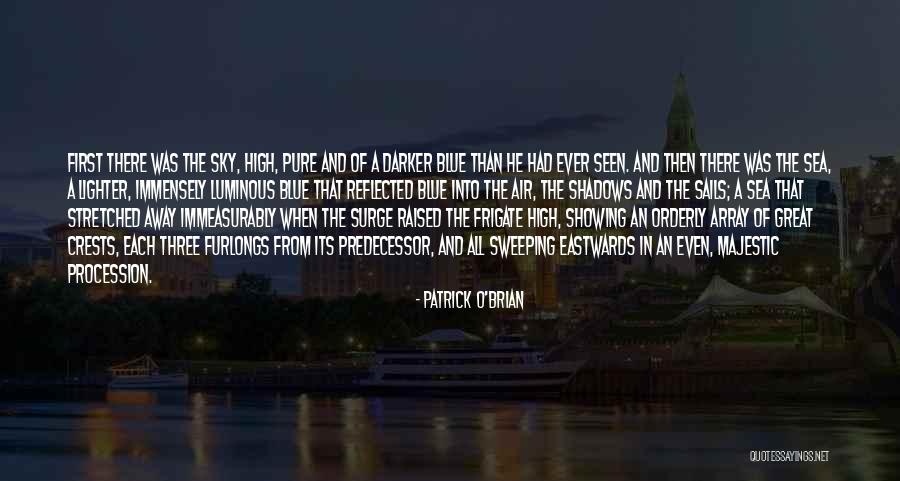 First there was the sky, high, pure and of a darker blue than he had ever seen. And then there was the sea, a lighter, immensely luminous blue that reflected blue into the air, the shadows and the sails; a sea that stretched away immeasurably when the surge raised the frigate high, showing an orderly array of great crests, each three furlongs from its predecessor, and all sweeping eastwards in an even, majestic procession. — Patrick O'Brian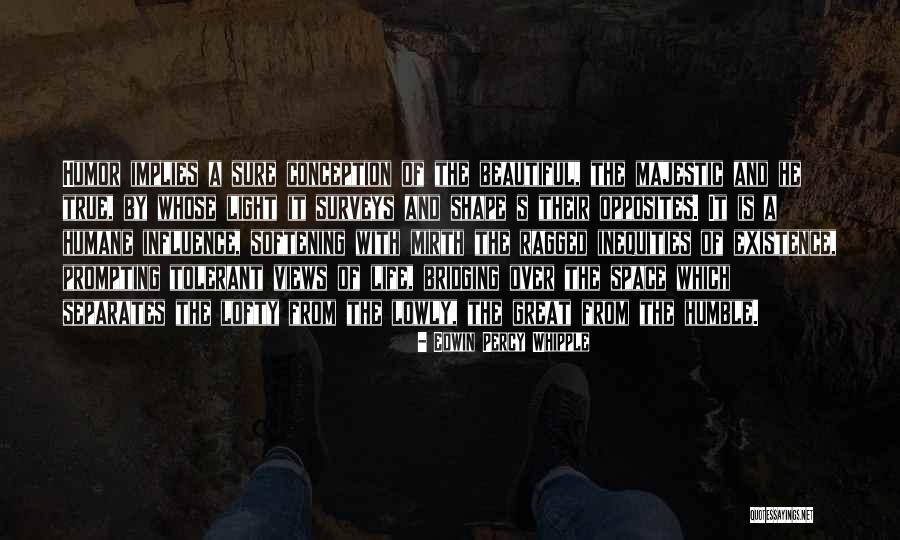 Humor implies a sure conception of the beautiful, the majestic and he true, by whose light it surveys and shape s their opposites. It is a humane influence, softening with mirth the ragged inequities of existence, prompting tolerant views of life, bridging over the space which separates the lofty from the lowly, the great from the humble. — Edwin Percy Whipple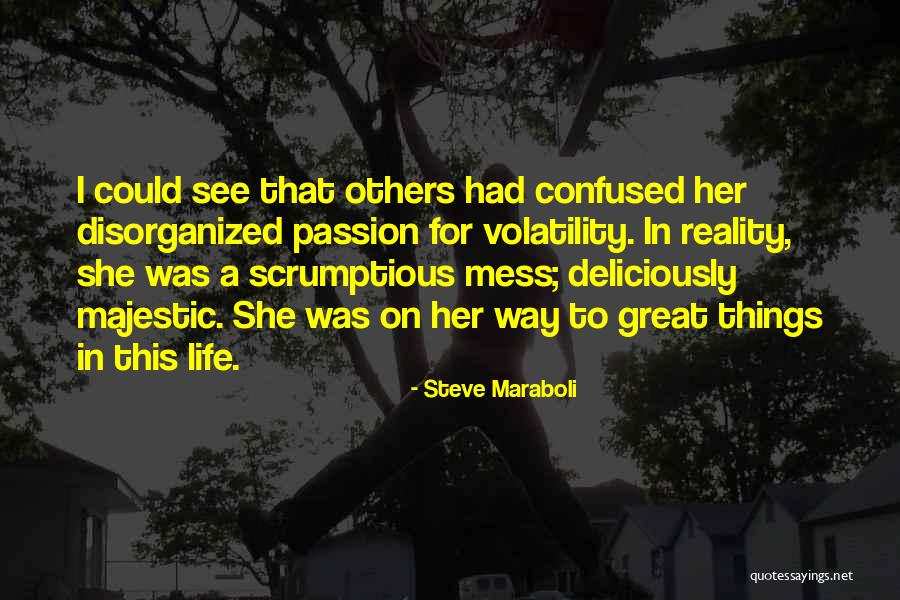 I could see that others had confused her disorganized passion for volatility. In reality, she was a scrumptious mess; deliciously majestic. She was on her way to great things in this life. — Steve Maraboli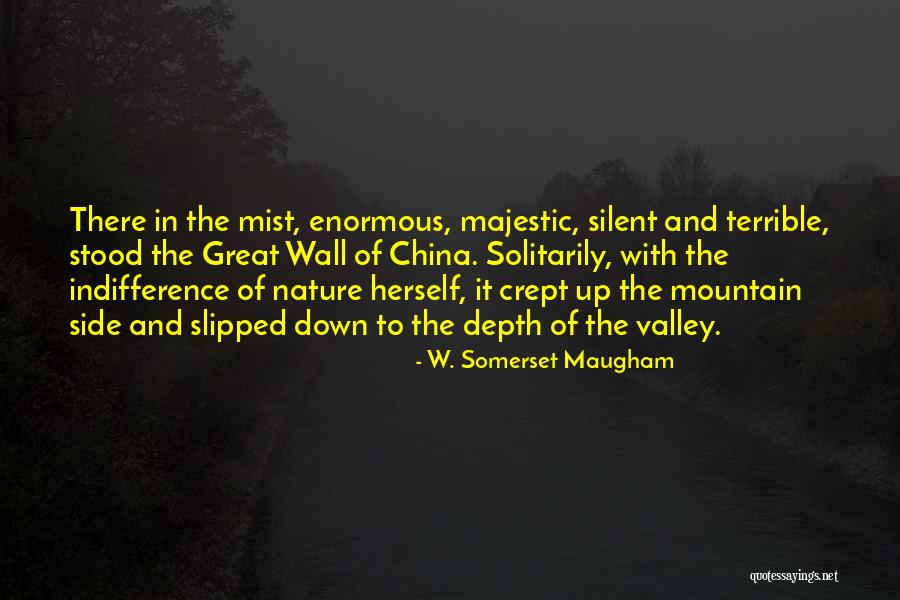 There in the mist, enormous, majestic, silent and terrible, stood the Great Wall of China. Solitarily, with the indifference of nature herself, it crept up the mountain side and slipped down to the depth of the valley. — W. Somerset Maugham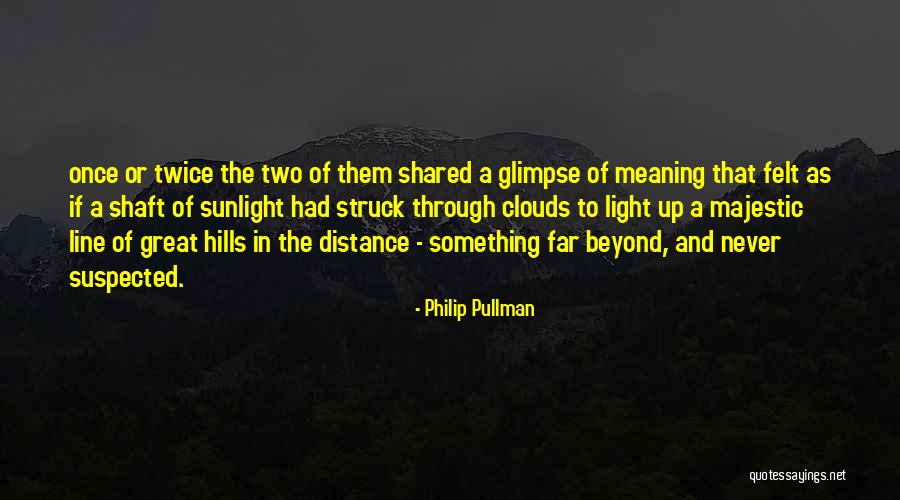 once or twice the two of them shared a glimpse of meaning that felt as if a shaft of sunlight had struck through clouds to light up a majestic line of great hills in the distance - something far beyond, and never suspected. — Philip Pullman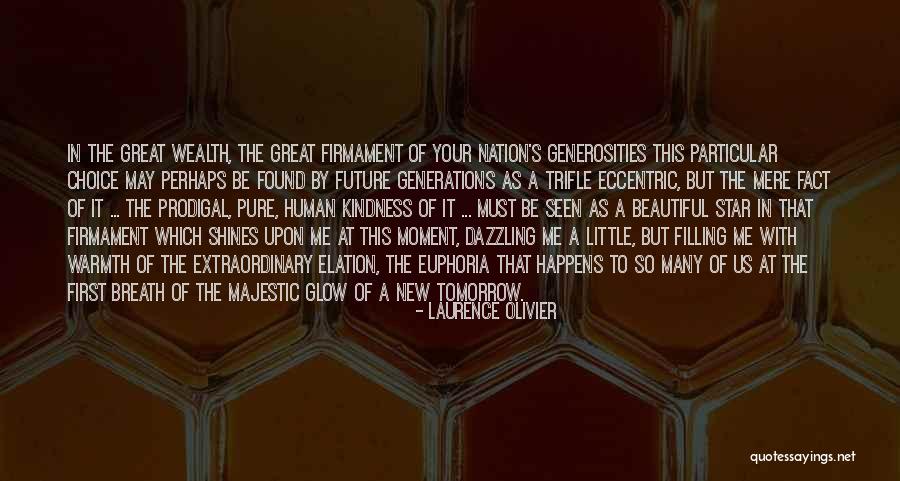 In the great wealth, the great firmament of your nation's generosities this particular choice may perhaps be found by future generations as a trifle eccentric, but the mere fact of it ... the prodigal, pure, human kindness of it ... must be seen as a beautiful star in that firmament which shines upon me at this moment, dazzling me a little, but filling me with warmth of the extraordinary elation, the euphoria that happens to so many of us at the first breath of the majestic glow of a new tomorrow. — Laurence Olivier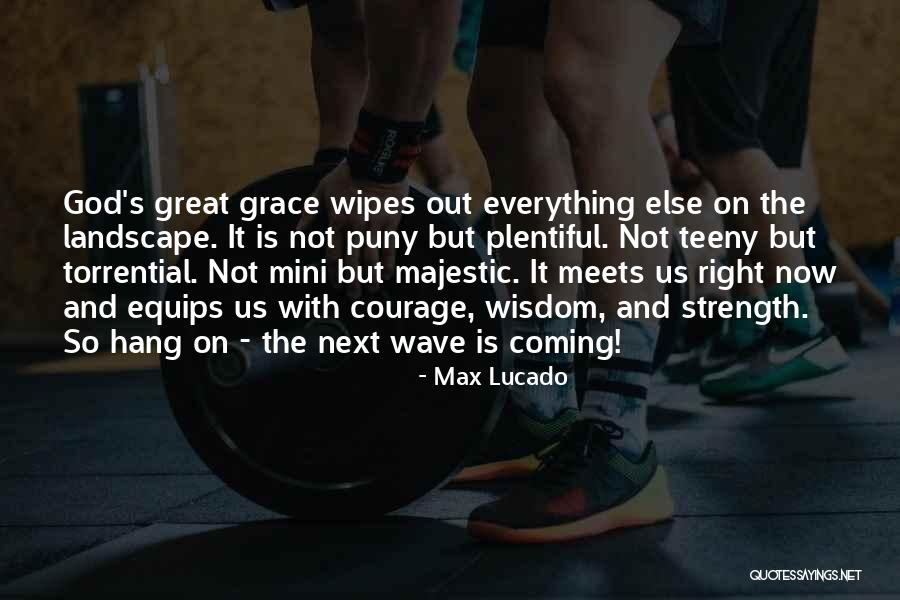 God's great grace wipes out everything else on the landscape. It is not puny but plentiful. Not teeny but torrential. Not mini but majestic. It meets us right now and equips us with courage, wisdom, and strength. So hang on - the next wave is coming! — Max Lucado