Great Conquerors Quotes & Sayings
Enjoy reading and share 20 famous quotes about Great Conquerors with everyone.
Top Great Conquerors Quotes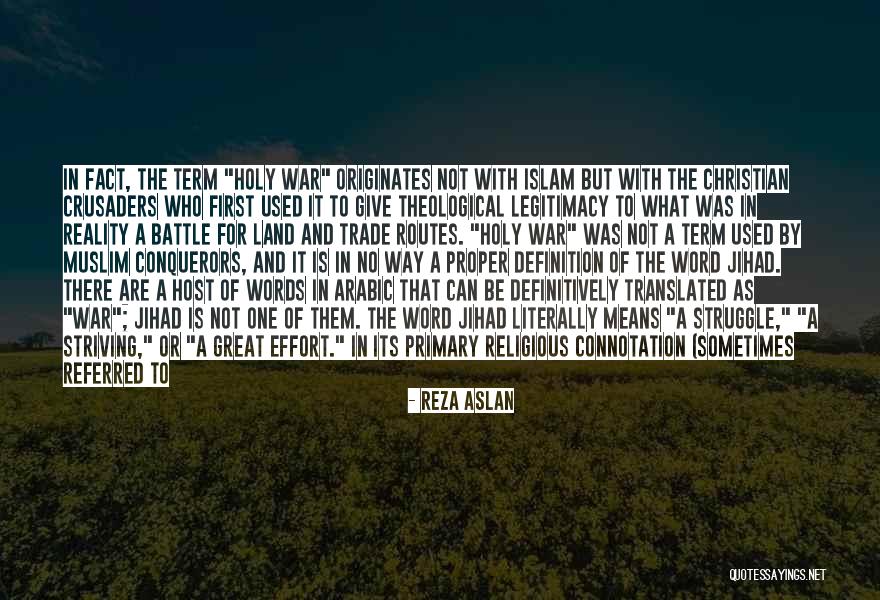 In fact, the term "holy war" originates not with Islam but with the Christian Crusaders who first used it to give theological legitimacy to what was in reality a battle for land and trade routes. "Holy war" was not a term used by Muslim conquerors, and it is in no way a proper definition of the word jihad. There are a host of words in Arabic that can be definitively translated as "war"; jihad is not one of them. The word jihad literally means "a struggle," "a striving," or "a great effort." In its primary religious connotation (sometimes referred to as "the greater jihad"), it means the struggle of the soul to overcome the sinful obstacles that keep a person from God. This is why the word jihad is nearly always followed in the Quran by the phrase "in the way of God. — Reza Aslan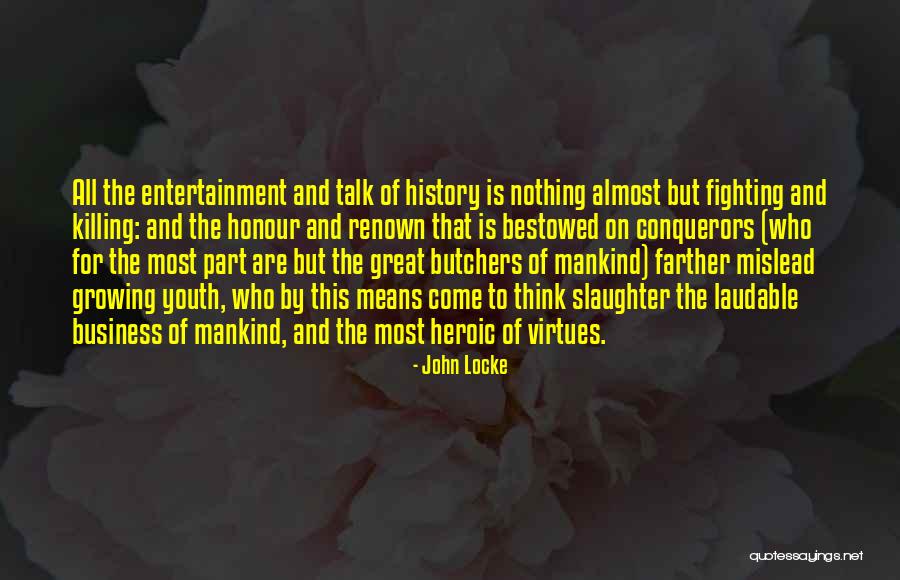 All the entertainment and talk of history is nothing almost but fighting and killing: and the honour and renown that is bestowed on conquerors (who for the most part are but the great butchers of mankind) farther mislead growing youth, who by this means come to think slaughter the laudable business of mankind, and the most heroic of virtues. — John Locke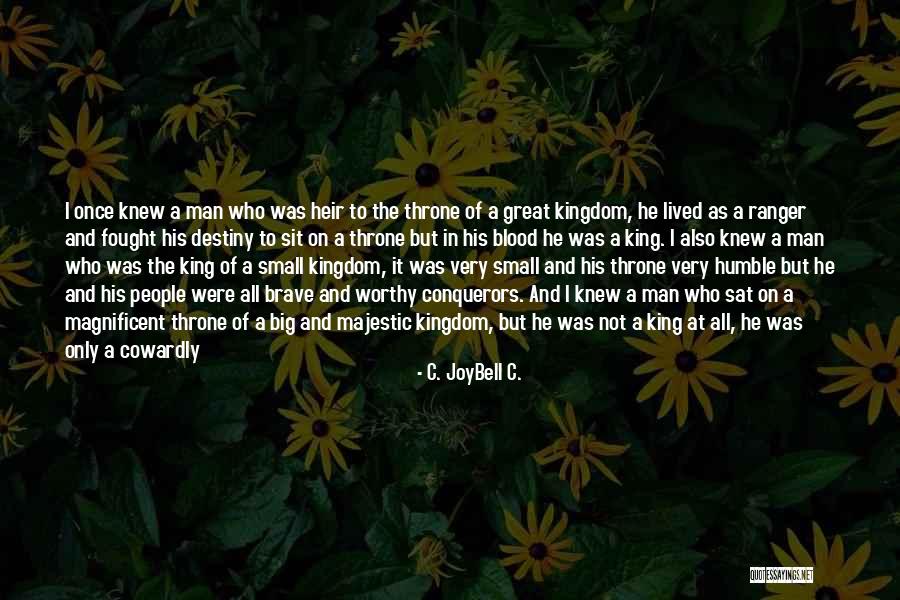 I once knew a man who was heir to the throne of a great kingdom, he lived as a ranger and fought his destiny to sit on a throne but in his blood he was a king. I also knew a man who was the king of a small kingdom, it was very small and his throne very humble but he and his people were all brave and worthy conquerors. And I knew a man who sat on a magnificent throne of a big and majestic kingdom, but he was not a king at all, he was only a cowardly steward. If you are the king of a great kingdom, you will always be the only king though you live in the bushes. If you are the king of a small kingdom, you can lead your people in worth and honor and together conquer anything. And if you are not a king, though you sit on the king's throne and drape yourself in many fine robes of silk and velvet, you are still not the king and you will never be one. — C. JoyBell C.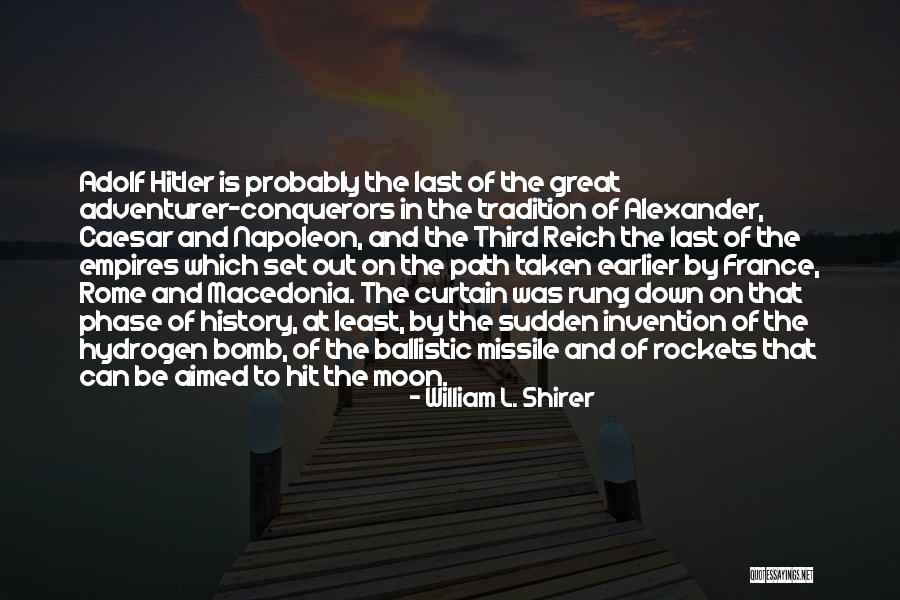 Adolf Hitler is probably the last of the great adventurer-conquerors in the tradition of Alexander, Caesar and Napoleon, and the Third Reich the last of the empires which set out on the path taken earlier by France, Rome and Macedonia. The curtain was rung down on that phase of history, at least, by the sudden invention of the hydrogen bomb, of the ballistic missile and of rockets that can be aimed to hit the moon. — William L. Shirer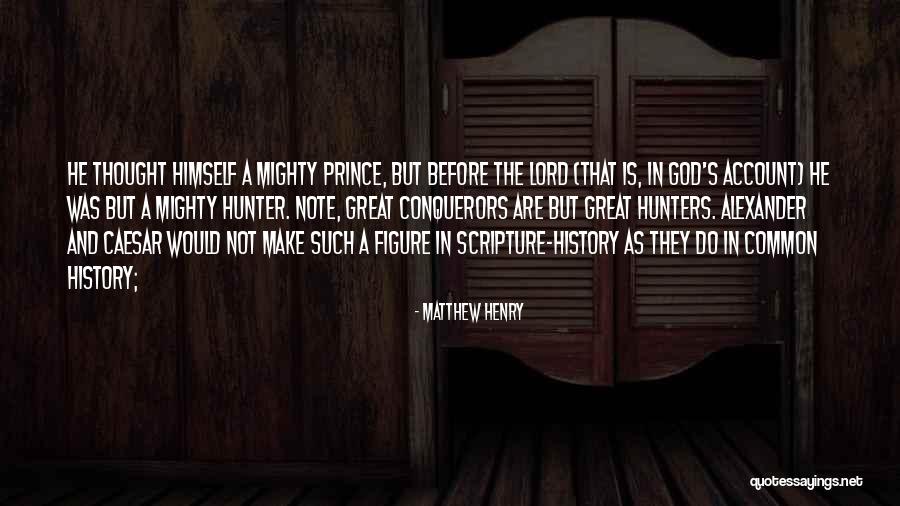 He thought himself a mighty prince, but before the Lord (that is, in God's account) he was but a mighty hunter. Note, Great conquerors are but great hunters. Alexander and Caesar would not make such a figure in scripture-history as they do in common history; — Matthew Henry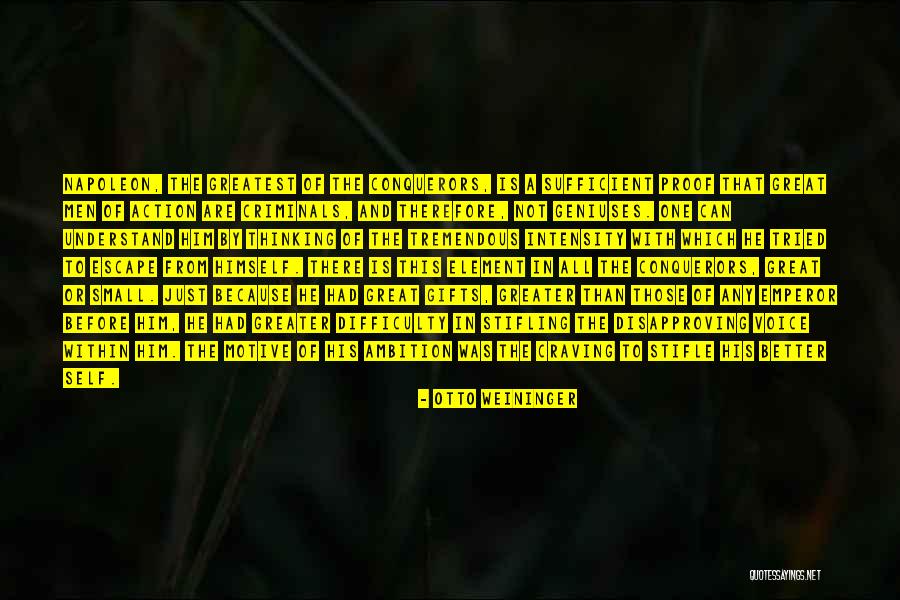 Napoleon, the greatest of the conquerors, is a sufficient proof that great men of action are criminals, and therefore, not geniuses. One can understand him by thinking of the tremendous intensity with which he tried to escape from himself. There is this element in all the conquerors, great or small. Just because he had great gifts, greater than those of any emperor before him, he had greater difficulty in stifling the disapproving voice within him. The motive of his ambition was the craving to stifle his better self. — Otto Weininger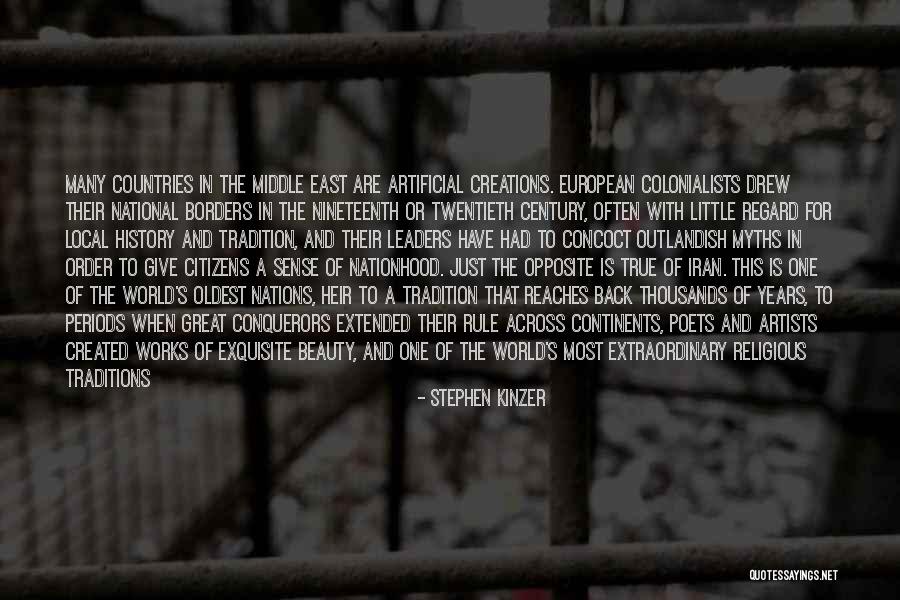 Many countries in the Middle East are artificial creations. European colonialists drew their national borders in the nineteenth or twentieth century, often with little regard for local history and tradition, and their leaders have had to concoct outlandish myths in order to give citizens a sense of nationhood. Just the opposite is true of Iran. This is one of the world's oldest nations, heir to a tradition that reaches back thousands of years, to periods when great conquerors extended their rule across continents, poets and artists created works of exquisite beauty, and one of the world's most extraordinary religious traditions took root and flowered. — Stephen Kinzer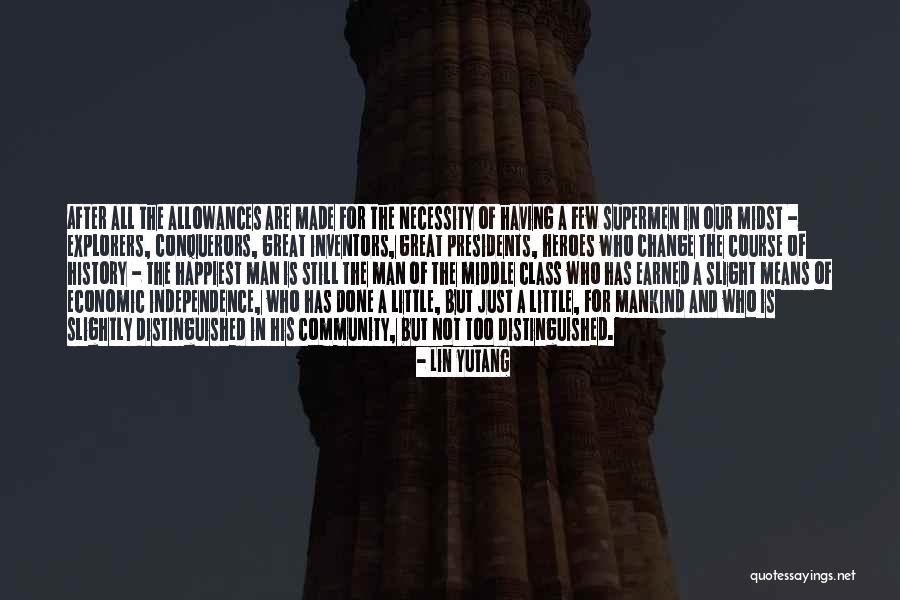 After all the allowances are made for the necessity of having a few supermen in our midst - explorers, conquerors, great inventors, great presidents, heroes who change the course of history - the happiest man is still the man of the middle class who has earned a slight means of economic independence, who has done a little, but just a little, for mankind and who is slightly distinguished in his community, but not too distinguished. — Lin Yutang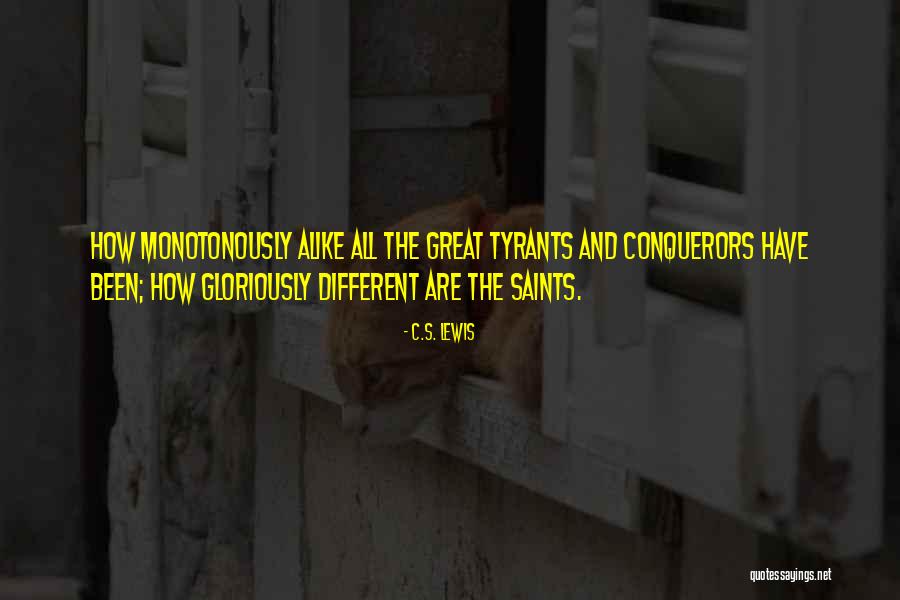 How monotonously alike all the great tyrants and conquerors have been; how gloriously different are the saints. — C.S. Lewis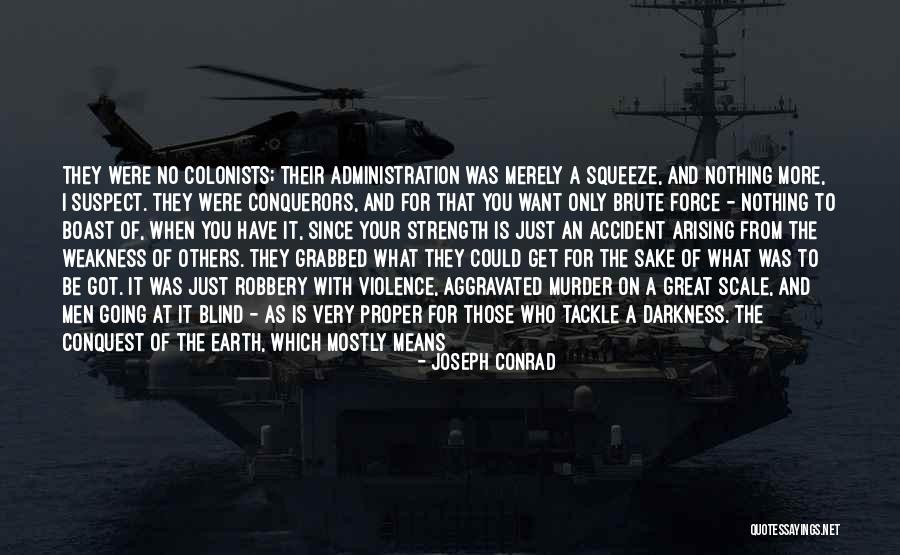 They were no colonists; their administration was merely a squeeze, and nothing more, I suspect. They were conquerors, and for that you want only brute force - nothing to boast of, when you have it, since your strength is just an accident arising from the weakness of others. They grabbed what they could get for the sake of what was to be got. It was just robbery with violence, aggravated murder on a great scale, and men going at it blind - as is very proper for those who tackle a darkness. The conquest of the earth, which mostly means the taking it away from those who have a different complexion or slightly flatter noses than ourselves, is not a pretty thing when you look into it too much. What redeems it is the idea only. An idea at the back of it; not a sentimental pretence but an idea; and an unselfish belief in the idea - something you can set up, and bow down before, and offer a sacrifice to — Joseph Conrad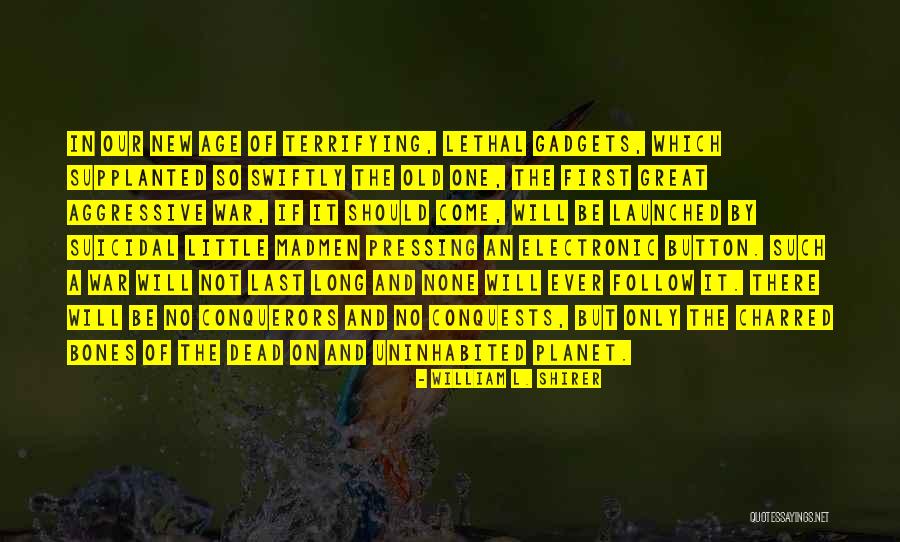 In our new age of terrifying, lethal gadgets, which supplanted so swiftly the old one, the first great aggressive war, if it should come, will be launched by suicidal little madmen pressing an electronic button. Such a war will not last long and none will ever follow it. There will be no conquerors and no conquests, but only the charred bones of the dead on and uninhabited planet. — William L. Shirer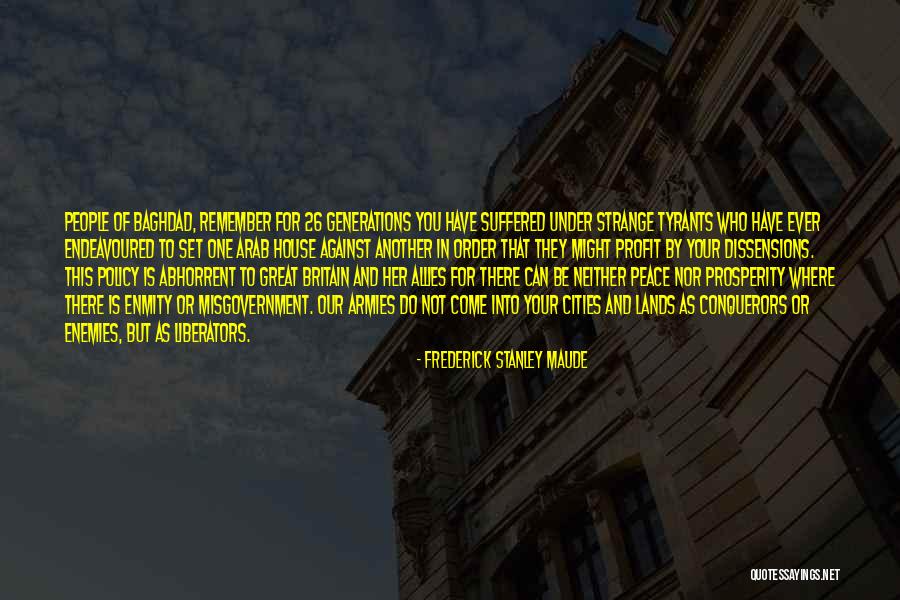 People of Baghdad, remember for 26 generations you have suffered under strange tyrants who have ever endeavoured to set one Arab house against another in order that they might profit by your dissensions. This policy is abhorrent to Great Britain and her Allies for there can be neither peace nor prosperity where there is enmity or misgovernment. Our armies do not come into your cities and lands as conquerors or enemies, but as liberators. — Frederick Stanley Maude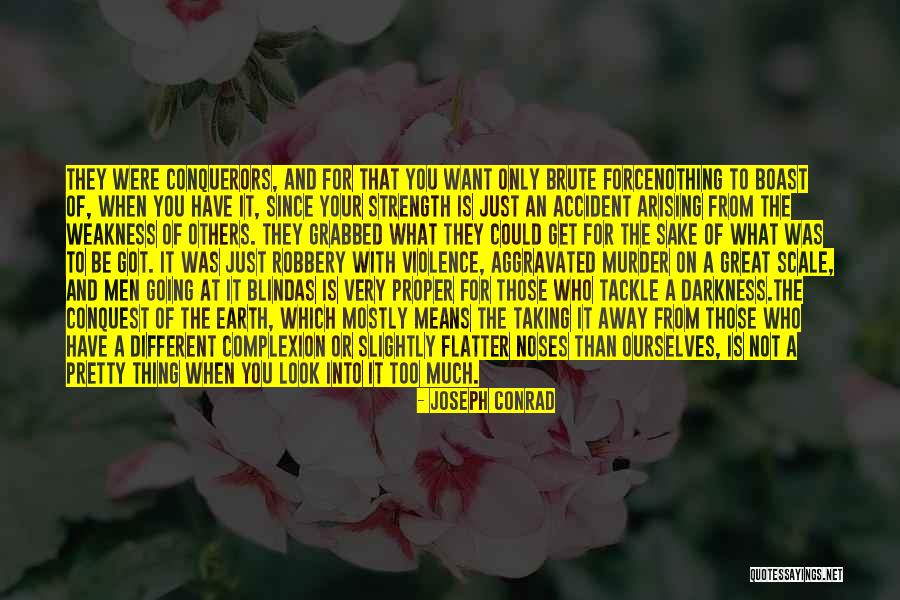 They were conquerors, and for that you want only brute force
nothing to boast of, when you have it, since your strength is just an accident arising from the weakness of others. They grabbed what they could get for the sake of what was to be got. It was just robbery with violence, aggravated murder on a great scale, and men going at it blind
as is very proper for those who tackle a darkness.
The conquest of the earth, which mostly means the taking it away from those who have a different complexion or slightly flatter noses than ourselves, is not a pretty thing when you look into it too much. — Joseph Conrad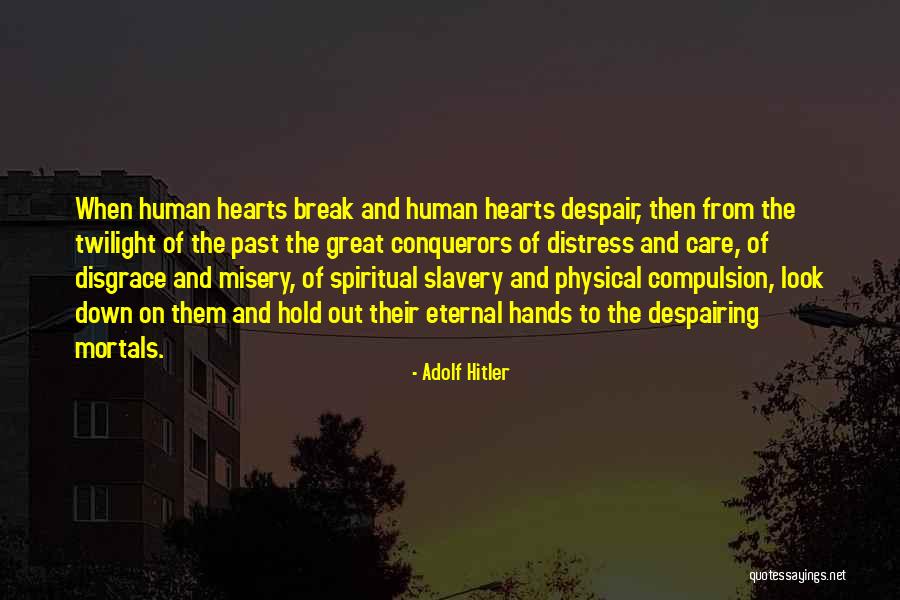 When human hearts break and human hearts despair, then from the twilight of the past the great conquerors of distress and care, of disgrace and misery, of spiritual slavery and physical compulsion, look down on them and hold out their eternal hands to the despairing mortals. — Adolf Hitler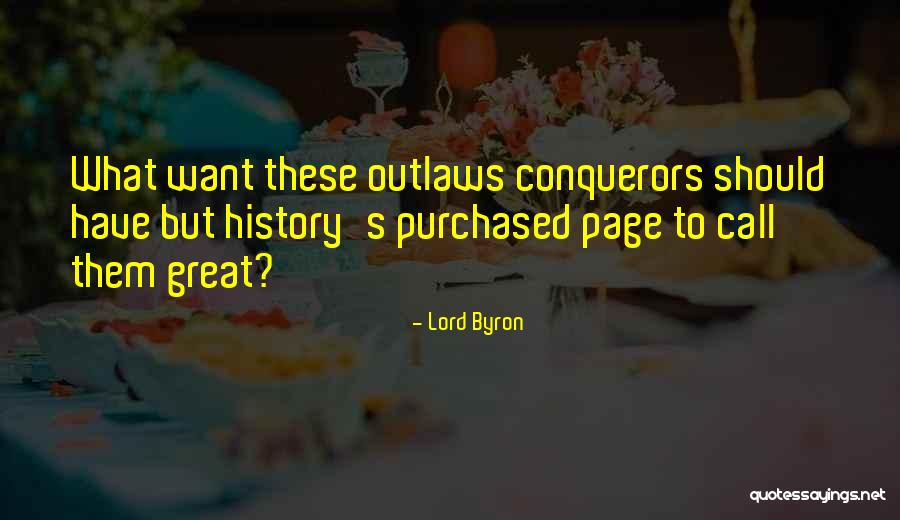 What want these outlaws conquerors should have but history's purchased page to call them great? — Lord Byron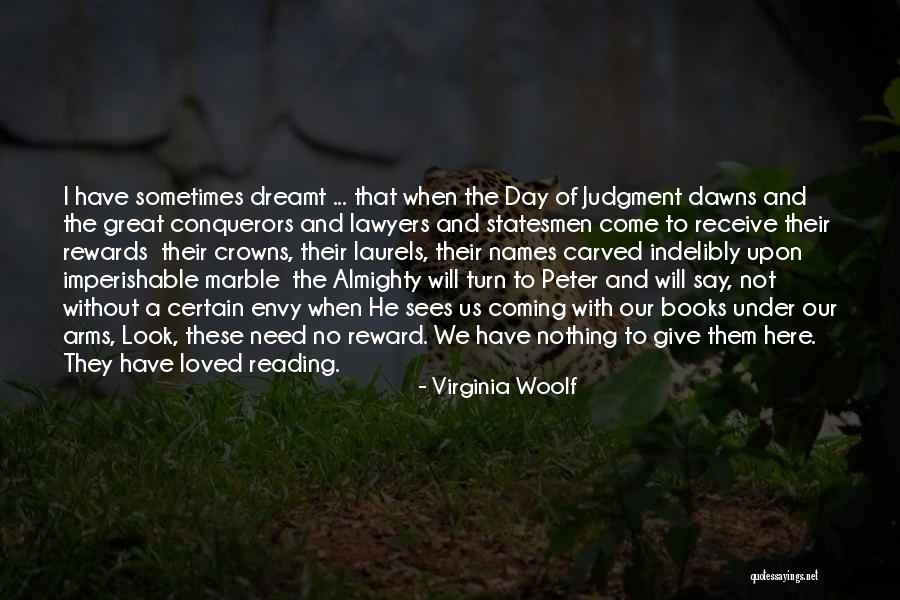 I have sometimes dreamt ... that when the Day of Judgment dawns and the great conquerors and lawyers and statesmen come to receive their rewards
their crowns, their laurels, their names carved indelibly upon imperishable marble
the Almighty will turn to Peter and will say, not without a certain envy when He sees us coming with our books under our arms, Look, these need no reward. We have nothing to give them here. They have loved reading. — Virginia Woolf
All these have suffered a great change since the expulsion of the Musulmans, the reason of which is obvious; for the Musulmans, conquerors of the Spaniards, did not persecute the conquered; while, on the other hand, the Spaniards, who conquered them, not only persecuted but deprived them of their possessions. It — George Power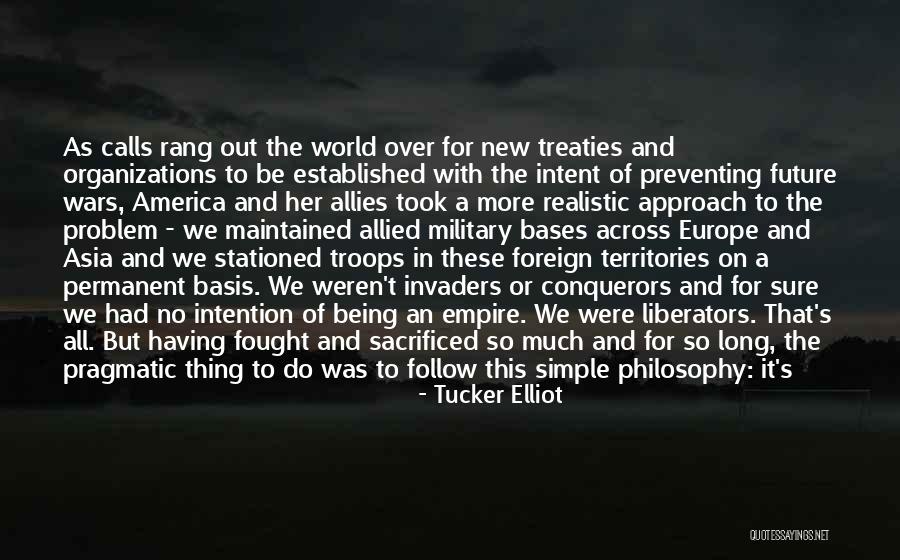 As calls rang out the world over for new treaties and organizations to be established with the intent of preventing future wars, America and her allies took a more realistic approach to the problem - we maintained allied military bases across Europe and Asia and we stationed troops in these foreign territories on a permanent basis. We weren't invaders or conquerors and for sure we had no intention of being an empire. We were liberators. That's all. But having fought and sacrificed so much and for so long, the pragmatic thing to do was to follow this simple philosophy: it's great to have dialogue, it just works a lot better when you have a strong military strategically placed and ready to act around the globe. — Tucker Elliot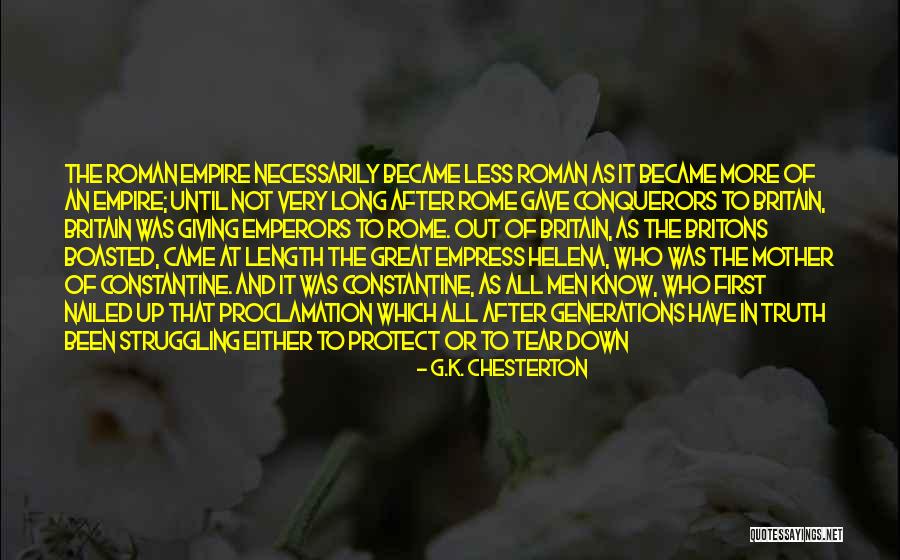 The Roman Empire necessarily became less Roman as it became more of an Empire; until not very long after Rome gave conquerors to Britain, Britain was giving emperors to Rome. Out of Britain, as the Britons boasted, came at length the great Empress Helena, who was the mother of Constantine. And it was Constantine, as all men know, who first nailed up that proclamation which all after generations have in truth been struggling either to protect or to tear down — G.K. Chesterton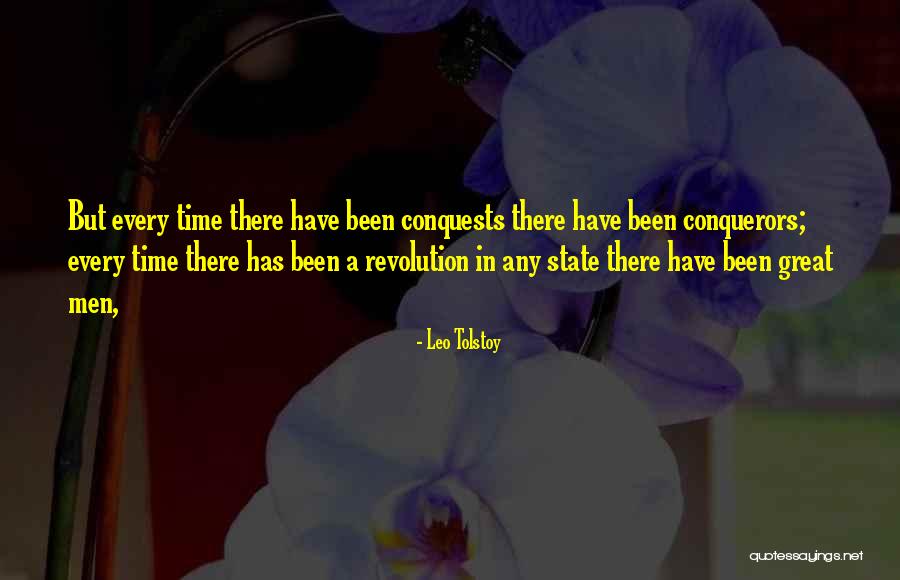 But every time there have been conquests there have been conquerors; every time there has been a revolution in any state there have been great men, — Leo Tolstoy