Grasp Opportunity Quotes & Sayings
Enjoy reading and share 29 famous quotes about Grasp Opportunity with everyone.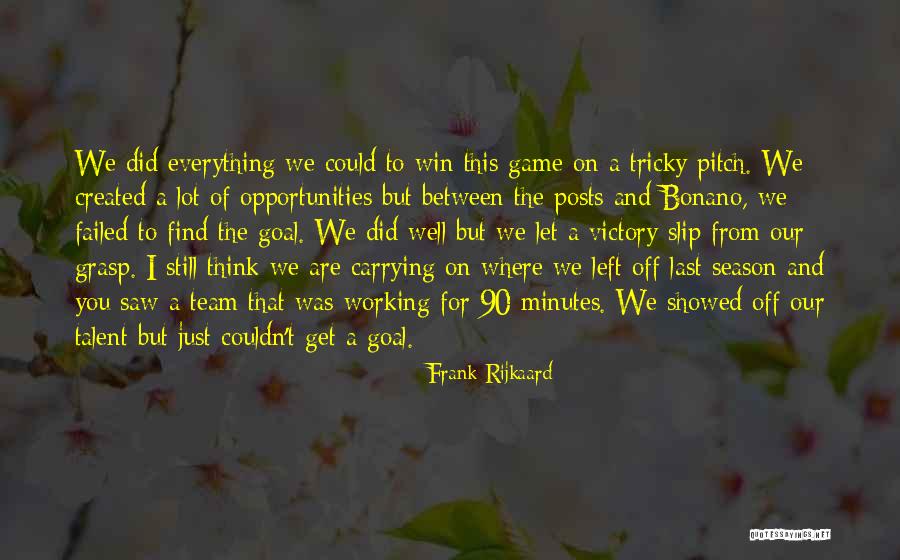 We did everything we could to win this game on a tricky pitch. We created a lot of opportunities but between the posts and Bonano, we failed to find the goal. We did well but we let a victory slip from our grasp. I still think we are carrying on where we left off last season and you saw a team that was working for 90 minutes. We showed off our talent but just couldn't get a goal. — Frank Rijkaard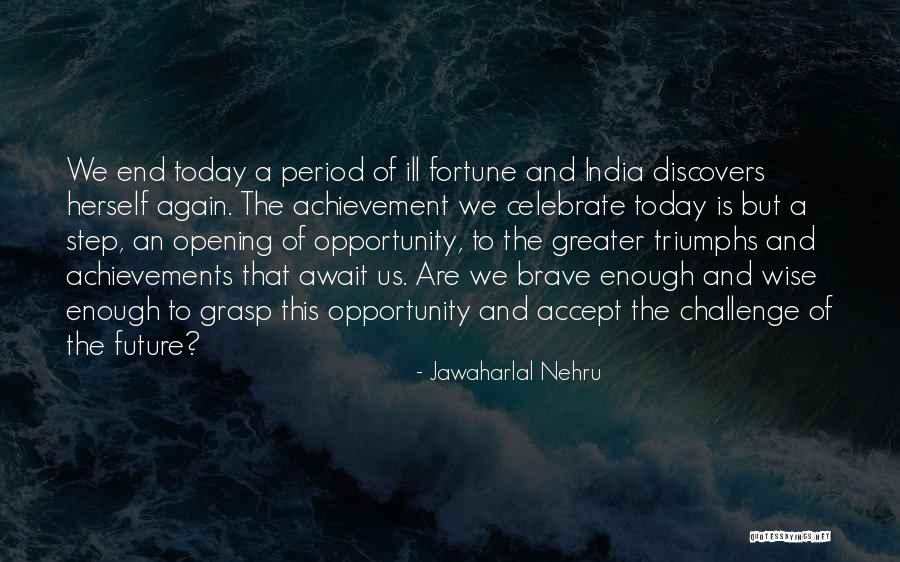 We end today a period of ill fortune and India discovers herself again. The achievement we celebrate today is but a step, an opening of opportunity, to the greater triumphs and achievements that await us. Are we brave enough and wise enough to grasp this opportunity and accept the challenge of the future? — Jawaharlal Nehru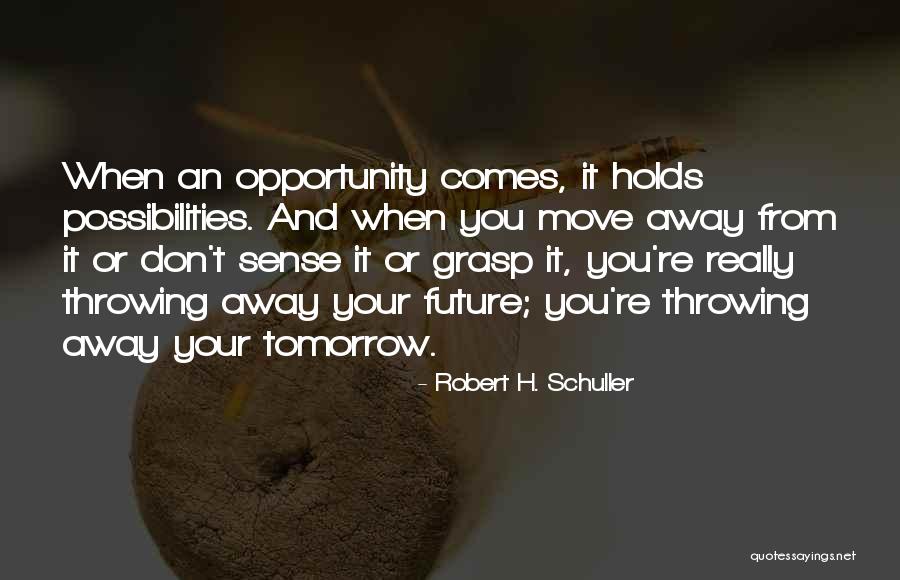 When an opportunity comes, it holds possibilities. And when you move away from it or don't sense it or grasp it, you're really throwing away your future; you're throwing away your tomorrow. — Robert H. Schuller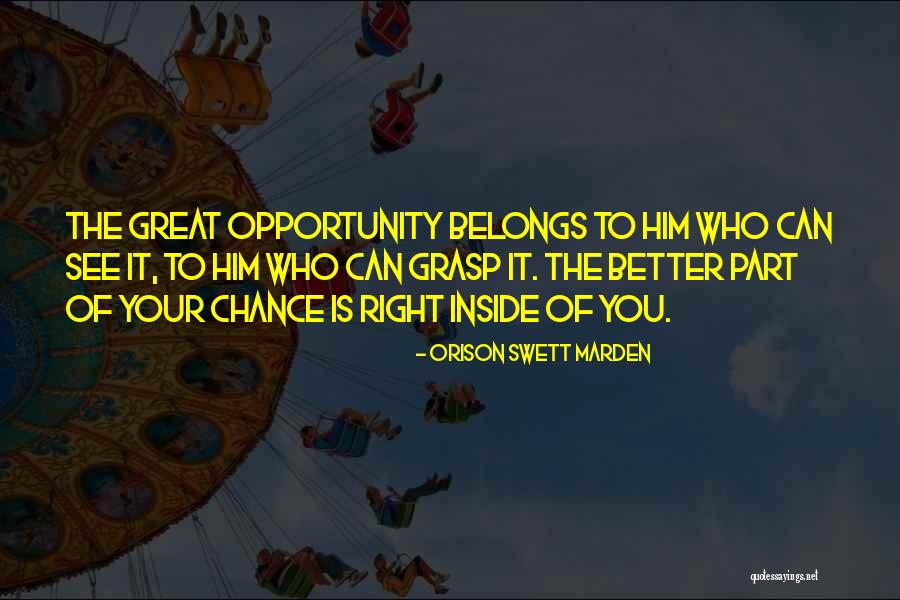 The great opportunity belongs to him who can see it, to him who can grasp it. The better part of your chance is right inside of you. — Orison Swett Marden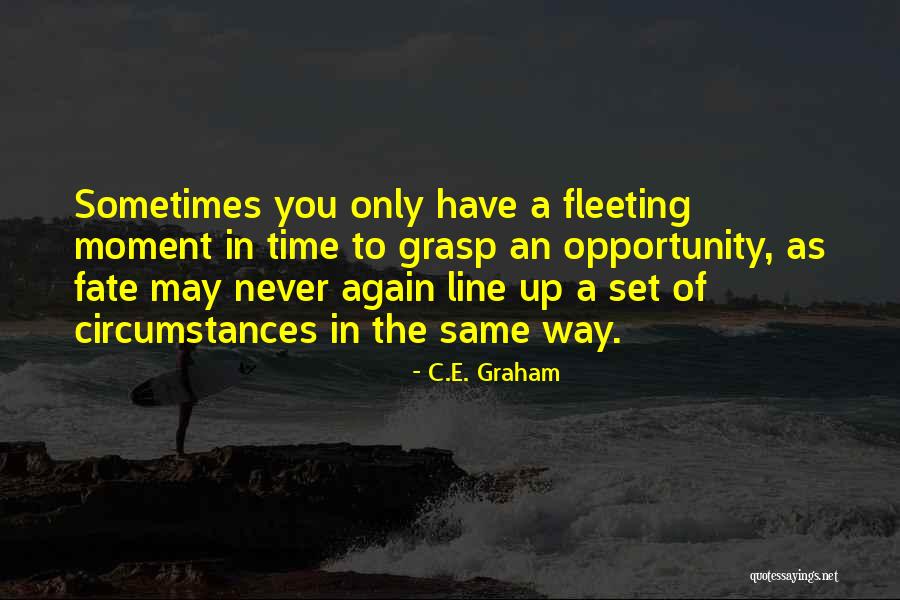 Sometimes you only have a fleeting moment in time to grasp an opportunity, as fate may never again line up a set of circumstances in the same way. — C.E. Graham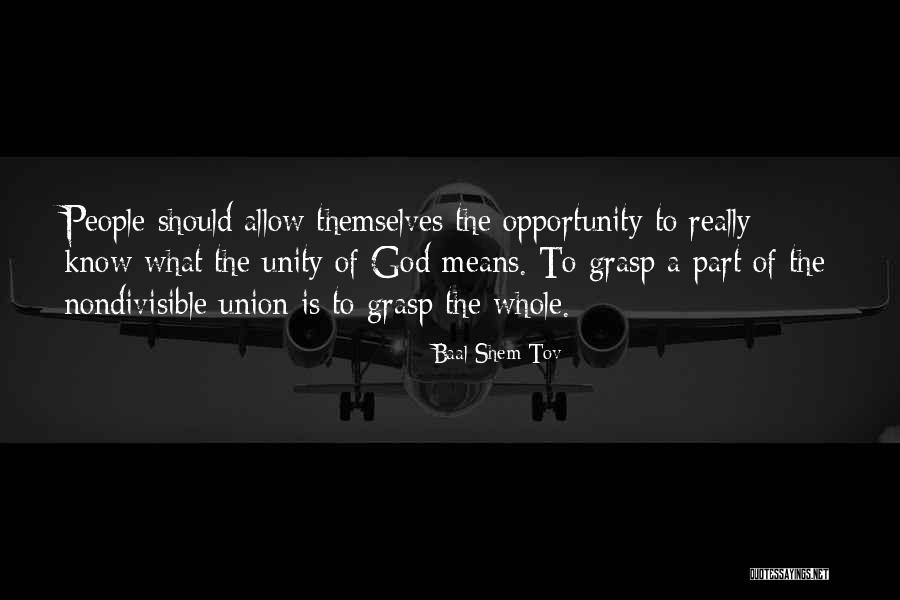 People should allow themselves the opportunity to really know what the unity of God means. To grasp a part of the nondivisible union is to grasp the whole. — Baal Shem Tov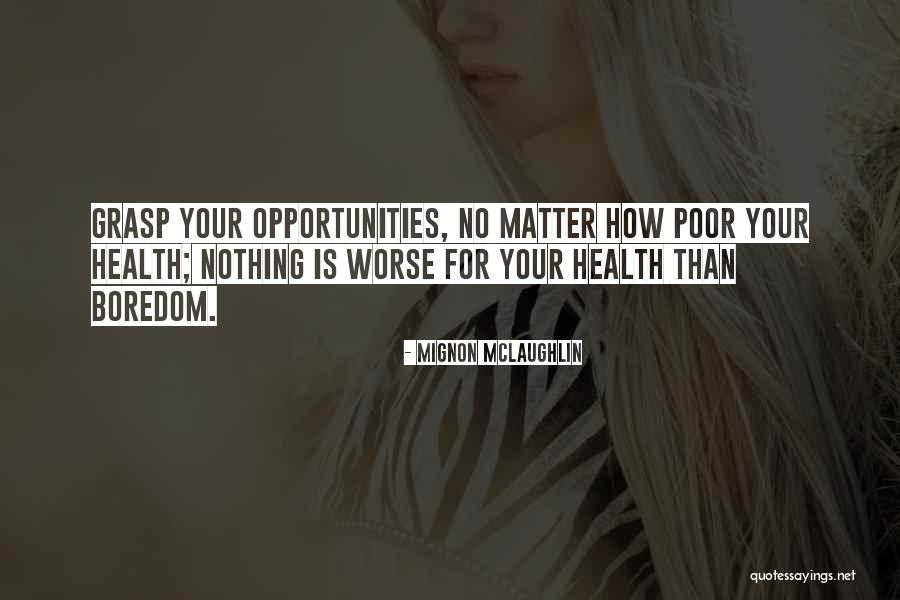 Grasp your opportunities, no matter how poor your health; nothing is worse for your health than boredom. — Mignon McLaughlin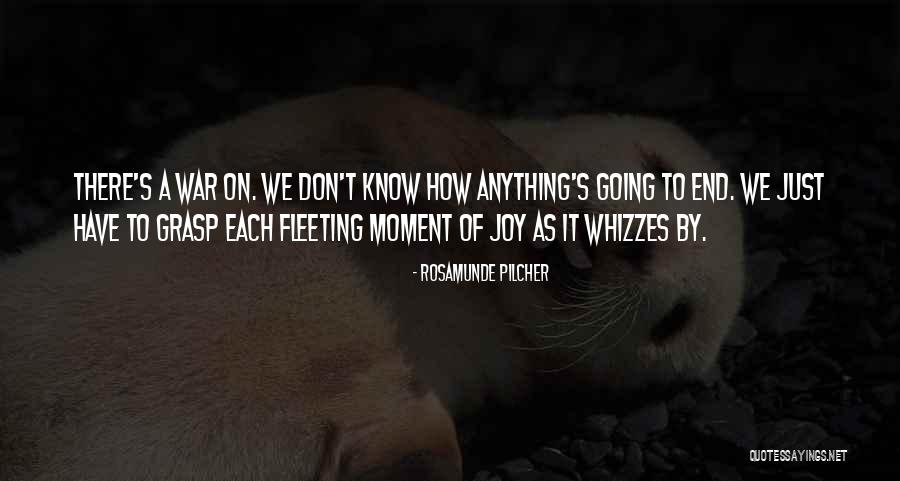 There's a war on. We don't know how anything's going to end. We just have to grasp each fleeting moment of joy as it whizzes by. — Rosamunde Pilcher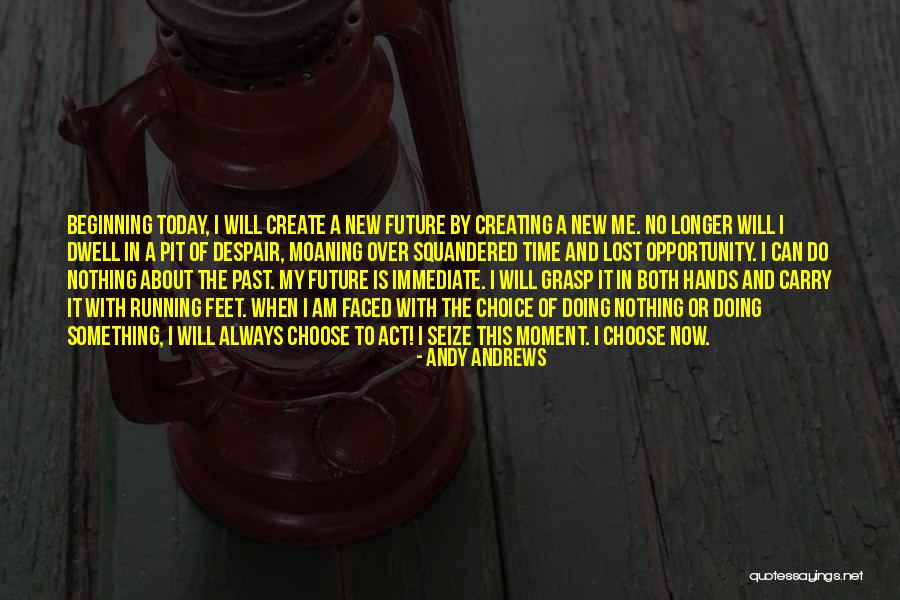 Beginning today, I will create a new future by creating a new me. No longer will I dwell in a pit of despair, moaning over squandered time and lost opportunity. I can do nothing about the past. My future is immediate. I will grasp it in both hands and carry it with running feet. When I am faced with the choice of doing nothing or doing something, I will always choose to act! I seize this moment. I choose now. — Andy Andrews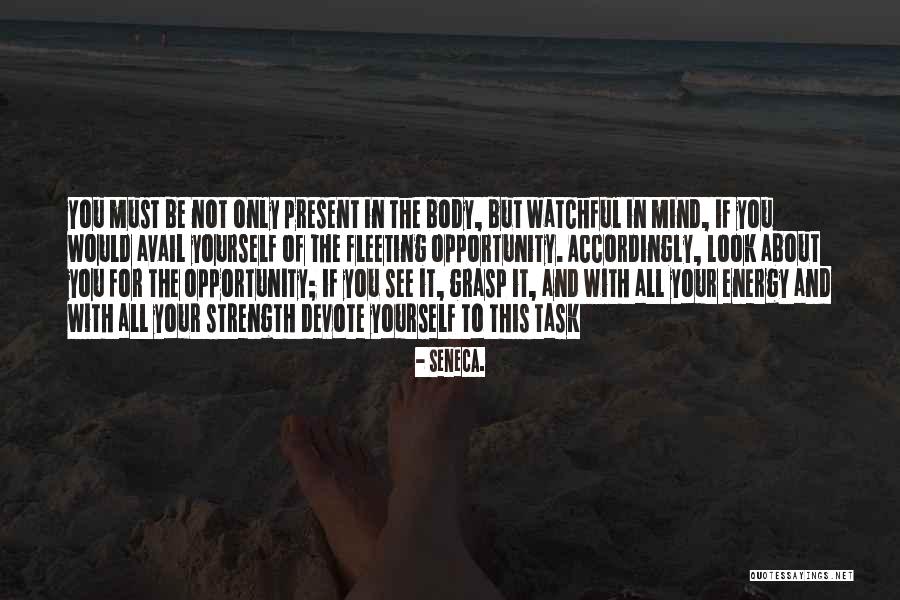 You must be not only present in the body, but watchful in mind, if you would avail yourself of the fleeting opportunity. Accordingly, look about you for the opportunity; if you see it, grasp it, and with all your energy and with all your strength devote yourself to this task — Seneca.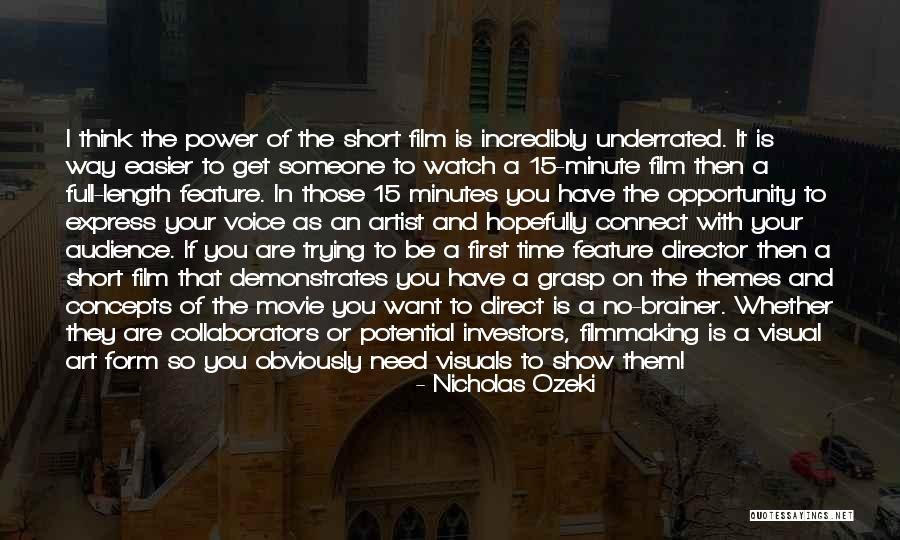 I think the power of the short film is incredibly underrated. It is way easier to get someone to watch a 15-minute film then a full-length feature. In those 15 minutes you have the opportunity to express your voice as an artist and hopefully connect with your audience. If you are trying to be a first time feature director then a short film that demonstrates you have a grasp on the themes and concepts of the movie you want to direct is a no-brainer. Whether they are collaborators or potential investors, filmmaking is a visual art form so you obviously need visuals to show them! — Nicholas Ozeki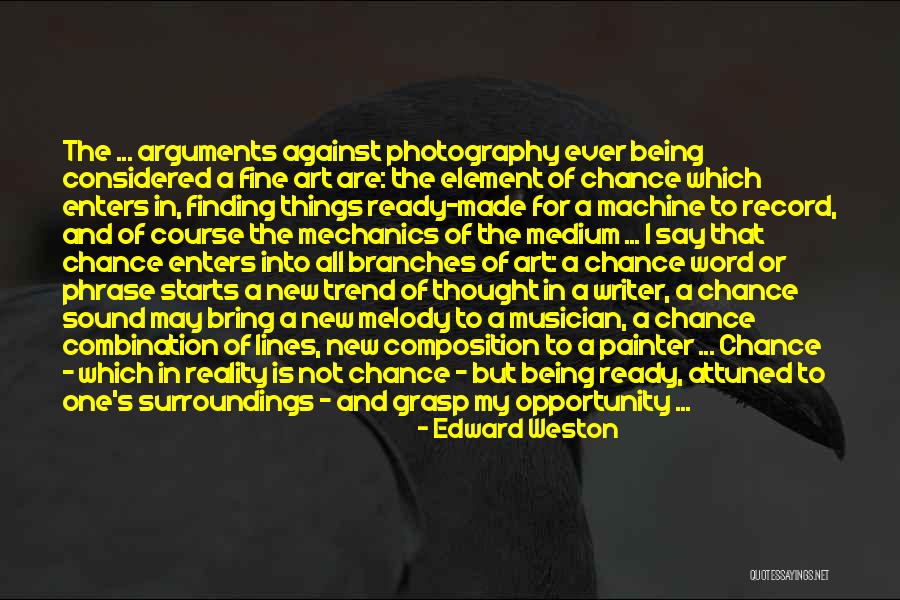 The ... arguments against photography ever being considered a fine art are: the element of chance which enters in, finding things ready-made for a machine to record, and of course the mechanics of the medium ... I say that chance enters into all branches of art: a chance word or phrase starts a new trend of thought in a writer, a chance sound may bring a new melody to a musician, a chance combination of lines, new composition to a painter ... Chance - which in reality is not chance - but being ready, attuned to one's surroundings - and grasp my opportunity ... — Edward Weston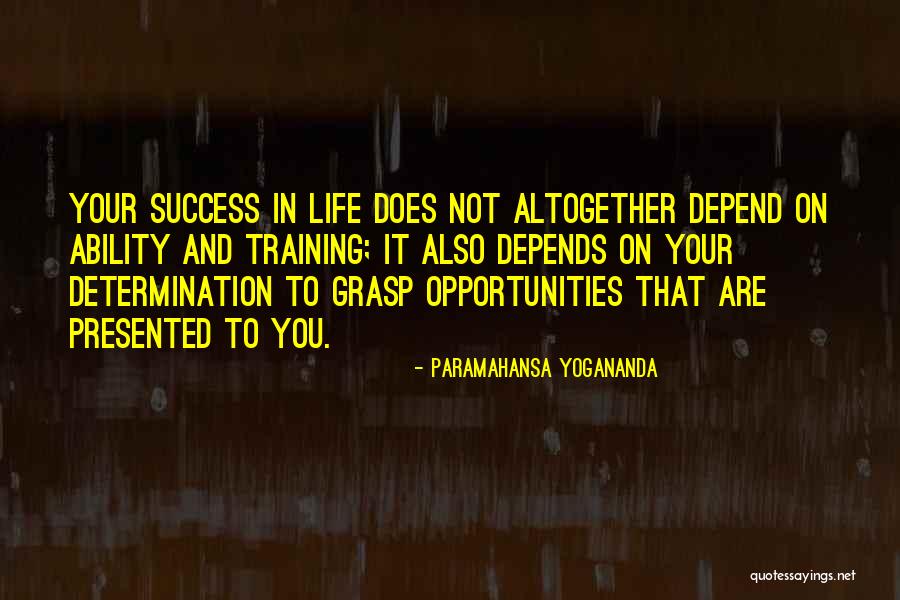 Your success in life does not altogether depend on ability and training; it also depends on your determination to grasp opportunities that are presented to you. — Paramahansa Yogananda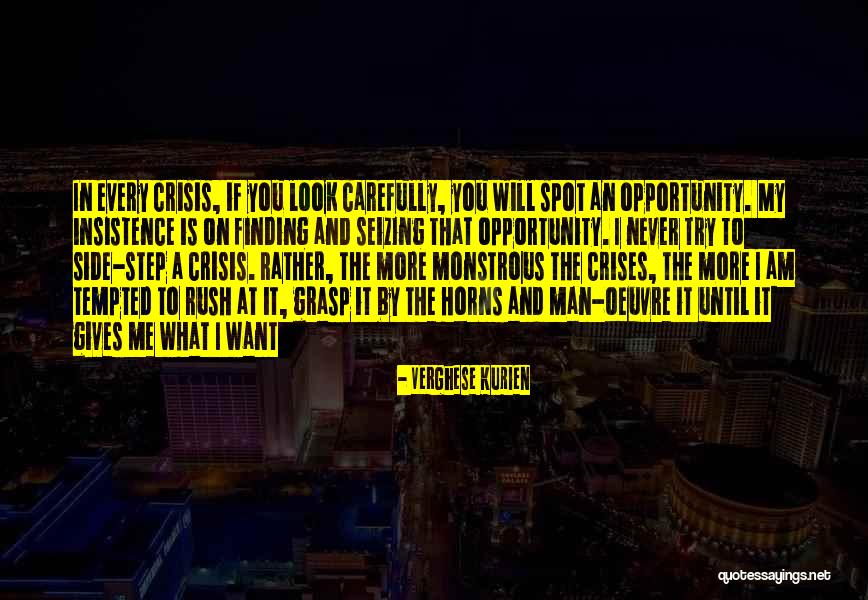 In every crisis, if you look carefully, you will spot an opportunity. My insistence is on finding and seizing that opportunity. I never try to side-step a crisis. Rather, the more monstrous the crises, the more I am tempted to rush at it, grasp it by the horns and man-oeuvre it until it gives me what I want — Verghese Kurien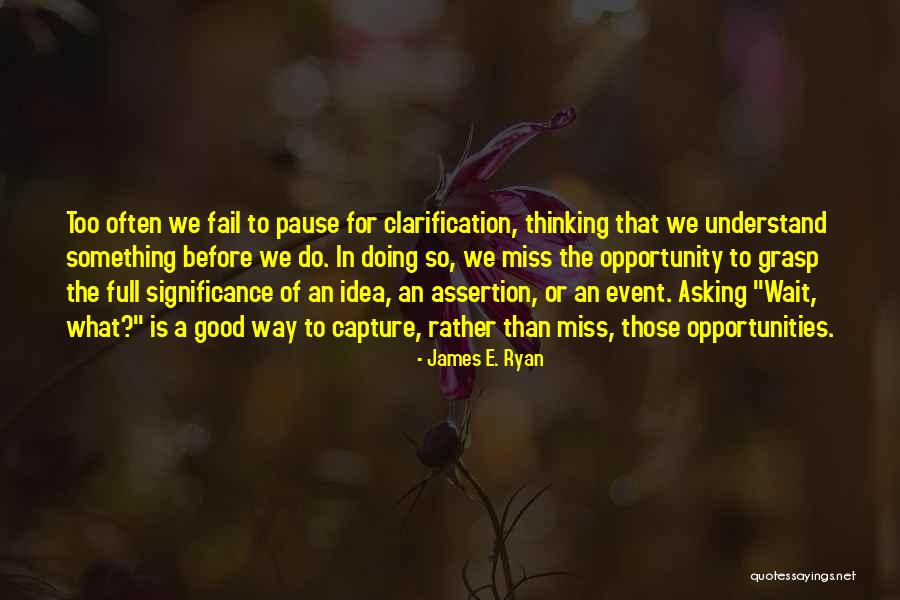 Too often we fail to pause for clarification, thinking that we understand something before we do. In doing so, we miss the opportunity to grasp the full significance of an idea, an assertion, or an event. Asking "Wait, what?" is a good way to capture, rather than miss, those opportunities. — James E. Ryan
If you prepare yourself at every point as well as you can, with whatever means you may have, however meager they may seem, you will be able to grasp opportunity for broader experience when it appears. Without preparation you cannot do it. — Eleanor Roosevelt
You are more ready and able to grasp at opportunity when your hands are empty. — Christy Hall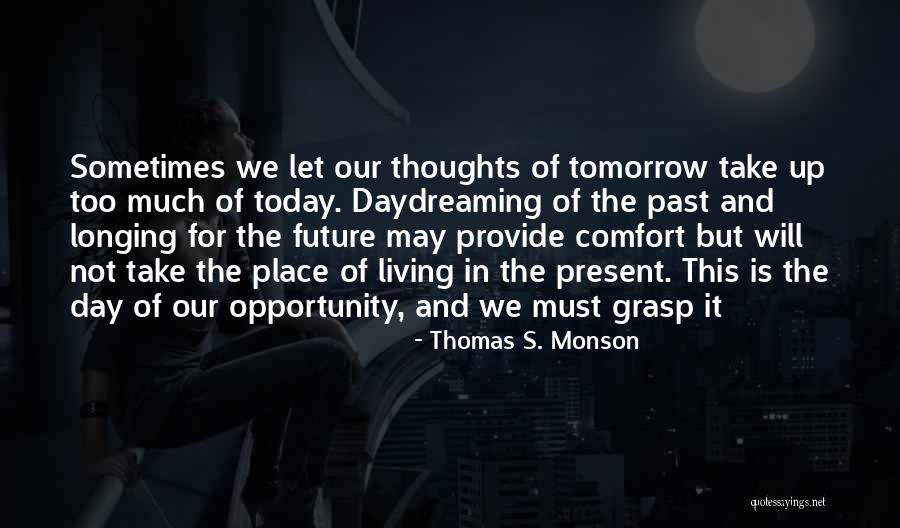 Sometimes we let our thoughts of tomorrow take up too much of today. Daydreaming of the past and longing for the future may provide comfort but will not take the place of living in the present. This is the day of our opportunity, and we must grasp it — Thomas S. Monson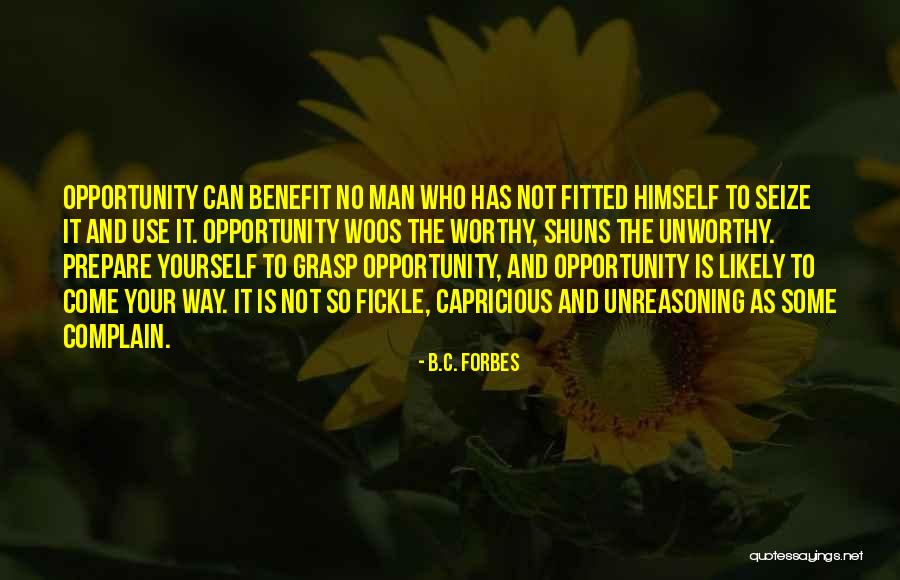 Opportunity can benefit no man who has not fitted himself to seize it and use it. Opportunity woos the worthy, shuns the unworthy. Prepare yourself to grasp opportunity, and opportunity is likely to come your way. It is not so fickle, capricious and unreasoning as some complain. — B.C. Forbes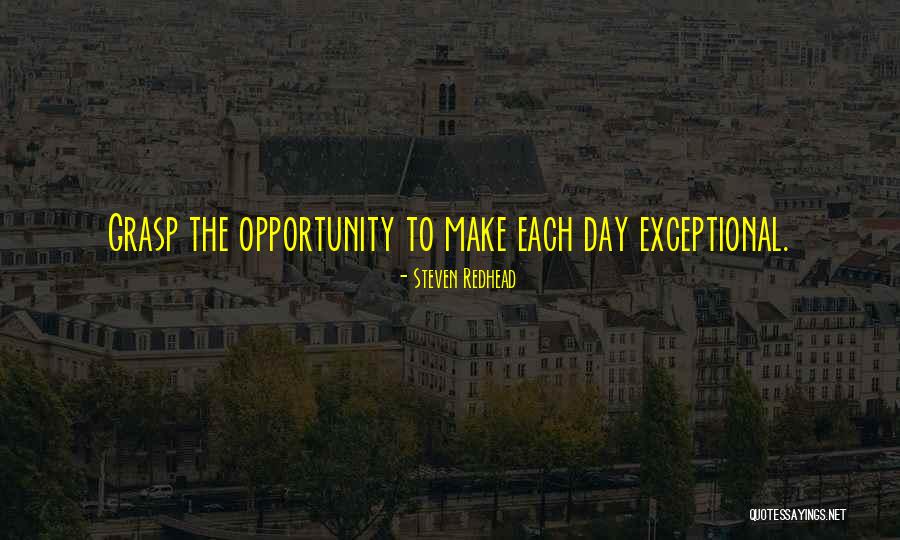 Grasp the opportunity to make each day exceptional. — Steven Redhead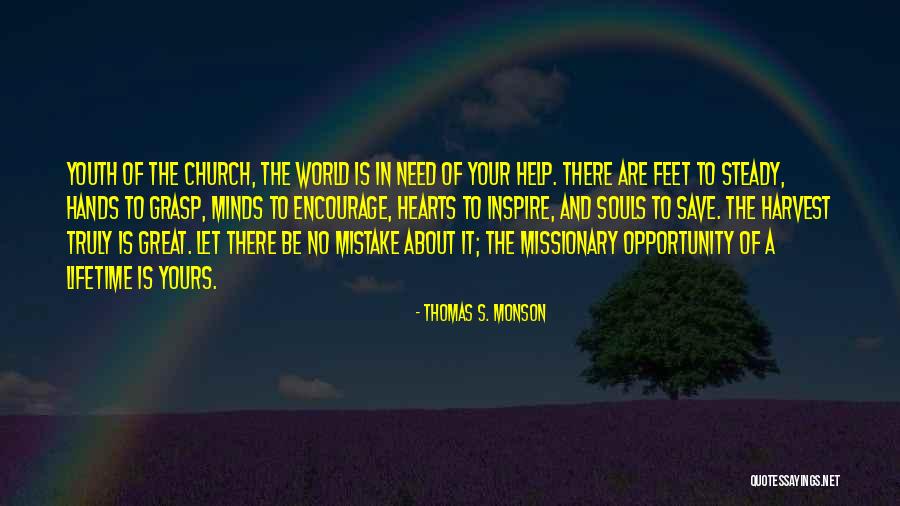 Youth of the Church, the world is in need of your help. There are feet to steady, hands to grasp, minds to encourage, hearts to inspire, and souls to save. The harvest truly is great. Let there be no mistake about it; the missionary opportunity of a lifetime is yours. — Thomas S. Monson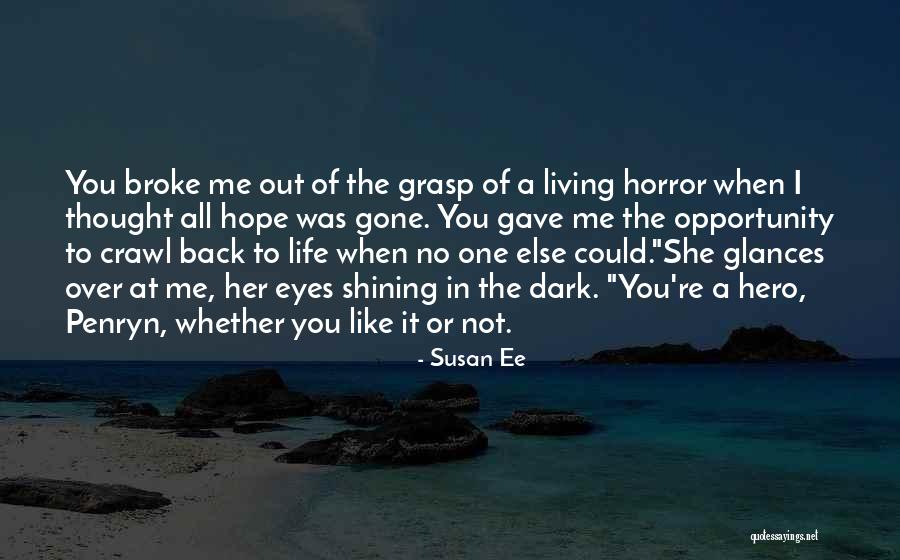 You broke me out of the grasp of a living horror when I thought all hope was gone. You gave me the opportunity to crawl back to life when no one else could."
She glances over at me, her eyes shining in the dark. "You're a hero, Penryn, whether you like it or not. — Susan Ee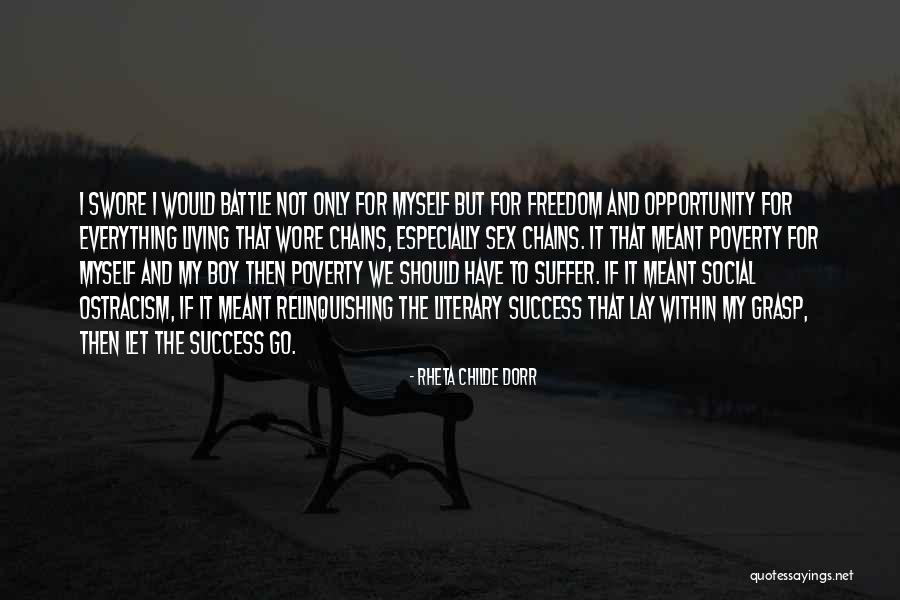 I swore I would battle not only for myself but for freedom and opportunity for everything living that wore chains, especially sex chains. It that meant poverty for myself and my boy then poverty we should have to suffer. If it meant social ostracism, if it meant relinquishing the literary success that lay within my grasp, then let the success go. — Rheta Childe Dorr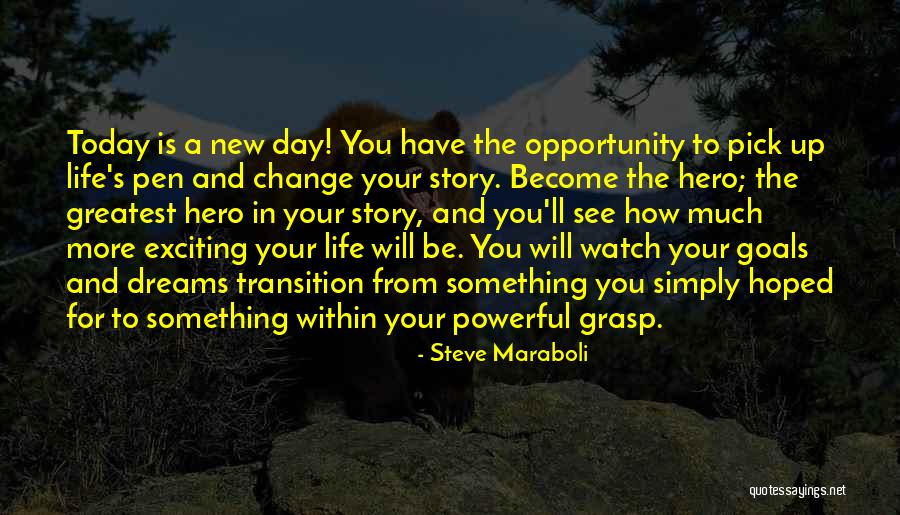 Today is a new day! You have the opportunity to pick up life's pen and change your story. Become the hero; the greatest hero in your story, and you'll see how much more exciting your life will be. You will watch your goals and dreams transition from something you simply hoped for to something within your powerful grasp. — Steve Maraboli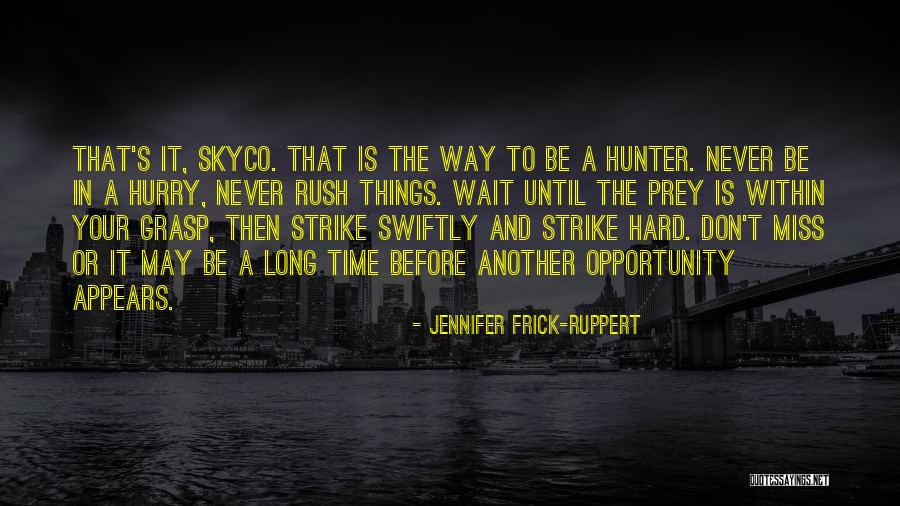 That's it, Skyco. That is the way to be a hunter. Never be in a hurry, never rush things. Wait until the prey is within your grasp, then strike swiftly and strike hard. Don't miss or it may be a long time before another opportunity appears. — Jennifer Frick-Ruppert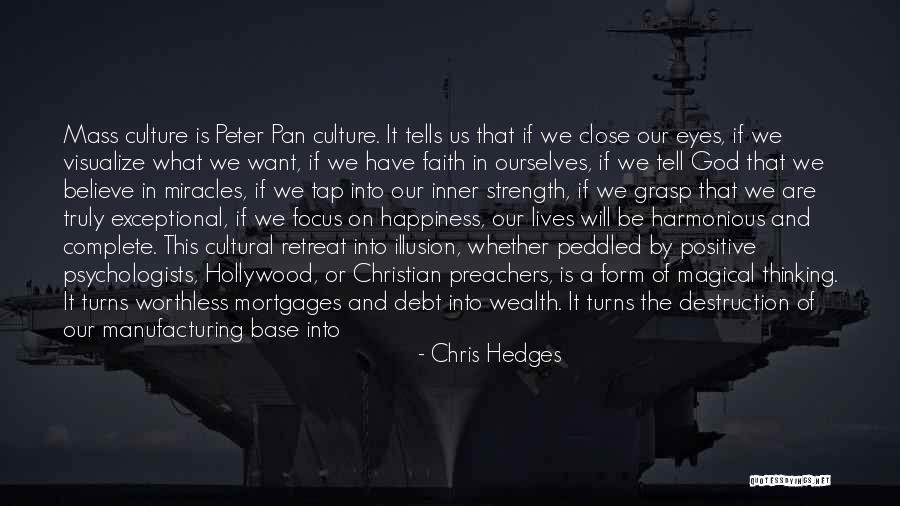 Mass culture is Peter Pan culture. It tells us that if we close our eyes, if we visualize what we want, if we have faith in ourselves, if we tell God that we believe in miracles, if we tap into our inner strength, if we grasp that we are truly exceptional, if we focus on happiness, our lives will be harmonious and complete. This cultural retreat into illusion, whether peddled by positive psychologists, Hollywood, or Christian preachers, is a form of magical thinking. It turns worthless mortgages and debt into wealth. It turns the destruction of our manufacturing base into an opportunity for growth. It turns alienation and anxiety into a cheerful conformity. It turns a nation that wages illegal wars and administers off-shore penal colonies where it openly practices torture into the greatest democracy on earth. — Chris Hedges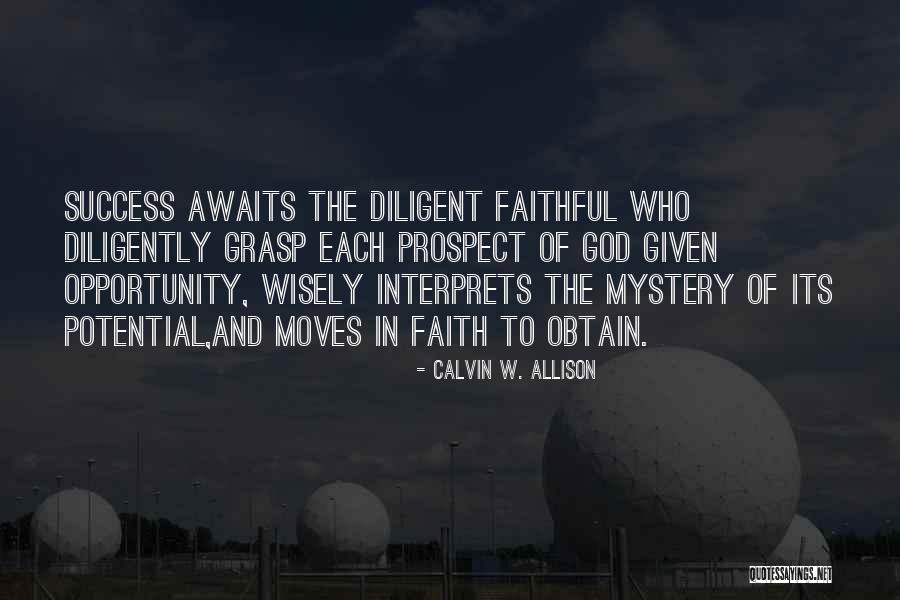 Success awaits the diligent faithful
who diligently grasp each prospect
of God given opportunity, wisely
interprets the mystery of its potential,
and moves in faith to obtain. — Calvin W. Allison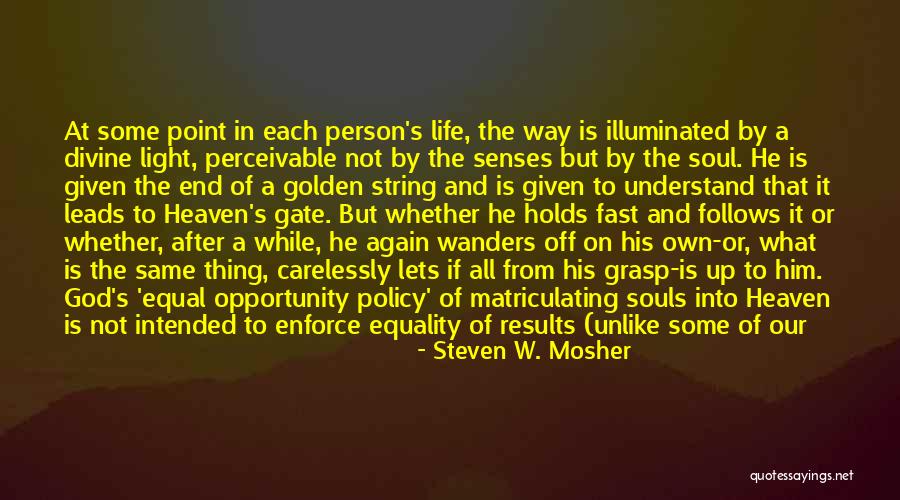 At some point in each person's life, the way is illuminated by a divine light, perceivable not by the senses but by the soul. He is given the end of a golden string and is given to understand that it leads to Heaven's gate. But whether he holds fast and follows it or whether, after a while, he again wanders off on his own-or, what is the same thing, carelessly lets if all from his grasp-is up to him. God's 'equal opportunity policy' of matriculating souls into Heaven is not intended to enforce equality of results (unlike some of our earthly versions) but only to provide true and perfect equality of opportunity. There is no such thing as the salvation of all, as the universalists would have it, or the salvation of only the 'elect', as the Calvinist pre-determinists would have it. There is only the salvation of those who elect it. — Steven W. Mosher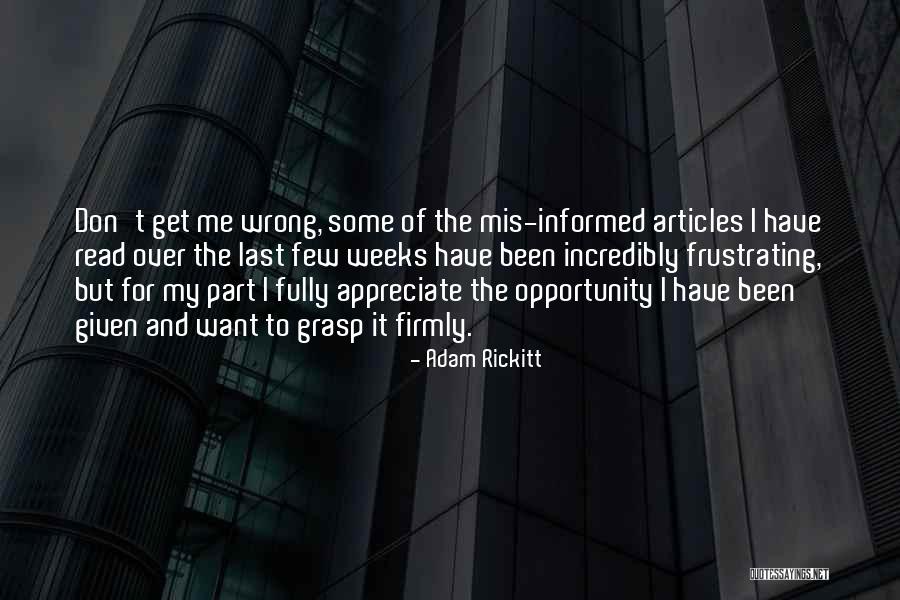 Don't get me wrong, some of the mis-informed articles I have read over the last few weeks have been incredibly frustrating, but for my part I fully appreciate the opportunity I have been given and want to grasp it firmly. — Adam Rickitt