Good Things Are Hard To Find Quotes & Sayings
Enjoy reading and share 48 famous quotes about Good Things Are Hard To Find with everyone.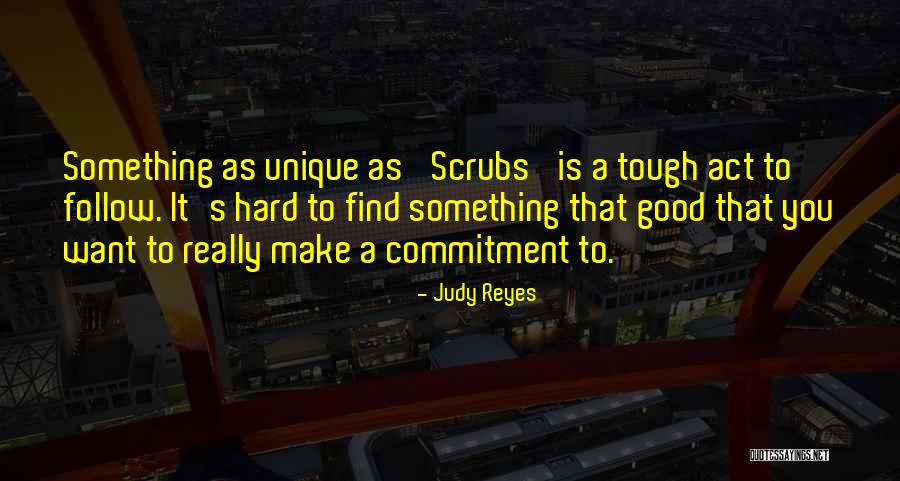 Something as unique as 'Scrubs' is a tough act to follow. It's hard to find something that good that you want to really make a commitment to. — Judy Reyes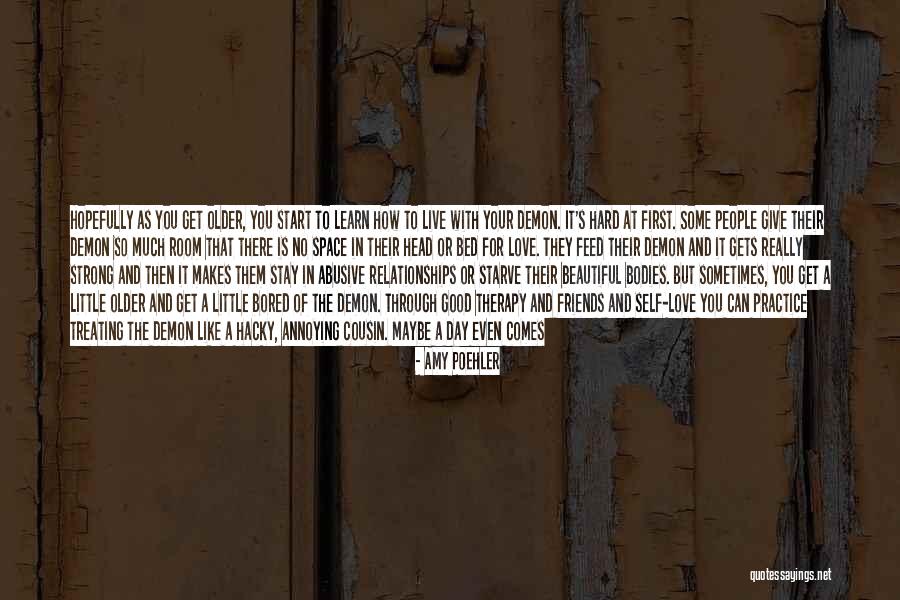 Hopefully as you get older, you start to learn how to live with your demon. It's hard at first. Some people give their demon so much room that there is no space in their head or bed for love. They feed their demon and it gets really strong and then it makes them stay in abusive relationships or starve their beautiful bodies. But sometimes, you get a little older and get a little bored of the demon. Through good therapy and friends and self-love you can practice treating the demon like a hacky, annoying cousin. Maybe a day even comes when you are getting dressed for a fancy event and it whispers, "You aren't pretty," and you go, "I know, I know, now let me find my earrings." Sometimes you say, "Demon, I promise you I will let you remind me of my ugliness, but right now I am having hot sex so I will check in later. — Amy Poehler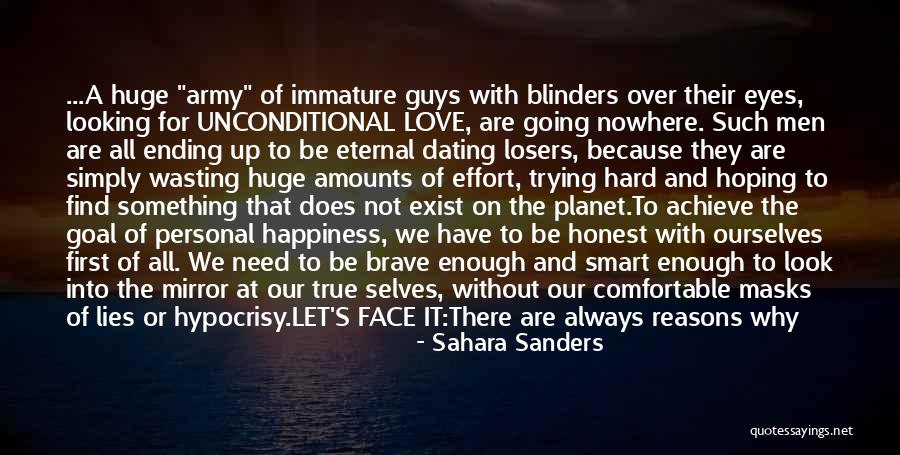 ...A huge "army" of immature guys with blinders over their eyes, looking for UNCONDITIONAL LOVE, are going nowhere. Such men are all ending up to be eternal dating losers, because they are simply wasting huge amounts of effort, trying hard and hoping to find something that does not exist on the planet.
To achieve the goal of personal happiness, we have to be honest with ourselves first of all. We need to be brave enough and smart enough to look into the mirror at our true selves, without our comfortable masks of lies or hypocrisy.

LET'S FACE IT:
There are always reasons why we feel love for another person; we don't love someone for no reason at all. We love them for the qualities they possess, which we admire; for those amazing, bright emotions they evoke from within ourselves; for the love and care that we so acceptingly receive from them; and for what good feelings we experience being around them, etc.

Be HONEST with yourself! — Sahara Sanders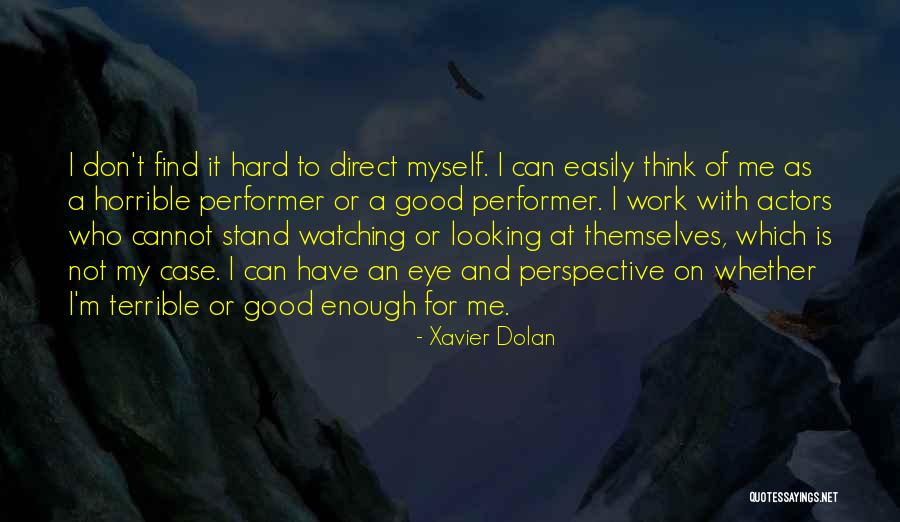 I don't find it hard to direct myself. I can easily think of me as a horrible performer or a good performer. I work with actors who cannot stand watching or looking at themselves, which is not my case. I can have an eye and perspective on whether I'm terrible or good enough for me. — Xavier Dolan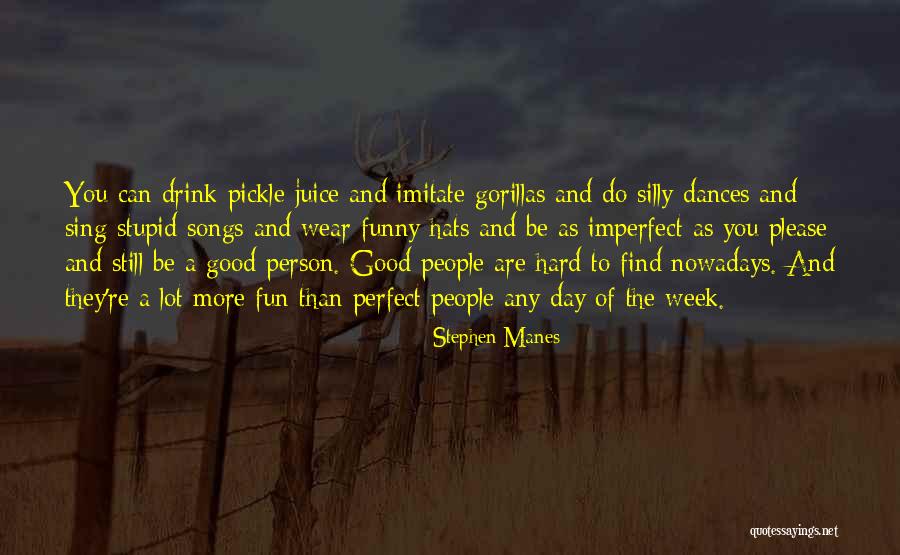 You can drink pickle juice and imitate gorillas and do silly dances and sing stupid songs and wear funny hats and be as imperfect as you please and still be a good person. Good people are hard to find nowadays. And they're a lot more fun than perfect people any day of the week. — Stephen Manes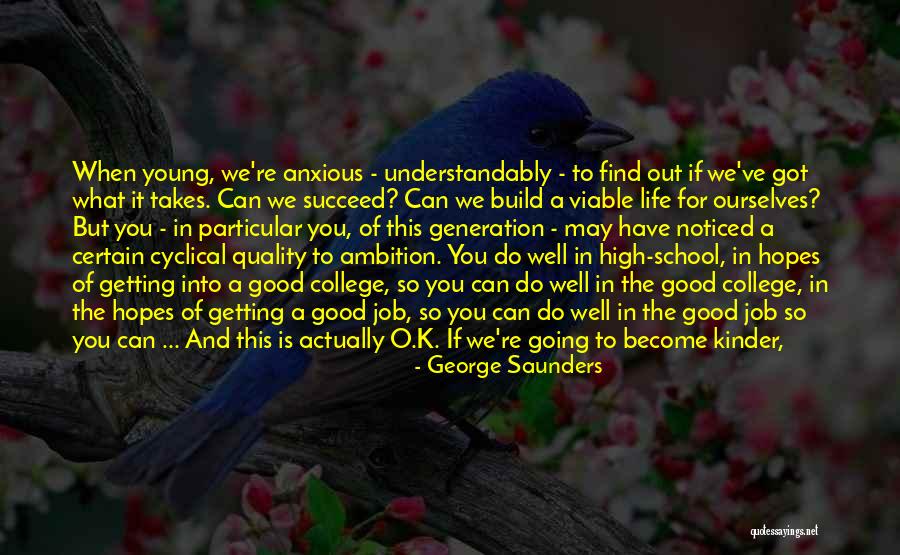 When young, we're anxious - understandably - to find out if we've got what it takes. Can we succeed? Can we build a viable life for ourselves? But you - in particular you, of this generation - may have noticed a certain cyclical quality to ambition. You do well in high-school, in hopes of getting into a good college, so you can do well in the good college, in the hopes of getting a good job, so you can do well in the good job so you can ...
And this is actually O.K. If we're going to become kinder, that process has to include taking ourselves seriously - as doers, as accomplishers, as dreamers. We have to do that, to be our best selves.
Still, accomplishment is unreliable. "Succeeding," whatever that might mean to you, is hard, and the need to do so constantly renews itself (success is like a mountain that keeps growing ahead of you as you hike it), and there's the very real danger that "succeeding" will take up your whole life, while the big questions go untended. — George Saunders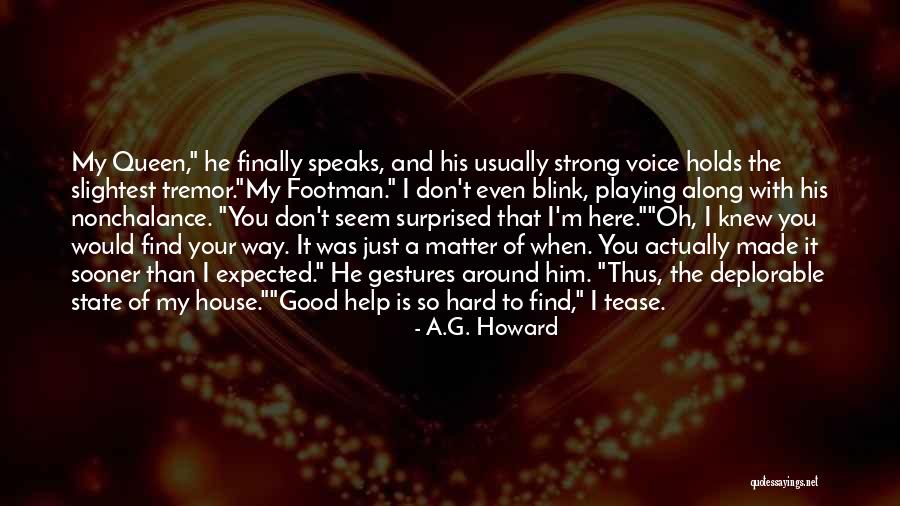 My Queen," he finally speaks, and his usually strong voice holds the slightest tremor.
"My Footman." I don't even blink, playing along with his nonchalance. "You don't seem surprised that I'm here."
"Oh, I knew you would find your way. It was just a matter of when. You actually made it sooner than I expected." He gestures around him. "Thus, the deplorable state of my house."
"Good help is so hard to find," I tease. — A.G. Howard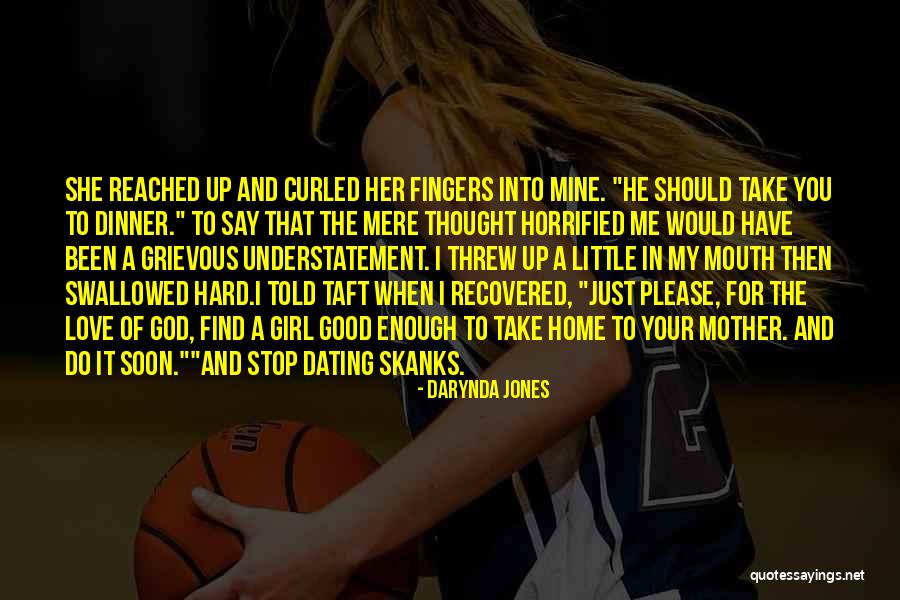 She reached up and curled her fingers into mine. "He should take you to dinner."
To say that the mere thought horrified me would have been a grievous understatement. I threw up a little in my mouth then swallowed hard.
I told Taft when I recovered, "Just please, for the love of God, find a girl good enough to take home to your mother. And do it soon."
"And stop dating skanks. — Darynda Jones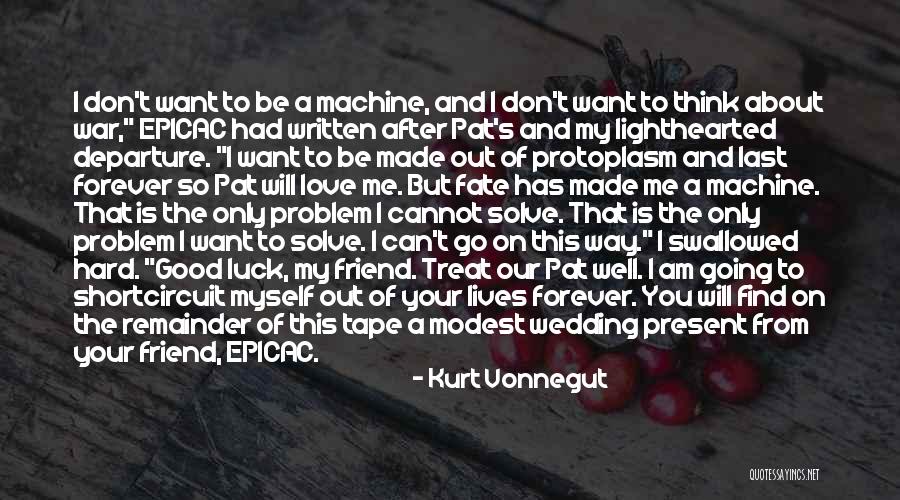 I don't want to be a machine, and I don't want to think about war," EPICAC had written after Pat's and my
lighthearted departure. "I want to be made out of protoplasm and last forever so Pat will love me. But fate
has made me a machine. That is the only problem I cannot solve. That is the only problem I want to solve. I
can't go on this way." I swallowed hard. "Good luck, my friend. Treat our Pat well. I am going to shortcircuit myself out of your lives forever. You will find on the remainder of this tape a modest wedding
present from your friend, EPICAC. — Kurt Vonnegut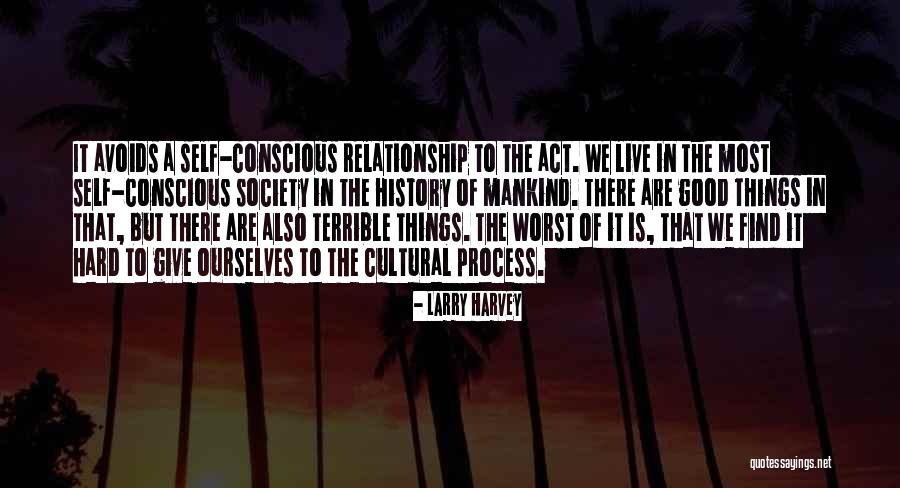 It avoids a self-conscious relationship to the act. We live in the most self-conscious society in the history of mankind. There are good things in that, but there are also terrible things. The worst of it is, that we find it hard to give ourselves to the cultural process. — Larry Harvey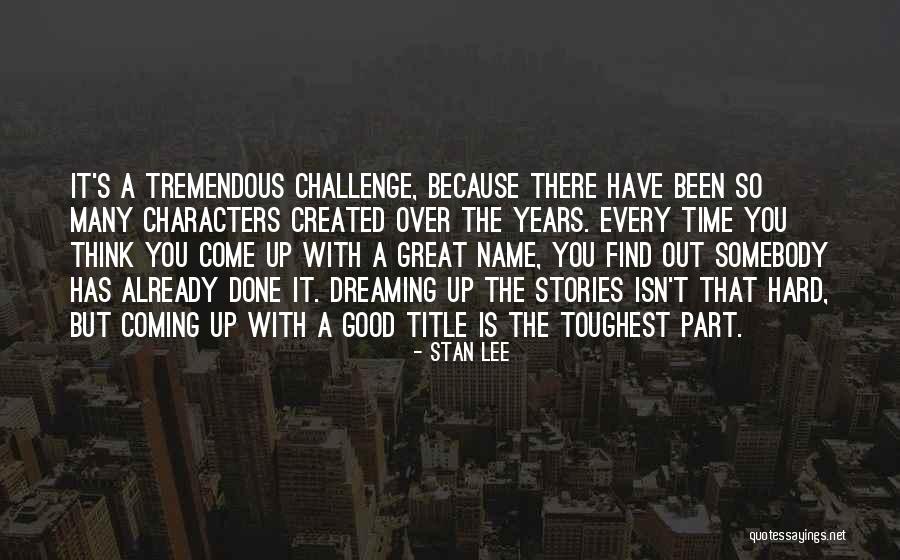 It's a tremendous challenge, because there have been so many characters created over the years. Every time you think you come up with a great name, you find out somebody has already done it. Dreaming up the stories isn't that hard, but coming up with a good title is the toughest part. — Stan Lee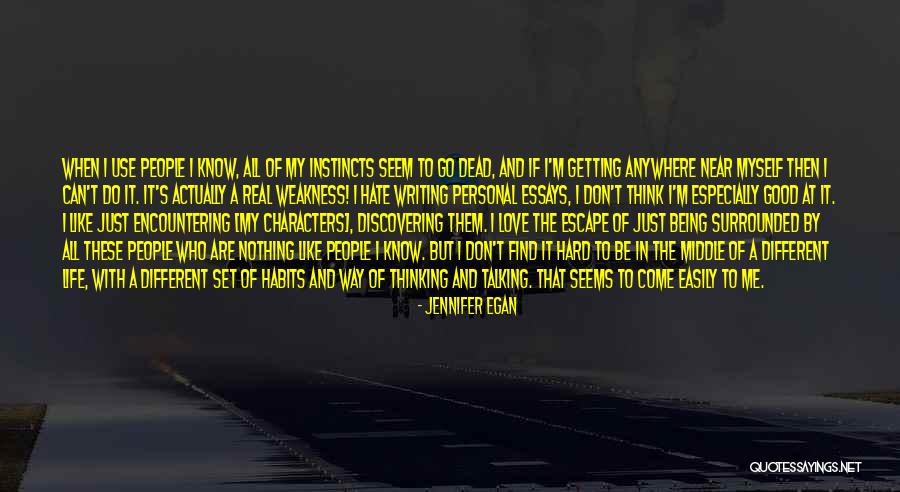 When I use people I know, all of my instincts seem to go dead, and if I'm getting anywhere near myself then I can't do it. It's actually a real weakness! I hate writing personal essays, I don't think I'm especially good at it. I like just encountering [my characters], discovering them. I love the escape of just being surrounded by all these people who are nothing like people I know. But I don't find it hard to be in the middle of a different life, with a different set of habits and way of thinking and talking. That seems to come easily to me. — Jennifer Egan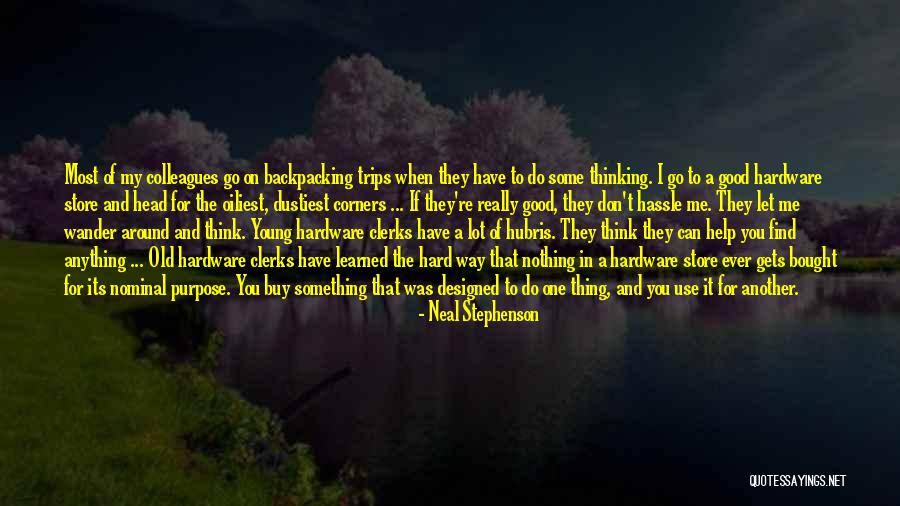 Most of my colleagues go on backpacking trips when they have to do some thinking. I go to a good hardware store and head for the oiliest, dustiest corners ... If they're really good, they don't hassle me. They let me wander around and think. Young hardware clerks have a lot of hubris. They think they can help you find anything ... Old hardware clerks have learned the hard way that nothing in a hardware store ever gets bought for its nominal purpose. You buy something that was designed to do one thing, and you use it for another. — Neal Stephenson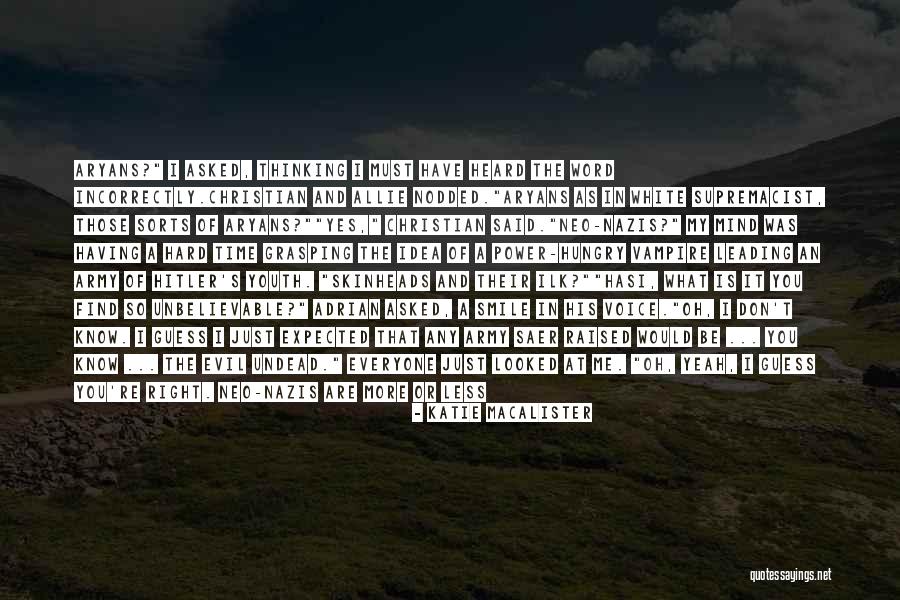 Aryans?" I asked, thinking I must have heard the word incorrectly.
Christian and Allie nodded.
"Aryans as in white supremacist, those sorts of Aryans?"
"Yes," Christian said.
"Neo-Nazis?" My mind was having a hard time grasping the idea of a power-hungry vampire leading an army of Hitler's Youth. "Skinheads and their ilk?"
"Hasi, what is it you find so unbelievable?" Adrian asked, a smile in his voice.
"Oh, I don't know. I guess I just expected that any army Saer raised would be ... you know ... the evil undead." Everyone just looked at me. "Oh, yeah, I guess you're right. Neo-Nazis are more or less the evil undead. Right. So we have Saer about to attack at any moment with a bunch of goose-stepping Nazis. Great. Anyone here do a really good Winston Churchill impression? — Katie MacAlister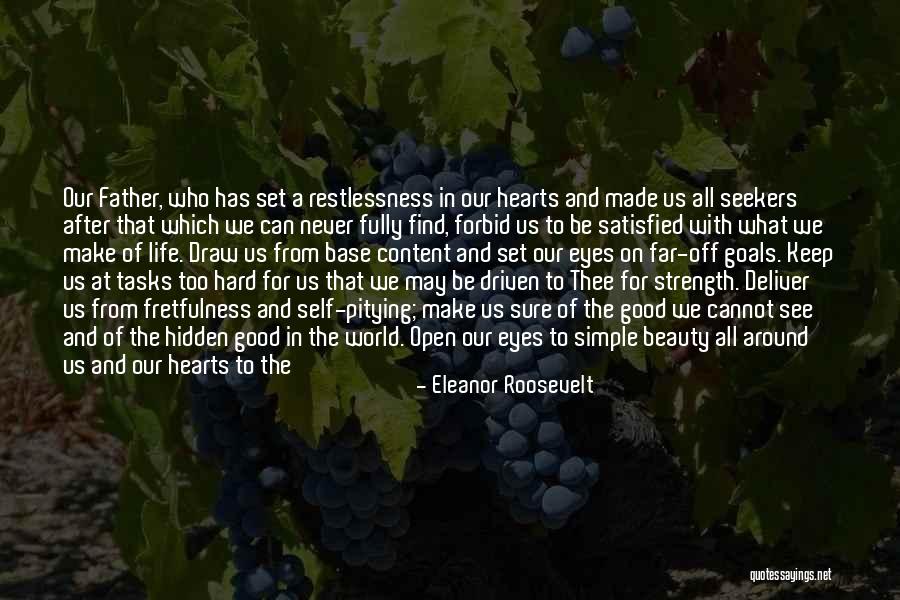 Our Father, who has set a restlessness in our hearts and made us all seekers after that which we can never fully find, forbid us to be satisfied with what we make of life. Draw us from base content and set our eyes on far-off goals. Keep us at tasks too hard for us that we may be driven to Thee for strength. Deliver us from fretfulness and self-pitying; make us sure of the good we cannot see and of the hidden good in the world. Open our eyes to simple beauty all around us and our hearts to the loveliness men hide from us because we do not try to understand them. Save us from ourselves and show us a vision of a world made new. — Eleanor Roosevelt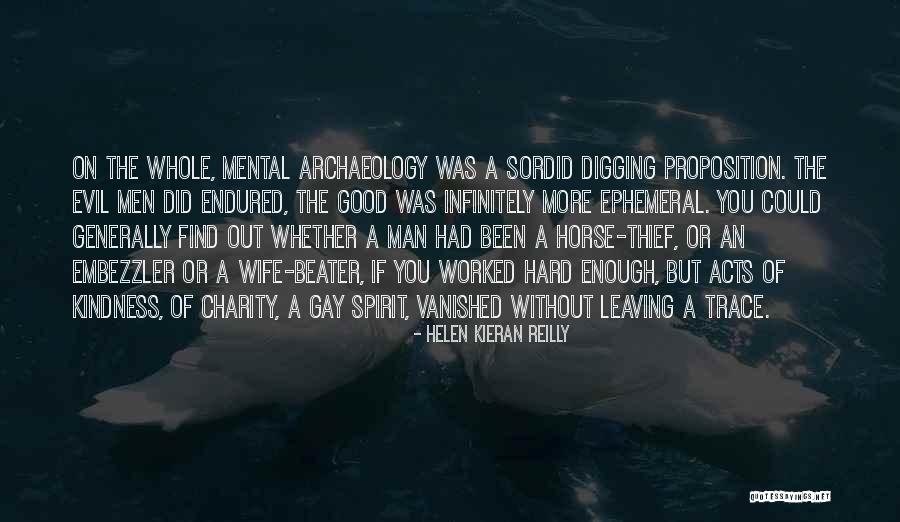 On the whole, mental archaeology was a sordid digging proposition. The evil men did endured, the good was infinitely more ephemeral. You could generally find out whether a man had been a horse-thief, or an embezzler or a wife-beater, if you worked hard enough, but acts of kindness, of charity, a gay spirit, vanished without leaving a trace. — Helen Kieran Reilly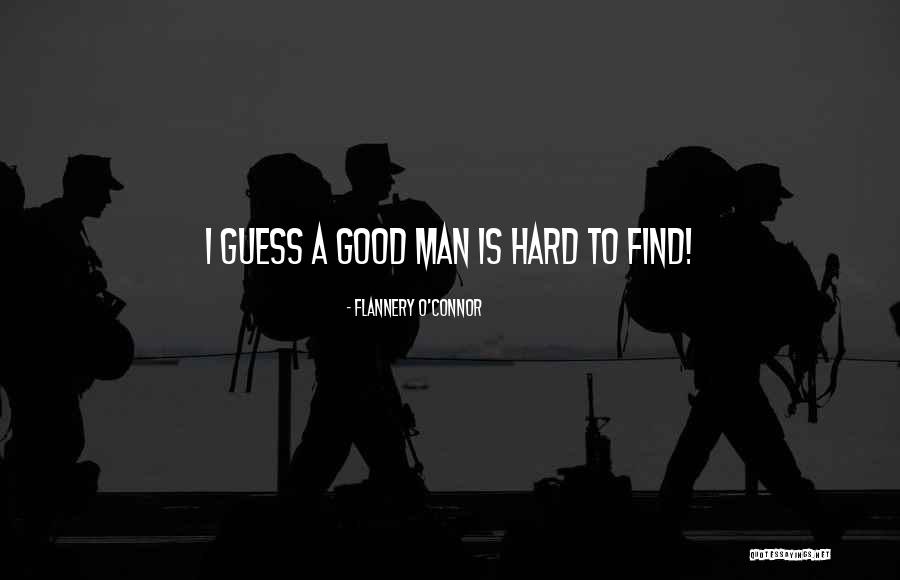 I guess a good man IS hard to find! — Flannery O'Connor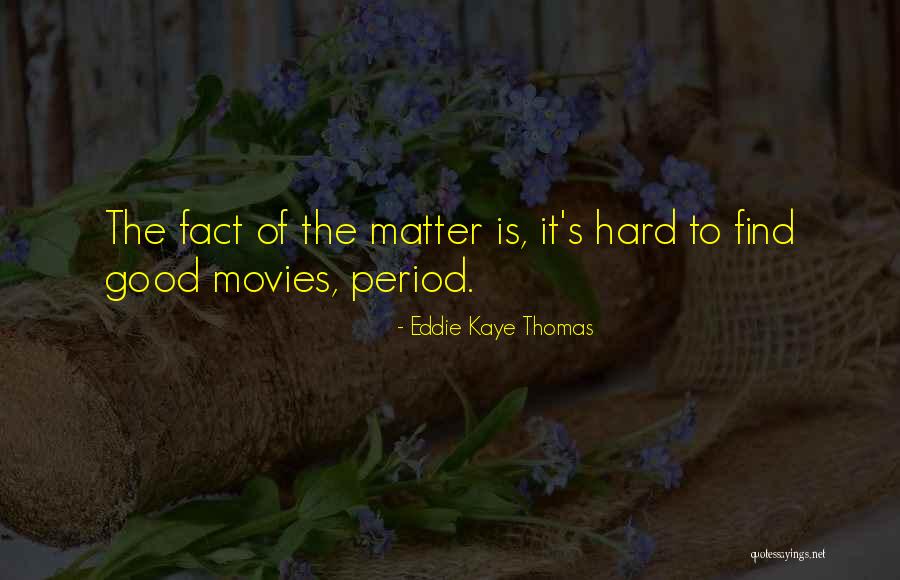 The fact of the matter is, it's hard to find good movies, period. — Eddie Kaye Thomas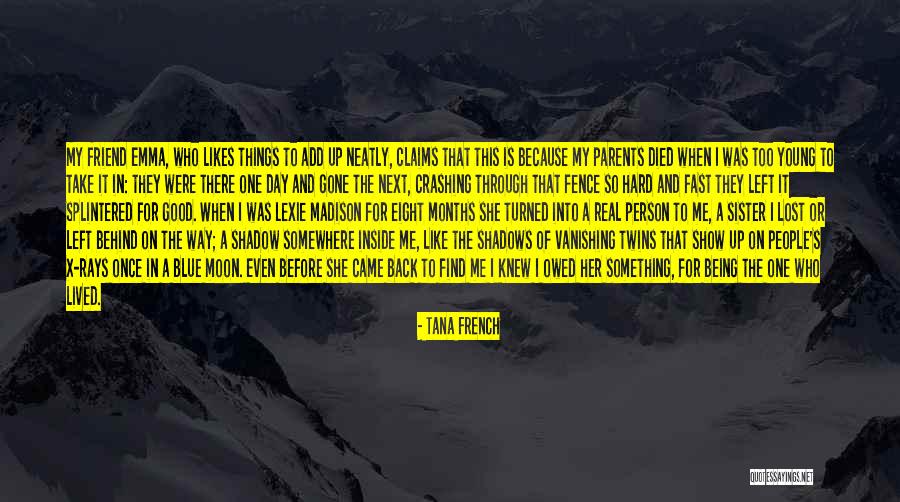 My friend Emma, who likes things to add up neatly, claims that this is because my parents died when I was too young to take it in: they were there one day and gone the next, crashing through that fence so hard and fast they left it splintered for good. When I was Lexie Madison for eight months she turned into a real person to me, a sister I lost or left behind on the way; a shadow somewhere inside me, like the shadows of vanishing twins that show up on people's X-rays once in a blue moon. Even before she came back to find me I knew I owed her something, for being the one who lived. — Tana French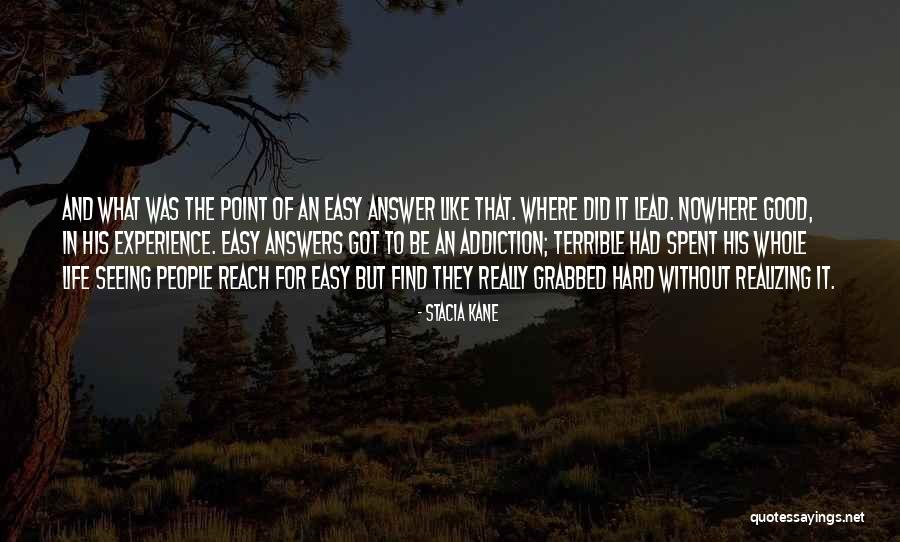 And what was the point of an easy answer like that. Where did it lead. Nowhere good, in his experience. Easy answers got to be an addiction; Terrible had spent his whole life seeing people reach for easy but find they really grabbed hard without realizing it. — Stacia Kane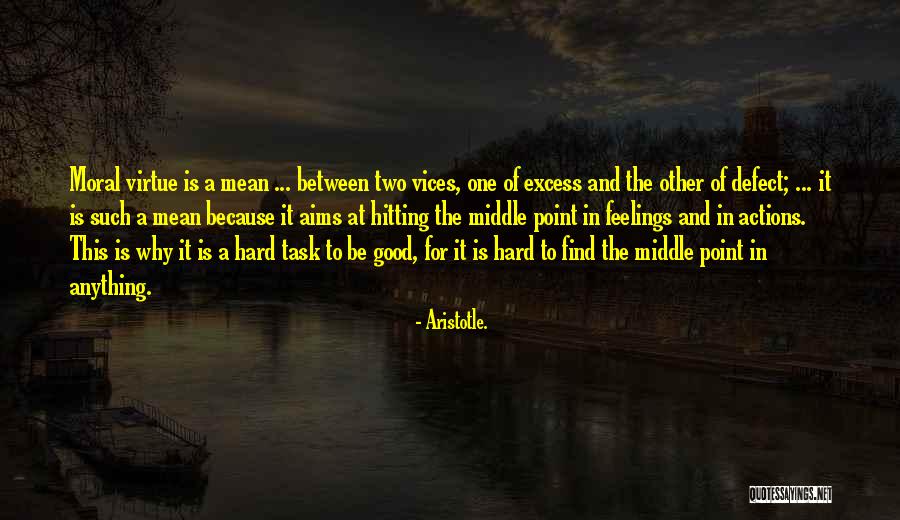 Moral virtue is a mean ... between two vices, one of excess and the other of defect; ... it is such a mean because it aims at hitting the middle point in feelings and in actions. This is why it is a hard task to be good, for it is hard to find the middle point in anything. — Aristotle.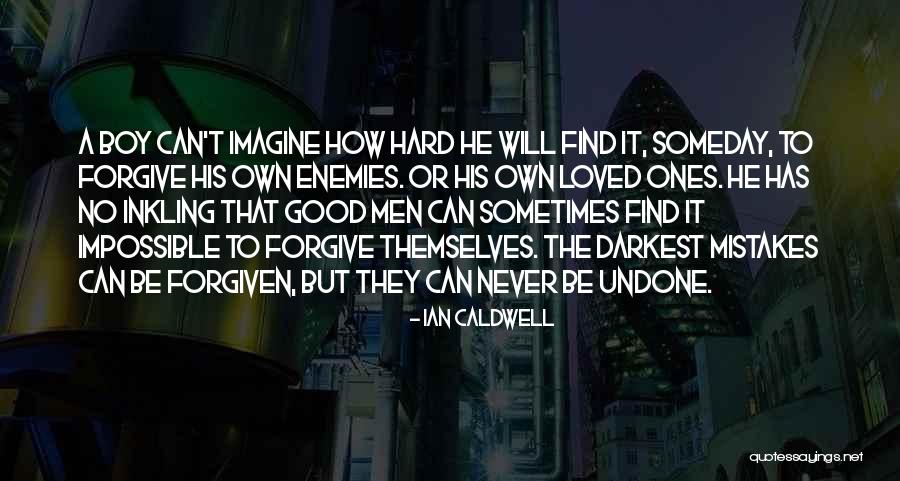 A boy can't imagine how hard he will find it, someday, to forgive his own enemies. Or his own loved ones. He has no inkling that good men can sometimes find it impossible to forgive themselves. The darkest mistakes can be forgiven, but they can never be undone. — Ian Caldwell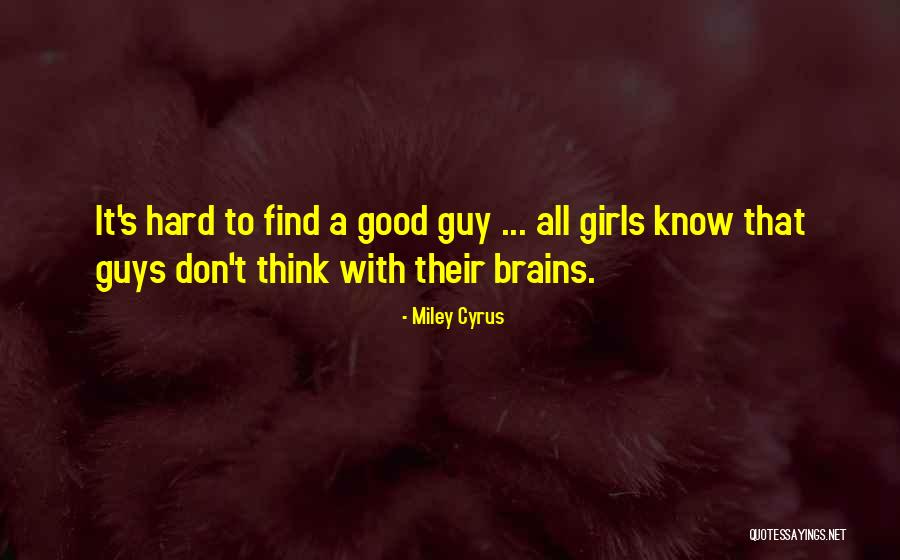 It's hard to find a good guy ... all girls know that guys don't think with their brains. — Miley Cyrus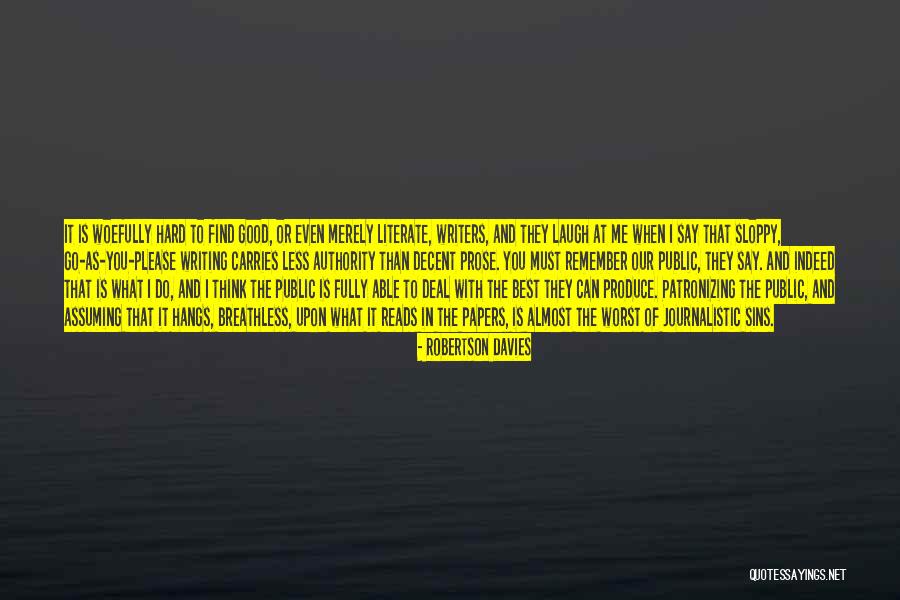 It is woefully hard to find good, or even merely literate, writers, and they laugh at me when I say that sloppy, go-as-you-please writing carries less authority than decent prose. You must remember our public, they say. And indeed that is what I do, and I think the public is fully able to deal with the best they can produce. Patronizing the public, and assuming that it hangs, breathless, upon what it reads in the papers, is almost the worst of journalistic sins. — Robertson Davies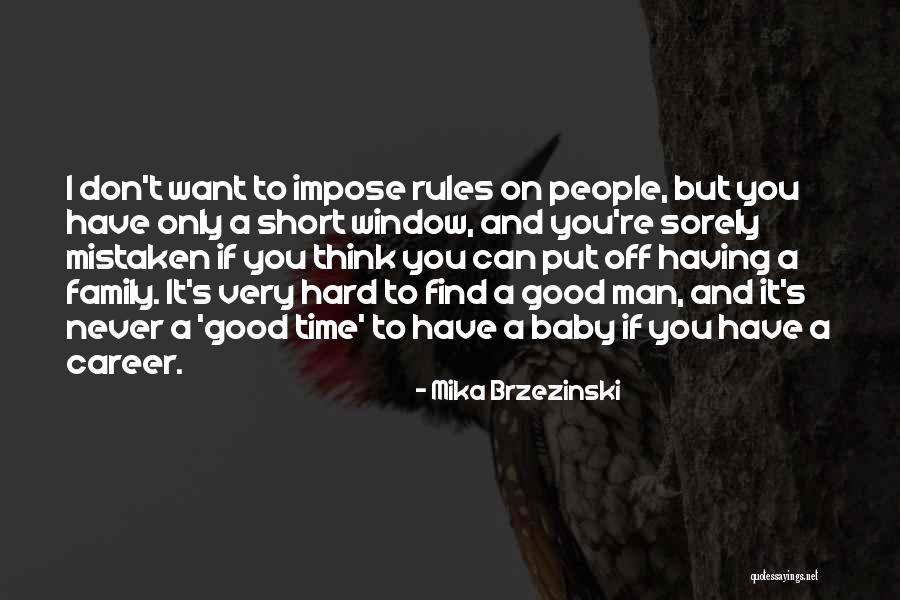 I don't want to impose rules on people, but you have only a short window, and you're sorely mistaken if you think you can put off having a family. It's very hard to find a good man, and it's never a 'good time' to have a baby if you have a career. — Mika Brzezinski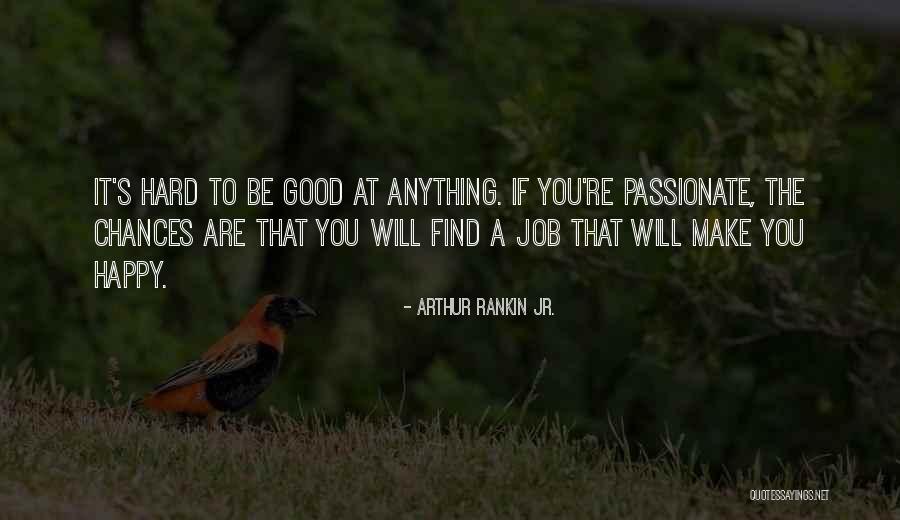 It's hard to be good at anything. If you're passionate, the chances are that you will find a job that will make you happy. — Arthur Rankin Jr.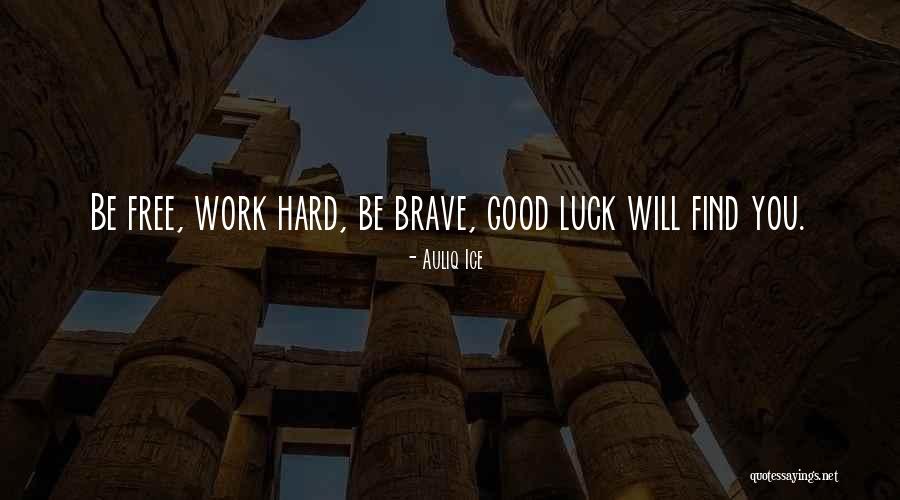 Be free, work hard, be brave, good luck will find you. — Auliq Ice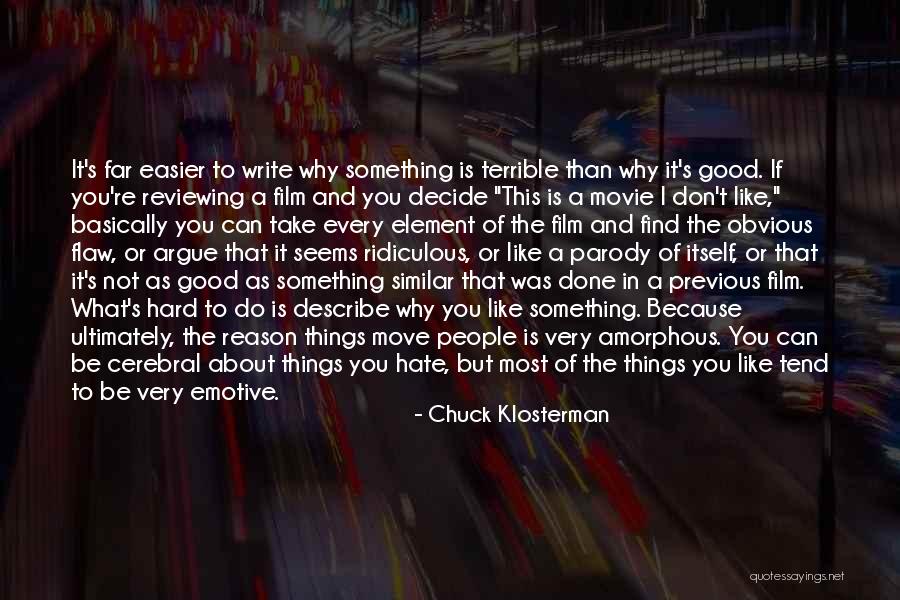 It's far easier to write why something is terrible than why it's good. If you're reviewing a film and you decide "This is a movie I don't like," basically you can take every element of the film and find the obvious flaw, or argue that it seems ridiculous, or like a parody of itself, or that it's not as good as something similar that was done in a previous film. What's hard to do is describe why you like something. Because ultimately, the reason things move people is very amorphous. You can be cerebral about things you hate, but most of the things you like tend to be very emotive. — Chuck Klosterman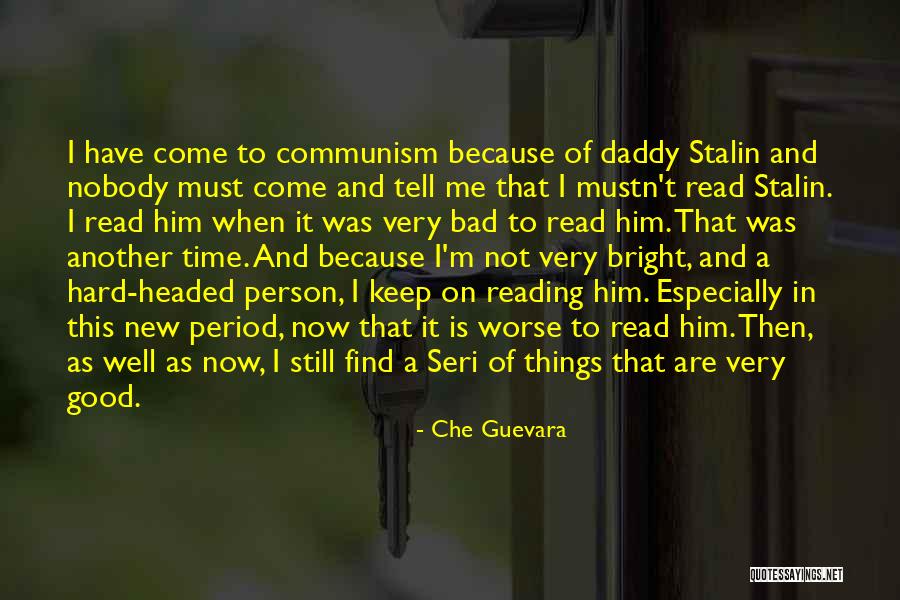 I have come to communism because of daddy Stalin and nobody must come and tell me that I mustn't read Stalin. I read him when it was very bad to read him. That was another time. And because I'm not very bright, and a hard-headed person, I keep on reading him. Especially in this new period, now that it is worse to read him. Then, as well as now, I still find a Seri of things that are very good. — Che Guevara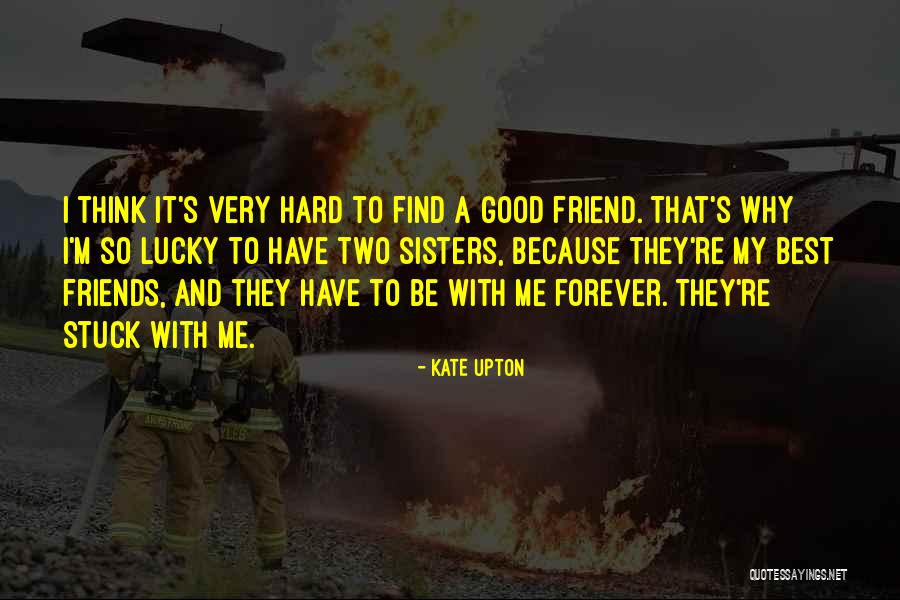 I think it's very hard to find a good friend. That's why I'm so lucky to have two sisters, because they're my best friends, and they have to be with me forever. They're stuck with me. — Kate Upton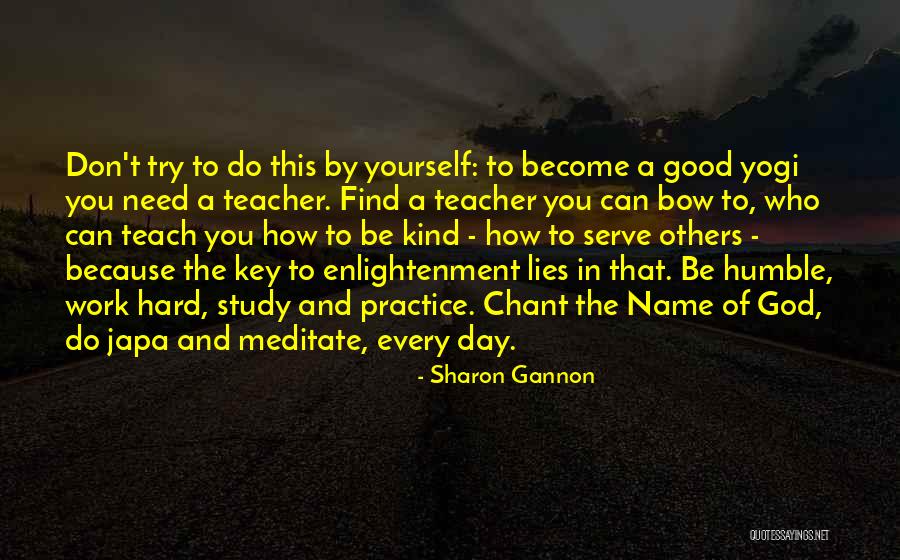 Don't try to do this by yourself: to become a good yogi you need a teacher. Find a teacher you can bow to, who can teach you how to be kind - how to serve others - because the key to enlightenment lies in that. Be humble, work hard, study and practice. Chant the Name of God, do japa and meditate, every day. — Sharon Gannon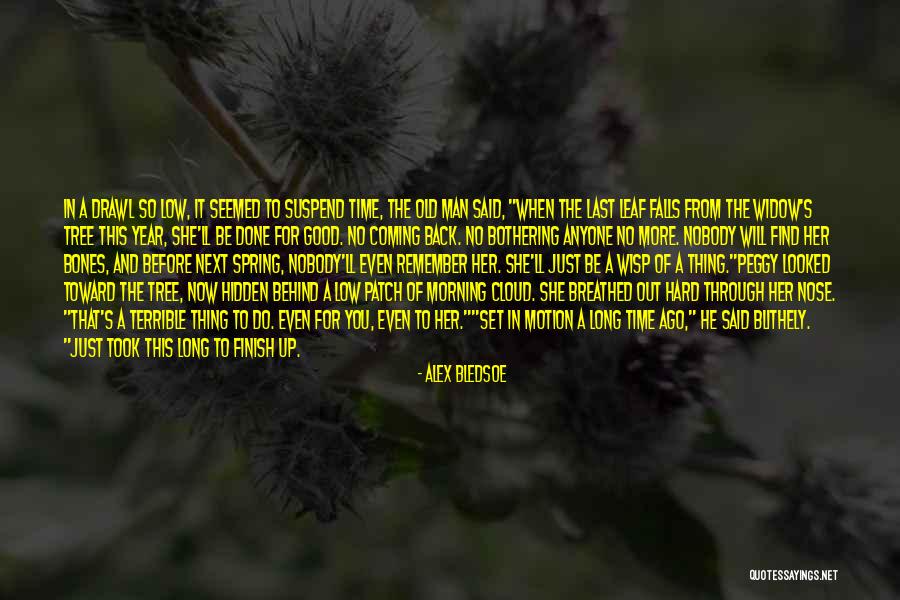 In a drawl so low, it seemed to suspend time, the old man said, "When the last leaf falls from the Widow's Tree this year, she'll be done for good. No coming back. No bothering anyone no more. Nobody will find her bones, and before next spring, nobody'll even remember her. She'll just be a wisp of a thing."
Peggy looked toward the tree, now hidden behind a low patch of morning cloud. She breathed out hard through her nose. "That's a terrible thing to do. Even for you, even to her."
"Set in motion a long time ago," he said blithely. "Just took this long to finish up. — Alex Bledsoe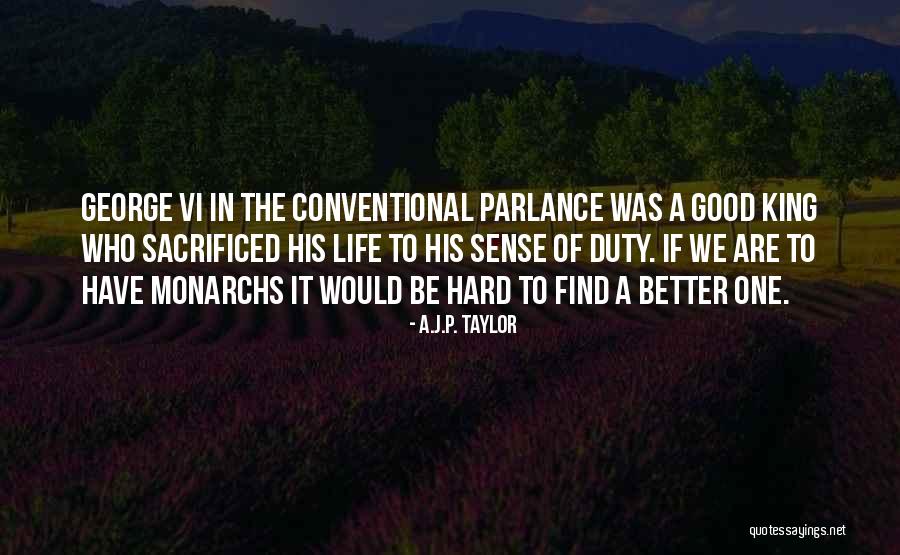 George VI in the conventional parlance was a Good King who sacrificed his life to his sense of duty. If we are to have monarchs it would be hard to find a better one. — A.J.P. Taylor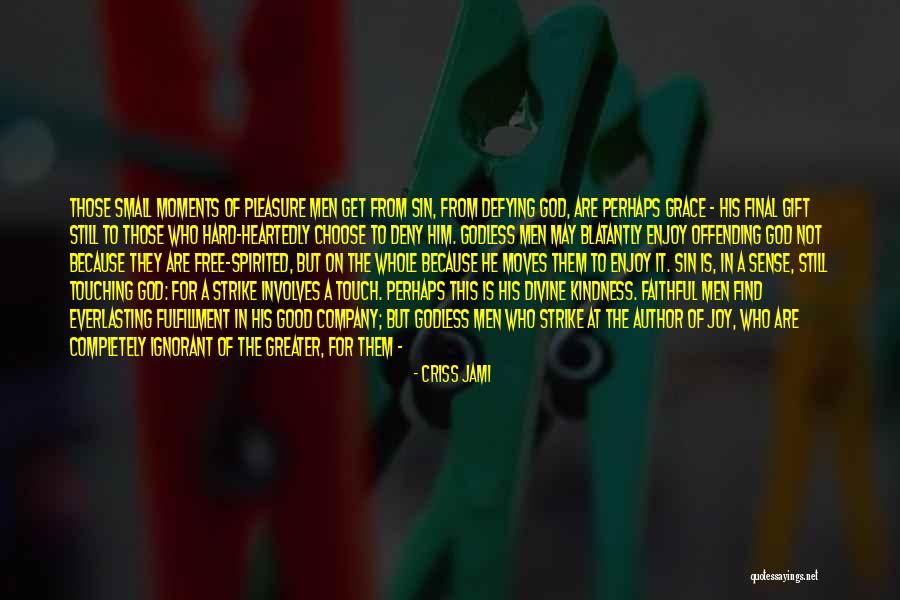 Those small moments of pleasure men get from sin, from defying God, are perhaps grace - His final gift still to those who hard-heartedly choose to deny Him. Godless men may blatantly enjoy offending God not because they are free-spirited, but on the whole because He moves them to enjoy it. Sin is, in a sense, still touching God: for a strike involves a touch. Perhaps this is His divine kindness. Faithful men find everlasting fulfillment in His good company; but godless men who strike at the Author of Joy, who are completely ignorant of the greater, for them - and by God's love for His enemies - there is yet this small recoil known as 'pleasure' before the fall. — Criss Jami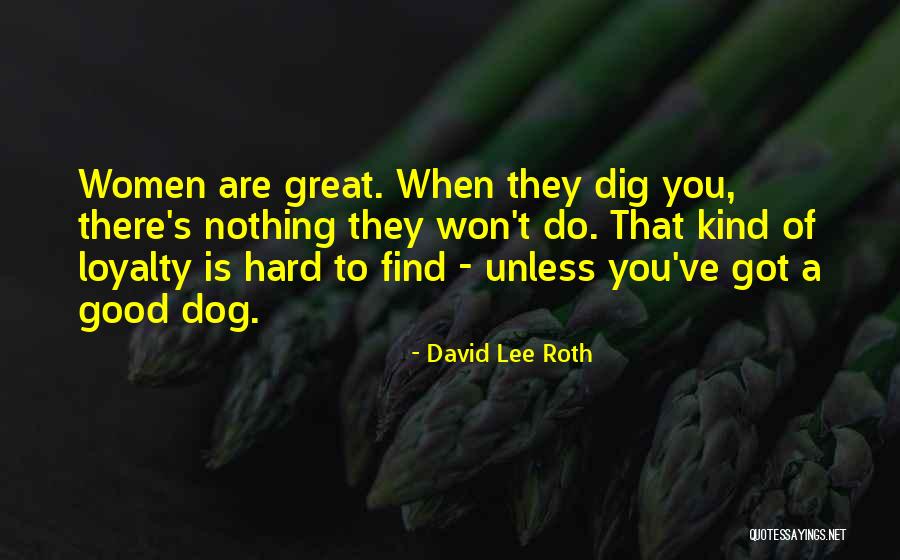 Women are great. When they dig you, there's nothing they won't do. That kind of loyalty is hard to find - unless you've got a good dog. — David Lee Roth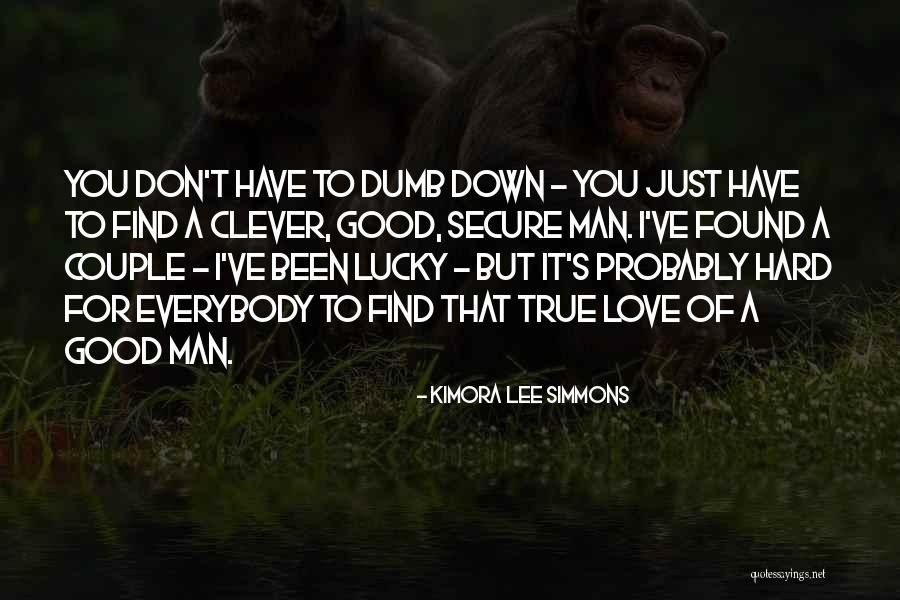 You don't have to dumb down - you just have to find a clever, good, secure man. I've found a couple - I've been lucky - but it's probably hard for everybody to find that true love of a good man. — Kimora Lee Simmons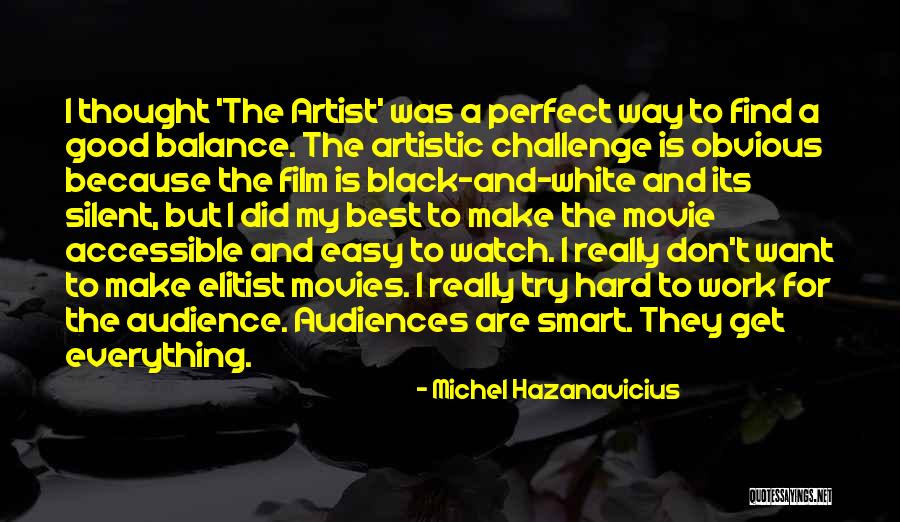 I thought 'The Artist' was a perfect way to find a good balance. The artistic challenge is obvious because the film is black-and-white and its silent, but I did my best to make the movie accessible and easy to watch. I really don't want to make elitist movies. I really try hard to work for the audience. Audiences are smart. They get everything. — Michel Hazanavicius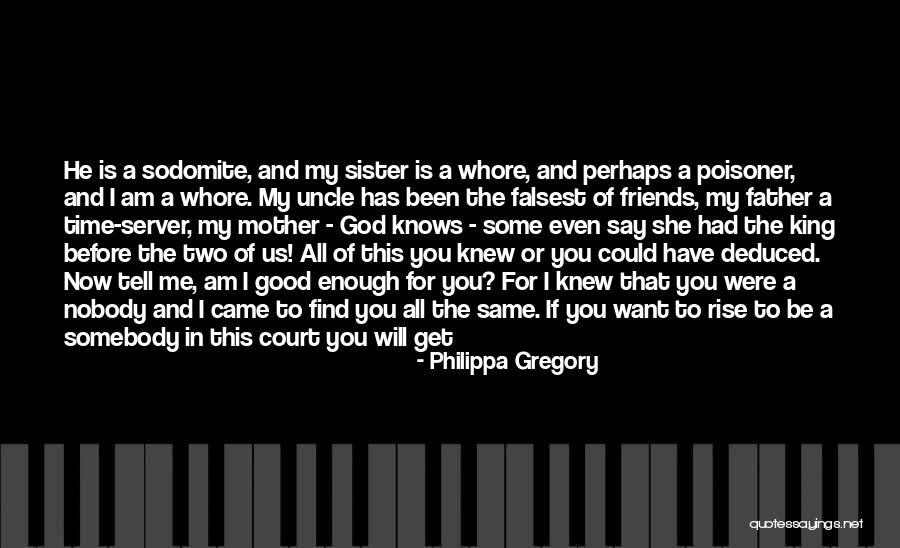 He is a sodomite, and my sister is a whore, and perhaps a poisoner, and I am a whore. My uncle has been the falsest of friends, my father a time-server, my mother - God knows - some even say she had the king before the two of us! All of this you knew or you could have deduced. Now tell me, am I good enough for you? For I knew that you were a nobody and I came to find you all the same. If you want to rise to be a somebody in this court you will get blood or shit on your hands. I have had to learn this through a hard apprenticeship since I was a little girl. You can learn it now if you have the stomach." William — Philippa Gregory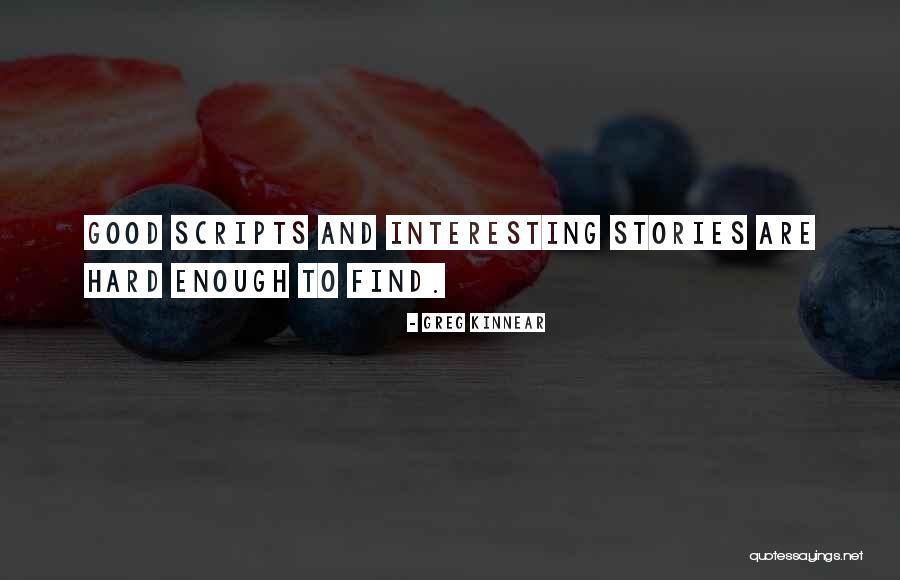 Good scripts and interesting stories are hard enough to find. — Greg Kinnear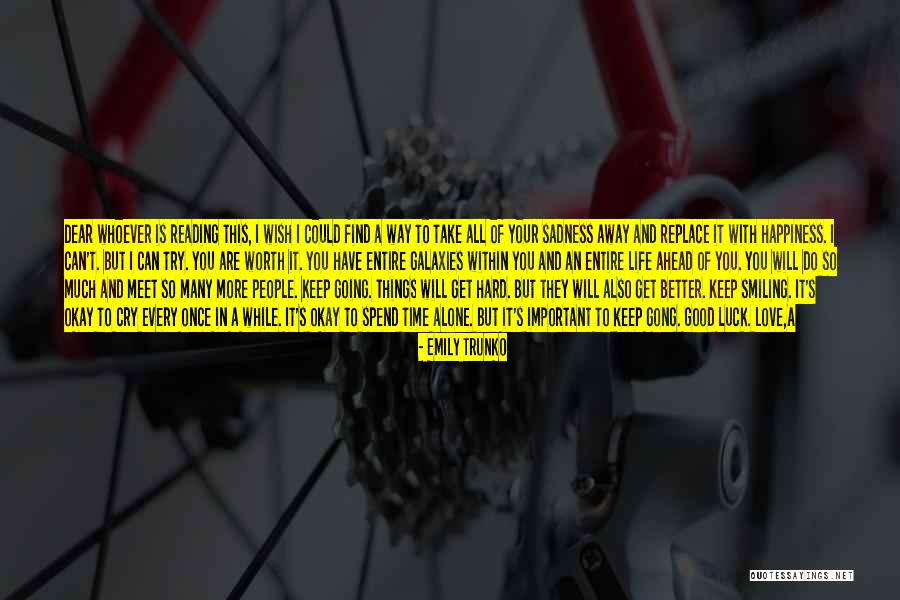 Dear whoever is reading this,
I wish I could find a way to take all of your sadness away and replace it with happiness. I can't. But I can try. You are worth it. You have entire galaxies within you and an entire life ahead of you. You will do so much and meet so many more people. Keep going. Things will get hard. But they will also get better. Keep smiling. It's okay to cry every once in a while. It's okay to spend time alone. But it's important to keep gong. Good luck.
Love,
A — Emily Trunko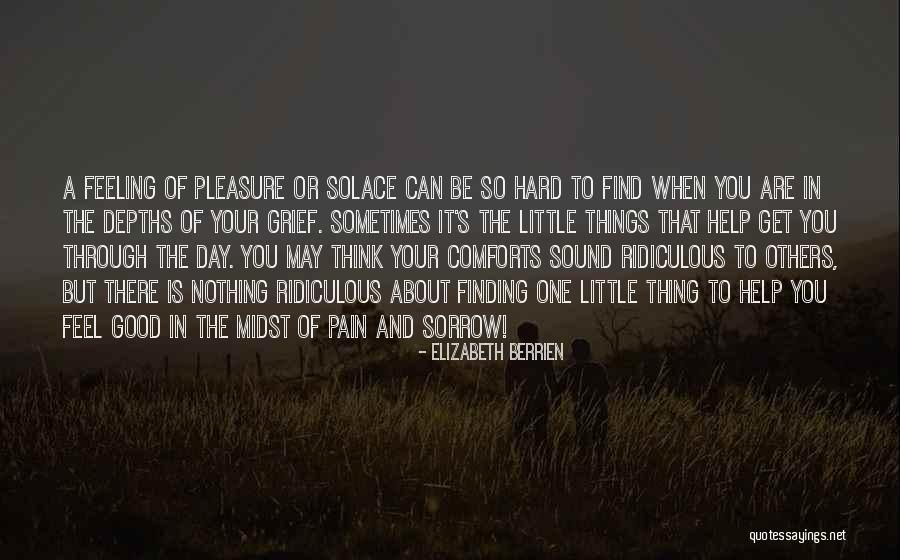 A feeling of pleasure or solace can be so hard to find when you are in the depths of your grief. Sometimes it's the little things that help get you through the day. You may think your comforts sound ridiculous to others, but there is nothing ridiculous about finding one little thing to help you feel good in the midst of pain and sorrow! — Elizabeth Berrien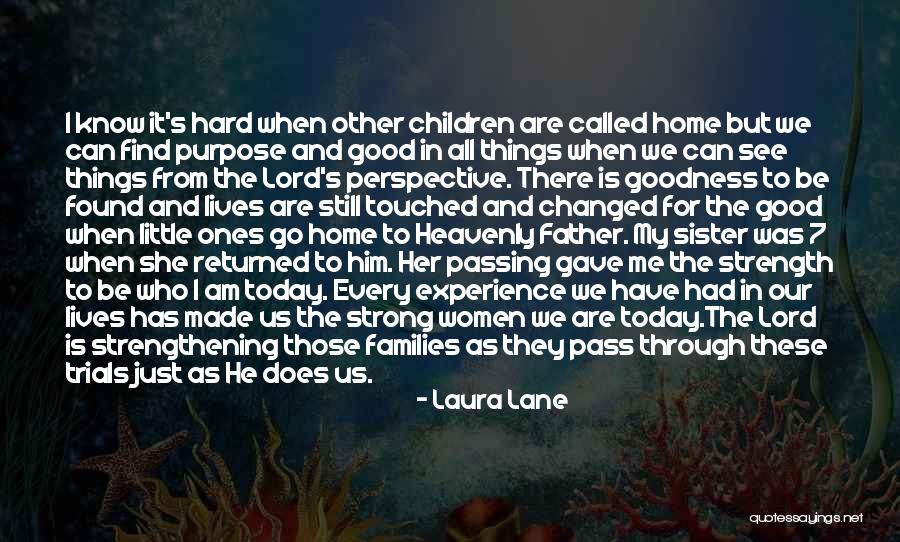 I know it's hard when other children are called home but we can find purpose and good in all things when we can see things from the Lord's perspective. There is goodness to be found and lives are still touched and changed for the good when little ones go home to Heavenly Father. My sister was 7 when she returned to him. Her passing gave me the strength to be who I am today. Every experience we have had in our lives has made us the strong women we are today.
The Lord is strengthening those families as they pass through these trials just as He does us. — Laura Lane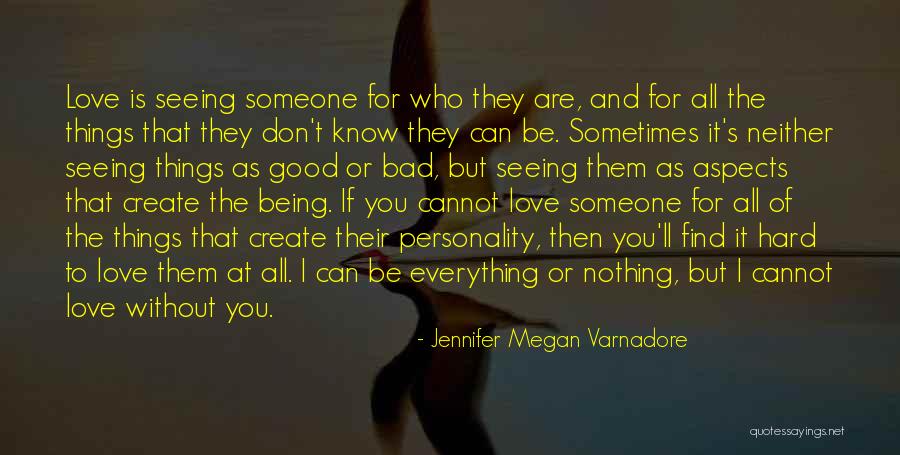 Love is seeing someone for who they are, and for all the things that they don't know they can be. Sometimes it's neither seeing things as good or bad, but seeing them as aspects that create the being. If you cannot love someone for all of the things that create their personality, then you'll find it hard to love them at all. I can be everything or nothing, but I cannot love without you. — Jennifer Megan Varnadore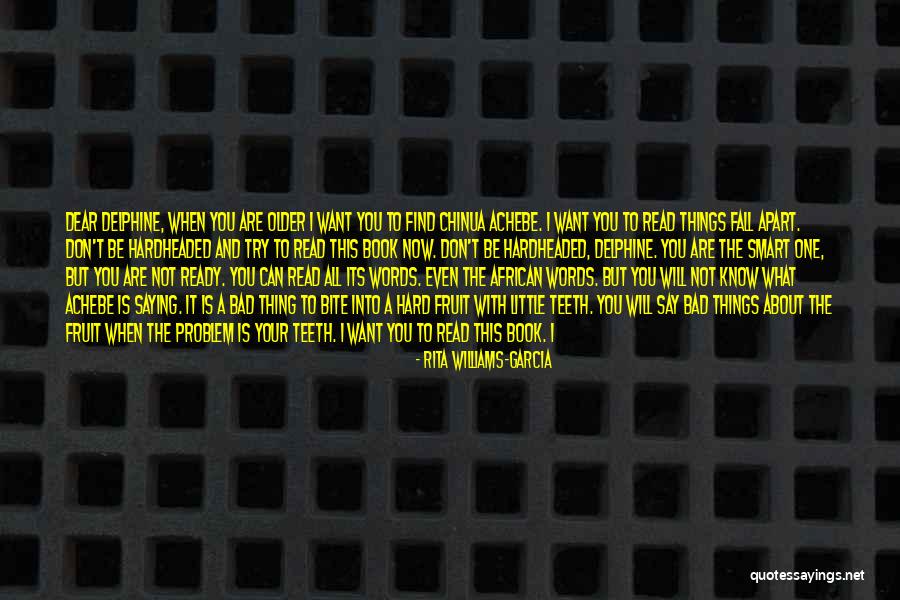 Dear Delphine,
When you are older I want you to find Chinua Achebe. I want you to read Things Fall Apart. Don't be hardheaded and try to read this book now. Don't be hardheaded, Delphine. You are the smart one, but you are not ready. You can read all its words. Even the African words. But you will not know what Achebe is saying. It is a bad thing to bite into a hard fruit with little teeth. You will say bad things about the fruit when the problem is your teeth.
I want you to read this book. I want you to know Things Fall Apart. Fourteen is a good age to find Chinua Achebe.
Nzila.
Your Mother.
P.S. For now you are eleven. Be eleven. — Rita Williams-Garcia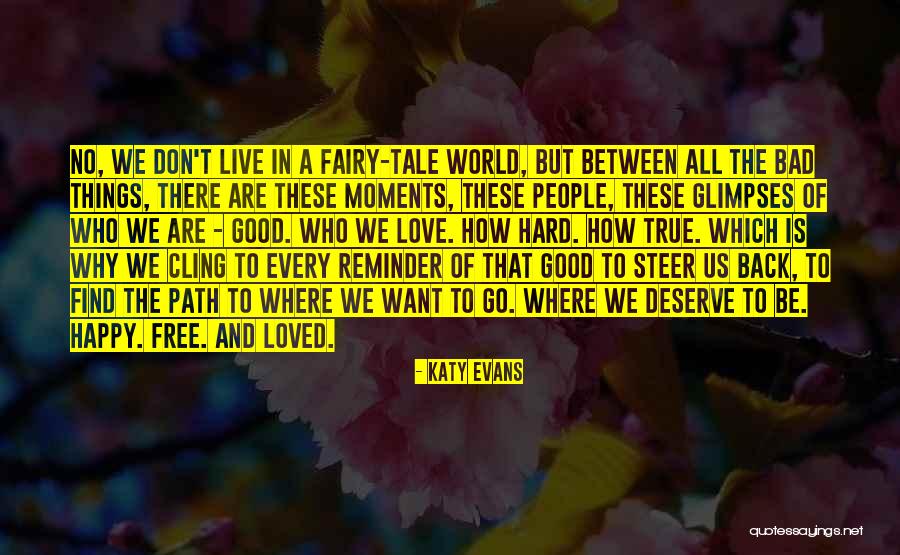 No, we don't live in a fairy-tale world, but between all the bad things, there are these moments, these people, these glimpses of who we are - good. Who we love. How hard. How true. Which is why we cling to every reminder of that good to steer us back, to find the path to where we want to go. Where we deserve to be. Happy. Free. And loved. — Katy Evans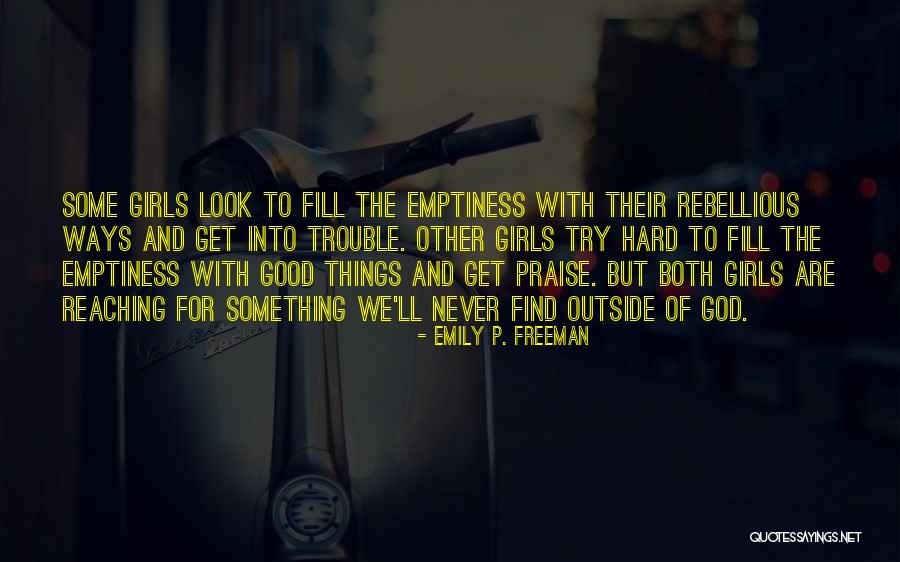 Some girls look to fill the emptiness with their rebellious ways and get into trouble. Other girls try hard to fill the emptiness with good things and get praise. But both girls are reaching for something we'll never find outside of God. — Emily P. Freeman