Good Inevitability Quotes & Sayings
Enjoy reading and share 18 famous quotes about Good Inevitability with everyone.
Top Good Inevitability Quotes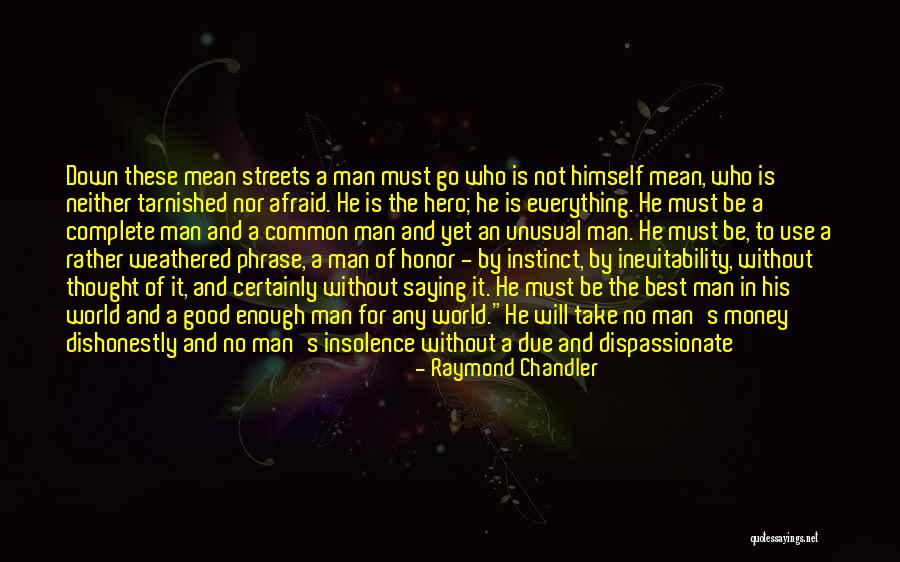 Down these mean streets a man must go who is not himself mean, who is neither tarnished nor afraid. He is the hero; he is everything. He must be a complete man and a common man and yet an unusual man. He must be, to use a rather weathered phrase, a man of honor - by instinct, by inevitability, without thought of it, and certainly without saying it. He must be the best man in his world and a good enough man for any world.
"He will take no man's money dishonestly and no man's insolence without a due and dispassionate revenge. He is a lonely man and his pride is that you will treat him as a proud man or be very sorry you ever saw him.
"The story is this man's adventure in search of a hidden truth, and it would be no adventure if it did not happen to a man fit for adventure. If there were enough like him, the world would be a very safe place to live in, without becoming too dull to be worth living in. — Raymond Chandler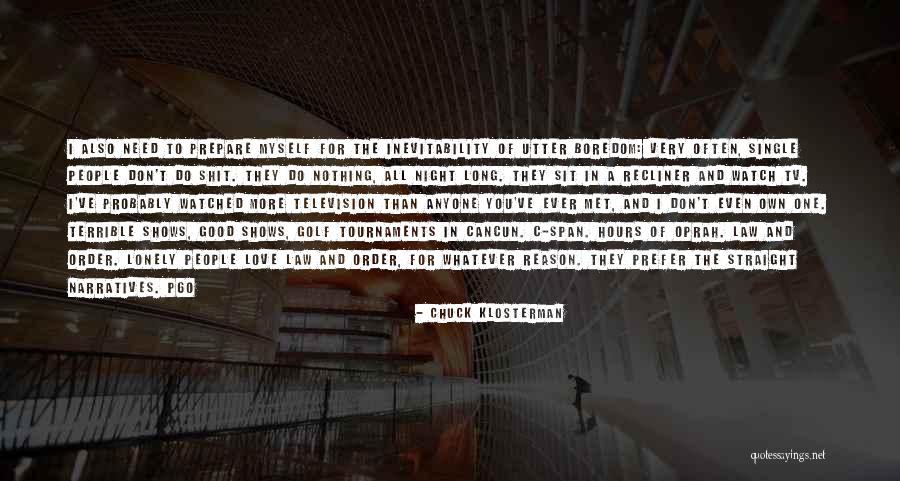 I also need to prepare myself for the inevitability of utter boredom: Very often, single people don't do shit. They do nothing, all night long. They sit in a recliner and watch TV. I've probably watched more television than anyone you've ever met, and I don't even own one. Terrible shows, good shows, Golf tournaments in Cancun. C-SPAN. Hours of Oprah. Law and Order. Lonely people love Law and Order, for whatever reason. They prefer the straight narratives. p60 — Chuck Klosterman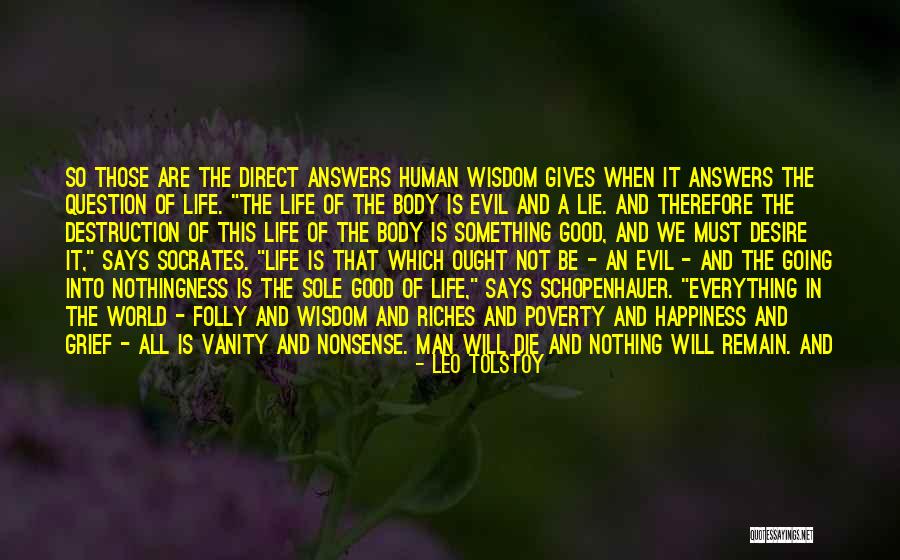 So those are the direct answers human wisdom gives when it answers the question of life. "The life of the body is evil and a lie. And therefore the destruction of this life of the body is something good, and we must desire it," says Socrates. "Life is that which ought not be - an evil - and the going into nothingness is the sole good of life," says Schopenhauer. "Everything in the world - folly and wisdom and riches and poverty and happiness and grief - all is vanity and nonsense. Man will die and nothing will remain. And that is foolish," says Solomon. "One must not live with awareness of the inevitability of suffering, weakness, old age, and death - one must free oneself from life, from all possibility of life," says Buddha. And what these powerful intellects said was said and thought and felt by millions and millions of people like them. And I too thought and felt that. — Leo Tolstoy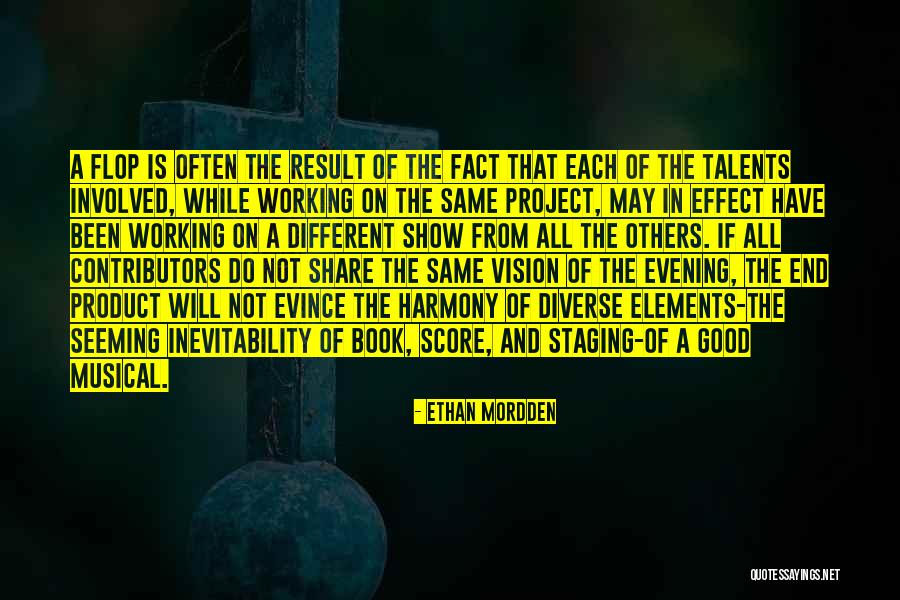 A flop is often the result of the fact that each of the talents involved, while working on the same project, may in effect have been working on a different show from all the others. If all contributors do not share the same vision of the evening, the end product will not evince the harmony of diverse elements-the seeming inevitability of book, score, and staging-of a good musical. — Ethan Mordden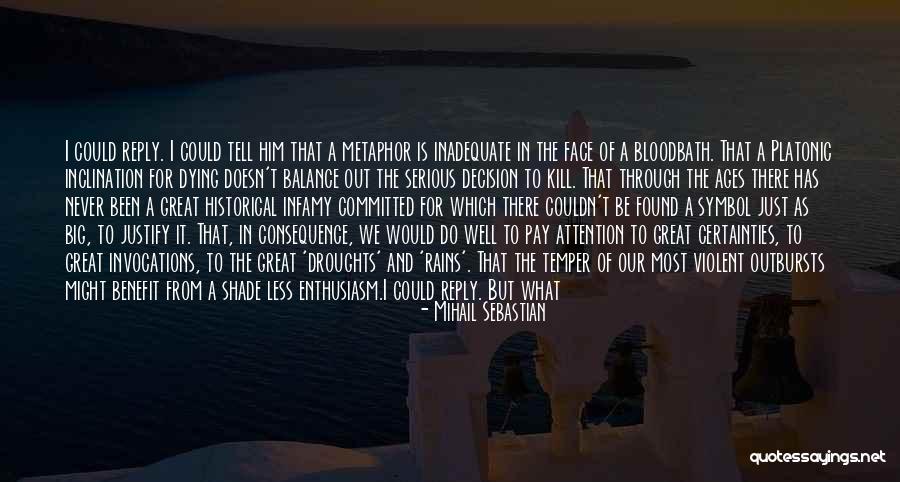 I could reply. I could tell him that a metaphor is inadequate in the face of a bloodbath. That a Platonic inclination for dying doesn't balance out the serious decision to kill. That through the ages there has never been a great historical infamy committed for which there couldn't be found a symbol just as big, to justify it. That, in consequence, we would do well to pay attention to great certainties, to great invocations, to the great 'droughts' and 'rains'. That the temper of our most violent outbursts might benefit from a shade less enthusiasm.
I could reply. But what good would it do? I have a simple, resigned, inexplicable sensation that everything that is happening is in the normal order of things and that I am awaiting a season that will come and pass
because it has come and passed before. — Mihail Sebastian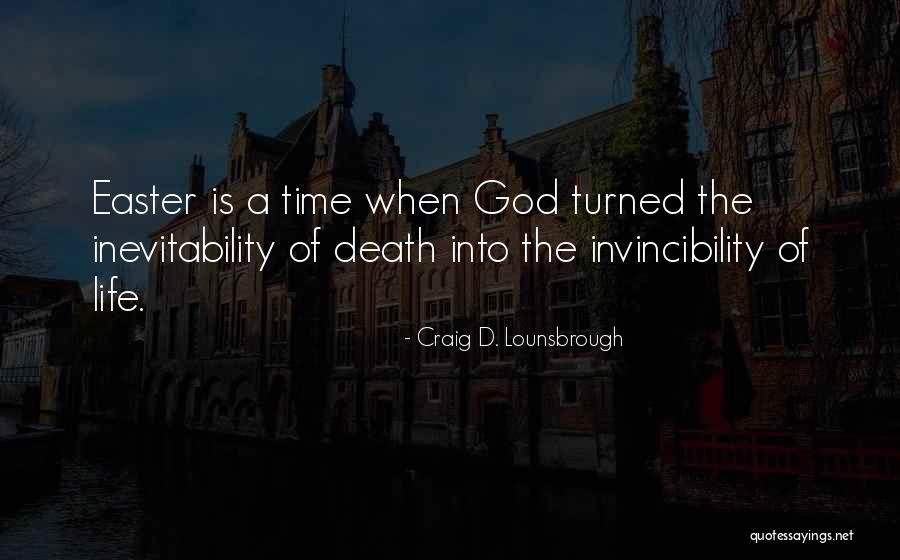 Easter is a time when God turned the inevitability of death into the invincibility of life. — Craig D. Lounsbrough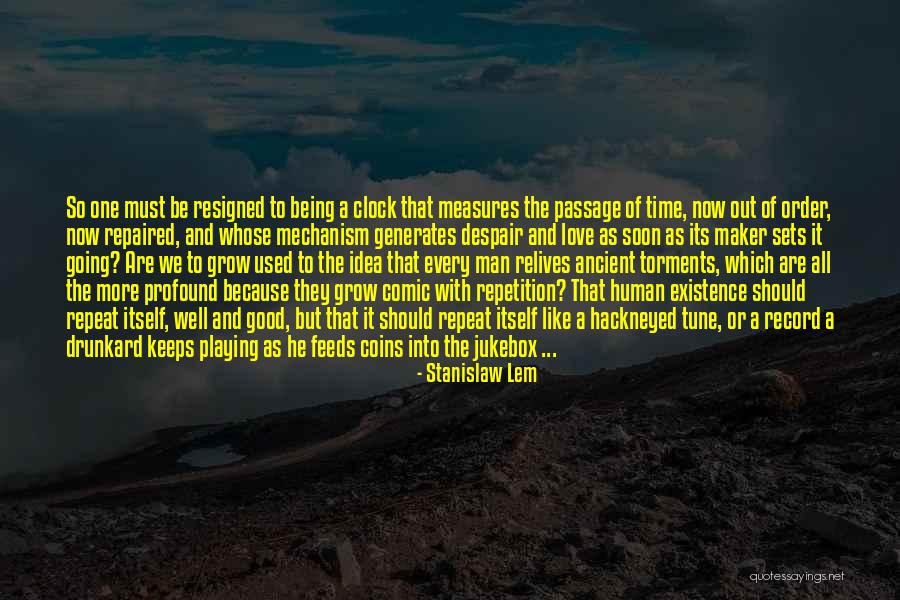 So one must be resigned to being a clock that measures the passage of time, now out of order, now repaired, and whose mechanism generates despair and love as soon as its maker sets it going? Are we to grow used to the idea that every man relives ancient torments, which are all the more profound because they grow comic with repetition? That human existence should repeat itself, well and good, but that it should repeat itself like a hackneyed tune, or a record a drunkard keeps playing as he feeds coins into the jukebox ... — Stanislaw Lem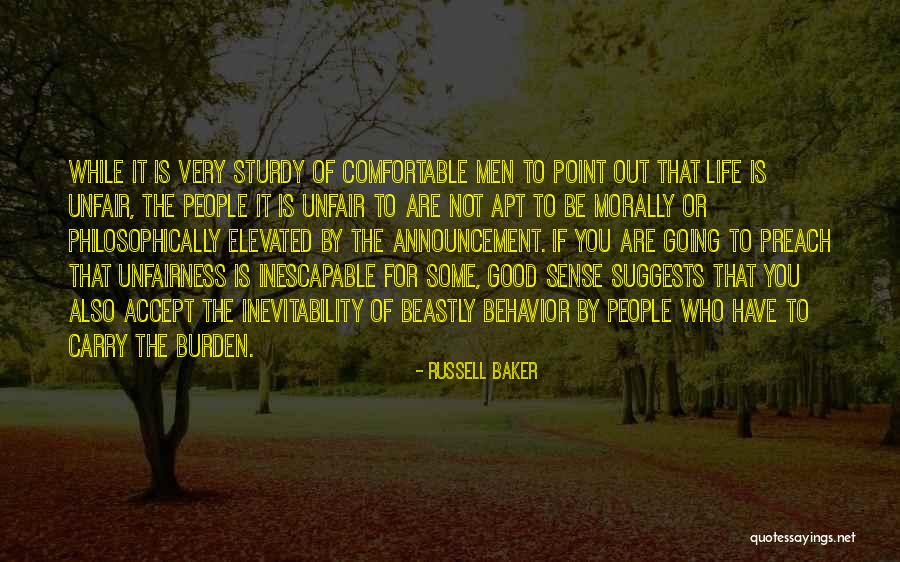 While it is very sturdy of comfortable men to point out that life is unfair, the people it is unfair to are not apt to be morally or philosophically elevated by the announcement. If you are going to preach that unfairness is inescapable for some, good sense suggests that you also accept the inevitability of beastly behavior by people who have to carry the burden. — Russell Baker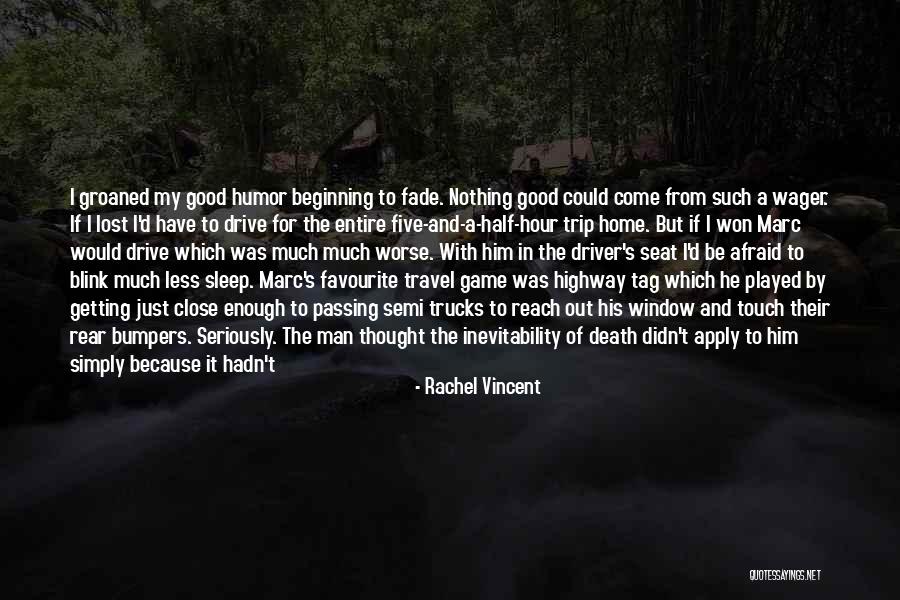 I groaned my good humor beginning to fade. Nothing good could come from such a wager. If I lost I'd have to drive for the entire five-and-a-half-hour trip home. But if I won Marc would drive which was much much worse. With him in the driver's seat I'd be afraid to blink much less sleep. Marc's favourite travel game was highway tag which he played by getting just close enough to passing semi trucks to
reach out his window and touch their rear bumpers. Seriously. The man thought the inevitability of death didn't apply to him simply because it hadn't happened yet.
Marc laughed at my horrified expression and sank his shovel into the earth at the end of the black plastic cocoon. With a sigh I joined him trying to decide whether I'd rather risk falling asleep at the wheel or falling asleep with Marc at the wheel.
It was a tough call. Thankfully I had three solid hours of digging during which to decide. Lucky me. — Rachel Vincent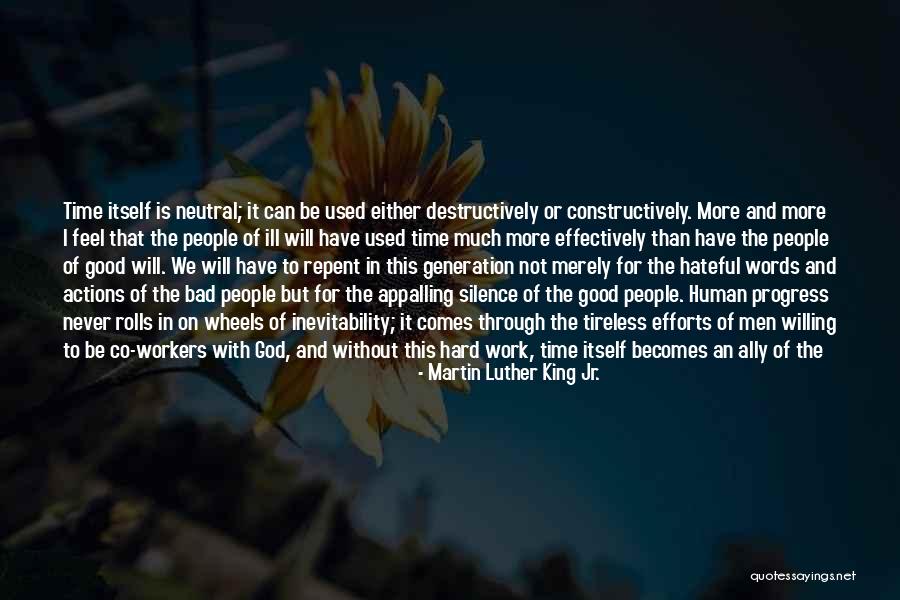 Time itself is neutral; it can be used either destructively or constructively. More and more I feel that the people of ill will have used time much more effectively than have the people of good will. We will have to repent in this generation not merely for the hateful words and actions of the bad people but for the appalling silence of the good people. Human progress never rolls in on wheels of inevitability; it comes through the tireless efforts of men willing to be co-workers with God, and without this hard work, time itself becomes an ally of the forces of social stagnation. We must use time creatively, in the knowledge that the time is always ripe to do right. Now is the time to make real the promise of democracy and transform our pending national elegy into a creative psalm of brotherhood. Now is the time to lift our national policy from the quicksand of racial injustice to the solid rock of human dignity. — Martin Luther King Jr.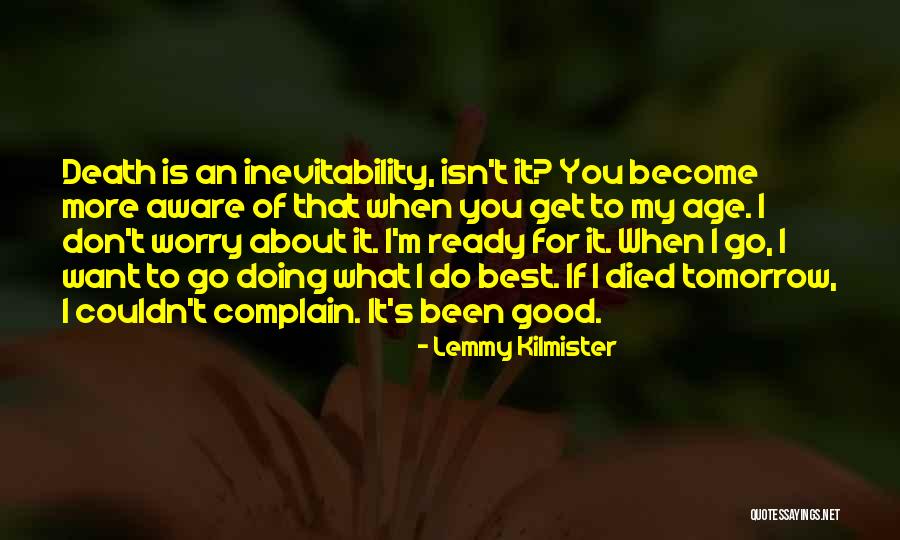 Death is an inevitability, isn't it? You become more aware of that when you get to my age. I don't worry about it. I'm ready for it. When I go, I want to go doing what I do best. If I died tomorrow, I couldn't complain. It's been good. — Lemmy Kilmister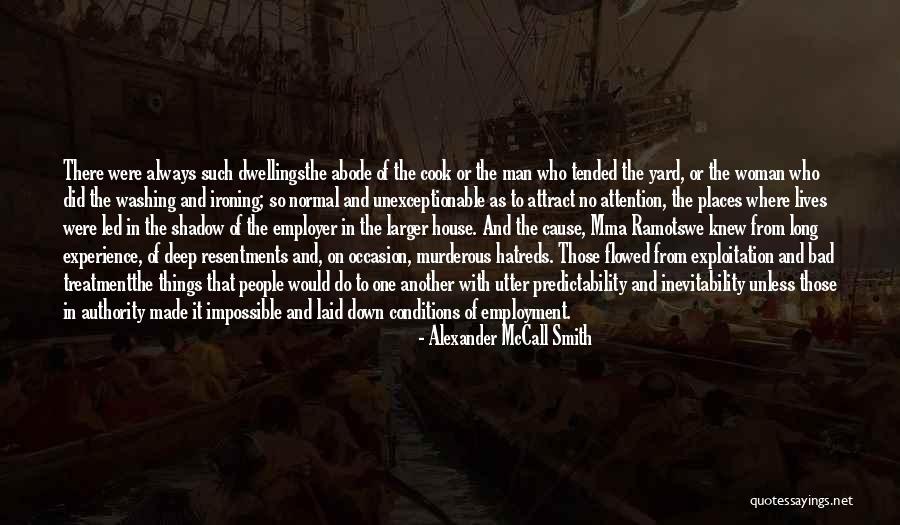 There were always such dwellings
the abode of the cook or the man who tended the yard, or the woman who did the washing and ironing; so normal and unexceptionable as to attract no attention, the places where lives were led in the shadow of the employer in the larger house. And the cause, Mma Ramotswe knew from long experience, of deep resentments and, on occasion, murderous hatreds. Those flowed from exploitation and bad treatment
the things that people would do to one another with utter predictability and inevitability unless those in authority made it impossible and laid down conditions of employment. She had seen shocking things in the course of her work, even here in Botswana, a good country where things were well run and people had rights; human nature, of course, would find its way round the best of rules and regulations. — Alexander McCall Smith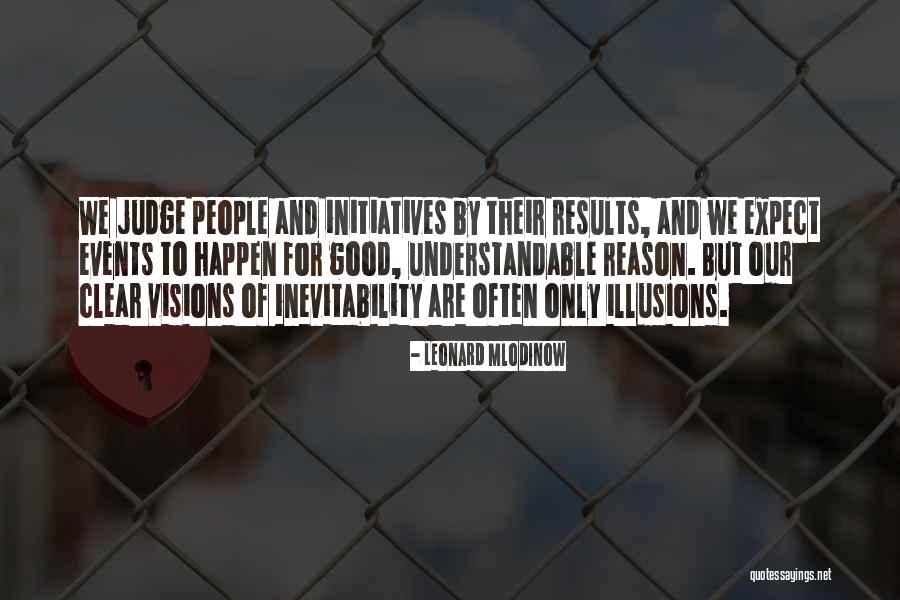 We judge people and initiatives by their results, and we expect events to happen for good, understandable reason. But our clear visions of inevitability are often only illusions. — Leonard Mlodinow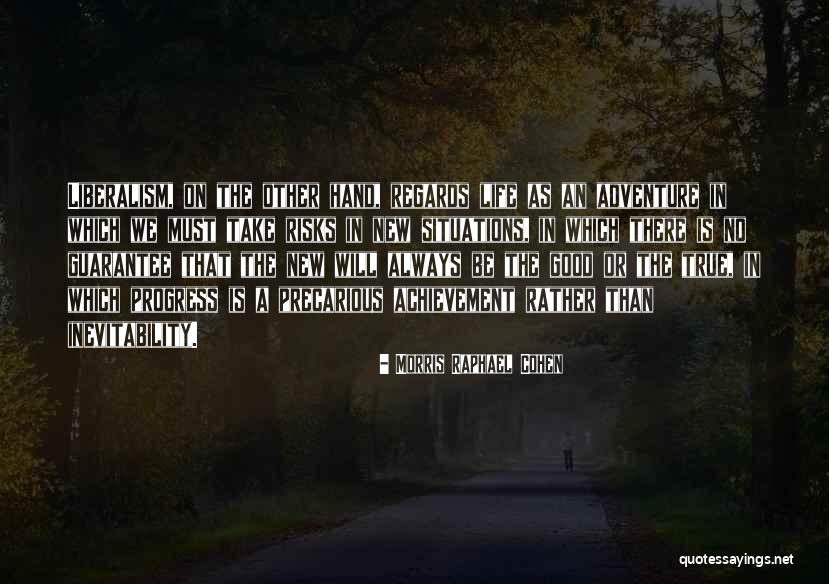 Liberalism, on the other hand, regards life as an adventure in which we must take risks in new situations, in which there is no guarantee that the new will always be the good or the true, in which progress is a precarious achievement rather than inevitability. — Morris Raphael Cohen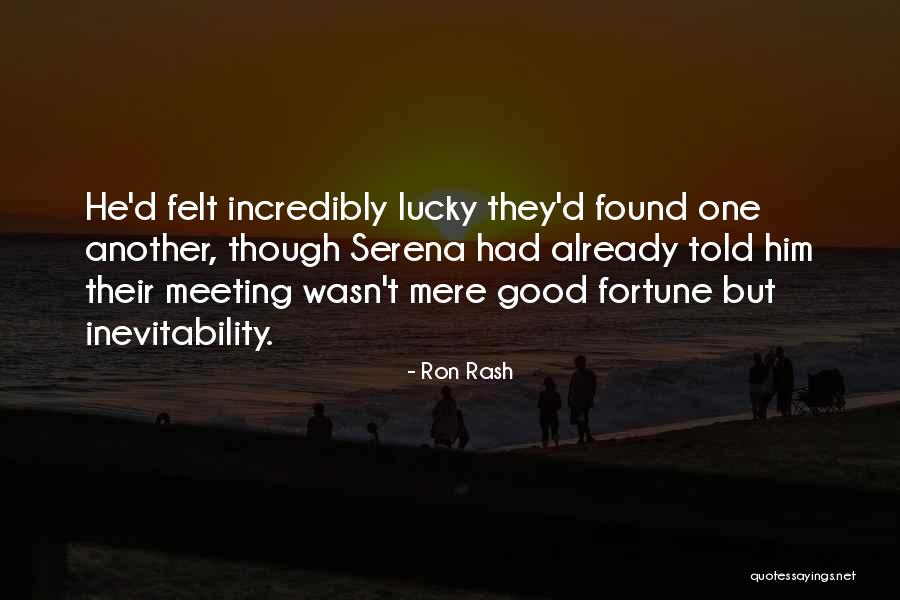 He'd felt incredibly lucky they'd found one another, though Serena had already told him their meeting wasn't mere good fortune but inevitability. — Ron Rash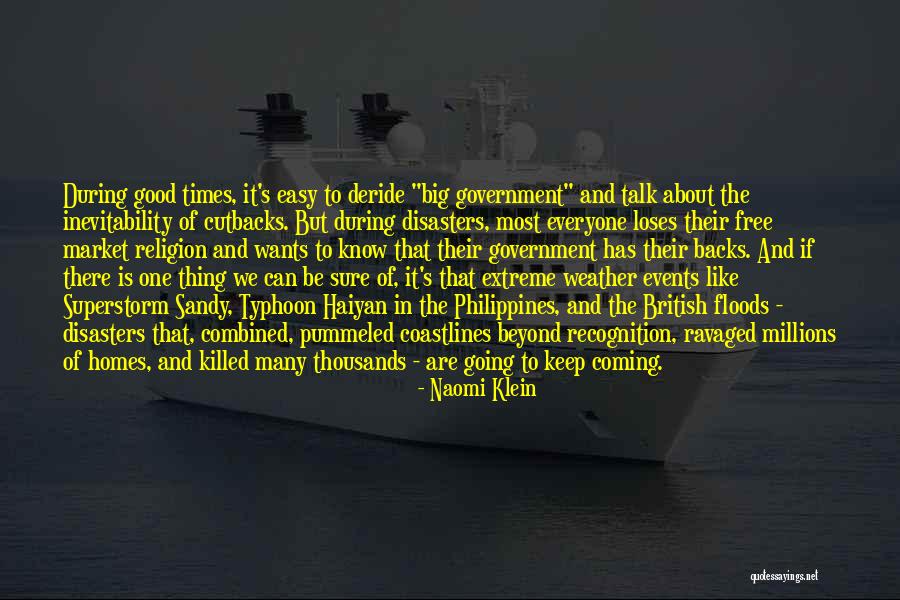 During good times, it's easy to deride "big government" and talk about the inevitability of cutbacks. But during disasters, most everyone loses their free market religion and wants to know that their government has their backs. And if there is one thing we can be sure of, it's that extreme weather events like Superstorm Sandy, Typhoon Haiyan in the Philippines, and the British floods - disasters that, combined, pummeled coastlines beyond recognition, ravaged millions of homes, and killed many thousands - are going to keep coming. — Naomi Klein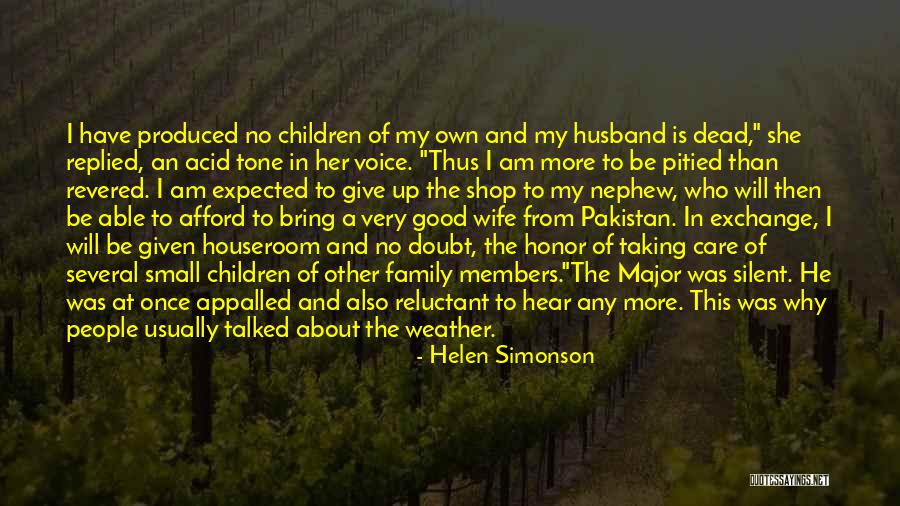 I have produced no children of my own and my husband is dead," she replied, an acid tone in her voice. "Thus I am more to be pitied than revered. I am expected to give up the shop to my nephew, who will then be able to afford to bring a very good wife from Pakistan. In exchange, I will be given houseroom and no doubt, the honor of taking care of several small children of other family members."
The Major was silent. He was at once appalled and also reluctant to hear any more. This was why people usually talked about the weather. — Helen Simonson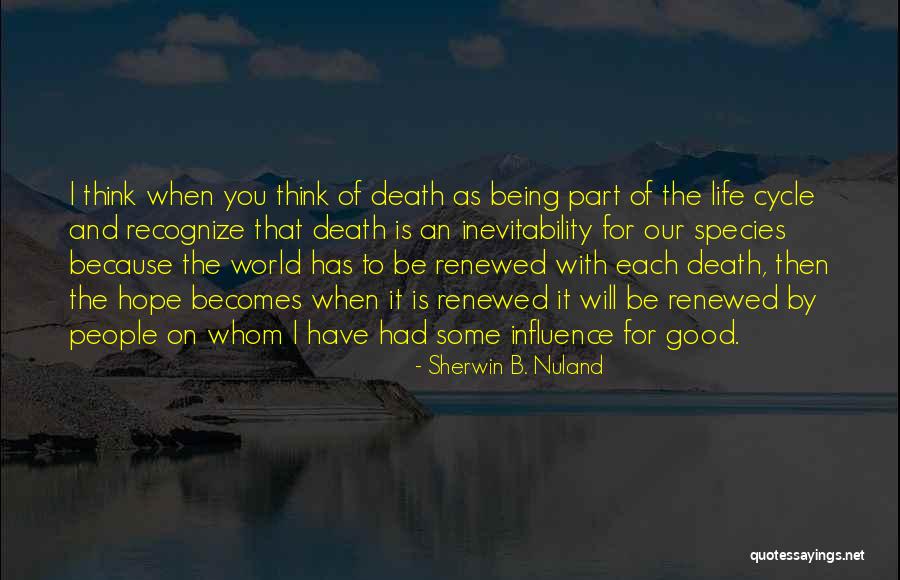 I think when you think of death as being part of the life cycle and recognize that death is an inevitability for our species because the world has to be renewed with each death, then the hope becomes when it is renewed it will be renewed by people on whom I have had some influence for good. — Sherwin B. Nuland